Magic Kingdom Characters Guide
Meeting all the Magic Kingdom characters at Walt Disney World can be quite a task. Typically, there are about 25 characters available on any given day at the Magic Kingdom.
Characters are spread out over the various lands of Magic Kingdom park. This post will strive to go over all the character meets, autograph signing characters, locations, and timings for each meet-and-greet.
Update: At this time, standard character meets are not available in the Disney Parks. Please reference our list of Disney World Characters to see an updated list of character meets at Magic Kingdom for 2022.
Or you might enjoy these articles for individual character meets:
Additionally, more and more characters are beginning to pop up in properly distanced areas. Be on the lookout for these fun pop-ups while touring. For example, I recently saw where someone ran into Jack Sparrow in Adventureland!
If you are interested in seeing the character meets available at Magic Kingdom before the pandemic, please continue browsing. I'll update this review thoroughly when the regular character meets and greets return.
Most guests touring Magic Kingdom will want to add a few characters meets here and there as part of their touring plan. Therefore, it's important to select which characters are important to your party and have a general idea of when and where they will be located.
For instance, if you want to meet Cinderella, you need to add her to your plans while touring Fantasyland. She meets at Princess Fairytale Hall, or you could plan to have dinner with her at Cinderella's Royal Table.
If you want to make meeting characters a one-day central focus or challenge, it can be done.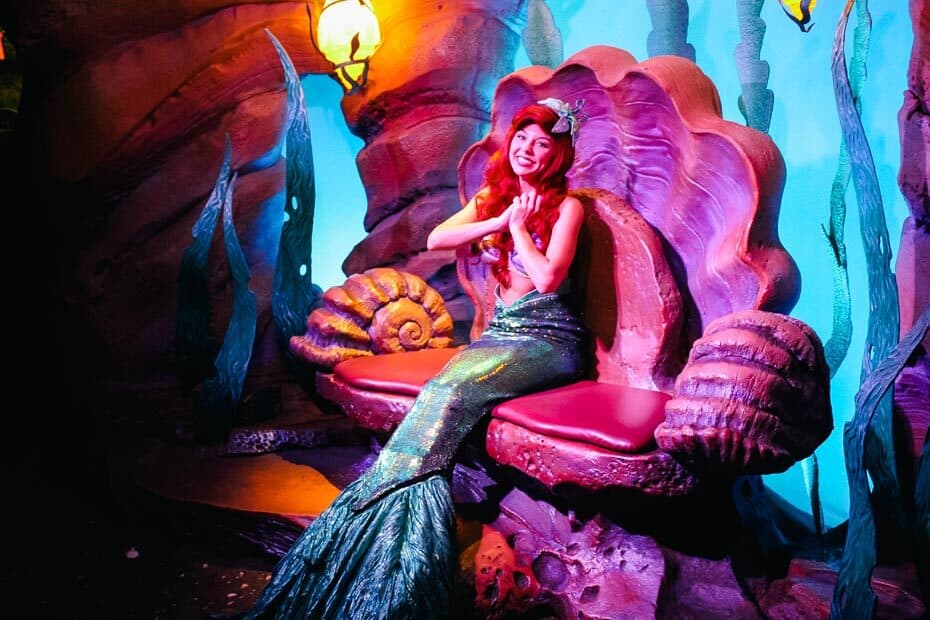 Magic Kingdom Characters List
Below is a list of all the character meets that were available before last year's closure.
Mickey Mouse
Tinker Bell
Tiana and Rapunzel
Elena
Cinderella
Gaston
Ariel
Buzz Lightyear
Merida
Winnie the Pooh and Tigger
Enchanted Tales with Belle
Aladdin and Jasmine
Peter Pan
Jack Sparrow
Goofy
Donald Duck
Daisy Duck
Minnie Mouse
Pluto
Alice
Mary Poppins
Snow White
Anastasia and Drizella
Fairy Godmother
Country Bears
Stitch
Chip and Dale
Mickey Mouse
Mickey Mouse's character meet is located right inside the Magic Kingdom at Town Square Theater.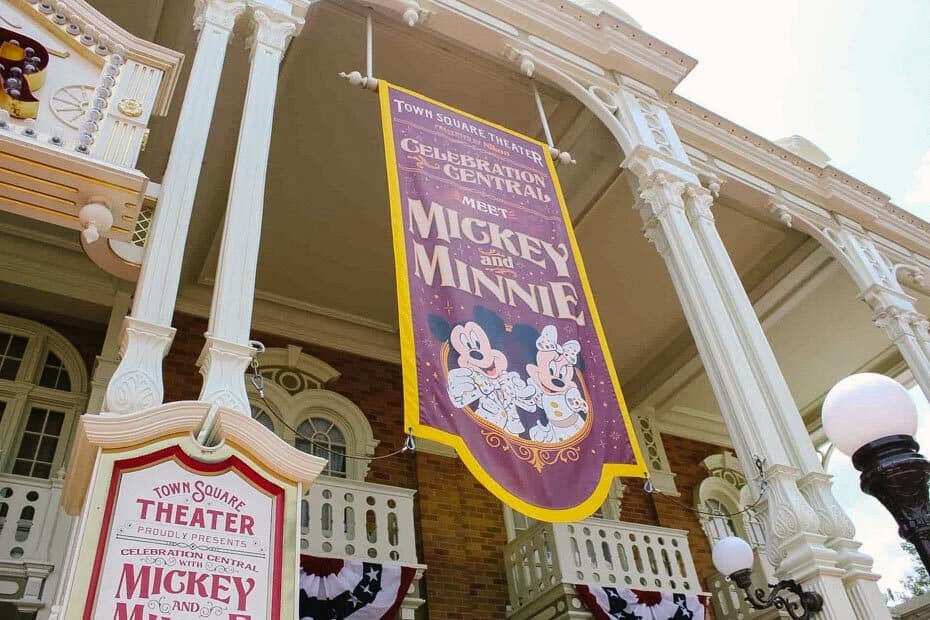 There are two character lines here, so make sure you head into the right line. One line is for Tinker Bell, the other, Mickey Mouse.
Tinker Bell's meet is located to the left side of Town Square Theater. At the same time, the Mickey Mouse meet is on the right-hand side. This is also the location to meet Mickey Mouse in his Halloween costume during Mickey's Not So Scary Halloween party.
Below is an older picture that shows Mickey meeting as a Magician in Town Square Theater.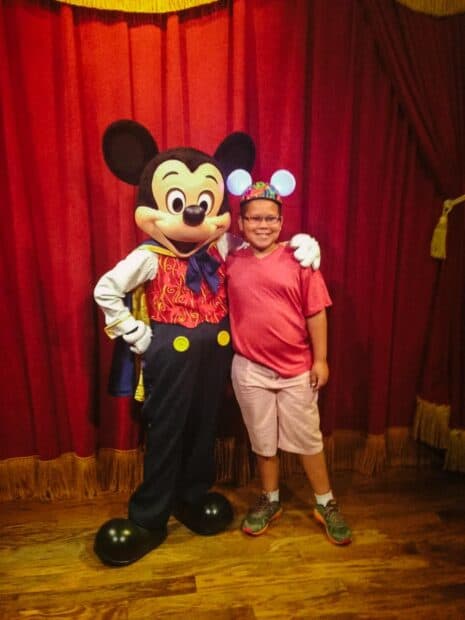 During Mickey and Minnie's 90th birthday, the couple met together for nearly a full year in this space. But since then, Minnie has moved back to Storybook Circus, which we'll cover a little further down.
Here is a picture of when Mickey and Minnie Mouse met together for the year of Mickey's 90th birthday celebration.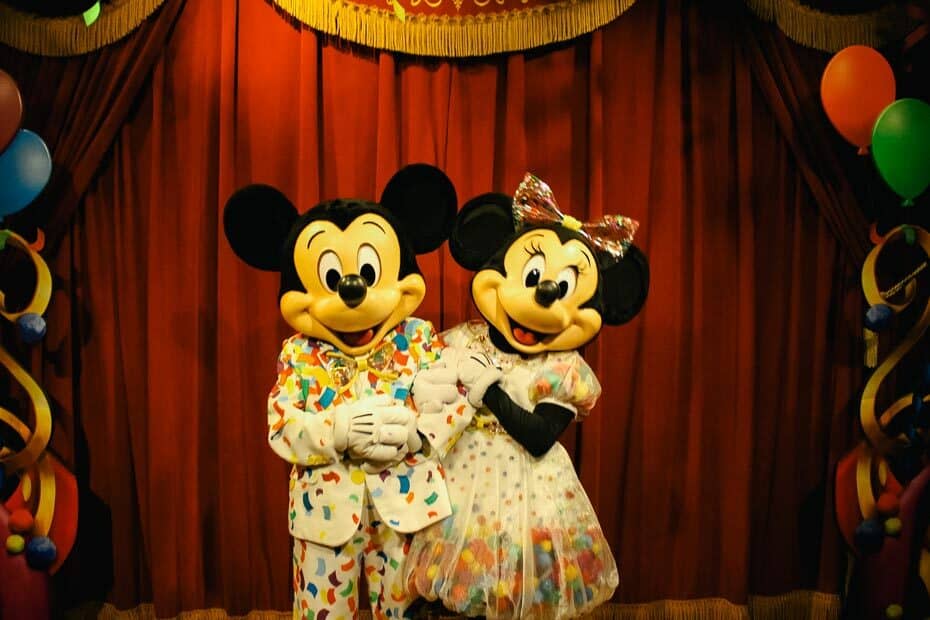 The only place to meet Mickey and Minnie Mouse together is at Disney's Animal Kingdom. There, they both meet in safari suits!
Mickey and Minnie have a character meet at Hollywood Studios in the same building, but they meet separately.
Lastly, you can find both Mickey Mouse and Minnie at Epcot. There, they are in the same room but divided spaces. Goofy is usually here with them as well. However, their building was demolished, so we'll have to see where they end up after Epcot's transformation.
Related: Meet Mickey Mouse at Magic Kingdom
Tinker Bell
Next up, we have Tinker Bell, which is also located at Town Hall Theater. This meet is a bit different from the rest.
Her sign hangs outside Town Square Theater which is right inside the Magic Kingdom entrance.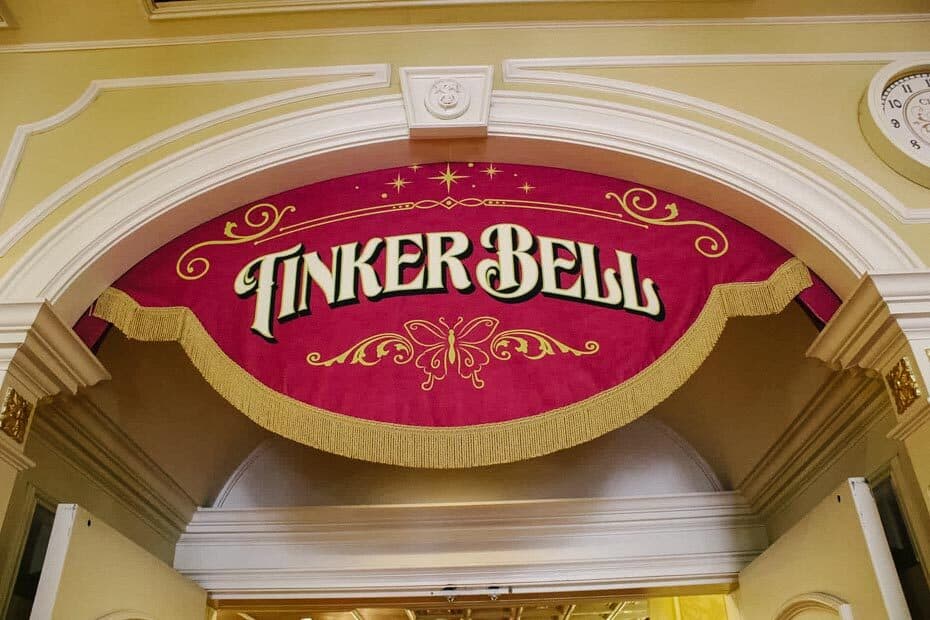 Her meet is themed to Pixie Hollow. The idea is you have been sprinkled with pixie dust and are now small enough to meet the tiny fairy.
Tinker Bell might not have a PhotoPass photographer. However, there is a cast member to assist you with the visit. Below you will see the box that has taken the job of the photographer. Anyway, this box will take your photos after you spend a minute visiting the fairy.
Tinker Bell is quite the cut-up! Be ready for that fiery personality. She can get frustrated in a heartbeat, but luckily she is kind enough that you will have a hard time telling.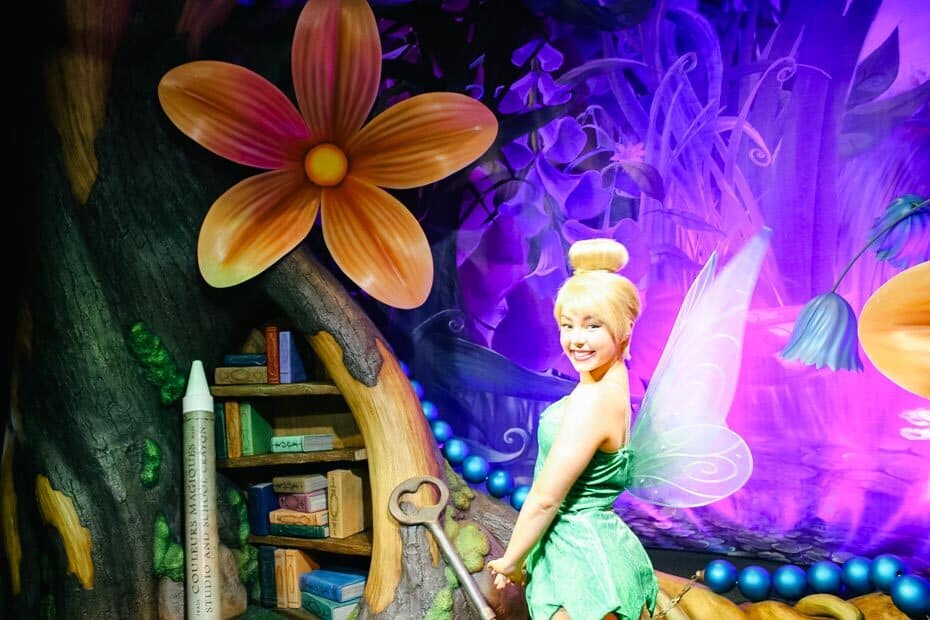 A little bit of spunk posing for the blog. Thank you, Tinker Bell!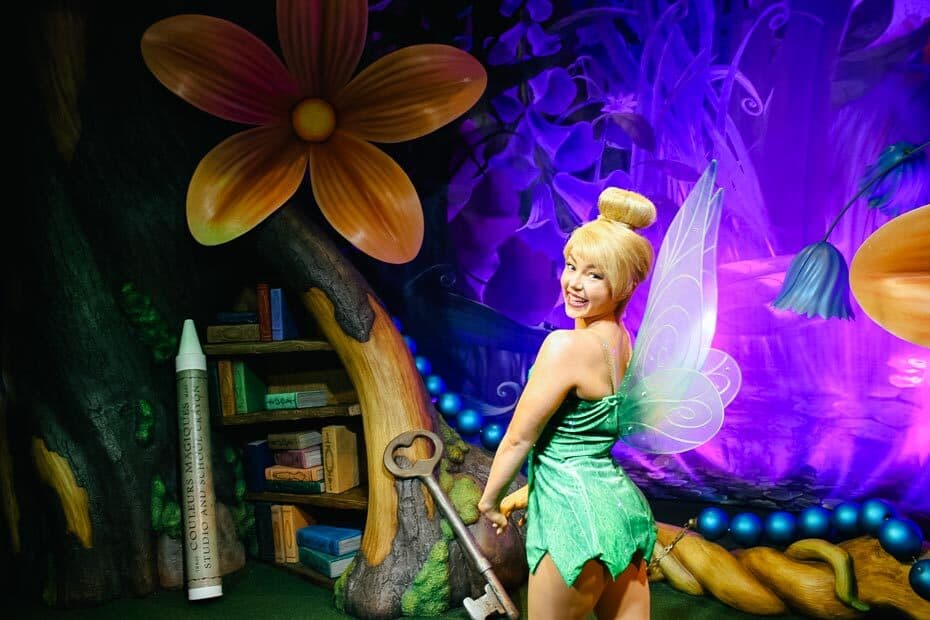 Tinker Bell mentioned that sometimes she and Blueberry wished they could fly out of there and see what was going on in the rest of Magic Kingdom. I said she probably could with the lack of a photographer.
Tinkerbell is an autograph signing character. This location is the only place to meet with this character in all of Walt Disney World.
Next, we'll take a look at all the meets available at Princess Fairytale Hall. Four princesses meet here in two separate lines.
These princesses are probably the most popular meet and greets on the list of Magic Kingdom characters. They are high up on almost every girl's list of things to do on a Disney vacation.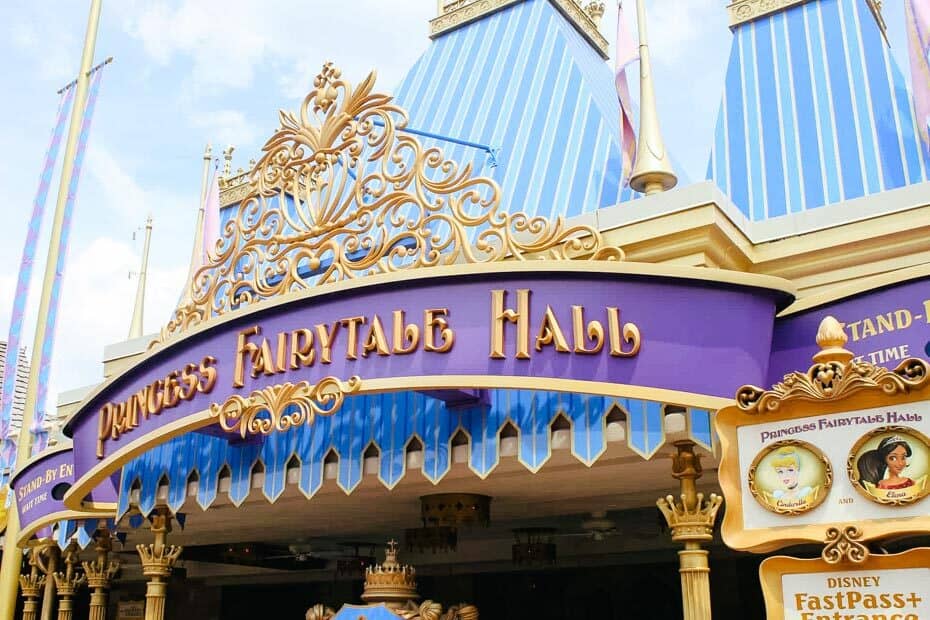 Princess Fairytale Hall is located directly behind Cinderella Castle in Fantasy Land at Magic Kingdom. In the same fashion as most popular attractions, one side of this meet empties into a retail store, Sir Mickey's.
Cinderella and Elena meet on the right-hand side of Princess Fairytale Hall. Meanwhile, Rapunzel and Tiana meet on the left-hand side. So make sure to get in the correct line.
First, we have Tiana at this Magic Kingdom character location. She might like to discuss cooking, entrepreneurship, or just being a plain old princess.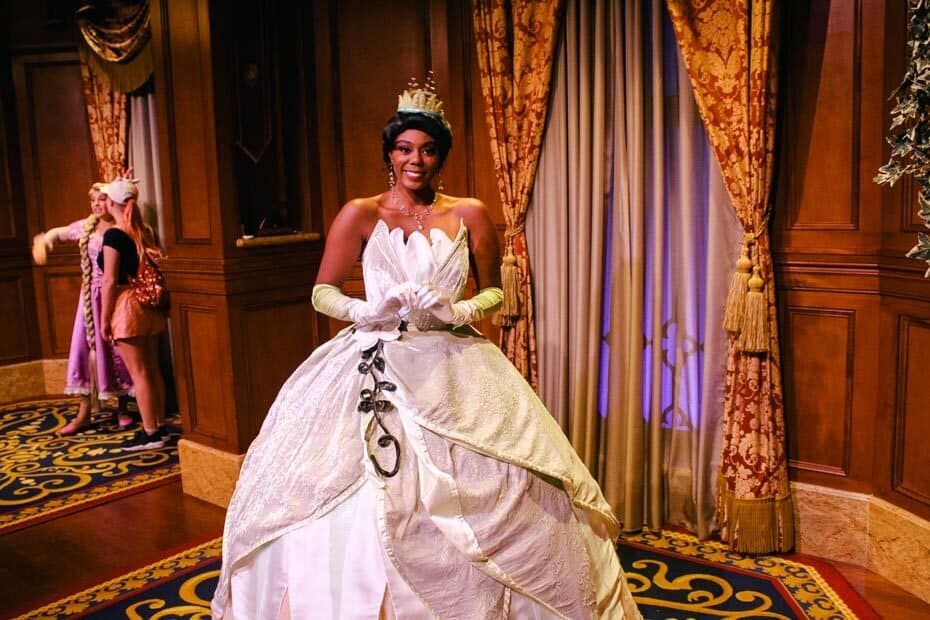 Next up comes Rapunzel. She kept asking me whether or not I got the nose right on her photograph. She says, "they never get the nose right!" It's a move reference in case you don't happen to know every single detail of everything Tangled.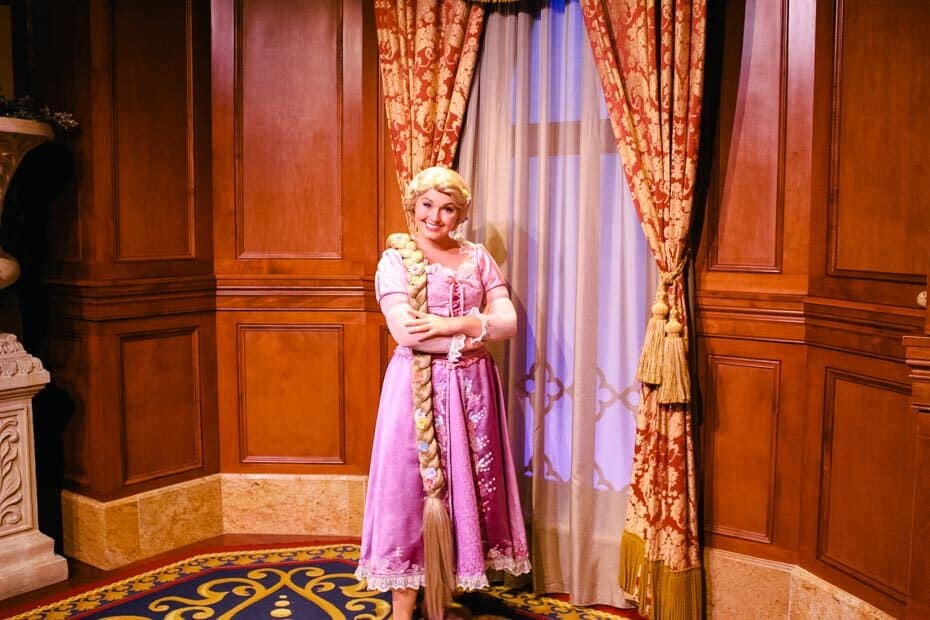 She is not your average princess, and I actually like that!
Elena is a princess from the popular Disney Channel TV show Elena of Avalor.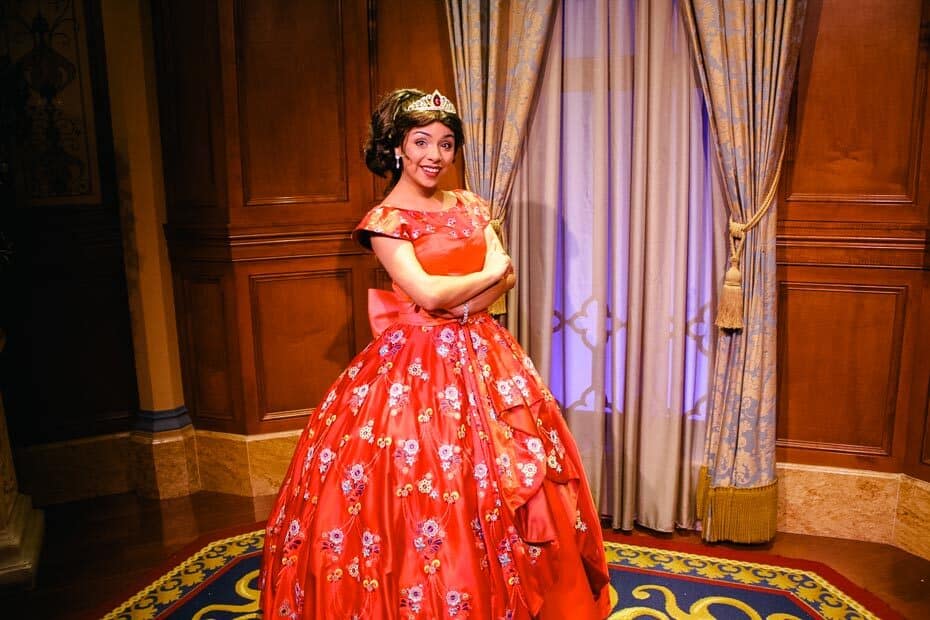 She meets alongside Cinderella at Princess Fairytale Hall.
Cinderella is another of the popular Magic Kingdom characters. Unfortunately, the only other place she can be found at Magic Kingdom is greeting guests at Cinderella's Royal Table.
Therefore, if you would like the opportunity to meet with her, this might be your best chance. That is without having to pay for a meal to see her.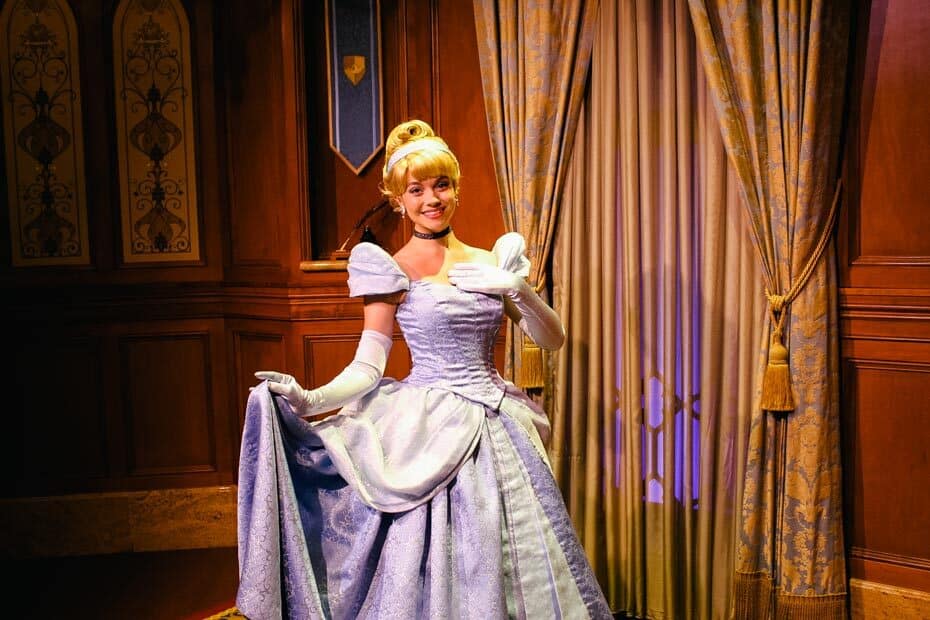 She is pretty welcoming, and her glass slipper is located in the queue just outside this meet. Usually, the princesses at Fairytale Hall sign character autographs.
Gaston
Oh me, oh my! Gaston from Beauty and the Beast will leave you feeling a bit greasy? Oh, what a meet–that Gaston!
Gaston is on the right-hand side of Bonjour Gifts in New Fantasyland. He is around the corner from his fountain and tavern.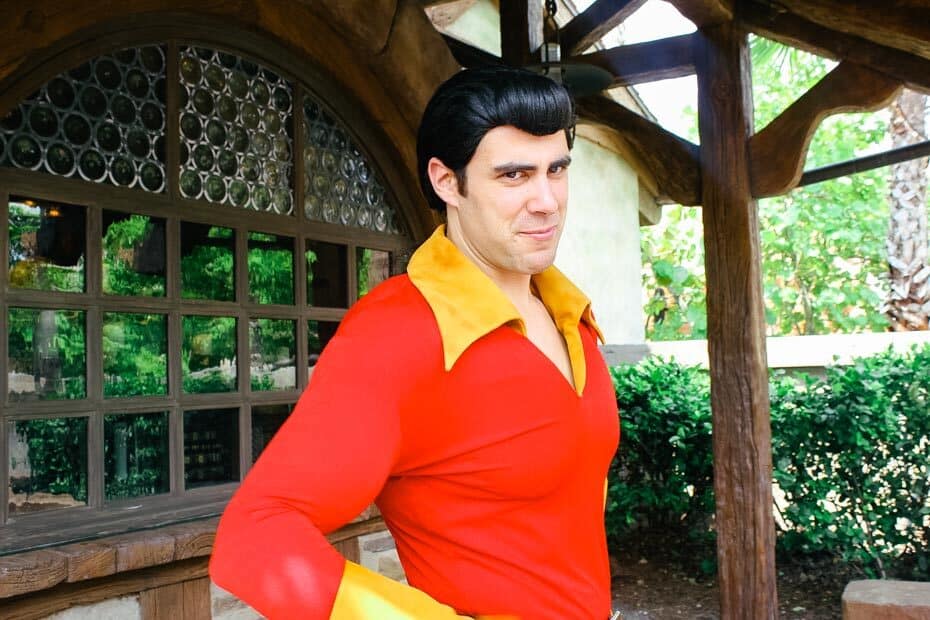 Gaston is a "timing" character. Meaning he comes and goes at certain times, and you will need to check his schedule on the My Disney Experience app for the particular day of your visit.
He will strike a pose and flex those muscles; you don't even have to ask. Talk about a hilarious character meet, though. Gaston is for sure, and a visit that will somehow leave you strangely charmed?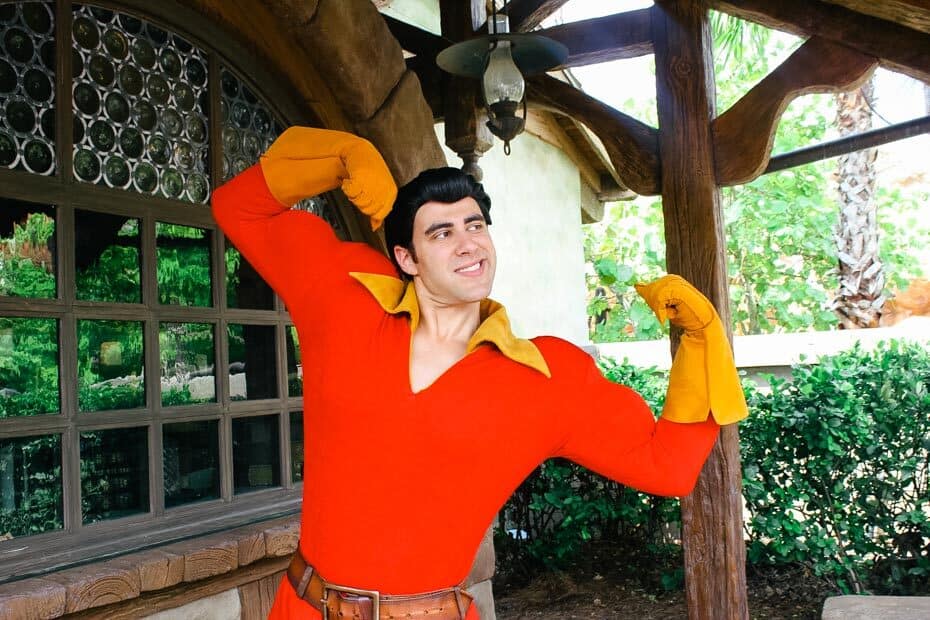 Maybe it's all those physical attributes? Or the way he is so in tune with himself? Either way, he is quite a catch….that you probably want to throw back when you are done with your meet. He is for sure the most arrogant of the Magic Kingdom characters.
And I'm sure Gaston will be more than happy to give you his autograph, it kind of goes with his personality.
Ariel
Just down the way from Gaston, you will find Ariel's Grotto. It's a great place to cool off on a hot, sunny day or if you need to find a little "Under the Sea" sanity again after that Gaston meet.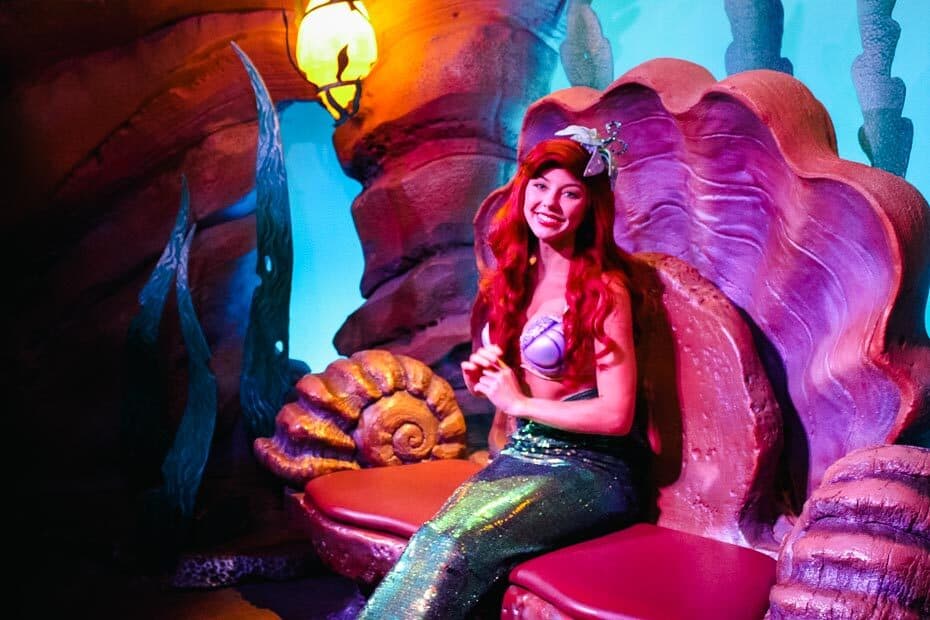 Ariel's Grotto is also located in new Fantasy Land between her ride and Storybook Circus.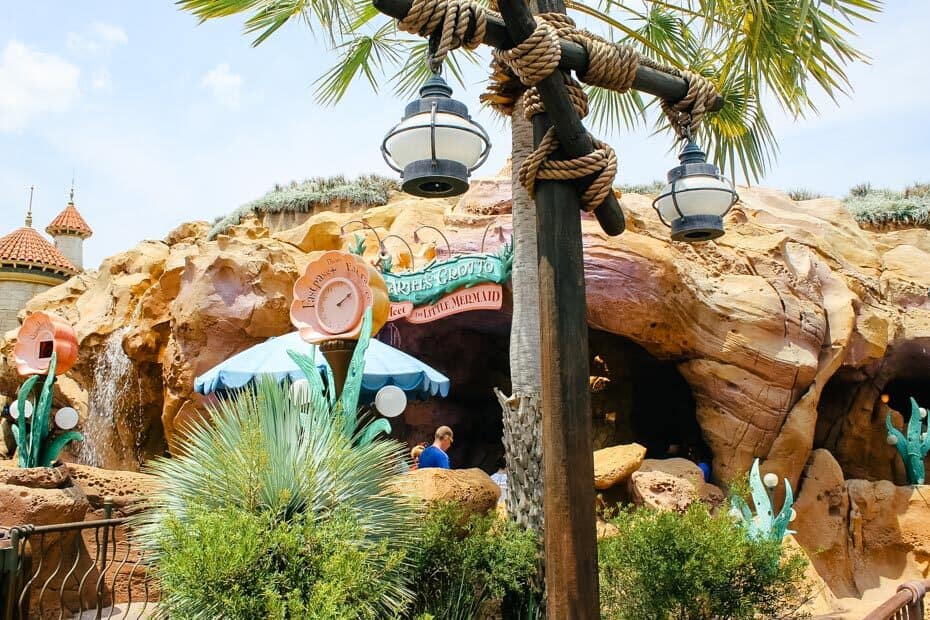 You will enter a tavern as you head under the sea to meet Ariel in mermaid style at her Grotto. This location is the only place at Magic Kingdom or any other park to meet Ariel as a mermaid.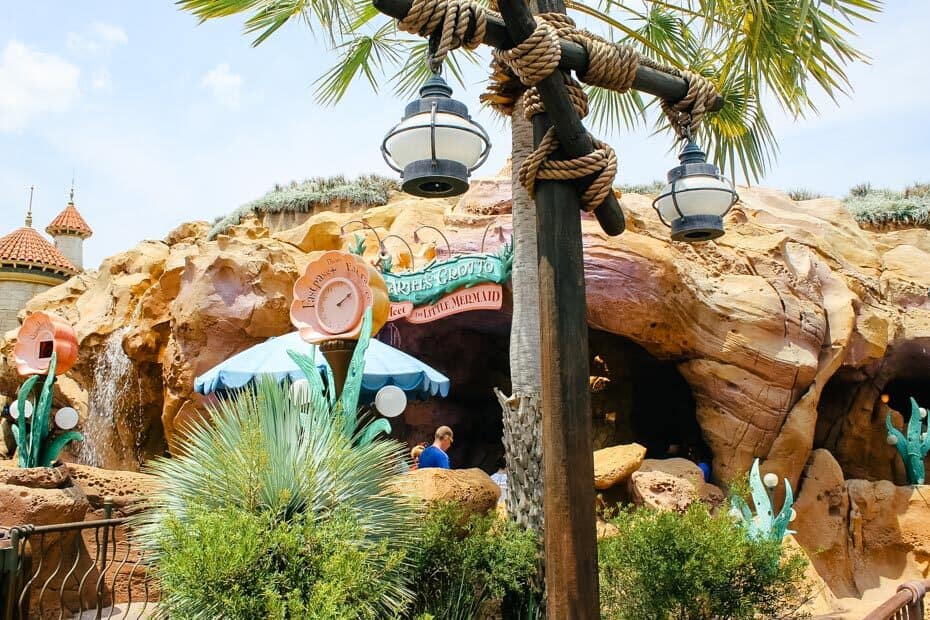 Ariel can hold long lines, but she is usually easy to meet during the early morning or late evening park hours.
She is sitting in her shell where you can join her for an autograph and picture. You can delight in chit-chat with Ariel about thing-a-mu-bobs (she has plenty). I have recently met her twice, and she wanted to know if I had a dingle-hopper on both occasions. A dingle-hopper is a fork humans use to comb their hair, in case you were wondering.
Buzz Lightyear
Blast off over to Tomorrow Land to meet with Buzz Lightyear. Unfortunately, the Buzz Lightyear character meet is not a dedicated indoor meet, so that he won't be out in the event of poor weather. He also meets daily at Hollywood Studios in Toy Story Land.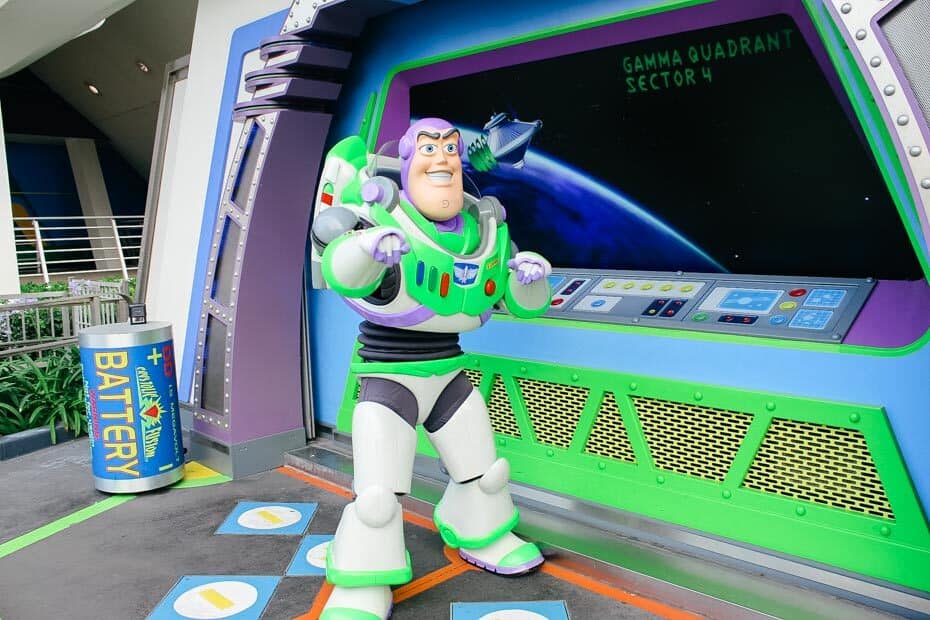 Buzz Lightyear meets between his ride Space Ranger Spin and the Carousel of Progress.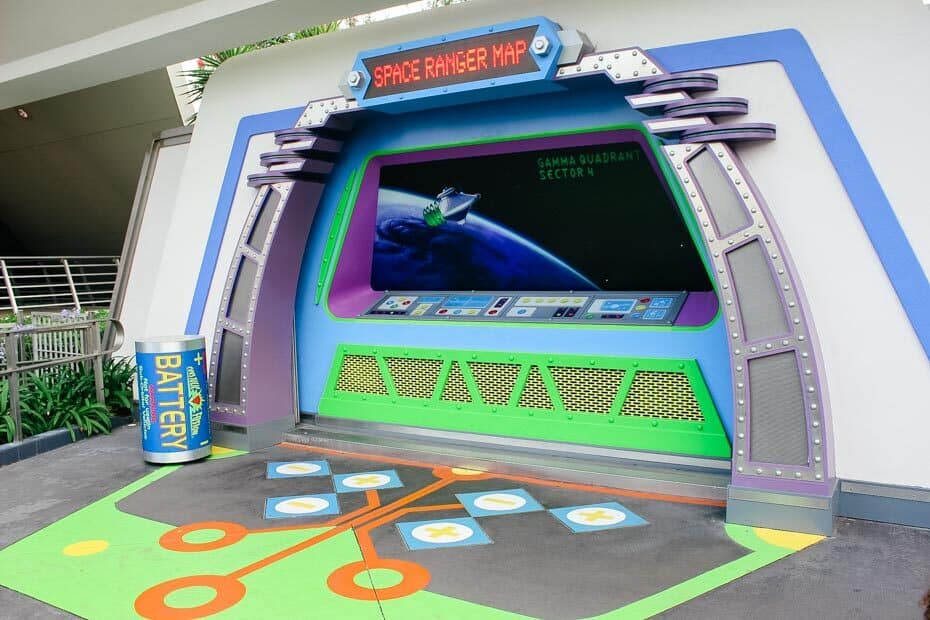 Here is a look at his outdoor meeting area. Buzz Lightyear is another "timing" character. I often find him meeting between 3:50-6:25 p.m.
This leaves a minimal afternoon time to meet him. Make sure you check the app for timing on the day of your visit.
Buzz Lightyear is a fun and friendly meet. While he is not a true signing character, he does have a stamp to put in your autograph book at the meet. Below is a picture of his stamp that rests on the battery next to his area.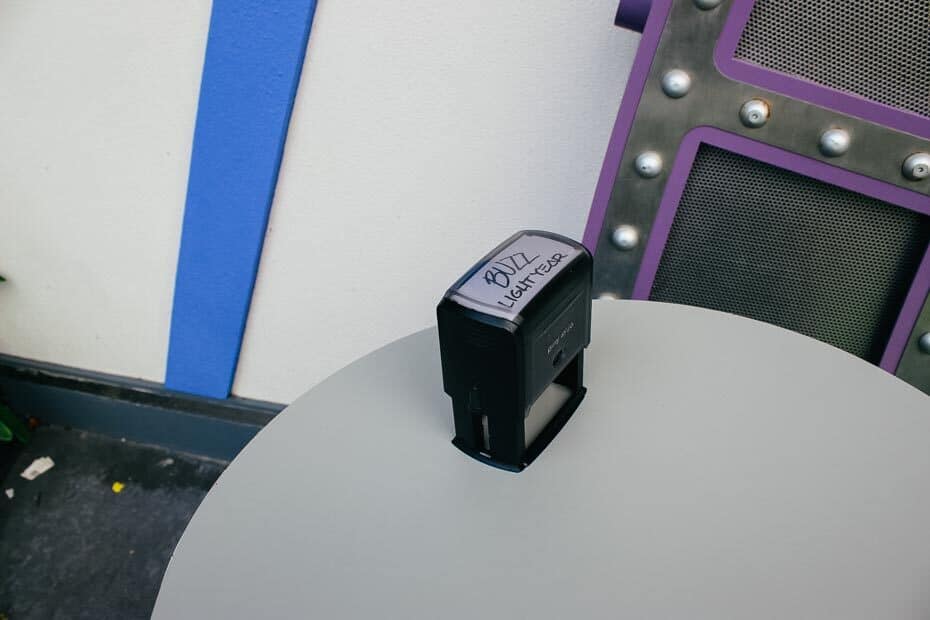 Merida
Merida meets to the right side of the castle in a large outdoor queue. The queue is located on the left-hand side of the castle path that heads directly to Mad Hatter Tea Party. If you reach that point, you have gone too far, turn around and head back toward the castle.
This was my first time meeting Merida, and I was pleased with the interaction between her and the guests. True to her character, she expressed interest in having brothers, archery, and just being brave in general.
She is more of a hero-type princess. Similar to Rapunzel in a lot of ways, except no true male companion.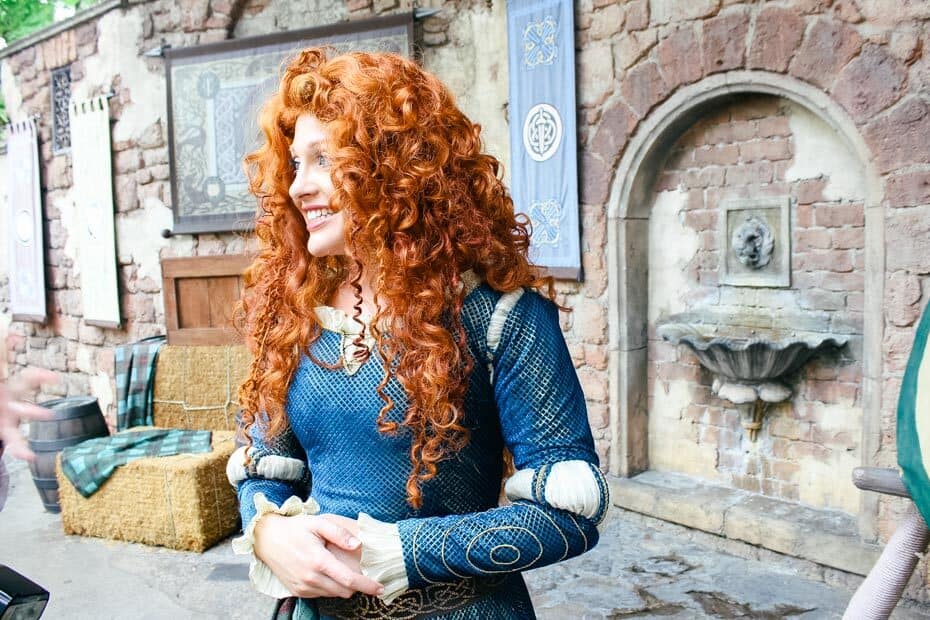 Different from most meets, Merida is found in this circular outdoor area. The line starts out the walkway to the castle. This interior area is closed off, and they let about 10-12 people inside at one time.
Once inside, you can anticipate meeting Merida within just a few minutes. However, that depends on the length of the guests' visits ahead of you.
I was pleased with this side profile picture I took of Merida during our meet. She was very old-fashioned and didn't know what a "blog" was but was more than inclined to take a few pictures for it.
Talking to a few guests while in line, I realized what a popular meet Merida is for many. It might be a fun idea to watch Brave before your next trip. She will also be happy to provide an autograph.
Winnie the Pooh (with Tigger)
TTFN-Ta Ta For Now! I had to look that one up to get it right. Tigger and Winnie the Pooh are another popular and partially outdoor meet.
They typically meet in increments between 3:15 p.m.-7:35 p.m. They can hold a long line, so make sure you are willing to stand in it.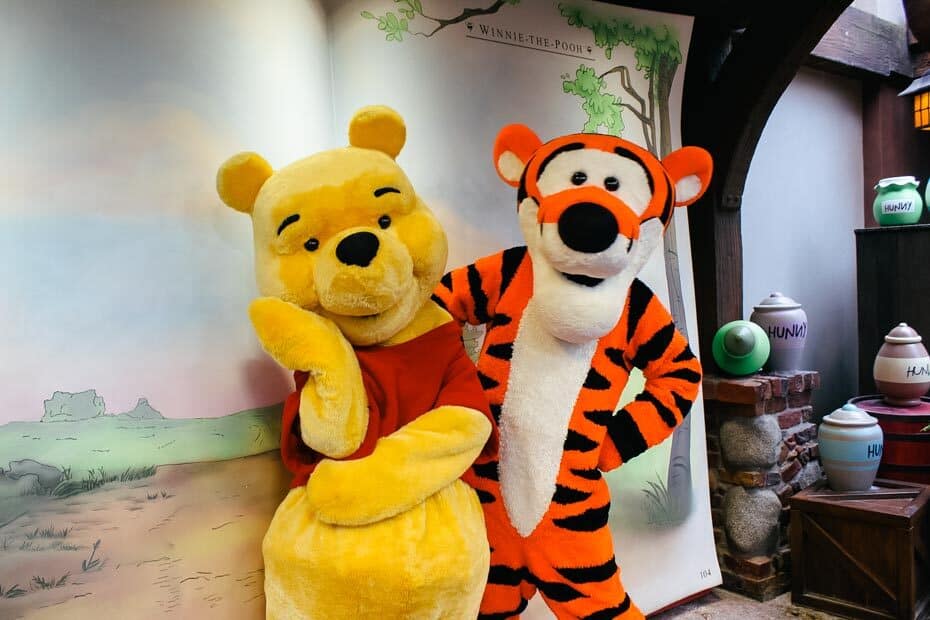 These two meet together and can be found in Fantasy Land to the left of their ride-The Many Adventures of Winnie the Pooh.
If you happen to walk by, there is a sign for their meet. The sign indicates the daily times of the visit.
These characters do not speak, but they will autograph your book. Here is a look below at their queue. The waiting area is outside, and they meet under a shaded, covered area. It is entirely outside, and they will leave in the event of a storm.
Make sure to prioritize this meet or prepare to wait for them. On the day of my visit, they were one of the longest characters I waited to meet. Winnie the Pooh also meets at Epcot in Christopher Robbin's room in the United Kingdom Pavilion.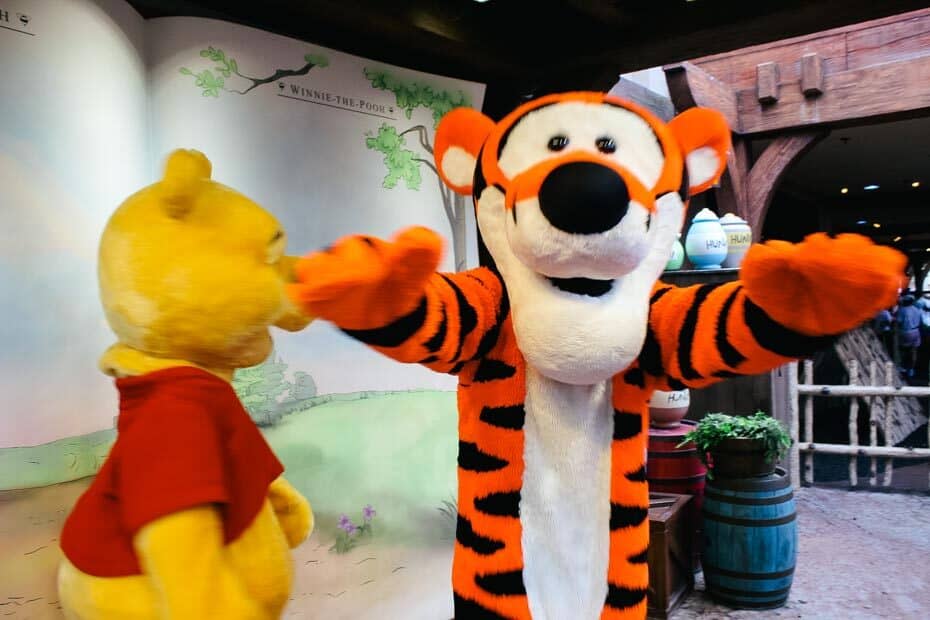 Belle
While not a true Magic Kingdom character meeting, Belle can be found at her attraction, Enchanted Tales with Belle. This is another popular attraction, especially for smaller children. It is the story of Beauty and the Beast with audience participation.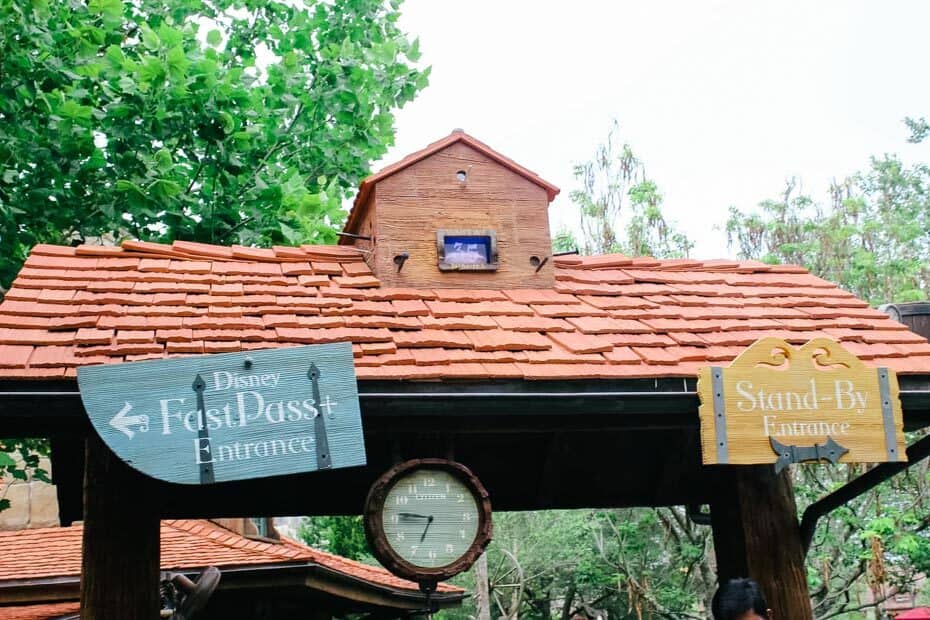 Anyone that wants a part can participate, and everyone gets a quick opportunity to have their picture made with Belle. In the end, you will receive a PhotoPass card with access to download your pictures. They also give out a bookmark encouraging reading at the end to everyone. It's a nice touch and a must-do for anyone interested in meeting Belle or a passion for performing arts.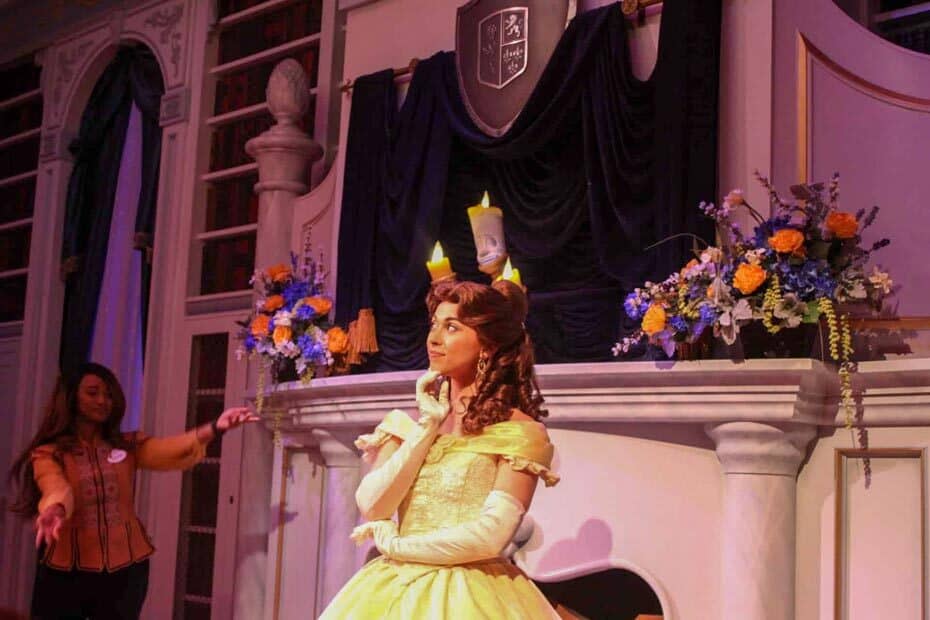 Enchanted Tales with Belle is listed in the attractions portion of the My Disney Experience app.
Belle also has a character meet in Epcot at the France Pavilion. Read more about it here.
Aladdin and Jasmine
Are you ready to meet another Disney duo? Step right up to this meet if you can find the end of the line over in Adventureland in Magic Kingdom.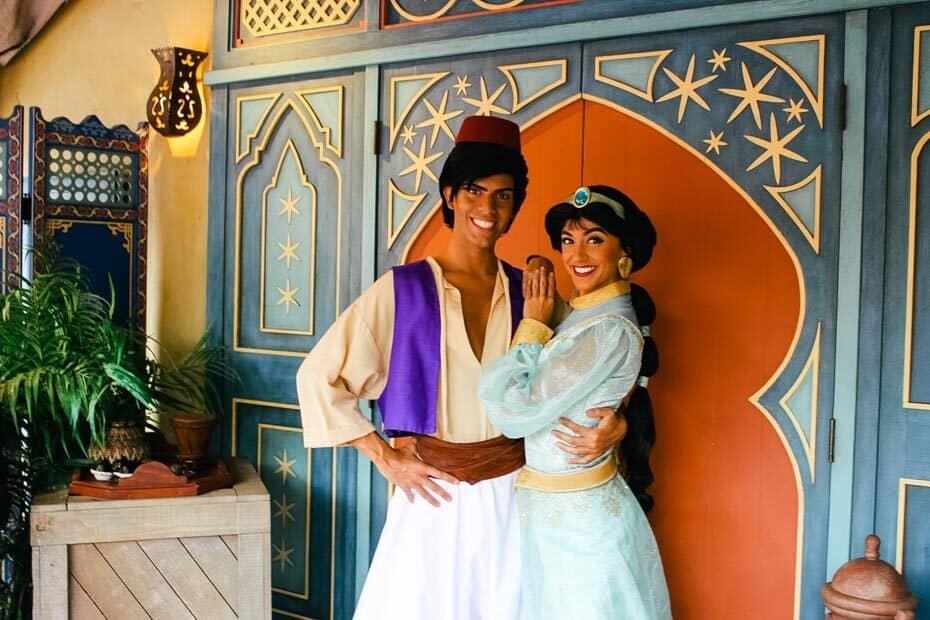 This day I had them on my list and thought I would show up a few minutes early so I could get a spot toward the front of the line. I got to the line 5 minutes early and found this situation below.
I ended up getting there 5 minutes before the start and still waited a total of 40 minutes to meet them.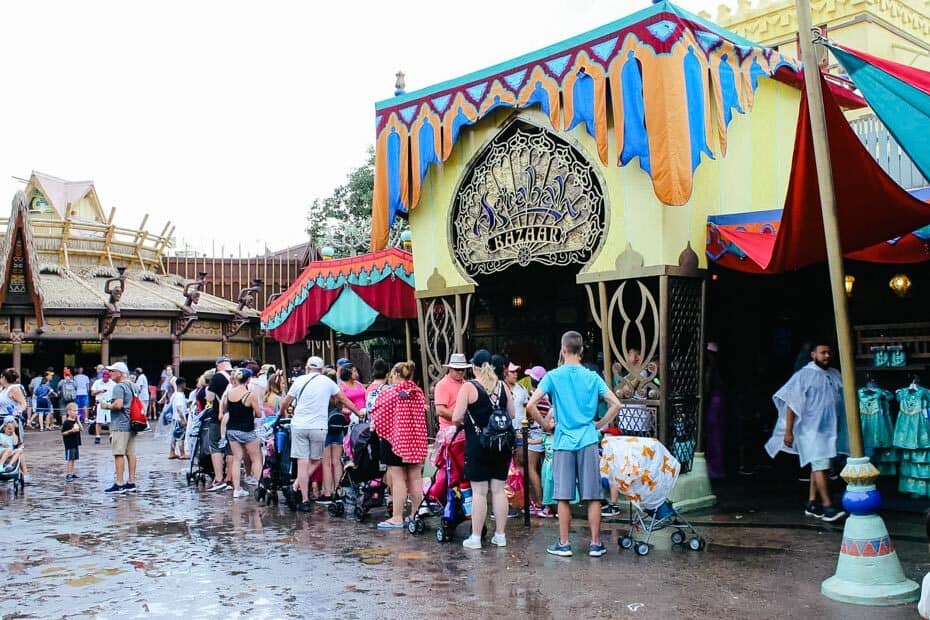 It had even rained, as you can probably tell from the picture. The line ended up getting cut off by a few people behind me. Meaning if I had not gotten there early enough, there would not have been an opportunity for me to meet them during this set. Keep this in mind if they are a priority on your character list.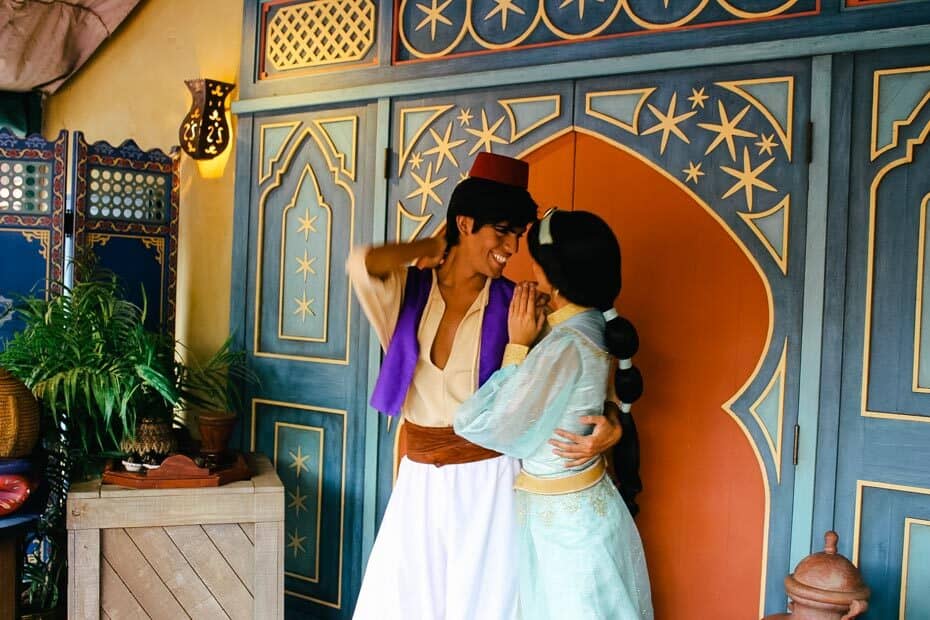 Peter Pan
This is one of the character experiences I was looking forward to while planning my visit. Peter Pan is located to the right of his ride in Fantasyland at Magic Kingdom.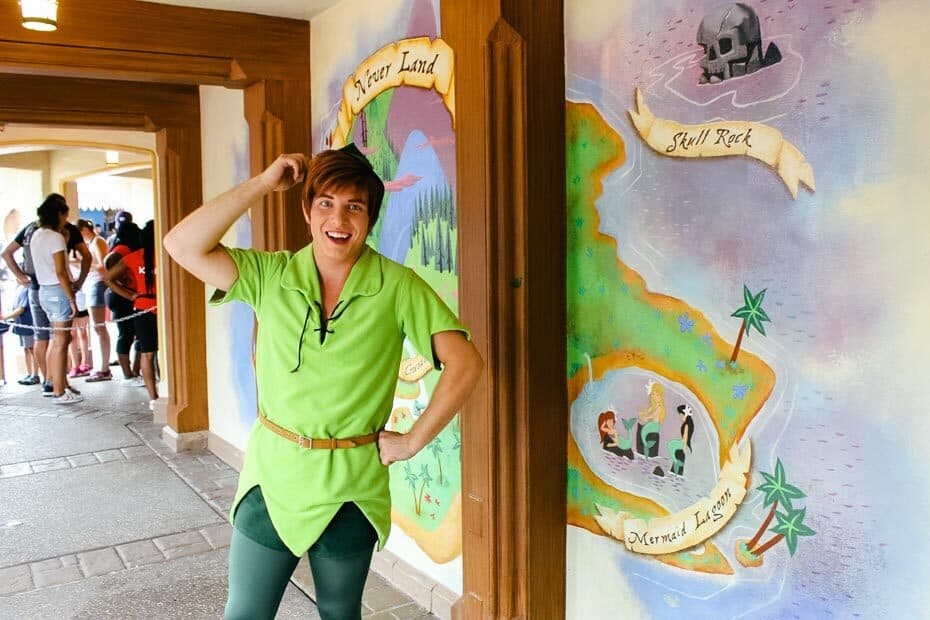 Here is a look at his area when the location is empty. Peter Pan is another popular character meet at Disney World! Make sure to meet him right after the afternoon parade to get a priority place in line!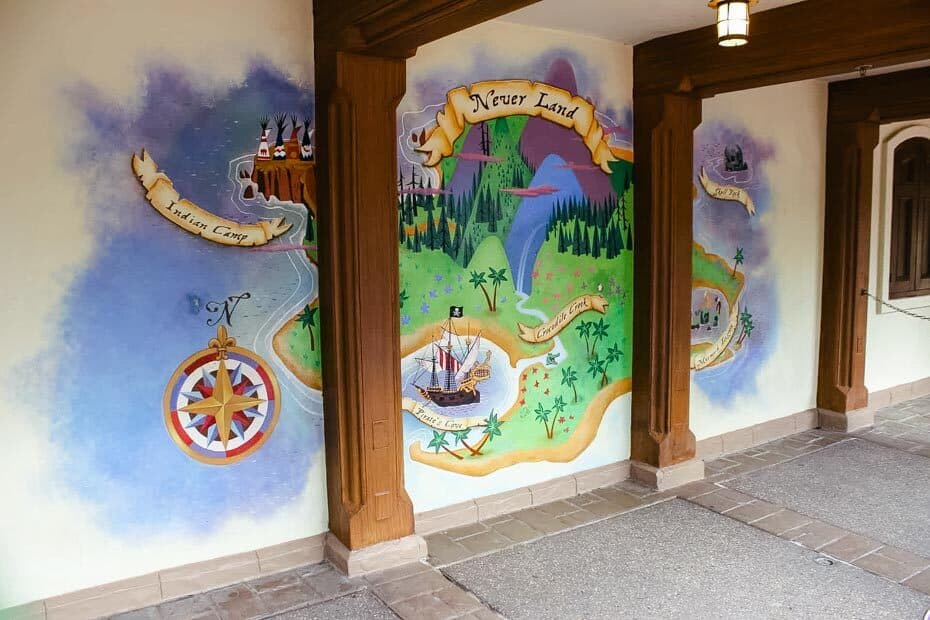 Here he is meeting with the family in front of me. As you can see, they have their autograph books out and ready for the meet. He will be happy to sign your autograph book.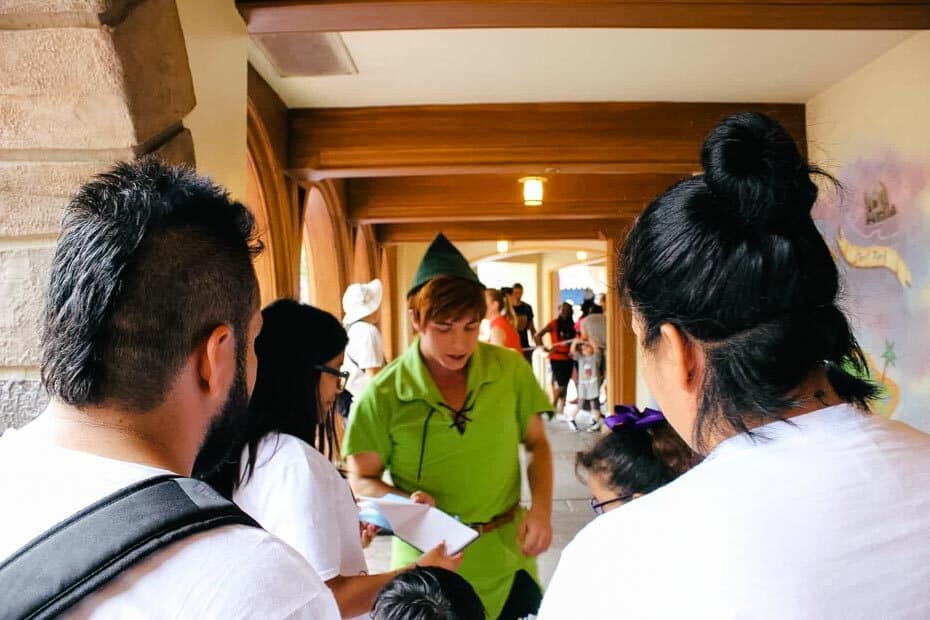 Peter Pan likes to show you his map on the wall. He also loves stories! You might want to share your favorite story with him during your visit!
Jack Sparrow
Jack Sparrow from the popular Pirates of the Caribbean movie series can be found roaming around Adventureland from time to time during the day. His timing wasn't listed when I checked for him on the day of this visit. I asked a cast member in the area, and they said if the weather prevailed, he would come out again around 5:00 p.m.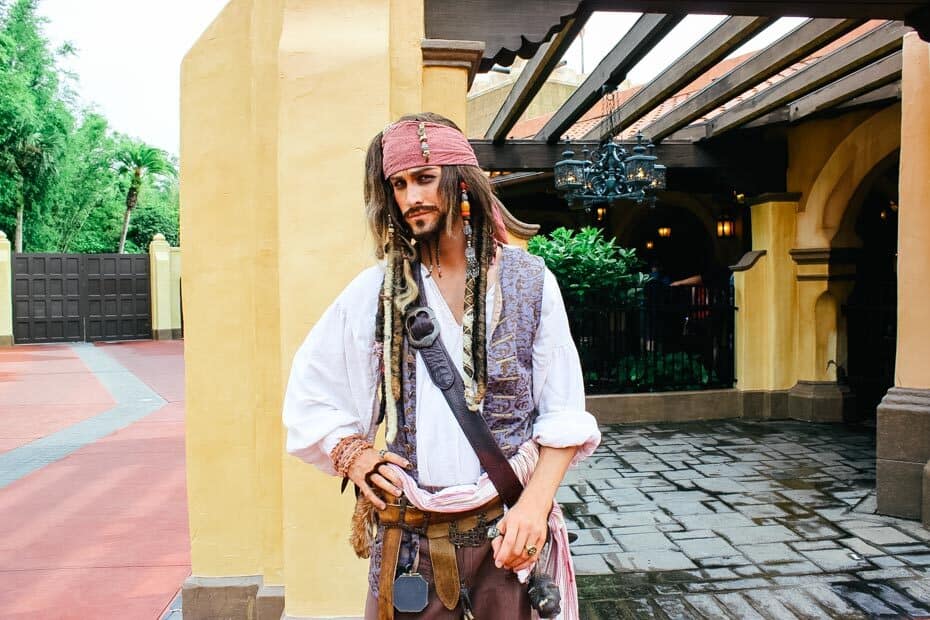 It was only a matter of luck for me this day. I met Aladdin and Jasmine, then took a spin on the Pirates of the Caribbean ride. When I walked out of the exit, there is Jack Sparrow passing by right in front of me!
Of all the characters, he seems to be one of the more difficult ones to find! He was also quite fun! If you like pirates, I do.
Adventureland is the only place to meet Jack Sparrow at Walt Disney World,
Pete's Silly Side Show
Toward the back of Storybook Circus, you will find the opportunity to meet five Magic Kingdom characters. The area is located behind Storybook Circus Souvenirs and Casey's Splash pad area. Here you will find Goofy, Minnie Mouse, Daisy Duck, Donald Duck, and Pluto.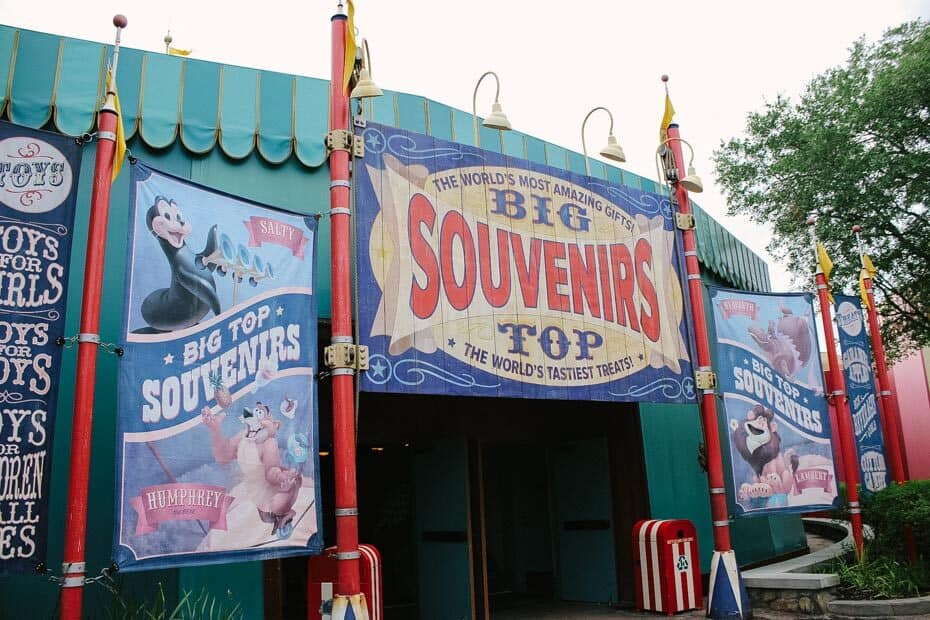 There is a meet on the right-hand side for Goofy and Donald Duck. And Daisy Duck and Minnie Mouse on the left-hand side. Each line allows you to meet two characters.
Goofy will be your first visit if you elect the Goofy and Donald side.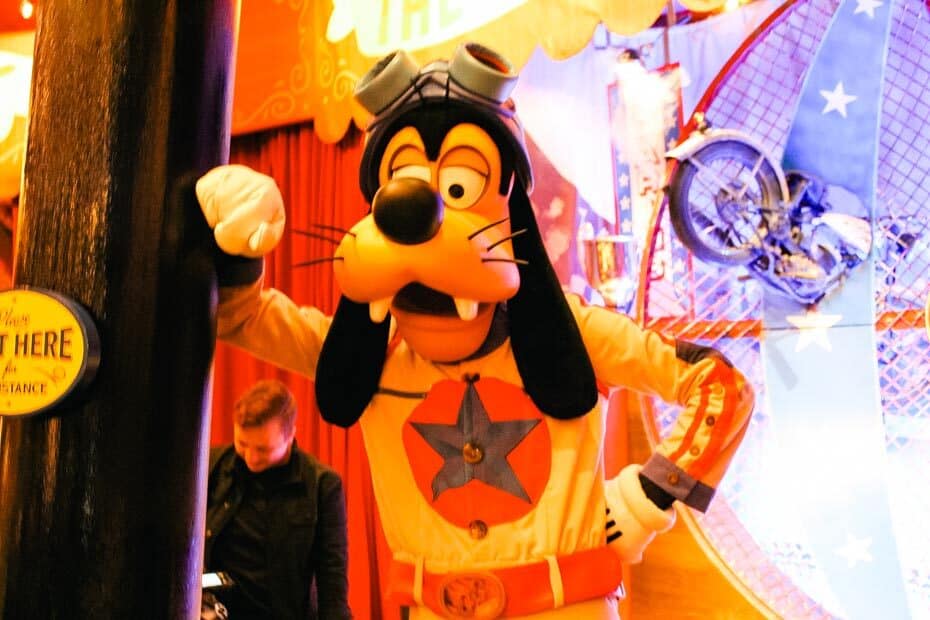 He even took a bit of a trip on the way up to meet me in a very Goofy-like manner. Goofy also likes to show off his trophies! Make sure to compliment him if you get the chance. He is very proud.
Another of the fabulous Magic Kingdom characters is Donald Duck! Look at him! He is always ready for a meet.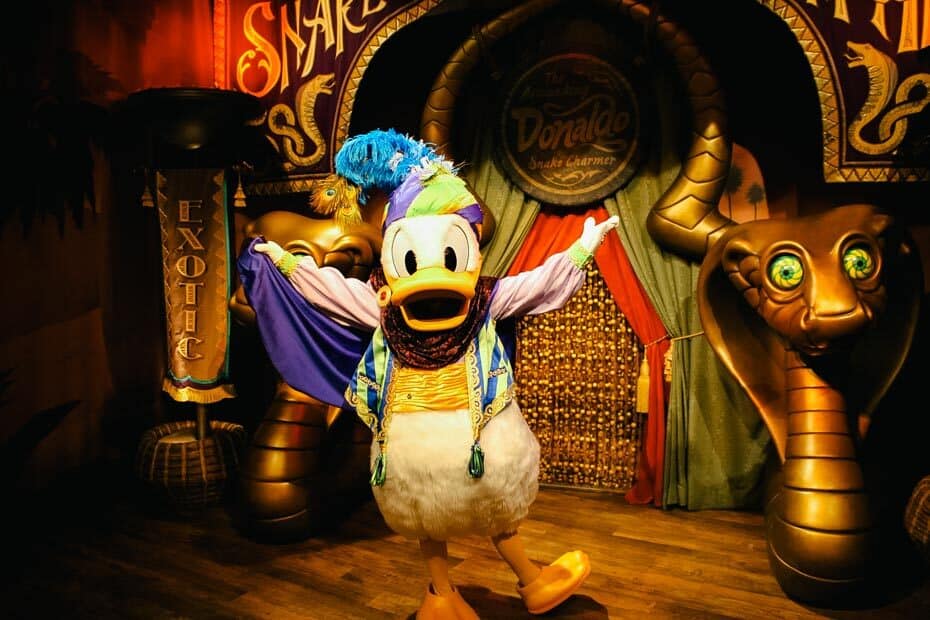 On this visit, he was a little embarrassed. When it was my turn to meet him, the children behind me were so excited that they ran up in front of me, and he thought they were next. It's okay, Donald! I'll wait, no problem.
This gal can be found just across the way in line with Pluto. Daisy is in fortune teller fashion and even has a crystal ball.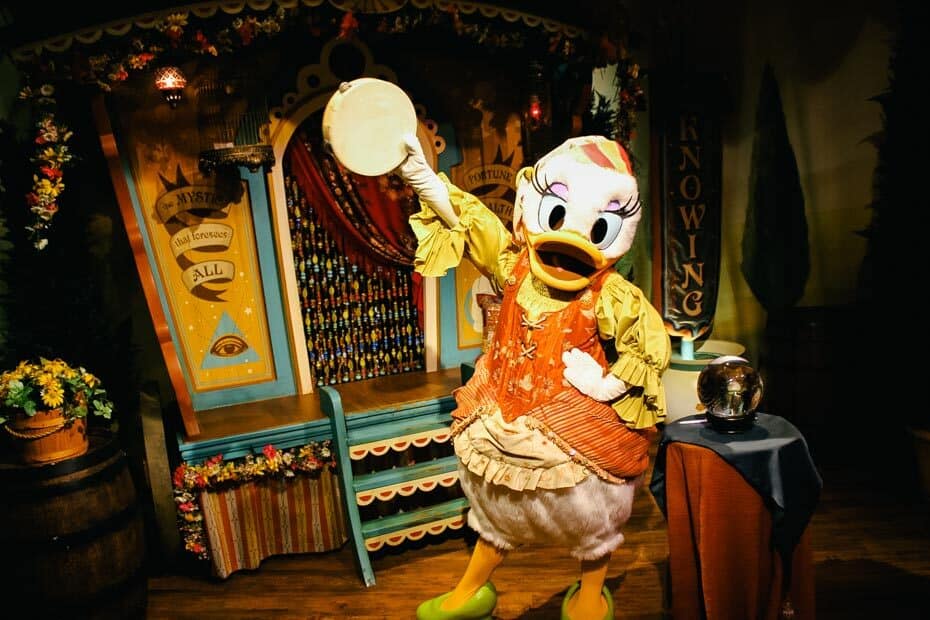 She might even be considered a bit of a Gypsy back here. This is circus-themed, after all. She is a lot of fun to meet and very kind.
Minnie Mouse is now meeting back at Pete's Silly Slide Show next to Daisy Duck. Here is a picture of her character meet.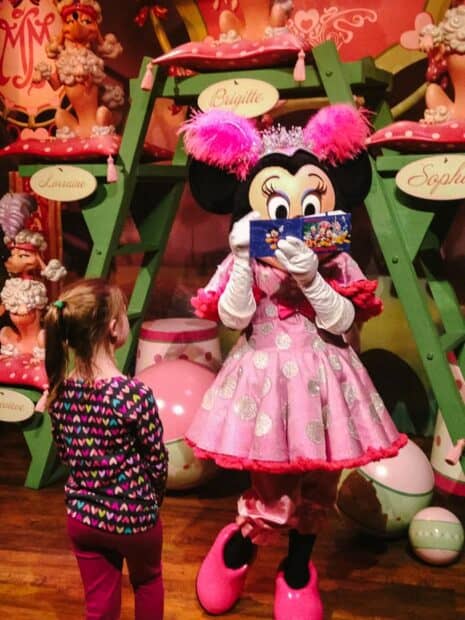 She likes to sign autographs. It's a great meet to do when it's raining because each line provides the opportunity to meet two characters. One side is Daisy with Minnie, while the other is Donald with Goofy.
Pluto is now meeting in The Storybook Circus Calliope Tent. This is the tent next door to Pete's Silly Slide Show behind the Casey Jr Splash area. These pictures should be similar to what you will find at his meet. He has just recently moved over from Pete's Silly Slide Show.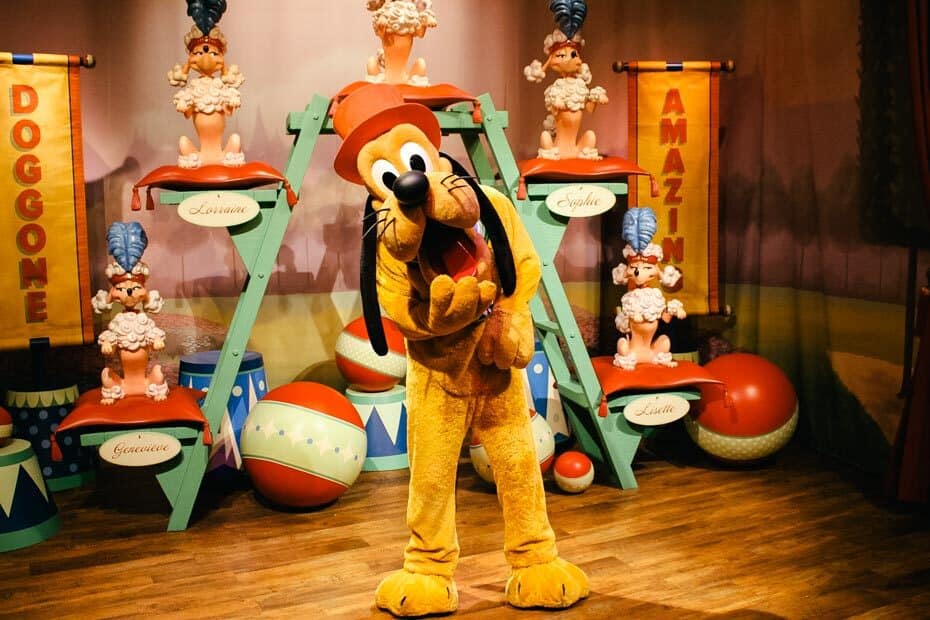 The friendliest!
Donald and Daisy Duck, Minnie Mouse, Goofy, and Pluto meet at Epcot, Hollywood Studios, and Animal Kingdom.
Alice
Alice can be found during the morning to early afternoon, typically next to Mad Tea Party in Fantasyland. She meets right here on the walkway coming up from the side of the castle.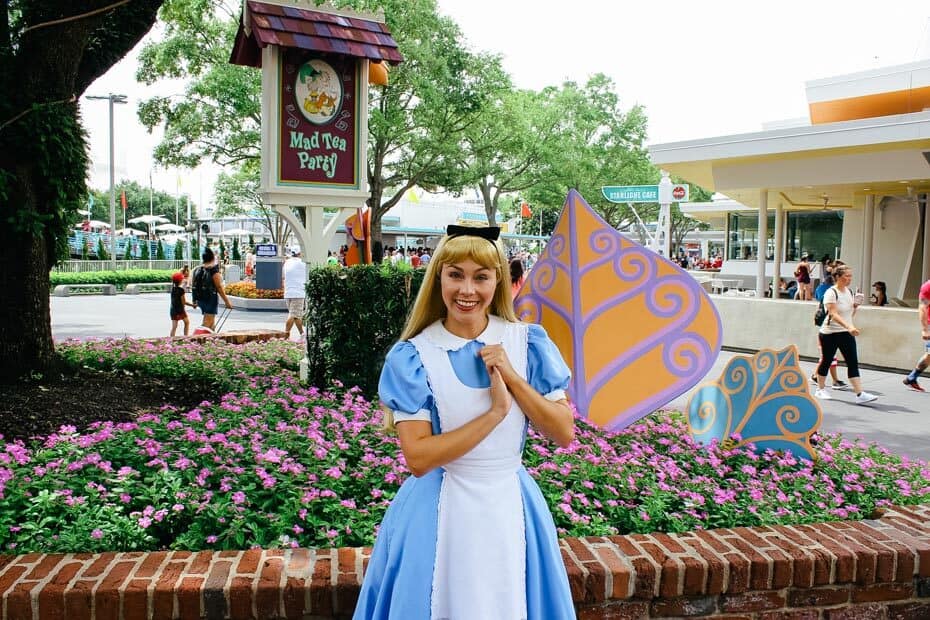 If you find this sign and get there early, you should be in good shape! Alice likes to remind you about the time and not to be late! She also might mention the White Rabbit and how he is difficult to find and is always running late!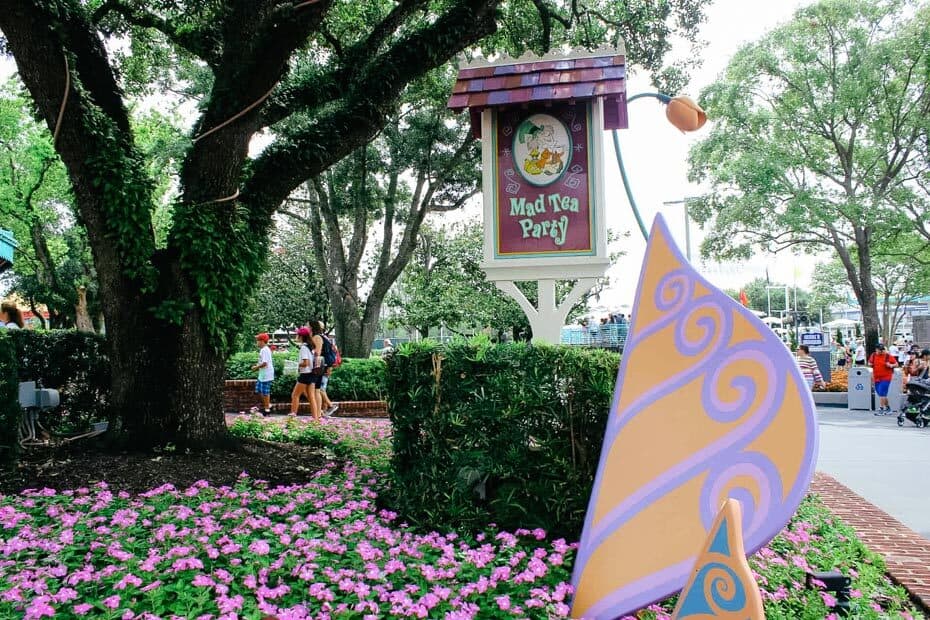 She will provide an autograph. Alice meets daily at Epcot in the United Kingdom Pavilion.
Mary Poppins
Mary Poppins meets in the gazebo at Liberty Square. She was the most challenging meet for me to find. It finally clicked that she met where Tiana used to meet before moving to Princess Fairytale Hall. Then I knew exactly where to find her. It is a bit off the beaten path.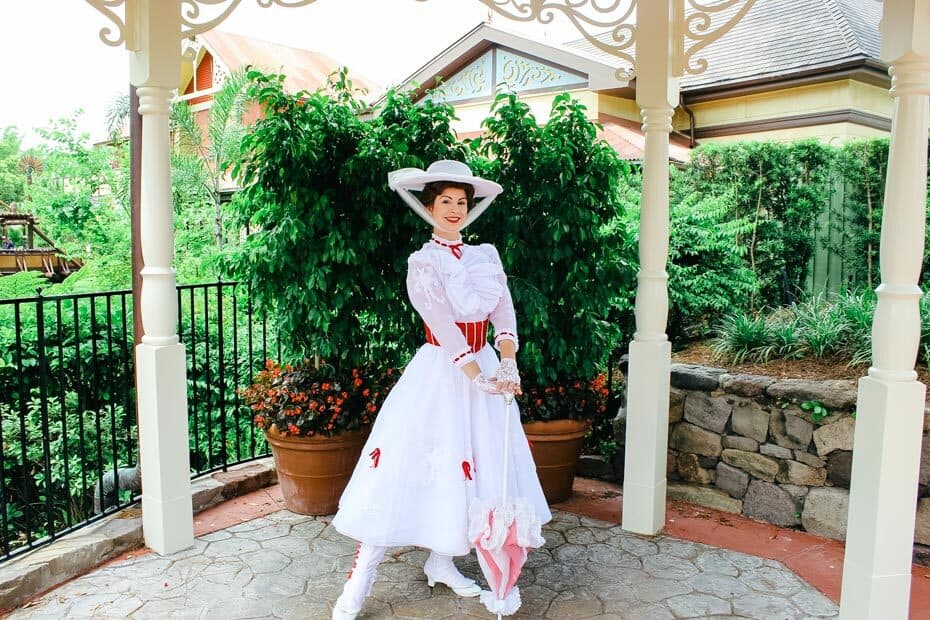 If you are familiar with the location of the Ye Olde Christmas Shoppe, you are on the right path. She is right across from that area!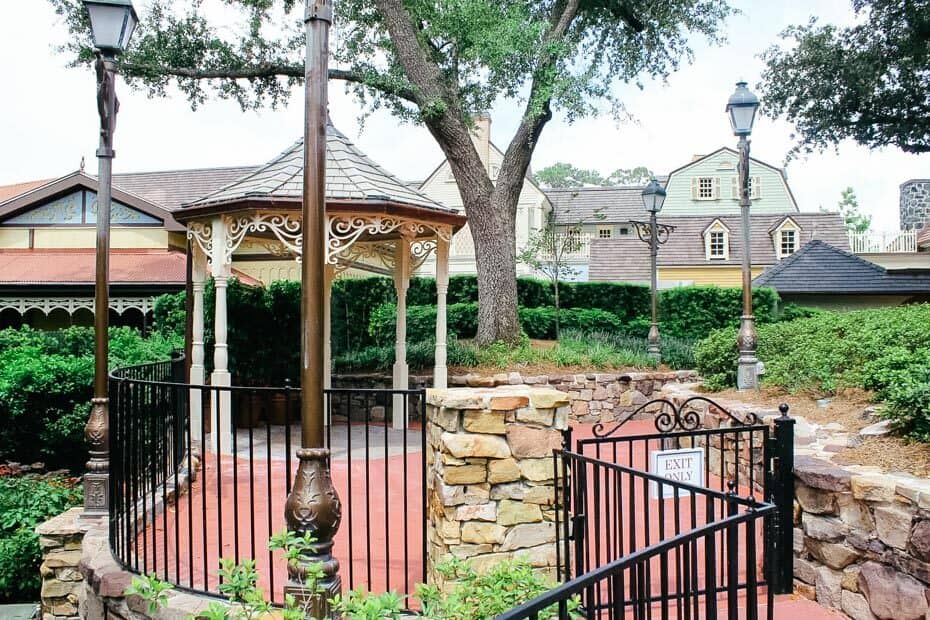 Mary Poppins is practically perfect in every way. Occasionally she meets with Bert so you are in for a treat if you find the duo together. From my understanding, Bert meets in his striped Jolly Holiday suit.
The only other place to find Mary Poppin's character meet is at the United Kingdom in Epcot's World Showcase.
Snow White
Snow White is located in the Town Square Gardens at Magic Kingdom. This location is to the far left of the flag pole next door to City Hall when you enter the park.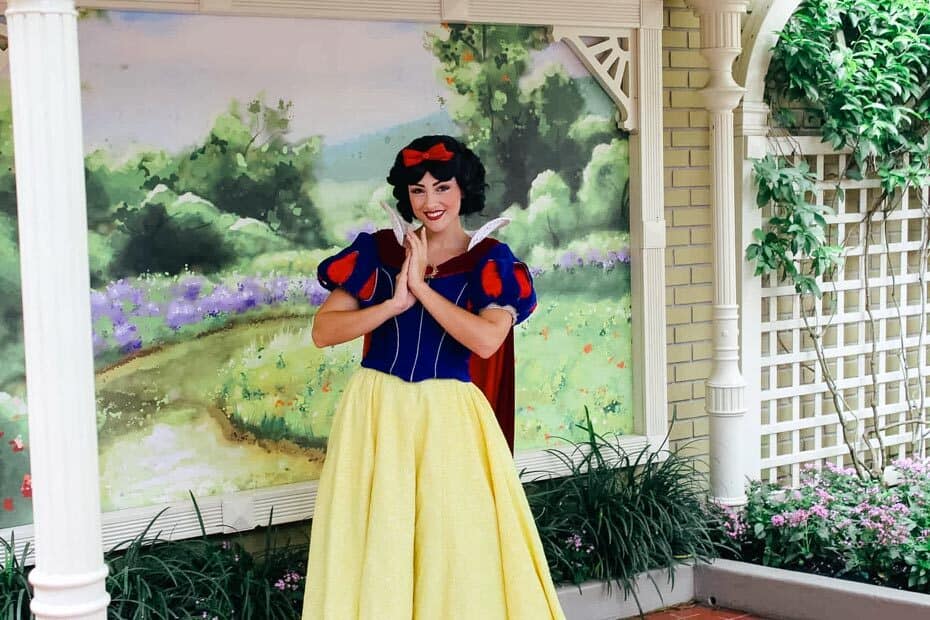 Snow White can also be found at her wishing well in the Germany Pavilion in Epcot.
Related: Meet Snow White at Disney World
Anastasia and Drizella
Probably the most extreme of all the character meets at Magic Kingdom, but so worth it, Anastasia and Drizella! Try to be in the area when they first come out. It's always funny to see the drama they create as they make their way to their character meet location at the Fantasyland wall.
Check the app for their location on the day of your visit. They also sometimes meet at Cinderella's Fountain on the side of the castle.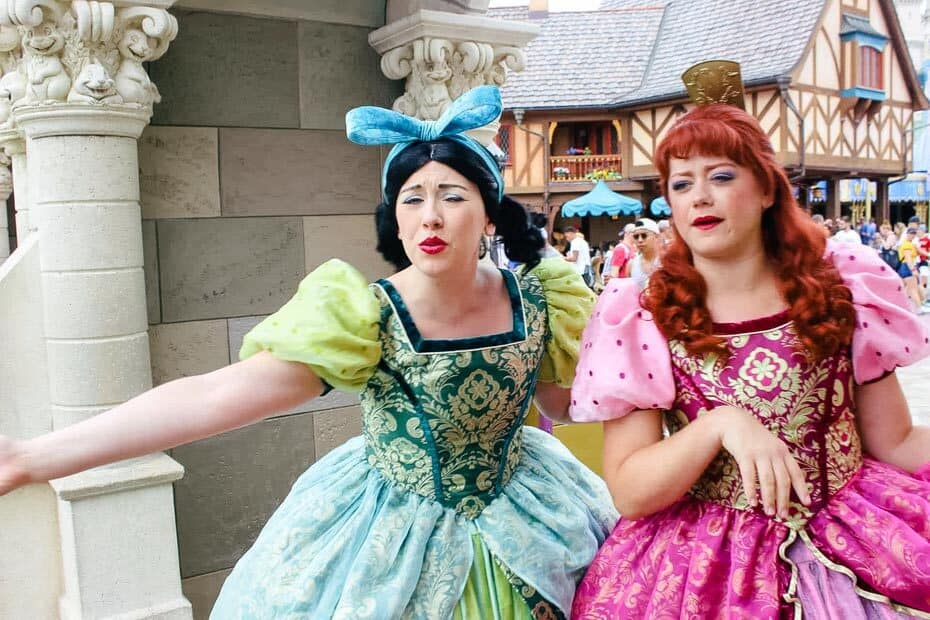 Occasionally they are replaced by the Fairy Godmother, but she is a rare character. A cast member told me the Fairy Godmother rotates days with these two and usually visits here 2-3 days a week. This is the only location within the parks to meet these two sisters.
Related: Meet Anastasia and Drizella at Disney World
Fairy Godmother
Recently, I ran into the Fairy Godmother by chance. Unfortunately, her line was closed off for the day. Here is a picture for reference.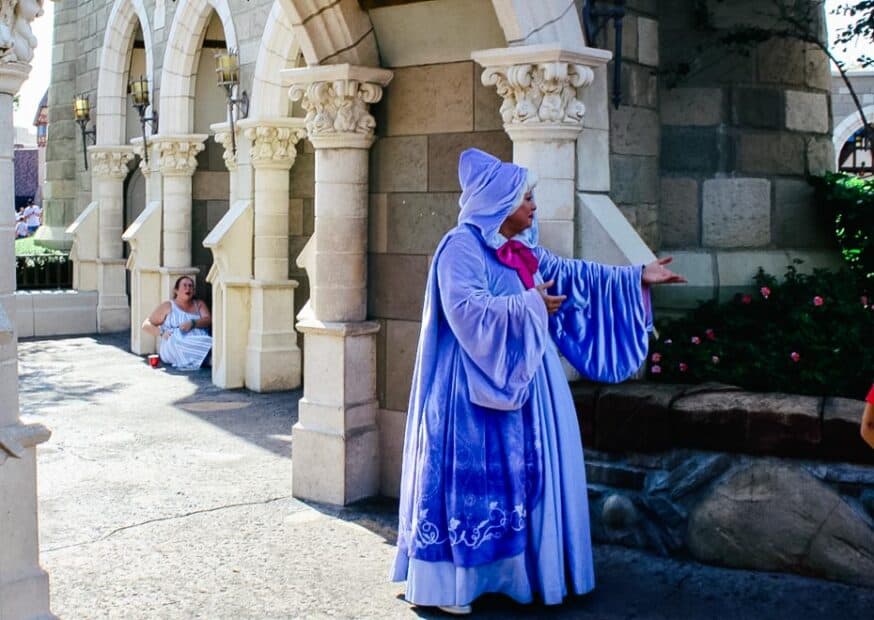 Anyways back to the less endearing of the rotating meets in this area.
Cinderella's stepsisters will fuss and fight about who is the prettiest and most desirable. Make sure to give them a good argument to make for a better meet. It's really the only way to earn their respect!
You can tell in the picture below that one was for sure I favored the other more and didn't have the time of day for me! What a delight, hopefully, your visit will be as miserable (in a good way) as mine!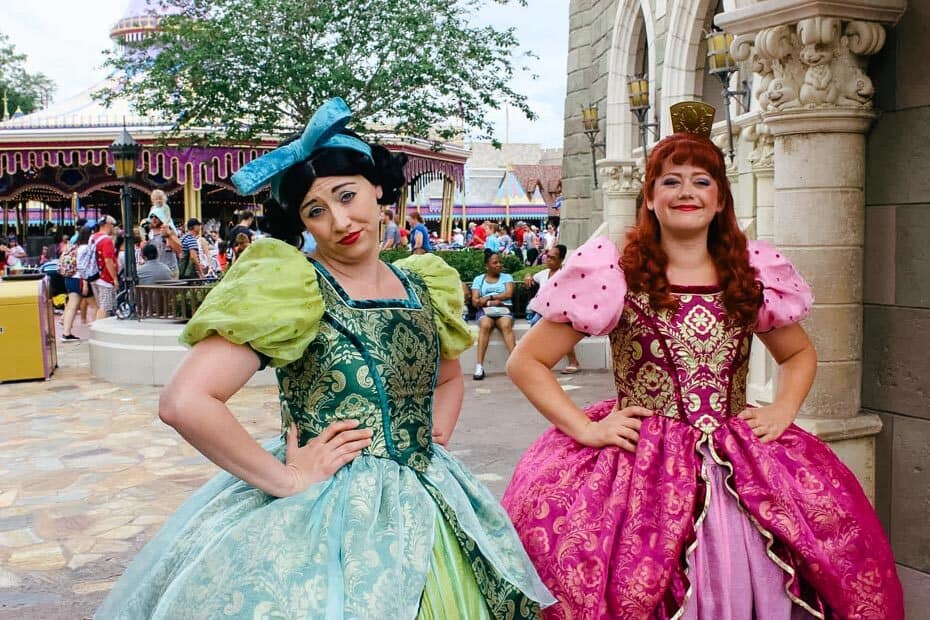 Country Bears
Country Bears can be found from time to time roaming in Frontierland. They are not usually on the app, and you have to step right up quickly if you want a picture.
These guys are true roaming characters, and they don't allow lines to form for them. If you see them out, you will need to catch them while you can!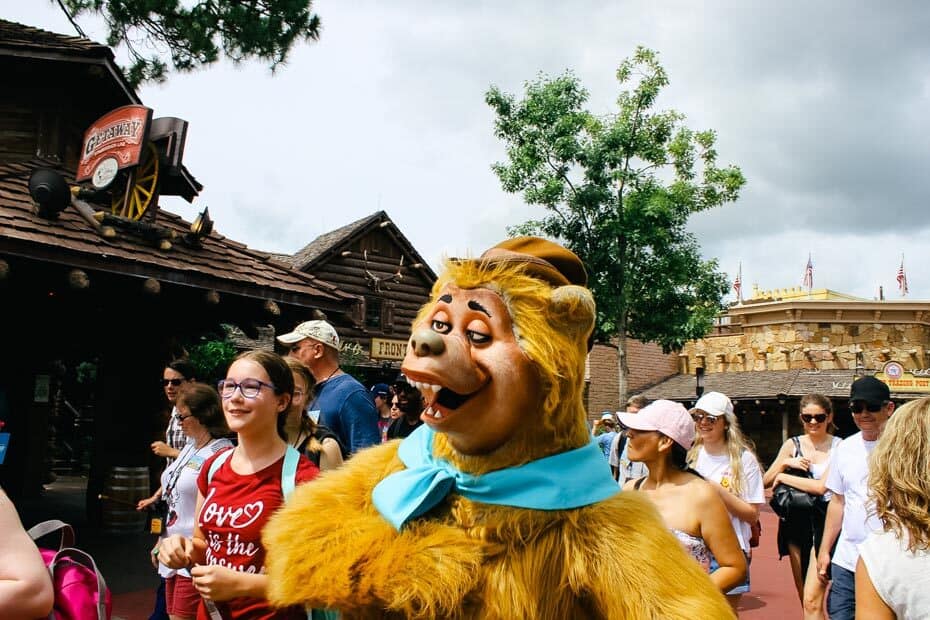 Here they are outside Frontier Trading Post right next to their "Country Bears" attraction.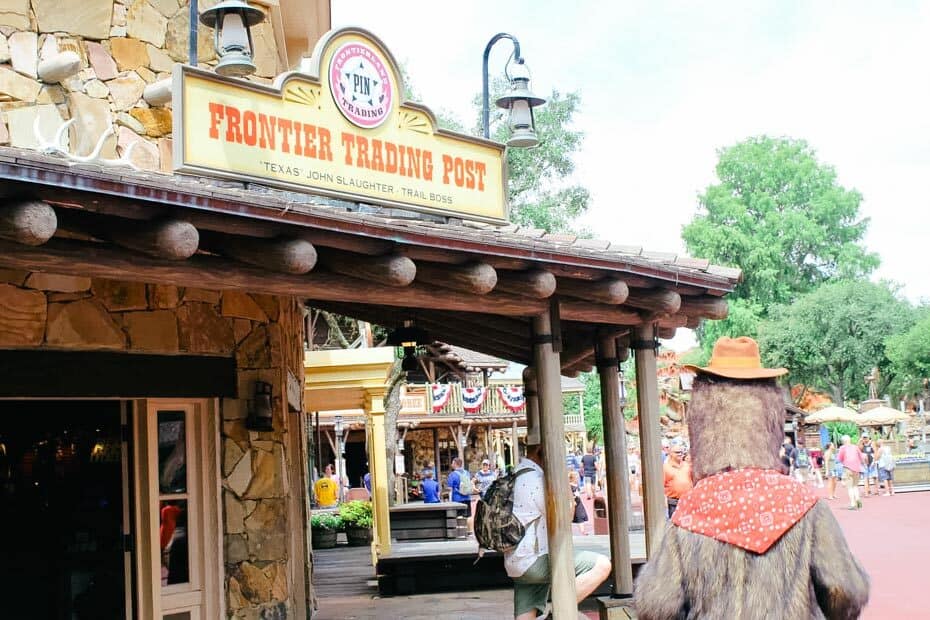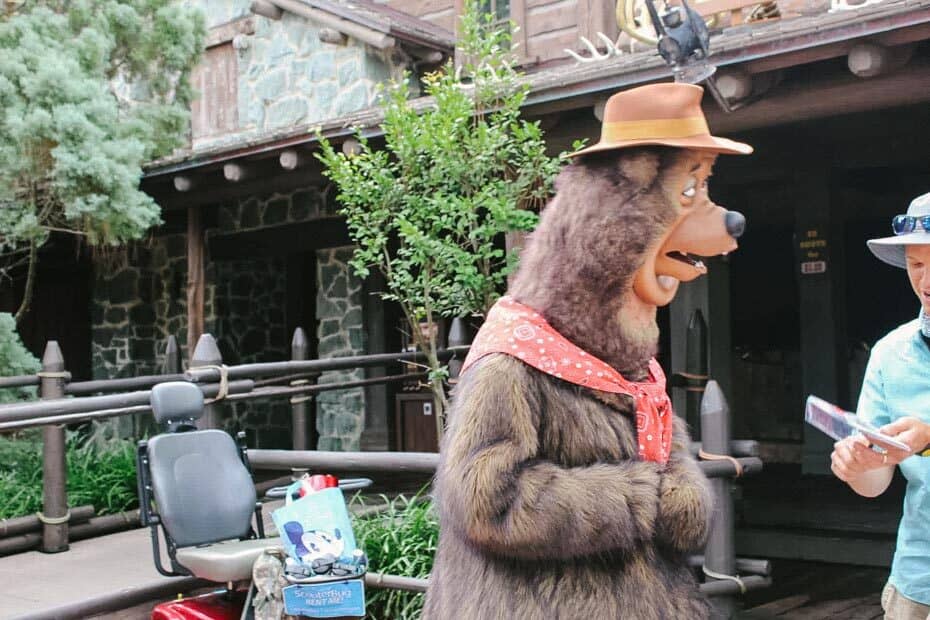 Stitch
Stitch can be found in the queue for his old ride in Tomorrowland. Stitch's Great Escape closed within the last year and was converted into a meet and greet area for this space doggie! He is the most energetic of Magic Kingdom characters!
This is another really long line at times! When I got in line for this meet, it was about 10 minutes before time to start. I was about 4th or 5th in line, and the queue was full when the visit began.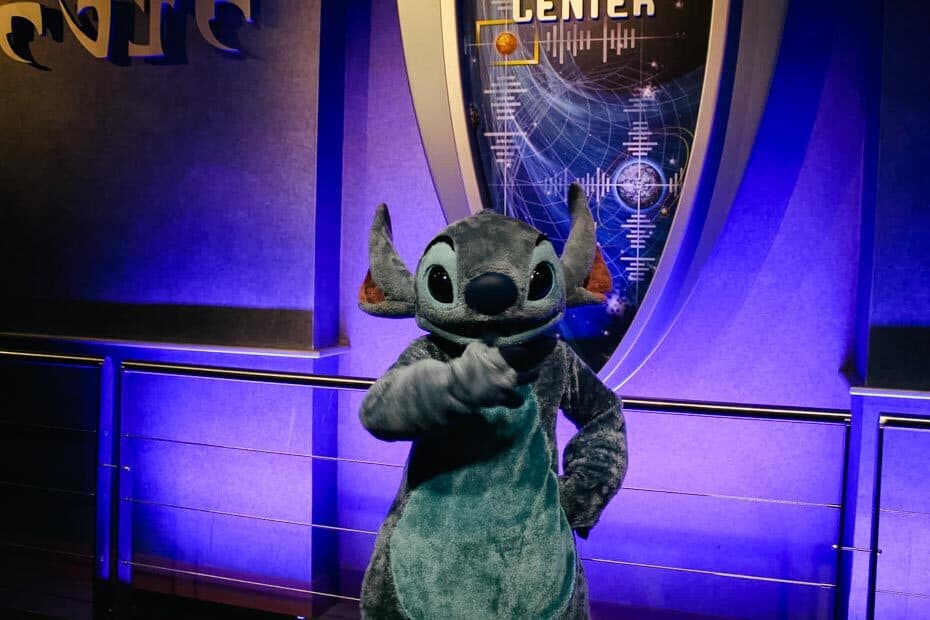 Stitch is an autograph character but doesn't talk.
He is quite a handful, as you can only imagine. But he is there to entertain and make sure you have a great meet during your time. Just expect a lot of energy from this friendly guy!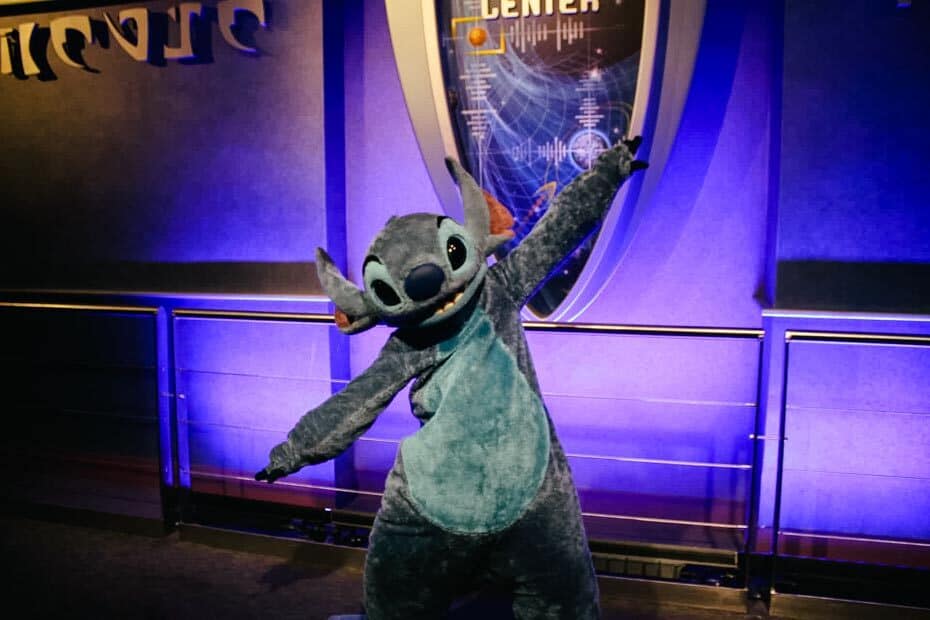 Stitch is not always the easiest character to find around Walt Disney World. Sometimes you might find him causing a little chaos at breakfast over at 'Ohana. Other days he might be catching a wave in the surf pool over at Typhoon Lagoon.
Chip and Dale
While I don't have a current picture, Chip and Dale are now showing on the My Disney Experience as a regular meet. Their location is at the Splash Mountain Exit Courtyard. It looks like they meet in the later afternoon on some days between 3:00–5:00 p.m.
Related: Meet Chip and Dale at Disney World
Other Magic Kingdom Characters
Now and then, you might run into a special character not listed in the My Disney Experience app.
For instance, this past year at Magic Kingdom, there were surprise characters at the flag pole on Main St USA nearly every day. This particular special visit has been recently discontinued.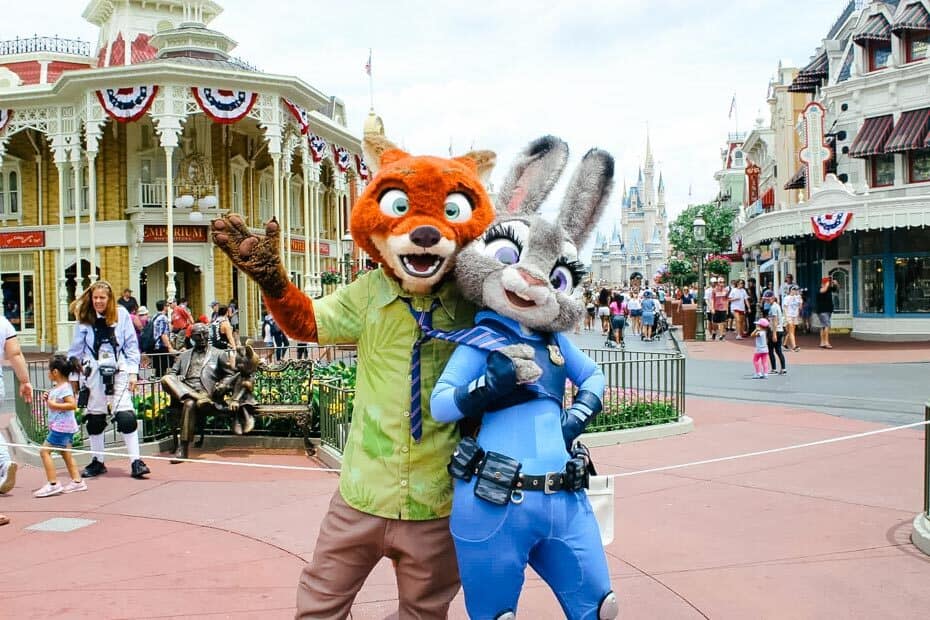 Gideon and Foulfellow from Pinocchio are in the picture below. They are a somewhat rare appearance as well.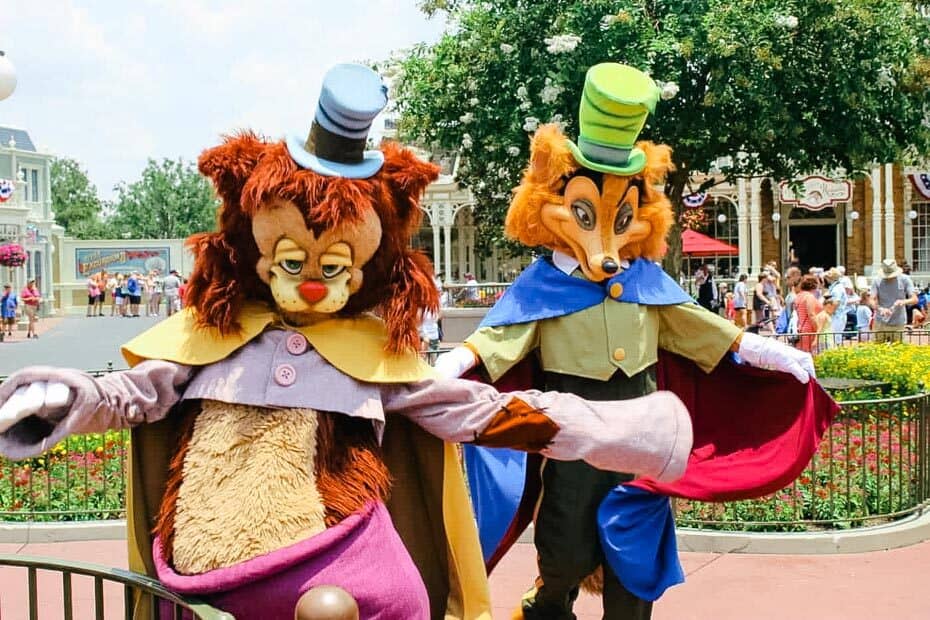 A good rule of thumb is to form a plan. Then on the day of your Magic Kingdom visit, check the My Disney Experience app to make sure they are on the schedule. I might do this while taking transportation over to the park and change my plans accordingly if needed.
Final Thoughts on Magic Kingdom Characters
This wraps up our look at the Magic Kingdom characters. Note that these characters can change on a whim due to weather and a variety of things. So form a plan to meet the ones you like on your visit and go with the flow if things change.
I thoroughly believe, if desired, that these characters can all be met in one day. However, you will have to give up doing many other attractions to make all the meets.
Again, these meets all took place during two afternoons and one morning. I felt it could have easily been spread out into a character rope drop, late morning, afternoon, and evening visit in one full day.
If you would like to see a ton of characters at one time, the Festival of Fantasy parade is held daily at Magic Kingdom. This parade is my number one must-do event on a day visit to Magic Kingdom.
You might enjoy learning about character meets in the other parks:
Or you can preview all of the character's meets in one place here.
Additionally, I have a complete guide on character dining at Walt Disney World.
Let me know your favorite Magic Kingdom characters in the comments. Or, if you have any questions, I will be happy to answer them from my experiences.