Don't Miss This Rare Character Meet: Jack Skellington and Sally at Disney World
This article discusses meeting Jack Skellington and Sally during the seasonal Halloween and Christmas Parties at Walt Disney World.
Few and far between are the opportunities to meet rare characters at Disney World. But, perhaps, one of the most exclusive pairs of characters is Jack Skellington and Sally from The Nightmare Before Christmas.
If you're visiting Walt Disney World during the dedicated Halloween season, you'll have the opportunity to meet Jack Skellington and Sally. But there's a catch. You'll have to purchase a ticket to Mickey's Not So Scary Halloween Party.
Come to think of it, there's another catch. You'll probably have to wait in the longest line you've ever seen to meet Jack and Sally.
That is unless you are first in line. However, even then, you'll still have to wait. Unfortunately, the line begins to form well before the start time for this character meet-and-greet.
Below I'll walk you through my experience meeting Jack Skellington and Sally at Mickey's Not So Scary Halloween Party. In addition, I'll provide a few tips for the best time to meet the pair, and we'll look at their autographs.
Update: Since I initially wrote this article, we have met Jack Skellington as Sandy Claws and Sally at Mickey's Very Merry Christmas Party. Those details have been included toward the bottom of this article.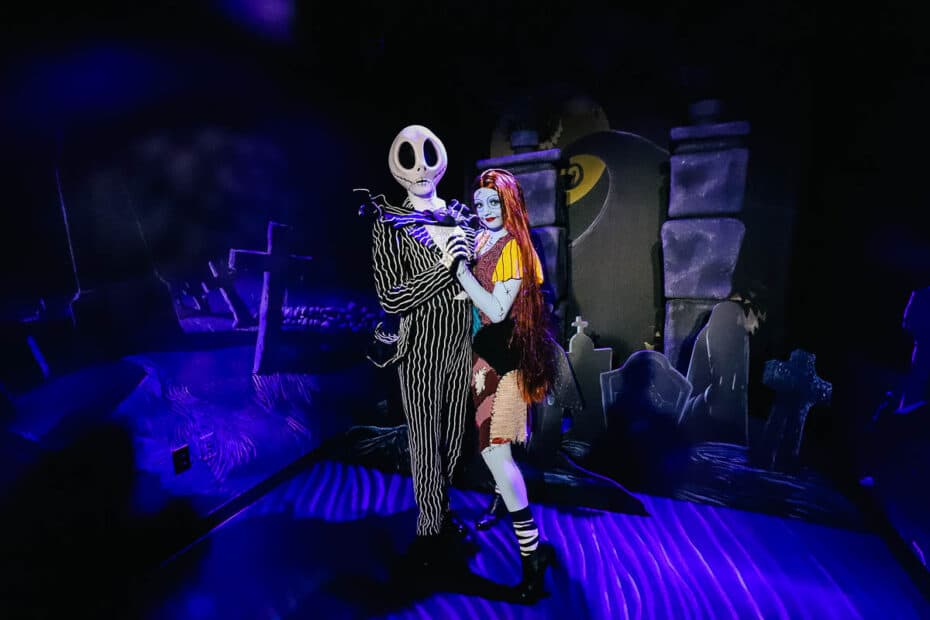 Meet Jack and Sally at Mickey's Not-So-Scary Halloween Party
Jack Skellington and Sally meet guests at Town Square Theater, the first building on the right when you enter Magic Kingdom. They meet next door to the traditional meet-and-greet location for Mickey Mouse.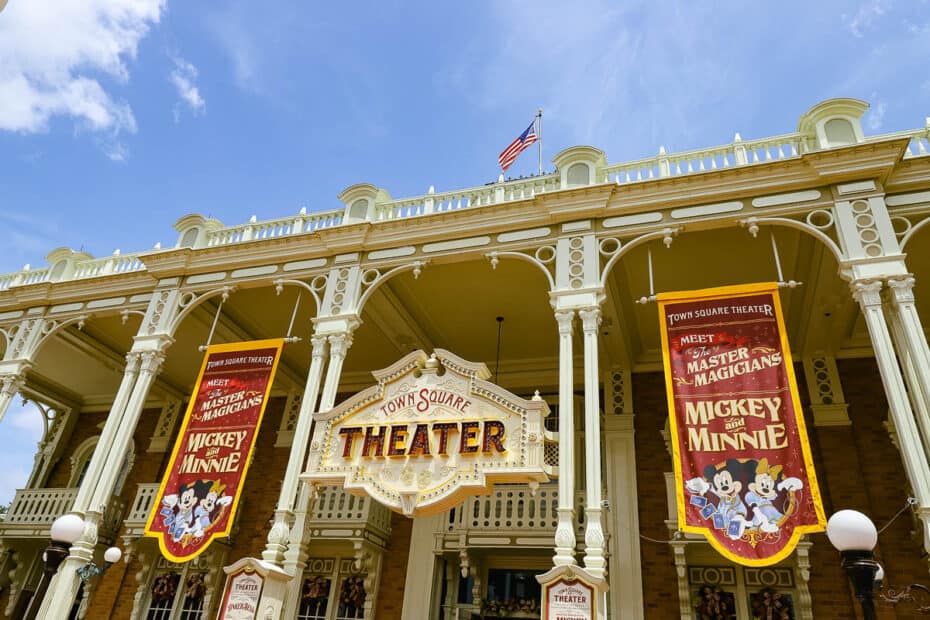 As of the first two parties, Jack and Sally were the only characters available before 7:00 p.m. Of course, a few characters might come out a little early, say 6:45 p.m. By that time, nearly all of the characters will have long lines.
Mickey's Not So Scary Halloween Party officially starts at 7:00 p.m. However, ticketed guests can enter the party as early as 4:00 p.m. At that time, cast members will begin giving wristbands to those with tickets.
Jack and Sally begin meeting at 4:30 p.m. Their line begins to form as soon as the first person shows up wearing a wristband.
One important caveat is that you must have your wristband to enter the line. On the day of the first party, I went to join the line a few minutes before 4:00 p.m.
Since I was already at the Magic Kingdom that day as a regular guest, I hoped I could get toward the front of the line. However, the cast member asked to see my wristband when I arrived.
I know. It was a rookie mistake.
So I had to leave and find a wristband. Meanwhile, a good deal of guests had joined the queue. There were approximately 30 guests ahead of me when I returned.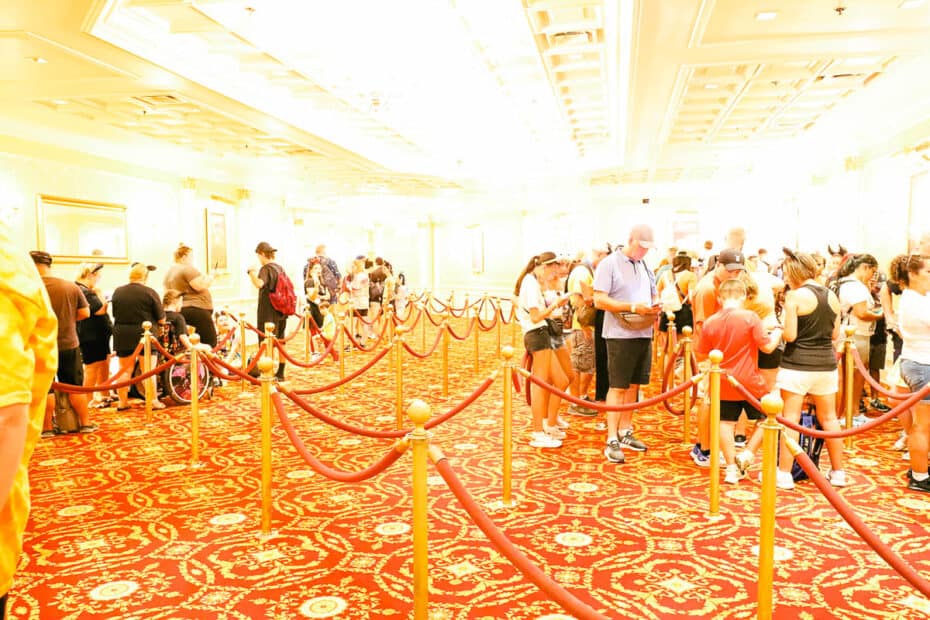 According to my notes, I got in line at 4:01 p.m. and met them at 4:58 p.m. While you might think that's a long time, it's nothing compared to the line that had formed behind me.
It's not uncommon for this character meet-and-greet to have wait times of up to two hours, sometimes longer. Ideally, you'll want to enter the party, secure your wristband, and get in line to meet them immediately.
After making it through the main portion of the queue, small groups are brought into a series of larger rooms.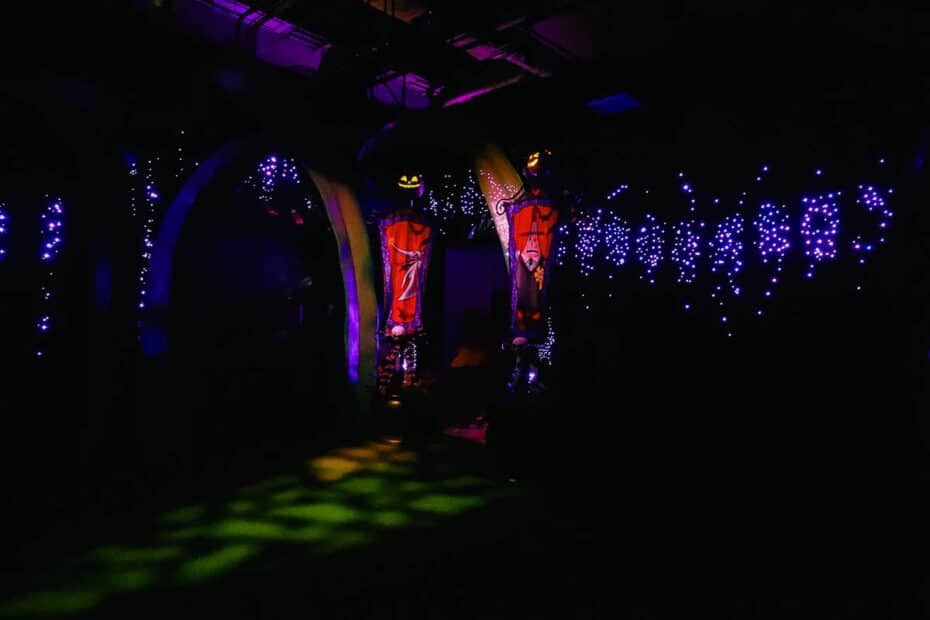 Then we entered this area pictured below, where Jack and Sally met behind the curtain. You cannot see them or hear them until it's your turn.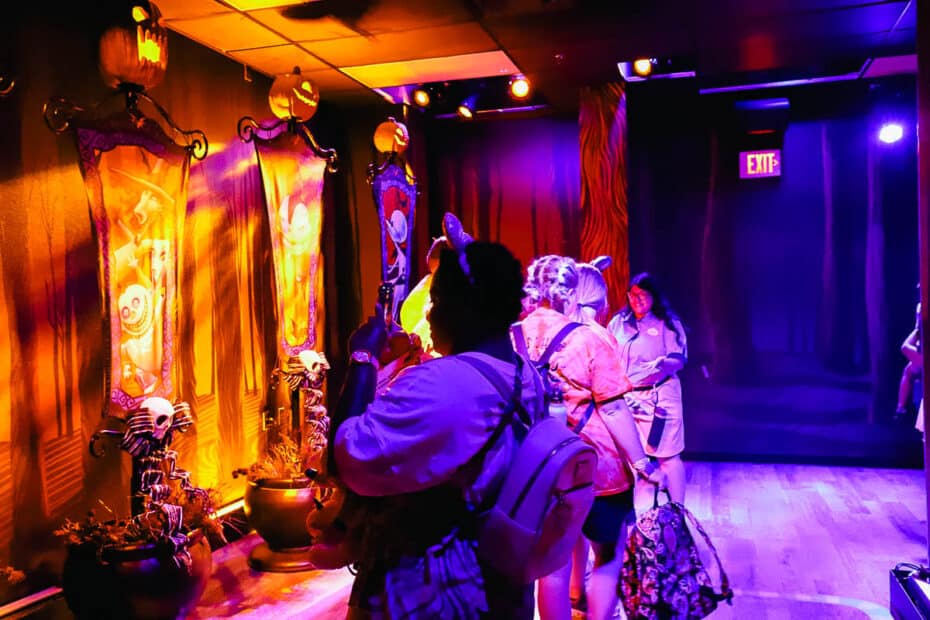 Each meet is exceptionally private. Both Jack Skellington and Sally will treat you as their honored guests. Therefore, there is no rush or hurry, no matter who is waiting.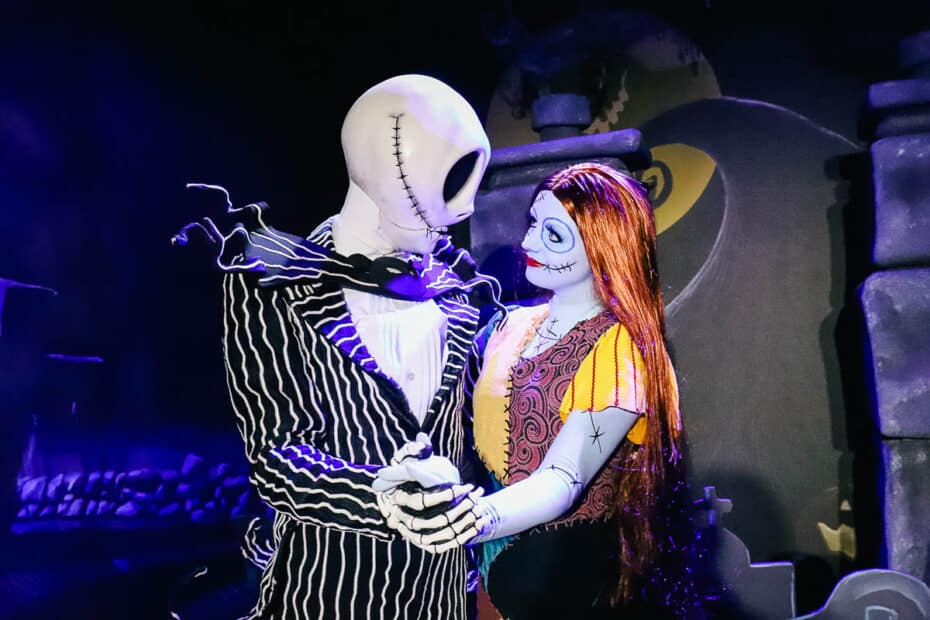 Given the time investment to meet the pair, you'll also want to take your time. For example, when I met Jack and Sally, they talked about Zero and asked me if I had any pets.
Then I told them about my cat, and Sally mentioned she had recently found a friendly cat that didn't have a name. Soon after, the discussion turned to what makes a good pet name, and we all had several ideas.
We had a lovely conversation. As I walked away, I remember thinking that I didn't regret one second of the time I had waited to meet them. They were utterly worth it.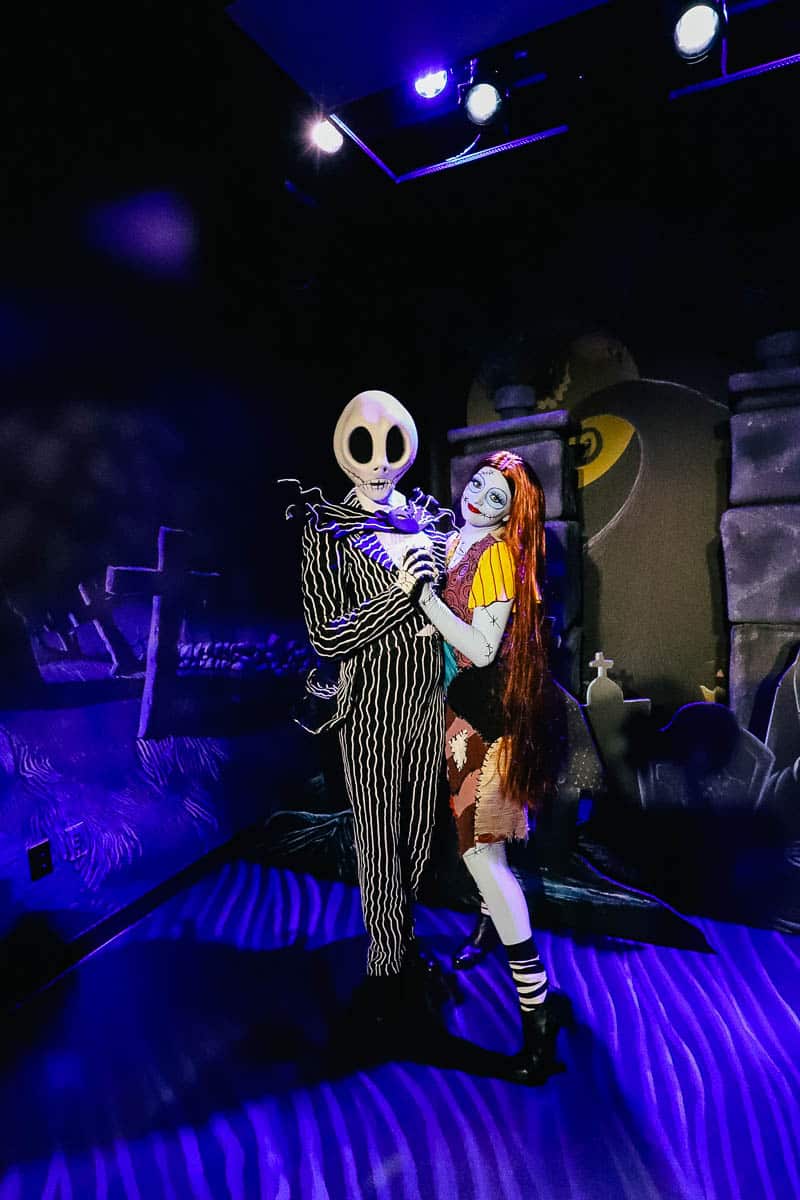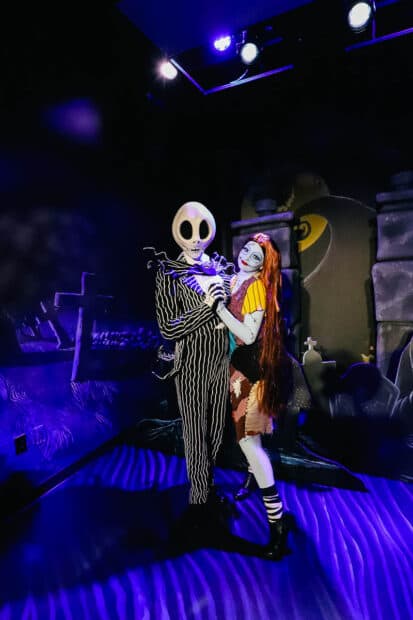 In addition to meeting Jack Skellington and Sally, a PhotoPass photographer was available to take photos. We were also given an autograph card with their signatures.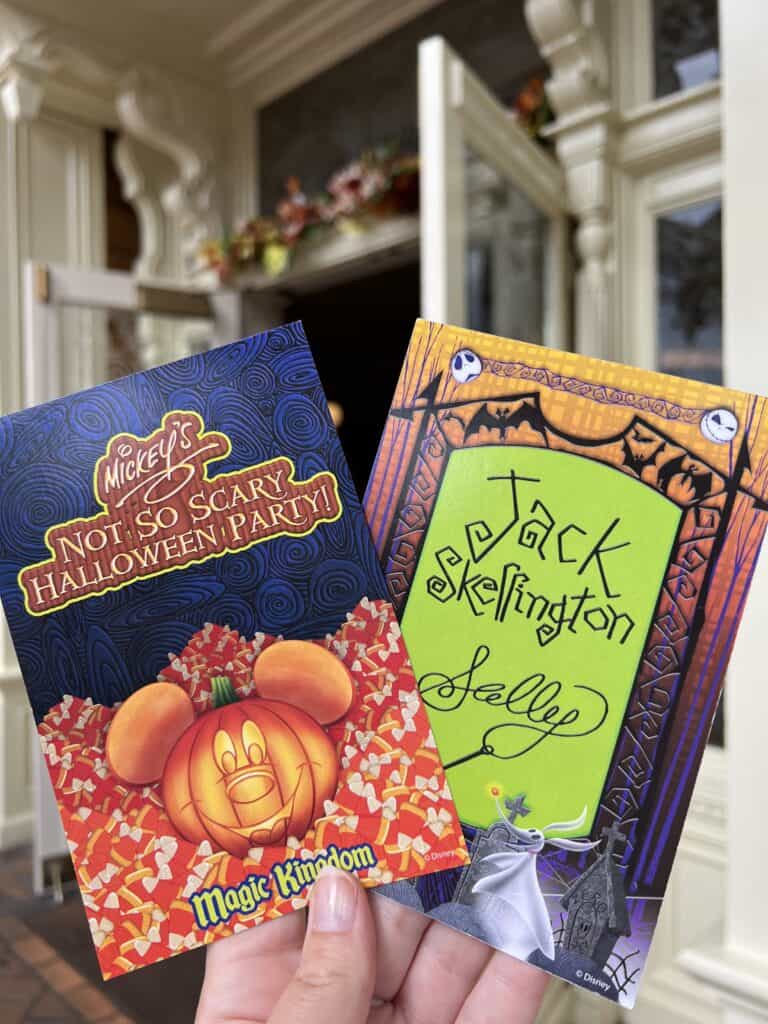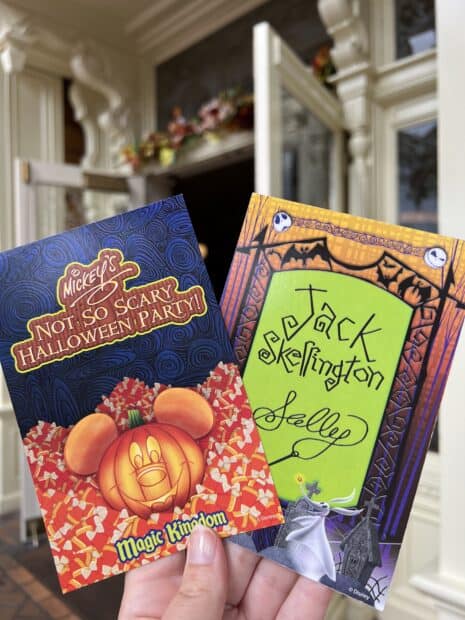 Overall, this character meet is endearing and one you won't want to miss. For most, the best advice I can provide is to secure your wristband and immediately join the line at 4:00 p.m.
In the past, wait times for meeting Jack and Sally would drop somewhat during the first Boo To You Parade. However, you would have to sacrifice seeing the parade, and you'd still likely have to wait a significant amount of time.
It's also important to know that most evenings, you won't be able to get in line for this meet at the very end of the night. Yes, Jack and Sally do meet until midnight.
However, if lines are long, cast members will cut the line as early as 11:00 p.m. So if you were to try to get in line at 11:45 p.m., you wouldn't have a chance.
Meet Sandy Claws and Sally Mickey's Christmas Party
Similar to the Halloween Party, Jack Skellington and Sally meet together at Mickey's Very Merry Christmas Party. This character meet-and-greet works the same way we discussed for the Halloween Party.
The only difference is that Jack Skellington meets as Sandy Claws. He told me how Sally had made his costume, she's an excellent seamstress.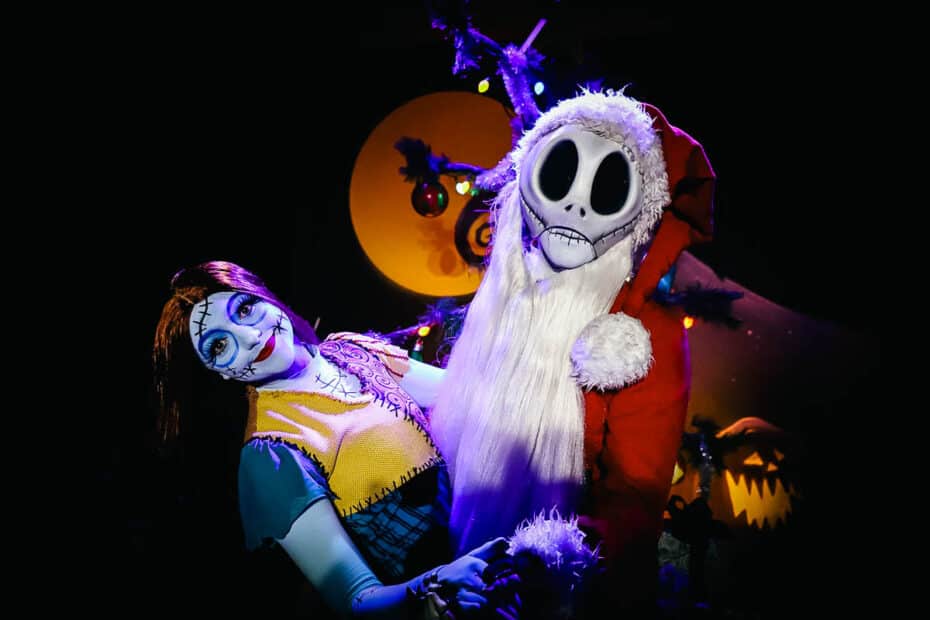 For this meet, you'll want to secure a wristband immediately after entering the park at 4:00 p.m. and join the line. They will begin meeting at 4:30 p.m.
Wait times only continue to build through the evening, and the line for this meet is usually cut off prior to closing, given their popularity.
For more character meets at the seasonal parties, we have separate guides:
Final Thoughts
Hopefully, this article gave you a complete overview of meeting Jack Skellington and Sally at Disney World. They are the best!
For more characters at Disney Meet and Greets, try the following guides:
In the comments:
Do you have plans to meet Jack Skellington and Sally when you visit the Halloween Party? What do you think of the time investment for meeting the pair?