Hollywood Studios Characters Guide (2022 Updates)
It's always a pleasure to meet characters at Hollywood Studios. In addition, the park usually has a delightful selection of characters.
This article will look at the Hollywood Studios character meets that are available on an average day at the park. Additionally, I'll add a few tips and best times for meeting these characters.
Upfront, I want to stress that the character lineup can change. Therefore, it's important to check the My Disney Experience app to see which characters are available on the day of your visit.
For instance, a character could have a scheduled off day or call in sick. If there is no replacement, that character is pulled from that day's schedule.
Also, it's not uncommon for a park to offer pop-up or surprise character meets that are not listed on the schedule. Or you might end up at Hollywood Studios on a particular day where the park scheduled extra characters.
Those rare days are usually the best. For instance, we were at Hollywood Studios on Disney+ day last year, and there were several rare characters available that day only.
We saw Tiana in her flapper dress.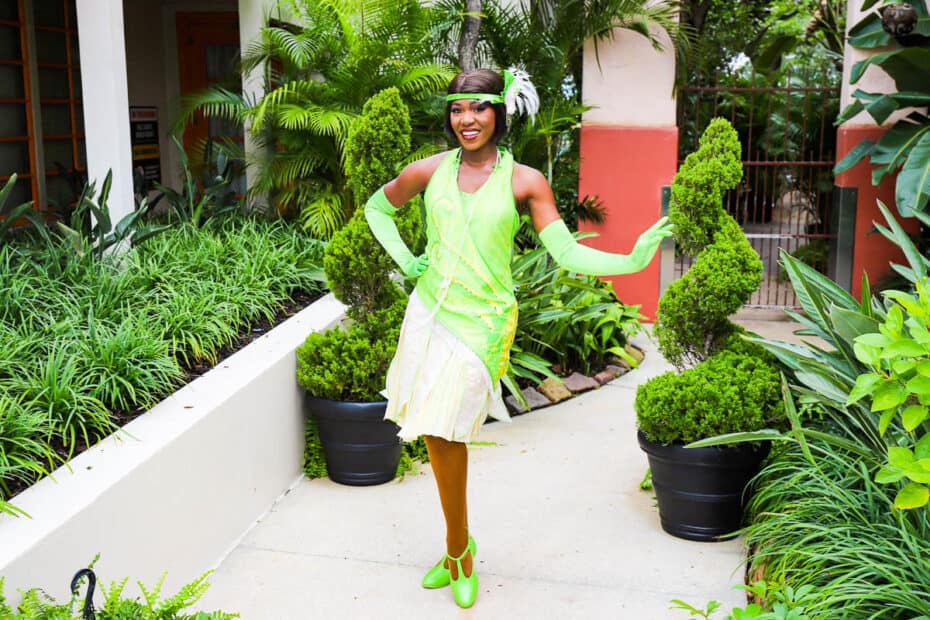 Tiana meets daily in her ballgown at Magic Kingdom. However, I had never run into her in this attire before.
Related: Princess Fairytale Hall Meets
And Moana was there. Unfortunately, Moana doesn't have a dedicated character meet at Hollywood Studios or any other park.
Hopefully, we'll see her return at some point. For future reference, Disney+ day is on November 12th.
Lastly, Goofy and Max sometimes meet at Hollywood Studios. During Christmas, I ran into them several times around the Echo Lake area. Additionally, several guests have reported seeing them near the Tower of Terror attraction entrance.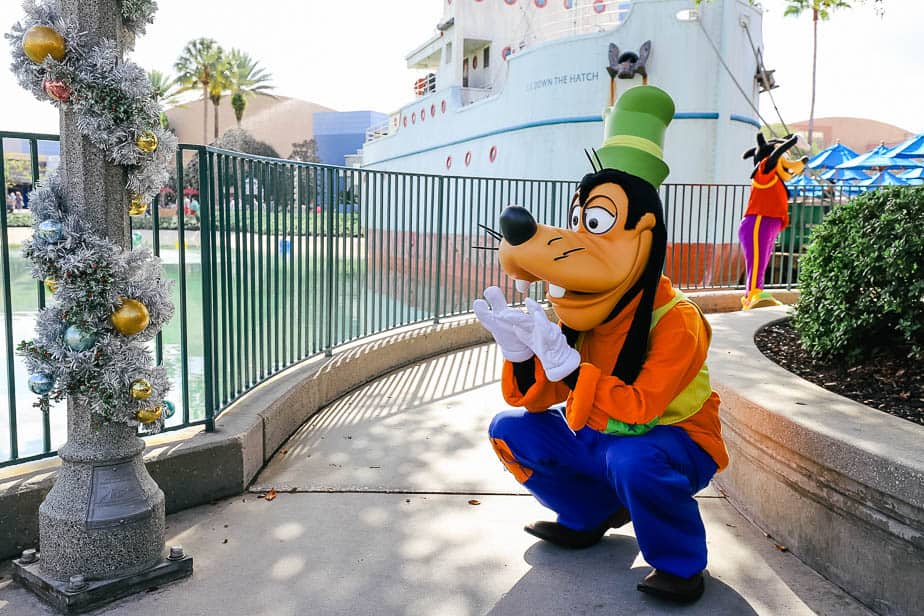 Unfortunately, these two are not listed on the schedule at this time.
This article was updated on February 12, 2022.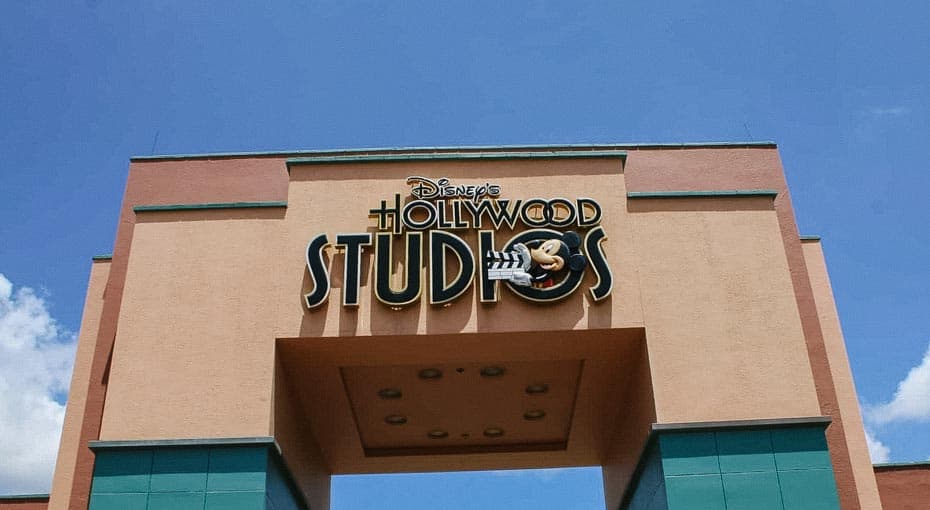 Hollywood Studios Characters List
Here are the characters usually available on an average day at Disney's Hollywood Studios.
Mickey Mouse
Minnie Mouse
Olaf
Donald & Daisy Duck
Chip & Dale
Pluto
Vampirina
Fancy Nancey
Doc McStuffins
Chewbacca (character sighting)
Rey (character sighting)
Kylo Ren (character sighting)
Storm Troopers (character sighting)
Vi Moradi (character sighting)
Additionally, you might see favorite Pixar characters in the daily Pixar Pals motorcade while it's available.
Minnie Mouse
Of all the character meets, I think it's most important to plan to meet Mickey and Minnie Mouse at some point during your vacation. Before I started covering characters, my son and I would meet Mickey Mouse on every vacation for a family photo.
Each Disney park offered a unique opportunity to meet Mickey and Minnie Mouse in different attire. Thankfully, most of those meets are now available again in 2022.
Hollywood Studios has a fun twist for meeting the two, Mickey and Minnie Mouse, Starring in Red Carpet Dreams.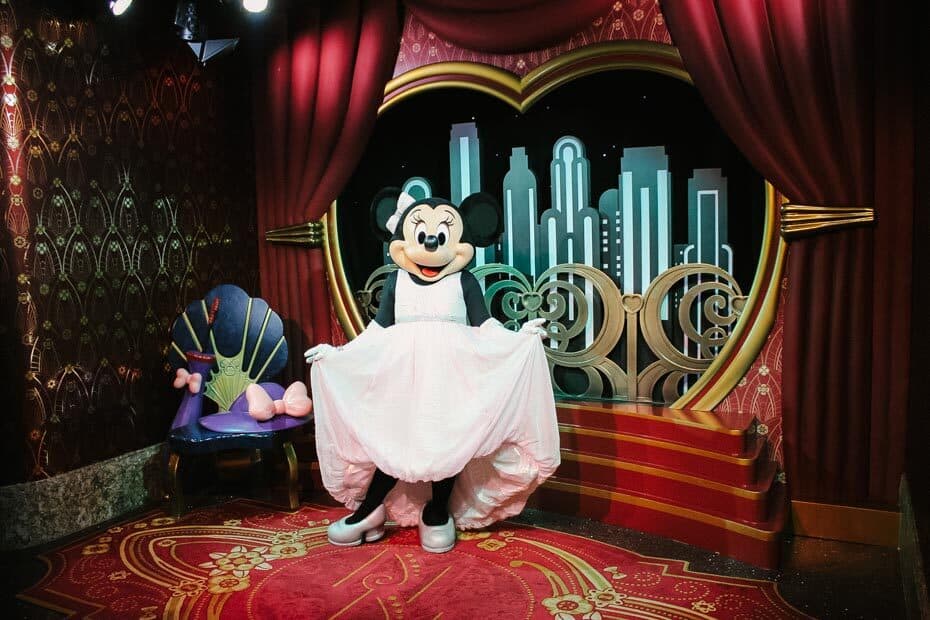 Below is a look at their location, which is located across the walkway from ABC Commissary.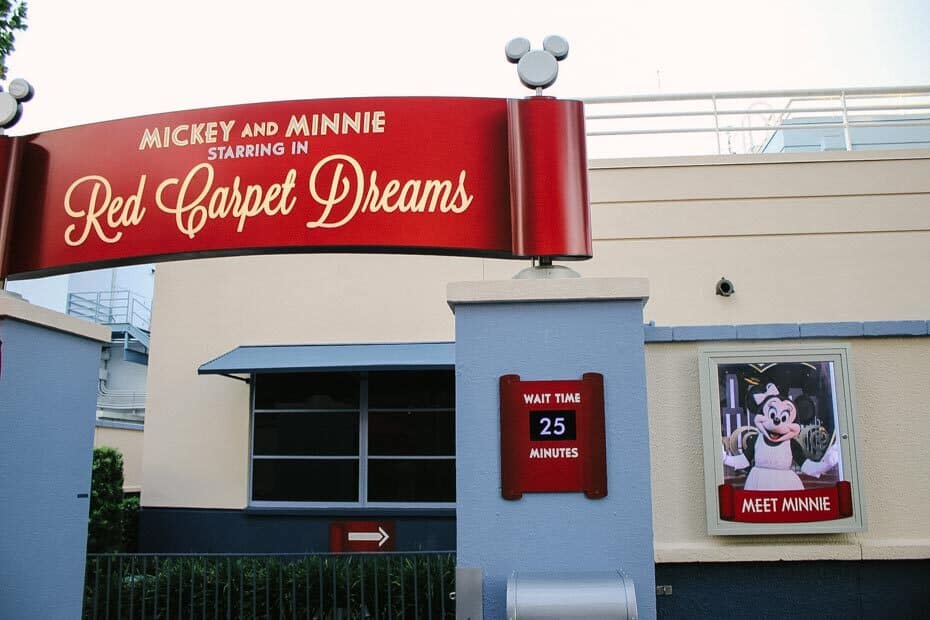 Part of the line is held in a covered exterior queue on the side of the building. Eventually, you will enter the building.
Make sure to notice all the signs in the queue. They look like traditional posters, but they all have moving elements.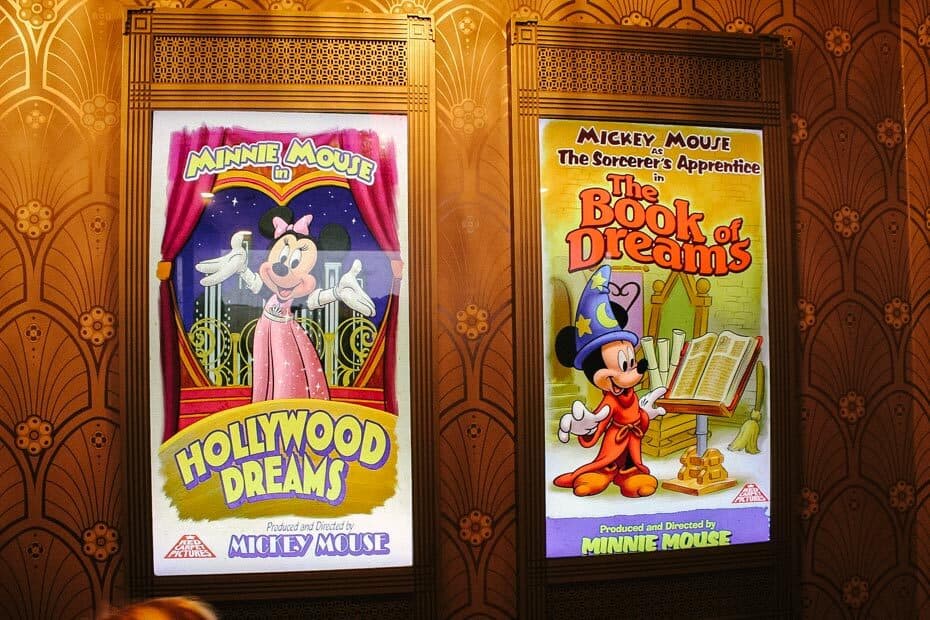 Minnie takes a rehearsal break and meets with fans in her dressing room. She is decked out for the red carpet in her fabulous gown with a pink bow.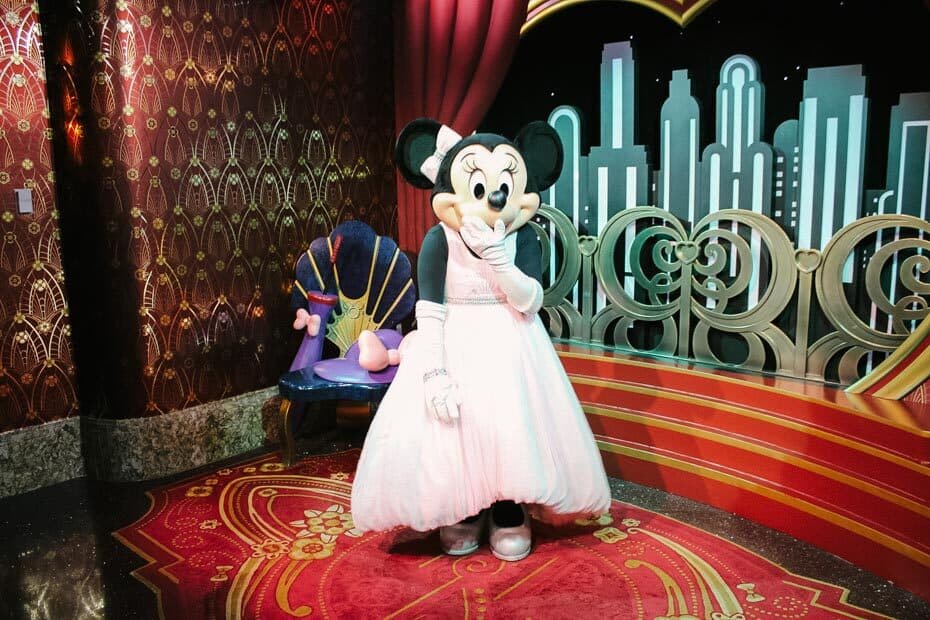 You might notice she is even donning the full-length gloves. She is precious.
Related: Meet Minnie Mouse at Red Carpet Dreams
Mickey Mouse
After visiting with Minnie Mouse, you will enter another hallway and head down to meet Mickey. Depending on how long visits are taking, there might be a few people ahead of you.
Mickey Mouse meets guests in his Sorcerer Mickey's wardrobe. This is his outfit from the popular movie Fantasia.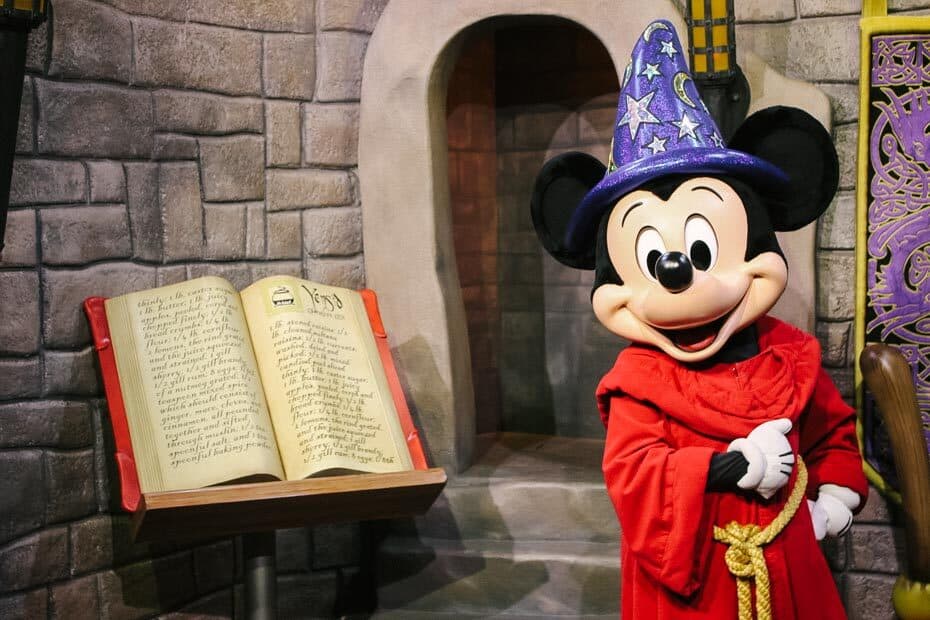 At this time, character autographs have not returned. However, guests can take a distanced selfie with characters. Additionally, PhotoPass photographers are available at most of these dedicated character meets.
Just make sure there aren't any mops and brooms around!
Olaf
Everyone's favorite snowman, Olaf from Frozen and Frozen 2, meets daily at Disney's Hollywood Studios. This character meet is fun and usually easy to plan into your day.
Olaf meets on the backside of the Hyperion Theater, where the Frozen Sing-A-Long takes place daily. His meet is located inside a building. However, most of the queue is in a covered outdoor area.
Wait times are usually fairly reasonable. I recommend seeing him after you visit the Frozen Sing-Along next door.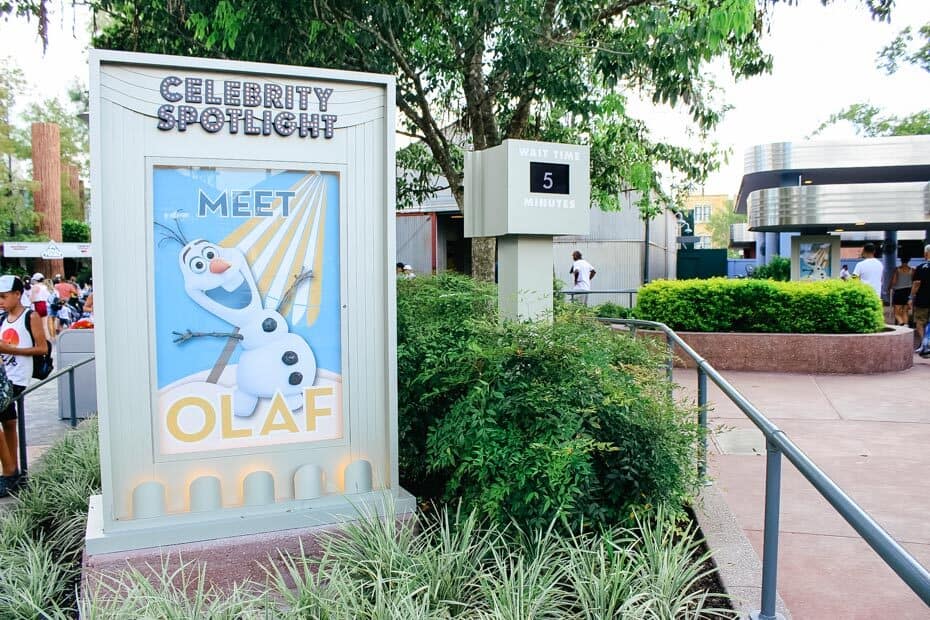 Olaf is the friendliest snowman I've ever met. There is usually a PhotoPass photographer on-site to take your picture.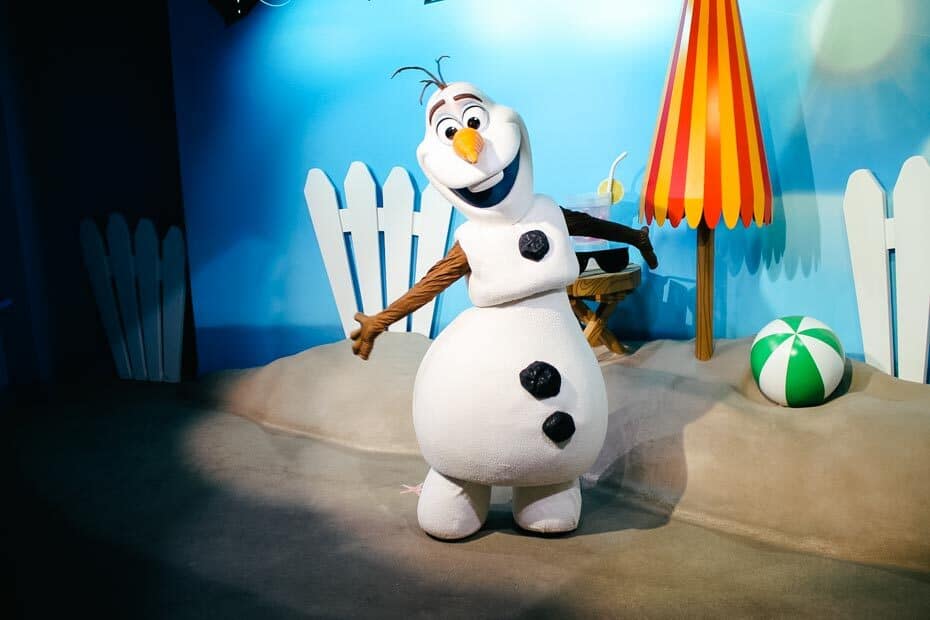 Make sure to say hi to Olaf for me!
Donald and Daisy
If you are looking to meet a few classic characters at Hollywood Studios, make sure you check out Sid's Porch just on your left when you enter the park. You might run into Donald and Daisy Duck!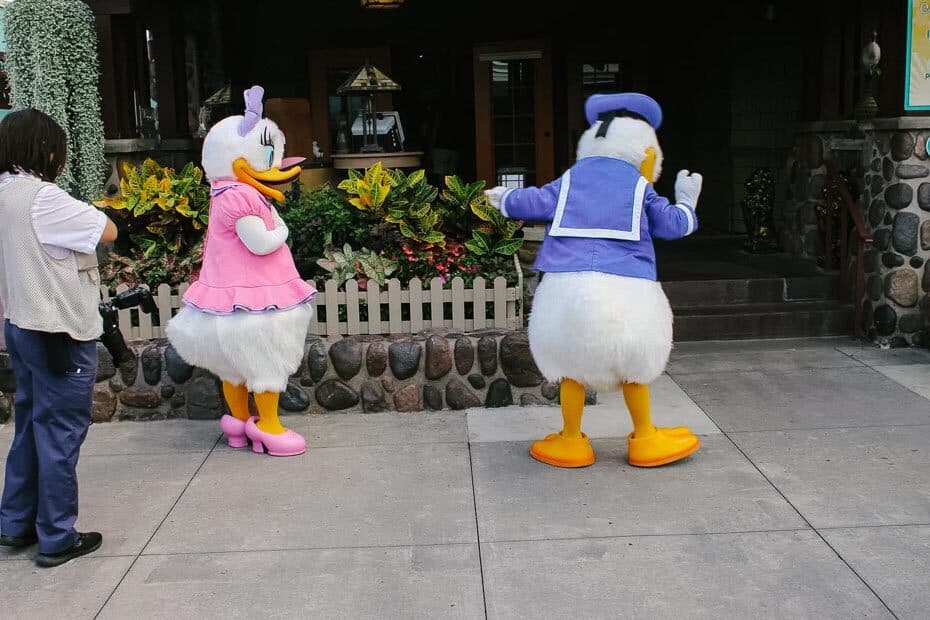 Unfortunately, this meet isn't always listed in the My Disney Experience app. But don't be surprised if you see these two out greeting guests.
Chip and Dale
I've run into Chip and Dale a few times over the last few months at Hollywood Studios. This duo is always up to something!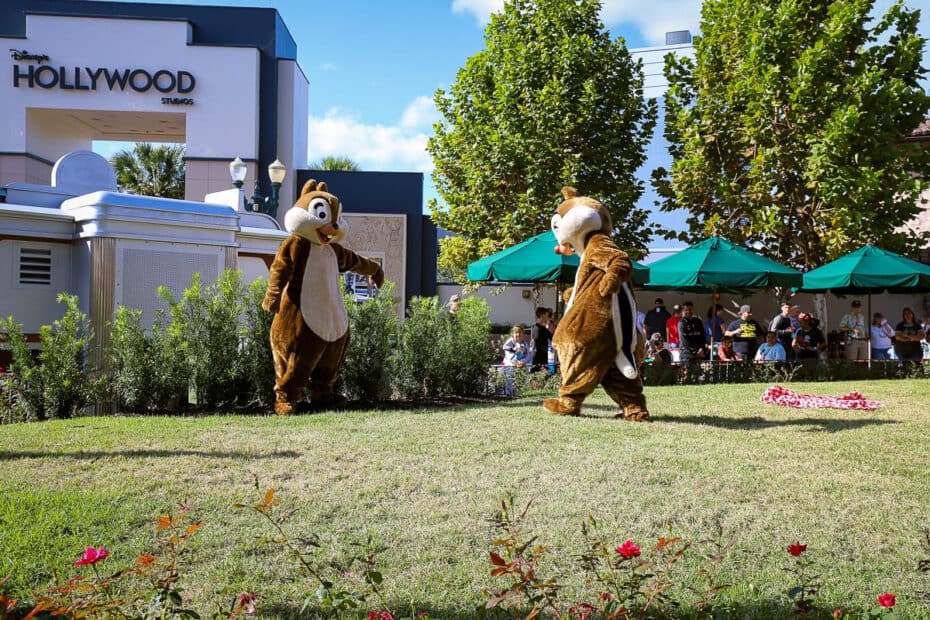 On this visit, they were playing Snow White. Dale pretended to be the old hag and gave Chip a poison acorn! Next thing you know, Chip was not feeling so well.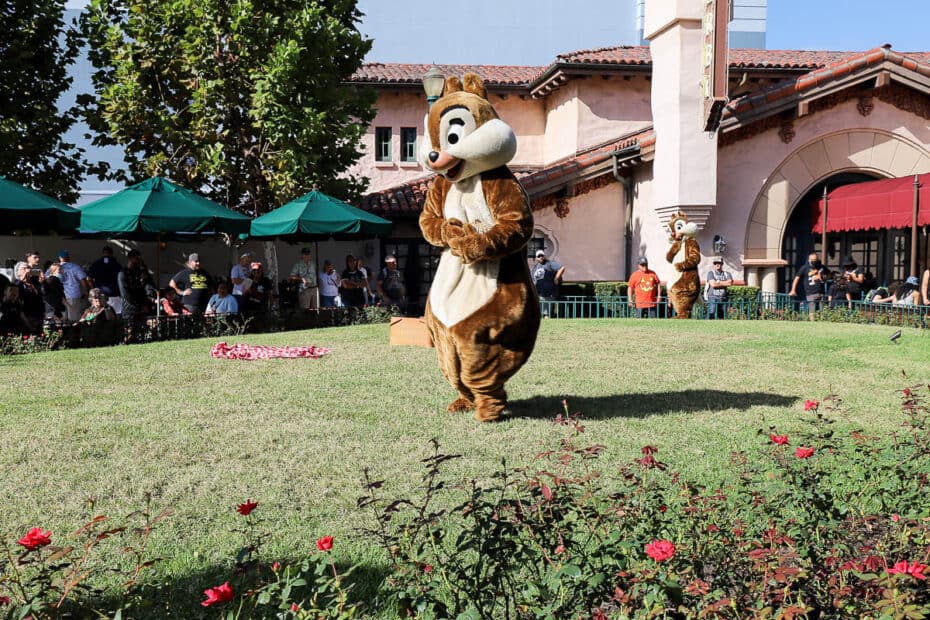 These two are often out in the grassy area fenced off in front of Hollywood Brown Derby. So you can walk up to the fence and see what they're up to if you happen upon them.
Pluto
Pluto is one of the Disney Junior Pals at Hollywood Studios. He's located alongside several other character meets in Animation Courtyard.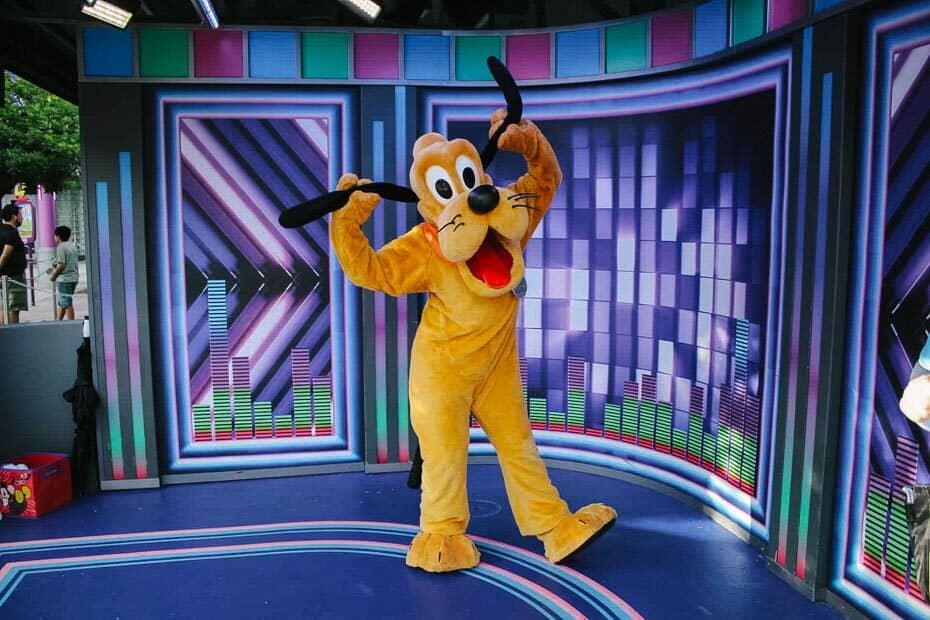 These characters meet daily at Hollywood Studios between 10:00 a.m. and 5:00 p.m.
Fancy Nancy
Fancy Nancy is also part of the Disney Junior lineup of character meets at Hollywood Studios. I'm sure if you have age-appropriate children, you are more than familiar with this one.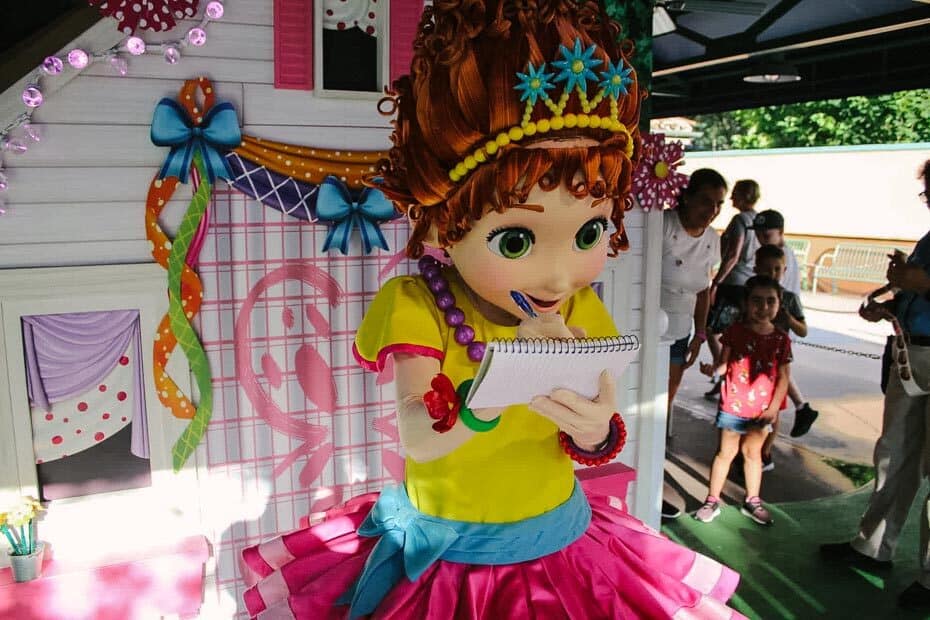 Vampirina
Next door to Fancy Nancy is Vampirina and her bat-wing hair. She is probably the most energetic of the group and makes for a fun character meet.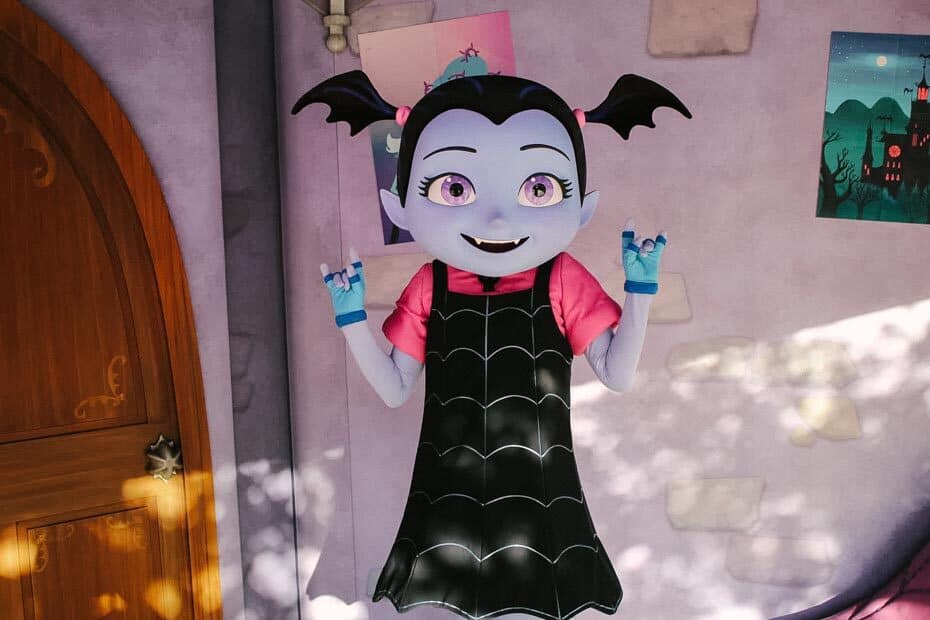 Doc McStuffins
Last but not least, at the end of the Animation Courtyard is Disney Junior favorite, Doc McStuffins! She is meeting at her clinic and loves to have guests visit.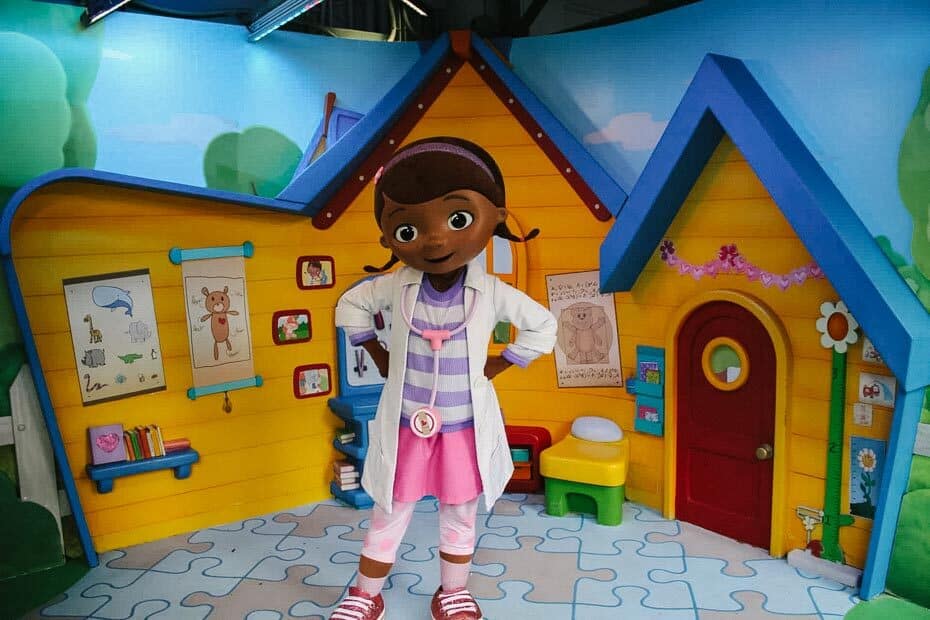 Make sure to check out the full review for specific details on meeting these fun pals!
Related: Meet the Disney Junior Pals
Chewbacca
Hollywood Studios' newest land, Galaxy's Edge, offers the opportunity to run into roaming characters on your visit. These characters are out poised as inhabitants of the land.
They are not required to take pictures with guests. But if you have your camera ready, you might be able to snag one.
Chewbacca is often out throughout the day. He formerly met at Star Wars Launch Bay. However, those meets have yet to return.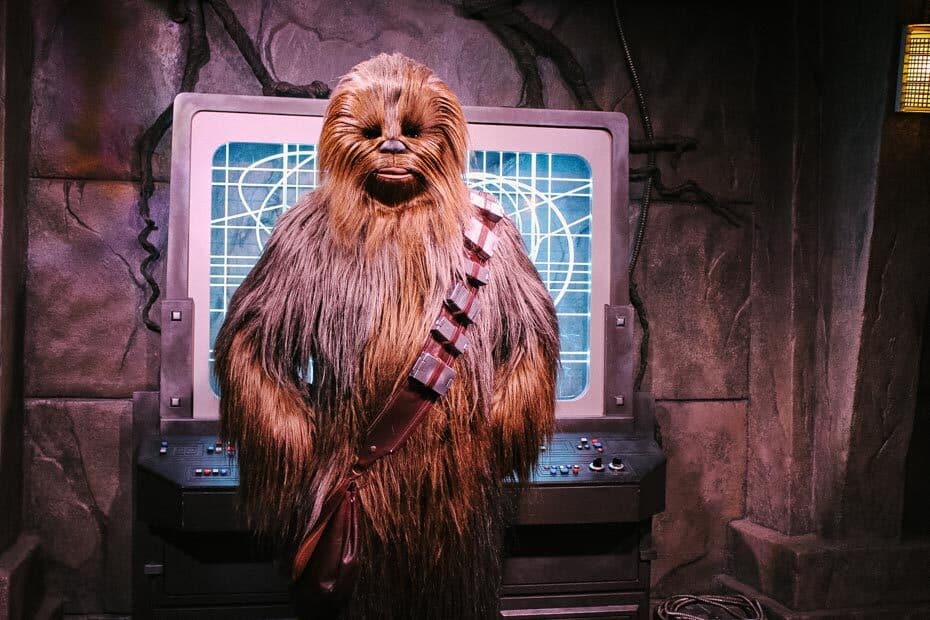 Rey
Rey is another character you'll see roaming Batuu. Sometimes she is working on her ship, the Millennium Falcon.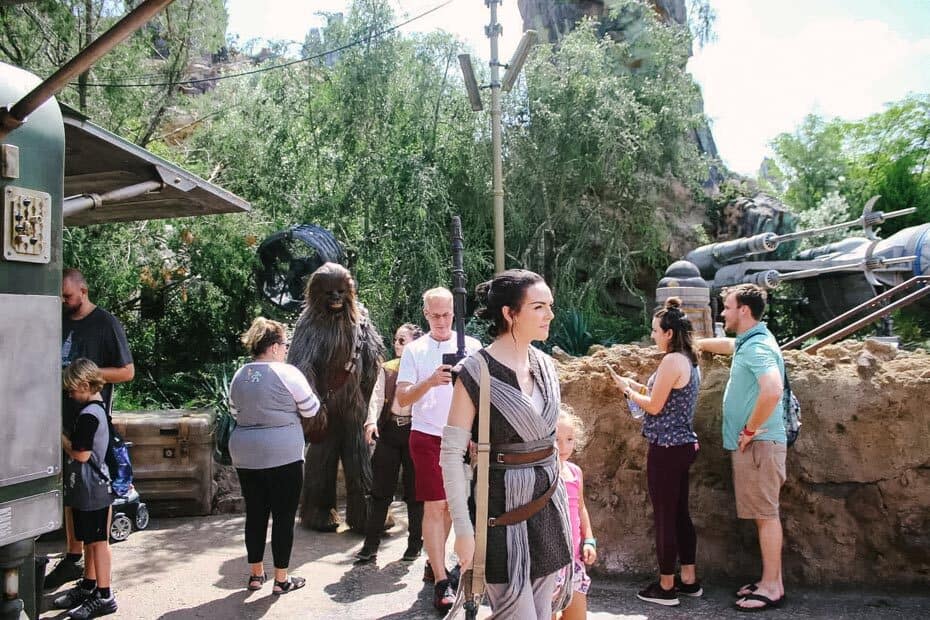 Kylo Ren and Stormtroopers
Below you will see Kylo Ren interrogating a guest about what she was really doing in Batuu.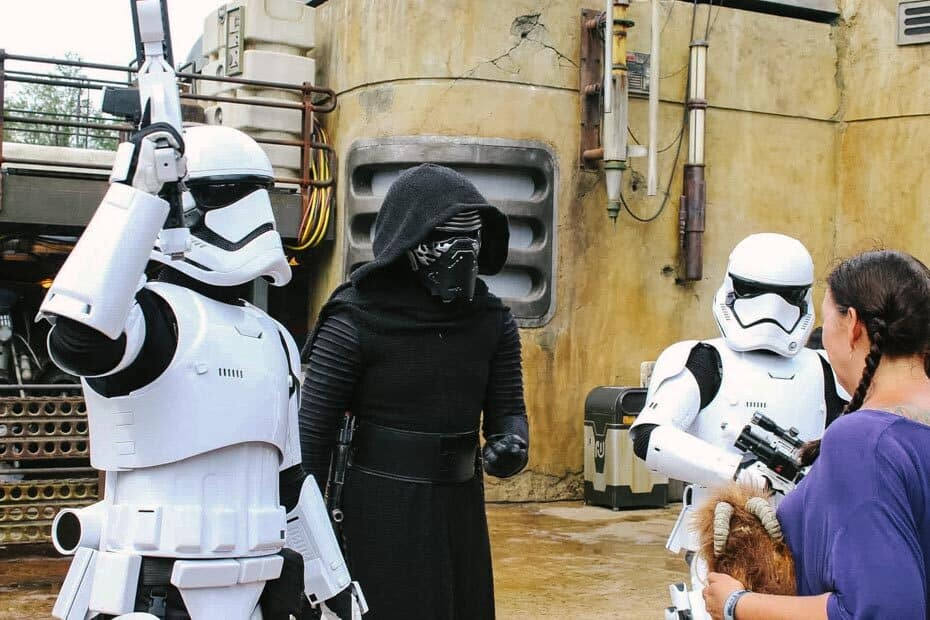 His ship regularly lands in Batuu, and you will usually find him with a couple of bodyguards, I mean, stormtroopers.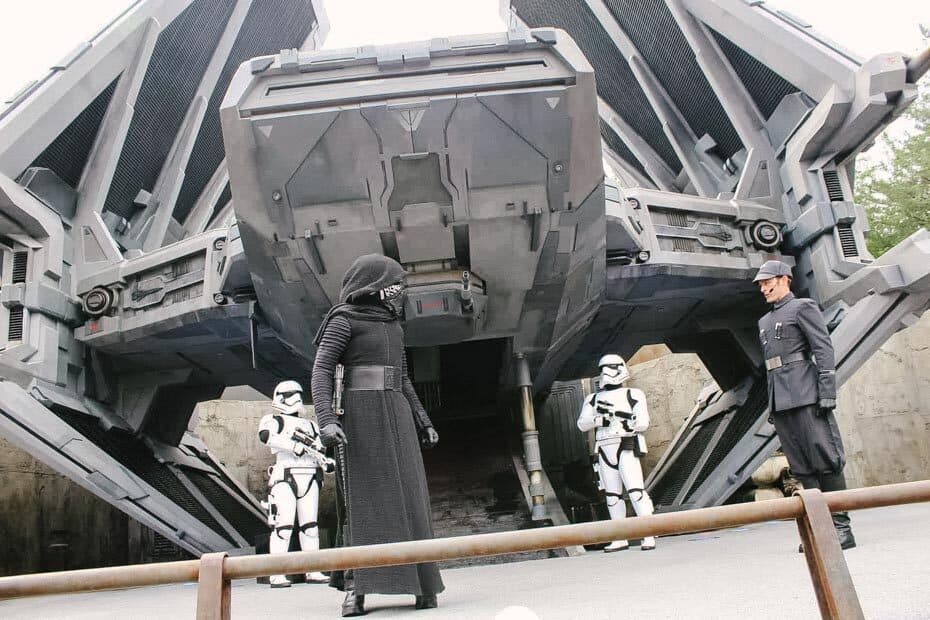 Vi Moradi
Lastly, Vi Moradi, another character from the Star Wars saga, is often out in Batuu. She works for the good guys.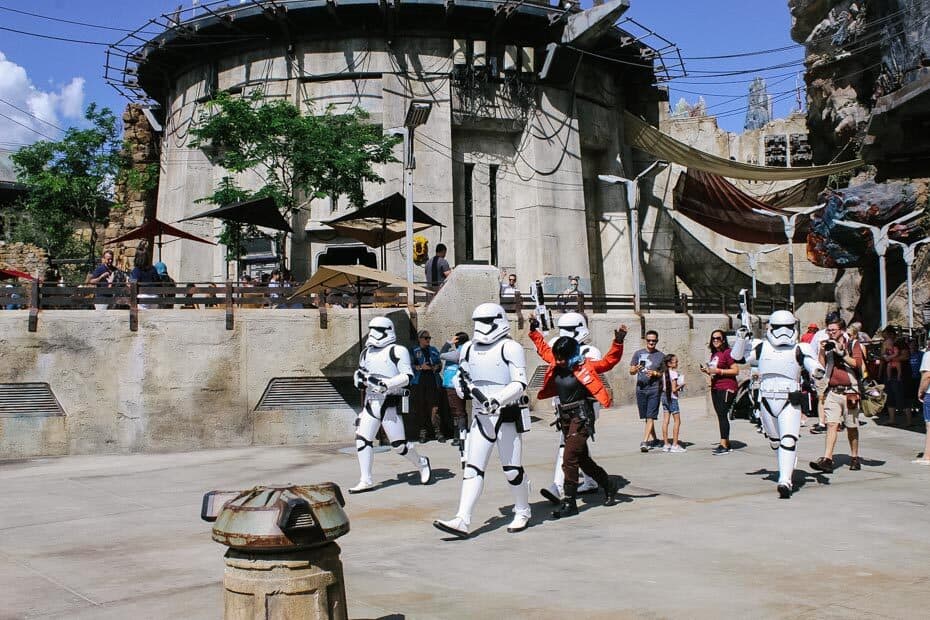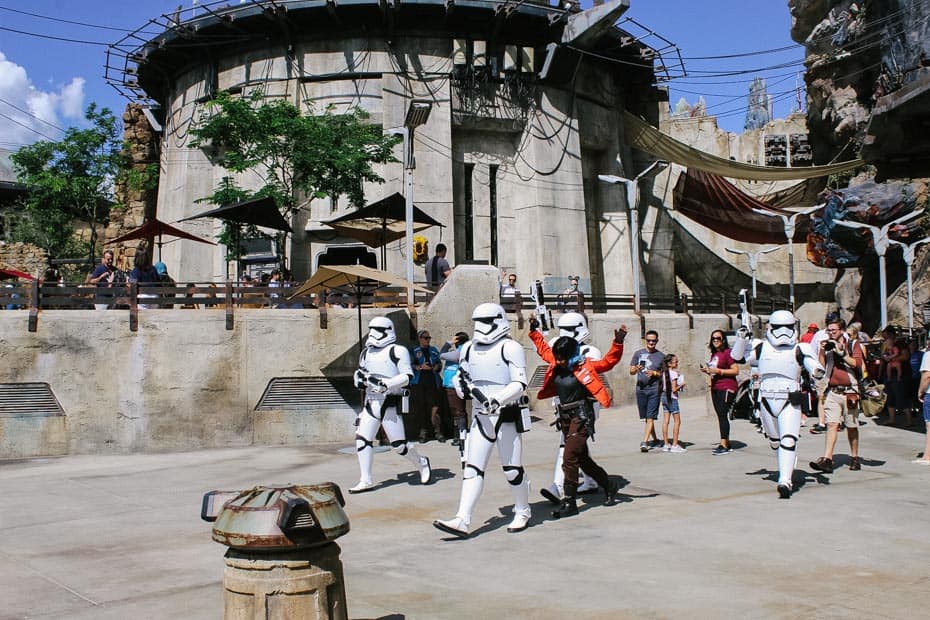 Therefore, it's not uncommon to see the Stormtroopers taking her away. But she seems to do a good job escaping.
Characters at Hollywood Studios
Hollywood Studios provides a few unique opportunities to meet characters at Disney World. Unfortunately, we are still missing a few character meets that were previously available.
When I initially wrote this article, several other characters met daily at Hollywood Studios. As of this update, the following characters have not returned to formal meets:
Mike and Sully from Monters, Inc.
Buzz, Woody and Jesse in Toy Story Land
BB8 and Darth Vader at Launch Bay
Incredibles at Pixar Place
We'll see what the future holds for those meets. And remember to check the My Disney Experience app on the day of your visit.
For me, the easiest way is to hit the location symbol and select characters from the top, middle drop-down. Then on the left corner, select "Filter" and change it to Hollywood Studios. And then, on the right corner, select "Show List."
Then you'll have a list of the characters meeting that day with times. As the day goes by, those characters will disappear from the app when their scheduled time has ended.
For more information, make sure to check out Disney World Character List. Or you might enjoy some of these individual guides:
In the comments: What do you think about the different character meets at Hollywood Studios? Do you have a favorite character you're hoping to meet?