Hollywood Studios Characters Guide
Meeting characters at Hollywood Studios is always a treat. The park usually offers a fun variety of characters. For many, meeting characters on a Disney vacation is toward the top of their must-do list. And a visit to Hollywood Studios provides an opportunity to meet a few particular characters along with classic favorites.
Normal character meets might not be available for those planning a Disney World vacation in 2021. When regular character meets at Hollywood Studios resume, I will completely update this review. For the most up-to-date ways to see characters at Hollywood Studios, visit these reviews:
Hollywood Studios Character Motorcades
Meeting Socially Distanced Characters at Disney
Or you can continue reading to see what characters might be available in the future.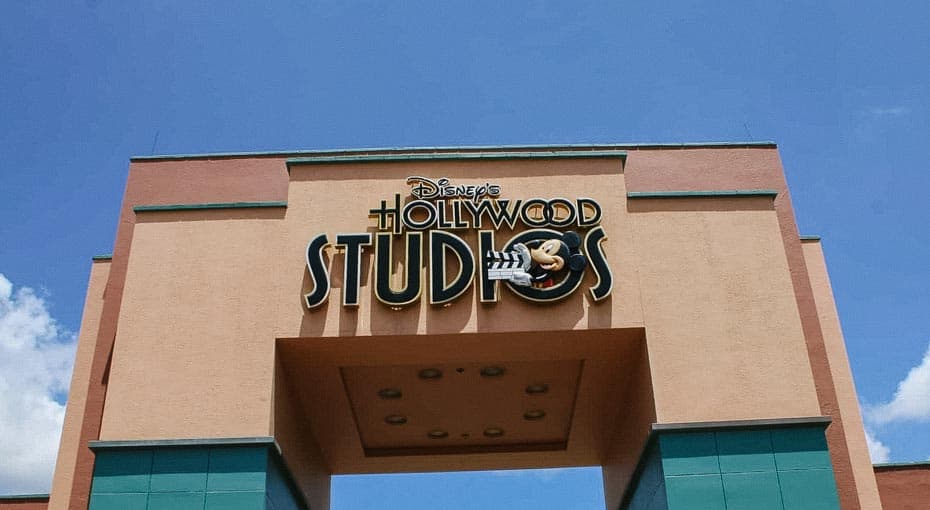 This review will cover the Hollywood Studios character meets available on an average day at the park. From time to time, these visits do change. Therefore, it's important to check the My Disney Experience app on the actual day of your visit if you want to meet a certain character.
As far as all the character reviews and meeting tips go, I keep an eye out for changes and try to update these posts on a regular basis. These experiences and photos are all from our experiences visiting the parks and research unless otherwise noted.
Hollywood Studios Characters List
Mickey Mouse at Red Carpet Dreams
Minnie Mouse at Red Carpet Dreams
Chewbacca
Darth Vader
BB-8
Roaming Characters at Galaxy's Edge (Kylo Ren, Storm Troopers, Rey, Etc.)
Toy Story Characters (Buzz Lightyear, Woody, Bo Peep (seasonal), Jesse)
Mike & Sully from Monsters Inc.
Donald & Daisy Duck
Chip & Dale
Disney Junior Characters-Vampirina, Fancy Nancy, Doc McStuffins, Pluto
Olaf
Mickey & Minnie Mouse Character Meets at Hollywood Studios
For most, a visit to any of the Disney parks requires a Mickey and Minnie Mouse meet and greet during some point of their vacation. After all, it did all start with a mouse. Each Disney park offers a unique opportunity to meet with Mickey and Minnie Mouse in different attire.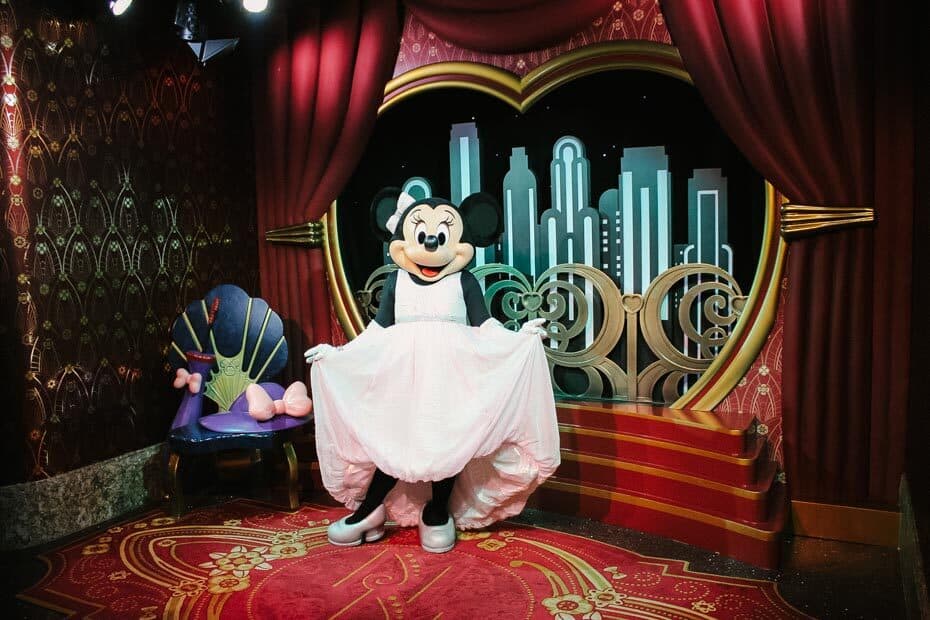 Hollywood Studios has a fun twist for meeting the two, called Mickey and Minnie Mouse, Starring in Red Carpet Dreams. Below you will see their location right across from ABC Commissary. This character meet is located inside the building and does offer a wait time.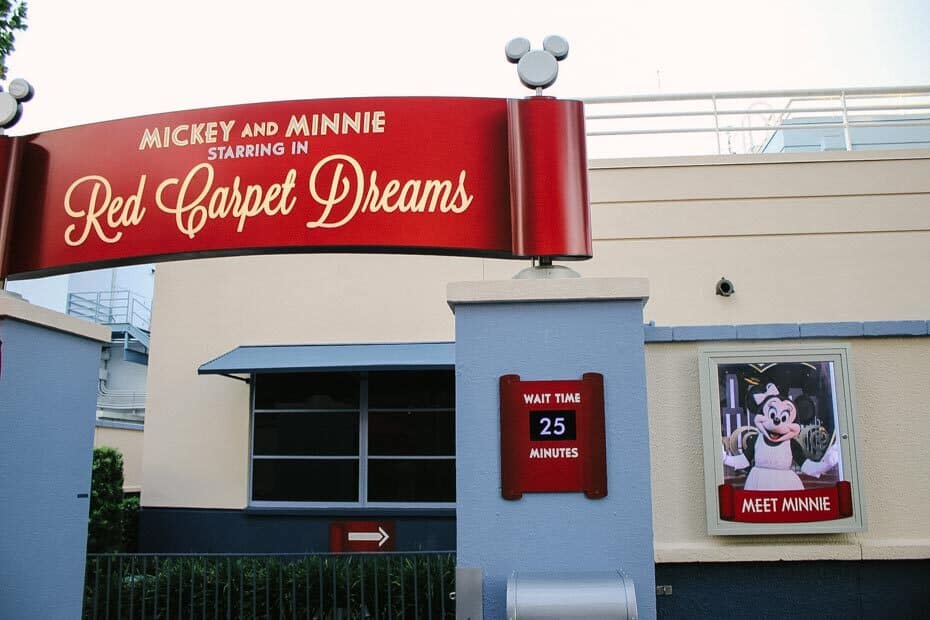 Part of the line is held in a covered exterior queue on the side of the building. Eventually, you will enter the building. Make sure to notice all the signs in the queue area. They look like traditional posters, but they all have moving elements.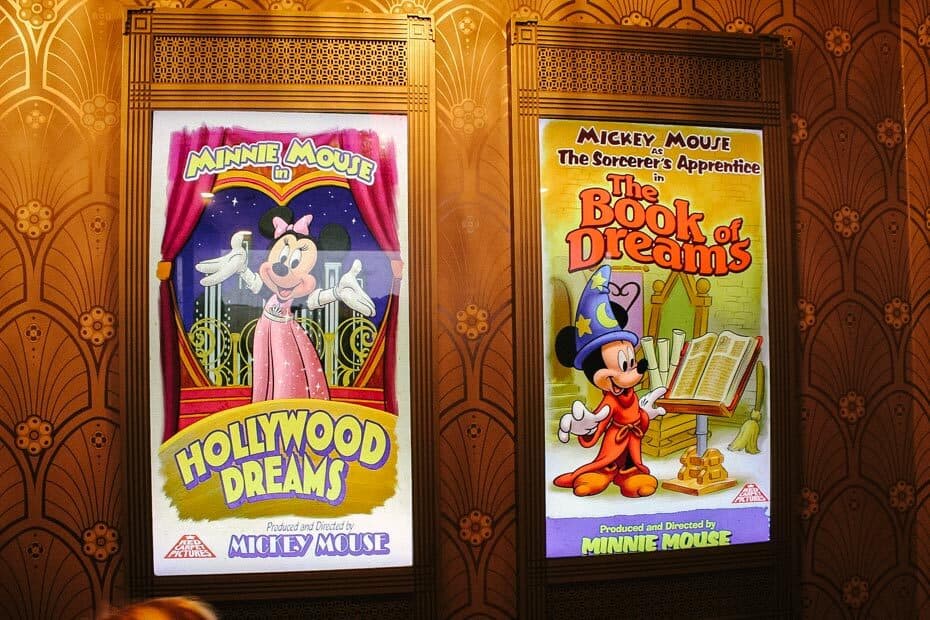 Minnie appears to be taking a rehearsal break and meeting fans in her dressing room. She is decked out for the red carpet in her fabulous gown with a pink bow.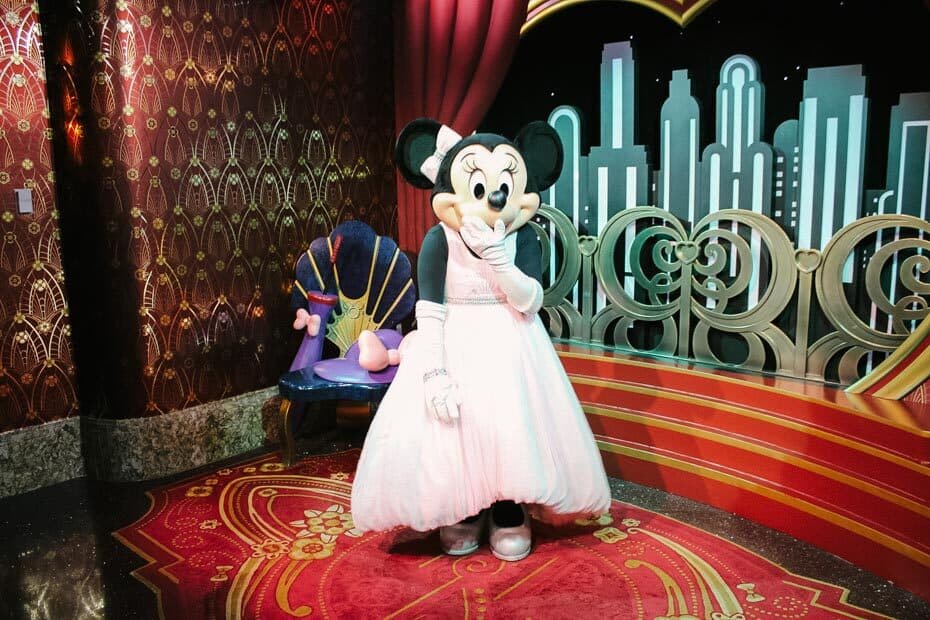 Don't forget to ask for an autograph on your visit. You might notice she is even donning the full-length gloves.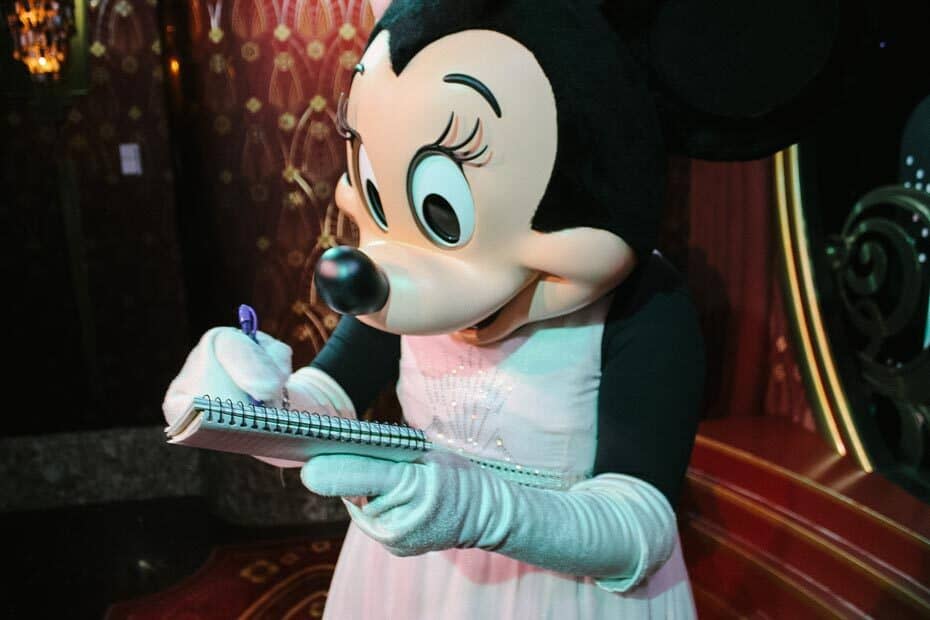 She is precious.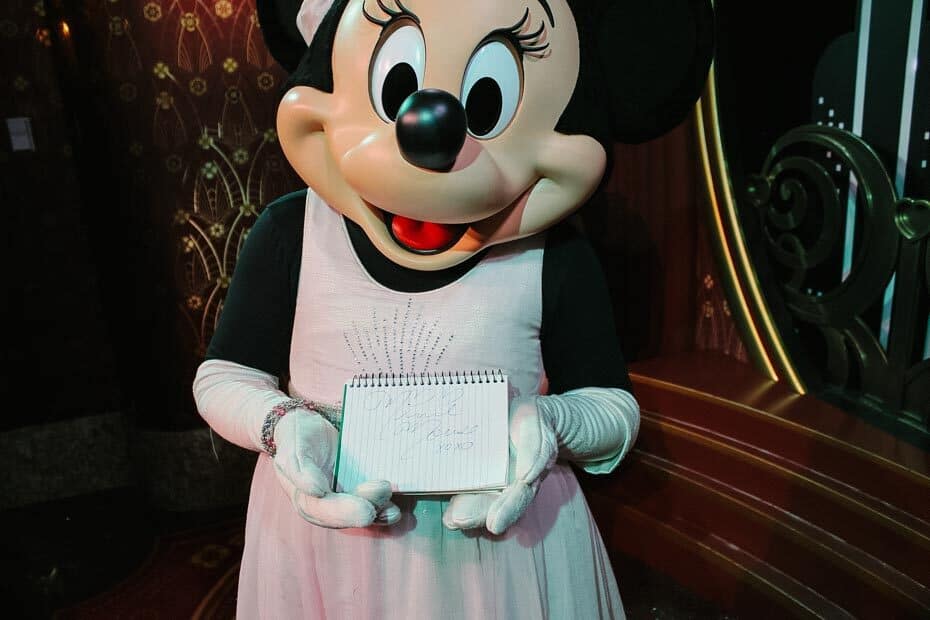 After visiting with Minnie Mouse you will enter into a hallway and head down to meet Mickey. Depending on how long visits are taking there might be a few people ahead of you.
Mickey Mouse will be waiting to greet you in his Sorcerer Mickey's wardrobe. This is his outfit from the popular movie, Fantasia.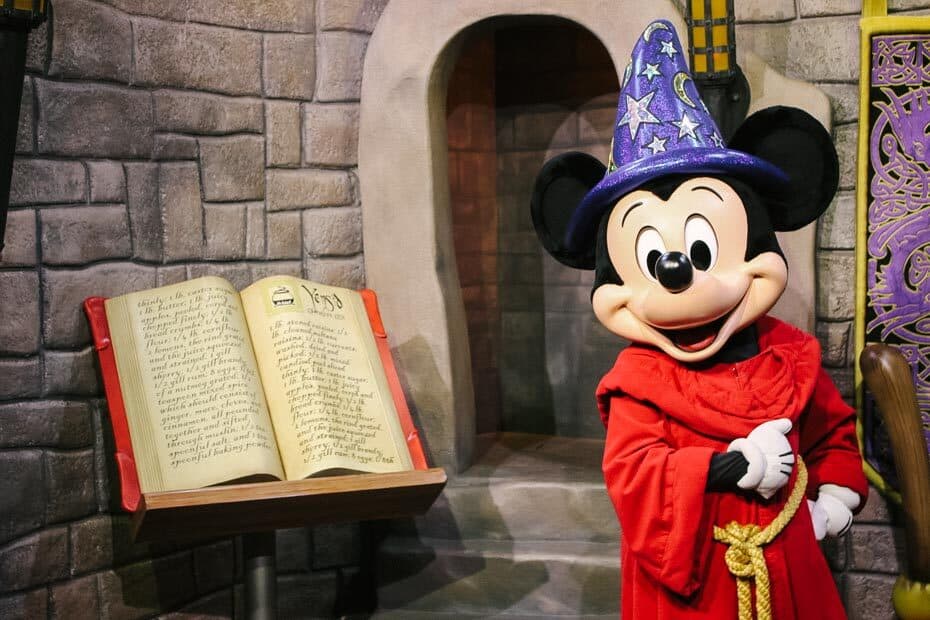 Just make sure there aren't any mops and brooms around!
Mickey is also an autograph signing character meet.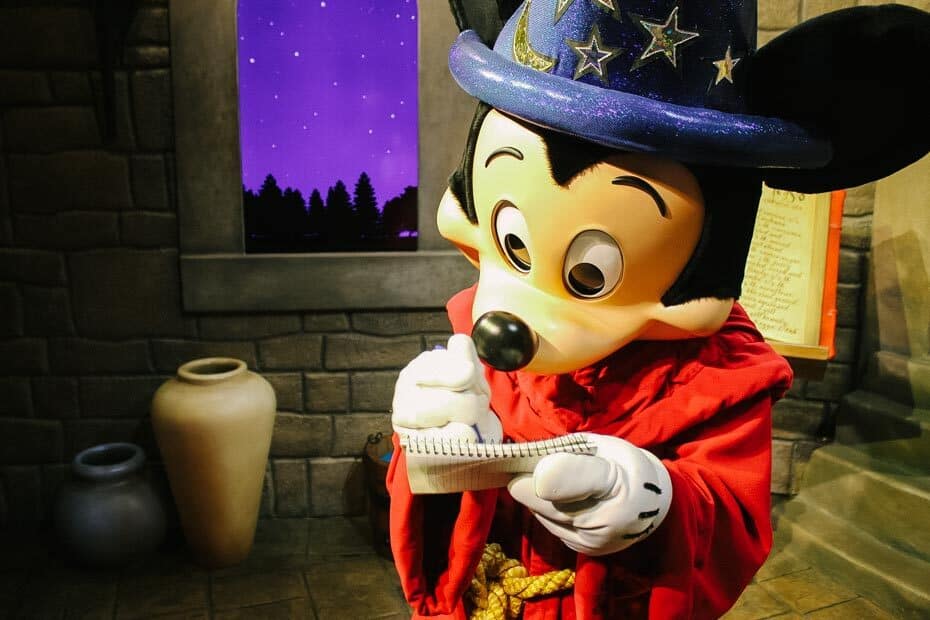 Here's a look at that signature. There are character autograph books available at Disney and various other places. I usually take this little notebook in my backpack to write down things I want to remember for the website. Lately, I've started using it to collect autographs as well.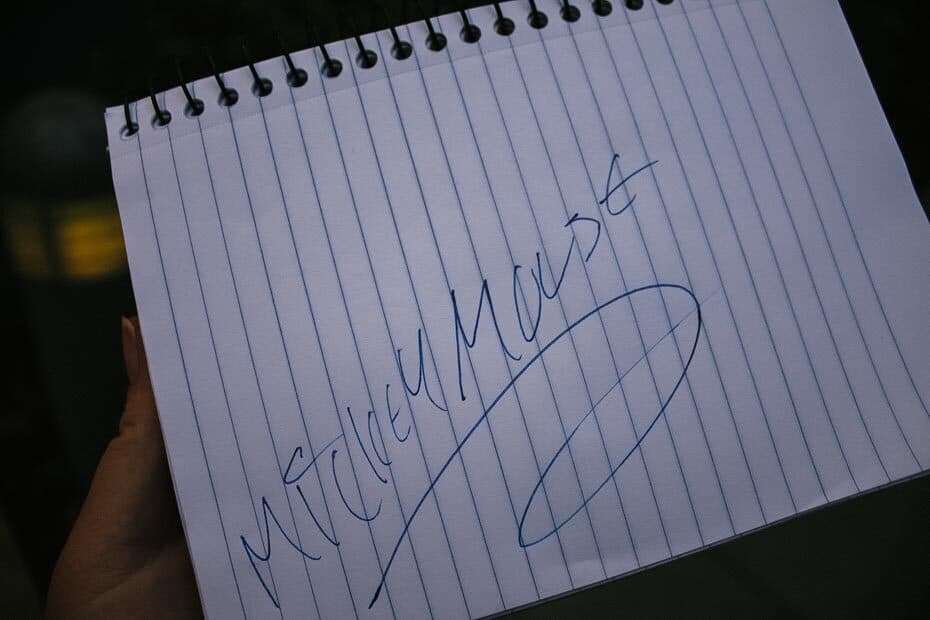 Personally, I tend to take direction from things that I read, so I felt it was a good idea to start reminding people of which characters sign autographs. Most cast members do a good job of reminding guests about this right before they get to the meet. But if you didn't realize it ahead of time, you might not have anything for an autograph.
I have found an ink pen with a hook on it clipped to a mini notebook that tends to work well for me.
A Few Reminders about Meeting Mickey and Minnie at Hollywood Studios:
No FastPass+ is available for this meet.
They do sign autographs.
This meet is usually open during normal park operating hours.
Character Meet Location: Commissary Lane at Red Carpet Dreams
Usually, the only place to meet Mickey and Minnie Mouse together is at Adventurer's Outpost in their safari outfits.
Hollywood Studios Star Wars Launch Bay Character Meets
A visit to Hollywood Studios also offers the chance to meet some of your favorite Star Wars characters. You will find these characters meet just off the Animation Courtyard at Star Wars Launch Bay.
Launch Bay is a large indoor building with a video presentation about the franchise and several movie memorabilia rooms. Additionally, you will find three Star Wars character meets and greets within the area.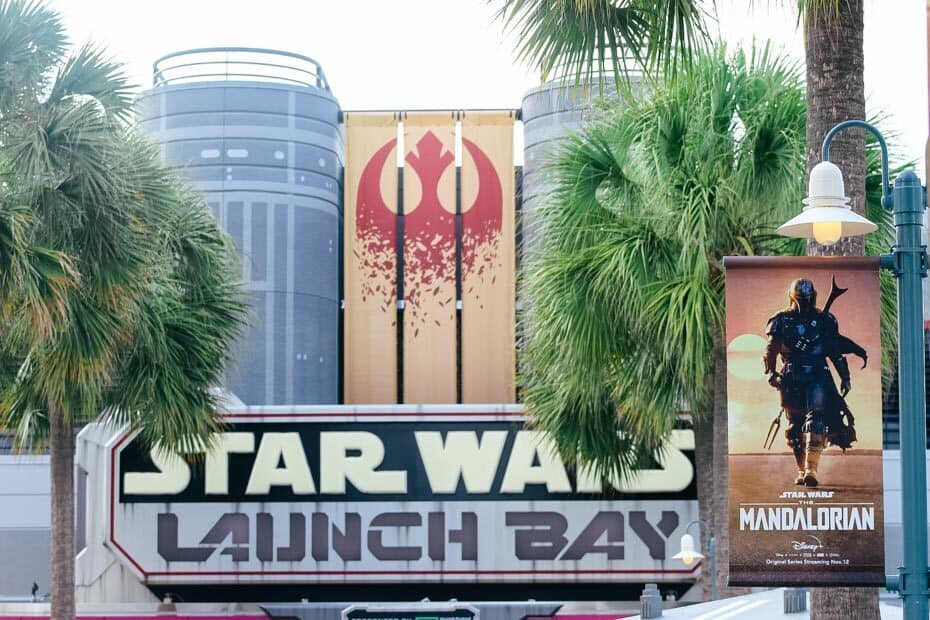 Outside the Launch Bay, there is a list of character meets and wait times. The first wait time on the sign indicates the time until the next movie. I will note here that I don't know how accurate these wait times are and how they are updated. BB-8 actually didn't have a wait by the time I got to his meet this day, even though the wait time indicated 35 minutes.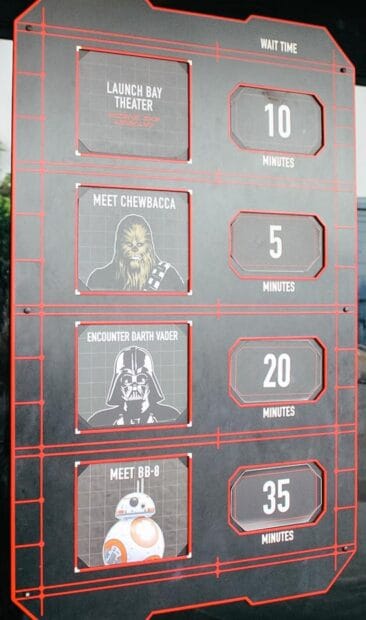 Darth Vader Meet & Greet
Darth Vader is back at Hollywood Studios Launch Bay since the Galaxy's Edge opening. Previously Kylo Ren was meeting guests here, but now the OG has returned.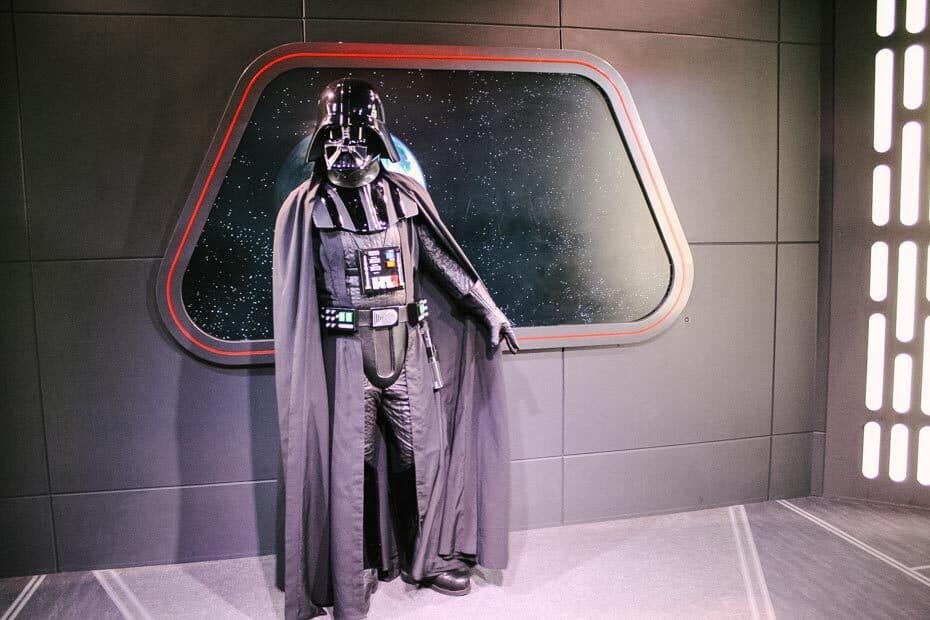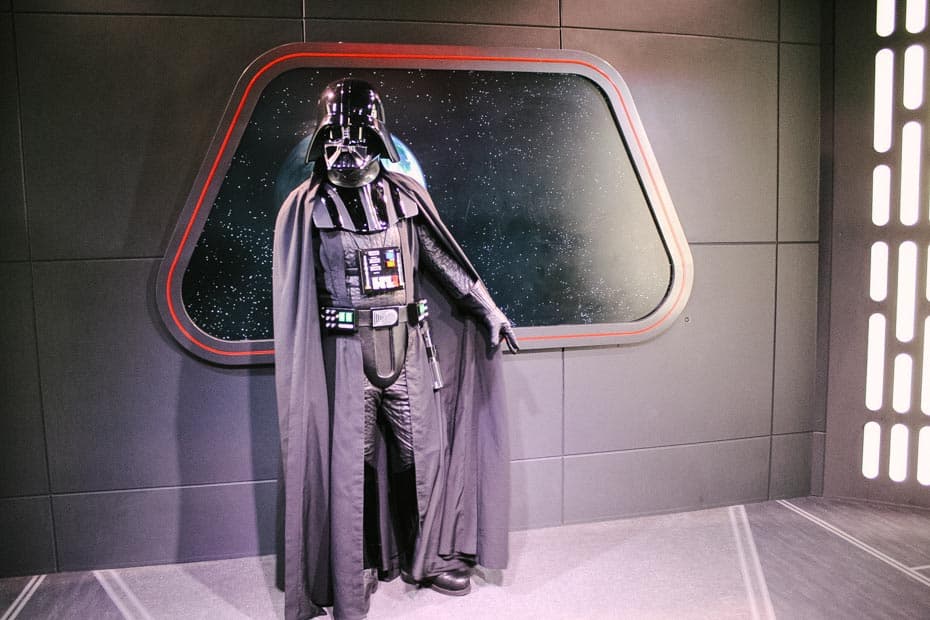 He will let you know where to stand in case there is any confusion. I really like the Darth Vader meet and strangely do not find him anywhere near as intimidating as Kylo Ren. Which I also think is kind of funny.
As far as smaller children go, this meet can be a bit scary depending on your child. You know your child better than anyone. Therefore, if this could bother them, it might be a good idea to skip it.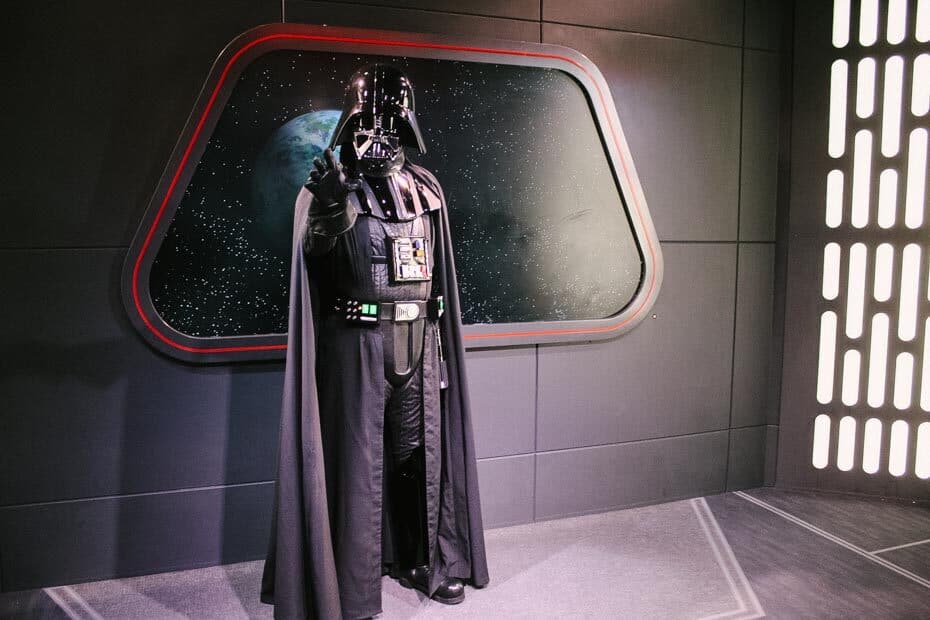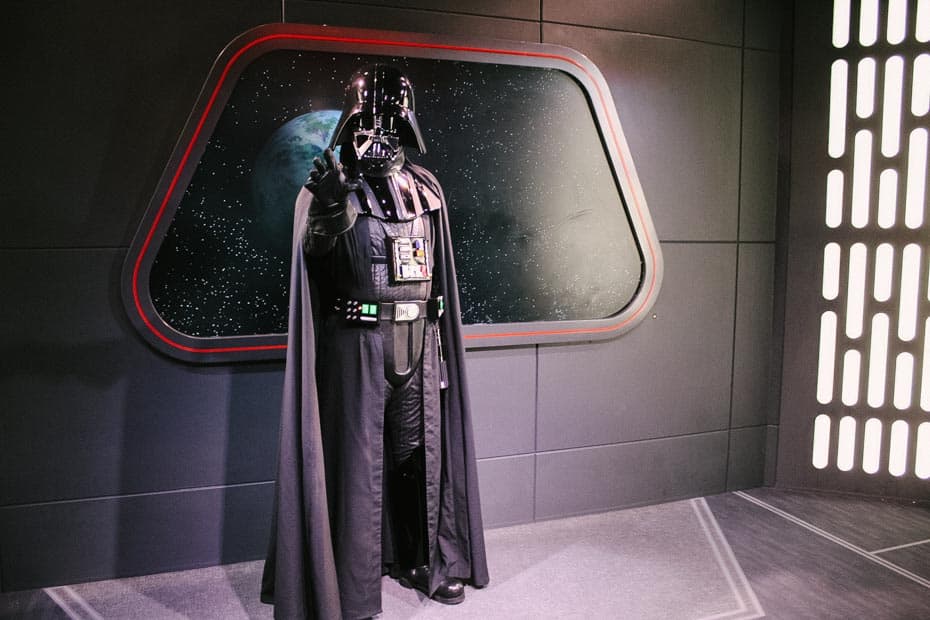 Nobody wants to be scared while on their Disney vacation.
Chewbacca Character Meet
This big Wookie can also be found at Star Wars Launch Bay. The Chewbacca character meet is often pretty popular, and you might find yourself waiting a bit on this one at peak times of the day.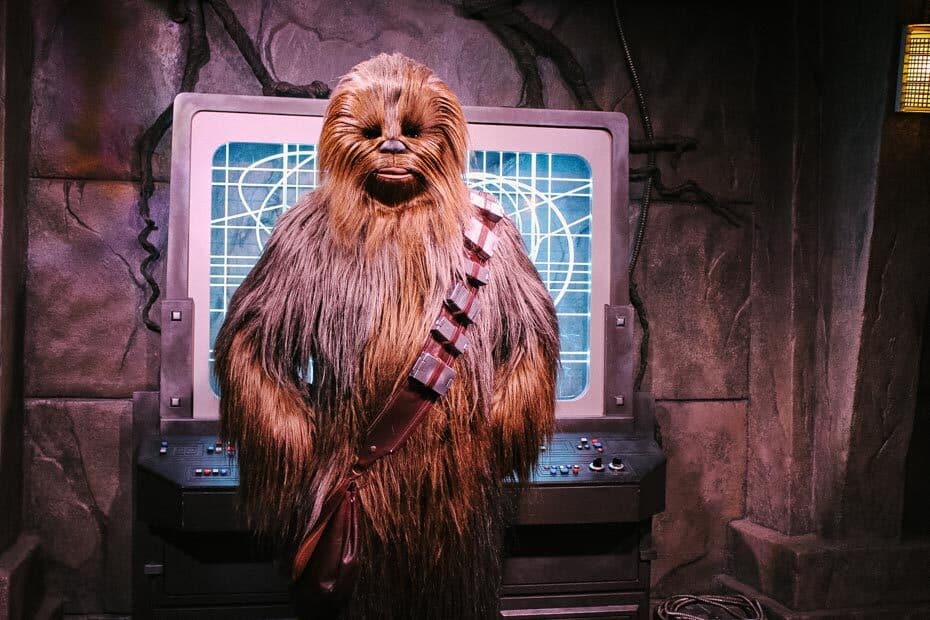 Chewbacca is friendly but rather tall, so smaller children could also be just as intimidated by this character. There isn't anything scary about him other than his appearance. And if you are familiar with his character, then his appearance shouldn't scare you either.
BB-8
Our least controversial character meet in the Launch Bay is none other than the popular droid BB-8. He is usually busy working on one thing or another when you enter this meet.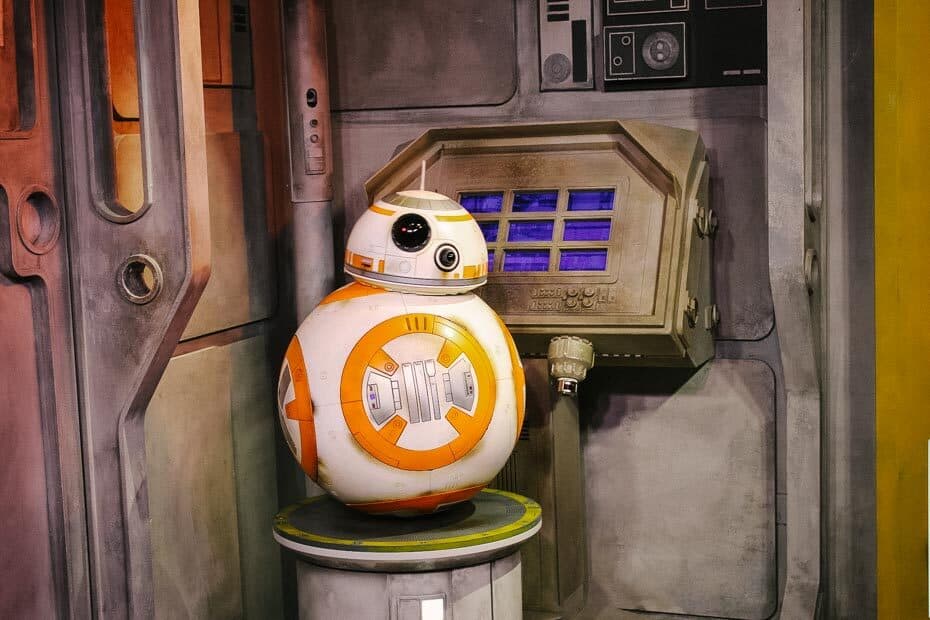 All of the character-meets offer a more accurate wait time on the interior as shown in the picture below.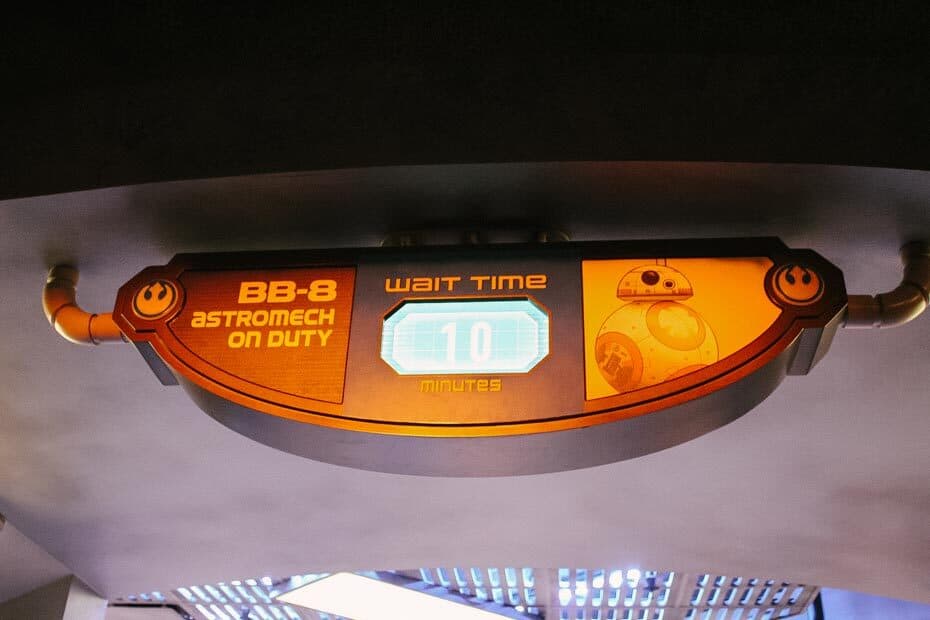 This day the wait showed 35 minutes outside but was only 10 minutes when I got to the actual entrance. Luckily there wasn't anyone waiting, and I was able to walk right into the meet.
BB-8 is a fun meet for everyone and popular with kids. This meet is not intimidating in any way and something good for all ages.
If you have a Disney Visa card, make sure to take advantage of the special character Disney Visa meets. This is a good way to avoid a potential line to meet Darth Vader.
Star Wars Launch Bay Reminders:
There is no FastPass+ available for these meets.
These are not autograph characters.
Launch Bay is typically open during normal park hours.
Character Meet Location: Animation Courtyard
Walt Disney Presents Character Meet Area
One of my favorite things to do at Hollywood Studios is to see "One Man's Dream" when it's playing. This is around the corner from Voyage of the Little Mermaid and before you get to Toy Story Land's main entrance on your right. The Walt Disney Presents building is also home to a variety of different Disney memorabilia on display.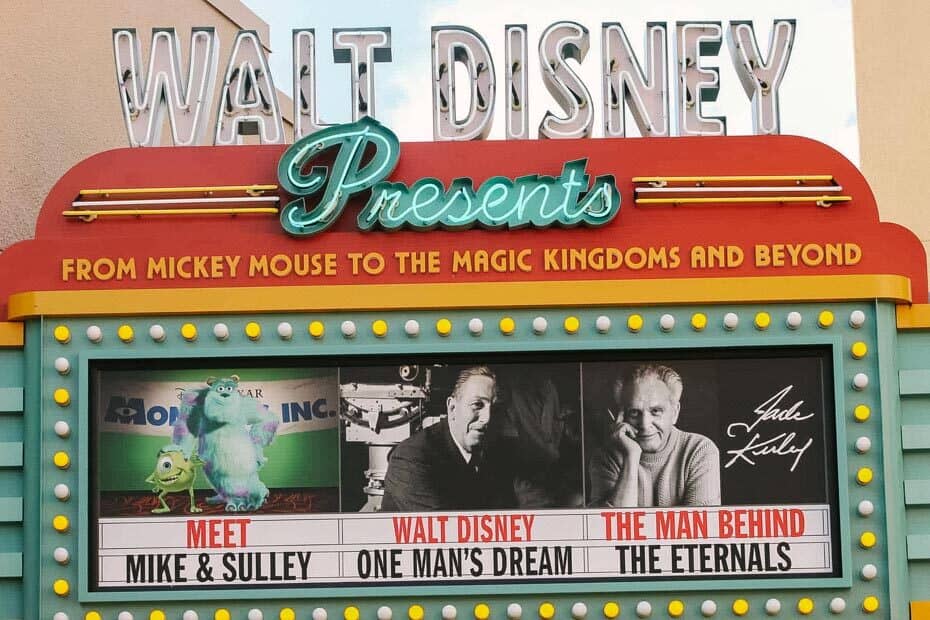 This building is kind of set up similar to a museum. Additionally, you'll find a character meet toward the back next to the theater for the movie. I highly recommend taking a break during the day to see the short film.
From time to time, the movie is replaced with extended previews of new Disney release films. This is also the home of the Monsters Inc. character meet at Hollywood Studios.
Mike Wazowski & Sully Character Meet
Here you will find a favorite pair of monsters! They will do everything they can to make you…..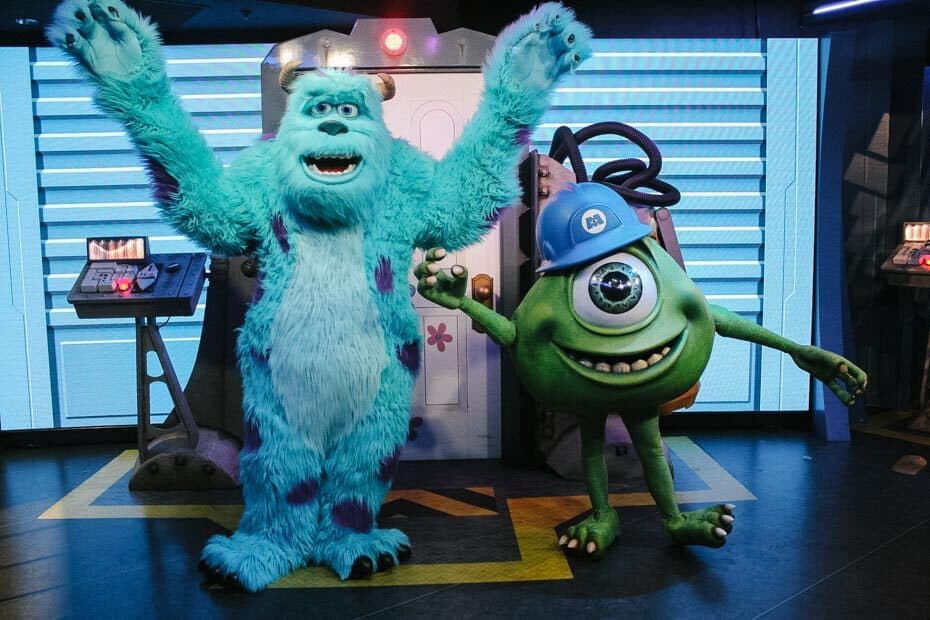 Laugh. I hope you didn't think I meant to scare you. That's what they do when they call you out over at Laugh Floor in Magic Kingdom. (Don't ever sit behind the lamps!)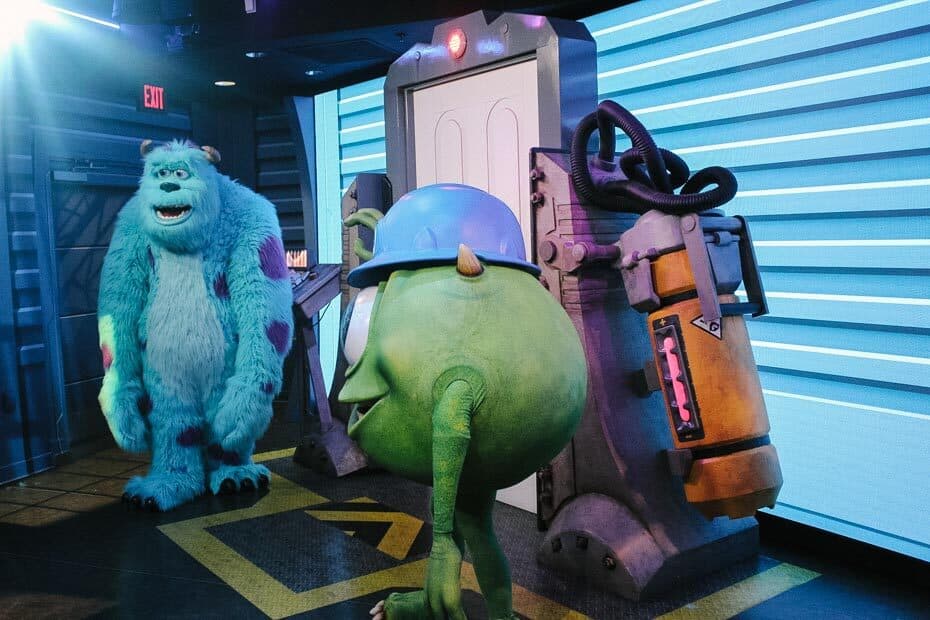 Anyway, Mike and Sully are fun to meet. Sully is fairly large, but I don't think either of them are intimidating. They are quite friendly.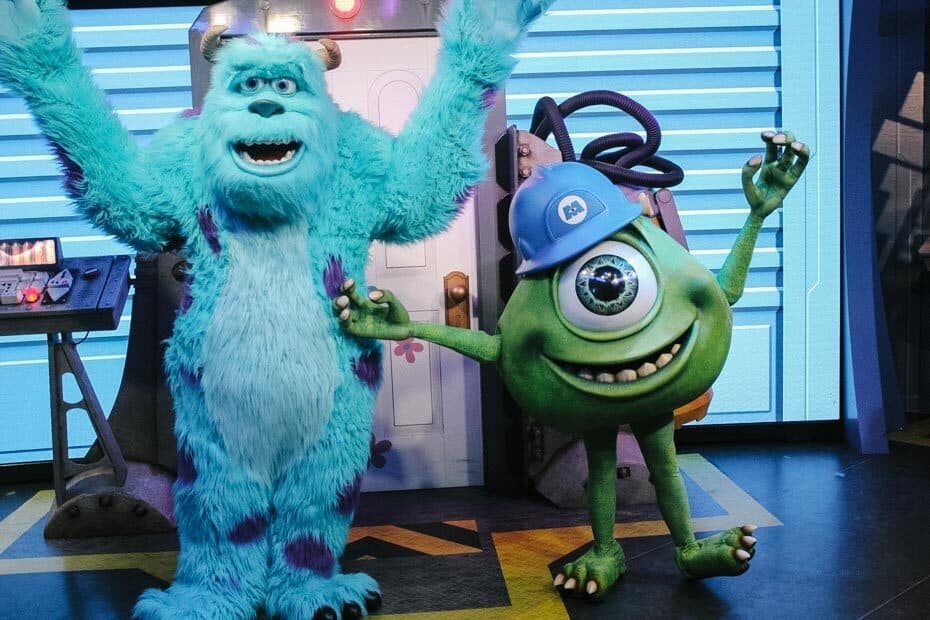 Mike and Sully Character Meet Reminders:
There is no FastPass+ available for this meet.
These are not autograph characters.
Walt Disney Presents usually closes earlier in the day than other attractions.
Character Meet Location: Walt Disney Presents
For reference, the above link will take you to a complete, detailed review for meeting Disney Junior characters at Hollywood Studios. And there's also a Disney Junior Dance Party located in this same area of Animation Courtyard.
As far as character meets go, expect the following:
Pluto
Find him daily at the Animation Courtyard! He signs autographs and is usually out until around 5:30 p.m. on most days.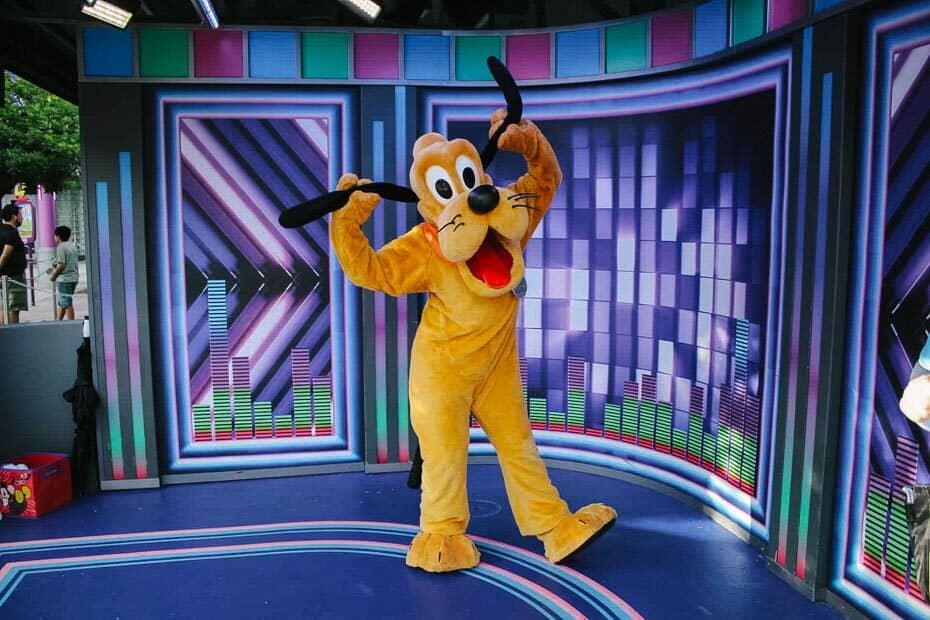 Fancy Nancy
Fancy Nancy is also part of the Disney Junior lineup of character meets at Hollywood Studios. I'm sure if you have age-appropriate children, you are more than familiar with this one.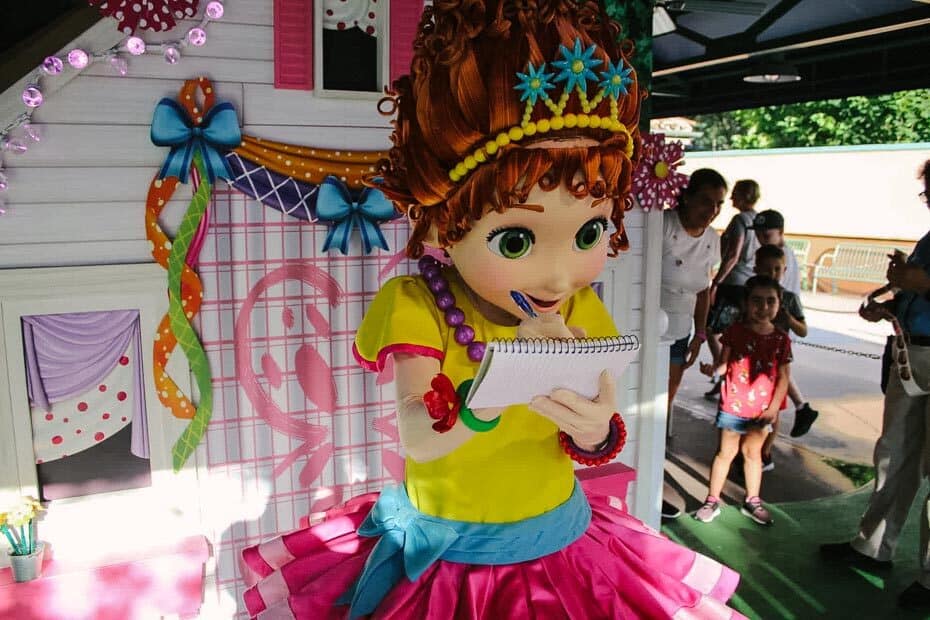 Vampirina
Next door to Fancy Nancy is Vampirina and her bat-wing hair. She is probably the most energetic of the group and makes for a great meet and autograph.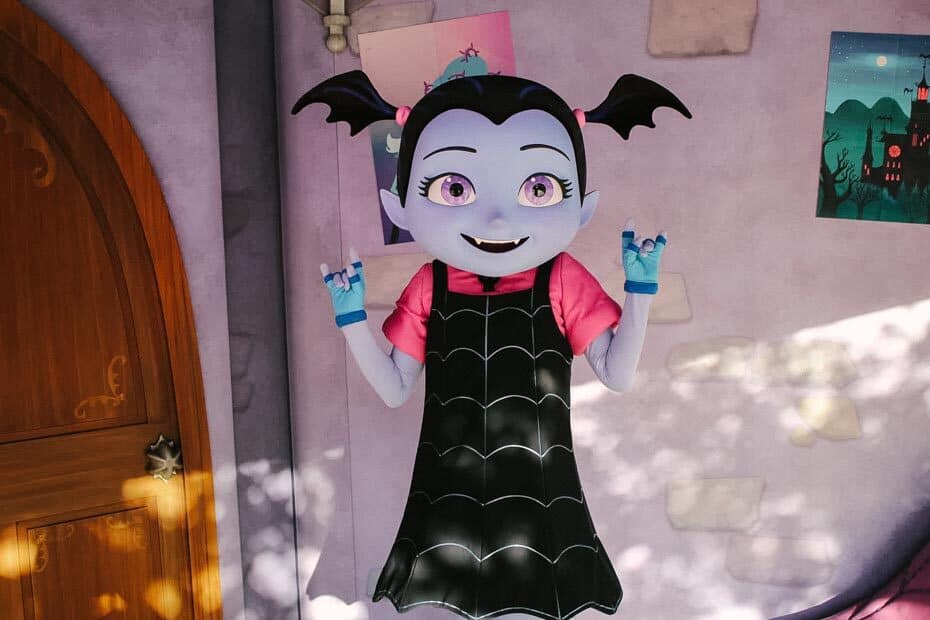 Doc McStuffins
Last but not least, at the end of the Animation Courtyard is the Disney Junior favorite Doc McStuffins! She is meeting at her clinic and loves to have guests visit.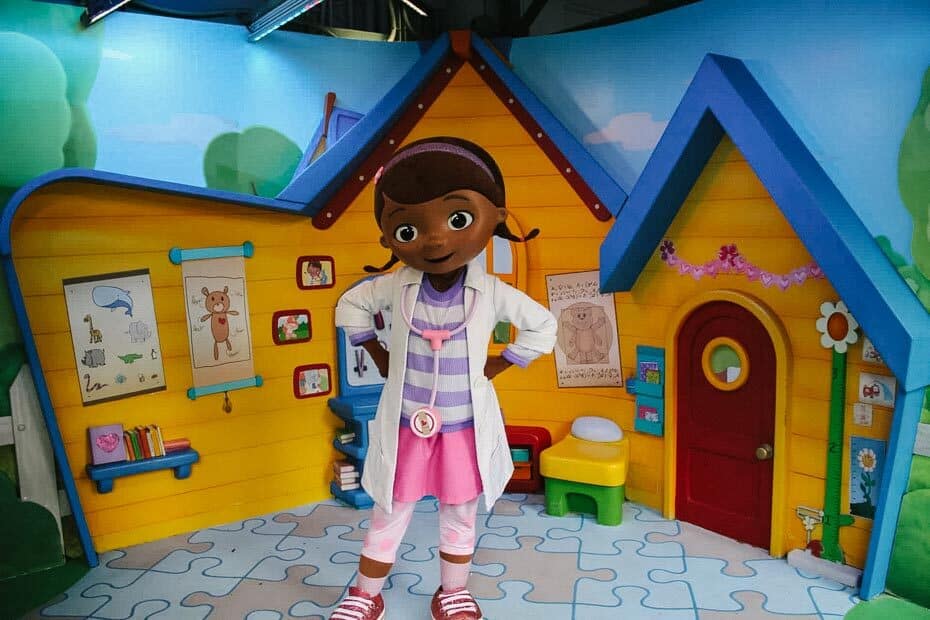 Make sure to check out the full review for specific details and a look at the character's autographs.
Disney Junior Character Meet Reminders:
There is no FastPass+ available for these meets.
These are autograph characters.
Disney Junior character meet closes early in the day.
Character Meet Location: Animation Courtyard
Olaf Character Meet at Hollywood Studios
Everyone's favorite snowman, Olaf from Frozen and Frozen 2, meets daily at Disney's Hollywood Studios. This character meet is a lot of fun and usually easy to fit in on your visit.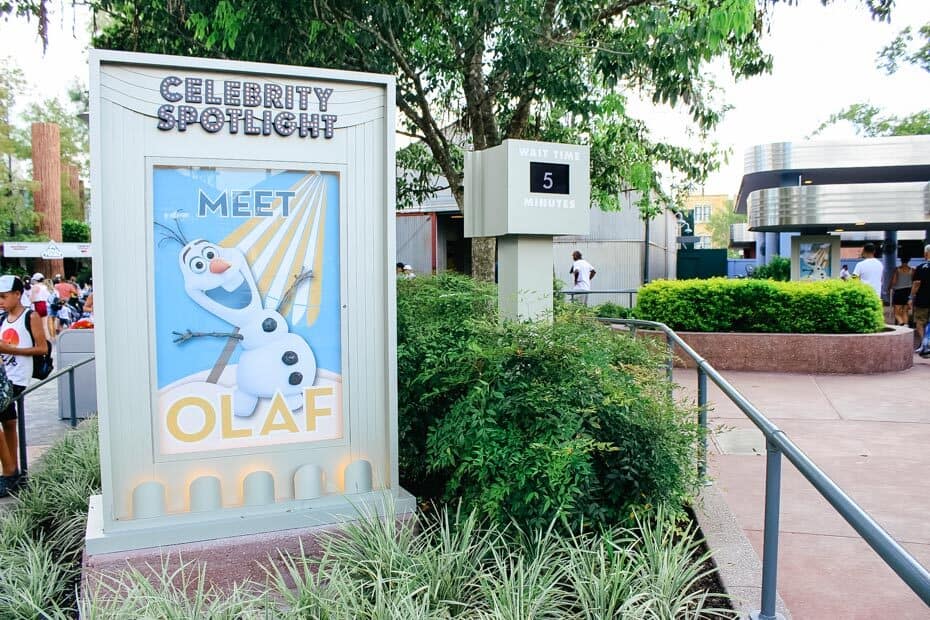 Olaf meets on the backside of the Hyperion Theater, where the Frozen Sing-A-Long takes place daily. His meet is on the interior, but most of the queue is in a covered outdoor area. Wait times are usually fairly reasonable, and I recommend seeing him after you visit the show next door.
Olaf is a friendly meet, and there is a PhotoPass photographer on-site at this meet to take your picture. This is another good time to point out that they will take your picture for you with your own camera or cell phone if desired.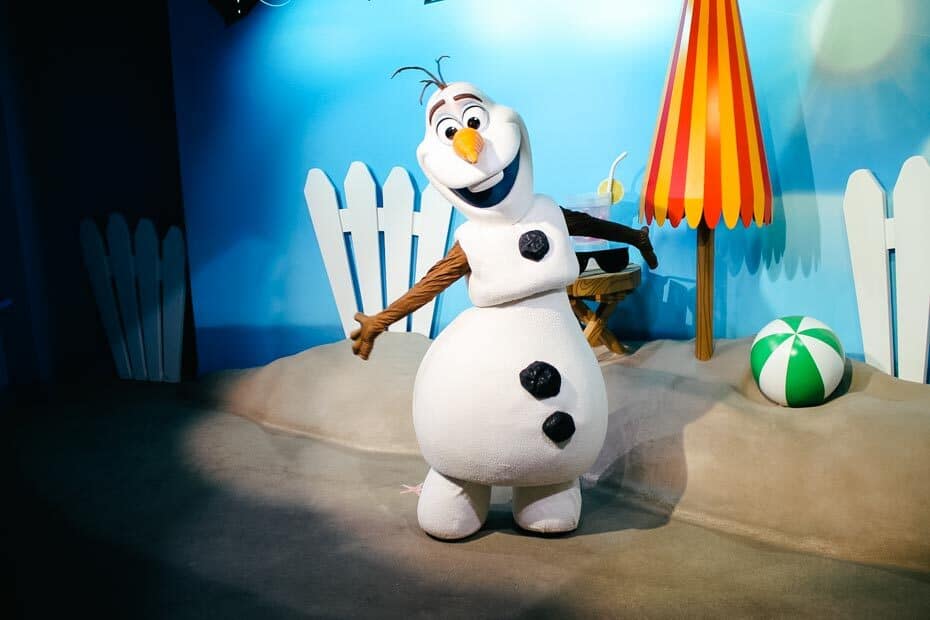 Olaf Character Meet Reminders:
There is no FastPass+ available for this meets.
This is not an autograph character.
Olaf meets during normal park hours.
Character Meet Location: Celebrity Spotlight behind the Hyperion Theater
Toy Story Character Meets at Hollywood Studios
Normally, you'll have the opportunity to meet three to four characters over in Toy Story Land at Hollywood Studios. These characters all have exterior meets. Bo Peep was meeting alongside Woody, but she was moved to a seasonal opportunity.
Woody and Bo Peep
These two meet right outside Toy Story Mania. Be prepared for a lengthy line, they are very popular character meets.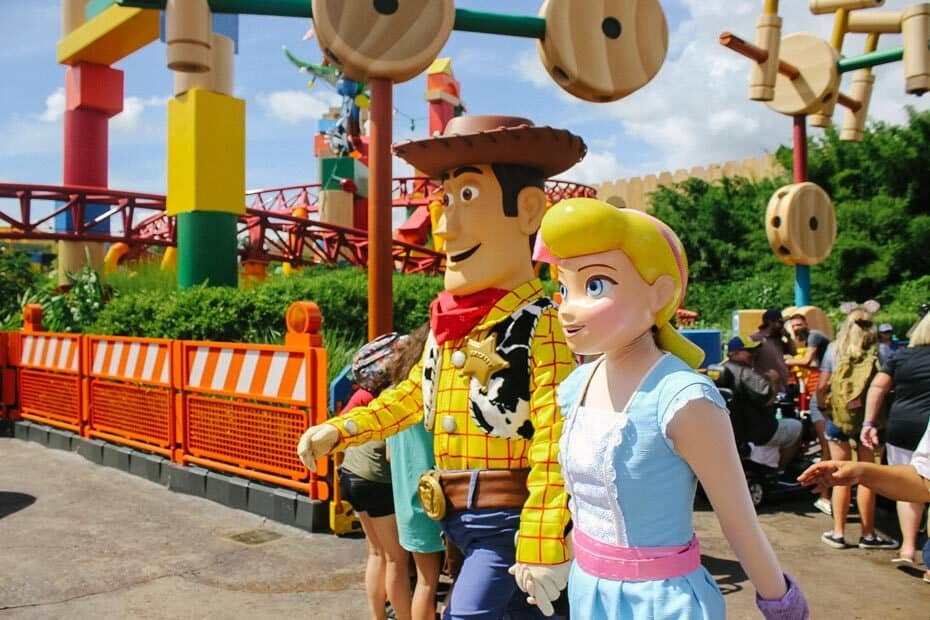 Woody has recently been spotted meeting with Jesse again, and as of February 2020, the My Disney Experience app reflects those changes. Bo Peep appears to be a seasonal character, so she may or may not be out during your visit.
Jesse
Jesse meets across from Alien Swirling Saucers toward the back of the land. You might also find her meeting alongside her old pal Woody.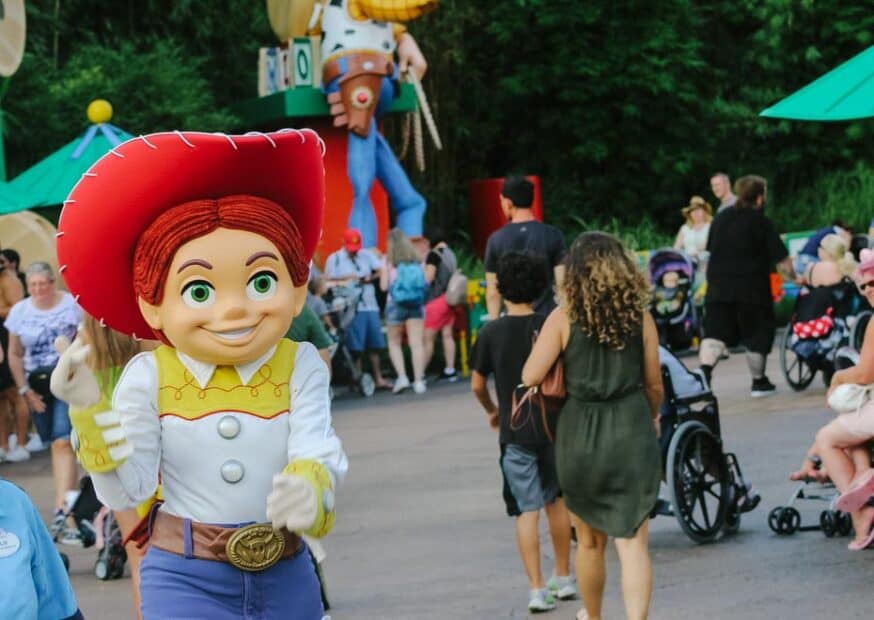 Buzz Lightyear
Lastly, you'll find Buzz Lightyear not too far on your right past the main entrance to Toy Story Land. Buzz Lightyear has a character meet in Tomorrowland at Magic Kingdom during the afternoons.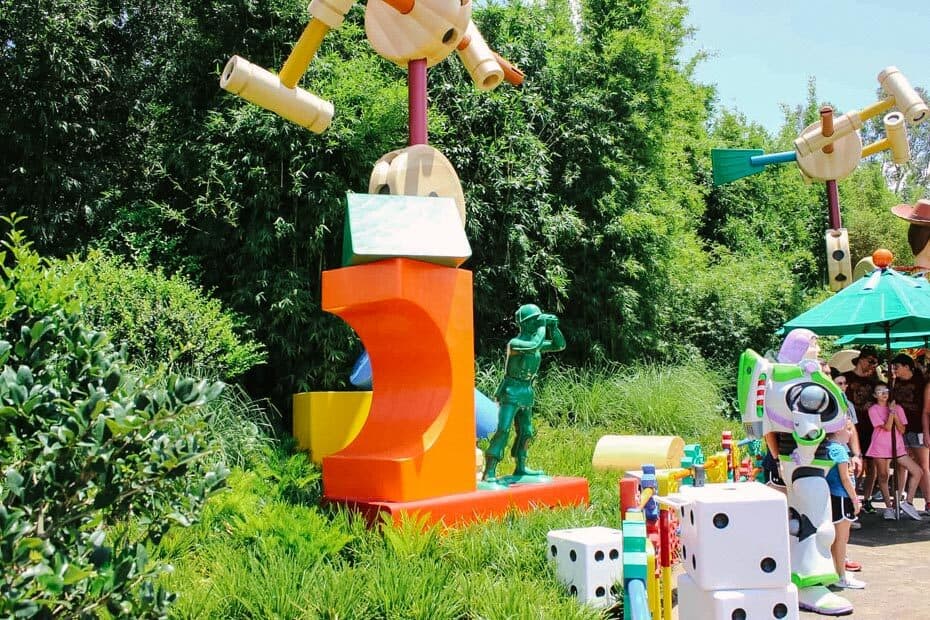 Tips on meeting Toy Story characters:
There is no FastPass+ available for these meets.
Some of these are autograph characters.
Toy Story Land character meets are all located outside.
Character Meet Location: Throughout Toy Story Land
Galaxy's Edge Roaming Characters
Hollywood Studios newest land, Galaxy's Edge, offers a chance to run into roaming characters on your visit. So far on my visits to the new land I've run into quite a few.
These characters are out poised as inhabitants of the land. They are not required to take pictures with guests. But if you have your camera ready, you might be able to snag one.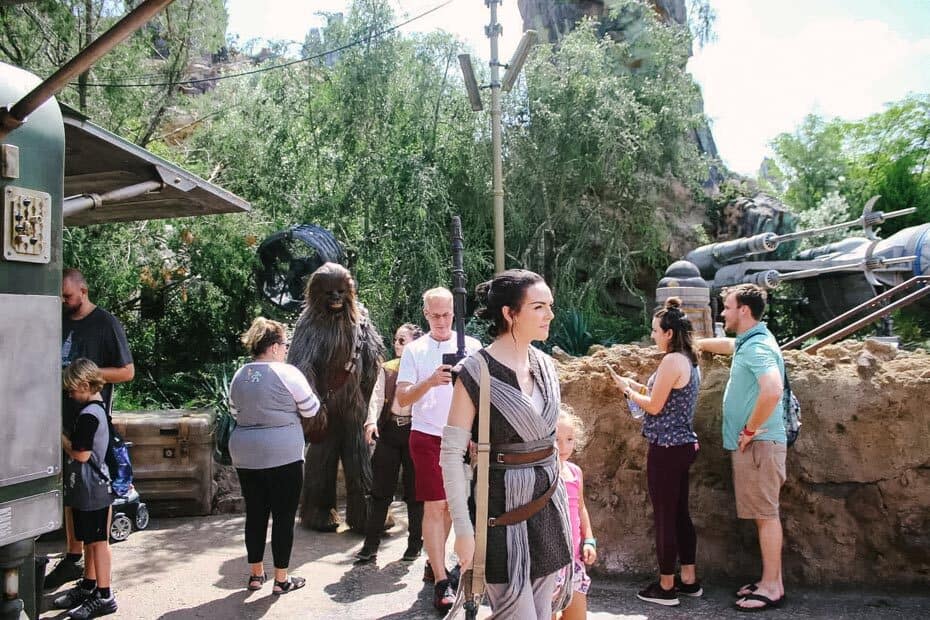 Above we have Rey and Chewbacca in the background. Below you will see Kylo Ren interrogating a guest about what she was really doing in Batuu.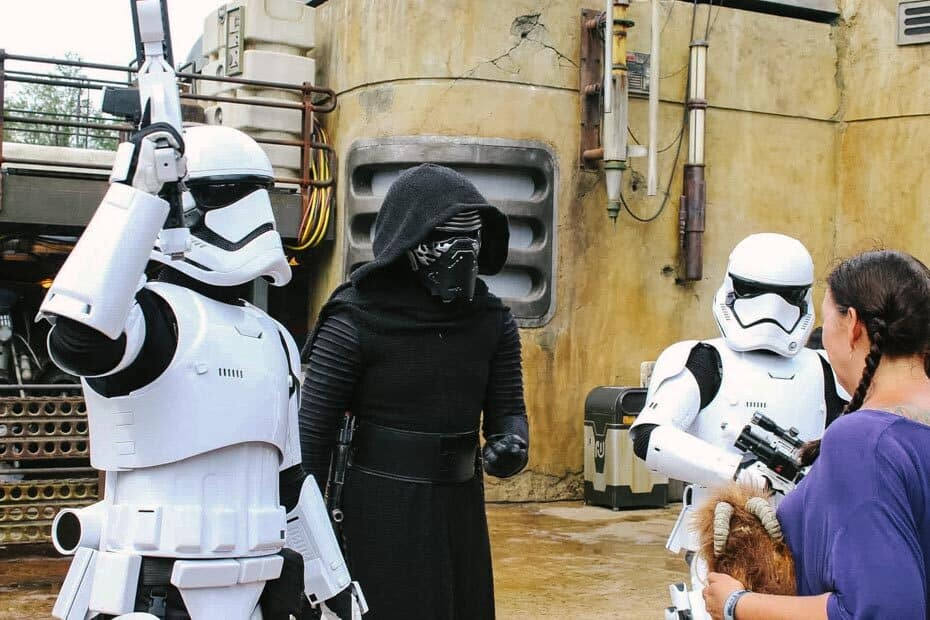 His ship lands on the regular in Batuu, and you will usually find him with a couple of bodyguards, I mean, stormtroopers.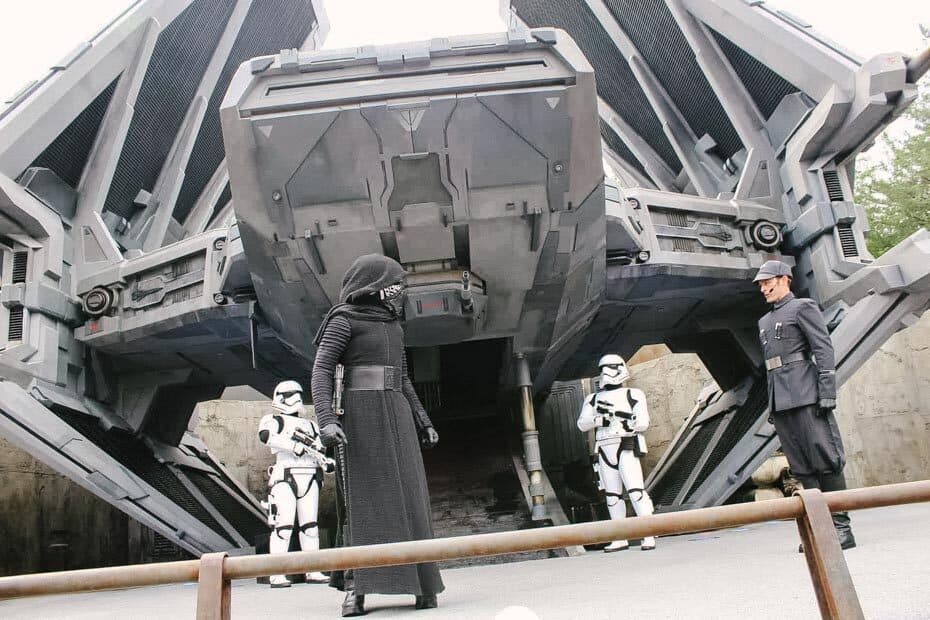 These are strictly roaming characters; no lines are formed for meets.
These are not autograph characters.
Character Meet Location: Throughout Galaxy's Edge
Donald Duck and Daisy Duck at Hollywood Studios
If you are looking to meet a few classic characters at Hollywood Studios, make sure you check out Sid's Porch just on your left when you enter the park. This location is typically either Daisy & Donald Duck or Chip & Dale.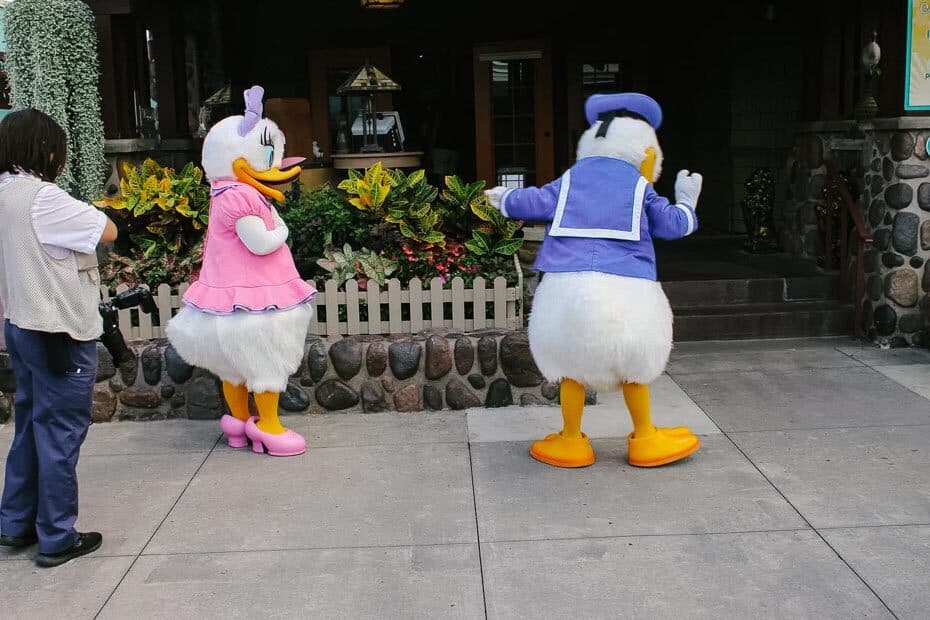 Make sure to check out the My Disney Experience app to see what time and which characters are meeting. A quick review of the app today shows that Chip & Dale are meeting here from 12:50 p.m. to 3:45 p.m.
Cars Meet at Disney's Hollywood Studios
The Cars meet has actually been located in a few different Hollywood Studios areas over the past few years. As of this last update, it is located at the Cars Courtyard behind the Rock 'N Roller Coaster.
One thing to note is that if you aren't aware of this meet, you'll probably never see it. And I hate that because there's a great little show playing in the area right now for Cars fans, called Lightning McQueen's Racing Academy.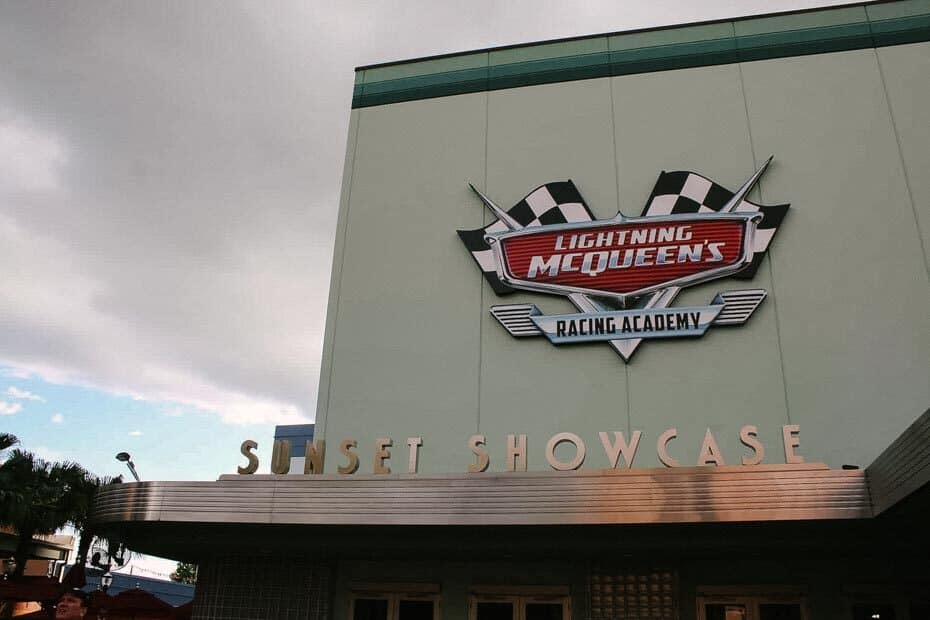 Cruz Ramirez and DJ are both set up in the exterior courtyard for meets at this time. Below is a look at DJ's character meet. When the meet is open, you can walk up and have your picture made with both cars.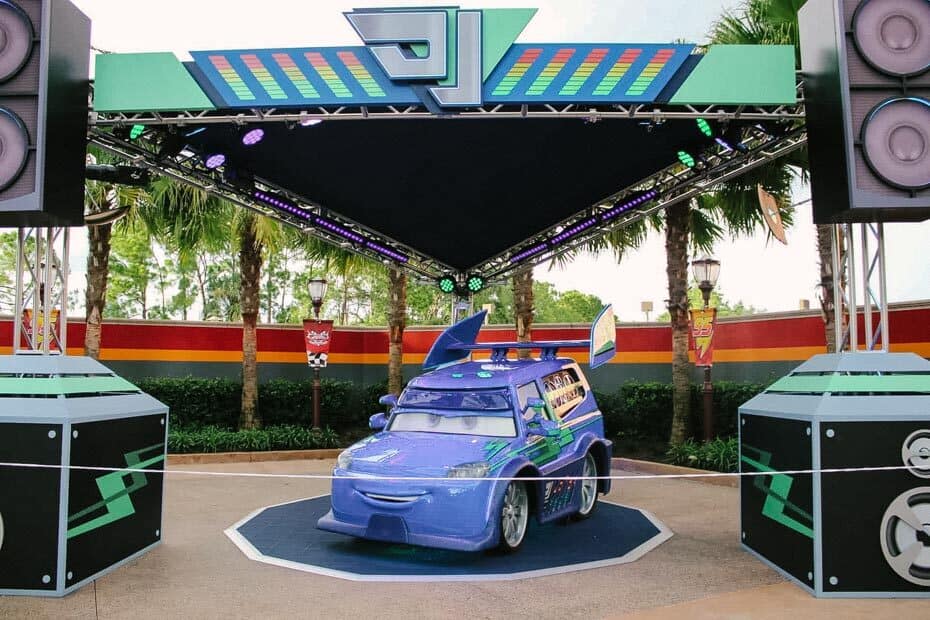 Additionally, you'll find Lightning McQueen's Racing Academy playing in the theater behind the meet. It's about a 15-20 minute show, and a must-do for any Lightning McQueen fans out there. The show is entertaining, and I think it's one of those things that is a bit of a surprise when you realize how much you enjoyed it.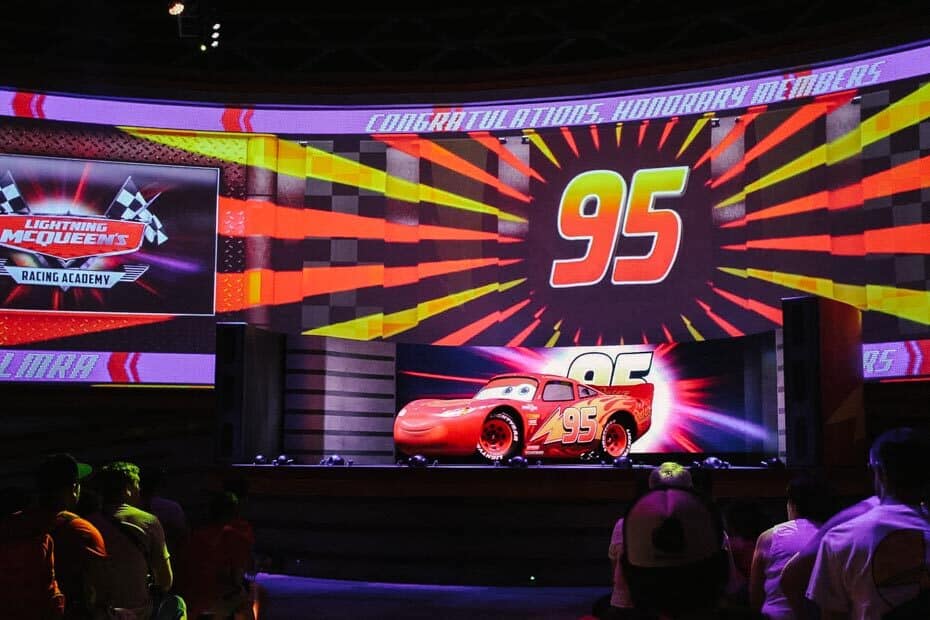 Edna Mode
Last but not least, we will look at the Edna Mode character meet at Disney's Hollywood Studios. This meet was introduced to Hollywood Studios back a few years ago.
Edna Mode is one of my favorite character-meets at Hollywood Studios, and I hope she will remain around for a much longer time to come.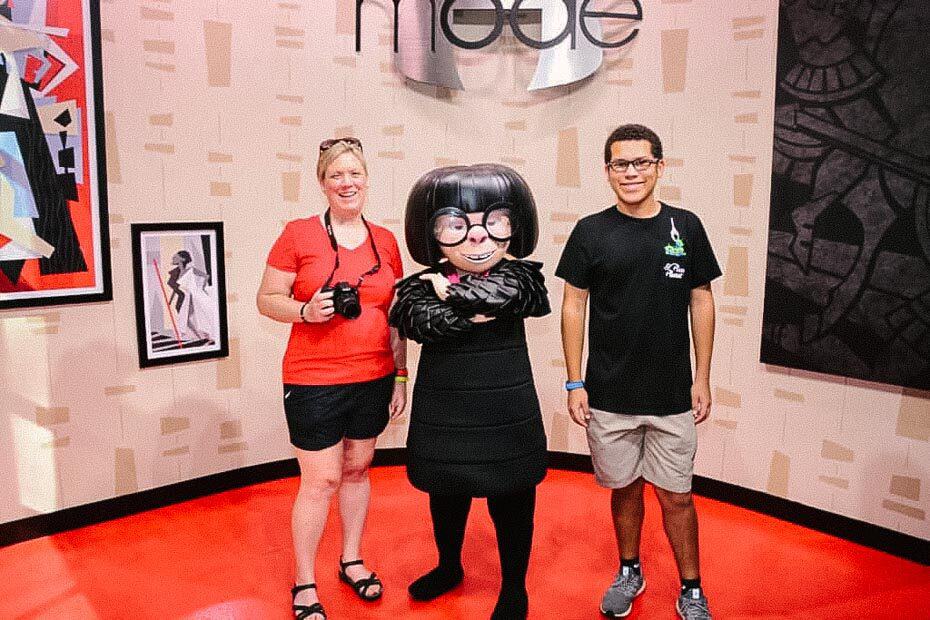 She is located in Municiberg Plaza in the former home of Pixar Place and the Toy Story character-meet before the new land opened.
She is absolutely fabulous and I hope you will get to meet her on your vacation.
Reminders for the Edna Mode Meet:
There is no FastPass+ available for this meet.
Munciberg Plaza usually closes earlier than other attractions.
Character Meet Location: Municiberg Plaza
Final Thoughts on Hollywood Studios Characters:
Hollywood Studios provides a few unique opportunities to meet characters at Disney World. Over my visits to meet characters at the parks, I have found the wait times shorter than most at Hollywood Studios. Plus, there are more meets geared towards boys here than, say, the princess meets at Magic Kingdom or Epcot.
One could also argue that the Hollywood Studios character meets more suited for children ages 5 and under with all the Disney Junior meets available. With the newer openings of Toy Story Land and Galaxy's Edge, the park has grown by leaps and bounds. But sometimes, a day meeting characters might turn out to be surprisingly something different and delightful.
If not, at least take the time to meet Mickey and Minnie Mouse at Red Carpet Dreams and any other favorites on your list.
You can also check out the site's main character page for an extensive set of posts on meeting characters at Disney World. Some of those reviews include seasonal offerings.
Disney World Character Dining Guide
Thanks for tagging along today! If you have any questions about meeting characters at Hollywood Studios, please leave me a comment below.