Meet Ariel at Her Grotto at Magic Kingdom
In this article, we visit Ariel, the Little Mermaid, in her Fantasyland Grotto at the Magic Kingdom.
"Flippin your fins, you don't get too far,"–Part of Your World. Have you ever wanted to meet Ariel as a mermaid? Thankfully, you can at Walt Disney World.
Ariel meets daily at Ariel's Grotto in Magic Kingdom's Fantasyland. Specifically, you can find this meet next door to her attraction, Under the Sea: Journey of the Little Mermaid.
Since Ariel's character meet-and-greet recently reopened, we stopped for a visit. Below, we'll go over the specifics of the meet along with a few tips for meeting her.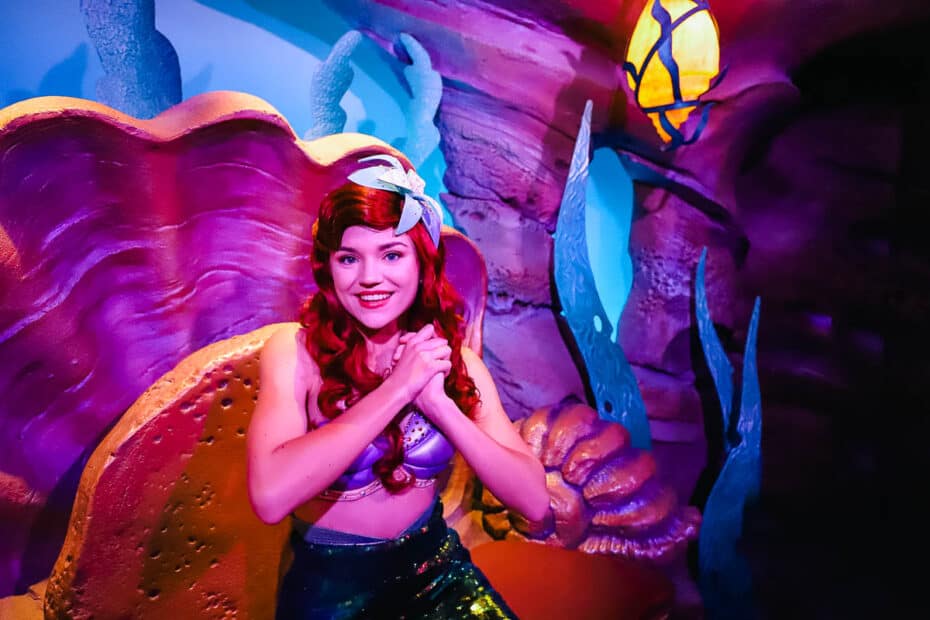 Ariel's Grotto is the first attraction you'll run into when entering New Fantasyland from Storybook Circus. Both Ariel's Grotto and Journey of the Little Mermaid entrances are directly next to each other.
On the evening of my visit, cast members at Ariel's Grotto ensured guests knew they were joining the line to meet Ariel. Only a few characters have a dedicated home like Ariel, so it appears like you are entering the line for a ride.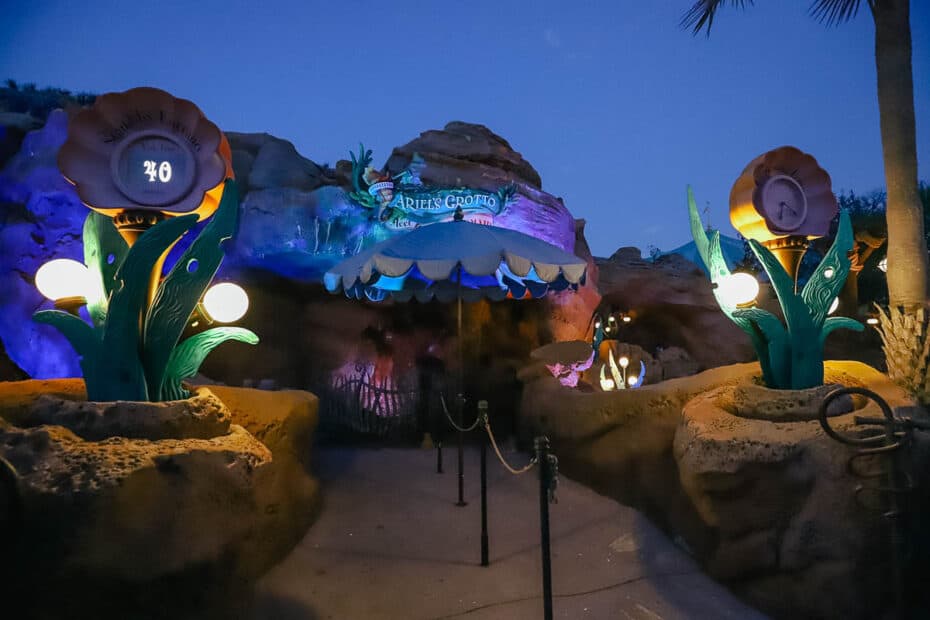 Ariel's Grotto has a Lightning Lane queue next to the standby line. If you purchase Genie+, this character meet and greet is one of the selections offered through the service.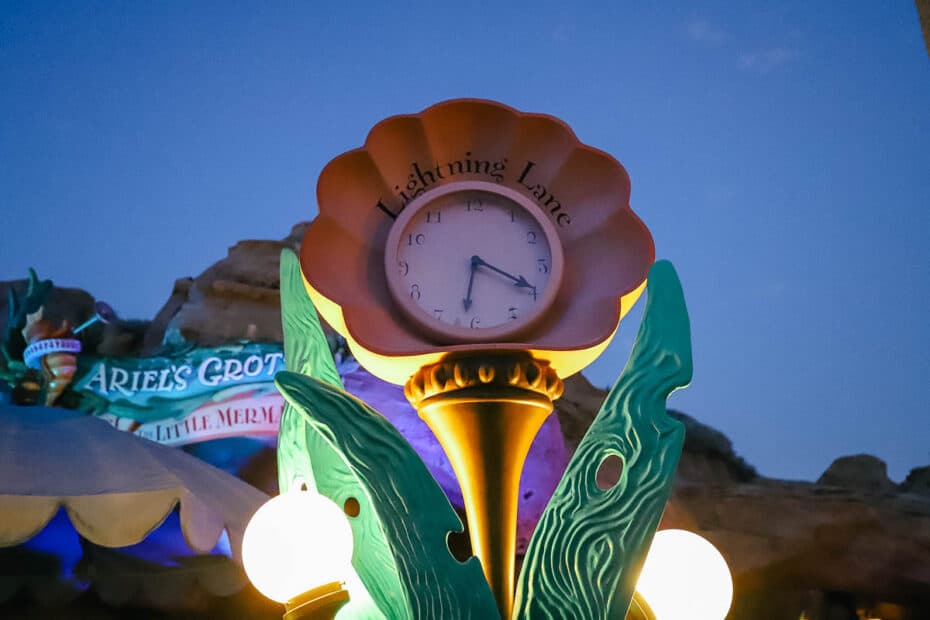 Ariel's Grotto had a posted wait of 40 minutes when I arrived at 6:19 p.m. Since it's relatively dark inside the queue, it's hard to tell, but there were at least 20 groups of guests ahead of us.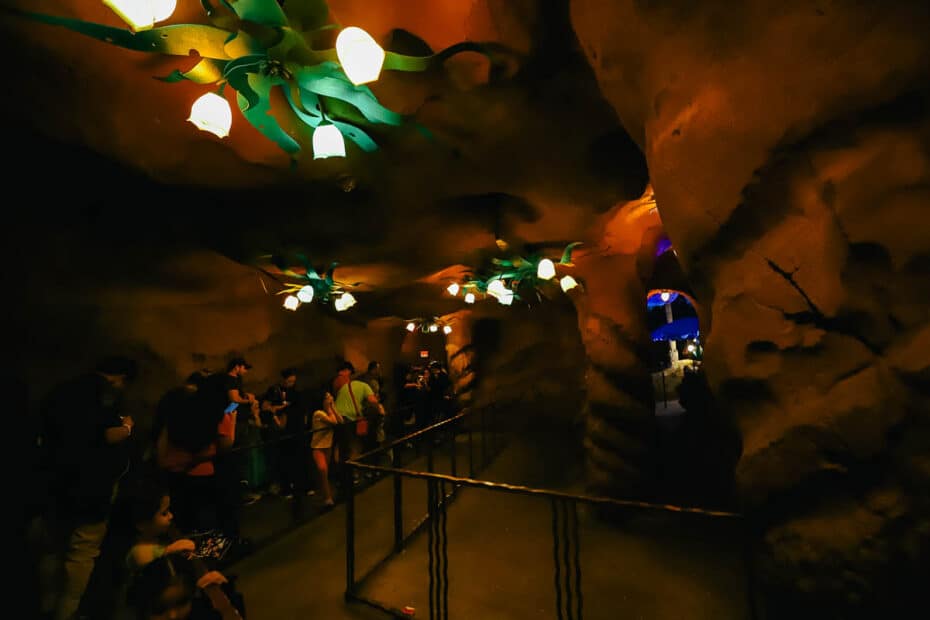 In addition to these guests, anyone using a Lightning Lane could go ahead of us while we waited. Of course, you can't see this happening, given the separate lines. But if the line's not moving, that's probably why.
Thankfully, the queue for Ariel's Grotto is a pleasant place to wait. It's cool and covered inside with a waterfall element.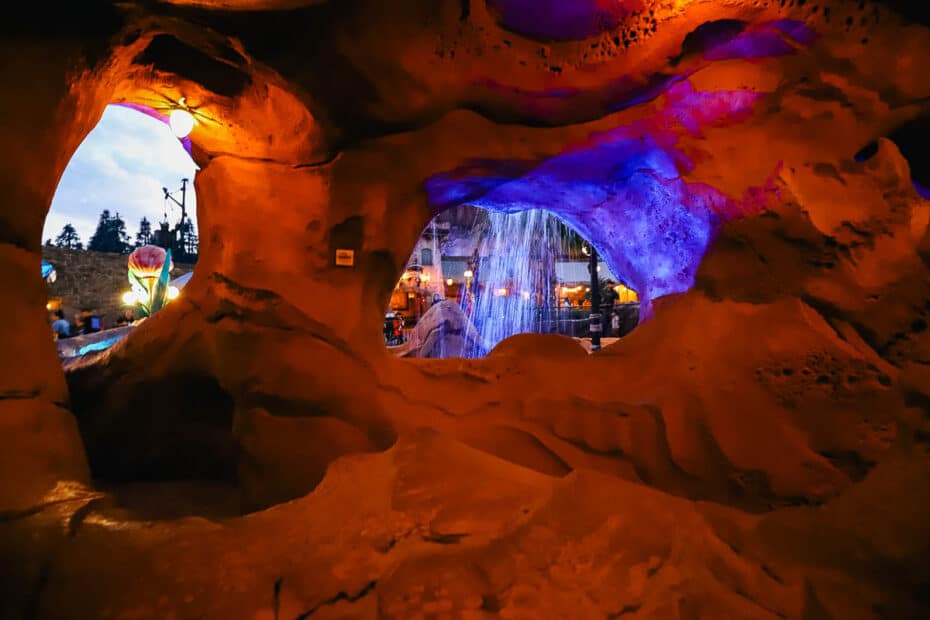 By 6:49 p.m., it was our turn to meet Ariel. So it ended up being a 30-minute wait altogether.
Here we have Ariel sitting on her clamshell, waiting to meet guests. She loves to talk about her friends Flounder, Sebastian, and Scuttle. Or you could always ask her about Prince Eric.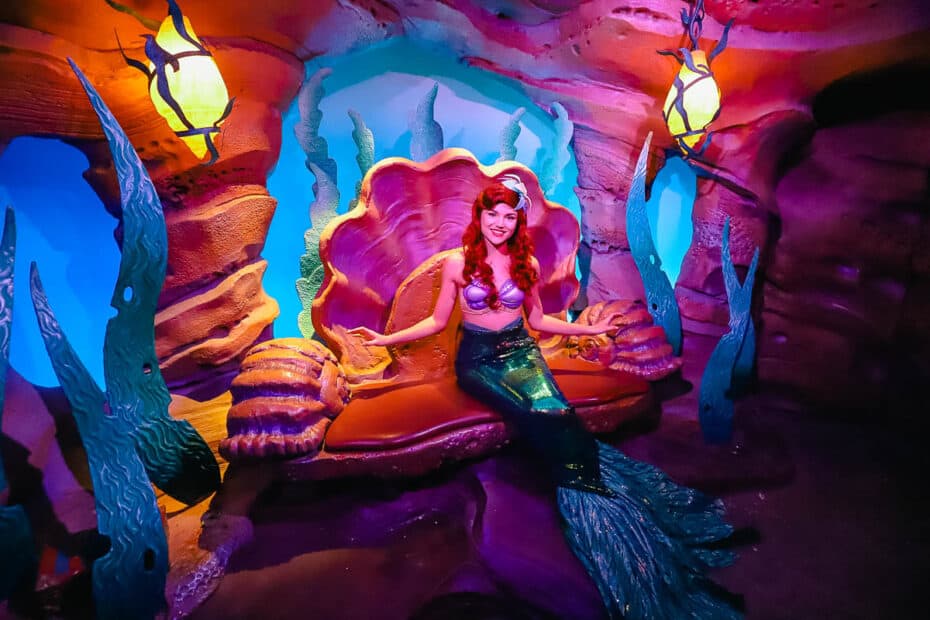 Other conversation topics for this meet-and-greet include thing-a-ma-bobs (she has twenty!) or what she uses to brush her hair. It's a dinglehopper.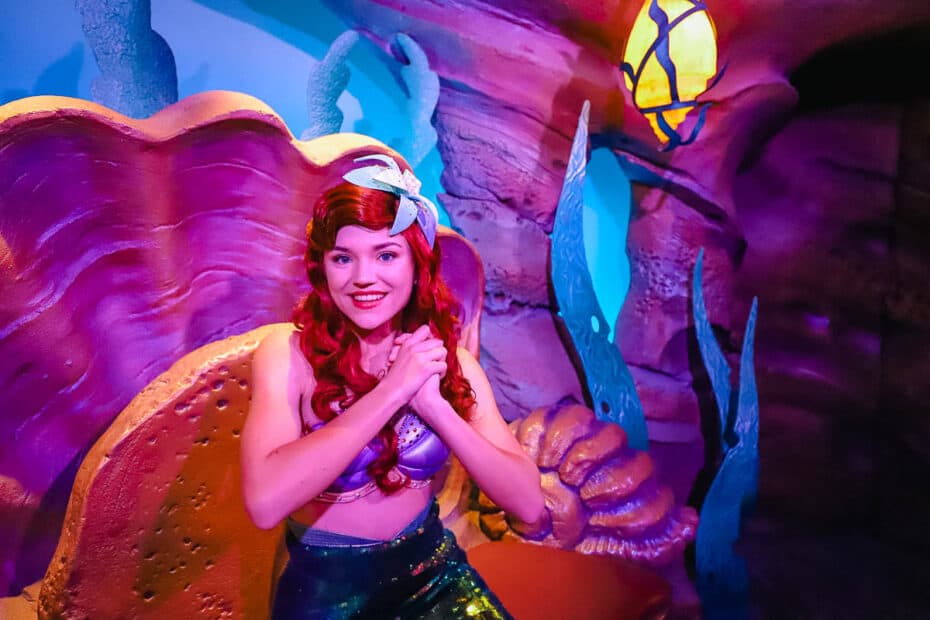 If you would like her signature, Ariel signs autographs. Cast members attending the meet will ask that you have your autograph book ready and turned to the page you want Ariel to sign.
Unfortunately, there were no PhotoPass photographers available at this meet-and-greet.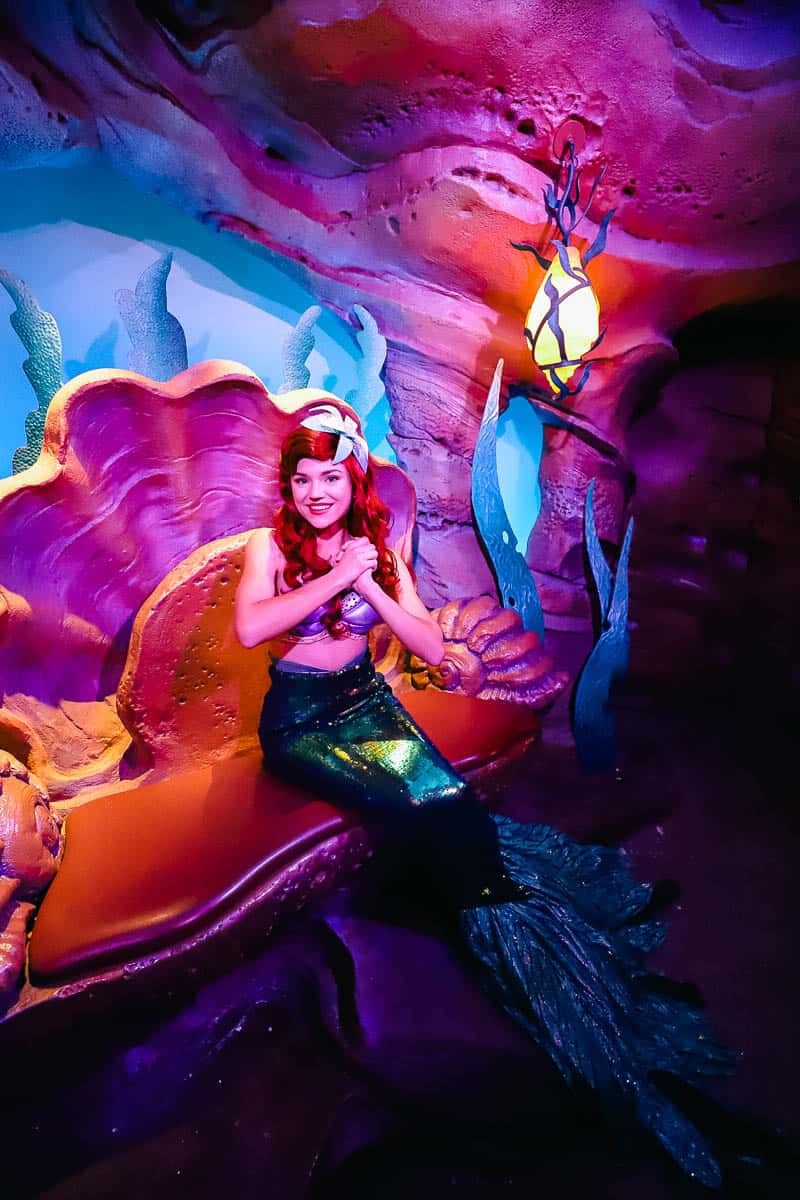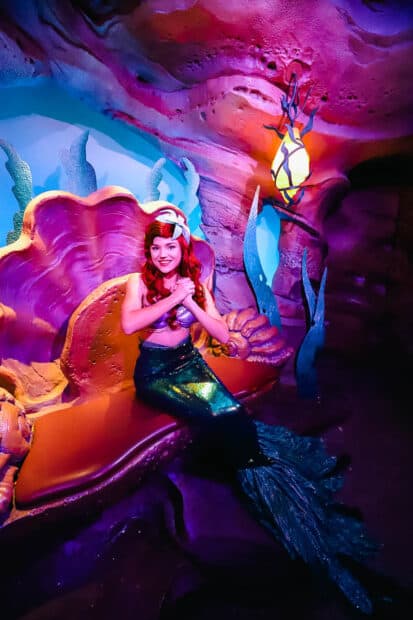 Even more, unfortunately, a new photo box has been installed. While these boxes will snap your photo, they do not do a good job. We recently discussed this problem in detail when we visited Pete's Silly Sideshow.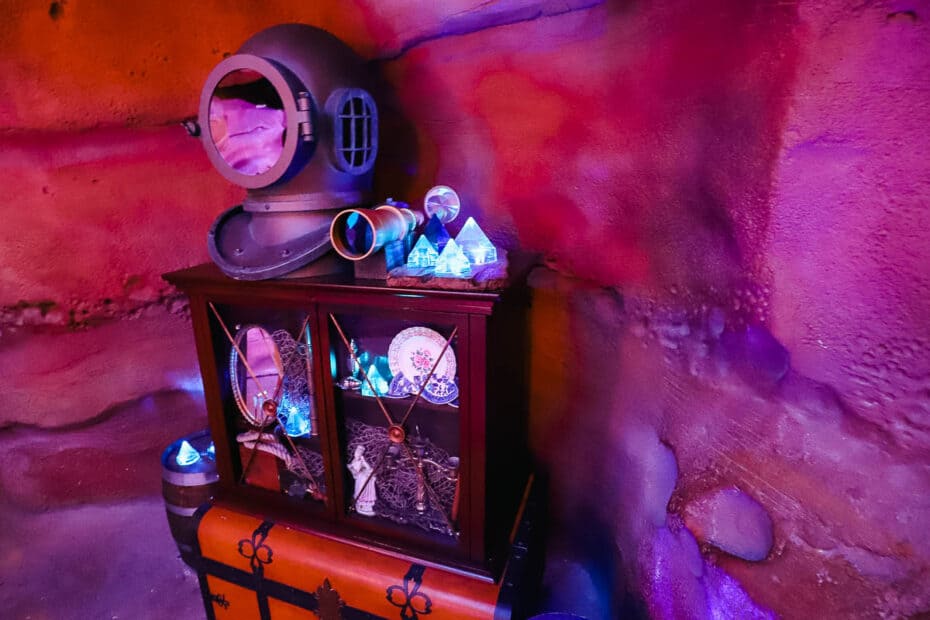 After you exit the meet, you scan your ticket or Magic Band on the screen below to get your photo. Only those who purchase the Memory Maker can access these photos.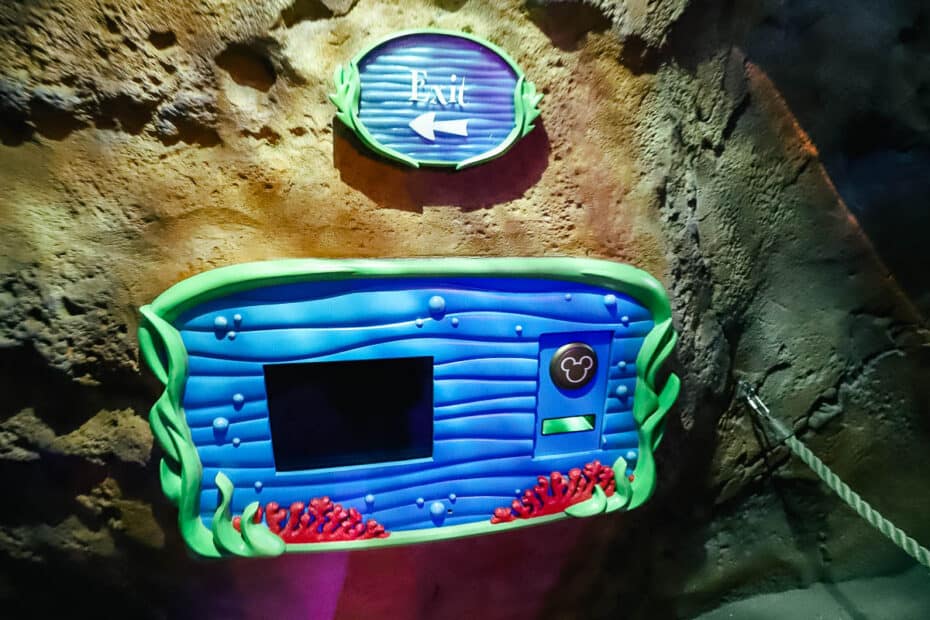 So you'll have to decide whether or not the price of the Memory Maker is worth having a machine take your photos. If not, you can always ask the cast member or someone in your group to take a picture with your camera.
Ultimately, meeting Ariel as a mermaid is one of the best character meets at Magic Kingdom. But I might be a little partial.
As for timing, Ariel's meet is scheduled daily between 10:00 a.m. and 8:00 p.m. However, those times can fluctuate. So you'll want to check the My Disney Experience app for the exact times on the day of your visit.
For more Magic Kingdom characters, you might enjoy the following:
Or you might like to browse the entire list of characters at Disney World. Additionally, we have an updated guide to character dining at Disney World.
In the Comments
What do you think of this meet-and-greet? Do you plan to meet Ariel in her Grotto on your next vacation?