Pete's Silly Sideshow (Meet Disney Pals as Circus Stars at Magic Kingdom)
Pete's Silly Sideshow is a character meet-and-greet location at Disney's Magic Kingdom. You'll find this character meet at the back of Storybook Circus between Big Top Souvenirs and Fantasyland Station.
Below, we'll walk through Pete's Silly Sideshow and discuss the favorite Disney characters that meet at this location. Additionally, we'll review how long you can expect to wait and a few tips for this meet-and-greet.
Four classic Disney characters meet at Pete's Silly Sideshow. They are circus stars Minnie Magnifique, Madame Daisy Fortuna, the Great Goofini, and the Astounding Donaldo.
Unfortunately, Mickey Mouse doesn't meet at this location. He meets as Mickey the Magician on Main Street U.S.A. at Town Square Theater.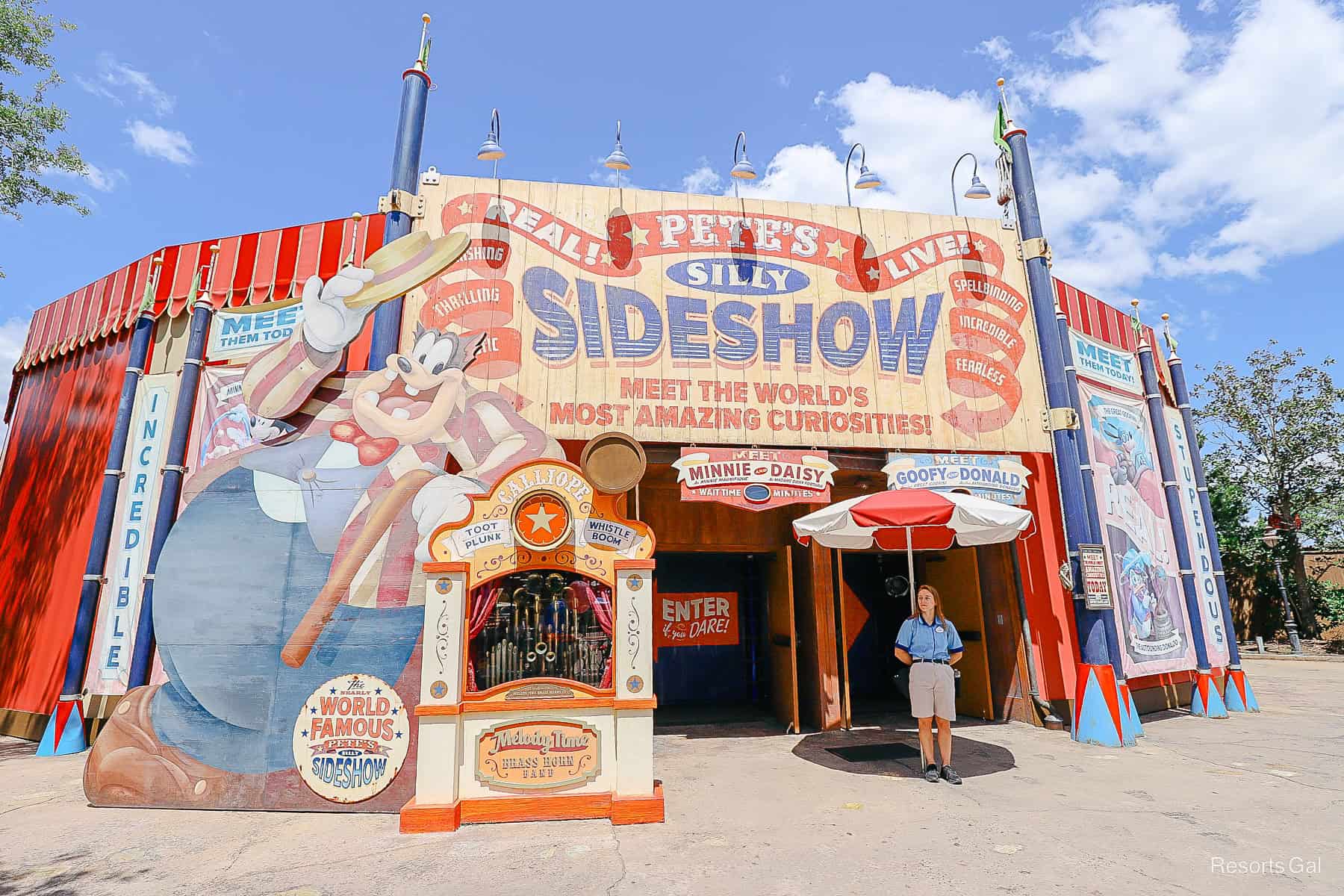 As far as this character location goes, each side allows the opportunity to meet two characters. Therefore, you will have to wait in two lines to meet all four characters.
On one side, Minnie Mouse meets next to Daisy Duck, while Goofy and Donald Duck meet on the opposite side.
Pete's Silly Sideshow is open daily from 10:00 a.m. until 7:00 p.m. However, you will want to confirm the exact hours on the day of your visit in the My Disney Experience app.
When you arrive at Pete's Silly Sideshow, you'll have to decide which characters you want to meet first. A wait time is posted for each set of characters.
We decided to go with Minnie and Daisy first since they had the shortest wait time. A 20-minute wait was posted at the entrance.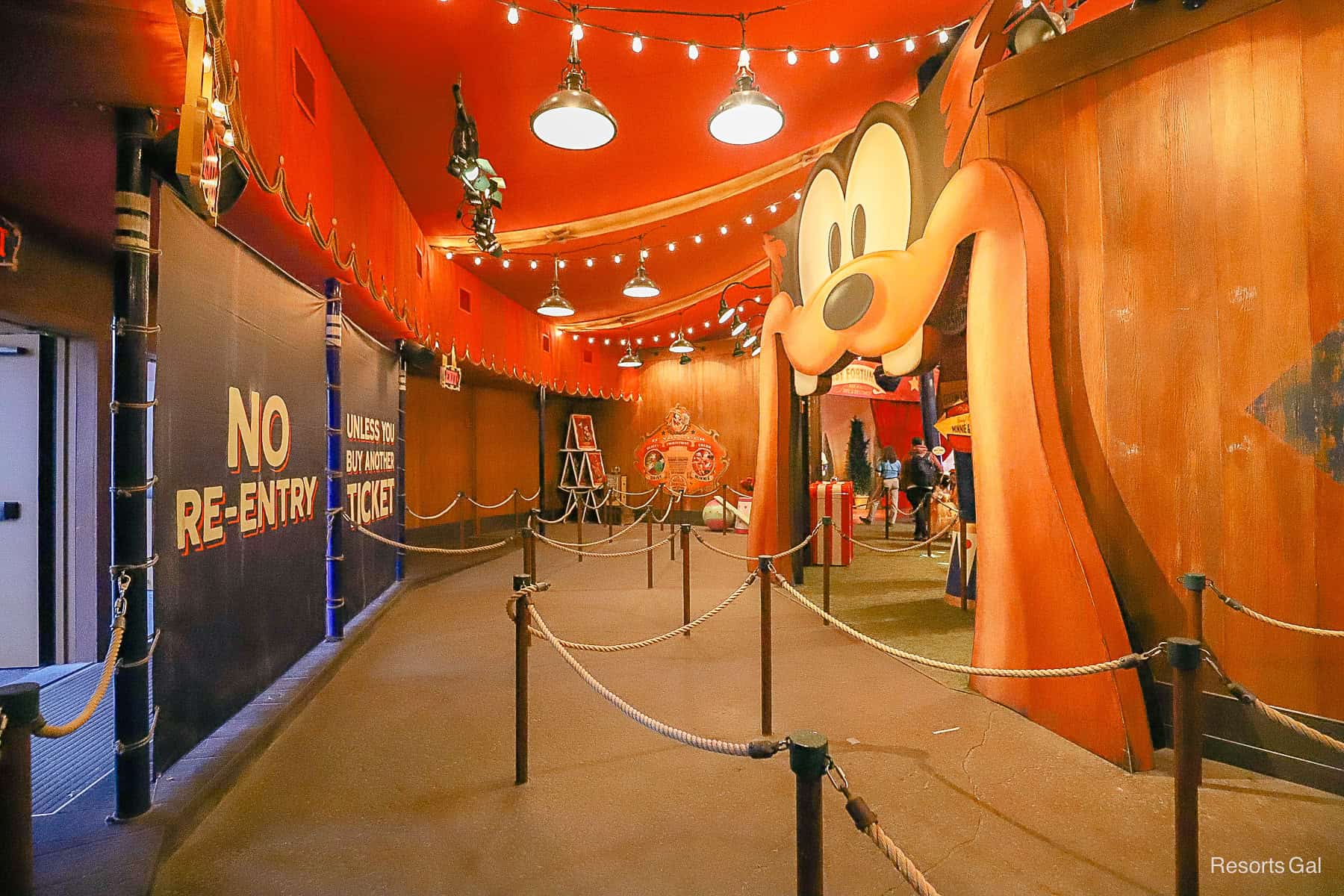 Several fun elements make up portions of the queue.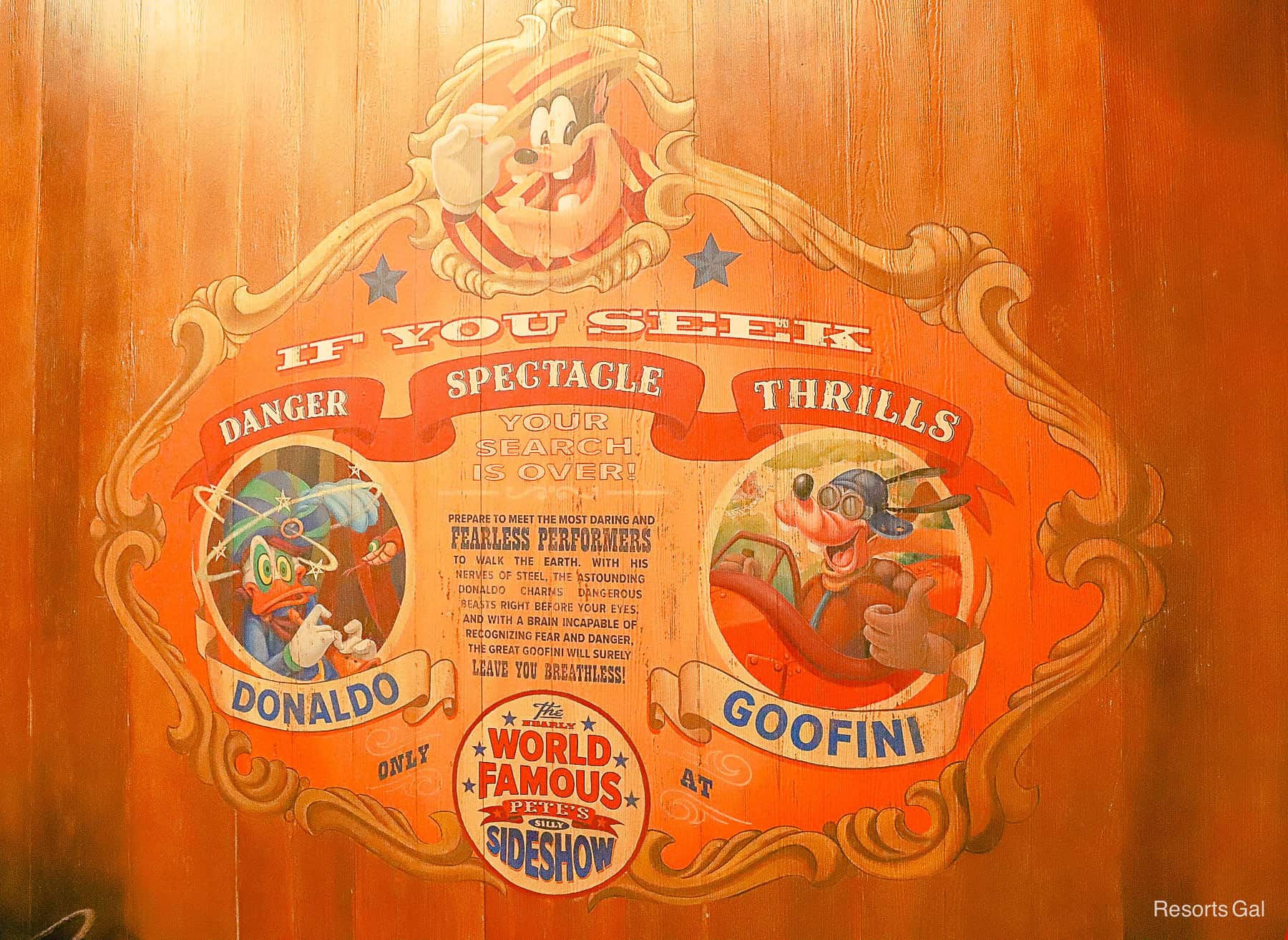 You'll walk through a roped-off area before entering the circus tent through Pete's wide jaws. Pete is considered a villain. So it's unsurprising that he's running a sideshow at the circus.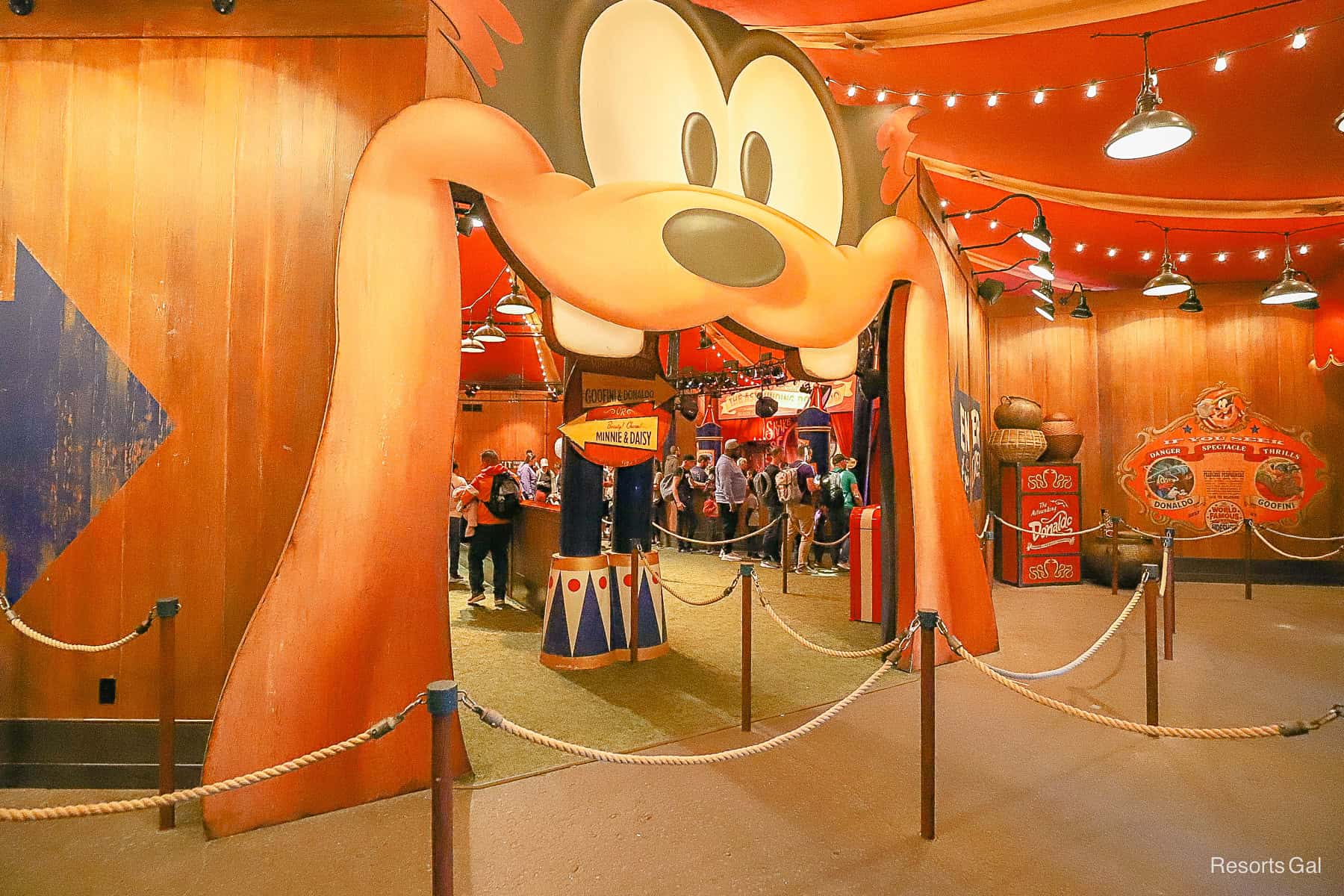 A partition divides the tent and keeps guests on the same side they entered.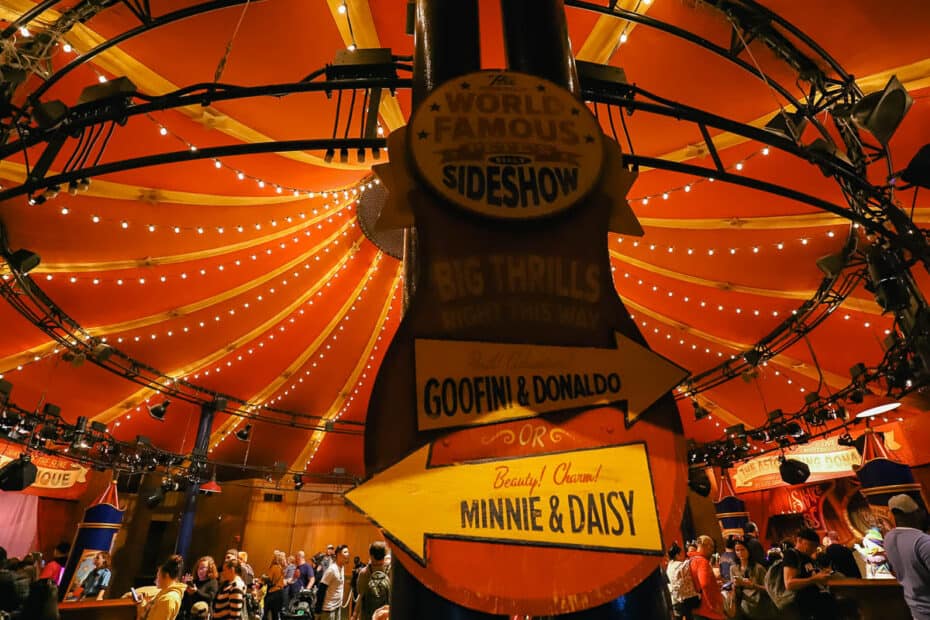 Here is a look at the queue and how many guests were ahead. It was 5:23 p.m. when we joined the line.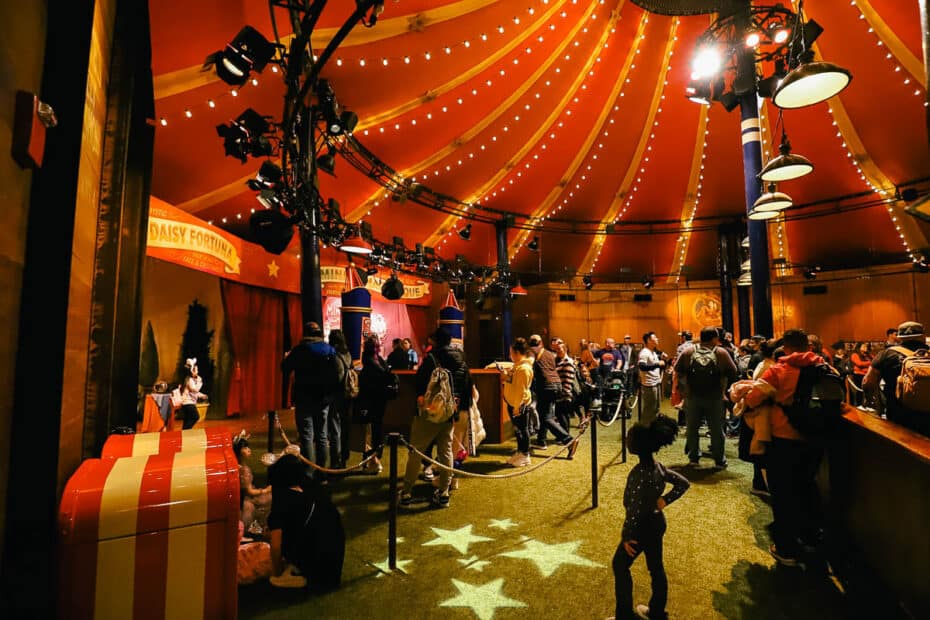 One of the positive aspects of this meet-and-greet is that guests can see the characters while waiting.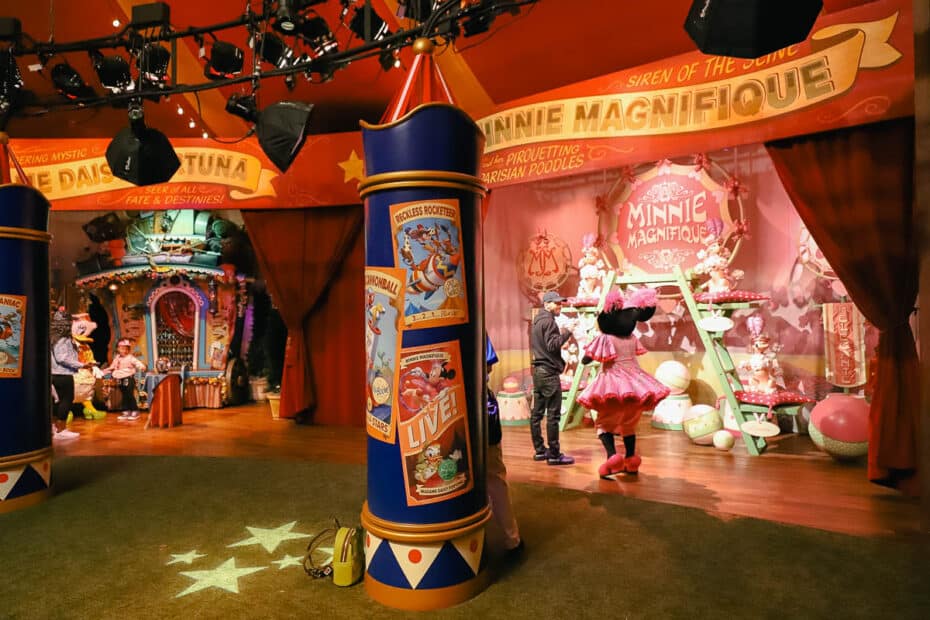 Daisy is the first of the two meets. She is dressed as Daisy Fortuna, a fortune teller in the circus.
She is adorable in her gypsy costume. Unfortunately, I didn't have my autograph book, but all the characters at Pete's Silly Sideshow sign autographs.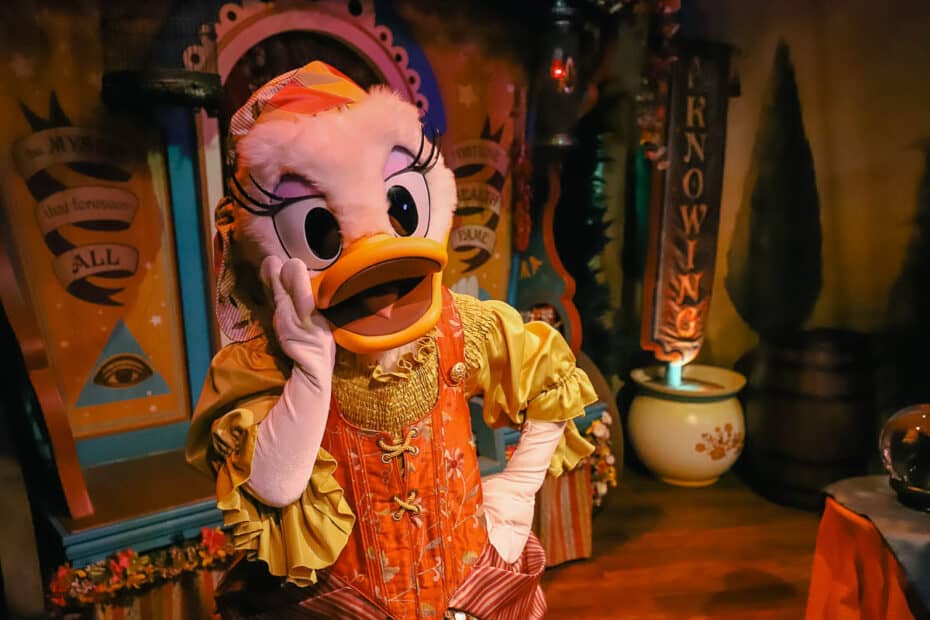 Additionally, PhotoPass photographers are not available at this location. Instead, photo boxes have been installed. Unfortunately, images from these machines don't compare to the photos taken by actual human photographers.
If you pay for the Memory Maker, you're paying for a machine to take the photo in these instances. While this isn't the worst thing for something as unique as ride photos, it is a big deal for these moments when you (or your children) pose to have pictures taken with characters.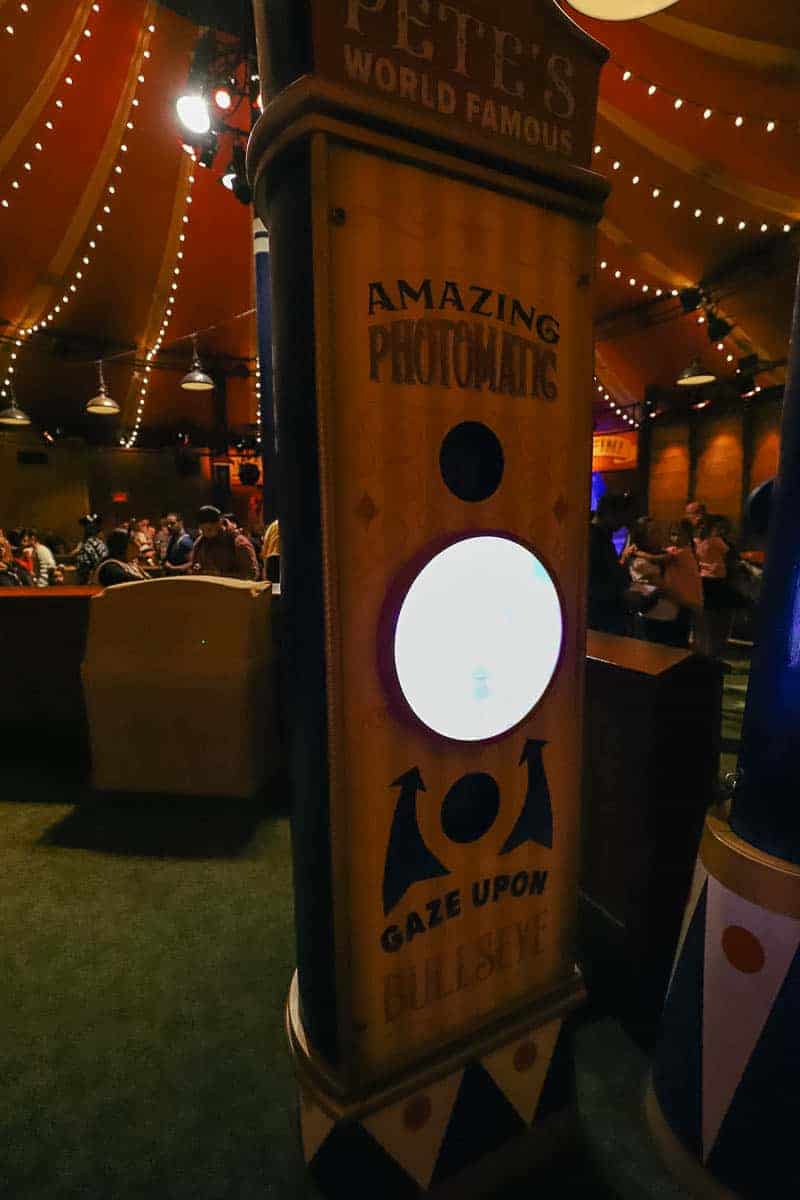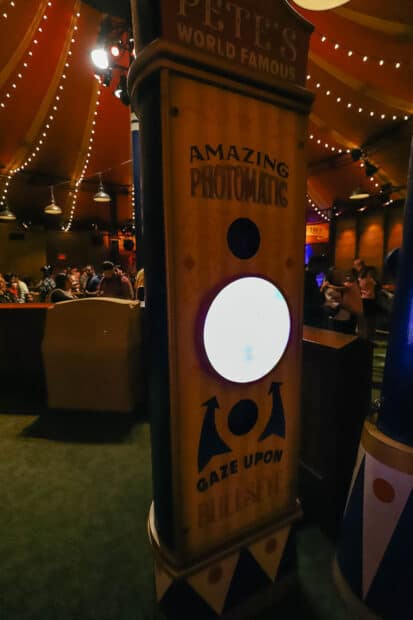 Minnie Magnifique is next. She's a fabulous poodle-trainer from France. Her precious poodles surround her.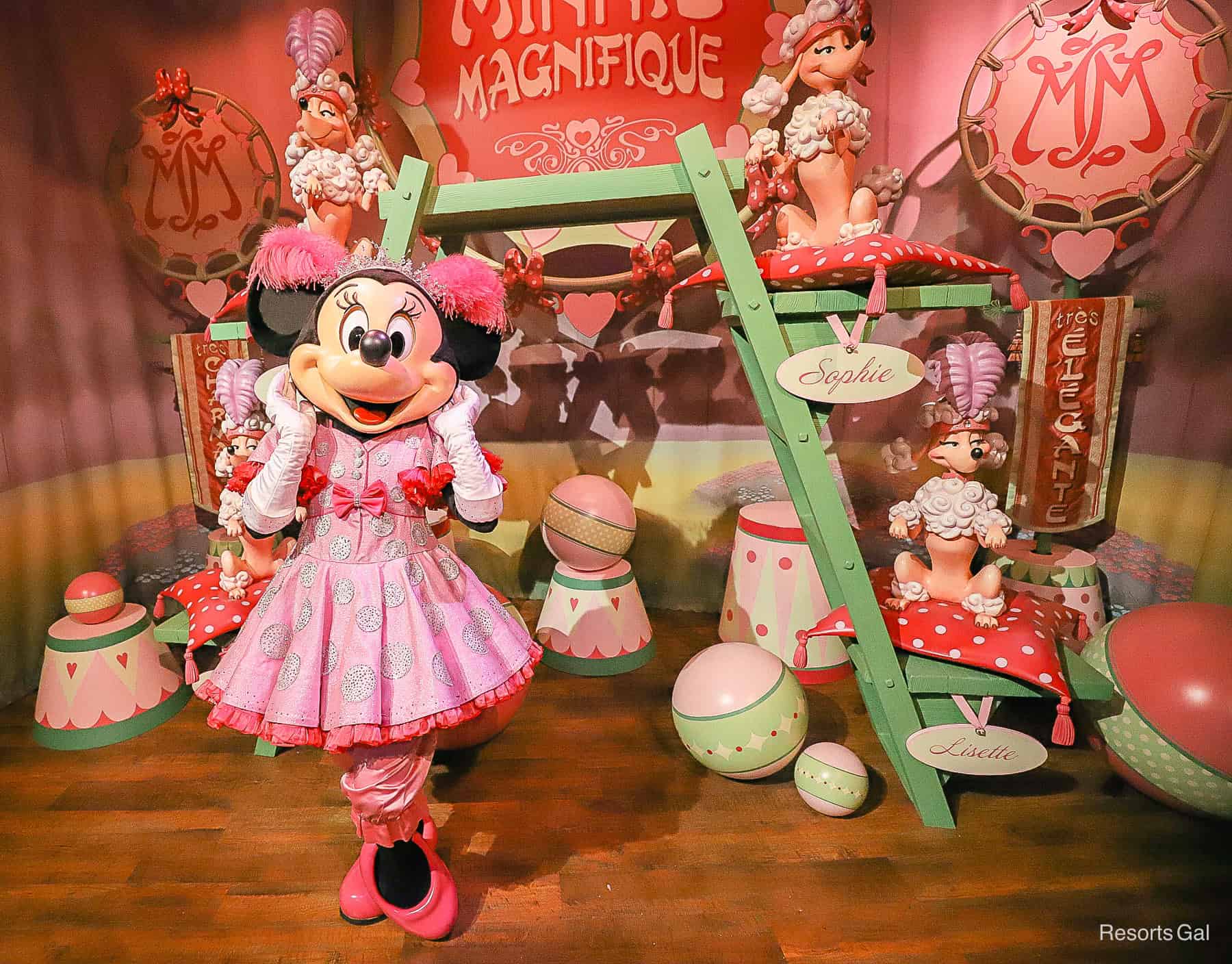 From the pom poms in her hair to the hot pink-trimmed dress, she's a doll and gives the best hugs!
We got in the line to meet Dasiy and Minnie at 5:23 p.m. It was 5:46 p.m. when I met Daisy. So all total, it was a 23-minute wait to meet both characters. That's not bad.
After exiting the meet-and-greet, you're dumped into Big Top Treats. If you plan on meeting the characters on the opposite side, you'll want to stay to the left, exit the tent, and walk back to Pete's Silly Sideshow.
Pete is still standing outside waiting.
This time we're headed back on the tent's right side to meet Goofy and Donald Duck.
Similar thematic elements are on each side of the queue.
Donald meets as the astounding Donaldo, a snake charmer extraordinaire. Goofy meets as the Great Goofini. He's a bit of a stuntman.
It was 5:50 p.m. when we joined this line, and it was visually shorter. Thankfully, it took less than 10 minutes to reach the front of the line.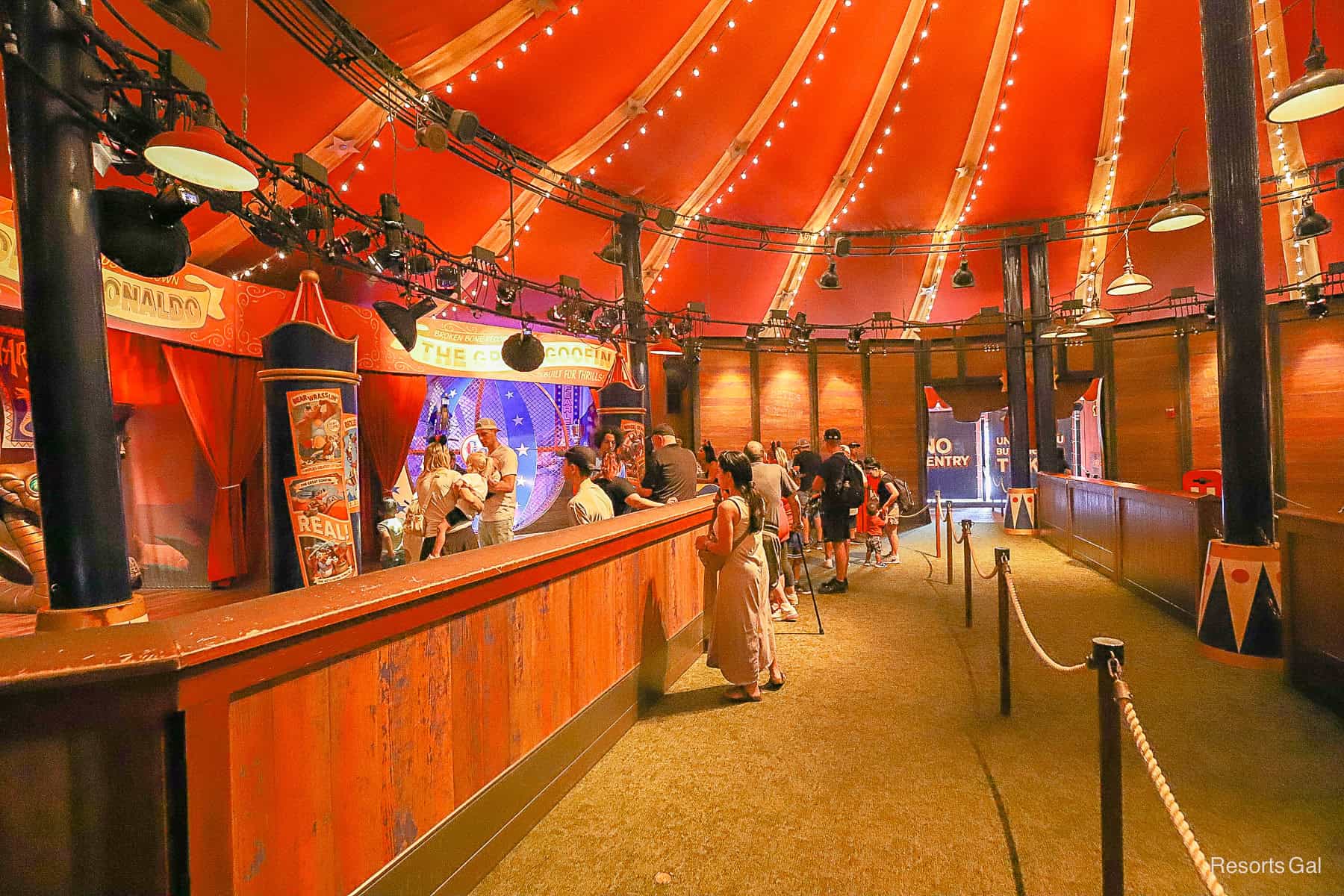 However, the guests ahead of us had a baby who spit up on Goofy and the floor. So the cast members had to call in a custodial crew.
It was interesting to see how long it took to wipe up the minor accident. When someone finally arrived, the guests behind me joked that it was treated like a code 2319 from Monsters, Inc.
In all seriousness, it took three cast members, half a bottle of cleaner, and approximately ten towels to clean up the area, which was a five-inch parameter at the most.
Everyone who had decided to stick around was laughing. We met Goofy nearly 30 minutes later at 6:16 p.m.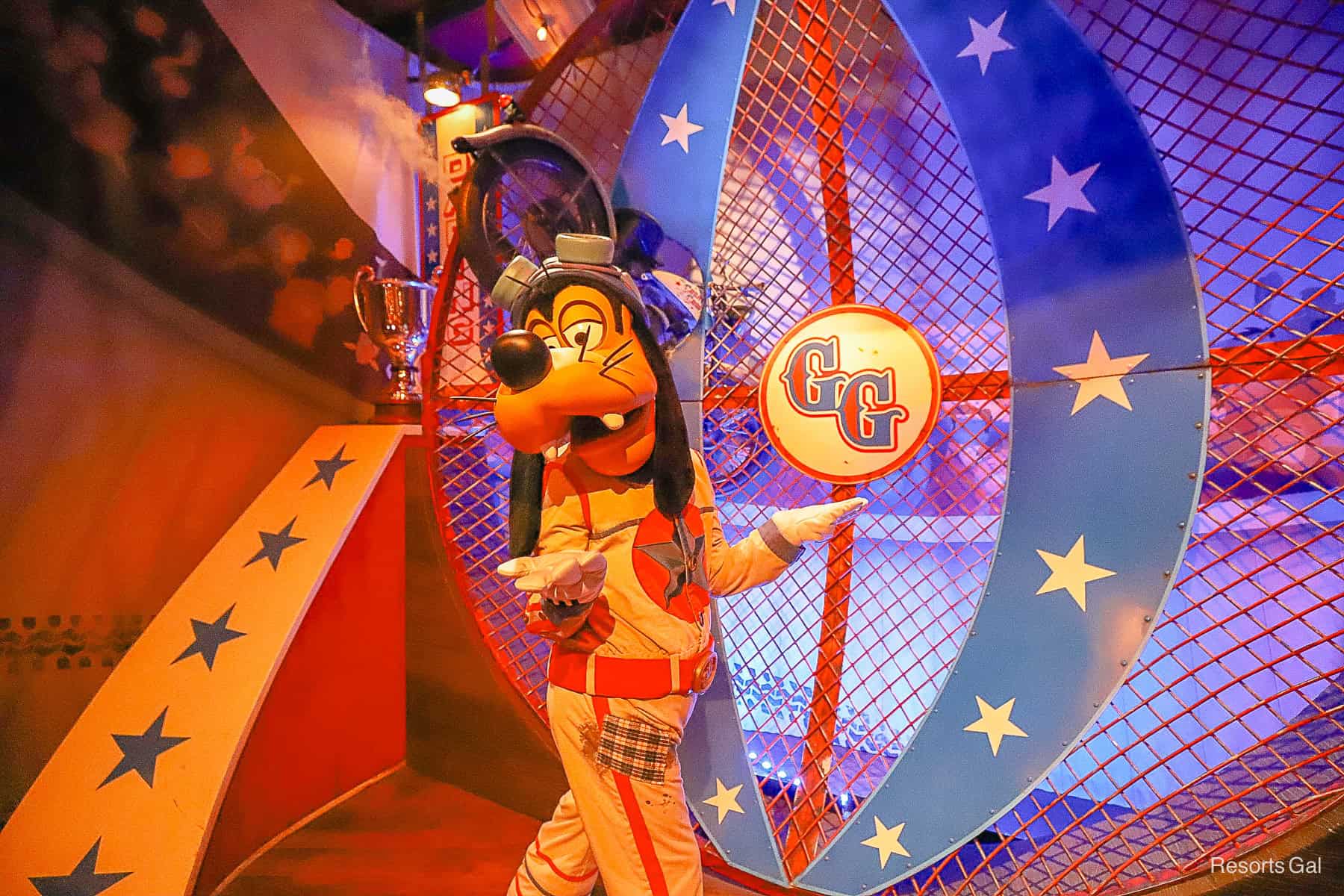 Goofy was excited to return and showed off his circus costume.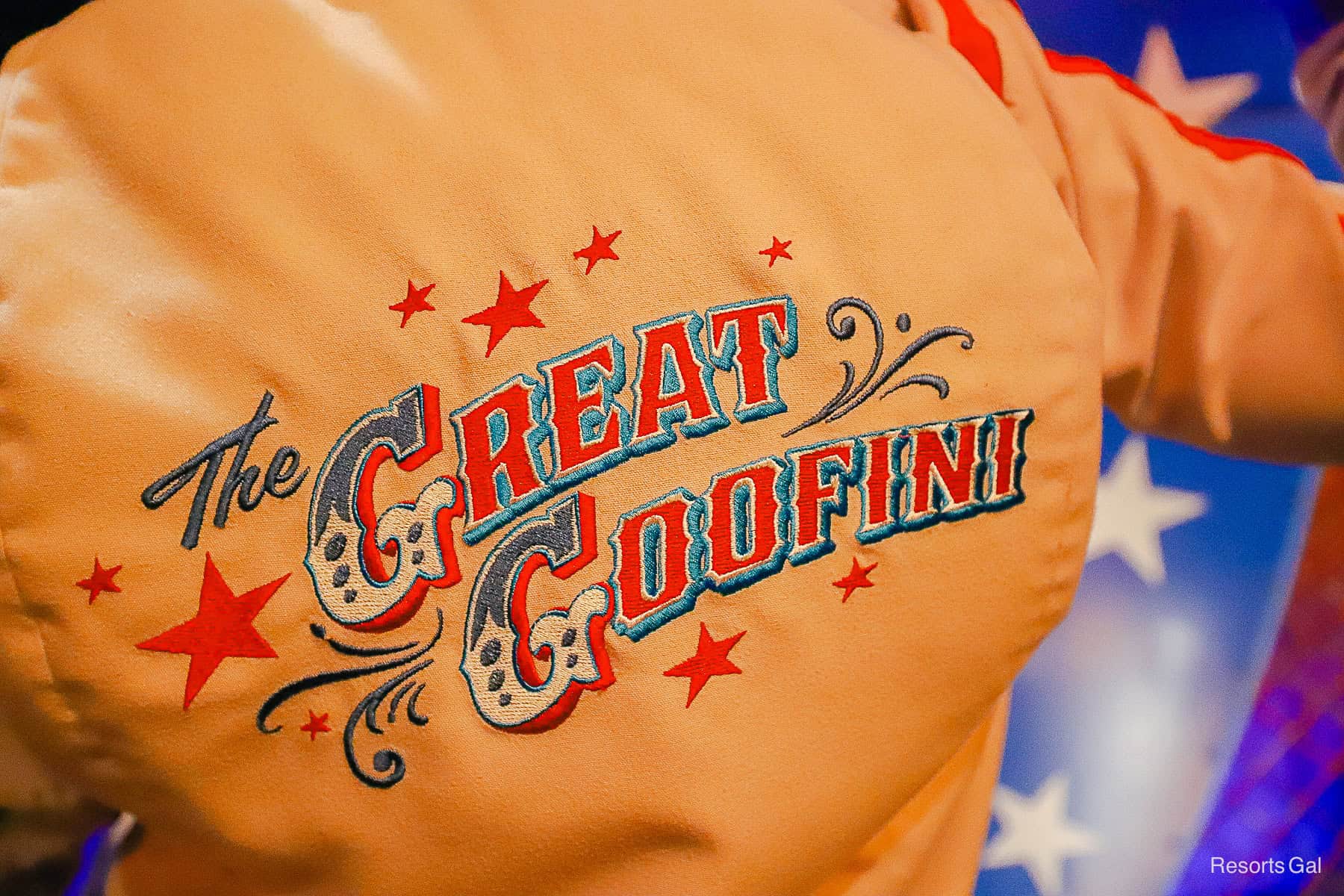 So while this was an unusual circumstance, it's a good reminder that things happen that are out of our control. We're in the parks often, so it wasn't a big deal to wait. But for someone who's visiting for a limited time, this sort of situation can become frustrating.
Do you stay and wait it out? Or do you chalk up the time invested as a loss and continue to something else? Unfortunately, there's no good answer.
Donald was nearby, patiently waiting to meet everyone.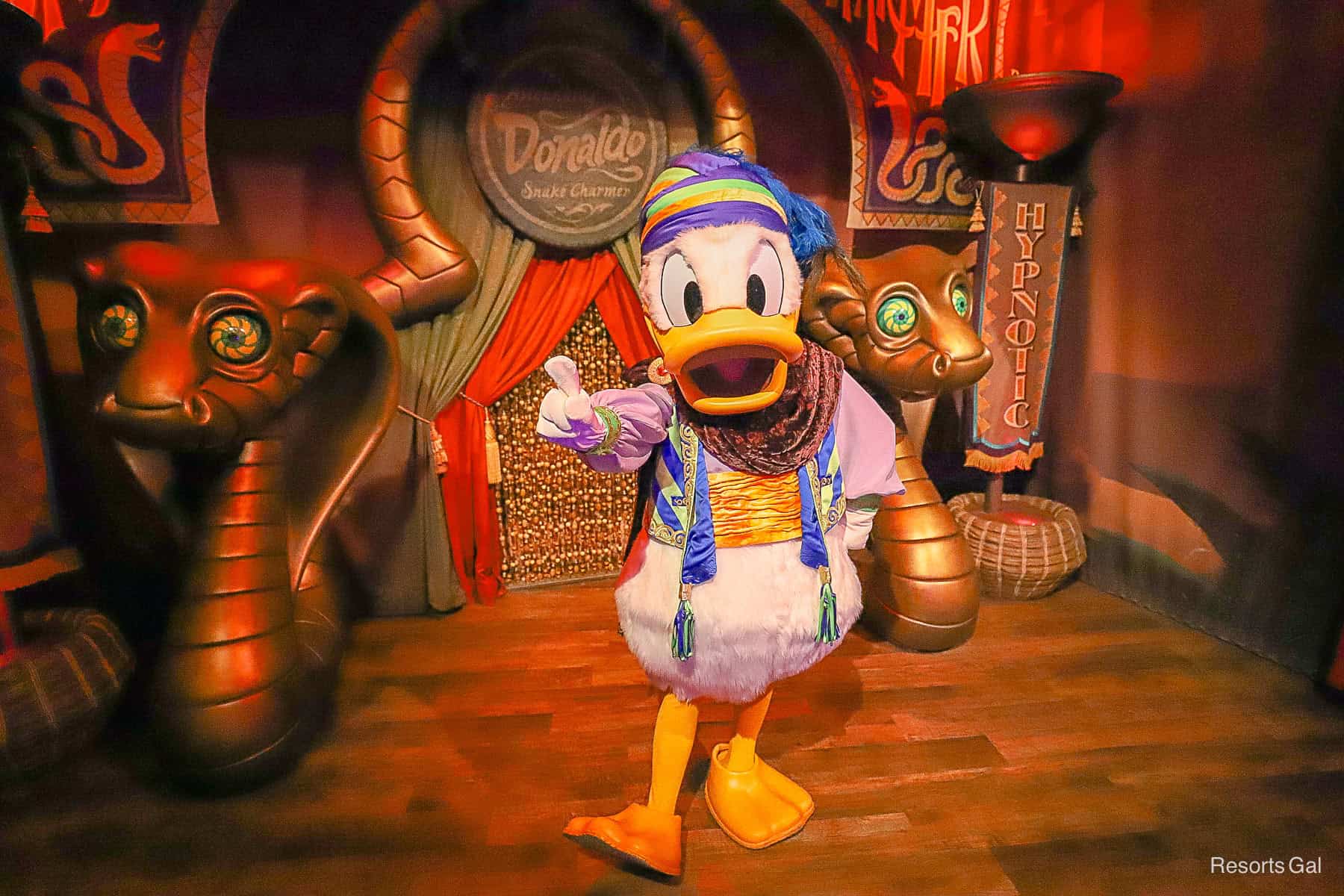 He's always up to pose for the camera.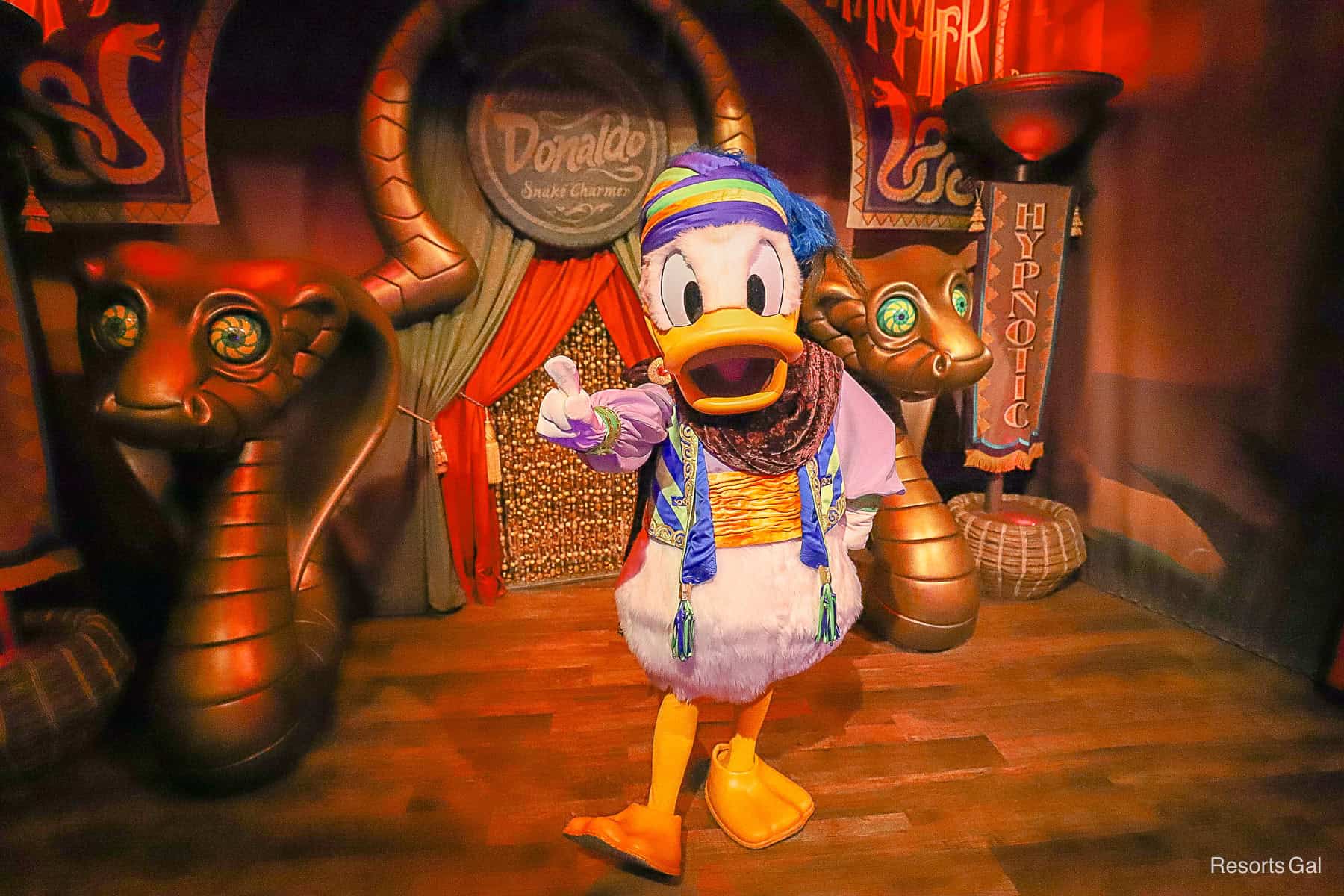 We recently returned to this location for a video of the meet-and-greet. When we met Goofy, he shared with me that Donald was the cause of his bike tire smoking.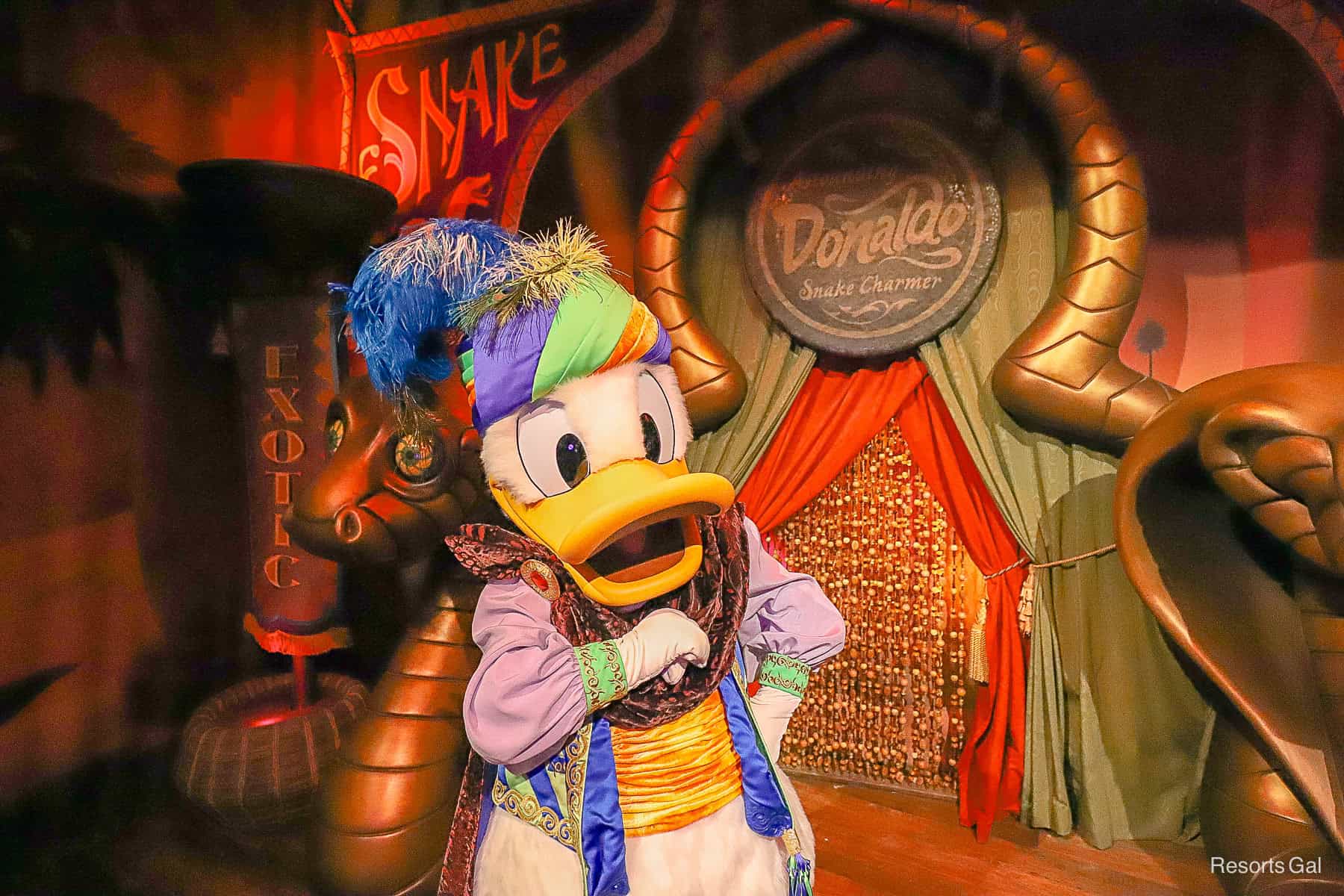 So when I got to Donald, I mentioned it to him, and he lost it in true Donald Duck fashion! Here's a video of the entire experience:
Final Thoughts
Meeting favorite Disney pals is always a treat, and Pete's Silly Sideshow is an excellent place to do just that! As for the best times to meet these characters, I have found the sweet spot is often later in the day.
If you wait until after 4:00 p.m., crowds in this area tend to dwindle. Also, if you're riding the Walt Disney World Railroad, you might like to exit here for this character meet.
Pete's Silly Sideshow is only a few steps away from Fantasyland Station.
For more character meets, we have an entire list of locations for all the parks:
Or you may enjoy these other character guides:
In the Comments
What do you think about the characters at Pete's Silly Sideshow? Do you have a particular character you want to meet?