New Fantasyland – The Enchanted Forest at Disney's Magic Kingdom
New Fantasyland opened in what was called a Fantasyland expansion back in 2013 at Walt Disney World. This new land brought with it multiple attractions, character meets, shops, and dining venues. This specific area of the park is known as New Fantasyland, The Enchanted Forest. Although, the whole "The Enchanted Forest" is rarely used.
New Fantasyland as a whole covers the Enchanted Forest, Storybook Circus, and Princess Fairytale Hall. This review will cover a look at The Enchanted Forest in New Fantasyland specifically. I have a separate review that covers the original Fantasyland that includes Princess Fairytale Hall.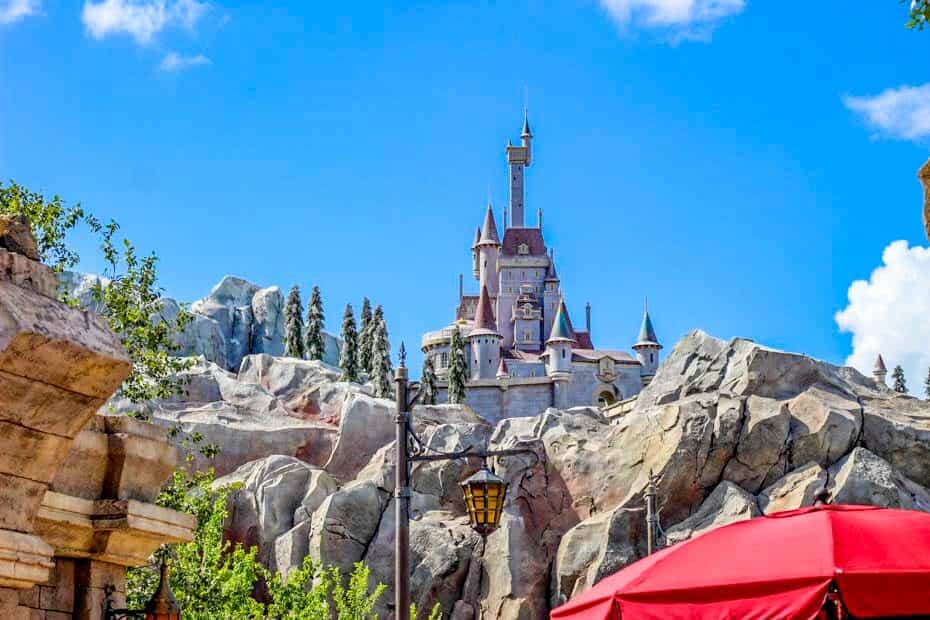 In this New Fantasyland review we will look at the following:
New Fantasyland Attractions
Seven Dwarfs Mine Train
Under the Sea, The Little Mermaid
Enchanted Tales with Belle
Dining in New Fantasyland
Be Our Guest
Gaston's Tavern
Maurice's Amazing Popping Machine
Prince Eric's Village Market
Meet and Greets
Shops
New Fantasyland at Magic Kingdom
The Enchanted Forest area offers the opportunity to experience what is one of Magic Kingdom's most popular attractions, Seven Dwarfs Mine Train. There is also a unique walk-through story over at Enchanted Tales with Belle and an Under the Sea slow-moving ride featuring The Little Mermaid.
Seven Dwarfs Mine Train is a roller coaster style attraction located in New Fantasyland. This attraction only opened a few years back and is where most of the crowds head first when the park opens.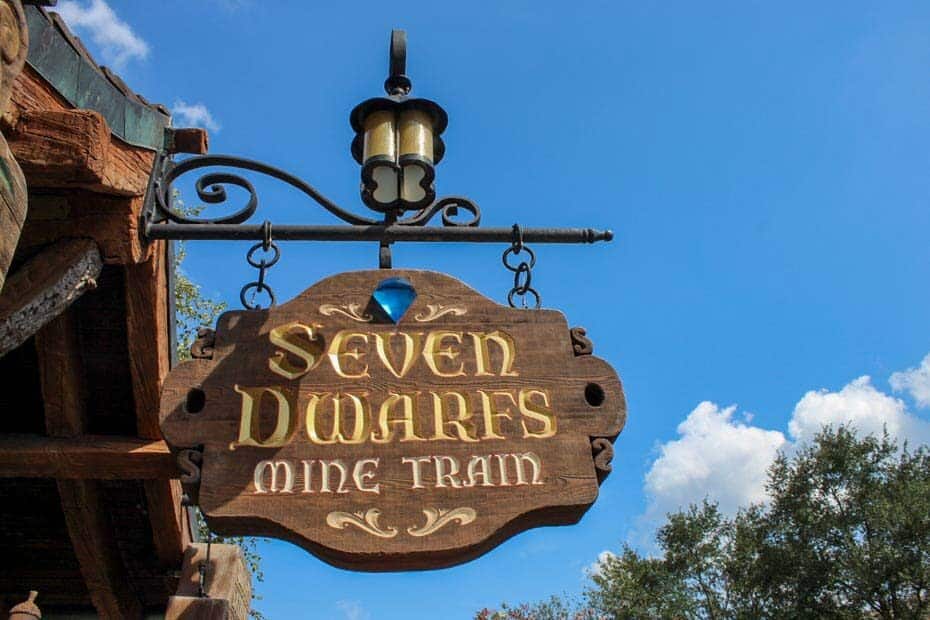 When you ride New Fantasyland's Seven Dwarfs Mine Train, you will be whisked away on a track in a mine car. One of the different features about Mine Train is the way the mine cars swing back and forth while you are riding.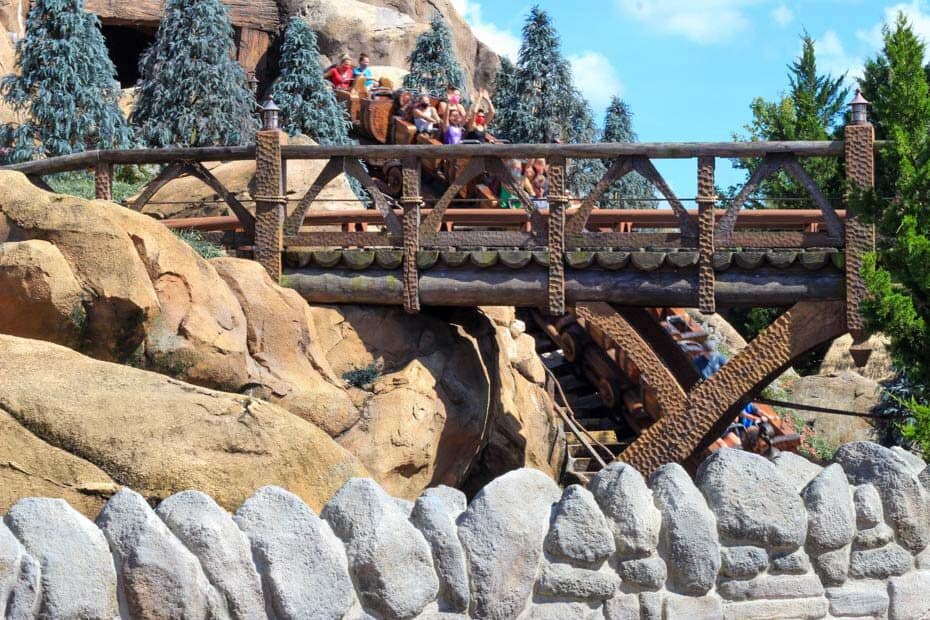 The standby queue has several interactive elements for children to experience while waiting. As you approach there will be overhead videos with directionals to prepare for the ride.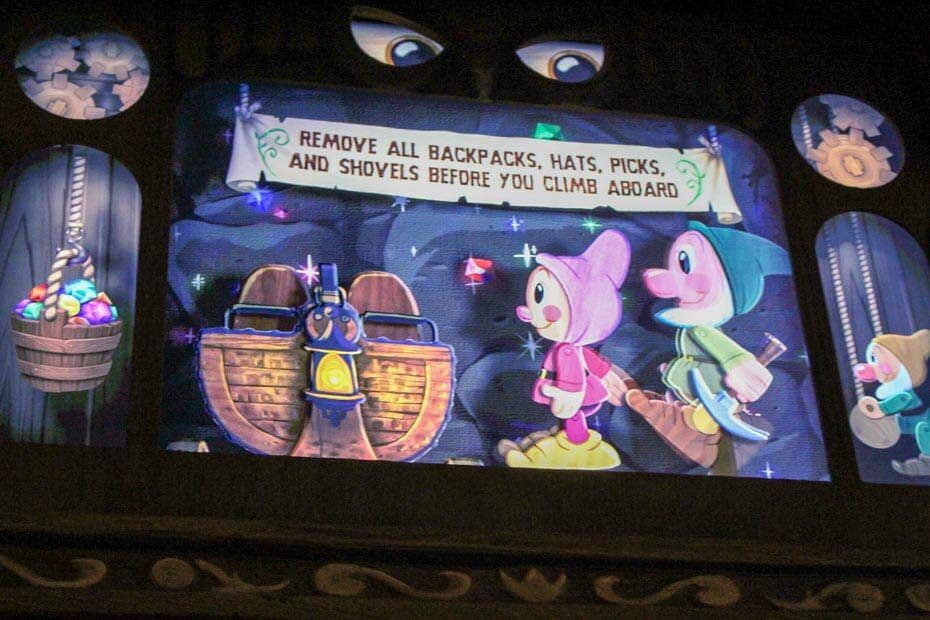 This attraction takes you through the mine and you'll see the Seven Dwarfs hard at work mining for jewels. From there, you'll ascend from the mine and are offered views of Fantasyland with Beast's castle in the distance.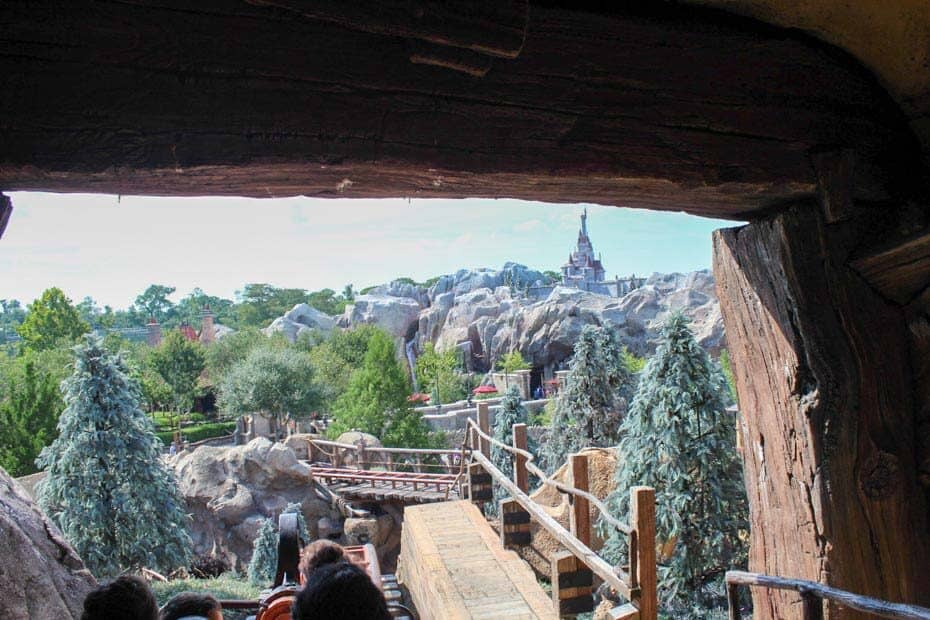 At the end of the ride, you'll see the backside of the Seven Dwarf's cottage, where Snow White is dancing.
And then there's Bashful playing along for them. He is my favorite.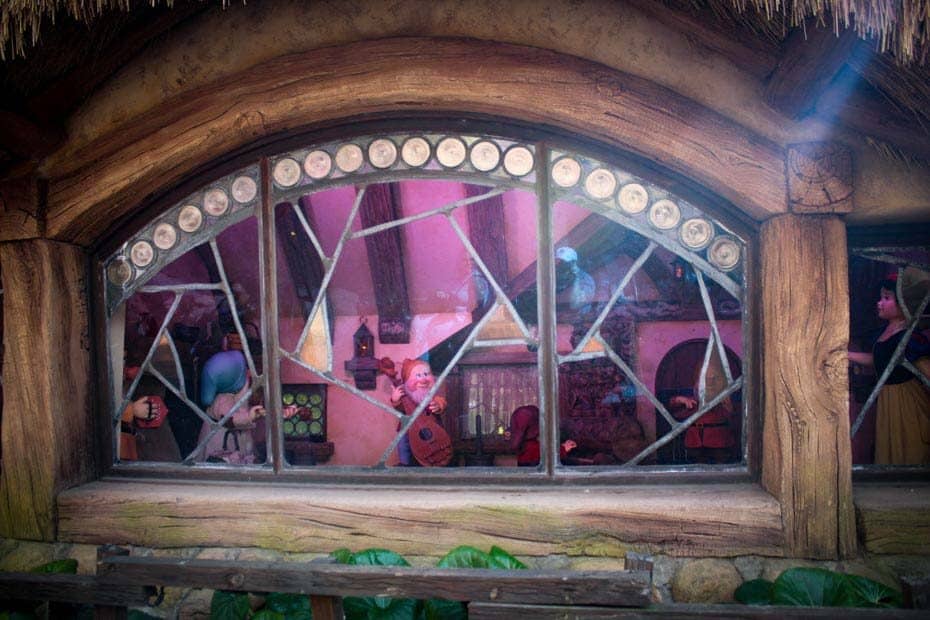 Is Seven Dwarfs Mine Train scary? No, this is a great step up from a kiddie coaster. The ride is quick and the drops are small.
There is a bit of intermission in the middle of the ride where you see the Dwarfs at work. This portion is a nice buffer for children. The ride has a 38″ height requirement so keep that in mind with smaller guests. That attraction also offers the Disney Rider Switch option.
When you exit the ride you'll come out here on the front side of the cottage. It's a nice photo opportunity and easy to miss if you are hurrying on to the next thing on your list.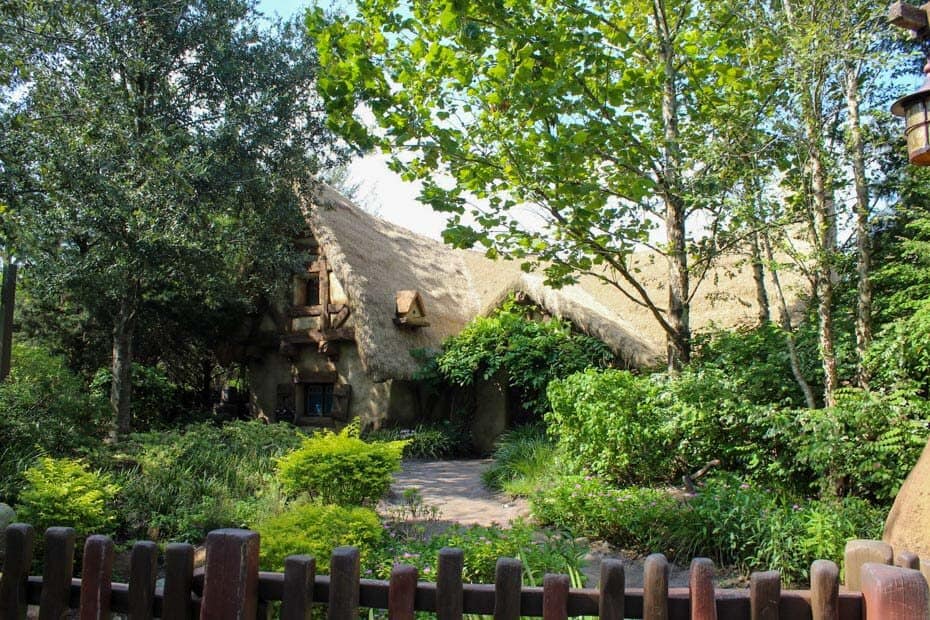 Make sure to secure a FastPass+ (when available) for this one when possible, it averages one of the longest wait times at Magic Kingdom.
The Little Mermaid is also represented in Magic Kingdom's New Fantasyland. Under The Sea, Journey of the Little Mermaid is a slow-moving attraction that takes a look at what life might be like under the sea with Ariel and friends.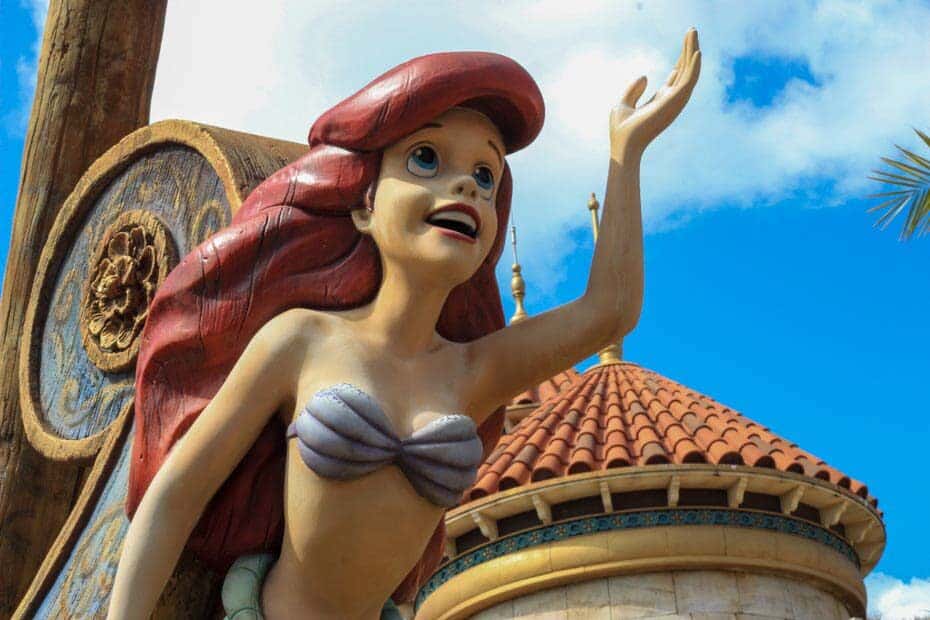 You will enter the caves under Prince Eric's castle in New Fantasyland and board your very own clamshell.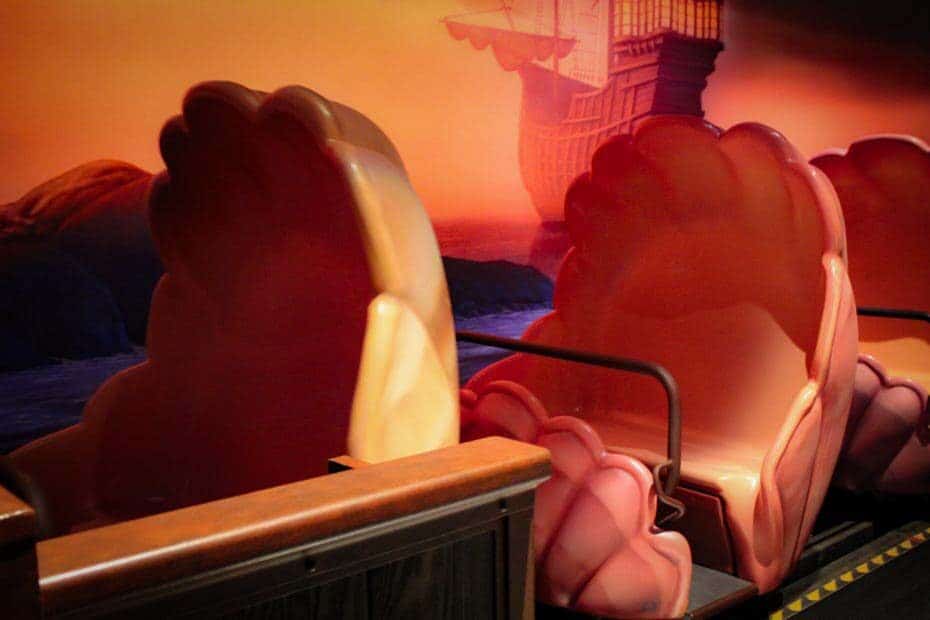 Before long you'll encounter Ariel as she takes you under the sea for a little musical entertainment. There is no actual water involved here.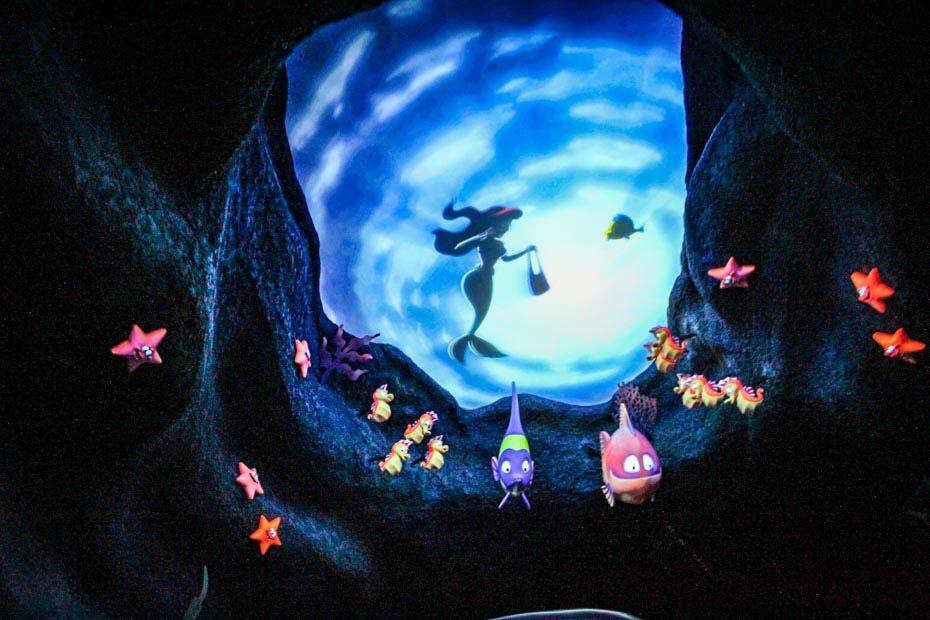 Wave hi as you pass Ariel in a variety of scenes from The Little Mermaid.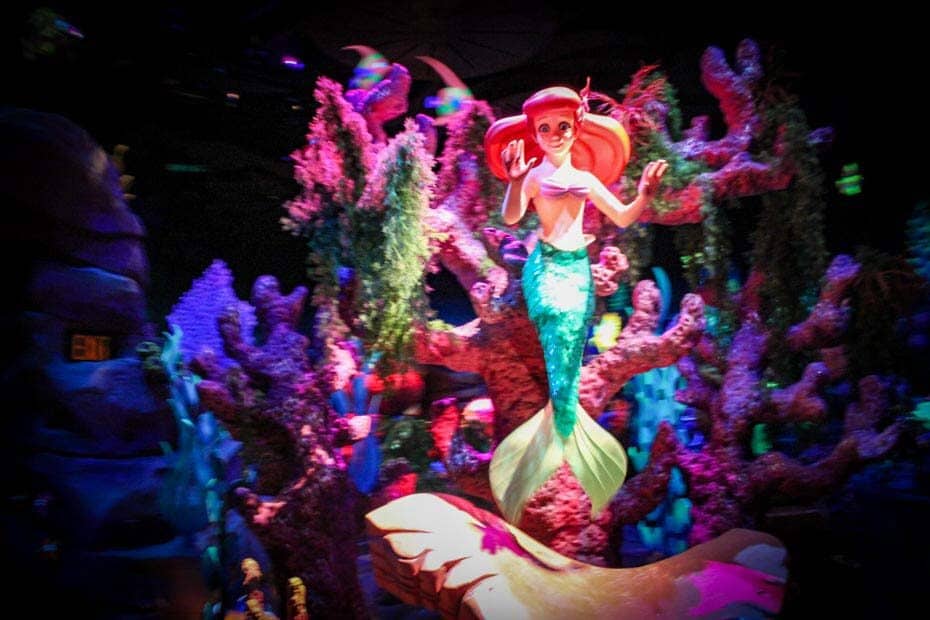 You'll also run into Ursula, Prince Eric, Sebastian, and many others along the way. There's even a glimpse at the iconic "Kiss the Girl" scene.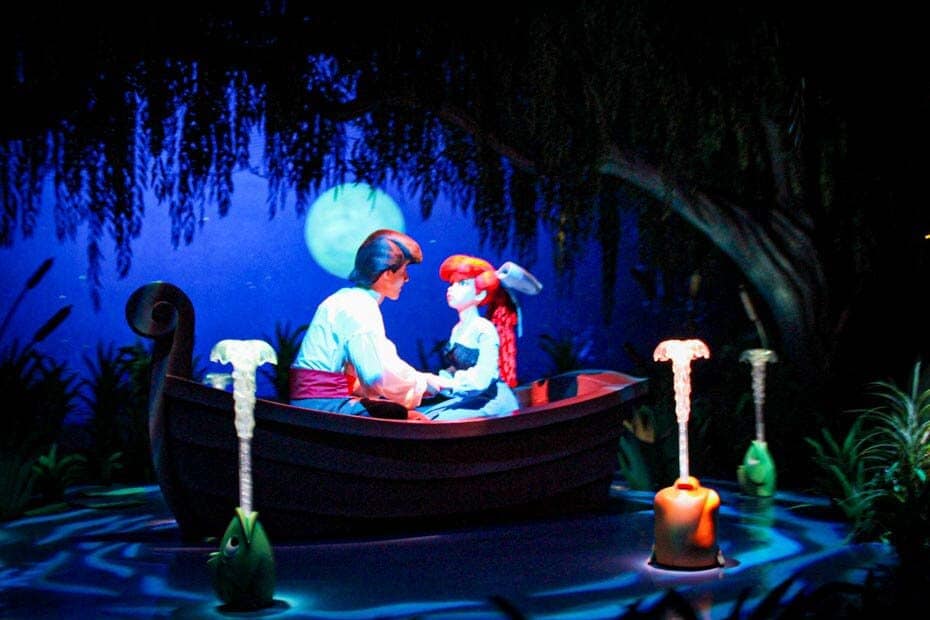 Thankfully, as we already know, everything turns out okay for Ariel in the end. You'll also see a great celebration scene with King Triton before exiting.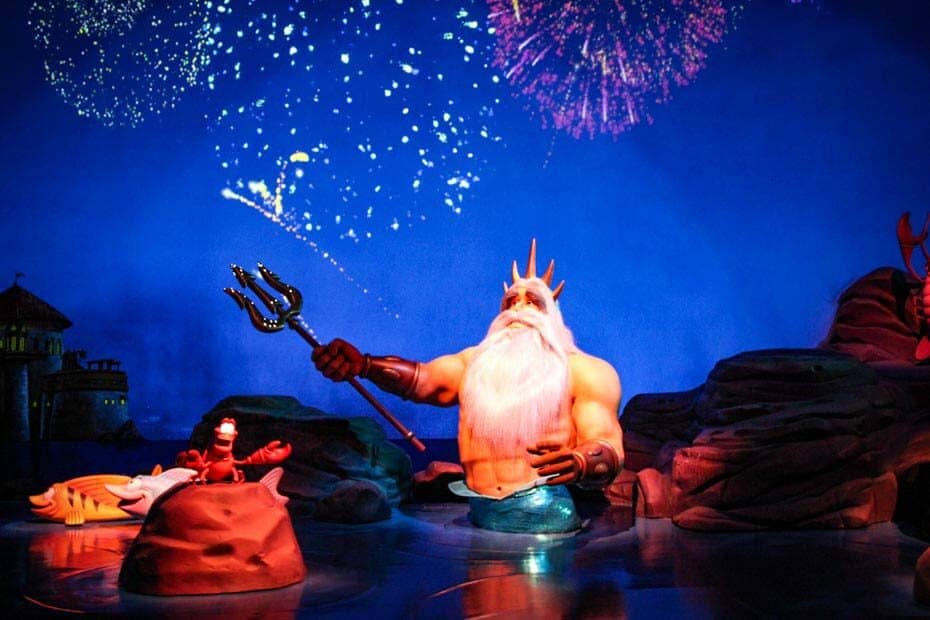 This attraction is for guests of all ages. The line here isn't typically too long, however, the queue is actually a pretty lengthy walk.
Enchanted Tales with Belle is another New Fantasyland attraction that's as cute as can be. While I don't do it on the regular, I'm always surprised by how much fun this story setting ends up being.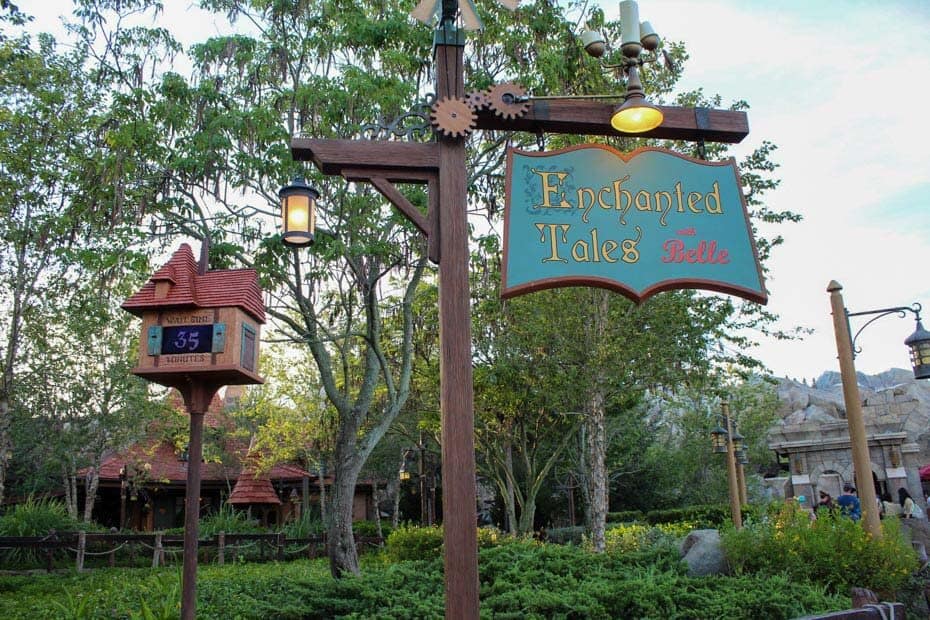 Enchanted Tales with Belle takes a peek inside Belle's cottage. Once fully inside you'll be magically transported to the Beast's castle via a magic mirror. Any children that want to participate are welcome and encouraged to join in the story.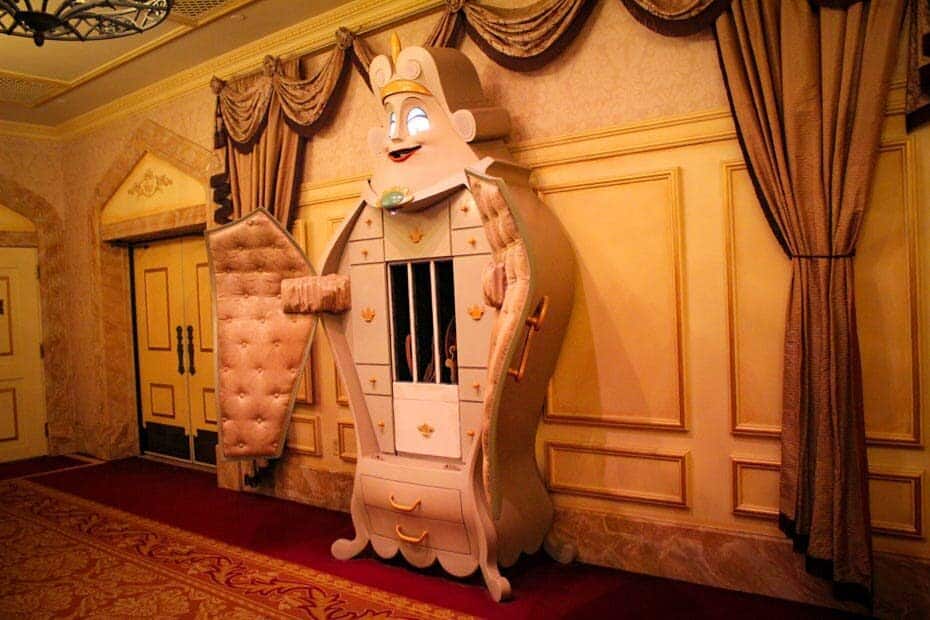 Belle comes out and interacts with guests during the story. There is a PhotoPass photographer present and will provide guests with photo cards of the pictures taken during the story.
Enchanted Tales with Belle is a must-do for anyone with younger children or fans of Belle. This is the only place to see Belle in the Magic Kingdom with the exception of the Festival of Fantasy Parade when it's available.
Dining in New Fantasyland
There are several options for dining in New Fantasyland's Enchanted Forest. You can have a more informal meal at Gaston's, a snack at Prince Eric's, or go all out at Be Our Guest dining in the Beast's Castle.
Be Our Guest
Be Our Guest restaurant is the most popular dining reservation within Magic Kingdom. It started out with rave reviews during its first two years of operation, but the experience has become synonymous with phrases like overrated and not worth the price as of late.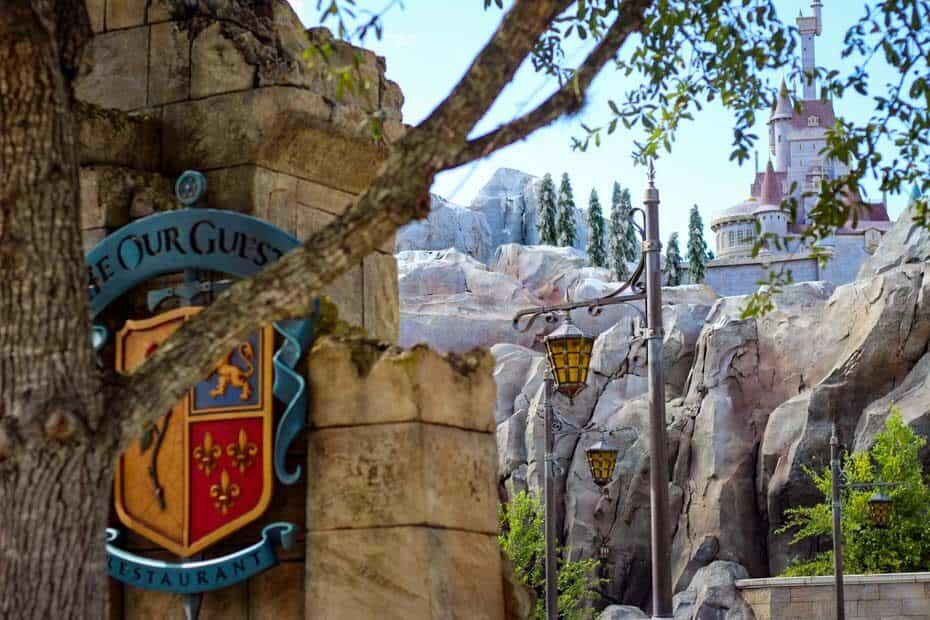 We have had several good meals at Be Our Guest for lunch and dinner in the past. But our last lunch about a year ago just wasn't up to par and we haven't been back yet.
With that being said, if I had never been to Be Our Guest I would want to at least have lunch here while on vacation. The restaurant, itself, is beautiful and offers a lot of Beauty and the Beast theming.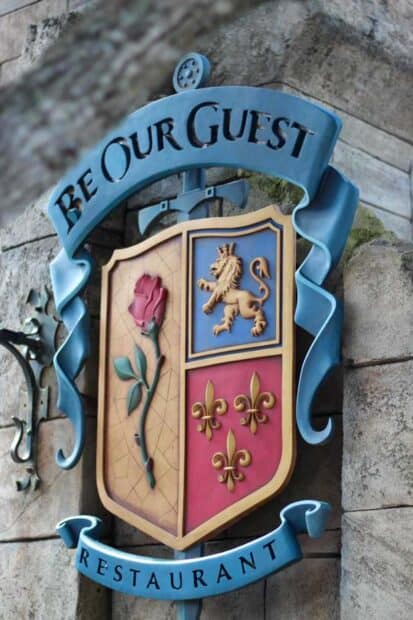 There are three dining rooms: The Grand Ballroom, The Castle Gallery and The West Wing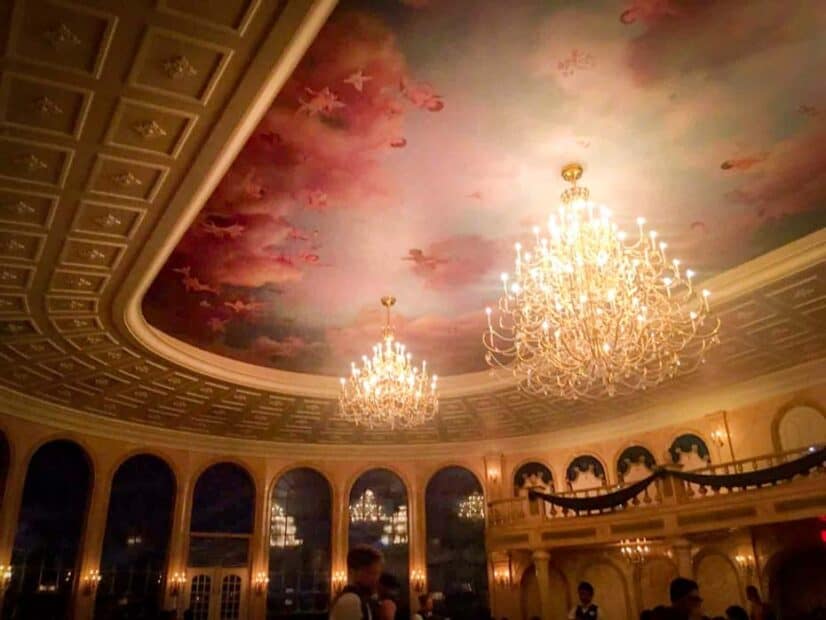 Above is an image of the Grand Ballroom which is the largest of the dining rooms. It's really nice and from time to time during the meal, it appears to be snowing out the back windows.
Below is a picture of the castle's Gallery. This is my favorite room where a large music box that Maurice made for Belle is on display. The music box revolves in the center of the room and it's always nice to watch the pair dance to the gentle tune playing in the background.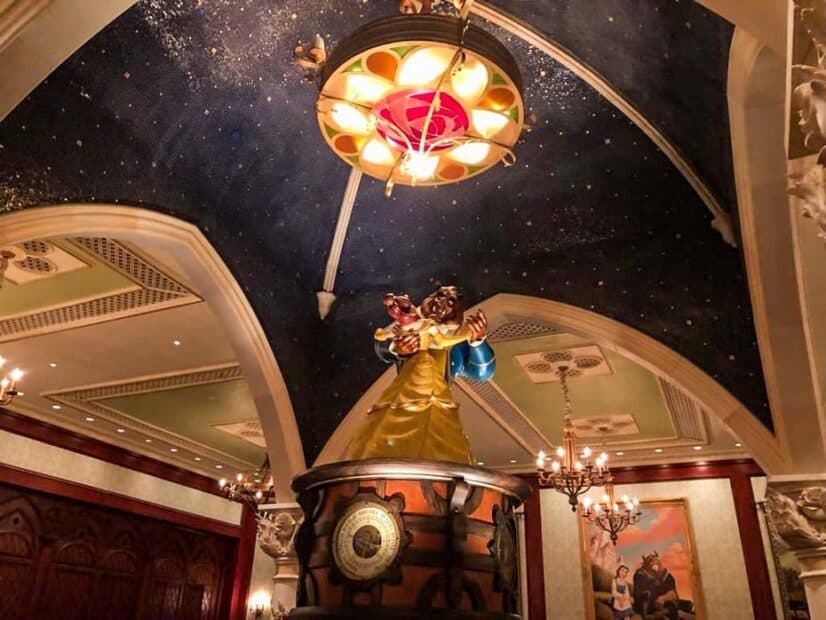 Before you leave, make sure to take a photo of the stained glass window at the exit.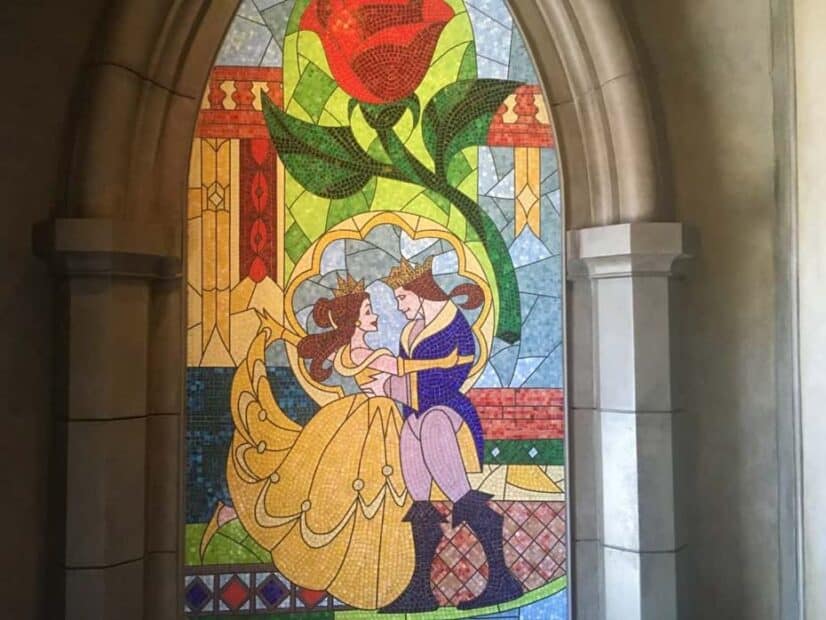 My recommendation would be to have lunch here and if you do make sure to order a cupcake. Below is the "grey stuff" style cupcake and it really is delicious. Lunch at Be Our Guest is normally a counter service meal that requires a reservation. The restaurant also serves a similar style of breakfast.
Dinner is table service only and there is often an opportunity to meet the Beast before exiting. This is not deemed a character meal and he is not guaranteed to be there. But from my visits, we have always found him waiting to bid us a good fortune on our return to new Fantasyland.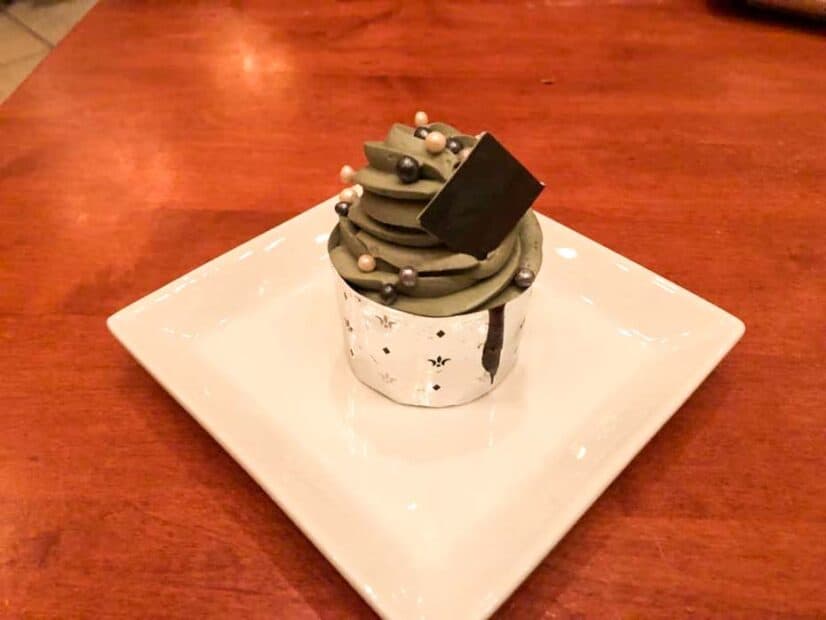 Gaston's Tavern
Down toward the back corner of New Fantasyland is the village where you'll find Gaston's Tavern and his fountain out front.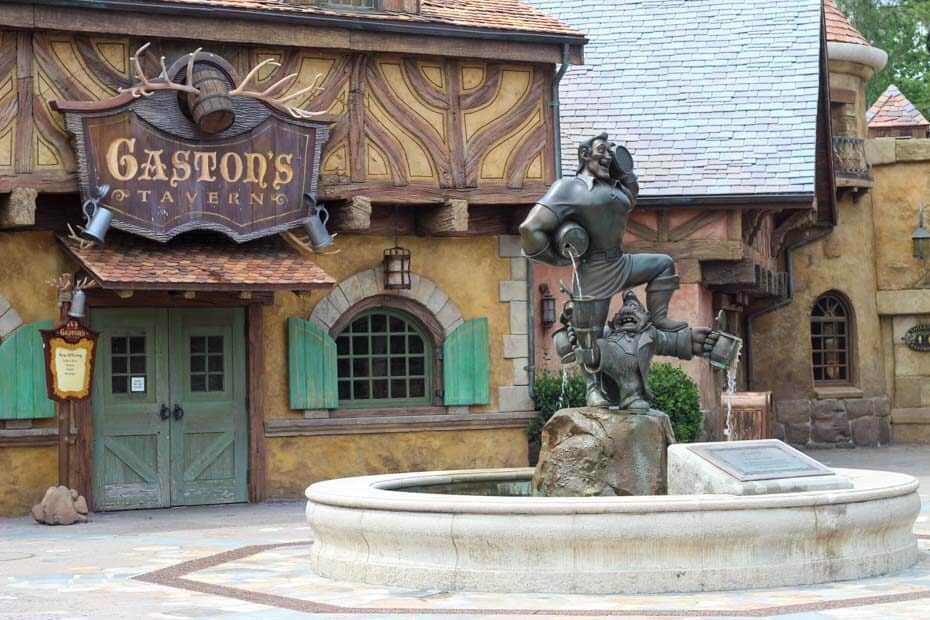 Gaston's Tavern is a great quick service spot to pick up a meal or a cinnamon roll.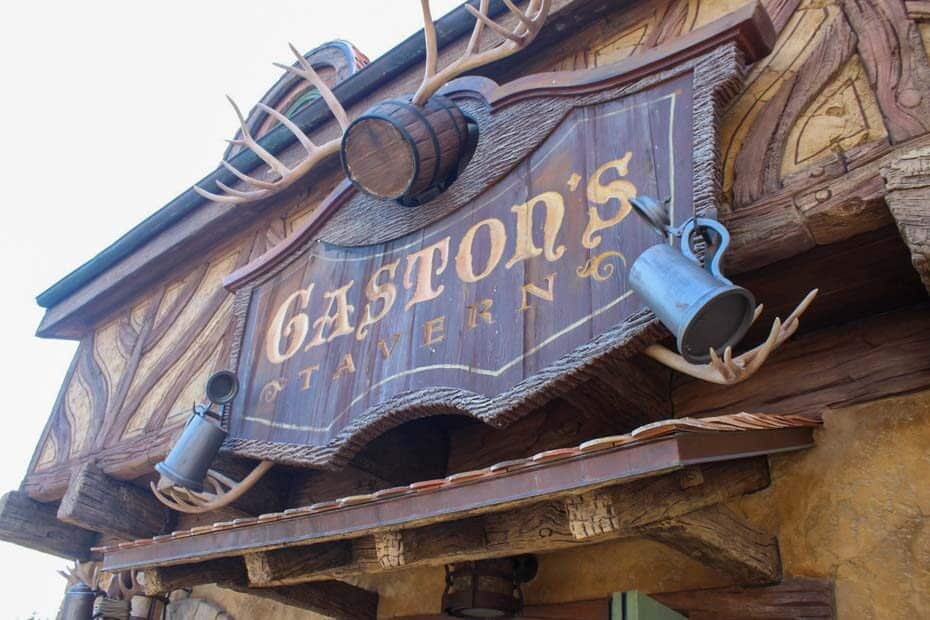 Here's a look at the menu. I oftentimes see guests sharing the warm cinnamon roll. Word of warning they are quite sizable and appear to be a decent value for the price.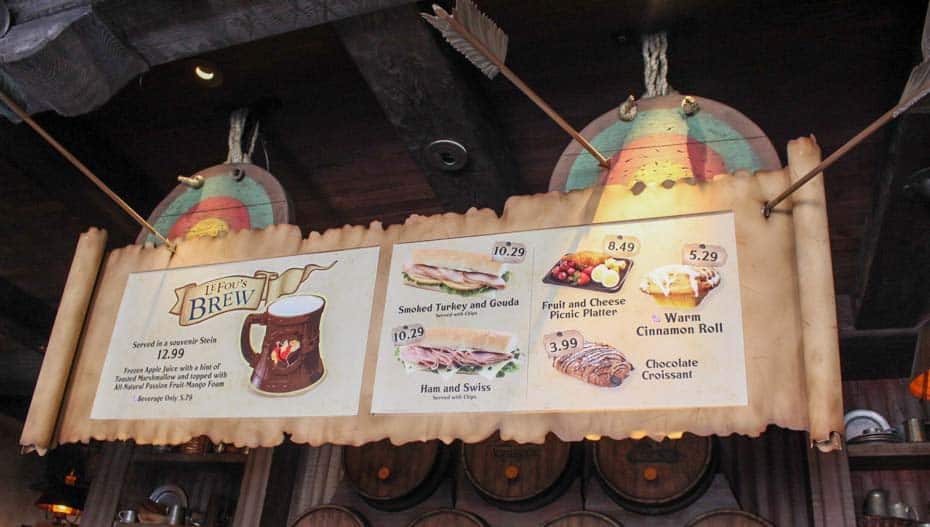 The tavern also offers simple snacks like cheese, veggies, and fruit. You can pick up a stein of LeFou's Brew at Gaston's. Disney's online menu is available here.

Any fan of Gaston will love the manly den feel. The fireplace is always burning with Gaston's portrait hanging above the mantle. That's his special chair there on the right. What a beast he must be!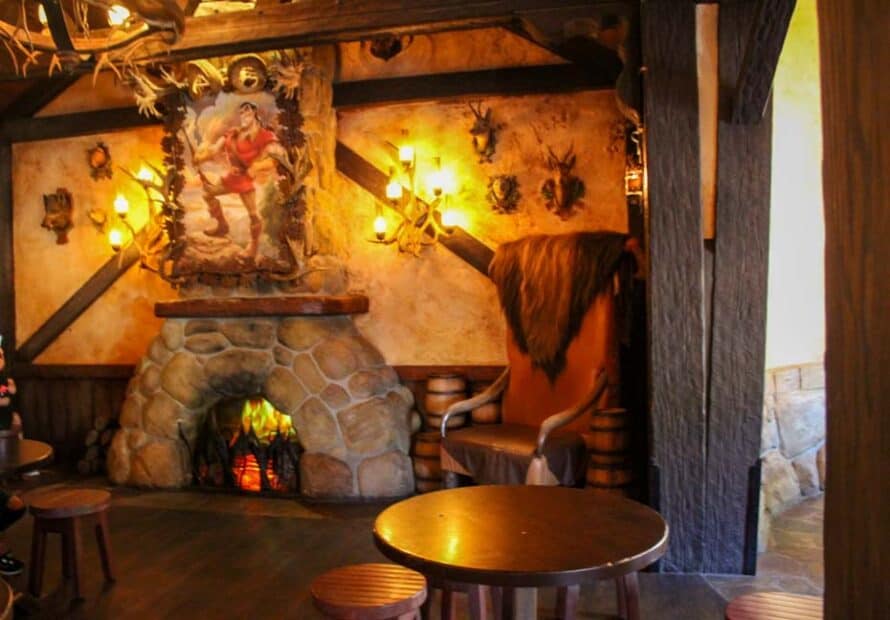 Adorned with his trophy of antlers nonetheless.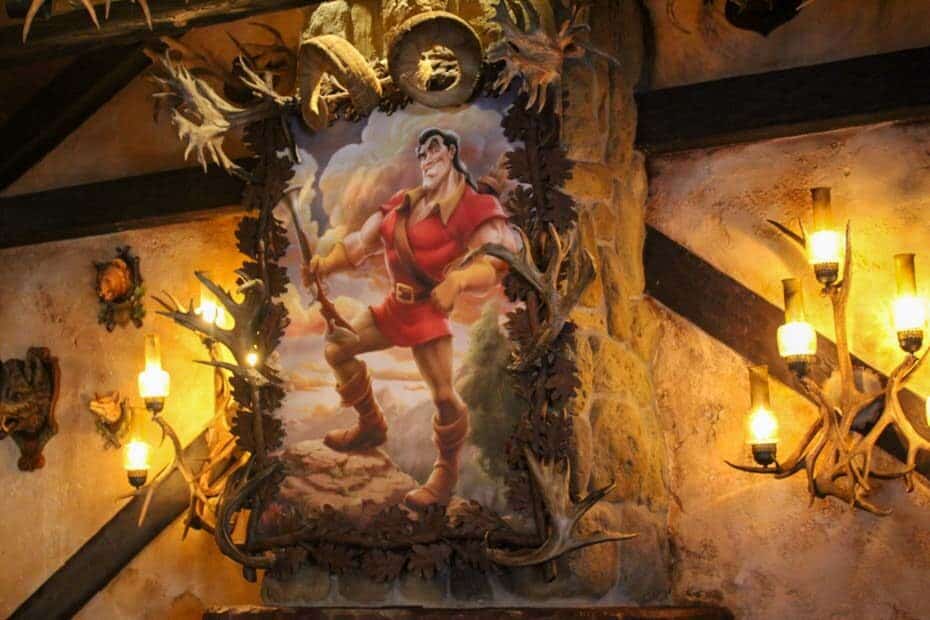 Speaking of antlers, there are quite a few in the lighting.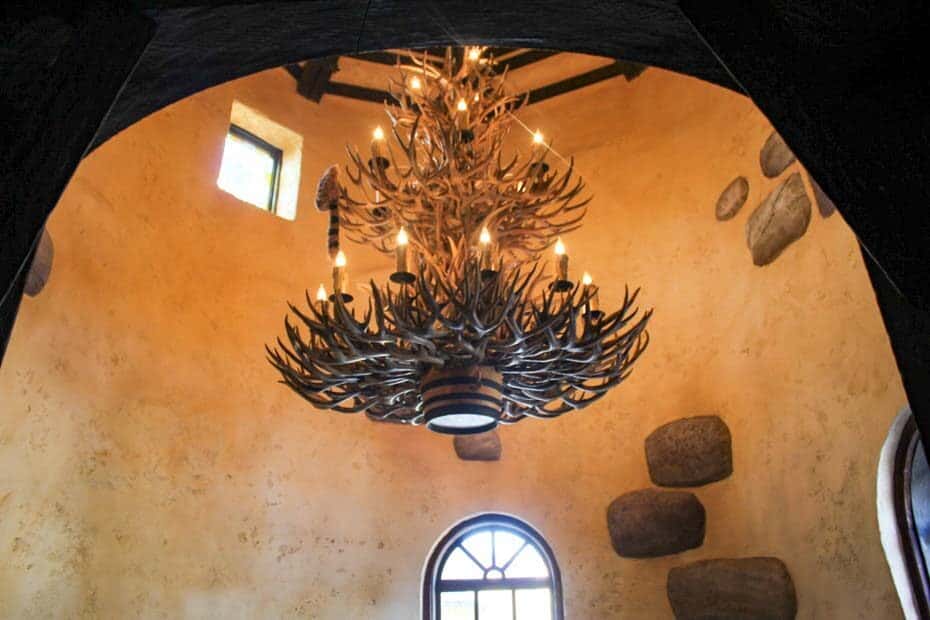 On my last visit to Gaston's, I found myself hungry and completely burnt out on Food and Wine menu items. The idea of a plain sandwich sounded really delicious. Sometimes you just want something simple.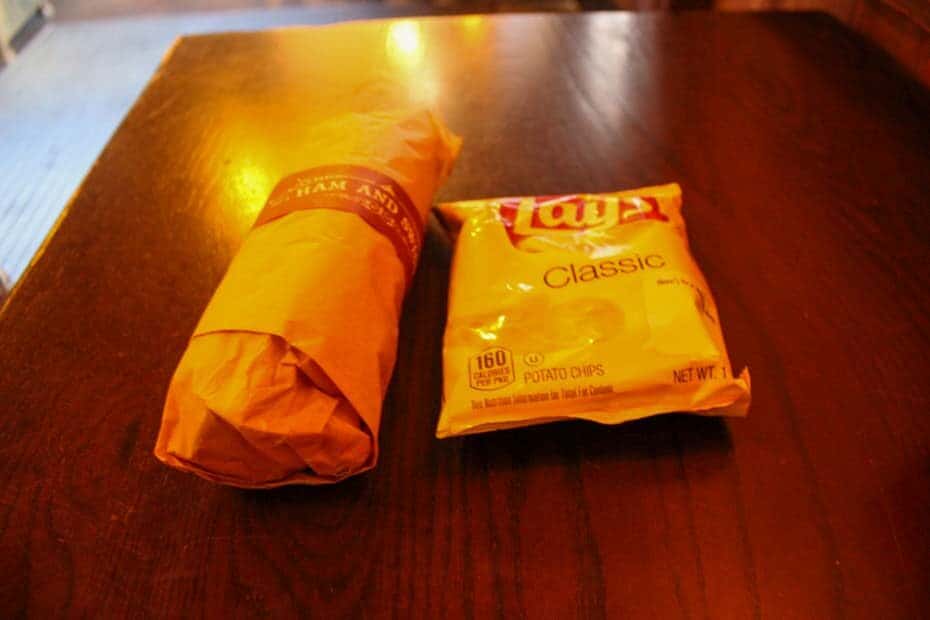 So I ordered the ham and cheese sub and this is how it came. The sub-style loaf was stuffed with ham, sliced cheese, and a bit of lettuce.
I really wasn't expecting much, but this ended up being a really nice sandwich. It seems like it would be a good option if you wanted to split it with someone for a snack as well. Picky eaters should also find this one right on point.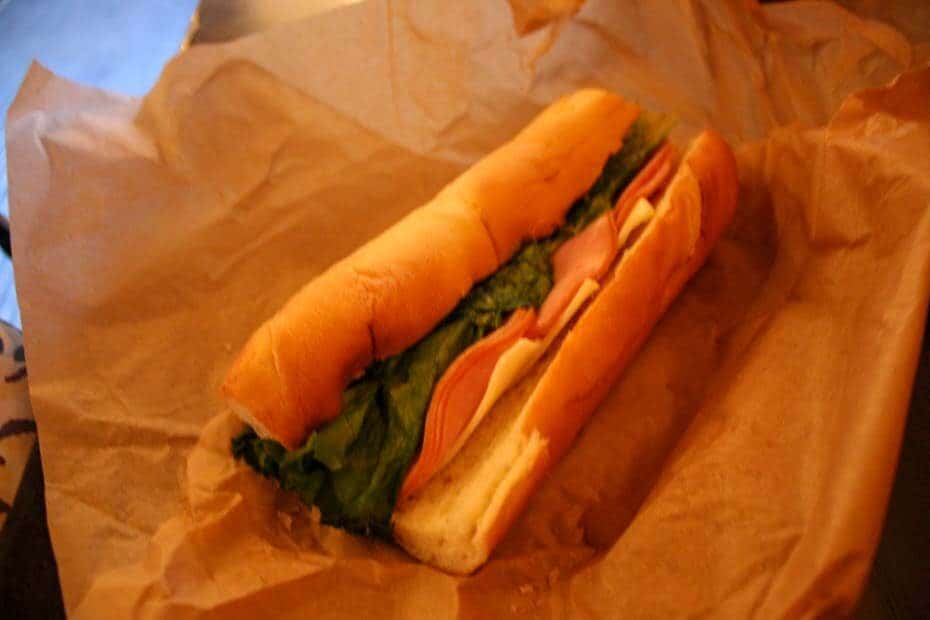 If you are in New Fantasyland at night it's typically not too crowded. The fountain is kind of fun to see and the area, in general, is charming.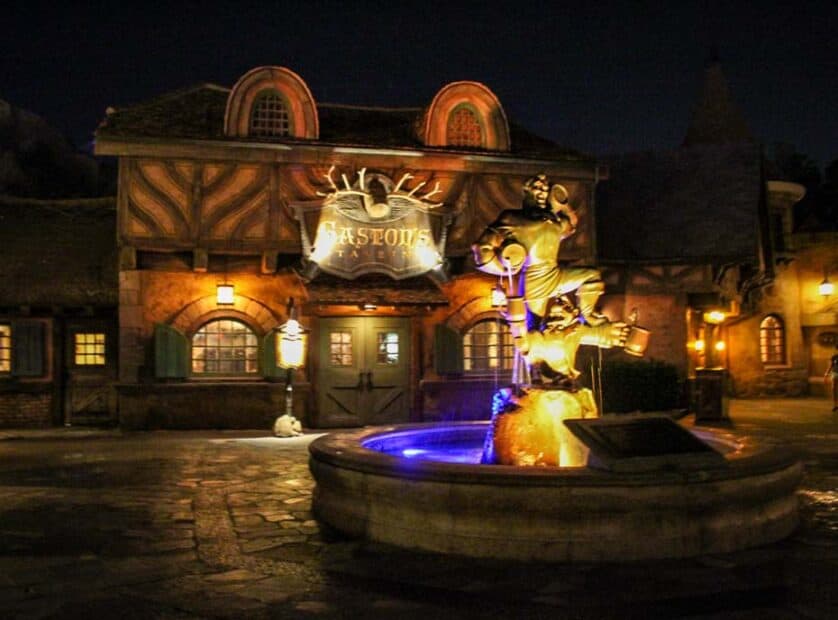 Make sure to look at the dedication plaque on the fountain. Gaston is many things, including always good for a laugh.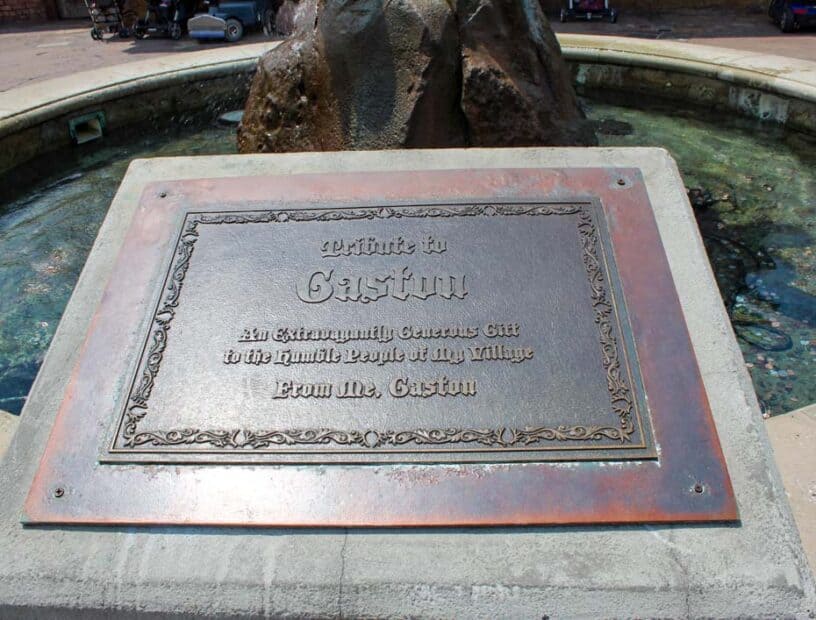 Snack Stops in The Enchanted Forest
During the day you might also run into Maurice's Amazing Popping Machine snack cart over close to Gaston's Tavern. And just down the way, Prince Eric's Village Market offers several nice options. You can find it across the path from the entrance to Little Mermaid.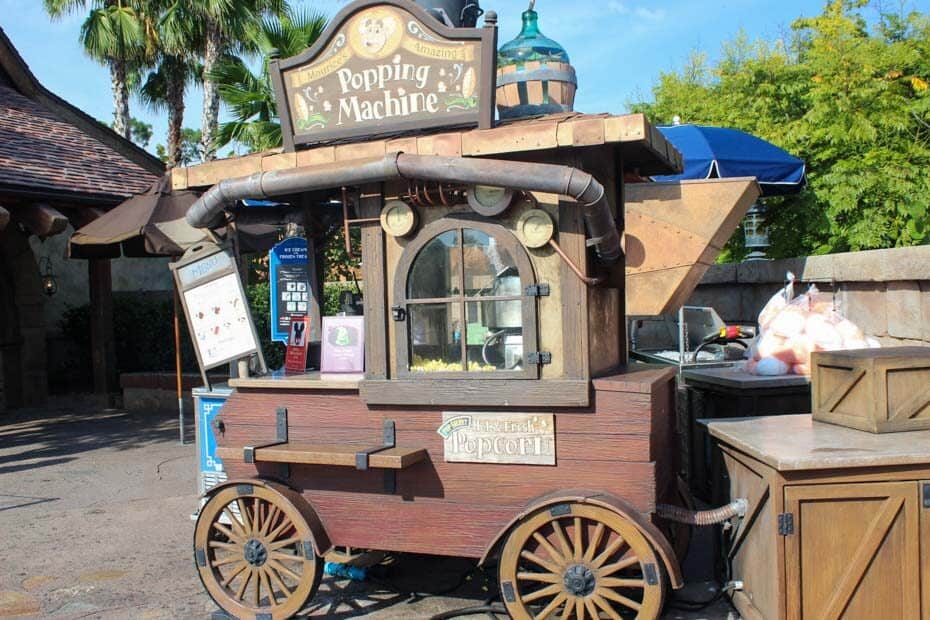 For planning dining reservations, we have a full list of our Disney restaurant reviews available. Normally, we recommend planning at least one Disney World character dining meal and a Disney signature dining reservation.
Meets and Greets in New Fantasyland
While we have covered all of the Magic Kingdom characters recently I will include the ones in New Fantasyland below.
Ariel can be met at Ariel's Grotto, next door to her attraction. This is a permanent character meet that is usually available from park open to close.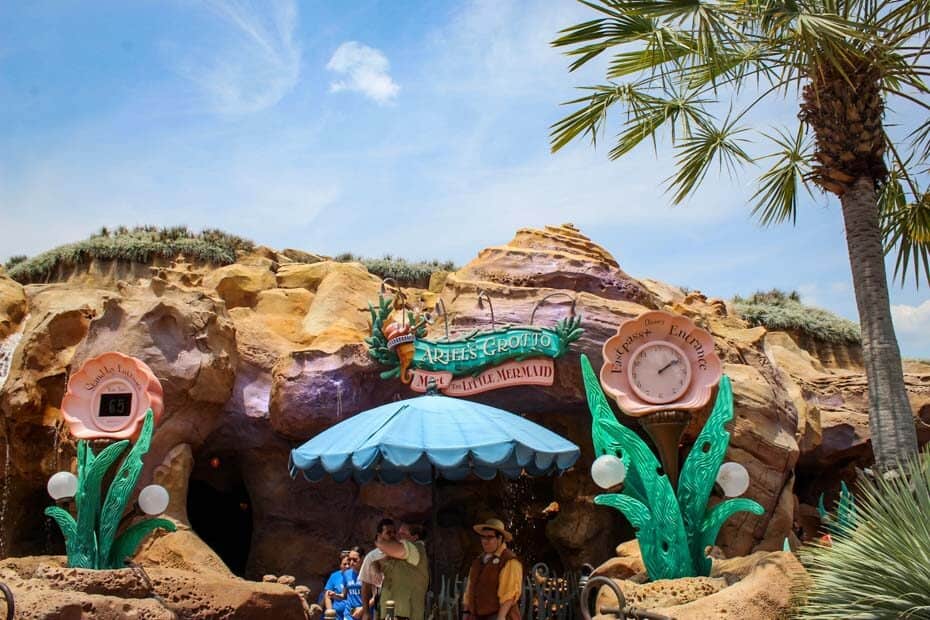 There is a standby entrance along with the option to use FastPass+ here. I have met Ariel several times and would say in most instances the wait should be 30 minutes or less before lunch or in the evening hours. Ariel usually is available during Extra Magic Hours as well.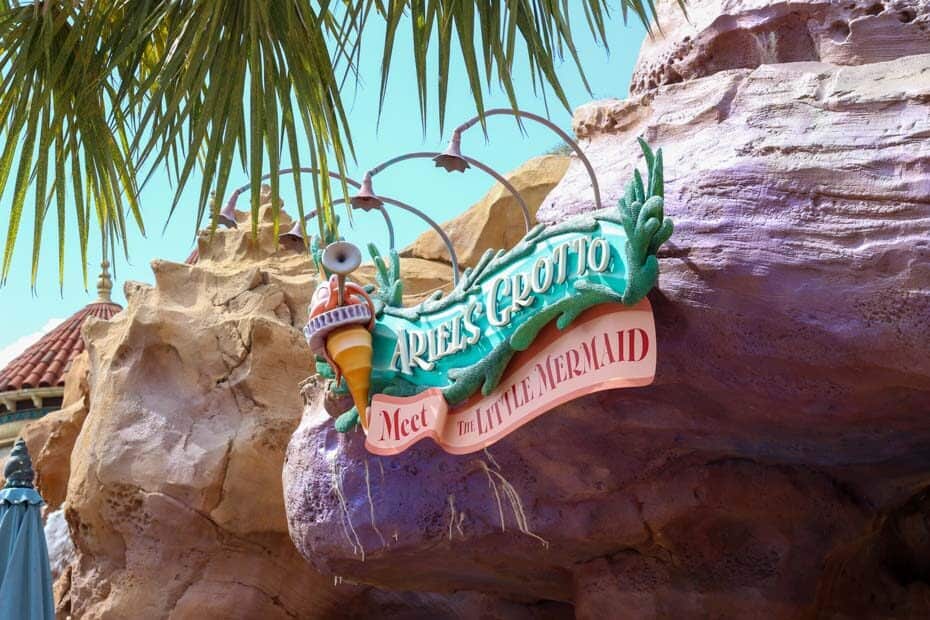 She signs autographs and meets mermaid style here in her clamshell.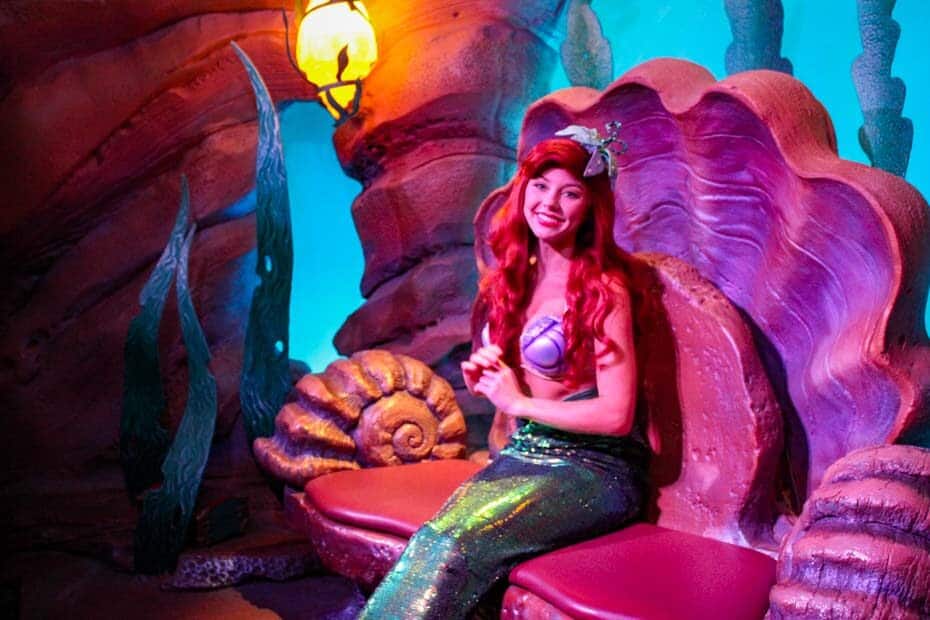 Gaston is up next and can be found on the side of Bonjour Village Gifts. He meets at various times throughout the day so make sure to check the daily times guide for his schedule.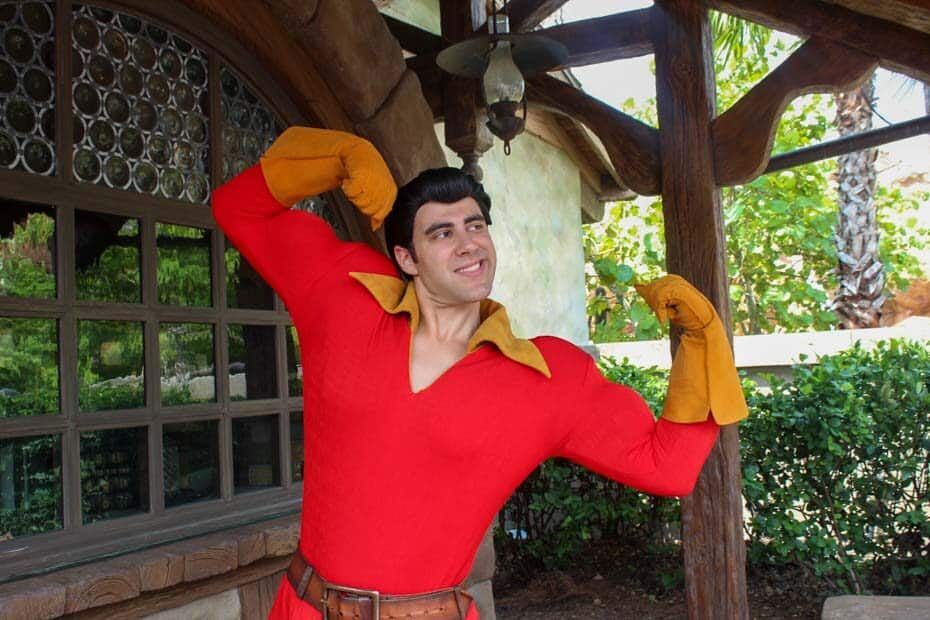 If you are planning to meet characters in the parks, I keep an updated list of Disney World Characters here. That review will like to every meet available in each of the four parks. Gaston and Ariel are included in the Magic Kingdom characters guide.
To the far right of Gaston's Tavern is Bonjour Village Gifts. I would be remiss if I didn't mention this darling store in our coverage of New Fantasyland. Every single time I'm in the area I always duck in for a look at all the pretty things.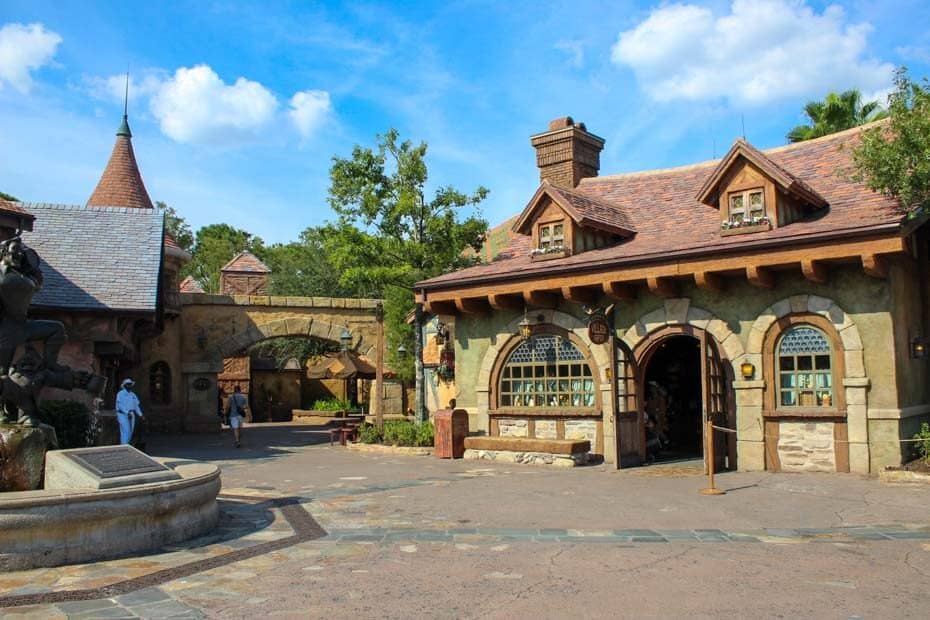 They have dishes.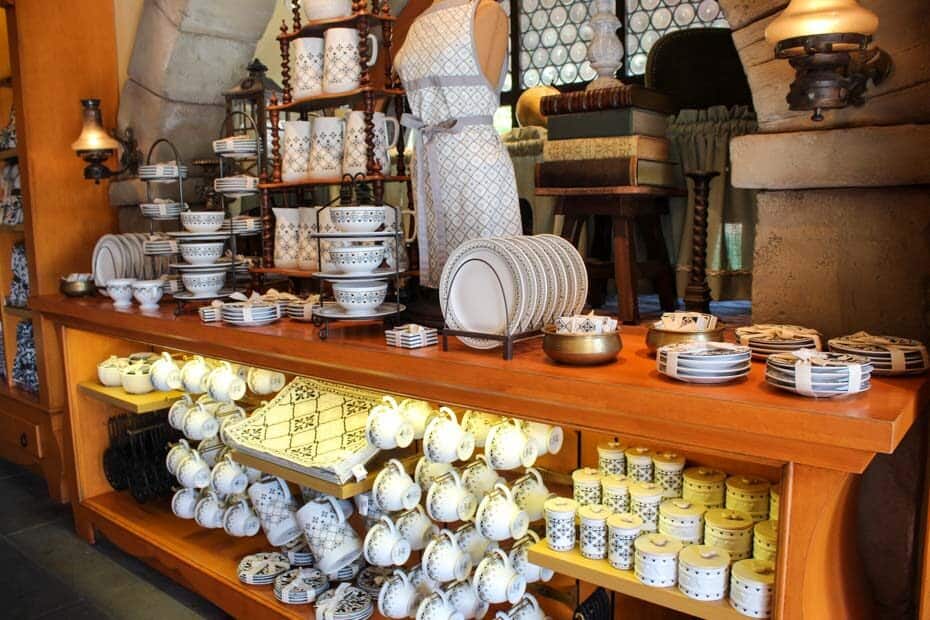 Books.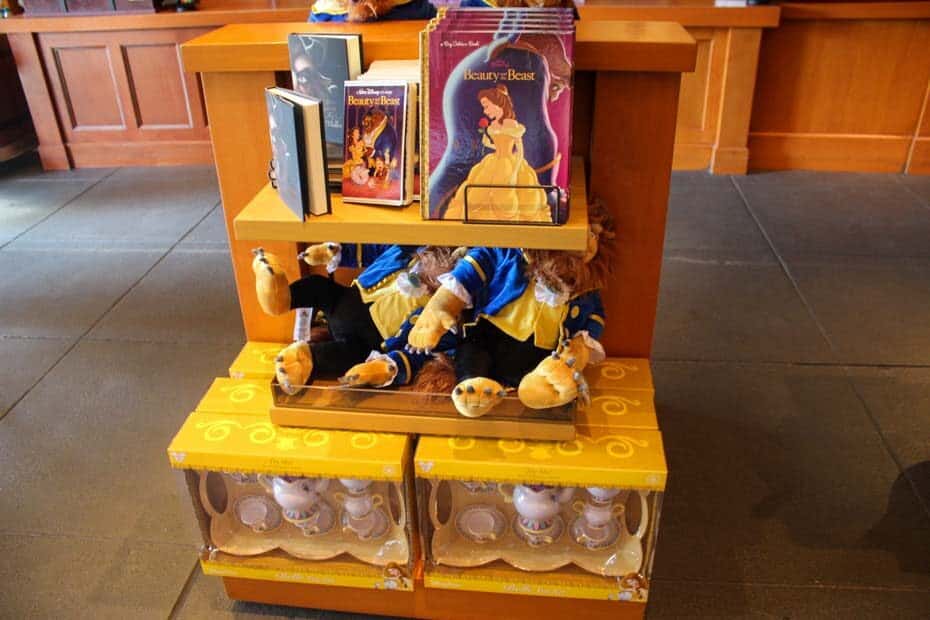 Paintings.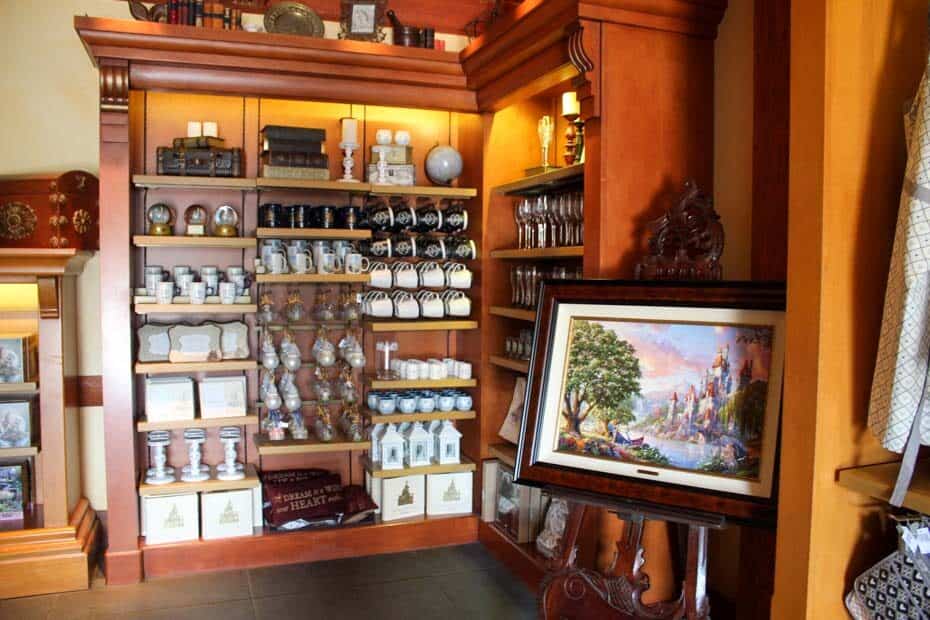 Plush Beasts waiting on Belle to read a book. I know, I want to read also. I miss it.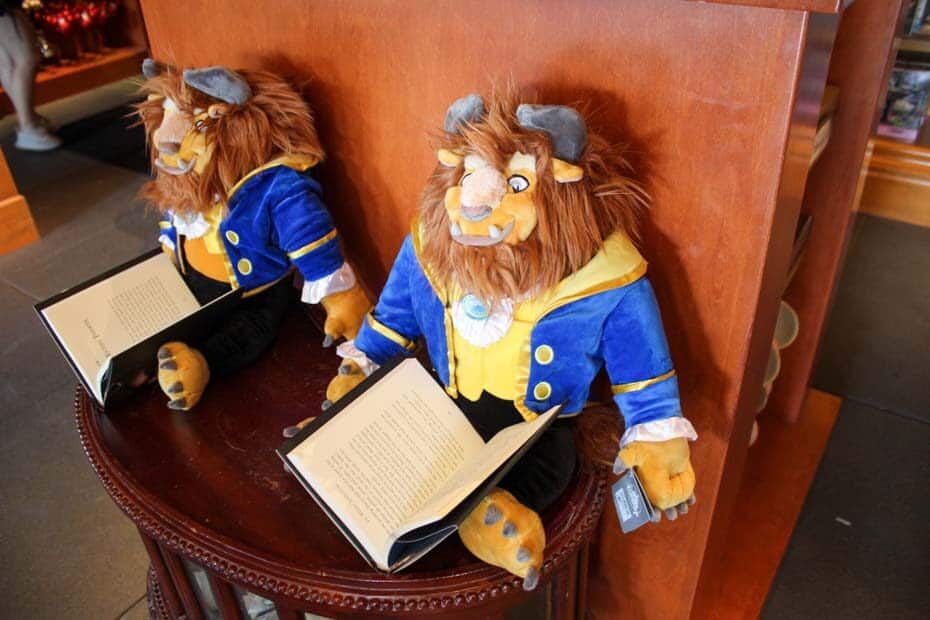 There are princess ornaments and figurines.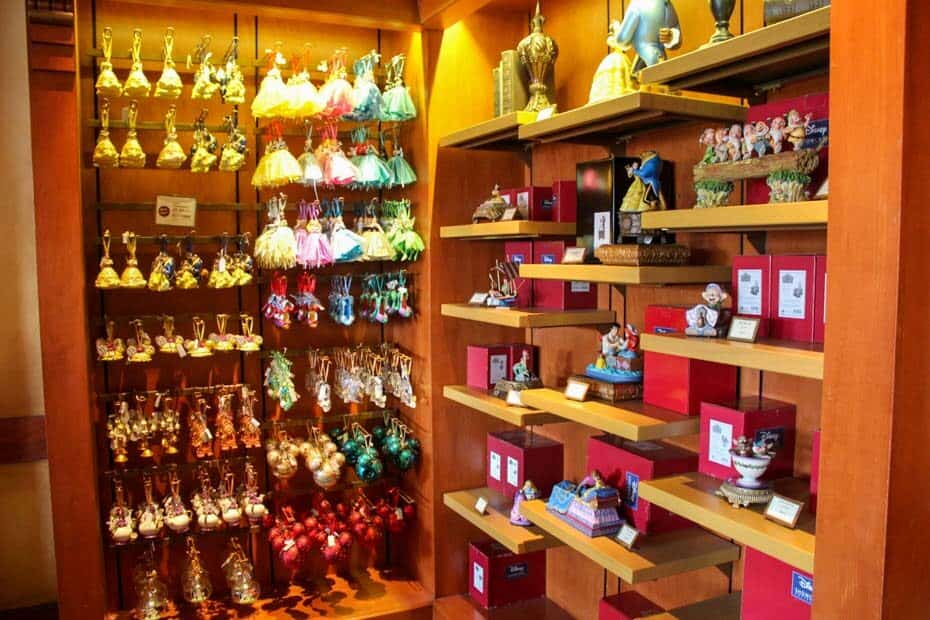 Puzzles to figure out. Many pieces to put back together.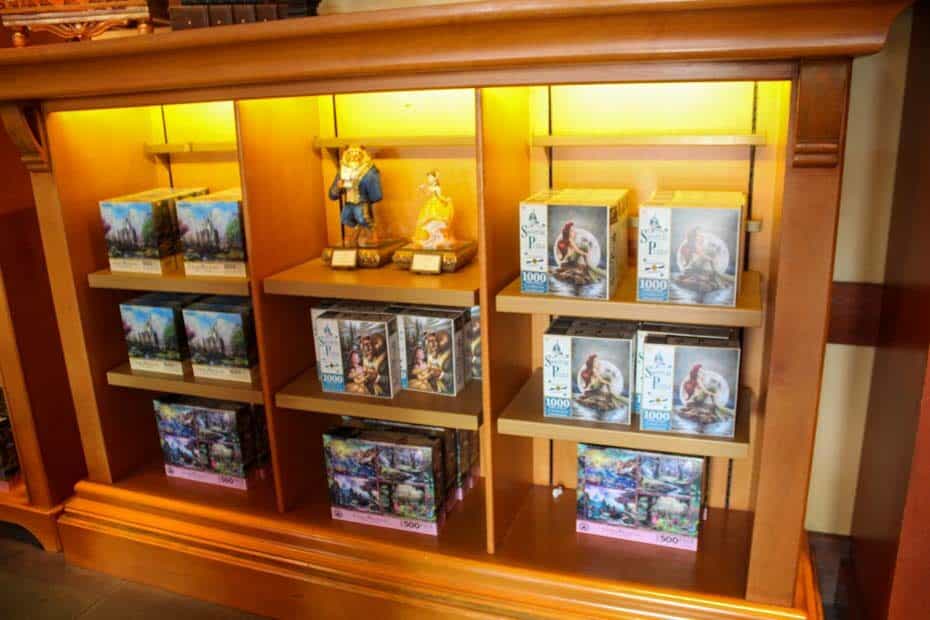 And mugs for your nightly herbal tea or morning coffee.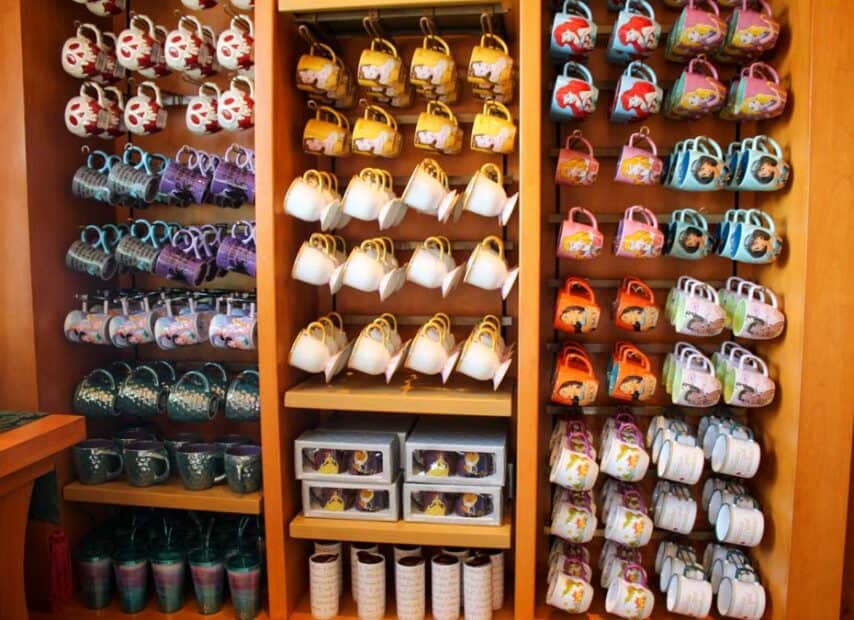 Even a nice variety of the Alice in Wonderland teacups line. I might be a bit partial to this selection.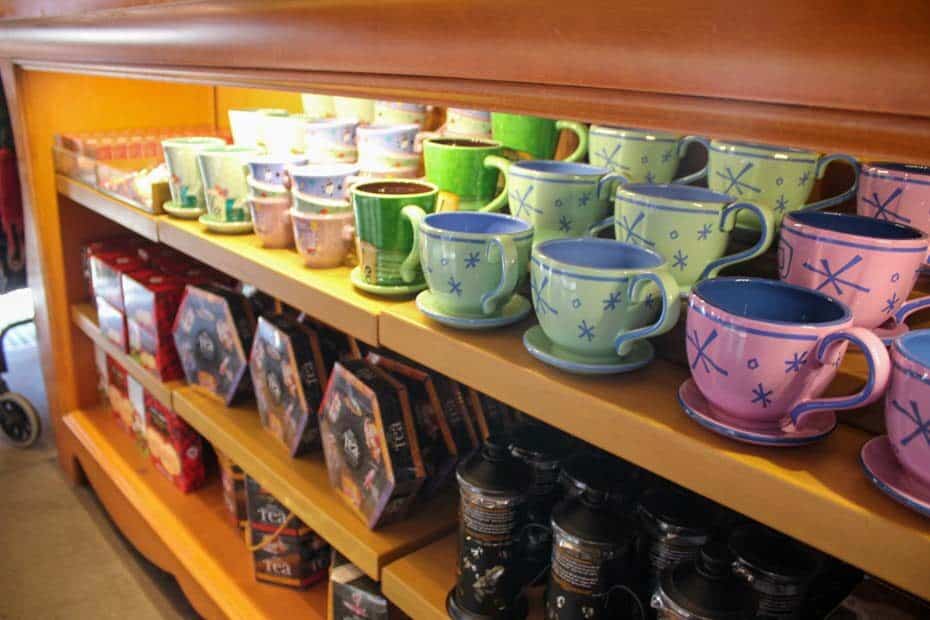 These books are actually really cute for the junior reader.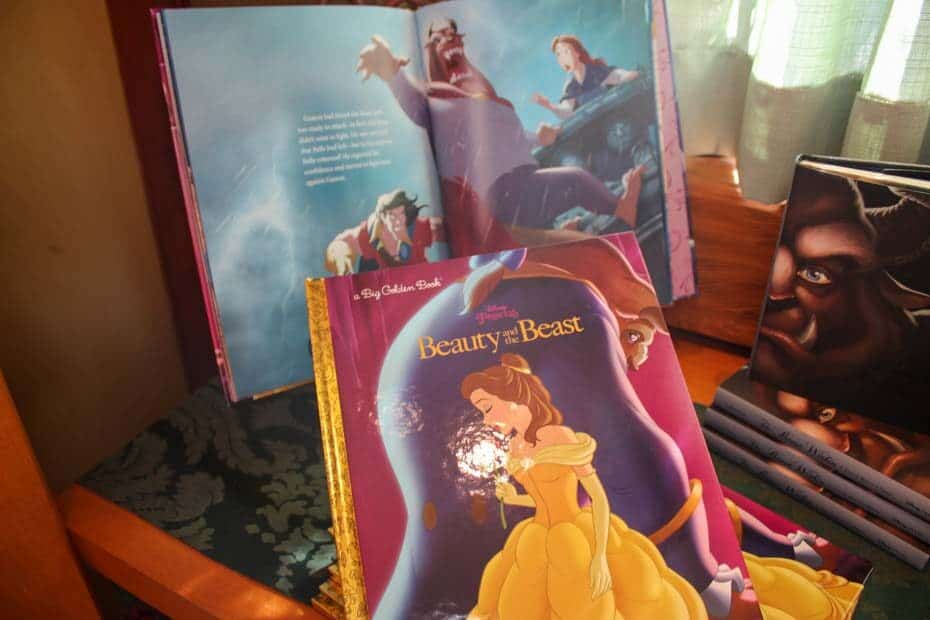 I thought they did a nice job with the cover.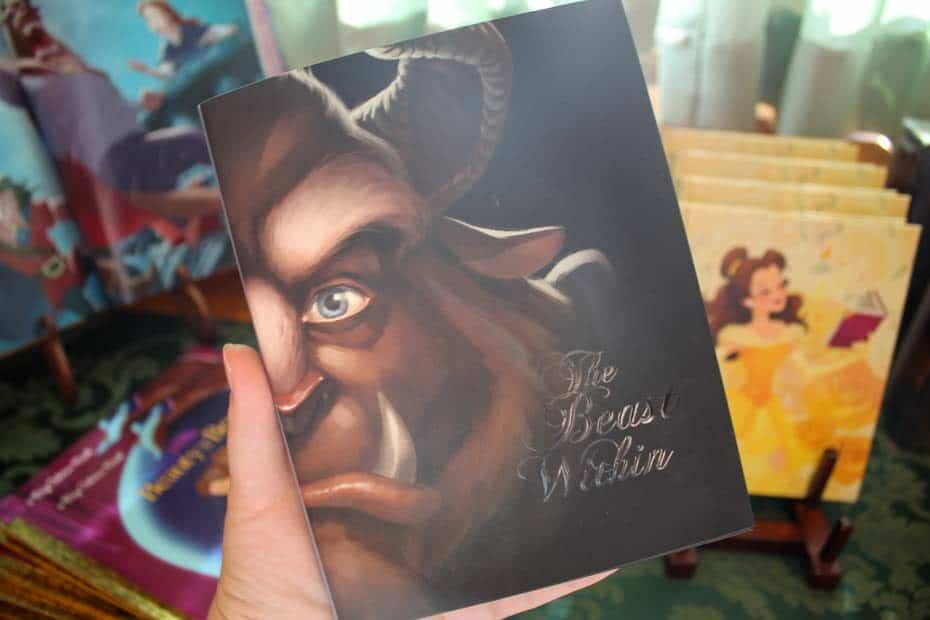 Final Thoughts
New Fantasyland has truly been the perfect addition to Magic Kingdom. The land provides a little more space to spread out, a new castle with dining, and popular attractions. Hopefully, you'll get to spend a nice amount of time in the area on your next Disney vacation!
Read more of our Magic Kingdom by land series here:
Resorts Gal specializes in Disney World Resorts, Characters and Dining. Make sure to check out some of our resources like the list Walt Disney World Resorts with reviews. That article gives a brief overview of every resort at Disney.
The Magic Kingdom resorts on the monorail include Grand Floridian Resort (review), Disney's Polynesian Resort (review here), and then Disney's Contemporary Resort (here).
Lastly, our most popular reviews include the best restaurants at Disney Springs and I keep a timeline going of Disney Loungefly mini-backpacks.
If you have any questions or comments about touring New Fantasyland make sure to leave them below in the comments.