Chip 'n' Dales Campfire Sing-A-Long at Disney's Fort Wilderness
In this article, we visit the Chip 'n' Dale Campfire Sing-A-Long at Disney's Fort Wilderness.
Fort Wilderness is a unique resort, no matter how you look at it. Instead of staying in a regular hotel, you can bring a camper, pitch a tent, or rent a cabin.
For some, this type of lifestyle is the norm. But for many of us, the idea of roughing it doesn't particularly sound like a vacation.
However, there are still plenty of "camping" activities that most of us would enjoy. One of those activities is the Chip 'n' Dale Campfire Sing-A-Long.
Everyone is welcome to visit Fort Wilderness to partake in the nightly campfire sing-a-long. You don't have to stay at the resort or any Walt Disney World Resort to enjoy it. But, of course, you'll have to get there.
So, below, I'll walk you through our visit to Fort Wilderness for the campfire sing-a-long. We'll discuss how to get to Fort Wilderness and what to expect when you arrive. We'll also preview a video with clips from the sing-a-long.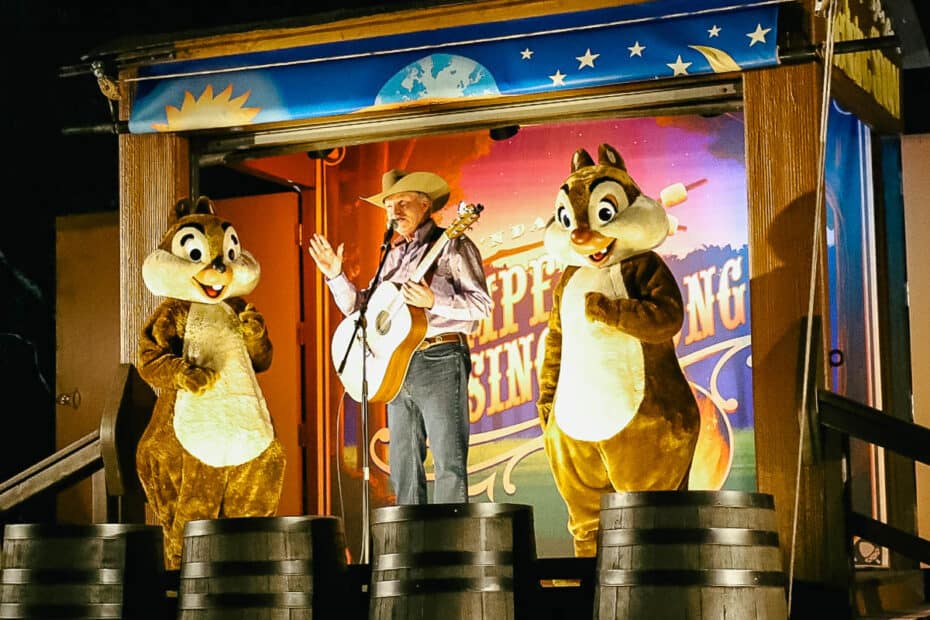 How to get to Chip and Dales Campfire Sing-A-Long
Depending on your location, there are several ways to visit Fort Wilderness. For this visit, I was meeting friends, and we were both coming from different directions.
Since I had stopped at the Magic Kingdom earlier, I had parked at the Transportation and Ticket Center. So when I left Magic Kingdom, I hopped on a boat to Fort Wilderness.
Right outside of Magic Kingdom, there's a boat dock that's shared between Fort Wilderness and Disney's Wilderness Lodge. So if you're coming from most Disney Resorts, you can take a bus to Magic Kingdom. Then, you'll board a boat to Fort Wilderness for the Campfire Sing-A-Long.
You will have to go through security at Magic Kingdom to get from the bus area to the boat dock. However, you won't have to go through the ticketed area. It's approximately a 12-minute boat ride from Magic Kingdom to Fort Wilderness.
Fort Wilderness boats dock at The Settlement. This is where Pioneer Hall, Trail's End, the Hoop Dee Doo Revue, and the Settlement Trading Post are located.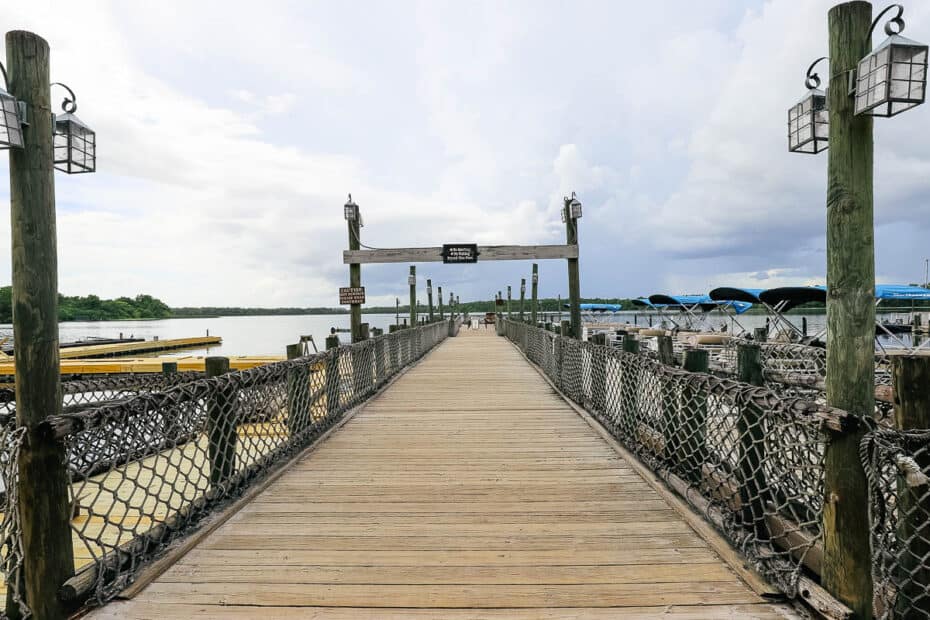 You'll continue past Pioneer Hall and head straight to the Settlement Depot bus stop. A few directional signs will indicate you're going the right way.
Once you get to the bus stop (it sits across the street from Tri-Circle D Ranch), you'll wait to board the orange bus line. Make sure you get on the bus that says orange because the purple and yellow buses do not go by the campfire area.
After we got on the bus, it was a short ride to stop #900-1000, The Meadow. Below is a photo of the bus stop and the walkway to the Meadow Trading Post.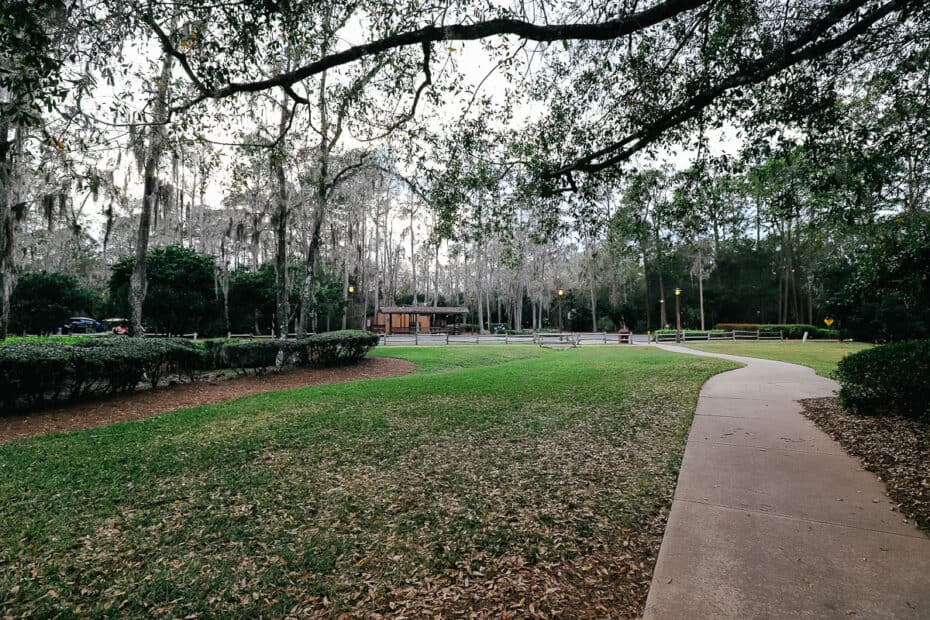 You can either walk through or around the Meadow Trading Post.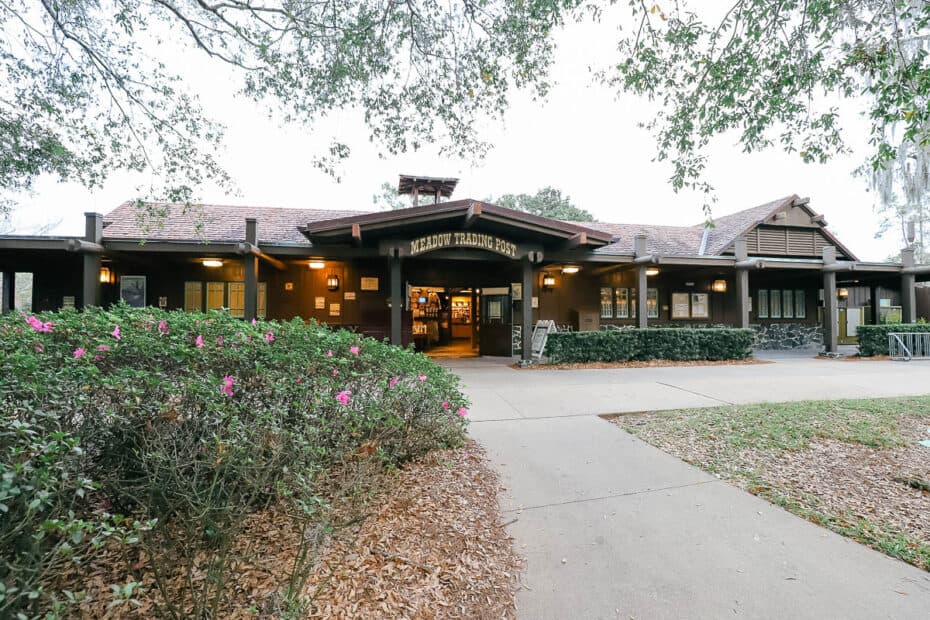 Then you'll cross a bridge over to the Meadow recreation area.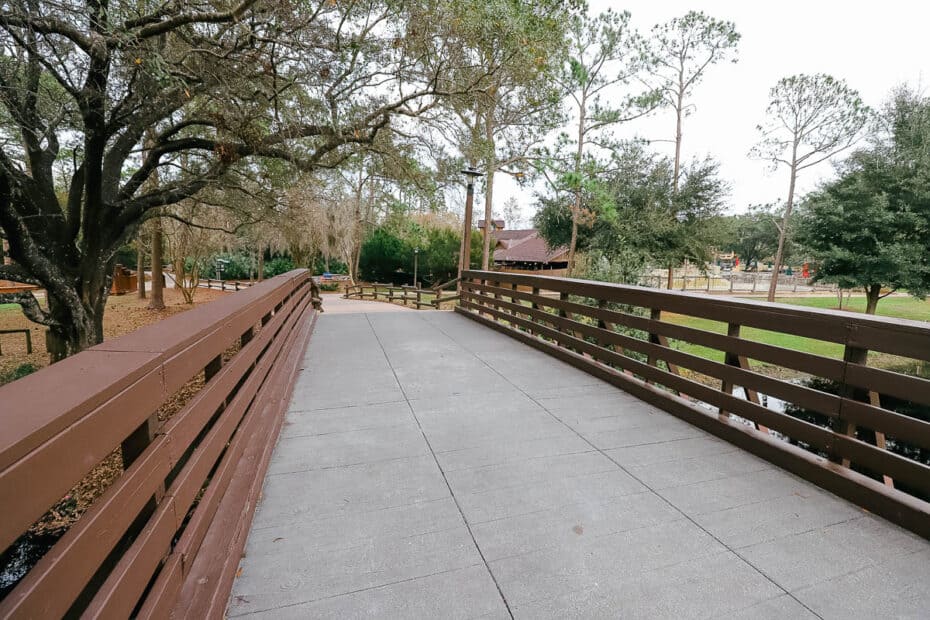 You'll stay to the left until you reach this paved circle area. On one side, there's a golf cart parking area.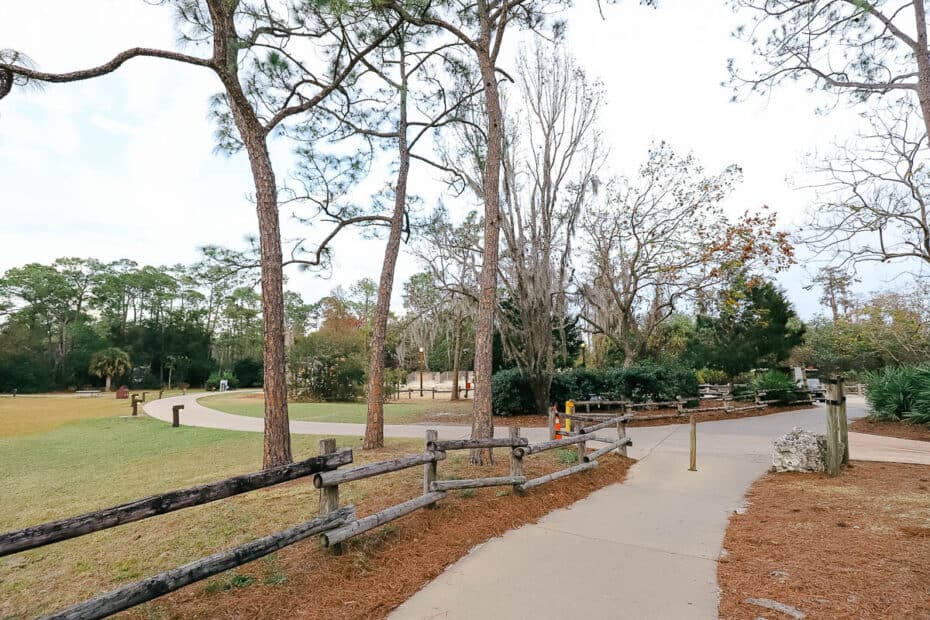 Either side dead ends to Chip 'n' Dale's Campfire Sing-A-Long.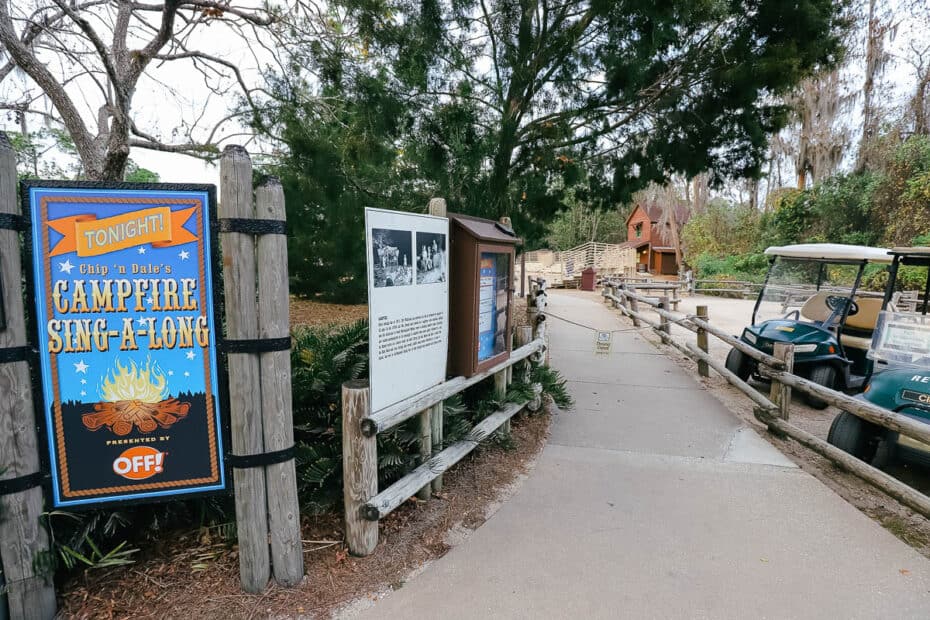 My friends were visiting this evening from another resort, and they drove their car to Fort Wilderness. To do the same, you'll need to drive your vehicle to the Outpost, the resort's main entrance.
From the Outpost, you'll walk over to the Outpost Depot and take the orange bus to the Meadow. Then you'll follow the exact directions we just took from the bus stop.
*If you're coming from another destination like Hollywood Studios, Epcot, Animal Kingdom, or Disney Springs, take a bus to Fort Wilderness. At Fort Wilderness, you'll want to get off the bus at the Outpost Depot. Then you'll board the orange line bus to the Meadow.
Tip: From most resorts (other than the Magic Kingdom Resorts), I would allow a full hour and a half to travel from the resort to Fort Wilderness.
Fun with Chip and Dale Before the Sing-A-Long
Since I had never been to the Sing-A-Long before, I arrived early. It was almost 5:45 p.m., and a few other families were arriving at about the same time.
Usually, the Campfire Sing-A-Long begins at 7:00 p.m. However, Chip and Dale mingle with guests a little earlier.
*Disney notes on their site here that the sing-a-long and movie are held nightly as weather permits. You will want to check with the resort for the exact time and schedule or call (407) 939-7529.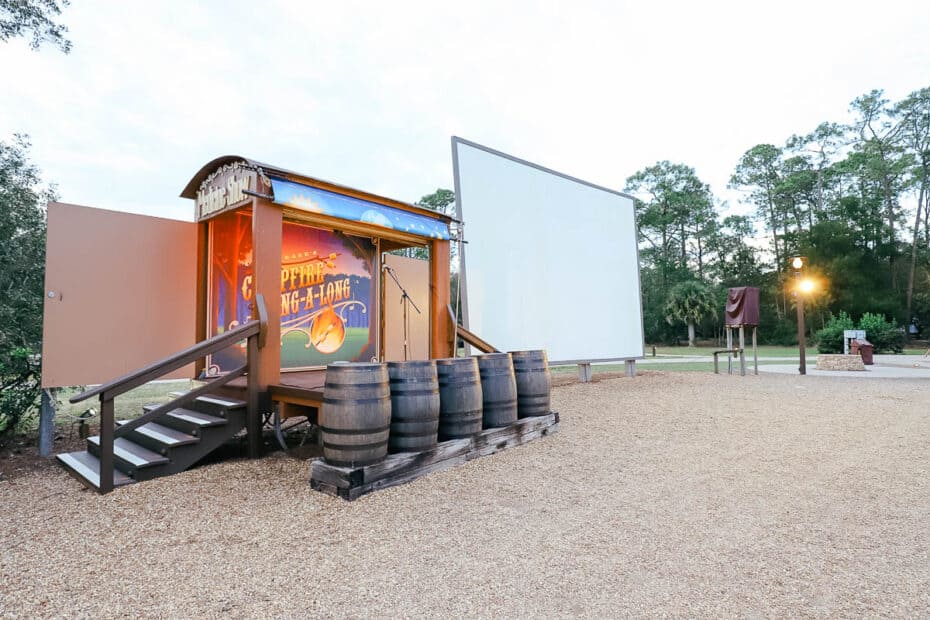 So at about 6:15 p.m., there were approximately 30 guests at the sing-a-long. I was surprised to see so many guests there this early.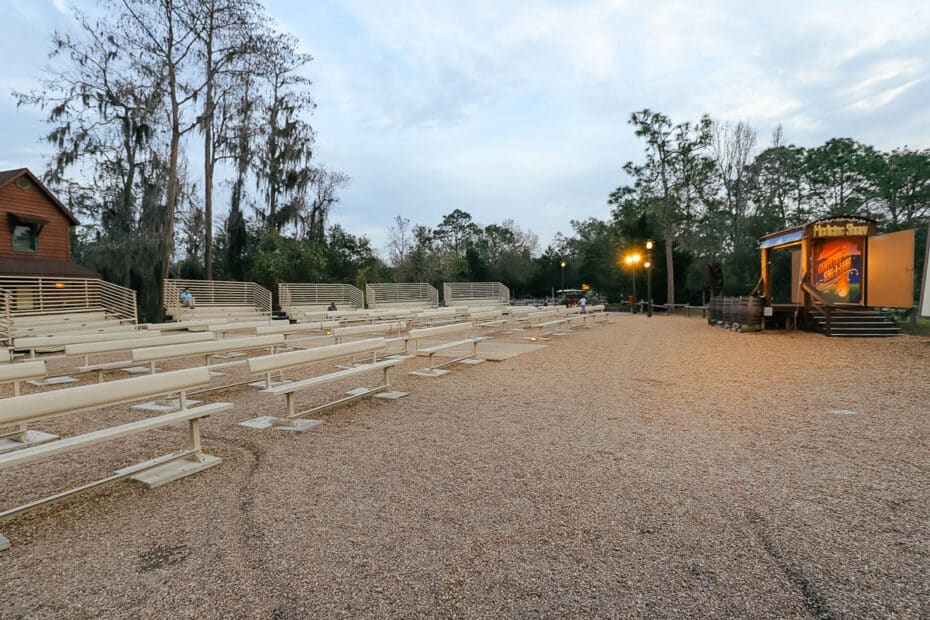 However, Chip and Dale came out about this time and started playing cornhole. While waiting, several cast members brought out a few games for guests.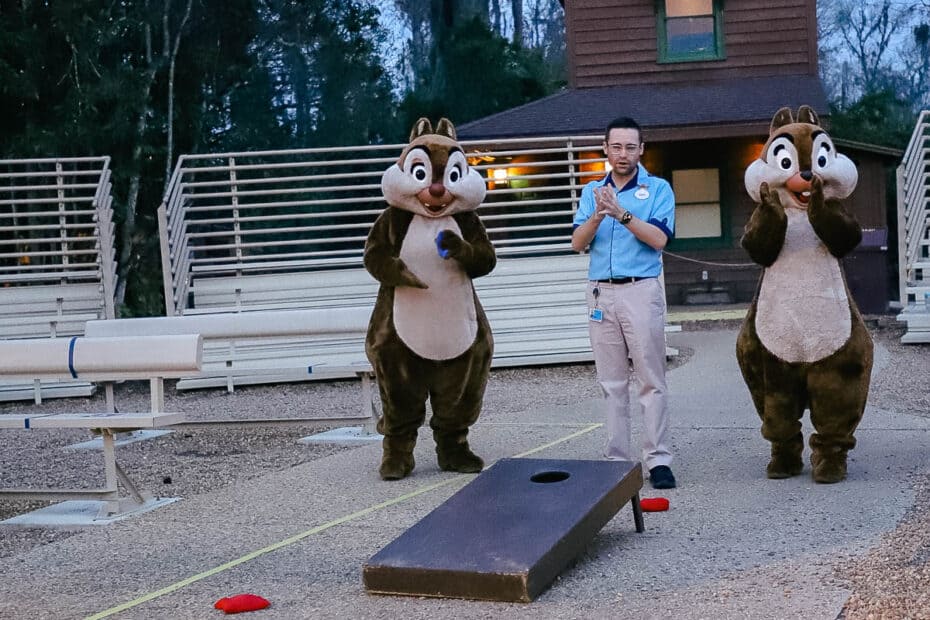 Chip and Dale played games and greeted guests for almost 30 minutes. Then they disappeared for a break at around 6:40 p.m. before the sing-a-long started.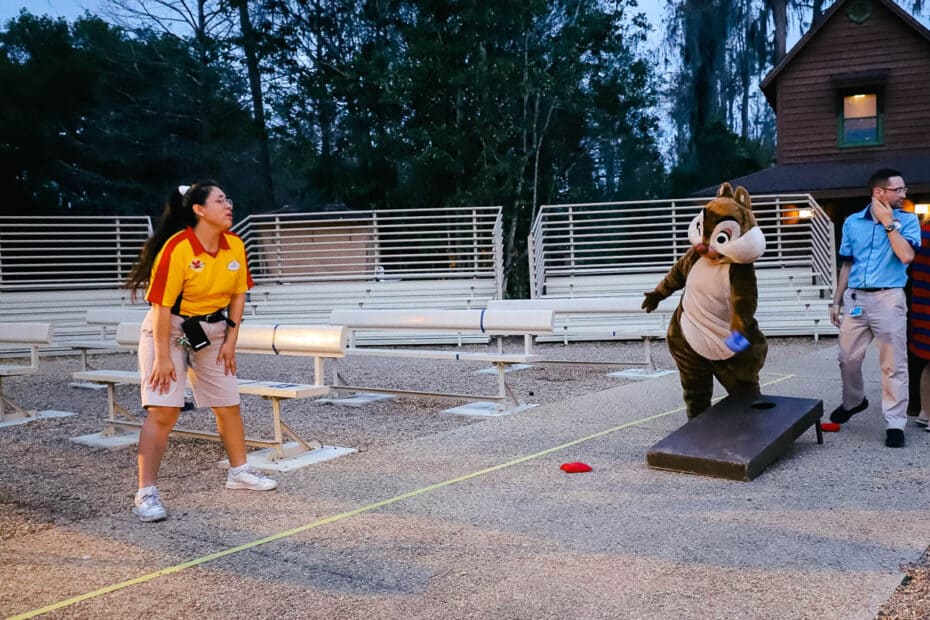 During this time, cast members had started a fire in both fire pits for guests to roast marshmallows and make s'mores.
You can bring your own items, or kits are available at the resort's gift shops or the Chuckwagon Snack Bar. Additionally, an ice cream truck was available on the night of our visit.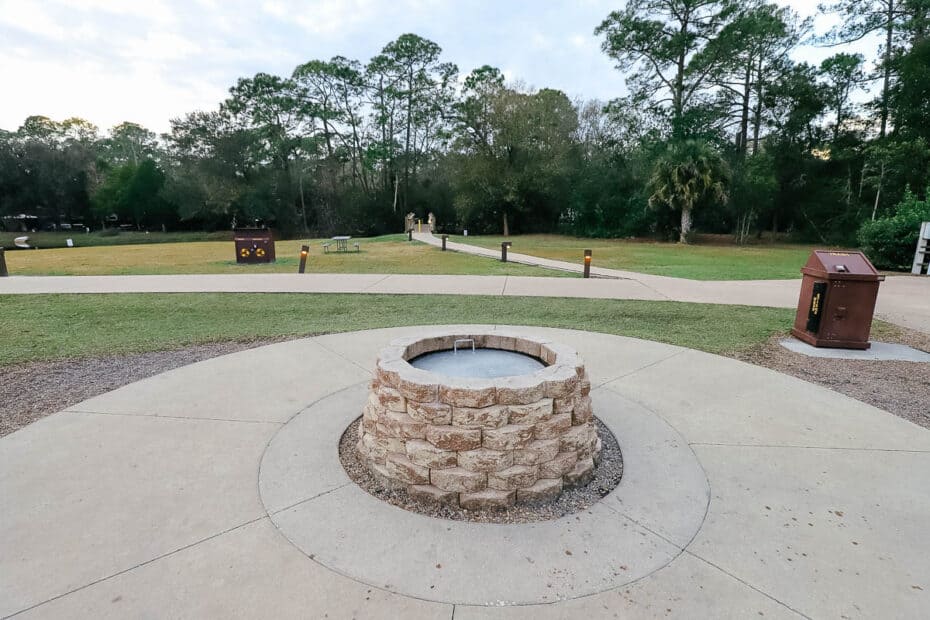 The Sing-A-Long
A cowboy joined the stage at 7:00 p.m. By this time, it had gotten dark. I imagine the timing for this event fluctuates somewhat during the hotter months when it gets darker later.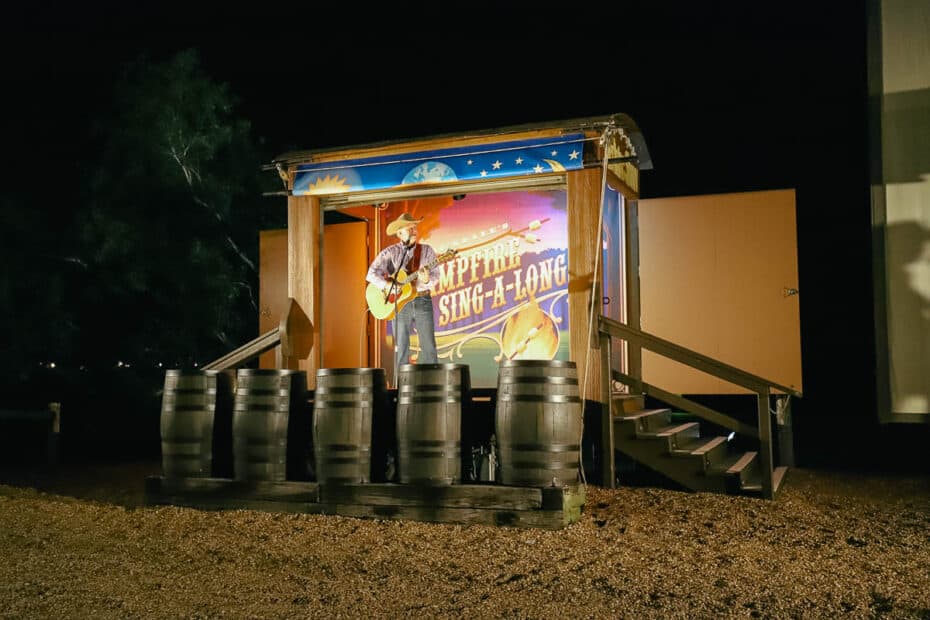 He sang a few songs and introduced Chip and Dale, who joined him on stage. Most of the songs ask for participation from the crowd.
Chip and Dale stayed on stage for a few songs and then disappeared again. Toward the end of the show, the pair came back out, and everyone formed a circle around them to do the Hokey Pokey.
Chip and Dale's Campfire Sing-A-Long lasted approximately 30 minutes. After it was over, everyone was invited to stay for the nightly Movie Under the Stars.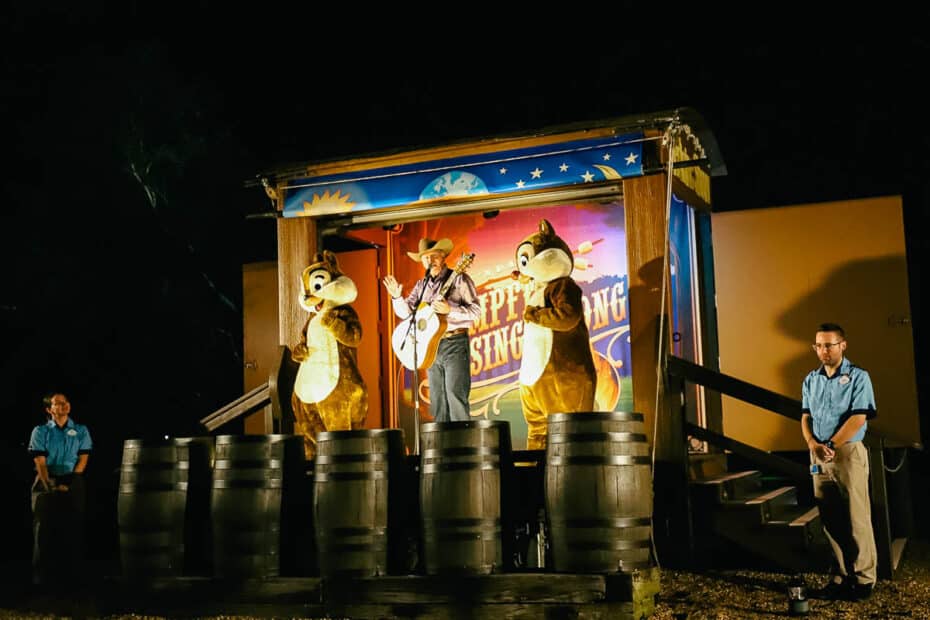 Chip 'n' Dale's Campfire Sing-A-Long Video
Our video below shares clips from our evening at Chip 'n' Dale's Campfire Sing-A-Long.
Final Thoughts
We had the best time at Chip 'n' Dale's Campfire Sing-A-Long. If you're staying at Fort Wilderness, try to plan it into your schedule on a resort day or an evening when you get back from the parks early.
This is also an excellent way to wrap up a day off from the parks if you're staying nearby. You might have an early dinner at one of the Magic Kingdom Resorts, then head over to the campfire at dusk.
Obviously, fans of Chip and Dale will want to get there early. Don't forget to practice those cornhole skills!
For more details about Disney's Fort Wilderness, we have a resort guide:
Or you might enjoy these other articles:
In the Comments
What do you think about the Campfire Sing-A-Long at Fort Wilderness? Do you love Chip and Dale? Is this something you would go out of your way to do?