Connections Eatery Review (Epcot's Newest Quick-Service)
Connections Eatery is the newest quick-service dining location at Epcot. Connections is a monumental building located in the World Celebration area of the park.
If you're like me and have no idea where these new "areas" of the park are by name, Connections Eatery is located in the same area as its predecessor, Electric Umbrella.
Since Connections Eatery opened, I've had the opportunity to stop in and try a few items. Overall, I've been impressed with the offerings. However, there's one item in particular that stands out among the crowd.
We'll get to that.
This article will provide a review of the Connections Eatery at Epcot. Aside from the location and menu items, there are a few things you'll want to know in advance for planning a meal here.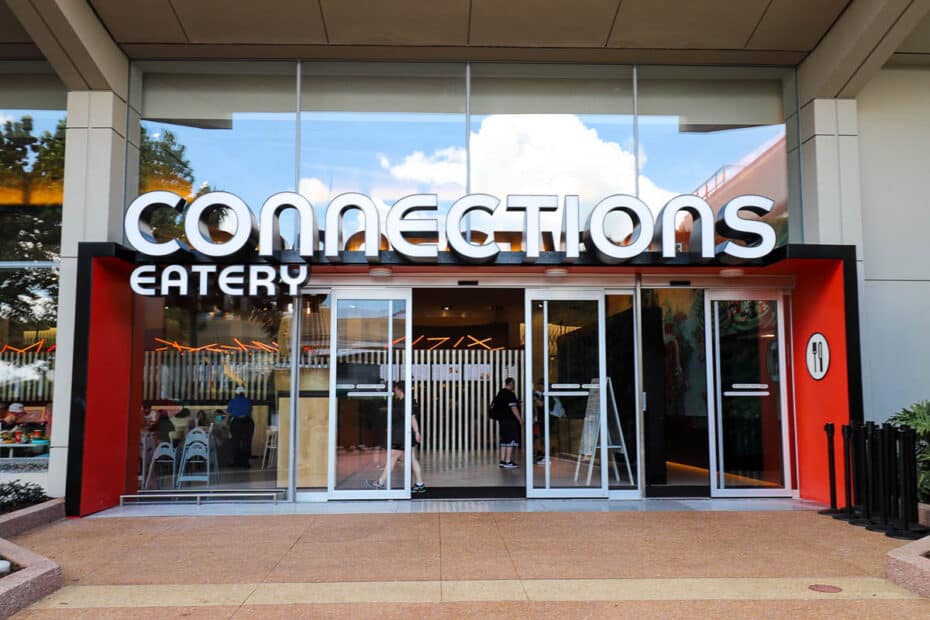 Connections Eatery Review
For starters, Connections is a bit of a confusing place. The actual building is home to two locations, Connections Eatery and Connections Cafe.
Connections Cafe is located on the front side of the building next to the large Creations Shop that replaced the former Mouse Gears. Connections Cafe is Starbucks.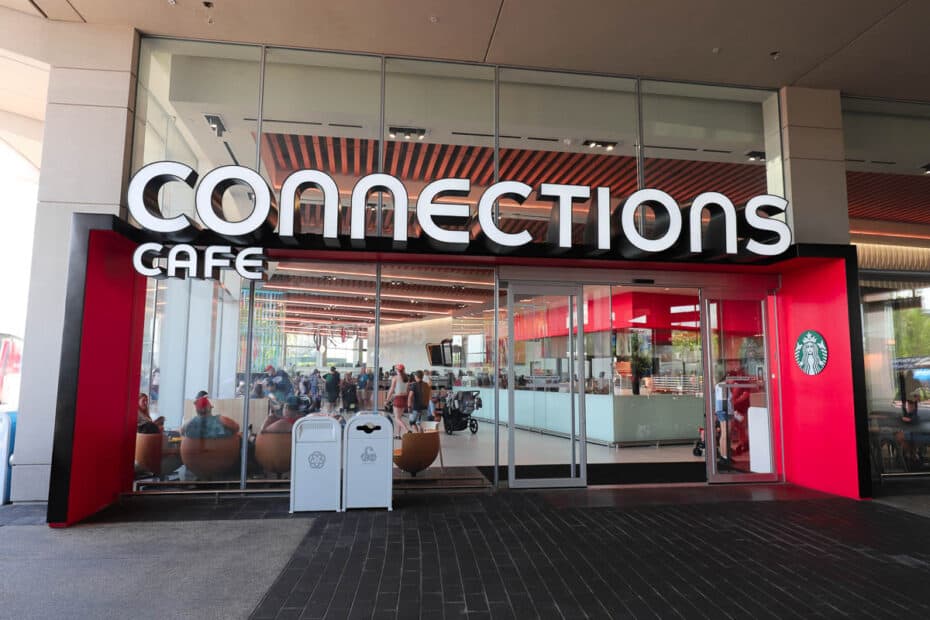 When I first walked into Connections, I was on the cafe side. Even as a blogger who frequents Epcot, I didn't realize that two locations share the same surname, or whatever you call it.
And I wasn't the only one. I've seen other guests make the same mistake.
So if you want a custom coffee, stay on the side with the cafe. But if you're looking for a meal, walk around to the eatery side. A walkway on each side of the restaurant(s) connects them.
Anyway, now that we've squared that away, you can mobile order at Connections Eatery. However, you cannot mobile order from the Connections Cafe Starbucks.
You might benefit from mobile order if you've got a large group or plan to eat during a popular mealtime. Your group can grab a table when your order is ready while someone picks up the food and fills the soft drinks.
Speaking of the food, Connections Eatery has an admirable selection of menu items. Let's hope it stays that way.
Here are some of the items available for lunch and dinner.
Burgers
French Bistro Burger
Southwestern Burger
American Classic Burger
Banh Mi Burger
Hand-breaded Chicken Sandwich
Mediterranean Burger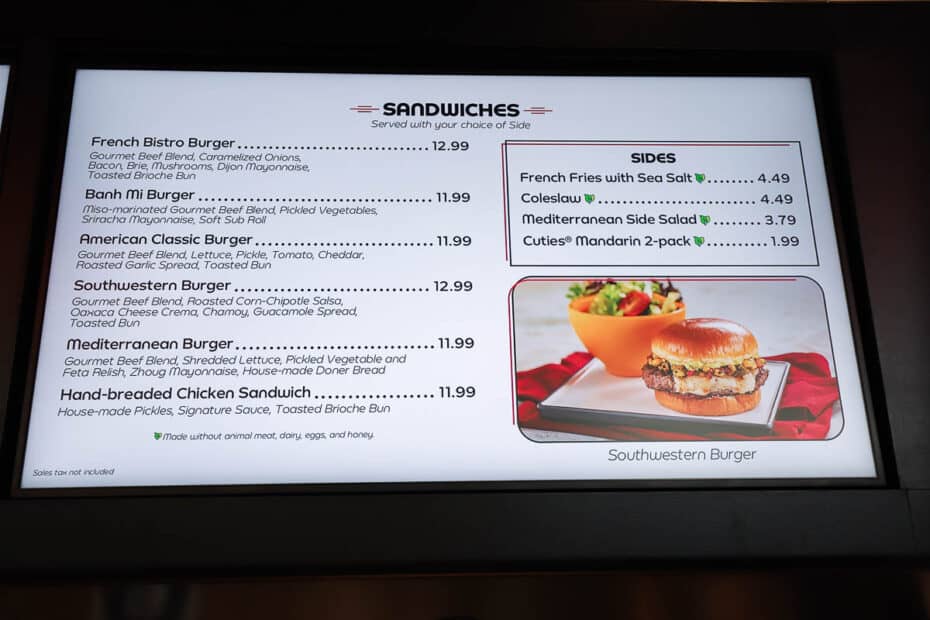 Pizza
Meatball Pizza
Pepperoni Pizza
Five-Cheese Pizza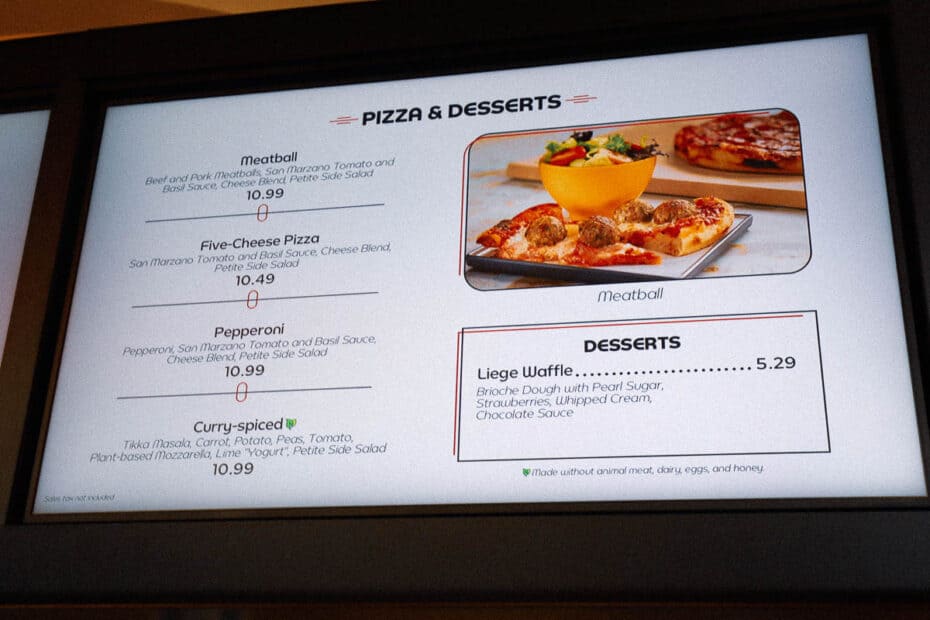 Salad
General Tso Chicken Salad
Nicoise-style Salad
Plant-Based
Sides include coleslaw, French fries, a Mediterranean side salad, or a Mandarin orange.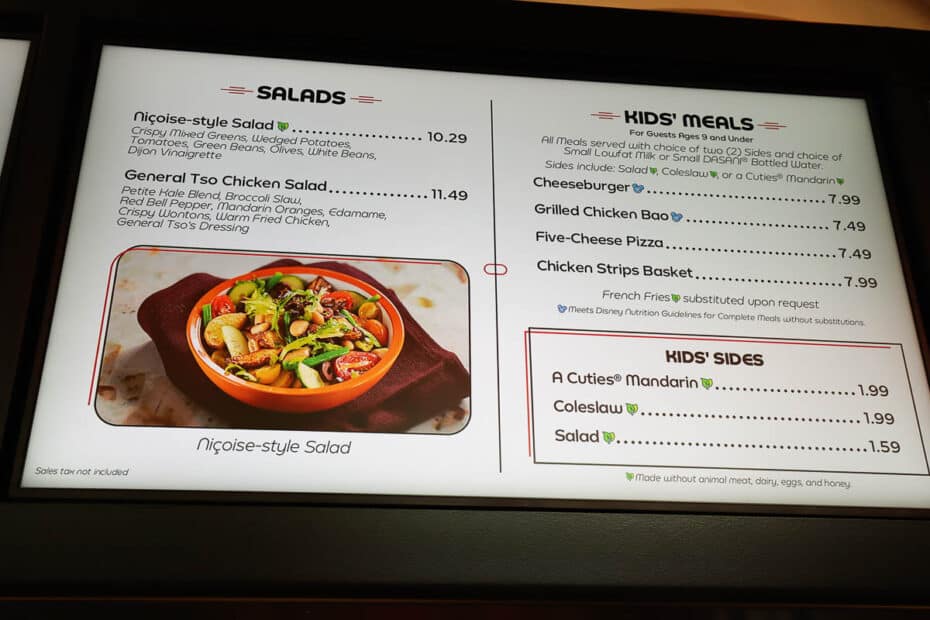 Kids' Meals include:
Cheeseburger
Grilled Chicken Bao
Chicken Strips
Five Cheese Pizza
Dessert:
Liege Waffle
Apple Pie Gelato Shake
Mango-Coconut Milk Shake
Several specialty drinks were available, and there was a separate allergy-friendly menu. You can preview the menu in its entirety here on Disney's site.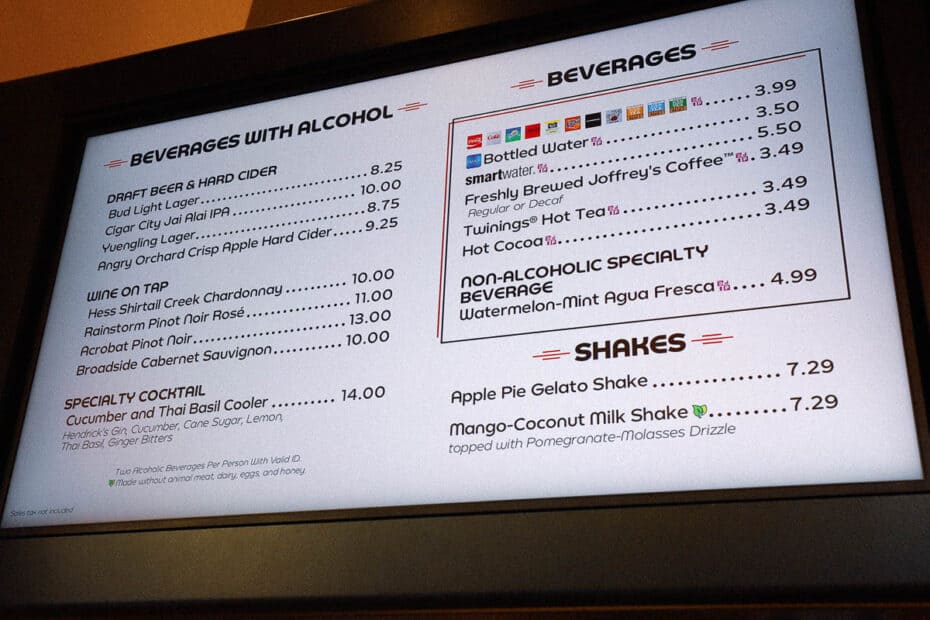 Before we look at the items I've tried to date, let's look around the restaurant. Connections Eatery has a large kitchen and prep area open to the dining room.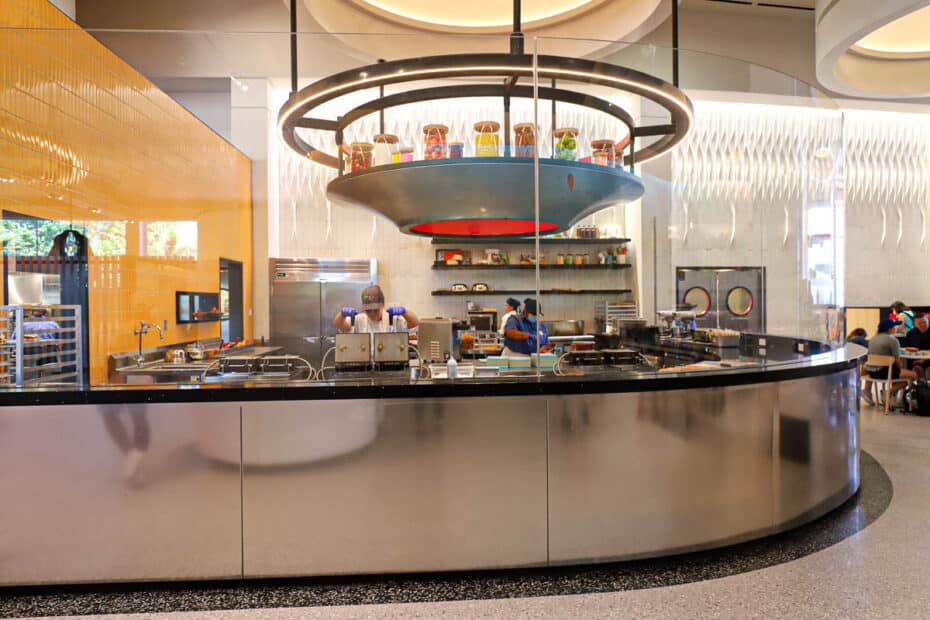 The order area is similar to any other counter service at Disney World. First, you walk up on either side of the register to order. Then you continue forward to the window to pick up your meal.
There are several beverage and condiment areas on each side of the restaurant.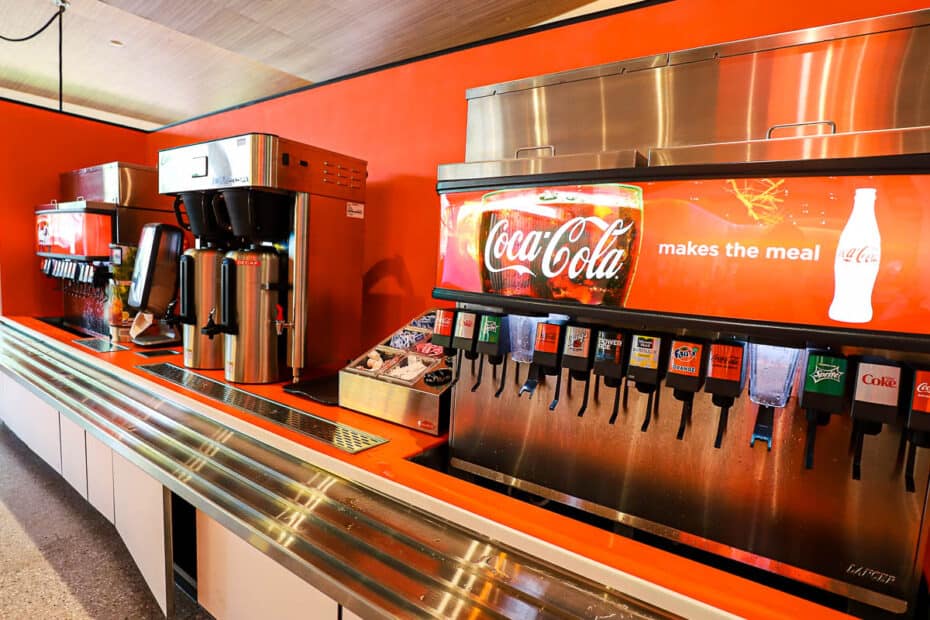 A stunning mural completes an entire wall. This area below also adjoins the Cafe and the Eatery.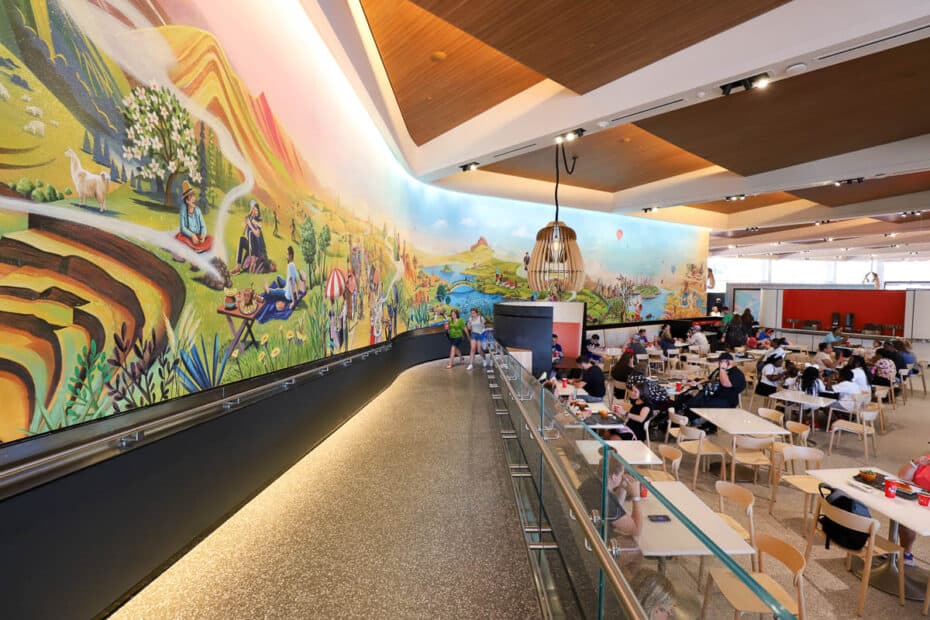 Additionally, there are a variety of dining spaces available for guests.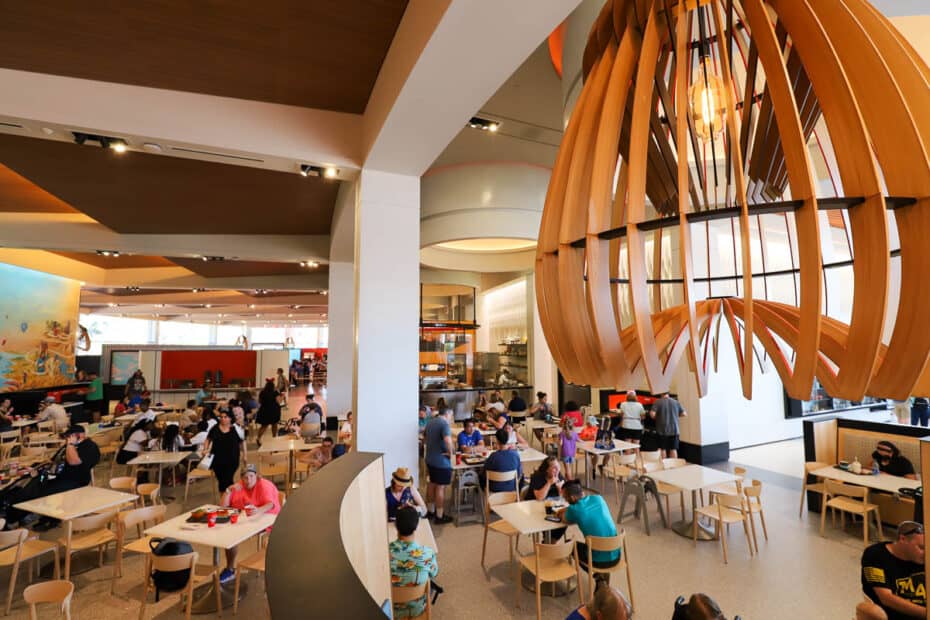 On my first stop at Connections Eatery, I ordered the General Tso chicken salad. The salad is a kale lettuce mix with crispy wonton strips, three crispy sesame-crusted chicken strips, and various veggies.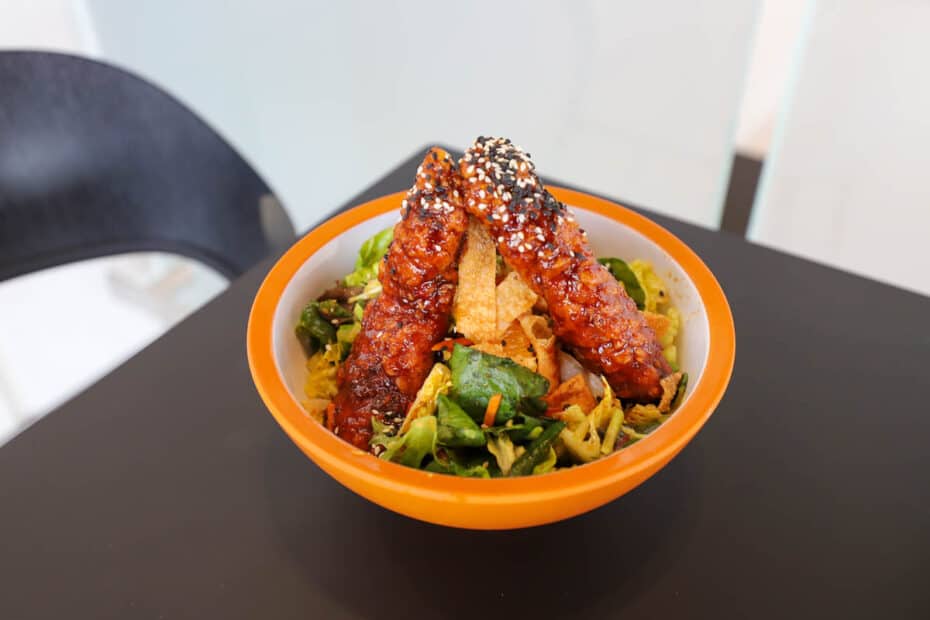 I can't say enough good things about this option. The salad felt like a quality entree I might have ordered at a table service restaurant.
My chicken was well-prepared, and the salad had a subtle yet tangy vinaigrette that provided just the right amount of balance.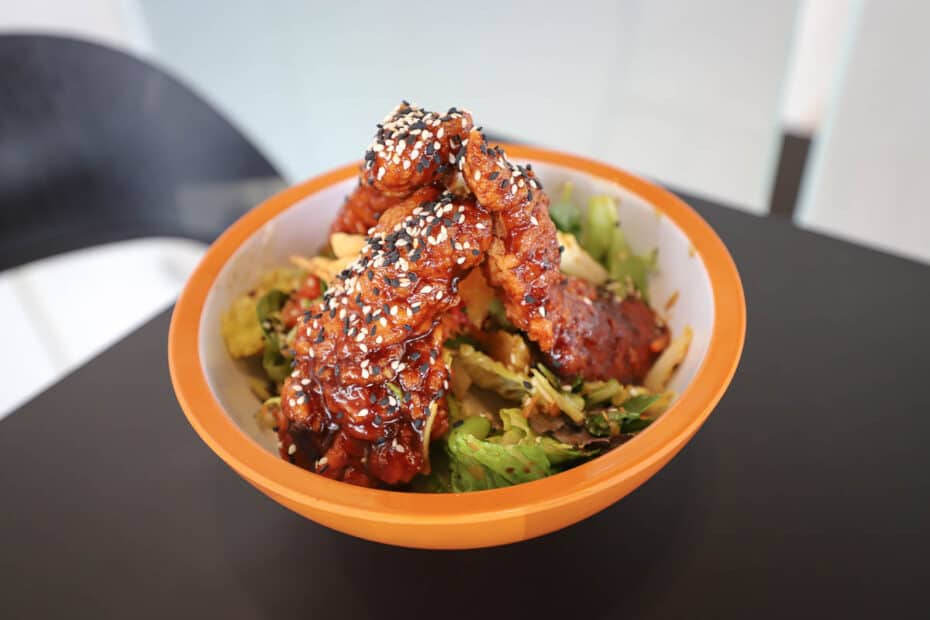 When I enjoy this kind of meal, I'm left wondering why there can't be more reasonably delicious counter service items in the parks. The only comparable thing that comes to mind is Satu'li Canteen at Animal Kingdom.
Related: Satu'li Canteen Review
Anyway, when I previewed the new Guardians coaster at Epcot, I spontaneously decided to have lunch at Connections Eatery again. The restaurant is only a few steps away from the entrance to the new attraction.
Related: Guardians of the Galaxy: Cosmic Rewind Review
I perused the menu a bit on this visit and decided to go with the French Bristo Burger. Something about the grilled mushrooms, bacon, and brioche sounded appealing. And I was craving an order of fries.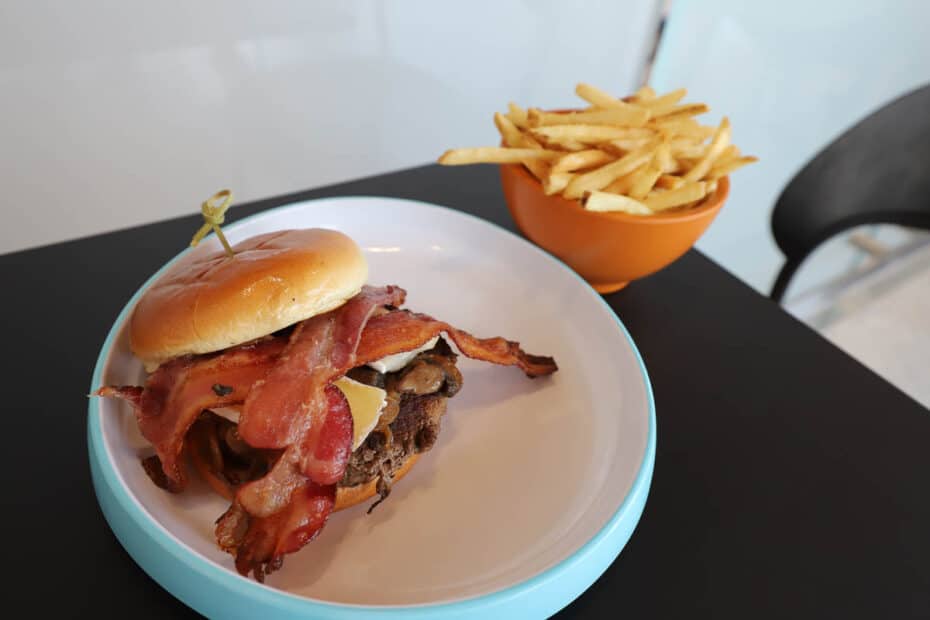 This burger was another excellent option. The menu lists that the burger is made up of a gourmet blend. One of the things that immediately jumped out was the flavor of the meat.
Additionally, the Brie cheese worked well with the flavor profile of the burger. However, I was skeptical about the cheese when I ordered it.
You may remember I had a grilled chicken sandwich with Brie at Gasparilla Island Grill at the Grand Floridian that was not so great. However, this Bistro Burger didn't disappoint, and it was large portion-wise.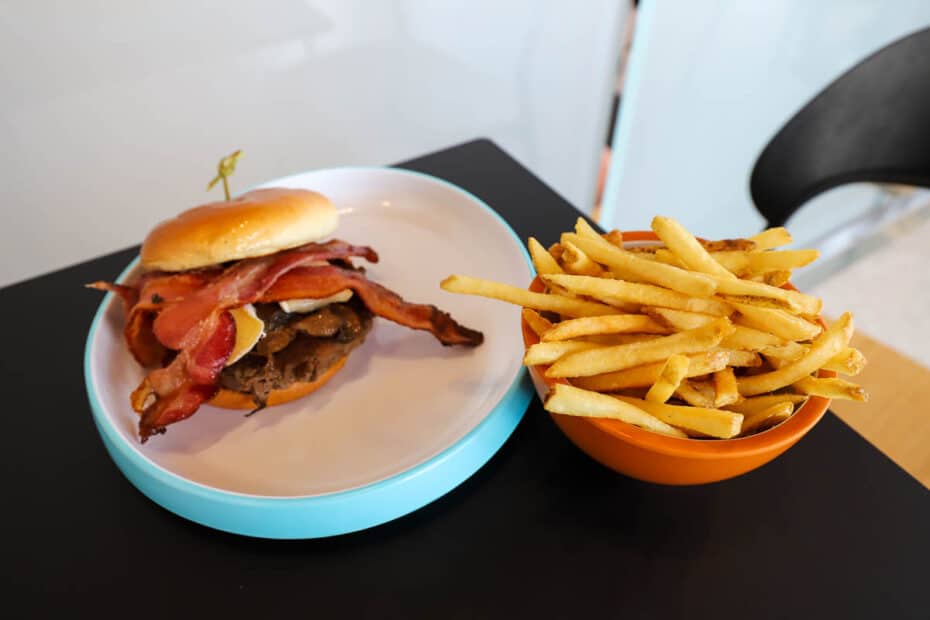 You could easily grab a knife and share this with someone in your group. Unfortunately, I couldn't finish mine.
On another visit, I decided to try one of the kids' meals at Connections. This time I ordered the bao bun with grilled chicken.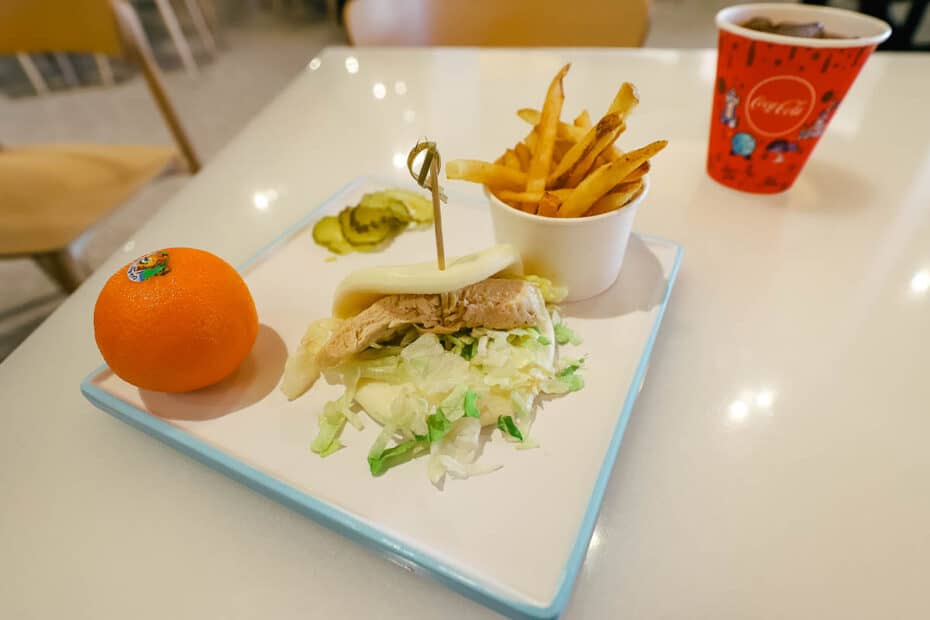 Most kids' meals come with two sides, so I ordered fries and a mandarin orange. While I enjoyed the bao bun and mandarin, I thought the size of this meal was tiny, even for a kids' meal.
Additionally, my fries were cold, and there might have been a total of 10 in the cup. So this isn't the most substantial kids' meal for $8.00.
Overall, Connections Eatery is a win-win and offers a much-needed improvement to the counter service dining options at Epcot. The restaurant is an excellent stop for lunch or dinner, and you don't need reservations.
When you finish eating, the restaurant is set up similarly to a Panera Bread. Since the plates and cutlery are reusable, you'll have to find a station to deposit your items.
So if you have a large group, it might be better to stay at the table until you get everything put away. During the busier times of the day, cast members usually assist some guests to help turn tables over quickly.
Preview our entire list of Disney World Restaurant Reviews for more information on dining.
Some of our other favorite stops at Epcot include:
In the comments
Do you have plans to try out the new Connections Eatery at Epcot? Did you find this review helpful? Feel free to share your thoughts below.
Planning a Walt Disney World or other Disney Destination vacation?
Our friends and travel partner, Firefly Travels, excels at doing Disney differently. You can fill out a plan your trip form on their website, and someone will reach out shortly to discuss the specifics.