Feathered Friends in Flight! (Bird Show at Disney's Animal Kingdom)
Feathered Friends in Flight! is a popular bird show at Disney's Animal Kingdom in Walt Disney World. Initially, this performance went by another name, Flights of Wonder.
After that, it transitioned to Up! A Great Bird Adventure. That version included characters from the film 'UP.'
Eventually, Feathered Friends in Flight debuted as a means to provide entertainment during socially-distanced times. Since then, this stage show has transitioned into a regular park offering without any barriers.
We recently re-visited Feathered Friends in Flight! and found it charming. It will never be Flights of Wonder, but over the last few re-works, it seems to have finally found its way.
So much so that I recommend taking the time to see this performance during your visit to Disney's Animal Kingdom. At the very least, you are guaranteed to see a few unique birds fairly up close.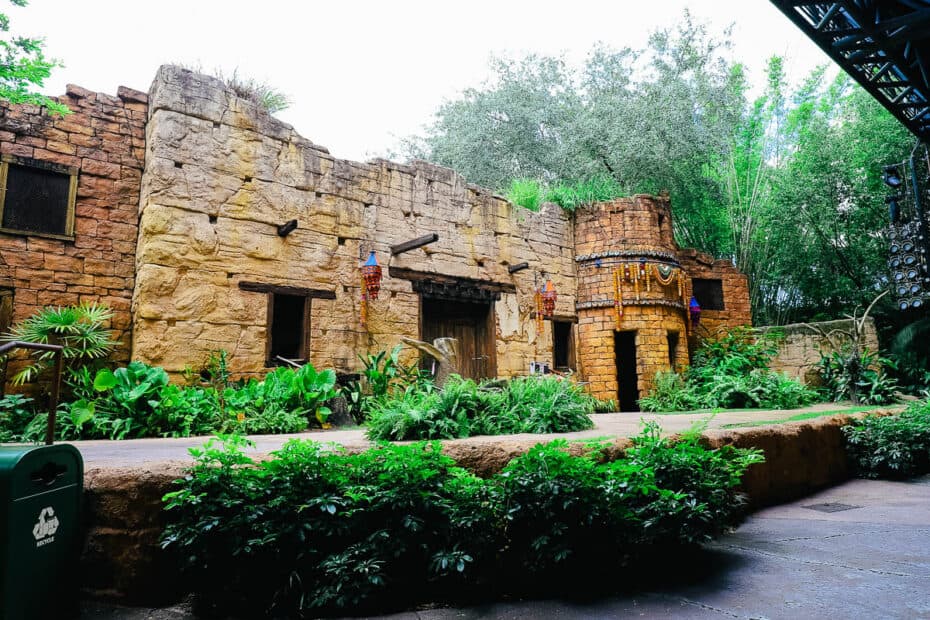 Here are a few quick reference details for Feather Friends in Flight!
| | |
| --- | --- |
| Feathered Friends in Flight! | Animal Kingdom Attractions |
| Location: | Asia |
| Height Requirement: | None |
| Duration: | Approximately 35 minutes |
| Ride Type: | Theater show with live birds. |
| Rider Switch: | None |
| Good For: | Everyone |
| Scary Factor: | None, unless you are scared of birds. |
| Must-Do List: | Medium Priority |
| Perfect For: | Birdwatchers |
| Special Mention: | Offered approximately five times per day. |
Feathered Friends in Flight
Feathered Friends in Flight is located in the Anandapu Theater in the Asia section of the park. The theater is the first thing you'll see if you're coming from Africa to Asia.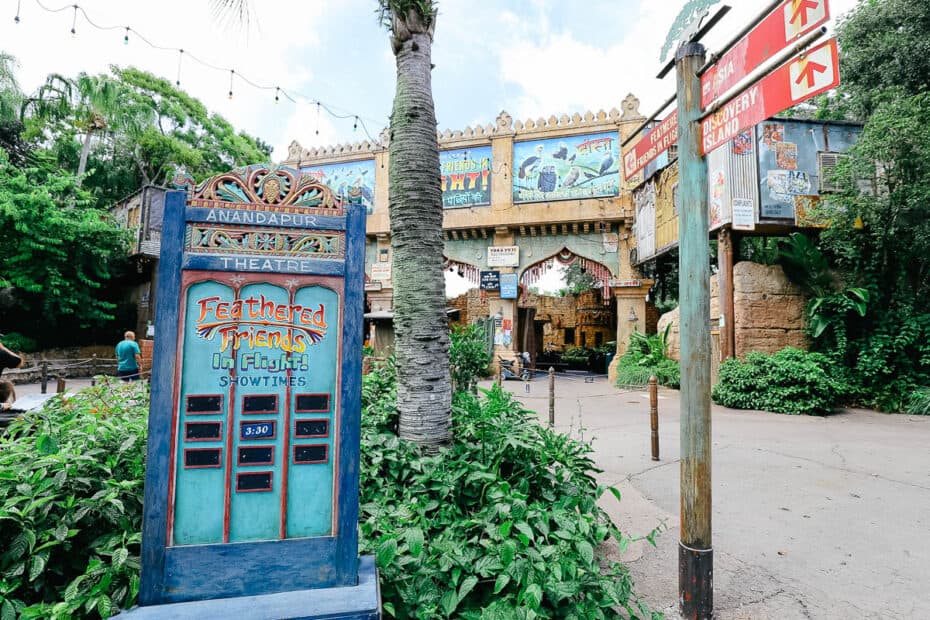 Additionally, it's the last building on the right when you're leaving Asia and heading to Africa. You can't miss it. It's a beautiful theater.
At the time of this update, the My Disney Experience app is showing the following performance times:
10:30 a.m.
11:30 a.m.
1:30 p.m.
2:30 p.m.
3:30 p.m.
You can check the app on the day of your visit for exact showtimes. Additionally, showtimes are posted outside of the theater.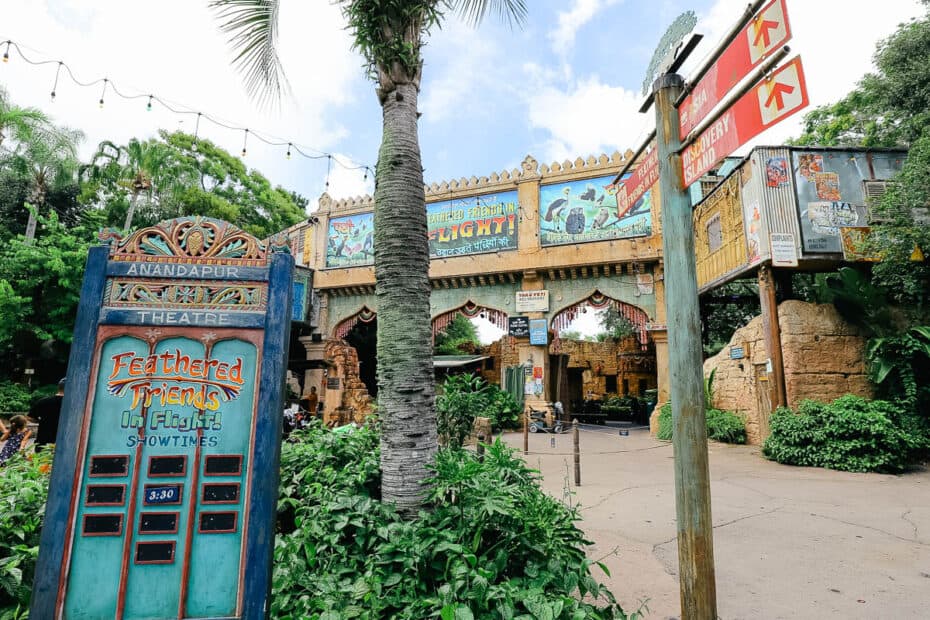 Feathered Friends in Flight! features bird specialists sharing information about the subjects as they fly across the stage. Some birds perform a few tricks depending on what kind of day they are having.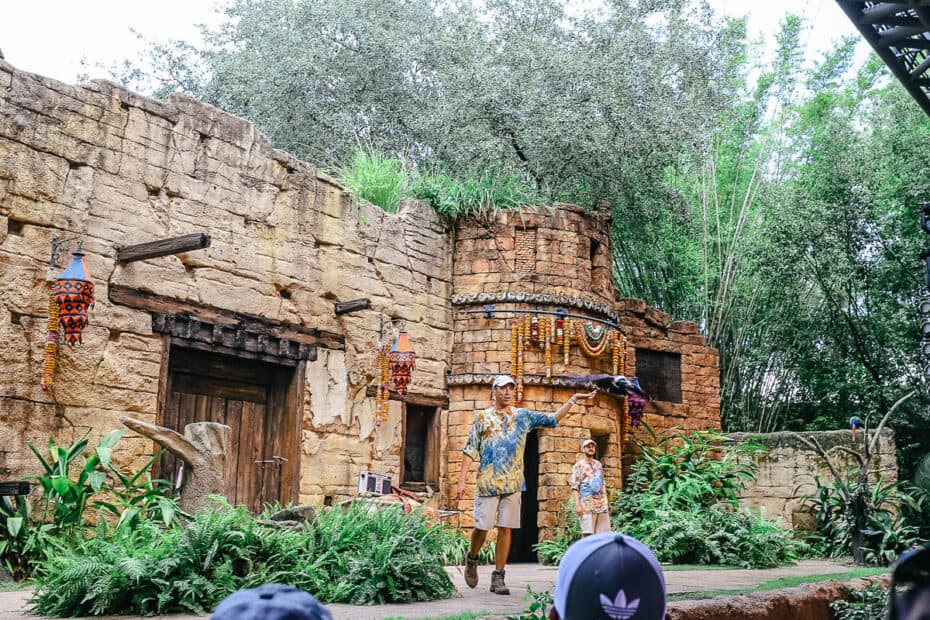 The information provided is not only educational but entertaining as well. We even saw a bird that practiced good recycling habits.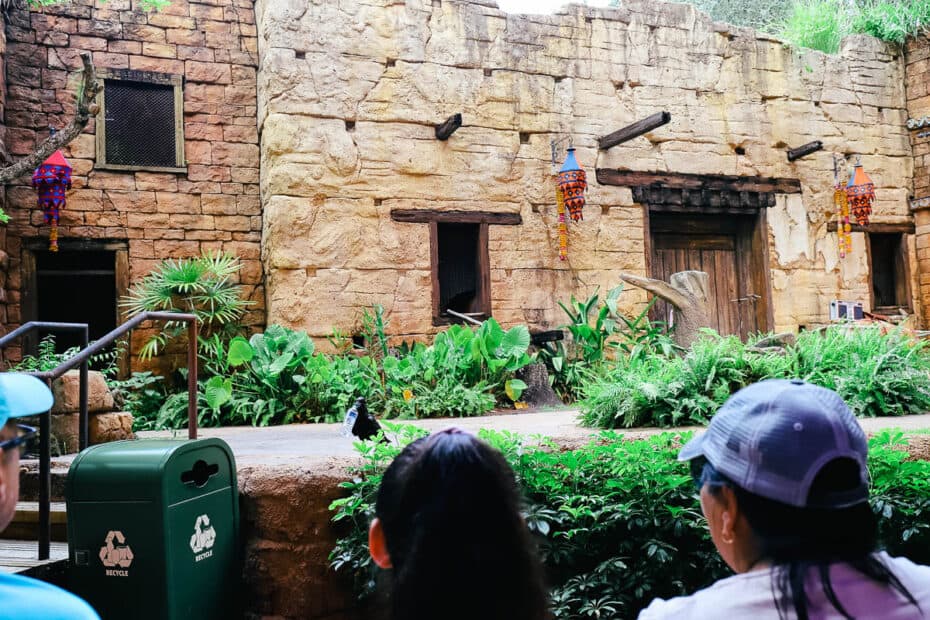 Impressive.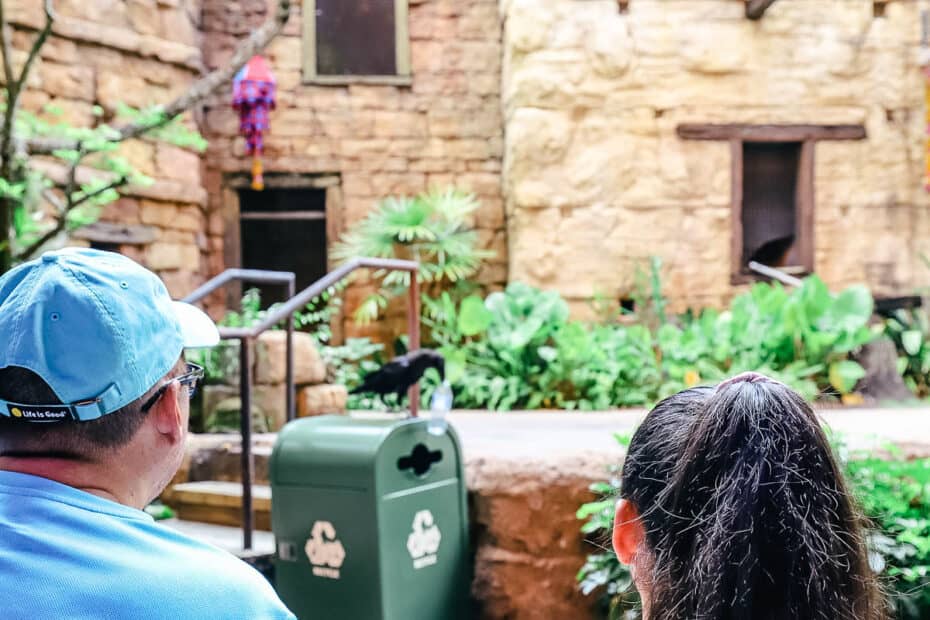 Additionally, there are a few instances where birds fly directly over the audience. Here's the best shot I could get. I can assure you it flew directly over my head.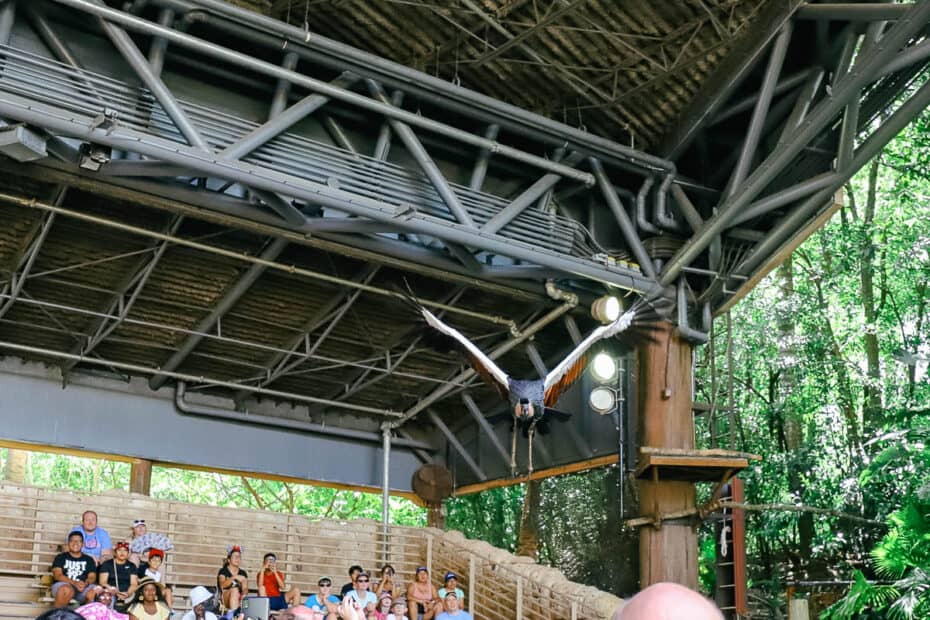 For the grand finale, a bird handler brings out a bald eagle, the national bird of the United States of America. It's a magnificent bird.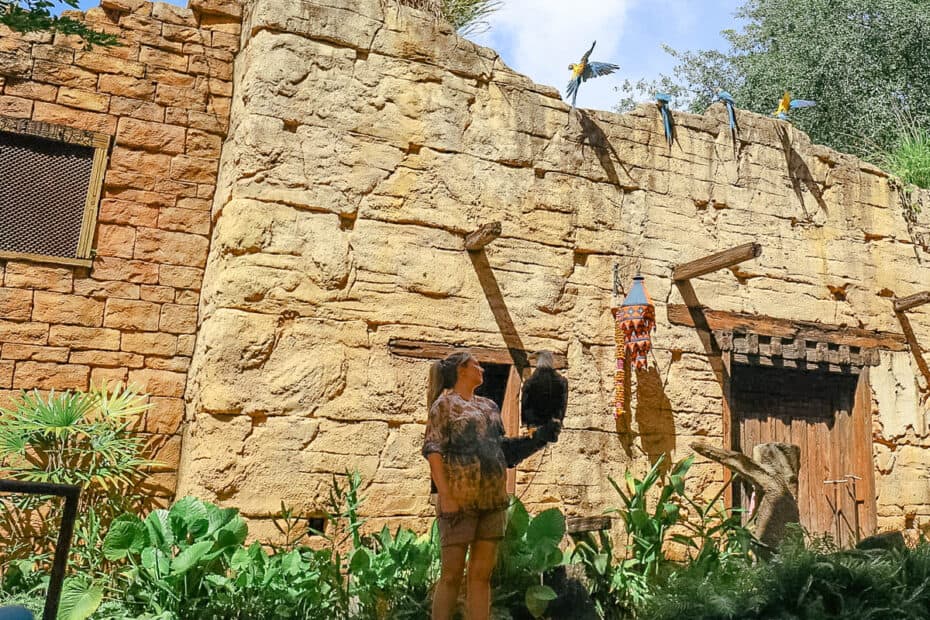 As far as seating goes, the theater has several sections. If you come in after the show starts, you might want to sit in one of the back risers.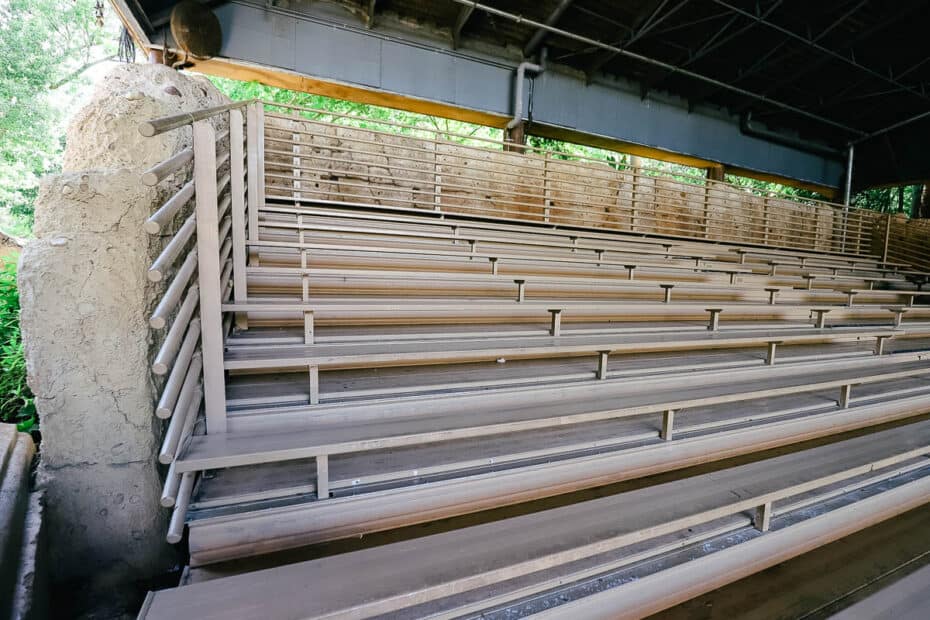 However, I prefer to get there a few minutes early and sit closer to the front.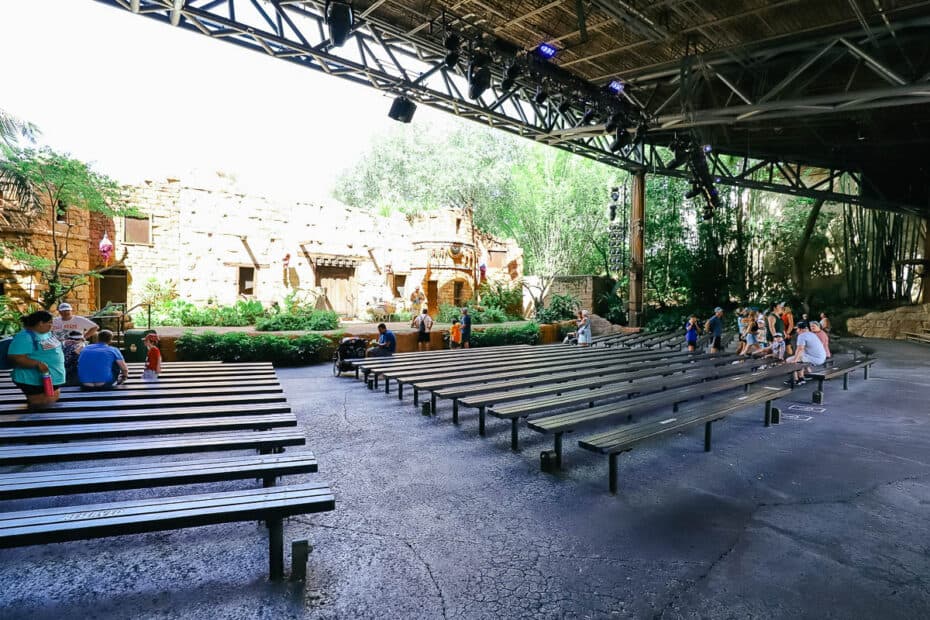 Feathered Friends in Flight! lasts approximately 35 minutes. So there is a time commitment involved for the show.
However, you'll likely need a break at some point in your day. So this is an excellent place to rest while enjoying a little edutainment.
Additionally, Feathered Friends in Flight offers both standby and Lightning Lane. In most instances, you wouldn't want to use a Lightning Lane for this attraction. It would only guarantee seating.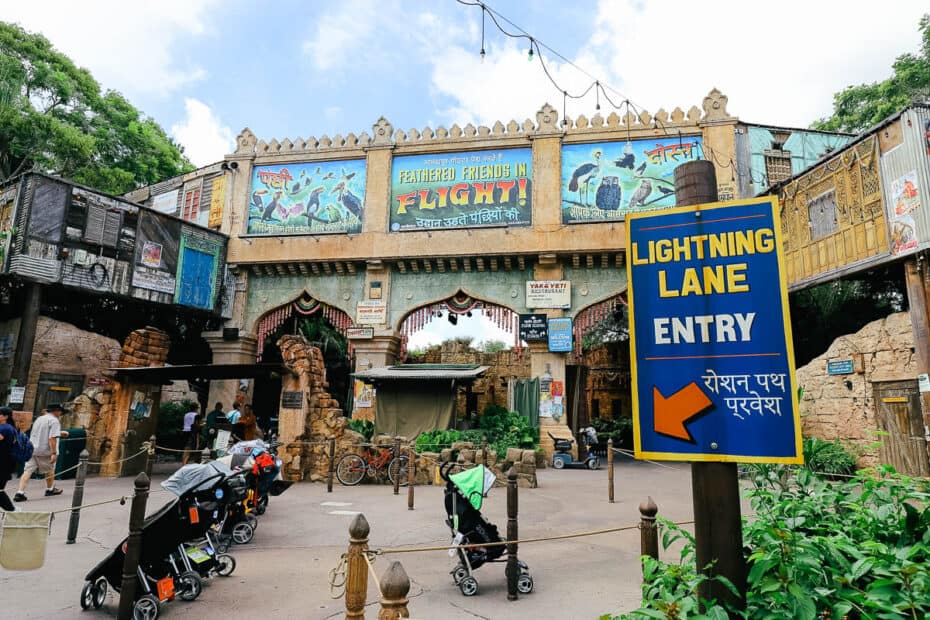 For other attractions at Disney's Animal Kingdom that include animal encounters, you might like these:
Are you planning a Walt Disney World vacation? If so, you might enjoy browsing the list of Walt Disney World Resorts. Some of our favorites include:
In the Comments
Do you think you'll take the time to visit Feathered Friends in Flight! on your next visit to Disney's Animal Kingdom?