Disney's Grand Floridian Resort Review
This article provides a review of our last stay at Disney's Grand Floridian Resort. At this time, the Grand Floridian is undergoing a lengthy refurbishment. When the project nears completion, we plan to return to the resort to provide a new review.
Disney's Grand Floridian Resort is situated on the opposite side of Seven Seas Lagoon from Magic Kingdom Park. It's the white siding Victorian hotel with a stunning red roof.
It's a highly sought-after resort given its proximity to Magic Kingdom and upscale reputation. One often asks, what's not to like?
In this Grand Floridian review, we'll take an in-depth look at the resort and our thoughts on staying here. We'll preview the rooms, amenities, dining, recreation, and other things you can expect during your stay.
Not only is the Grand Floridian considered Disney World's flagship or luxury resort, it falls under several other classifications:
While we could probably come up with a few more categories that are accurate, I think you probably get the picture. Disney's Grand Floridian is many different things to many different people. These things are what makes a stay here so desirable.
As we continue, I hope you'll be able to discern what makes a stay here so special to you. It might be a dream of visiting for fine dining or planning a wedding at the resort's chapel.
Or it could just be staying at a hotel within walking distance of Magic Kingdom Park. I enjoy exploring the resort's grounds and the bright green lawns with pops of vibrant flowers.
So pull out your favorite china, fill your teacup, and throw a few scones on the side. We're on our way to pay a visit to Disney's Grand Floridian Resort & Spa.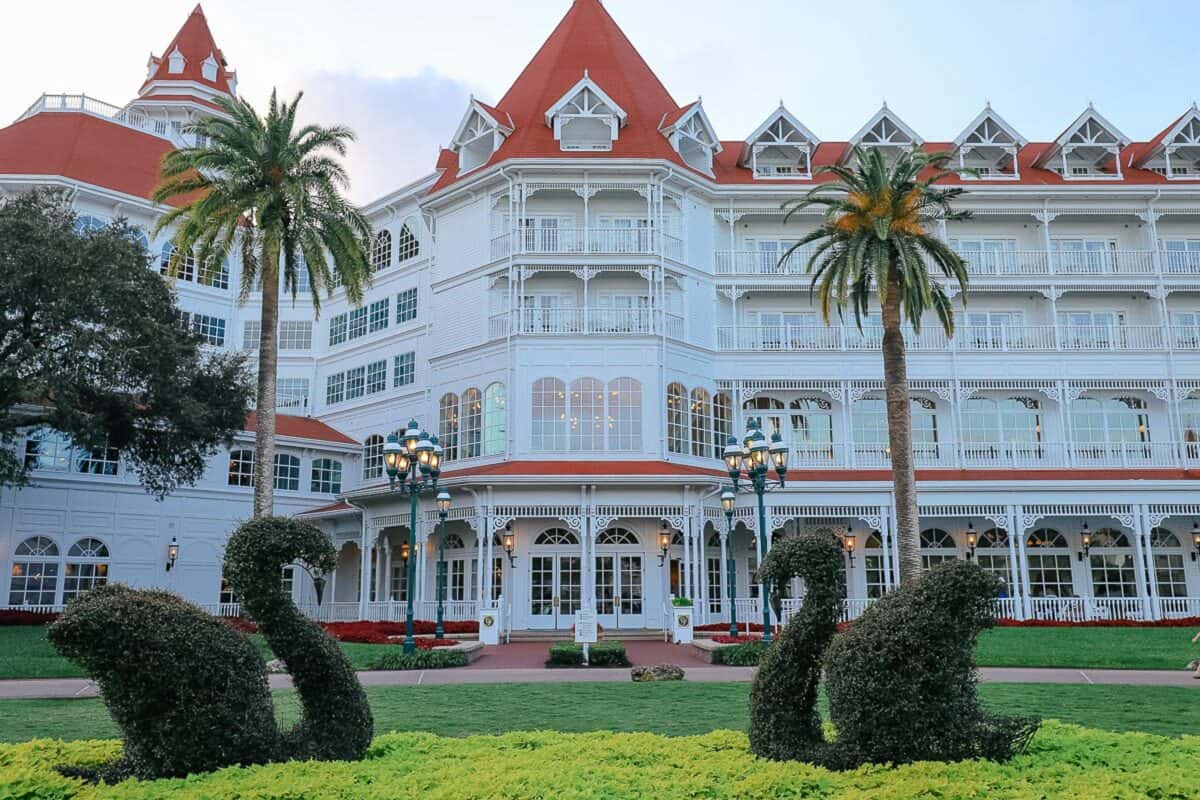 Disney's Grand Floridian Resort Review
Disney's Grand Floridian stands out across the water from Magic Kingdom Park. The hotel's overall design was inspired by the infamous Hotel del Coronado and other similarly designed resorts.
Grand Floridian's layout consists of one main building with additional outer buildings scattered across the grounds. The main building is home to the resort's grand lobby, dining, shops, and lounges.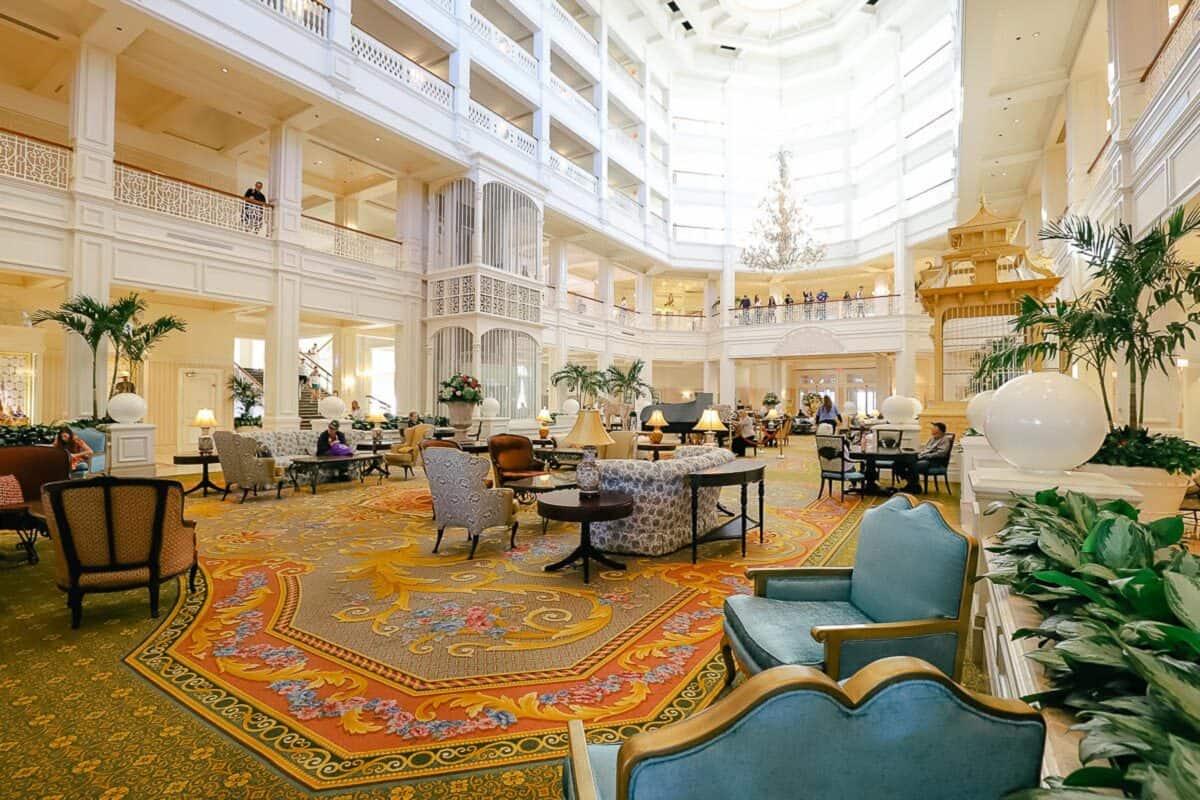 Rooms in the main building are dedicated to club level, also known as Disney's Signature concierge services. So unless you reserve a main building club-level room, you'll end up in one of the outer buildings.
Grand Floridian's outer buildings are similar to smaller hotels. Each building has a front entrance, lobby, and elevators. However, they aren't staffed, nor do they have the same amenities as the main building.
Therefore, you will have to walk over to the main building for shopping and dining. Each building at the Grand Floridian is named after an island in the Florida Keys:
Sago Cay
Conch Key
Boca Chica
Big Pine Key
Sugar Loaf
Sugar Loaf is the second club-level offering at the Grand Floridian outside the main building. We've stayed club level at Disney's Beach Club multiple times and have thoroughly enjoyed it.
In addition, the resort has another outer building that makes up the Disney Vacation Club Resort, the Grand Floridian Villas. Since this review, the rooms in Big Pine Key have also been converted to DVC Resort Studios. We have a preview of those rooms available here.
As far as the location goes, the Grand Floridian sits within walking distance of Disney's Polynesian Resort, and Disney's Contemporary Resort is only a short monorail ride away.
From the white sand beaches of the Grand Floridian, guests can see Cinderella Castle at Magic Kingdom in the distance.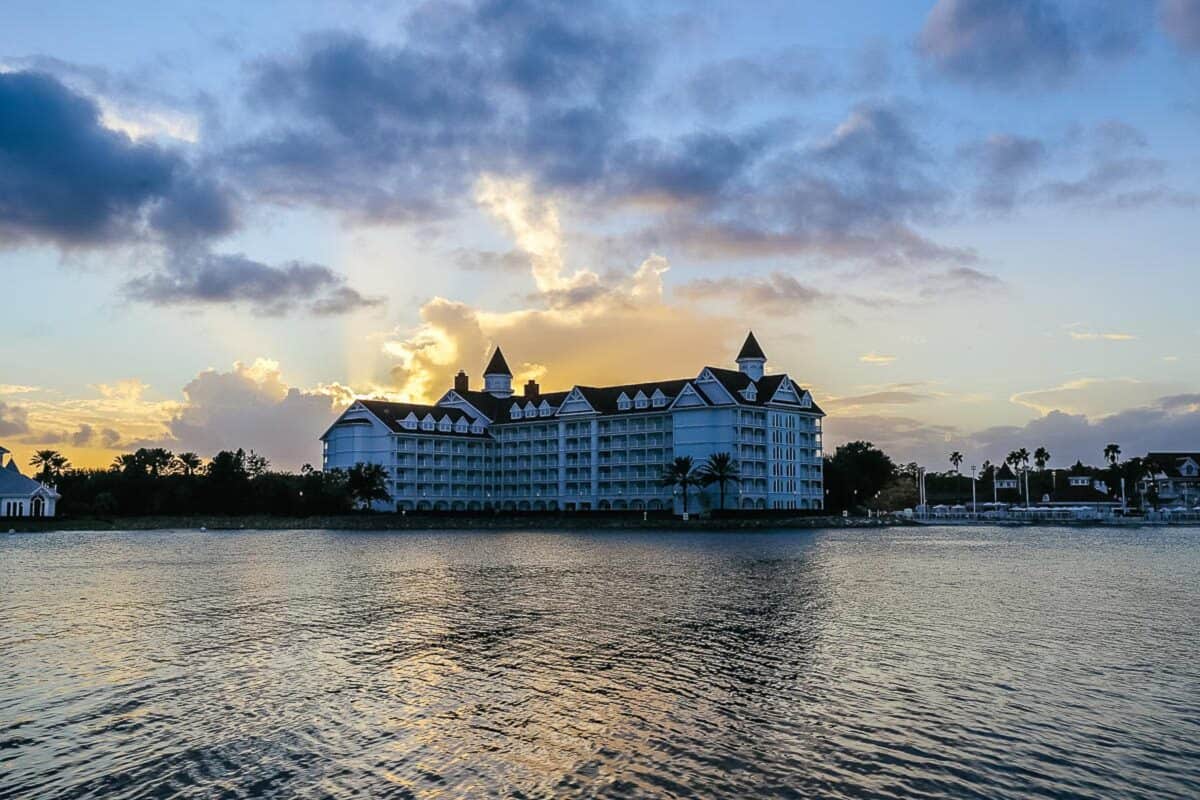 Rooms
There are several types of accommodations and upgrades when selecting a guest room at the Grand Floridian Resort. A guest room in the outer building typically comes with one of the following setups:
2 Queen Beds with 1 Day Bed
2 Queen Beds
1 King Bed
1 King Bed with 1 Double Size Sleeper Sofa
King beds are usually considered upgrades at Disney World. Make sure to check with your travel agent before making a reservation.
Each of these comes with the following room views or upgrades:
Garden View
Lagoon View
Theme Park View
There are a few other different types of rooms that are considered upgrades from a standard guest room:
1 Bedroom Suite
1 Bedroom Park View
2 Bedroom Suite
Additionally, if you are staying club level, you'll need to decide which building will work best for your trip.
Over the past couple of years, we've been able to stay as a guest of the Grand Floridian on a few occasions. Most of our resort stays here have been a split stay. That's where we visit multiple resorts for the entirety of a week.
We usually enjoy spending four nights at the Grand Floridian. Then, we spend the remainder of our vacation at a more budget-friendly hotel like a value or a moderate resort.
This kind of stay does involve moving mid-vacation. Disney will assist with the process, but packing and unpacking again will cut into some of your valuable vacation time.
As for guest rooms, we received a king-size bed on our first resort stay. This room had a fairly large open space with the lack of a second queen bed.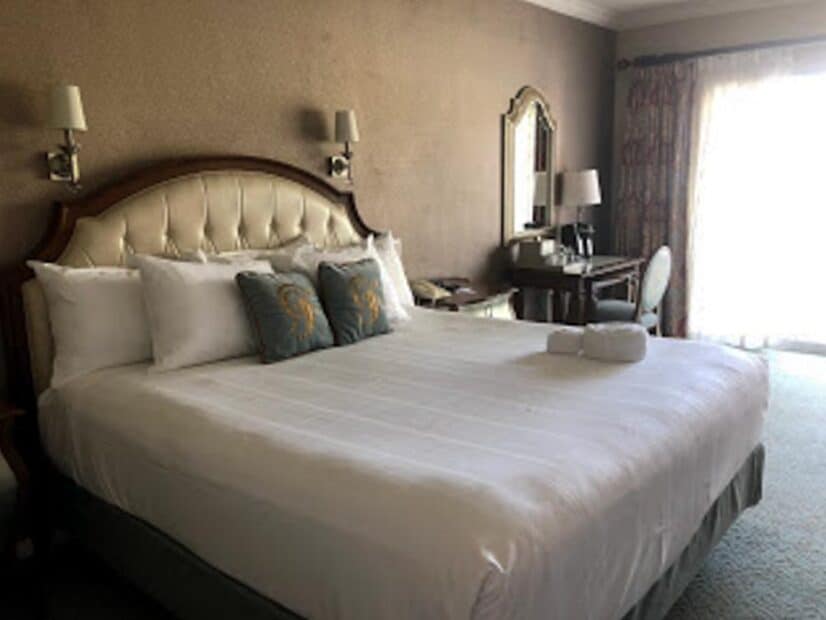 That open space provided additional room to use the pull-out sofa sleeper.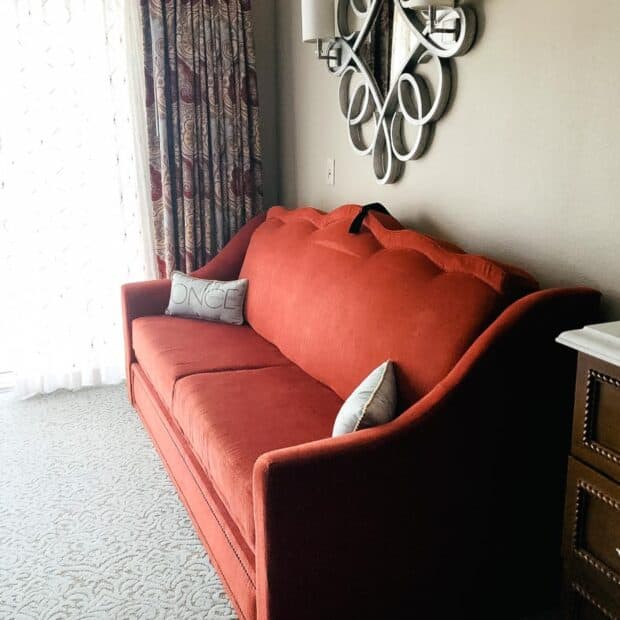 The guest bath was more than sufficient.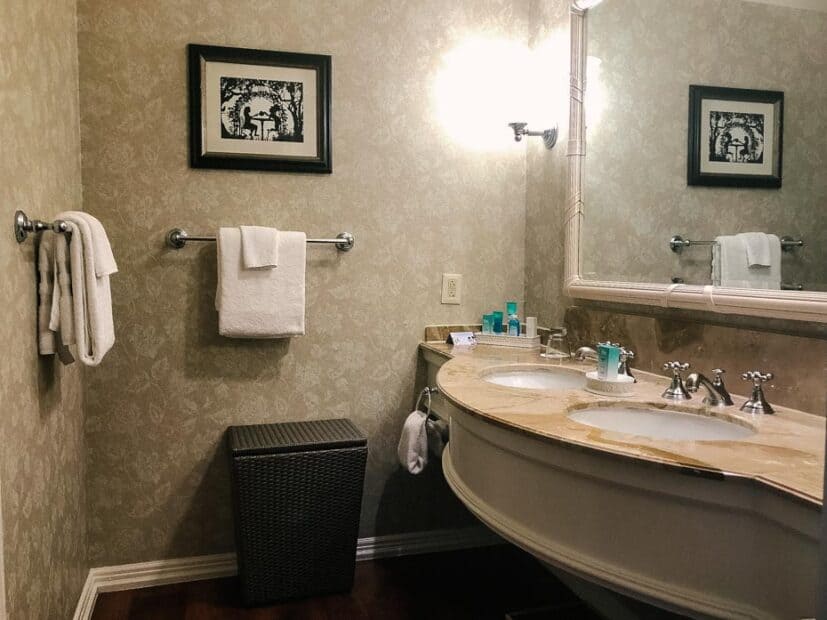 This was the view from our room. Our room assignment was in Conch Key and looked out to the lagoon. You could see the monorail passing in the distance.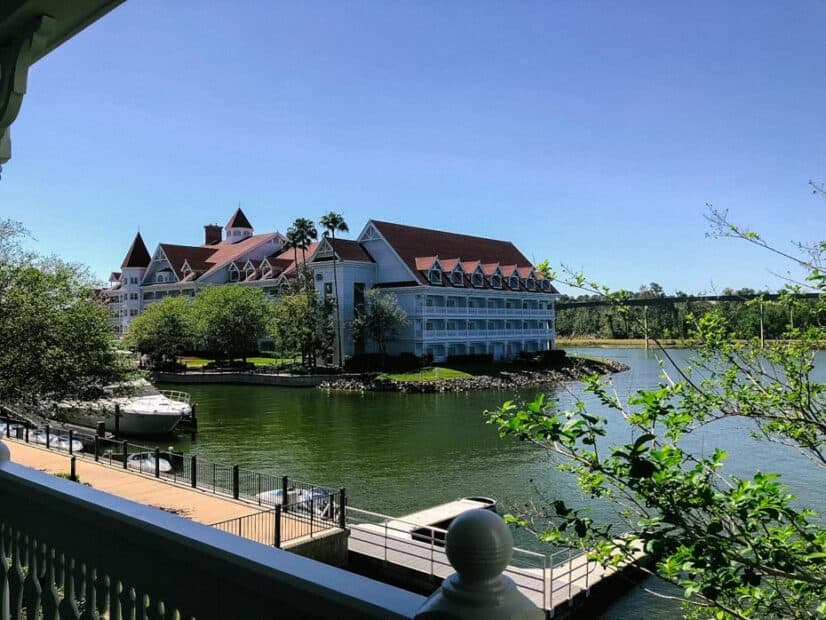 Later on, we had a room in Big Pine Key. These photos are from before I started Resorts Gal, so they aren't as quality as I would like. However, I wanted to use them for the sake of providing the room views.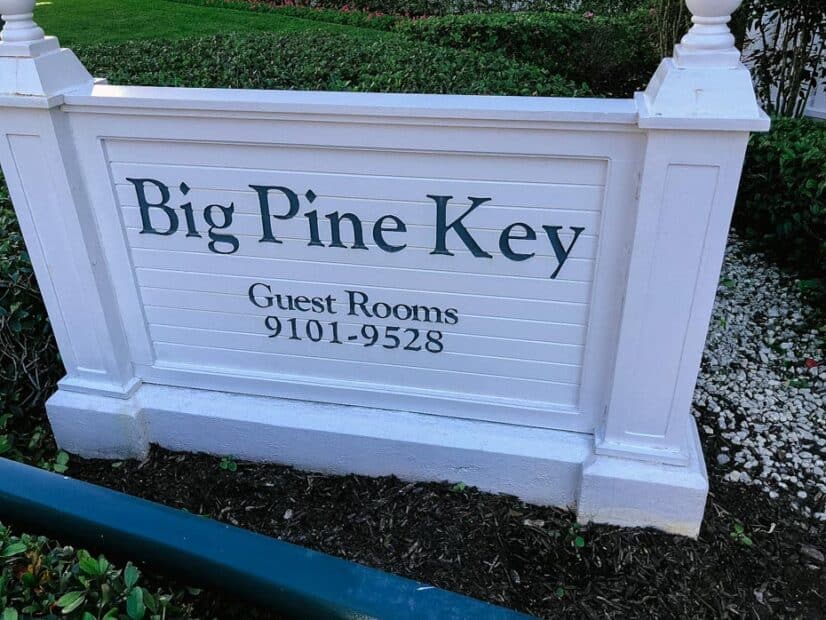 Below is where I took a picture of the view from the end of my bed. This guest room had two queen beds and a sleeper sofa. It is a room I remember fondly.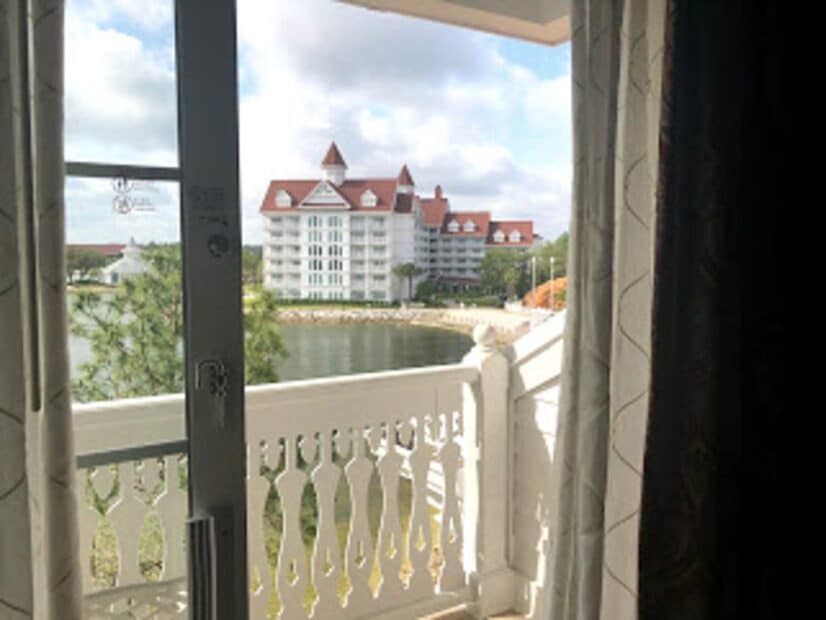 I have distinct memories of staying here and enjoying the balcony. In the mornings, I was awakened by the faint sound of the Magic Kingdom Ferry heading back and forth across the water.
At night, the Electrical Water Pageant drifted by as I sipped on a drink I had picked up from the Tiki Terrace next door at the Polynesian. If you are staying here, check it out at least one evening. It floats by the shoreline between 8:30 p.m. and 10:00 p.m.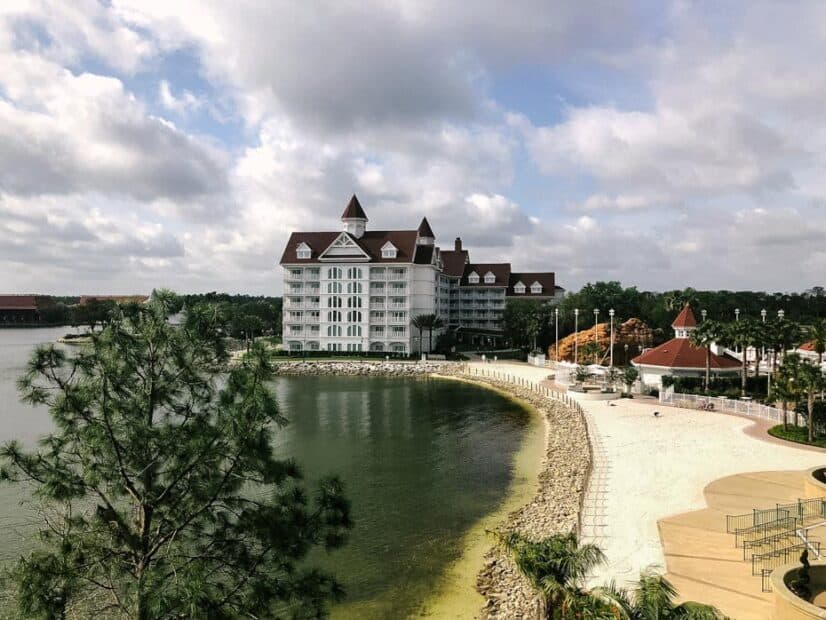 Needless to say, the stay was pleasant, and we spent a good deal of time at the resort. You could spend an entire week here, never visit a Disney park, and still have a wonderful vacation.
Those looking for rooms that accommodate a larger number of guests might want to consider a Disney World Villa Resort. As mentioned early in this review, the Grand Floridian is home to one of these Deluxe Villa Resorts.
We had the pleasure of staying in a Grand Floridian deluxe studio villa a while back. The studio villa sleeps up to five guests. Pictured below. Our room had a queen bed, a sofa sleeper, and a pull-down trundle bed for a small child.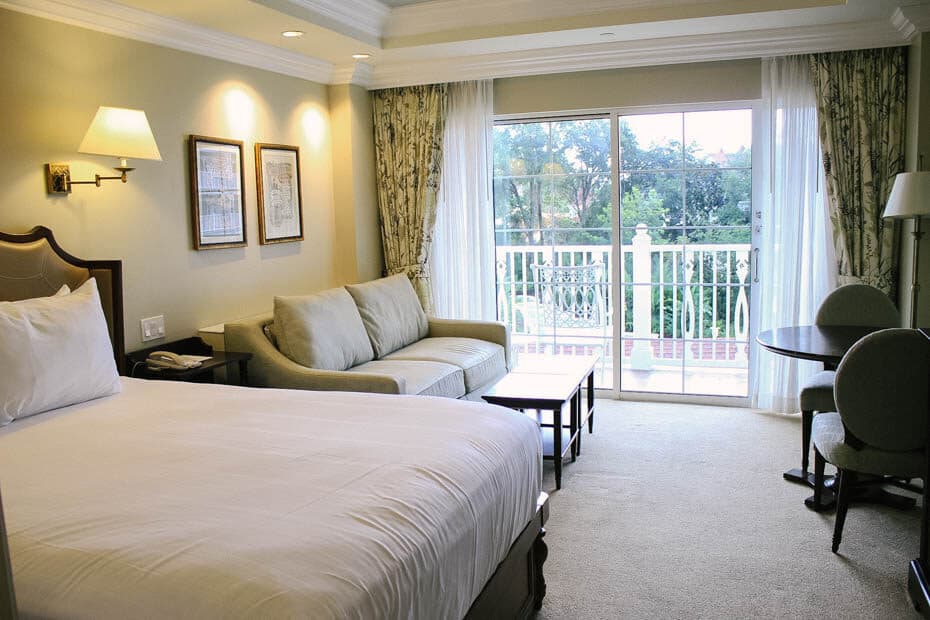 The bathroom was a nice setup. One side of it had a walk-in shower. On the opposite side, there was a separate tub with a shower combination.
And yes, that's a fancy TV in the mirror. I can't tell you how much I enjoyed watching my Mickey Mouse shorts while getting ready to head out to a theme park in the mornings.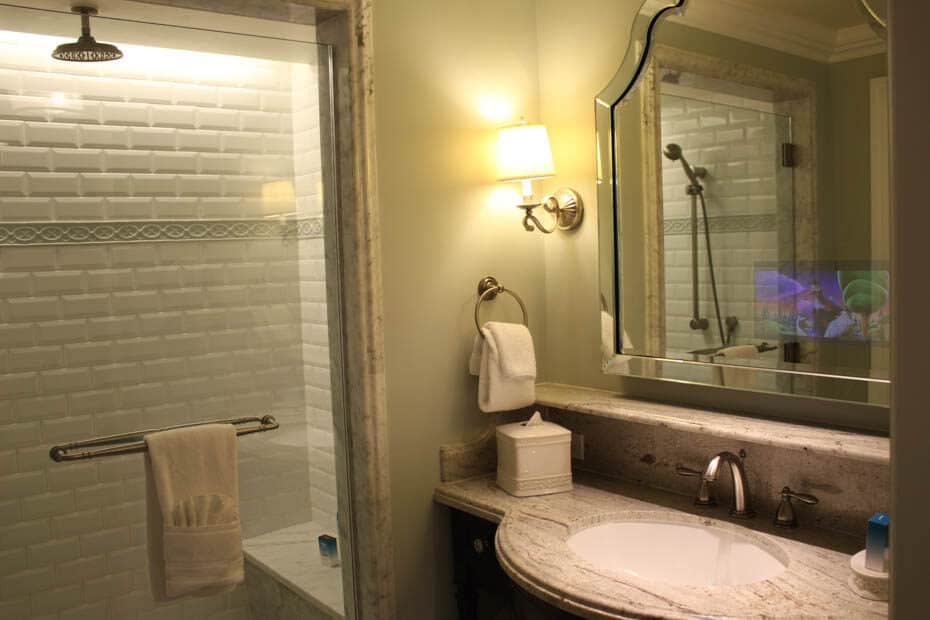 The kitchenette is built into the hallway of the room. These deluxe studios offer a sink, microwave, dinnerware, coffeemaker, and other similar conveniences.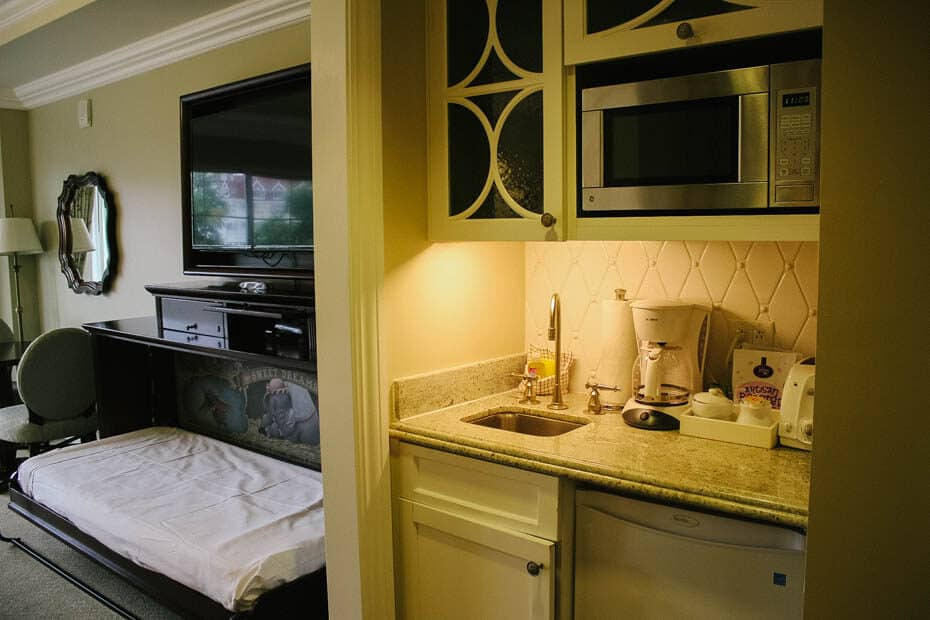 If these types of rooms are something that interests you, make sure to discuss the options with your travel agent. While they are an upgrade, sometimes it's worth paying a little extra to enjoy a few of these conveniences.
Restaurants
When it comes to Disney dining, there are plenty of restaurants at the Grand Floridian. First is the resorts counter service, Gasparilla Island Grill.
This dining venue accepts mobile orders and offers burgers, fries, pizza, and chicken nuggets. Here is a meal I enjoyed outside on the large patio that overlooks the marina.
Related: Gasparilla Island Grill Review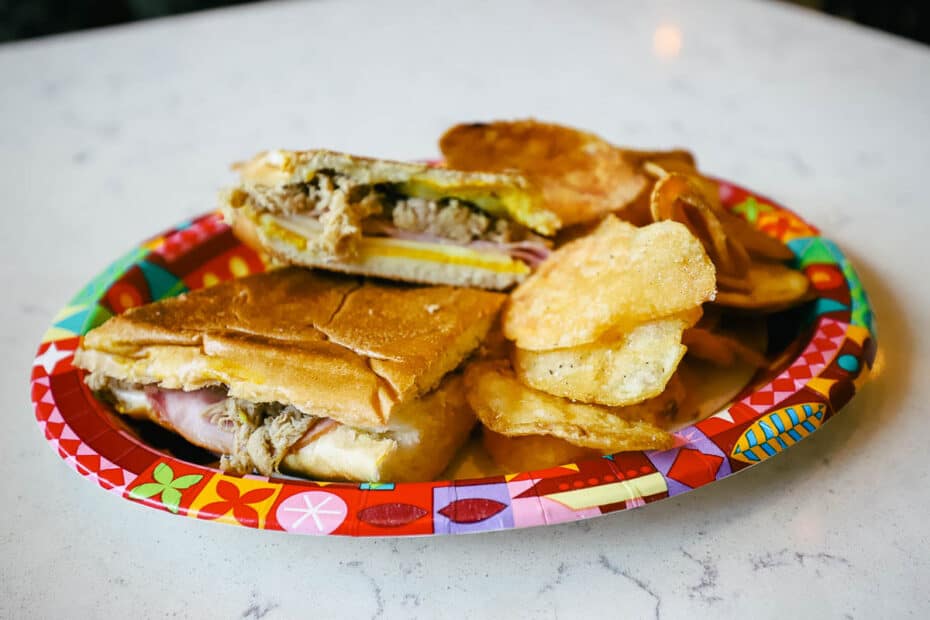 Inside the main building, you'll find several dining options. Grand Floridian Cafe is on the first floor and offers breakfast, lunch, and dinner.
I've always been impressed with this restaurant's food and service. It's one of my top dining recommendations for a casual meal at Disney.
Related: Best Breakfasts at Disney World Resorts
We also have reviews of dining at this location for breakfast and dinner: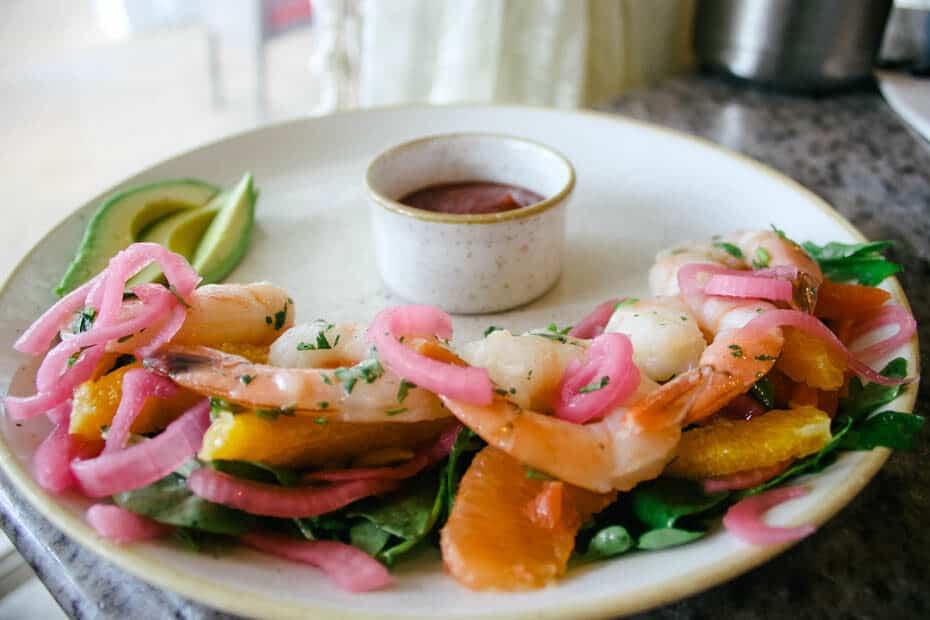 1900 Park Fare sits adjacent to Grand Floridian Cafe and provides a character dining experience. Unfortunately, this restaurant has not reopened at the time of this update.
For more character dining, you might consider trying Topolino's Terrace at Disney's Riviera. We have a review of our last experience, Topolino's Terrace Character Breakfast Review.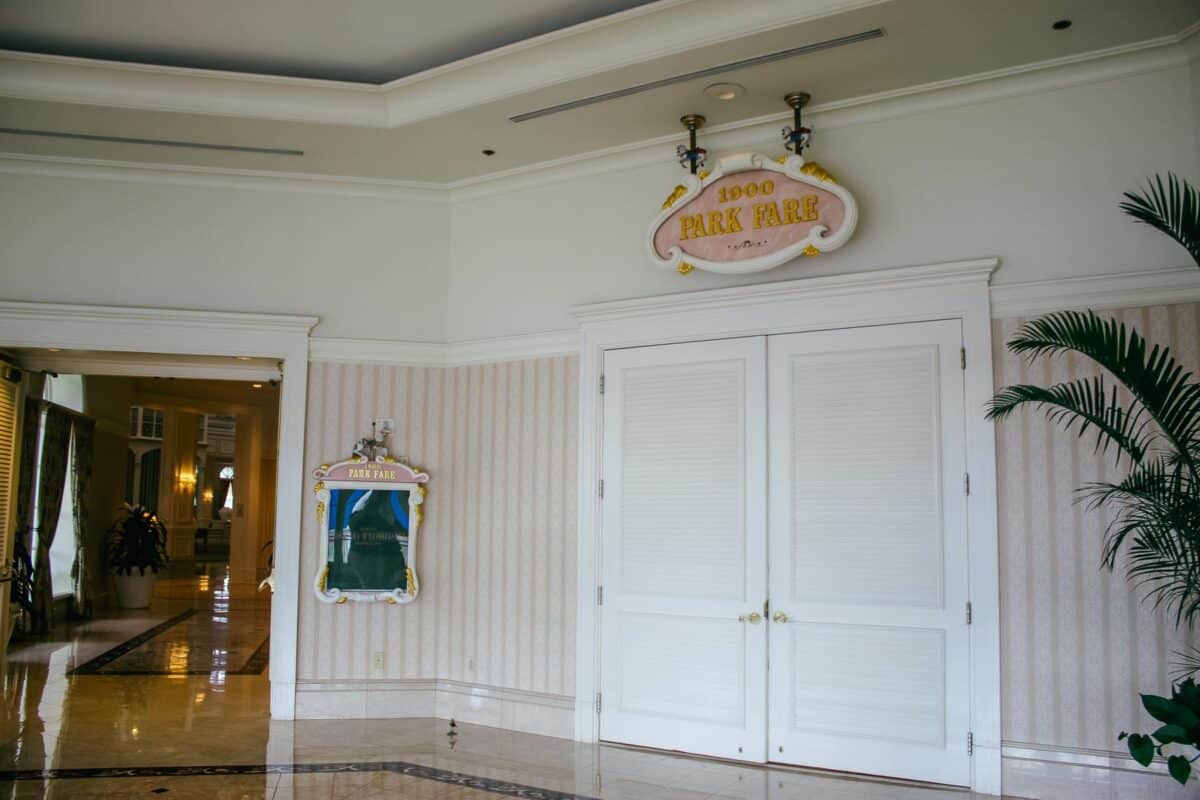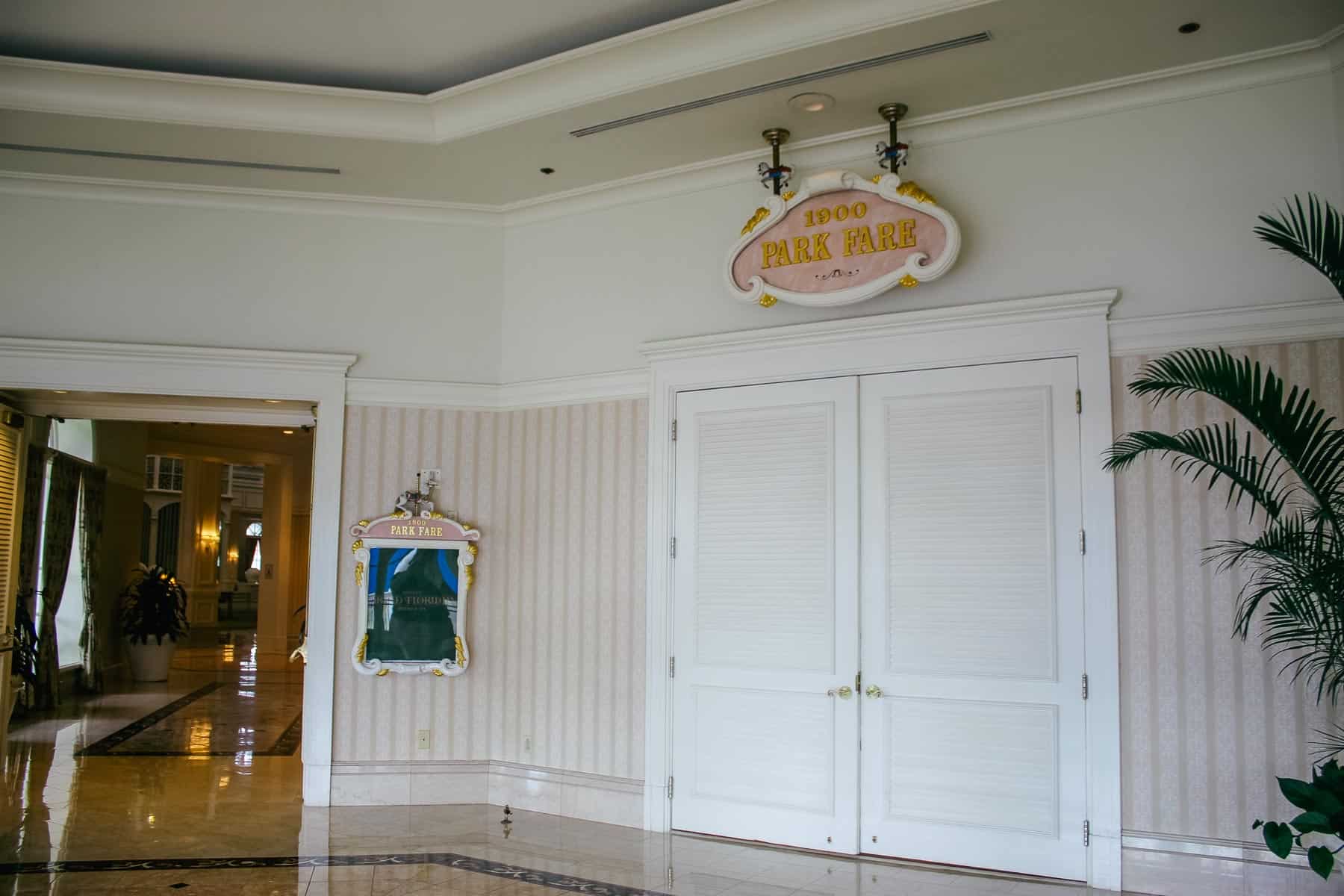 Upstairs, off the lobby, you'll find Citricos, one of three Disney signature dining locations at the Grand Floridian. Those interested in fine dining might like to make a reservation here.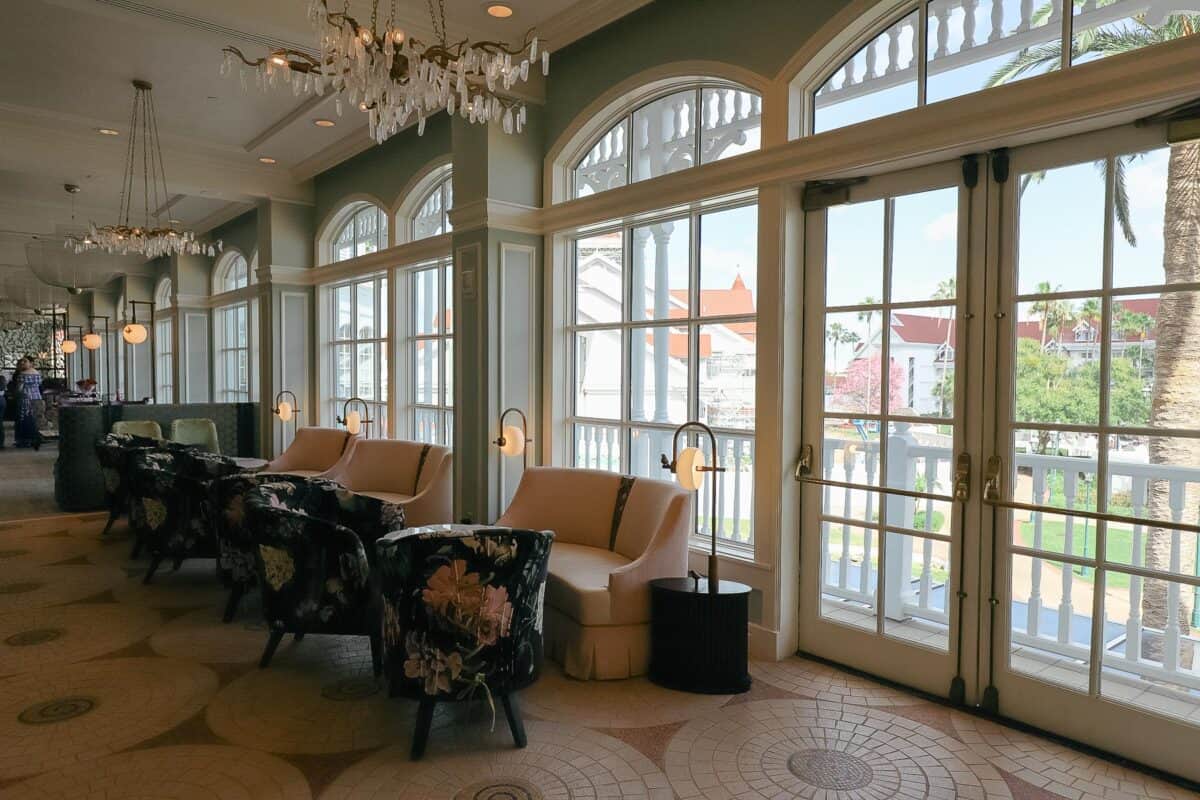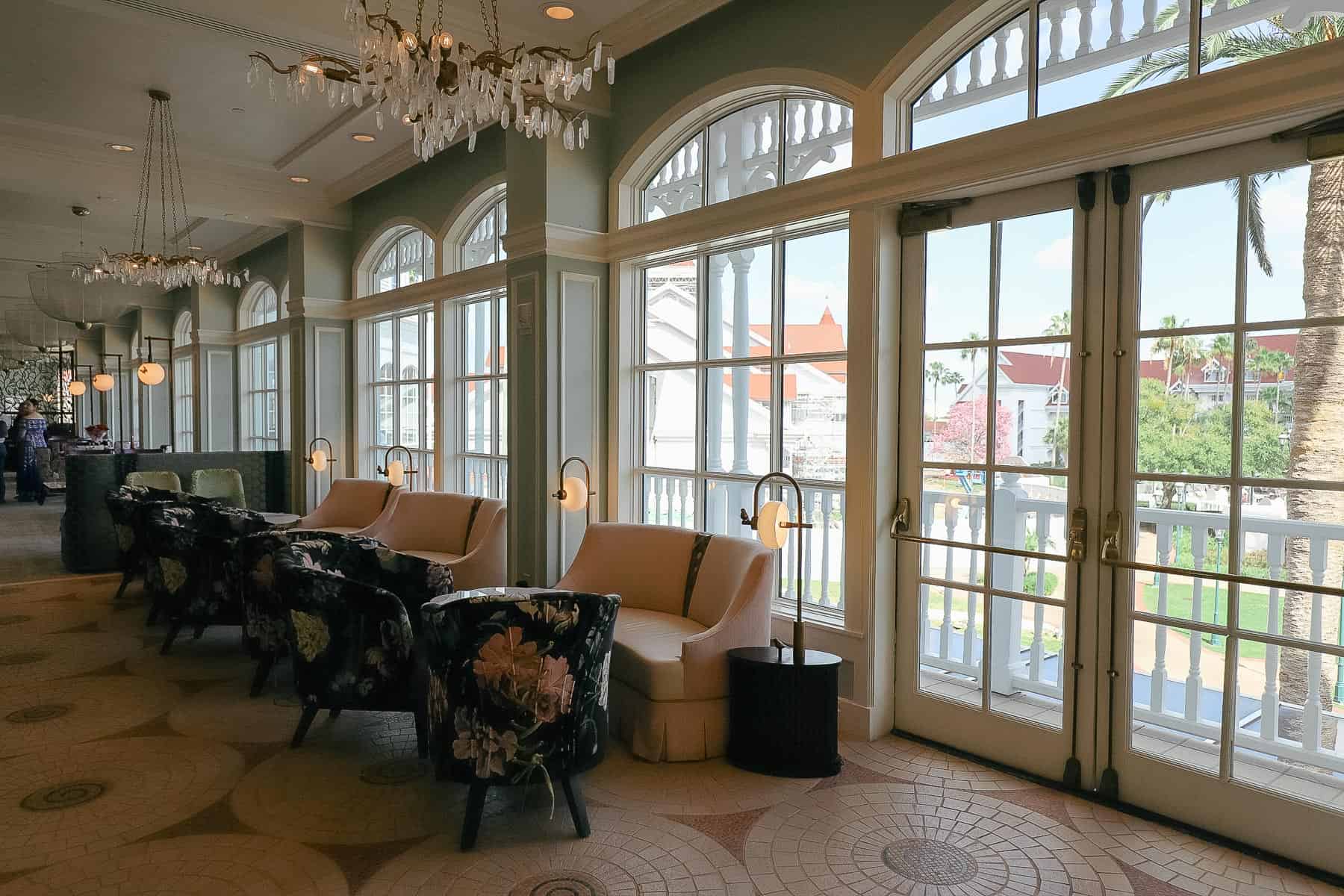 Or, if you are looking for the creme de la creme, you might enjoy Victoria & Albert's, next door to Citricos. This is the finest dining experience at Walt Disney World and the most expensive.
Back outside on the water sits Narcoossee's, the third signature dining location at the Grand Floridian. Reservations will be needed in advance for this one as well.
Consider dining here later in the evening to enjoy views of Magic Kingdom's nighttime fireworks spectacular.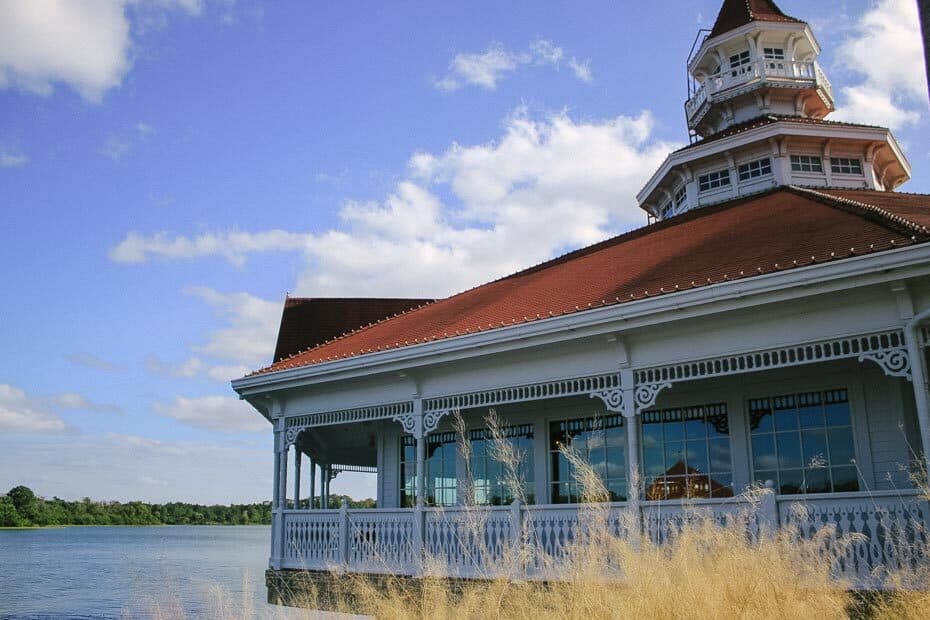 Additionally, Disney's Grand Floridian has a pool par at each of its pools. One is the Beaches Pool Bar & Grill, located at the villa's pool.
The Courtyard Pool Bar sits next to the Courtyard Pool. Both pool bars offer sandwiches, salads, kids' meals, and Disney's standard cocktail menu.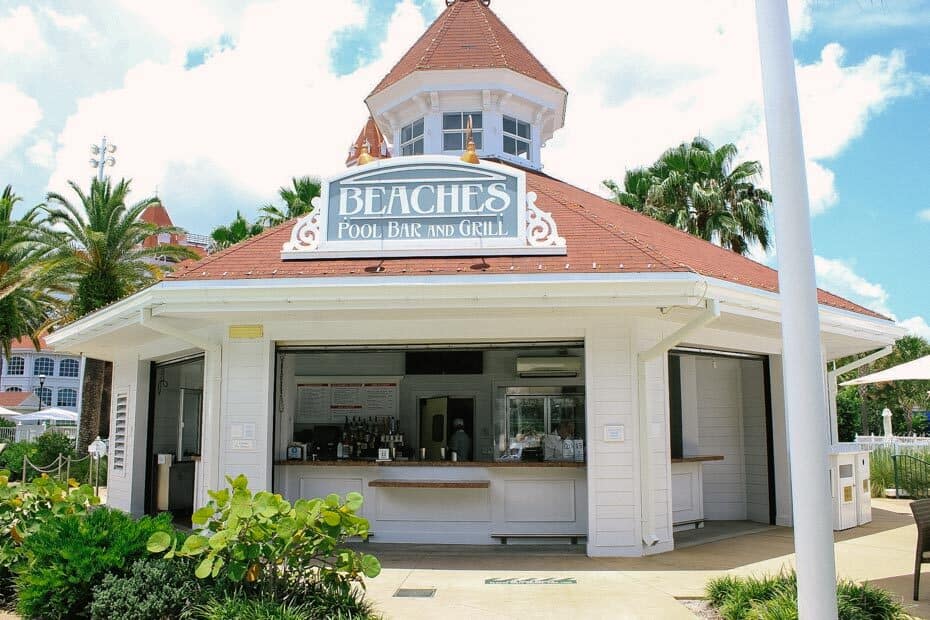 Enchanted Rose Lounge is located on the second floor of the main building. This stunning lounge replaced the former Mizner's lounge a few years ago.
Related: Enchanted Rose Lounge Review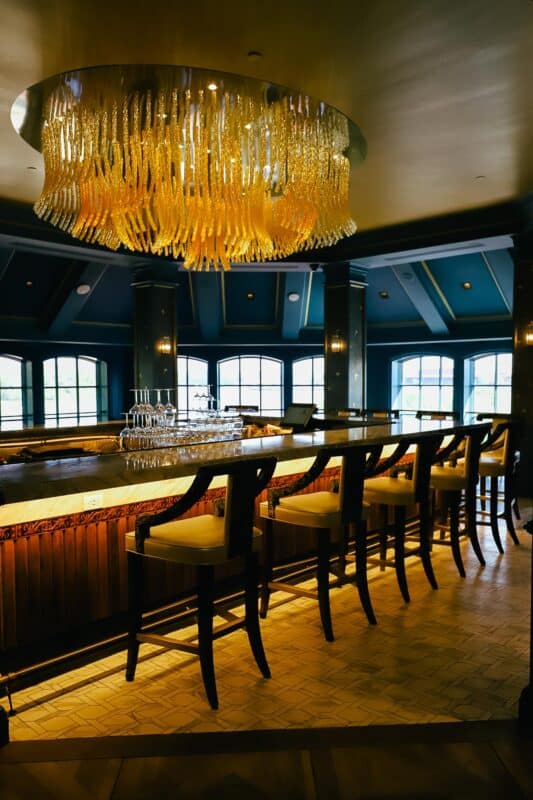 Grand Floridian is also home to the Garden View Tea Room. Unfortunately, this location hasn't reopened as of this update.
For more detailed information about dining at the resort, we have a full dining guide that we update fairly often. It provides photos of the grab-and-go items at the counter service, along with updated menus.
Related: Disney's Grand Floridian Restaurants Guide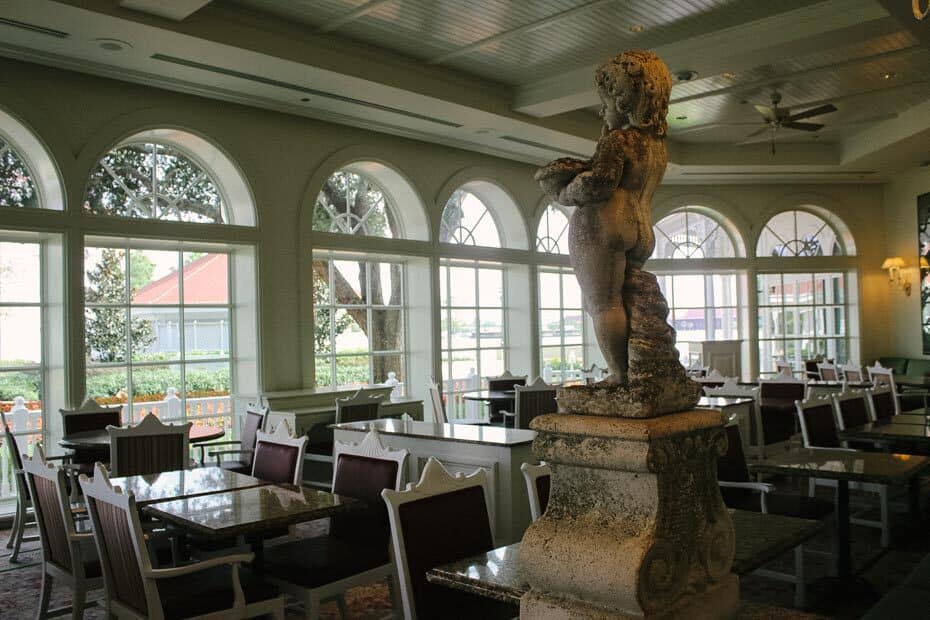 Pools and Recreation
The Grand Floridian Resort has two pools on the property. First is the Beach Pool, which sits between the villas and the main building.
This pool features a water slide, waterfall, bridge, and zero-entry area. I've spent some time at both pools and do prefer this one. However, they are both enjoyable.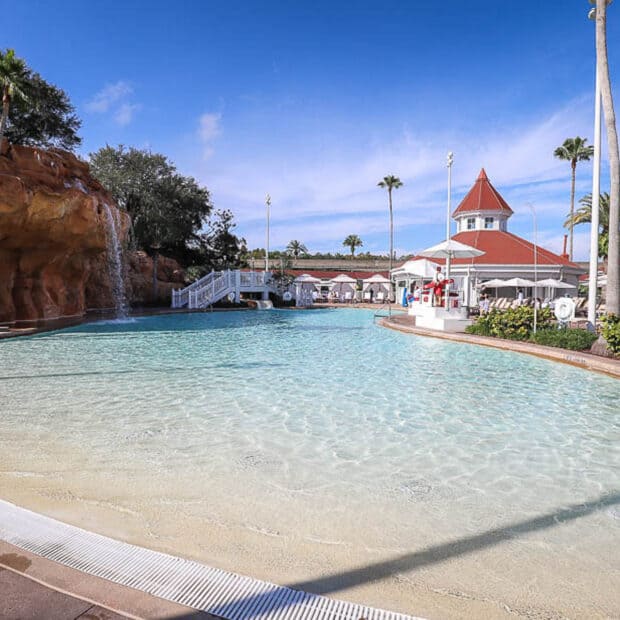 A white sand beach sits in front of the pool area facing the lagoon.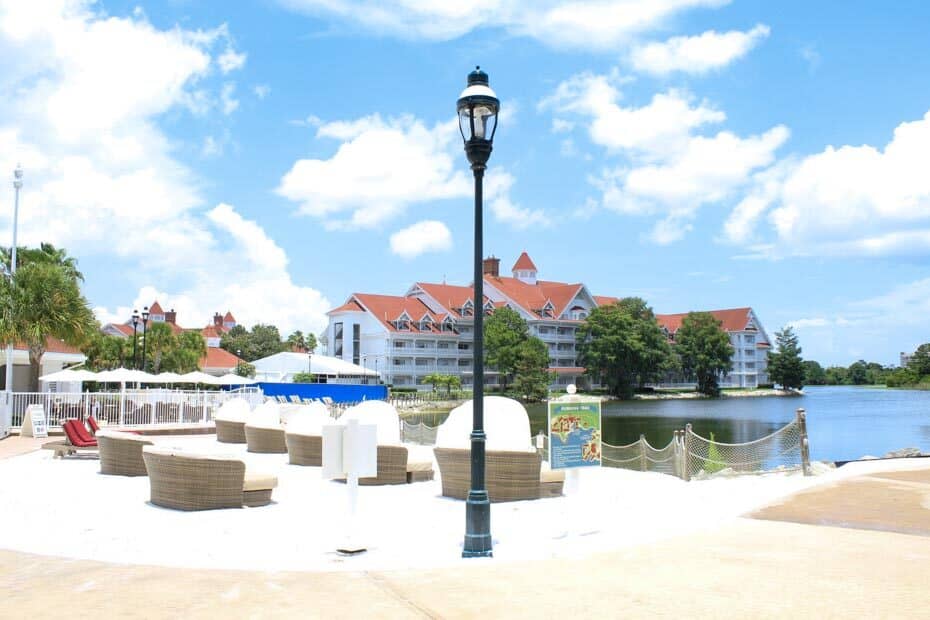 You can grab a meal at Gasparilla's or the pool bar and enjoy it here.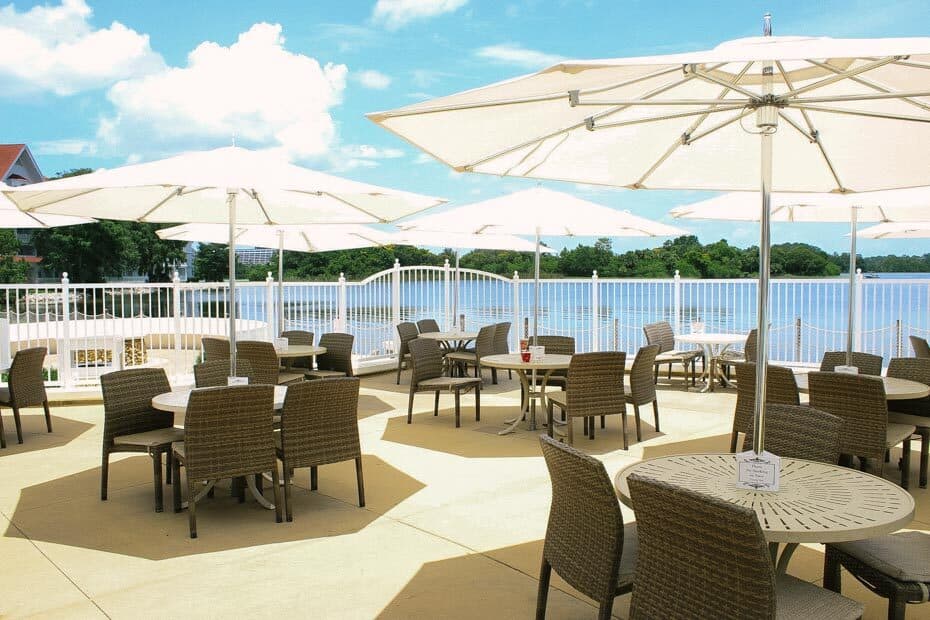 Immediately next door to this pool is the water play area with Alice in Wonderland theming. The area is like a splash playground for children.
In addition, there are usually a few table games like ping pong in this area.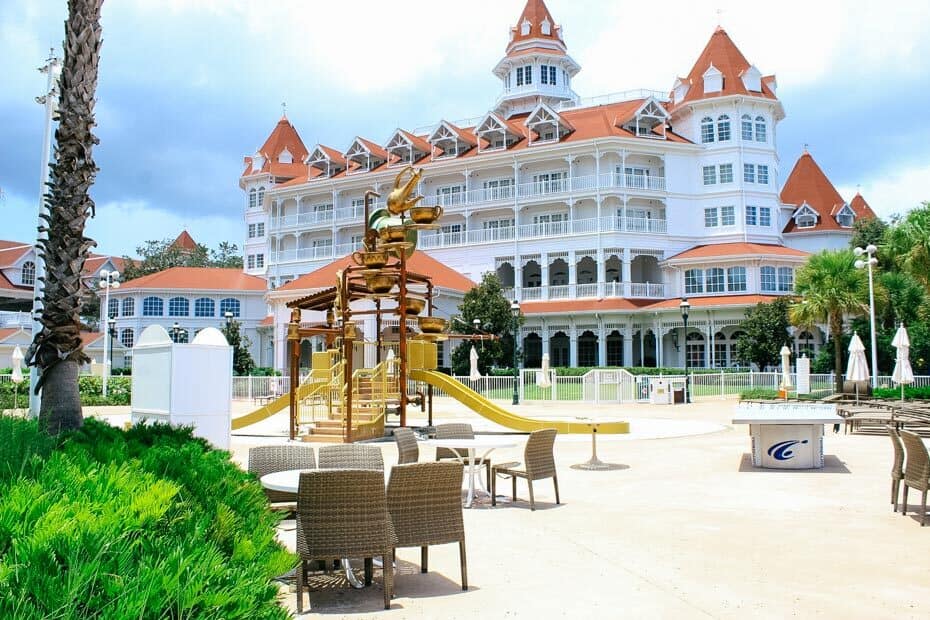 The Courtyard outdoor pool sits directly in front of Big Pine Key. When we stayed in that building, I enjoyed having such close access to a pool.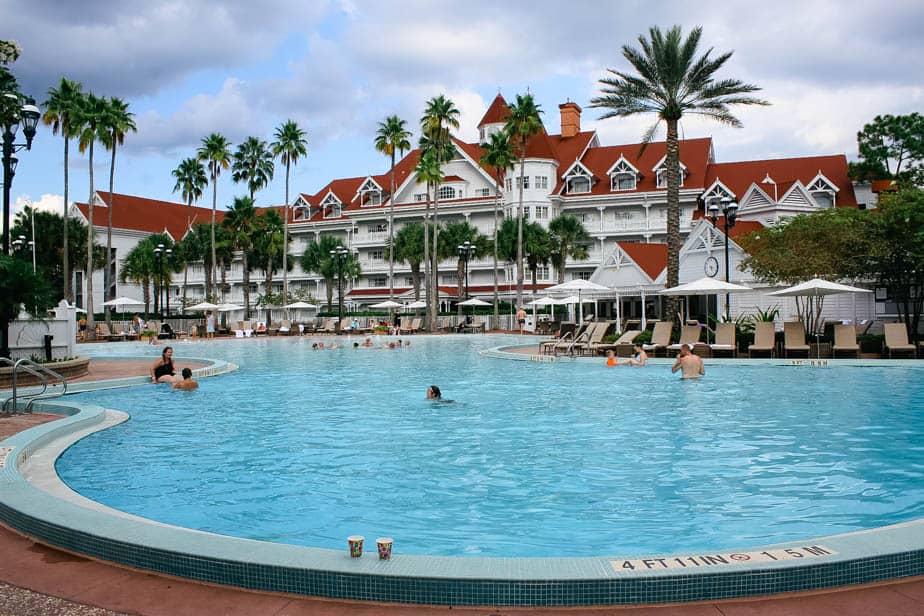 With that being said, both pools at the Grand Floridian are within sight of each other. No matter which one you decide to visit, there won't be too much difference in the proximity to your room.
It's also important to note that the resort has two feature pools, but there are no quiet pools. This is similar to the setup of the Polynesian next door.
Related: Best Pools at Disney World
Transportation
When you stay at the Grand Floridian Resort, you'll have access to several different forms of Disney transportation. The first is the walking path between Grand Floridian to Magic Kingdom Park.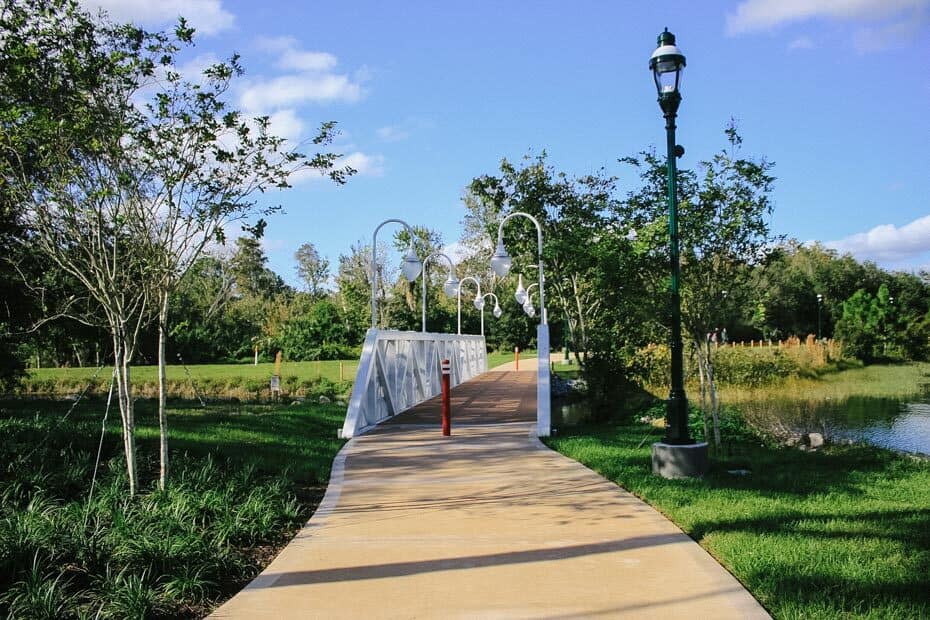 You can also take the resort monorail to Magic Kingdom Park. The good thing about staying here is that, after boarding, the next stop is Magic Kingdom. However, you will have to stop a few extra times on the way back from the park.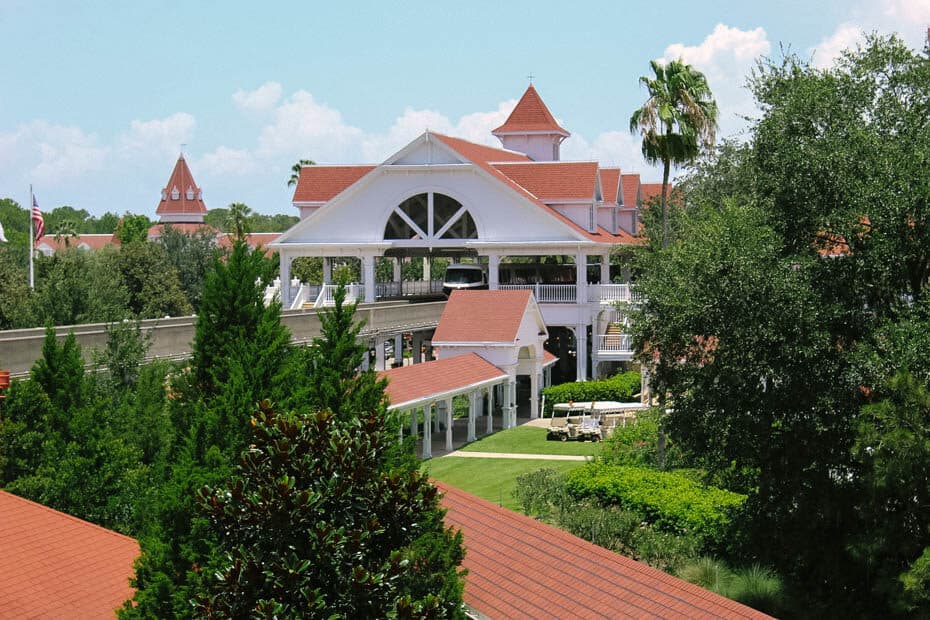 Additionally, you can take the resort monorail around to the Transportation and Ticket Center. From there, you can exit and board the monorail to Epcot.
Or you can walk over to the center and board the monorail. This would be my preferred method since you can enjoy the walk along the shoreline of Grand Floridian and the Polynesian on your way over.
Furthermore, Grand Floridian has a resort boat service to and from the Magic Kingdom. It's a huge asset to have all these different options. For comparison, guests staying at a value resort like the All-Stars would only have Disney bus service as an option.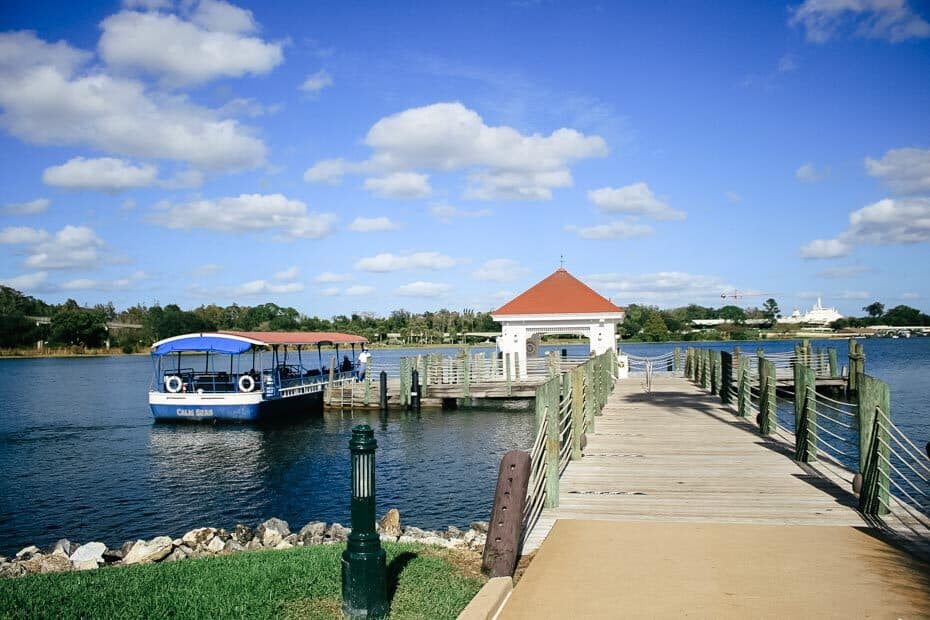 The boats travel back and forth across the water all day. I always enjoy seeing them in the distance.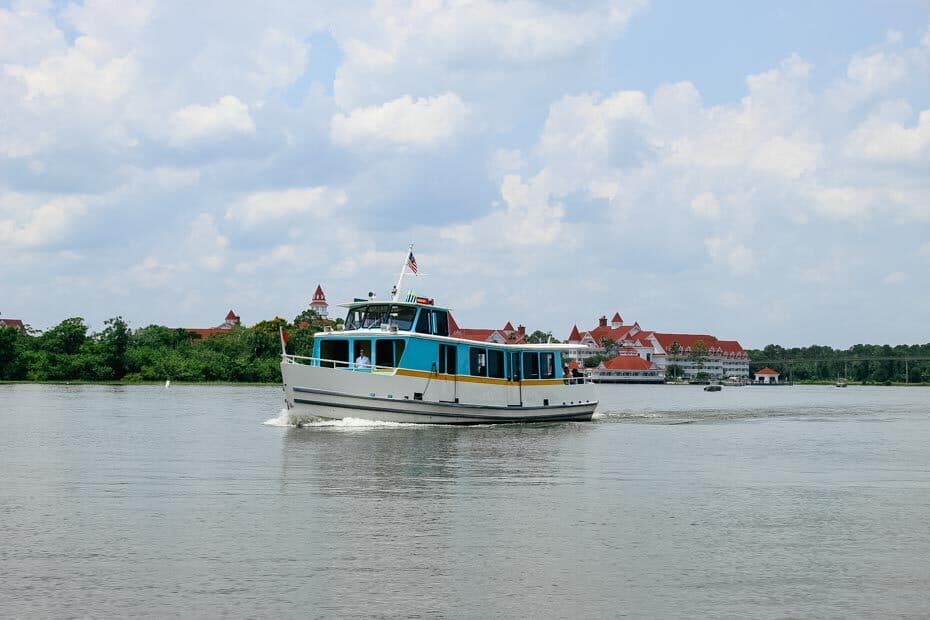 Lastly, the resort provides bus service to the following Disney destinations:
Disney's Hollywood Studios
Disney's Animal Kingdom
Disney Springs
Water Parks
For a detailed overview of using transportation, we have a full guide: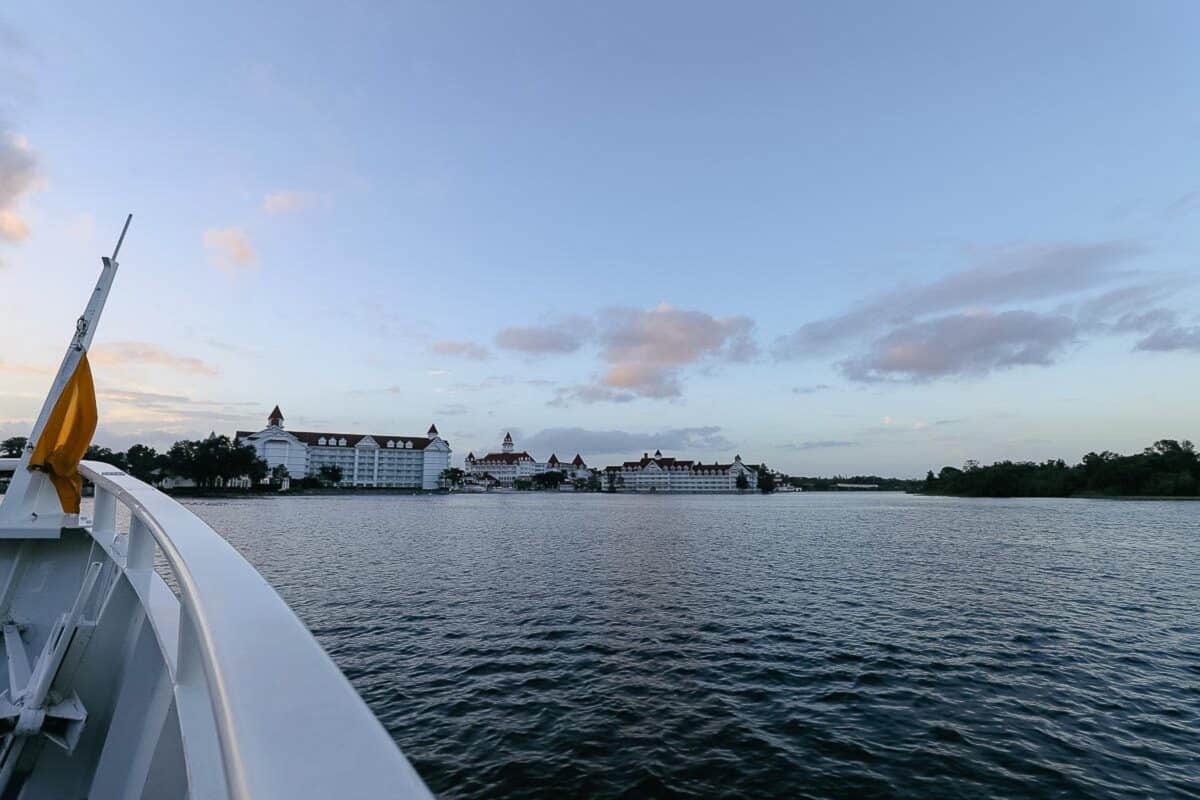 Main Building
We'll take a quick walk through the lobby before wrapping things up. When you arrive at the Grand Floridian, you'll be greeted by lush landscaping, crisp whites, and brick pavers.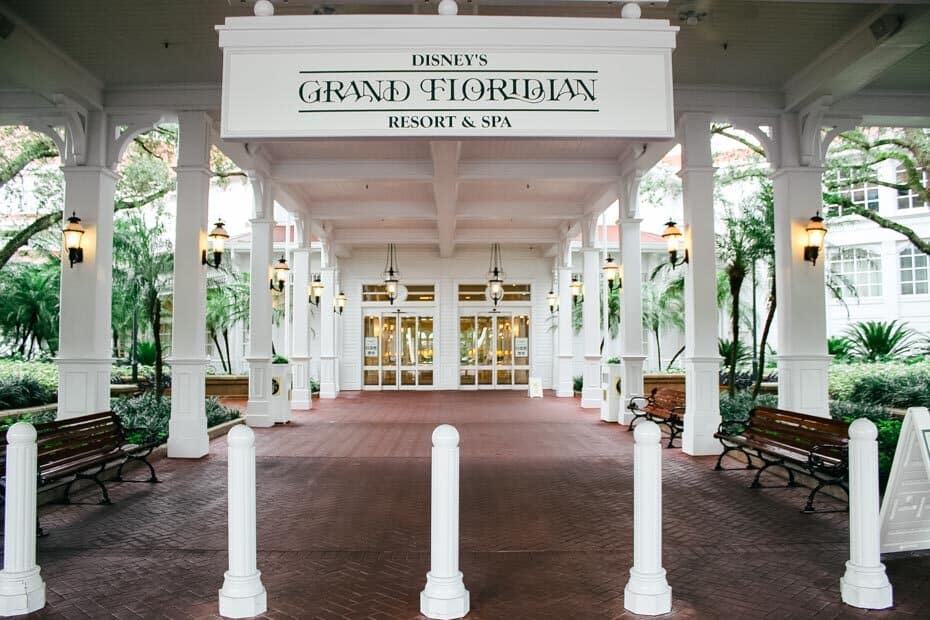 Outside, a few classic cars sit in valet.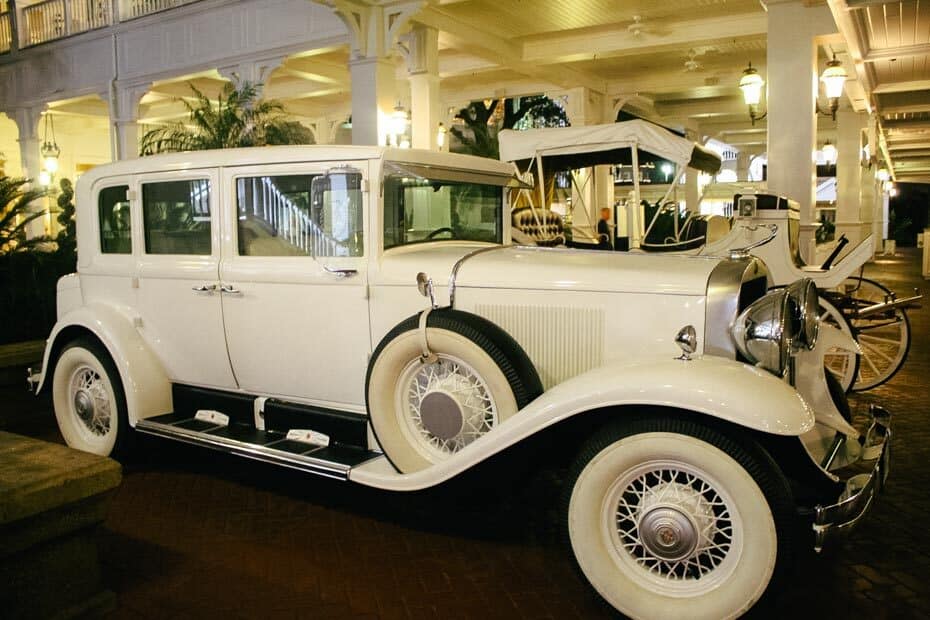 Fresh flowers greet you upon entry.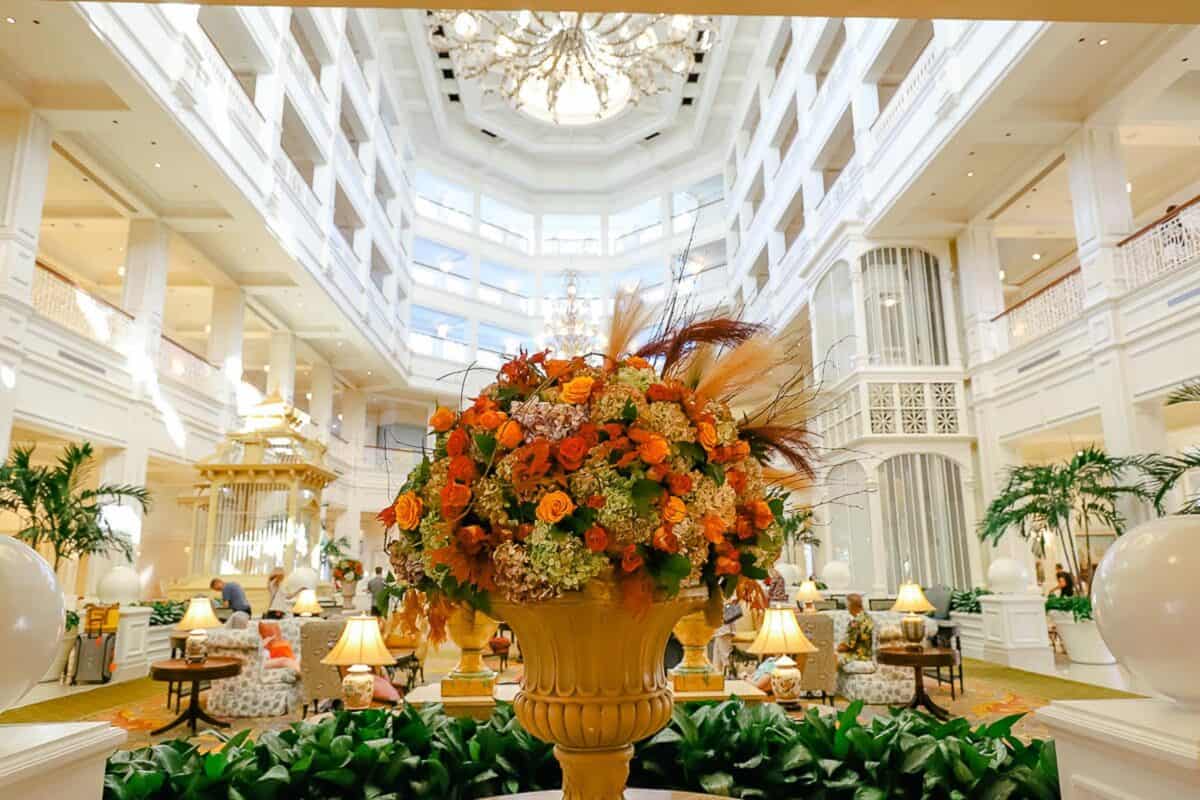 And the ceiling is beautiful, with the frosted glass filtering a soft, natural light.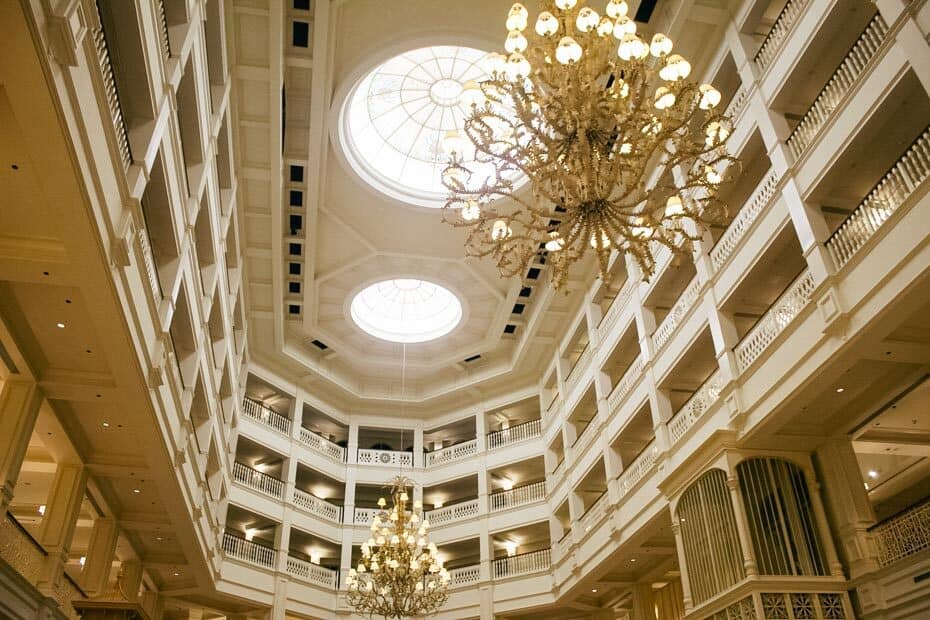 One of the things I wanted to mention was the attention to detail in the tile floors. Each mosaic features Disney characters, and some include the Grand Floridian logo.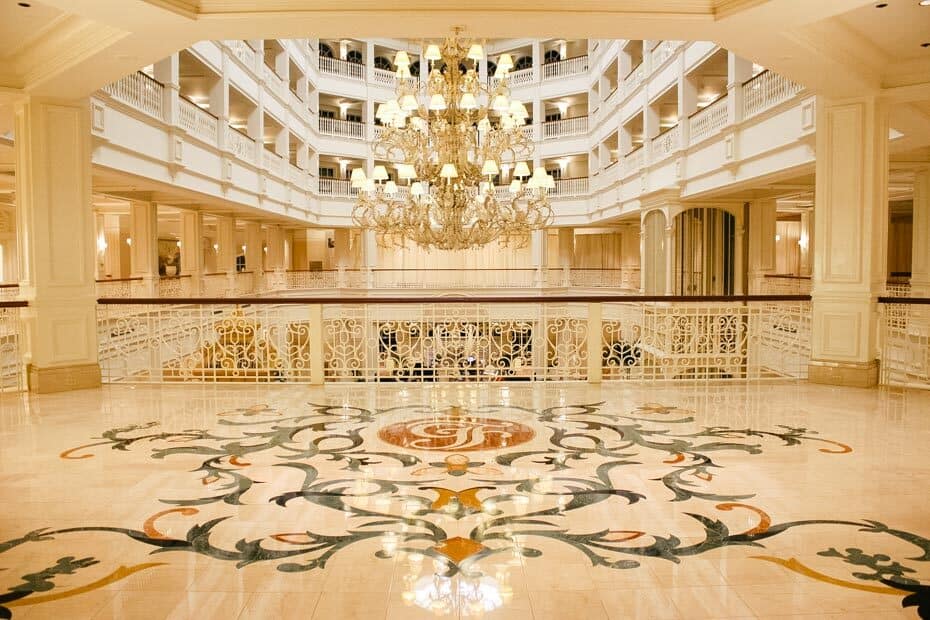 Like Tinkerbell centered here in front of a pair of elevators.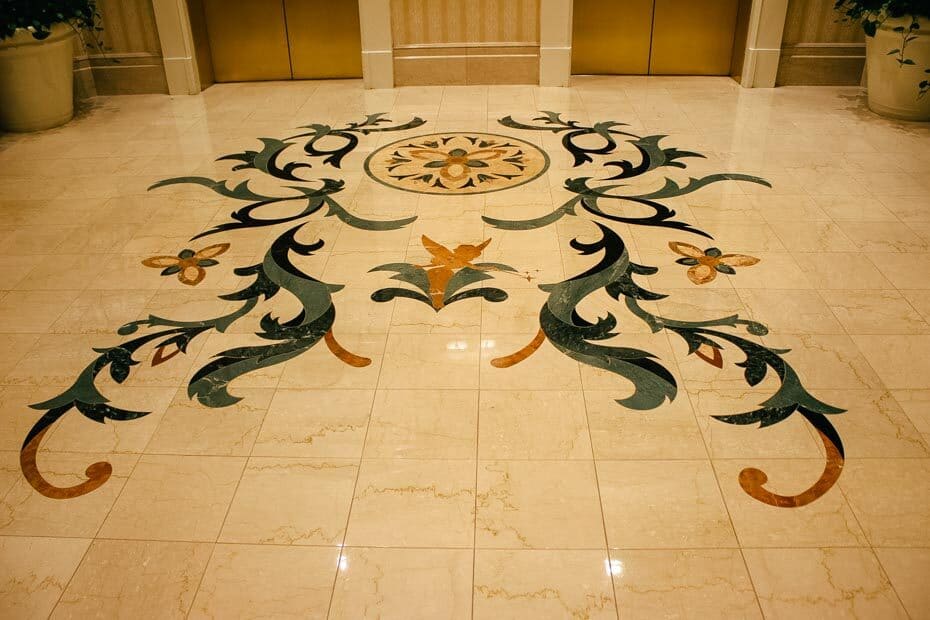 On the first floor, Cinderella and Prince Charming are positioned in front of the birdcage elevator that faces out into the lobby.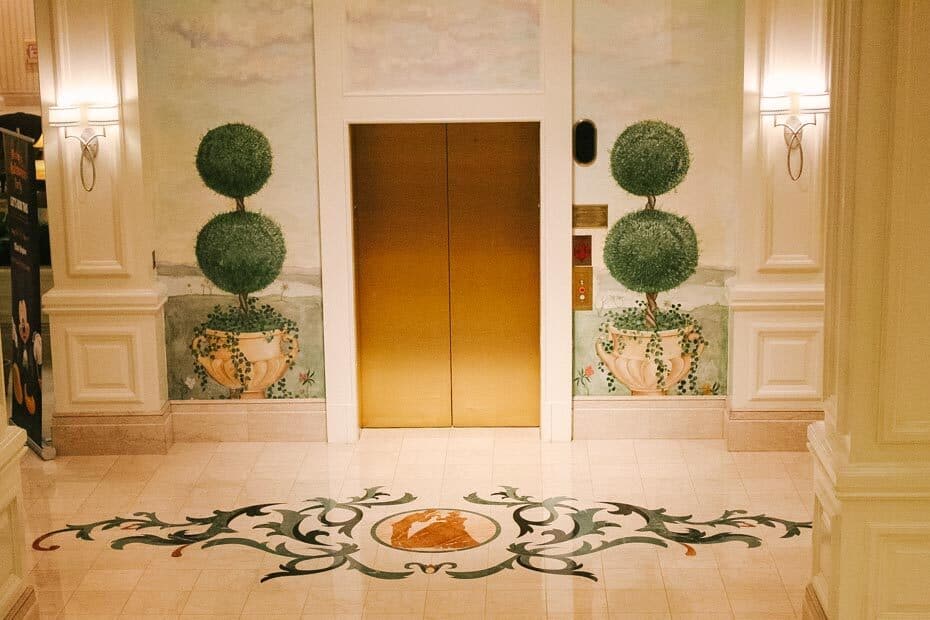 This is definitely a resort you will want to visit during Christmas. We have a full review of the Grand Floridian at Christmas if you like to browse heart-warming holiday photos.
Related: Top Disney Resorts at Christmas
During the holiday season, the Grand Floridian lobby is also home to a large gingerbread house. We have a separate post with photos of last year's house. That gingerbread house was themed to honor the 50th-anniversary celebration of Walt Disney World.
Related: Gingerbread House at Disney's Grand Floridian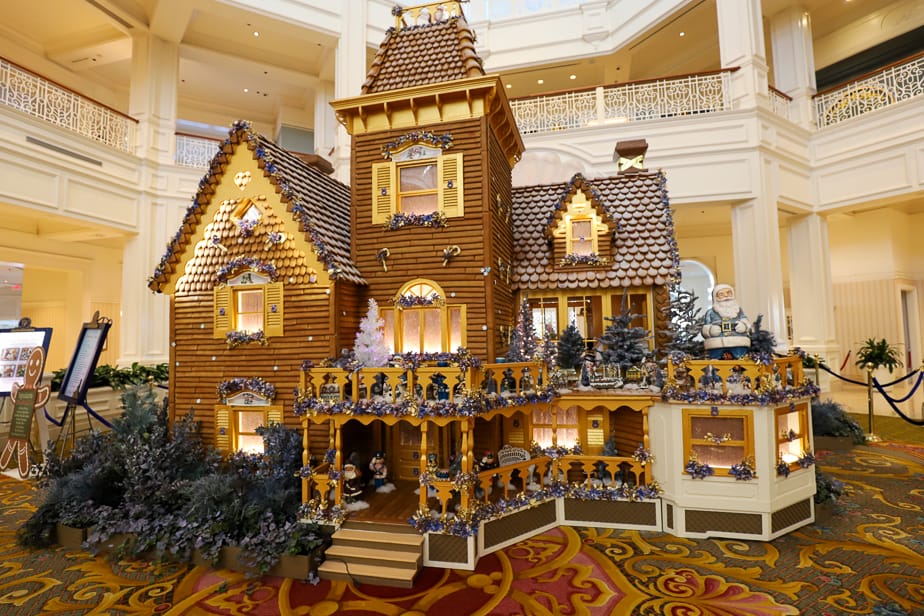 This grand staircase is one for memory books. I always expect to catch Cinderella descending these steps at any moment.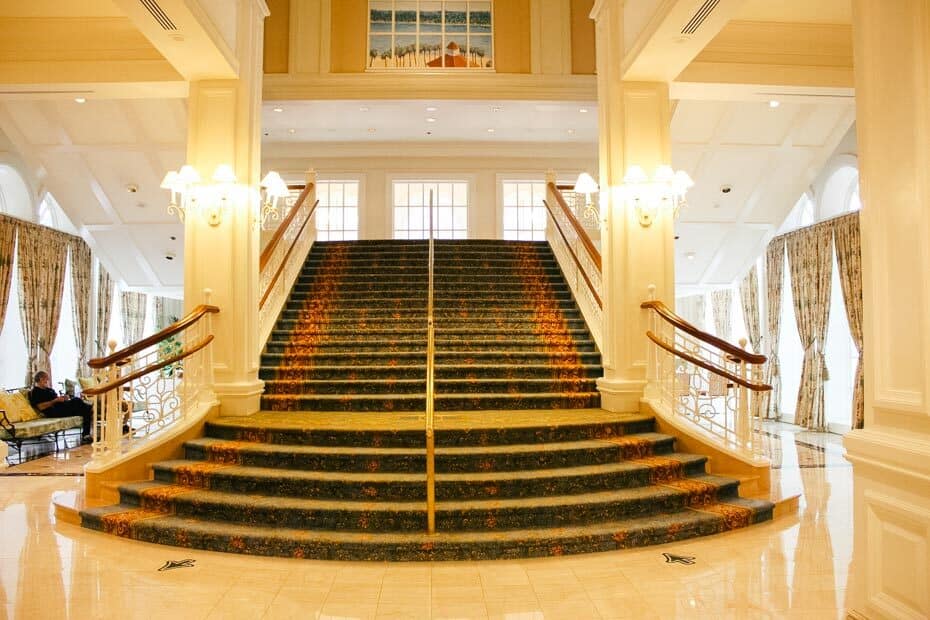 The lobby is expansive, providing a nice area for guests to lounge. Unfortunately, the Grand Floridian Society Orchestra no longer plays here in the evening. Those visiting might happen upon a lone piano player.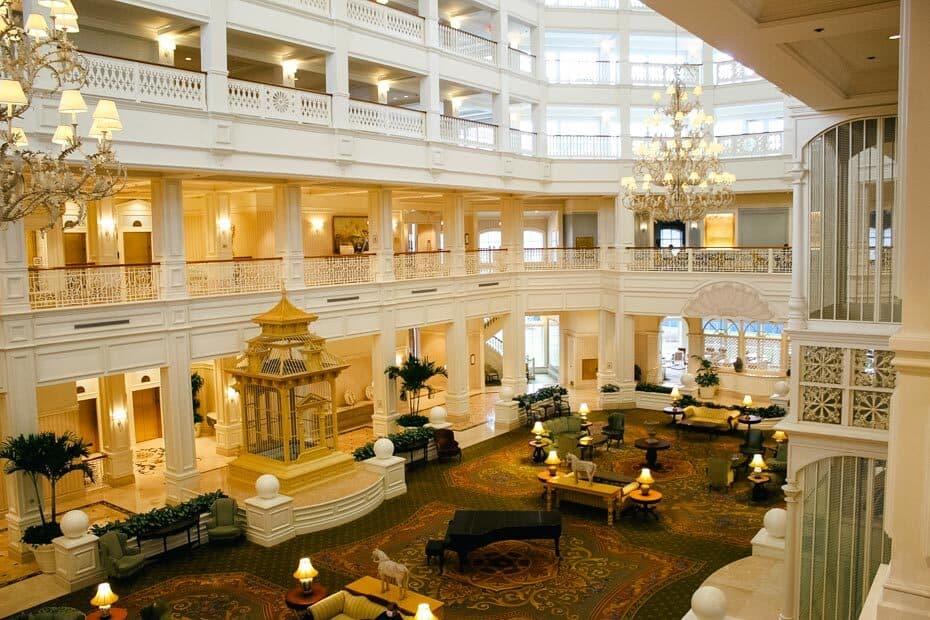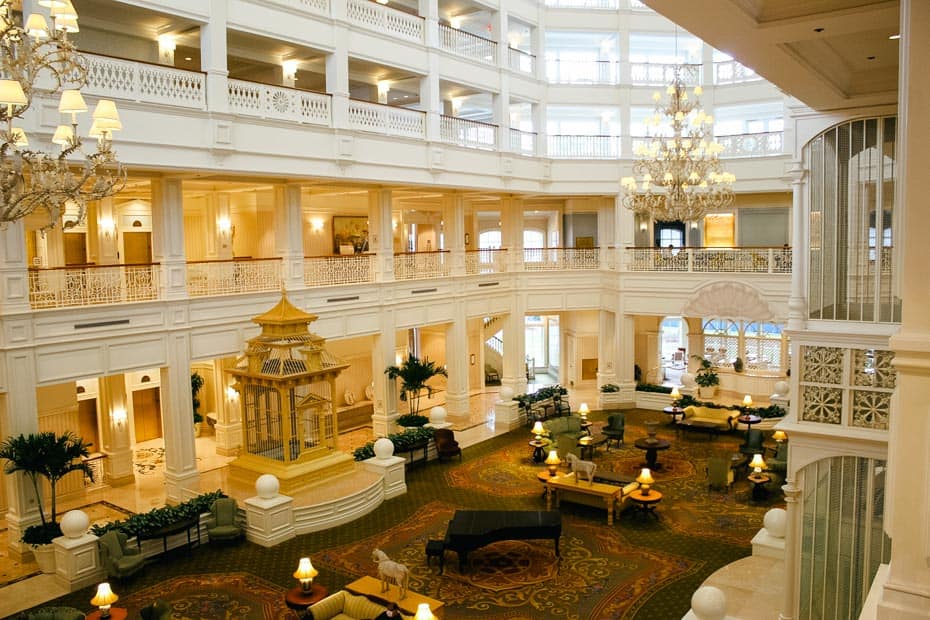 If you were to visit close to Easter, you might run into some of the chocolate eggs on display in the lobby. These are made by chefs of the Grand Floridian.
Related: Easter Egg Display at Grand Floridian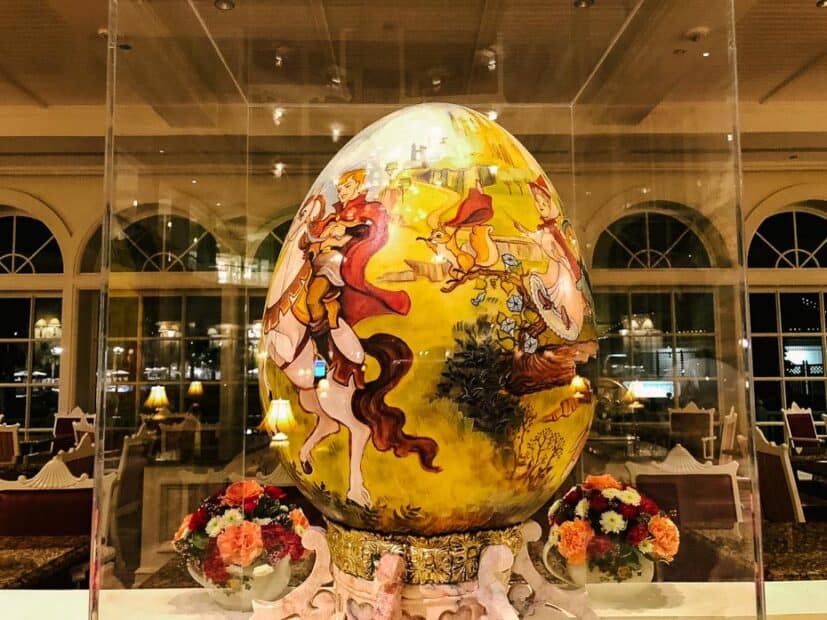 M. Mouse Mercantile sits on the second floor of the lobby. This shop carries a variety of Disney-branded merchandise and toys.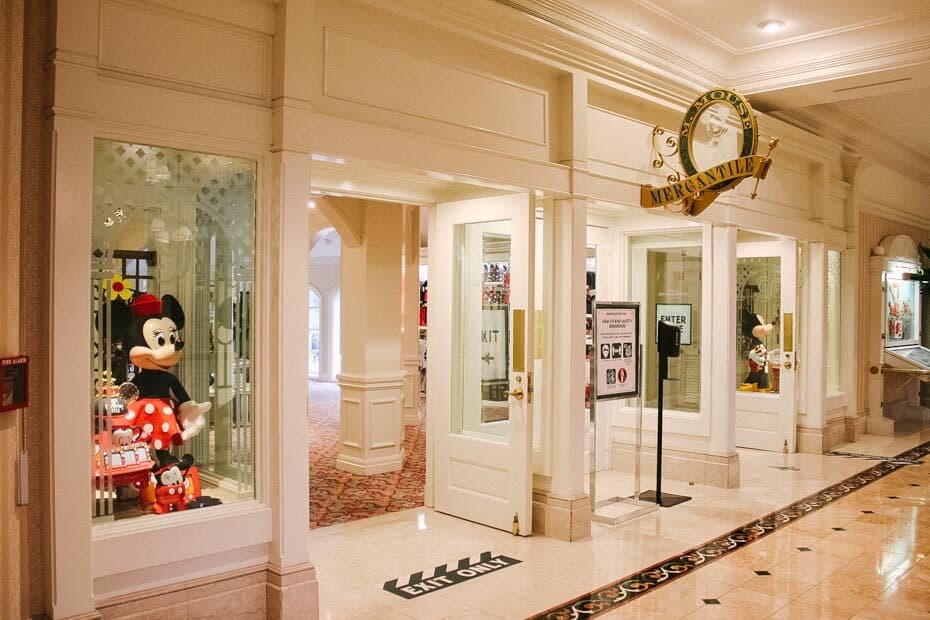 Across the way, there's a Basin, popularly known for its bath bombs and soap products.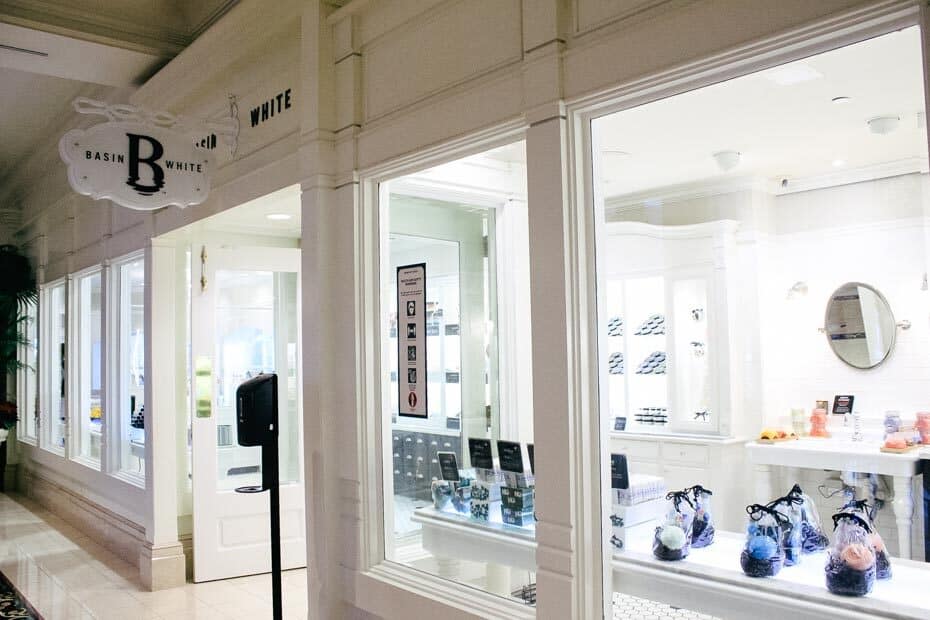 Next door to Basin is the Bibbidi Bobbidi Boutique. It hasn't reopened as of this update.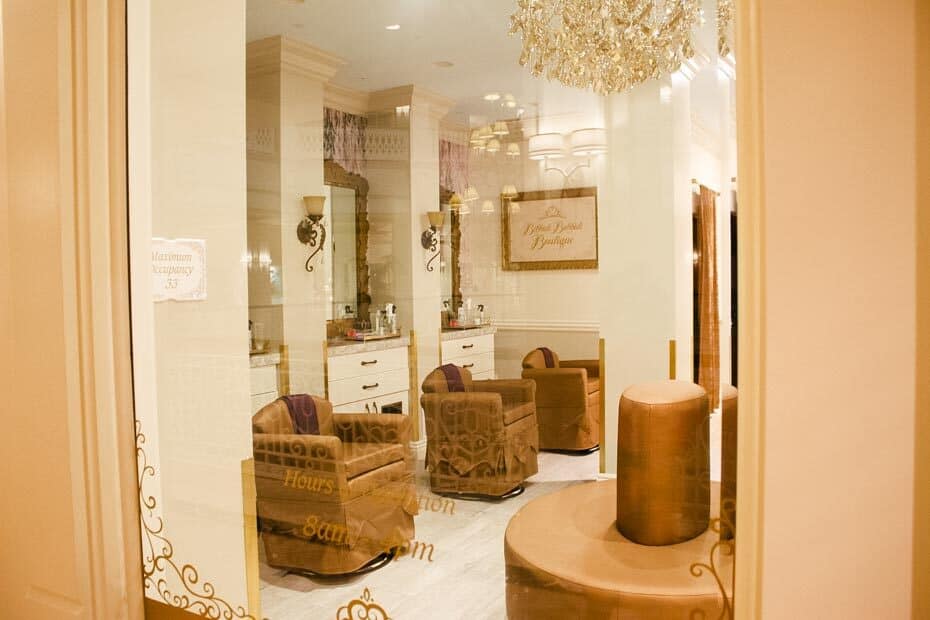 There's even a place set up off the lobby to have portraits made.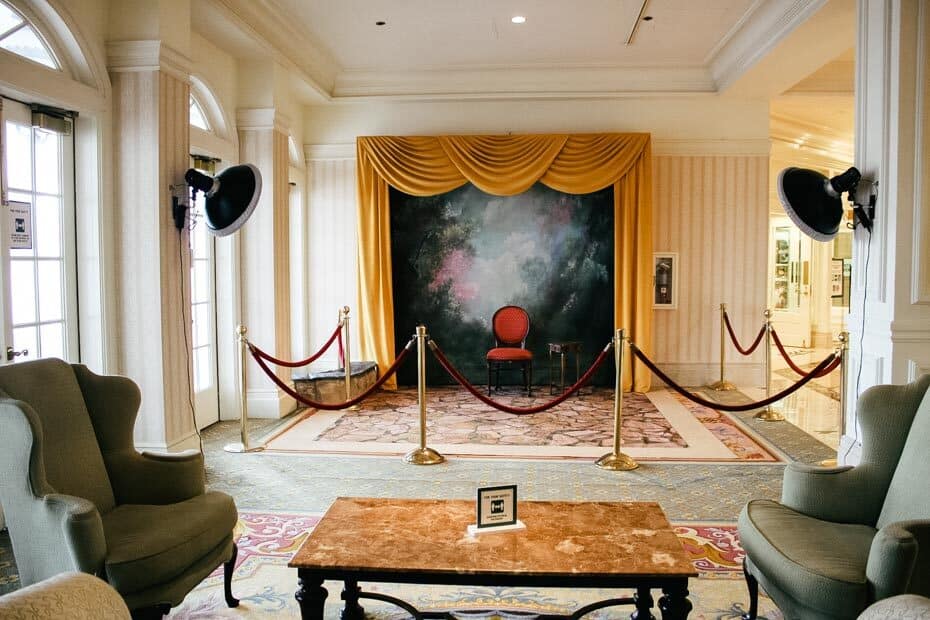 Downstairs, Sandy Cove Gifts & Sundries is the resort's main gift shop. This shop offers a large variety of products.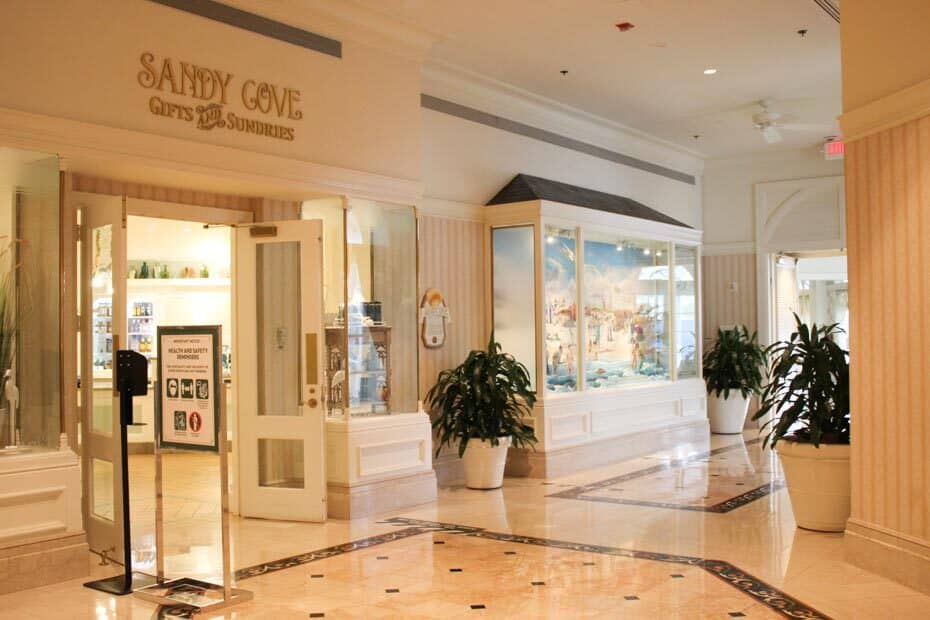 You'll find items like resort-branded merchandise.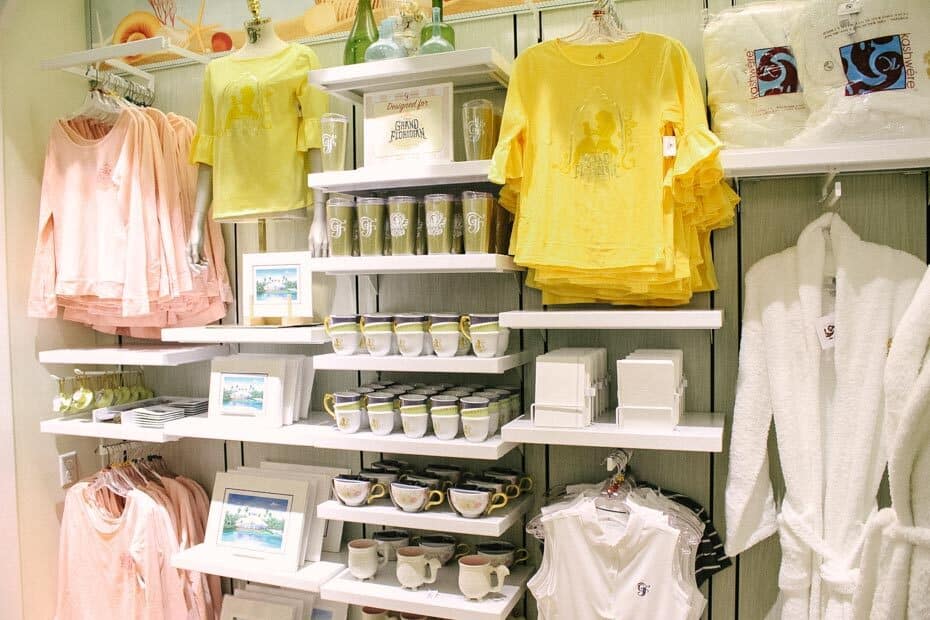 And they have convenience items like groceries and beverages along with health and beauty items.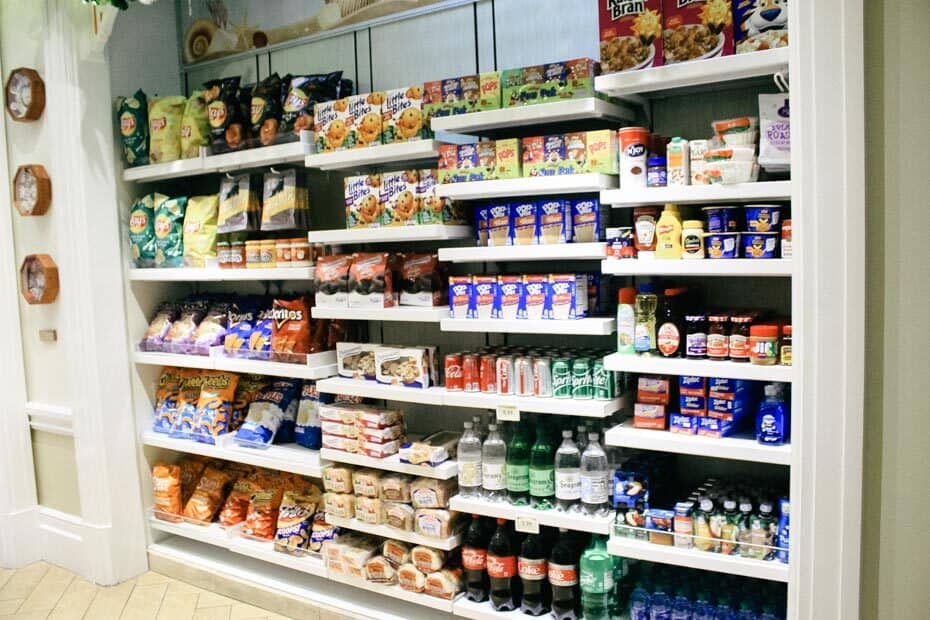 Those who like the finer things in life might enjoy a stop in at Curiouser Clothiers. This is on the first floor to the right of the Garden View Tea Room. Curiouser Clothiers sells fashionable, high-end items.
Related: Curiouser Clothiers at Grand Floridian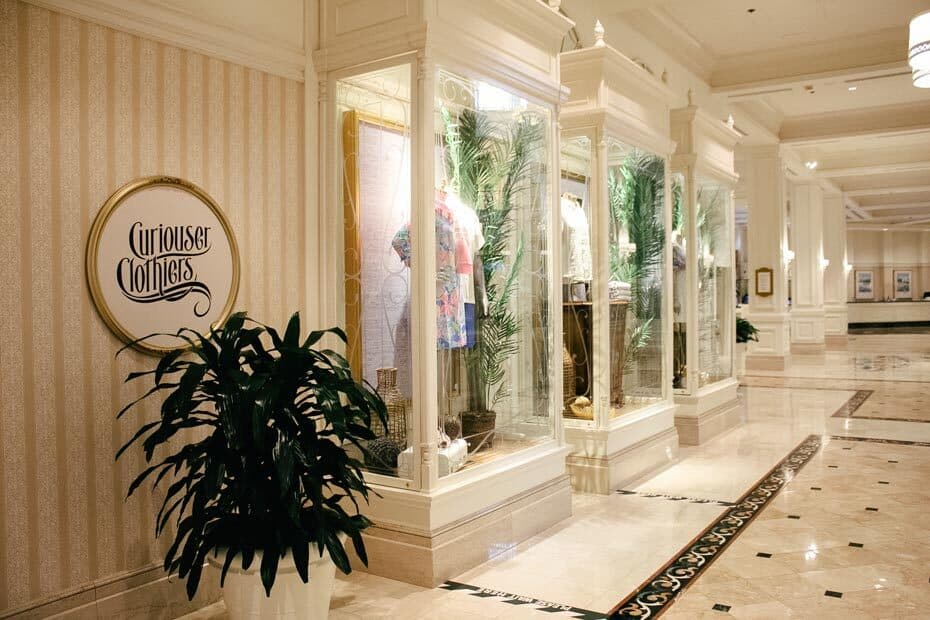 As we make our way out of the main lobby, we'll look at a few other items you might want to take advantage of while staying at the resort.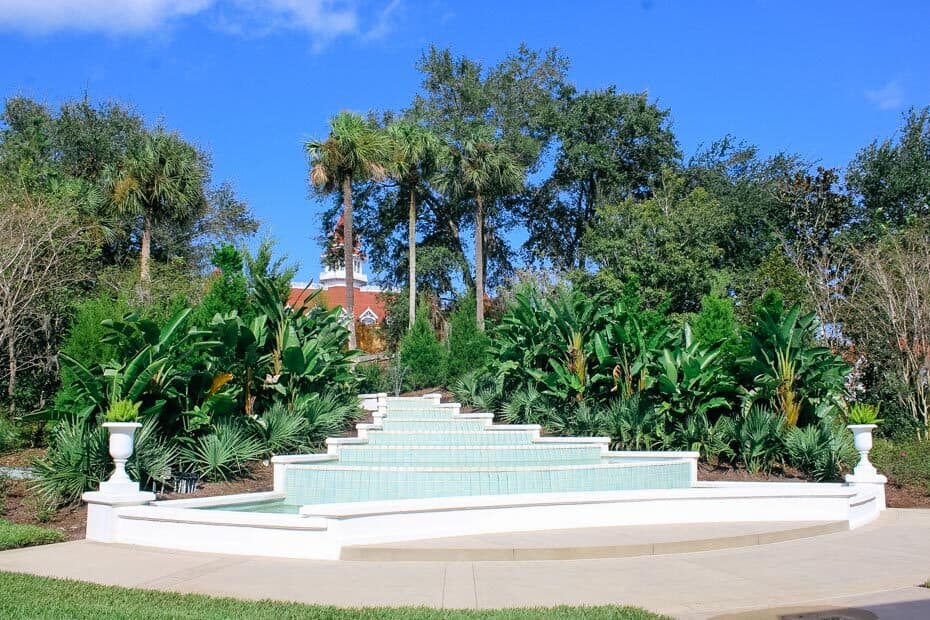 Senses Spa and the Grand Floridian's Fitness Center are located in the same building. It is directly across from the Villas wing.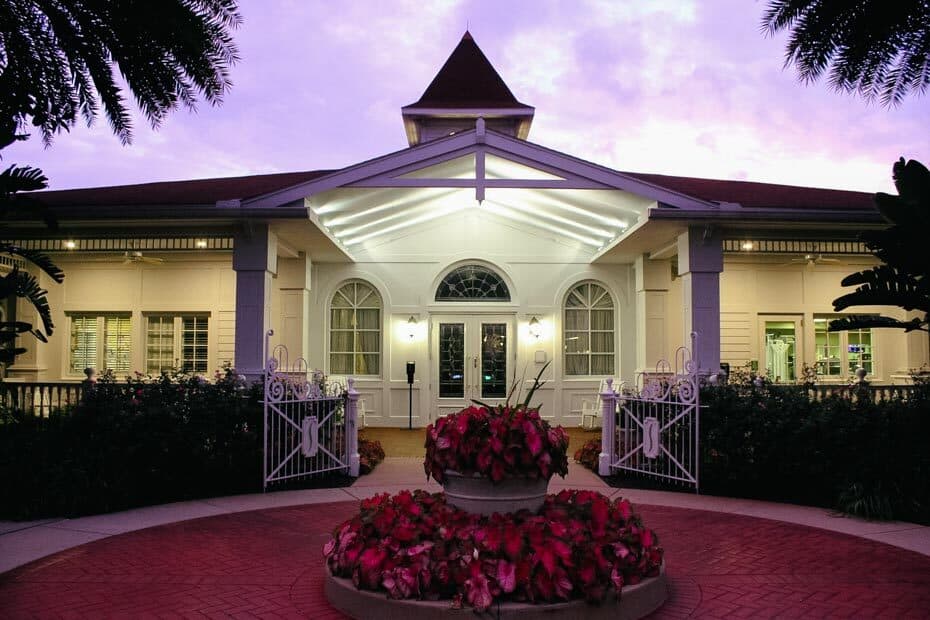 The gym is shared with Disney's Polynesian Resort. It's only a few steps away from this side of the resort. This fitness center provides everything you need for a strength training or cardio workout.
Related: Fitness Centers at Disney World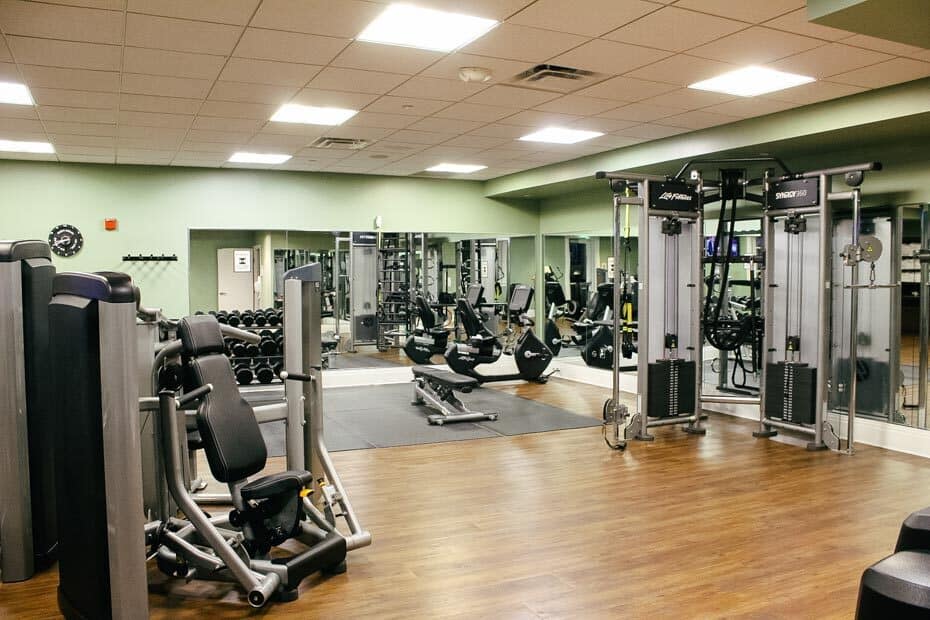 Unfortunately, the former jogging path between the Grand Floridian and Polynesian is closed due to construction of the new Polynesian DVC Tower.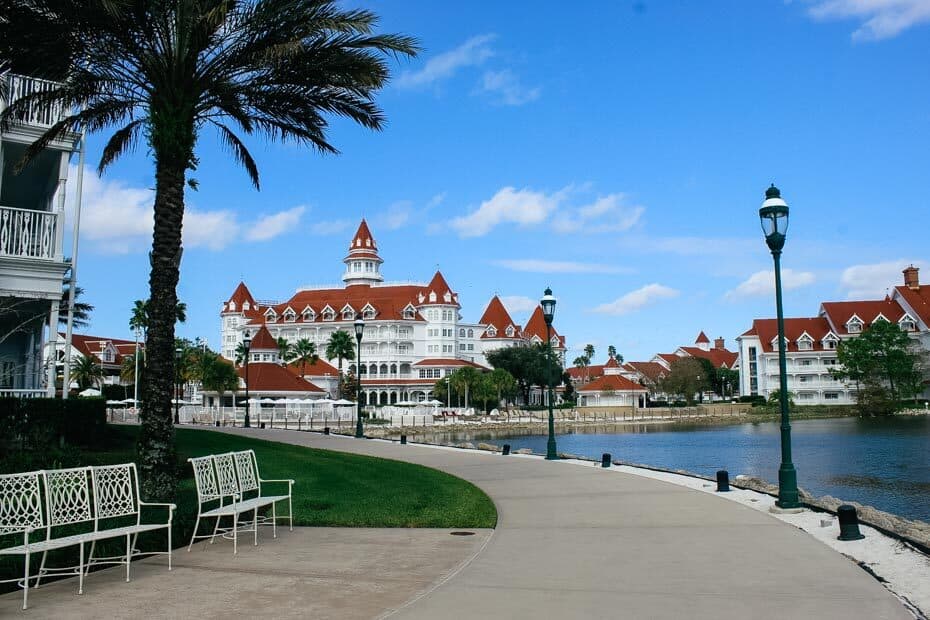 Now you can walk up to the area near Disney's Wedding Chapel. But the path doesn't go any further.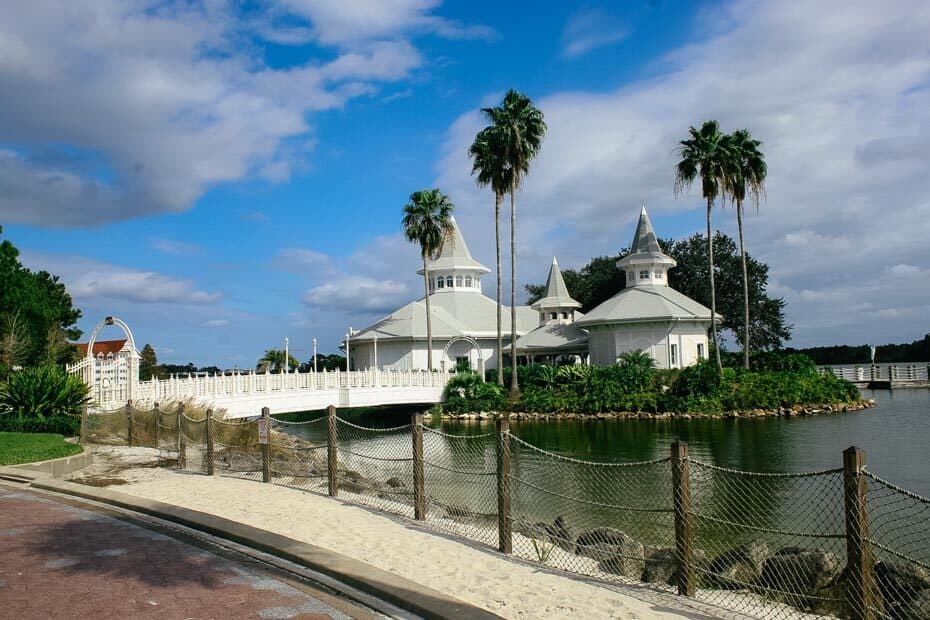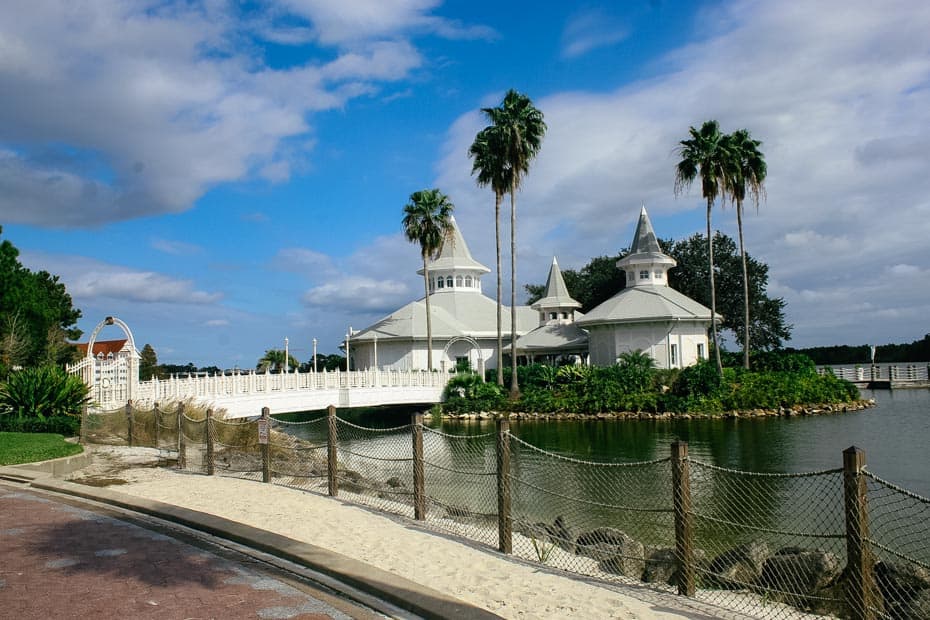 As we near the end of our review, I wanted to mention that Grand Floridian has an arcade called Arcadia Games. It's next door to Gasparilla Island Grill.
Additionally, there's a marina, The Captain's Shipyard, with various boat rentals available during the day. More information is available here on Disney's site.
The majority of buildings at the Grand Floridian offer guest laundry facilities. You can use Laundry View's site here to check the location of the resort's laundry areas.
It will show you what machines are available if you think to check before heading that way. You can also reference it to see when your laundry is completed.
Final Thoughts on Our Review of Disney's Grand Floridian
Hopefully, you found this review of Disney's Grand Floridian helpful in planning your Disney vacation. We spend a lot of time at the resorts and try to consider everything that each property offers.
Therefore, we try to offer a well-rounded observation. If you were to ask me what I didn't like about the Grand Floridian, the list would be comprised of one line: the expense. It does cost a lot to stay here.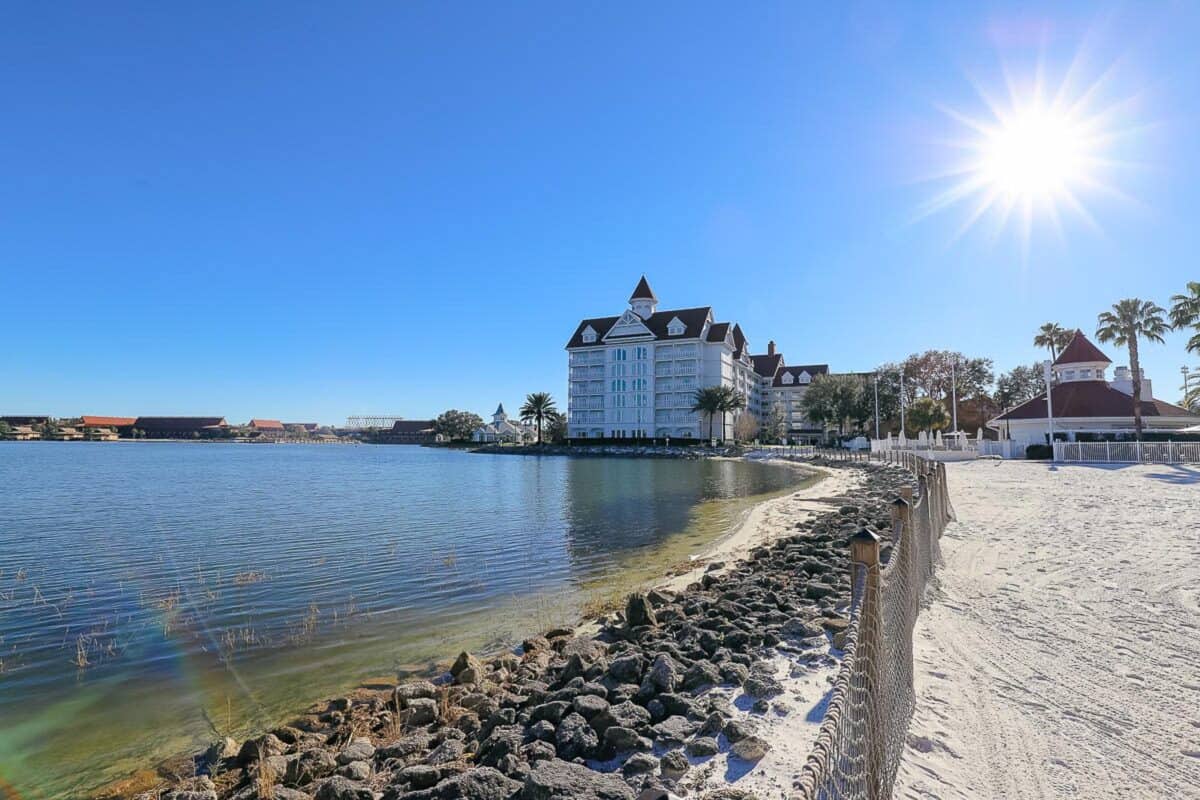 The only other thing I'm not crazy about is that Florida can be very rainy in the summer months. Most room assignments require a decent enough walk that you'd be soaked before reaching the main building in the event of a downpour.
That is kind of the nature of the beast, though, if you are visiting the parks in the rain. If you stay in the villa portion of the resort, there's a nice covered walkway to the front entrance of the main building.
You'll find the same village-style setup next door in Disney's Polynesian Resort. We have a review of the Polynesian if you'd like to learn more.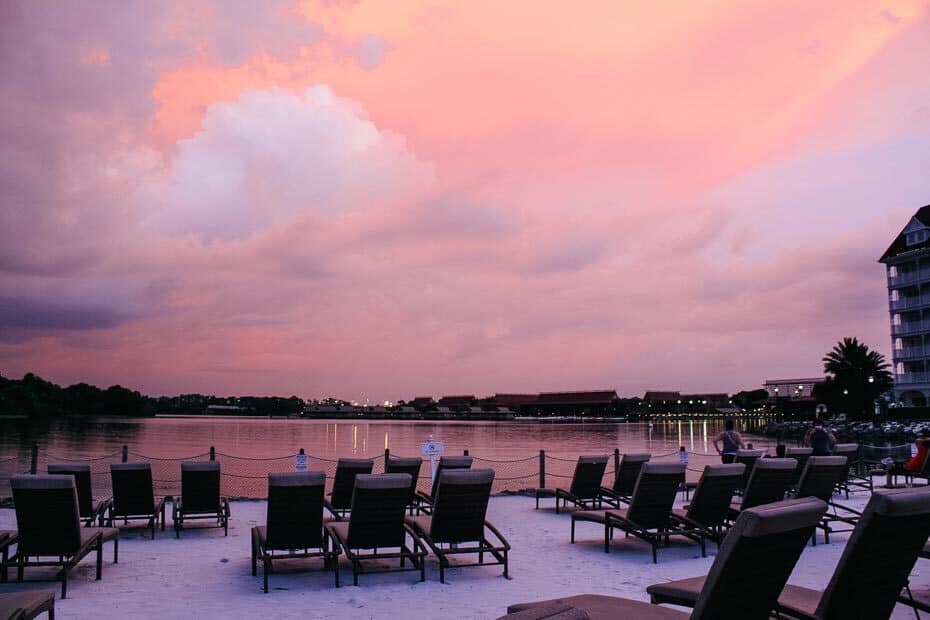 That's one of the things I like best about my favorite resort choice, Disney's Beach Club. It's connected to the neighboring Yacht Club and offers a large, sprawling indoor area to explore in inclement weather.
Related: Disney's Beach Club Review
Other than that, I have no issues with this stunning flagship resort. And I do spend quite a good bit of time there, even as a day guest. For more details, check out our guide to Disney's Grand Floridian Resort and Spa.
Or you might enjoy these other Disney World Hotel Reviews:
If you are planning dining reservations, check out the full list of Disney Restaurant Reviews. There are also guides for the following dining options:
Now, about those character inlays in the Grand Floridian Resort's lobby. Here are a few more photos.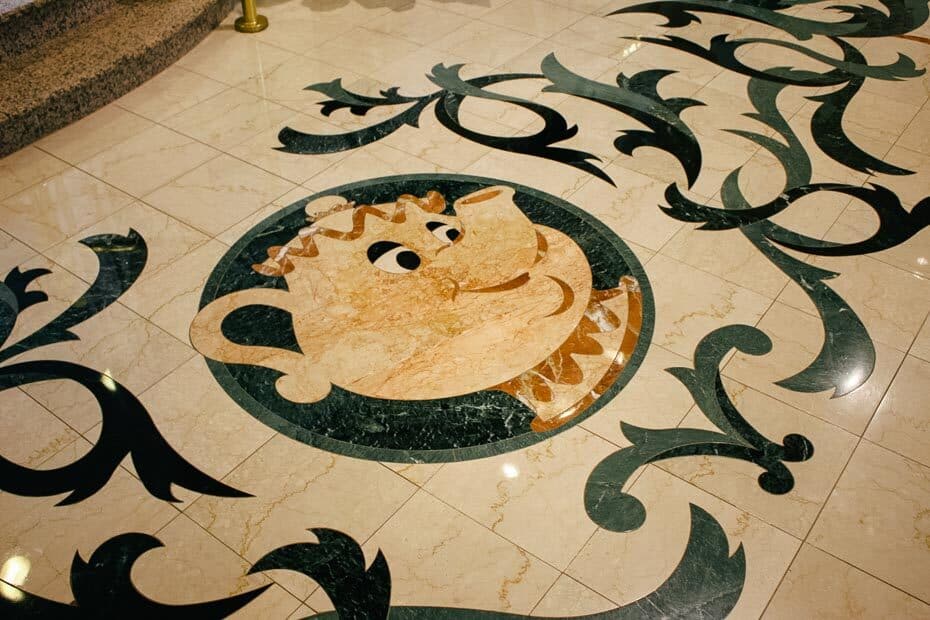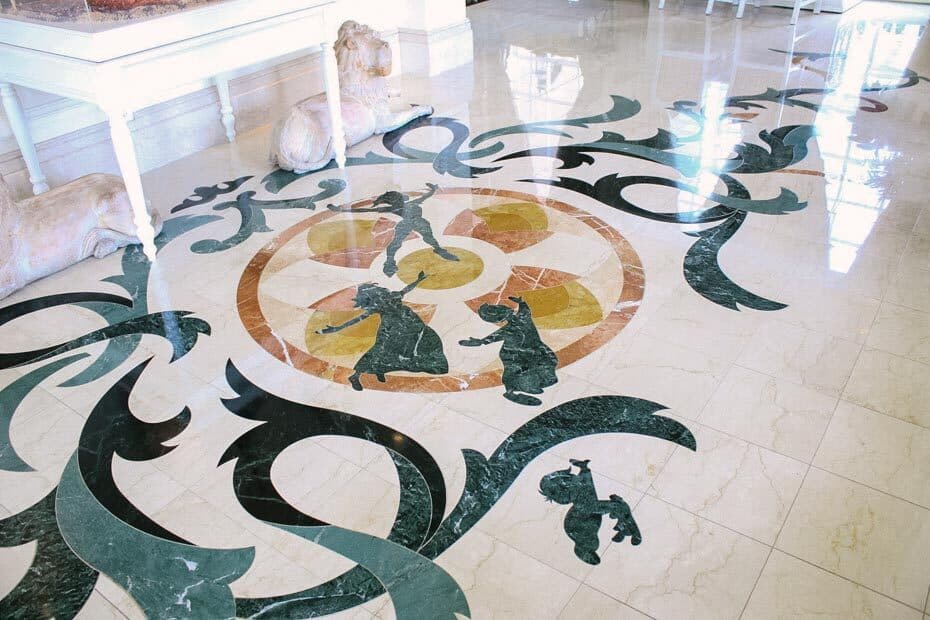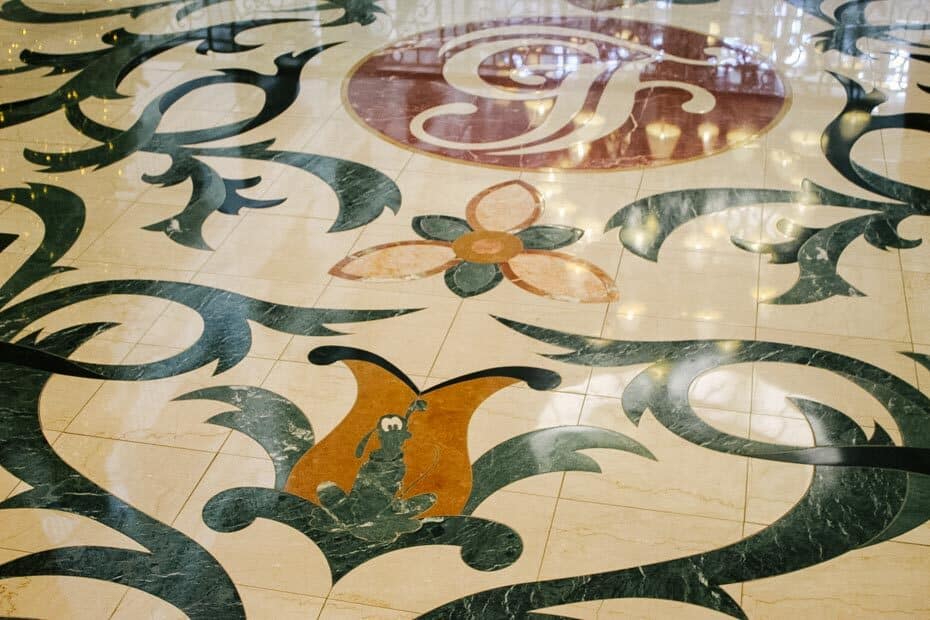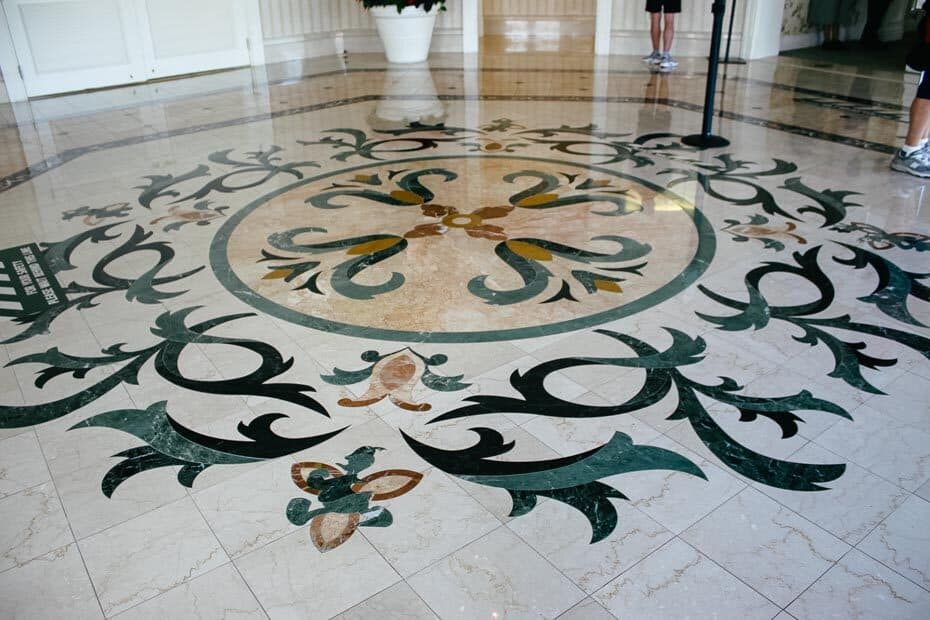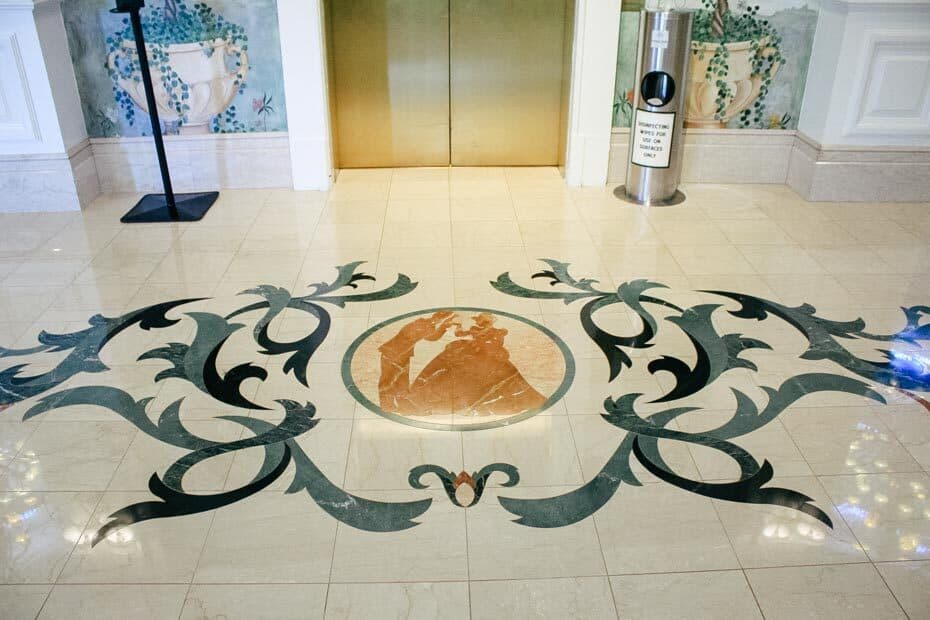 Don't hesitate to ask some of the cast members in the lobby if you would like to know a little history of the resort. Many of them have worked there for a long time. They are so kind and love to share fun tidbits with guests.
In the comments
What do you think of this Grand Floridian Resort Review? Are you planning a stay here? What is it that makes the resort special to you?