The France Marketplace at Epcot Food and Wine (2023)
Bon Appetit! Everything at the France Marketplace at Epcot's Food and Wine Festival is delicious. It's more of a decision of whether you want to try everything or only sample a few items.
We've tried the entire menu between this year's and last year's festivals. As usual, I was impressed and think it's one of the top booths for Food and Wine. That says a lot, especially considering the same items return from last year's menu.
That said, I genuinely believe in the saying, "If it ain't broke, don't fix it." Some of the other booths could learn a lesson or two. I'm looking at you, Mexico. I'm unsure I can forgive the missing bread pudding drowned in chocolate sauce this year. It was a festival favorite!
Anyway, the France booth has a lot going for it. It even offers an opportunity for adventurous eaters to try an ambitious item and a few classics that would likely never disappoint.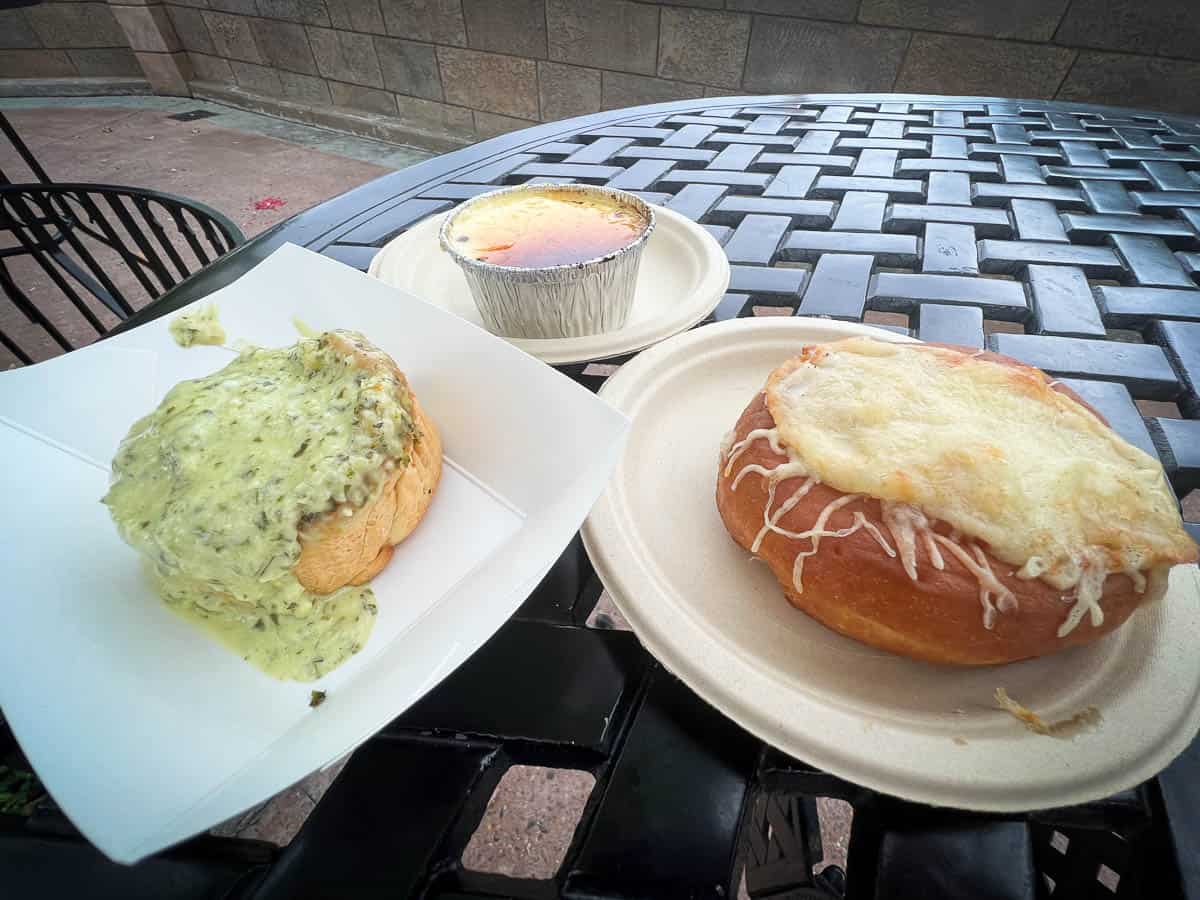 France's Marketplace Menu Items
First, we'll review the prices for the items at the France Marketplace.
Beignet aux Trois Fromages ($6.95)
Croissant aux Escargots ($7.50)
Beouf Bourguignon, Pommes Dauphine ($7.75)
Creme Brulee Vanille a la Confiture de Fraises ($5.95)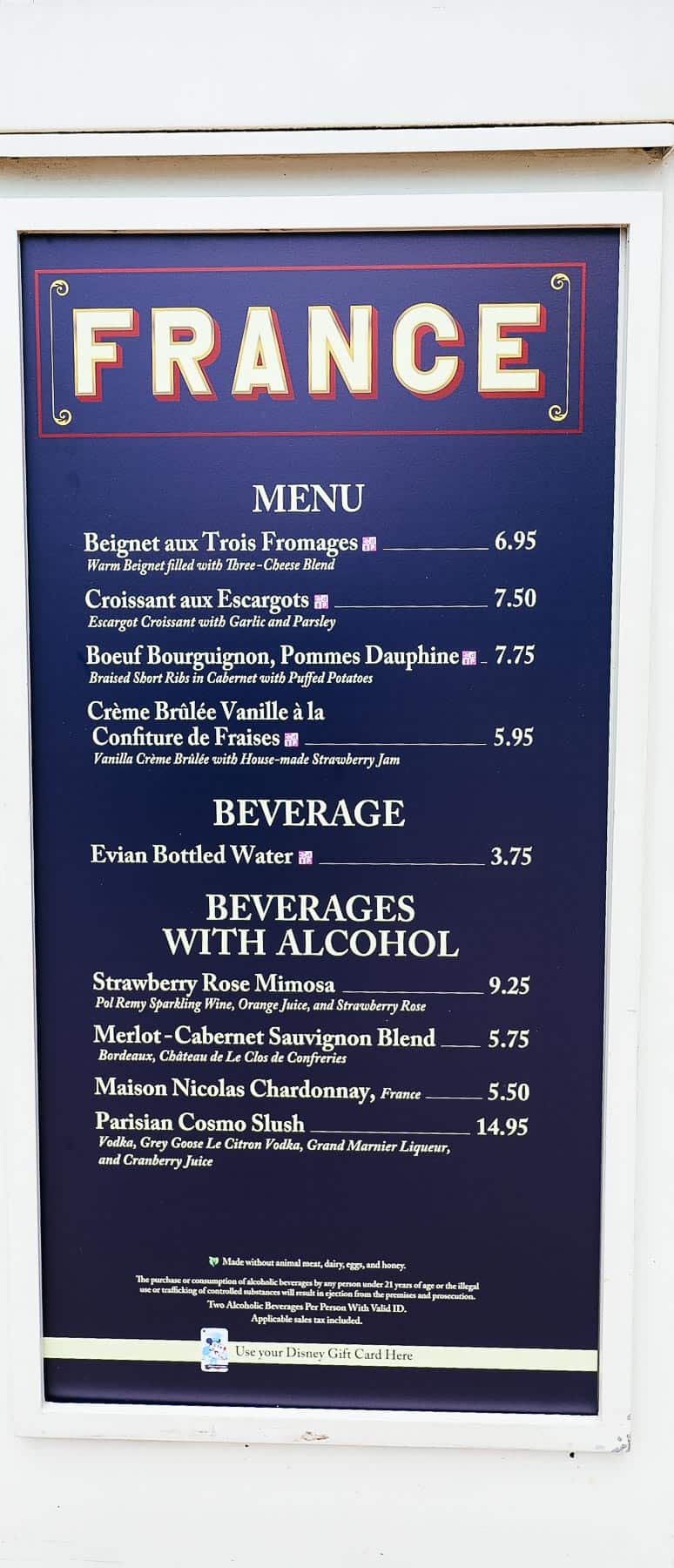 Beverages:
Strawberry Rose Mimosa ($9.25)
Merlot and Cabernet Sauvignon Blend ($5.75)
Chardonnay ($5.50)
Parisian Cosmo Slush ($14.95)
Beignet aux Trois Fromages
We see the three-cheese-filled beignet return from last year. Unfortunately, it was the least favorite of the dishes I've tried at the France Marketplace.
However, the beignet wasn't a total loss. It just wasn't as tasty as everything else here.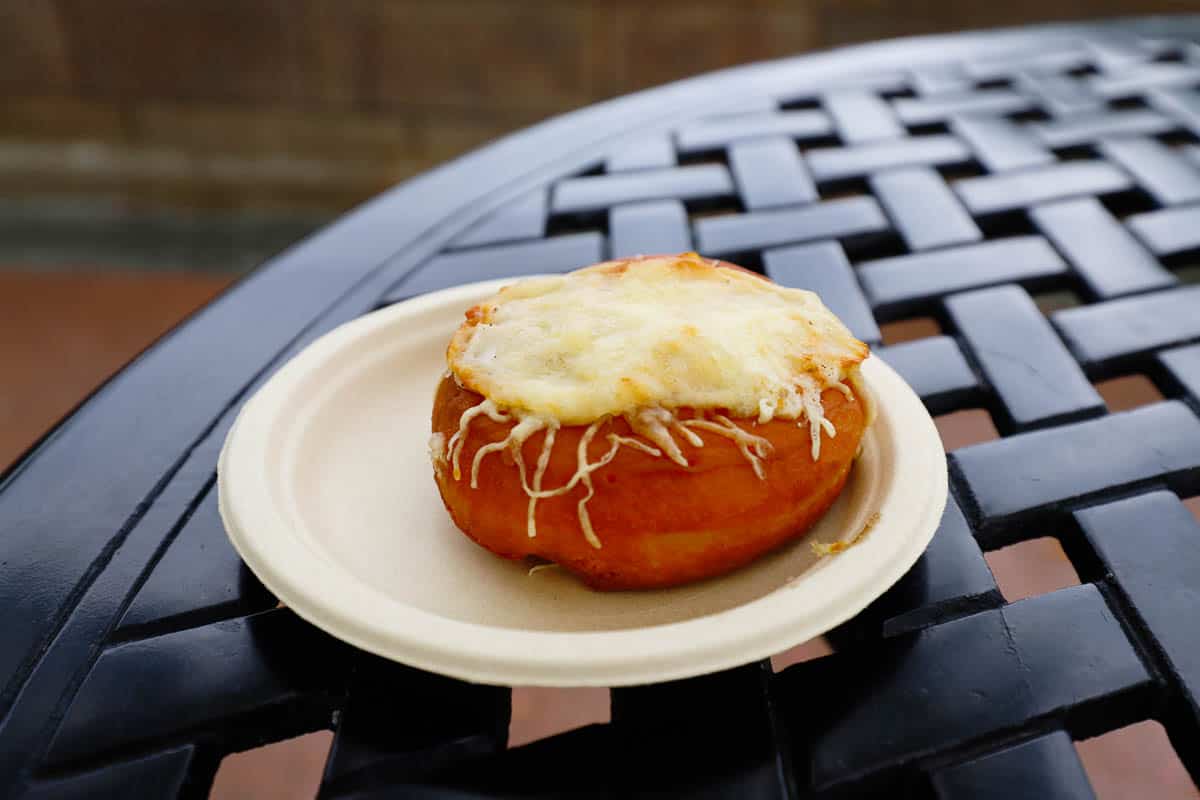 The outer shell of the beignet is reminiscent of a warm, savory donut. It's comprised of delicious, buttery layers of flaky crust.
When you cut into the dish with a knife or pull it apart, the bechamel oozes onto the plate. As with most bechamel's, this one contained nutmeg, a flavor that can overwhelm, if even slightly overused.
For me, the bechamel was overpowering. Yours might fair better. I wouldn't completely write it off.
Croissant aux Escargots
Escargot has been offered at France's Food and Wine booth many times, including last year. We loved the dish and considered it one of our top choices.
Here is my take from the last festival:
"Think Yachtsman Steakhouse onion roll (the ones with all the layers) slathered in a creamy, herbaceous sauce. The sauce read somewhere between gravy and pesto."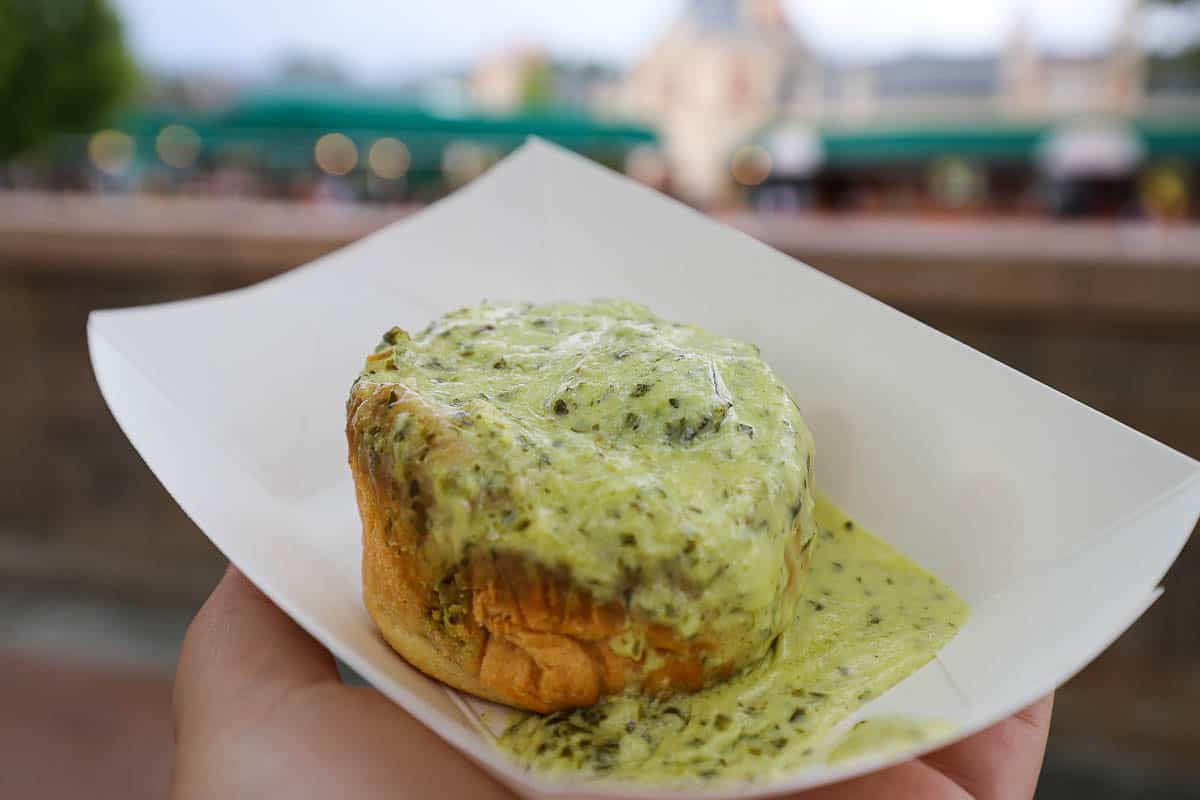 This year's version is slightly different. The bread is a croissant versus the brioche roll we received at the last festival. However, the sauce is the same.
Don't miss your opportunity to try this indulgent treat!
Beouf Bourguignon, Pommes Dauphine
We finally tried the Beouf Bourguignon this year! Think of your mom's delicious roast, potatoes, and carrots simmering in the crock pot all day. France's Beouf Bourguignon is the outcome!
However, instead of potatoes, they were using tater tots. When I first took a bite, I thought I had selected a potato. After biting into it, I realized I had eaten an entire pearl onion!
So you might be more selective than me while eating this dish. However, the beef was tender and reminded me of home. I would order this on a return visit.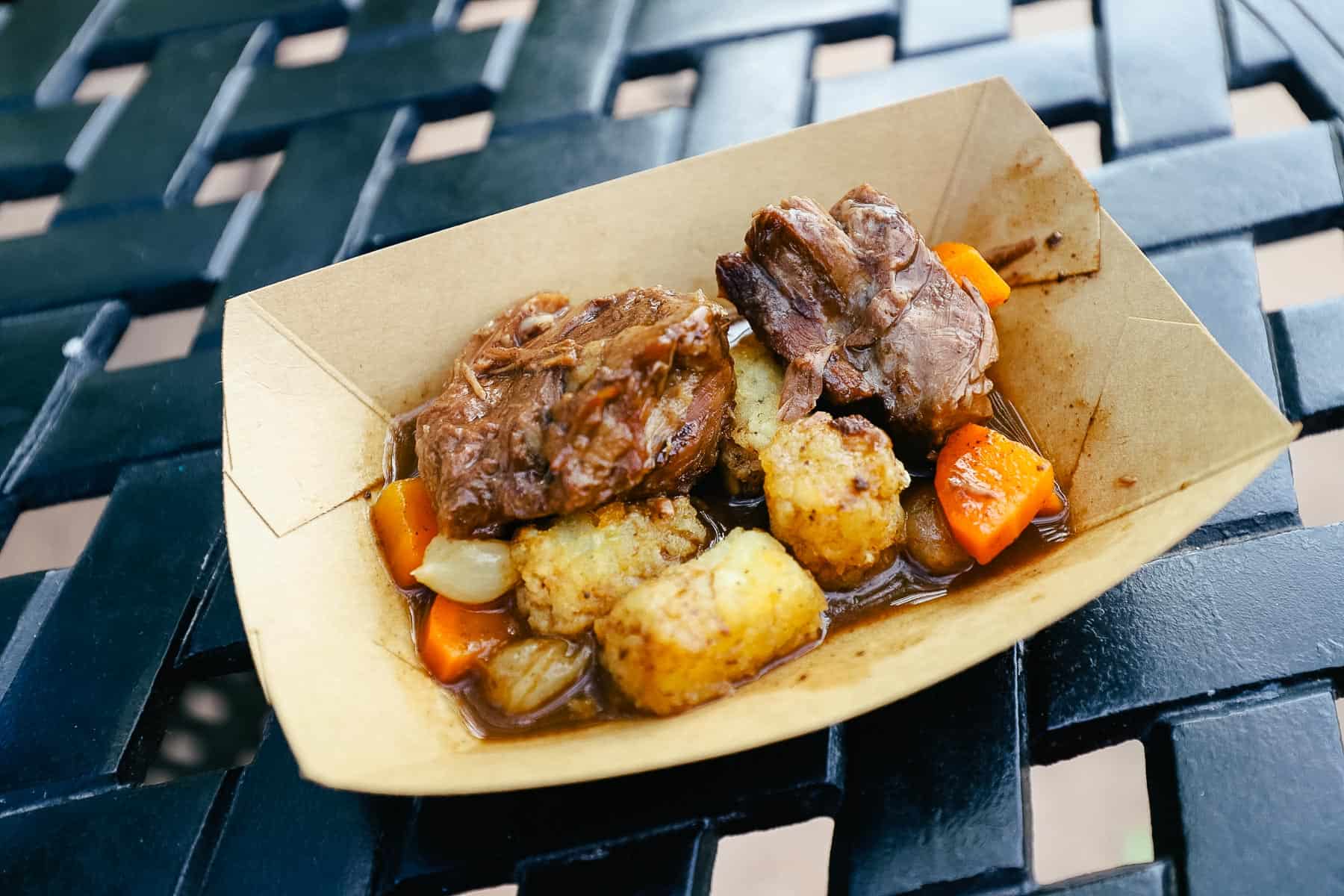 Creme Brulee Vanille a la Confiture de Fraises
Often a good meal improves over the various courses, as does a meal in France. So last, but by no means least, we have the creme brulee. This dish was delightful, and I had no expectations going into my first bite.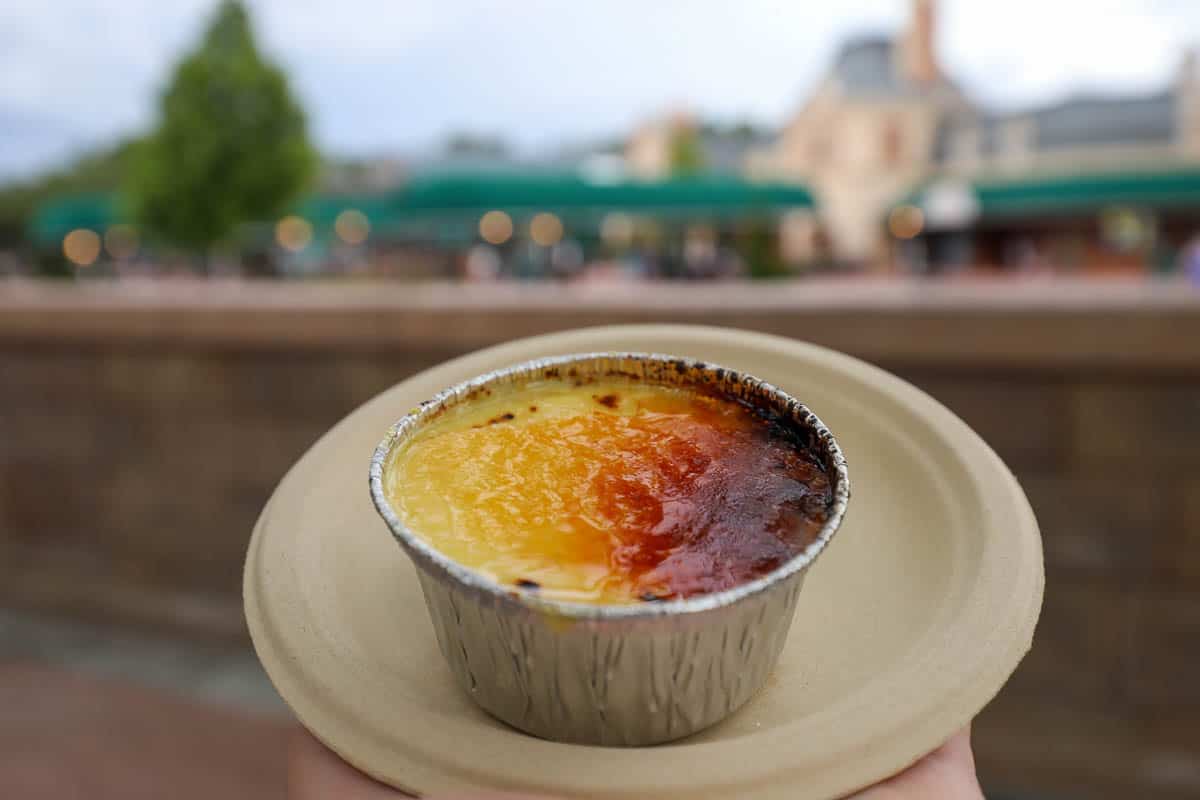 When I realized the dish had an authentic caramelized crust on top, I knew it would be a winner. You know they use a blow torch to get that effect. It's fun to crack the surface.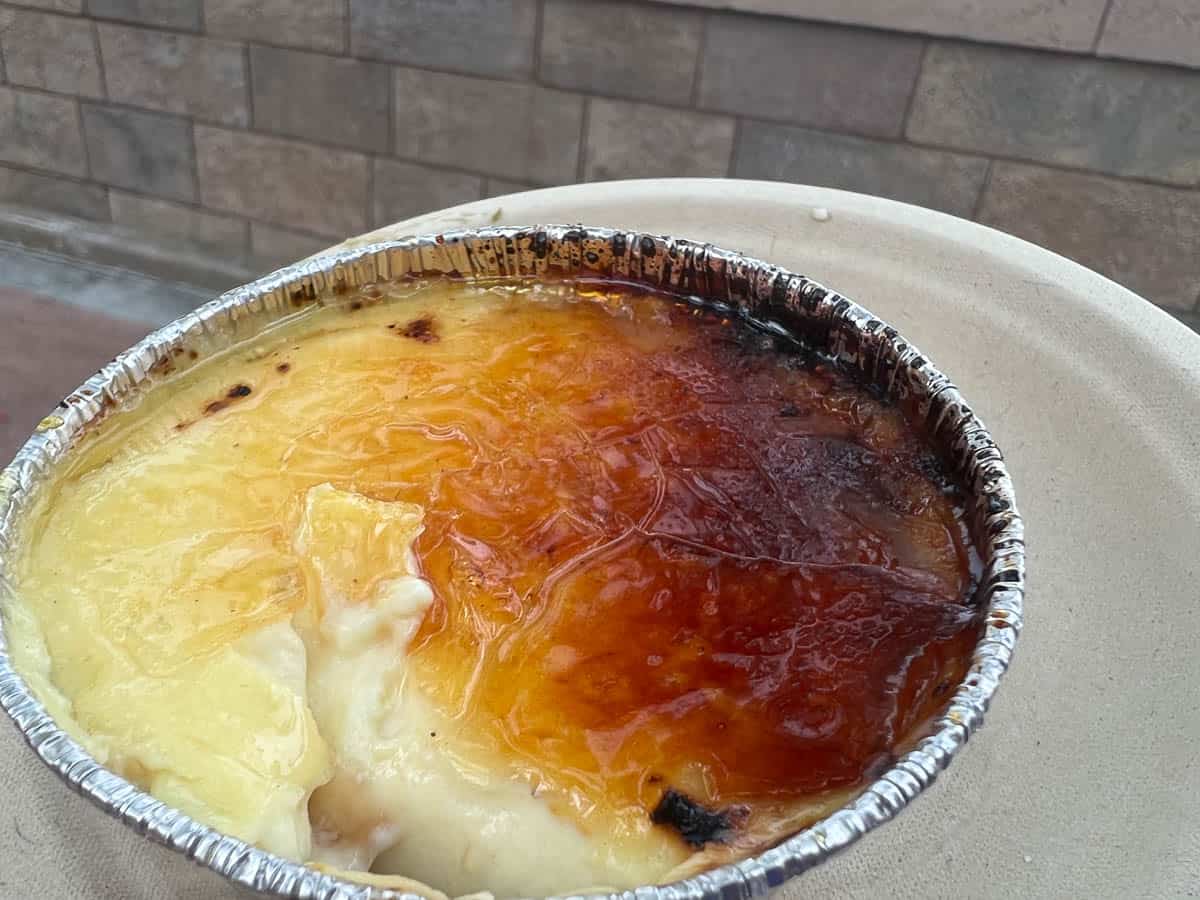 Inside, the creamy custard was perfectly smooth. A strawberry jam resides at the bottom. Each layer complements the other. It's another dish I'd reorder in a heartbeat.
Unfortunately, I haven't tried any of the drinks. But the slush is always popular. This year a new Parisian Cosmo debuted. So it might be worth your consideration.
Here are a few more festival reviews:
Epcot's France Pavilion is one of the closest countries to the International Gateway at Epcot. If you are looking to walk from your resort to Epcot, try one of the following reviews:
Return to the 2023 Epcot Food and Wine Festival Menus.
In the Comments
What do you think of the items at the France Marketplace? Does anything in this review look appealing?
Planning a Walt Disney World or other Disney Destination vacation?
Our friends and travel partner, Firefly Travels, excels at doing Disney differently. You can fill out a plan your trip form on their website, and someone will reach out shortly to discuss the specifics.