The France Marketplace at Epcot Food and Wine (2022)
After consuming almost everything from the France Marketplace at Epcot's Food and Wine, I found myself shouting, "Vive la France," from the Parisian rooftops. But, in all actuality, I was thinking, "Yummy, this was most delicious."
Technically, I was contemplating the food items from a small stand-alone table in the World Showcase at Epcot. All the same, I was impressed with the offerings at this year's festival booth in the France Pavilion.
All of the items at the booth were new to me this year. Since I didn't cover the festival last year, I'm unsure if any of these items were returning.
But with things continuing to improve(?) and more people traveling, I felt it was an excellent time to take another go at the whole Food and Wine thing. So, we'll look at all the booths over the next few weeks and see where it goes.
Updated on July 19, 2022 for the 2022 Epcot Food and Wine Festival.
France's Marketplace Menu Items
First, we'll review the prices for the items at the France Marketplace.
Beignet aux Trois Fromages ($6.00)
Brioche aux Escargots, Sauce Creme a l'ail et Persil ($7.25)
Parmentier de Boeuf Braise au Cabernet ($6.75)
Creme Brulee Vanille a la Confiture de Gramboises ($5.95)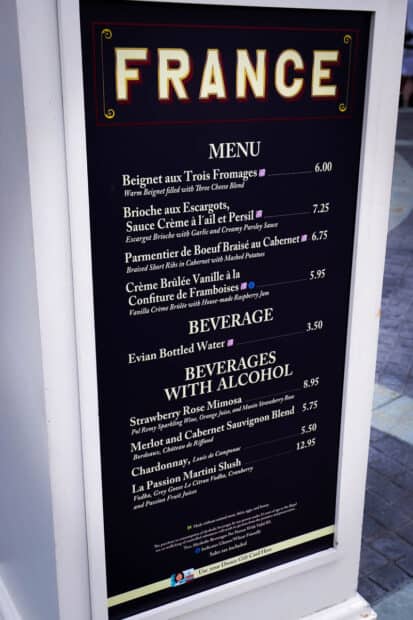 Beverages included:
Evian Bottle Water ($3.50)
Strawberry Rose Mimosa ($8.95)
Merlot and Cabernet Sauvignon Blend ($5.75)
Chardonnay ($5.50)
La Passion Martini Slush ($12.95)
Beignet aux Trois Fromages ($6.00)
With a word like beignet in the name, I anticipated this dish being a win. Unfortunately, it was the weakest of the dishes I tried at the France Marketplace.
The good thing is France is a strong contender this year, offering some of the best items I've tried to date. So the beignet wasn't a total loss. It just wasn't as tasty as everything else here.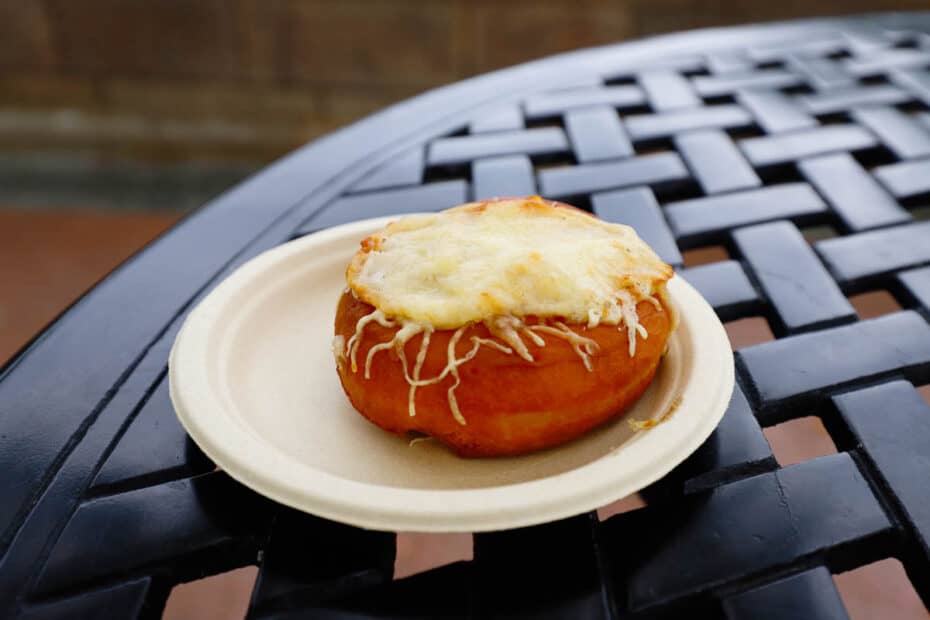 As for the actual beignet portion, you can expect a warm, savory donut minus the sugar. You'll get a delicious bite of buttery layers in the bread portion.
Before sampling this dish, I grabbed a plastic knife and sliced through it. I felt this dish would have a nice presentation when cut open. Here is the result.
A heavy bechamel sauce flowed from the beignet. As with most bechamel's, this one contained nutmeg, a flavor that can overwhelm if even slightly overused.
For me, the bechamel was overpowering. Yours might fair better. I wouldn't completely write it off.
Brioche aux Escargots, Sauce Creme a l'ail et Persil ($7.25)
Escargot has been offered at the France booth many times in the past. However, I had not tried this version of the dish before.
Think Yachtsman onion roll (the ones with all the layers) slathered in a creamy, herbaceous sauce. The sauce read somewhere between gravy and pesto.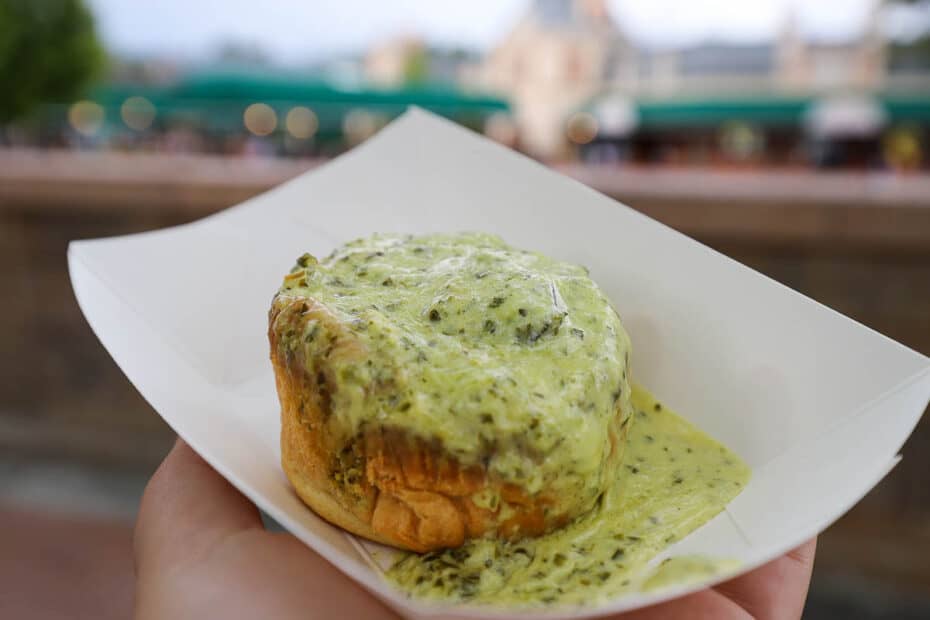 It was "couldn't put my fork down" delicious.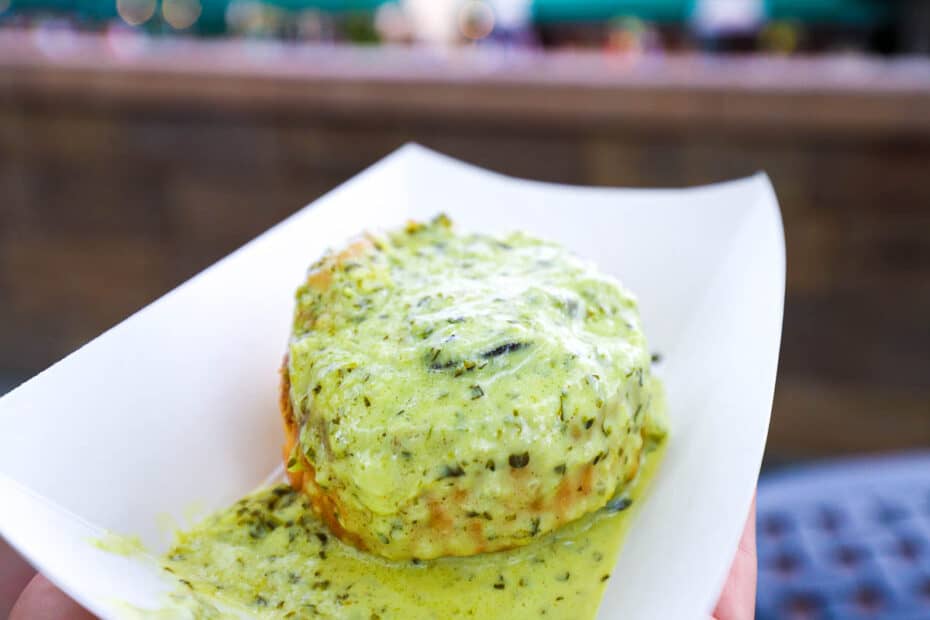 When I try these items, I make notes to remember distinct flavors and how I feel eating a dish. For example, my notes for this dish start with, "Am I really eating snail?"
Don't miss your opportunity to try it.
Creme Brulee Vanille a la Confiture de Gramboises ($5.95)
Often a good meal improves over the various courses, and so does this meal at France's Food and Wine Marketplace. Unfortunately, I haven't tried the short rib dish to date. It was only because the dish was already sold for the evening.
So last, but by no means least, we have the creme brulee. This dish was delightful, and I had no expectations going into my first bite.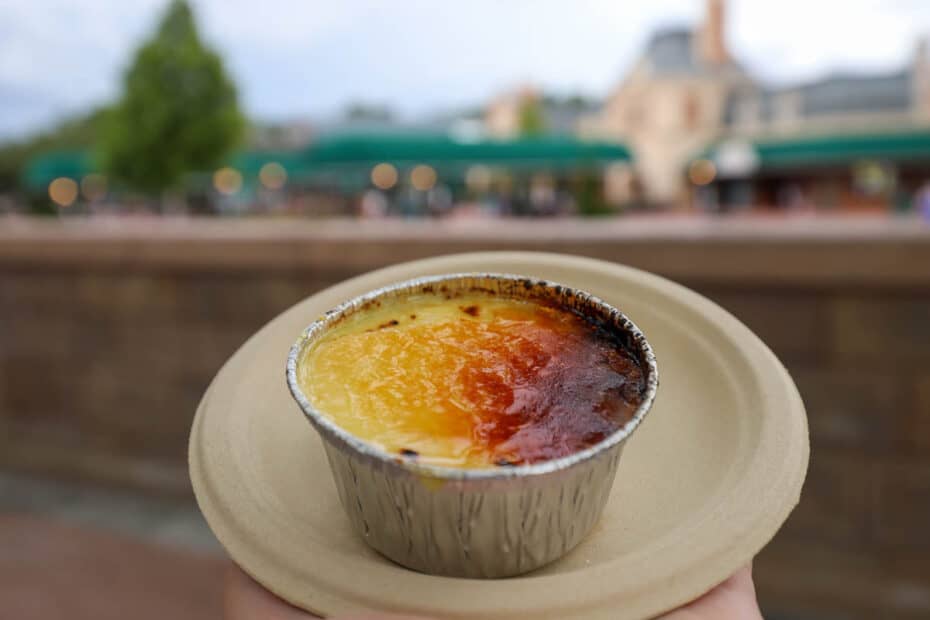 When I realized the dish had an authentic caramelized crust on top, I knew it would be a winner. You know they have to use a torch to get that effect.
I hit the torch with my plastic fork and watched the surface crack. Bon appetite!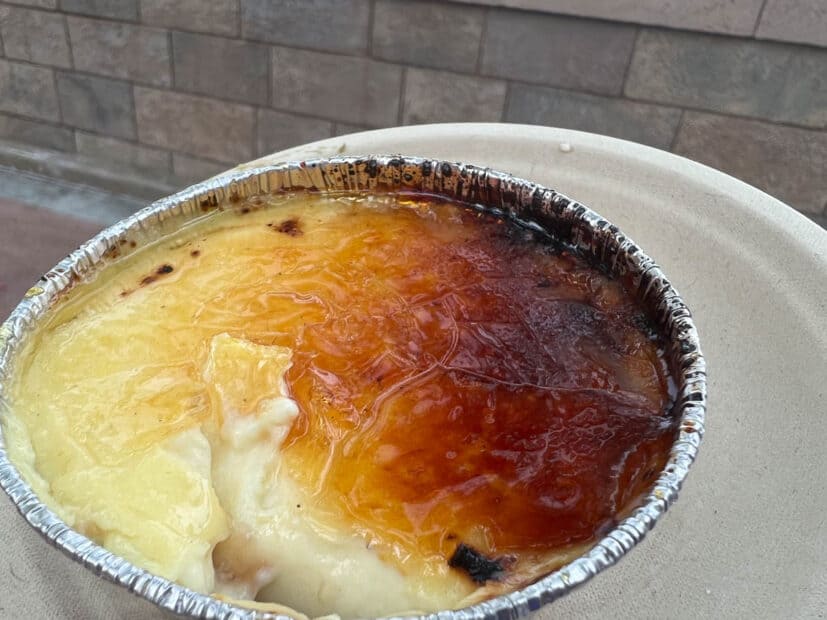 The creamy custard inside was perfectly smooth. A raspberry jam resides at the bottom. The hardened sugar, creamy middle, and fruity bottom work wonderfully together.
The creme brulee is another dish I'd reorder in a heartbeat.
To date, I haven't tried any of the beverages at the booth. However, I can vouch that $3.50 is a reasonable price for Evian bottled water.
Additionally, the slushes are always one of the most popular drinks at the festivals. If you don't care for the passion fruit flavor, at least two other flavors are usually available within the France Pavilion.
We'll continue in this order:
France is one of the closest countries to the International Gateway at Epcot. If you are looking to walk from your resort to Epcot, check out one of the following reviews:
Return to our guide for the 2022 Epcot Food and Wine Festival.
I hope you enjoy your treat at the France Marketplace! Is there anything here you're hoping to try?