Belgium's Marketplace at the 2023 Epcot Food and Wine Festival
Chocolate, waffles, beer, and braised beef? If you had told me that these were all items that Belgium was known for, I'd assume you were joking about the braised beef.
But here we are again at the 2023 Belgium Global Marketplace at Epcot's Food and Wine Festival, and braised beef is on the menu. Of course, waffles and chocolate are included, along with a beer flight and several drinks.
The Belgium booth is located immediately beside the Brazil Marketplace. Both booths sit on the walkway between the France Pavilion and Morocco Pavilion.
Belgium threw its hat in the Food and Wine ring as far back as 2019. This festival's debut dish included waffles with chocolate and another version with berries.
However, since then, an item far more worthy of being a festival dish has been added to the lineup. We think it's something that most guests should try.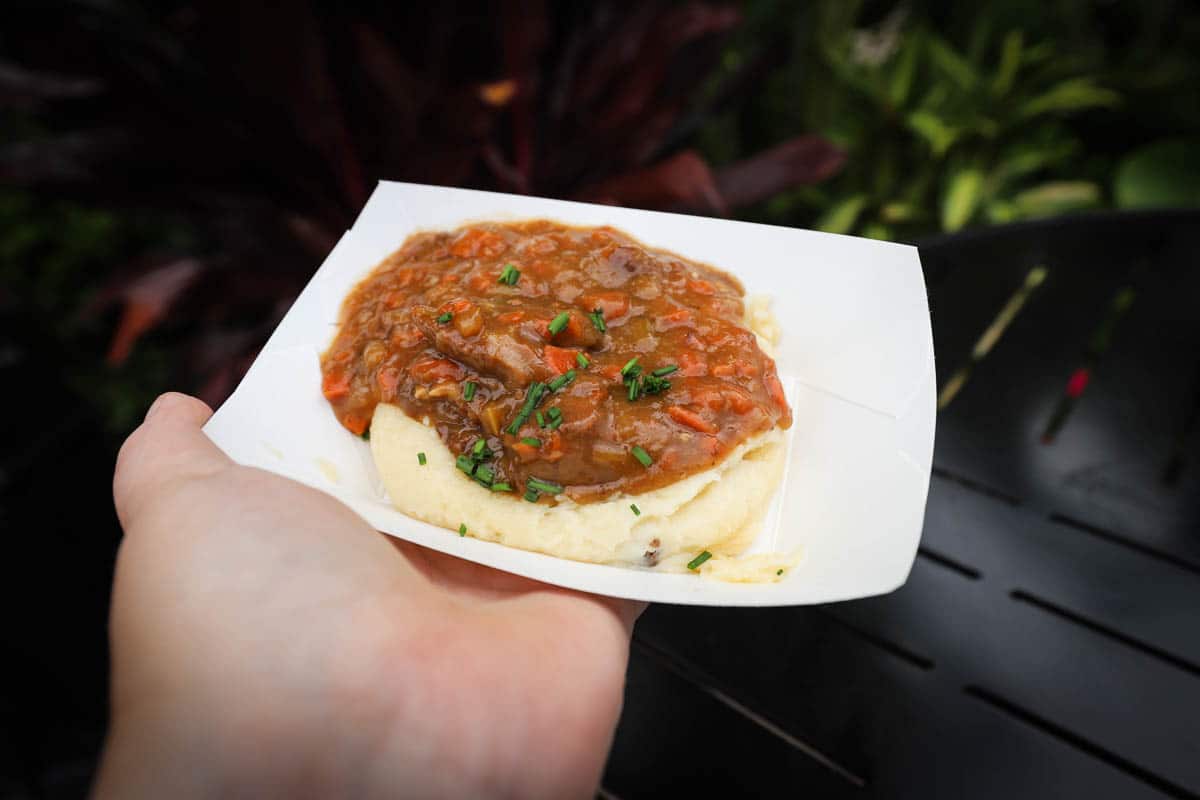 Belgium Marketplace Menu Items
Below is a list of the items with prices at Belgium's booth.
Beer-Braised Beef ($6.00)
Belgian Waffle with Chocolate ($5.00)
Belgian Waffle with Berries ($5.00)
Beverages include:
Belgian Chilled Coffee (non-alcoholic) ($4.75)
Chilled Coffee with Caramel Chocolate Liqueur ($12.00)
Brewery Van Steenberge Gulden Draak Tripel Ale ($5.50 or $9.50)
Brasserie D' Achouffe ($5.50 or $9.50)
Delirium Red Fruit Ale ($5.50 or $9.50)
Beer Flight ($10.00)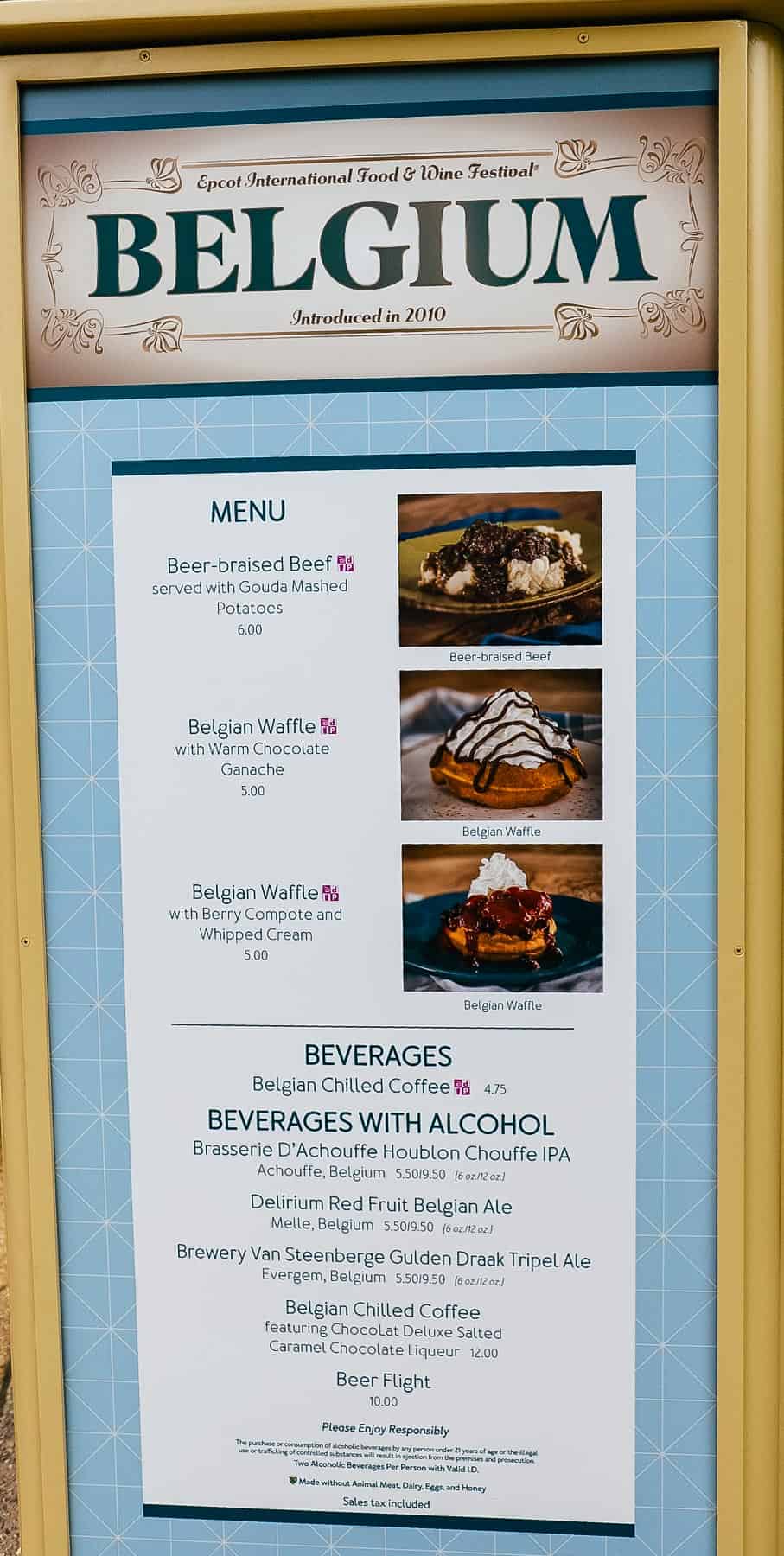 Beer-Braised Beef
We'll start with the beer-braised beef. This dish comes with a side of smoked Gouda mashed potatoes. Need I say more?
When I ordered this dish, I was given a piping hot cardboard slab that reminded me of deconstructed Shepard's Pie. Frantically, I looked for the closest empty table because the dish was nearly too hot to handle.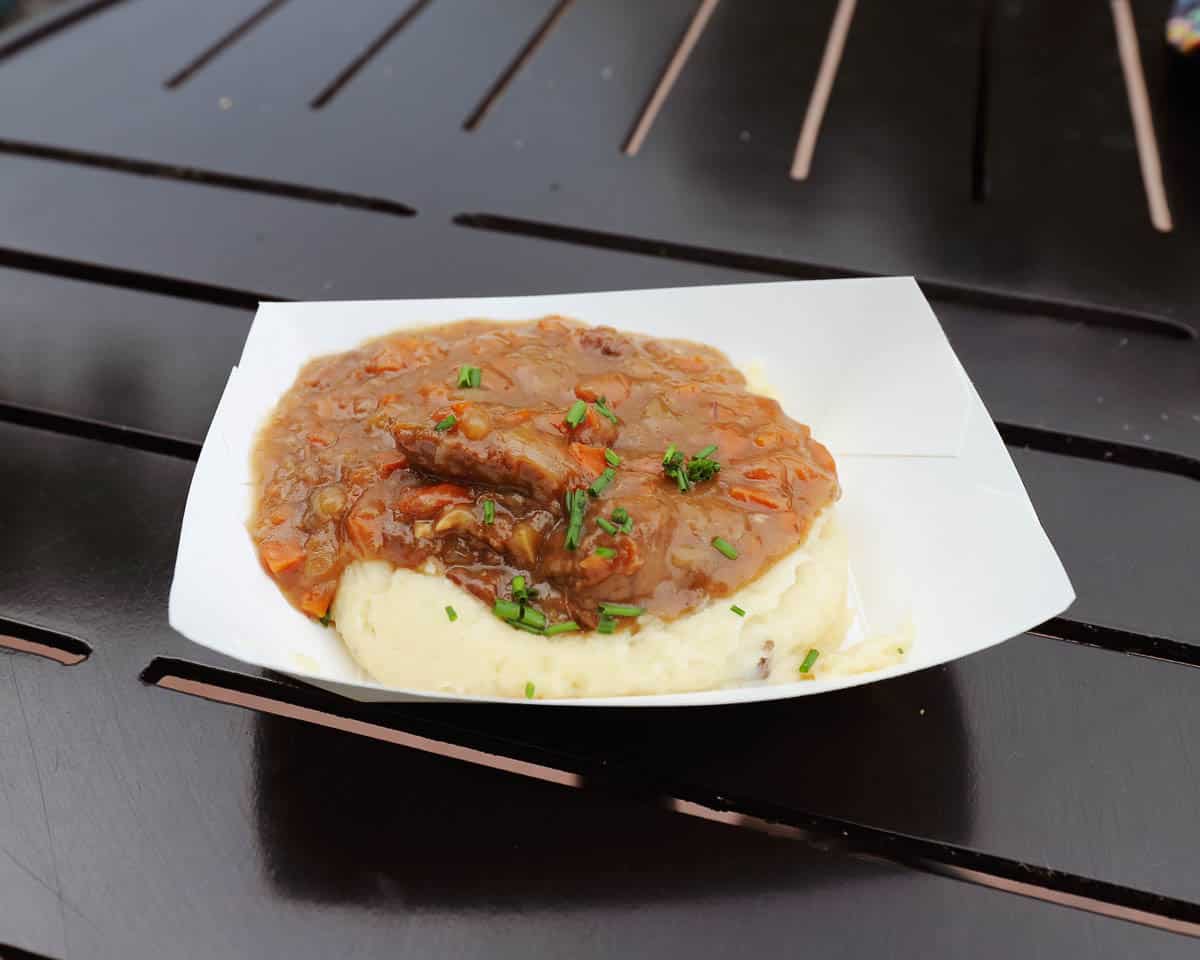 Peering down at the steaming stew-like portion, I thought it was too muggy to enjoy such a dish. I was wrong.
Close your eyes and imagine coming home to the aroma of your favorite roasted dinner. It's been simmering in the oven all day, awaiting your return.
This dish supersedes the taste you're imagining. The yummy goodness of the braised beef is spooned over the creamiest mashed potatoes. I had to force myself to stop eating. The sweetest ladies at a neighboring table couldn't get over how good it was, nor could I!
The braised beef sits in a gravy mixed with carrots. Chives garnish the dish adding just the right note. Don't let the heat stop you from trying this mouth-watering menu item at the Belgium Marketplace.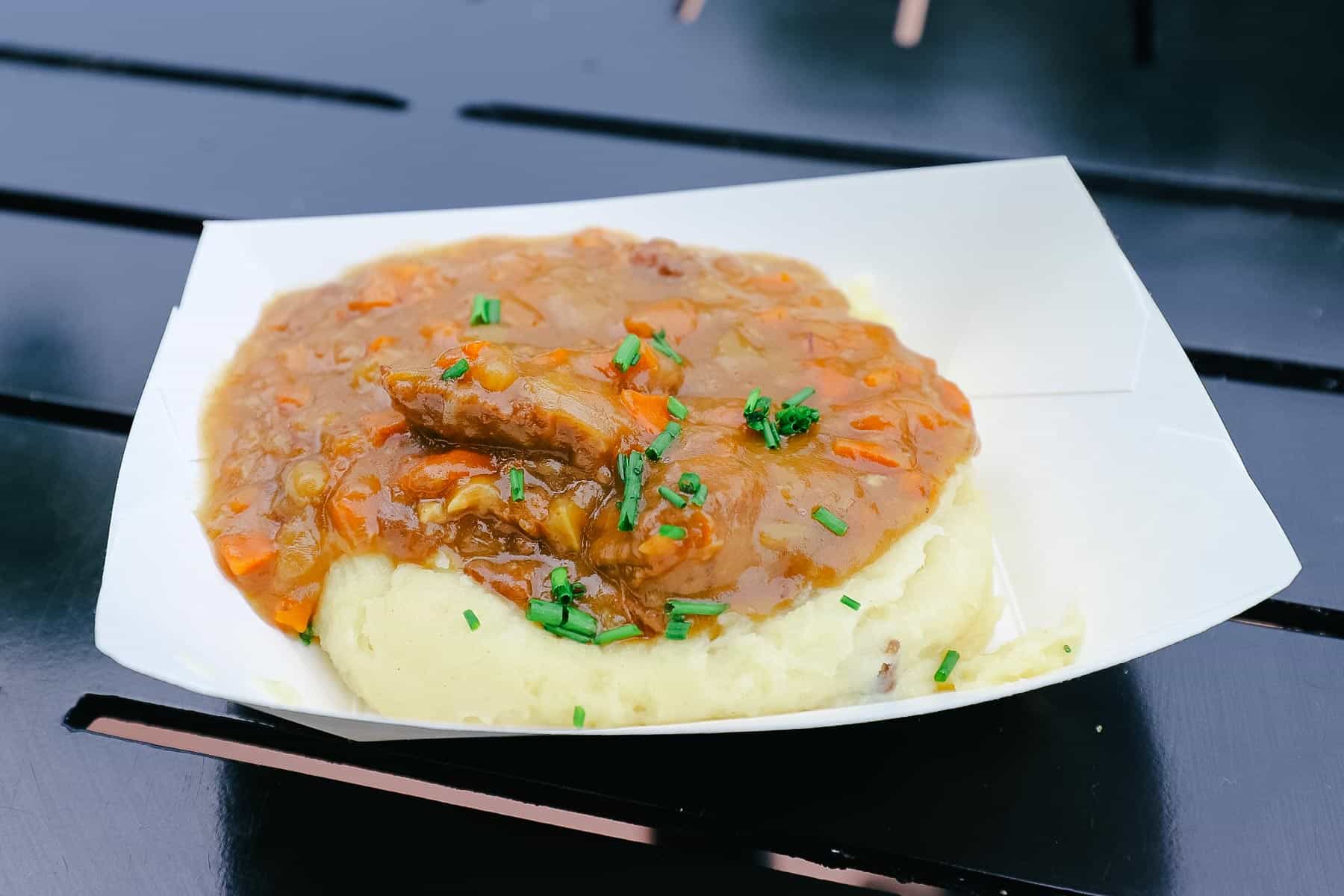 Belgian Waffle
Now for the waffles. You can order a waffle with chocolate or a berry compote. The photo below is the version from a few years ago. However, nothing has changed.
The waffles are a fun item and come in at only $5.00. This dish is also a child-friendly item.
Most will enjoy either rendition of the waffles. But don't expect anything over the top here. While I haven't been to Belgium, I imagine you would do much better there than at Epcot's International Food and Wine Festival.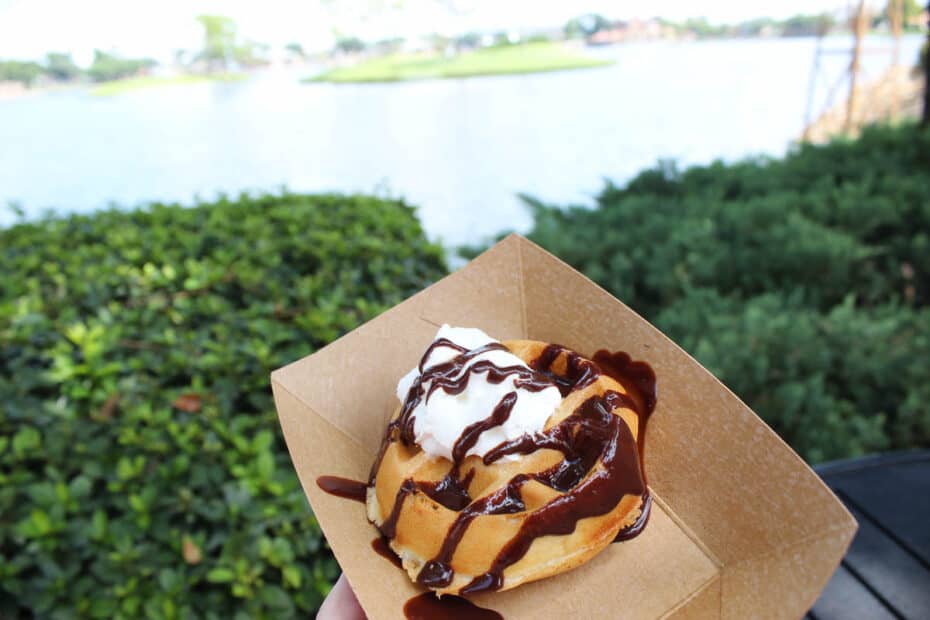 For more Food and Wine reviews, try the following:
Or try our list of menus with prices for the Epcot Food and Wine Festival.
In the Comments
Do you think you'll try the beer-braised beef from Belgium's Marketplace? Does anything else on the menu look appealing?
Planning a Walt Disney World or other Disney Destination vacation?
Our friends and travel partner, Firefly Travels, excels at doing Disney differently. You can fill out a plan your trip form on their website, and someone will reach out shortly to discuss the specifics.