China Marketplace Review (2022 Epcot Food and Wine Festival)
China's Marketplace is a go-to stop for many of us visiting Epcot's Food and Wine Festival. Traditionally, the booth is known for offering dishes that the majority will enjoy.
However, when I think of China's food booth at Epcot, the word safe comes to mind. But even as I describe the food here, I think that's unfair.
I've always been happy with my purchases at this marketplace. Plus, the booth is kid-friendly for the most part, and the prices are reasonable.
I think you'll enjoy it too. Let's look at the options.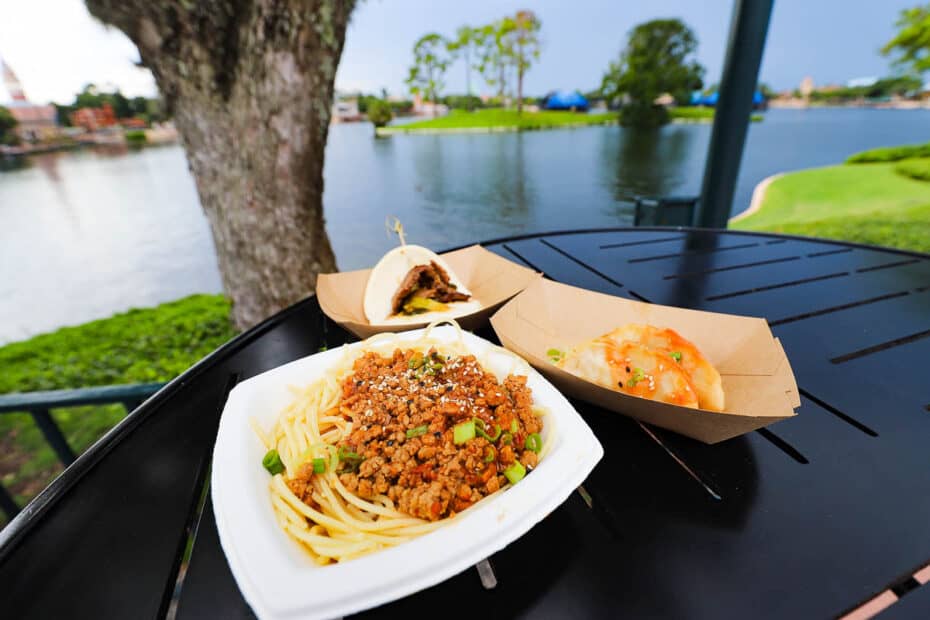 China Marketplace Menu Items
Below is a list of each menu item with prices at the China Marketplace in 2022.
Pan-fried Chicken Dumplings ($5.00)
Mongolian Beef Bao Bun ($7.25)
Dandan Noodles ($8.25)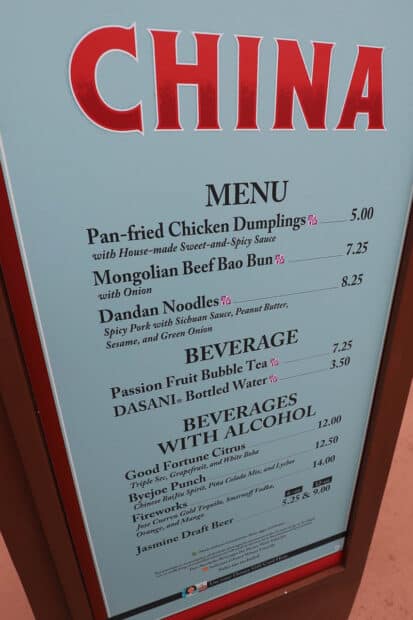 Beverages:
Passion Fruit Bubble Tea ($7.25 non-alcoholic)
Good Fortune Citrus ($12.00)
Byejoe Punch ($12.50)
Fireworks ($14.00)
Jasmine Draft Beer ($5.25 or $9.00)
Pan-fried Dumplings
We'll start with the pan-fried dumplings. At $5.00, these two dumplings are a no-brainer.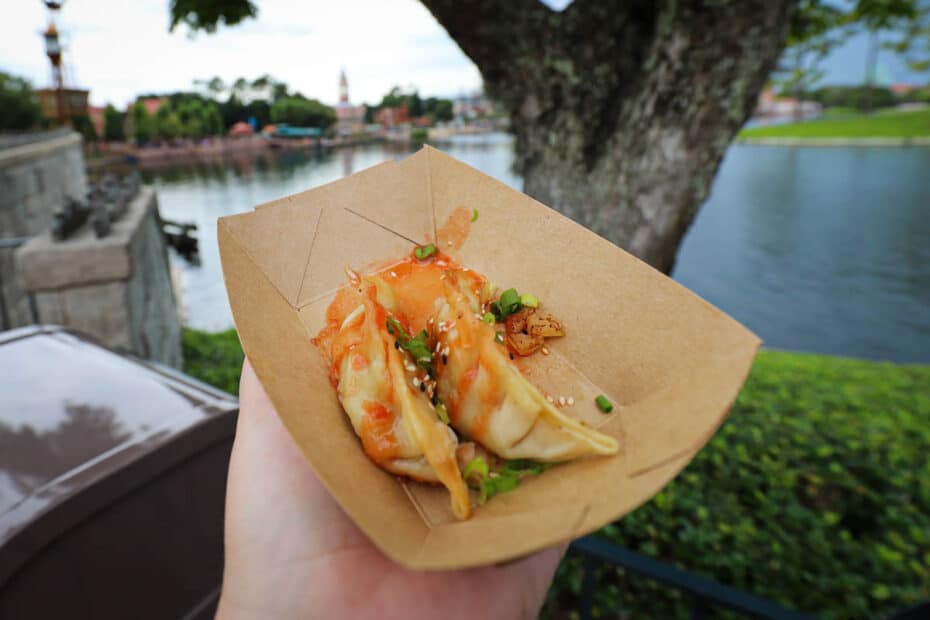 Upon first glance, I thought the chicken dumplings were going to be plain. On the contrary, they were delicious bites.
The sauce, scallions, and sesame seeds were all pleasant garnishes. However, the dish could have benefited from a tad more sauce.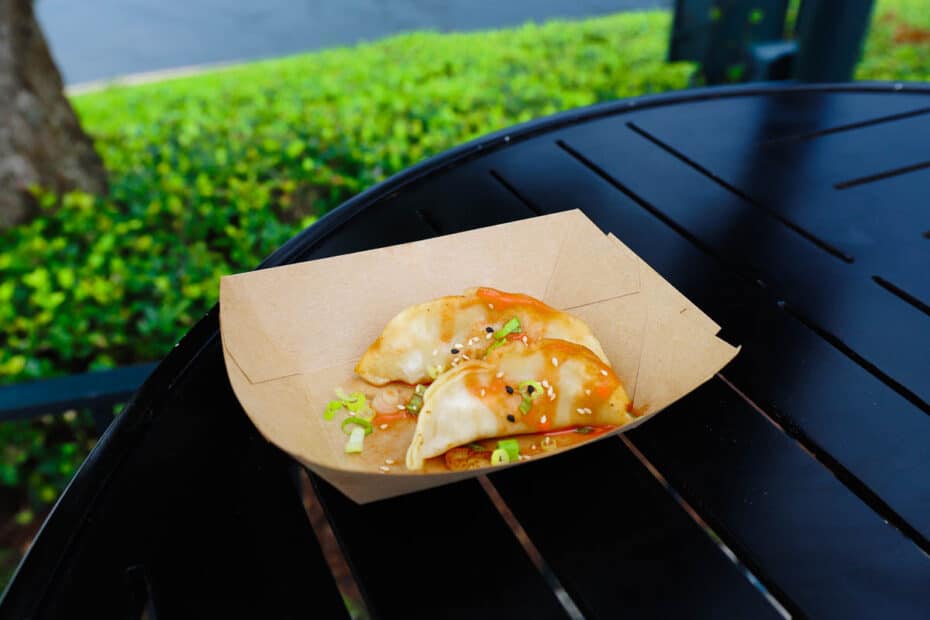 Overall, the flavors worked well together, and I considered this dish friendly for children.
Mongolian Beef Bao Bun
Normally, I don't try dishes I've had at previous festivals. But when in China, I must order the Mongolian Beef Bao Bun.
Looking at it, the bao bun seems extremely basic. But I can attest it's genuinely flavorful. So flavorful that I always completely devour it.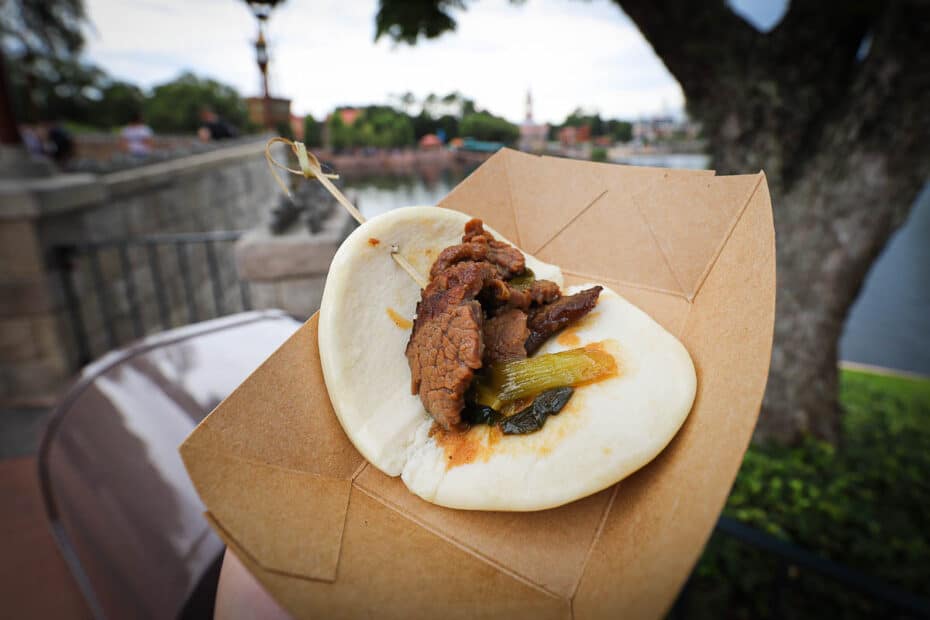 The bun itself is fluffy yet still light. Inside, the Mongolian beef is well seasoned and tender. A few scallions are involved, but nothing oppressing.
Additionally, this is another kid-friendly item and will work well for most palates. Pick one up as you stroll through the festival.
Dandan Noodles
Our last menu item at the China Marketplace is the Dandan noodles. This dish is described as spicy pork with Sichuan sauce, peanut butter, and green onions.
These noodles are spicy! Therefore, I wouldn't consider this dish kid-friendly.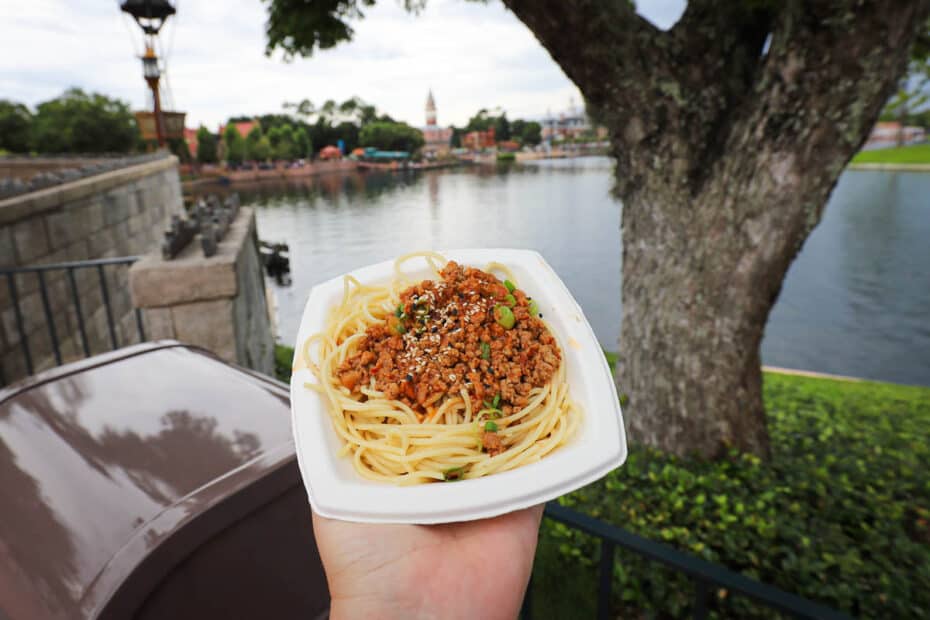 Ultimately, I enjoyed the noodles and the topping. For anyone who enjoys plain noodles, you could easily pick plenty of them out without the topping.
Most of the sauce had sunk to the bottom of the dish. So if you're completely in for the spicy kick, mix everything up a bit.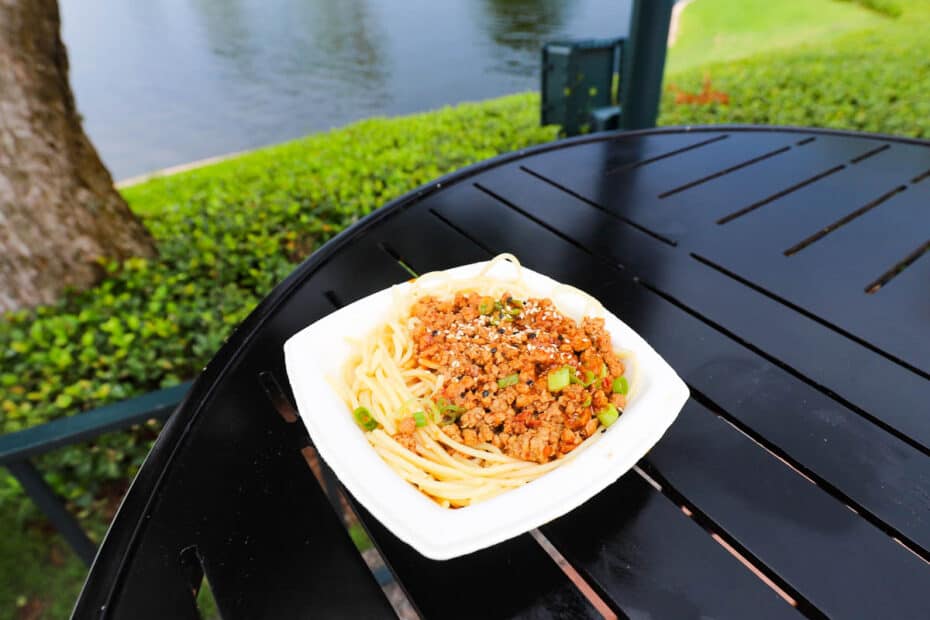 In addition, the pork topping was scrumptious, and the dish is easily shareable given its size.
As for beverages, be warned. China has a reputation for offering stronger than average cocktails. If a cast member tells you to mix your drink with a straw, do not forget their instruction.
When it comes to food items at the China Marketplace, it's a clean sweep. This booth has a little of something for everyone. I had no problems ordering one of everything, and neither should you.
As we continue, this is where we're headed:
And where we've been:
Planning a trip to the festival? You might consider staying at one of the Skyliner Resorts near Epcot. Try these reviews to learn more:
Return to Epcot Festivals.
So, does anything at the China Marketplace look good to you? What do you think?