Australia Marketplace Review at Epcot's Food and Wine (2023)
Australia's Marketplace returns to the 2023 Epcot Food and Wine Festival with the same menu as last year. Below, we'll preview the menu and the items from last year's festival.
Everything at Australia's booth sounded wonderful, between the lamb, shrimp, and cake. For the most part, it was a delicious meal. But not everything was as up to par as it sounded on paper. Let me explain.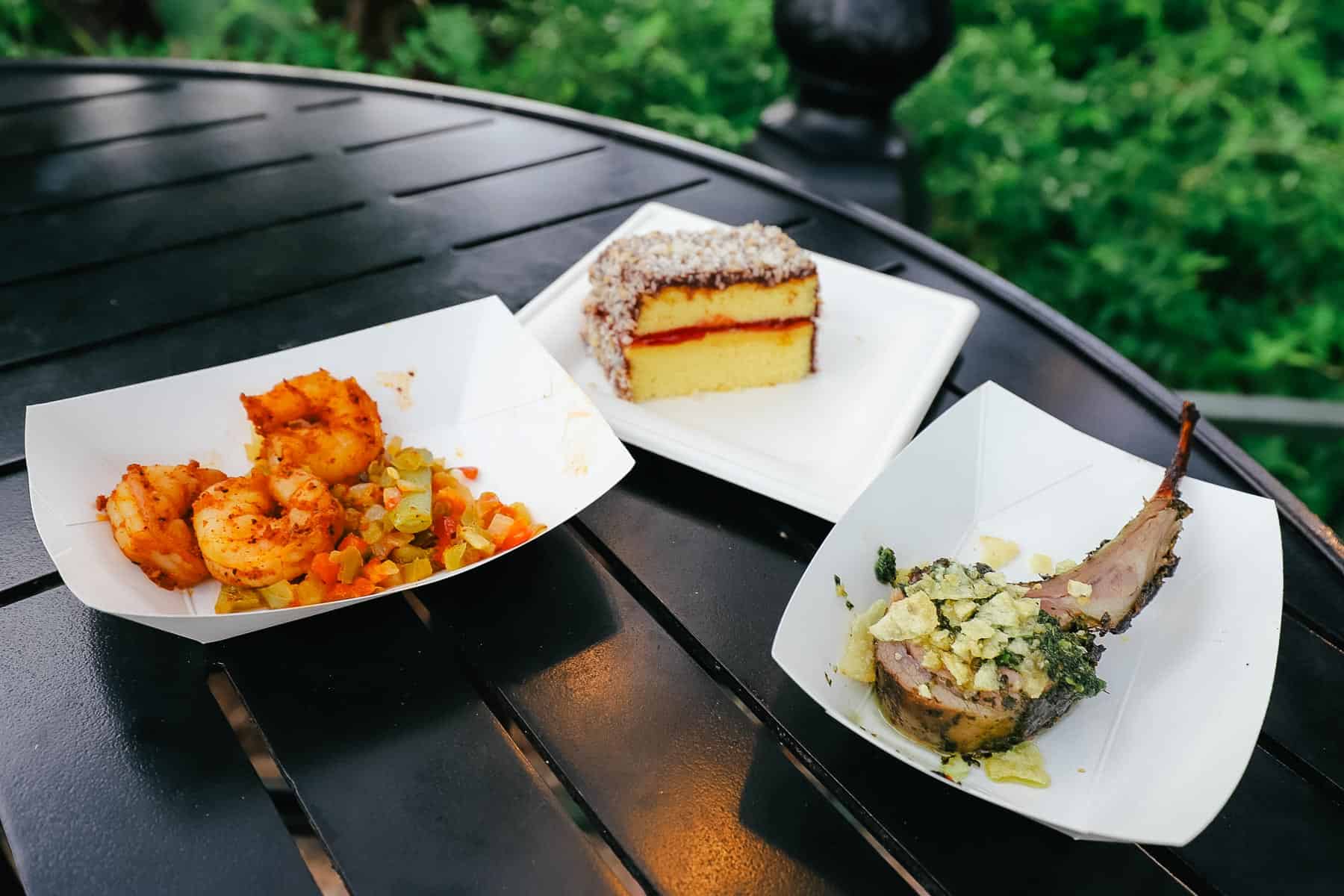 Australia Marketplace Menu Items
Below are the menu items with prices for this year's Australia Marketplace.
Grilled Sweet-and-Spicy Bush Berry Shrimp ($6.75)
Roasted Lamp Chop ($8.75)
Lamington ($4.50)
Beverages:
Yalumba "Y" Viognier ($6.50)
Chateau Tanunda Grand Barossa Cabernet Sauvignon ($6.00)
Coopers Brewery Pacific Pale Ale ($5.50 or $9.50)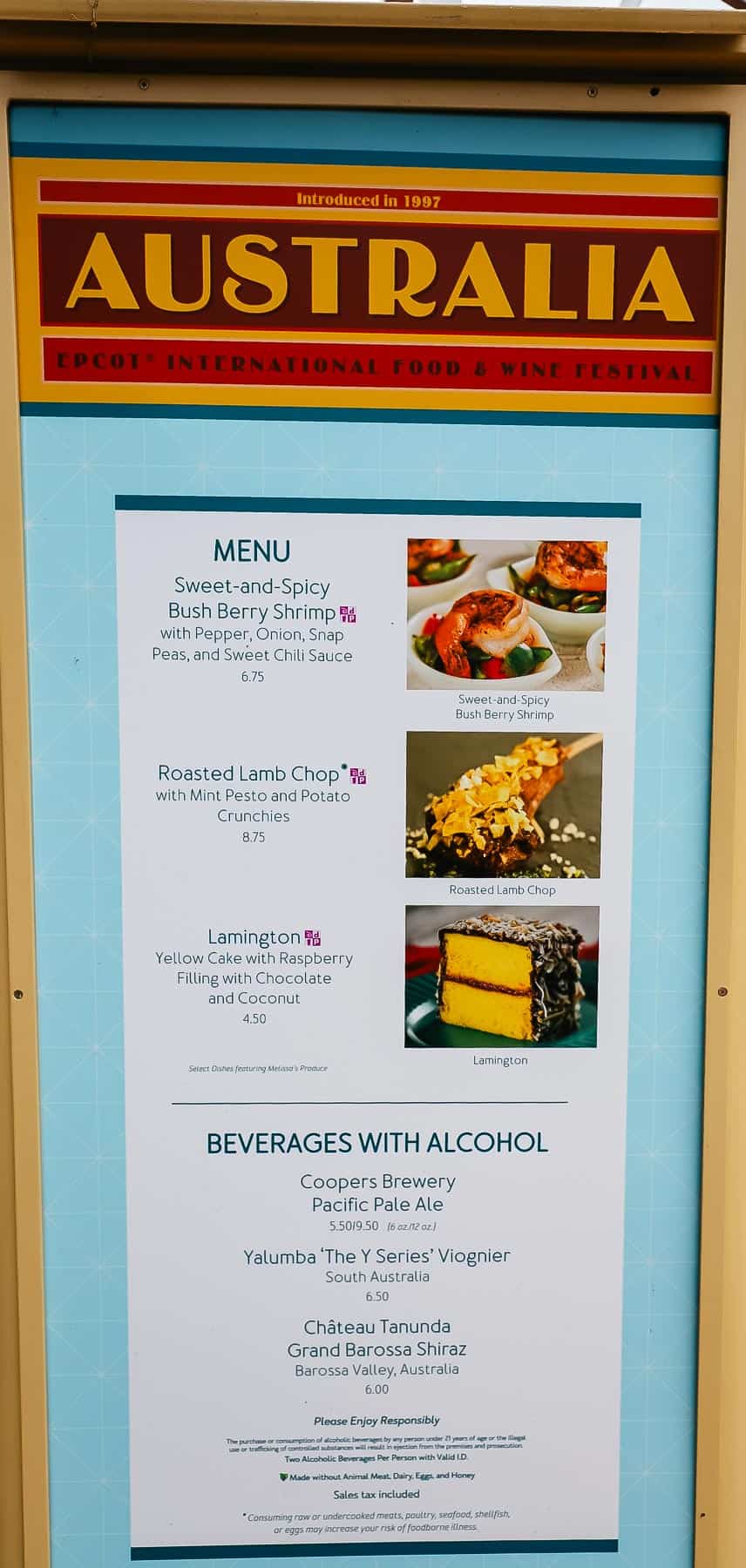 Grilled Sweet-and-Spicy Bush Berry Shrimp
As I perused the menu, I thought each dish sounded like a winner, especially this sweet and spicy shrimp dish. The menu describes this item as "served with pineapple, peppers, onions, and snap peas.
Naturally, I expected a colorful dish that looked fresh and appealing. But, unfortunately, this is what I received.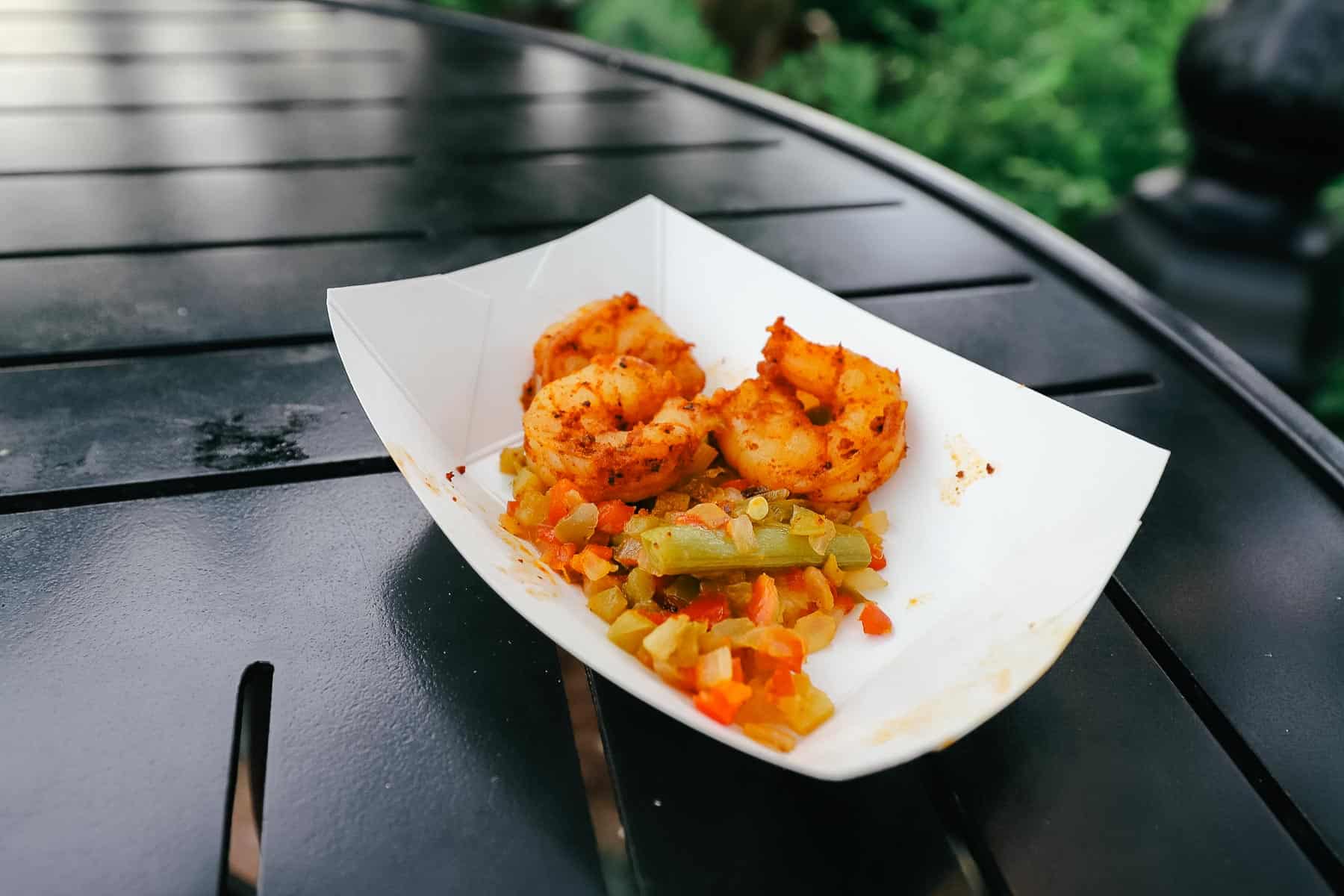 As the cast member handed me this poor-looking serving of shrimp, I was internally thinking, are you really going to give me that?
I wasn't thinking this because I was a blogger about to photograph and review the item. Instead, I was thinking like an average guest who paid for a serving and was here to enjoy Food and Wine.
I might have expected this from a dated counter service like Sunshine Seasons or the All-Star Sports food court. But from the Australia Marketplace? It was disappointing.
And the taste didn't improve things. We'll say that it was okay if you like shrimp. It wasn't terrible, but it wasn't great either.
Roasted Lamp Chop
Next, I went in for the lamb chop. Again, my expectations were meager at this point. The dish looked as bad, if not worse than the shrimp.
Surprisingly, the lamb was expertly prepared and was one of the best bites I've had at the festival. The flavor was bursting with mint, which added a whole other level of freshness to the dish.
Additionally, my portion wasn't the least bit fatty, and the chop was cooked to a medium temperature. However, lamb chops are often fatty, so this dish might vary.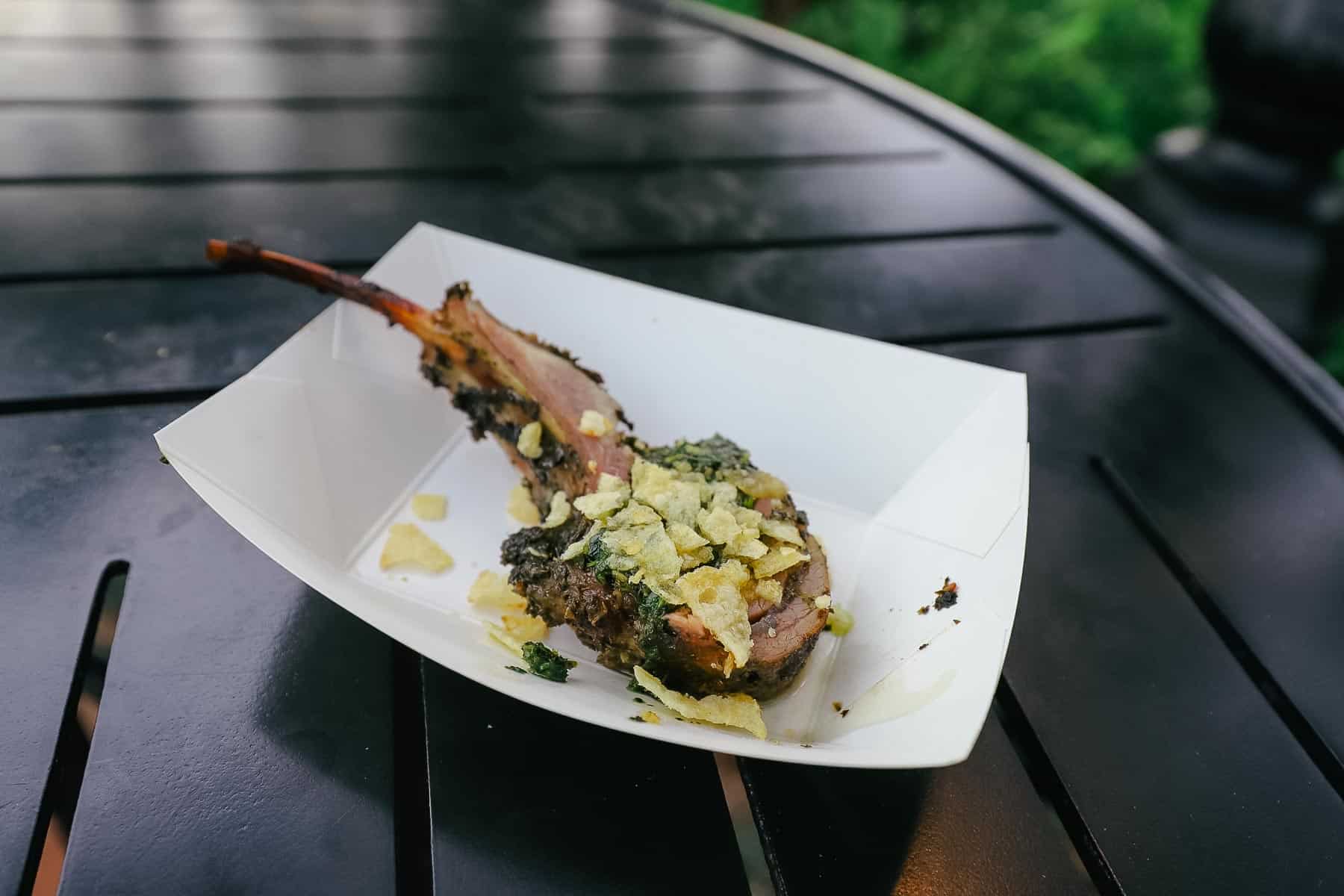 Lamington
Lastly, we have the Lamington cake, described as "yellow cake with raspberry filling dipped in chocolate and coconut." This cake is a mixed bag of sorts, and you may or may not like it.
The yellow portion is similar to a sponge cake. My serving had plenty of bounce, and I could have eaten much more of it, given the softness.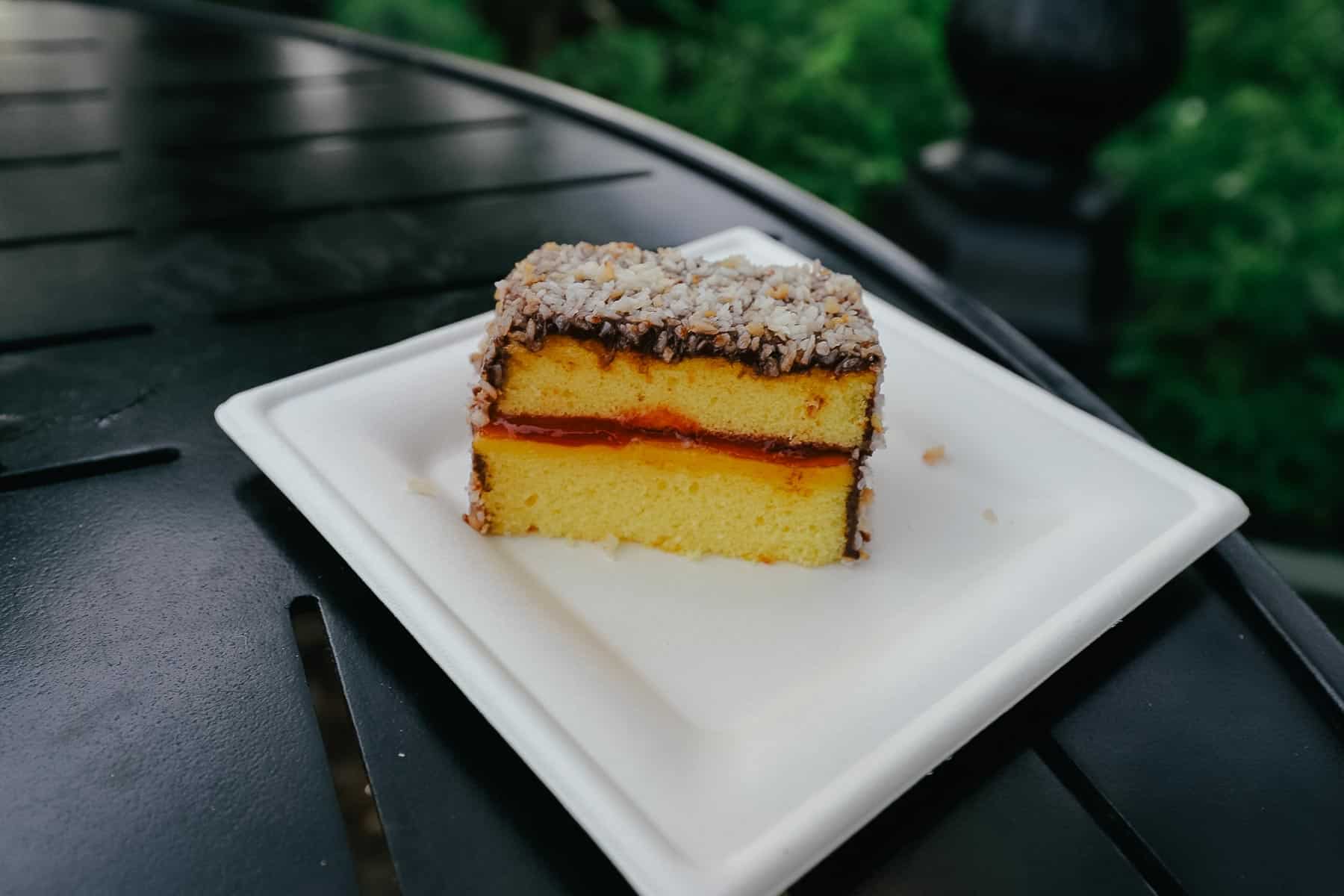 When I first tried the cake, I went all in with a bite that included each layer. Immediately, I thought this was another one of those "assorted boxes of candy" tastes.
By that, I mean the bite tasted like I had reached into a box of candy, grabbed a chocolate-covered cherry and a coconut-filled candy, and combined them. So if you like chocolate-covered cherries (and coconut), you'll probably love this dish.
I enjoyed eating the cake portion separate from the raspberry filling. It was a pleasant dessert, but it wasn't memorable.
So for Australia, I would try the lamb, skip the shrimp, and do a coin toss on the cake. Like anything else, you may love, hate, or feel utterly ambivalent about it.
For more Food and Wine Reviews, here's where we've been:
Or you may wish to preview the menus at Epcot's Food and Wine Festival.
In the Comments
What are your thoughts on this year's Australia Marketplace at Epcot's Food and Wine? Is there anything you must try?