Shimmering Sips Marketplace at Epcot Food and Wine
Another of the returning booths this year is the Shimmering Sips Marketplace. Shimmering Sips has been quite the popular booth the past few years. It offers items like fun twists on ice cream dishes to sparkling mimosas. This year's marketplace provides a few returning mimosas, a strawberry soft-serve, and plant-based banana bread.
Below you'll see the Shimmering Sips Marketplace. This location is just off the World Showcase Plaza, next to the Canada Pavilion.
When I saw the menu, I had high hopes for the new banana bread offering this year. But, unfortunately, that's all they turned out to be. So let's take a closer look.
These Shimmering Sips marketplace photos offer a better look at how each booth handles social distancing. You can see the dividers at the ordering point below. The only area where you encounter someone is when they pass your dish through the window.
Shimmering Sips Marketplace Menu
Below is the menu located outside the Shimmering Sips marketplace. Similar to the China and Canada Marketplace, they only offer two regular menu items.
For some reason, I felt like this banana bread was going to knock it out of the park. So I saved it for the last item I tried on this evening's visit. It was terrible.
Hopefully, you can tell it was just a tiny slice of banana bread. It even looked like someone had already taken a bite out of it. The berries on the side were just berries. And the topping was a whipped coconut, which was fine.
This dish is nothing to write home about. The bread was dry, and you could tell that they took small slices of banana bread and cut them into pieces to serve them. This dish wasn't even worth $1.00, much less $4.50.
In the photo below, there is a representation of the three different mimosas. Last year, this came in a flight, but you can order each one separately this year.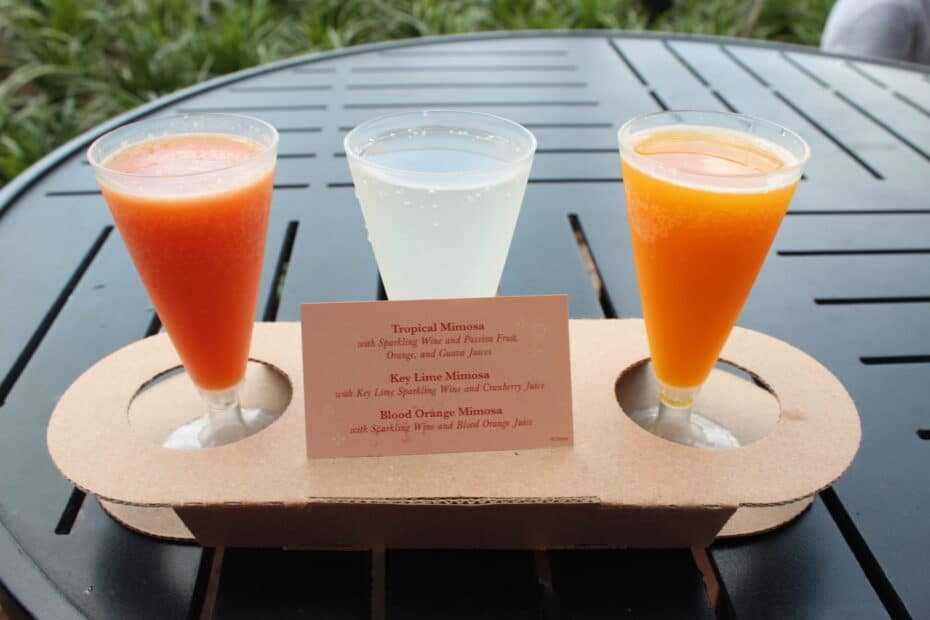 Here's my review from last year of each flavor. I doubt they have changed:
"The one on the far right is the Tropical Mimosa and the sweetest of the bunch. It is made with the passion fruit and guava mix, which is similar to what you might receive at 'Ohana or Boma, except sparkling wine is added. This one indeed has a lot of sugar content.
The middle is the Key Lime Mimosa, and while an excellent in-between option, it reminds me of a kids' lunch box juice pack. Possibly maybe one of those apple/grape mix. None of these drinks were strong by any means.
Finally, the more bitter of the bunch is the Blood Orange Mimosa on the far left. This one is your not-so-sweet option, as far as taste goes, but that's a good thing. The blood orange and sparkling wine mix on this one is a good way to finish the number after trying all three initially."
As far as Shimmering Sips goes, you might have good luck with the strawberry soft serve or mimosa if one interests you. However, I wouldn't waste my money on the banana bread.
If you are wanting to stop by Shimmering Sips or any of the other festival kitchens at Epcot, you'll want to have a room nearby. Being able to take a break midday is a luxury for guests staying at a resort within walking distance. You might try these:
Return to Epcot Festivals.
Will you stop in at Shimmering Sips on your return to the festival? What would you order? Leave a comment below.