Shimmering Sips Review at Epcot's 2023 Food and Wine Festival
Shimmering Sips has had a number of desserts and mimosas since it debuted at Epcot's International Food and Wine Festival several years ago. It returns to the festival in 2023 with a fresh take on last year's dessert and a selection of mimosas.
Previously, Shimmering Sips has been a go-to stop for "pink" things like strawberry soft-serve and guava mousse. One year they had a hit-or-miss plant-based banana bread dessert. While the mimosas remain, last year's guava mousse was replaced with….wait for it….guava cake. Spoiler, it will make our list of best desserts at Food and Wine.
As for the rest of the booth, here's what you need to know. Shimmering Sips Marketplace is across the walkway from the Friendship Boat dock near the World Showcase Plaza. It sits on the right before you get to Epcot's Canada Pavilion.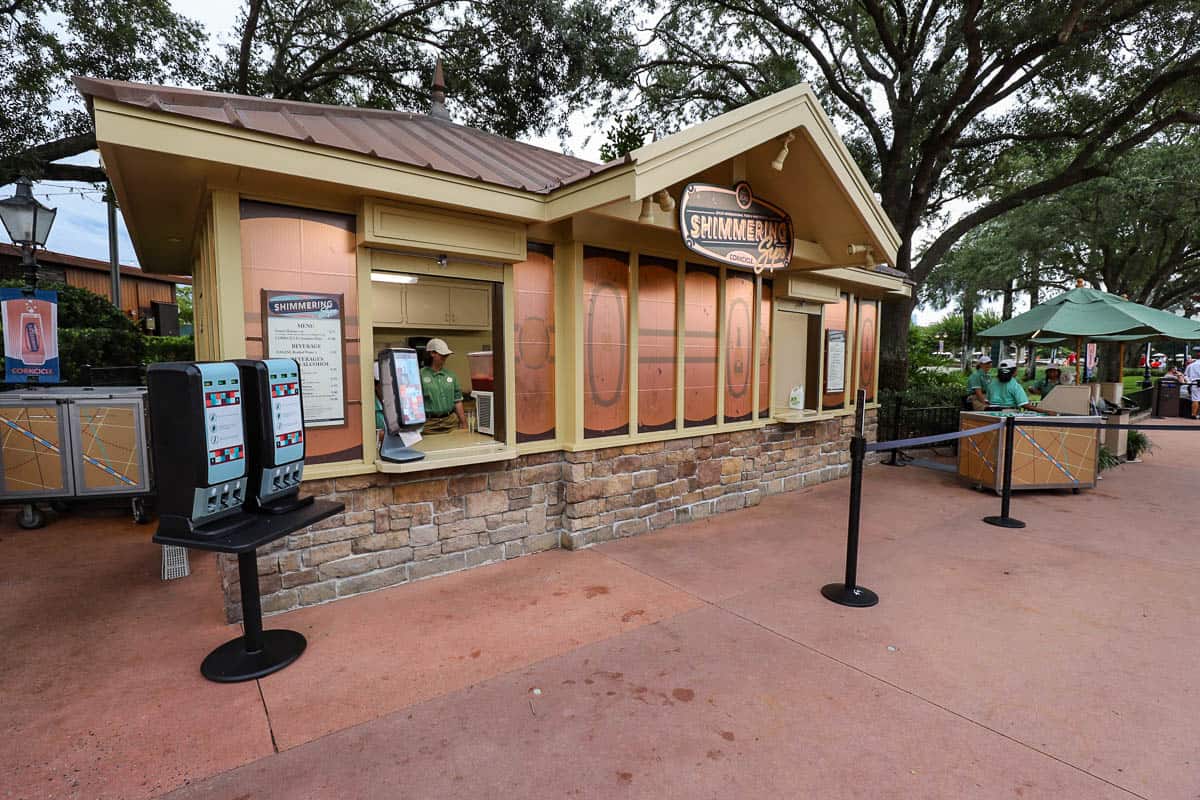 Shimmering Sips Marketplace Menu
This year's menu items include the following:
Guava Cake ($4.75)
Corkcicle Stemless Flute ($24.00)
Tropical Mimosa ($7.00)
Berry Mimosa ($7.00)
Blood Orange Mimosa ($9.00)
Mimosa Flight ($14.00)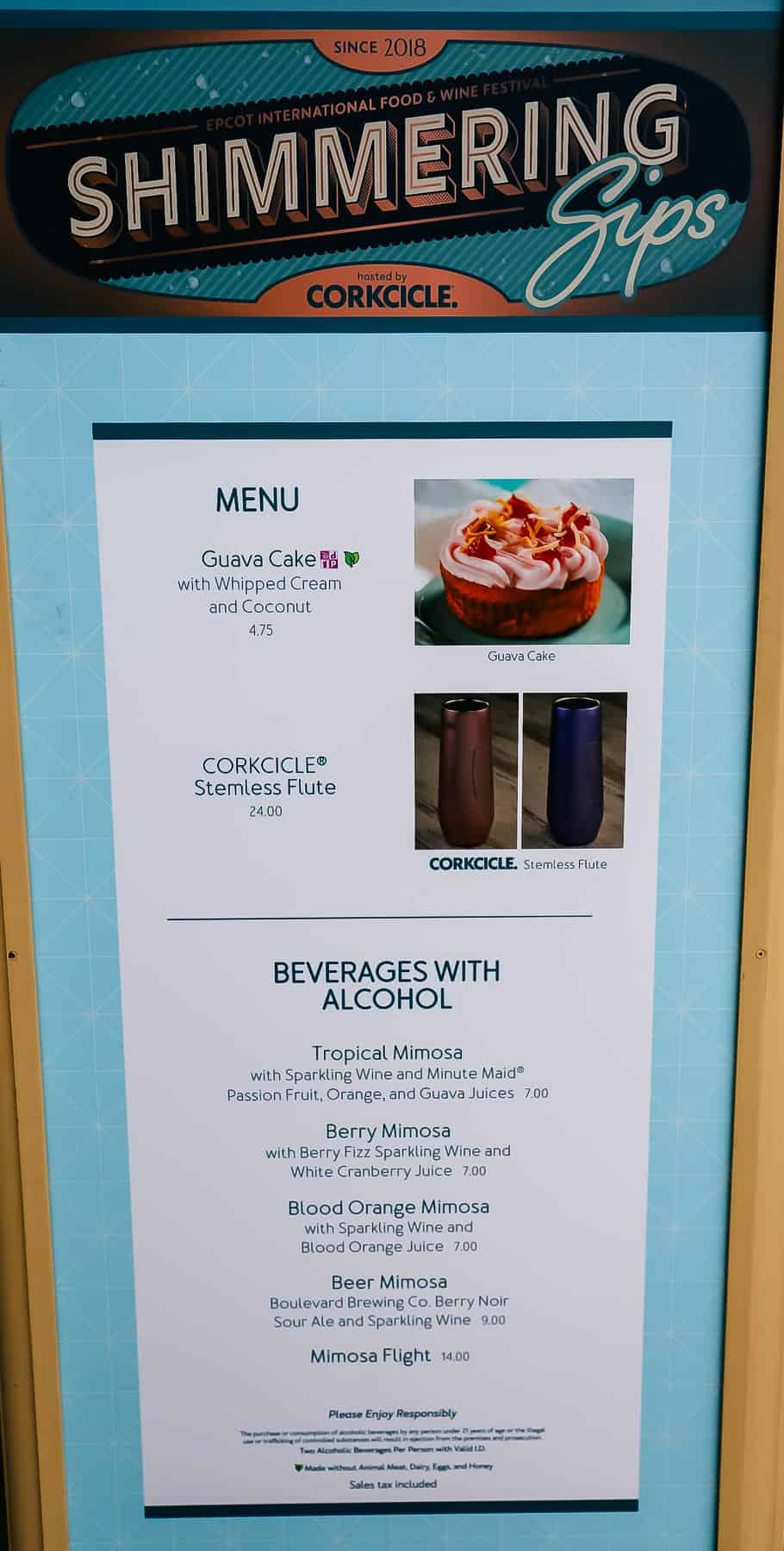 Here is a reminder of last year's Guava Mousse for comparison. Did I have expectations for the guava mousse? Absolutely not. But it was delicious.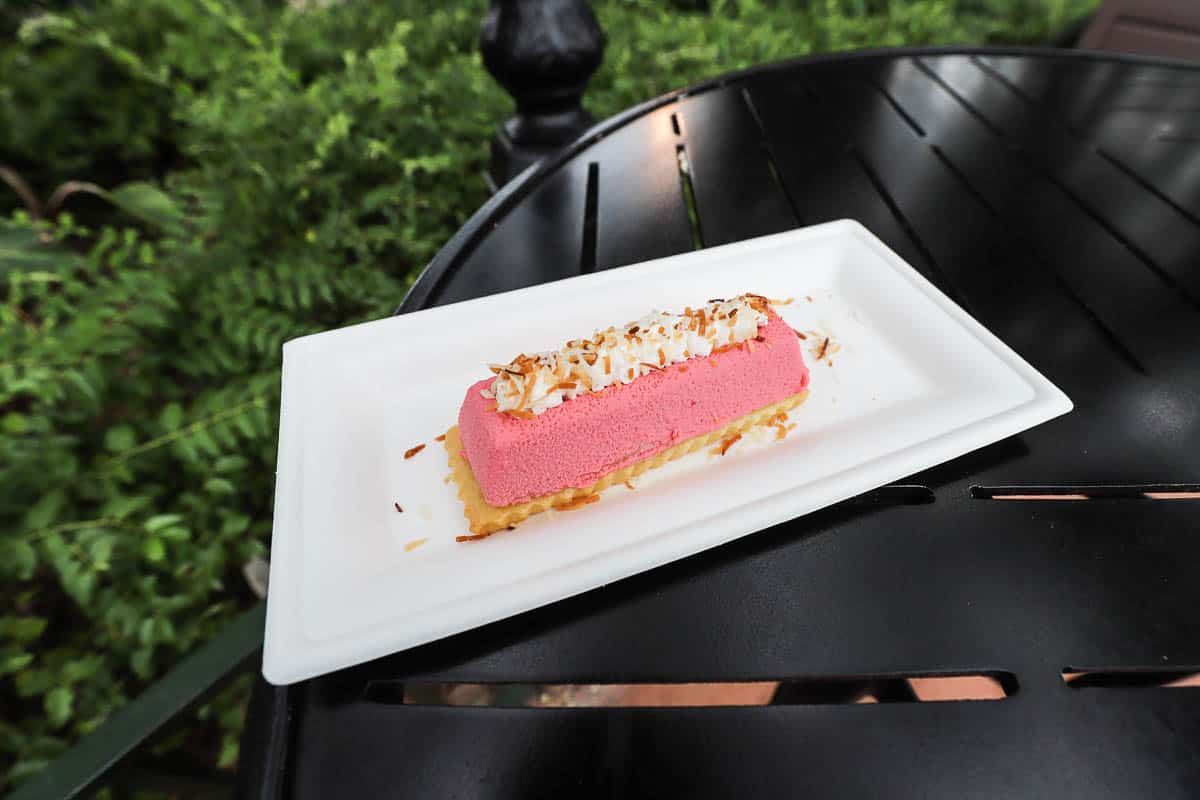 So I was disappointed that the mousse was not returning this year. Here is the cake for comparison.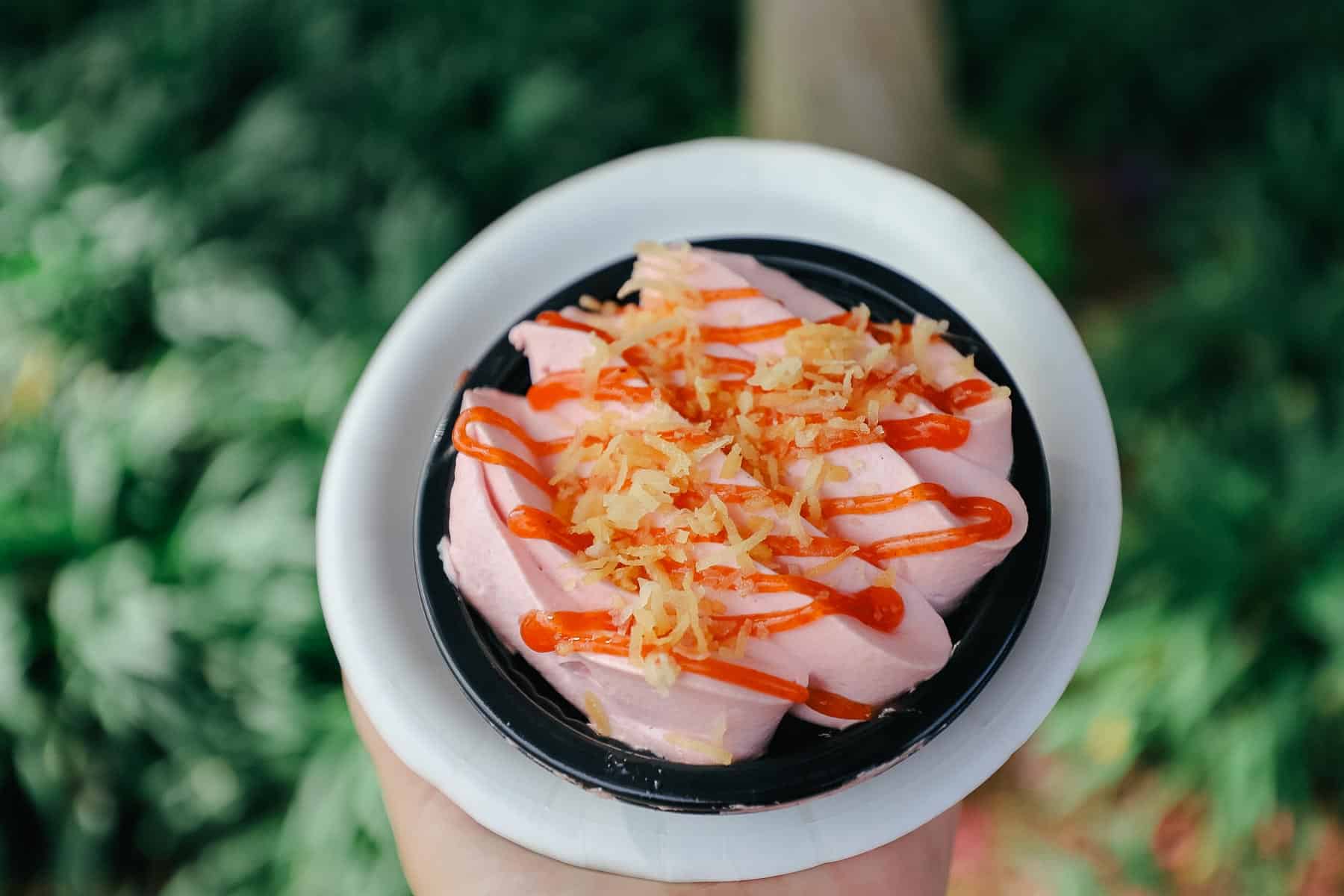 Thankfully, the cake was every bit as delectable as the mousse. Its flavor profile is difficult to explain. When you first look at the dish, it appears to be a strawberry flavor. Then you'll believe you're eating strawberry cake when you cut into it. It looks identical.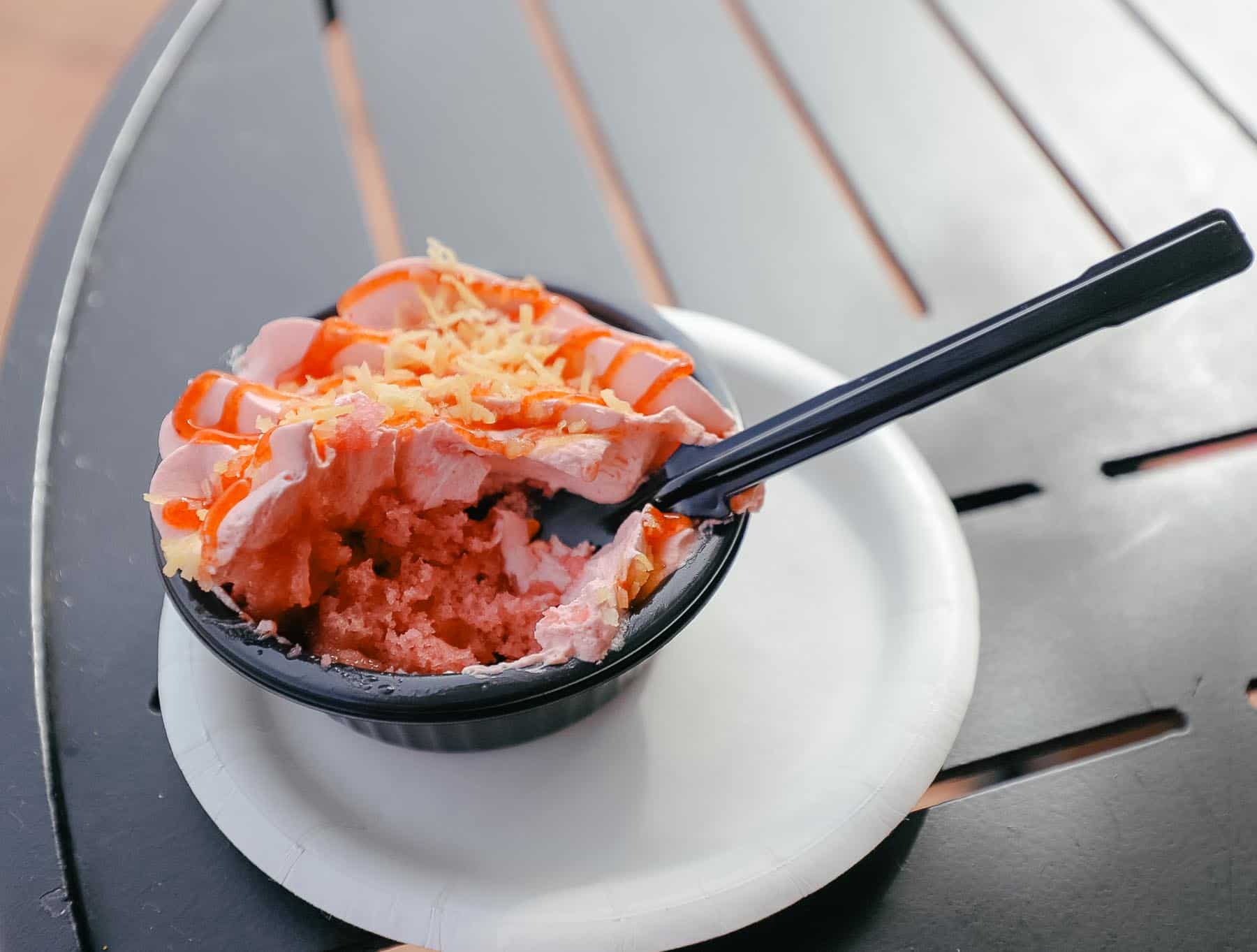 It's funny how a visual effect can convince the mind that you're enjoying something based on its appearance. So I closed my mind and took another bite. It's hard to explain, but the guava cake is a neutral flavor that leans sweet and refreshing.
You'll get a mild hint of tropical flavor from the toasted coconut that tops the pink whipped cream. It was a dish that stood out at the end of a long day, and I would be happy to order it again.
A Corkcicle stemless flute and a flight of mimosas are available at this booth. We've done the mimosa flight before, but note that some flavors have changed since we last tried it.
Here is a photo of the mimosa flight from a few years ago. This year a berry mimosa replaces the key lime mimosa.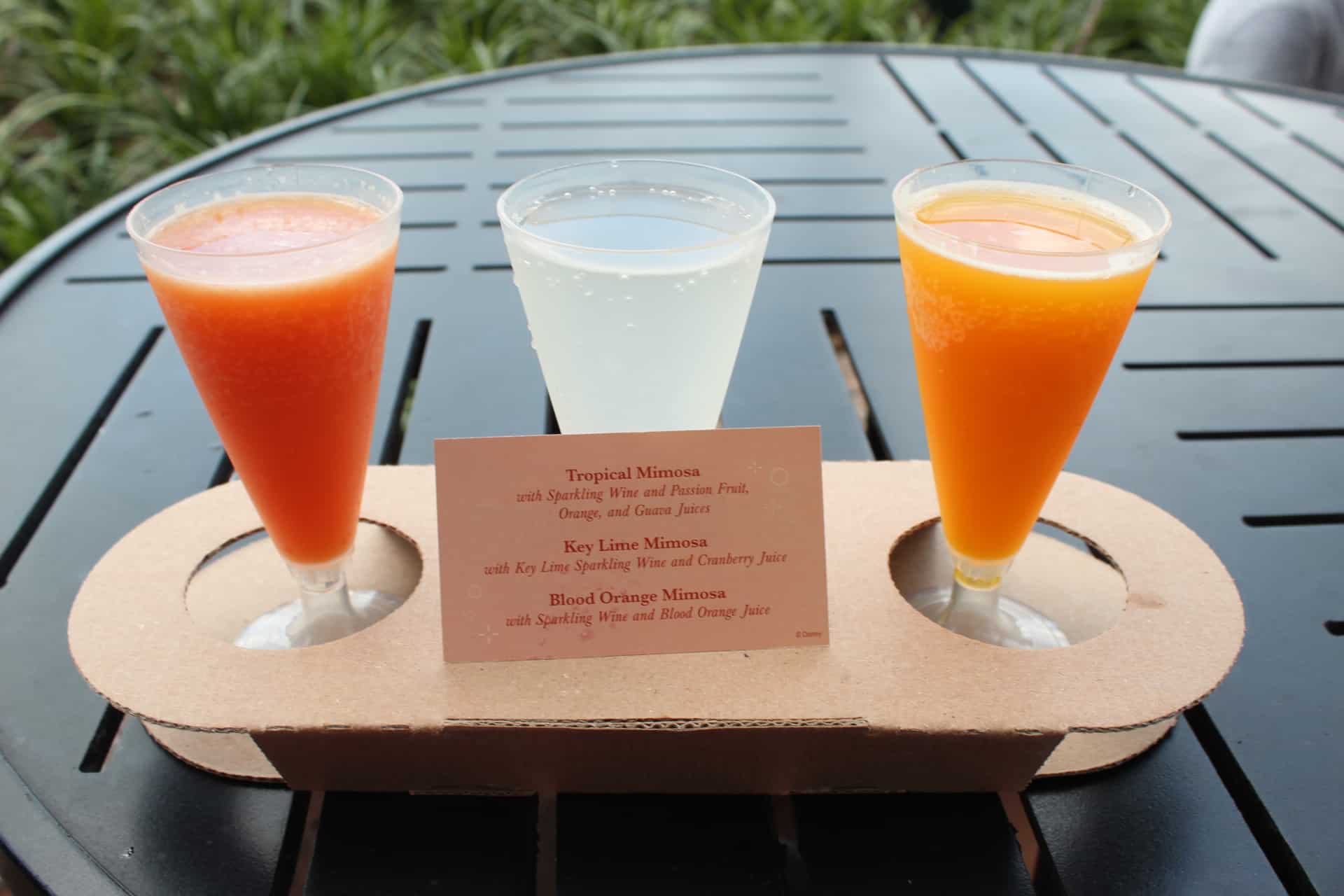 Here are my thoughts on the above version:
"The tropical mimosa is on the far right and the sweetest of the bunch. It is made with a passion fruit and guava mix. It reminded me of the POG juice they serve at 'Ohana or Boma, except sparkling wine is added. This one has a lot of sugar content.
The middle is the Key Lime Mimosa, and while an excellent in-between option, it reminds me of a children's juice box. None of these drinks were strong by any means.
Finally, the more bitter of the bunch is the Blood Orange Mimosa on the far left. This one is your not-so-sweet option as far as taste goes. The blood orange and sparkling wine mix made for an excellent finish to the pairing."
As far as Shimmering Sips goes, the guava cake is a vibrant, cool, and refreshing dessert. It also makes for a pretty photo. At less than $5.00, it's a bargain compared to many other items.
We'll continue with the following:
Or you can browse all of the 2023 Epcot Food and Wine Festival Menus.
Additionally, the following resorts are within walking distance of Epcot. If you plan to spend a good deal of time at the Food and Wine Festival, any of these resorts will do nicely:
Return to Epcot Festivals.
Do you have questions about the Shimmering Sips Marketplace at Epcot's Food and Wine? What would you order?