Mission: SPACE at Epcot (Ride Review)
This article details our experience with Mission: Space, a motion simulator ride in the World Discovery area of Epcot.
Let me preface by stating that Mission: Space is not for everyone. This space flight attraction allows guests to choose between orange and green missions.
If you select the orange team, the more intense of the two, you'll train for a mission to Mars. This mission requires intense training that takes place at the International Space Station. (This version has a 44″ height requirement.)
Guests who are unsure about this expedition will want to choose the green team. Mission Space's green version is less intense, and you'll spend your visit to space orbiting the earth. (This version has a 40″ height requirement.)
Below, we'll go over a few more details for experiencing Mission: Space on your next visit to Epcot.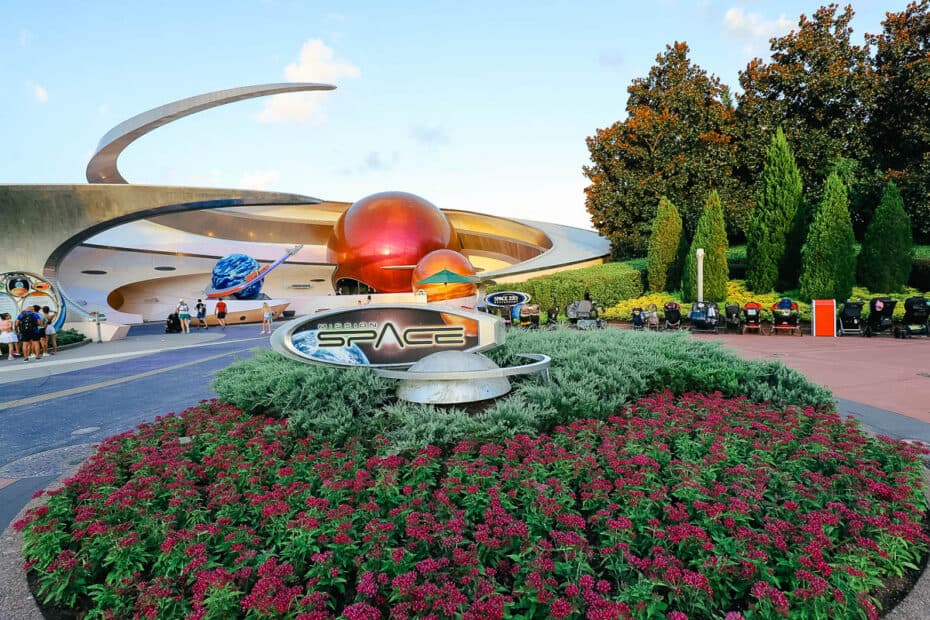 Below is a quick reference table with details for Mission: Space.
| | |
| --- | --- |
| Mission: SPACE | Epcot Attractions |
| Location: | World Discovery |
| Disney Height Requirement: | 40 inches |
| Disney Genie+ | Yes |
| Ride Type: | Simulator, Harness |
| Seats Per Vehicle: | 4 |
| Rider Switch at Disney: | Yes |
| Good For: | Thrill Seekers |
| Scare Factor: | High |
| Must-Do List: | Low |
| Perfect For: | Tweens, Teens, and Adults |
| Special Mention: | It can cause motion sickness. |
Mission: SPACE
Mission: SPACE is a simulated attraction with gravitational effects. As we discussed above, the "orbiting the earth mission" or the green mission is the gentle side of this attraction.
While the mission to Mars, or the orange mission, is considered a thrill ride. This side of the attraction will experience a centrifuge that spins and tilts. It's designed to simulate the same kind of G-force the astronauts do when they travel to space.
Before embarking on either mission, you'll visit the International Space Training Center (ISTC) for special training. Additionally, there is a special pre-show video featuring actor, Gary Sinise.
Each mission features four roles: a navigator, pilot, commander, or engineer. During the training, you'll learn the critical tasks to complete for the mission you selected.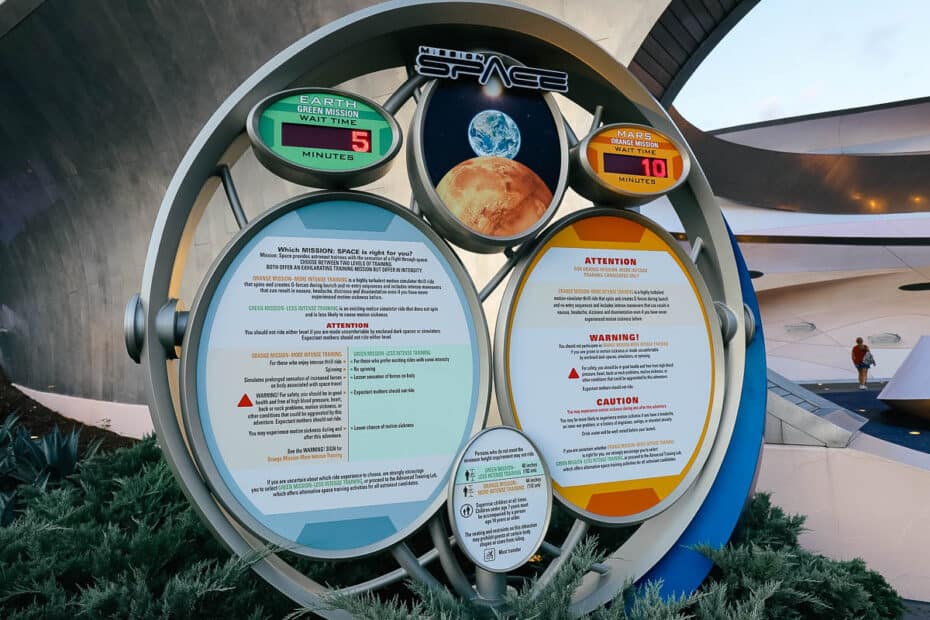 Mission: Space offers a Lightning Lane entrance that's part of the regular Disney Genie+ upgrade. However, the standby queue usually offers reasonable waits during the latter portion of the day.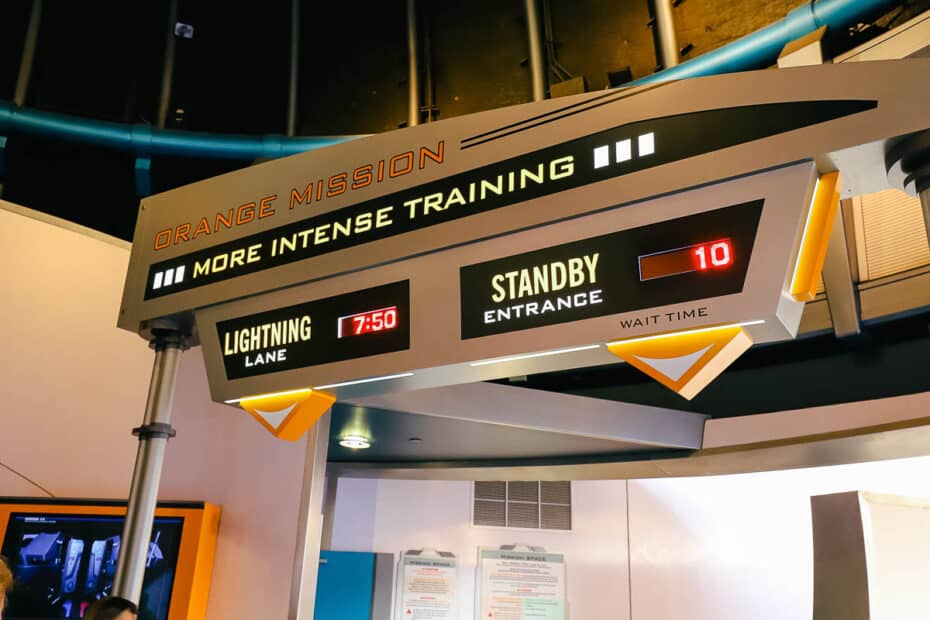 Will you get motion sickness on Mission: Space?
Some people will experience motion sickness on Mission: SPACE. If you are prone to experiencing motion sickness, I would not recommend riding this attraction.
Unfortunately, while I don't often have motion sickness, I will not ride this attraction. It was a one-and-done for me many years ago.
If you decide to try it, motion sickness bags are available at the attraction. My issue with this attraction was feeling locked in a tiny capsule, and the spinning during the launch was too intense.
For reference, I will ride every attraction at Walt Disney World, but not Mission: SPACE. I'm sharing this with you because I wouldn't want anyone to have that same experience.
It was late in the afternoon for us when we rode it. But it pretty much ruined the rest of my day.
Mission: Space does participate in the Rider Switch program. So if you have kids who aren't tall enough to experience the ride, you can use rider swap.
Additionally, there's a list of warning outside the ride's entrance. I would recommend reviewing these warnings beforehand.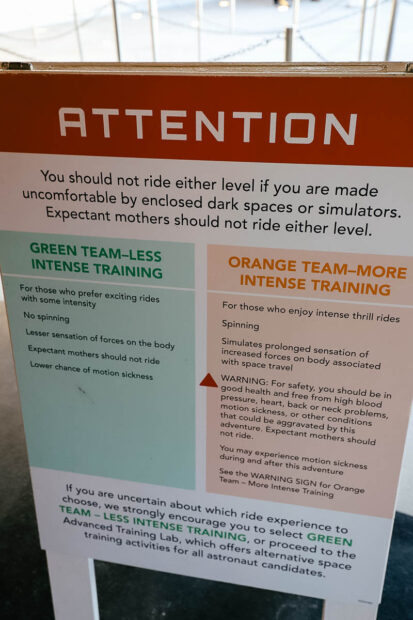 Mission: SPACE typically averages a 45-minute wait during the busier portions of the day. You can expect longer waits on busier days.
However, in the evenings, most of the crowds at Epcot have moved on to the World Showcase. So anytime after 7:00 p.m. is usually the best time to experience this attraction.
At the end of the attraction, there's an interactive game area in the Planetary Plaza. This area is called Advanced Training Lab and offers a variety of digital games.
If you elect not to ride and would prefer to wait inside, you can walk into the Advanced Training Lab via the ride exit. This is an excellent place for younger children to play while you are waiting.
For more ride reviews, we have an entire list of the rides at Epcot. Or you might enjoy the following:
If you're planning a trip to Walt Disney World, you might enjoy browsing our list of Disney World Resort Reviews. Some of the more popular resorts are the Skyliner Resorts.
They are as follows:
In the Comments
Do you plan on riding Mission: Space on your vacation? What do you think of this attraction?