Mission: SPACE is a thrill attraction located at Epcot. The attraction offers two different missions, orange and green. The orange mission is the more intense of the two and is called Mission to Mars. The green mission is considered less intense and offers a mission to Earth.
This review will go over whether or not you want to experience Mission: SPACE on your next visit to Epcot.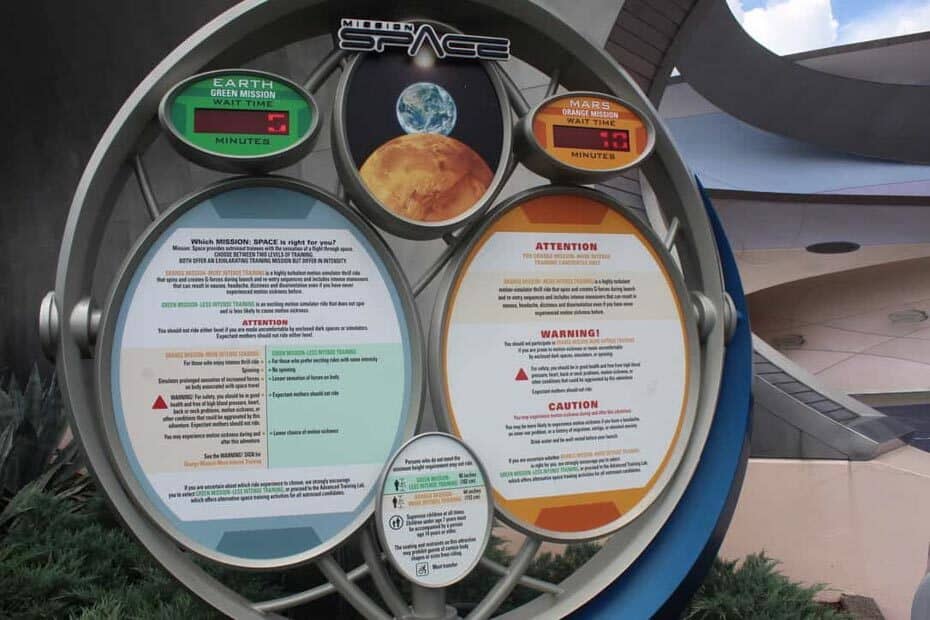 Below theres a quick reference table offering all the important details for Mission: Space.
| | |
| --- | --- |
| Mission: SPACE | Epcot Attractions |
| Location: | Future World |
| Disney Height Requirement: | 40 inches |
| Disney Genie+ | Yes |
| Ride Type: | Simulator |
| Seats Per Vehicle: | 4 |
| Rider Switch at Disney: | Yes |
| Good For: | Thrill Seekers |
| Scare Factor: | High |
| Must-Do List: | Low |
| Perfect For: | Tweens, Teens, and Adults |
| Special Mention: | It can cause motion sickness. |
Mission: SPACE
Mission: SPACE is a simulated attraction with gravitational effects. As you probably can imagine, the "orbiting the earth mission" is the gentle side of this attraction. At the same time, the mission to Mars is considered more of a thrill ride.
For the sake of this review, I'll go over what you need to know, but it's important to note that I haven't experienced this since the refurbishment. Nor do I have plans to experience it ever. That might sound harsh, but this is actually the only attraction I refuse to ride at Disney.
You see, a few years back, I went on Mission: SPACE for the first time. At the time, I was with my son, and he wanted to do the orange mission. So we did. If I remember correctly, I was positioned on the last exterior seat of our capsule.
Anyway, a few minutes later, I began to feel a tremendous amount of pressure from the gravitational pull. I'm pretty sure I was bargaining with God for my life if He would spare me. When I disembarked from the attraction, I vowed then and there never to ride it again. And to this day, I still have no plans to embark on any missions to space.
Will you get motion sickness?
Some people experience motion sickness on Mission: SPACE. If you are prone to experiencing motion sickness, I would not recommend riding this attraction. I have not experienced motion sickness, but I have had lots of inner ear trouble over the course of my life. And I attribute that to why I had so much difficulty with this ride.
I will ride every single other attraction at Walt Disney World, but not Mission: SPACE. I'm explaining this to you because I wouldn't want anyone to have that same experience. It was late in the afternoon for us when we rode it, but I remember it pretty much ruining the rest of my day.
Mission: Space also has a 40″ height requirement and does participate in the Rider Switch program. The sign outside the attraction indicates the wait times for each mission. You might notice that the warnings are more pronounced on the orange side.
From what I've seen, Mission: SPACE typically holds about a 45 minute wait time on average. You can expect longer waits on high traffic days. Early in the evening is a good time to experience this attraction since the majority of people are touring the World Showcase.
There is also an interactive game area at the exit of the attraction. Mission: SPACE Advanced Training Lab offers a variety of digital games. If you elect not to ride and would prefer to wait inside you can walk in Advanced Training Lab via the ride exit. This is a great place for younger children to play while you are waiting.
For other Epcot ride reviews, check out the following articles:
While we cover a good deal of information on the site, Resorts Gal specializes in providing detailed information about the Walt Disney World Resorts. Browse our Disney World Resort Reviews to begin planning your next Disney vacation.
Did you know? The Disney Skyliner drops guests off right outside Epcot's International Gateway. If you are interested in staying at one of the Skyliner Resorts, you might enjoy one of the following resorts:
Do you plan on riding Mission: Space on your Epcot vacation? You won't see me there! Let me know in the comments below.