Disney's Riviera Resort Review
Disney's Riviera Resort is the newest addition to the Disney World Villa Resorts at Walt Disney World. The resort's design is inspired by the French and Italian Riviera and feels like a true European hotel.
This Riviera Resort Review will look at the rooms, dining, amenities, recreation, and transportation options available to guests. I'll also add some of the highlights of our experience staying at the hotel.
You might be wondering, what does the Riviera have to do with Disney? The story is that the resort was inspired by Walt Disney's love for the south of France and the Mediterranean coastline.
This article was updated on February 28, 2022.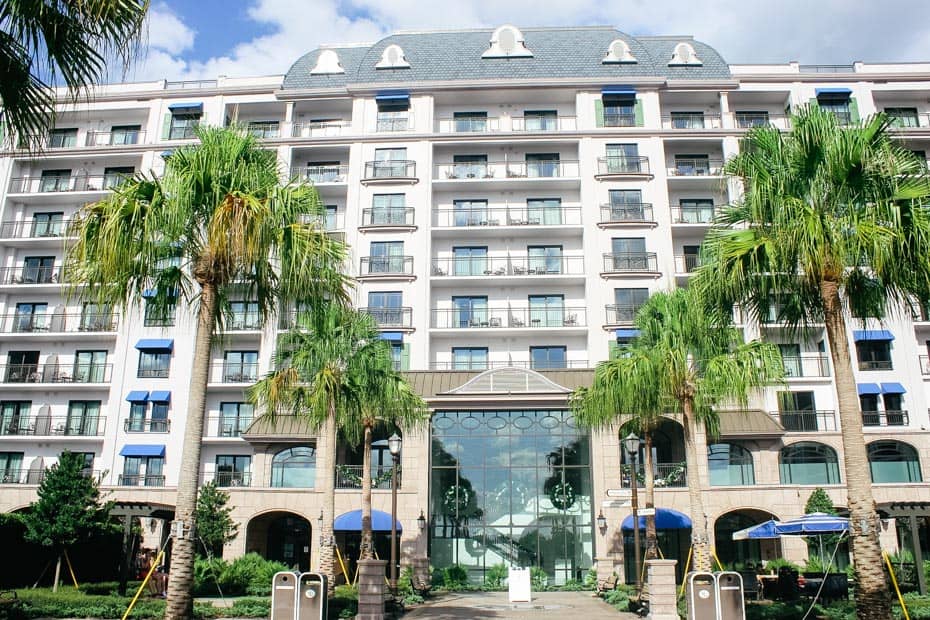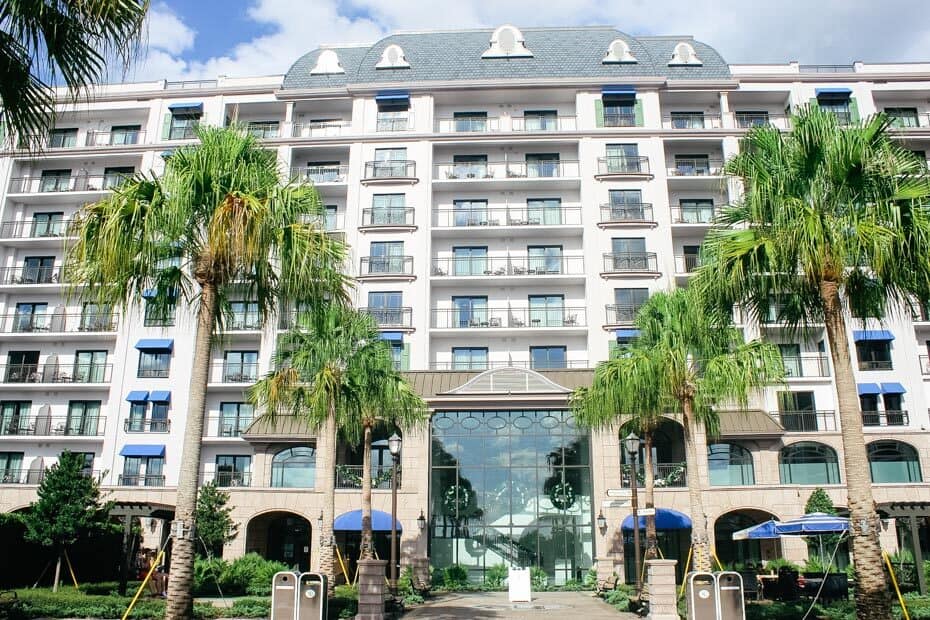 Disney's Riviera Resort Review
The Riviera Resort is a dedicated Disney Vacation Club (DVC) that falls under the category of deluxe villa resort. Most of the DVC Resorts are part of a larger resort.
For instance, Boardwalk Villas are part of Disney's Boardwalk Inn, and Beach Club Villas are part of Disney's Beach Club Resort. So, at the Riviera, all rooms are villas, whereas there are standard resort rooms at the Beach Club.
Related: Disney's Beach Club Review
No matter how you classify it, the resort exudes a certain level of luxury and sophistication. Additionally, the Riviera commands one of the highest price points on Disney World property.
As far as location goes, Disney's Riviera Resort is considered part of the Epcot Resorts. However, it is not within walking distance to Epcot or Hollywood Studios.
The Riviera is located in the Lake Buena Vista area off Buena Vista Drive. The hotel is on the right, not far after you pass Epcot Resorts Boulevard when traveling toward Disney Springs.
Here's a photo of the entrance.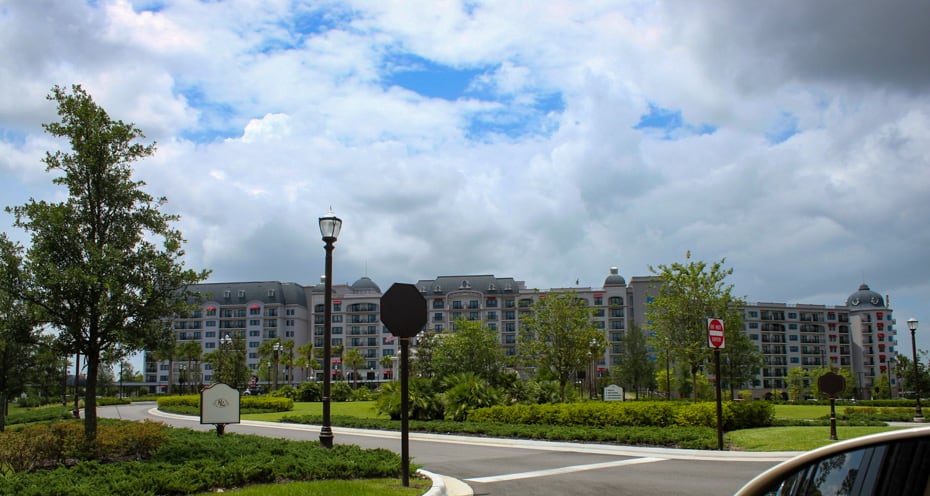 A porte-cochere sits ahead of the main entrance. Upon arrival, we were greeted by the valet and asked if we needed assistance with our car or bell services.
Parking is located on both sides of the entrance. Guests visiting for dining reservations are instructed to park on the left-hand side.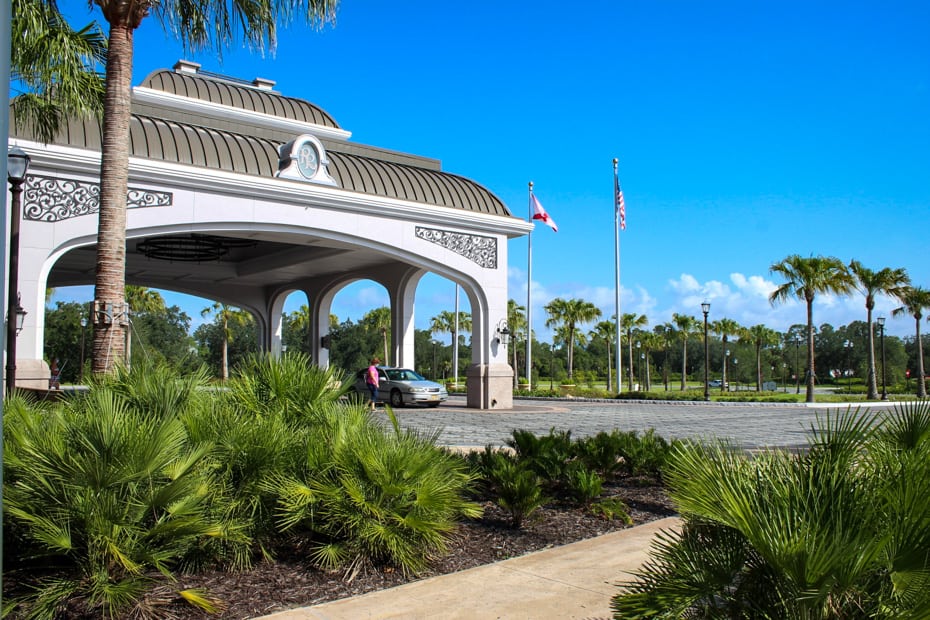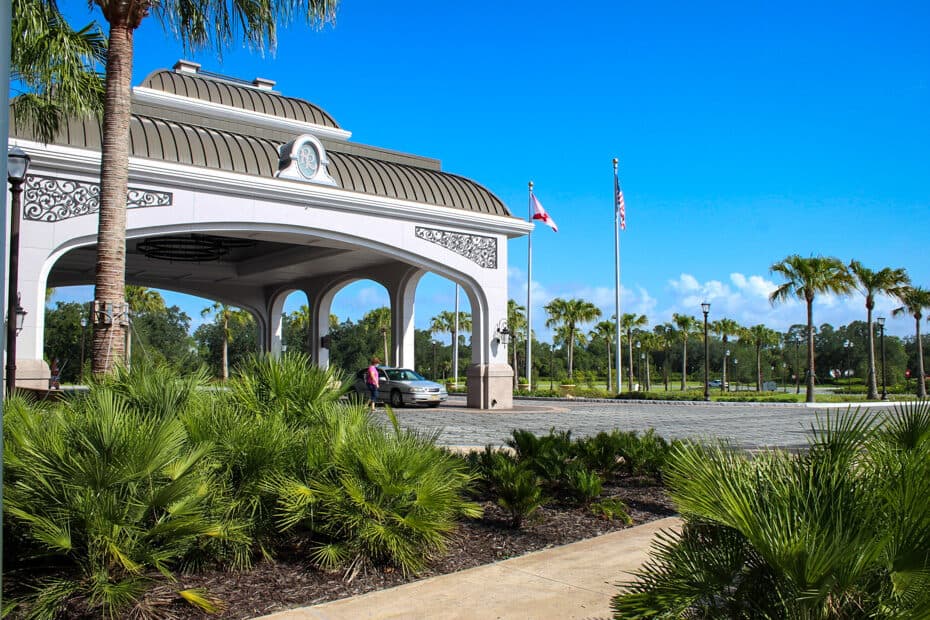 The resort's entrance is attractive. It has a water feature that runs the length of the building.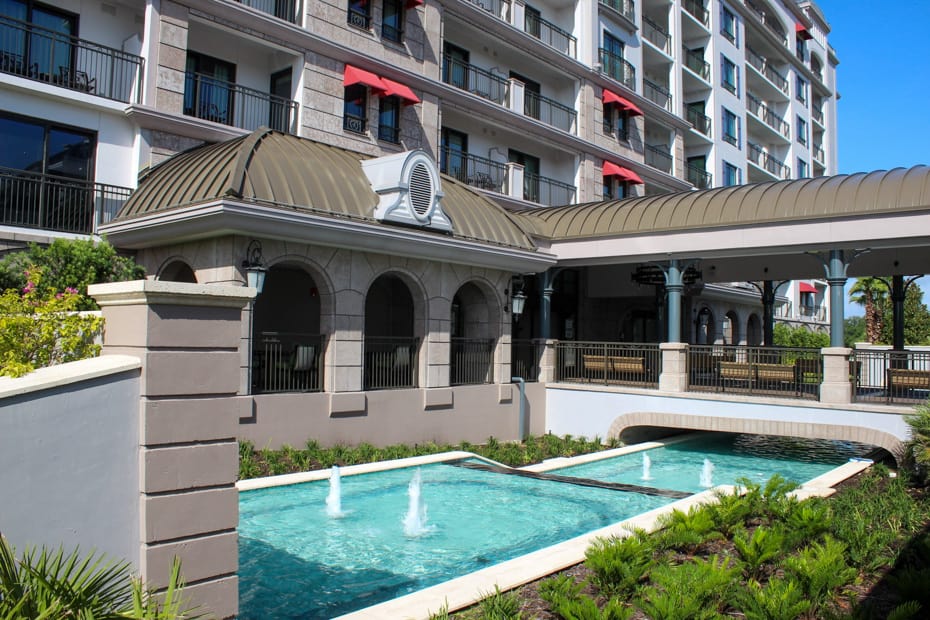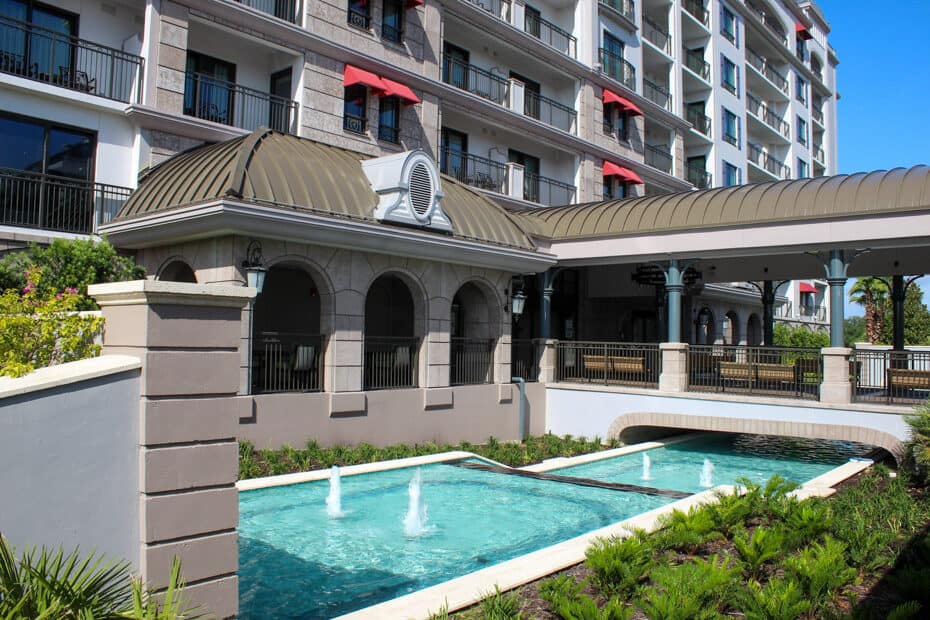 Riviera's logo is prominent throughout the resort.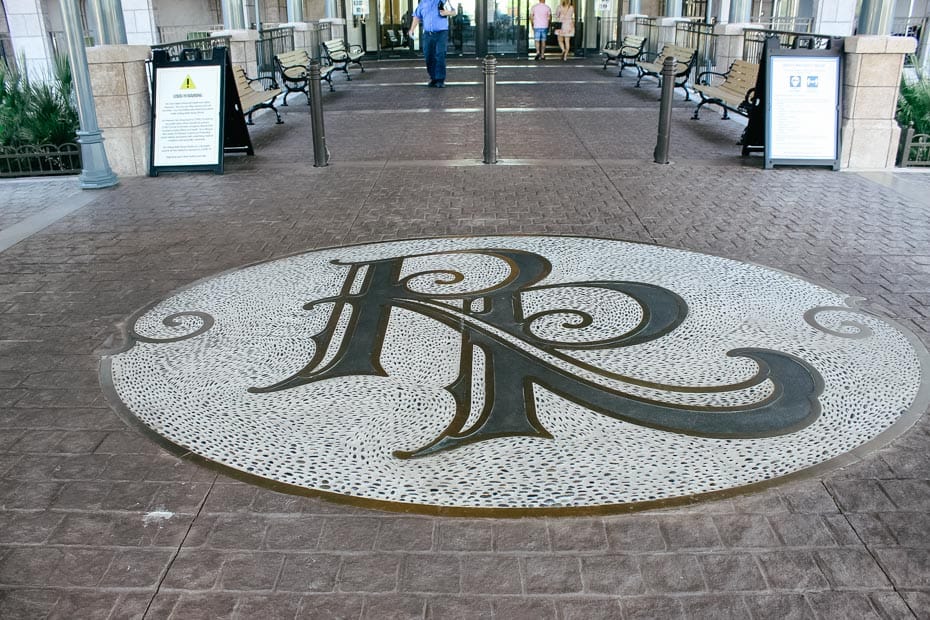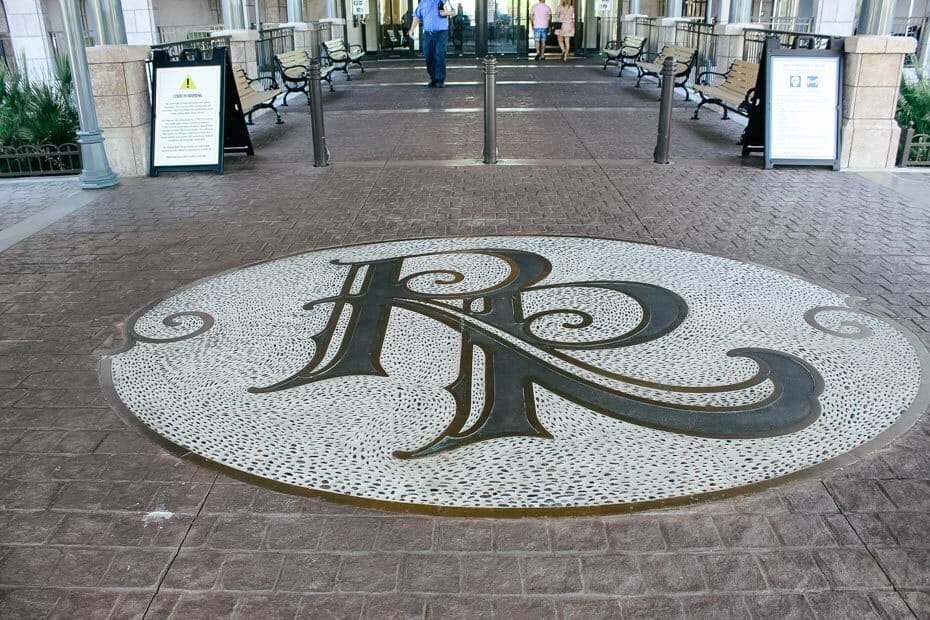 Unfortunately, the lobby at Disney's Riviera is a bit of a disappointment. While I love almost every aspect of the resort, I find the lobby minimal. It doesn't take much for this space to feel crowded.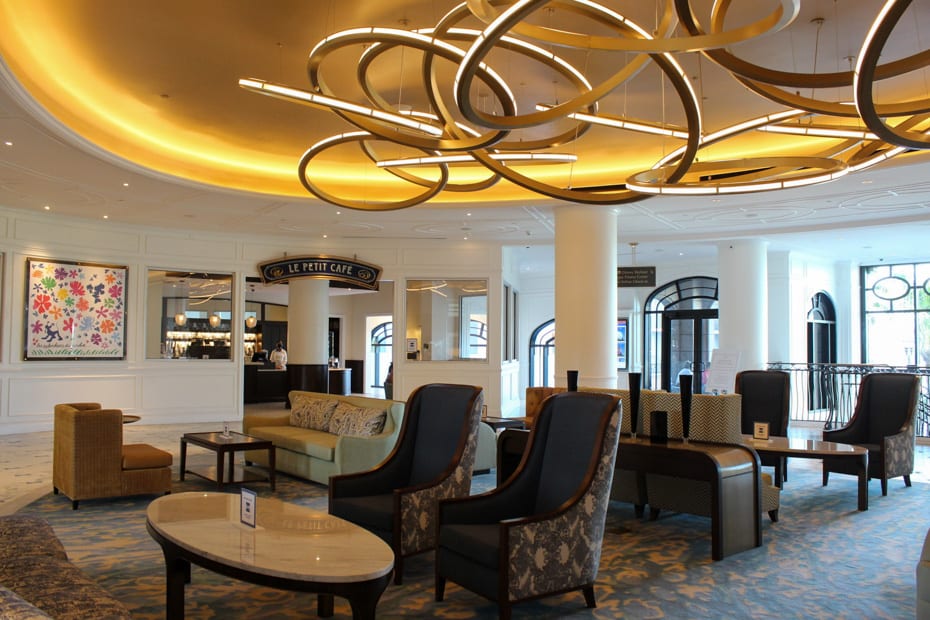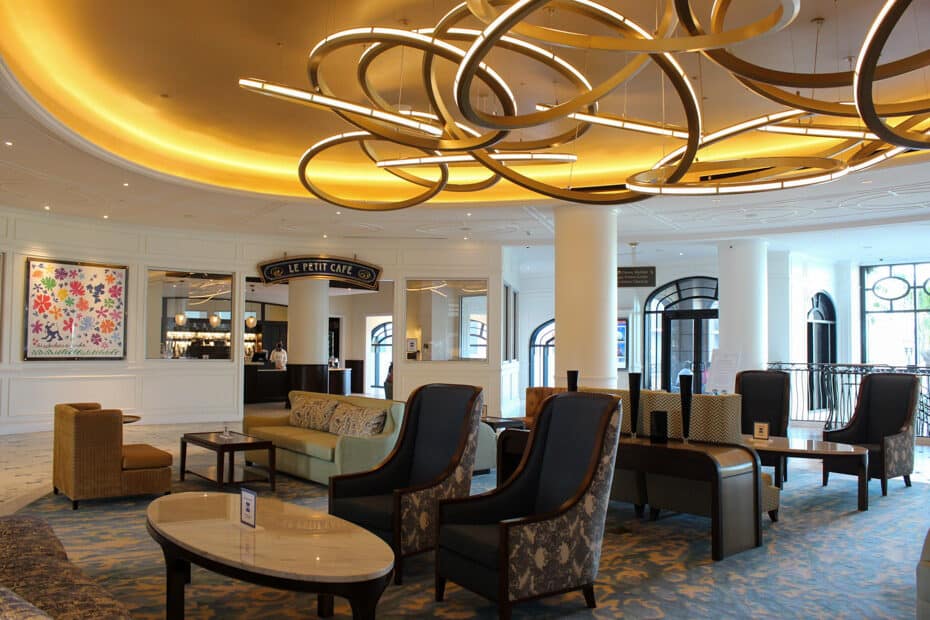 So, when it comes to first impressions, the lobby might leave you feeling a bit bland. But, thankfully, the resort has much more to offer.
One of the things I love about Disney's Riviera Resort is the artwork on display. When the resort initially opened, a guided art tour was available on certain weekdays.
However, that has turned into a self-guided art tour that you can do almost anytime. To participate, ask a cast member at the Disney Vacation Club kiosk for a copy of the art tour.
They'll provide you with a list of all the different art displays throughout the resort. Then, after matching all of the pieces to their location, you can turn the sheet back in for a small souvenir.
The art tour is a great way to explore the resort whether you're staying here as a guest or only visiting for the day.
If you are interested in art, Kidani Village and Jambo House at Animal Kingdom Lodge have a significant African art collection on display throughout the resorts.
Related: Disney's Animal Kingdom Lodge Review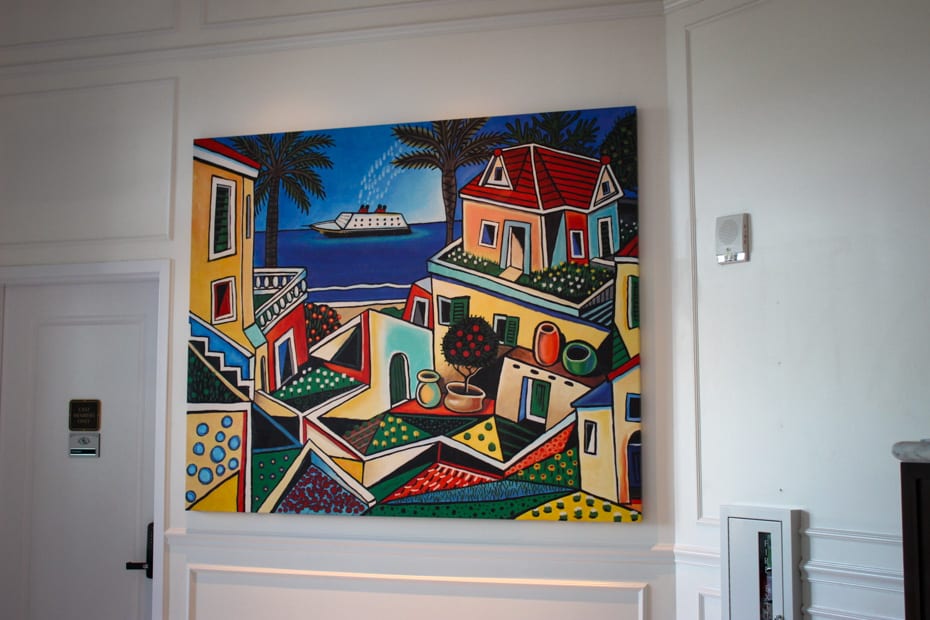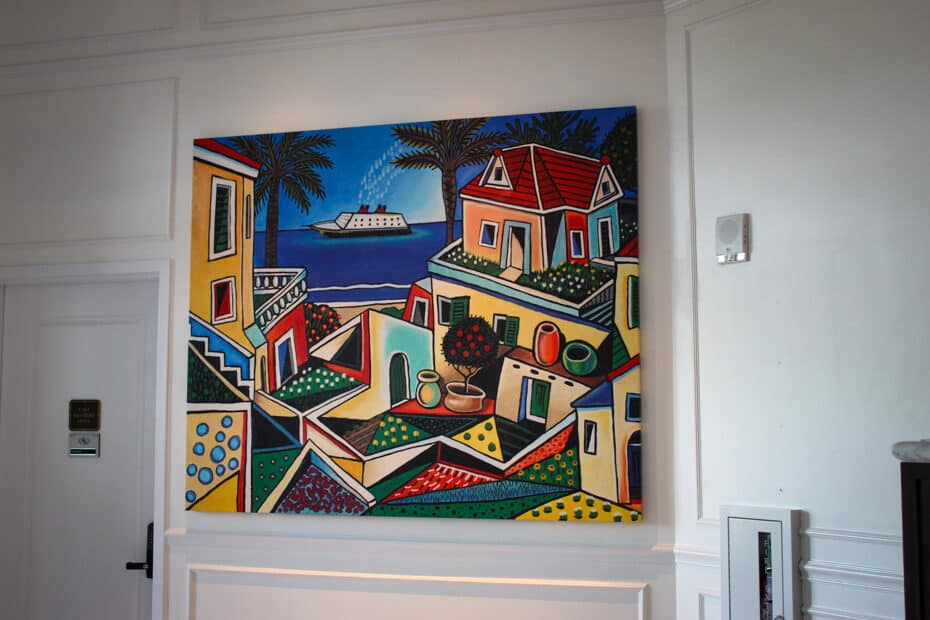 For many of us, these are the kinds of unexpected things that capture our hearts during our travels around Walt Disney World.
Right around the corner from the lobby is Voyageur's Lounge. It's an agreeable library of sorts where you can lounge or get a little work done if needed.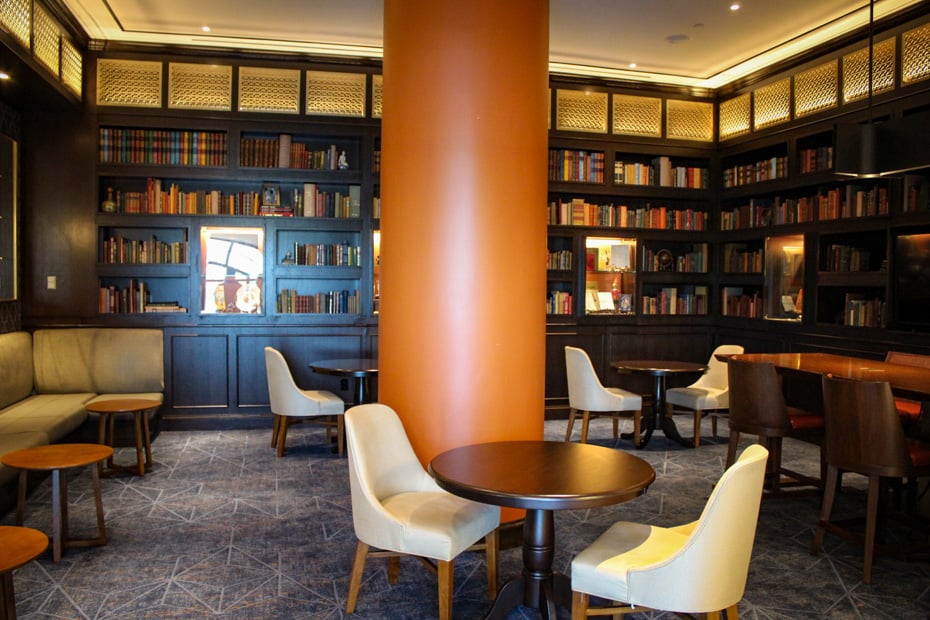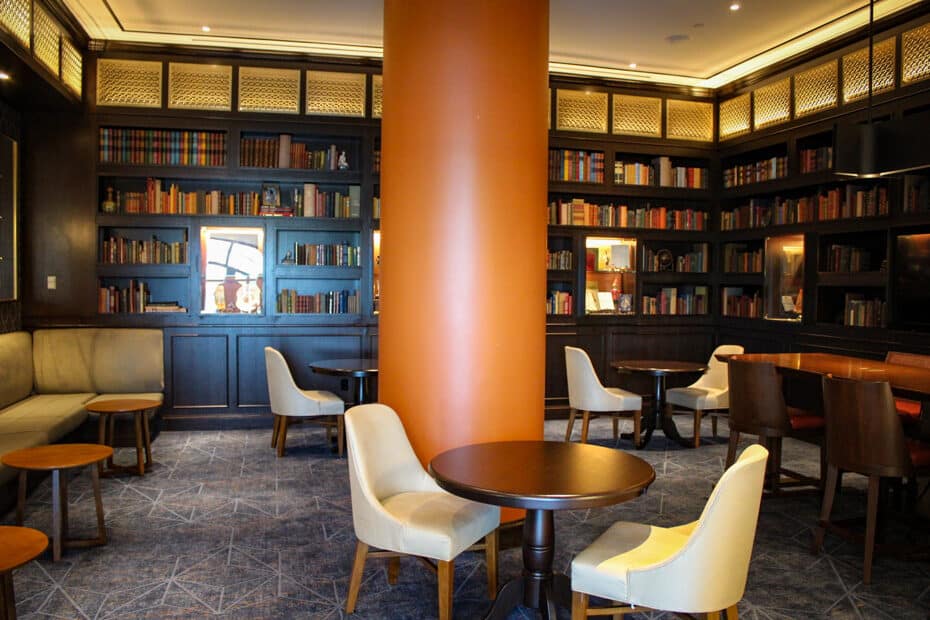 I enjoy browsing this area. The attention to detail and hodgepodge mixture of collectibles makes one want to linger a little longer.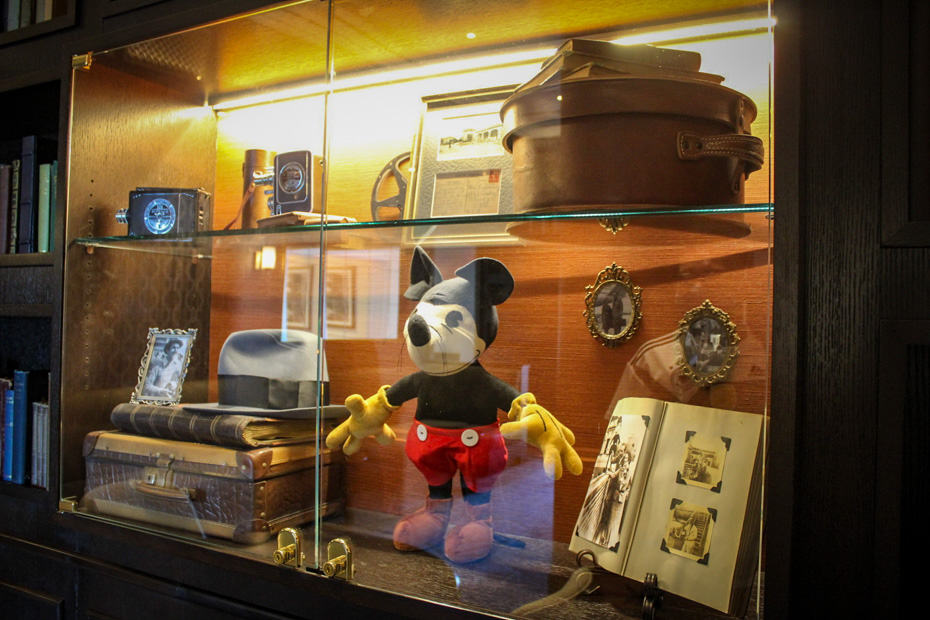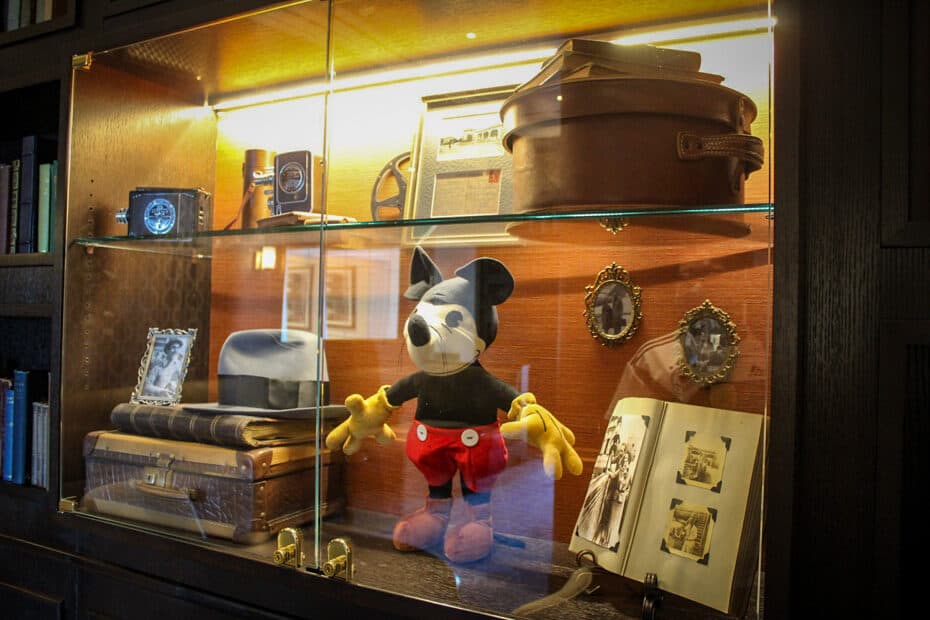 Back outside, there's a gallery of photos featuring some endearing pictures of Walt Disney and his family. Naturally, the images are from Disney's family visits to the south of France.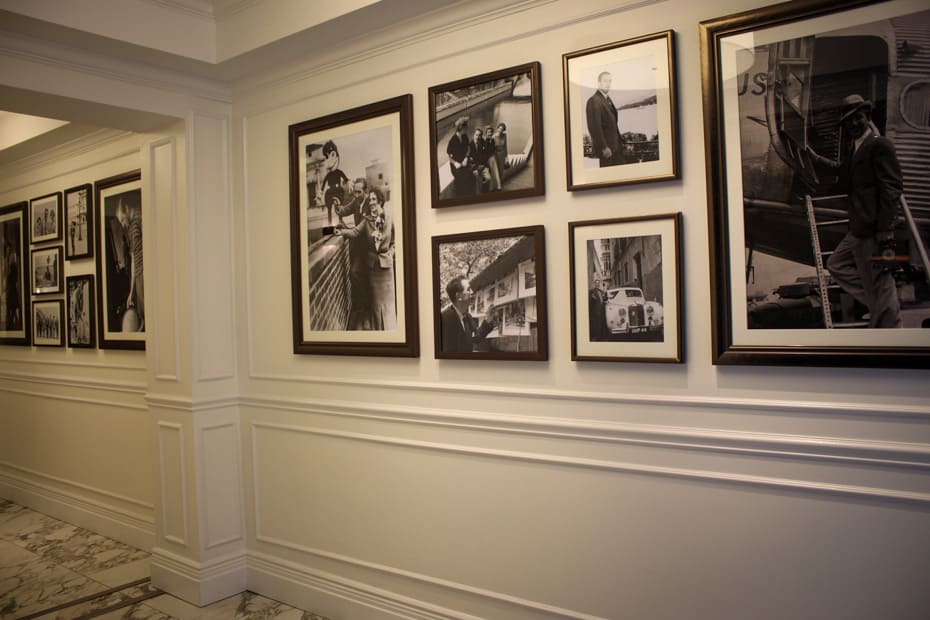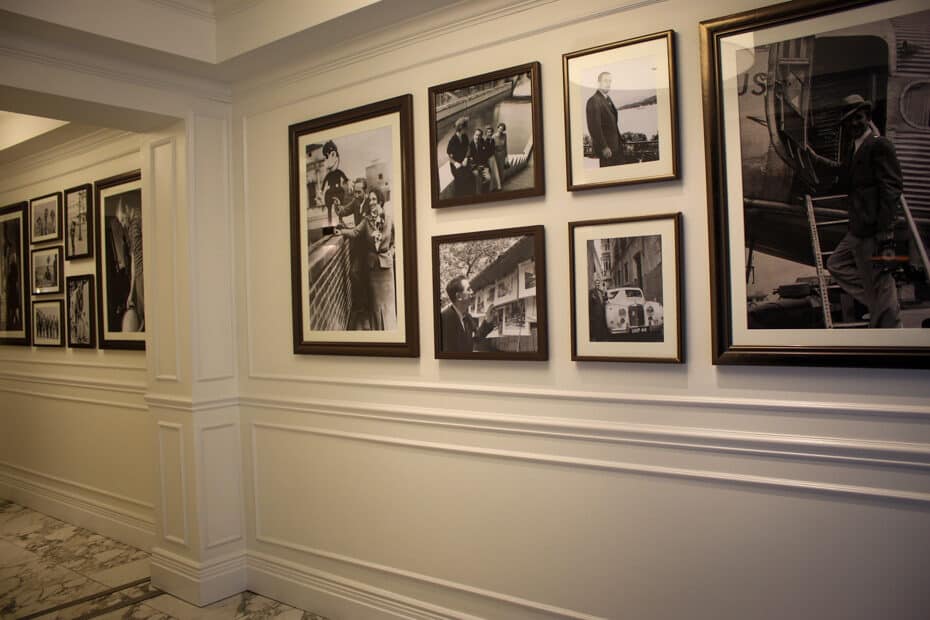 And a little further down the hallway, this piece caught my eye. It reminded me of one of my favorite photographer's earlier pieces in a period where he put out many astonishing photographs.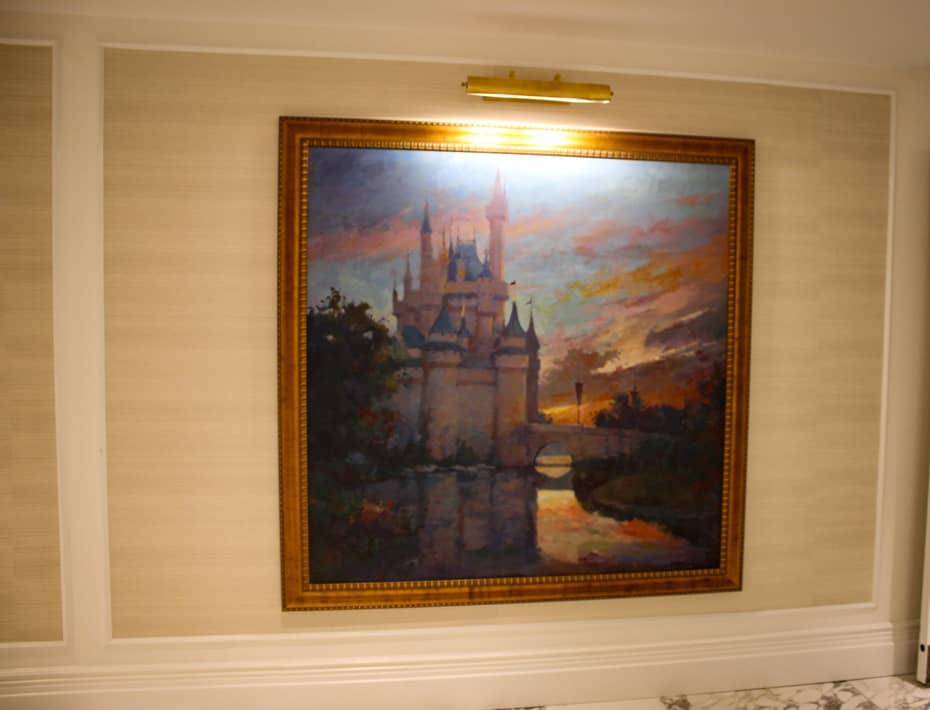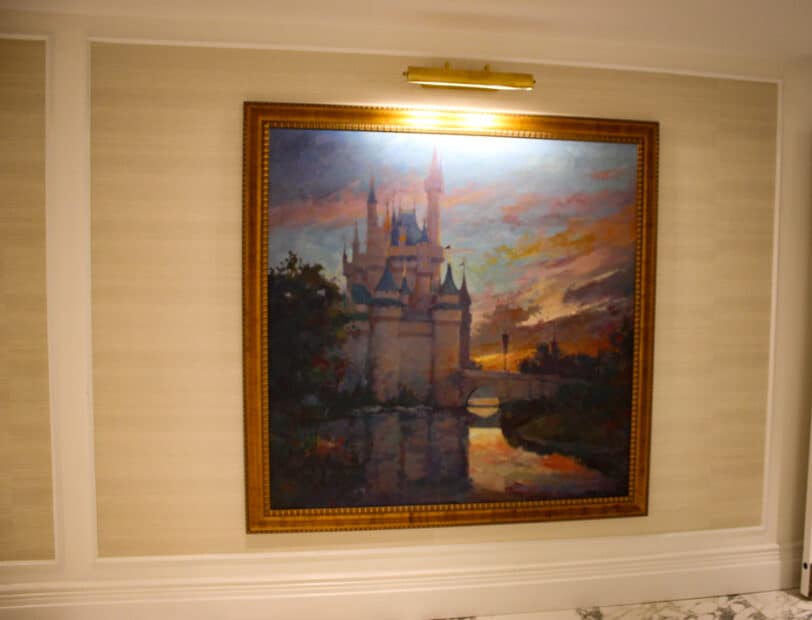 Before we head outside to enjoy some of the resort's best attributes, let's take a look at the rooms.
Rooms
The rooms at Disney's Riviera Resort range from a tower studio to a three-bedroom grand villa. Since the Riviera opened a few years ago, I've stayed in a deluxe studio room.
Additionally, I had the opportunity to tour the other villas at the resort. So we'll go over each one briefly.
Below each option, I've linked to the complete room tour if you'd like to see more photos.
The first room is the Tower Studio, a studio unique to Disney's Riviera Resort. This unit sleeps two guests, and as you can see in the picture below, it's very tiny. The bed pulls down out of the wall over the sofa.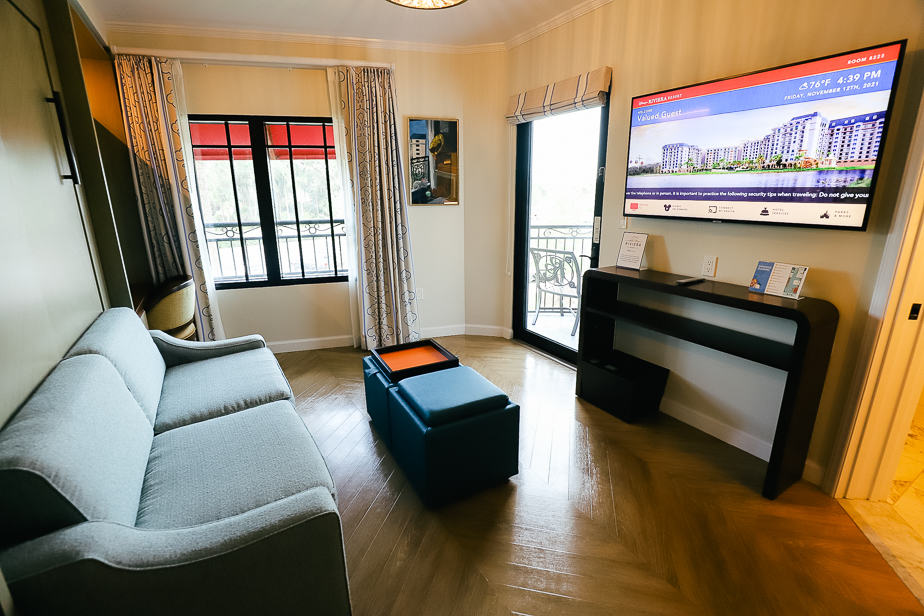 Related: Tower Studio at Disney's Riviera
Since I sometimes travel as a party of one, you might think this unit sounds ideal. However, after touring the studio, I can assure you I wouldn't want to stay in this small space for more than a night or two.
With that being said, the deluxe studio at Disney's Riviera Resort is divine. This is the room we stayed in on our first visit.
The deluxe studio at Disney's Riviera Resort sleeps up to five guests. It features a queen-size bed, a queen-size Murphy bed, and an individual trundle pull-down bed.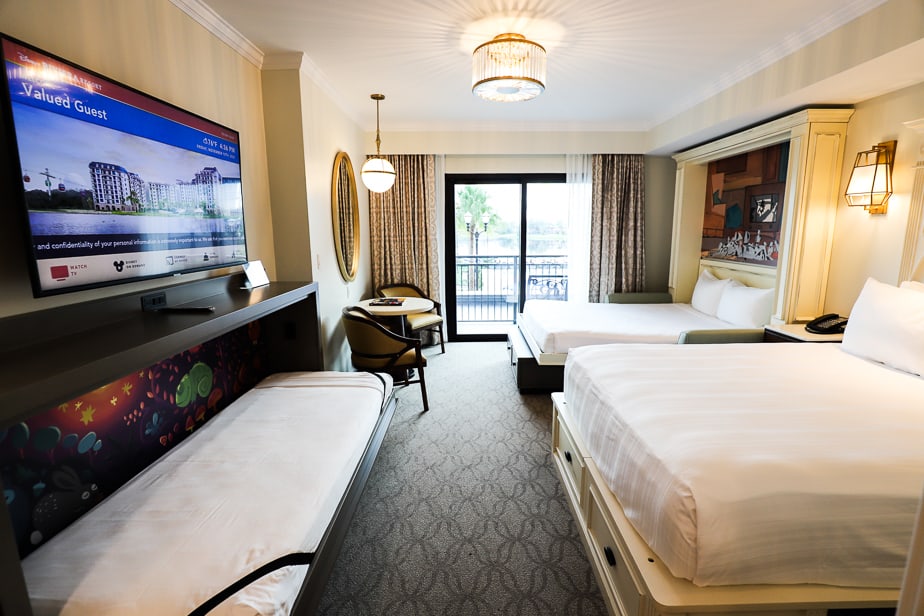 Most of the newer deluxe studios at Disney now offer the pull-down bed instead of the queen-size sleeper sofa. Thankfully, these newer beds have a regular mattress and sleep like a standard bed.
So you don't have to deal with any discomfort from a pull-out sofa bed that doesn't offer much support.
For other deluxe studios that offer a similar sleeping setup, you might try these:
In addition, the Grand Floridian Villas are undergoing a refurbishment in 2022. Their studios will receive a remodel during this time. You can preview the new room photos here.
The deluxe studio's kitchenette is another nice upgrade. You won't find this enhancement in a standard resort room at Disney World. Deluxe studios come with a microwave, mini-fridge, coffee maker, toaster, sink, and dinnerware.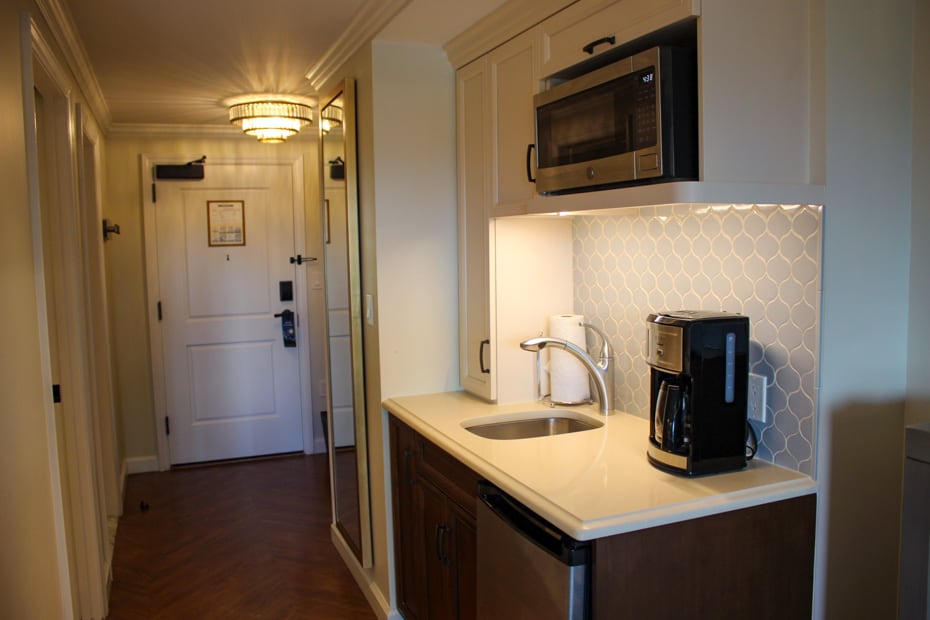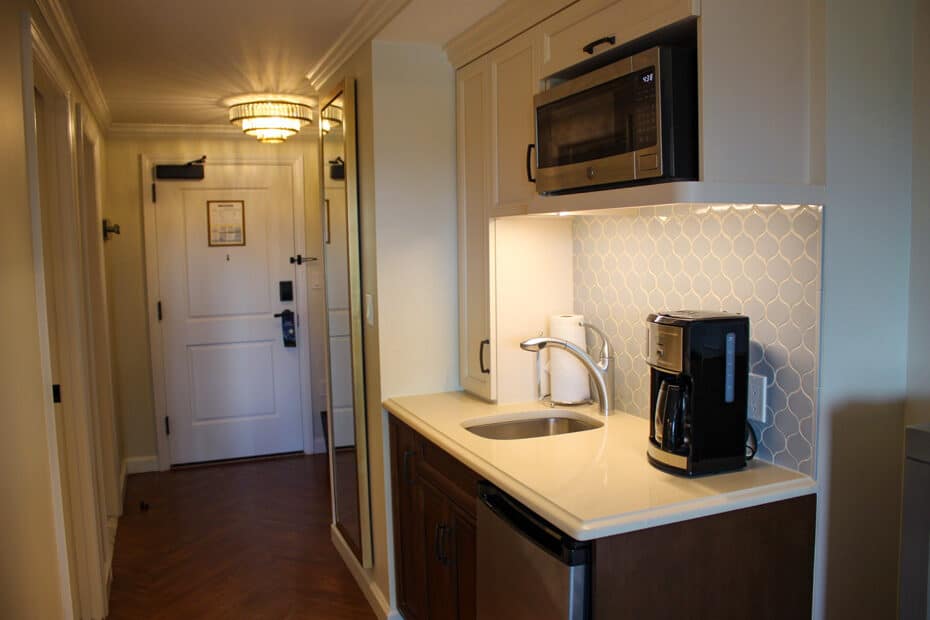 It's nice to have the option to prepare small meals. Or you can store and reheat leftovers in your room.
Below is a look at the view from our balcony. This is a preferred room view, which is an upgrade.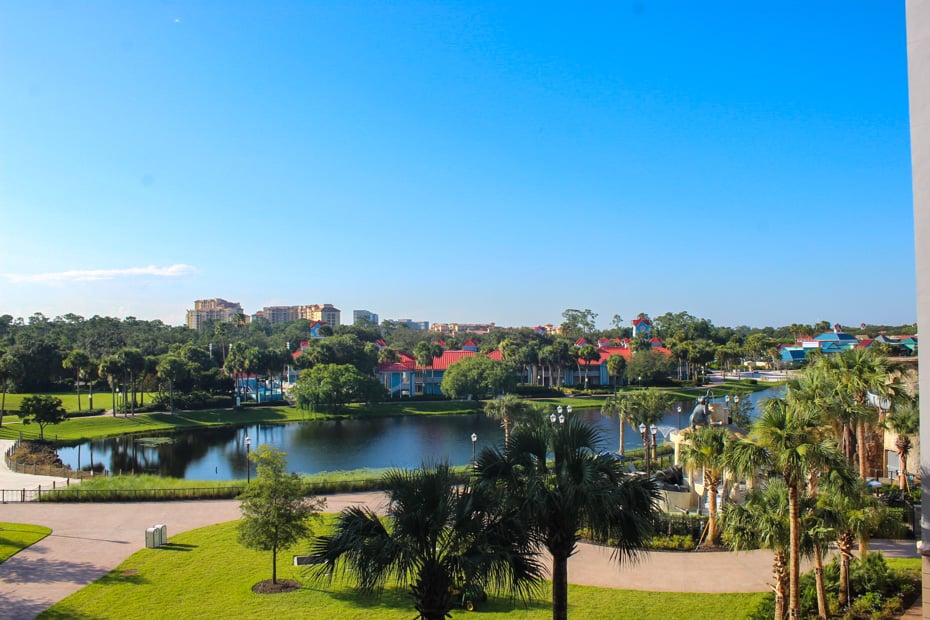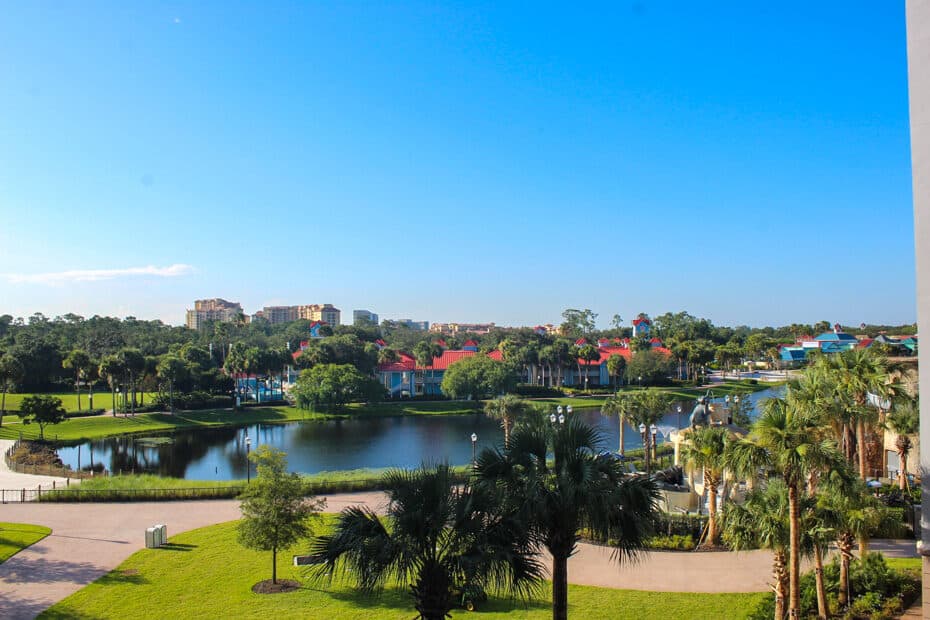 That's Disney's Caribbean Beach Resort with the red roof in the distance. A walkway connects Riviera Resort to Caribbean Beach, which is a moderate resort.
Related: Disney's Caribbean Beach Review
Additionally, the towers you see in the background make up the Wyndham Grand Orlando at Bonnet Creek. The Bonnet Creek Resorts are the closest off-property hotels to Disney World.
Related: Wyndham Grand Orlando Review
Per Disney, a preferred view will have one of the following views: courtyard, lake, landscaping, pool, or the Disney Skyliner.
The standard view is a view of the parking lot. Personally, I wouldn't consider a room view upgrade at the Riviera.
All of the views are nice and while we enjoyed ours, I didn't think it was anything worth an extra cost.
For more details of this particular room see our full room tour.
Related: Deluxe Studio at Disney's Riviera (Coming Soon)
If you have a smaller party and would like a little more room to spread out, you might consider a one-bedroom villa at Disney's Riviera.
The one-bedroom accommodates up to five guests and offers a full kitchen with a washer and dryer in the unit.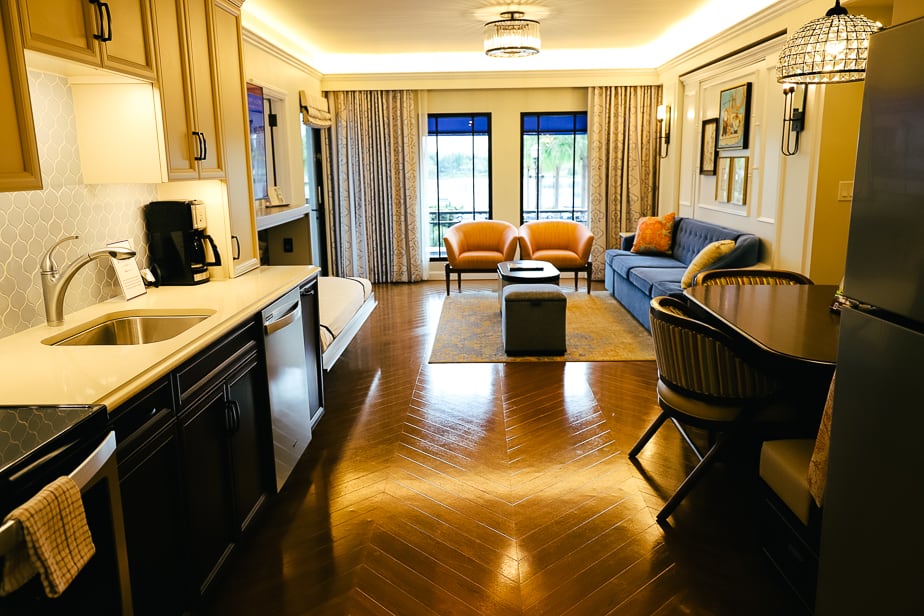 Related: One-Bedroom Villa at Disney's Riviera
Or if you're traveling with a larger party you might consider a two-bedroom villa. The two-bedroom villa sleeps up to nine guests. It has the same exact living, dining, and master bedroom as the one-bedroom.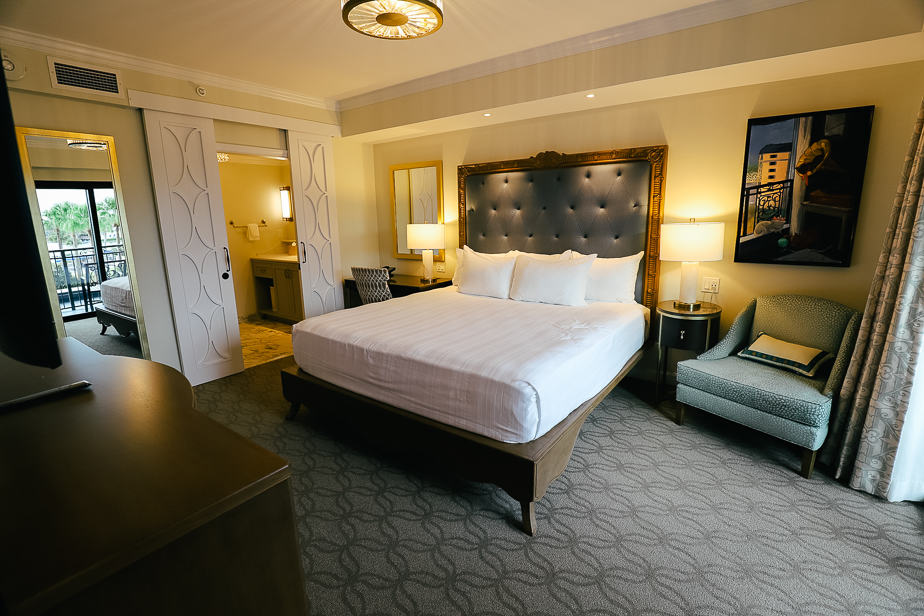 However, the two-bedroom will have an additional bedroom that's set up similar to the deluxe studio.
Related: Two-Bedroom Villa at Disney's Riviera
Lastly, if you want to go all out, the Riviera has a three-bedroom grand villa. This unit sleeps up to twelve guests and offers all the bells and whistles.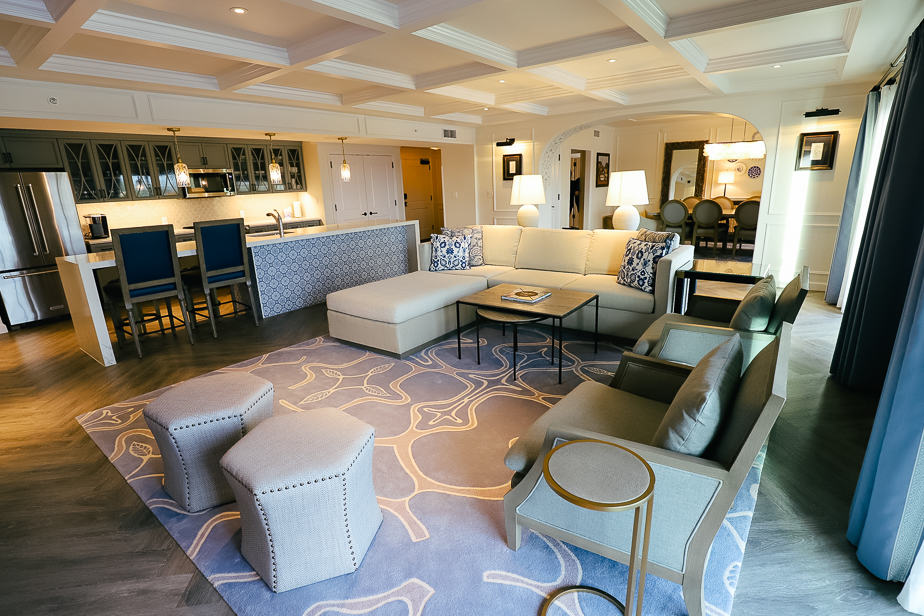 To date, this is my favorite. Seriously, what's not to like?
Related: Three-Bedroom Grand Villa at Riviera
Now that we've previewed the different room types let's look at a few other resort amenities.
Recreation
This review of Disney's Riviera Resort will briefly look at the pool areas available to guests. The resort has two different pools and a children's water play area.
The first pool is considered the resort's leisure pool, the Beau Soleil. This pool is located in the back center and is larger than the resort's quiet pool.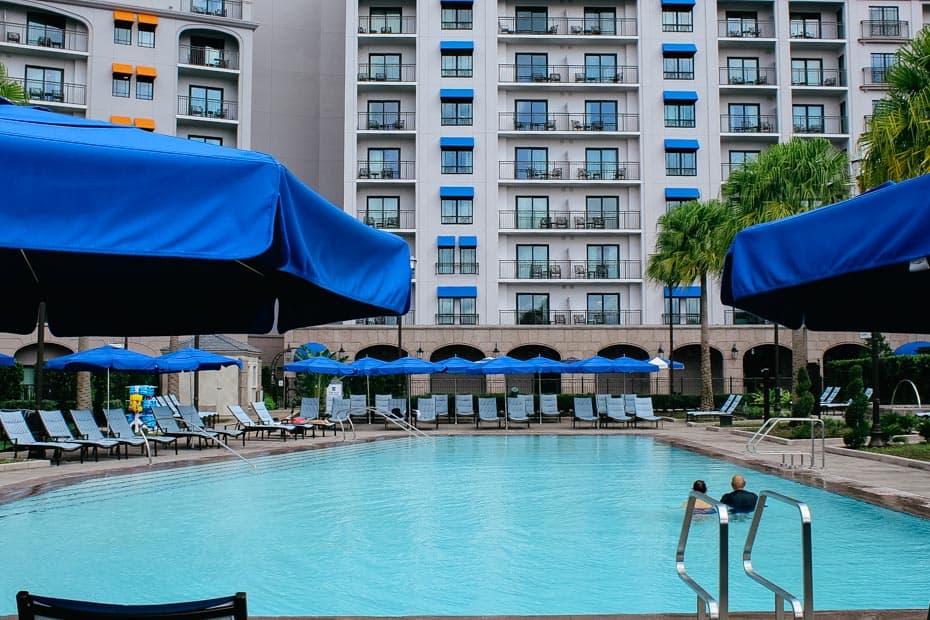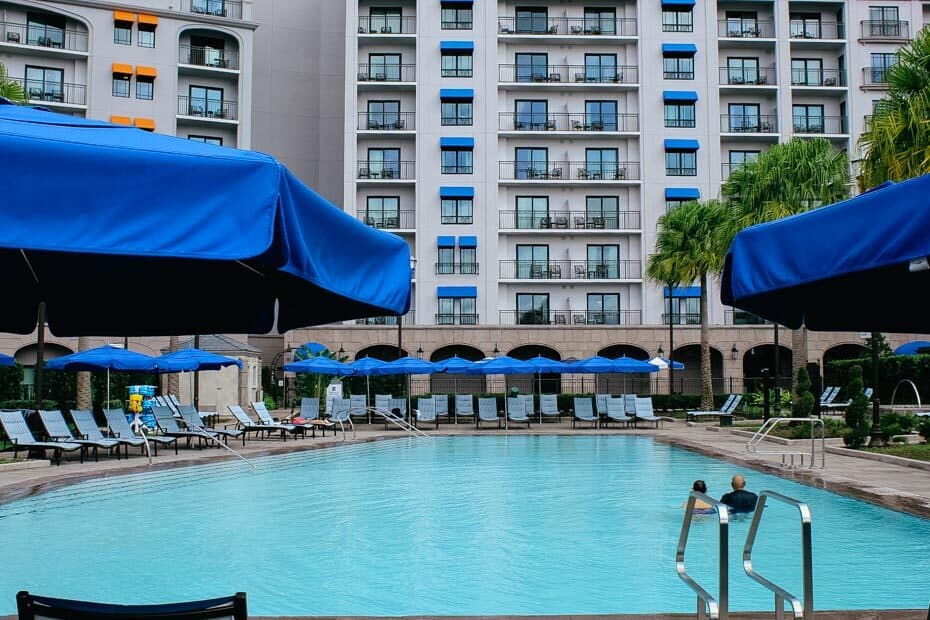 The feature pool is called the Riviera pool. This pool is also where the S'il Vous Play aquatic play area for children is located.
Related: The Pools at Disney's Riviera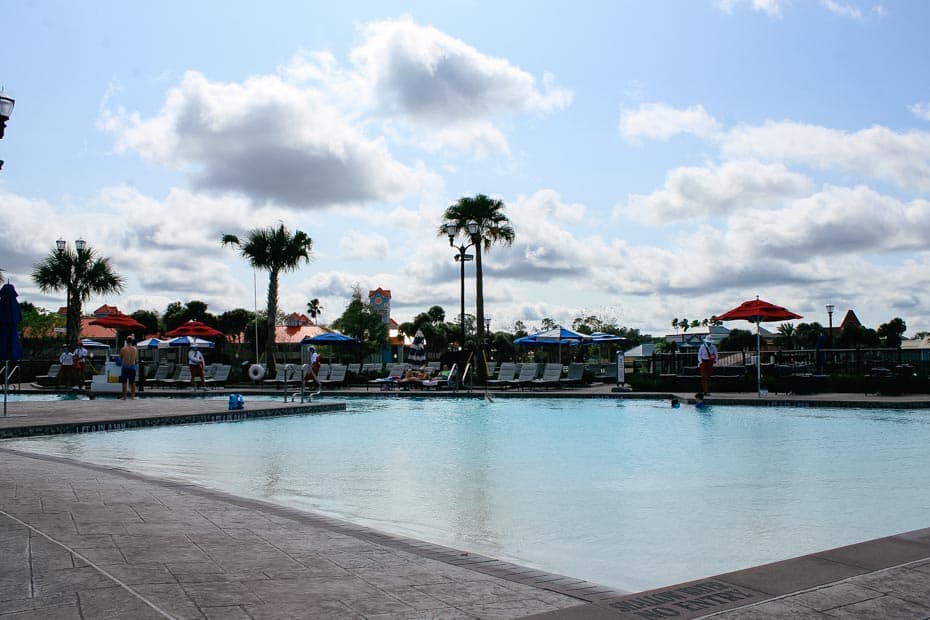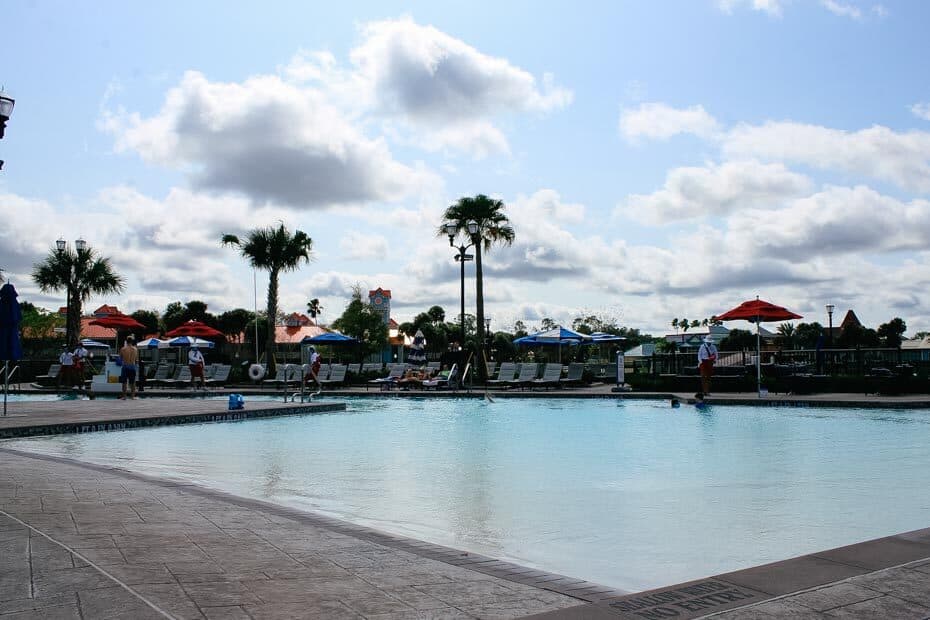 This pool has a curvy water slide inside of a tower.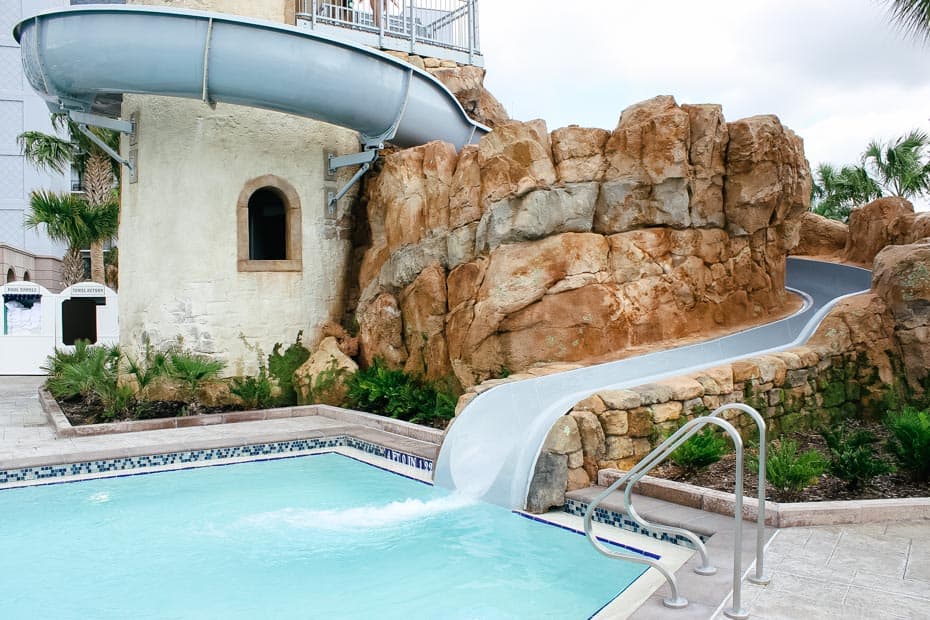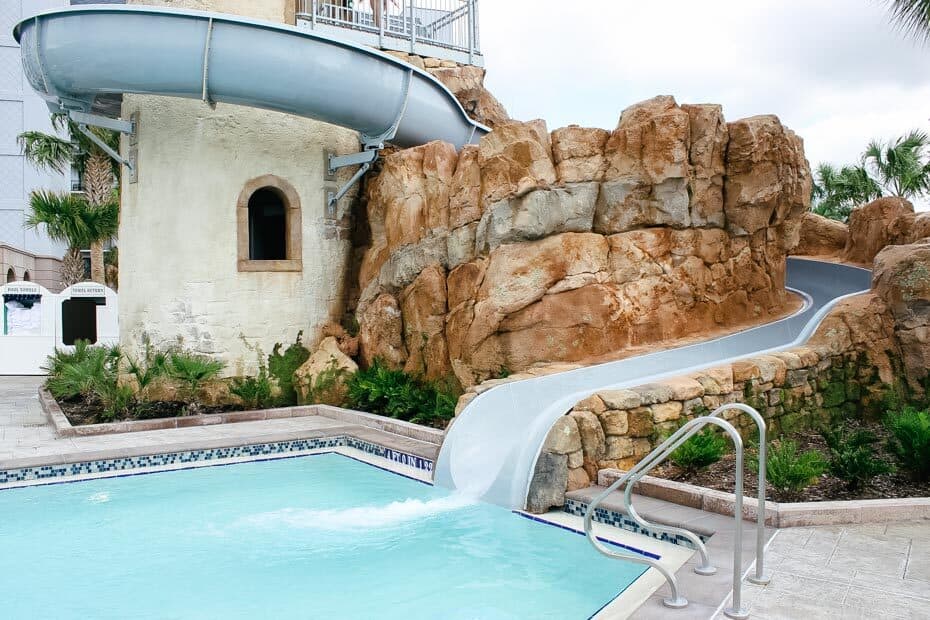 The water play area features a fun ballet of characters from the animated classic Fantasia. This setup is similar to a splash pad with a playground.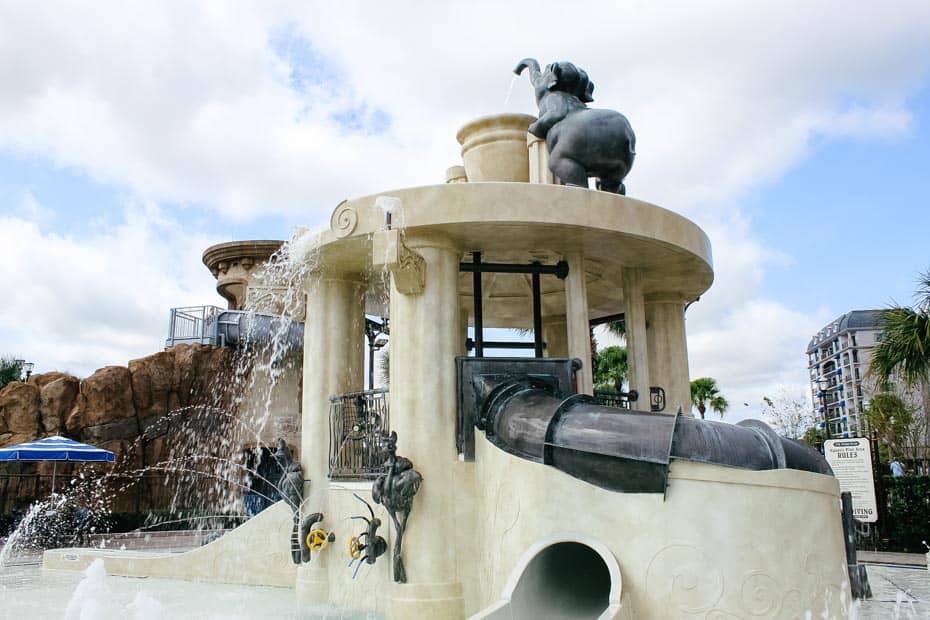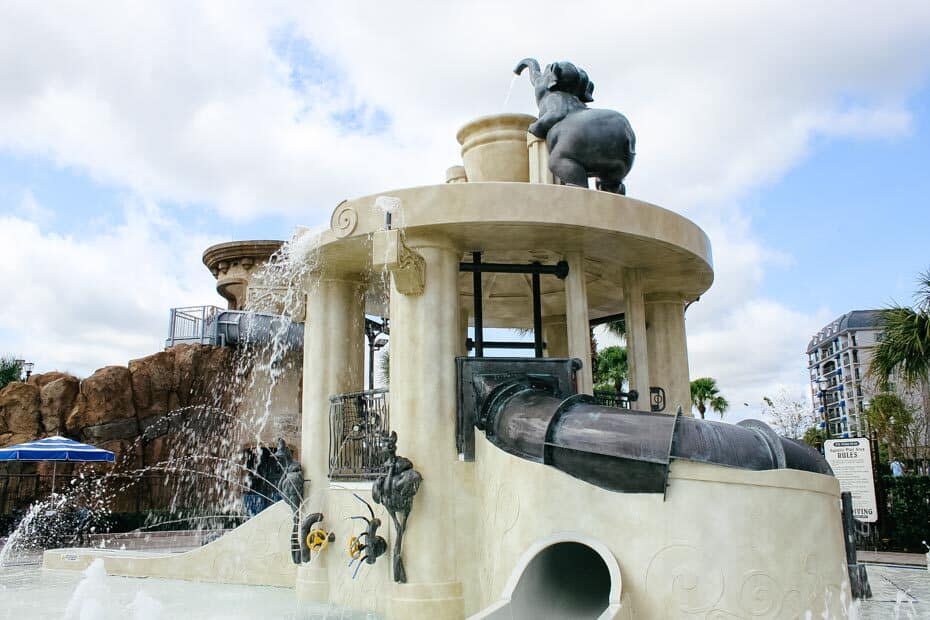 While Riviera's pool area isn't as extreme as a pool like Stormalong Bay, I do consider rank it highly in our resort pool guide.
Related: The Best Pools at Disney World
In addition to the resort's stunning pool areas, there are several other amenities and recreation we have yet to discuss in this review.
For starters, Disney's Riviera has a beautiful walkway that joins Caribbean Beach. This trail is perfect for enjoying a leisurely stroll around Barefoot Bay.
There are several running trail maps posted outside on the property. I haven't measured the distance exactly.
But I can say it's a fairly long distance if you jog the full circle from the Riviera to the Trinidad section of Caribbean Beach and back.
Related: Jogging Trails at Disney World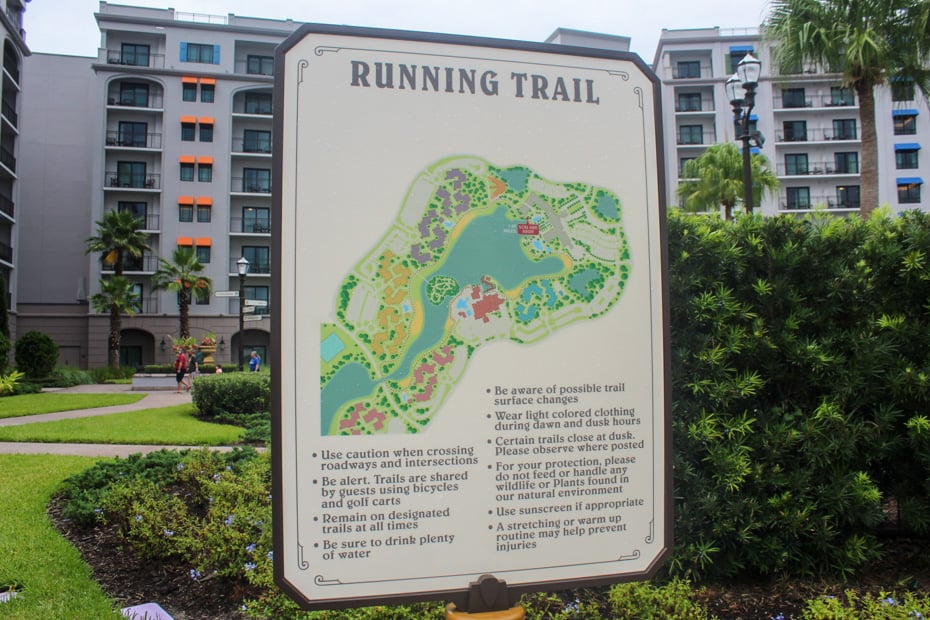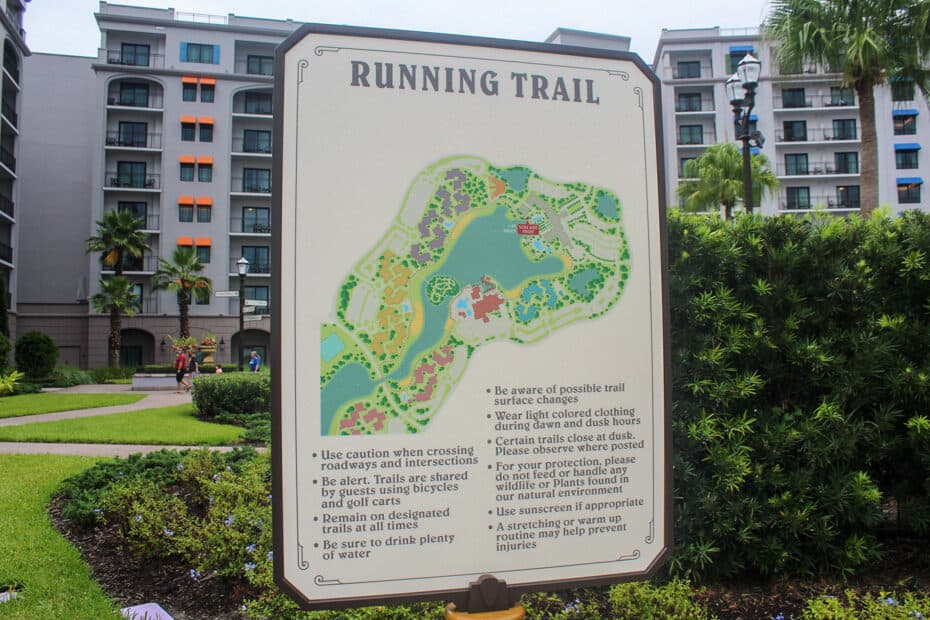 Riviera has plenty of outdoor seating areas and white sand beaches to enjoy.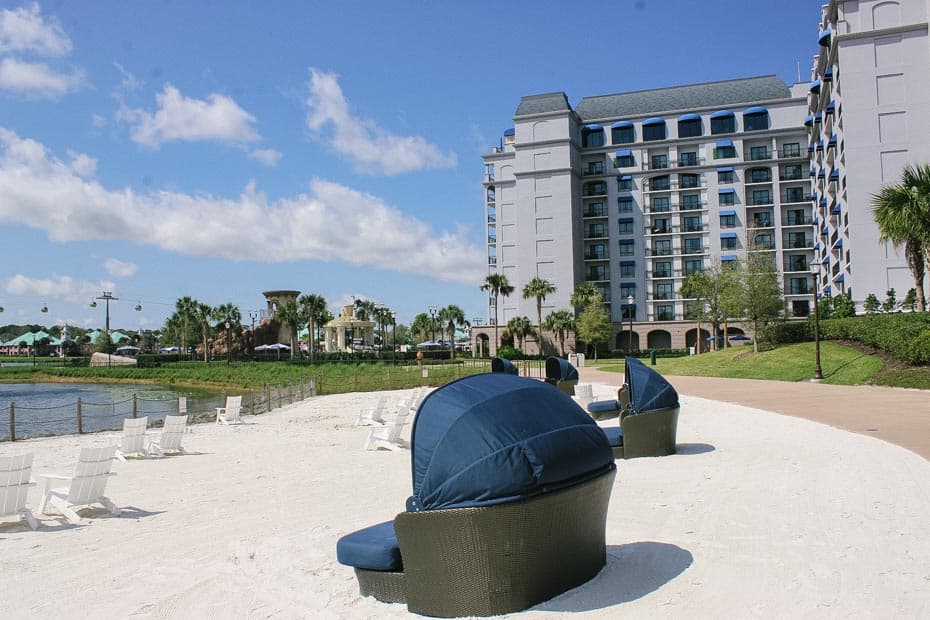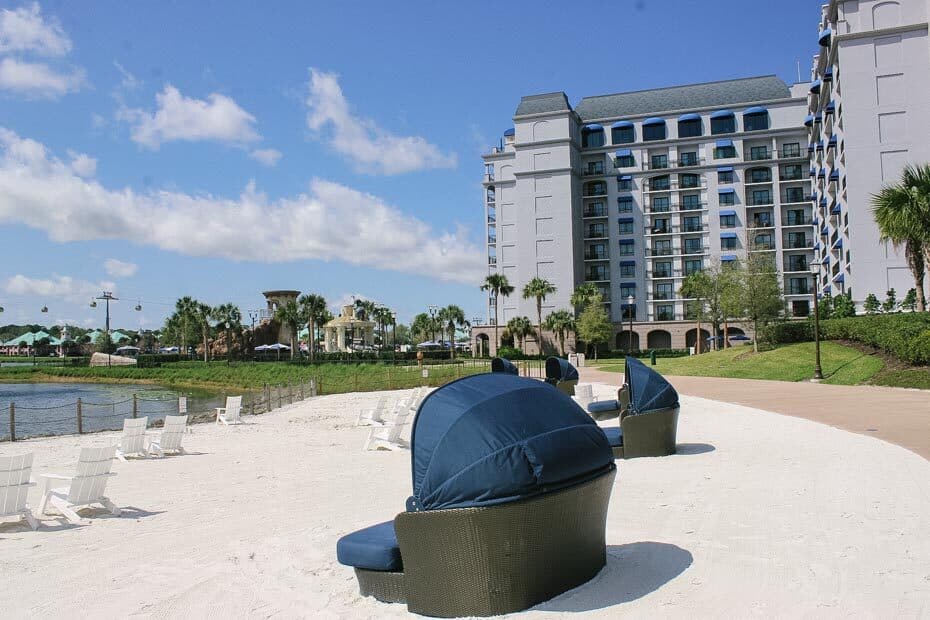 However, if you prefer to keep your feet out of the sand, you'll find plenty of activity on the lawn. There's usually a game of chess and cornhole going on at any given moment. And there's a Bocce ball court.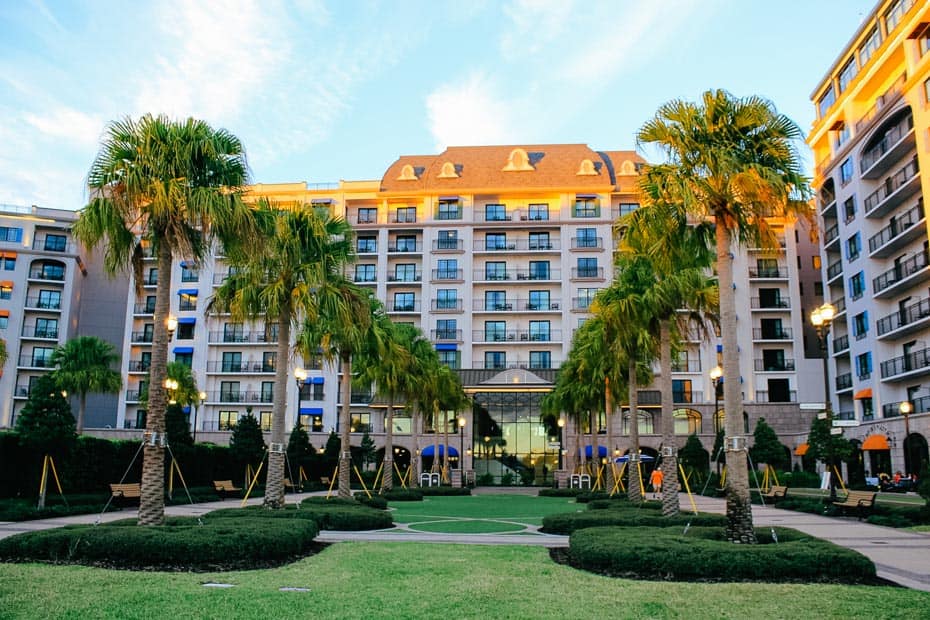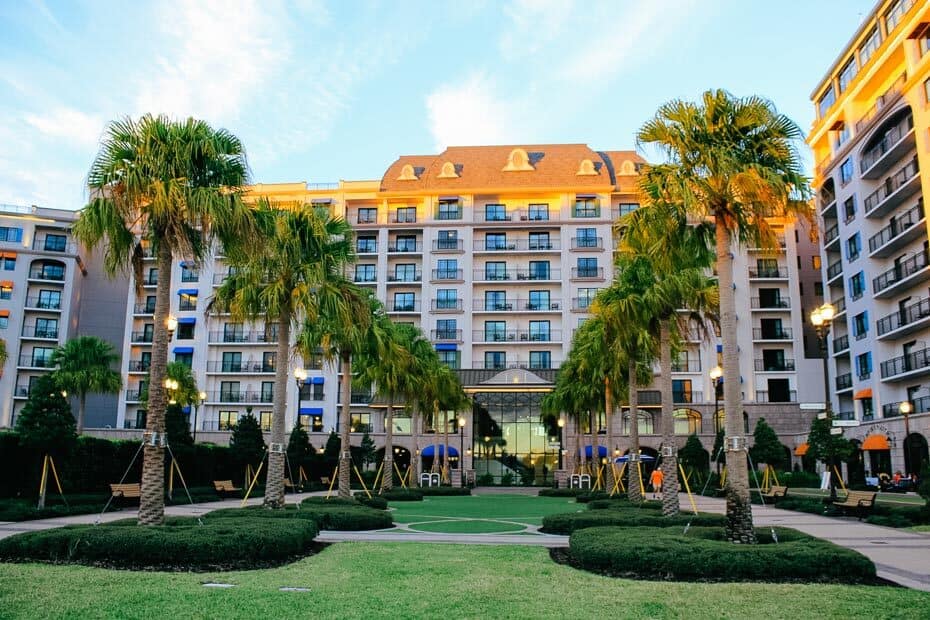 The whole game on the lawn thing reminds me of our stay at Waldorf Astoria Orlando. I think both the Riviera and the Waldorf are comparable high-end resorts.
Related: Waldorf Astoria Orlando Review
Behind the Riviera, a nice seating area with a fire pit looks out to Barefoot Bay.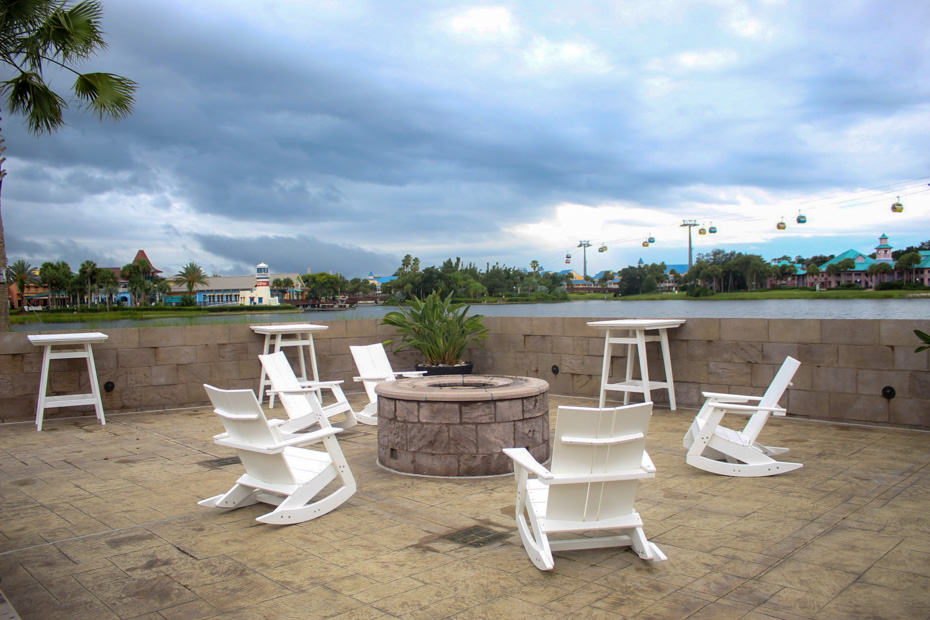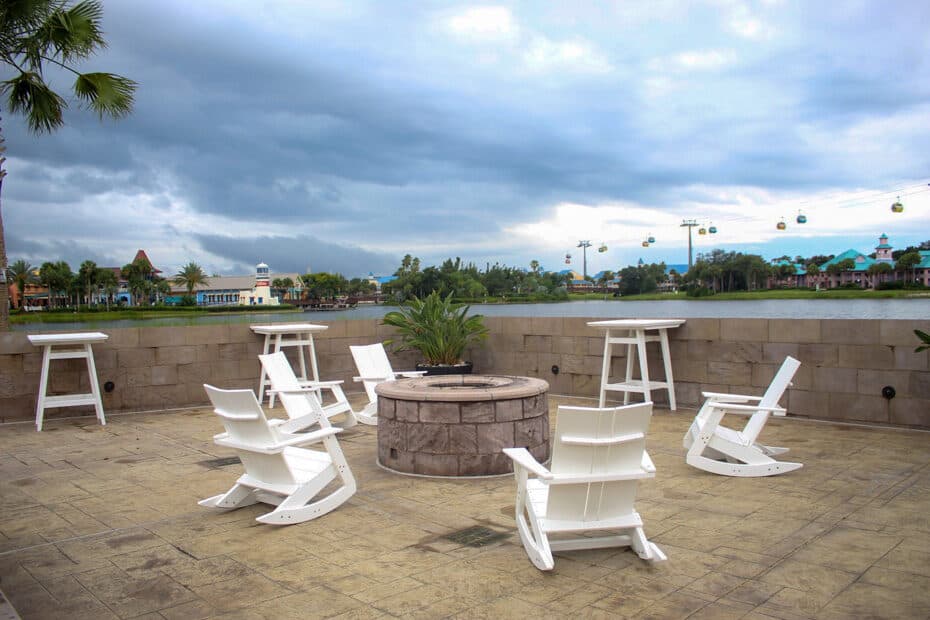 If you would prefer to get your workout indoors, the Athletique Fitness Center is available.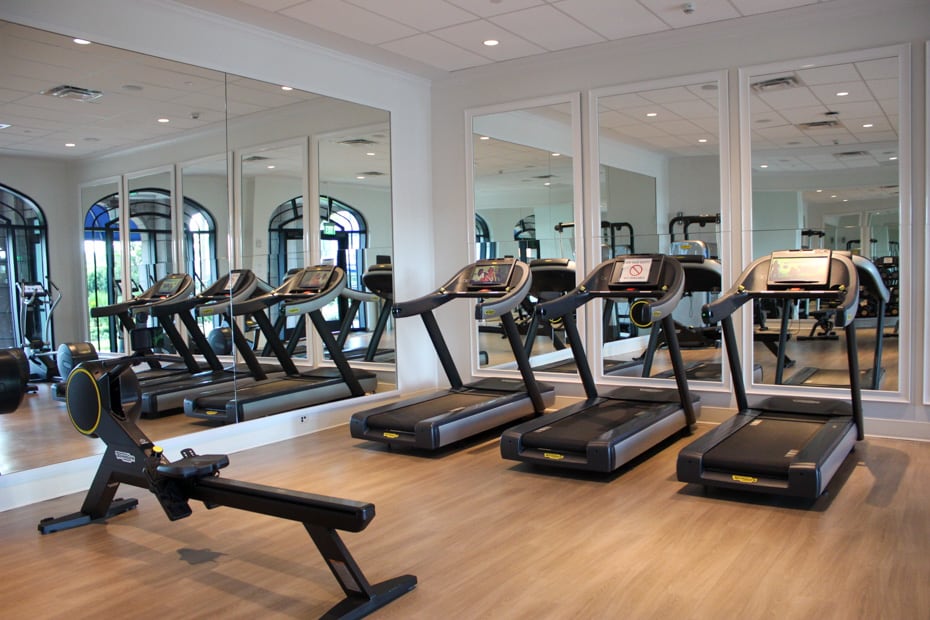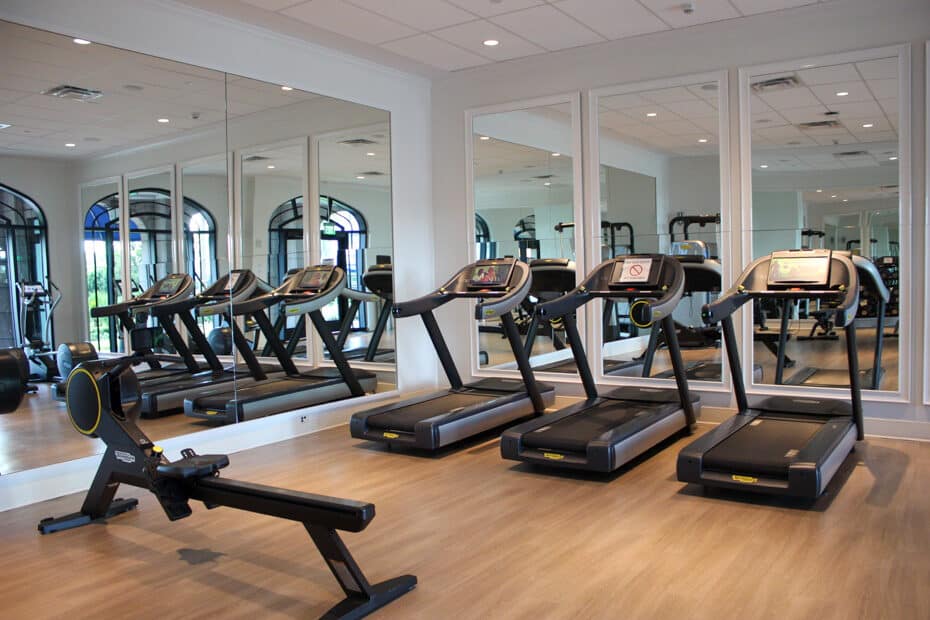 Like all of the gyms at Disney, it's fully stocked with exercise equipment and weights.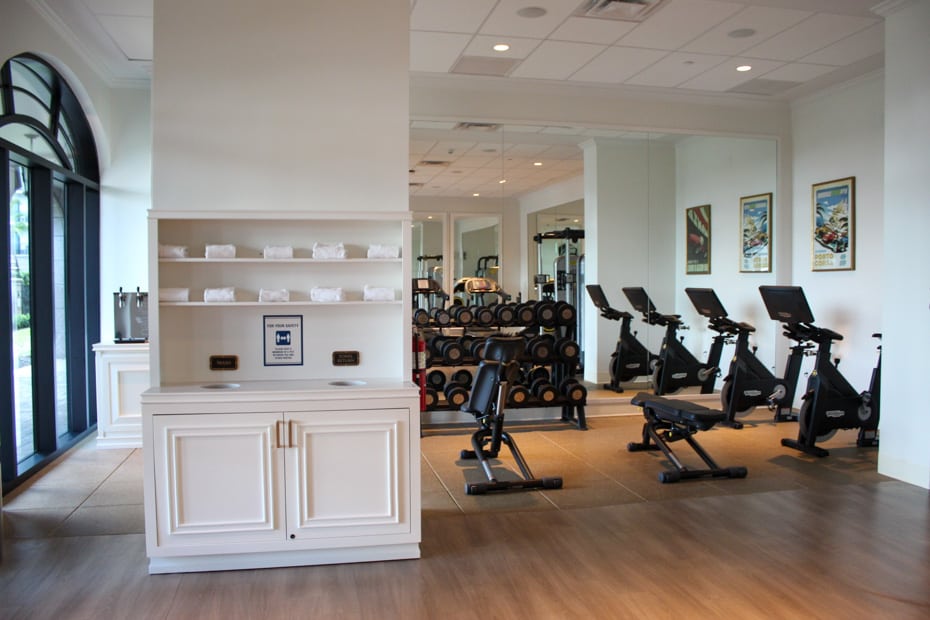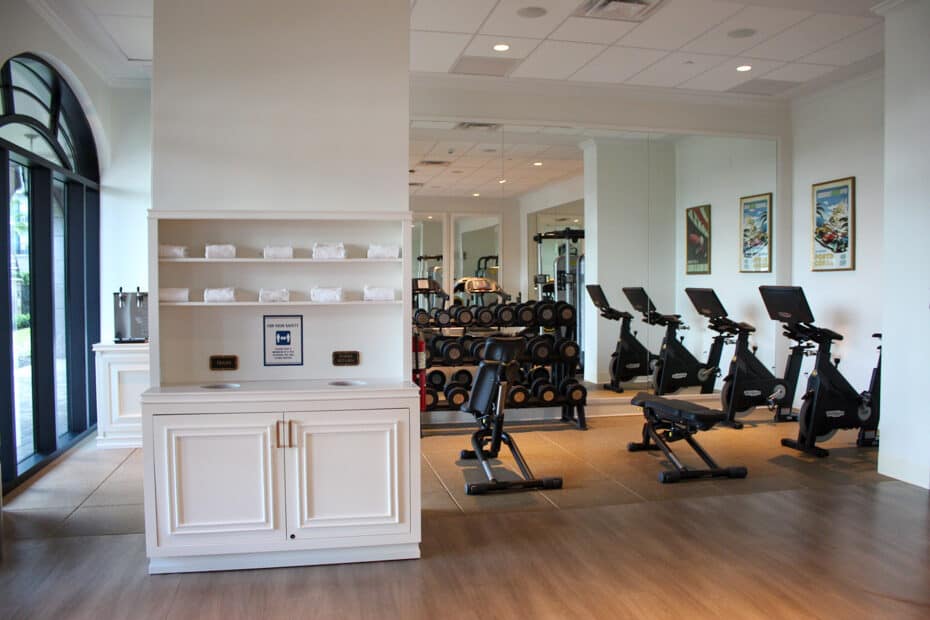 Dining
When it comes to dining at a Disney World Resort hotel, you can't get any better than the Riviera Resort. The resort has some of the best dining options in all of Disney World.
First, off the lobby, you'll find Le Petit Cafe. The cafe is a coffee shop with a bakery.
Le Petit has a decent selection of beers, wine, and cocktails. However, in the morning it's an excellent place to pick up a specialty coffee or croissant.
Here are a few of the pastries available in the dessert case.
Related: Le Petit Cafe at Riviera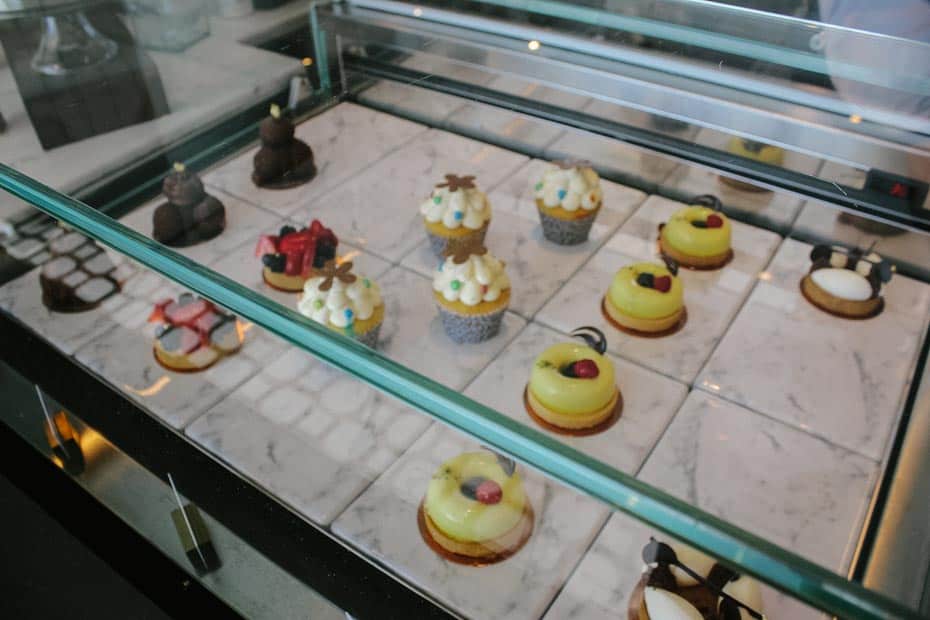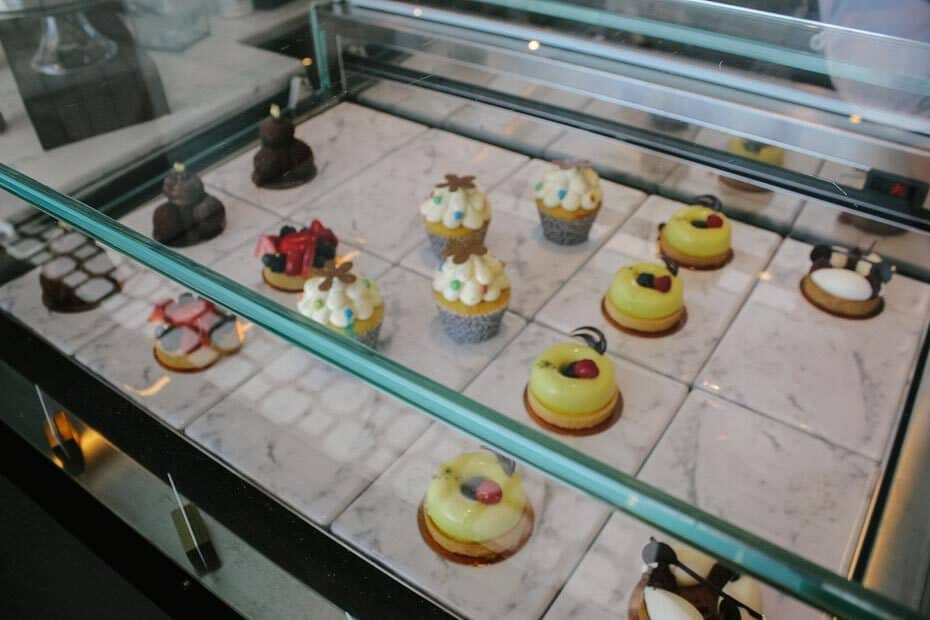 Primo Piatto, the resort's quick-service restaurant, is located on the ground level. This location has quickly topped the list of my choices for best quick service at Disney World.
On one visit, I had a wonderful breakfast. These blueberry lemon pancakes are a dish I'll return for in the future.
Related: Primo Piatto Review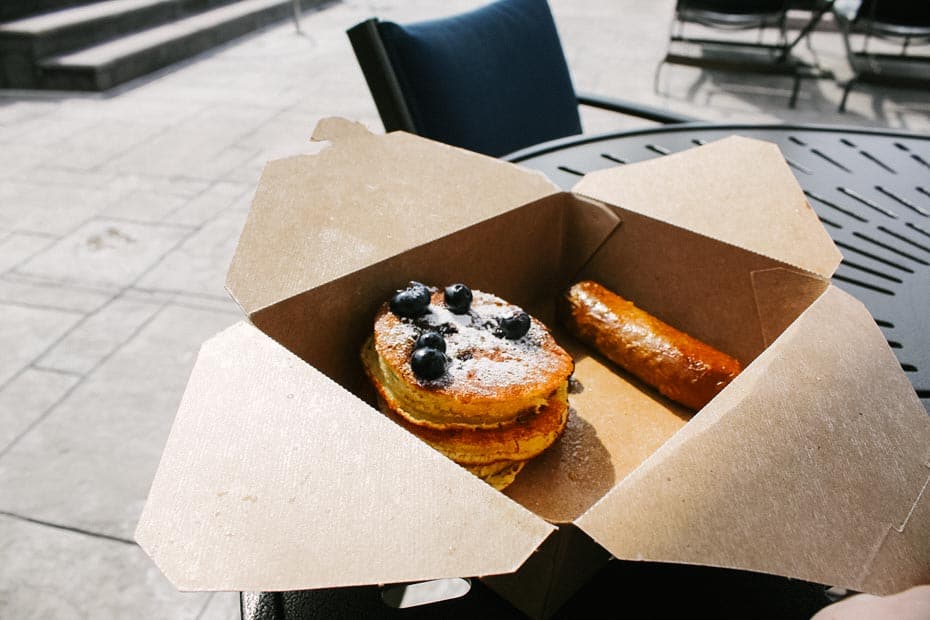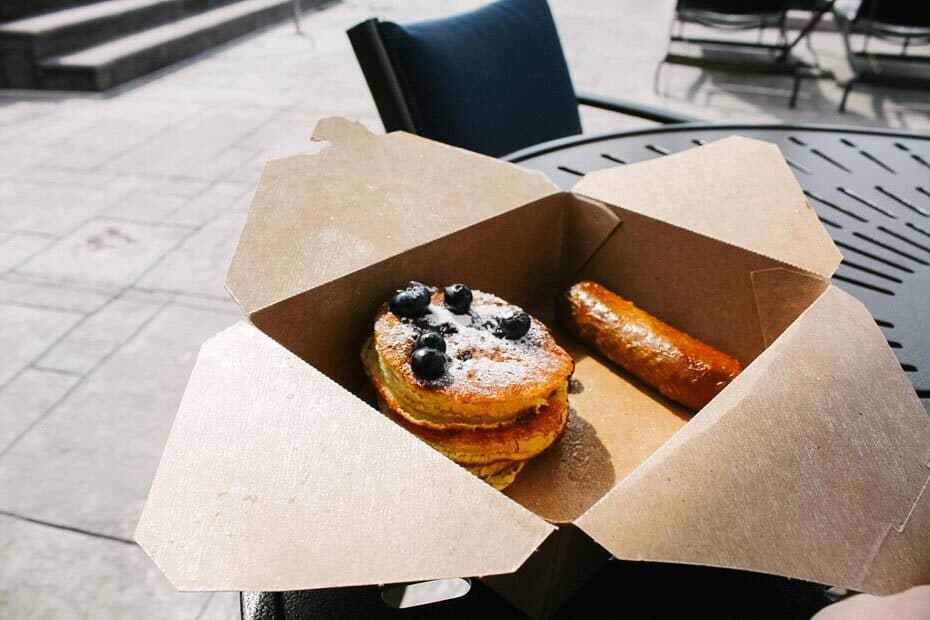 Between the reasonable pricing and quality of the menu items, it's hard to go wrong with a meal at this location.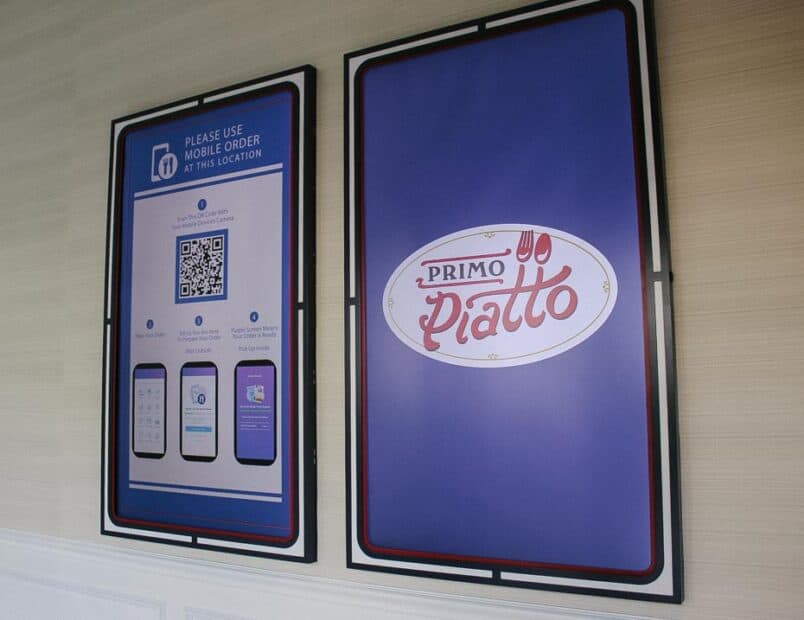 Bar Riva sits next door to Primo Piatto, and serves as the main bar and lounge for Riviera.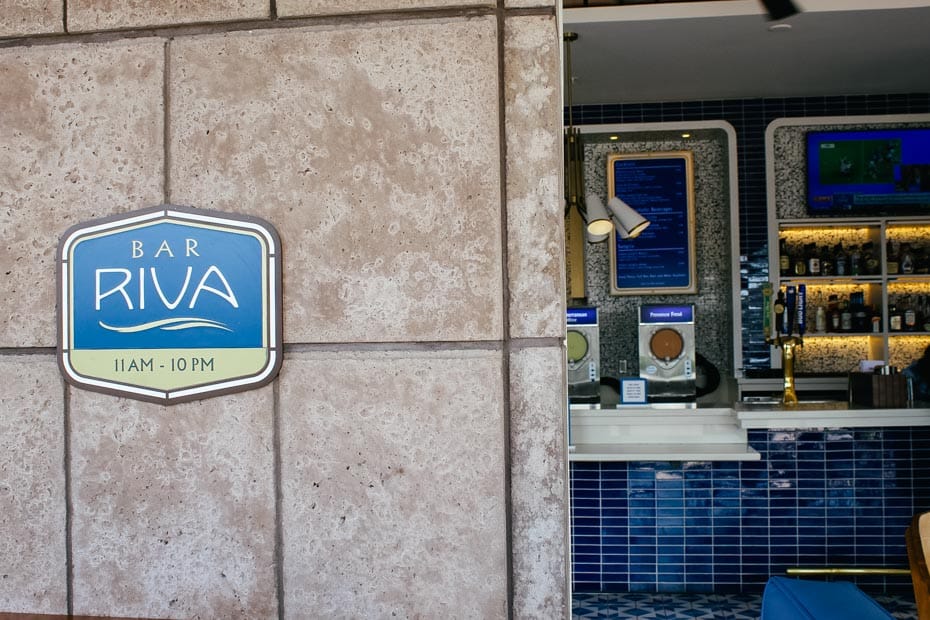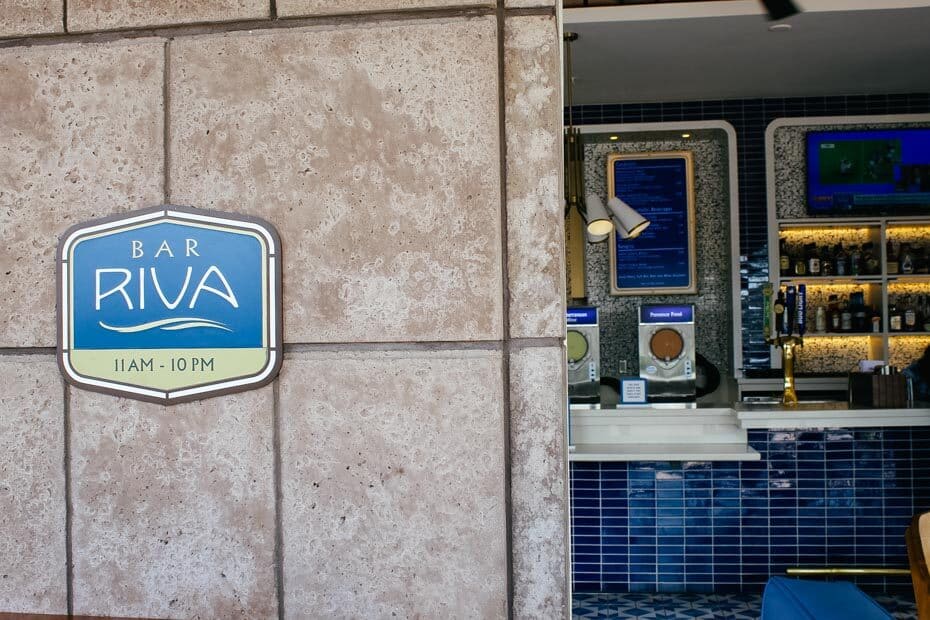 Bar Riva has an indoor-outdoor feel with the front of the restaurant exposed to the elements. The bar is only steps away from both resort pools and serves as the main pool bar.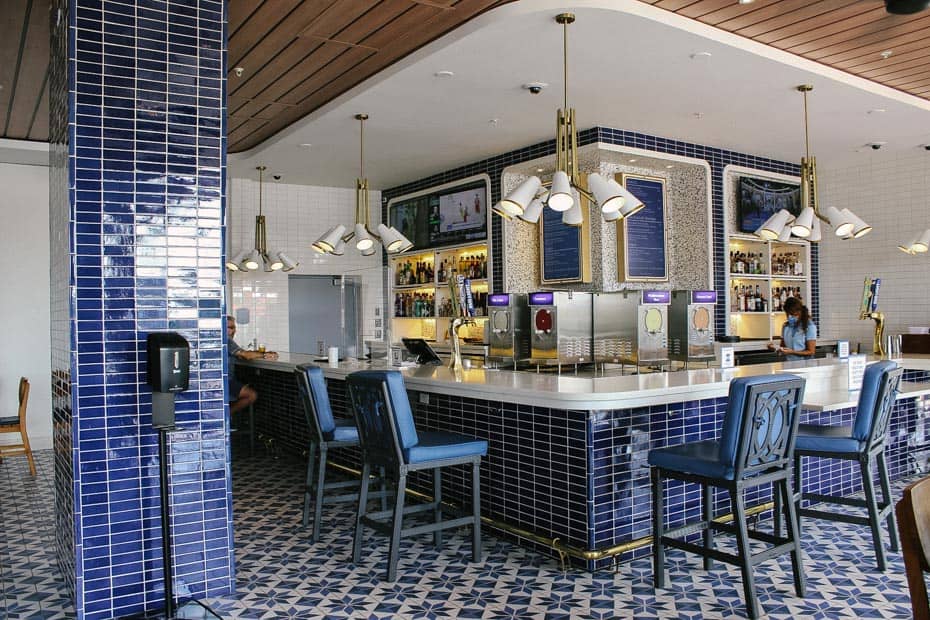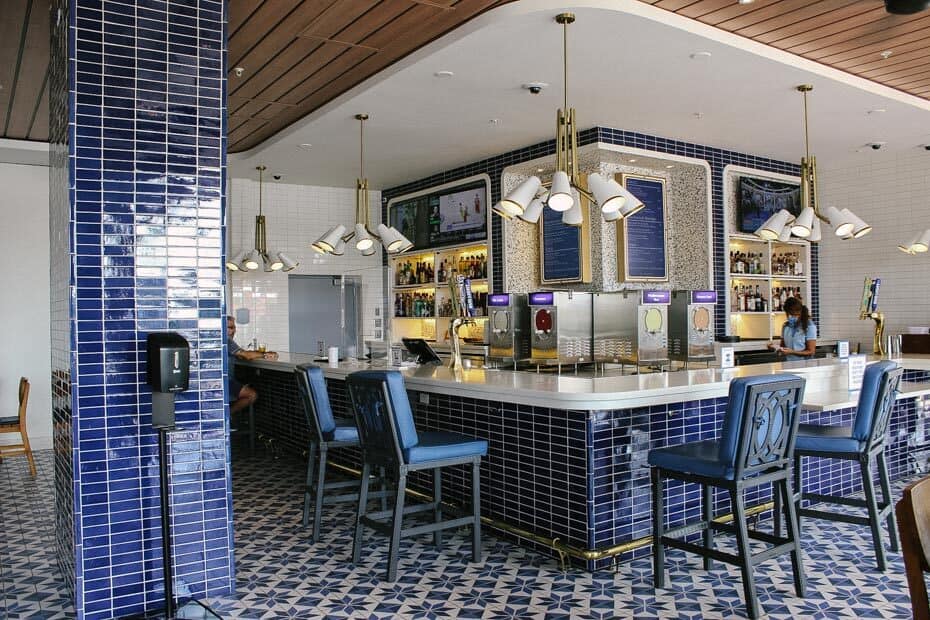 Don't let the words bar scare you though. Bar Riva has an excellent menu offering a variety of items. On my last visit, I had this shrimp salad.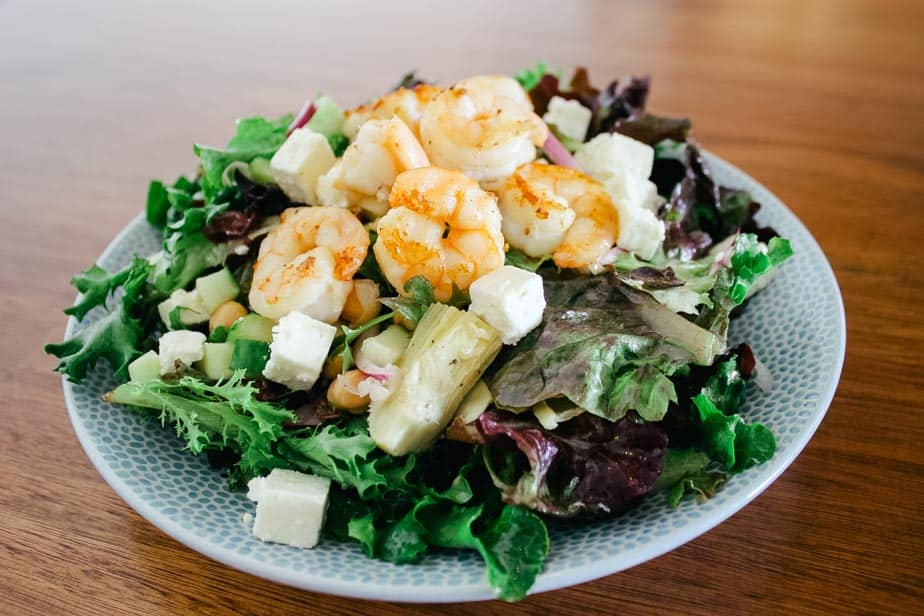 I found myself thinking why aren't there more items like this available? It was so good, light, and refreshing.
Related: Bar Riva Review
Rounding things out, we'll head up to Riviera's top floor and check out Topolino's Terrace. This restaurant offers characters for breakfast only and more formal dining in the evening.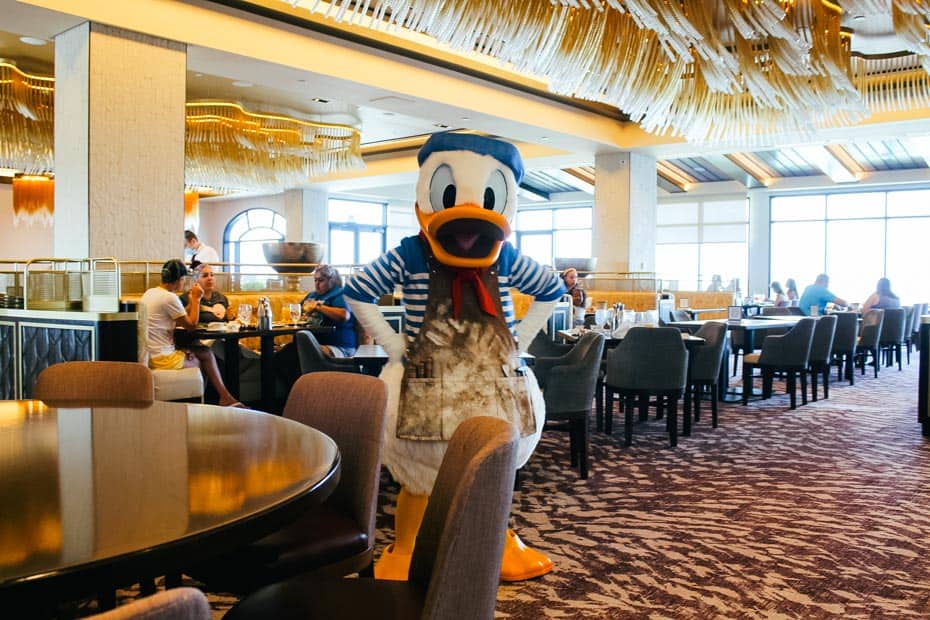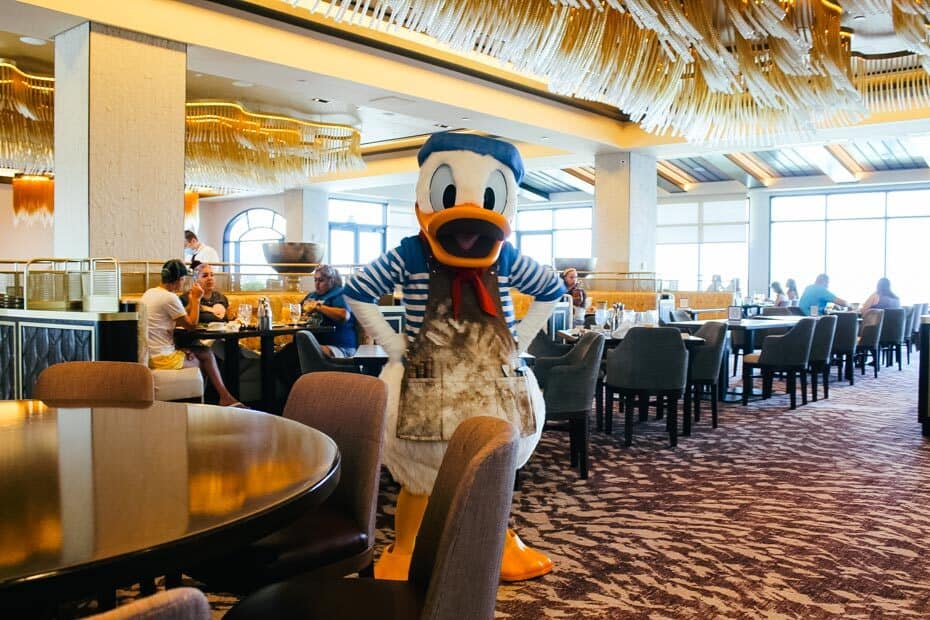 We have visited Topolino's for breakfast to enjoy the character dining experience.
Related: Topolino's Terrace Breakfast a la Art Character Meal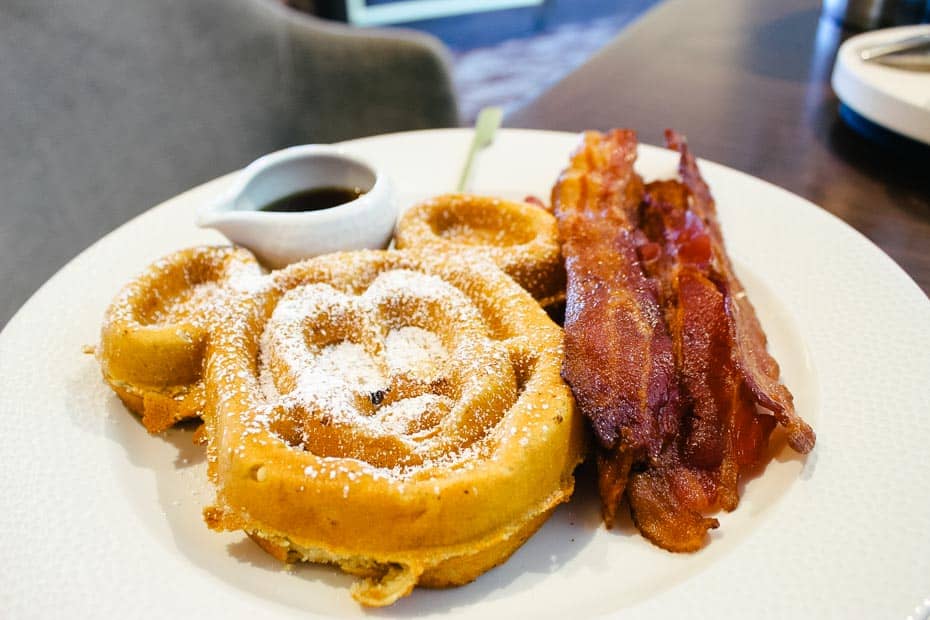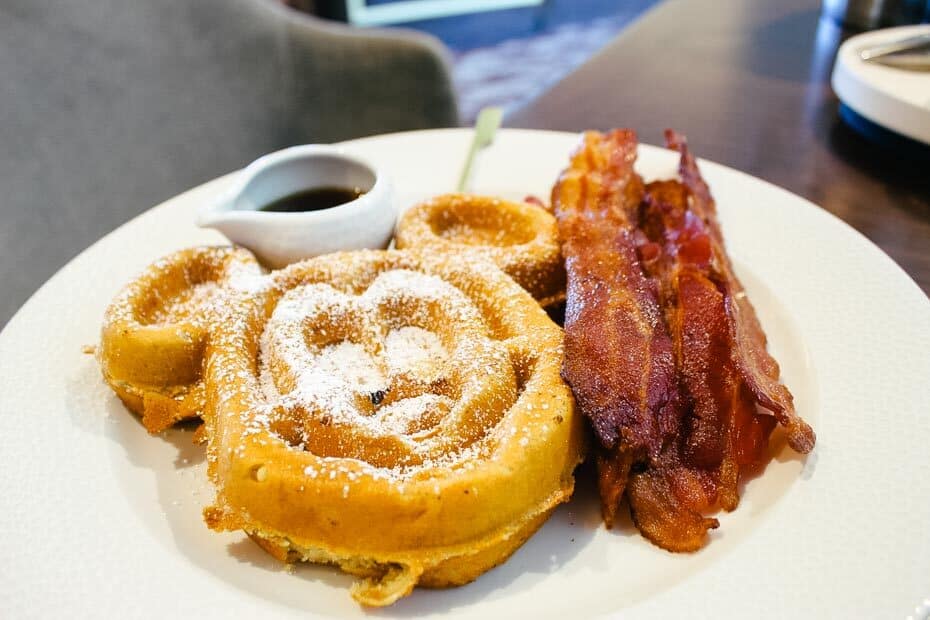 If you are looking for a character breakfast at Disney with classic characters and good food, this one fits the bill. I've tried several character dining experiences at Disney, and Topolino's wins out for the best quality of the meal.
When you dine here, make sure to enjoy their rooftop lounge either before or after your meal.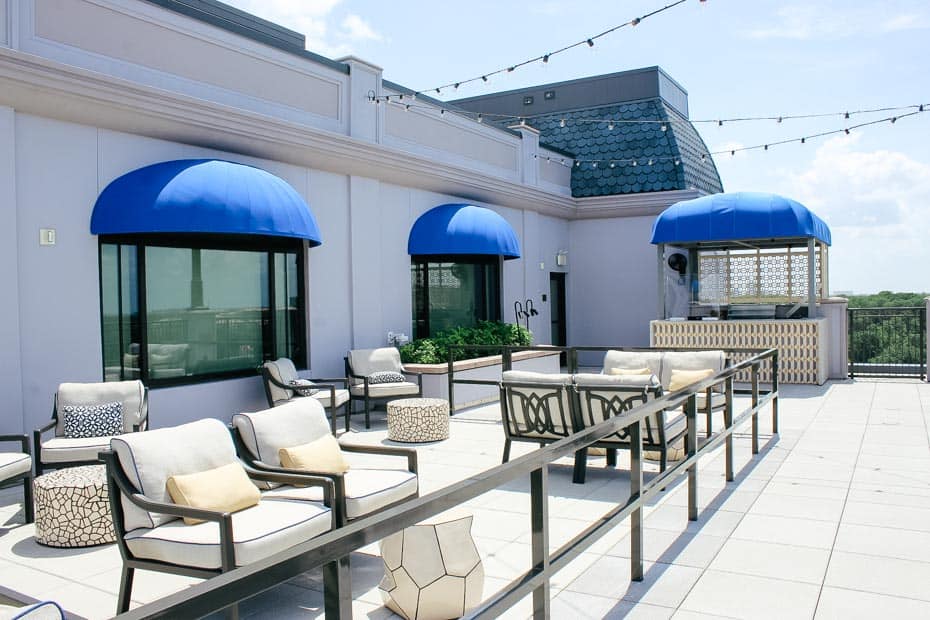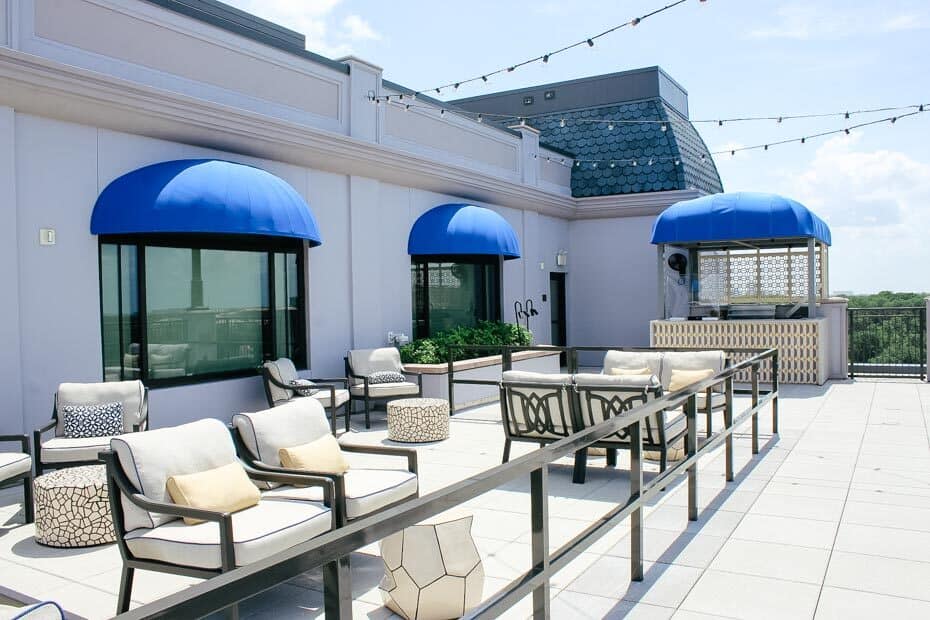 The views from above are something to behold. You can see how close the Swan and Dolphin Resorts are in the distance.
Related: Disney's Swan and Dolphin Review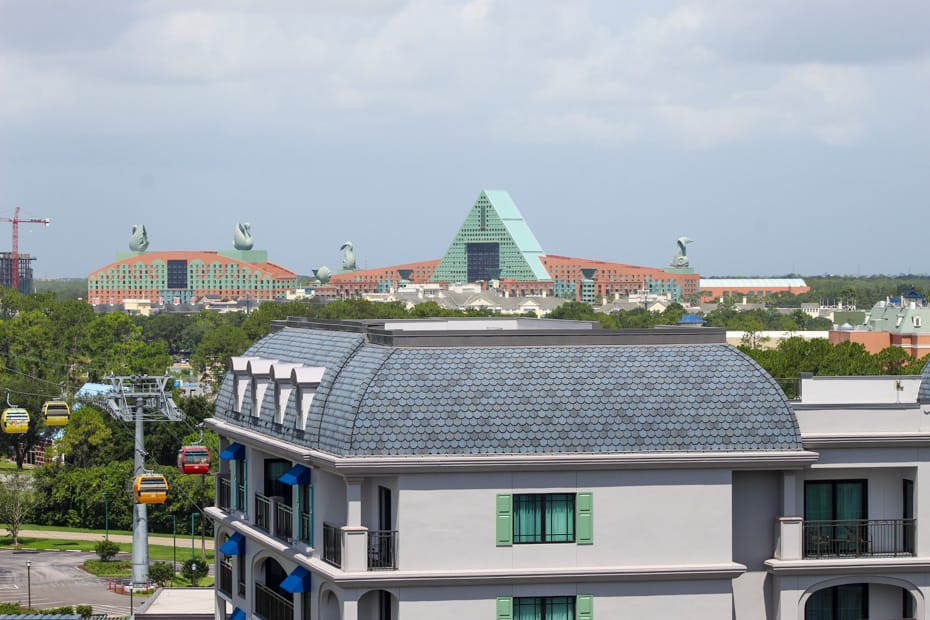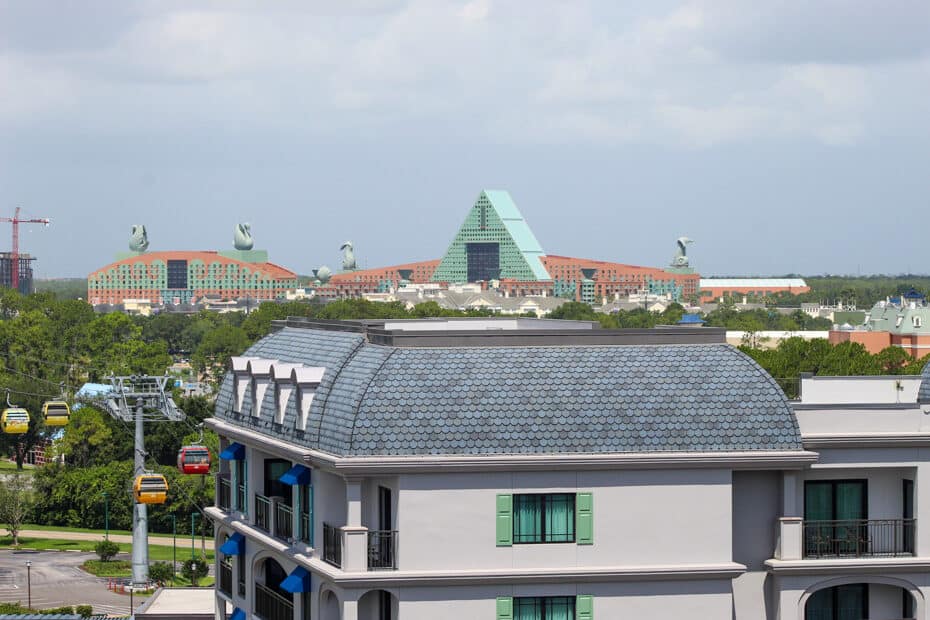 For more information about dining at the Riviera, we have a full restaurant guides. This will help you with your dining choices when visiting the resort.
Related: Disney's Riviera Resort Restaurants
Amenities
Disney's Riviera has a few amenities we've yet to discuss in this resort review. For starters, the resort's gift shop, La Boutique, sits off the lobby.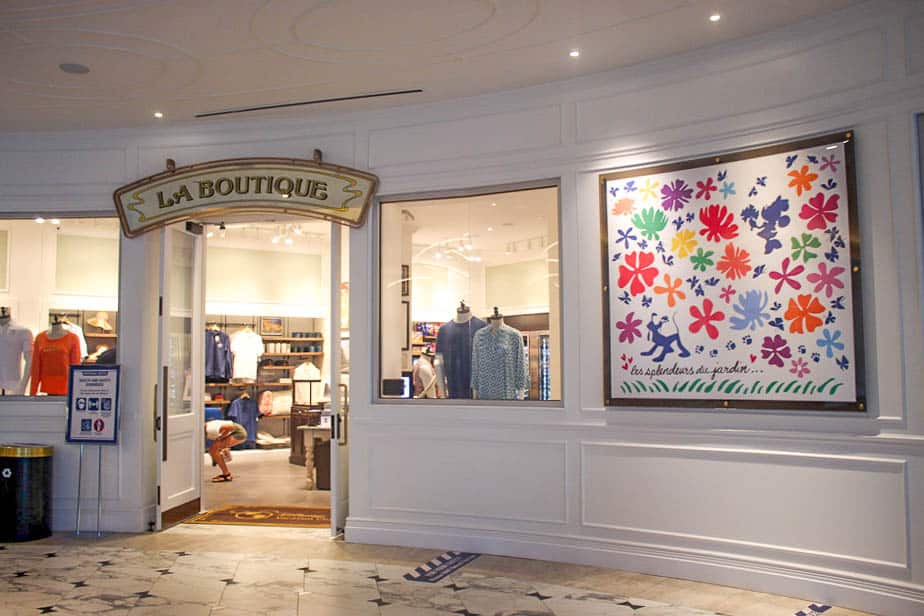 The shop has a few resort-inspired art pieces on display for purchase.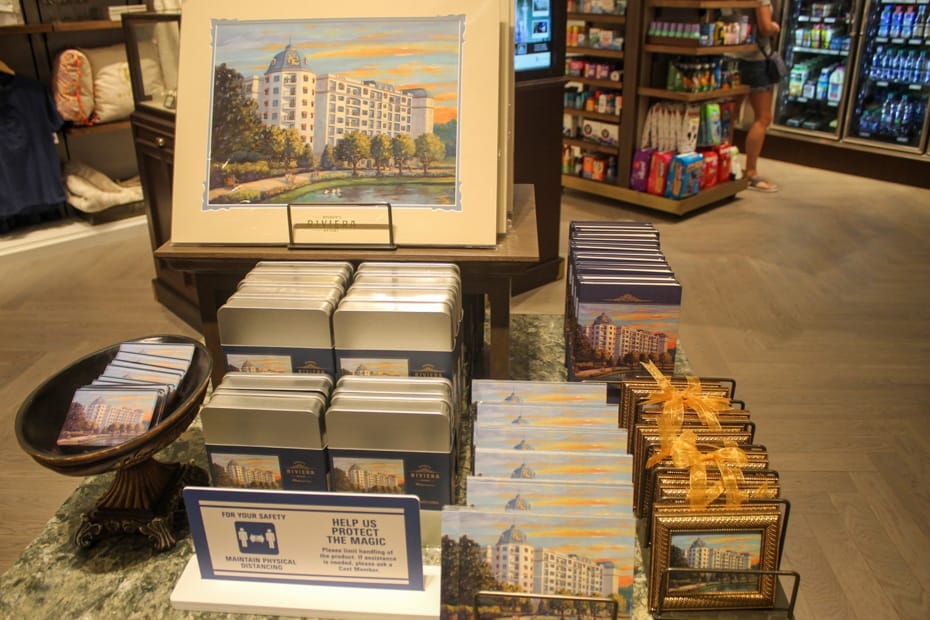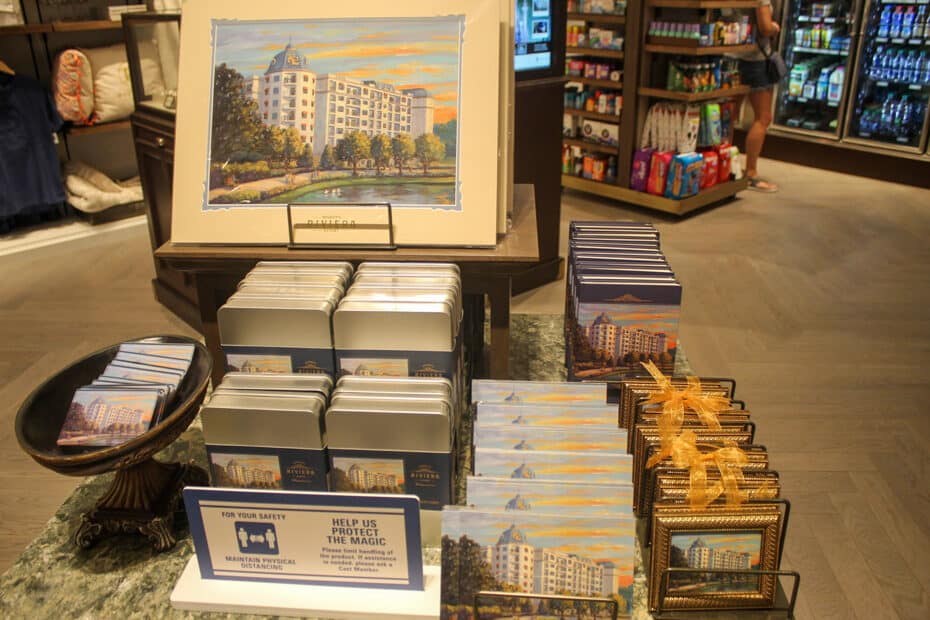 And there's usually a few pieces of resort-inspired merchandise. You may or may not be aware but the Riviera has its own Disney Loungefly backpack.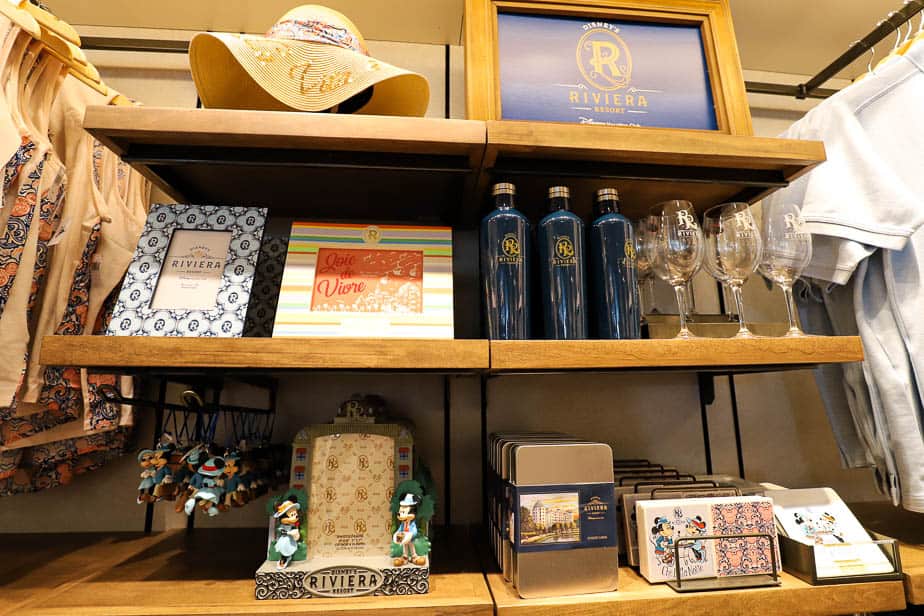 Unfortunately, the more popular resort items, like the backpack, often sell out quickly.
And there's a decent selection of snacks and breakfast items to prepare in your room.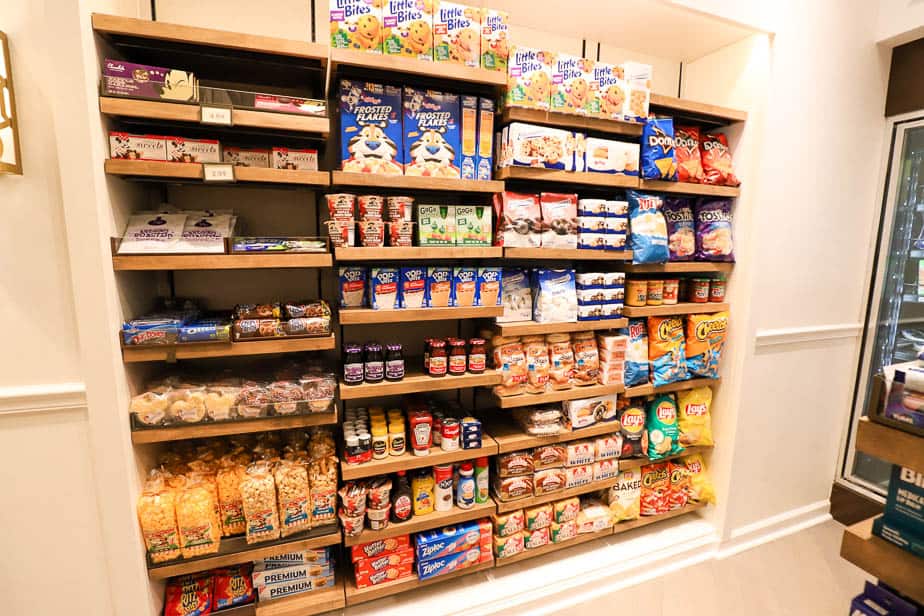 It is common for the DVC resorts to have grocery items like these in the picture below. All of the villas have a kitchenette at the bare minimum in each room.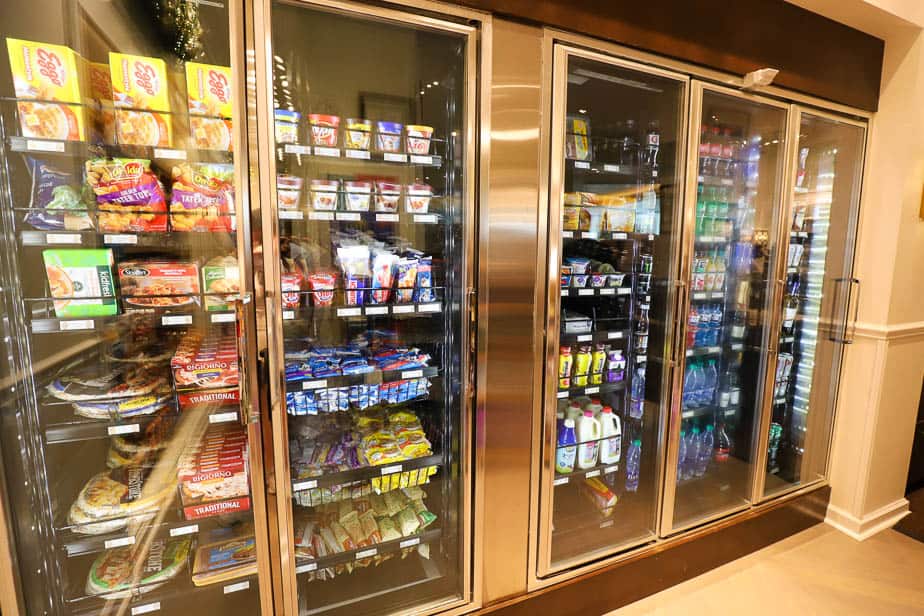 The cooler section has beverages, sandwich meats, milk, and a few frozen items.
I have a full photo tour of the gift shop, if you would like to look at all the types of merchandise you can expect to find.
Related: Disney's Riviera Resort Gift Shop, La Boutique
In addition, the Movies Under the Stars program is available in the evenings. You'll want to pick up a resort recreation calendar upon check-in for a list of movies that will be playing nightly during your stay.
And lastly, laundry facilities are available to guests in certain areas of the hotel. Make sure to check the map to locate the one closest to your room.
Transportation
There are two forms of transportation available to guests of Disney's Riviera Resort. For most, the Disney Skyliner is one of the largest draws for planning a stay in the area.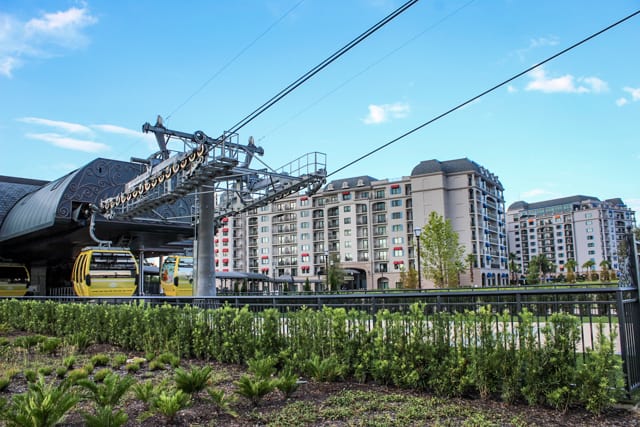 The Skyliner station for Riviera is conveniently located a few steps off the west side of the resort. You'll walk through the breezeway where the popular Tangled and Peter Pan murals are located to access the Skyliner.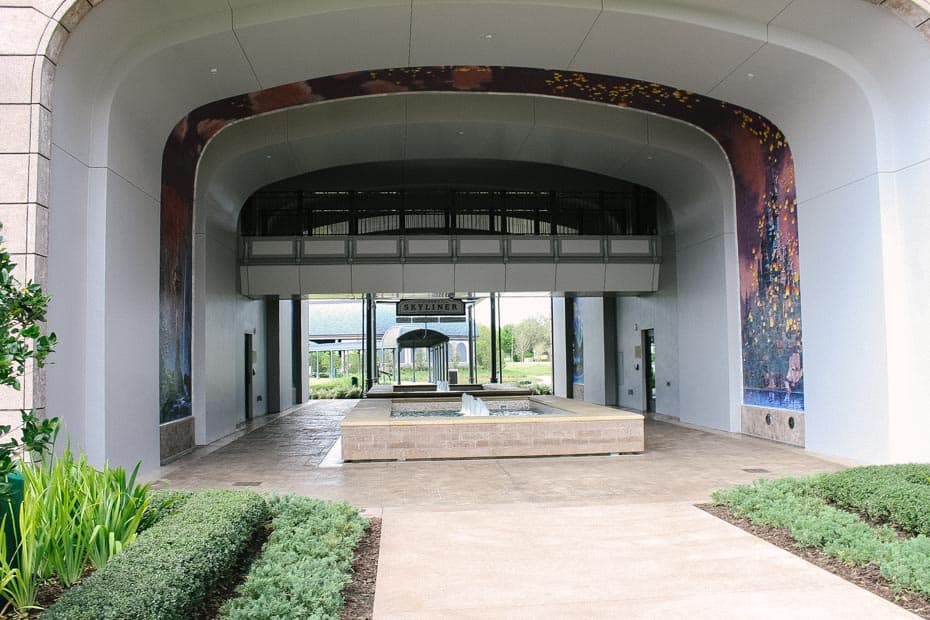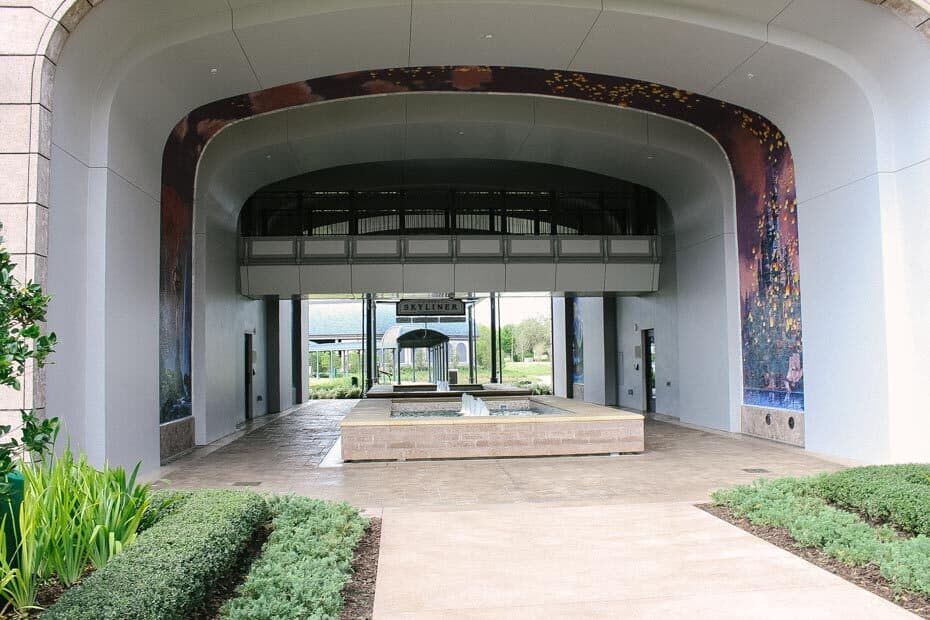 The Riviera Skyliner station travels directly to Epcot.
For those headed to Disney's Hollywood Studios, you'll board a gondola to Disney's Caribbean Beach. When you reach Caribbean Beach, you'll exit and join a line for Hollywood Studios.
Additionally, guests can travel to Disney's Pop Century Resort or Art of Animation Resort via the Skyliner.
If you are planning on using the Skyliner, I recommend reading more about the system in advance and how you can use it to your advantage.
Related: Disney Skyliner Resorts with Travel Times
Additionally, Disney bus transportation is available to guests staying at the Riviera Resort. The bus station sits outside the front of the resort and travels to the following destinations:
Magic Kingdom
Animal Kingdom
Disney Springs
Blizzard Beach
Typhoon Lagoon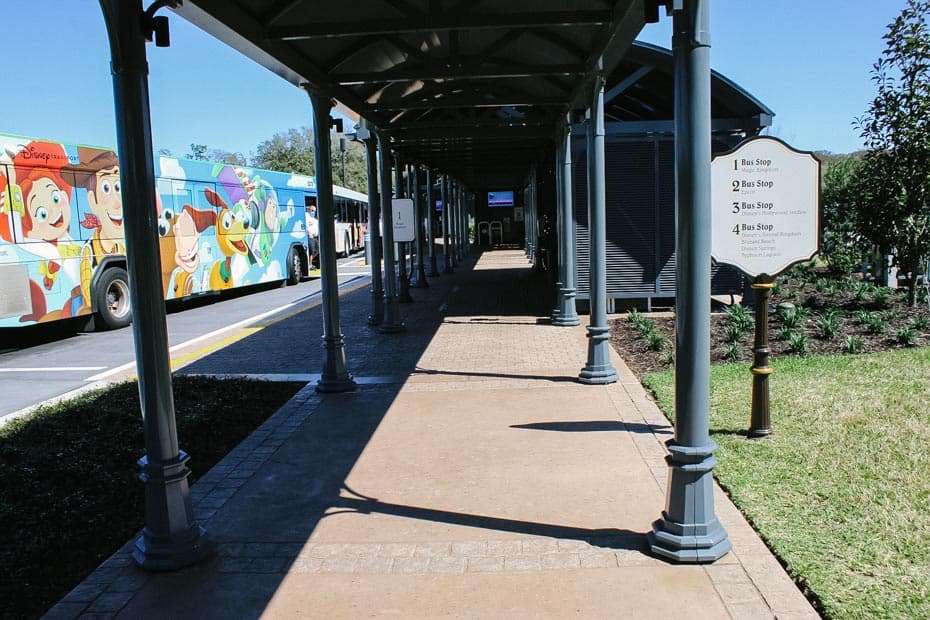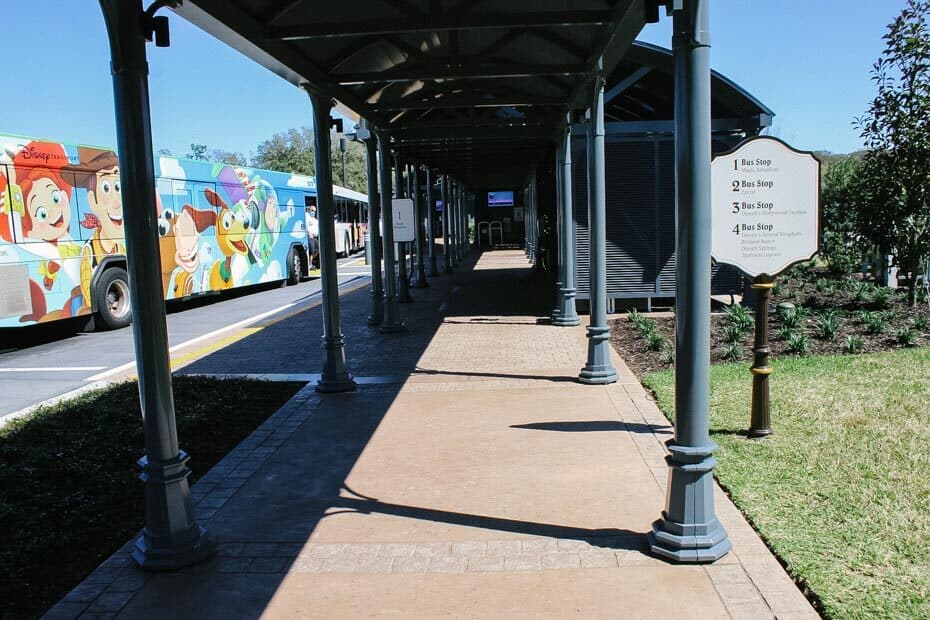 If the Skyliner goes down or during inclement weather, bus transportation will be provided from Disney's Riviera to Hollywood Studios and Epcot.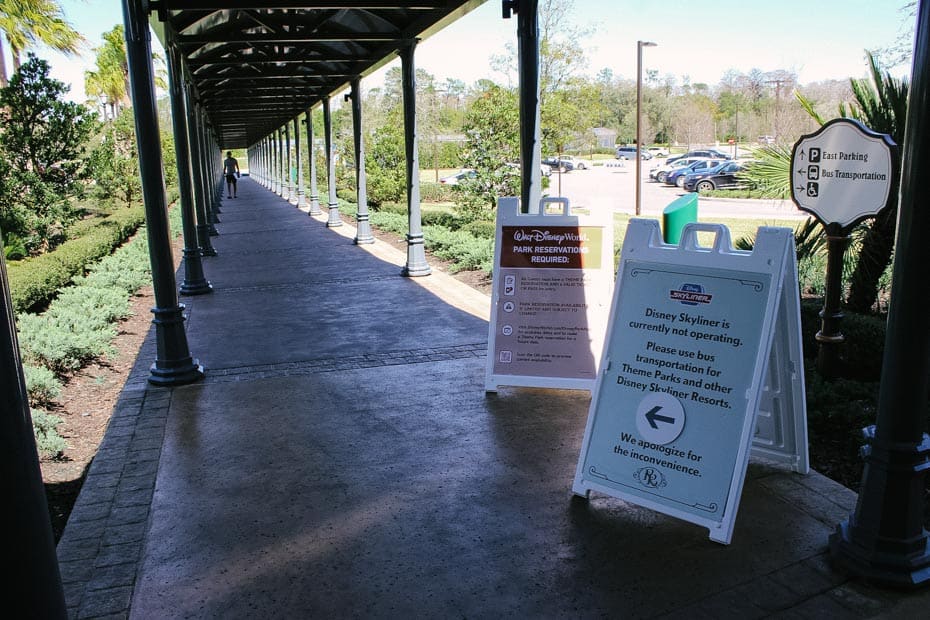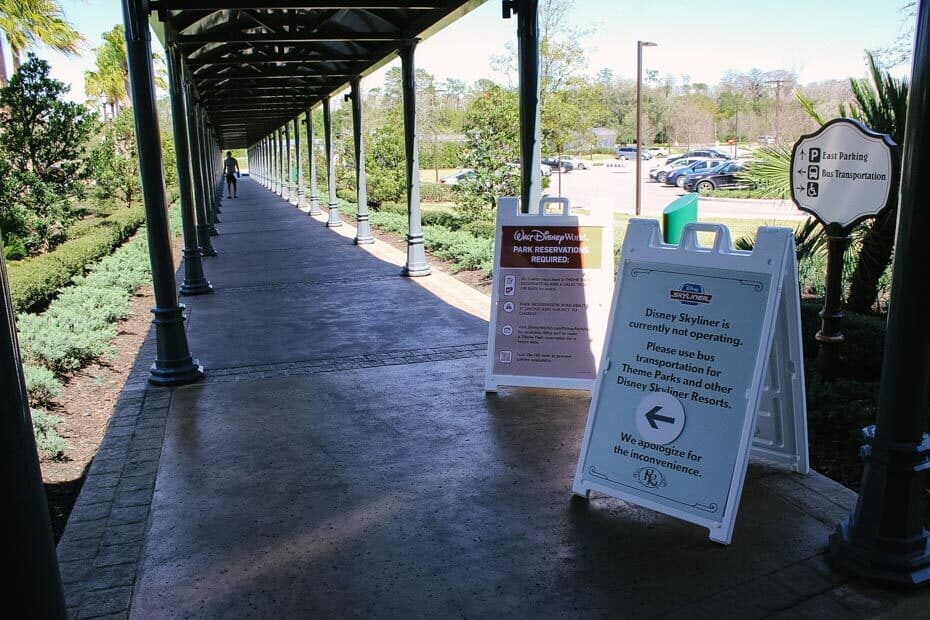 Unfortunately, Disney's Magical Express transportation has ended.
Disney's Riviera Resort Review Final Thoughts
Overall, we enjoyed our stay at Disney's Riviera Resort. Initially, it took a while for the resort to grow on me.
On that first visit, I remember leaving and feeling ambivalent about our stay.
Since then, I've returned many times, and each time has had a positive impact on my feelings toward the resort. Needless to say, I've fallen in love with the place.
The resort is luxurious, the dining options are a step above most resorts, and I enjoy spending time in that fancy backyard.
My outdoor meals here have become a bit of a new tradition. A tradition I hope will continue for many years to come.
The other thing I love about the resort is how easy it is to get to Epcot and Hollywood Studios. The Skyliner can be a huge time saver.
Now don't get me wrong, if it goes down or the line is backed up, it will eat into your valuable time. But when it's working, it does work well.
As far as staying at Riviera versus some of the other deluxe resorts, for me, it nearly always comes down to pricing. If the price were more reasonable at Riviera, I would return in a heartbeat.
And if I found a better price at one of the Magic Kingdom or Epcot Resorts, I would probably go that route. But that's coming from someone who has stayed at nearly every single resort on Disney property.
To learn more about Disney's Riviera, all of our articles for the resort are listed here.
Whatever you decide, I hope you enjoy your Disney vacation!
For other Disney Resort Reviews not mentioned in this article, you might like the following:
Additionally, you might enjoy some of our more popular planning reviews like the Disney World Character Dining Guide and the Best Restaurants at Disney Springs.
Thanks for reading along today. I hope this review of Disney's Riviera Resort is beneficial in helping you plan. Please leave your thoughts or any questions you might have about the Riviera in the comments below. I'll be glad to answer anything based on our experiences.