Disney's Caribbean Beach Resort Review
Disney's Caribbean Beach Resort has always been a popular Walt Disney World Resort vacation destination. The resort offers beautiful grounds, luscious landscaping, and a variety of amenities. Many guests who have stayed here before love to gush about their favorite things at the tropical resort.
This Caribbean Beach Resort review will take a long look at the resort as a whole. We'll discuss rooms, amenities, pools, dining options, and a few other preferences. I'll also throw in a few tips on how to get around the resort and suggestions for dining in the nearby areas.
Since the Skyliner opened, Caribbean Beach has received an even larger influx of interest for guests planning vacations. In case you were unaware, the resort is home to the central station for the new gondola system.
Which makes it the only moderate resort at Disney to offer multiple forms of transportation to the theme parks. This alone makes the resort a huge draw for most guests.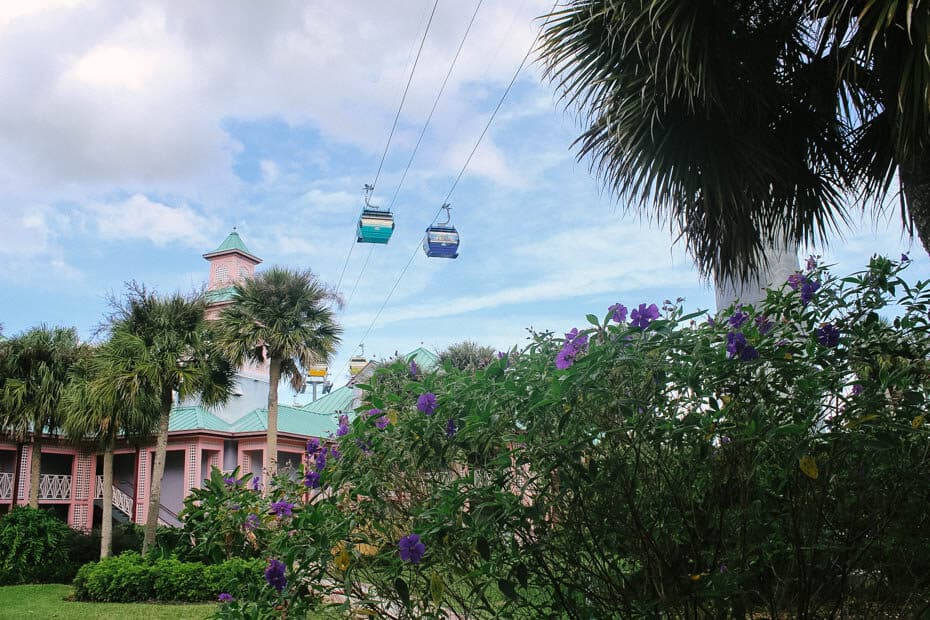 But what else is there to like about this island-themed resort in Lake Buena Vista? Well, there's a lot to like. And because nothing is perfect, there are a few things I'm not crazy about either. We'll get to that.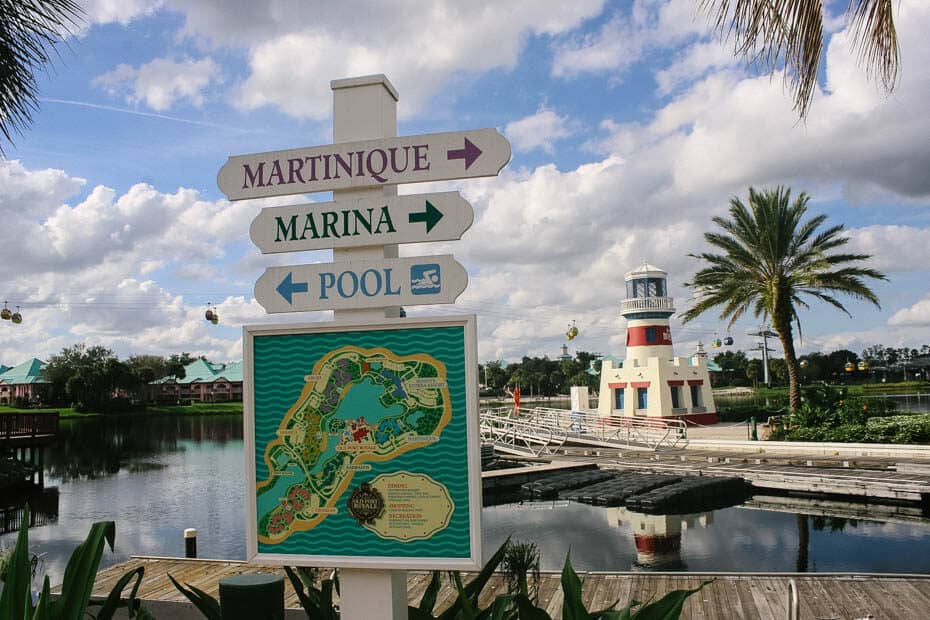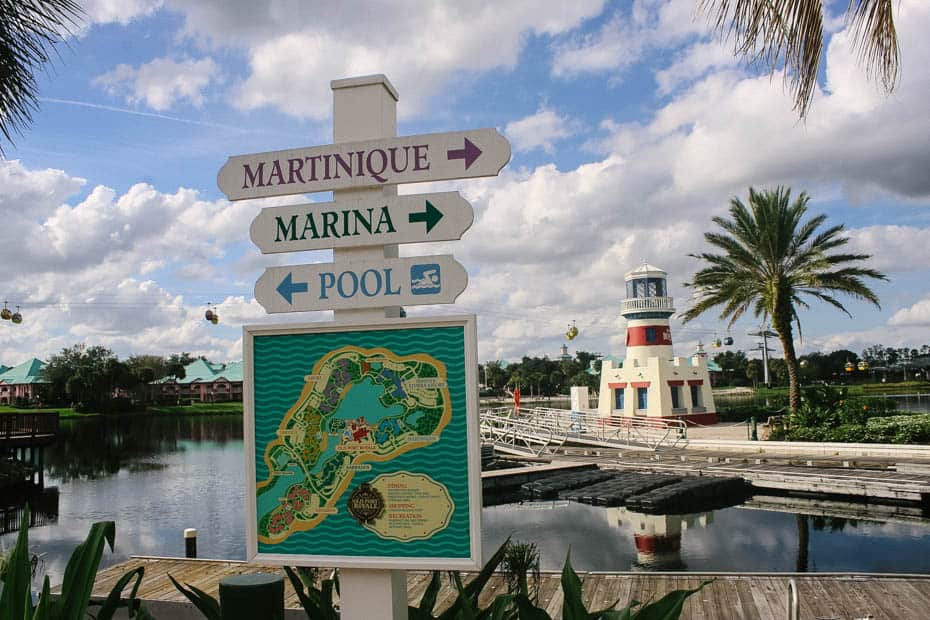 Before we get started, let's take a look at Caribbean Beach Resort's location.
Disney's Caribbean Beach is located off Victory Way, a side street between Lake Buena Vista and Osceola Parkway. If you plan to have a personal vehicle on the property, it's good to familiarize yourself with these main streets.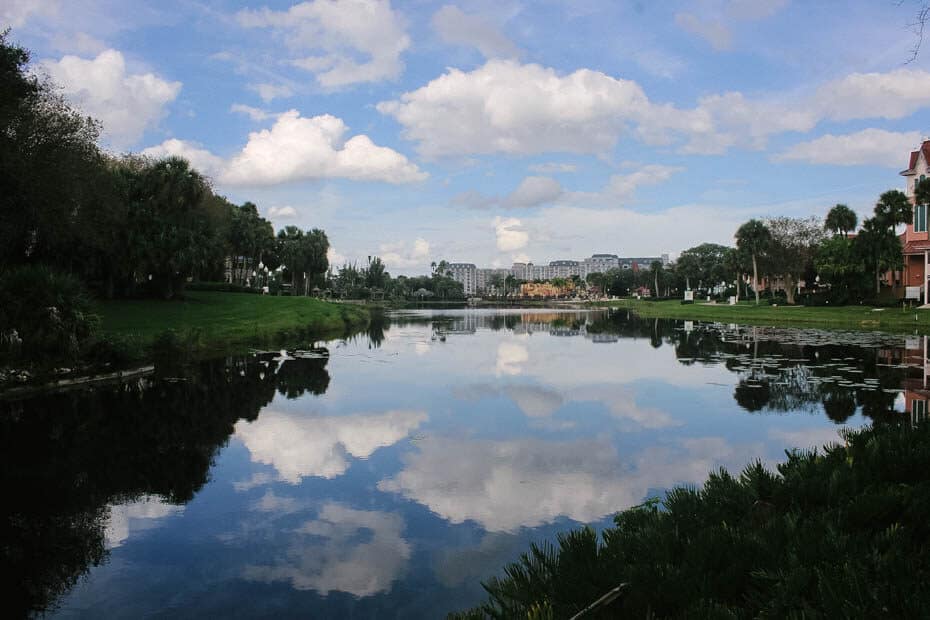 Lake Buena Vista runs dead through the center of Walt Disney World, intersecting most roads in the area. Popular stops like the Epcot Resorts Area, Disney Springs, Coronado Springs, and Disney water parks are all located off Lake Buena Vista.
If you are heading to Animal Kingdom from Disney's Caribbean Beach, you can take Victory Way in the opposite direction to Osceola Parkway. The parkway dead-ends at the Animal Kingdom. Or you can stay to the left and dead-end into the Animal Kingdom Lodge.
This is also where I recommend turning left onto Sherberth Rd for quick access to dining and shopping on HWY 192 in the Four Corners area.
Along with Caribbean Beach, Victory Way is home to the entrances for Art of Animation and Pop Century resorts. These are both on the same side of the street as the entrance to Caribbean Beach.
Even more important, the entrance to Disney's Hollywood Studios is also on Victory Way. That entrance is just past the resorts on the opposite side of the street before you reach Osceola Parkway.
Caribbean Beach Resort Address:
1114 Cayman Way, Lake Buena Vista, FL 32830
Caribbean Beach Resort Review
Disney's Caribbean Beach is an absolutely beautiful resort hotel that is extremely comparable to Coronado Springs Resort (review). Both moderate resorts have been completely refurbished with new additions in the last few years.
You might have heard that Coronado has the newer Gran Destino Tower. As for Caribbean Beach, the new Disney Riviera Resort sits next door. The only difference is that Riviera has a separate entrance for guests. However, the grounds and walkway around the lake are connected to Caribbean Beach.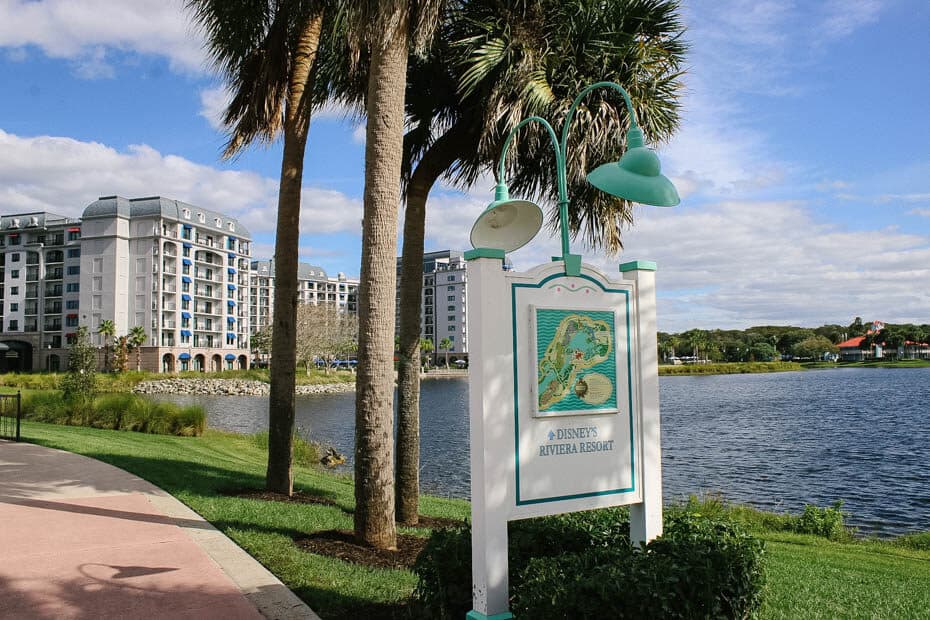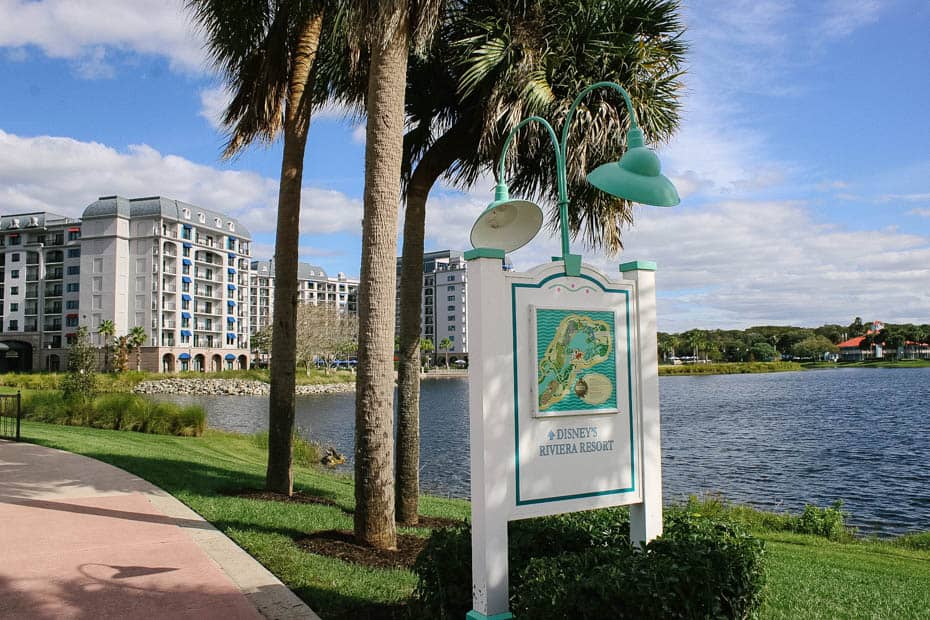 Like the name, Disney's Caribbean Beach Resort is themed to resemble an island in the Caribbean. The resort is expansive and is positioned around a large lake that goes by the name of Barefoot Bay. In the middle of the lake, there's an island called Caribbean Cay.
Thankfully, there's a bridge across the middle of the lake. The bridge makes a trip over to the main lobby and feature pool more accessible for guests staying on the opposite side.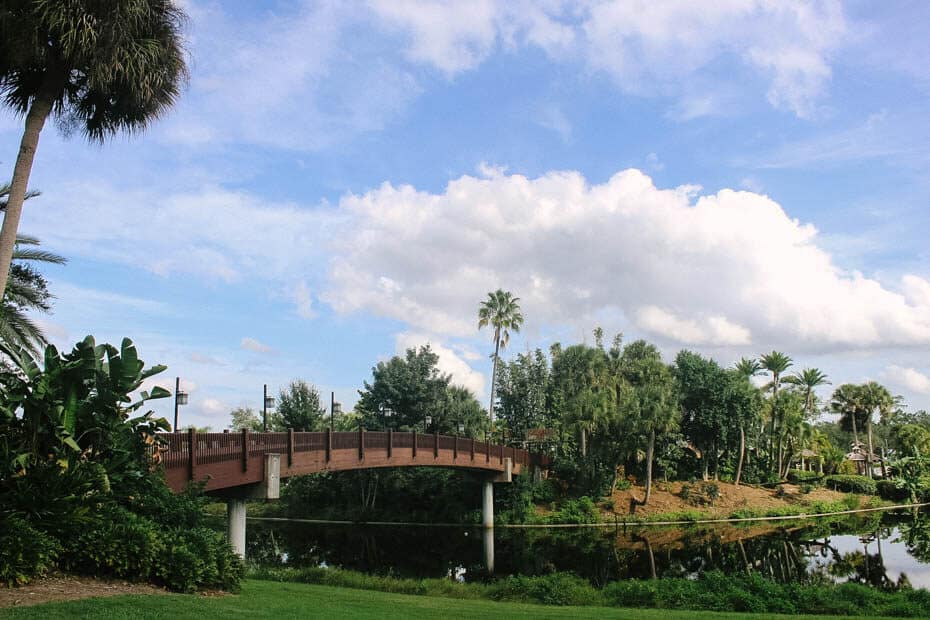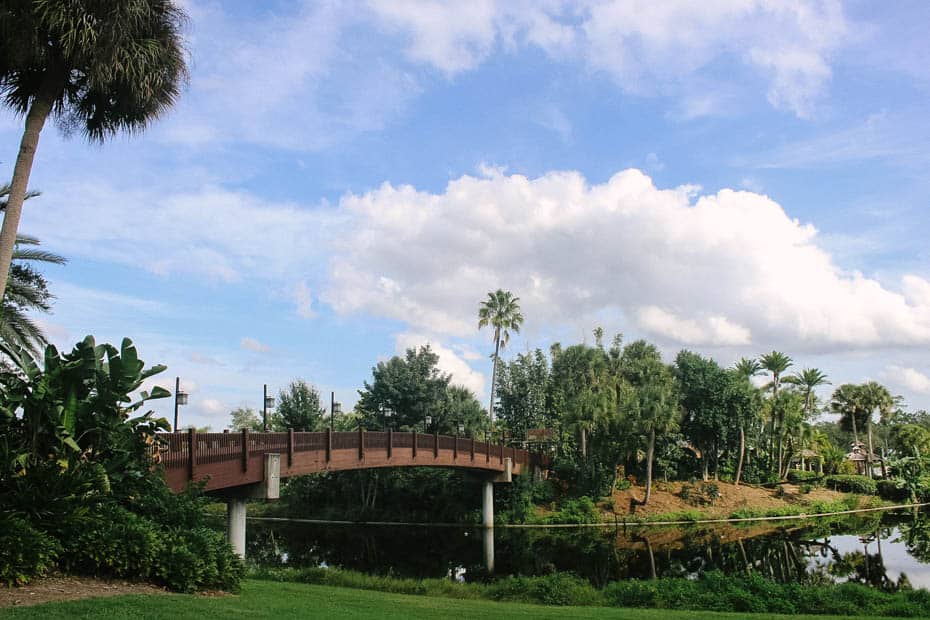 Caribbean Beach is made up of five different villages:
Martinique

Barbados
Trinidad
Jamaica
Aruba
And then there's Old Port Royale which serves as the resort's main lobby and dining area.
As far as room location requests for Caribbean Beach, I do have a few preferences to share with you. These may or may not work best for your group, so I suggest studying the map further down to see possible options. Additionally, room location requests are not guaranteed, but Disney does try their best to fulfill them from my experiences.
The first point I want to make is that each village is made up of two-story bungalow buildings. There are no elevators at Caribbean Beach to access the second floor. Therefore, some of you might need to request a first-floor room.
Half of the rooms are upstairs and the other half down. Therefore, it's safe to say there's a 50/50 chance you'll end up in a second-floor room. My initial room assignment was on the second floor, and I requested that they move me to the first floor.
If I hadn't had so much luggage, I wouldn't have minded. But given current circumstances, I've refrained from using bell services and am trying to manage these types of things on my own. So consider these things when planning your vacation.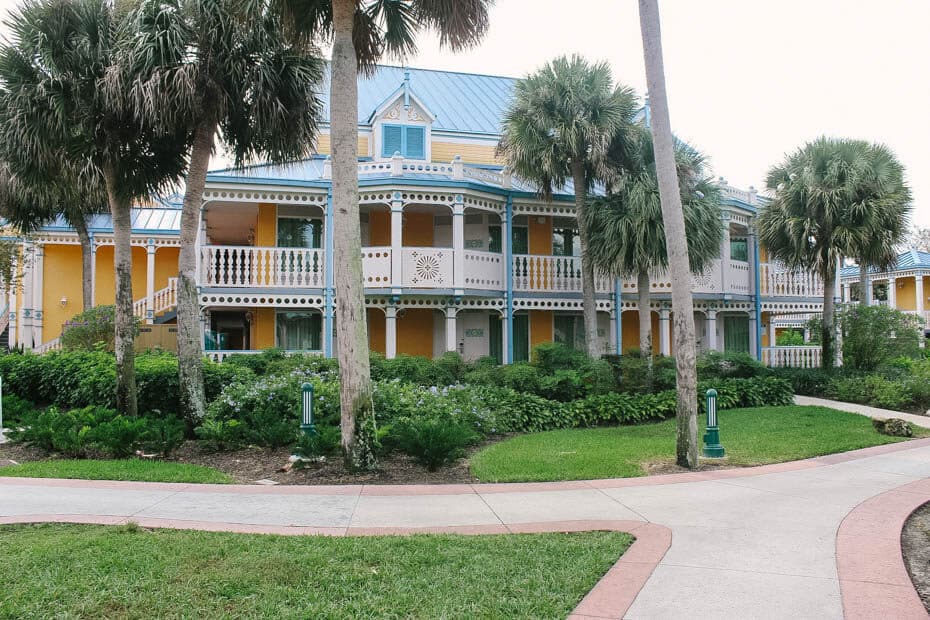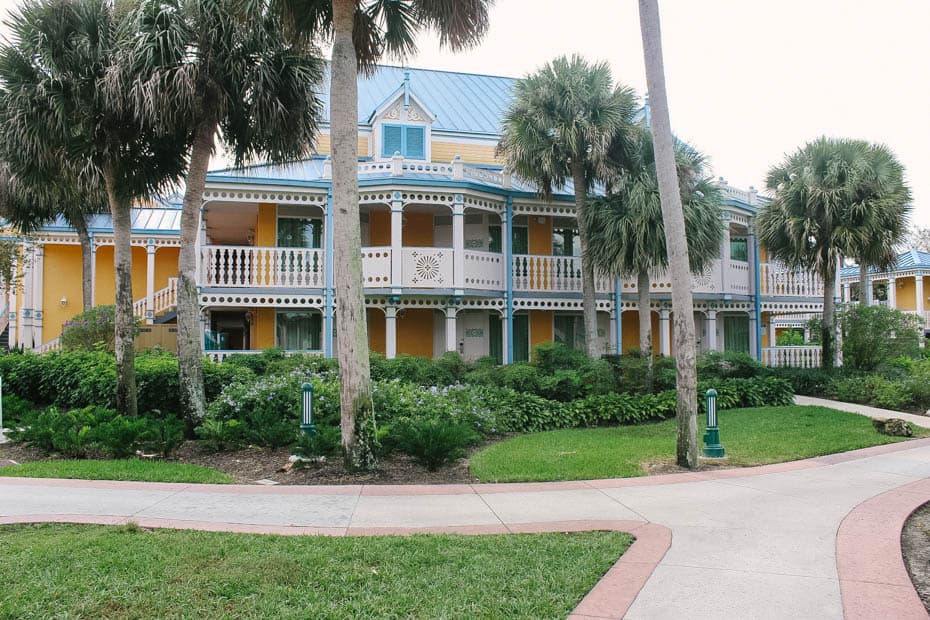 The next point I wanted to make on this topic is as follows. Should you make a room request for a specific area of Disney's Caribbean Beach Resort? I think so. Here's why.
The resort is sprawling. I spent a lot of time walking it to get photos for this review. You could end up logging quite a few miles at the resort alone. I enjoy walking and know that many guests aren't quite as accustomed to the kind of distances a day at Disney might involve.
With that in mind, I would request Aruba or Jamaica for the best access to a variety of conveniences. Both of these Caribbean Beach villages sit directly between the two Skyliner stations. They also each have a bus stop.
Here is the Caribbean Beach Map so you can kind of see what I mean.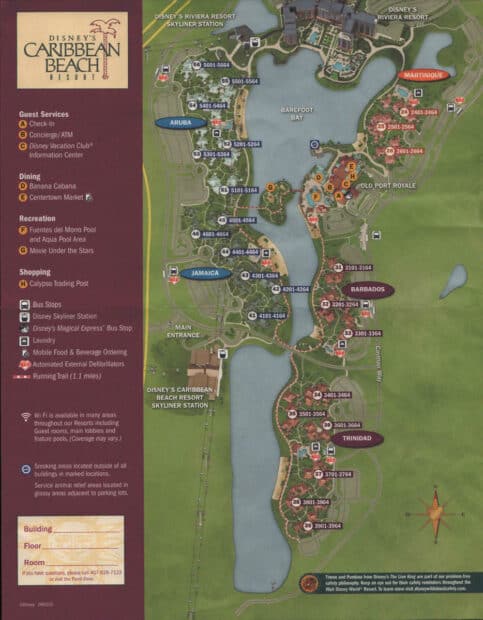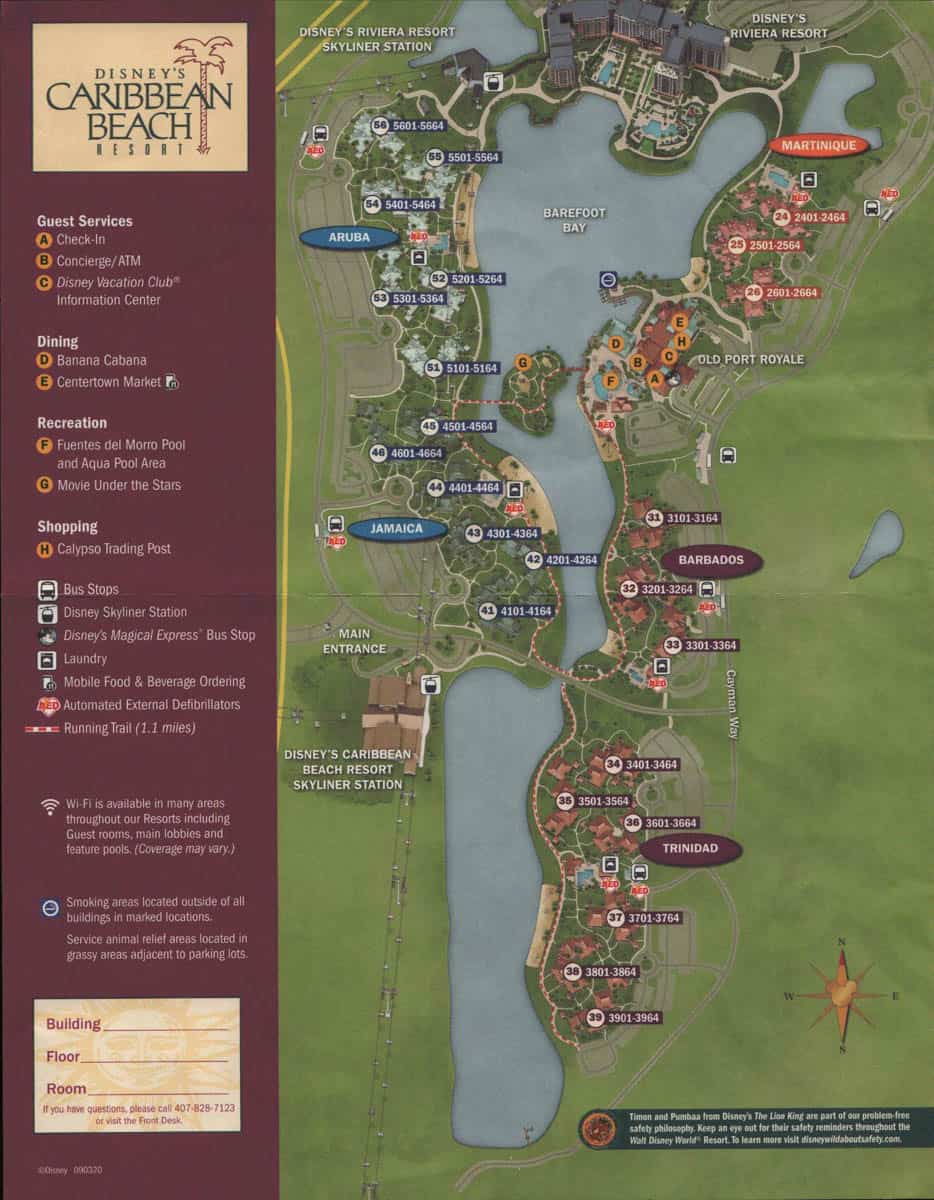 You can download the PDF version of the map here.
Additionally, Jamaica is a few short steps away from the bridge over to Old Port Royale. And Aruba is only a few steps away from all the dining options at Riviera Resort.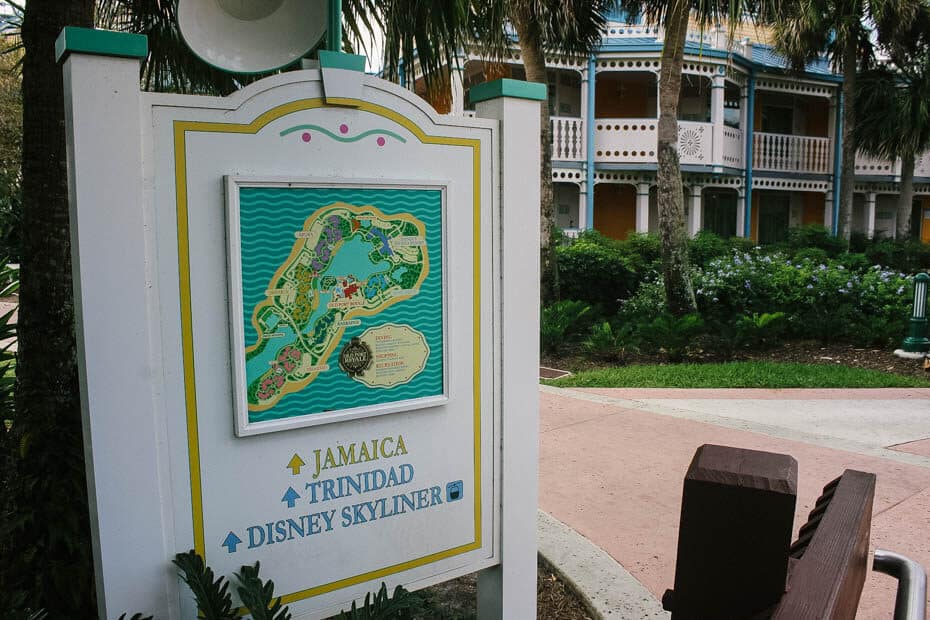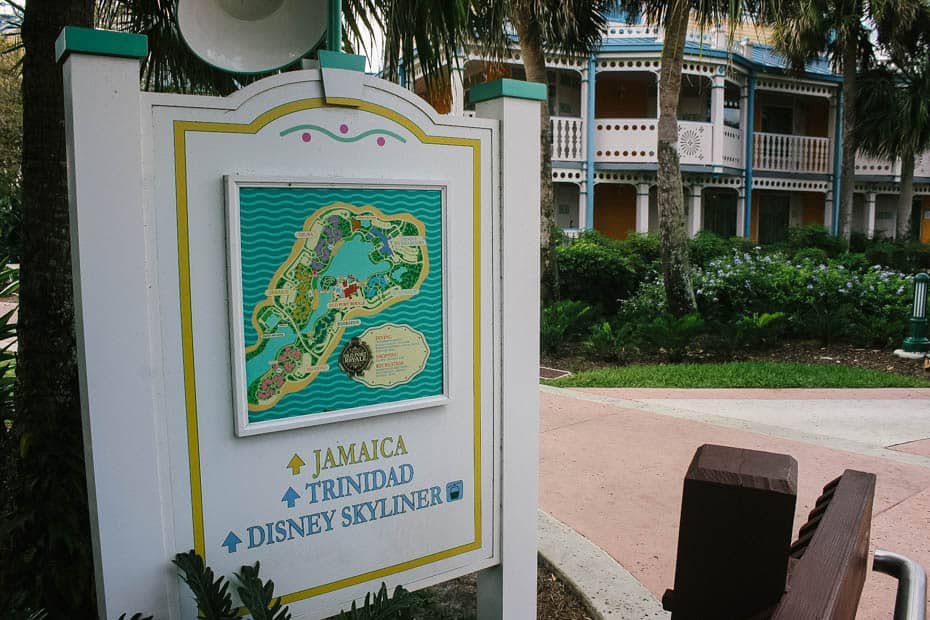 Now, if you want to stay in a pirate themed room at Caribbean Beach, you are stuck down in Trinidad. Sure, it's somewhat close to the main gondola station. Unfortunately, it's the most remote village from everything else at the resort.
All the same, if you are looking for more privacy, a pirate room location might be a wonderful option for you. It is truly a serene area with more private beach areas than the rest of the resort.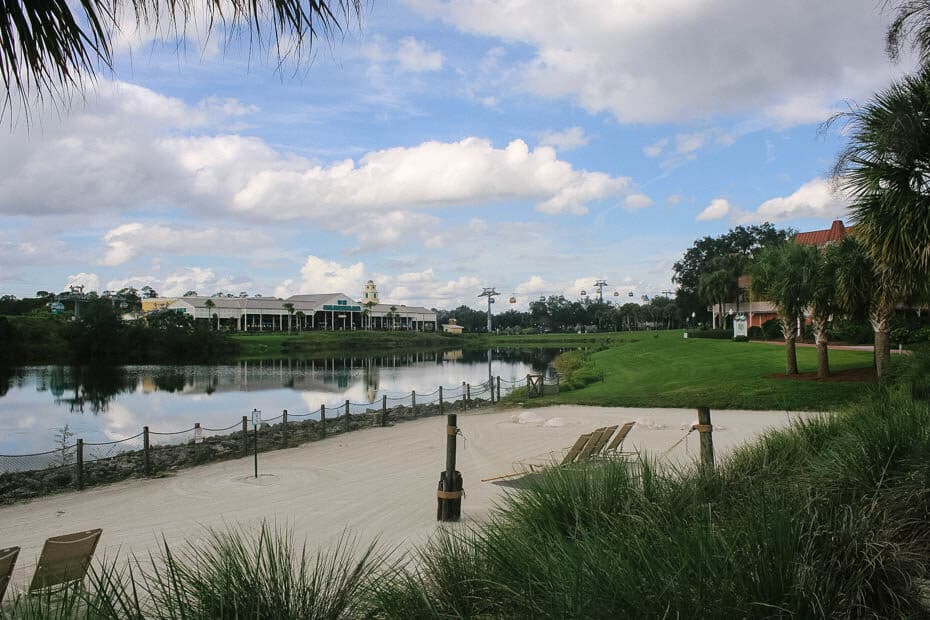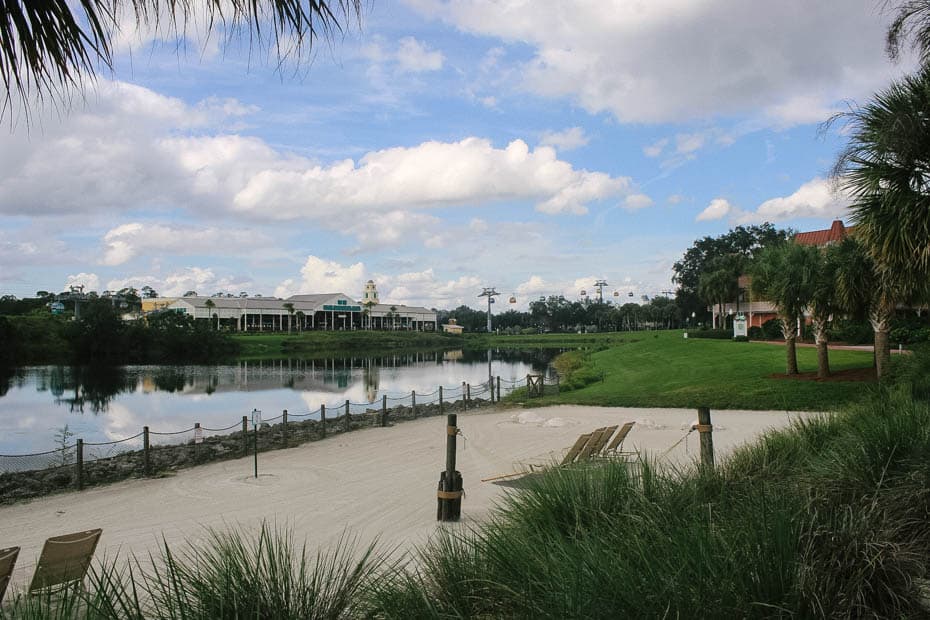 Thankfully, I was placed in Jamaica. I felt it was extremely convenient for me no matter where I was traveling to each day.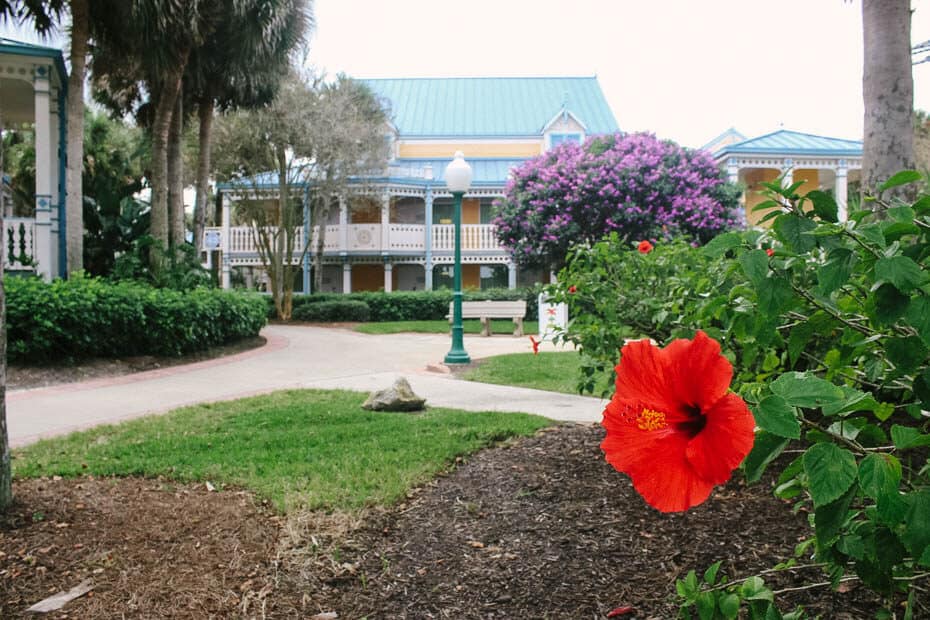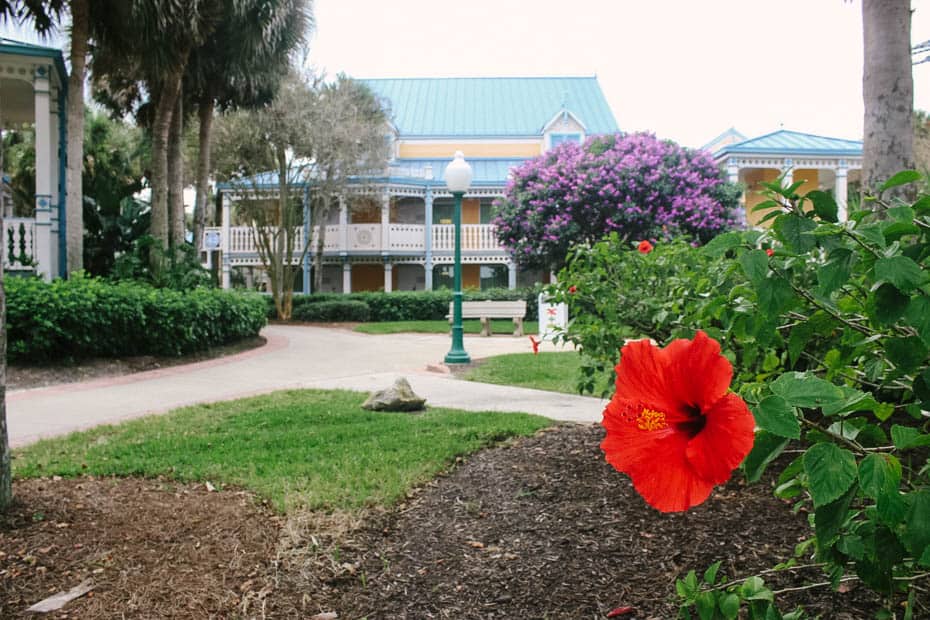 Some guests might want to consider a "preferred room" at the resort. These would be the ones closest to Old Port Royale, the resort's main building.
Personally, I wouldn't spend the money for any room upgrade here. The only place I would consider an upgrade is a resort like Disney's Yacht Club with a water view or maybe a theme park view at a Magic Kingdom resort.
For this review, we will take a look at a standard guest room at Caribbean Beach. Being a Disney moderate resort, all of the rooms here will have exterior access.
One of the things I enjoyed about the Jamaica section was the spaces like the one below outside of my room. It was like a little garden that had tables with umbrellas for guests to use.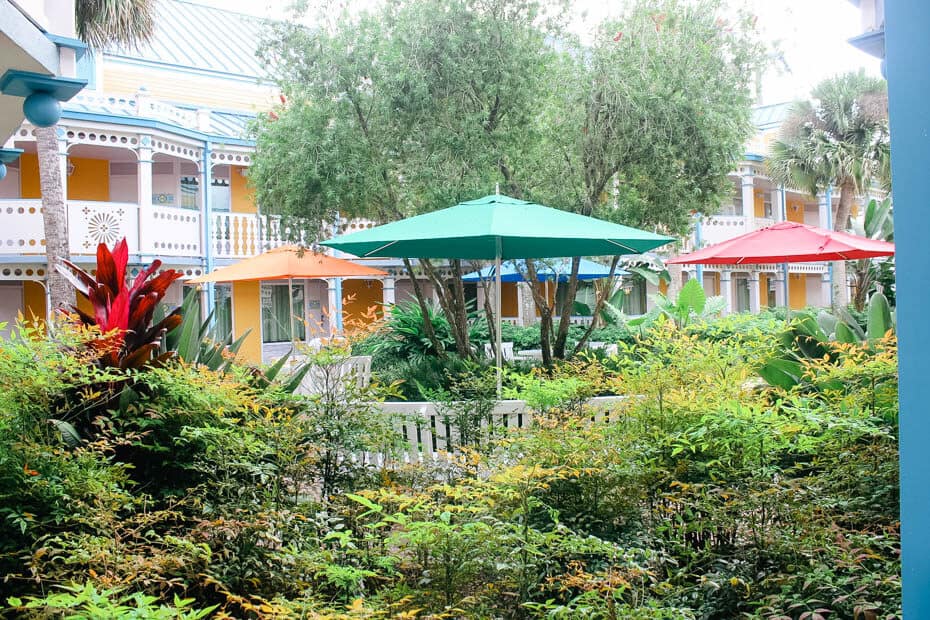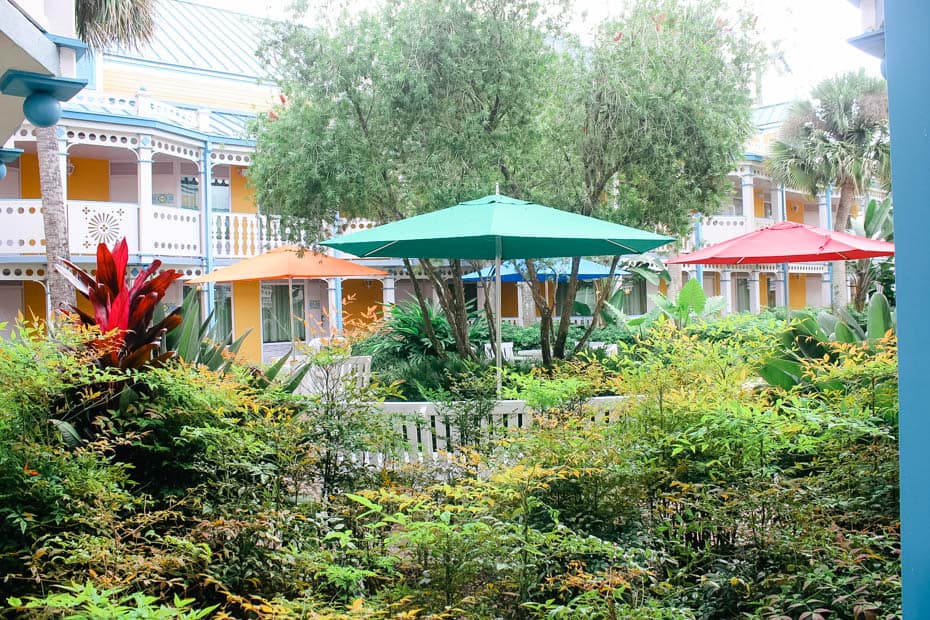 I felt like this was very thoughtful and convenient for anyone wanting to pick up a meal somewhere and enjoy it outside instead of in their room.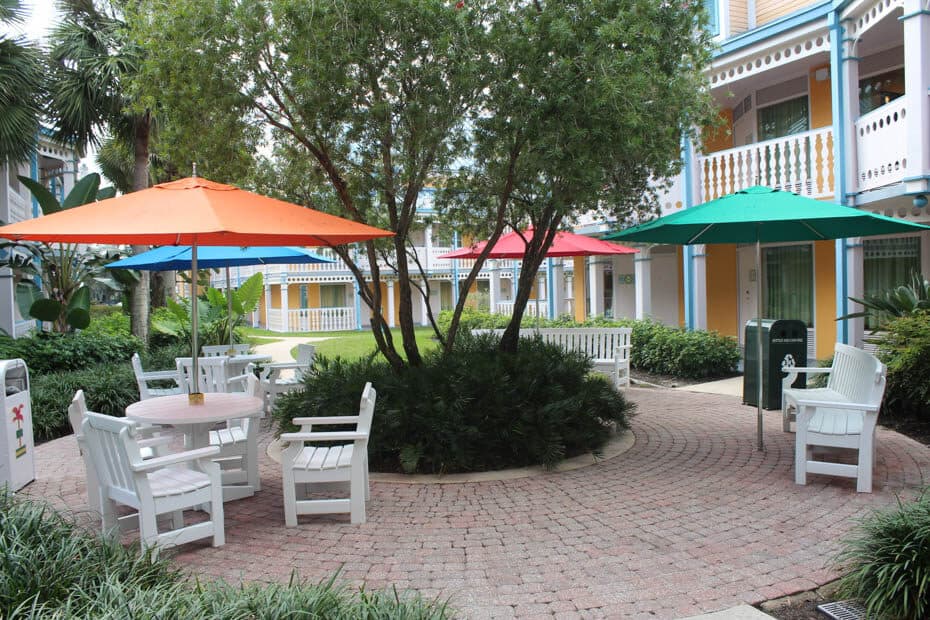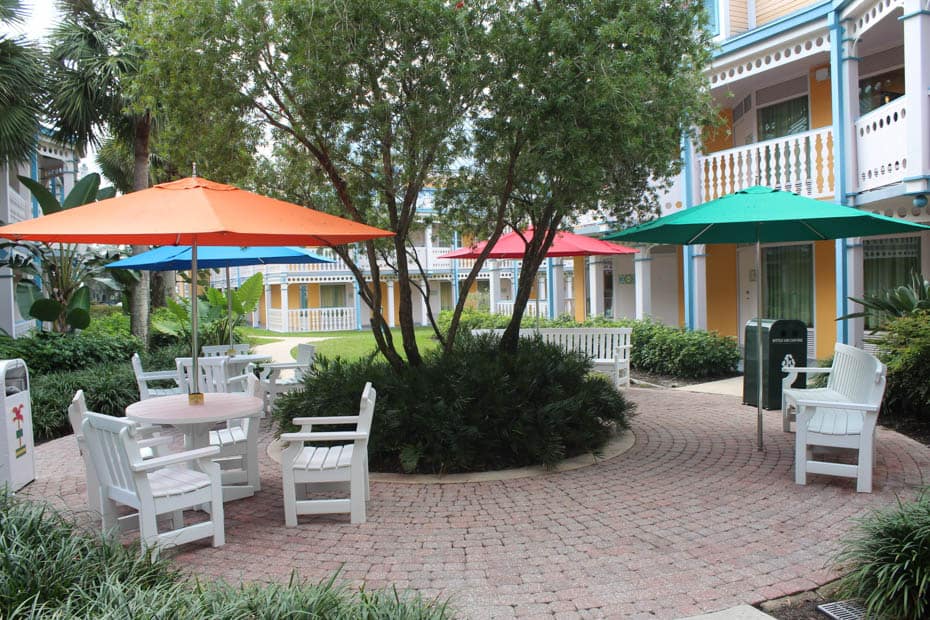 Rooms at Disney, in general, are similar to a standard hotel room. Caribbean Beach is no exception. A majority of the guest rooms will consist of two queen beds with an attached bath.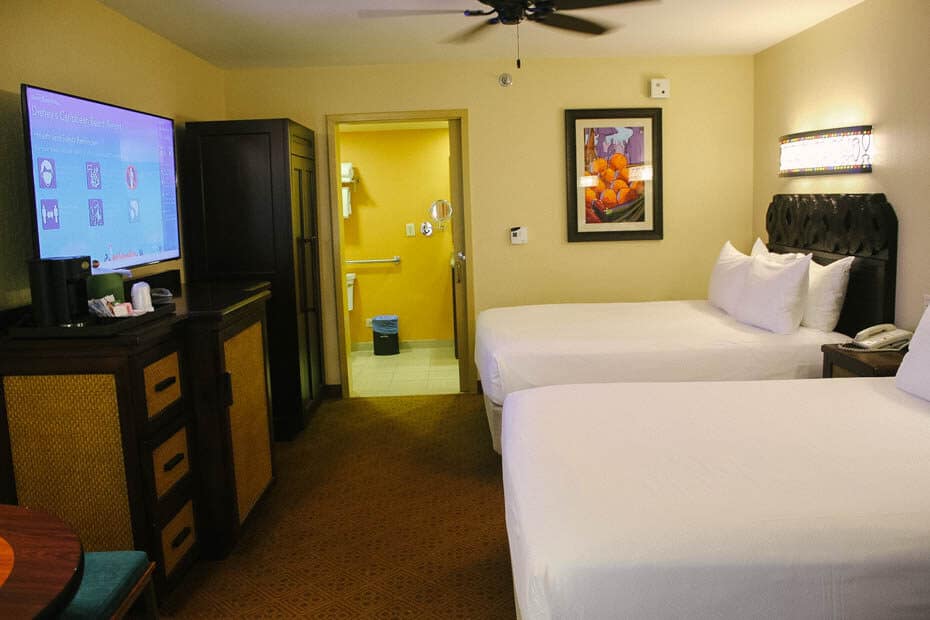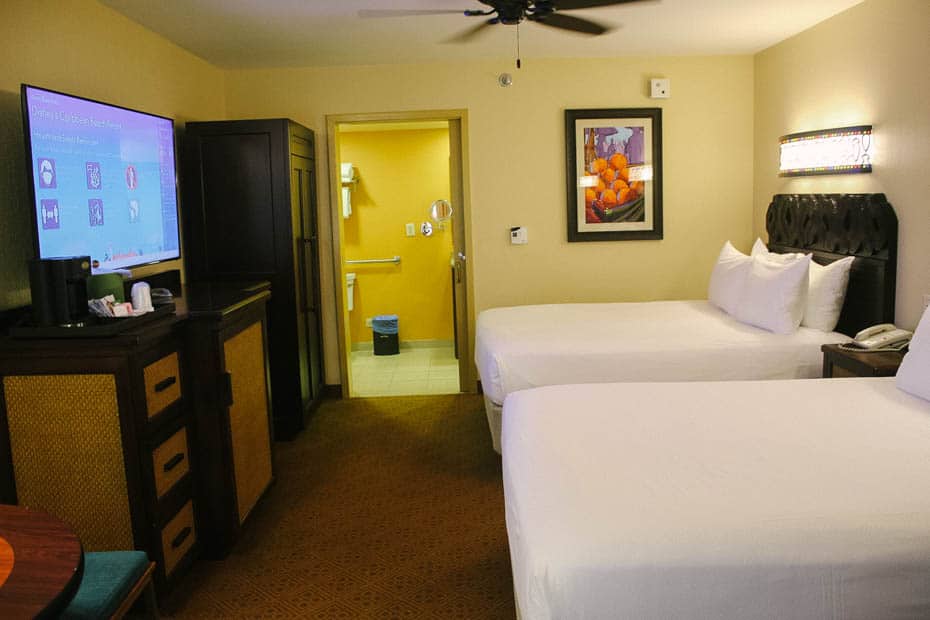 I found mine to be spacious, clean, but overall very bland.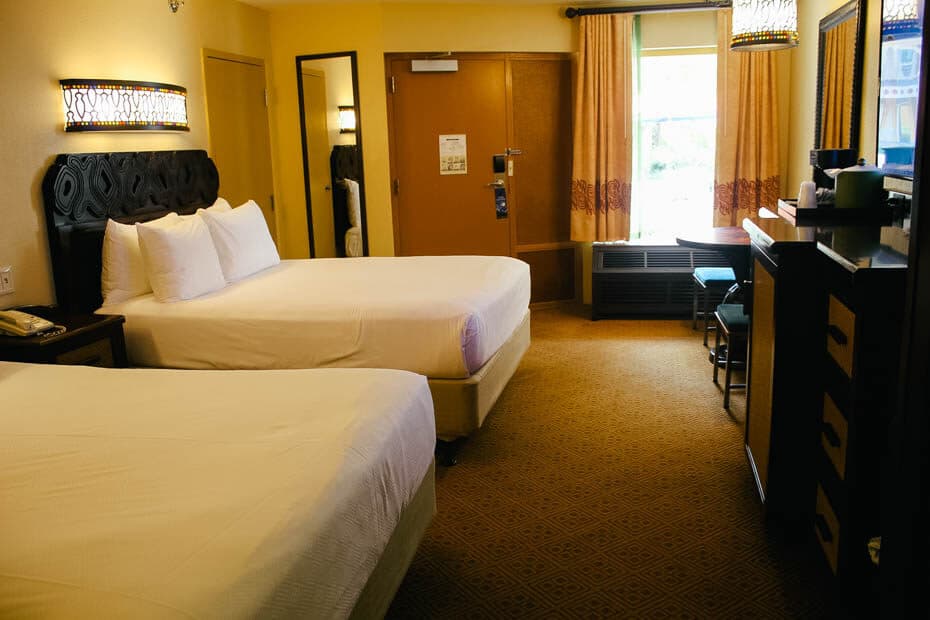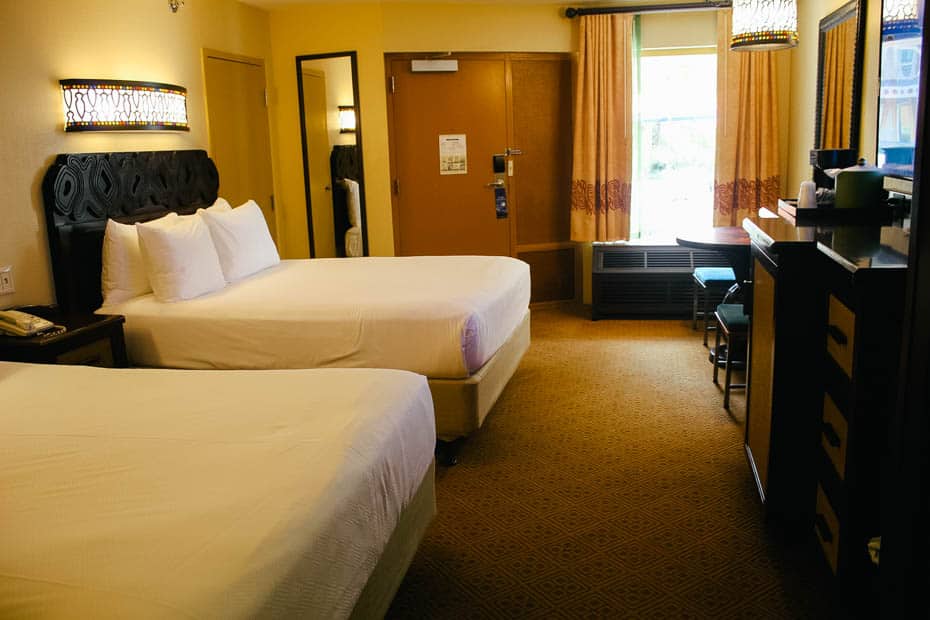 I think that Disney must have also realized, last minute, that it was bland, and they threw in this loud shower curtain. I'm not really a fan of shower curtains.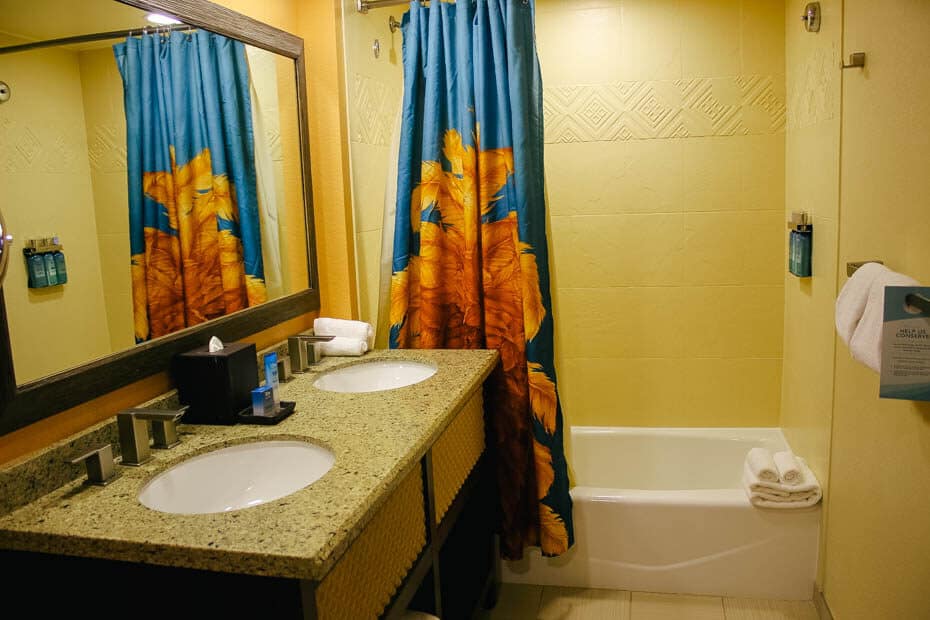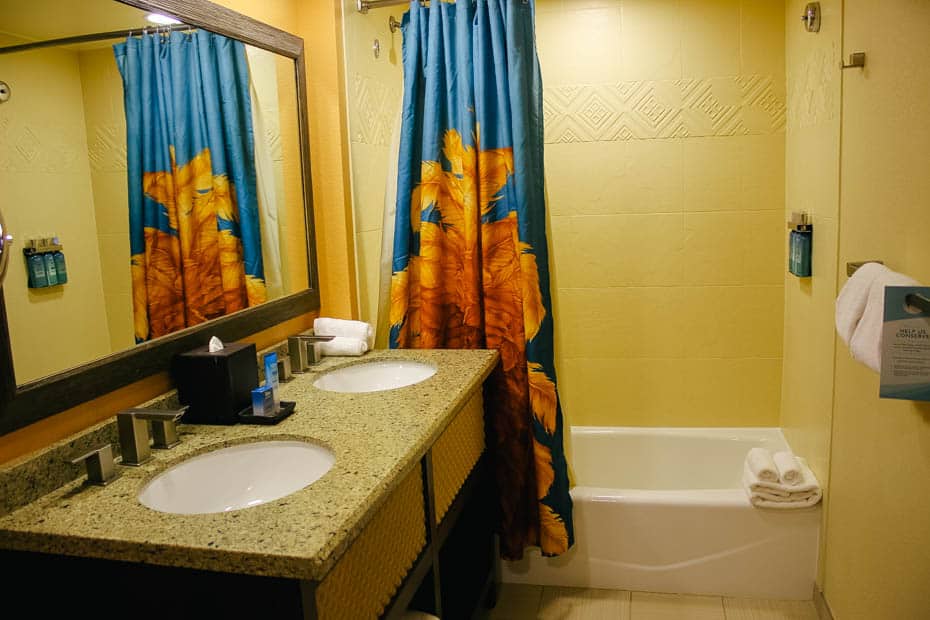 The beds were both queen-sized, but they didn't have the more modern platform style we saw in our Pop Century reviews. Those offer space to slide your luggage underneath.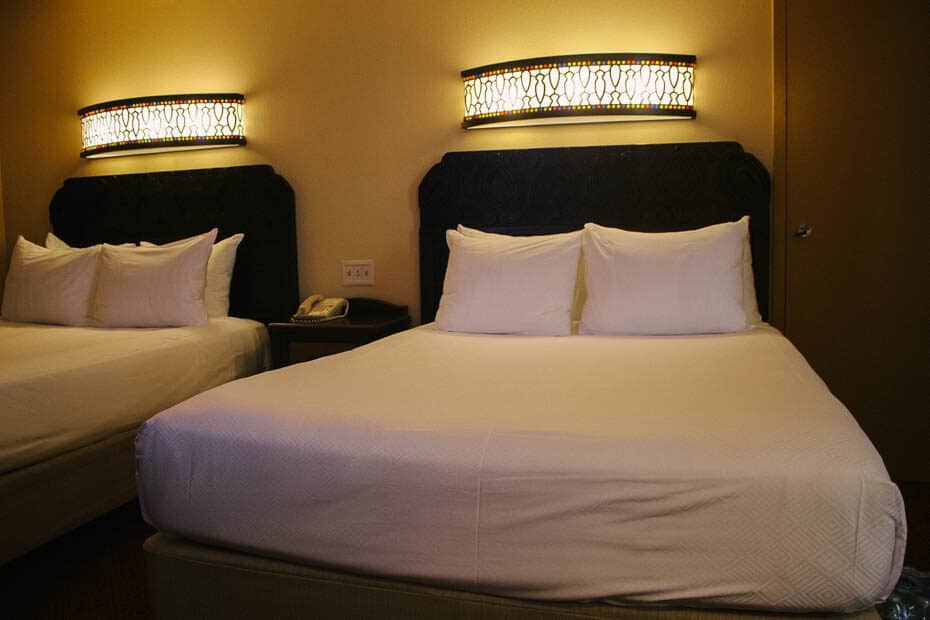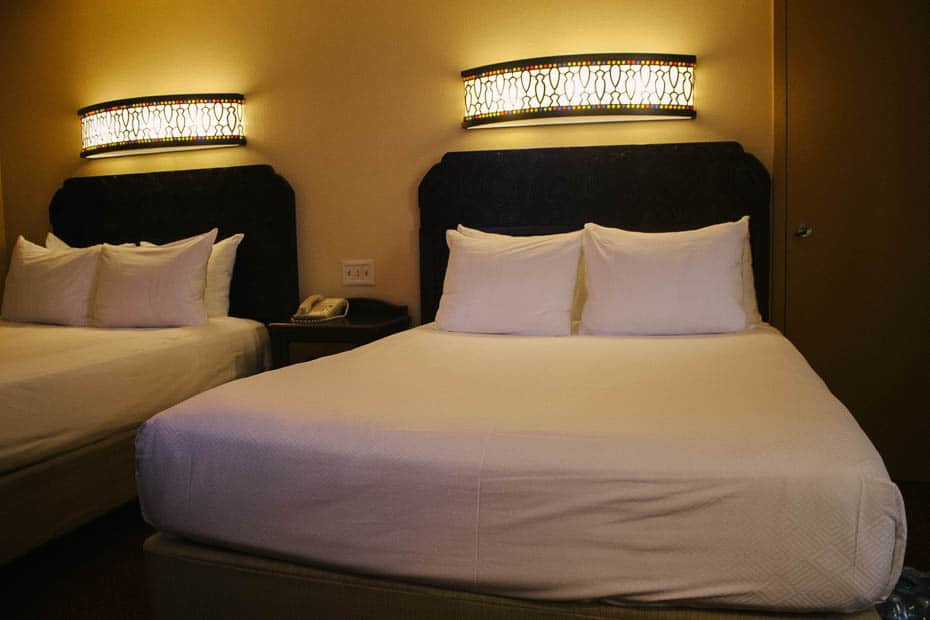 However, I was happy with the amount of storage space in the dresser and armoire that serves as a closet.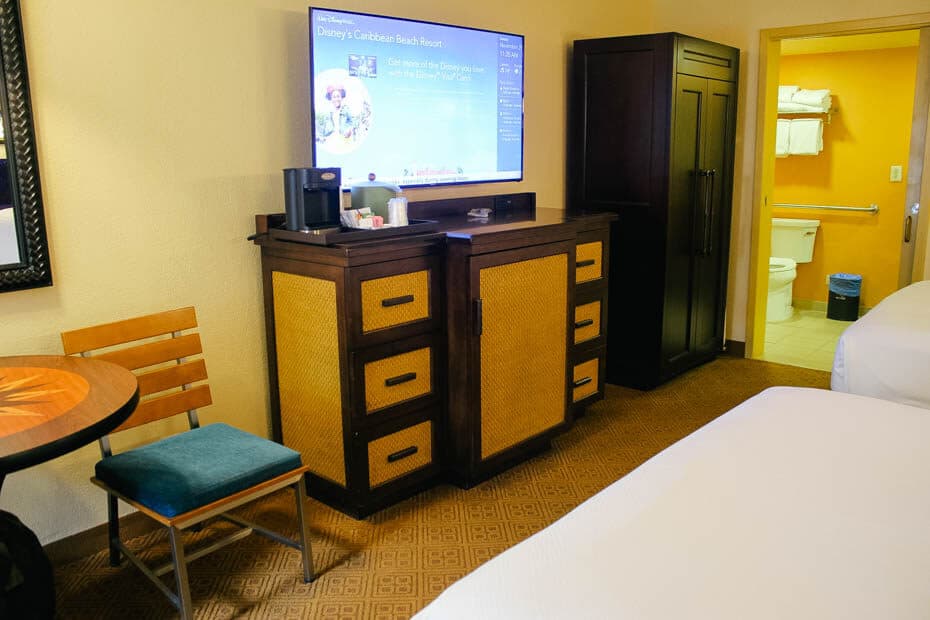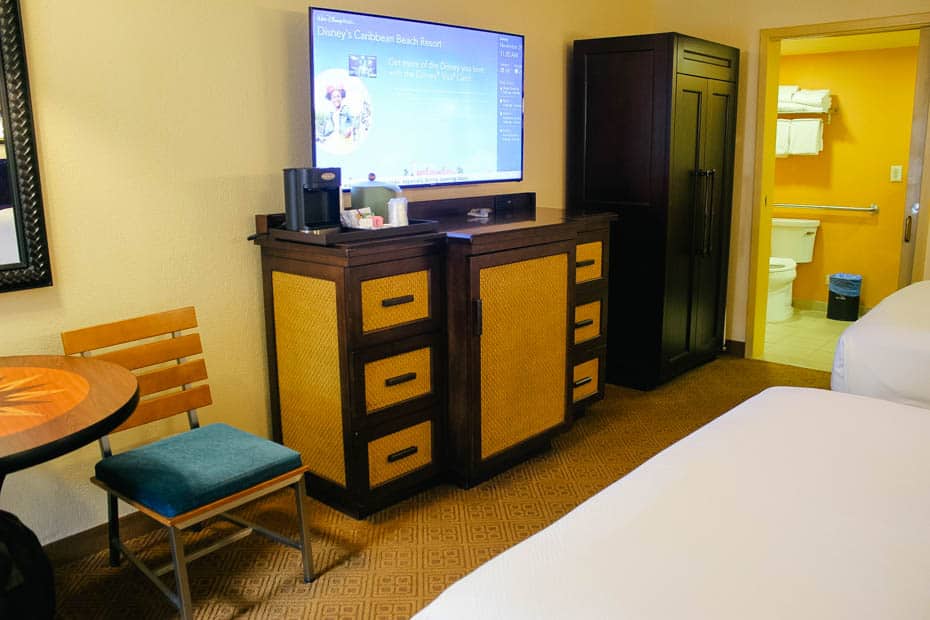 The table and chairs also provided a nice space to dine inside. Or work if you are like me.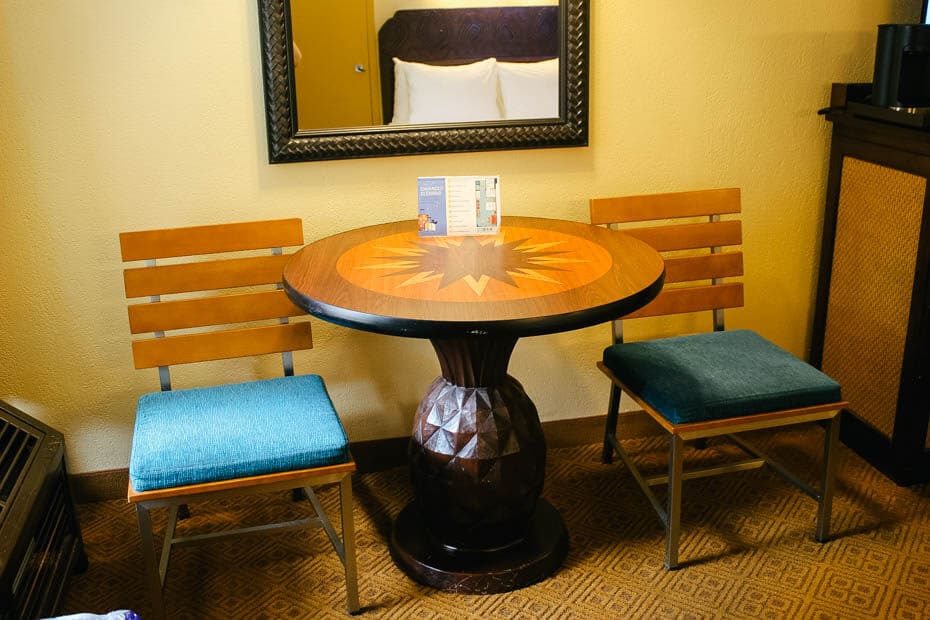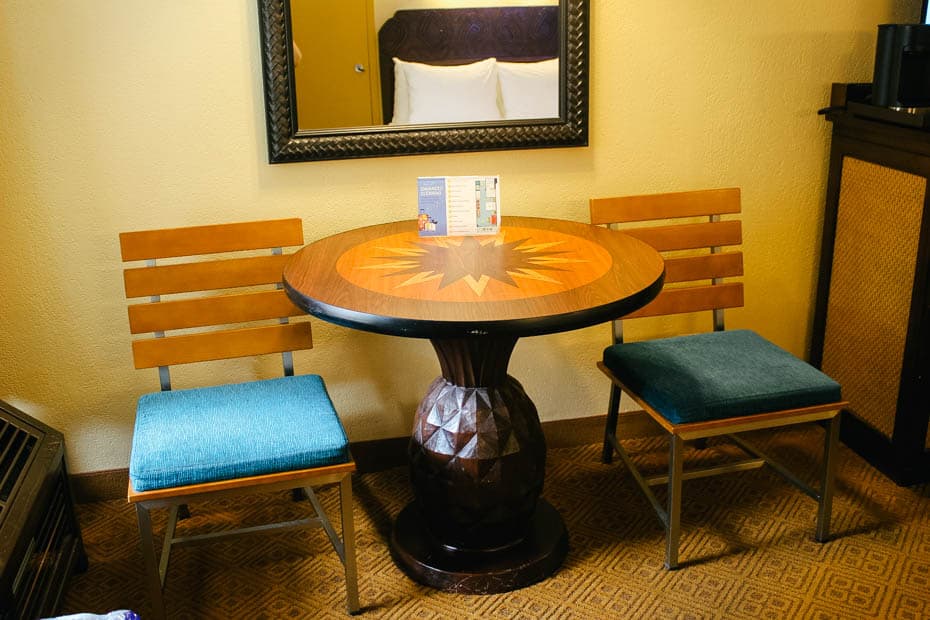 You'll also find individual cup coffee makers with Joffrey's coffee, hot tea, and other accompaniments.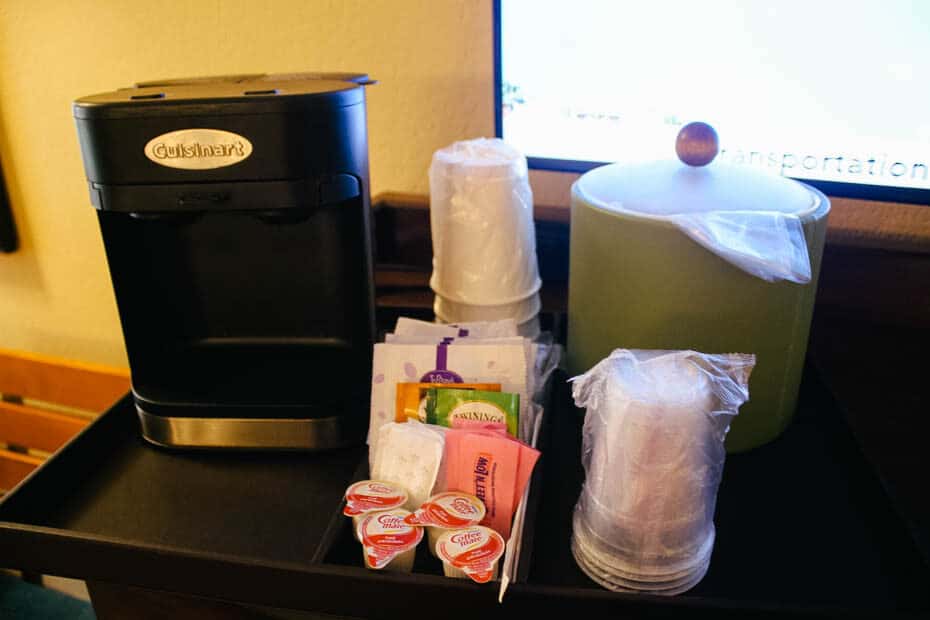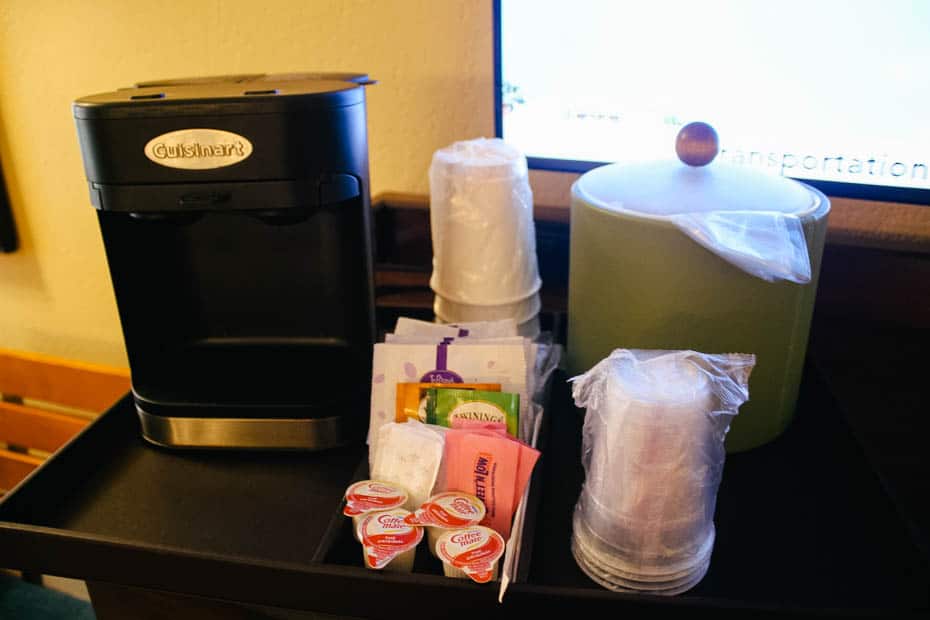 The armoire has room to hang clothes and store items on the top shelf. That is also where you'll find extra blankets and pillows.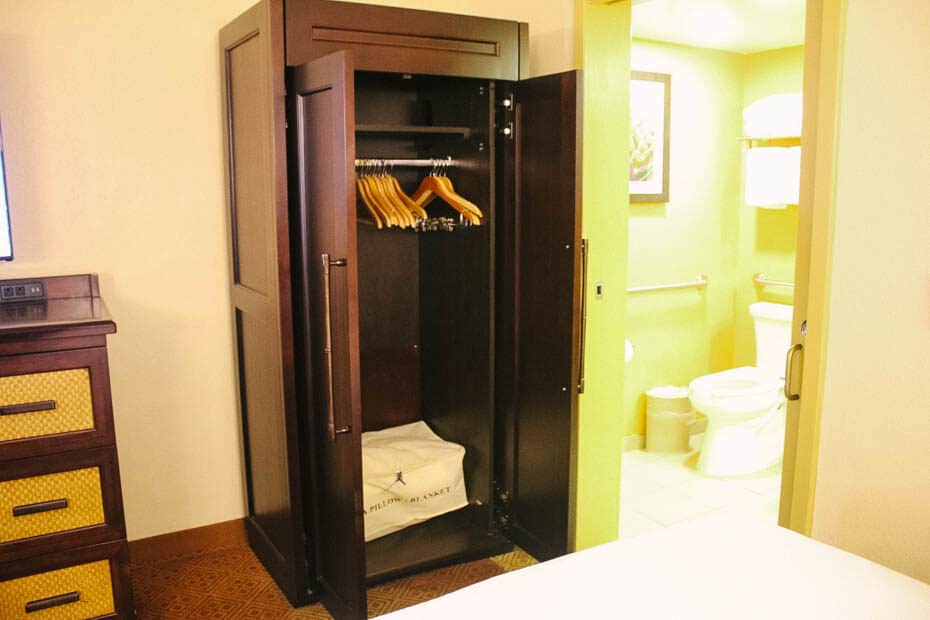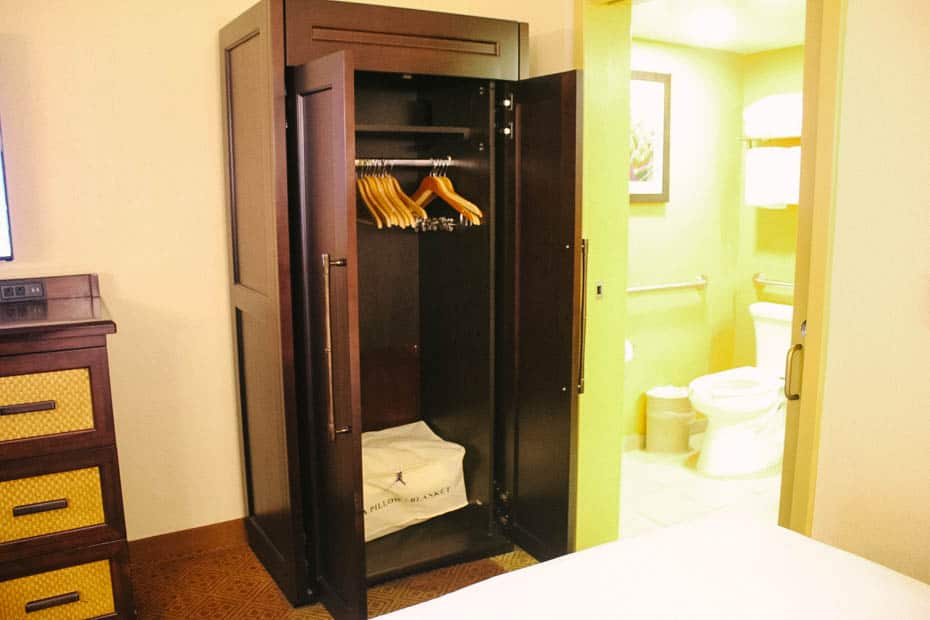 Between the room and guest bath, there's a pocket door which is a nice space saver.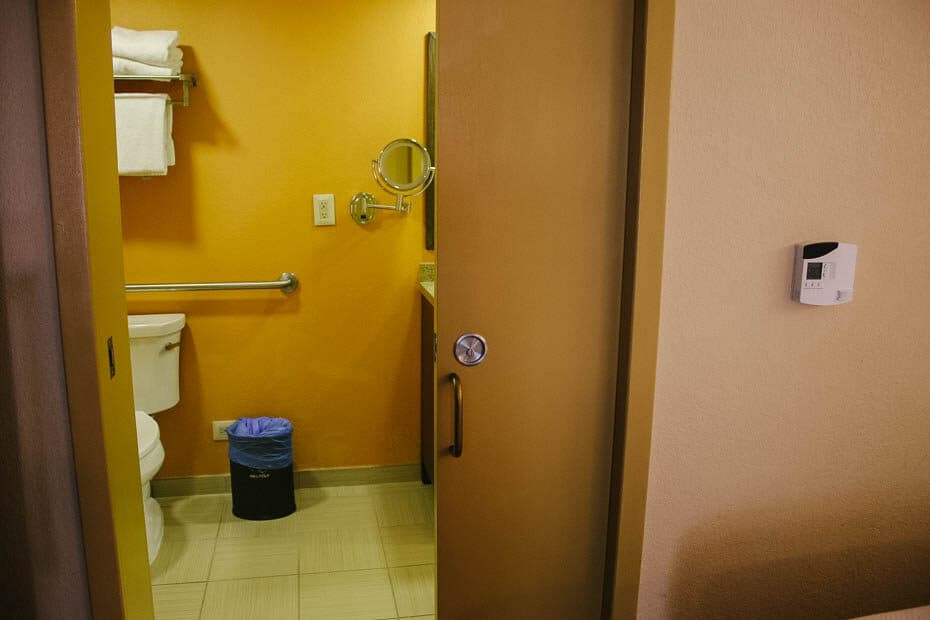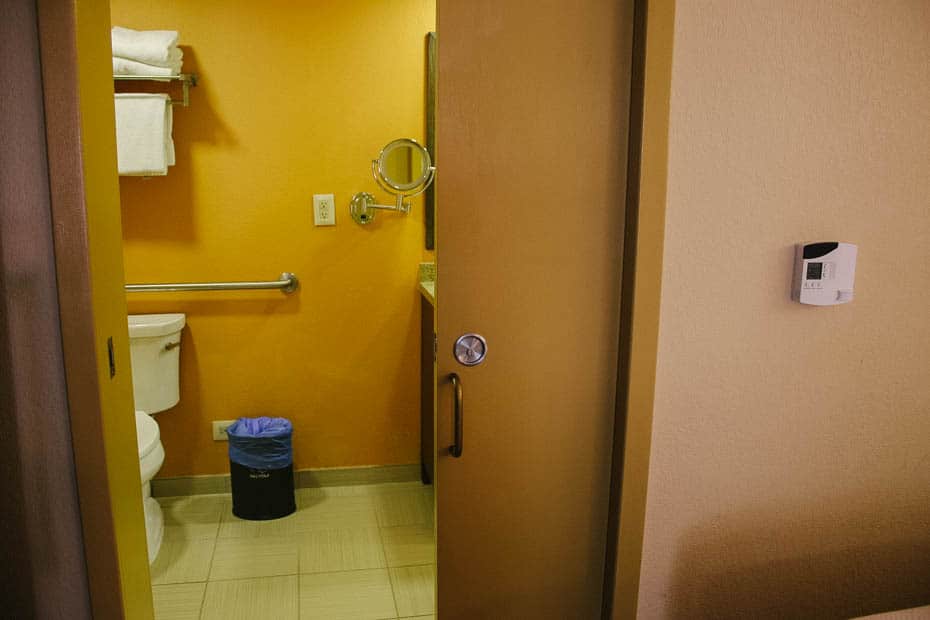 The bathroom is all one large area. On the one hand, the space is nice to have. But on the other hand, it limits the ability for more than one guest to use the space at a time.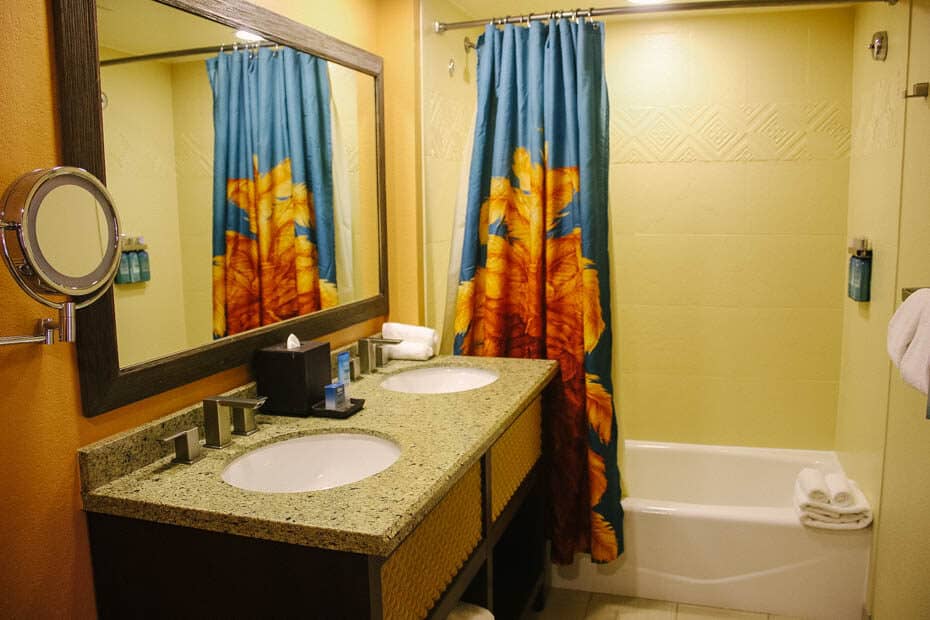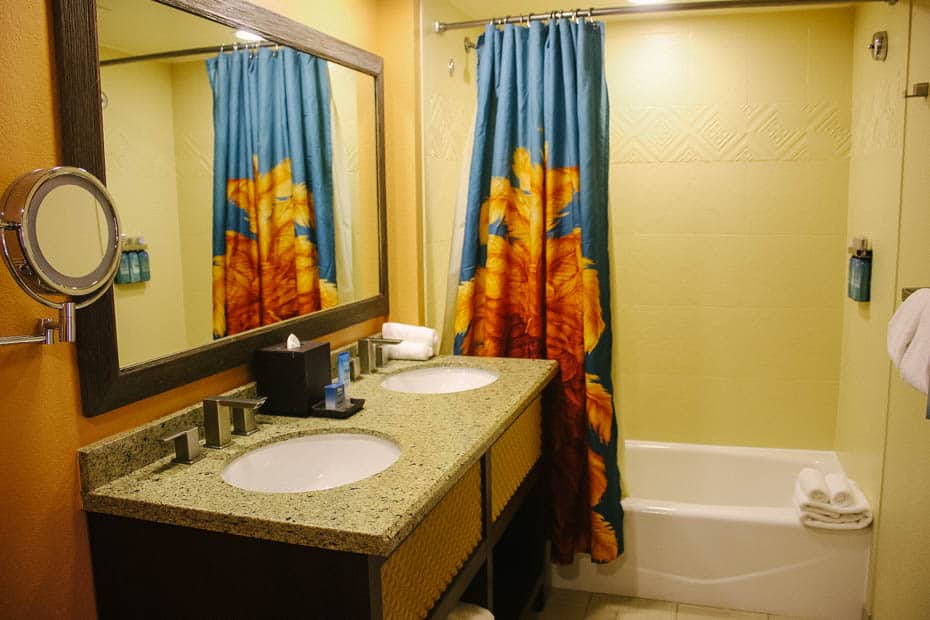 Most of the Disney resorts provide a nice make-up mirror. And there were plenty of toiletries provided.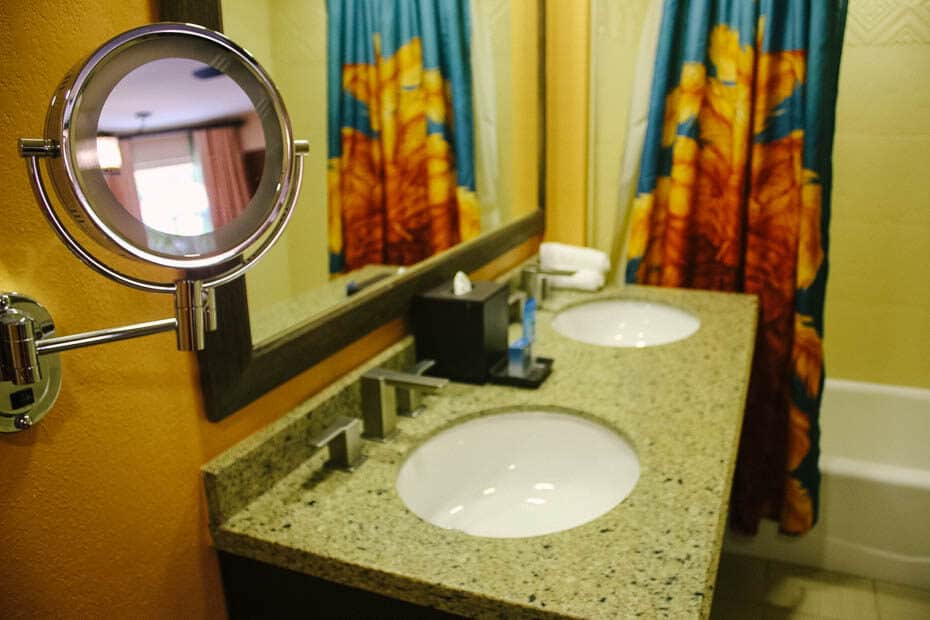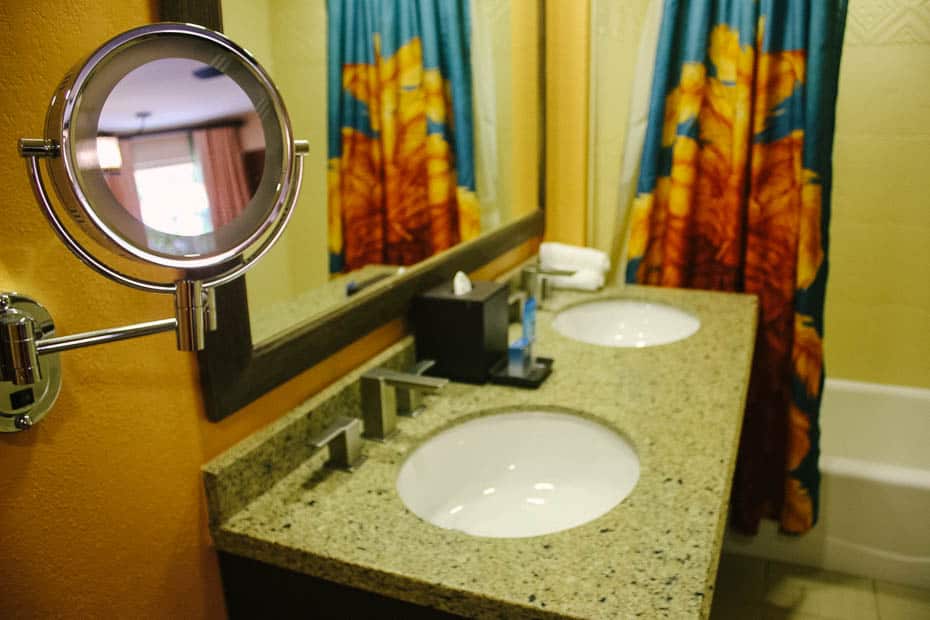 I have been able to stay at several of the resorts this past year since the reopening. And am pleased to say that Disney has done a really good job at having the rooms fully stocked with extra towels and other essentials items. Cast members also came by every other day and changed out the towels and removed the trash while I was out.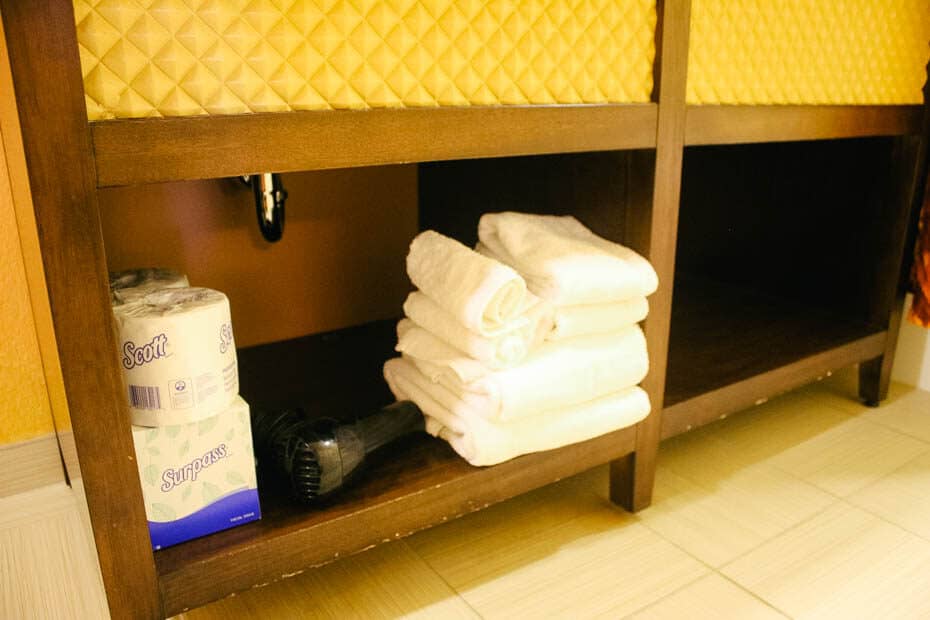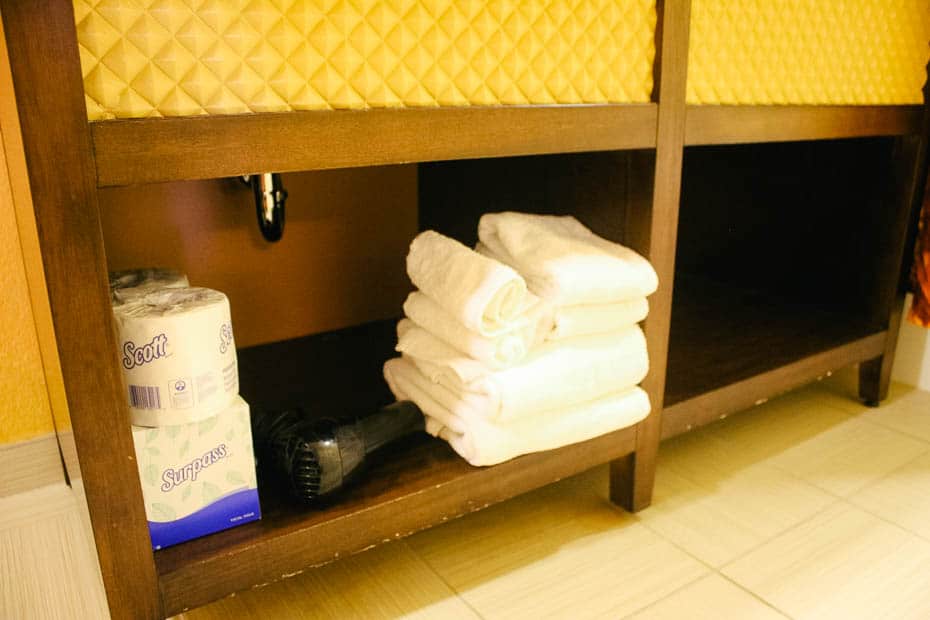 Of course, daily room service is usually standard, but we're not quite back to that kind of normalcy yet.
You'll find the soap, shampoo, and conditioner in dispensers attached to the wall in the shower area. This is a newer thing that's been added over the past few years. It was a bit questionable at first, but I find that they save much hassle over trying to squeeze out enough shampoo to wash your hair after a long day in the parks.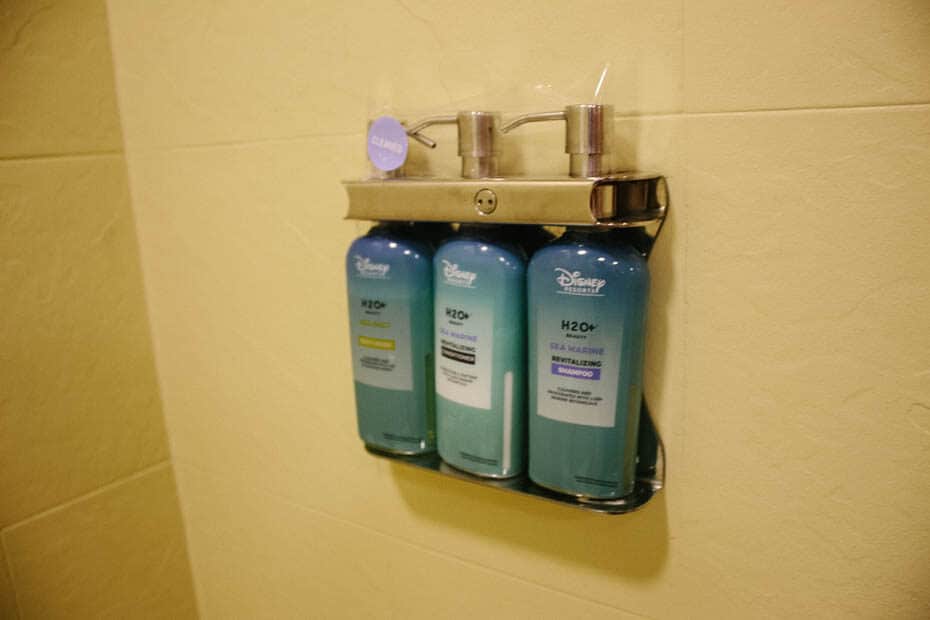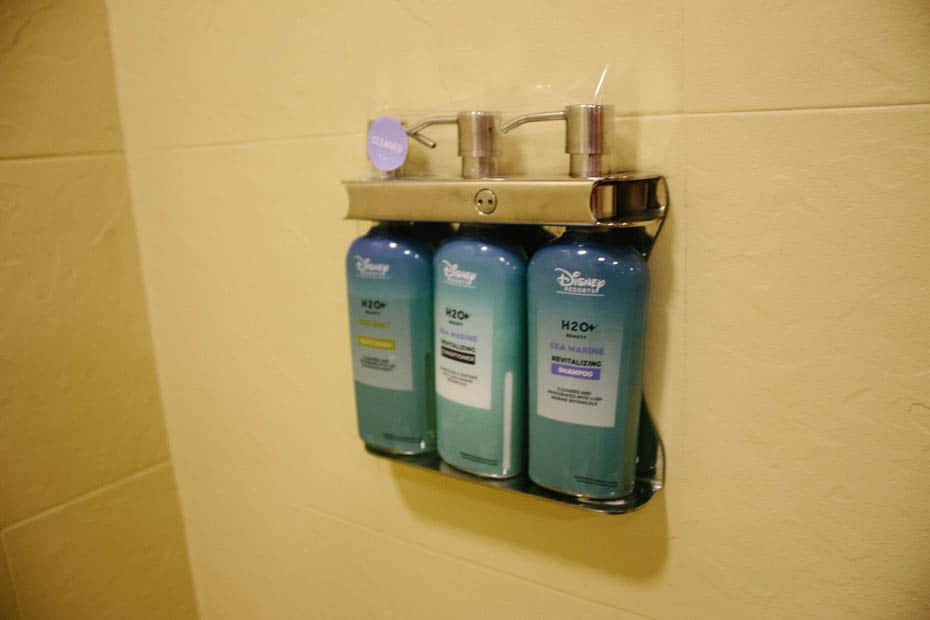 The bathroom also has an iron and safe built into the wall.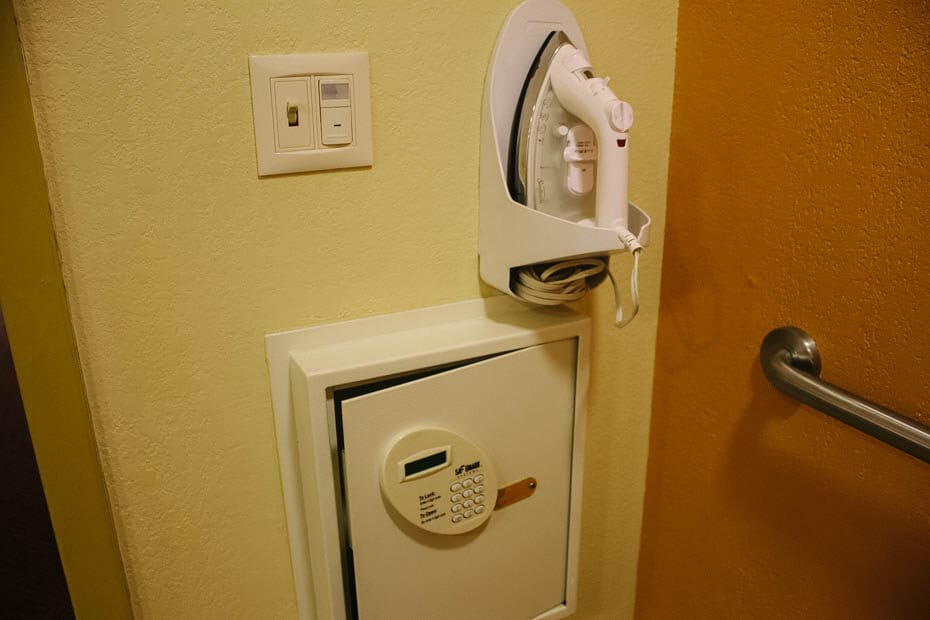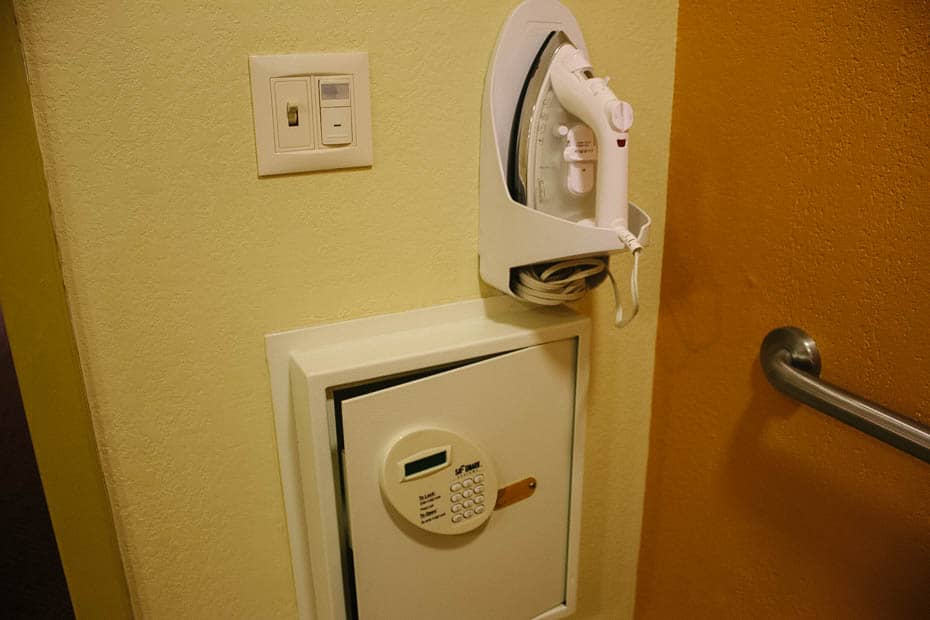 Next to the armoire, there was a full size ironing board. I do not iron, so I never use these things.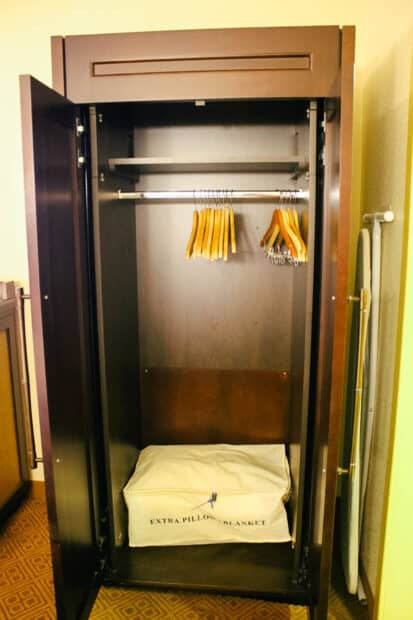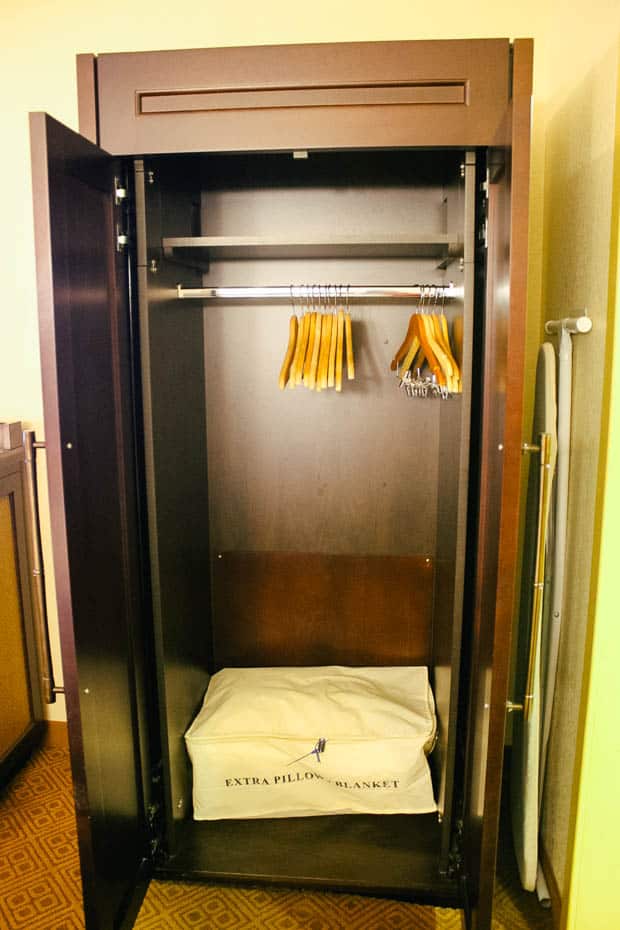 But I'm sure many people do iron on vacation, right?
Disney's Caribbean Beach Resort has several really nice amenities that I felt were worth covering in more detail. The first is the one that most guests rave about, the resort's feature pool, Fuentes del Morro.
The pool is located next to Old Port Royale behind the main lobby area.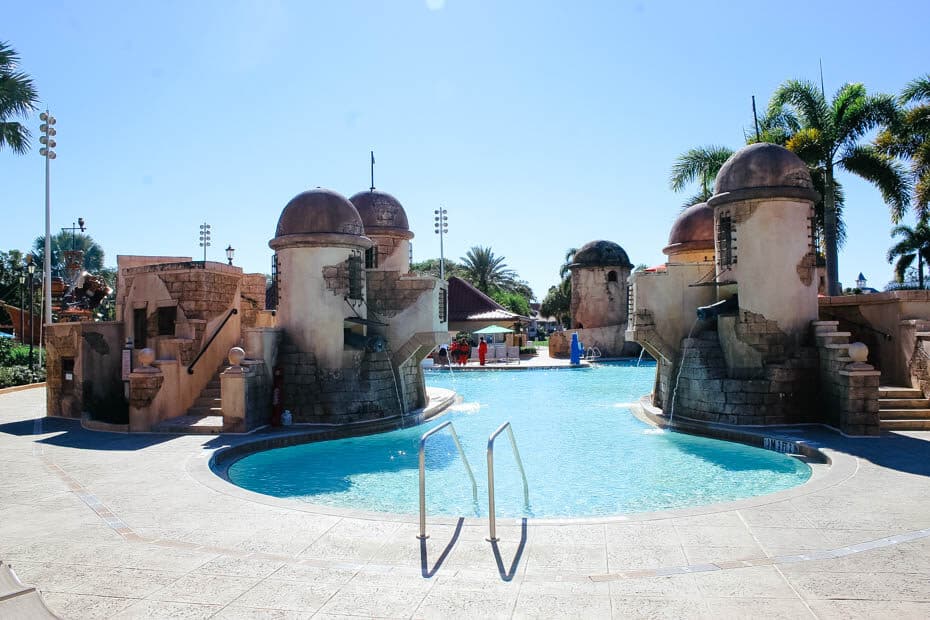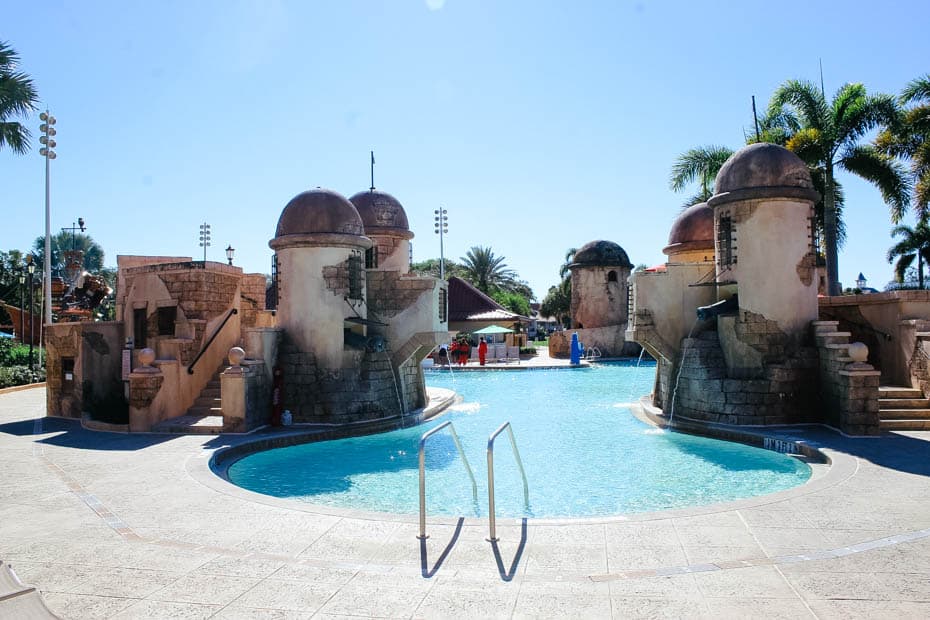 This pool is actually huge and extends into almost three different areas. That gives guests the option to choose between different seating areas or more kid-friendly spots. Some of the seating areas provide umbrellas for shade. This is always nice to have when you plan a resort pool day on vacation.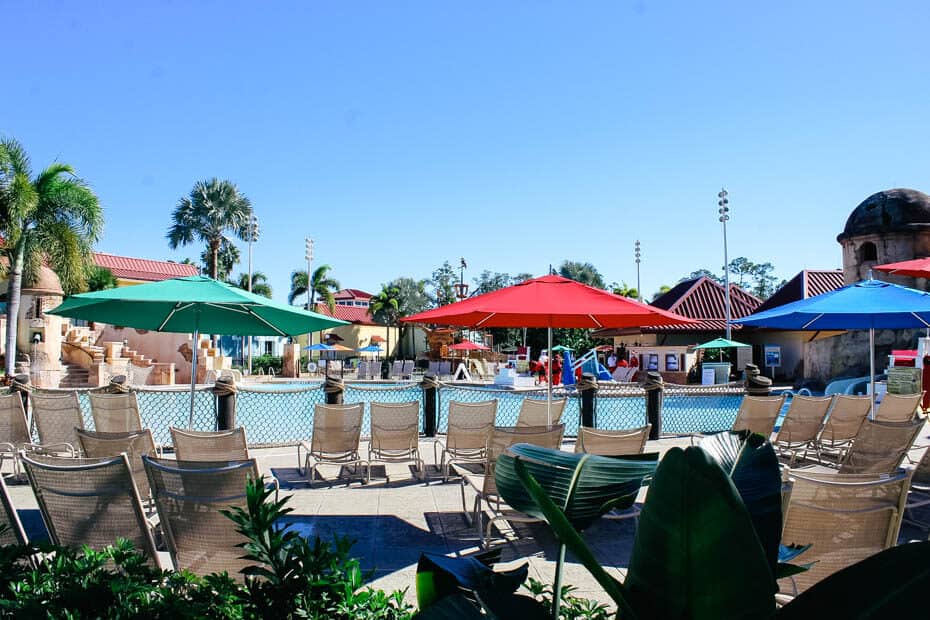 One of the differences between moderate and value resorts is that all moderate pools have a water slide feature. That is also true of a Disney deluxe resort. But Caribbean Beach's pool is a little exceptional because it has two waterslides. One of them measures 102 feet long!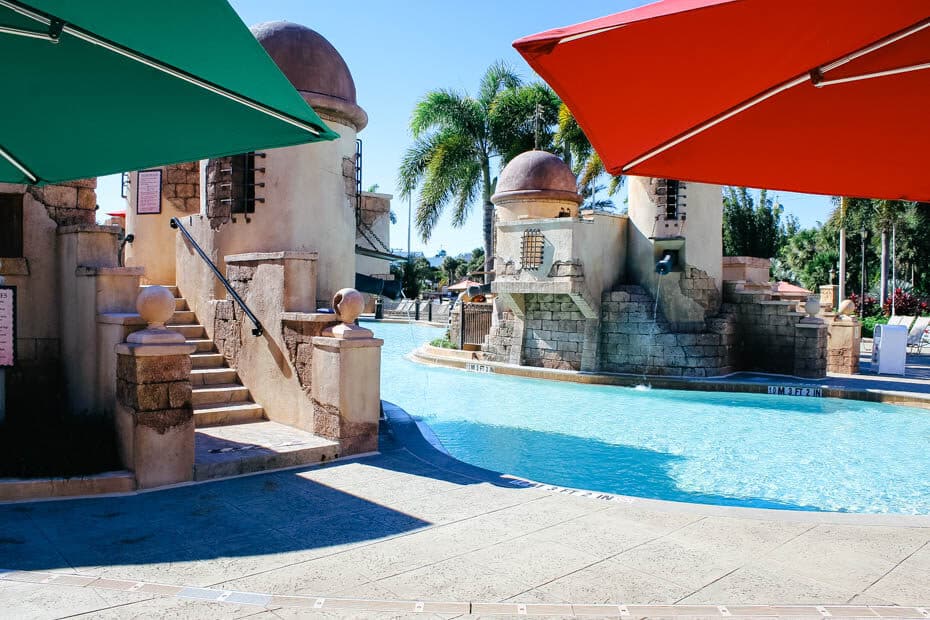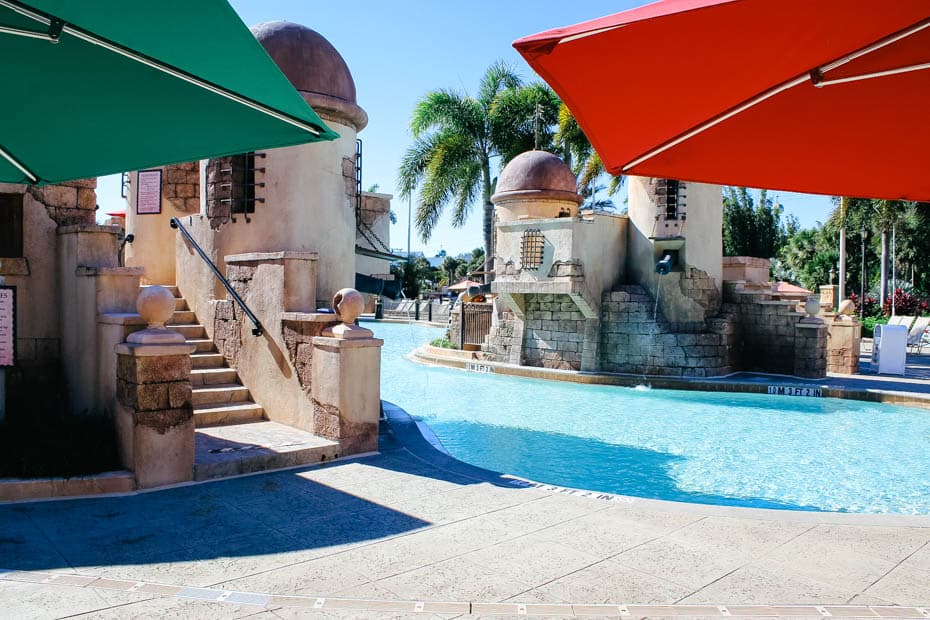 Additionally, this fun pirate-themed pool offers a zero-entry pool area. You might notice in the photo below that the pool area was closed this day due to low temperatures. This is somewhat rare since the temps remain fairly mild throughout most of the year in Orlando.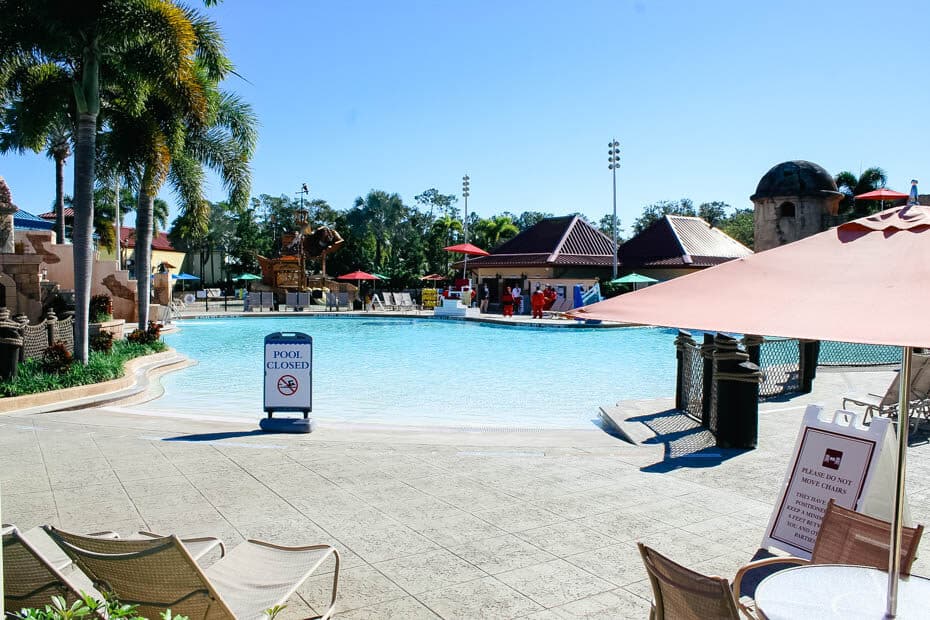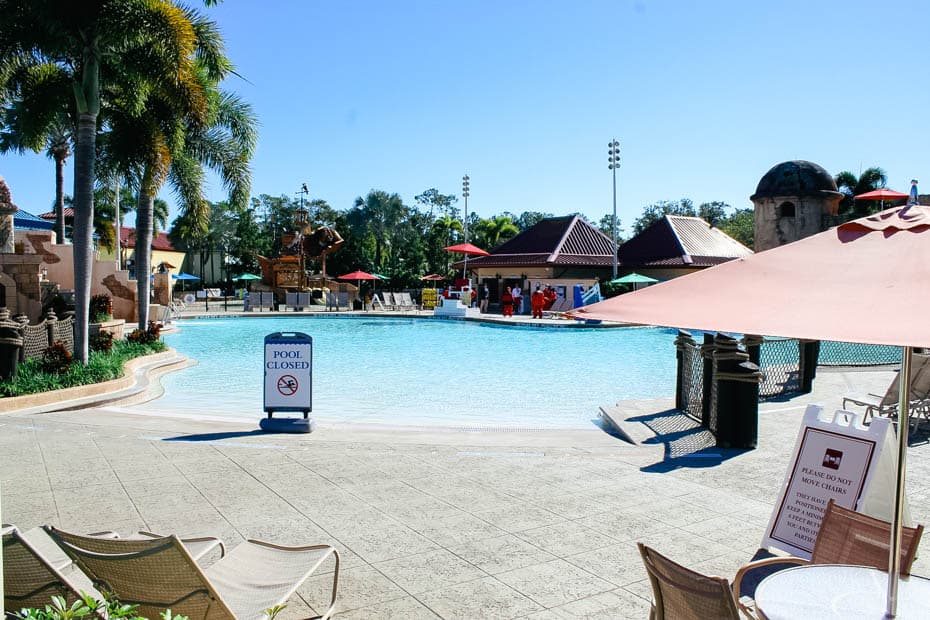 Disney resort pools are heated to 82 degrees during the colder months. Therefore, even on chilly days, you'll often see guests using the pool.
Not only is the pool area fun for older children and teens, but a water play area is provided for smaller children. This play zone is designed for children 48″ or less in height.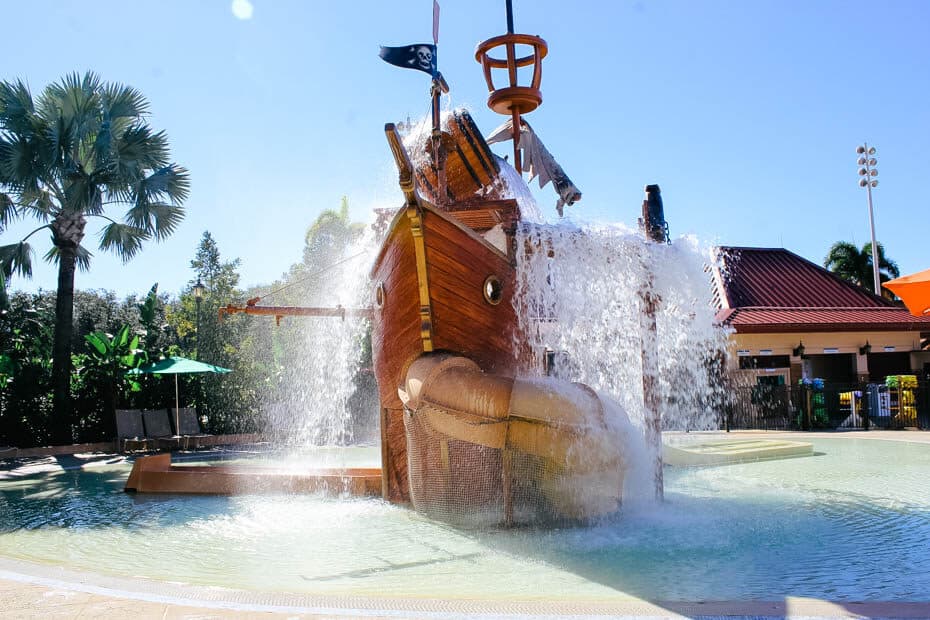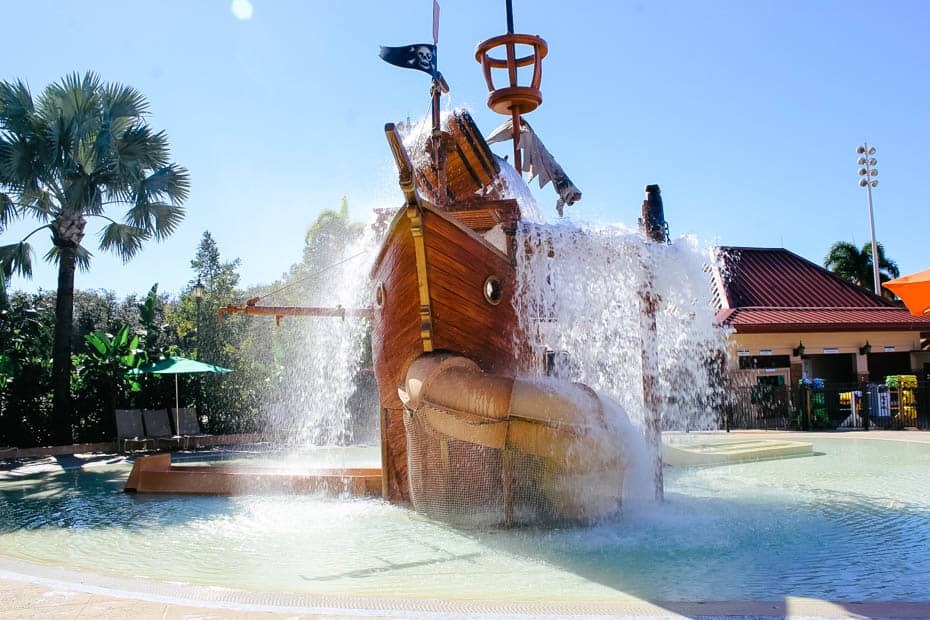 A shallow wading area surrounds the play zone making it a nice place for toddlers who might be a little timid of the larger splashes.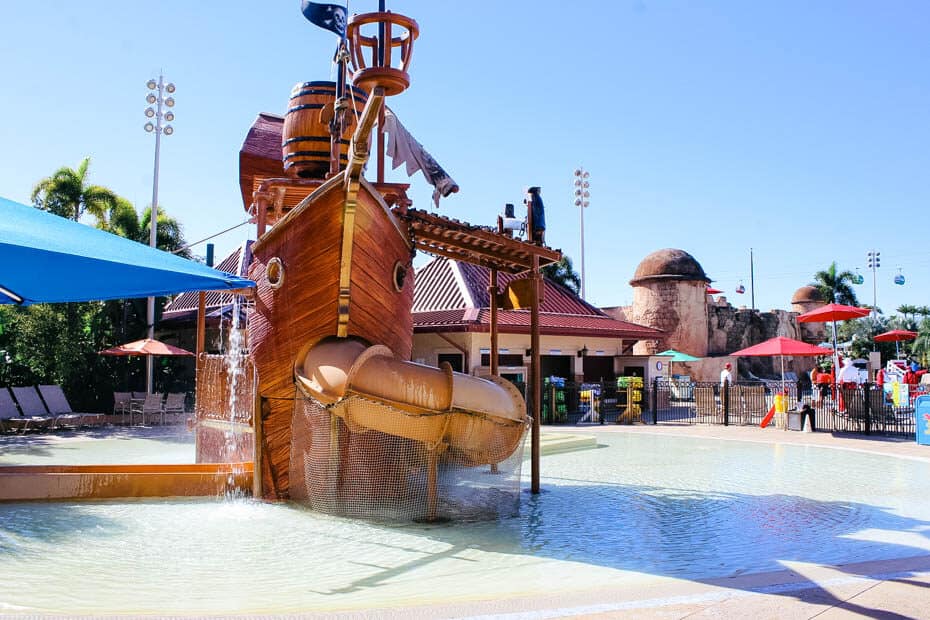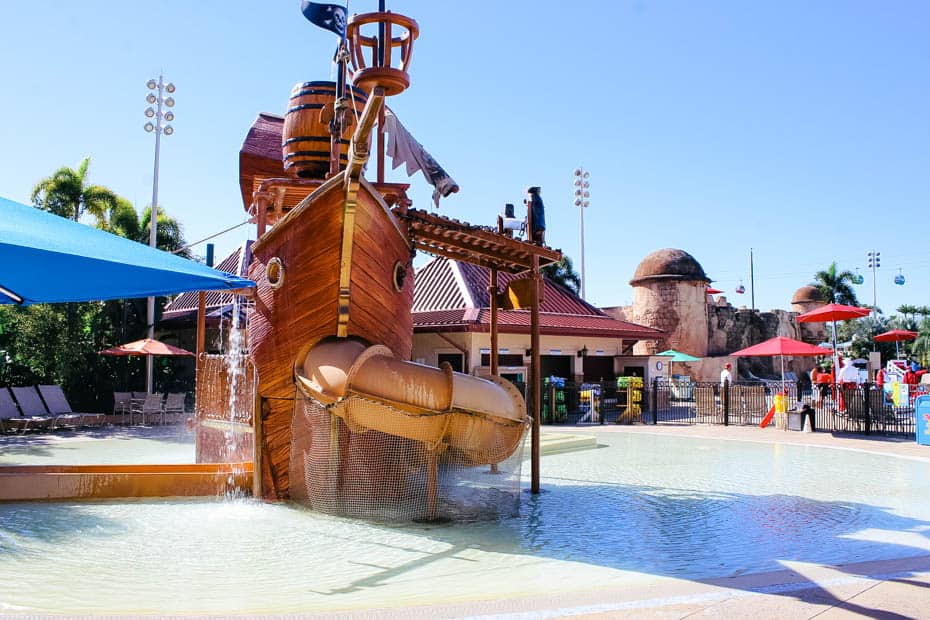 Expect the Caribbean Beach's feature pool to be fairly busy on your vacation. If all the crowd at the pool is not for you, you'll be happy to know that each Caribbean Beach village has a quiet pool.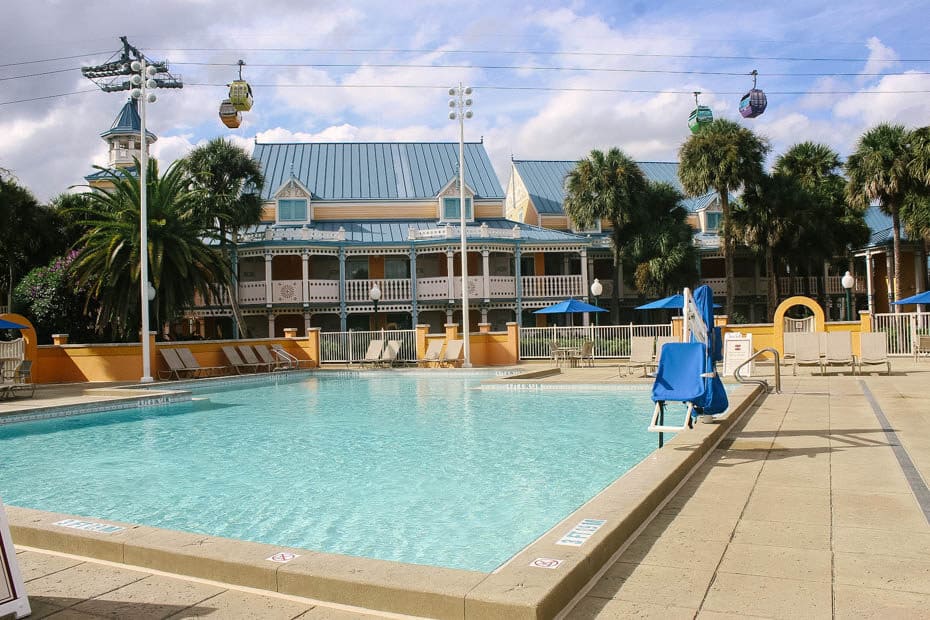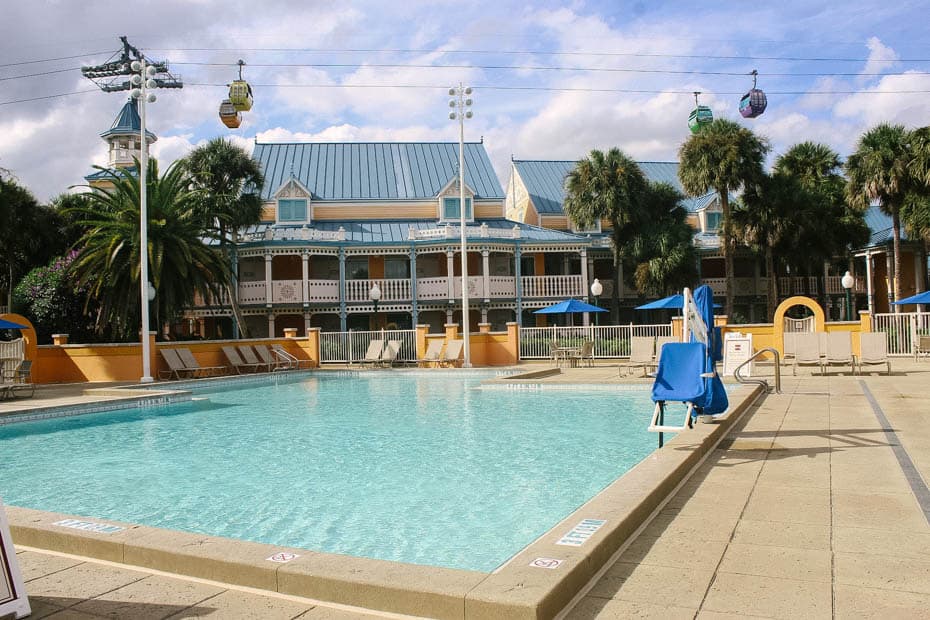 The quiet pools are all a good size.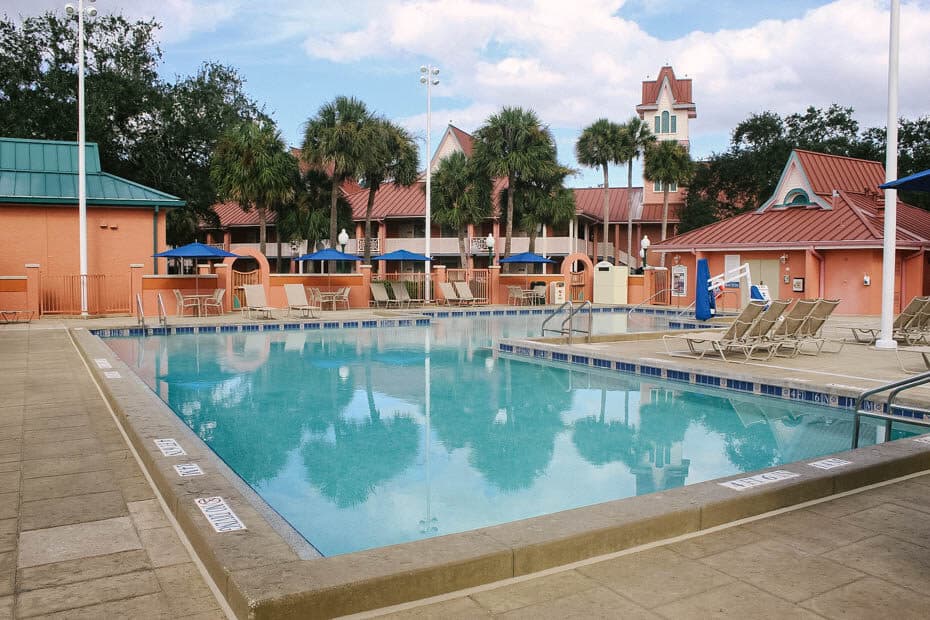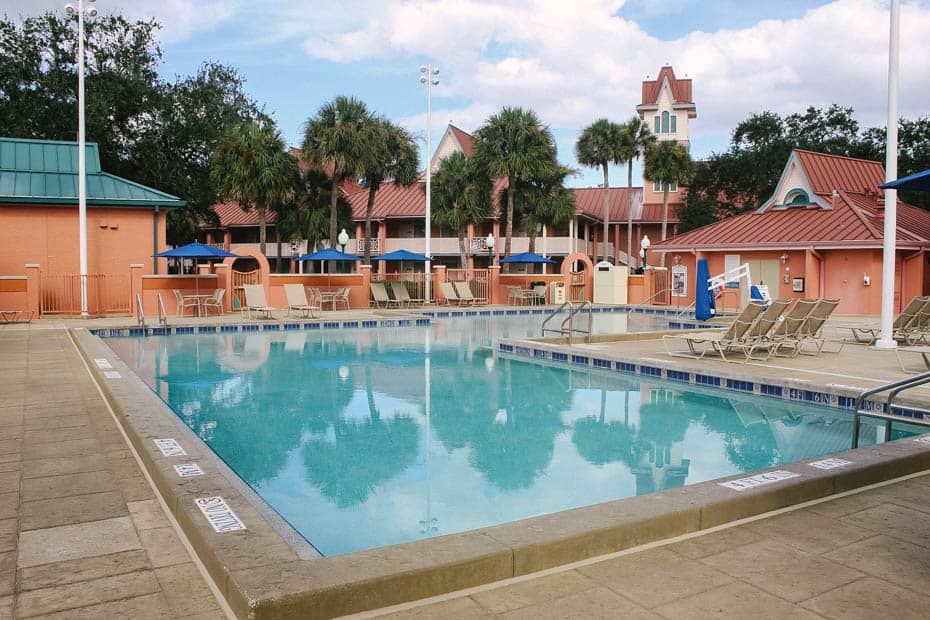 At each leisure pool, a sizable guest laundry area is also available.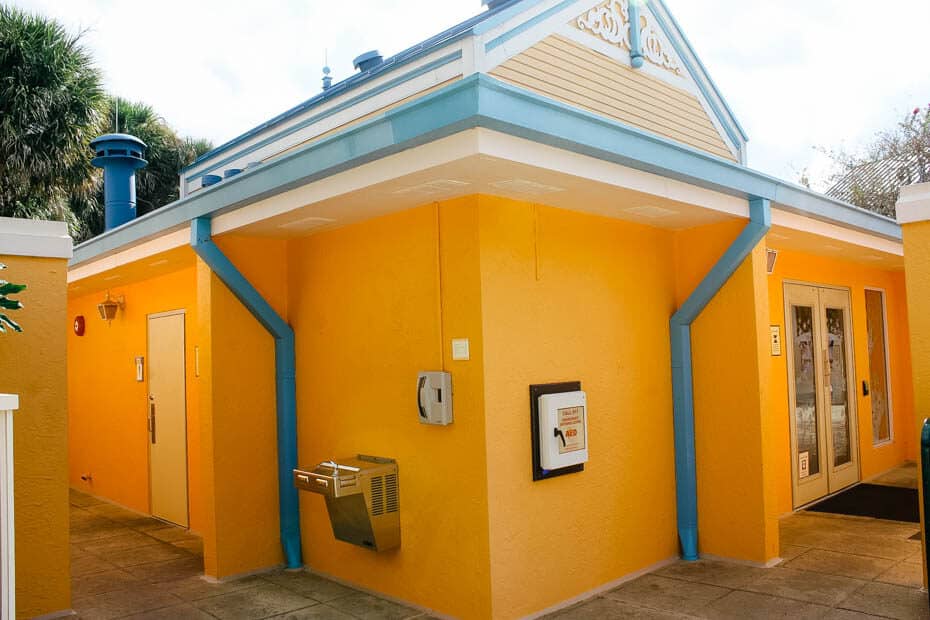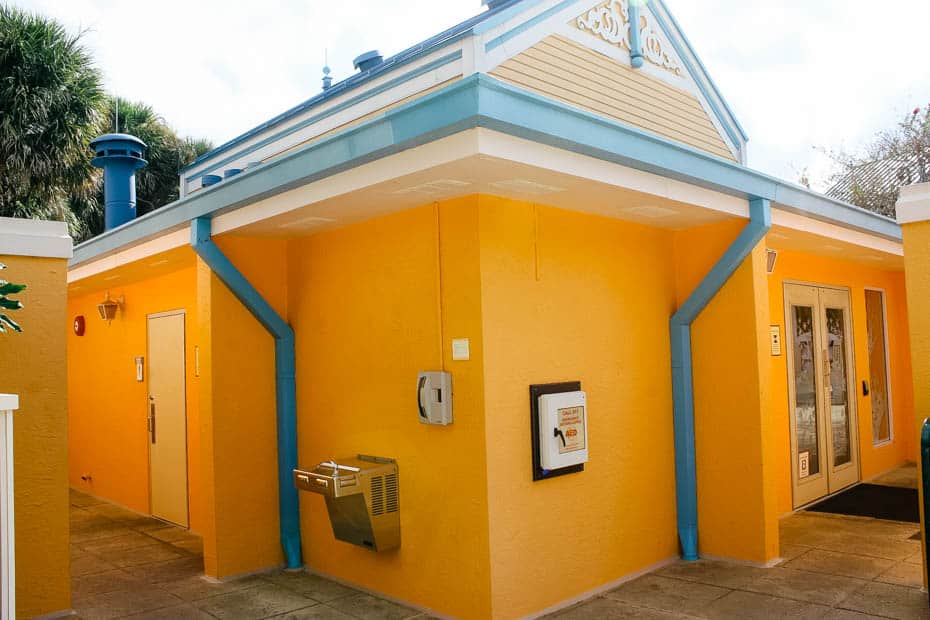 Having convenient access to a laundry room is a necessity for me while on vacation. There are times when I tell myself I won't do laundry while visiting. But it never fails. If I'm on a property for more than four days, you'll find me at the guest laundry.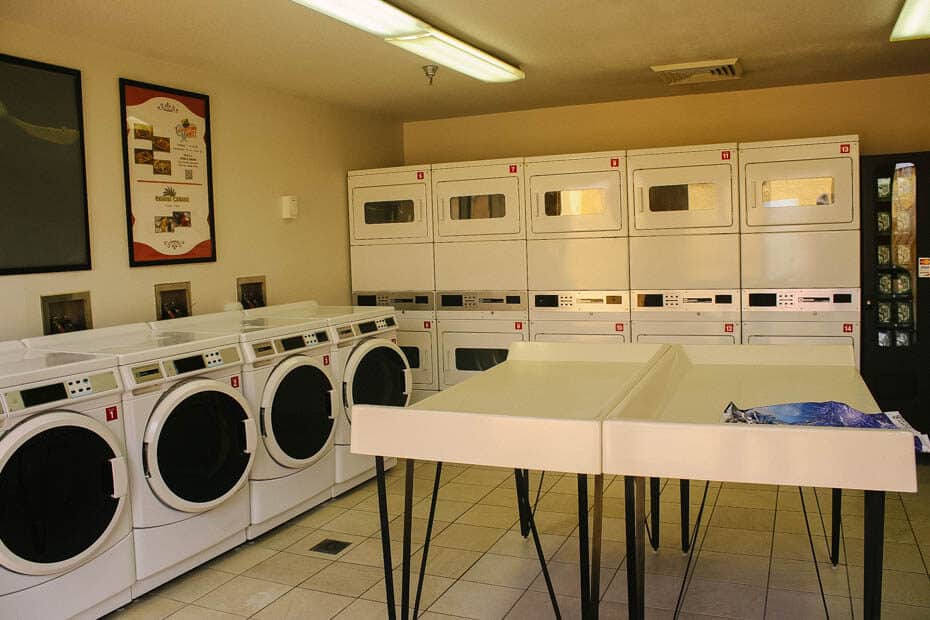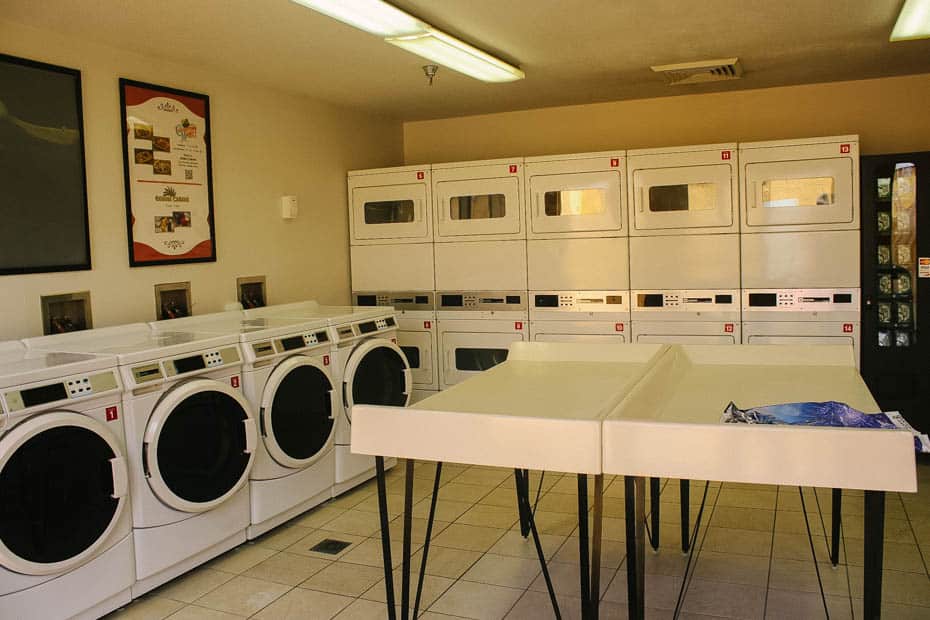 And it's nice to take a break sometimes to soak in the sun while waiting.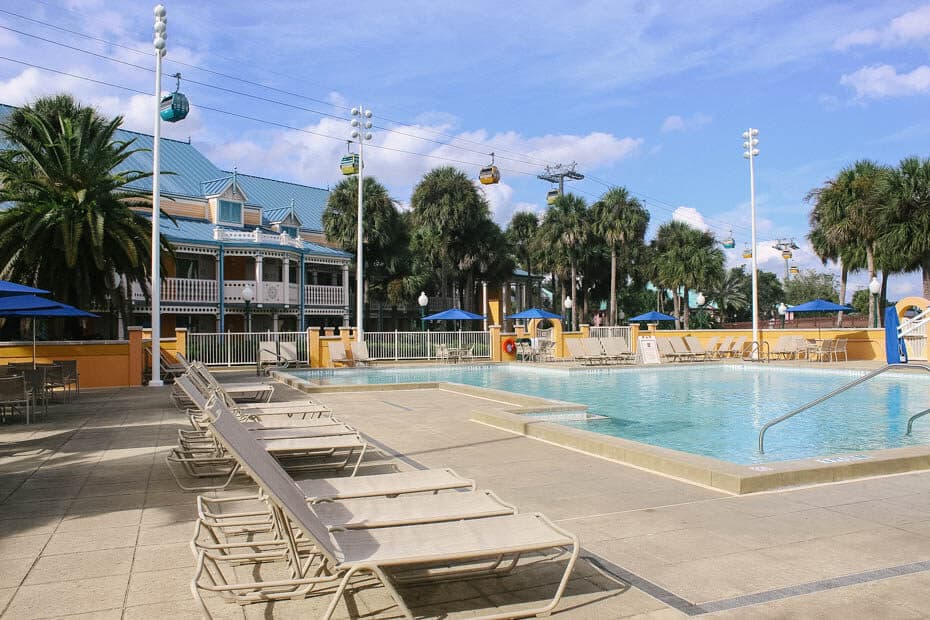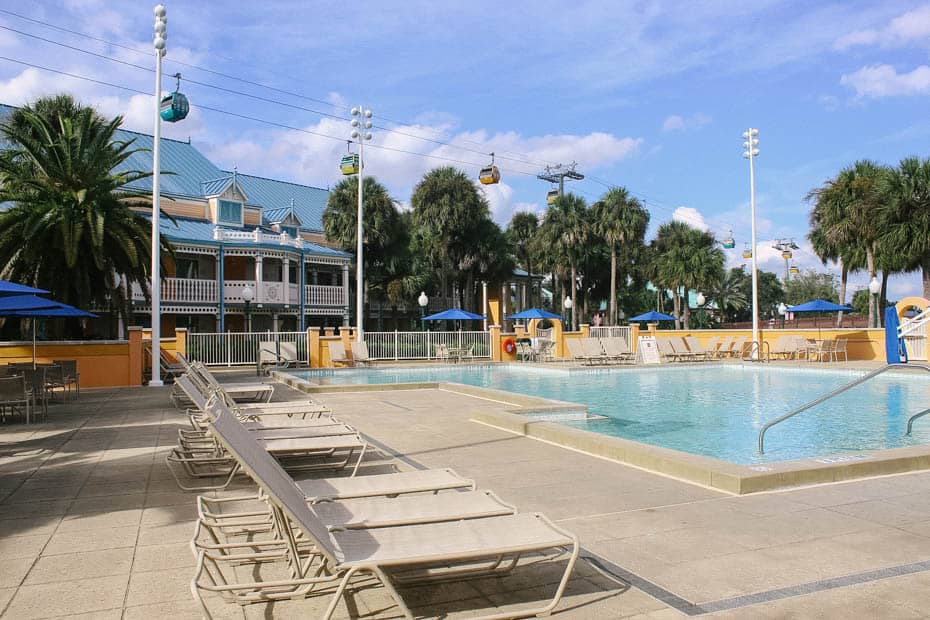 Another nice amenity is the walking and jogging trail that circles the lake at Caribbean Beach. I actually jogged here when the resort next door was being constructed. Here is a photo of the trail.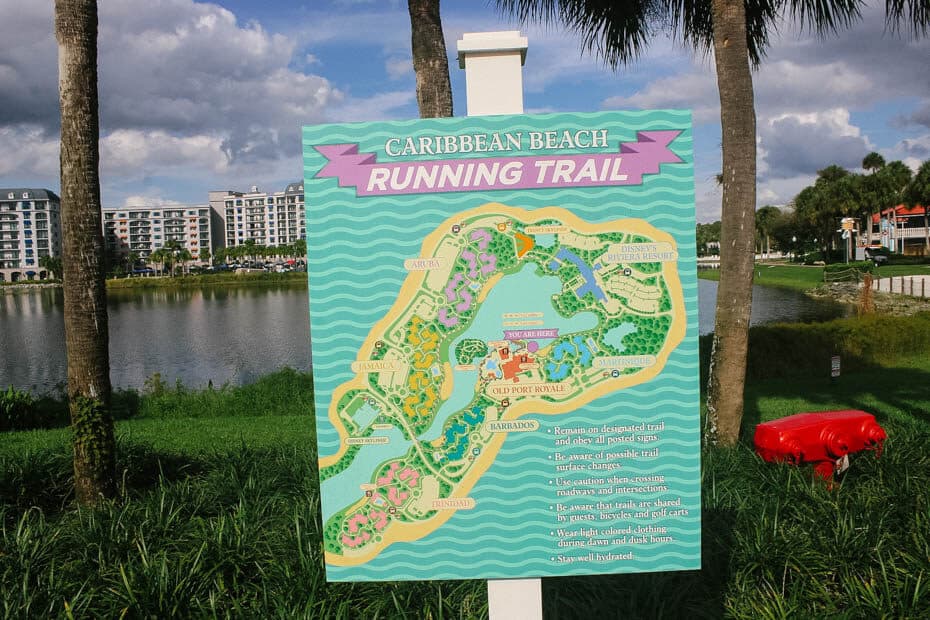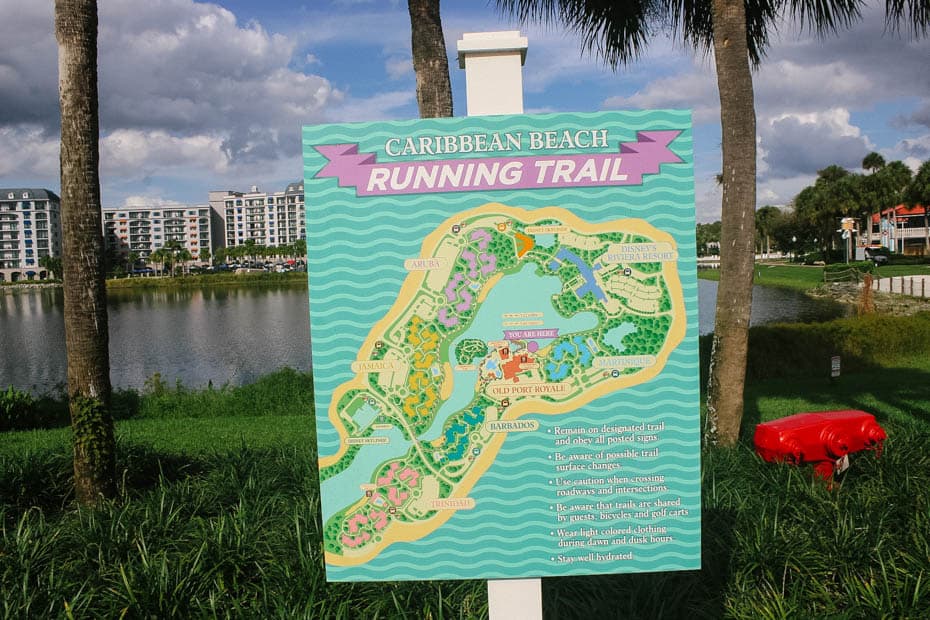 As far as fitness centers go, Caribbean Beach does not have one. If you are in need of an actual gym while at Disney World, you might want to stay next door at Disney's Riviera Resort (review).
However, the Riviera is a bit more pricey. While it isn't the most expensive resort at Disney, it's close. Don't worry, the new Star Wars hotel will demolish that notion like the Death Star.
What you can do at Caribbean Beach Resort, in addition to jogging the trail, is rent a bicycle. More information about bike rentals at Disney's Caribbean Beach is available here on Disney's site. You can also find details there about fishing excursions that might be available on your trip.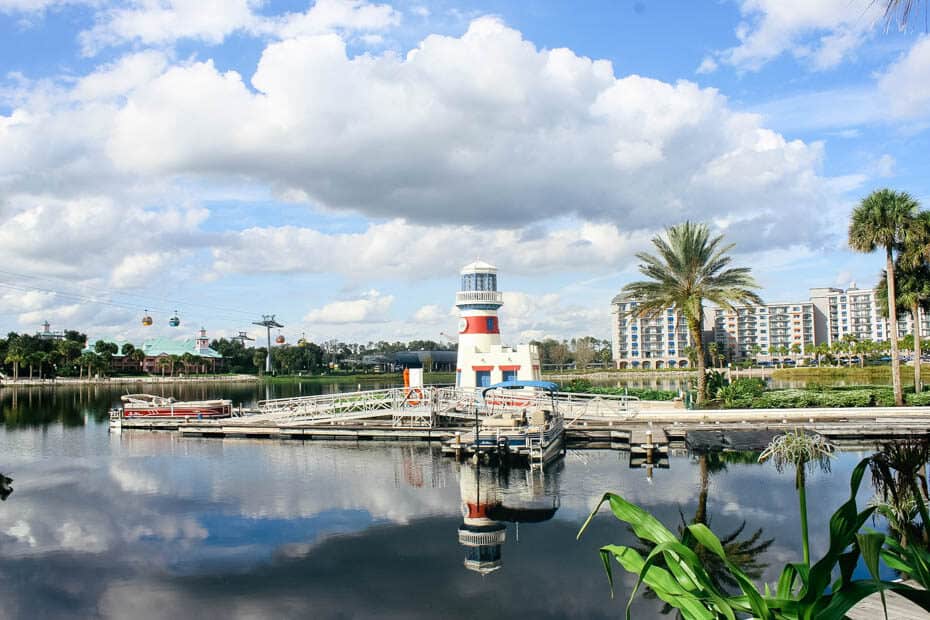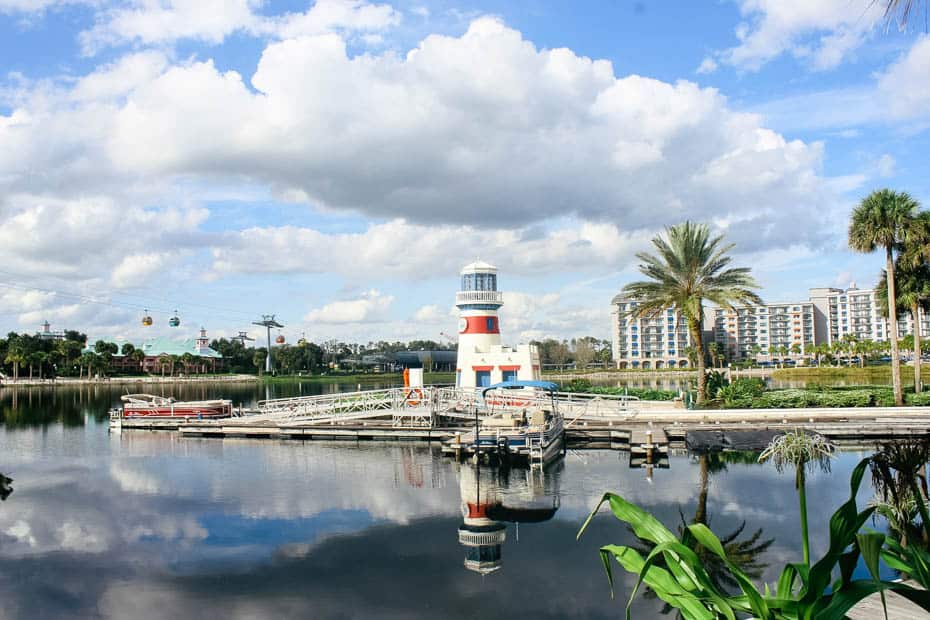 Additionally, the resort offers a multitude of pleasant beaches for relaxing. Kids seem to enjoy playing in the sand here.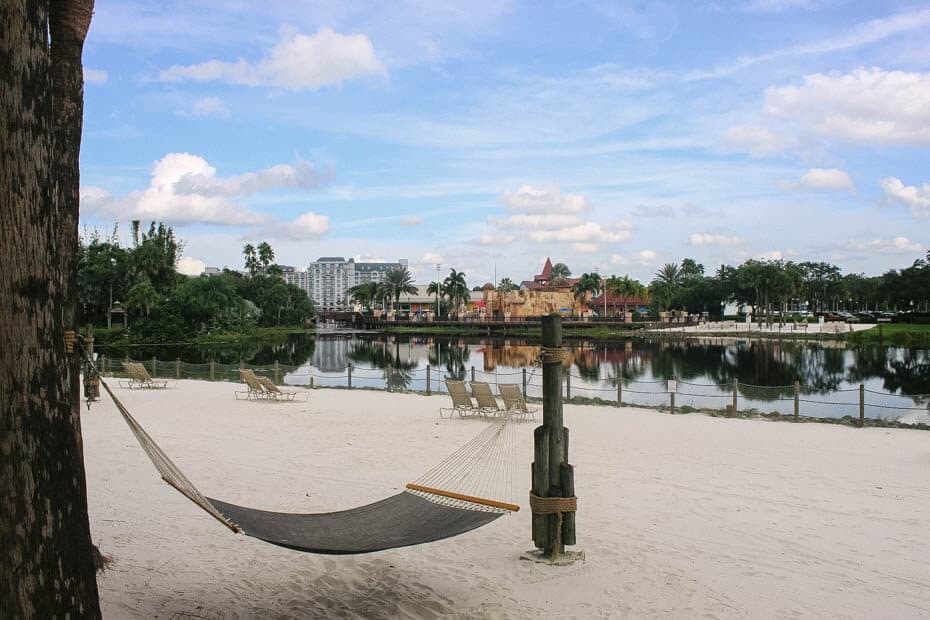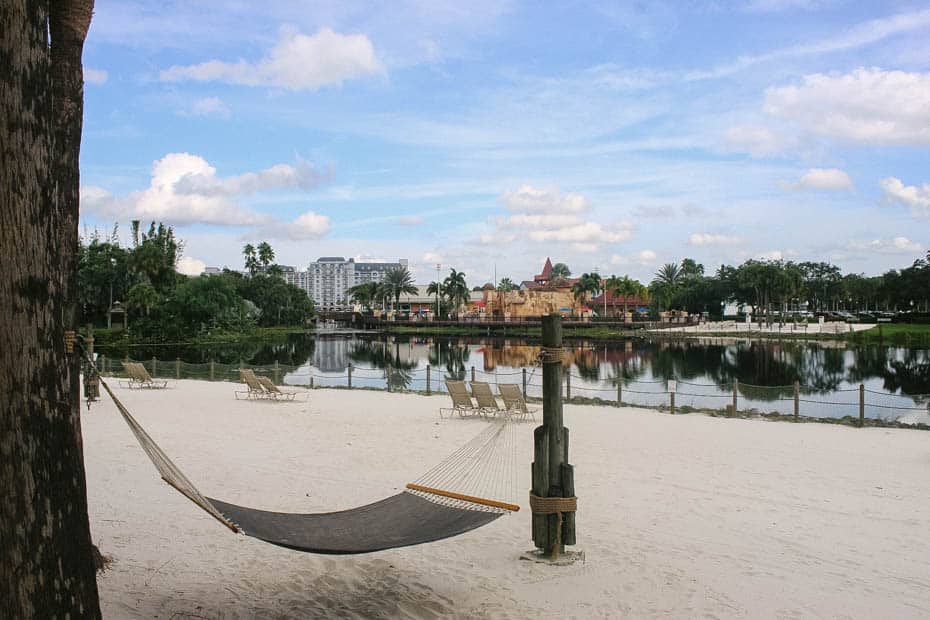 Each village has a beach that faces out toward Barefoot Bay.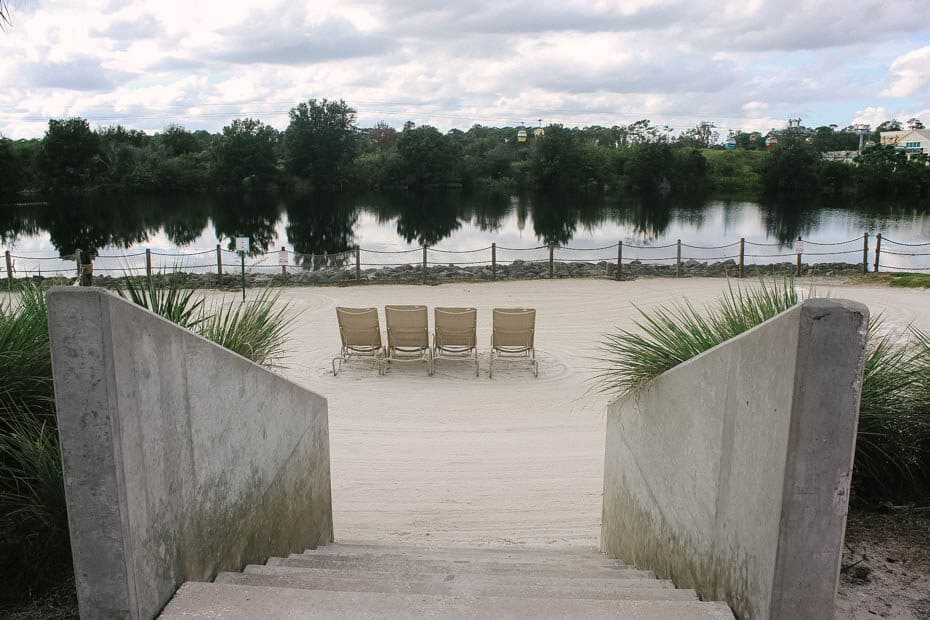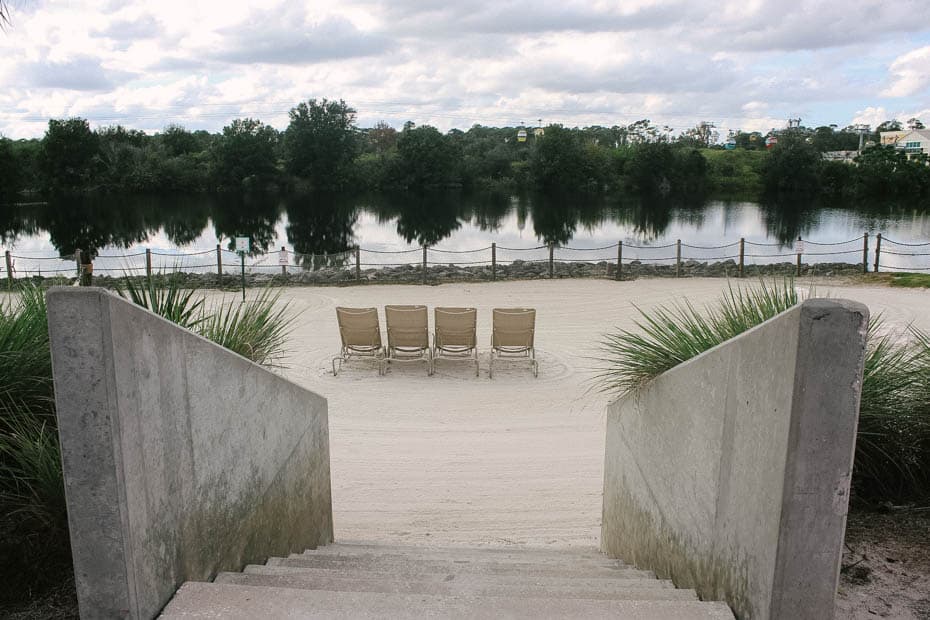 Since the Skyliner was added you can watch the gondolas come and go in the distance.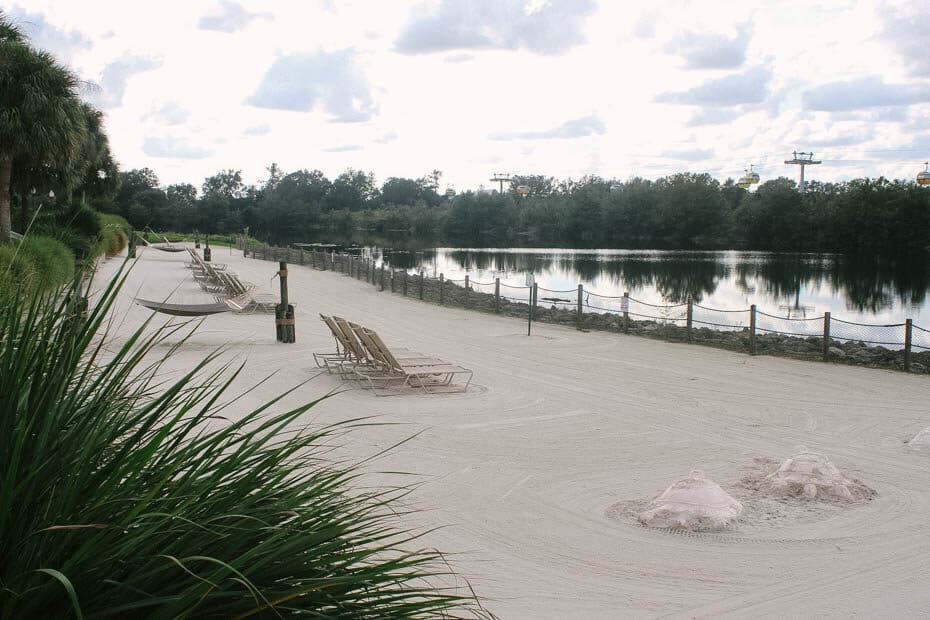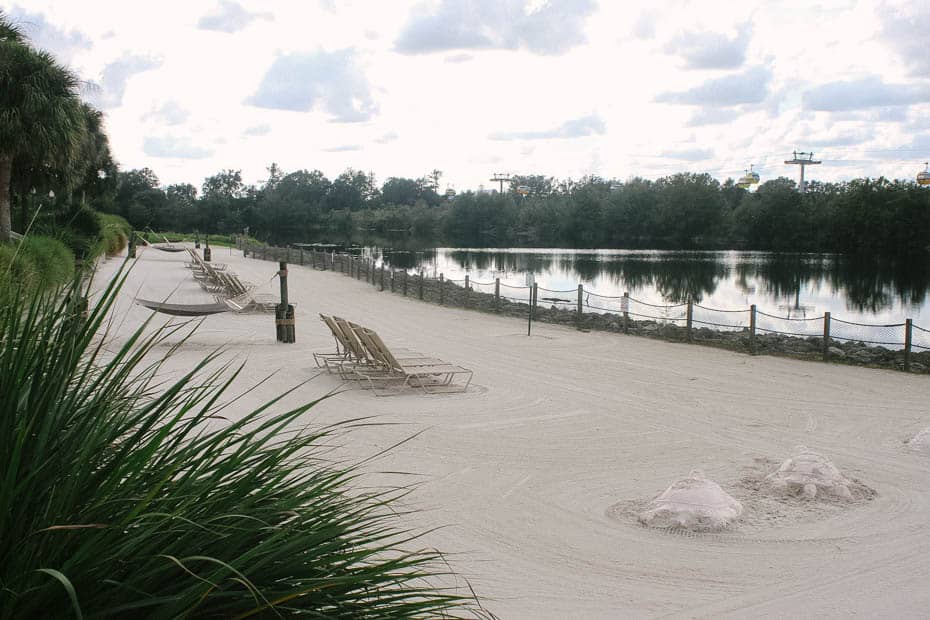 The beach down at Martinique has a sand volleyball court and a fire pit. Sunsets are always pleasant to enjoy from this area.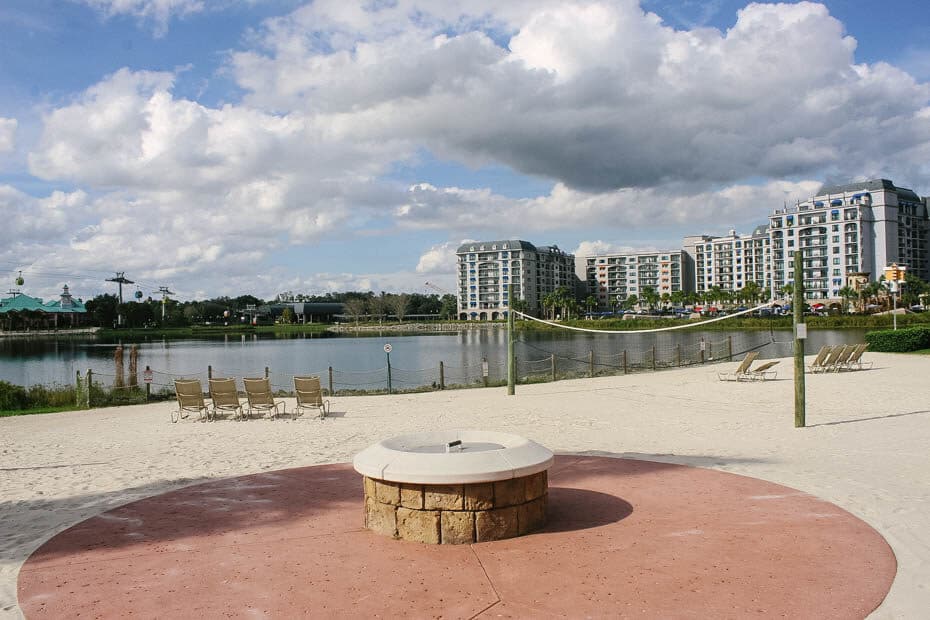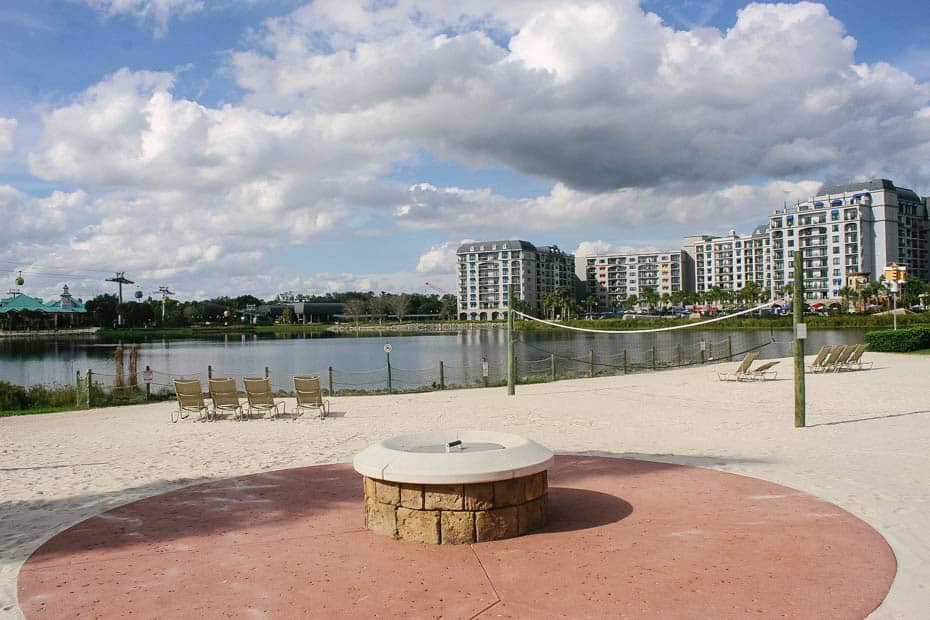 Bird lovers will want to know that this area is also home to a bird colony of Purple Martins.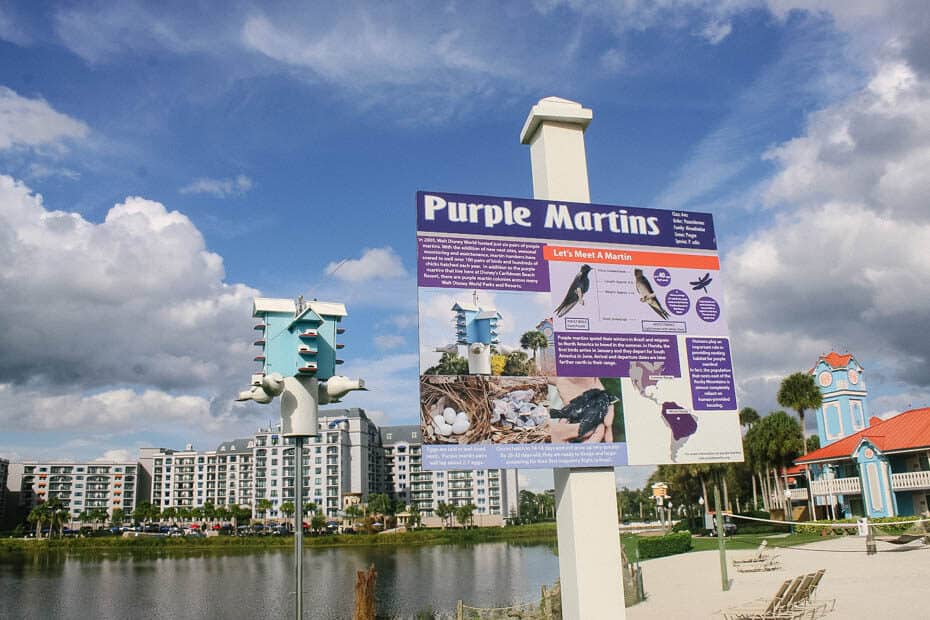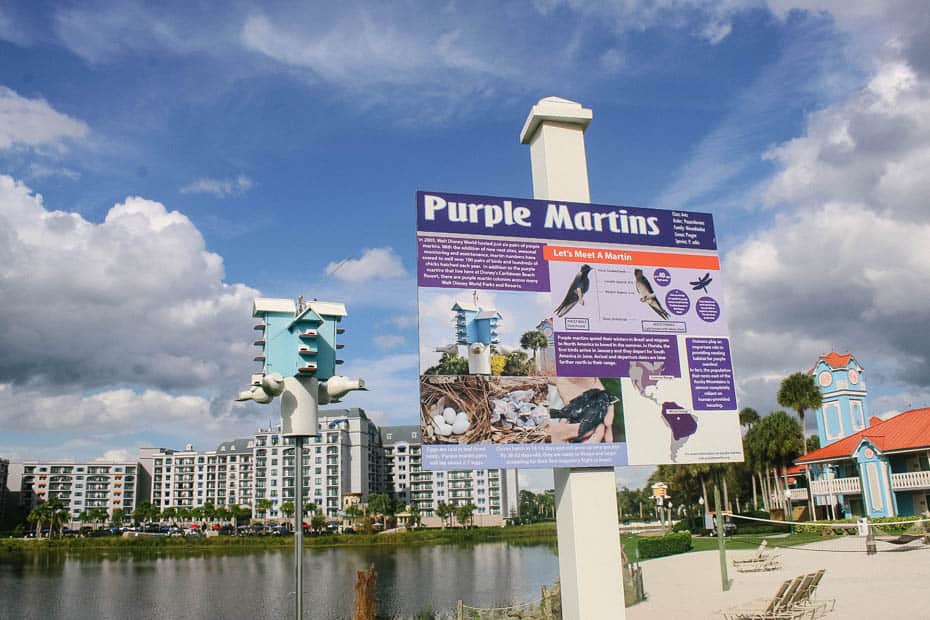 And if you want to relax outside with no sand or pools involved, there are plenty of areas to do so.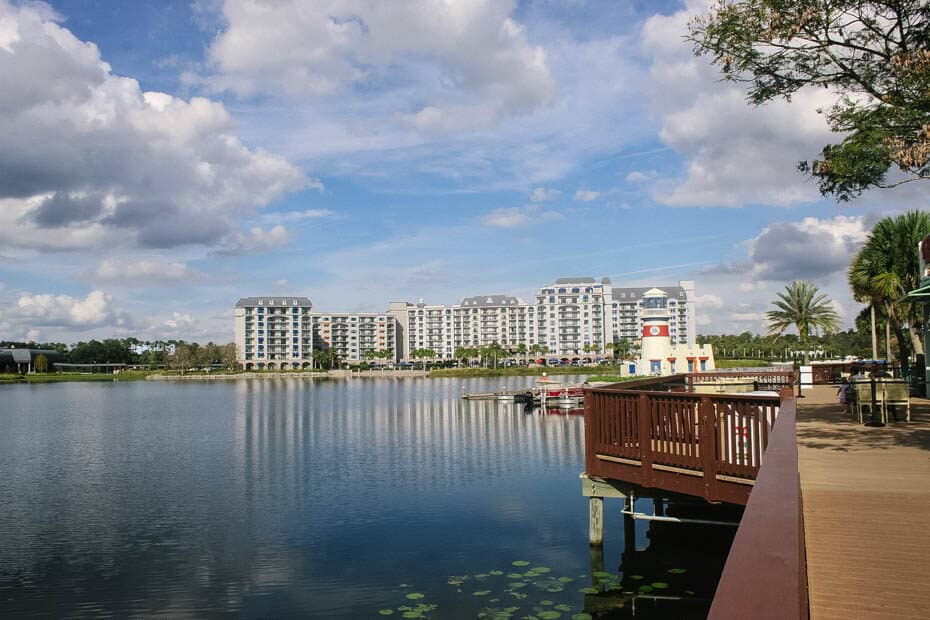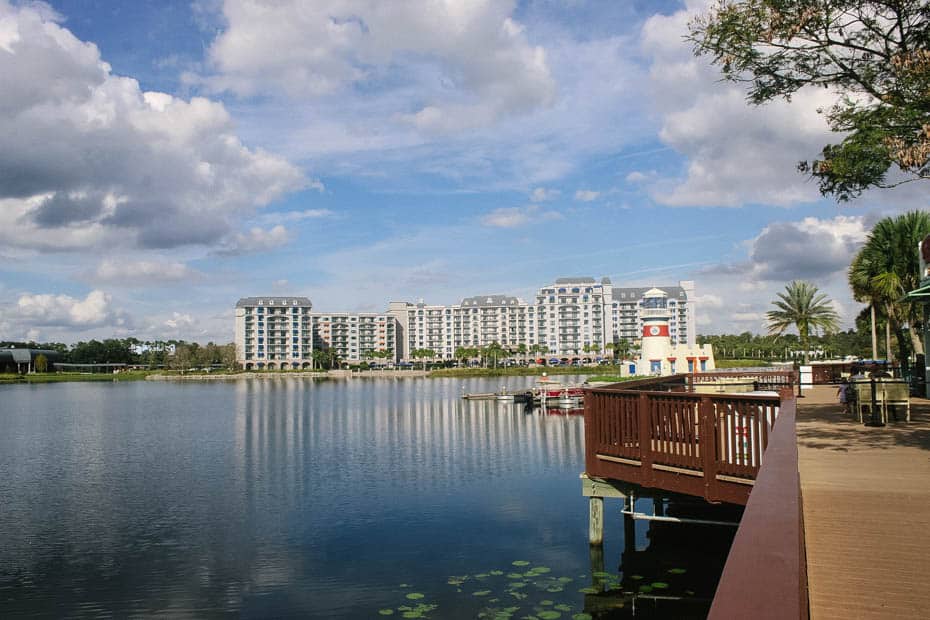 While there is most definitely a lot of sunshine involved at this Disney resort, one should be able to find a retreat in the shade as well.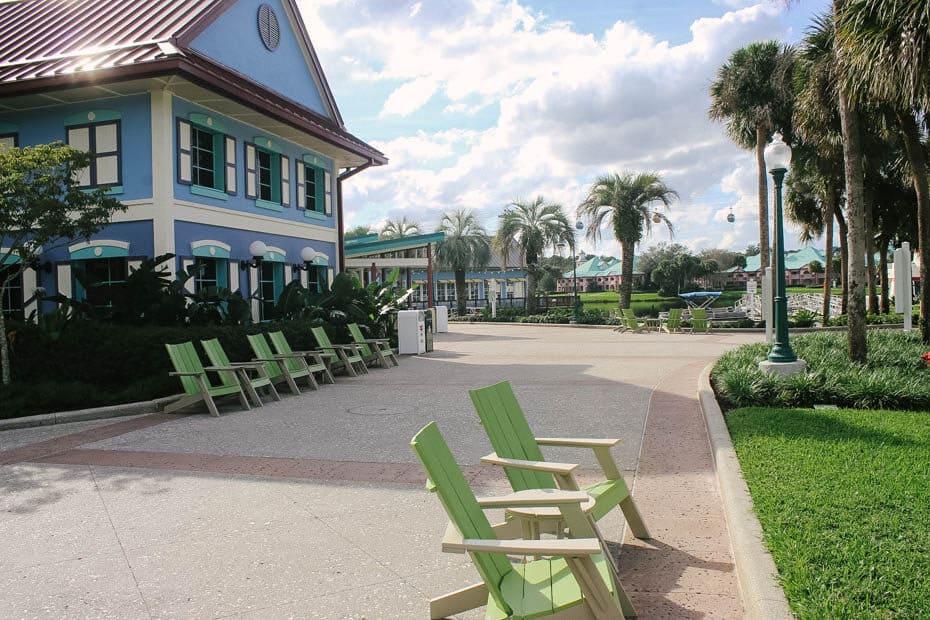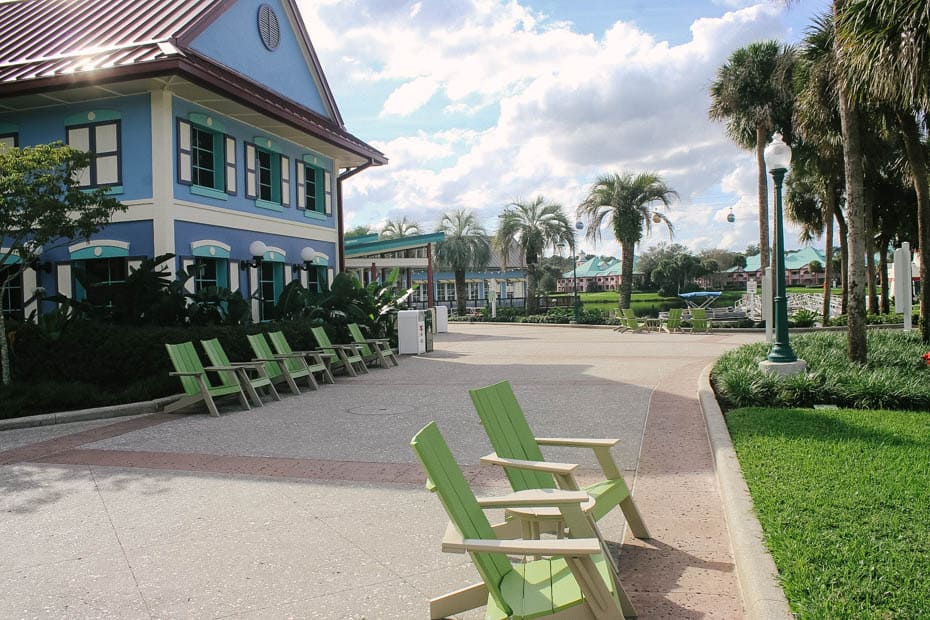 Those that like to see everything will also want to explore Caribbean Cay Island on their vacation. This is the island area that sits offset toward the center of the bridge.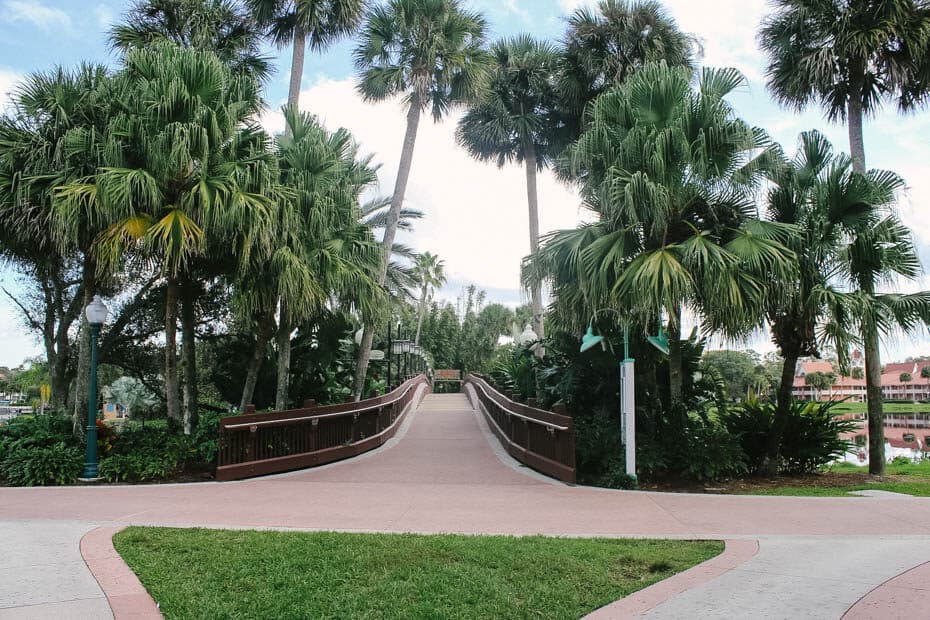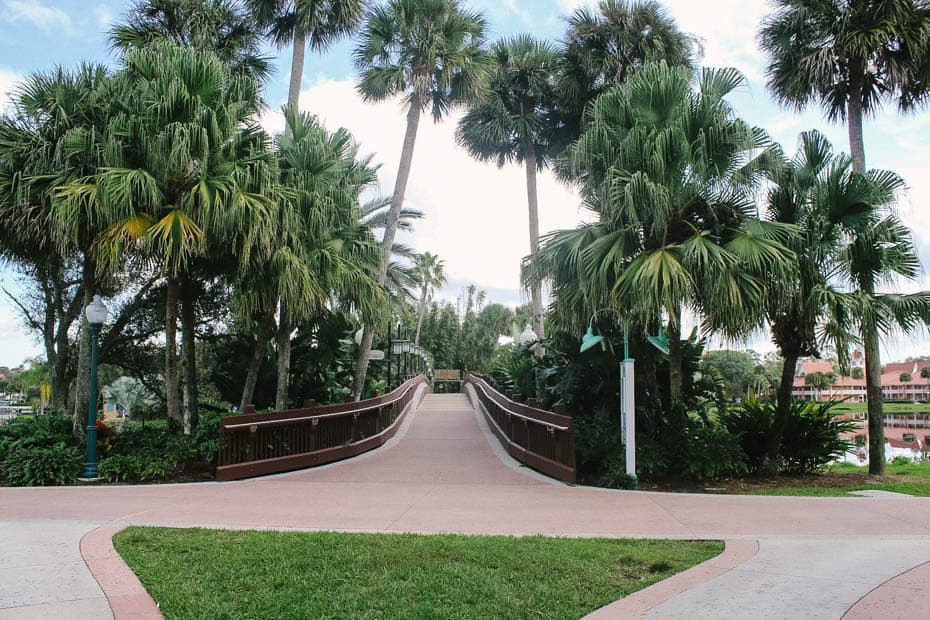 Lastly, guests will find that under normal circumstances, Movies Under the Stars are available each night. Ask at the lobby for more details.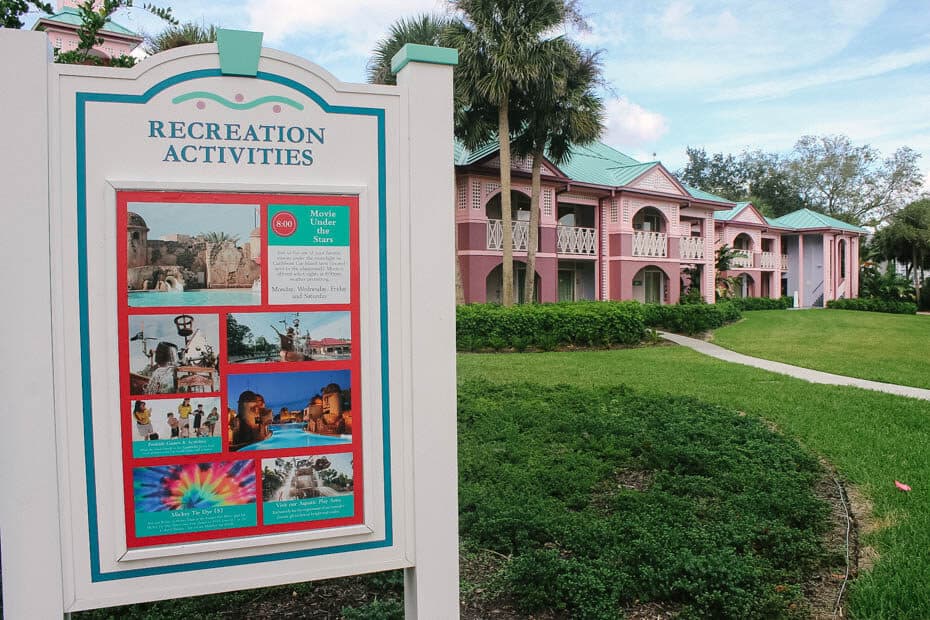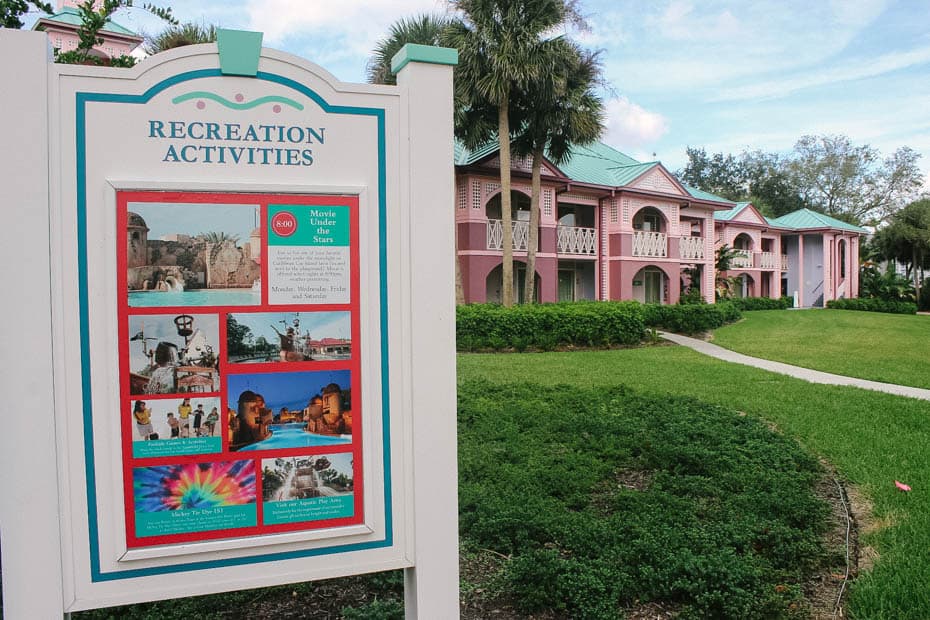 When you arrive at Caribbean Beach, you'll more than likely head to Old Port Royale first. This is the resort's lobby, with the main dining and recreation areas attached.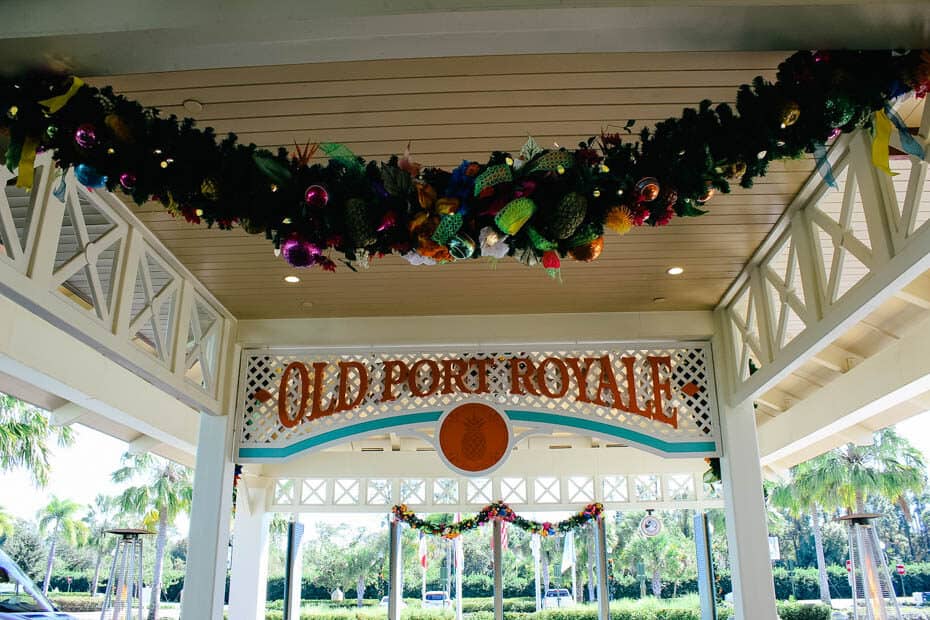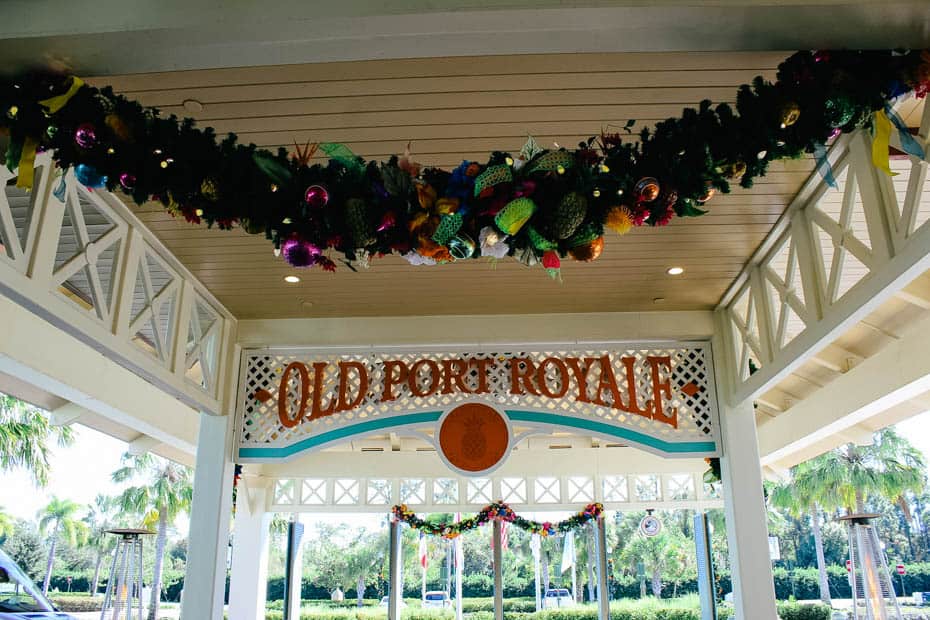 The lobby is bright and cheerful like everything else here.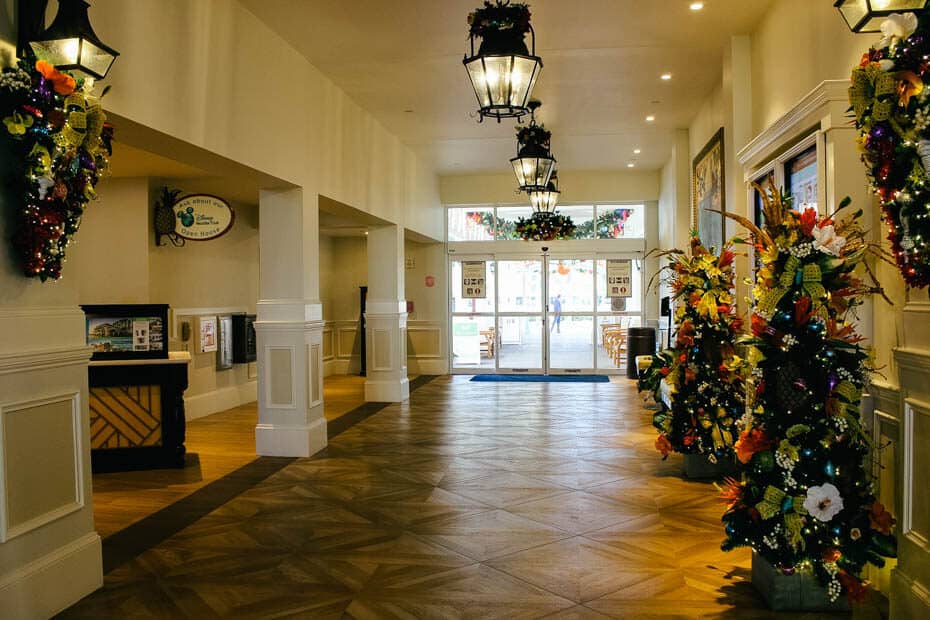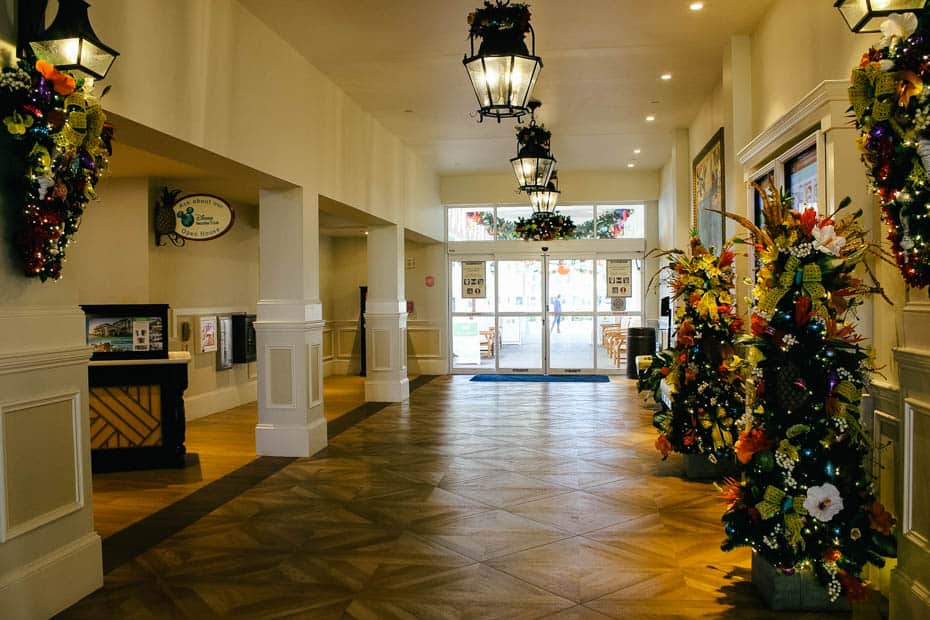 This stay was over Christmas. The tropical decor fits in wonderfully with the island vibe. If you are interested in learning more, I have an overview of resort-hopping at Christmas.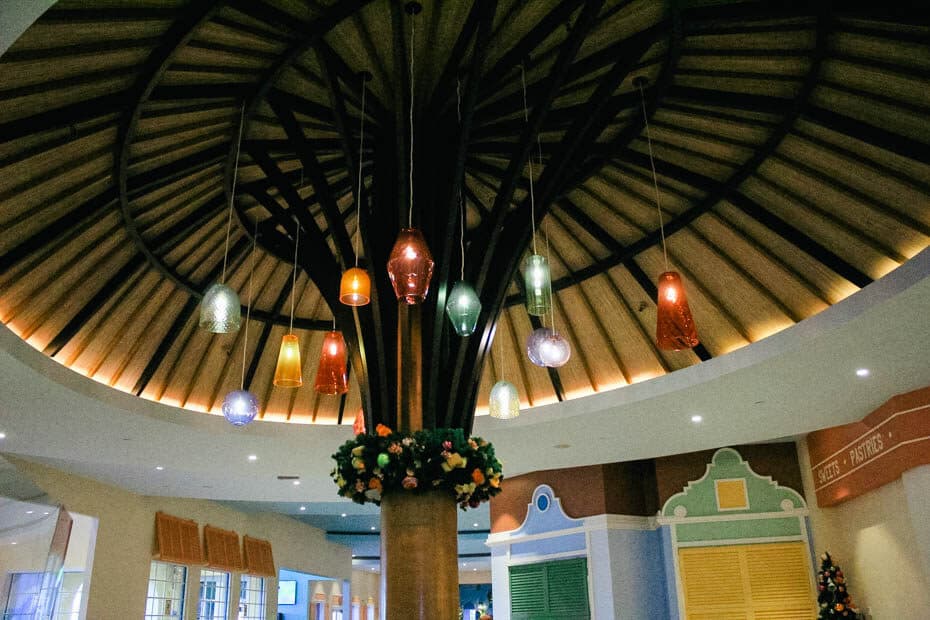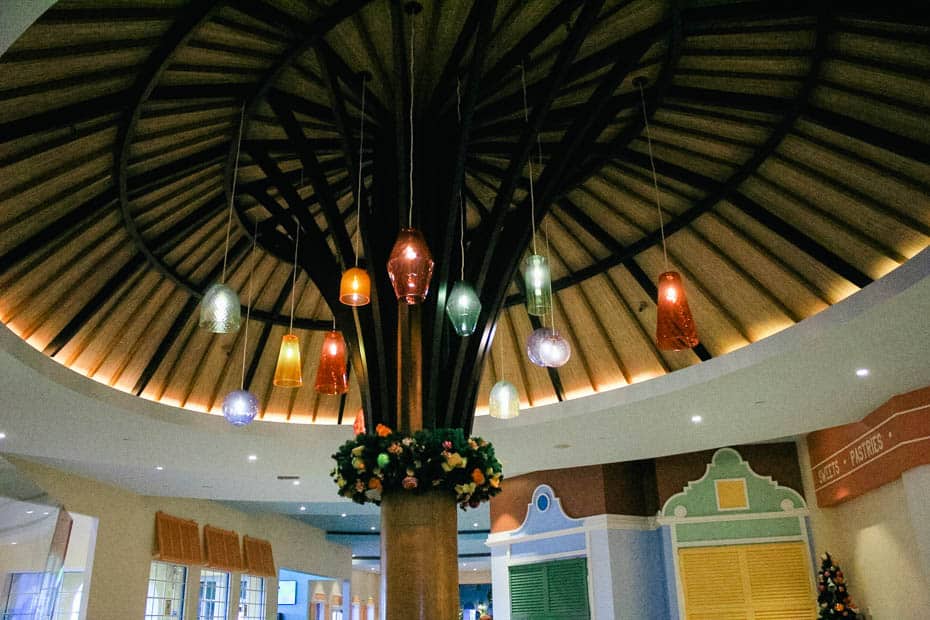 Perhaps, the most popular portion of the resort is the backside of the lobby. The buildings all have loud paint colors, and lights are strung overhead.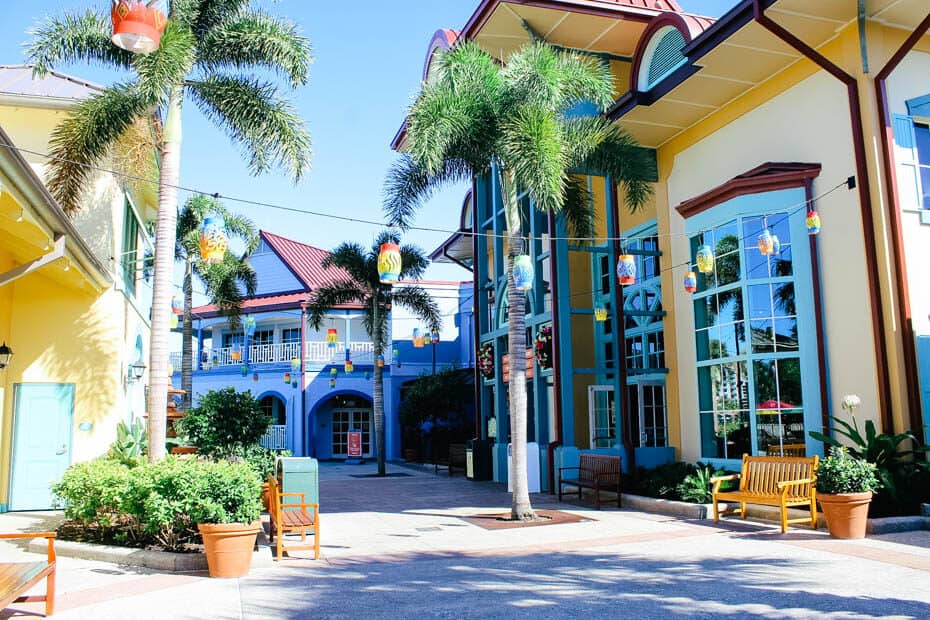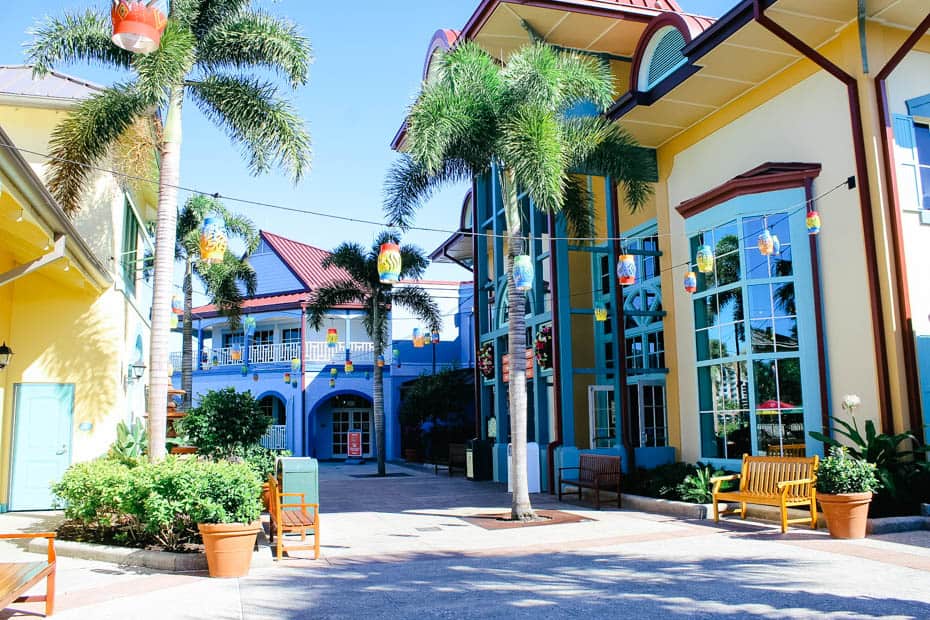 This whole area is even more special at night.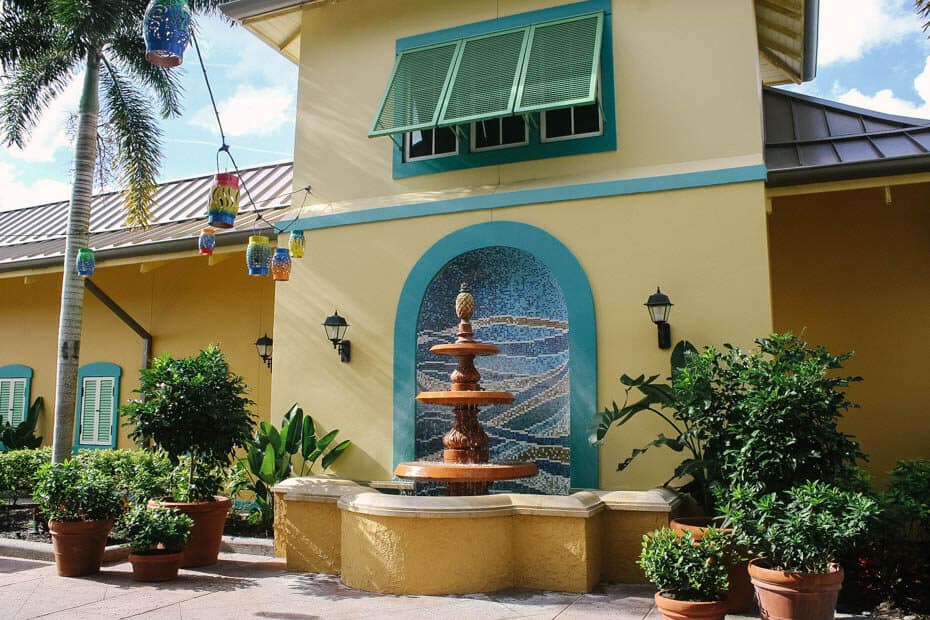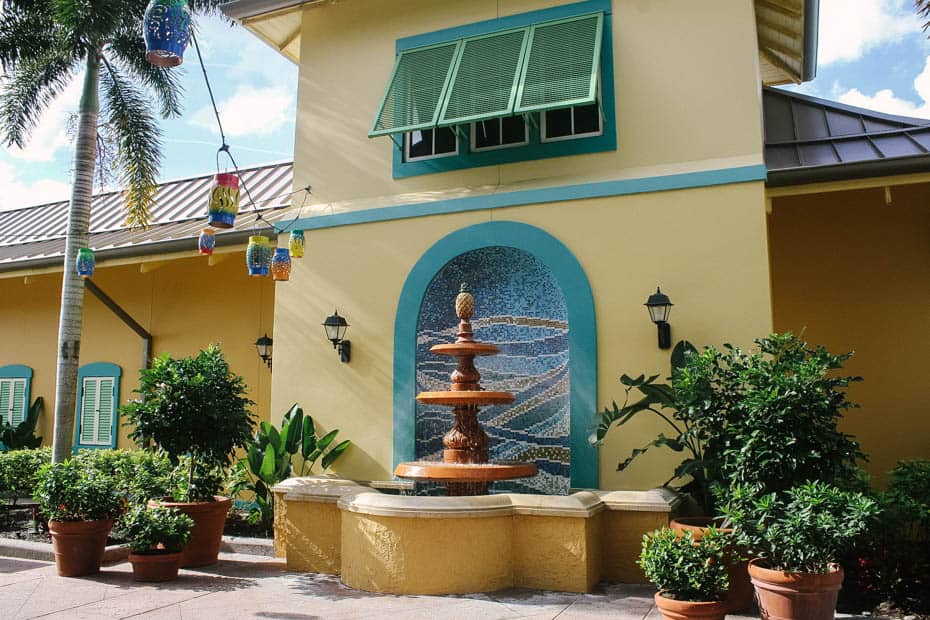 Old Port Royale is also where you'll find the gift shop, Calypso Trading Post.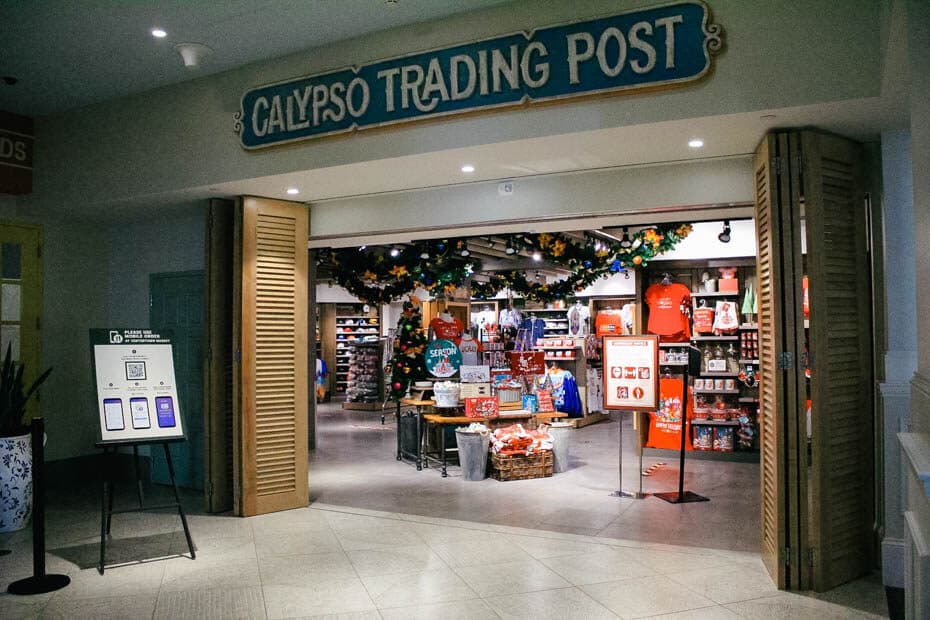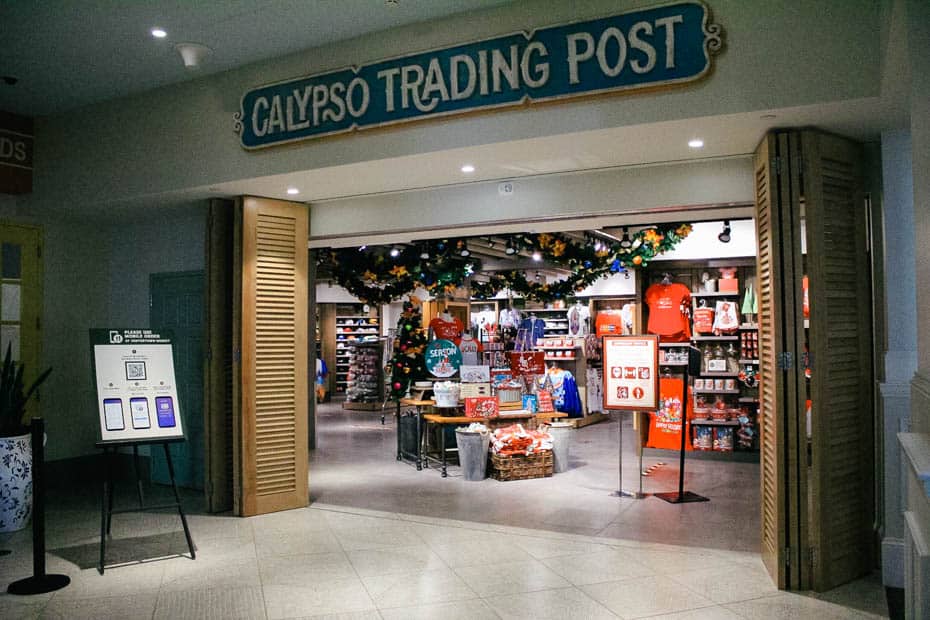 Calypso offers a nice selection of Caribbean Beach themed merchandise.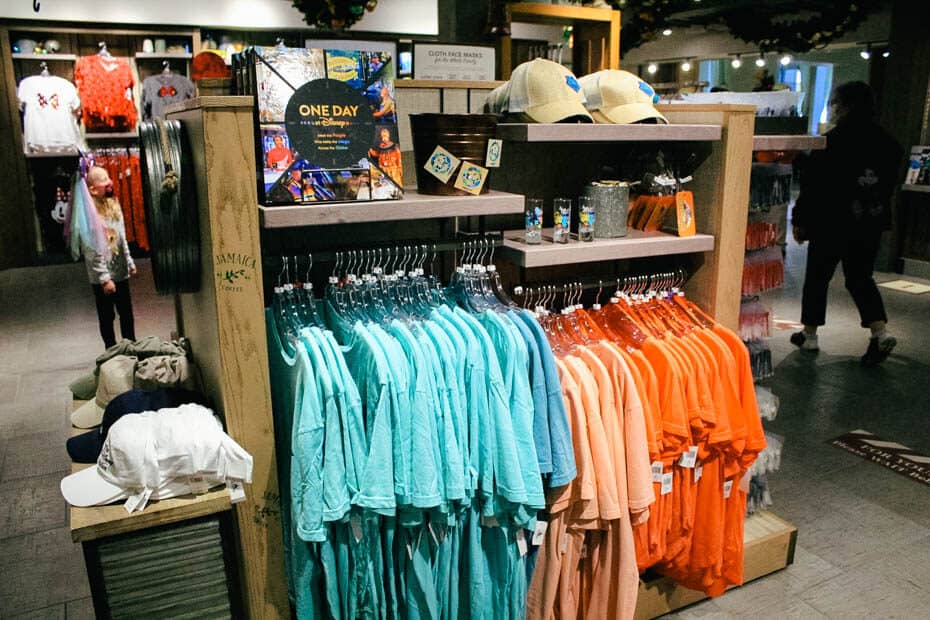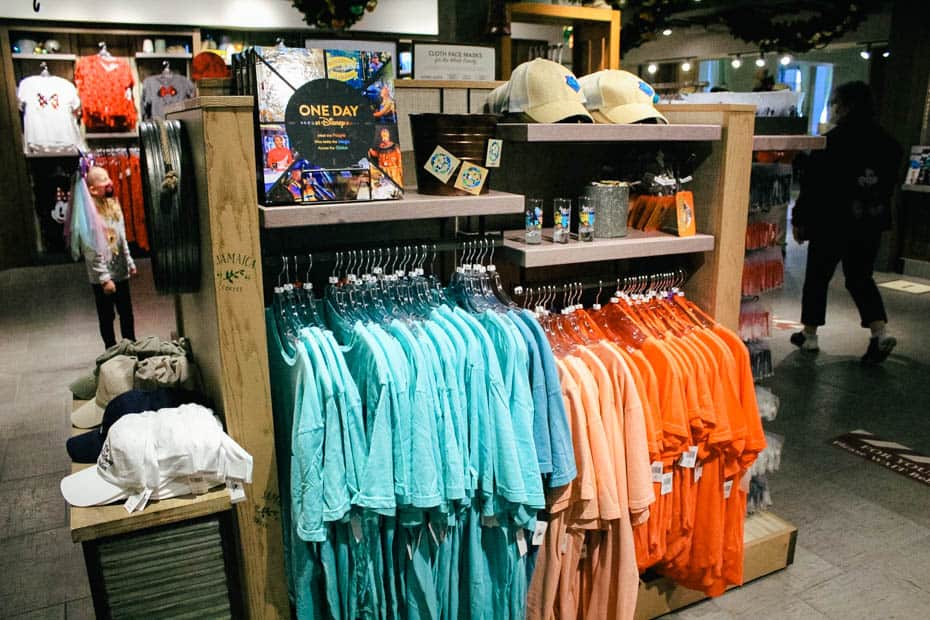 There are plenty of mugs, candies, and other snack items available.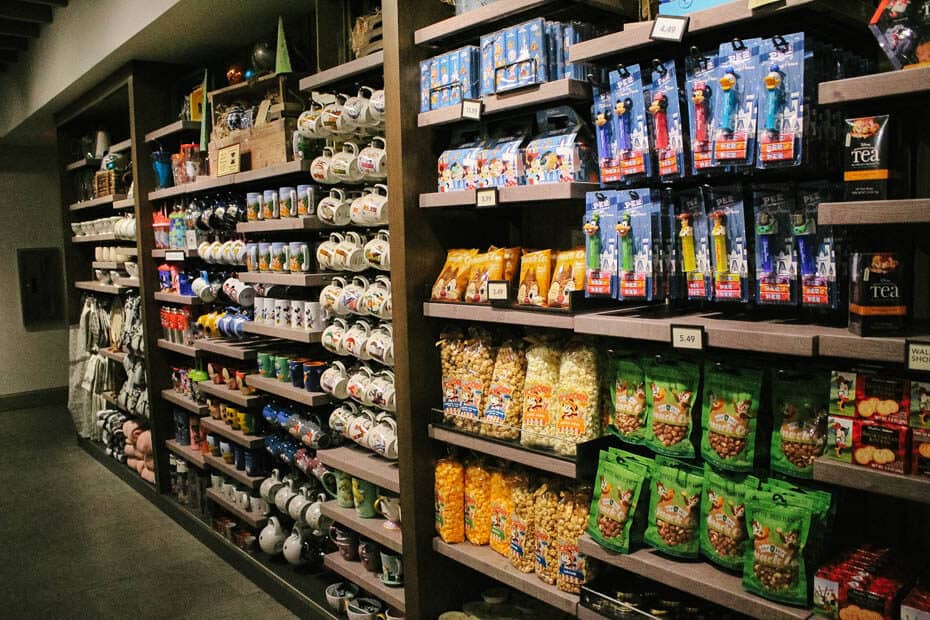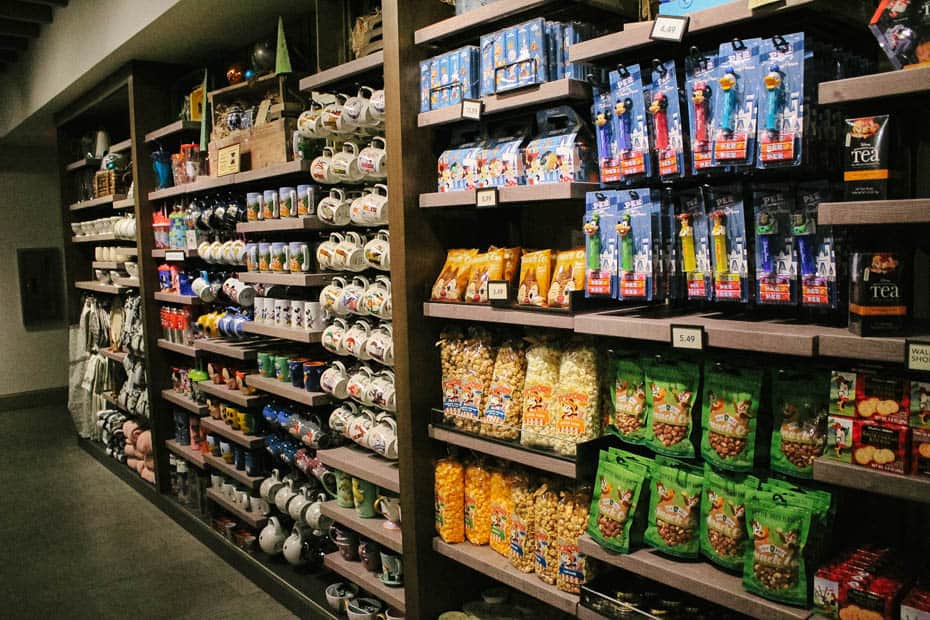 Anyone planning a stay here will also want to familiarize themselves with the dining options available at the resort. The first is Centertown Market, the main quick-service location.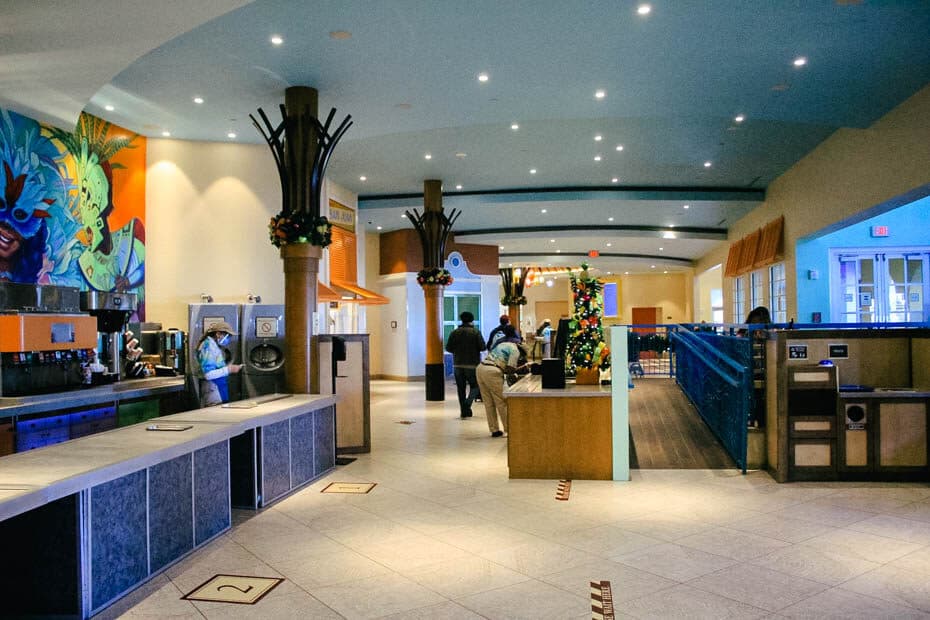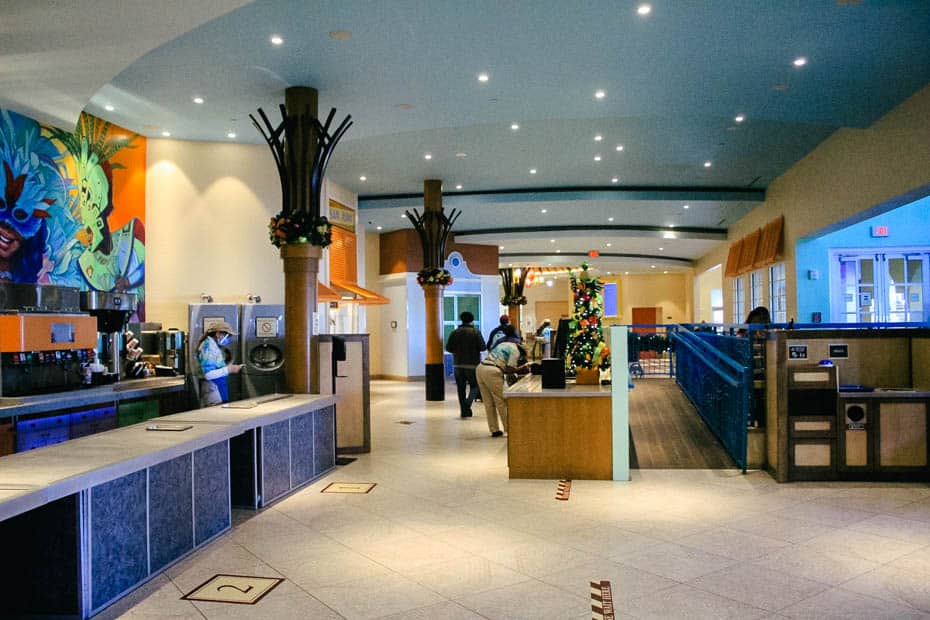 Guests can order food from a selection of different kitchens ranging from standard American to spicy Jamaican.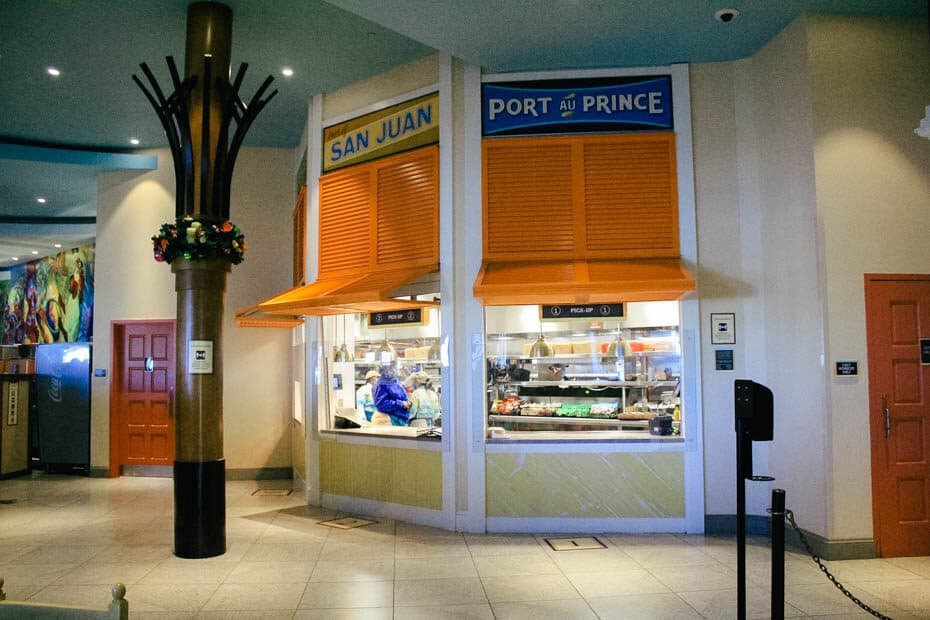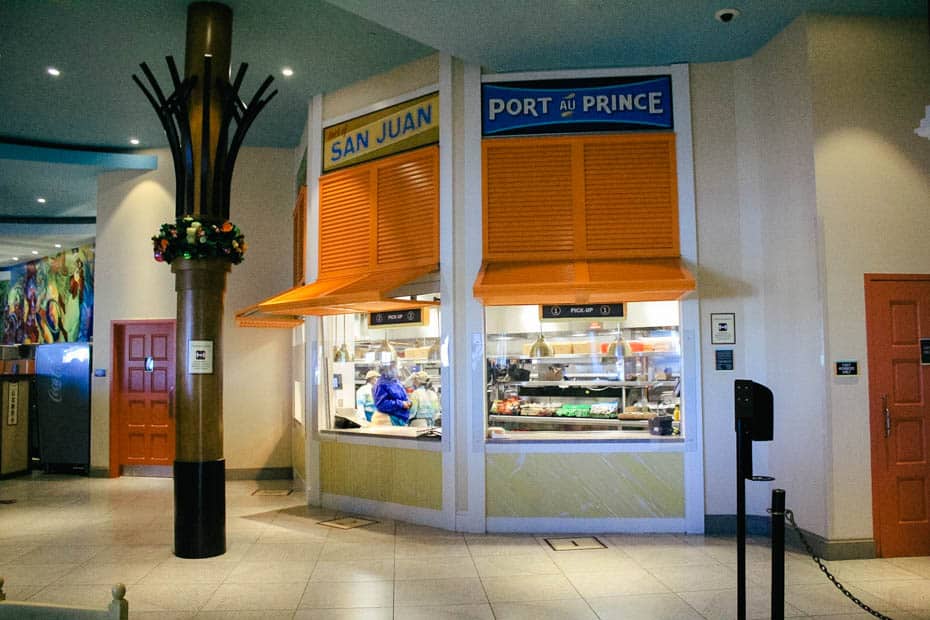 Disney prefers guests to use their mobile ordering service, but it isn't a requirement. I can't recommend the service enough and find it's an advantage if you take the time to familiarize yourself with it. If you need assistance, a cast member at the front of the restaurant can help you.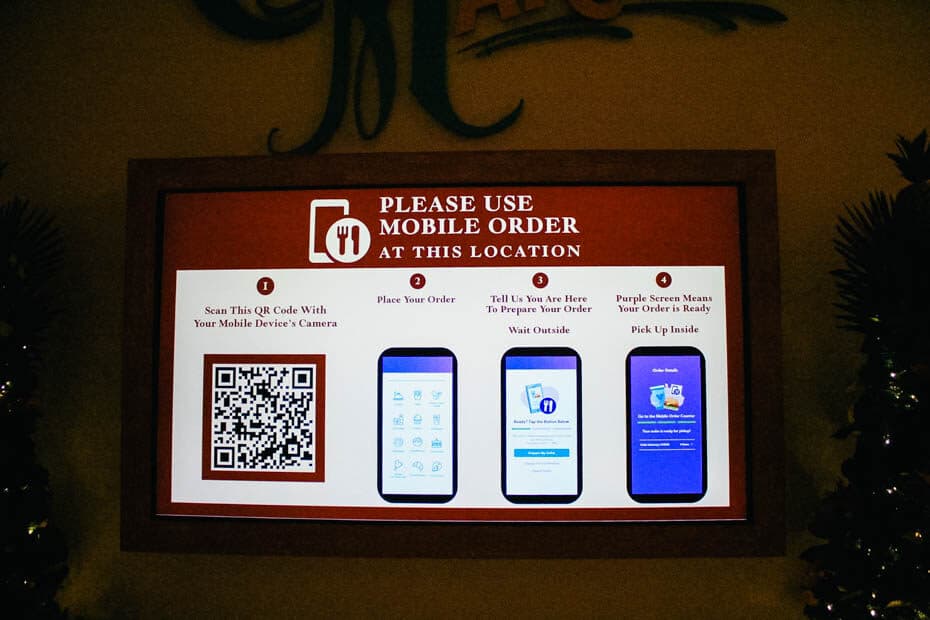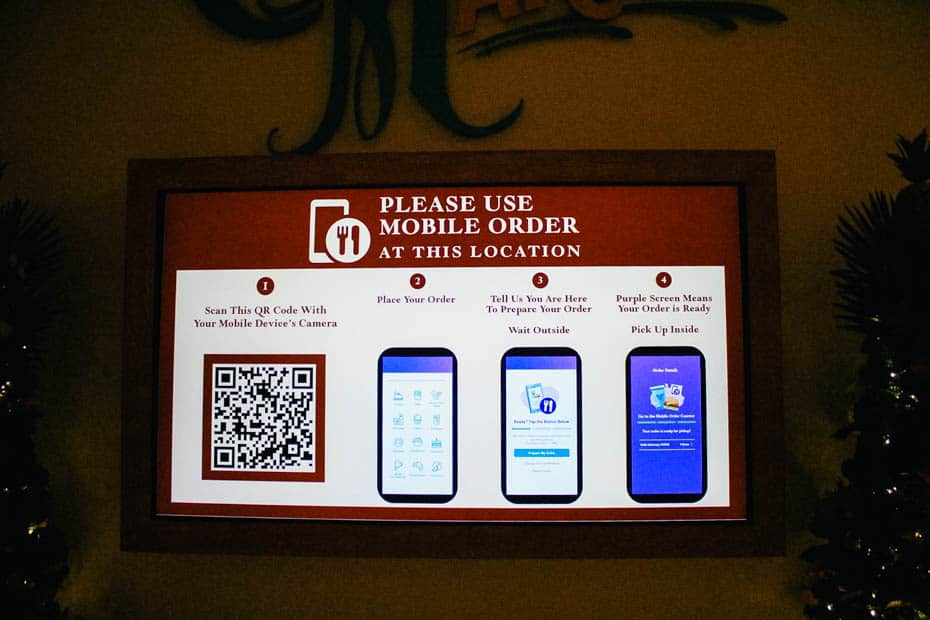 Guests can sit either inside or outside at Centertown Market.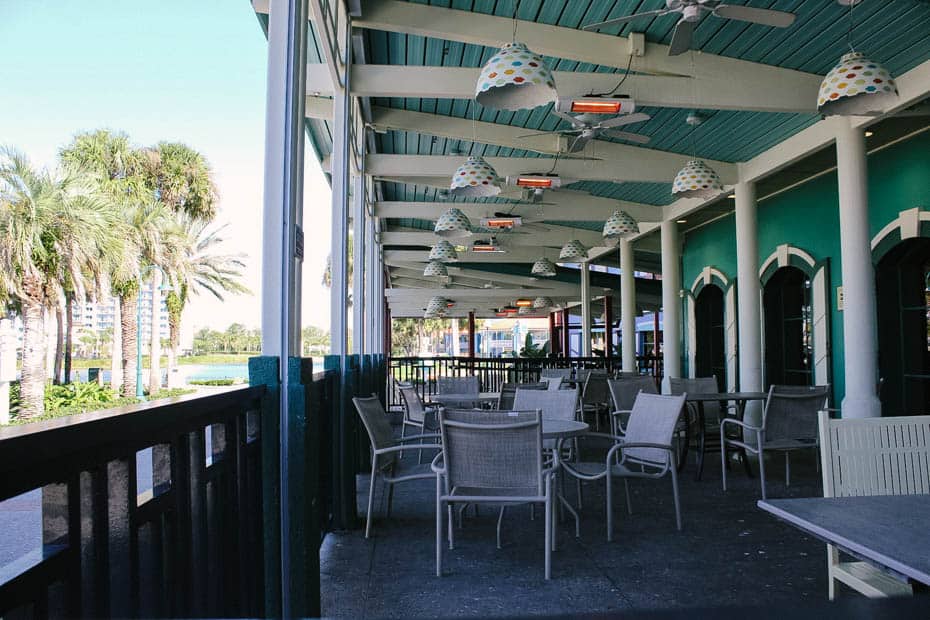 For this visit, I was hoping to get in a meal at Sebastian's Bistro.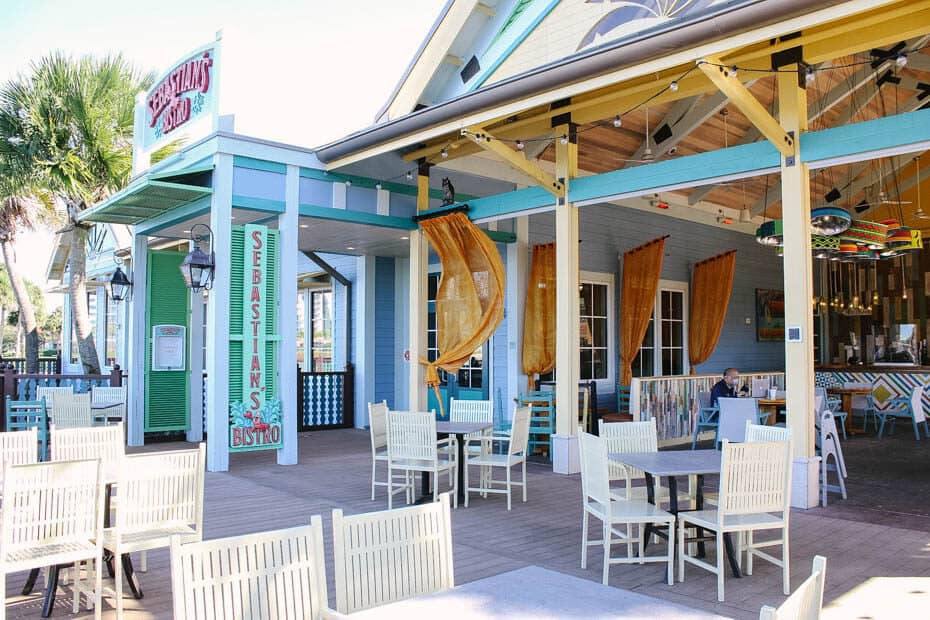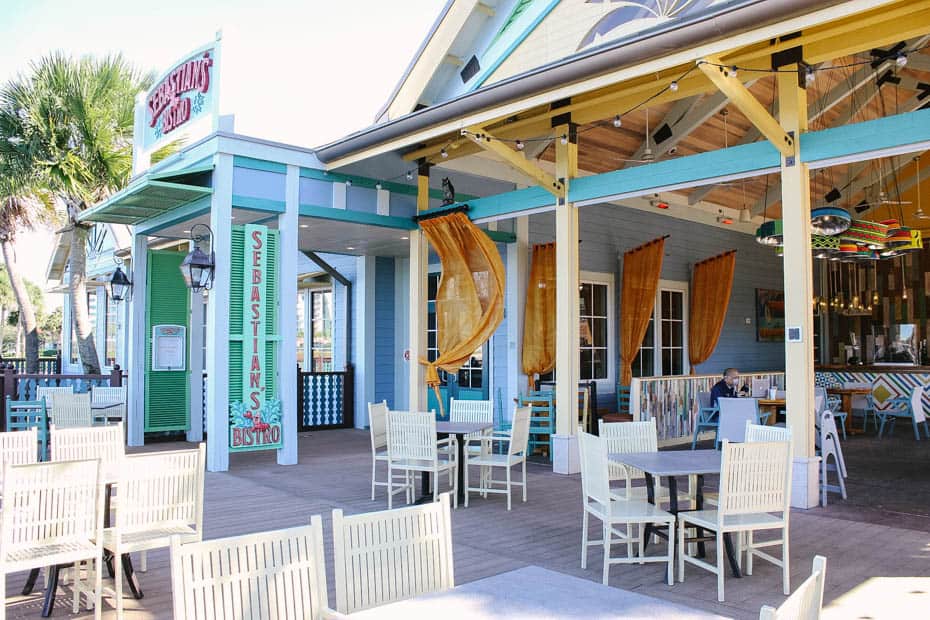 That will have to wait until they reopen from a temporary closure.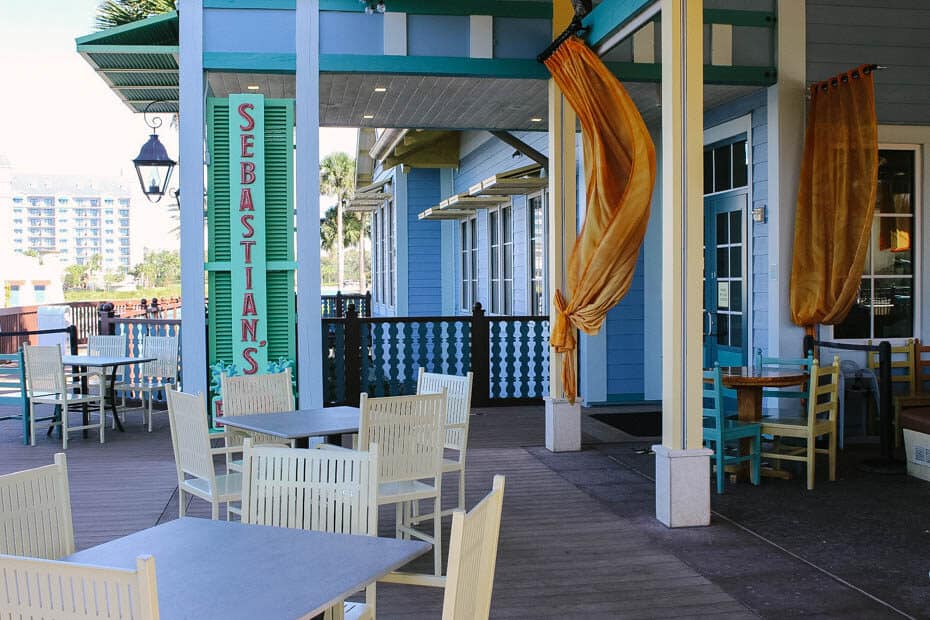 Banana Cabana is Caribbean Beach's lounge that doubles as a pool bar. You can view the menu here on Disney's site if you like.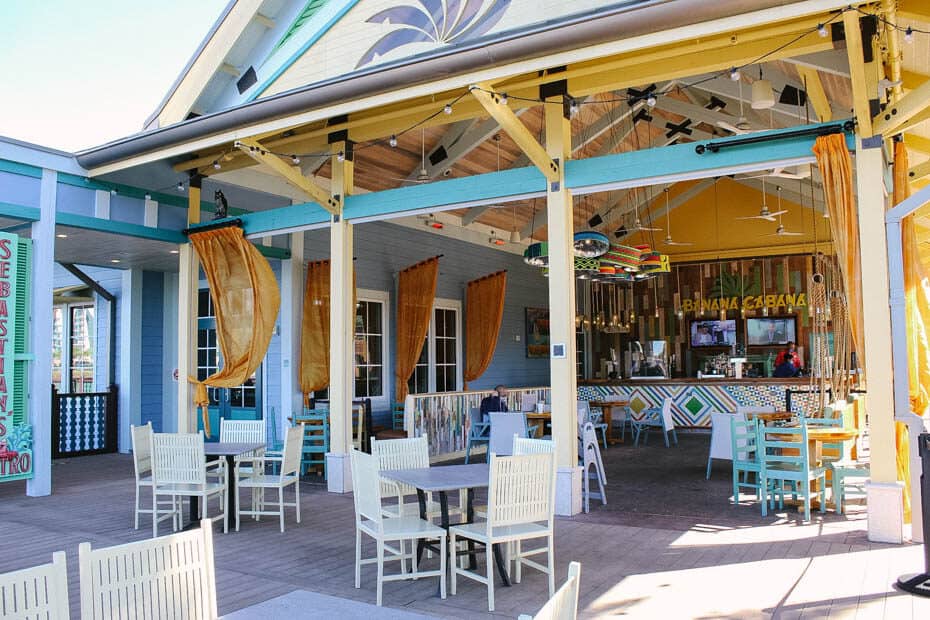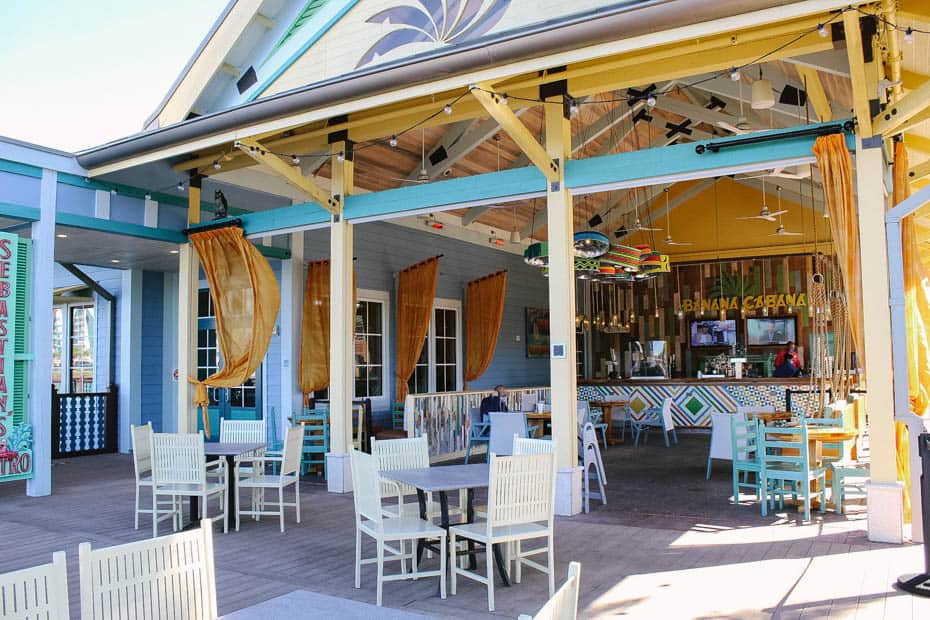 The lounge has a very nice outdoor space that gets extremely busy from early afternoon on into the evening. Banana Cabana is also located at Old Port Royale and sits directly across from the feature pool. Some even refer to it as the Banana Cabana pool bar.
There's quite a good bit of foot traffic in the area due to guests coming and going from the lobby and pool.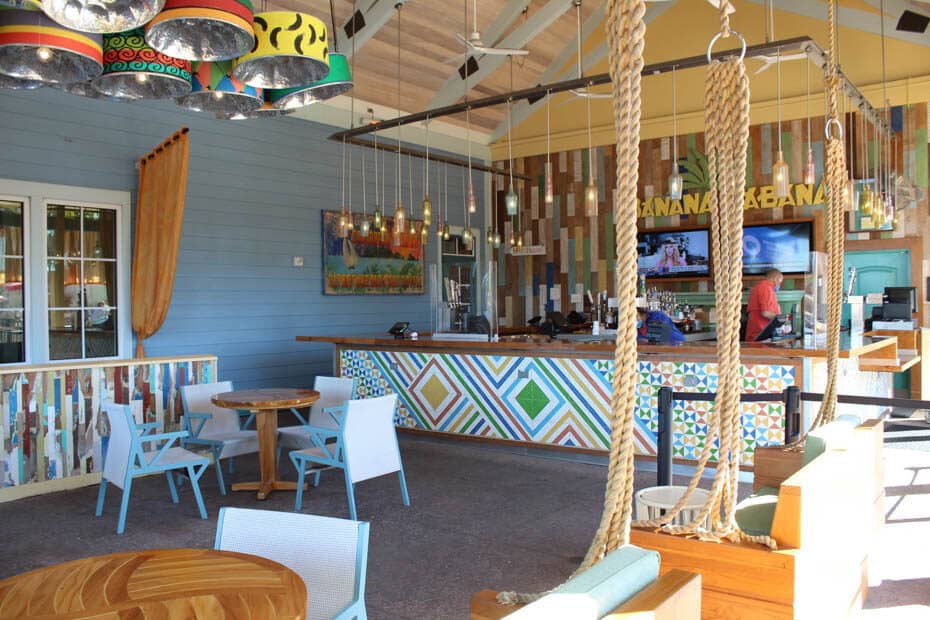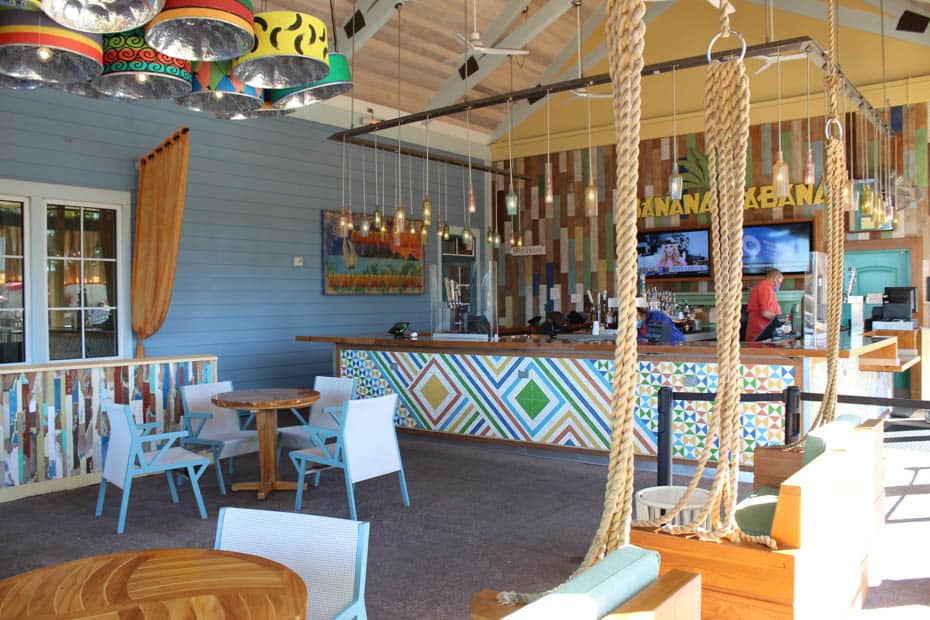 Unfortunately, Spyglass Grill has also not re-opened to date. Spyglass Grill is down on the Trinidad side of the resort, where the pirate rooms are located.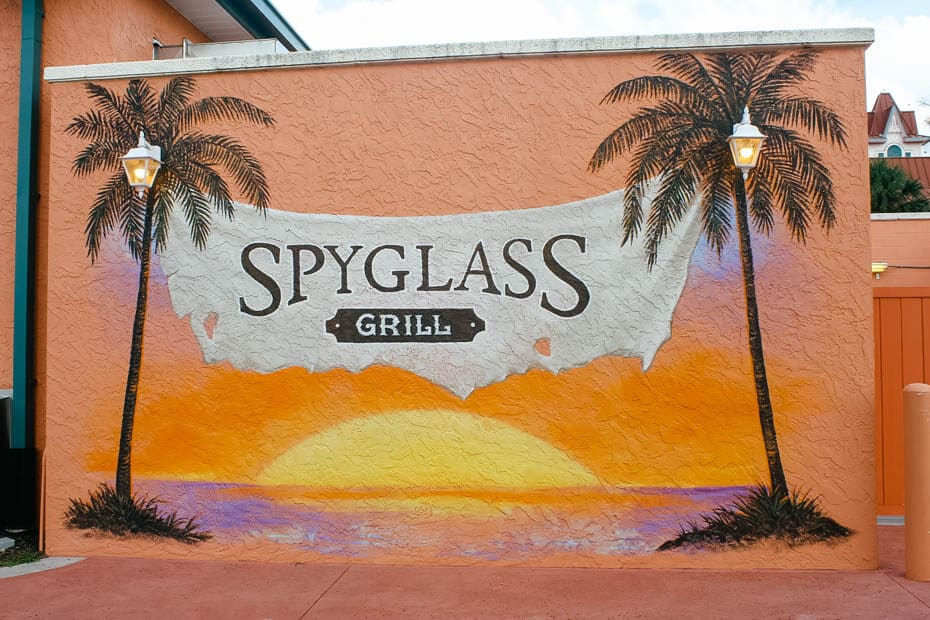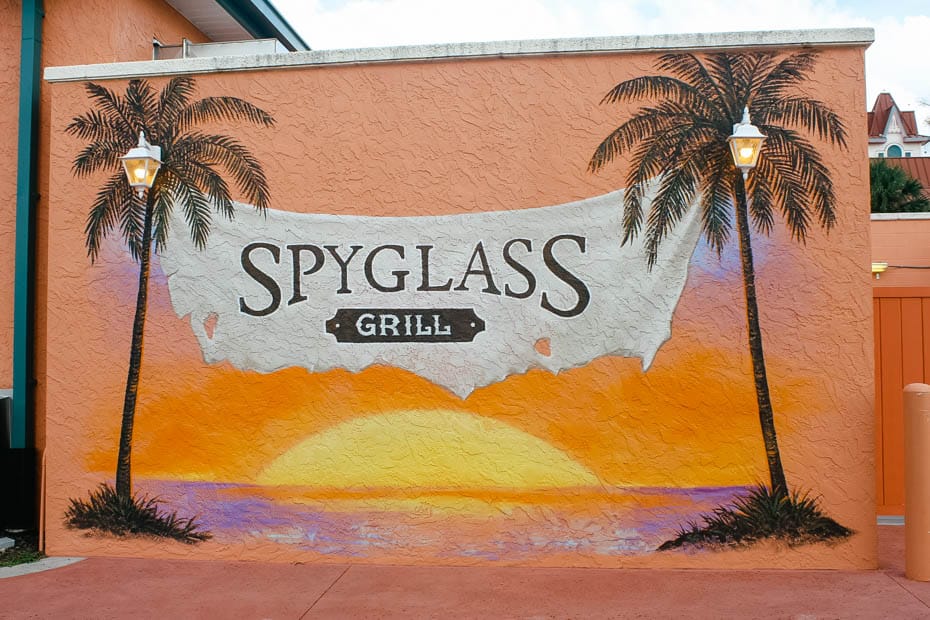 It is nice to have this option down at Trinidad since this area is a little more to itself. If you are staying in a pirate room in the next few months, make sure to check and see if they have re-opened.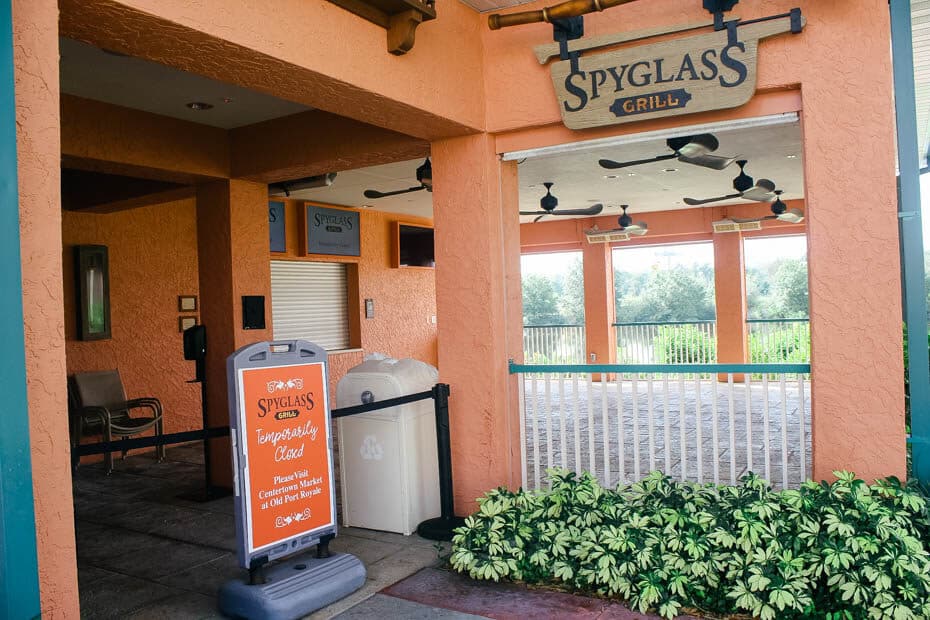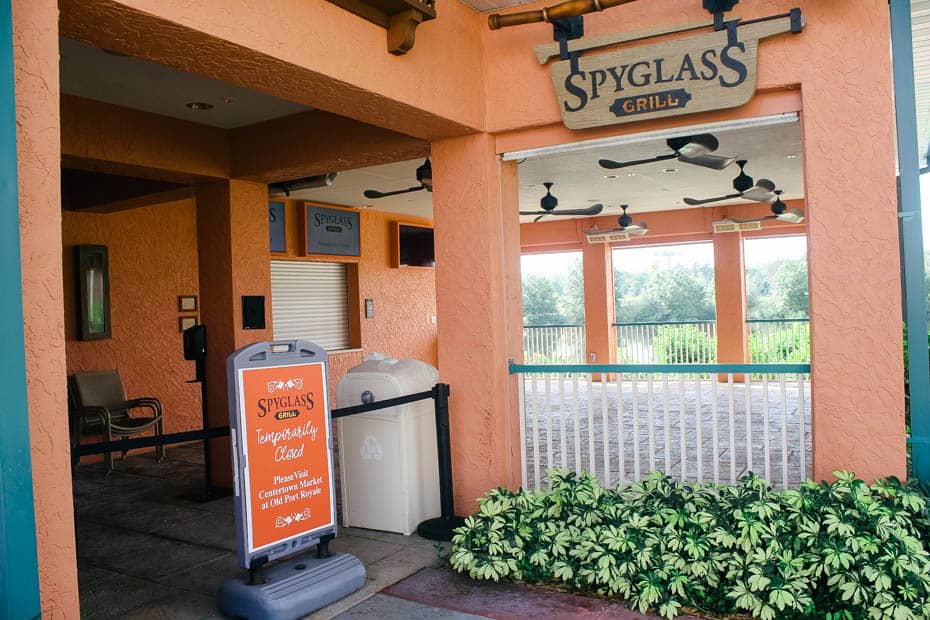 As for Caribbean Beach, that's it for dining options. Since Riviera sits next door, you can also take advantage of their dining venues. That leaves you with several other options within walking distance like Bar Riva, Primo Piatto, Le Petit Cafe, and Topolino's Terrace.
Primo Piatto is an excellent quick service at Riviera. And you should definitely stop in at Riviera's Le Petit Cafe for a pastry or dessert. You won't regret it!
Additionally, Topolino's Terrace Character breakfast is one of the best around.
As you can see, having a resort next door is a tremendous asset to Caribbean Beach. Make sure to check out the review of Disney's Riviera Resort if you have more interest.
And the other huge perk is that you can hop on the Skyliner and access all of the dining options in the Epcot Resorts area within a few minutes.
That is when the Skyliner is working, which brings us to using transportation at Caribbean Beach.
Since the Disney Skyliner gondolas opened, I've had many good experiences until this trip. You might even remember how much we enjoyed using it when we stayed at Riviera a few months back. That was not the case this go around.
On my first day as a guest on Disney property, I checked into my room at Disney's Caribbean Beach. Then I spent most of the day touring the resort, doing room photos, and working on this review.
After that, I went to Epcot via the Skyliner at about 4:00 p.m. I used the station on the Riviera side because I was closest to it. There was no wait, and I was dropped off at the International Gateway within about 10 minutes. I have a full guide to using the Disney Skyliner with the route and travel times.
My return trip at Epcot's closing time did not go so well. At some point, the Skyliner had an issue and was no longer operating. I didn't even realize it until I had exited the park. A cast member informed me my only option was to walk over to Disney's Boardwalk Inn (review) and take a bus back to Caribbean Beach.
Not a big deal, right? Well, I'm extremely familiar with the area and know exactly where to go. But that's not the case for everybody.
When I got to the Boardwalk's bus stop, I was greeted by a sea of disgruntled guests. Some had been waiting for a while, and we're leaving to find a cab. Thankfully, several buses did come within a few minutes. But several guests stated they had been waiting close to 25 minutes. It was cold outside as well.
To make matters worse, instead of going straight back to Disney's Caribbean Beach Resort, the bus went to Pop Century and Art of Animation first. And after they dropped me off, there were still guests onboard headed to Riviera.
Later on, in the week, I headed out to Epcot again a little after lunchtime. This picture below is the line that was waiting ahead of me. I stayed in this line for about 20 minutes before leaving and walking to my car. Yeah, I ended up driving over.
I probably had about 10-15 minutes left to wait at the point I got out of line. But I kept thinking about how I had a full day ahead of me, and what if the Skyliner wasn't working when I left? I knew I would be tired and impatient, so I drove over to the Boardwalk, had lunch, and then went to Epcot.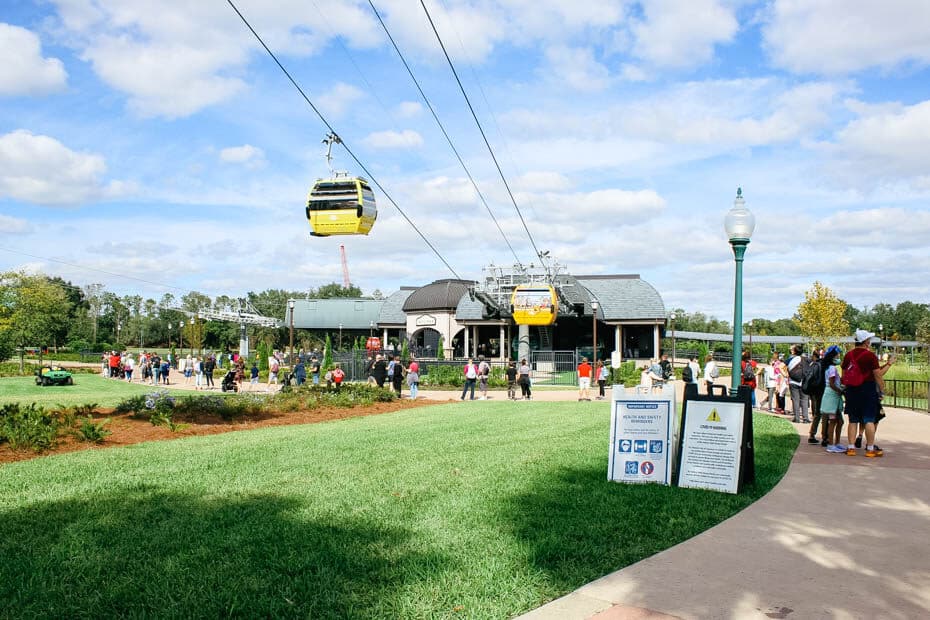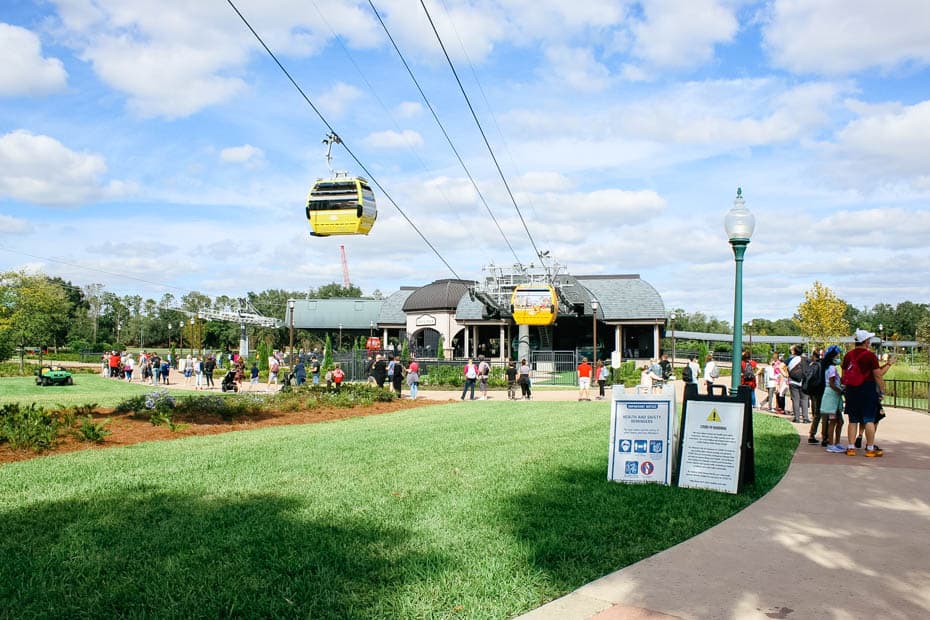 Naturally, the Skyliner was working just fine when I left that evening. But I also didn't regret my decision. This experience left me wondering how often this happens, and people like me who are there fairly often aren't aware of it.
If I hadn't been staying at Caribbean Beach, I would have probably never noticed these issues. When I stayed at Riviera, I was so impressed with the convenience the gondola system offers.
The reason I shared this with you is not to let my experience deter you from staying here. But I feel like when I am prepared and know my options, I always make better decisions.
Or I can at least say, well, I knew this issue might arise. It seems like when we know things can happen. We tend not to get as upset.
A taxi ride or car service from Boardwalk back to Caribbean Beach should be around $10 from my guesstimate. It's less than half a mile.
I also did end up using the Skyliner again later in the week. That time was to pick up a to-go order of clam chowder from Disney's Beach Club and a salad from Boardwalk Bakery. That was a really nice evening, and there were no issues.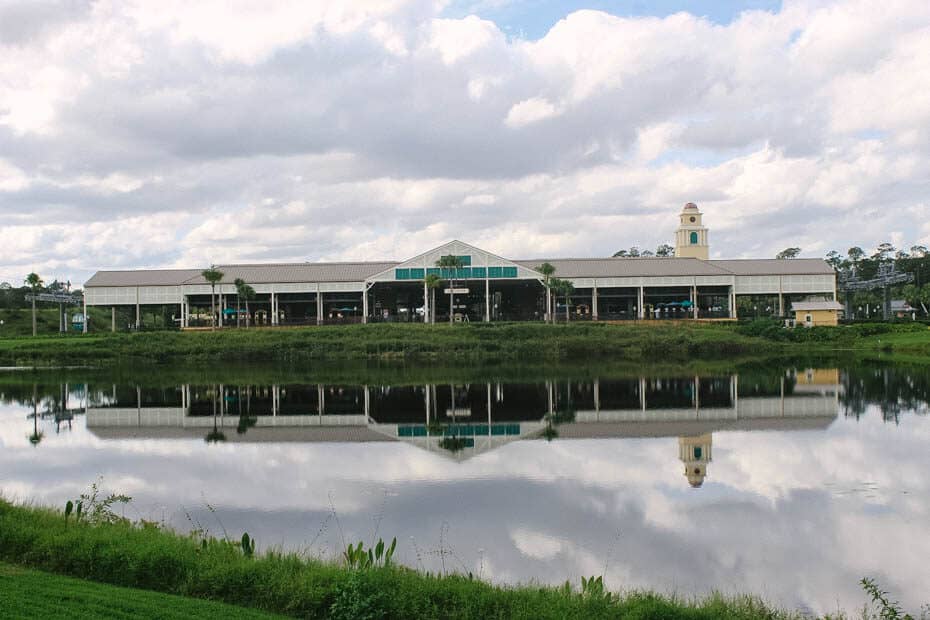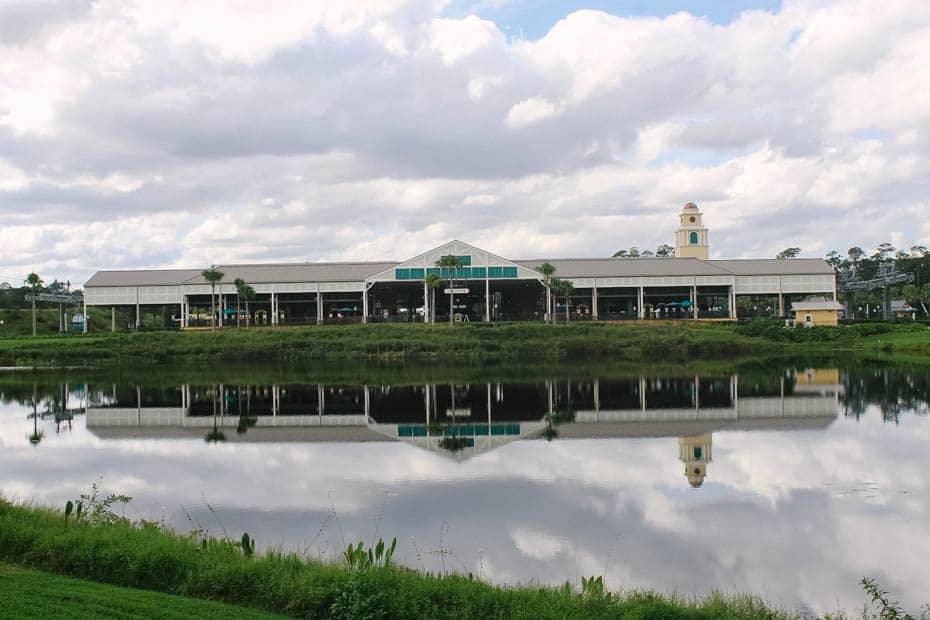 Additionally, Caribbean Beach has six different bus stops that travel from the resort to the following locations:
Magic Kingdom
Animal Kingdom
Disney Springs
Water Parks (Blizzard Beach is open now.)
Hollywood Studios and Epcot (when Skyliner is not operating)
Each Caribbean Beach village has a bus stop at the back of the section's parking lot. There is also a bus stop at Old Port Royale.
A stay at Disney's Caribbean Beach offers the opportunity to get away from the real world and visit a tropical landscape. Sure, the rooms are plain and border on boring. But a quick step outside remedies that with the serene setting.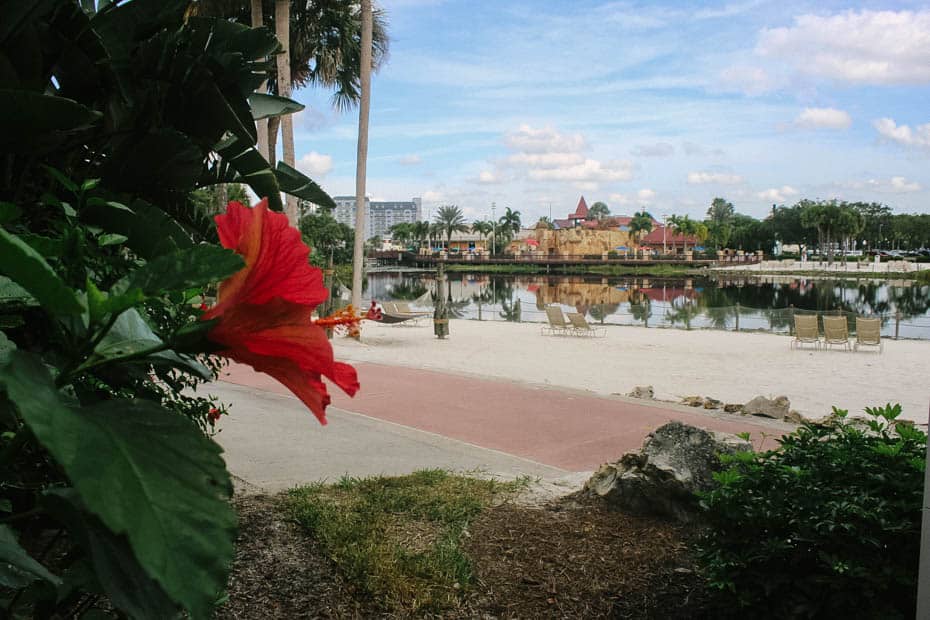 The pools are great, and the dining options are numerous, especially with access to the offerings at Riviera next door. With the island vibe, the resort is so nice to return to at the end of a long day in the Disney parks.
I wouldn't hesitate to return in the future!
And make sure to check with our friends at Firefly Travels if you are looking to reserve a room or Disney vacation package.
Still haven't made a decision on a resort? Check out all of our Disney World Hotel reviews or you might enjoy some of these resorts:
Some of our most popular dining articles include the best restaurants at Disney Springs and the full guide to Disney World Character Dining.
If you have any questions or comments about Disney's Caribbean Beach Resort, make sure to leave them below. I hope you found this review helpful in familiarizing yourself with the property as a whole.