The Alps Review at Epcot's Food and Wine (The Raclette Disappoints Again in 2022)
The smell of what I assume is over-heated cheese overwhelms the senses as you approach the Germany Pavilion from China at Epcot. The culprit is the Alps Marketplace.
Unfortunately, I was not too fond of the dishes at The Alps then, and I don't care for them now. Then dates back to 2019, when the booth first appeared, while presently, we are reviewing the 2022 version. This year fruit with cheese has been added to the menu.
What is a novel idea doesn't translate to anything except melted Swiss cheese on various accompaniments. By various, you can order any of the three dishes that sit underneath a pile of melted goop, AKA Raclette.
While I know it's difficult, let me caution you not to get caught up in the melted cheese hype when you visit Epcot's International Food and Wine Festival. Here's why.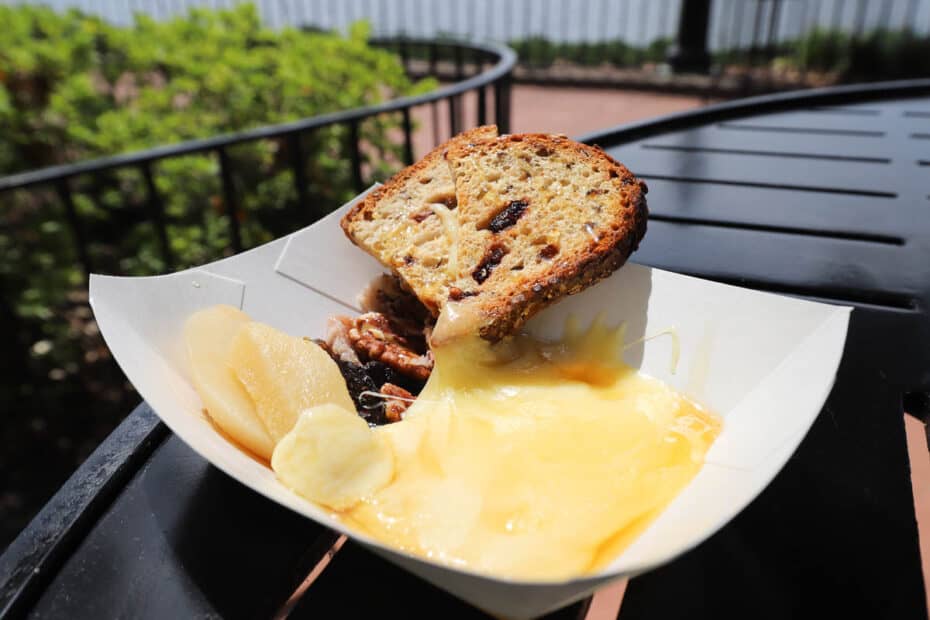 The Alps (Near Germany) Menu Items
Below is a list of the menu items with prices at The Alps.
Warm Raclette Swiss Cheese (Ham) ($5.50)
Warm Raclette Swiss Cheese (Meatless) ($5.00)
Warm Raclette Swiss Cheese (Fruit) ($5.50)
Yes, each menu item is named "Warm Raclette Swiss Cheese" as if the cheese were some sort of superstar with more ambition than you or I will ever have. You'll want to specify which one you want at the cash register.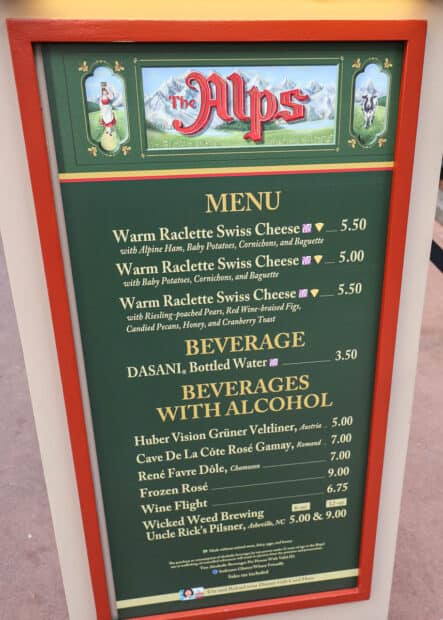 Beverages:
Wicked Weed Brewing Uncle Rick's Pilsner ($5.00 or $9.00)
Huber Vision Gruner Veltliner ($5.00)
Cave De La Cote Rose Gamay ($7.00)
Rene Favre Dole ($7.00)
Frozen Rose ($9.00)
Wine Flight ($6.75)
The Alps food booth has also moved from its original location near the Norway Pavilion. It now sits next to Germany. So I assume, at least geographically, someone got that right.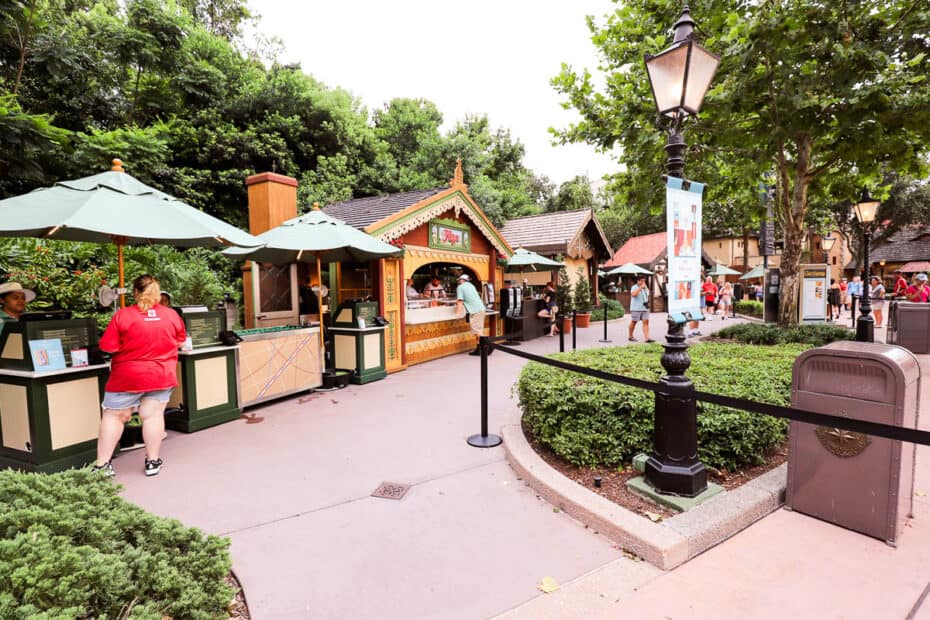 Warm Raclette Swiss Cheese (Meatless) ($5.00)
Below is the warm Raclette with bread, potatoes, and cornichons. This is a photo of the dish from when I first tried it several years ago.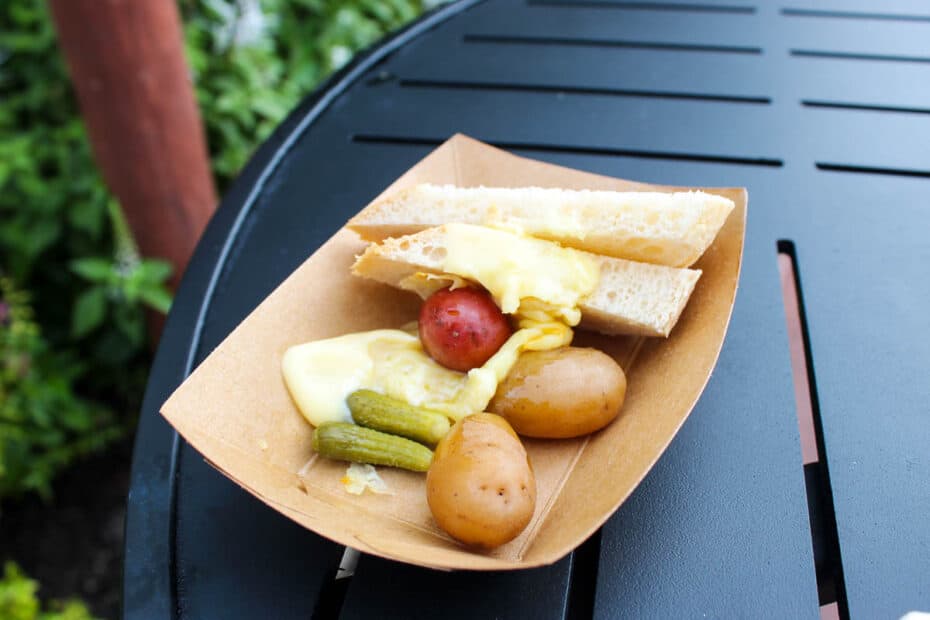 Going into this review, I made a deal with myself. I'd give this one another try if the newer fruit version were impressive.
Needless to say, it wasn't worth it. So don't waste your money on a few semi-boiled potatoes, tiny pickles, and bread crisps coated with cheese.
Warm Raclette Swiss Cheese (Fruit) ($5.50)
When I got in line to pick up my warm Raclette dish (the one with the fruit), I noticed they had the Raclette up front and center in the window. First, the cast member is handed your selection of accompaniments. Then, they hold it under the cheese and wait for it to drop onto your dish.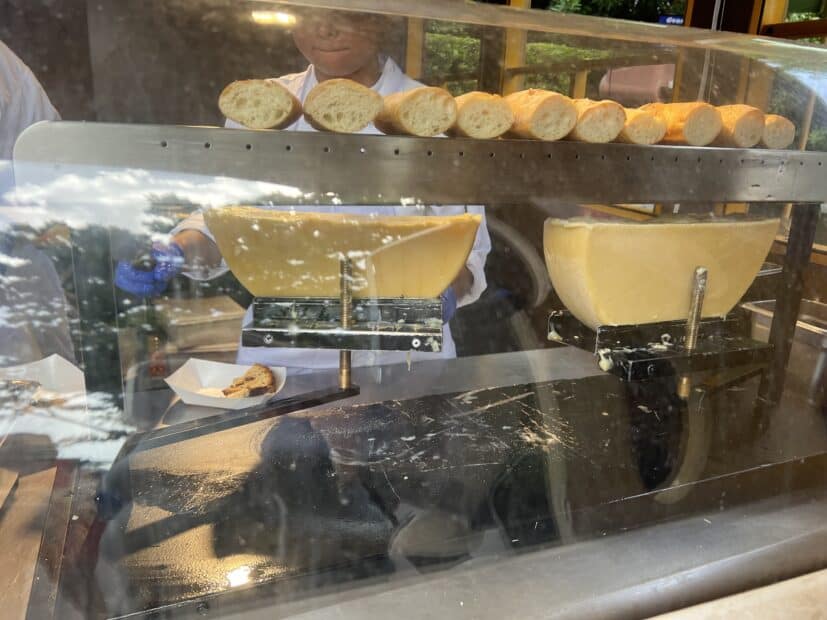 Kerplunk. The cheese tends to land where it lands, and the dish is passed along to you. Here is mine.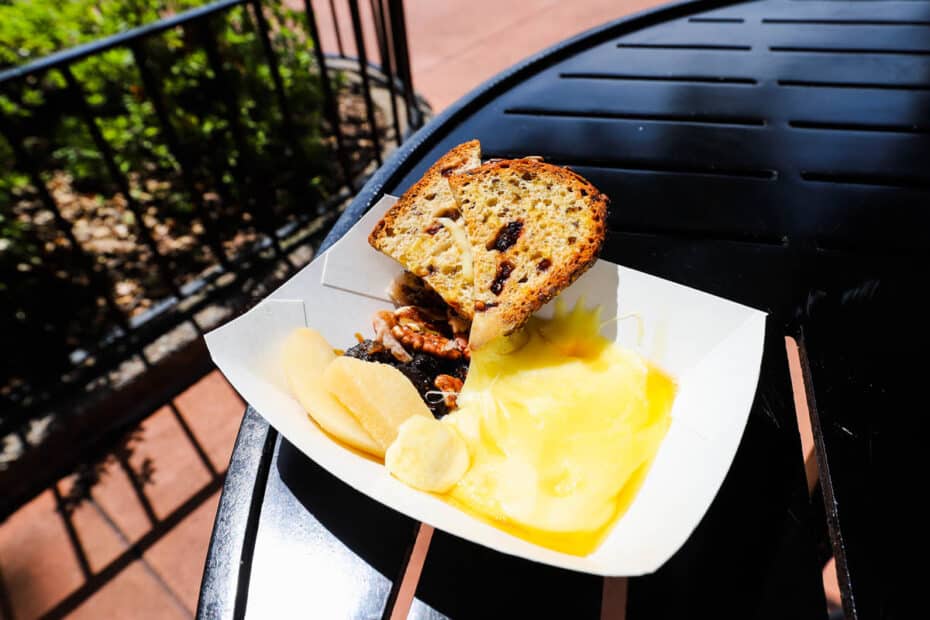 This dessert version is described as "Riesling-poached pears, red wine-braised figs, candied pecans, honey, and cranberry toast." The toast is garbage.
Imagine opening a package of melba toast and sprinkling it with dried cranberries. Then imagine leaving it out on the counter for a week, suddenly remembering it, and grabbing it for a snack.
I hope you wouldn't do that, but this is how stale and hard the toast tasted.
Fortunately, the small bite of pear, figs, and pecans worked well together. Just not with the cheese.
I don't know about you, but when I think of the Swiss Alps, I immediately think of fondue and hot chocolate. So we're not too far off the scope of things with the Raclette.
But there are far better dishes that could represent a booth like The Alps. Maybe we'll see them on the menu next year.
For this year, it's a pass. Again.
Here are a few other Food and Wine booths we've recently reviewed:
And here's where we are going:
Have you tried The Alps booth at Epcot's Food and Wine in the past? What are your thoughts?