The Alps Review at Epcot's Food and Wine (2023)
The Alps Marketplace at Epcot's International Food and Wine Festival is one I dread year-round. Why? The smell.
If you've ever had the bad fortune of sauntering by the booth when a block of cheese gets too overheated, you know what I mean. Its stench overwhelms the entire vicinity.
After last year, I had all but given up on the Alps Marketplace. For me, the novel idea of this booth has never translated to anything except melted Swiss cheese over various accompaniments. We're not talking about a dream pot of fondue here–until 2023.
So after a rough start to my day, I was surprised to find something to smile about. The culprit? Chocolate–hot, melting, fondue-y chocolate, the kind that momentarily soothes the soul.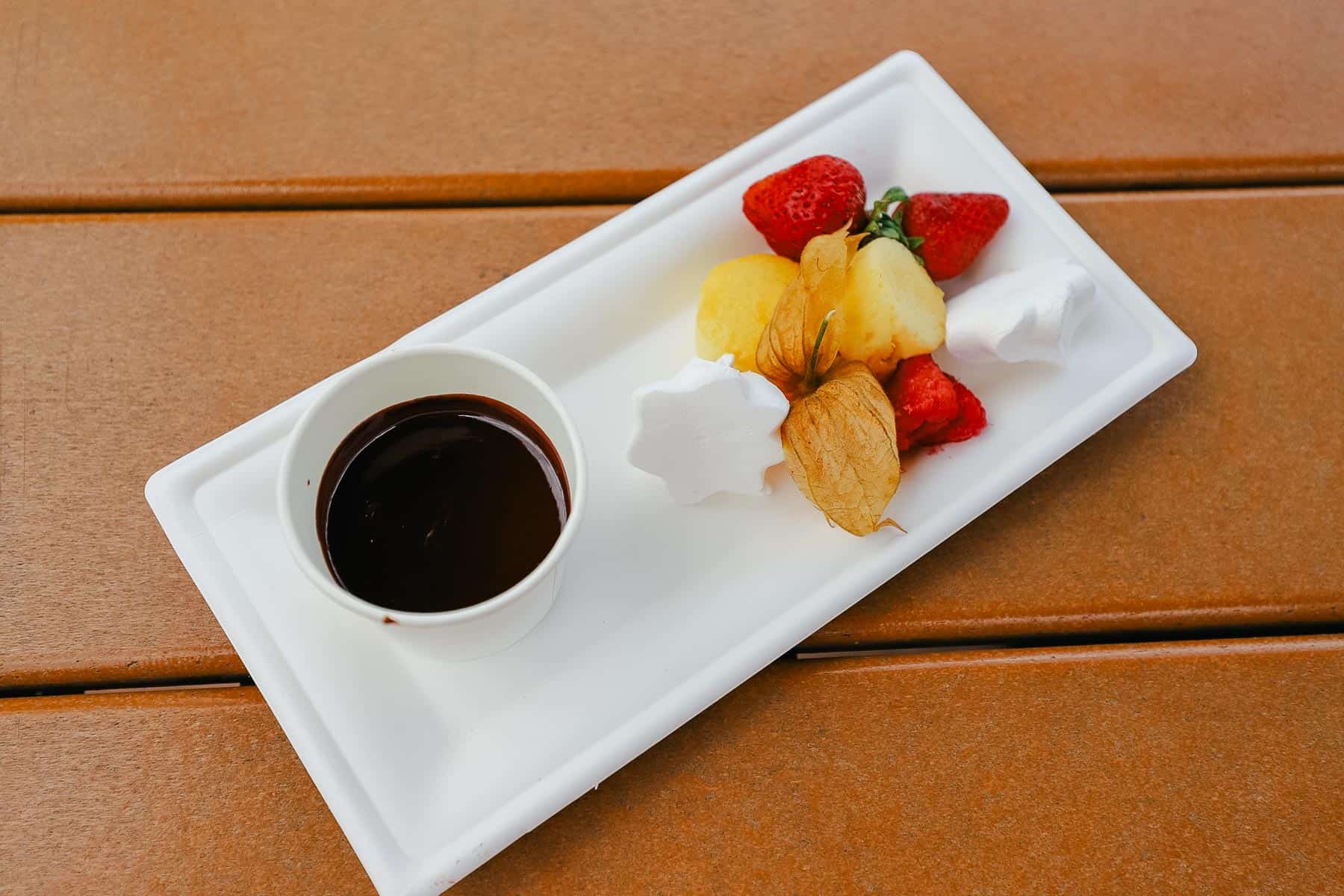 The Alps (Near Germany) Menu Items
Below is a list of the menu items with prices at The Alps.
Warm Raclette Swiss Cheese (Ham) ($5.75)
Warm Raclette Swiss Cheese (Bread, Cornichons, Baguette) ($5.25)
Dark Chocolate Fondue ($5.50)
Beverages:
Stiegl Brewery Key Lime Radler ($5.50 or $9.50)
Huber Vision Gruner Veltliner ($6.00)
Frozen Rose ($9.00)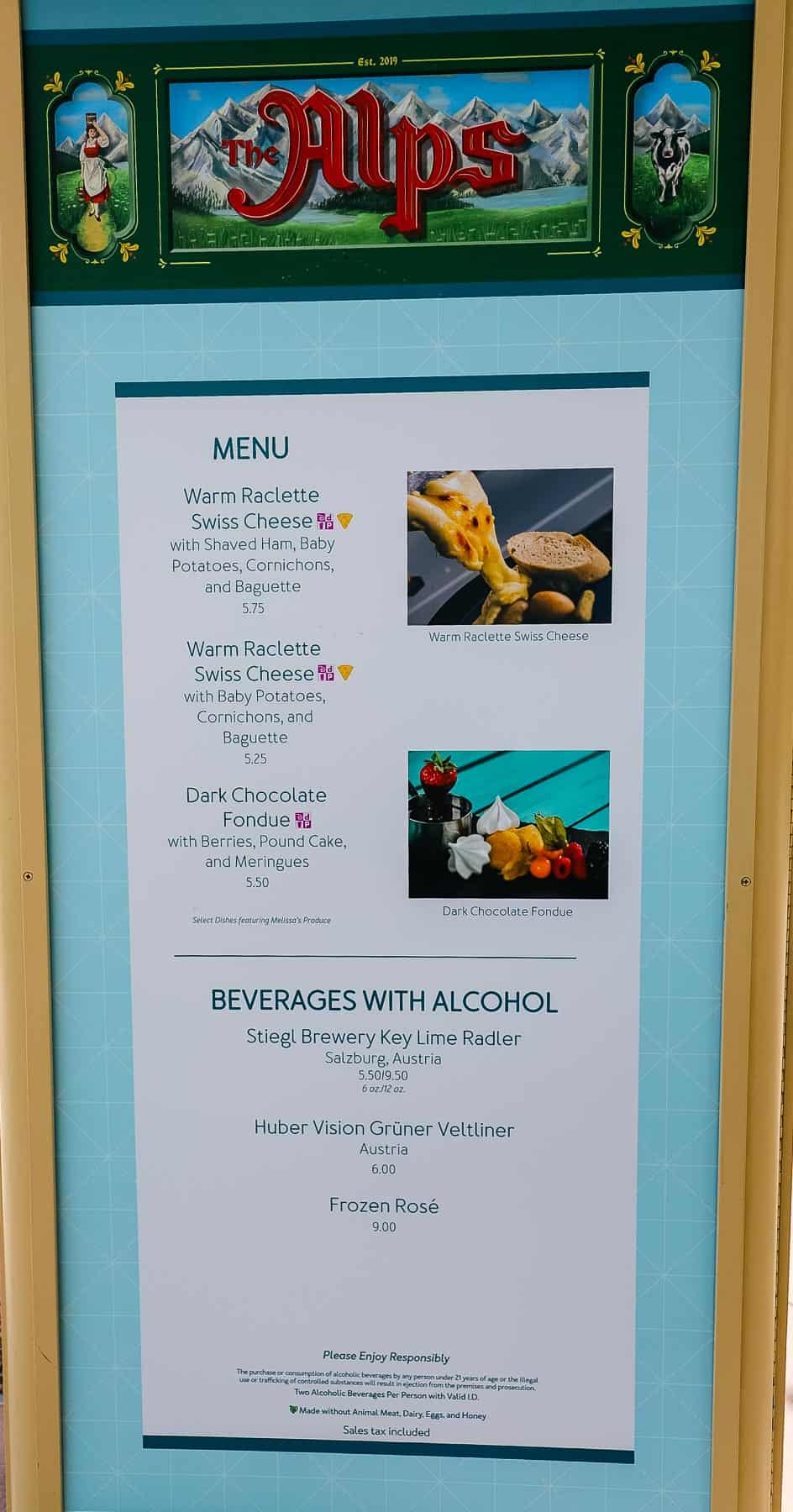 The Alps booth sits next to the Germany Booth between The Outpost and Germany Pavilion. When this booth first debuted a few years ago, it was near the Norway Pavilion.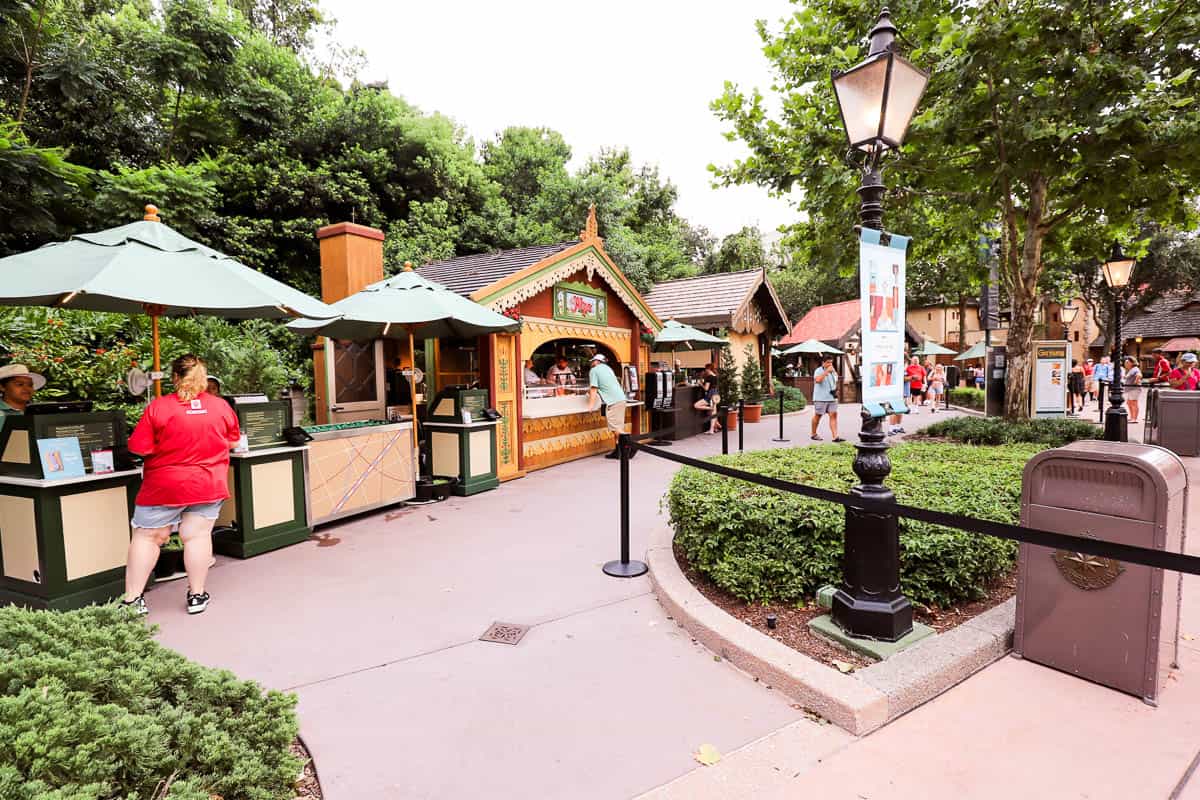 Warm Raclette Swiss Cheese (With Ham or Without)
You can get your Raclette two ways this year–with or without meat. Since I refuse to try this item again, you'll have to settle for a previous year's photo.
As you can see, the dish comes with a few slices of bread, baby potatoes, and cornichons (baby pickles). What you see is what you get. Personally, I wouldn't waste money on this simple dish that is often topped with overheated cheese.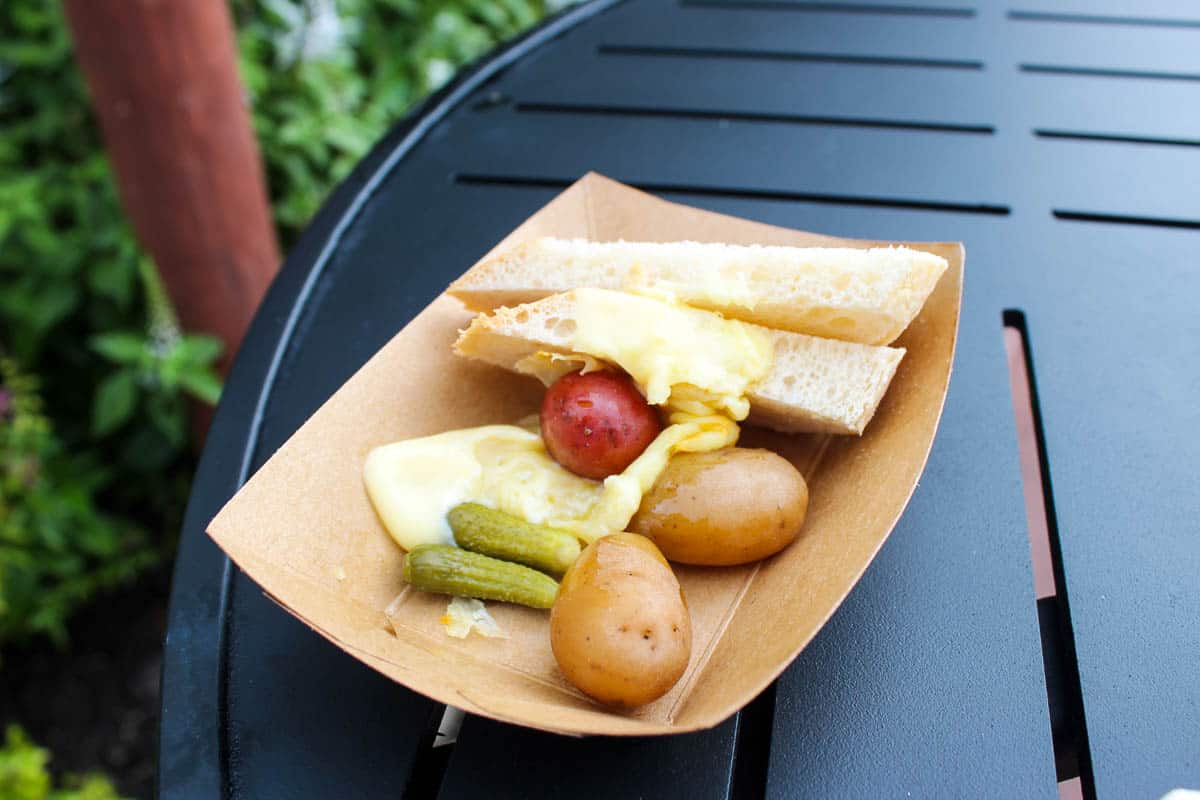 Here is a photo of the cheese from last year. Heat is applied, and they let it drip over each dish.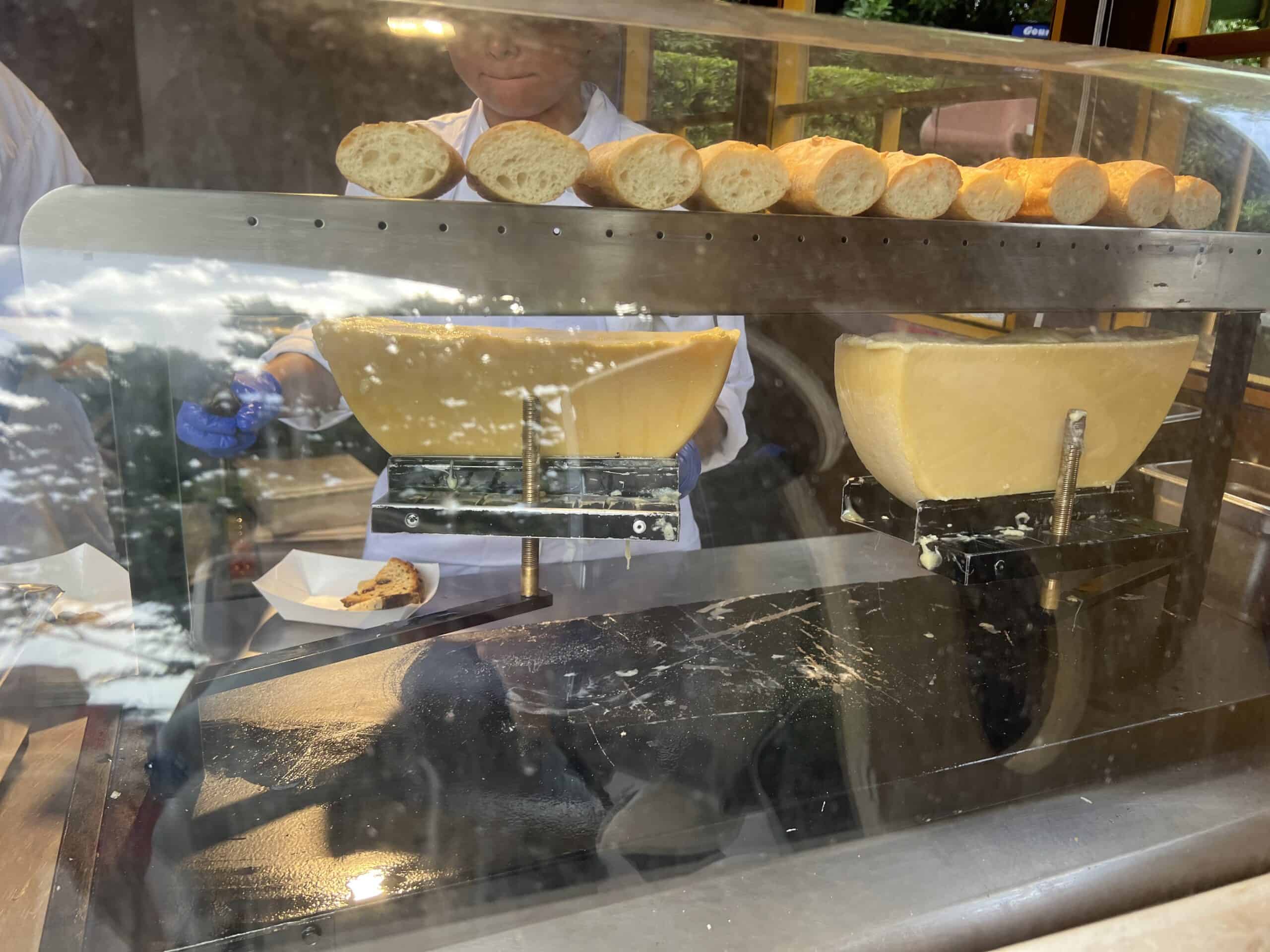 Last year, we saw a third warm Raclette cheese with fruit. My thoughts then, "Imagine opening a package of melba toast and sprinkling it with dried cranberries. Then imagine leaving it out on the counter for a week, suddenly remembering it, and grabbing it for a snack."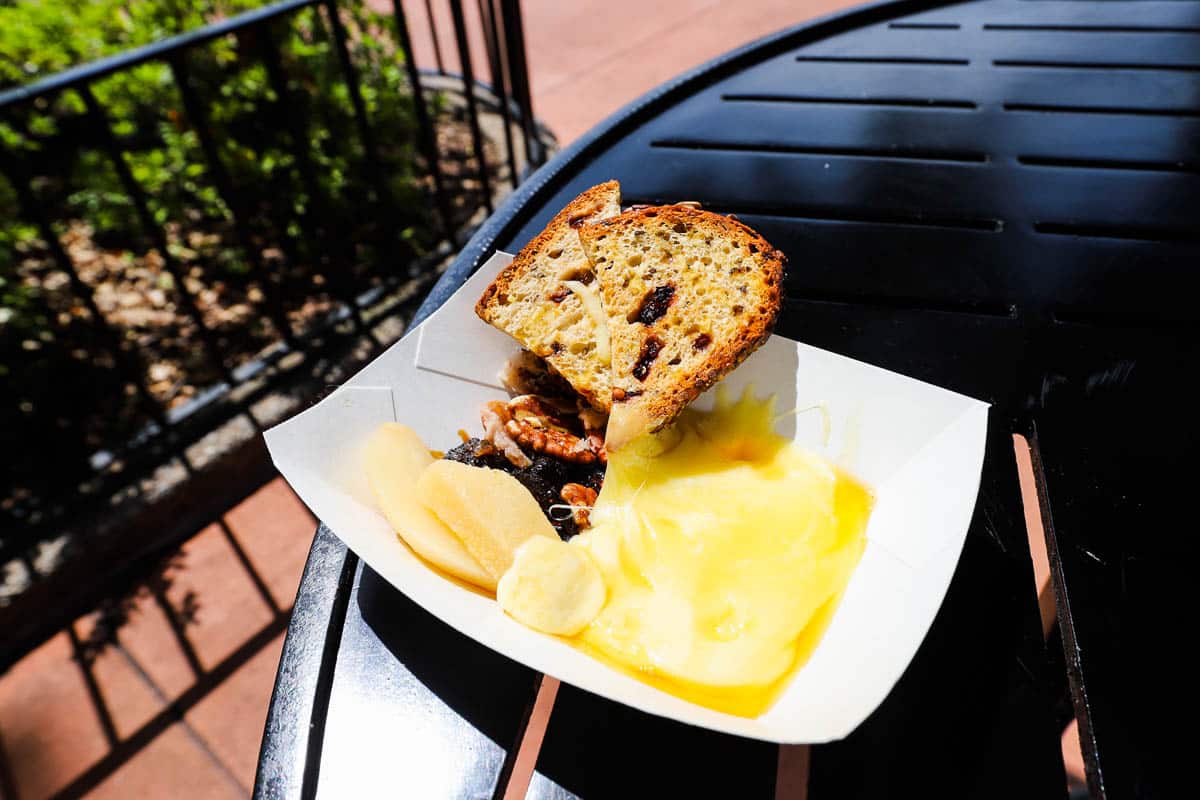 Dark Chocolate Fondue
Thankfully, a delicious fondue replaced last year's dessert. Now I'll be honest, I didn't expect much. But it was wonderful–and the chocolate was served hot like a traditional fondue. It came with two pieces of pound cake, two strawberries, two meringues, and several raspberries. A Cape Gooseberry garnished the dish.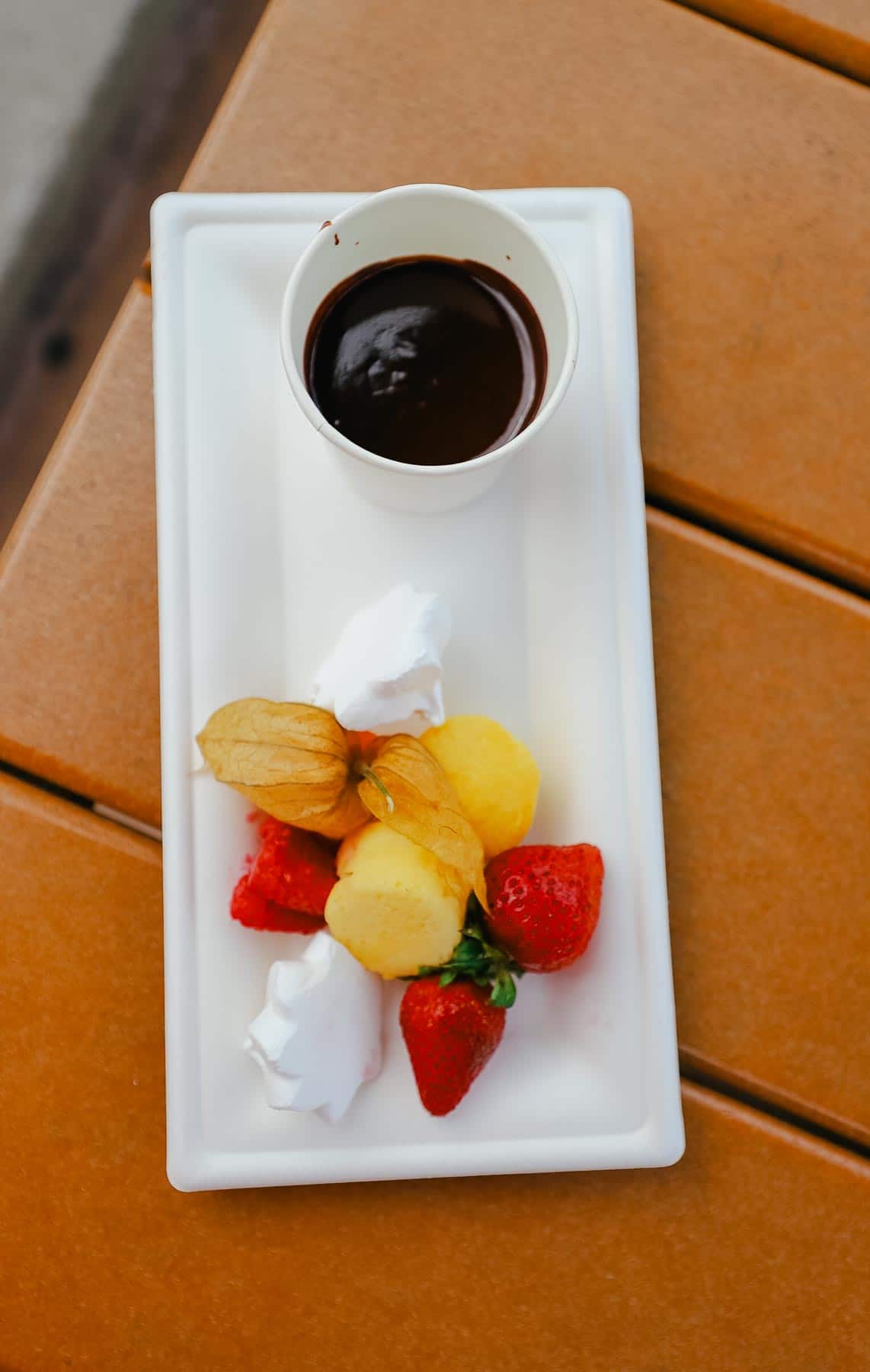 So if you are looking for a fun and simple dish, the fondue is a win. Just don't be surprised if you encounter an unpleasant smell while you're waiting in line. It's probably burnt cheese.
For more festival booth reviews, try these:
Have you tried The Alps booth at Epcot's Food and Wine in the past? What are your thoughts?