Mexico Marketplace at Epcot Food and Wine (Completely Updated for 2022)
After a string of disappointing dishes, I stumbled across the Mexico Marketplace at Epcot's Food and Wine. Mexico tends to be associated with margaritas. So I wasn't anticipating having two of the most delicious festival items at the booth.
Of the items, there's one I'm looking forward to enjoying again as the festival lingers through November. That dish starts with bread-and ends with-pudding.
We'll get to it soon enough. But in the meantime, let's review each item and see what all you'll want to pick up on your visit.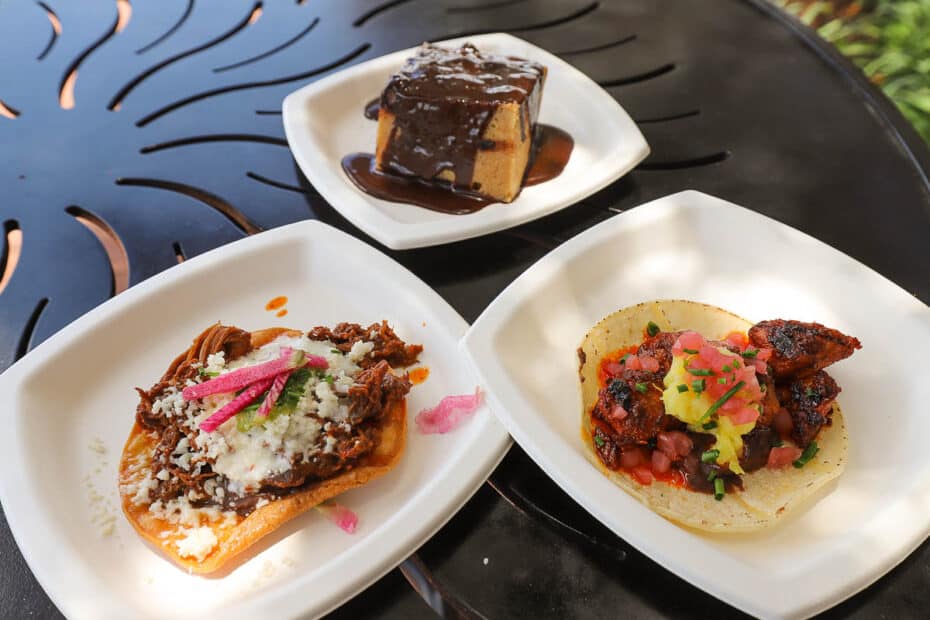 Mexico Marketplace Menu Items
Below is a list of the menu items with prices for the Mexico Marketplace at Epcot's Food and Wine Festival.
Taco al Pastor ($7.50)
Tostada de Barbacoa ($8.00)
Capirotada de Chocolate ($6.00)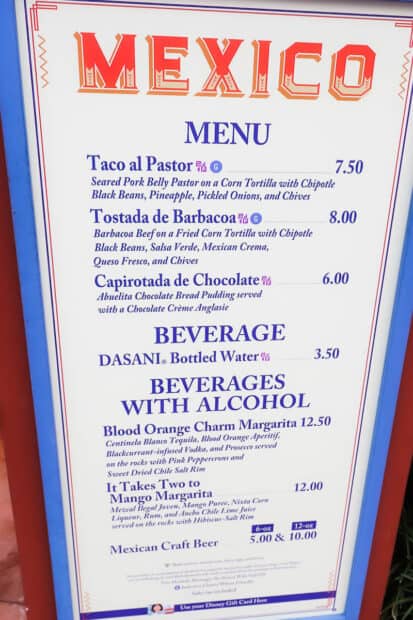 Beverages:
Blood Orange Charm Margarita ($12.50)
It Takes Two to Mango Margarita ($12.00)
Mexican Craft Beer ($5.00 or $10.00)
Mexico's Marketplace is located along the World Showcase Plaza. It's on the far right before you get to the Mexico Pavilion.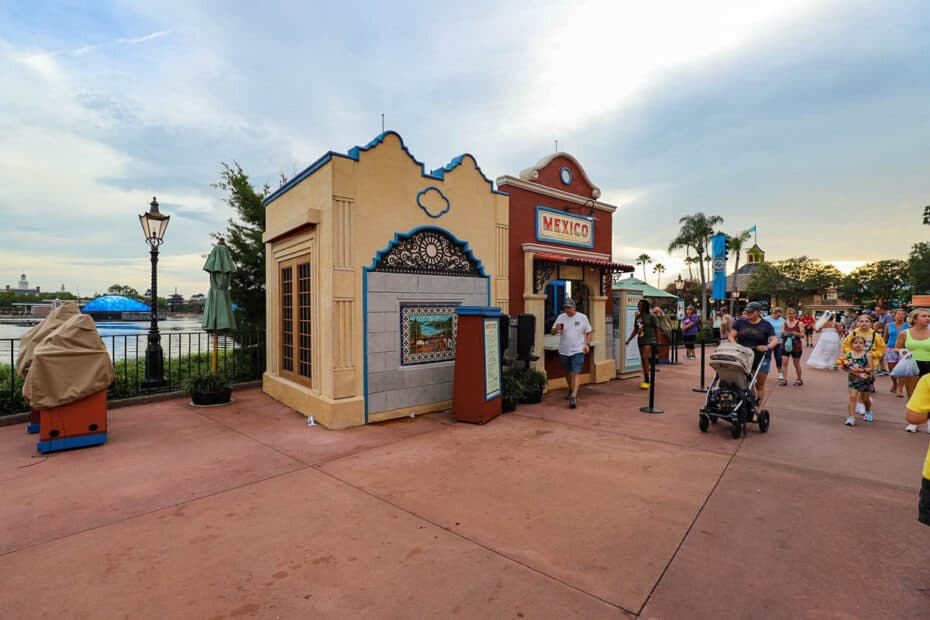 Tostada de Barbacoa ($8.00)
We'll start with my least favorite dish of the trio, the Tostado Barbacoa. This dish is described as "Barbacoa beef on a fried corn tortilla with Chipotle black beans, salsa verde, Mexican crema, queso fresco, and chives.
Unfortunately, I found the tostada very difficult to eat. So I grabbed a fork and knife and tried to cut it apart.
That didn't work, so I had to break it into pieces. Overall, this dish felt messy and like it would be hard to share.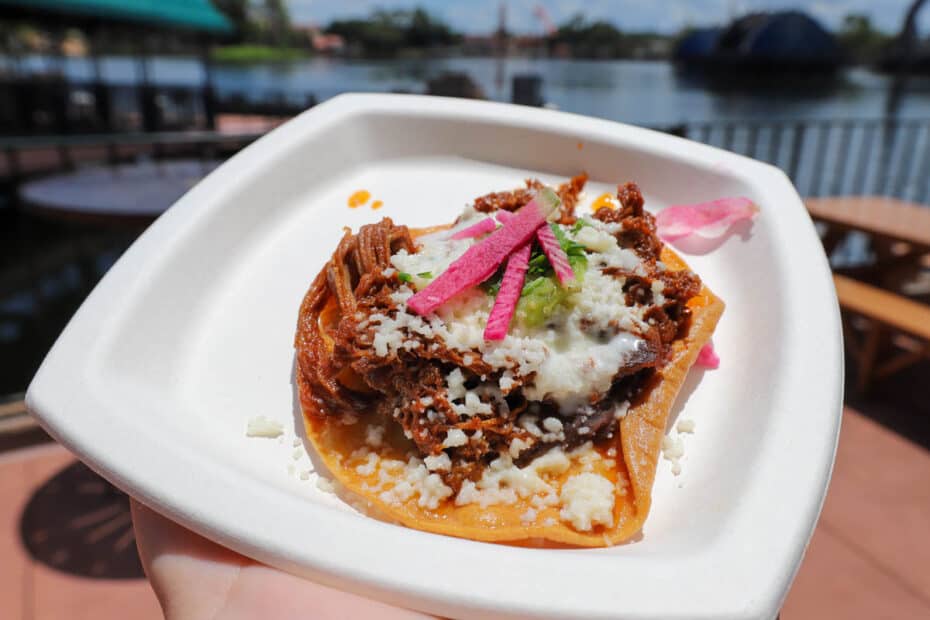 Tastewise, it was yummy. However, I didn't feel like there was anything unique about the item.
Taco al Pastor ($7.50)
Next, we'll look at the Taco al Pastor. You know when you order a taco and wish you had ordered more?
I'm just kidding. Who on earth would only order one taco? Well, if you visit the Food and Wine Festival at Epcot, you might. But at least it's a delicious one.
Anyway, the menu describes this taco as "seared pork belly pastor on a corn tortilla with Chipotle black beans, pineapple, pickled onions, and chives.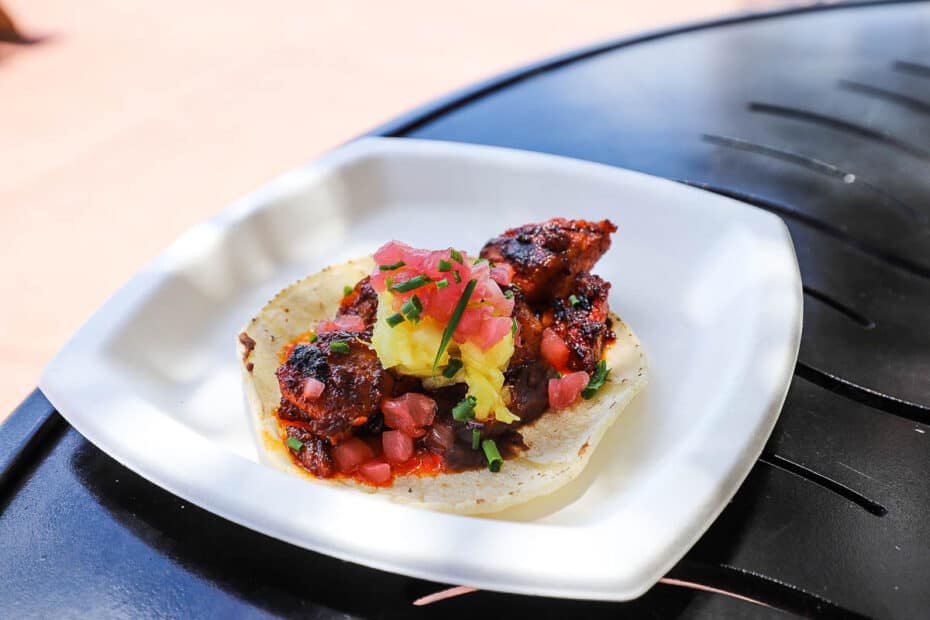 Unlike the brisket nachos at Flavors from Fire, the pickled onions worked well here on the taco. Additionally, the pineapple balanced the entire dish adding the right amount of fruitiness.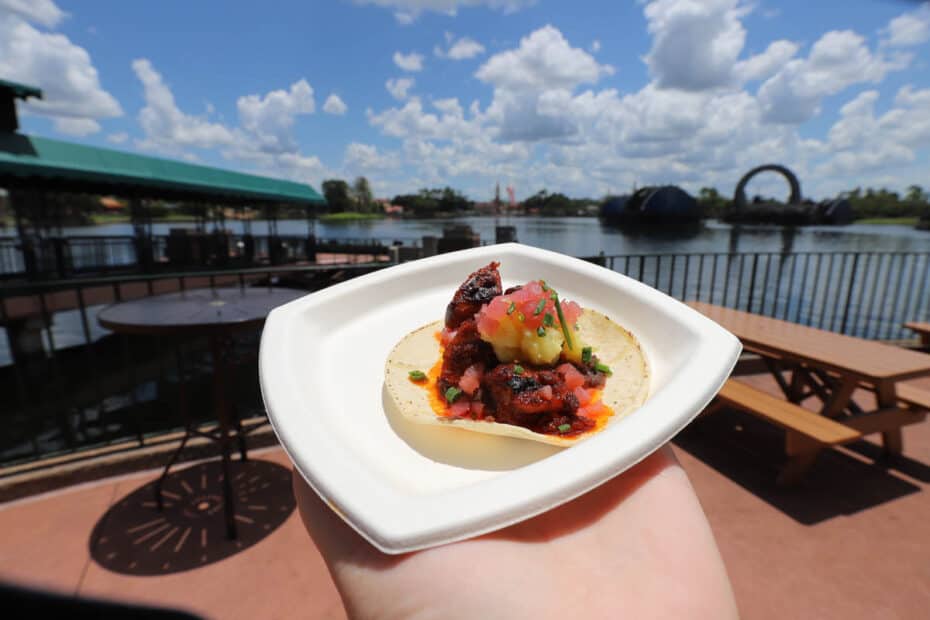 At $7.50, the price for one taco is a bit steep, but what isn't these days? This is a dish worthy of ordering again, but I probably wouldn't go out of the way for it.
Capirotada de Chocolate ($6.00)
As of right this minute, the Capirotada de Chocolate is my favorite dish of the festival. Of course, we have a few booths left to visit, and a couple haven't opened yet.
But I think it's safe to say that this Mexican version of chocolate bread pudding will end up in the top five festival favorites. It's topped with a chocolate creme anglaise.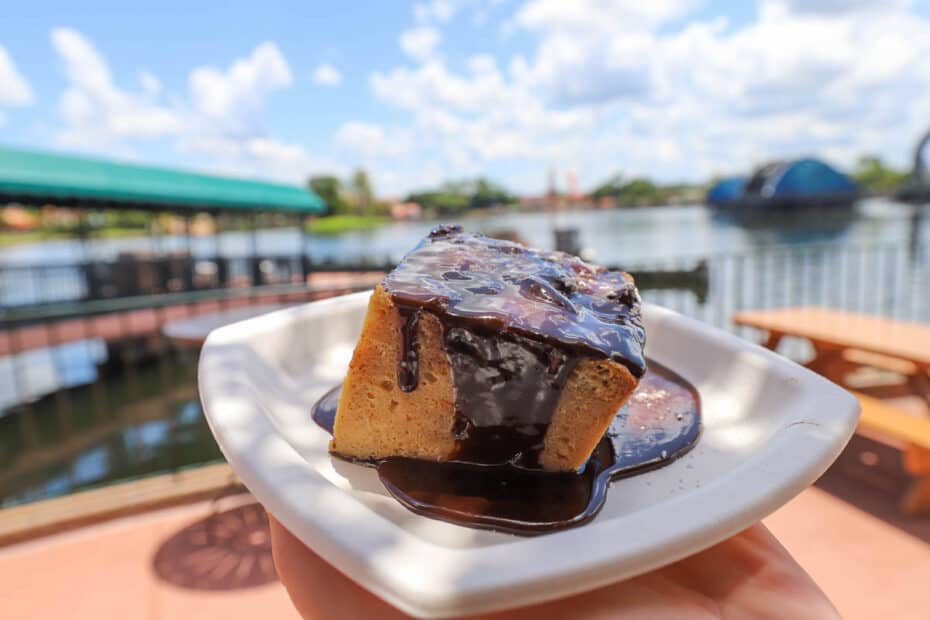 If you can't tell, that's one massive portion of bread pudding smothered in the most delicate and divine chocolate sauce. It's lick your plate good. If you don't tell anyone, neither will I.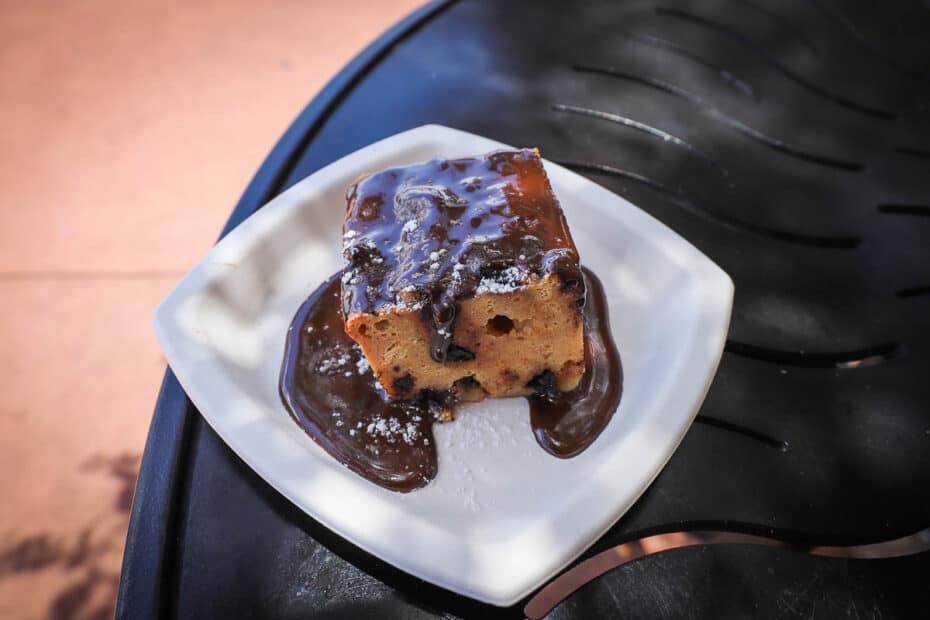 This dish reminded me of the warm pudding cake at the Ireland booth. However, the Mexican version gets a bit of an edge given that chocolate sauce.
Don't sleep on this bread pudding or the Mexico Marketplace.
Where we're going:
Or try our entire Epcot Food and Wine Festival Guide for 2022.
Here are a few other recent stops:
Thinking of planning a trip to Walt Disney World? Here are some of our popular planning articles:
Will the Mexico Marketplace be a stop on your Food and Wine tour? Are you on board to try the bread pudding?