2023 Tangierine Cafe: Flavors of the Medina Marketplace
Formerly the Morocco Marketplace, Tangierine Cafe: Flavors of the Medina returns to the 2023 Epcot International Food and Wine Festival. Like many other booths, last year's menu items return with it.
Unfortunately, the Morocco Pavilion has yet to completely return to normal. But it's at least good to see the former quick service operating in some capacity, even if it's only for a festival.
A few years ago, the Greece Marketplace took over the home of the former Morocco Marketplace. Unfortunately, it hasn't been that great of a replacement.
Below, we'll review the menu and prices for Flavors of the Medina and preview the items we had last year.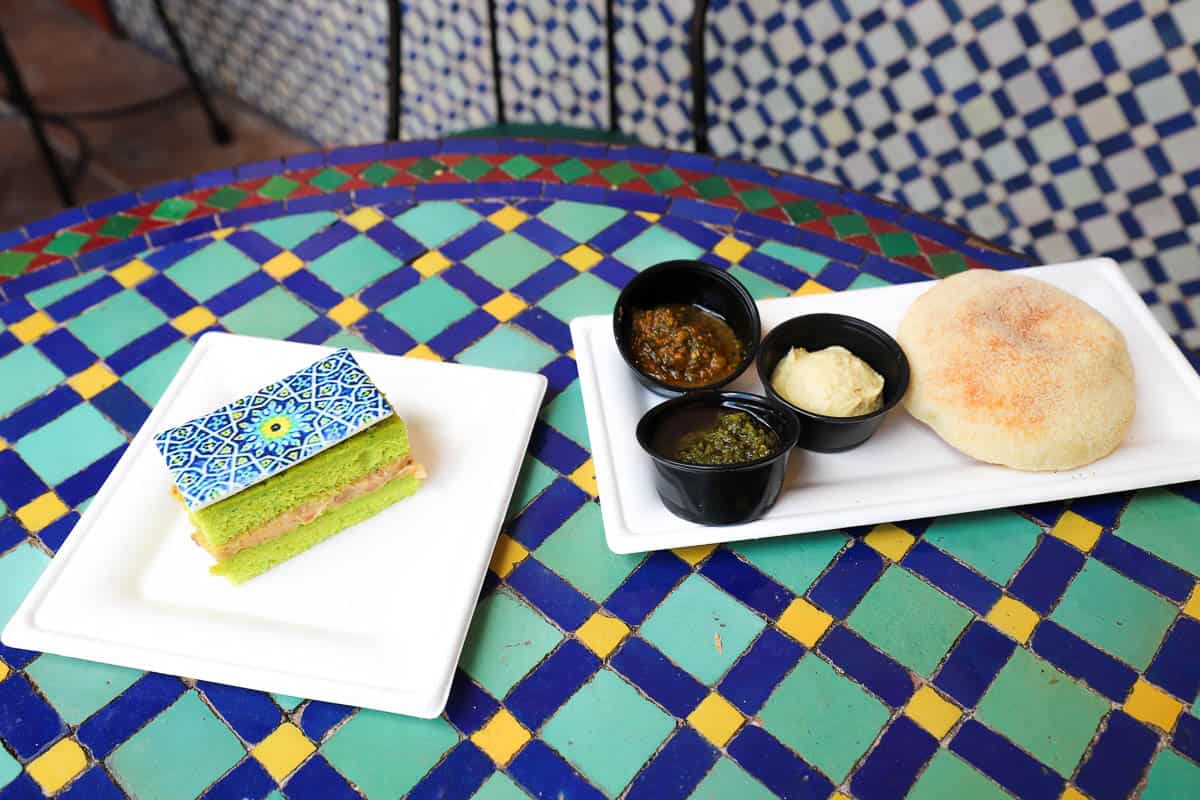 When entering the pavilion, Tangierine Cafe is on the right side. I mention this because most of the marketplaces at Food and Wine are booths that sit outside each country.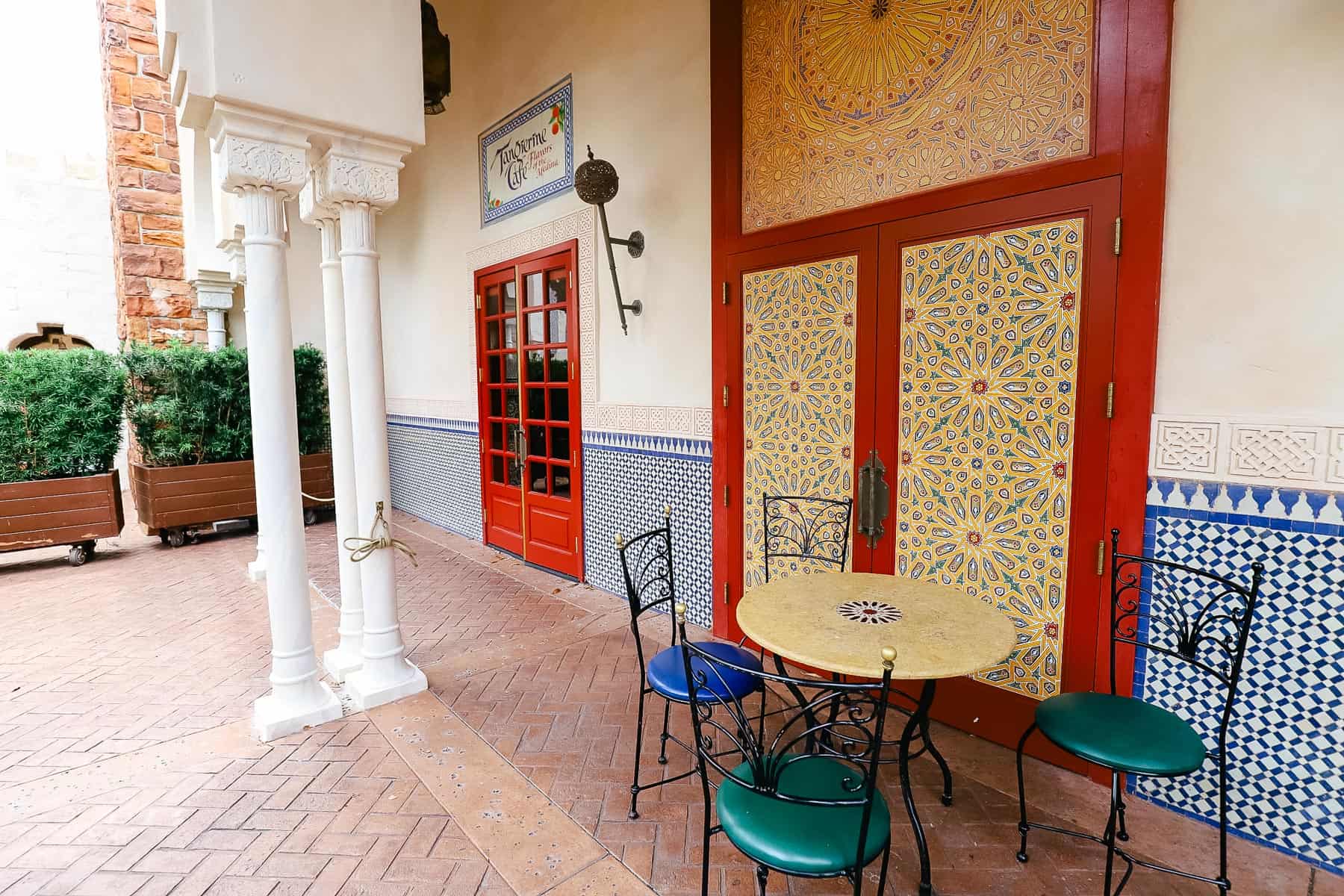 Most guests know Tangierine Cafe as a quick-service dining location. So it can be a little confusing.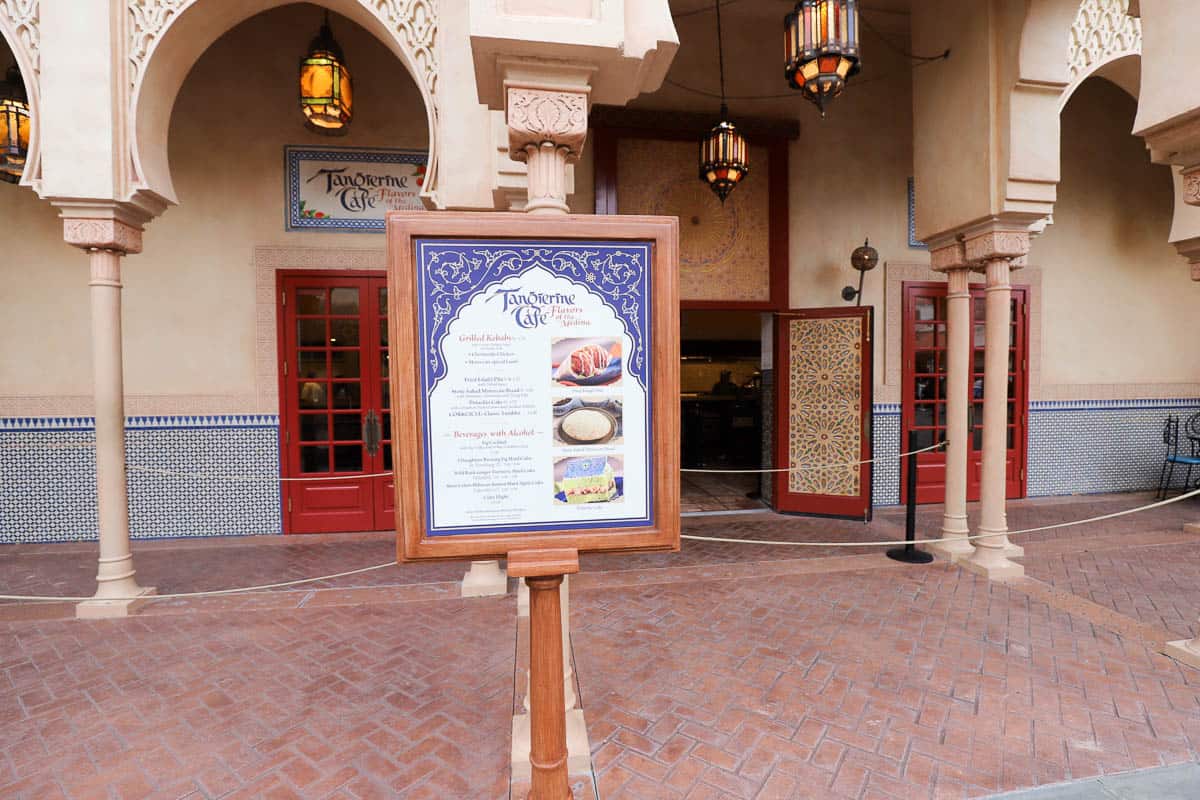 Morocco Marketplace Menu Items
Below is a list of the menu items and prices for Tangierine Cafe: Flavors of the Medina:
Grilled Kebabs ($6.25)

Chermoula Chicken
Moroccan-spiced Lamb

Fried Falafel Pita ($5.50)
Stone-baked Moroccan Bread with Toppings ($5.00)
Pistachio Cake ($4.75)
Beverages:
3 Daughters Brewing Fig Hard Cider ($5.50 or $9.50)
Keel Farms Raspberry Citrus Hard Cider 🆕 ($5.50 or $9.50)
Blake's Hard Cider Co. Peach Blackberry Hard Cider 🆕 ($5.50 or $9.50)
Hard Cider Flight ($10.00)
Fig Cocktail ($11.00)
Corkcicle Stemless Flute ($24.00)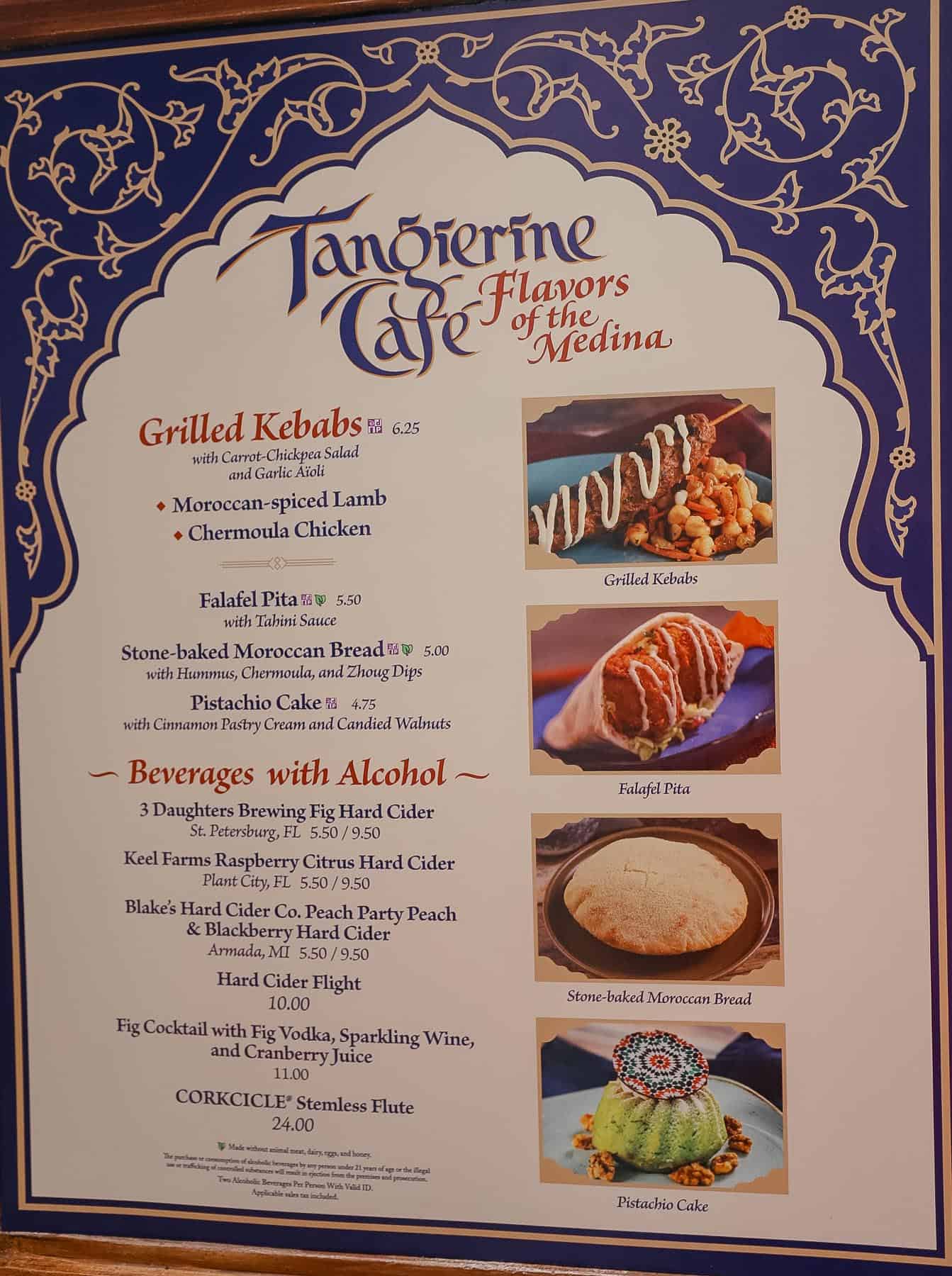 Stone-baked Moroccan Bread with Toppings
Here is an order of stone-baked Moroccan bread with Hummus, Chermoula, and Zhoug dips. Presentation-wise, this reminded me of a mini bread service similar to what you might receive at Sanaa.
The Moroccan bread has a unique texture that is crispy on the outside while remaining soft in the center. The hummus was basic. If you enjoy hummus, you'll probably like this one.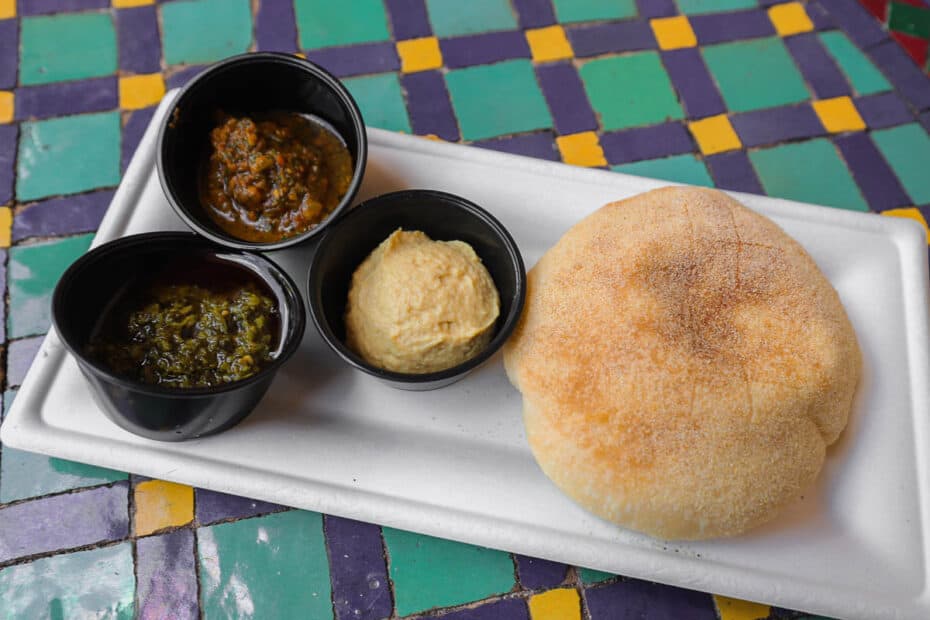 I had not tried Zhoug dip before this tasting. However, after a bit of research, I'm still unsure as to which one is which.
Zhoug and Chermoula are both usually green in color and have cilantro. As you can see, one of the sauces leans more orange, while the other is green. They both were fairly similar in taste because of the over-powering cilantro.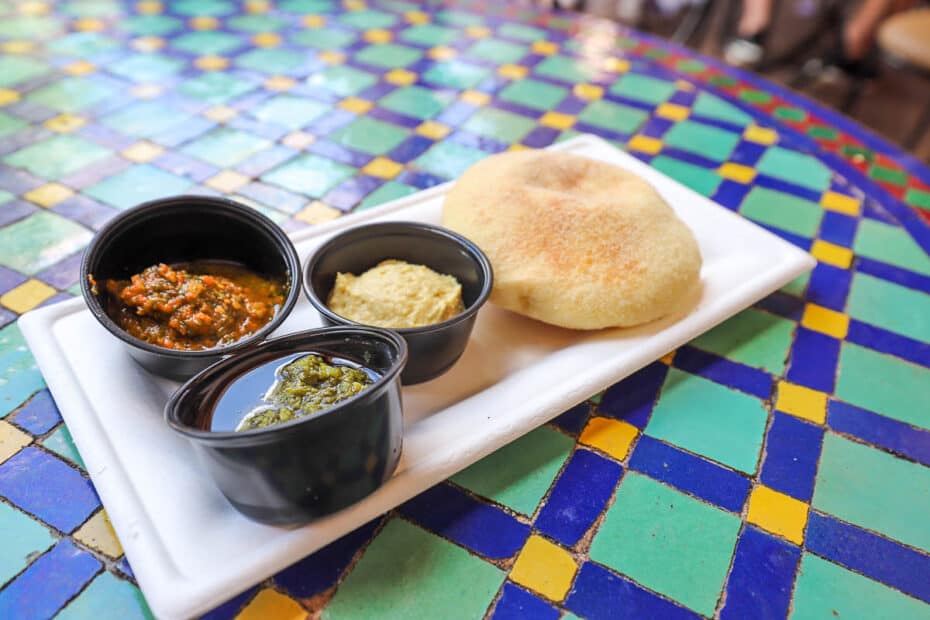 I believe a person either likes cilantro or doesn't care for it. Personally, I fall into the don't care for it at all category.
So you might enjoy this dish more than I did. Don't get me wrong. I didn't find any fault with it. And for less than $5.00, it's a decent snack you could easily share with someone.
You also won't feel guilty about eating it either. The dish is obviously not heavy-laden in calories. But, unfortunately, it isn't memorable either.
If you want to try an outstanding bread service, plan a meal at Sanaa during your trip.
Pistachio Cake
Morocco's Pistachio Cake is as pretty as a picture. It even has a piece of decorative white chocolate that mimics Moroccan tile. Note: In 2023, the cake is the same, however, it's presented in a circular form.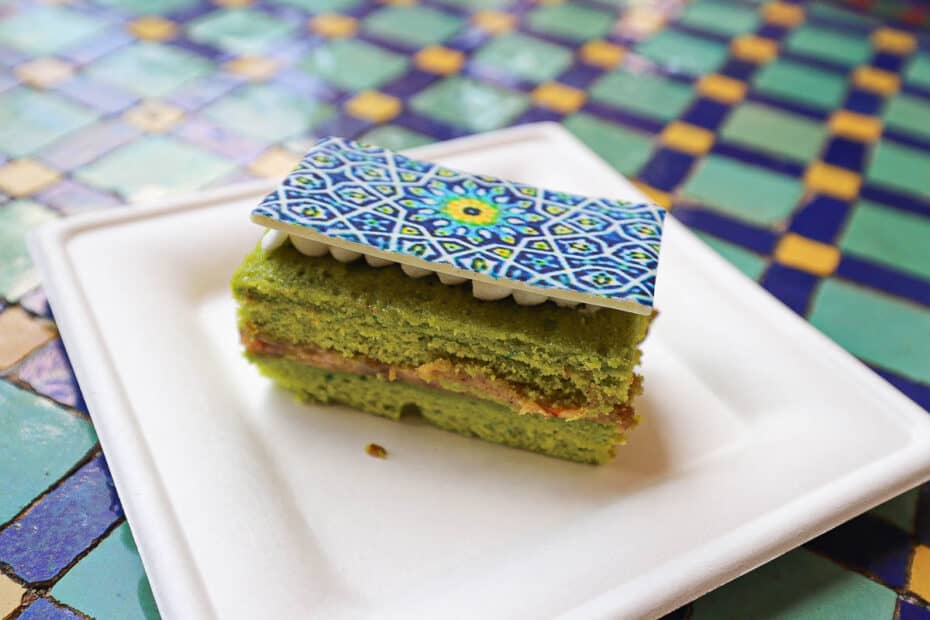 Surprisingly, this cake reminded me of an old-fashioned homemade spice cake. The cake portion appears plain (maybe yellow or white), and I assume that food coloring is added to make it green.
Instead of icing, the center of the cake has a thick layer of cinnamon pastry cream mixed with candied walnuts. That portion is the star of the show and what gives the cake its flavor.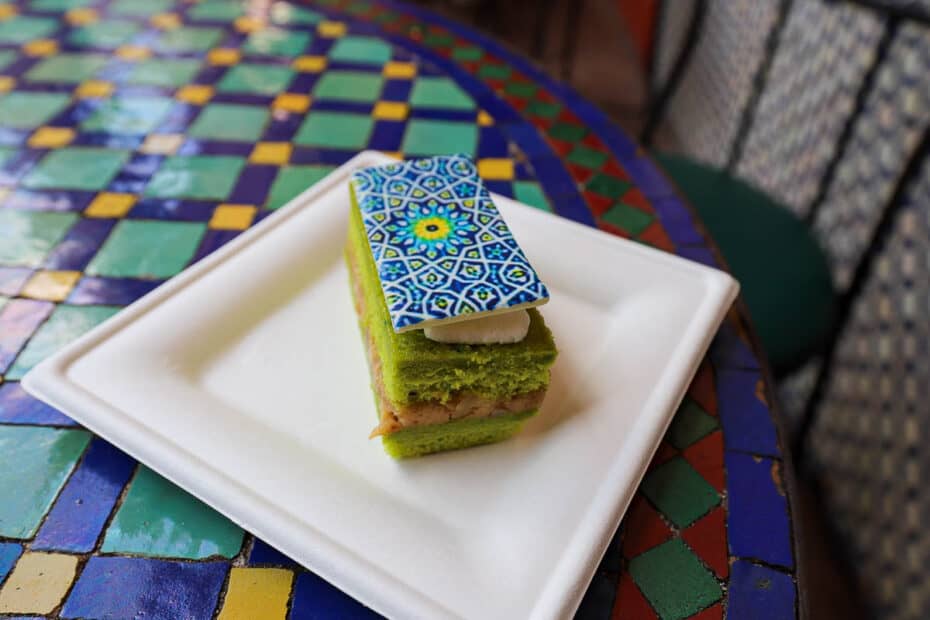 As I ate the cake, I found myself wanting more pastry cream and less cake. Overall, this was a delightful dish and makes for a fun photo of something you tried.
Fig Cocktail
Lastly, here is a photo of the Fig Cocktail. While I didn't try this beverage, I was able to snap a photo. Yes, I did purchase it and even smelled it. But given a dietary restriction, I did not try it after reviewing the ingredients.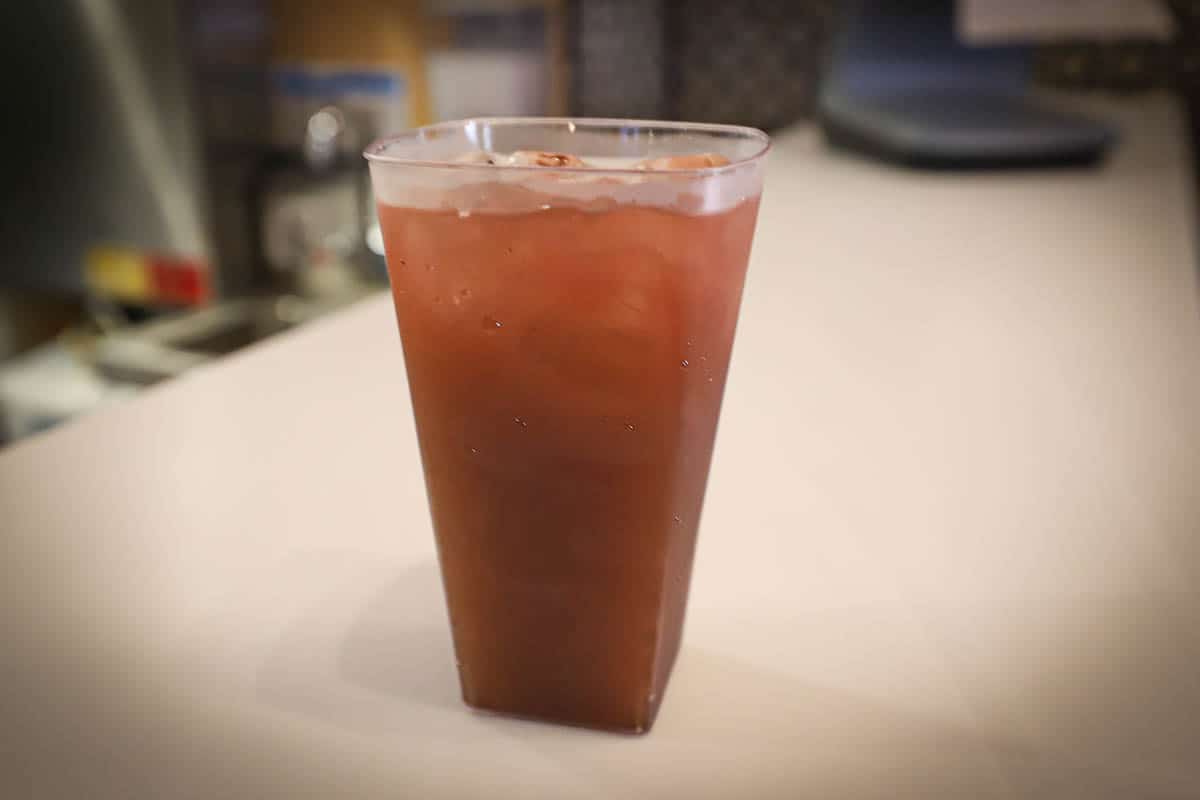 Per the menu, this drink is a combination of white cranberry juice and fig vodka. The cast member mentioned that it was essential to stir this one up before consuming it.
In addition, the drink was garnished with a few cloves and had a lovely aromatic smell. Lastly, the Falafel Pita at the Morocco Marketplace is a plant-based item. And there are also kebabs.
Unfortunately, there just wasn't enough room to try everything this go around. Here are a few other reviews:
Return to Epcot Festivals.
So does anything on the menu at the Morocco Marketplace look good to you? Share your picks in the comments below.
Planning a Walt Disney World or other Disney Destination vacation?
Our friends and travel partner, Firefly Travels, excels at doing Disney differently. You can fill out a plan your trip form on their website, and someone will reach out shortly to discuss the specifics.