Mickey and Minnie's Runaway Railway Review
Mickey and Minnie's Runaway Railway is the newest attraction at Hollywood Studios in Walt Disney World. The ride has been open for nearly two years, and most tend to adore it.
Runaway Railway replaced the former Great Movie Ride, which closed in August of 2017. You'll find the new attraction inside the theme park's iconic Chinese Theater replica.
In this Mickey and Minnie's Runaway Railway review, we'll look at the details of the attraction and then do a run-through of the actual ride.
If you haven't ridden Mickey and Minnie's Runaway Railway, I might skip the walkthrough portion of this review. This attraction is unique and is suitable for nearly all guests. I left smiling the first time I rode it and immediately got back in line for another go-around!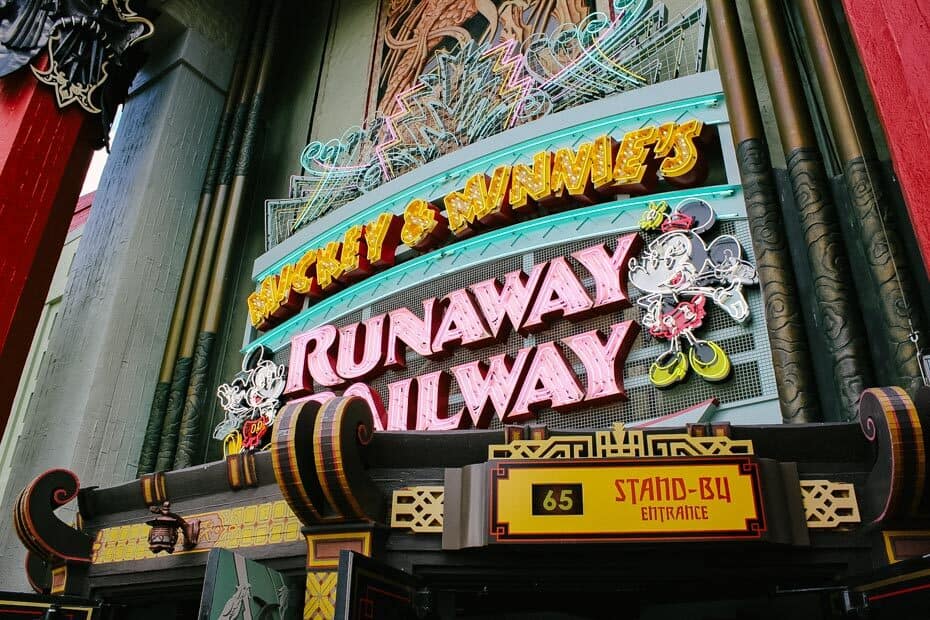 Below is a quick reference chart with essential details for the Runaway Railway.
Mickey & Minnie's Runaway Railway
Hollywood Studios Attractions

Location:

Hollywood Boulevard

Disney Height Requirement:

None

Disney Genie+

Offers Paid Lightning Lane

Ride Type:

Slow Moving
Screen-Based
Dark Ride
Not Scary

Seats Per Vehicle:

4 per row

Rider Switch:

None

Early Theme Park Benefits

Yes

Good For:

Everyone

Scare Factor:

Mild

Must-Do List:

High Priority

Perfect For:

Fans of Classic Characters

Special Mention:

Newest Attraction at Hollywood Studios
Mickey and Minnie's Runaway Railway
Guests planning to visit Disney's Hollywood Studios will want to plan to experience the new Mickey and Minnie's Runaway Railway. The attraction can post decent wait times in the busier parts of the day.
Luckily, it's a fast-loading ride with a higher seating capacity than most rides. That helps the line move along instead of long periods of standstill.
In most cases, guests will find that the queue begins outside the attraction. The more guests waiting, the more the queue will snake around the front of the Chinese Theatre.
From my experience to date, I've yet to wait more than 40 minutes to experience the new Mickey and Minnie's Runaway Railway. That's not too bad.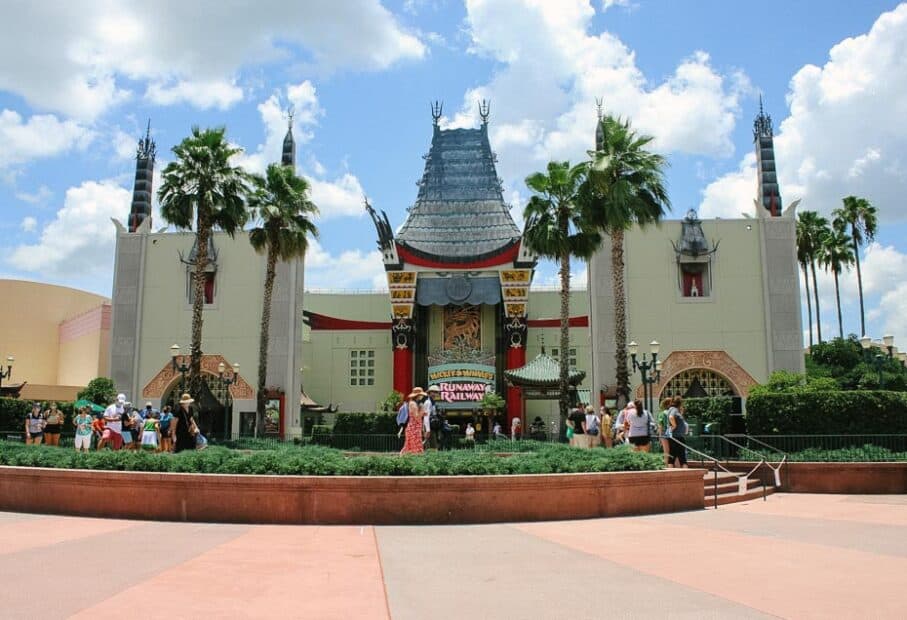 When the extended queue reaches outside, you'll find someone holding an end-of-the-line sign like the one in the picture below. On this day, we got in line, and the estimated wait time was one hour. It only ended up being about 25 minutes.
However, it's not standard to see that much gap between projected wait time and actual wait time. So don't anticipate seeing these significant differences in your wait times.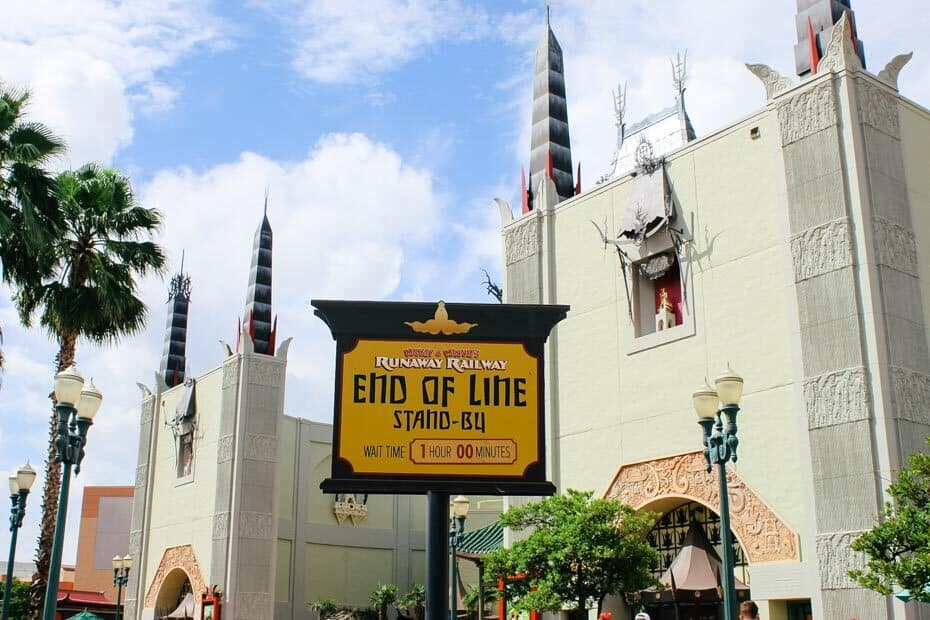 Here's a look at a portion of the outdoor queue. As you can tell, you will be standing in direct sunlight out here in the day. This small area of umbrellas does help a little bit when you reach this point.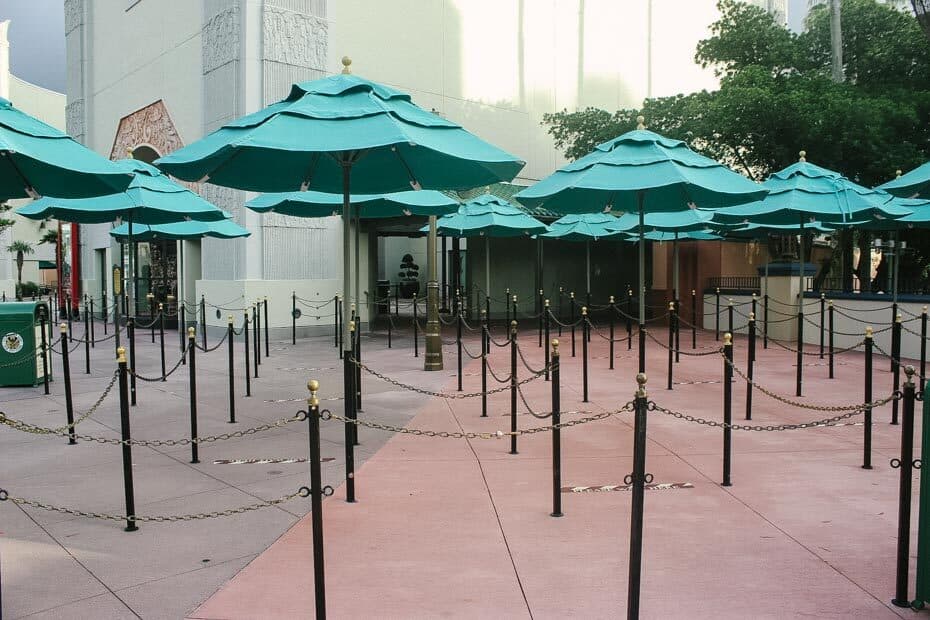 As you enter the interior portion of the queue, you might notice a few familiar things from the attraction's predecessor.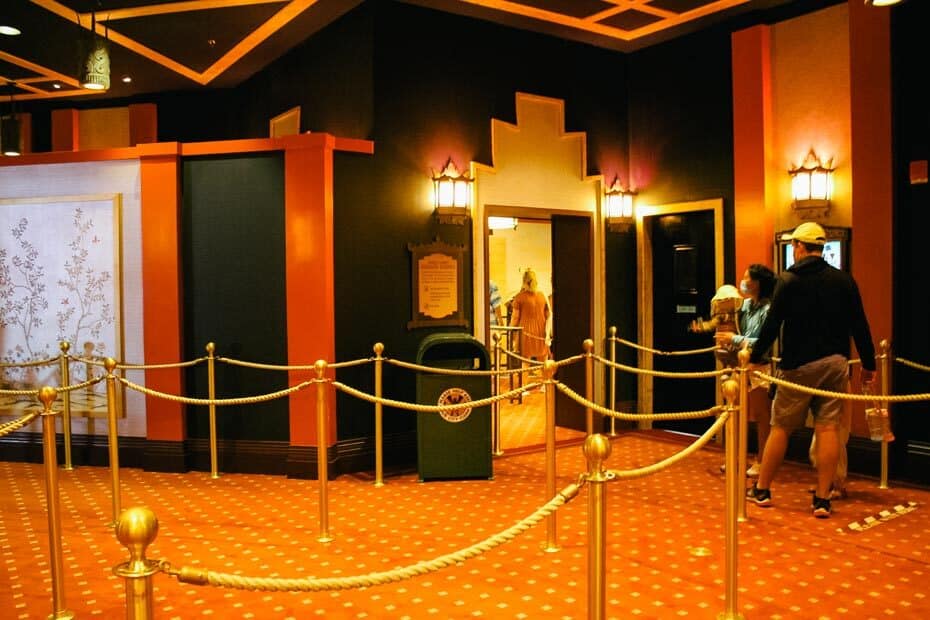 Eventually, you'll make your way into the ride's loading area. In this room, you'll notice a significant change. It's designed to be the interior of a barn where Goofy stores his train.
Mickey and Minnie's Runaway Railway train has four cars with two rows each. So, each ride has eight rows for guests.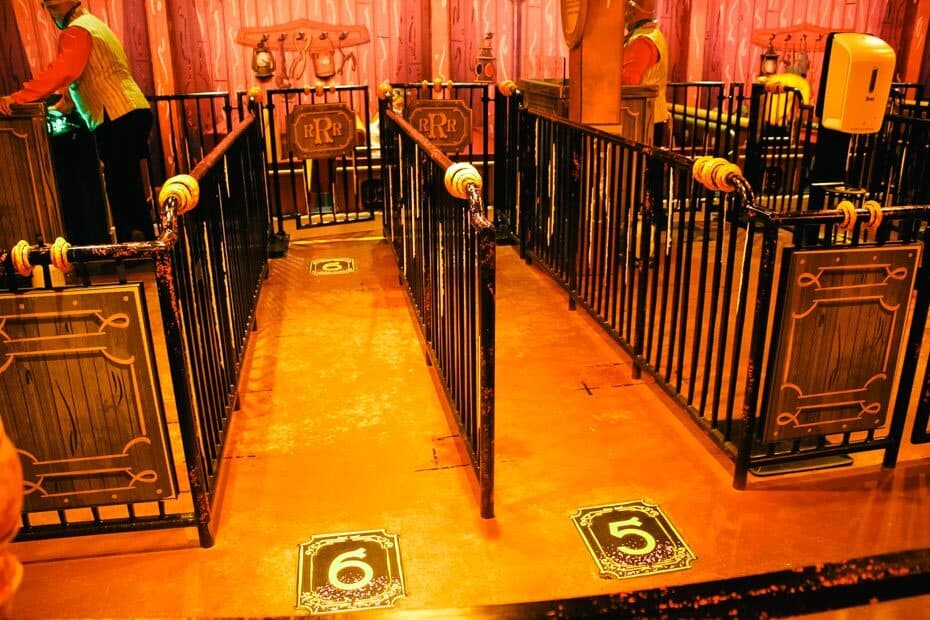 Here is a preview of the ride vehicle.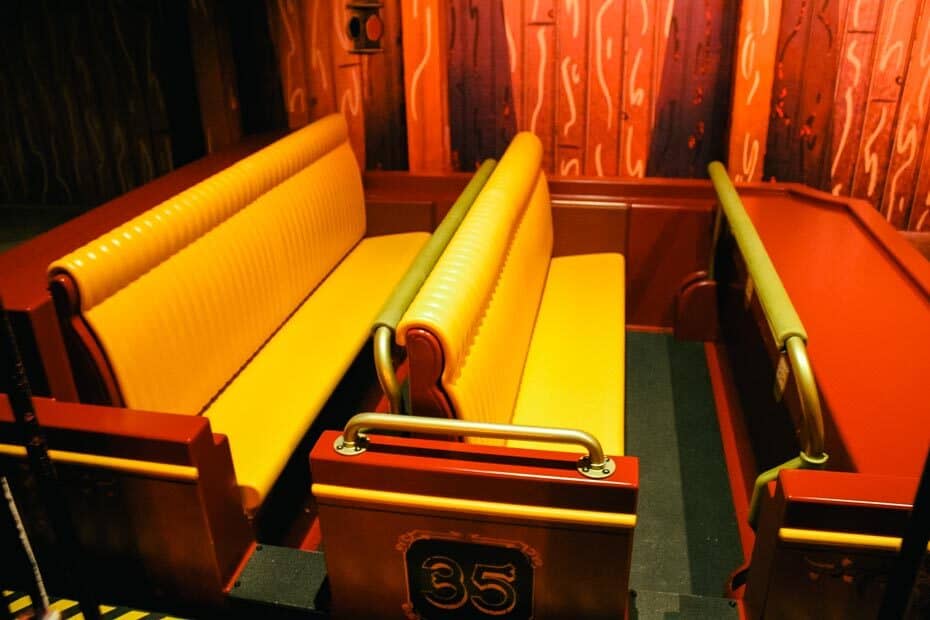 Each row comfortably seats about four guests.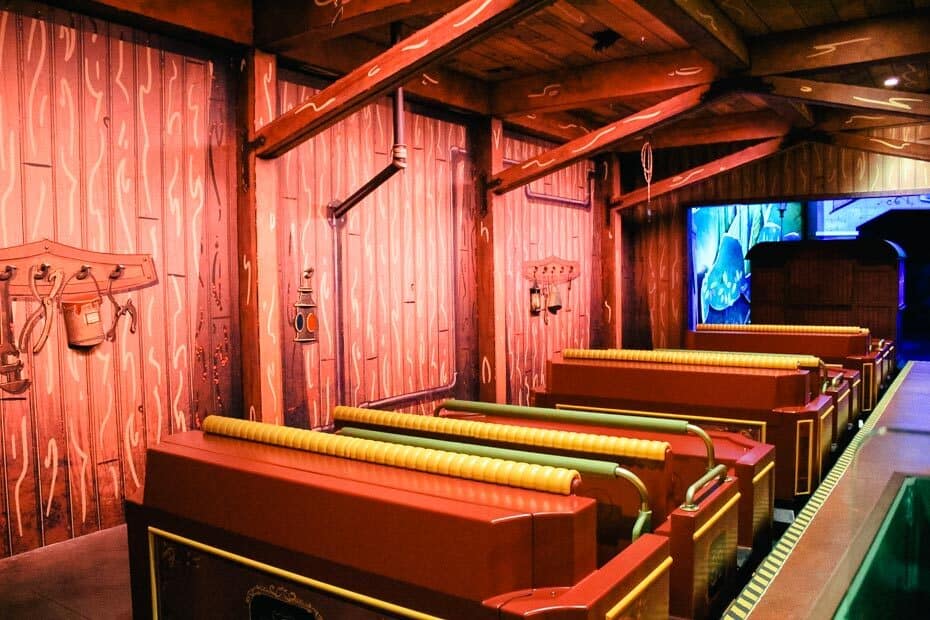 You can kind of tell you're in a barn.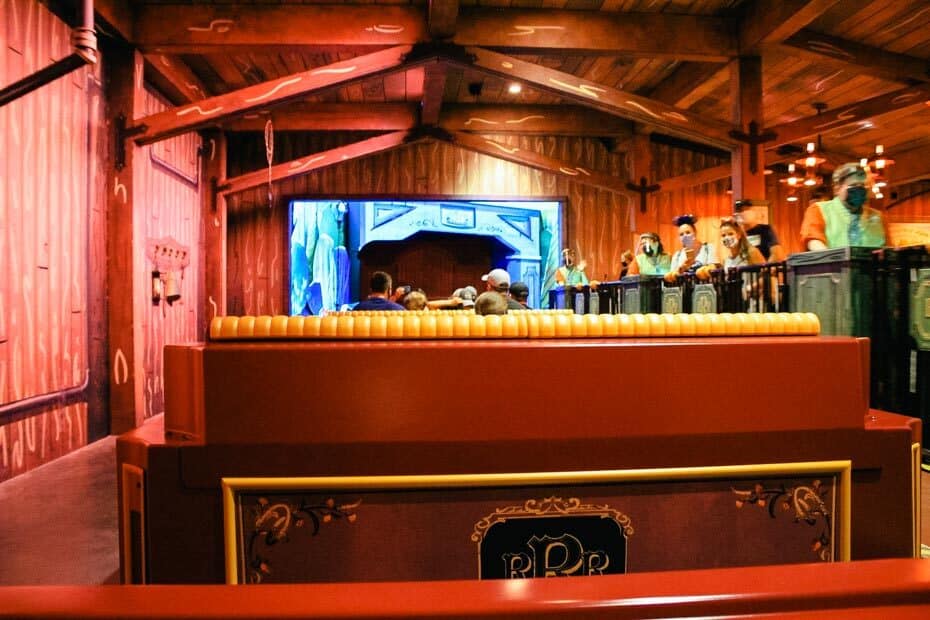 After everyone is seated, then you're off on the cartoon world train ride of a lifetime. Now it's time to take a sneak peek at the actual ride experience.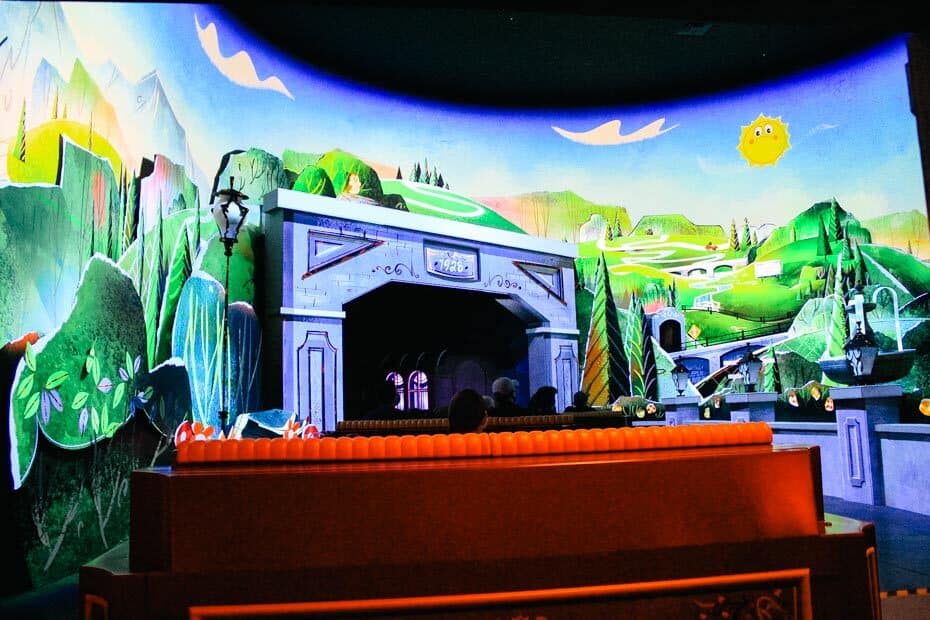 Going into this ride, I didn't know anything about it. However, the attraction was unlike anything I would have ever imagined.
Mickey and Minnie Mouse make an appearance early on in the ride. They are on their way to a perfect picnic until things begin to unhinge.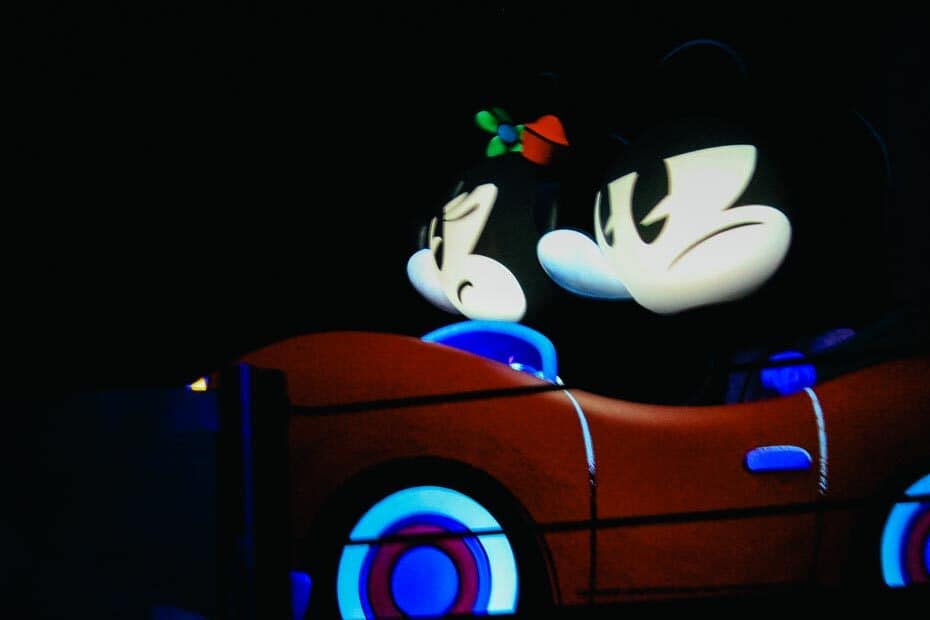 Before you know it, those train cars detach themselves, and Mickey is determined to rescue you. Meanwhile, you are now in a runaway ride vehicle, and the other cars are scattered all around.
Hence, the Runaway (get it) Railway. Remember how I mentioned that this was Goofy's train?
Runaway Railway travels through several different rooms that change scenes.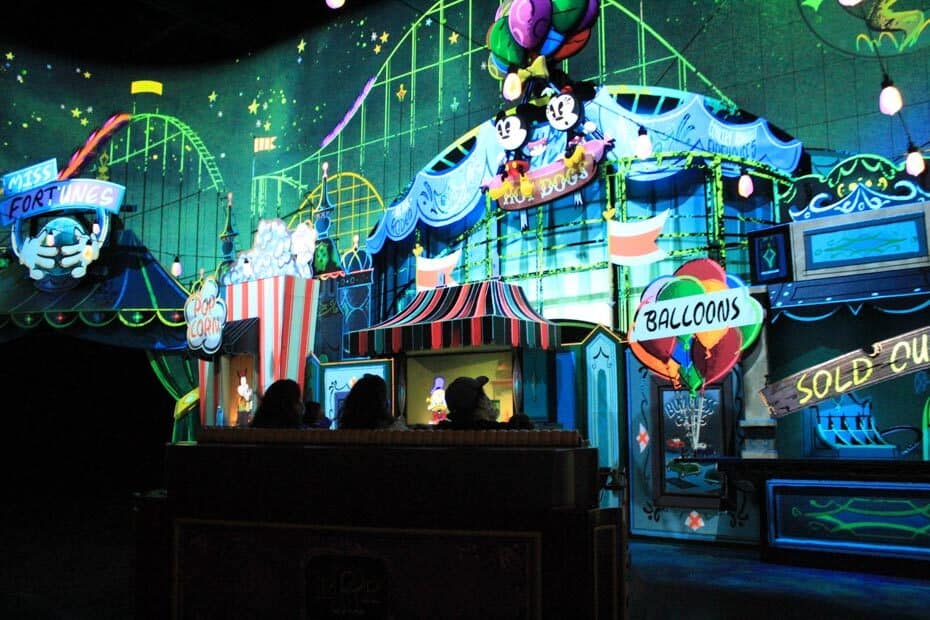 Notice how the cars have separated in the photo below. Additionally, you can see the vehicles' markings on the concrete floor.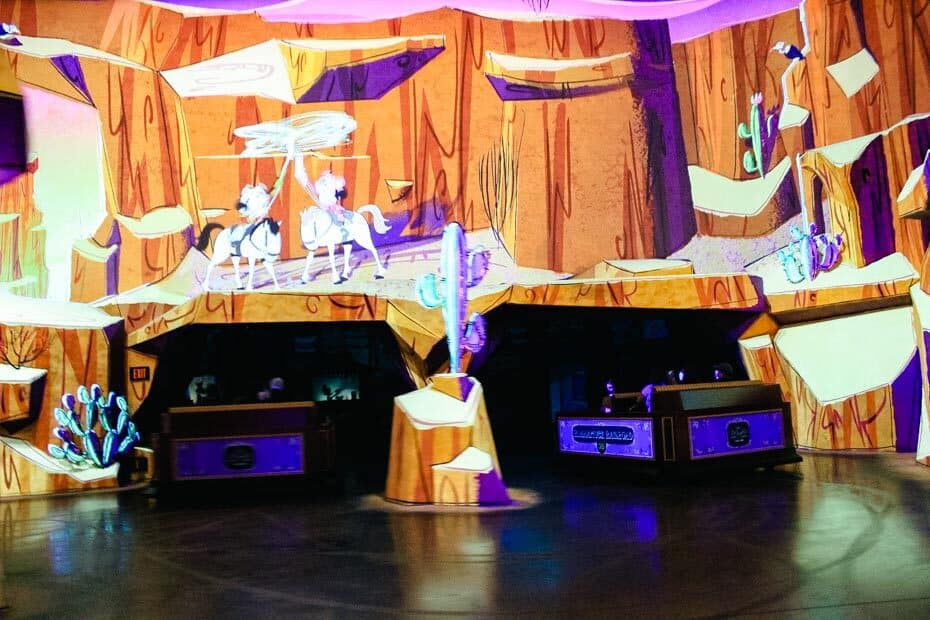 Trackless ride systems are the new thing for the Walt Disney World theme parks. Guests can expect to encounter trackless rides at Rise of the Resistance in Disney's Hollywood Studios and Remy's Ratatouille Adventure over at Epcot.
As for Mickey and Minnies Runaway Railway, there are a variety of rooms. Each room goes from either a heightened dramatic tone to a calm, relaxing mood or vice versa. It took my son to point it out to me on our second ride to get the concept.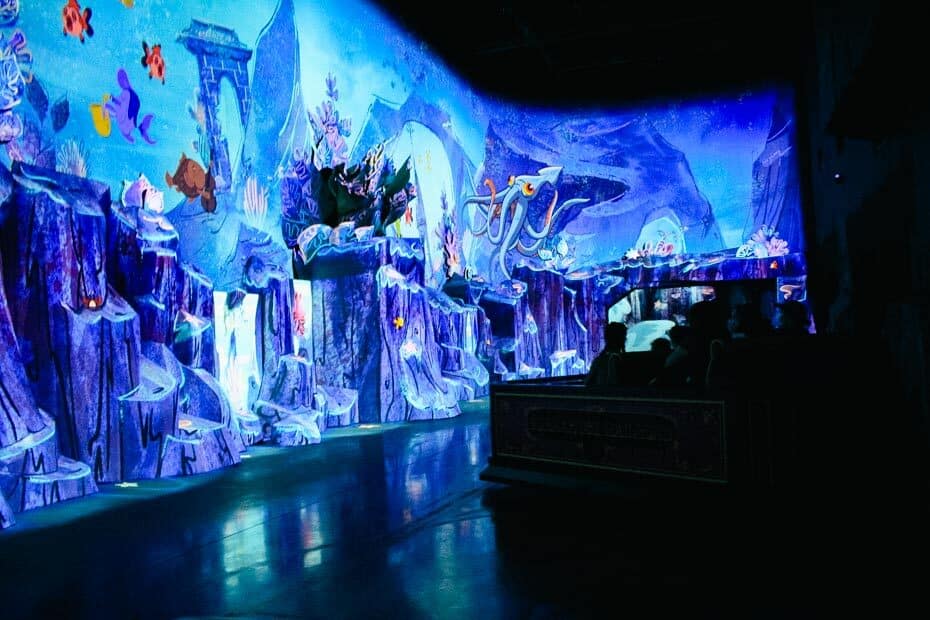 There are a few elements where you feel a bit of movement with the screen ahead of you. Like below when Mickey and Minnie are about to go over the waterfall. You feel like you are moving along right there with them.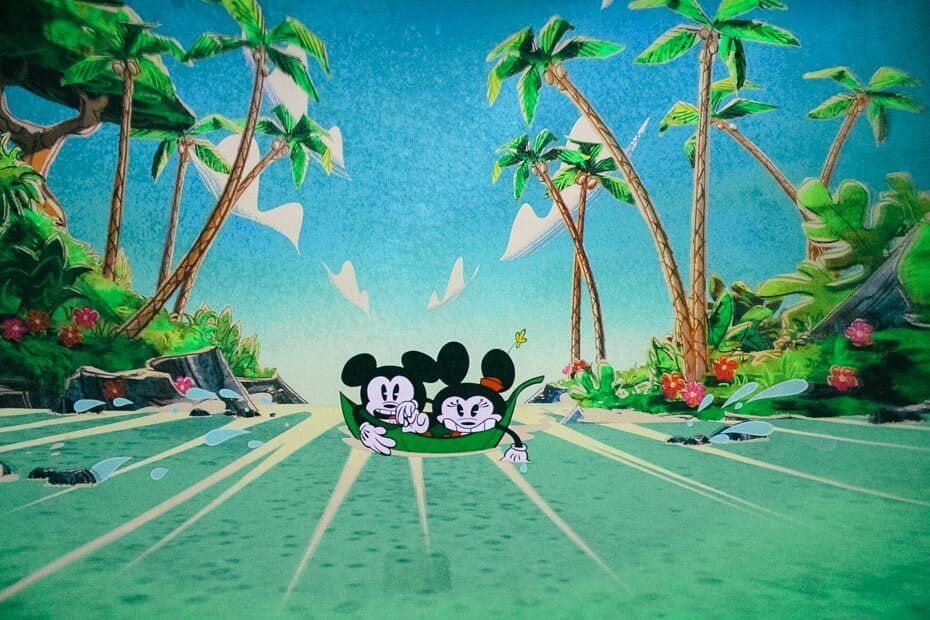 The next room below offers a bit of a jolt due to construction work in the area.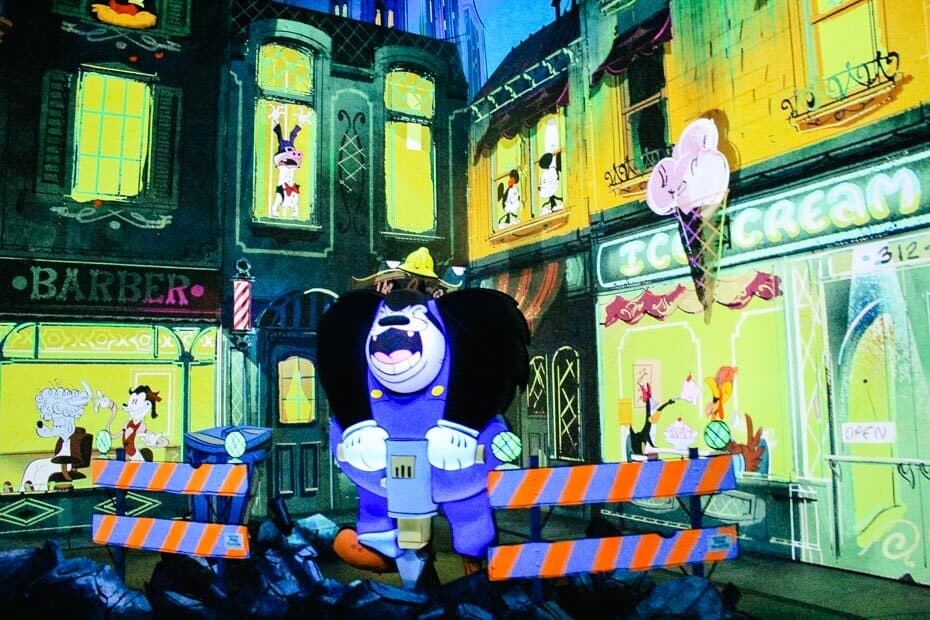 You'll quickly hop off the street and wind up in Daisy Duck's dance studio! Inside, Daisy chants, "one, two, three" and calmly instructs her dance pupils.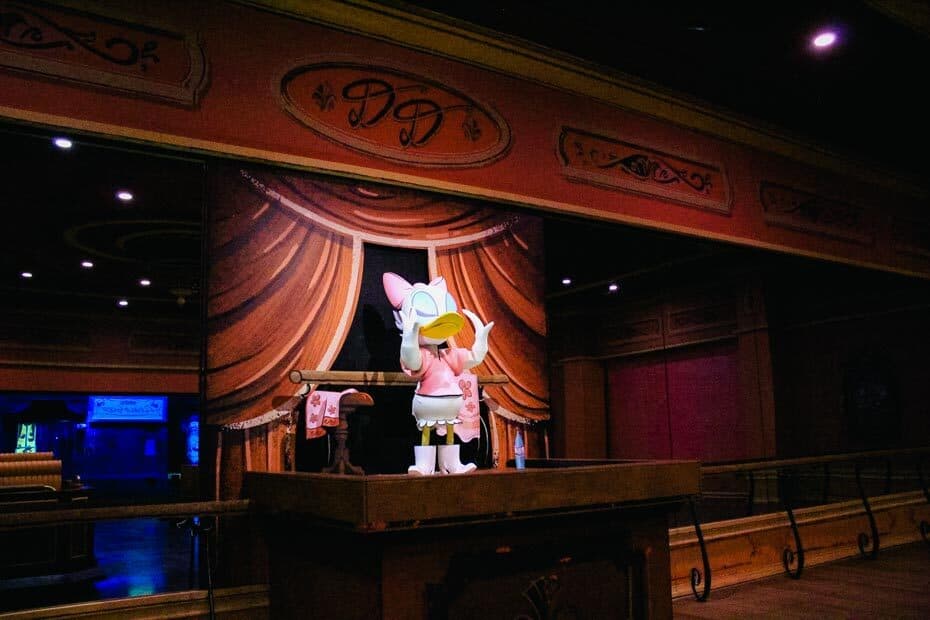 In seconds, you'll go from simple dance moves to doing the Conga! Another one of those instances where the mood goes from calm to intense in a matter of seconds.
At this point, I felt like the whole Runaway Railway was modeled after my life.
Sooner or later, Goofy will show back up and get everyone back on the Railway. Whatever position your car was in at the beginning will be completely different by this time.
You probably won't even be sure of what you just witnessed. But as you can see below, everything works out in the end.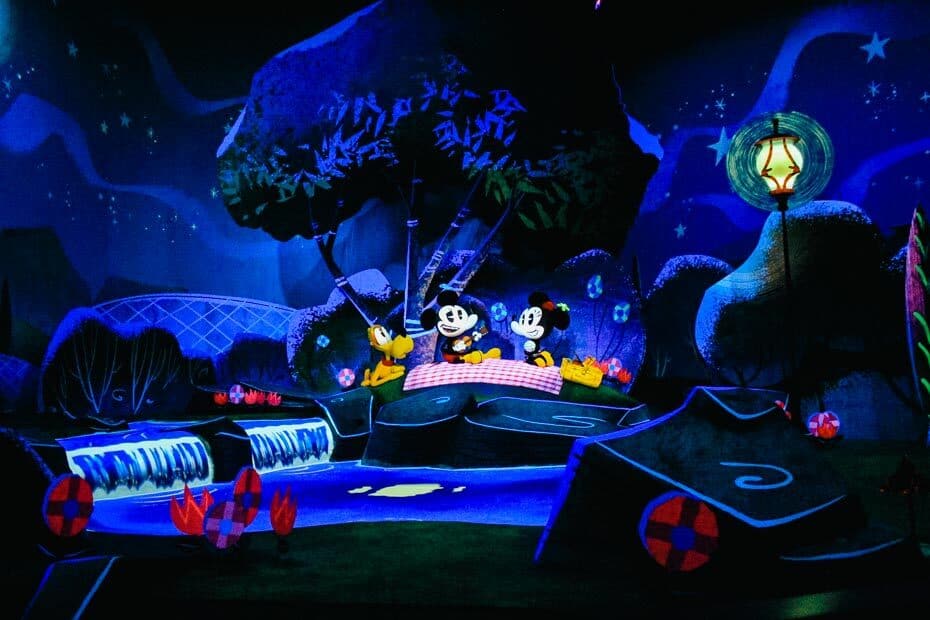 Mickey and Minnie are finally having the Perfect Picnic. Oh, and by the way, I forgot to mention that's the name of the actual cartoon you just visited. The poster for it is just outside the theater's entrance.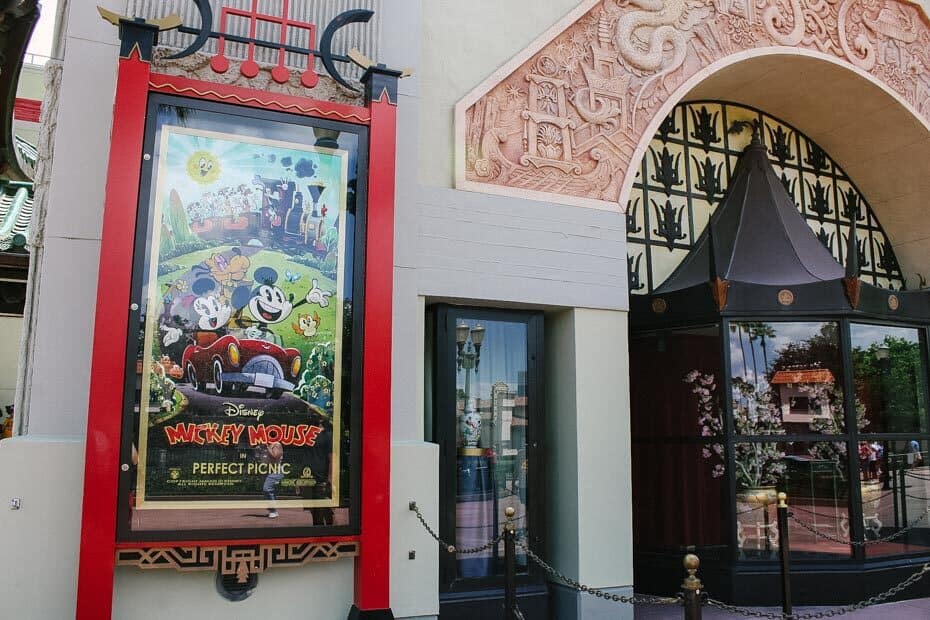 Final Thoughts on Mickey and Minnie's Runaway Railway
It's hard to express how much I love Mickey and Minnie's Runaway Railway. This surprise attraction ultimately left me speechless. This attraction is part of Genie+. Additionally, you might try to ride it later in the evening when wait times drop.
You might also enjoy some of these other attractions at Hollywood Studios.
Resorts Gal specializes in providing Disney World Hotel Reviews. You might consider one of the following resorts that are only a Skyliner ride away from the Studios.
Or you can browse the entire list of Walt Disney World Resorts.
Now, do you have plans to experience Mickey and Minnie's Runaway Railway on your next visit to the park? Leave your answer below in the comments.