Touring Adventureland in the Magic Kingdom
Adventureland is one of the original lands at the Magic Kingdom in Disney World. Overall, the park consists of six uniquely themed lands or areas. Adventureland is a luscious, tropical part of the park lending itself to a time of pirates, adventurers, and explorers.
In this review, we will discuss touring Adventureland in the Magic Kingdom. You'll want to be familiar with Adventureland because it's home to two of the park's most popular attractions.
Since you'll probably be spending a decent amount of time in the land, you'll also want to be able to locate dining, attractions, and various other entertainment.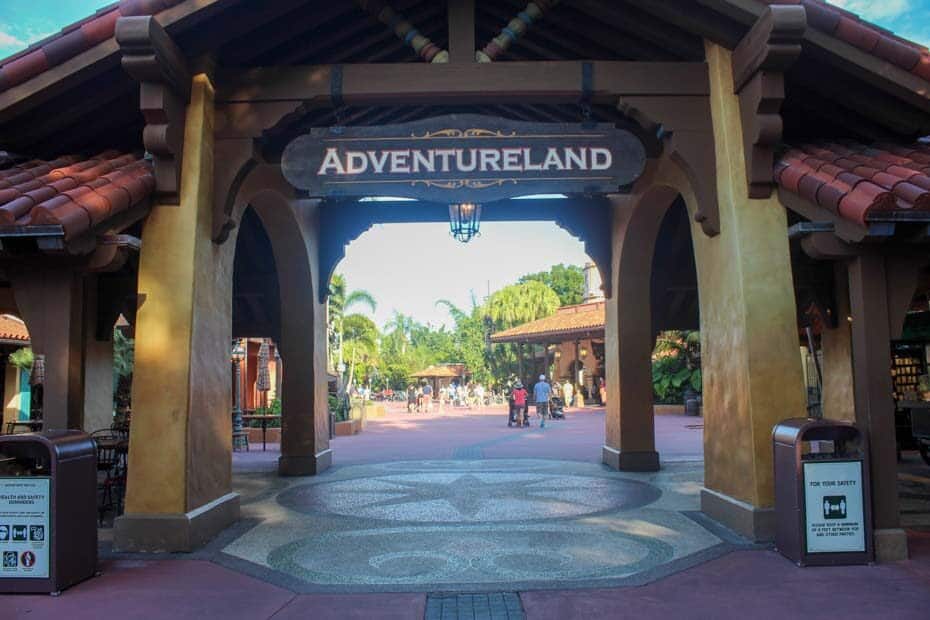 Adventureland at Magic Kingdom offers the following attractions, dining, and entertainment:
Attractions
Jungle Cruise
Swiss Family Robinson Treehouse
The Magic Carpets of Aladdin
Pirates of the Caribbean
Walt Disney's Enchanted Tiki Room
Dining
Jungle Navigation Co. LTD. Skipper Canteen
Tortuga Tavern
Aloha Isle
Sunshine Tree Terrace
Characters (When character meets are available.)
Aladdin and Jasmine
Jack Sparrow
Retail
Agrabah Bazaar
Island Supply by Sunglass Hut
Plaza del Sol Caribe Bazaar
The Pirates League
Interactive Game
A Pirates Adventure: Treasures of the Seven Seas
Adventureland at Magic Kingdom
Adventureland is one of the few lands at the Magic Kingdom where all the attractions work for most everyone. There are no height restrictions in place for any of the rides. Additionally, there are two attractions that are original to the park and beloved by most guests. There is also one that was added not too long after the Magic Kingdom originally opened that's pretty famous in its own right.
Adventureland usually works well for any time touring. By that, I mean most of the attractions offer a fairly large load size per experience. While the lines can be long here like anywhere else in the park, you will find they tend to move a bit faster due to the capacity.
Update, at this time in 2021 the parade has not returned. It may or may not be available on your visit.
One of the best times to tour Adventureland is during or immediately after the Festival of the Fantasy parade in the afternoon. During the majority of the year, the Festival of Fantasy Parade is held at 3:00 p.m. The walkway to Adventureland gets cut off for the most part during this time.
Guests that watch the Festival of Fantasy parade might elect to view it from the starting point in Frontierland. As soon as the parade passes by you can walk immediately into Adventureland. Then head straight to either Jungle Cruise or Pirates of the Caribbean for lower than average wait times during the day.
Jungle Cruise
In most cases, the Jungle Cruise seems to hold the longest wait times in Adventureland. This is an original Magic Kingdom attraction that Walt Disney himself envisioned when planning the park.
Jungle Cruise normally offers FastPass+ in addition to a standby line. This is an attraction that can be considered a good option for some guests as a priority FastPass+. But most will find it makes a great 4th or more option when the service is available.
This Adventureland attraction is a slow-moving boat ride that journeys through a comical jungle of sorts. At the entrance, there are a few warnings, information about supervising children, and wheelchair access is available.
Here is a look at the boarding area above, you might see I was getting ready to set sail on the Amazon Annie on this particular day.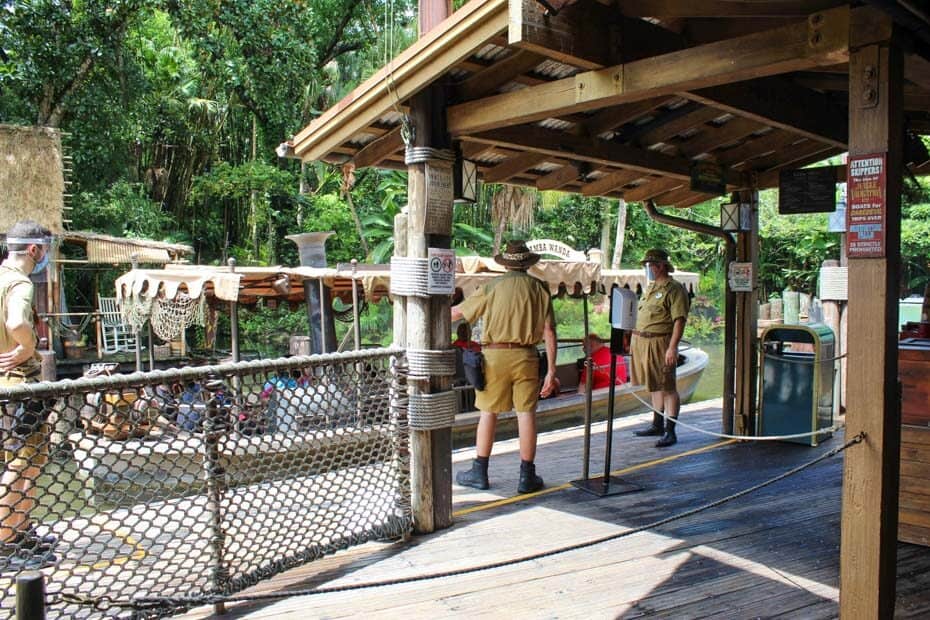 Thankfully, I took the Jungle Cruise and not the walking tour. It appears that things didn't bode well for those that went camping.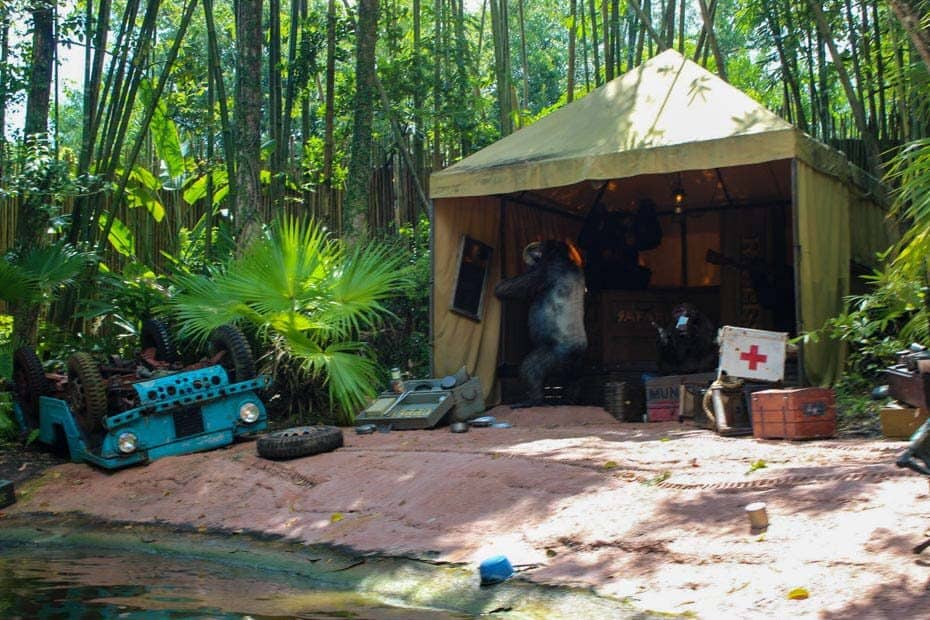 And as much as I love elephants this one would have been terrifying to bump into on land!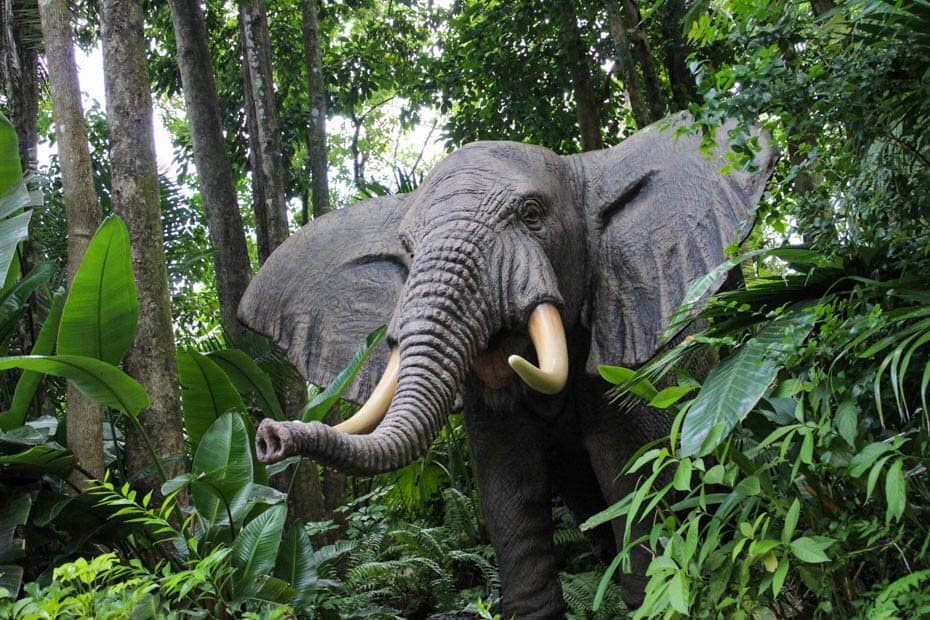 We were very lucky that the lions had already found lunch that day as well. Can you imagine encountering a scene like this on Kilimanjaro Safaris over at the Animal Kingdom?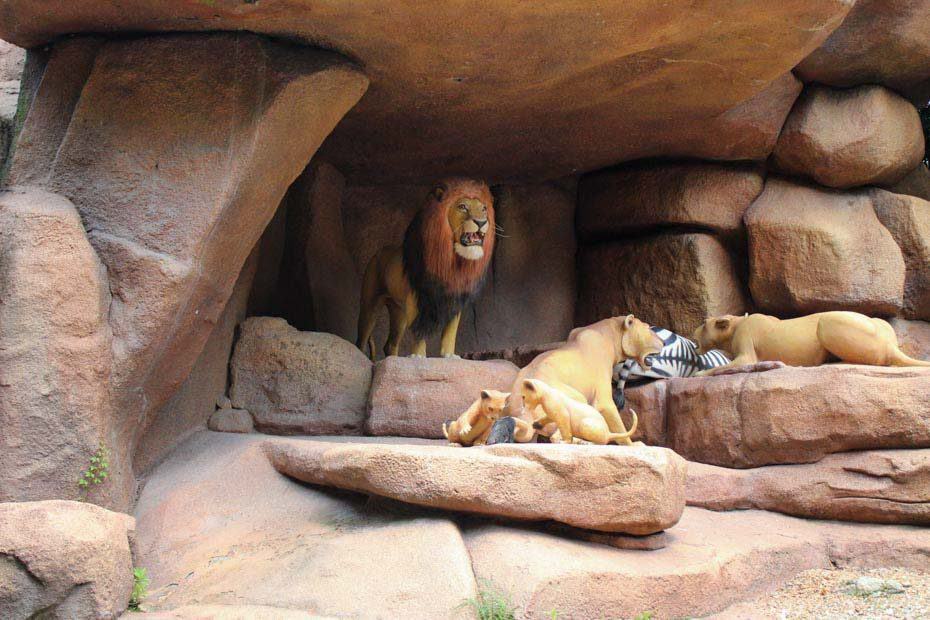 Finally, we came across that last walking tour group.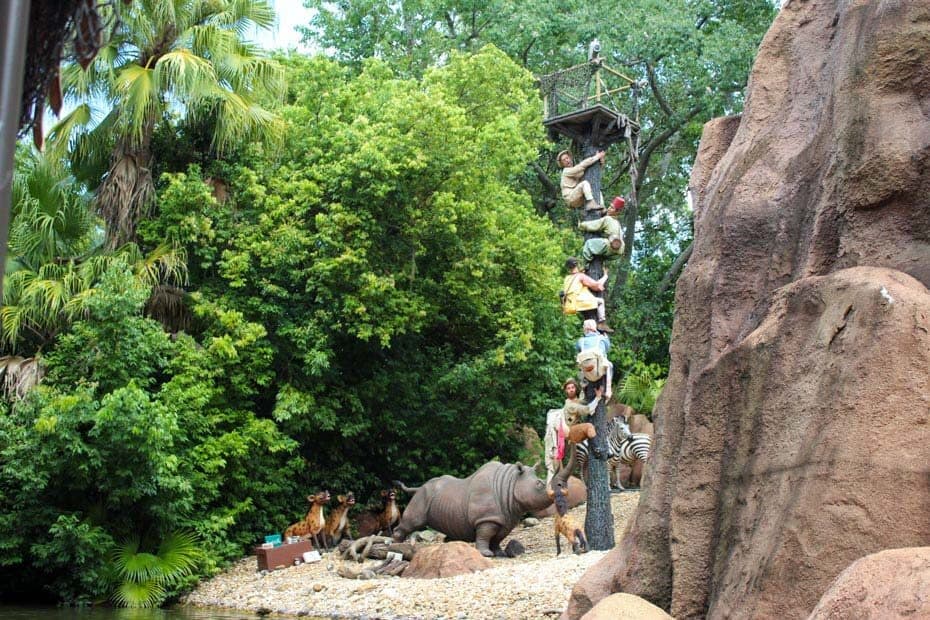 I was just thankful not to be on the totem pole.
All jokes aside, this Adventureland attraction might appear to be a bit dated. But your tour guide will soon make up for it by taking you to see one of the modern marvels of the world.
The backside of water.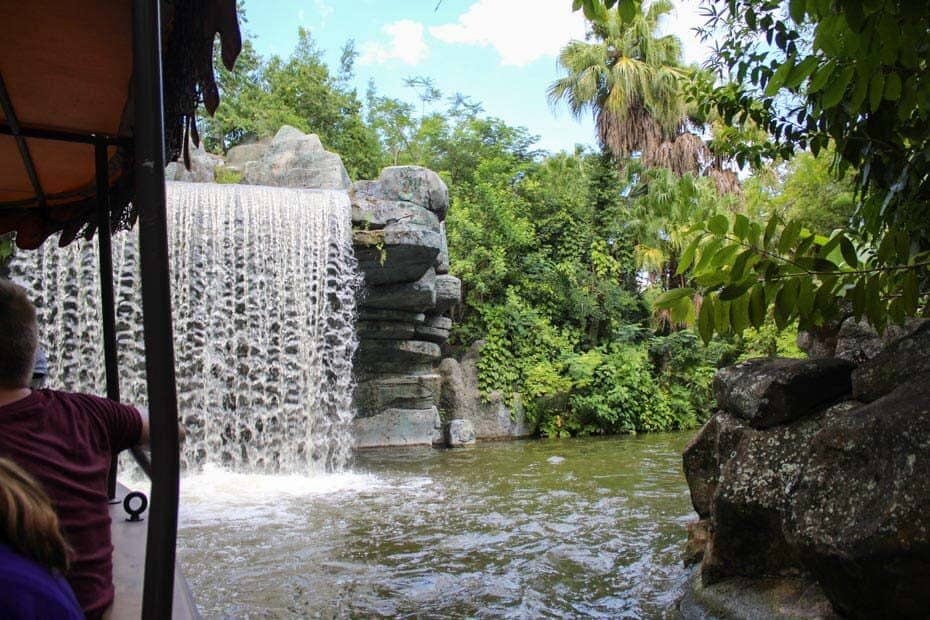 I kid you not. Anyways, if you don't jump ship prematurely, you will get to ride through this darling parade of elephants at the end.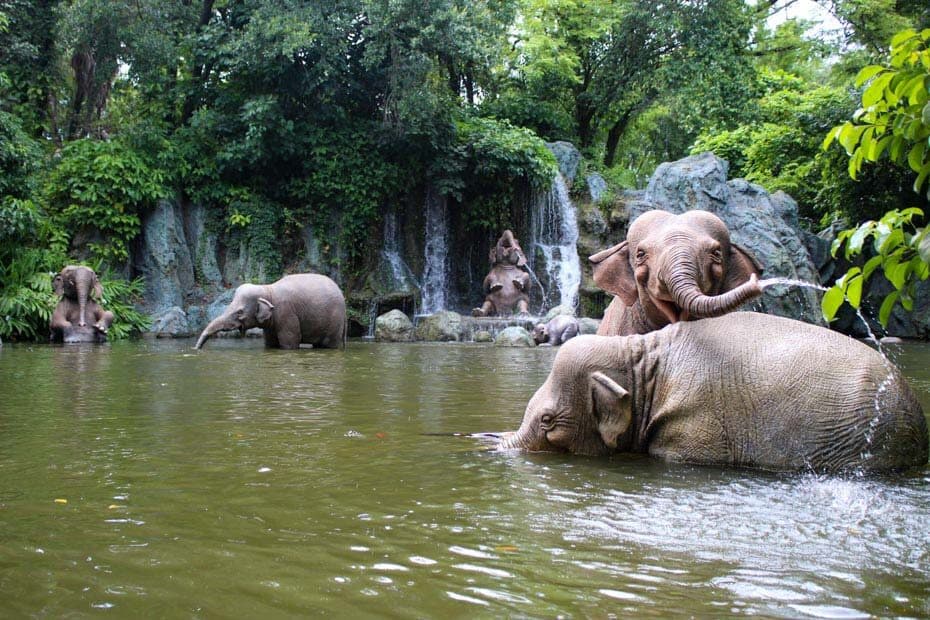 While I'm mildly joking about the Jungle Cruise, it is a sentimental attraction in Adventureland. That's because it's one of the few attractions I remember riding on my first visit to the Magic Kingdom at seven years old. The ride is a classic and I love to think about how Walt dreamed this attraction up, longing for it to feature real animals in a wild-like experience. Today that dream is alive and well at the Animal Kingdom.
Magic Carpets
Even more sentimental to me than Jungle Cruise, is our next Adventureland attraction, The Magic Carpets of Aladdin.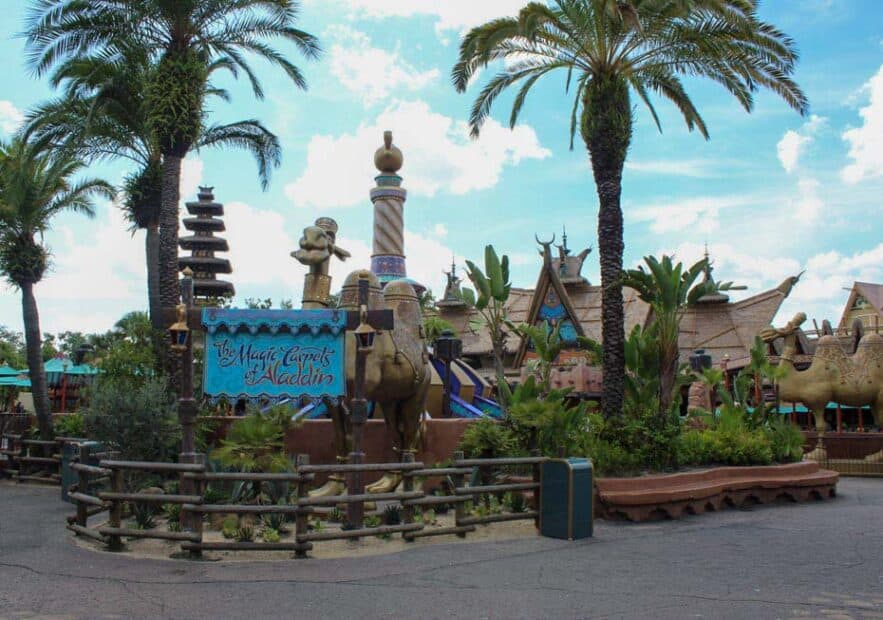 This is a spinner-style attraction that's perfect for children.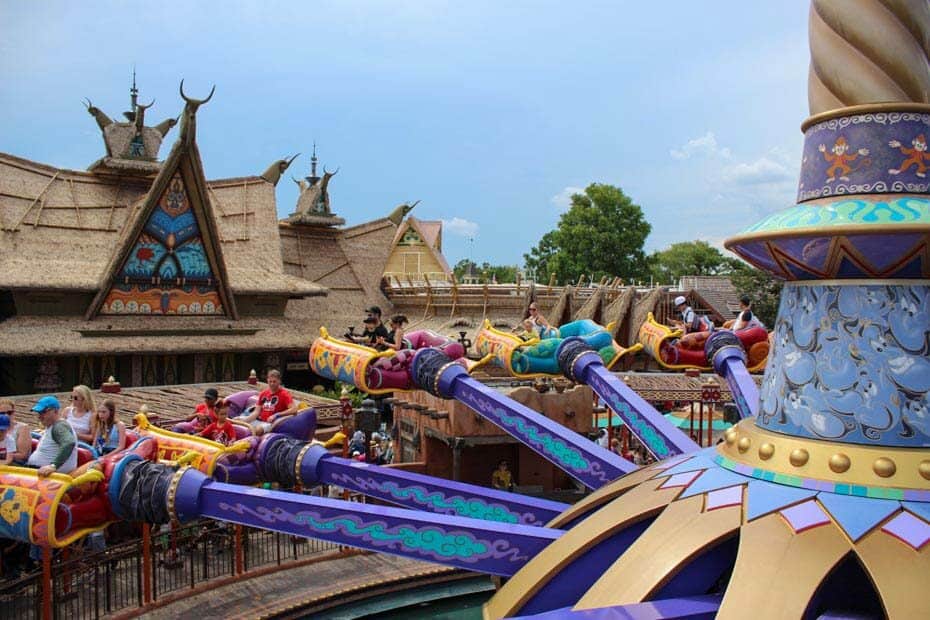 It was the first attraction my son ever experienced at Magic Kingdom when he was three years old. And it remains a classic for my family to this day.
My son and niece love to sit in the back row with me in front of them. One of the camels spits water, and the back row of this attraction offers riders the opportunity to shift the carpet up and down as you fly.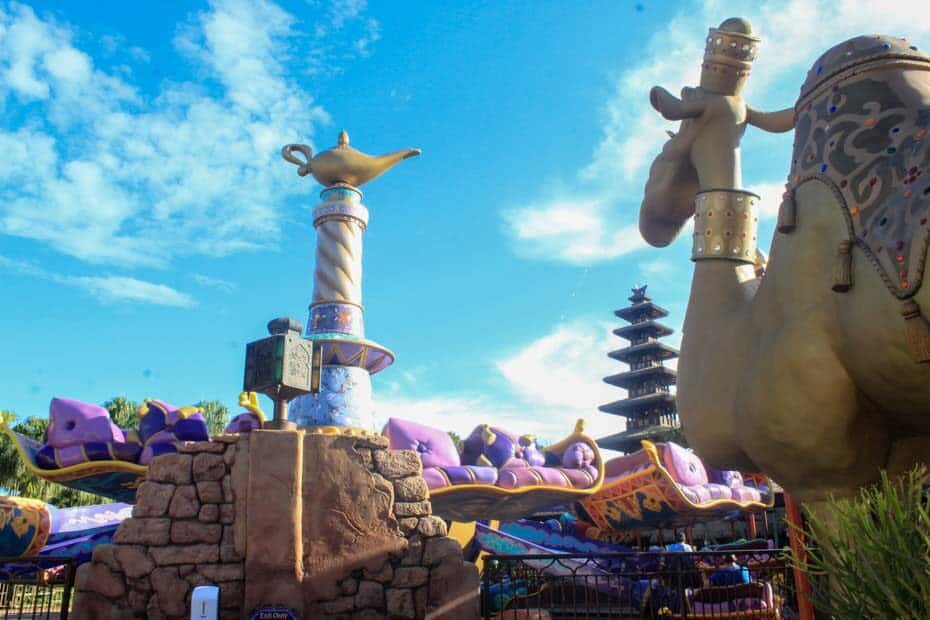 If you aren't careful you'll be doused by the spitting camel, and won't know what hit you.
Swiss Family Treehouse
Our next Adventureland attraction is none other than the Swiss Family Treehouse. This attraction offers a lot of nostalgia for many guests as well. The Swiss Family Treehouse is truly an anytime attraction. Guests can walk across the bridge and climb the stairs to tour the area.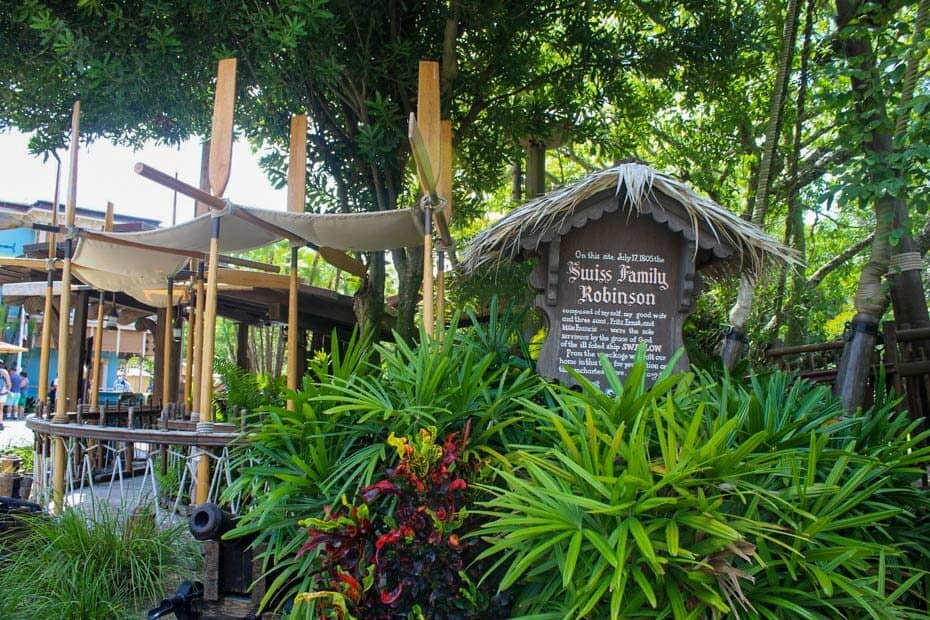 Here is the walkway over to the treehouse. This will also be the first attraction you run into when you enter Adventureland coming from Main Street USA.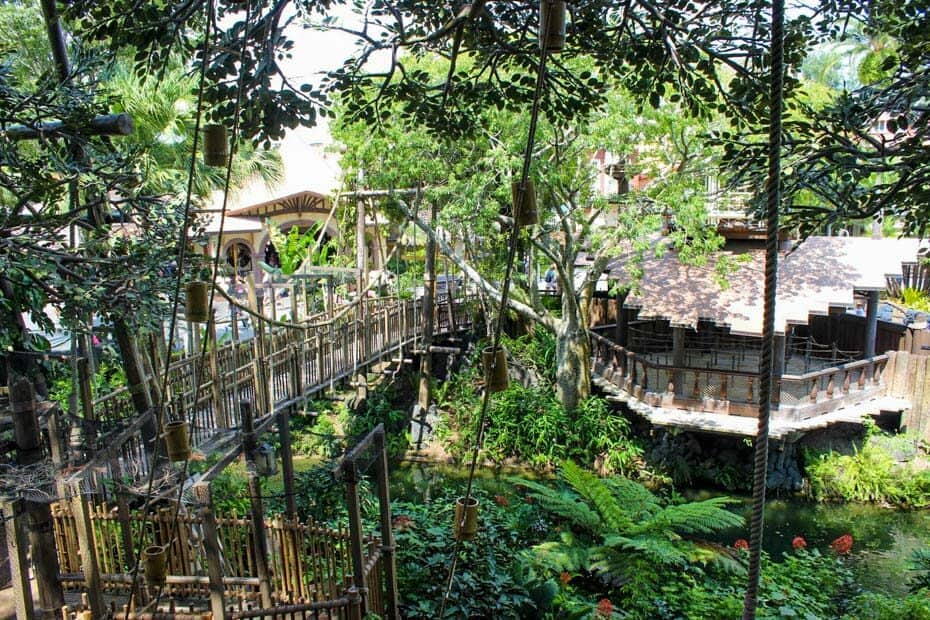 At various stopping platforms in the treehouse, there is an opportunity to look in and view the different rooms.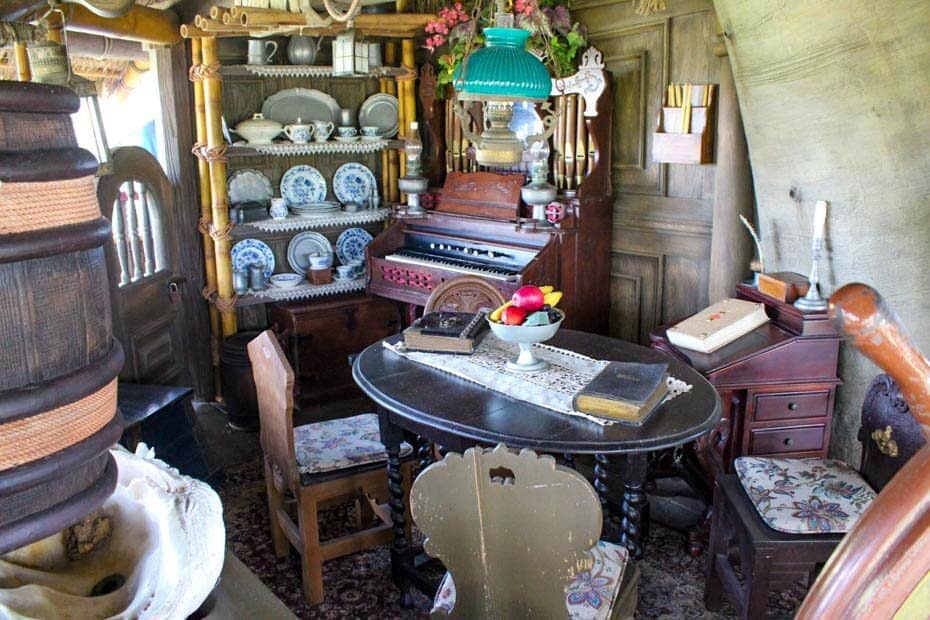 Touring the Swiss Family Treehouse offers the chance to use your imagination and think about how you might live if you were shipwrecked on a deserted island.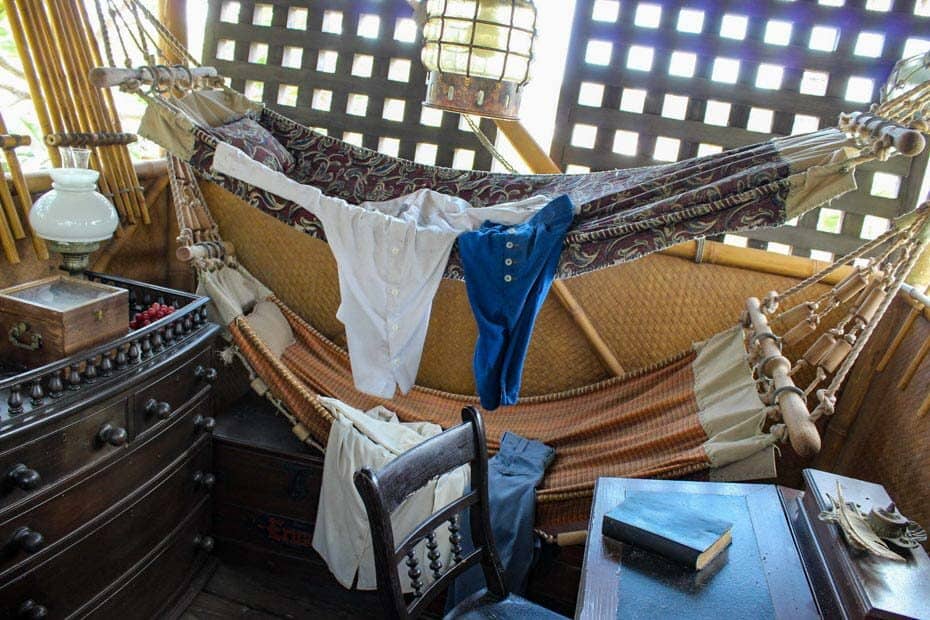 These days, I don't think it sounds that bad. As long as I could still write.
I could probably compose a few notes and leave them in hiding places throughout the treehouse. Perhaps I could leave grocery lists on the breakfast table, reminding someone in the family to bring home a pail of seafood.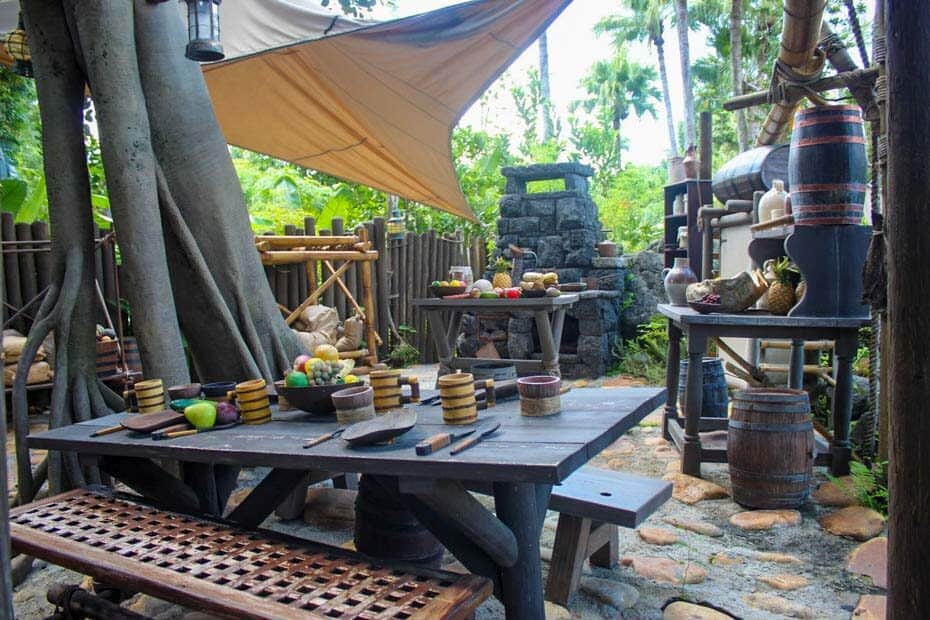 That way we could have shrimp dinner.
I know all of that might sound silly, but these are the kind of ideas an attraction like Swiss Family Treehouse inspires in me.
I guess you'll never know what inspiration you'll find unless you cross the bridge for yourself.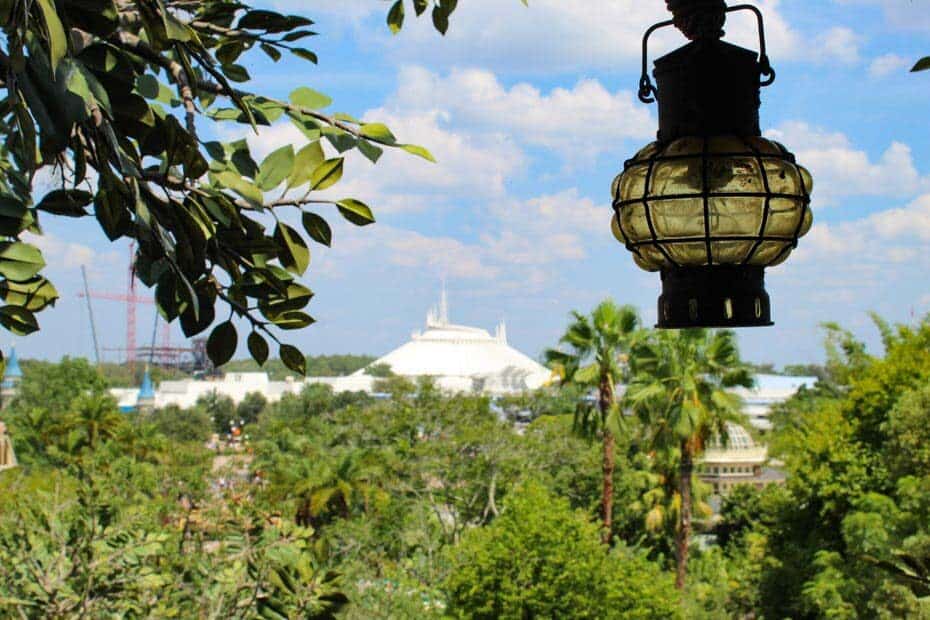 And I almost forgot the best part, the views from the top of the Treehouse are worth it if you can make the climb.
Pirates of the Caribbean in Adventureland
The only way to follow an attraction like Swiss Family Treehouse is to delve into a discussion of Adventureland's most popular ride, Pirates of the Caribbean.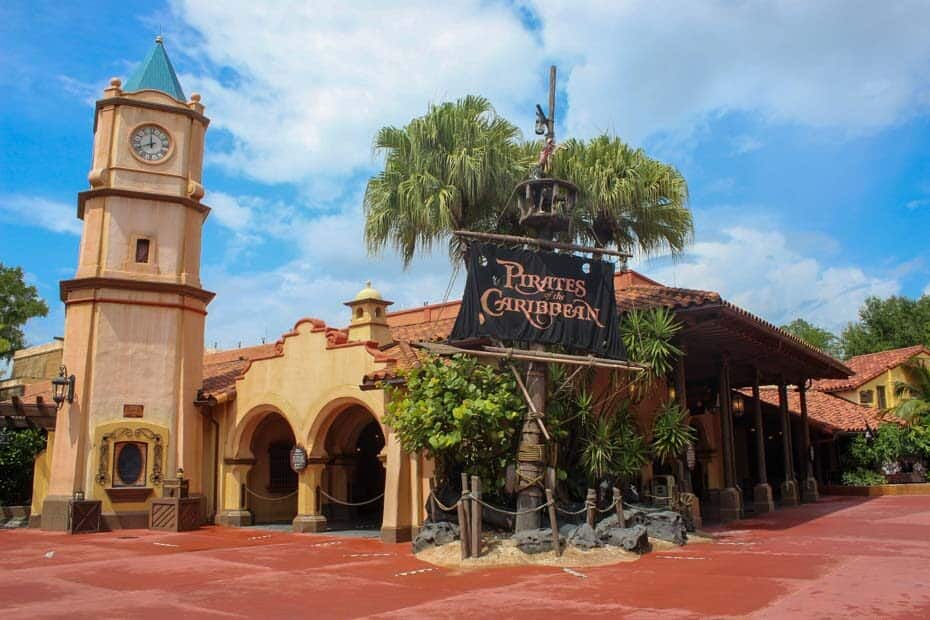 This Adventureland attraction opened at Magic Kingdom park in 1973 and has been refurbished quite a few times over the years. The most recent refurbishment brought the addition of the popular female pirate, Redd.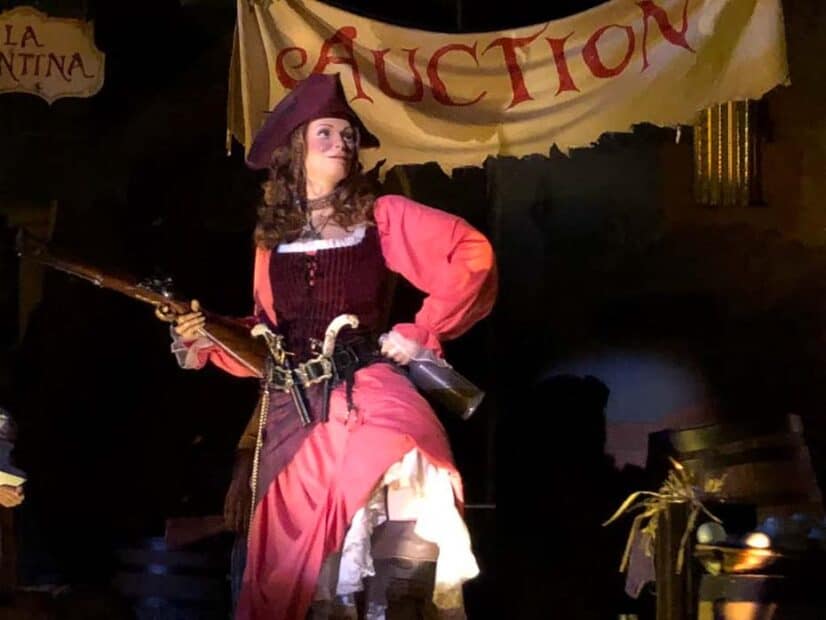 Pirates of the Caribbean is a boat style attraction with one drop toward the beginning of the ride. There aren't any height requirements, and the drop is fairly insignificant. However, you might get a bit of a splash in the cannon scene immediately after the drop. This is pretty rare though.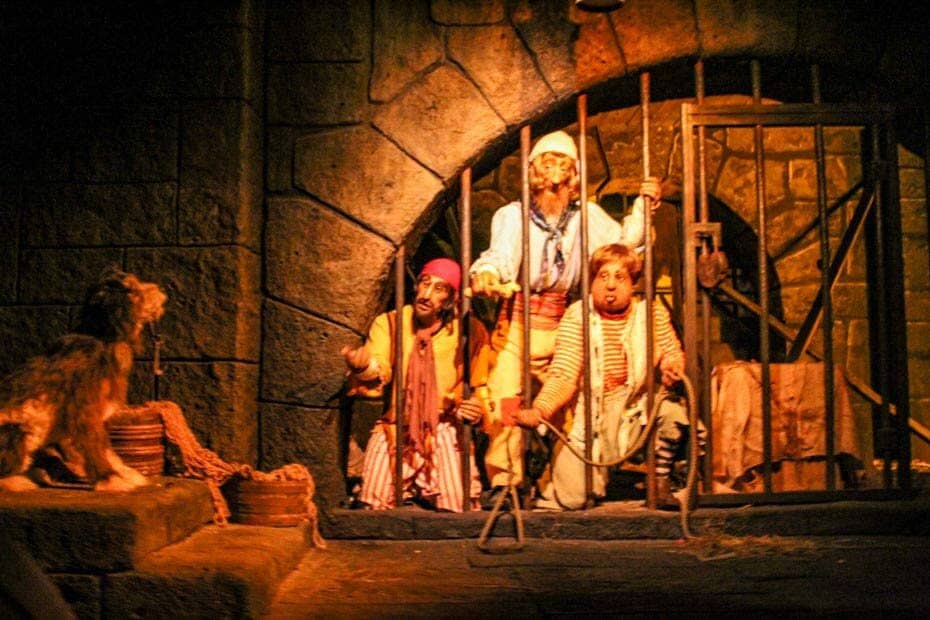 Toward the end, you'll run into what I call the "throw the dog a bone" scene. But these pirates are unwilling to let go of potentially the thing that could save them. You might not tell, but the dog has fetched the keys and is only a few steps within reach. I guess they'll just have to keep singing, "Yo Ho, Yo Ho, a pirates life for me."
At the very end make sure to lean over to the left and wave at the Johnny Depp version of Jack Sparrow. You might have even noticed him throughout the attraction popping in and out of a few places.
Walt Disney's Enchanted Tiki Room
Our next stop in Adventureland is Walt Disney's Enchanted Tiki Room. This is an entertainment style attraction where a show is performed overhead.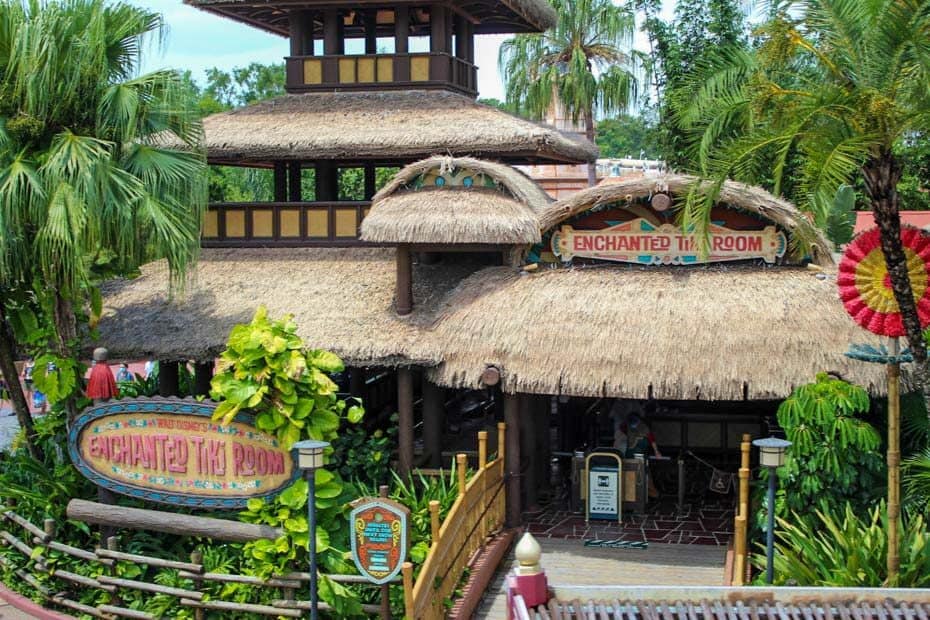 If you haven't ever experienced the Enchanted Tiki Room, make it a priority on your next vacation. The Enchanted Tiki Room is the reason that other popular attractions in the park exist as they do. Walt Disney, himself, created this audio-animatronic technology and it was introduced to the world through the Tiki Room.
The show itself lasts for about 15 minutes and makes for a great place to break in the heat of the day when wait times are high.
Dining in Adventureland at Magic Kingdom
Adventureland is also home to one of my favorite theme park dining locations, Skipper Canteen. And you'll also find that the name Adventureland is synonymous with the popular Dole Whip treat.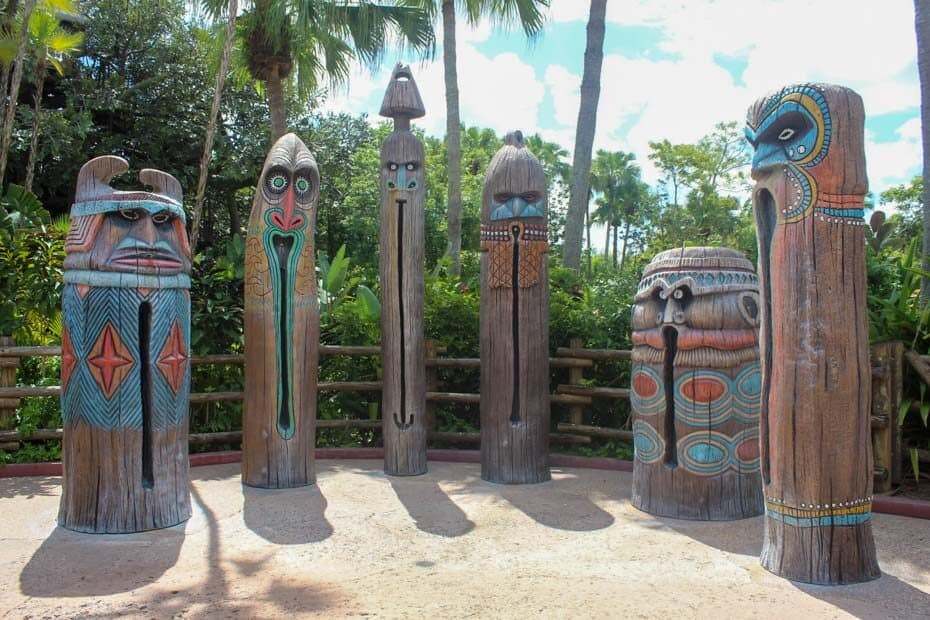 Jungle Navigation Co. LTD. Skipper Canteen
Skipper Canteen opened in Adventureland back in 2015, making it one of the newer places to eat at Magic Kingdom. Since opening, I've had the opportunity to eat here quite a few times.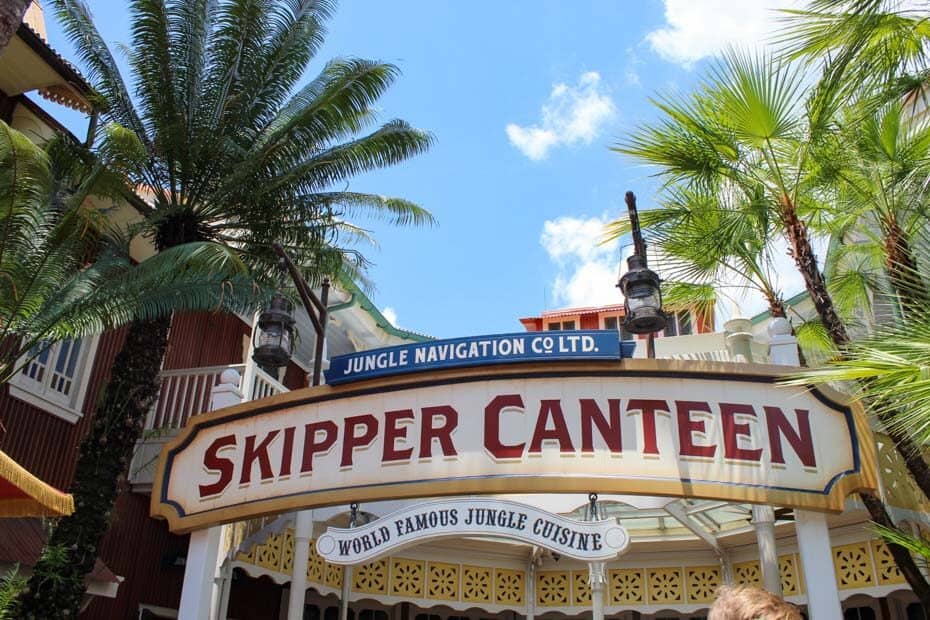 The restaurant is one of the easiest and best places to pick up a reservation at Magic Kingdom. I love having a late afternoon meal here before the parade, then watching the parade, and using that time after to tour the area when it's not so crowded.
I am a firm believer in touring where you are at in most instances to get the best use of your time. So if you are thinking about touring Adventureland consider a meal with enough time to enjoy the parade. Then pick up a 4th or more FastPass+ option, if available around this window of time. While you are at it, do a few walk-on attractions immediately after the parade passes.
Sample Adventureland Touring Plan for the afternoon with lunch:
For instance, your plan might look something like this:
4th FastPass+ — Jungle Cruise. 12:45 p.m.–1:45 p.m.
Skipper Canteen Lunch 1:30 p.m.
Festival of Fantasy Parade arrive 2:40 p.m. and parade at 3:00 p.m.
Ride Pirates of the Caribbean immediately after parade passes
Ride The Magic Carpets of Aladdin
Walk-through Swiss Family Robinson Treehouse
Enchanted Tiki Room
Grab a Dole Whip or Float from Aloha Isle or Sunshine Tree Terrace
If you would like to learn more, I have a full review of Skipper Canteen. It covers several meals we've had there.
Tortuga Tavern
Adventureland also offers its own counter service dining option at Tortuga Tavern.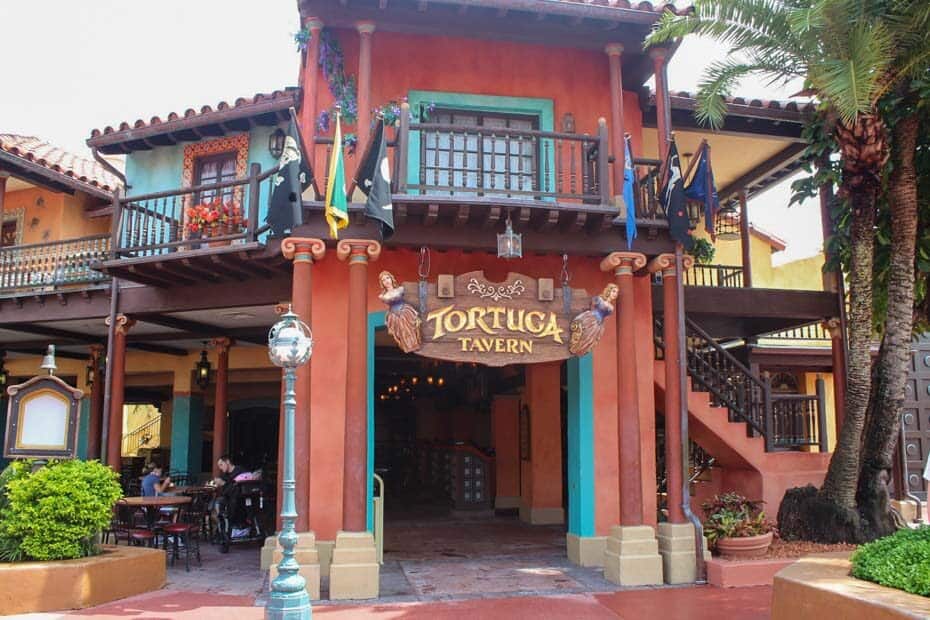 They have a few items on the menu like turkey legs, brisket sandwich hot dogs, and more. Here is Disney's menu if you would like to review it.
Aloha Isle
Directly behind The Magic Carpets of Aladdin, you'll find Aloha Isle Refreshments. Aloha Isle is the place you'll want to pick up a Dole Whip treat.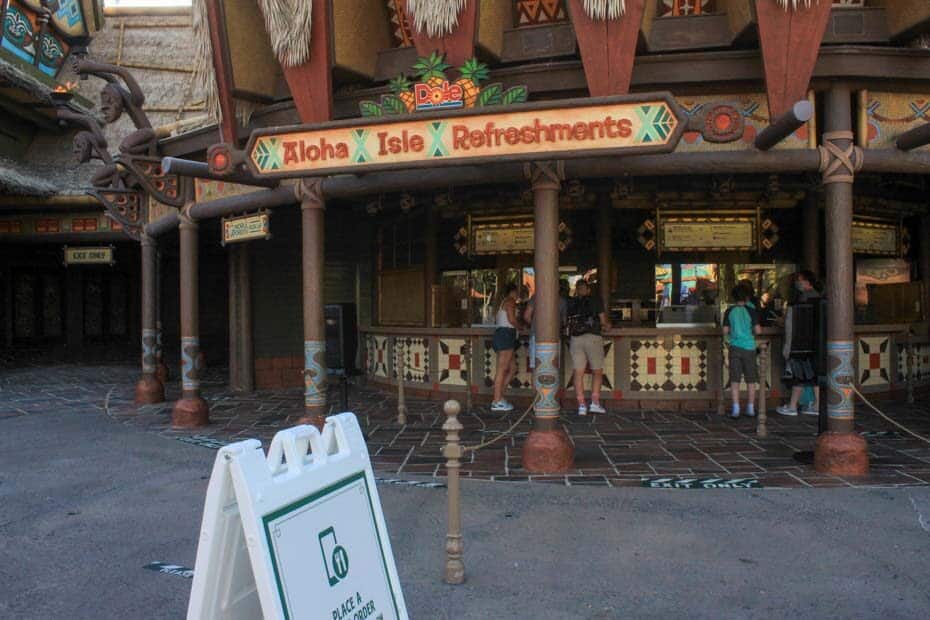 Be prepared for a wait though, because they are usually more crowded than the picture below depicts. You might also notice the mobile order pick up on the sign below.
Use the My Disney Experience app to order in advance and then pick it up here. This is an easier way to do things if you don't want to have your whole family waiting in line.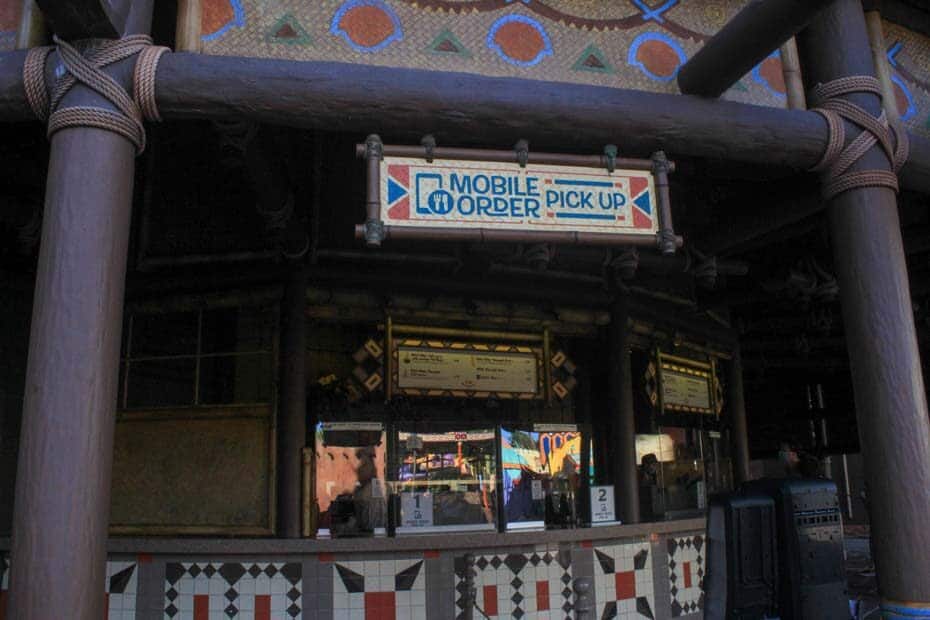 Dole Whip is dairy-free, and I actually learned that from reading another blog about Disney World several years ago. So if you have someone with a dairy allergy that doesn't normally eat products similar to ice cream, this might be a good option for them. Just make sure to alert the cast member to your allergy, because they have a separate machine to avoid cross-contamination.
Here is a picture of the offerings.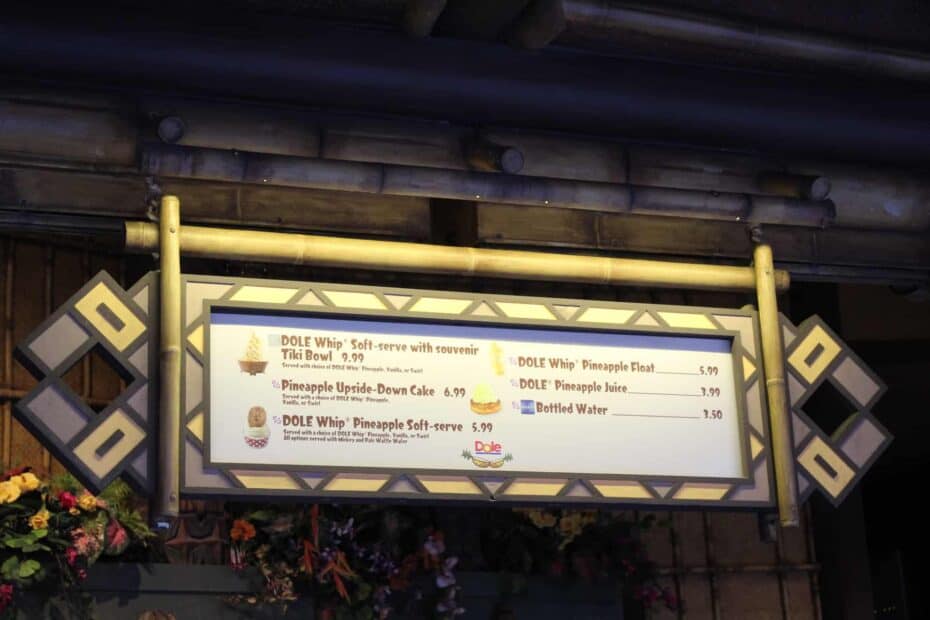 I enjoy picking up a treat here on a hot day and enjoying it while I'm waiting to watch the Festival of Fantasy parade. This is also a good reminder to travel with a package of wet wipes in your backpack for the kids. They really come in handy if your child were to make a mess while you're holding a spot to watch the parade or evening fireworks.
Lately, we've seen several new flavors of Dole Whip around Disney. The coconut is said to be a popular flavor. I'm looking forward to trying it. On my last visit, I picked up the strawberry Dole Whip at Sunshine Tree Terrace.
Sunshine Tree Terrace
Our last stop in Adventureland for dining is the window at Sunshine Tree Terrace.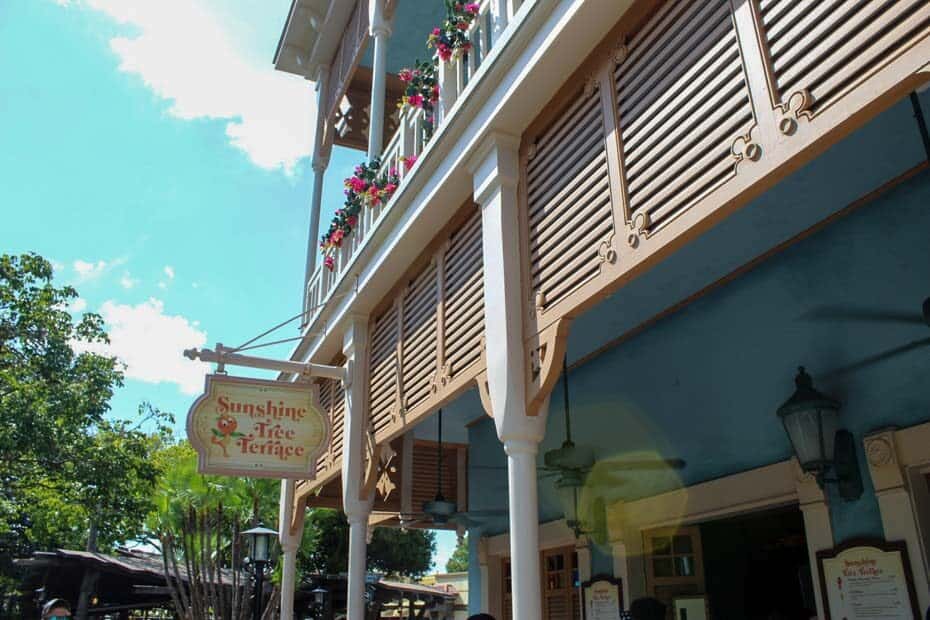 Here you can find a few items like vanilla, citrus swirl, and chocolate soft-serve.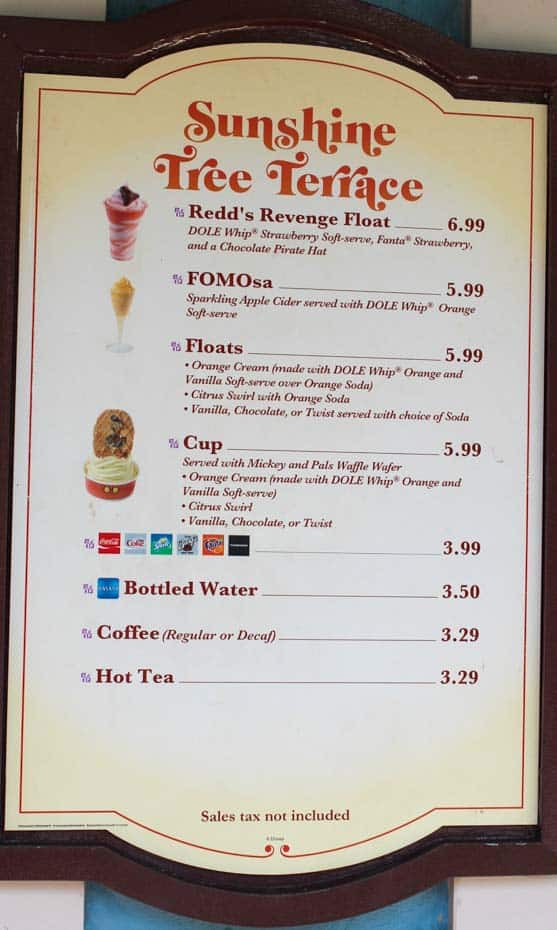 I have tried the FOMOsa, which is sparkling apple cider poured over orange Dole Whip soft serve. This is not something I would normally order, but it was very tasty and refreshing. It was one of those things you have to eat quickly because it melts fast. The apple cider takes on the flavor of the soft serve as it melts and makes for a nice finish to the treat.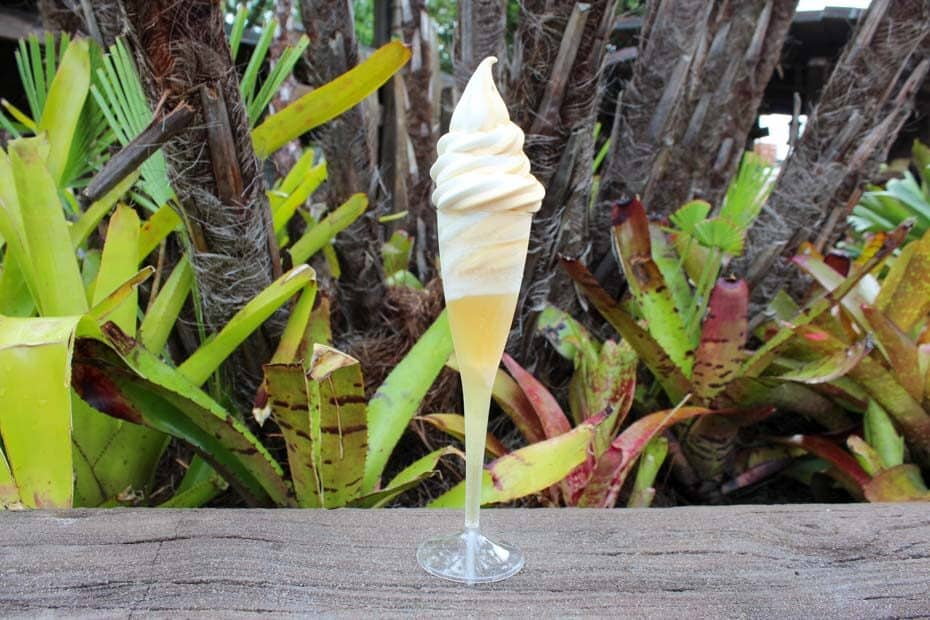 Characters in Adventureland
While you are in Adventureland you might want to stop in and meet a few characters. Aladdin and Jasmine meet on one end of Agrabah Bazaar. This is a very popular meet and the line is partially outside for the pair.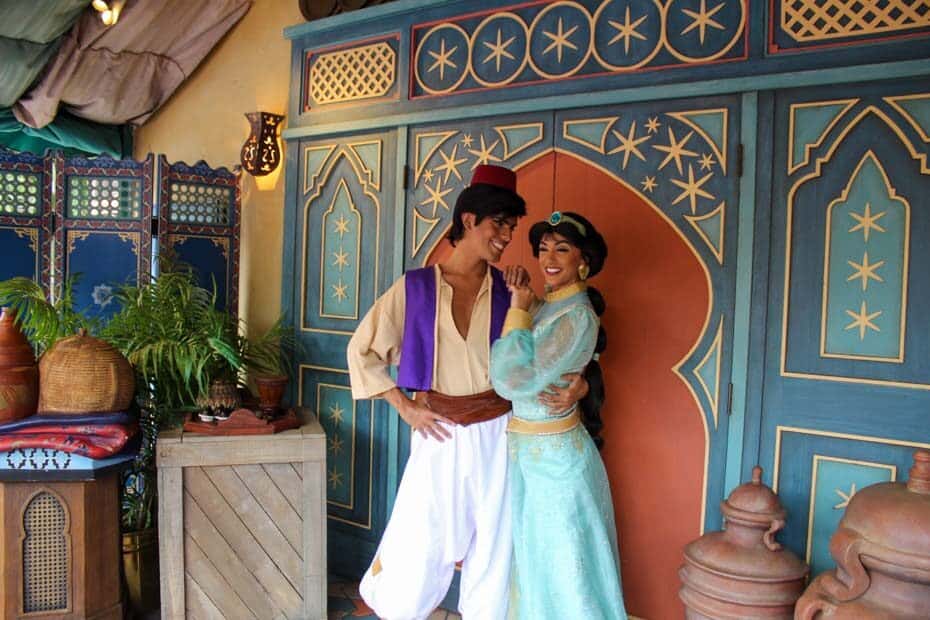 Jack Sparrow doesn't have a specific character location but can be found roaming around Adventureland during the afternoon to early evenings.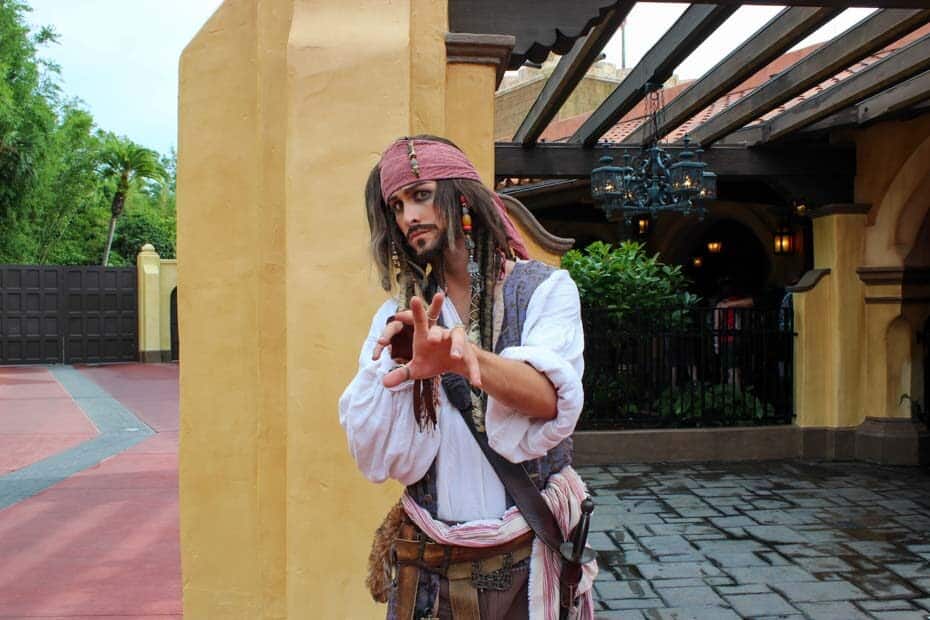 These character meets are covered in our Magic Kingdom characters guide. Additionally, I have a full list of all the Disney World character meets here.
Retail in Adventureland
While you are in Adventureland you'll find Agrabah Bazaar on the right-hand side before you get to Aladdin's Magic Carpets. Then you'll also exit into Plaza del Sol Caribe Bazaar when you finish riding Pirates of the Caribbean.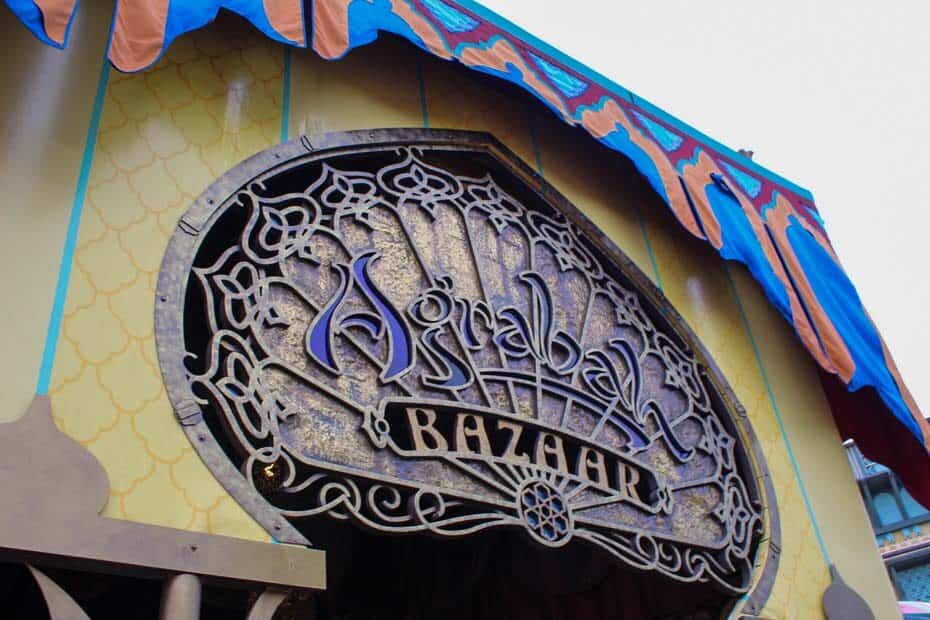 Agrabah Bazaar is a good place to pick up Aladdin themed merchandise in Magic Kingdom. While anyone looking for pirates items will want to explore Plaza del Sol Caribe Bazaar.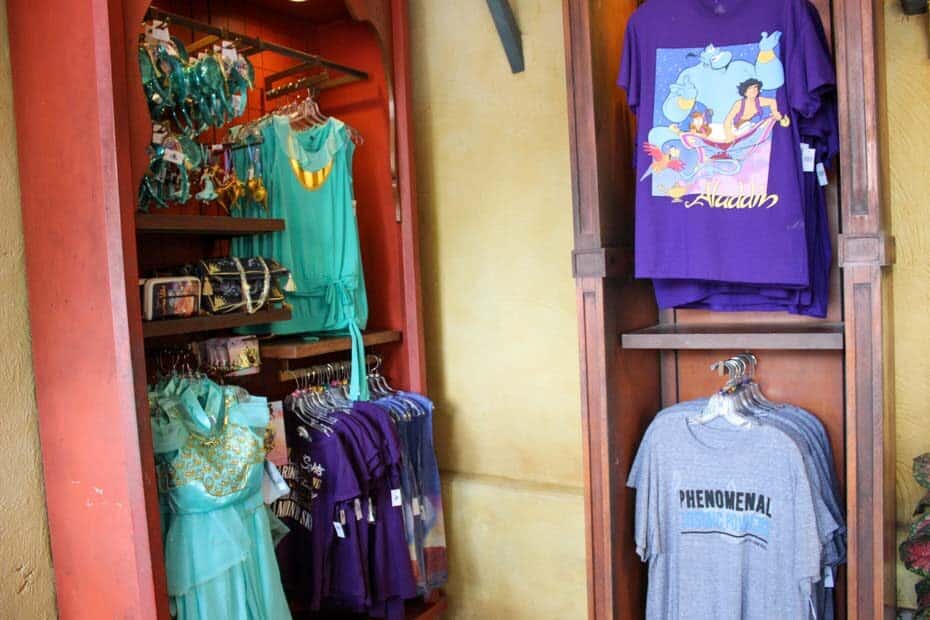 For anyone wanting to transform into an actual pirate, you might want to check out the Pirates League in Adventureland. You can elect to choose pirates or mermaids. Here are the details for booking.
A Pirates Adventure Interactive Game
Lastly, Adventureland offers an interactive game, A Pirates Adventure: Treasures of the Seven Seas. While I don't remember all the details, I have participated in this game with my niece a few years back.
There's a booth where guests can pick up a map to begin the game past the restrooms in Adventureland before entering Frontierland. The map will direct you to different locations within Adventureland for a total of five different missions.
This is a fun game for those that like to explore and can be started at any point in the day up until 30 minutes before park closing. You might also elect to start and stop the game at different times during your day or vacation. The missions don't have a time limit and are said to take approximately 20 minutes each. There is no fee to participate in this game.
Final Thoughts on Magic Kingdom's Adventureland
As you can probably see, there's a lot to do in Adventureland. This part of the park has so much to offer when it comes to classic Disney attractions.
Hopefully, this review gave you a little insight into touring the area. There is so much to do and see at Magic Kingdom that it's almost impossible to pack it all into your vacation.
Besides that, everyone will have things they want to experience while touring. When kids see other kids playing the interactive game, trust me, they are going to want to do that also.
Or you might walk right by Swiss Family Robinson Treehouse and not know what it is or why you should walkthrough if you haven't visited before. So if you are planning a trip, make a mental note of these things and you'll be prepared when you get there.
And don't be surprised if you see me flying by on my magic carpet! I'm usually somewhere spinnin'!
Make sure to check out the entire Magic Kingdom by land series here on the site. Each land is fully reviewed similar to this post:
Resorts Gal specializes in Disney World Resorts, Characters, and Dining. Make sure to check out some of our resources like the list of Walt Disney World Resorts. That article gives a brief overview of every resort at Disney.
For planning dining reservations, we have a full list of our Disney restaurant reviews available. Normally, we recommend planning at least one Disney World character dining meal and a Disney signature dining reservation.
Lastly, our most popular reviews include the best restaurants at Disney Springs and I keep a timeline going of Disney Loungefly mini-backpacks.
What is your favorite land at Magic Kingdom? Is it a classic like Adventureland?