Meet Aladdin and Jasmine Together at Magic Kingdom
This article discusses the Aladdin and Princess Jasmine character meet-and-greet at Magic Kingdom.
It's not often that we see a pair of characters meeting together at Walt Disney World. However, there are a few options.
One of those options is the Aladdin and Princess Jasmine character meet in Adventureland at Magic Kingdom. Here you can meet the characters as a couple.
Below, we'll discuss the details of the character meet and how you can meet the pair on your next visit to Magic Kingdom. We'll look at the specific location, timing, and a few other tips for meeting Aladdin and Jasmine.
This article was updated on January 24, 2023.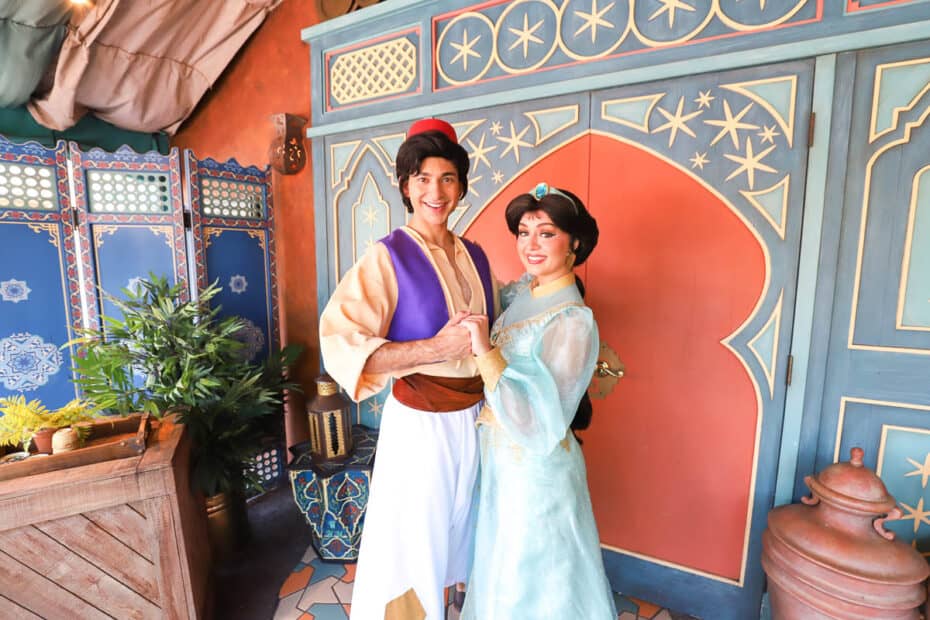 Aladdin and Jasmine meet at Agrabah Bazaar in Adventureland at Magic Kingdom. This location is across the walkway from the Magic Carpets attraction and to the side of Aloha Isle.
Typically, scheduled times for this meet-and-greet are as follows:
9:35 a.m.
10:40 a.m.
11:45 a.m.
1:45 p.m.
3:00 p.m.
4:15 p.m.
*Check the My Disney Experience app on the day of your visit for the exact timing and location. Character meets change from time to time, given various circumstances. You can also check the schedule here on Disney's site.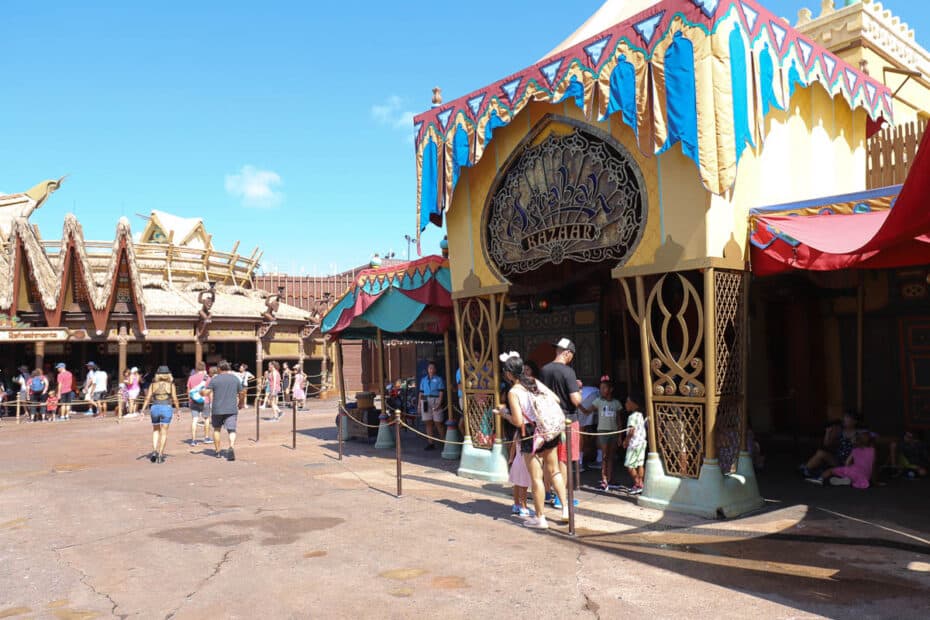 Aladdin and Jasmine's location is in a partially covered space. However, the line is often so long that it extends outside in direct sunlight.
Since this character meet holds such long lines, I recommend getting in line at least 10 minutes before the next scheduled meet-and-greet.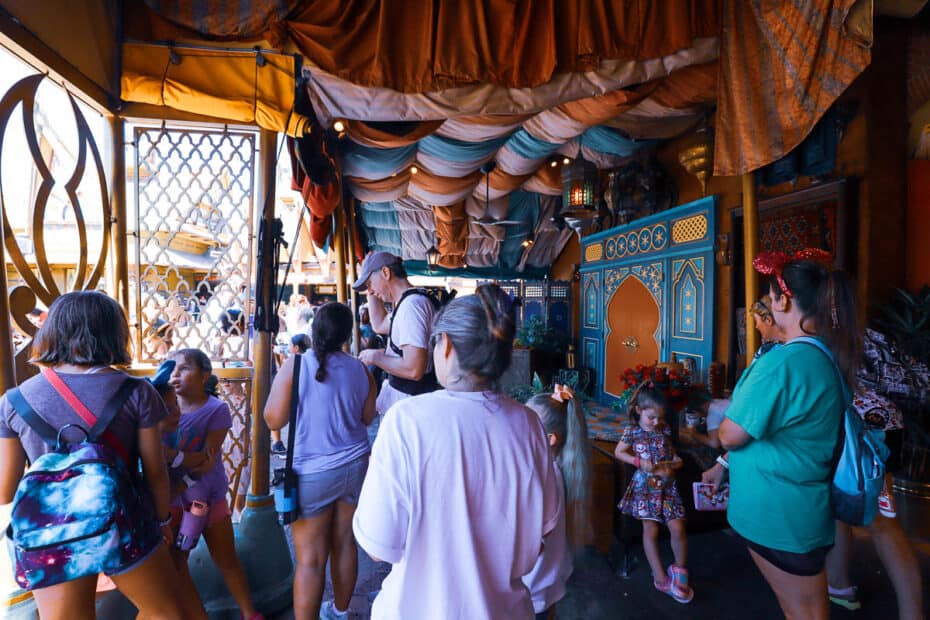 For instance, I got in line to meet Aladdin and Jasmine at 10:28 a.m. for the 10:40 a.m. scheduled time. There were approximately 20 guests waiting when I joined the line.
At 10:48 a.m., it was my turn to meet them. So I waited a full 20 minutes to meet the pair. Thankfully, most of that time wasn't spent in direct sunlight.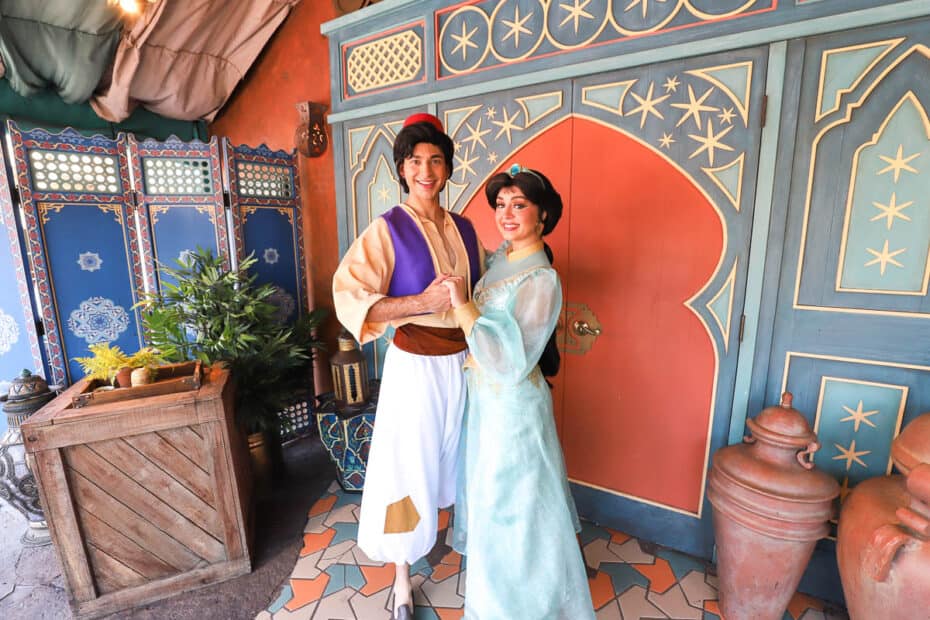 Jasmine and Aladdin both sign autographs, and a PhotoPass photographer is usually available at this location. If you don't have the Memory Maker upgrade, you can always ask the photographer or cast member attending the meet to take your picture.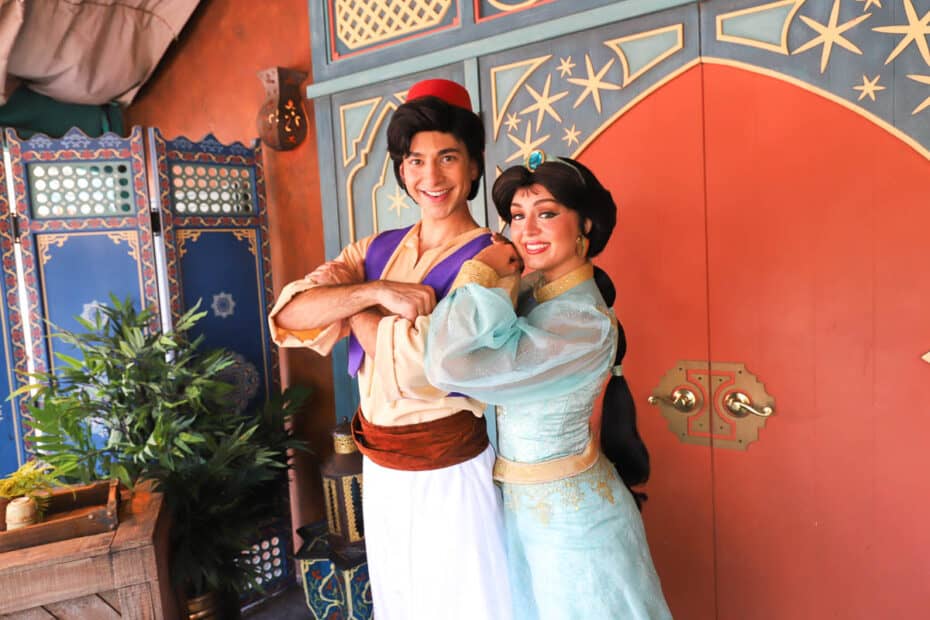 Below is a photo of the line I took as I walked away from this character meet. There are two very important things to note from this picture.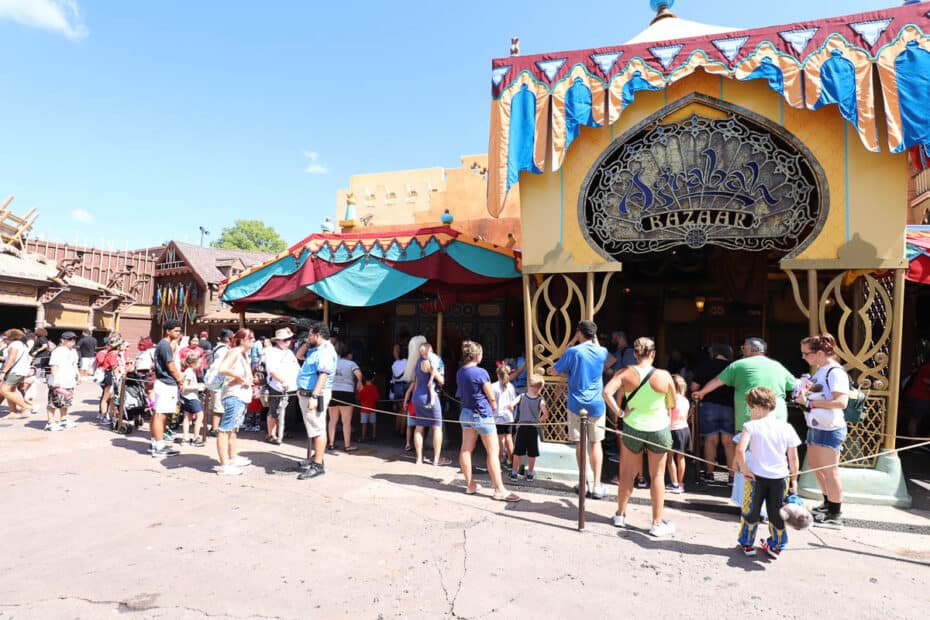 First, many of the people waiting are standing in the scorching sunlight. Literally, they are melting. This photo was taken in mid-July.
Secondly, can you locate the cast member in the photo? He is wearing a blue shirt and turning guests away because they have cut the line.
Since I met Aladdin and Jasmine at 10:48 a.m., this picture was taken at approximately 10:50 a.m. This is why I stress getting in line for a character meet at least ten minutes ahead of their next scheduled meet.
While these guests are arriving ten minutes after the meet-and-greet began, the line is already so long that they aren't allowed to join. Additionally, it will take at least 30 minutes for the guests who are already in line to meet the characters.
Of course, this is the norm for most character meets at Disney World. Unless a character has a dedicated interior queue, most of the meets extend into direct sunlight.
For some of us, it can be difficult to stand in the sun for even a few minutes. And often, it's hard to expect children to wait in similar conditions.
So keep this example in mind when meeting characters. Remember, the earlier you arrive, the better.
In addition to this character meet, there are a few other places you might meet Aladdin or Jasmine. For instance, Aladdin meets with Abu at the Halloween and Christmas Parties.
Related: Characters at Mickey's Not So Scary Halloween Party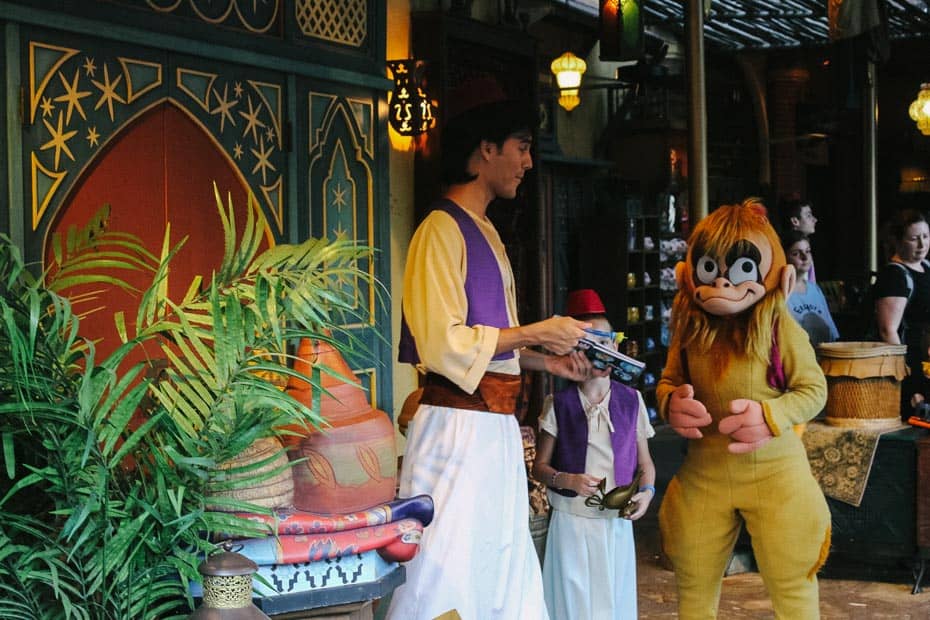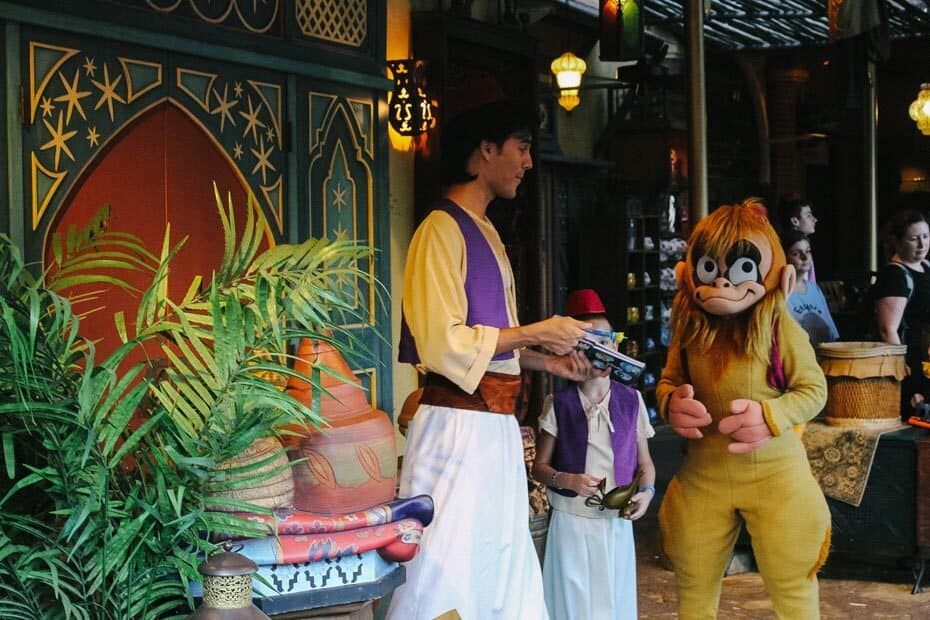 Jasmine rotates this location at both of the parties. However, she meets with Genie.
Related: Character Meets at Mickey's Very Merry Christmas Party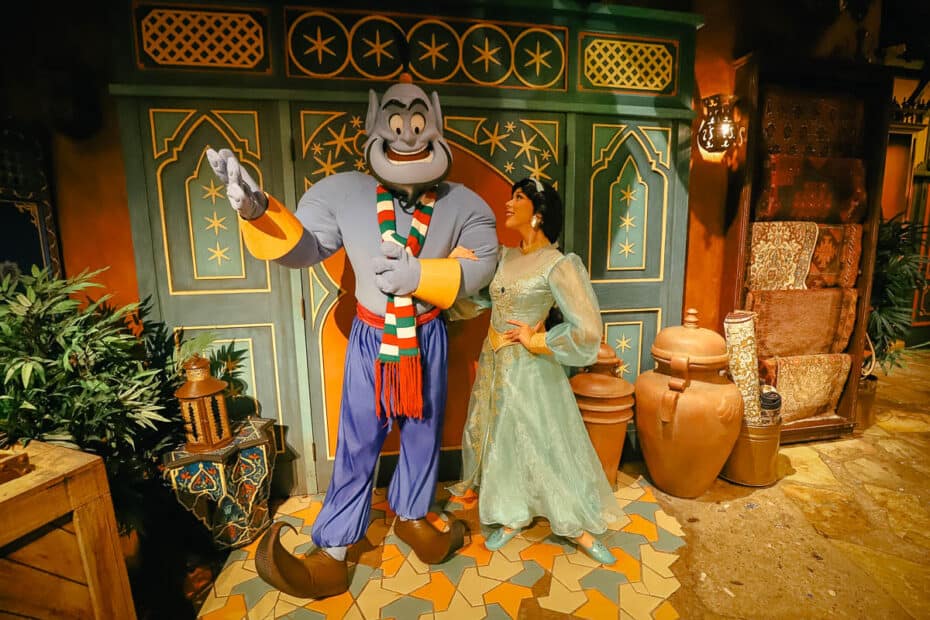 Jasmine also meets daily at Epcot in the Morocco Pavilion. We have a separate article that lists every location to meet Princess Jasmine, including character dining locations.
Related: Character Dining at Walt Disney World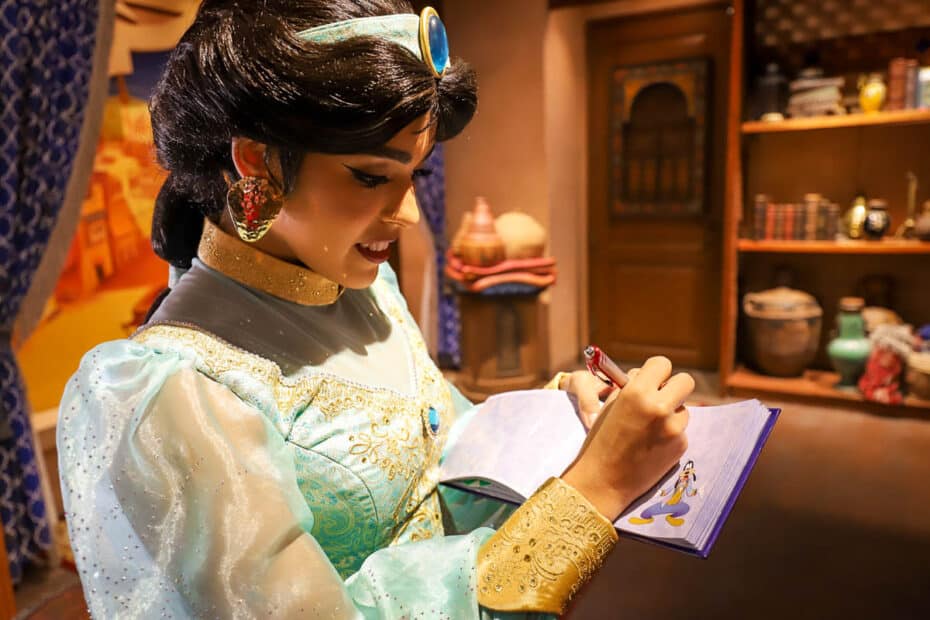 Overall, the Aladdin and Jasmine character meet is a fun opportunity to meet two favorite characters. Just don't forget to get in line early!
For more character meets at Magic Kingdom, try these:
Additionally, here are a few other duo character meet-and-greet locations:
In the Comments
Are you hoping to meet Aladdin and Jasmine on your next visit to Walt Disney World? Share your favorite character memories or any questions in the comments.