Jungle Navigation Co. LTD Skipper Canteen Review (A Return Visit Didn't Impress)
The following review of Skipper Canteen includes a return visit to the restaurant for new menu items along with several past meals.
Previously, I considered Skipper Canteen one of the most underrated dining locations at Magic Kingdom. Unfortunately, my last two meals here were not up to par.
So much so that I think Skipper Canteen has become more of a miss than a hit. I can't stress enough how much it pangs me to write this review.
In the past, Jungle Navigation Co. LTD Skipper Canteen has been a restaurant that I referred to as a hidden gem. It's become a common recommendation when someone asks where they can get a good meal for a reasonable price.
Only recently, I saw that the restaurant was offering new menu items. Whether you're aware or not, it doesn't do me much good to review a restaurant multiple times unless there's something new on the table, literally.
Unless I took horrible photos the first time, I can't afford to eat the same thing twice. Can you imagine having a meal with me? In the nicest way, I'll ask you not to even think about touching your food until I've taken a dozen photos.
I imagine those who have eaten with me are rolling their eyes right now, thinking it's more like two dozen photos. Sorry.
Since we had plans to attend Mickey's Not So Scary Halloween Party a few days later, I suggested we try Skipper Canteen for dinner. It had been a while since I had eaten there, and the new menu items would make for a nice update.
Or so I thought. Let me explain.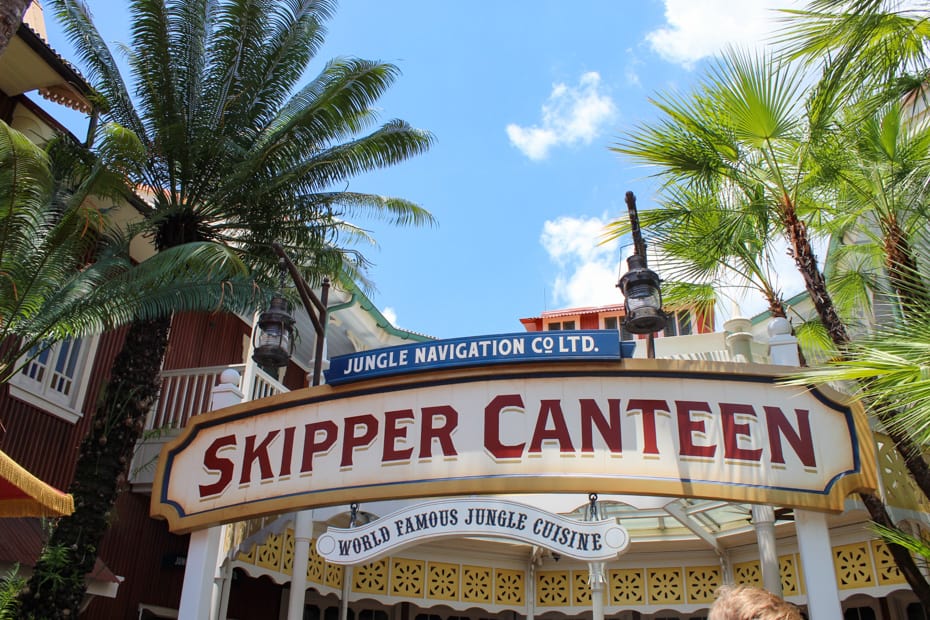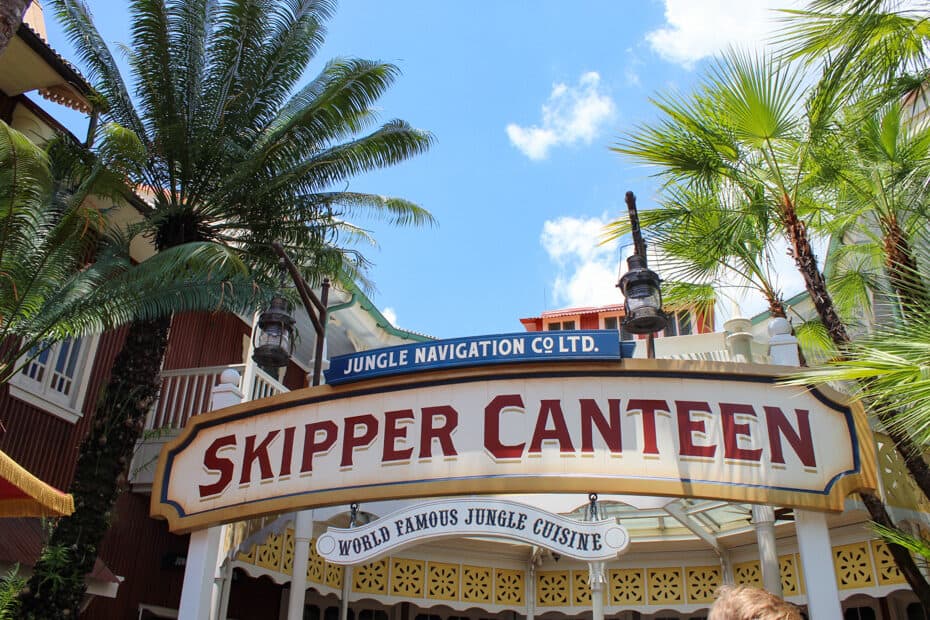 Skipper Canteen Review
Skipper Canteen is located in Adventureland at Magic Kingdom. If you are familiar with the park, you will take a left at the end of Main Street and head toward Adventureland.
The restaurant will be up ahead on your right. For reference, it's diagonally across the walkway from Swiss Family Robinson Tree House.
Skipper Canteen is a table service restaurant that accepts reservations. However, they take walk-up seating based on availability. You can request to join the walk-up list via the My Disney Experience app.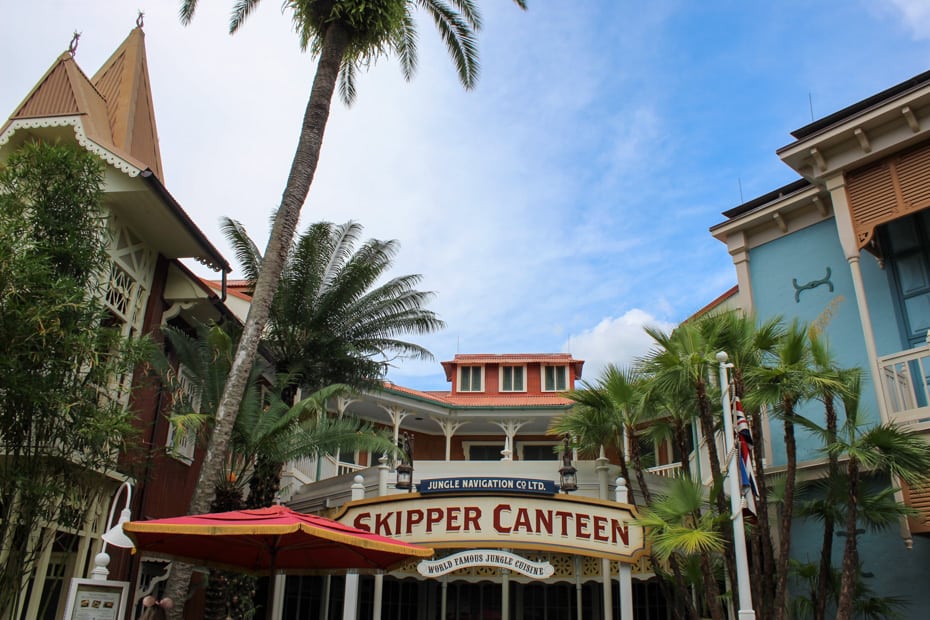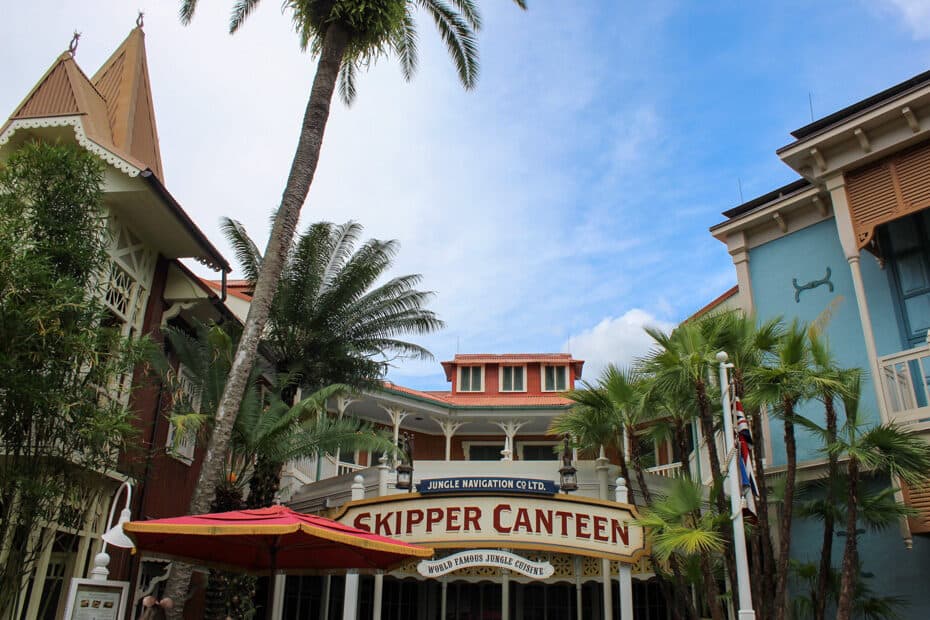 We arrived on time for our 5:15 p.m. reservation and were seated in the main dining room, The Mess Hall.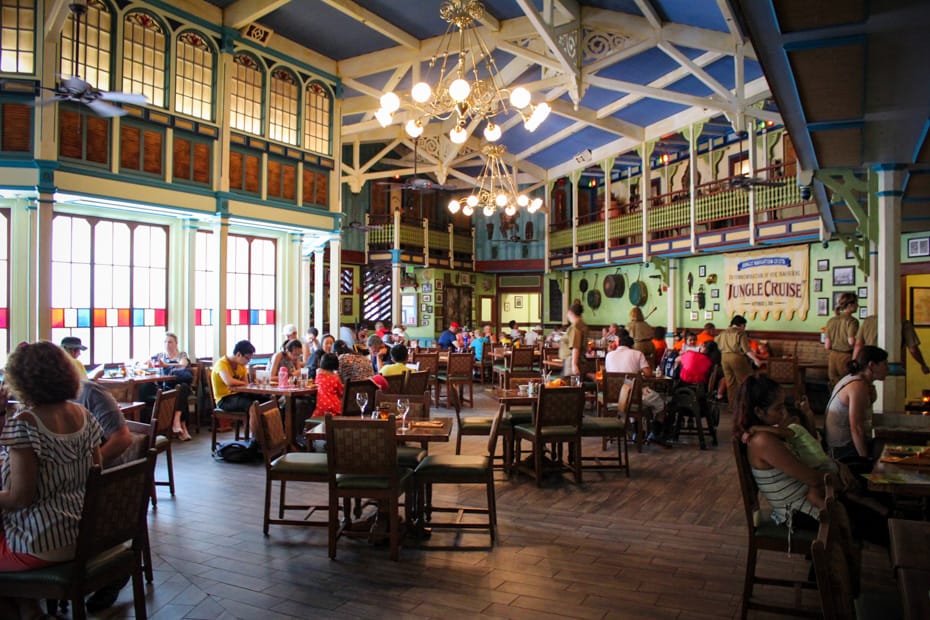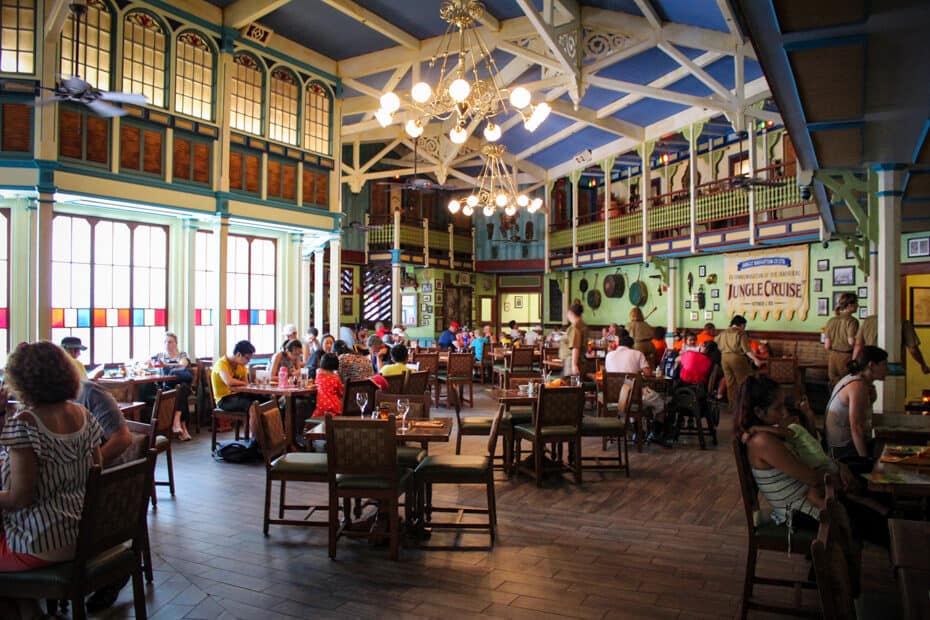 The Mess Hall serves as the primary dining room when you first enter the restaurant. It's my least favorite of the three dining rooms.
However, Skipper Canteen is a win for its atmosphere alone. Each one of its dining rooms is themed differently and offers a variety of tropical meets colonial decor.
In the far corner of the restaurant, you'll find The Jungle Room. This is the smallest of the dining rooms. It has birds and tropical parrot chandeliers featured in the decor.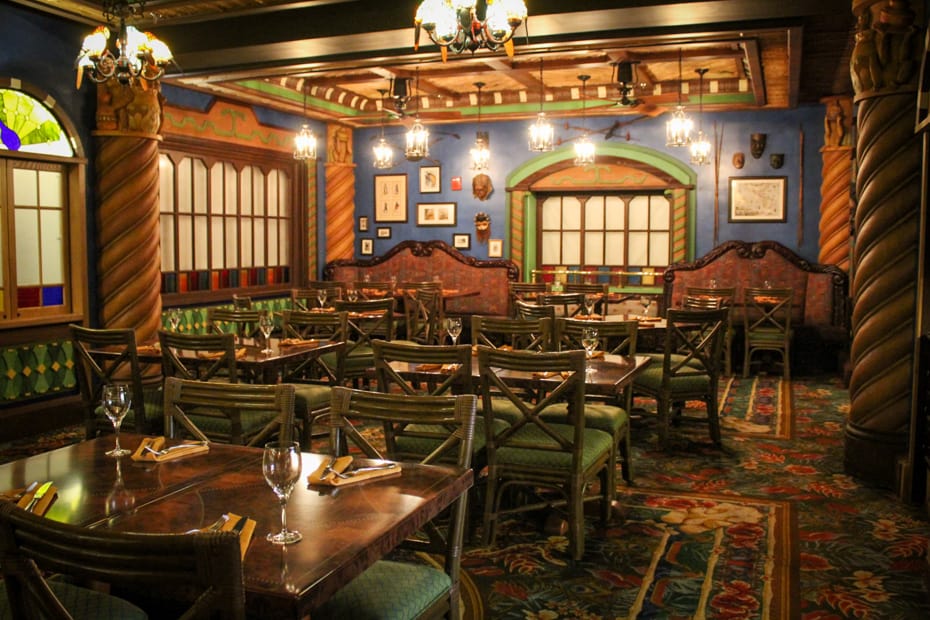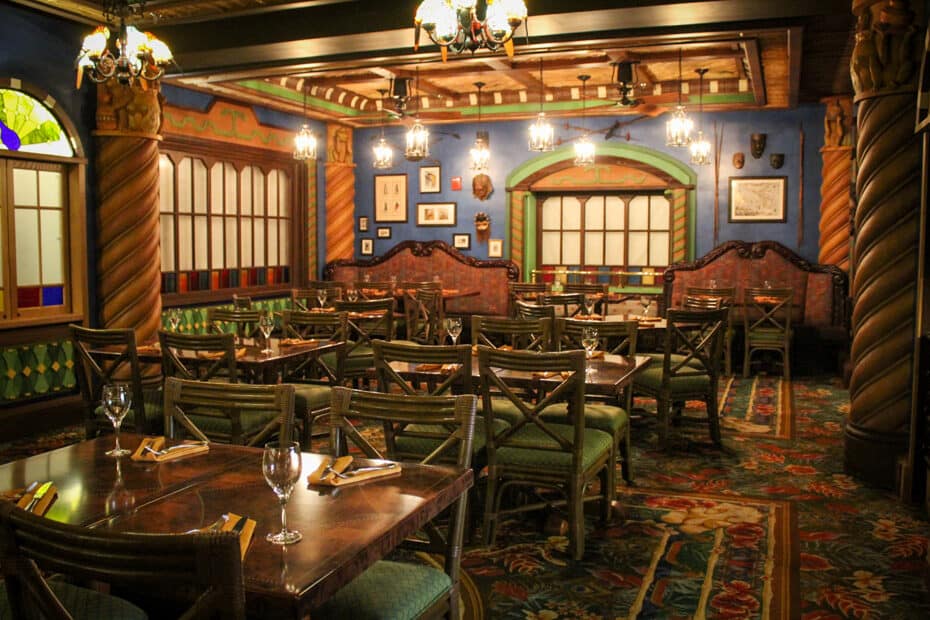 However, probably the most popular room is the S.E.A. Room for the Society of Explorers and Adventurers. This room features some cool artwork, maps, and beautiful wood paneling.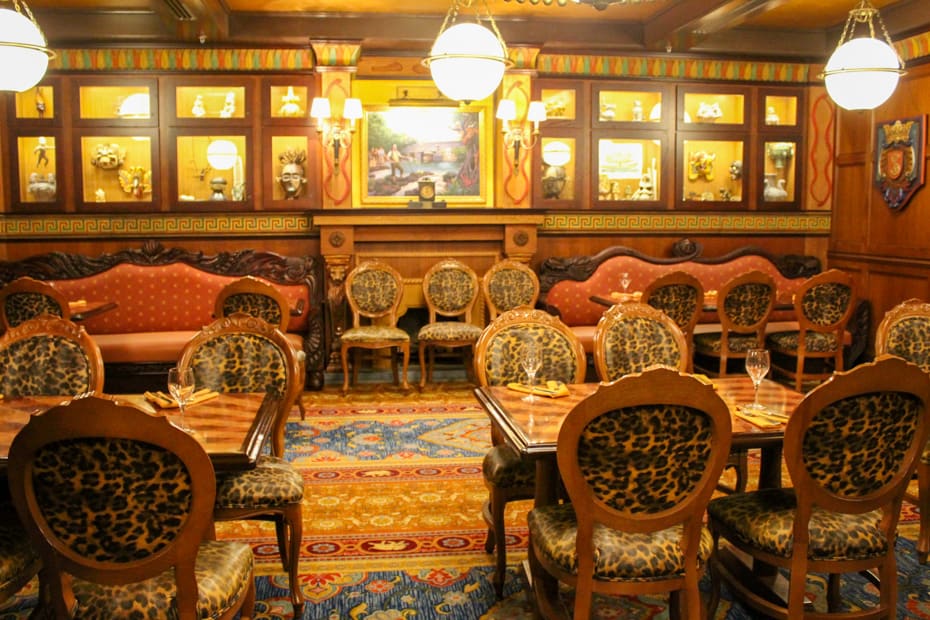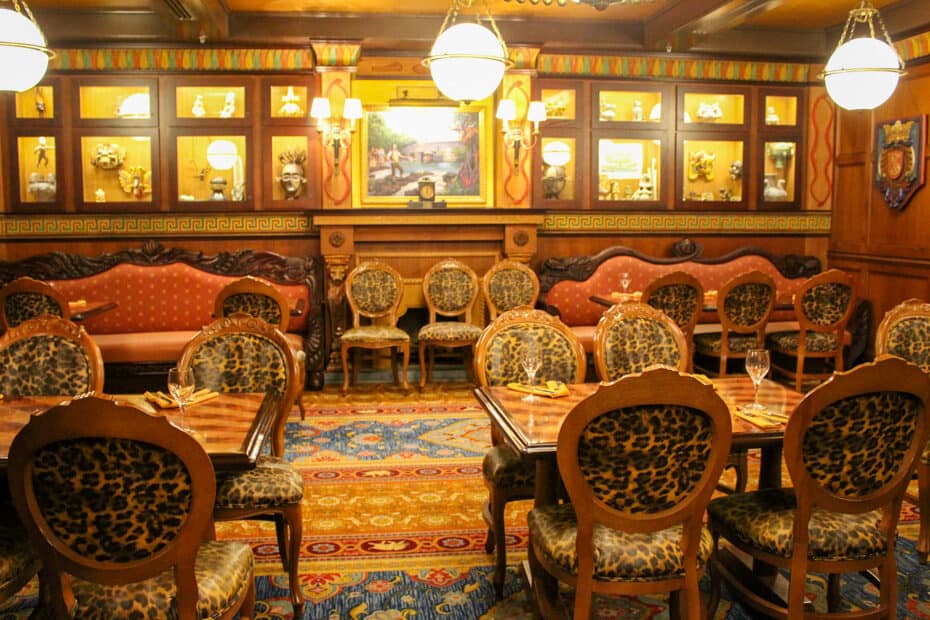 Each room is uniquely themed to different aspects of the Jungle Cruise and the Society of Explorers and Adventurers.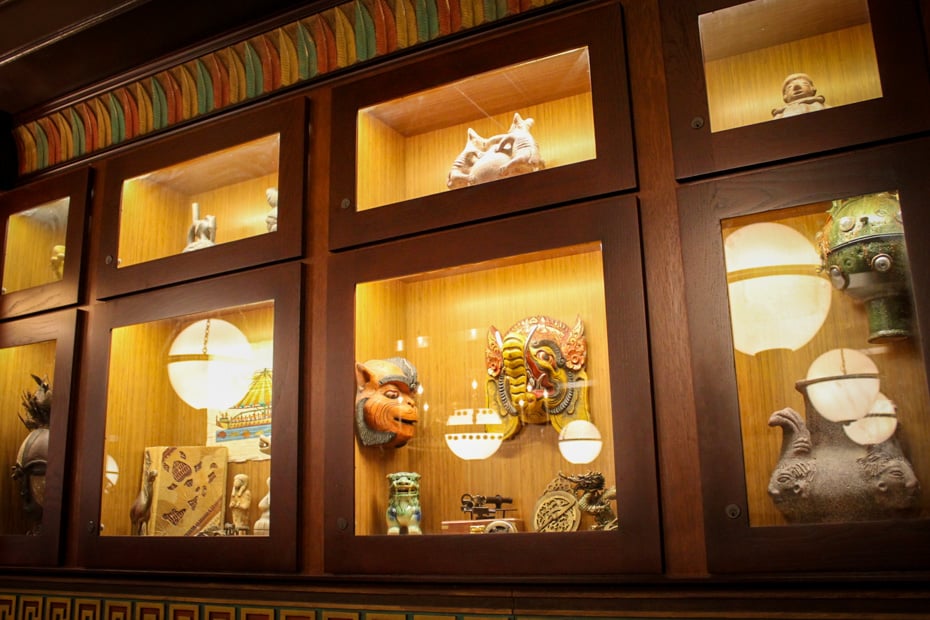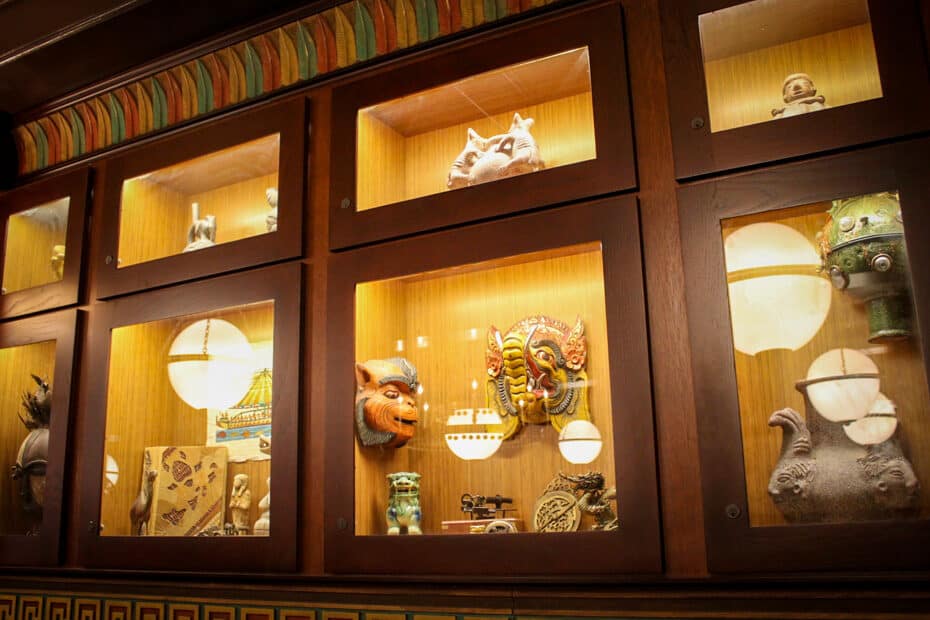 If you have time, take a walk through the restaurant during your visit. Seeing the eclectic collection of items displayed throughout the restaurant is fun.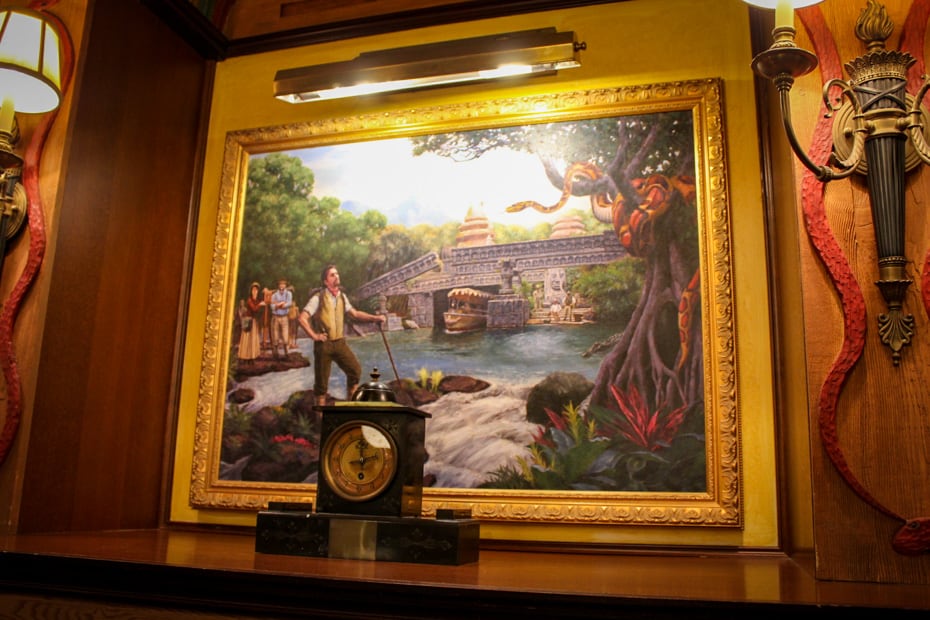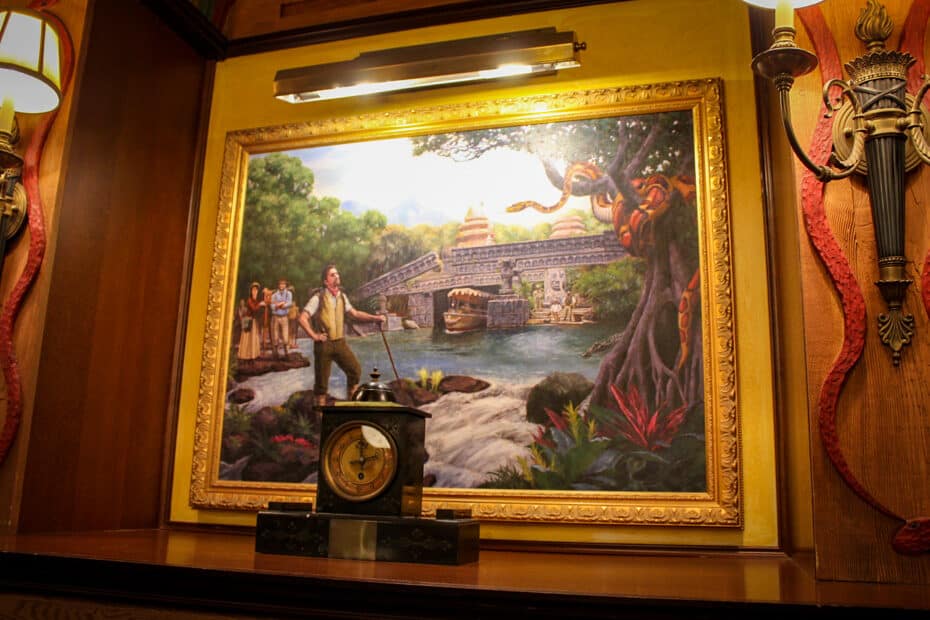 My favorite area is the butterfly collection that sits above a curved booth. If you sit here on a busy day, you'll probably get a good deal of attention. Everyone stops to look at it.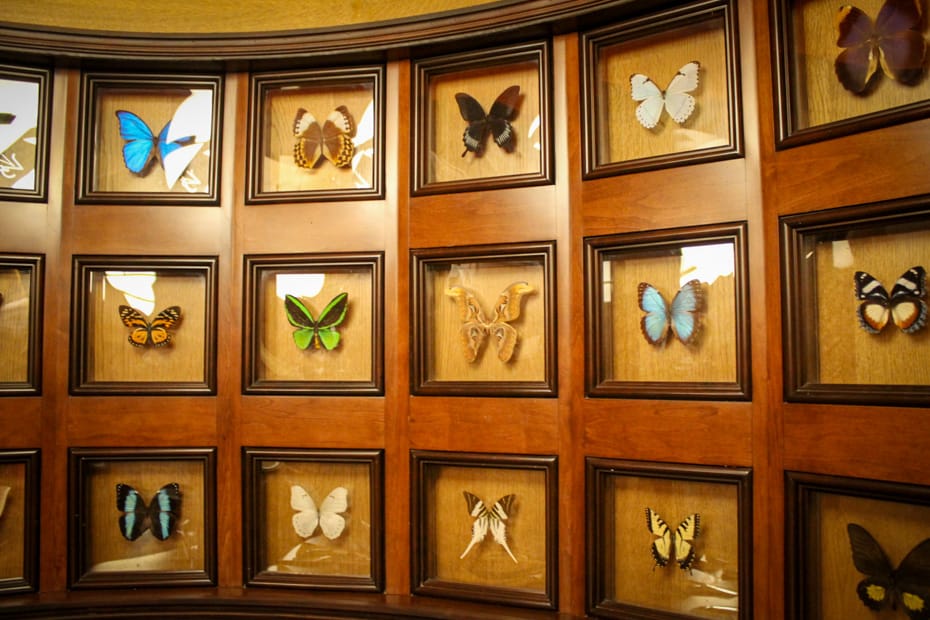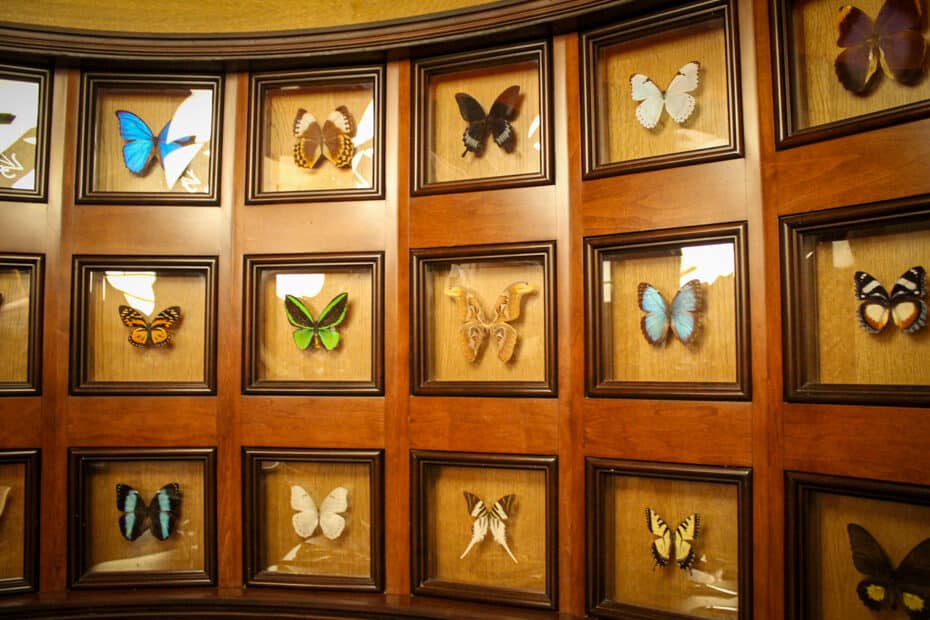 Because the restaurant is so charming, I've always been eager to dine here. So it was unfortunate that we had such a disappointing meal.
We'll start with the Pao de Queijo, which translates to cheese bread. When we were first seated, our server mentioned this "off-menu" appetizer was quite popular with guests.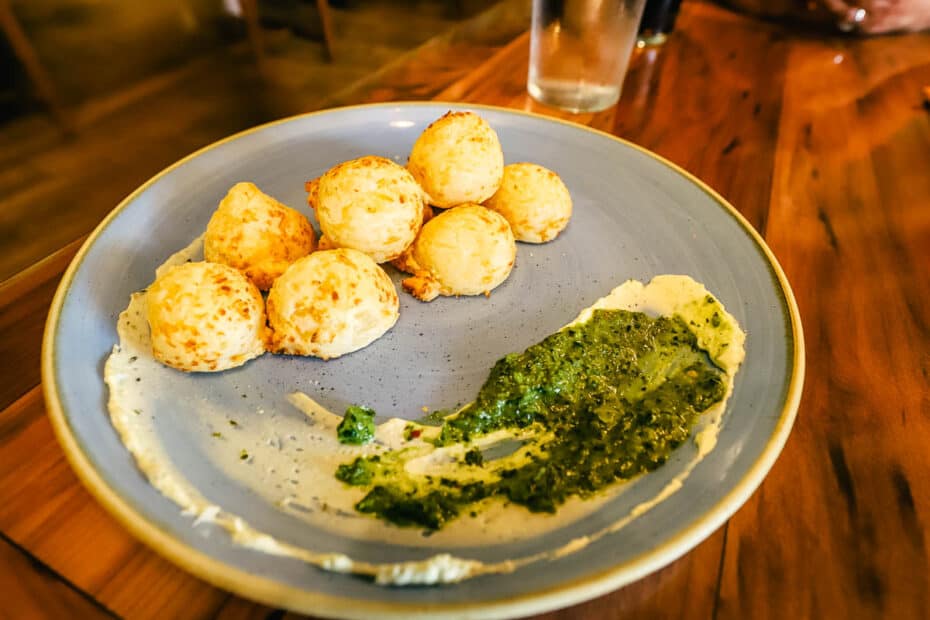 When these eight mini-domes arrived at the table, they looked promising. While they weren't as good as we hoped, they weren't bad.
Kristen mentioned they tasted a bit doughy to her liking, and I agreed. We both tried a few but left several remaining.
For dinner, Kristen ordered the Skipper Dan's Dan Dan Noodles. Per the menu, thin noodles are tossed in a savory, spicy chili sauce. They come topped with crispy pork, pickled mustard greens, radish, and cucumbers.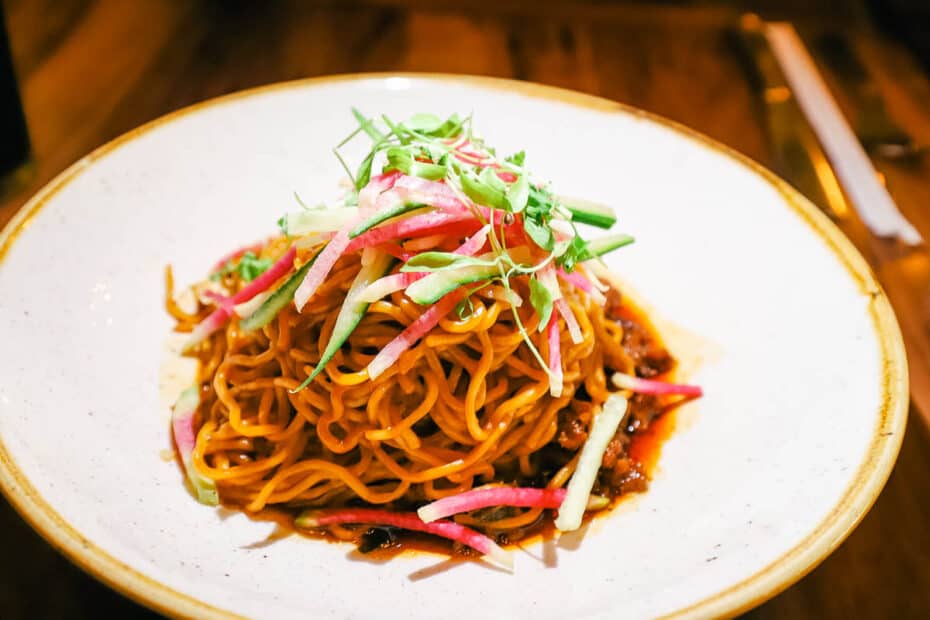 Overall, the noodles were flavorful. However, they were so full of flavor that neither of us could eat many.
I ordered the Baa Baa Lamb Chops, another dish with a beautiful appearance.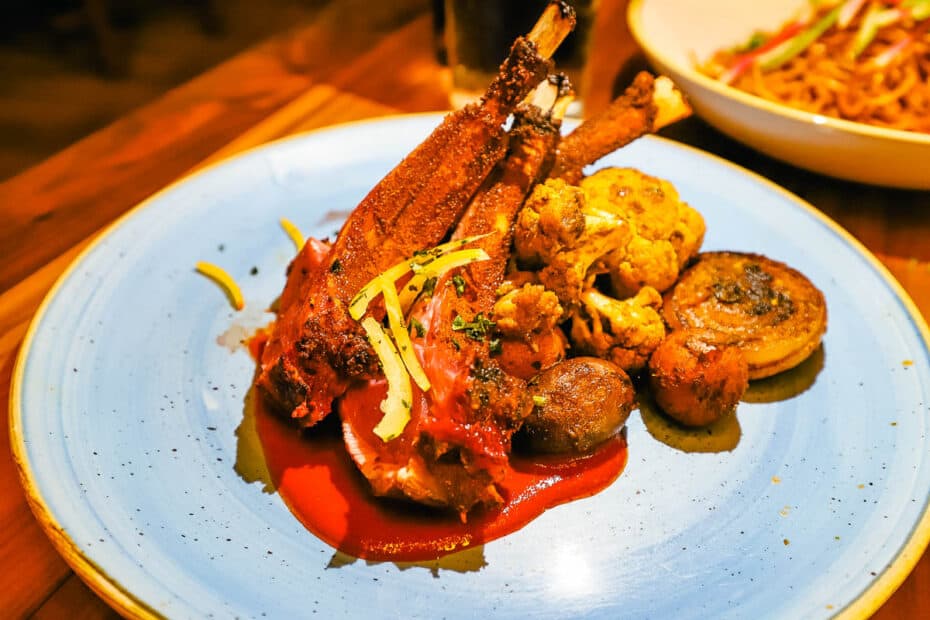 The lamb chops were described as spice-rubbed with chermoula, cauliflower, potatoes, Cipollini onions, and Harissa sauce. On their own, the lamb chops were fine.
When I ordered them, the server said the chef recommended having them medium rare, which was fine. But I would have said these were probably extra rare.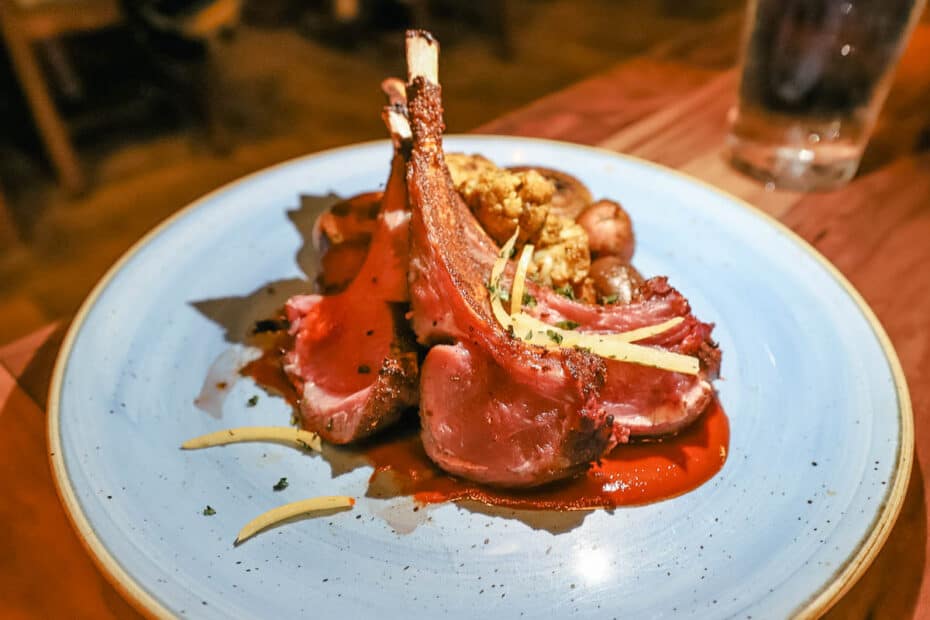 Since it's dark in the restaurant, it can be difficult to get a decent photo. While they were a little less cooked than I would have liked, I was hungry and ready to eat.
Unfortunately, my first bite contained some of the red Harissa sauce on the bottom of the plate. It was so spicy when it hit the back of my throat I didn't think I would ever be able to stop coughing.
So what little more of the dish I enjoyed, I made sure to wipe off any excess sauce. When I went in to try some of the other accompaniments, the bold spice mix overpowered everything.
Kristen hit the nail on the head when she looked up at me and said, "It's the salt." She was right, everything tasted as though it had enough sodium to preserve it for a lifetime.
Sadly, it will be a while before I return to Skipper Canteen. Thankfully, we did have an attentive server who kept our drinks full and delivered our checks quickly.
Within a few hours, we were eating pretzels, popcorn, and a hot dog while waiting for the Boo To You Parade. All three of us were hungry.
Past Meals at Skipper Canteen
Here are a few other items we've had in the past that are still available on the current menu. You can preview the menu here on Disney's site.
Below, we have the Orinoco Ida's Cachapas described on the menu as "house-made corn pancakes, beer-braised pork, roasted corn, Fresno pepper salsa, and avocado cream."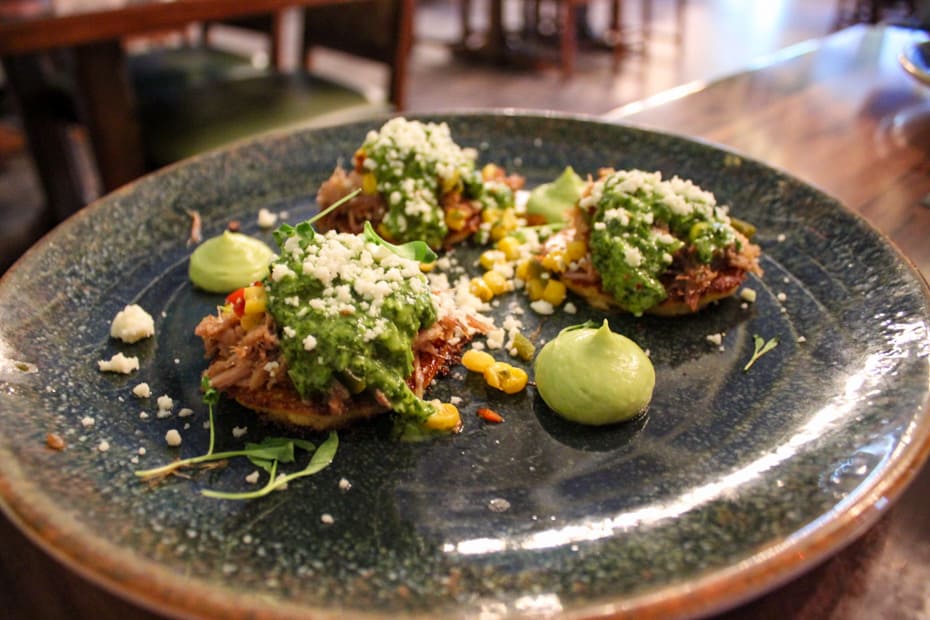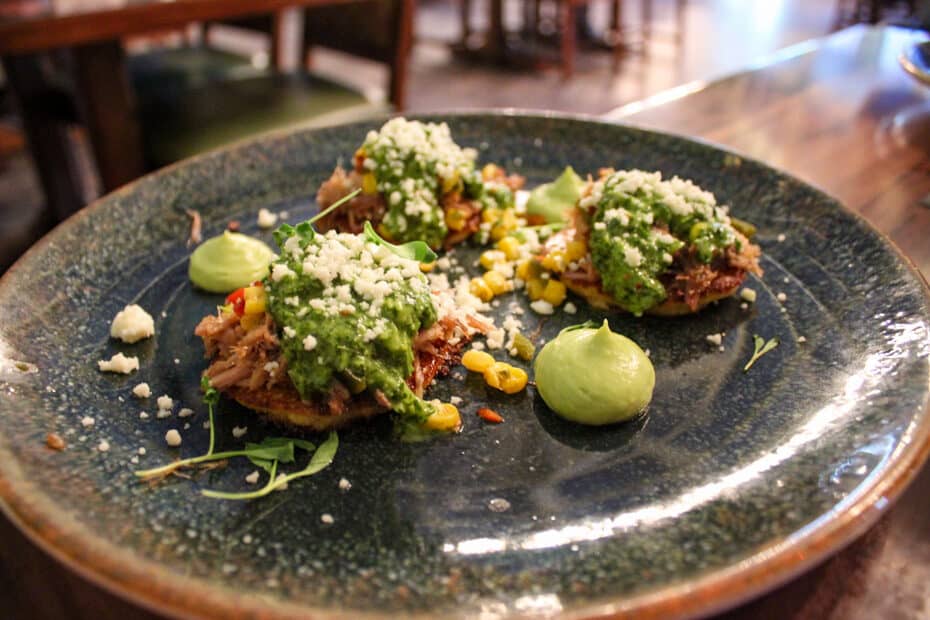 This is basically barbecue-style pork on corn pancakes with salsa and avocado cream. I enjoyed the cachapas but felt the barbecue had an off-putting vinegar taste.
In addition, the avocado cream was a nice note. While it was a sizeable dish, it probably isn't something I would reorder. However, there weren't any significant complaints about the dish either.
On another visit, I had Skipper Canteen's Lost and Found Soup. The soup is listed on the appetizer portion of the menu. It is described as a soup-of-the-day type offering.
This soup is a coconut curry with a savory and delicious flavor. Speaking of curries, this reminds me of another delicious one at Kona Cafe.
Related: Kona Cafe Review at the Polynesian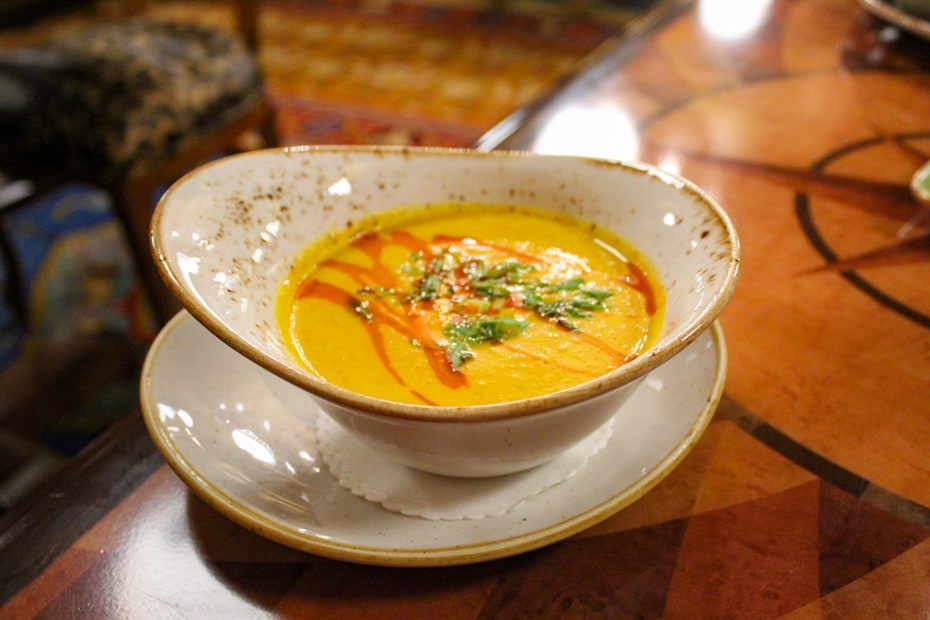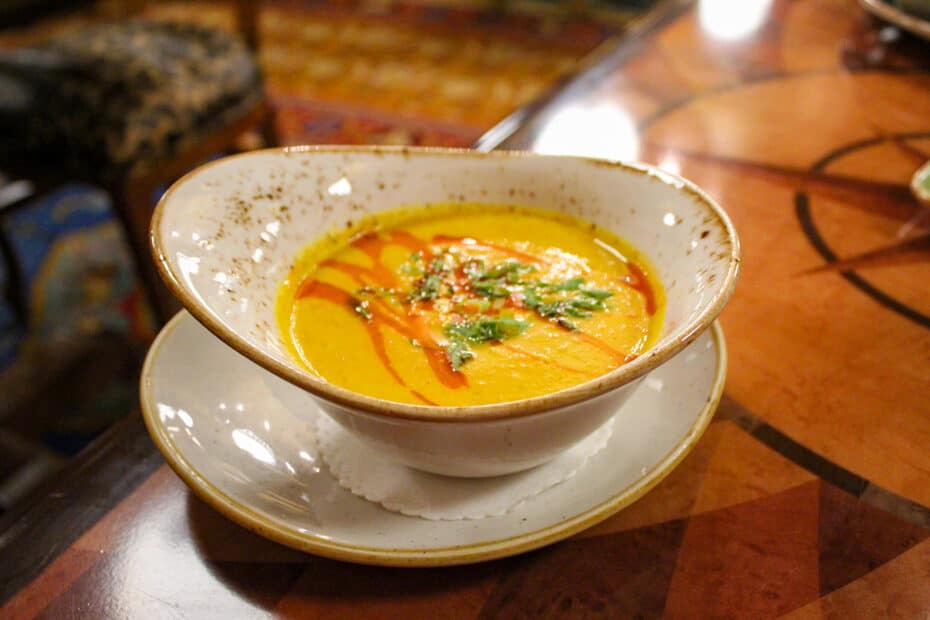 Since I wasn't ordering an entree on this visit, I ordered a salad off the appetizer menu to go with my soup.
The Jungle Green Salad comes with a base of iceberg lettuce. Then it's topped with Shishito peppers, radishes, Hearts of Palm, pistachios, cucumbers, and an Aji pepper-yogurt dressing.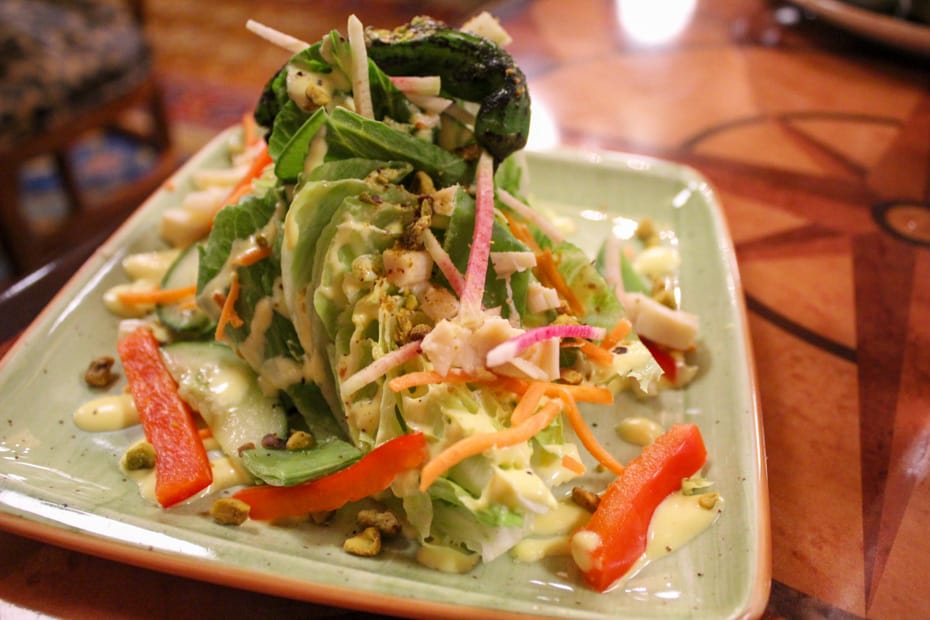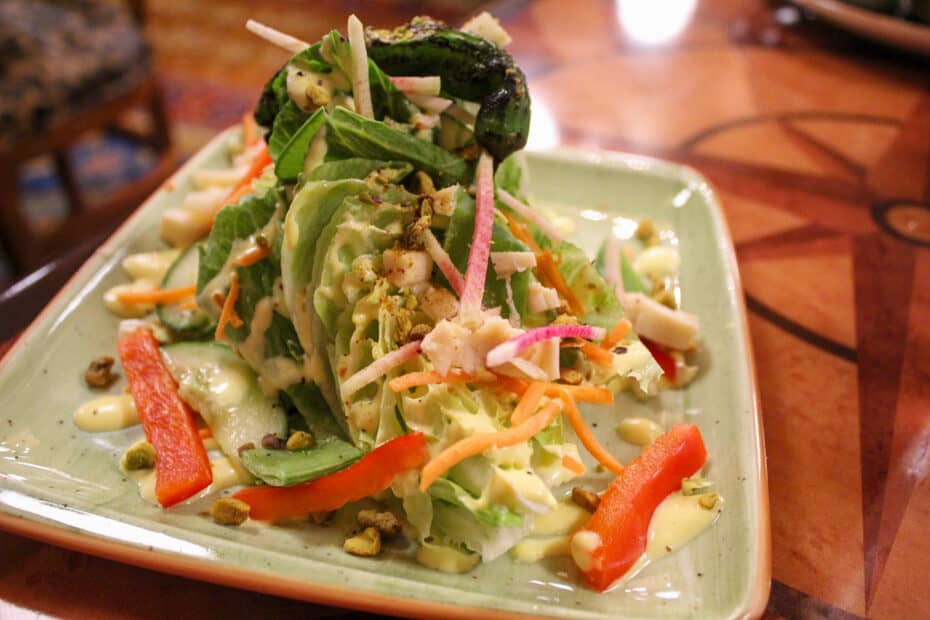 This salad was an excellent option. It felt like a large portion while offering some unique ingredients for the price of $9.00 (now $10.00). The dressing had a mild flavor that allowed the other items to stand out yet blend nicely together.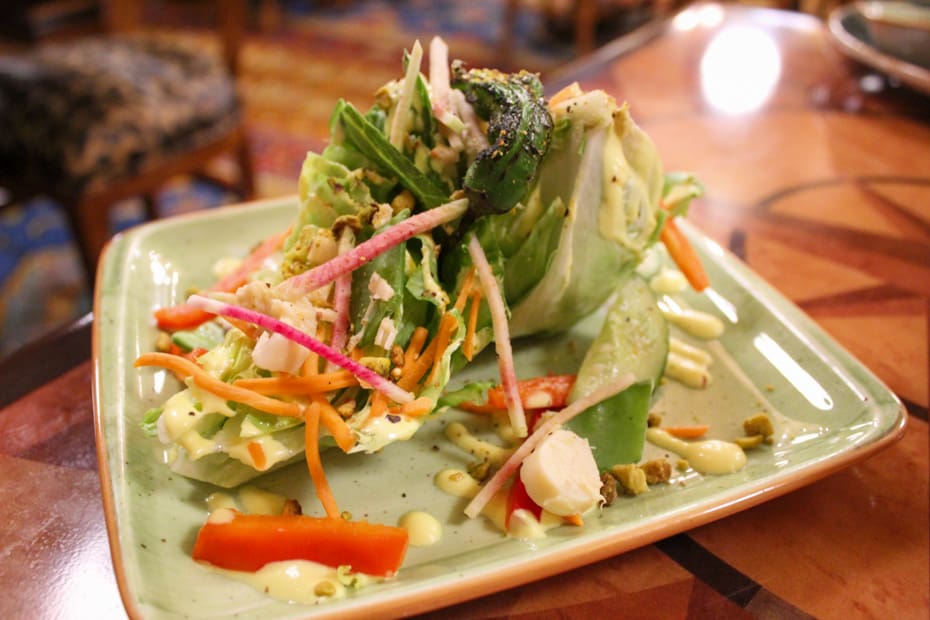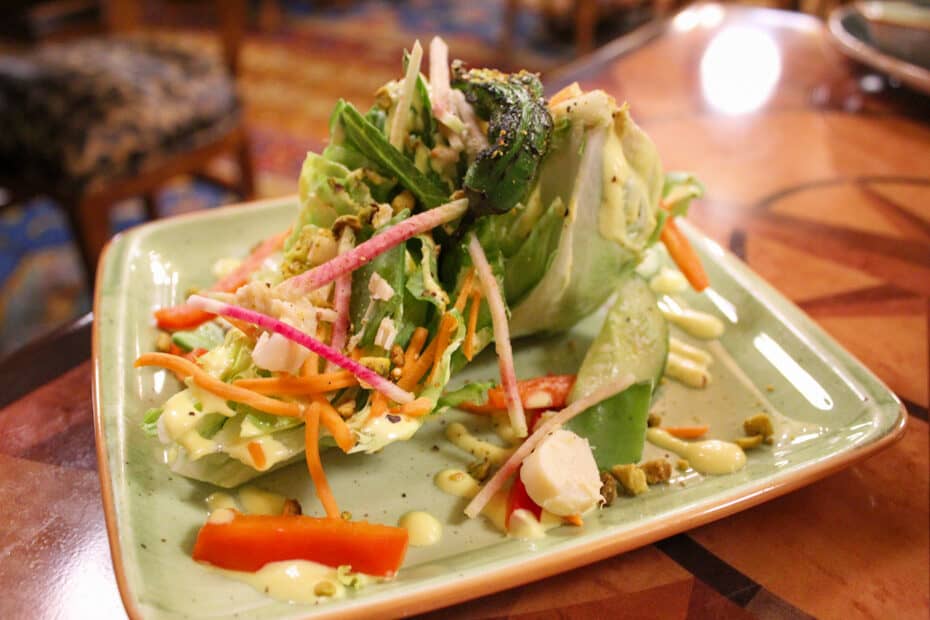 Below we preview another appetizer, the S.E.A. Shu Mai. This dish is similar to a potsticker with a side of soy sauce.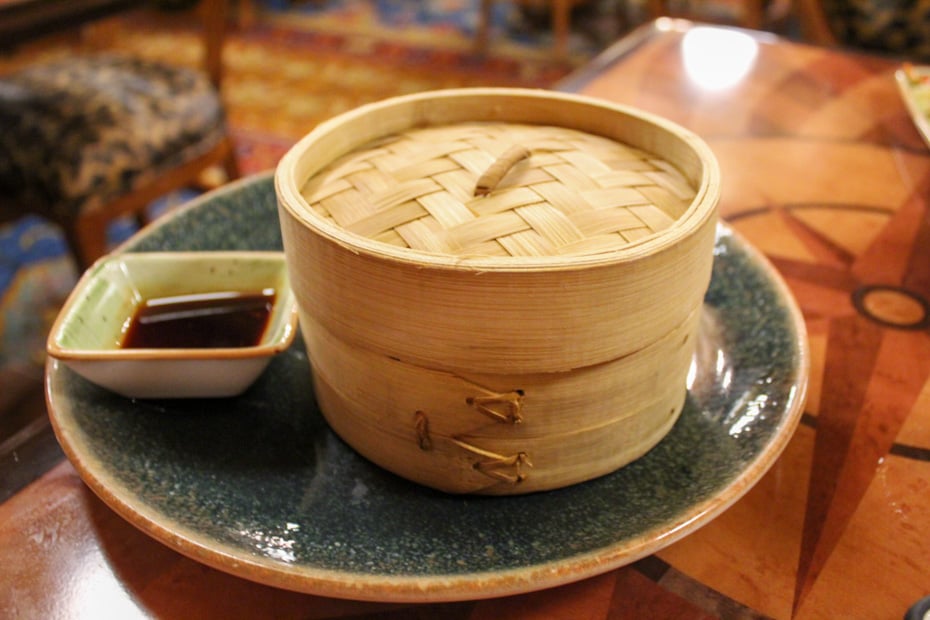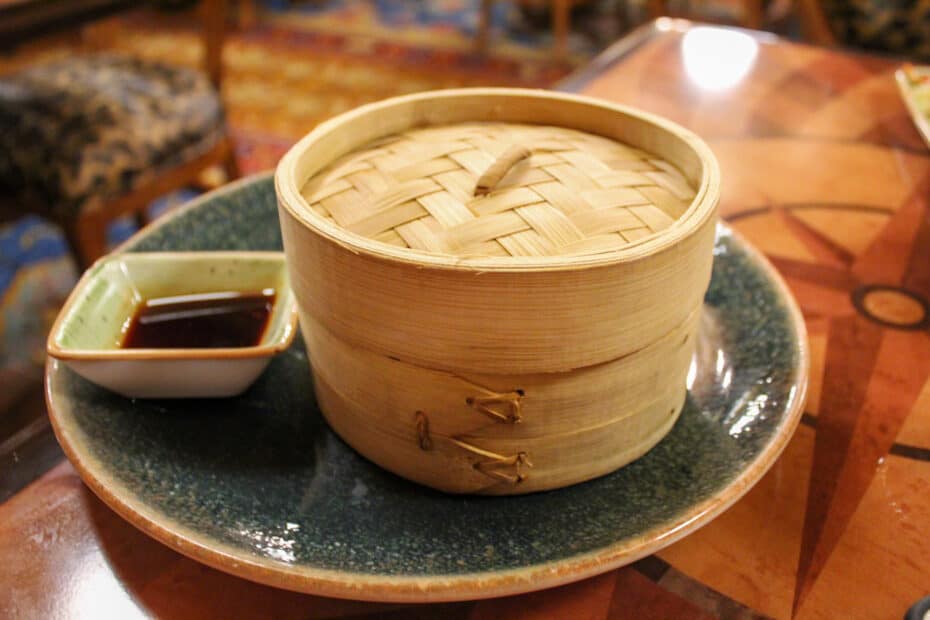 Unfortunately, this menu item is no longer available, nor are the popular Perkins Thai Noodles.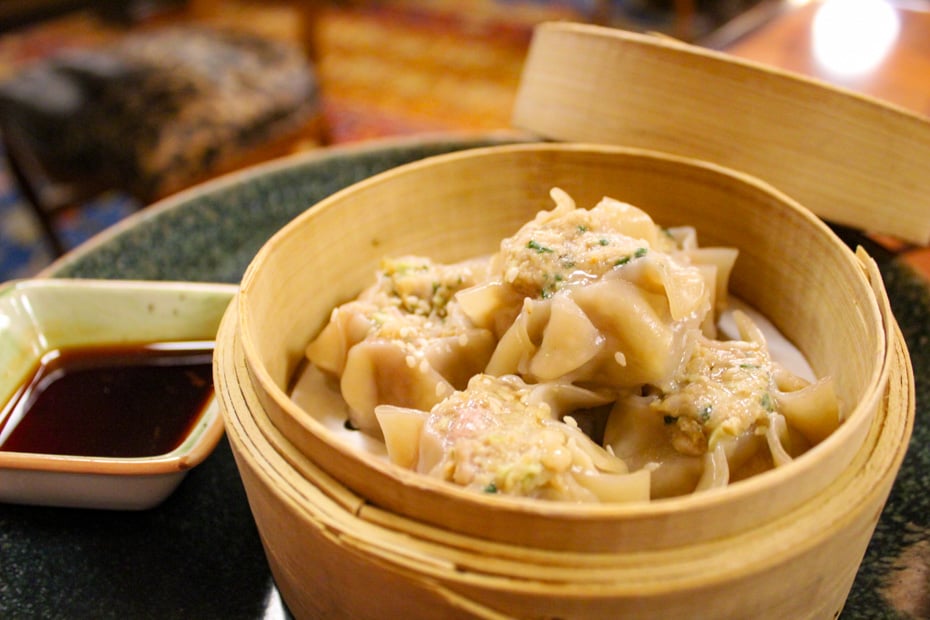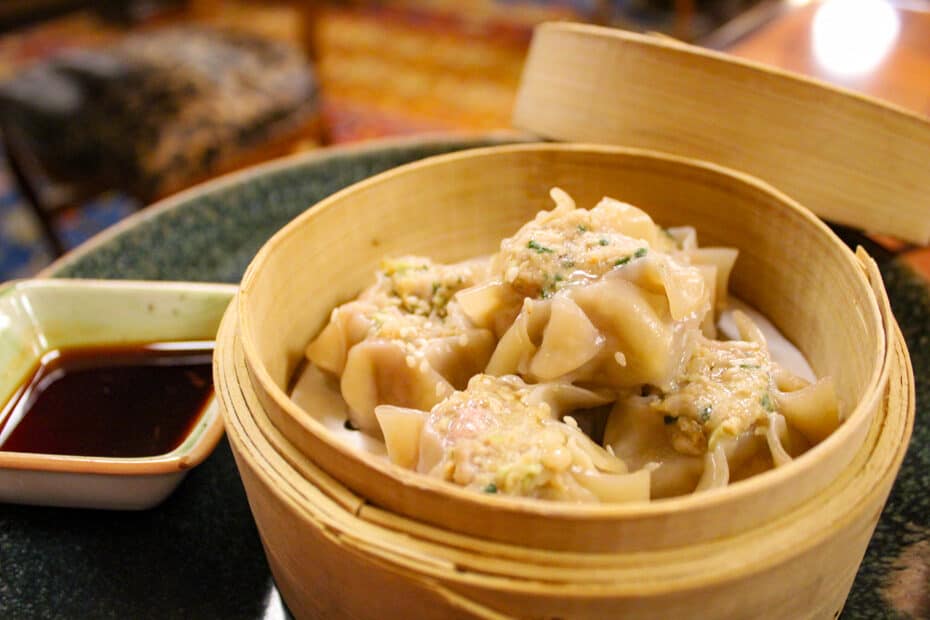 Previously, I enjoyed the "A Lot at Steak" salad. It comes with "a lot" of steak, as the menu states. While it might not look like it at first glance, this salad is packed with flavor.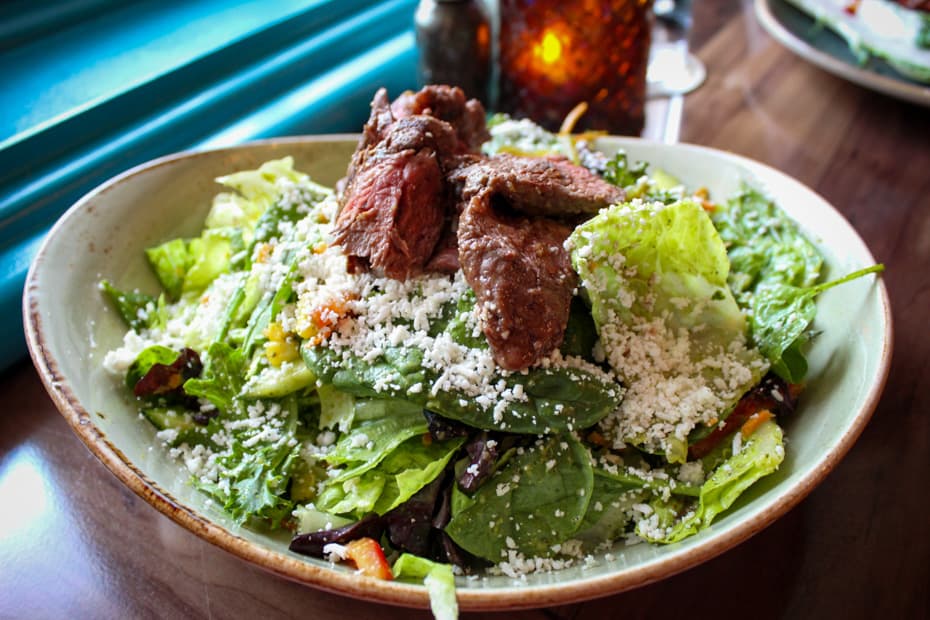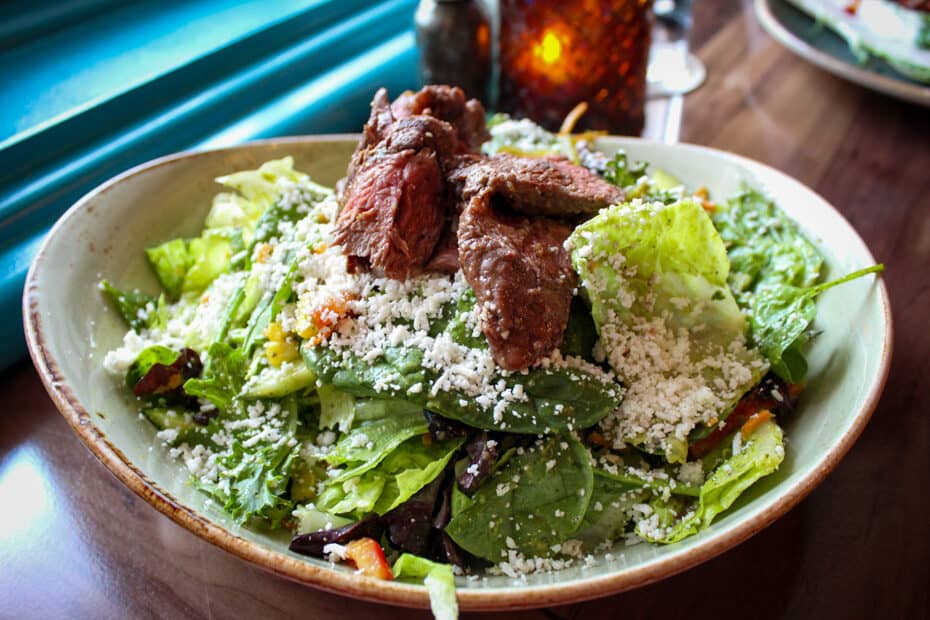 Expect to find even more steak within the salad as you dig into it, including pickled jalapeños, red onion, queso fresco, and pumpkin seeds. This salad comes with a spicy chimichurri vinaigrette that might leave you needing an extra glass of water.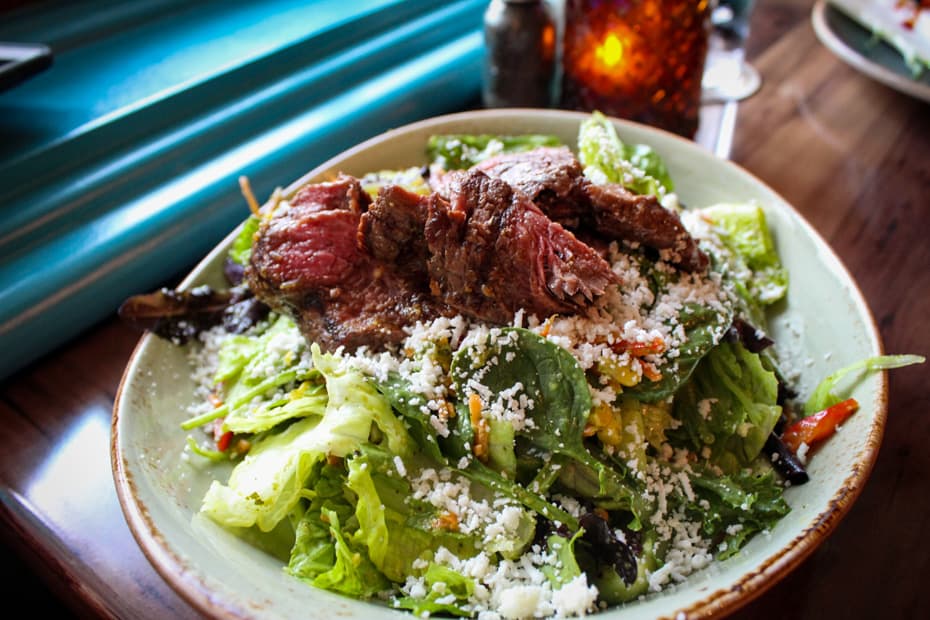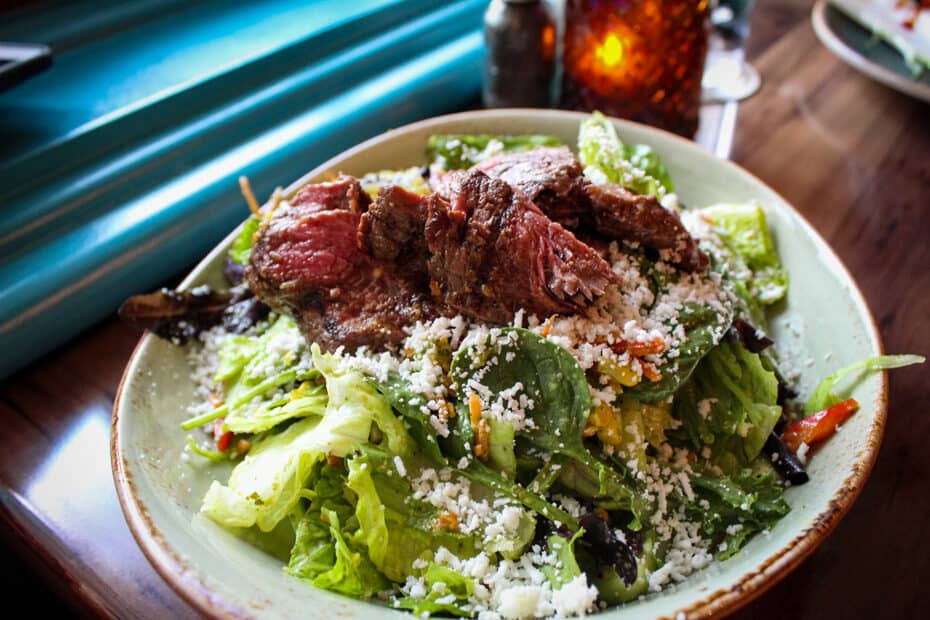 Next, we have the "Hardy Har Char" Siu pork dish. You might notice a large pick in the center of the dish. That is a sign that this meal was prepared specifically for food allergies.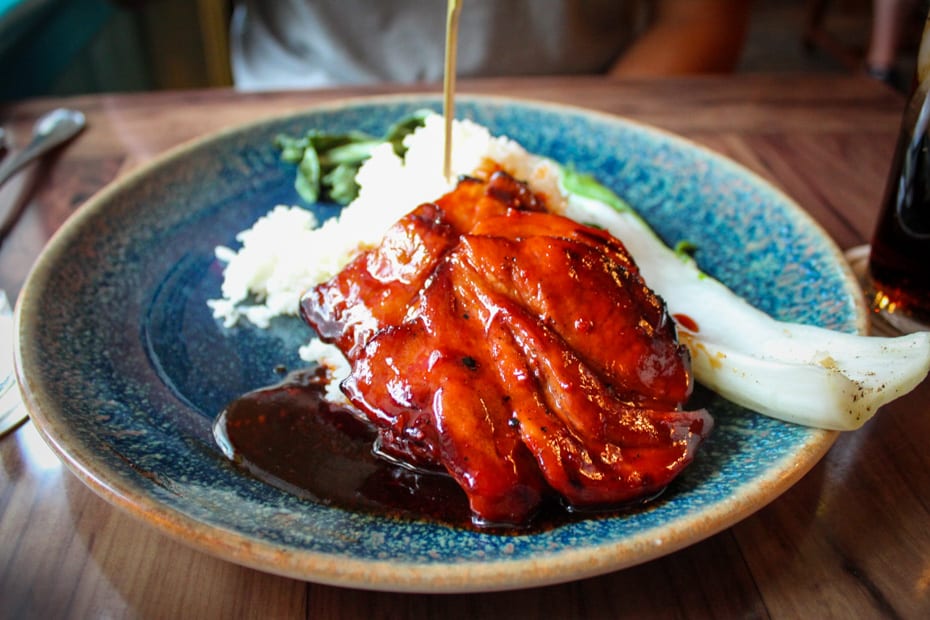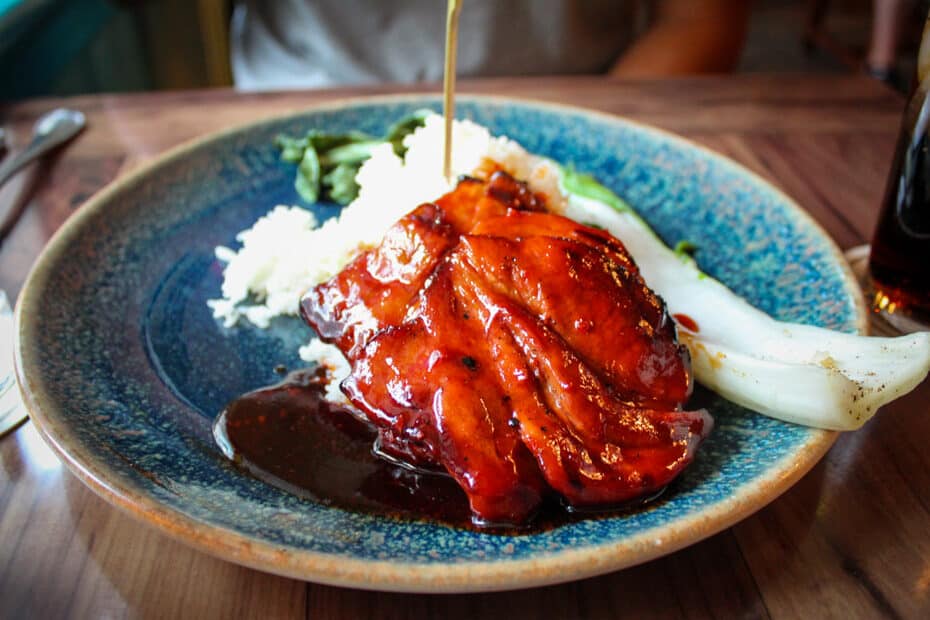 My son has had this dish on several occasions and always enjoys it. Dining with food allergies, in general, can be extremely difficult. However, Disney does an excellent job meeting guests' needs that many other places do not.
As for the dish, you can see it comes with a side of rice and bok choy. The pork has a sweet and sour style glaze with a touch of soy.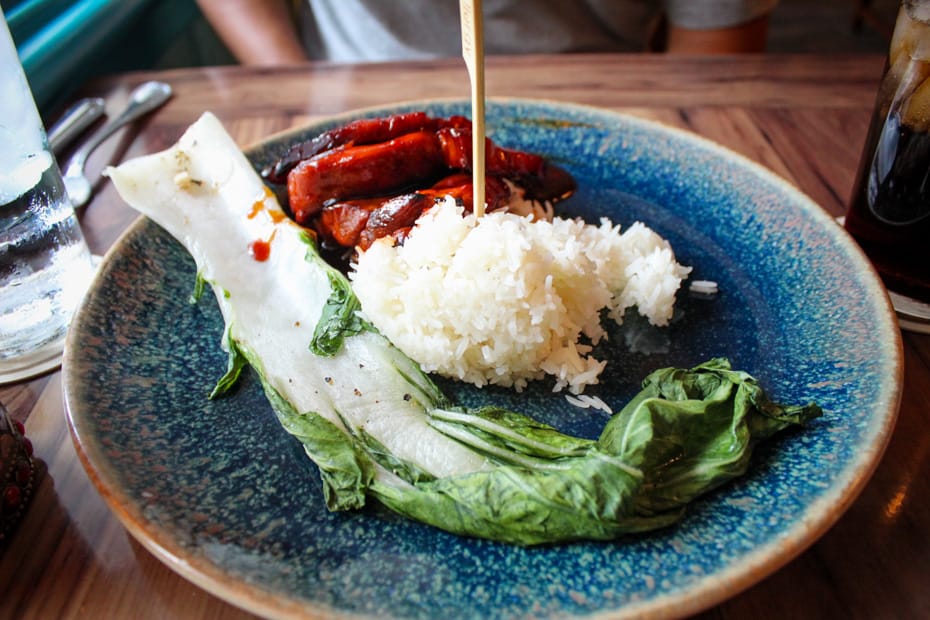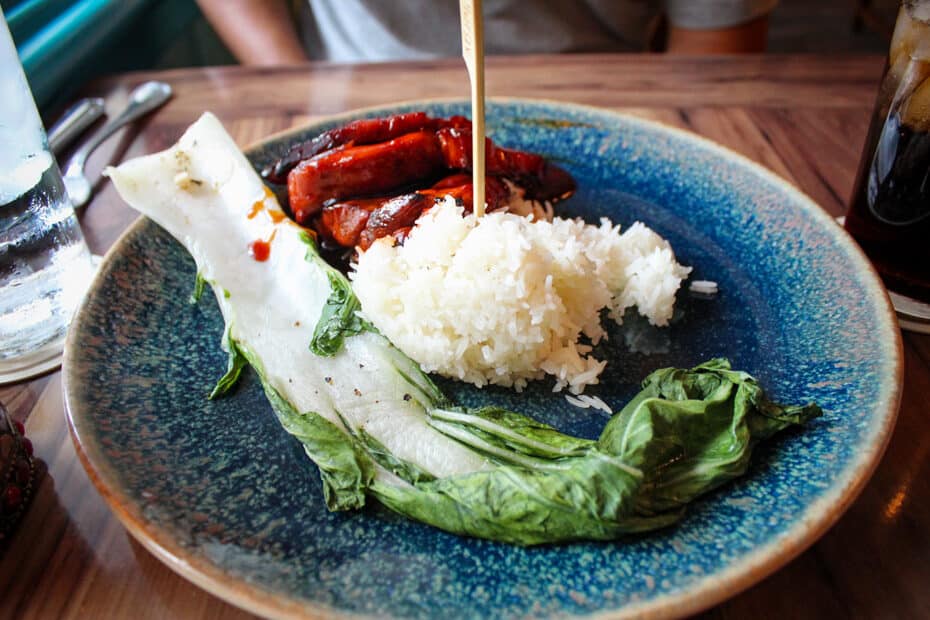 Over the years, I've had several other dishes not pictured. The only thing we haven't had on the menu is the sustainable fish or the crew stew.
Until these last two visits, we've always had a great experience at Skipper Canteen. Unfortunately, the other experience I'm referring to was more due to a mishap than anything, so I hadn't necessarily counted it against the restaurant.
Hopefully, this Skipper Canteen review gave you a good overview of the restaurant. If you decide to dine here, I hope your experience will be much better than our latest meal.
For more dining at Disney, we have a list of all our restaurant reviews to date.
Related: Disney Restaurant Reviews
Some similarly themed dining reviews include:
Additionally, we have several popular dining guides available:
Are you planning a trip to Walt Disney World? Make sure to check out the list of Disney World Resorts. Each listing links to all of our articles for that particular resort.
In the comments
Have you visited Jungle Skipper Canteen before? Did you find this review helpful?
Planning a Walt Disney World or other Disney Destination vacation?
Our friends and travel partner, Firefly Travels, excels at doing Disney differently. You can fill out a plan your trip form on their website, and someone will reach out shortly to discuss the specifics.