Jungle Navigation Co. LTD Skipper Canteen Review
Skipper Canteen is probably the most underrated dining establishment at Magic Kingdom. It's one of those places you might even refer to as a hidden gem.
This Skipper Canteen review will look at the overall restaurant, menu, appetizers, and entree selections. In addition, this review includes a compilation of several meals at the restaurant and has been updated several times.
The restaurant's full name is Jungle Navigation Co. LTD Skipper Canteen, but most refer to it as Skipper Canteen for short.
Skipper Canteen is located in Adventureland at Magic Kingdom. If you are familiar with the park, you will take a left at the end of Main Street and head toward Adventureland.
This article was updated on March 10, 2022.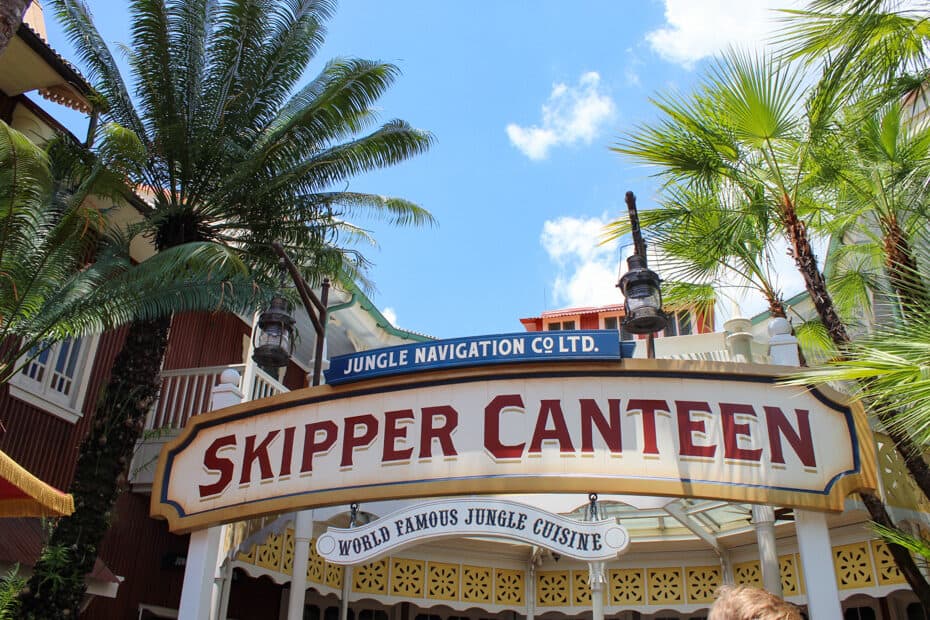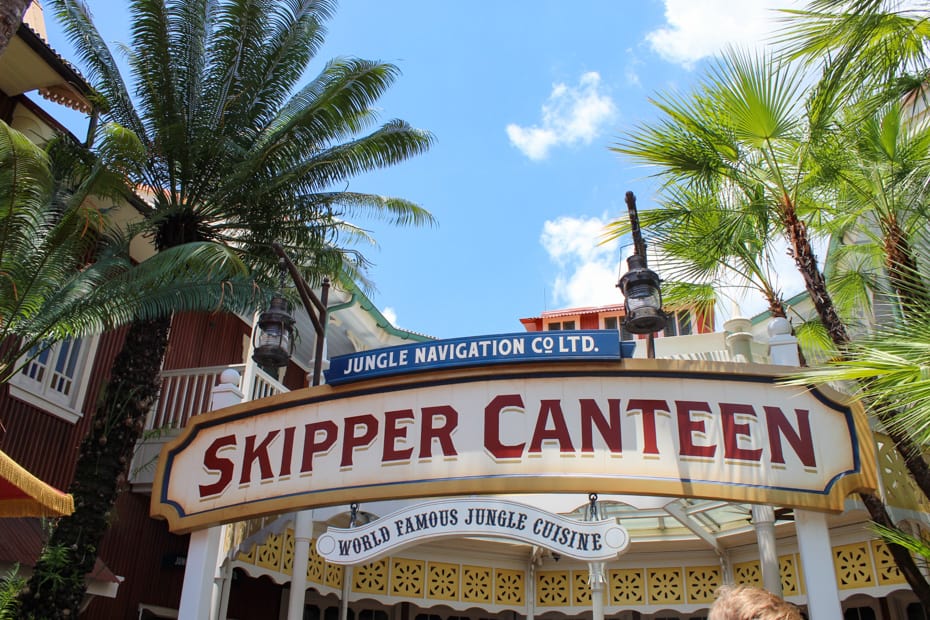 The restaurant will be up ahead on your right. For reference, it's kind of across the walkway from Swiss Family Robinson Tree House. (And Jungle Cruise, its ride cousin, if that's even a thing?)
Skipper Canteen is a table service restaurant that accepts reservations. However, they seem to nearly always have available seating on-demand. And most can easily pull reservations from the My Disney Experience app within less than an hour's notice.
For instance, on a recent visit, I walked up and was immediately seated with no reservation. I think that's good for me and rather unfortunate for you if you haven't had a chance to dine here yet.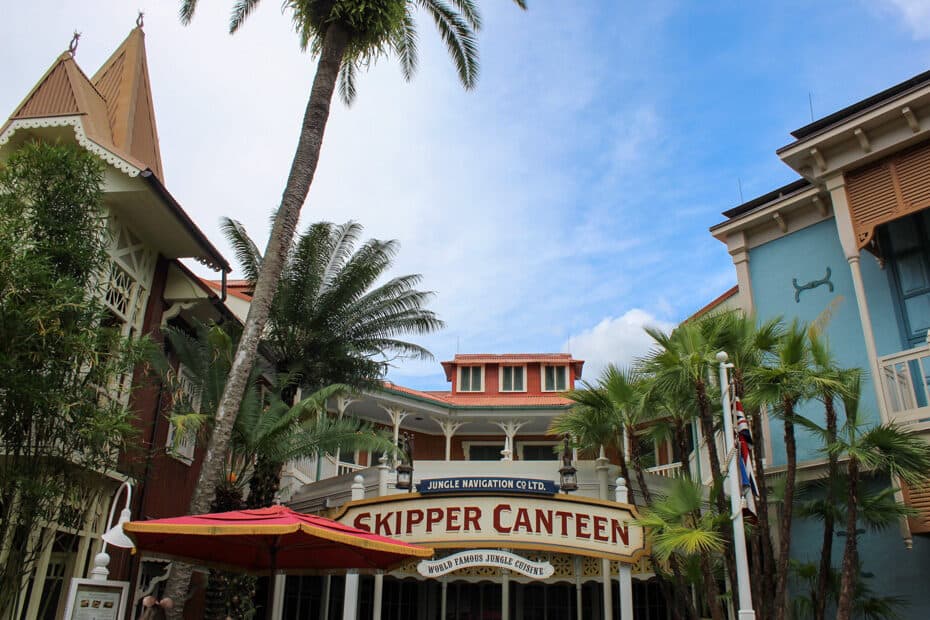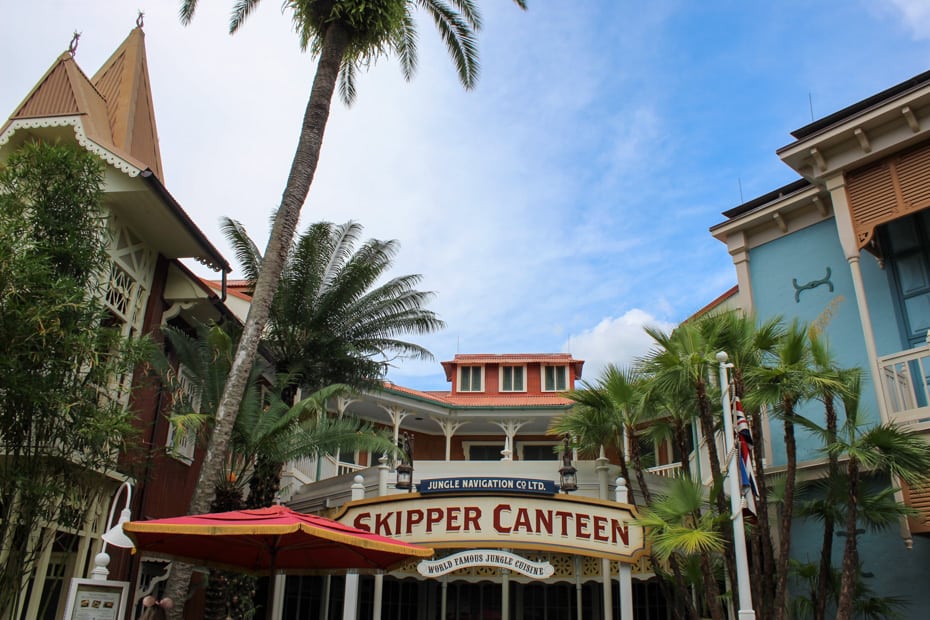 Why do you ask? Well, the food is good, and the service is an entertainment act within itself. Besides, who doesn't like a little traditional Jungle Cruise camaraderie along with their meal?
Not only that, when it comes to dining at Magic Kingdom, the table service options are limited. For instance, Cinderella's Royal Table and Be Our Guest are both expensive, and it's difficult to get reservations for either in advance.
As far as Skipper Canteen goes, you can't go wrong with this extremely tasty (probably better quality) and reasonably priced meal.
The actual menu at Skipper Canteen starts with a letter from Alberta Falls. She explains how she came to live with her grandfather Dr. Albert Falls. Then it goes on to tell about how they turned their failing cargo business into a Jungle Cruise tour guide.
If you would like to review the current menu you can do that here on Disney's site.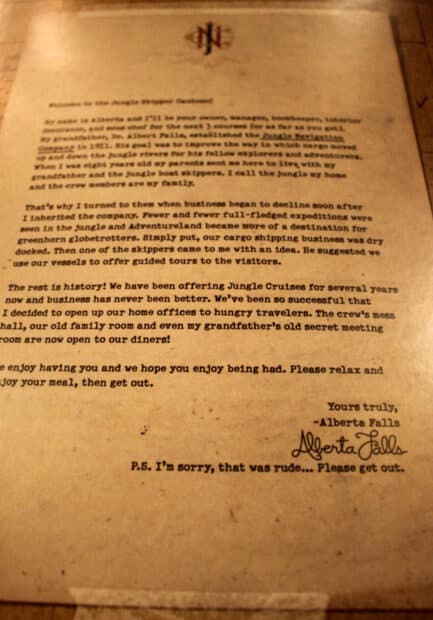 Since the business became so successful, they eventually opened up a dining hall and rooms in their house for travelers.
Alberta Falls invites you in to dine, enjoy, relax, and then promptly "Get Out!" Of course, that is added with a very polite P.S. and please at the end. I'm sure you understand the sentiment.
Skipper Canteen Review
Skipper Canteen is a win for the atmosphere alone. The restaurant provides an excellent place to cool off from the Florida heat. There are several faux and frosted windows, but there's no natural lighting.
Usually, a lack of natural lighting wouldn't work. But at Skipper Canteen, you completely escape the hustle and bustle of Magic Kingdom while dining.
Speaking of dining, the restaurant is divided into three separate dining rooms. Each one is themed differently and offers a variety of tropical meets British Colonial decor.
The Mess Hall is the primary, large dining room when you first enter the restaurant. Here you will more than likely be seated at a table and chairs. This larger room has some neat pieces hanging on the walls if you take the time to look around.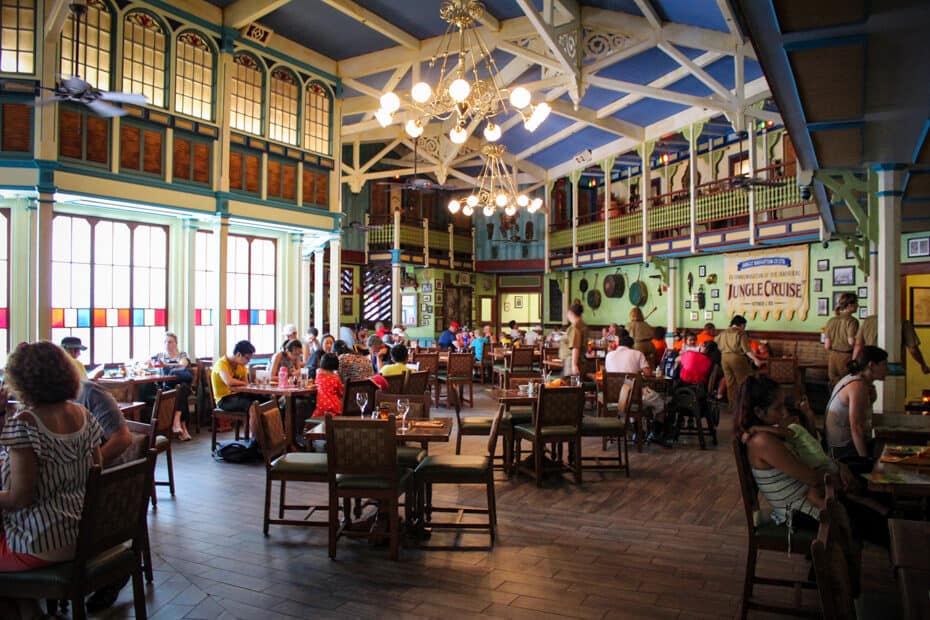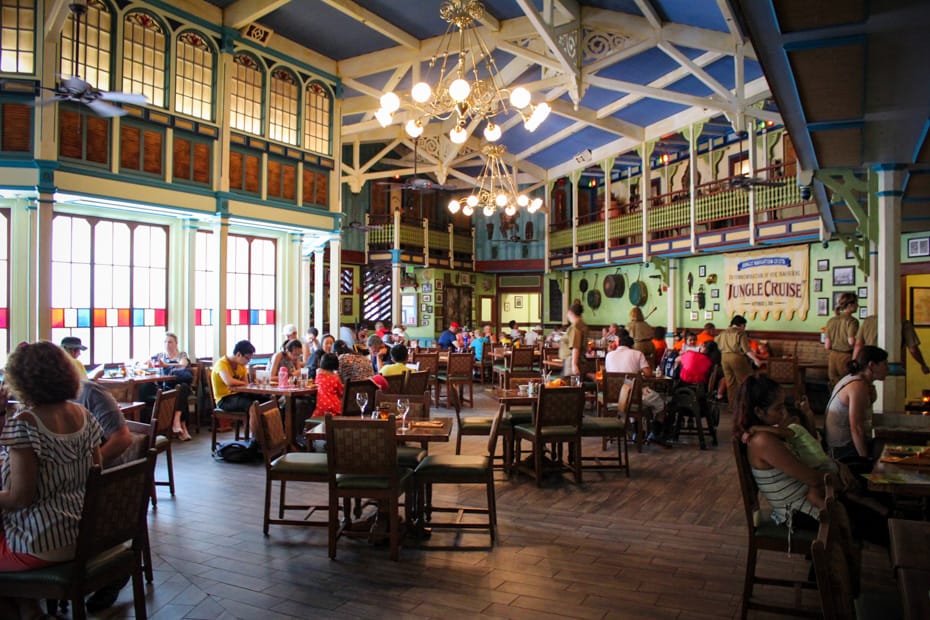 The far corner of the restaurant is where you'll find The Jungle Room. This is the smallest of the rooms with lots of birds and tropical parrot chandeliers.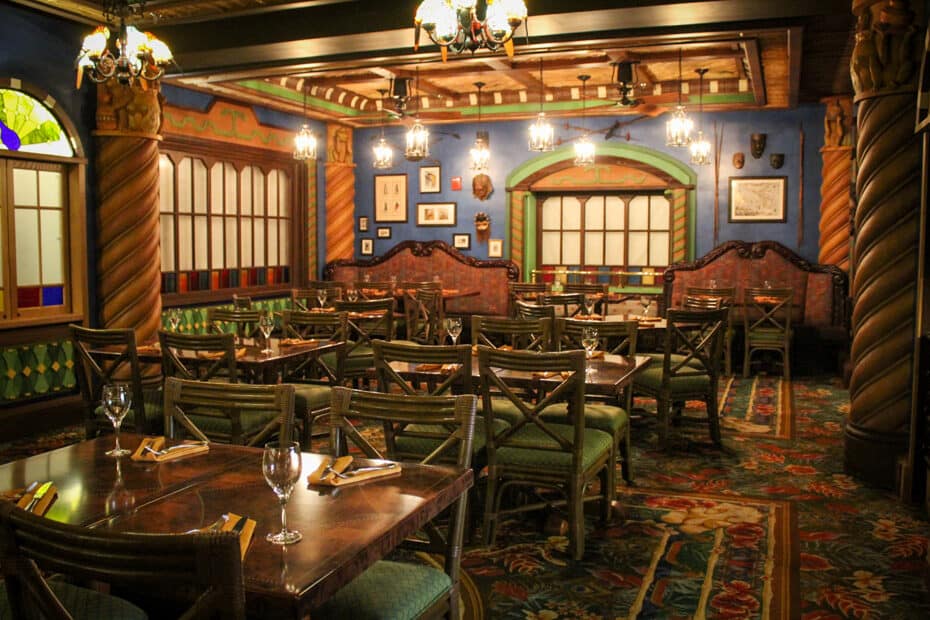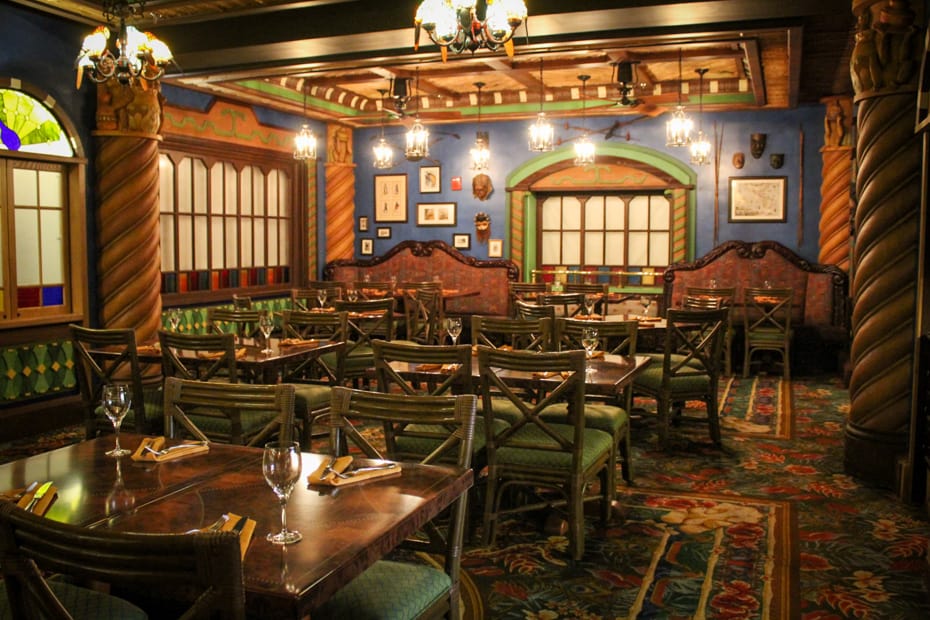 Lastly, the third room is the S.E.A. Room for the Society of Explorers and Adventurers. I think that I enjoy this room the best with the maps and beautiful wood paneling. But The Jungle Room is fun as well.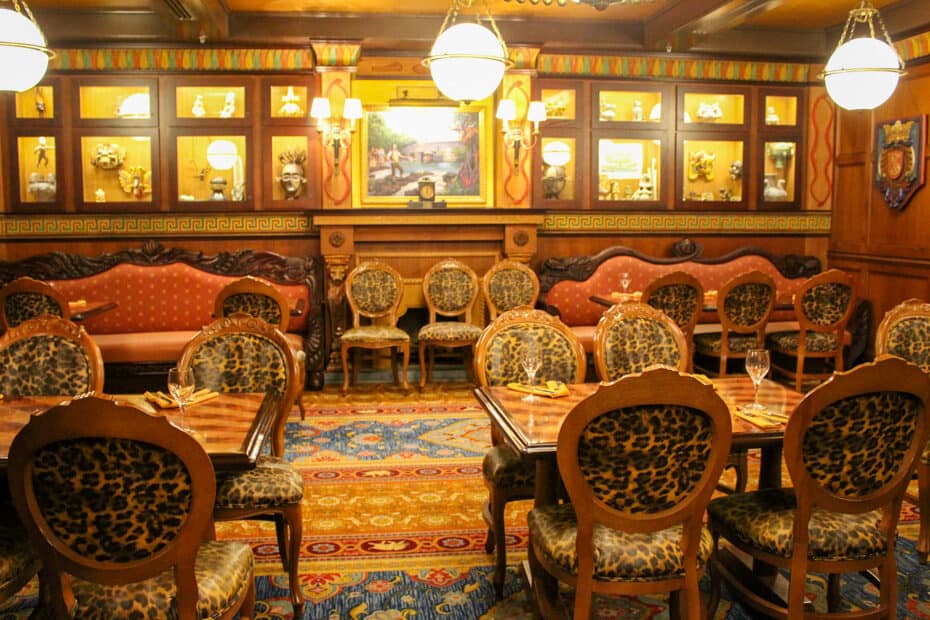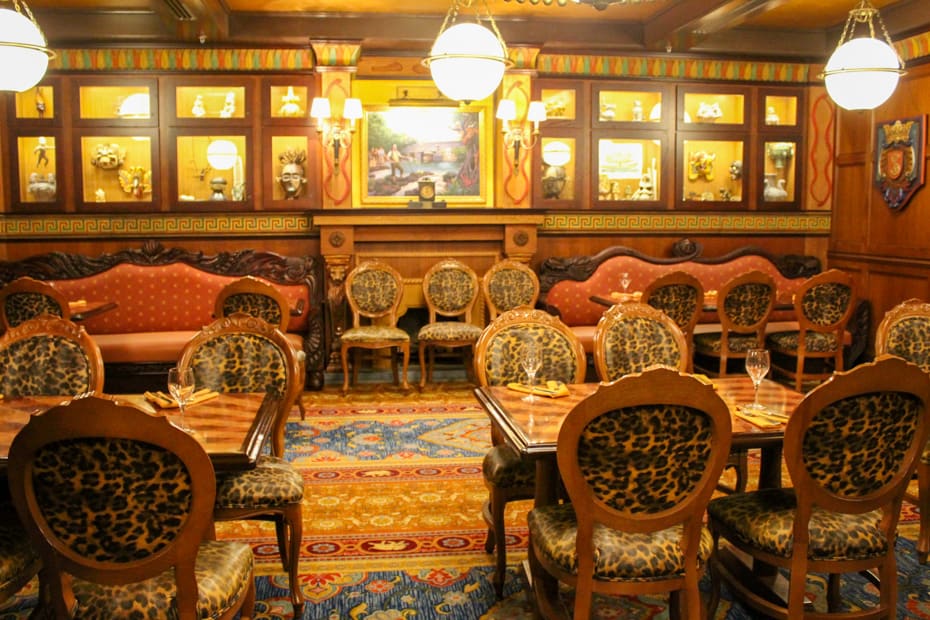 Each room is uniquely themed to different aspects of the Jungle Cruise and the Society of Explorers and Adventurers.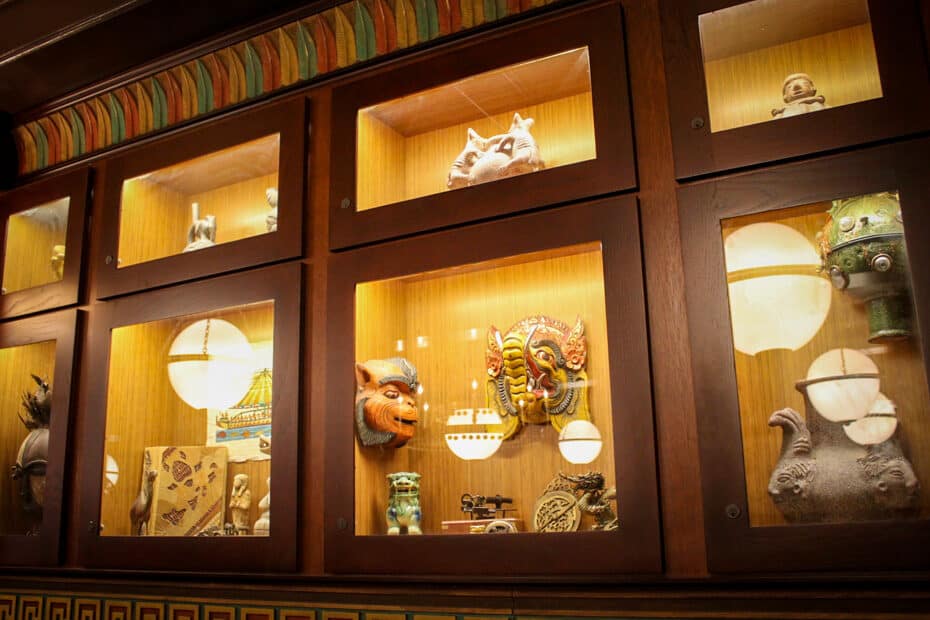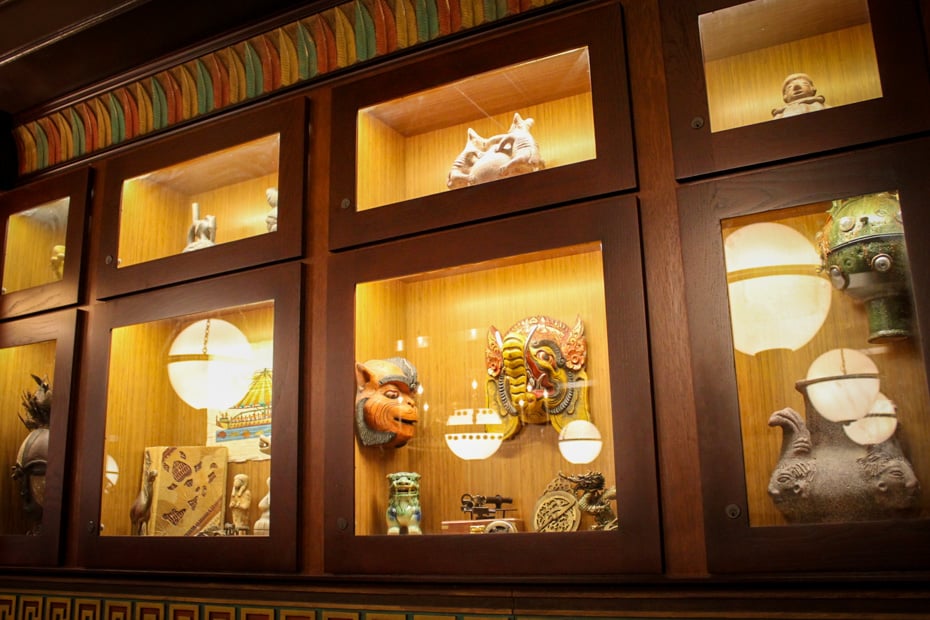 Make sure to take some time on your visit to walk through the restaurant in its entirety. These pictures represent just a tiny amount of the eclectic collection displayed throughout the restaurant.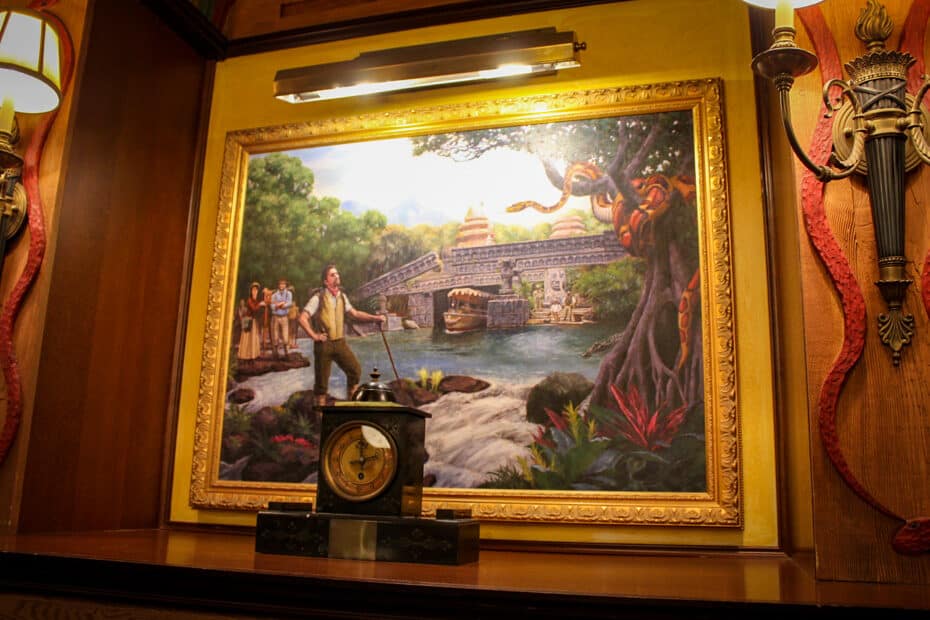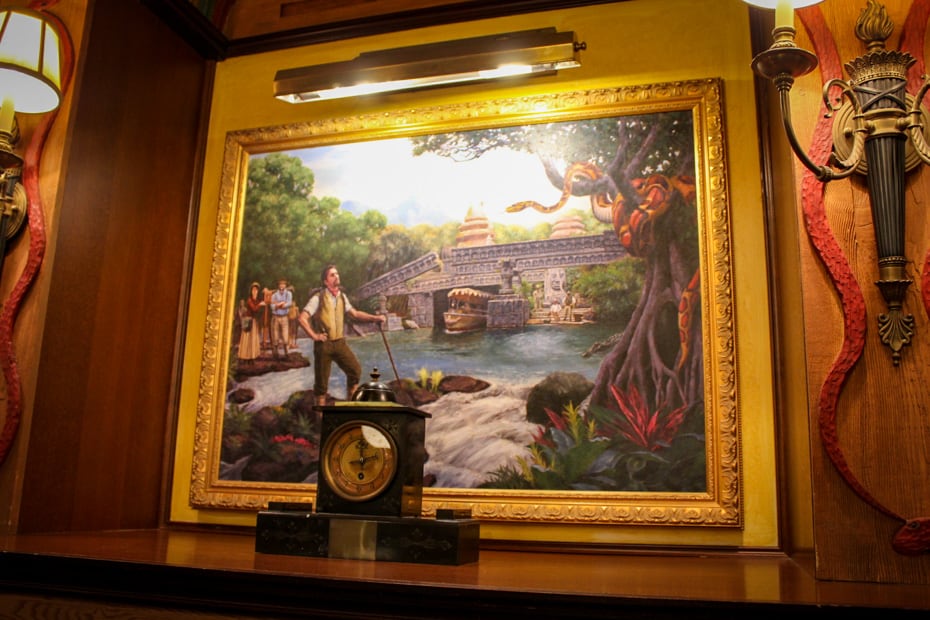 My favorite area is the butterfly collection. This is an actual booth you can request if you like. But if you sit here on a busy day, expect to have a lot of people staring.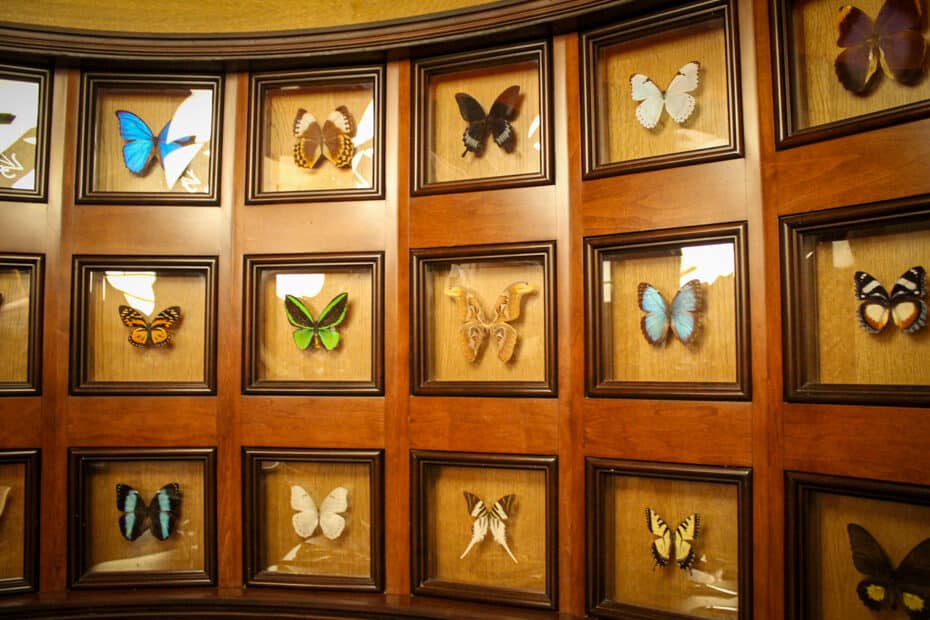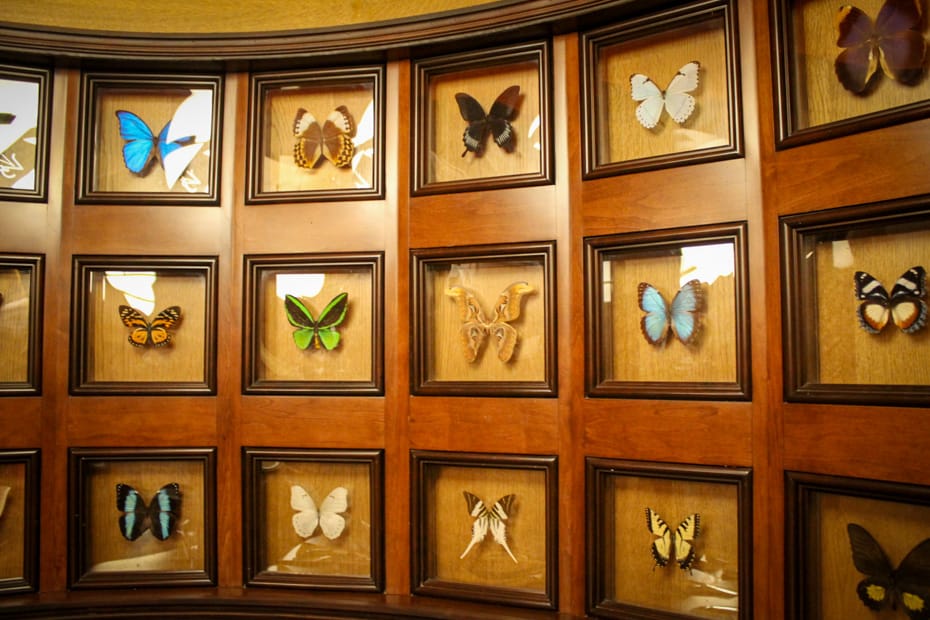 It's a beautiful display of the species and something many people enjoy looking at a little more in detail.
Looking back through the photos I feel like Skipper Canteen is my aesthetic. Another collection I enjoy is the one below with the different sets of teapots and china.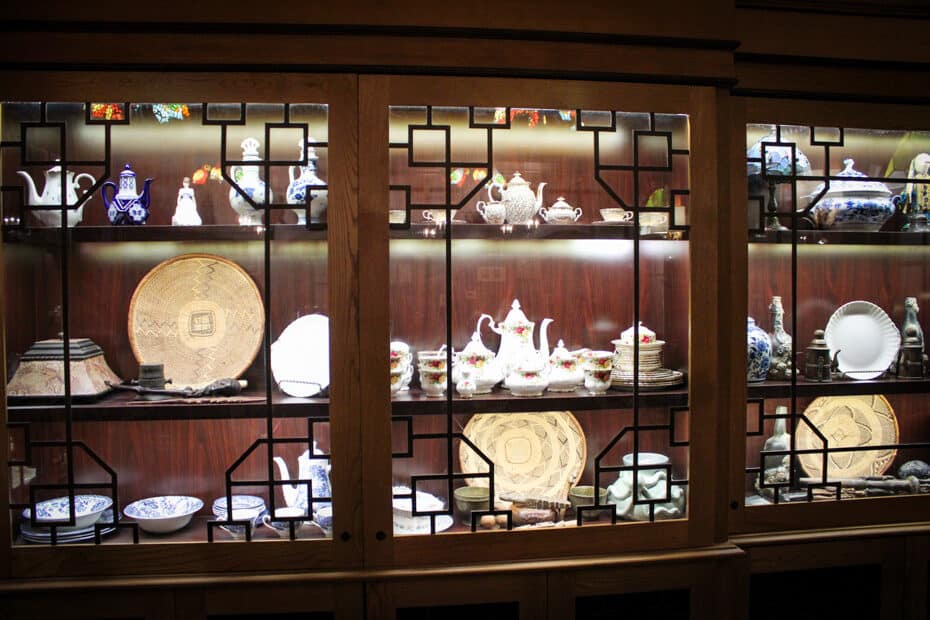 There are so many small touches here to appreciate. If it isn't too busy on your visit, make sure to inspect things a little further.
The appetizers are a must-try at Skipper Canteen. You can order a couple to share with your group or make a complete meal instead of ordering an entree.
This is always a good idea to keep in mind if you like to try different things.
Below, we have the Orinoco Ida's Cachapas described on the menu as "House-made Corn Pancakes, Beer-braised Pork, Roasted Corn, Fresno Pepper Salsa, and Avocado Cream."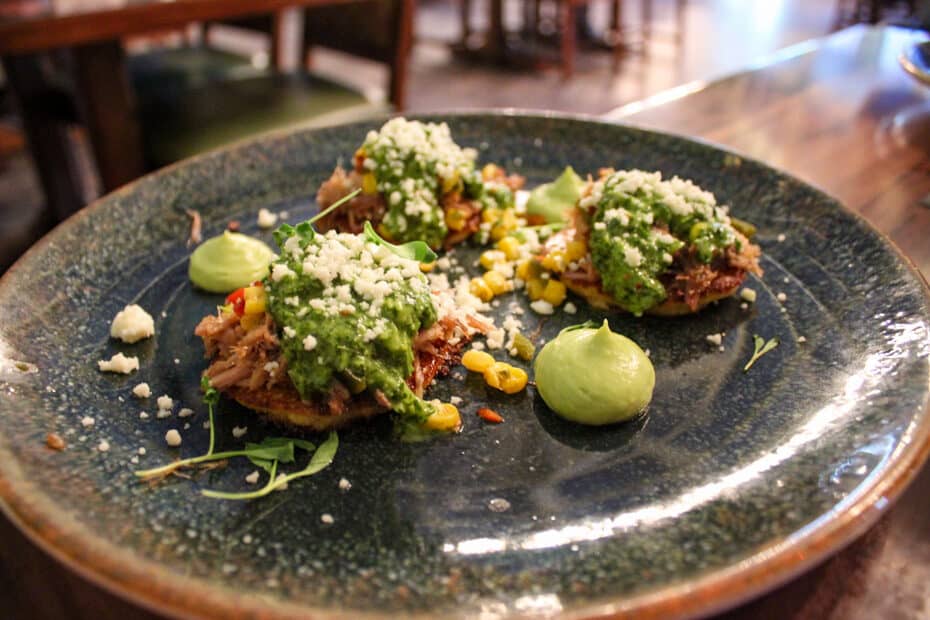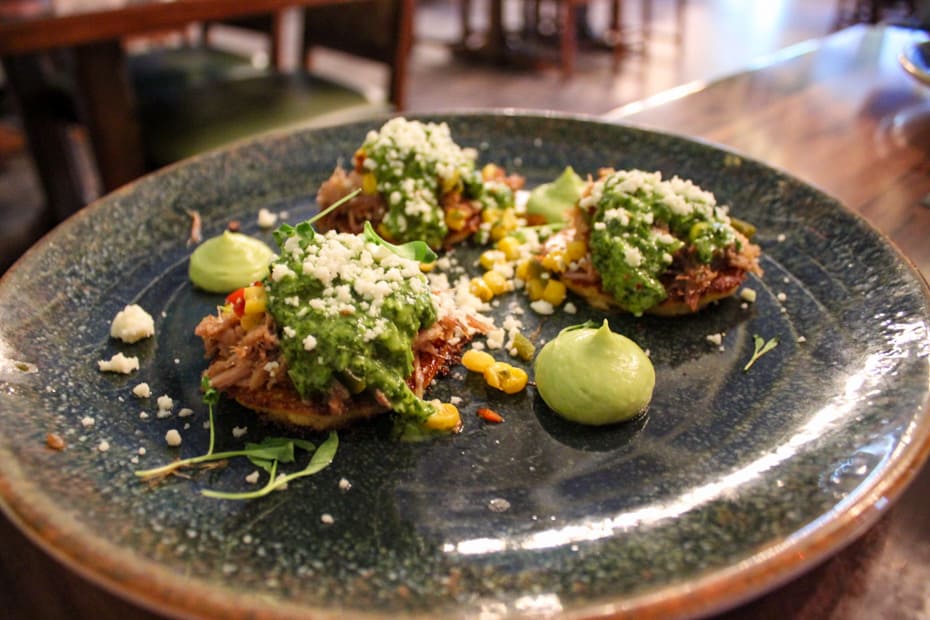 This is basically barbecue-style pork on corn pancakes with salsa and avocado cream. I enjoyed the cachapas but felt the barbecue had a reasonably strong vinegar taste.
The avocado cream was a nice note, and it was a sizable dish. It probably isn't something I would reorder, but there weren't any significant complaints with the dish either.
The Lost and Found Soup is listed on Skipper Canteen's appetizer portion of the menu. It is described as a soup of the day type offering. But from my understanding, this one is relatively standard.
It's a coconut curry with a savory and absolutely delicious flavor. I've actually had it twice.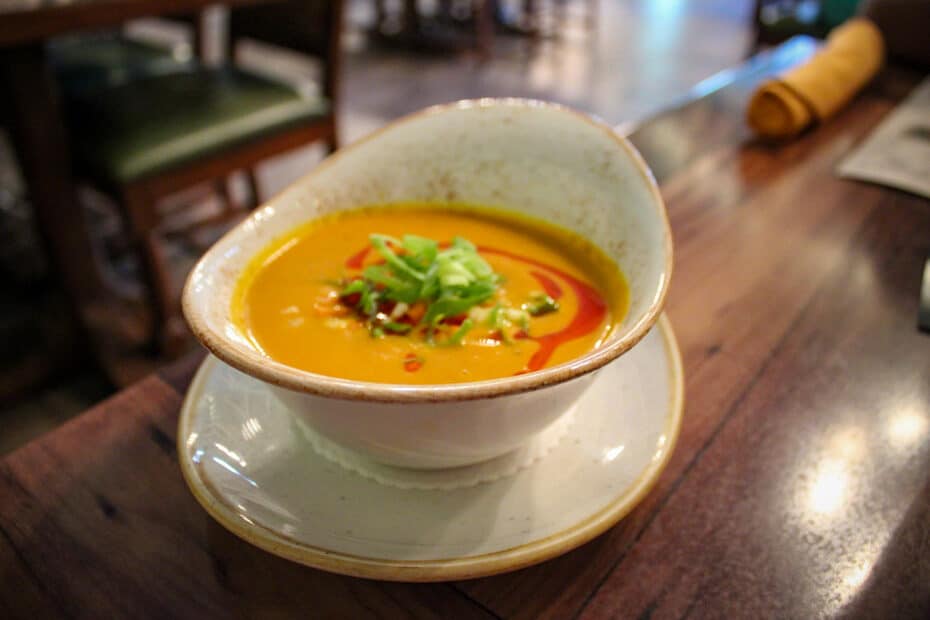 I've also had another coconut curry that I shared in the Kona Cafe review. This one at Skipper Canteen was totally the opposite. However, both were enjoyable and something I would reorder on a return visit.
This curry is a thicker, heartier style dish, while the Kona version was silkier and smooth. It is a soup that reminds me of comfort food, and I have thought about it several times since this meal. For me, that's always a plus.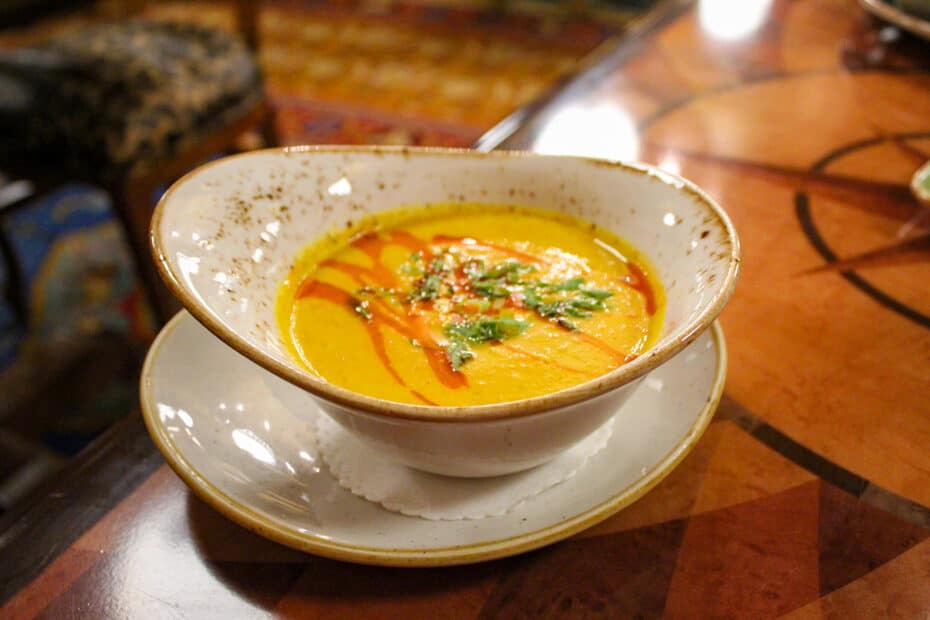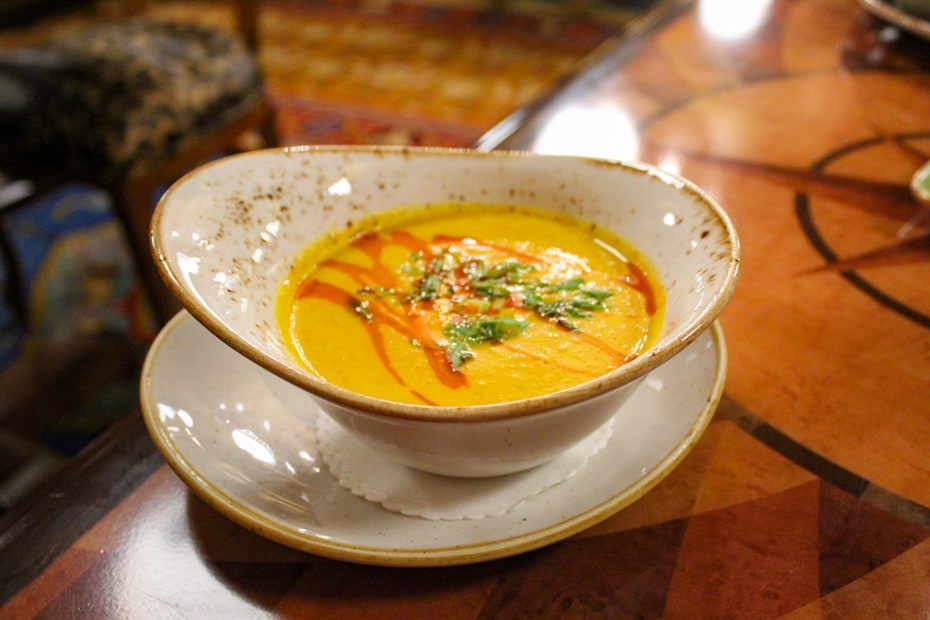 Since I wasn't ordering an entree on this visit, I went with a salad off the appetizer menu to go with my soup.
The Jungle Green Salad comes with a base of iceberg lettuce. Then it's topped with Shishito peppers, radishes, Hearts of Palm, pistachios, cucumbers, and an Aji' pepper-yogurt dressing.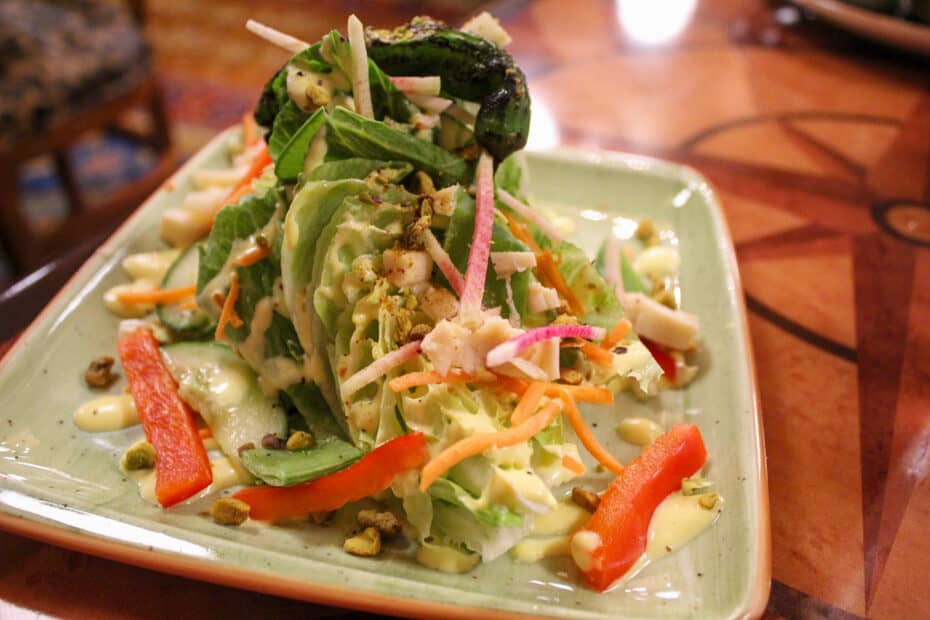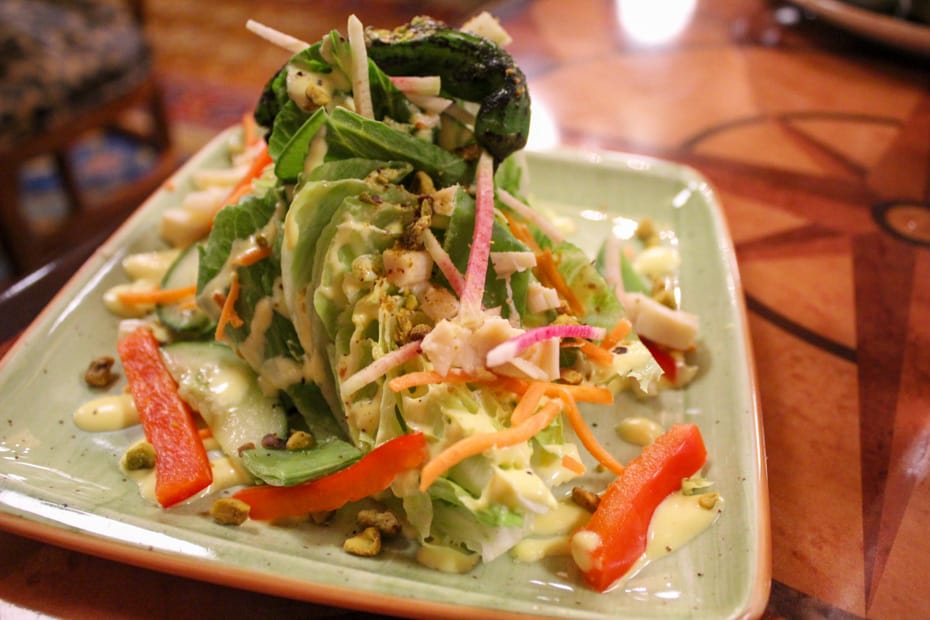 This salad was a great option. It felt like a large portion for the $9 price while offering some unique ingredients. The dressing had a muted flavor that allowed the other items to stand out yet blend nicely together. Another thing I would try on a return visit.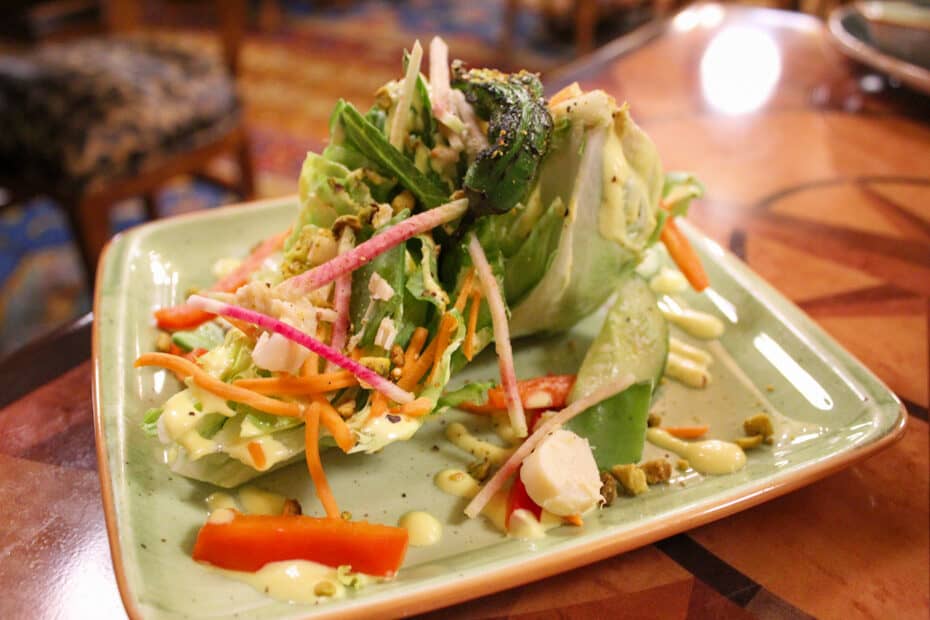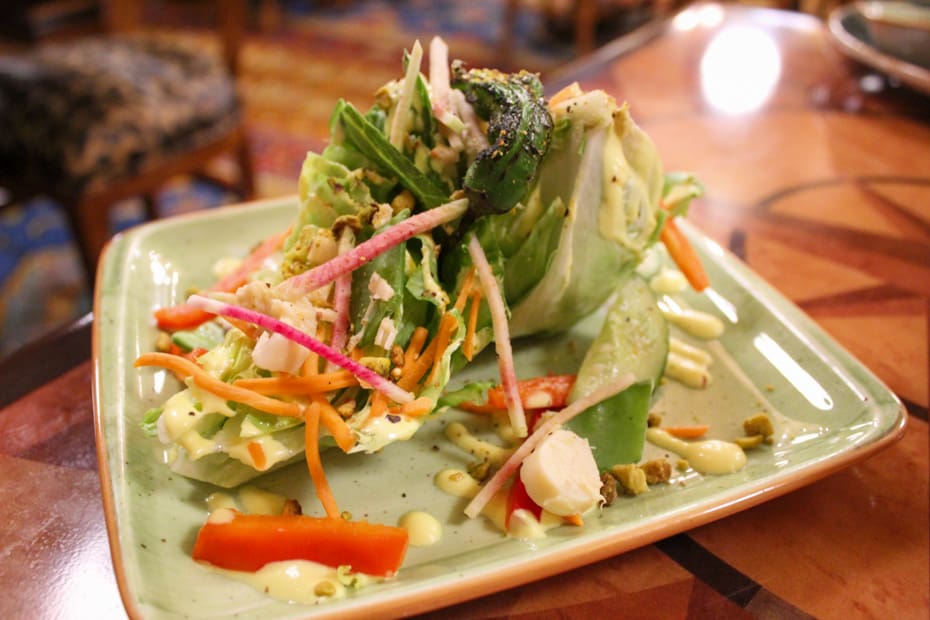 This soup and salad are included in the vegetarian section of our vegan food finds guide.
Related: Vegan Food Options at Disney World
Additionally, Skipper Canteen has a popular plant-based menu item called the Perkins Thai Noodles. I've yet to try this entree, but it consistently gets rave reviews.
Below we preview another appetizer, the S.E.A. Shu Mai. This dish is similar to a potsticker with a side of soy sauce.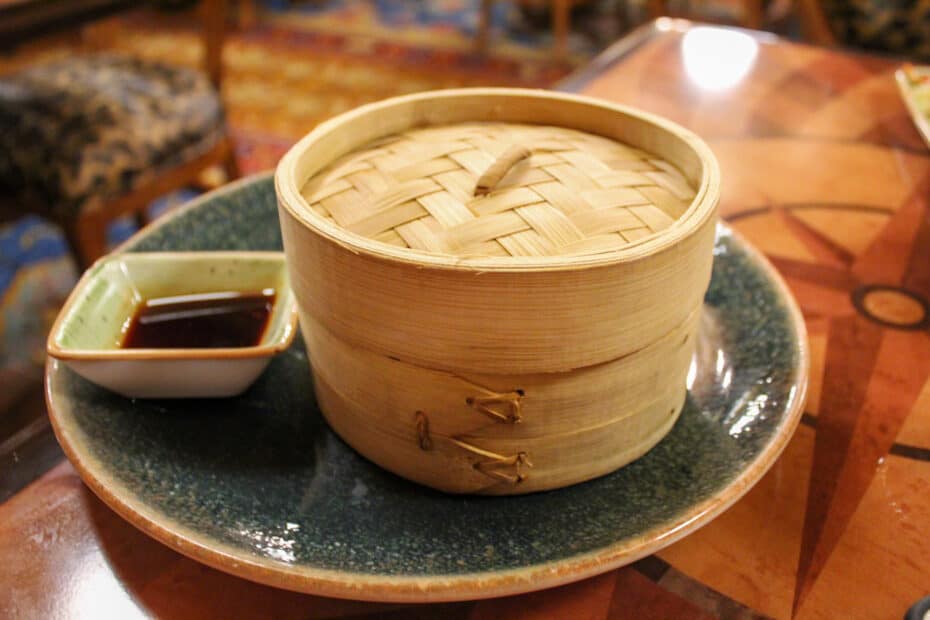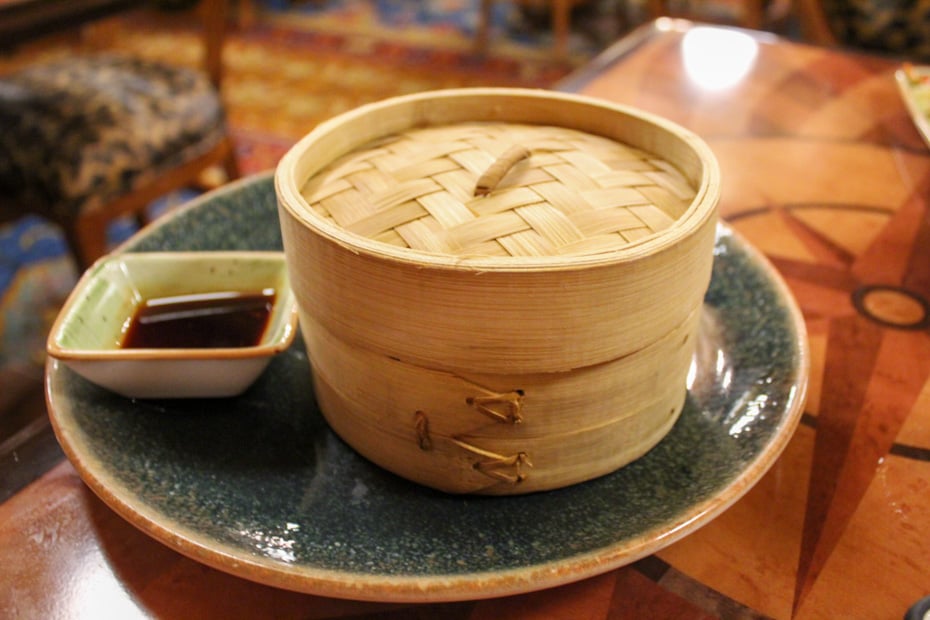 This interior mix is a combination of pork, shrimp, and Edamame beans. It's quite a nice bite. Five shumai came with the meal, and it was an easily shareable entree. In addition, it paired nicely with the soup and salad meal.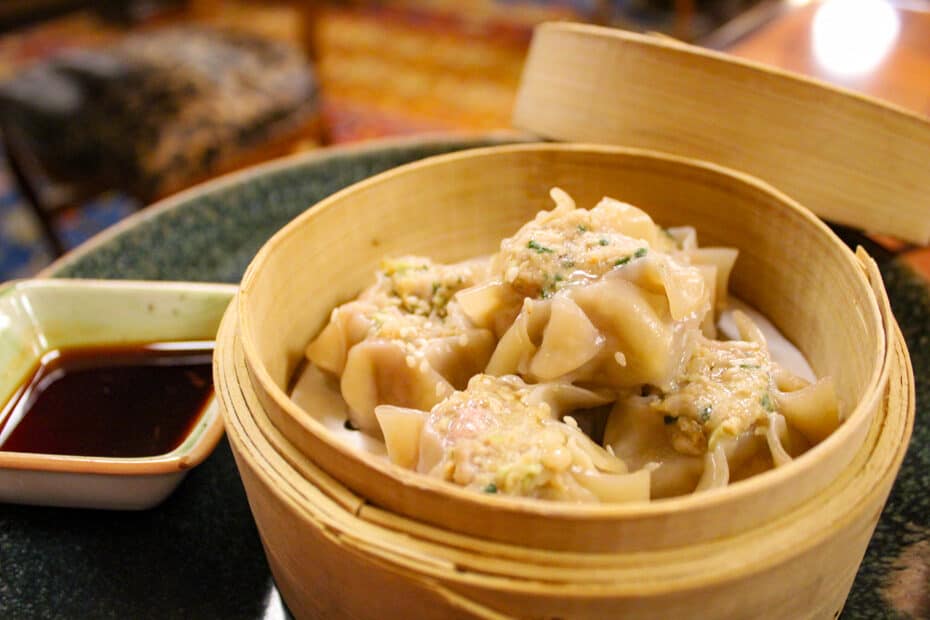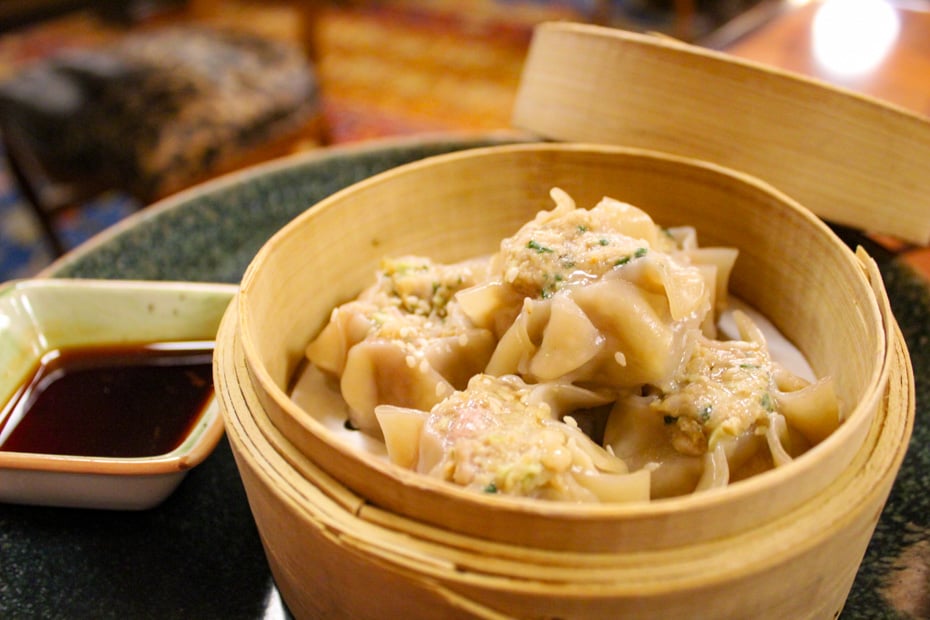 I cut one open so you could get an idea of the filling. This is one of their more popular items at the restaurant and comes highly recommended.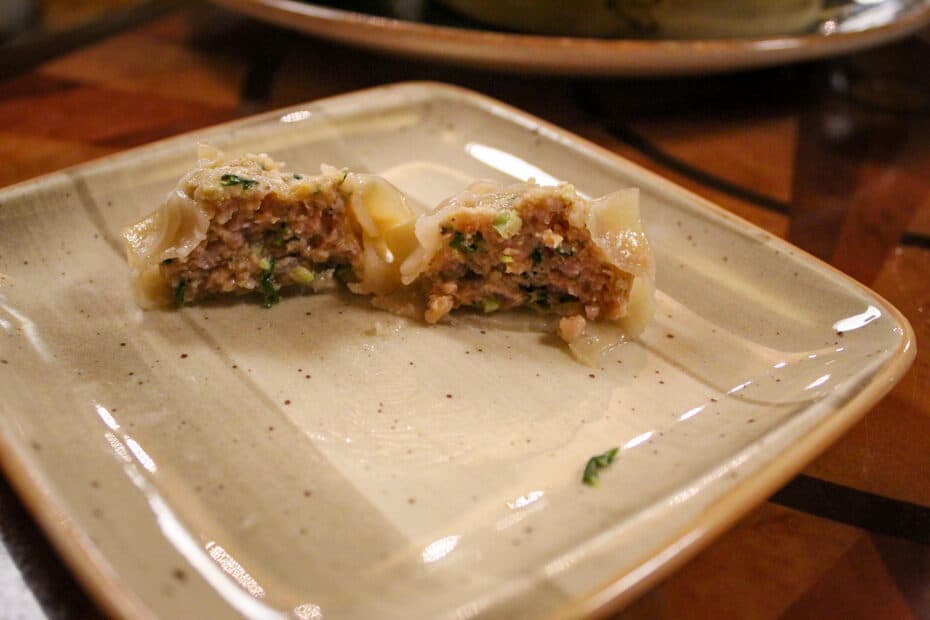 Back in July, we enjoyed another meal at Skipper Canteen. On this particular visit, we both went with an entree.
I returned to one of my favorite menu items, the steak salad. My son had a special food allergy preparation of the pork dish. Here's a look at that meal.
The "A Lot at Steak" Salad has quite a name, but it really does come with "a lot" of steak. It might not look like it at first glance, but this salad is packed with flavor.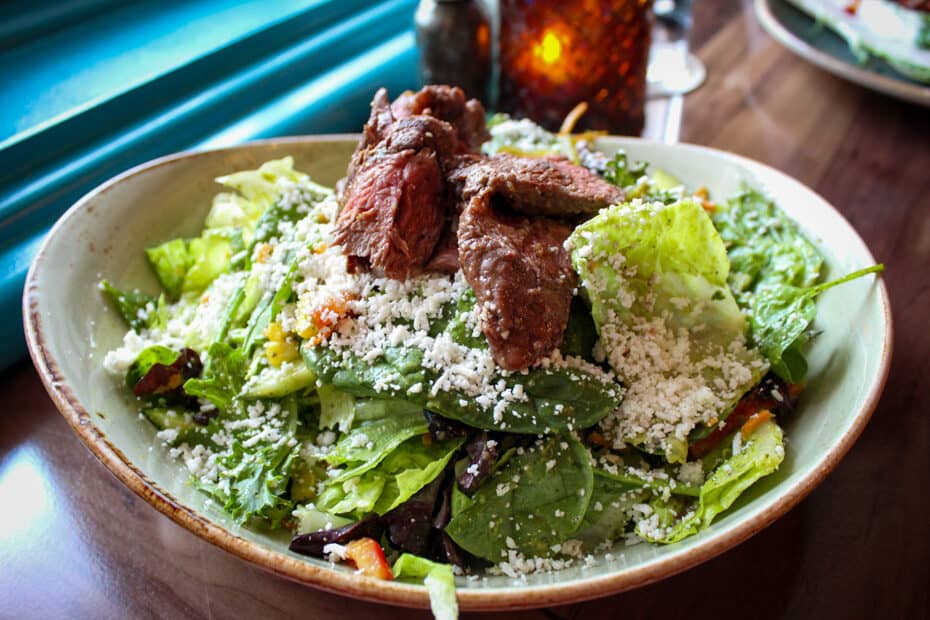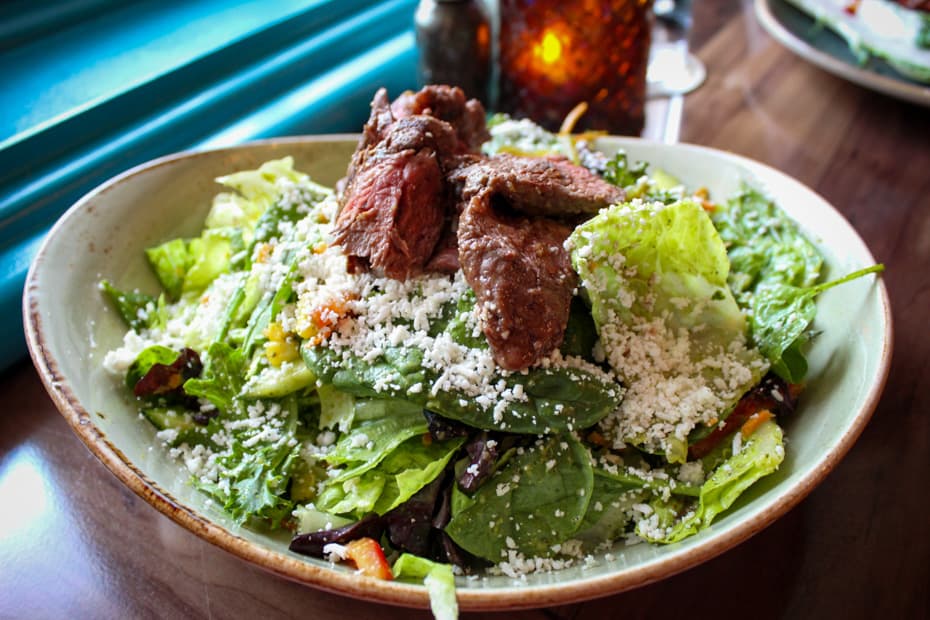 Here is a better look. Expect to find even more steak within the salad as you dig into it, including pickled jalapeños, red onion, queso fresco, and pumpkin seeds. This one is topped with a spicy chimichurri vinaigrette that might leave you in need of an extra glass of water.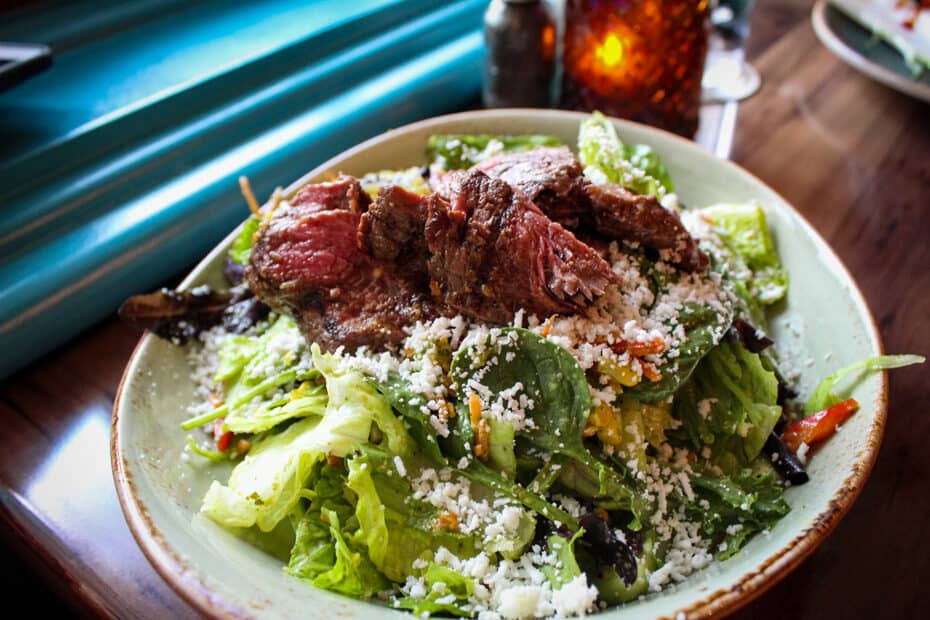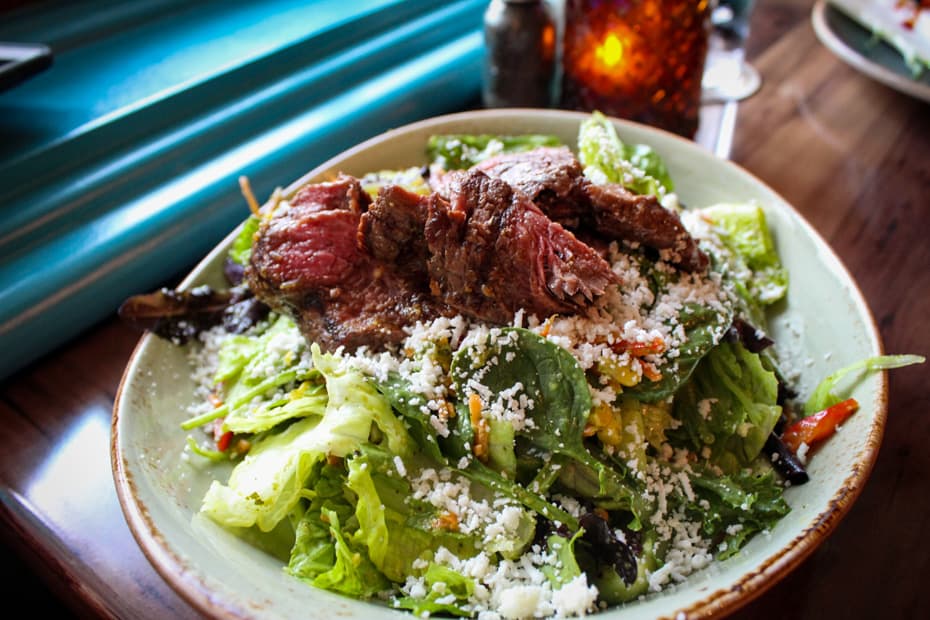 I've had quite a few meals over the past few years at Skipper Canteen, and this is my favorite entree to date. It's always been an excellent value for the price.
Additionally, the salad offers a sizable portion without being too heavy.
Unfortunately, healthier dining items are often hard to find in the theme parks. For example, if you have been doing a little extra snacking, sometimes you want a salad when it comes time for a sit-down meal.
Next, we have the "Hardy Har Char" Siu pork dish. You might notice the large pick in the center of the dish. That is a sign that this meal was prepared specifically for food allergies.
This dish accommodated the following food allergies: dairy, fish, eggs, peanuts, tree nuts, and tomatoes.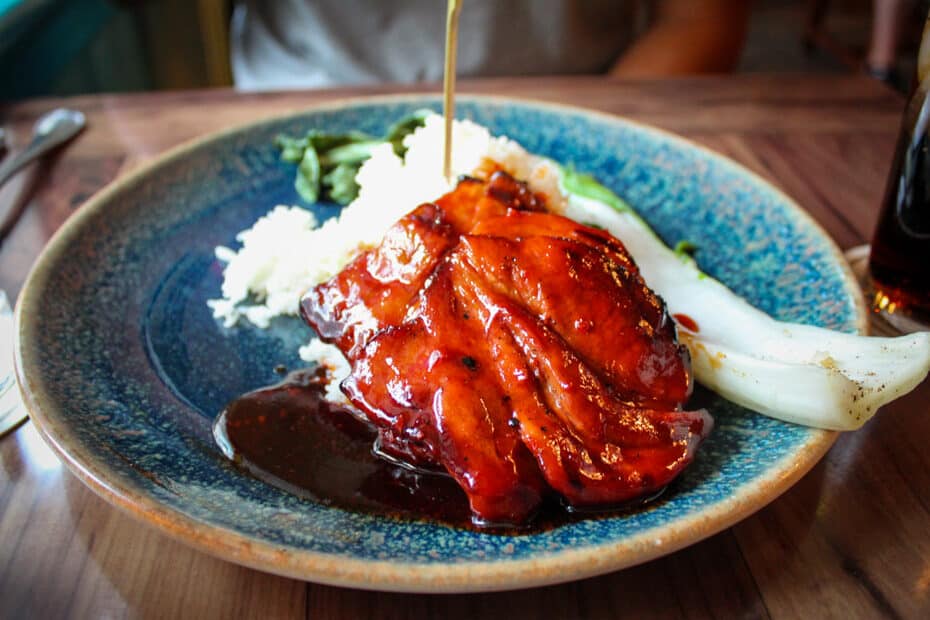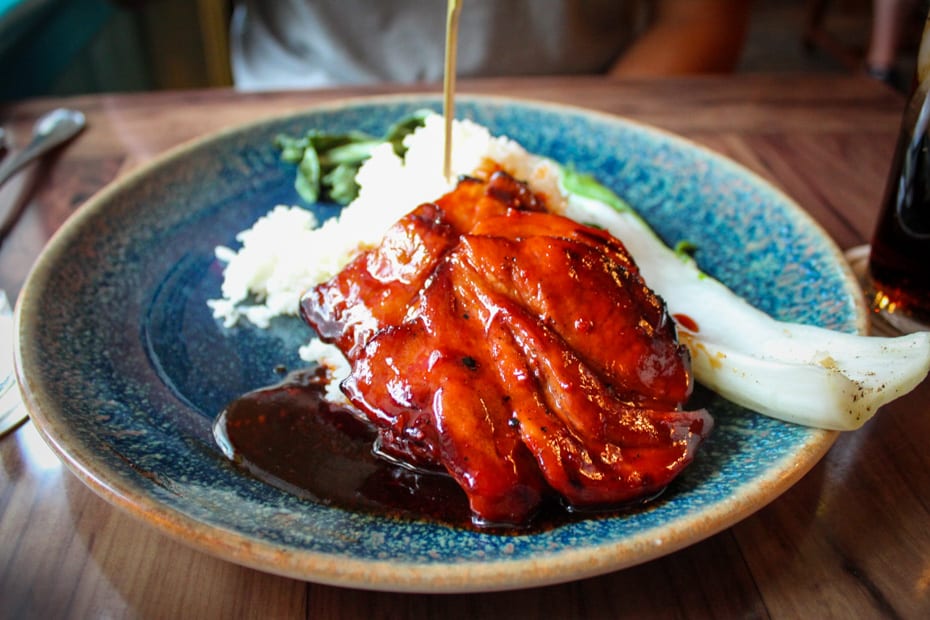 My son has had this dish on several occasions and always enjoys it. Dining with food allergies, in general, can be extremely difficult. However, Disney does an excellent job of meeting guest's needs that many other places do not.
As for the dish, you can see it comes with a side of rice and bok choy. I've tried it, and the pork has a nice sweet and sour style glaze with a touch of soy.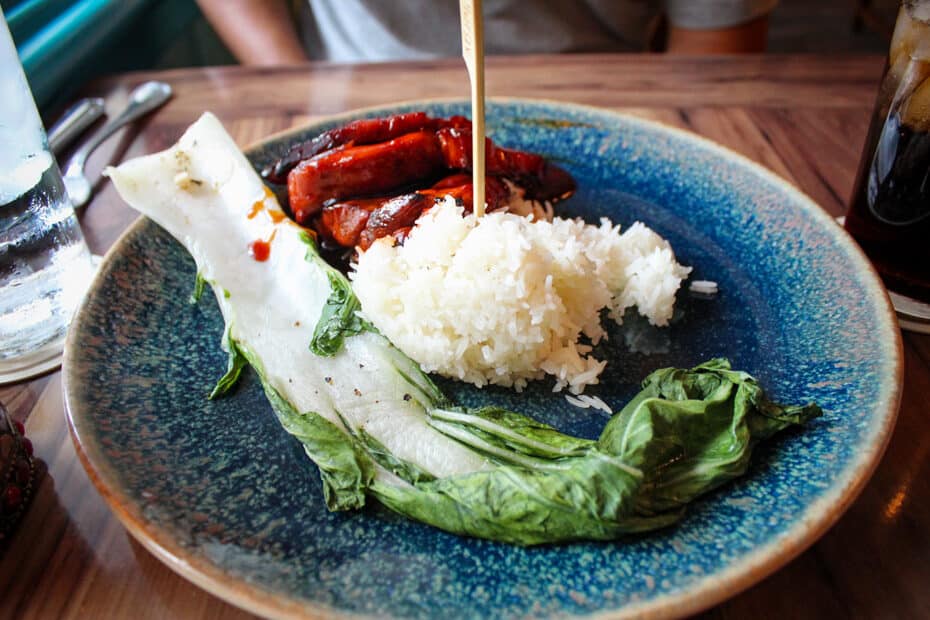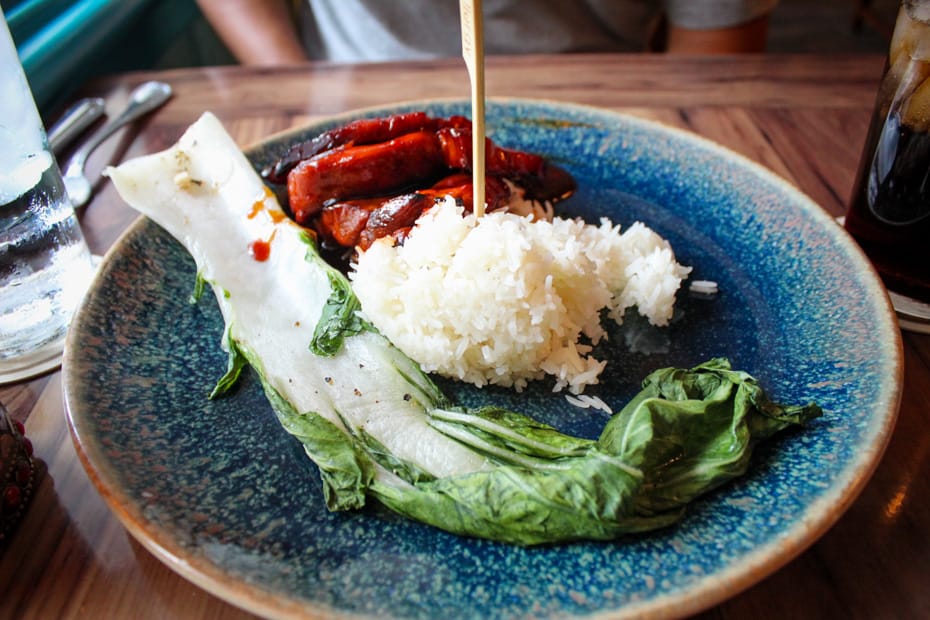 I've had a few other things at Skipper Canteen, including the lamb dish (not pictured.) A mention here is that while the lamb dish was cooked well and had a nice flavor, the actual meat was full of fat.
From my experience, this is common with lamb. However, I would hesitate to order it again due to the high-fat content.
If you are dining at Skipper Canteen, may I make a recommendation? Plan to ride Jungle Cruise either before or after your meal. It's a great way to prep for the meal and jokes! It can also be a fun way to finish off your meal.
Now that I think about it, you might not want to go looking so stuffed. These lions and cubs always appear to be hungry.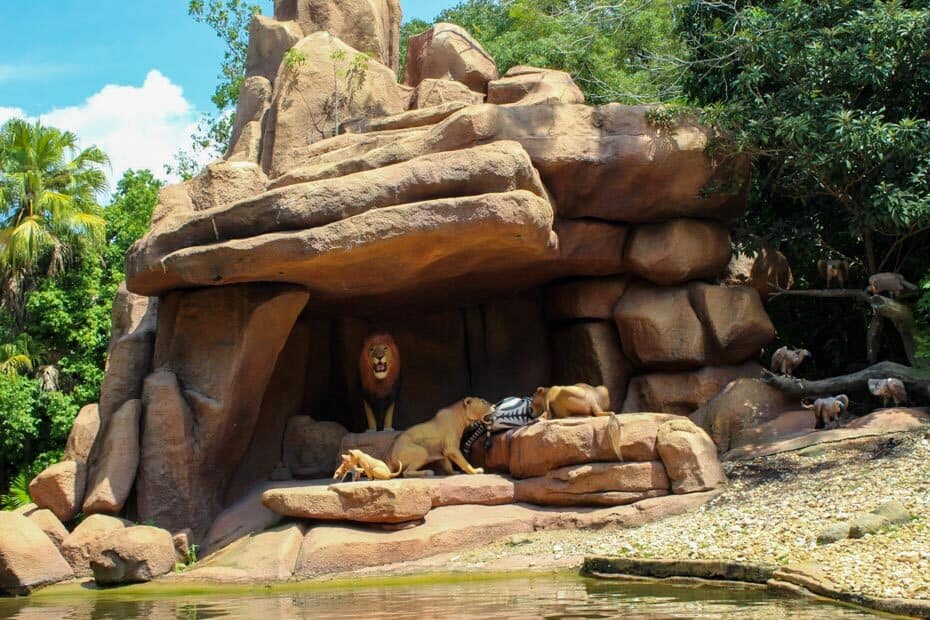 The crocodiles always appear starved too!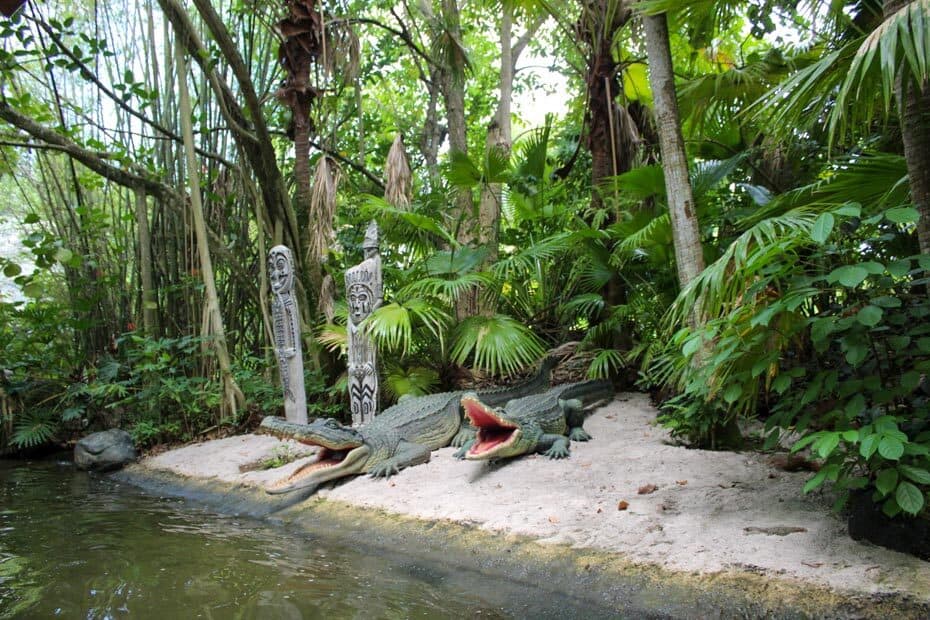 Related: Jungle Cruise at Magic Kingdom
Hopefully, this Skipper Canteen review provided you with a good overview of the restaurant. We love to eat here and always look forward to our next dining adventure.
For more dining at Disney, we have a list of all our restaurant reviews to date.
Related: Disney Restaurant Reviews
Some similarly themed dining reviews include:
Additionally, we have several popular dining guides available:
Planning a trip to Walt Disney World? Make sure to check out the list of Disney World Resorts. Each listing links to all of our articles for that particular resort.
Lastly, if you are visiting Magic Kingdom and looking for a nice lunch or dinner, give Jungle Navigation Co. LTD Skipper Canteen a try. I don't think you will be disappointed.
In the comments: Have you visited Jungle Skipper Canteen before? Did you find this review helpful?