Meet Captain Jack Sparrow at Disney World
Ahoy, me hearties! We're off on an adventure to meet Captain Jack Sparrow at Walt Disney World.
Yes, you heard me right, the infamous Captain Jack Sparrow is once again greeting guests in Adventureland at Magic Kingdom. So for this article, we'll look at where you can find the sea-loving scallywag and what time he's usually out.
In addition, we'll discuss a few tips for photos, conversations, and autographs. Beware, you'll long remember the day of your meet-and-greet as the day you almost caught Captain Jack Sparrow.
Almost. He does have a way of escaping sticky situations, doesn't he?
This article was updated on January 24, 2023.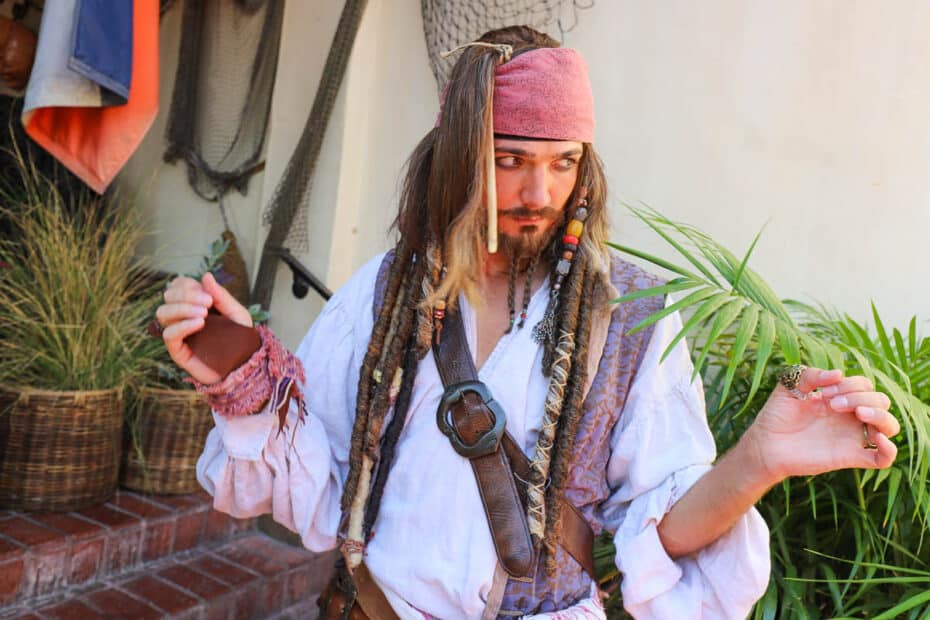 Jack Sparrow meets in Adventureland throughout the better portion of the day. He greets guests on the side of the Adventureland Stage, which sits across the walkway from the Pirates of the Caribbean attraction.
Here is a sample of what times he was available on the day of my visit:
10:45 a.m.
12:00 p.m.
2:10 p.m.
3:00 p.m.
3:50 p.m.
This visit was on a Sunday afternoon, and I had park-hopped to Magic Kingdom to meet a few characters and see the parade. When I arrived at the park, I first met Anastasia and Drizella near Cinderella Fountain.
Related: Meet Anastasia and Drizella at Magic Kingdom
Then I was able to meet Belle. However, her formal meet-and-greet is now at Epcot since Enchanted Tales with Belle soon returns. You can also see her daily in the Festival of Fantasy Parade.
Related: Belle's Character Meet at Disney World
After that, I watched the Festival of Fantasy Parade from Adventureland. I planned to go straight to Captain Jack Sparrow's meet as soon as the parade passed.
Since most of the walkways to Adventureland are cut off during the parade, the land is relatively empty until the parade passes. So if you watch the parade near the stepping-off point, you can quickly walk to Adventureland and take advantage of a ride with little to no wait time.
Or, in this case, I went to meet Captain Jack Sparrow.
Here is a look at the line already formed when I got to the meet. Usually, I recommend getting to a character meet before the scheduled time.
However, this was how my plan worked out, and thankfully there weren't too many ahead of me. Had there been a long line or if the line was already closed, I knew I could wait in the area and get in line early for the 3:50 p.m. meet.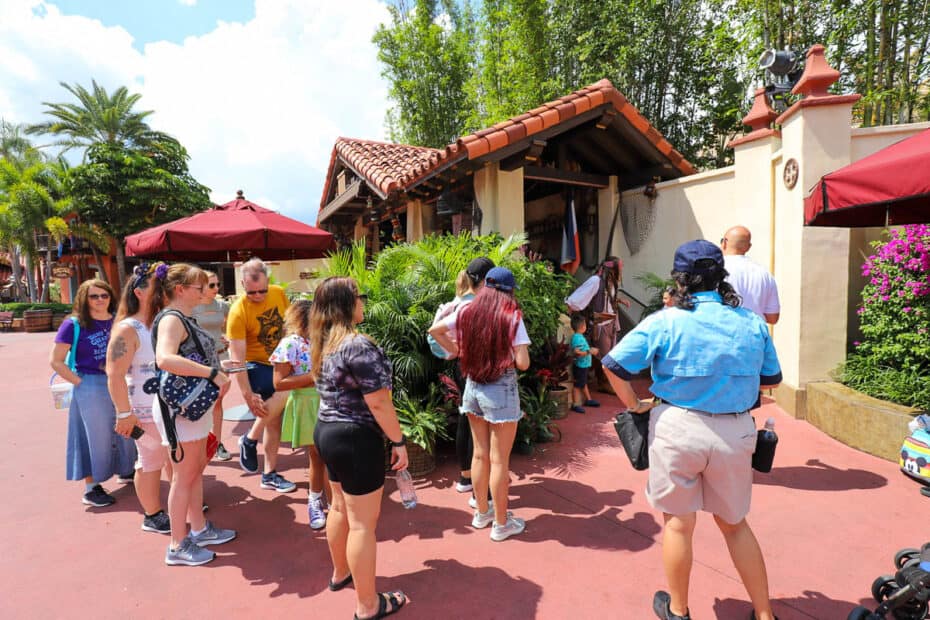 It was 3:25 p.m. when I joined the line, and I met the Captain at 3:30 p.m.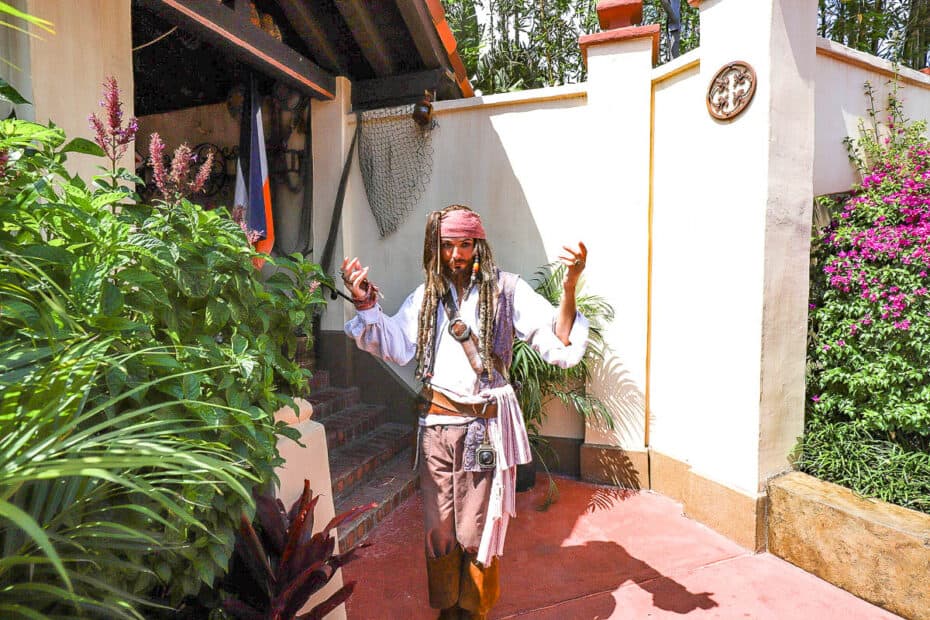 I told him that I would like to take a few photos, and he asked how he should pose. My suggestion was to pose like a pirate, and he did an outstanding job indeed.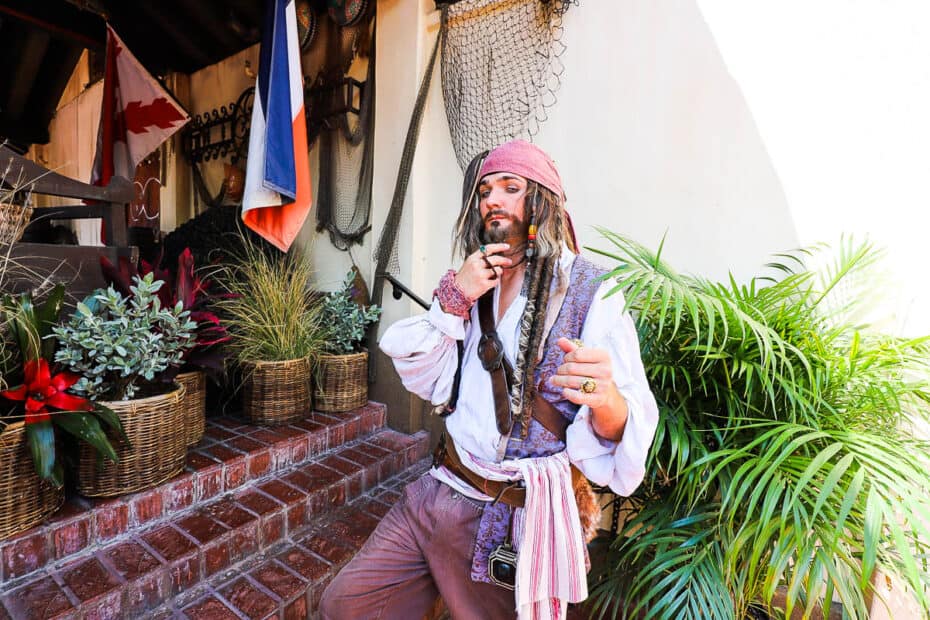 And then he signed my autograph book.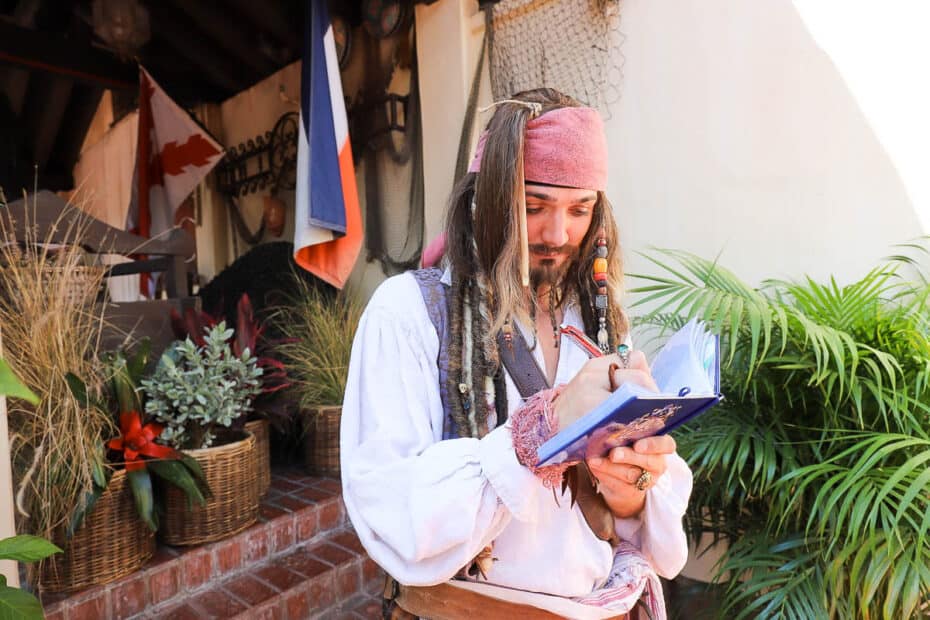 Additionally, a PhotoPass photographer was present at this location to take photos.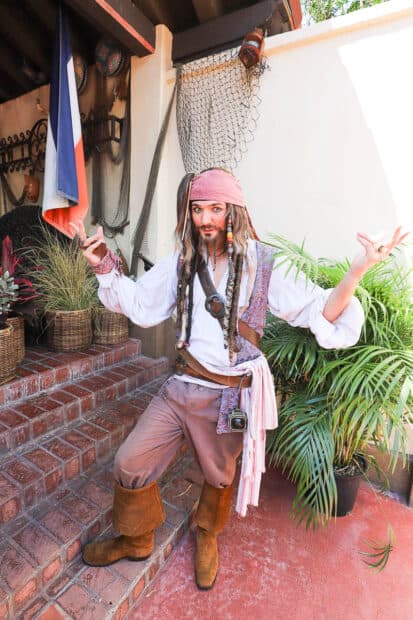 One of the things I have found about character meets is that they're so entertaining. The characters work extremely hard to stay in their role. You won't find any deterrence from the character they are portraying.
When my son was younger, we rarely met characters. At the time, it wasn't something that I thought he would enjoy doing.
So when I started the blog several years back, I knew I needed to learn more about the character meets and how they worked. Little did I know how much I would enjoy the interactions.
You see, I have met some of the nicest people while waiting in line for these meets. Often, they will share with you why they are meeting with the character.
As of late, I've talked with many parents who are taking their children to meet characters for the first time. Of course, that's understandable, given the rough past few years.
And I met someone recently who knew a lot more about fairies than the average guest. Yes, I hope Tinker Bell returns soon too.
If you've ever met me while waiting for a character meet, I want to thank you for sharing your story with me. Those kinds of things inspire me and help me write these articles.
At this time, I'm working on updating all of the character's meet and greets on the site. For the most up-to-date list, try our character guide:
That guide lists every character meet available by the park, and it links to individual articles like this one with more details.
You might also enjoy a few of these other meets:
In the comments:
Do you enjoy meeting characters? Have you had the opportunity to meet Captain Jack Sparrow?