Astro Orbiter at the Magic Kingdom
Astro Orbiter is a spinner-style attraction located in the Magic Kingdom at Walt Disney World. The ride involves rocket vehicles and some pretty extreme heights and views compared to your average spinner ride.
This review goes over the attraction specifics for Disney's Astro Orbiter. Then, I'll add a few tips on the best time to ride this attraction and other essential details.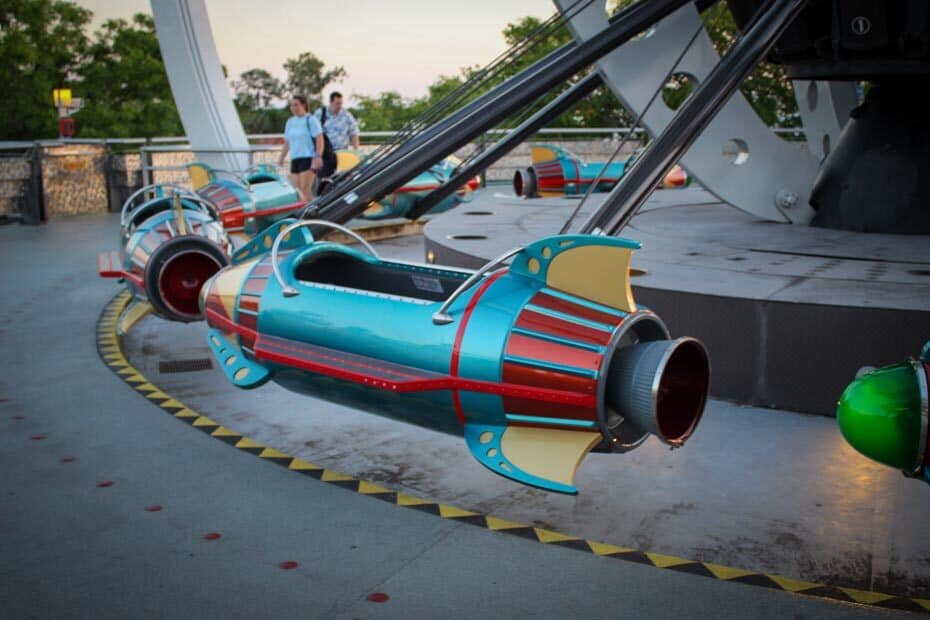 See the table below for details on fitting Astro Orbiter into your day.
Astro Orbiter at Magic Kingdom
Astro Orbiter, as a ride, is difficult to see if you aren't looking for it in some sense. By that, most guests will see it, but they probably won't know it's an actual ride.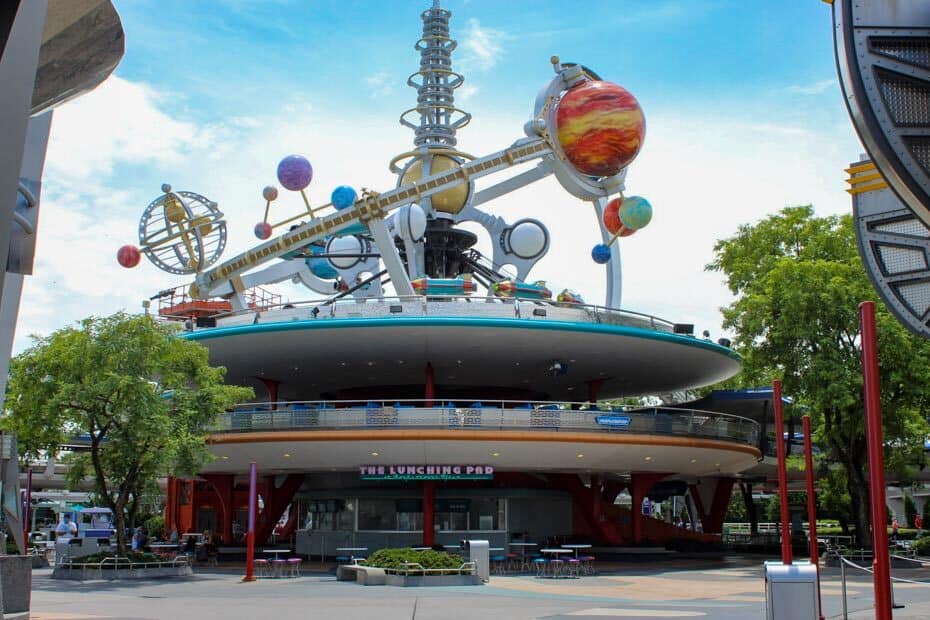 This attraction is part of the center hub of Tomorrowland in Magic Kingdom. The queue sits almost adjacent to the line for the PeopleMover attraction.
Astro Orbiter sits on the top floor of the area. You have to look up to see it.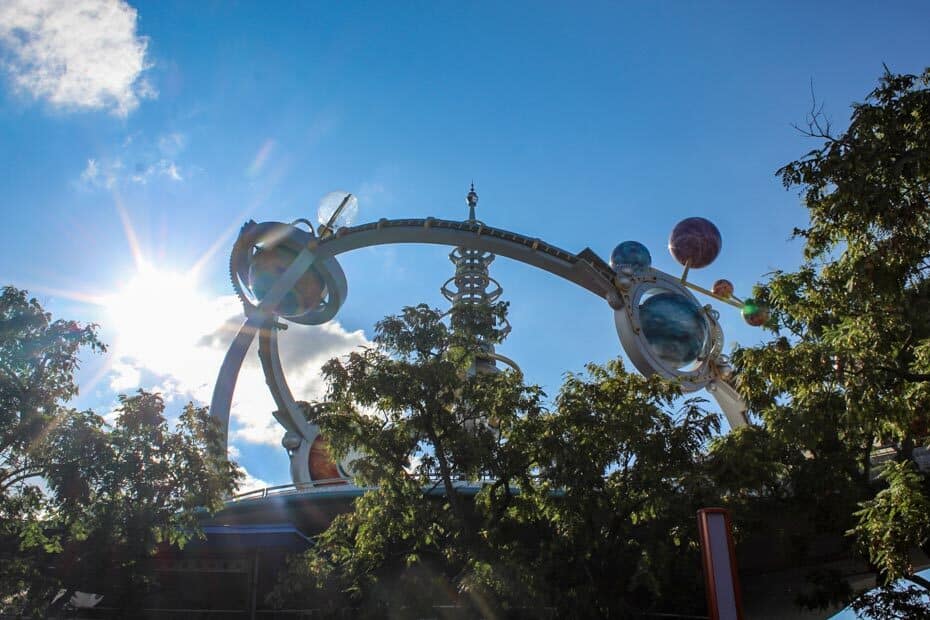 Signs indicate the ride entrance at the ground level. Once you get to the front of the ground queue, a cast member will load your group into an elevator and send you to the next level.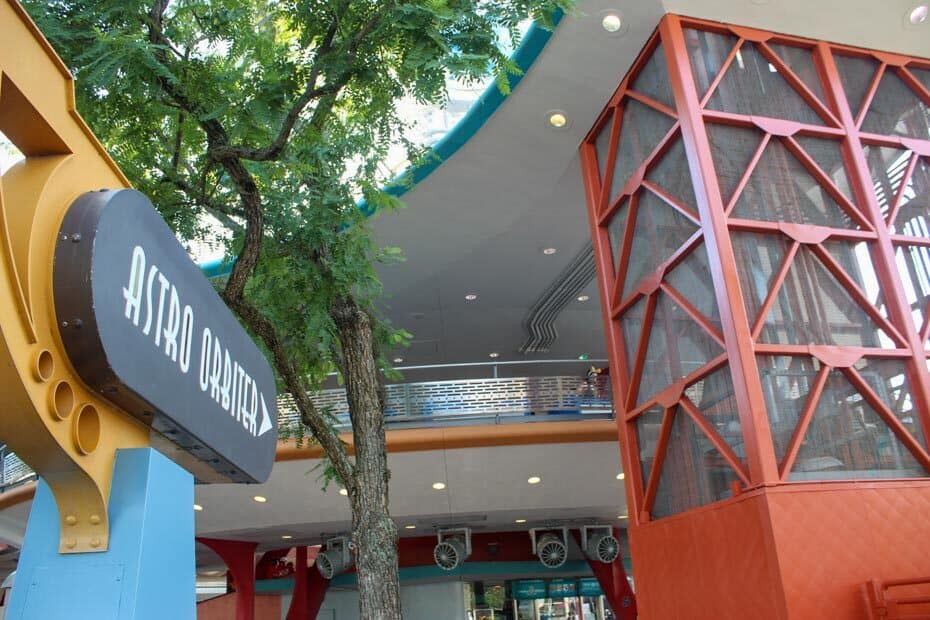 There's a sign out front with an estimated wait time toward the bottom.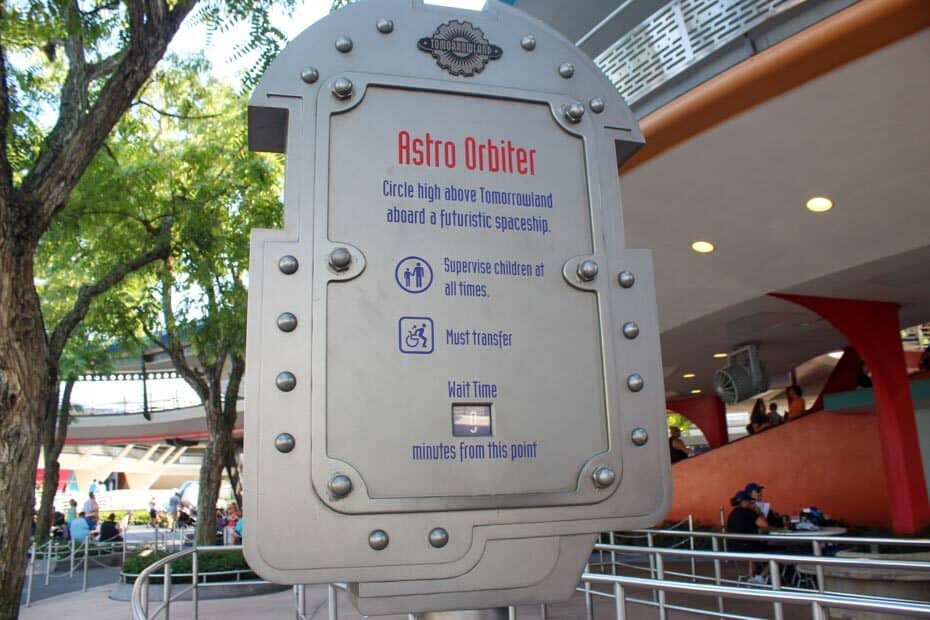 Once reaching the upper level, you will typically have to wait for one entire ride through before it's your turn to board.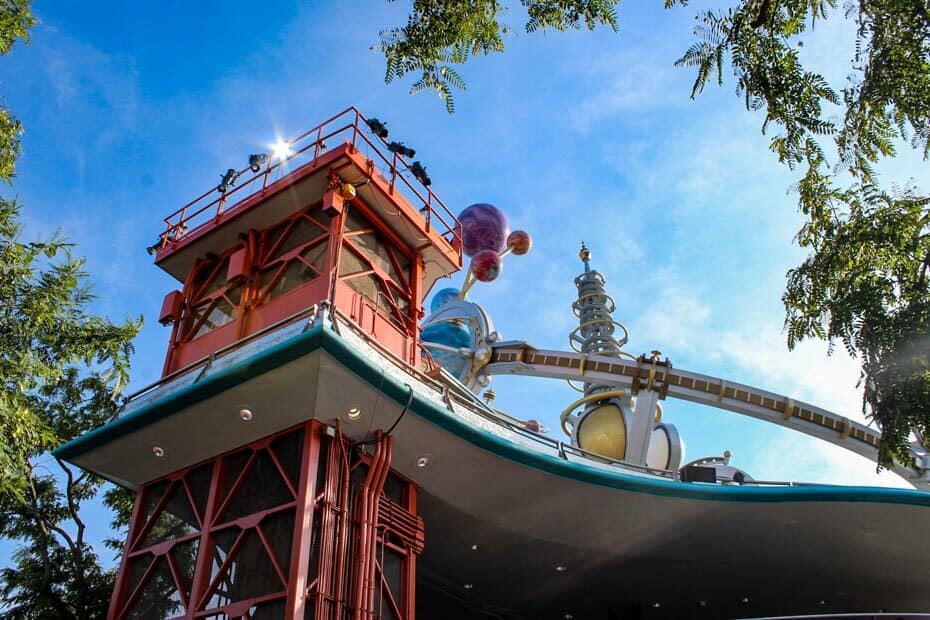 Parents riding with smaller children will want to ride toward the back of the rocket with their children sitting in front of them. For groups of adults, two or more, I would hesitate to experience this attraction as a duo.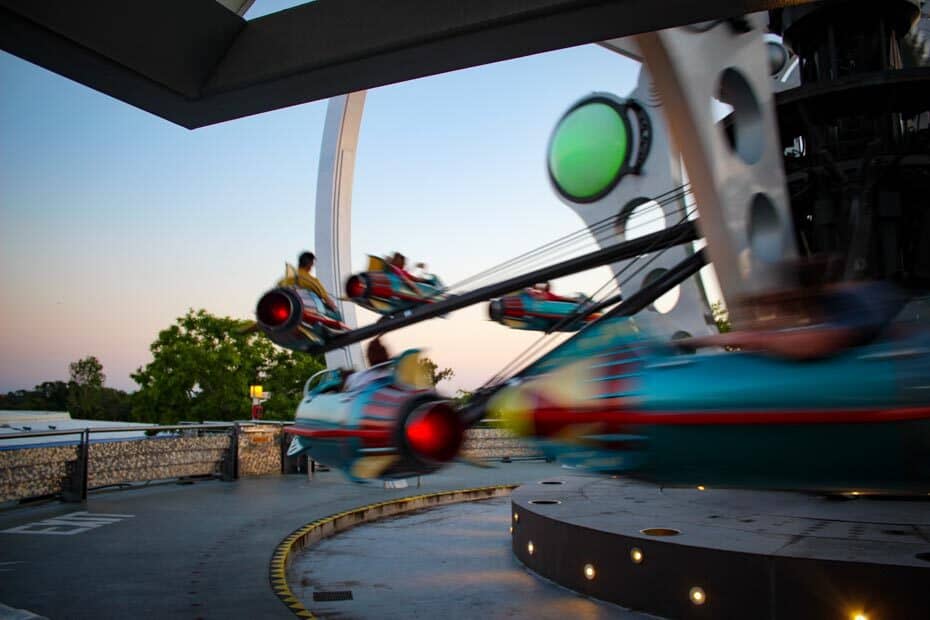 The rocket will give you a forced feeling as it lifts. You'll tend to lean back because of the force. All the while, you'll have difficulty leaning forward or moving.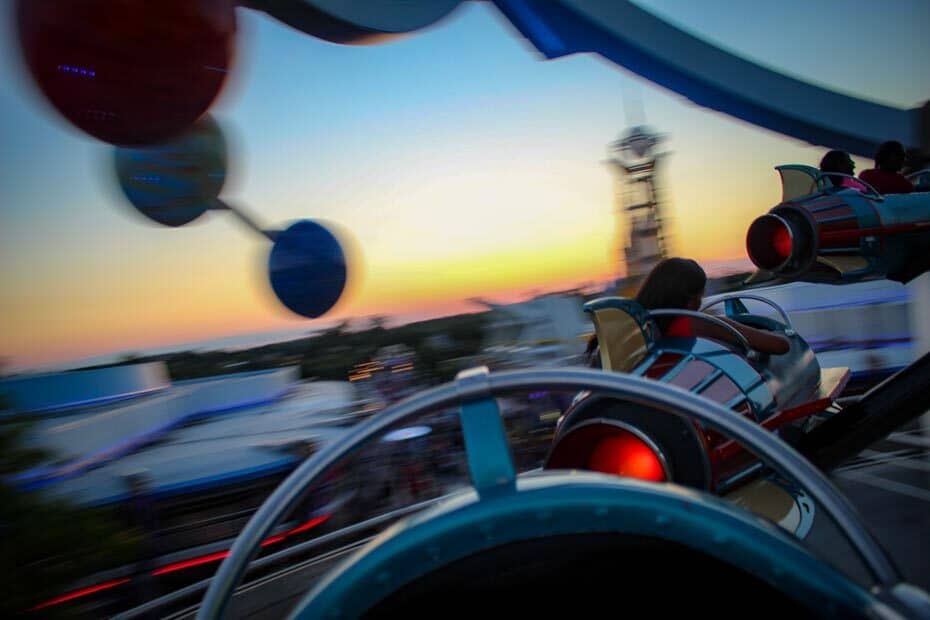 While I enjoy the views from above, this is an attraction I rarely care to experience due to the heightened feel of gravitational force. To explain it better, It's not so much a motion issue but more the inability to have much movement.
Those Astro Orbiter views are stunning, though.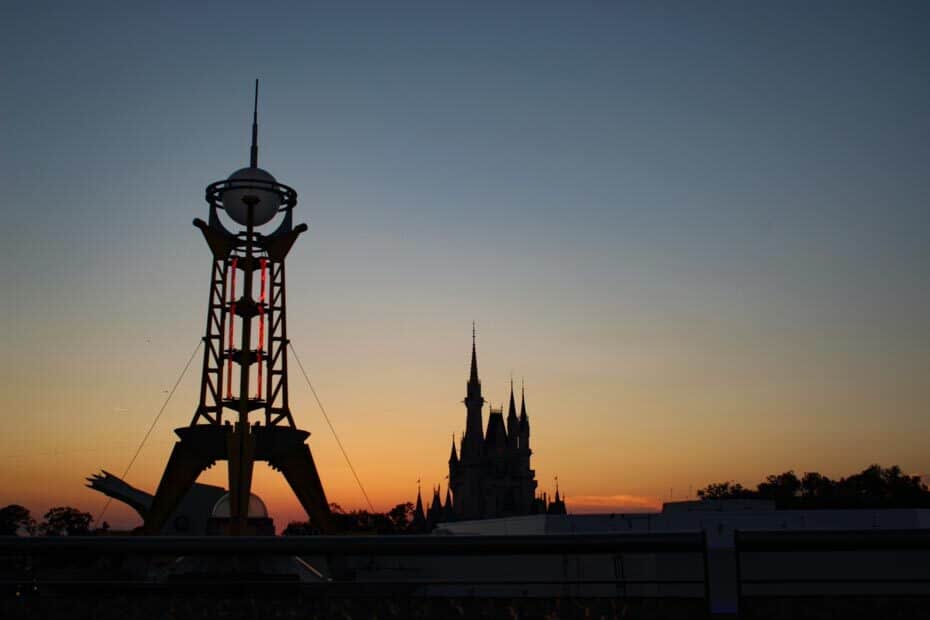 Lastly, anyone who fears heights will probably want to pass this one up.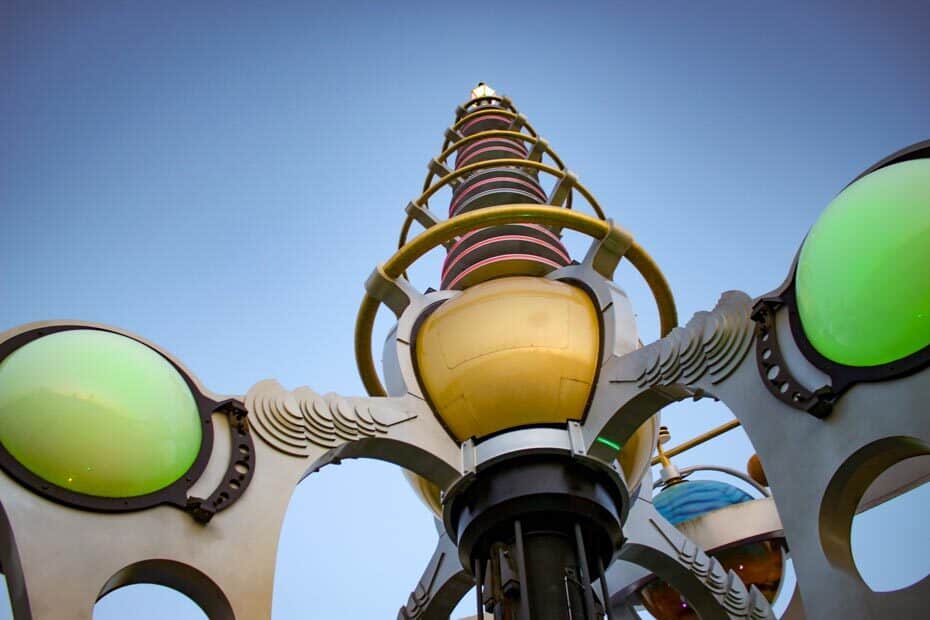 The best time to ride Astro Orbiter is anytime in the morning or evening when waits are at their lowest across the entire park. This isn't a high-demand ride, but waits can build due to the boarding process and low capacity.
Check out Astro Orbiter on YouTube: Complete Ride Experience
Know Your Disney Rules When Riding With Children-Any child under the age of seven or younger must be accompanied by an adult fourteen years or older.
Make sure to check out these attractions with similar reviews.
Or you can preview the complete list of rides at Magic Kingdom.
Resorts Gal specializes in Disney World Resorts, Characters, and Dining. Check out some of our resources, like our list of Disney World Resort Reviews. That article gives a brief overview of every resort at Disney.
Some of the Magic Kingdom Area Resorts include:
We have a complete list of our Disney restaurant reviews available for planning dining reservations. Usually, we recommend scheduling at least one Disney World character dining meal and a Disney signature dining reservation.
If you plan to meet characters in the parks, I keep an updated list of Disney World Characters here. That review will link to every meet available in every park.
Lastly, our most popular reviews include the best restaurants at Disney Springs, and I keep a timeline going of Disney Loungefly mini-backpacks.
So, do you plan on taking the time to ride Astro Orbiter on your next visit? Let me know in the comments!