Astro Orbiter (A Spinning Attraction in Tomorrowland at Magic Kingdom)
Astro Orbiter is an attraction at the Magic Kingdom in Walt Disney World. This classic ride is a spinner, similar to the Magic Carpets of Aladdin and Dumbo the Flying Elephant.
However, this attraction involves considerable heights compared to those rides. Astro Orbiter is so high that guests can fly their rocket ship among the planets that orbit the attraction.
Below, we'll review the specifics for experiencing Astro Orbiter at Disney World. We'll discuss who might enjoy this ride and who might prefer to skip it. Additionally, I'll provide a few tips for the best time to ride this attraction.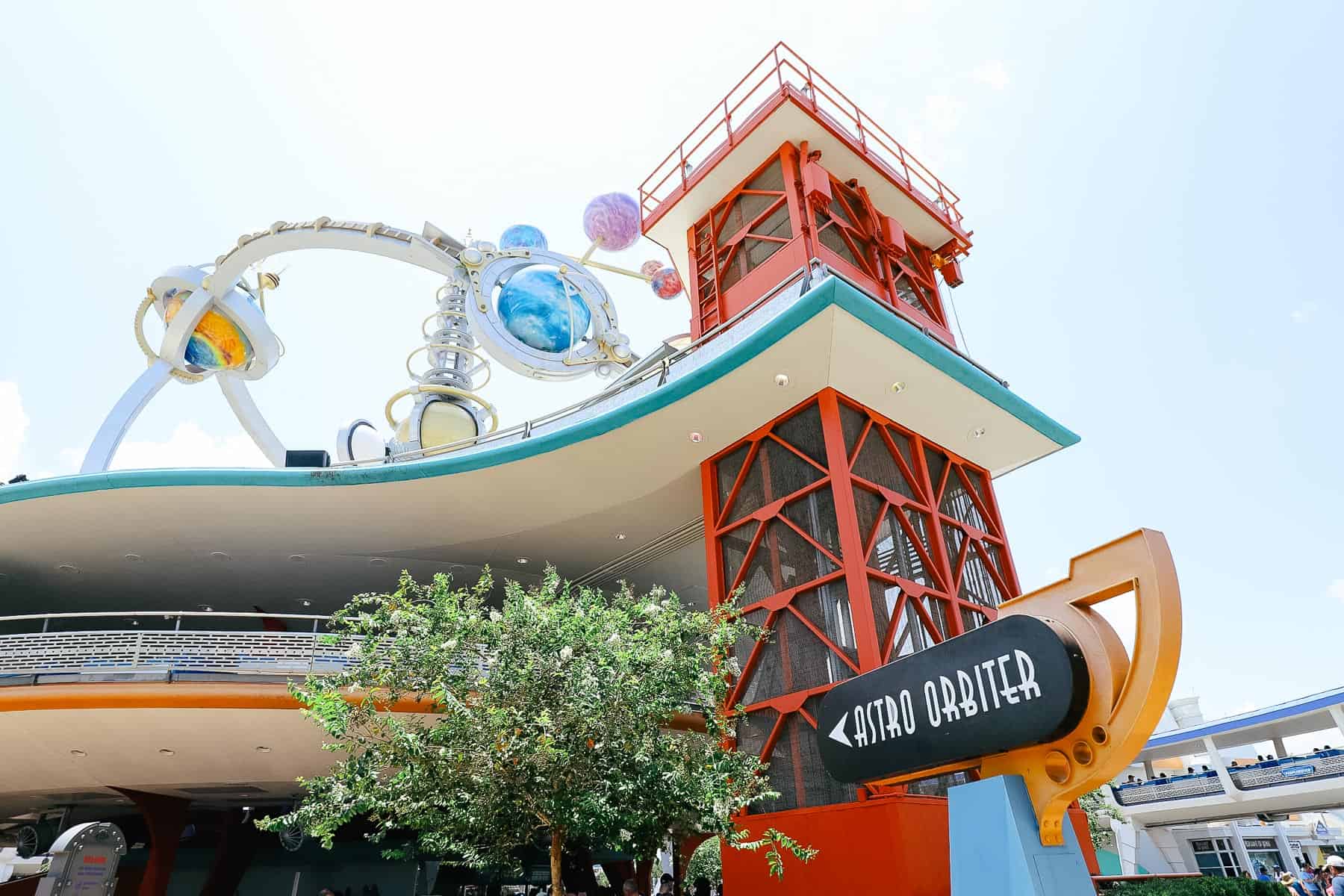 Here are a few quick reference details for experiencing Astro Orbiter.
| | |
| --- | --- |
| Astro Orbiter | Magic Kingdom |
| Location | Tomorrowland |
| Height Requirement for Disney: | None |
| Eligible for Genie+: | NA |
| Ride Type: | Spinner |
| Seats Per Vehicle: | Up to two guests can ride at a time. |
| Disney Rider Switch: | No |
| Good For: | Children, Teens, Adults |
| Scare Factor: | You must board an elevator to access this attraction. Some might experience motion sickness. |
| Must-Do List: | Low |
| Perfect For: | Children |
| Special Mention: | Must board an elevator to access this attraction. Some might experience motion sickness. |
*Guests in wheelchairs or ECVS must transfer to the ride vehicles. Details for those with mobility issues (i.e., wheelchair, ECVs) are available on Disney.com.
Astro Orbiter at Magic Kingdom
You might completely miss Astro Orbiter if you're unfamiliar with touring the Magic Kingdom. That's because it's an elevated ride that's difficult to see from the ground. Astro Orbiter sits on a platform directly above the Tomorrowland Transit Authority Peoplemover.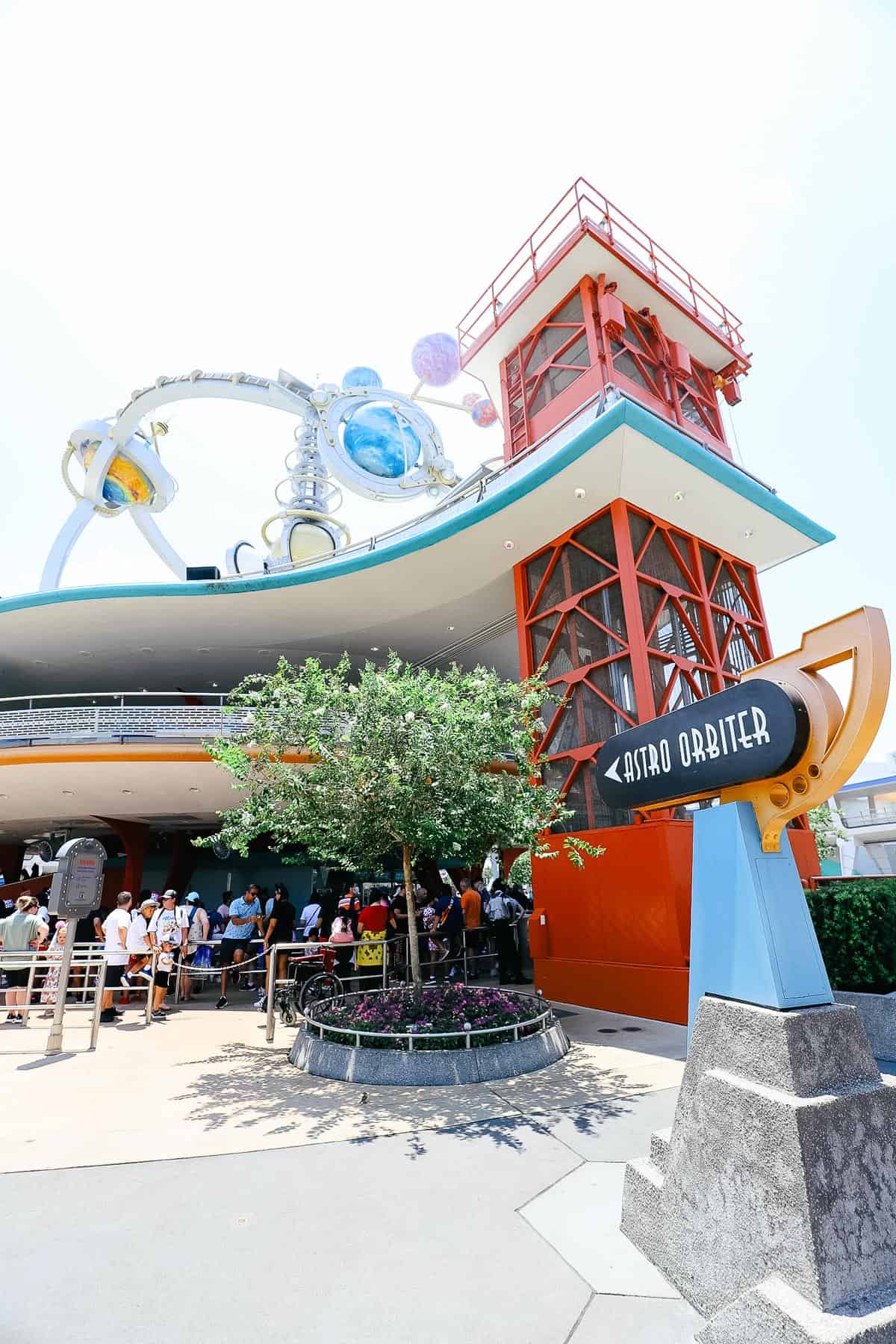 A sign sits outside the attraction's entrance. It lists the wait time for the attraction. This attraction only offers a standby queue. It doesn't participate in Genie+ or have Lightning Lanes. Disney lists this attraction as available for early entry and extended evening hours.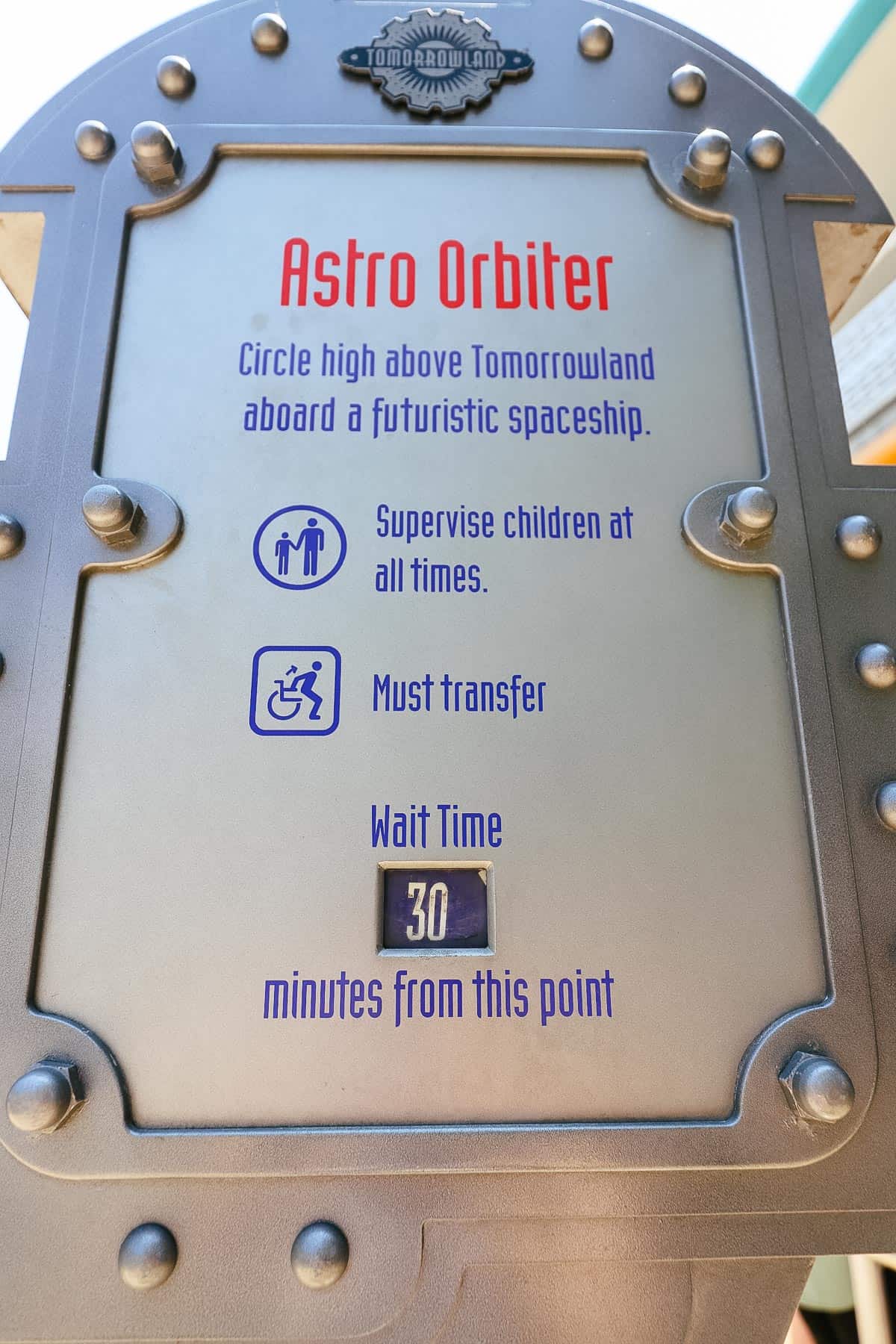 The Astro Orbiter queue starts on the ground level past the attraction's signage. Once you reach the front of the ground queue, a cast member will board your group into one of two small elevators. You'll then ascend to the upper-level platform.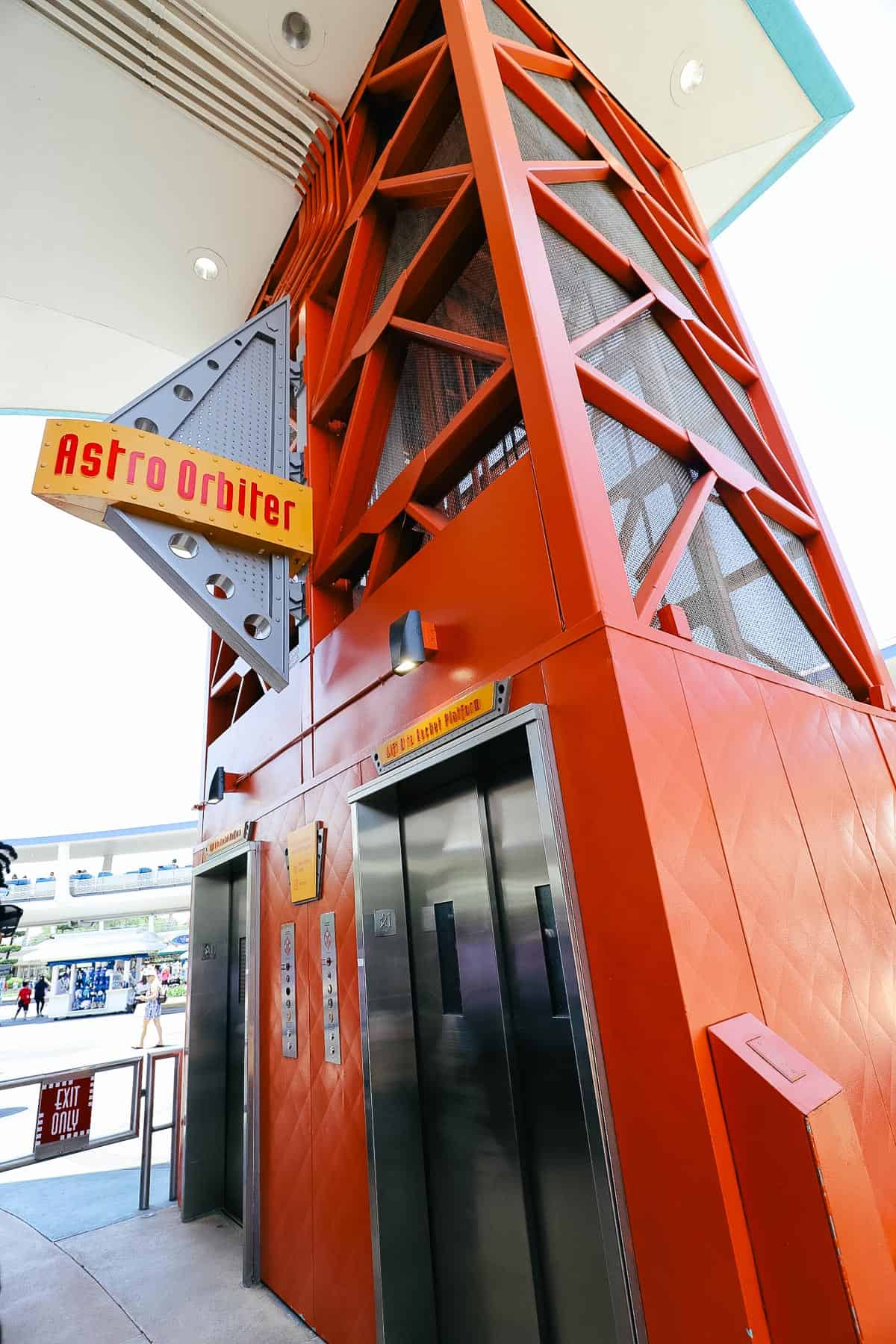 Once reaching the upper level, you're assigned a loading area. From there, you'll wait through one entire ride before it's your turn to board the attraction.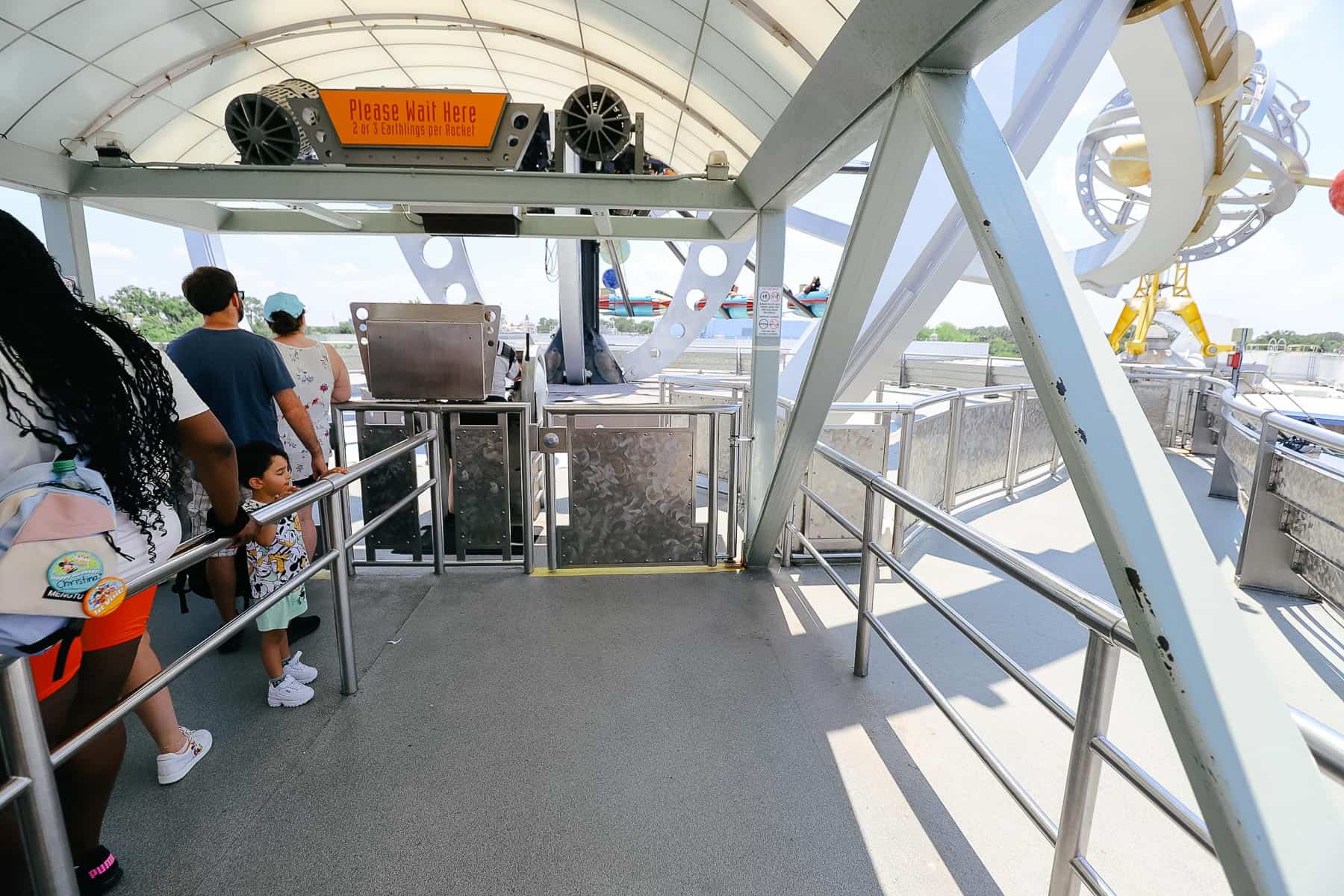 While you wait, you can watch the group ahead fly their spacecraft.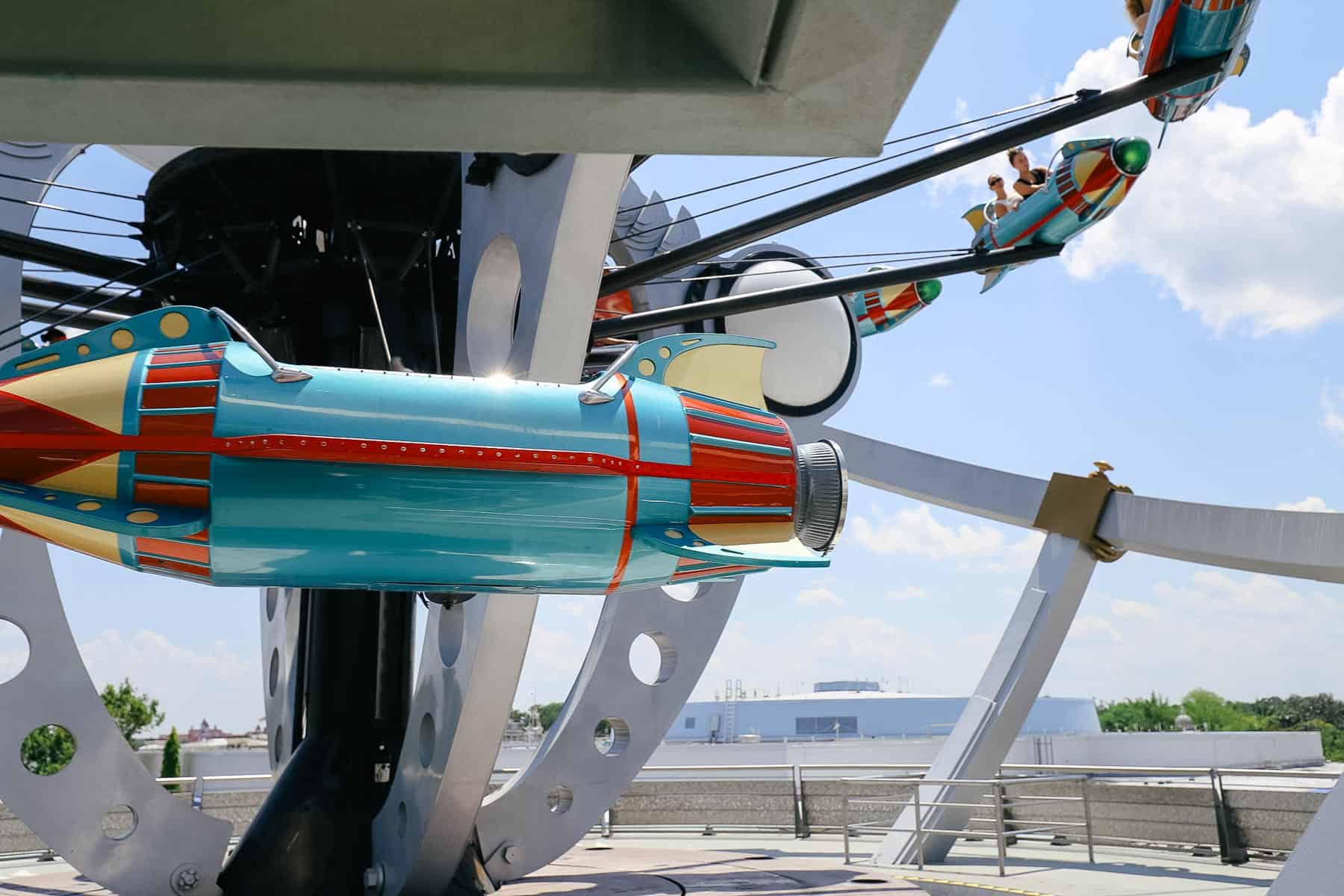 When it's your turn to board, parents (or those riding with smaller children) will need to sit toward the back of the rocket. One seatbelt will extend to wrap around everyone in the ride vehicle.
Here is a look at an individual rocket ship. You'll leave any belongings on the outer edge of the platform while you ride.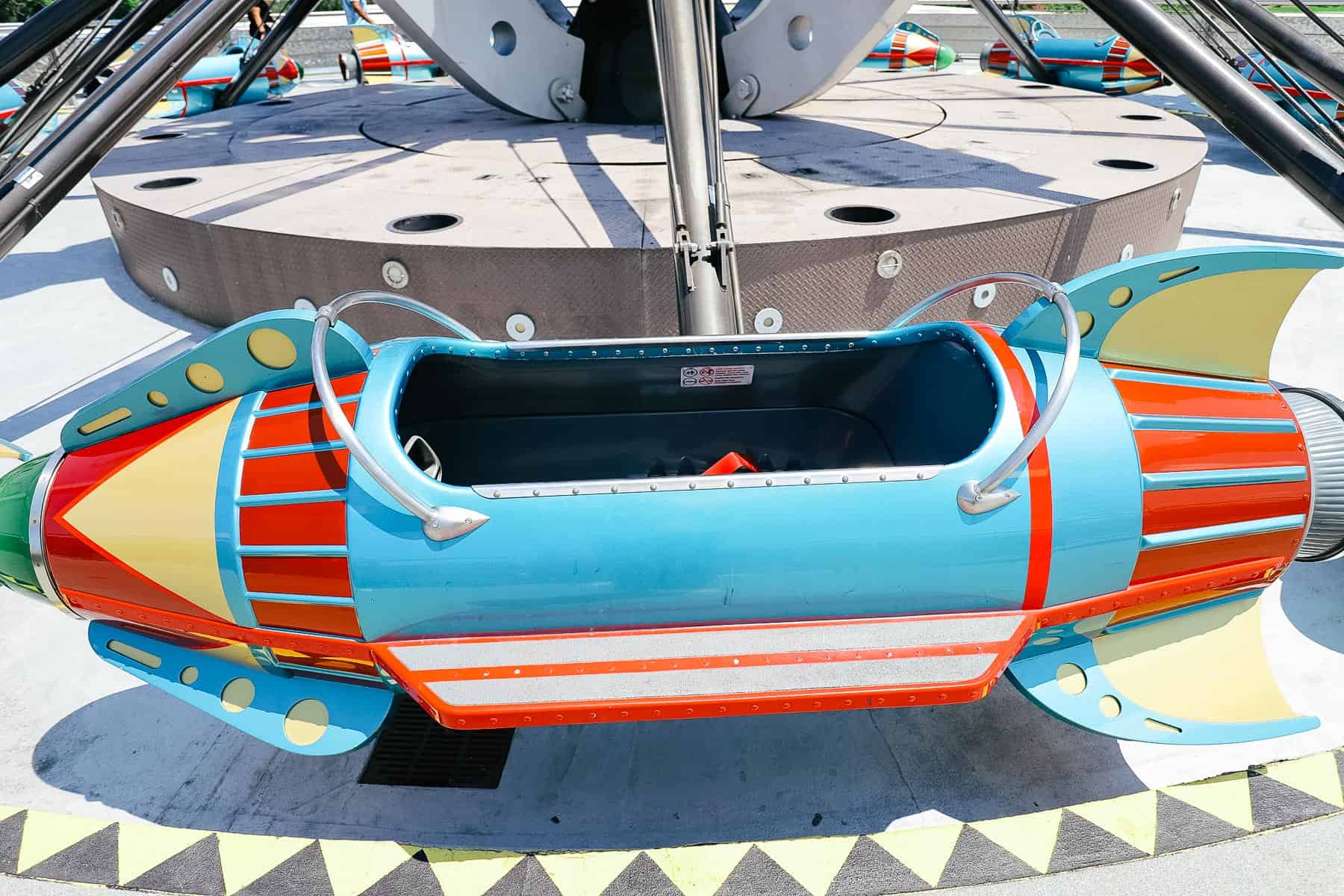 A lever inside the rocket allows guests to adjust how high they fly. Warning, the rocket does provide a forced feeling as it lifts. You'll tend to lean back because of the force.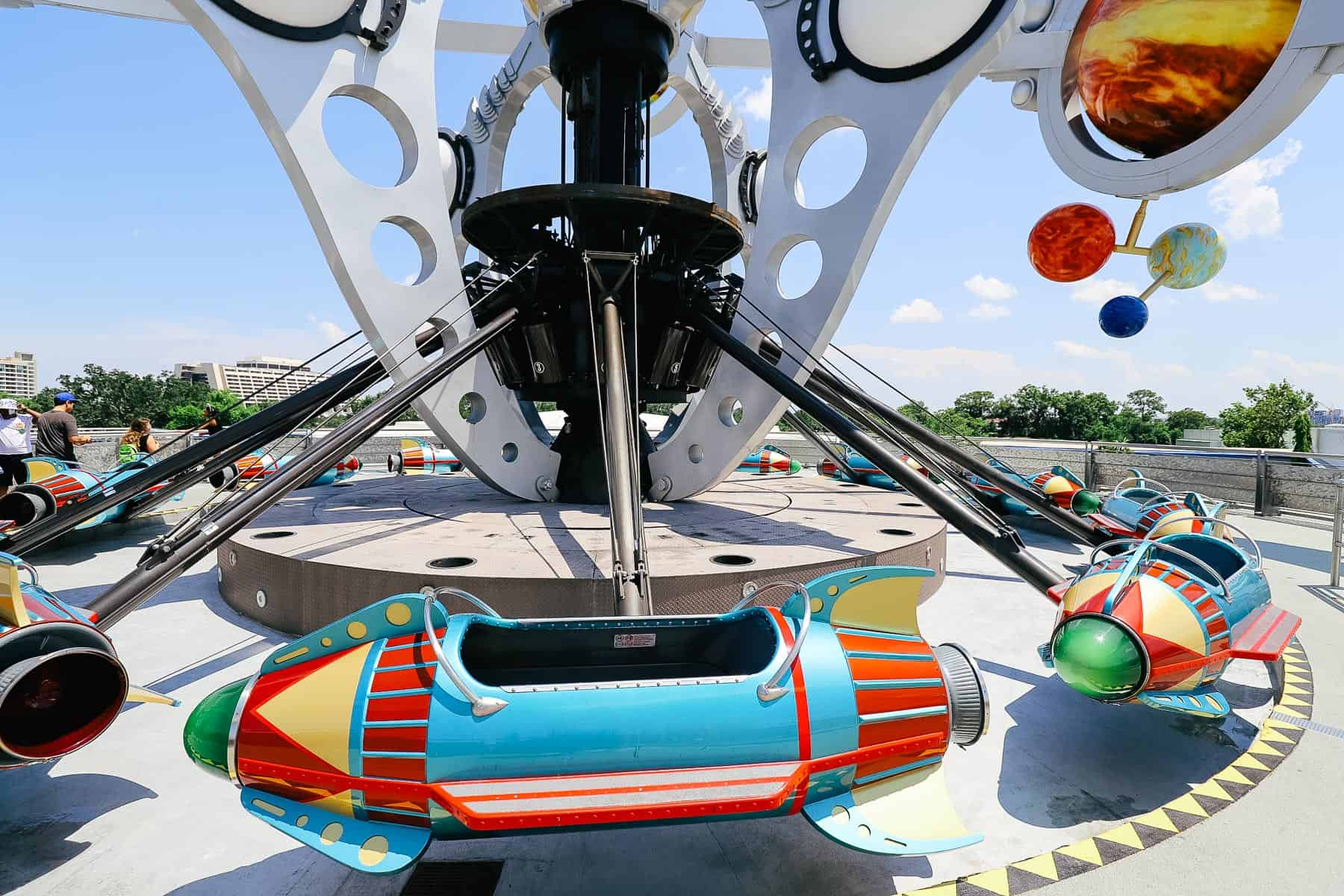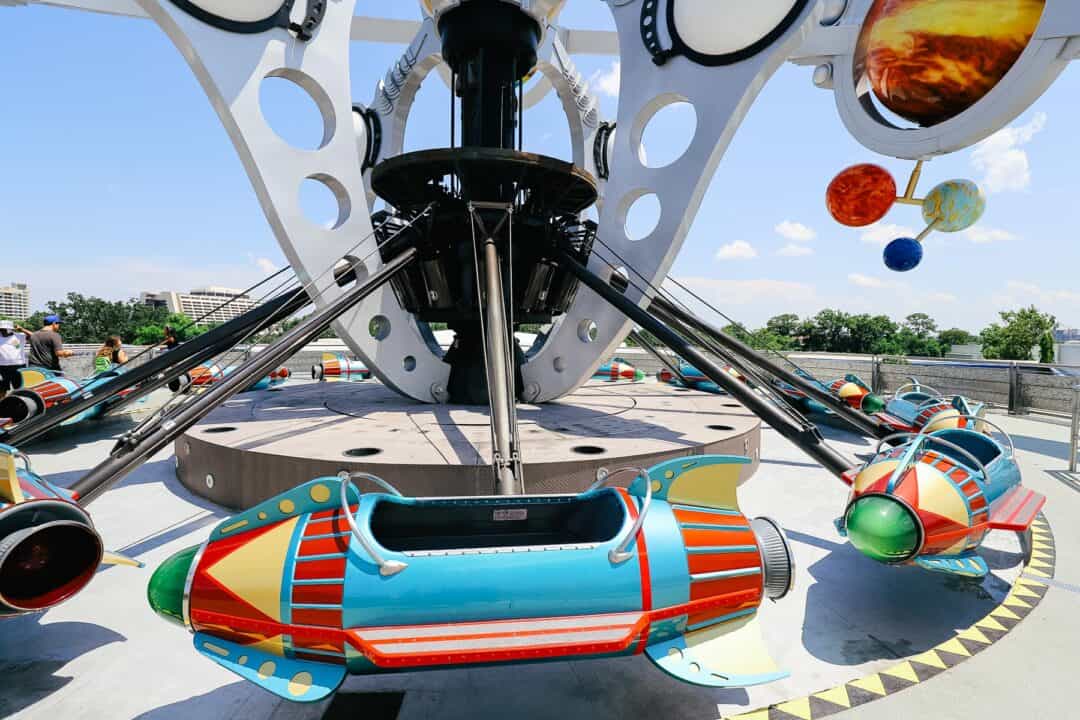 While Astro Orbiter offers great views of the park, it's an attraction I don't often experience due to the heightened sense of gravitational force. That said, many guests experience this attraction with no issues. But if you're prone to motion sickness, you might skip it.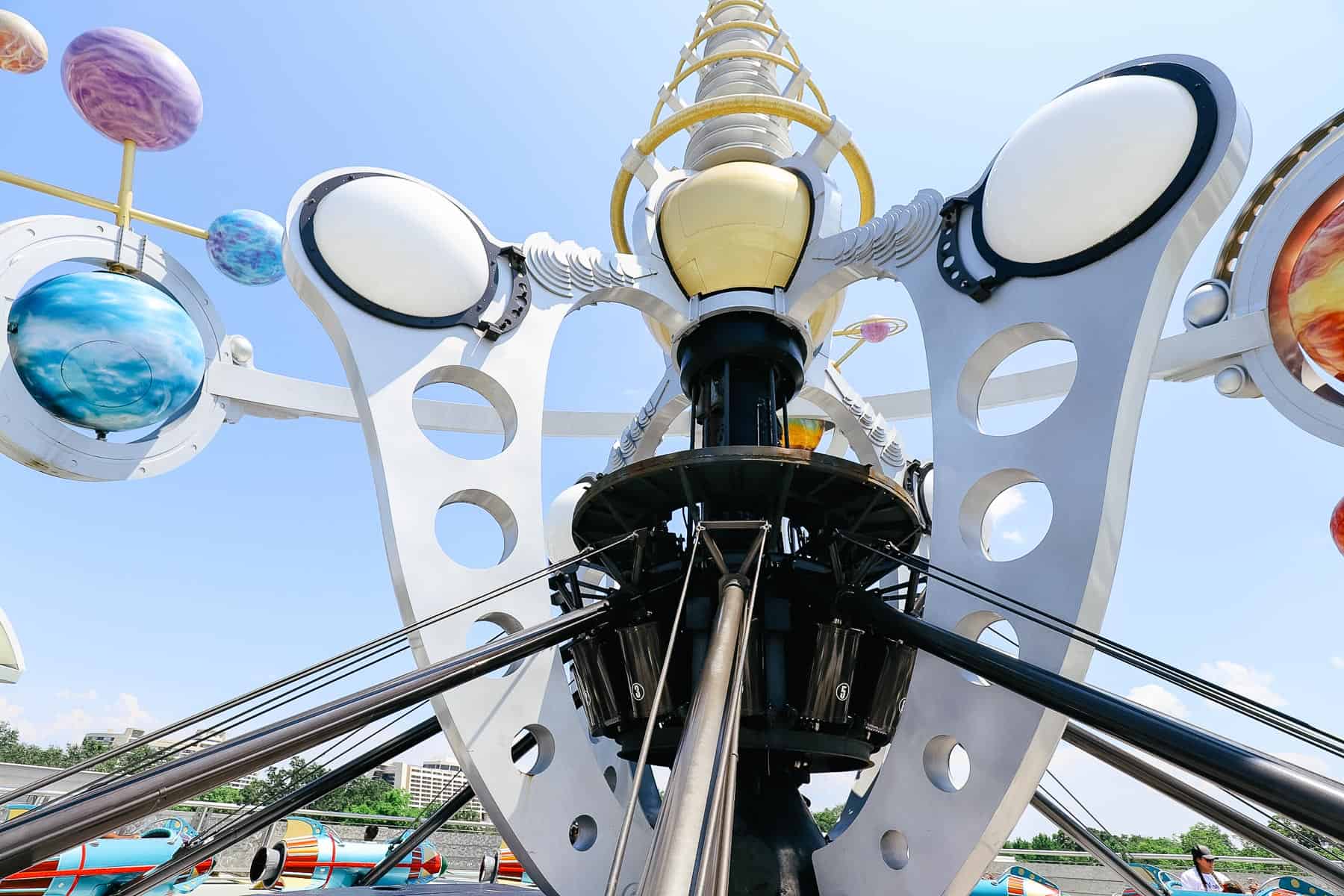 The best time to ride Astro Orbiter is anytime in the morning or evening when waits are at their lowest across the entire park. This isn't a high-demand ride but waits can build due to the boarding process and low capacity.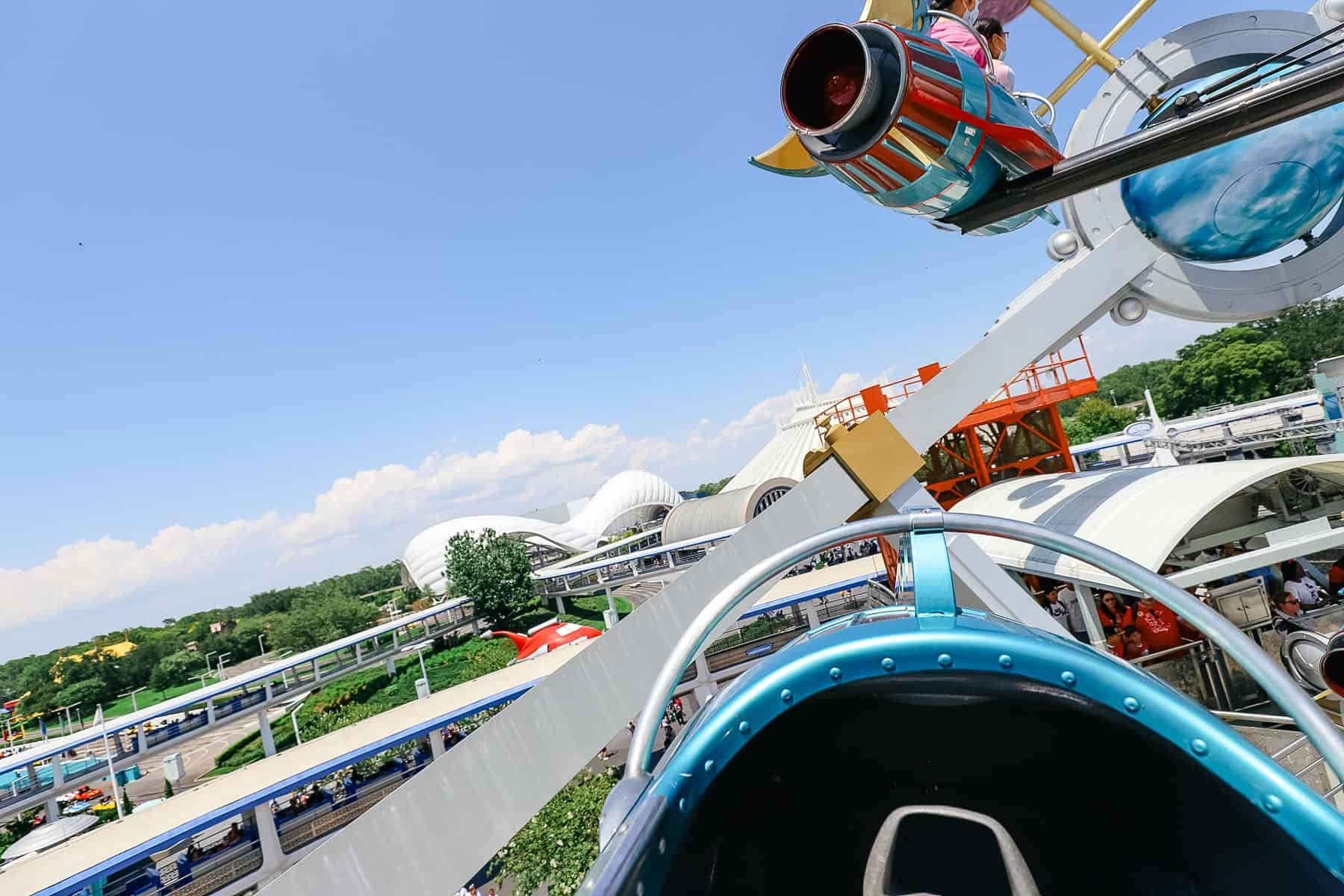 Know Your Disney Rules When Riding With Children-Any child under the age of seven or younger must be accompanied by an adult fourteen years or older.
For other attractions in the same area of the park, you might enjoy the following:
Or you can preview the complete list of rides at Magic Kingdom.
Resorts Gal specializes in Disney World Resorts, Characters, and Dining. Check out some of our resources, like our list of Disney World Resort Reviews. That article gives a brief overview of every resort at Disney.
We also have a complete list of our Disney restaurant reviews for planning dining reservations. Usually, we recommend scheduling one Disney World character dining meal, a Disney signature dining reservation, and one reservation at one of the best restaurants at Disney Springs.
If you plan to meet characters in the parks, we have an updated list of Disney World Characters. It includes every available character meet in the parks and where to find rare characters throughout the year.
In the Comments
Do you have any questions about experiencing Astro Orbiter at Disney World? Have you ever ridden this classic attraction?