Mad Tea Party at Magic Kingdom
Mad Tea Party is commonly referred to as the Teacups Ride. This classic spinning attraction is located at Magic Kingdom in Walt Disney World.
This article will go over the specifics of riding the Mad Tea Party at Magic Kingdom. You'll find the teacups in the heart of Fantasyland right past the Tomorrowland Speedway.
Ready to take a spin?
This article was updated on April 17, 2022.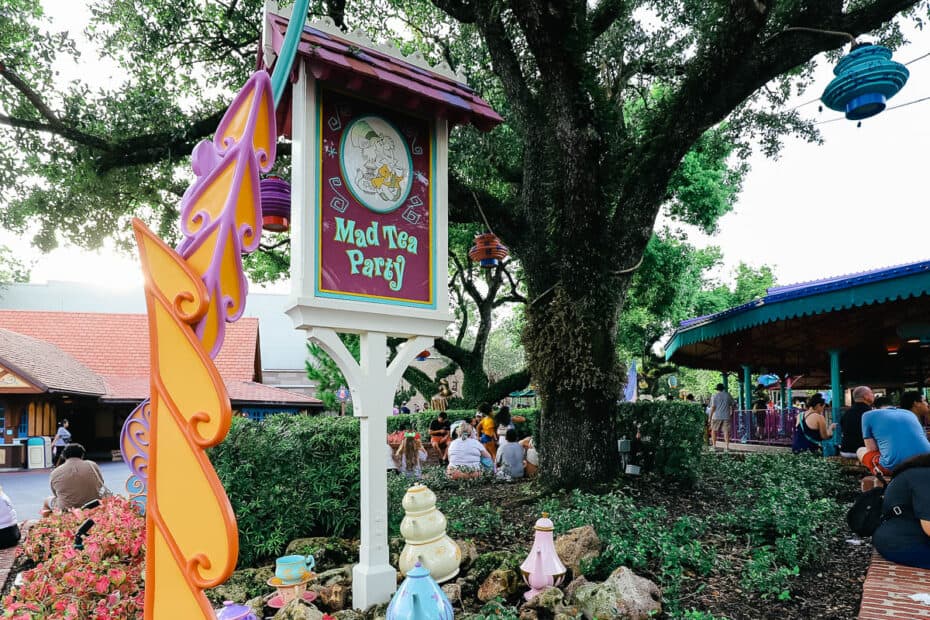 Below, you'll find a quick reference chart for Mad Tea Party.
Mad Tea Party
Magic Kingdom

Location

Fantasyland

Height Requirement:

None

Eligible for Disney Genie+

Yes

Ride Type:

Spinning Tea Cups

Seats Per Vehicle:

Two to Three

Rider Switch:

None

Good For:

Those who like to spin!
Children

Scare Factor:

Low

Must-Do List:

Medium Priority

Perfect For:

All Ages

Special Mention:

It might get a little dizzy!
Mad Tea Party at Magic Kingdom
Mad Tea Party is one of those attractions that guests will either love to ride or prefer to watch on the sidelines. I'll be the first to admit that I love to ride in some instances and love to watch in others.
If my son and niece want to take a spin, I'm probably outside watching. They like to spin the interior steering wheel as fast as possible, resulting in a true gettin' dizzy experience.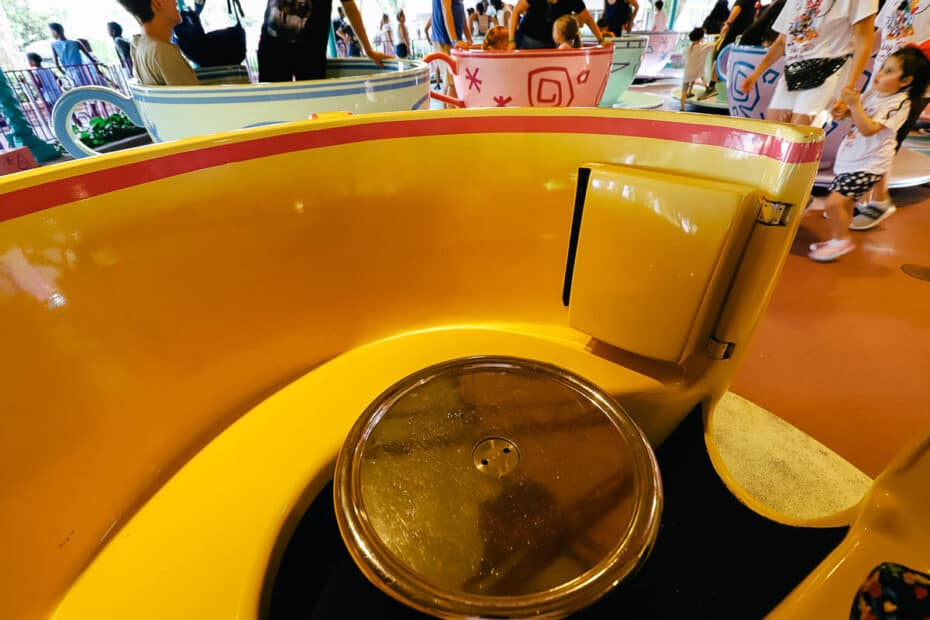 As far as riding the teacups without using the interior spinner, the ride is relatively mild and easily doable for most.
Additionally, there is no height requirement to ride Mad Tea Party.
Need to Know: Mad Tea Party is typically pretty easy to experience. The attraction's line wraps around one side of the exterior. So you should be able to see how many guests are ahead of you when you enter the queue.
Best Time to Ride: This attraction rarely sees long waits. You know you picked a busy day at Magic Kingdom if there is a long line.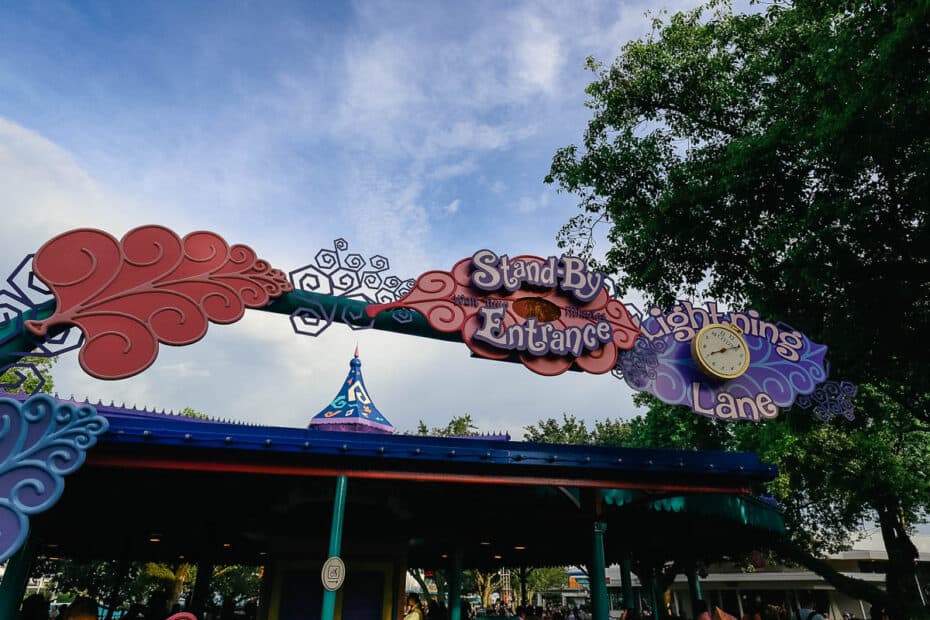 Additionally, the teacups are a pretty attraction to experience in the evening. During the seasonal parties, the ride sometimes has a memorable layover.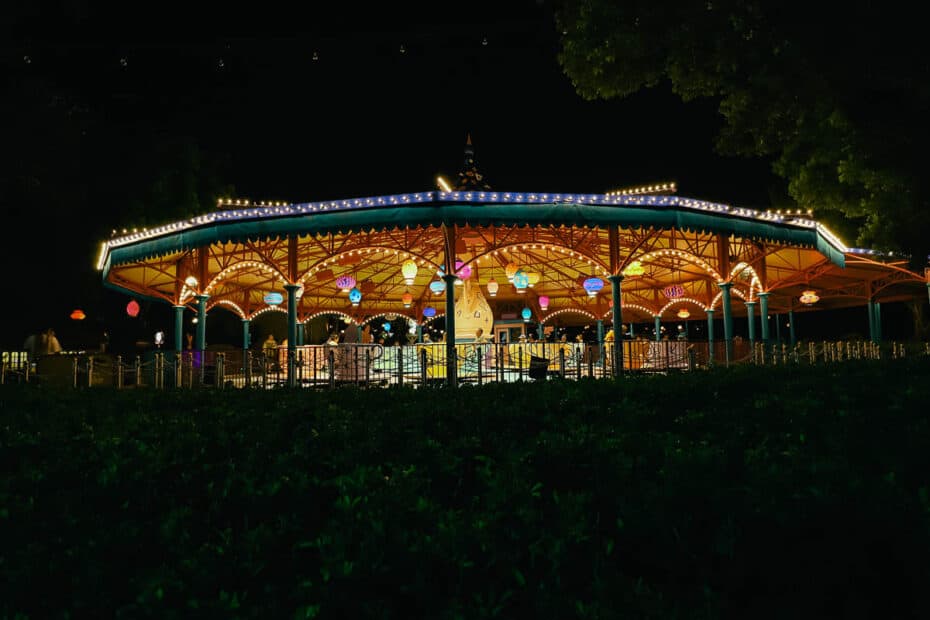 Know Your Disney Rules When Riding With Children: Any child under the age of seven or younger must be accompanied by an adult fourteen years or older.
You may also enjoy these nearby attractions in Fantasyland:
Or you can view our entire list of rides at Magic Kingdom.
Resorts Gal specializes in Disney World Resorts, Characters, and Dining. Check out some of our resources, like our list of Disney World Resort Reviews.
Additionally, you might enjoy our list of the best off-site Disney World Hotels. With prices so high per night at many resorts, we've put together this list to help families find more affordable resort options.
We have a complete list of our Disney restaurant reviews available for planning dining reservations. Usually, we recommend scheduling at least one Disney World character dining meal and a Disney signature dining reservation.
If you plan to meet characters in the parks, I keep an updated list of Disney World Characters. That review includes all of the different character meets for each park.
Lastly, our most popular reviews include the best restaurants at Disney Springs, and I keep a timeline going of Disney Loungefly mini-backpacks. It includes the latest Disney Parks styles!
Drop a comment and let me know if you can hang with the Mad Tea Party at Magic Kingdom. Do you ever take a spin on the teacups?