Mickey's Magical Friendship Faire (An Endearing Stage Show at Magic Kingdom)
Between entertainment, parades, attractions, and character meets, it can be challenging to prioritize the most important things to do during a day at Magic Kingdom. One of those entertainment offerings is Mickey's Magical Friendship Faire.
Mickey's Magical Friendship Faire is held multiple times daily at Magic Kingdom. This castle stage show has an endearing storyline while providing the opportunity to see many characters. Some of those characters are rarer than others.
But is it worth your time? For most, the answer is yes. However, there are two important caveats that you'll want to consider before committing.
Below we'll go over Mickey's Magical Friendship Faire and highlight the pros and cons of taking time out of your day to see it. Additionally, I'll provide a few tips on what I consider the best time to see the show and where to stand.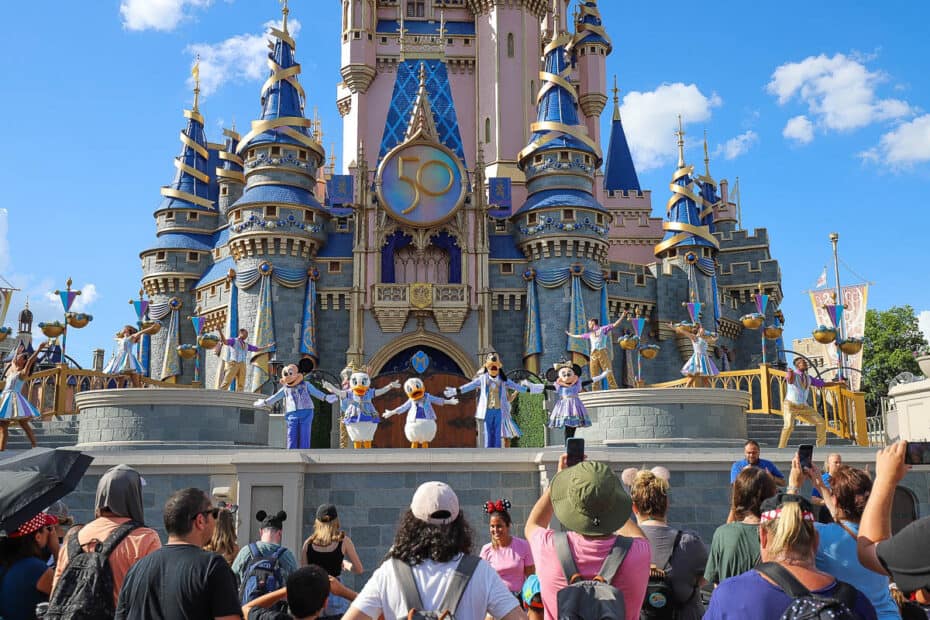 Showtimes for Mickey's Magical Friendship Faire can vary. At the time of this update, the showtimes are listed as:
12:50 p.m.
2:00 p.m.
4:00 p.m.
5:35 p.m.
7:00 p.m.
You can check the My Disney Experience app or Disney's site here for the exact times on the day of your visit. Each performance lasts approximately 22 minutes.
Mickey's Magical Friendship Faire begins with Mickey, Minnie, Donald, Daisy, and Goofy. A crew of dancers joins these classic characters on the castle stage.
A special song, Where the Magic Feels Like Home, was written and choreographed for the stage show. As you can imagine, the performances are exceptional.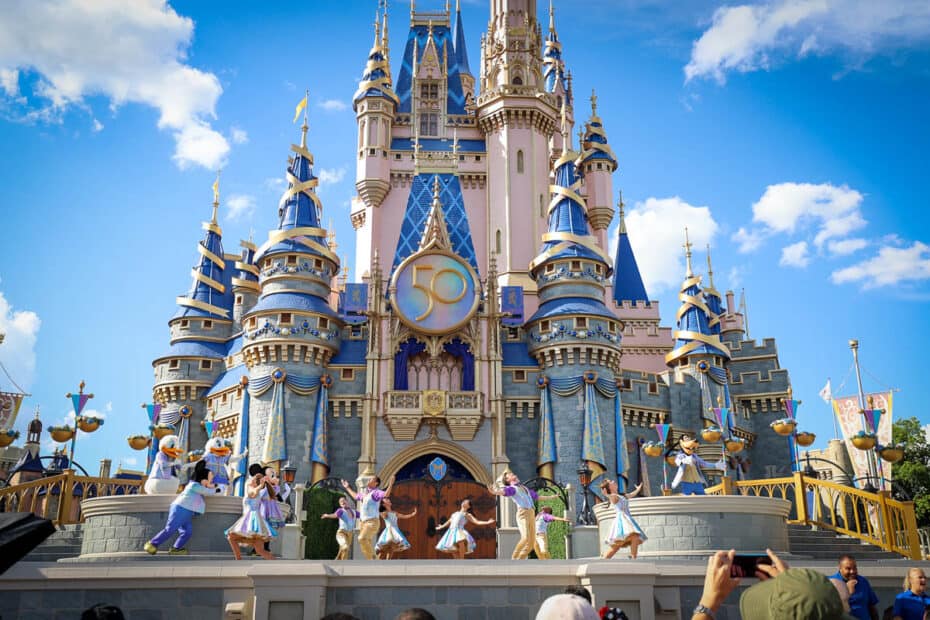 Mickey's Magical Friendship Faire can be broken down into five parts: an introduction, three segments showcasing different sets of characters, and a conclusion where everyone joins the stage.
Goofy leads up the first friendship segment introducing an array of characters from The Princess and the Frog. These characters spice up the show with a touch of jazz and a dazzling dance number.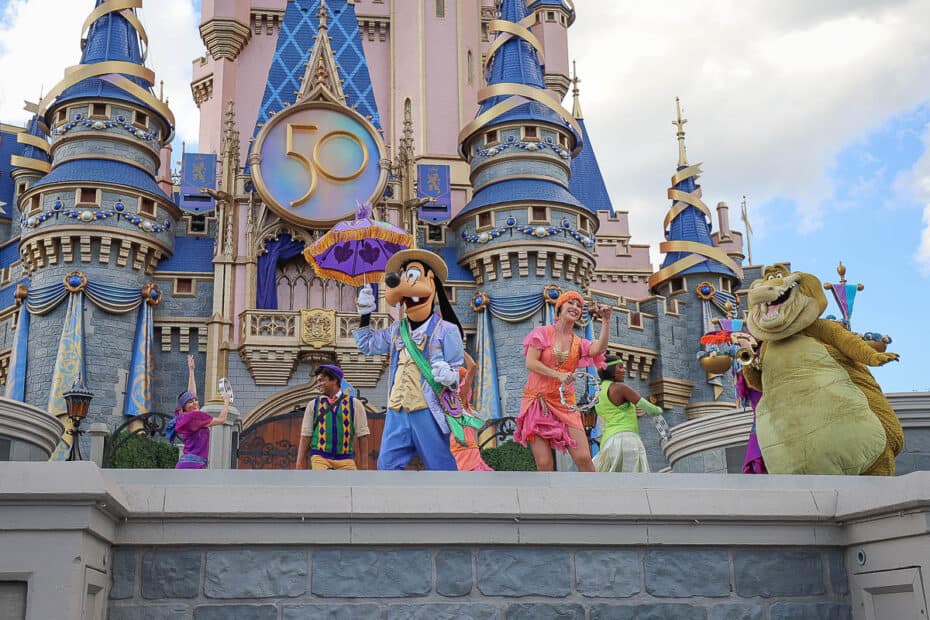 Characters include Princess Tiana, Prince Naveen, and Louis. Mickey's Magical Friendship Faire is the only place to see Louis at Walt Disney World.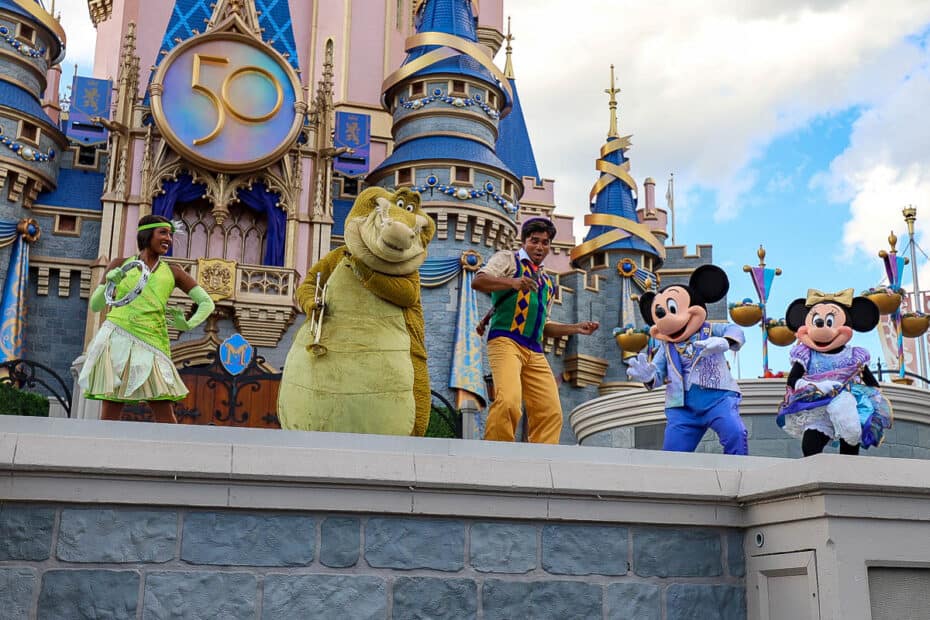 However, you can see Princess Tiana daily at Princess Fairytale Hall. She and Prince Naveen also ride on the first float in the Festival of Fantasy Parade.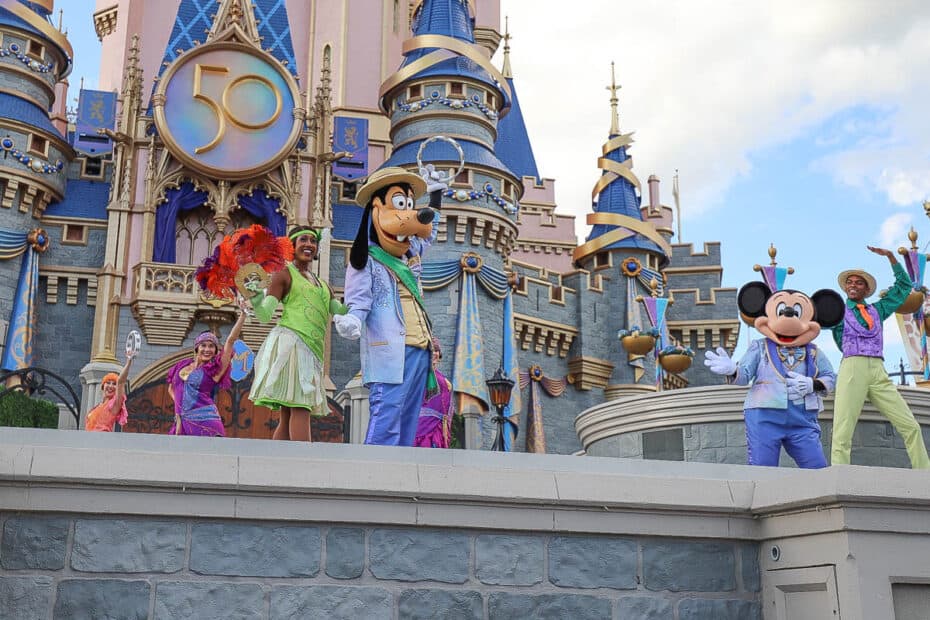 Next, Donald joins the stage with a few friends from Tangled.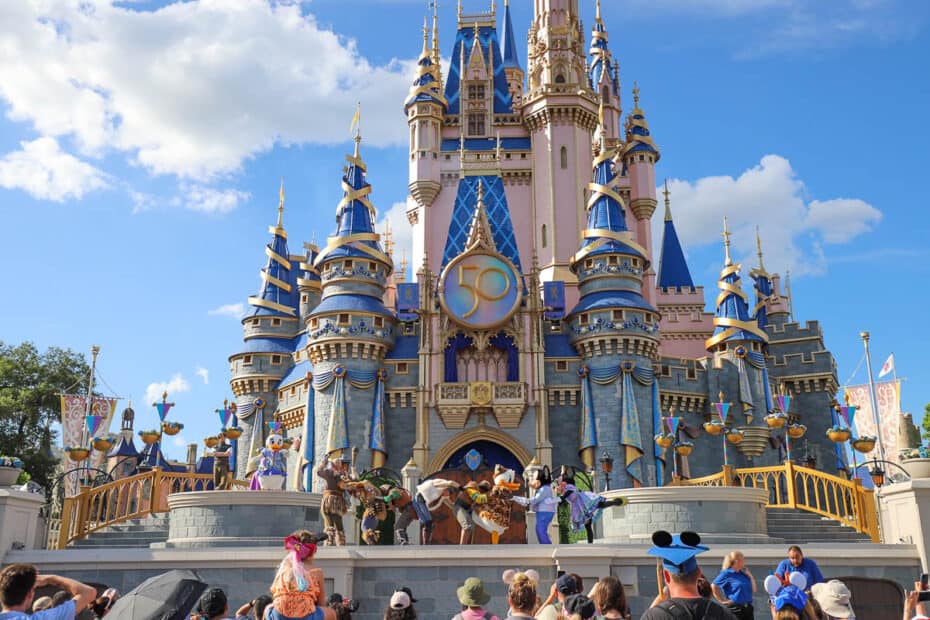 Upon first appearance, these friends are a little rough around the edges. And Daisy is upset with Donald for bringing these "Ruffians" to the party.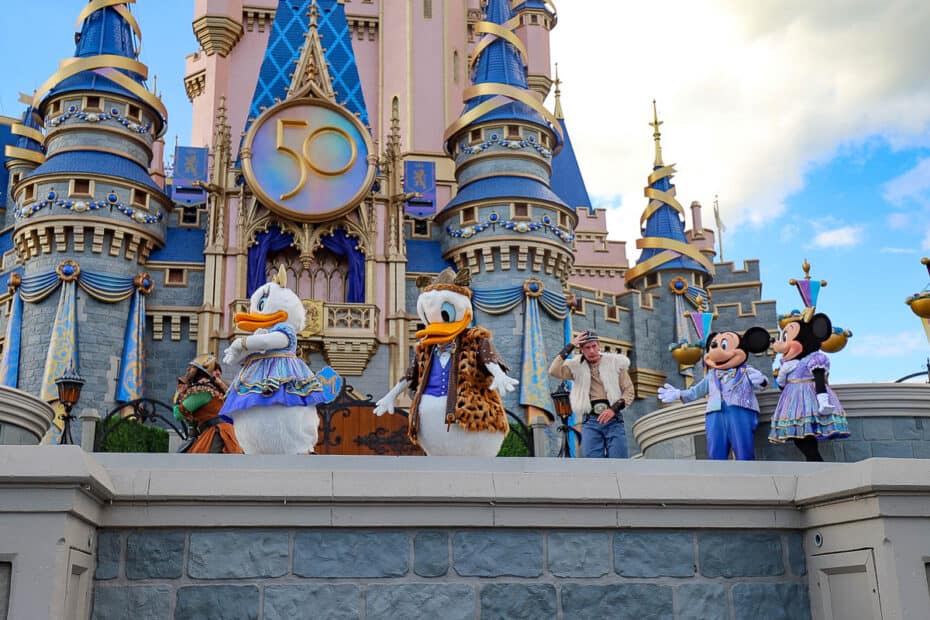 However, Rapunzel quickly explains that these guys aren't so bad once you get to know them.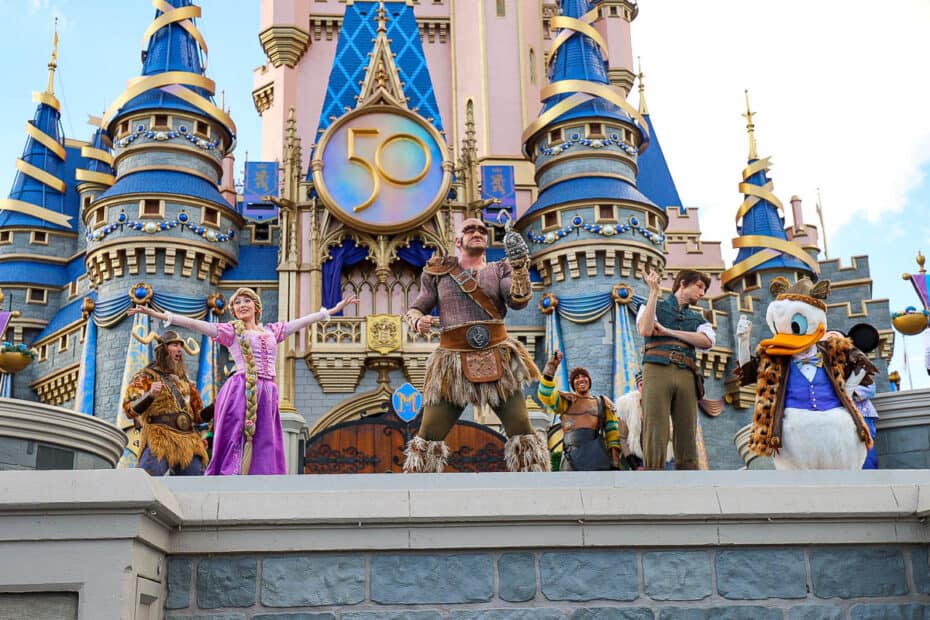 Next thing you know, they're performing a song and dance number, I've Got a Dream, and it's so catchy the entire crowd tends to get involved.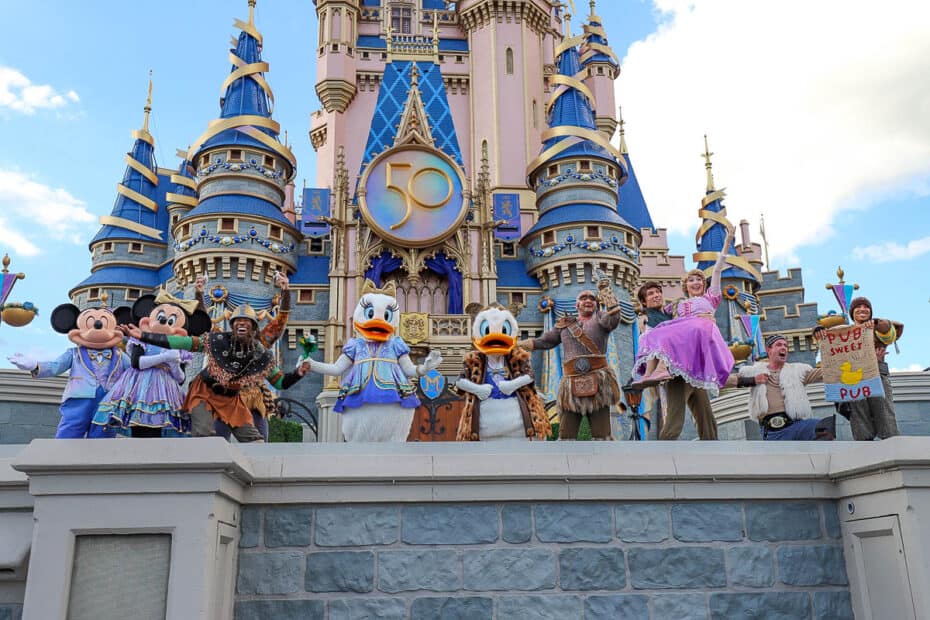 Last but by no means least, everyone's favorite snowman shows up! Olaf loves warm hugs and making new friends.
Related: Meet Olaf at Celebrity Spotlight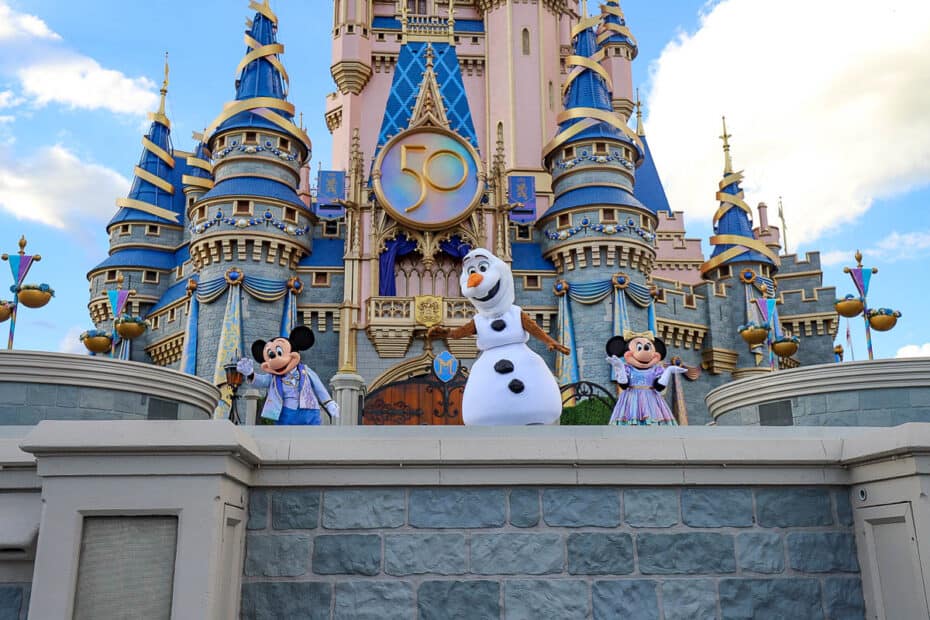 He even brings a few special friends to the Friendship Faire, Anna and Elsa.
Related: Meet Anna and Elsa at Disney World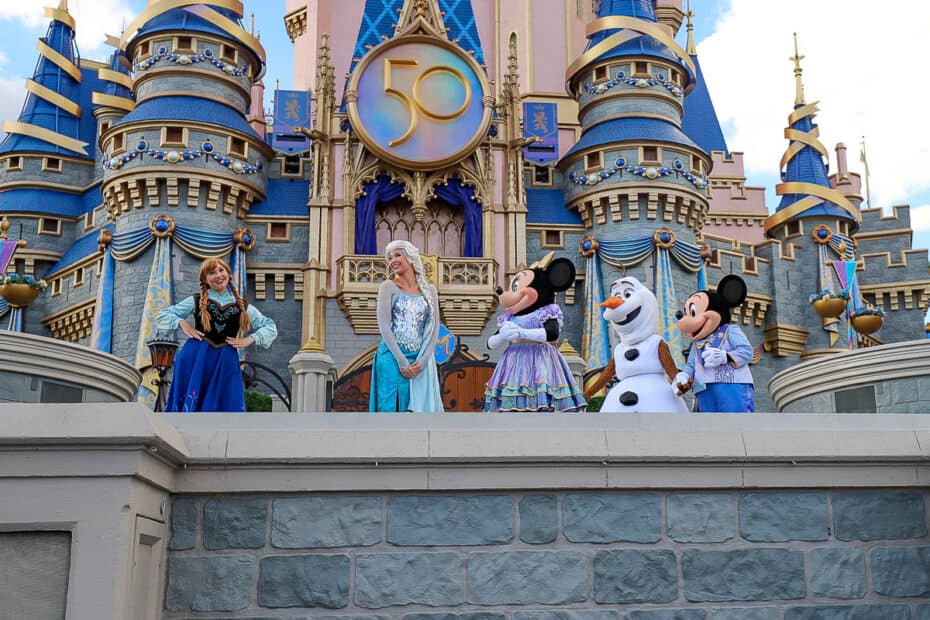 Of course, Elsa has to do her thing and adds a little sparkle with her Let it Go song and dance number. All the children in the crowd go wild, and a few adults too.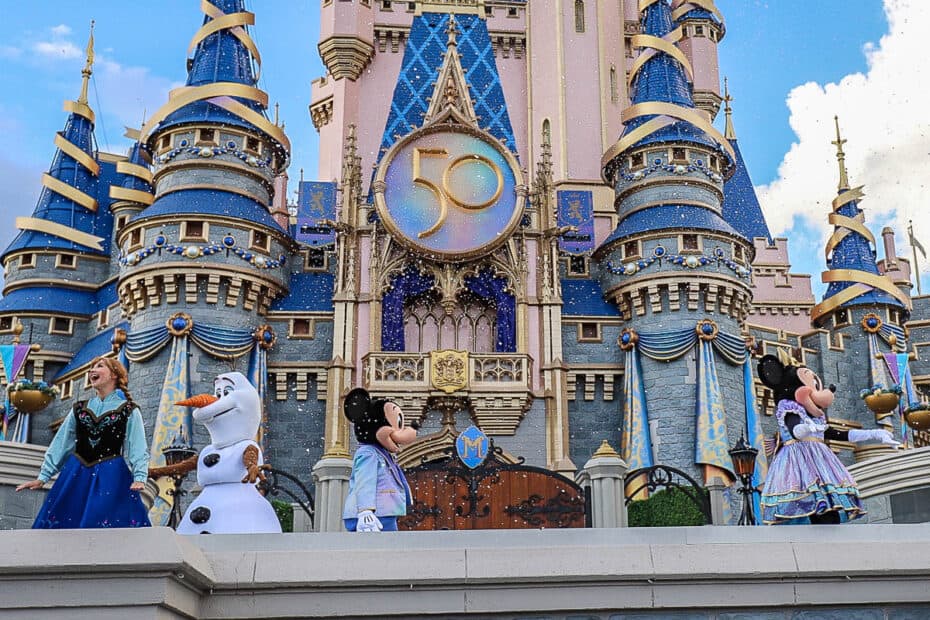 Before Mickey's Magical Friendship Faire wraps up, Minnie gives Mickey a smack-a-roo on the cheek and tells him it's been the best day ever.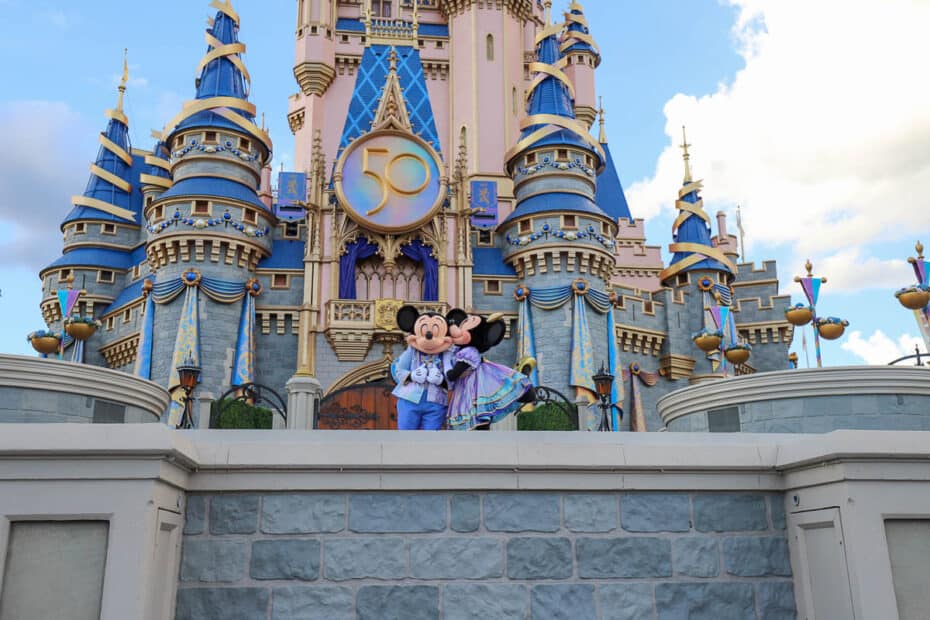 Everyone comes back out on the stage for one final song and dance.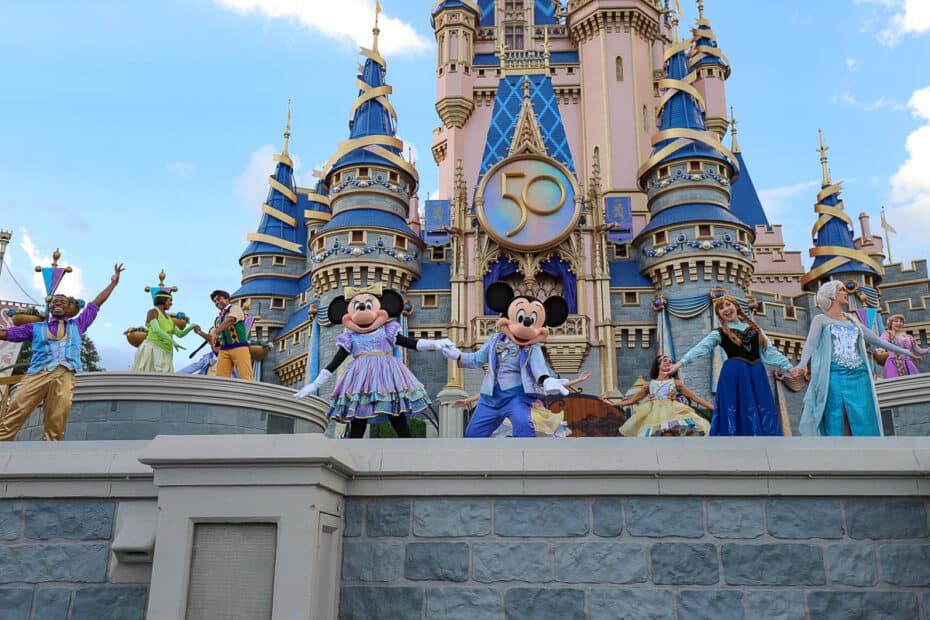 Then there's the big finale, where all the characters are lined up holding hands. A small fireworks display accentuates the ending.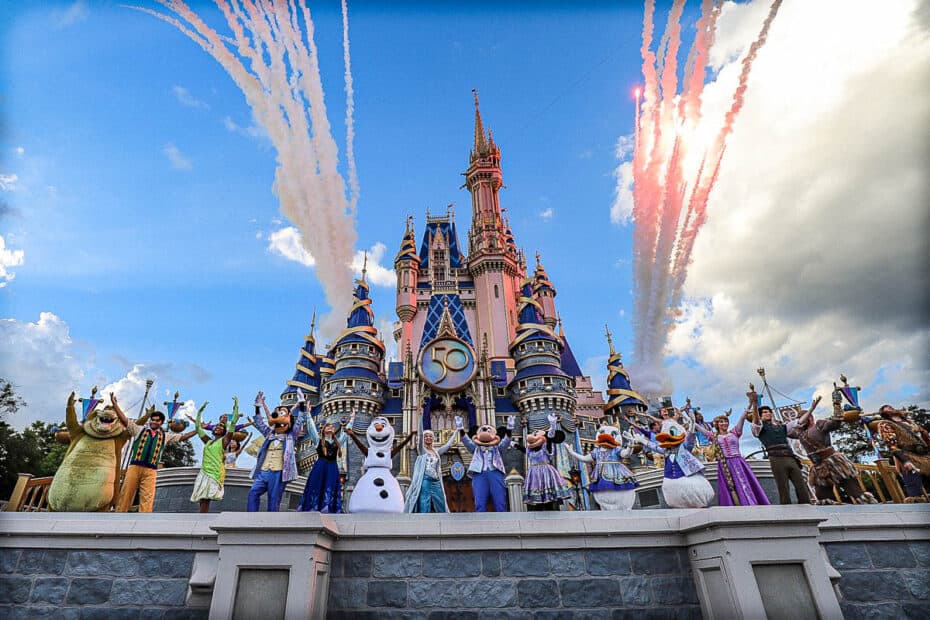 As I mentioned early on, there are two things you'll want to consider before committing to the show. First, you'll want to take the weather into account
Recently, I attended the 5:35 p.m. and then the 7:00 p.m. performance. There was a world of difference in the heat between the two times.
At 5:35 p.m., I felt as though I were melting. There's no way I could have stood in the heat for the duration of the performance at an earlier showtime.
At 7:00 p.m., it was still warm, but there wasn't nearly as much direct sunlight. That said, during the summer, the later in the day, the more there's a chance of an early evening thunderstorm.
Mickey's Magical Friendship Faire is canceled in the event of a thunderstorm or rain. So if the show is important to you or your group, you might consider seeing it earlier on in the day.
Naturally, during other times of the year, showtimes will adjust. So it won't be near as terrible to see the show as it is during the summer. Therefore, take into consideration the time of year you'll be visiting.
Additionally, you'll want to consider where to stand for the performance. The closer you get to the castle, the ground slopes downward.
In the picture below, I'm standing in the outer circle, where I have a relatively level view of the castle stage. You can tell that I can easily see the stage over the heads of the people in front of me.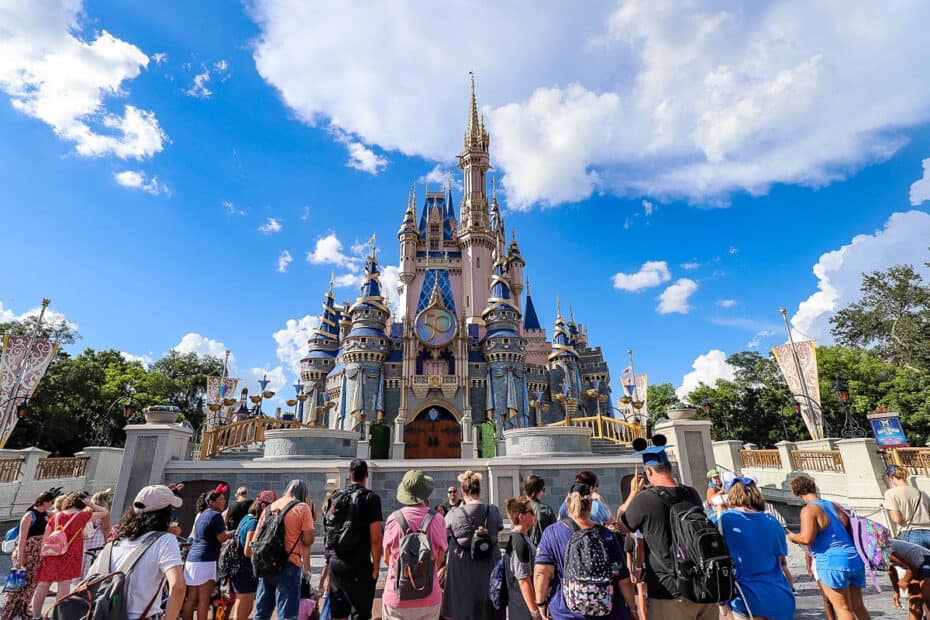 When I returned for the later performance, I arrived early and stood in the front row. For this performance, I was leaning back and looking up the entire time.
While the characters might have been a little closer, I preferred the level spot further back. In addition, there's one other issue with being so close to the castle. You might have to fight the crowd a bit to get out if a large group forms and you decide to leave early.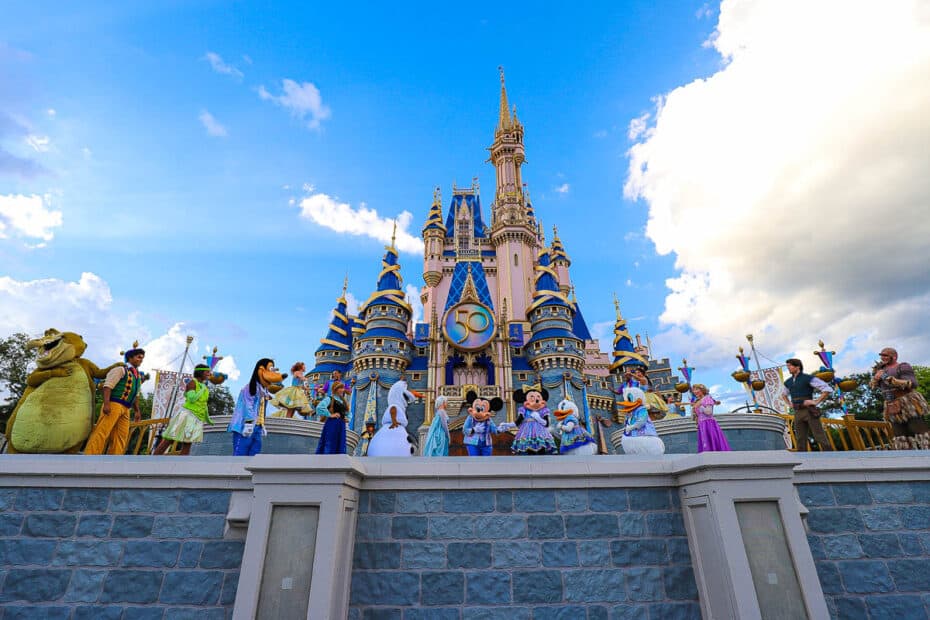 Overall, most of you will want to see Mickey's Magical Friendship Faire during your visit to Magic Kingdom. However, you'll want to remember to consider the weather and the best place to stand during the performance.
For other entertainment that includes characters at Magic Kingdom, you might consider the following:
Related: Entire List of Character Meets at Walt Disney World
In the Comments
What are your thoughts on Mickey's Magical Friendship Faire? Will you plan to see this on your visit?