Princess Fairytale Hall Character Meets at Magic Kingdom
Princess Fairytale Hall at Magic Kingdom is an excellent spot to meet classic princesses during your Walt Disney World vacation. The location is home to four different princesses that meet with guests throughout the day.
In this article, we'll look at which princesses you can find at Princess Fairytale Hall. Additionally, I'll provide a walkthrough of the entire experience. For starters, the princesses that meet here are:
Cinderella
Elena
Rapunzel
Tiana
Princess Fairytale Hall is located directly behind Cinderella Castle at Magic Kingdom. It is positioned across the walkway from Prince Charming Regal Carrousel.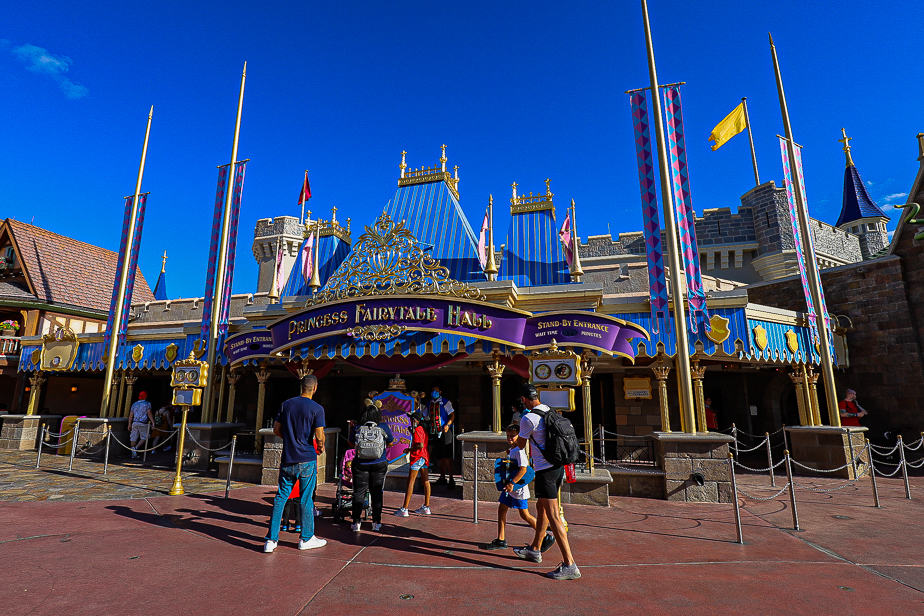 On the left-hand side of this character meet, you'll notice a sign indicating Rapunzel and Tiana meet inside. An estimated wait time for the meet is posted beside it.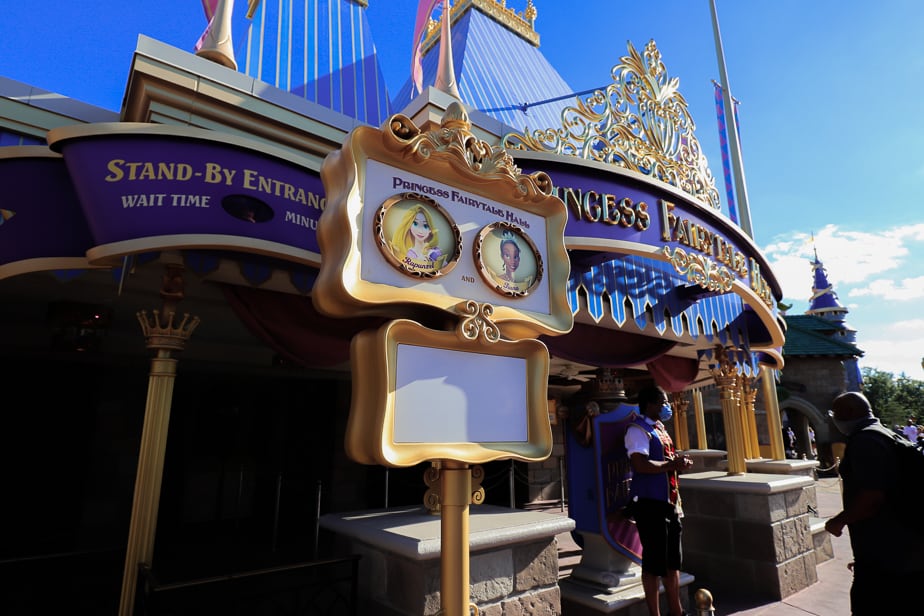 And on the right-hand side, there's another sign for Cinderella and Elena.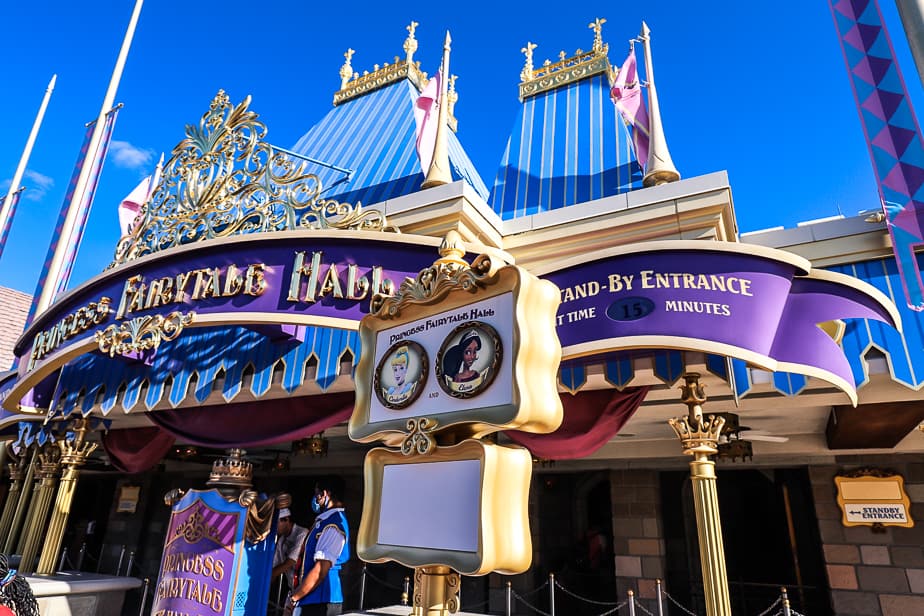 If meeting a specific princess is important to you, you'll want to get in the appropriate line.
For this visit, I intended to meet all the princesses. So I joined the one that had the shortest wait time posted.
A portion of the queue for Princess Fairytale Hall extends into the covered outdoor area. However, rarely does the line extend outside. If the line was extended to the outdoor queue, I might skip it and return later.
Lines for characters can vary greatly depending on how much time everyone in front of you takes to meet and greet. Most guests are respectful of the time they take to visit and get a few photos.
However, you'll likely encounter guests that take 20 different photos in multiple arrangements when it's their turn. For example, it's not uncommon to see one person take a photo of grandma with the kids and the character and then a picture of just the kids.
After that, they'll take a photo of each child individually. Then they'll change up, and the original picture taker will have their picture made with the character and the children.
While this might sound like an exaggeration, it's not. There are no limits on how much time a guest has to meet with a character. Some will take more than their fair share.
Inside, you'll feel as though you stepped inside a castle. The hall is dimly lit with a royal feeling.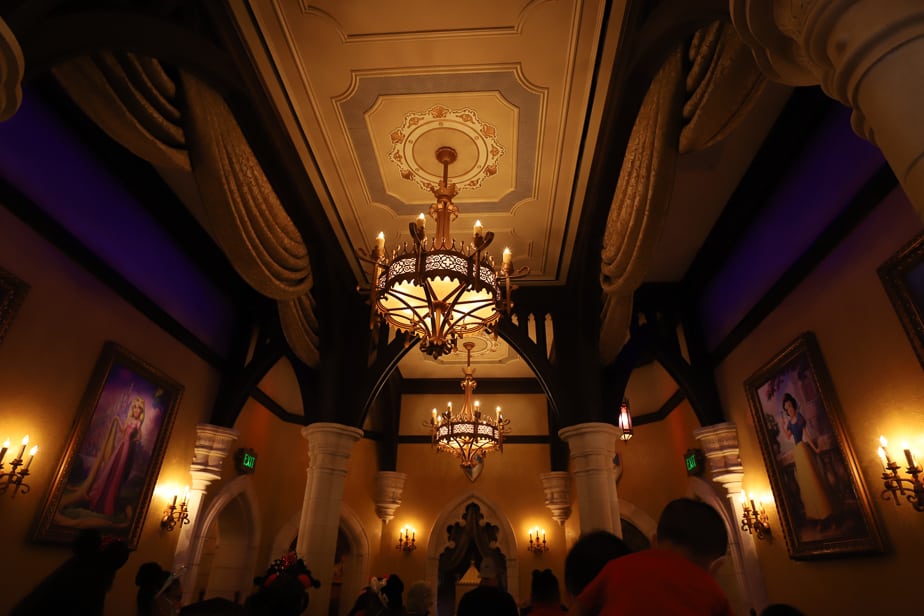 Portraits of different Disney princesses hang on the walls of Fairytale Princess Hall. Some of these Disney Princesses meet at Epcot during the day.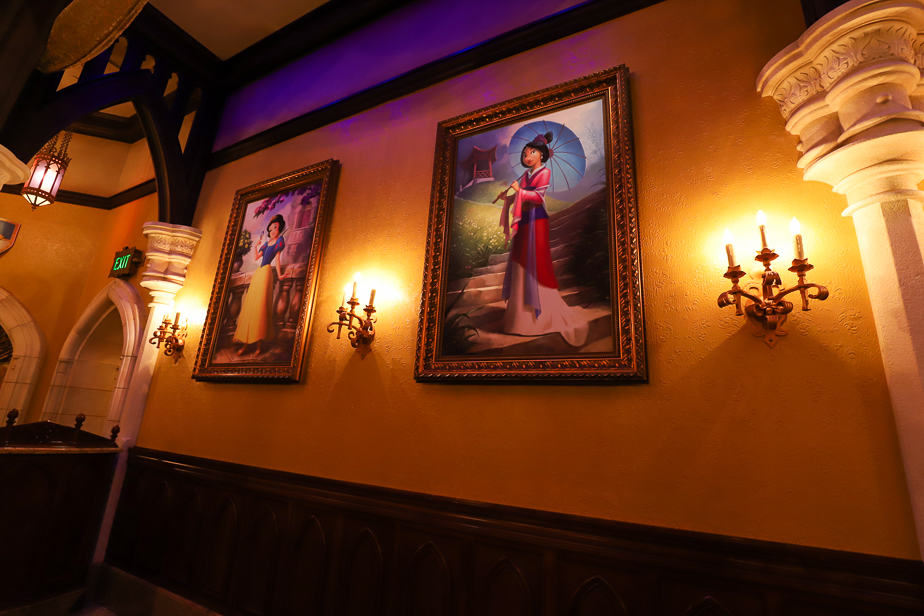 The two below meet here at the hall.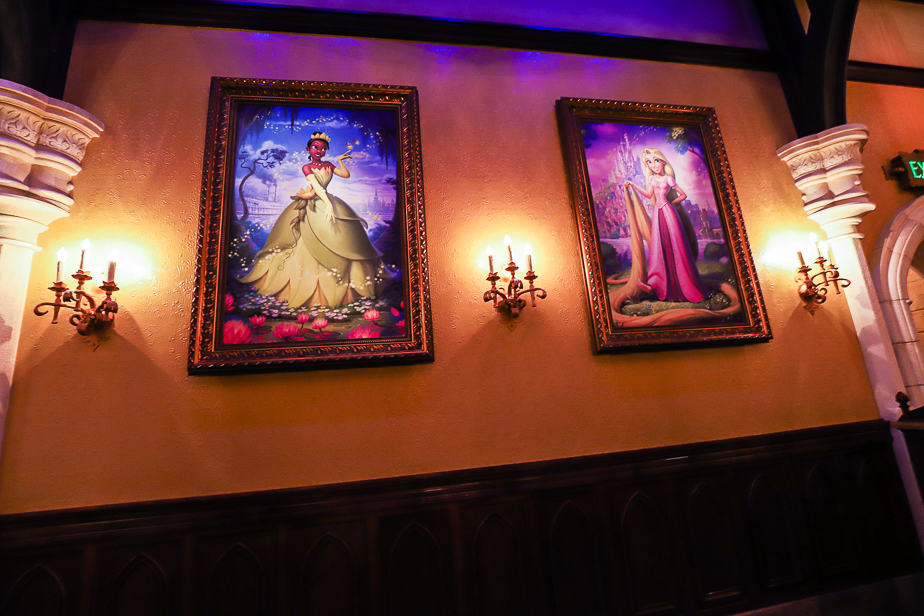 Before you go into the meet and greet area, you might notice Cinderella's glass slipper. It sits between the interior entrance to each character's meet.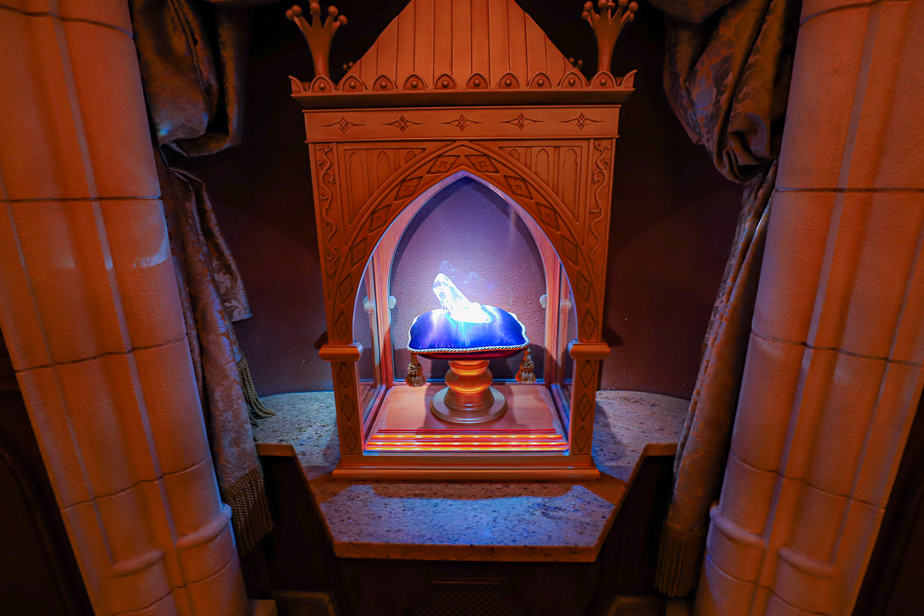 Elena of Avalor was the first princess meeting guests.
All of the princesses are behind a rope. You can walk up to the roped-off area and talk with them.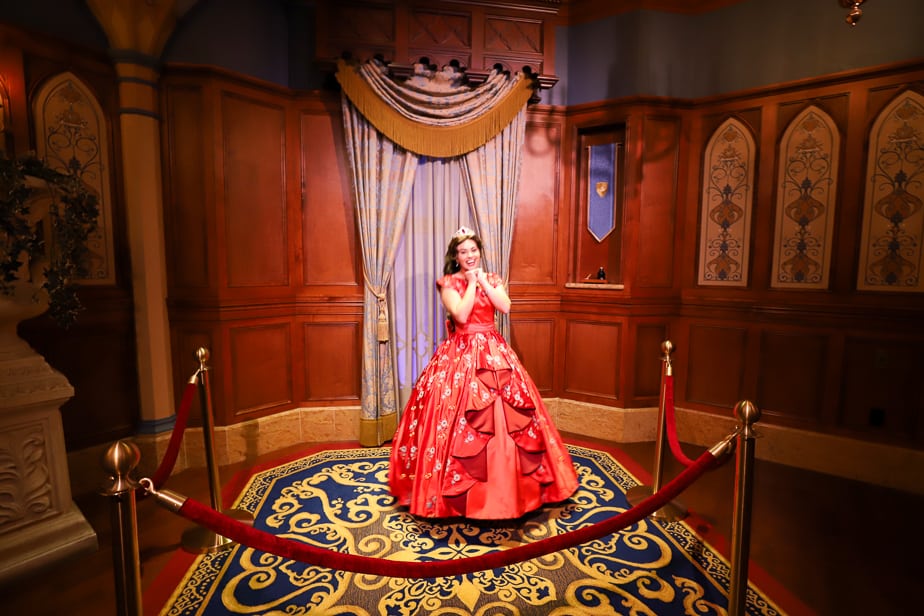 However, there are no character autographs or PhotoPass photographers available at this time. You are welcome to take pictures with your cell phone or camera. Make sure to have them out and ready before your turn.
After meeting Elena, you'll move directly over to Cinderella. There is a beautiful storybook on display between the two meet and greets.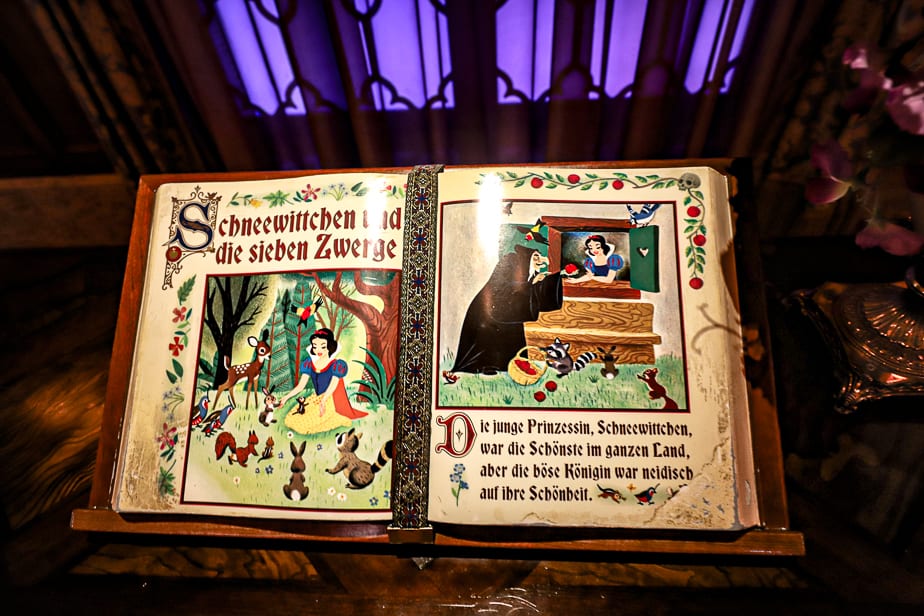 Cinderella is dressed to the nines in her blue ball gown.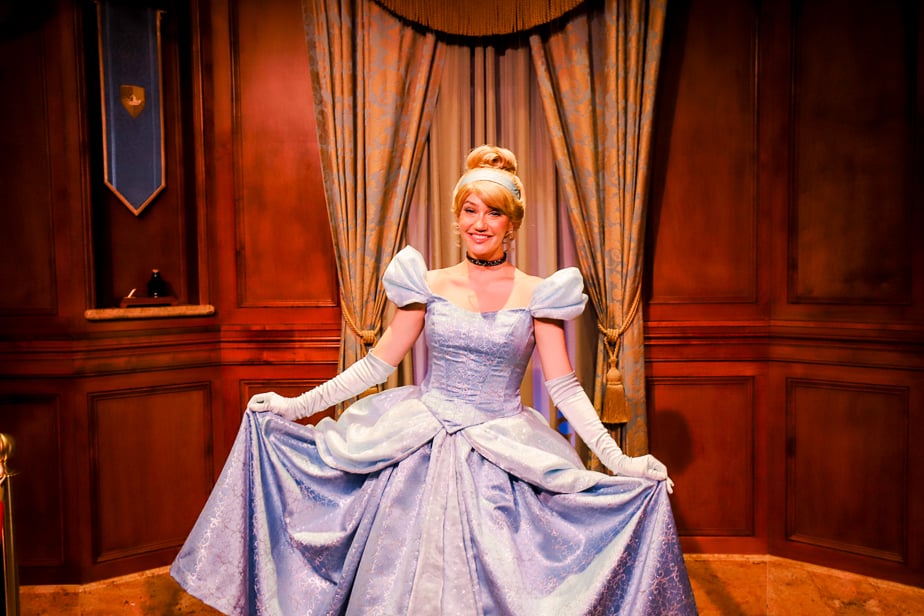 The only other place to meet her is at Cinderella's Royal Table.
Related: Disney World Character Dining Guide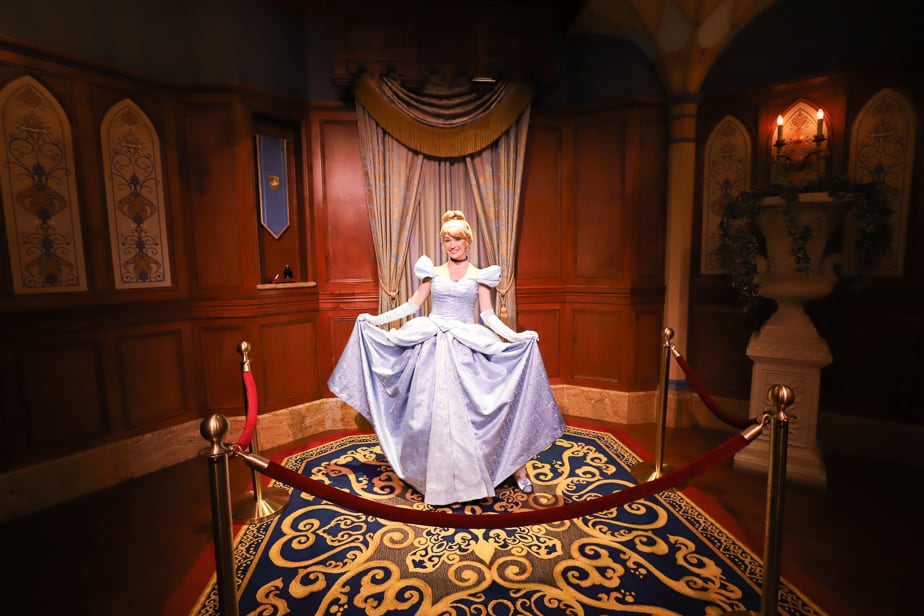 After meeting Cinderella, you'll exit back outside Princess Fairytale Hall. To meet Tiana and Rapunzel, you'll have to re-enter on the opposite side. Let's take a quick look at meeting these princesses.
Tiana and Rapunzel both meet in the same room, just like Elena and Cinderella.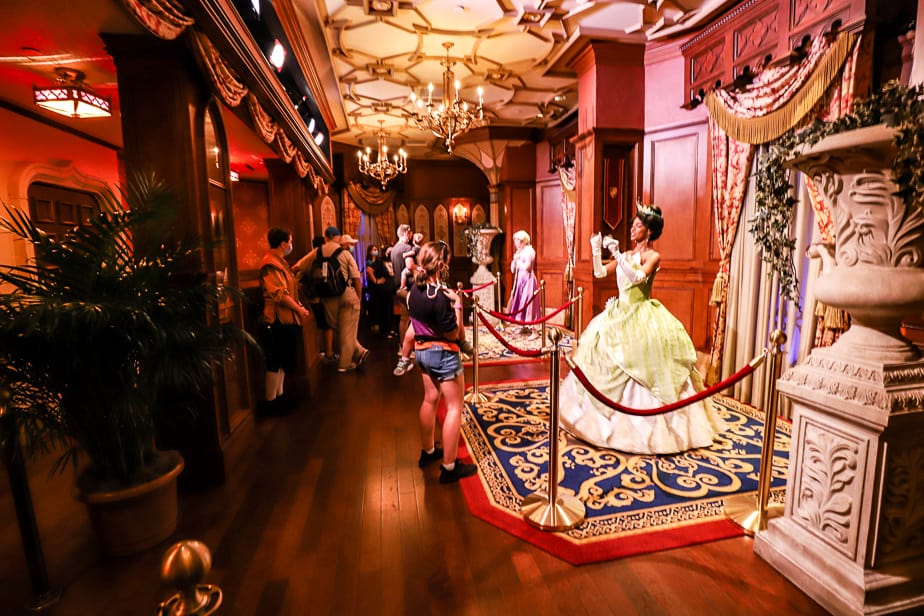 I've always thought it was nice to meet two characters at the end of the line instead of one. Tiana will enjoy talking about food, cooking, and entrepreneurship.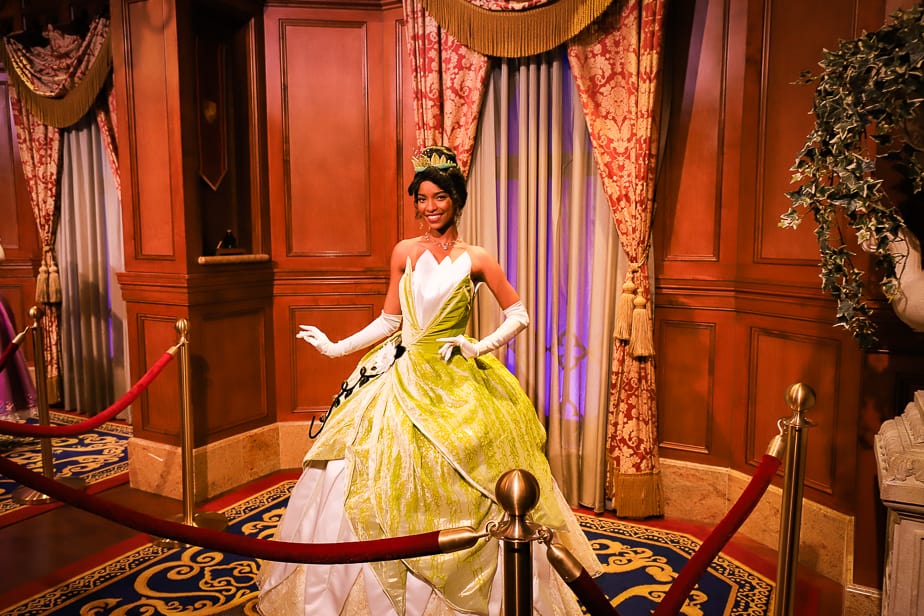 Rapunzel, on the other hand, will want to know if you got the nose right if you take her picture. She's very upbeat and friendly.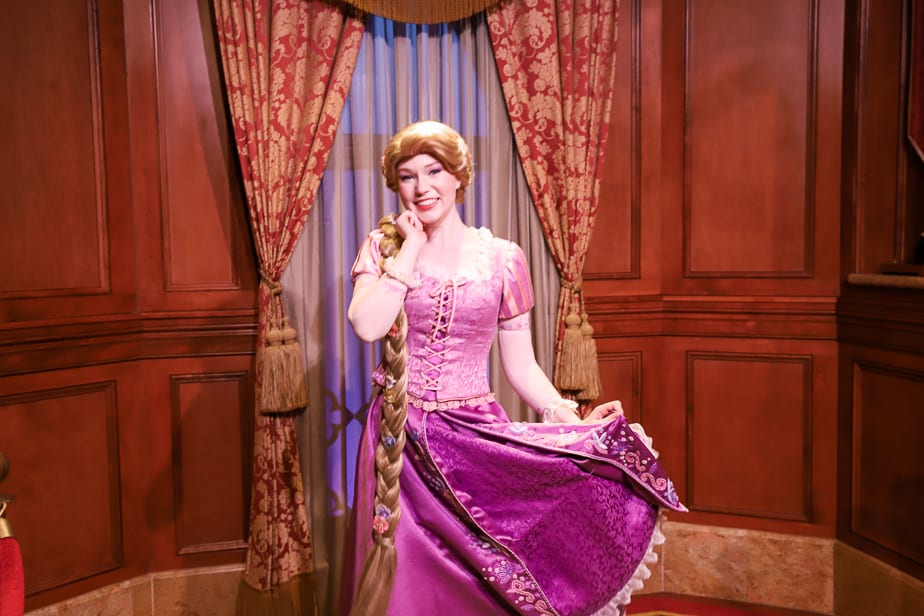 If you or your children are interested in meeting characters, you'll want to add Princess Fairytale Hall to your itinerary. Princess Fairytale Hall is open daily at Magic Kingdom between 9:00 a.m. until 5:30 p.m. You can check the exact times for the day of your visit here on Disney's site.
For other princess meets at Disney World, you might enjoy these articles:
We also recently covered meeting Mickey Mouse in his 50th celebration outfit at Magic Kingdom.
Have you had the chance to visit Princess Fairytale Hall before? Which princess is your favorite to meet?