Princess Fairytale Hall (Location for Meeting Princesses at Magic Kingdom)
Princess Fairytale Hall is an excellent location to meet classic princesses during your Walt Disney World vacation. This location is home to four princesses that meet with guests throughout the day.
In this article, we'll discuss which princesses you can find at Magic Kingdom's Princess Fairytale Hall. Additionally, I'll provide a walkthrough of the entire experience.
For starters, the princesses that meet at Princess Fairytale Hall are:
Cinderella
Elena
Rapunzel
Tiana
From time to time, you might see a visiting princesses take the place of one of the above-listed princess meets. For instance, Ariel was filling in for Rapunzel on my last visit. However, this rarely happens, and most days, you'll be able to meet the above-mentioned princesses.
This article was updated on January 24, 2023.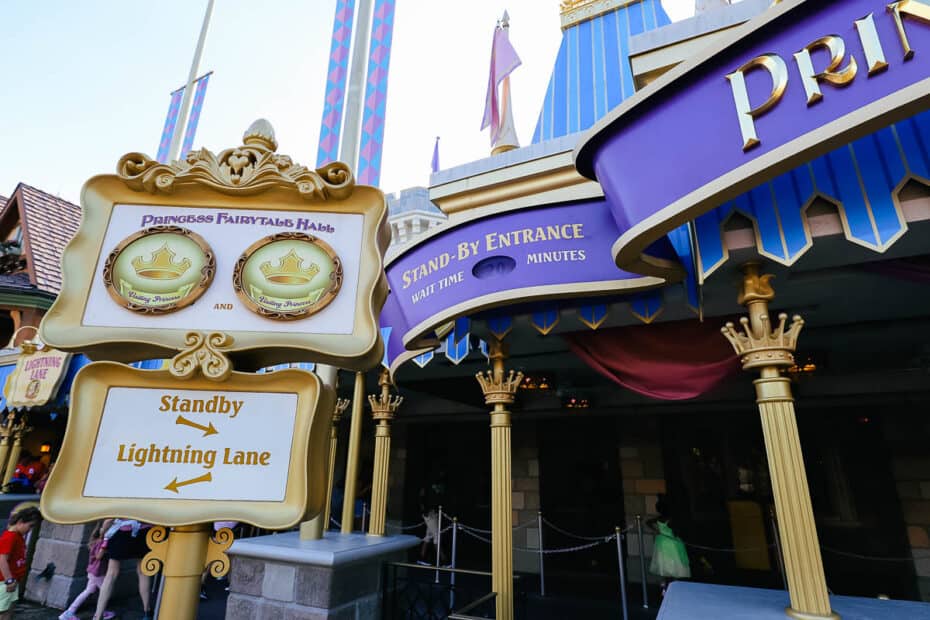 Princess Fairytale Hall is located directly behind Cinderella Castle in Magic Kingdom. It is positioned across the walkway from Prince Charming Regal Carrousel.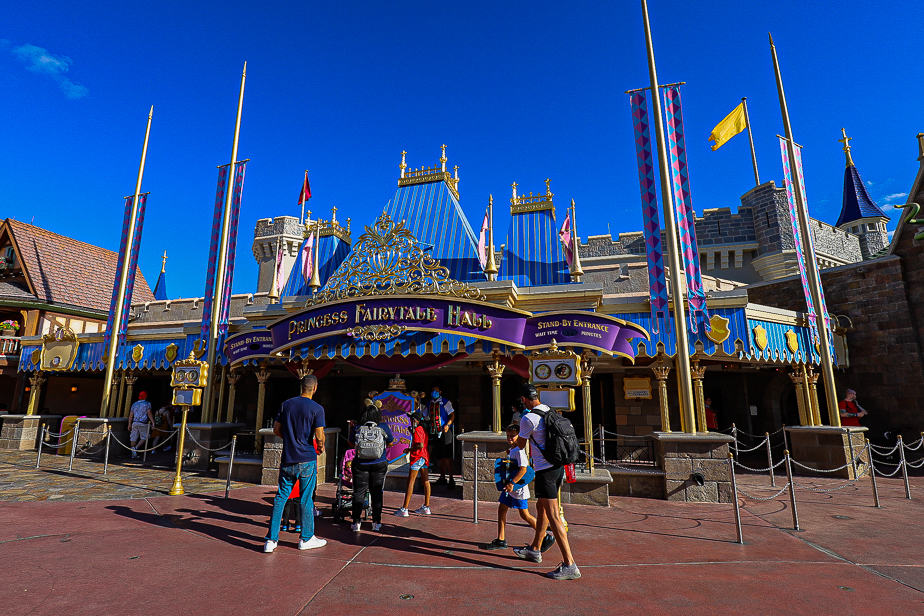 On the left-hand side of this character meet, a sign indicates Rapunzel and Tiana meet inside. In addition, an estimated wait time for the meet-and-greet is posted beside it.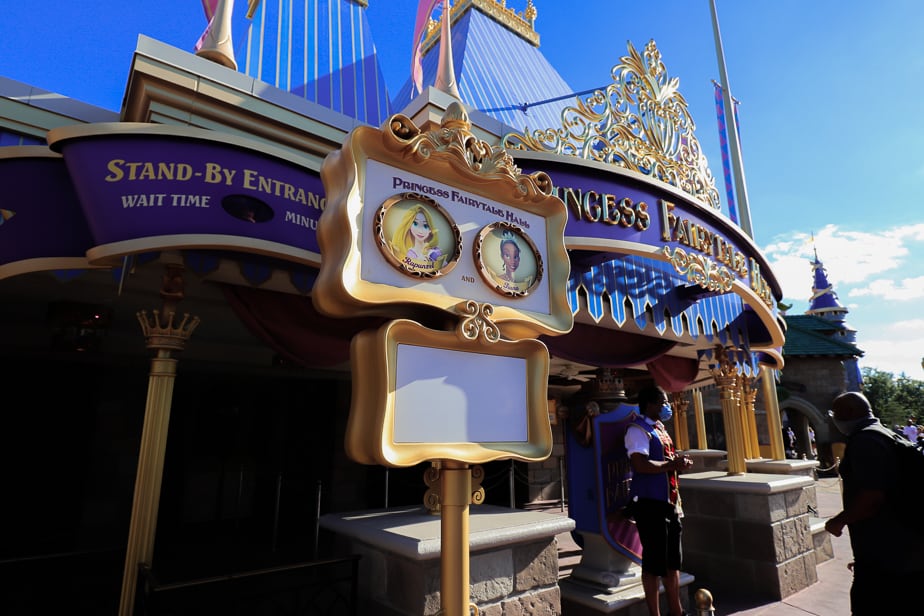 Cinderella and Elena's queue is on the right-hand side of Princess Fairytale Hall.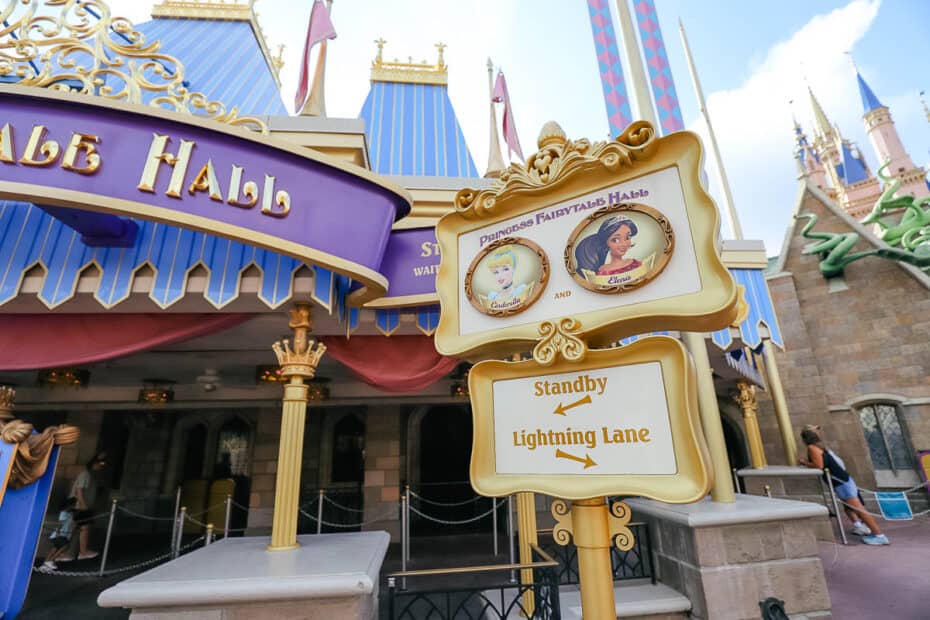 Princess Fairytale Hall is open daily between 9:00 a.m. and 9:00 p.m. You can check the exact times for the day of your visit here on Disney's site.
Times for this meet-and-greet can fluctuate based on the park's operating hours. Princess Fairytale Hall is typically available at the park open and closes at least 30 minutes before the rest of the park.
Lightning Lane (via Genie+) is also available to meet the princesses in Fairytale Hall. So if you're visiting during a high crowd time, it might be worth using this attraction as one of your selections.
However, in most instances, I would elect to do standby for this character meet. If you visit Princess Fairytale Hall earlier in the morning or later in the day, the lines will likely be shorter.
If you decide to use Lightning Lane, each side requires a separate entrance. When you look in the Genie+ portion of the My Disney Experience app, the selections appear like this:
Meet Cinderella and a Visiting Princesses at Princess Fairytale Hall
Meet Princess Tiana and a Visiting Princess at Princess Fairytale Hall
For this visit, I intended to meet all the princesses via the standby line. So I joined the side that had the shortest wait time posted.
There was a 20-minute posted wait when I got in line at 10:00 a.m. Per my notes, I met the first set of princesses at 10:23 a.m. for a total wait time of 23 minutes, which ended up being close to the posted wait.
At 10:28 p.m., I joined the line for Cinderella and Elena. There was a 25-minute wait posted when I got in line.
I met Cinderella at 11:04 a.m. So it took approximately 35 minutes to meet Cinderella and Elena, which was still reasonably close to the posted wait.
When all was said and done, I waited an hour to meet four princesses. I didn't think that was bad, considering the waiting area was inside, out of the sun, and had air-conditioning.
I've waited in far worse lines to meet characters.
A portion of the queue for Princess Fairytale Hall extends into the covered outdoor area. However, rarely does the line extend outside. If the line is extended to the outdoor portion of the queue, I would skip it and return later.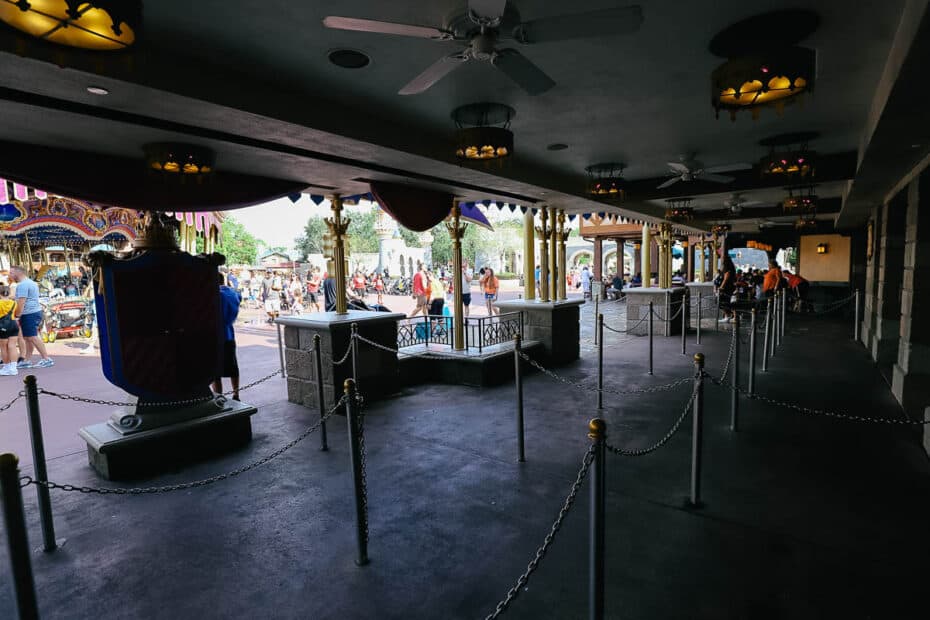 Lines for characters can vary greatly depending on how much time everyone in front of you takes. Generally, most guests respect the time they take to meet the character.
However, you'll likely encounter guests that take many photos in multiple arrangements when it's their turn. For example, it's not uncommon to see one person take a ton of family photos with the character.
After that, they'll take a photo of each child individually. Then they'll change up, and the original picture taker will have their picture made with the character and the children.
While this might sound like an exaggeration, it's not. There are no limits on how much time a guest has to meet with a character. So some will take more time than others.
Inside Princess Fairytale Hall, you'll feel like you stepped inside a castle. The hall is dimly lit with a royal feeling.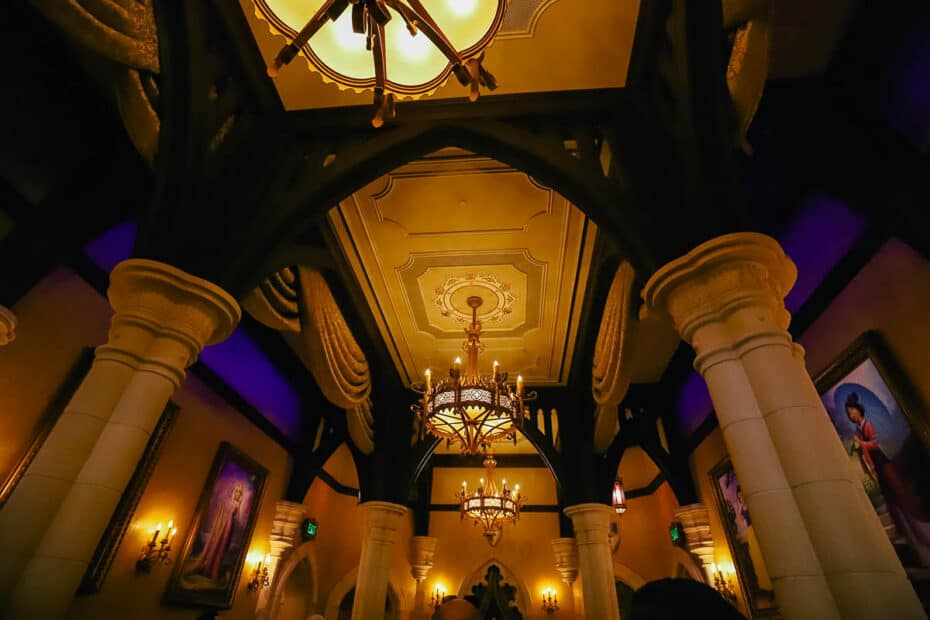 Portraits of different Disney princesses hang on the walls. Some of these Disney Princesses meet at Epcot during the day.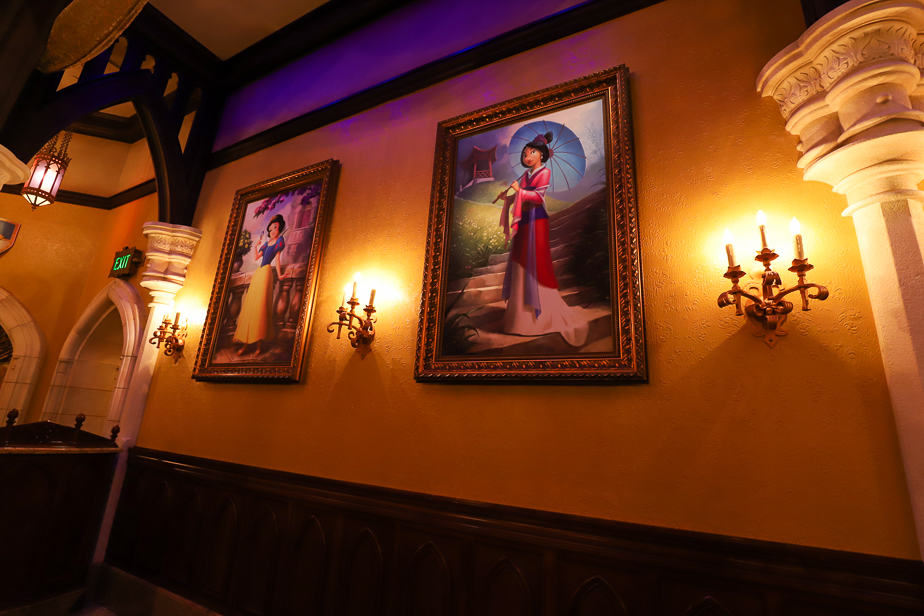 While some of the princesses meet here at Magic Kingdom.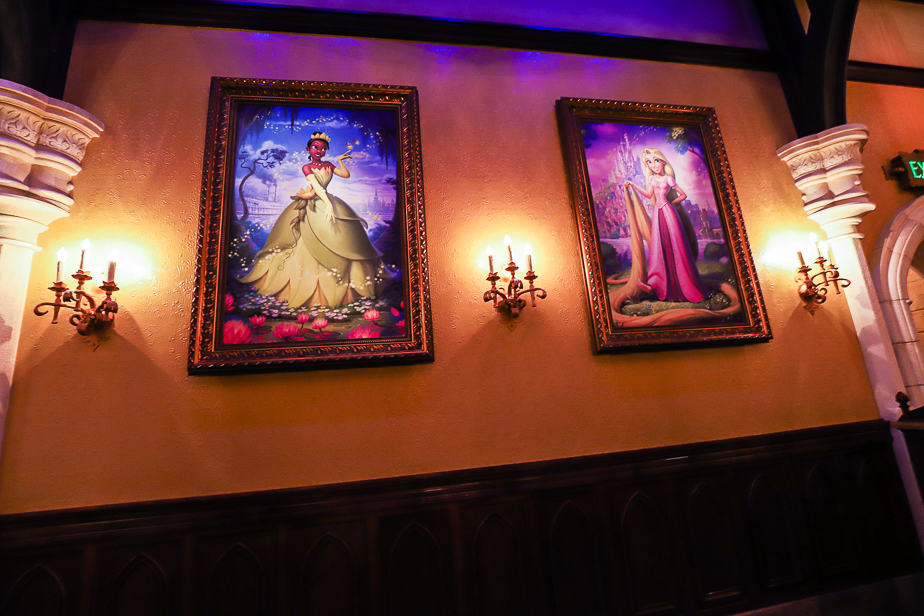 Before you go into the meet and greet area, you might notice Cinderella's glass slipper. It sits between the entrance to each character's meet.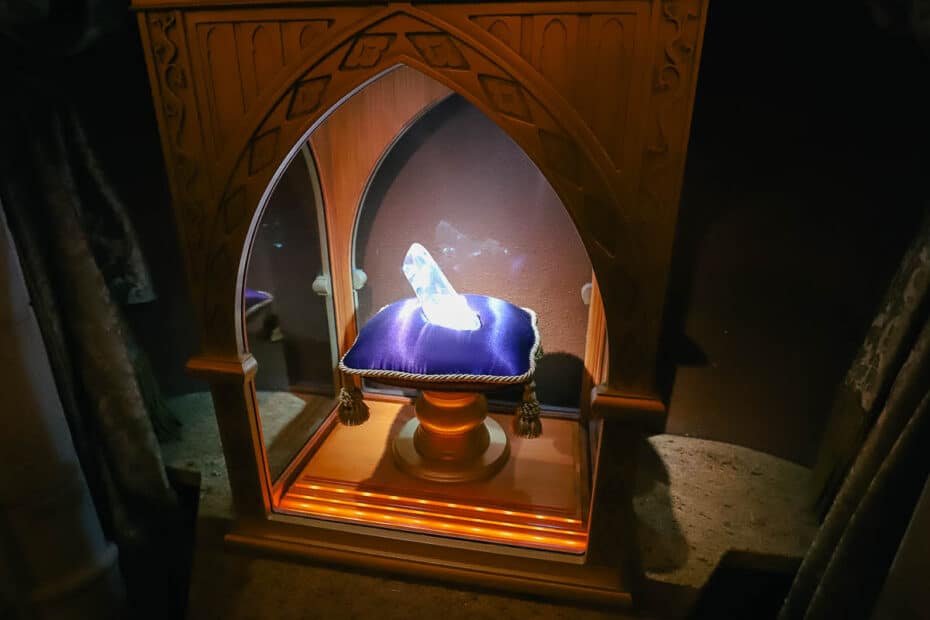 On this day, I met Elena of Avalor. She was greeting guests alongside Cinderella.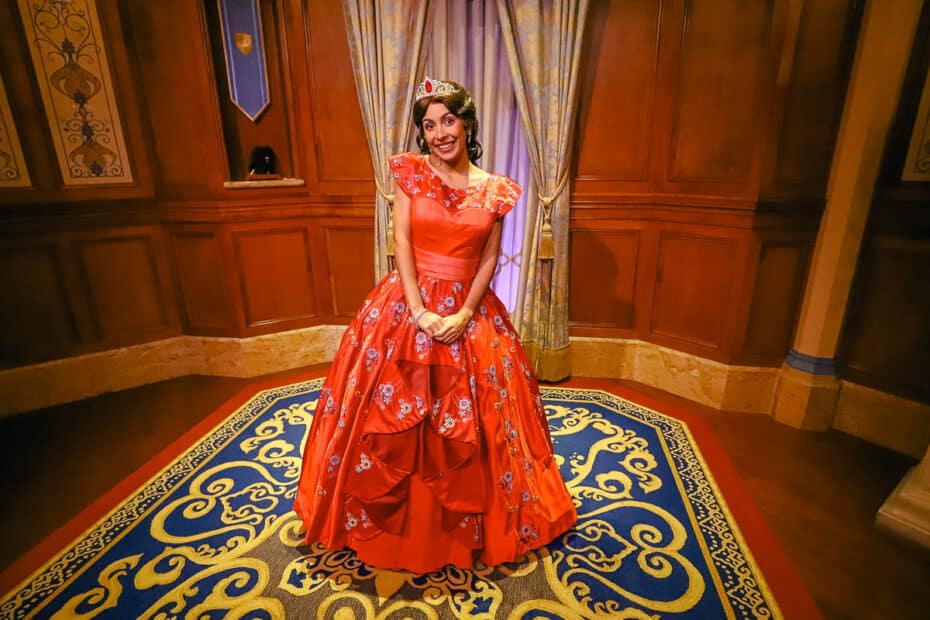 Elena loves animals. But I find her a little difficult to talk to because I have never watched her television series.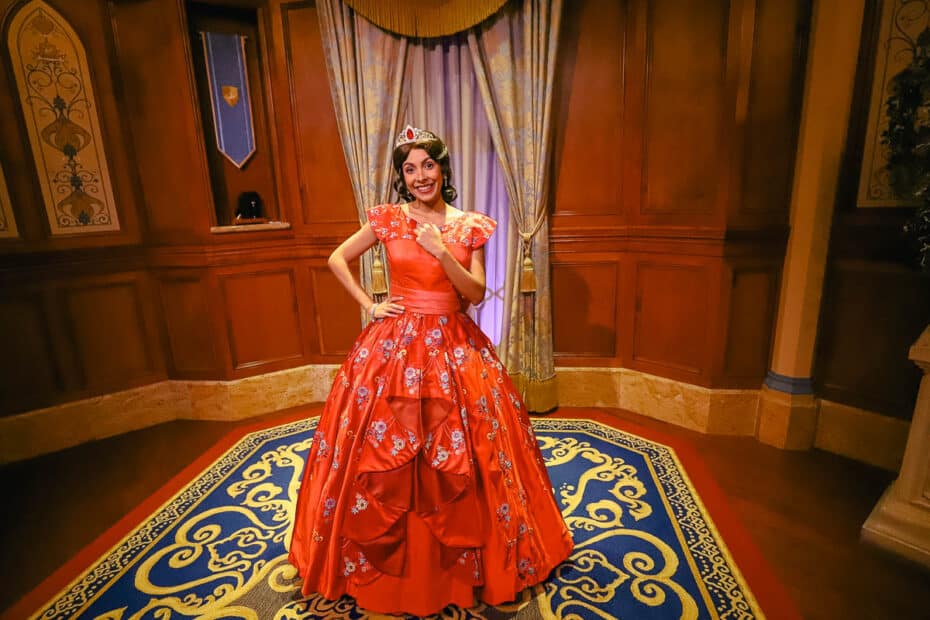 She is the only Disney Princess that doesn't have an animated film.
In the past, PhotoPass photographers were available in each room. Unfortunately, that was not the case when I walked through to do this update.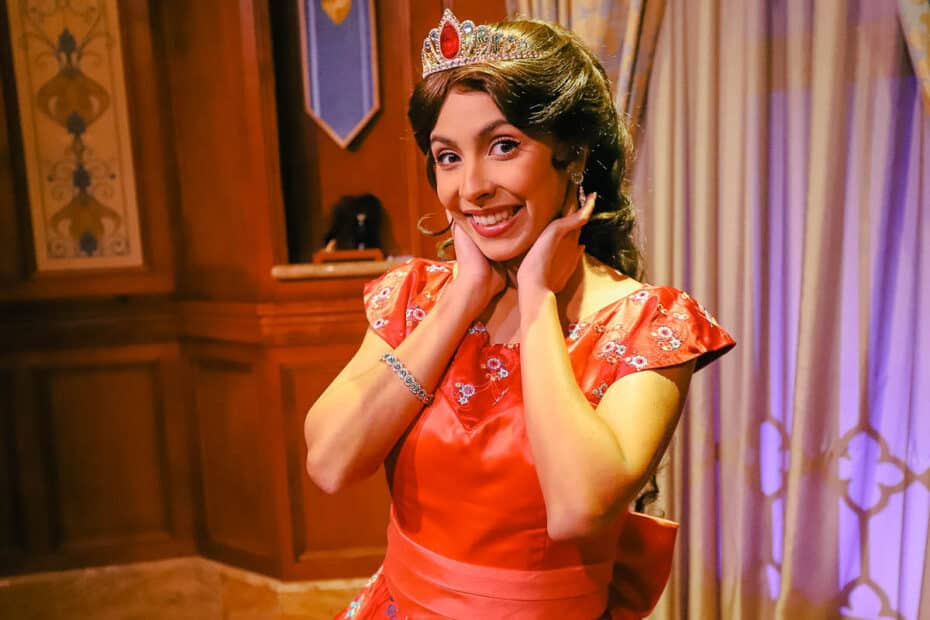 A cast member attending the meet said they'd had trouble not having enough photographers. He also mentioned that it wasn't uncommon to have a visiting princess these days.
So if you want to have your photos made, you'll need to use your device. In this meet-and-greet, the cast member attending the area offered to take photos to help out.
Additionally, the princesses at Princess Fairytale sign autographs. So you'll want to have your phone or camera ready for photos, and your autograph book turned to the page you want the princess to sign.
After meeting Elena, you'll move directly over to Cinderella.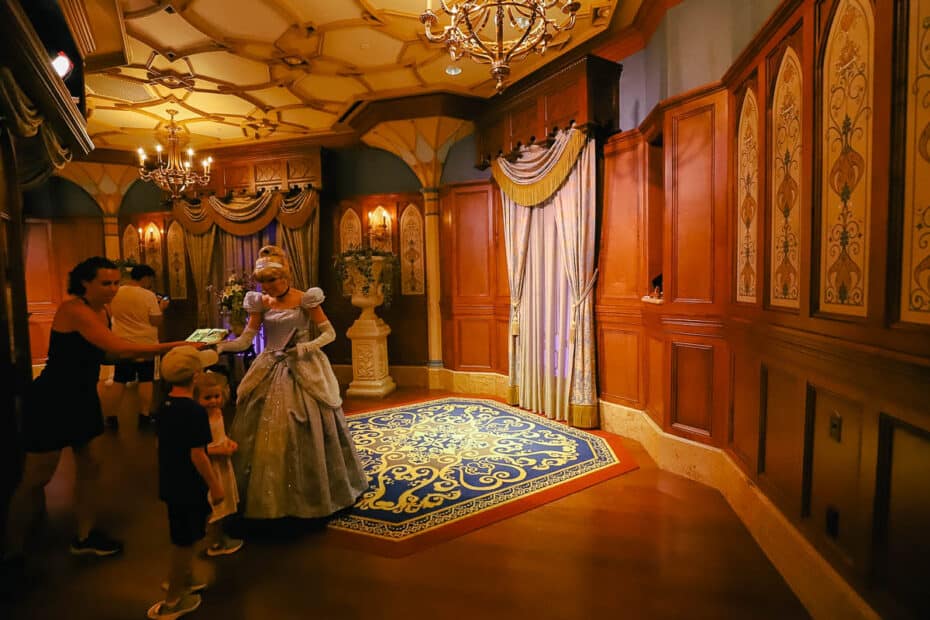 There is a beautiful storybook on display between the two meet and greets.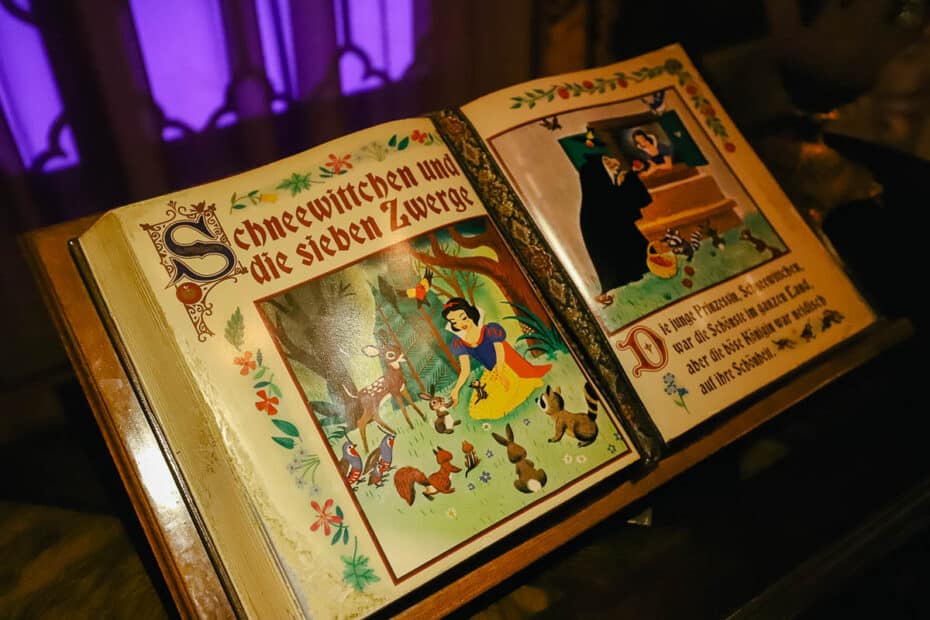 Cinderella is dressed to the nines in her blue ball gown. She enjoys talking about Prince Charming and may ask if you've run into her evil stepsisters.
Related: Meet Cinderella's Stepsisters at Disney World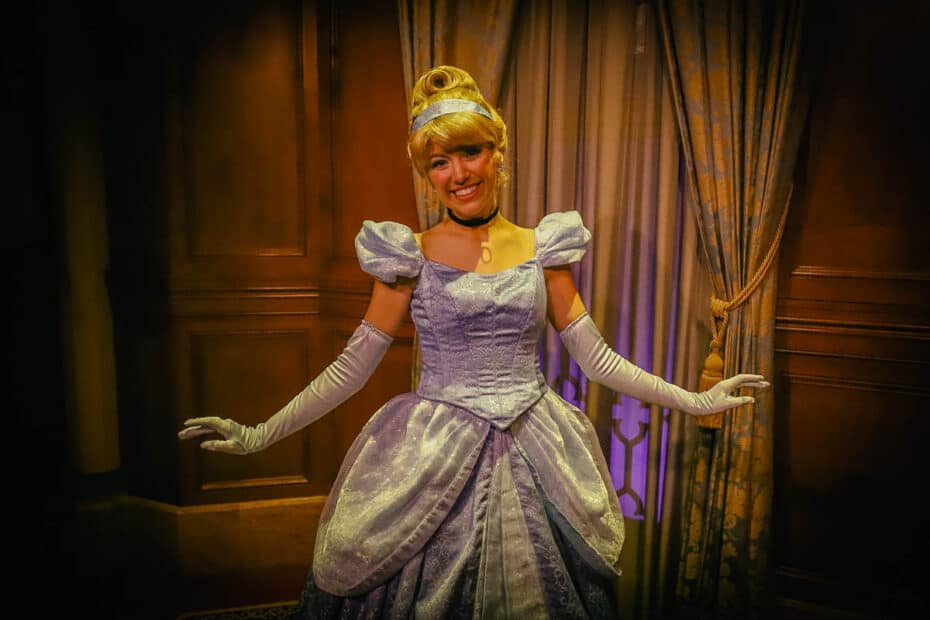 If you are a Cinderella fan, this is the only place to meet Cinderella at Walt Disney World, except for character dining. For dining, she greets guests at Akershus Royal Banquet Hall at Epcot and Cinderella's Royal Table at Magic Kingdom.
Related: Disney World Character Dining Guide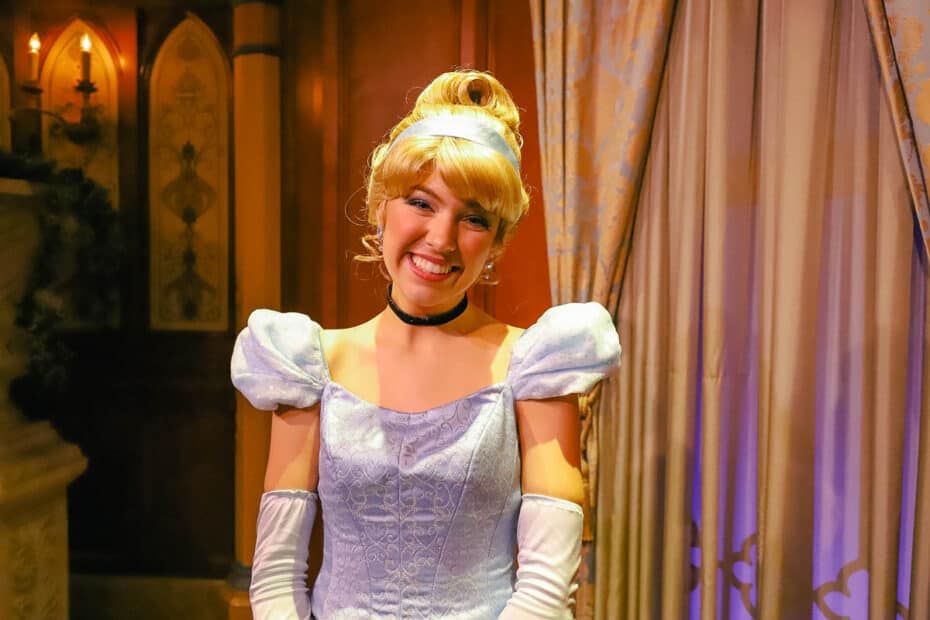 After meeting Cinderella, you'll end up outside Princess Fairytale Hall. If you want to meet Tiana and Rapunzel, you'll have to re-enter on the opposite side.
Like Elena and Cinderella, Tiana and Rapunzel meet in the same room. However, on my last visit, Rapunzel was not available.
Below, the photo shows the setup of the meet-and-greet area. Thankfully, those ropes have been removed.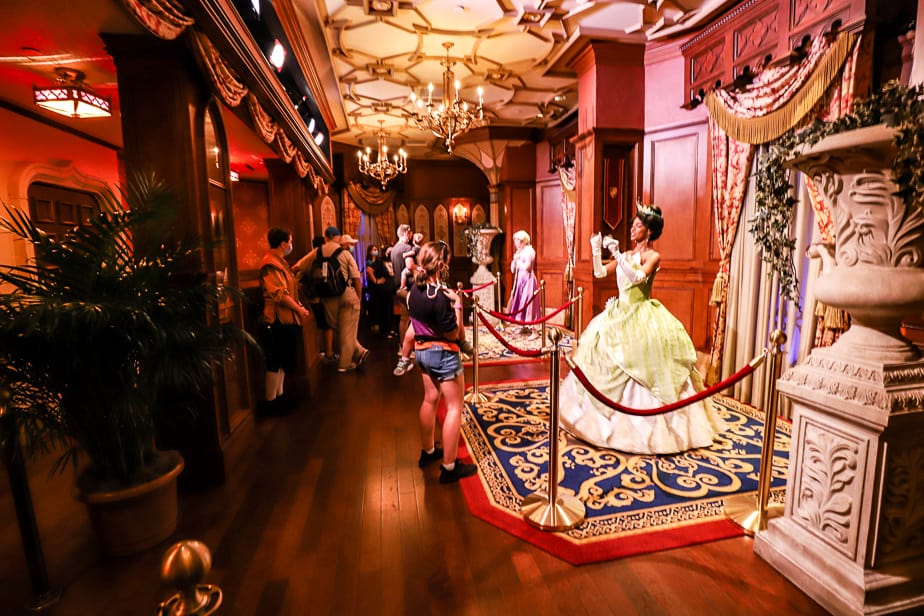 I've always thought it was nice to meet two characters at the end of the line instead of one. But I'm a sucker for a two-for-one deal.
Tiana enjoys talking about food, cooking, and entrepreneurship.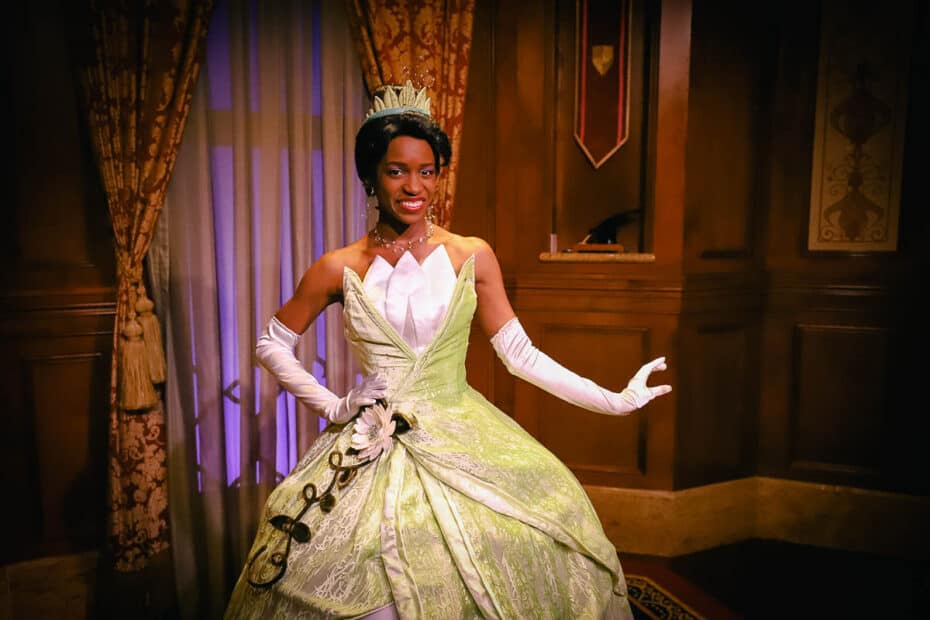 She invited me to come back soon or stop in at Tiana's Place for beignets anytime.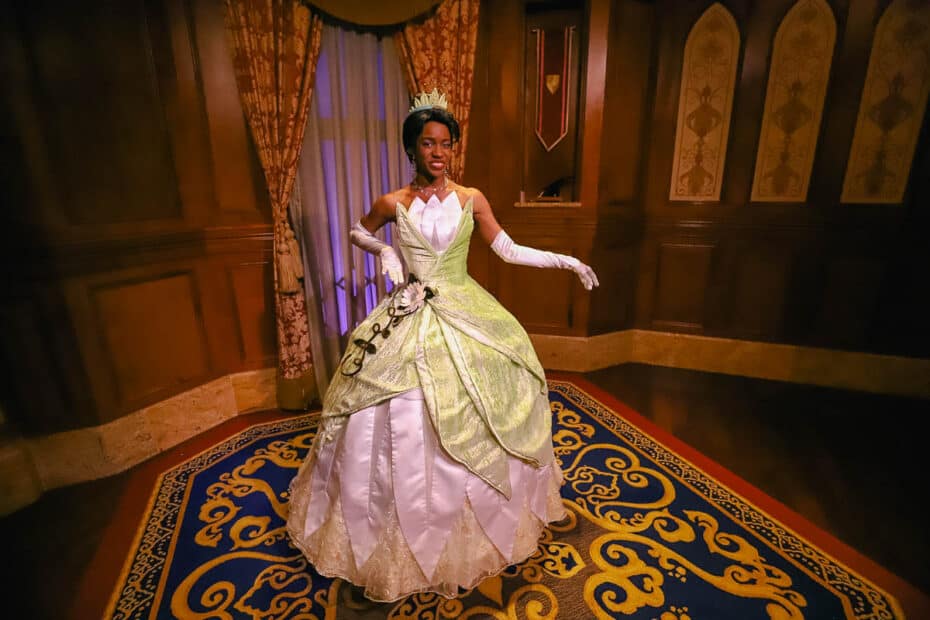 All of the characters at Walt Disney World will stay in character when you meet them. So it's good to know what you might want to say to the ones that talk.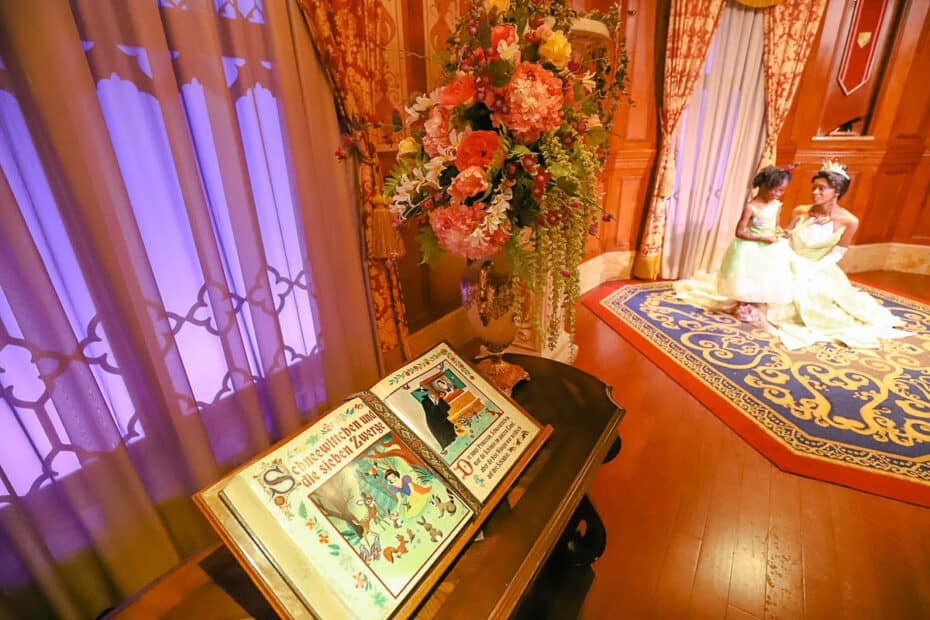 After talking with Tiana for a few minutes, I met Ariel, the visiting princess. However, you probably won't run into Ariel as a visiting princess anymore.
She has returned to her mermaid meet at Ariel's Grotto in Fantasyland. It is likely Rapunzel was out on a date with Flynn Rider, and Ariel was filling in for her.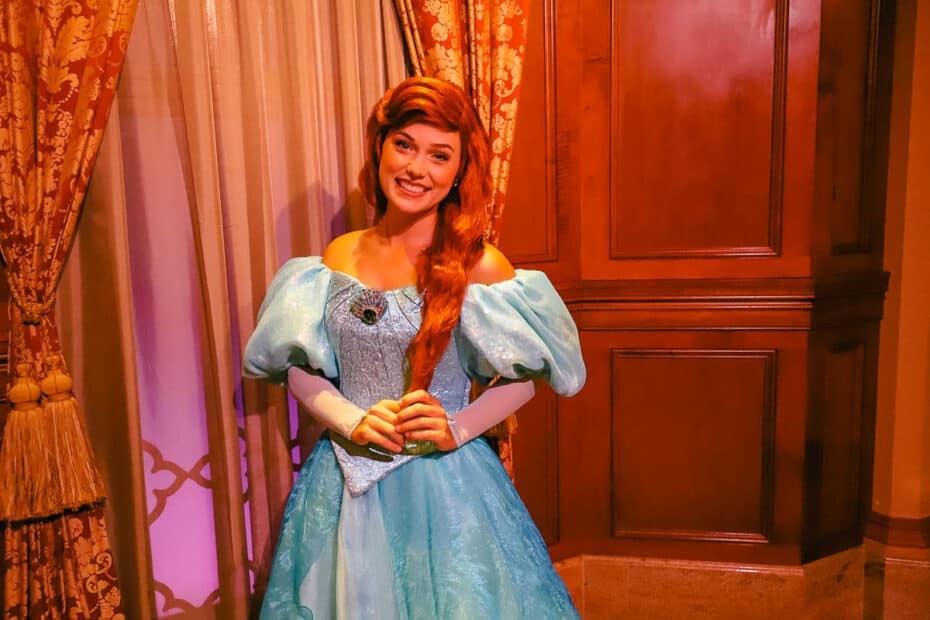 As stated, Rapunzel almost always meets next to Tiana at Princess Royal Fairytale Hall. She will want to know if you got the nose right when you take her picture. Rapunzel is very upbeat and friendly.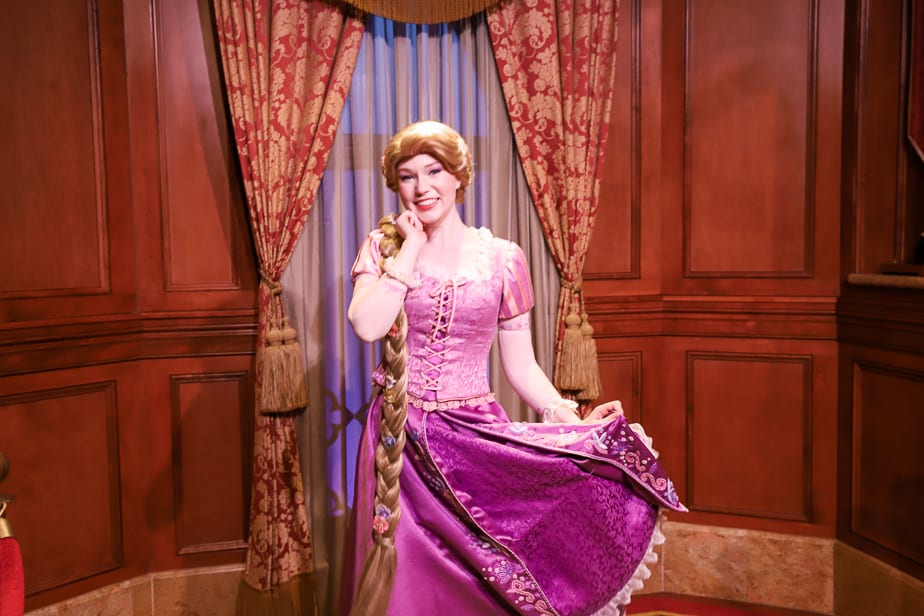 Overall, Princess Fairytale Hall is an excellent location to meet princesses at Walt Disney World. If anyone in your group is interested in meeting princesses, you'll want to add this meet-and-greet location to your itinerary.
For other princess meets at Disney World, you might enjoy these articles:
Additionally, the Princesses at Fairytale Hall meet alongside their princes at Mickey's Very Merry Christmas Party. We have a full article with photos of the character meets at Mickey's Very Merry Christmas Party.
We also have an article covering the Mickey Mouse character meet-and-greet at Magic Kingdom.
Related: Meet Mickey Mouse at Town Square Theater
Looking for someone else? Try our entire list of character meet-and-greets at Walt Disney World.
In the Comments
Have you had the chance to visit Princess Fairytale Hall before? Which princess is your favorite to meet?