Monsters, Inc. Laugh Floor at Magic Kingdom
This article discusses Monsters, Inc Laugh Floor at Magic Kingdom in Walt Disney World. Below, we'll discuss the attraction in detail, along with a few tips for seeing the show.
Monsters Inc. Laugh Floor is a comedy show attraction featuring characters from Disney Pixar's films Monsters Inc. and Monsters University. This attraction is located in Tomorrowland.
If you're entering Tomorrowland from the Cinderella Castle hub, Laugh Floor will be the first attraction on your right after crossing the bridge.
Monsters Inc. Laugh Floor opened in 2007, replacing a Circle-Vision film called The Timekeeper. The theater sits approximately 400 guests, and each show lasts approximately 15 minutes.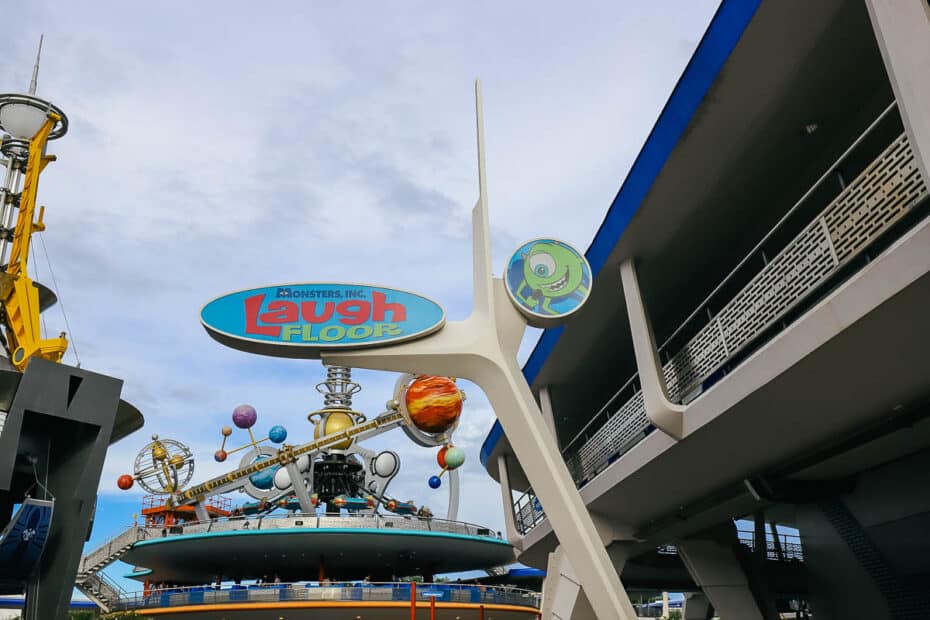 Below are quick reference details for experiencing Monsters, Inc. Laugh Floor.
Monsters, Inc. Laugh Floor
Magic Kingdom

Location:

Tomorrowland

Disney Height Requirement:

None

Eligible for Disney Genie+

Yes

Ride Type:

Theater Audience

Seats Per Vehicle:

Theater Rows

Duration:

approx 15 minutes

Rider Switch at Disney World:

No

Good For:

Anyone

Scare Factor:

Monsters call random adults out of the audience
and flash them up on the big screen.

Must-Do List:

Low

Accessibility
Guests may remain in a wheelchair or ECV.
Sign language, assistive learning, and
video captioning is available.
You can check here on Disney's site for more details.

Special Mention:

If you don't want to get called on during
the show, don't sit behind the lamps.
Monsters, Inc. Laugh Floor
Monsters Inc. Laugh Floor is a comedy club-like attraction hosted by the monster of ceremonies Mike Wazowski. Select Monsters appear on the screen during the performance, telling their best jokes.
Word of warning, some of the jokes can be pretty corny. Okay, I'll admit they are just plain bad, but at least it's the kind of bad that makes you laugh.
However, laughter is a good thing because the show's goal is to fill the scream canister full of laughter. This is somewhat important because if you don't have enough laughter, you might not have enough power to open the exit doors at the end.
Monsters, Inc. Laugh Floor offers a standby line and Lightning Lane via the regular Genie+ service. However, typically the longest wait will be for the next performance. So you shouldn't need to use Lightning Lane for this attraction.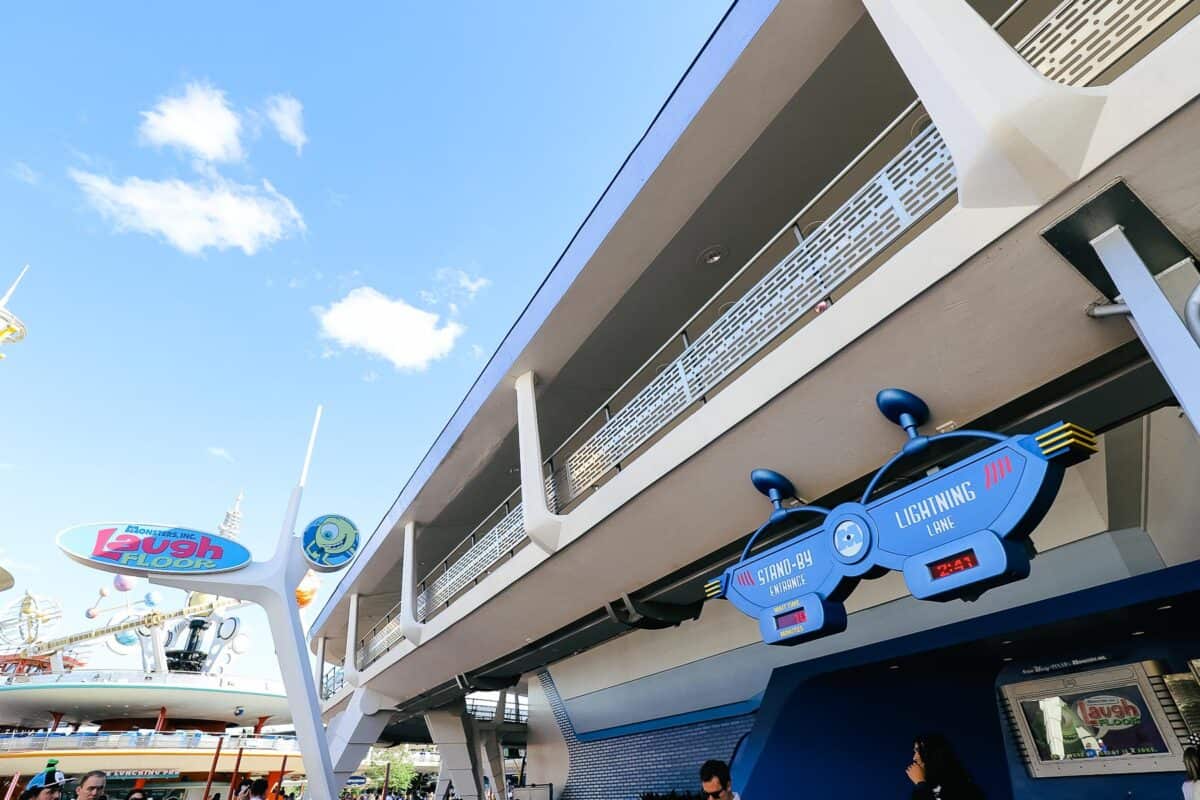 While waiting for the next show to begin, you'll notice signs asking guests to send in a good joke. They might use your joke in part of the show.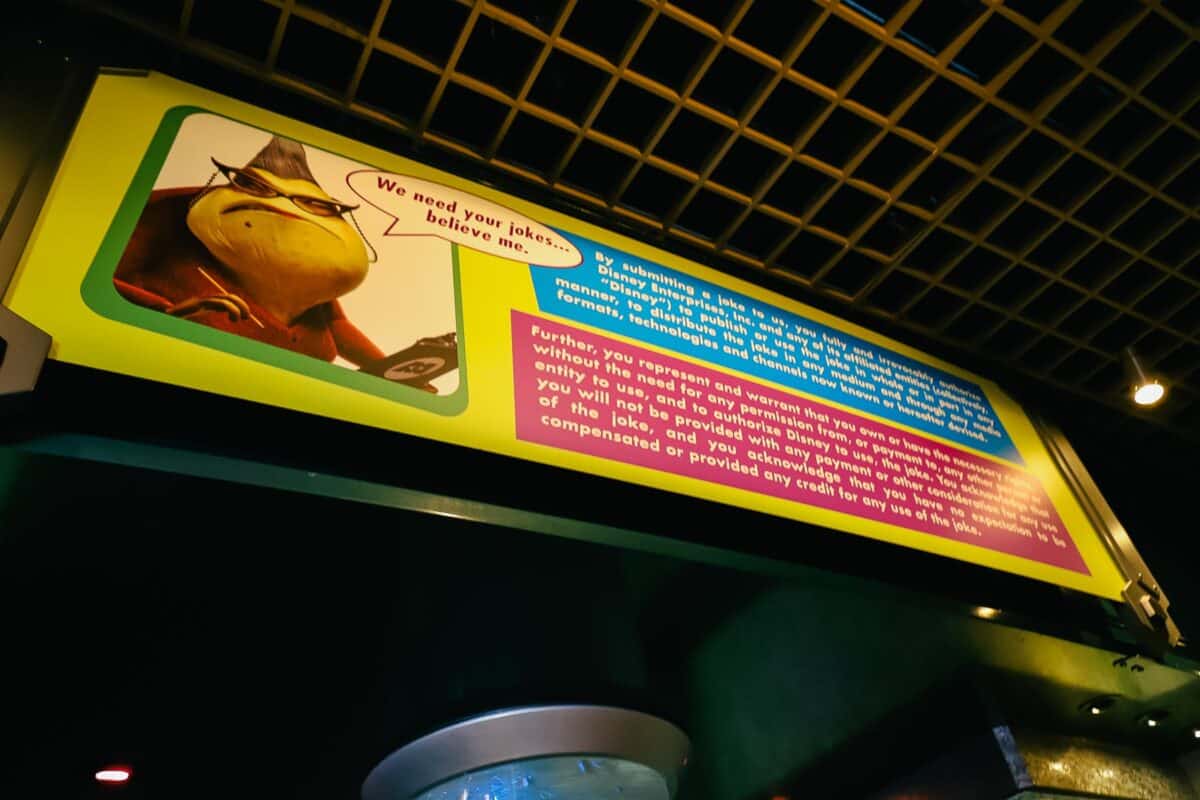 Monstropolis needs you!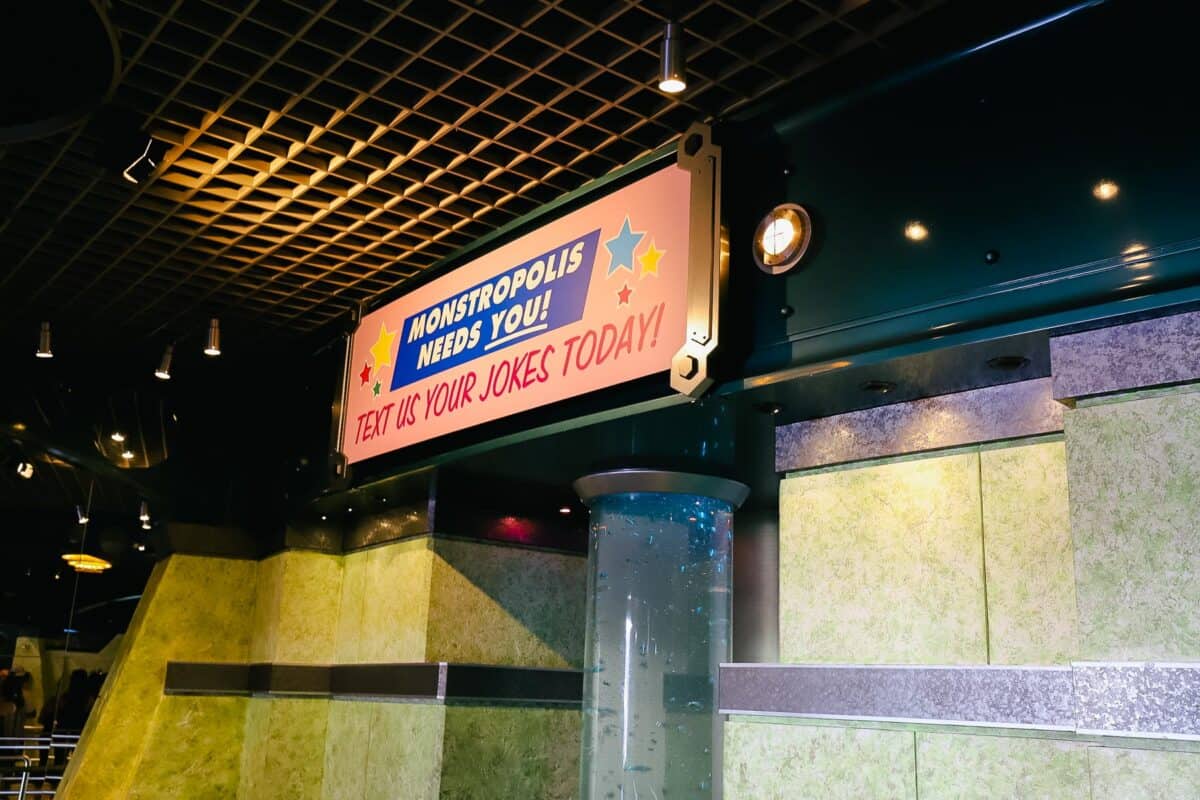 Monitors overhead display the following instructions:
Start your text with the word SLUG.
Include your first name and hometown so we can thank you.
If chosen, your joke will be performed in the show, and you'll be famous!
*Warnings indicate that standard text fees may apply, so children should ask their parents for permission.
Need an idea for a joke? Here's one of my favorites–What is Peter Pan's favorite fast-food restaurant? Oh, come on…you know the answer….it's Wendy's!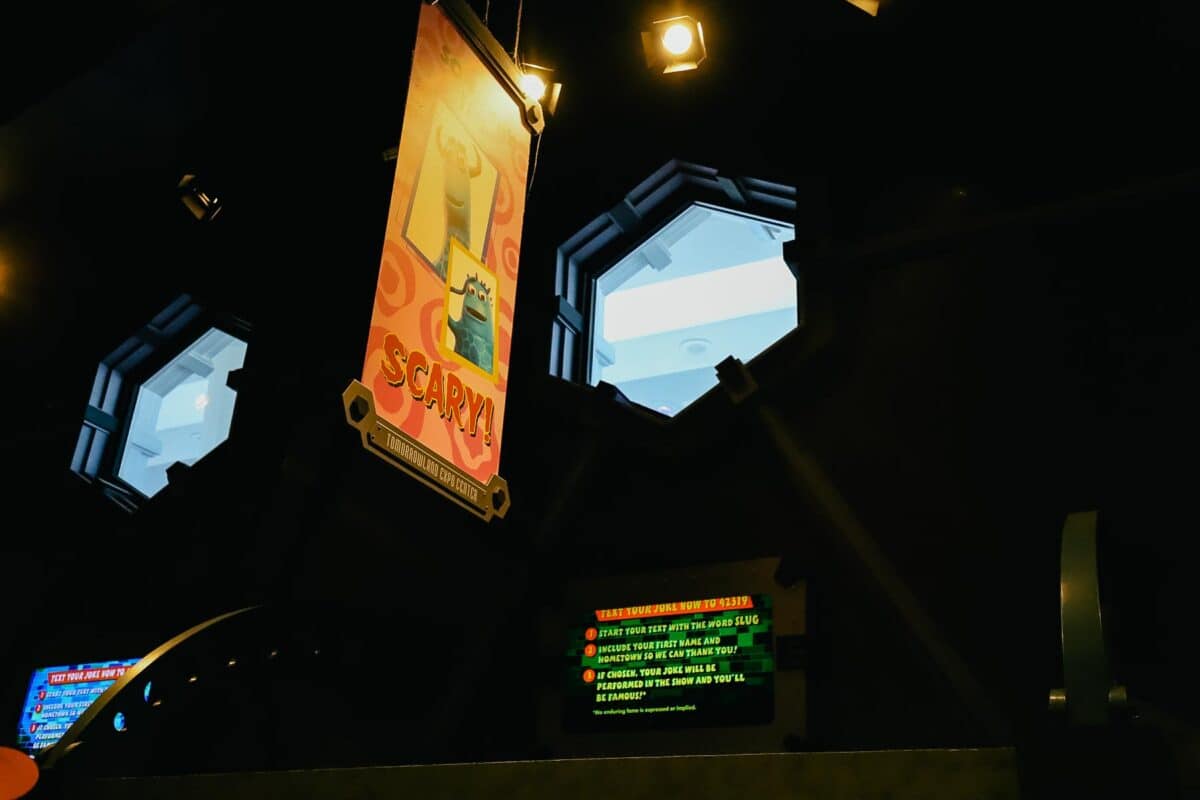 Monsters, Inc Laugh Floor is an improv act similar to Turtle Talk with Crush at Epcot. While some parts of the show may remain consistent, each performance is unique.
After entering the theater, guests will sit in theater seats. You may notice that some seats have lights in front of them.
Therefore, if you do not want to participate in the live show, do not sit in front of the seats with lights. When a guest gets called on, they will flash them up on the big screen. That's when the lights come on, so everyone can see them better.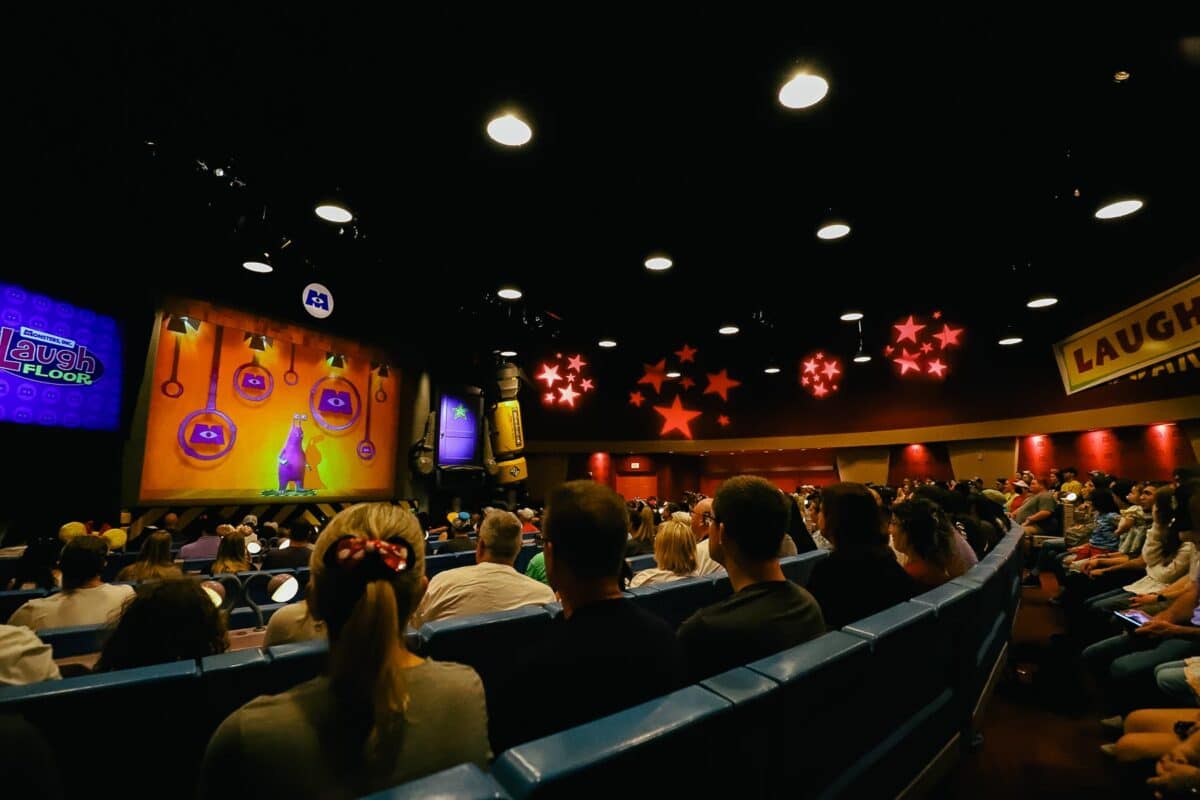 Additionally, the Monsters try to get adults and children involved. So if you want to participate, try to draw attention to yourself if they ask for a volunteer.
Also, there's always "that guy," the lucky guy in the audience who gets referred to during the show probably more times than he would like. Usually, "that guy" is an adult male.
I think my favorite "that guy" was the one who jumped up and started dancing every time they flashed to him during the show. The camera loved him.
He also promised to buy everyone churros at the end of the show. But then he mysteriously disappeared.
So if you want to get selected, sit behind the theater areas with lamps. Don't want to participate? Avoid the seats with lamps in front of them.
During the remainder of the show, monsters will perform their favorite jokes in order to make you laugh. The entire idea of the show is to fill the giant canister with enough laughter to open the exit doors.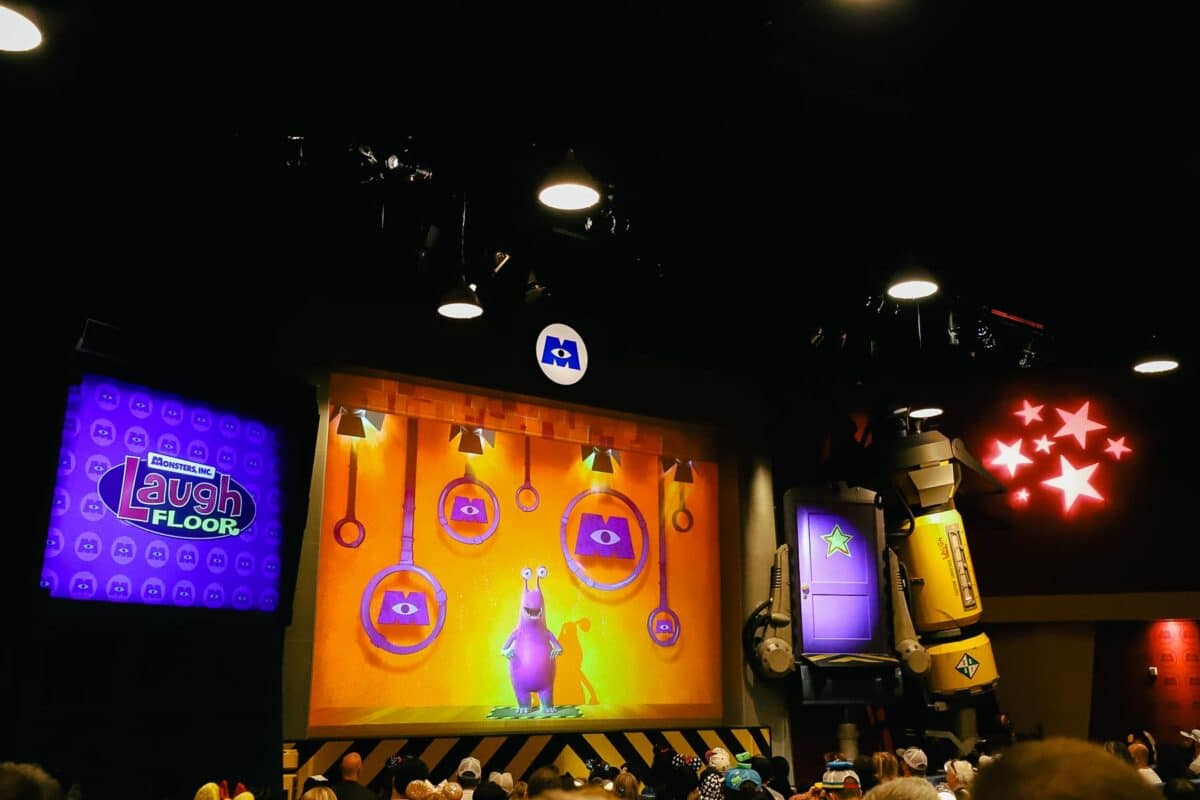 If you don't laugh enough, you are in trouble. Yes, Roz is always watching.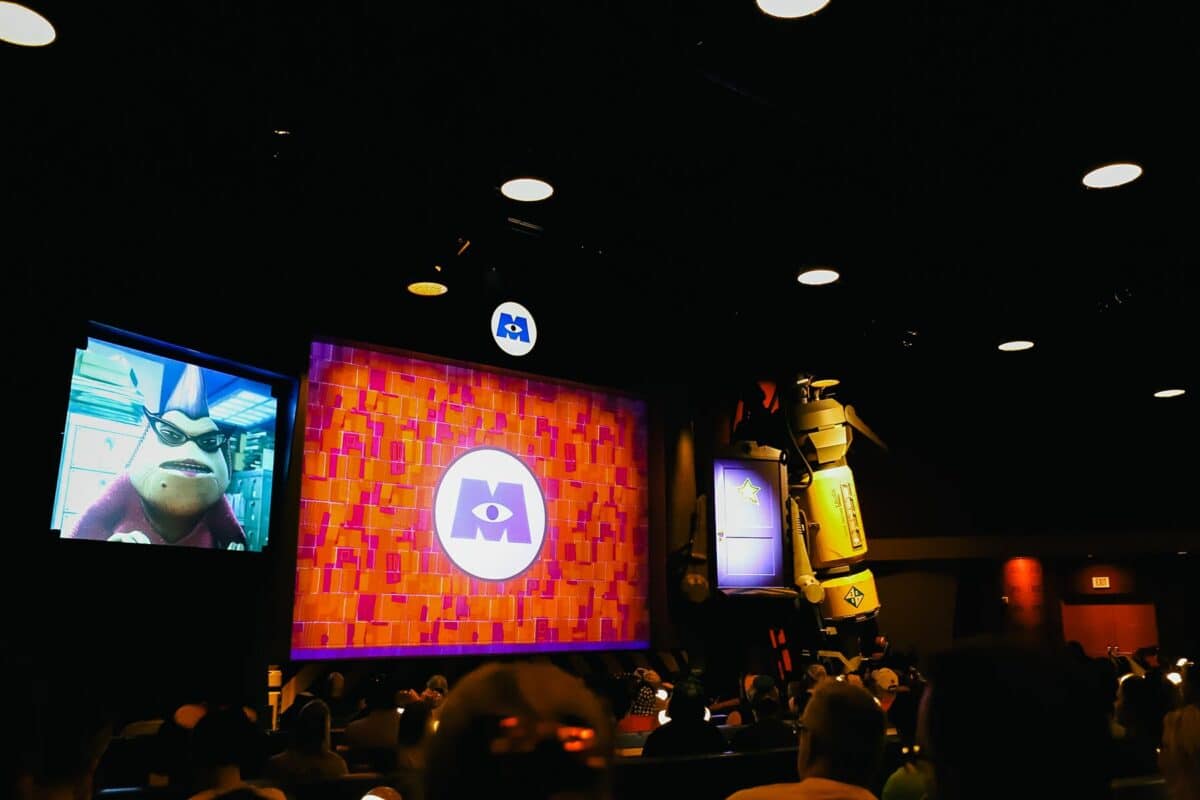 Toward the end, Mike Wazowski returns to the Laugh Floor Comedy Club to check the progress. Thankfully, the laugh canister is full.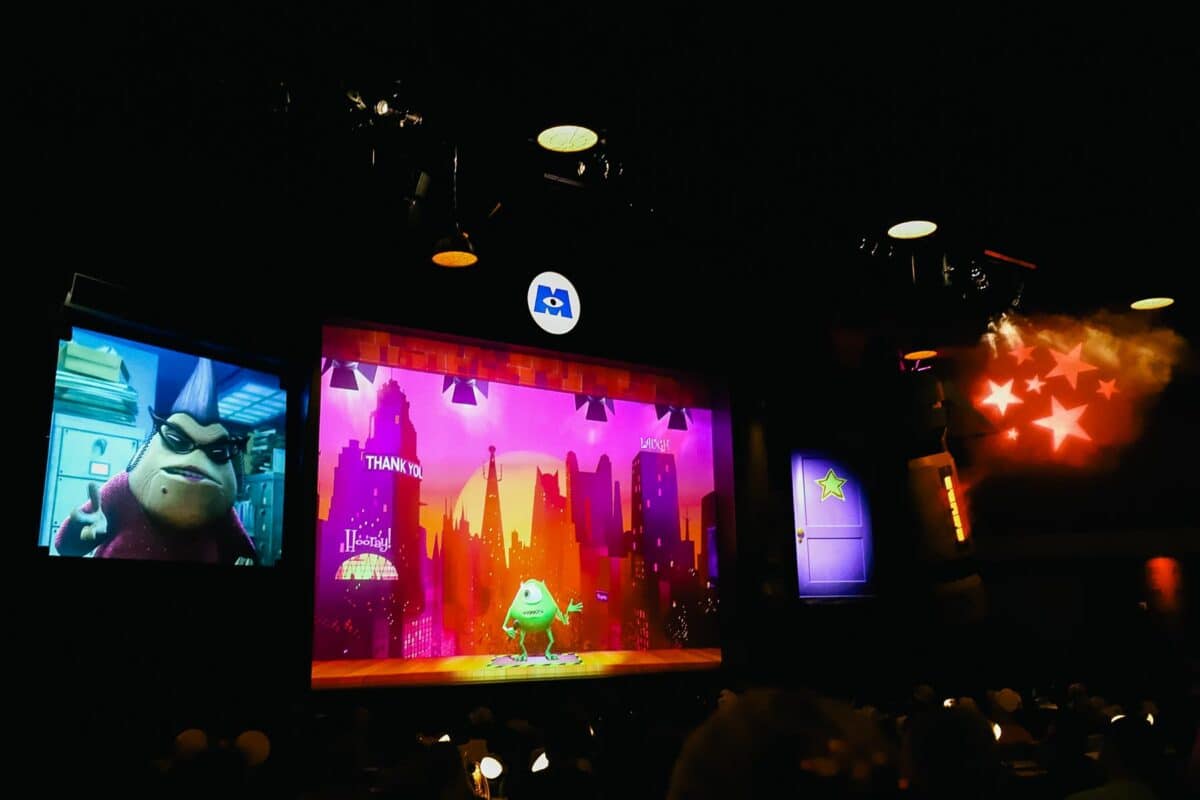 At the end of the show, doors open on the opposite side of the theater so everyone can exit.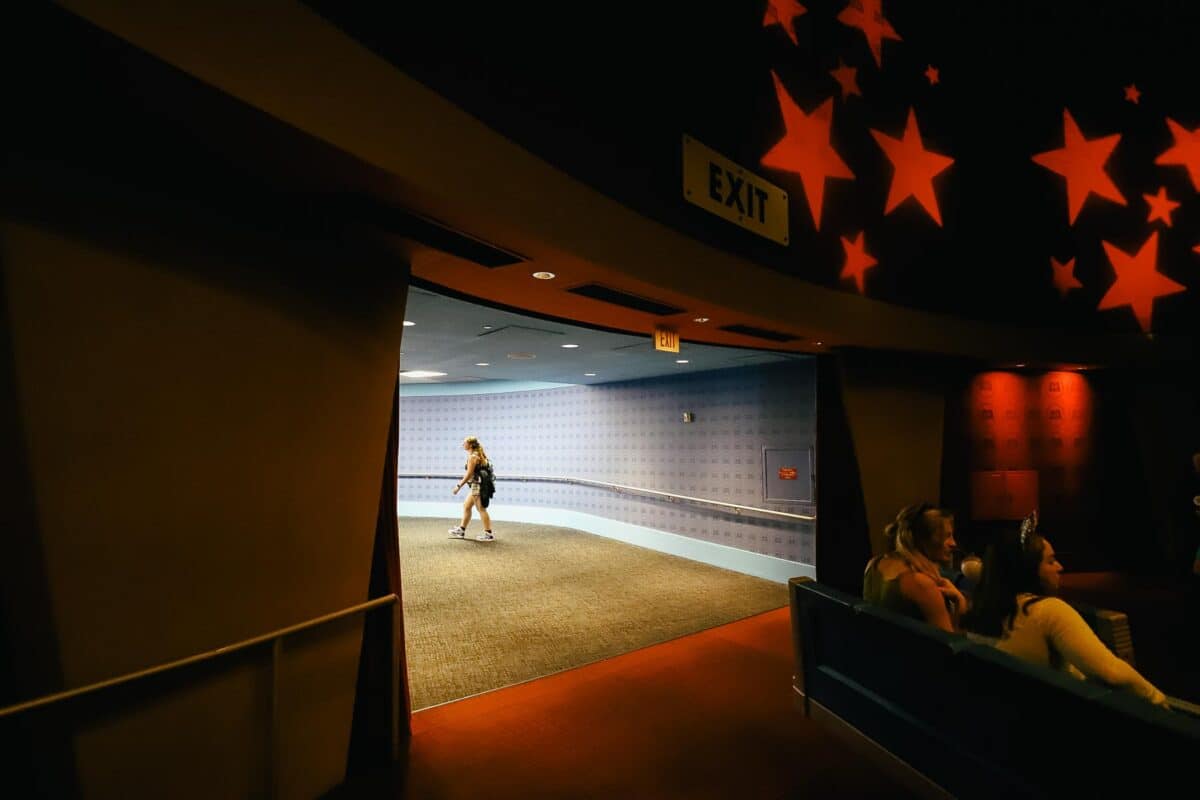 All in all, Monsters, Inc. Laugh Floor is a fun experience. It's also the perfect place to break from the heat or rain in the middle of a long day at the Disney Parks.
For more attractions in the same area, you might like the following:
Or you can view the entire list of rides at Magic Kingdom.
Resorts Gal specializes in Disney World Resorts, Characters, and Dining. Check out some of our resources, like the Walt Disney World Resorts list.
Since we're discussing Magic Kingdom, you might consider staying at one of the nearby hotels on the monorail.
For planning reservations for dining, we have a complete list of Disney restaurant reviews available. Usually, we recommend planning at least one Disney World character dining meal during your vacation.
And if you enjoy fine dining, throw a Disney signature dining reservation in the mix!
Lastly, our most popular reviews include the best restaurants at Disney Springs, and I keep a timeline going of Disney Loungefly mini-backpacks.
In the comments
Okay, so I have to ask, have you ever been "that guy" at Monsters, Inc. Laugh Floor? Do you have a joke planned for this attraction?