Disney World's Monorail Hotels (The Complete Guide with 2022 Updates)
Disney World has tons of resort hotels to choose from when planning a stay. However, only a small handful of these hotels are located on the monorail.
While the other resorts are great, they don't offer the same convenience and exclusivity as the monorail resorts.
This article will provide an overview of the three monorail resorts at Disney World. I'll also provide some tips for making the most of your stay.
Additionally, I'll add a few thoughts on which monorail resort is the best. Spoiler, they are all pretty great.
However, considering your specific wants and needs, there might be one monorail resort that stands out more than the others. Ultimately, that is the resort you should choose for your vacation.
Let's see if we can determine which one is best for you!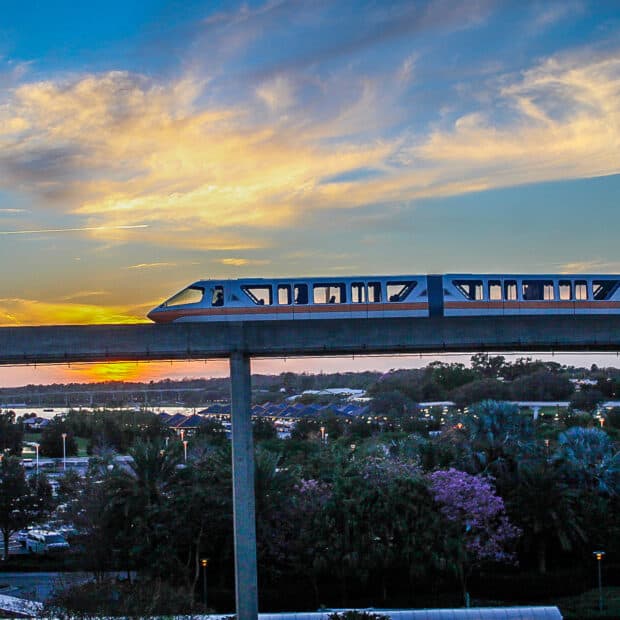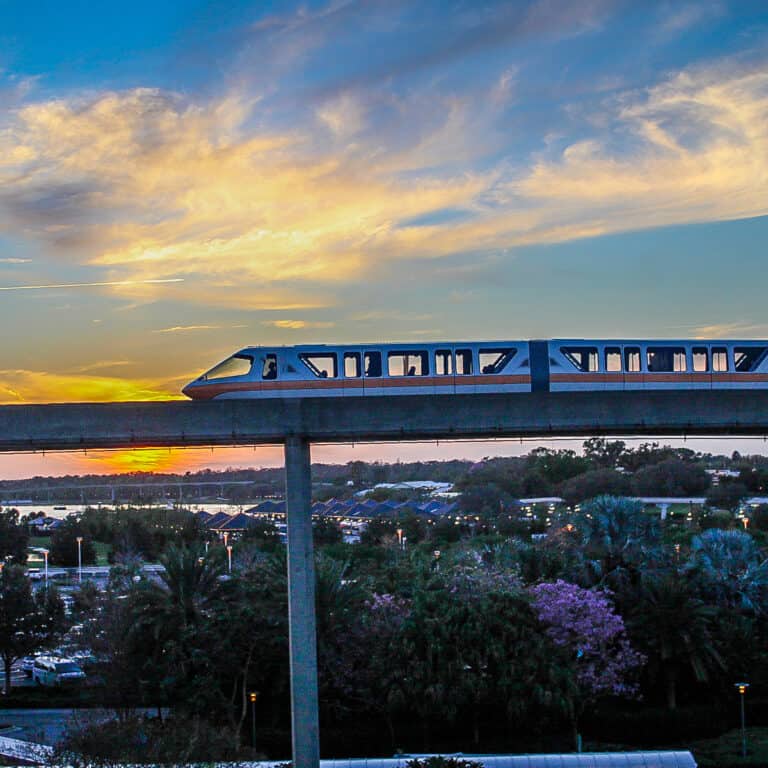 Disney Hotels Located on the Monorail
Between the convenience factor and the grandiose level of these resorts, staying at a monorail resort is a pretty big deal.
The following hotels are located on the monorail:
You can easily hop on the monorail and be at the Magic Kingdom from these resorts within a few minutes.
There are three different lines of monorails at Walt Disney World. For this article, we'll focus on the resort monorail. And I'll briefly discuss how to take the monorail to Epcot from a monorail resort.
The resort monorail stops in the following order:
Magic Kingdom
Contemporary
Transportation and Ticket Center
Polynesian
Grand Floridian
So if you're staying at a monorail resort, you'll have to make several of these stops depending on where you are going or leaving.
For instance, if you're staying as a guest of the Grand Floridian, there are no stops on the way to Magic Kingdom. When you board at Grand Floridian, it's only a short trip to the park.
However, if you opt to take the monorail back to the Grand Floridian when you leave Magic Kingdom, you'll be the last stop. While that's not a big deal, you'll want to remember it will take a little time for each stop on the way.
At each stop, there is a pause to let guests unload, and then new guests board. You'll remain on board until the monorail gets to your stop.
I'm reluctant to approximate how long it takes to get from one stop to another because of the boarding process. It depends on how many guests are waiting and other special circumstances.
Additionally, the monorail's actual time in motion between stops is pretty irrelevant given how swiftly it moves.
The views from the monorail are stunning. Most enjoy the ride.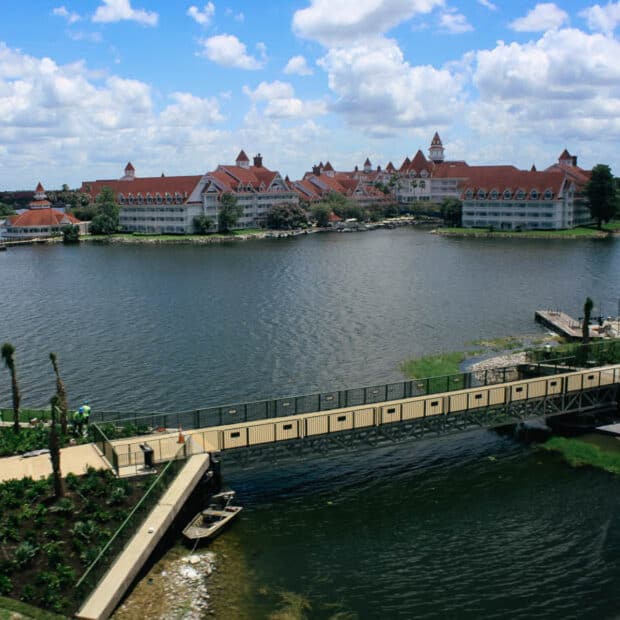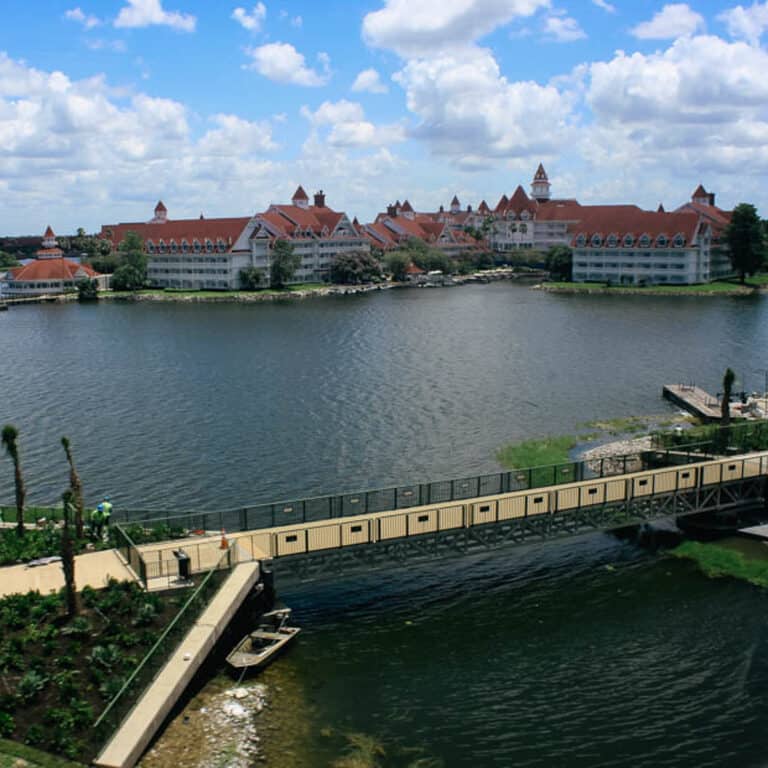 For travel to Epcot, guests of the monorail resorts will take the monorail to the Transportation and Ticket Center. You will then transfer from the resort monorail to the Epcot monorail.
Tip: If you're staying at Disney's Polynesian, you will want to walk over to the Transportation and Ticket Center for the Epcot monorail. The walkway to the monorail sits between Pago Pago and Moorea.
More details about the other monorail services are available in our transportation guide.
Related: Disney World Monorail Guide
Benefits of Staying at a Monorail Hotel
Staying at a monorail resort has its benefits. Not only will you have quick access to Magic Kingdom, but there are a few other positives to consider.
First and foremost, during this time, guests of deluxe resorts and deluxe villa resorts are eligible for extended theme park hours at select parks on select evenings.
Since all of the monorail resorts are deluxe resorts, you'll have access to those late evenings hours. Currently, the extended hours are available two nights a week. One of those nights is at Epcot and the other at Magic Kingdom.
Another benefit of a monorail resort is planning a stay during the holiday season at Magic Kingdom. Often, during the holidays, Magic Kingdom holds special events like After Hours, a Halloween Party, and a Christmas Party.
Fingers crossed, the parties return in 2022.
Magic Kingdom is open very late for these special-ticketed events. So at the end of the evening, your chariot (the monorail) awaits. I can't stress enough how nice it is to be able to take the monorail back to your resort.
It's often cool on these late evenings, and the monorail will feel warm and cozy when you step inside. Not only that, it's a great place to rest weary legs on your way back to the room.
You won't have to worry about walking out to the bus stop and waiting on a bus. The monorail stop is located right outside Magic Kingdom's entrance.
However, if you are leaving Magic Kingdom on a regular evening at park closing, be warned. The monorail line can be extremely long.
Thankfully, you can walk back to all three of the monorail resorts. Or you can take a boat back to the Polynesian and Grand Floridian.
See these transportation guides for more options:
In addition, to the proximity of Magic Kingdom via the monorail, staying at a monorail resort has several other benefits.
These resorts tend to be located in the heart of the action. The monorail provides easy access to multiple dining locations, shopping, and other entertainment options at each resort.
You might spend a day or evening resort-hopping. Or you could plan dining reservations at each of the different resorts during your trip.
Then, you won't have to worry about how you'll get to any of these resorts. They are all only a short monorail ride away!
Related: Resort Hopping at Disney World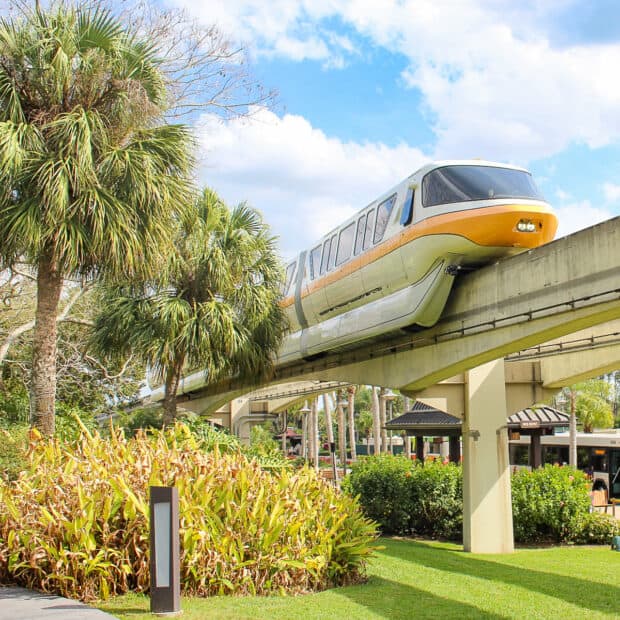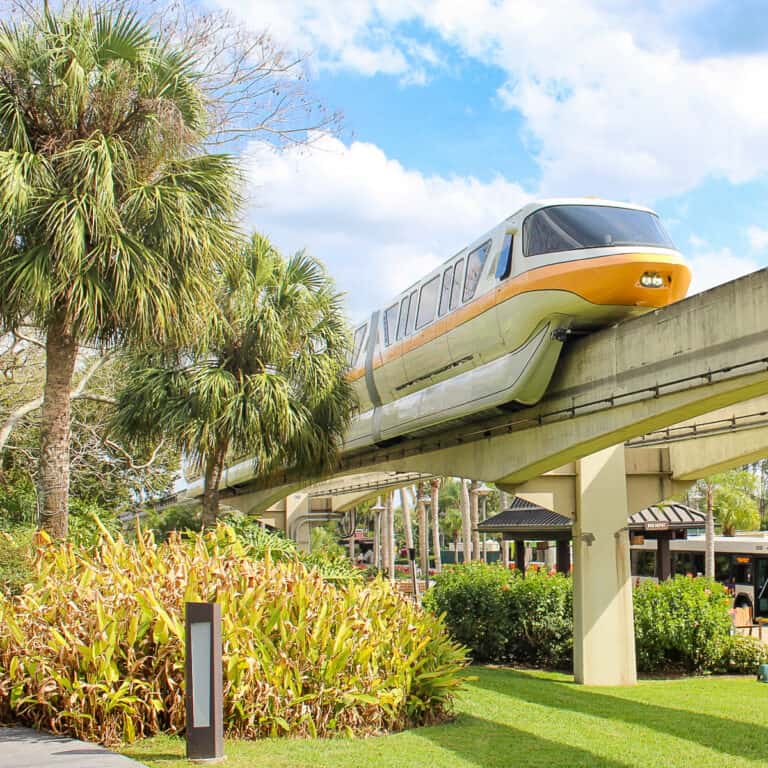 Tips for Staying at a Monorail Resort
Since we've discussed the benefits of staying at a monorail resort, I wanted to provide a few tips for your stay.
Most importantly, it's essential to know all of the transportation options at your resort. The following transportation guides will be beneficial depending on which hotel you choose.
Contemporary Resort Transportation Options (Coming Soon)
While these guides re-iterate some monorail information, they'll provide specific details for other options like walking, boating, or taking a bus. Knowing how to use transportation at Disney World to your advantage is half the battle.
It's also important to know the best nearby dining options, when staying at a monorail resort. Whether you want a quick-service meal, a cocktail, or a full-scale dinner, there are so many great options.
For example, we love to have breakfast or brunch at Grand Floridian Cafe at Disney's Grand Floridian. Of course, you'll want to get a reservation, but they are relatively easy to obtain.
We enjoy having a late morning meal here on a day we sleep late! Here's a look at the chicken and Mickey-shaped waffle I had on my last visit.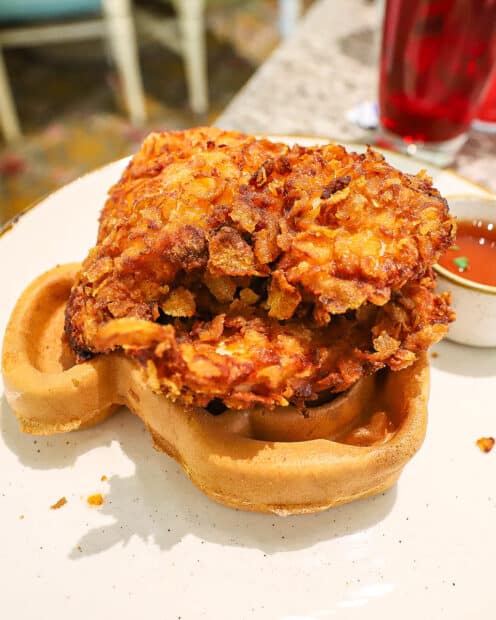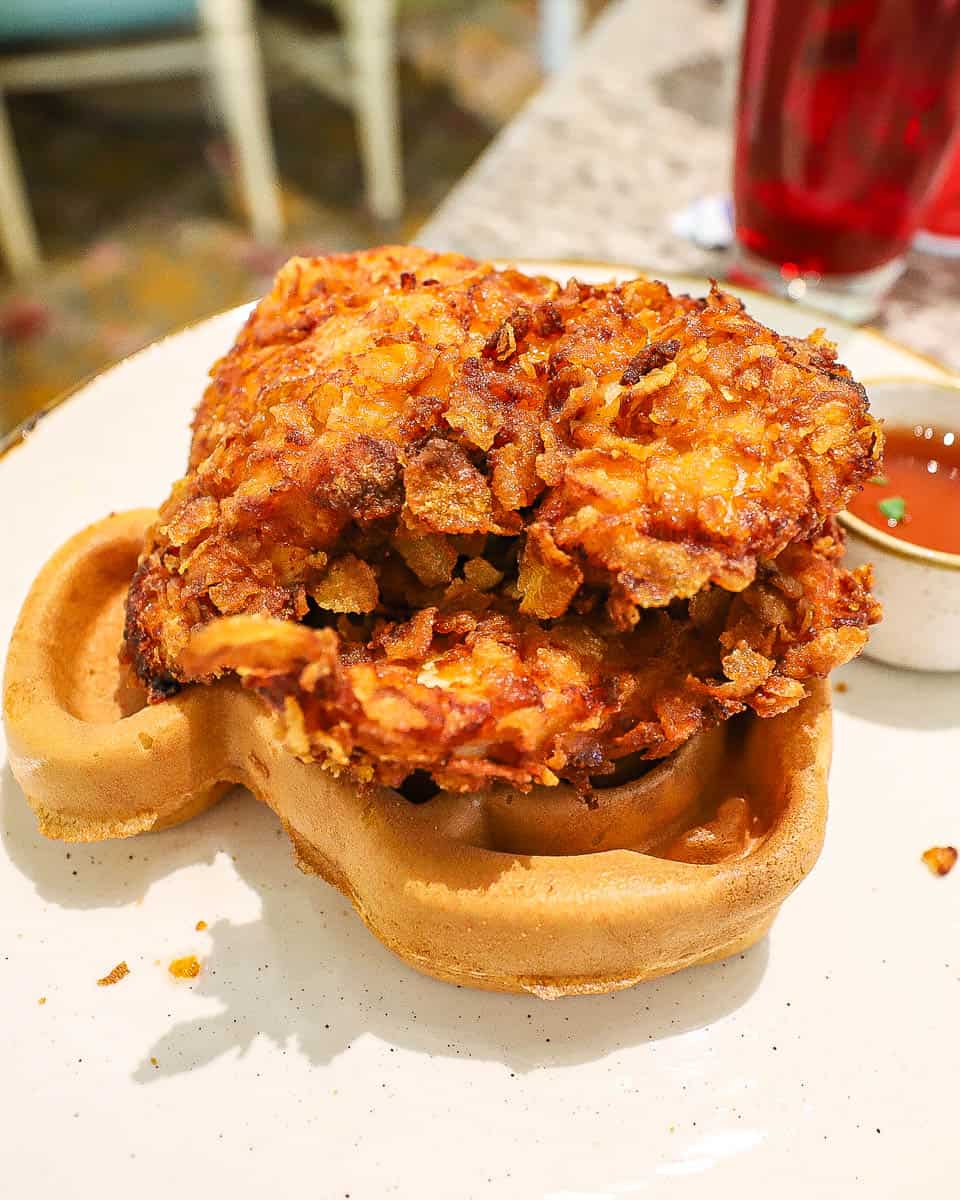 Additionally, I love to pick up an order of fries and a soda from Gasparilla Island Grill and enjoy it out by one of the pools at Grand Floridian. There's something about enjoying a salty snack out by the pool on a sunny Florida day.
And in the evening, you might enjoy a cocktail or appetizer at the Enchanted Rose Lounge. For dinner, you could plan a meal at Citricos.
At the Contemporary, there are several fun options, including the newer Steakhouse 71. We had breakfast there recently, and the thin stack of pancakes was cooked to perfection with crispy edges.
Related: Breakfast at Steakhouse 71
This monorail resort is home to my favorite restaurant at Disney World, California Grill. However, at this time, the restaurant is only offering a prix fixe menu celebrating the 50th anniversary. So a meal here is a bit more of an investment than usual.
Related: California Grill 50th Anniversary Dinner Review
We also love eating at Contempo Cafe on the resort's Grand Concourse floor. You can dine at this counter-service location while the monorail comes through above you.
Unfortunately, there's nothing special about the food here. But it's a great place to grab a burger or an order of chicken nuggets. I usually order a kids' meal, and my son gets allergy-friendly chicken nuggets.
Additionally, the BVG (Bay View Gifts) at the Contemporary is one of our favorite gift shops at Disney World. Take some time to browse the shop during your visit.
Then, there's Disney's Polynesian Resort. The Polynesian provides plenty of tropical grounds to explore. We love this monorail resort because of its relaxing vibe.
Don't forget to pick up a Dole Whip treat at Pineapple Lanai. It's located outside the first-floor lobby.
But perhaps our favorite thing to do is combine a meal, appetizers, and a few drinks from Captain Cook's and Trader Sam's Tiki Terrace. We could spend the entire evening out on the Tiki Terrace! It's so relaxing, and the tables are first-come, first-serve.
While at the Polynesian, don't miss out on browsing Boutiki. It's another great gift shop with unique merchandise.
And Kona Cafe is an excellent choice for a table service breakfast, lunch, or dinner. Kona is an ideal spot for sushi too!
Related: Best Table Service Restaurants at Disney World Resorts
Lastly, you can watch the nightly Magic Kingdom fireworks and the Electrical Water Pageant from any of the monorail resorts. Don't miss taking an evening to enjoy this unique perspective with minimal crowds.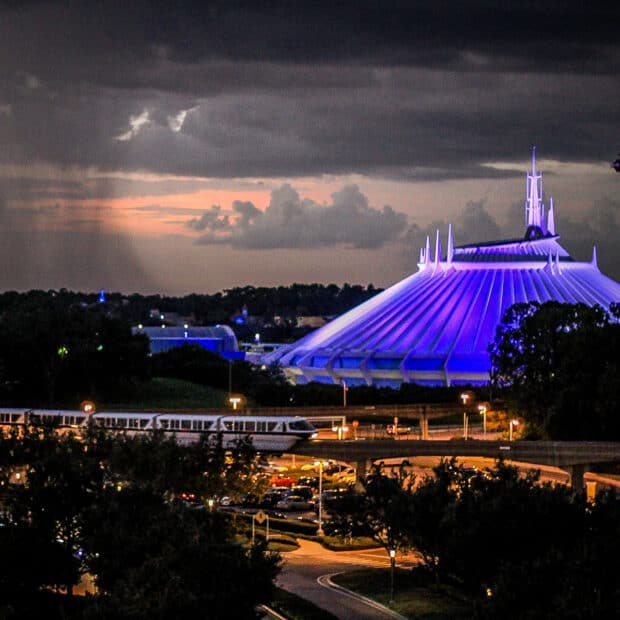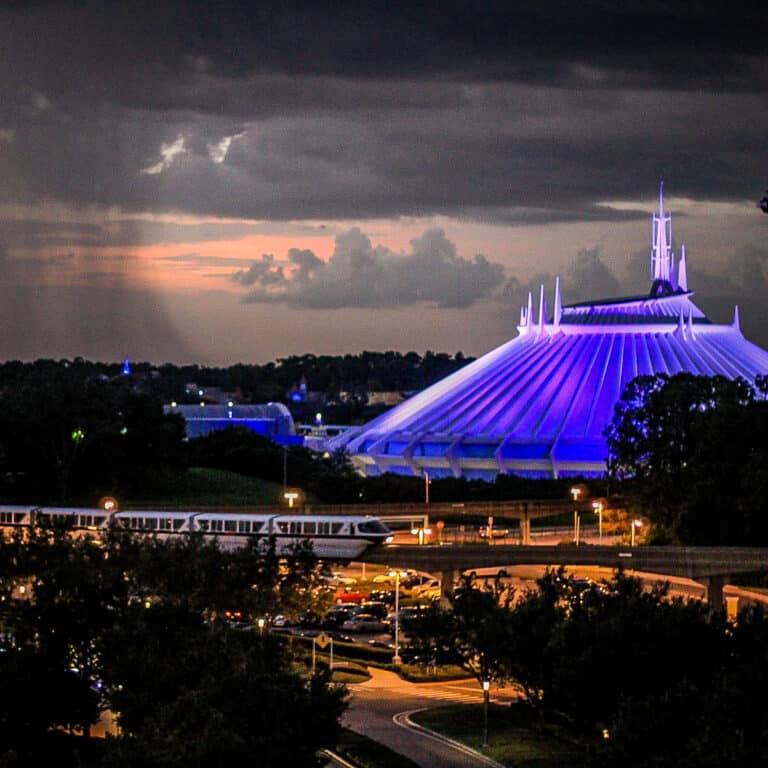 Which Monorail Resort is the Best?
You've probably already figured out that all of the resorts on the monorail are fantastic options. And each choice is extraordinarily unique from the other.
The common bond that ties them together is their location on the monorail. As for my favorite monorail resort, it's the Contemporary.
And that's very difficult to say because I don't necessarily love it more than the Grand Floridian or the Polynesian. I spend equal time at all of these resorts.
What does give the Contemporary a bit of an edge is that both the resort and express monorail run through the middle of the hotel. That's not something you'll see anywhere else.
But if you're into the finer things in life, you'll probably want to stick with the Grand Floridian. And if you have dreams of a vacation that resembles a tropical destination more than Disney World, the Polynesian is an excellent option.
I mean it genuinely when I say it's difficult to go wrong with any of these options. They are all the best in their own way.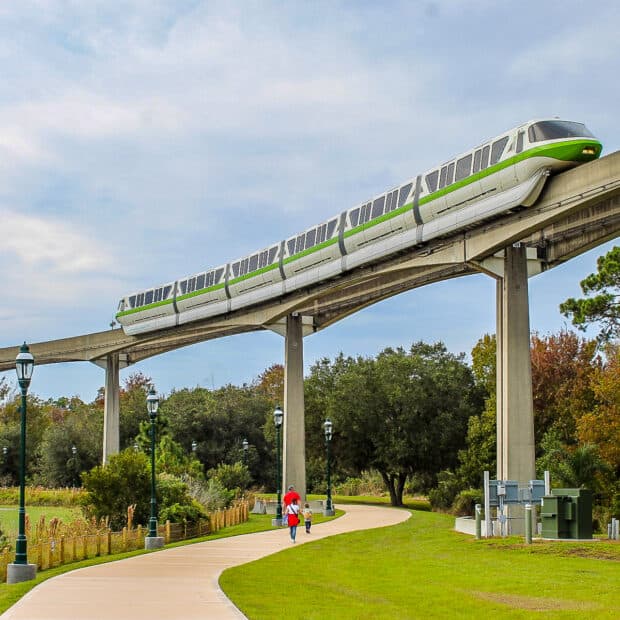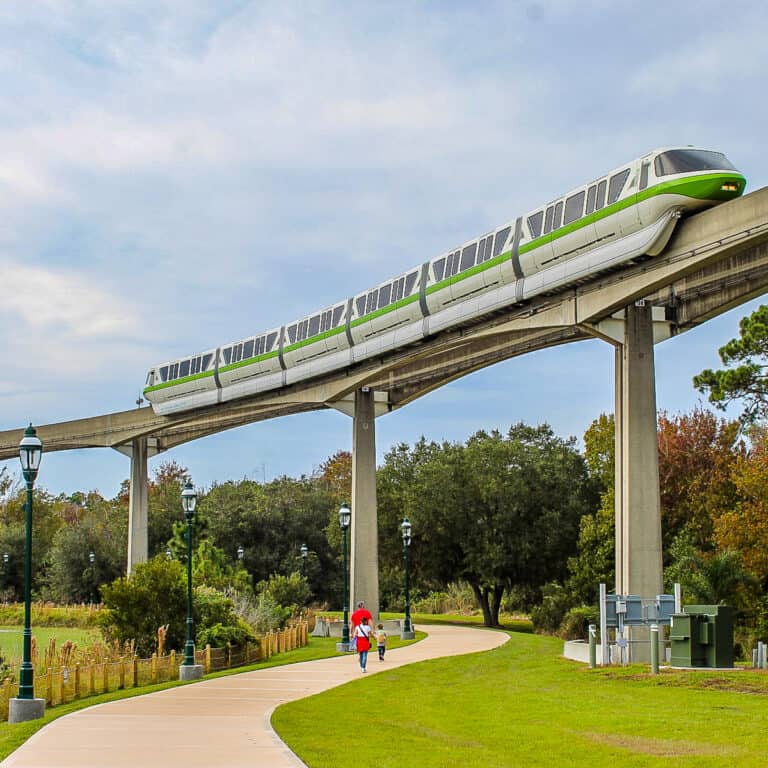 Final Thoughts on the Monorail Resorts
No matter which monorail resort you choose, you're sure to have a fun vacation right in the middle of the magic!
For more information about transportation at Disney, you can preview all of our articles here. Some of our most popular ones include:
Additionally, you might enjoy the complete resort reviews for the monorail resorts:
In the comments: Did you find this overview of the monorail resorts helpful? Which of these options looks like a good fit for your group?