Disney's Polynesian Village Resort Review
This review of Disney's Polynesian Resort discusses the resort in its entirety. We'll discuss what it's like to stay at the Polynesian, including rooms, dining, recreation, and other amenities.
Disney's Polynesian Village Resort is one of the most desirable deluxe resorts in the entirety of Walt Disney World. That's because the Polynesian is calming and provides a unique tropical location to spend a week's vacation.
First, we'll start with a piece I wrote while sitting in the lobby of the Polynesian a few years back. It was raining outside, and I felt inspired to capture the delight of the hustle and bustle of the resort's lobby on paper.
It was an afternoon I remember fondly. And while many things have changed at Disney World over the years, I still feel it represents the feeling most will have when staying at the Polynesian Resort.
This review was last updated on January 10, 2023.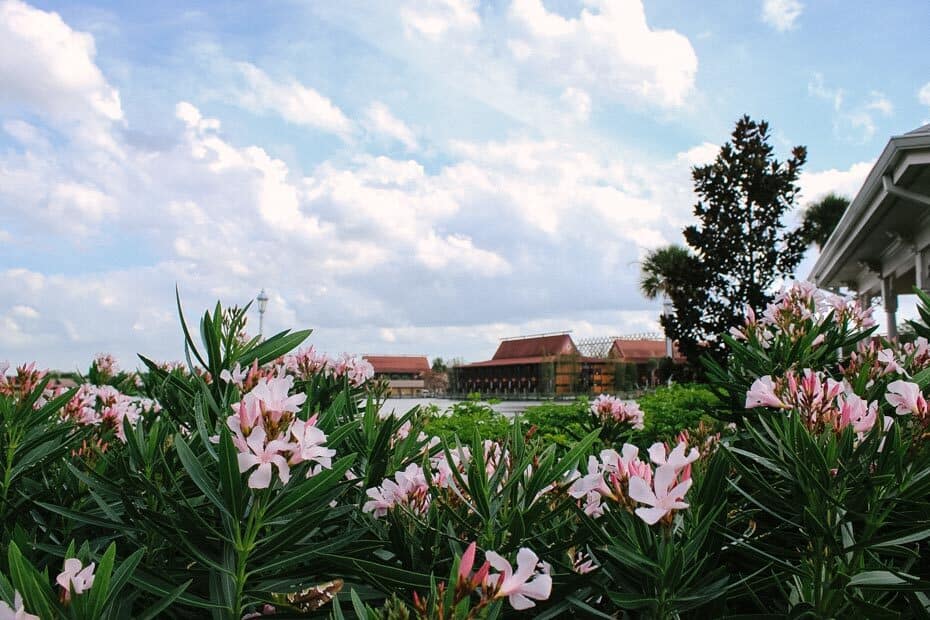 Disney's Polynesian Resort Review
Currently, I am sitting on the second floor of the Great Ceremonial House at Disney's Polynesian Resort. I am just off the way a bit from Tambu Lounge.
In front of me, there's a large wall of windows facing out to views of Cinderella Castle in the distance. It is pouring down rain, and I hope that it will soon clear so that I might step outside and enjoy the pool for a bit.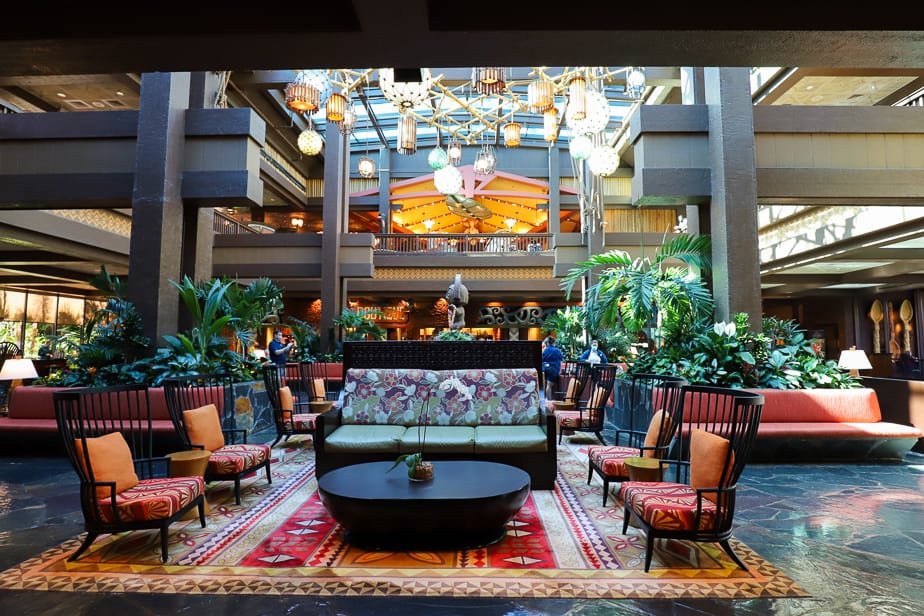 When I arrived at Disney's Polynesian Resort this week, temperatures were stifling, and the sun was shining. That tends to be the weather on these hot summer days in Orlando. Somewhere between morning and lunch, our daily thunderstorm arrives to cool us off for a brief few moments.
With no other plans for the day other than to scroll social media, delete bad photos stored on my electronic devices, and maybe cool off at the pool, I decided to grab a drink and reflect at Tambu Lounge.
You see, that is just the kind of place that Disney's Polynesian Resort emblematizes. A place where you can stop for a minute, rest, and take a few deep breaths.
Here you can sip on a tropical drink with a tiny umbrella. Or you can pick up a creamy (low-calorie) Dole Whip.
You can even drink directly from a pineapple with a lei wrapped around your neck. Whatever you decide, I can only imagine you will enjoy it.
This Polynesian Resort Review will look at what you can expect from a visit here. Disney's Polynesian is one of the original resorts that opened in 1971 with the rest of Walt Disney World.
To this day, the resort has remained a favorite among guests. As soon as you step foot on the grounds, you are met with a tropical landscape that transports you to a faraway place.
Disney's Polynesian Resort Location
As for Disney's Polynesian Resort, I enjoy staying here and find minimal fault with the resort other than the high price tag. Since the resort is located in the Magic Kingdom Resorts area, it commands a higher price tag than others.
Disney's Polynesian Resort is centered directly on the shores of the Seven Seas Lagoon. It resides between Disney's Grand Floridian Resort and Spa and the Transportation and Ticket Center.
Glimpses of Cinderella Castle can be seen from various viewpoints of Disney's Polynesian Village Resort's white sand beaches. Additionally, Disney's Contemporary Resort is visible in the distance. You can see the Contemporary in the right-hand corner of the image below.
Since the Polynesian sits close to the Grand Floridian, guests can easily walk between the resorts. This benefit of being able to walk to a nearby resort provides guests with more dining and shopping at their fingertips while on vacation.
Related: Walking Between the Polynesian and Grand Floridian
*As of 2023, you'll need to take the construction path between the two resorts. A new DVC resort is currently under construction.
Additionally, guests can continue on the newer walkway from the Grand Floridian to the Magic Kingdom if desired. When staying at the Poly, the most popular theme park in the entire world, is only a walk, monorail ride, or boat ride away.
Theming at Disney's Polynesian
As far as theming goes, Disney's Polynesian Resort is designed to mimic the South Pacific Islands, providing a tropical oasis for weary travelers. As a result, many refer to the Polynesian as the Hawaiian Resort at Disney World.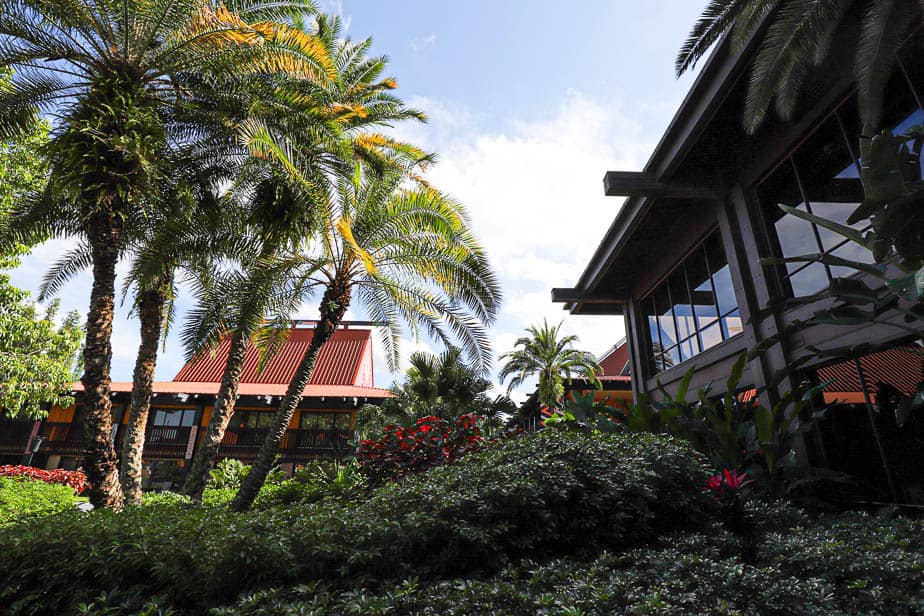 Disney's Polynesian offers beautiful vegetation featuring palm trees and flowers. The landscaping was planted so that there's always something blooming no matter when you visit.
Poly's flowering trees are stunning. Make sure to take some time to stroll the grounds to see what's in bloom during your stay.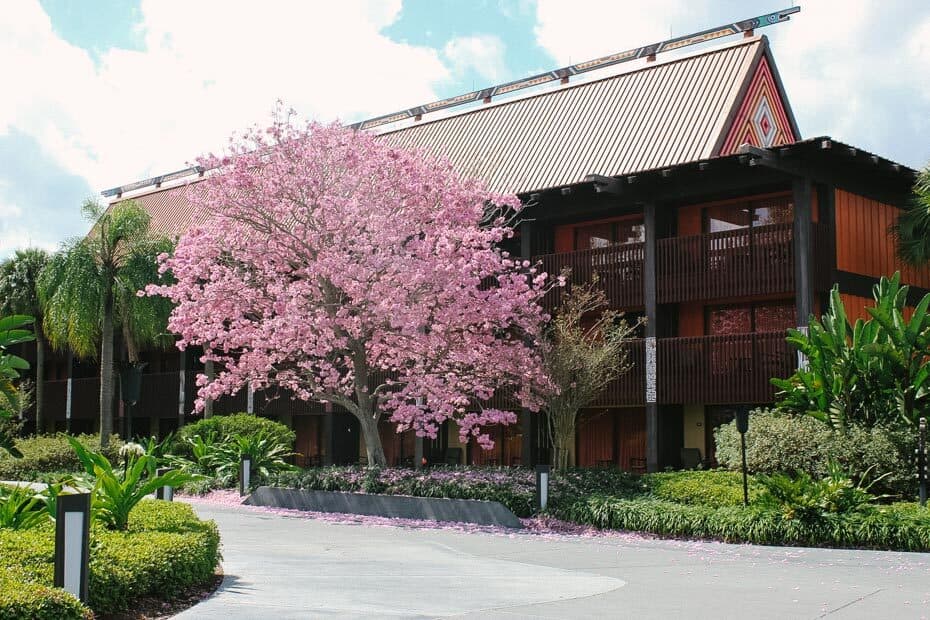 Polynesian Longhouses
Disney's Polynesian is made up of different buildings scattered across the property. These buildings are called longhouses. If you are staying here for your Disney vacation, your room assignment will have the name of the longhouse and room number.
Each longhouse provides interior hallways with room access while maintaining the traditional feel of a Polynesian-style village.
Here are the names of the different longhouses at Disney's Polynesian Resort:
Pago Pago
Moorea
Tokelau
Hawaii
Samoa
Niue
Rarotonga
Tonga
Aotearoa
Fiji
Tuvalu
Additionally, there are longhouses for Lua Cove, the Great Ceremonial House (lobby), and the former Lilo's Playhouse, which is now a break area for cast members.
The longhouses that make up the Disney Vacation Club at Disney's Polynesian are Pago Pago, Tokelau, Moorea, and the Bora Bora Bungalows. These are also known as Disney's Polynesian Villas.
Room types in Disney's Polynesian Villas include:
Deluxe Studio Villa with Standard View or Water View
Bungalow
The deluxe studio villa is commonly called a DVC studio. Below is a preview of the deluxe studio at Disney's Polynesian Resort.
Related: Disney's Polynesian Deluxe Studio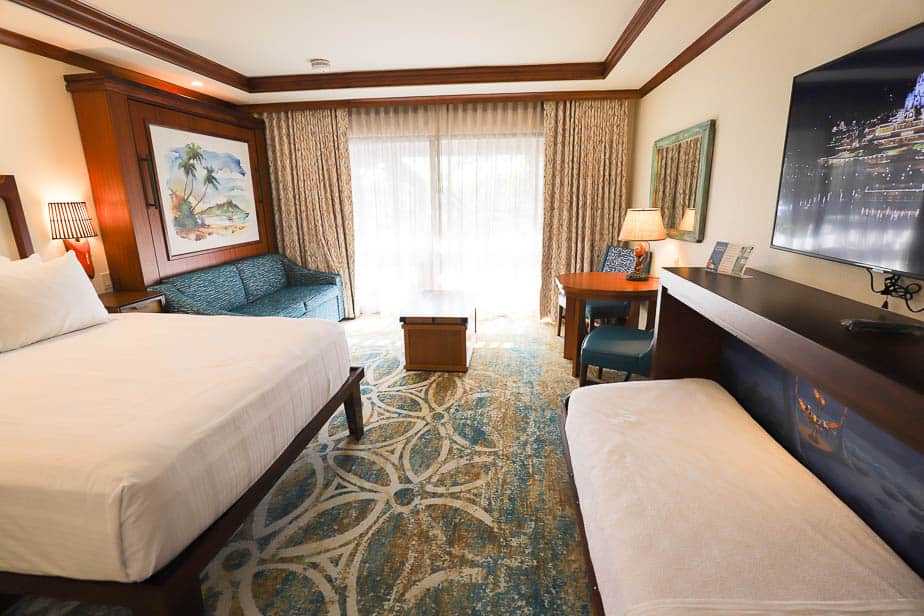 King Kamehameha Club is the name of the club-level offering at Disney's Polynesian Village. Below is a picture of the club-level building. The backside of the Hawaii longhouse faces the Bora Bora bungalows and lagoon.
Additionally, the Bora Bora Bungalows are located out on the water. Staying in a Polynesian bungalow is probably one of those bucket list items for most. Unfortunately, they come with a hefty price tag.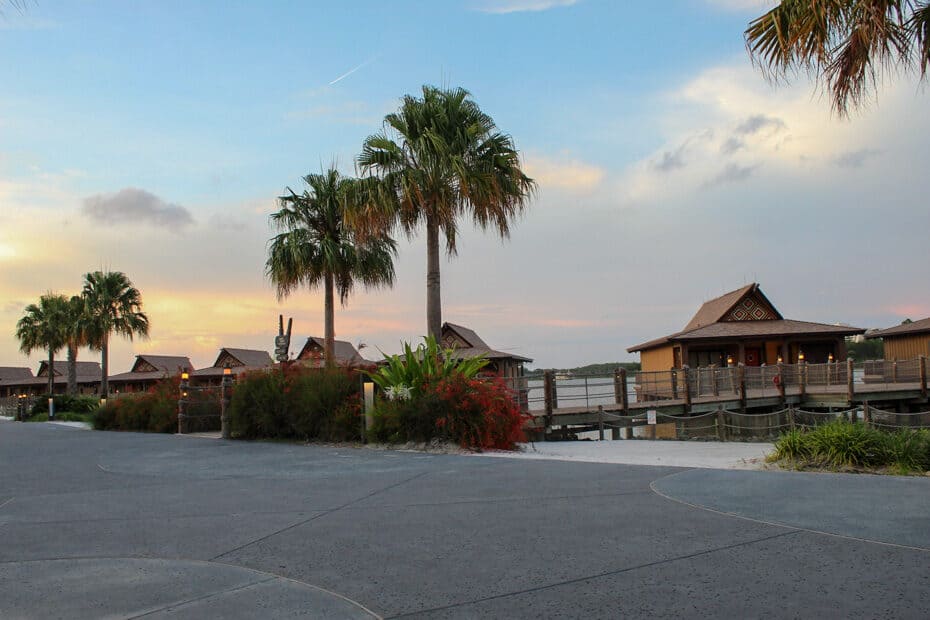 The bungalows are pretty sizable and feature a sunken hot tub on the back deck that faces out to Cinderella Castle.
Additionally, you'll find various standard room types between all the villages at Disney's Polynesian Resort.
The regular Polynesian Resort room types are as follows:
Standard View
Lagoon View
Theme Park View
Pool or Marina View
Club Level (with various room view options)
1 Bedroom Suite
Ambassador Vice Presidential Suite
King Kamehameha Suite
If you like, you can preview the different room types here on Disney's site.
All of the standard rooms at Disney's Polynesian have been refurbished within the last two years. As a result, the rooms now feature touches of Disney's popular animated film, Moana. Here is a look at the standard guest room.
Regarding room locations, guests will likely want to consider their interests. On my last visit, we reserved a standard room and ended up in Rarotonga. Our room was the second on the right in the main hall on the first floor.
We enjoyed this location because we had prime monorail access and were close to the bus stop. It was also less than two minutes to walk out our door and into the Great Ceremonial House.
That location was a perk for us at a time when we were hitting the parks pretty hard while on vacation. However, these days, I prefer the serenity of the Polynesian Villages and its Hawaii-like feel. So you might be interested in selecting a different guest room category depending on your wants or needs.
Polynesian Resort Lobby
The Great Ceremonial House is the main building on the Polynesian's property and where the resort's lobby is located. Within this two-story building, you will find many amenities like dining, recreation, and transportation.
Since the Polynesian is laid out in village-like settings, there are plenty of signs on the grounds to point you in the right direction.
Poly's two-story lobby is large and offers a variety of seating. If you visited the Polynesian before 2016-ish, you might remember the old interior had a waterfall feature. These days the lobby features one prominent Tiki statue in the center of the first floor.
Downstairs you will also find check-in, concierge, and bell services. These services might come in handy if you are fortunate enough to spend some vacation time here. However, we mostly override these services with the straight-to-room option Disney now offers guests.
You might also like to step outside the resort's main entrance at some point during your visit. It is a delightful setting, as you can see below.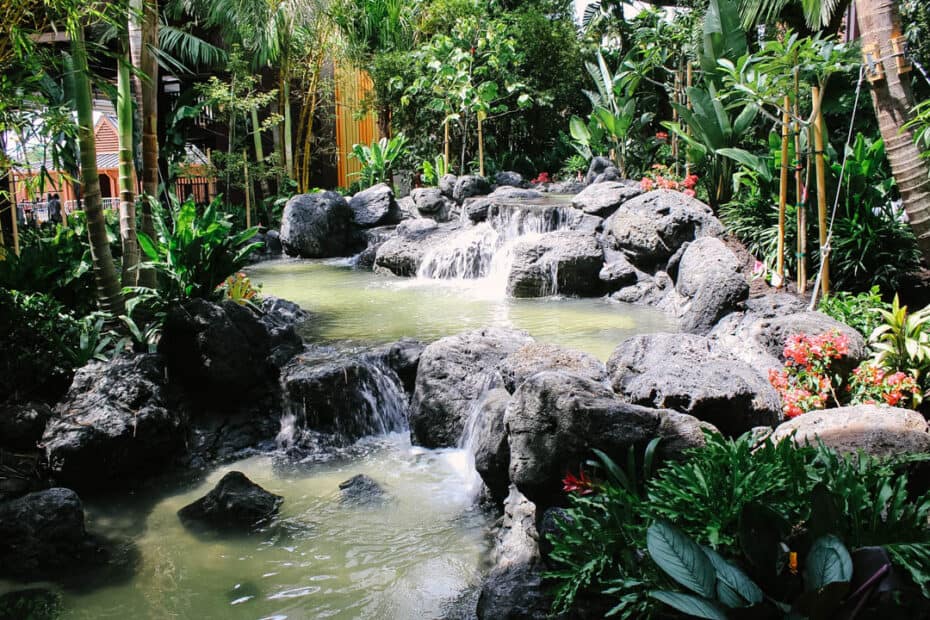 Disney's Polynesian resort lobby has two merchandise locations. The first of these is Boutiki. Kind of like a Boutique, but the Tiki took over, as the sign below reflects.
This store is on the first floor of the Great Ceremonial House lobby. It's a rather large store that takes up nearly the entire left wing of the lobby.
The store has special favorites like chocolate, tikis, clothing, and more. This is an excellent place to browse if you are looking for a few higher-end tropical clothing items. I always enjoy stopping here to look at all the pretty things.
Related: Boutiki, Disney's Polynesian Gift Shop
On the second floor of the resort, you will find Moana Mercantile.
It is a little more of an odds-and-ends store. Moana Mercantile has a good selection of sundries, snacks, and whatnot. Below are a few photos of the items available.
You'll see more refrigerated items when staying at a resort that has a secondary Disney Villas Resort like the Polynesian.
Microwaves are available in the villa resorts, but they are not available in standard rooms.
Plenty of sundries are available.
Behind the counter, there is a selection of liquor and cigars.
The other portion of the store has Disney youth-focused merchandise. It's usually a good place to find Moana or Lilo & Stitch branded items.
Dining
Disney's Polynesian Resort offers several dining options. There's everything from pool bars with full menus to one of Disney's better counter service options. In addition, the hotel has a variety of Asian, Hawaiian, and American cuisine.
One of my favorite resort quick service options at Disney is The Mara. You can read more about it in the Animal Kingdom Lodge review. But we also really enjoy eating at Capt. Cook's, Poly's main counter service option.
Capt. Cook's is located off the lobby area of the Great Ceremonial House.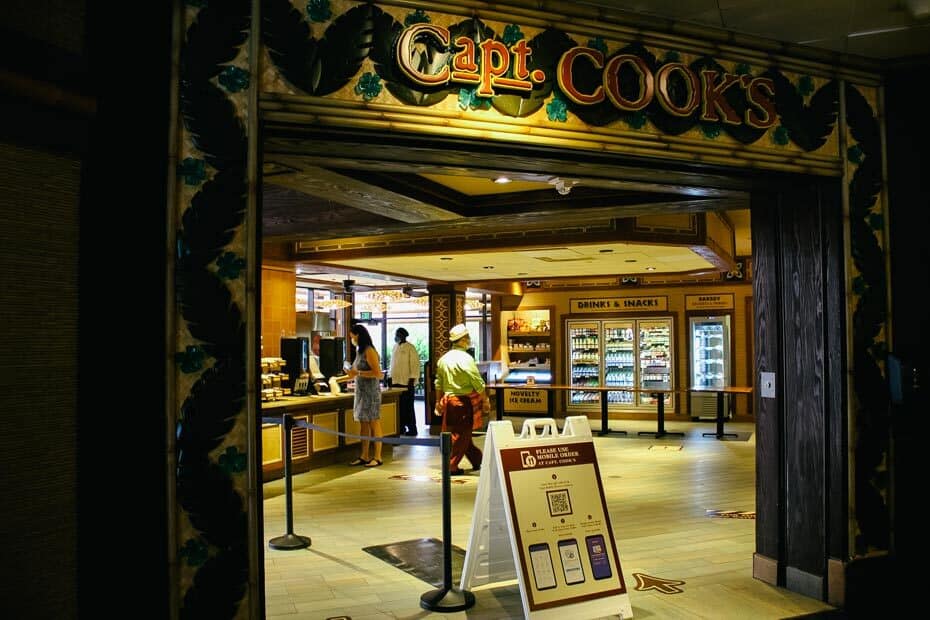 The restaurant has indoor seating but also shares an outdoor seating area with Trader Sam's Tiki Terrace. At Captain Cooks, you'll find burgers, chicken nuggets, plant-based items, salads, and more.
Related: Captain Cooks Review
This location participates in mobile orders. You can order food from your room or the pool and then walk over and pick it up.
Trader Sam's Tiki Terrace has one of my favorite outdoor sitting areas at Walt Disney World. You can spend an entire afternoon or evening out here on the deck.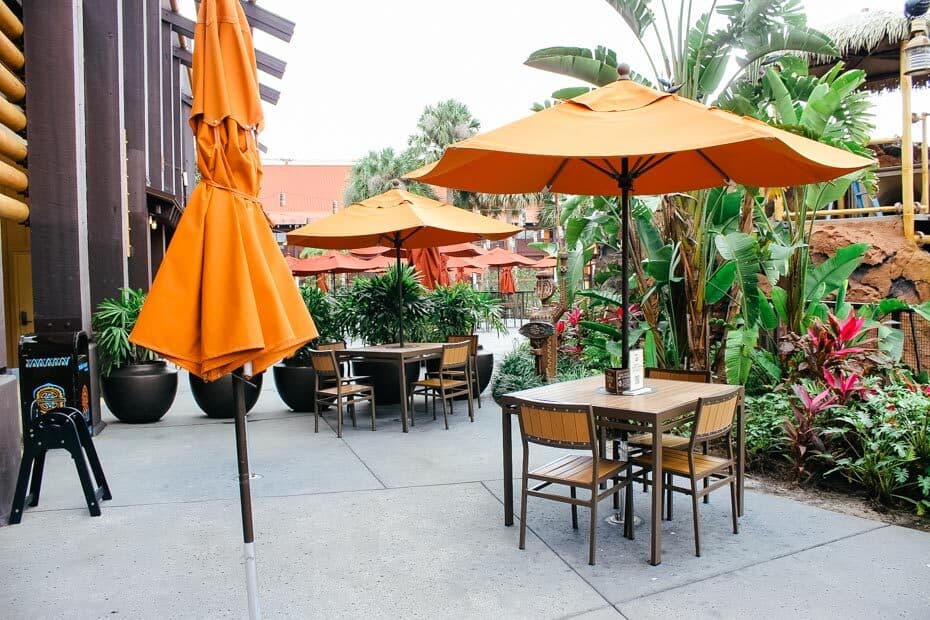 The mood at the Tiki Terrace is laid back, as with the rest of the Polynesian vibe. In the evening, a musician comes out from time to time and plays a few tunes.
As one can expect, there is a fun variety of drink offerings on the menu. Some of them even come in souvenir mugs when available. So if you are looking for a true tropical hideaway, you will enjoy it here.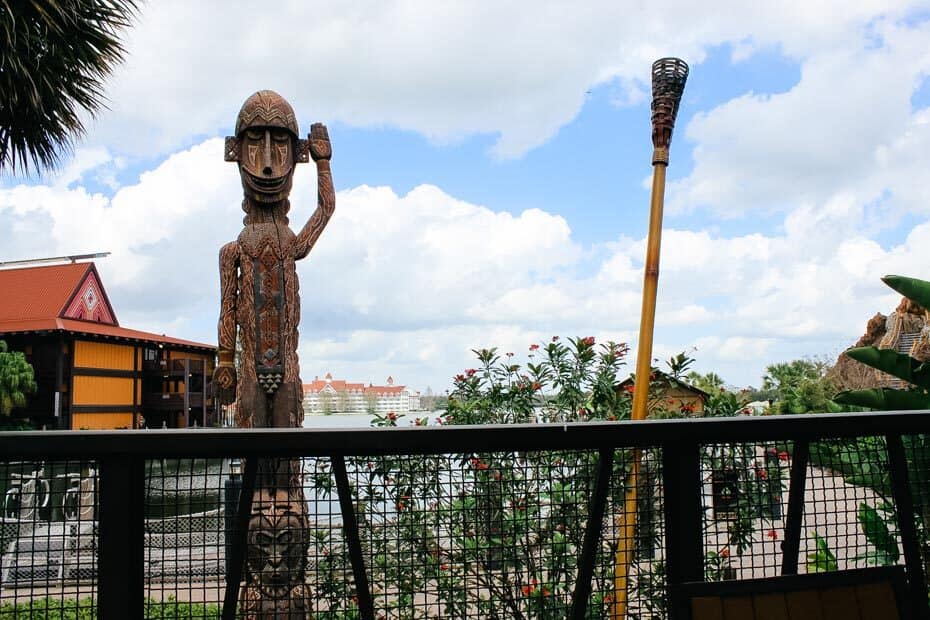 Inside the Great Ceremonial House, there is Trader Sam's Grog Grotto. It is a separate location from the Tiki Terrace we just discussed.
Kona Cafe is another fabulous offering at Disney's Polynesian Resort. Prices are moderate here, and they offer a combined American and Polynesian menu.
Related: Kona Cafe Review
'Ohana is also off the lobby's second floor and typically offers two services per day. The first is the Polynesian's character breakfast in the morning. It's an all-you-care-to-enjoy skillet meal. Stitch, Lilo, Pluto, and Mickey Mouse are present for this breakfast meal.
Related: Disney World Character Dining
Dinner service is also available and potentially a harder-to-book reservation due to its popularity. This is where different meat offerings are served on skewers, among other things.
Tambu Lounge is also on the second floor and offers a bar and lounge-style seating. The lounge extends over to the seating area in the far distance. There is, on occasion, a server waiting on these areas, particularly when it's busy.
Furthermore, this is an excellent stop while waiting on that dining reservation text from Kona Cafe or 'Ohana. This is also where you pick up that drink that comes in a pineapple. Lapu Lapu is the formal name.
Unfortunately, Disney's Spirit of Aloha dinner show was permanently canceled to make room for the new DVC Resort at the Polynesian.
Now for the most critical question in this review of Disney's Polynesian. Can you get a Dole Whip at the Polynesian Resort? Yes, yes, you can!
Pineapple Lanai is a fun walk-up window that offers the famous soft serve treat. You will find it on the immediate left when you walk out the back doors of the Great Ceremonial House.
You will find the Polynesian's famous Lava Pool behind the Great Ceremonial House. Therefore, on the backside of the pool is the popular Barefoot Pool Bar.
Do you have to be a guest to use the Polynesian's Barefoot Pool Bar? No, they have a separate area within the pool fencing for guests. Down on the marina side, you will find a large open window that serves anyone visiting Disney's Polynesian Resort.
The pool has a nice seating area with a beautiful lagoon view if you are a guest.
For those wanting to pick up a sweet treat, Kona Island is a location you'll want to check out during your visit.
Kona Island is your last call for carbs, pre-made sushi, and more while headed out of the Polynesian toward the monorail stop. Here is a look at a few items in the case.
Additionally, Disney's Polynesian secondary pool, the Oasis, has its own pool bar and grill. This location is a little off the beaten path and is primarily for guests staying at the resort.
On a side note, I wanted to mention that the Disney Dining Plan is unavailable. However, since there are so many dining options, I put together a complete restaurant guide if you want to learn more about your options.
Related: Restaurants at Disney's Polynesian
Pools
As far as our Polynesian Resort review goes, the resort gets high metrics for its pools and recreation activities. The Poly boasts a volcano pool, one of the most fun-themed swimming areas on Disney property.
The Lava Pool is the Polynesian's feature pool area. It's directly behind the Great Ceremonial House lobby and is only a few steps away from the resort's white sand beach.
The Lava Pool has a zero-entry on one side, a waterfall feature, and a 142′ long waterslide. (Check out its ranking on our best Disney World pools list.)
The waterslide is a lot of fun. It goes under this little walkway before dumping you out at the bottom.
At the top is a traffic-style light that turns green when it's the next person's turn. This day there was a long line of kids, but they kindly obliged to stop for a moment and let me take a picture.
Underneath the slide area, there is a walkway through a cave. You will find the restrooms and changing rooms toward the cave's center.
Note that there are no storage lockers at this pool. So you are on your own with valuables if you bring any out.
There are, however, plenty of fresh towels in the restrooms and toiletries. So, if you desire, you can shower and leave the pool area before heading to the airport or out for the evening.
You'll even find a waterfall that pours out over the area. You can easily walk through to access both sides of the pool without joining the pool party.
Aside from the Lava Pool, there is a large children's water play area.
The Lava Pool also features a hot tub that offers a fantastic view. This is probably exactly where you want to be when it's time for the nightly fireworks. Trust me!
Back behind the pool, there is a walkway along the shores of Seven Seas Lagoon. This is one of my favorite places to spend time at Walt Disney World.
Additionally, you'll find a volleyball net, hammocks, chairs, and swings out on the beach area.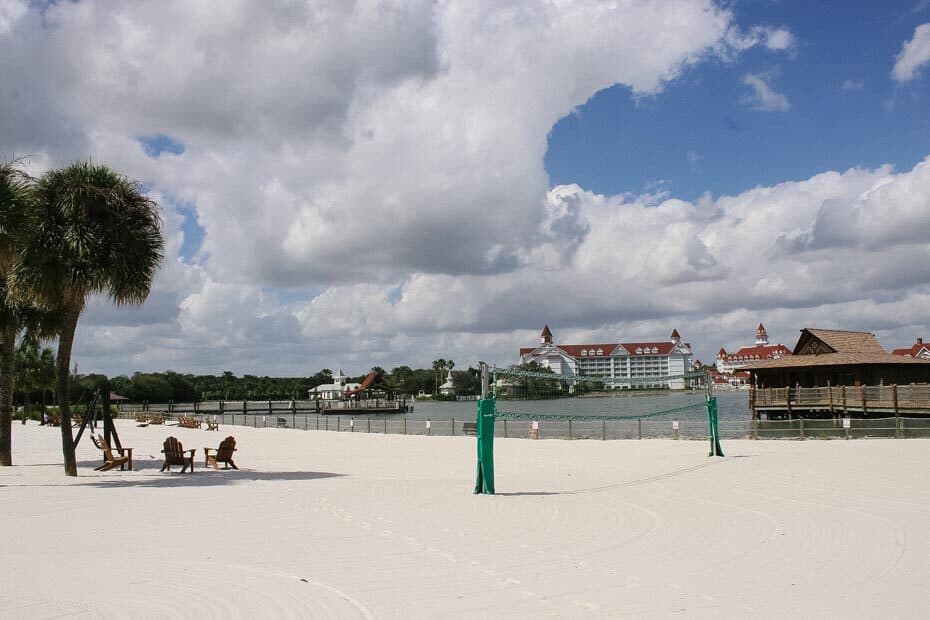 Disney's Polynesian Resort has one of the most beautiful beaches to watch fireworks or take in the views. Of course, you'll want to stop here to enjoy the sunset.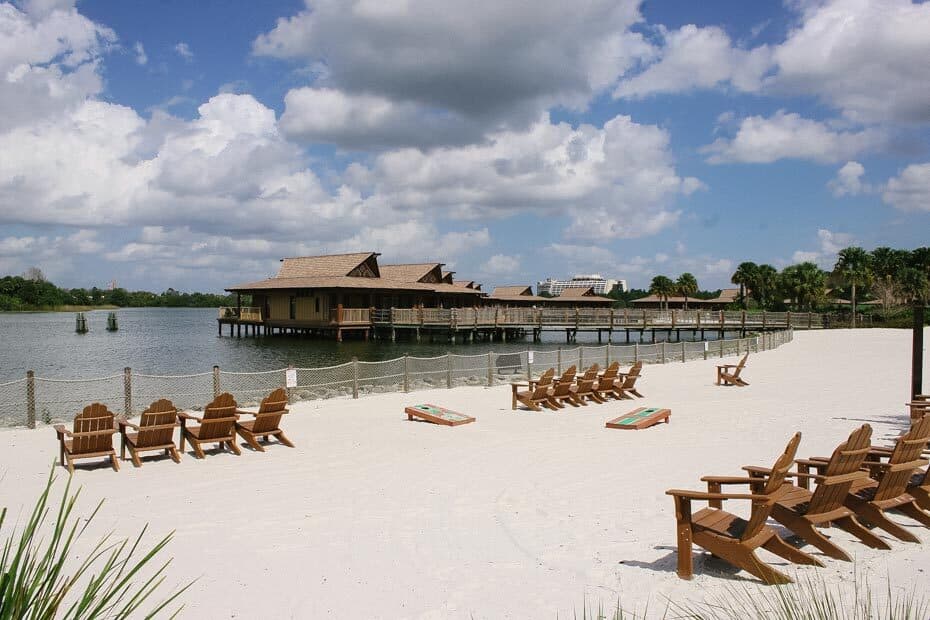 One of the great things about watching fireworks from the beach is that a speaker system is installed in the area. This allows you to hear the music and narration of the nightly fireworks spectacular and the Electrical Water Pageant.
Additionally, it's pretty pleasant because you won't find yourself in the same crowd as you would at Magic Kingdom.
Speaking of avoiding crowds, the Polynesian doesn't have a quiet pool. However, there is a second feature pool, the Oasis. The Oasis pool will typically be the one with fewer crowds.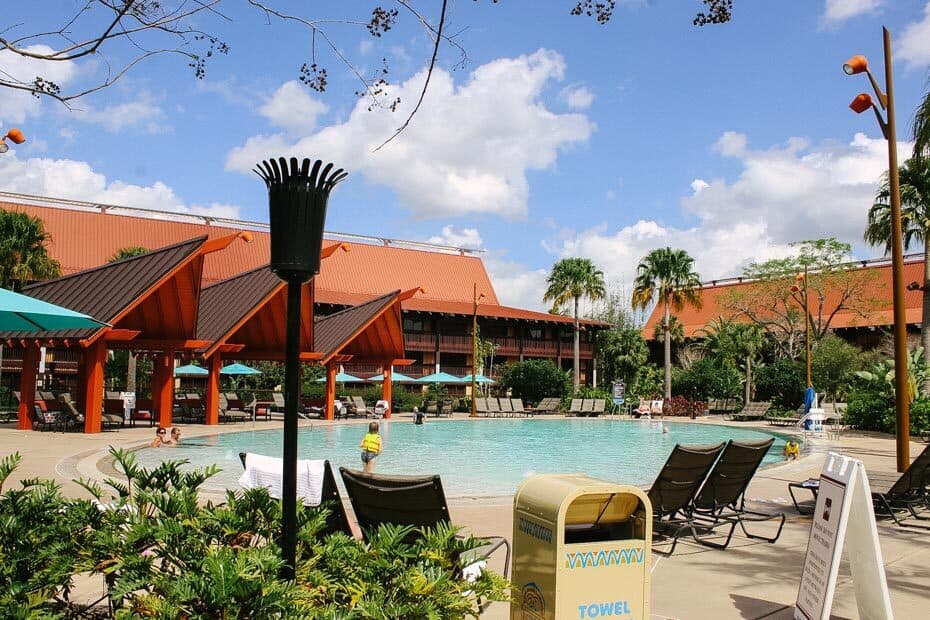 Additionally, the Polynesian has Movies Under the Stars nightly, like many other Walt Disney World Resorts. Make sure to pick up a resort map upon check-in.
The back of the map has the Polynesian recreation calendar. It will list any special events or entertainment being offered during your stay.
Related: Pools at Disney's Polynesian
Touring the Polynesian
Touring Disney's Polynesian Resort is an enjoyable experience. I have spent much more time here than I ever thought these past few years. It's funny how you tend to be into certain things more than others. I guess. Lately, I've been in tropical mode.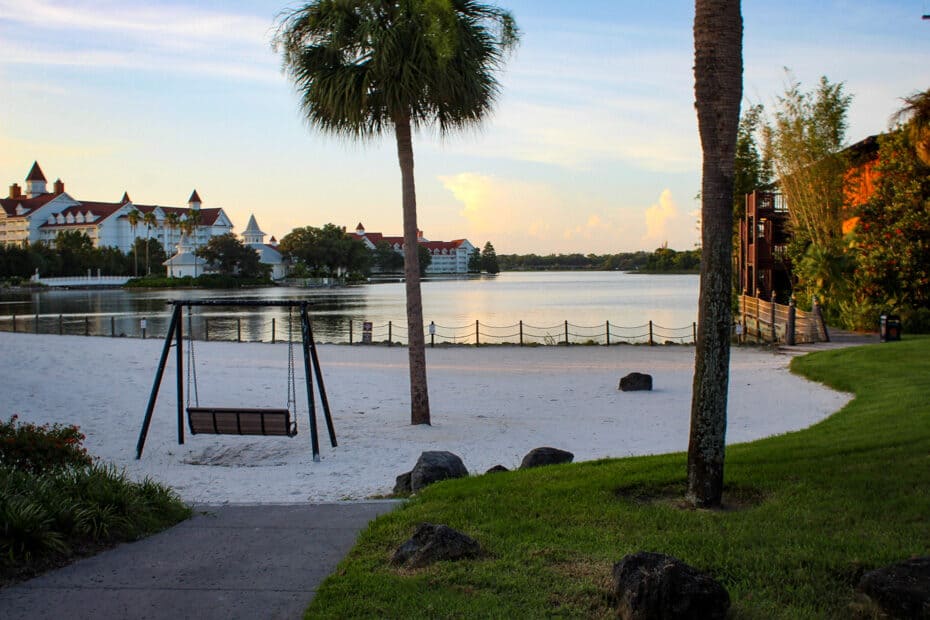 But what's not to like with these kinds of views? Am I really even in Florida?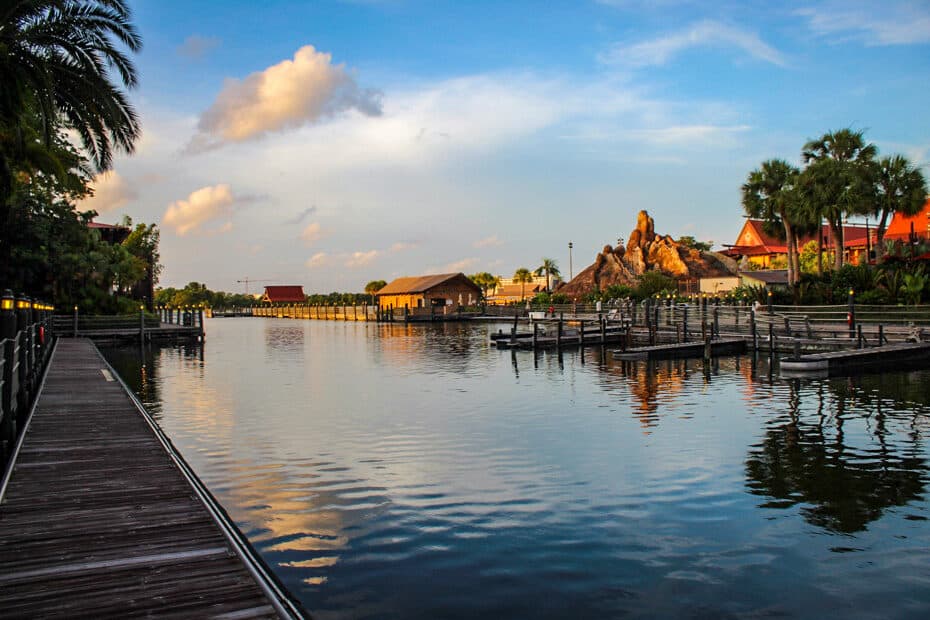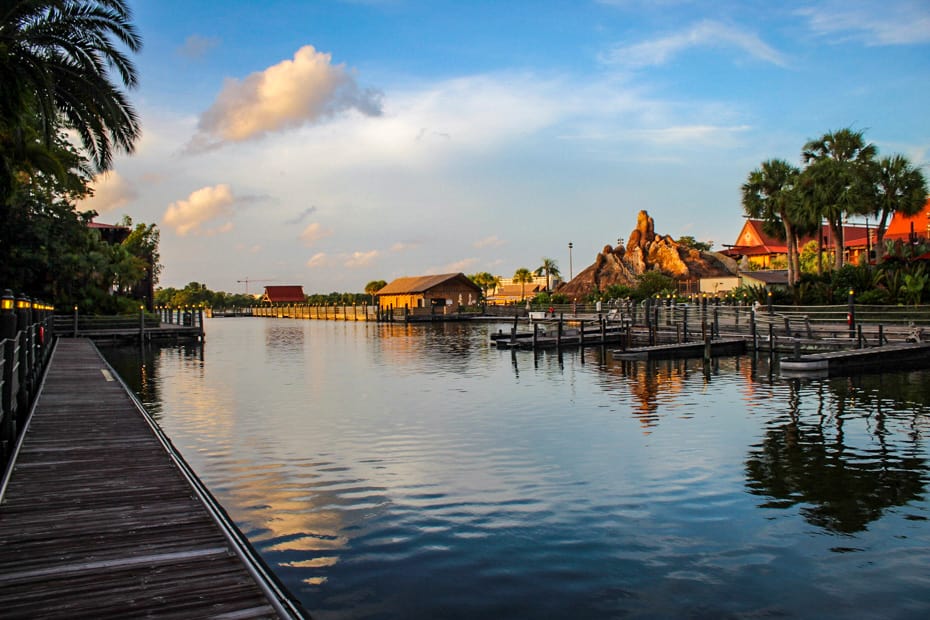 It feels like Hawaii to me. Or at least, how I somewhat imagine it. I haven't been to Aulani, I mean Hawaii, yet.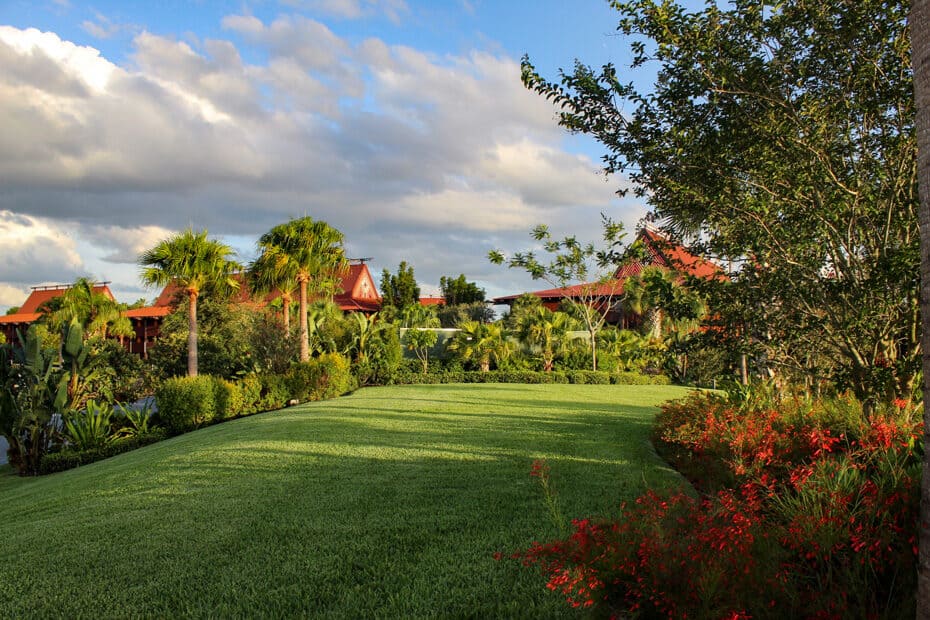 Oh yes, it's Florida. That's the Grand Floridian Villas with an entirely different vibe in the background. Don't get me wrong. It's nice there too! Isn't that one of the best things about Disney? So many different options in one setting.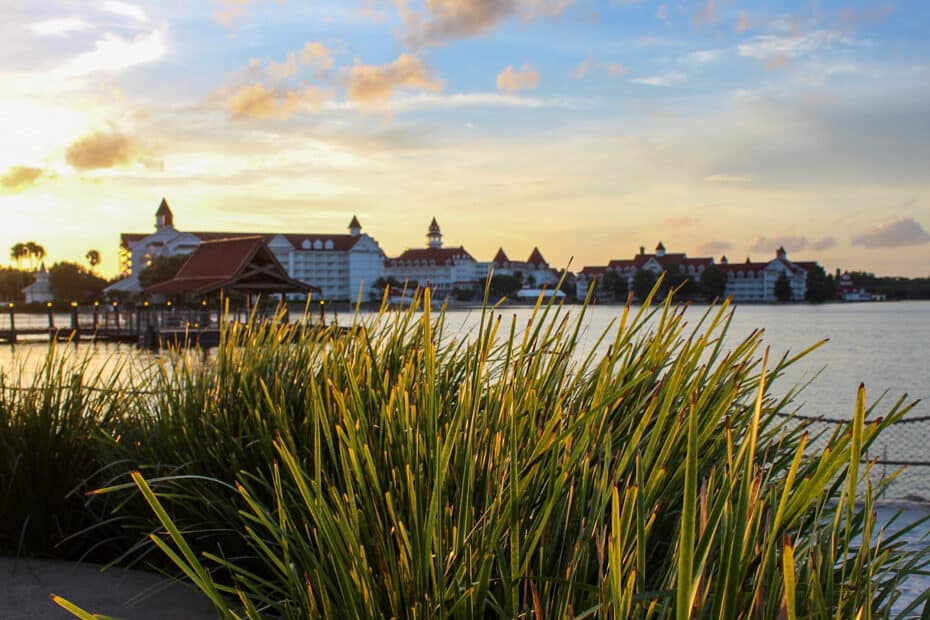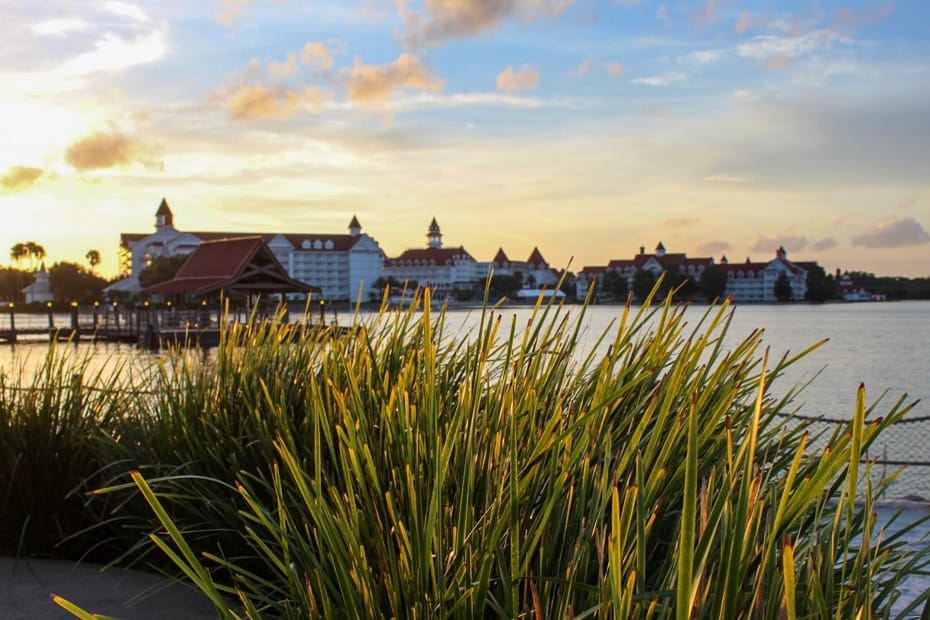 If I feel like I need a beach vacation (my primary mood), you'll find me over at the Beach Club. I have a full review of Disney's Beach Club. And lately, I've spent a little time at the villas at Disney's Boardwalk.
When I'm in the mood for something modern, it's a toss-up between the Contemporary garden wing or staying DVC like in the Bay Lake Tower. Of course, you can't beat the proximity to Magic Kingdom from any of these resorts.
Related: Bay Lake Tower Review
As you can see, the list goes on and on. There is a Disney resort for almost every stage of life or mood you go through.
While touring the Polynesian grounds, you might run into the Seven Seas marina.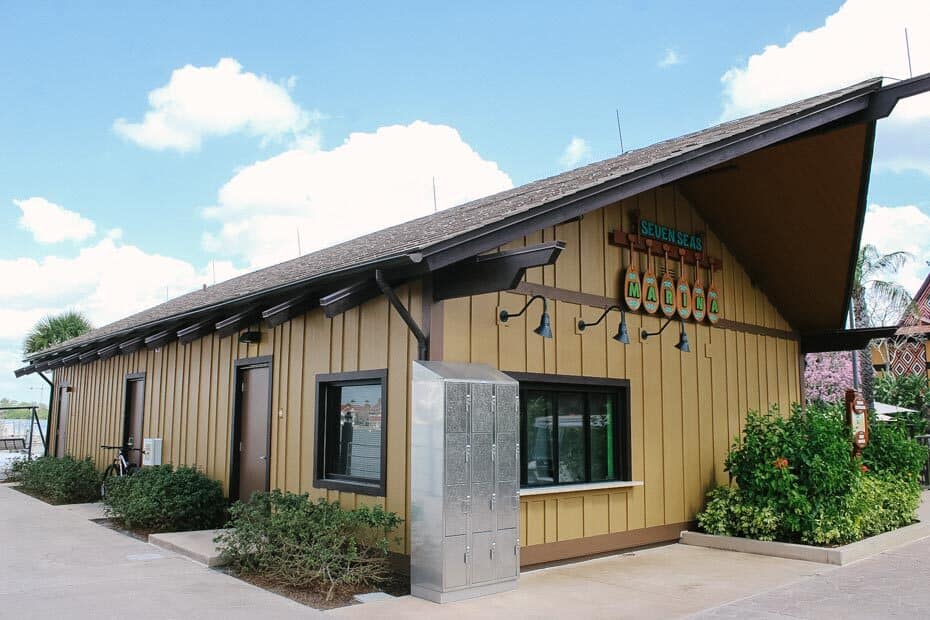 The marina offers a variety of motorized boat rentals, fishing, and more. You can read more about these services here on Disney's site if you want to learn more.
Below is a sign indicating some of the fish you might catch while fishing in Bay Lake.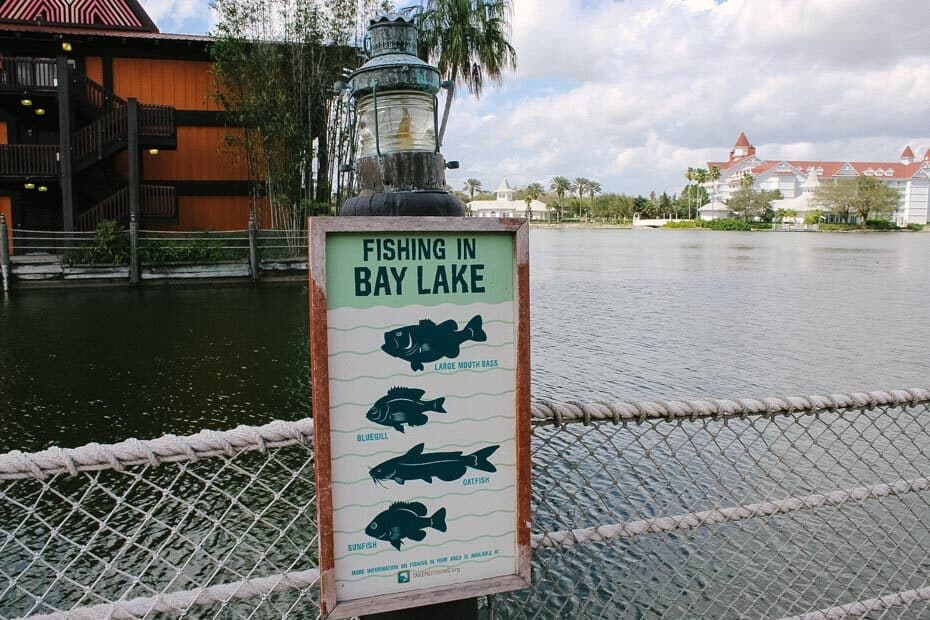 For those wanting to exercise while staying at the Polynesian, you can walk next door and use the gym at Grand Floridian. It's only a few steps away and one of the first buildings you'll encounter when you reach the resort.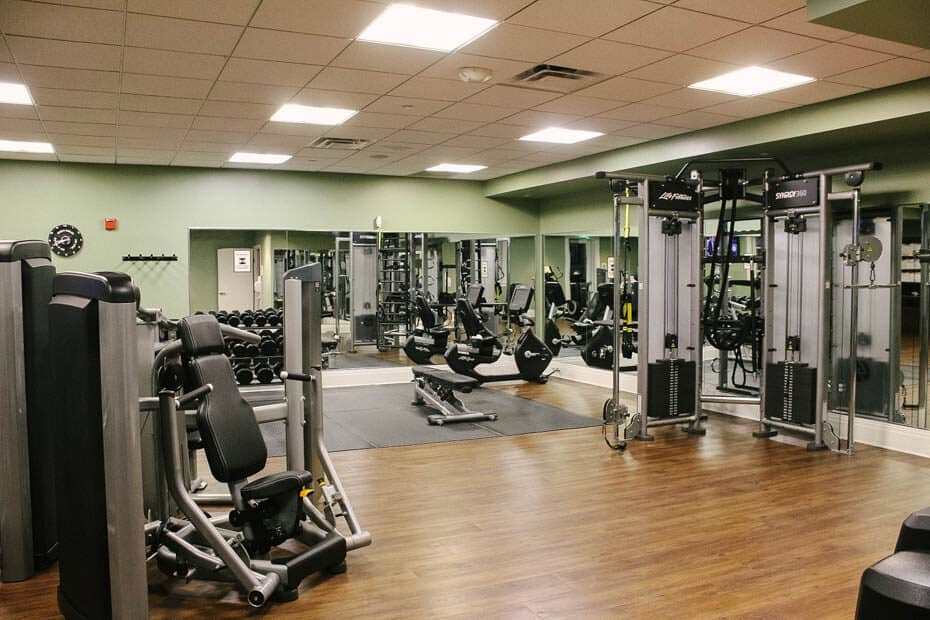 Transportation
This Polynesian Resort review would not be complete without looking at the resort's transportation. As mentioned earlier, monorail access is a huge benefit when staying here.
Monorail transportation is provided at Disney's Polynesian Resort on the lobby's second floor. Guests can use the resort monorail to transport to Grand Floridian, Magic Kingdom, Contemporary, and the Transportation and Ticket Center.
Additionally, guests can walk to the Transportation and Ticket Center to catch a monorail to Epcot. Or you could take the resort monorail around the loop to the TTC.
Then disembark the resort monorail and board the Epcot monorail. However, that option would take some time.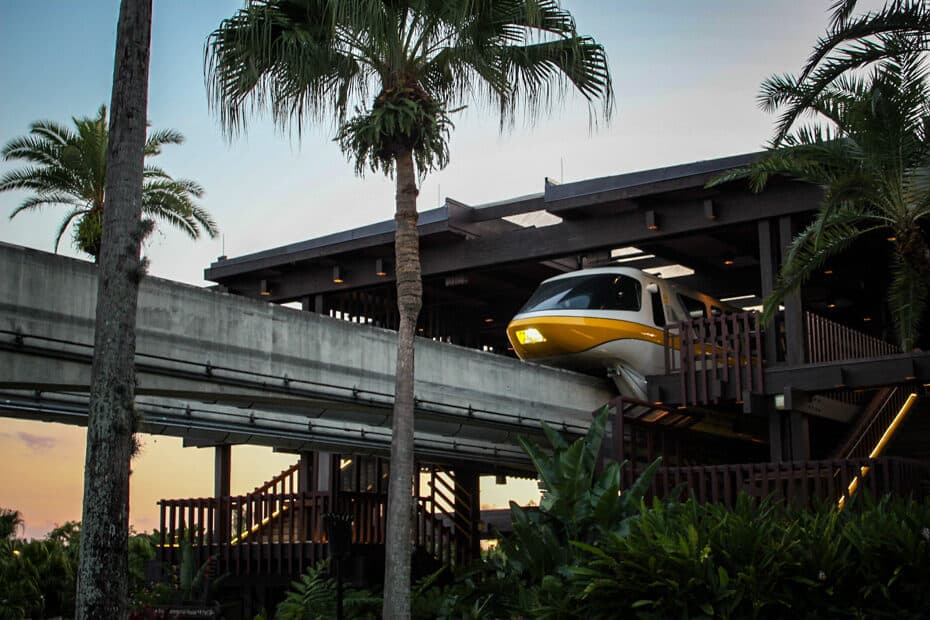 The Polynesian offers boat service to Magic Kingdom. The boat usually travels between Magic Kingdom to Grand Floridian and then on to the Polynesian. After that, it returns to Magic Kingdom, starting the route over.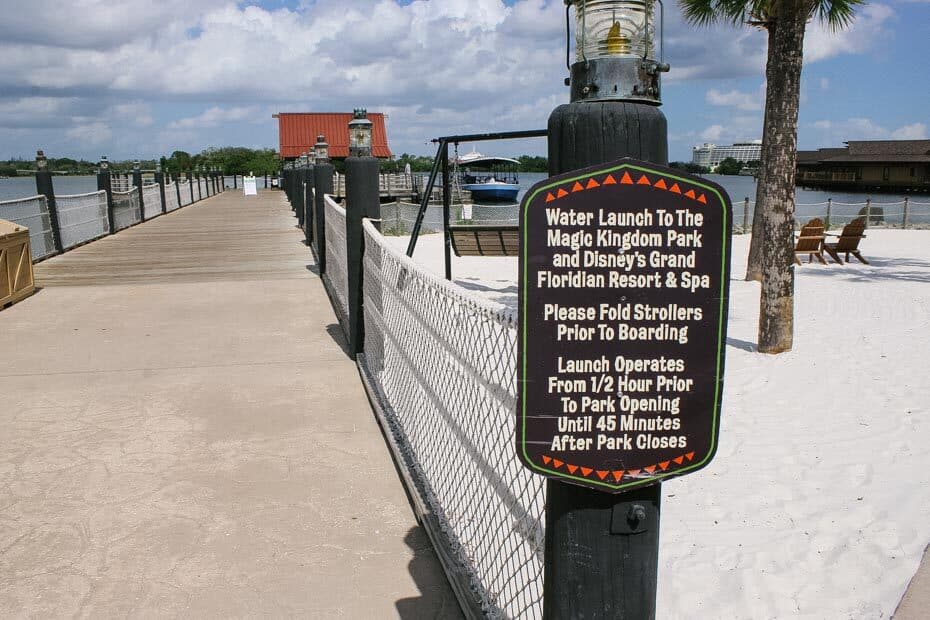 The bus stop at Disney's Polynesian Resort is outside and off to the left, facing the Great Ceremonial House. It sits almost directly in front of Rarotonga.
Related: Transportation Options at Disney's Polynesian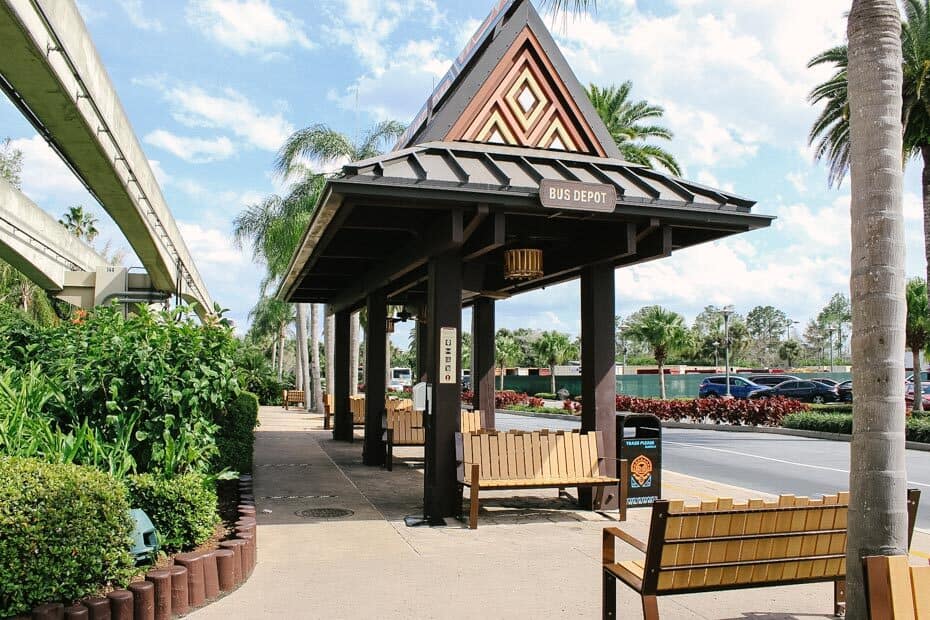 Bus service is sometimes shared with the Grand Floridian since it sits next door. In addition, the Polynesian bus goes to Disney's Hollywood Studios, Epcot, Animal Kingdom, Disney Springs, and the two water parks.
Related: Grand Floridian Resort Review
Lastly, guests can use the pathway that stretches from Disney's Polynesian to Grand Floridian if they want to take a walk or jog. A new path was recently completed, making it possible to walk between the Grand Floridian and Magic Kingdom.
Since the Polynesian is next door to the Grand, technically, guests can walk from the Poly to the Magic Kingdom. However, you'll have to take the construction path during this time.
There is a parking lot in front of the lobby and another in front of Pago Pago. The Pago Pago lot is referred to as the DVC parking lot.
Guests with dining reservations can park without charge but must provide identification at the security gate.
Additionally, Disney's Magic Express service ended last year. Therefore, you'll want to have your travel agent retain a car service if you are traveling between the airport and the Polynesian.
Final Thoughts
Whether it's your first visit or 100th, I hope this Polynesian Resort review gave you a fresh perspective on visiting.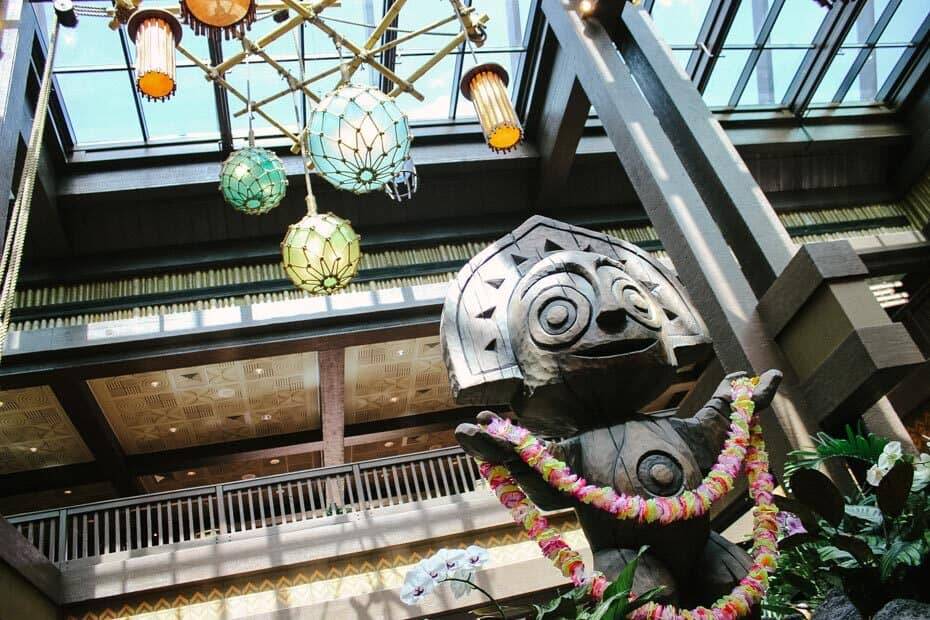 Disney's Polynesian Resort is a must-visit if you haven't done so recently. It's nice to plan a meal here and spend a couple of hours enjoying the resort's offerings.
For those on a tighter budget, I recommend visiting the resort for a casual walk or a Dole Whip during your vacation. Sometimes I go over and jog back and forth between Polynesian and Grand Floridian around sunset.
For other Disney deluxe resort information, you might be interested in some of our other Disney World Hotel Reviews. Or you might like to browse our entire list of articles on Disney's Polynesian Resort.
Additionally, Disney's Swan and Dolphin is another nice option. They have been offering some pretty nice discounts lately, but you'll need to call them to secure one.
Related: Disney's Swan and Dolphin Review
If you liked the idea of staying at one of the villa resorts, you might be interested in learning more about Disney's Riviera Resort. The pool and dining options are big pluses at the Riviera.
Related: Disney's Riviera Resort Review
Some of our most popular articles include:
In the Comments
What are your thoughts on this review of Disney's Polynesian Resort? Have you stayed here before? Do you have plans to stay here?