Disney's Polynesian Village Resort Review (Too Expensive or Worth Every Penny?)
In this review of Disney's Polynesian Village Resort, we'll share the details of our last stay at Walt Disney World's most tropical destination. We'll preview the rooms, dining options, recreation, transportation options, and other amenities. By the time we're finished, you'll be able to decide if a stay here is too expensive or worth every penny.
Aloha–it's a word you hear often around Disney's Polynesian Village Resort. Almost anytime you encounter a cast member, they greet you with an Aloha.
That small sentiment is one of the very things that makes a stay at Disney's Polynesian Resort so magical. But perhaps the most significant factor is the resort's landscape. Once you're inside the tropical utopia, it's difficult to distinguish the resort from an island.
Are you really in Florida? It doesn't feel like it, except for the blazing heat in the hottest months of the year. Oh, and Disney's Grand Floridian Resort and Spa sits next door–so yes, you are in Florida.
We recently returned to Disney's Polynesian Resort to provide a fresh review. It was also our first visit since the Moana rooms debuted. You're probably aware that many things at the resort have changed in the last decade. Some of those changes were for the better, others not so much.
But one thing remains the same–Disney's Polynesian is a true oasis. You'll have difficulty finding anything comparable that doesn't require an overseas plane ticket. After all these years, I still marvel over how a simple resort can provide such an impactful ambiance. There is nothing like it.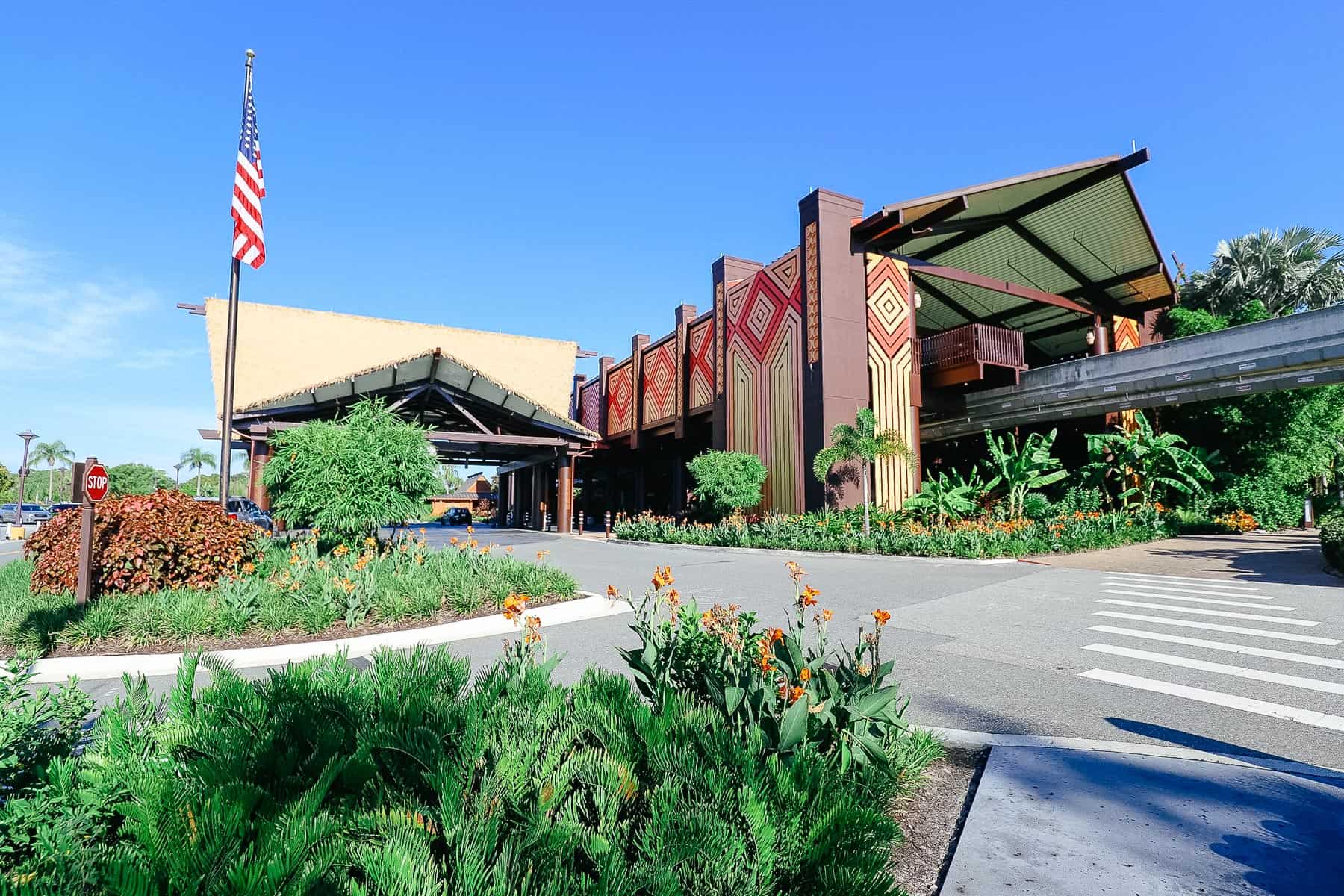 It was still morning when we arrived at Disney's Polynesian. Unfortunately, no one was available to help with our luggage. So, we parked the car and managed to get our things to the check-in area.
This was really the only major downfall to this trip. But if you've read our other resort reviews, you know we often run into this situation.
I am not so above myself that I can't handle getting luggage to and from the room. But when we pay the kind of money it costs to stay at the Poly, we are looking for that first greeting of Aloha–can I get your bags?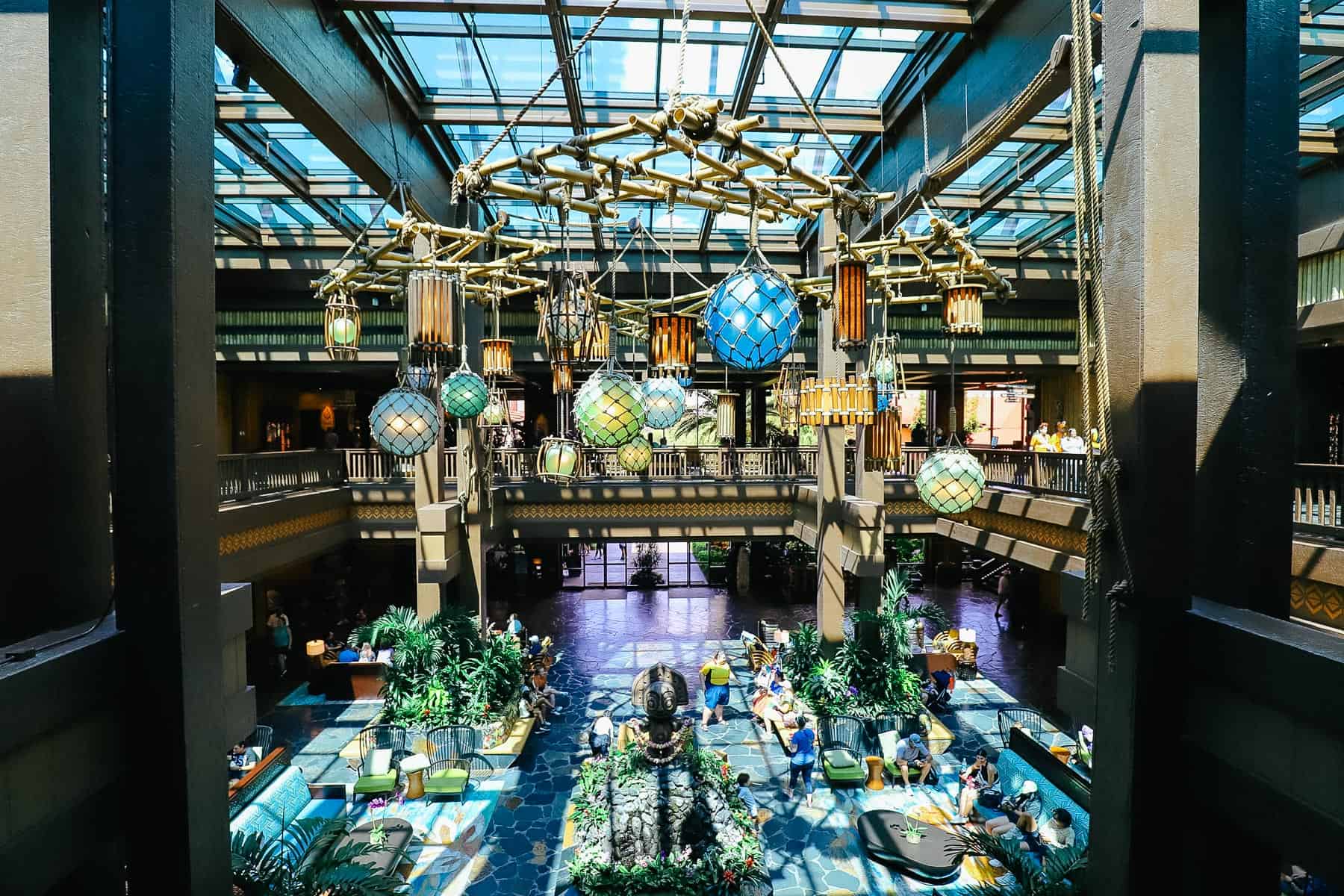 Since we live nearby, we don't have nearly the luggage load that we had in the past. Somehow, I usually manage to get almost everything in one oversized suitcase.
Thankfully, when we got to the front desk to check our luggage, we received a text that our room was ready. What a surprise! It wasn't even 10:00 a.m., and I didn't expect it. The only reason we had arrived so early was because we had plans to visit Epcot.
Our Room
After receiving a welcome lei, we were off to the Hawaii building, luggage and all, where we boarded the elevator to the third floor. It wasn't long before it dawned on me that we were twice as lucky. Not only was our room ready hours ahead of time, but we had received a third-floor room assignment.
A third-floor room means a full balcony at Disney's Polynesian. Rooms on the second floor only have a Juliette balcony. First-floor rooms have a patio. However, you usually don't have as pleasant a view on the first floor.
We had a resort view of the Oasis Pool. Other room views include a lagoon view, theme park views, or water views.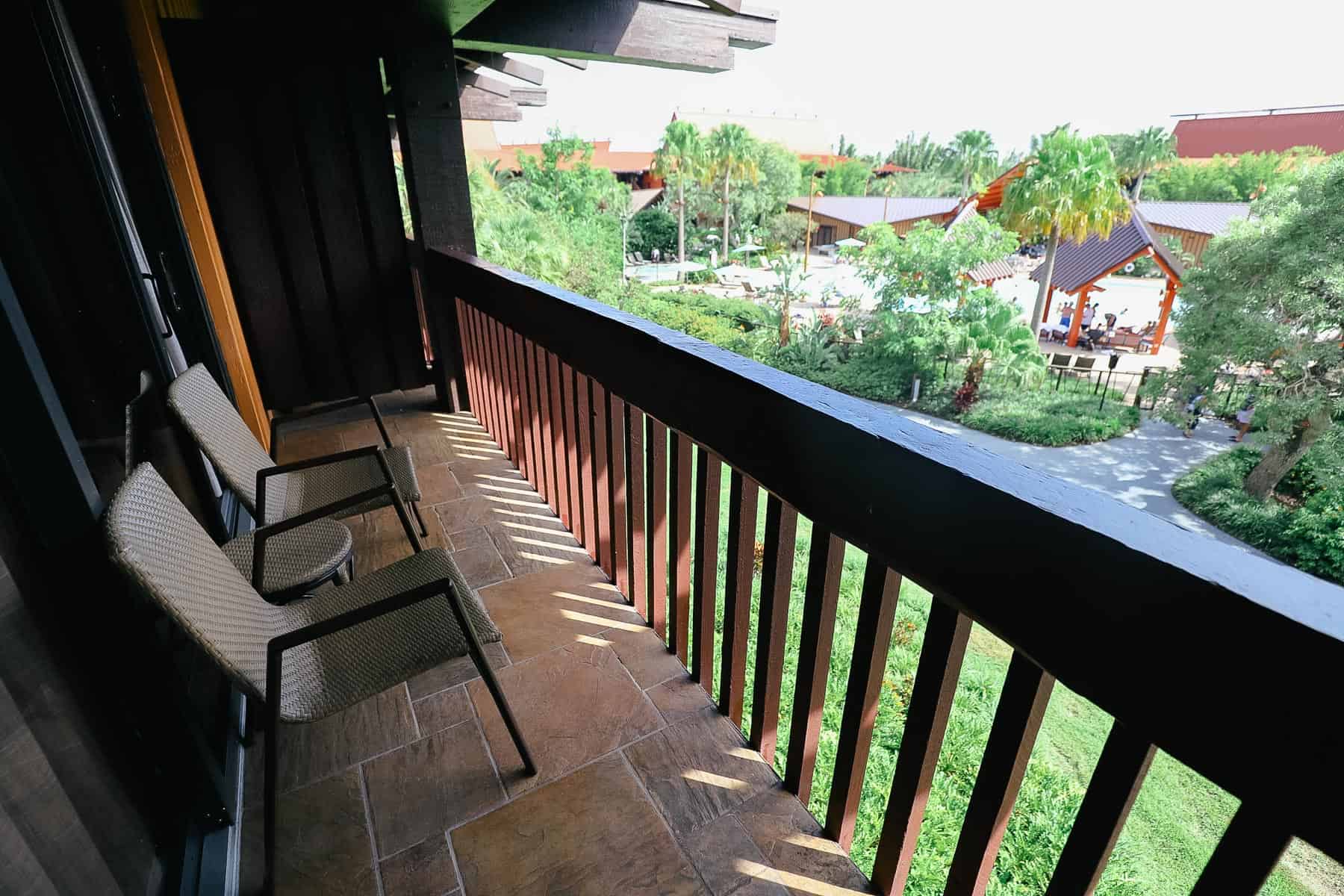 We quickly tucked our items away to take photos of the room. It was gorgeous.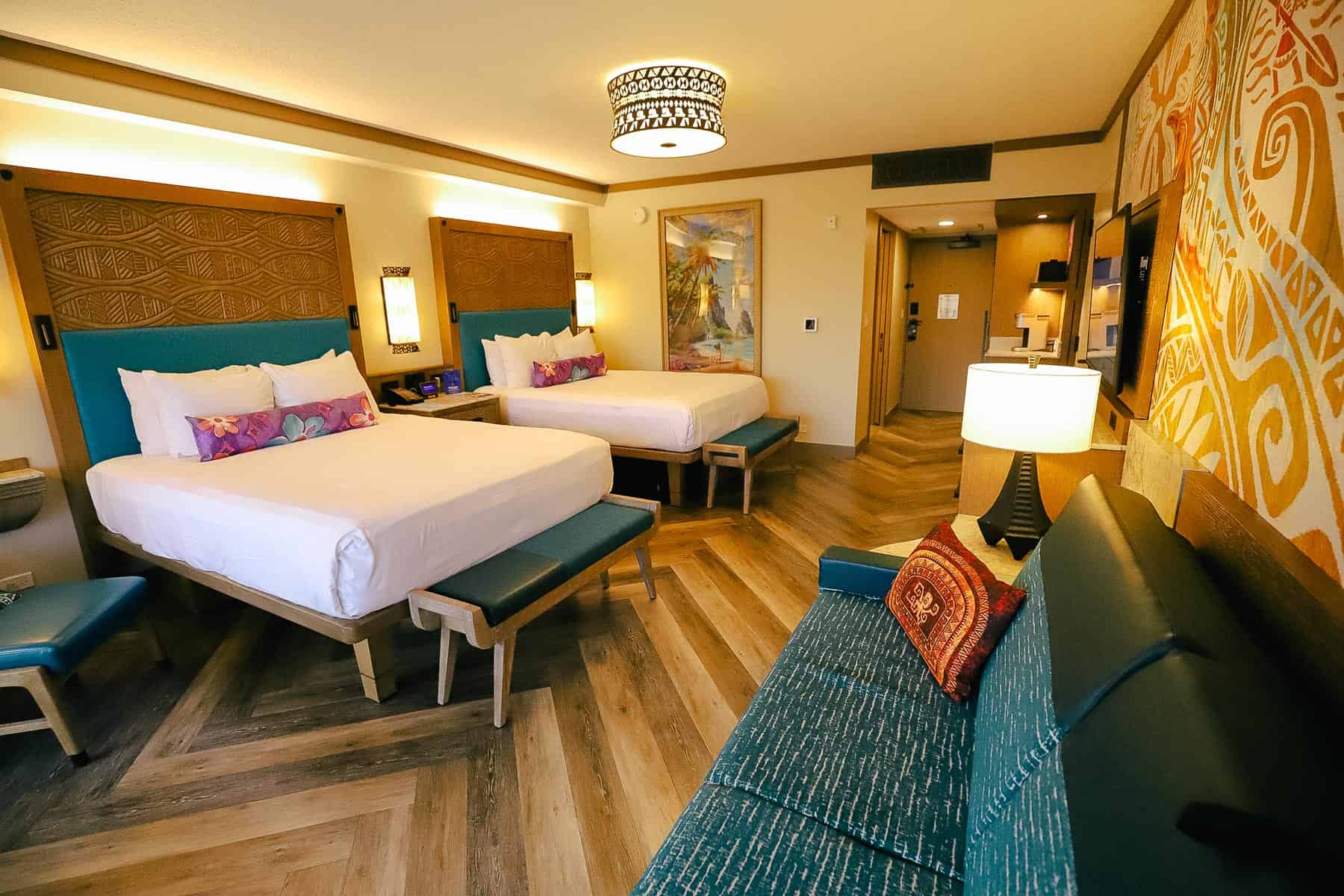 We had two queen-size beds. Each bed had a bench at the end, which was a thoughtful touch.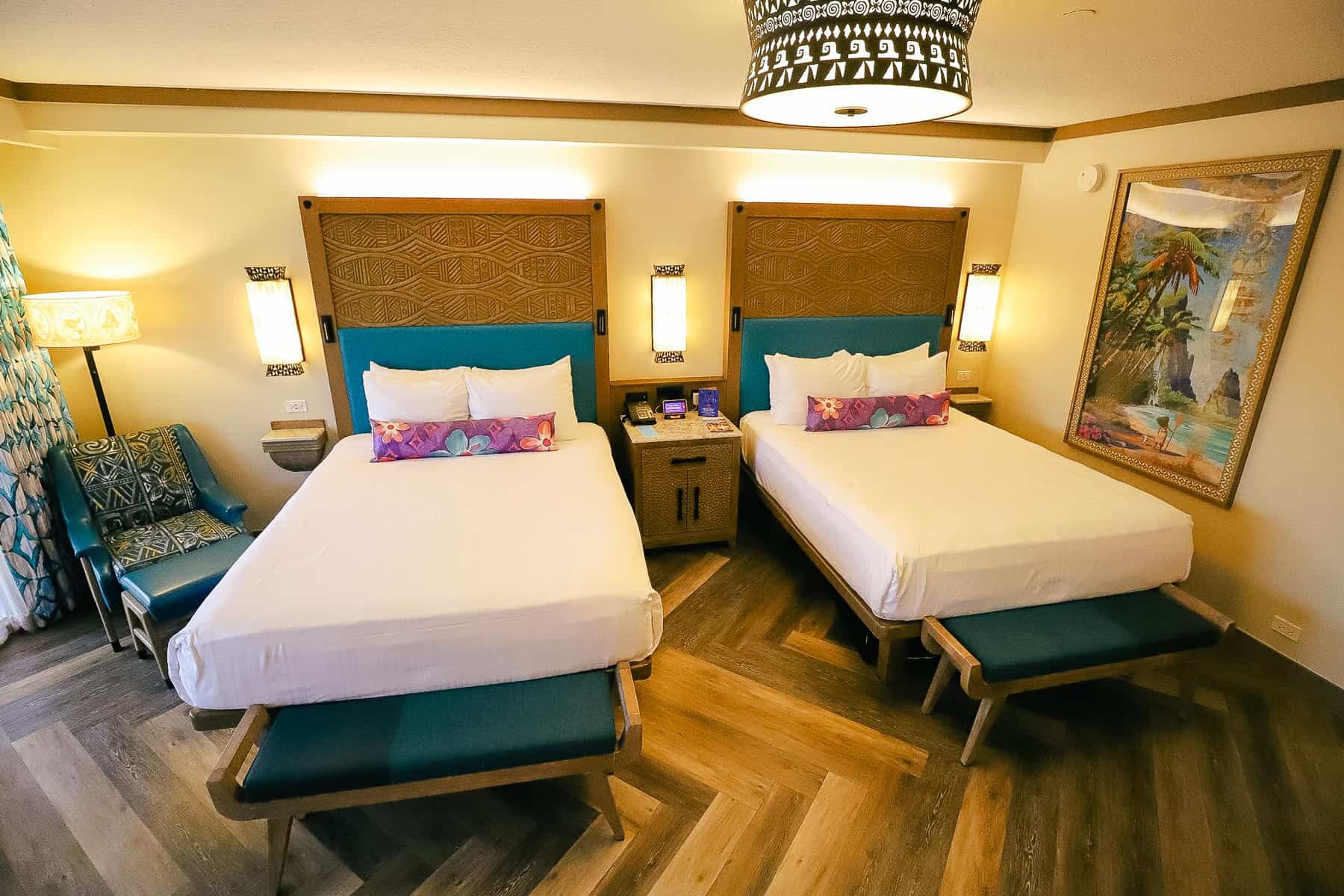 Most standard rooms at the Polynesian sleep up to five guests. This sofa converts into a single sleeper.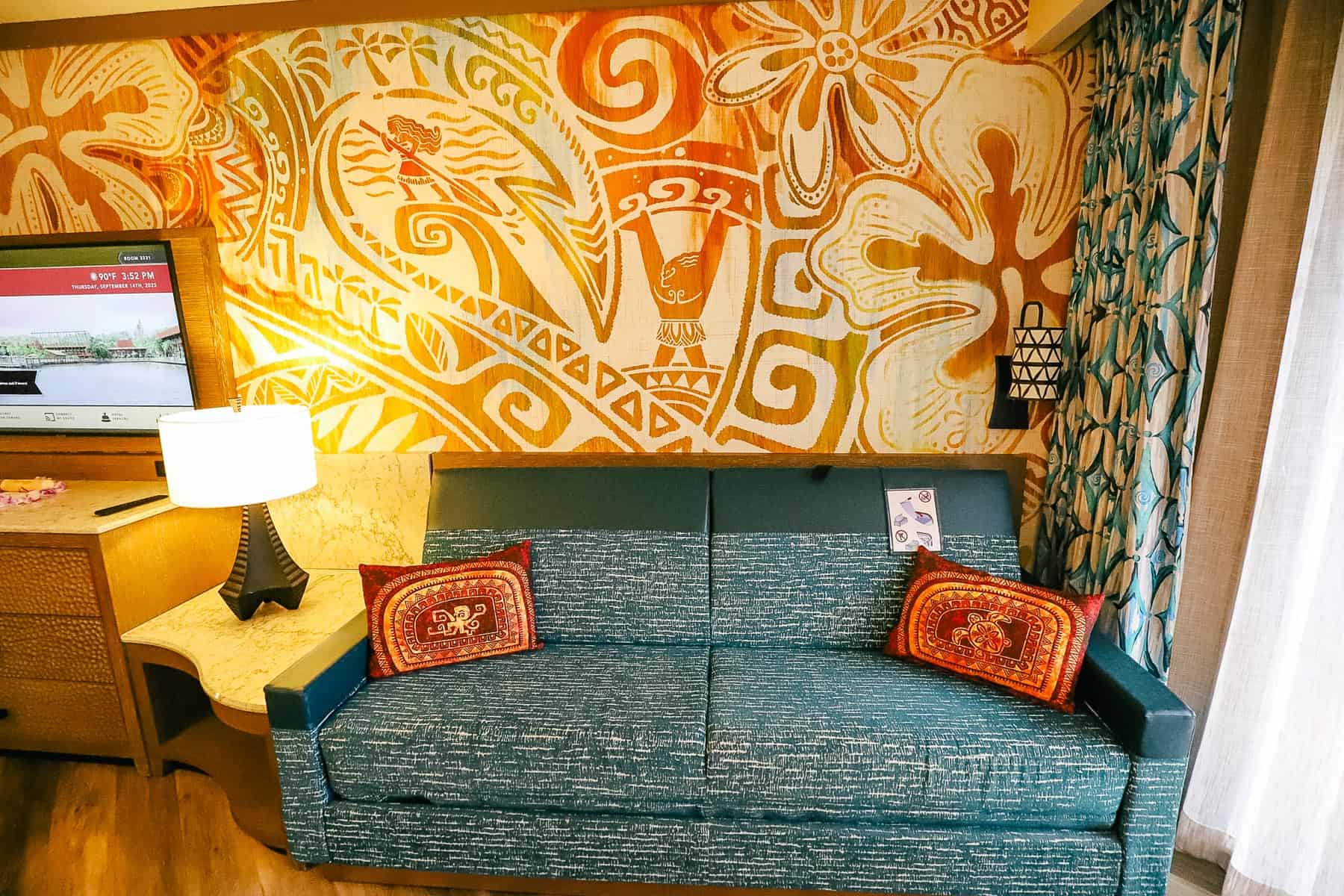 Our bathroom featured two sinks, a separate water closet, and a walk-in shower.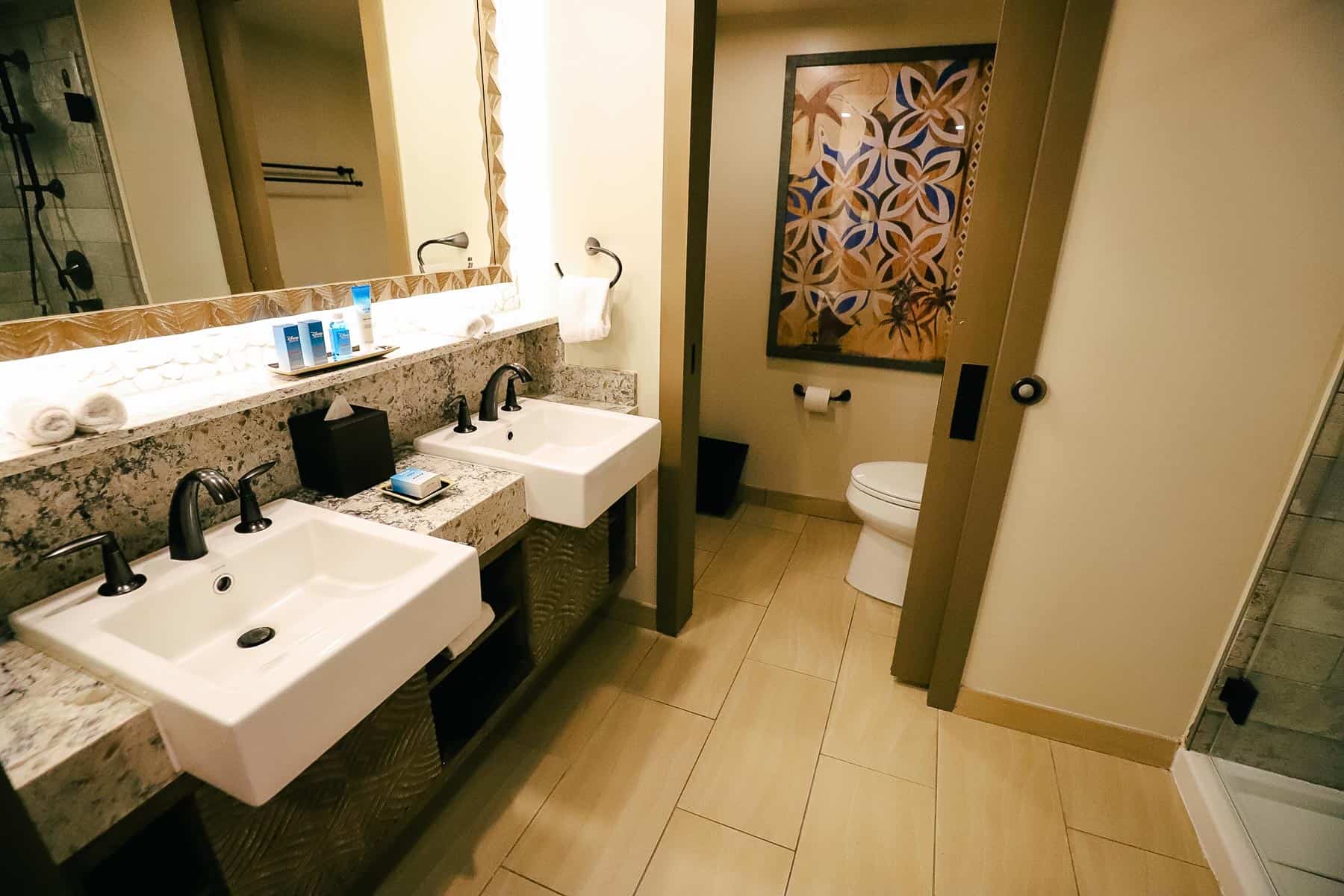 Here is a closer look at the shower area.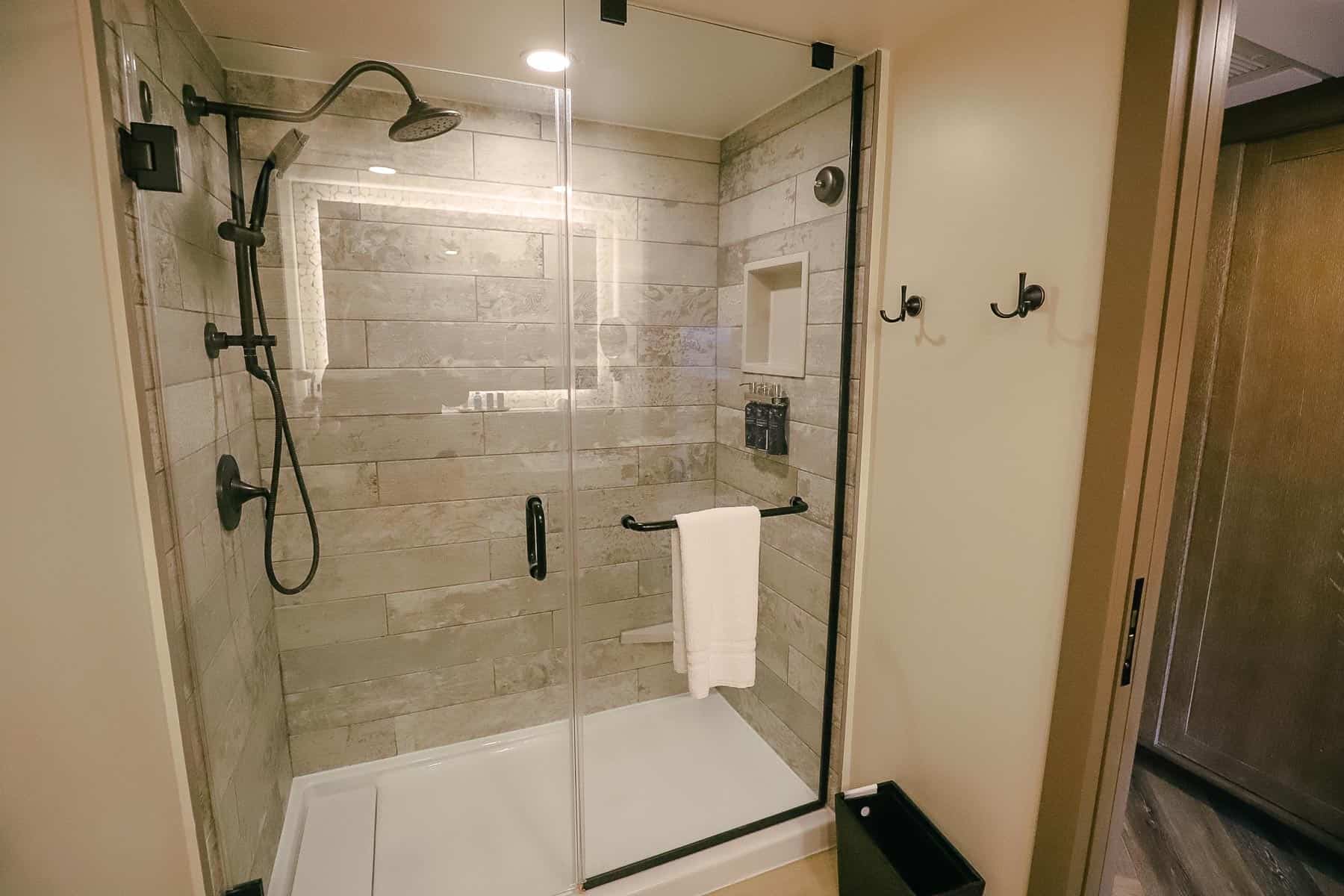 We have a photo and video tour of the Polynesian's Moana Rooms if you want to learn more. Additionally, we have a tour of the deluxe studio at Disney's Polynesian Villas and a tour of the Bora Bora Bungalows that sit out over the water. Both latter units are part of the Disney Vacation Club at the Polynesian.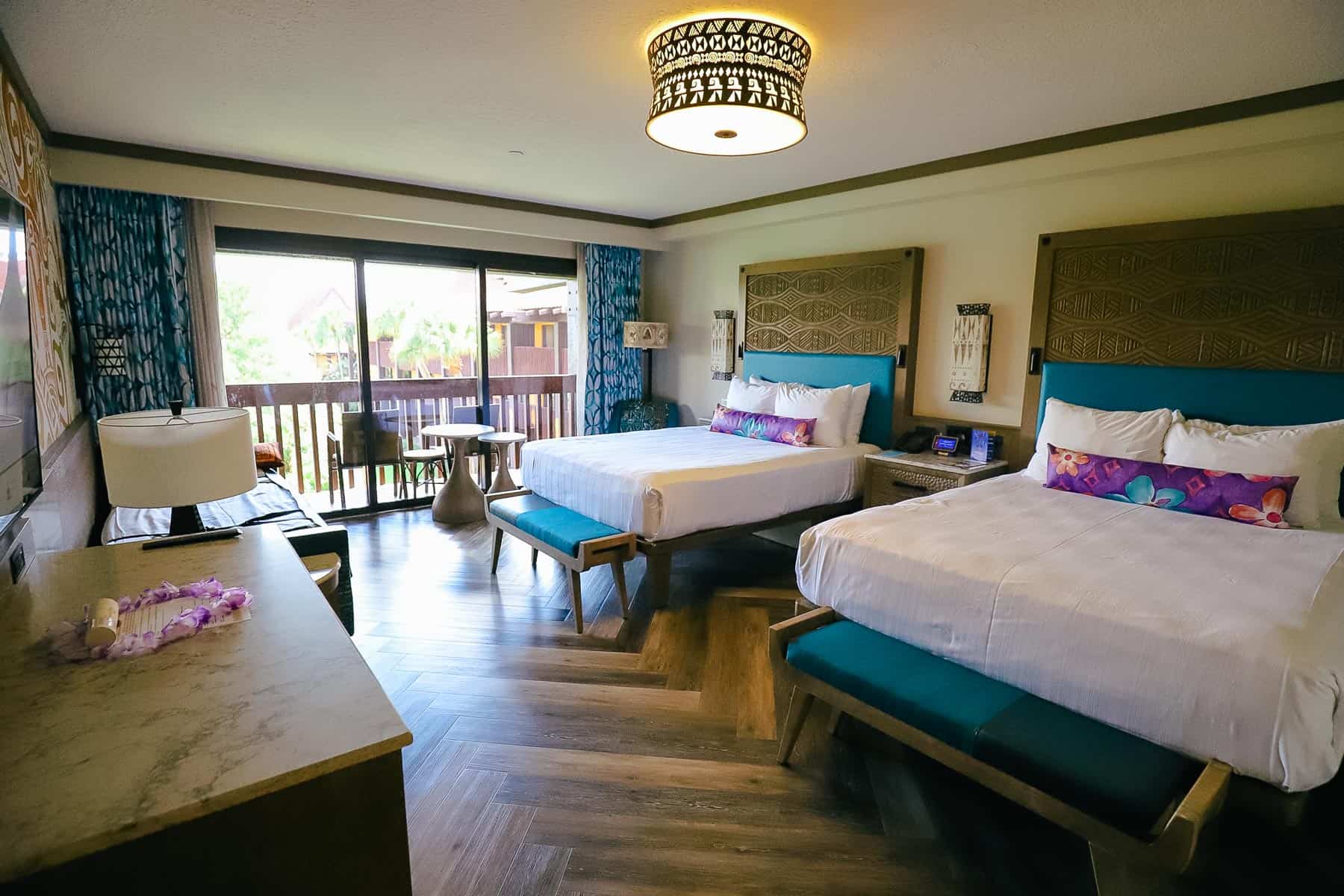 The Lure of Disney's Polynesian
Part of the lure of Disney's Polynesian is its location. Since the resort is located among the Magic Kingdom Resorts, it commands a higher price tag than others.
Disney's Polynesian sits along the shores of Seven Seas Lagoon directly between Disney's Grand Floridian and the Transportation and Ticket Center. Cinderella Castle comes into view from the resort's white sand beaches. From some angles, you can see Disney's Contemporary Resort.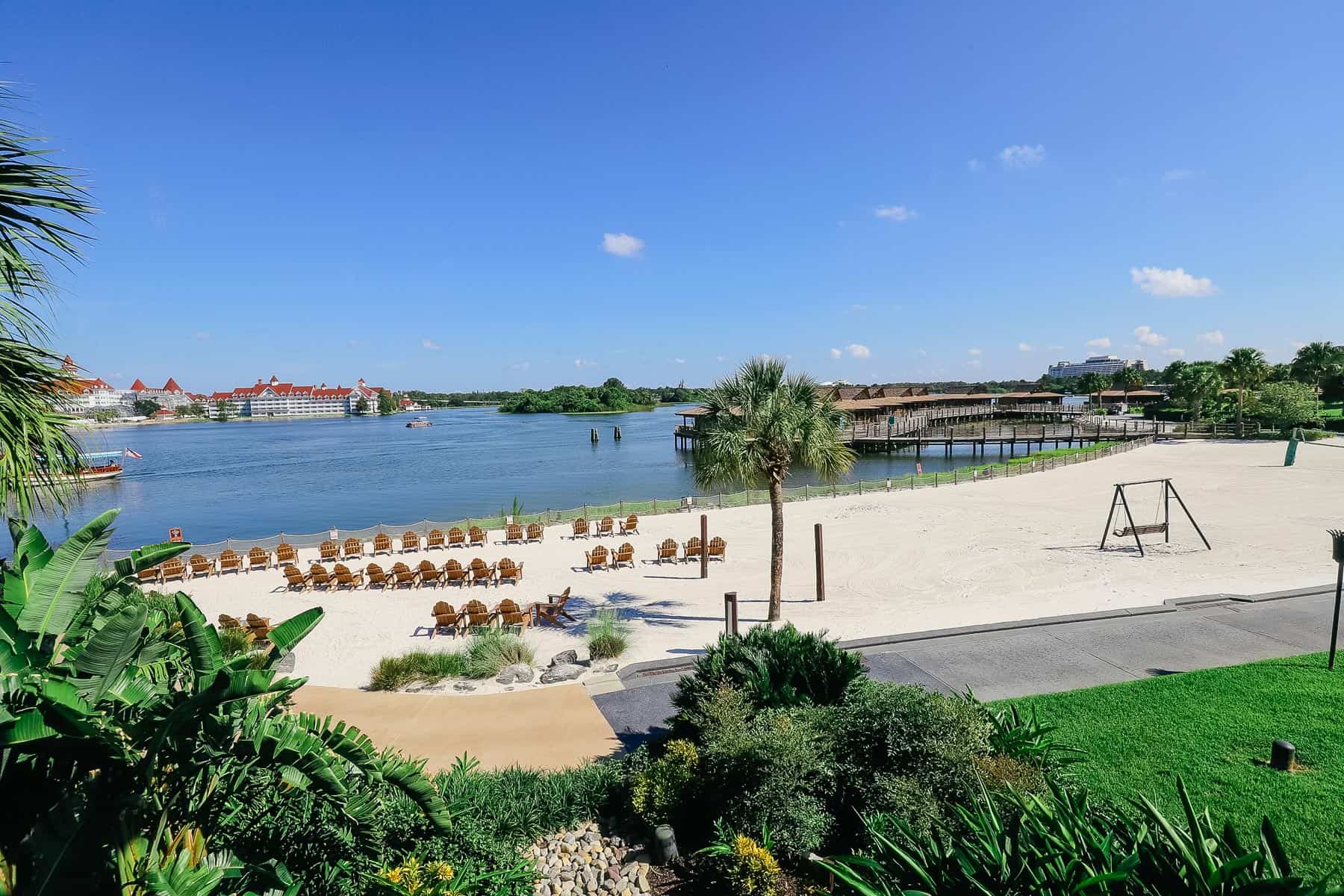 Guests can walk between the resorts since the Polynesian sits beside the Grand Floridian. However, with the construction of the new DVC Tower at the Polynesian, guests have to take a construction path between the two resorts.
Additionally, guests can continue on the walkway from the Grand Floridian to the Magic Kingdom if desired. Therefore, when you stay at Disney's Polynesian, the most popular theme park in the entire world is only a walk, monorail ride, or boat ride away. It doesn't get much better than that.
Theming at Disney's Polynesian
Of course, the other lure of Disney's Polynesian is its theming. Disney's Polynesian Resort is designed to mimic the South Pacific Islands, providing a tropical oasis for weary travelers. Others often refer to the Polynesian as the Hawaiian Resort at Disney World.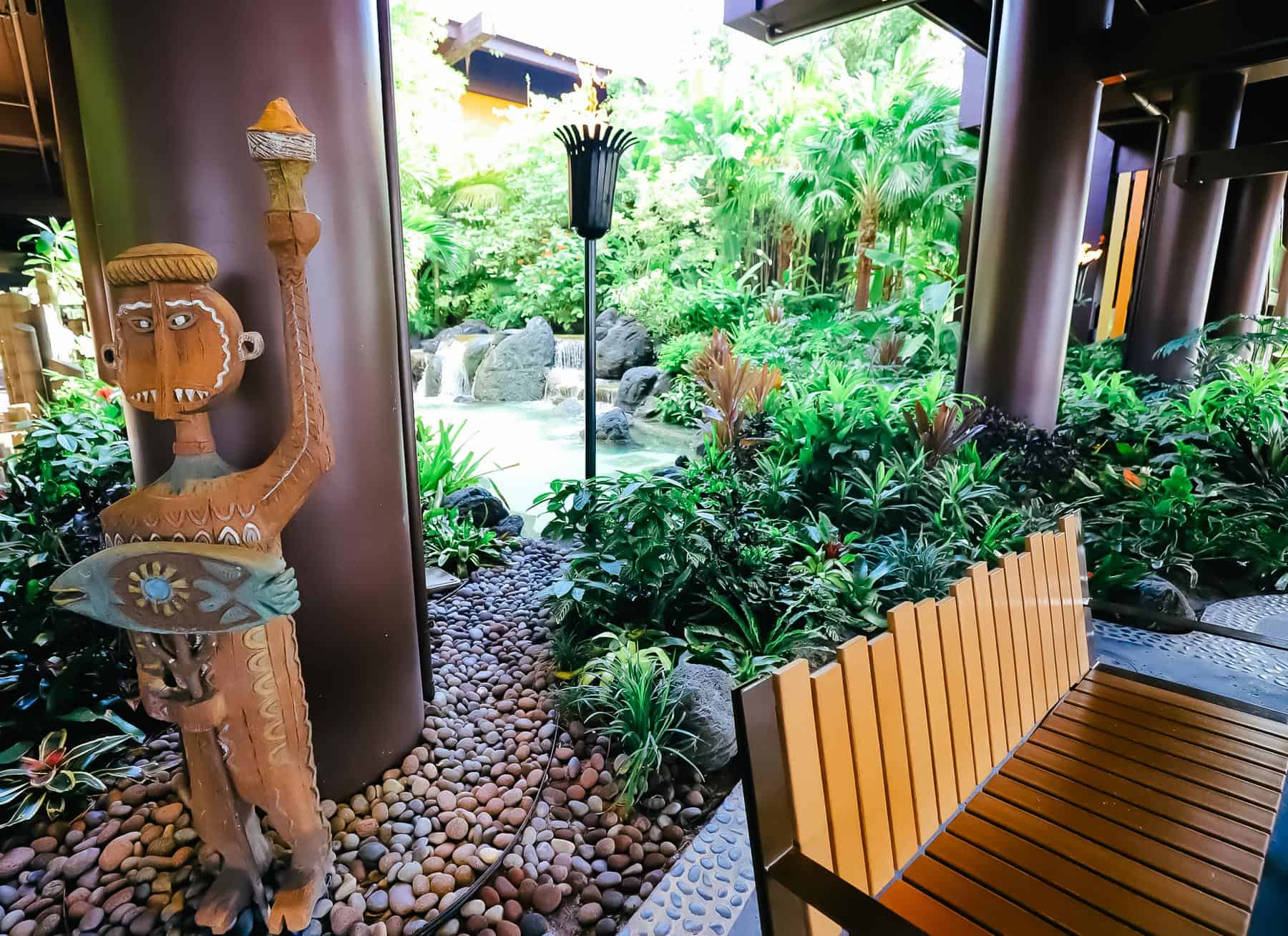 Upon arrival, you're greeted by a luscious landscape of tropical plants.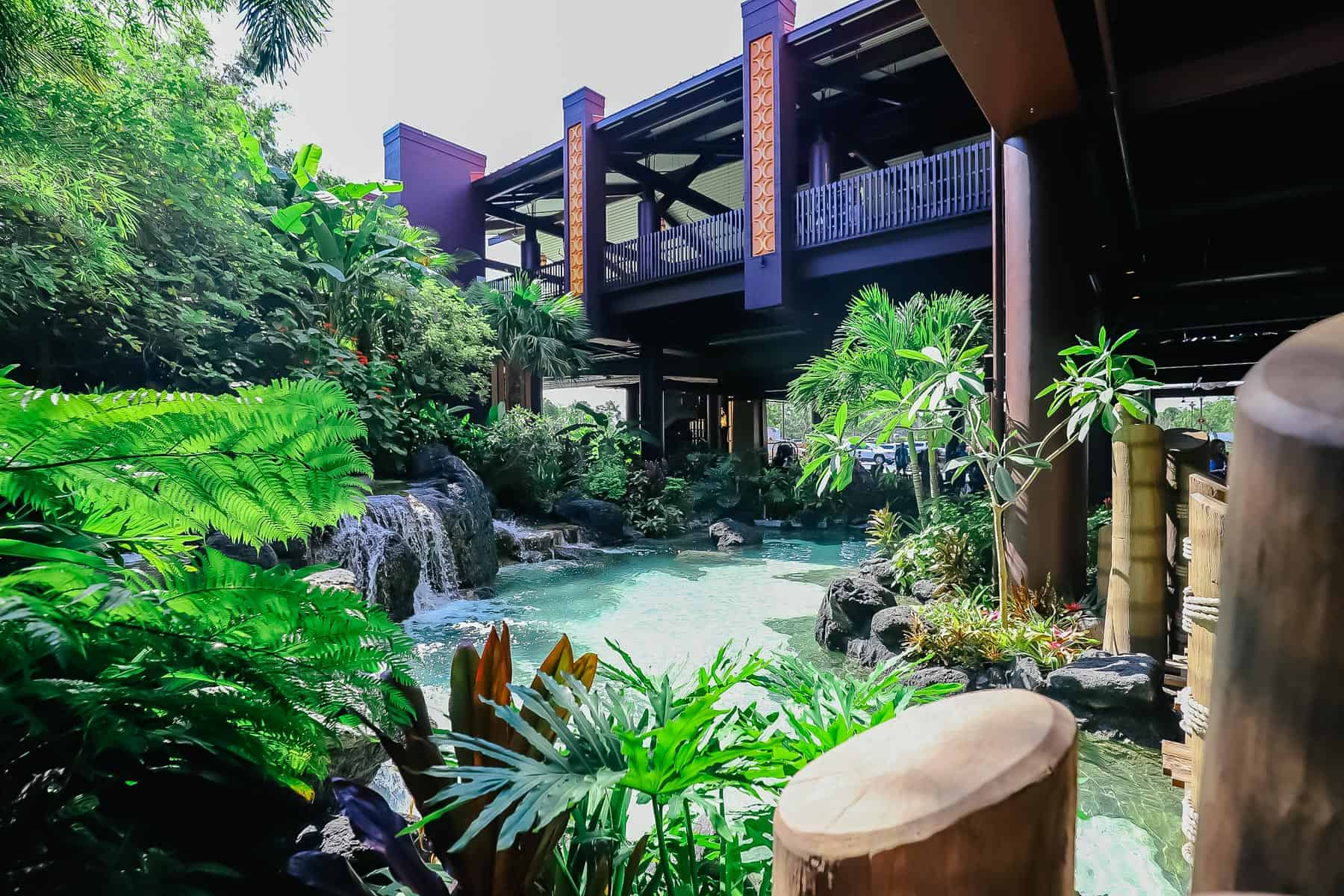 Waterfalls reside on each side of the walkway that leads to the resort.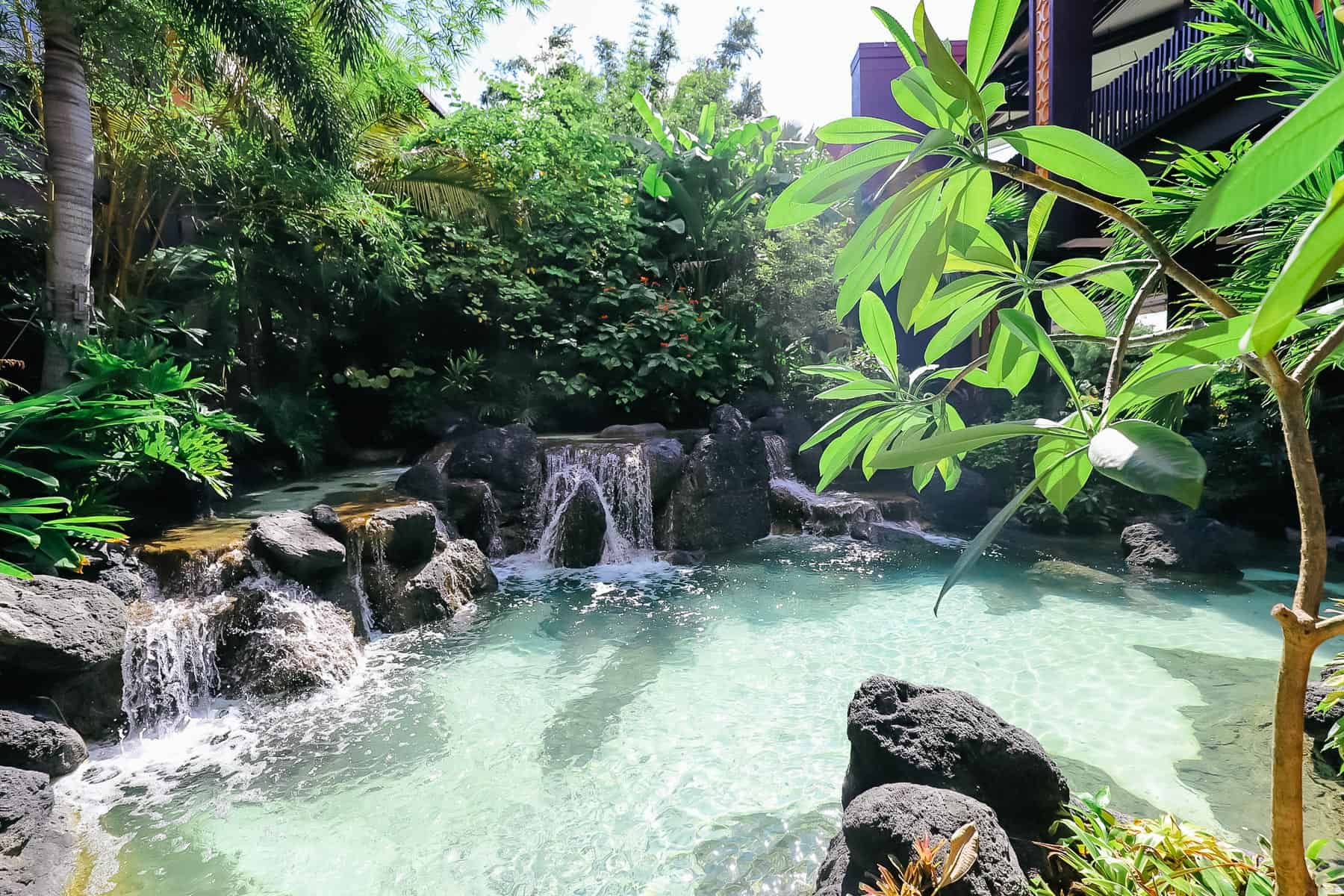 Lit tiki torches contribute to the mood.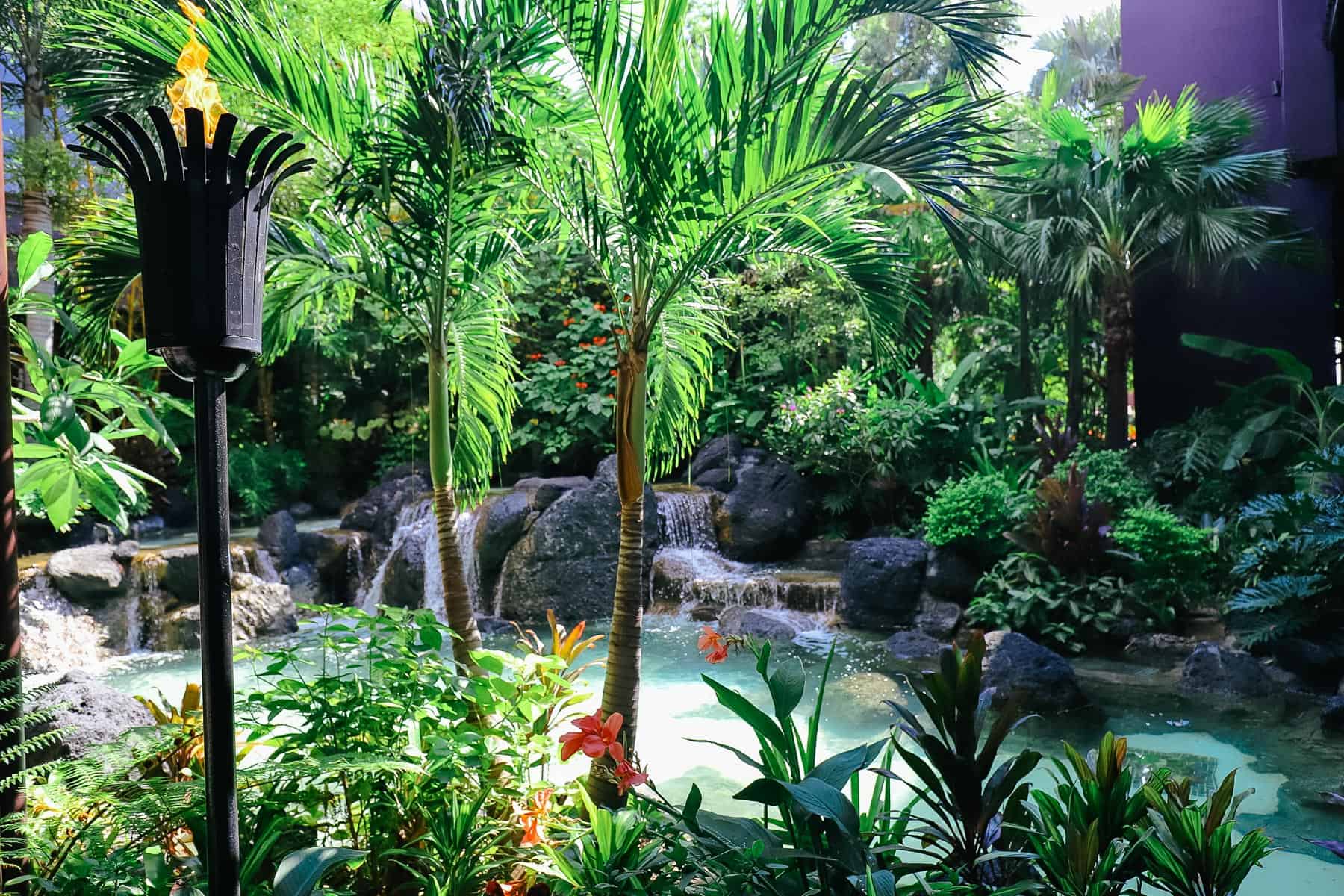 A calming sensation washes over you as you approach the entrance. You've made it to your destination, and a much-needed week of vacation awaits.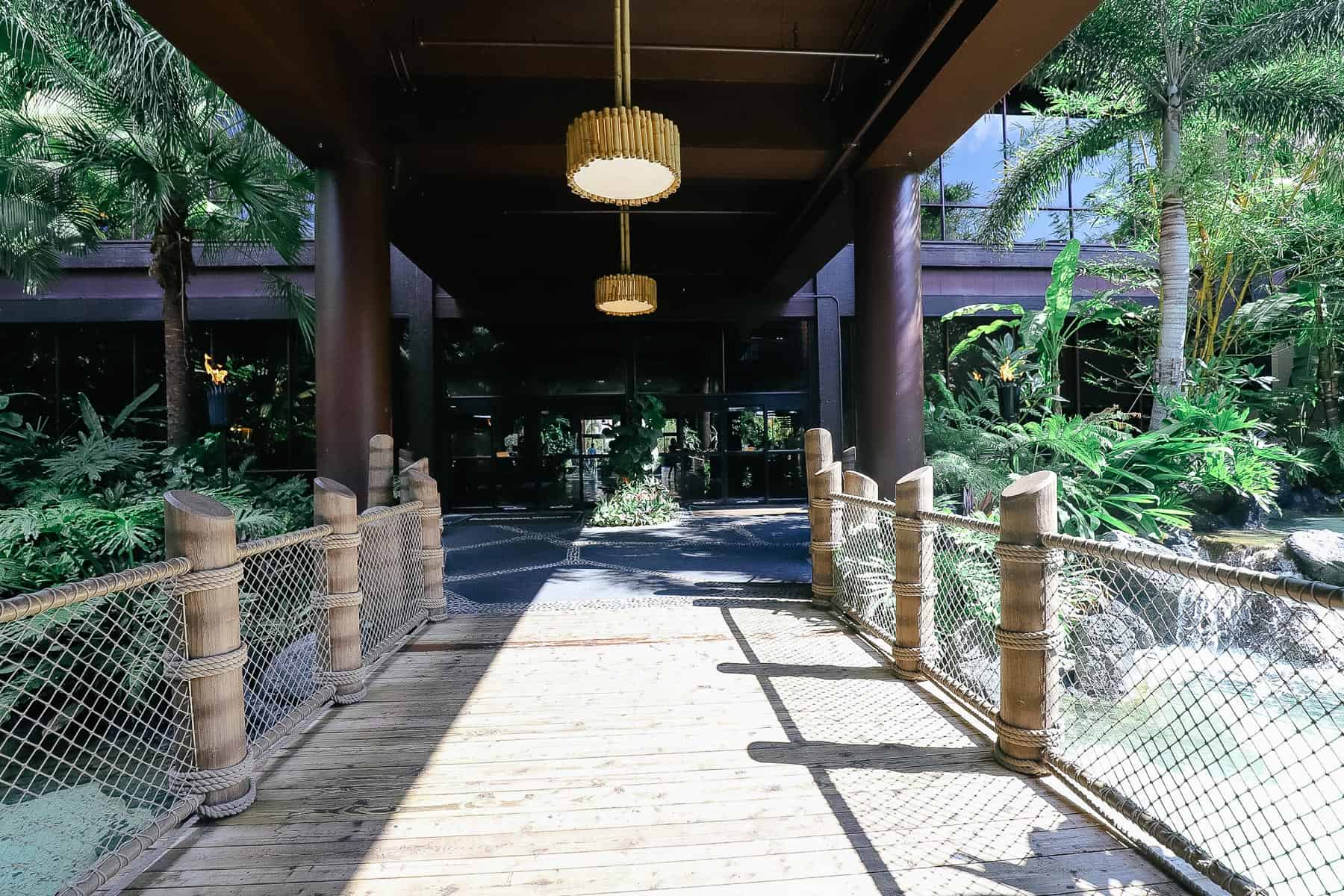 This decorative stone and concrete were poured at the entrance a few years ago. It turned out well.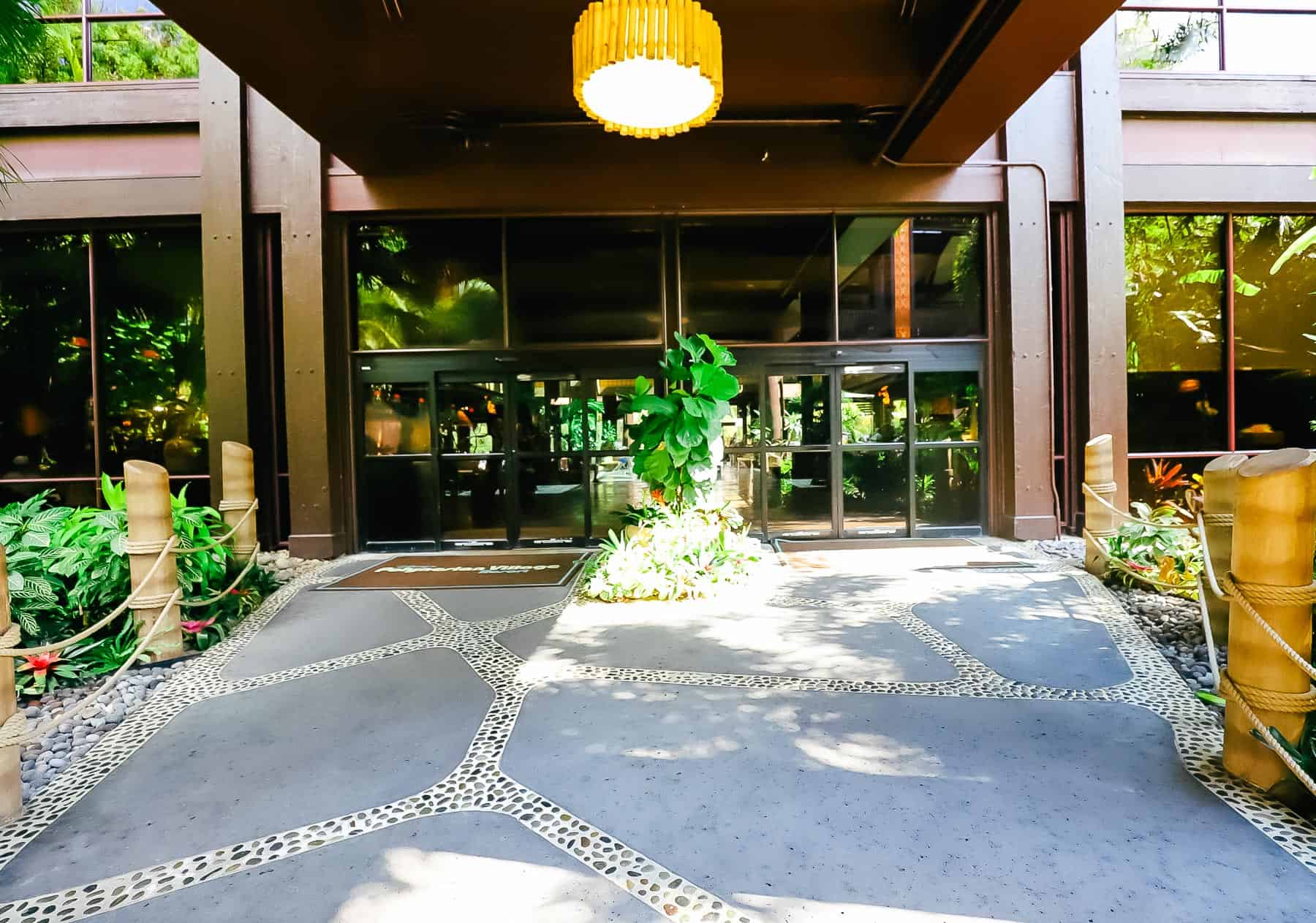 I couldn't help photographing the resort-branded rug at the hotel's entrance.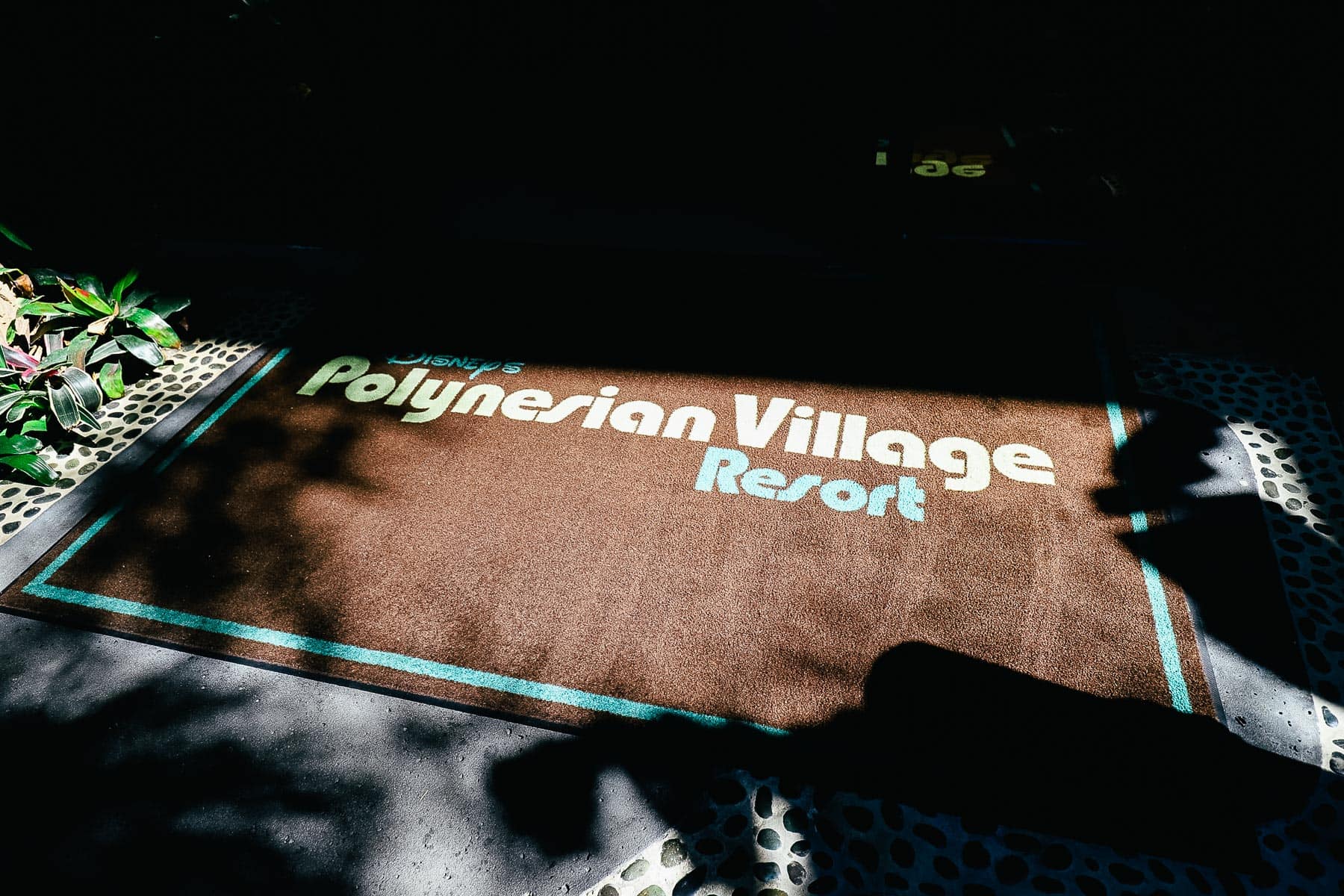 The Great Ceremonial House
After walking through the double doors, you're greeted by what feels like an open-air lobby. A ceiling made entirely of windows allows light to flood in from above.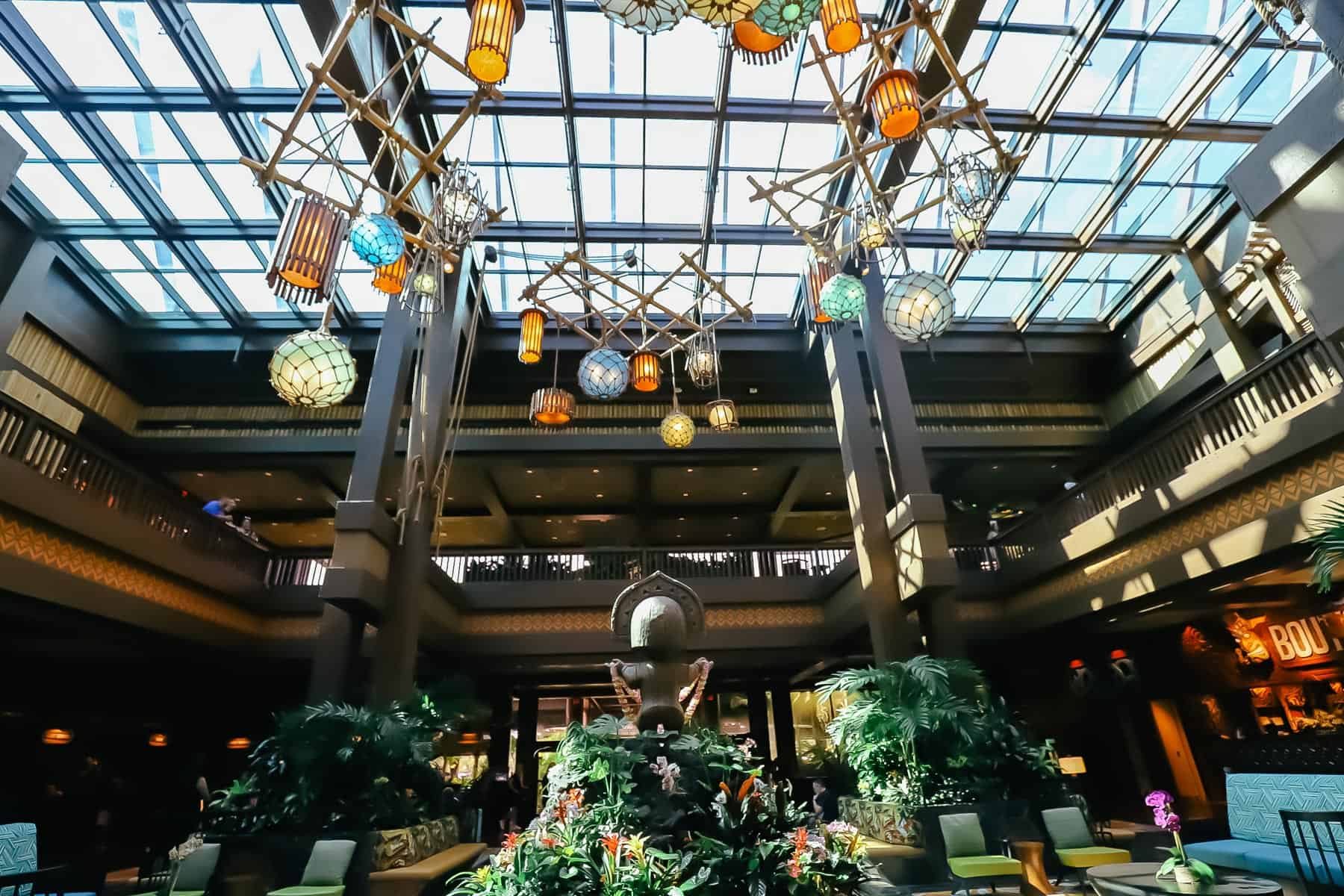 It's this kind of blissful space that you remember far after the vacation is over. Standing in the lobby of a hotel, breathing it in, the drastic change from the environment you're so used to every day.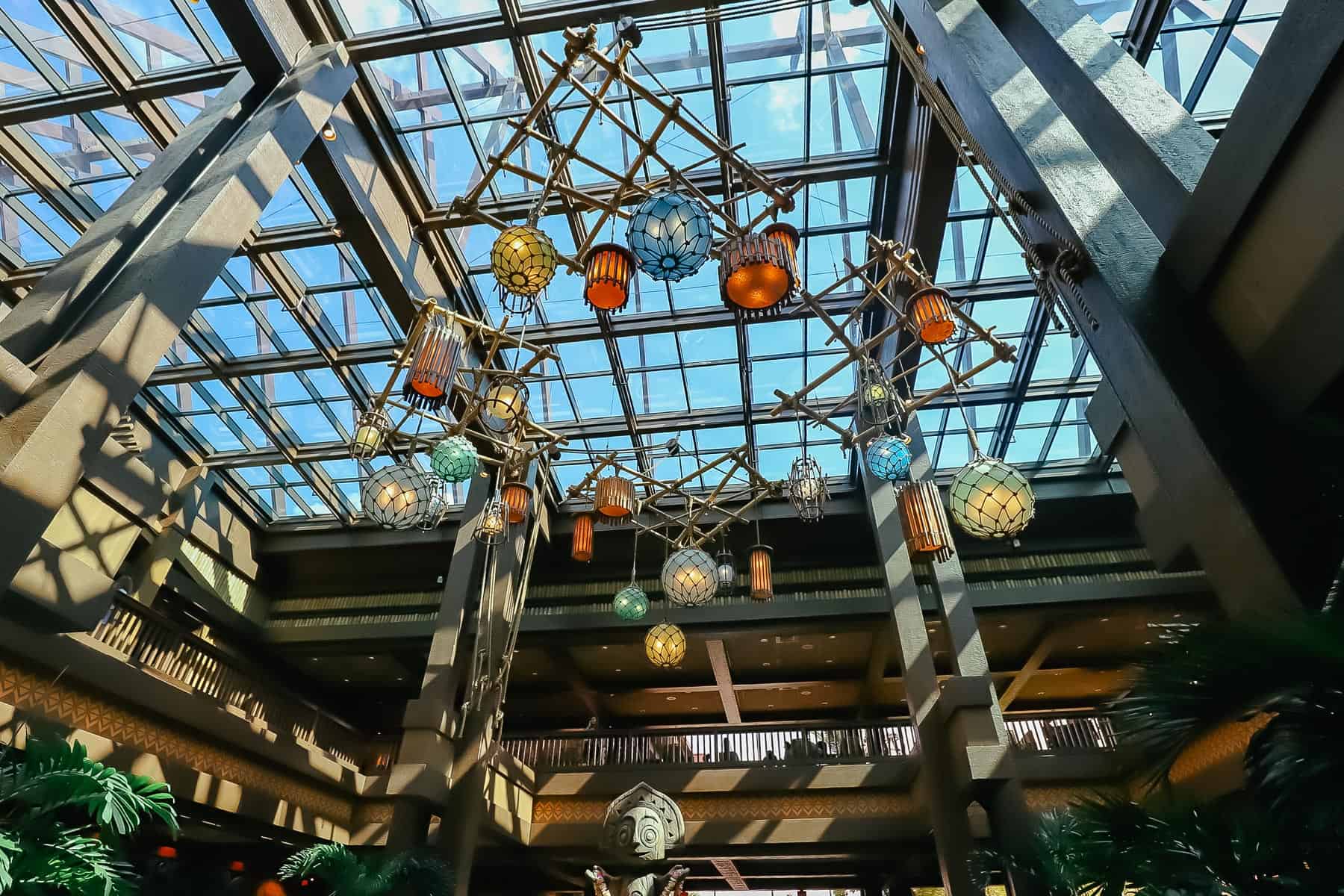 Most of the lobby received new furnishings within the last year. Bright oranges shifted to lime greens.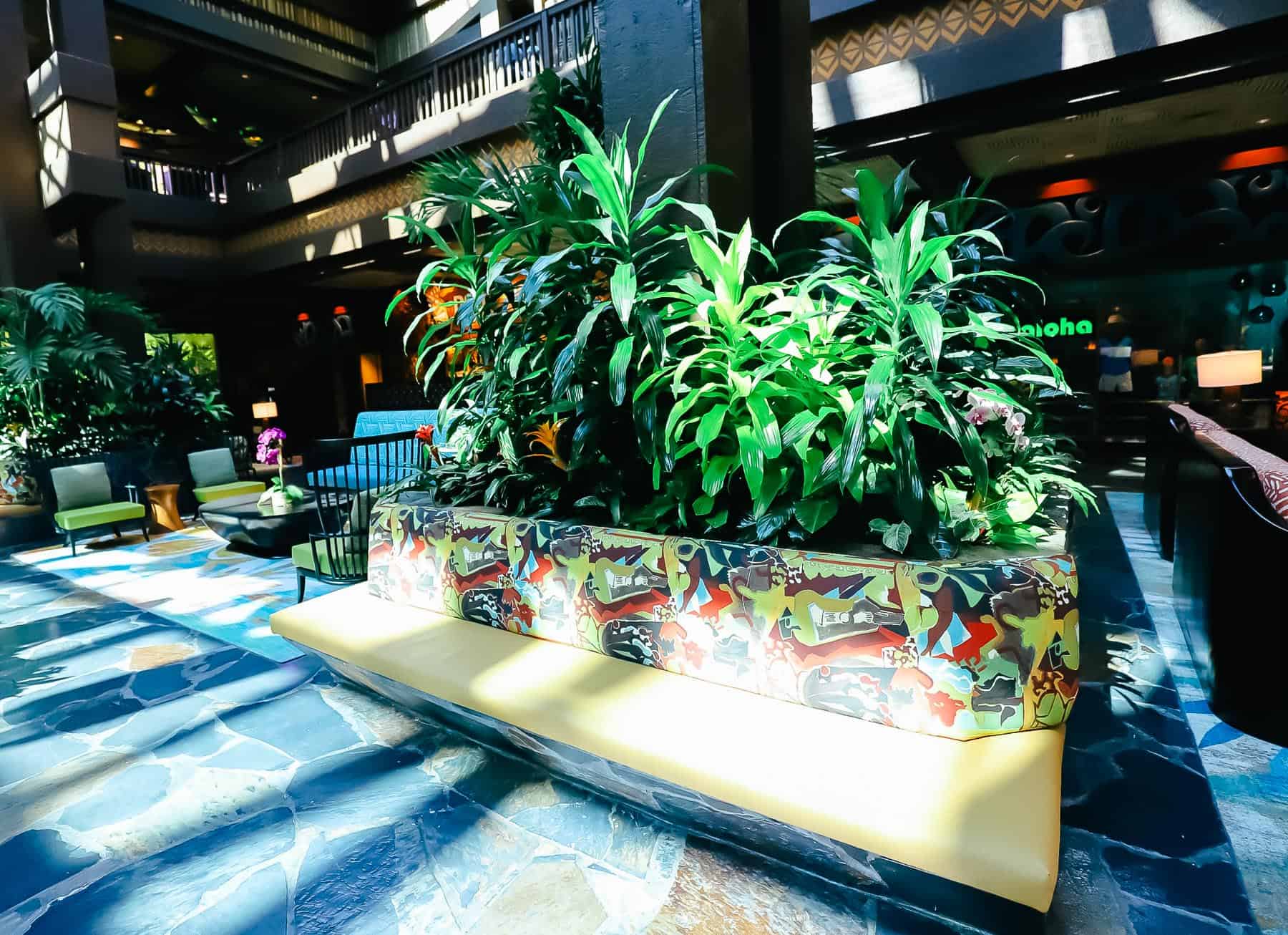 It's a wonderful lobby with plenty of seating arrangements.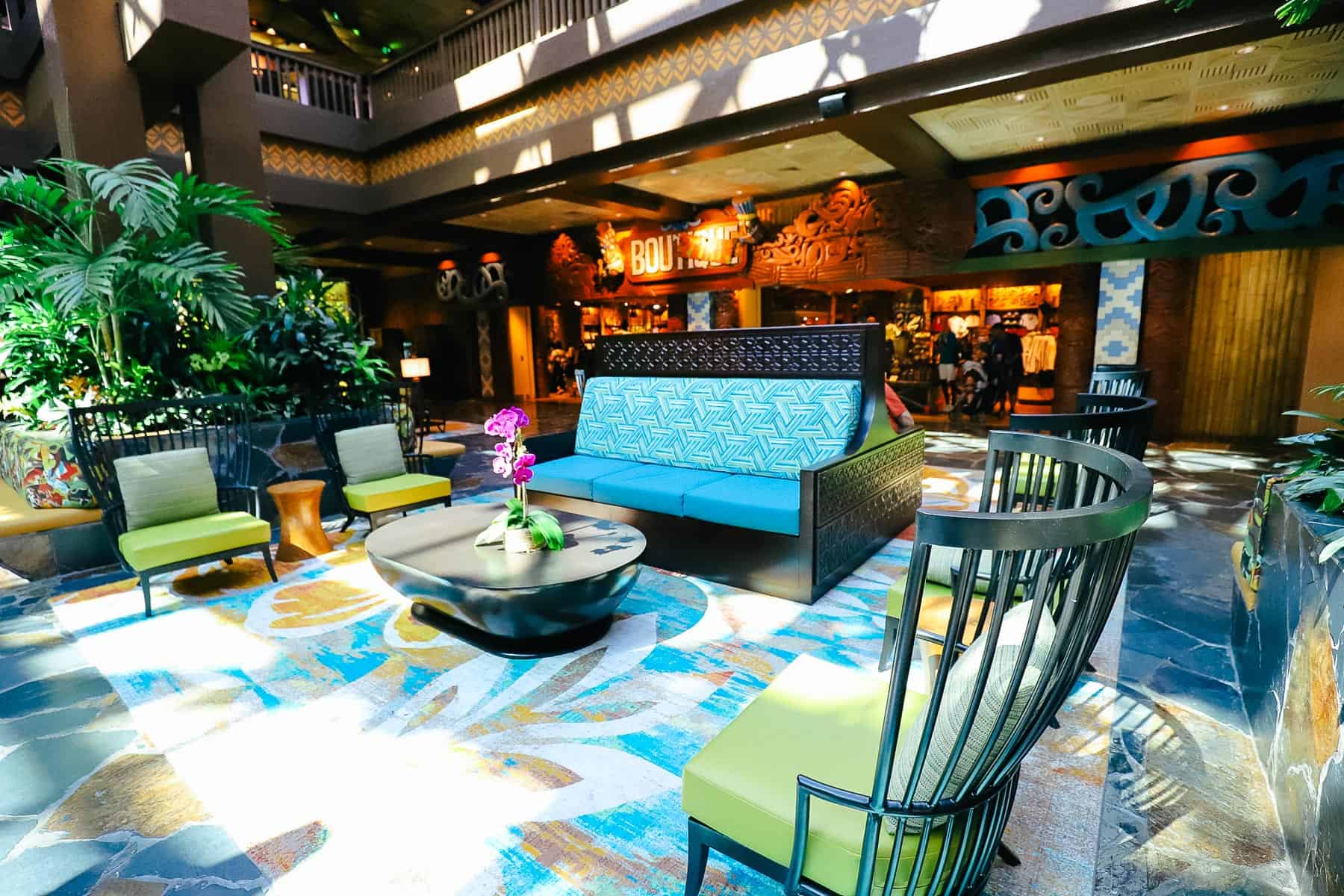 Bromeliads, orchids, and greenery are scattered throughout the lobby.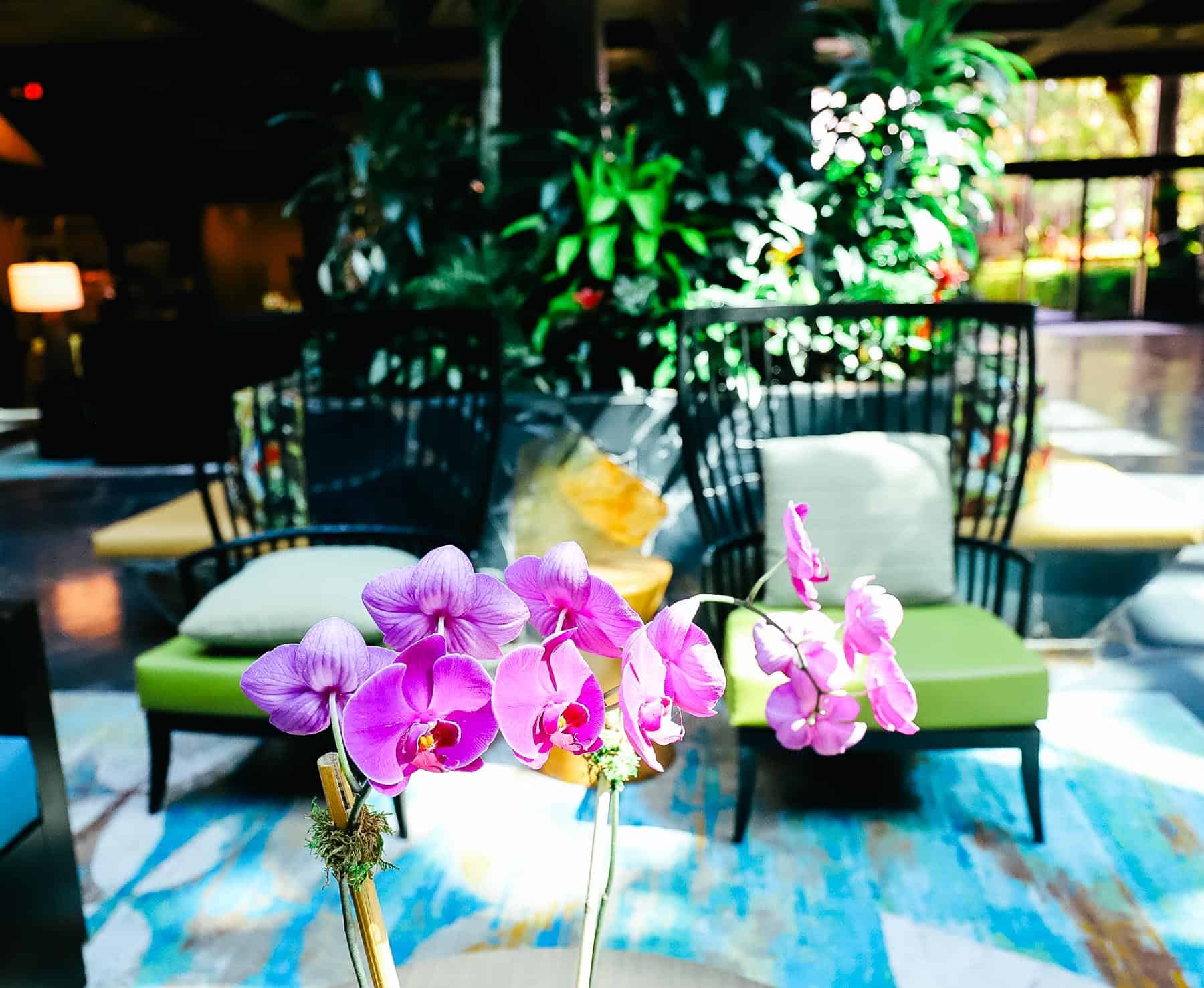 A vintage map of the Polynesian takes up most of the wall near the check-in area.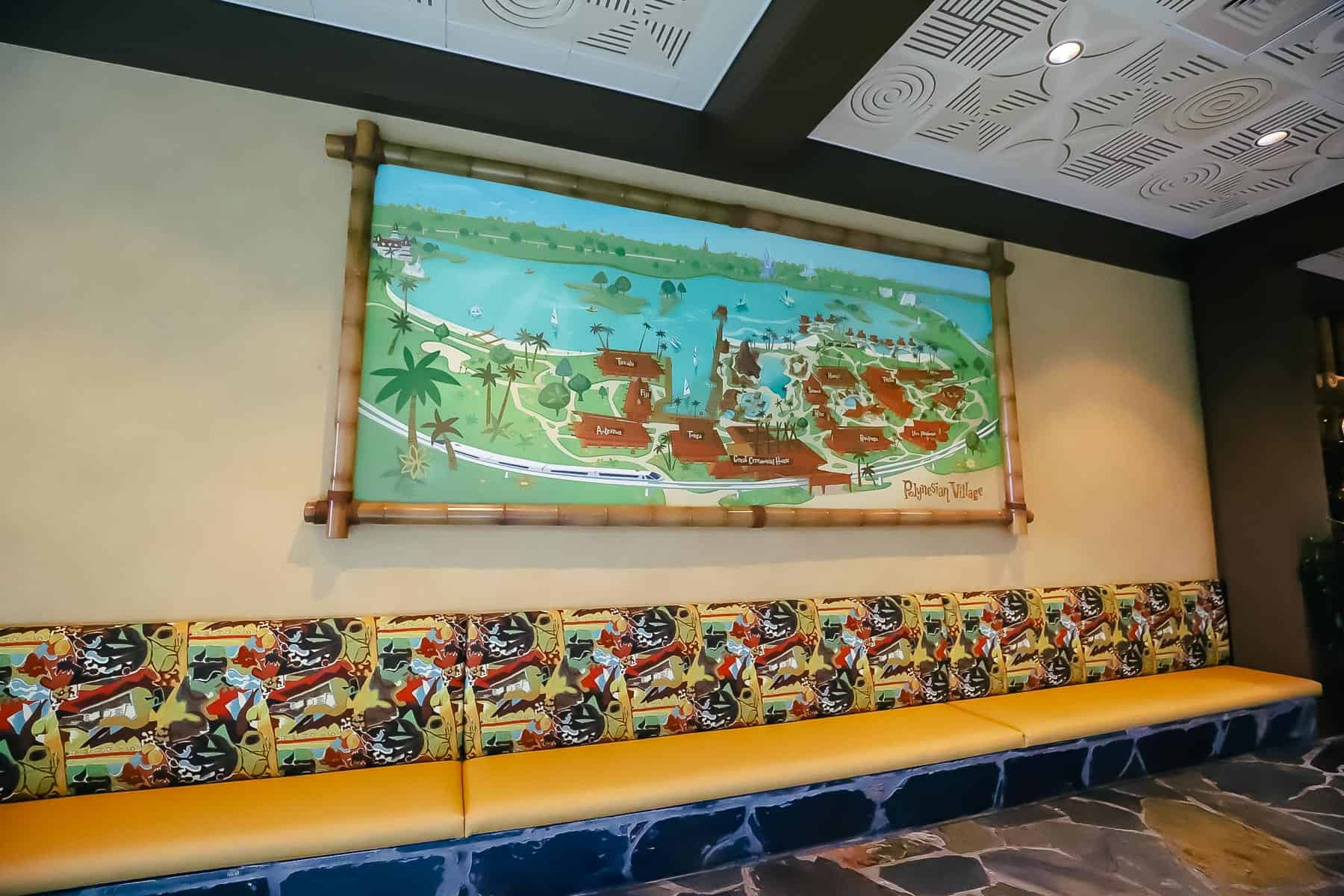 Staircases are located on each side of the lobby. A pair of elevators is also available. The Great Ceremonial House is strictly a large gathering space with a lobby, restaurants, gift shops, and the entrance to the monorail. This building doesn't have any guest rooms.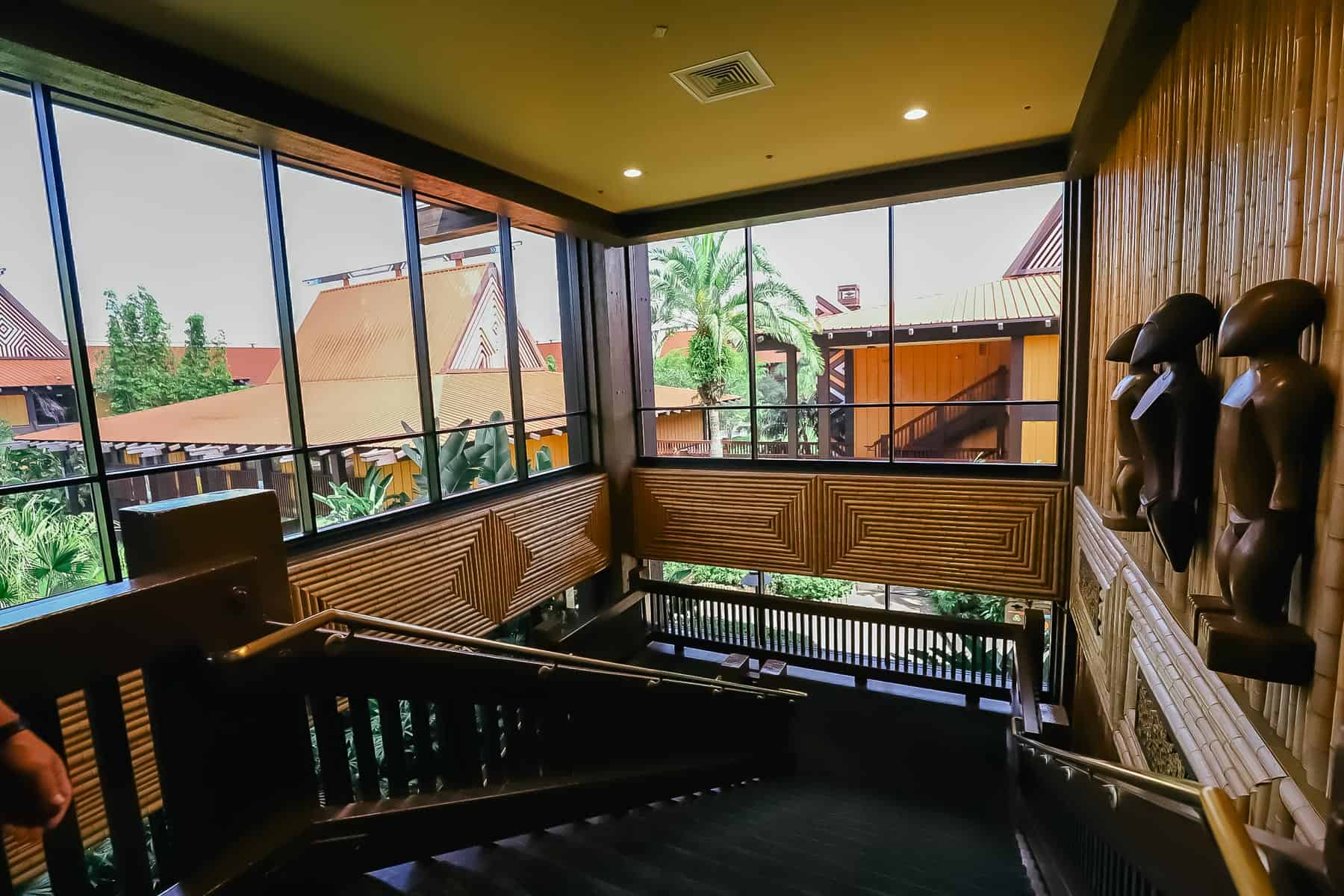 A second sitting area is available on the second floor. Anyone can use this space. But most guests sit here while waiting to be called for a dining reservation at 'Ohana or Kona Cafe. Often, servers from Tambu Lounge will service the area in the evenings.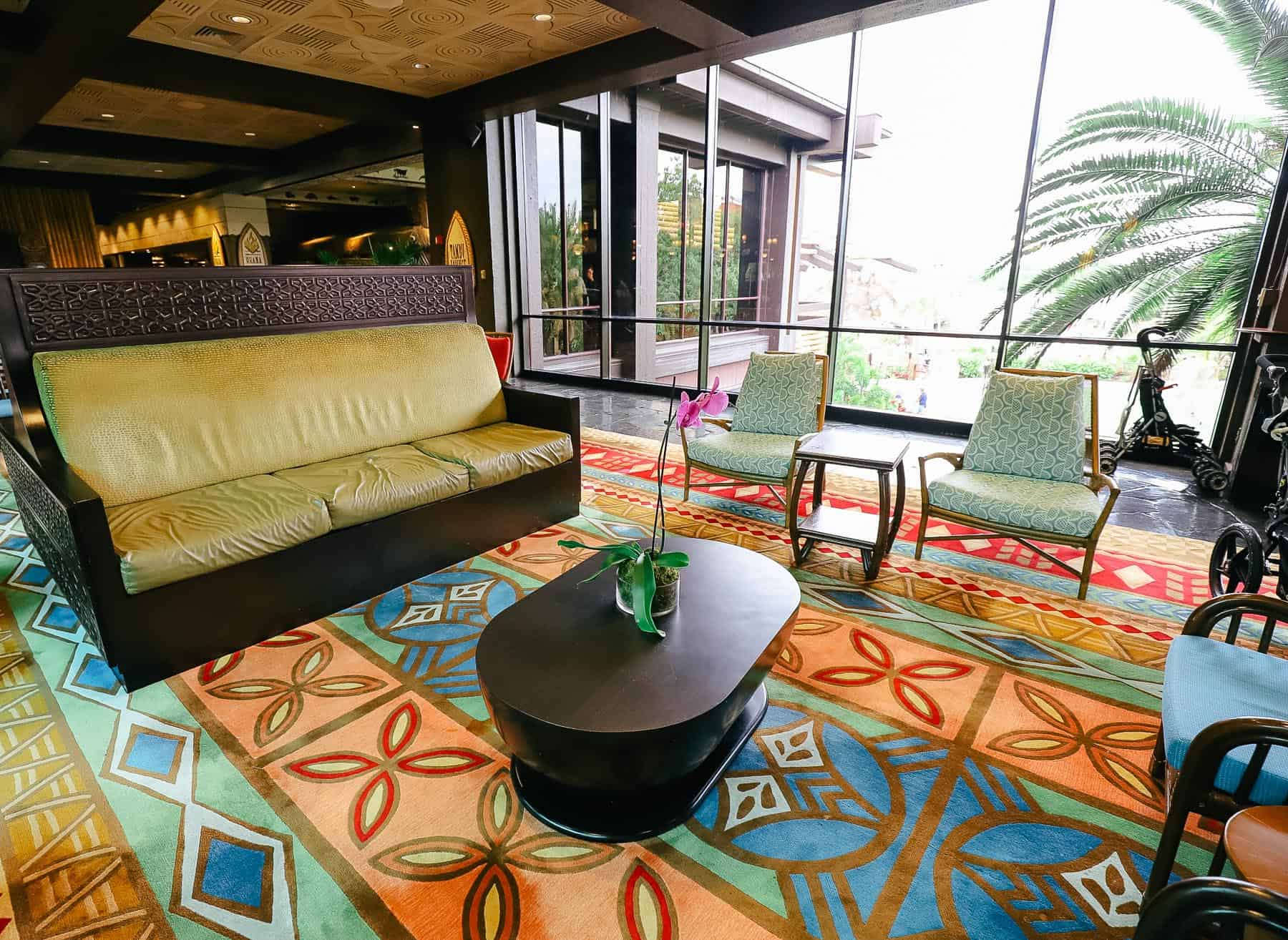 Make sure to look for hidden Mickey's. You'll find an abundance of them within the Great Ceremonial House.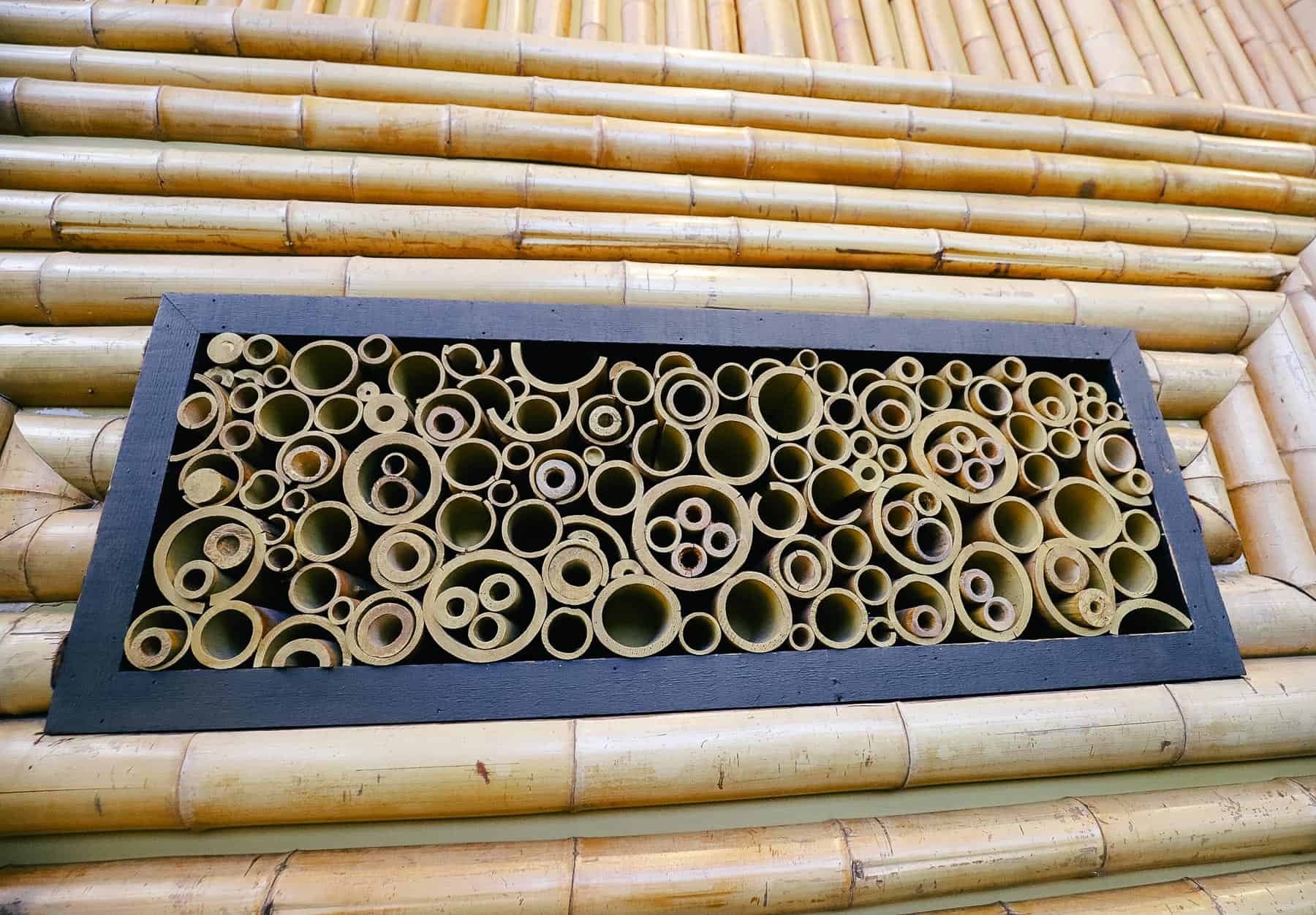 But there's one special hidden Mickey you might care to locate. The builders installed this one in 1971 when the Polynesian was built.
It's three nailheads formed to make a hidden Mickey. It's in the wood outside a window frame that faces the monorail platform. If you're in the Great Ceremonial House, you'll walk up to the long bar behind Kona Island. It's a couple of windows down from the door that leads out to the monorail.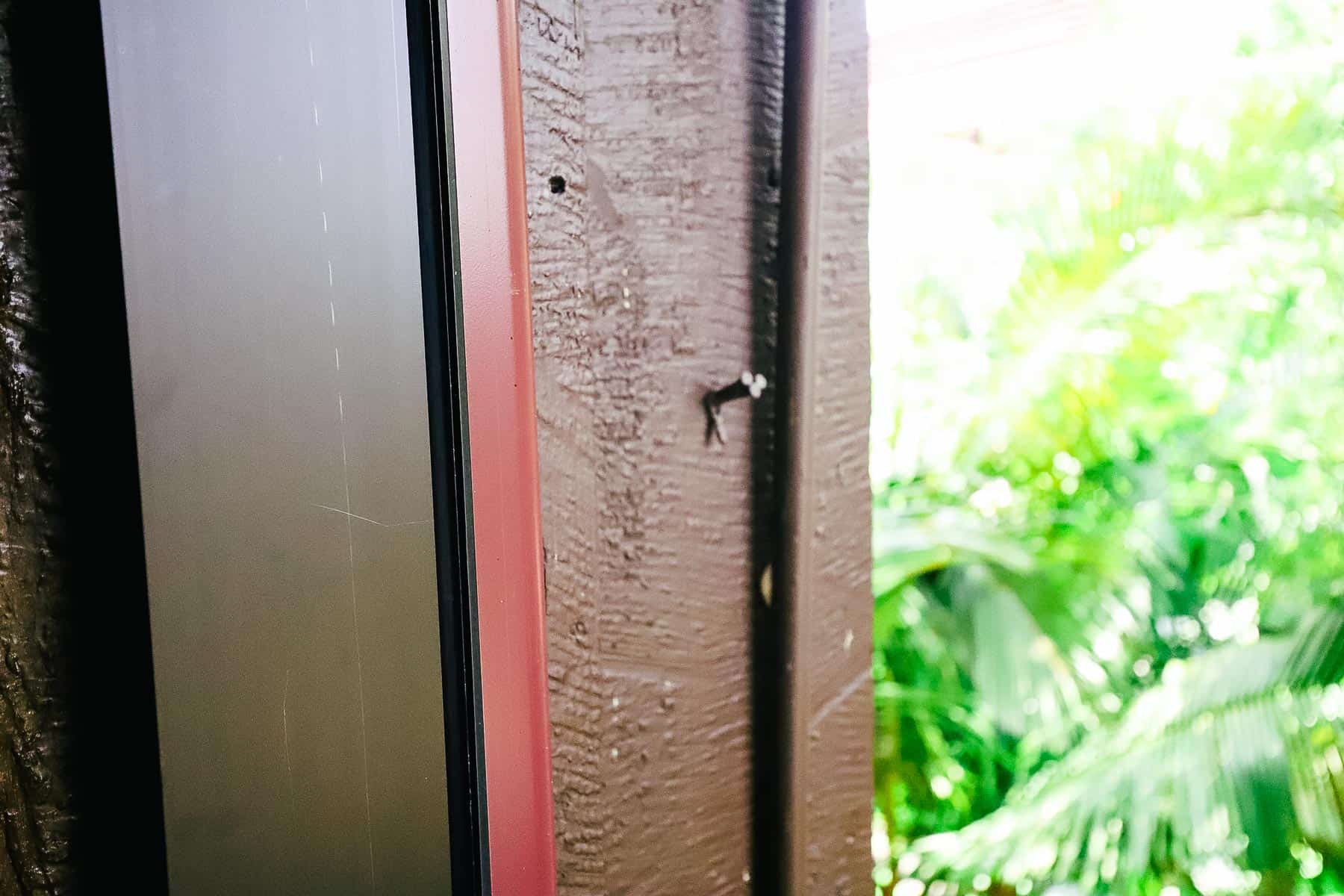 Here is a view of the Great Ceremonial House from the resort side.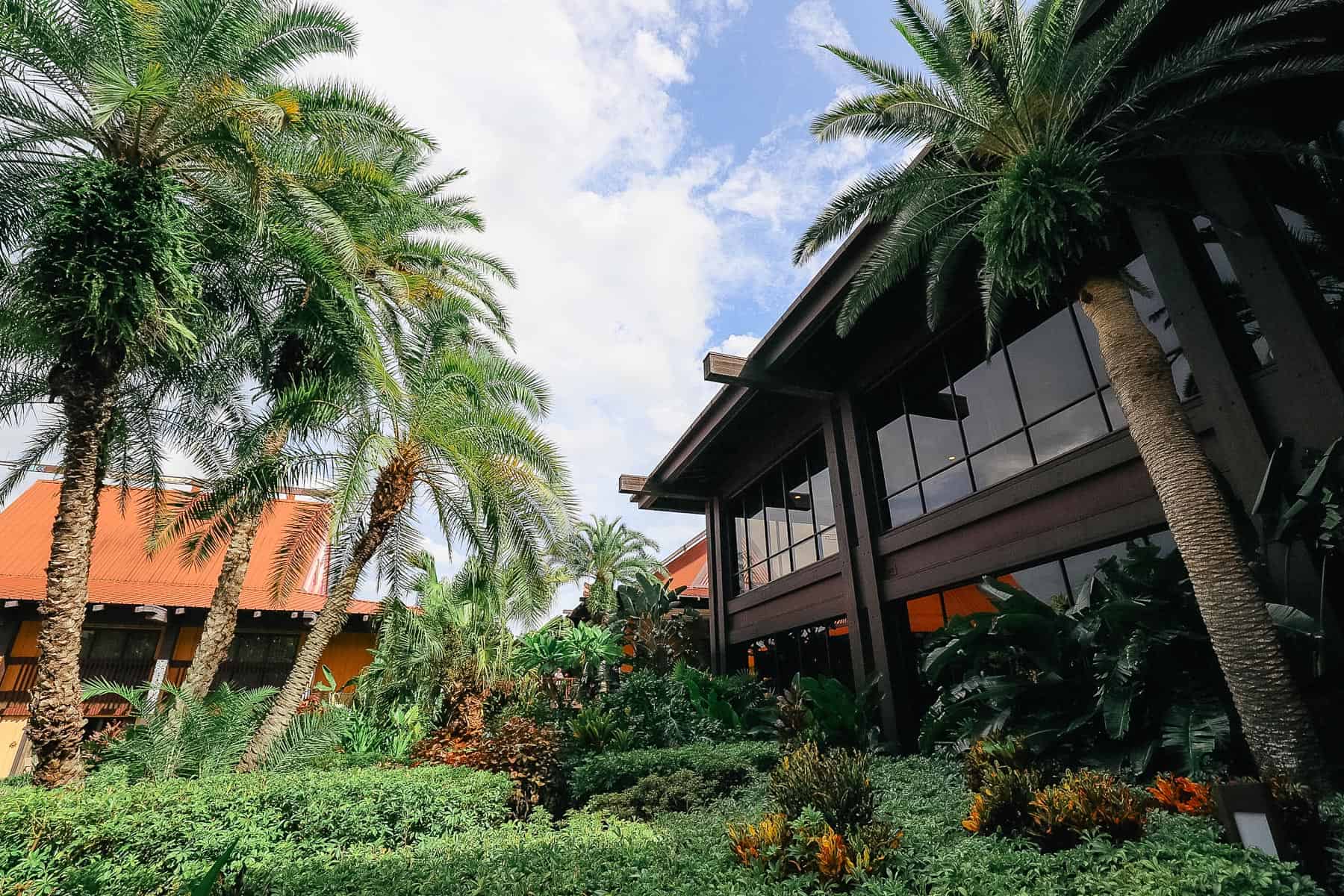 Tropical Grounds
Disney's Polynesian offers beautiful vegetation featuring palm trees and flowers. The landscaping was planted so that something is always blooming no matter when you visit.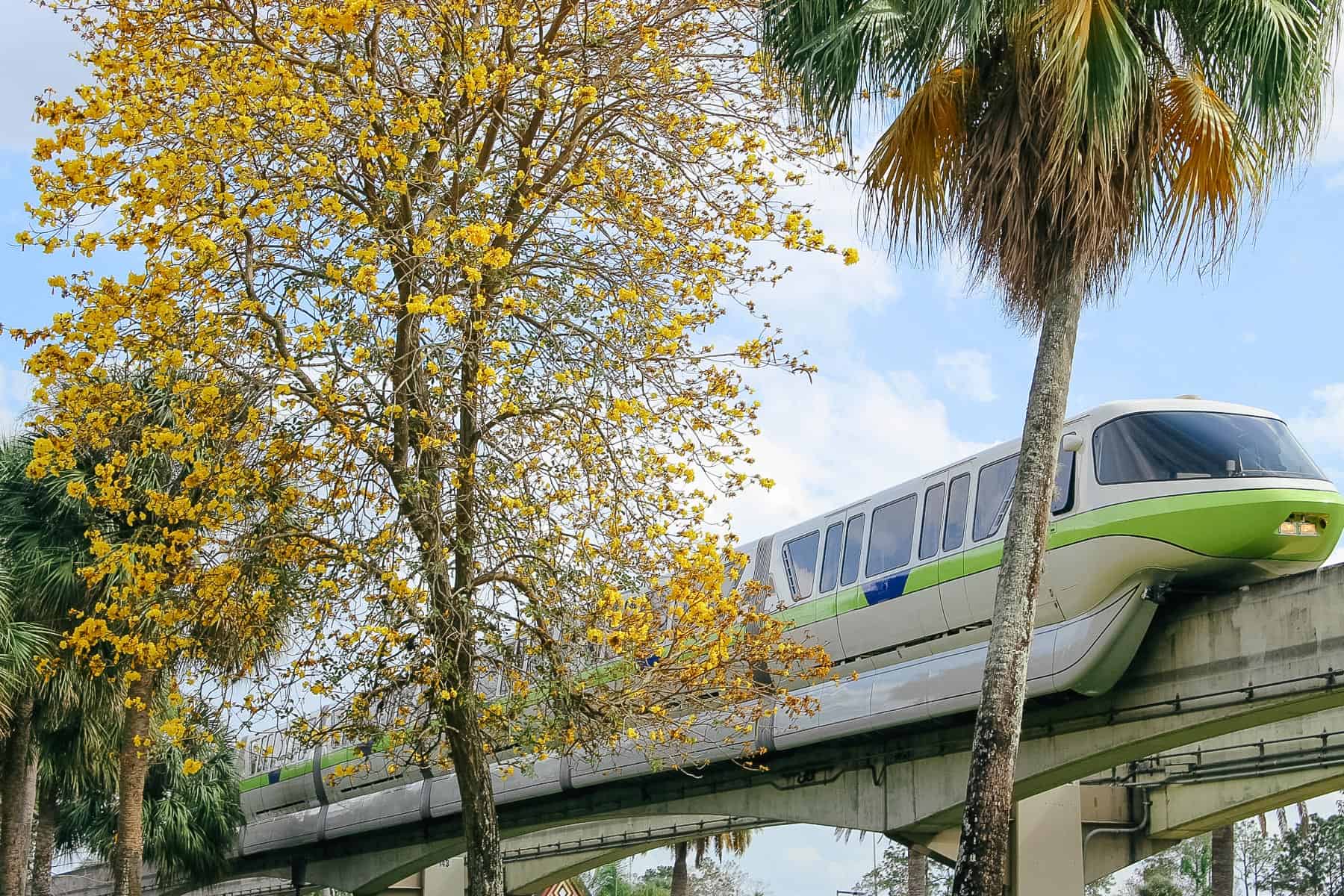 But if you're lucky enough to visit when the flowering trees bloom, you're in for a treat.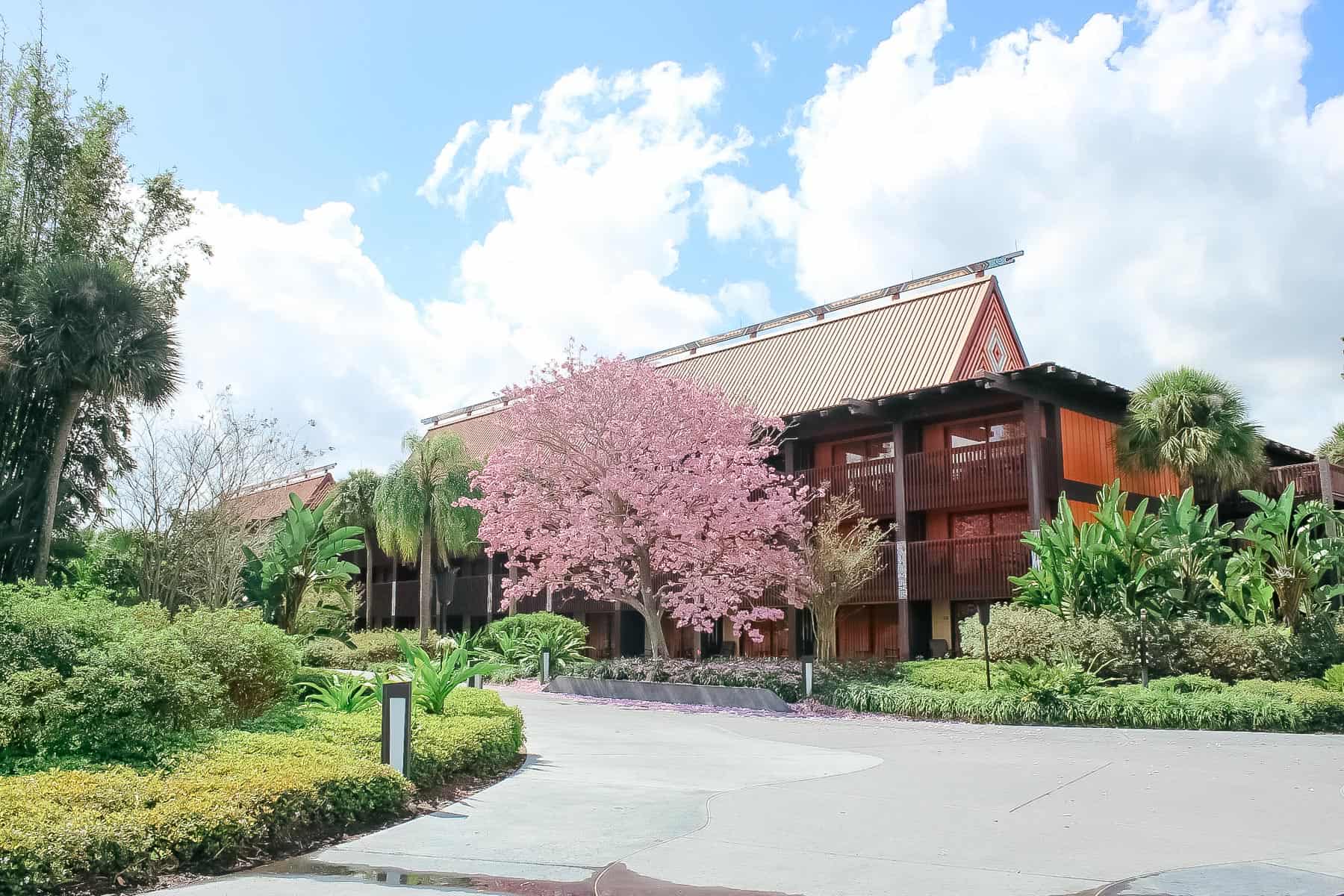 They bloom several times throughout the year and are stunning.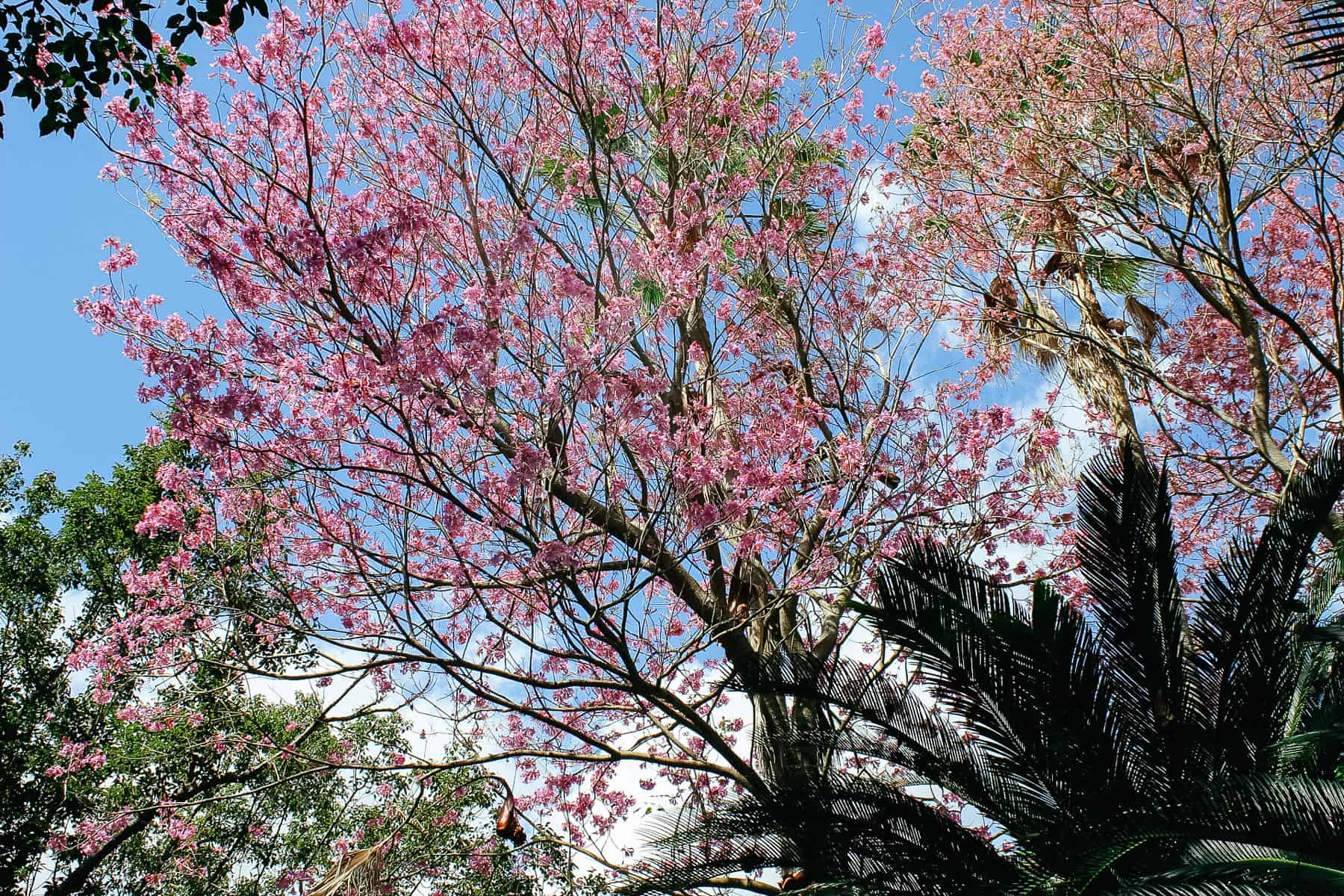 Polynesian Longhouses
Disney's Polynesian comprises buildings called longhouses scattered across the property. Each longhouse provides interior hallways with room access while maintaining the traditional feel of a Polynesian-style village.
However, you must walk across the resort's grounds to access your building. Here are the names of the longhouses at Disney's Polynesian Resort:
Pago Pago
Moorea
Tokelau
Hawaii
Samoa
Niue
Rarotonga
Tonga
Aotearoa
Fiji
Tuvalu
Club-level rooms are in Hawaii, and suites are in Tonga. Disney Vacation Club units are in Pago Pago, Moorea, and Tokelau. Standard guest rooms are in Samoa, Niue, Rarotonga, Aotearoa, Fiji, and Tuvalu.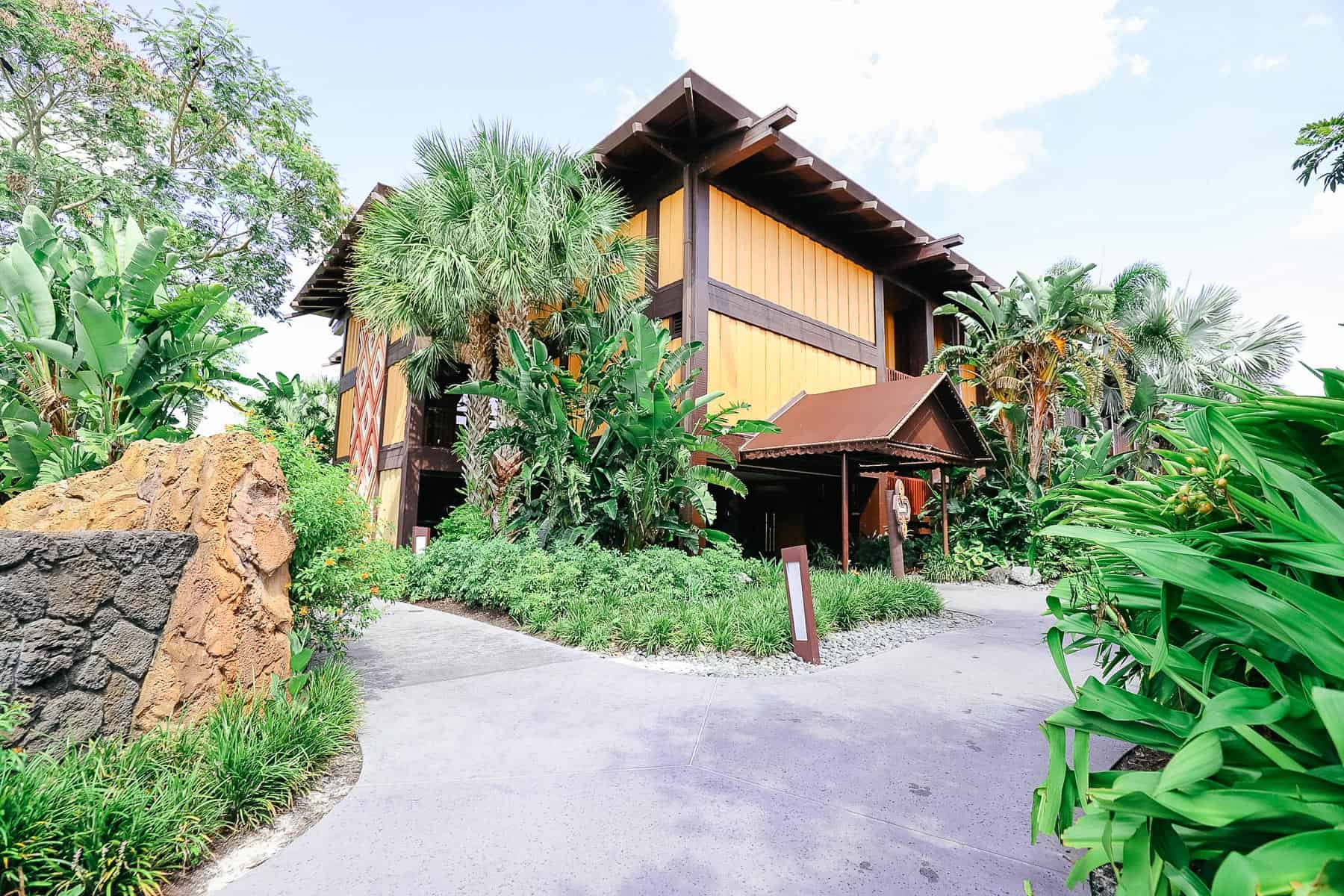 King Kamehameha Club
Disney's Polynesian has a club level called the King Kamehameha Club. This special concierge longhouse provides a two-story lounge with various food and beverage services throughout the day.
We have a separate review of the King Kamehameha club level if you want to learn more. While it is expensive, those who spend a decent amount of time at the resort can reap the benefits of the lounge.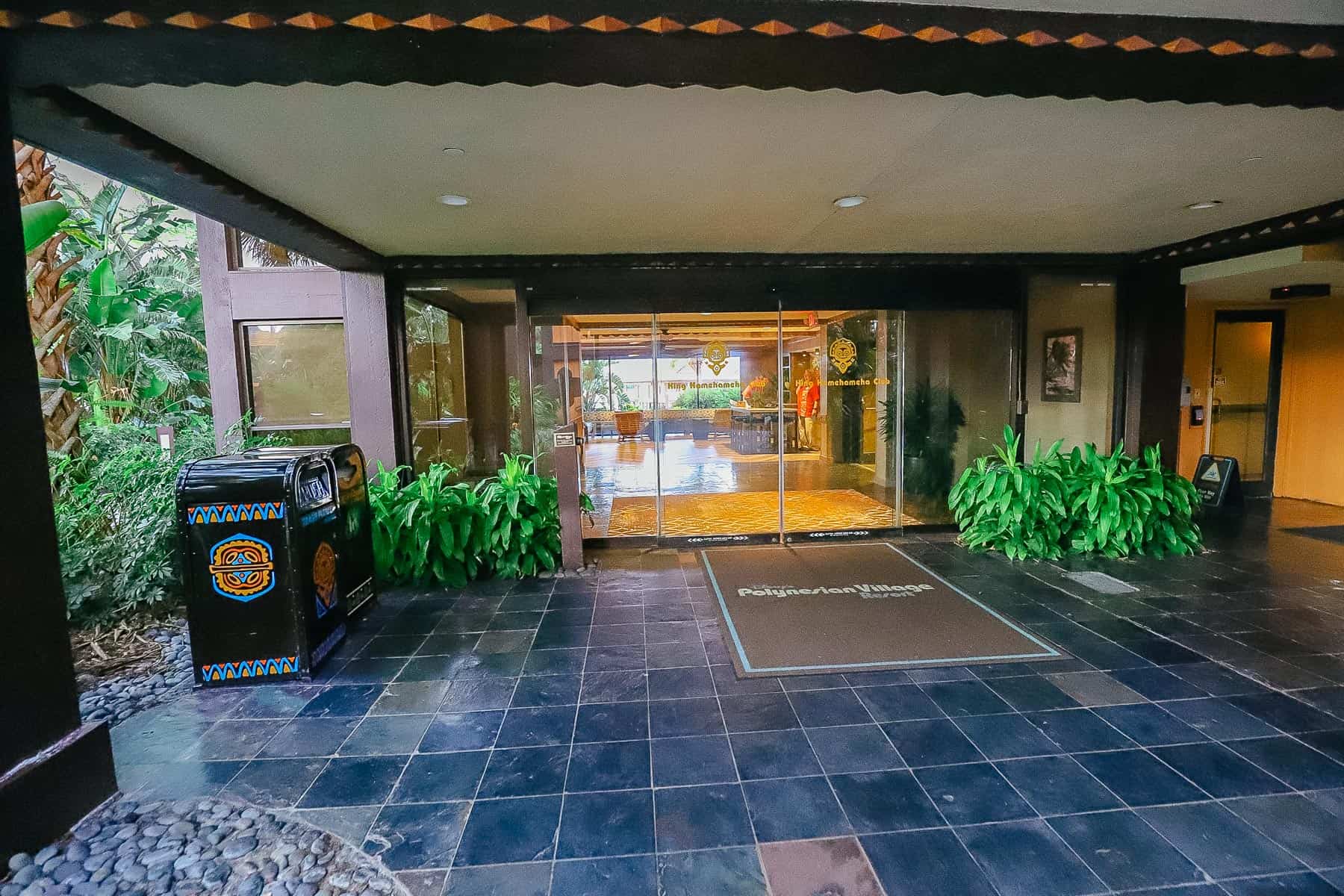 Bungalows
Additionally, the Bora Bora Bungalows sit over the edge of the Seven Seas Lagoon. For most of us, a stay here is one of those maybe someday or bucket list items. They are among the most expensive accommodations at the Walt Disney World Resort.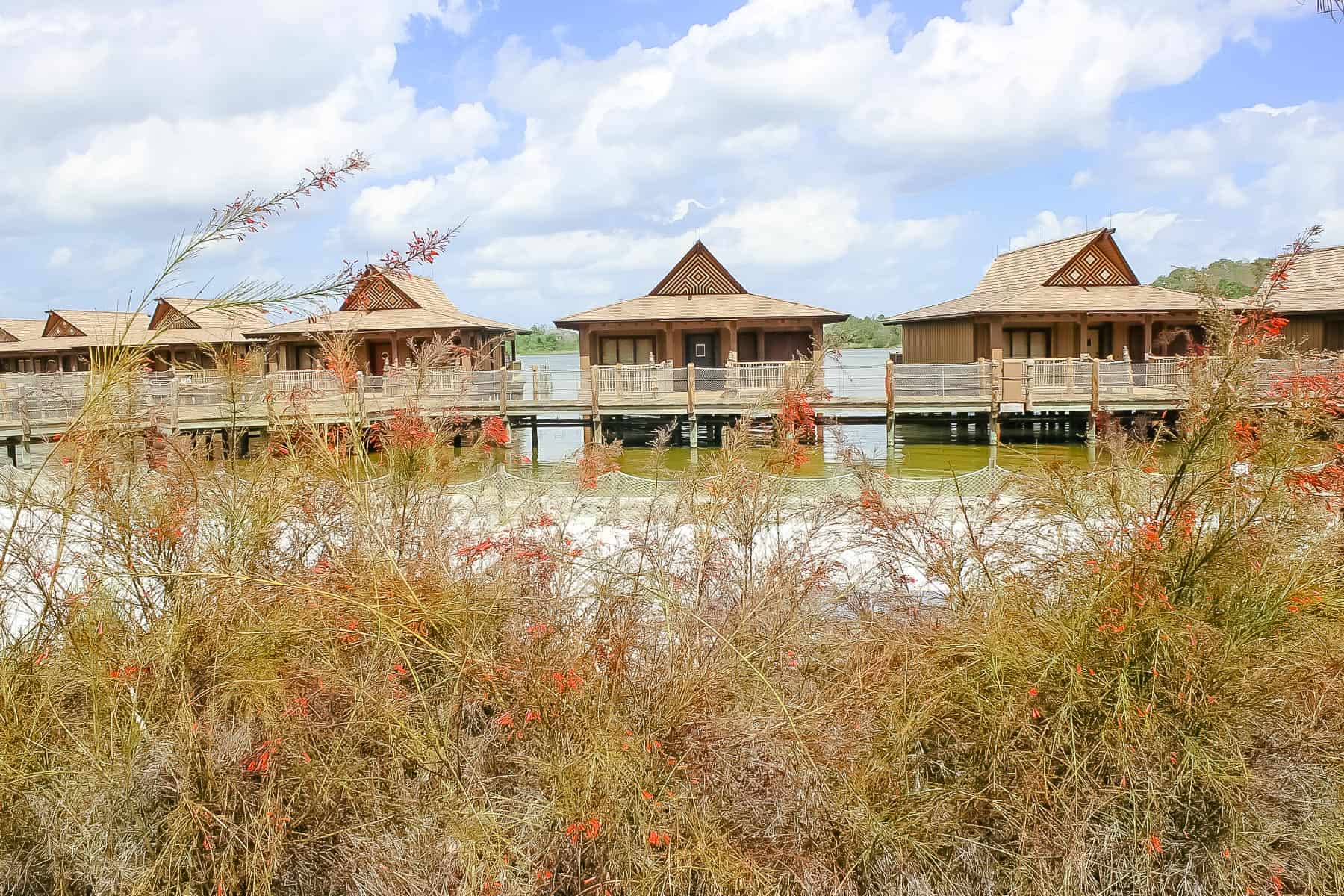 Dining
When it comes to dining, Disney's Polynesian has plenty of options. While it's not our favorite resort option for serious foodies, it's not too far off. You'll be able to find a sufficient number of quick services, mobile order options, and table service restaurants at the resort.
Many of the resort's restaurants include Asian, Hawaiian, and American cuisine. So, if you have picky eaters in your party, you'll still have choices like cheeseburgers and chicken nuggets. We have an entire dining guide dedicated to the restaurants at Disney's Polynesian Resort. Below, we'll briefly go over each one.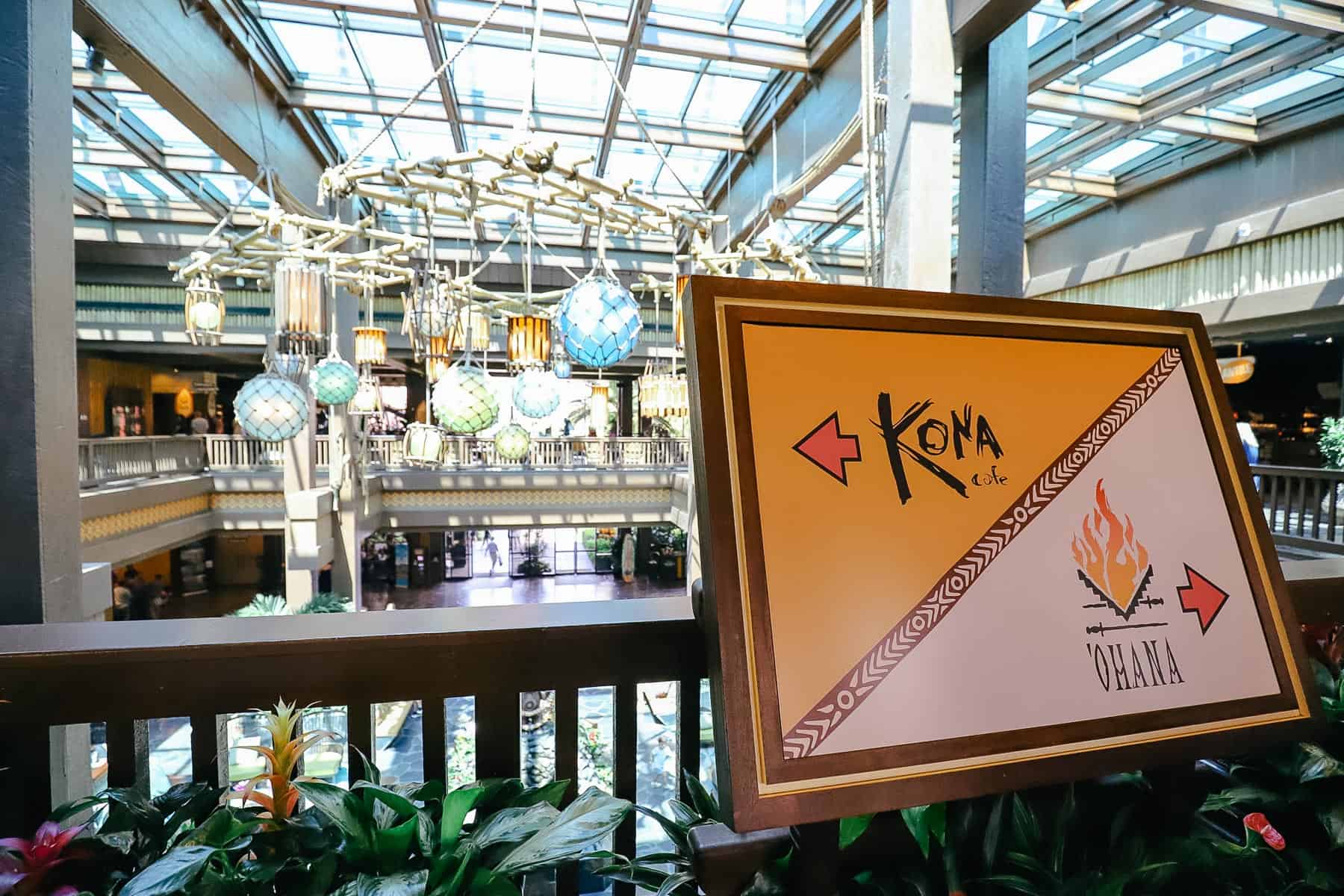 Captain Cook's
Captain Cook's is the primary quick-service restaurant at Disney's Polynesian Resort. This location has Polynesian favorites like Thai coconut meatballs and Pan Asian noodle salad, along with burgers, chicken nuggets, plant-based items, and more.
Captain Cook's serves breakfast, lunch, and dinner. They have indoor and outdoor seating areas and accept mobile orders via the My Disney Experience app. We have a review of Capt. Cook's that includes photos of the items we've tried and pictures of the grab-and-go items.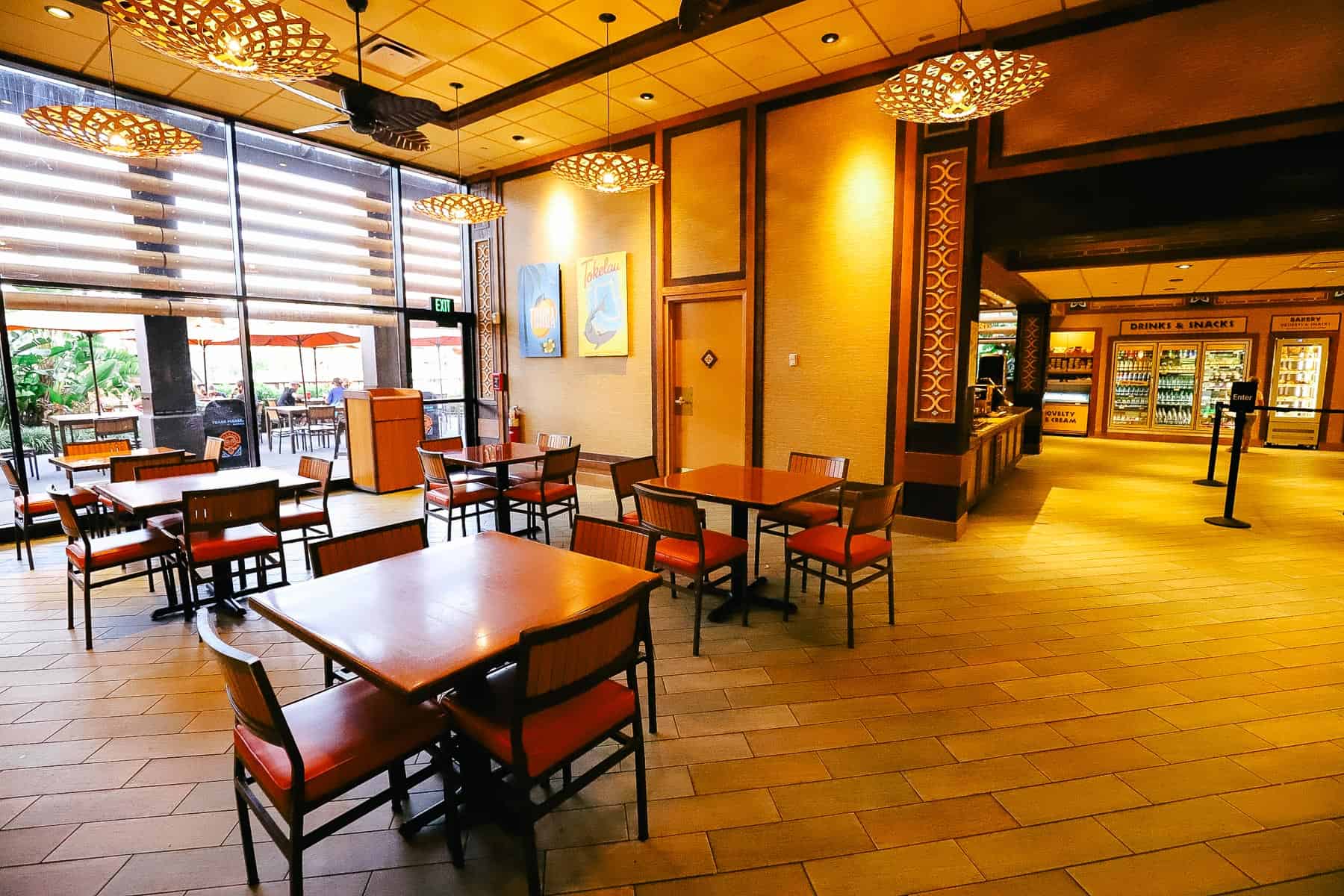 Trader Sam's Tiki Terrace
Trader Sam's Tiki Terrace is an outdoor lounge that offers the same drink menu as Trader Sam's Grog Grotto. They also offer an appetizer menu from later in the afternoon to the evening. It's a delightful place to enjoy the sunset.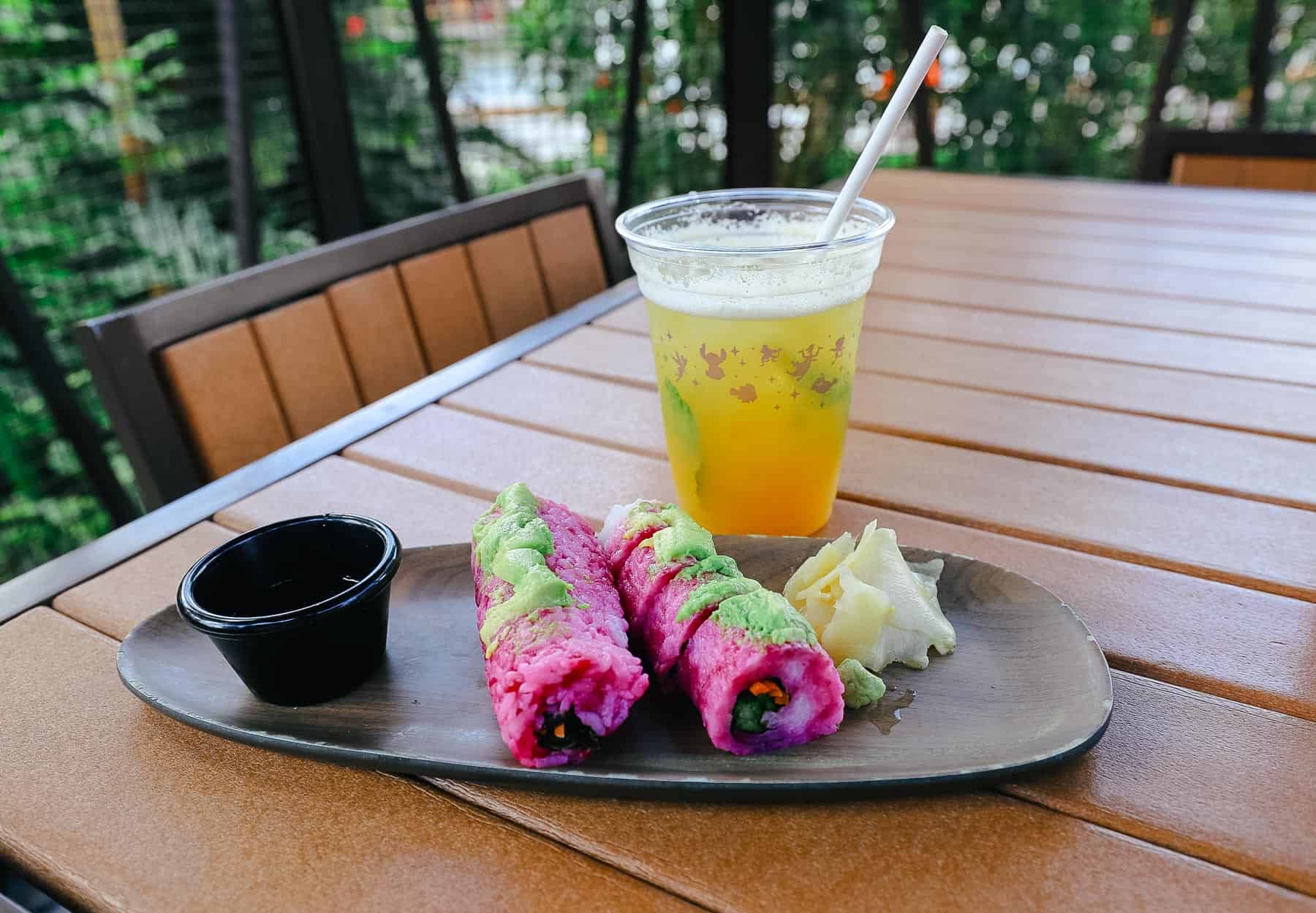 Trader Sam's Grog Grotto
Trader Sam's Grog Grotto is an indoor bar off the lobby of the Polynesian. They usually open at 3:00 p.m. and often have a line of guests wrapped around the hall, hoping for admittance. It's that popular. Get there early to get on their waitlist for a seat.
Kona Cafe
Kona Cafe is a table service restaurant on the second floor of the Great Ceremonial Houses. Prices are reasonable at this restaurant. They offer a combined menu with American and Asian flavors, including sushi.
Kona Cafe is open for breakfast, lunch, and dinner. They also accept mobile orders if you want to get something and return it to your room. We have a review of dinner at Kona Cafe.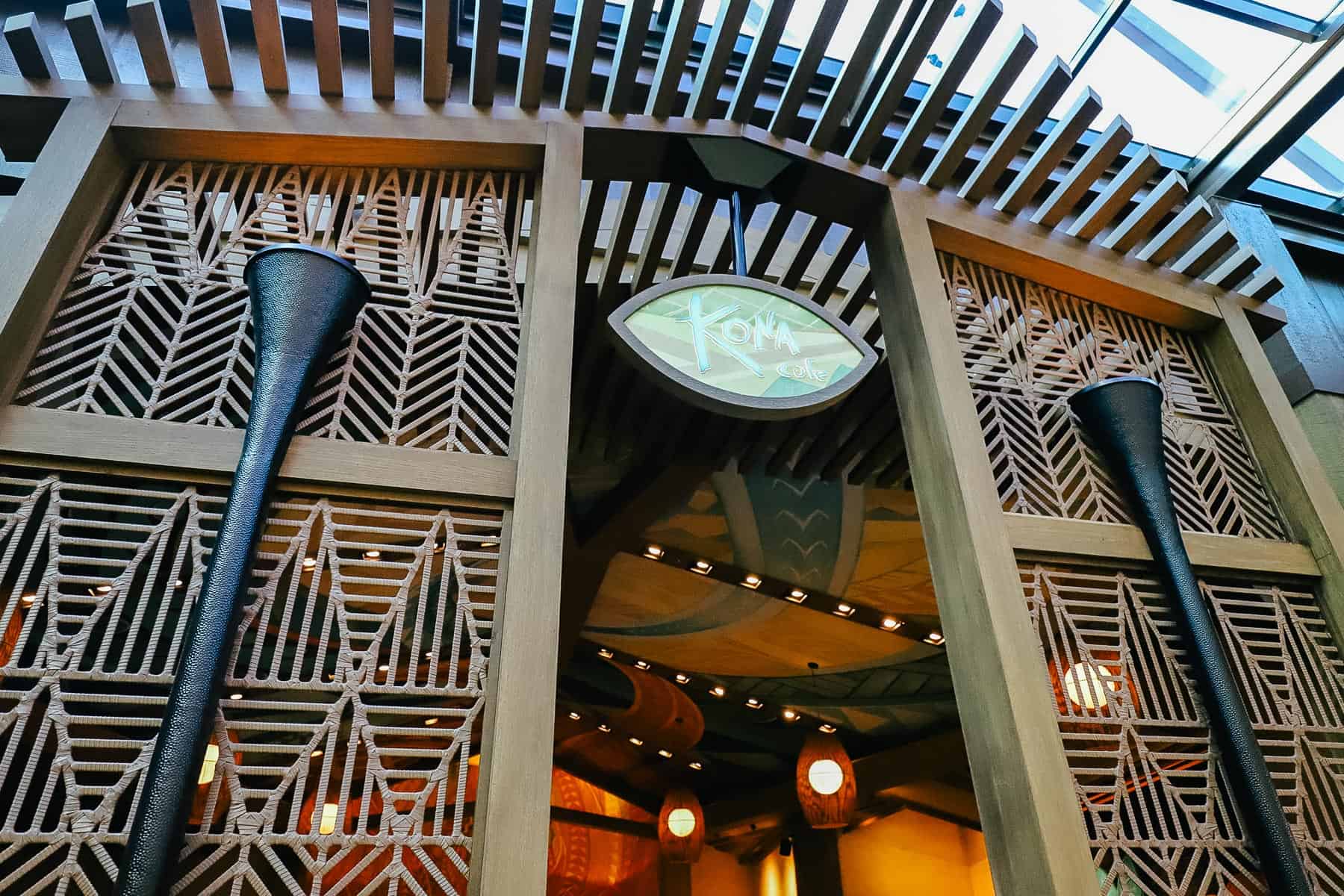 'Ohana
'Ohana sits around the corner from Kona Cafe, offering two separate services per day. First, the 'Ohana Best Friends character breakfast is available each morning. It's an all-you-care-to-enjoy skillet meal with Stitch, Lilo, Pluto, and Mickey Mouse.
In the evening, 'Ohana is a family-style Polynesian feast with various meats, noodles, vegetables, and dessert. This meal is not character dining like breakfast. We have a separate review of whether or not dinner at 'Ohana is worth it. It is relatively expensive, especially for larger groups.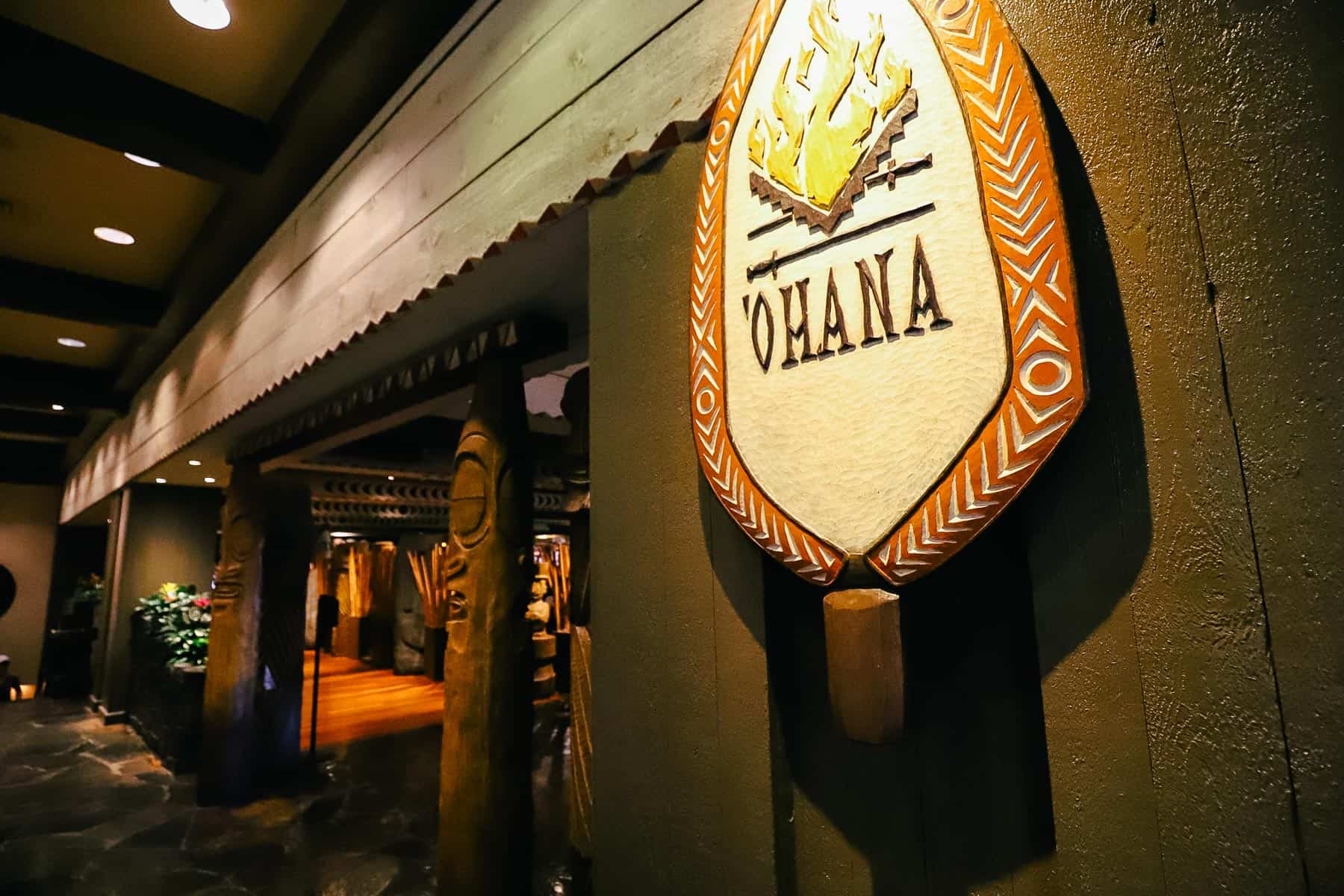 Tambu Lounge
Tambu Lounge is on the second floor of the Polynesian's lobby. They have a bar and lounge-style seating. As we mentioned earlier, the lounge extends to the lobby's second-floor seating area. There is, on occasion, a server who waits on guests in this area.
Kona Island
Kona Island is a small stand on the resort's second-floor lobby. They are mostly known for their coffee offerings and strips of chocolate-covered bacon. Other items include sushi in the evening and a case filled with various treats.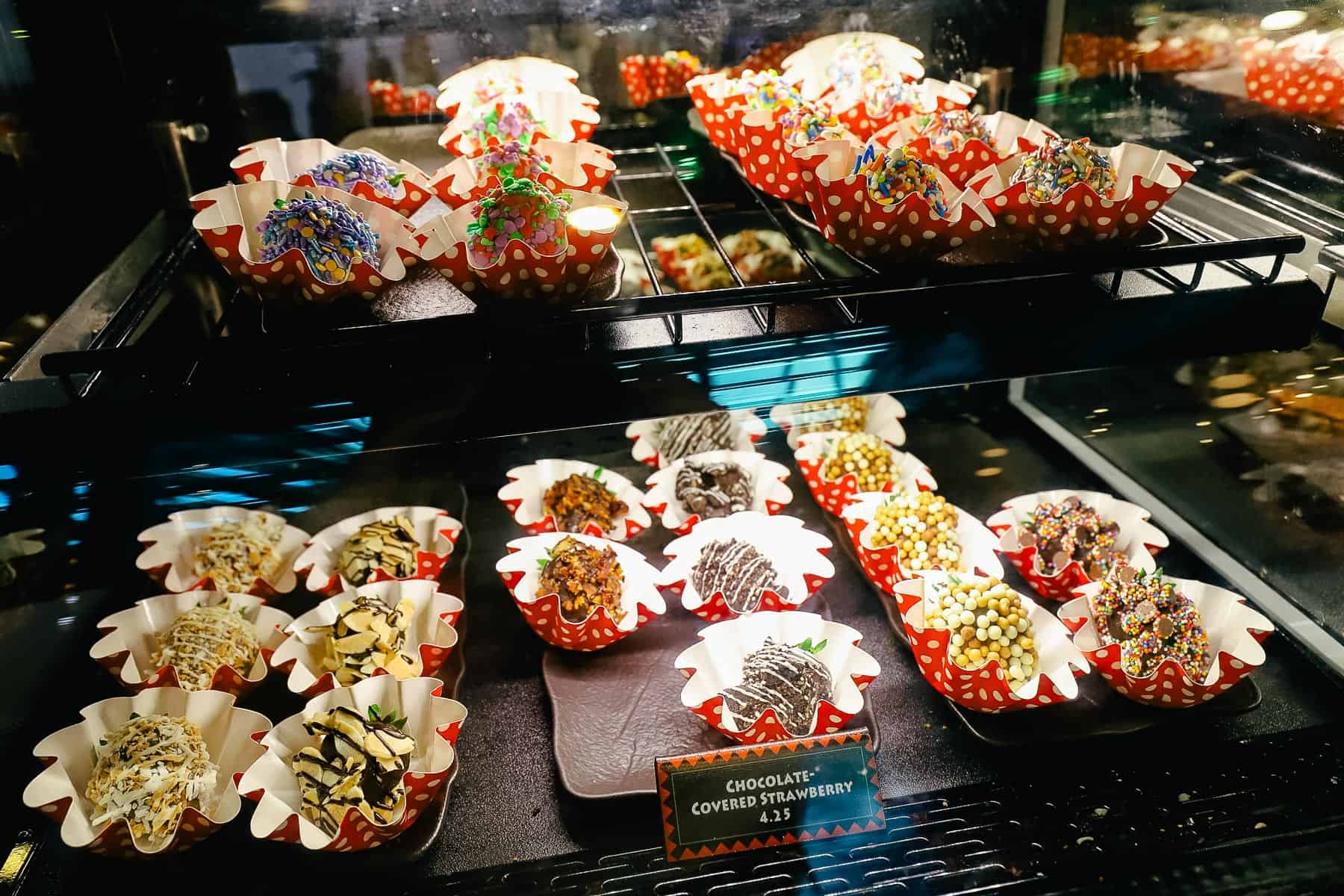 Pineapple Lanai
Pineapple Lanai is outside the back entrance of the Great Ceremonial House. This location focuses on Dole Whip Treats. Good luck finding a seat nearby, and don't be surprised if you find a long line.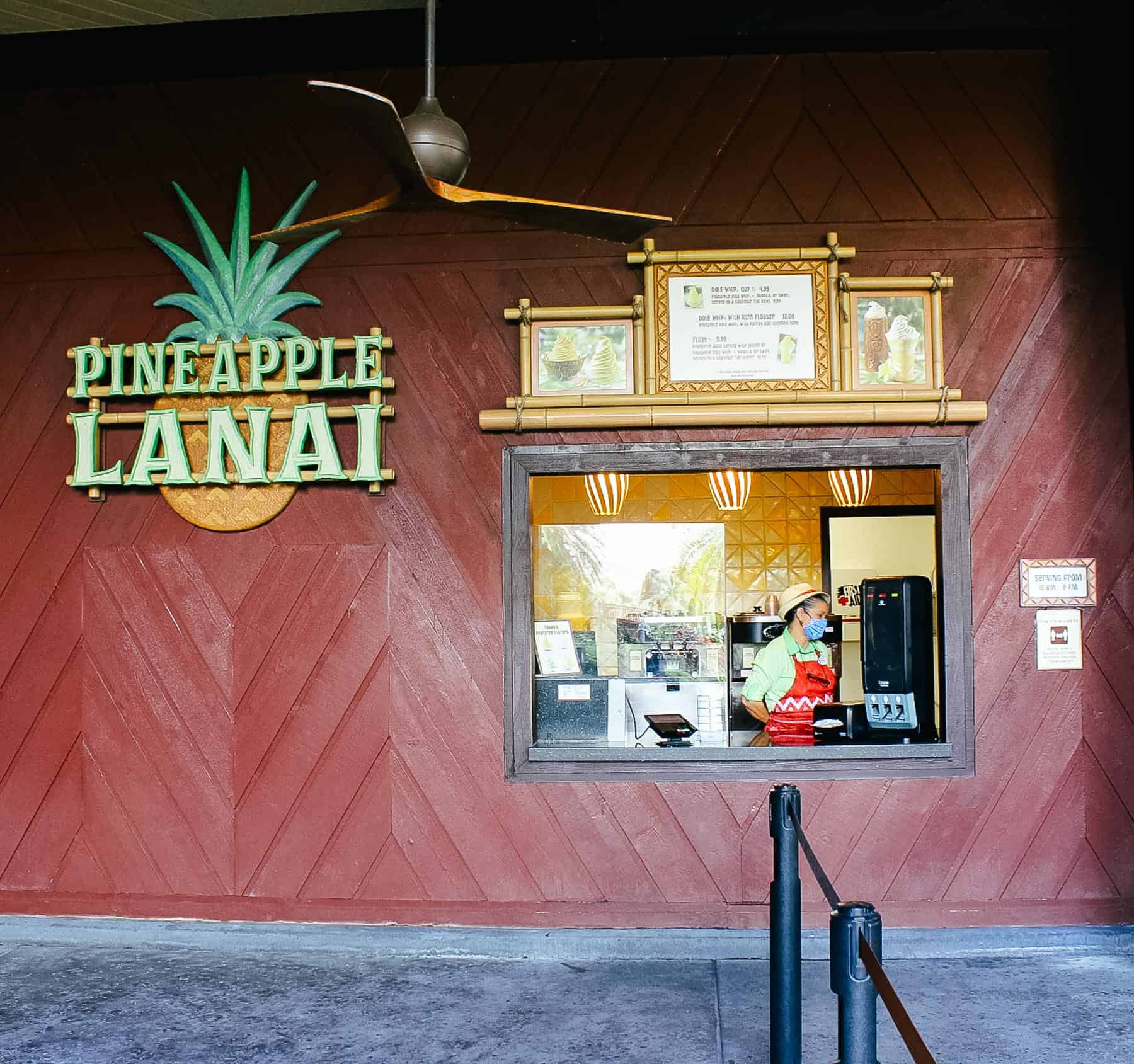 Barefoot Pool Bar
The Barefoot Pool Bar is located at the Polynesian's Lava Pool. This bar has a popular drink menu that includes the Pago Pago Painkiller. If you're visiting the resort as a day guest, the bar has a separate walk-up area on the marina side.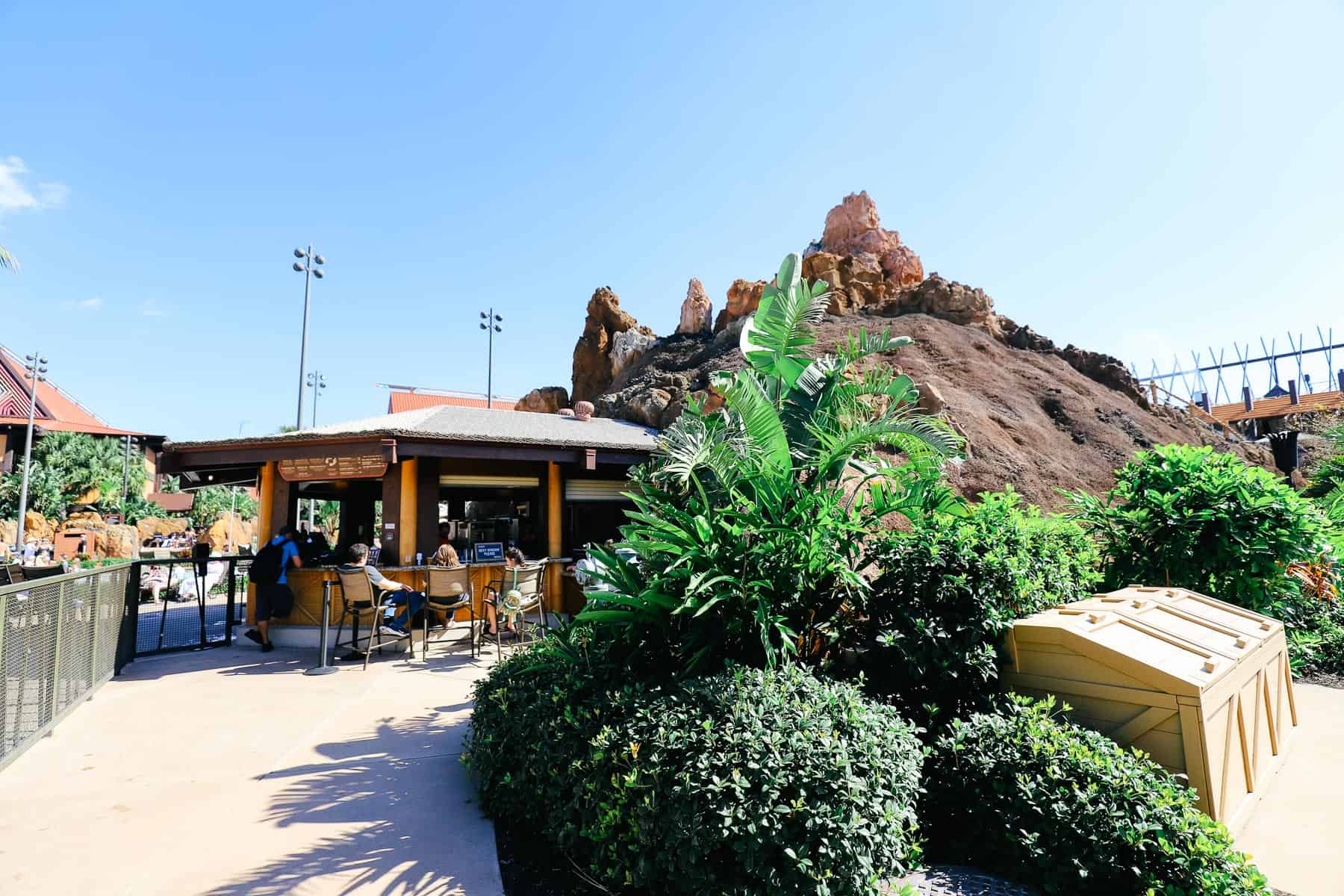 Oasis Bar & Grill
The Oasis Pool Bar has an additional quick-service window exclusive to Disney's Polynesian Resort guests. They have an excellent covered outdoor seating area if you want to enjoy a meal by the pool.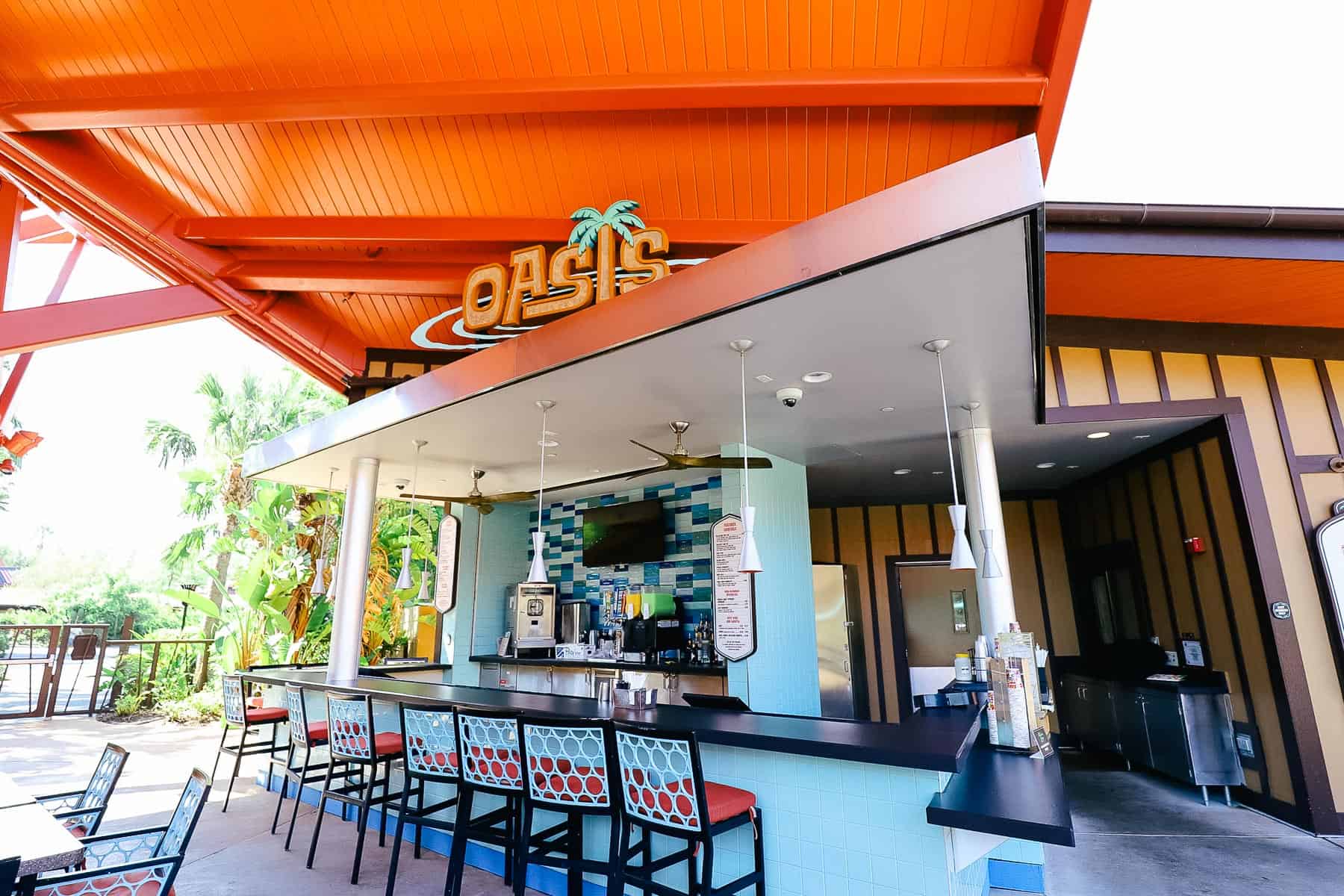 As you can see, you'll find plenty of places to grab a quick bite or enjoy a table-service restaurant during your stay. Or you can always hop on the monorail and enjoy nearby dining at the Grand Floridian or the Contemporary.
*Unfortunately, the former Spirit of Aloha dinner show is permanently closed.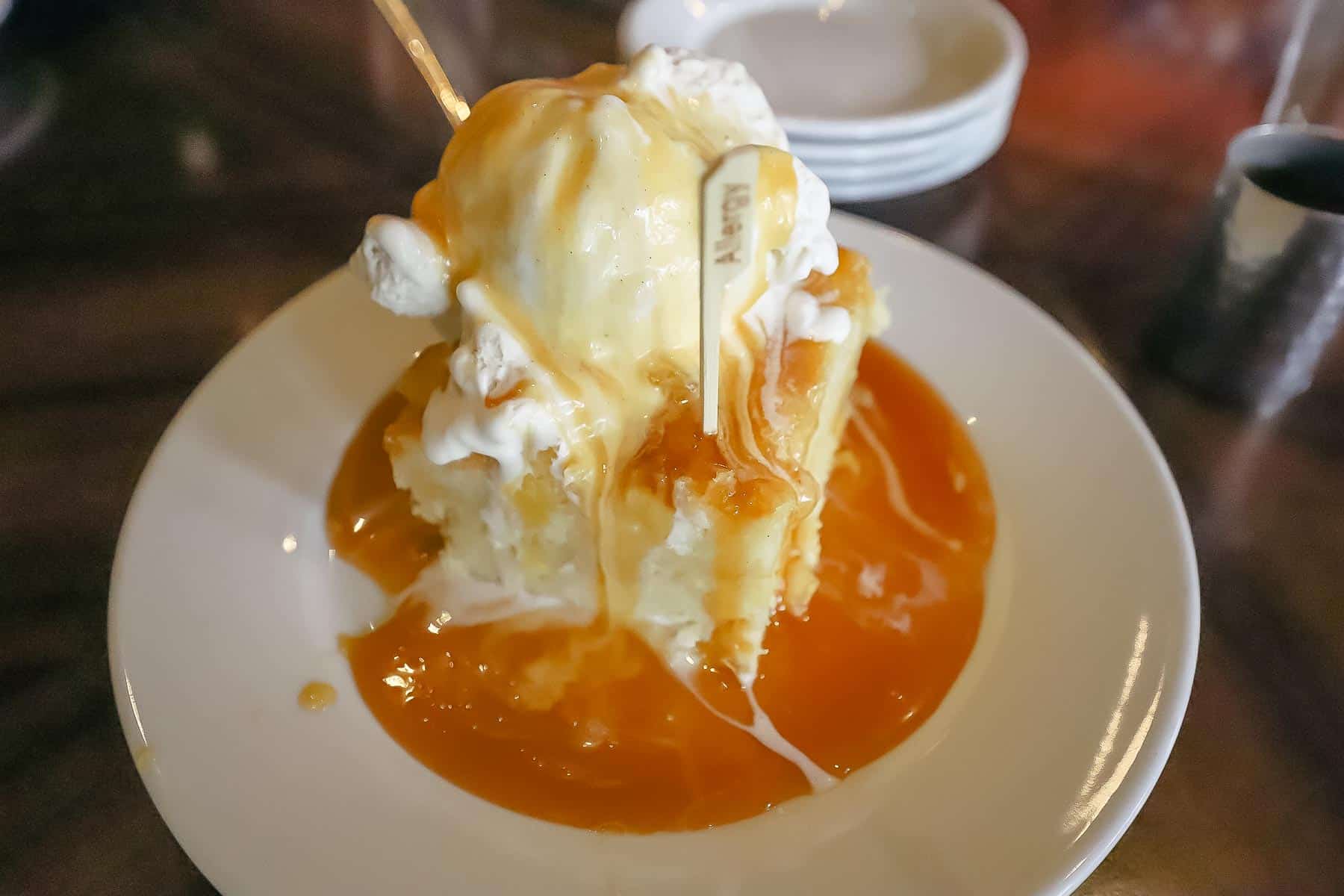 Pools
Disney's Polynesian has two pools, the Lava Pool and the Oasis Pool. Both pools are beautiful areas and a ton of fun. Unfortunately, our experience is that they are also nearly always over-crowded.
These photos were taken as soon as the pool opened. Some were taken before anyone was allowed in the water.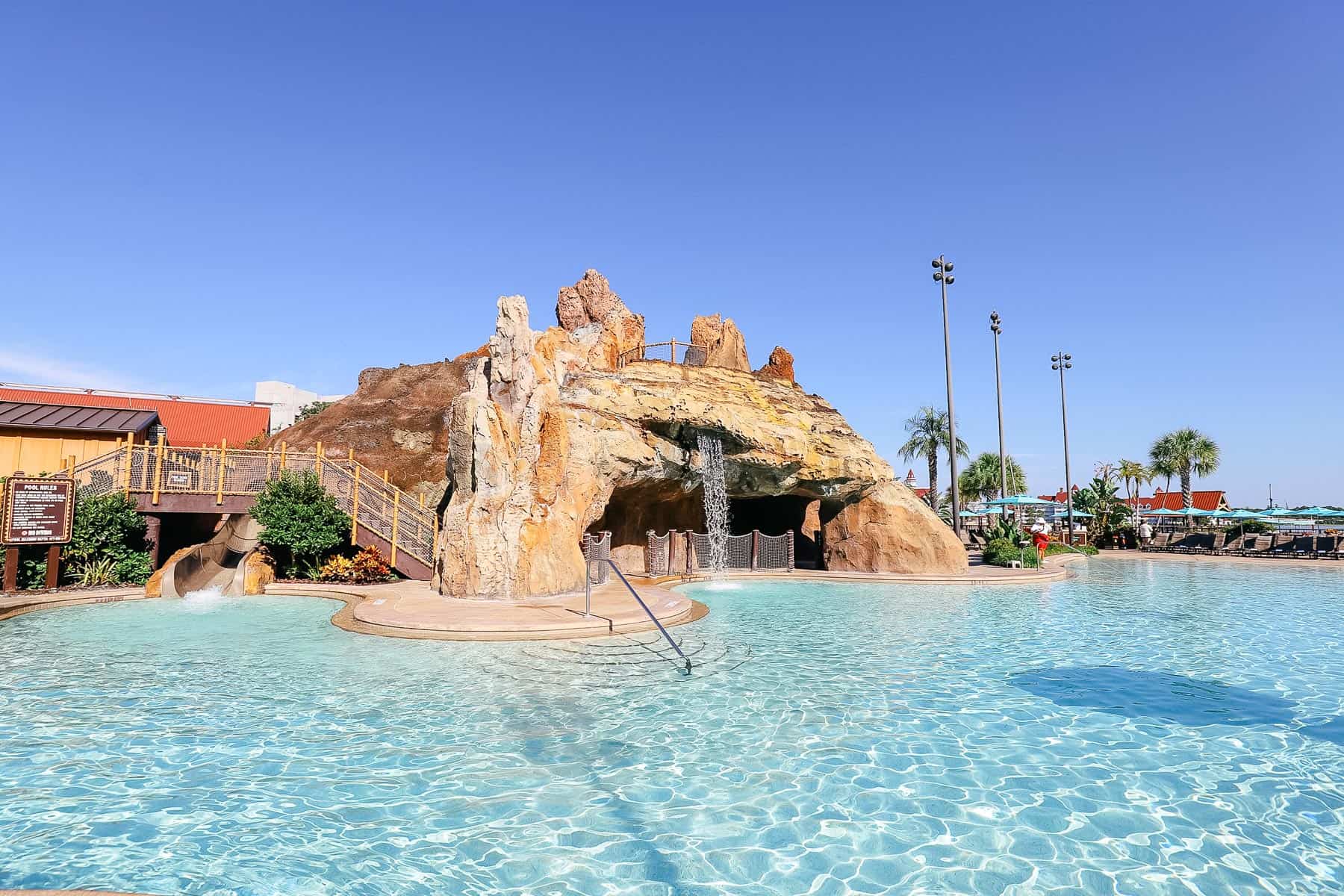 The Lava Pool is the Polynesian's feature pool. It sits directly behind the Great Ceremonial House and is themed to look like a volcano.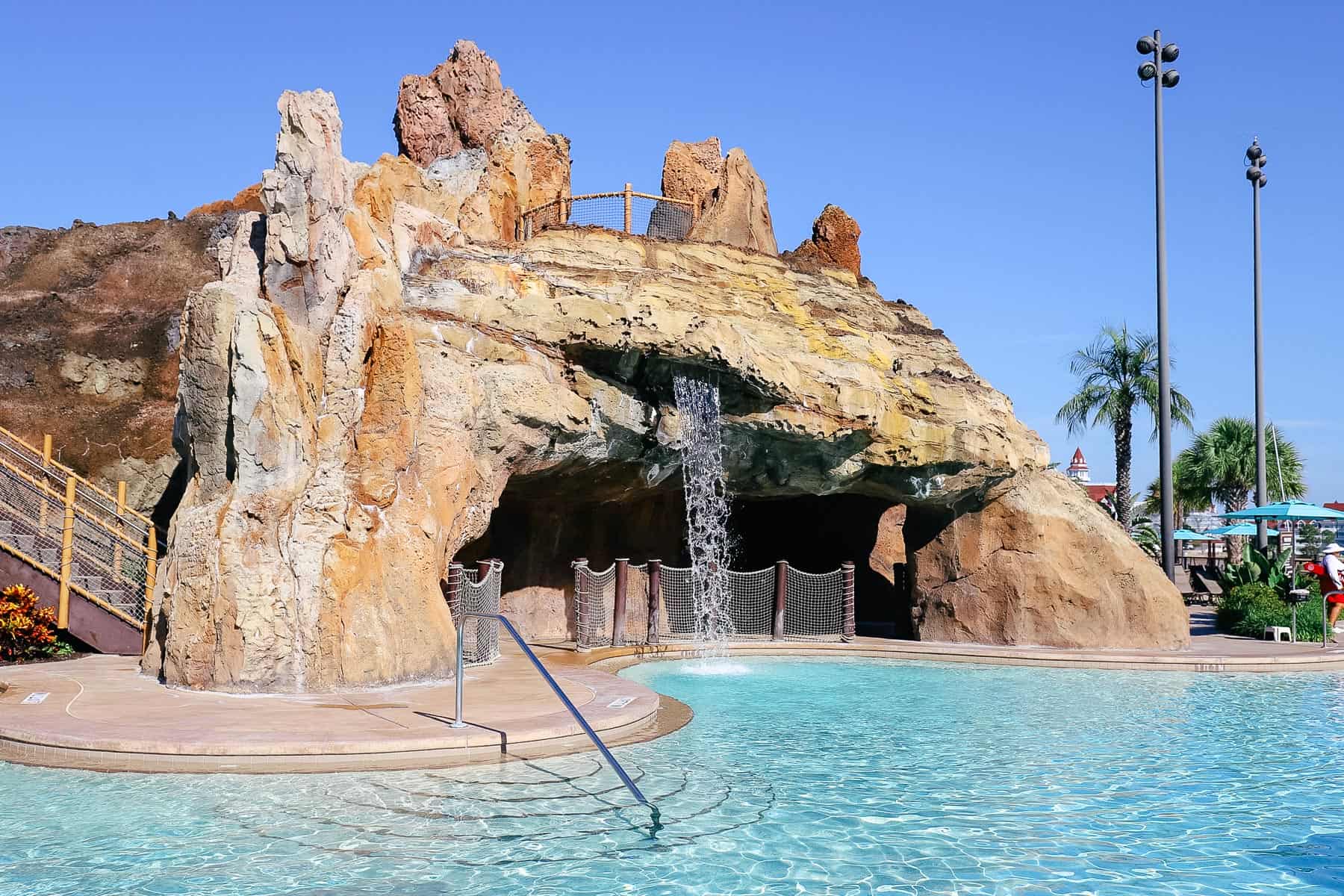 The Lava Pool has a zero-entry area on one side, a waterfall feature, and a 142′ long waterslide.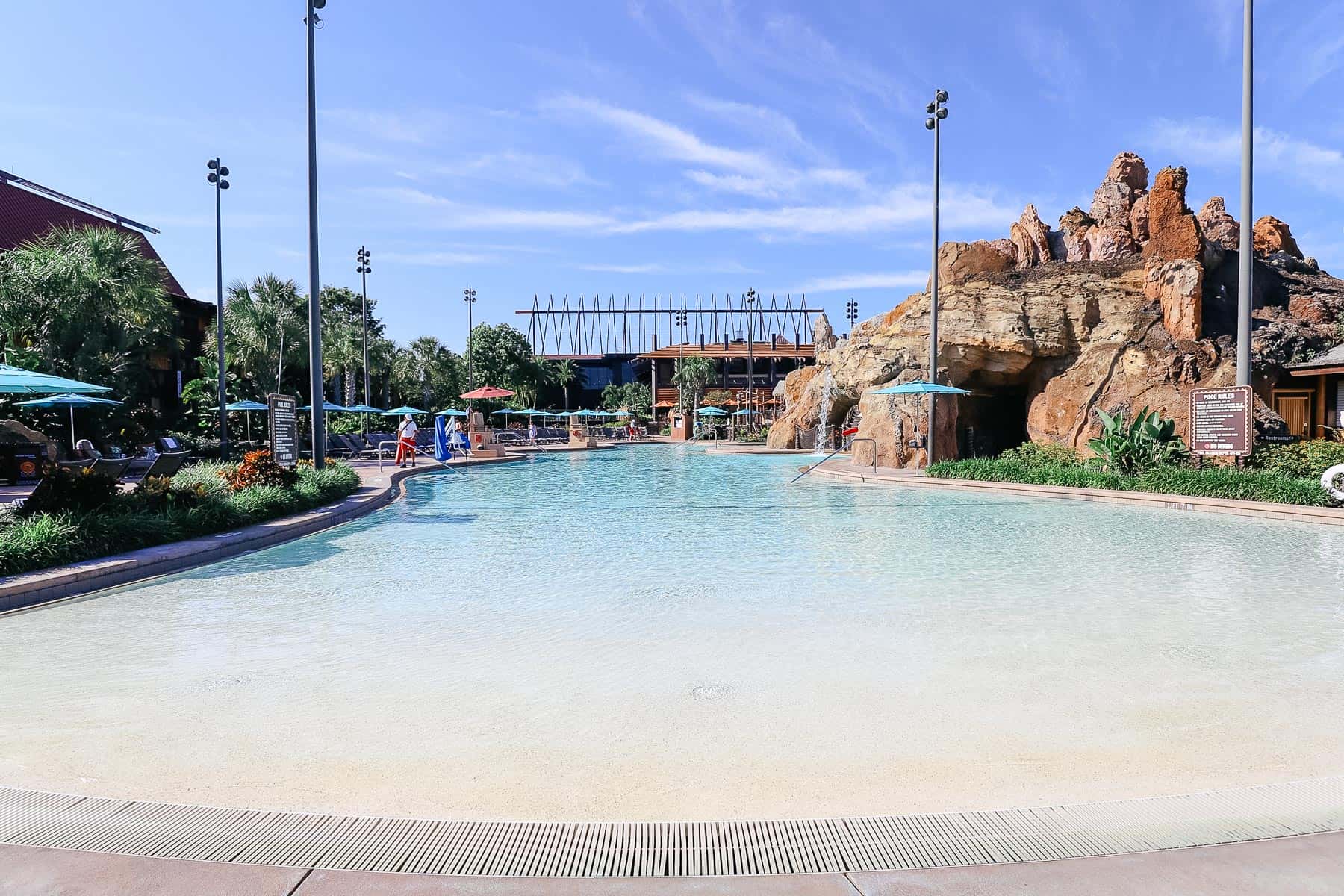 The waterslide is a lot of fun. It goes under this little walkway before dumping you out at the bottom.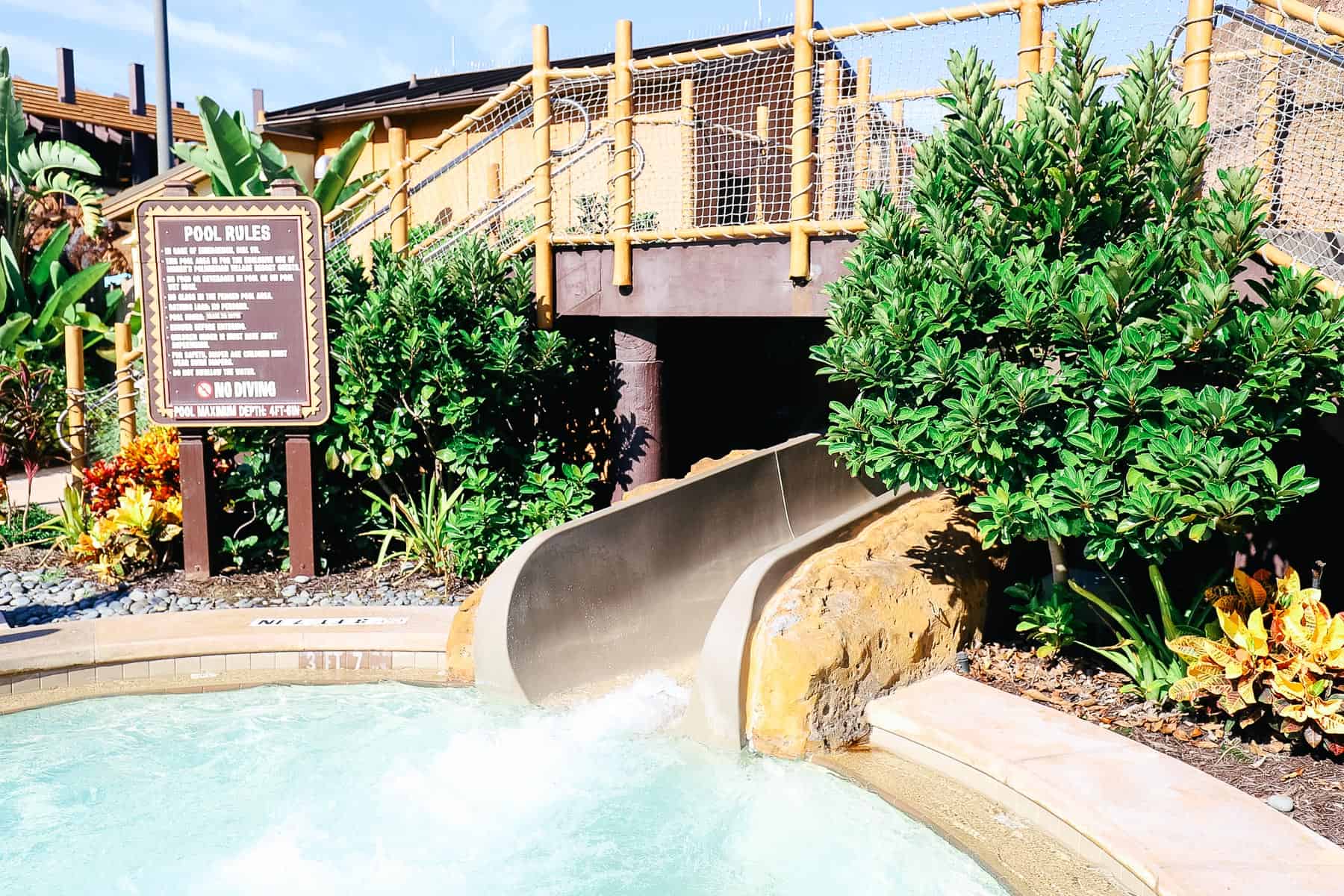 At the top, a traffic-style light turns green when it's the next person's turn. You'll have to walk up several flights of stairs to reach the top.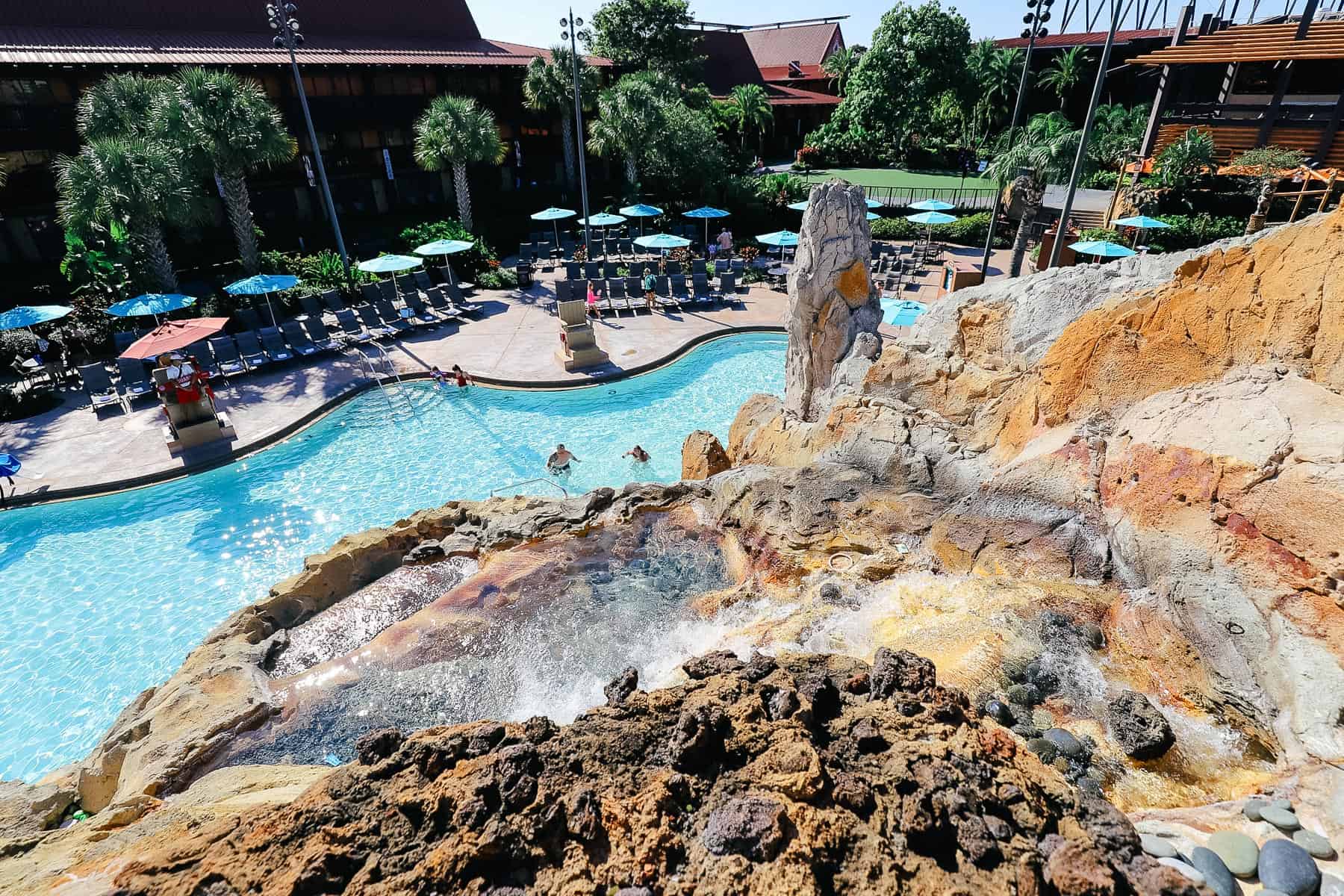 So, it's a long way down through the volcano.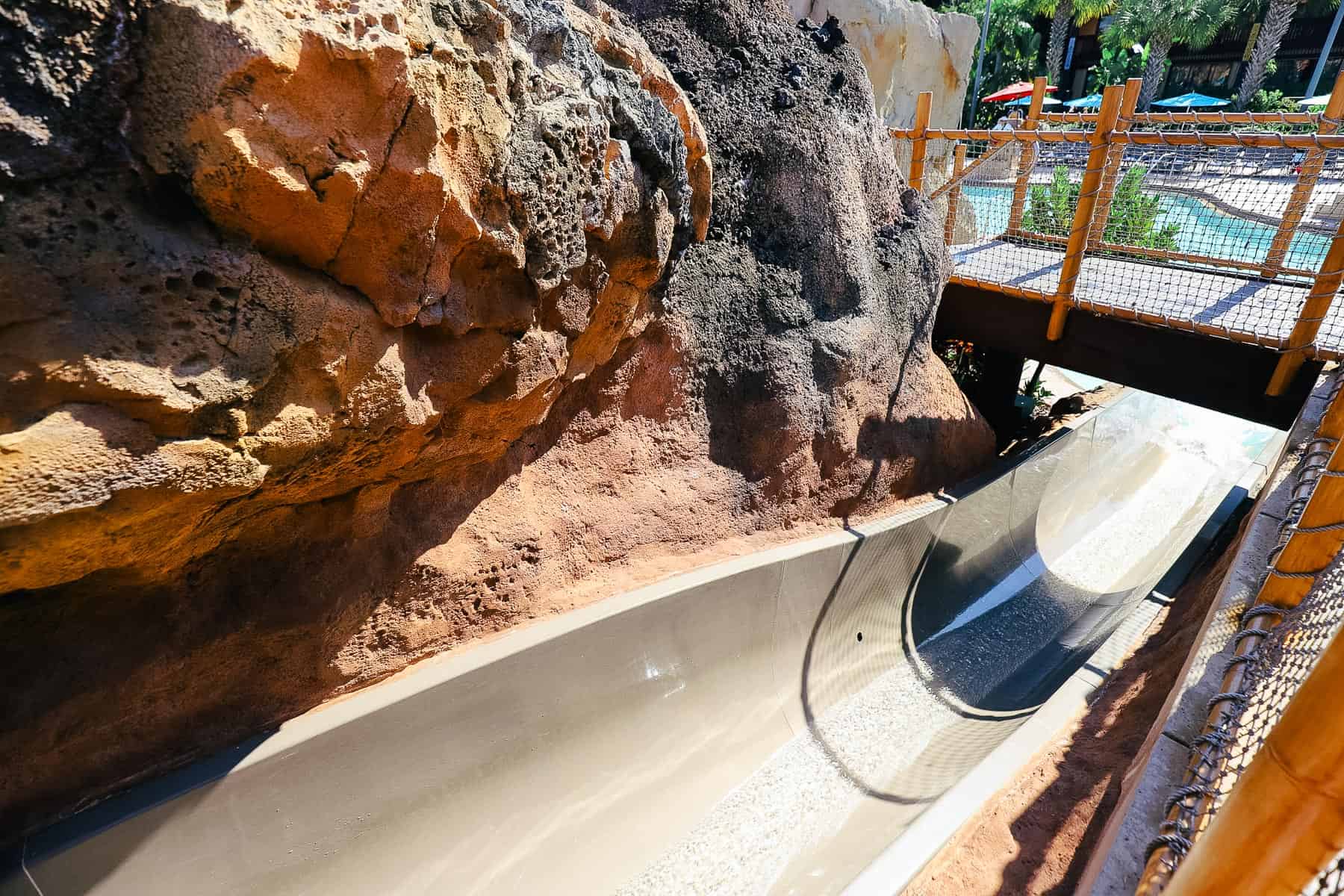 A children's aquatic play area sits next to the Lava Pool.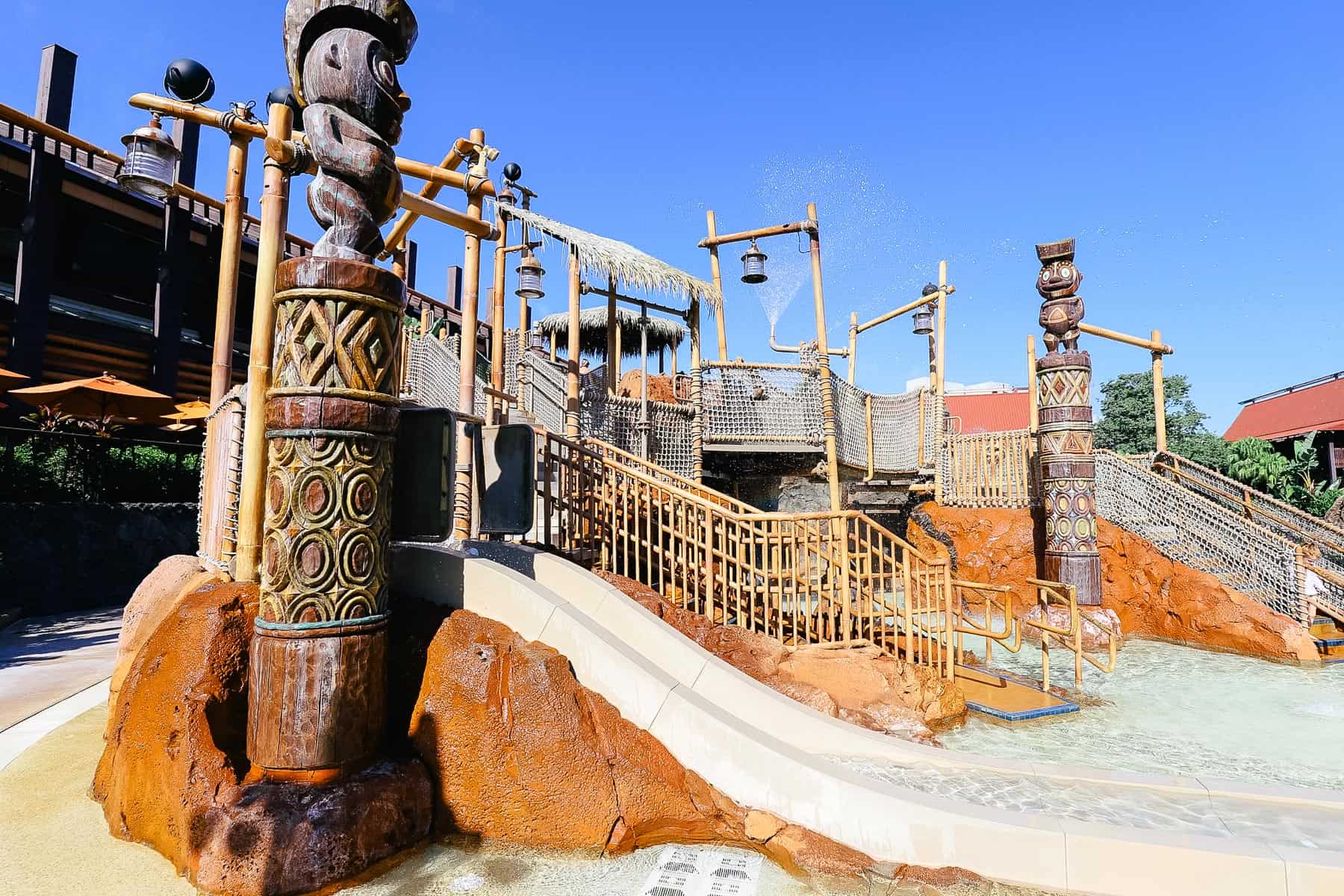 A gorgeous hot tub sits on the opposite side of the pool.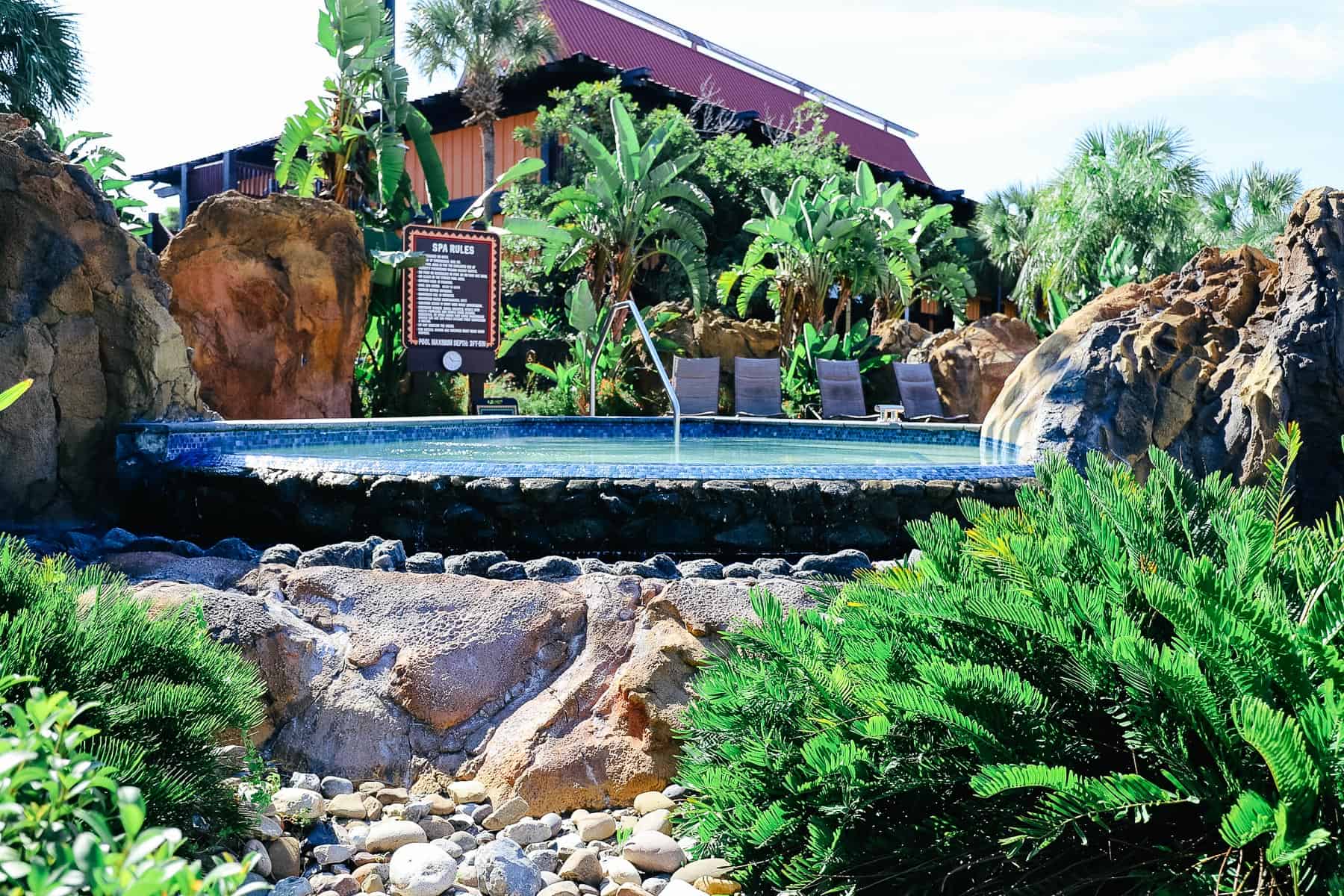 The Oasis Pool is a short walk from the Lava Pool. It's considered the resort's secondary or quiet pool.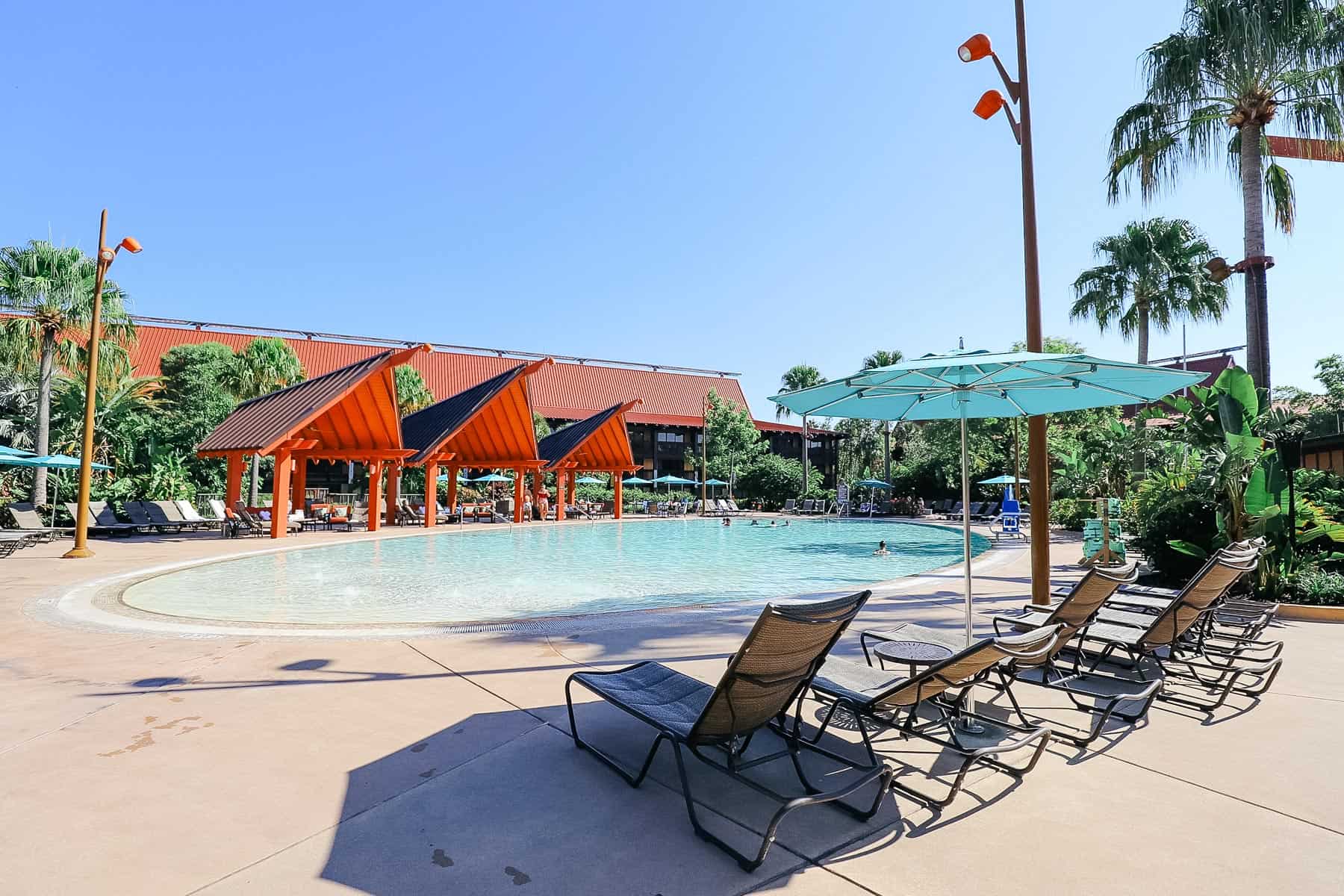 This pool is often less busy than the Lava Pool but considerably smaller.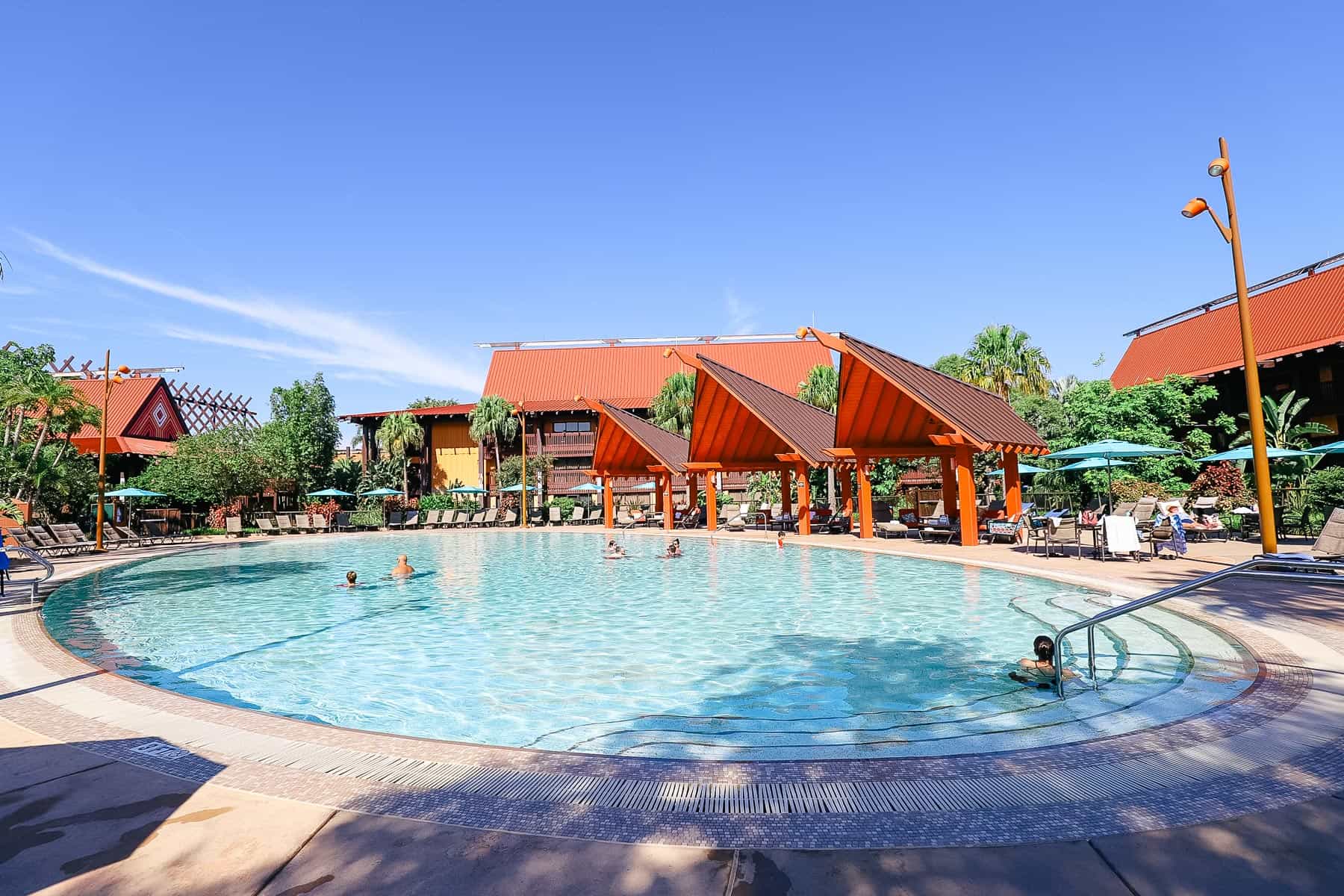 It also has a separate hot tub. If you would like to view more photos of the pools at Disney's Polynesian, our separate article includes specifics of the changing areas, pool depth, and other pool amenities.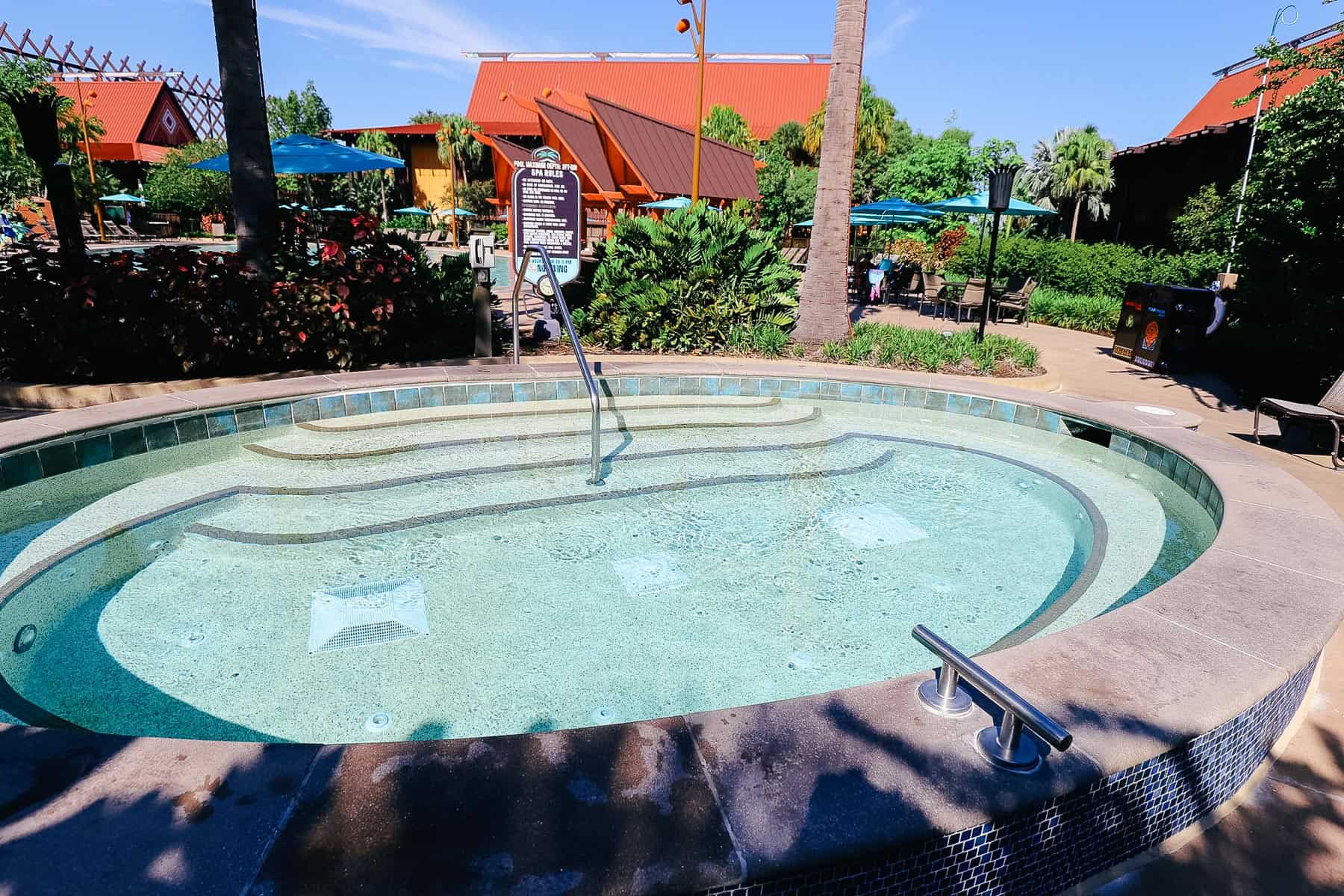 Nightly Fireworks Viewing
During the evening, you might enjoy watching Magic Kingdom's fireworks and the Electrical Water Pageant from the Polynesian's white sand beaches. A speaker system streams the audio, allowing you to hear the music and narration.
It's a peaceful place to enjoy both forms of entertainment away from the crowds. While you're at it, you might care to enjoy the nightly Movie Under the Stars. We keep a monthly recreation calendar posted for the Polynesian. It lists any special events or entertainment offered during your stay.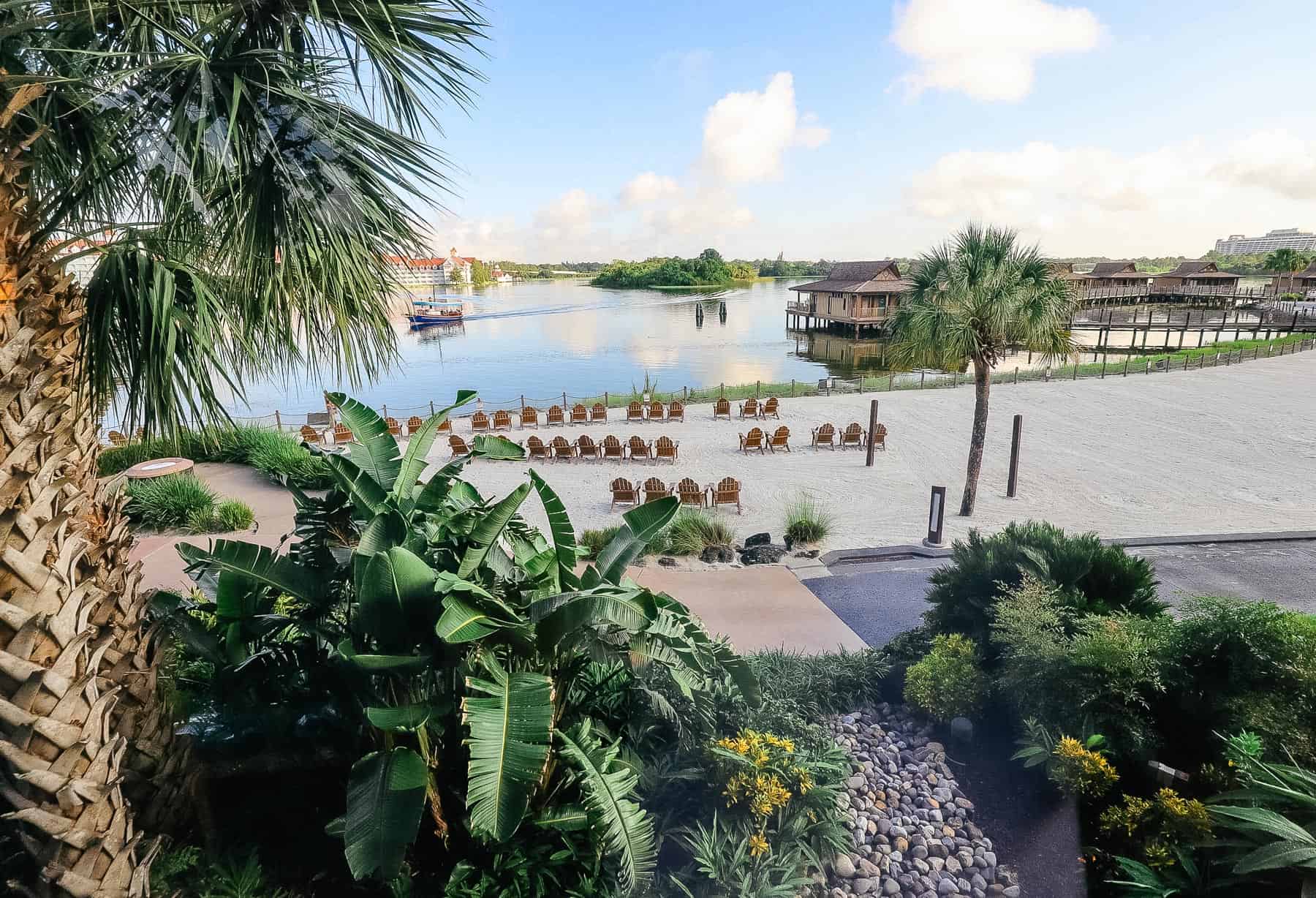 Transportation
One of the benefits of staying in a deluxe resort is the multiple transportation options. At the Polynesian, you have immediate access to the resort monorail. It will take you to the Grand Floridian, Magic Kingdom, Contemporary, and Transportation and Ticket Center.
For Epcot, you can walk or monorail to the TTC and then board a separate monorail to Epcot.
Resort bus service is shared with the Grand Floridian. Buses travel to Hollywood Studios, Disney's Animal Kingdom, Disney Springs, and the water parks. You'll most likely have to take a transfer bus to the water parks.
The Polynesian also has a resort boat launch that travels to Magic Kingdom and the Grand Floridian. A walkway is also available between the Polynesian and Grand Floridian.
We explore complete details of transportation options at Disney's Polynesian in a separate guide. If you stay at the Polynesian, it will give you the rundown on how to get to and from many popular destinations.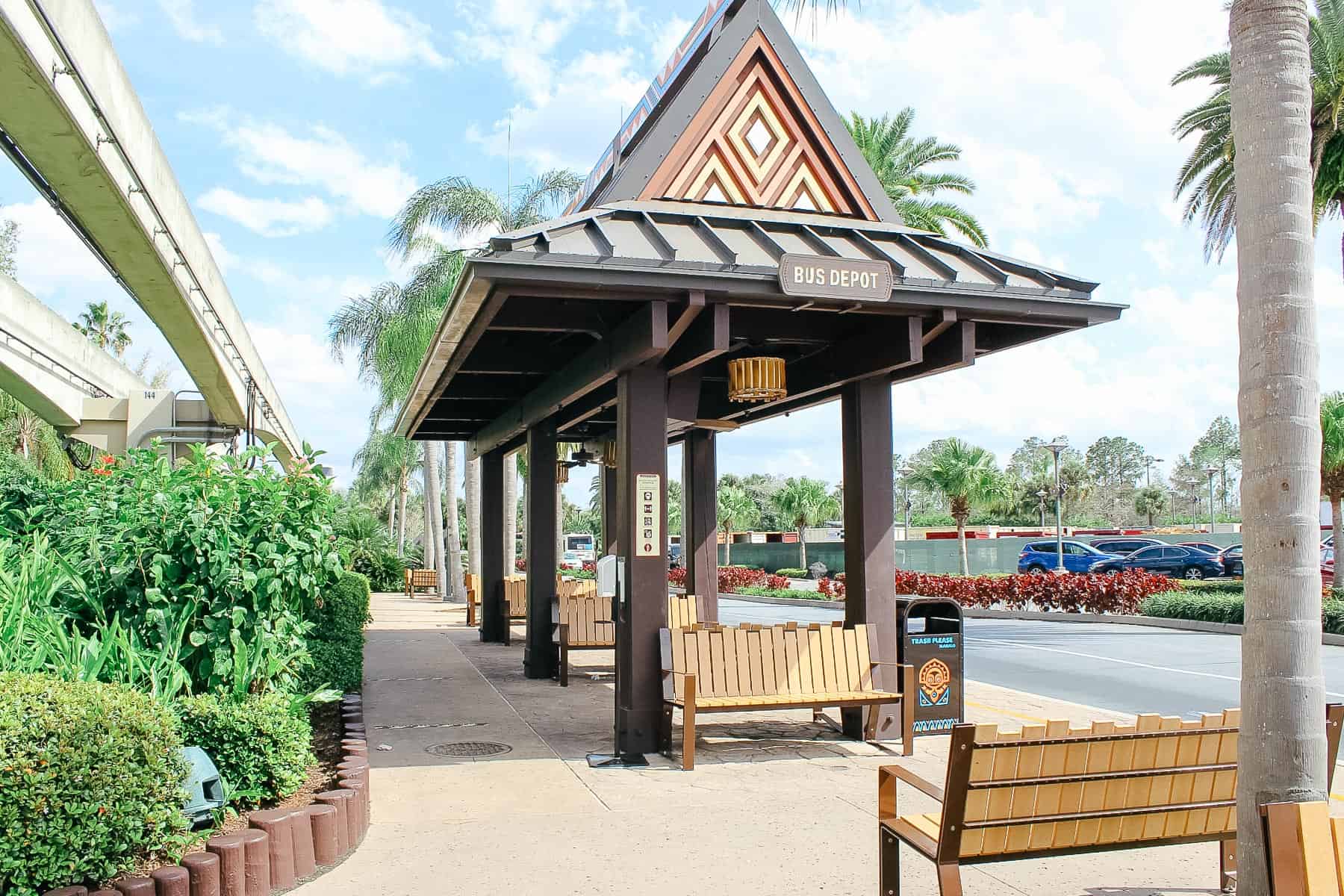 Is the Polynesian Too Expensive or Worth Every Penny?
This is an exceptionally subjective question. As someone who visits the Polynesian for shopping or dining regularly, I have often felt that the resort is somewhat overrated.
After this last stay, I no longer feel that way. Granted, it had been ten years since our last extended stay at the Polynesian. A few unpleasant issues accompany memories of that previous stay.
One setback then was the major construction and demolition of the former waterfalls in the lobby, which we were unaware of going into that stay. We also had a frog the size of a cantaloupe who had taken up residence on our patio. While humorous now, it was not something I wanted to deal with at the time.
Within the first night of this visit, I wished we'd stayed longer than a couple of nights. It was so pleasant that I went back and forth over whether or not to extend our trip. However, the expense was the final decision. Ultimately, I decided we would return for leisure in the future. But for the time being, our funds are better spent providing updates at some of the other Walt Disney World Resorts.
If you are trying to weigh the pros and cons of staying at the Polynesian, I have a better suggestion. Ask yourself–Will a stay at Disney's Polynesian Resort improve your vacation experience? If it does, will you have any regrets about the expense?
If the answer is no, then you have your answer. If you're still unsure–what is the worst-case scenario if you don't have a good time?
I can't answer that question for you. But I know that long ago, an unpleasant experience made me weary of staying here again. Now, I am excited to return and recapture that magical feeling that only a resort like the Polynesian can offer.
Photos of the Polynesian
Here are a few more photos of the Polynesian I took during our stay.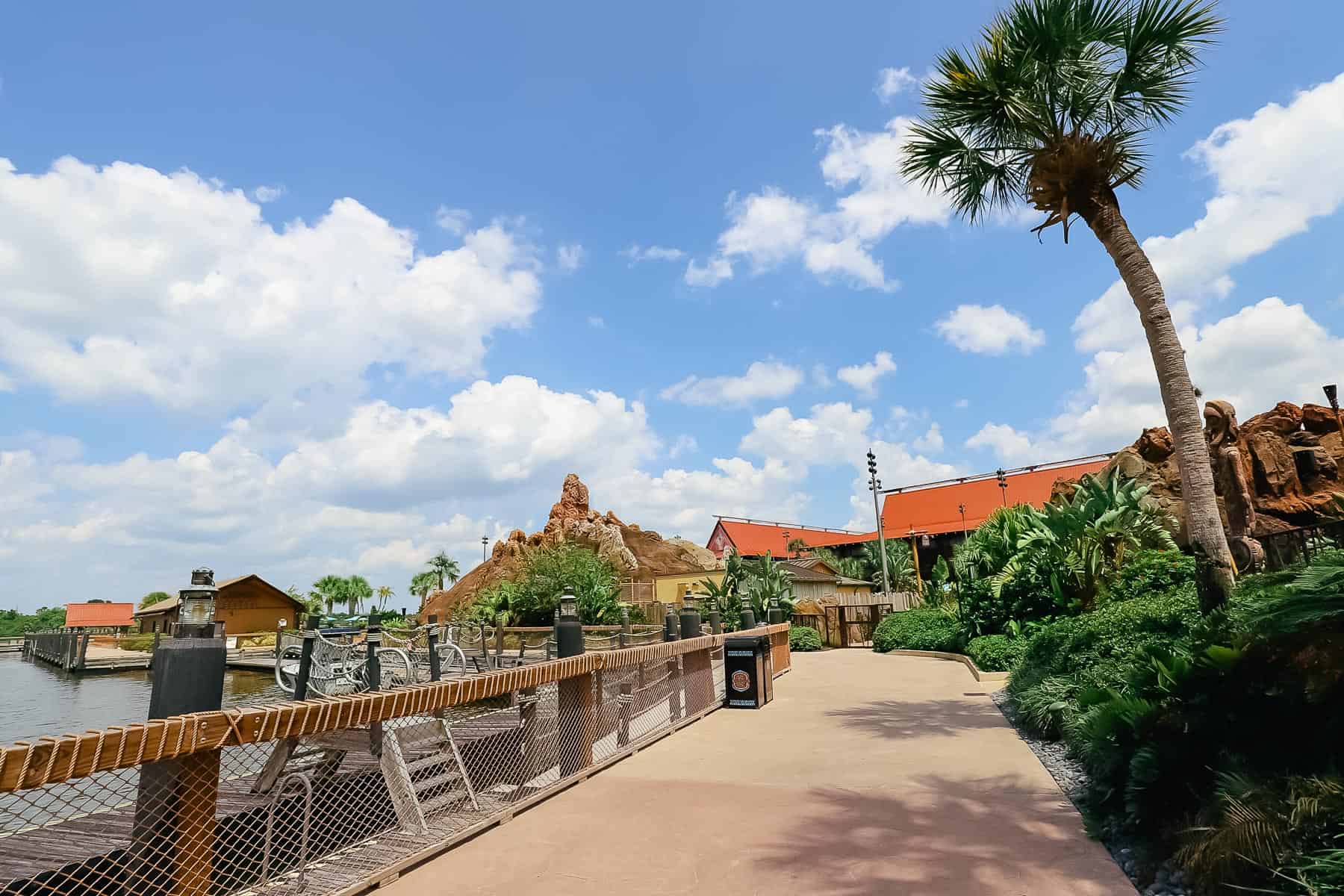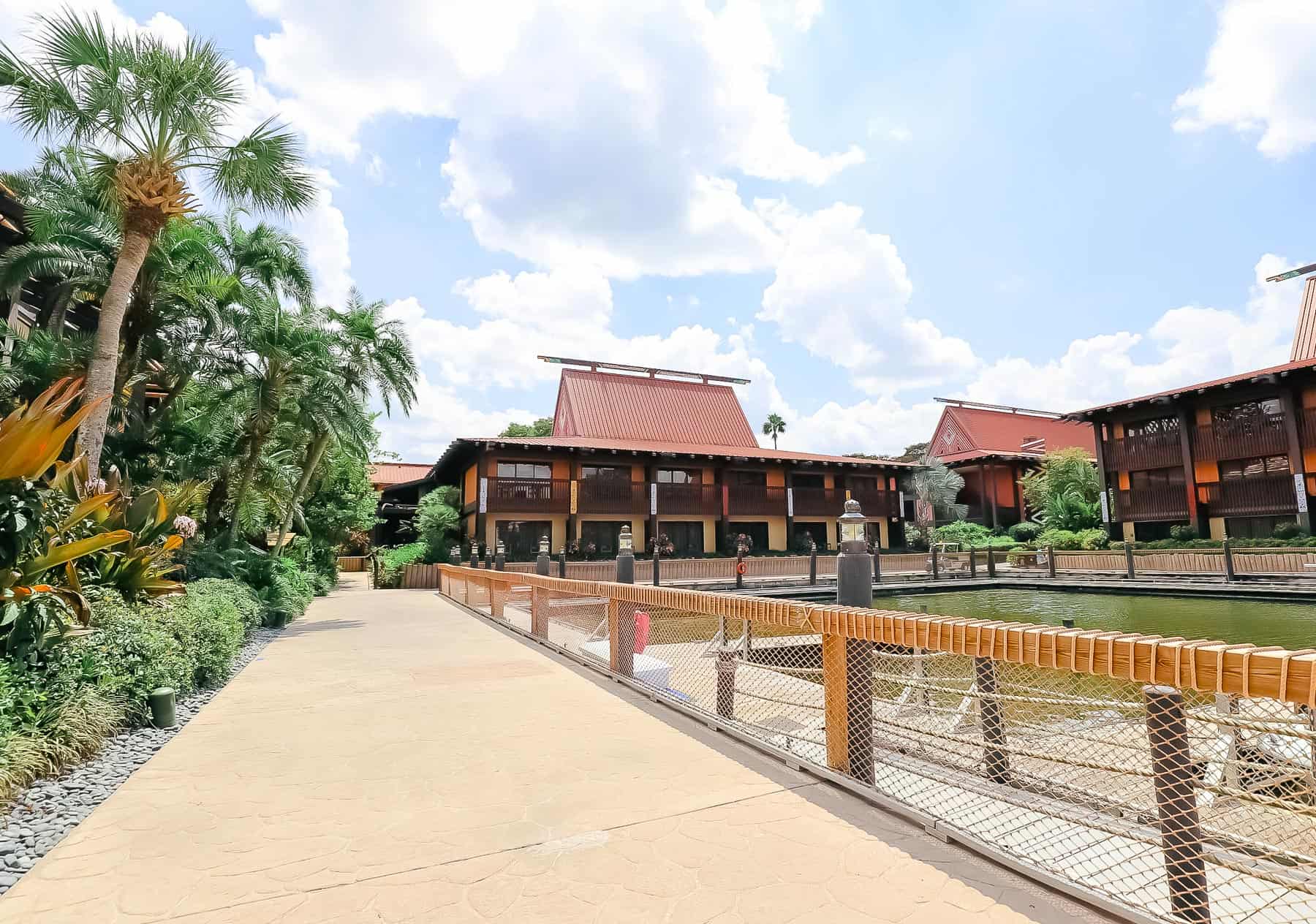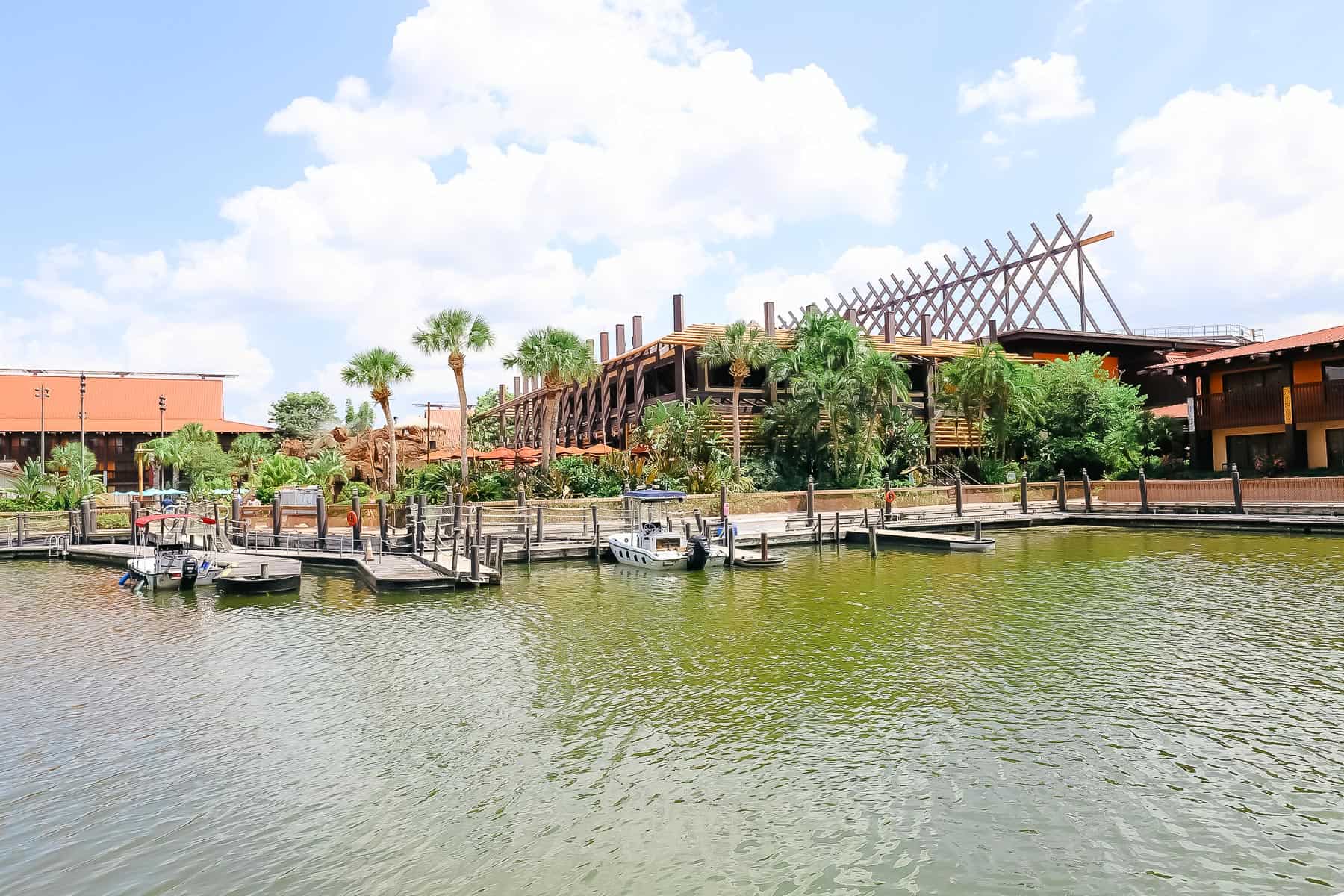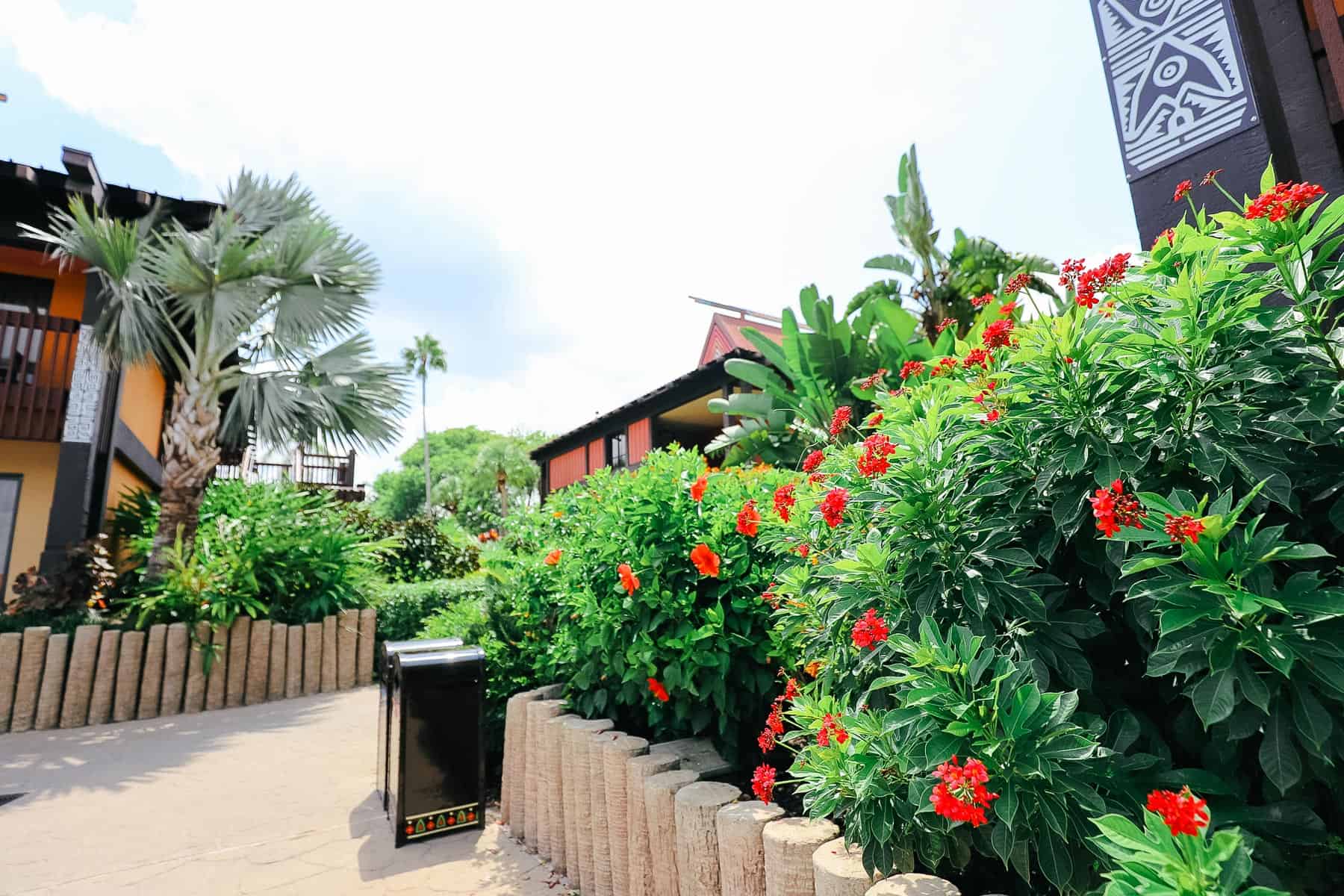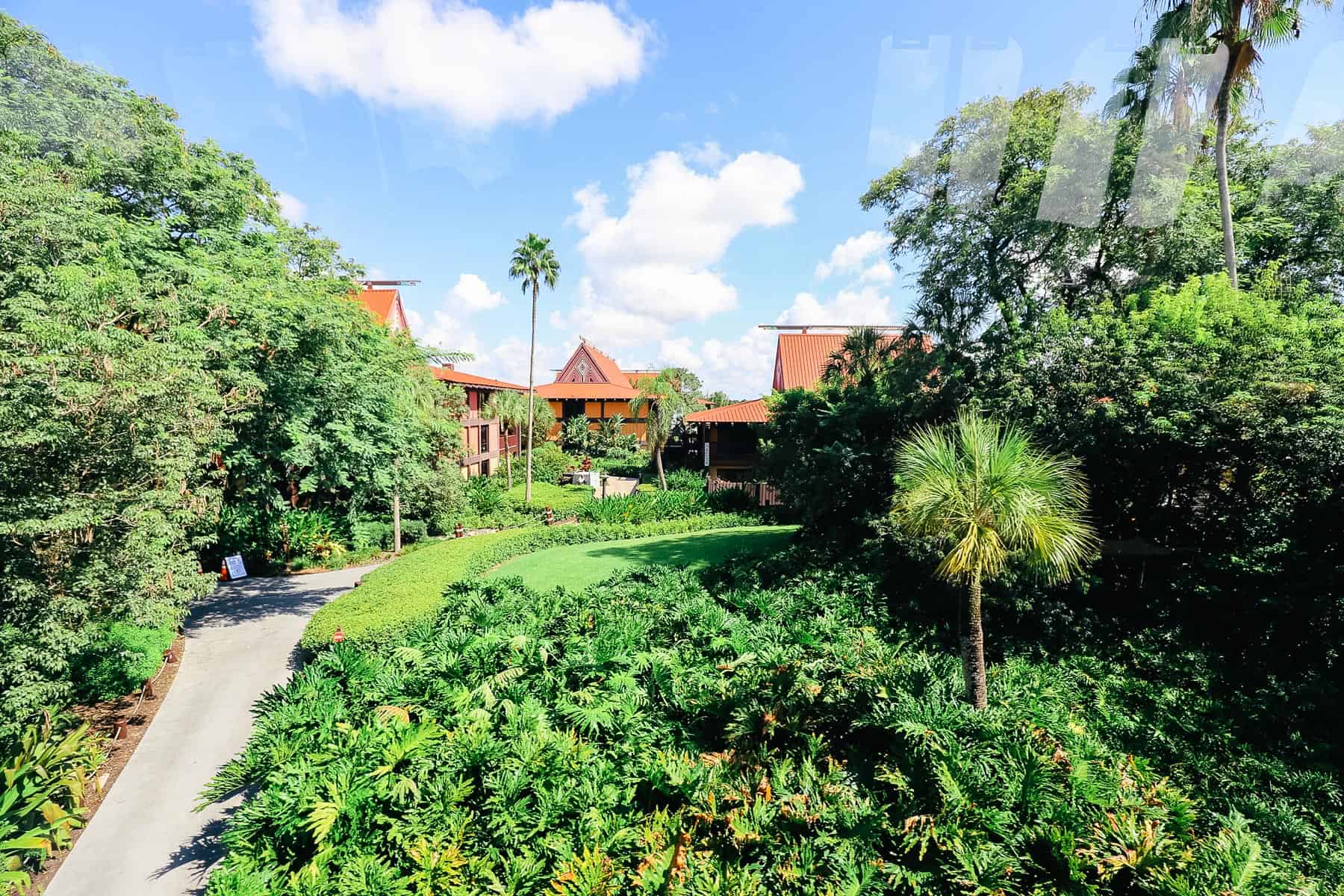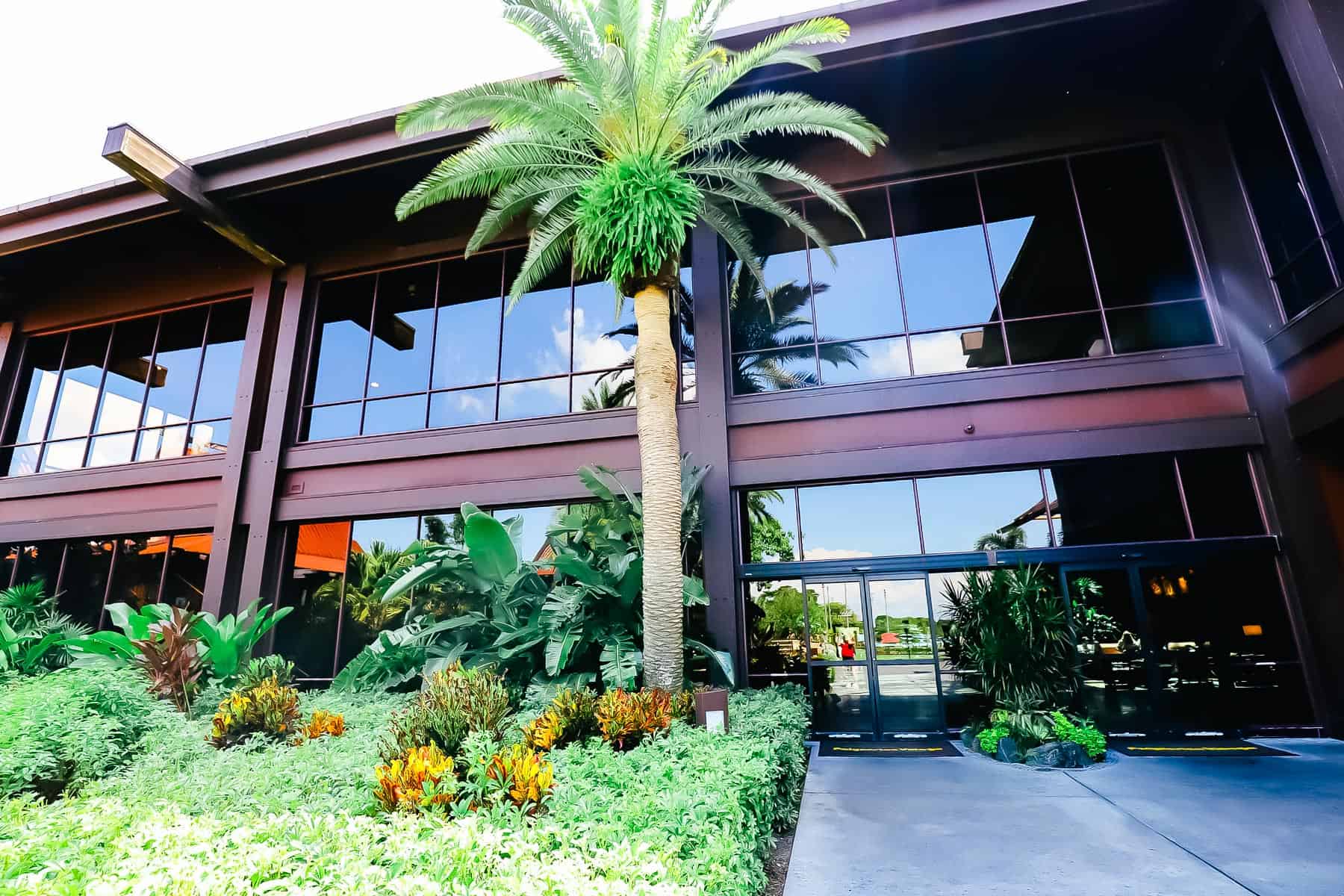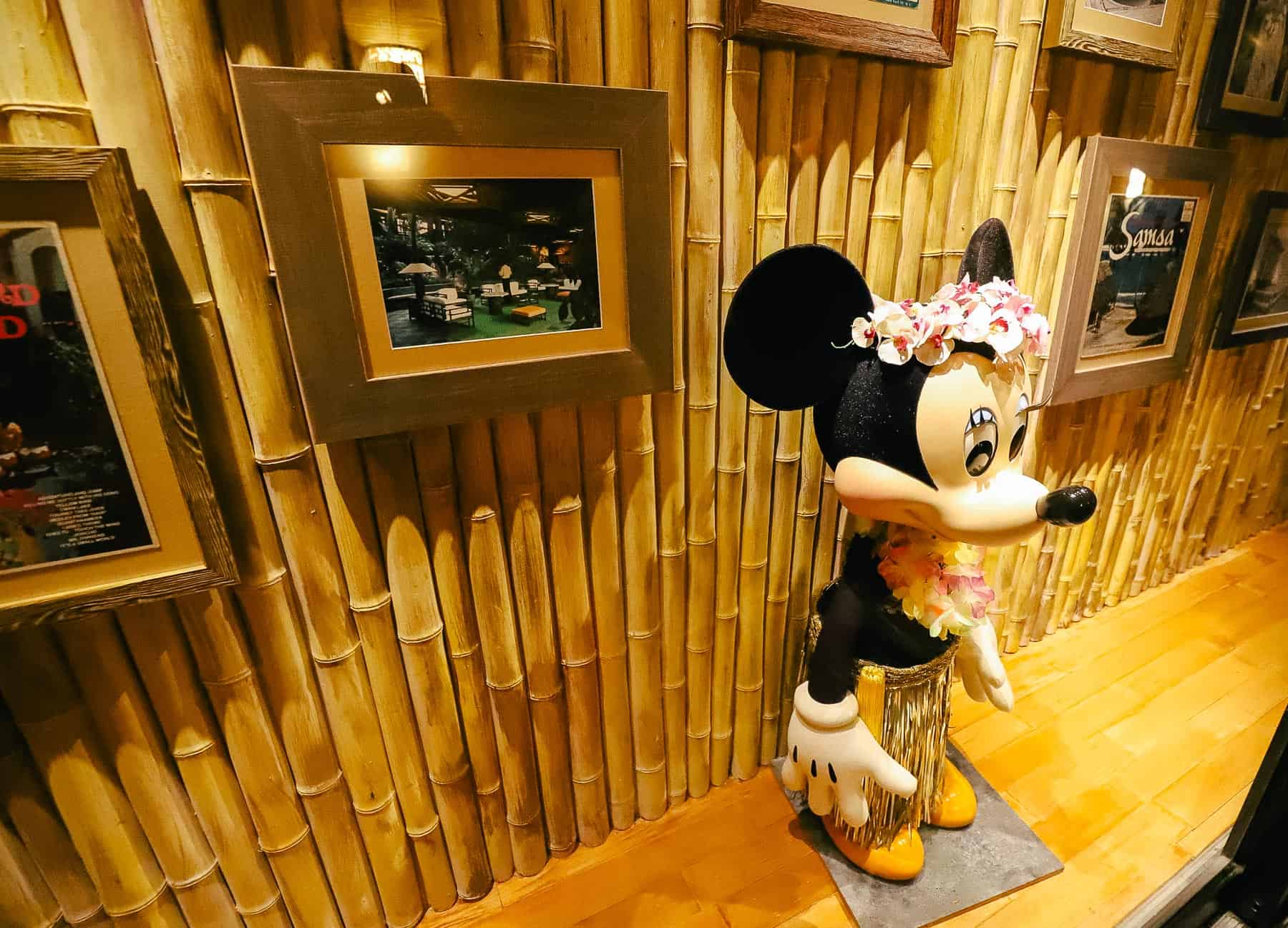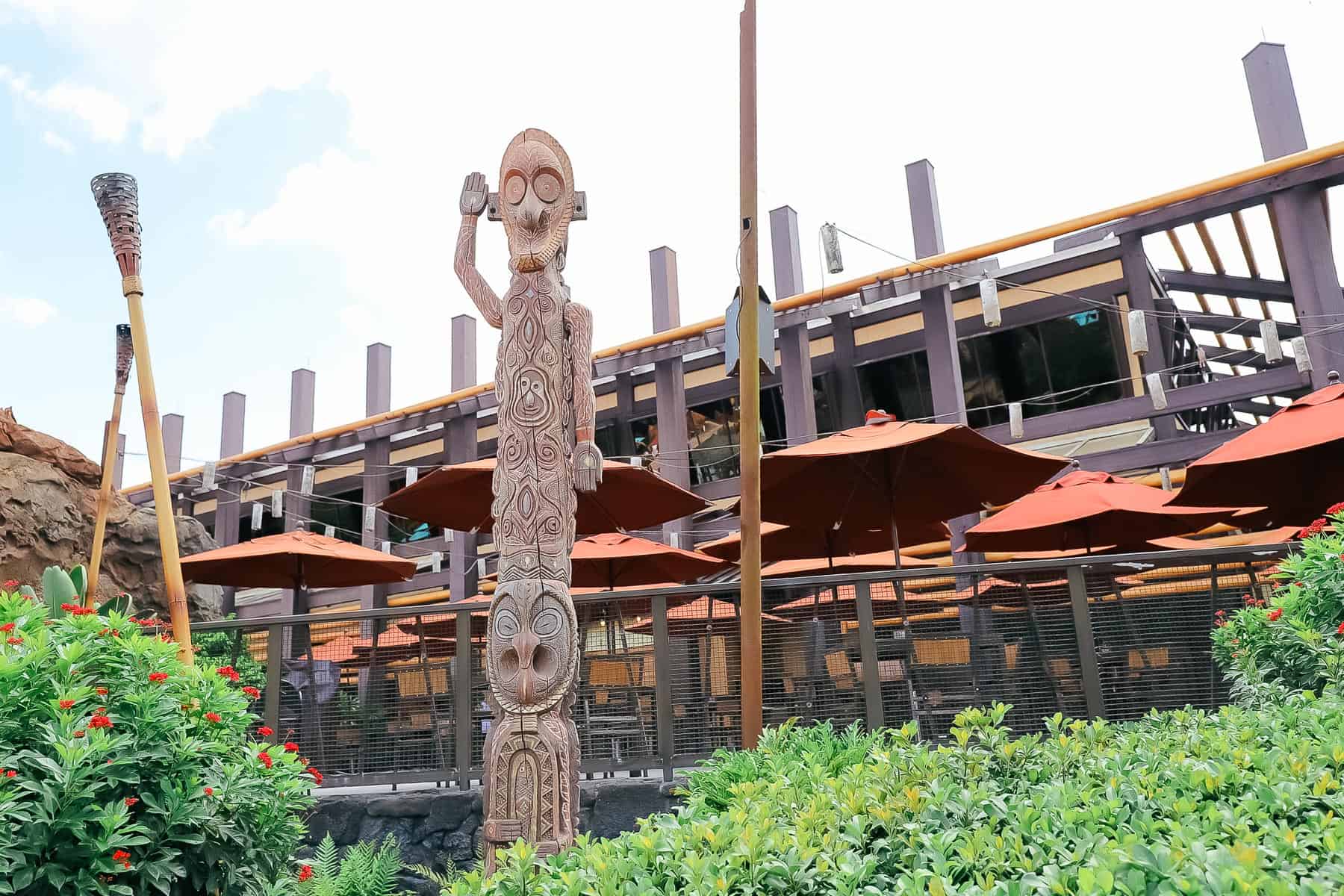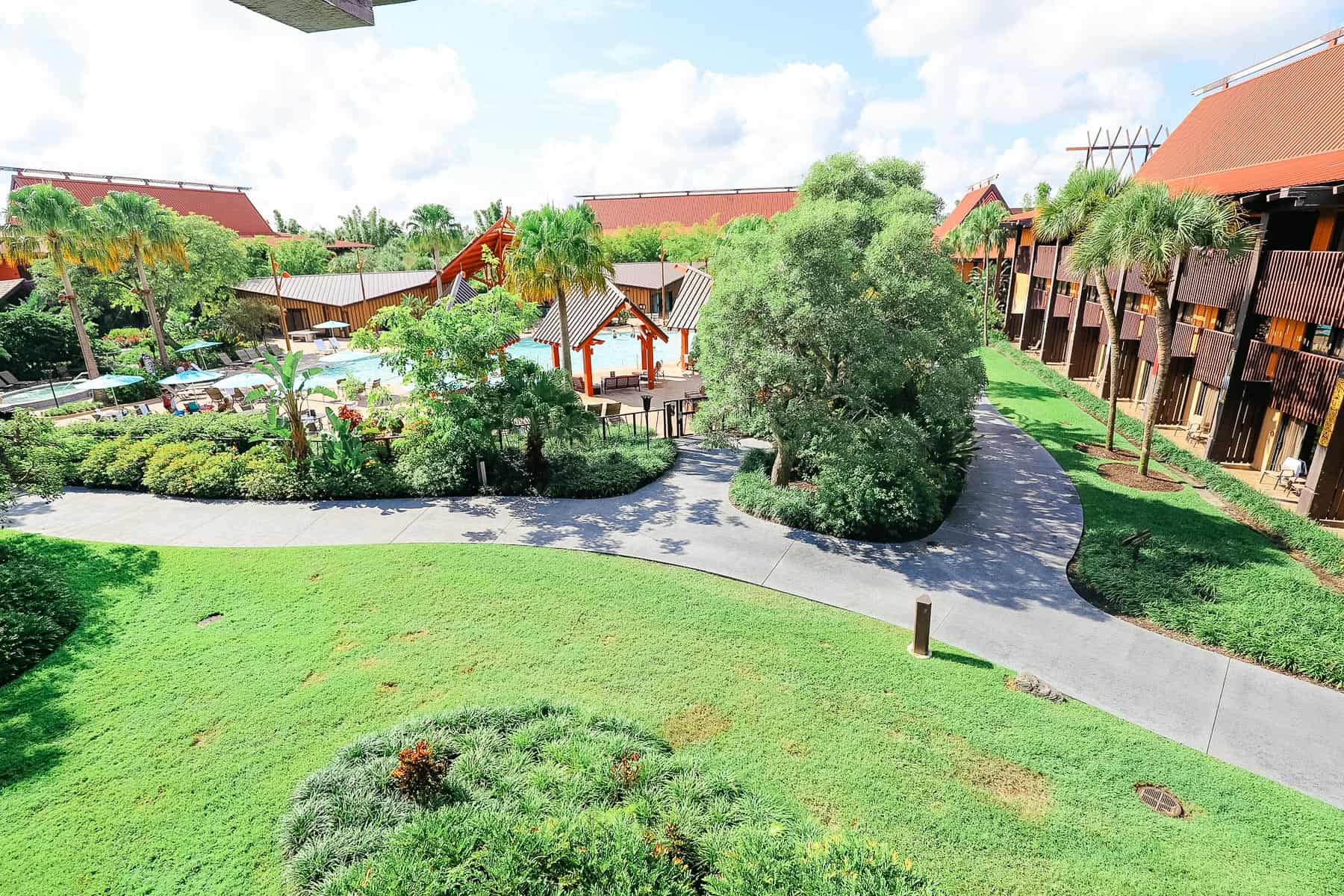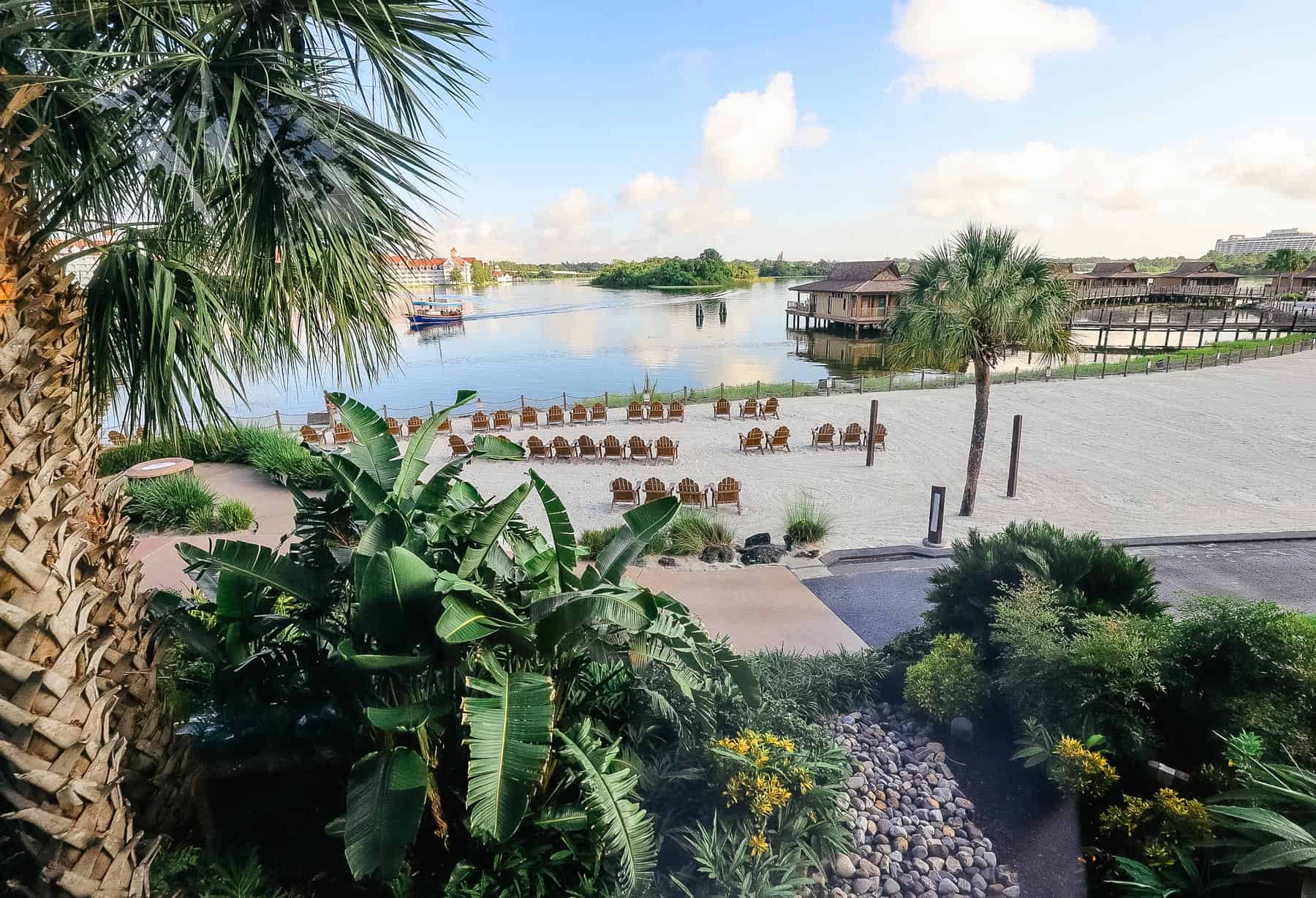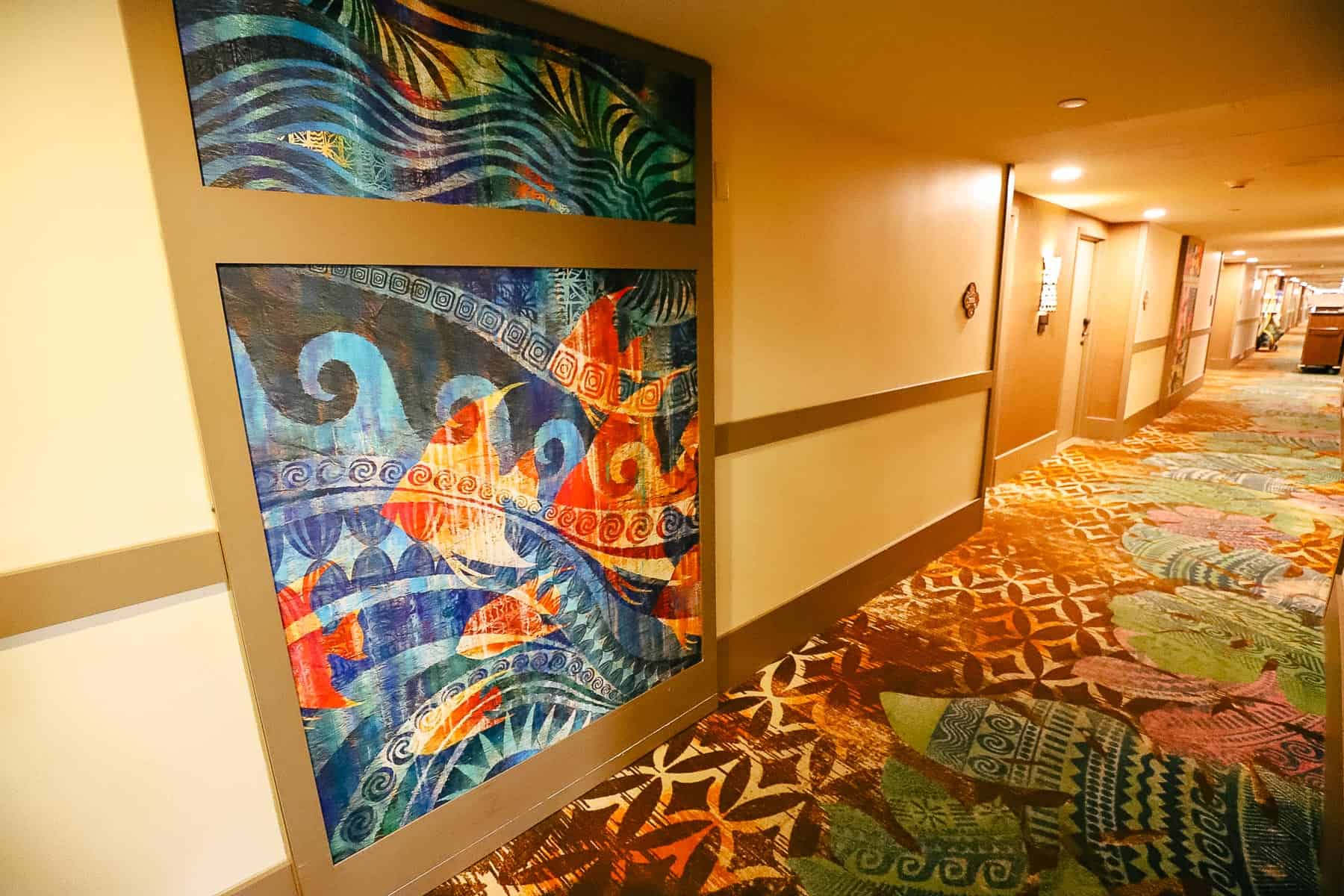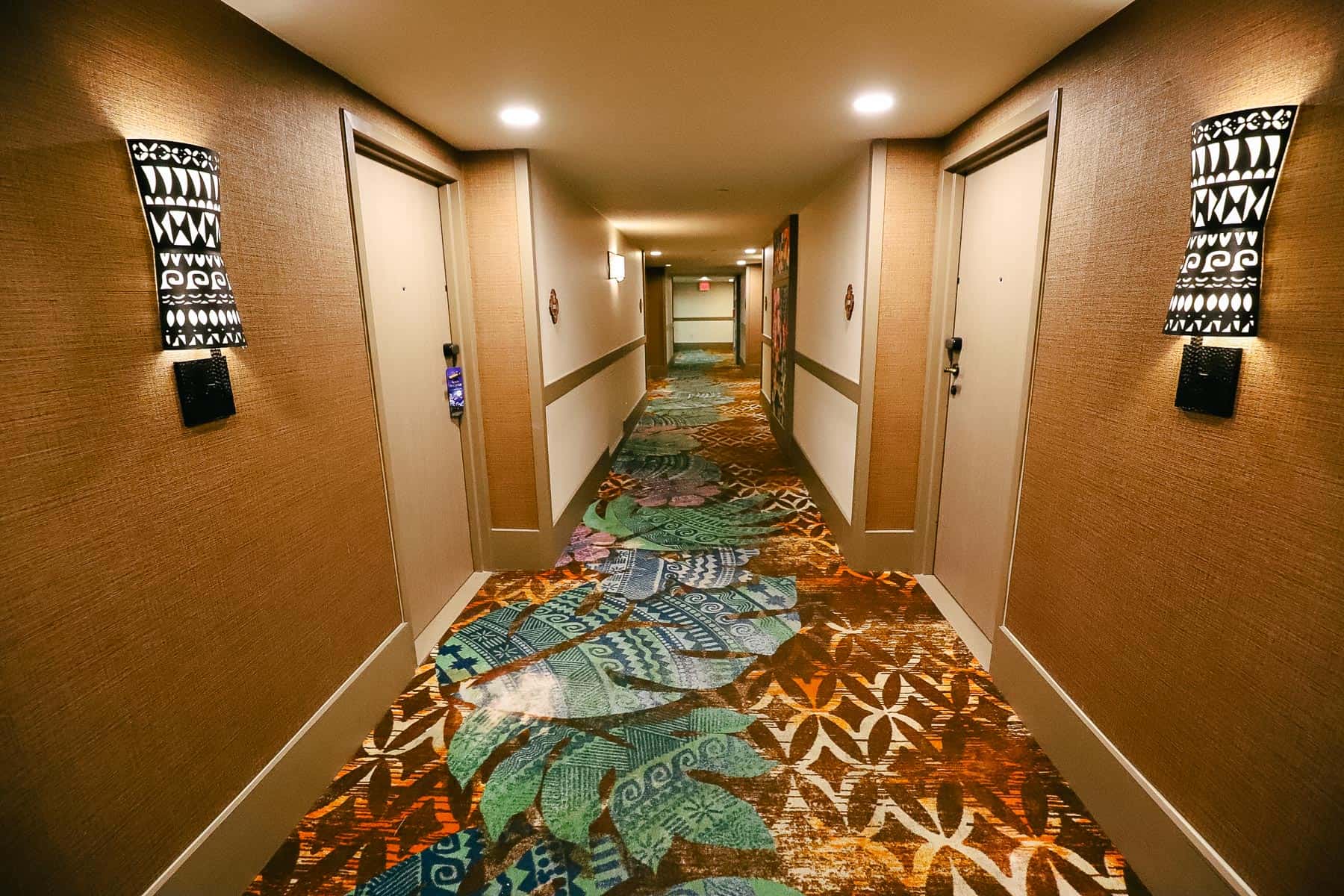 Final Thoughts
Aloha, once again. Hopefully, this review of Disney's Polynesian gave you a fresh perspective. It's a beautifully unique resort.
However, if a stay here isn't entirely within your budget, you can always plan a dining reservation during your stay. You'll still get those same island vibes when you enter the resort.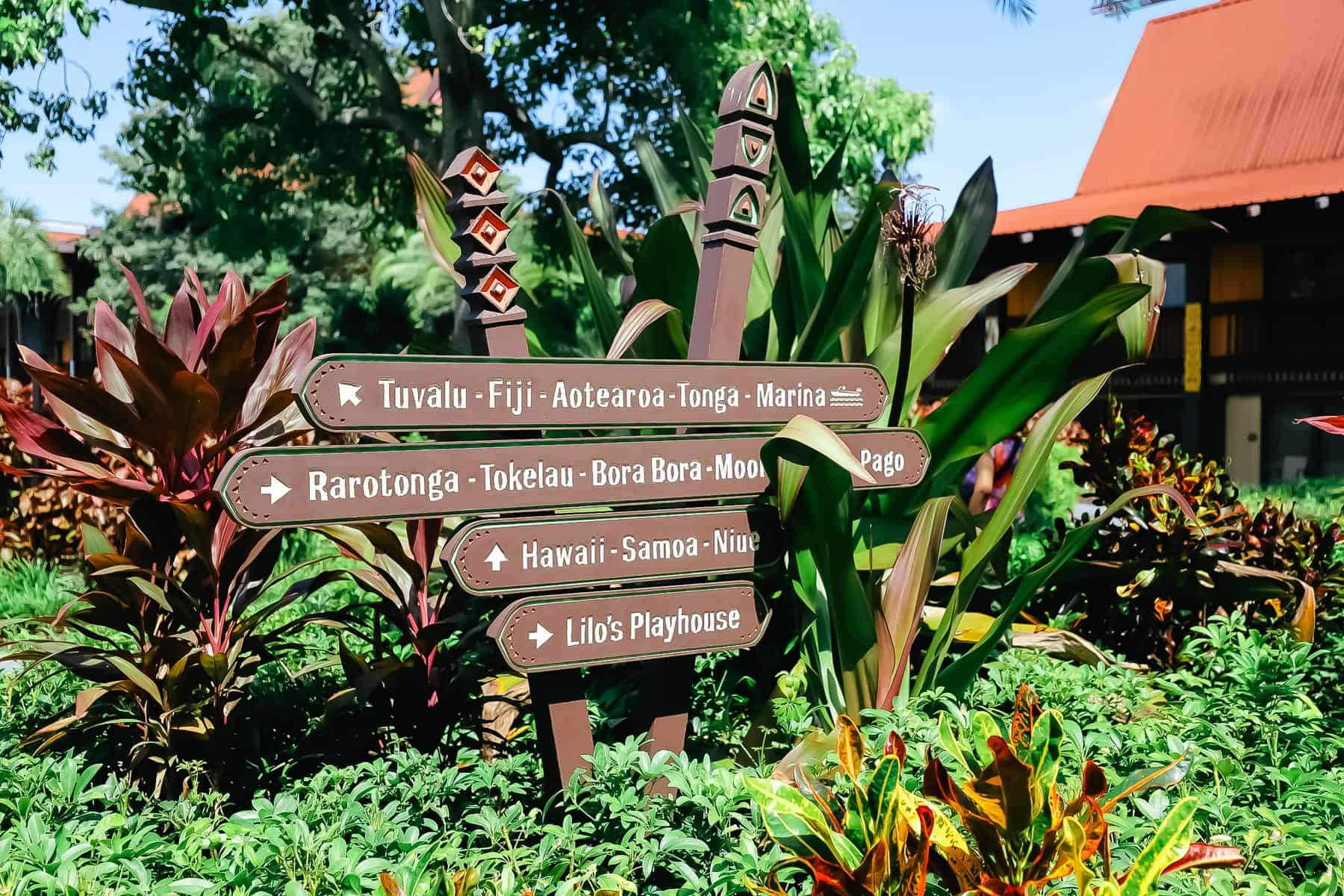 We have an entire guide with more information about Disney's Polynesian Village Resort.
What are your thoughts on this review of Disney's Polynesian Resort? Have you stayed here before? Do you have plans to stay here? You are welcome to share your vacation memories in the comments below. We value your feedback and enjoy others' perspectives, as do our other readers.