Space Mountain at Magic Kingdom Park
Space Mountain is a high-speed thrill attraction at Magic Kingdom in Walt Disney World. This iconic roller coaster is located in the Tomorrowland section of the park.
In addition, the indoor roller coaster is almost entirely in the dark. So part of the thrill is not being able to see the track ahead.
This review will look at Magic Kingdom's Space Mountain in detail. We'll go over whether or not you'll want to experience this attraction and discuss the best time to ride.
This article was updated on April 16, 2022.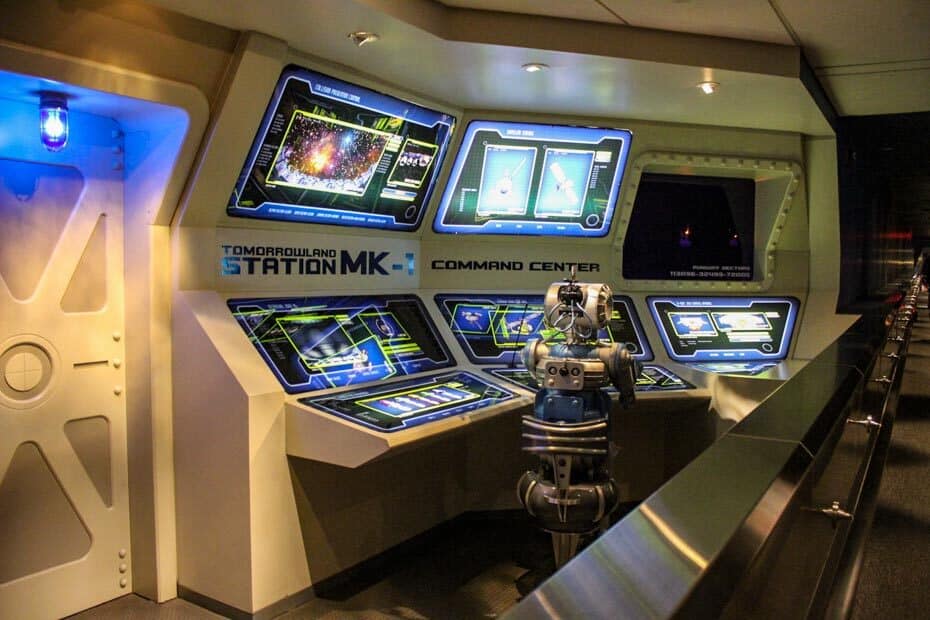 The table below contains quick facts to familiarize yourself with the essential details for Space Mountain.
Space Mountain
Magic Kingdom

Location

Tomorrowland

Disney Height Requirement:

44″

Disney Genie+ Attraction:

Yes, Individual Lightning Lane

Ride Type:

Thrill, Dark, Scary, Roller Coaster

Seats Per Vehicle:

1 per person, 3 to a vehicle

Disney Rider Switch:

Yes

Good For:

Tweens, Teens, & Adults

Scare Factor:

Most of the attraction is in the dark
so it intensifies the ride.

Must-Do List:

High

Perfect For:

Nostalgia and Thrill Seekers

Special Mention:

On-Ride Photo Pass Opportunity
Space Mountain at Magic Kingdom
Space Mountain is a reasonably mild roller coaster attraction located in Tomorrowland at Magic Kingdom. You've probably seen Space Mountain or photos of its exterior before.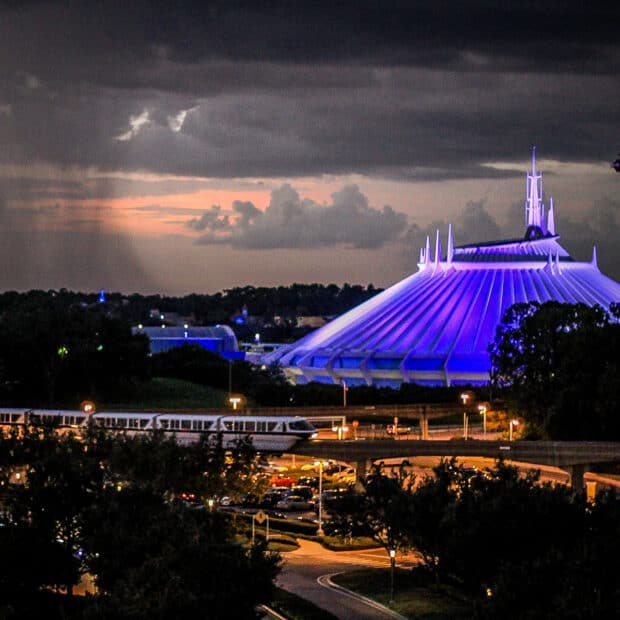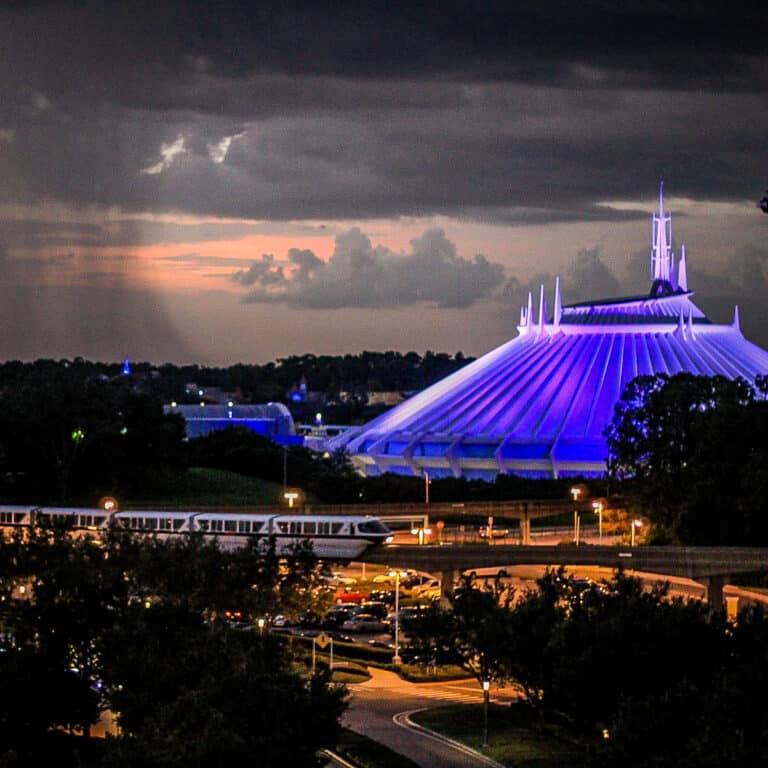 However, the actual roller coaster is entirely indoors.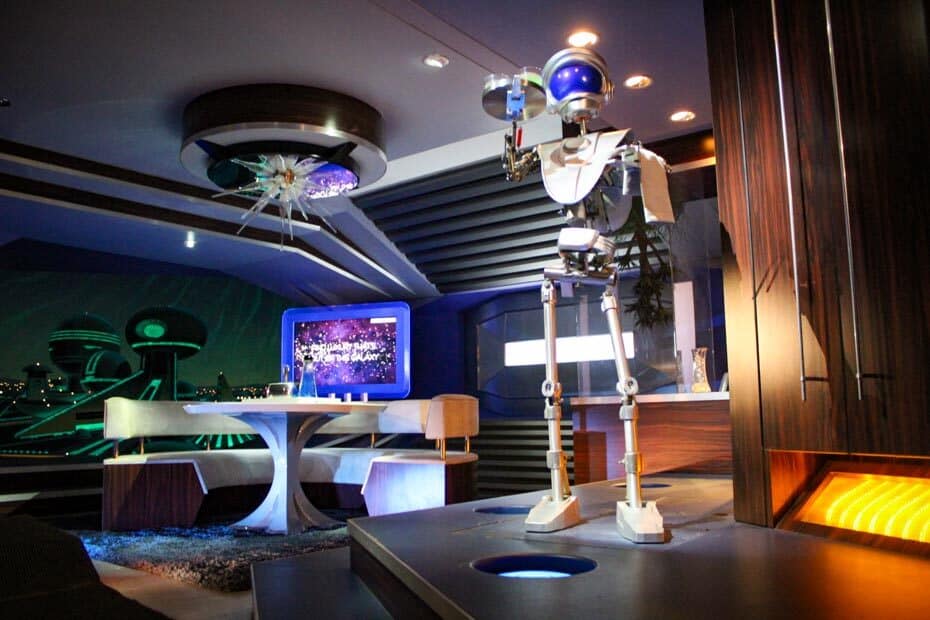 Space Mountain has an extensive queue on the front end and a lengthy exit. Unfortunately, there is no way to gauge the length of the line here for standby.
Space Mountain has a 44″ height requirement. Additionally, a few warnings state that the roller coaster is a high-speed, turbulent ride that is not suitable for everyone.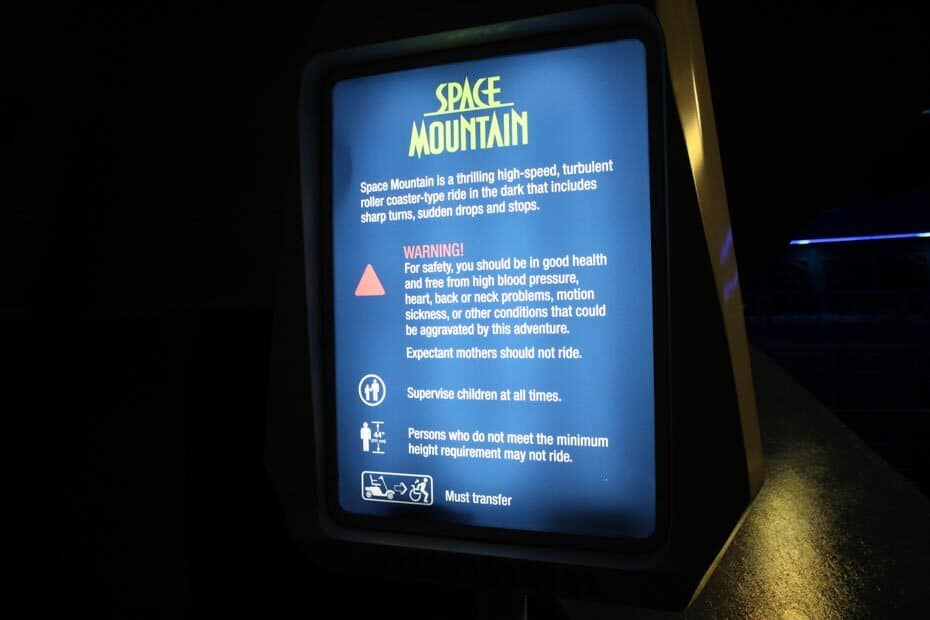 When you reach the initial loading area, there's a right and left side. Sometimes, the lines look a lot longer than they are.
So be patient if you feel you see another long line ahead, especially if you're directed to go on the left-hand side. To me, that side always looks longer.
Below is the final boarding area for Space Mountain at Disney World.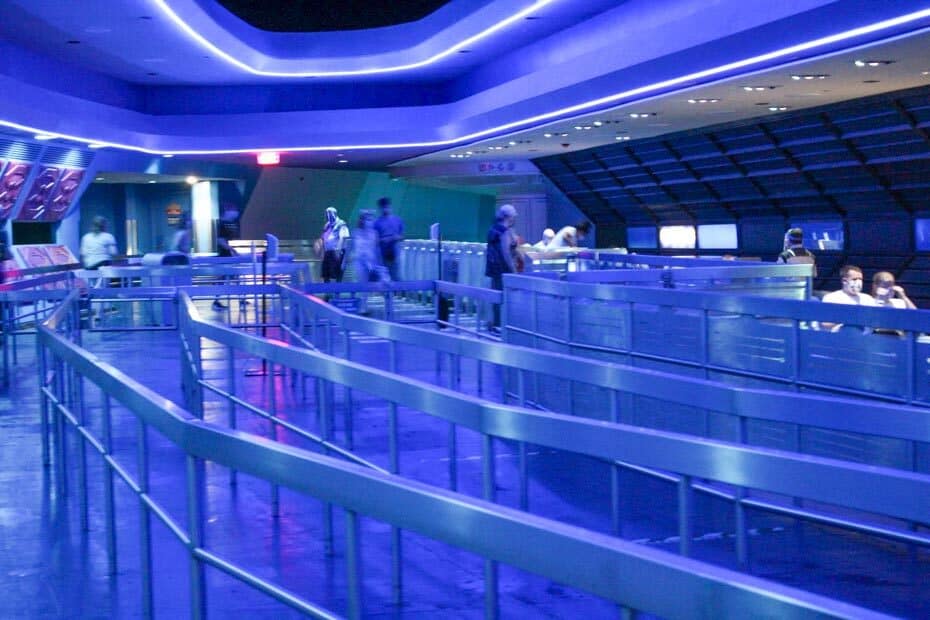 Several places indicate where to stand for the loading process. For example, if you are riding with friends or family, you'll be lined up horizontally as one, two, and three.
Up to six guests can ride per vehicle.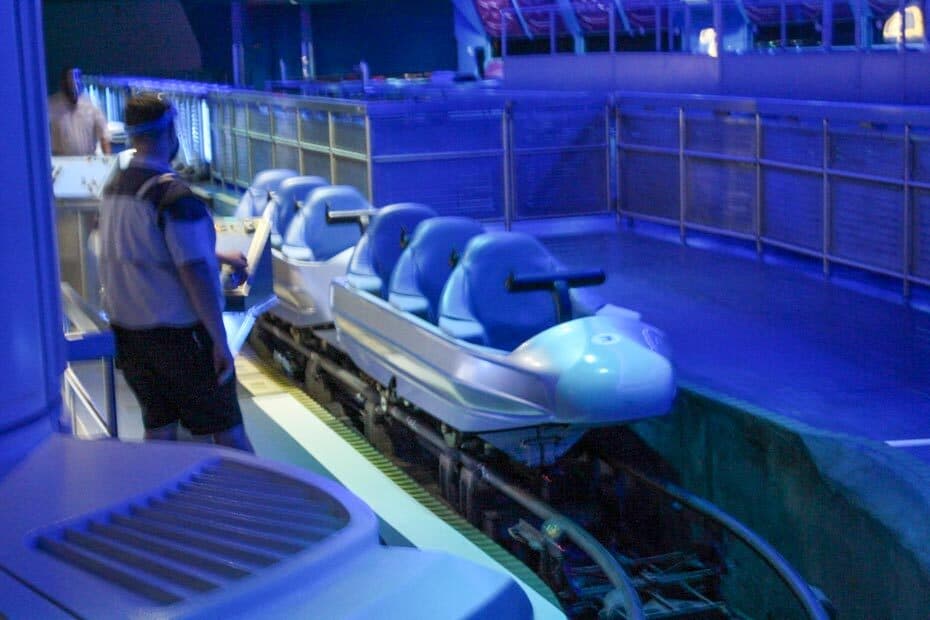 I also wanted to mention there's a tiny pouch on each ride vehicle to store items like sunglasses. It is important to store those personal items.
It is relatively common for guests to lose small items while riding this attraction.
Space Mountain has a lap pull-down restraint that you will straddle when boarding.
As far as riding Space Mountain goes, it isn't scary. But it is indoors, making most of the ride nearly pitch black.
Not seeing the track in front of you could be an issue for some. And as mentioned in the table above, the darkness does intensify the feel of the ride.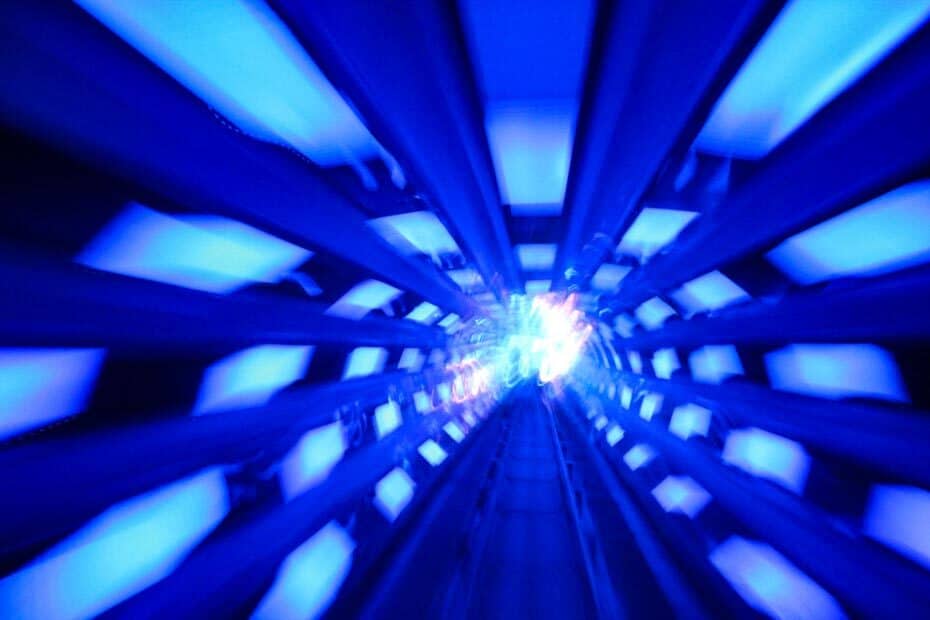 Space Mountain loads pretty quickly. You will encounter the on-ride photo opportunity within the first turn.
The ride will go around a bit of an initial curve. Remember to lean into the turn, face that direction, and smile. If you have Memory Maker, the photo will show up in your account.
Know Your Disney Rules When Riding With Children-Any child under the age of seven or younger must be accompanied by an adult fourteen years or older. This attraction is a prime candidate for Rider Switch.
As far as the best times to ride Space Mountain, that depends. Typically, you'll want to get in line for this attraction within the first 30 minutes or so of the park opening.
Or you might enter the line closer to closing time at the end of the night. As long as you get in line prior to the park closing, you'll get to ride.
Lastly, Space Mountain is eligible for Lightning Lane as part of the Genie+ service.
Disney World Resort guests can buy Lightning Lane options via the My Disney Experience app starting at 7:00 a.m.
The following attractions are all located in the vicinity of Space Mountain:
Or you can view the complete list of rides at Magic Kingdom.
Resorts Gal specializes in Disney World Resorts, Characters, and Dining. Check out some of our resources, like the list of Walt Disney World Resort Reviews. That article gives a brief overview of every resort at Disney and includes the following Magic Kingdom area resorts:
If you plan to meet characters in the parks, I keep an updated list of characters at Disney World. That review will link to every meet available in every four parks.
Related: Disney World Character Meet List
Lastly, our most popular reviews include the best restaurants at Disney Springs, and I keep a timeline going of Disney Loungefly mini-backpacks.
Have you had the opportunity to ride Space Mountain? What are your thoughts?