Space Mountain at Magic Kingdom Park
When it comes to roller coasters, Space Mountain is a classic! This thrill ride is located at multiple Disney Parks. But for this article, we'll focus on Space Mountain at Walt Disney World's Magic Kingdom.
Space Mountain is an indoor roller coaster that's almost entirely in the dark. Part of the thrill is not being able to see the track ahead. Below, we'll look at the details for experiencing this attraction and discuss the best times to ride. However, given Space Mountain's popularity–you will likely encounter a long wait.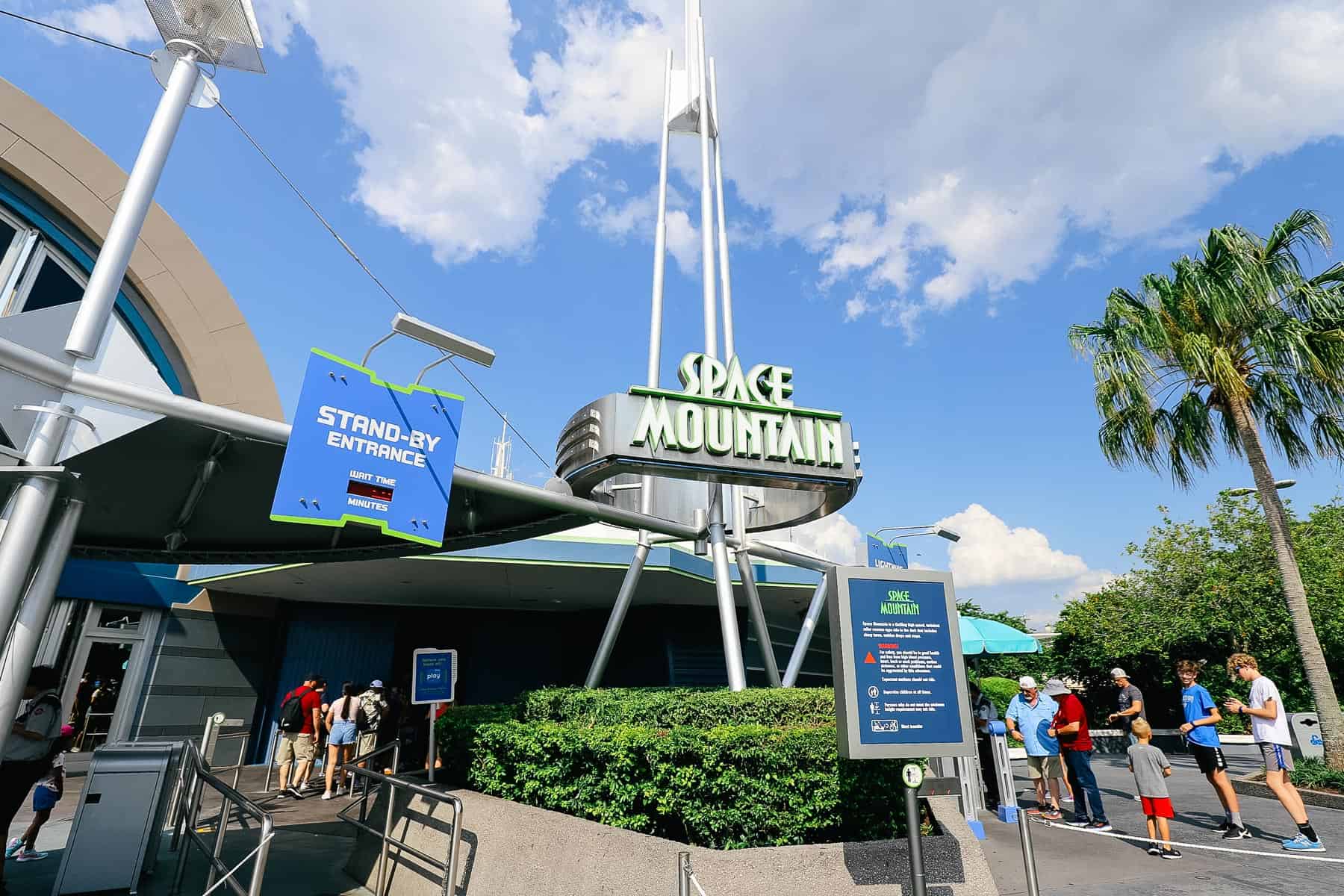 Space Mountain's Origination
Space Mountain originally opened at Walt Disney World in 1975. Due to its popularity, another Space Mountain was built and debuted at Disneyland Park in Anaheim, California, in 1977. Other versions of the attraction were built in Hong Kong, Disneyland, Tokyo Disney Resort, and Disneyland Paris.
Walt Disney conceived the idea of Space Mountain in the early 1960s. Given the momentum of the space age, he felt a high-speed attraction centered around space would work well.
Here are a few quick references for experiencing Space Mountain.
| | |
| --- | --- |
| Space Mountain | Magic Kingdom |
| Location | Tomorrowland |
| Disney Height Requirement: | 44″ (111 cm) |
| Disney Genie+ Attraction: | Yes, Lightning Lane through Genie+ Service |
| Ride Type: | Thrill, Dark, Scary, Roller Coaster |
| Seats Per Vehicle: | 1 per person, 3 to a vehicle |
| Disney Rider Switch: | Yes |
| Good For: | Tweens, Teens, and Adults |
| Scare Factor: | The darkness makes the ride feel more intense. |
| Must-Do List: | High |
| Perfect For: | Nostalgia and Thrill Seekers |
| Special Mention: | On-Ride Photo Pass Opportunity |
*Guests must transfer to a wheelchair, then to the ride vehicle. **Details for those with mobility issues (i.e., wheelchair, ECVs) are available on Disney.com. Service animals are not permitted on this attraction.
Know Disney's Rules When Riding With Children- Any child under the age of seven or younger must be accompanied by someone fourteen years or older.
Space Mountain at Magic Kingdom
Space Mountain sits toward the back of Tomorrowland at Magic Kingdom. Its large, white exterior is often included in theme park marketing materials. So it's likely, you've previously seen photographs of the attraction.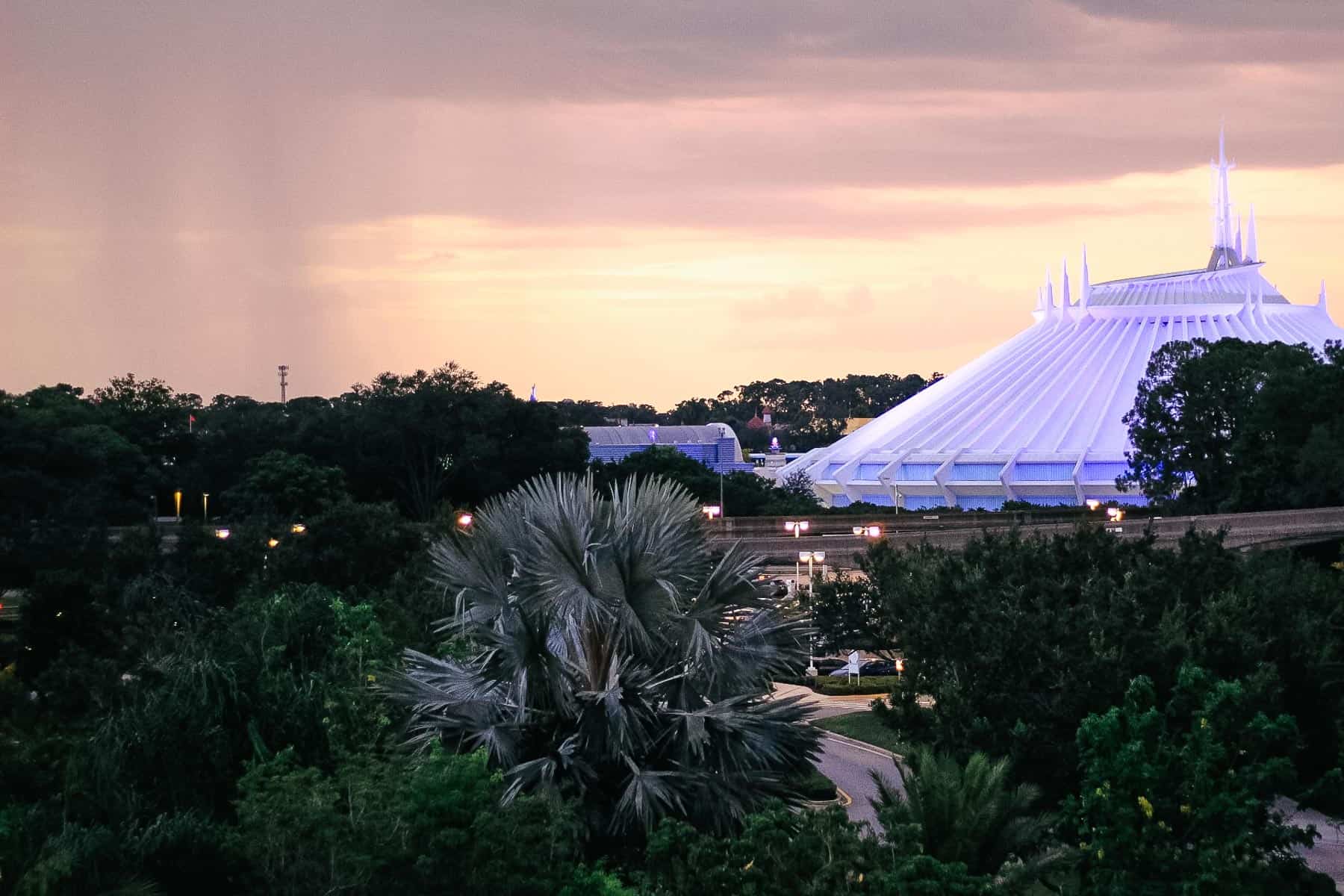 Space Mountain has two queues. Those riding standby will stay to the left. If you purchase Genie+ and select a Lightning Lane time slot for this attraction, you'll stay to the far right. (This attraction originally had an individual Lightning Lane option, but when Tron opened, it was downgraded to Genie+.)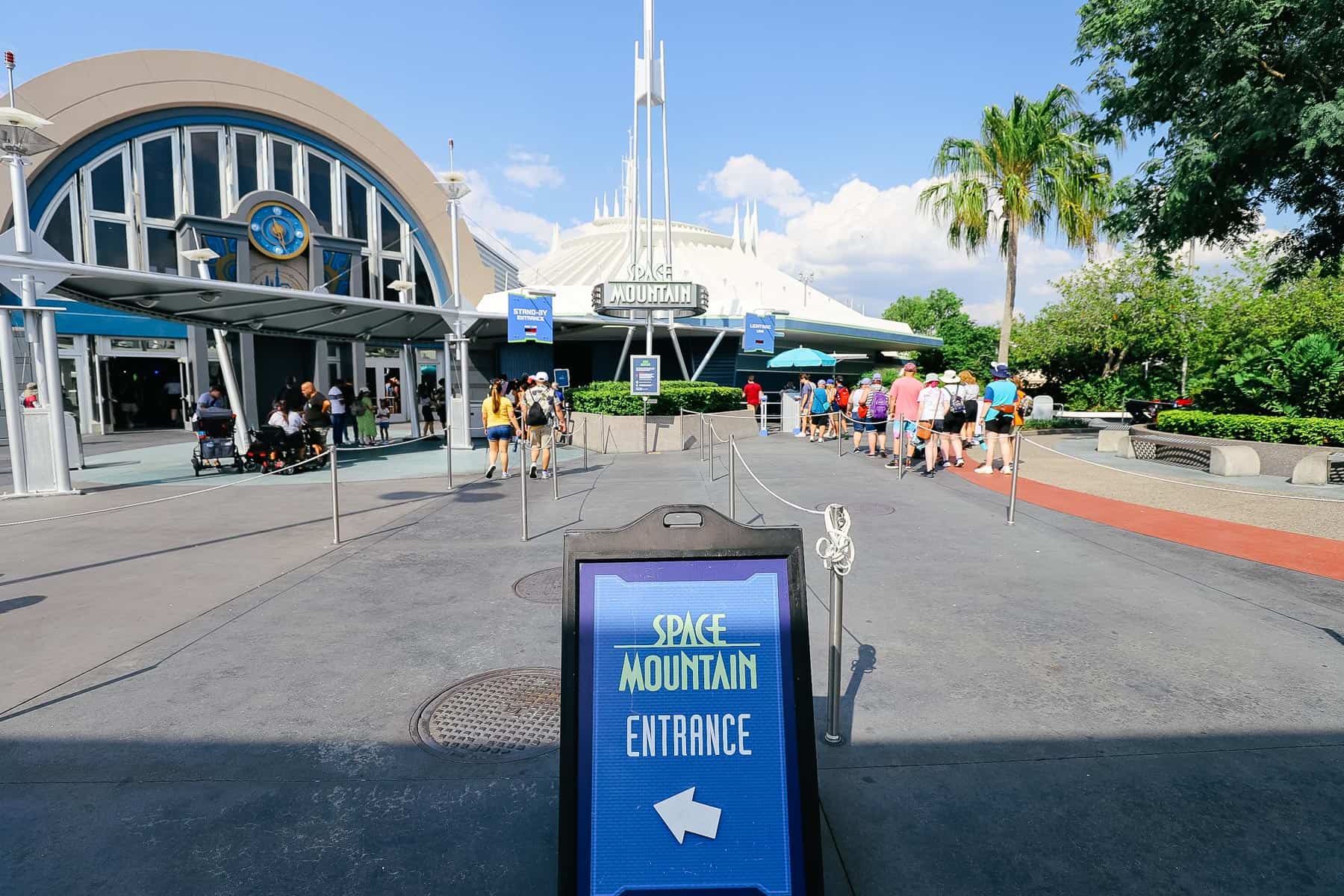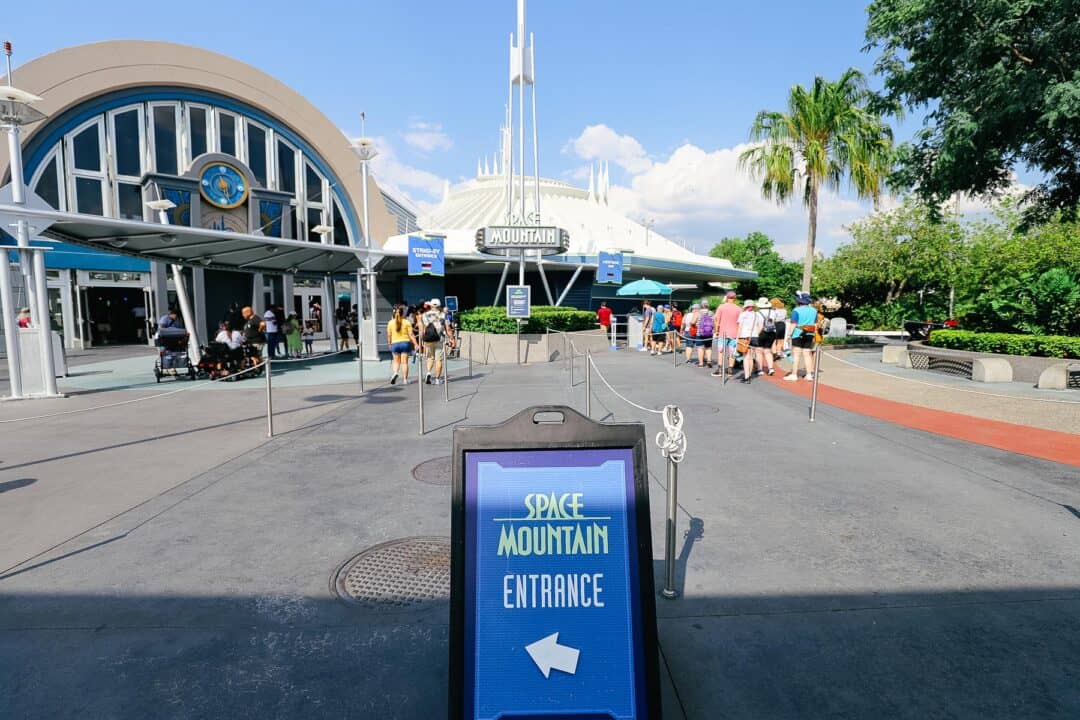 Outside the entrance, a sign provides a few warnings. It reads:
"Space Mountain is a thrilling high-speed, turbulent roller coaster-type ride in the dark that includes sharp turns, sudden drops, and stops. Warning! For safety, you should be in good health and free from high blood pressure, heart, back, and neck problems, motion sickness, or other conditions that could be aggravated by this adventure. Expectant mothers should not ride."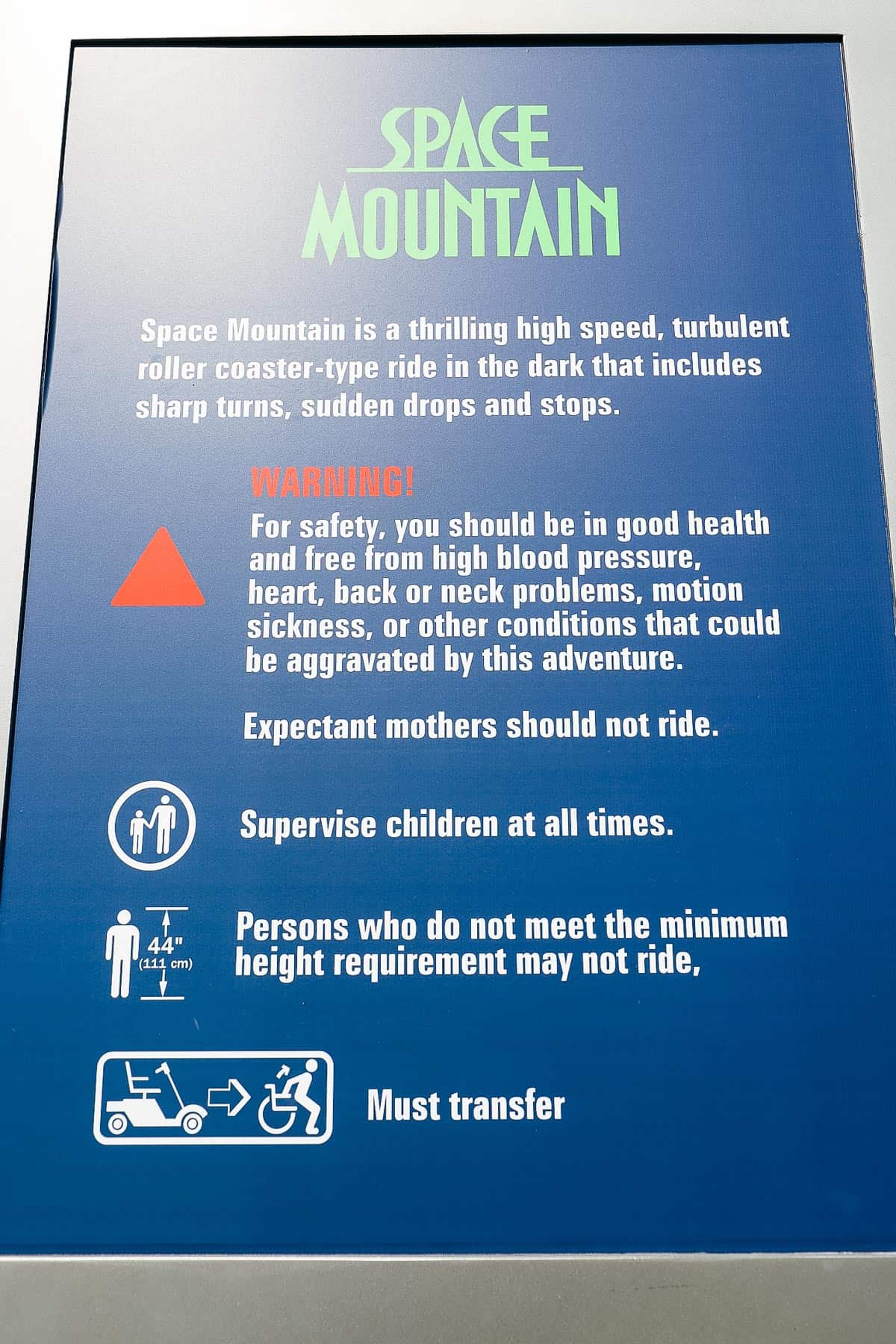 Space Mountain has a 44″ height requirement.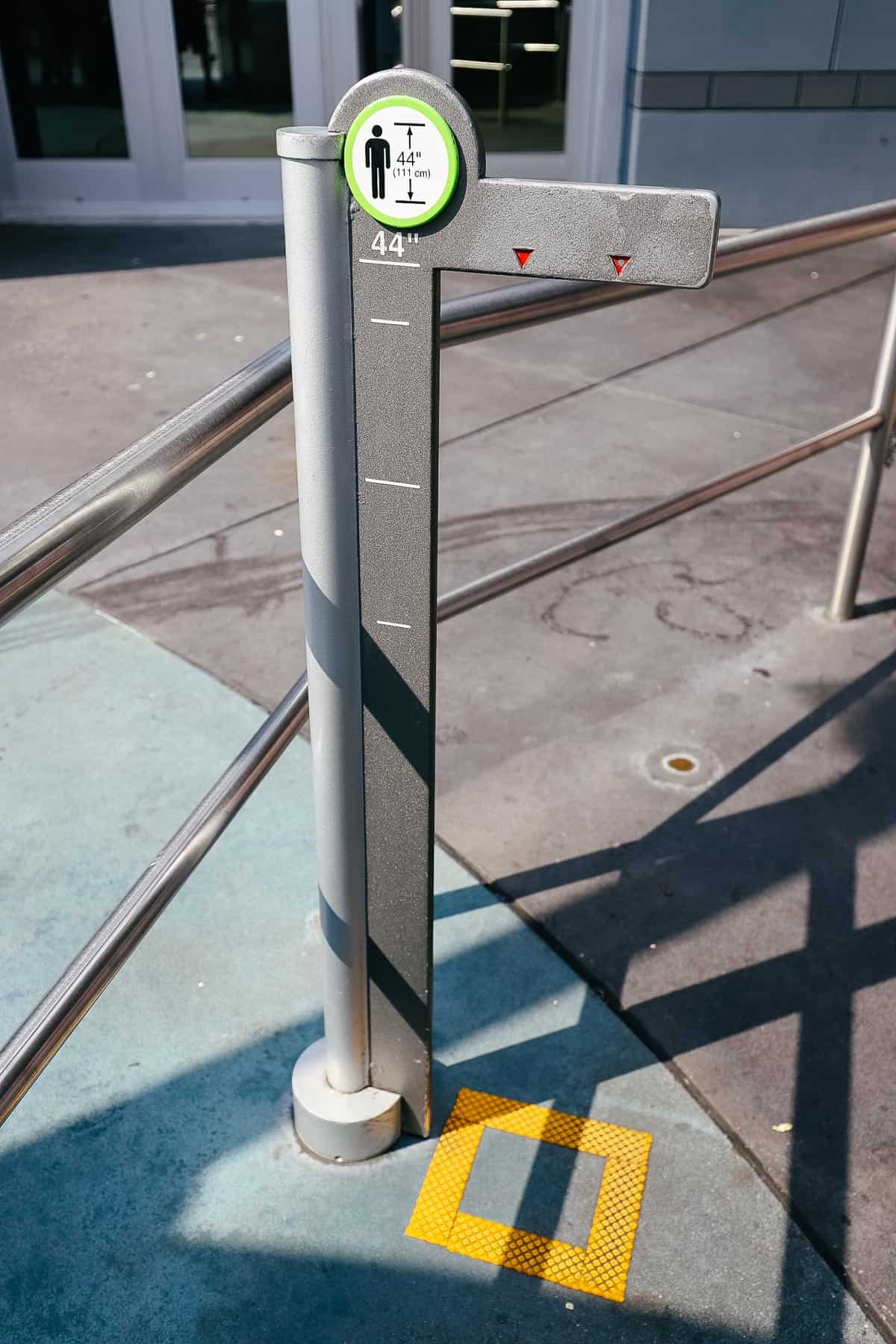 Wait times are posted above the standby queue. Space Mountain typically averages a full hour's wait.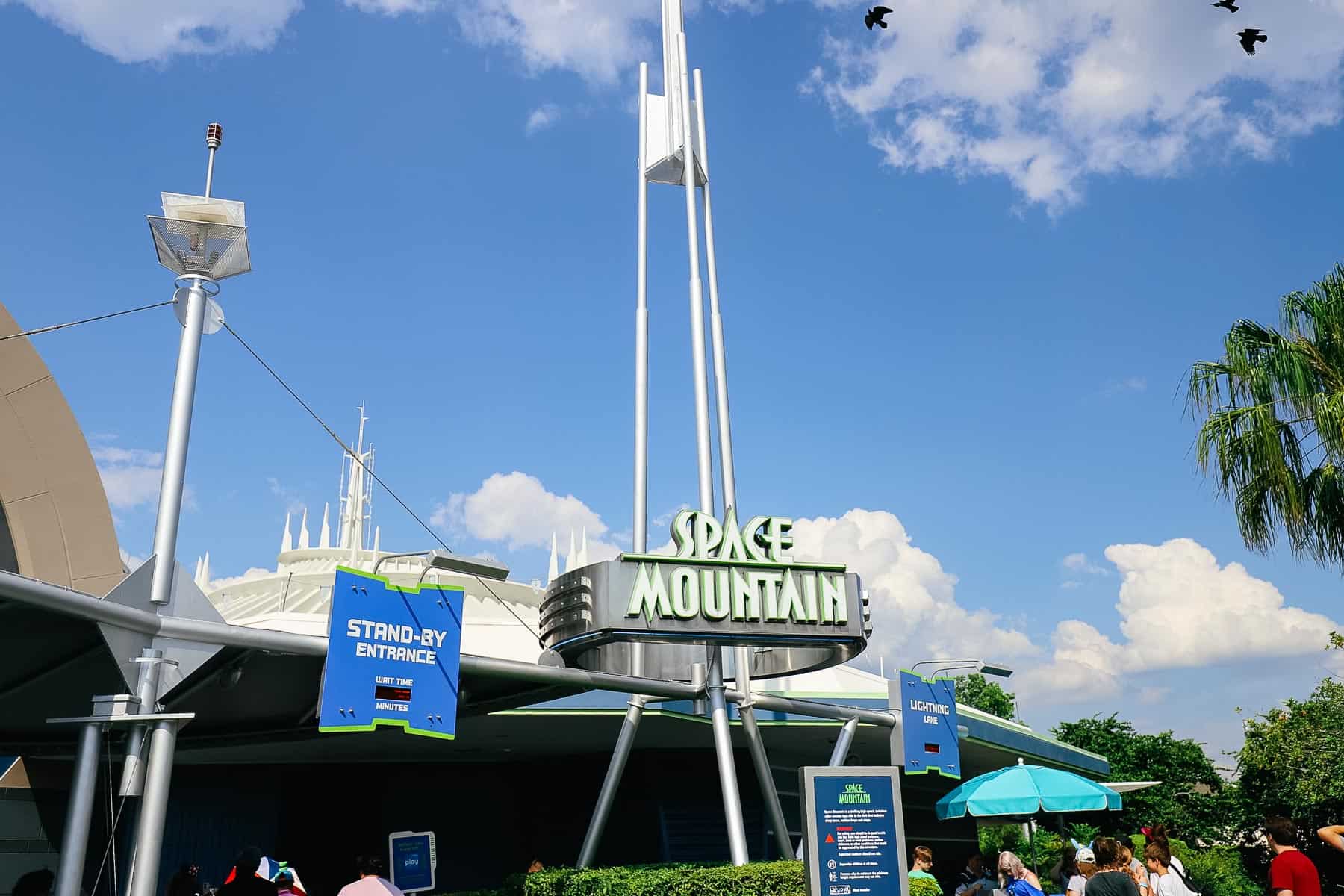 This attraction has an extensive queue. Unfortunately, the interior line is so long that it's hard to gauge the length of the line from the outside. If the line extends outside and is at a standstill, you will likely have well over an hour's wait time.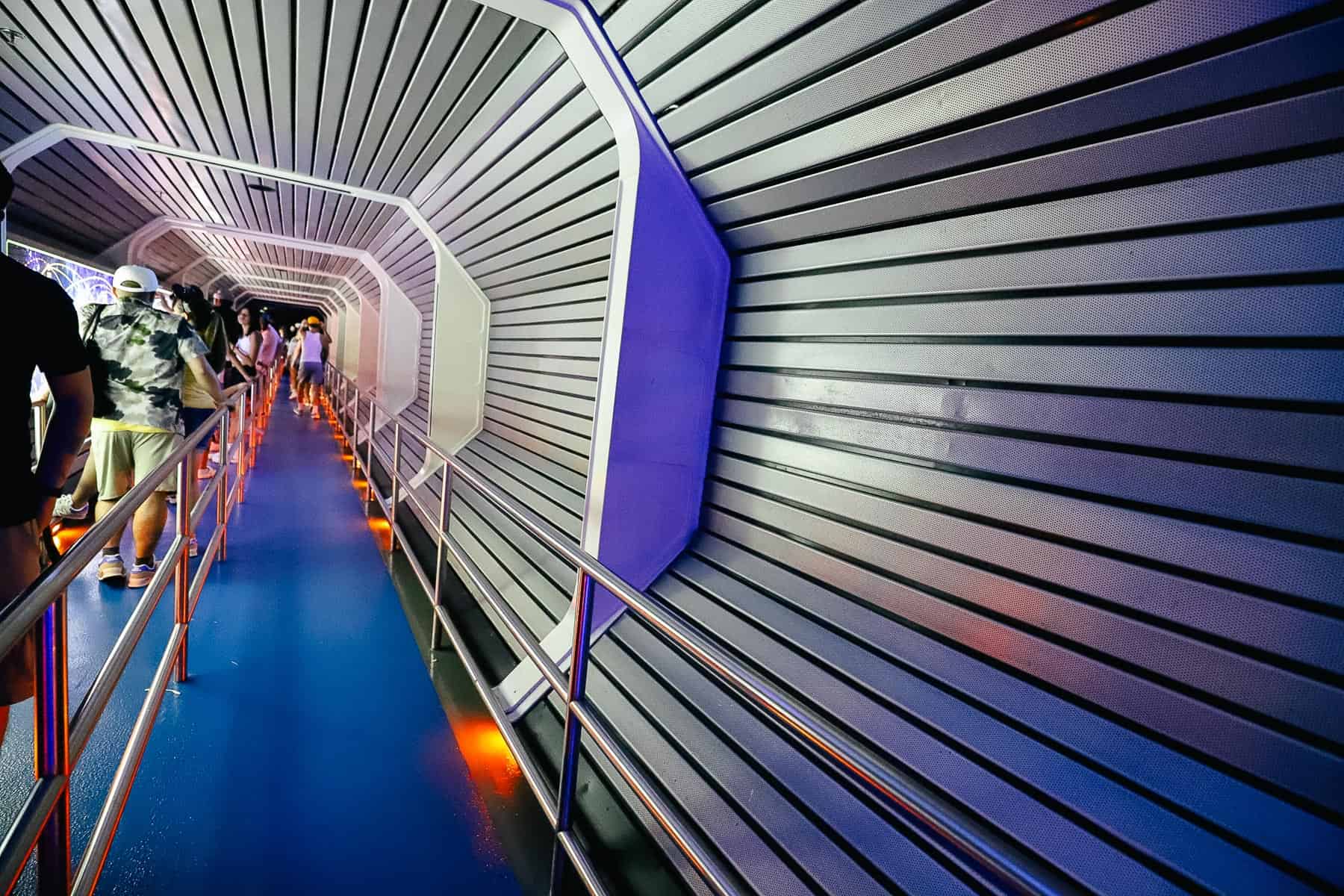 One positive aspect is that the attraction's queue is indoors. So this isn't the worst place to wait in line on a hot day.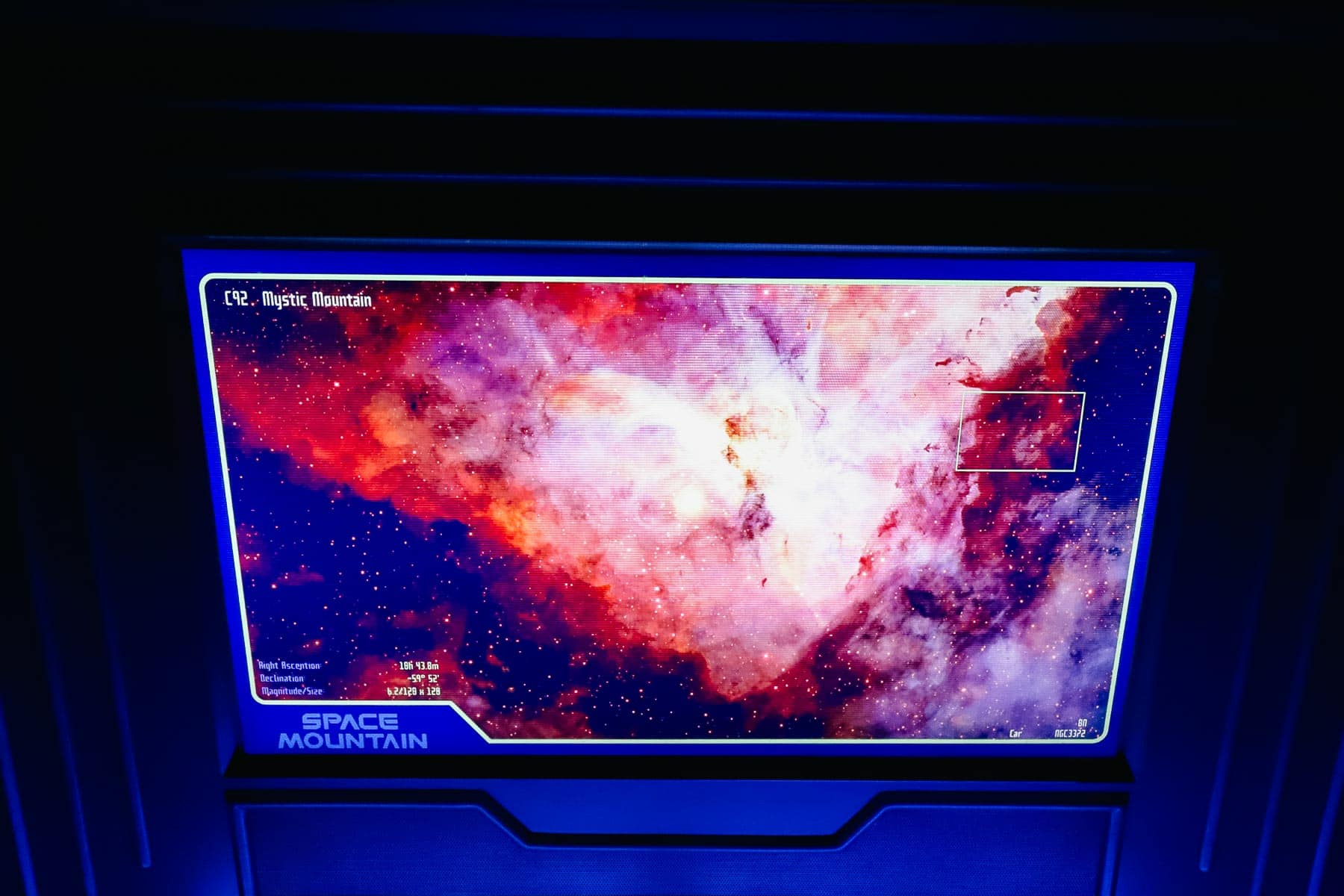 Eventually, you'll make it to a large open area. At this point, a sign asks that anyone traveling as a party of one alert the cast member ahead. Unfortunately, Space Mountain doesn't have a single rider line. But they will pull single riders from time to time and advance them to the front of the line to fill in empty spaces in ride vehicles.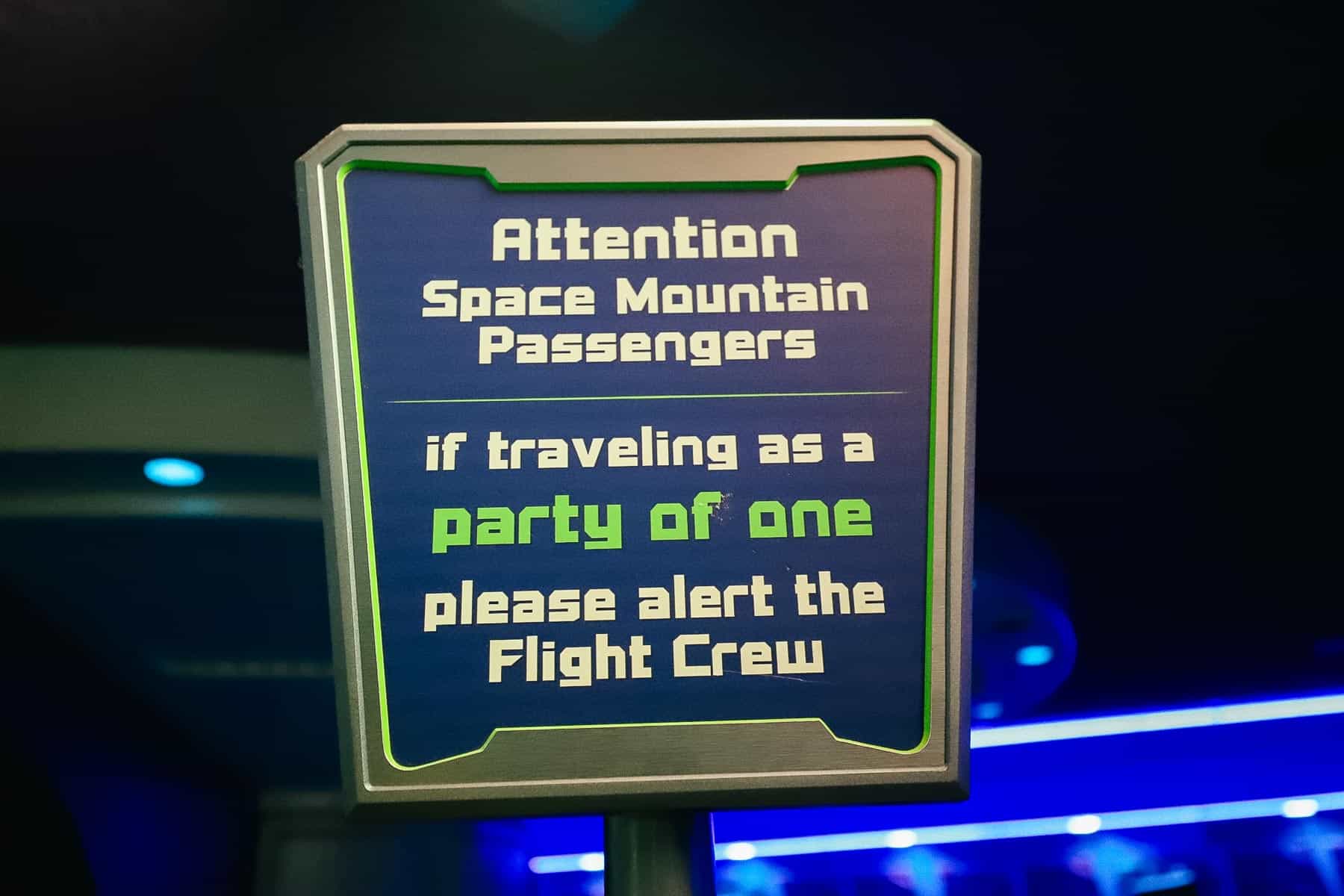 A right and left side are available when you reach the final queue before the loading area. They are called alpha and omega. These days, Lightning Lane guests are usually sent to the right side. Meanwhile, standby guests continue on the left side.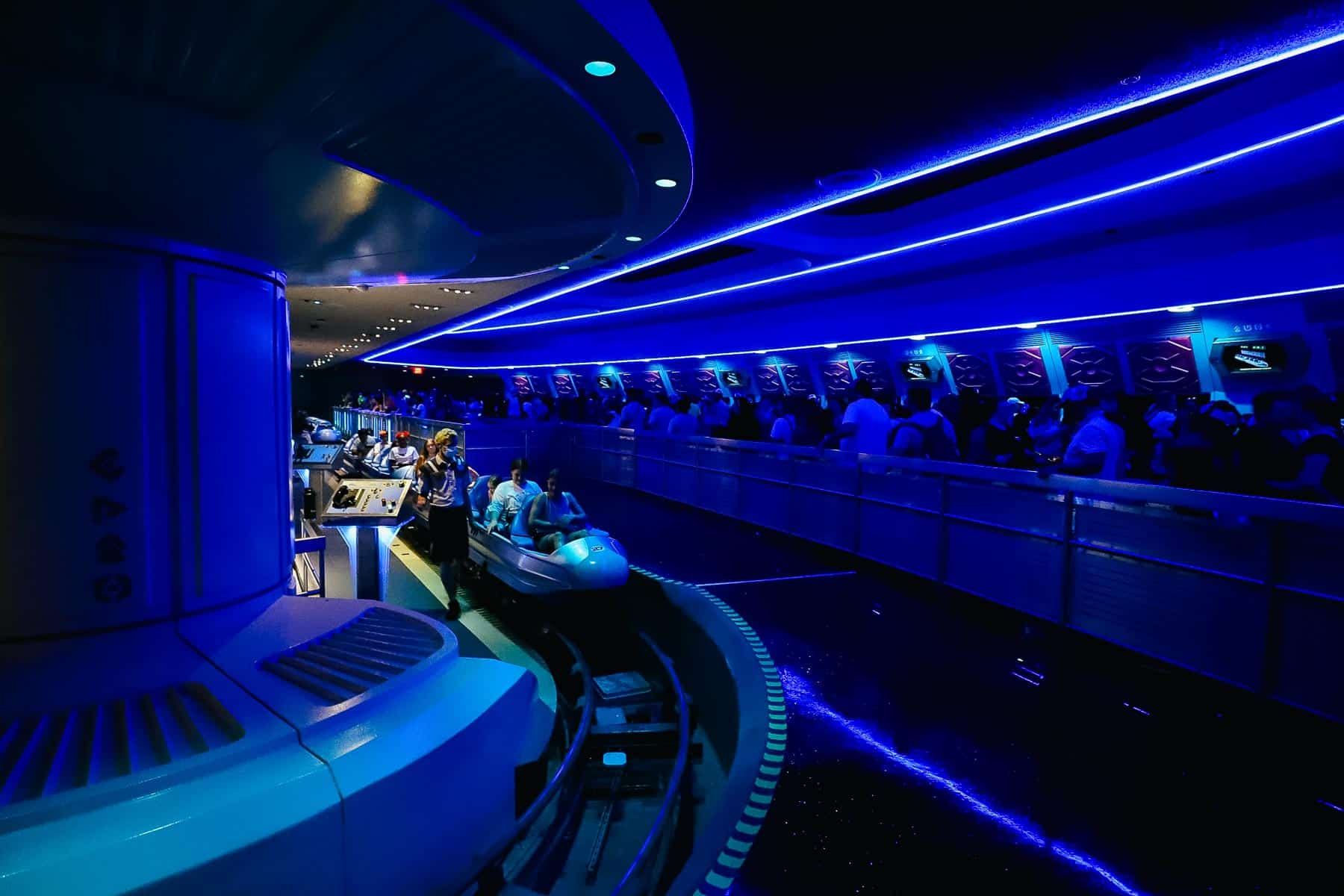 Often the left queue looks longer than it is. So be patient if you see another long line ahead, especially if you're directed to go on the left-hand side.
When you reach the loading area, each one in your group will be assigned a number. You'll move forward each time the person before you boards a rocket ship until it's your turn.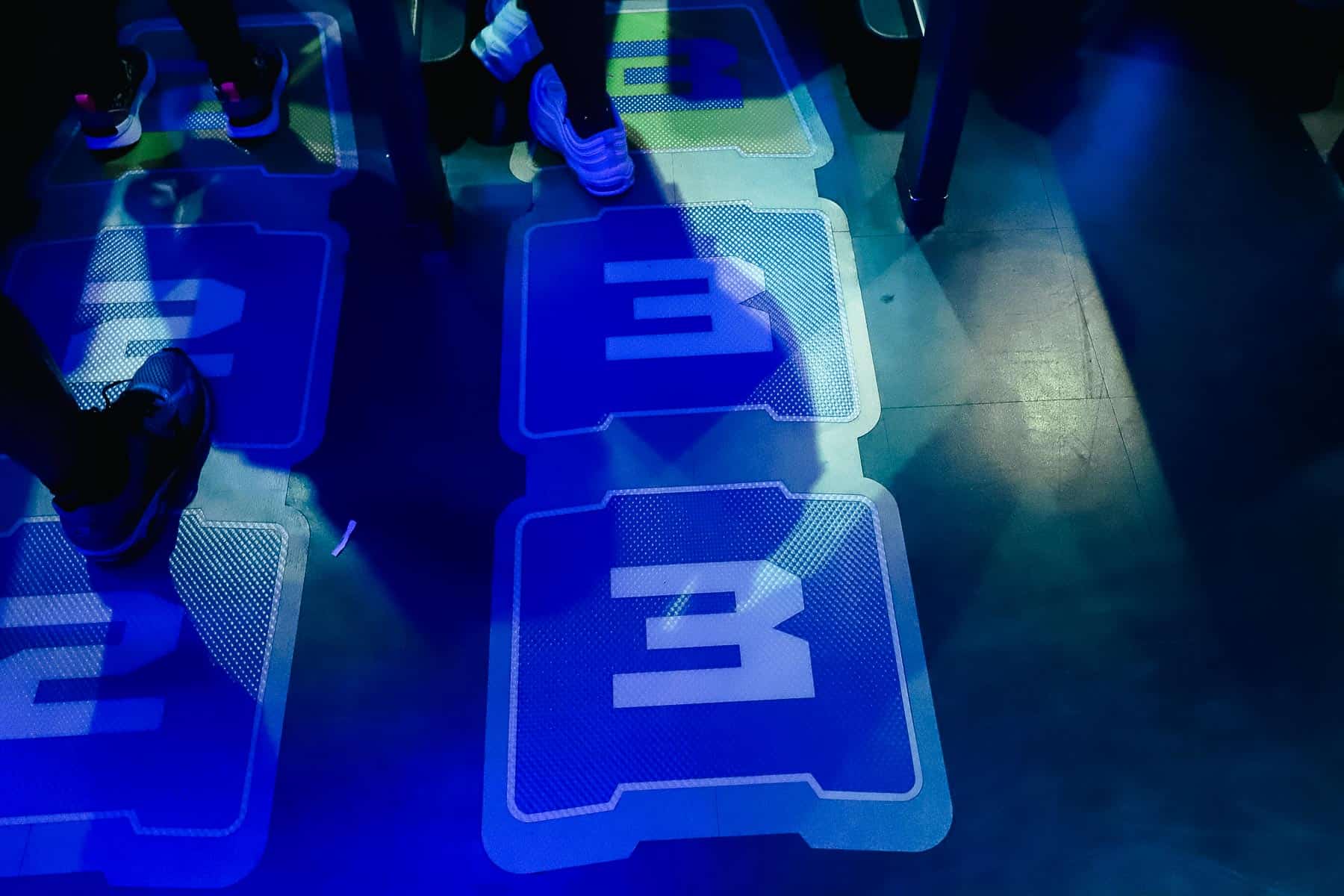 Within a few moments, it will be your turn to board.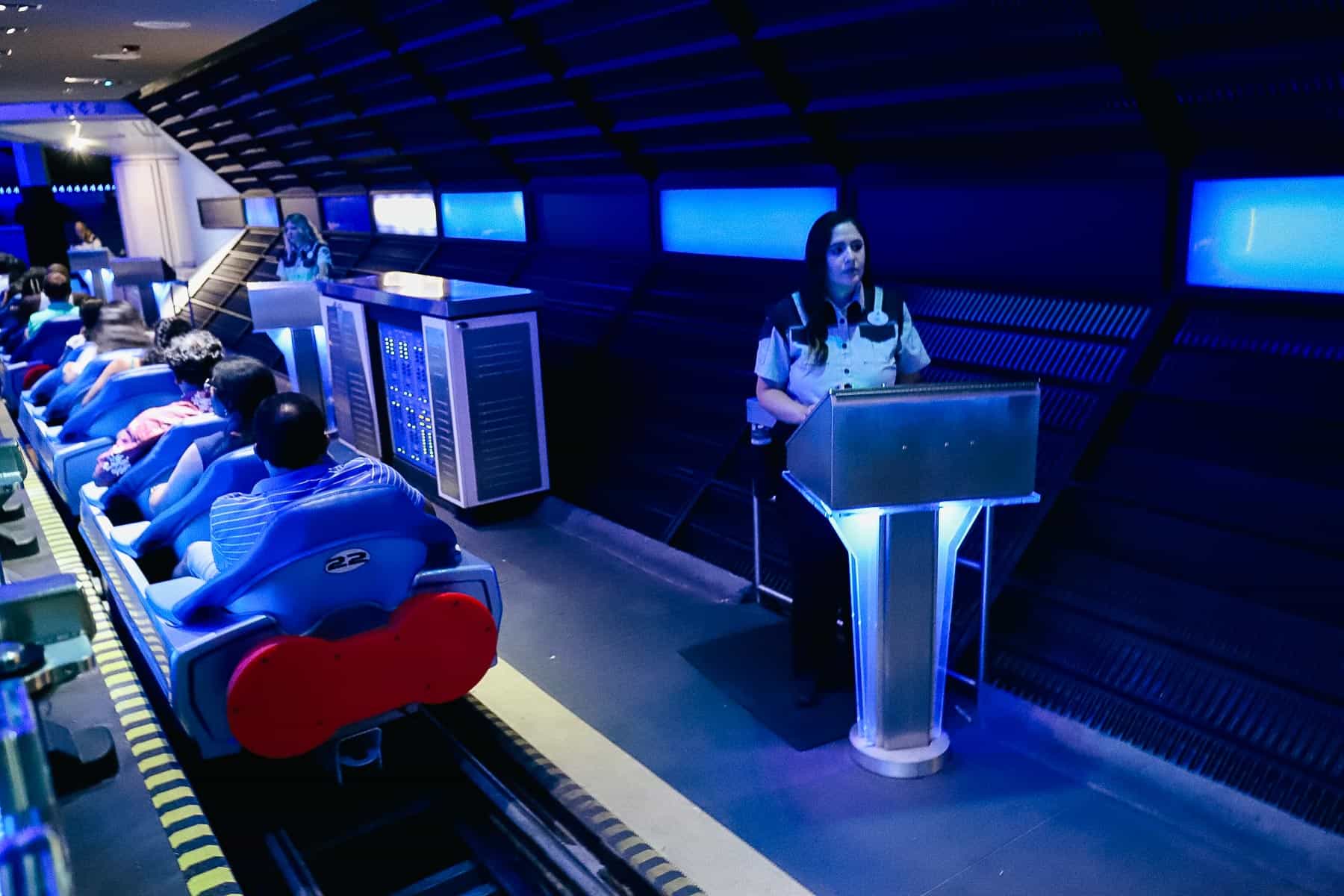 Each set of cars sits a total of six guests. One person per seat, and everyone sits in front of or behind the other person.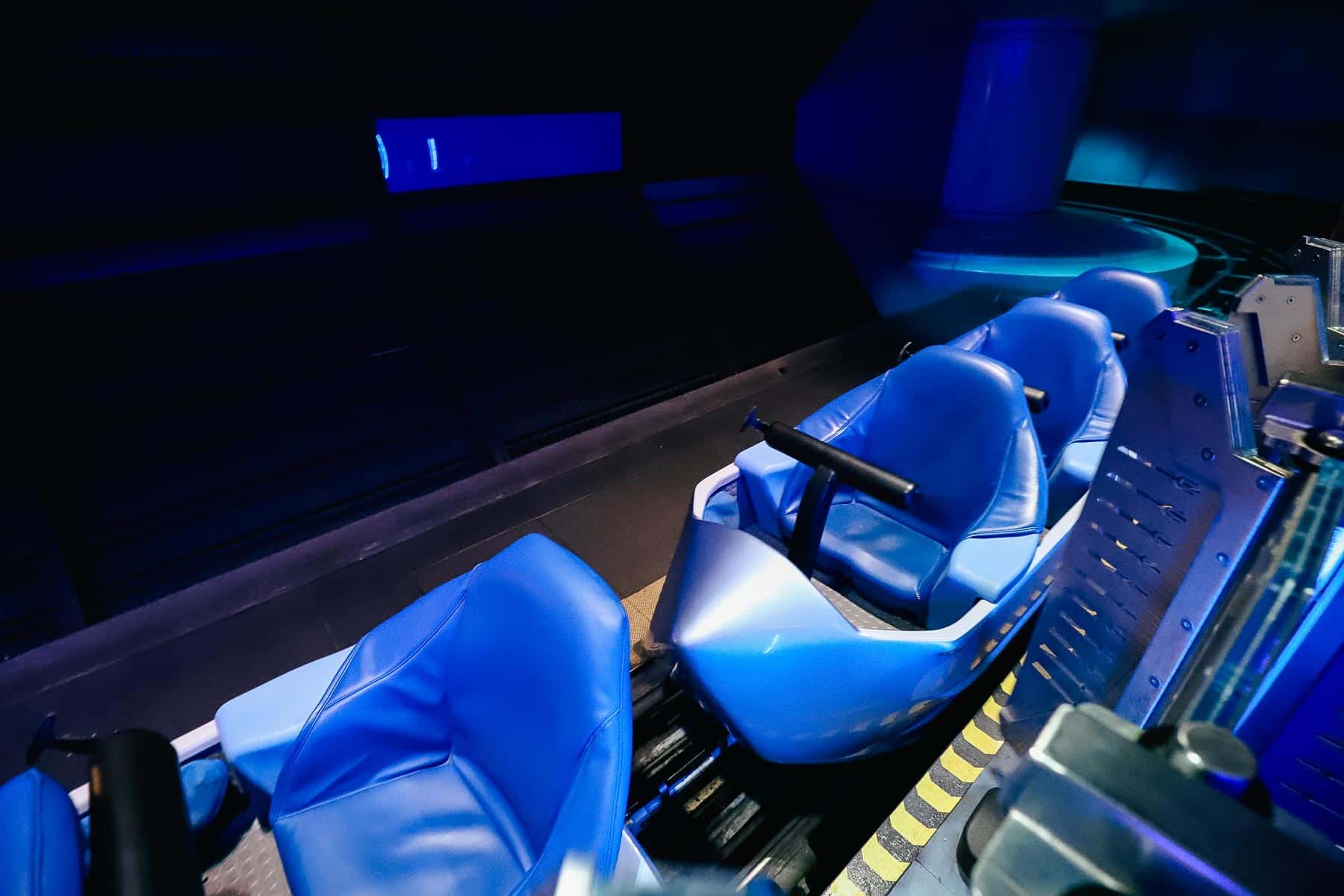 A tiny pouch is on the right side of each vehicle. This is an excellent place to store loose items like hats, sunglasses, and cell phones. You'll want to make sure to have these items in a safe place so you don't lose them.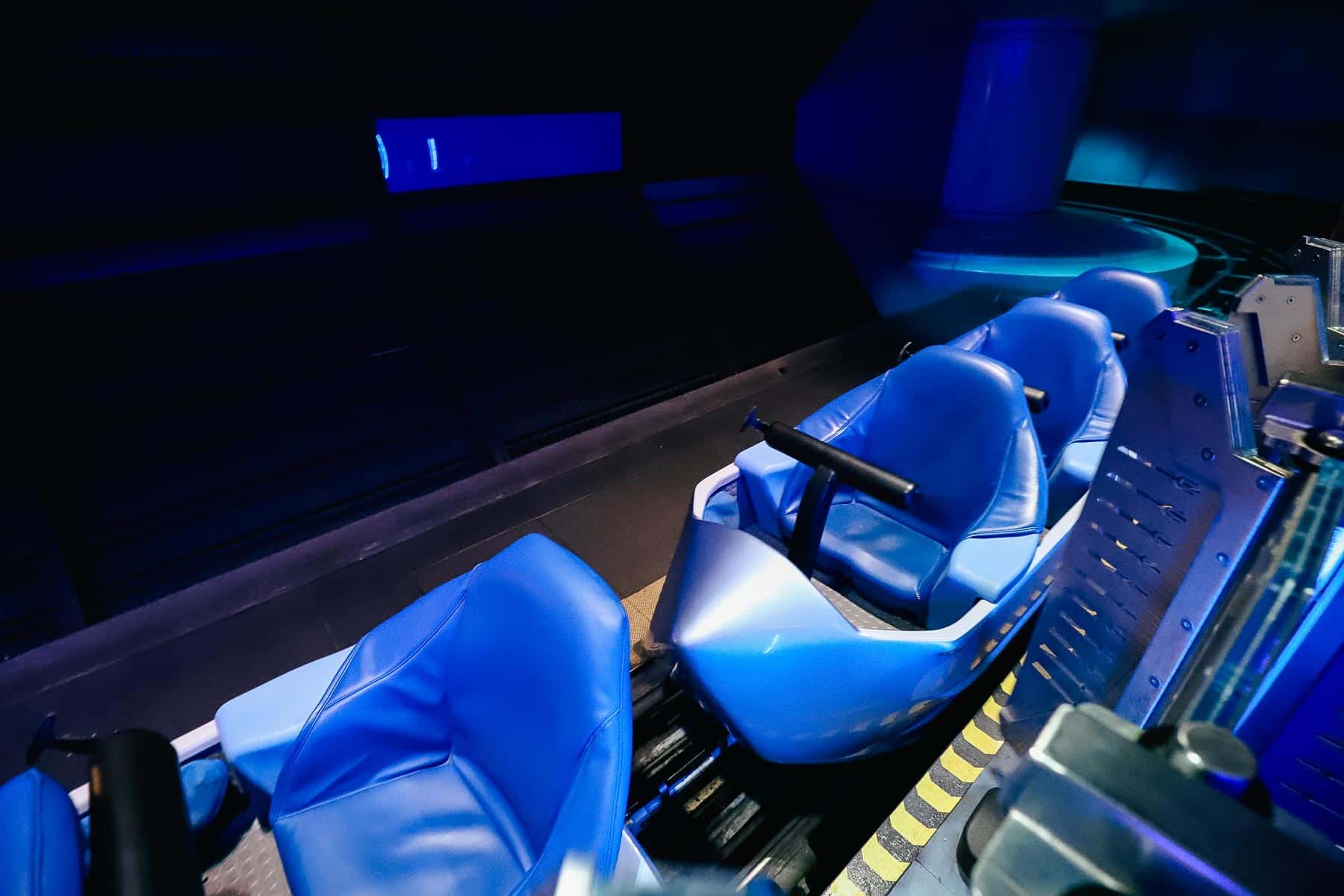 Space Mountain has a lap restraint that you pull down after getting seated.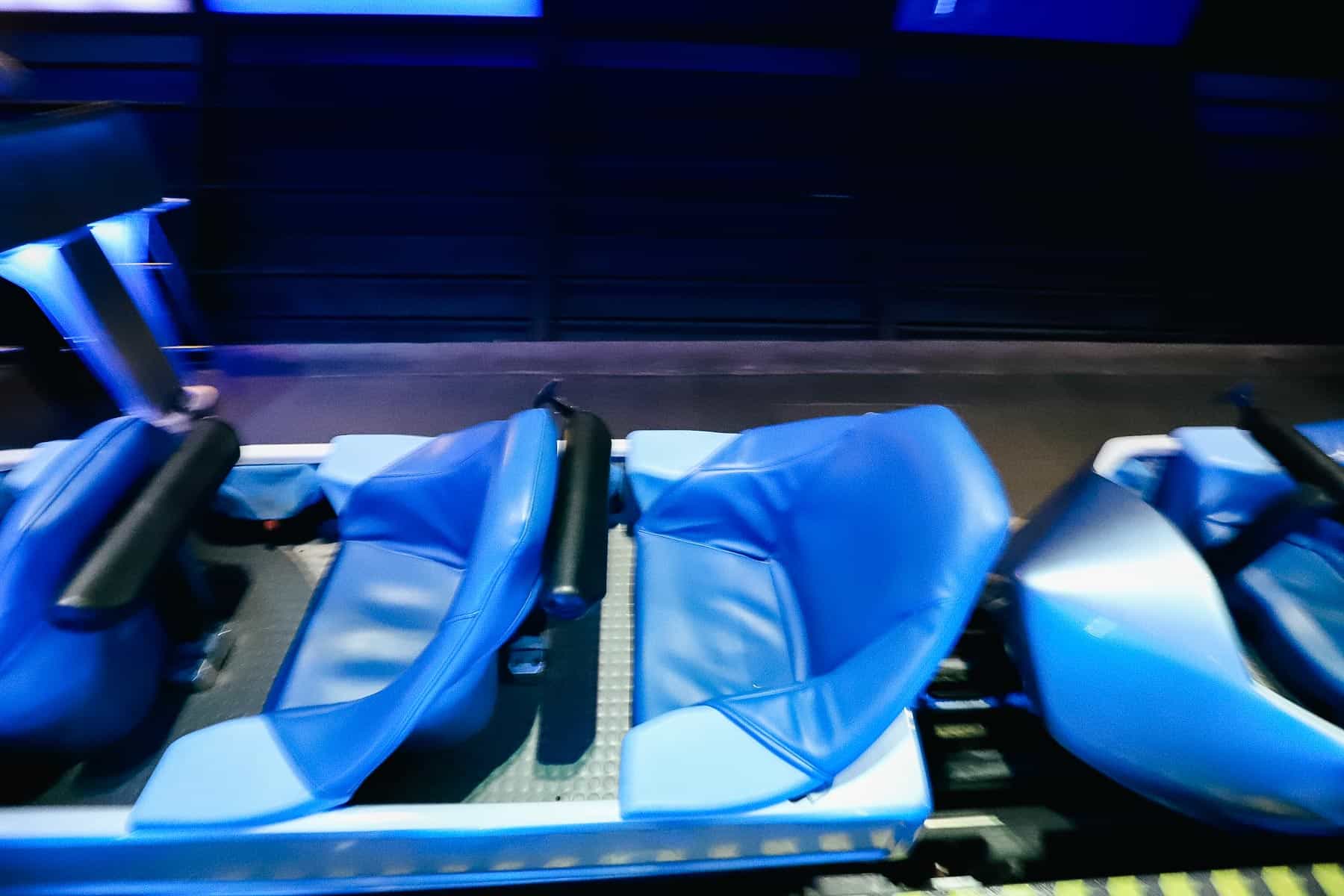 After a safety check, you're off on an adventure around Space Mountain. You'll first go around a sharp curve and then a blue tunnel.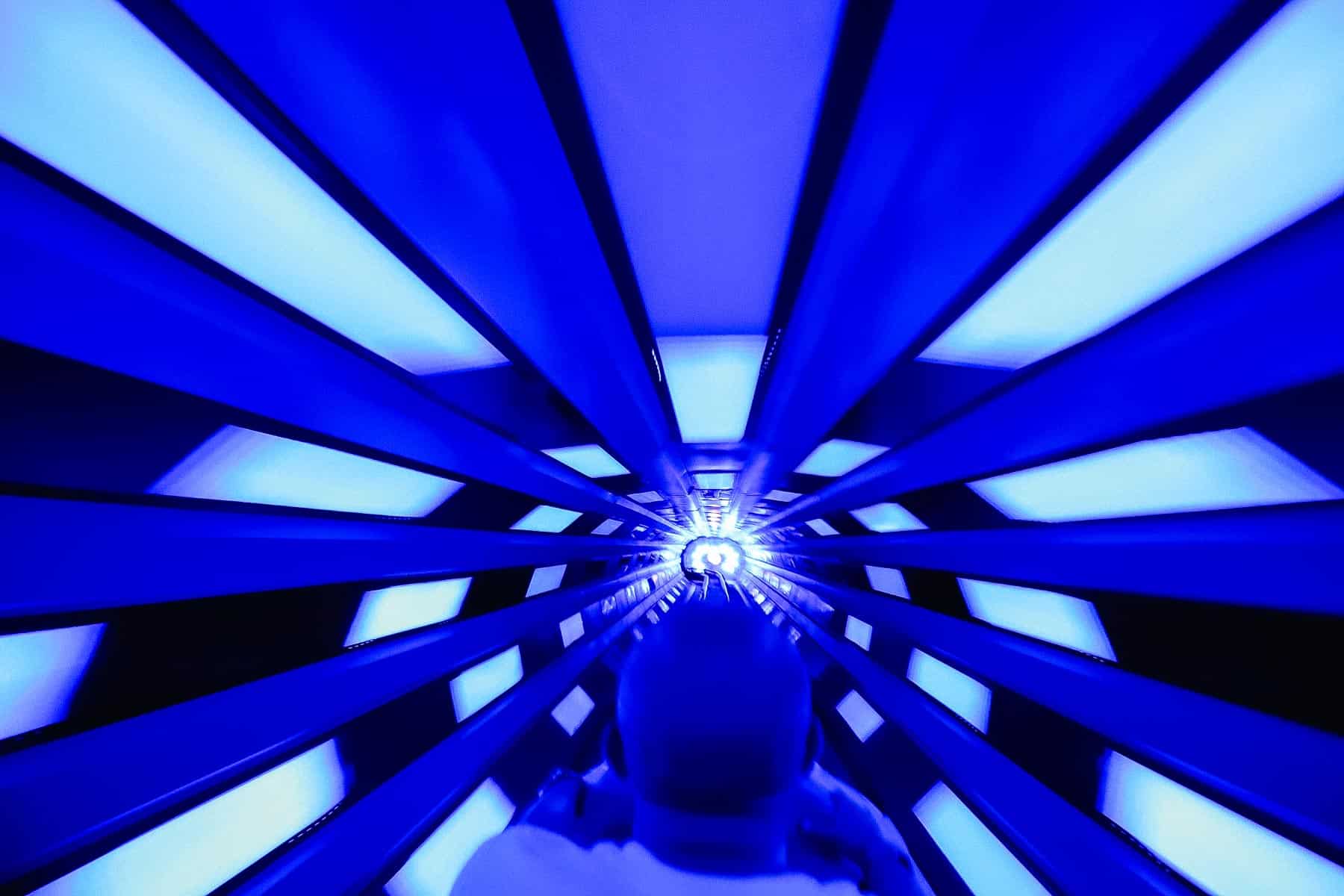 After you exit the tunnel, an on-ride photo opportunity is available. You'll want to lean the opposite way of the turn and smile at the camera. It's probably harder than you think!
Then you're off on a ride of dips, loops, drops, and lifts. It does not go upside down. While Space Mountain feels like a high-speed ride, it tops at 28 mph. Most will agree that the darkness and inability to see the track are the scariest parts.
Before you know it, you'll reach the unloading area. Here you'll want to gather your belongings and exit the vehicle.
Unfortunately, the moving walkway that carried guests to the exit of Space Mountain closed a few years ago. So don't be surprised to find a long walk at the end of the ride. That walkway ends in the Tomorrowland Launch Depot.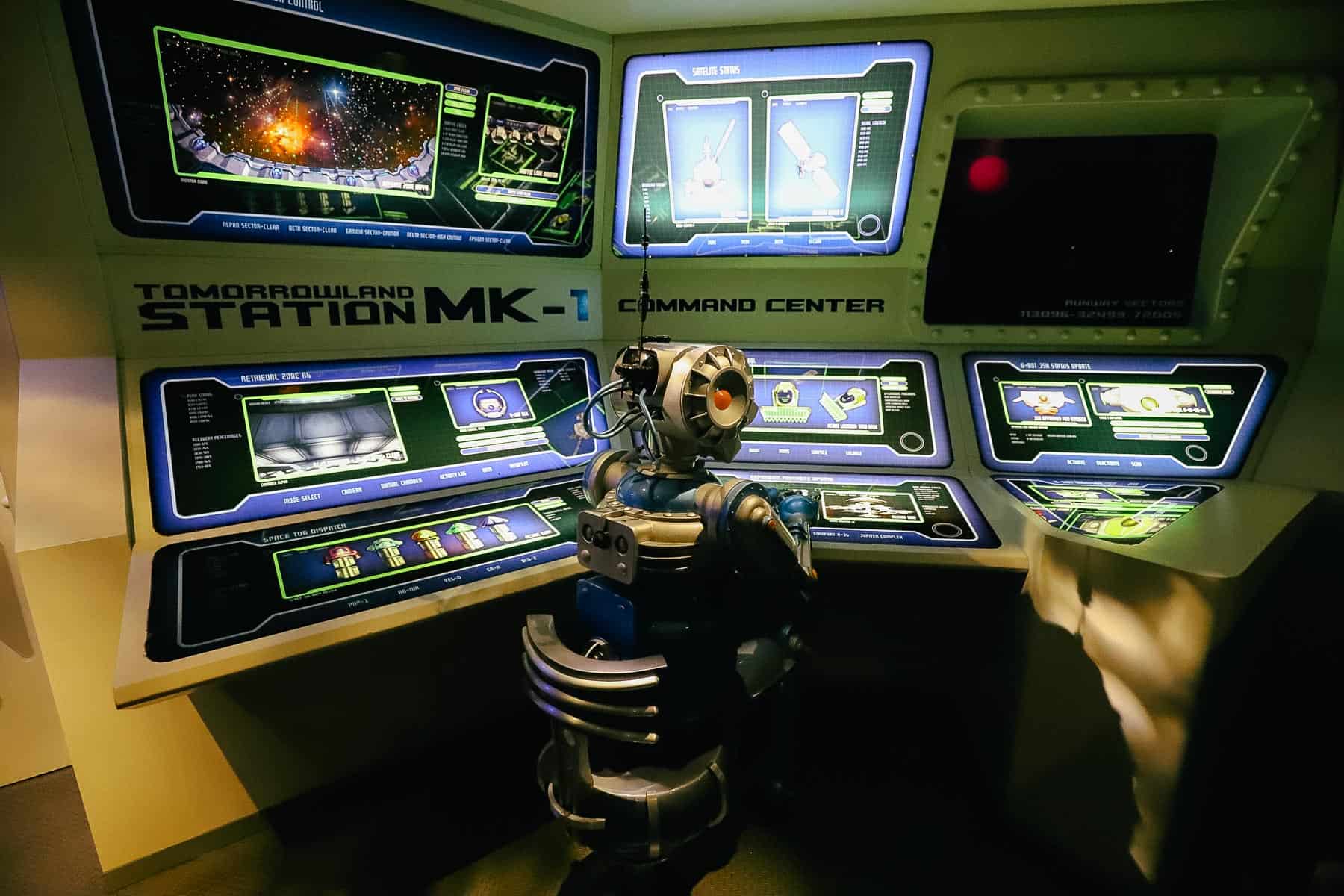 For the best times to ride Space Mountain, guests eligible for early theme park entry might consider riding this attraction during the first 30 minutes the park is open. Guests who won't be in the park that early will do better to wait until later in the evening. Often, wait times will drop during the evening fireworks. Or you can get in line within the last five minutes the park is open.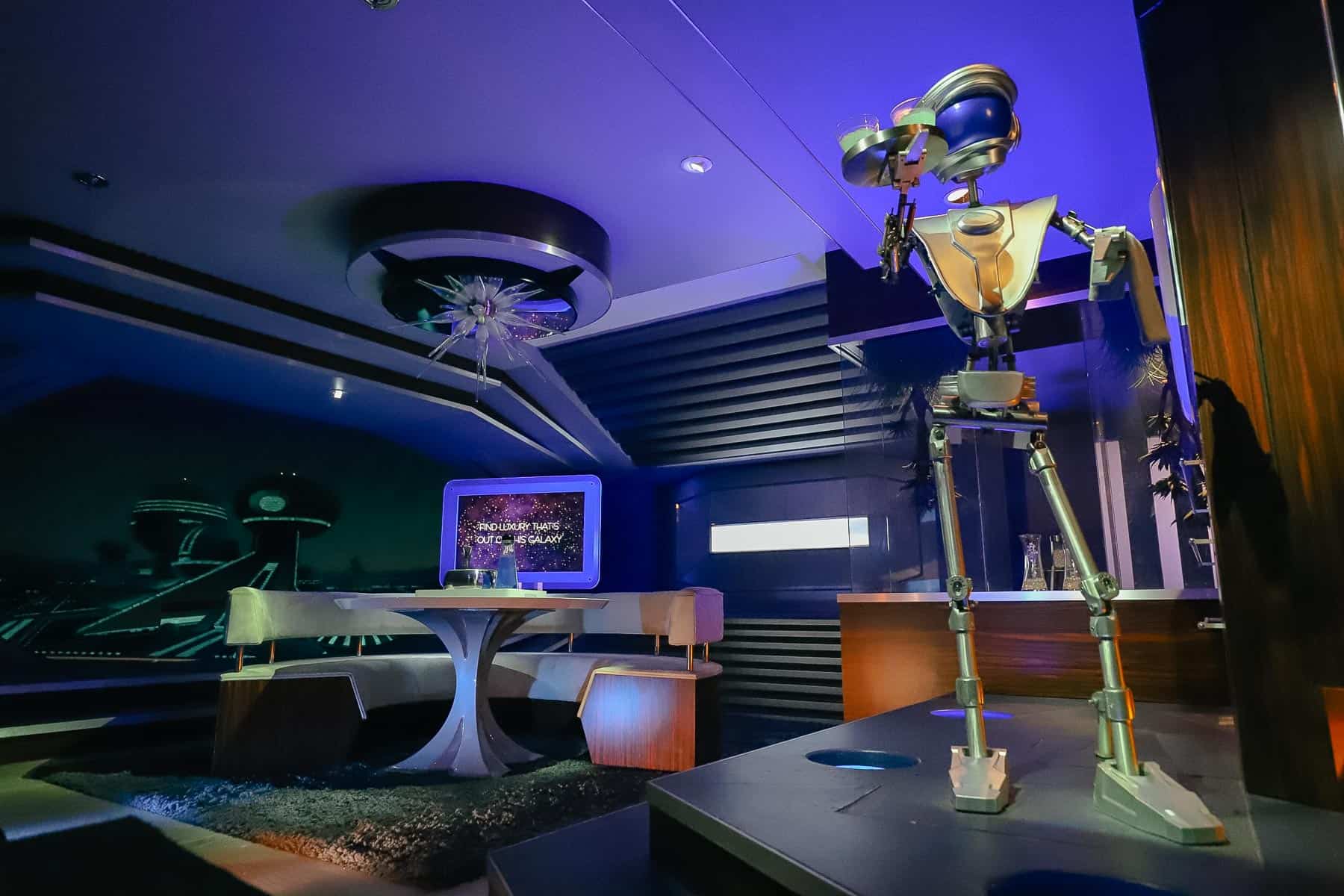 For more details, you might enjoy the following attraction reviews:
Or you can view the complete list of rides at Magic Kingdom.
Resorts Gal specializes in Disney World Resorts, Characters, and Dining. Check out some of our resources, like the list of Walt Disney World Resort Reviews. Or these resorts in the nearby area:
If you plan to meet characters in the parks, we have a list of characters at Disney World. That review links to every meet available in the four parks.
In the Comments
Have you had the opportunity to ride Space Mountain? What are your thoughts?
Planning a Walt Disney World or other Disney Destination vacation?
Our friends and travel partner, Firefly Travels, excels at doing Disney differently. You can fill out a plan your trip form on their website, and someone will reach out shortly to discuss the specifics.