Walt Disney World Railroad at Magic Kingdom (A Charming Train Ride)
This article details the Walt Disney World Railroad at Magic Kingdom. We include a video of the train ride around the park.
All aboard! First, there's a call of the whistle followed by a bell ringing in the distance. Can you hear it?
Suddenly, you feel movement as the wheels start to chug along underneath the train car. The clamor of the engine roars as you pick up speed. A conductor comes on over the loudspeaker, reminding everyone to stay seated.
As you look out toward the horizon, you see the entrance of Magic Kingdom Park. Guests below are headed in or out, many stopping for a family photo underneath the Walt Disney World Railroad station.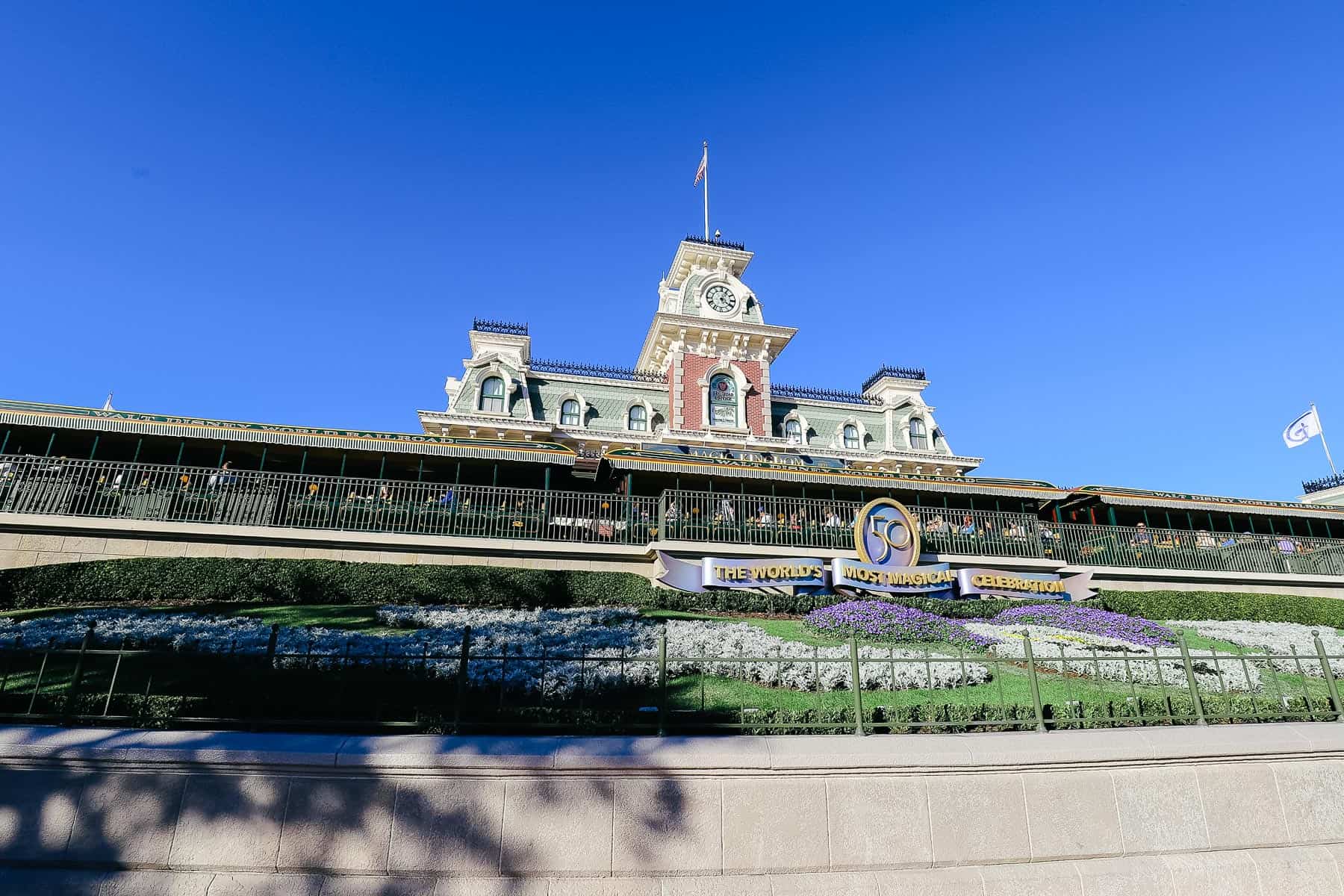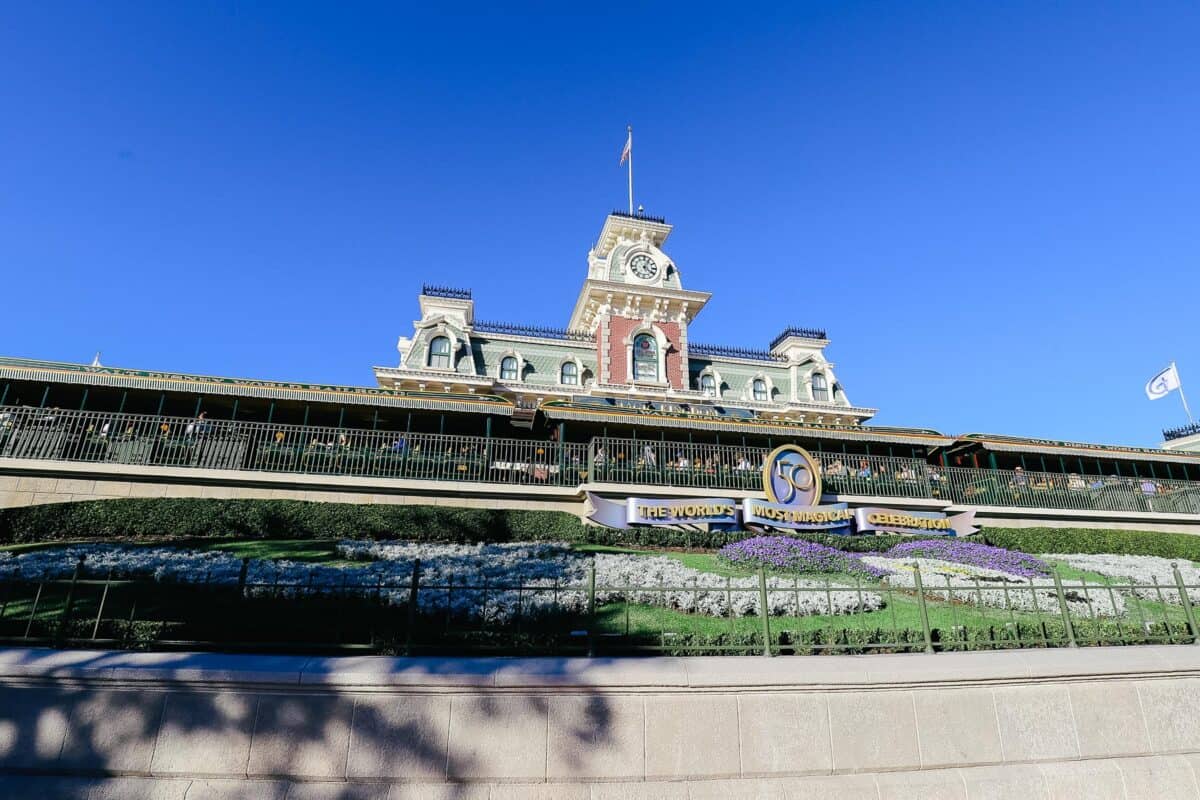 Of course, if you're sitting on the opposite side of the car, you'll have a brief view of Main Street USA in the distance. It's time to sit back and relax as you embark on a relaxing 20-minute scenic round-trip tour of the park.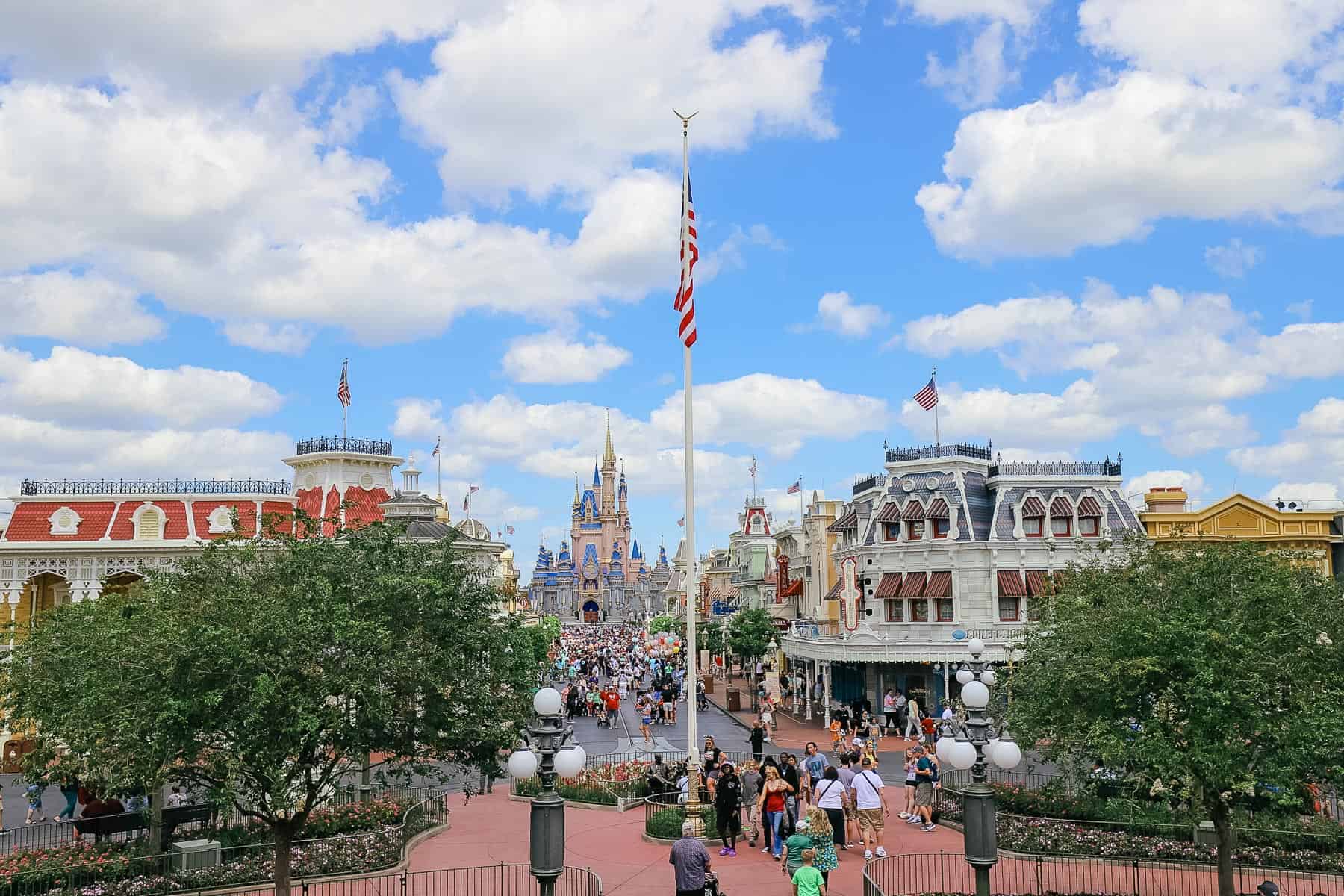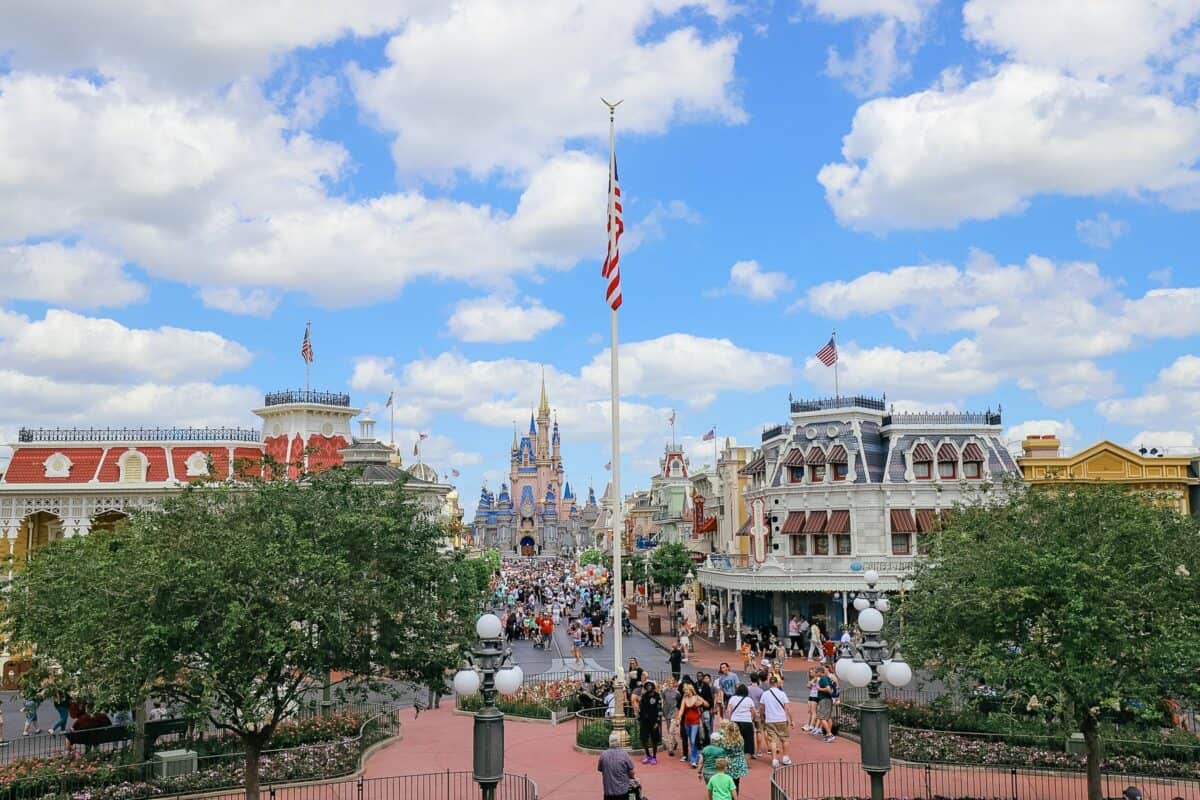 Here are a few details about the Walt Disney World Railroad and Main Street Station.
Main Street Station
Magic Kingdom

Location:

Main Street U.S.A

Height Requirement:

None

Disney Genie+ Eligible

NA

Ride Type:

Train Ride

Seats Per Vehicle:

Four to Five per row

Rider Switch:

None

Good For:
Everyone
Nostalgia Seekers
Taking a Break

Scare Factor:

None

Must-Do List:

High

Perfect For:

All Ages

Special Mention:
Fresh commentary and amusing anecdotes make up the new narration.
Walt Disney World Railroad
Walt Disney was many things to many different people. One of the ways his memory is special to me is because of his love for trains.
So for many of us, the Walt Disney World Railroad offers a nod to Walt Disney and his original backyard train, the Carolwood Pacific Railroad. If it weren't for his dreams turned into reality, we wouldn't have a train ride, much less a park to loop.
When you arrive at Magic Kingdom, the train station is one of the first things you'll see. Guests enter the park on either side of the train station. A stairway leads up to the platform.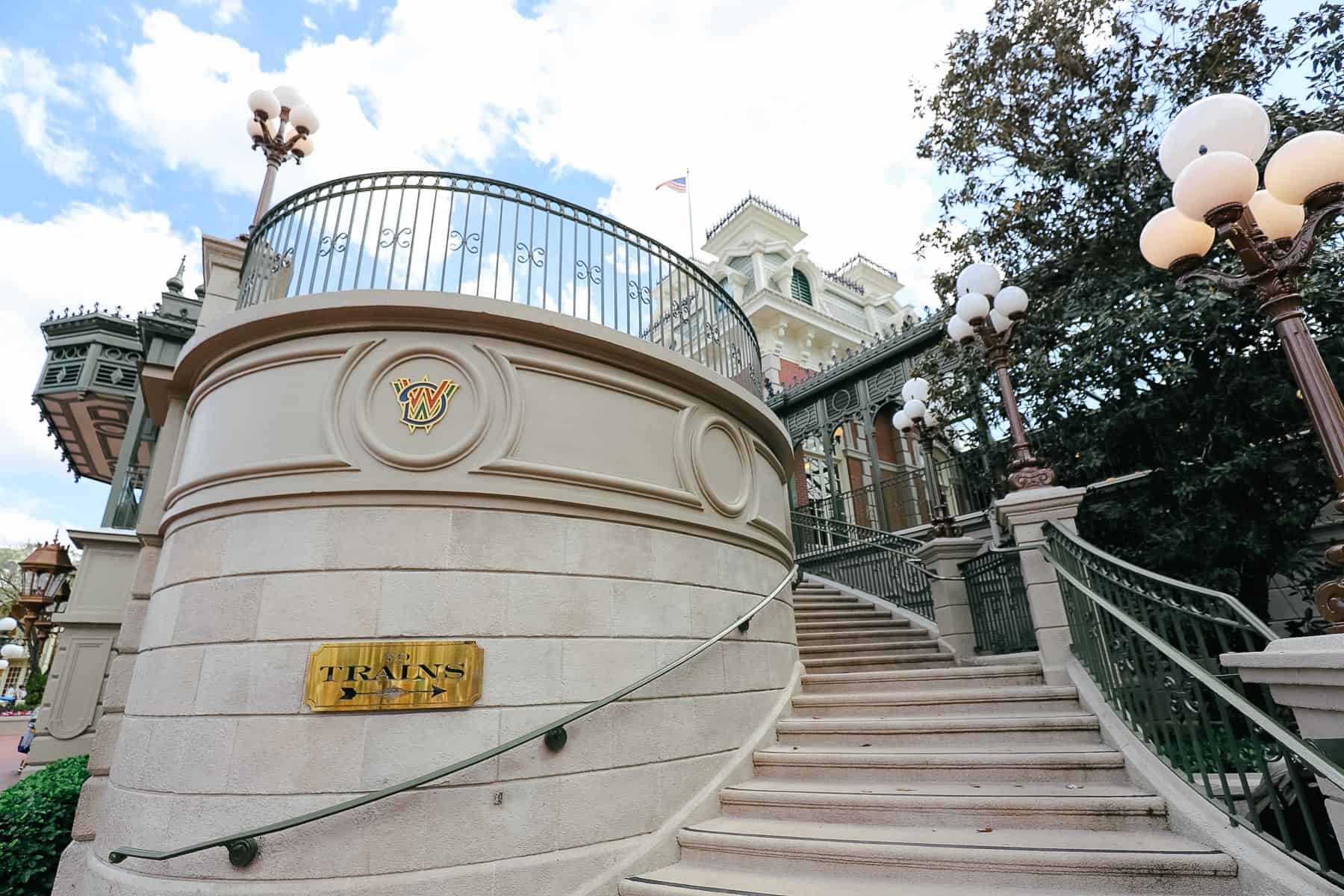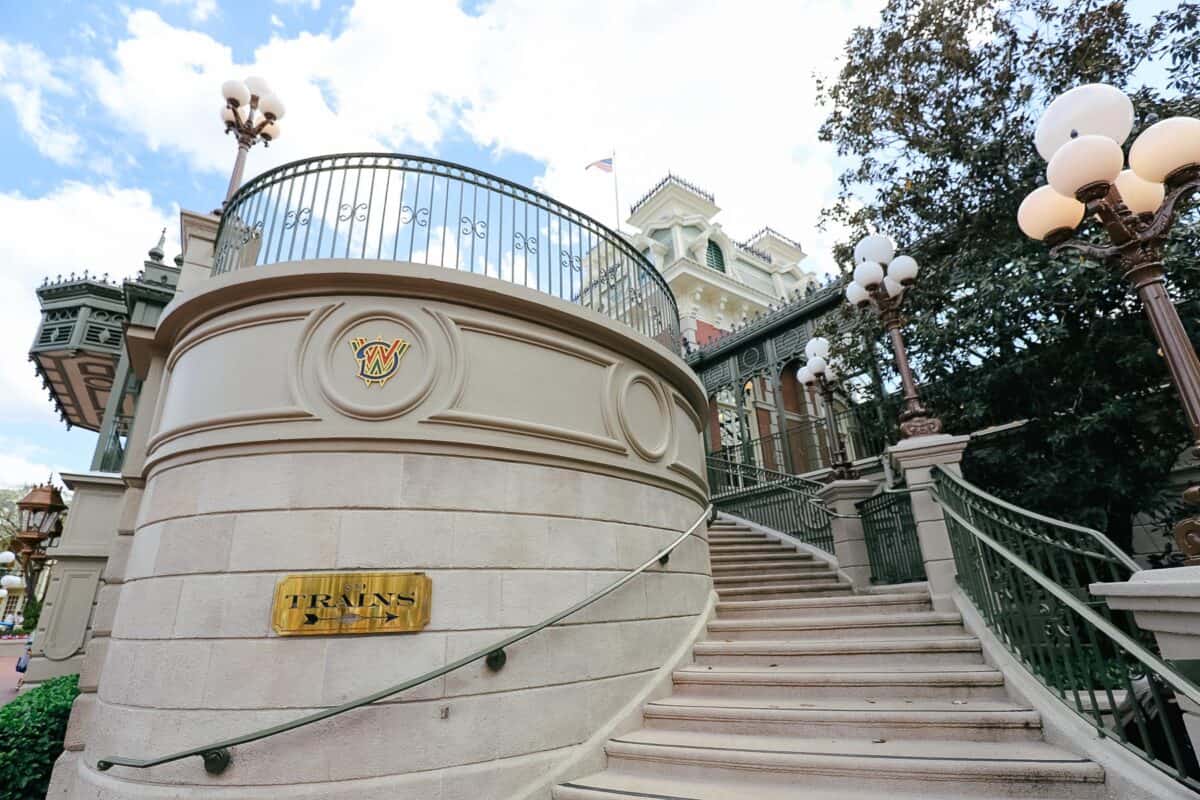 There is another set of stairs underneath the station. Guests with strollers, wheelchairs, ECVs, etc., can use a separate ramp that leads up to the train station.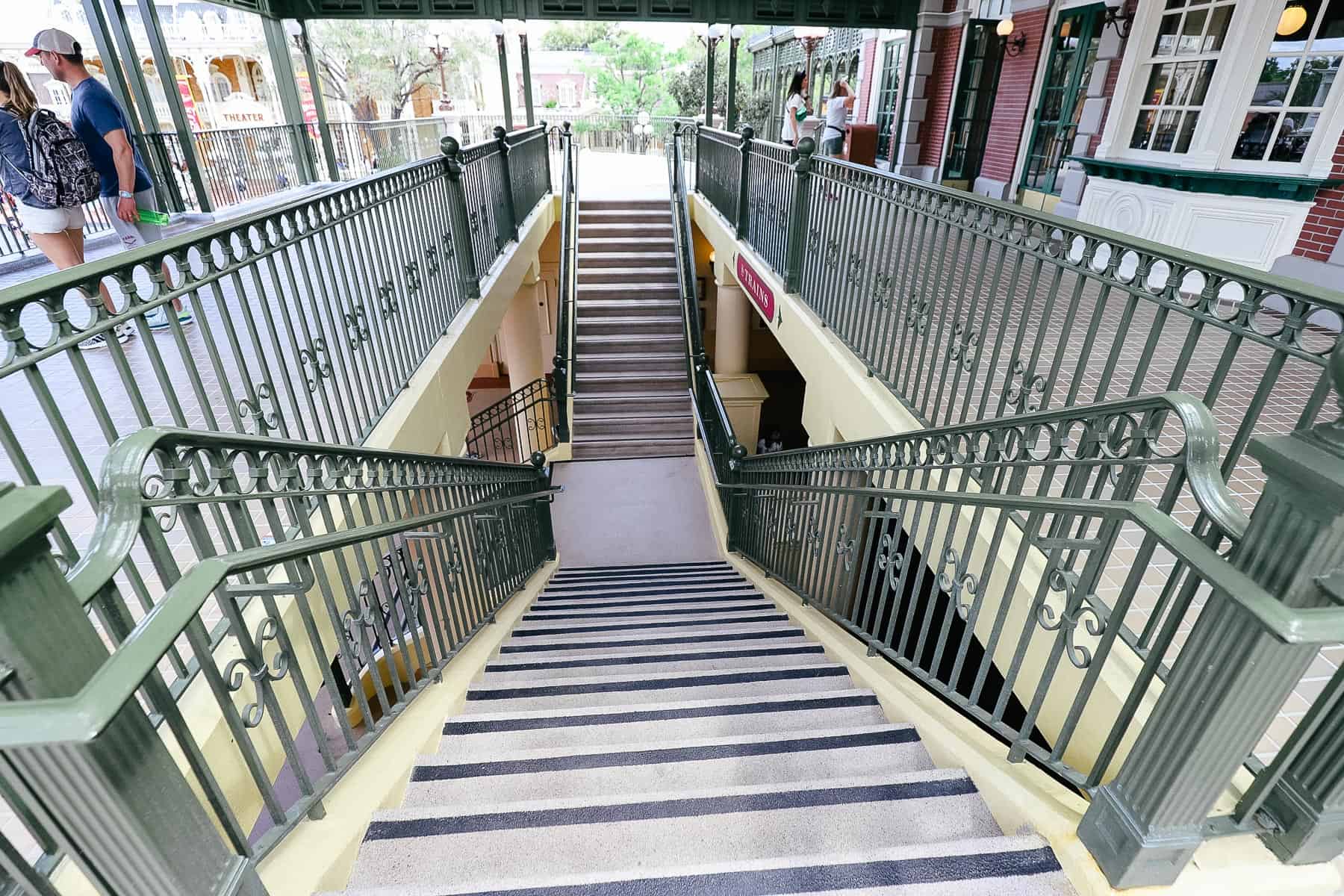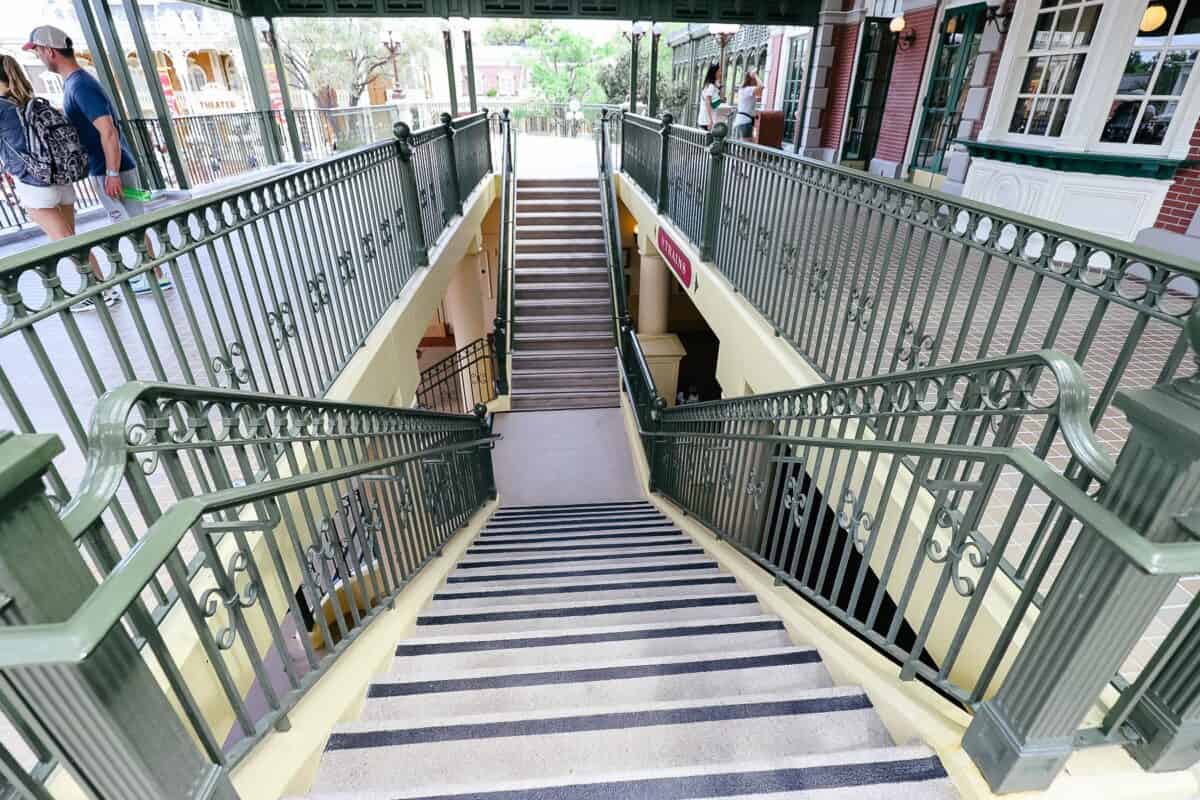 Both levels of the train station offer a mini-museum of sorts. There are a few items and informational displays. Anyone interested in trains might want to take some time to explore the lower level.
Four trains circle the Walt Disney World Railroad.
Roger E. Broggie
Roy O. Disney
Walter E. Disney
Lilly Belle
Each train represents someone pretty important. For instance, Roger E. Broggie was the first Imagineer ever.
He helped Walt Disney create a scaled-down train ride in Walt's backyard that became the model for the Disneyland Railroad. He is also well-known for his work in helping develop audio-animatronic technology.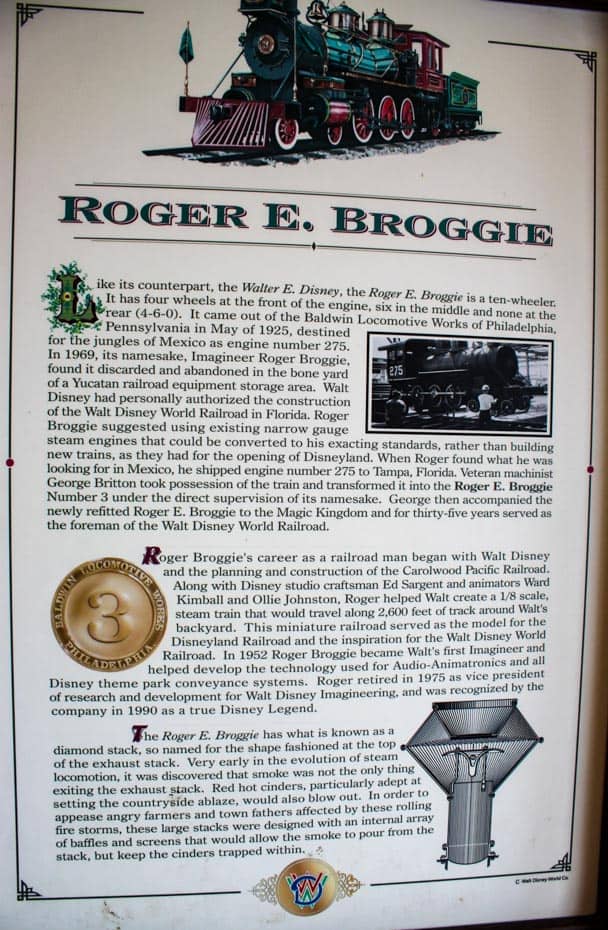 Next, there's the Roy O. Disney, named after Walt's brother Roy. Without Roy, most of the things we love and know about Disney wouldn't have been possible.
Roy Disney is credited for running the Disney business behind the scenes, leaving Walt with the time to create and invent.
Not having someone like Roy on your side could be detrimental to any business. So make sure to stop and have your picture made with him and Minnie (Sharing the Magic statue) below the Main Street train station.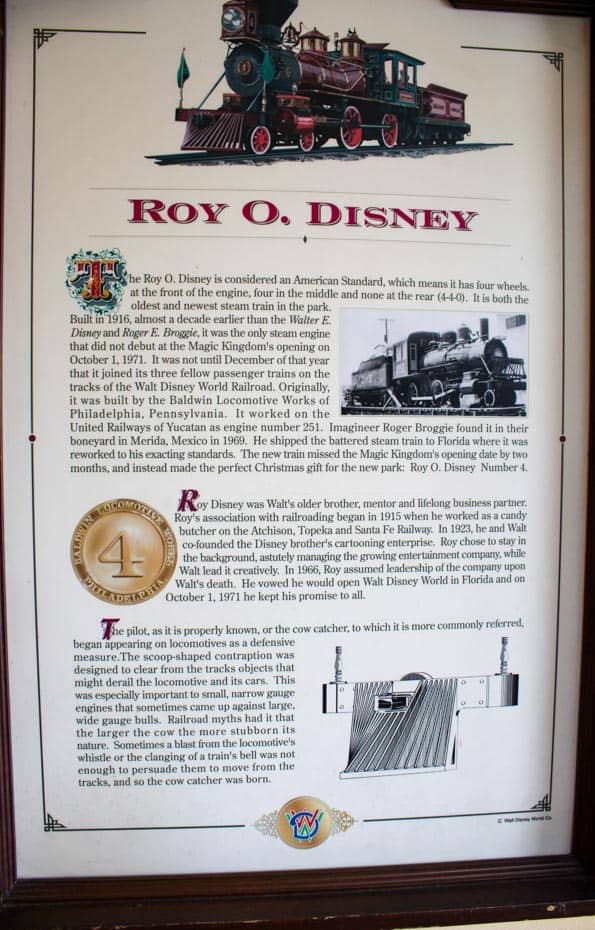 The third train is the Walter E. Disney, named after our beloved founder and fellow dreamer. Who else would have a personal train that traveled on a 2600-foot track in their backyard?
Additionally, you can find Walt Disney with Mickey (the Partners statue) in front of Cinderella Castle. It's another excellent photo option.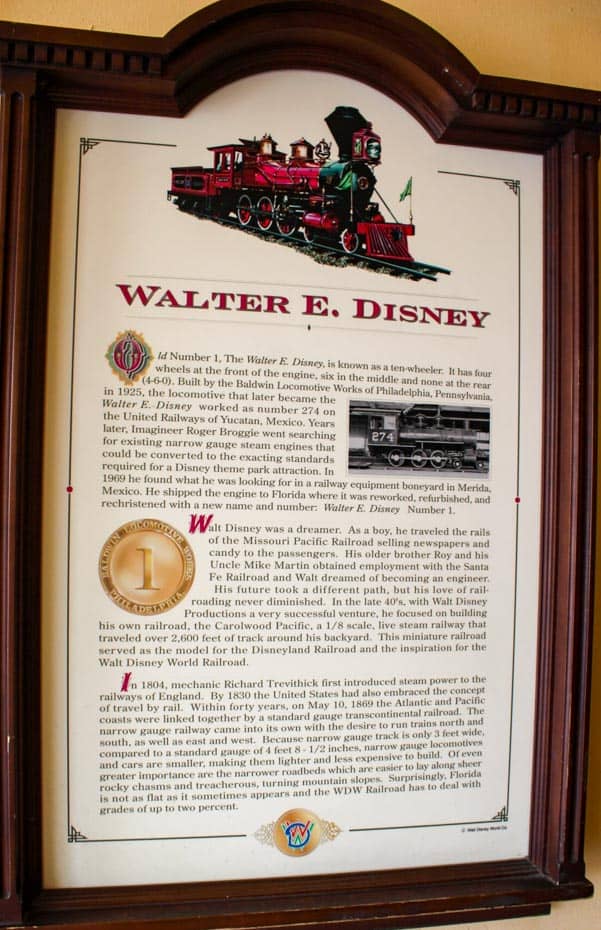 Last but not least, we have the train in honor of the woman behind the man, Lillian Bounds Disney, Walt's wife. They met when Lillian applied for an animation job at the cartoon studios, and the two were married for 41 years.
If you can read the fine print below, it tells how she granted Walt permission to run his backyard railroad tracks through her flower beds.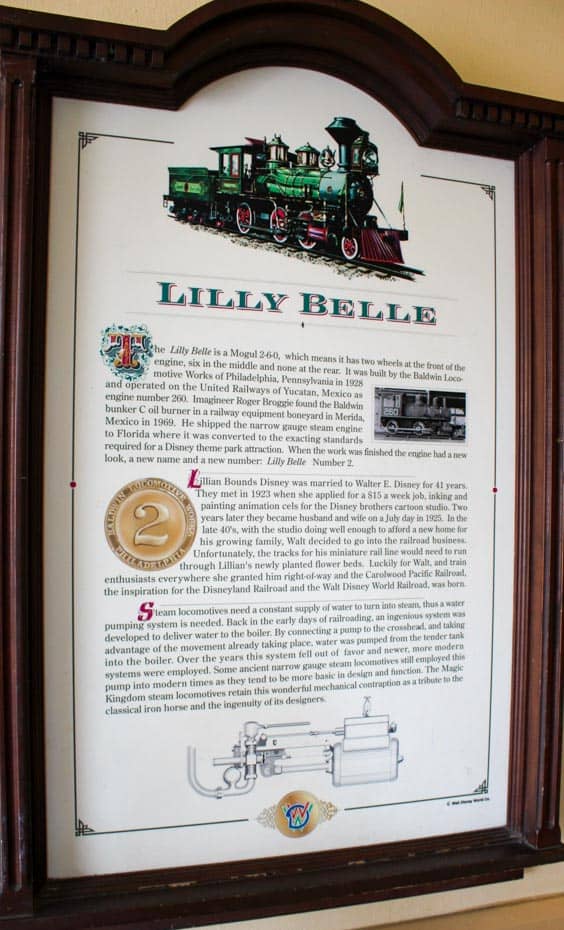 Here is a look at the large balcony on the second floor of the Main Street Train Station. It's worth taking a few moments to walk up and enjoy the views.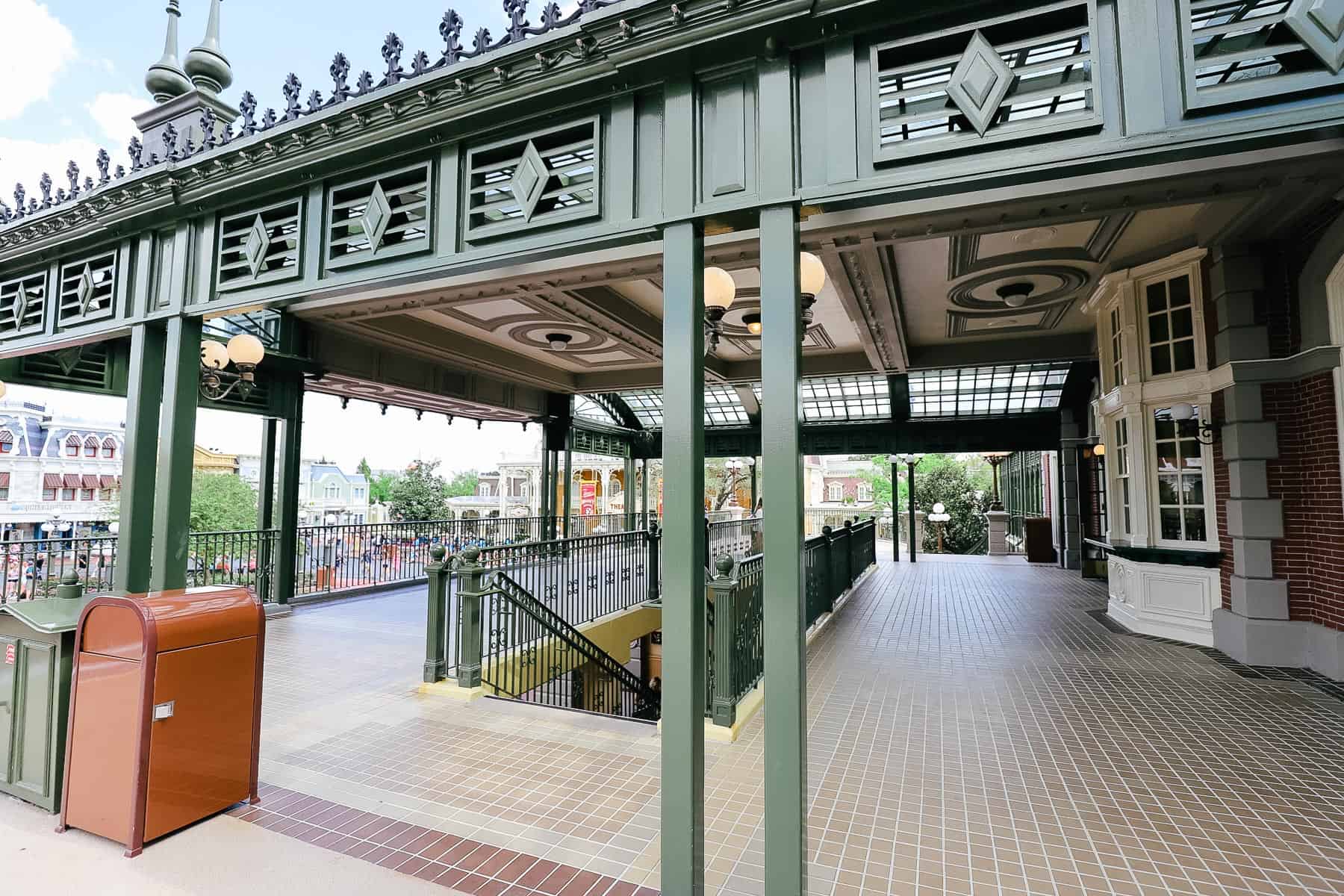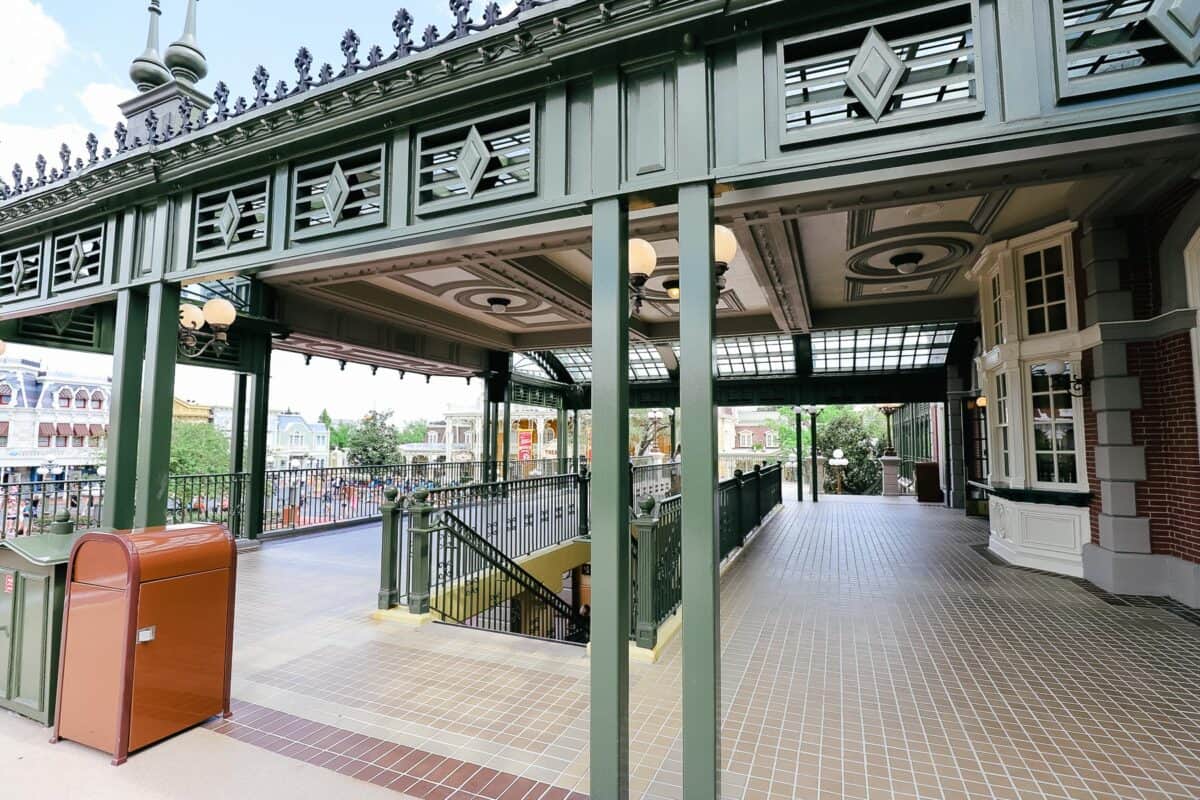 Until recently, this attraction was closed for several years. However, in 2023, the Walt Disney World Railroad reopened after the completion of the park's newest attraction, Tron Lightcycle Run.
The train reopened with a completely refreshed track—a new voice shares beloved stories of each magical land you encounter.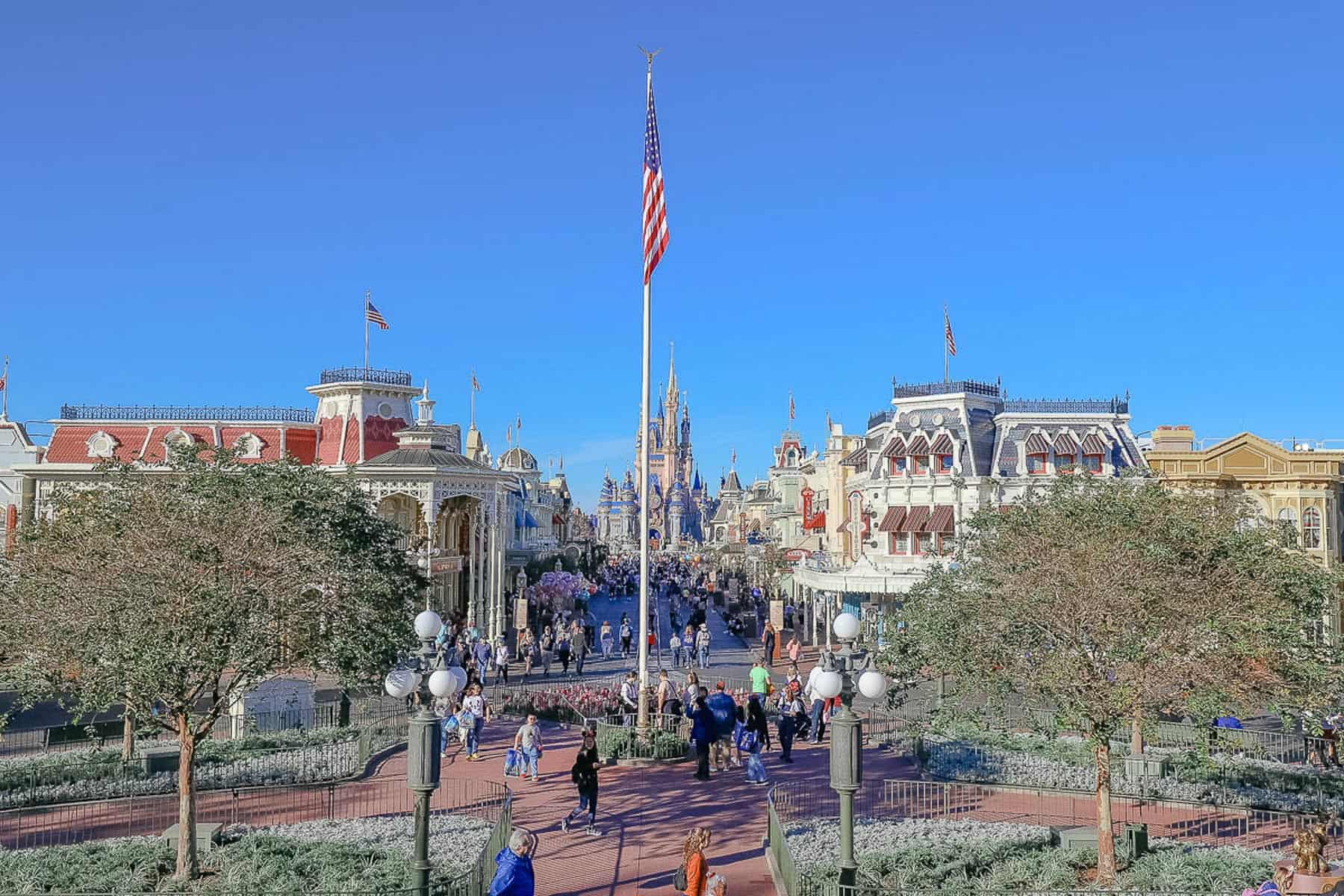 Here is a photo of the gallery inside the train station. During busier times, guests might encounter a queue that has spilled over into this area.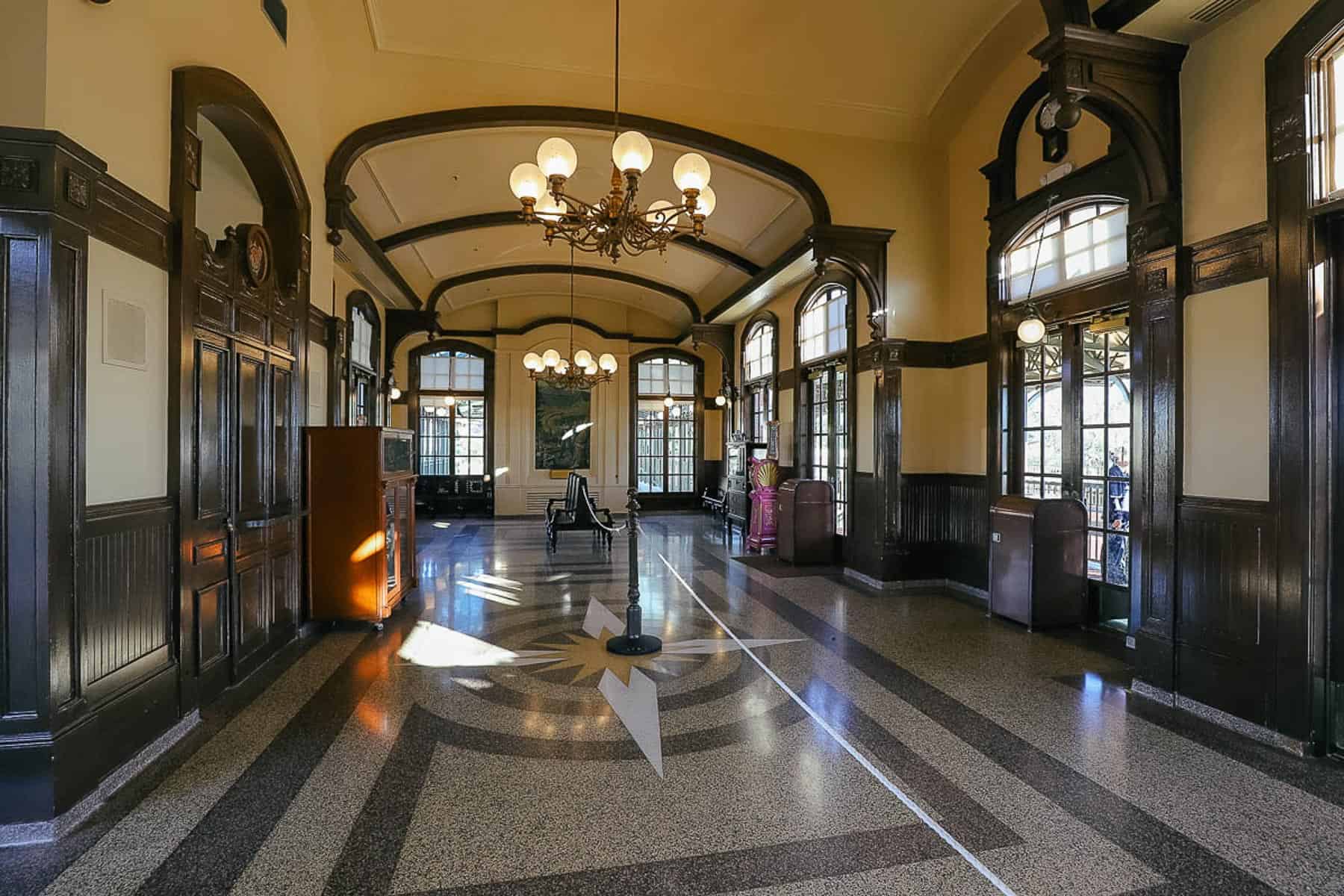 You might want to check out a few antique games.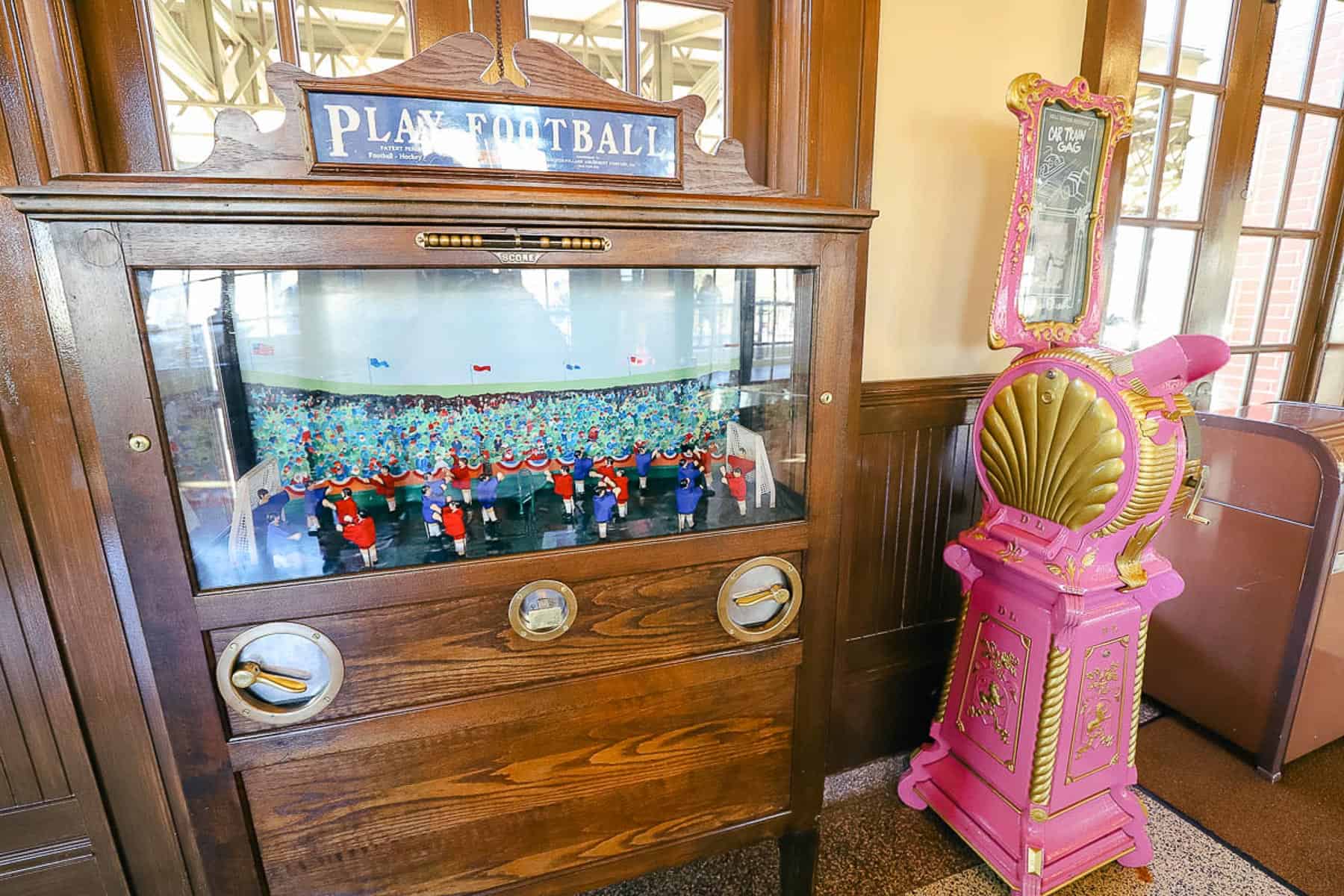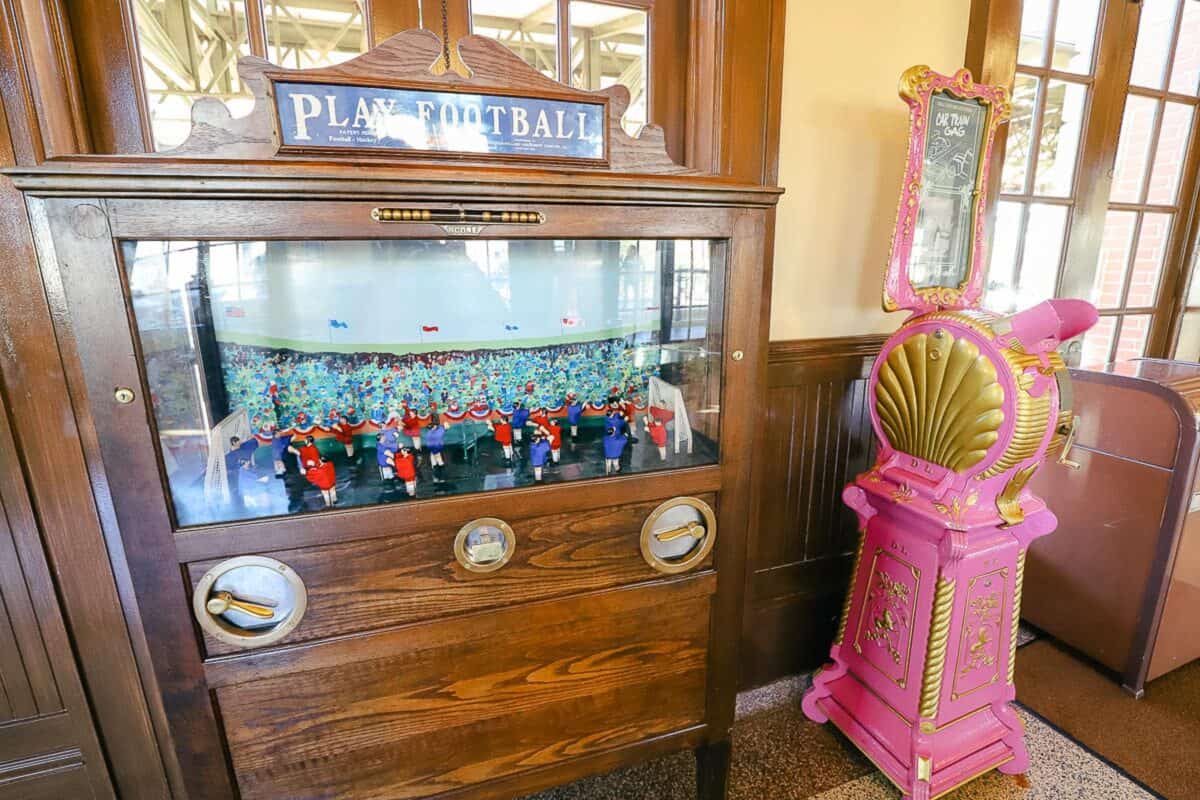 Most of the queue is outside. Each train pulls approximately six passenger cars. They all have about 15 rows, including the two rows on the front of each car that face each other.
Guests must be able to transfer to a regular wheelchair or from their ECV to experience the train. There is a designated seating area for those with accessibility needs at the front of the train.
Additionally, all strollers must be folded to board the train. Guest can leave their ECVs and strollers in a dedicated area. However, that means you must return to the station to retrieve them. Handheld captioning is also available.
*More details for those with mobility issues (i.e., wheelchair, ECVs) can be found here on Disney's site.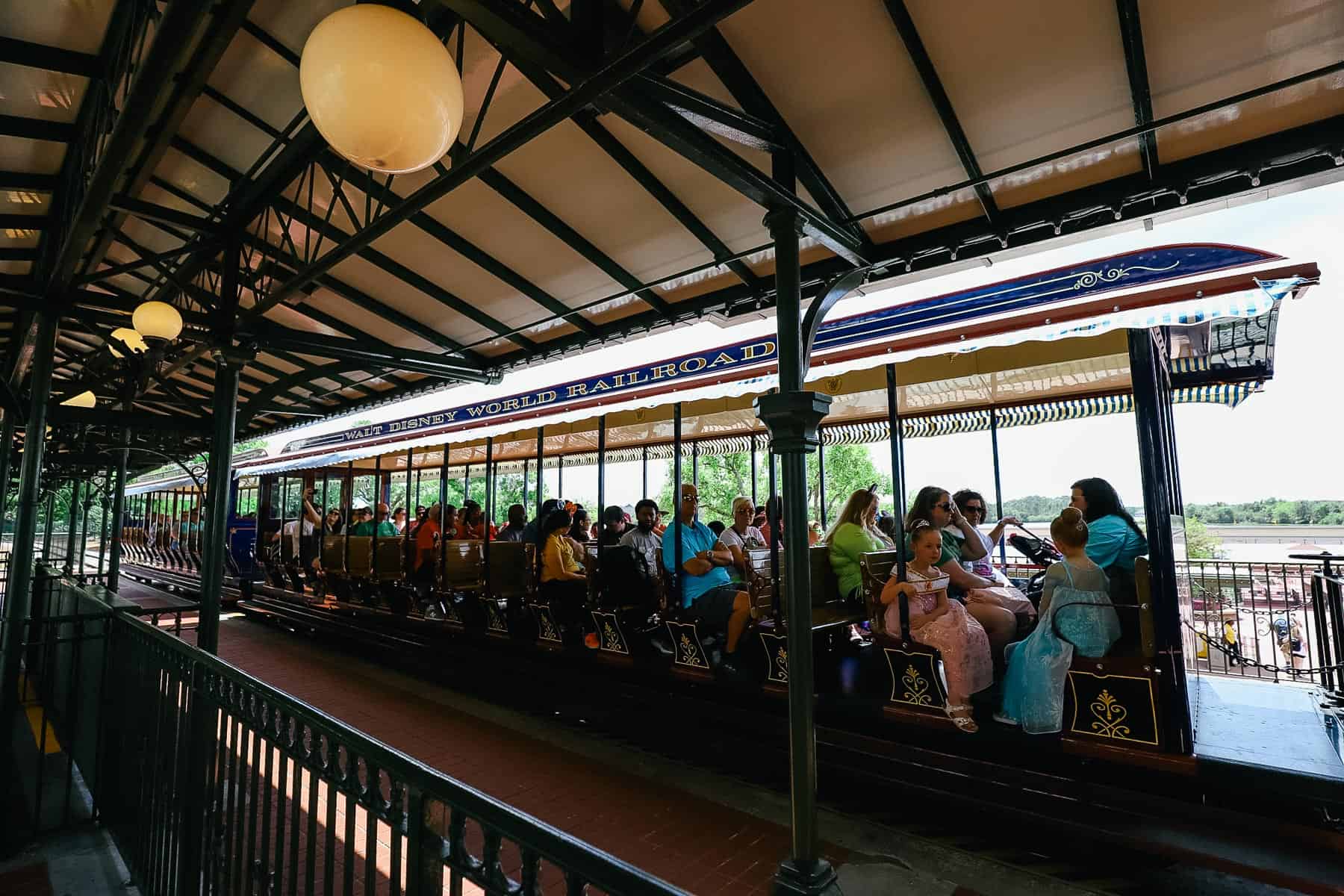 After everyone boards the train, you'll set off for the next destination, Frontierland Station.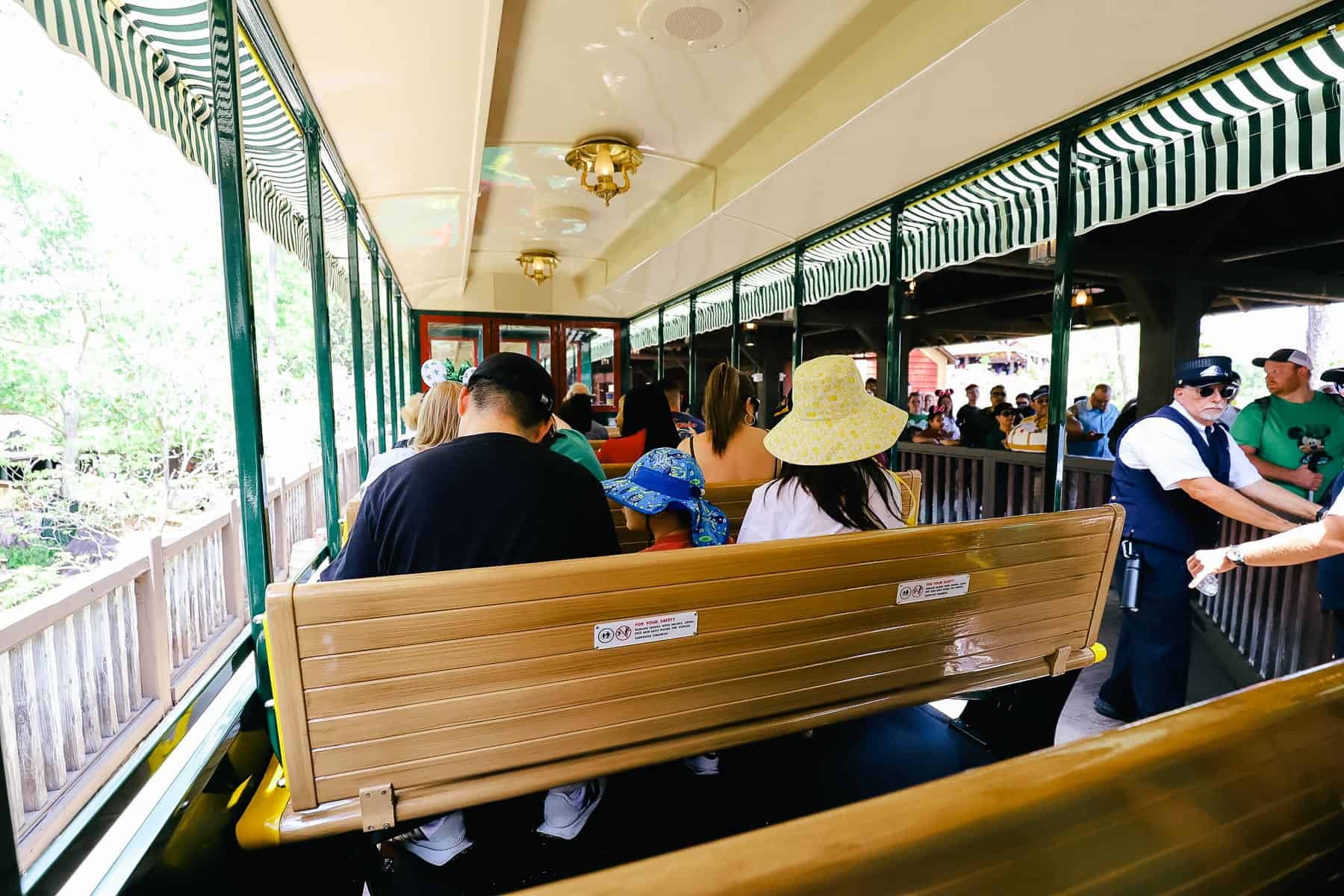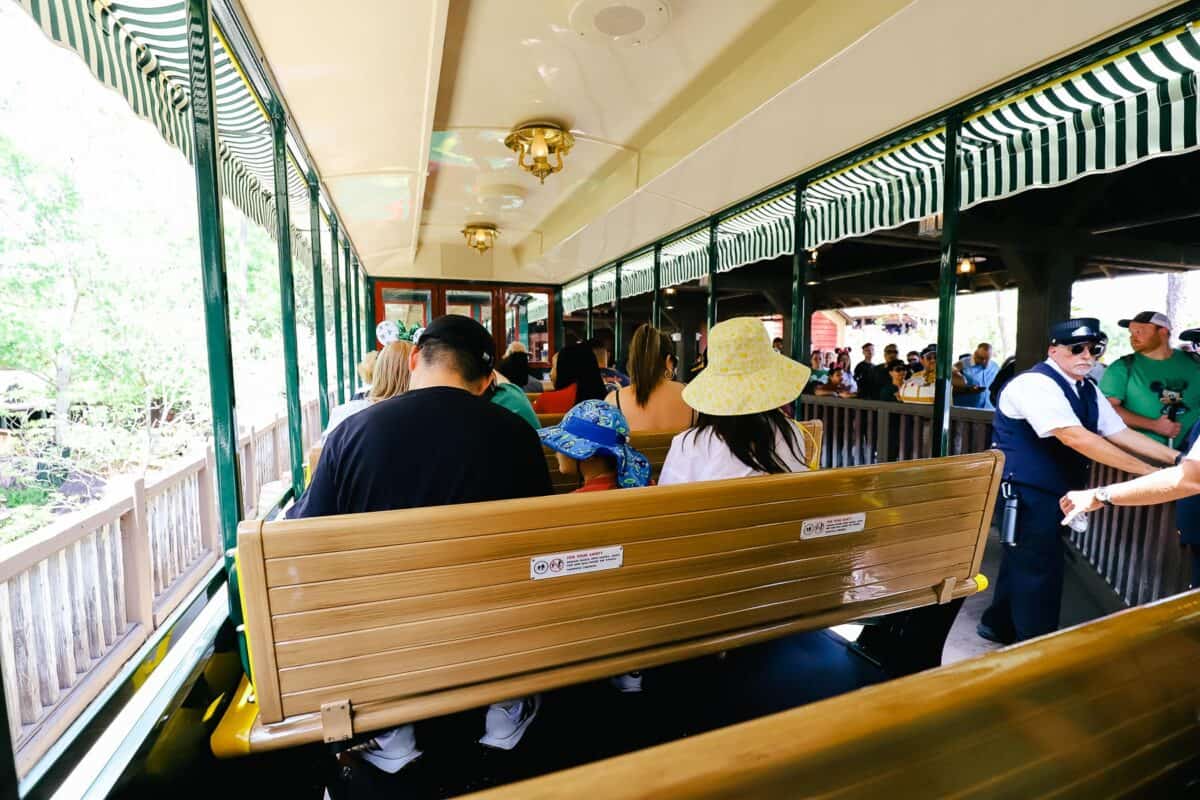 Frontierland Station sits near the former Splash Mountain, soon to be Tiana's Bayou Adventure. After departing this station, you'll pass Big Thunder Mountain Railroad and parts of the beautiful untamed wilderness.
New sounds in this area include Peter Pan, as he lands on the roof of the train from above. At first, he thinks it's a big metal snake, but Wendy soon tells him it's a train. This leads to a conversation about training shadows to stay put.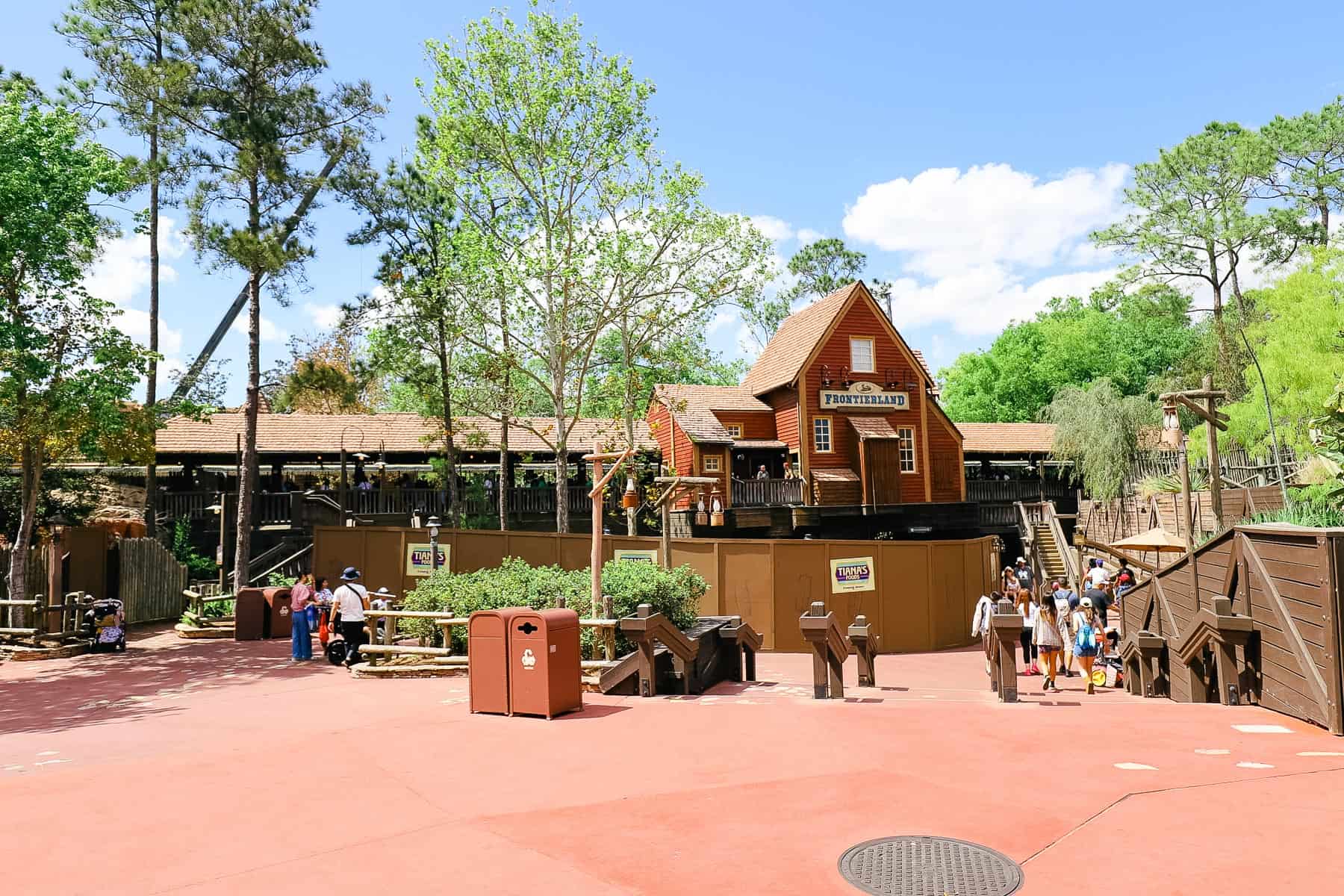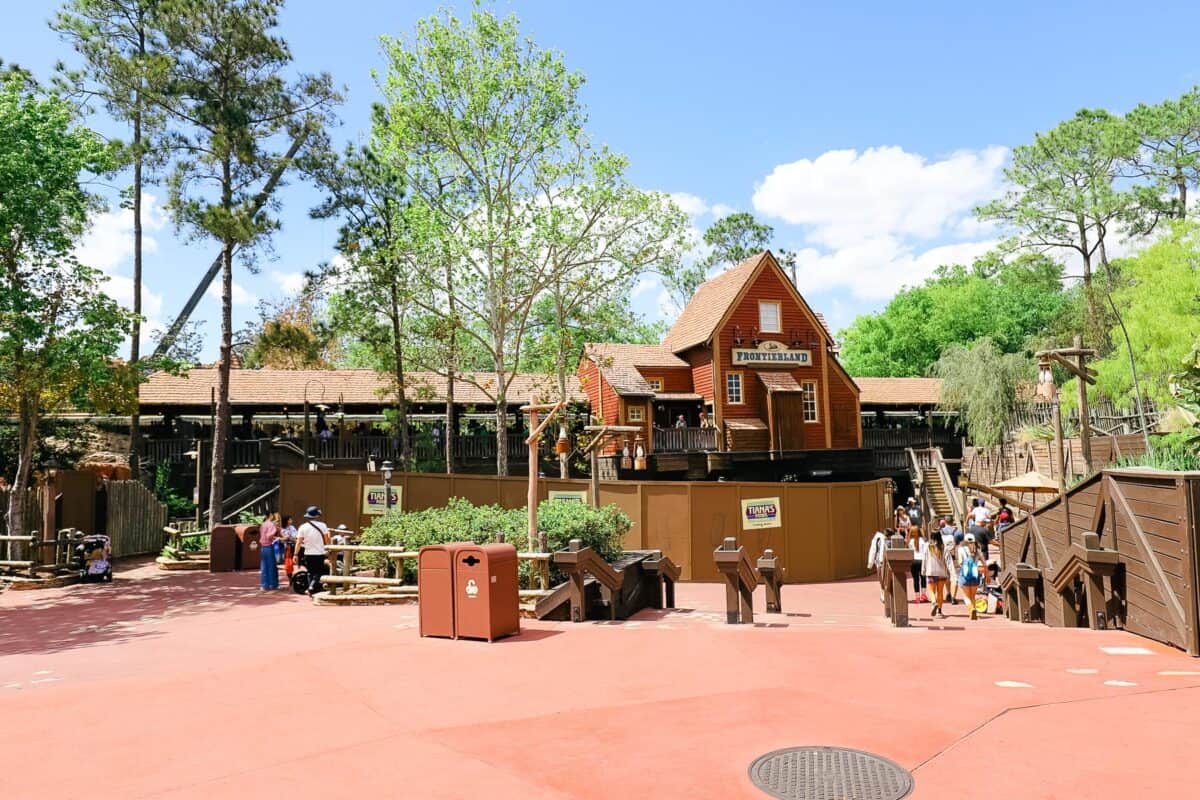 Soon after, the next stop is Fantasyland Station. This area lets out at Storybook Circus near Pete's Silly Side Show and Goofy's Barnstormer.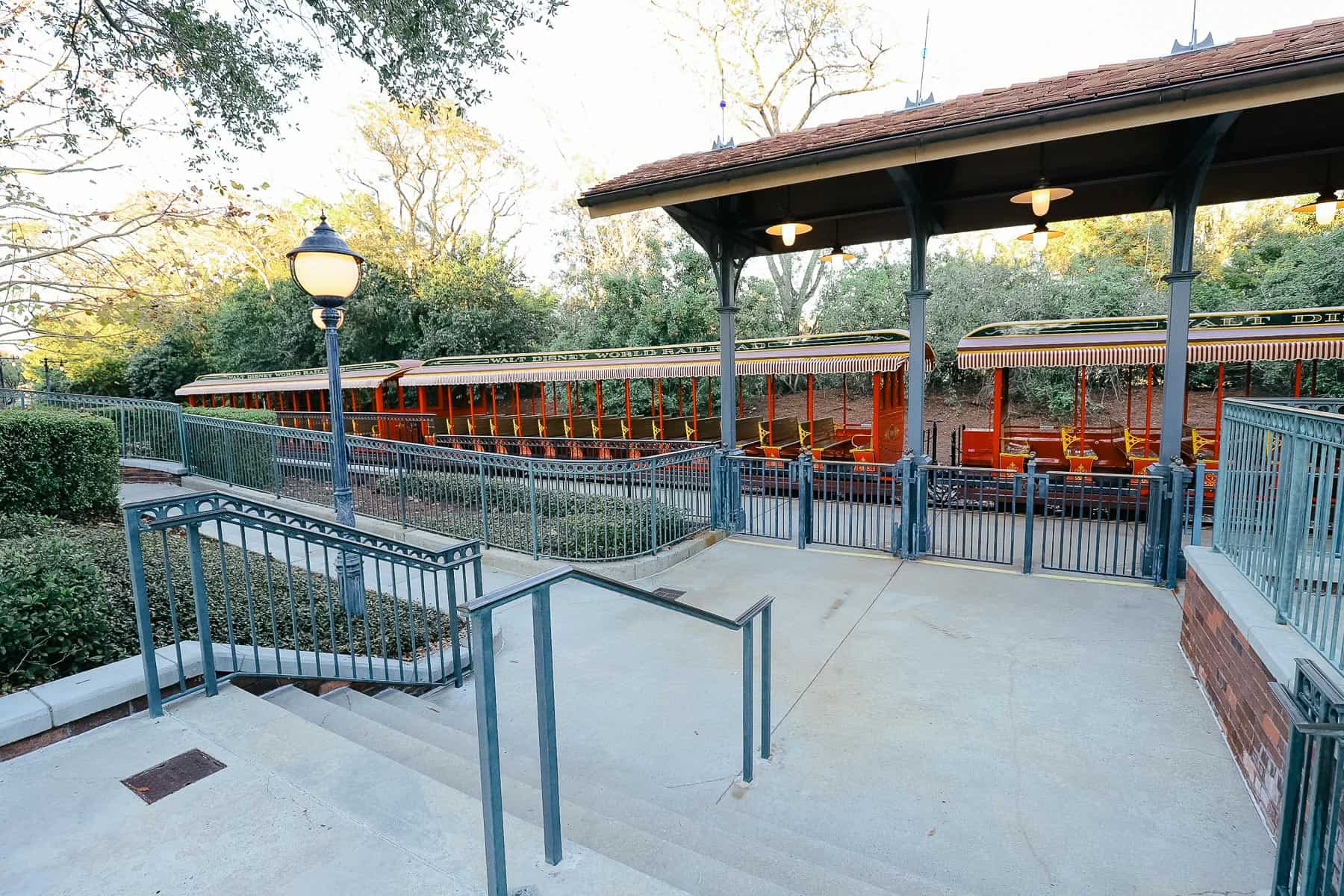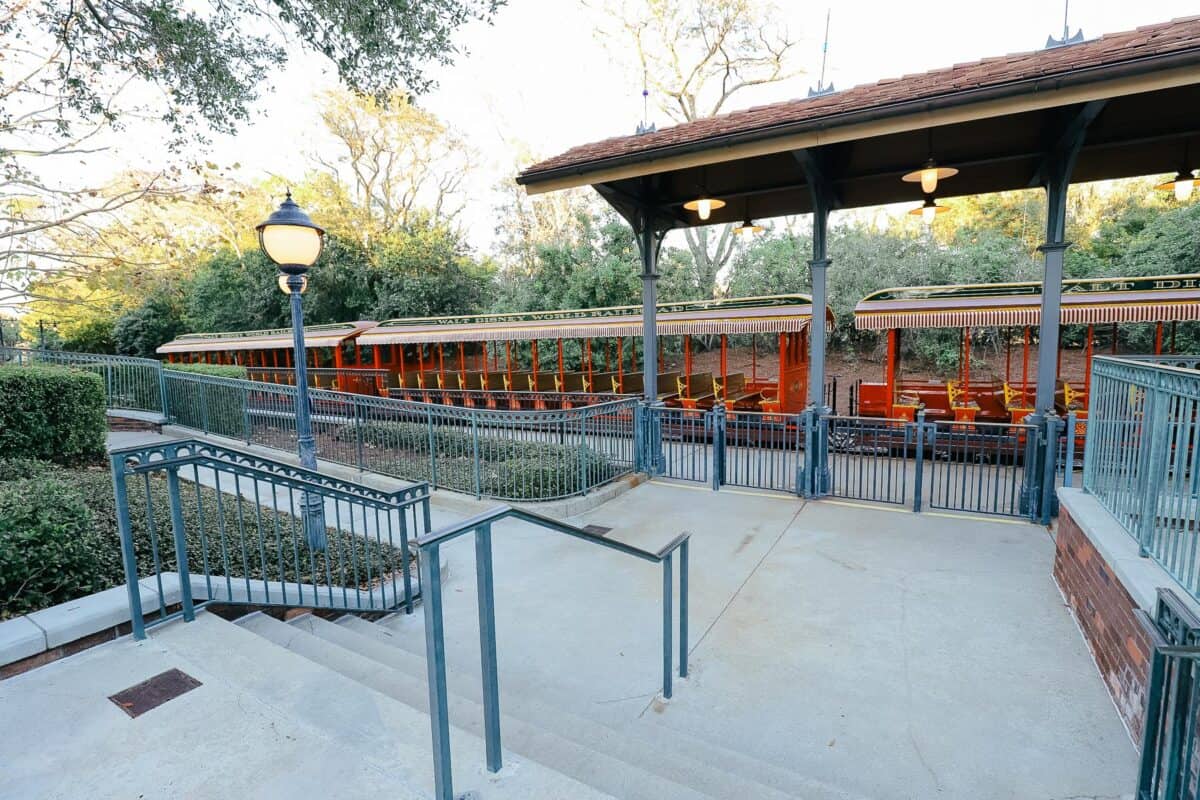 After departing Fantasyland Station, the next trip will return to Main Street Station. Along the way, you'll go through a tunnel that passes the Tron Lightcycle Run and Space Mountain.
Video: Train Ride on the Walt Disney World Railroad
For the entire experience, we have a full-length video of a trip around the Walt Disney World Railroad.
Final Thoughts
Overall, the Walt Disney World Railroad is a fun attraction you'll want to experience at least once during your vacation. We like to ride the train during the heat of the day when everyone is tired and needs a break.
It's a wonderful place to rest. However, it does take up some time to ride. Each stop typically takes five or so minutes because guests have to unload. Then other guests have to load.
You can stay on as long as you wish. So stay put at each stop until you're ready to disembark. When you are ready to exit, make sure to get off at the location closest to where you're headed next.
For example, if you're leaving the park for a break, you'll want to exit at the Main Street Station stop. However, if you were going to ride Haunted Mansion, you would want to exit at Frontierland Station.
For more attractions, you might enjoy our list of Magic Kingdom rides. Or you might like these individual attractions:
Resorts Gal specializes in Disney World Resorts, Characters, and Dining. You might enjoy some of our resources, like the list of Disney World Resort Hotel Reviews.
Additionally, we have an article covering our recommendations for the best off-site hotels near Disney World.
As far as getting around, it's essential to be aware of Disney transportation options. So the following guides might be helpful:
We have a complete list of Disney dining reviews. Usually, we recommend scheduling at least one Disney World character dining meal and a Disney signature dining reservation.
If you plan to meet characters in the parks, there's an updated list of characters at Disney World. That review links to every meet available in each of the four parks.
Lastly, our most popular reviews include the best restaurants at Disney Springs and a timeline of Disney Loungefly mini-backpacks.
In the Comments
What are your thoughts on the Walt Disney World Railroad? Are you looking forward to experiencing it on your next vacation?
Planning a Walt Disney World or other Disney Destination vacation?
Our friends and travel partner, Firefly Travels, excels at doing Disney differently. You can fill out a plan your trip form on their website, and someone will reach out shortly to discuss the specifics.