The Best Jogging Trails at Disney World
Thinking it would be nice to get a jog in on your next Disney vacation? You're in luck. The Walt Disney World Resort has several jogging trails among its many hotels.
And they are beautiful, scenic trails. In fact, they might have you falling in love with the resorts more than you anticipated.
In this review, we'll take a look at the jogging trails at Disney World. If you have any interest in leisurely walking, jogging, or running, I highly recommend taking the time to do at least one of these trails during your stay.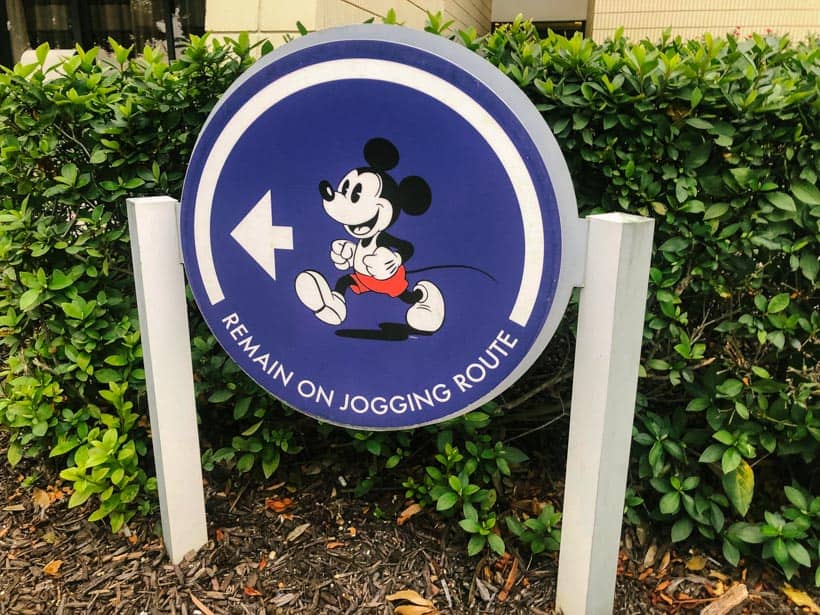 As someone who enjoys jogging at Disney World, I have two main reasons I find it beneficial to a trip. For starters, it's no secret that you will probably walk more than usual on the average Disney vacation.
Personally, I have found that adding in extra exercise makes it easier on you when you are touring. Plus, it helps with your mindset. For example, if you have already run a mile or two in the morning, you probably aren't going to be complaining at 5:00 pm that your legs are tired.
My other reason is that running the trails at the resorts will help you familiarize yourself with the layout of the area. Disney Resorts are huge and can be confusing to get around. I guarantee when you are on the running trails, you'll quickly begin to learn your way around. And let's face it, knowing the best ways to get around your resort is one-half of the battle.
Most people spend a week-long stay at their Disney Resort hotels and never have a clue as to what amenities they have access to at their resorts. After a full run around the property, you'll be able to quickly identify locations of the pools, dining areas, bus stops, and more.
Below we'll take a closer look at each of these trails.
Jogging Trails at Disney World
We'll start with what I consider to be the best jogging trail available at Disney World. This trail is situated around Crescent Lake in the Epcot Area Resorts. Anyone staying at the following resorts can easily access this trail.
Disney's Beach Club Resort
Disney's Yacht Club Resort
Disney's Swan and Dolphin Resort
Disney's Boardwalk Inn
There are several options for jogging this trail. The first is to stay in the circle around Crescent Lake. However, I often add in an additional loop across the Swan and Dolphin grounds. Then I'll run all the way up to the overpass toward Disney's Hollywood Studios before turning back and heading around the Boardwalk.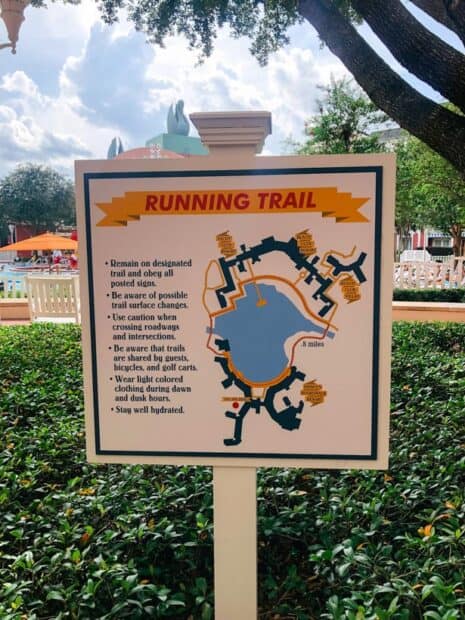 Additionally, there is a second jogging trail that goes around the outer parameter of these resorts. This trail is a long loop that runs along Epcot Resorts Boulevard.
I've run the outer parameter in the heat of the afternoon and once in the evening. It is a more challenging run, and I wouldn't necessarily recommend it. The jogging path is not near as scenic, and you have to deal with cars and theme park buses constantly passing.
Here is the map that shows different options. Options range from a 0.8-mile loop to 2.4 miles depending on which route you take.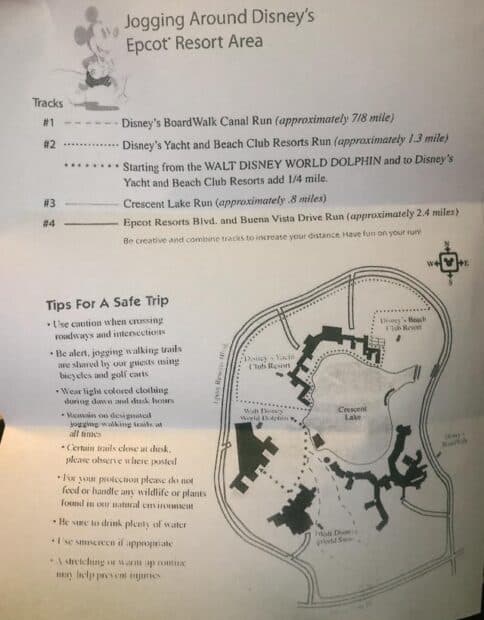 Moving on, we'll take a look at your jogging options at a few other resorts that make up this area. We'll start with Disney's Caribbean Beach Resort and Disney's Riviera Resort. Both of these hotels have grounds that connect. Therefore, they share the same trail.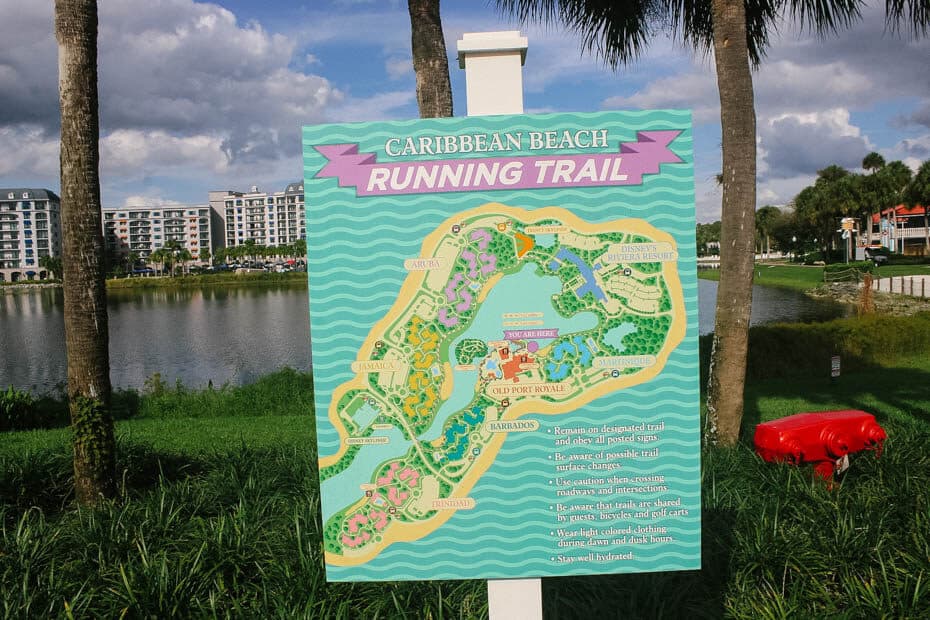 This Disney jogging trail loops around Barefoot Bay, a large lake that centers the property. If you decide to take the full circle, you're looking at about 1.5 miles from one end of the property and back.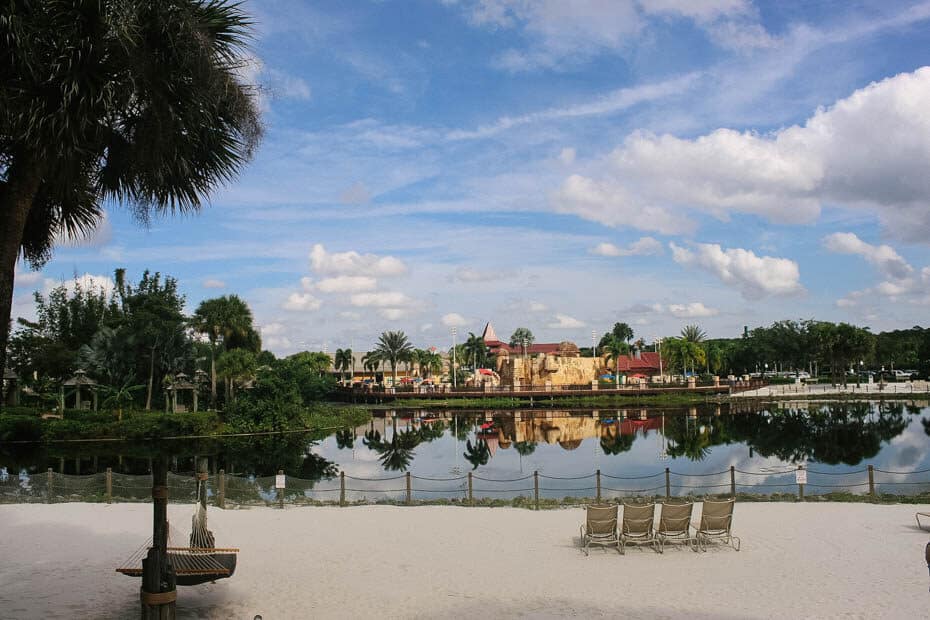 Next door sits Disney's Art of Animation Resort and Pop Century Resort. They also share a lovely trail around Hourglass Lake. It's a really nice trail and fun to see the resorts and Skyliner from each side of the lake.
On the Art of Animation side, you'll run along beside the Little Mermaid, Lion King, Finding Nemo, and then the Cars section. And on the Pop Century side, you'll pass by the different decades.
One of the things I enjoy when running here are these "fun facts" signs. They are along the pathway of each side of the lake.
Before we move on to the next resort area, I wanted to mention that the resorts we've already discussed all have wonderful running paths. In addition, if you are staying in any of these hotels and want to change things up, you should be able to take the Disney Skyliner to access one of the other trails. That is, as long as you are running during the Skyliner's operating hours.
While each trail is beautiful (especially at sunset), I think it's worth the effort to try out the jogging trail at Crescent Lake. It's extraordinary to be able to jog along the water and see Disney's Boardwalk in the distance.
And the scenery changes a good deal here as you jog. You might even get in a run after 9:00 pm when fireworks are going off, and there's music playing all over the grounds of the Swan and Dolphin.
Related: Disney's Swan and Dolphin Review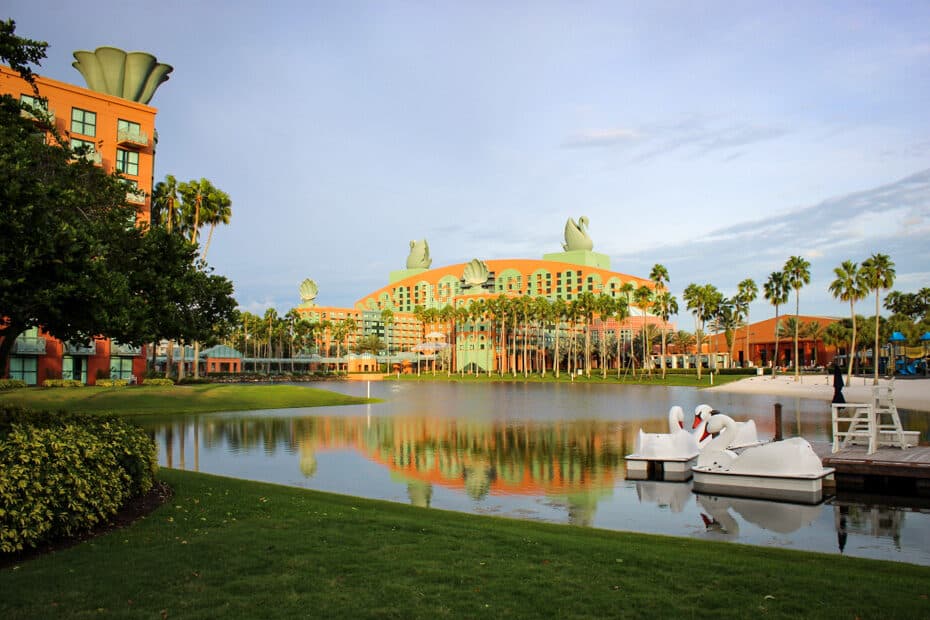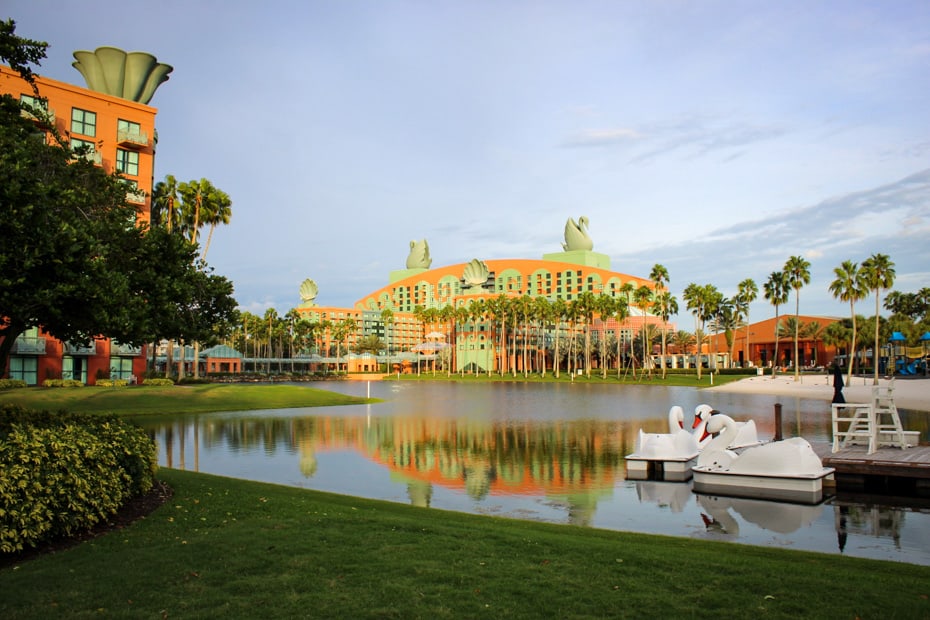 Next, we'll move over to the Magic Kingdom Resorts area and take a look at their jogging trails.
First, we'll pop into Disney's Polynesian Resort and the Grand Floridian, which share a jogging trail. Personally, I like to extend this trail and get a long run in when I'm visiting. Here is the map of the trail on the Polynesian side.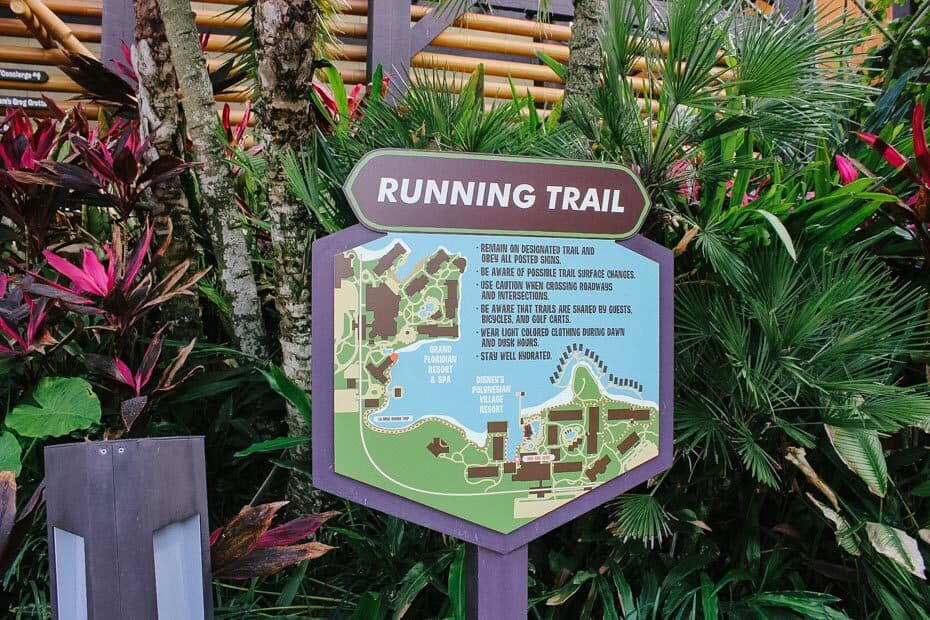 And here is a close-up of the one at the Grand Floridian.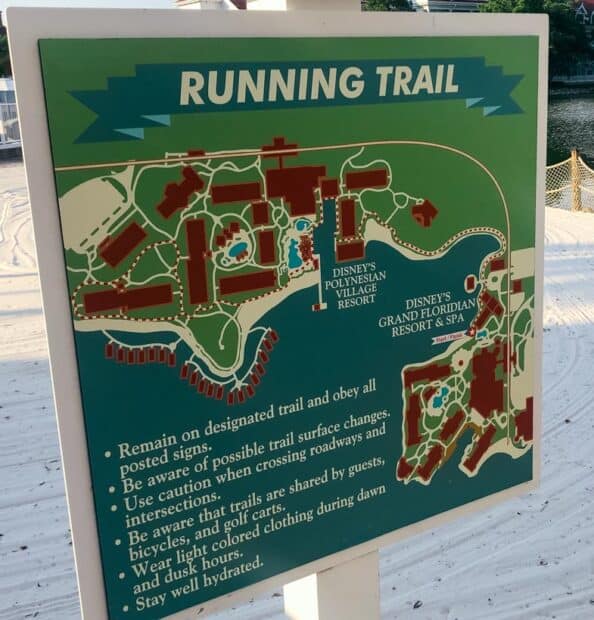 What I do is start at the walkway that leads to the Transportation and Ticket Center from the Polynesian. I then take the pathway that leads straight out toward Seven Seas Lagoon. You can run the entirety of the large walkway that runs along the water and the bungalows.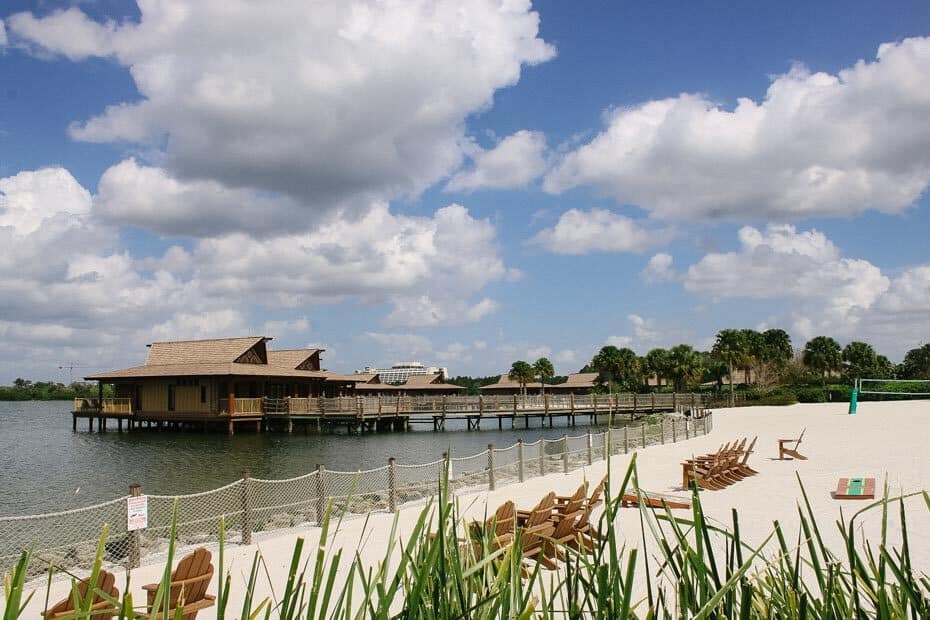 At the area where it runs outs (there's a boat dock), you'll want to take a hard left and continue toward the resort lobby. At the lobby, you'll take a right, and that path continues all the way to the Grand Floridian.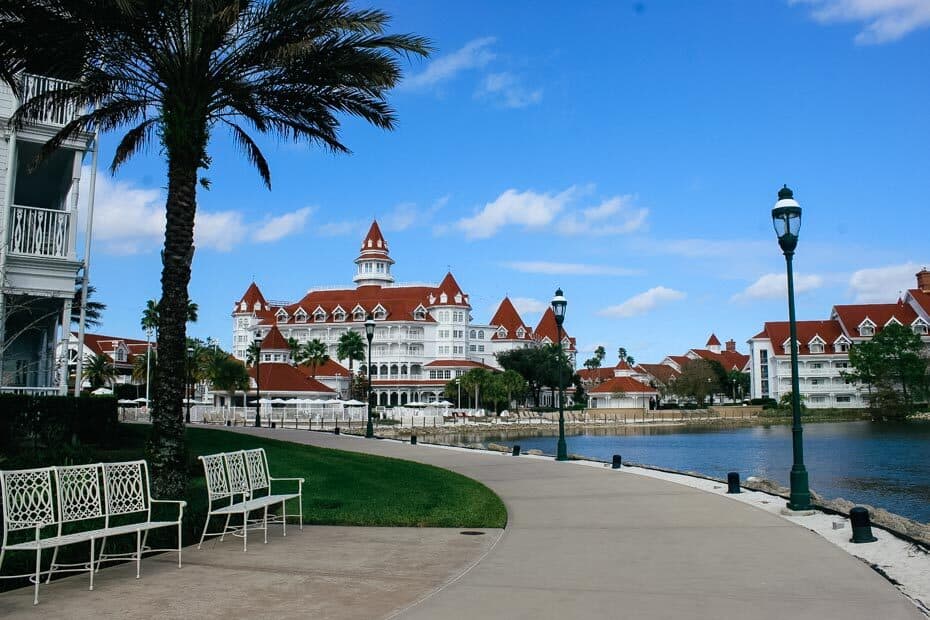 Related: Disney's Grand Floridian Resort Review
Additionally, since the walkway to Magic Kingdom is now available, you can continue past the Grand Floridian. You can jog all the way around until you reach security at Magic Kingdom.
I haven't mapped it out, but I would estimate it to be around 1.5 miles between the far end of the Polynesian all the way to Magic Kingdom. After that, you'd have a little backtracking to get back, depending on where you were staying.
Related: Disney's Polynesian Village Resort Review
Next up is Disney's Contemporary Resort. This hotel has a fairly small loop. It's actually two small circles that wrap around the resort. You can easily start and stop anywhere.
On my last run here, I think I got in about 3-4 full loops around sunset. You'll jog across the backyard of the Contemporary before making your way around Bay Lake Tower.
Here's the map of the running trail at the Contemporary.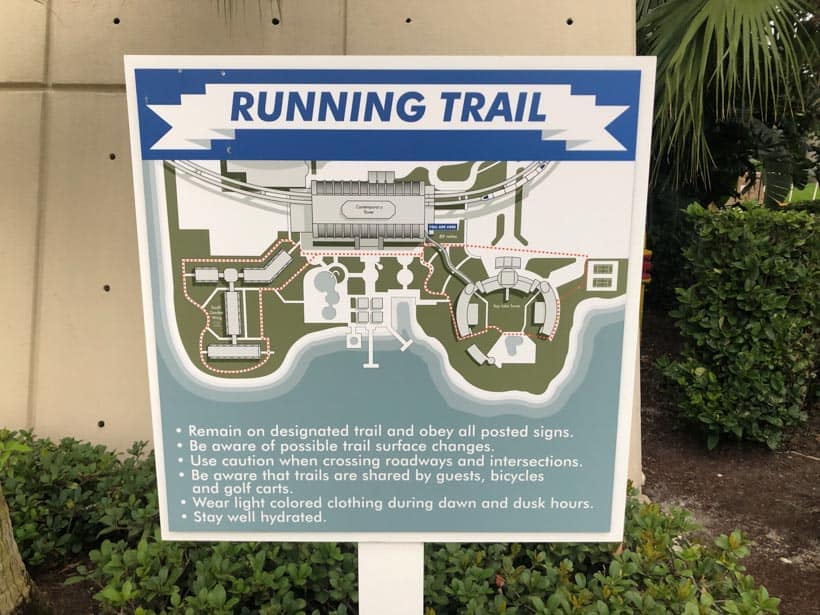 During this stay, we stayed in the south garden wing of the Contemporary.
Moving on, we'll talk briefly about the Wilderness Lodge. This used to be my second favorite option for running trails at Disney World. This trail was extremely long because it joined the trail at Fort Wilderness.
Below is an image of the updated .5 mile trail that's available at Wilderness Lodge.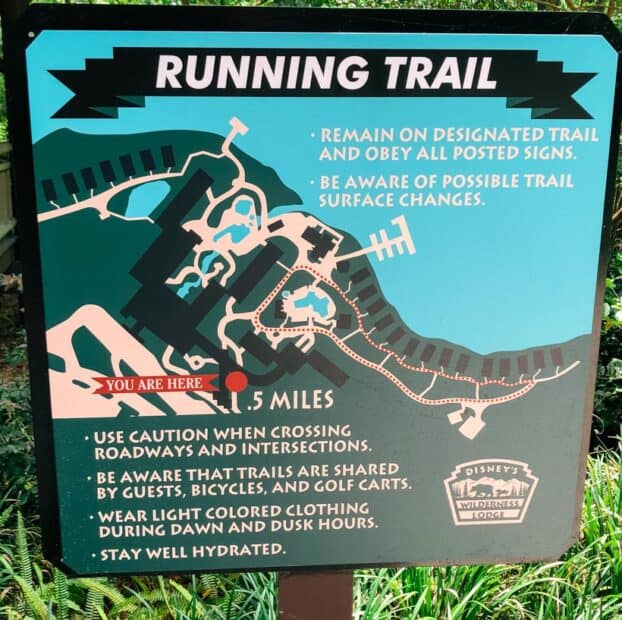 Related: Disney's Wilderness Lodge Resort Review
Unfortunately, the trail between the two resorts closed a few years back due to the construction of the Reflections Resort. However, last year that resort was put on pause, and it appears that it will be a while before the running trails are joined again.
Thankfully, Disney's Fort Wilderness Resort does have some decent running options. If you are looking for a good long trail, I recommend taking a boat over from Wilderness Lodge to access this trail.
You can start at the boat dock and make the full loop around Fort Wilderness. At the end of my jog, I always like to walk over to the horse stables (the ones on the same end of the resort as the boat dock) and visit the horses. So if you want to see the horses, make sure to get to the stable before they close at 3:00 p.m.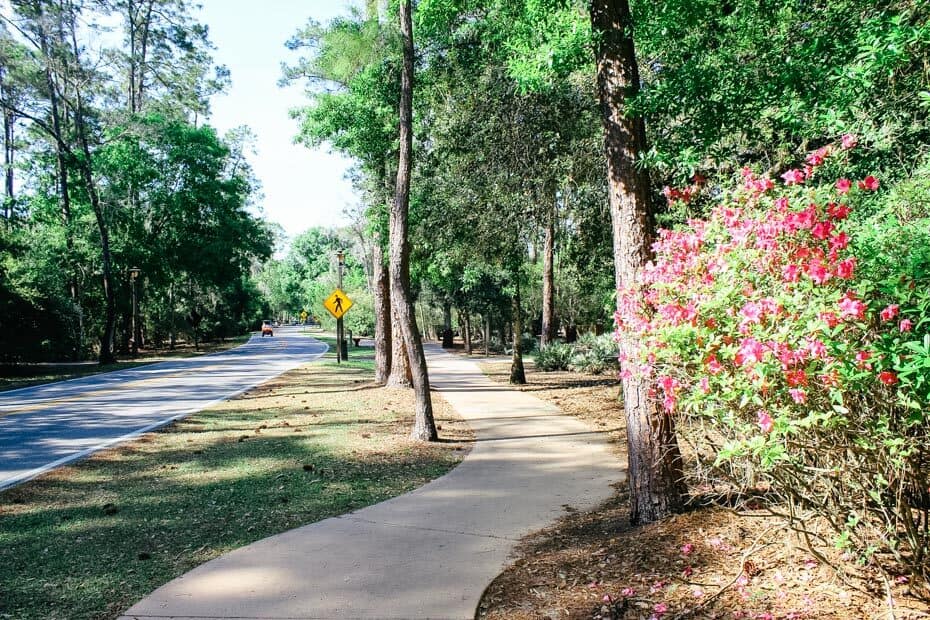 Since the Fort Wilderness Campground is such a large area, you'll want to take a picture of the map of the resort. That way, if you were to get turned around, you can reference it on your phone.
One of the things you'll probably enjoy is that the majority of the trail here is shaded since it goes through a wooded area. But make sure you have a form of payment on you in case you were to need to stop in for water at one of the resort's canteens. Or you can always request free ice water at the counter service. They might take pity on you as they did me and give you the largest cup available.
Related: Disney's Fort Wilderness Resort Review
Moving on to the Animal Kingdom Resorts area, we have one jogging trail to preview. Unfortunately, the All-Star Resorts and Animal Kingdom Lodge do not have great jogging trails.
You could get in a jog at any of these if needed. However, when I stay at Animal Kingdom Lodge, I usually take a bus to Hollywood Studios and then start my run on the walkway to Crescent Lake.
Anyway, Coronado Springs is set up similar to Caribbean Beach. The running trail loops around the large lake, Lago Dorado. There are several options here to make the length of the trail longer.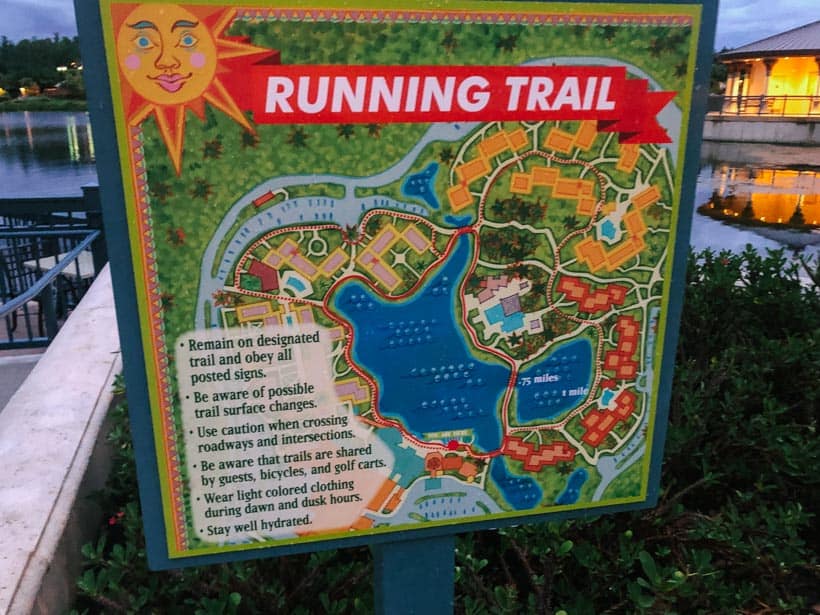 For instance, you can run through some of the villages or loop out near the parking lot. I have actually done both and prefer to run through the villages and see the different landscapes.
However, I didn't care for the option to run along the parking lot. Usually, I'll run toward the lot and then turn around and get back on the loop around the lake.
Lastly, there are several running trails in the Disney Springs Resorts area. I have had the opportunity to jog between Port Orleans Riverside and French Quarter. This is another pleasant option that offers some shade. Additionally, it's a fairly long trail that runs along the waterway.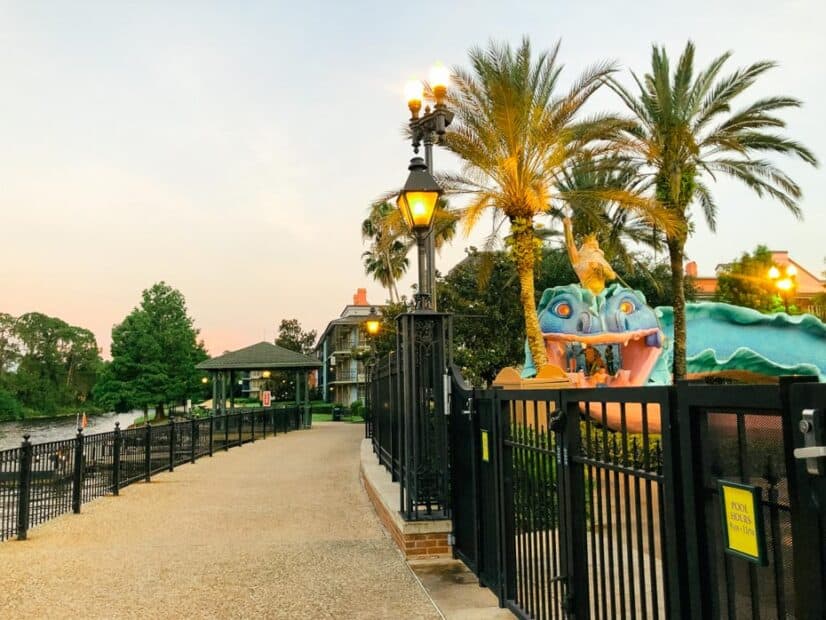 You can start at French Quarter and run all the way down through Riverside and the Alligator Bayou. Then you can cross the bridge and run up the other side. You'll need to cross back over at some point to get back to French Quarter. But that's fairly easy to do since there are several bridges.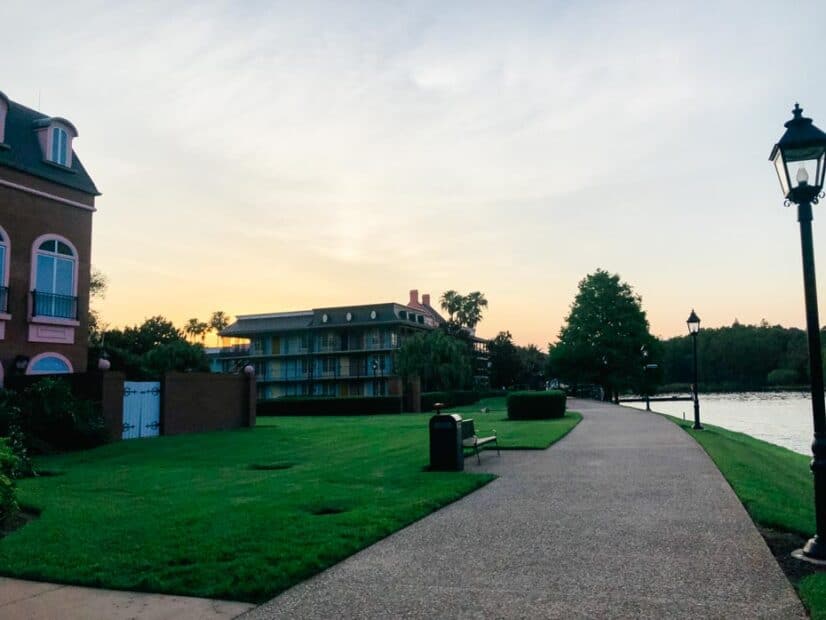 One thing you might enjoy here, other than the Southern charm, is the horse-drawn carriages. We'll eventually get back over this way to take a fresh look when the resorts reopen.
In addition, there are two trails that I haven't had the opportunity to jog yet, but I think are worth a mention. The first is Saratoga Springs, and the other is Old Key West. I have walked part of the Saratoga Springs and can vouch for it. You'll get to see a variety of scenery, including Disney Springs and the golf course.
When I have a little extra time, I'll get back over this way and add a few more details.
Hopefully, this review was able to give you an idea of some of the best places to jog at Disney World. When I'm at home, I know I look forward to the next time I'm able to run any of these trails.
Have you had the opportunity to run any of these jogging trails at Disney? What are your thoughts about running while on vacation? Share your thoughts below in the comments.