Tour a Deluxe Studio at Kidani Village (Photos and Video)
This article shares a room tour of a deluxe studio at Kidani Village. We'll preview photos of the room and share a video tour.
After so many recent visits to Walt Disney World, we were not expecting to end up at Kidani Village. But with news of a hurricane on the way, I quickly went online to secure a room at my favorite place to shelter storms–Disney's Animal Kingdom Lodge.
Kidani Village is a Disney Vacation Club Resort at Disney's Animal Kingdom Lodge. We go over this often, but the DVC is a timeshare program where members reserve rooms using points. These points can be used at any resort, not just a dedicated villa resort.
Likewise, Disney allows regular guests like you and me to rent these rooms for cash rates instead of points. That is unless you're a DVC member.
For this stay, I found a decent rate for a deluxe studio. We stayed for two nights at an annual passholder rate of approximately $280.00 per night. This stay was in late August and was paid for out-of-pocket like all our hotel stays.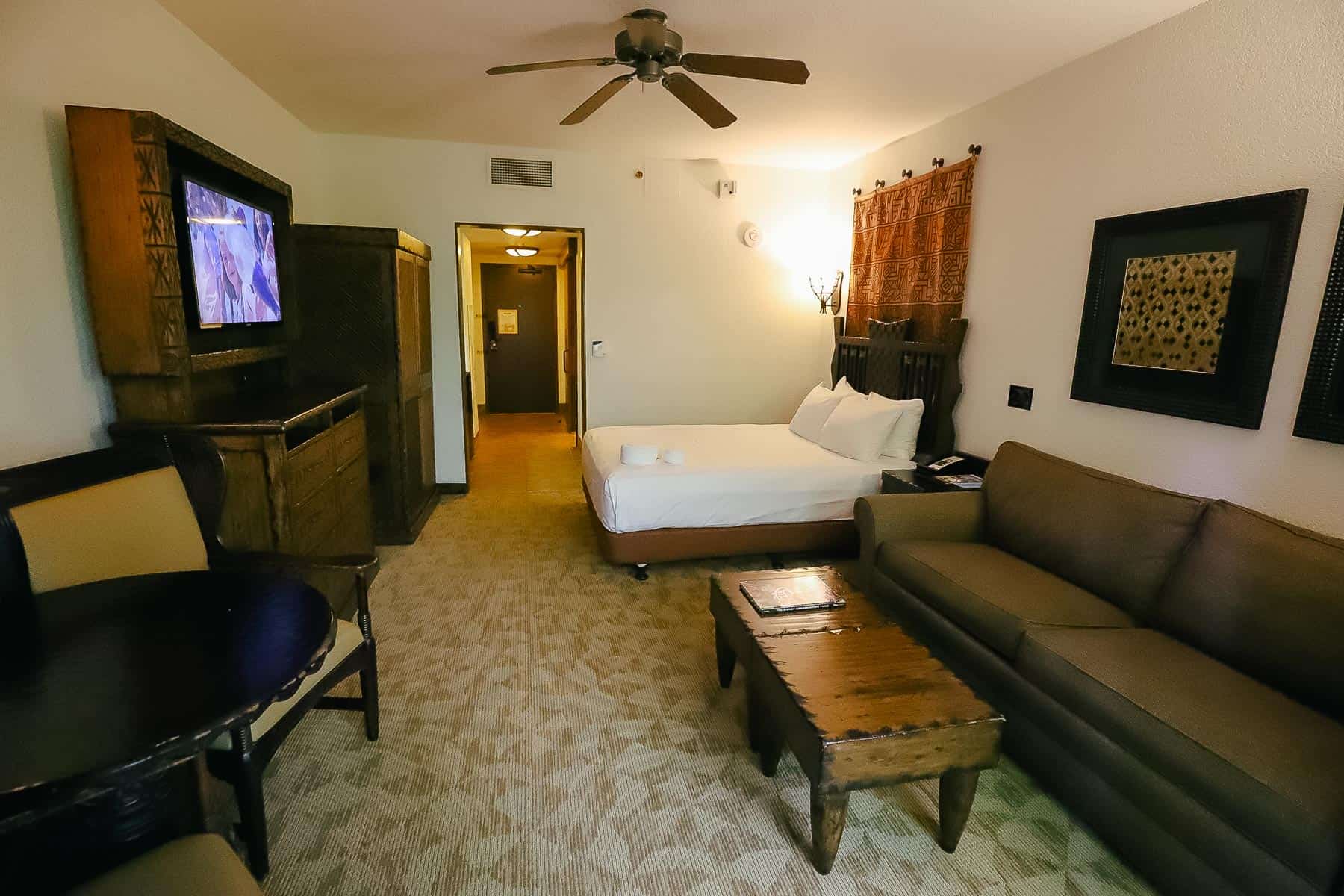 So, with luggage packed, we stopped at a nearby Publix for bottled water and more snacks than I usually buy in a month and headed straight to Kidani Village. Our room was ready upon arrival, which was shocking since we arrived at precisely 10:00 a.m.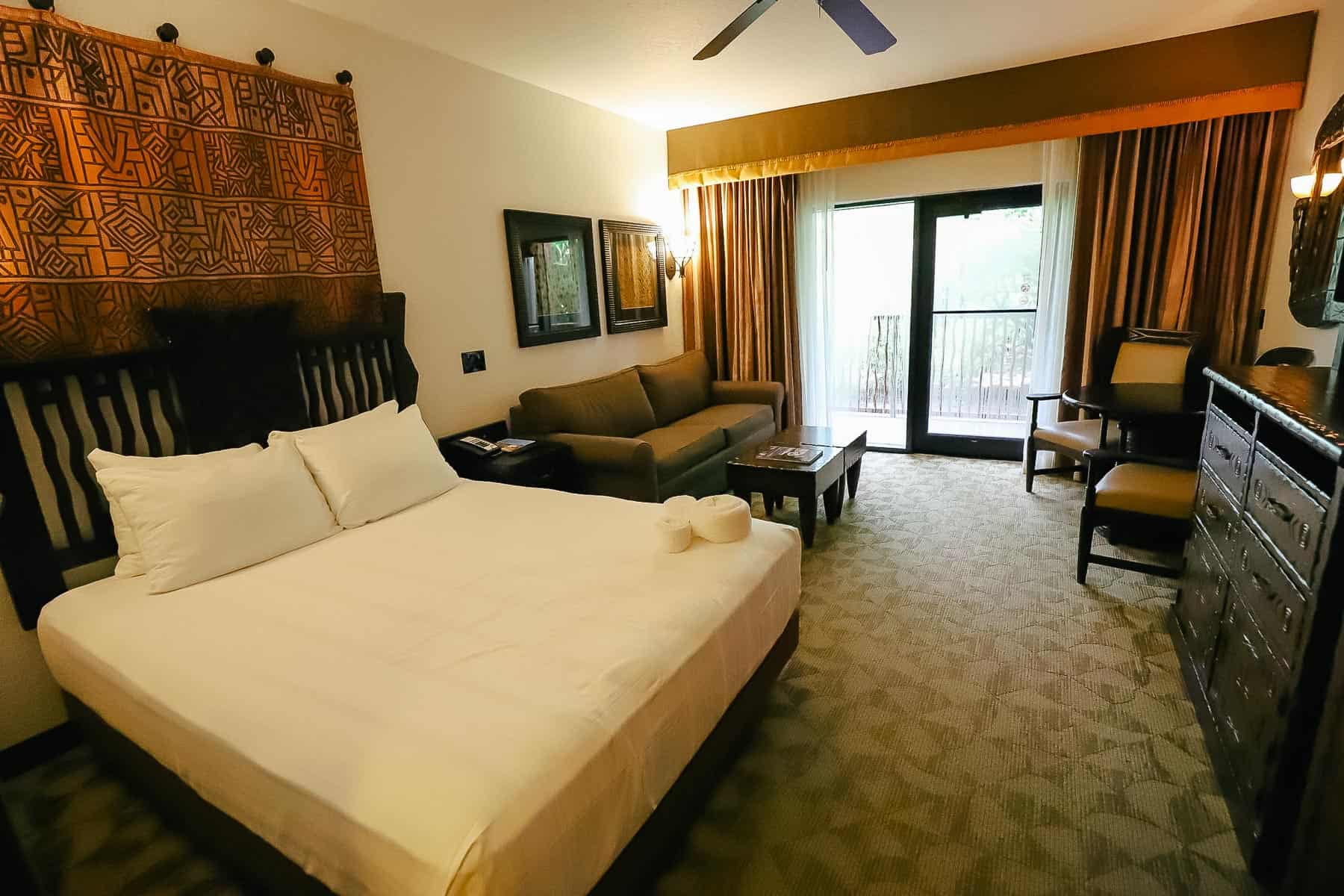 Deluxe studios at Kidani Village have a queen-size bed and a queen-size sleeper sofa. If this trip had been for enjoyment, we would have opted for a regular room at Jambo House with two queen-size beds over the sleeper sofa. They are not comfortable.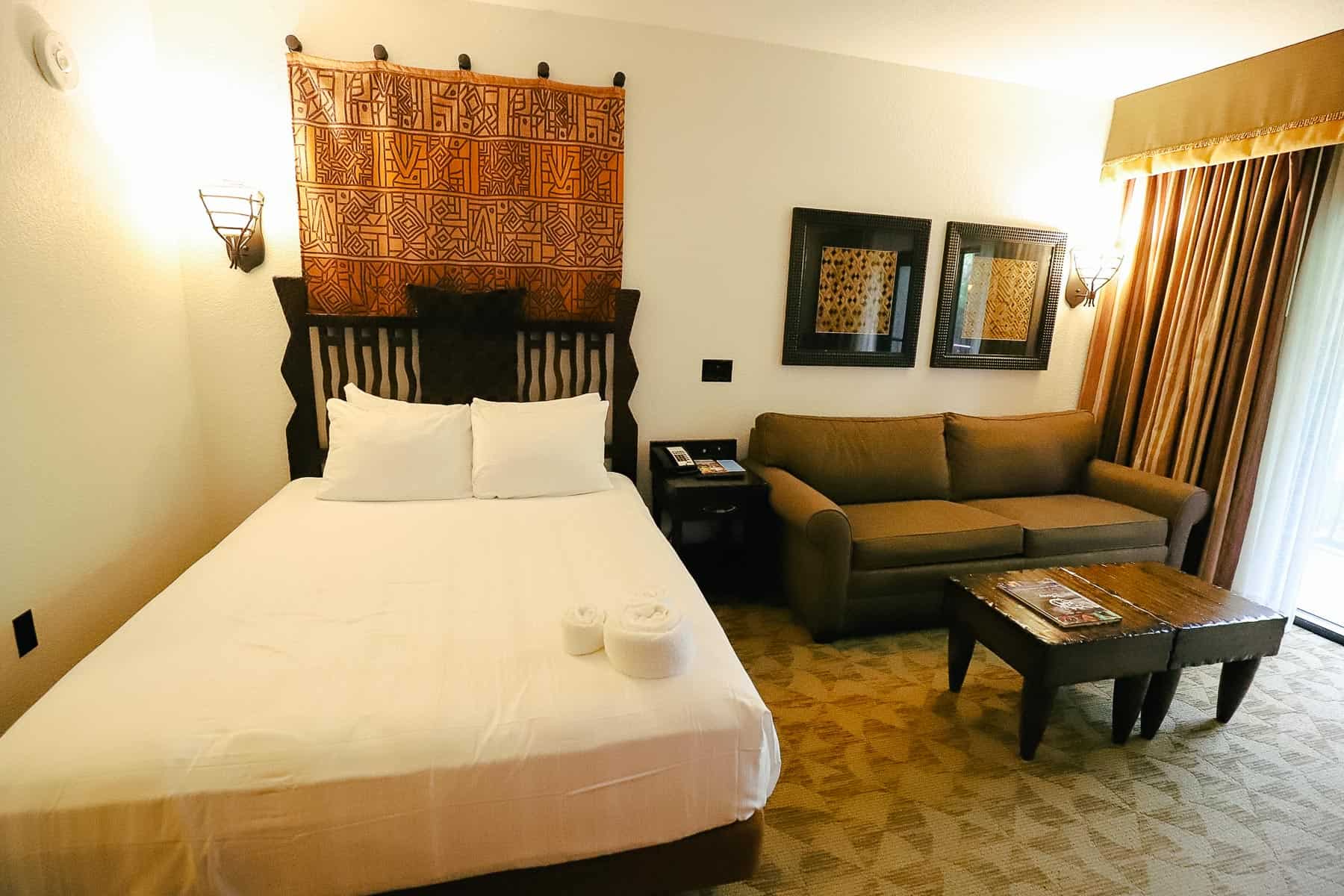 A hidden Mickey was waiting on the bed. I know you already know this, but I'm always happy when he finds me.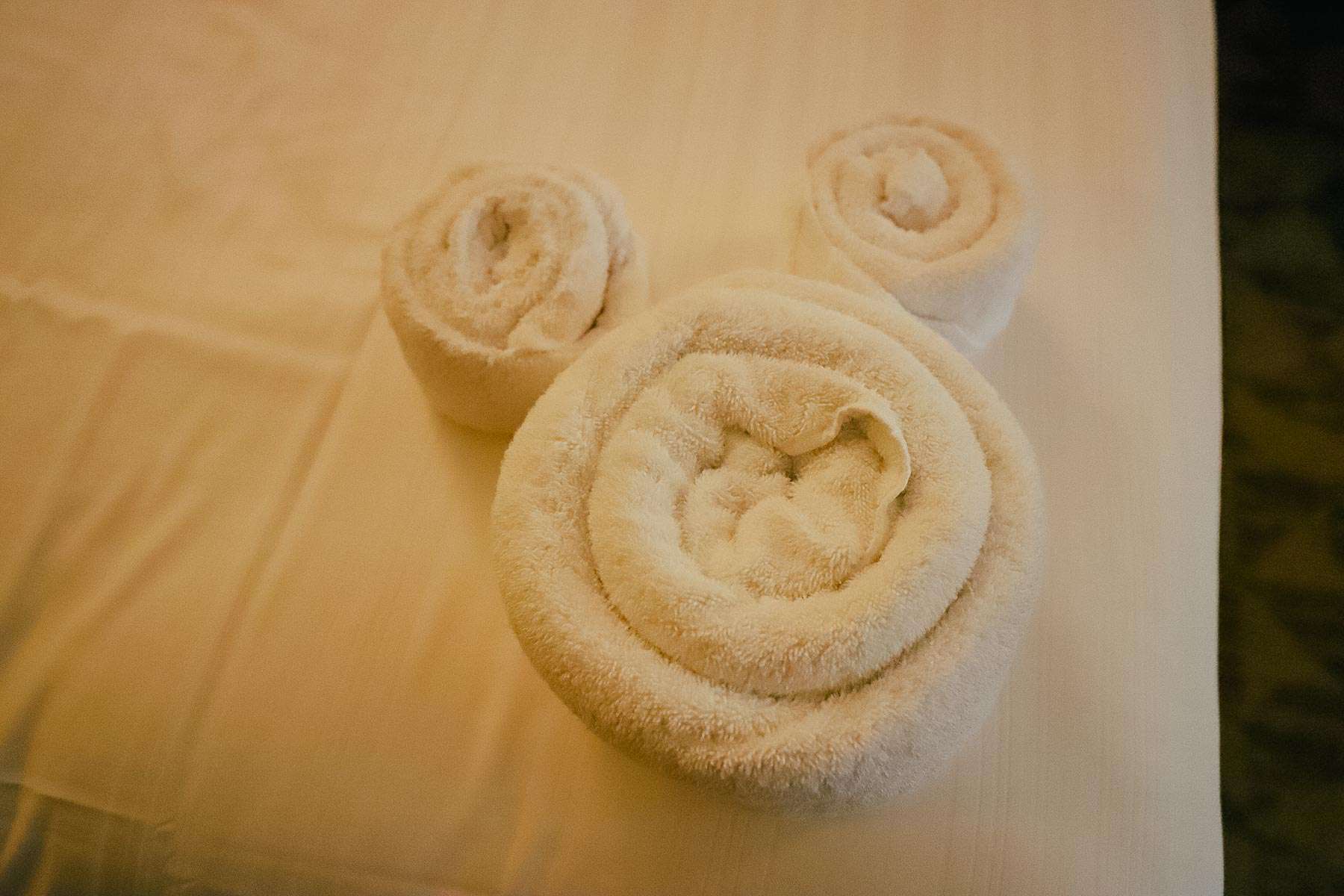 Here is a closer look at the sofa. Two small coffee tables sit in front of it. They slide out of the way if you need to use the couch as a bed.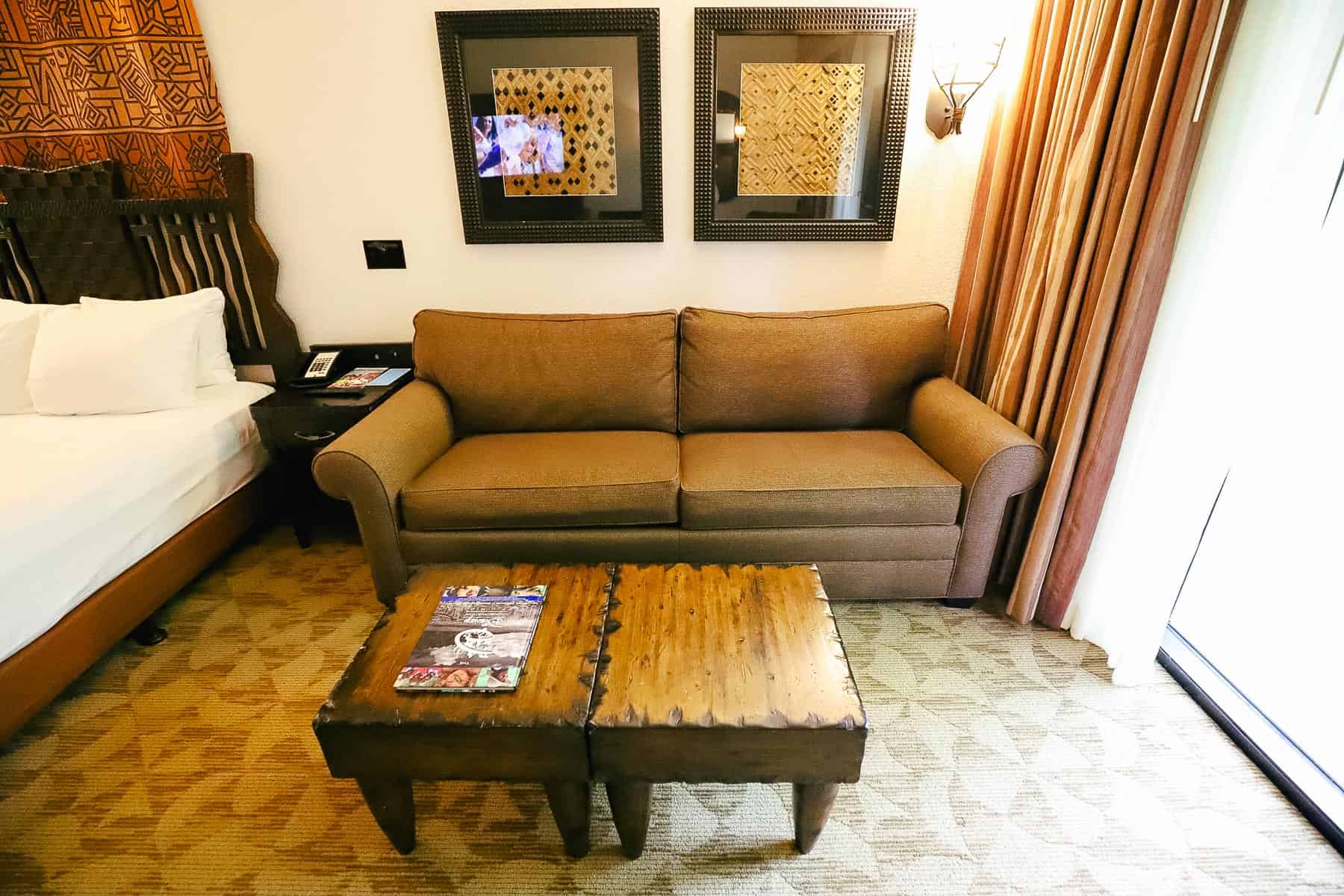 Here is an alternate view of the room. It was rather spacious. However, you may notice that the bed sits relatively low to the ground. This was a wheelchair-accessible room. So, the room had a few nuances here and there. But they were mainly in the bathroom.
We had never been assigned an accessible room before. Given the impending bad weather, I assume Disney was trying to place guests in strategic locations or at least get them settled as quickly as possible. So we didn't ask to be moved or mention it.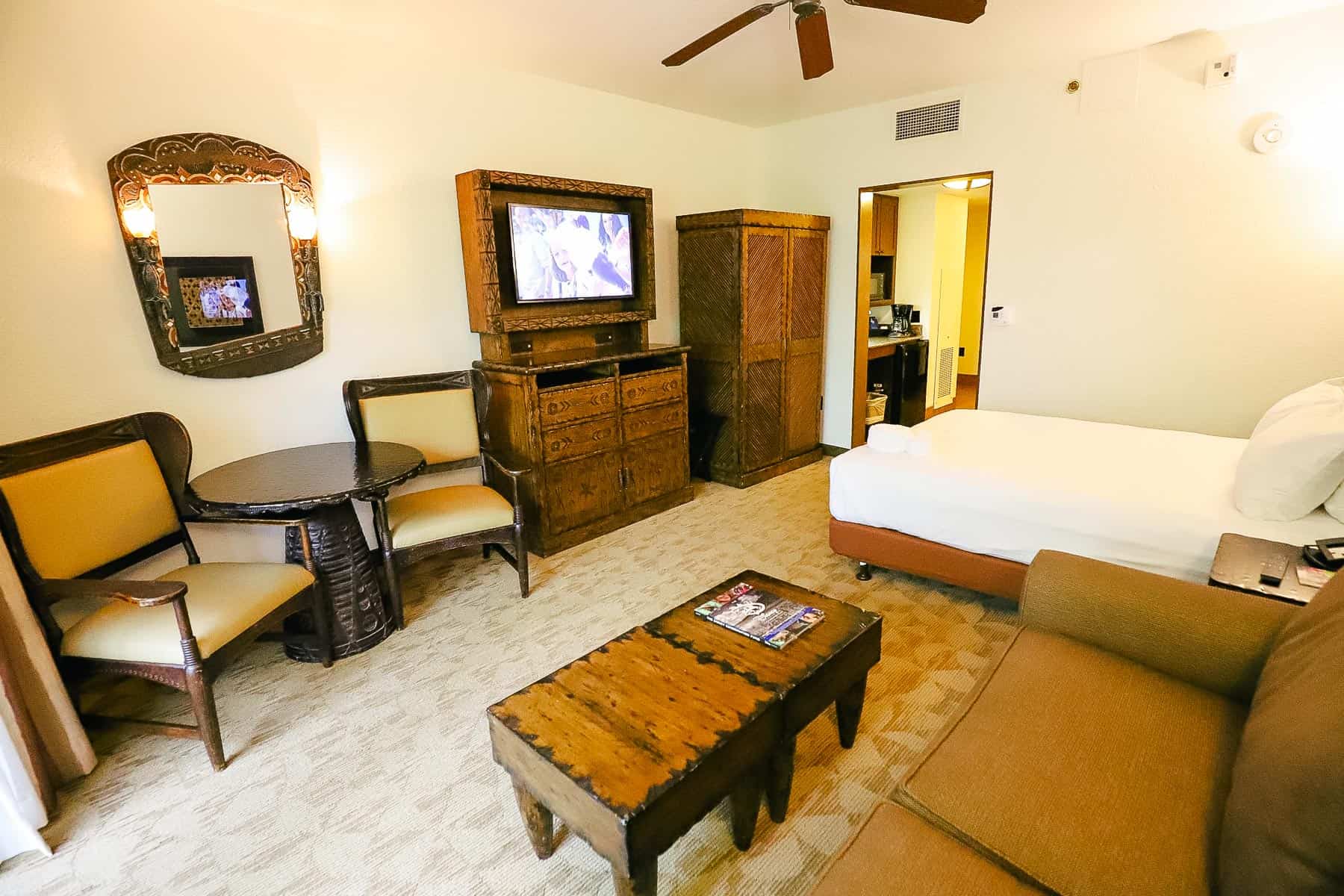 A substantial table with chairs sits in the corner. This is a comfortable seating arrangement. However, the chairs are kind of oversized and clunky. It was challenging to get the perfect blogging stance.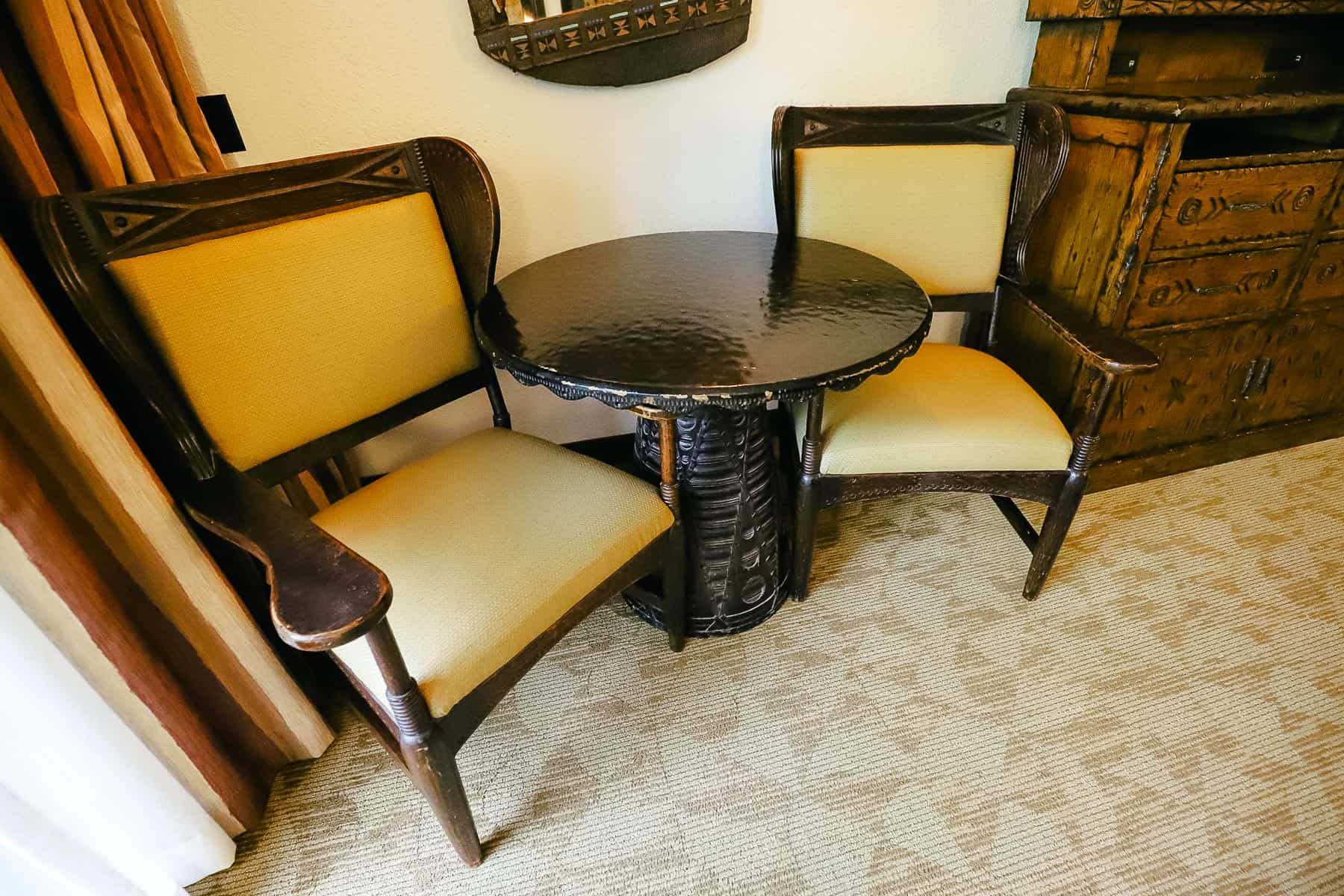 Instead of a closet, the deluxe studios at Kidani Village have a wardrobe and matching dresser. A luggage rack sits between them. You can move it to the foyer area near the door if you want to use it.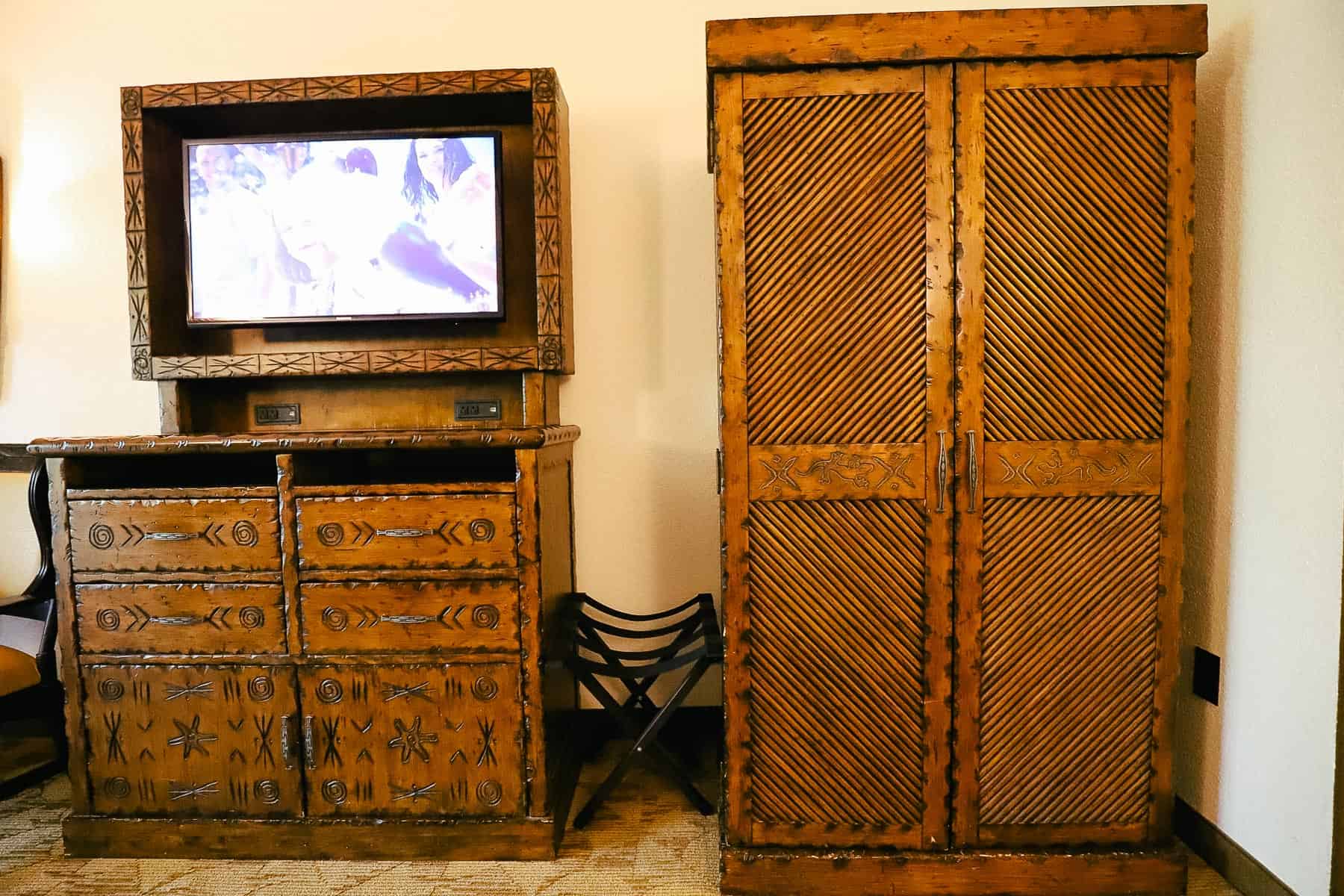 Two doors open at the bottom of the dresser to reveal an in-room safe.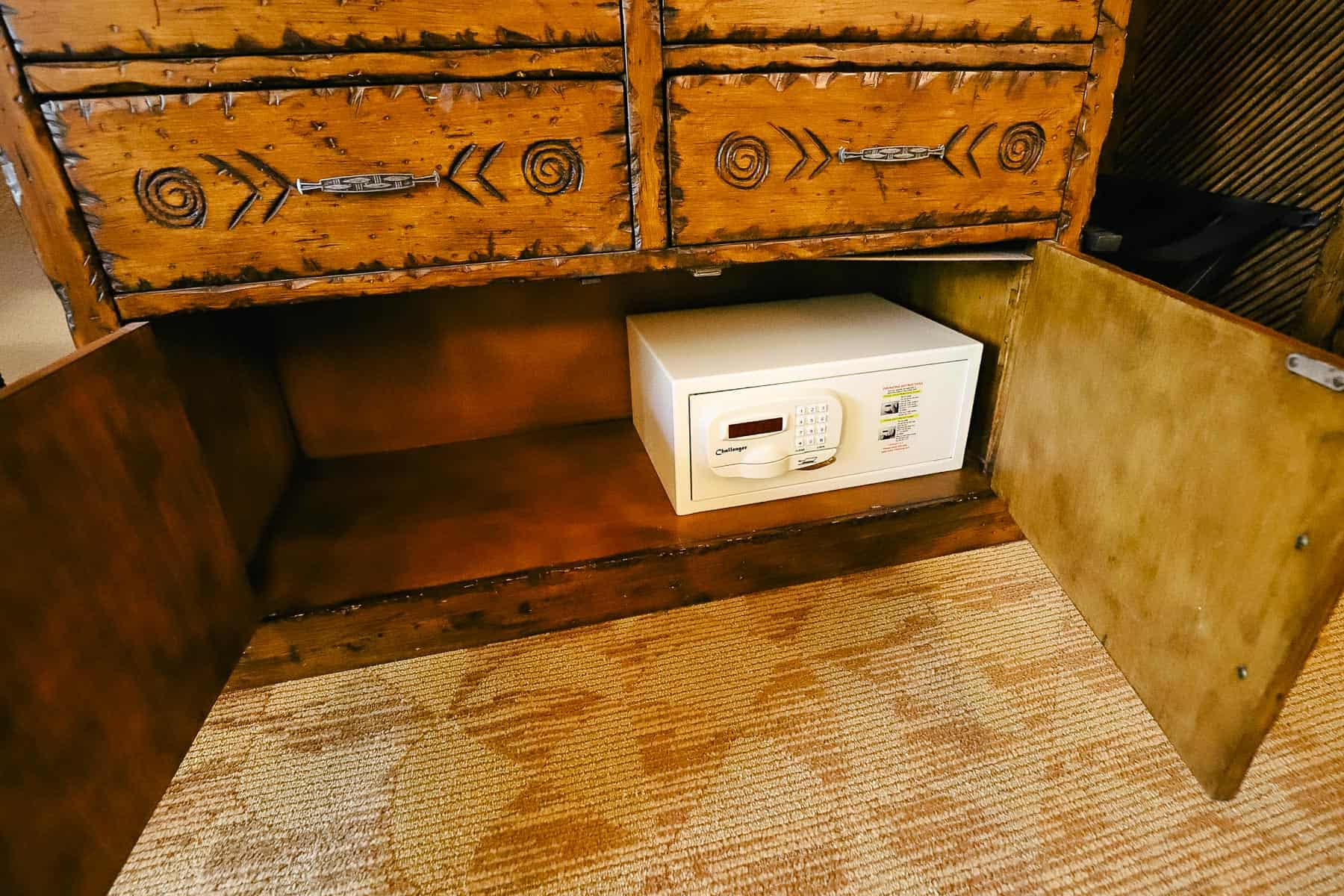 Inside the wardrobe, you'll find space to hang clothes, a hairdryer, extra towels, extra pillows, blankets, and an iron with an ironing board. I admit the ironing board almost drove me bonkers each time I opened or closed the door.
It would make a loud noise and shake as though it were going to collapse any second. I quickly resolved not to use the wardrobe area unless absolutely necessary.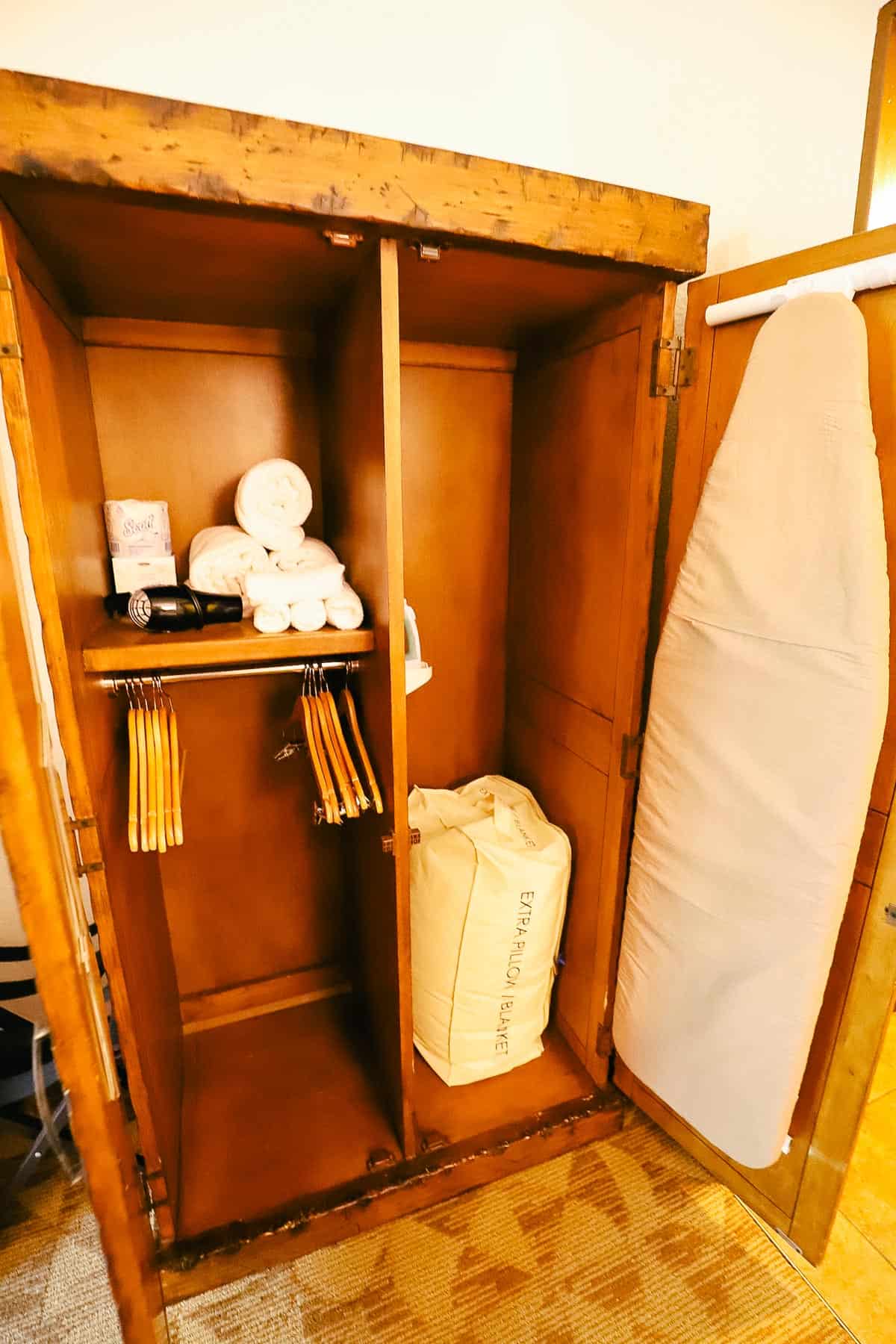 One of the positive aspects of reserving a unit at a Disney Vacation Club Resort is the in-room amenities. Deluxe studios have a small kitchenette that provides a place to prepare small meals and snacks.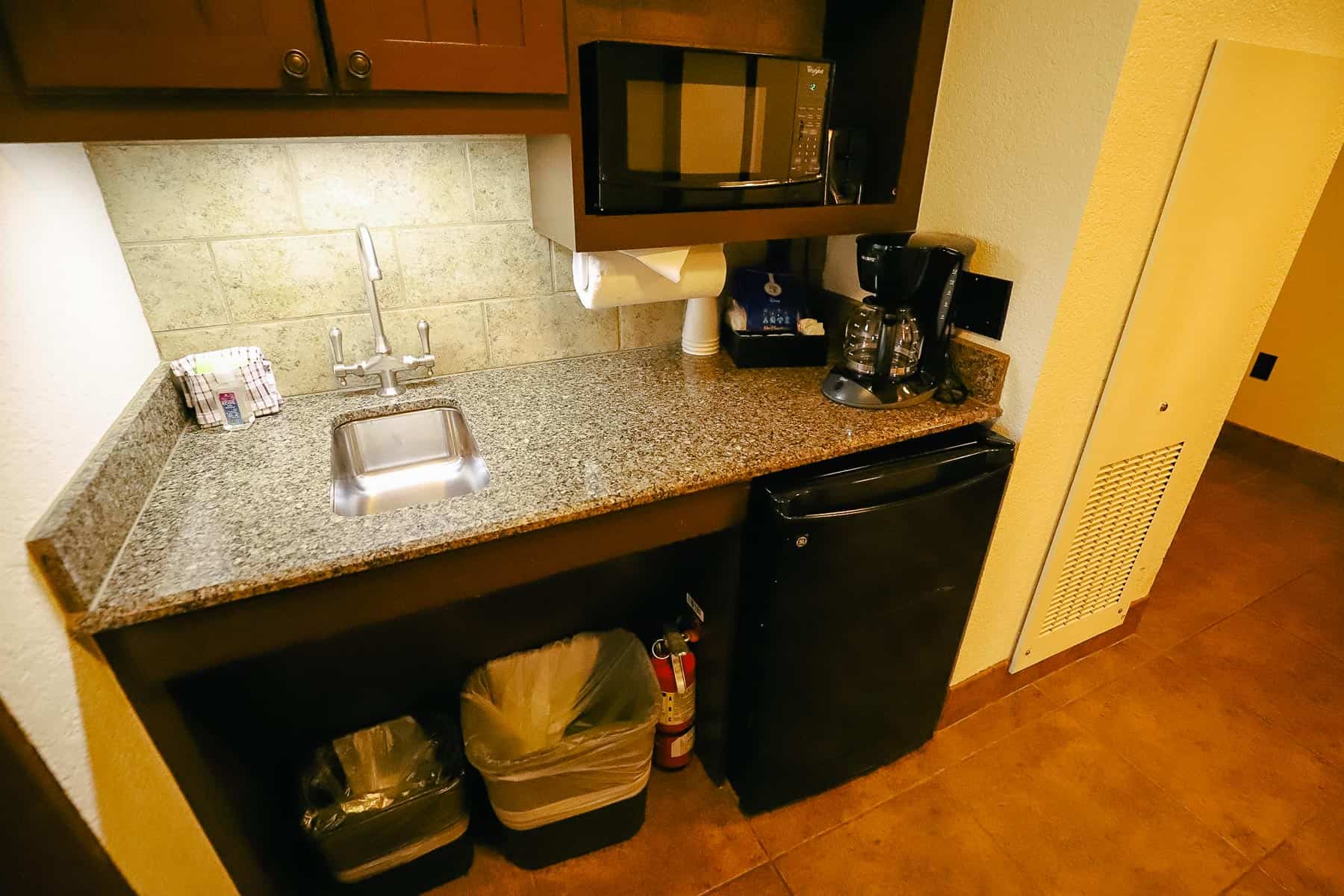 You could even store and reheat leftovers.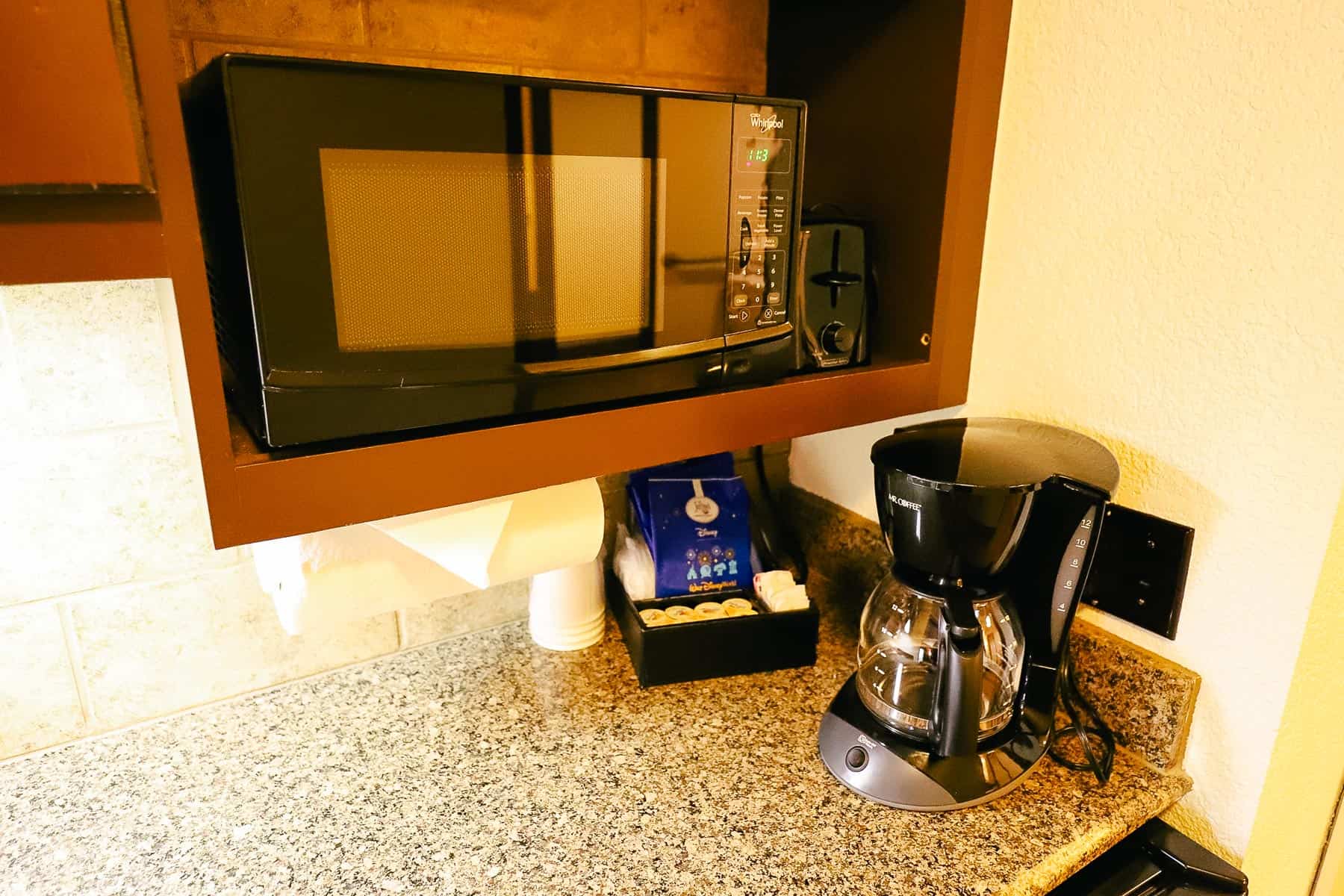 A regular coffee maker is provided with various accompaniments. I usually bring my regular coffee, half-and-half, and a few filters when we stay in a deluxe studio. But everything is provided, that's only my personal preference.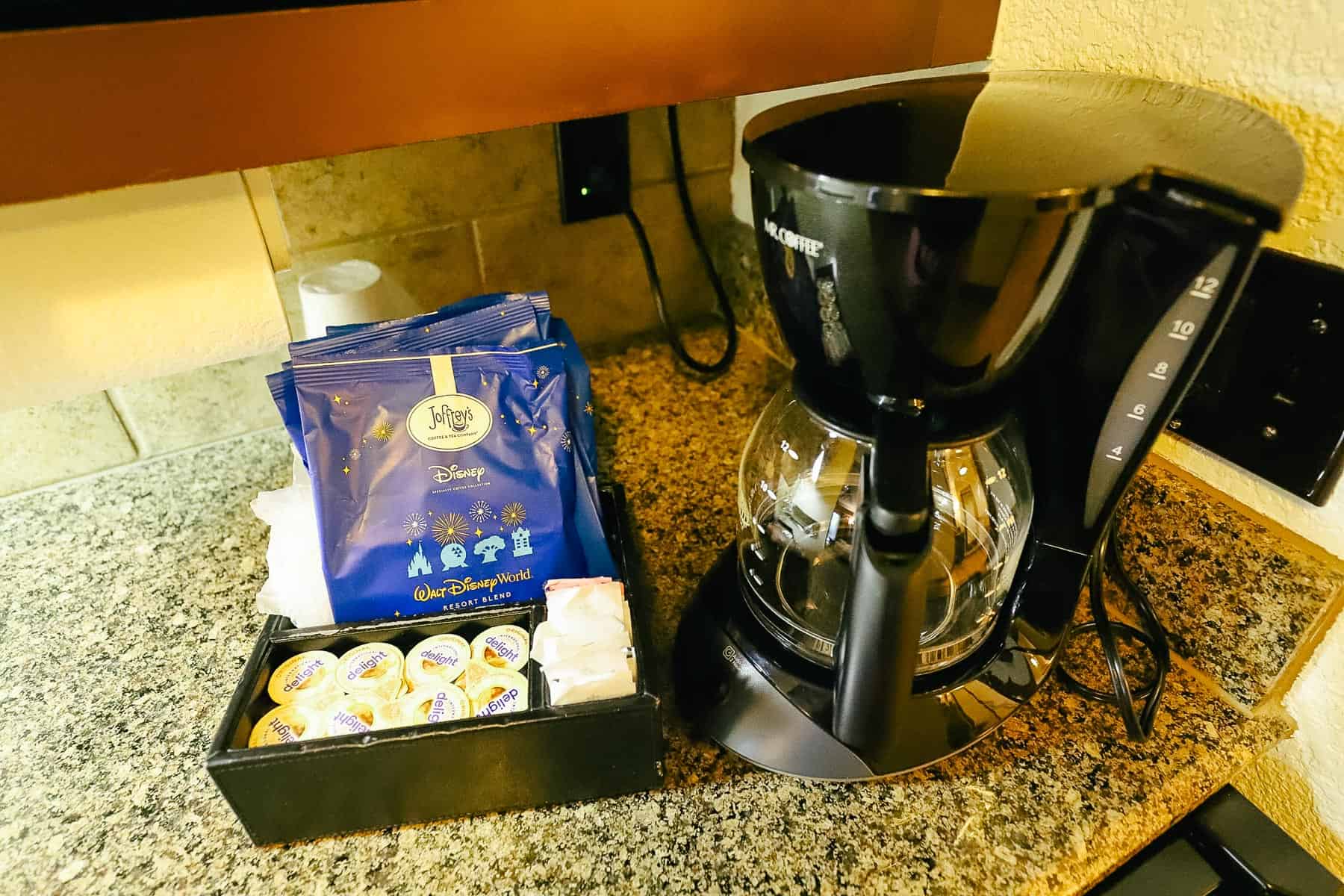 Deluxe studios come with a microwave and a toaster oven.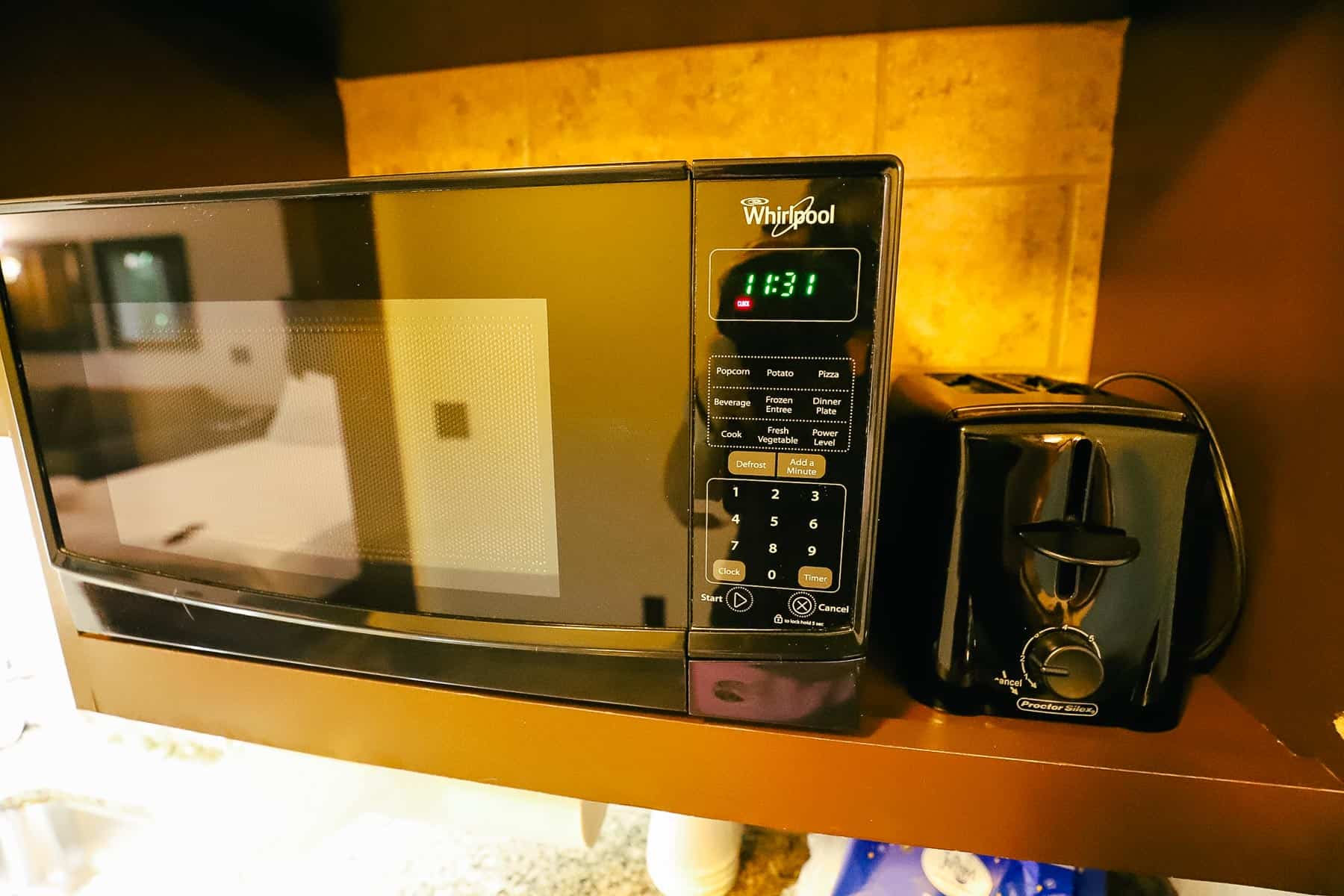 You'll have a small amount of counter space with one sink.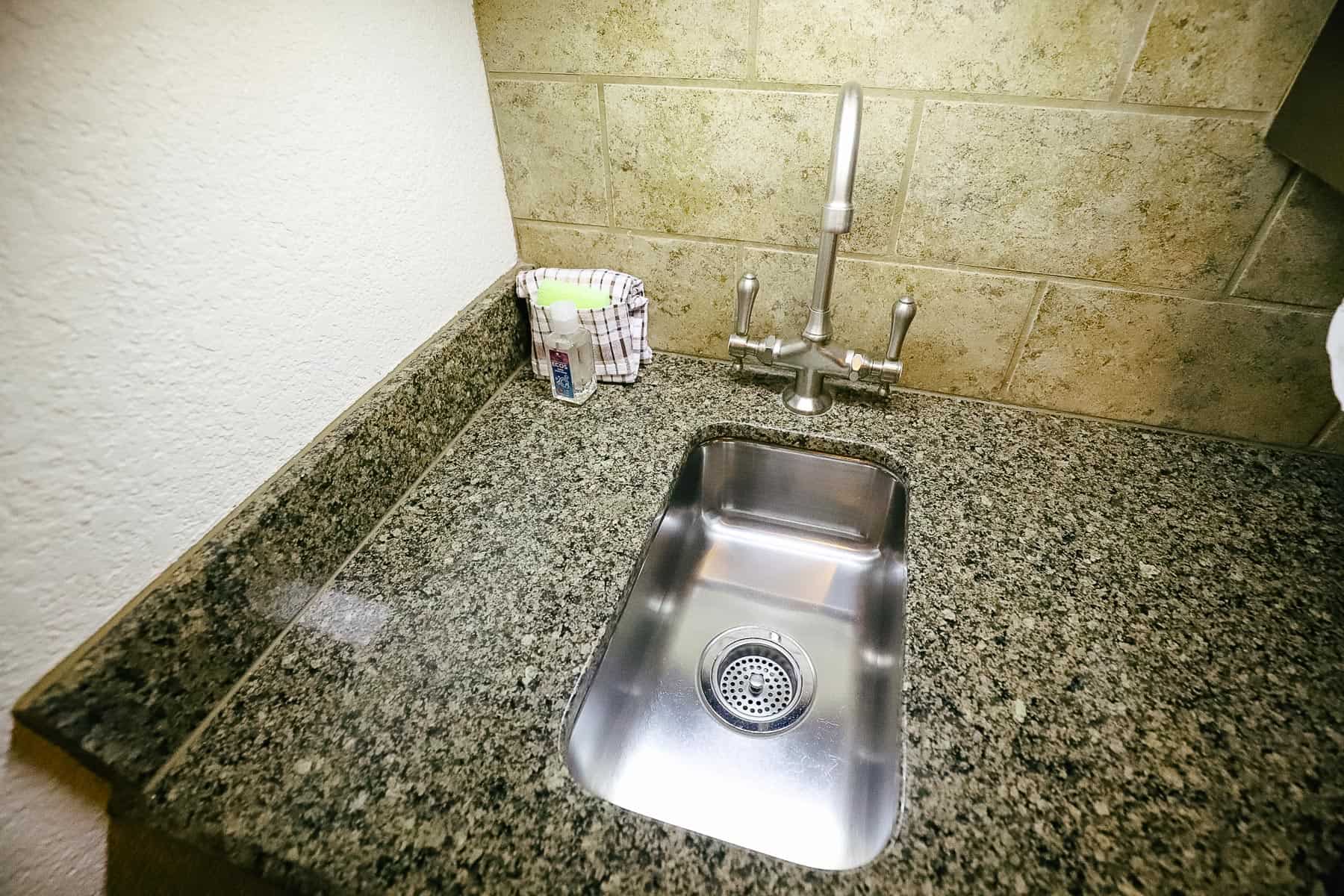 Dish soap, a sponge, and a hand towel are provided.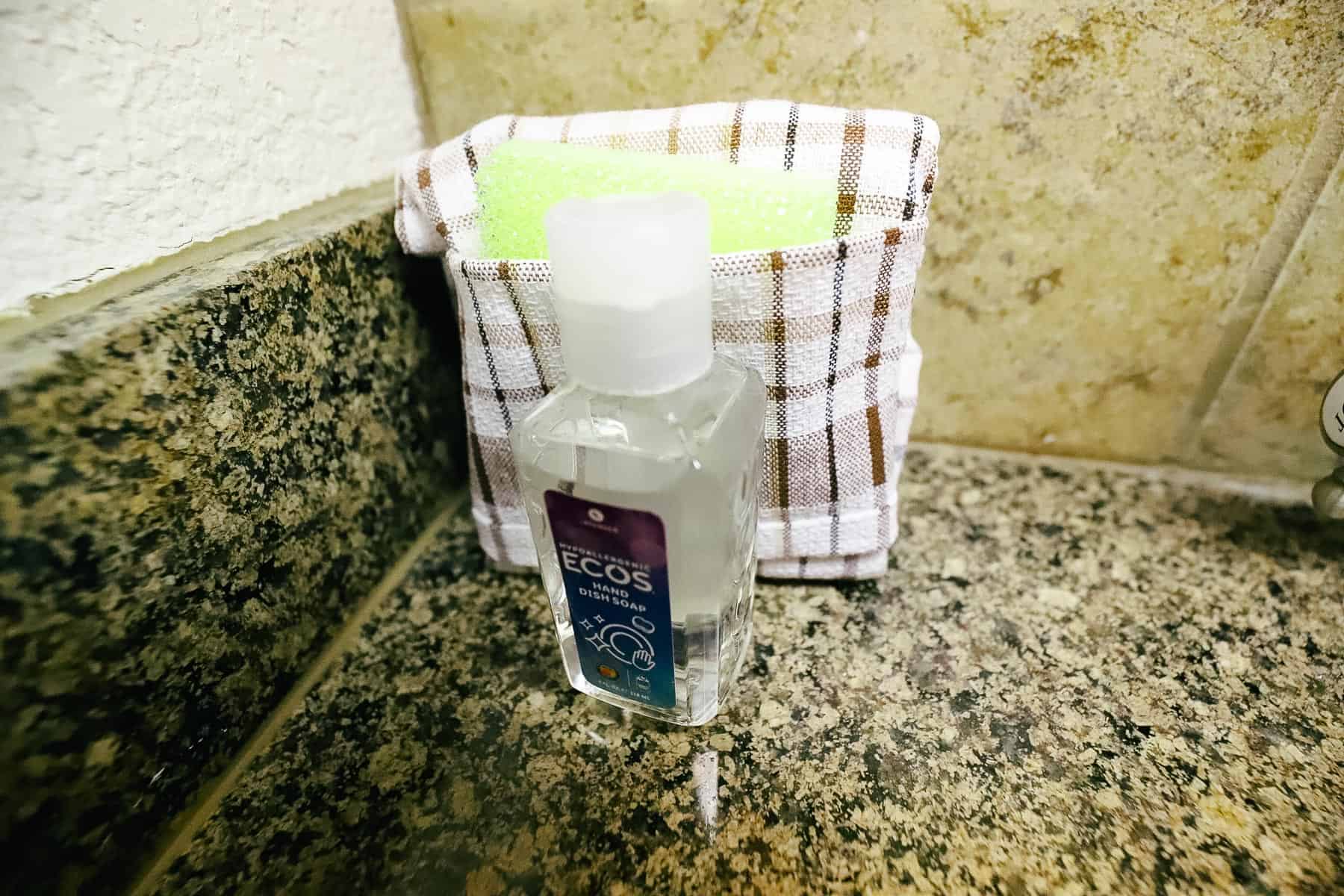 I hate to complain, but regular glasses, flatware, and dishes have yet to return. I pulled these out so you could see what was available. But we are far past the time to have listed amenities returned.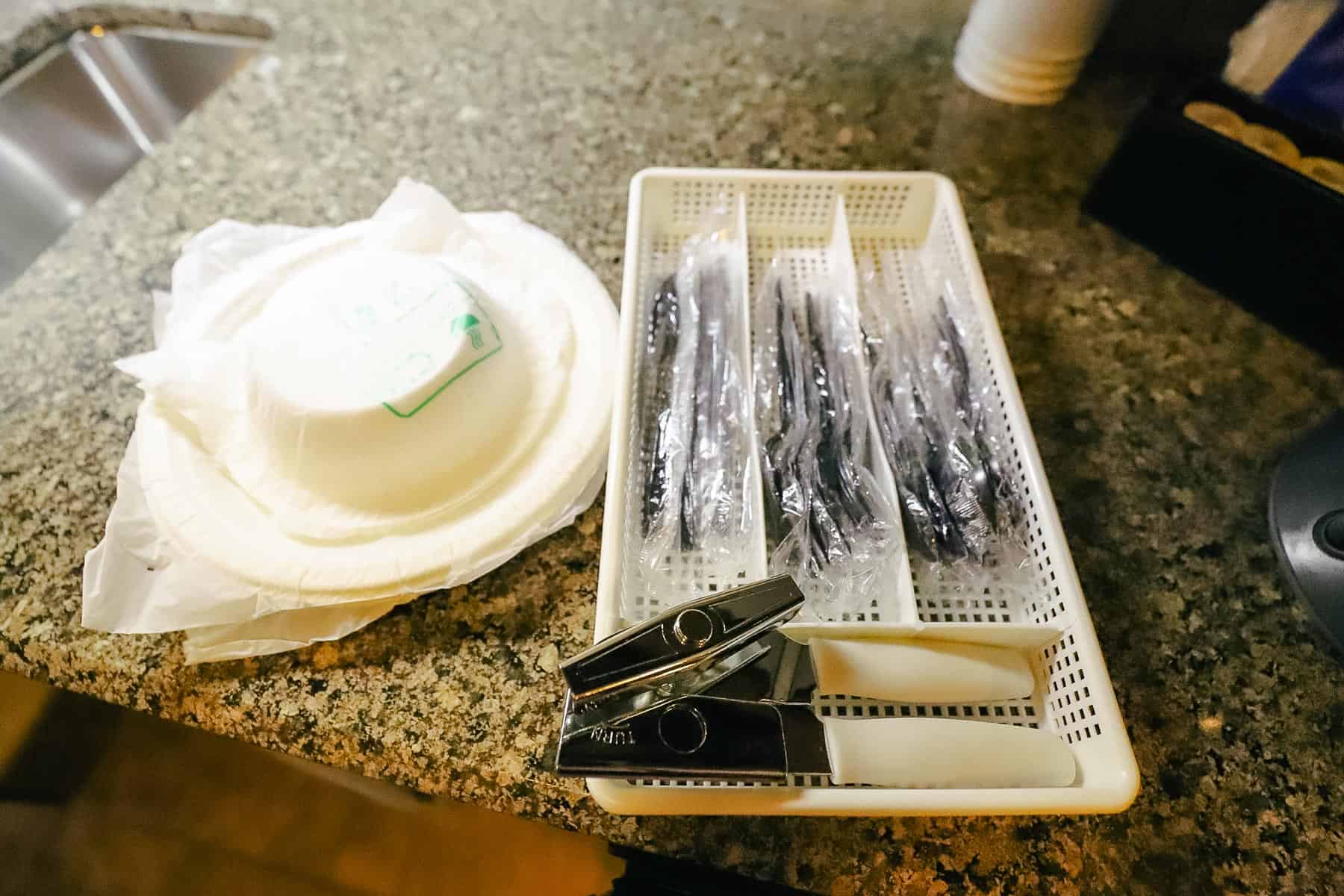 What are those amenities? There is a list inside the cabinet door of each deluxe studio that shares what's supposed to be in the room.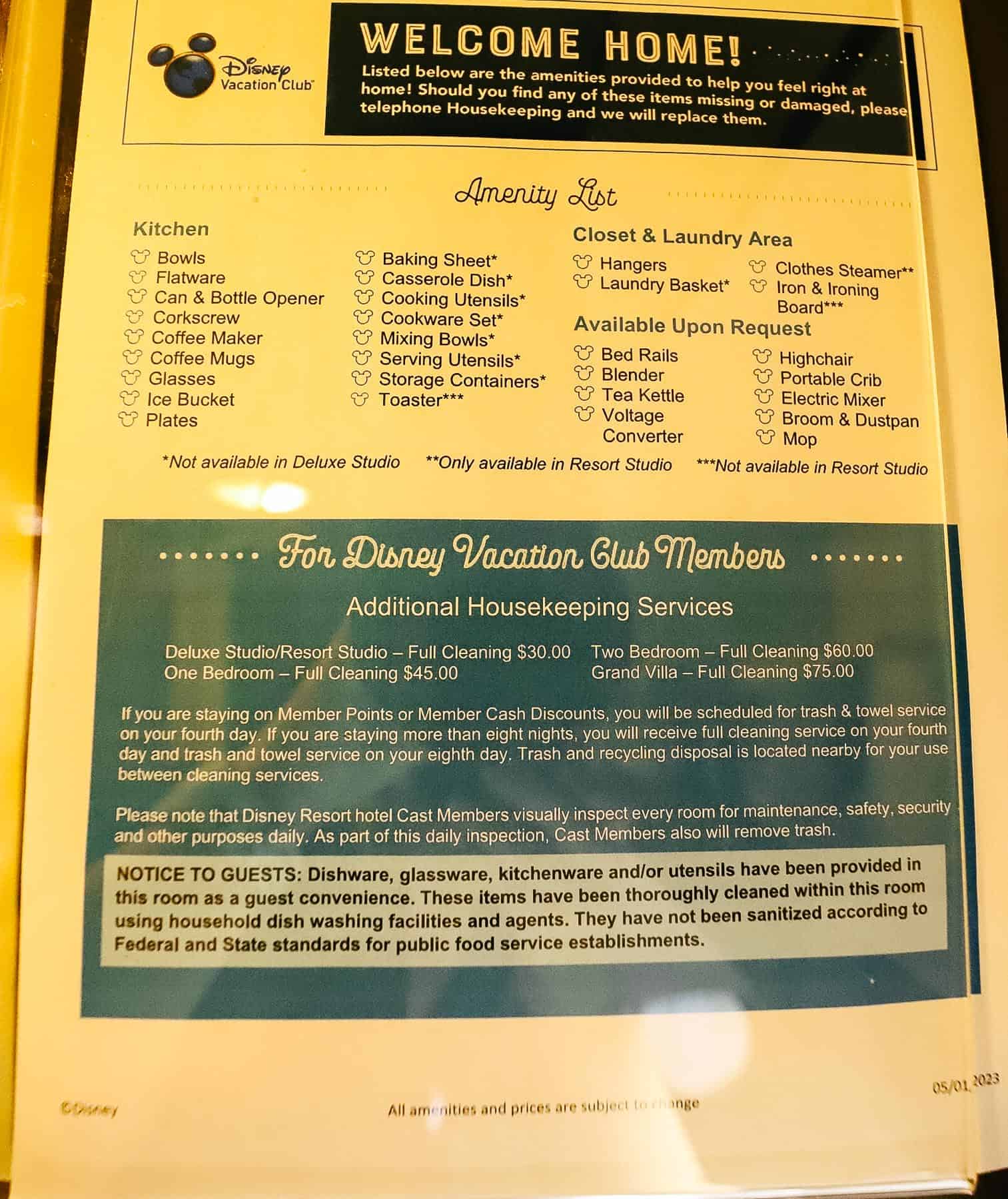 This sheet discusses how housekeeping works for guests who are staying with points. Those guests only receive towel and trash service on the fourth day of their stay. Or if staying more than eight nights, they'll receive full housekeeping on the fourth day.
However, if you are a regular guest that reserved your room through Disney, you'll still receive daily housekeeping. We did.
An ice bucket, paper cups, and a roll of paper towels were provided.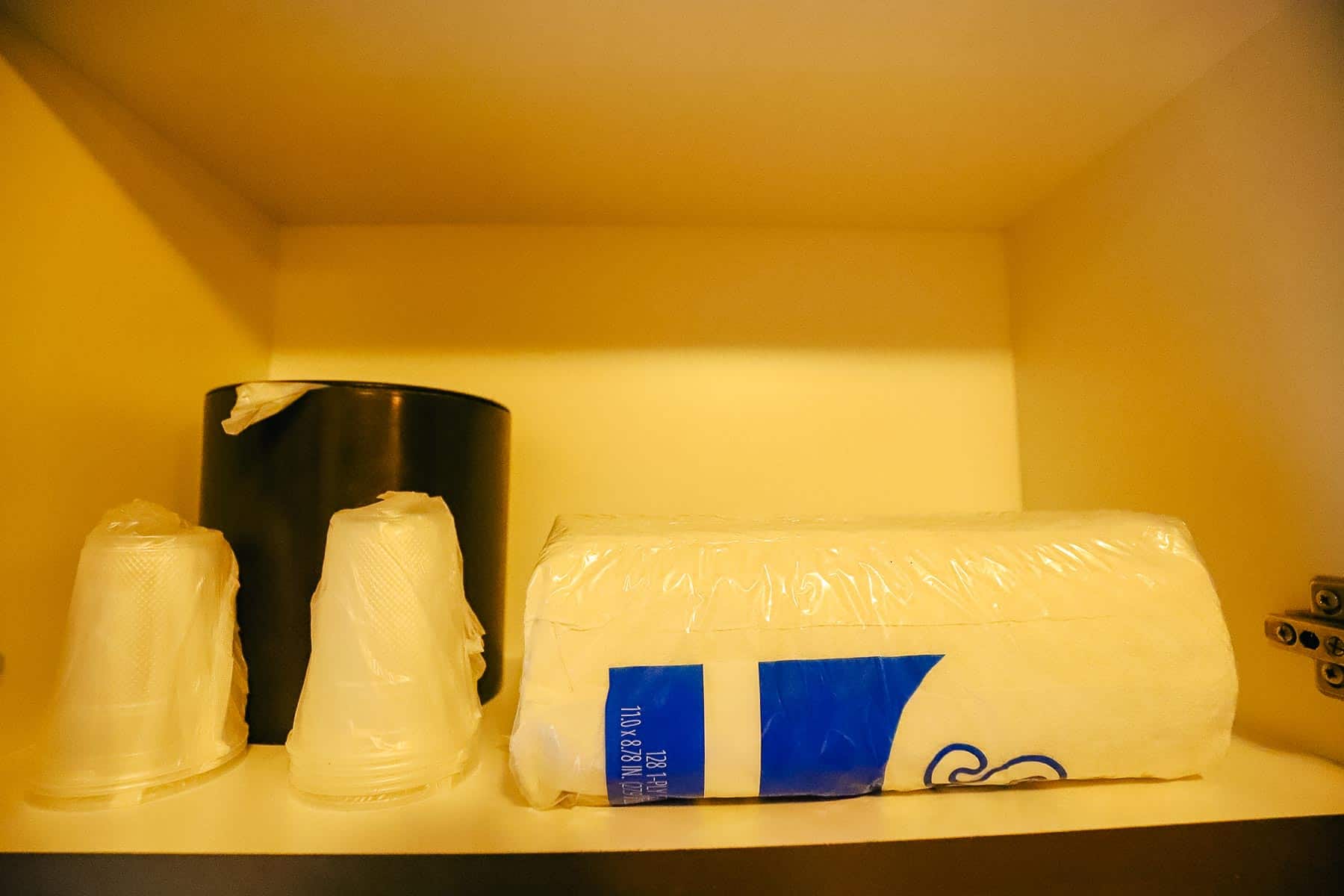 Two lined trash cans sat under the sink area.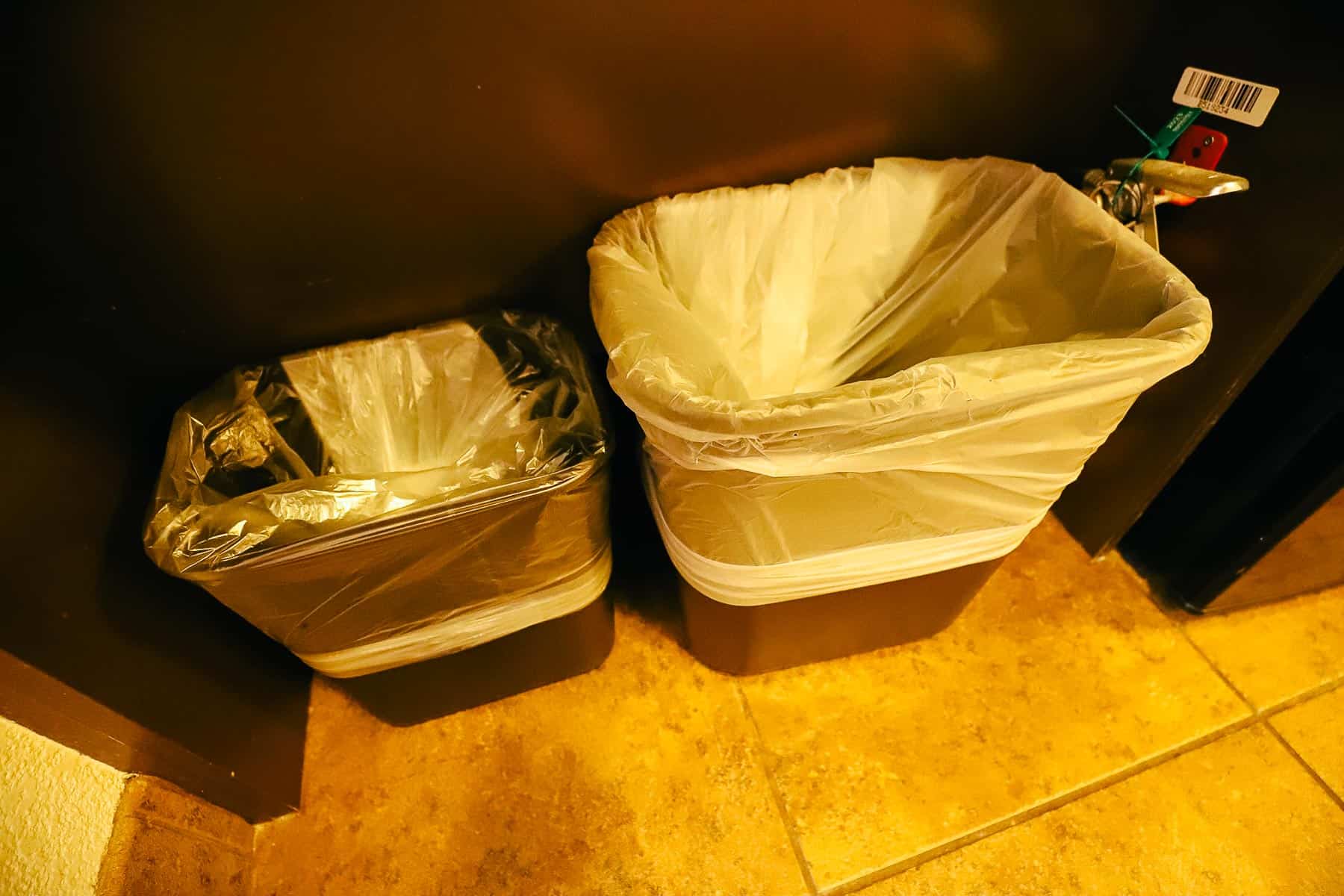 A mini-fridge is available. This is a real mini-refrigerator that has a freezer shelf on top. It is designed to keep items at a proper temperature. You'll usually only find these in deluxe studios. Most standard rooms have a beverage cooler.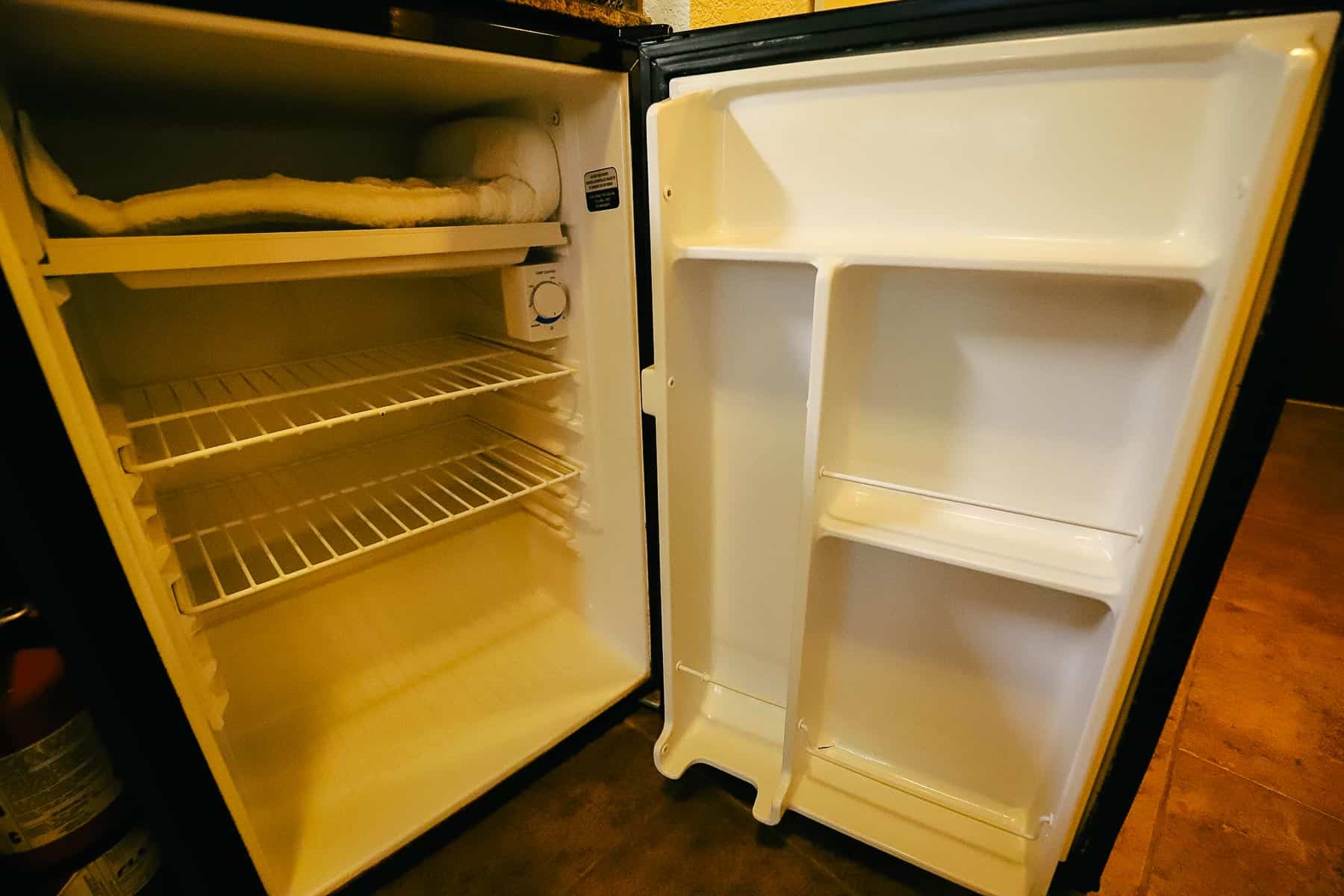 Here is the bathroom. We've stayed in a deluxe studio at Kidani Village several times. Usually, the bath has a tub with a shower combination and a toilet. Then, a separate area has a large vanity with two sinks.
However, since we were in an accessible room, everything was in one large space.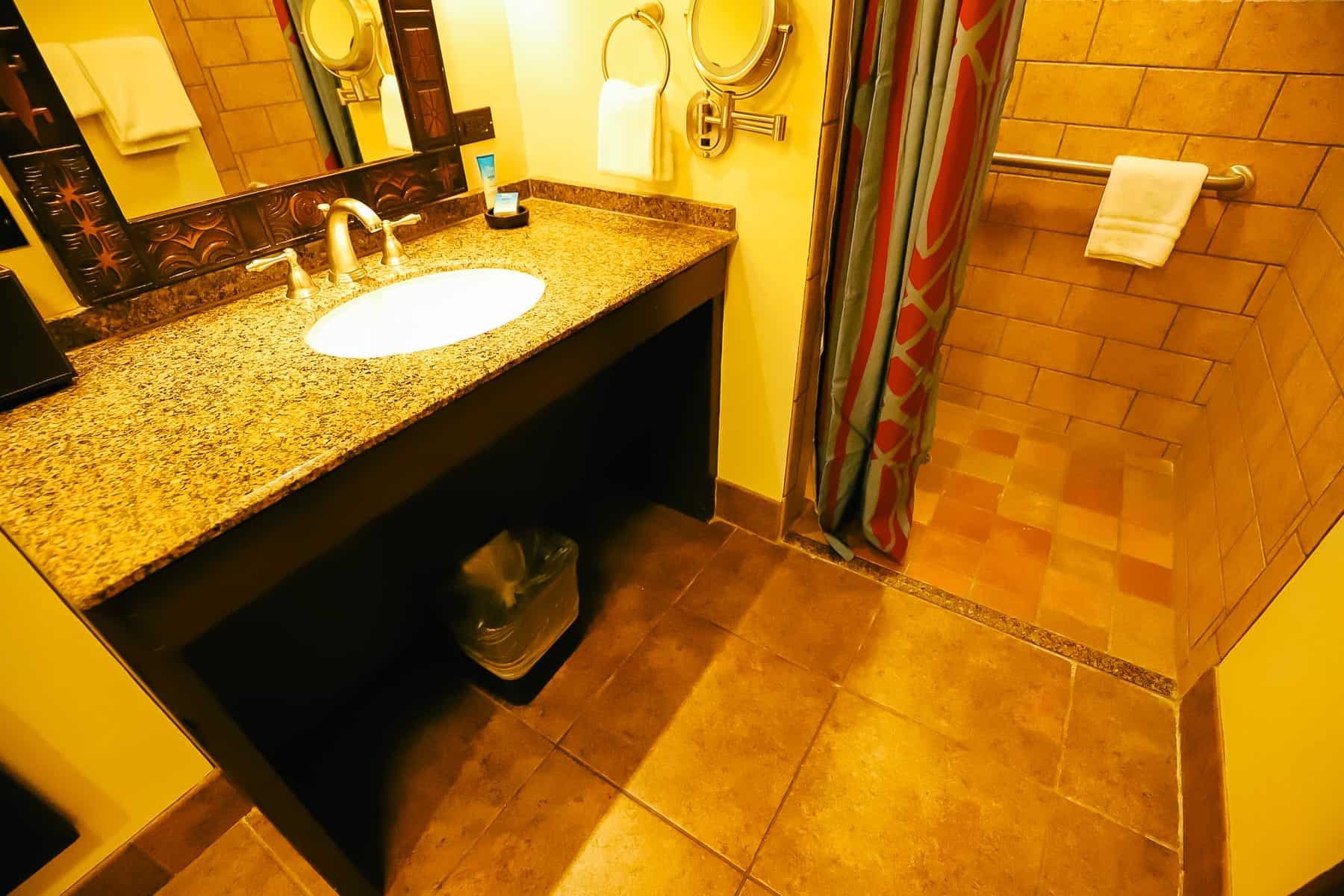 Here is the walk-in shower that had a showerhead and a removable option.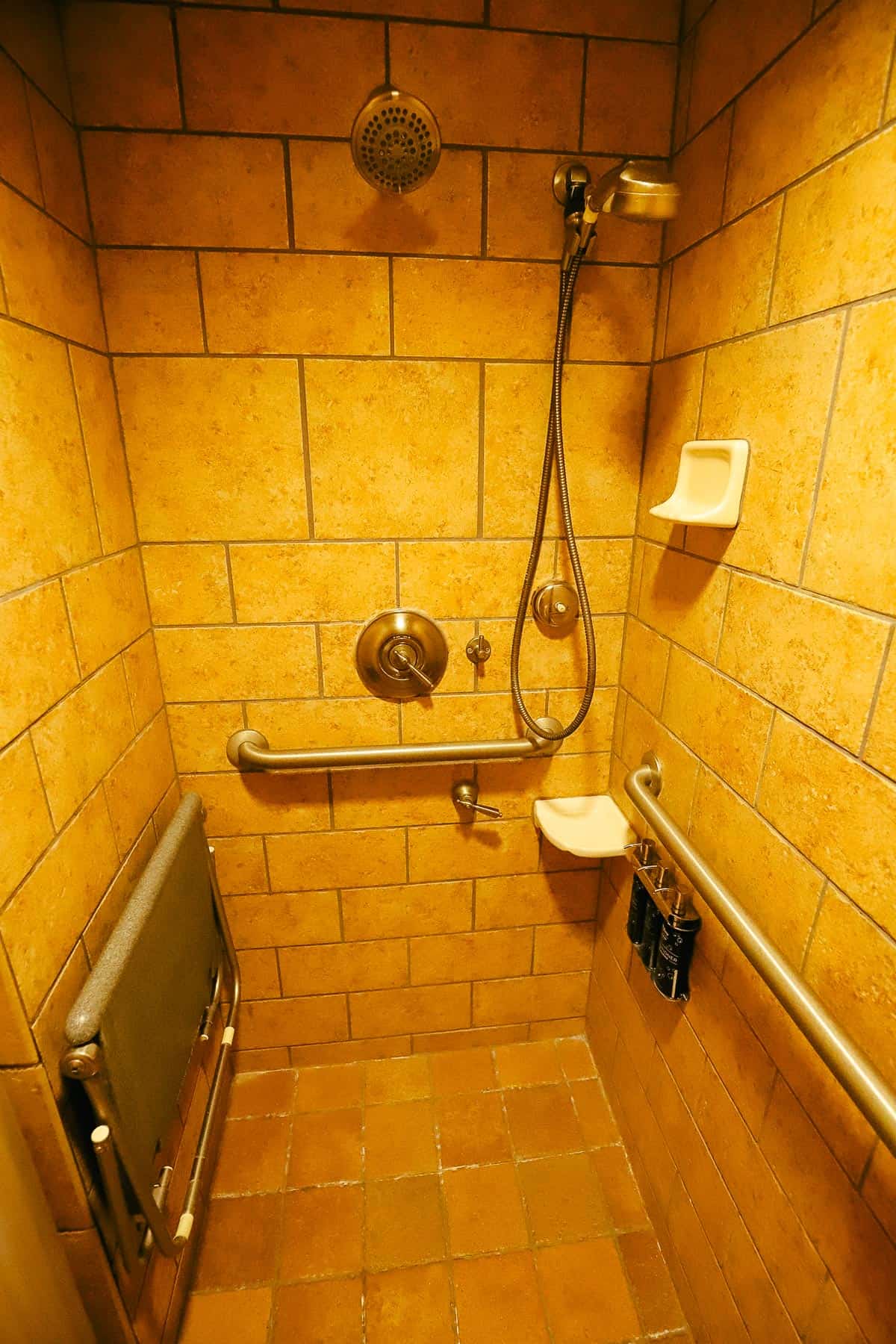 Built-in toiletries included body wash, shampoo, and conditioner.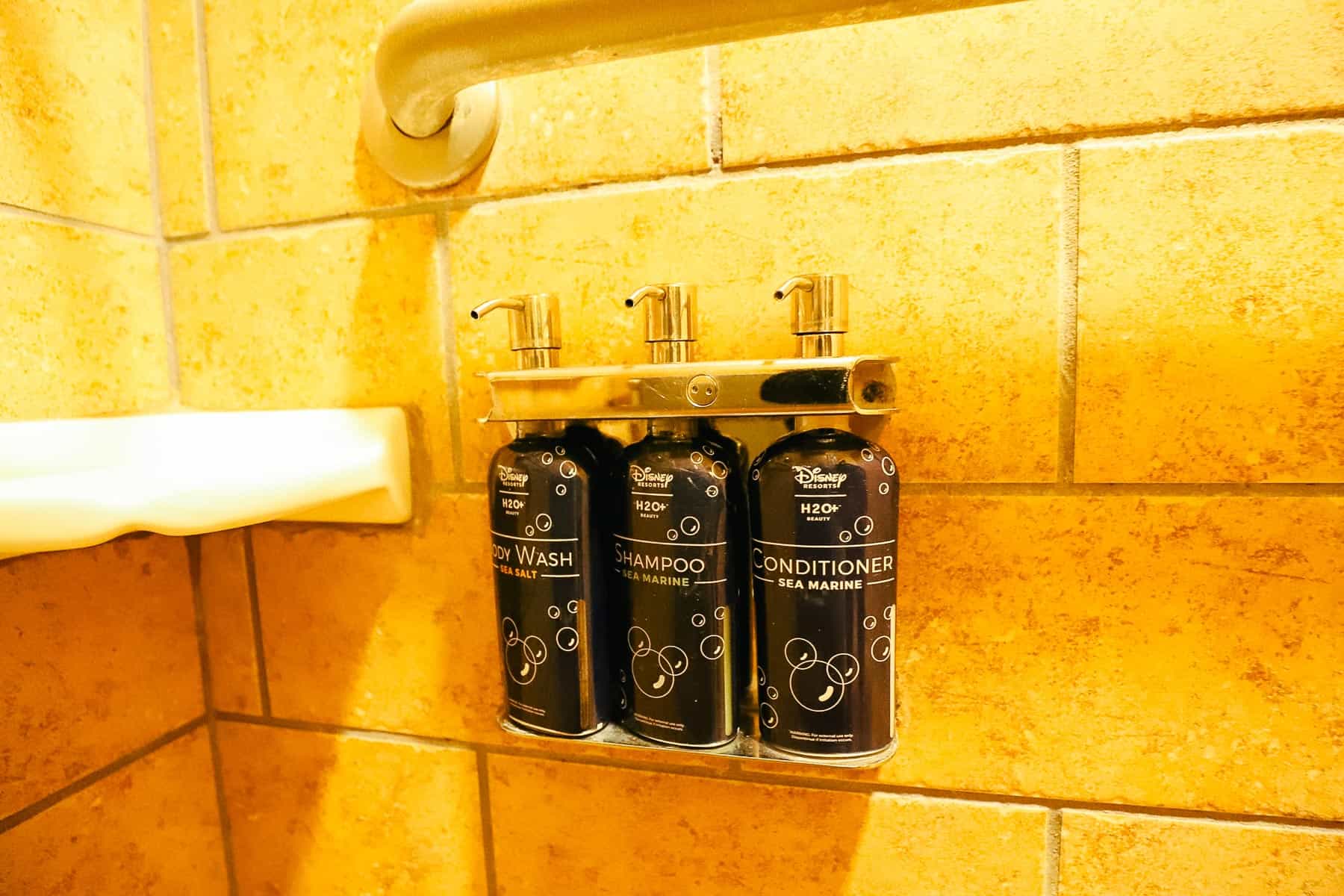 Here is a look at the rest of the space.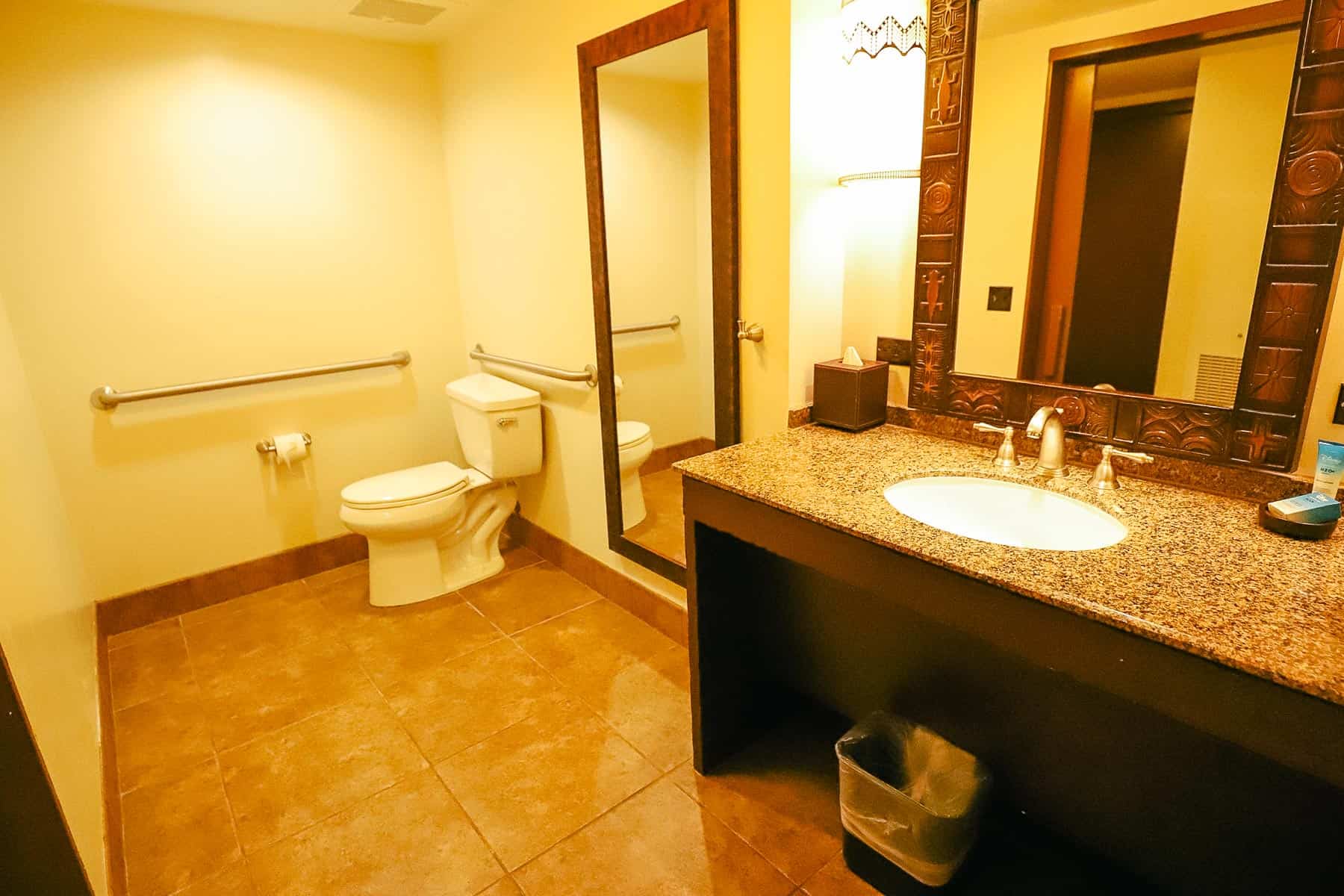 The vanity provided plenty of room for personal items.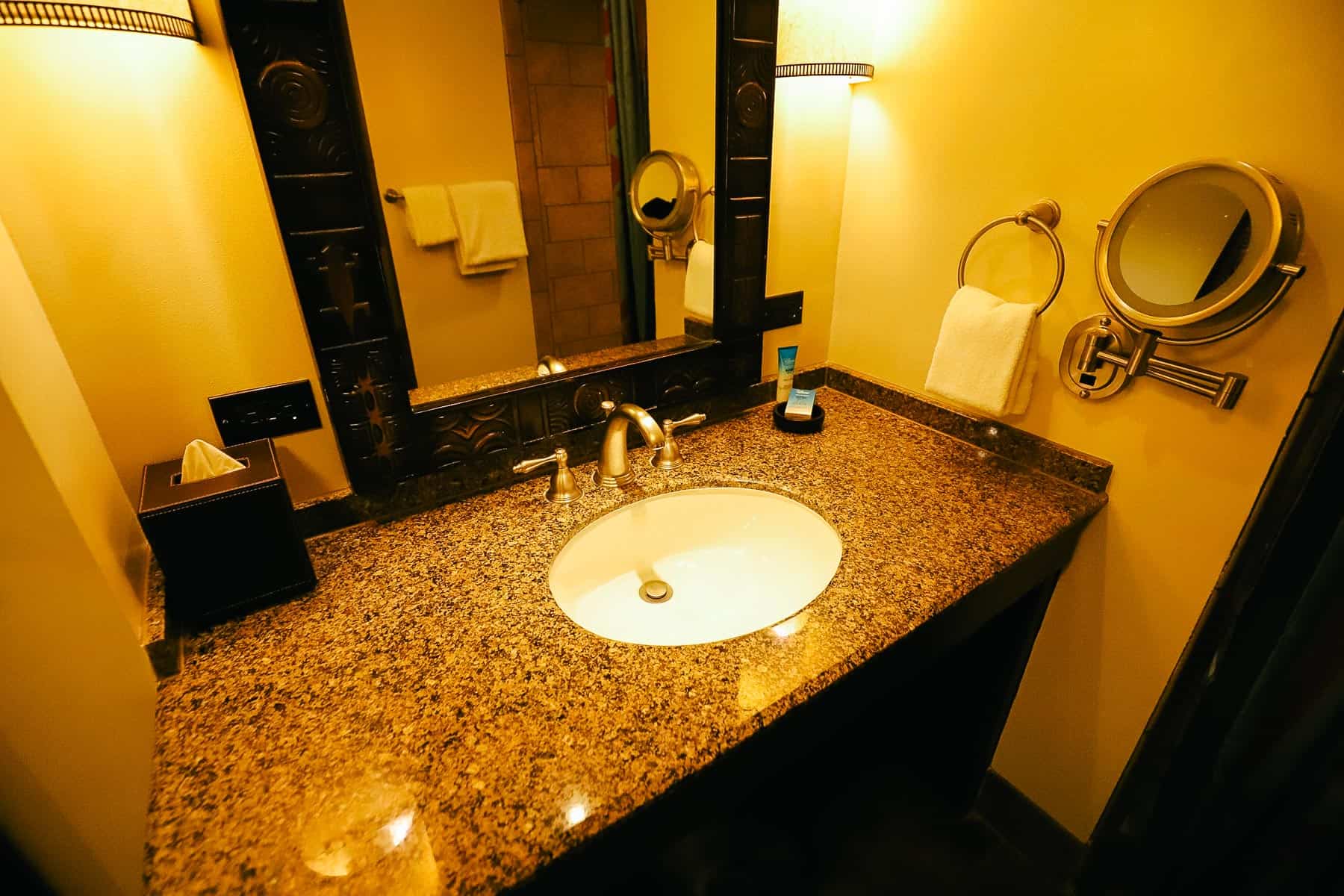 Lastly, we had a balcony, or I guess this is considered a patio. We were on the resort's second floor, a short walk from the lobby.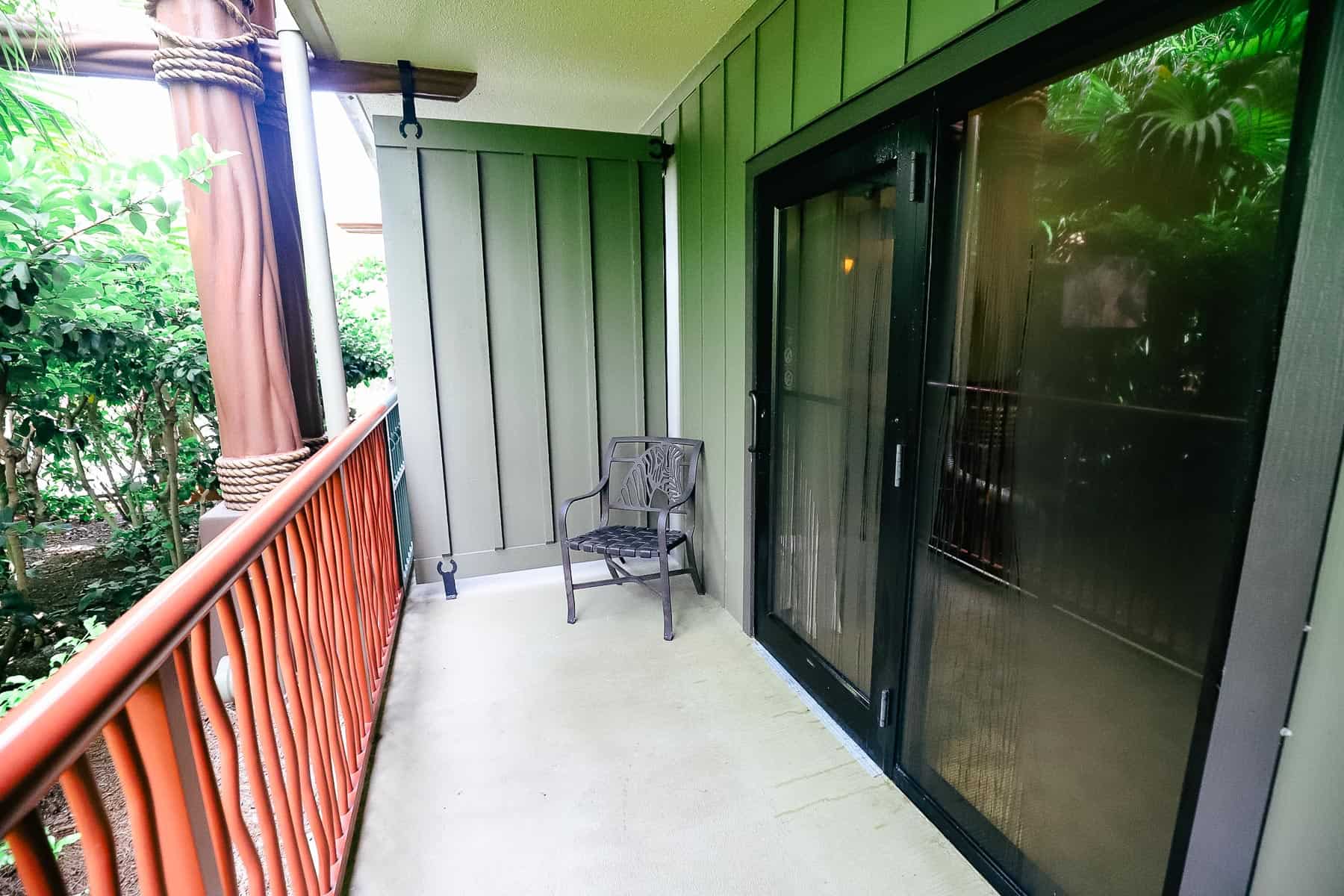 This was a standard view. Usually, I would recommend upgrading to a savanna view at either of the Animal Kingdom Lodge Resorts. But under our circumstances, it was not warranted.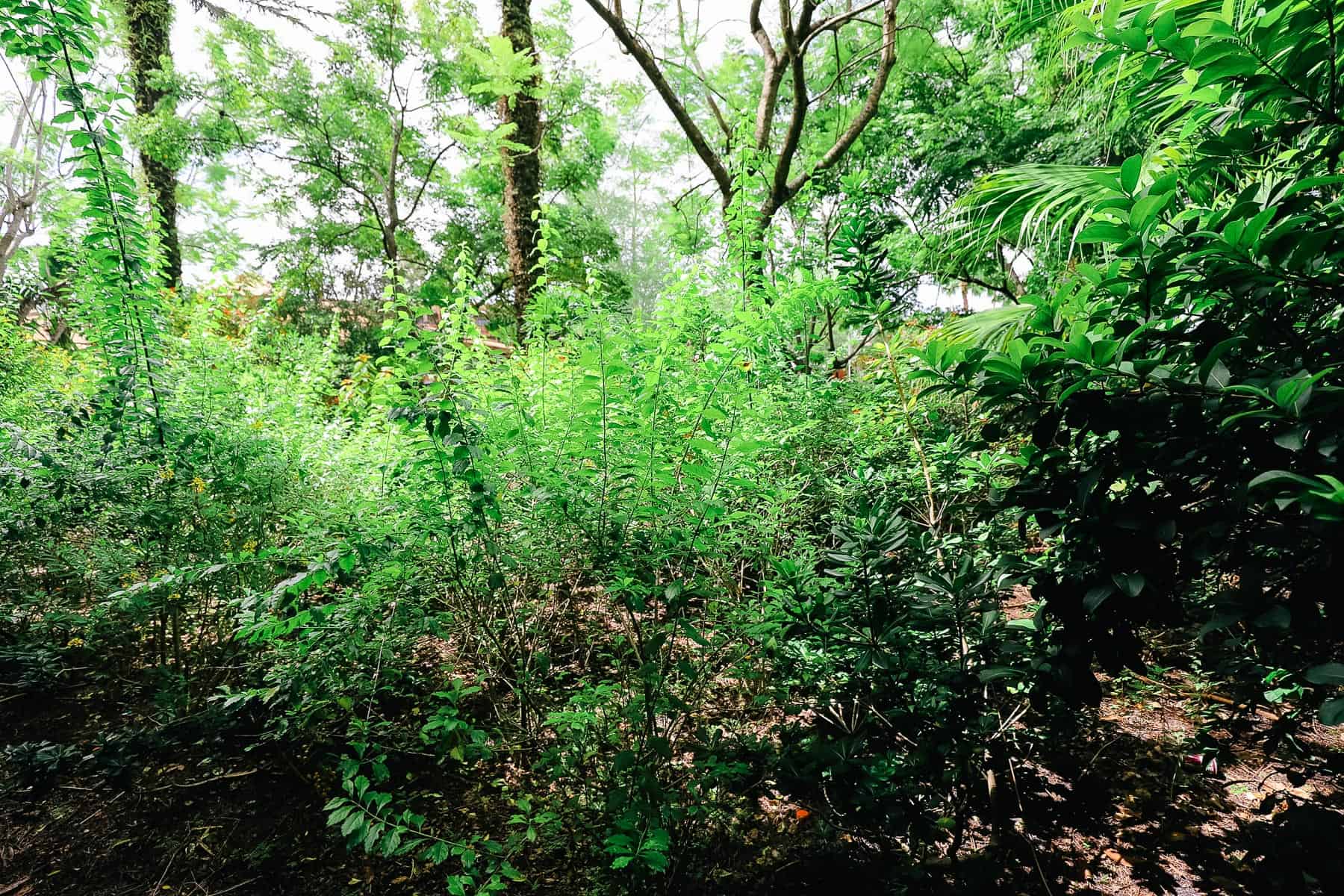 These chairs are so cute!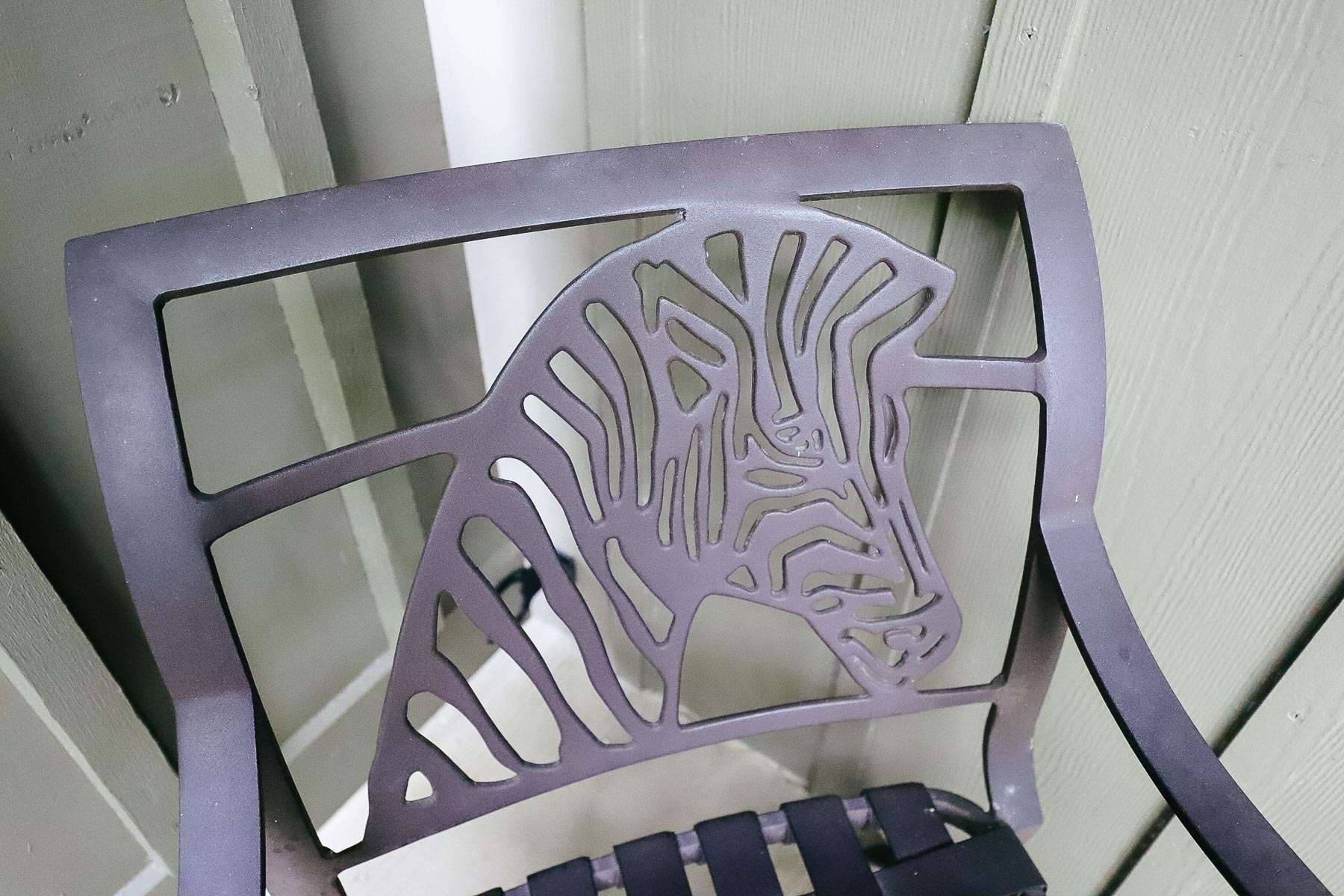 Video Tour of a Deluxe Studio at Kidani Village
Here is a video tour. This was room number 7617.
Final Thoughts
Our stay at Kidani Village went swimmingly, and the deluxe studio worked well. Given the weather and my workload, most of this impromptu trip was spent entirely at the resort. But we did sneak over to Epcot after the storm for a ride on Guardians of the Galaxy: Cosmic Rewind.
However, if this had been a trip with others, we would have avoided reserving a room with a traditional sofa sleeper. Most of the deluxe studios have had their couch sleepers replaced by Murphy Beds in recent years. But that has yet to take place at Kidani Village.
Other than that, we'll happily return to Kidani Village. It's such a private resort that feels like a haven or retreat.
But in the meantime, we have several other stays planned. So, we'll wrap up our resort coverage over the next week. Then, we hope to sing Aloha as we return to Disney's Polynesian for the first time in what feels like forever.
For more information about Disney's Animal Kingdom Lodge, you might enjoy the following:
Tell Us What You Think
Have you stayed in a deluxe studio at Kidani Village? What are your thoughts on this resort?