Animal Kingdom Lodge Restaurants & Dining Guide
When it comes to Disney's Animal Kingdom Lodge restaurants, guests have numerous choices. In fact, a stay at this Walt Disney World Resort might have you on a culinary tour of your own.
That's because the Animal Kingdom Lodge is home to an exquisite signature restaurant, a buffet that any adventurous eater will want to attend, and one of the most popular table service restaurants in all of Disney.
This review of the Animal Kingdom Lodge restaurants will cover every dining option available at the resort. You'll probably be surprised with all of the must-do Disney dining available at the resort alone.
If you are not staying at the resort, you might still want to plan a meal here during your Disney vacation. A visit to the Animal Kingdom Lodge can be good for the soul. Similar to Disney's Wilderness Lodge, it's one of the few tranquil escapes on Disney property.
Before we get too far along, here's a helpful hint. The majority of Disney deluxe resorts have signage in the lobby indicating the different restaurants that are available. If you are out doing a little resort hopping, locating one of these signs can help you see all of your options. (You can also pull options by location in the My Disney Experience app.)
Disney's Animal Kingdom Lodge has one in their Jambo house lobby, as shown in the picture below.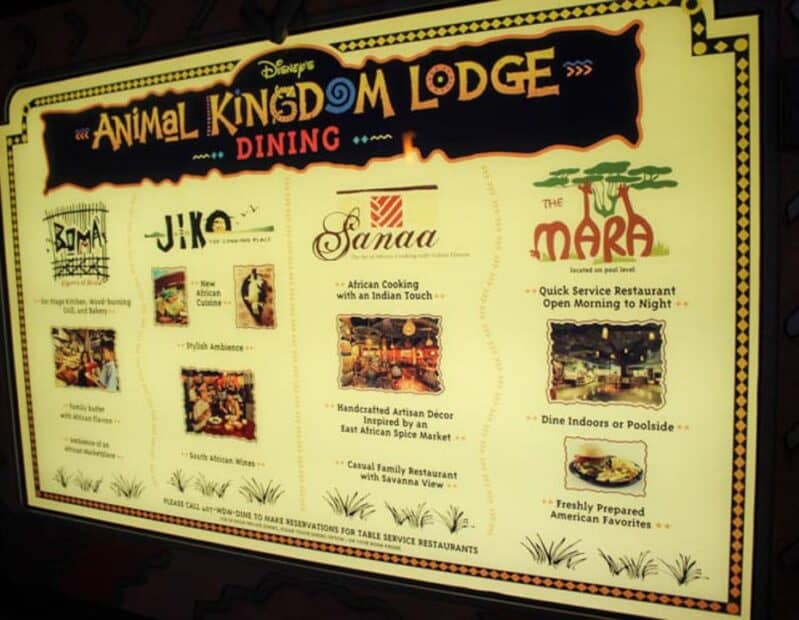 In case you aren't familiar, the Animal Kingdom Lodge is made up of two resorts. The first is the main Lodge which is commonly referred to as Jambo House. Jamb House is where the majority of the Animal Kingdom Lodge restaurants are located.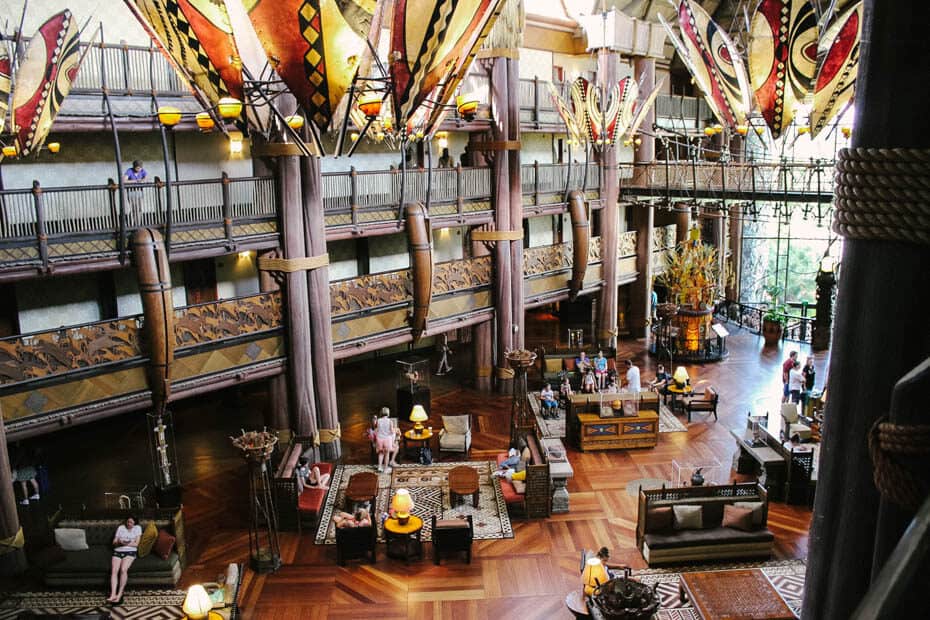 The second area is Kidani Village, which is located next door and is considered a Disney's Vacation Club resort. Kidani is where Sanaa is located.
If you are traveling to the Lodge for a dining reservation, you'll want to know where each restaurant is precisely located. That way, you'll park at the correct building or get off at the right bus stop.
While the resorts do sit next door to each other, it's about a 10-minute walk between them. Additionally, you'll need to use the underground parking deck for Kidani, while Jambo House has a large lot in front of the lobby.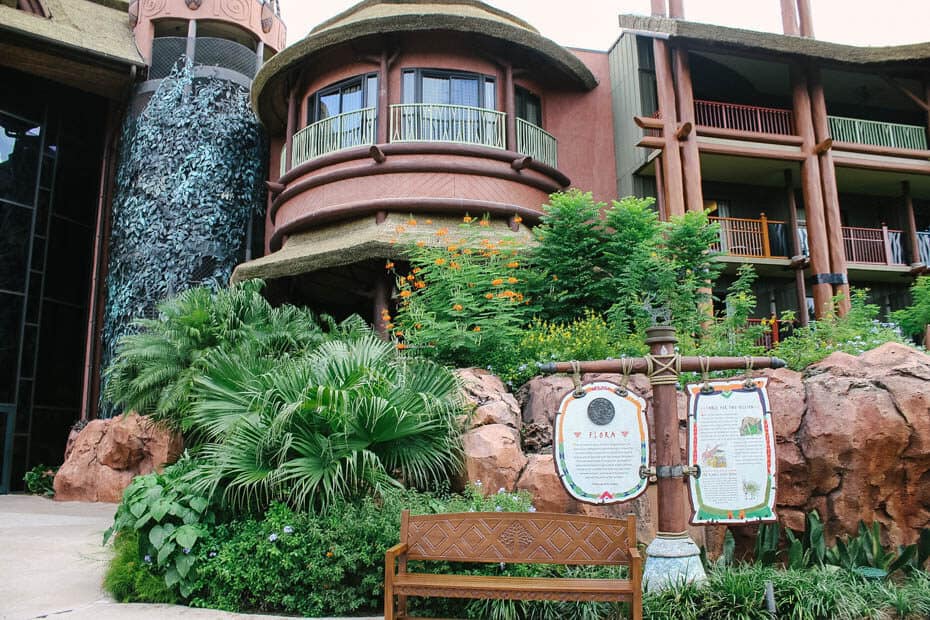 Between the two resorts, there are eight different dining options at the Animal Kingdom Lodge. Some of these restaurants will require reservations in advance.
To let you in on a little secret, when I'm in Orlando, the Animal Kingdom Lodge is my neighbor. Most of the time, you'll find me just up the street in a little area known as Four Corners. The Animal Kingdom Lodge is my go-to place for dining, especially when family visits.
Like all of the Disney deluxe resorts, Animal Kingdom Lodge is unique. But there is something a little bit extra about a resort that offers African animals out in its backyard. And you sure can't complain that all of its restaurants come in at pretty much five stars. At least they do on my blog.
Let me share with you all of the restaurants that Animal Kingdom Lodge has to offer and why I think you should dine there. Then you can make the final decision.
Restaurants at Animal Kingdom Lodge
The following restaurants are located at Disney's Animal Kingdom Lodge. They are broken down between the two central locations at the resort.
Jambo House
The Mara
Uzima Springs Pool Bar
Boma
Jiko
Victoria Falls Lounge
Kidani Village
Sanaa
Sanaa Lounge
Maji Pool Bar
First up, we have Animal Kingdom Lodge's quick-service restaurant, The Mara. I can't say enough good things about this location. The food and service have always been great, even when it's crowded.
The Mara serves breakfast, lunch, and dinner.
From my experience, anyone visiting The Mara can expect a reasonably quick turnaround along with a quality meal. Now, if you decide to pick up something during peak times, you will encounter a bit of a line. That's when you'll want to put mobile order to good use.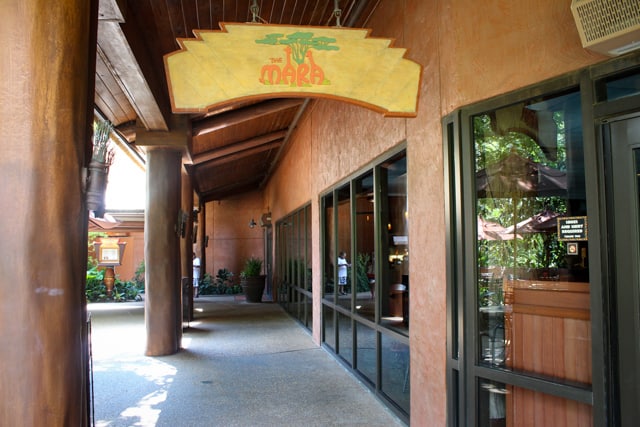 The Mara is set up similar to other counter services. A line forms in the middle where you'll order food. The cast member will give you a pager to return and pick up your order when it's ready.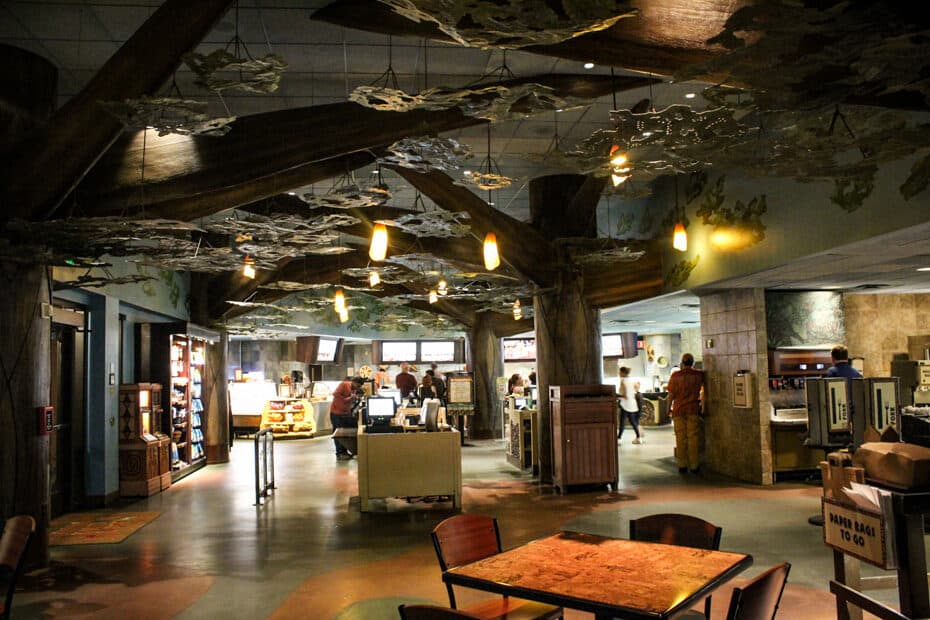 In the meantime, you can elect to pick out a dessert. And there are a few other options in the cases on the far wall.
You'll find a variety of grab-and-go offerings here, like pre-made salads.
The pastry case always looks appealing. It is stocked full of cupcakes, cookies, and brownies.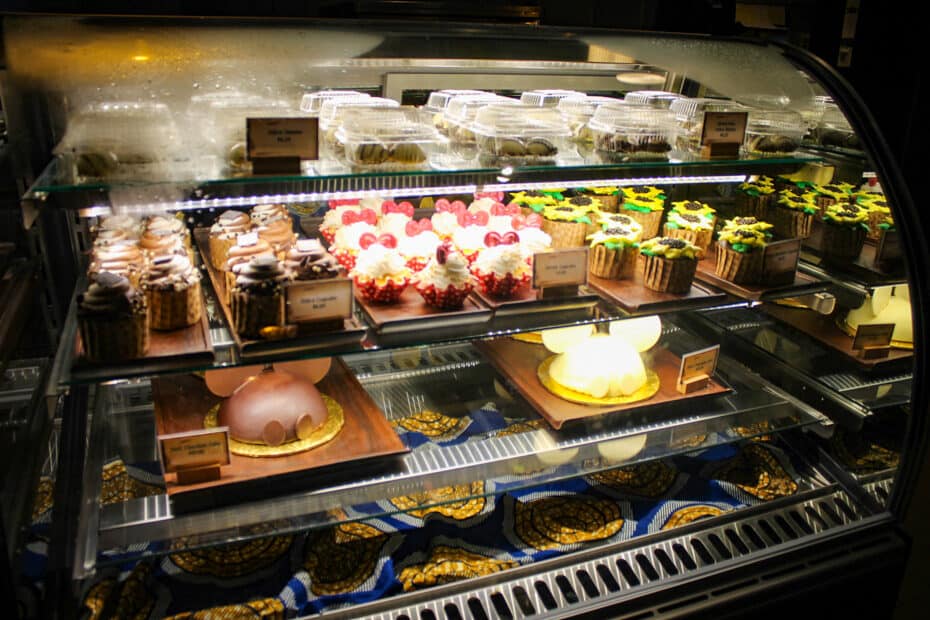 Here is a picture of the menu I took on one of my visits. There are several made-to-order sandwich options, ribs, rotisserie chicken, and falafel bites for vegetarians.

We have eaten here quite a few times.
First, we have the crispy chicken and bacon sandwich. My dad ordered this and enjoyed it. Coming from him, that says a lot since he's a picky eater.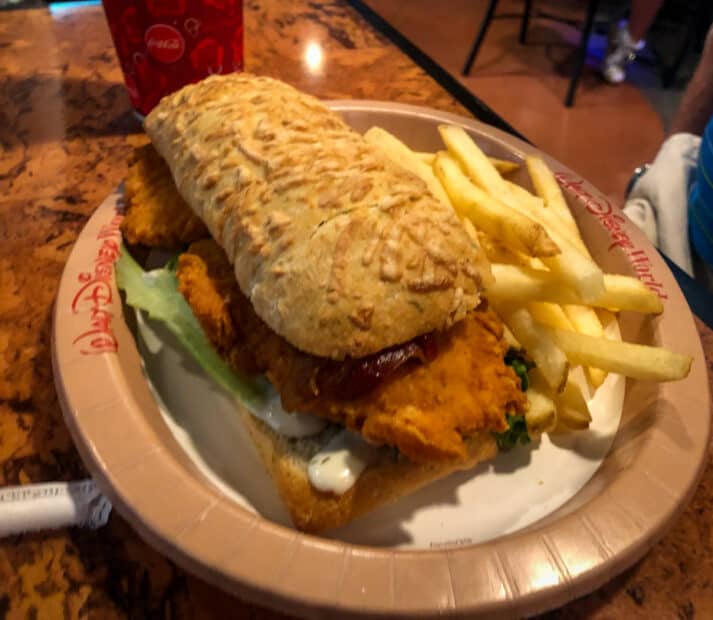 In case you can't tell, it's a massive sandwich and could easily be split between two people. There are actually two chicken breast filets between the Ciabatta bread.
I kind of forgot how large his sandwich was and ordered one to take back to my guest room one evening when I was working on the resort review.
I ordered mine plain, which turned out to be a good option for me. Since there was no way I could eat the entire thing, I was able to store it in the room fridge and reheat it later.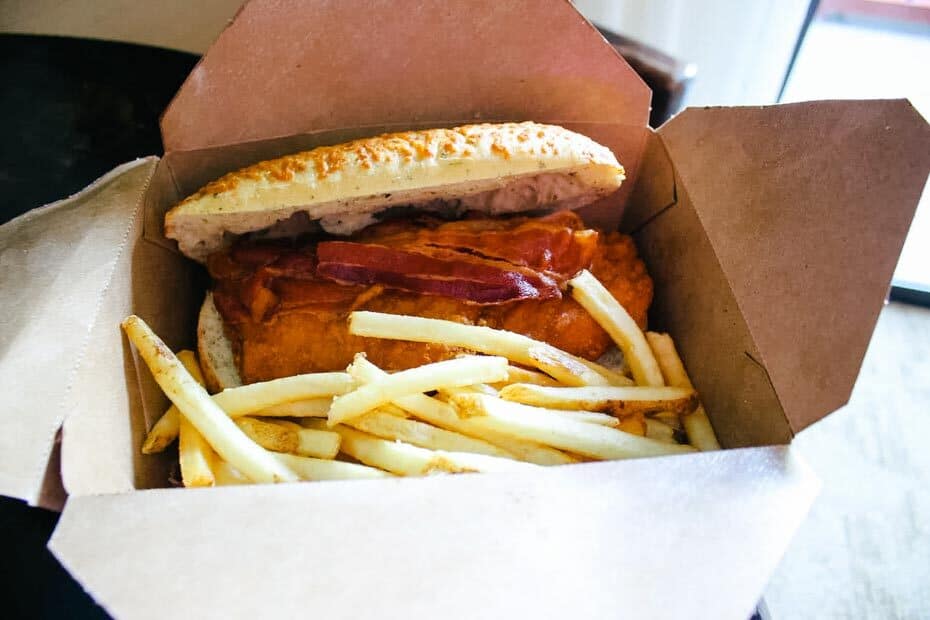 My mom picked up a Caesar salad out of the grab-and-go section. The salad was an okay offering, but she said it wasn't anything to write home about.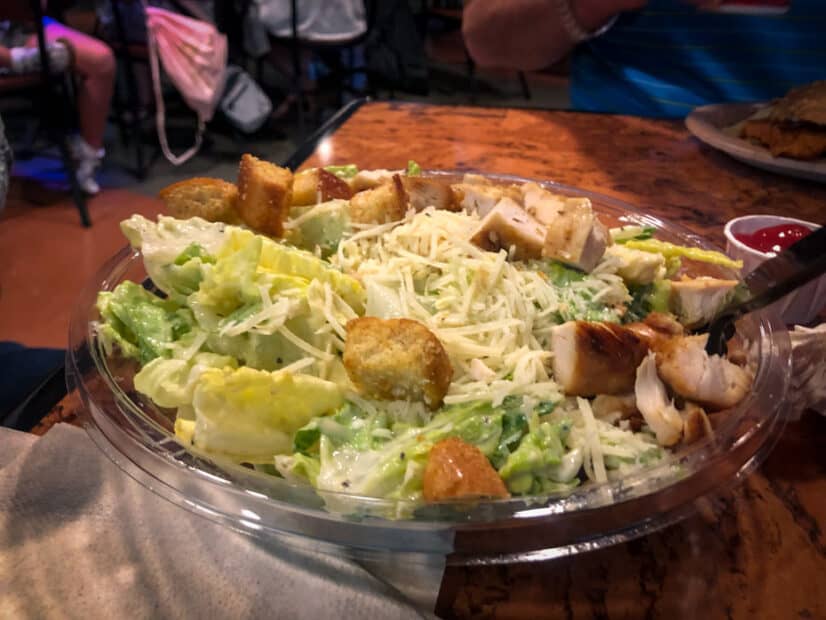 On this visit, I went with the Turkey and Avocado Club. It's a delightful sandwich if you like avocado. You can probably tell all the portion sizes are pretty significant here.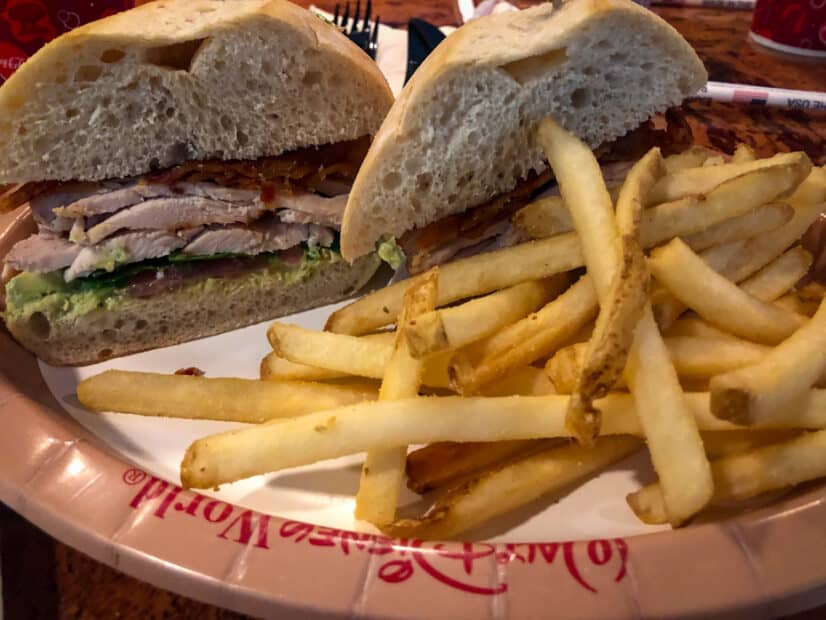 On another stay, I had the Tamarind Pork sandwich (not pictured). The pulled pork was tasty, but my only complaint was the sauce made the bread pretty soggy. You'll want to eat it fast.
Lastly, The Mara has several fun options for kids' meals. I often order a kids' meal and highly recommend those with a light appetite or on a budget to do the same.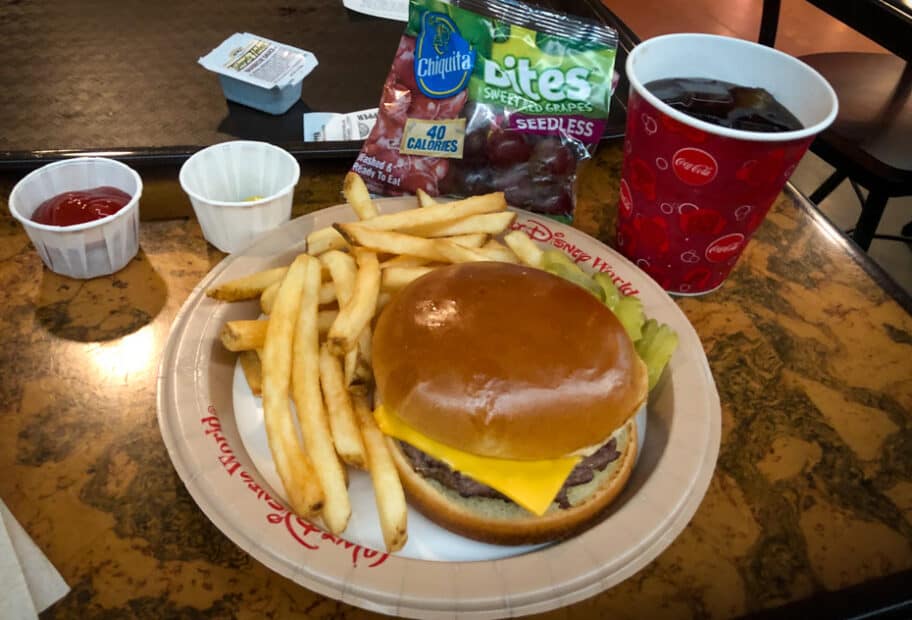 Make sure you get all the components that come with the kids' meal after you order. The cast member at the checkout will usually point out if you are missing something. (The kids' meals typically come with two sides and a drink.)
Additionally, Zebra Domes are usually available at The Mara. They are one of the signature dessert options at the Animal Kingdom Lodge restaurants. Here is a photo of how they are packaged.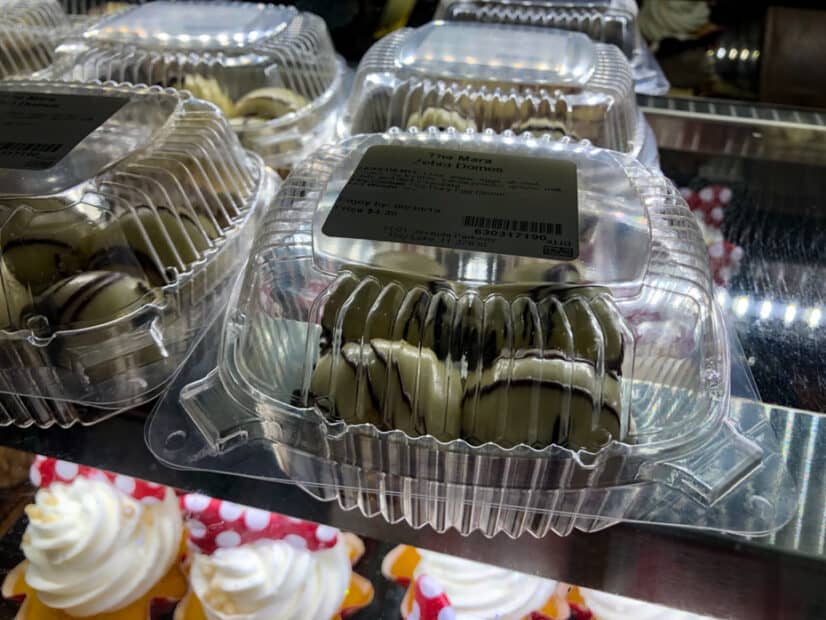 Most of the Disney resort restaurants usually have a specialty cupcake. The African Sunshine cupcake was on display when I was taking pictures for this review.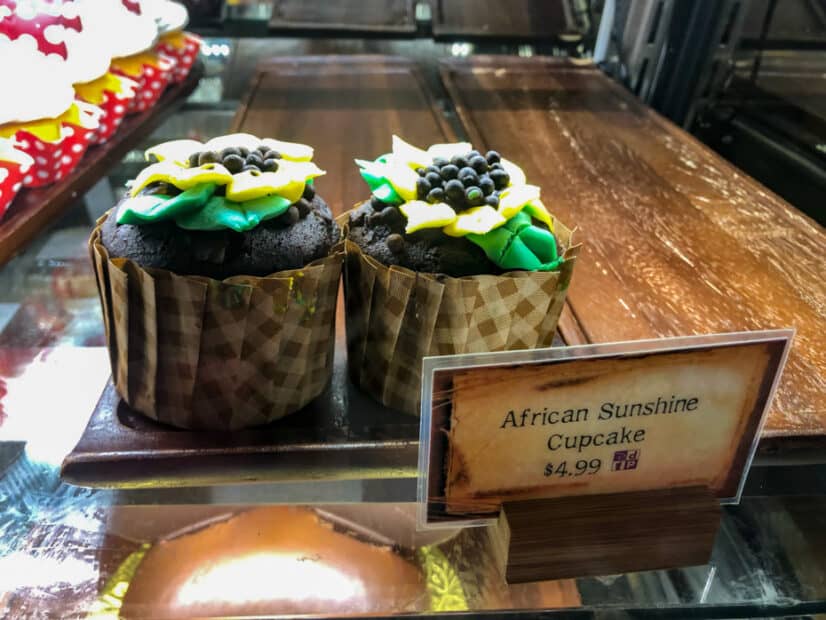 I don't know about you, but I'll take anything that involves sunshine and chocolate. If you catch me on the right day, I might even share it with you. Might.
The Mara has a nice indoor dining area with plenty of space.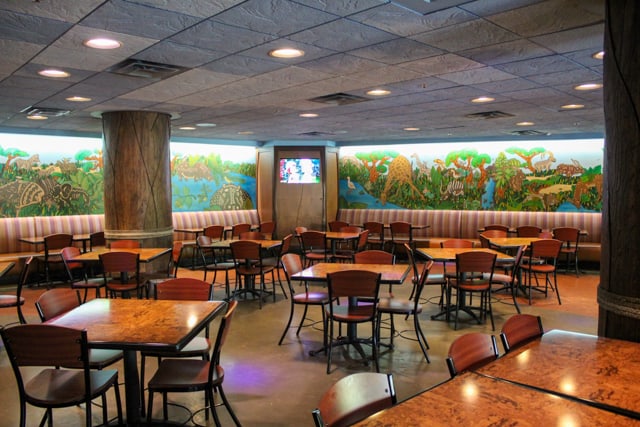 But if the weather is nice enough, I prefer to dine al fresco.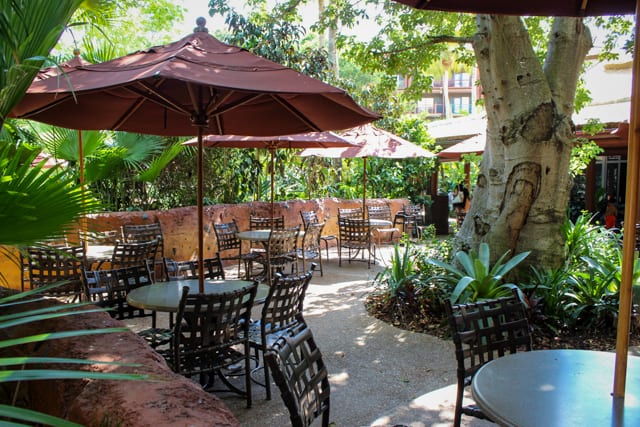 Our next Animal Kingdom Lodge restaurant is the Uzima Springs pool bar. While it's not a formal dining option, I felt it necessary to mention it.
Anyone (resort guest or not) can order a drink or meal from Uzima Springs. There is bar seating with additional tables and chairs around the area.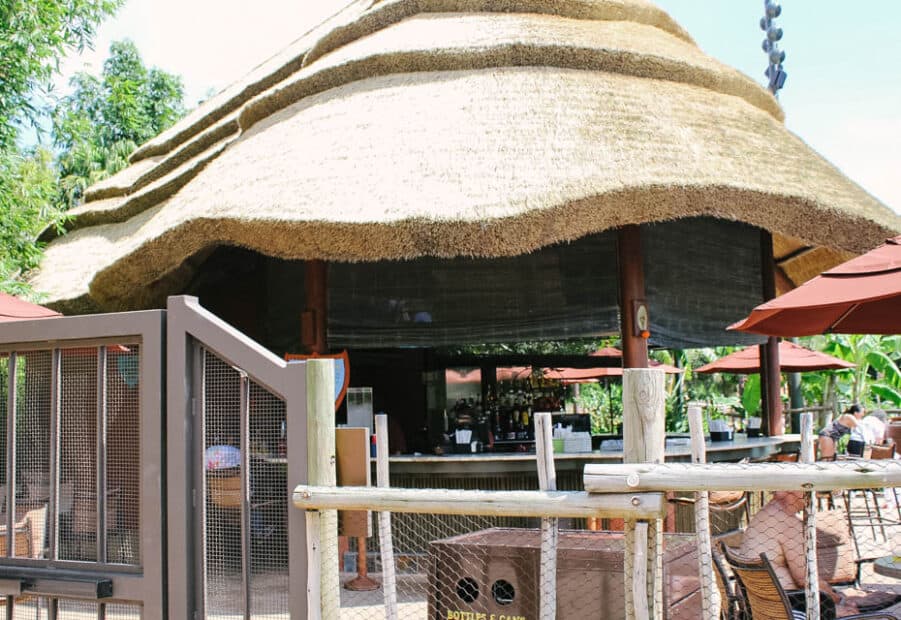 Here is their menu.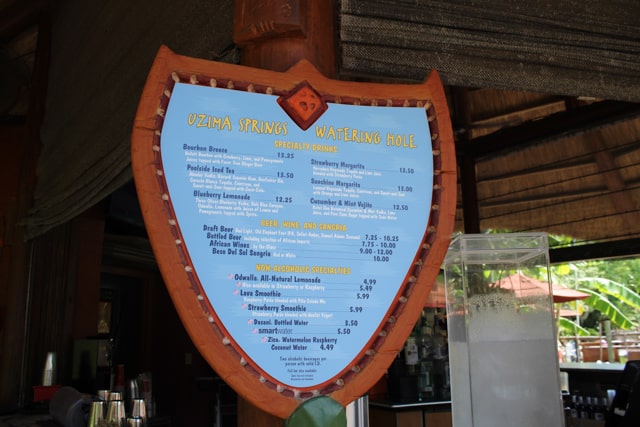 You can also order a few items from The Mara and they will serve you out here at the pool bar.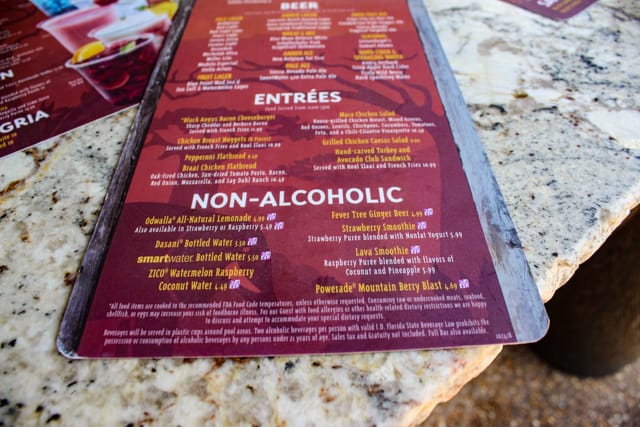 A cast member suggested I try the Lava Smoothie. It's listed on the menu and consists of raspberry puree blended with flavors of coconut and pineapple. It's a refreshing sweet treat on a hot day. Warning, though, it is super sweet.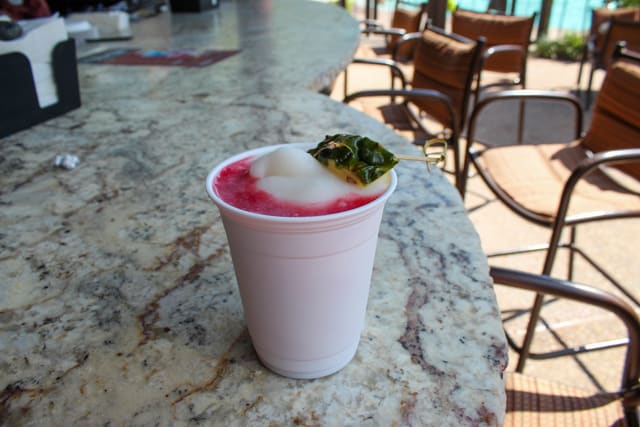 The Maji Pool Bar is located out at the Kidani pool area. This pool bar provides an opportunity to pick up a drink and a few food items. Guests wanting to dine at the pool will be better off to visit Uzima Springs pool bar at Jambo House.
Back inside Jambo House, we'll take a look at the table service Animal Kingdom Lodge restaurants and lounge. The lower level of the resort is home to Boma, Flavors of Africa, and Jiko, The Cooking Place.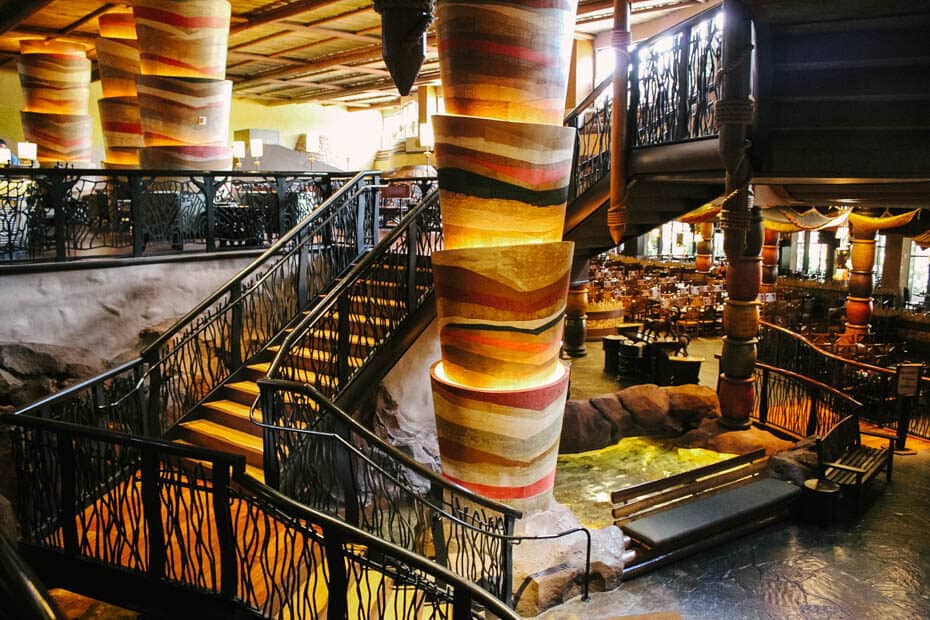 We'll start with Boma, which is predominately a buffet that serves an extended breakfast and dinner service. They are usually closed during traditional lunch service to change over for the evening.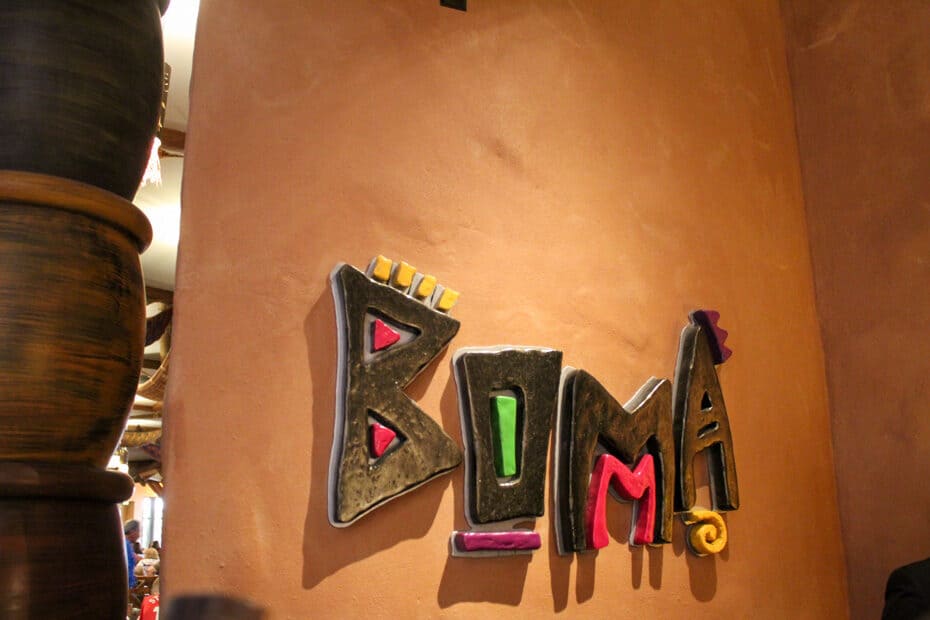 Boma has not reopened at this time. However, it appears that they will be returning in 2021 with some sort of modified dining experience.
I don't normally care for buffets, in general. But there are a few Disney World dining exceptions. Boma is one of them. The others are the California Grill Brunch (review) and when the buffet is available at the Ale and Compass breakfast service (review).
Boma is semi-open to the lower level of the lobby. However, it's a fairly private setup. There's no distraction from the lobby, except when some of the African drummers march through the area.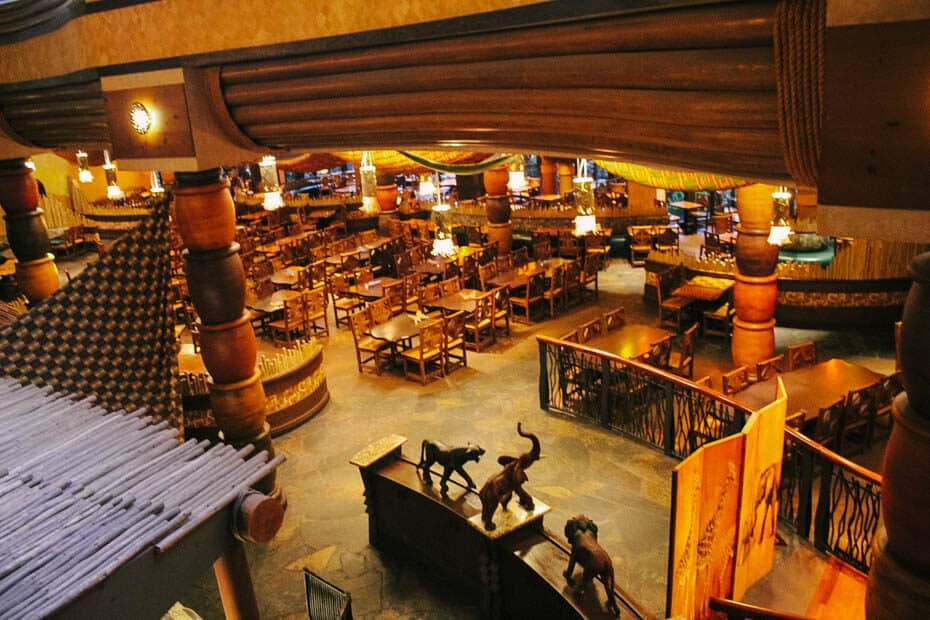 The buffet at Boma is extensive and boasts an average of 75 different items. Breakfast is usually served from 7:30 a.m. to 11:00 a.m.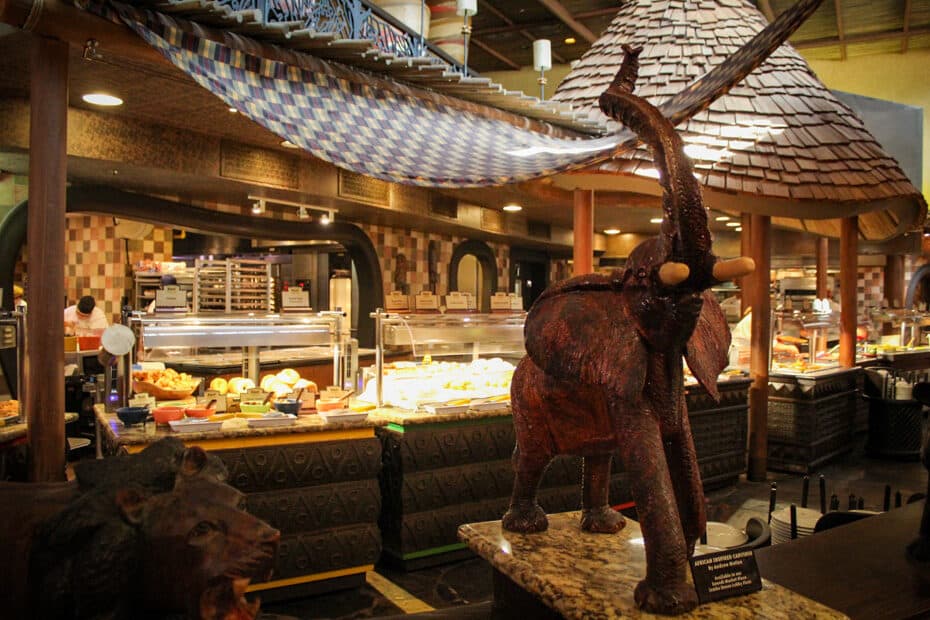 Here is a look at their usual setup, along with a few items you'll find on the buffet.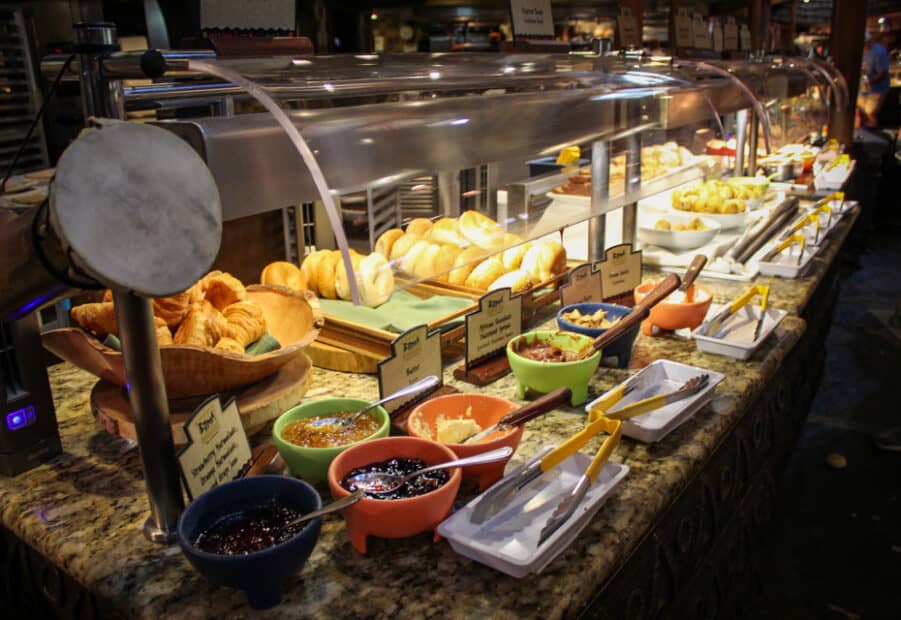 There's a variety of meat and potatoes.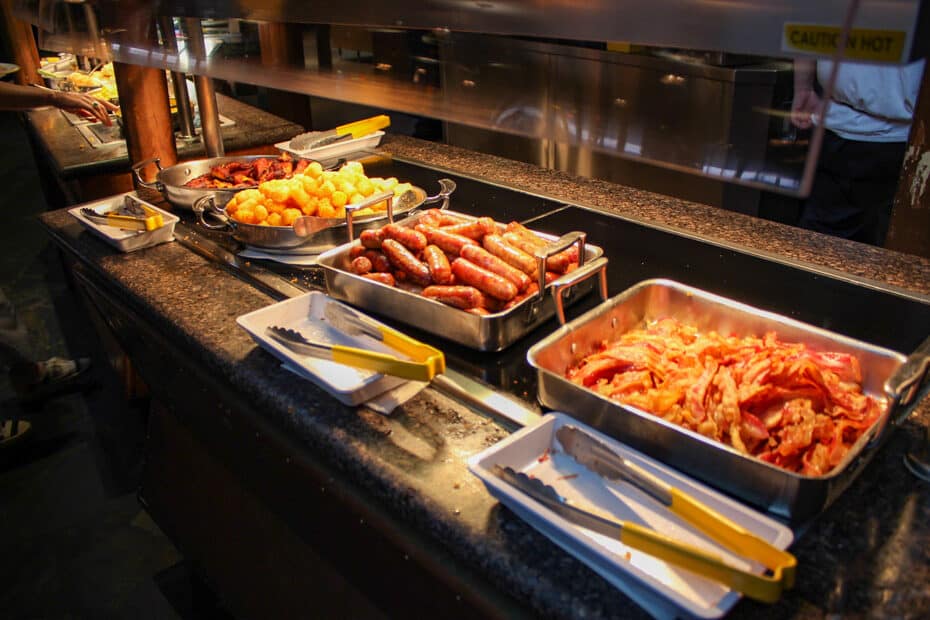 And sticky buns.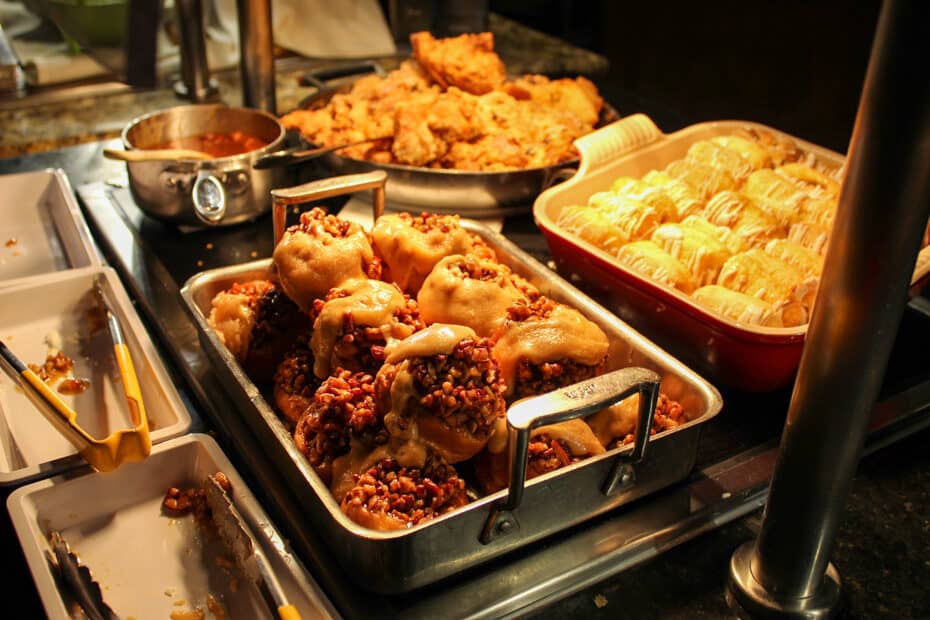 Smoked Salmon, charcuterie, and cheese.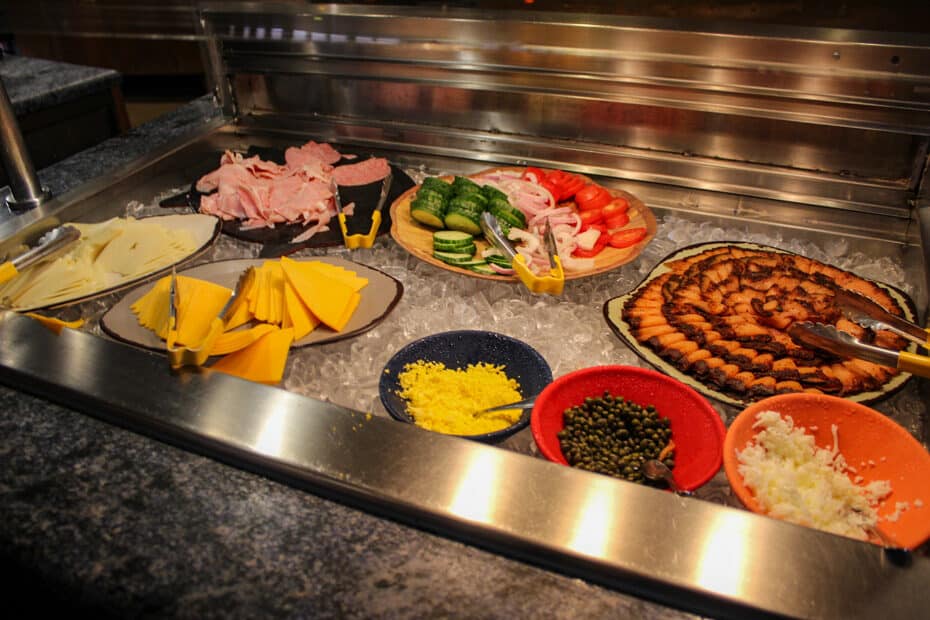 And yes, Mickey Waffles. You can eat as many as your heart desires.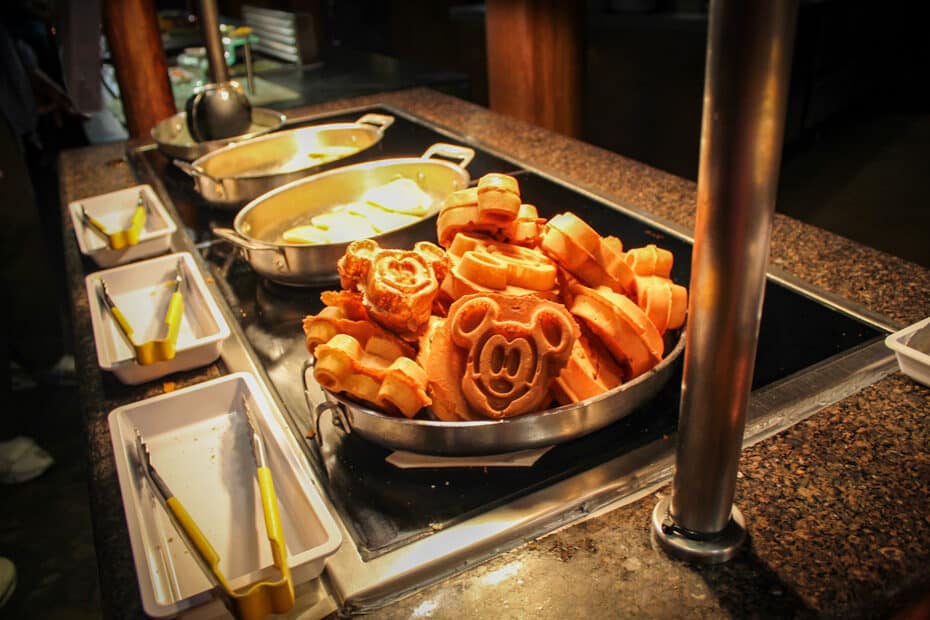 If you would like to know more, I have a full Boma Breakfast review here. It has plenty of photos of all the breakfast items. I had to go there twice to complete the review. And I'm looking forward to their reopening because I'm sure everyone will want an update, right?
I hope so. Sometimes, I think about eating here more than I should.
Next up, we have Jiko, which you'll find right around the corner from Boma. Jiko serves dinner only and is the resort's signature dining establishment.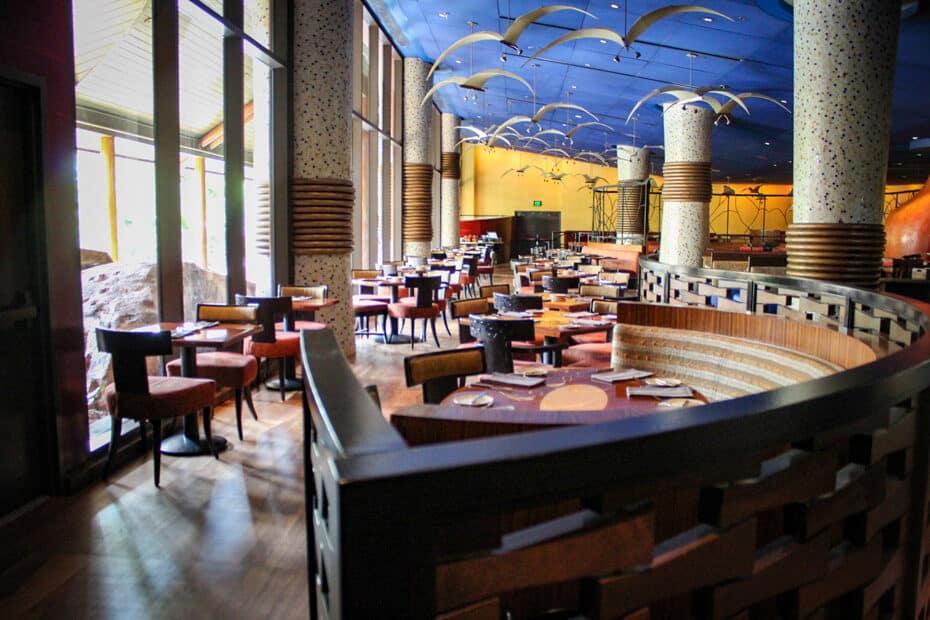 If you have any interest in signature dining at Disney, this one comes in high on my list.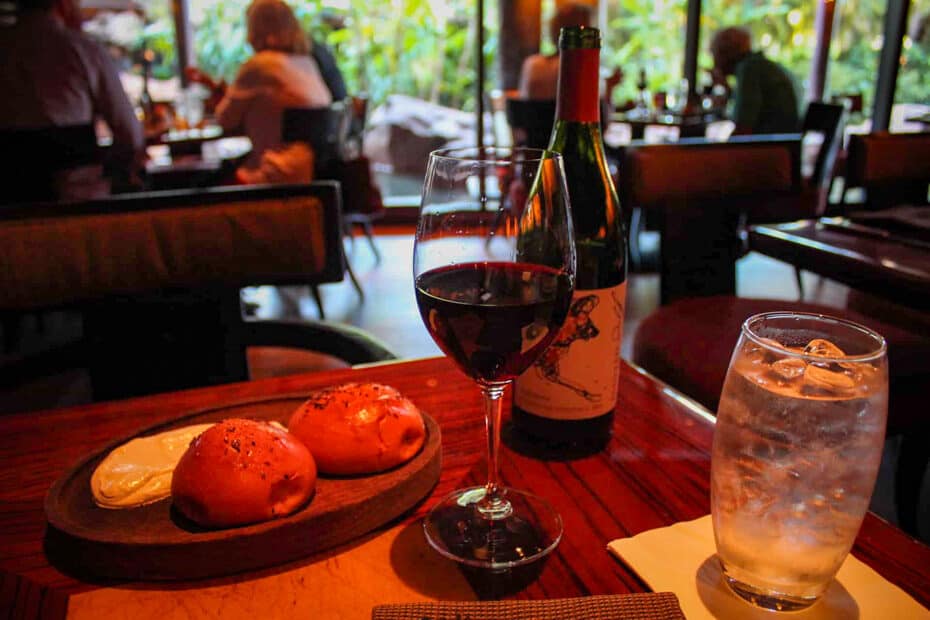 Below is one of their famous flatbreads.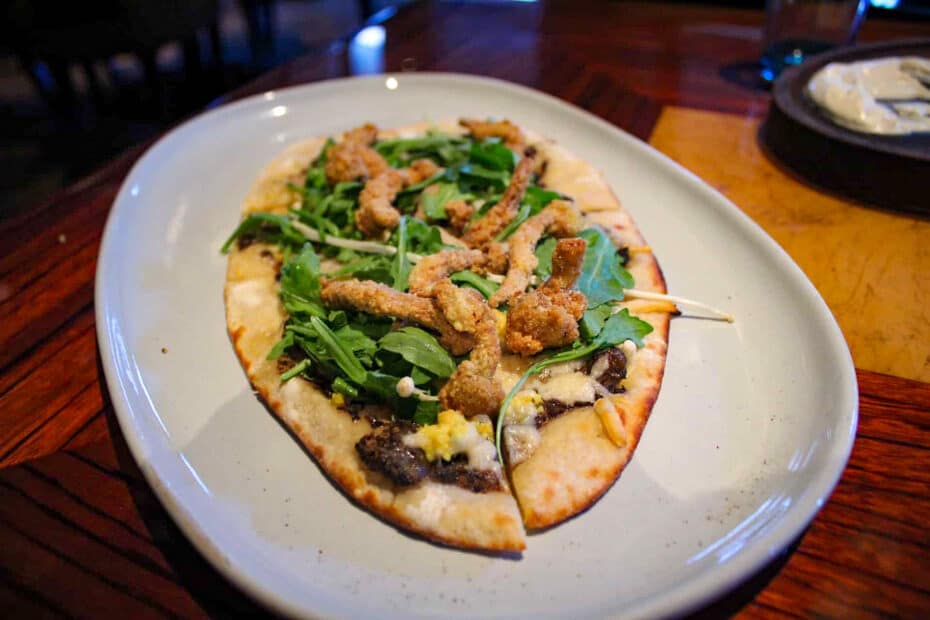 The restaurant has a selection of entree prices that range from $30 and up, along with an extensive selection of South African wine.
If you are interested in learning more, I have a complete Disney Jiko, The Cooking Place Review.
Our last Animal Kingdom Lodge restaurant is the infamous Sanaa. If you have ever heard of anyone having an outstanding bread service at Disney, Sanaa is the place.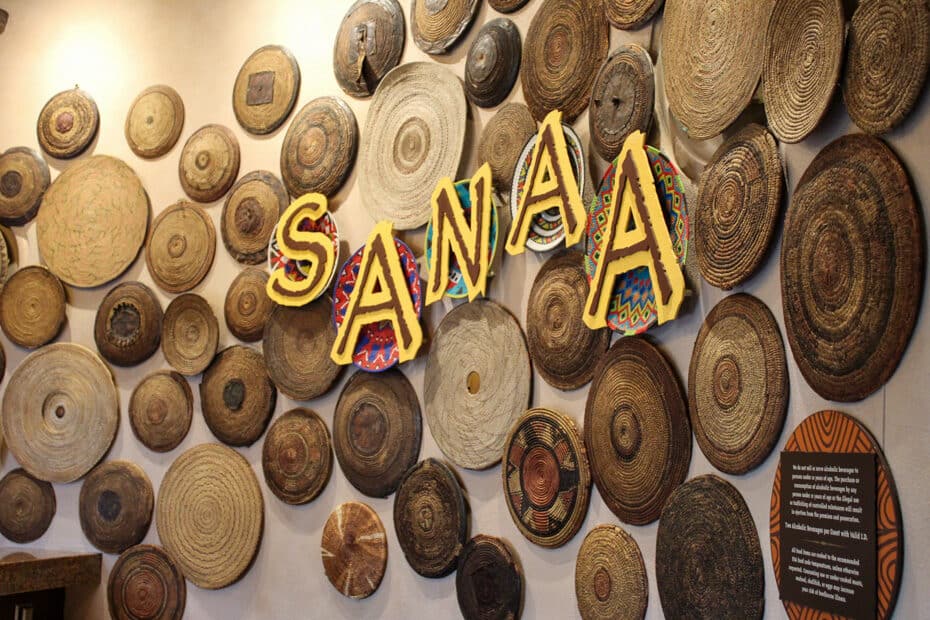 You'll find Sanaa down at Kidani Village.
You can walk down to Kidani from Jambo House or take a bus over. They used to have a shuttle that ran in between the two. However, I'm not sure that is still an option.
The theming at Sanaa is probably one of the best of anywhere on the entirety of Disney World property. You feel transported to an African country while dining here.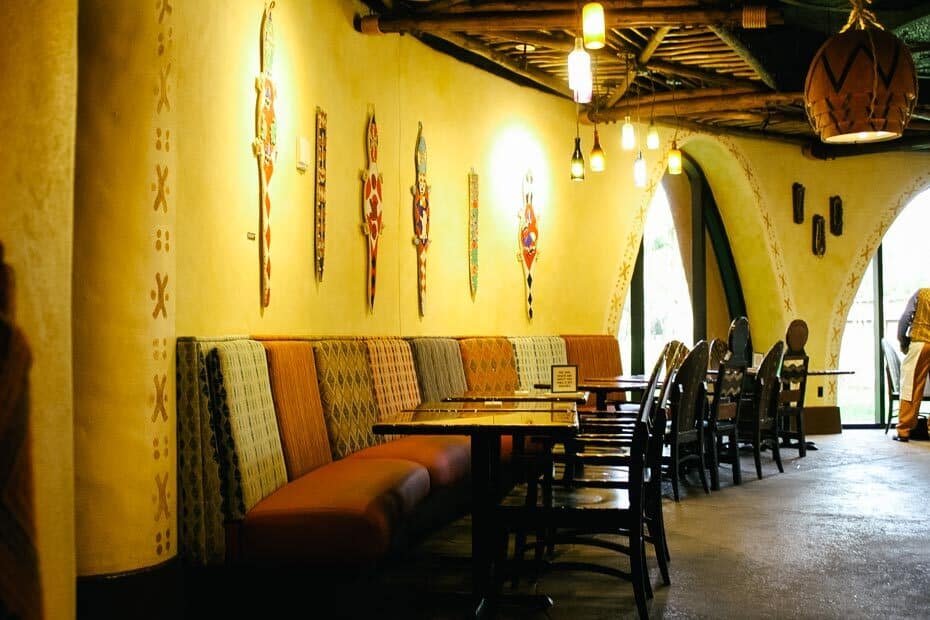 Sanaa boasts a variety of African and Indian flavors. In addition, they have a unique cocktail menu with signature drinks like this Malawi Mango Margarita.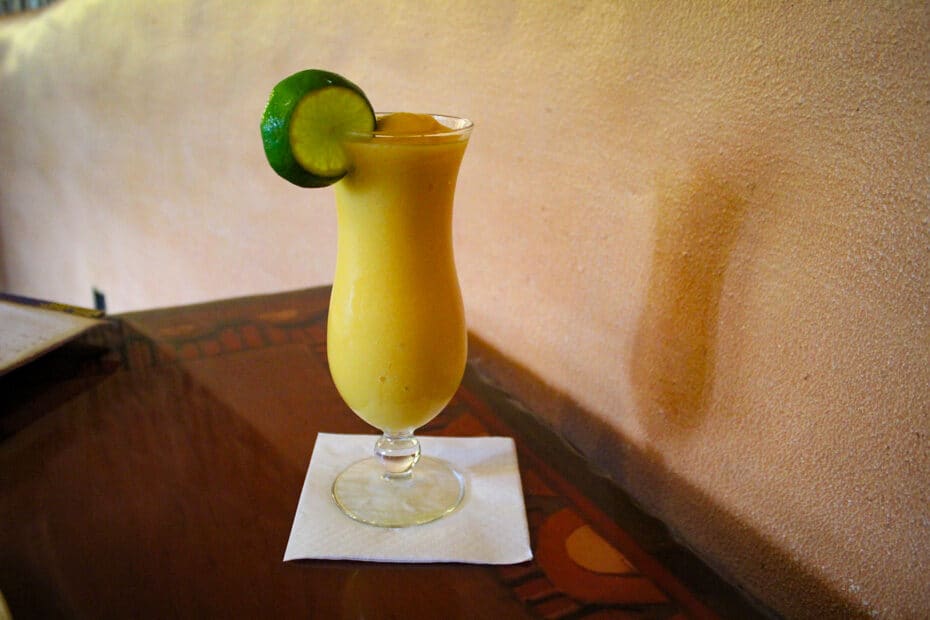 This drink is described as a frozen blend of Tequila, Van der Ham Tangerine Liqueur from South Africa, Mango Puree' and fresh lime juice. It packed a punch and offered a nice fruity flavor with the mango.
Coming from someone who doesn't enjoy many frozen drinks, this was a nice option. I would reorder it.
Most of you familiar with Sanaa know that the bread service is the main event. Here is a look at what you can expect.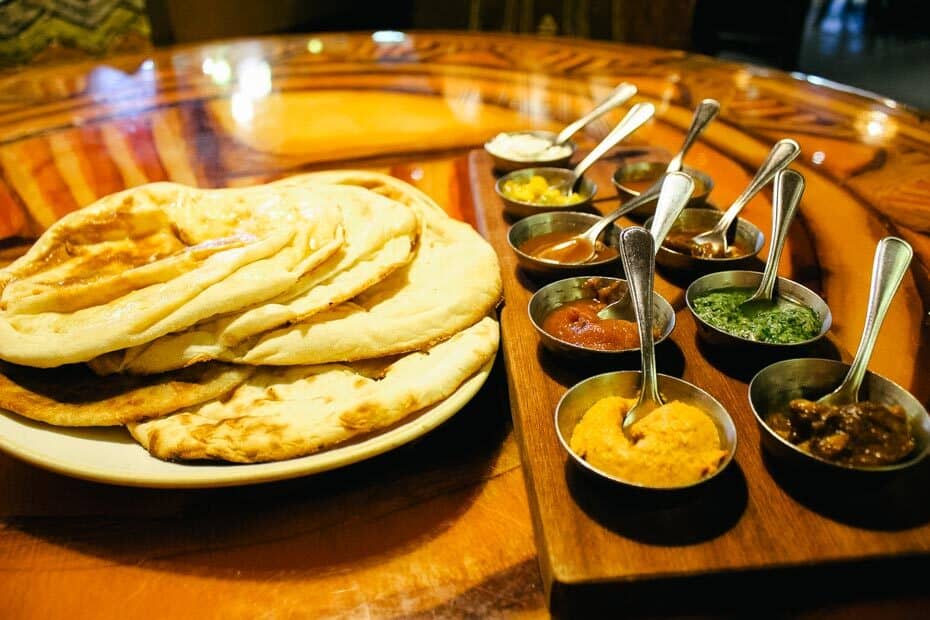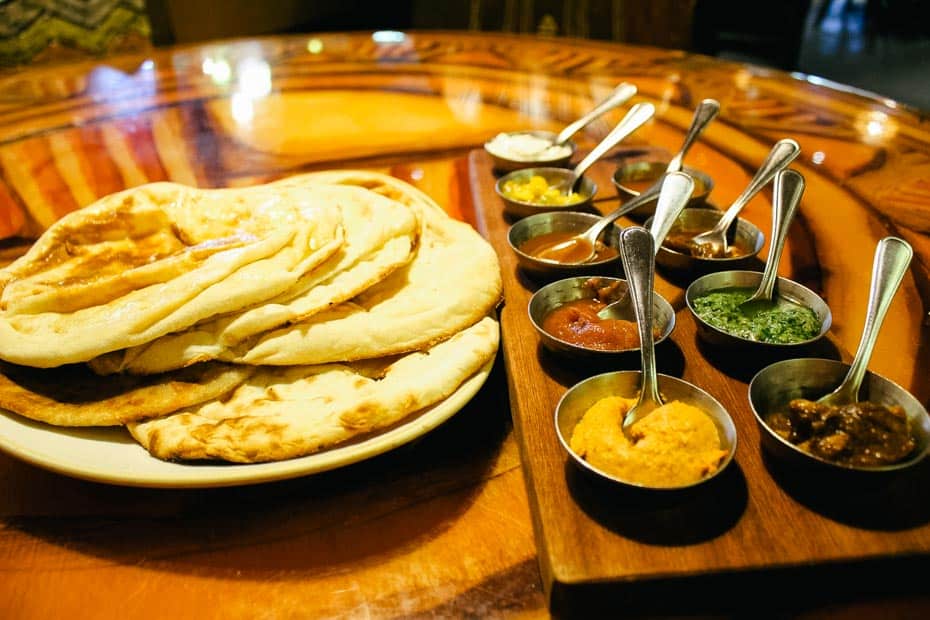 There are five different flavors of Naan bread to choose from and nine different accompaniments. The Naan bread choices include: Traditional Naan, Garlic-Ginger Naan, Spiced Naan, Onion Kulcha, or Paneer Paratha.
The sauces include: Cucumber Raita, Roasted Red Pepper Hummus, Mango Chutney, Tomato-Date Jam, Tamarind Chutney, Coriander Chutney, Garlic Pickle, Red Chile Sambal, or Spicy Jalapeño-Lime Pickle.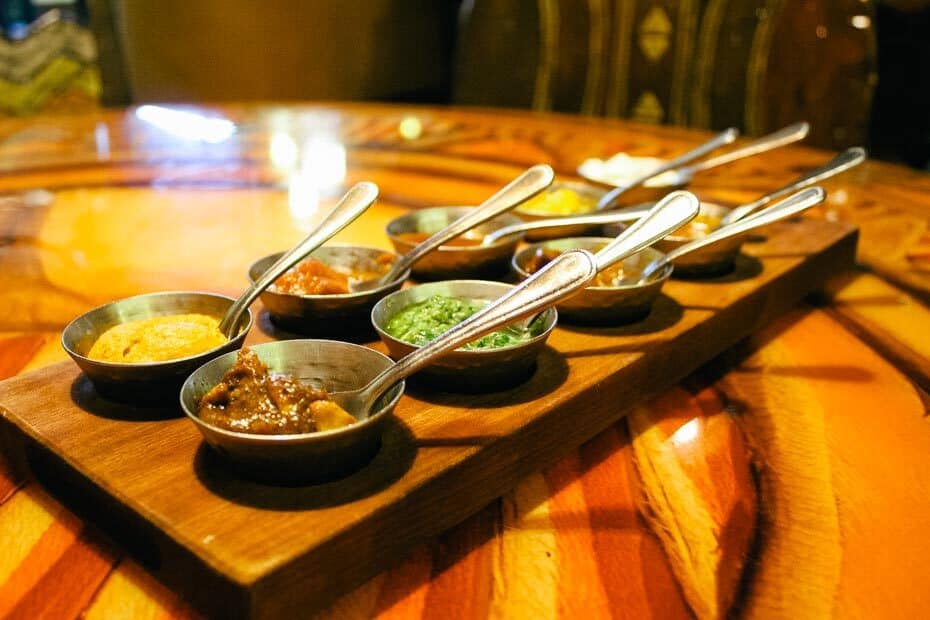 Here is an entree I ordered on a previous visit.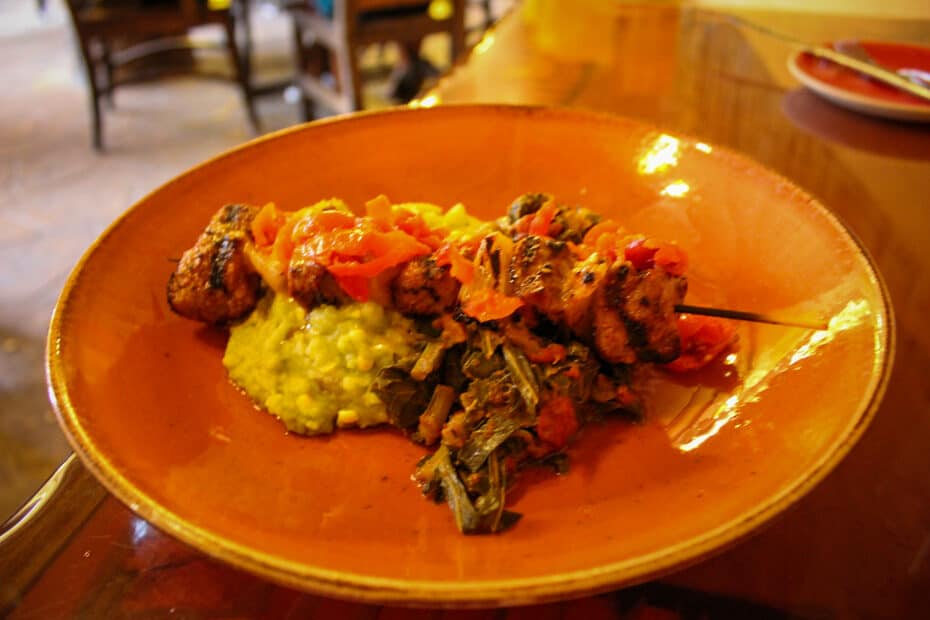 The beef skewer dish was described as a Braai Beef Kabab with Kenyan Mukimo and braised greens.
It was a very hearty dish, and the greens were cooked similar to collard greens or maybe even cabbage. The bean puree was unexpected and something I wouldn't usually enjoy but did here.
Additionally, Sanaa offers several items that are cooked in a Tandoori oven. This is the dining option at Animal Kingdom Lodge you don't want to miss.
Make sure to check out the review of Sanaa with bread service. It includes a look at several different meals here.
Additionally, Sanaa has a lounge that accepts guests with no reservations on a first-come-first-serve basis. The entire restaurant menu is available in the lounge.
And while I haven't had an opportunity to try it, Sanaa does serve breakfast.
While you are visiting Kidani Village to dine at Sanaa, make sure to tour this portion of the resort. They have a beautiful savanna with animal viewing areas.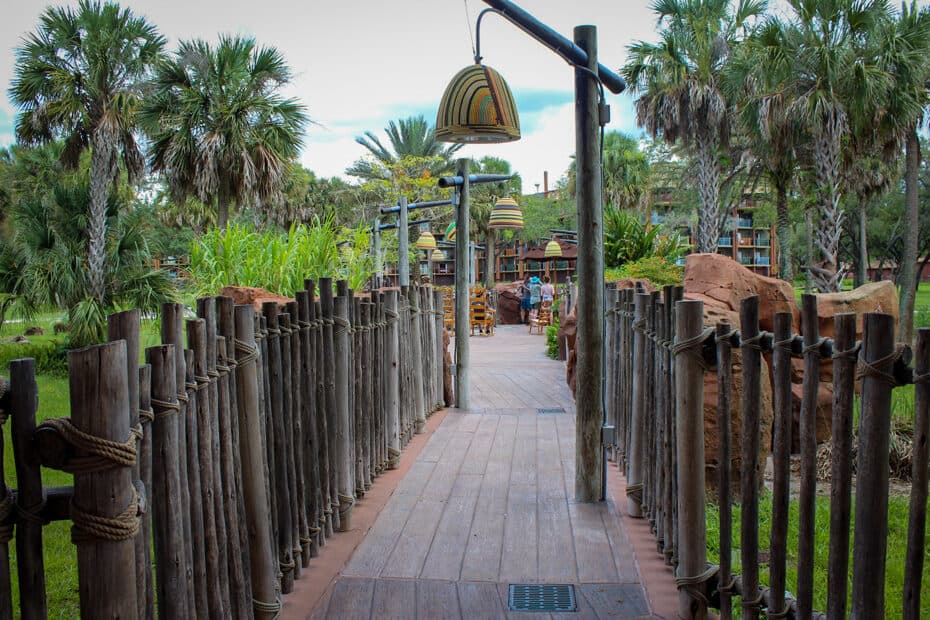 You might even see a giraffe.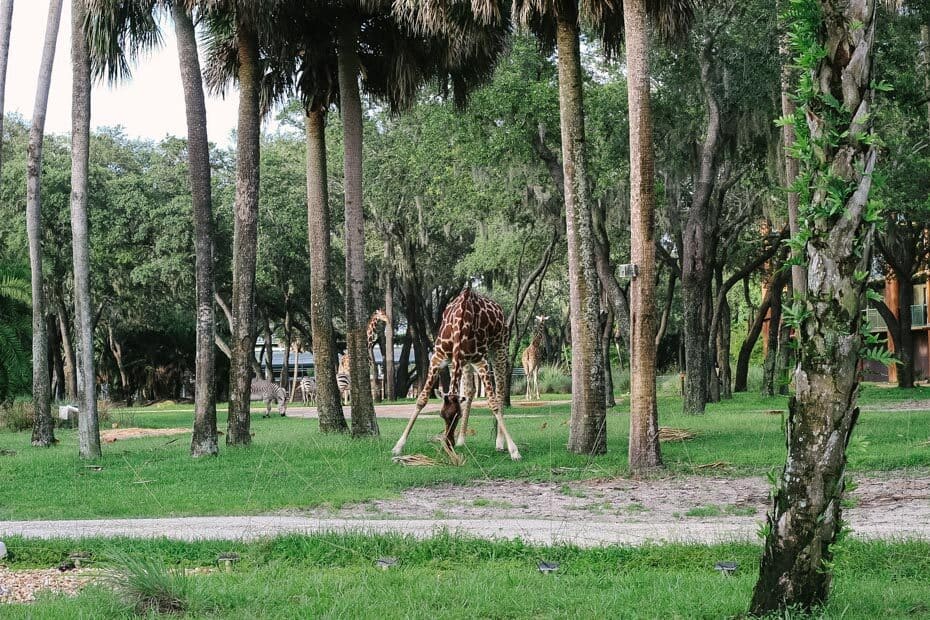 And if you remain up at Jambo House, take some time to explore the resort. They actually have two different savanna viewing areas. You'll find the viewing area in the picture below is back behind the resort's pool.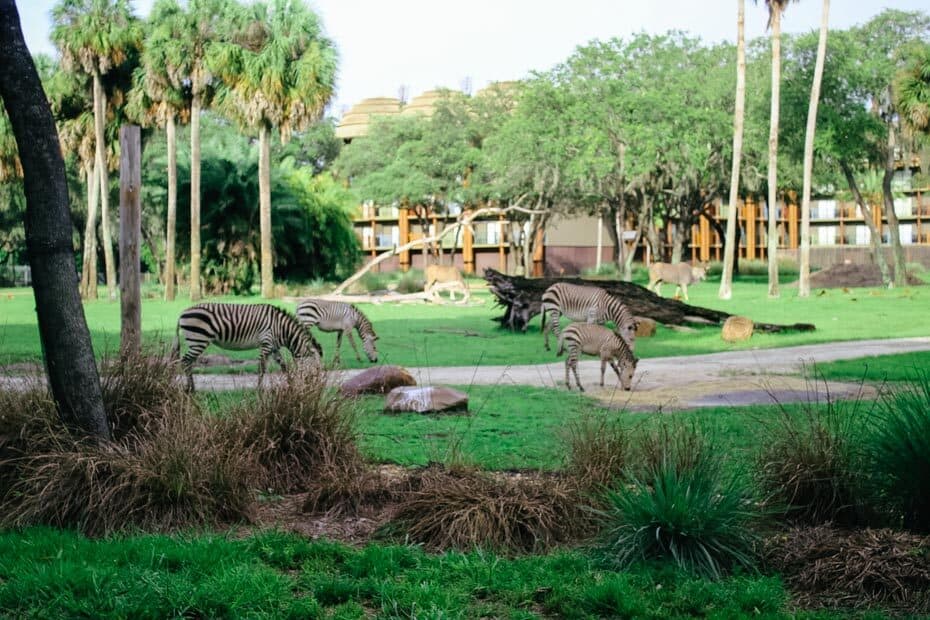 It's just a short walk away from The Mara, Jiko, and Boma. And then there's the larger of the viewing areas located off the back of the main lobby.
Make sure to spend a little time wandering around the resort. You never know what kind of animal you might encounter!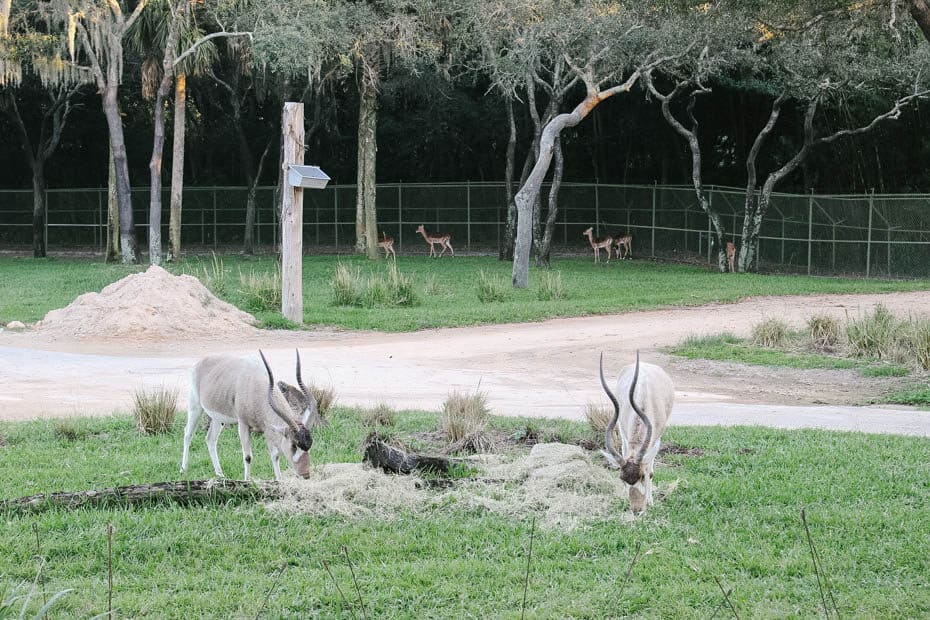 The grounds are absolutely breathtaking.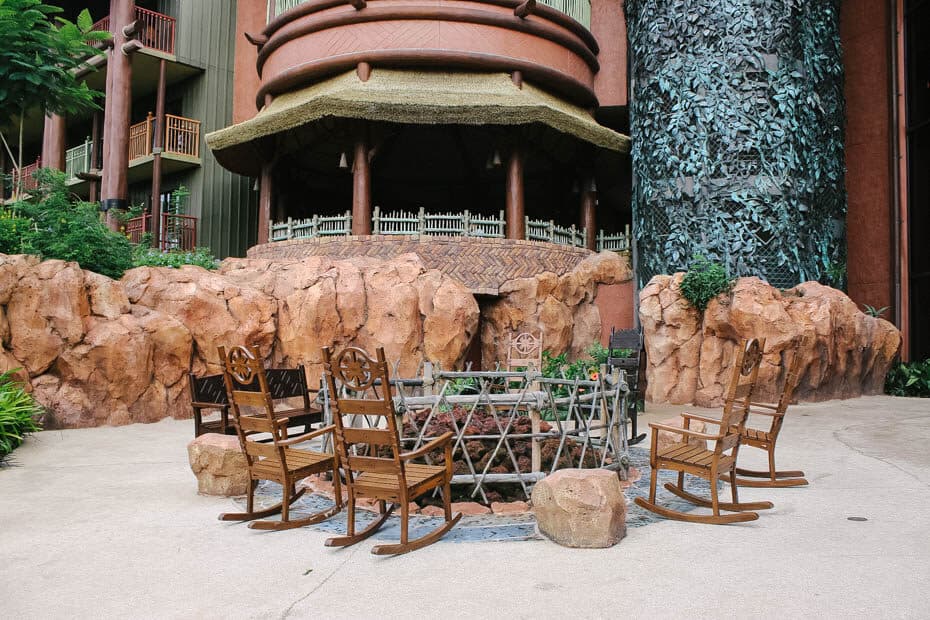 Everywhere you turn, there is beautiful scenery to behold.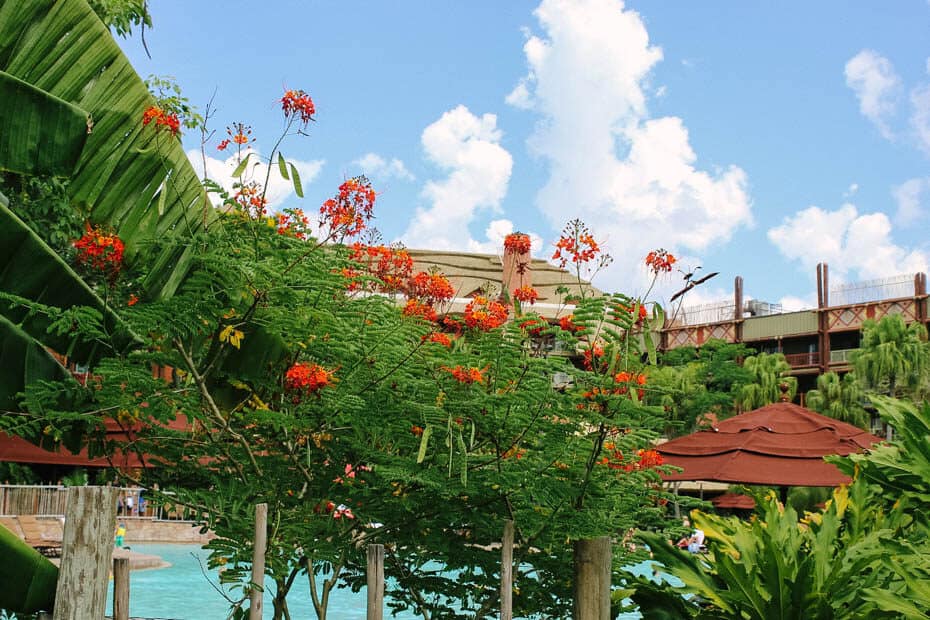 I have few other mentions before we wrap things up. All of the restaurants above are generally on a deluxe Disney dining plan when it's available. And if you're wanting to learn more we have every article available for the Animal Kingdom Lodge Resort here on the site.
If you are interested in other Walt Disney World dining, I have the following resort dining guides available:
Then there is a full overview of Disney World character dining available here. My top recommendation is the Topolino's Terrace character breakfast. It's over at Disney's Riviera Resort.
Since I originally published this review, I went on a plant-based diet and have a full Disney World vegan food finds post. Or you can browse a list of every single Disney restaurant review we have available on the site.
If you would like to know more about staying at this resort, make sure to check out the full Animal Kingdom Lodge Resort Review. Additionally, you might enjoy browsing our entire list of Disney Resort Reviews.
Now, I'd love to hear from you. What are your thoughts about these Animal Kingdom Lodge restaurants? Have you tried any of them yet? Do you have a favorite? Let me know in the comments below. And if you have any questions, I'd be happy to answer them based on my travels.