Disney's Animal Kingdom Lodge Restaurants Guide
In this article, we provide a list of the restaurants at Disney's Animal Kingdom Lodge, along with an overview of each one.
Foodies, may I have your attention! We're off to Disney's Animal Kingdom Lodge to preview the resort's many dining options.
Among the two resorts that comprise the Animal Kingdom Lodge, there are a few places you don't want to miss. Sure, the resort is known for its spectacular design and the fact that it has animals grazing in its backyard.
But you can also add delicious dining options and restaurants to that list! The resort offers three table-service restaurants, one counter service, two quick-service pool bars, and multiple lounges.
Below, we'll go over each of these options in more detail. Additionally, I'll let you in on the must-do dining options.
I'll warn you now, all three of the resort's table service dining options are exceptional. Animal Kingdom Lodge is home to an exquisite signature restaurant, a buffet that any adventurous eater will want to attend, and one of Disney's most popular table service restaurants.
Whether staying at the resort or not, you'll want to plan a meal here during your vacation. A visit to Disney's Animal Kingdom Lodge is good for the soul.
This article was updated on March 15, 2023.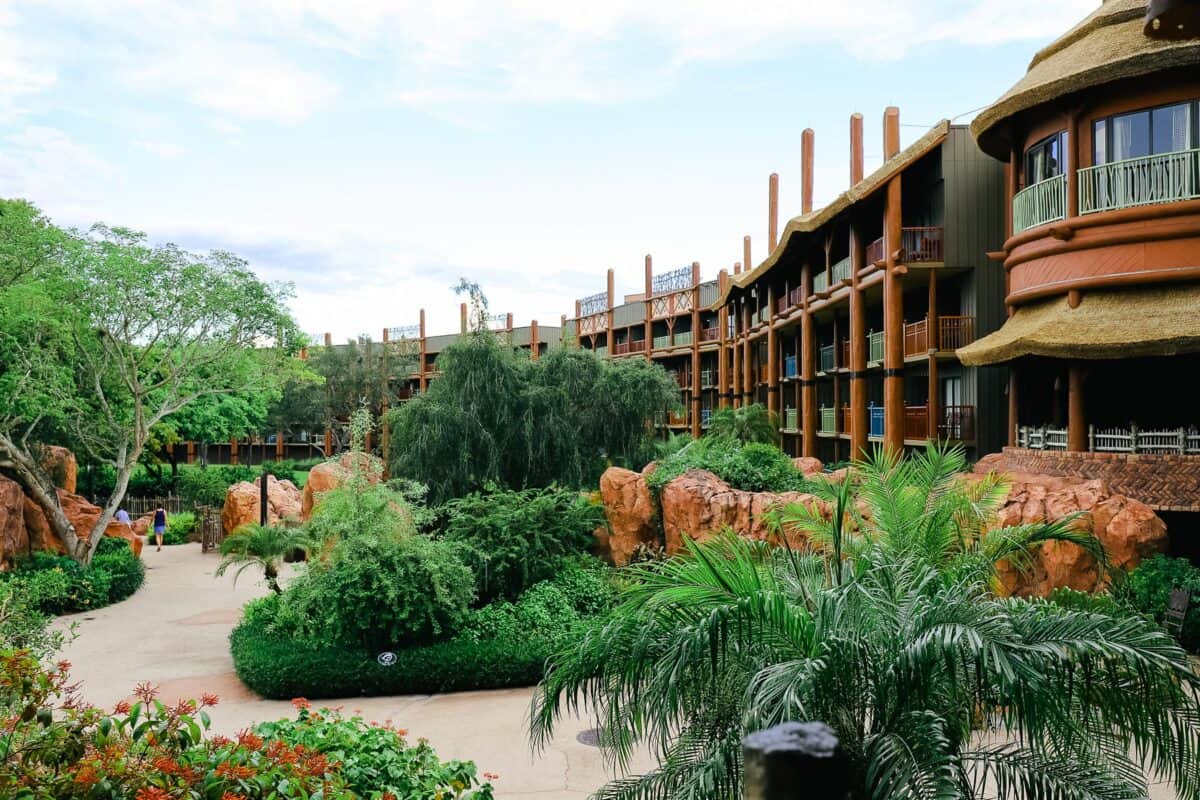 Animal Kingdom Lodge Restaurants List
Below is a list of the restaurants at Disney's Animal Kingdom Lodge. They are broken down between the two different resort areas.
Jambo House
The Mara
Uzima Springs Pool Bar
Boma, Flavors of Africa
Jiko, The Cooking Place
Cape Town Lounge and Wine Bar
Victoria Falls Lounge
Kidani Village
Sanaa
Sanaa Lounge
Maji Pool Bar
Dining Experiences
Dine with an Animal Specialist
Jiko Wine Tasting
Wanyama Safari and Dinner
*The Disney Dining Plan is not available at the time of this update.
If you aren't familiar, the Animal Kingdom Lodge is made up of two resorts. First, there's Jambo House, the primary resort area. Next, there's Kidani Village, a Disney Vacation Club Resort.
Most of the restaurants at Animal Kingdom Lodge are located at Jambo House. However, there are a few options at Kidani Village.
While the resorts sit next door to each other, there's approximately a 10-minute walk between them. So if you travel to the Animal Kingdom Lodge for a dining reservation, you'll want to know in which portion of the resort the restaurant is located.
That way, you'll park at the correct building or exit at the right bus stop. Below we'll take a closer look at each Animal Kingdom Lodge restaurant.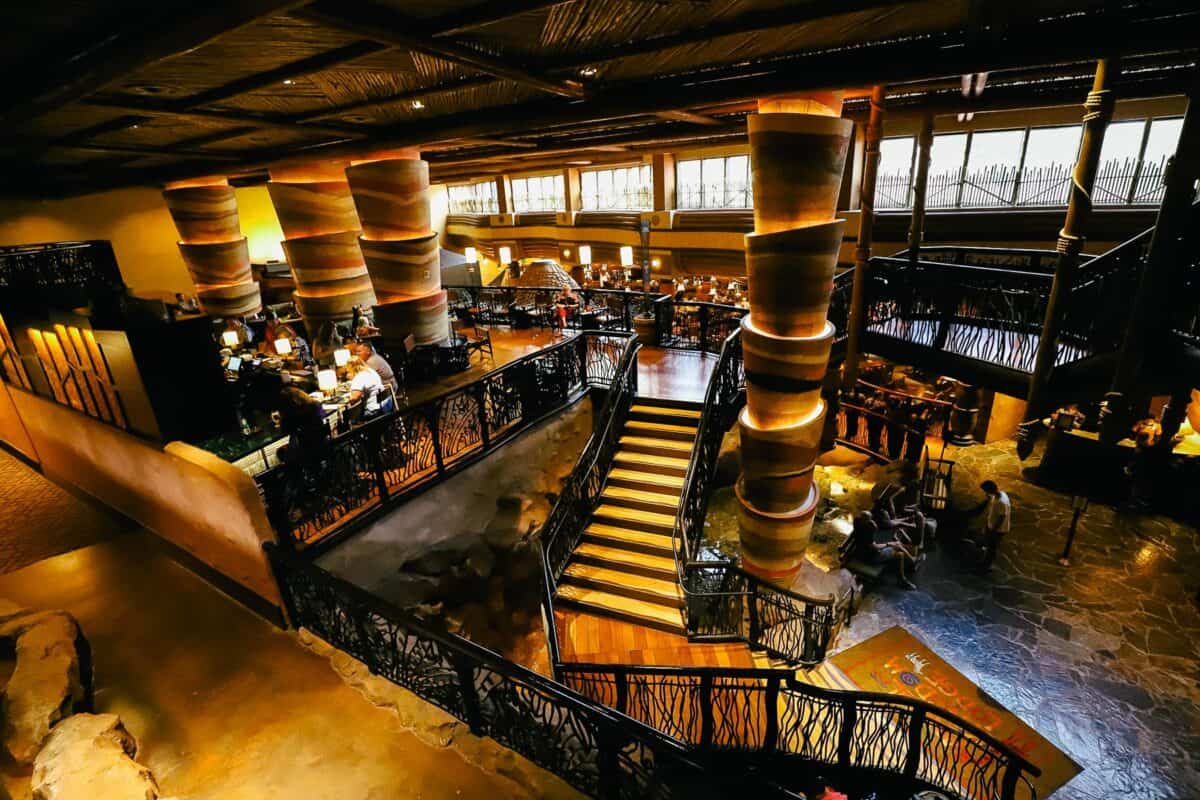 The Mara (Counter Service)
The Mara is the primary counter-service restaurant at Disney's Animal Kingdom Lodge. This counter-service is open daily from 6:30 a.m. until 11:00 p.m. They serve breakfast, lunch, and dinner.
However, those hours of operation might be reduced during slower times of the year. So you'll want to check the exact hours of operation during your visit.
Overall, we've always enjoyed dining at The Mara. However, since this last update, many of the former items we've tried are no longer on the menu.
The Mara offers mobile order dining, or you can order at the restaurant. Unfortunately, this location can be extremely crowded during popular meal times. Therefore, you'll likely want to use mobile order if you encounter a significant line.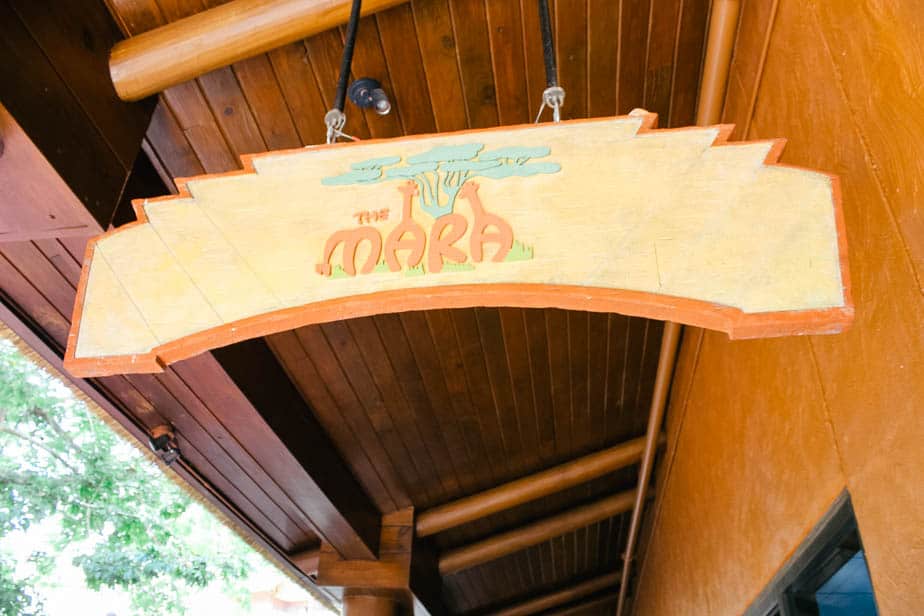 The Mara is set up similarly to other counter services—a line forms in the middle where you order food. The cast member will give you a pager to return and pick up your order when it's ready.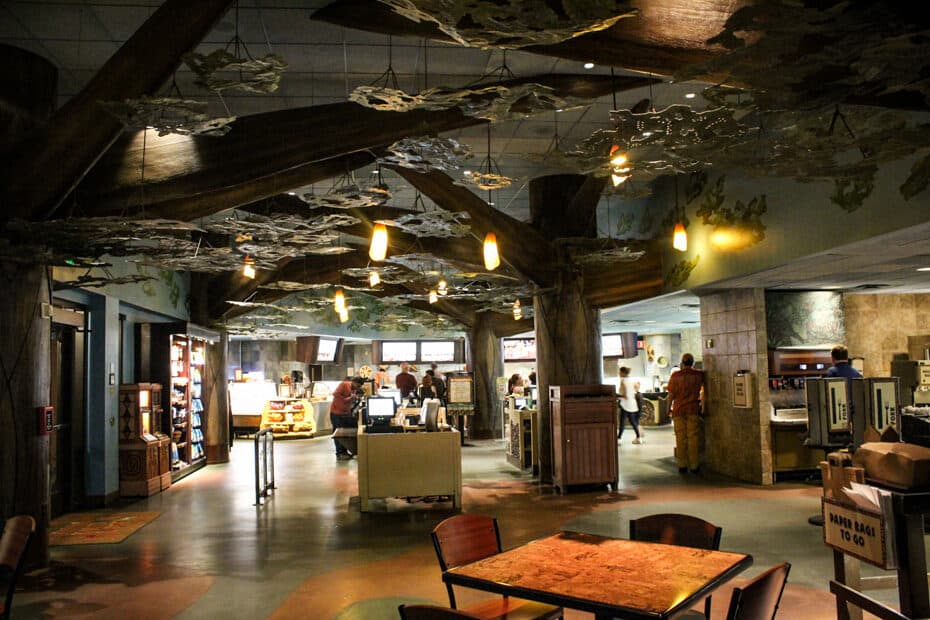 An extensive menu outside the restaurant lists the various offerings for each meal period.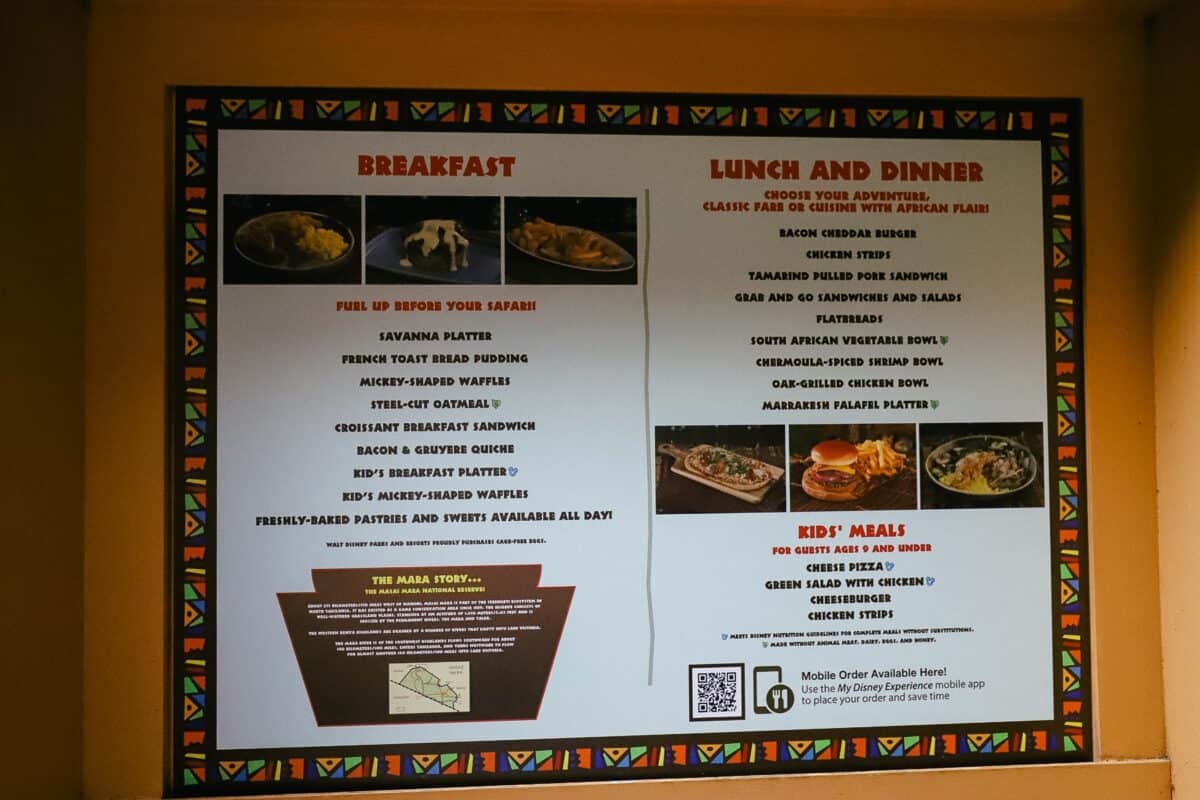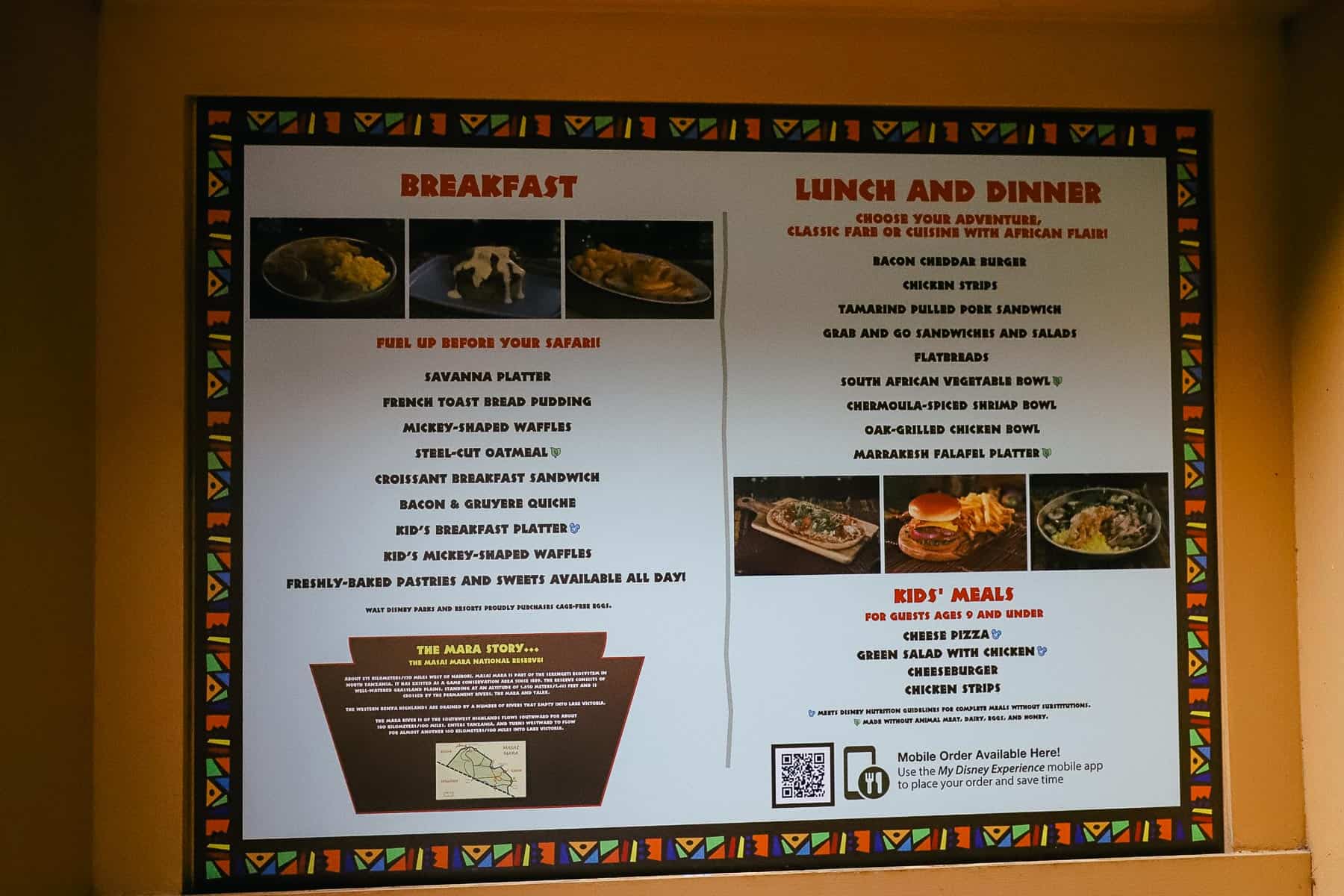 For breakfast, you'll find items like:
Savanna Platter
Mickey-shaped Waffles
French Toast Bread Pudding
Steel Cut Oatmeal
Croissant Breakfast Sandwich
Bacon and Gruyere Quiche
Kid's Breakfast Platter
Kid's Mickey-Shaped Waffles
For lunch and dinner:
Bacon Cheddar Burger
Chicken Strips
Tamarind Pulled Pork Sandwich
Grab and Go Sandwiches and Salads
Flatbreads
South African Vegetable Bowl
Chermoula-spiced Shrimp Bowl
Oak-Grilled Chicken Bowl
Marrakesh Falafel Platter
Kids' Meals include:
Cheese Pizza
Green Salad with Chicken
Cheeseburger
Chicken Strips
Unfortunately, the former crispy chicken and bacon sandwich is no longer on the menu. It was a massive sandwich that was easily shareable. It had two chicken breast filets and was served on Ciabatta bread.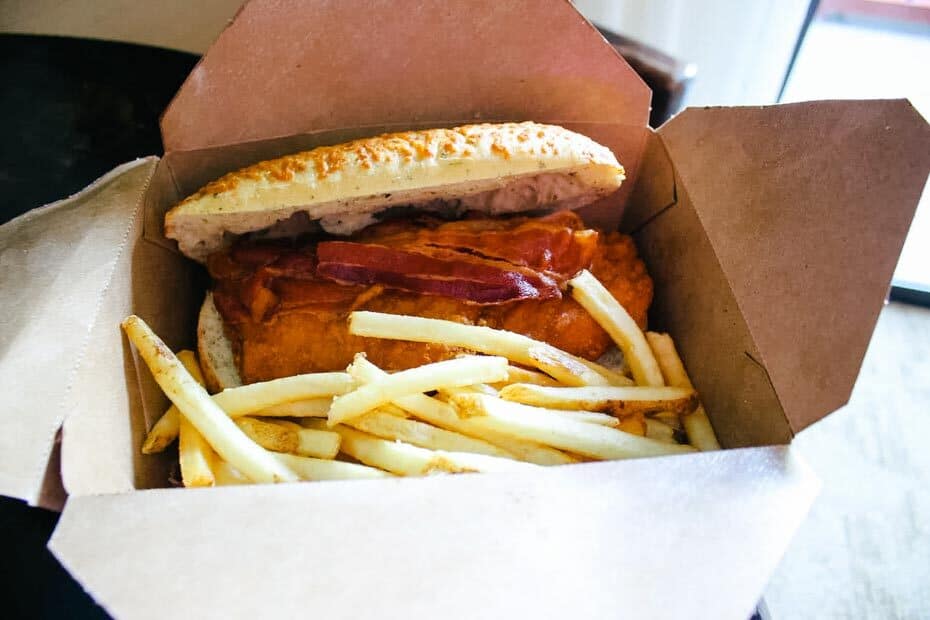 On another visit, my mom picked up a Caesar salad from the grab-and-go section. The salad was an okay offering, but she said it wasn't anything to write home about.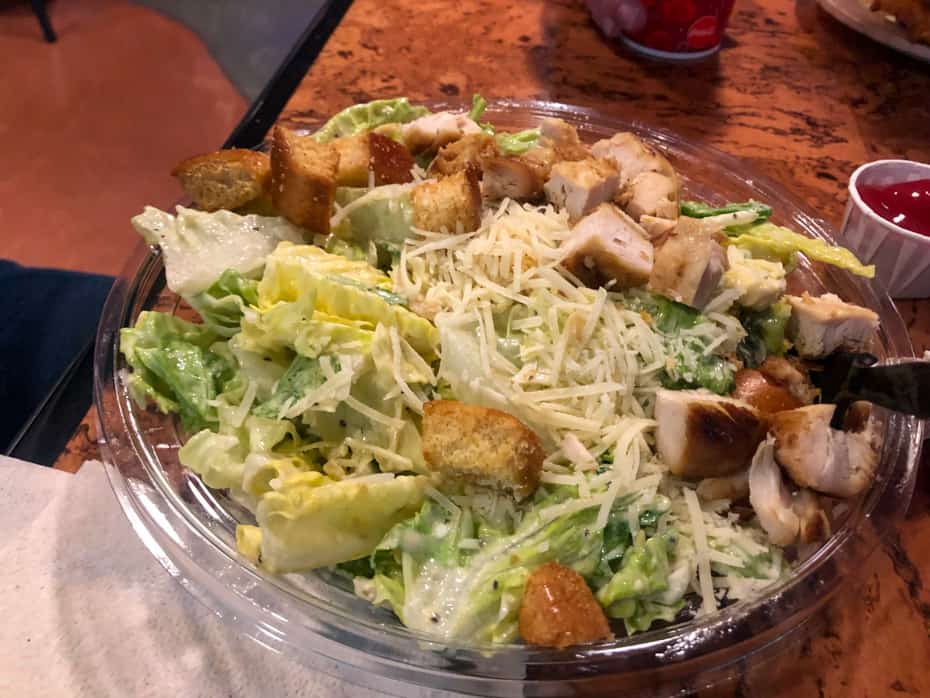 We used to love the turkey and avocado club sandwich. But it has also disappeared from the menu.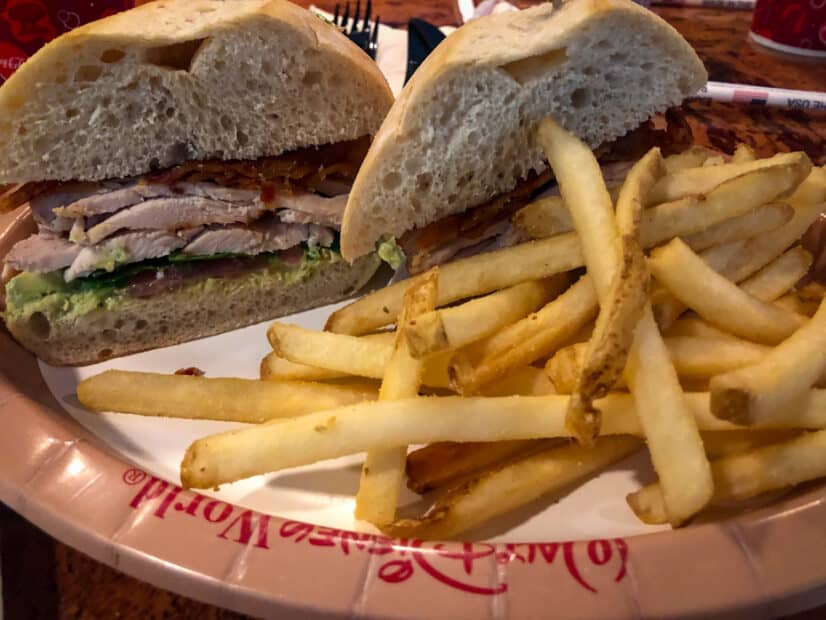 However, the Tamarind pork sandwich remains (not pictured). I tried it during a stay a few years back. It was a tasty pulled pork, but the sauce made the bread soggy. So you'll want to eat it quickly.
Lastly, The Mara has several fun options for kids' meals. I often order a kids' meal at counter service restaurants and highly recommend those with a light appetite or on a budget to do the same.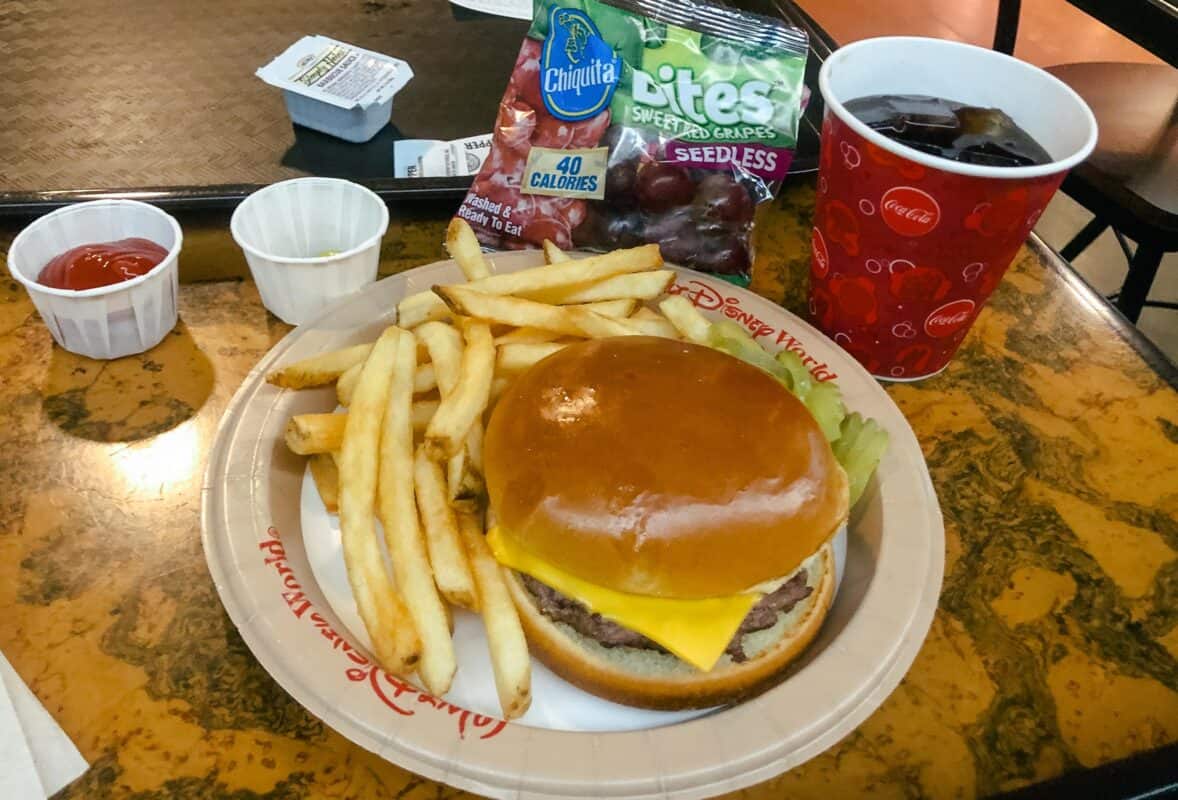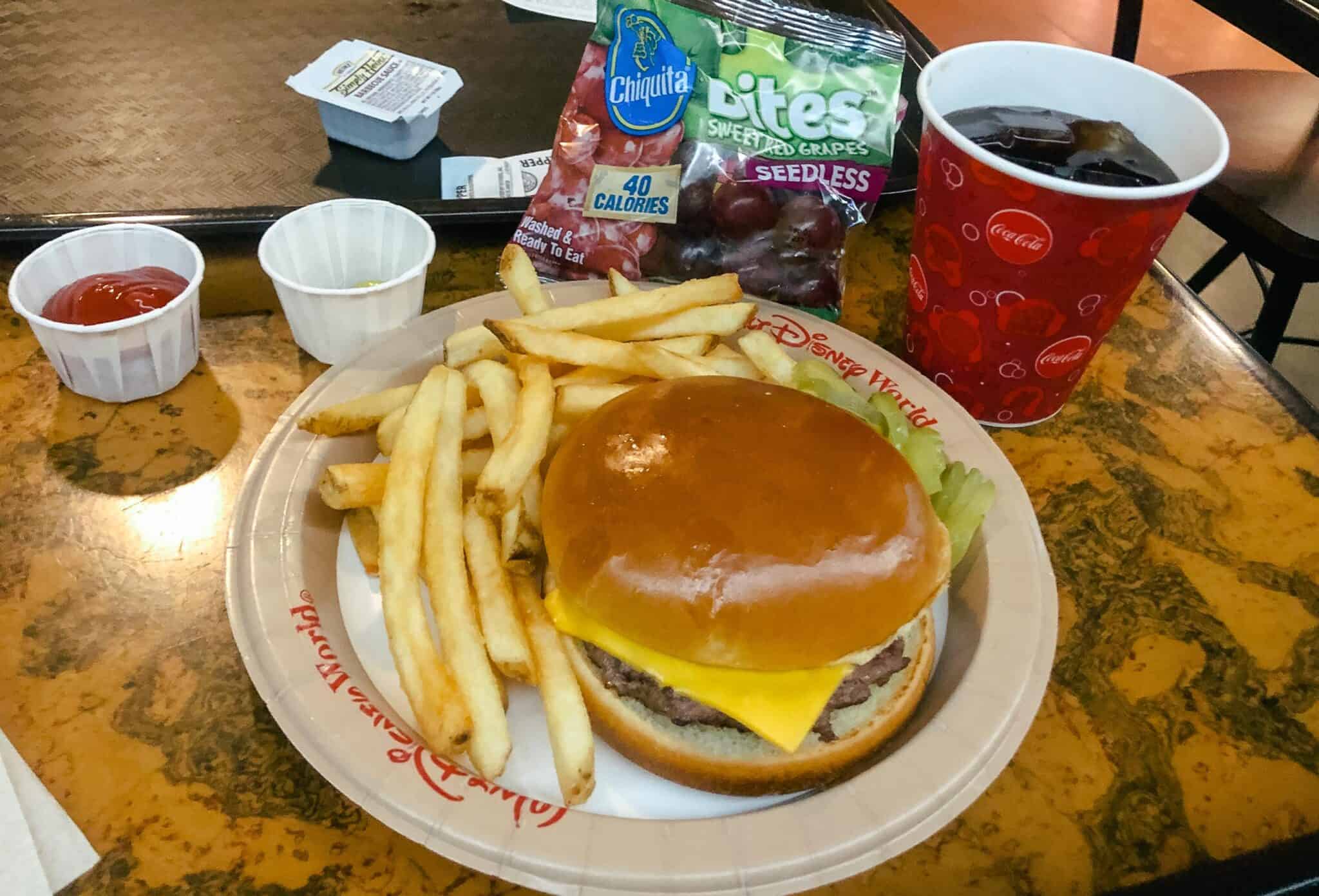 Make sure you get all the components that come with the kids' meal after you order. The cast member at the checkout will usually point out if you are missing something.
Additionally, Zebra Domes are usually available at The Mara. Zebra Domes are a popular treat around the Animal Kingdom Lodge. They are also available at the Boma Flavors of Africa dinner buffet.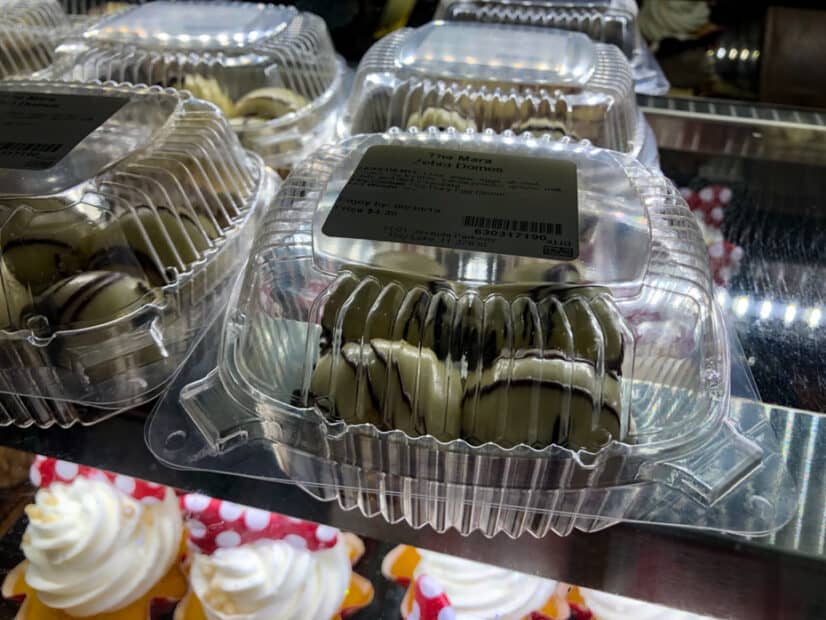 Unfortunately, I found the pastry case at The Mara lacking on my last two visits. Usually, they have a display with cupcakes, pastries, and other treats. Now they have a photo of a few prepackaged items that you can find in one of the refrigerated cases.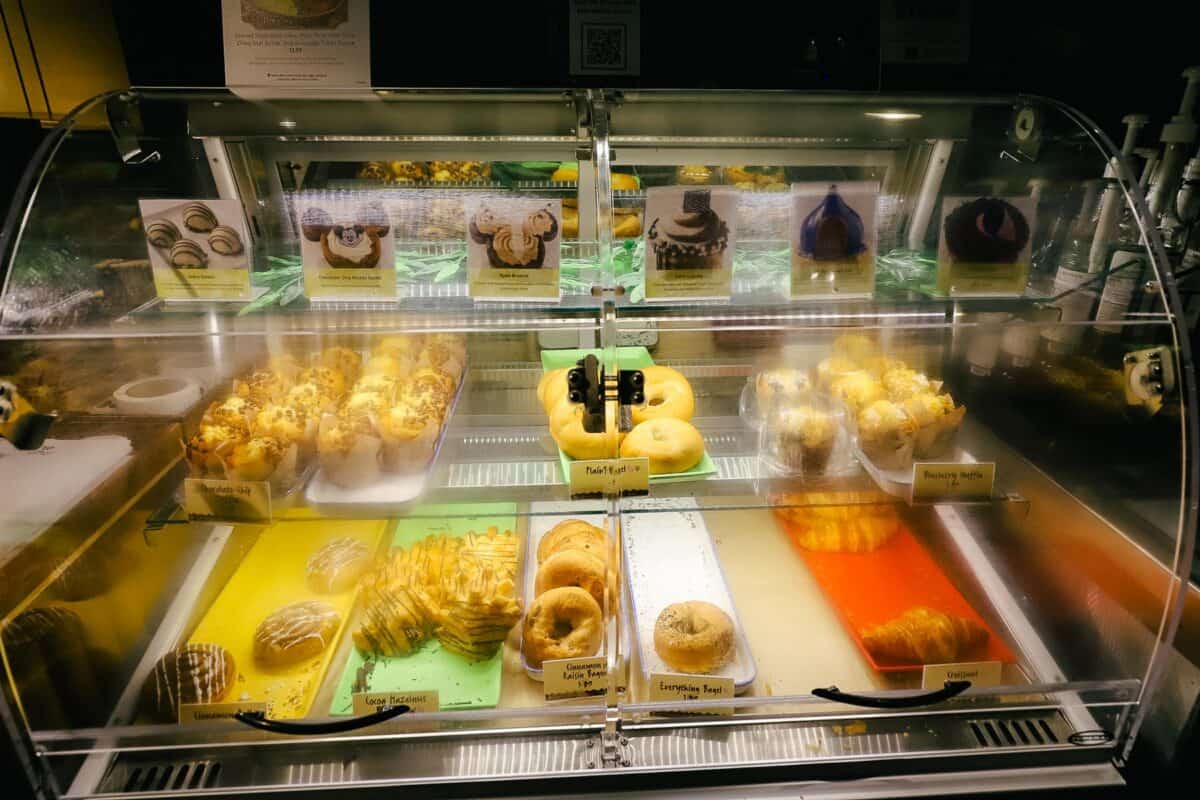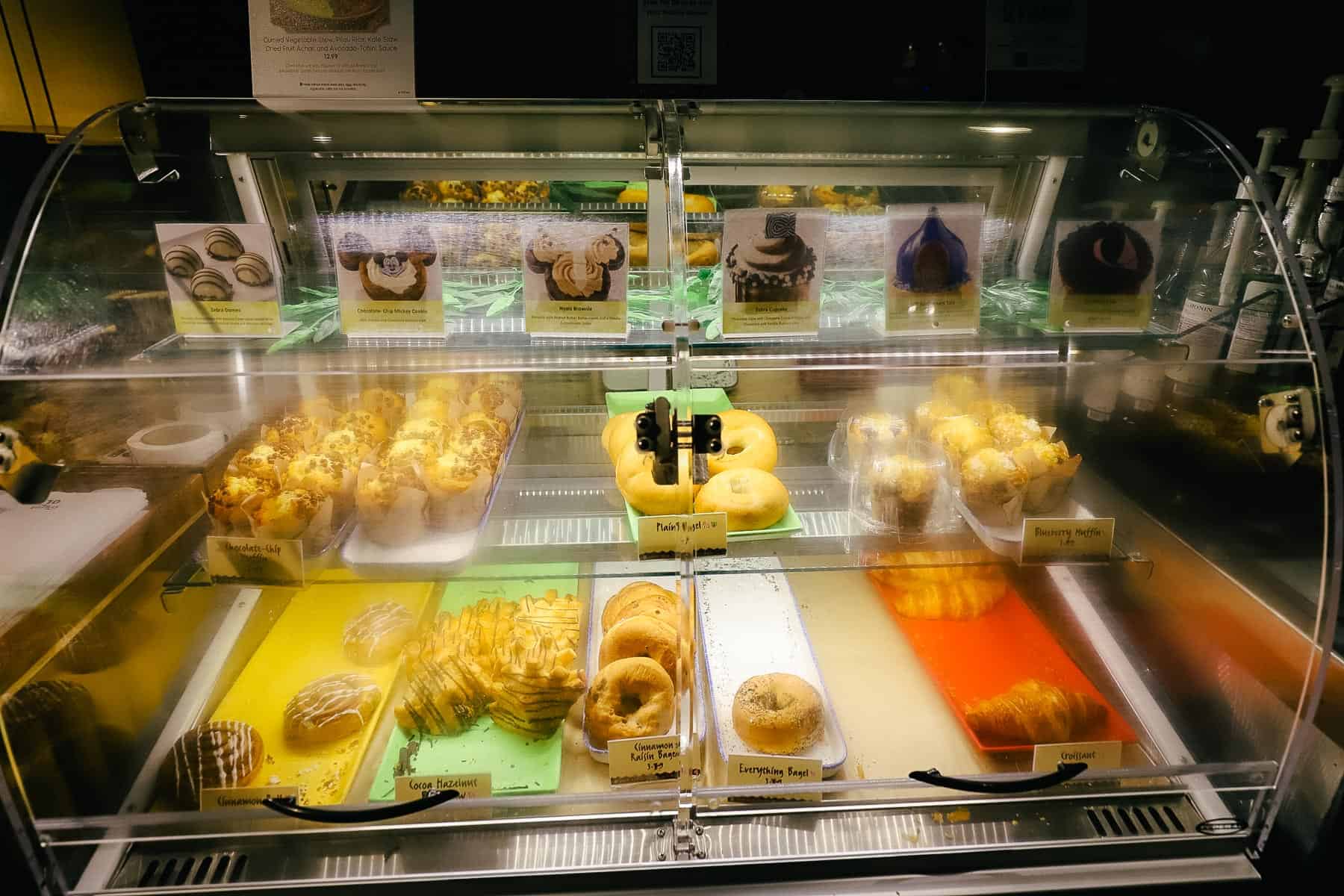 Can you imagine walking up to a display like this and looking at photos of desserts? Maybe it's just me, but I found it rather odd.
With that said, several of these desserts are popular. They are also listed in the mobile order section of the My Disney Experience app:
Zebra Cupcake
Flamingo Cake
Nyala Brownie
Chocolate-Chip Mickey Cookie
Regarding enjoying your meal, The Mara has a pleasant indoor dining area with plenty of space.
Related: The Mara Review at Animal Kingdom Lodge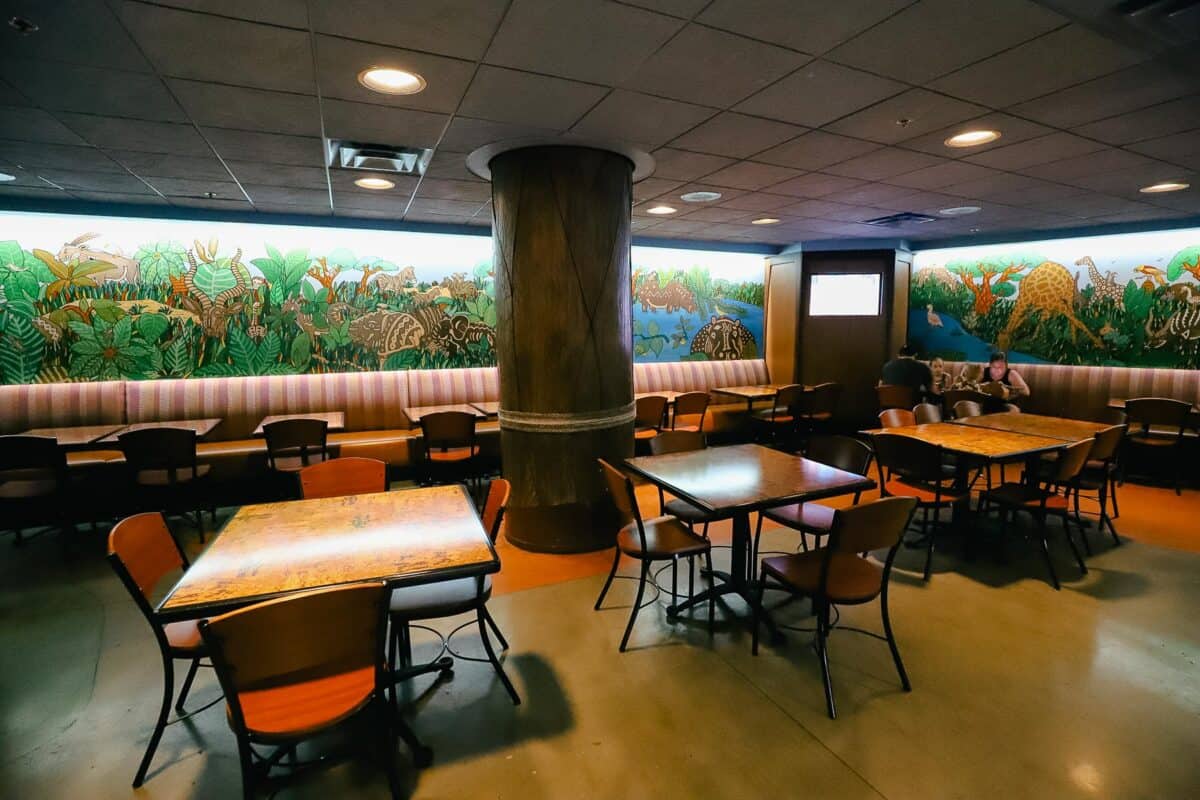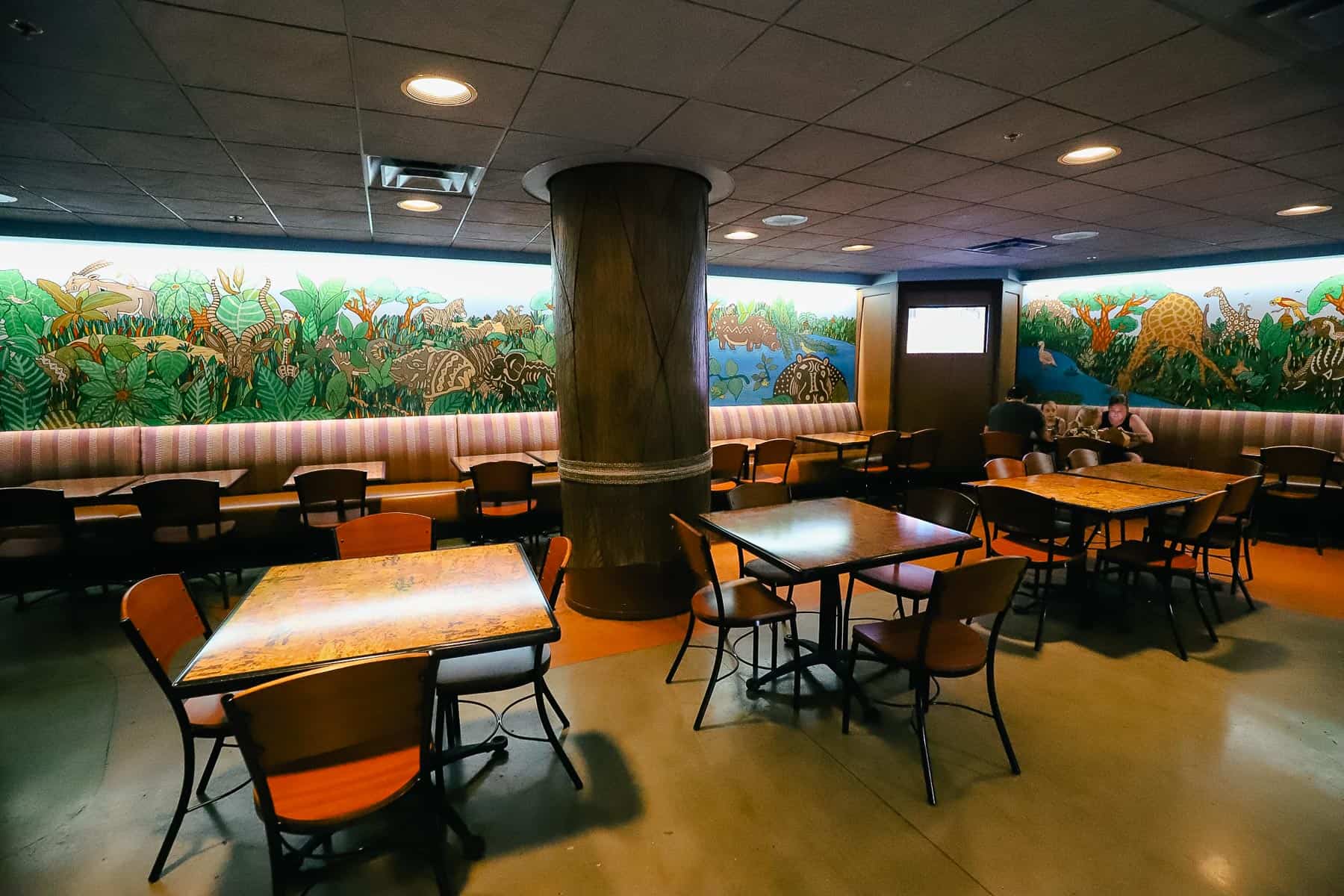 But if the weather is nice enough, we prefer to eat in the outdoor area in front of the restaurant.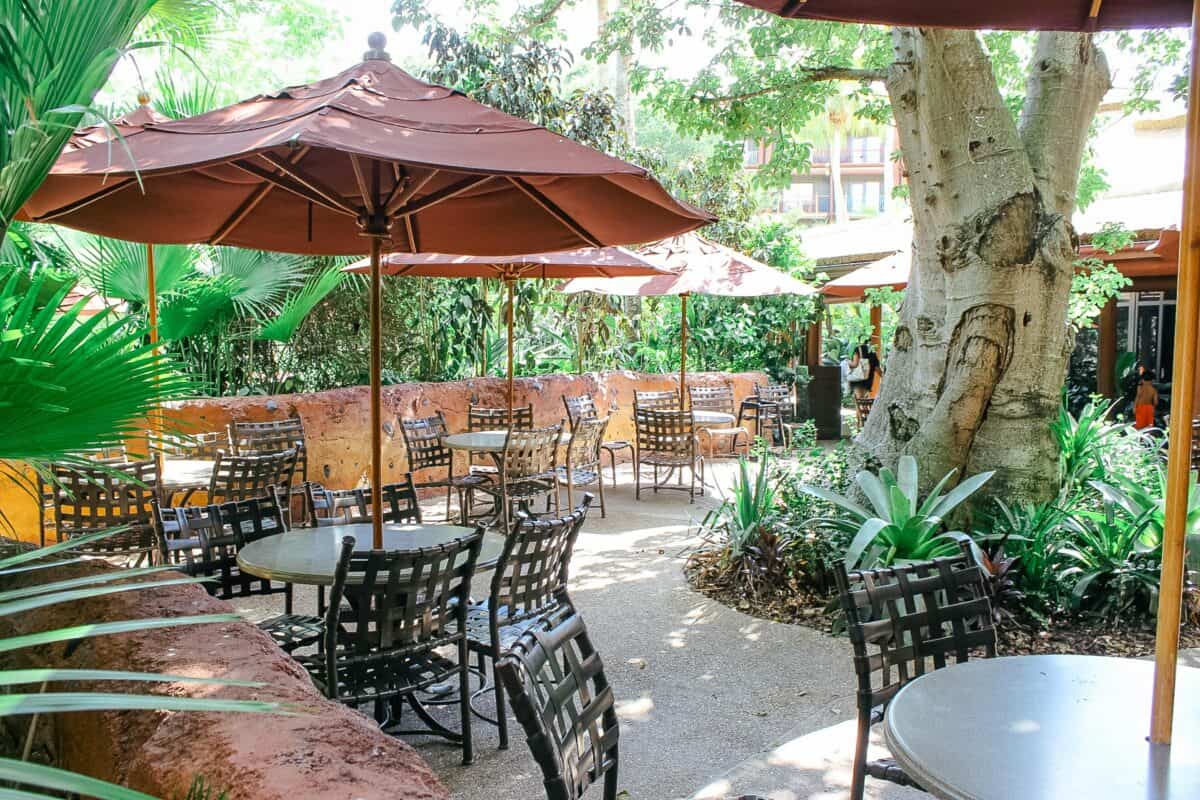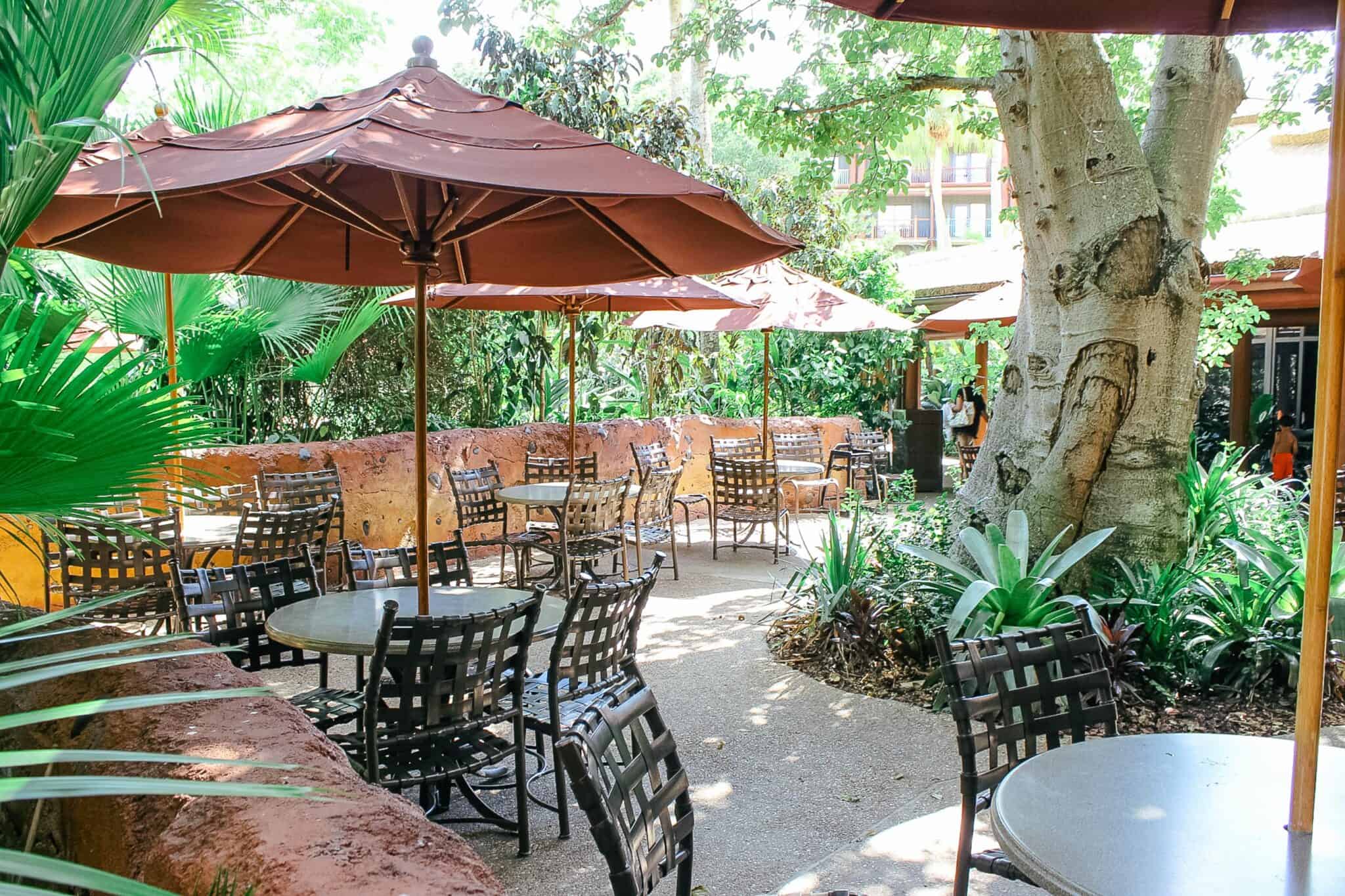 Uzima Springs Pool Bar
The Uzima Springs Pool Bar sits on the outskirts of the Uzima Springs Pool. Seating is available at the bar, and tables with chairs are available around the parameter.
Since the pool bar is fenced separately from the pool area, anyone visiting the resort can use the pool bar. However, if you would like to grab a drink and enjoy it in a less crowded area, there are many places to relax in the immediate area.
Related: The Pool at Animal Kingdom Lodge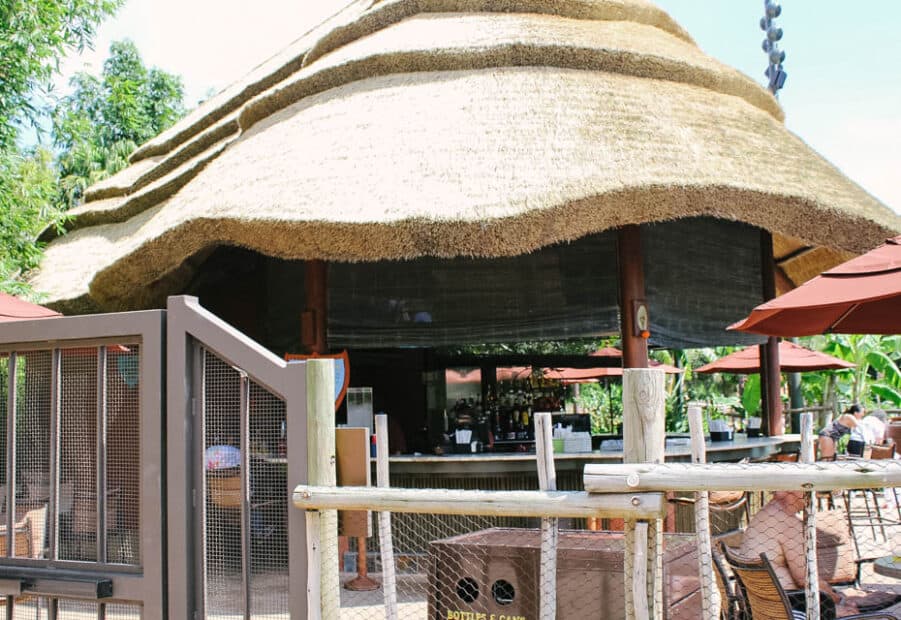 Here is their menu.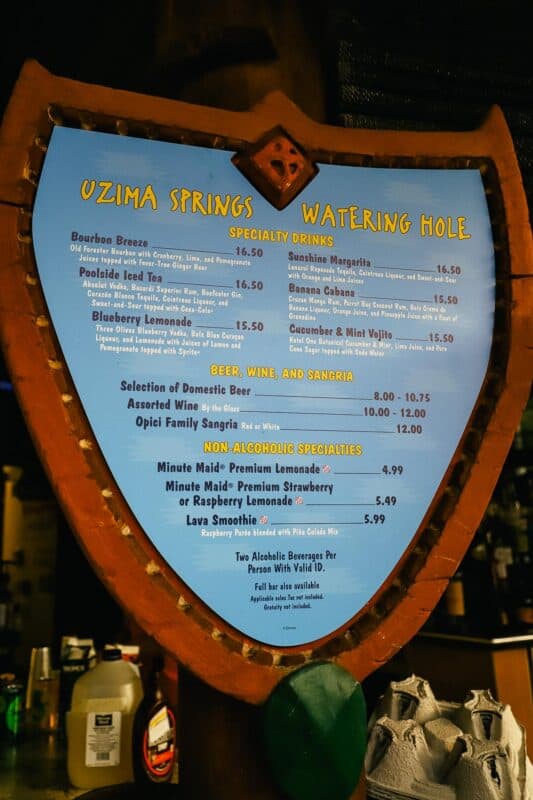 Additionally, a few food items are available at Uzima Springs Pool Bar. However, you'll likely want to order food from The Mara since it's immediately next to the pool area.
On a previous visit, a cast member suggested I try the Lava Smoothie. The smoothie consists of raspberry puree blended with flavors of coconut and pineapple. It's a refreshing sweet treat on a hot day. Warning, though, it is super sweet.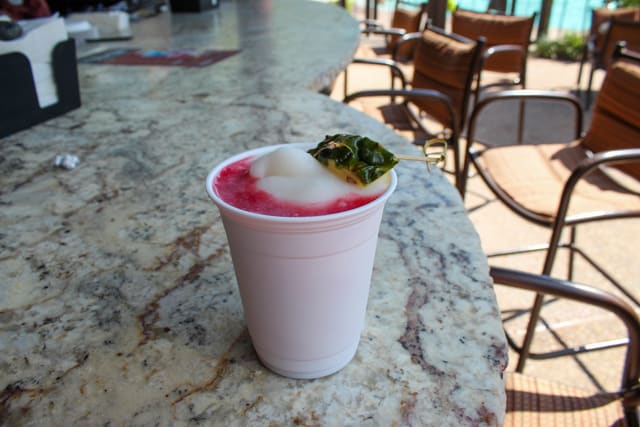 Boma, Flavors of Africa
Boma, Flavors of Africa is one of two table service restaurants in the Jambo House portion of Disney's Animal Kingdom Lodge. Boma is located on the resort's lower level. It's on the immediate left at the bottom of the staircase.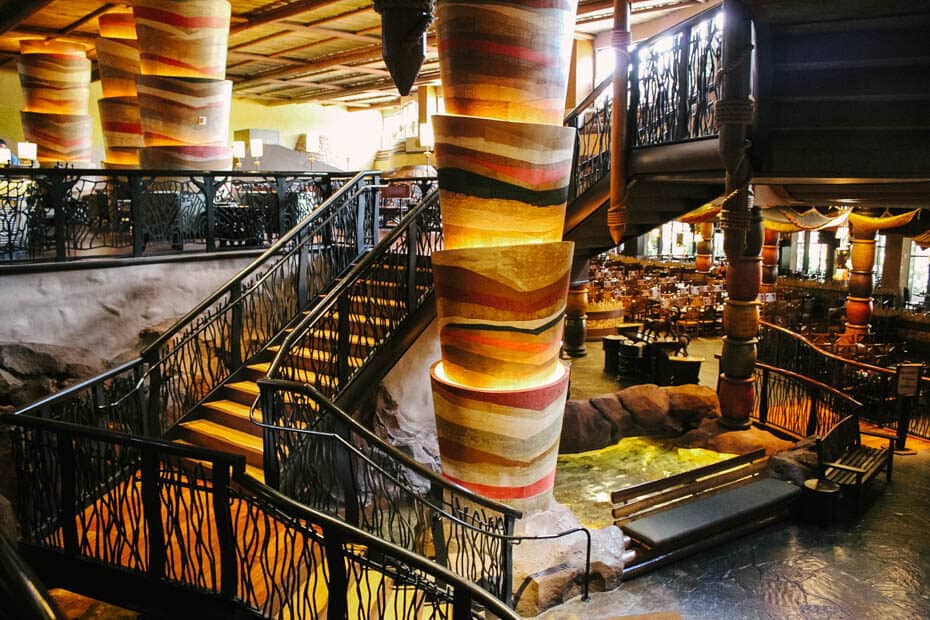 Boma is open daily for breakfast between 7:30 a.m. and 11:30 a.m. They then close and reopen for dinner between 5:00 p.m. and 9:30 p.m.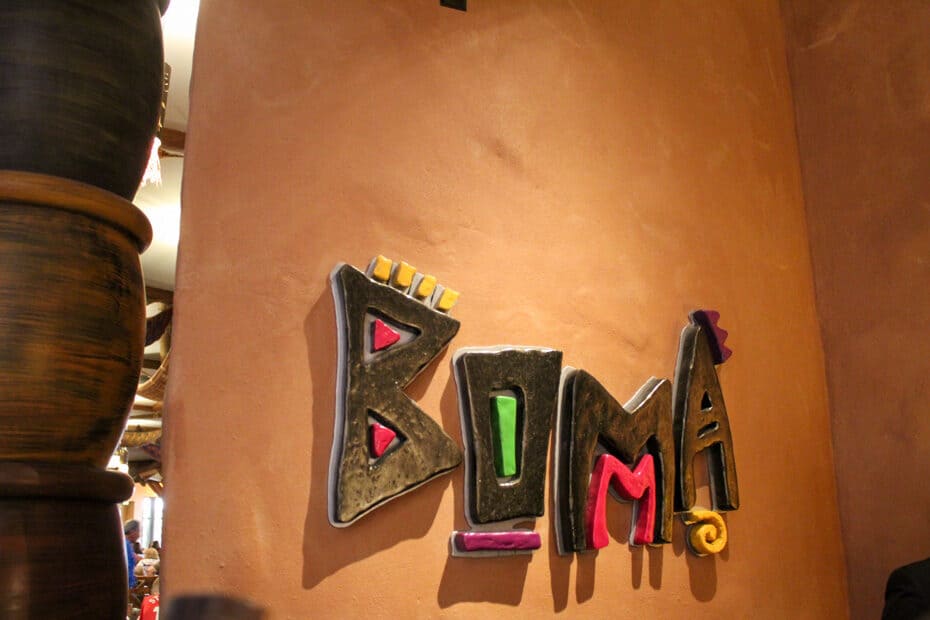 Boma, Flavors of Africa is a buffet that boasts over 75 items for breakfast and dinner. For breakfast, the restaurant has a selection of traditional items like Mickey-shaped waffles, pancakes, biscuits, bacon, and sausage.
In addition to traditional items, various African dishes include turkey bobotie, avocado papaya, grapefruit salad, carved ham, and more.
Here are a few items you'll find on the buffet.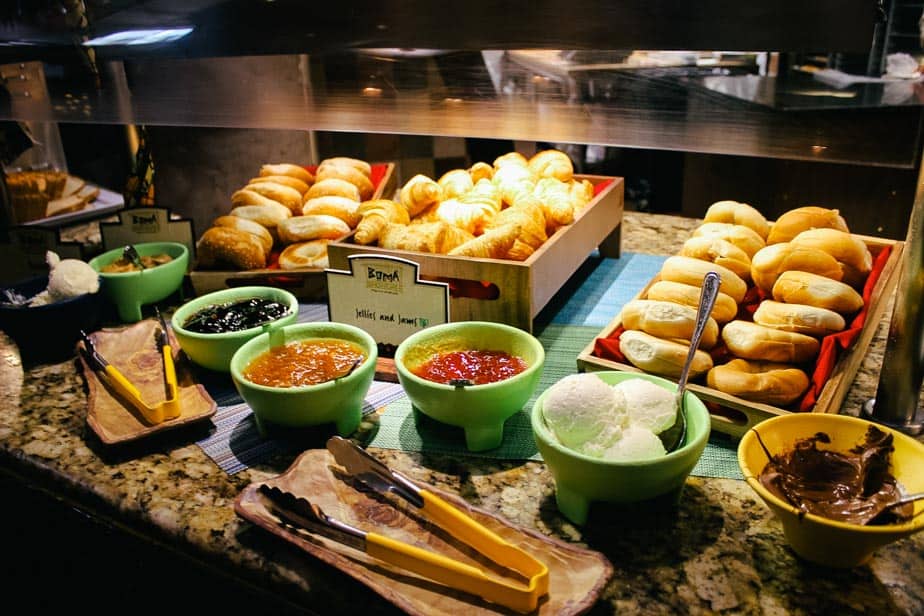 Fresh fruits include this pistachio watermelon dish.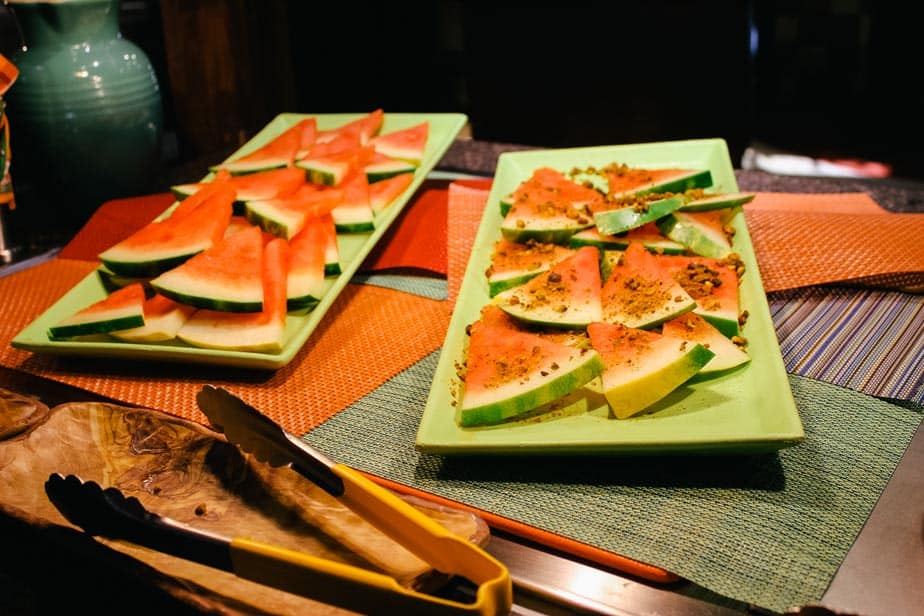 There's a variety of meat and breakfast potatoes.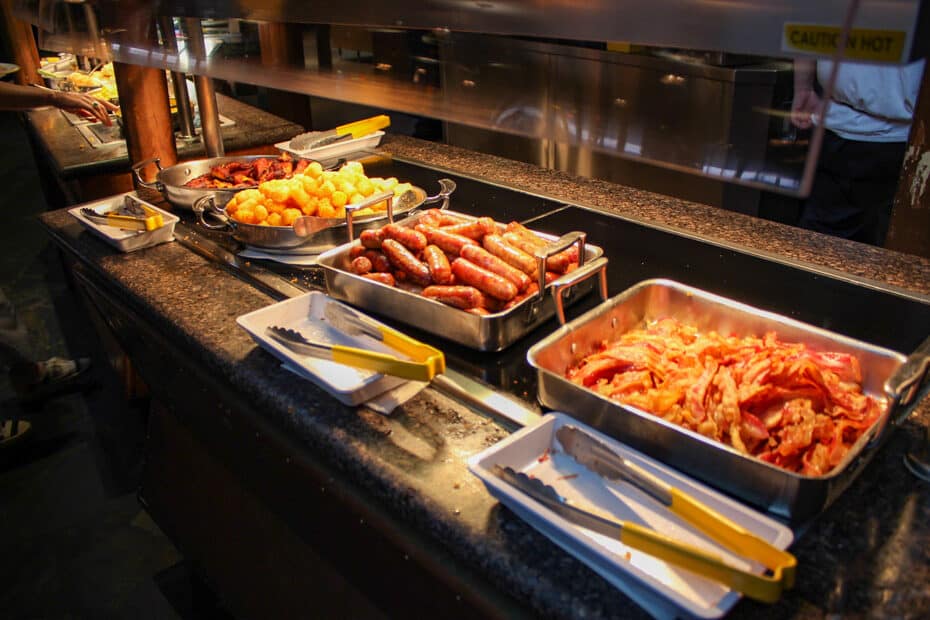 These sticky buns are delicious.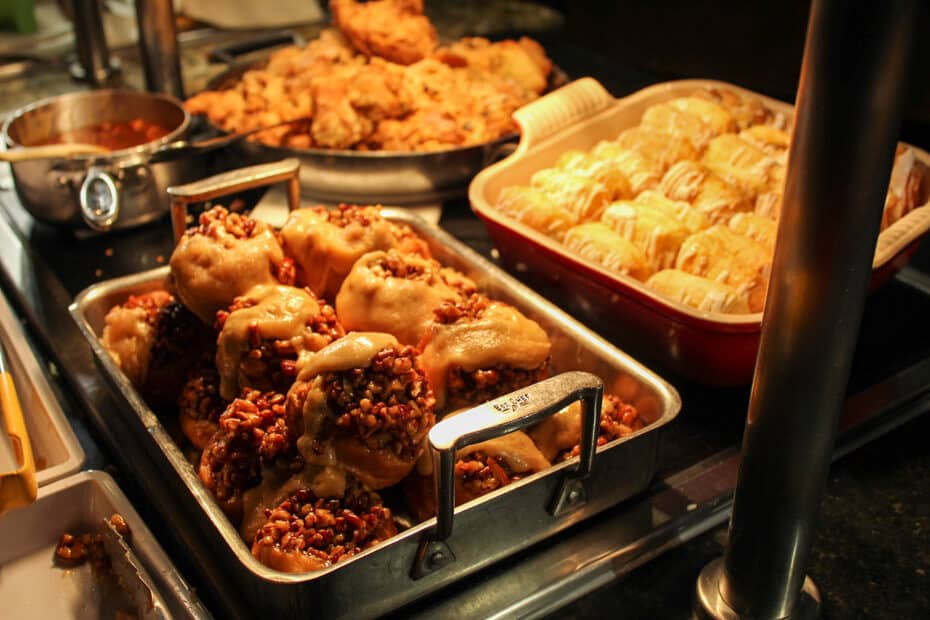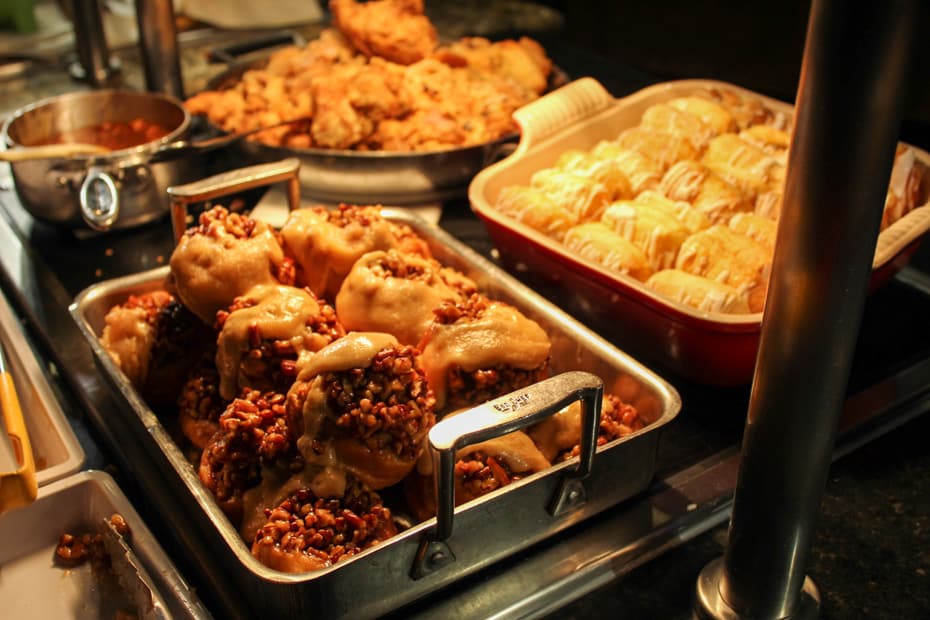 And yes, there are Mickey Waffles. You can eat as many as your heart desires.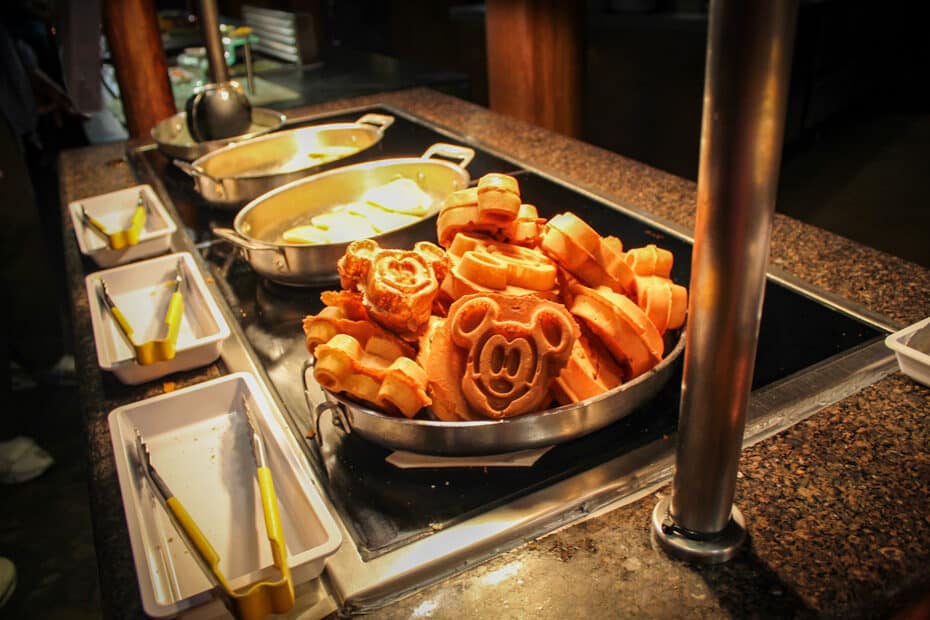 For more food items, we have a full review that includes photos and a video of all the breakfast buffet items.
Related: Boma Breakfast Review
Unfortunately, we don't have a current review of dinner at Boma. But I can assure you this is the best buffet in all of Walt Disney World, whether you dine here for breakfast or dinner. It's so good!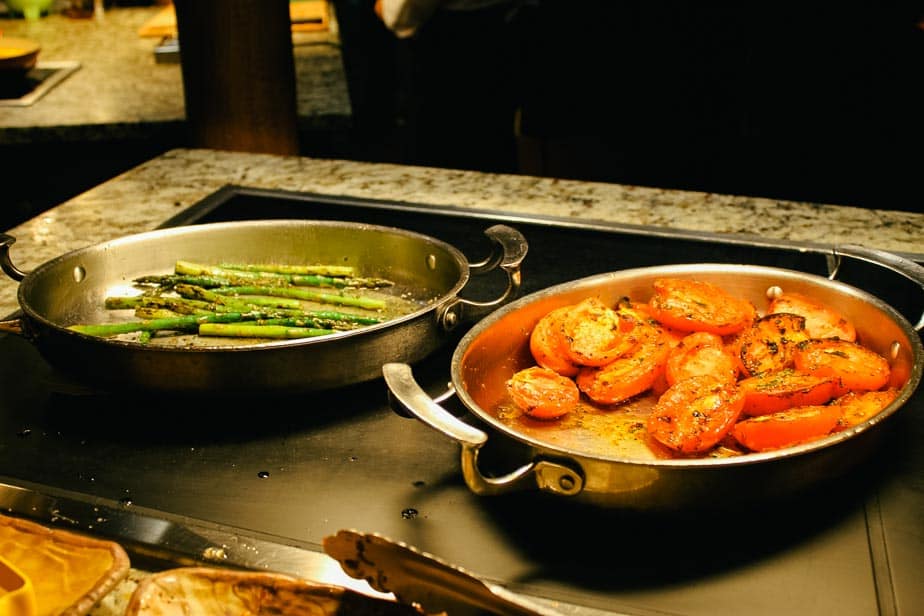 Jiko, The Cooking Place
Jiko, The Cooking Place, is the signature dining location for Disney's Animal Kingdom Lodge. It's located on the resort's lower level, past Boma, before you exit to the pool area.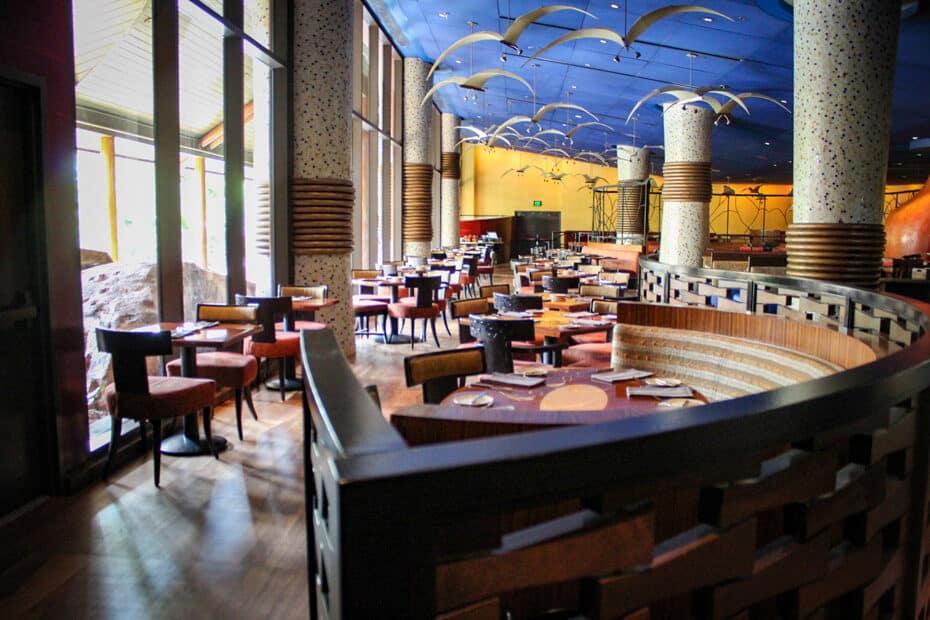 Jiko ranks as one of our top choices for signature dining restaurants at Disney World. They are open daily from 5:00 p.m. until 9:30 p.m.
Related: Disney World Signature Dining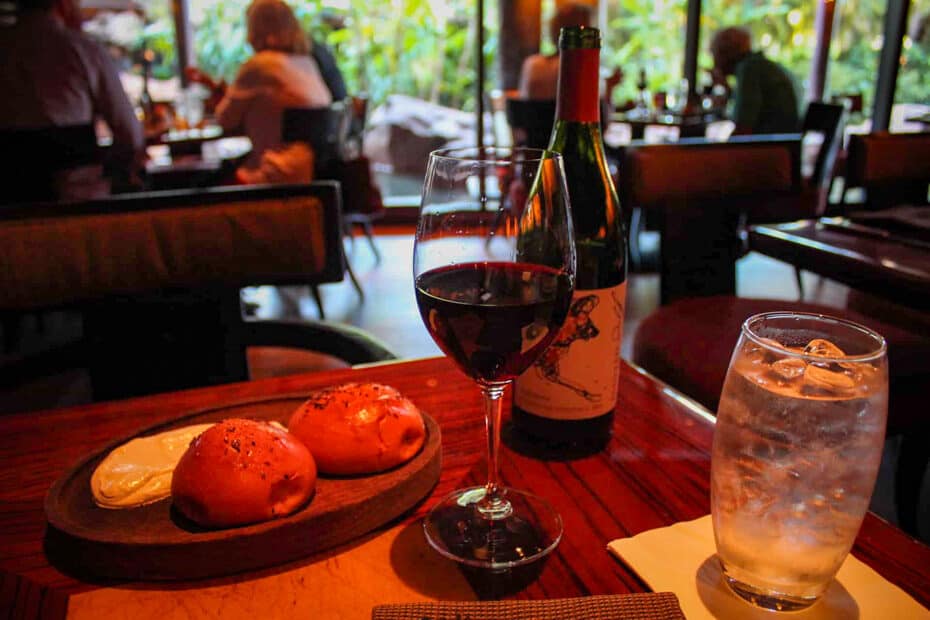 Below is one of their famous flatbreads.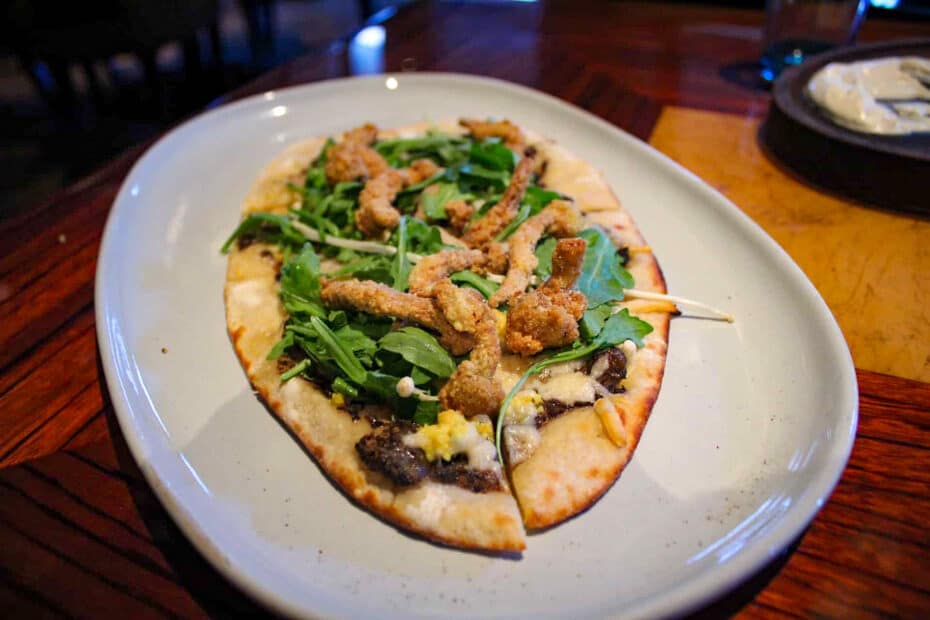 The restaurant has a selection of entree prices that range from $30 and up, along with an extensive selection of South African wine. Here is a photo of their menu as of this last update. Or you can preview the dinner menus with prices here on Disney's site.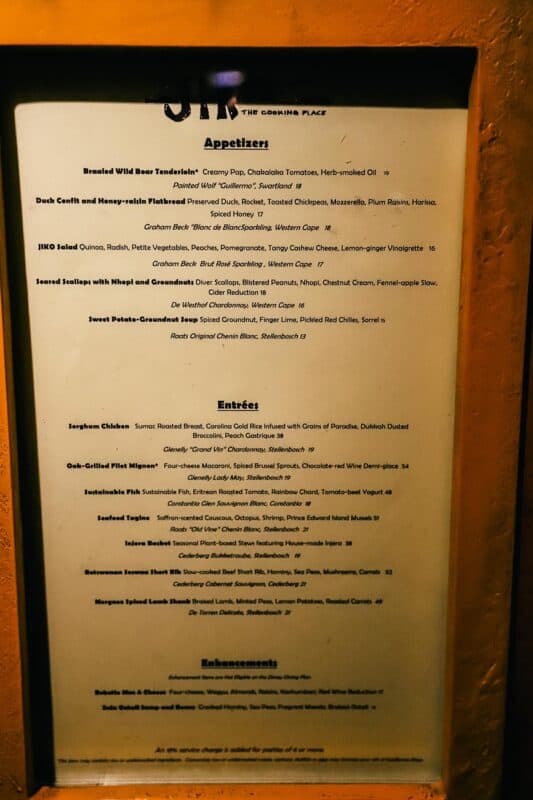 Indian, African, and Asia cuisine inspire the menu items at Jiko. No matter what you order, it's difficult to go wrong. Everything here is exceptional.
Related: Jiko, The Cooking Place Review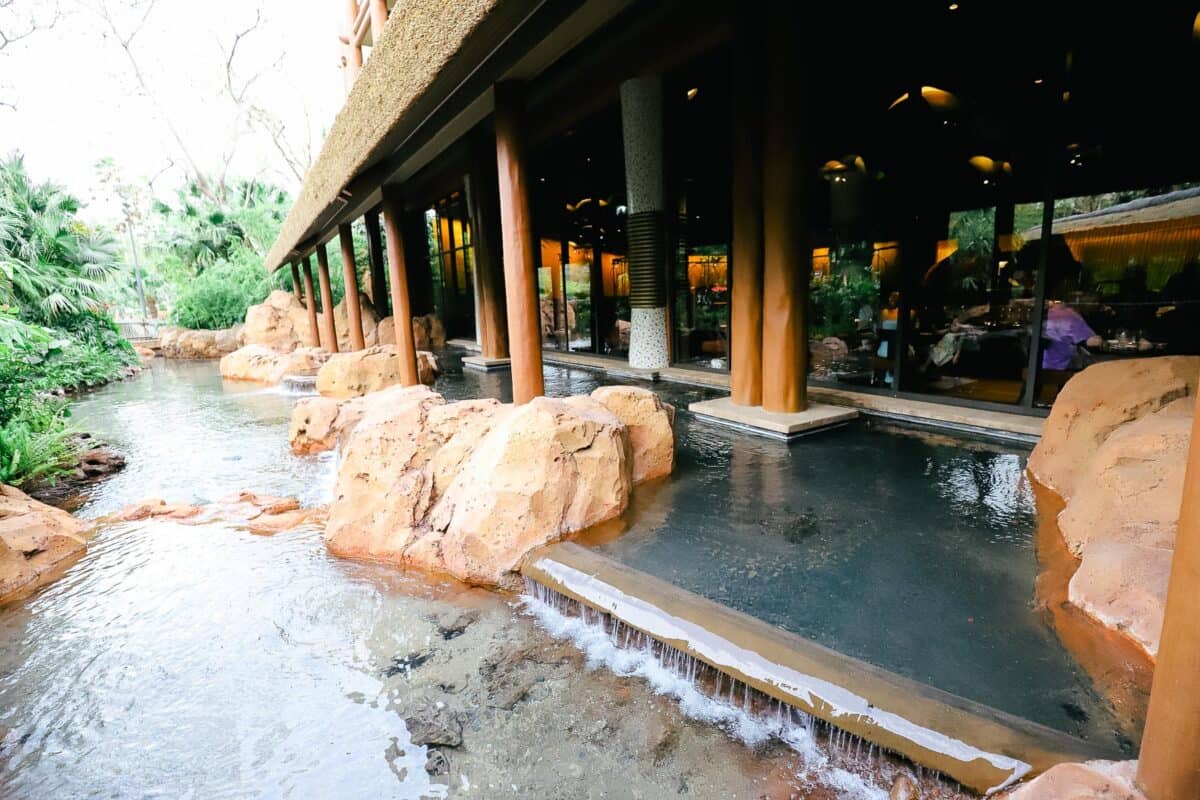 Cape Town Lounge and Wine Bar
Cape Town Lounge is located in the foyer of Jiko. This lounge features a wine bar with a few tables and chairs.
If you're checking in to Jiko and your table isn't ready, you can order a cocktail or glass of wine. The lounge offers various options, including African wines, after-dinner drinks, brandy, ports, and single malt liqueurs.
You can preview their menu here on Disney's site.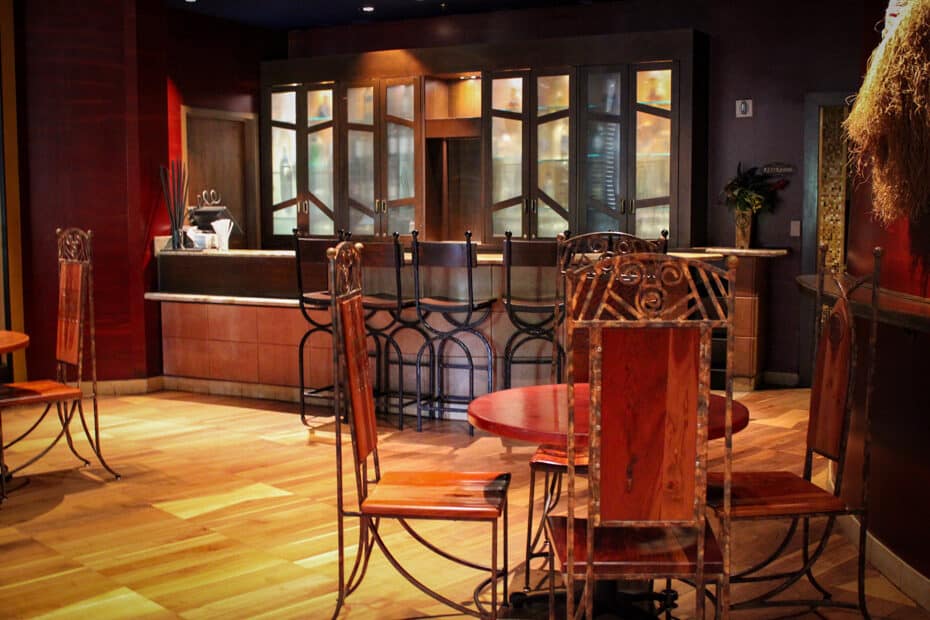 Victoria Falls Lounge
Victoria Falls is located between the Jambo House lobby and the lower level. This location sits on a landing area accessible from the resort's large staircase. Additionally, you can take the elevator down to the second level and access Victoria Falls from the back entrance.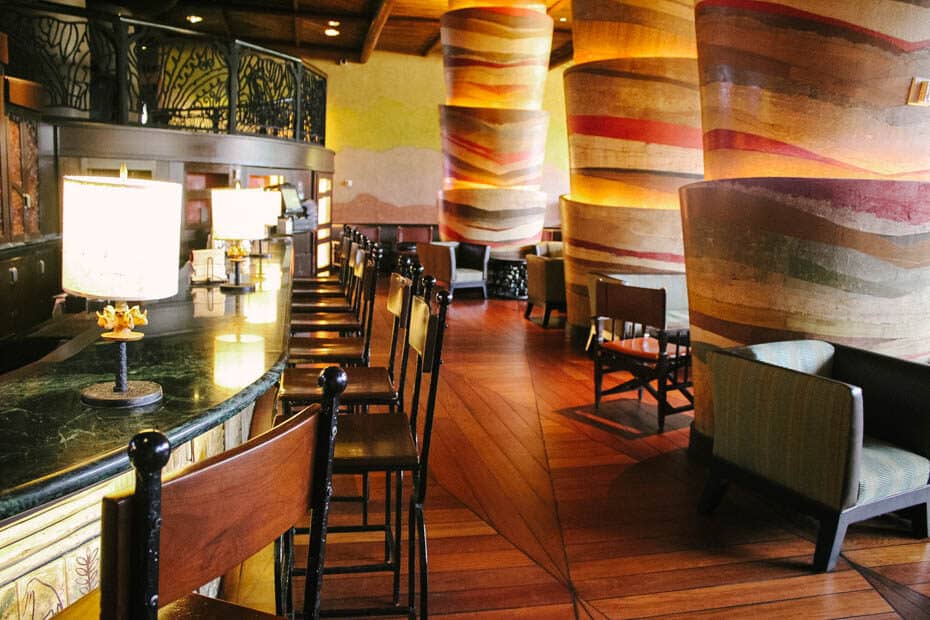 Victoria Falls has lounge hours daily between 5:00 p.m. and 10:00 p.m. At this time, they have a few appetizer items on the menu, some of which would make a complete meal.
Here's a sample of their menu:
Braai Burger with Fries
Goat Cheese Dip
Marinated Olives with Almonds
Cape Town Slap Chips
Victoria Falls has a lengthy cocktail list that includes specialty cocktails, wines, beer, scotch, cognac, and several drink flights.
Preview their menu here on Disney's site.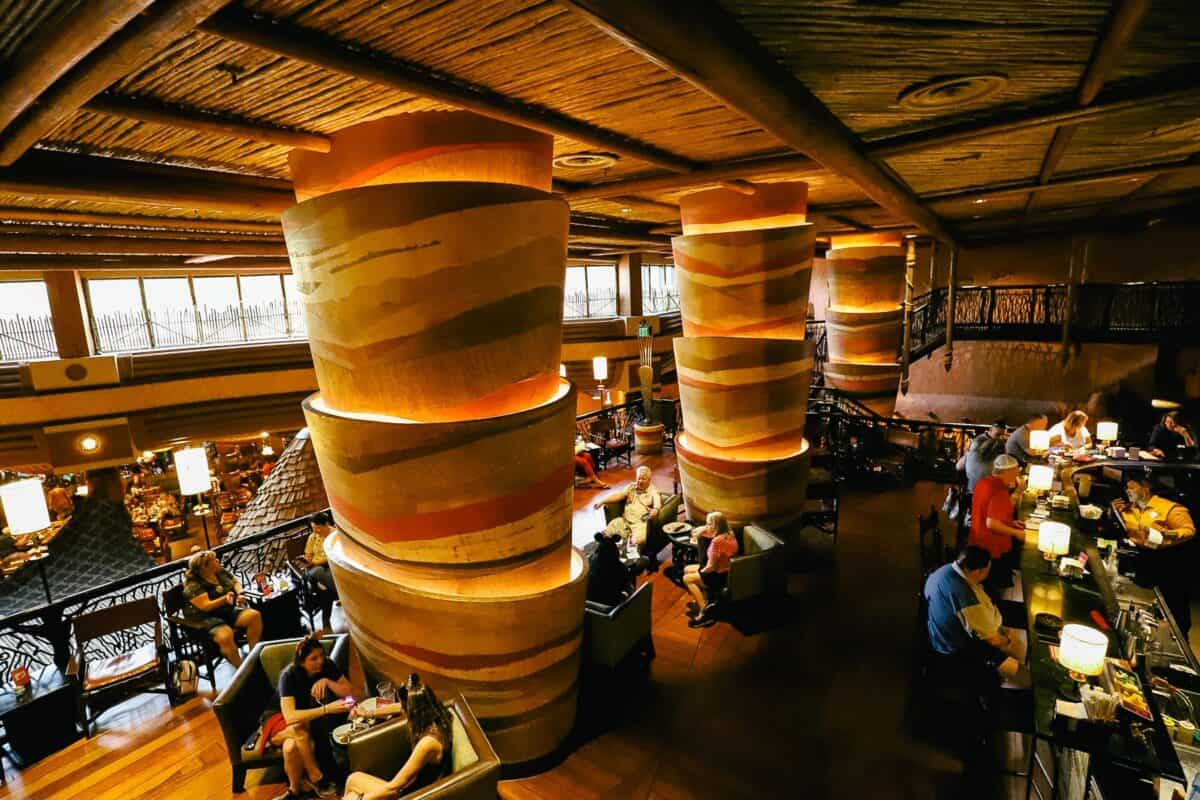 Sanaa
Our last table service restaurant at Animal Kingdom Lodge is the infamous Sanaa. Sanaa is most famously known for its Indian-style bread service.
The restaurant is located on the lower level off the lobby of Kidani Village. Guests can walk or take a shuttle service between the two resorts.
You'll want to tell one of the greeters at either entrance that you wish to take the shuttle, and they'll direct you where to wait. Sanaa is open daily for breakfast, lunch, and dinner.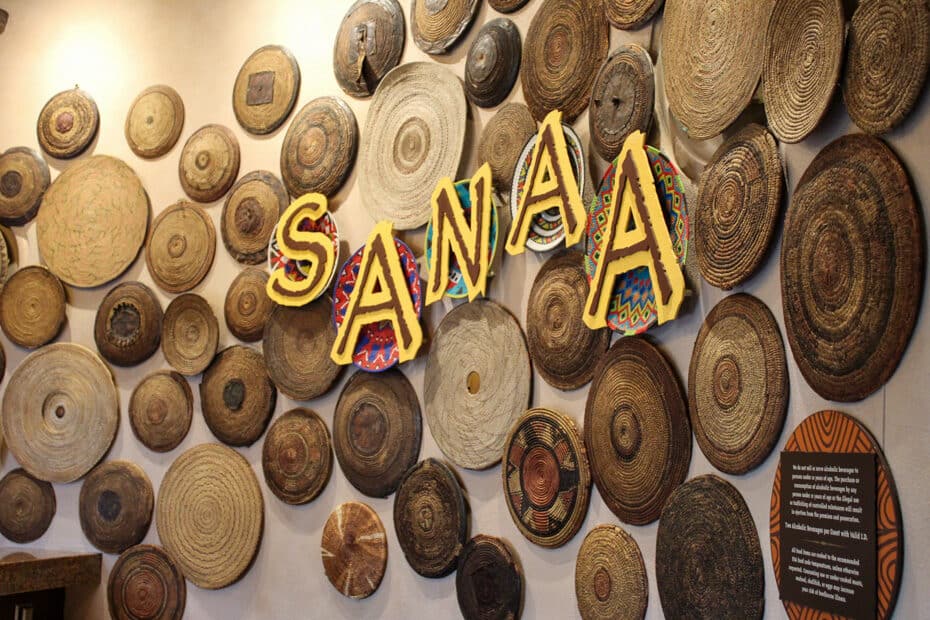 The theming at Sanaa is one of the best in Walt Disney World. You will feel like you've been transported to an African country while dining here.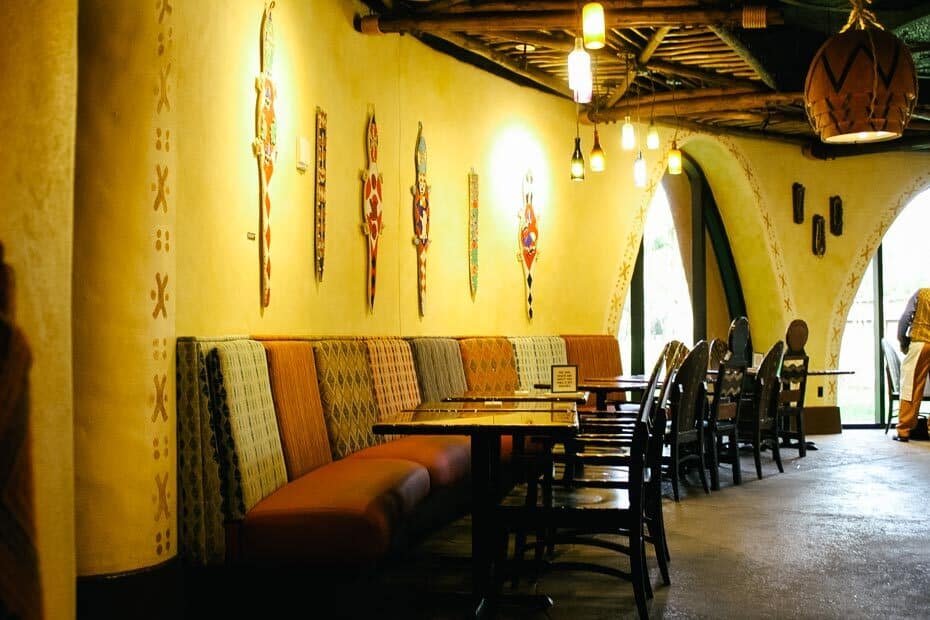 For breakfast, Sanaa has items like:
Eggs Benedict
Enriching Grains and Fruit
Boere Breakfast
Shahi Tukra French Toast
Methi Paratha Sandwich
Kids' Meals include:
Kid's Explorer Platter
Kid's Mickey Waffles and Bacon
Other side and grab-and-go items are available. You can preview the menu items with more prices here on Disney's site.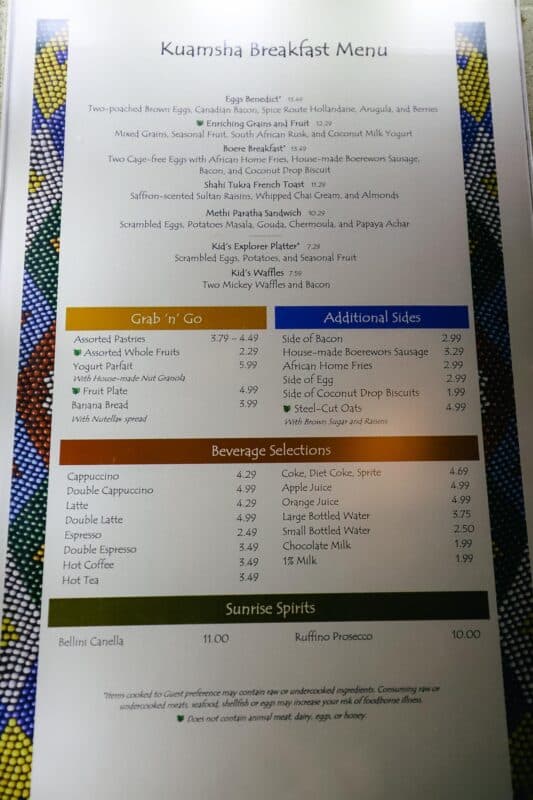 Additionally, Sanaa's bread service is considered the main event when dining here. Here is a look at what you can expect.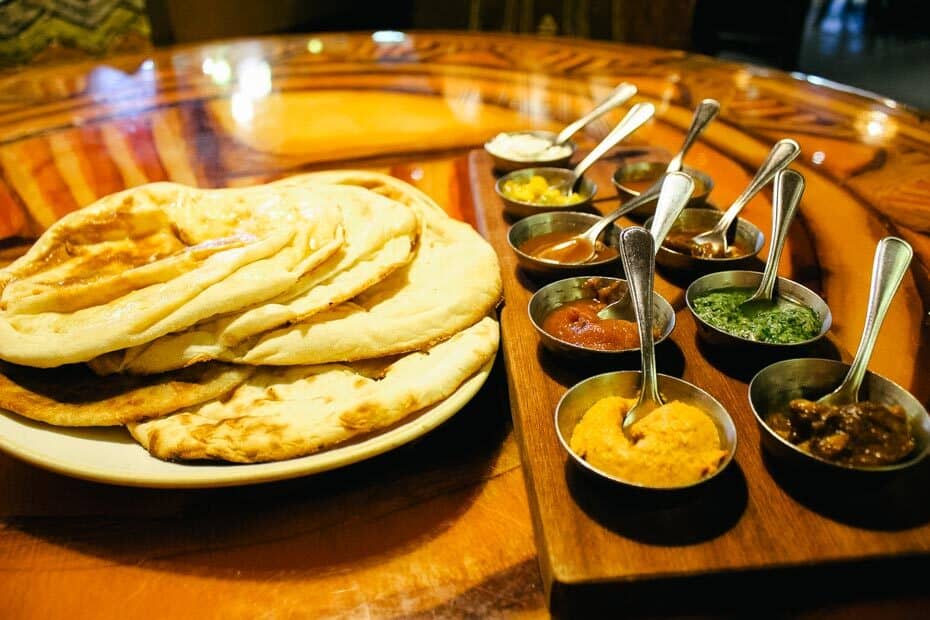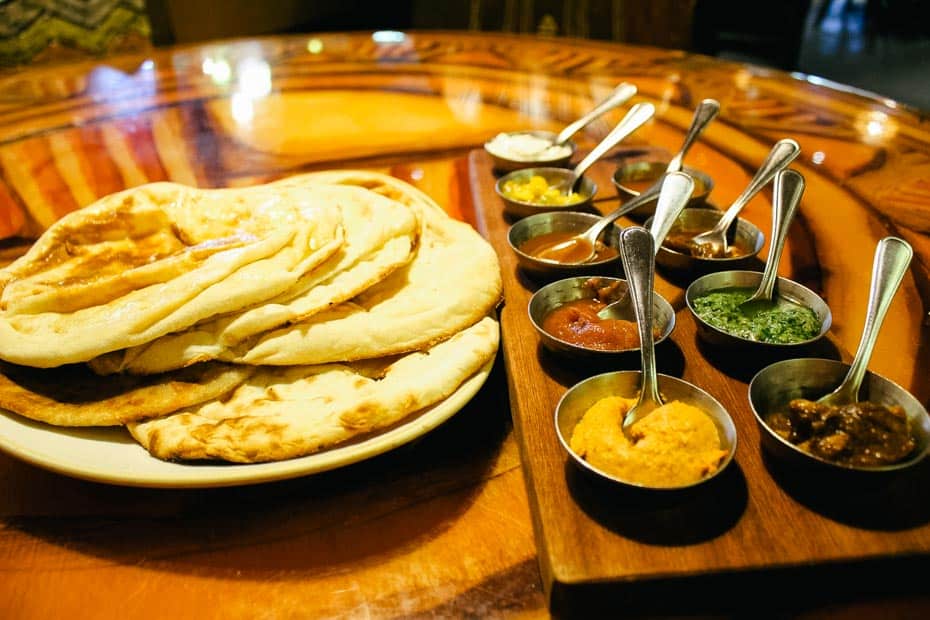 There are five flavors of Naan bread and nine different accompaniments. The Naan bread choices include Traditional Naan, Garlic-Ginger Naan, Spiced Naan, Onion Kulcha, or Paneer Paratha.
The sauces include Cucumber Raita, Roasted Red Pepper Hummus, Mango Chutney, Tomato-Date Jam, Tamarind Chutney, Coriander Chutney, Garlic Pickle, Red Chile Sambal, or Spicy Jalapeño-Lime Pickle.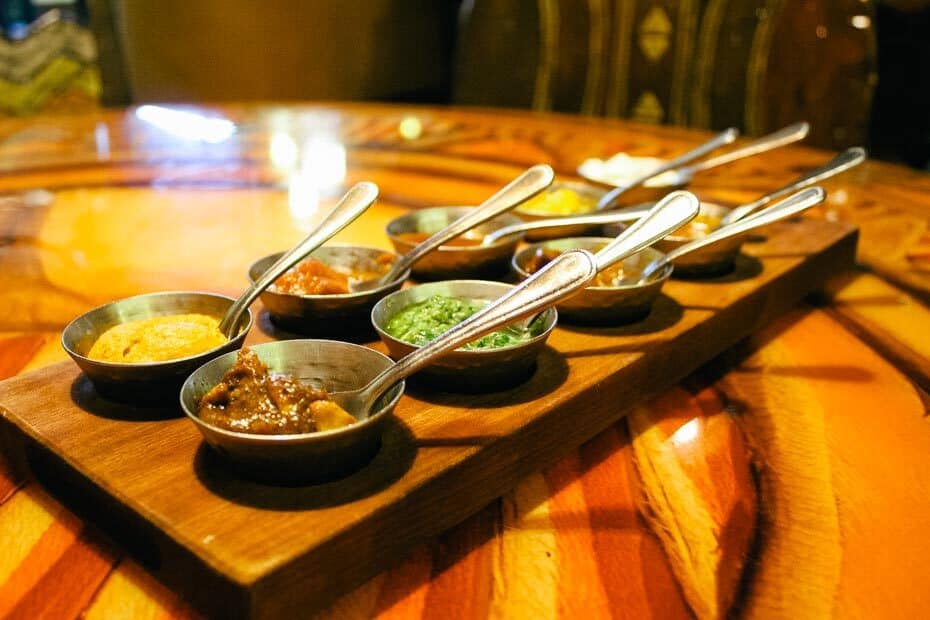 Other lunch and dinner items include:
Tandoori Chicken
Zanzibari Vegetable Curry with Shrimp
Potjie Inspired (Goan Seafood Curry, Butter Chicken, Braised Beef, or Pork Vindaloo)
Sanaa Burger
You can preview both the menus for lunch and dinner here on Disney's site. Or you might like to read our review, which includes several dining experiences at the restaurant.
Related: Sanaa Review (with Bread Service)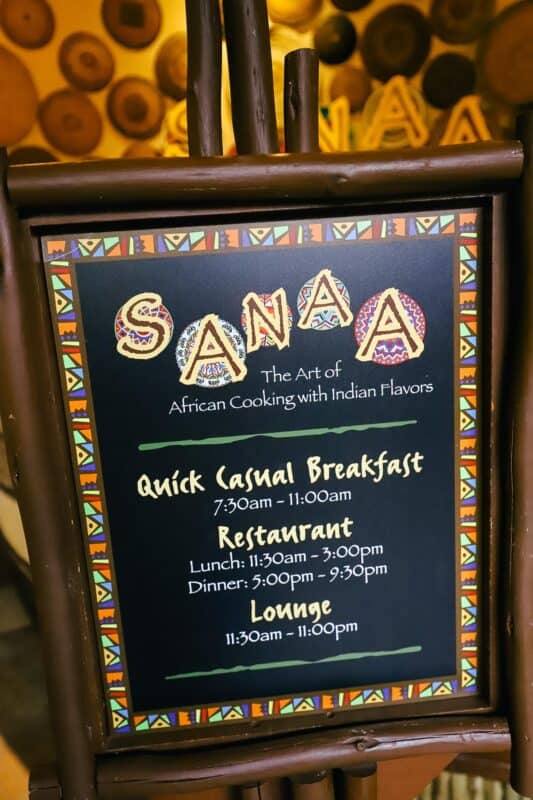 Sanaa Lounge
In addition to the restaurant, Sanaa has a lounge. Availability for the lounge is on a first-come-first-serve basis. The entire restaurant menu is available in the lounge.
Of course, if you don't have a reservation for Sanaa or would like to take an order of the tasty bread service back to your room, you can mobile order and take it to-go.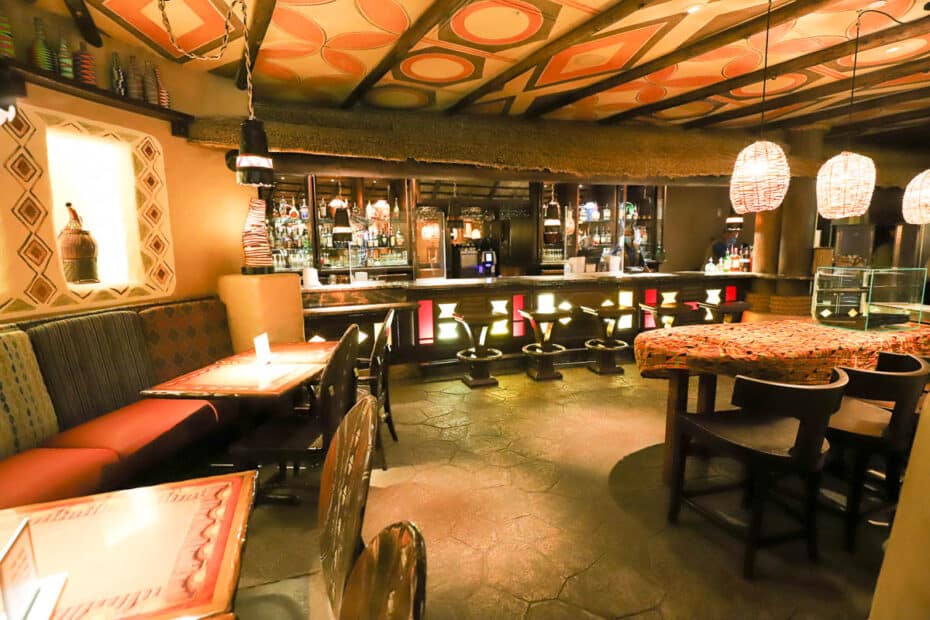 Maji Pool Bar
The Maji Pool Bar is located at the Kidani Village pool area. This pool bar serves as the counter service for the Kidani Village area of the resort.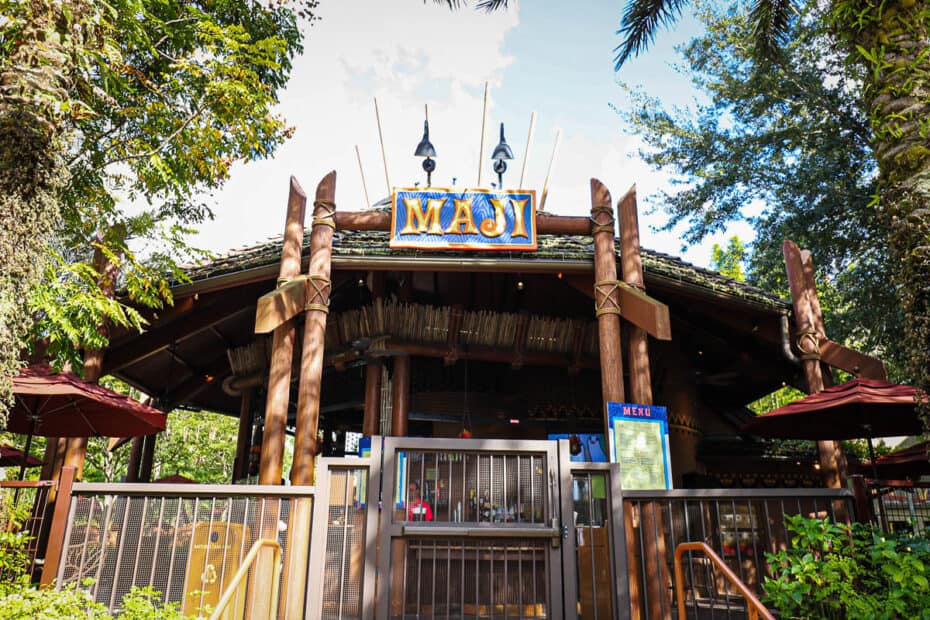 They are open daily between 11:00 a.m. and 9:00 p.m.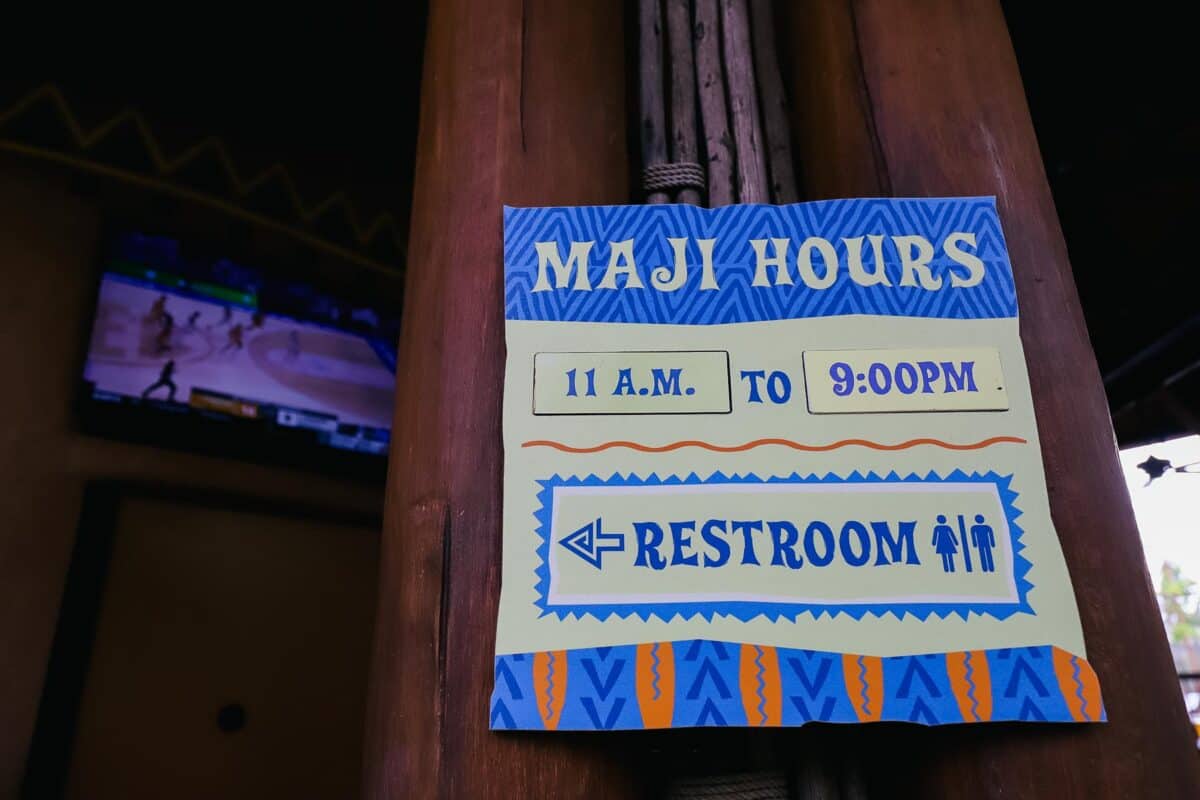 Maji has a reasonable amount of menu items, including:
Short-Rib Grilled Cheese
All-Beef Foot-long Hot Dog with Chili and Cheese
Shrimp Bakuli
Spiced Pork Nachos
Caesar Salad (with Tandoori Chicken or Poached Shrimp)
Multigrain Tabouleh
Kids Meals' include:
Ham Sandwich
PB&J Uncrustable
Most of the menu items are vastly improved from our last update. However, I stopped here for a break while taking these photos for updates and noticed a small issue.
Most of the food I saw looked impressive. But I also noticed several parents ordered kids' meals from The Mara. They then had to leave and bring them back to the pool.
So it would be nice if Disney would add a burger or chicken nuggets to this pool bar menu. Visiting The Mara is inconvenient if you're spending the day at the Samawati Springs Pool.
On another note, if you have children, you'll want to visit the pool at Kidani Village. Both the pools at Jambo House and Kidani Village are excellent. But the Samawati Springs Pool has an amazing water play area for children. It also has a cool twisty slide.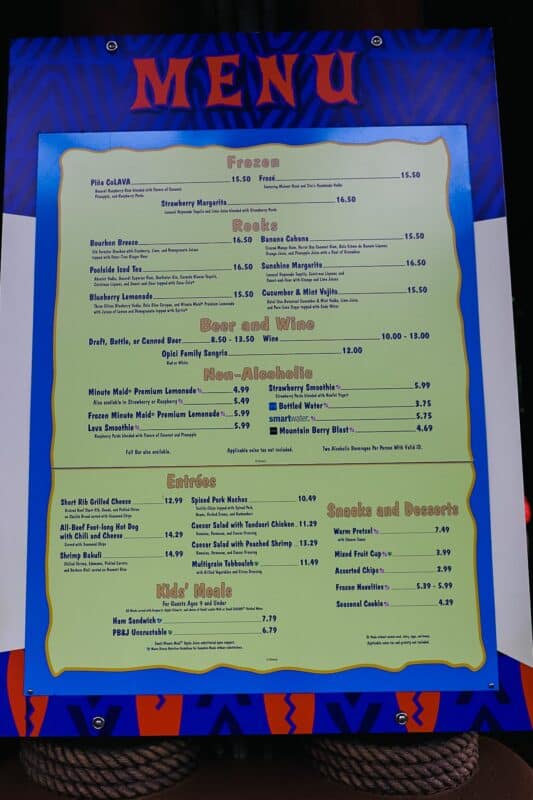 Special Dining Experiences at Animal Kingdom Lodge
The following special dining experiences were previously available at Disney's Animal Kingdom Lodge. However, as of this update, there is no information about them.
Dine with an Animal Specialist
Jiko Wine Tasting
Wanyama Safari and Dinner
The wine tasting at Jiko was usually held in the afternoons and included a series of wine flights. Check availability here.
Final Thoughts on the Restaurants at Animal Kingdom Lodge
While visiting Kidani Village to dine at Sanaa, make sure to tour the resort's savanna viewing areas. They have a beautiful savanna with lots of animals.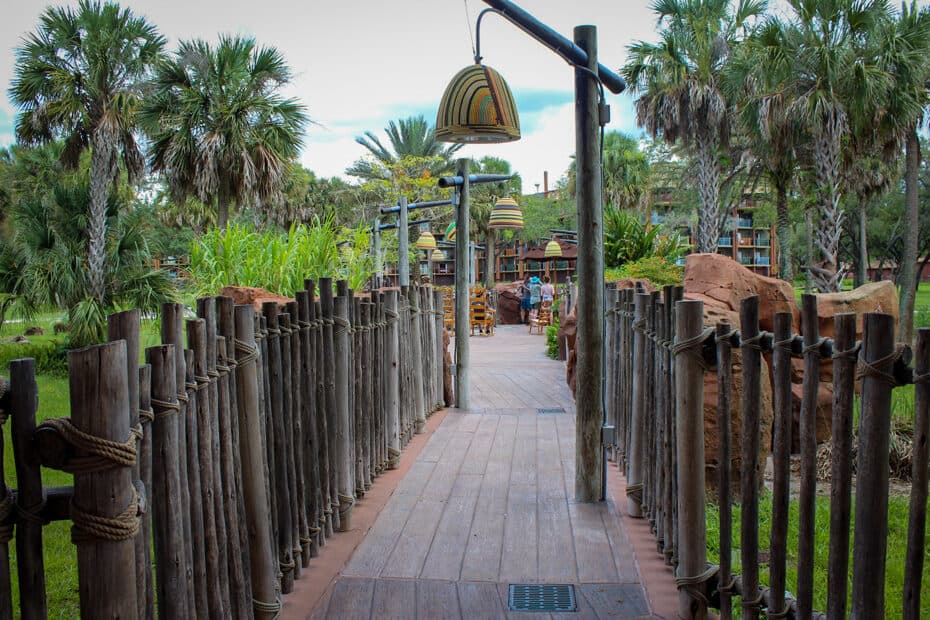 You might even see a giraffe.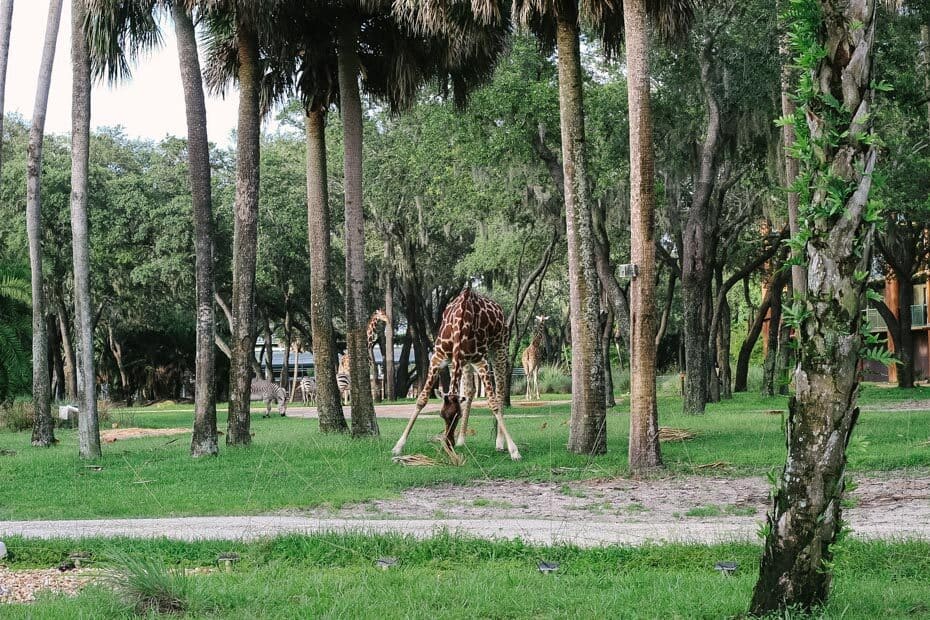 Additionally, there is plenty to explore at Jambo House, including two different savanna viewing areas. You'll find the viewing area in the picture below is back behind the resort's pool.
It's a short walk from The Mara, Jiko, and Boma. Another larger viewing area is located off the back of the main lobby.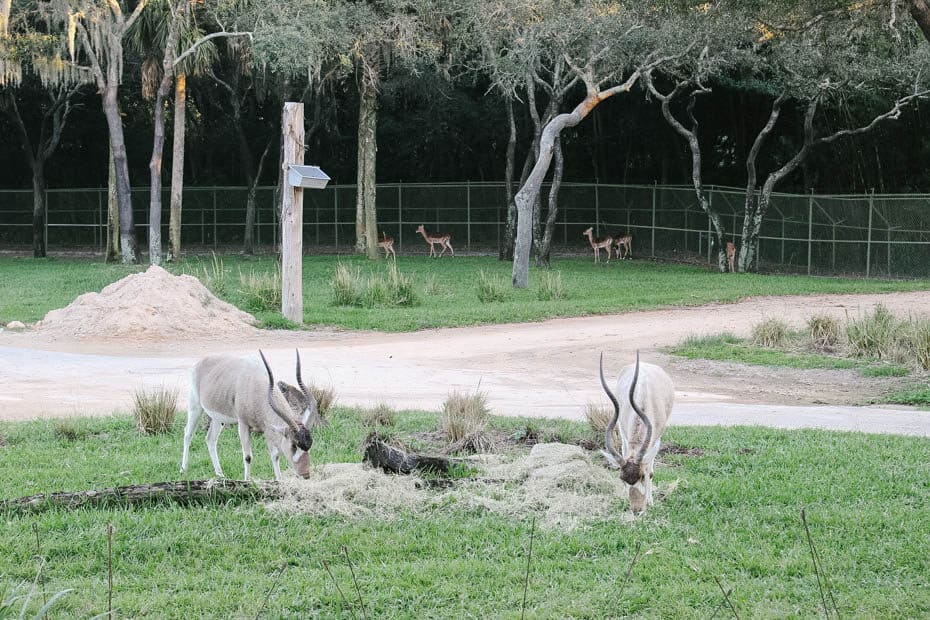 Make sure to spend a little time wandering around the resort. You never know what kind of animal you might encounter! Plus, the grounds of the resort are absolutely breathtaking.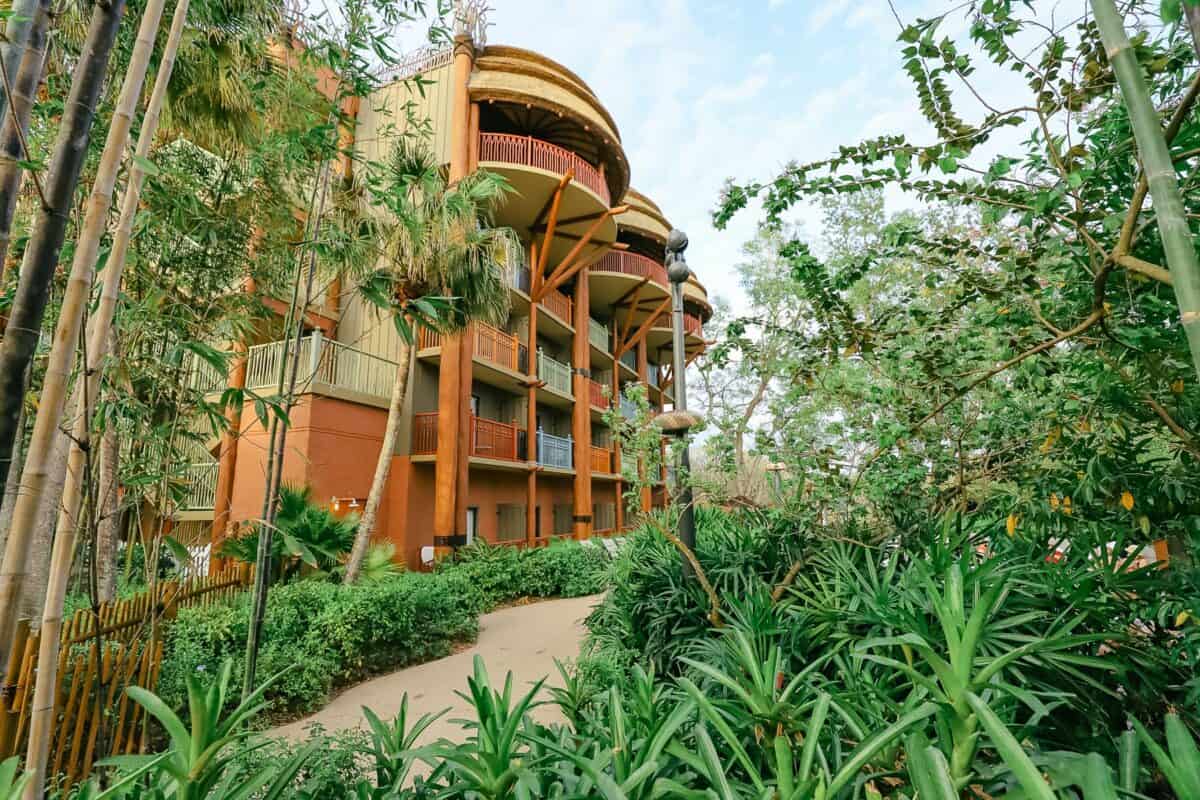 Everywhere you turn, there is beautiful scenery to behold.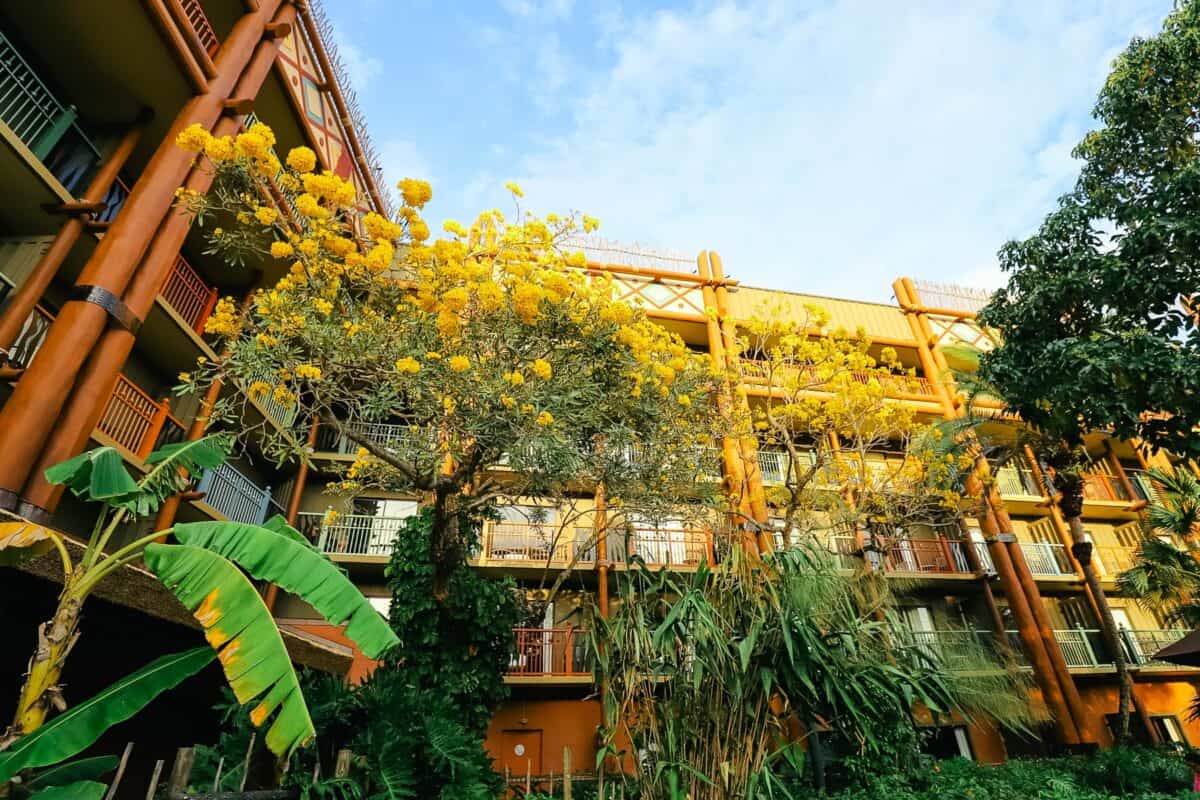 For more information about this resort, we have a guide that lists all of our related articles:
Or you might enjoy the following:
Or you might enjoy these other resort dining guides:
We also have a complete overview of Disney World character dining and a list of the most popular restaurants at Disney Springs.
Or you can browse a list of every single Disney restaurant review we have available on the site. Additionally, you might enjoy browsing our entire list of Disney Resort Reviews.
In the Comments
What are your favorite restaurants at Disney's Animal Kingdom Lodge? Do you have any questions about these dining options?