Johari Treasures Gift Shop at Kidani Village
Nestled inside the lobby of Kidani Village, you'll find a small gift shop called Johari Treasures. This store is located in the resort's Disney Vacation Club and carries a few unique products inspired by its African roots.
In this article, we'll preview the gift shop at Kidani Village. If you have an upcoming stay planned, this should give you an idea of what will be available.
Johari means "jewel" in Swahili, and I think most will agree that this shop is a bit of a hidden gem. In appearance, Johari looks to be tiny in size.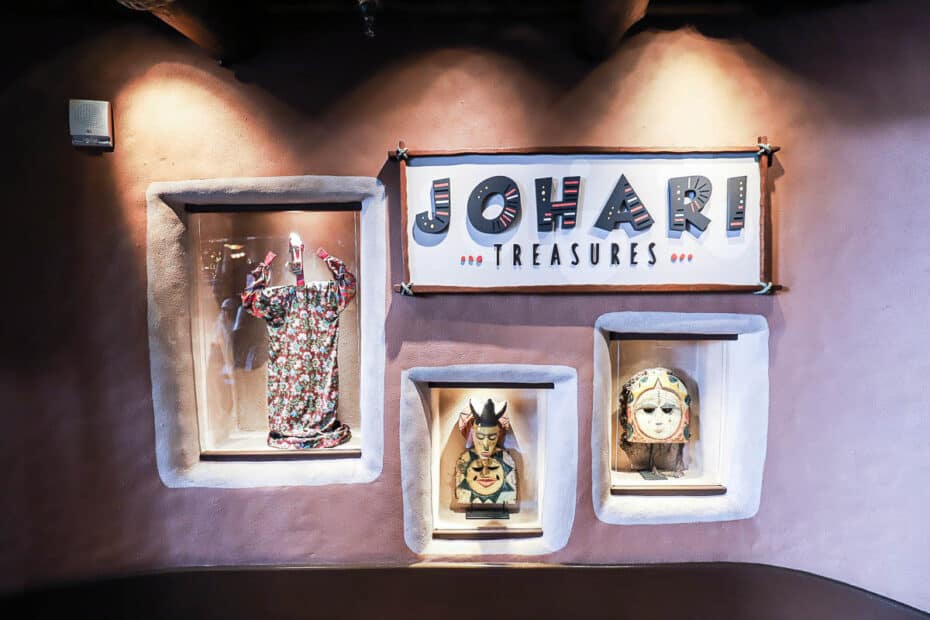 However, I have found that most of these smaller shops have an abundance of merchandise efficiently displayed. You may remember that La Boutique at the Riviera is set up similarly.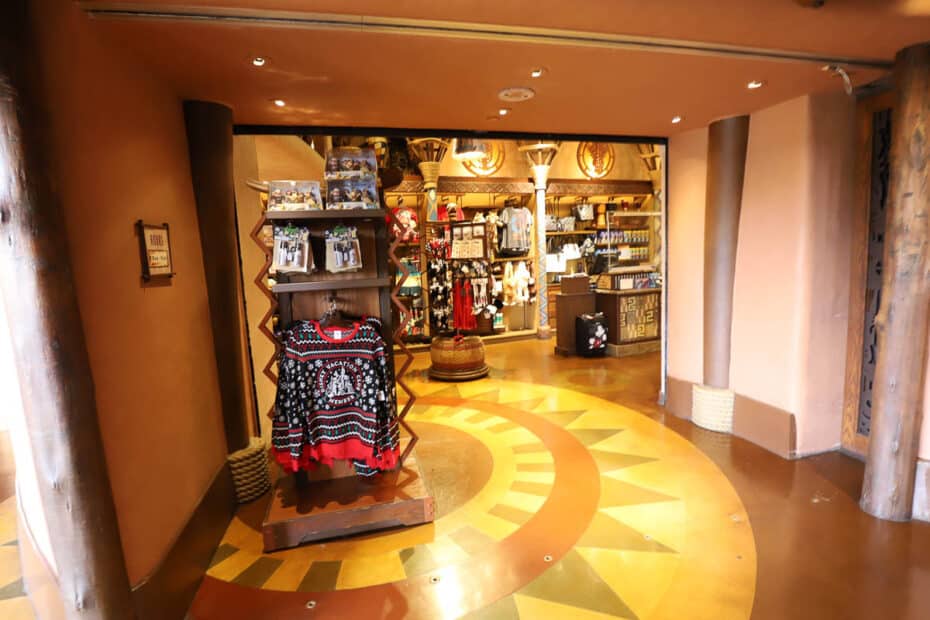 Inside, we can see the gift shop is split into two sides. One half has a variety of Disney merchandise on display. The opposite side has grocery and other convenience items.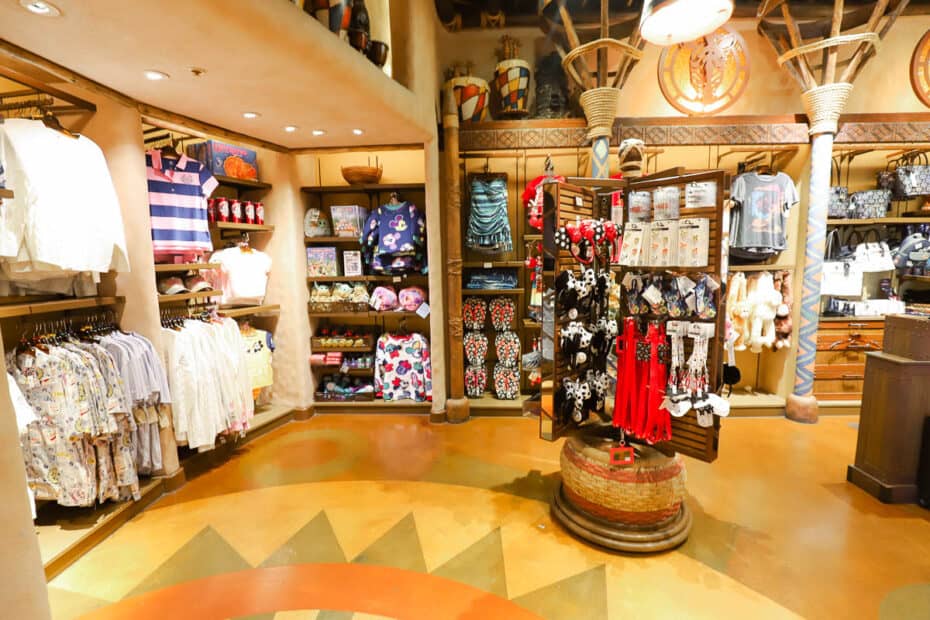 Since Kidani Village is one of the Disney World Villa Resorts, they have a decent selection of DVC (Disney Vacation Club) branded items.
Related: Kidani Village Resort Review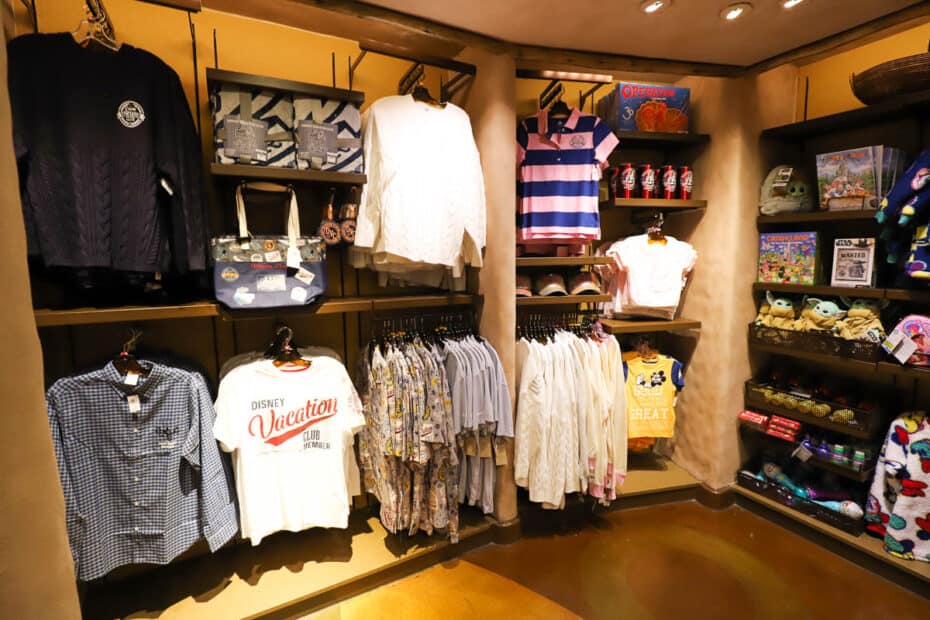 This white t-shirt has a charming, vintage appeal.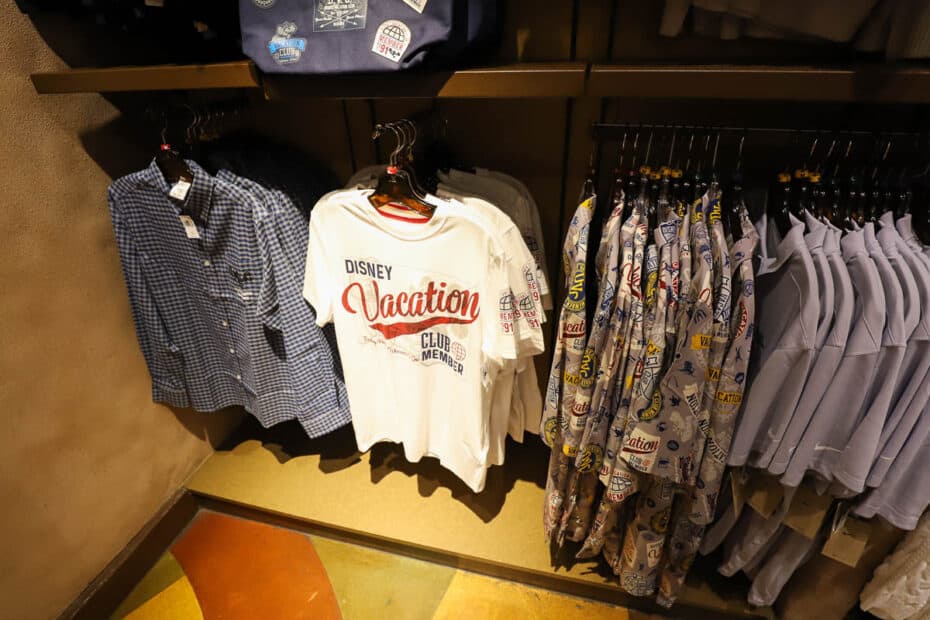 And I love these cable-knit sweaters.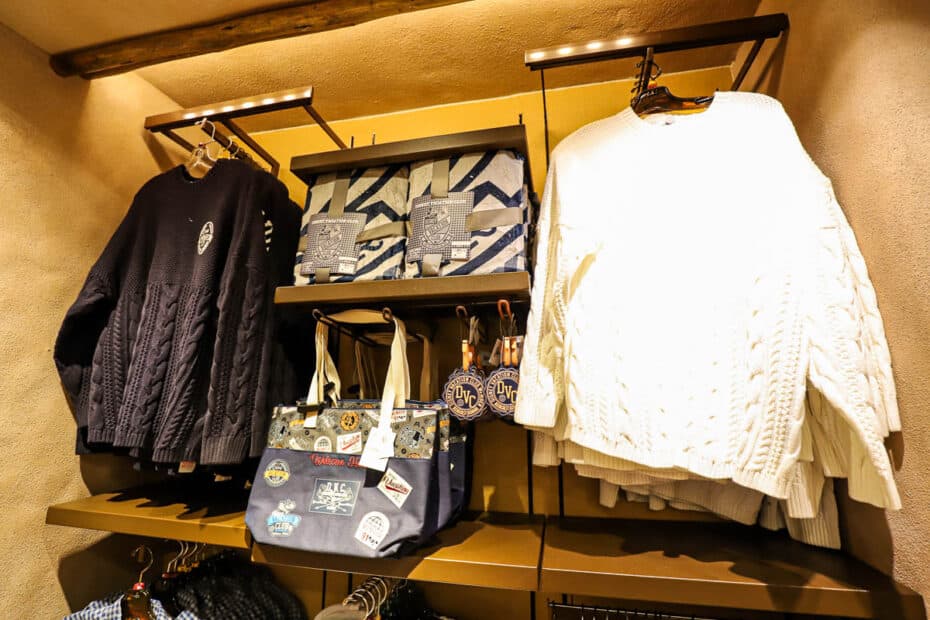 Additionally, there were a few other items in the mix.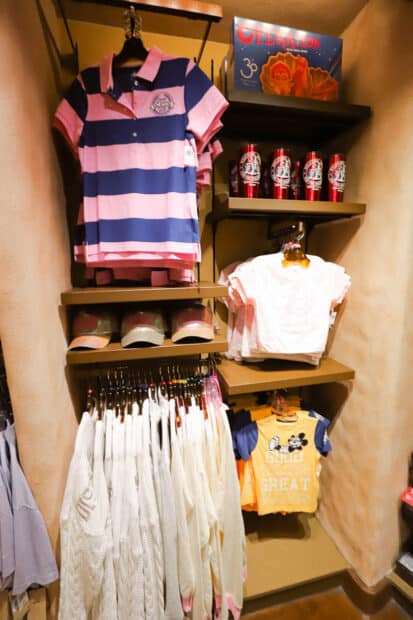 Here we see several plush pieces, t-shirts, and Disney's H20 product line.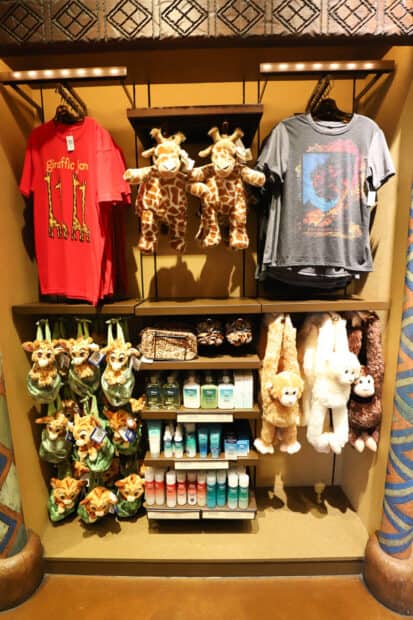 And there were the usual magic bands, key chains, and trinkets. These types of items are usually color-coded. The color matches a specific price category.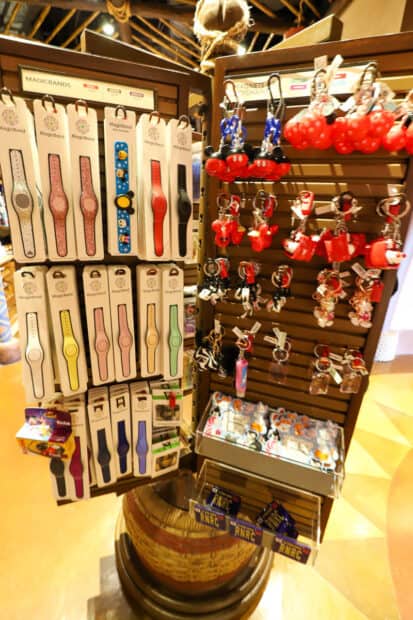 A few items were branded to match the Animal Kingdom theme of the resort. However, there wasn't any resort-branded merchandise on display. You might have better luck at the Zawadi Market gift shop up at the Lodge.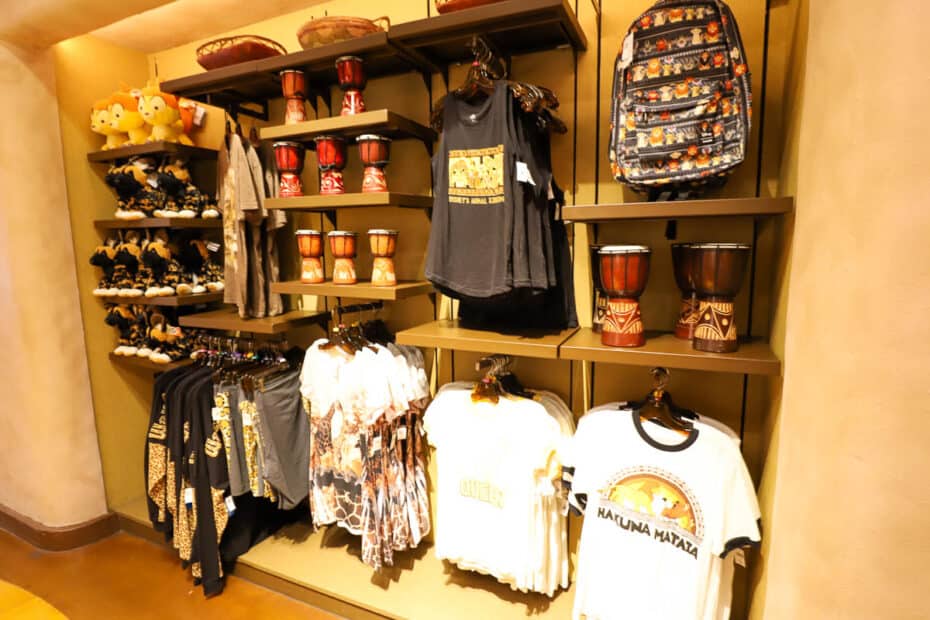 At Johari's entrance, there were a few wood carvings on display.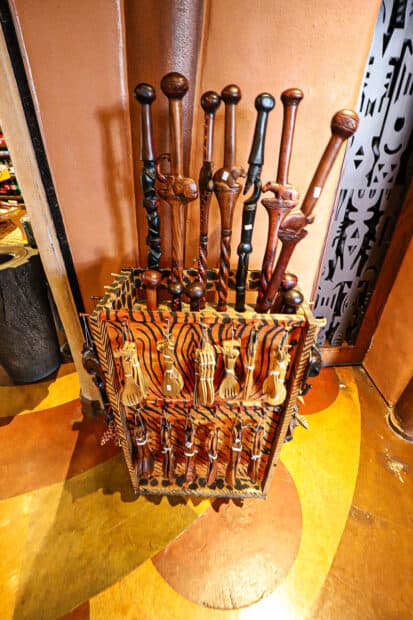 Behind the register, there is a case containing a variety of liquors, wine, and champagne.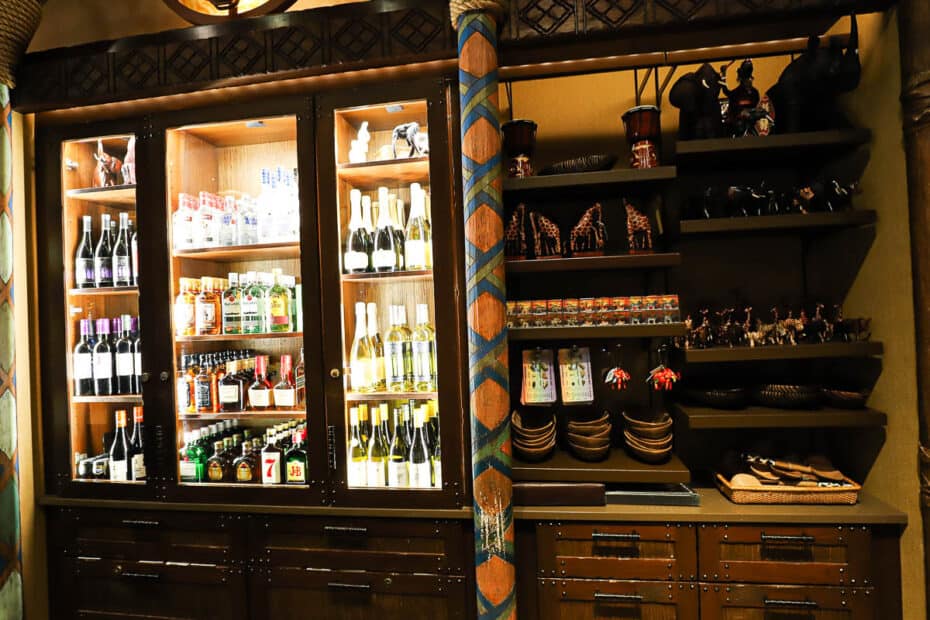 This is also where you'll find any higher-end handbags like Disney Dooney and Bourkes. Additionally, there were a few Disney Loungefly backpacks in the mix.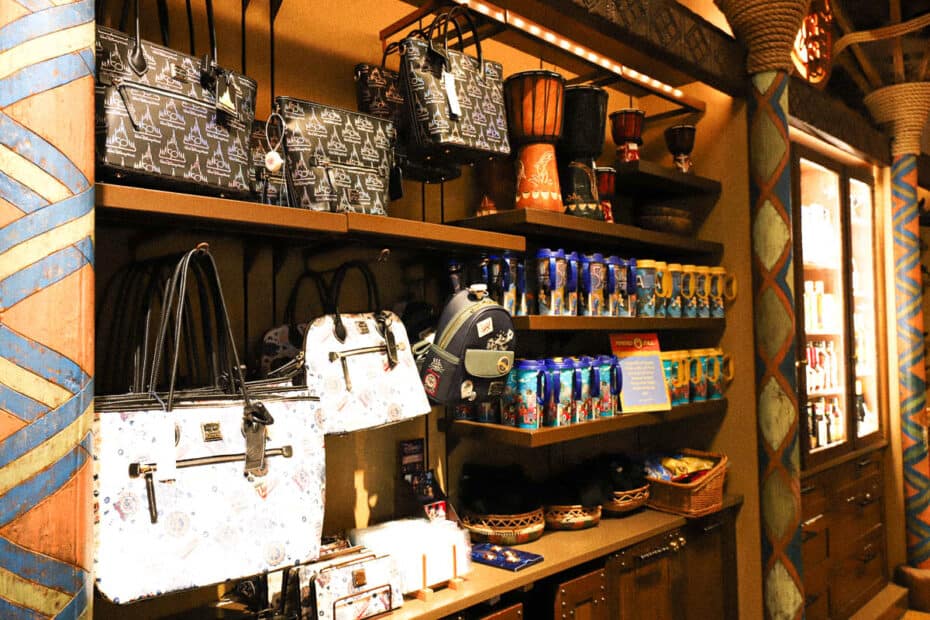 You might notice a few shelves containing rapid-refill mugs. Unfortunately, Kidani Village doesn't have a dedicated quick-service restaurant beside the pool bar.
So if you would like a rapid refill mug to use during your stay, you'll pick one up at the gift shop. Rapid Refill mugs are usually around $21.99 and are good for the length of your stay.
You buy the mug, a cast member activates it, and then you can refill it at the resort for the rest of your stay. These mugs will only work at the resort.
Since there isn't a quick service at the resort (other than the pool bar), there's a beverage station inside the gift shop.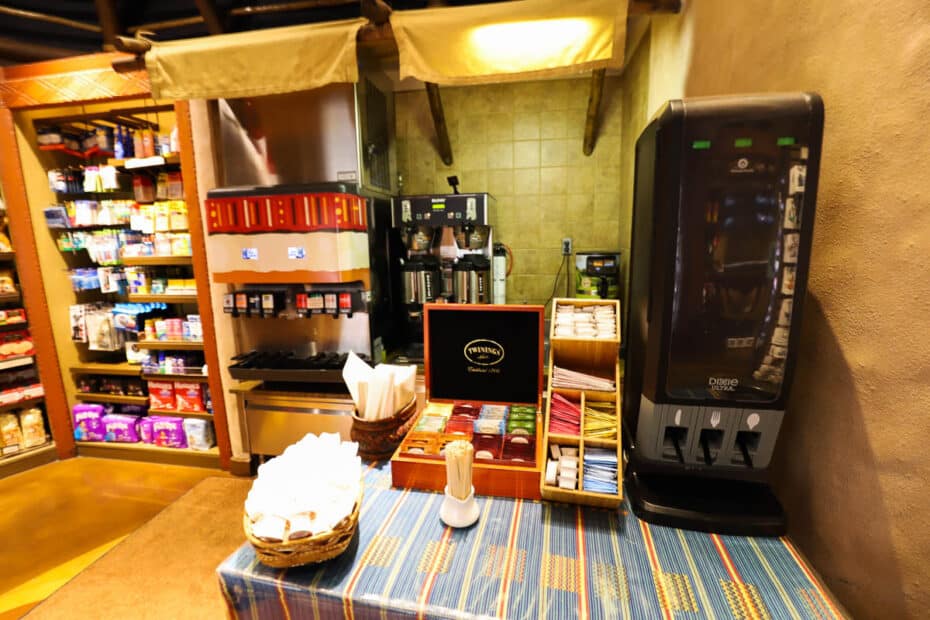 Here are a few other things you'll find at Johari Treasures. Items include sunscreen, over-the-counter medicines, toothbrushes, diapers, cooling towels, and other personal items.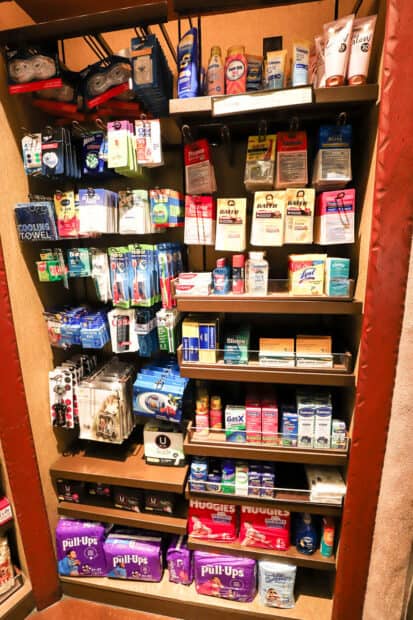 Disney-branded packaged treats are available. For example, those shortbread cookies in the red and black packages are yummy. I had no idea they were so good until a friend sent some for Christmas.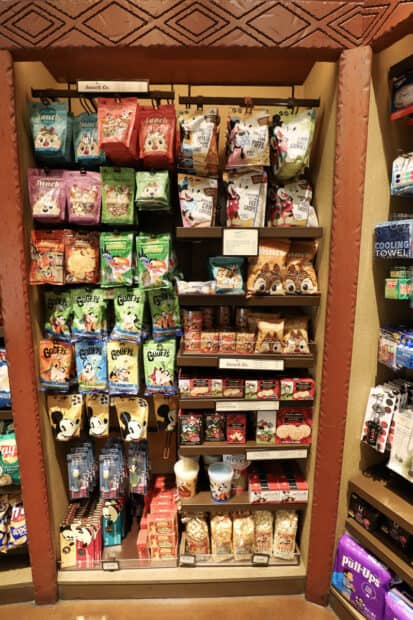 Here is a look at the grocery section of the gift shop. All of the villas are equipped with anything from a microwave to a full-size kitchen.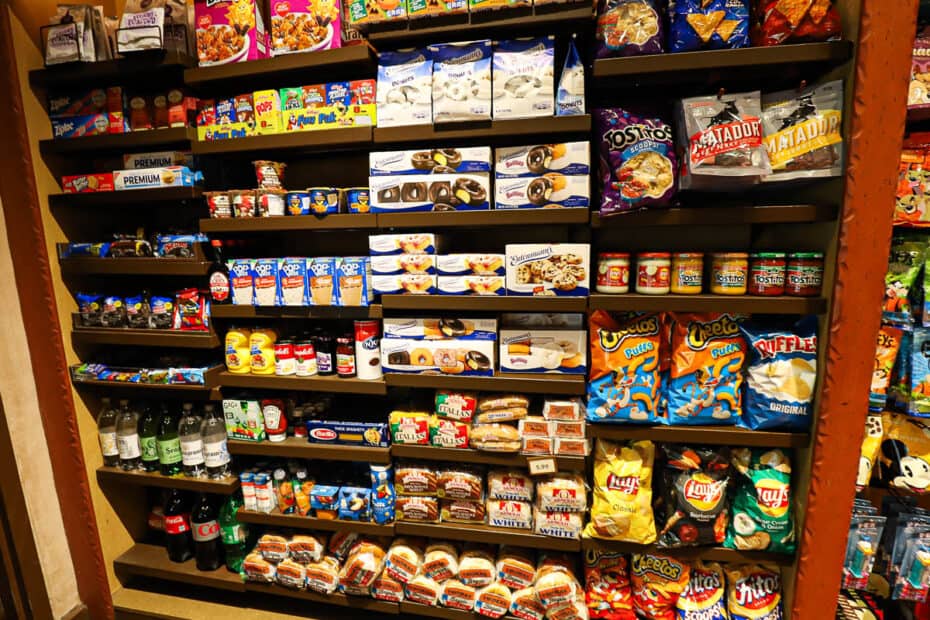 Of course, that depends on how large a villa you choose. The three-bedroom grand villa at Kidani Village is something to behold.
Here are the items available in the freezer case.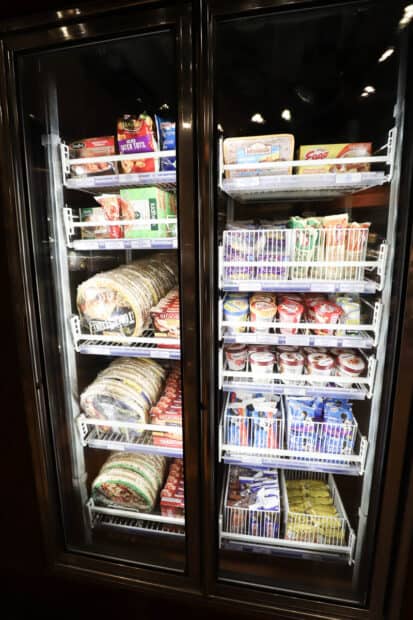 Beverages include soda, juice, sports drinks, beer, and wine.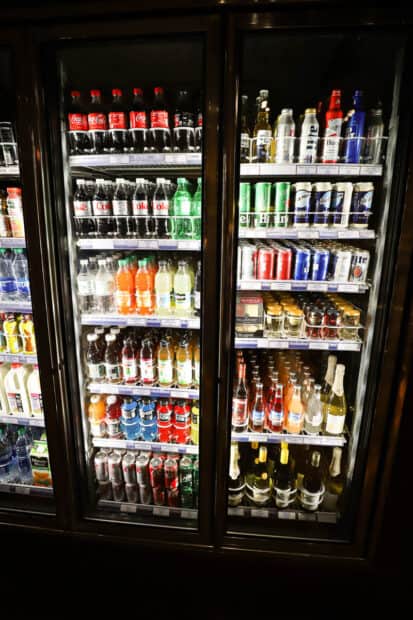 Other items include milk, cheese slices, yogurt, sandwich meat, and a few other pre-packaged items.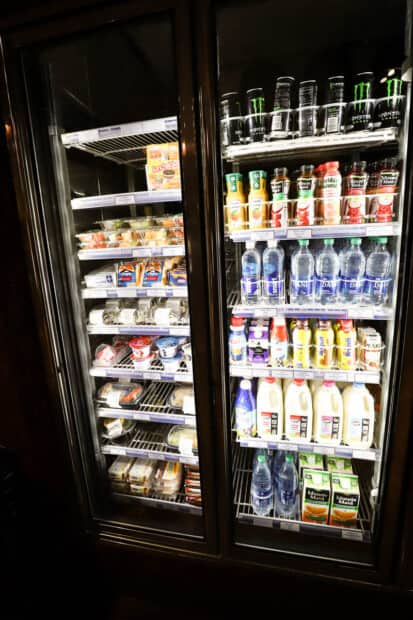 Johari Treasures' hours of operation are between 7:30 a.m. and 10:00 p.m.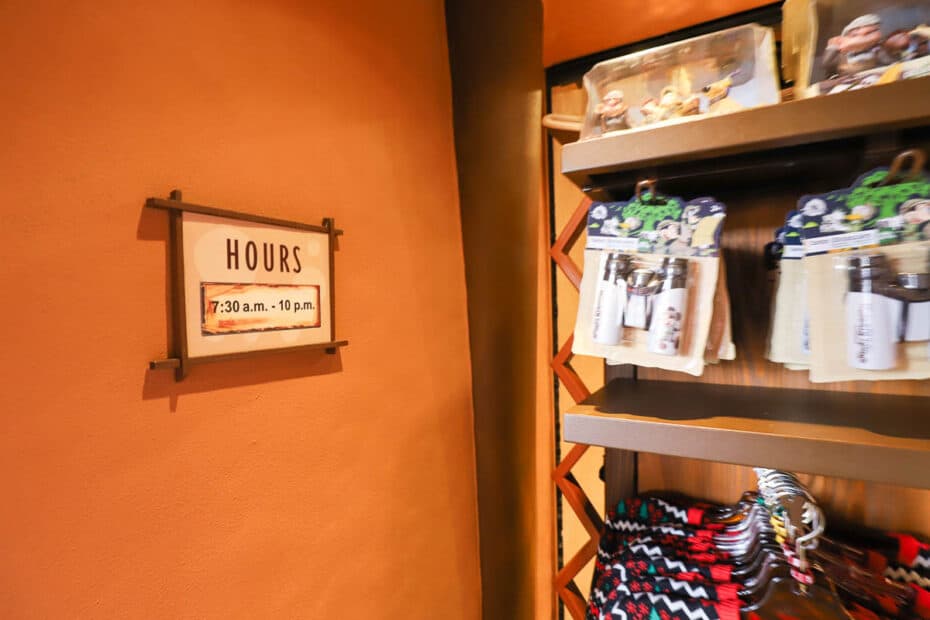 Unfortunately, I took a few photos that didn't turn out well enough to share. However, I wanted to mention that swimsuits and similar pool items are available.
Therefore, if you forget a swimsuit, you can pick one up at the gift shop. If you missed it, we recently covered the pool at Kidani Village. The pool has a huge recreation area for children with plenty of loungers for parents.
Related: Samawati Springs Pool at Kidani Village
For more information about Kidani Village, all of our articles are available in our complete resort guide:
Or you might enjoy these specific articles:
Or you can preview our entire list of Disney World Resort Reviews.
Hopefully, this article provided you with a good idea of the types of items available at Kidani Village's gift shop. Do you enjoy the resort gift shops at Disney World? Share your thoughts below in the comments.