Kidani Village Review (Disney's Animal Kingdom Villas)
Kidani Village is a dedicated Disney Vacation Club Resort located at Disney's Animal Kingdom Lodge. If you're looking for a unique place to stay that includes many of the conveniences of home, you'll love what this resort has to offer.
In this Kidani Village review, we'll look at the resort in full detail. I'll discuss the different room types, recreation, dining, and amenities offered. In addition, I'll provide a few tips for parking and discuss the bus transportation at the resort.
Kidani Village is considered a deluxe villa resort, while its counterpart Jambo House, the main lodge, is a deluxe resort. Since Kidani is a villa resort, the rooms will offer a few amenities that you won't find in a standard resort room.
Related: Disney World Villa Resorts
While Jambo House does have a wing of DVC rooms at the resort, most rooms at the resort are standard hotel rooms. Unlike Jambo House, every room at Kidani Village will have upgraded amenities.
Let's take a closer look at the benefits of staying at Kidani Village.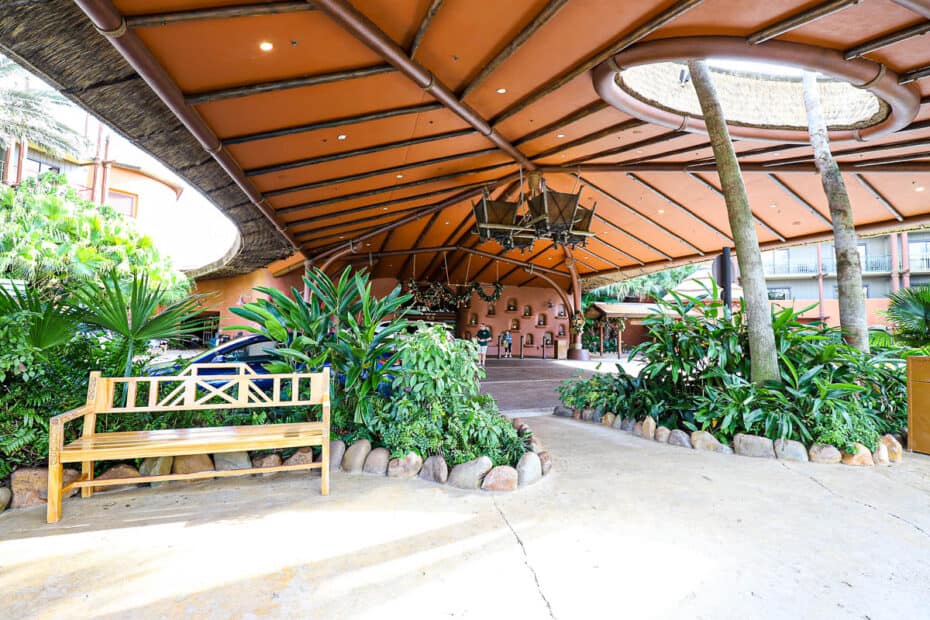 Kidani Village Review
Upon arrival at Kidani Village, you are greeted by a wall of lanterns outside the lobby entrance.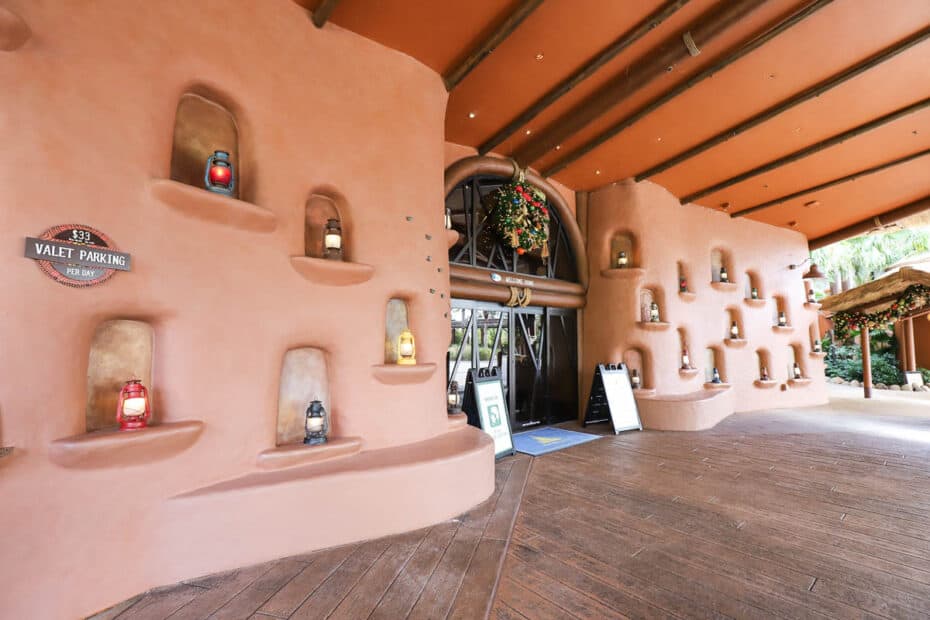 Inspired by remote African Villages, these lanterns represent a light in the darkness as they welcome you home. The lanterns are only the beginning of the exquisite culture you'll find yourself immersed in shortly after.
Kidani Village has a horseshoe-curved design inspired by a traditional African Kraal. The resort's design was implemented to enhance the views of the savanna from both private and public viewing areas.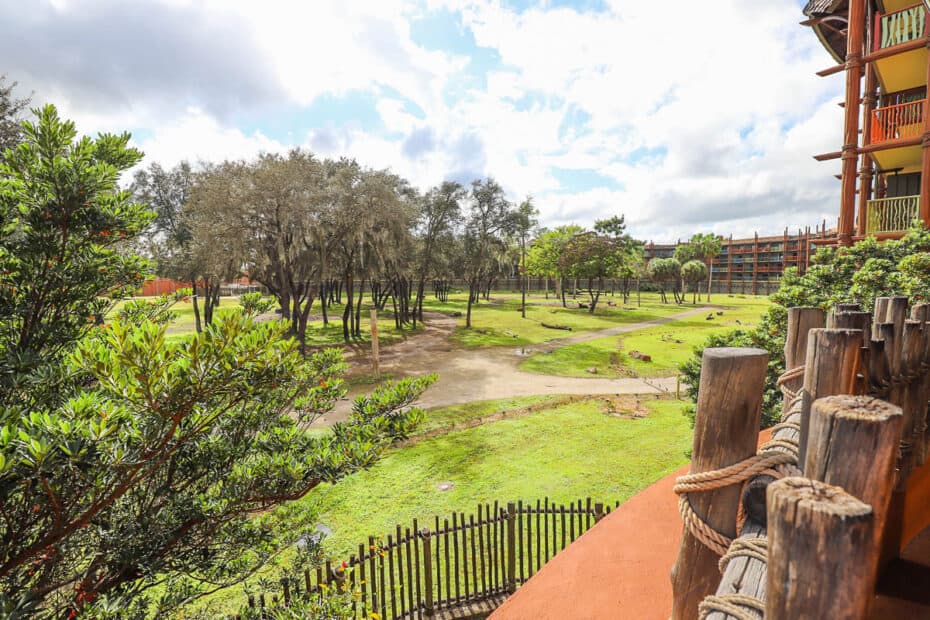 The resort's lobby features a large two-story window that looks out to the main public savanna viewing area at Kidani Village.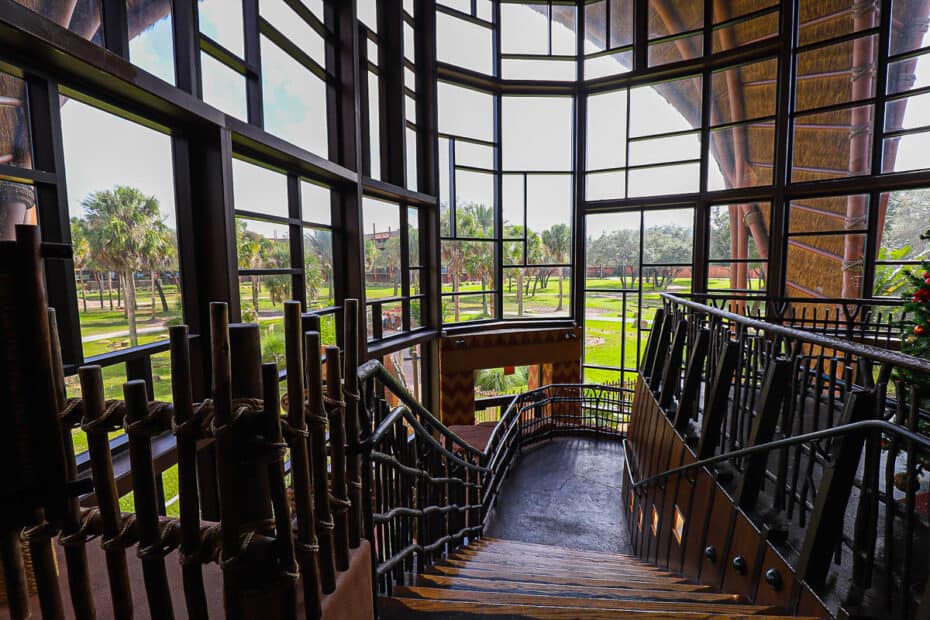 The lobby itself is a work of art. However, it's boutique in comparison to the massive lobby next door at Jambo House.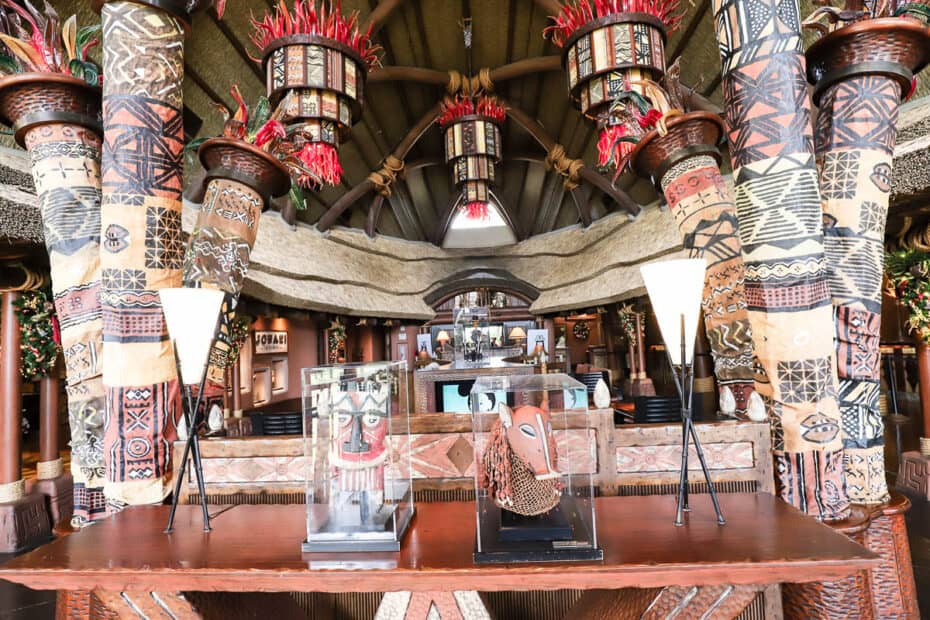 Off the lobby, you'll find Johari Treasures, the gift shop for Kidani Village.
Related: Johari Treasures Gift Shop at Kidani Village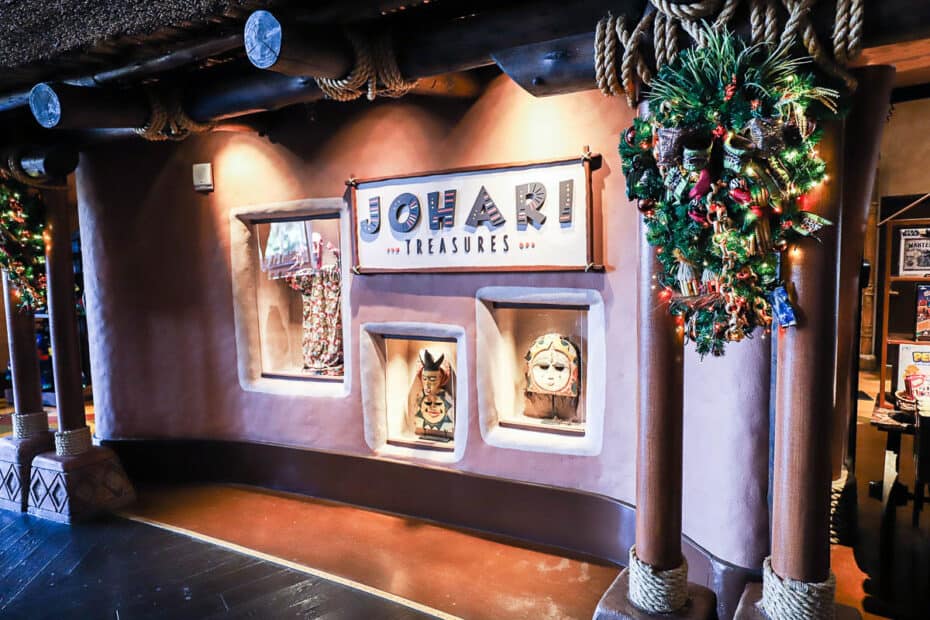 Kidani's lobby offers a small seating area and a customer service counter.
In addition, the resort is home to an extensive collection of art. As we discussed in our review of the main lodge, both resorts combined have over 300 pieces of authentic African art.
This is the largest collection of African art outside of Africa. So if you enjoy this kind of thing, make sure to take the time to tour both resorts during your stay.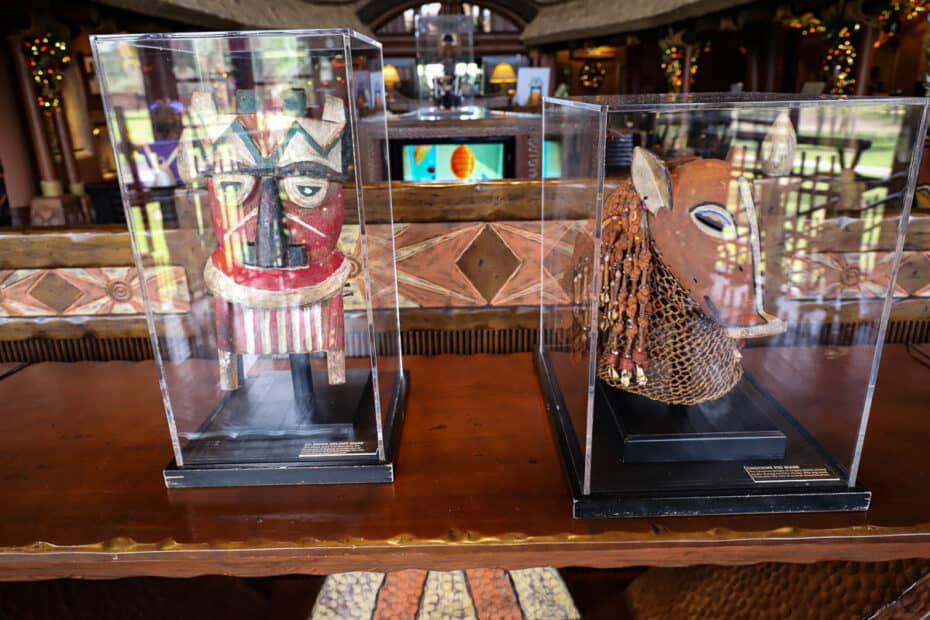 You'll find that the resort's lobby, halls, nooks, and crannies all have interesting pieces. I always wonder how many notice these magnificent items.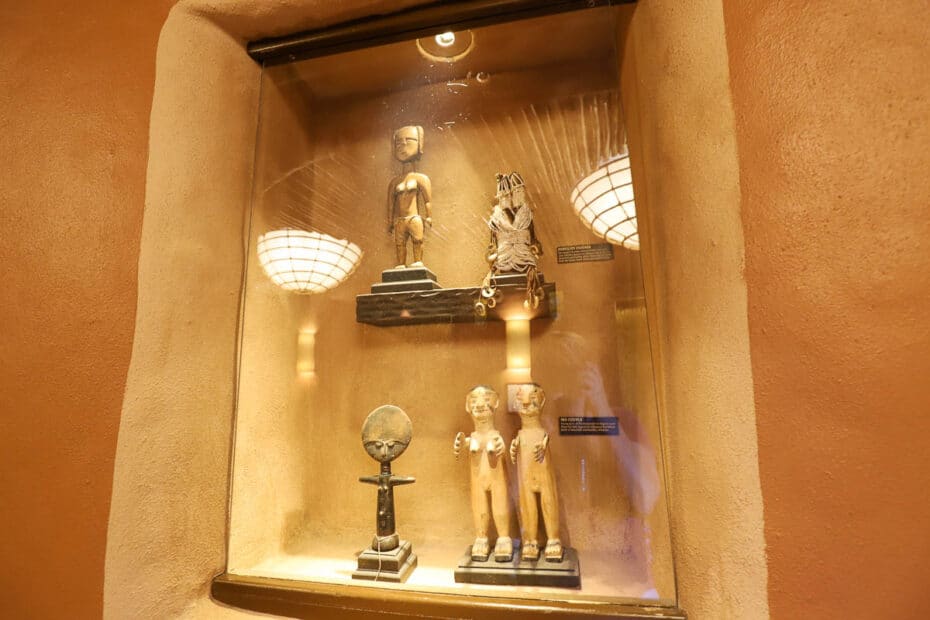 In addition to the artwork, different African proverbs are stenciled on the walls throughout the resort. I love the wisdom they impart.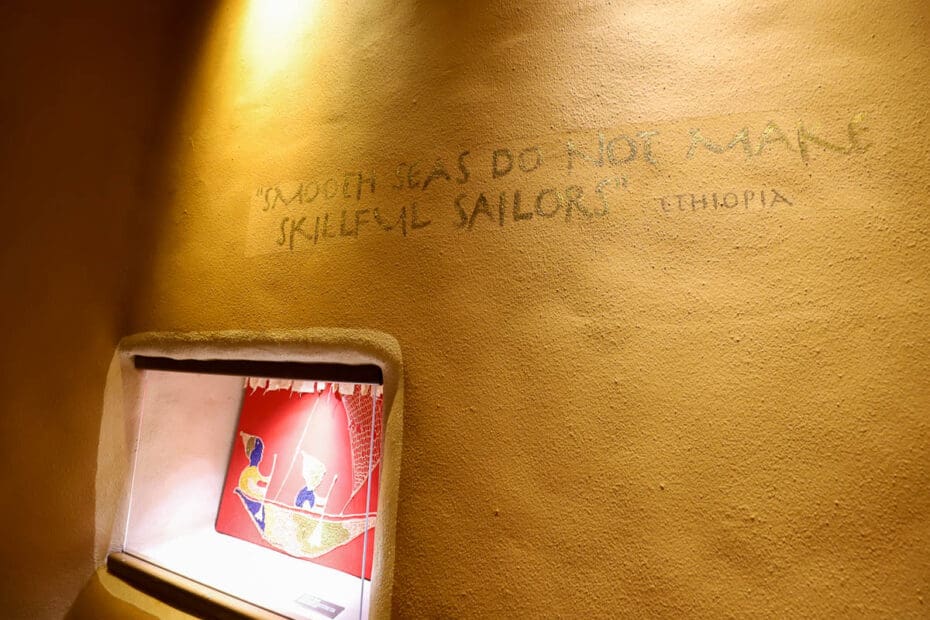 For instance, the one above says, "Smooth seas do not make skillful sailors." Isn't that the truth?
Savannas at Kidani Village
Before we look at the different rooms, I wanted to share a few photos of the savannas at Kidani Village.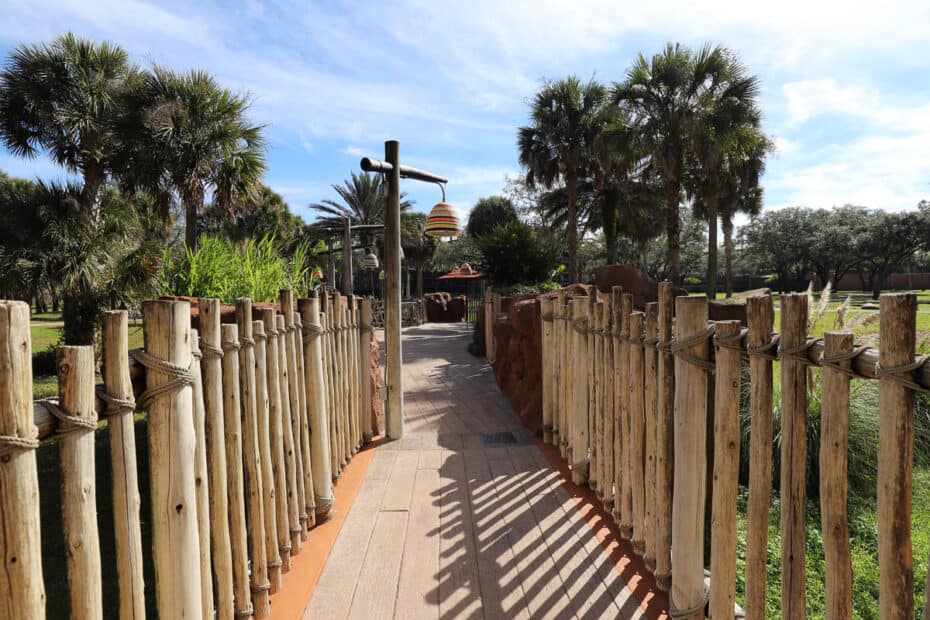 The resort has one large area off the lower level where guests can walk out to view the animals.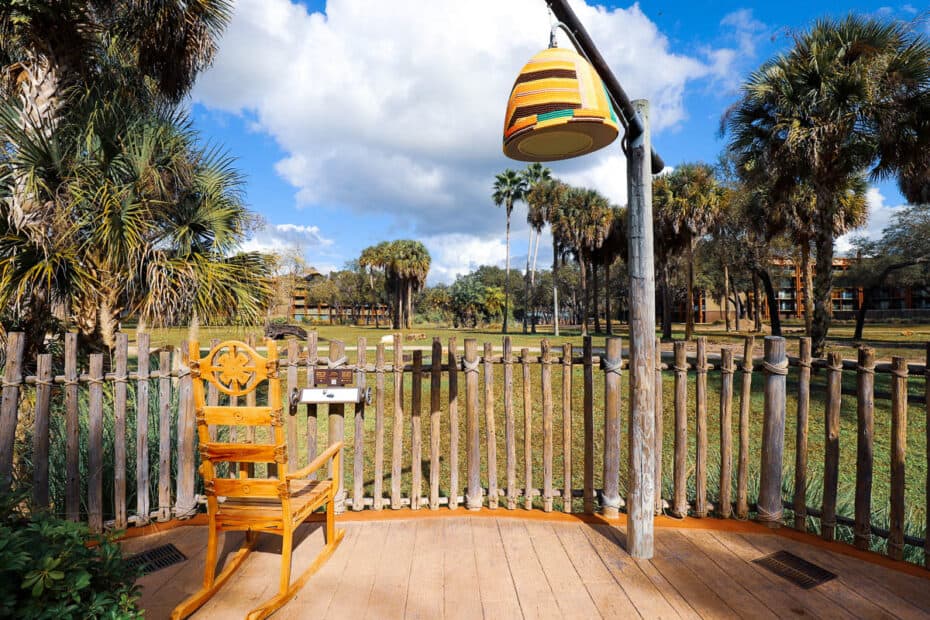 In the photo below, you can see a giraffe resting underneath a tree.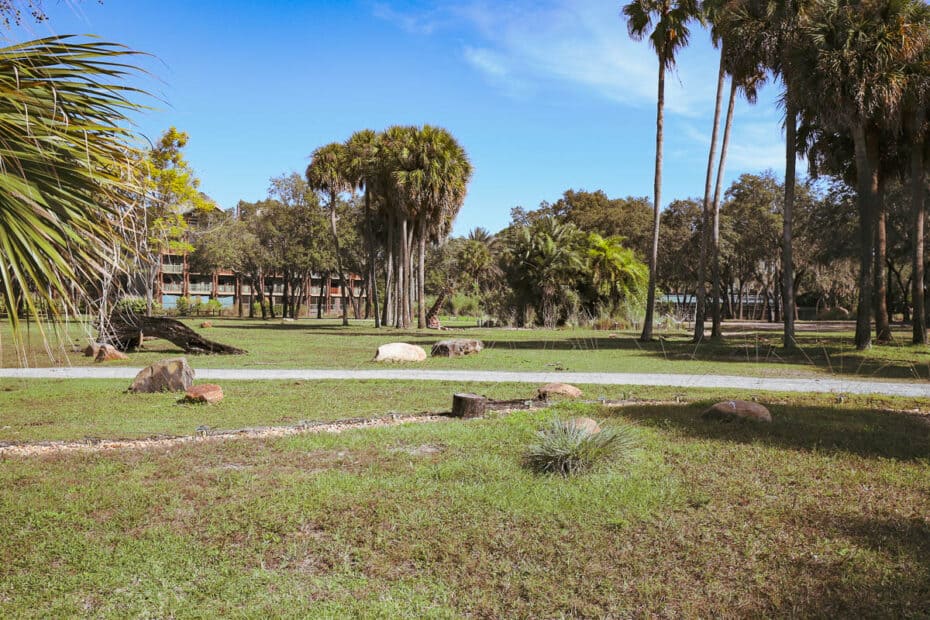 And here are a few giraffes a little closer to the building. I took this photo from a covered deck that sits off the second-floor lobby.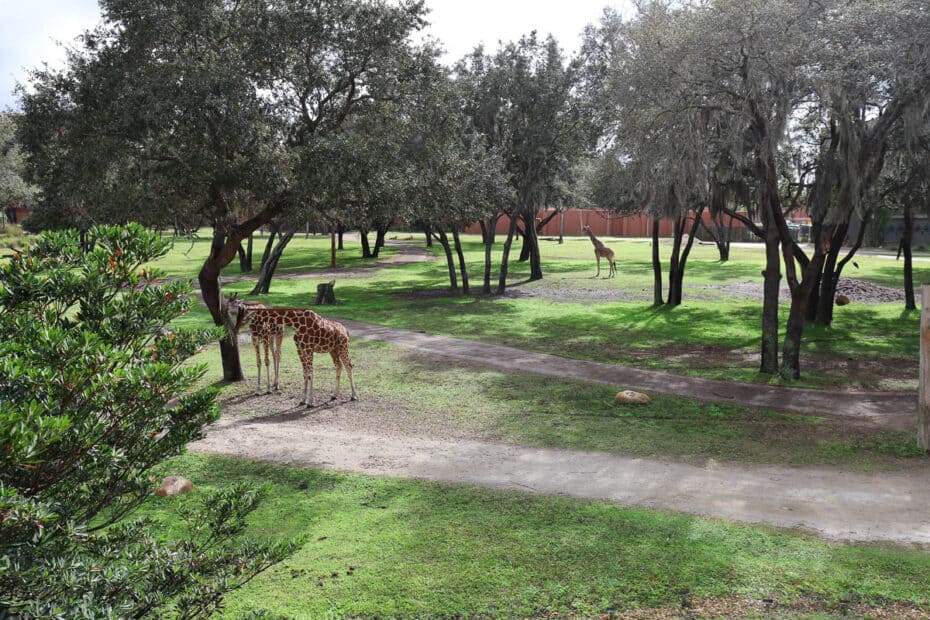 You can never really tell what animals will be out on the savanna.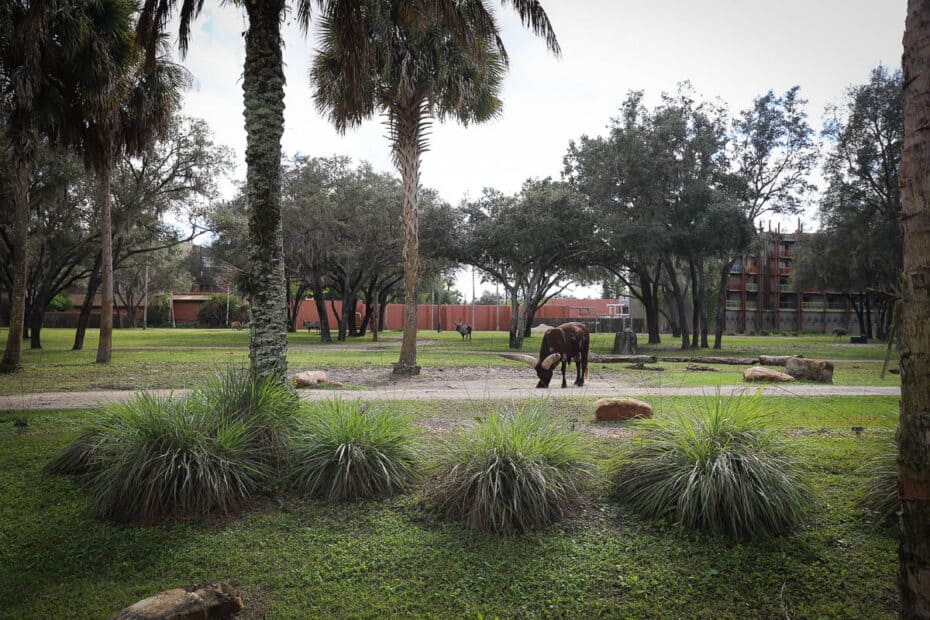 Here we have a beautiful Grey Crowned Crane.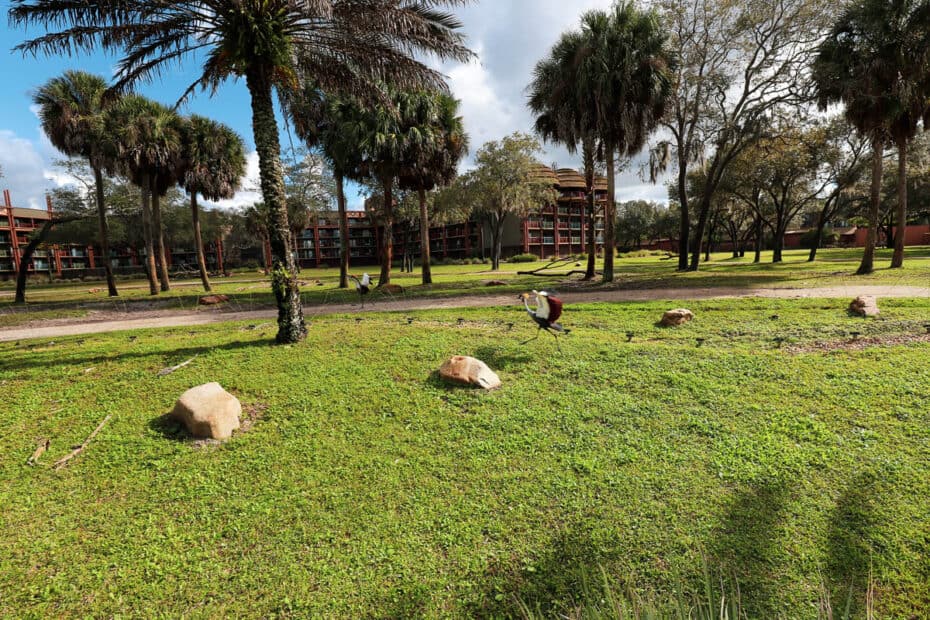 This viewing area has several places to sit. Additionally, a fire pit is often lit in the evening.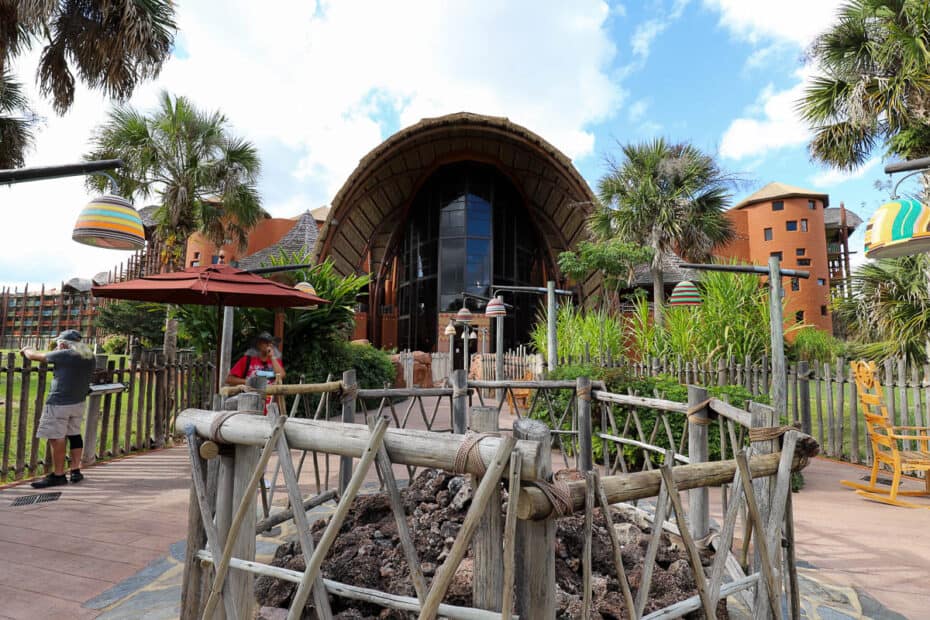 Kidani Village has a second savanna viewing area near the resort's pool. Anyone visiting the resort can walk out to the site and see any animals that might be out.
There's usually an attendant available who will point out hard-to-see animals. If anyone in your group has questions, the guides will be happy to answer them.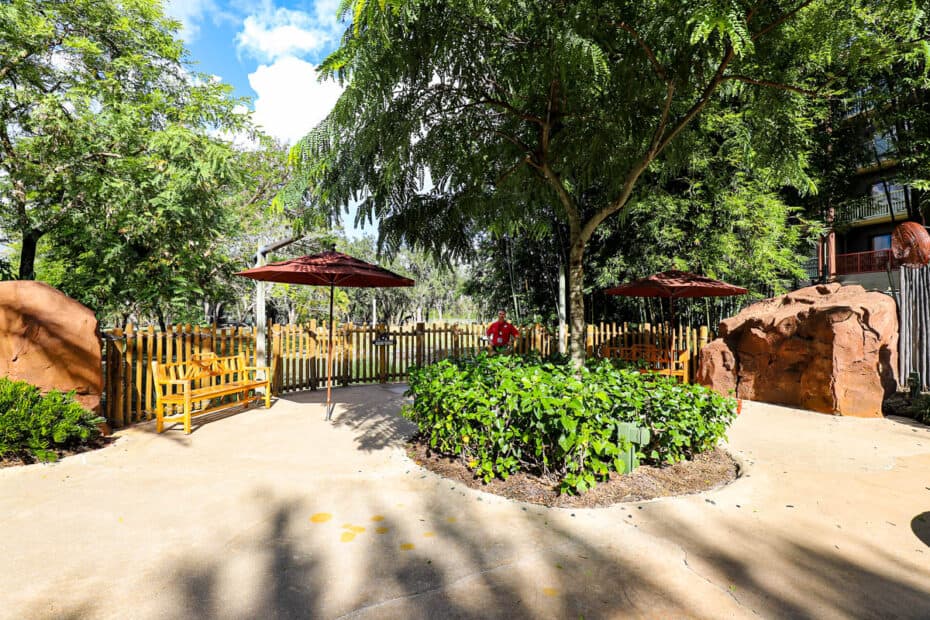 On my last visit, there was a Ruppell's Griffon Vulture. You can kind of see him lying on the rock.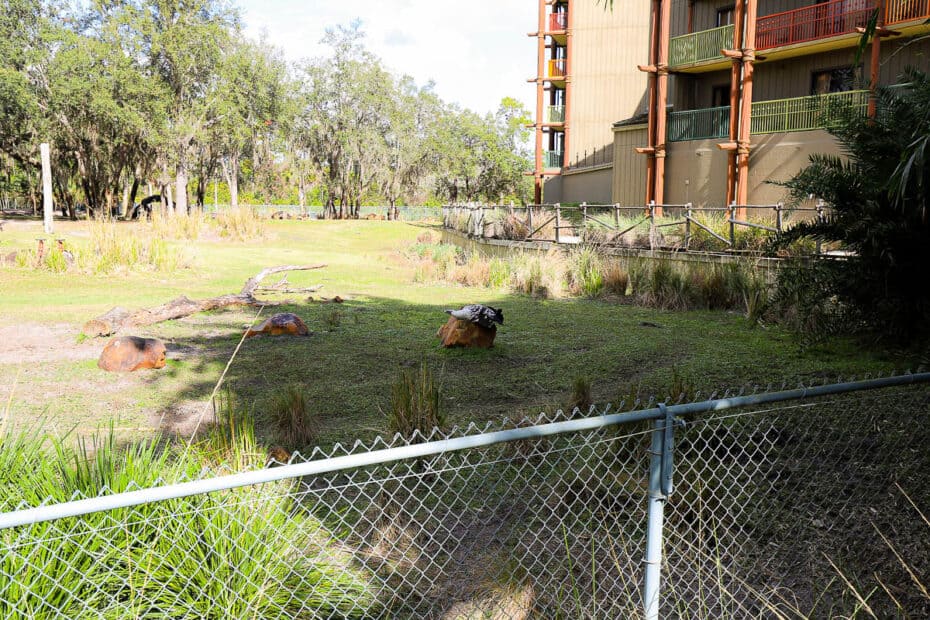 Unfortunately, it's hard to tell how large he is from the picture. Fun fact, not only are these vultures one of the largest birds in the world, they are the highest flying bird.
Sadly, the Ruppell's Griffon Vulture is listed on the endangered species list. And had I not visited Kidani Village this day, I would never have known any of this to share with you.
Between the art and animals alone, you could easily spend an entire day touring Kidani Village. Let's look at the rooms next to see what accommodations you'll find.
Rooms
As mentioned above, Kidani Village is the Animal Kingdom Villas Resort. The rooms at Kidani are different than what you would find at the average resort.
Since this is a Disney Vacation Club Resort, members can reserve these rooms on a point-based system. Those members will have first-come, first-serve when the reservation system opens up.
However, since Kidani Village has an extremely large number of rooms, there's nearly always availability. Like the other DVC properties, Disney rents these rooms to regular paying guests at different price points.
The following room types are available at Kidani Village:
Deluxe Studio (Sleeps 4 guests)
One Bedroom Villa (Sleeps 5 guests)
Two Bedroom Villa (Sleeps 9 guests)
Two Bedroom Lock-Off Villa (Sleeps 9 guests)
Three Bedroom Grand Villa (Sleeps 12 guests)
Deluxe studios are somewhat comparable to a standard hotel room. We'll take a look at one of the Animal Kingdom Lodge's deluxe studios for reference.
Related: Deluxe Studio Jambo House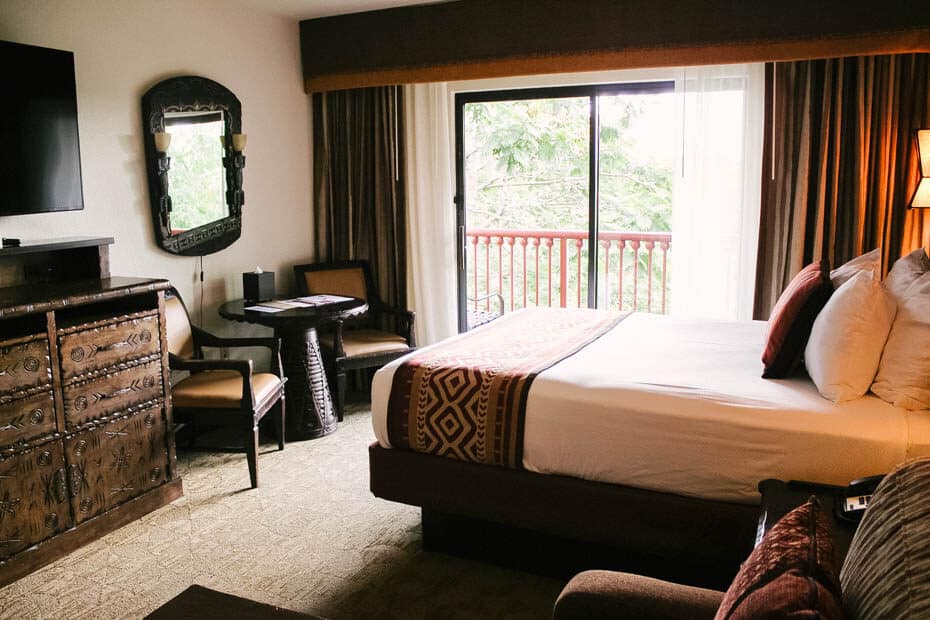 Deluxe studios come with a queen-size bed and a queen-size sofa sleeper.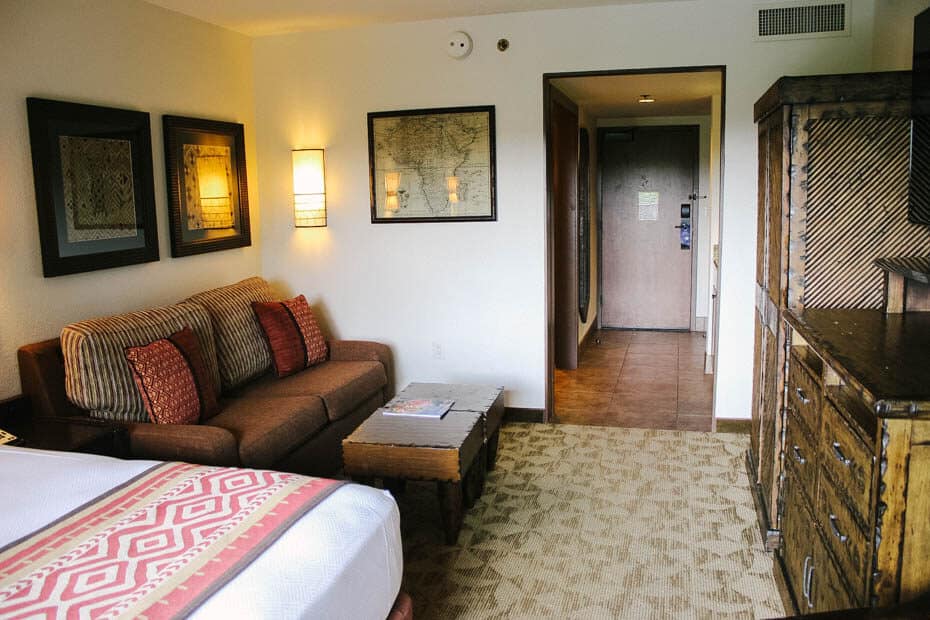 Here is a look at the kitchenette area. You won't find these amenities in a standard hotel room at Disney World.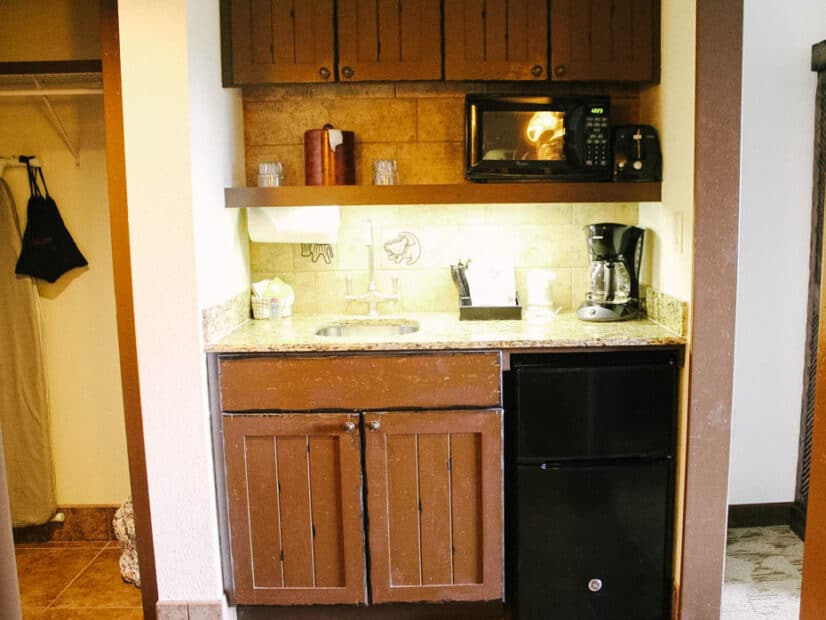 This area comes with a mini-refrigerator, full-size coffee maker, toaster oven, microwave, sink, and several other items.
As far as the guest bath, there's a separate vanity and a tub with a shower combination. Unfortunately, the deluxe studio bath at Kidani Village is comparable to a standard hotel room.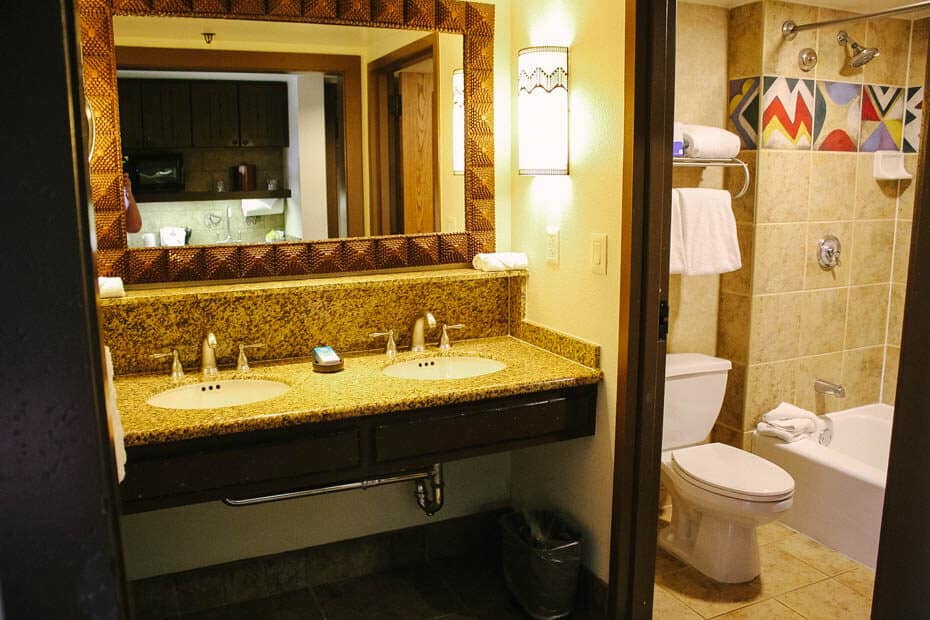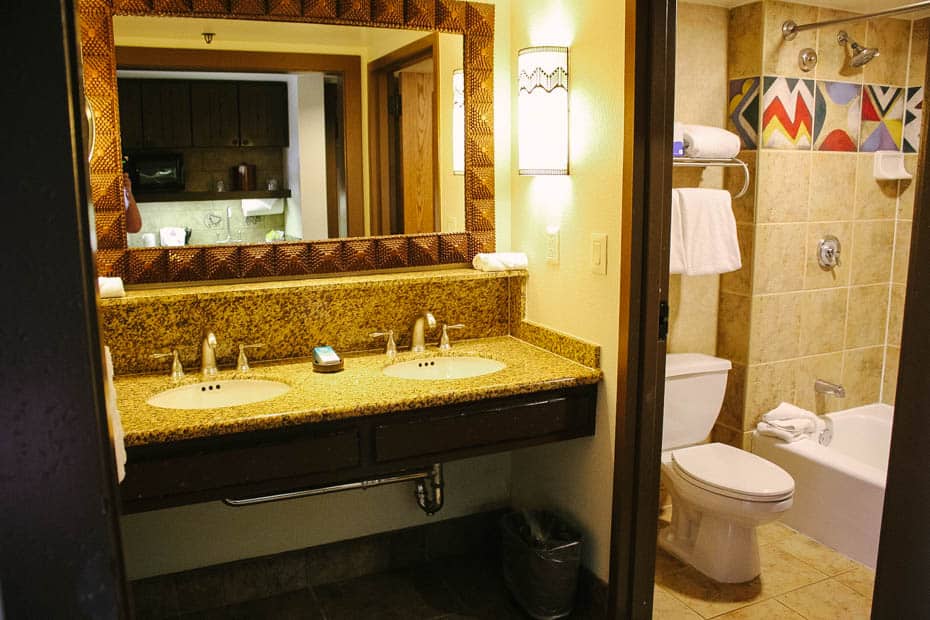 You may remember that some of the newer deluxe studios have larger split baths that allow multiple people to use the facilities simultaneously. We preview those units in the following articles:
Additionally, we recently toured the three-bedroom grand villa at Kidani Village. This suite is unique because it's a two-story that accommodates up to twelve guests.
Related: Three-Bedroom Grand Villa at Kidani Village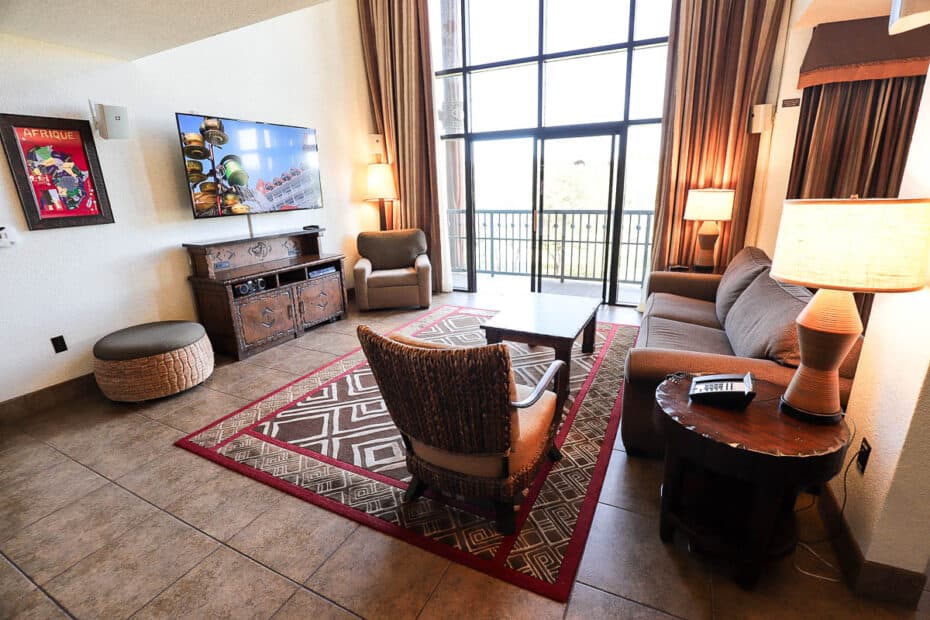 Over the years, I have found that the deluxe studio at Kidani Village is typically the most reasonably priced room for the deluxe resorts category. So you might check the rates here in comparison to the prices of other resorts.
Often, you can stay here for the same price as you might a moderate resort like Gran Destino Tower at Coronado Springs Resort. While I love Coronado Springs, I'd have a hard time turning down a deluxe studio at Kidani Village for the same price.
Related: Gran Destino Tower Review
Overall, I don't have many complaints about the rooms at Kidani Village. My only drawback about staying here would be if someone had to use the sofa sleeper.
You may remember that I recently spent about four nights on a similar sleeper sofa at the deluxe studio at Disney's Beach Club. It was terribly uncomfortable, and I came home exhausted.
Therefore, if someone in my group had to sleep on the sofa sleeper, I would probably consider a standard room at Jambo House over the deluxe studio at Kidani.
We preview a standard room with a king-size bed in our full resort review, if you'd like to compare.
Related: Animal Kingdom Lodge Review (Jambo House)
Dining
Dining at Kidani Village has its pros and cons like anywhere else. On one hand, you have access to all of the restaurants between the two resorts within a reasonable walk of each other.
On the other hand, you do have to walk all the way next door to access the resort's main counter service dining location. So you can't just walk down to the lobby at Kidani Village to pick up a burger.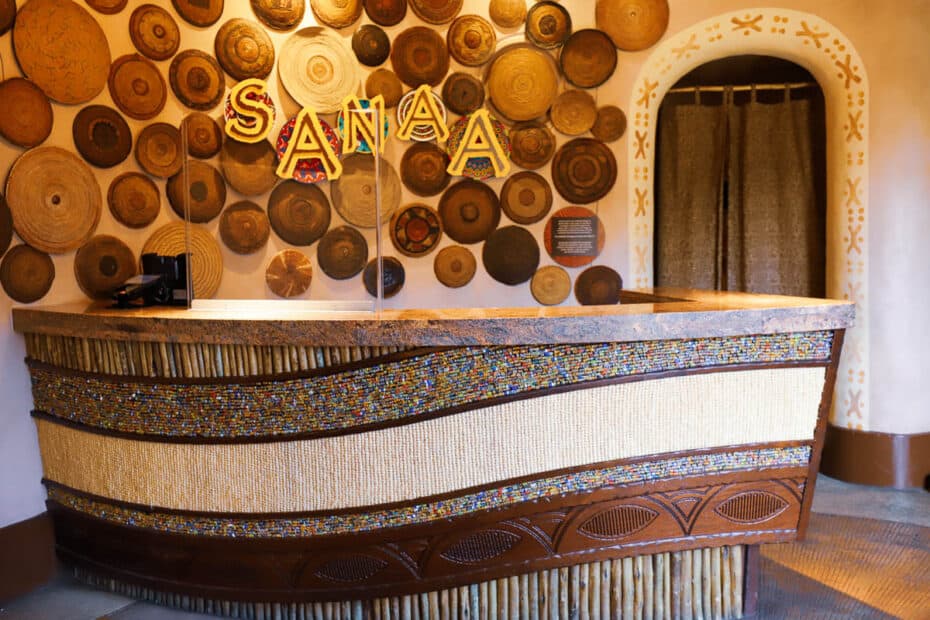 However, Kidani Village is home to one of the most popular restaurants at the Disney World Resorts. Sanaa is located on the lower level underneath the main lobby.
Related: Best Table Service Restaurants at Disney World
Do you want to plan a meal at Sanaa? Yes. It is delicious.
Sanaa has several popular menu items like bread service and entrees cooked in a Tandoori oven. Bread service comes with several selections of Naan and an array of accompaniments.
Related: Sanaa Review with Bread Service
Here is an example of what to expect.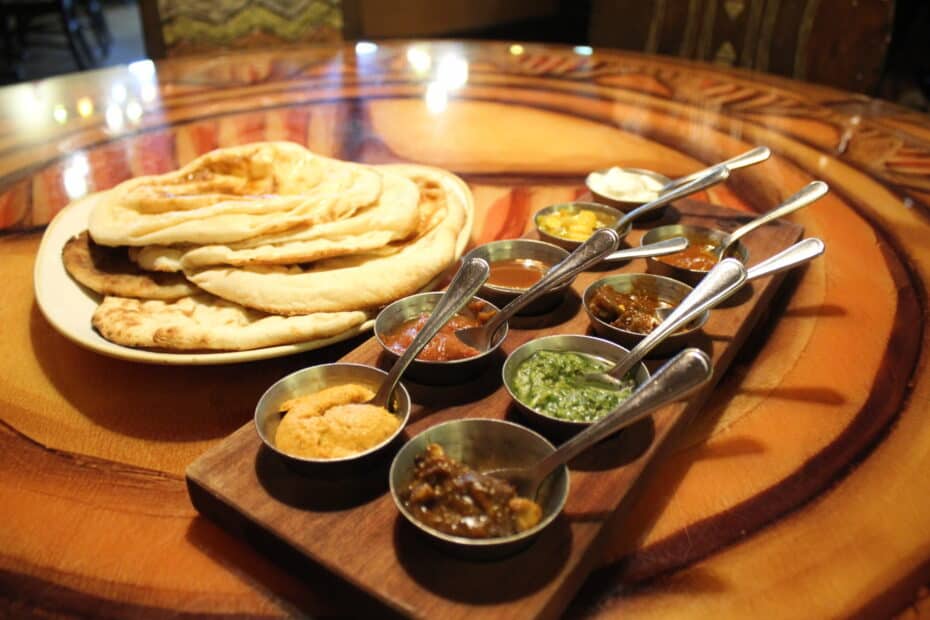 Sanaa serves breakfast, lunch, and dinner daily. For breakfast, this location is considered fast, casual dining.
Hours of operation for lunch are between 11:30 a.m. and 3:00 p.m. And then they are open between 5:00 p.m. and 9:30 p.m. for dinner.
One of the great things about dining here, besides the food, is that some of the tables look out onto the savanna viewing area. So you might consider planning a lunch or early dinner here to see the animals.
Here are a few that we saw on our last visit.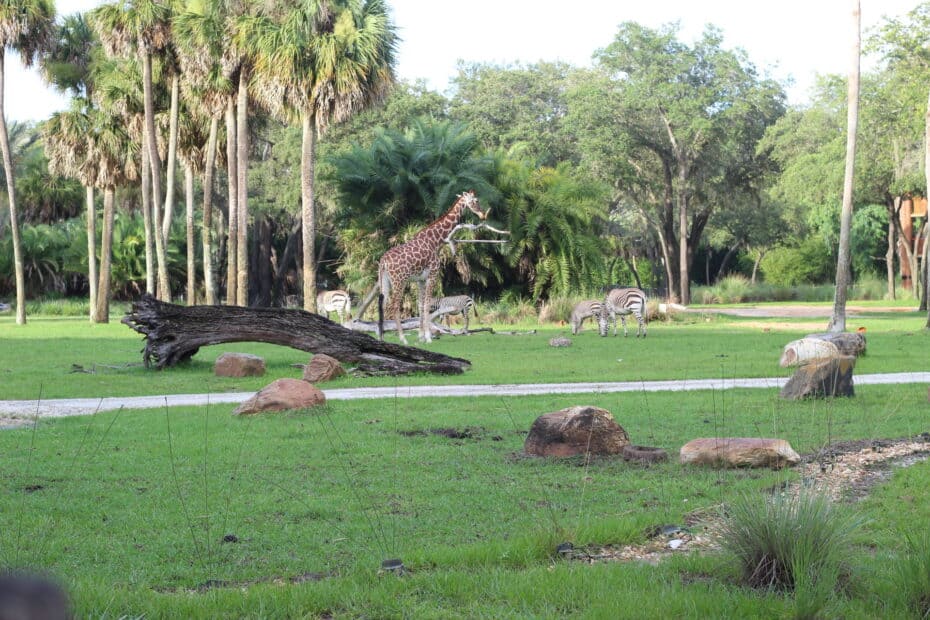 Additionally, Sanaa has a special lunch offered from time to time called Dine with an Animal Specialist. You can check for availability here on Disney's site.
Kidani Village has one other dining option, the Maji Pool Bar, which is located at the Samawati Springs Pool.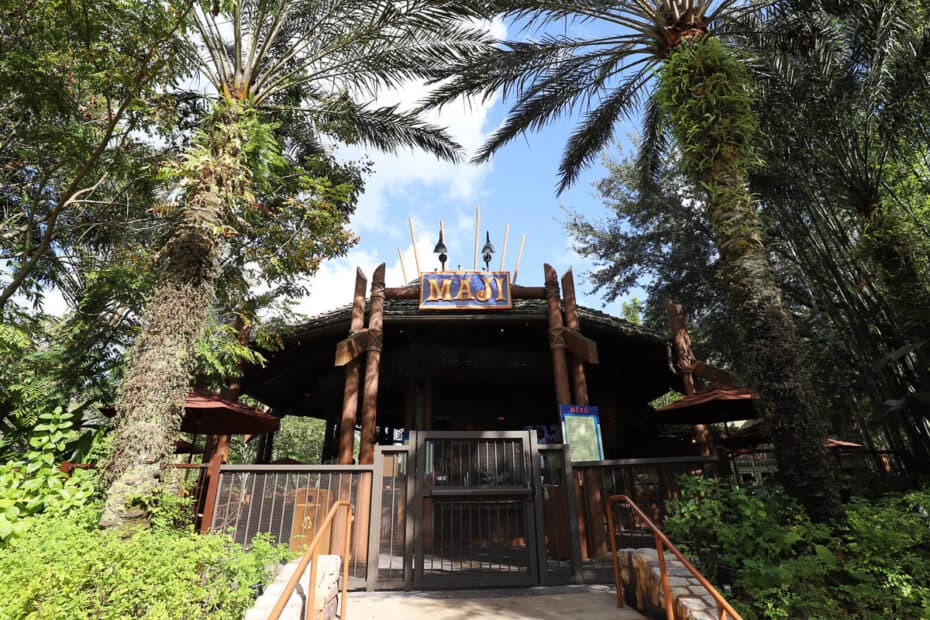 The Maji Pool Bar is usually open daily from 11:00 a.m. through 8:00 p.m. This location serves lunch and offers bar service. Here is a photo of the menu.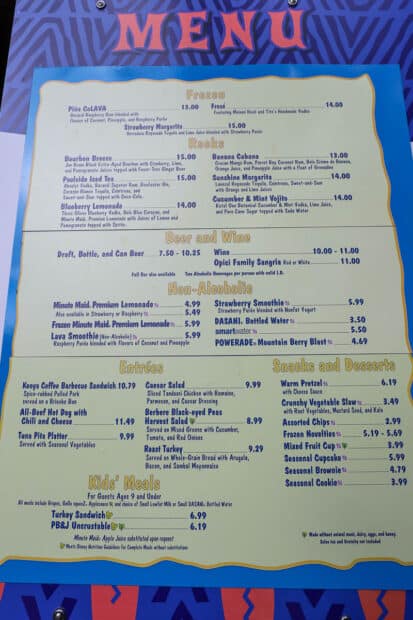 And there are plenty of pleasant places to dine out around the pool area. If you can't find something you want at the pool bar, you can mobile order from Sanaa and bring your food out here to enjoy.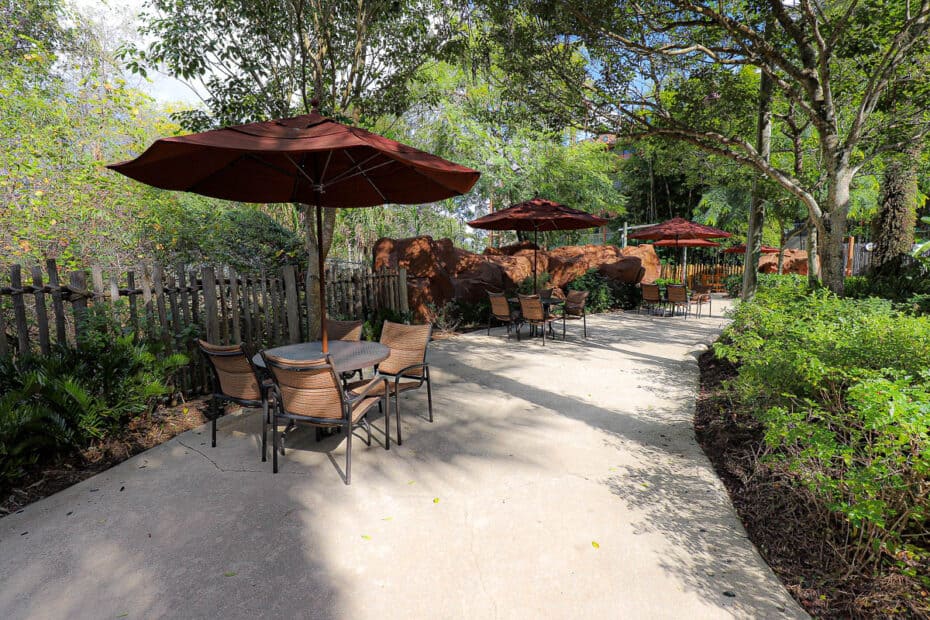 If you decide to visit the pool area at Jambo House, you'll have access to the Uzima Springs Pool Bar.
In addition to these options at Kidani Village, you'll find several restaurants at the Animal Kingdom Lodge. Jambo House is home to The Mara, which is the counter-service dining location for the resort.
Related: Best Quick Service at Disney World
Most will want to plan a reservation at Boma, Flavors of Africa. This location serves a fabulous buffet for both breakfast and dinner. It makes our list of the best breakfast spots at Disney World.
Related: Boma, Flavors of Africa Breakfast Review
Jiko, The Cooking Place recently reopened after a lengthy closure. This location is considered fine dining and makes our list of the top signature dining restaurants at Disney.
Related: Jiko, The Cooking Place Review
In addition, both resorts have a lounge. For instance, there's a lounge at Sanaa that takes walk-ups. The Sanaa lounge has menu items from the restaurant.
At Jambo House, Victoria Falls is the resort's feature lounge. And you'll find Capetown Lounge and Wine Bar at Jiko.
For a more in-depth look at the restaurants between the resort, there's a complete dining guide available for the Animal Kingdom Lodge.
Related: Restaurants at Disney's Animal Kingdom Lodge
Recreation
One of the positives of Kidani Village is the number of recreational activities available to guests. From the resort's pool to afternoon crafts at Community Hall, there's something for everyone.
We'll first look at the Samawati Springs Pool, which is the only pool at Kidani Village. This large swimming area features a fun waterslide, zero-depth entry, and plenty of lounge chairs.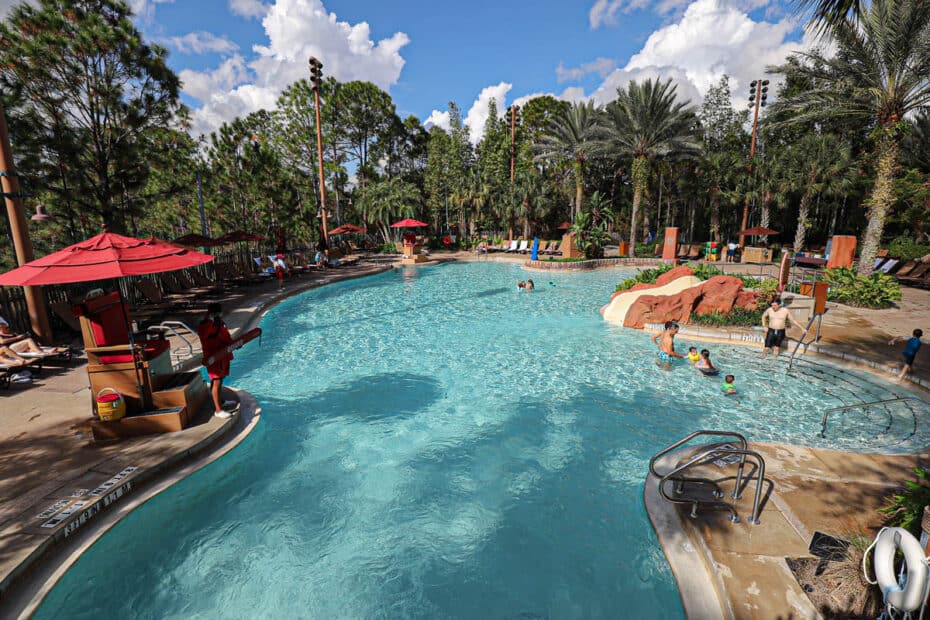 Here is a look at the giant slide. You might have noticed there's an additional kiddie slide in the photo above.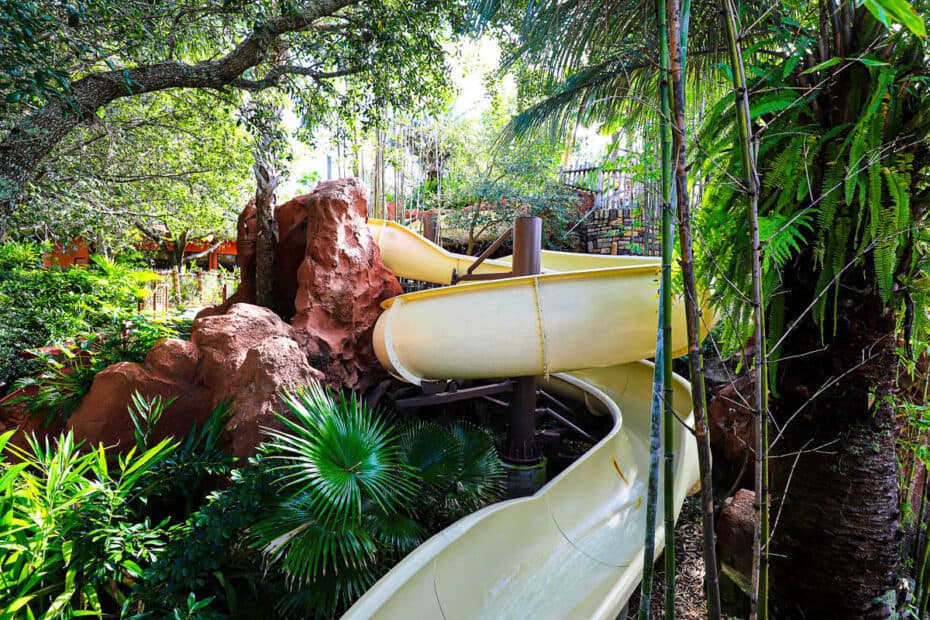 And a hot tub is available, which will provide a tremendous relief to those tired, achy muscles.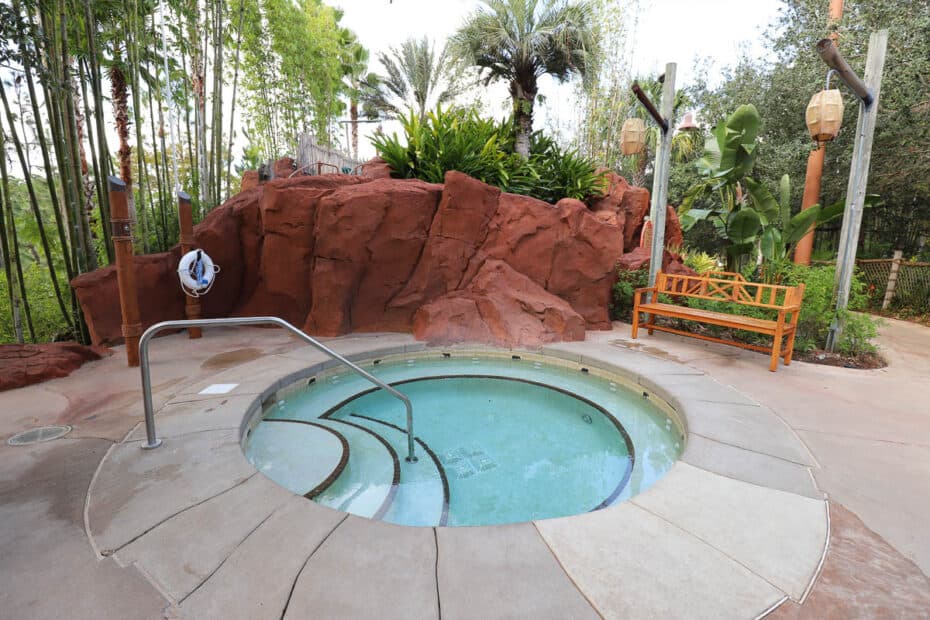 Perhaps, the best part of Kidani Village is this large aquatic play area for children.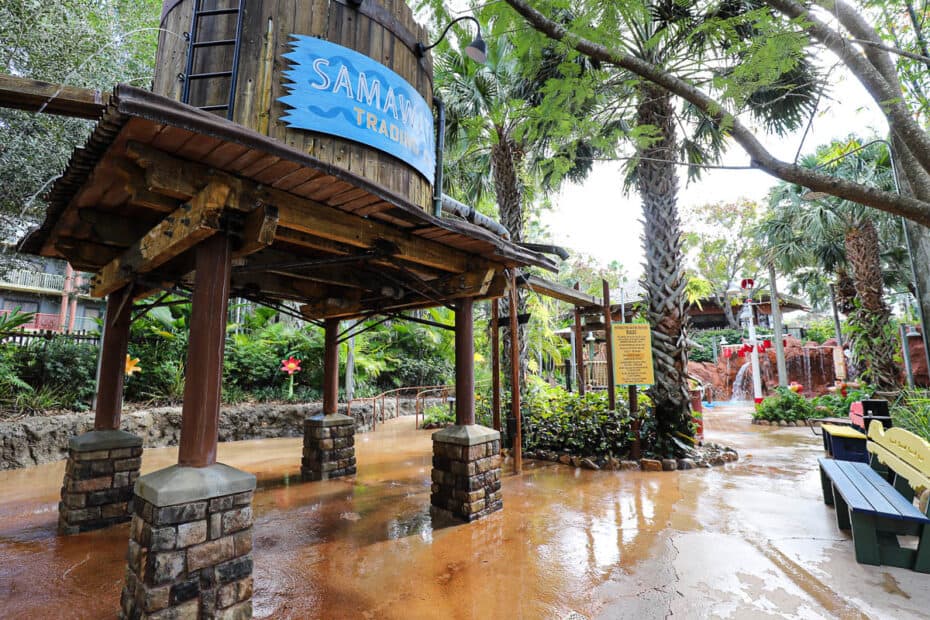 What kid wouldn't want to spend a day here?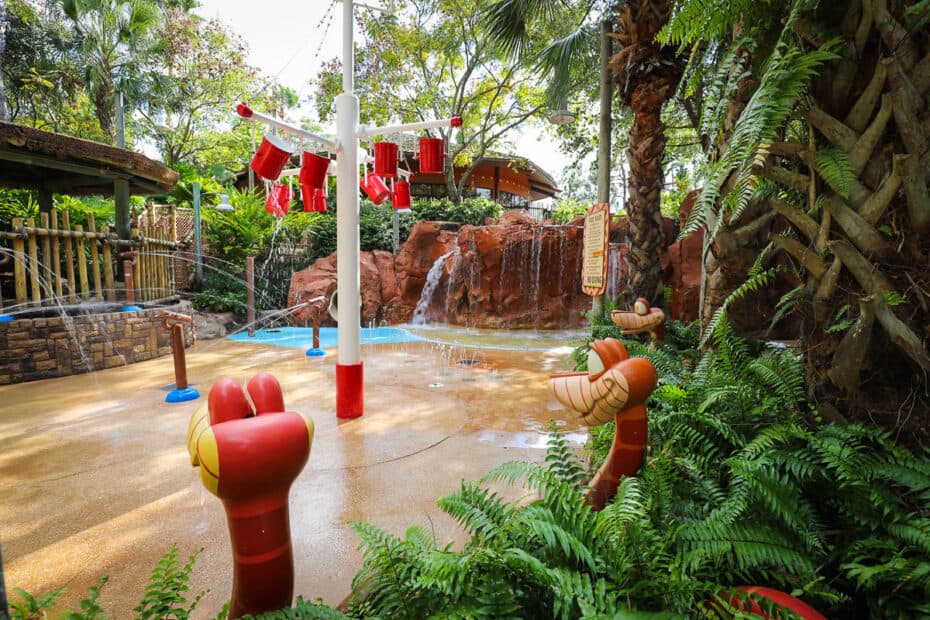 Toward the opposite end of the aquatic play area, there's a regular playground.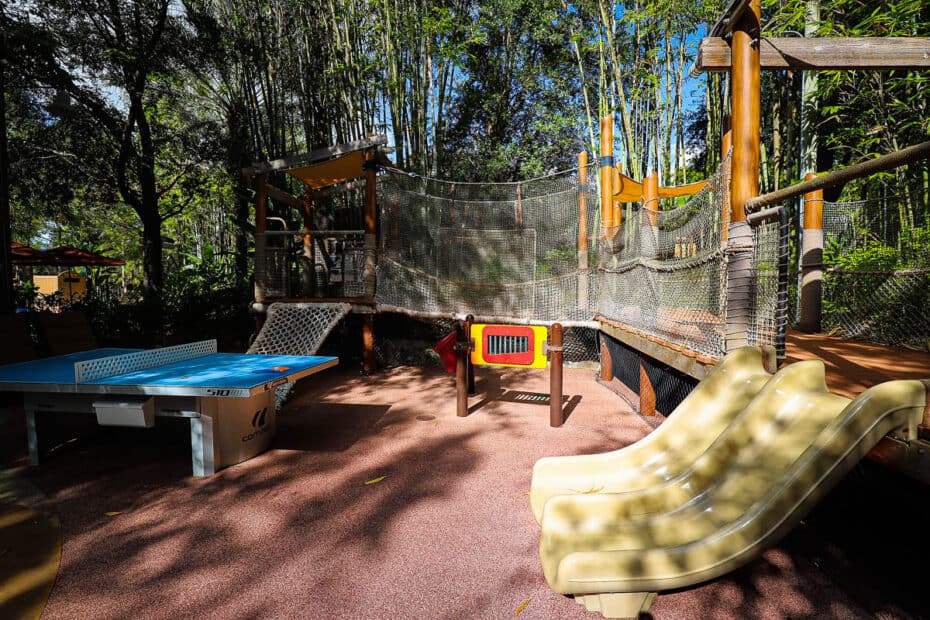 Kidani Village has a gym called Survival of the Fittest.
Related: Resorts with Fitness Centers at Disney World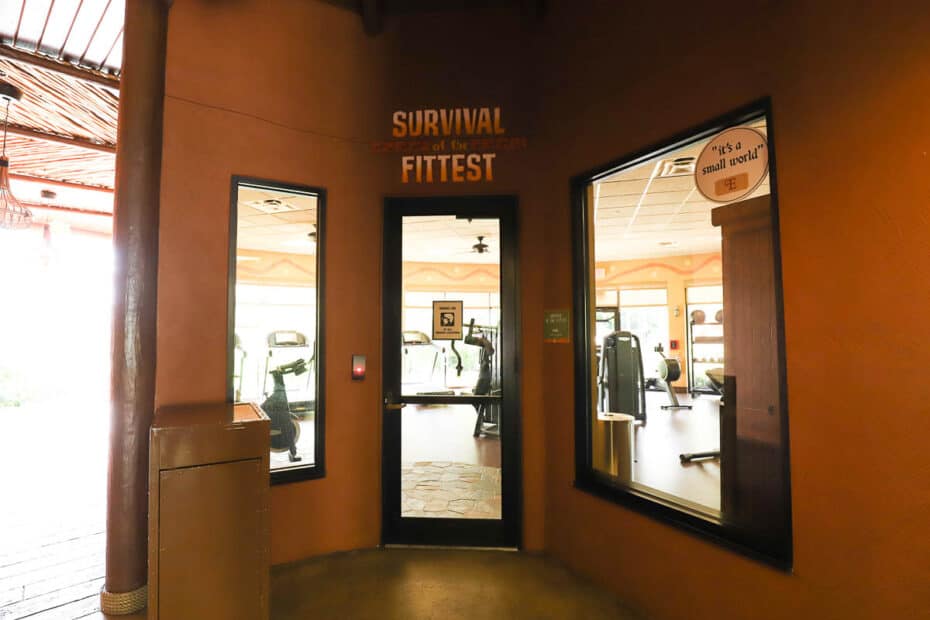 Out toward the front of the resort, there's a unique area that I presume is often overlooked.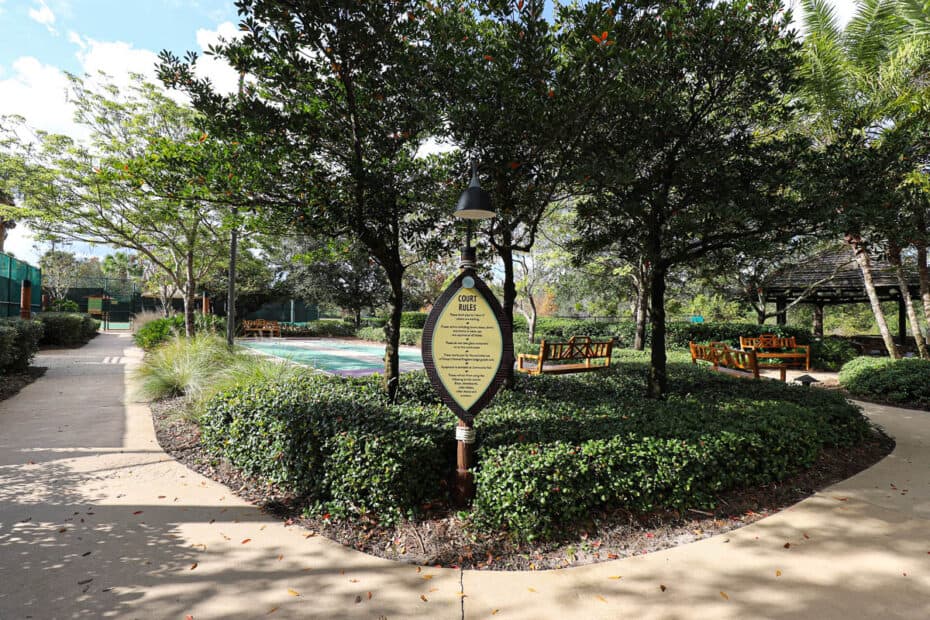 This area is home to several sports courts. You can play a couple of rounds of shuffleboard.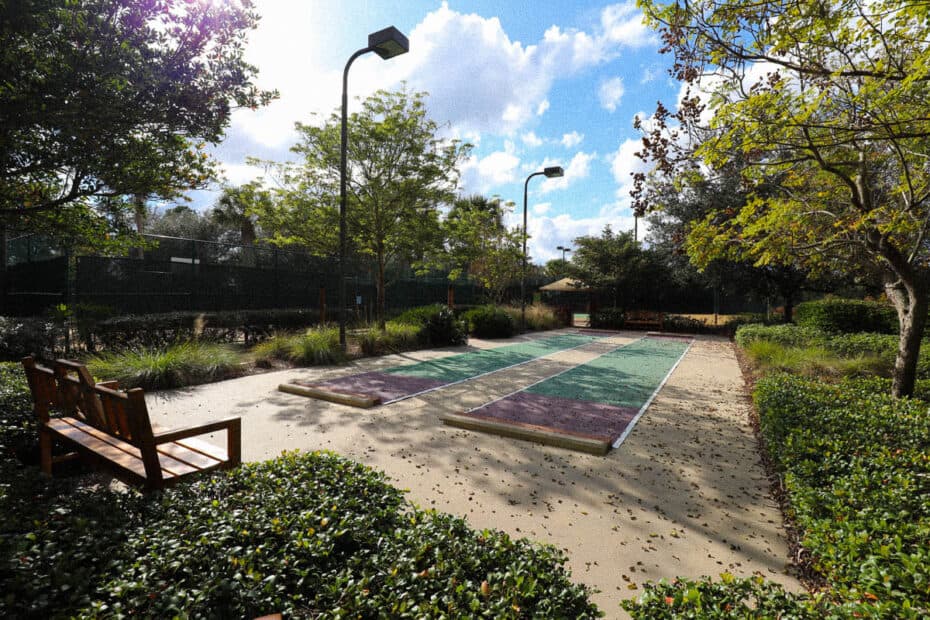 Or enjoy a game of basketball. Maybe even hopscotch?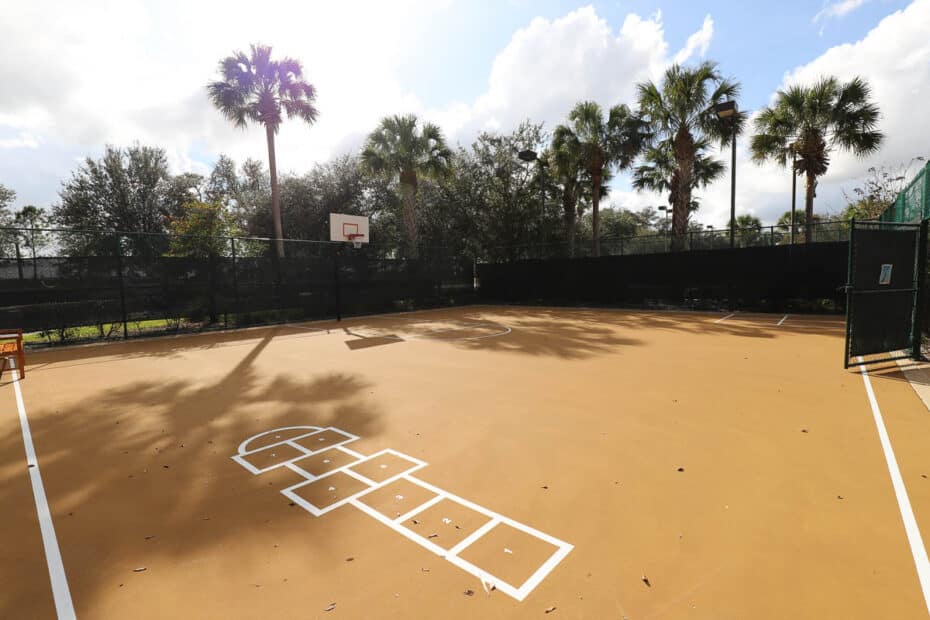 Signage indicates that you can pick up sports equipment at Community Hall.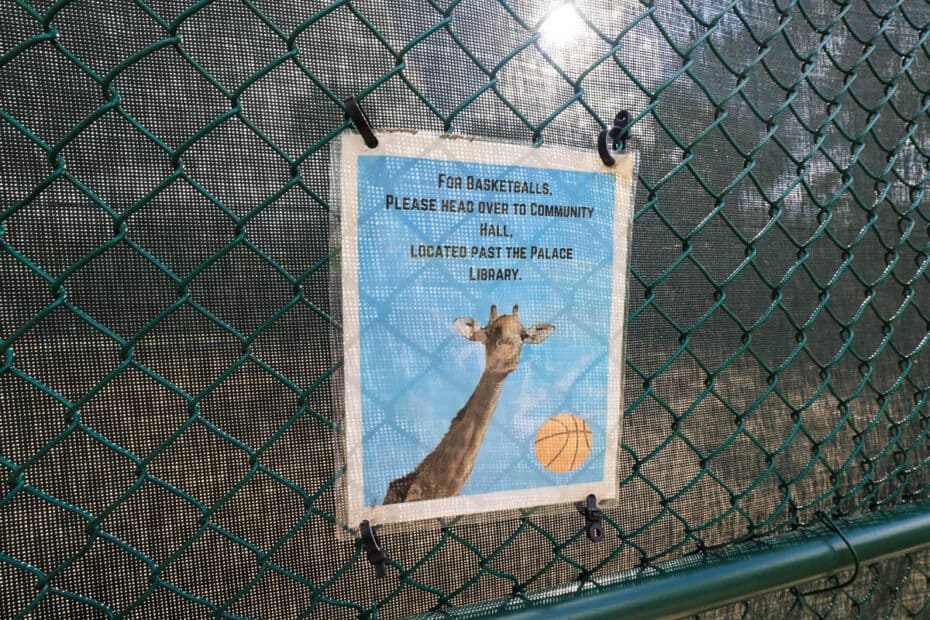 Or you can get in a few rounds of tennis.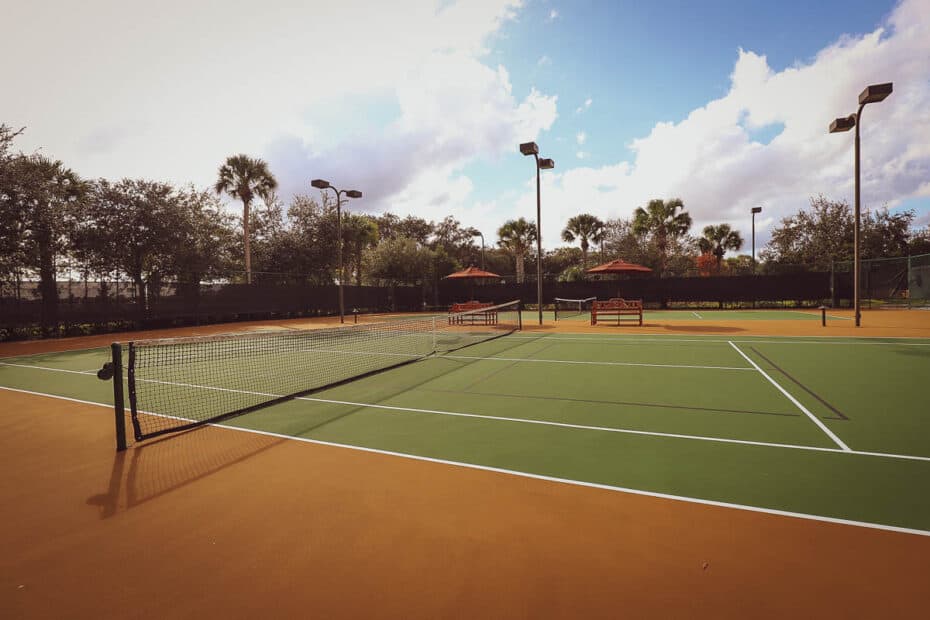 There were a few rules posted here. I noticed you could schedule professional tennis lessons if you wanted.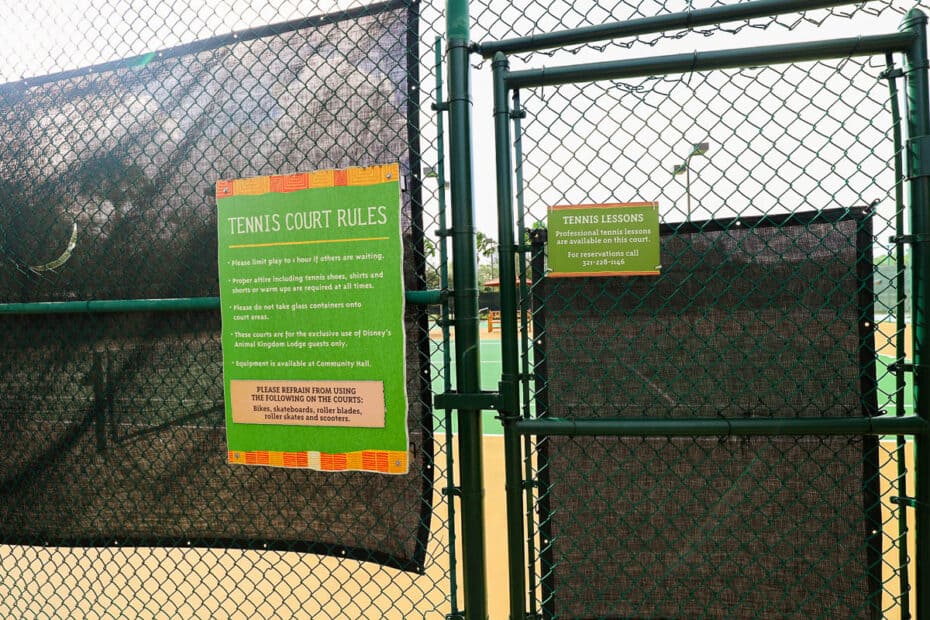 Kidani Village is one of the few resorts at Disney World that offer a tennis court.
Back inside, we'll check out Community Hall. This activities room is not far off the lobby.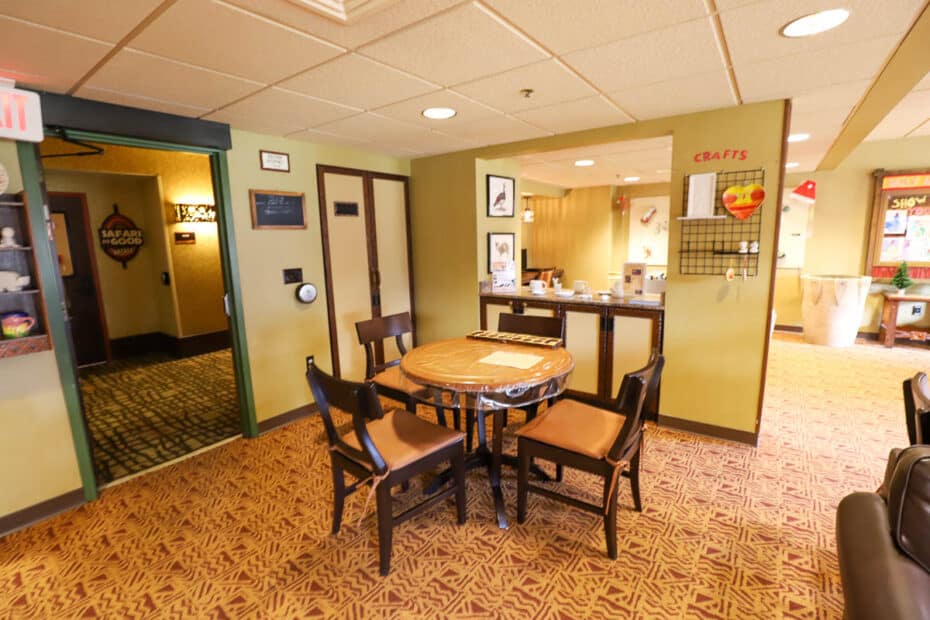 They have a television area along with tons of puzzles and board games.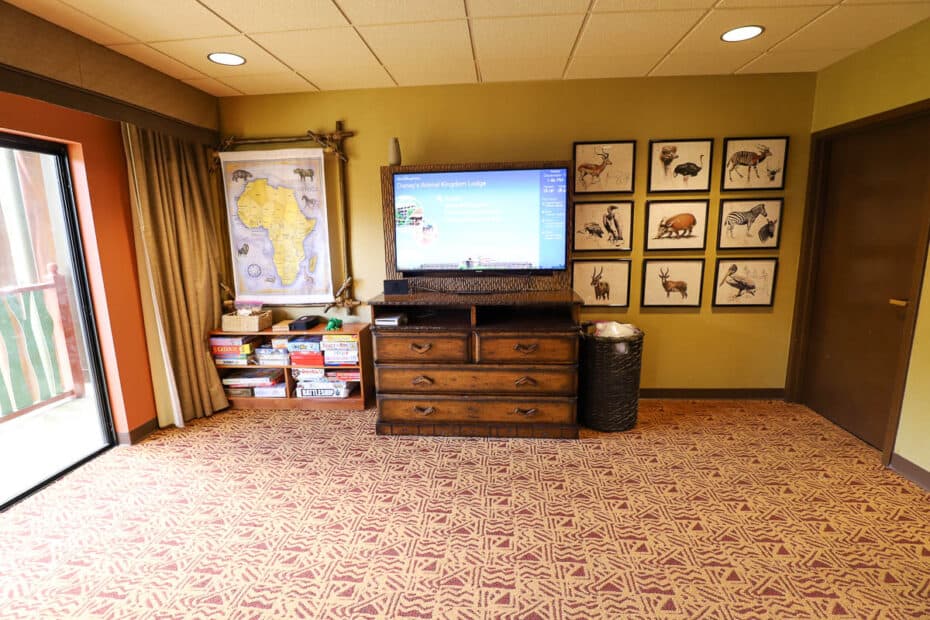 You'll find a couple of computers in the back corner of the room. Below you'll notice a foosball table.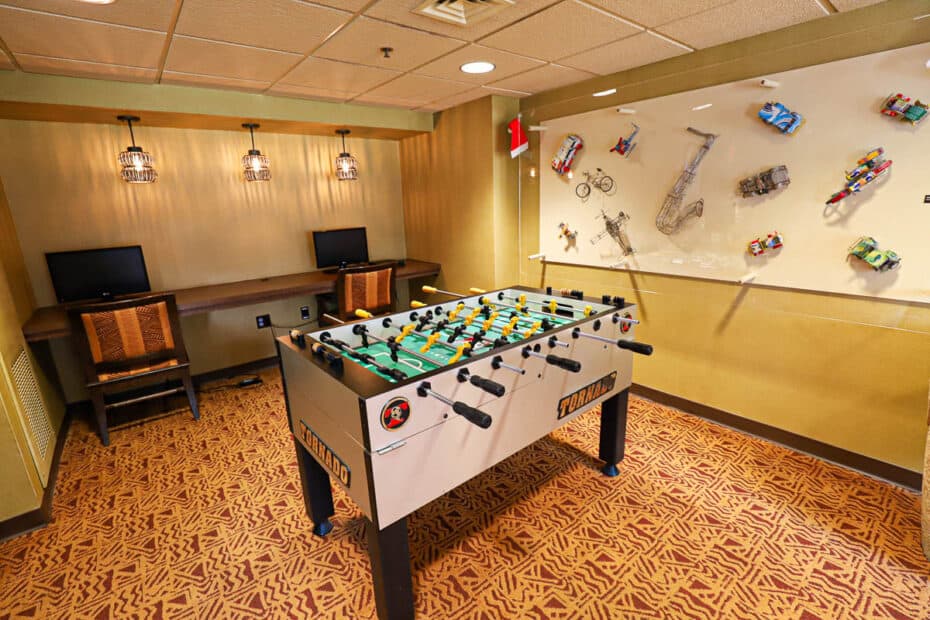 Or you might prefer a game of pool.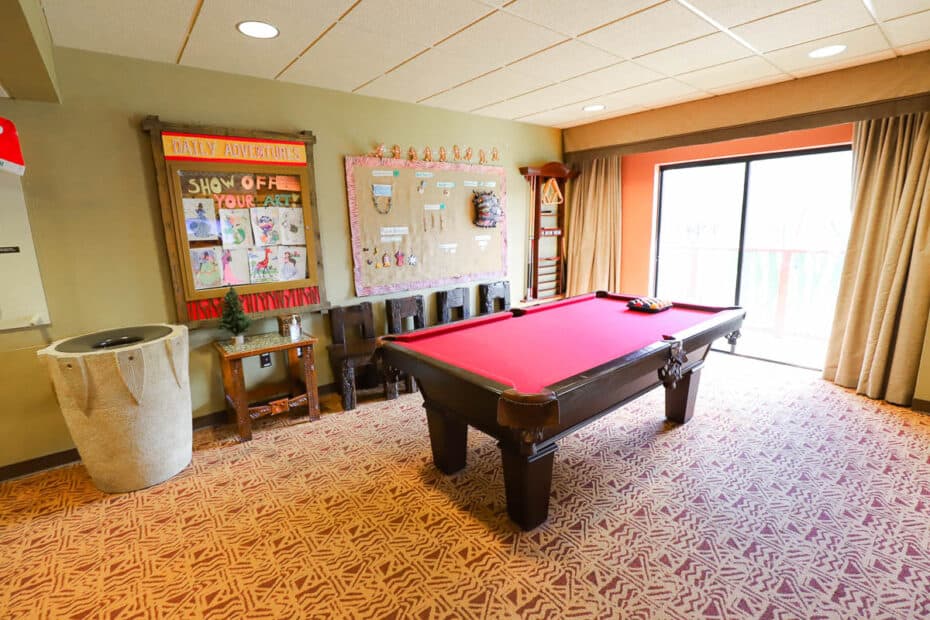 Community Hall opens daily at 10:00 a.m. This location offers crafts, sign-outs for sports and grilling equipment, children's books, and other recreational activities.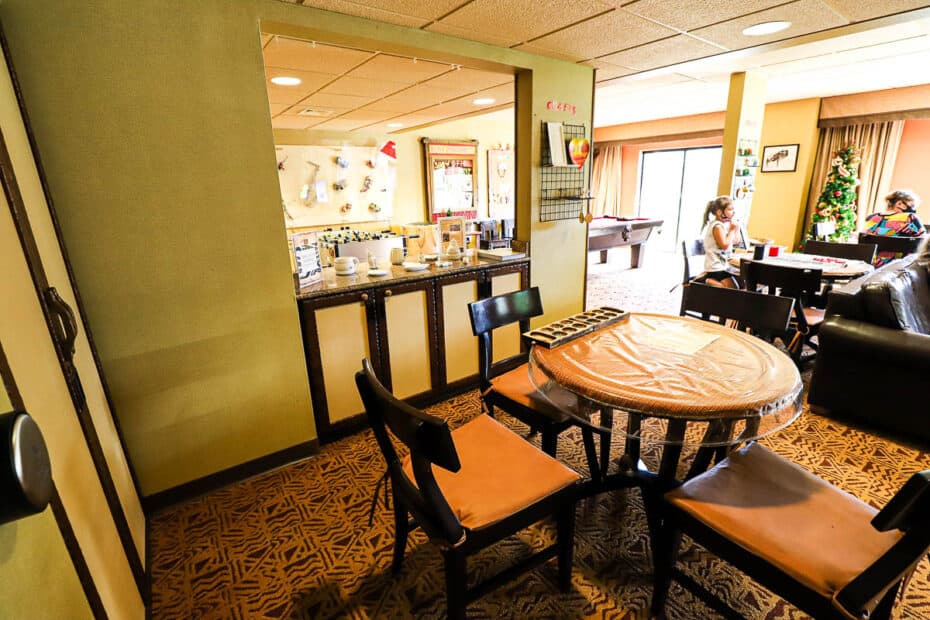 Across the hall from Community Hall, you'll find Safari So Good Arcade.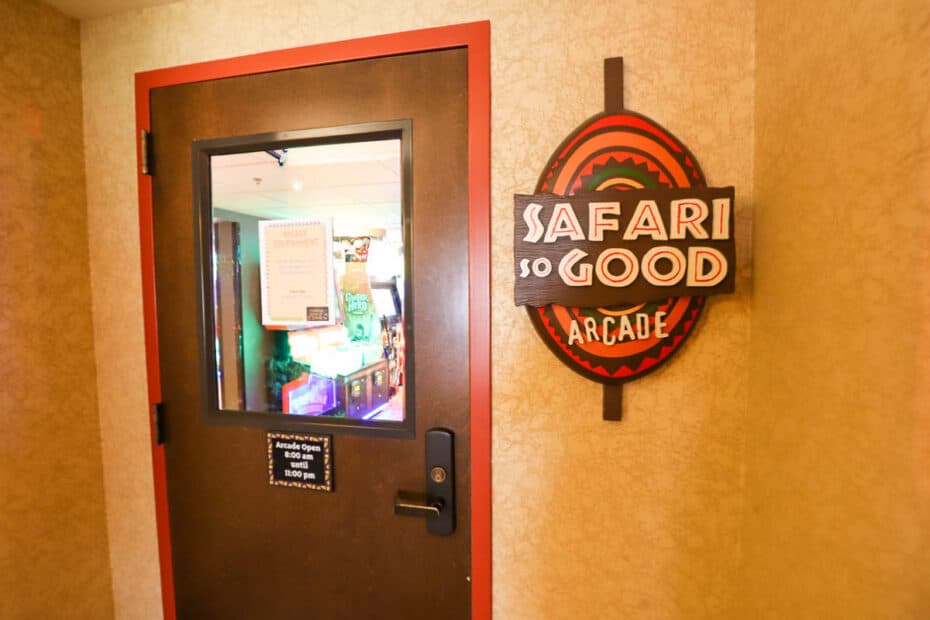 The arcade is a fun space. It's an excellent spot to remember if you happen to have a little extra time around the resort on a rainy day.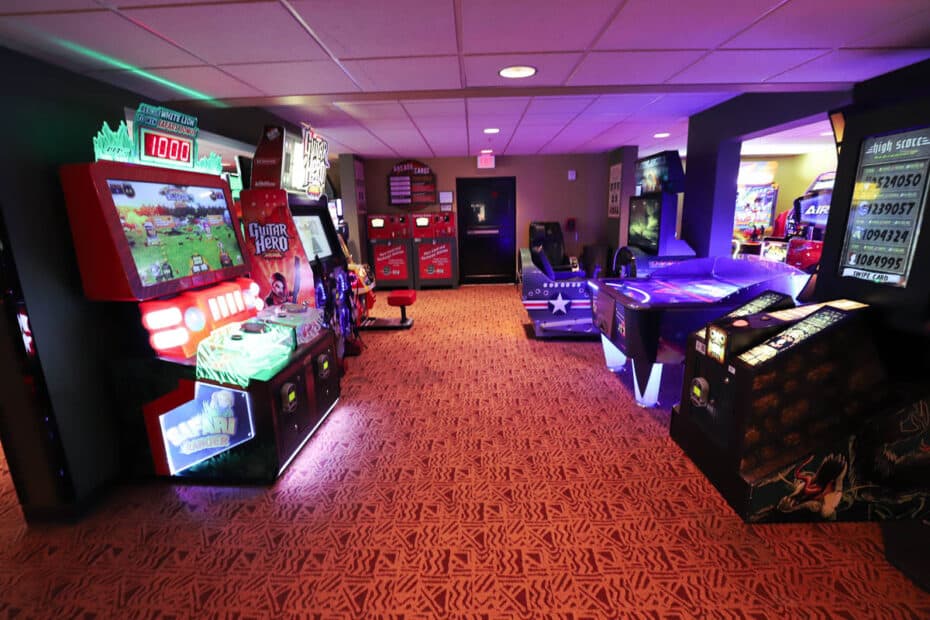 For a complete list of all the different activities offered at Kidani Village, make sure to get a copy of the recreation calendar during your visit. It will list the various items available to you during the week.
In addition, the calendar will have a copy of the Movies Under the Stars program. Movies Under the Stars are held several nights a week at Kidani Village, and on the other nights, movies are shown at Jambo House.
Amenity
Before we wrap up, there are a few other resort amenities that this review of Kidani Village has yet to cover. One of those things is this large pavilion near the sports court.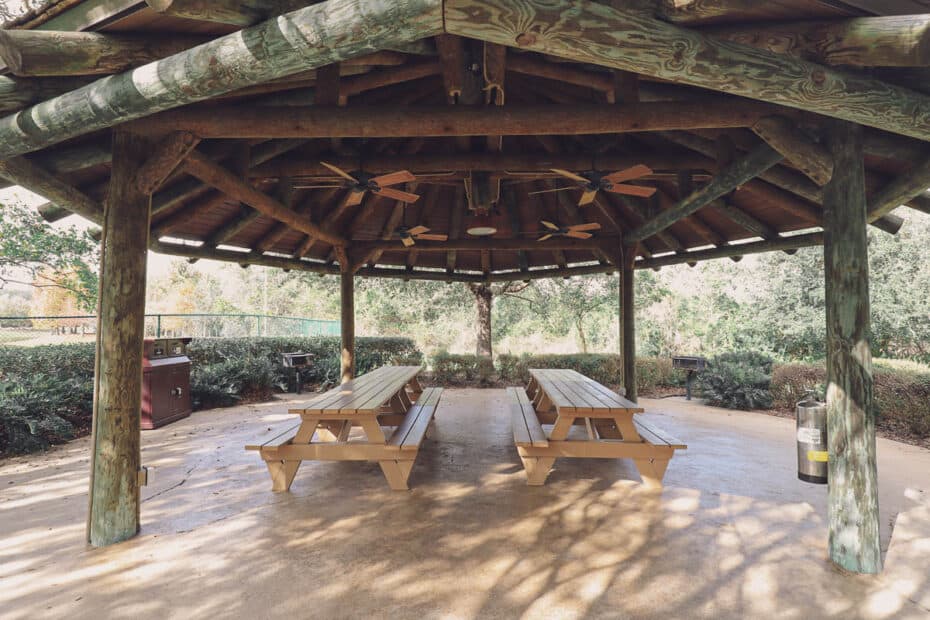 Guests of the resort can use this area at their leisure. There's a charcoal grill available.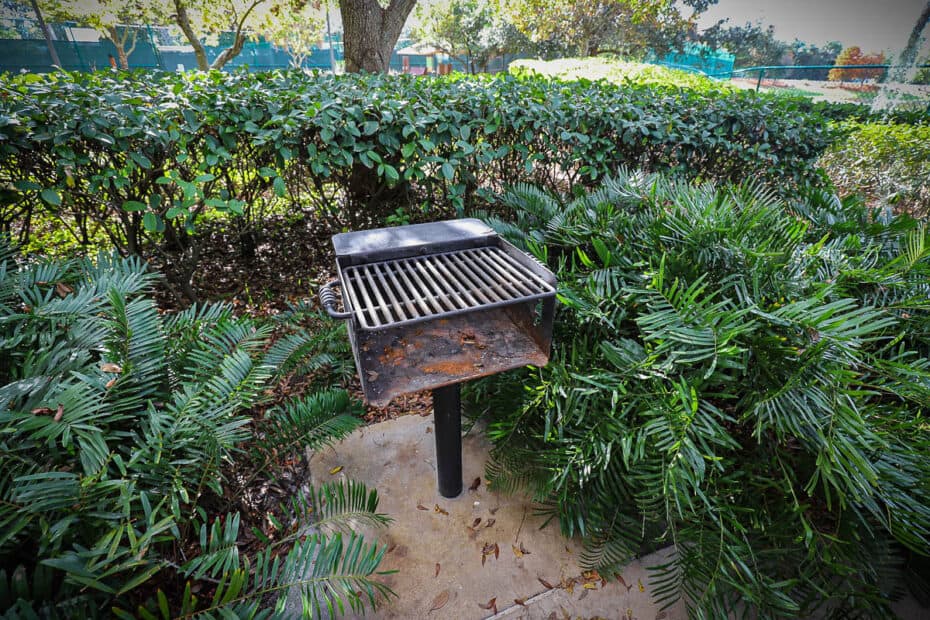 I thought this would be a fun spot to grill and maybe have a birthday party or some other sort of celebration.
Kidani Village also offers a laundry room for guests to use. Since this is a DVC resort, there is no charge to use the washers and dryers.
However, you will have to furnish your own laundry detergent. You can purchase detergent in the vending machine or bring it with you.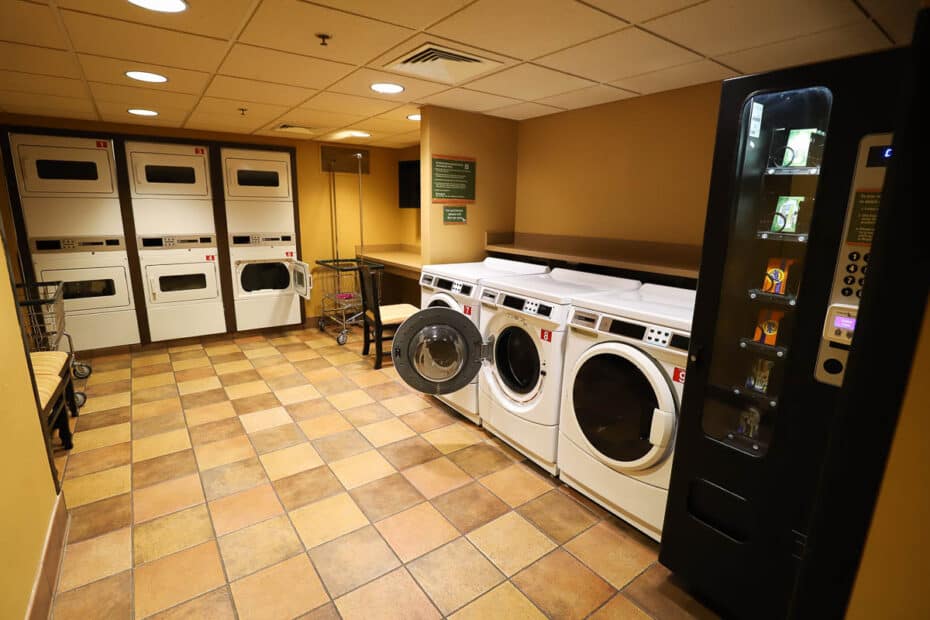 Around the lobby area, there's a large library called the library. This is a great place to get some work done or relax for a bit on a check-in or check-out day.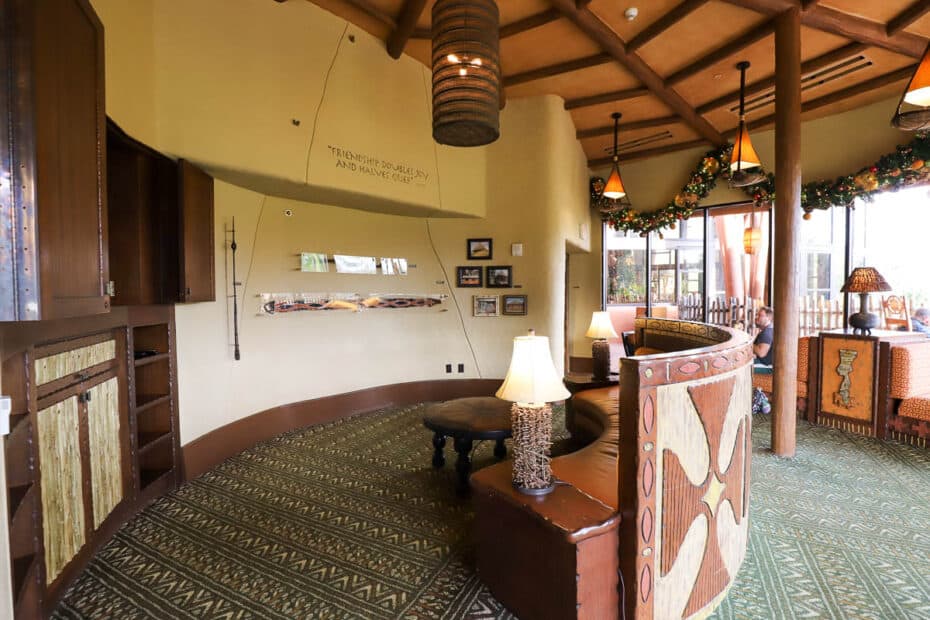 I recommend grabbing a window seat and enjoying the view out to the savanna.
Transportation
Briefly, I'll touch on transportation. Kidani Village and Animal Kingdom Lodge only offer bus transportation.
Because of the resort's location, it's not near any other forms of transportation. Therefore, you'll have to depend on bus service to the parks, if you're not driving or using a car service.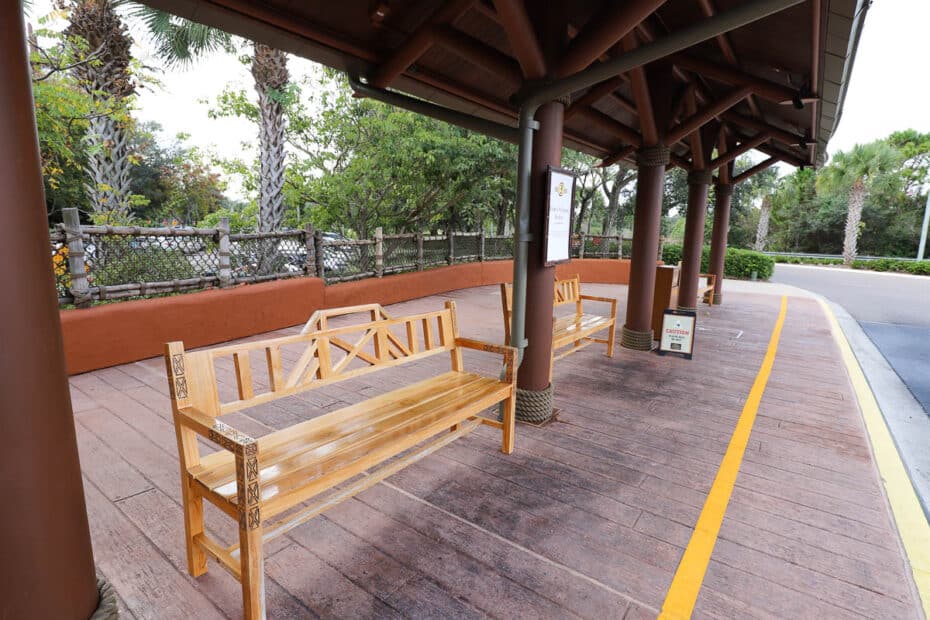 The majority of the bus stops at Disney World offer these wait times signs. So you should have a good idea of how long it will be until the next bus arrives.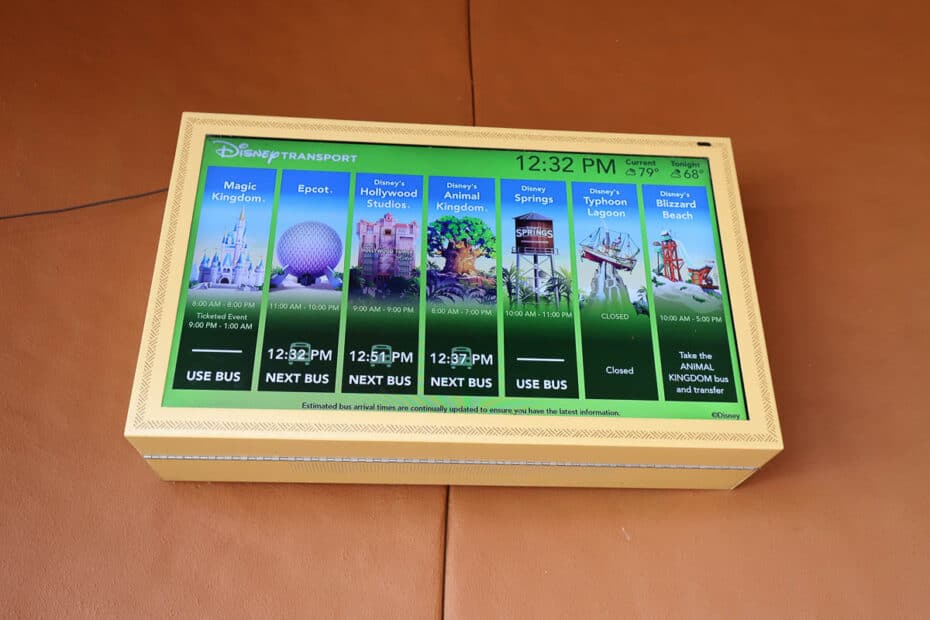 There are a few parking spaces around the resort. However, most parking spaces are located in the parking garage that conveniently sits underneath the resort.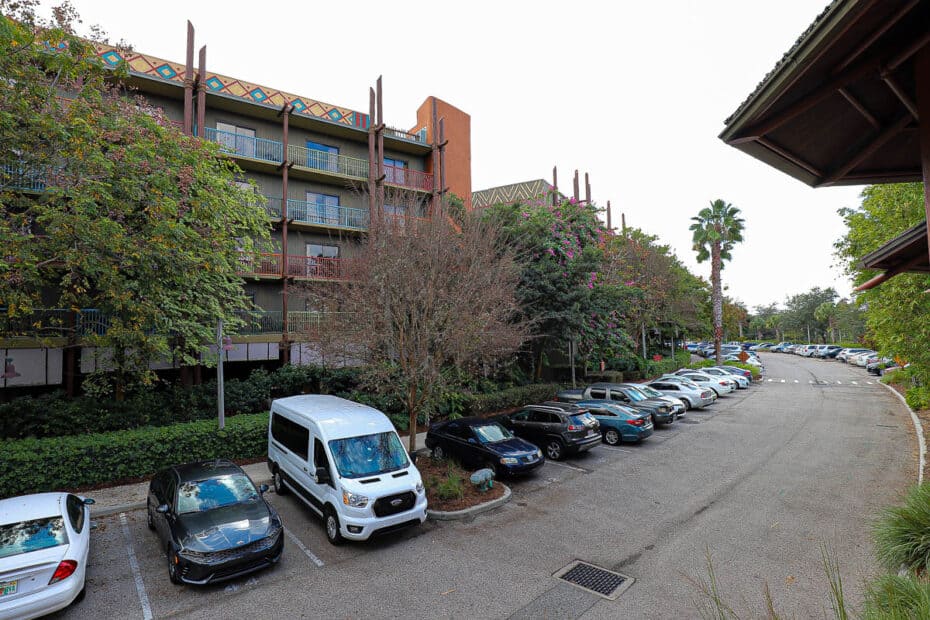 One time I was staying on property when a hurricane was forecasted. I ended up moving my reservation over to Kidani to store my car in the parking garage.
At the time, it seemed like a very reasonable thing to do. I also joked that Animal Kingdom Lodge was the best place to stay because I knew how well the resort cared for its animals.
Final Thoughts on Kidani Village
At this point, I know we've covered a lot. It's funny. I always think of Kidani Village as being secondary to Jambo House.
However, in reality, Kidani Village is a large resort that's completely capable of doing its own thing. The only thing Kidani needs is a proper counter service dining location. And we all know it would do well.
But I can't complain too much since Kidani does have an amazing table service with reasonable prices. Plus, all of the restaurants next door at Jambo House reign supreme.
Other than Disney's Riviera Resort, I don't think any resorts offer this many quality dining locations.
Related: Restaurants at Disney's Riviera Resort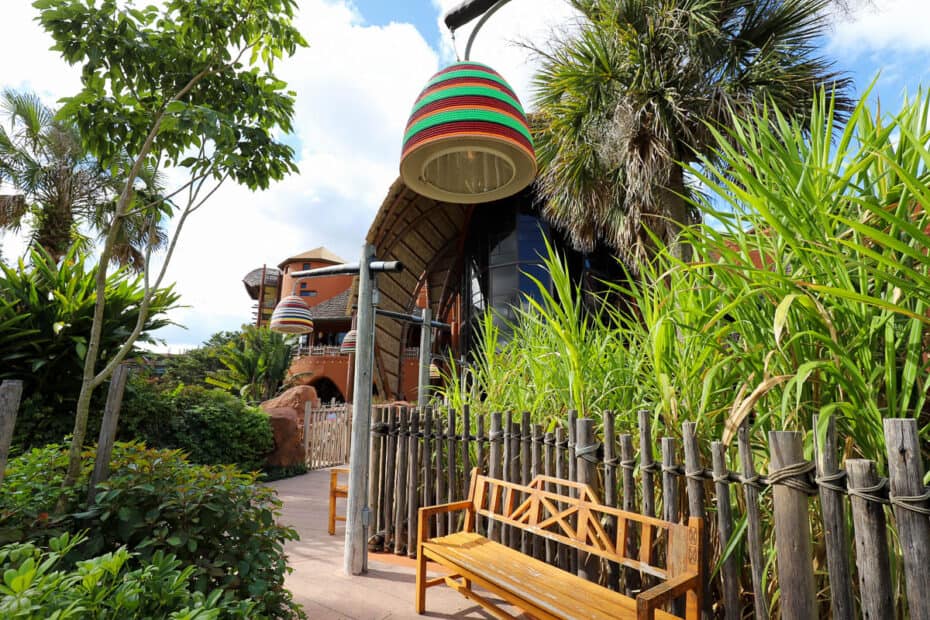 Overall, I've enjoyed my stays at Kidani Village and think it will work well for a variety of different groups. If you plan to spend a good deal of time at the resort or will use any of the villa amenities, I wouldn't hesitate to plan a stay here.
For more information, all of our articles related to the Animal Kingdom Lodge are available here. Or you might enjoy some of these other resort reviews:
I hope this review provided you with a good idea of what it's like to stay at Kidani Village.
In the comments: What are your thoughts about Kidani Village? Have you ever visited the Animal Kingdom Lodge? Do you have any questions that weren't answered in this review?