Kidani Village Review (Disney's Animal Kingdom Villas)
This review of Disney's Kidani Village discusses the resort in its entirety. We'll look at what it's like to stay at Kidani Village, including rooms, dining, recreation, and other resort amenities.
A potentially formidable hurricane was approaching central Florida. When these weather events are forecasted, tensions mount, anxiety sets in, and grocery store shelves become as empty as they do when an inch of snow is forecasted in north Alabama.
What does that have to do with Kidani Village at Disney's Animal Kingdom Lodge? You might be surprised to know it's our favorite hideaway when impending weather approaches and has been for years.
Of course, this particular storm was graciously more tropical than relentless when it reached us. The storm also gave us an excuse to visit this rare gem of a hotel and provide an updated review.
With all our other recent resort coverage, this trip to Kidani Village was not planned. But little did I know. It was oh-so needed.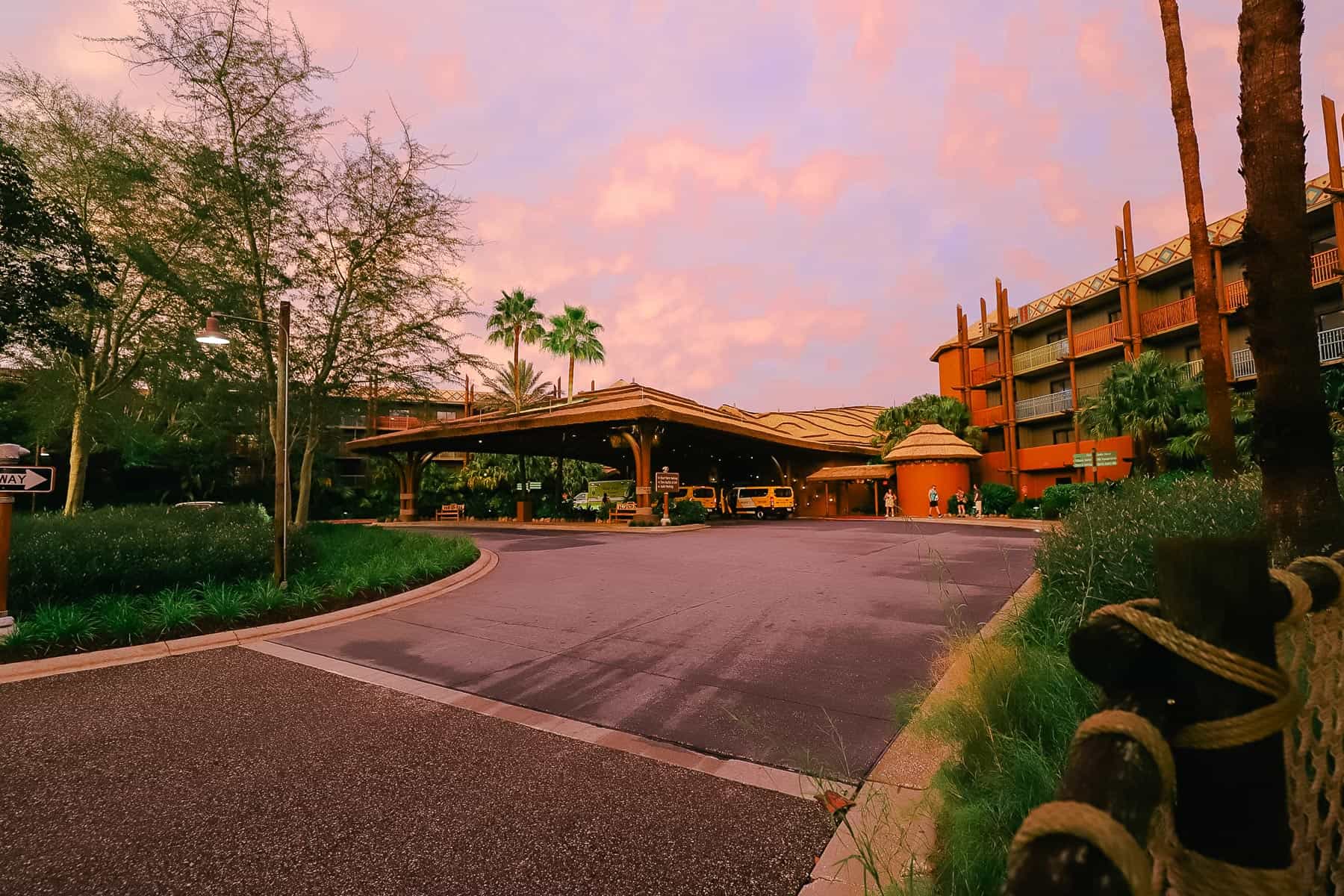 Kidani Village Review
Kidani Village is a dedicated Disney Vacation Club Resort that is part of Disney's Animal Kingdom Lodge. If you're looking for a unique hotel with many of the conveniences of home, you'll love what this resort offers.
For reference, Jambo House is the other part of Disney's Animal Kingdom Lodge. Jambo House is the primary hotel on the property that falls under the deluxe resort category. Kidani Village is considered a deluxe villa resort.
If you've visited Jambo House for dining or to see the lodge at Christmas, you might not know that Kidani Village exists. However, if you've ever dined at Sanaa (think-famous bread service), you've been to Kidani Village.
I mention this because when people refer to Animal Kingdom Lodge, they are often talking about Jambo House. Since Kidani Village is a separate DVC Resort at Animal Kingdom Lodge, DVC members can rent rooms here on points.
However, Disney makes these rooms available to all guests. So, anyone can reserve these room types at a cash rate. We stayed here at an annual passholder rate of $277.55 per night. (Note: This was a considerably low rate for this hotel.)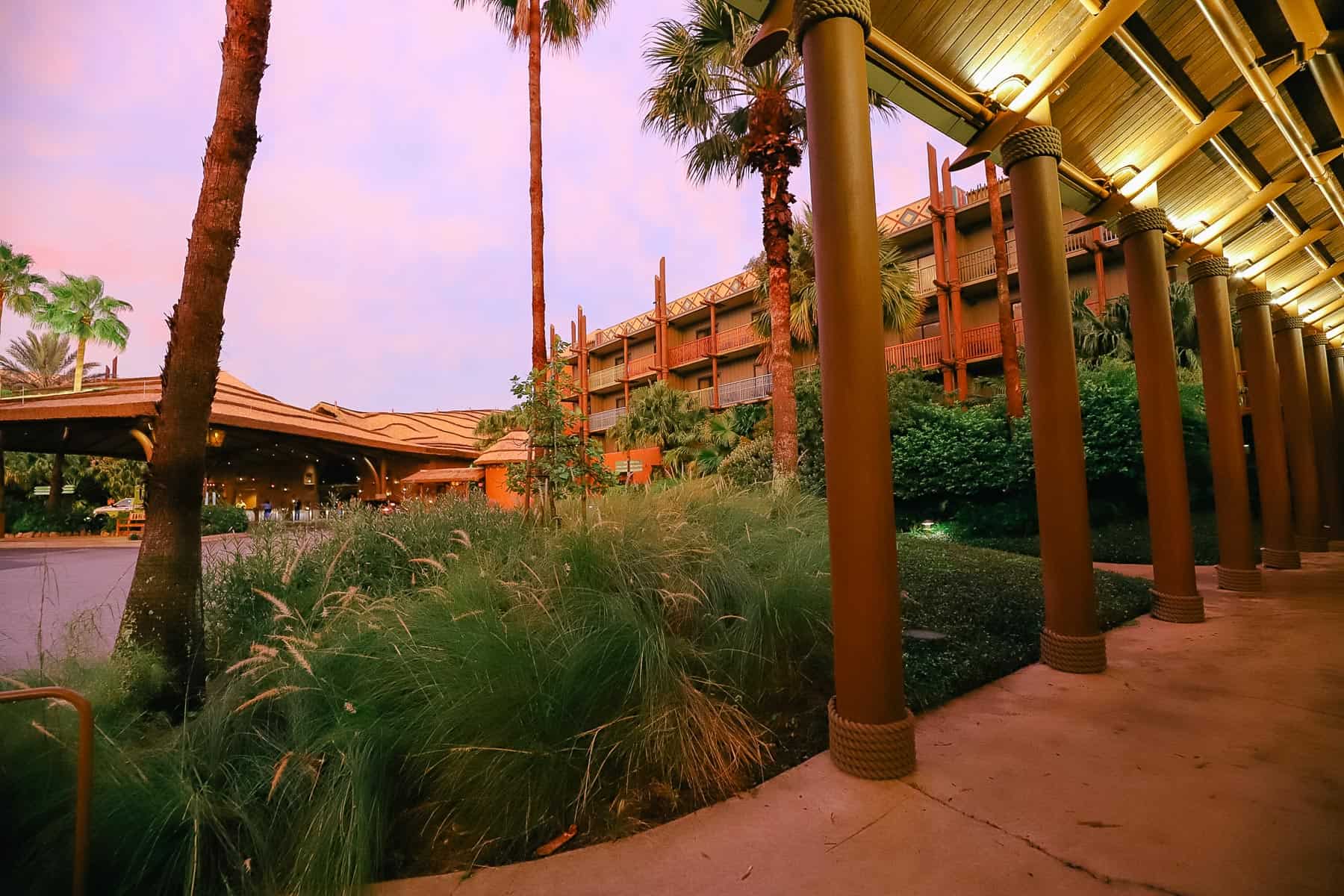 Upon arrival, a wall of lanterns outside the lobby entrance greet guests of Kidani Village. Inspired by remote African Villages, these lanterns represent a light in the darkness as they welcome you home. They are only the beginning of the immersive culture that awaits.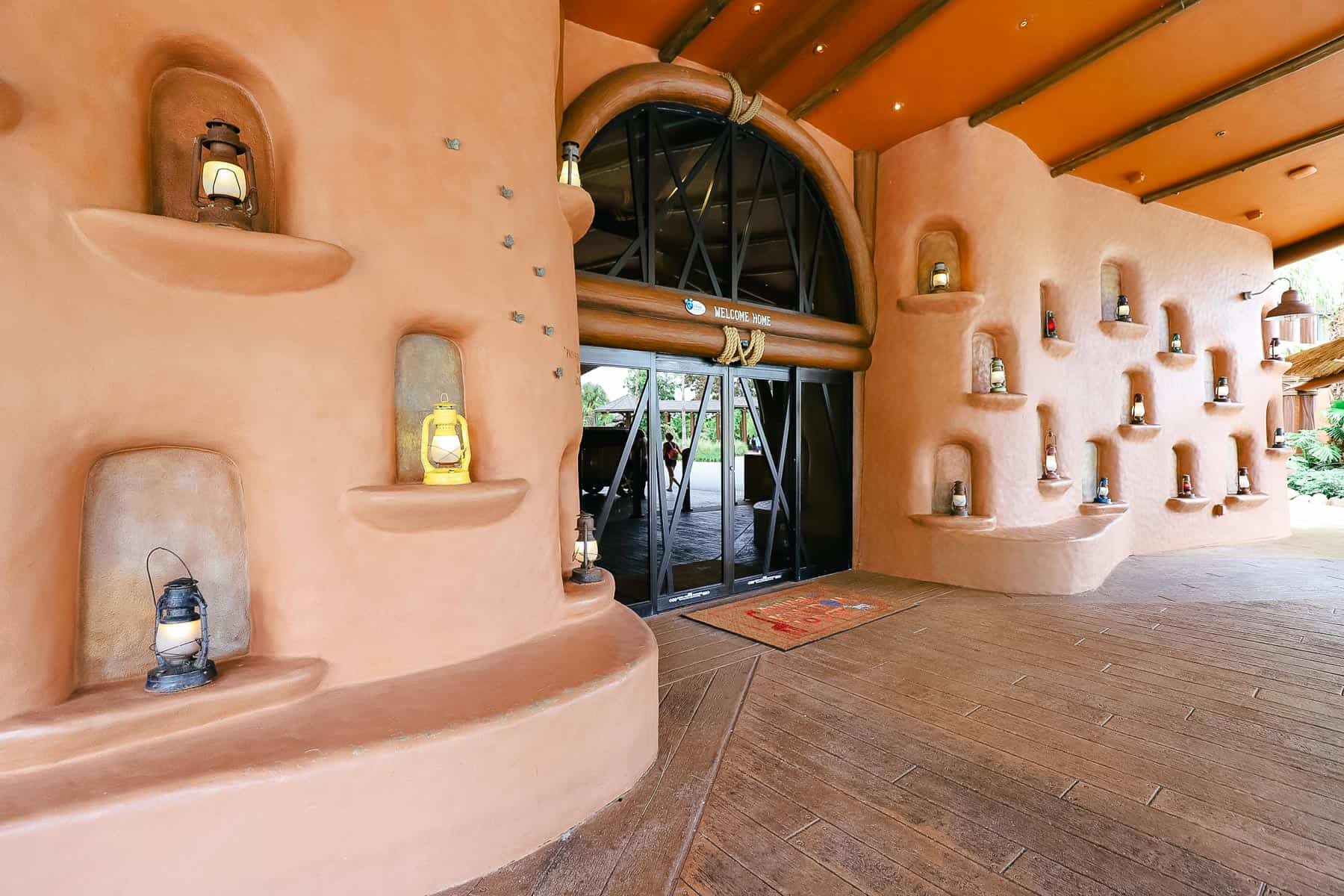 A quaint lobby greets you as you set foot inside the main entrance. If you've ever visited Jambo House, you might be surprised by the humbleness of Kidani Village. Regardless, it's an exquisite lobby that transports you to another part of the world.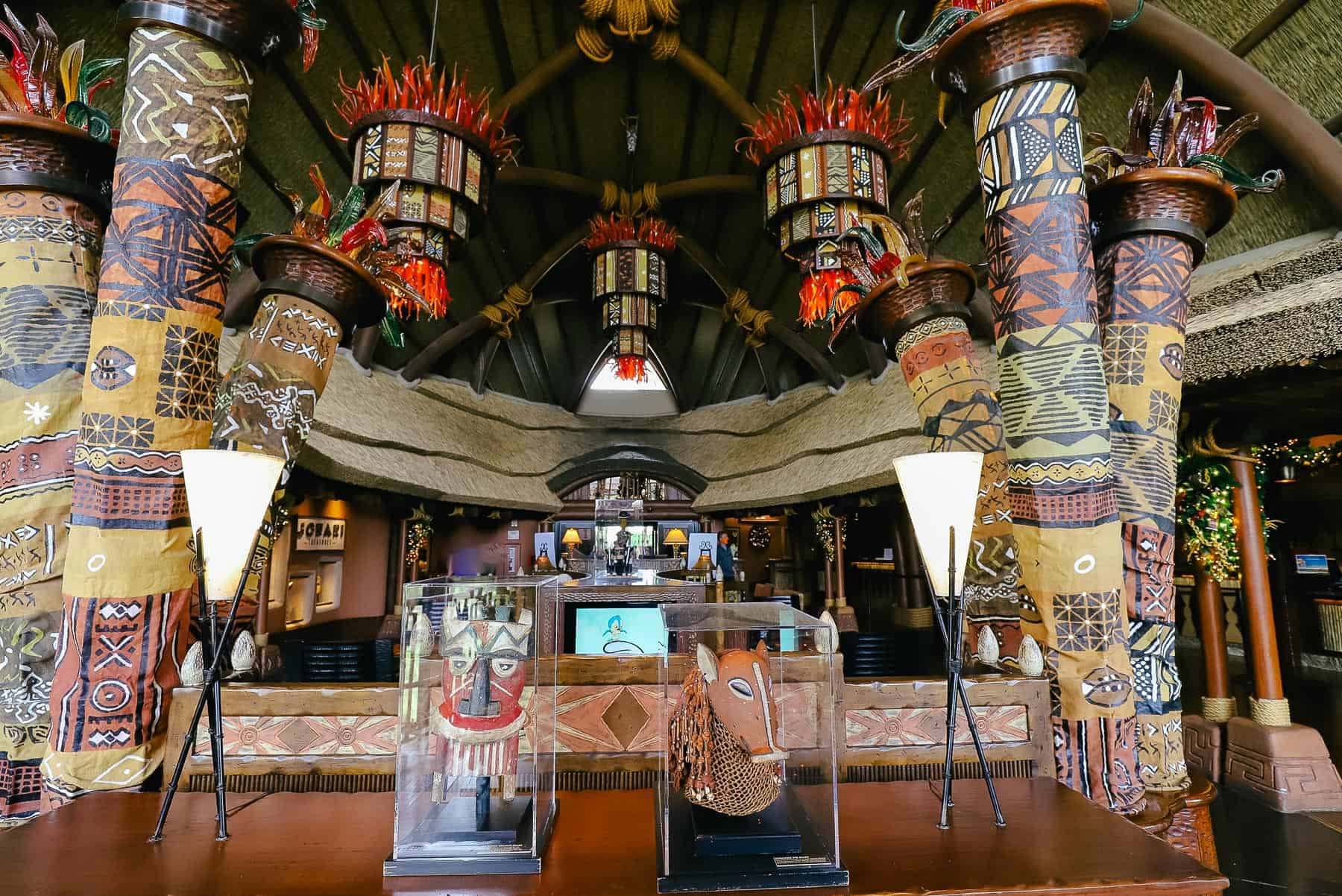 During this stay, I was photographing the beautiful sunset after the storm. When I returned, I witnessed a guest who had brought a few friends to see the hotel. His excitement was uncontainable, and their jaws dropped in awe at the beautiful scene.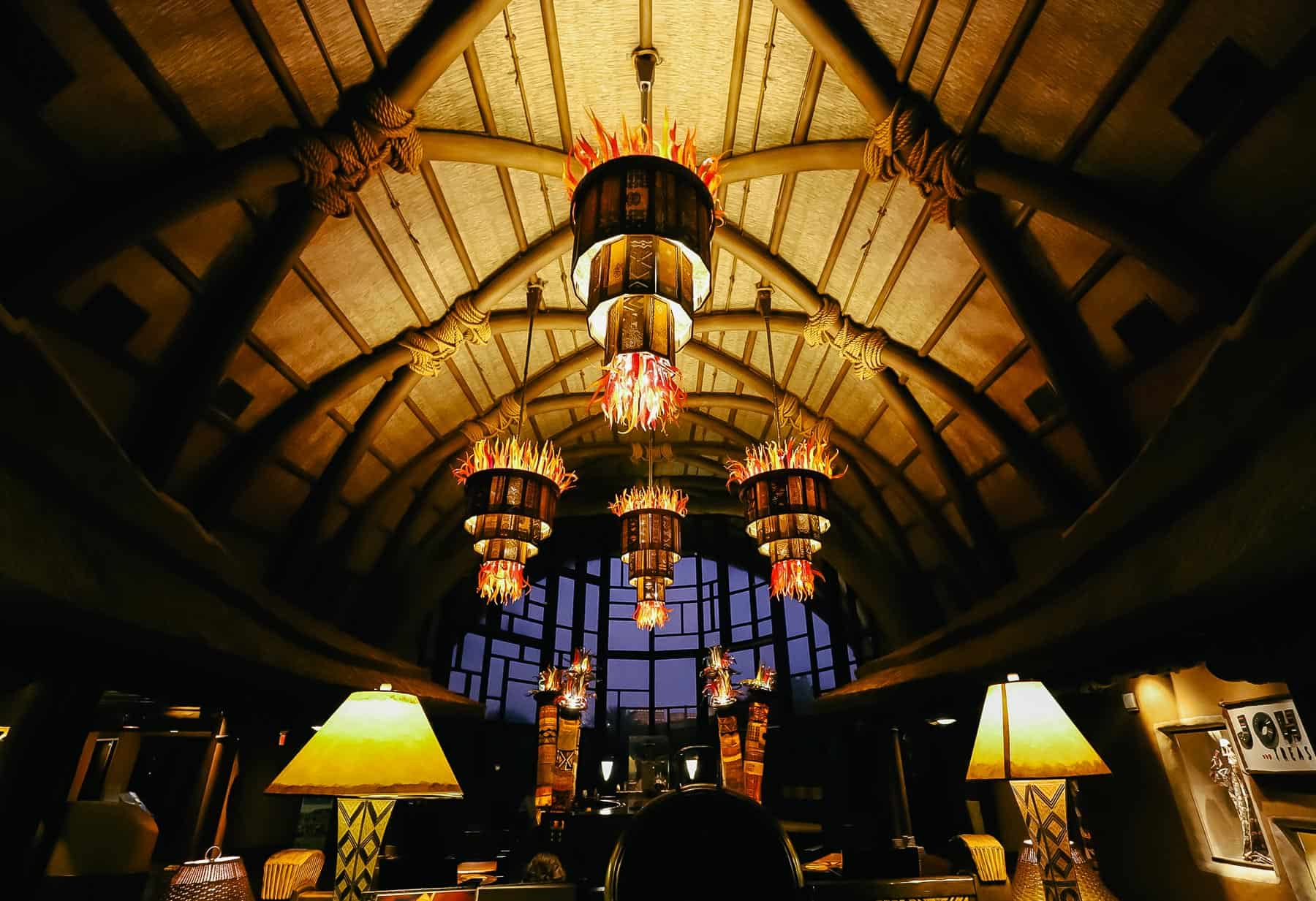 Of course, the lobby is always gorgeous. But it glows in the loveliest of ways at nighttime.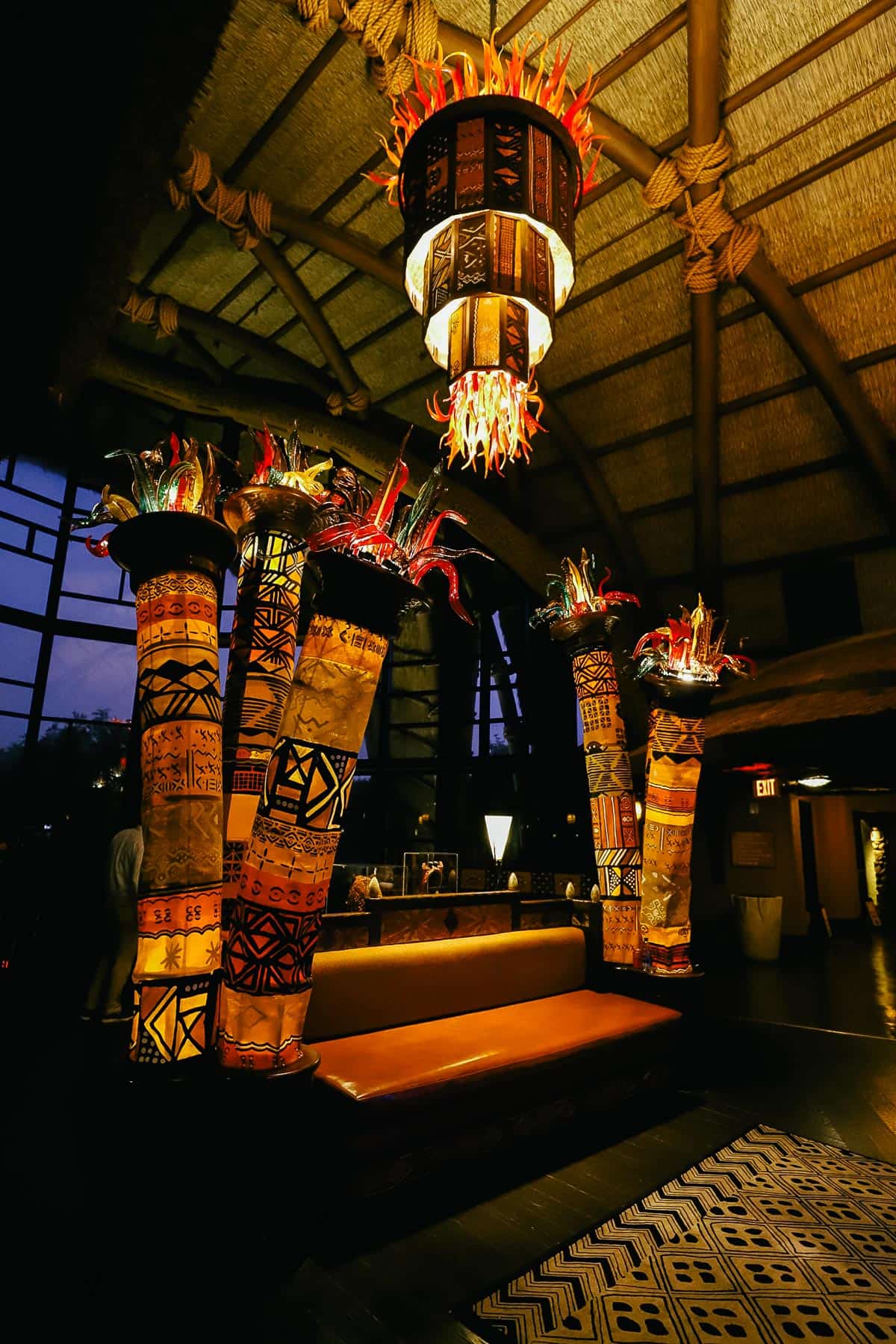 At the back of the lobby, a two-story wall of windows looks out to the primary savanna at Kidani Village.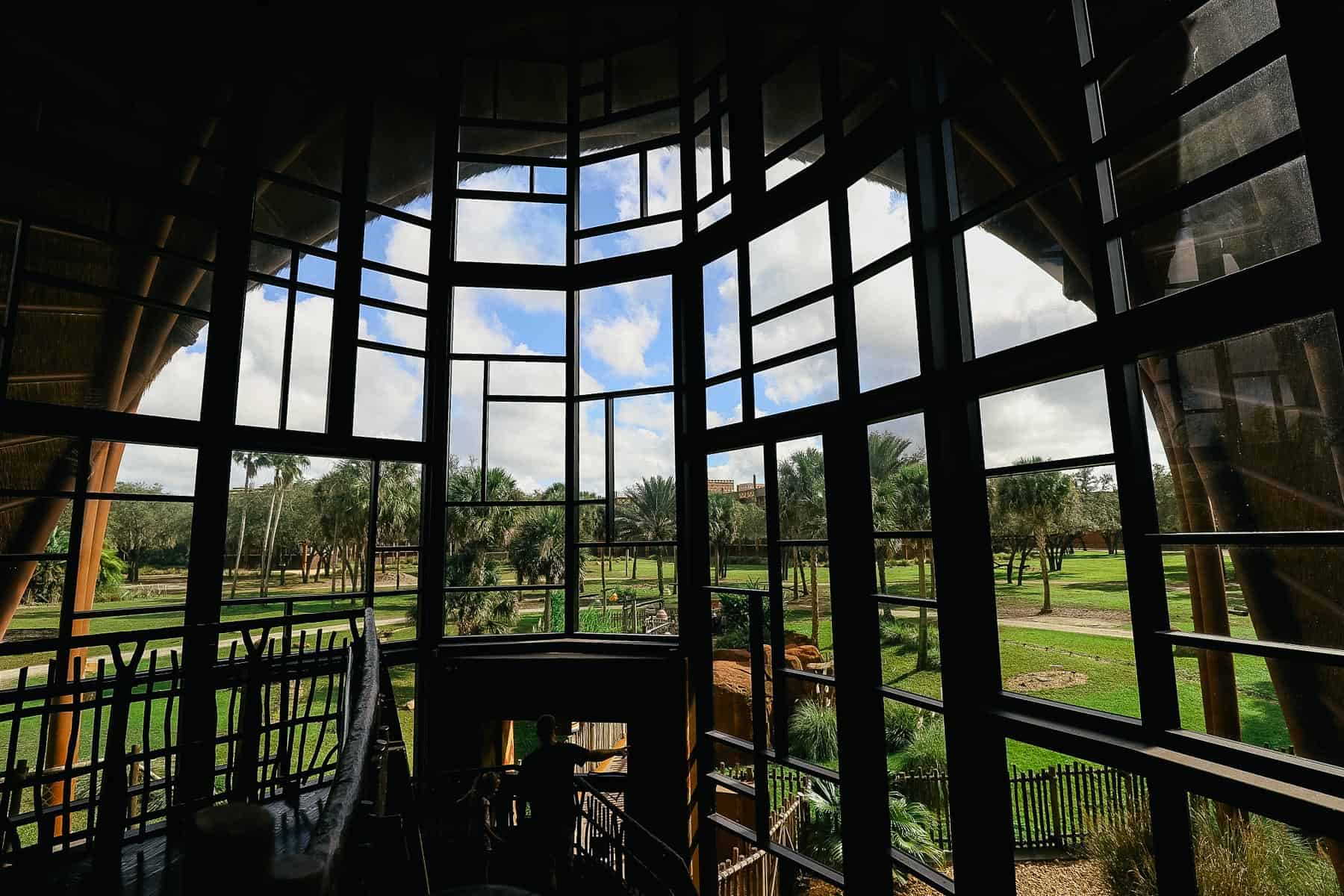 Kidani Village is laid out in a horseshoe-curved design inspired by a traditional African Kraal. Its design was implemented to enhance the views of the savanna from both private and public viewing areas.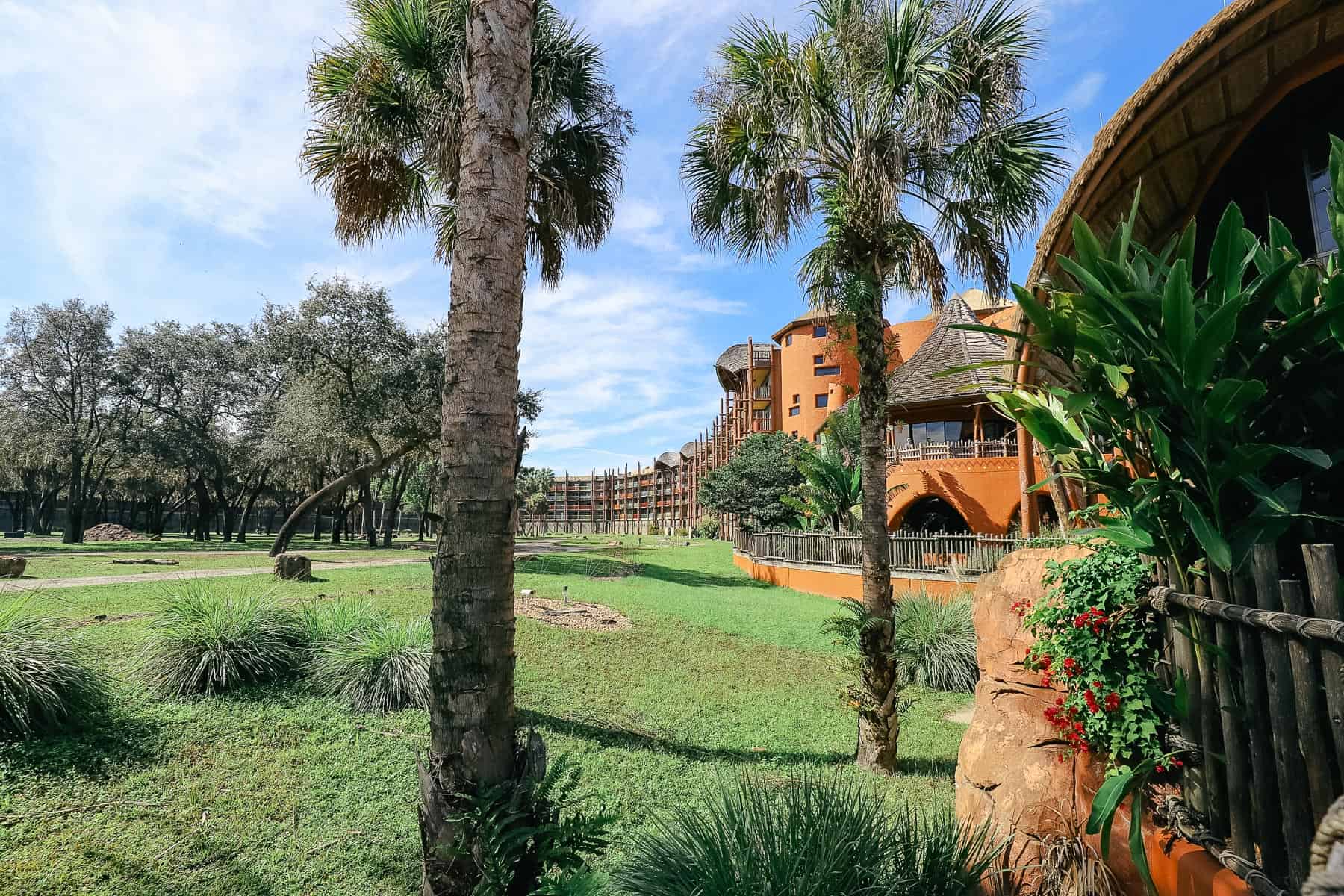 Johari Treasures, the gift shop at Kidani Village, sits on one side of the lobby.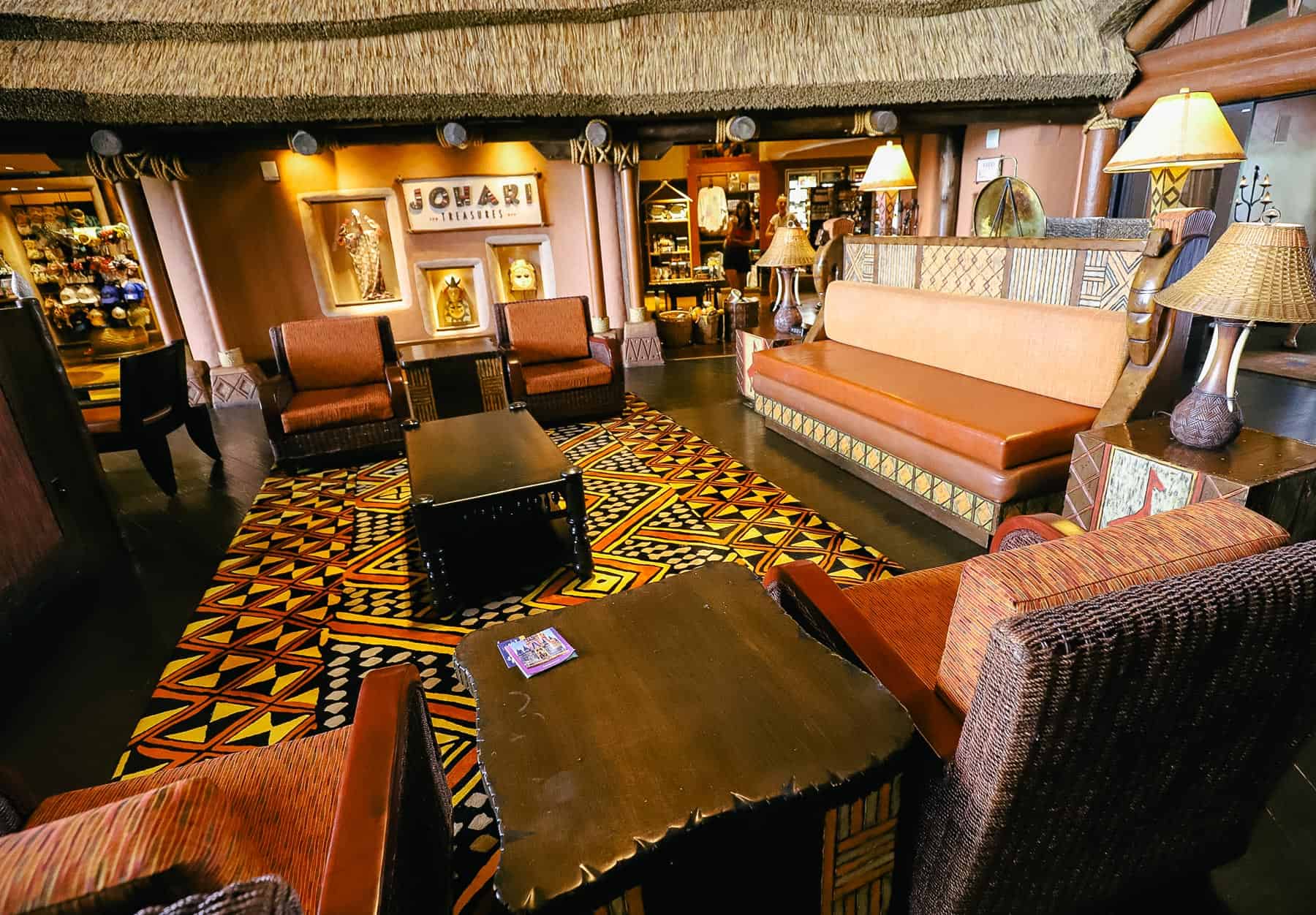 You'll find hand-painted African proverbs throughout the lobby and the rest of the resort. Many are written in brown and gold against a clay background.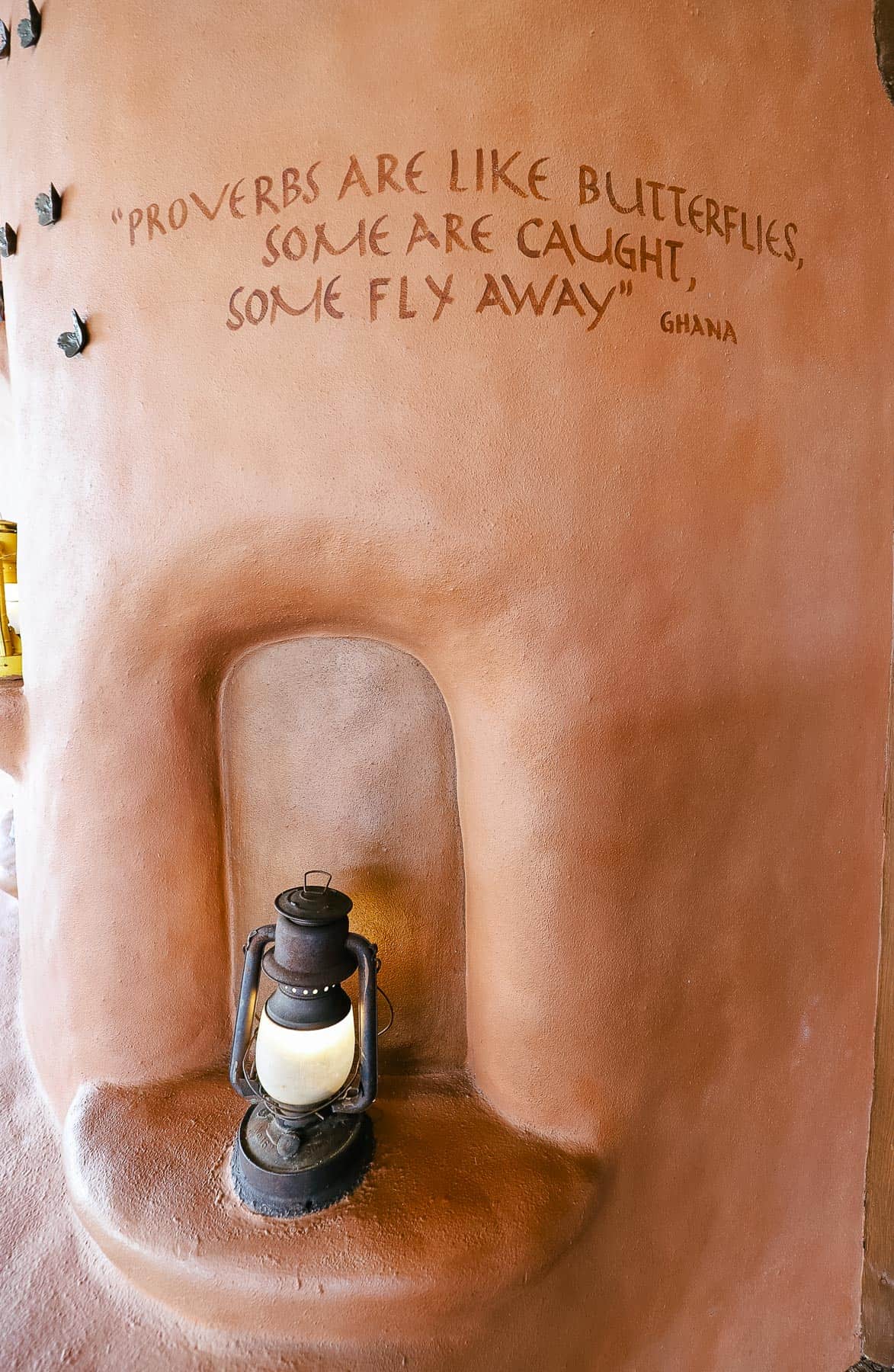 "Great Kings Have Big Hearts" -Ethiopia
---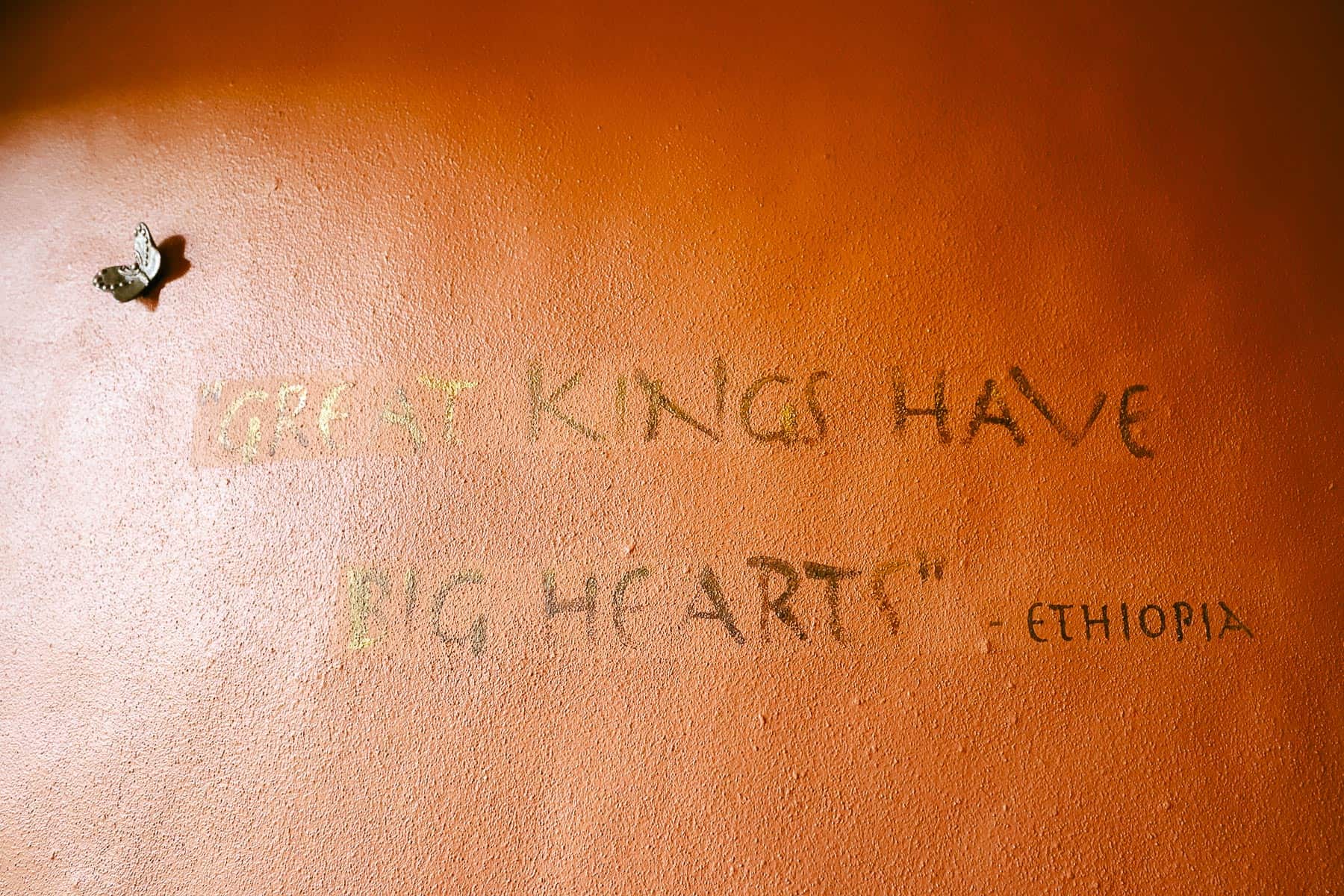 Kidani Village and Jambo House are home to an extensive collection of art. They have a combined total of over 300 pieces of authentic African art.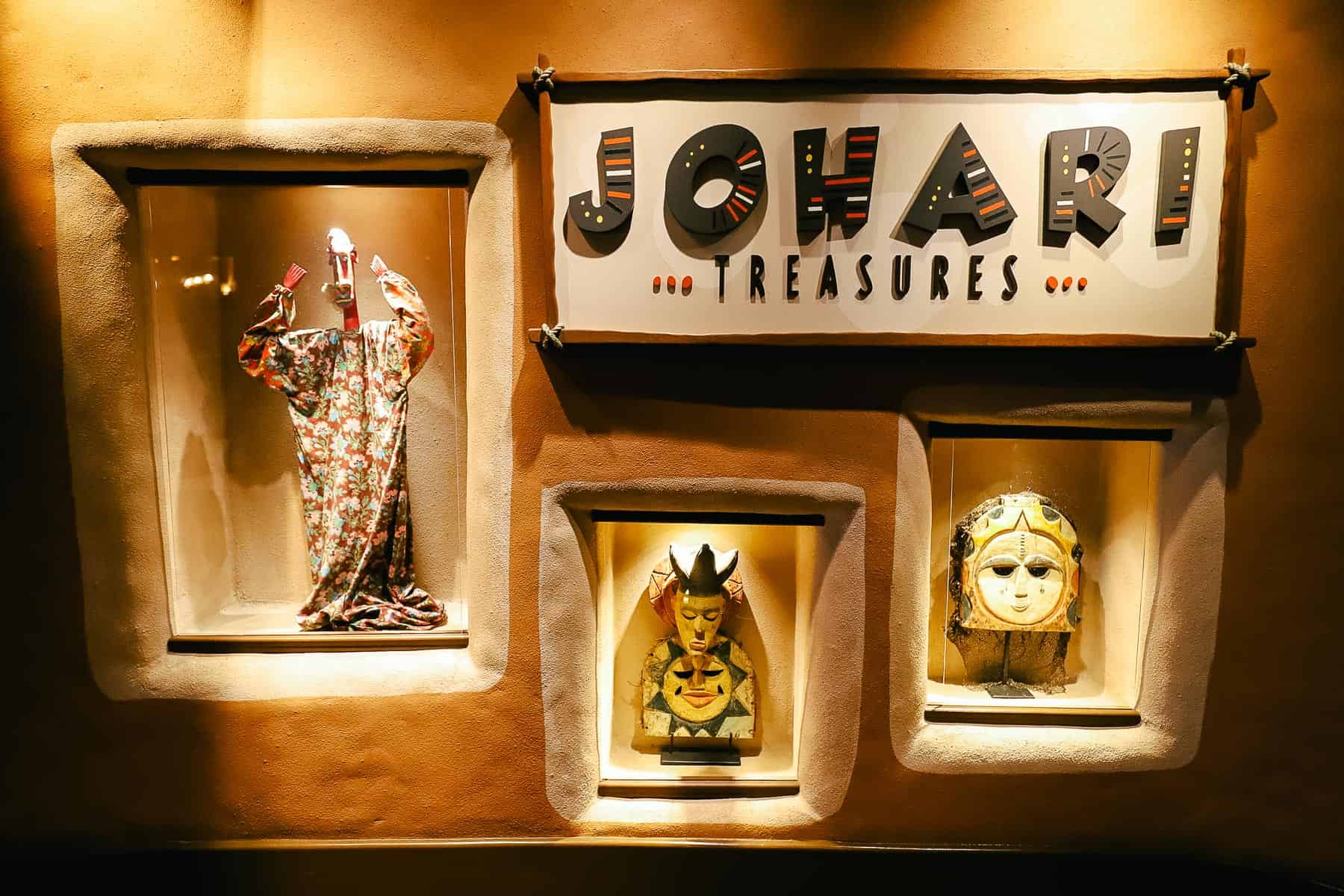 It is the largest collection of African art outside of Africa. So, if you enjoy this kind of thing, take the time to tour both resorts during your stay.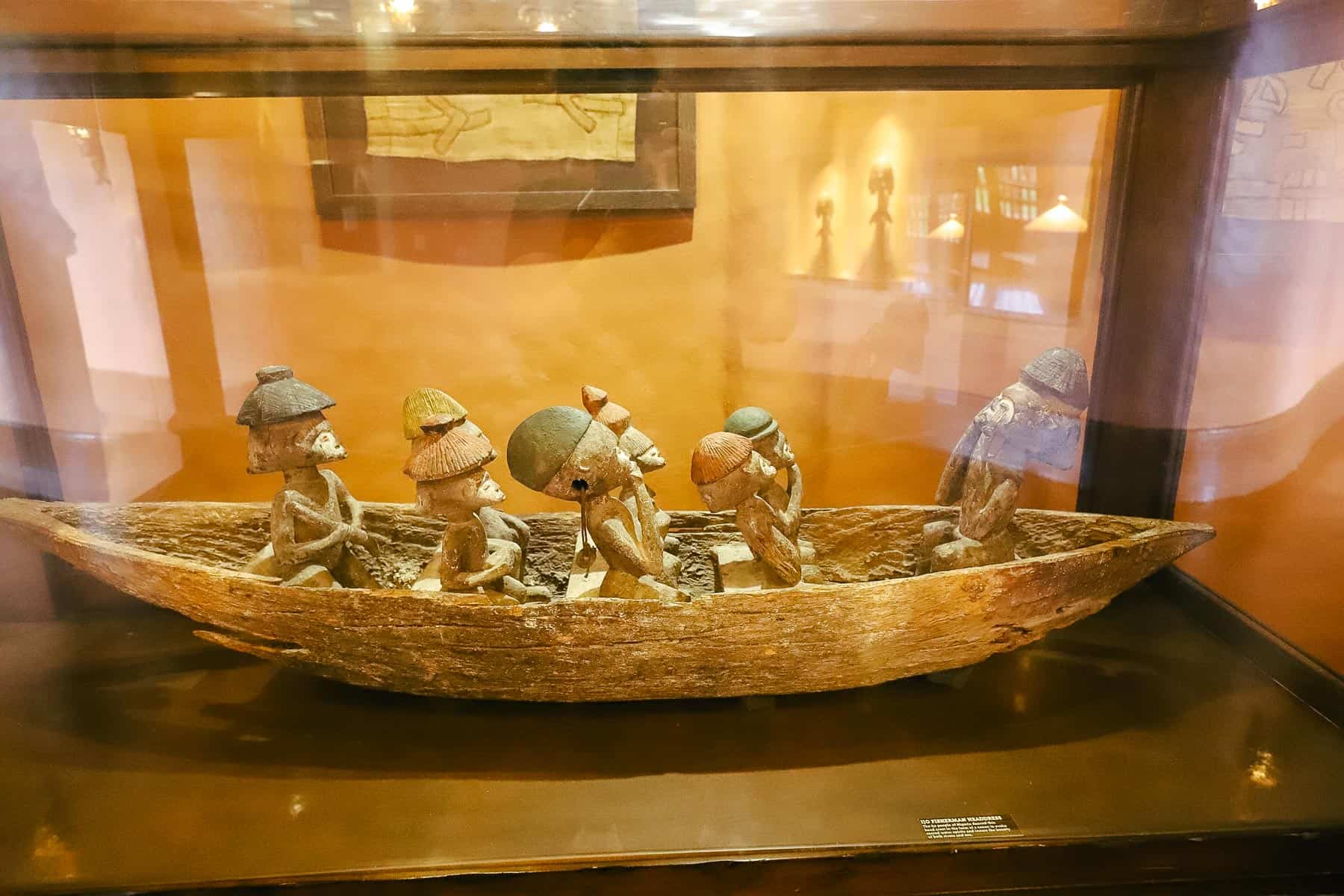 It's fun to explore the resort, and you'll find interesting displays in lobbies, hallways, nooks, and crannies. Some of the pieces are magnificent.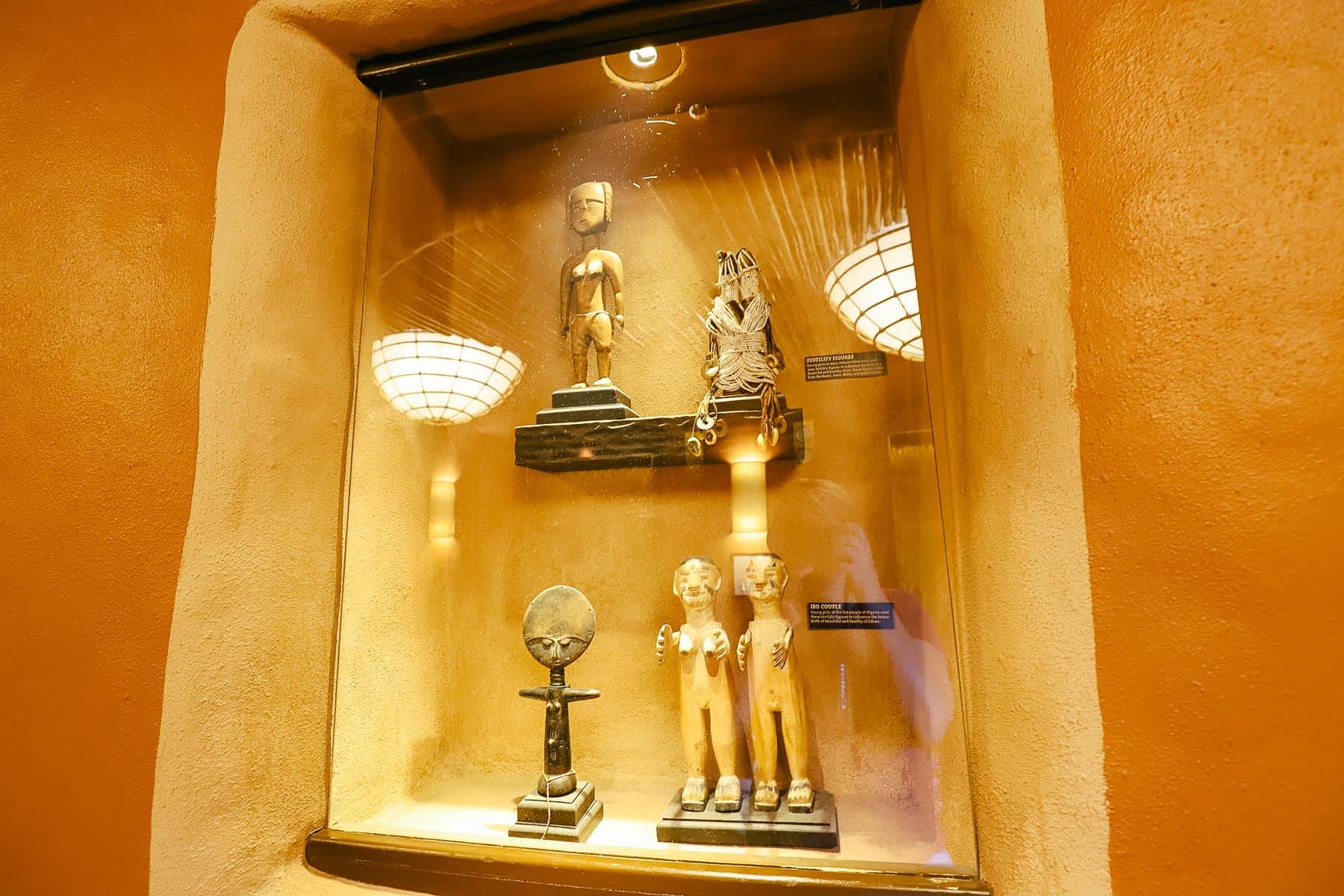 Between the proverbs and artwork alone, the resort offers plenty to see and do–and we haven't even gotten to the best part.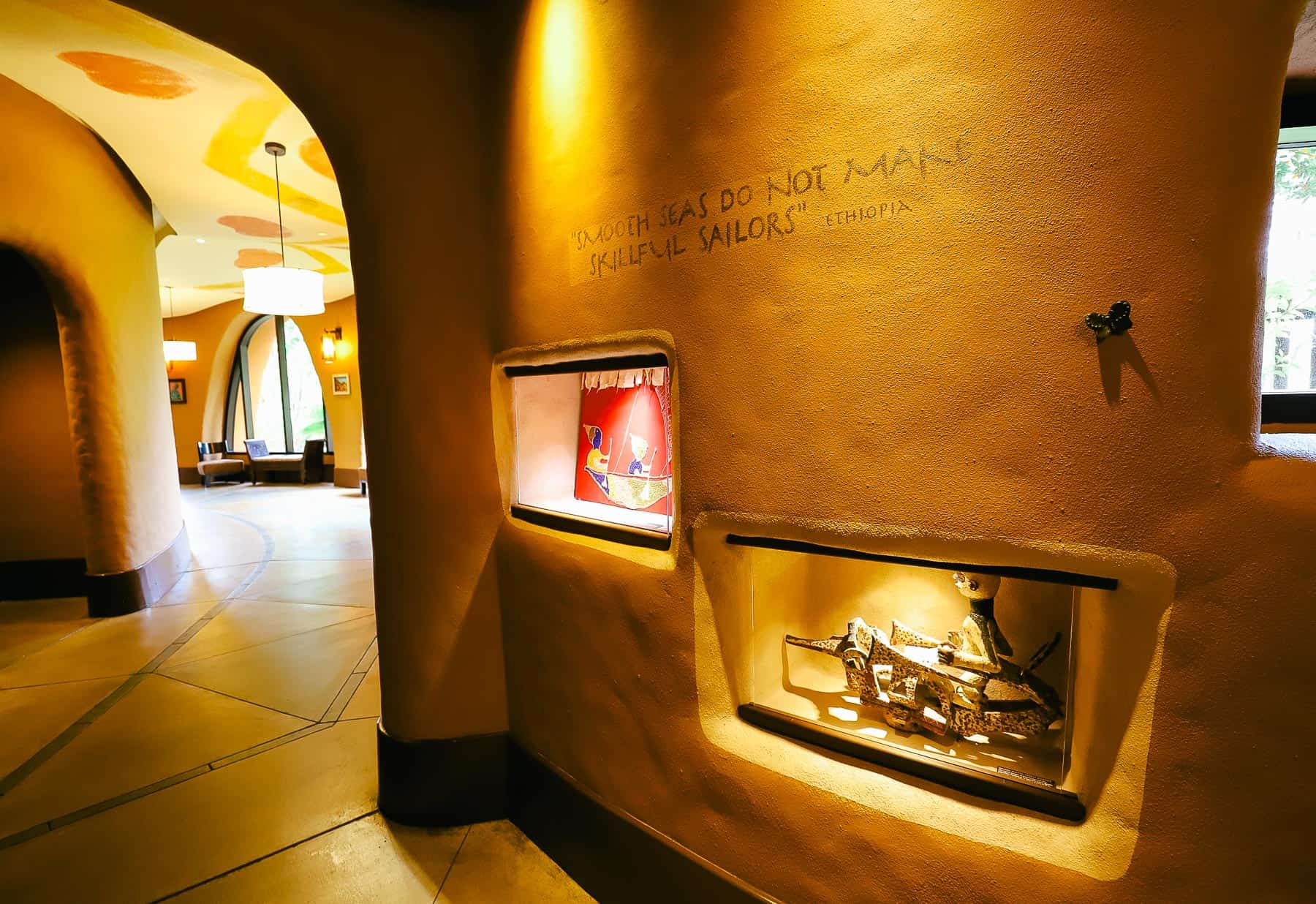 Savannas at Kidani Village
It should come as no surprise that the best part of Kidani Village is its savannas. They are the main attraction and what draws people to the resort in the first place. Everything else is like icing on the cake.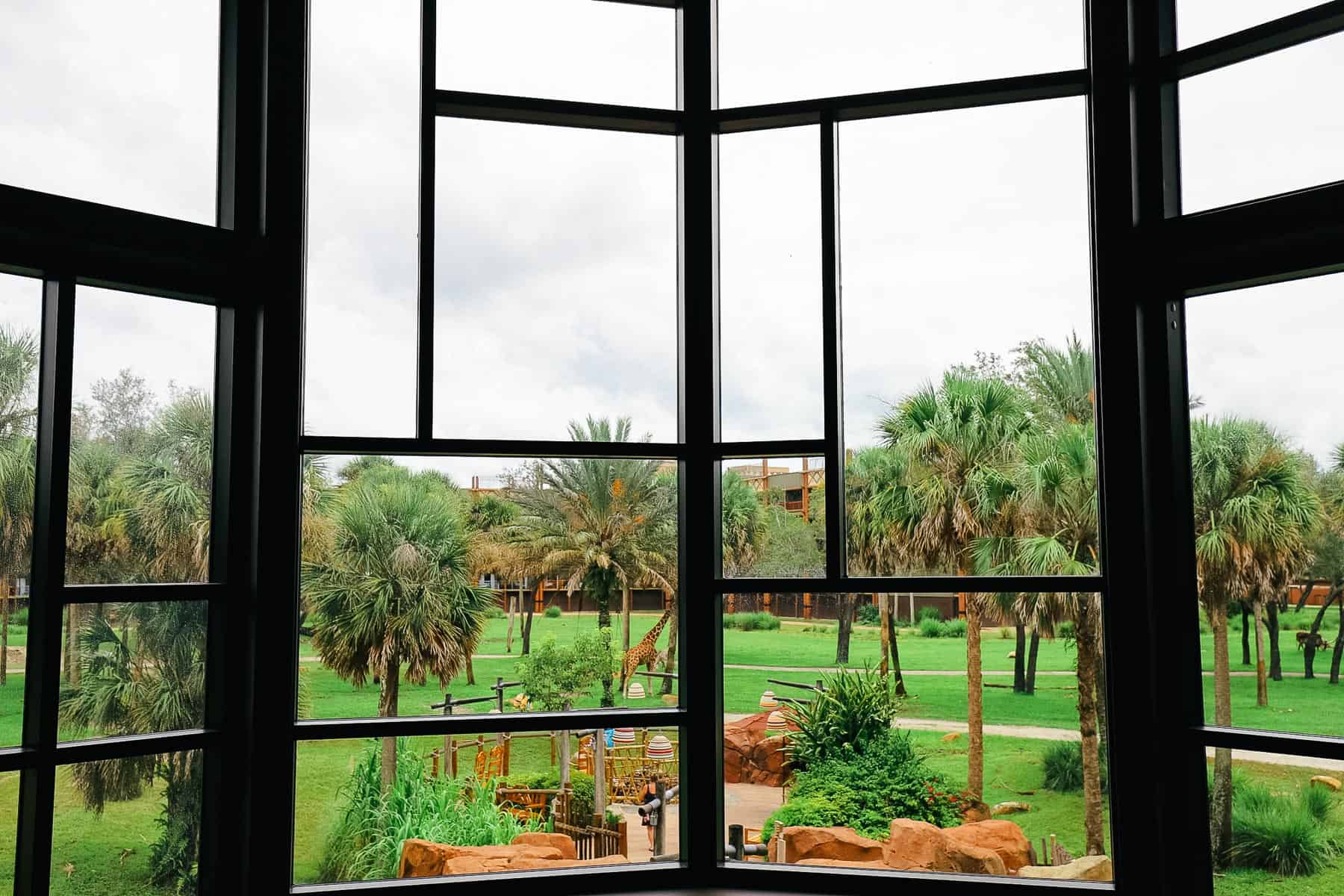 Public viewing areas and rooms at Kidani Village face the Sunset Savanna. From the lobby, you can see the savanna from the windows, or you can walk out onto one of the covered porches. Plenty of seating is available, and these areas are rarely crowded.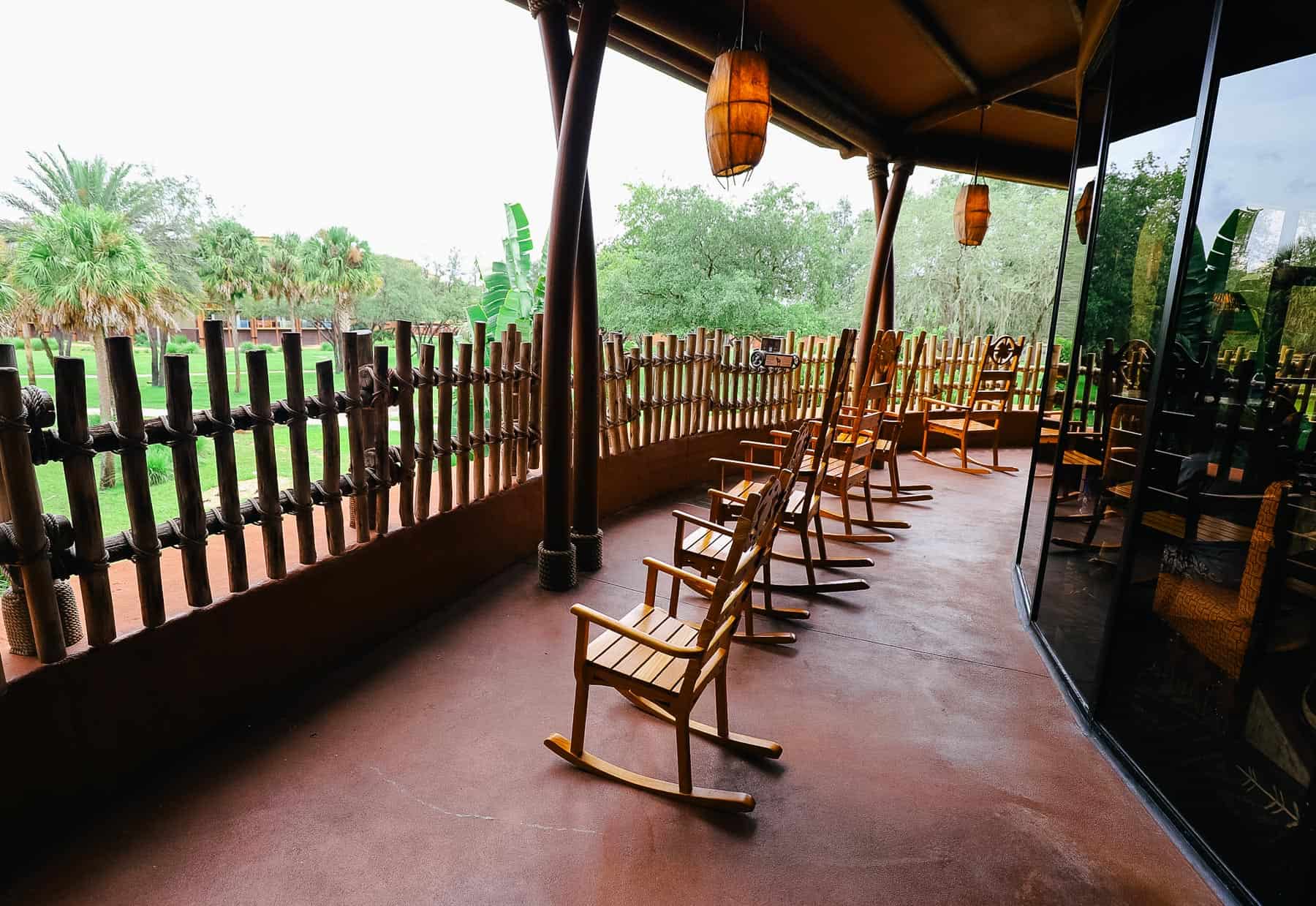 From the overlooks, you can see whatever animals are out. It's not uncommon to see giraffes and zebras.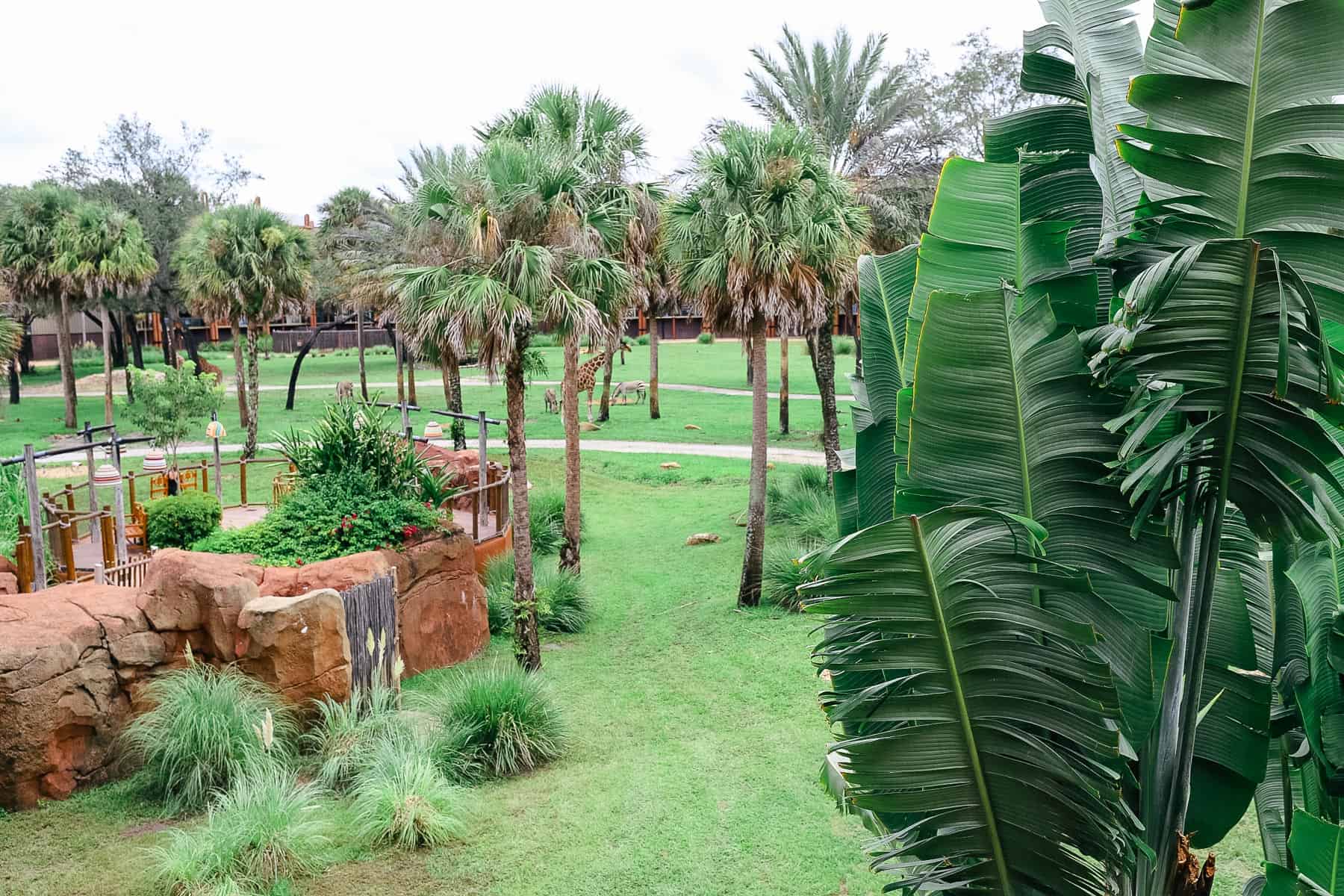 Here are a few giraffes passing through and Ankole cattle further back.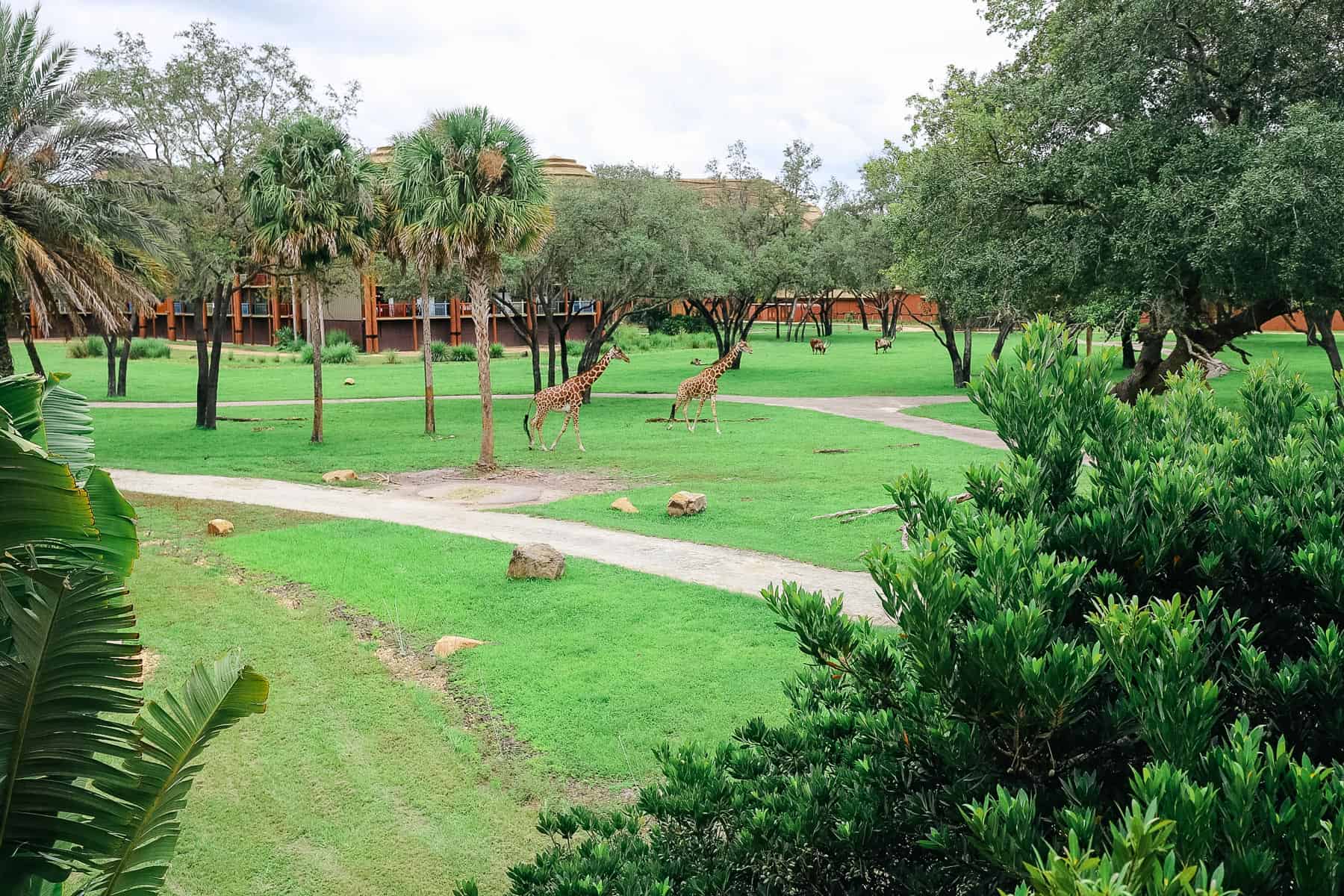 You can visit the lower-level viewing area that extends into the savanna for a closer look.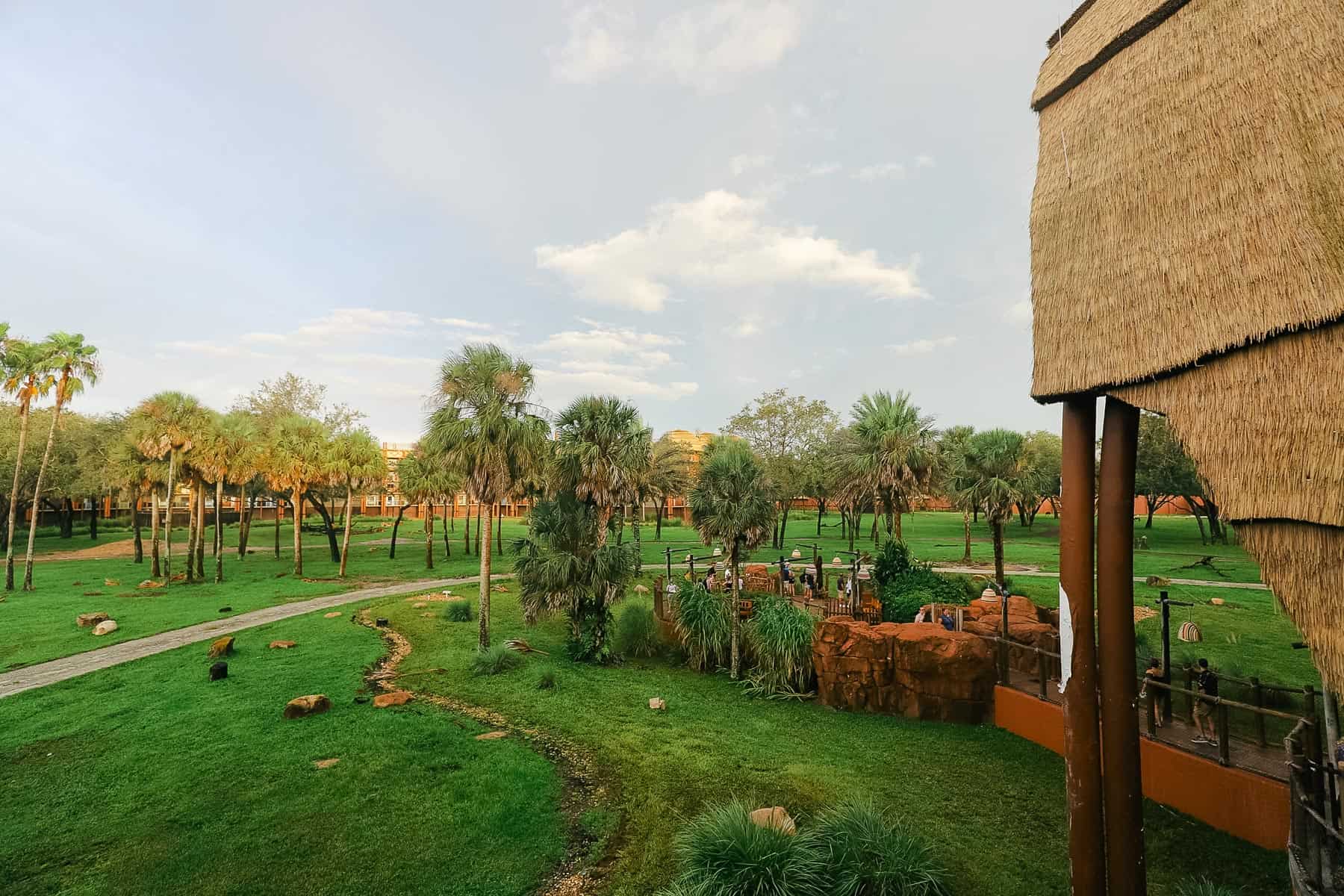 It's a gorgeous area offering expansive views of the hotel and any nearby animals.
This viewing area has several places to sit. If you visit during the evening hours, you might enjoy the firepit.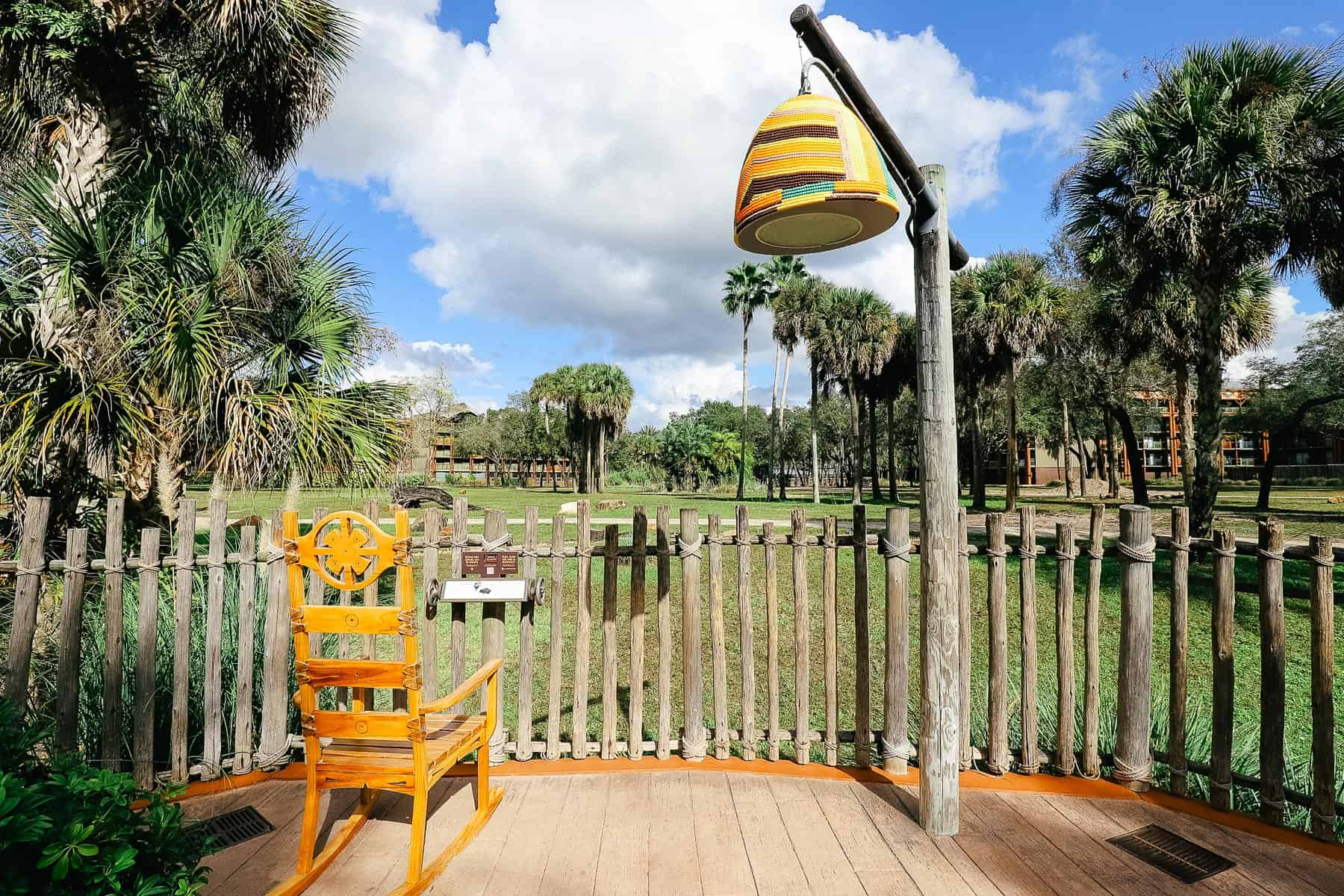 Cultural representatives from African countries are stationed at the public viewing area. They can answer questions and help identify animals as they roam the savanna.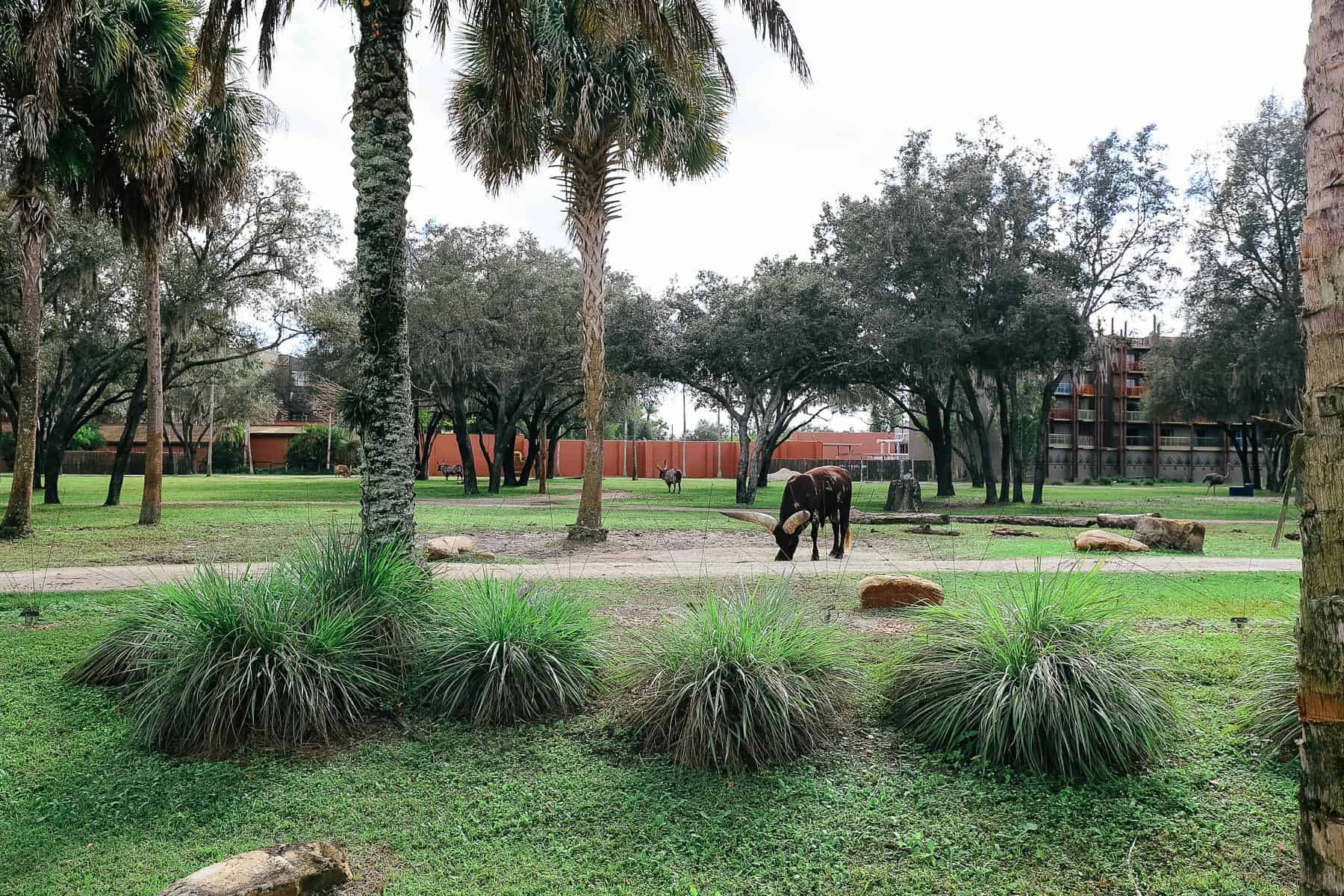 Here are a few Grey Crowned Cranes.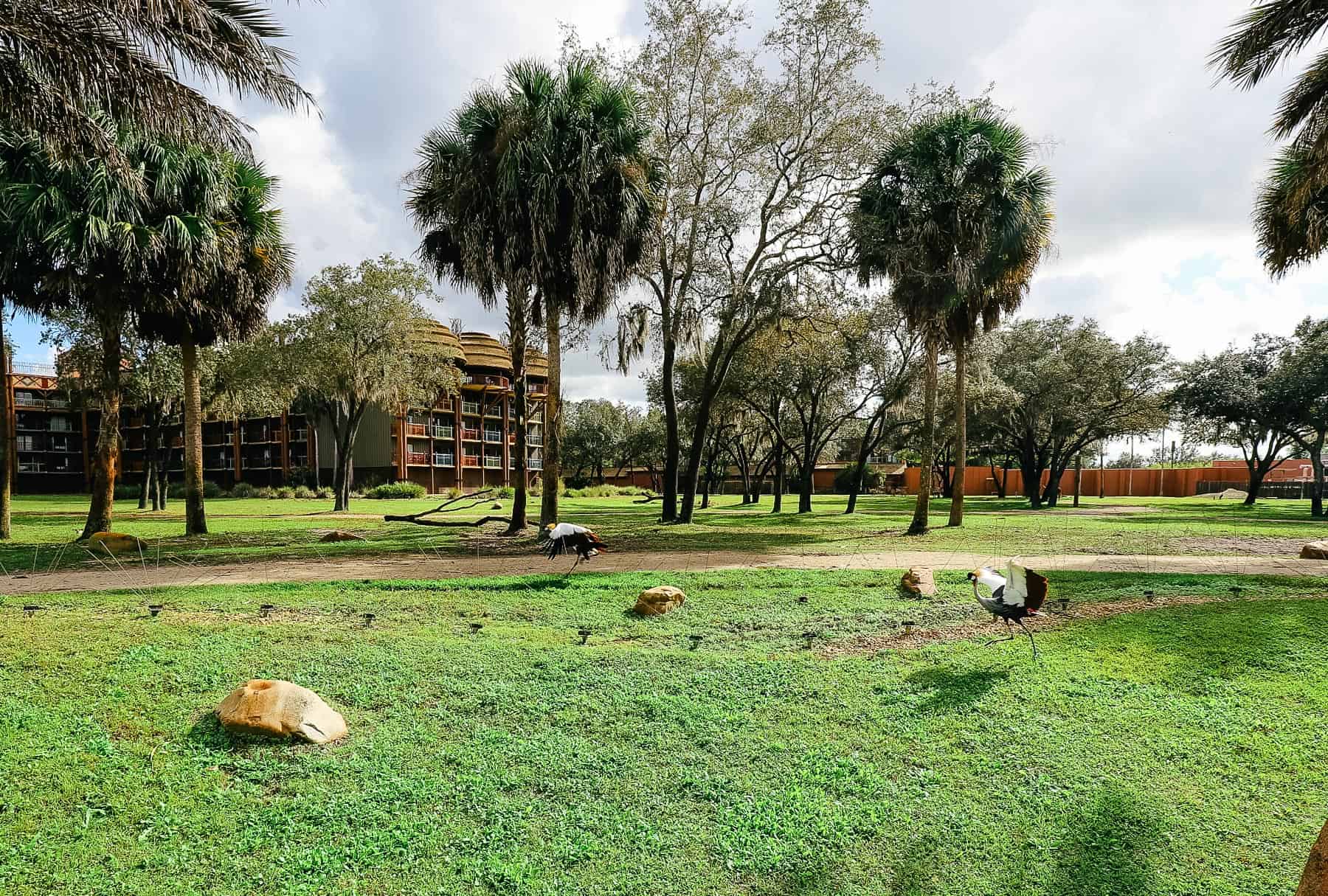 You can get a good look back at the hotel from this area.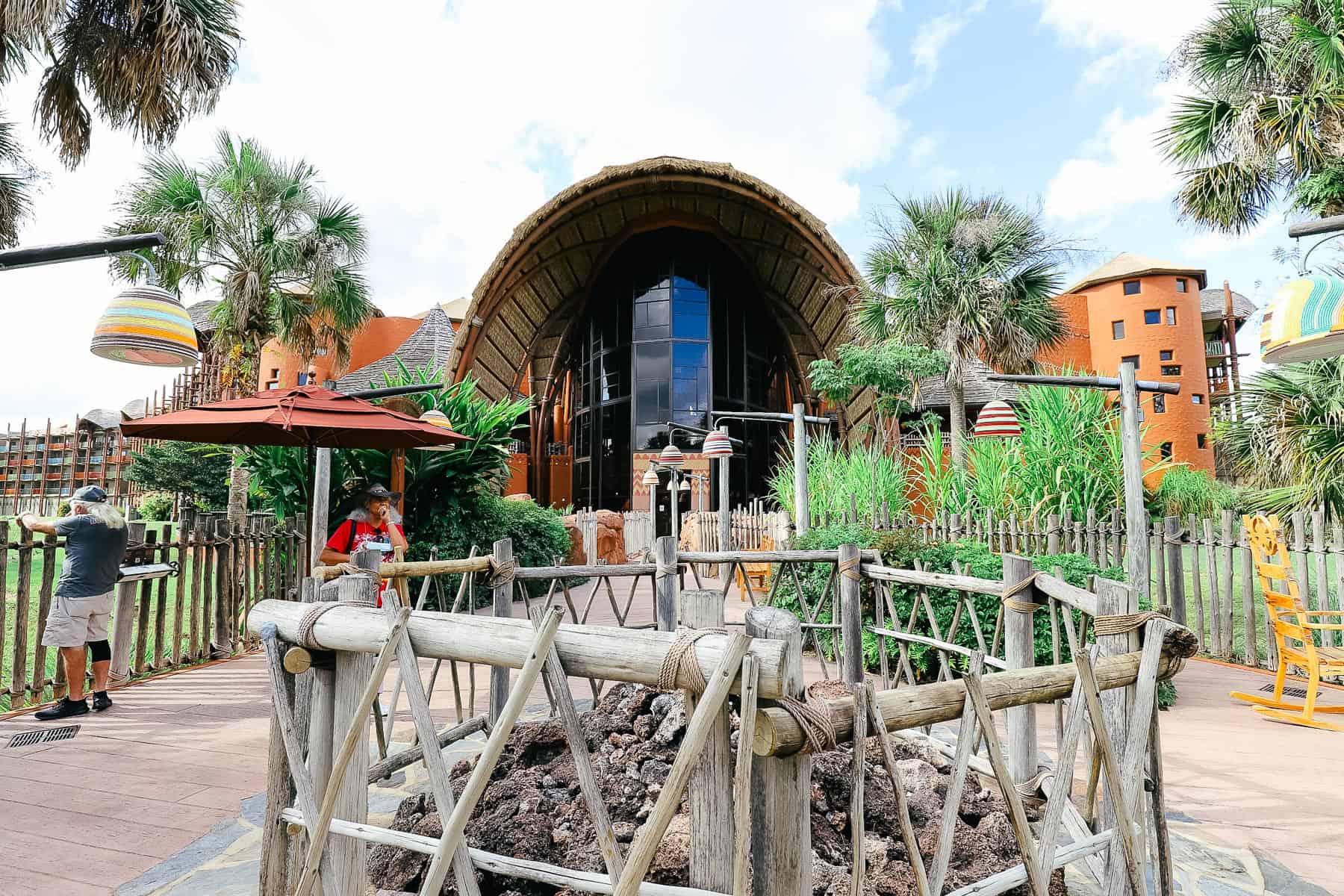 Kidani Village is incredible. It has this serene yet lush vibe that's difficult to describe.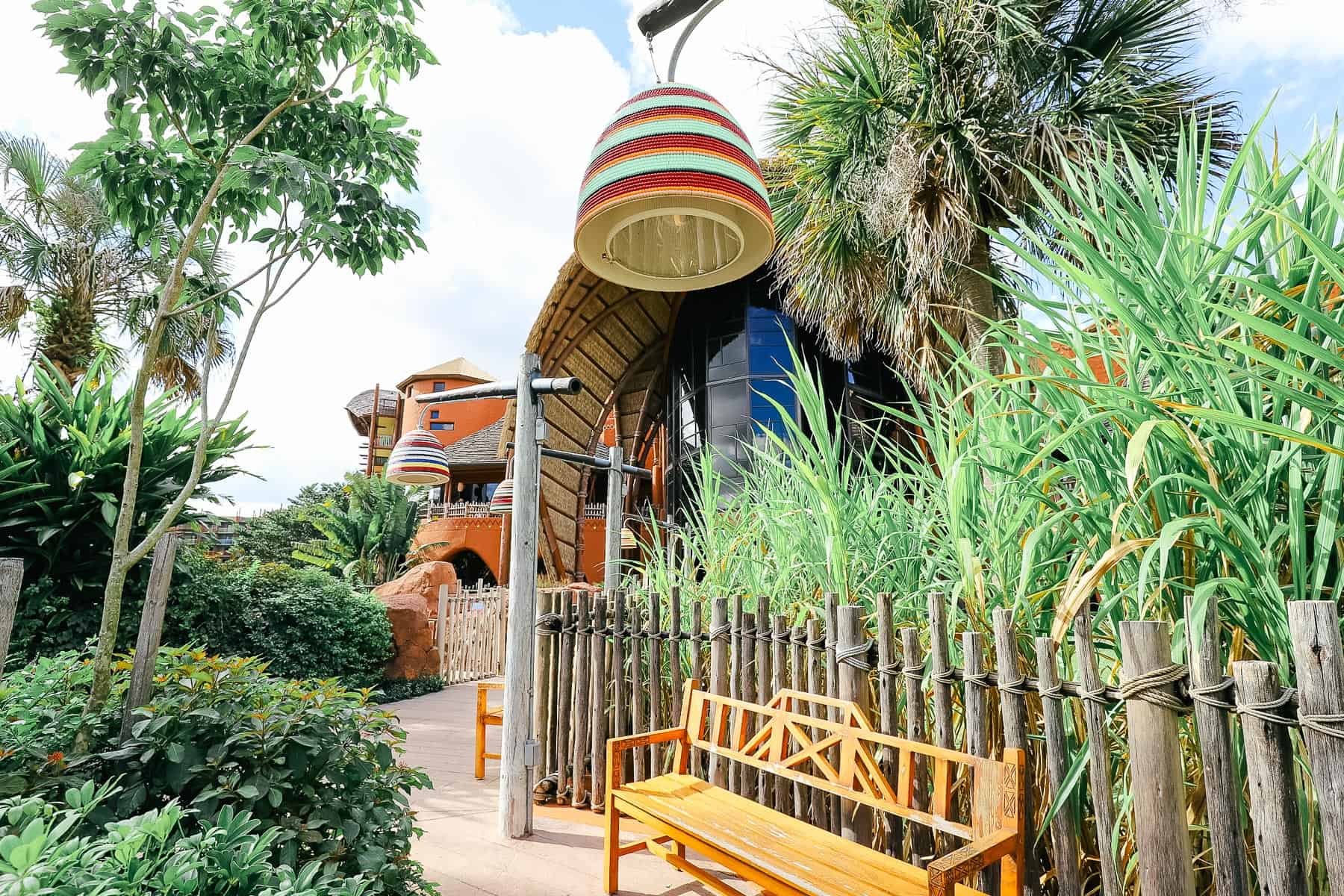 A second savanna viewing area is available near the Samawati Springs Pool. It sits directly behind the pool bar facing the Pembe Savanna.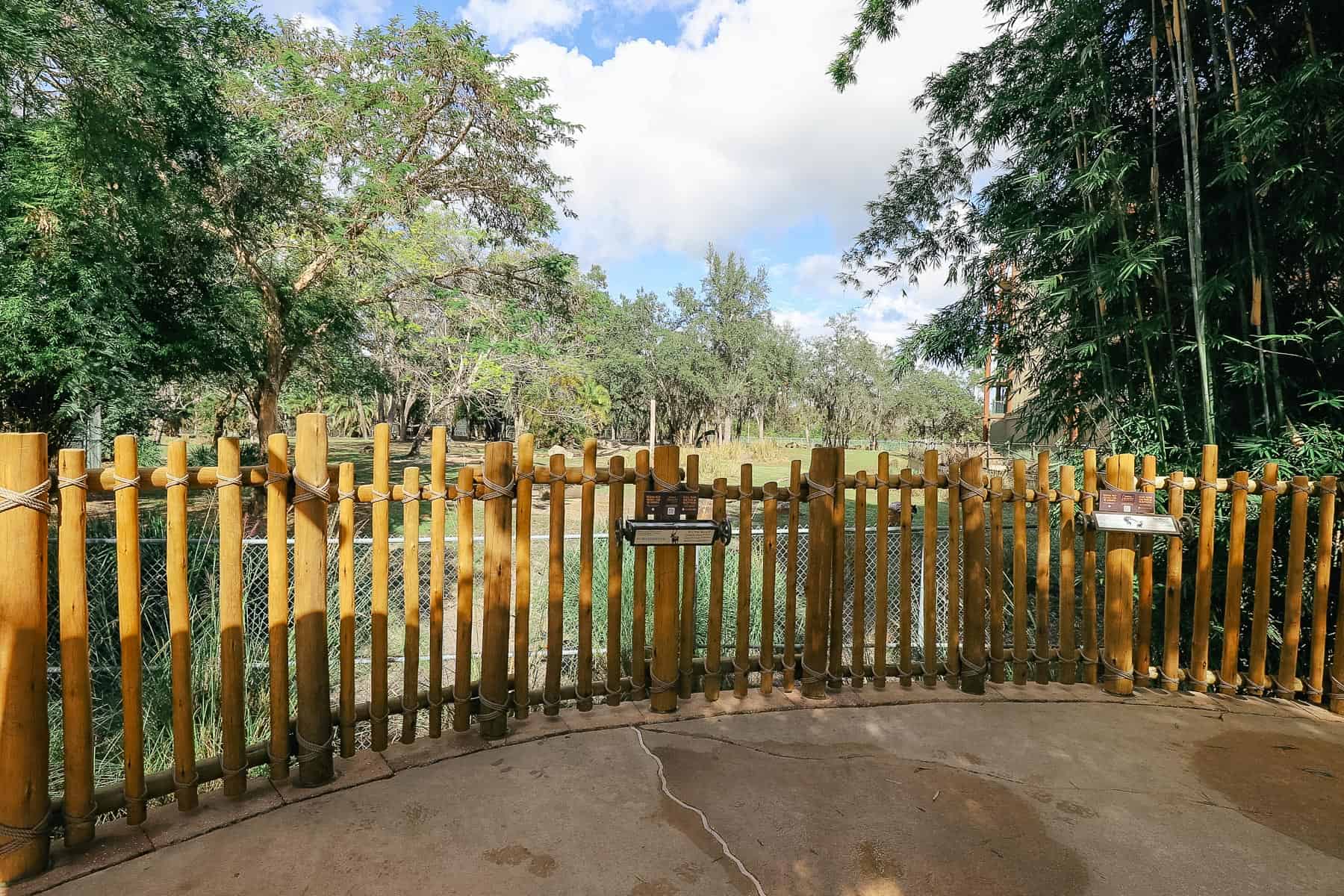 The area has several animals, like Cassanova, an Abyssinian Ground Hornbill. He was featured on an episode of the Magic of Disney's Animal Kingdom.
Another animal I always hope to see here is the Ruppell's Griffon Vulture. You can see him lying on the rock in the photo below. It's hard to tell his size from the photo. But this type of bird is one of the largest in the world and the highest-flying.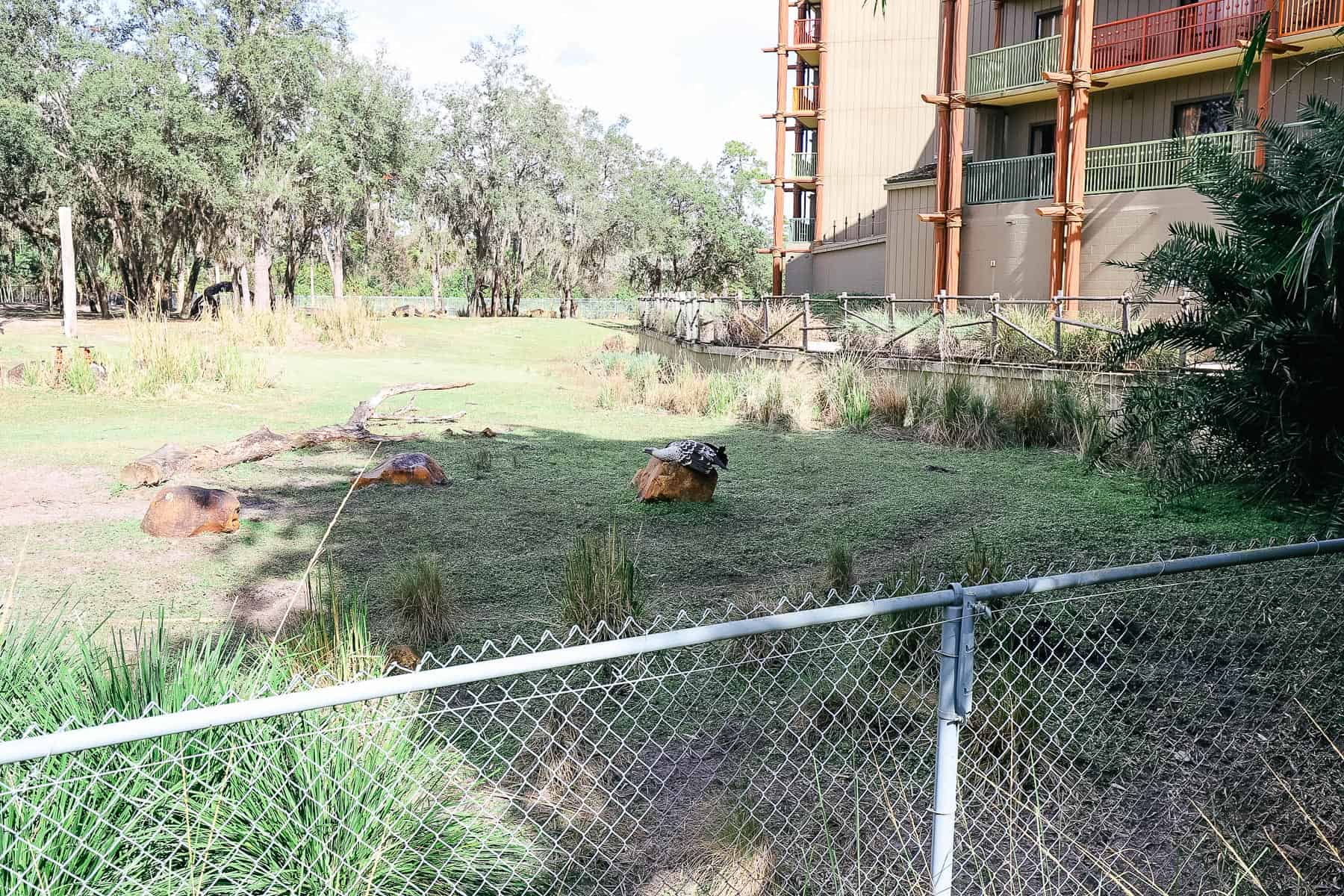 Rooms
For this stay, we reserved a deluxe studio with a standard view. We'll preview that room below. But first, I want to go over room options.
The following room types are available at Kidani Village:
Deluxe Studio (Sleeps up to 4 guests)
One-bedroom Villa (Sleeps up to 5 guests)
Two-Bedroom Villa (Sleeps up to 9 guests)
Two-Bedroom Lock-Off Villa (Sleeps up to 9 guests)
Three-bedroom Grand Villa (Sleeps up to 12 guests)
Deluxe studios are somewhat comparable to a standard hotel room. However, they have a few extras. Those extras are favorable for the most part. But at this resort, we do have one major issue with the deluxe studio. Can you tell what it is from the photo?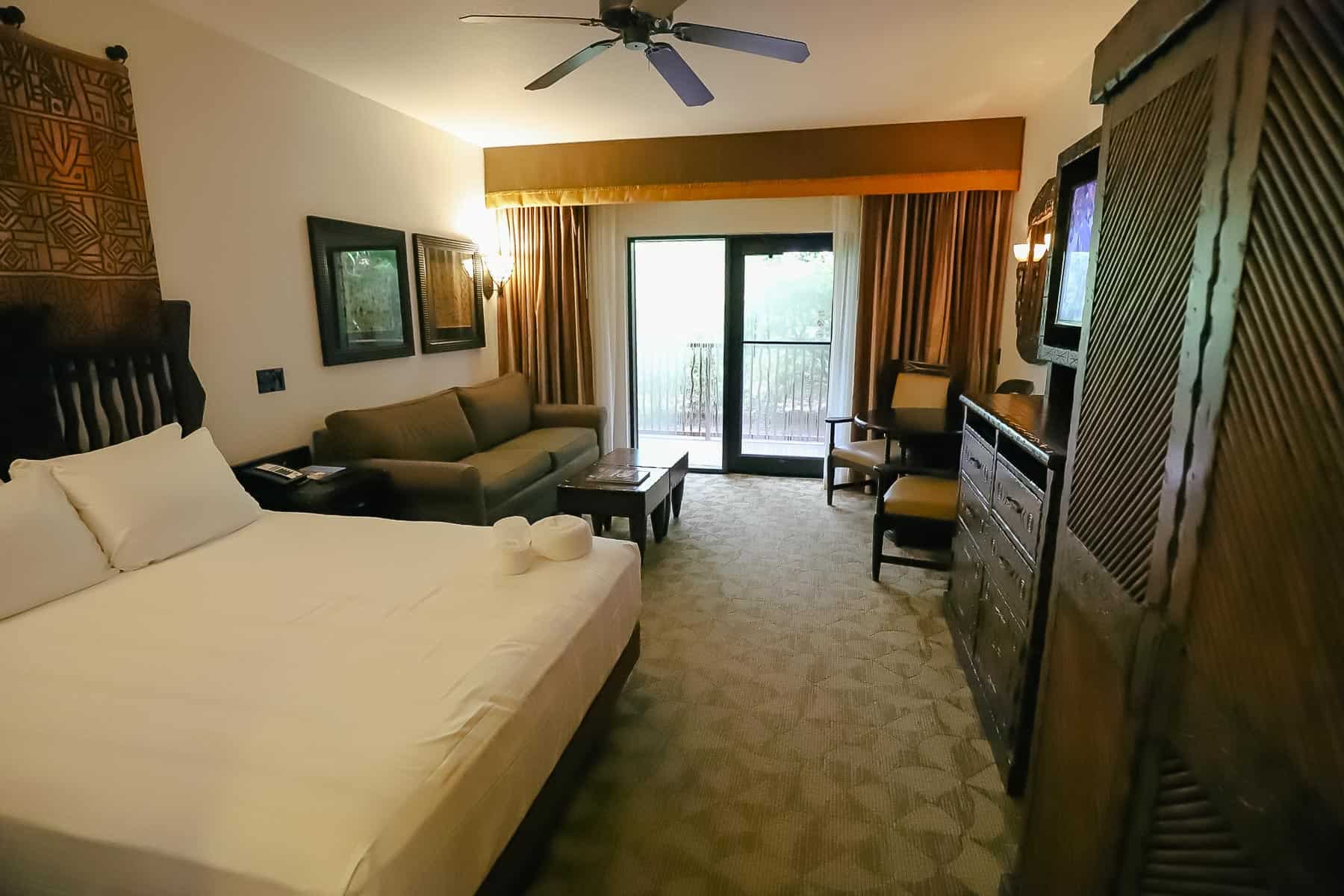 It's the sleeper sofa! Most of these sofa sleepers have been obliterated at Disney World over the past few years, replaced by Murphy beds. However, they remain at Kidani Village and in a few deluxe studios at Jambo House.
Our room had a queen-size bed and a queen-size sofa sleeper. This isn't a huge issue for a small party that doesn't need two beds.
But if someone sleeps on the pull-out couch for more than a night or two, I'd lean toward a standard room at Jambo House with two queen beds. From our experience, these beds are uncomfortable and could keep you or someone in your group from getting a good night's sleep.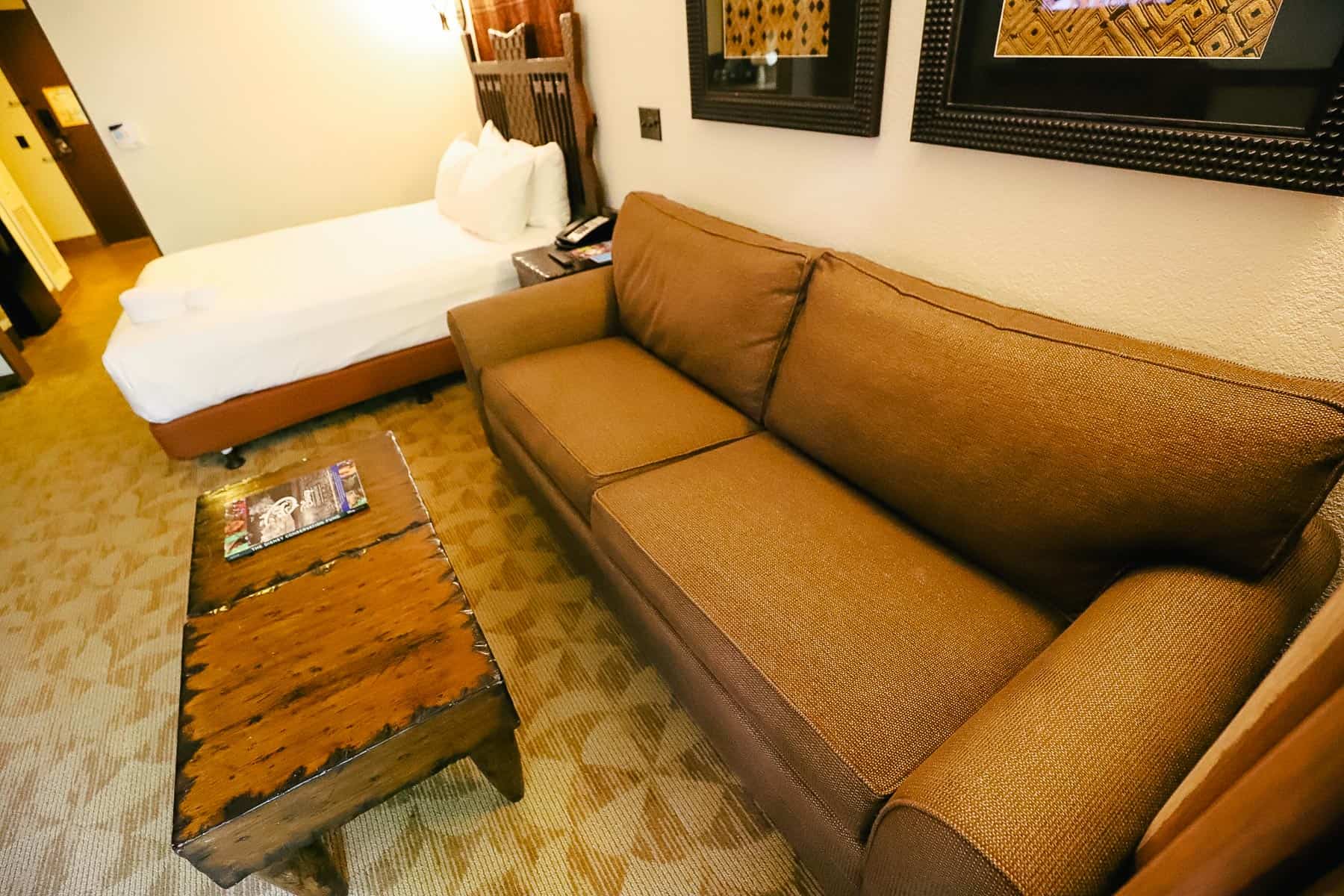 Other than that, the deluxe studios have a lot of positives. Here is a look at the kitchenette. You won't find these amenities in a standard hotel room at Disney World.
This area had a mini-refrigerator, full-size coffee maker, toaster oven, microwave, sink, and several other items. Since we were at the resort for the majority of this stay, several of these items were put to good use.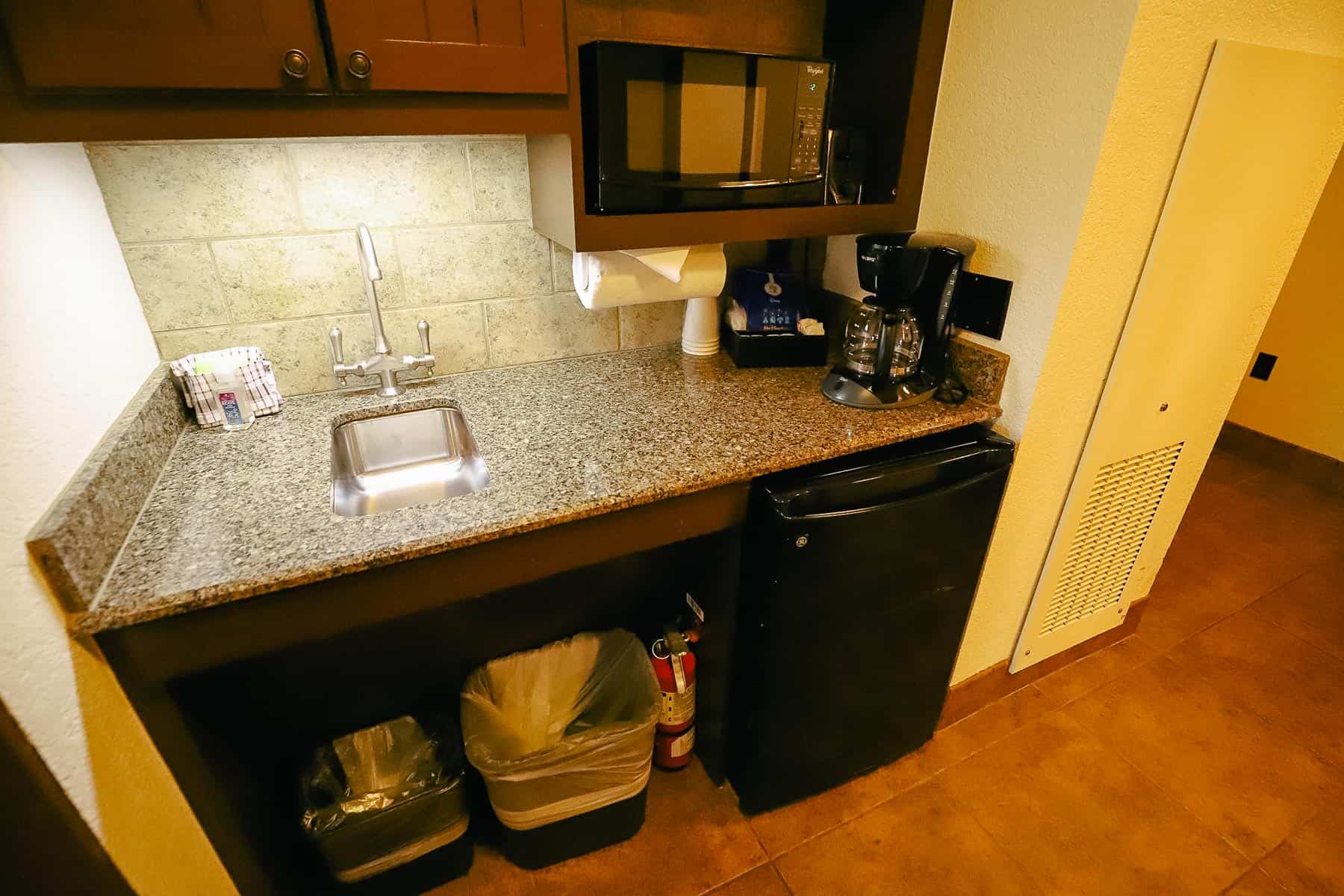 Here is a look at the guest bath. However, this was an accessible room.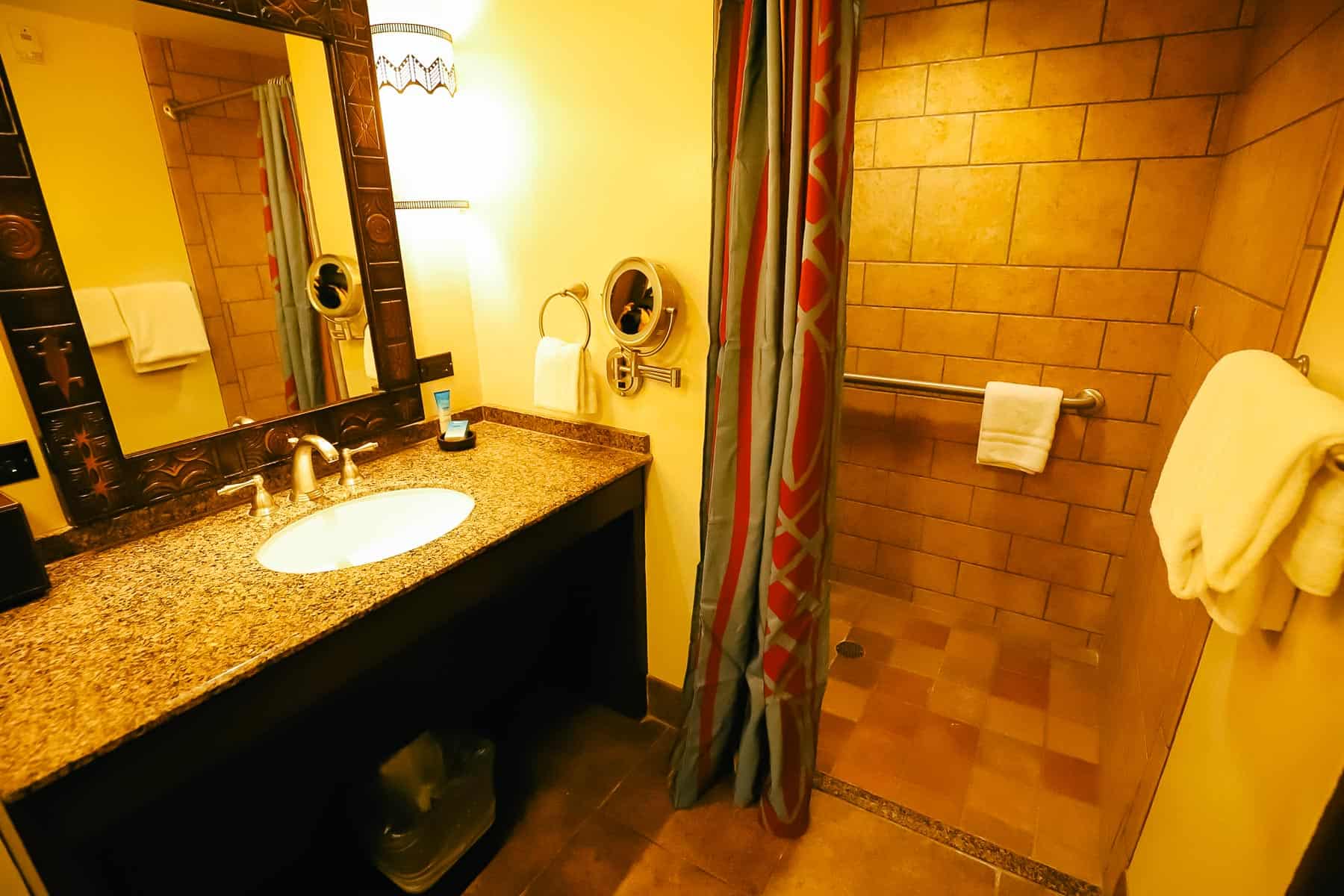 Here is an older photo with the usual layout for the bathroom. This bath features a separate vanity area with two sinks and a toilet with a tub and shower combination.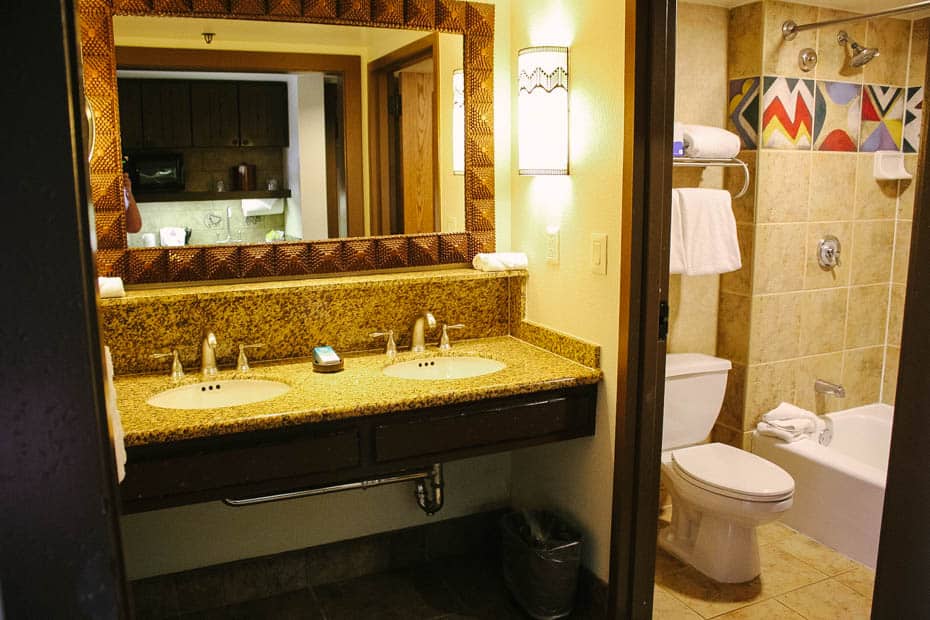 Our room had plenty of storage space.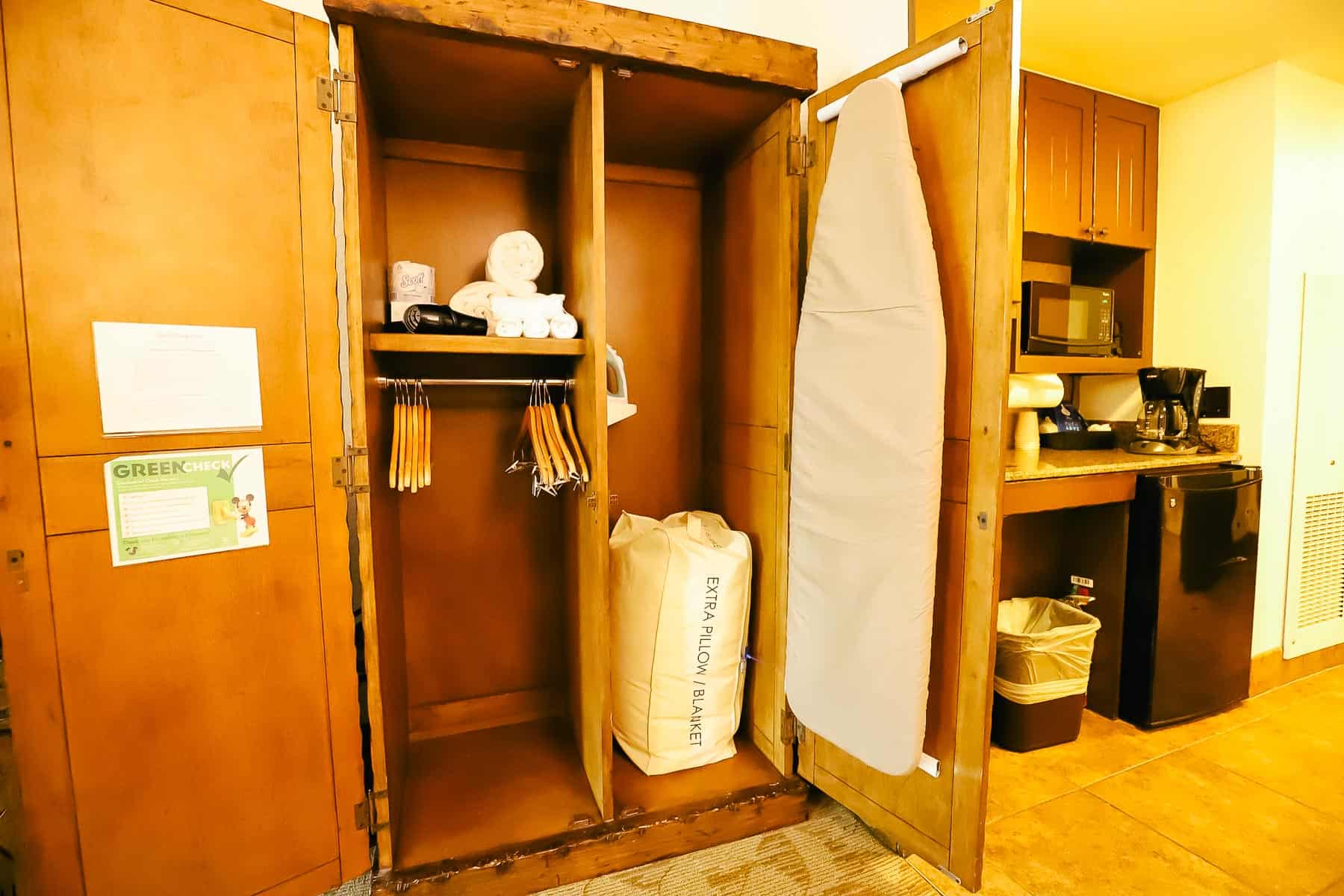 We opted for a standard view since we were only staying for a few nights (and because of bad weather). So, having a savanna view wasn't a big deal for this trip. But if this is your one big vacation for the year, and you can find the room in your budget, a balcony with a savanna view is definitely worth it.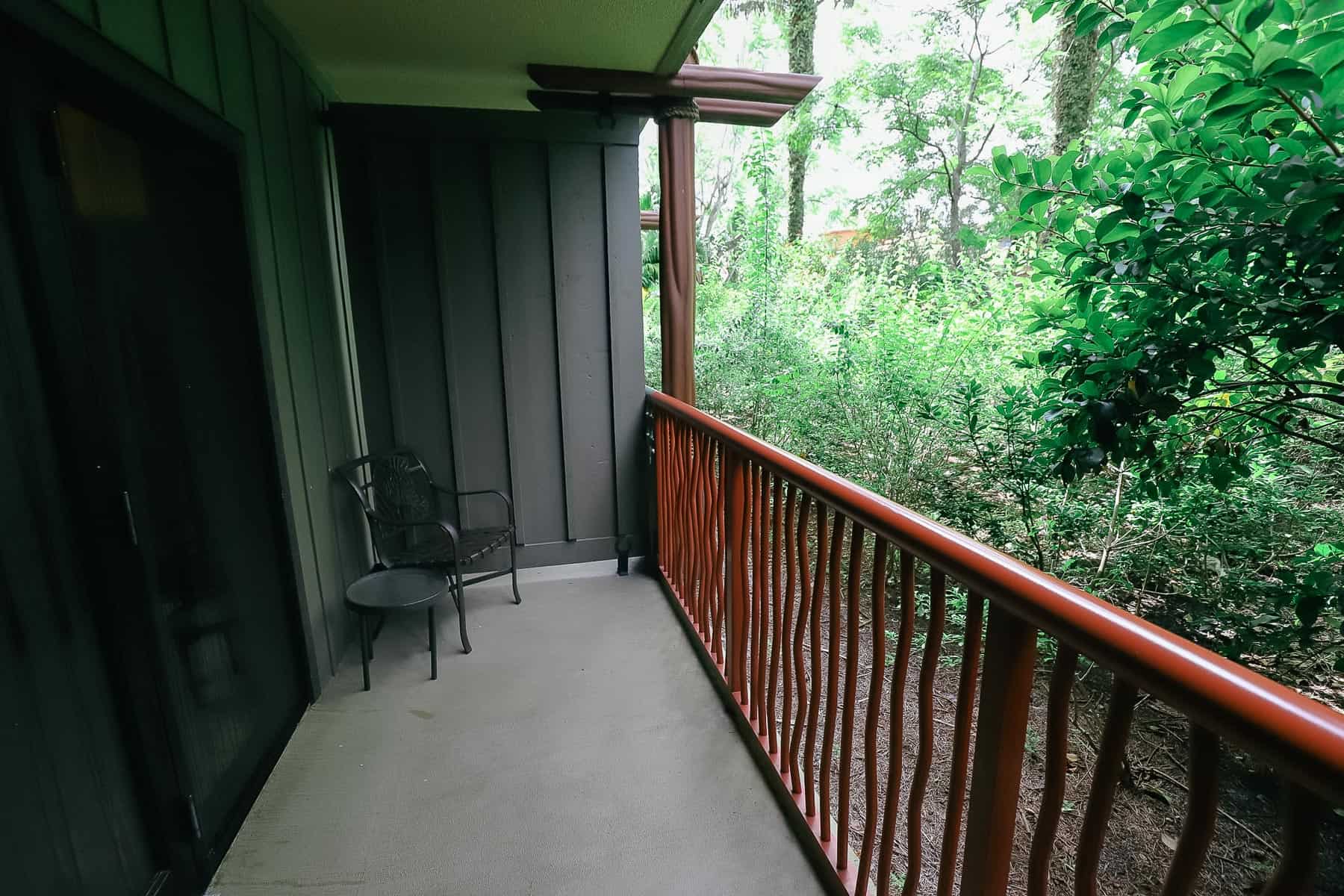 If you would like more specifics for this room, we have a Kidani Village deluxe studio room tour. That article provides more photos and a video of the room.
A while back, we toured the three-bedroom grand villa at Kidani Village. This suite is unique because it's a two-story that accommodates up to twelve guests. You can preview that article for more photos of the space.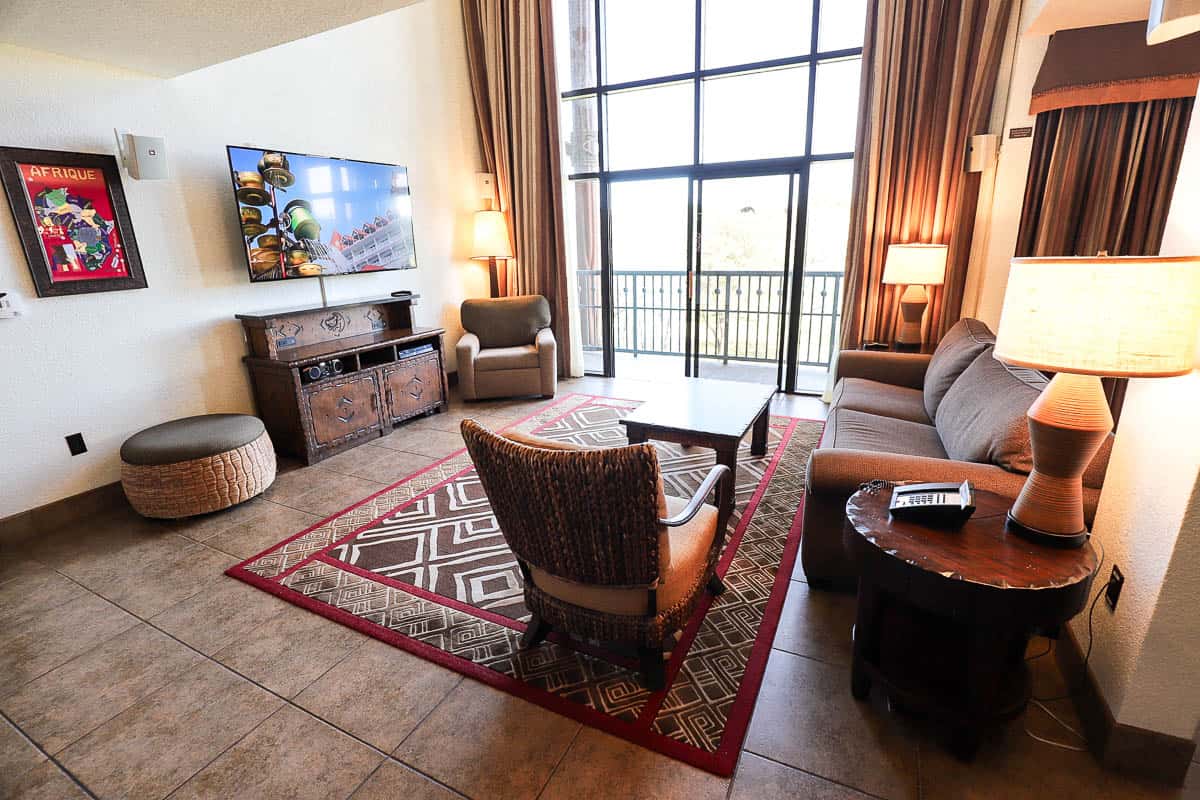 Dining
Dining at Kidani Village has its pros and cons, like anywhere else. On the one hand, you have access to all the restaurants between the two resorts.
On the other hand, you have to walk to Jambo House to access the resort's main counter service dining location. So you can't just walk down to the lobby at Kidani Village to pick up a burger or an order of chicken nuggets.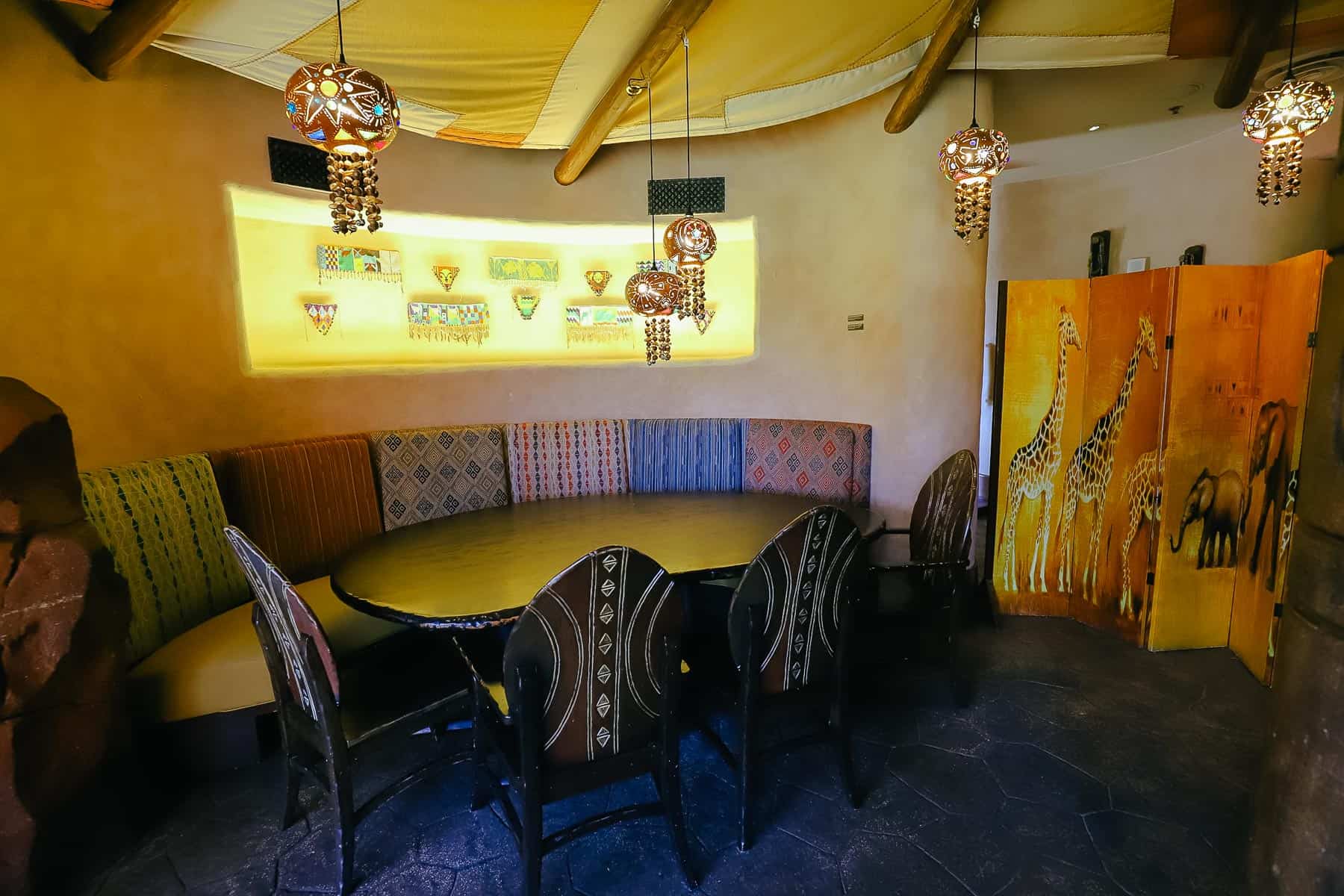 However, Kidani Village is home to one of the most popular restaurants at Disney World. That restaurant, Sanaa, resides on the lower level underneath the lobby.
Do you want to plan a meal at Sanaa? Yes. It is delicious. They are most known for their popular bread service that comes with five kinds of Naan bread and nine accompaniments. Several other of their menu items are prepared in a Tandoori oven.
Related: Sanaa Review with Bread Service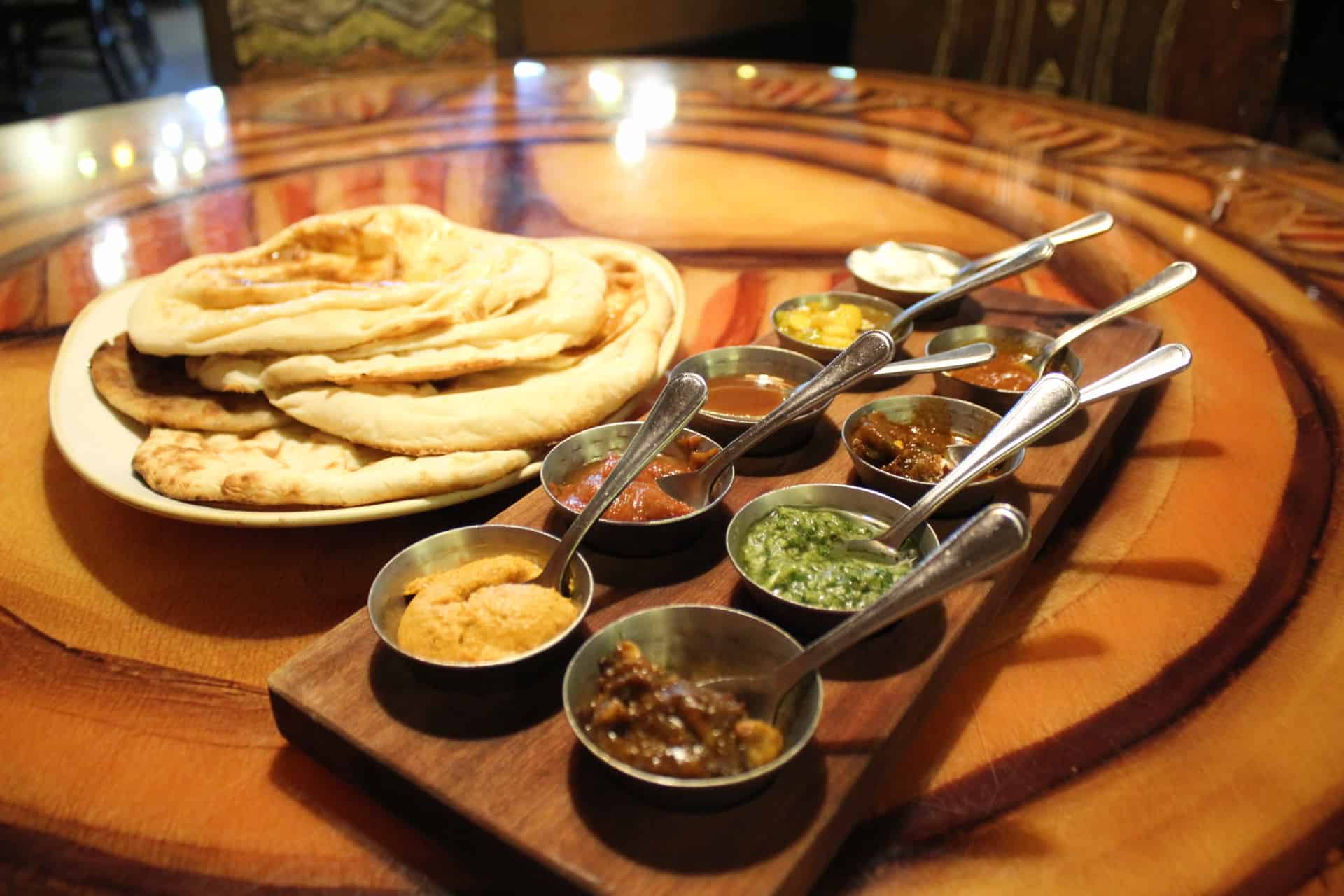 Some of the tables in Sanaa face the savanna. So you might plan a lunch or early dinner to see the animals.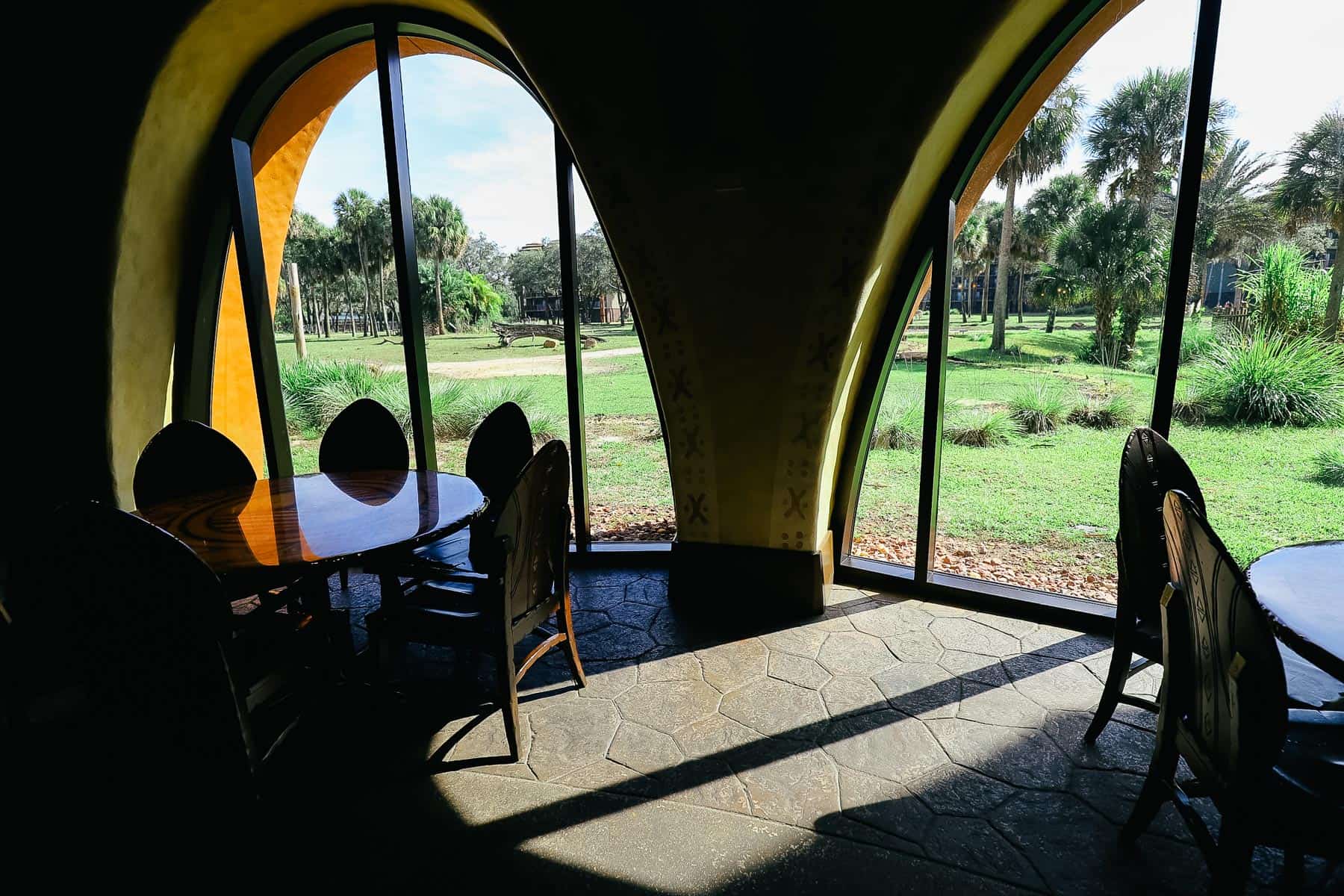 Kidani Village has one other dining option, the Maji Pool Bar at the Samawati Springs Pool.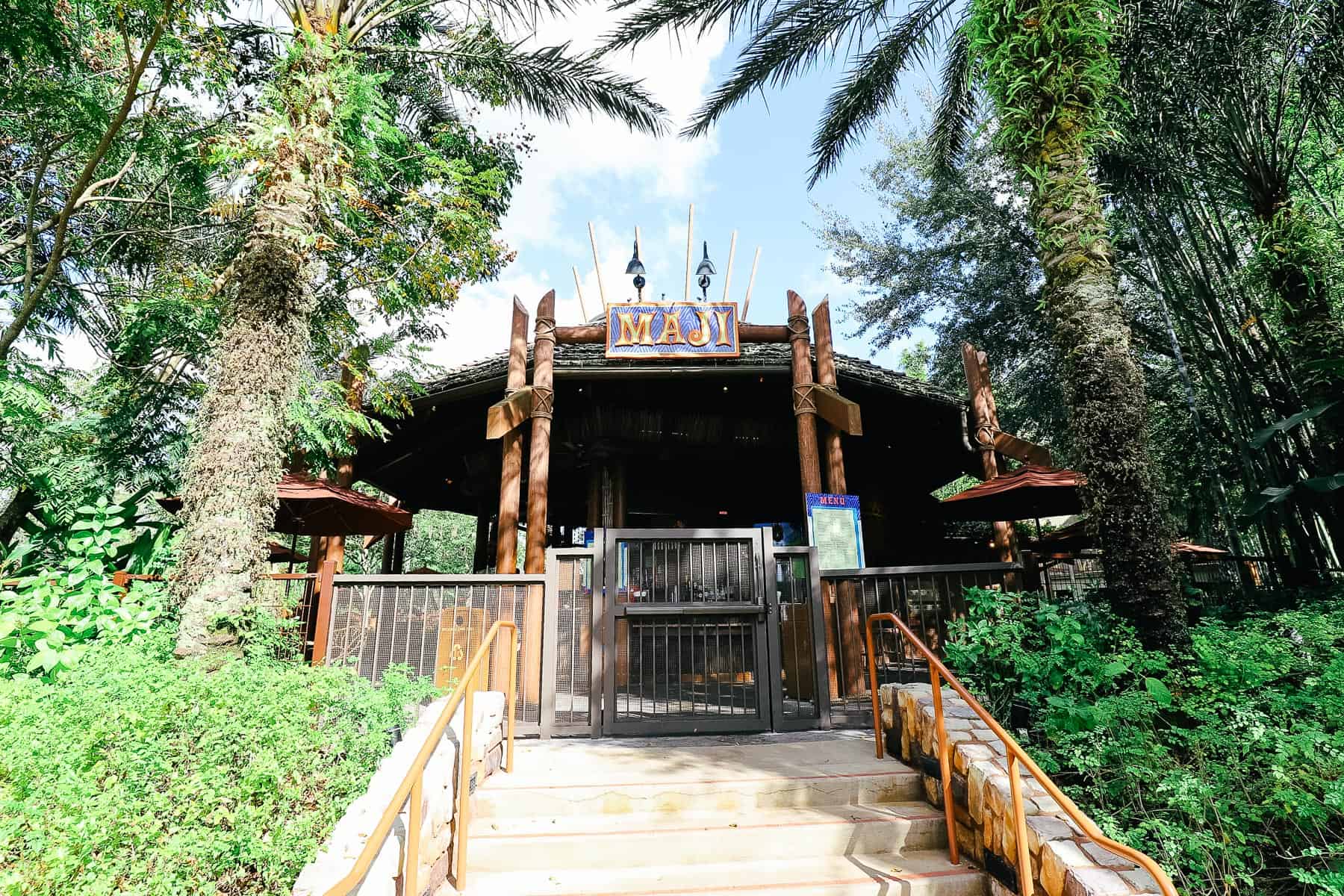 We had lunch here on our check-in day, and it was okay. But other than the shaded outdoor seating area, the food was pretty generic. Next time, we'll pick up something from The Mara at Jambo House or a mobile order from Sanaa.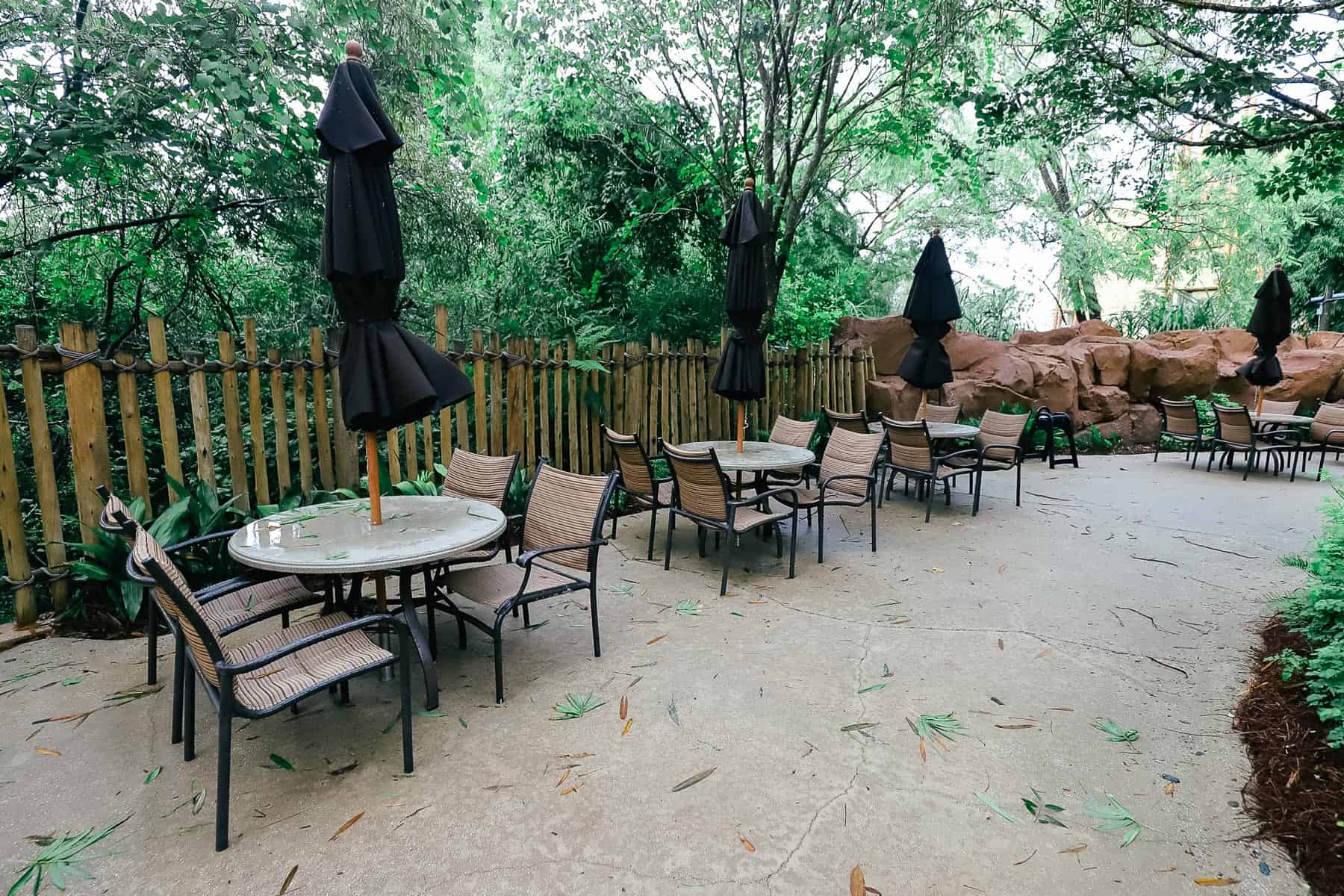 Rapid Fill mugs are available for purchase at Johari Treasures. A refillable beverage station is available inside the gift shop. An additional refill station is available at the poolside bar.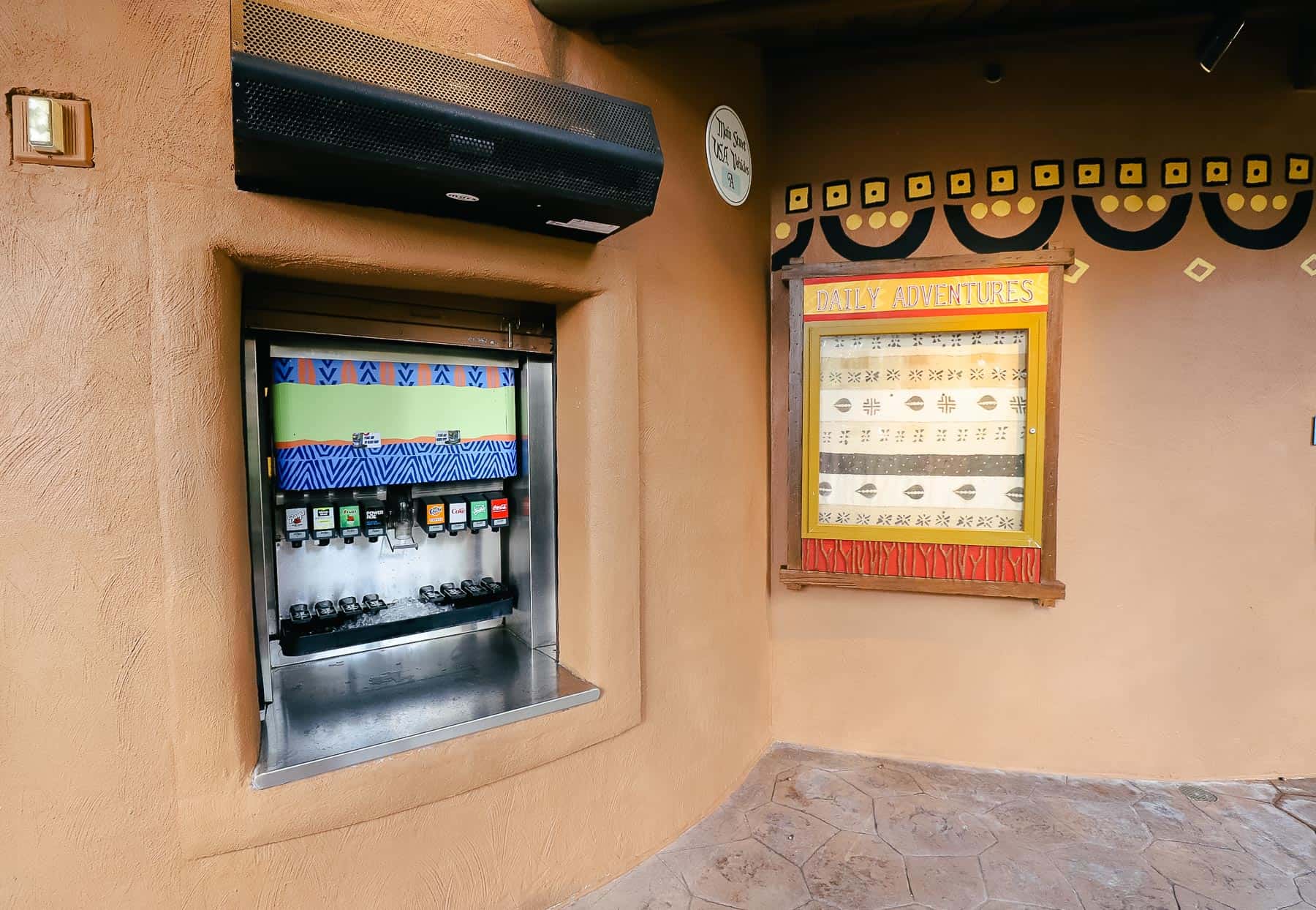 Other dining options at Disney's Animal Kingdom Lodge include:
The Mara
Boma, Flavors of Africa
Jiko, The Cooking Place
Victoria Falls Lounge
Uzima Springs Pool Bar
The Mara is near the pool at Jambo House. This is one of our favorite quick-service restaurants among the resorts. They have unique menu items, indoor and outdoor seating, and usually a fun selection of desserts. (This location works for Rapid Fill Mugs, too.)
Most will want to plan a meal at Boma. We have an entire review of the breakfast buffet at Boma, Flavors of Africa. This restaurant serves a fabulous buffet for both breakfast and dinner. It makes our list of the best breakfast spots at Disney World.
Jiko, The Cooking Place is an excellent table service restaurant. Have a meal here, and you'll know why it makes our list of top signature dining restaurants at Disney. It's a unique meal worthy of a reservation.
Both resorts have a lounge. Sanaa has a separate lounge and bar area that takes walk-ups. They offer a similar menu to the restaurant.
At Jambo House, Victoria Falls is the resort's feature lounge. Additionally, you'll find Cape Town Lounge and Wine Bar at Jiko.
For a more in-depth look at the restaurants between the resorts, we have a complete dining guide: Restaurants at Disney's Animal Kingdom Lodge.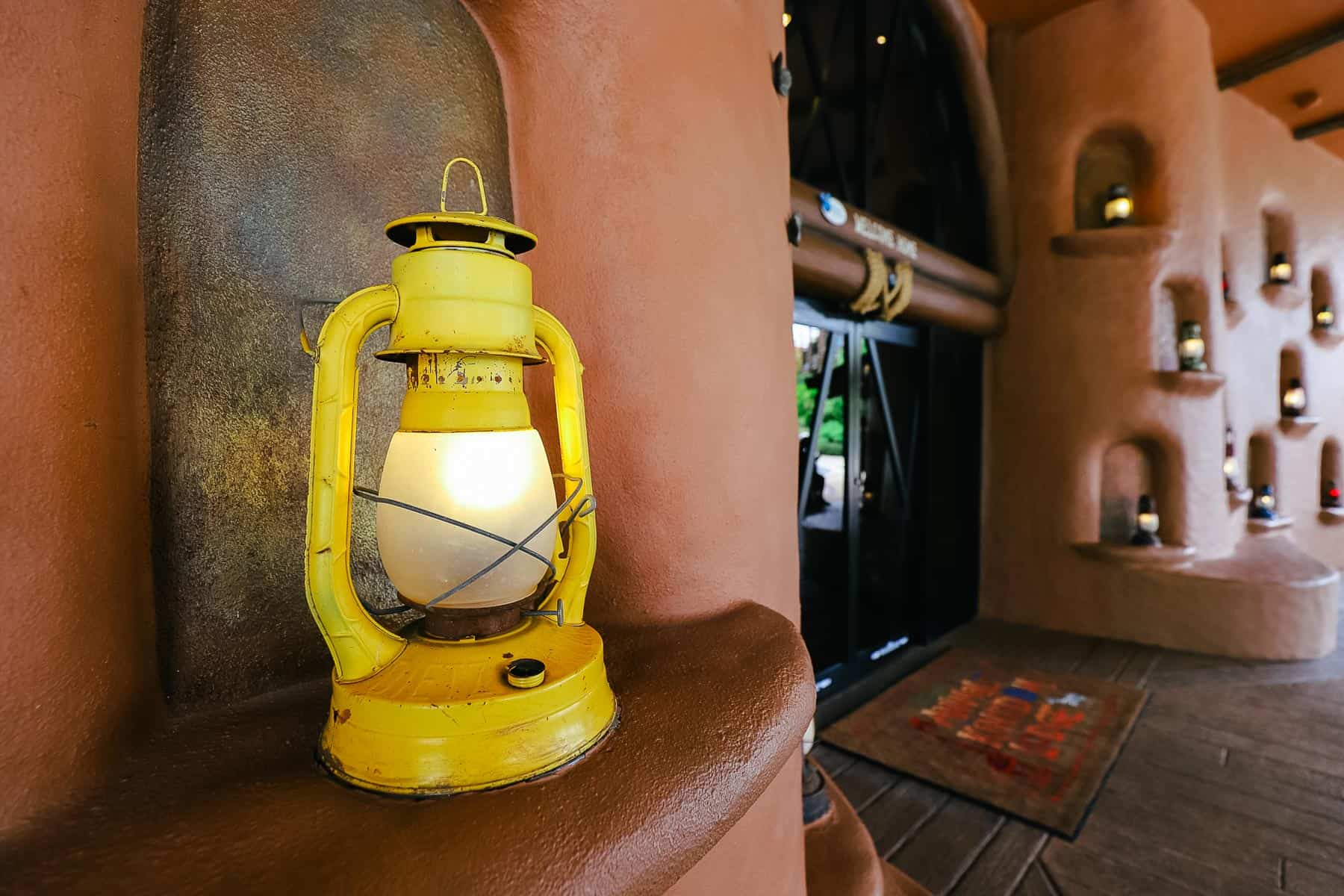 Recreation
One of the positives of Kidani Village is the number of recreational activities available to guests. There's something for everyone, from the resort's pool to afternoon crafts at Community Hall.
We'll first look at the Samawati Springs Pool, the only pool at Kidani Village. This large swimming area features a waterslide, zero-depth entry, and plenty of lounge chairs. Additionally, a tremendous water playground called Uwanja Camp is within the same area.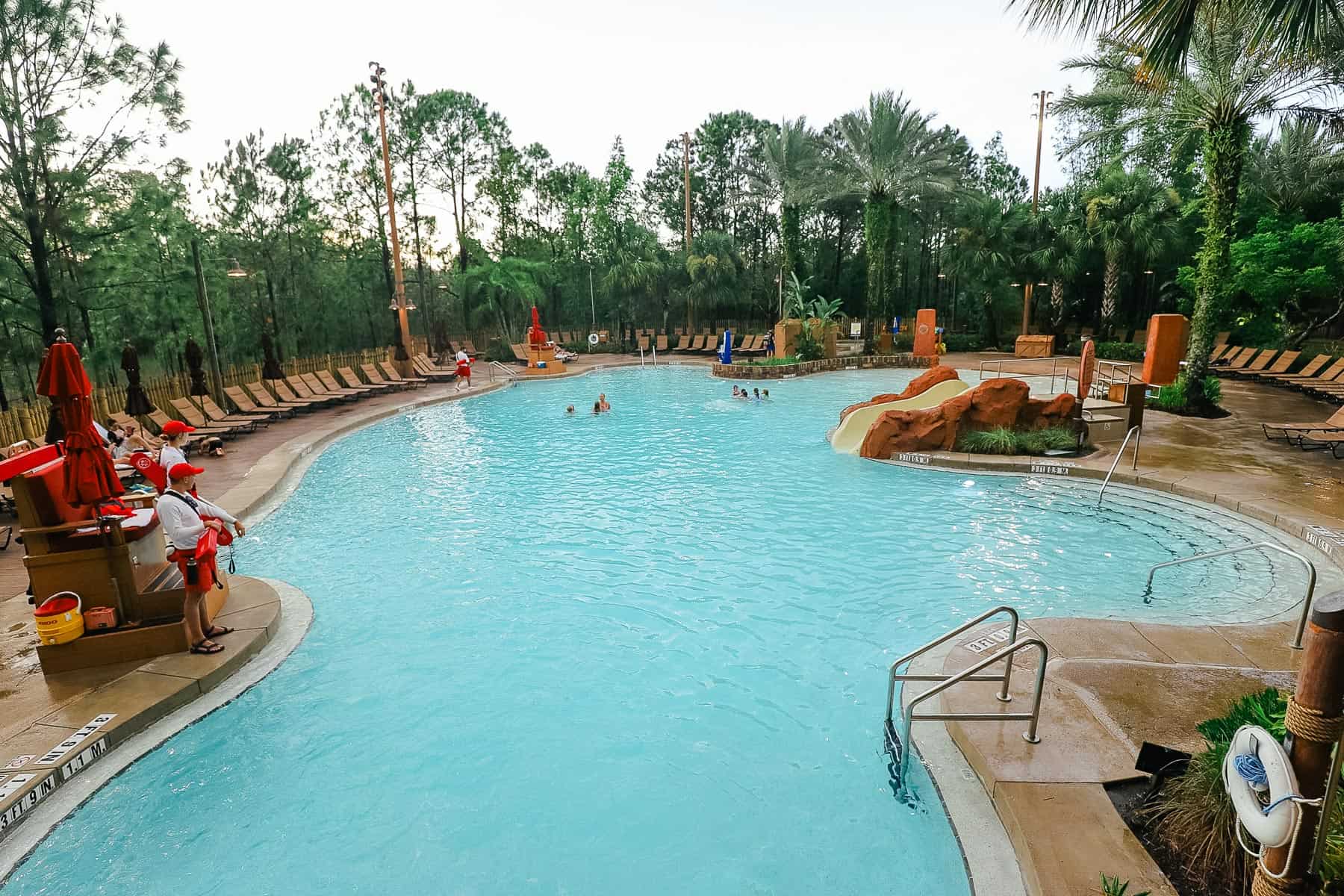 Here is a look at the giant slide. An additional kiddie water slide is available for smaller guests in the center of the pool.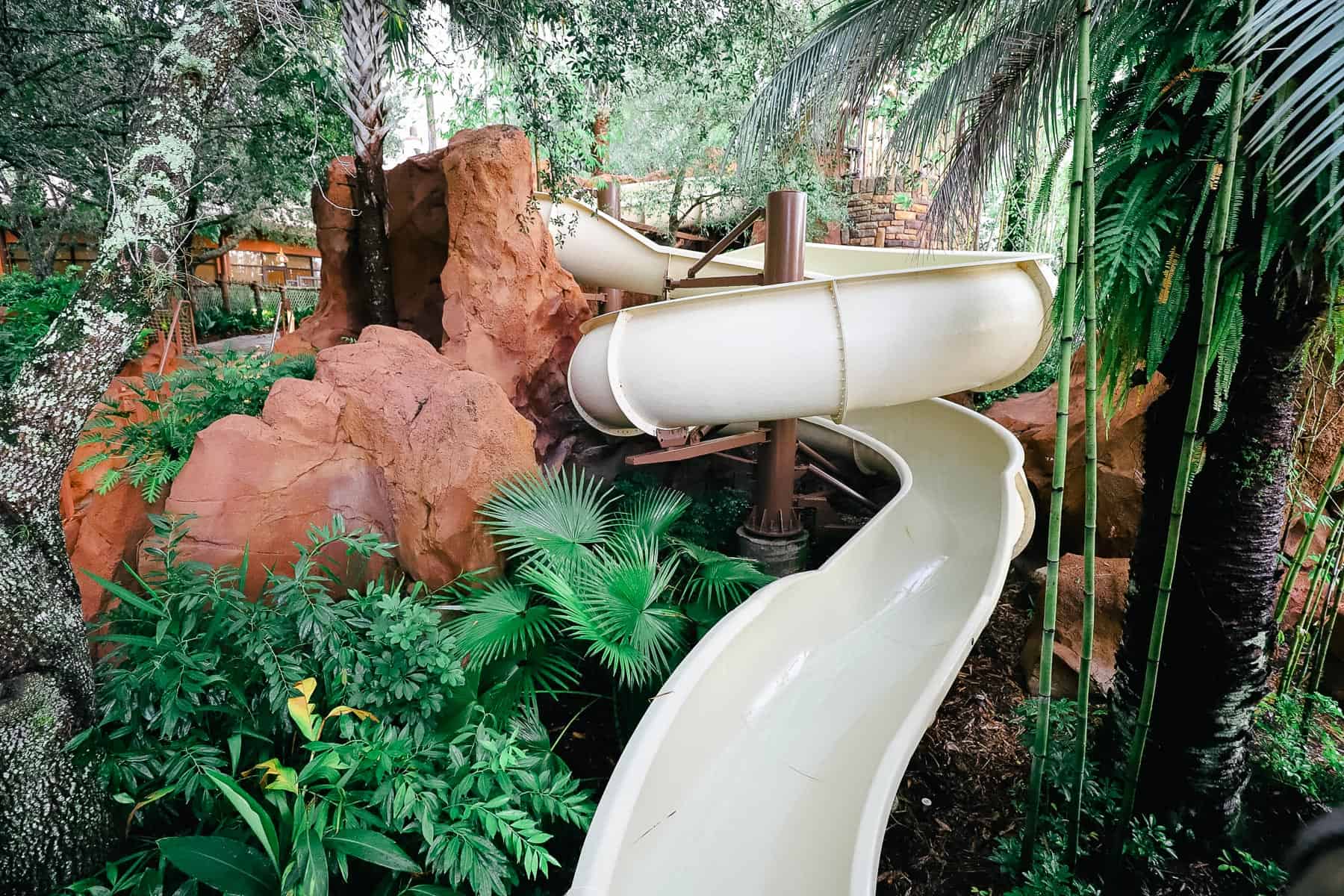 Two hot tubs are available around the pool. One sits near the slide's entrance in an area partially surrounded by rocks. The other is a few steps away from the pool.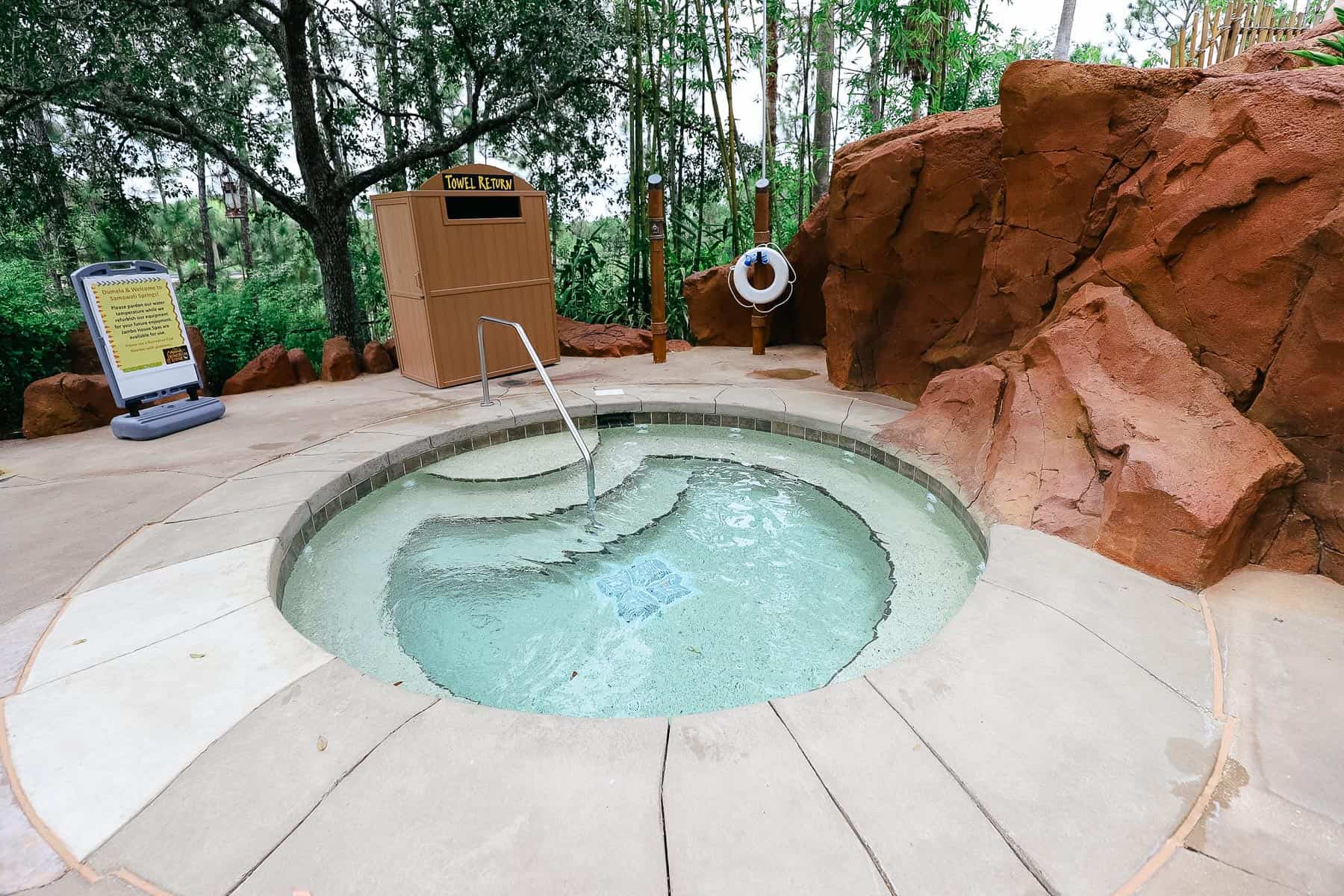 Uwanje Camp is another amenity worth highlighting. Children adore this aquatic play area.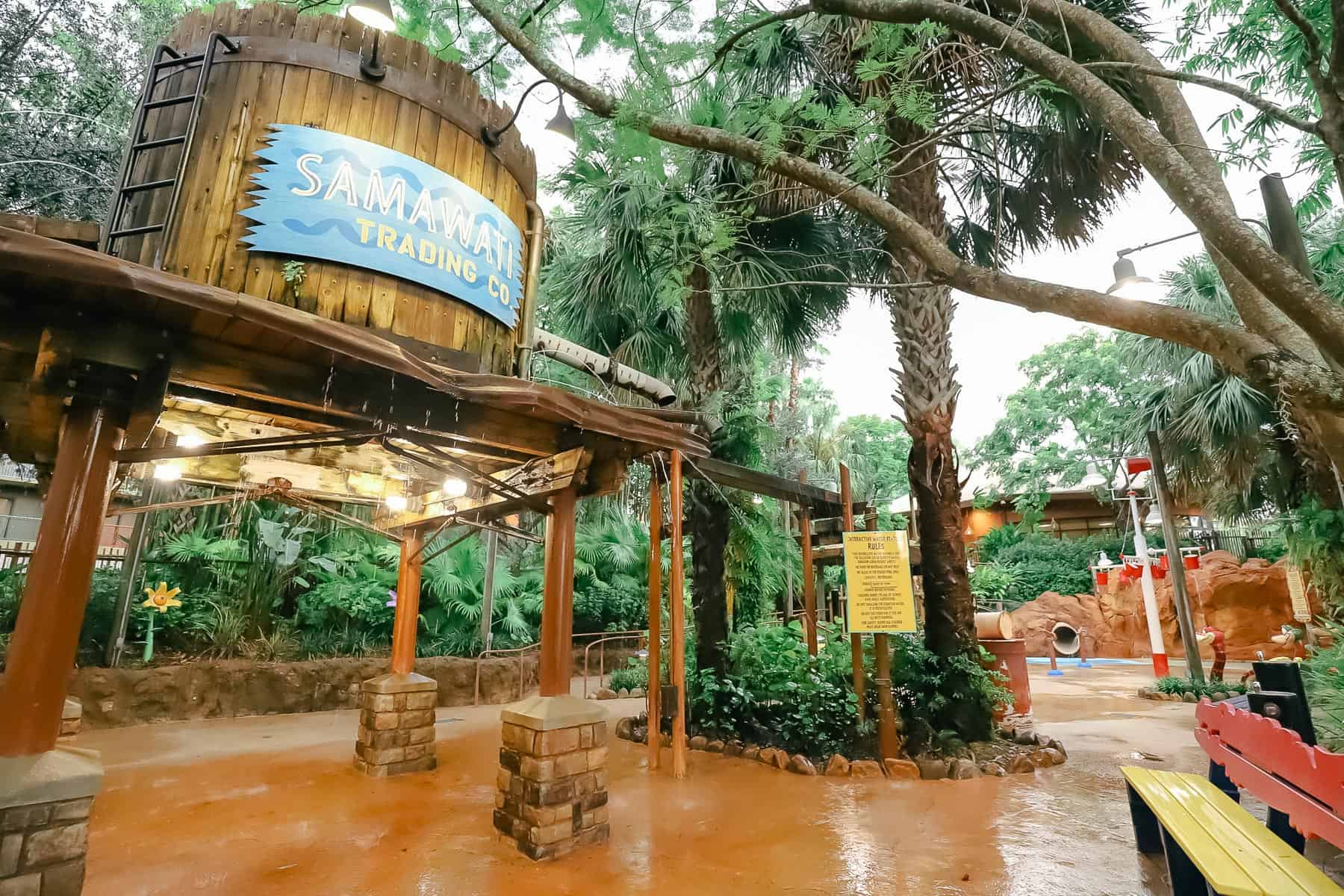 What kid wouldn't want to spend a day here?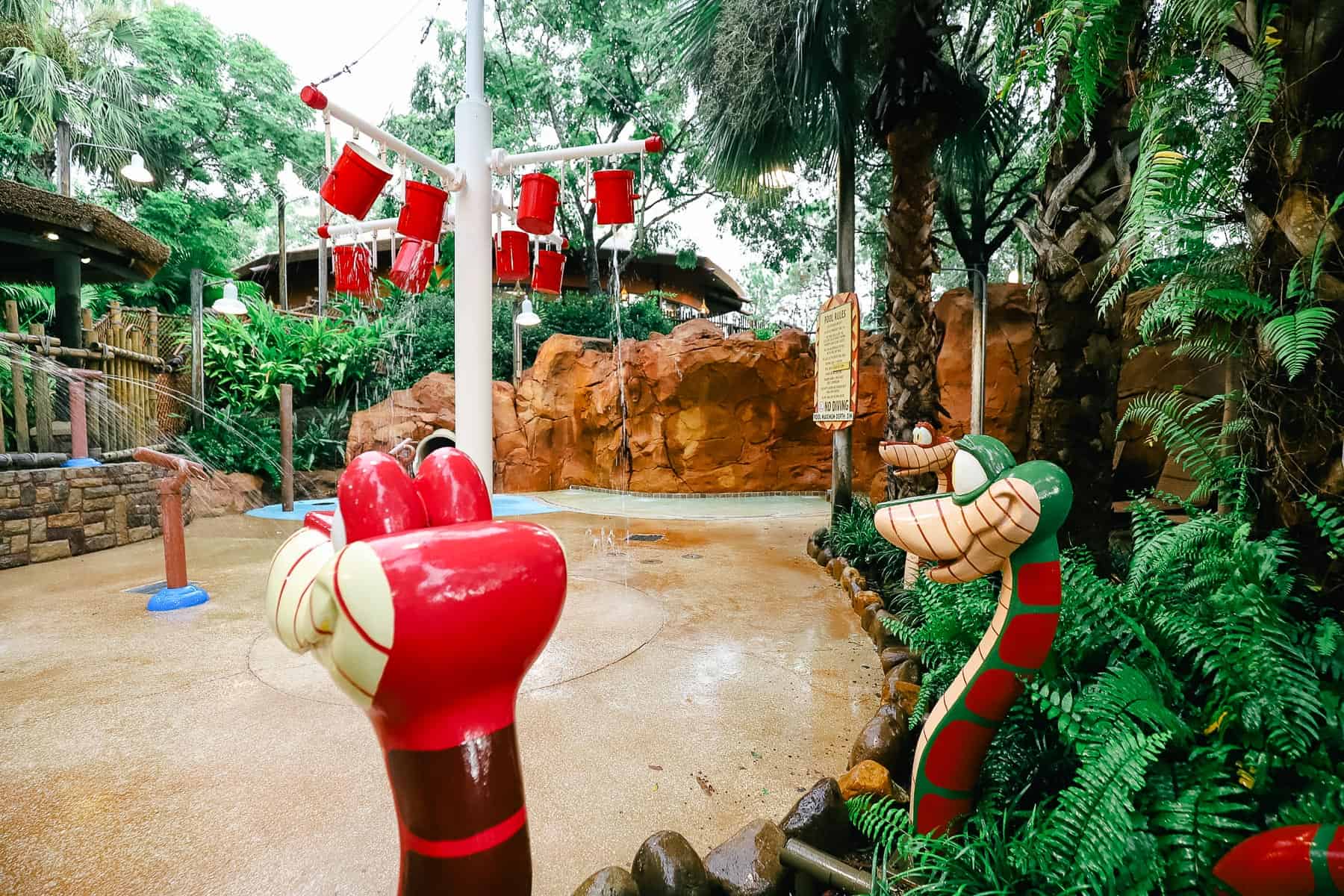 It's divided into three separate areas geared toward various age groups.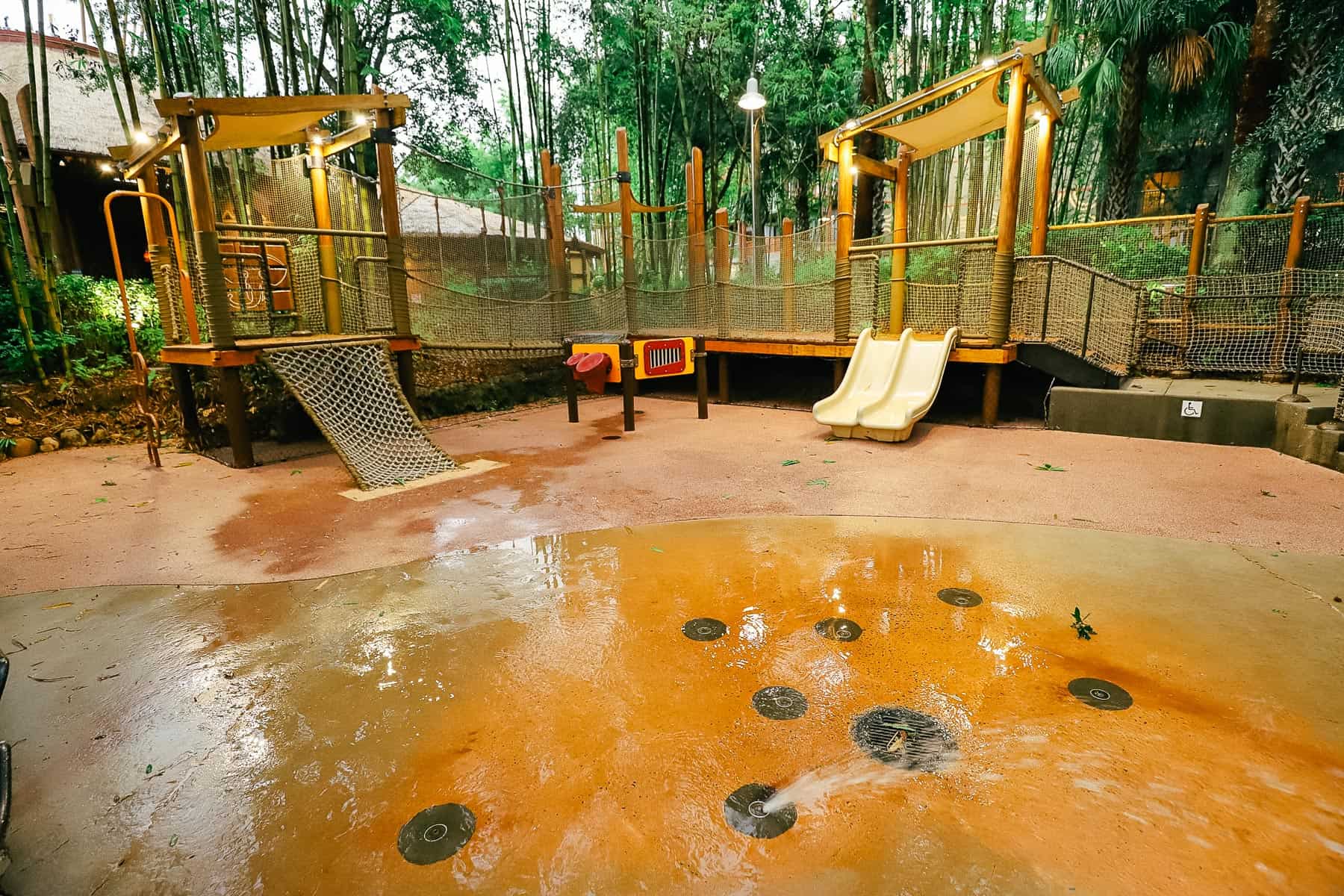 Kidani Village has a gym called Survival of the Fittest. (We have a list of resorts with fitness centers at Disney World if you want to compare options.)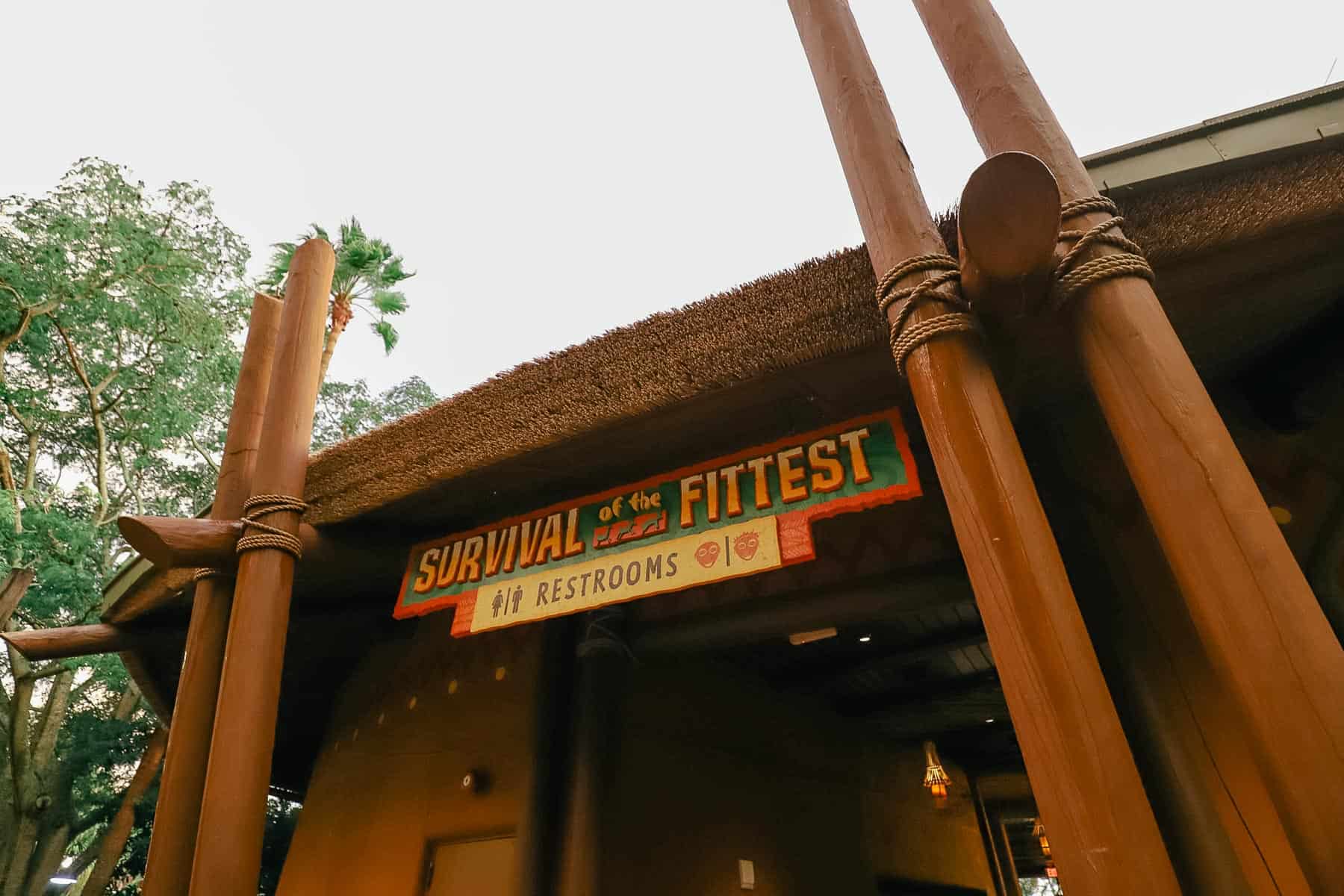 Here is a look inside. We got in a couple of workouts during our stay. While a smaller gym, it has plenty of equipment. But if you prefer, you can always walk up to Jambo House and use their fitness center.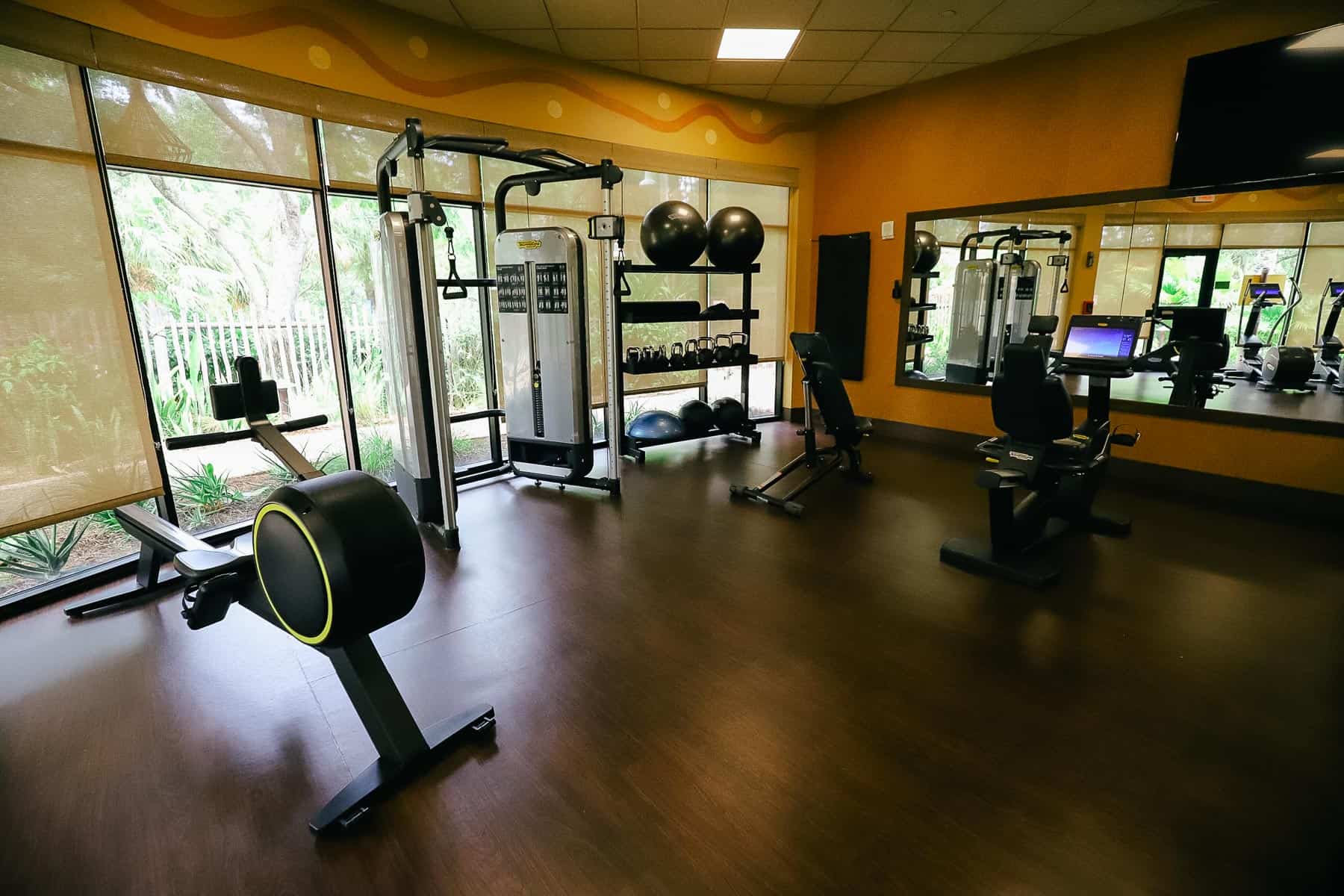 An area with various sports courts sits toward the front of the resort.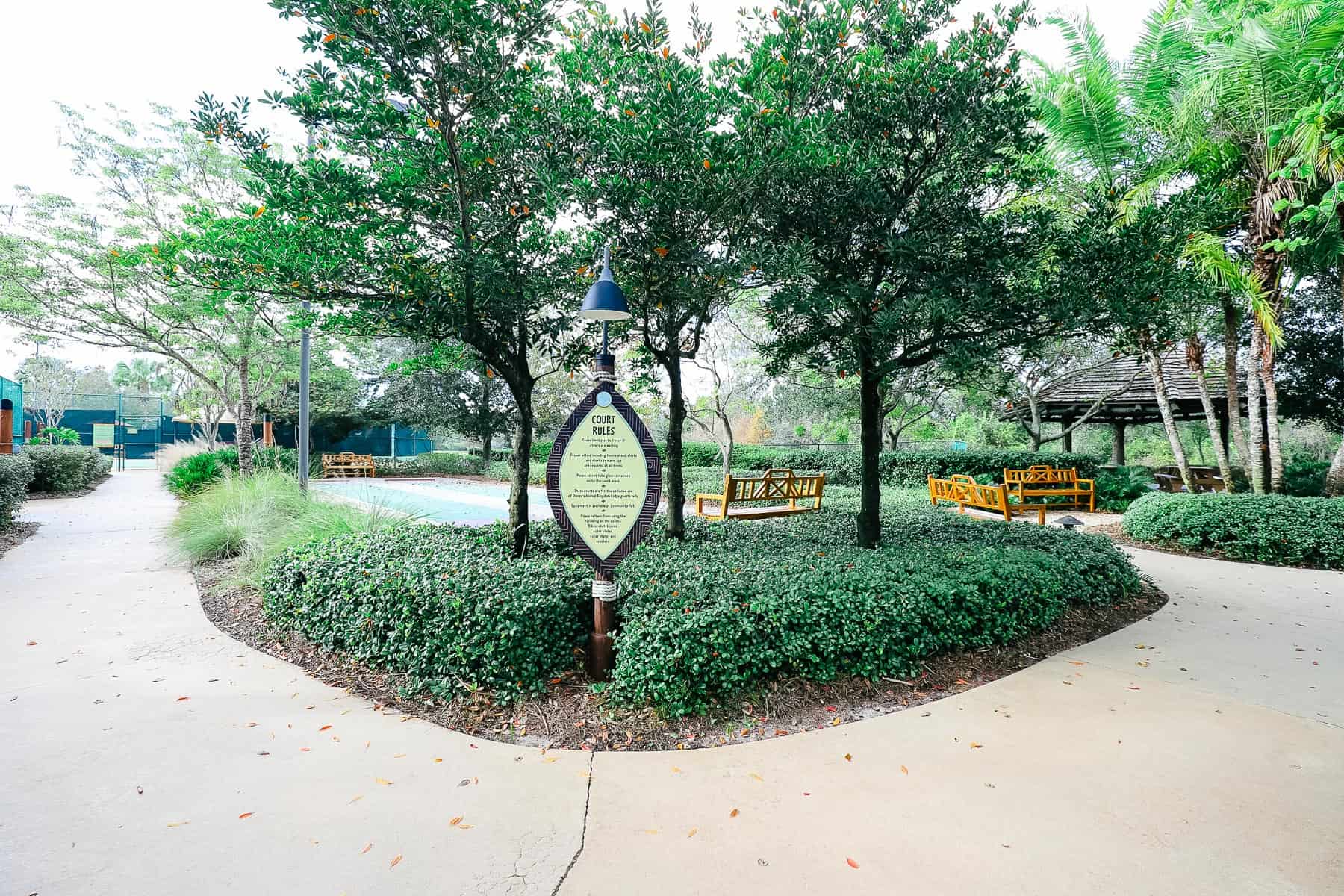 This area is home to several sports courts. Options include shuffleboard, basketball, tennis, and hopscotch.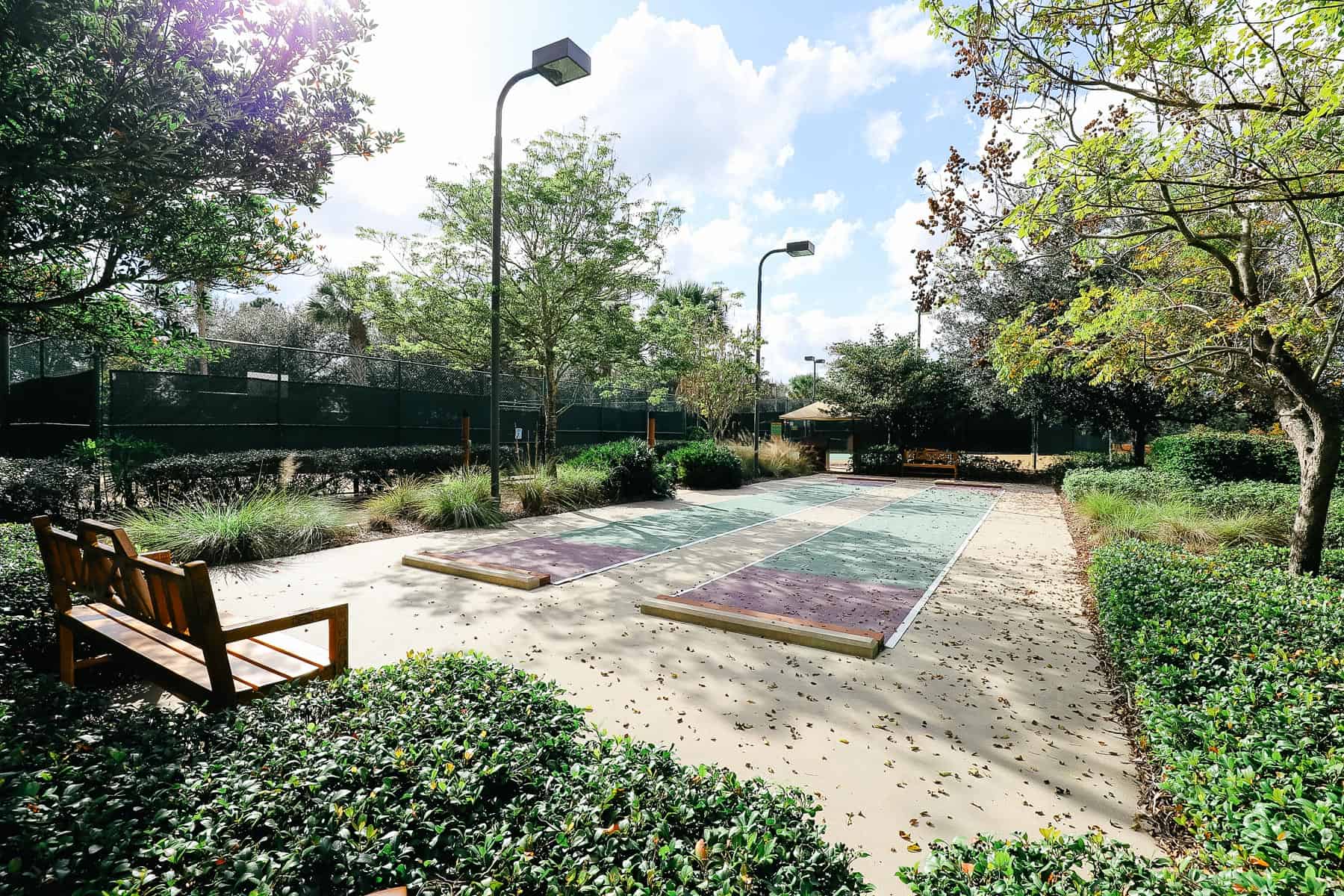 Sports equipment is available at the Community Hall.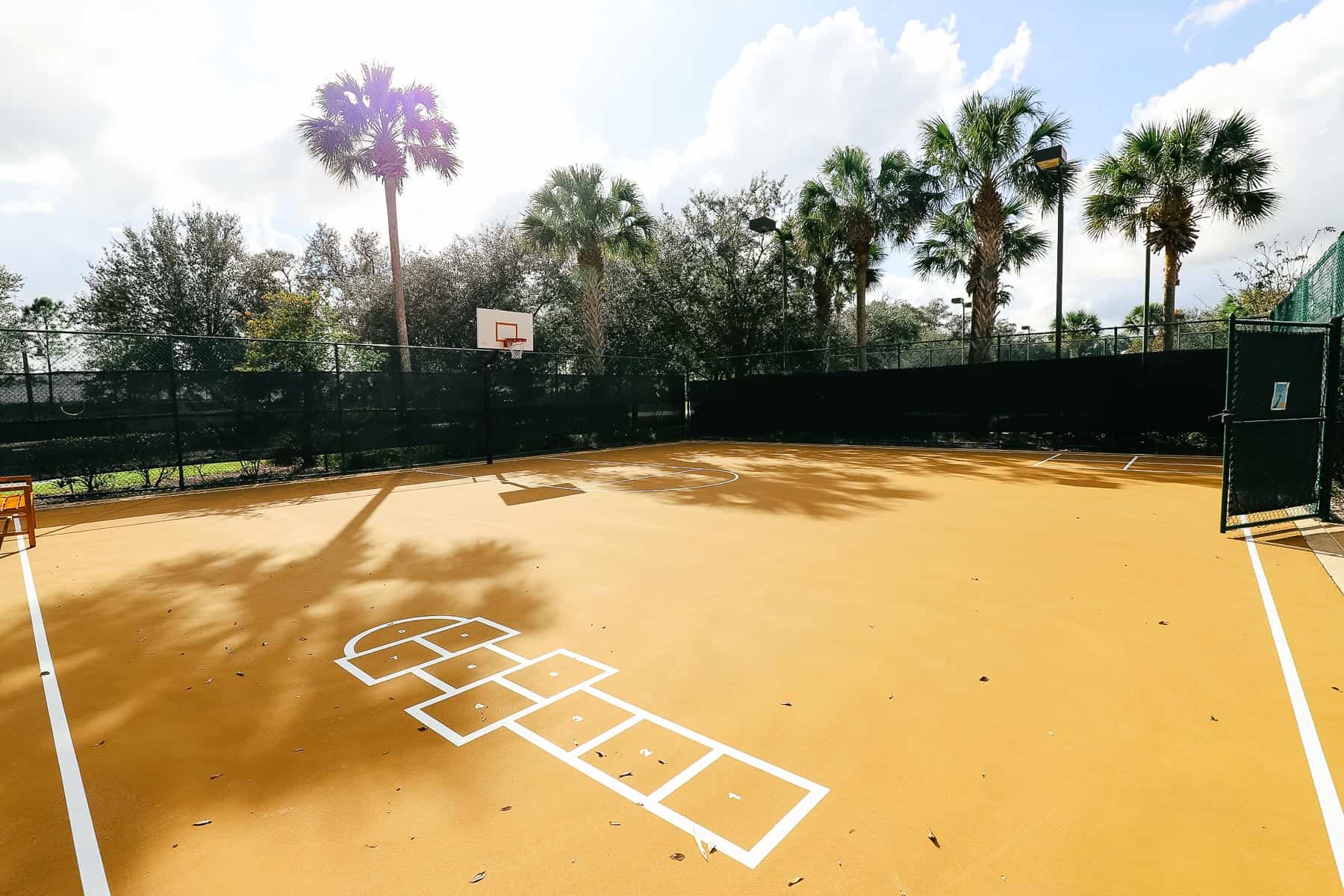 A sign indicated professional tennis lessons could be reserved for an extra cost. Two tennis courts are available.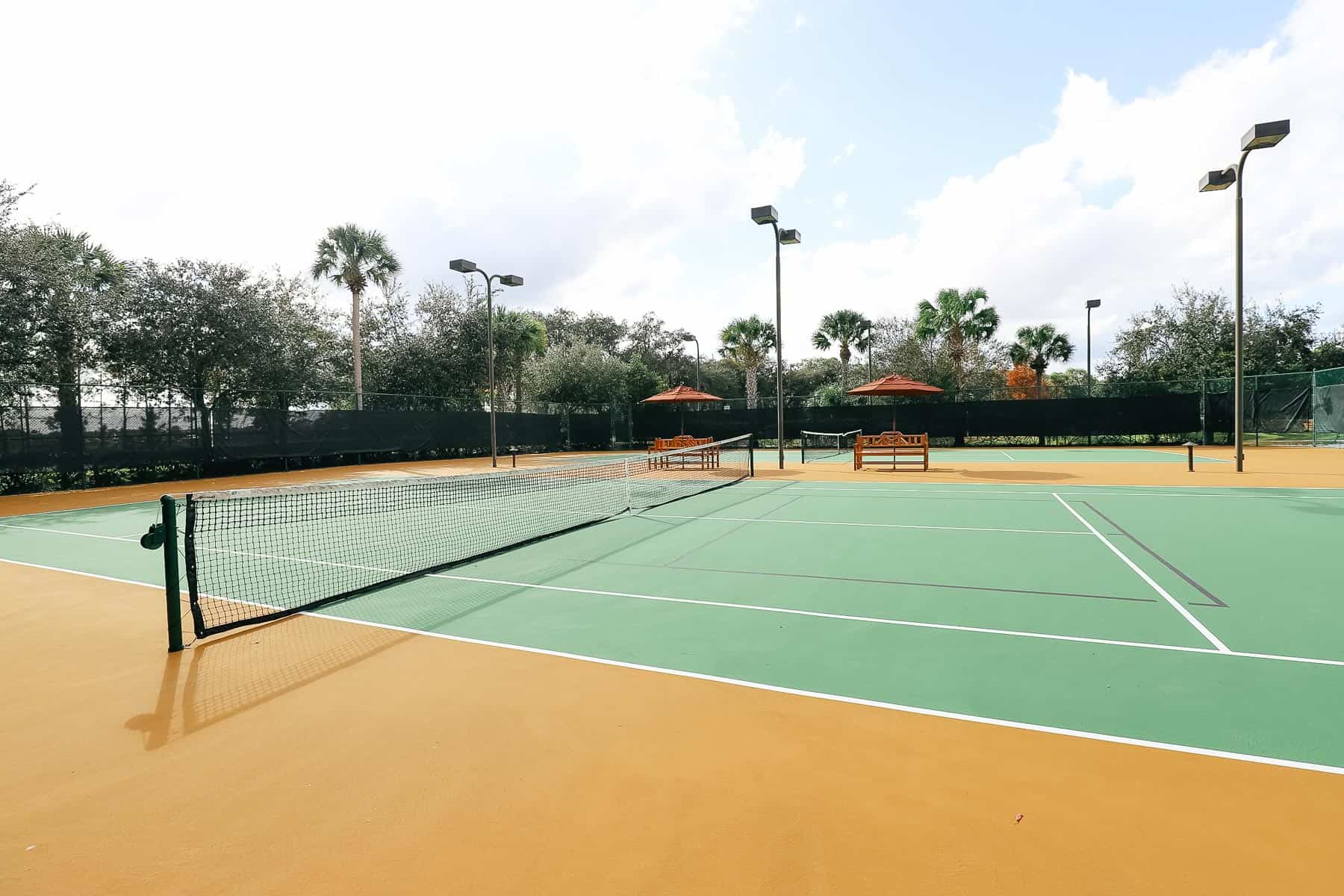 Community Hall is in a hallway off the Kidani Village lobby.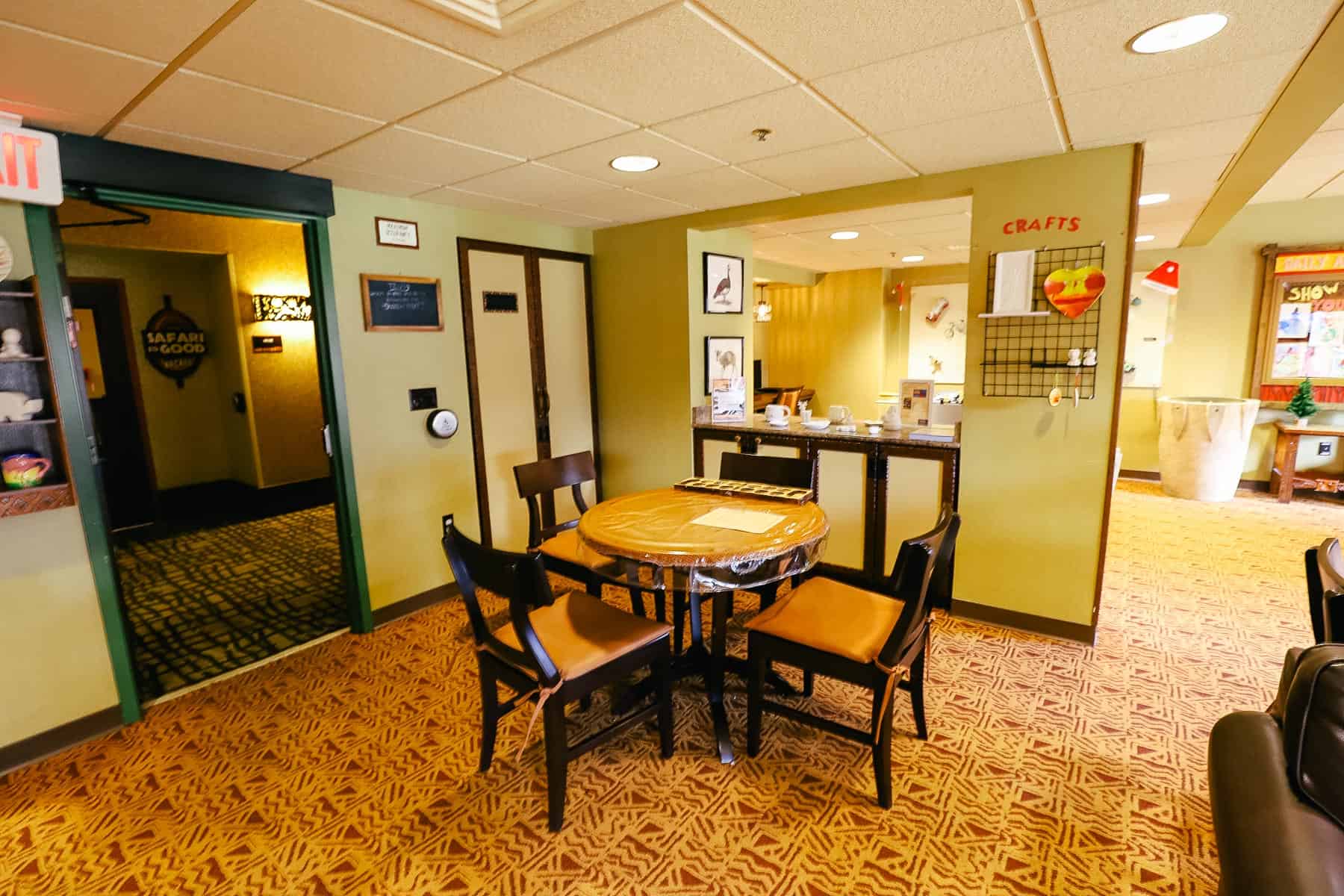 They have a television area with puzzles and board games.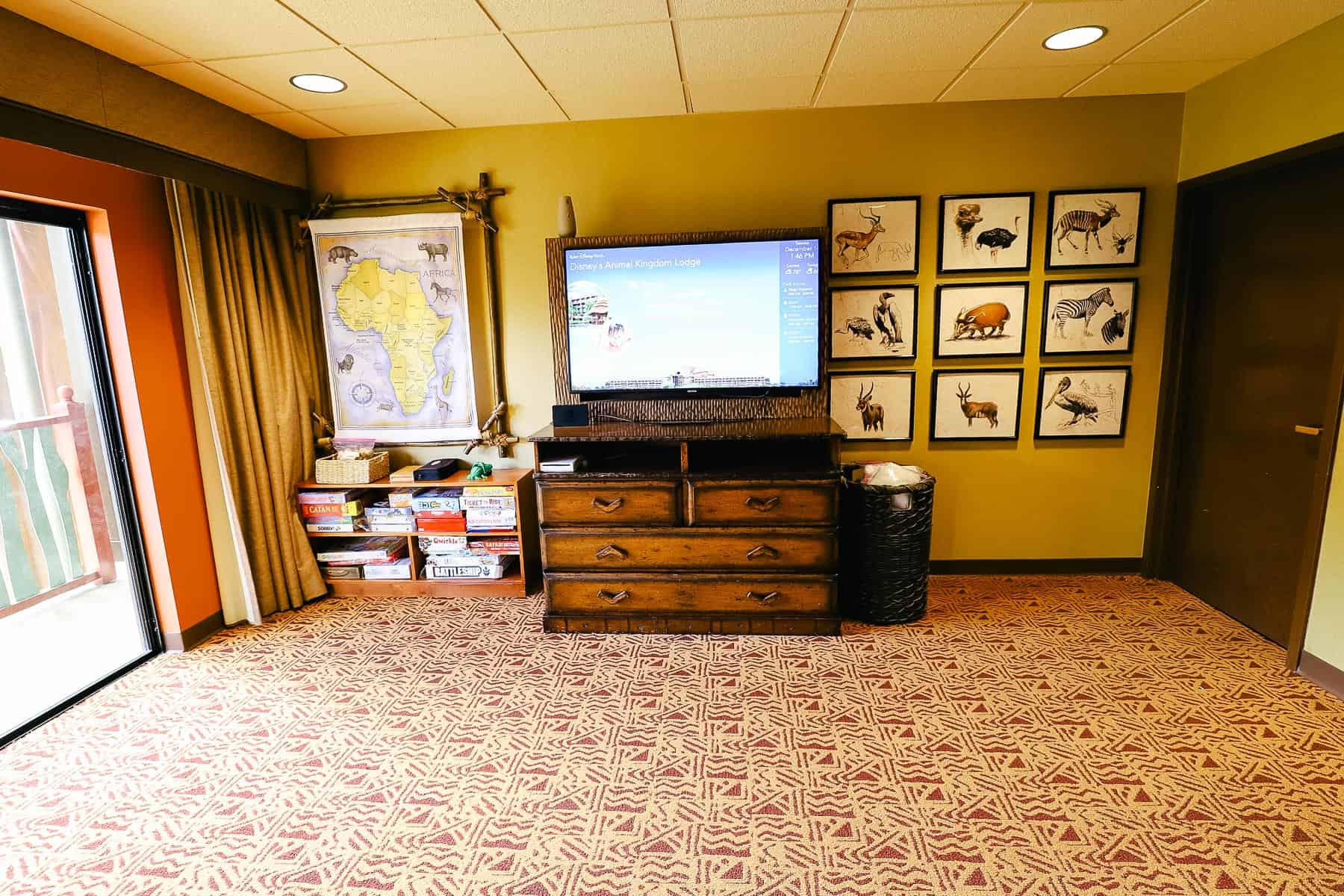 A few computers were available in the back corner of the room. Below, you'll notice a foosball table.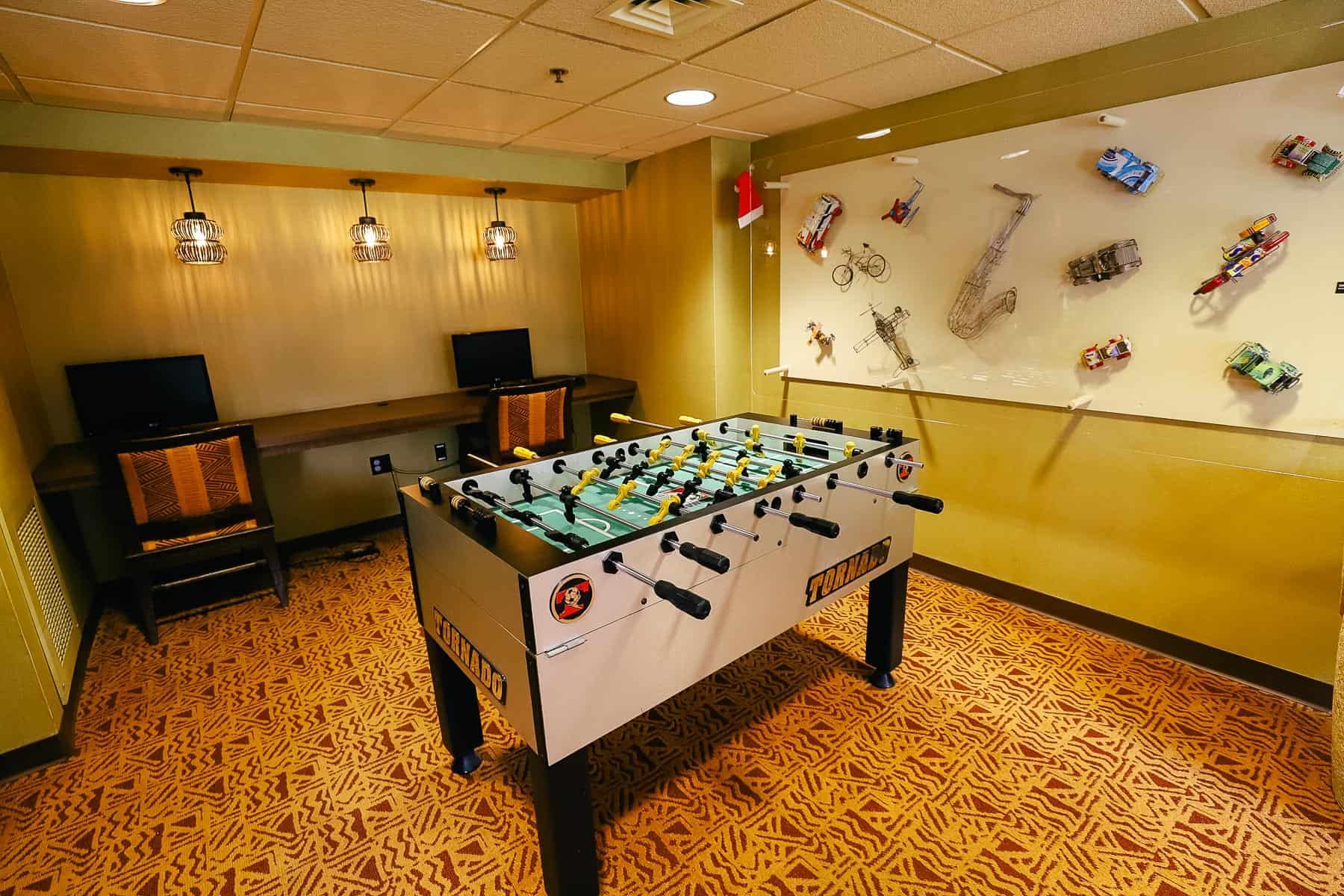 Or you might prefer a game of pool.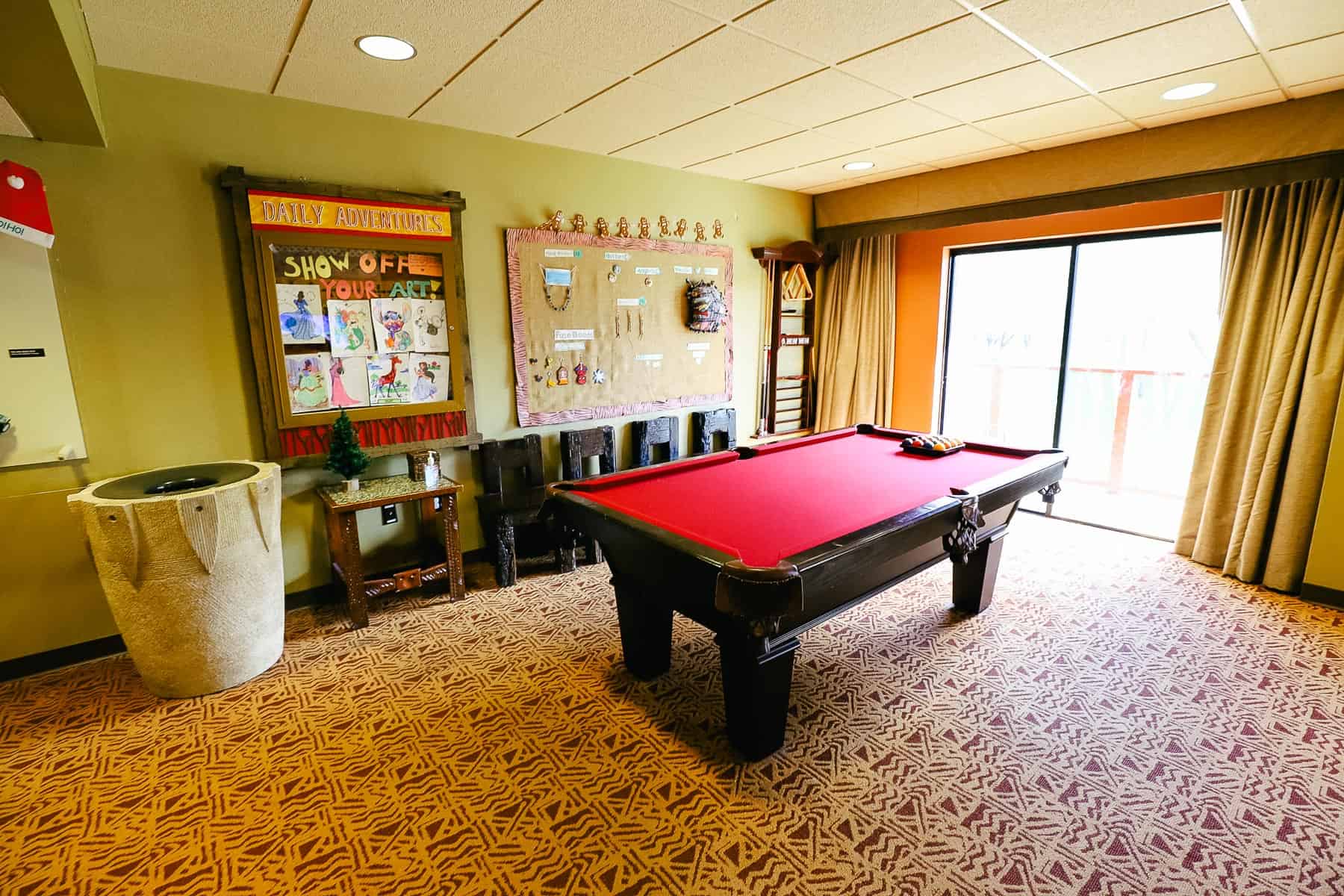 Community Hall opens daily at 10:00 a.m. This location offers crafts, sign-outs for sports and grilling equipment, children's books, and other recreational activities.
Across the hall, you'll find Safari So Good Arcade.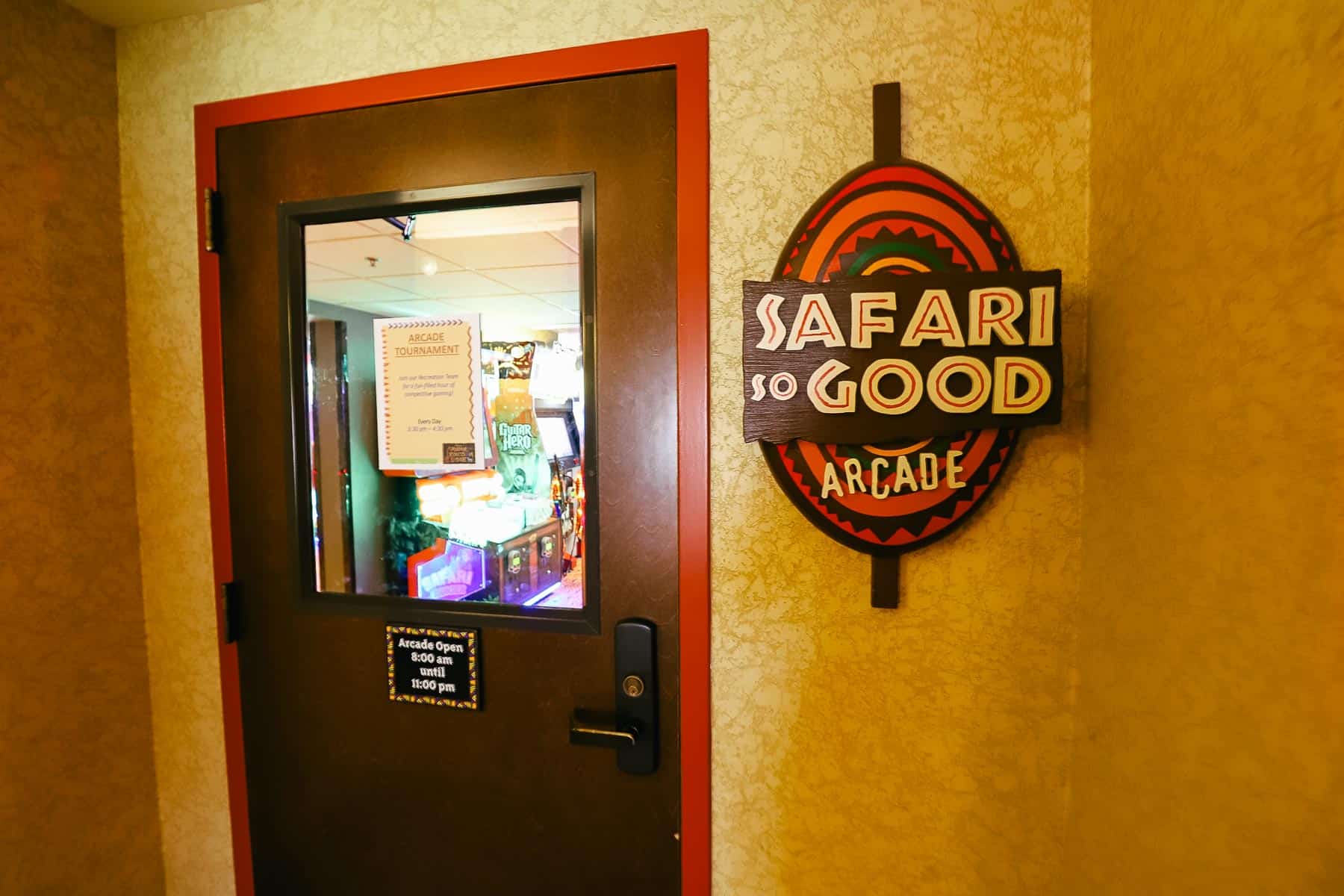 The arcade is a fun space. It's an excellent spot to remember if you have a little extra time around the resort or on a rainy day.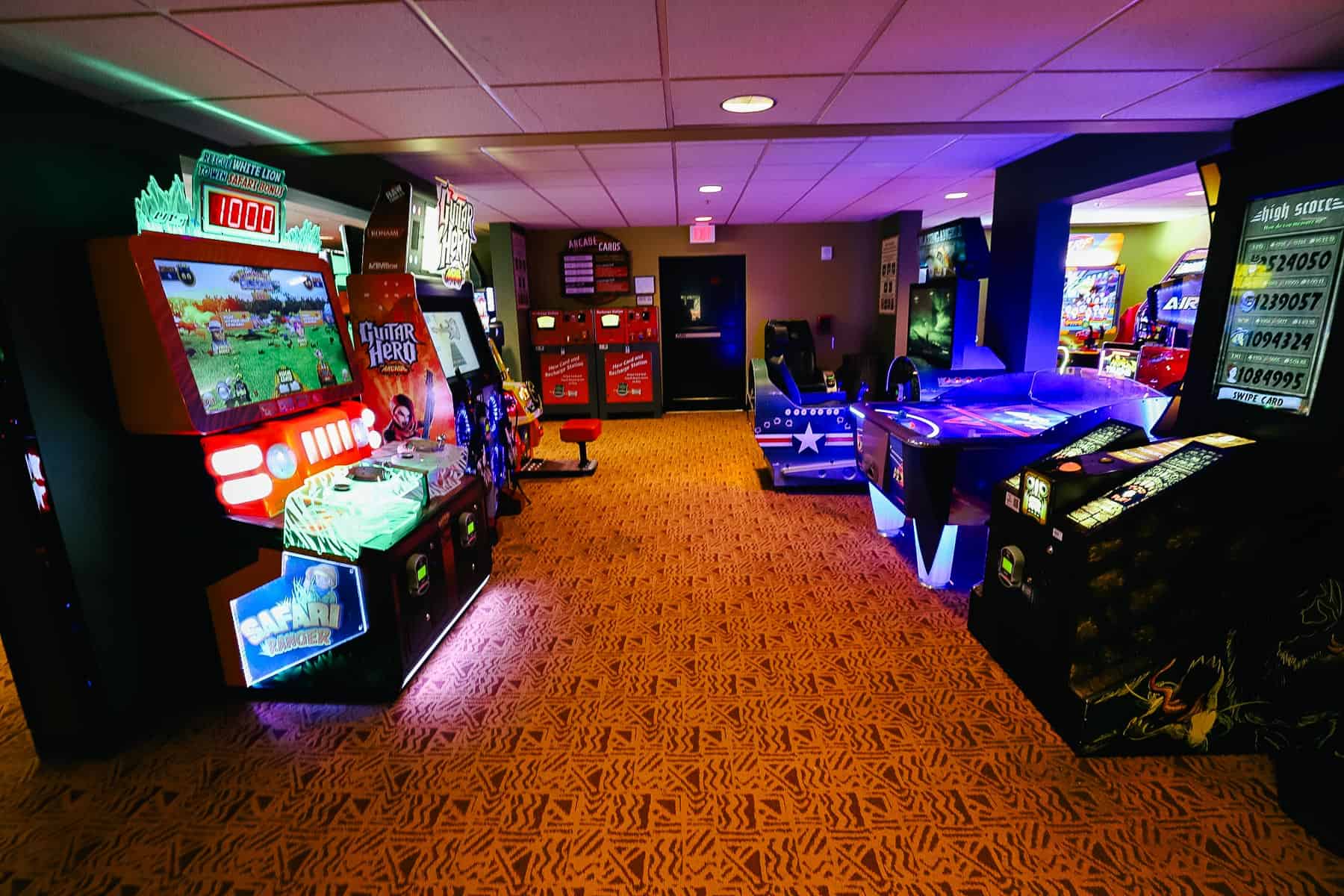 For a complete list of activities offered at Kidani Village, get a copy of the recreation calendar during your visit. It will list the various items available during your stay.
The calendar will have a copy of the Movies Under the Stars program. Movies Under the Stars are held several nights a week at Kidani Village; on the other nights, movies are shown at Jambo House.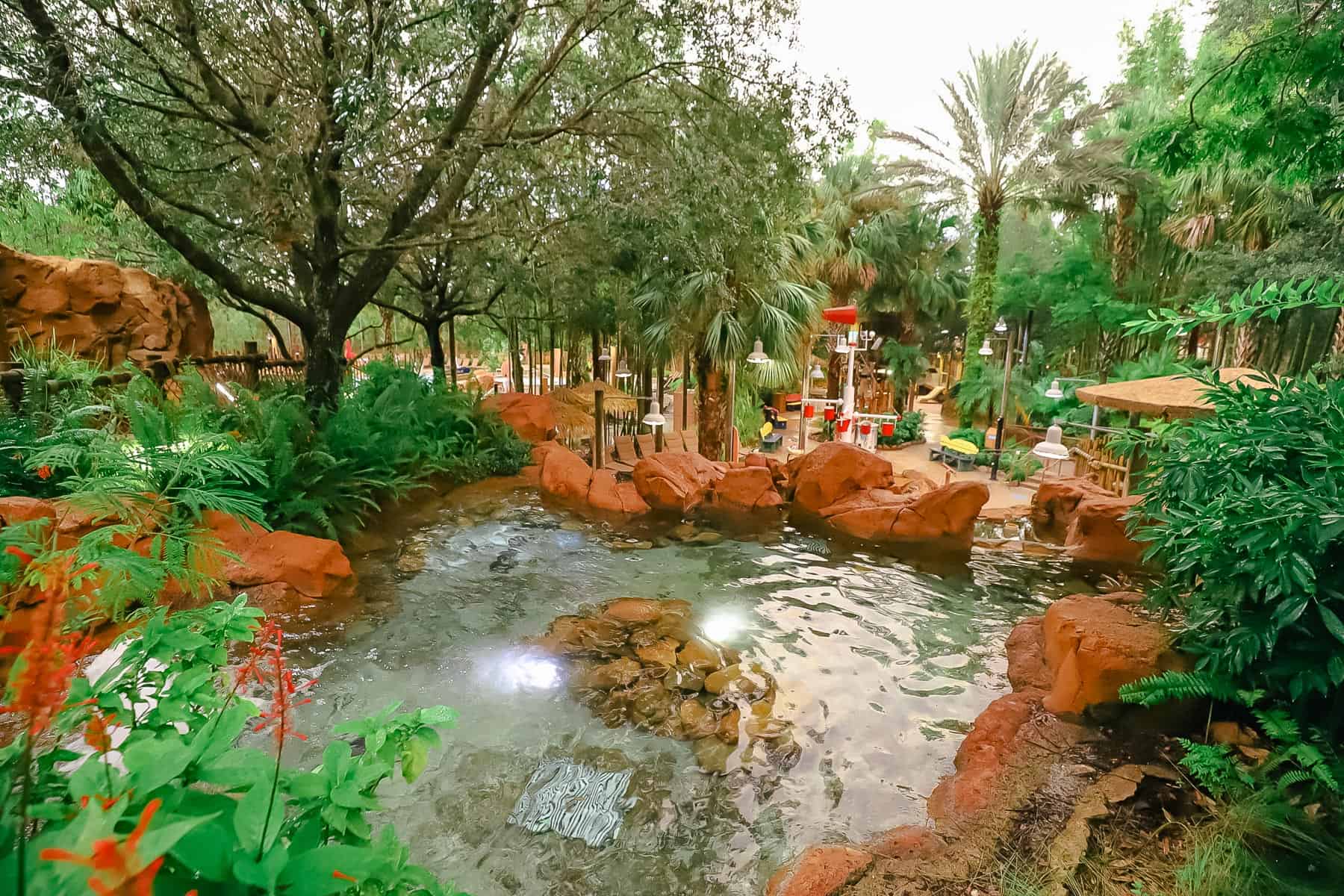 Extra Amenities at Kidani Village
Before we wrap up, there are a few other resort amenities that we've yet to cover in this review of Kidani Village. For instance, a large pavilion with picnic tables sits near the sports courts at the front of the resort.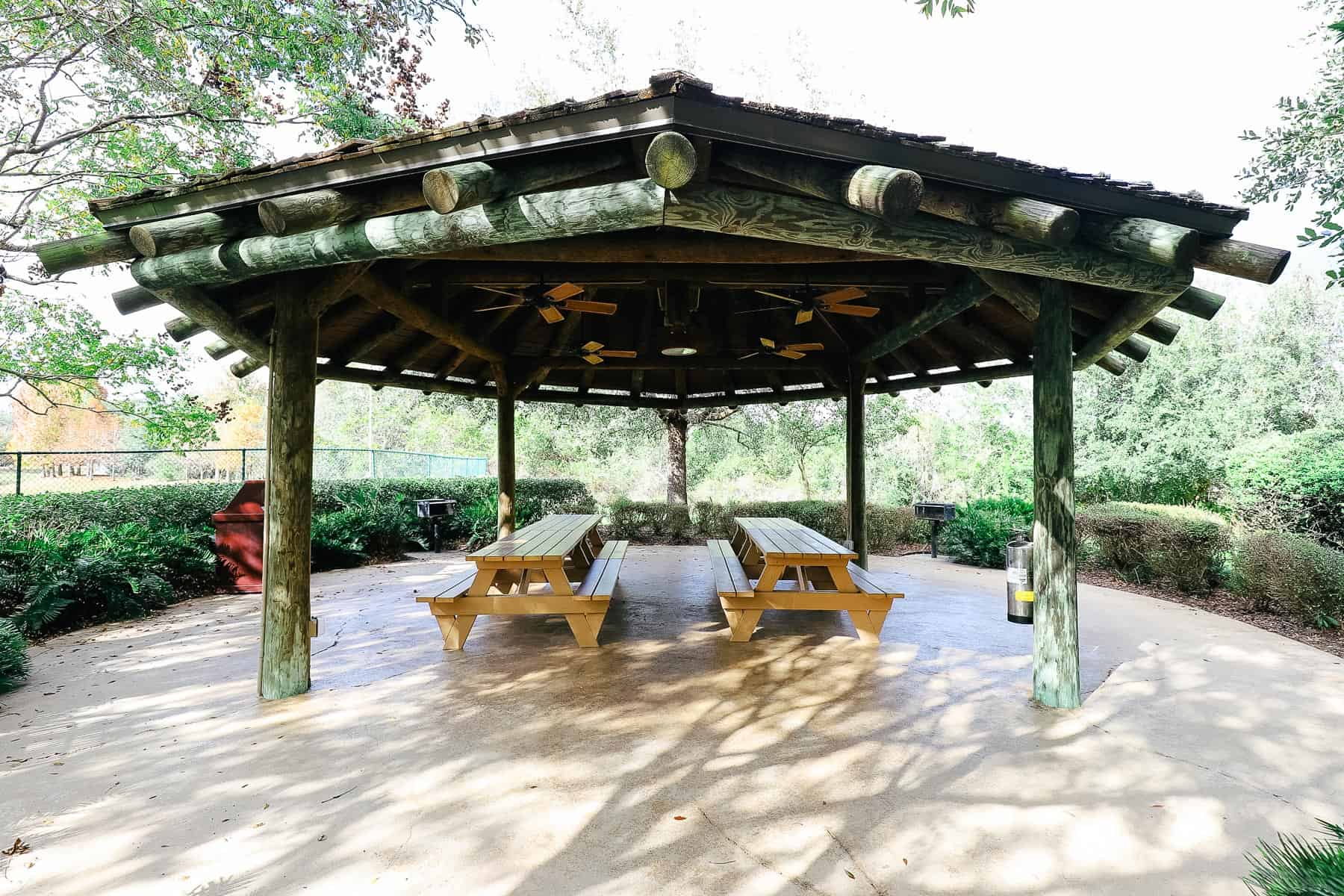 Guests of the resort can use this area at their leisure. A charcoal grill is available.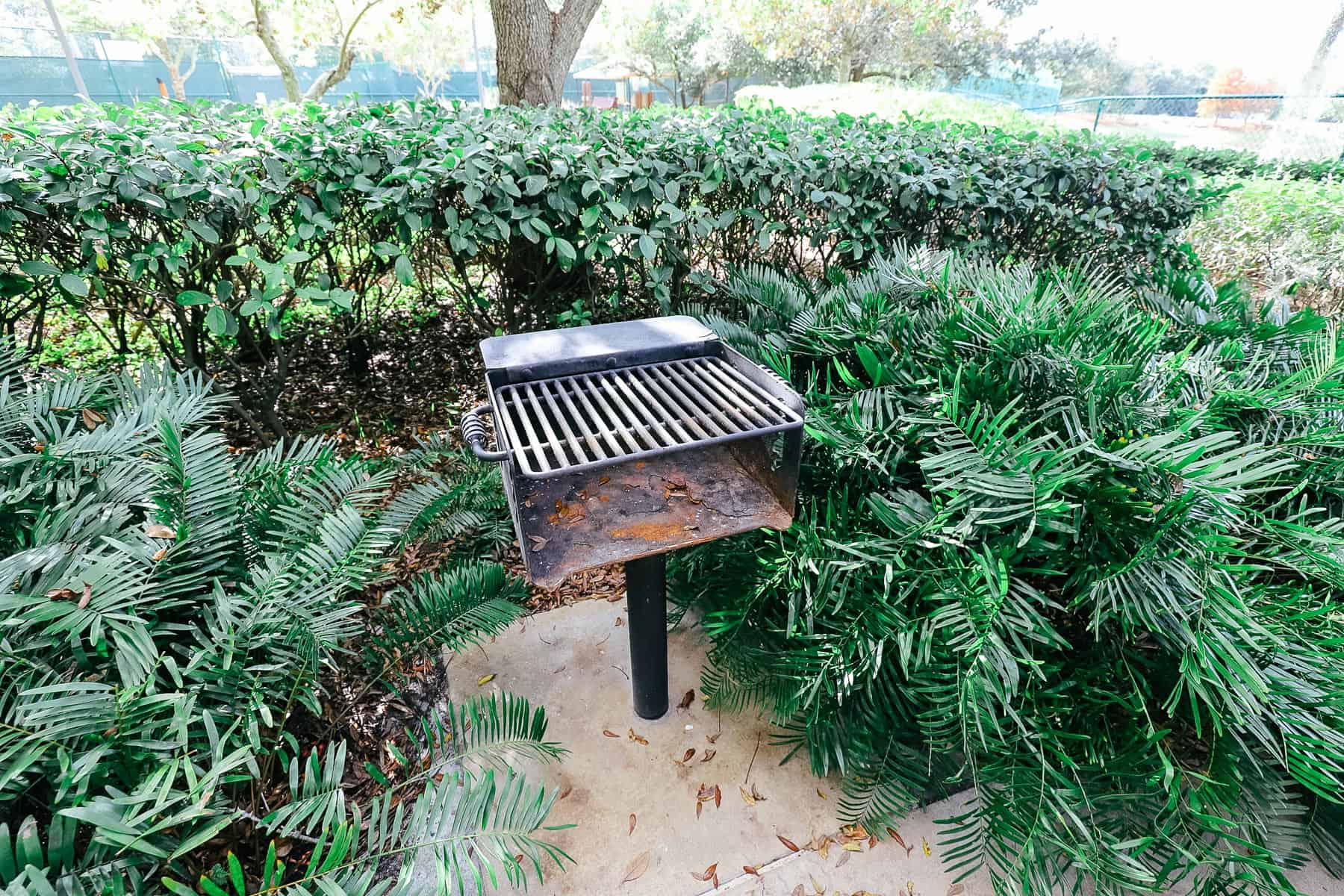 Kidani Village also has a laundry room for guests. Since this is a DVC resort, there is no charge to use a washer or dryer. Detergent is available in a vending machine.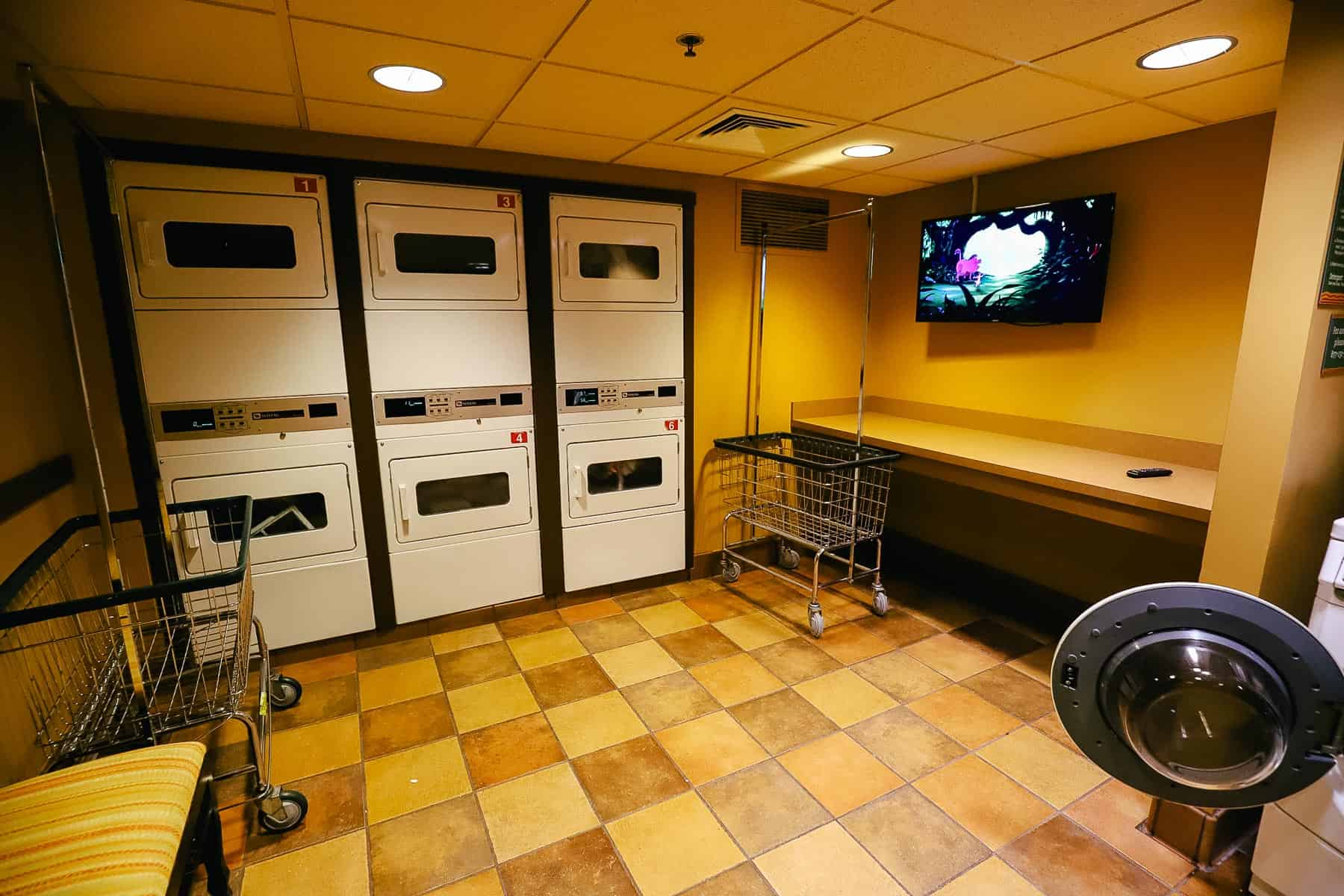 A library sits a few steps off the lobby. They often have a create-your-own mosaic tile activity that costs extra.
This is a great place to get some work done or relax on a check-in or check-out day. I recommend grabbing a window seat and enjoying the view out to the savanna.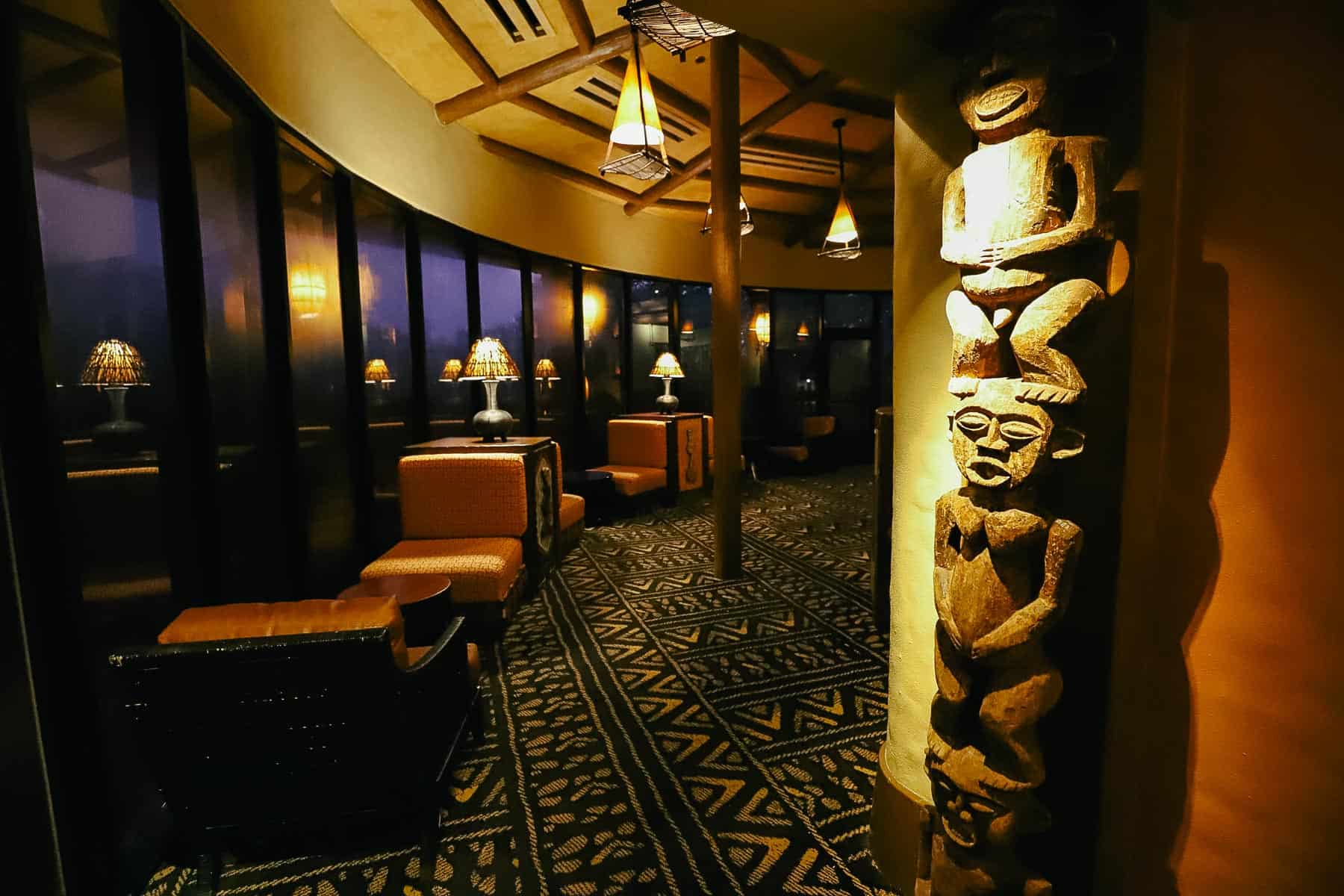 In the evenings, you might relax by the fireplace and enjoy the warm ambiance of the space.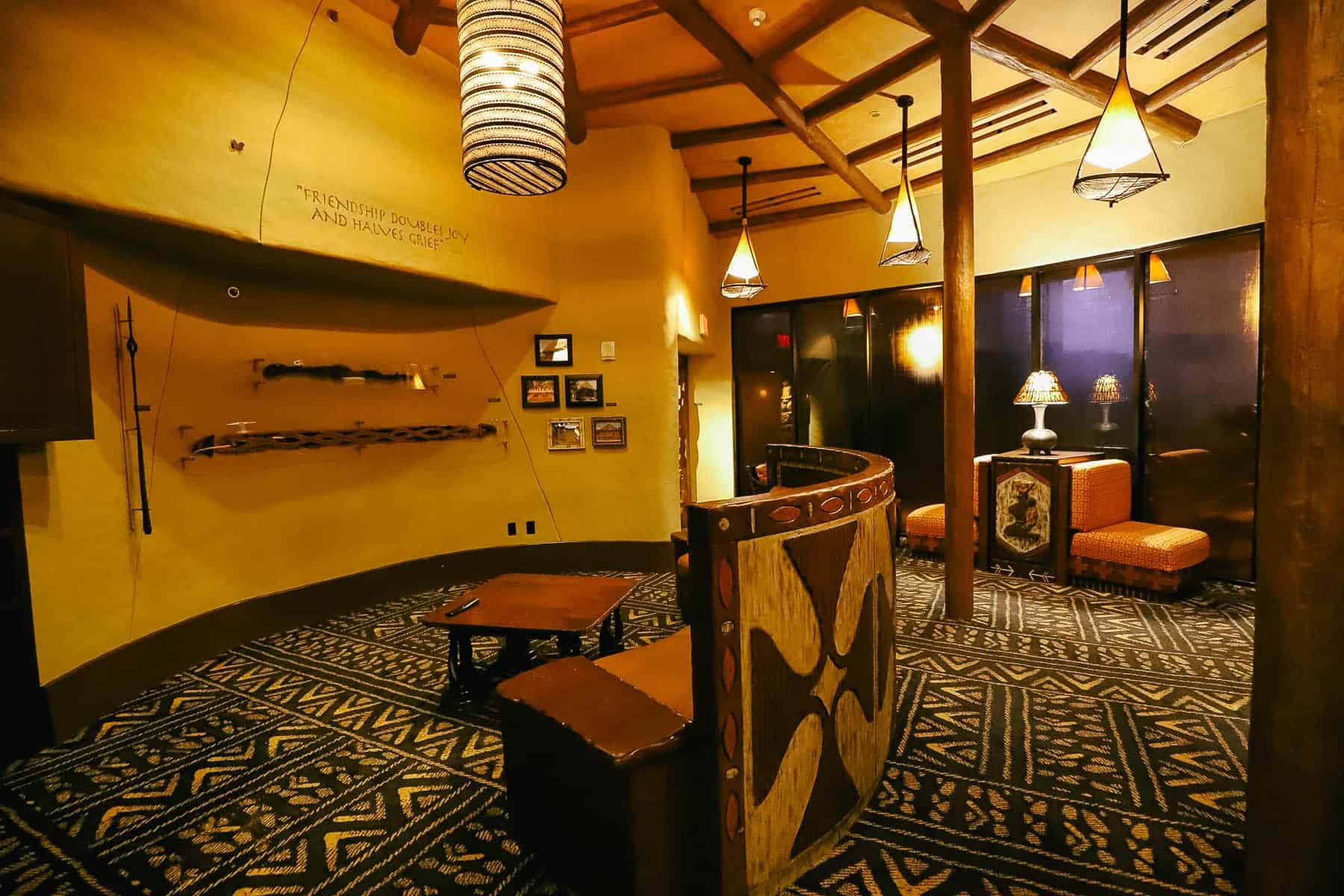 Transportation
Given the resort's location on the outskirts of Walt Disney World, Kidani Village and Animal Kingdom Lodge only offer bus transportation. Both resorts share a bus service. Each has a separate bus stop.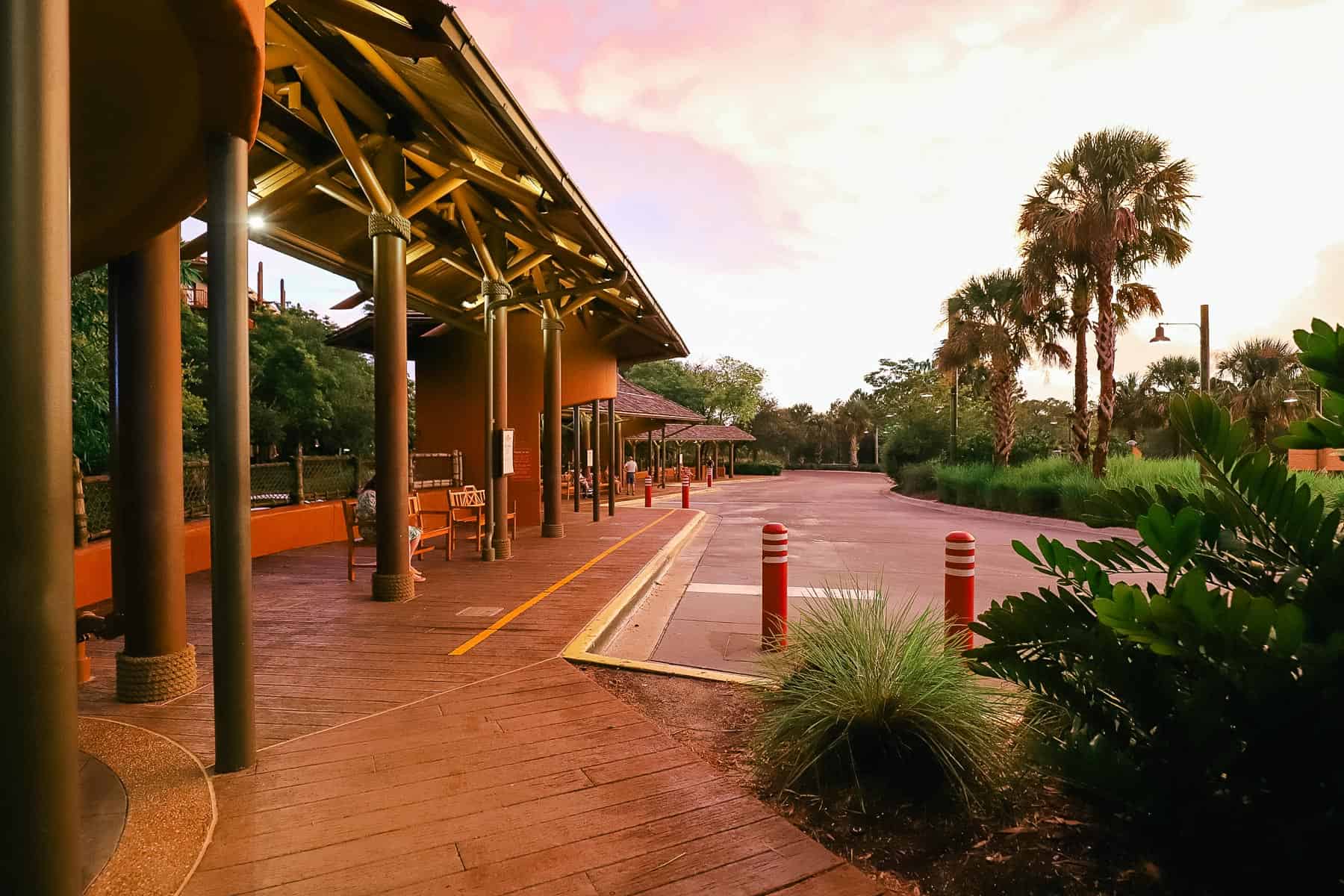 Wait times are posted on a screen at the bus stop. So you should have a good idea of how long it will be until the next bus arrives.
Bus service is provided to:
Magic Kingdom
Epcot
Hollywood Studios
Animal Kingdom
Disney Springs
Typhoon Lagoon
Blizzard Beach
Per the sign, buses run up to half an hour before the park opens. That's a half hour before early entry begins. It has been our experience that buses generally begin running a little earlier.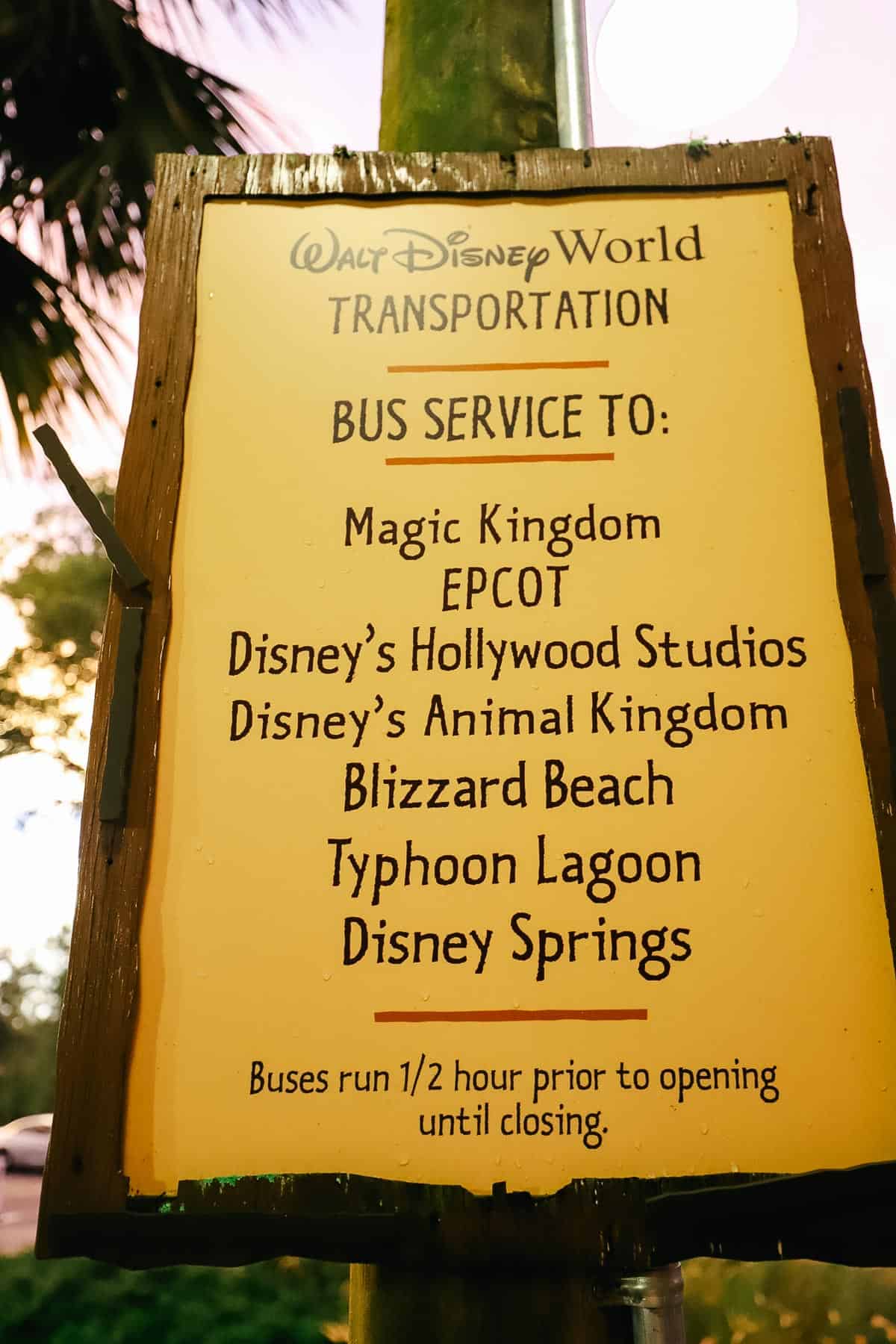 A few parking spaces are available around the outskirts of the resort. However, most parking spaces are in the parking garage underneath the resort.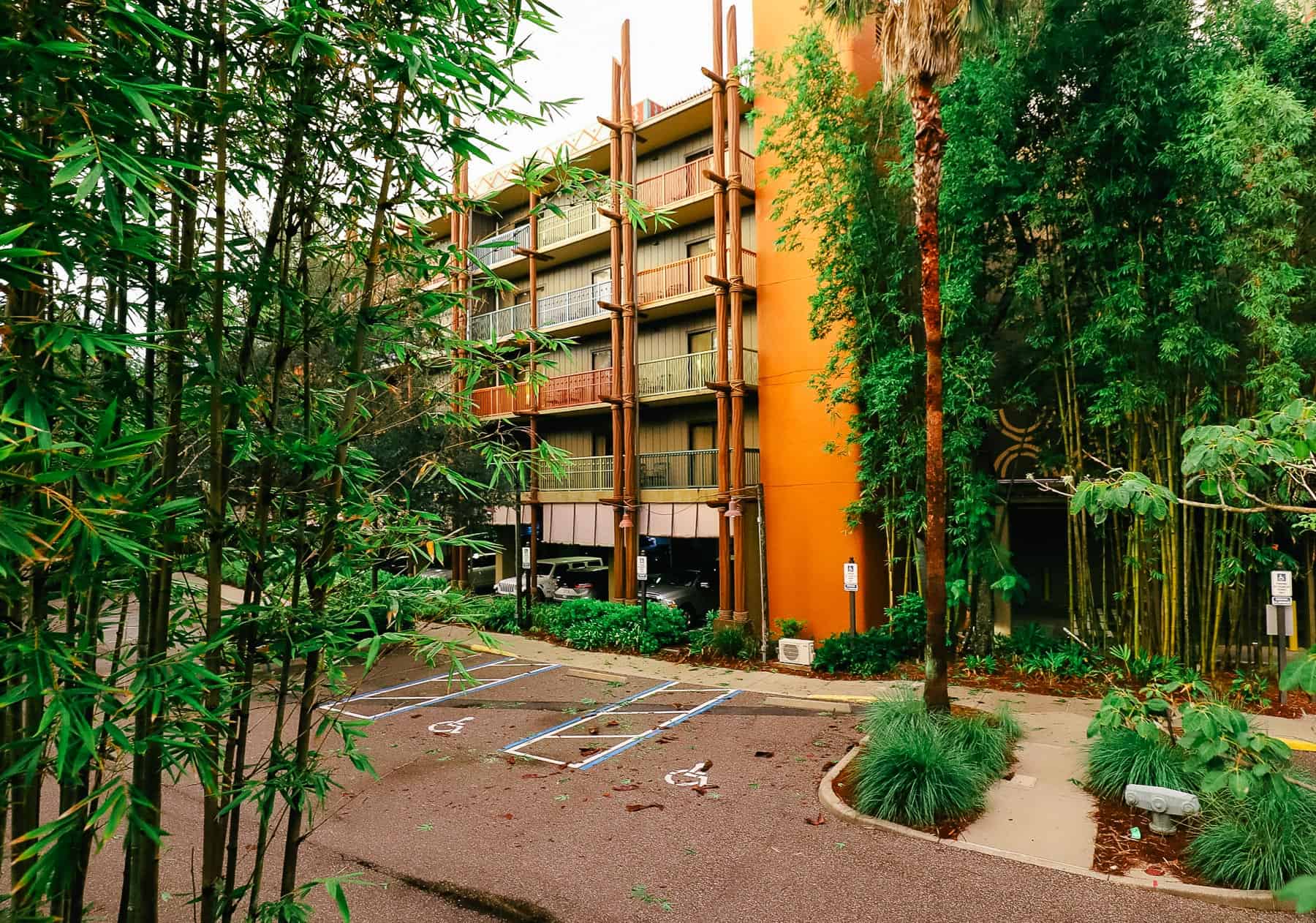 This is the primary reason we enjoy staying at Kidani during lousy weather. The hotel provides an excellent place to store your car. We were able to park our car near the elevator closest to our room. We parked less than 50′ from the elevator, took the elevator up, and were within a short walk of our room.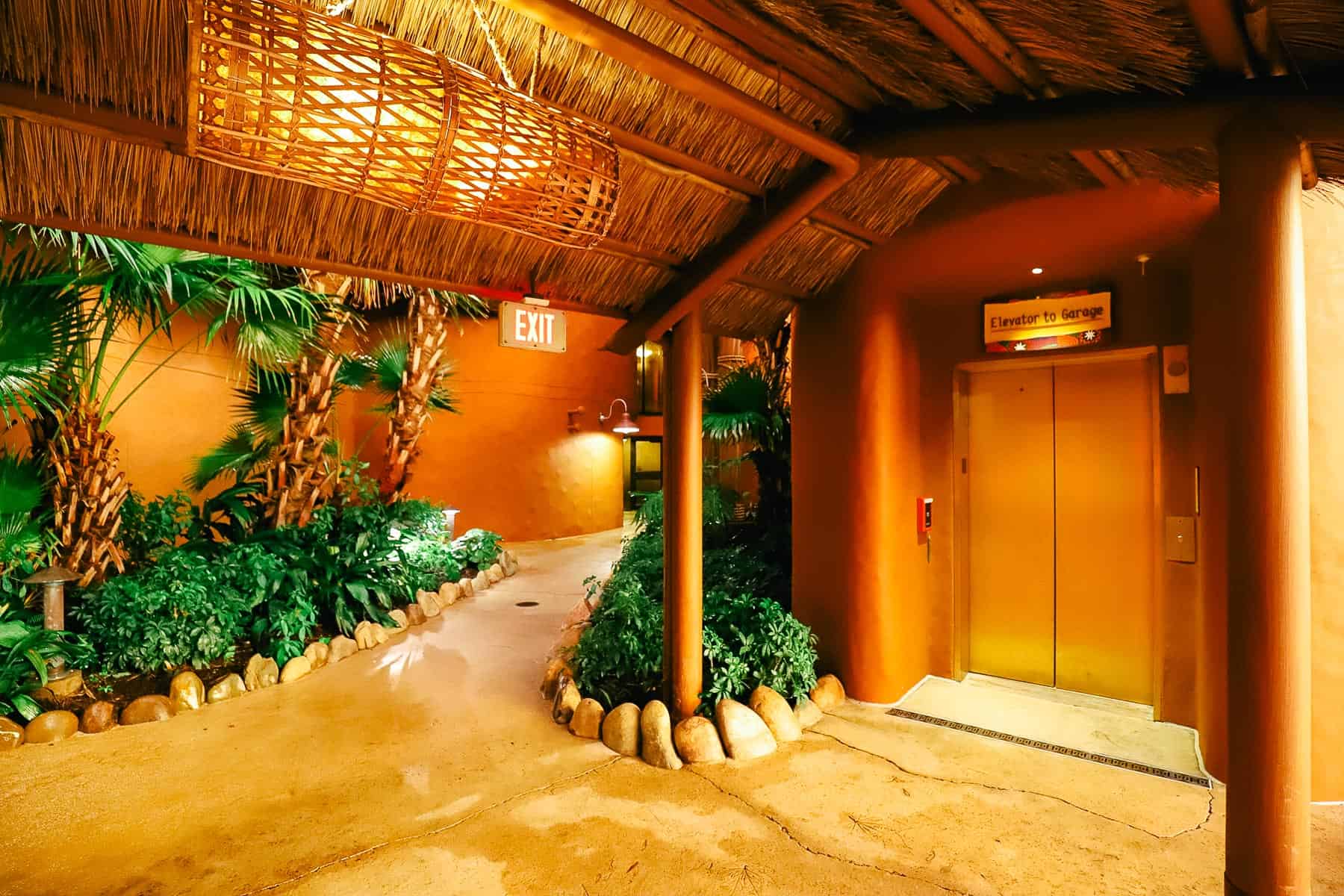 A shuttle is available to transport guests between Kidani Village and Jambo House. It's the white shuttle in the photo below. It runs about every 15-20 minutes.
If you prefer to walk, continue past the bus stop; signage will point you in the right direction. It's about a ten-minute walk.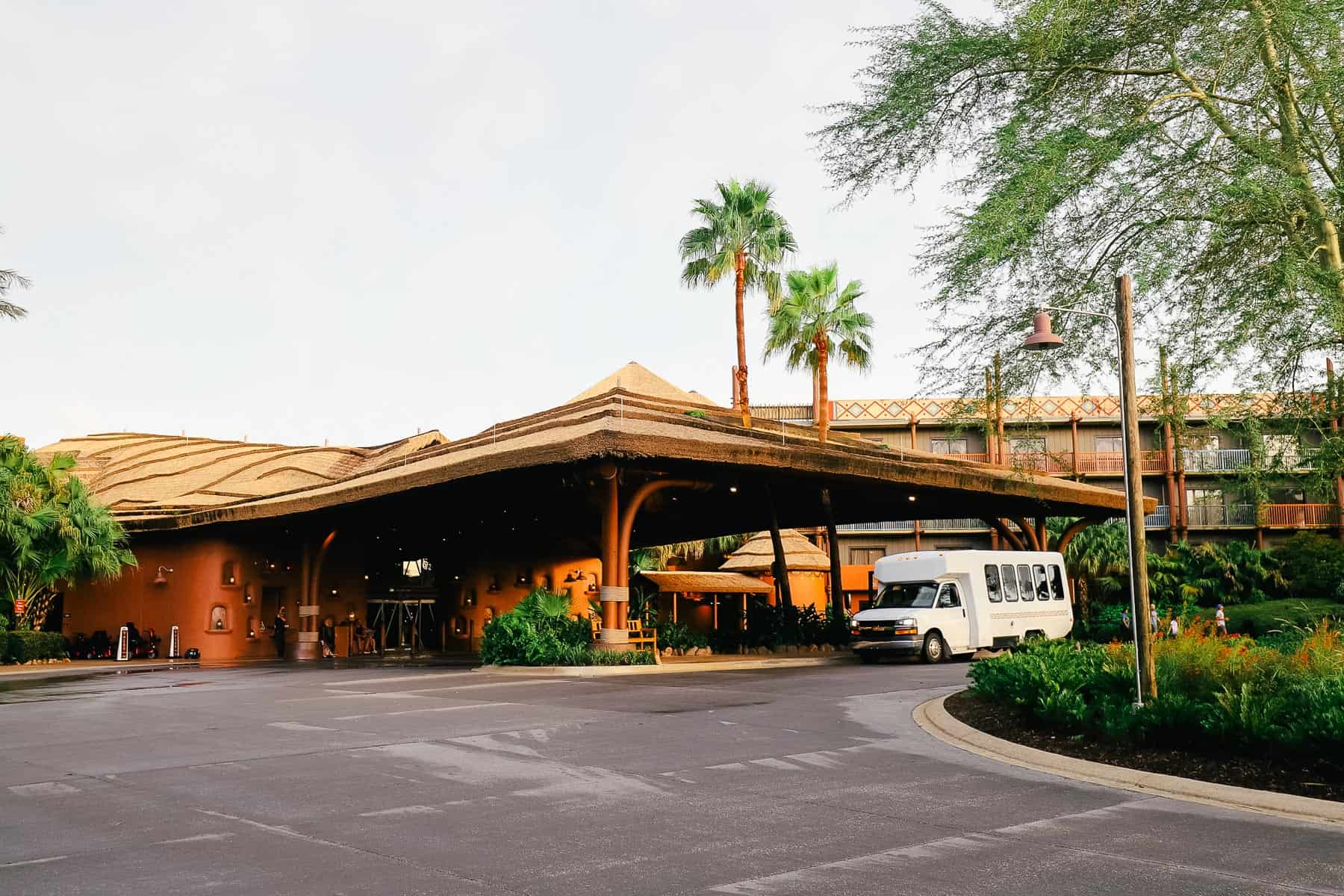 Final Thoughts on Kidani Village
Kidani Village is a remarkable destination. However, when it comes to Disney Resorts, each one is distinctive. But if you're looking for something special that's likely unlike anywhere you've ever been, it's hard to go wrong with Kidani Village or Jambo House.
Kidani is the more intimate of the two resorts with its boutique spaces. But don't underestimate the size of the resort. Both resorts are massive, with long hallways.
As far as dining goes, it would be nice if Kidani had a true quick-service restaurant. However, having to walk or shuttle to Jambo House is a minor inconvenience compared to the privacy of Kidani Village.
We've stayed at Kidani Village many times. Besides a few crowded bus rides, we've never felt overwhelmed or like the resort was at capacity. Everything inside is tranquil and idyllic. Outside, the mood shifts to picturesque with lots of shade. It's a lovely place.
One other perk: Since Kidani Village is a deluxe villa resort, guests can take advantage of early park entry and extended evening hours. Extended evening hours are exclusive to deluxe and deluxe villa guests. Make sure to be aware of which nights they are available during your visit. Find out more information about Disney's extended resort hours.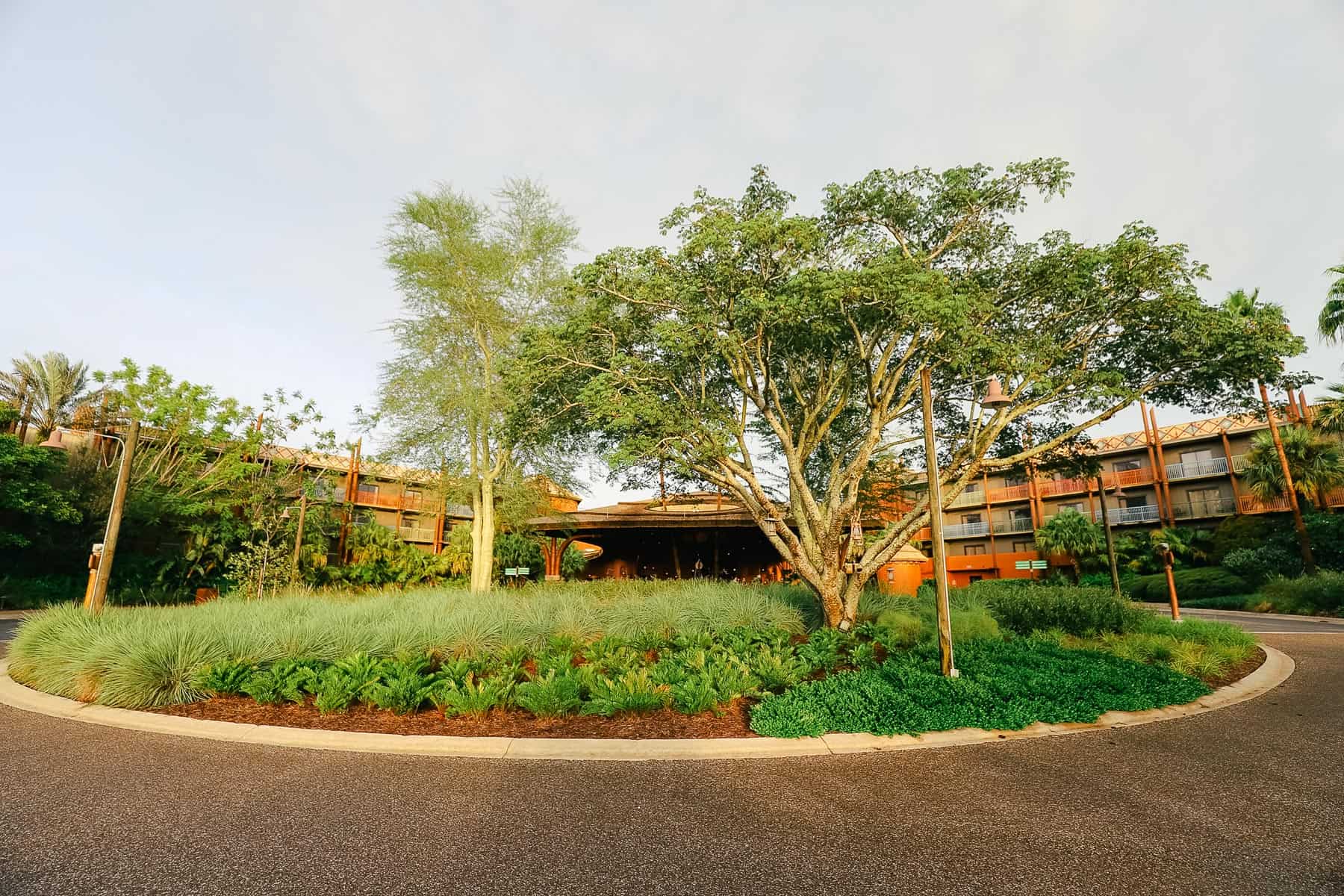 For more information about the two resorts, we have an entire guide:
Or you might enjoy some of these other resort reviews:
In the comments:
What are your thoughts about Kidani Village? Would you stay here? Do you have any questions? We're happy to answer them based on our experience.