Renting a Bike at Disney's Saratoga Springs Resort and Spa (A Peaceful Day at Disney)
It's Spring Break season, and I can't think of a better time of year to be a Resort's Gal. While the parks are jam-packed, I felt it was time to focus on the more peaceful side of Walt Disney World–the resorts.
So what better way to spend a relaxing afternoon than enjoying a simple bike ride? This time, we're headed out to Saratoga Springs to try out the resort's bike rentals.
For this visit, I drove to Saratoga Springs and parked near The Springs bus stop. This location is across the street from Community Hall and Horsing Around Bike Rentals.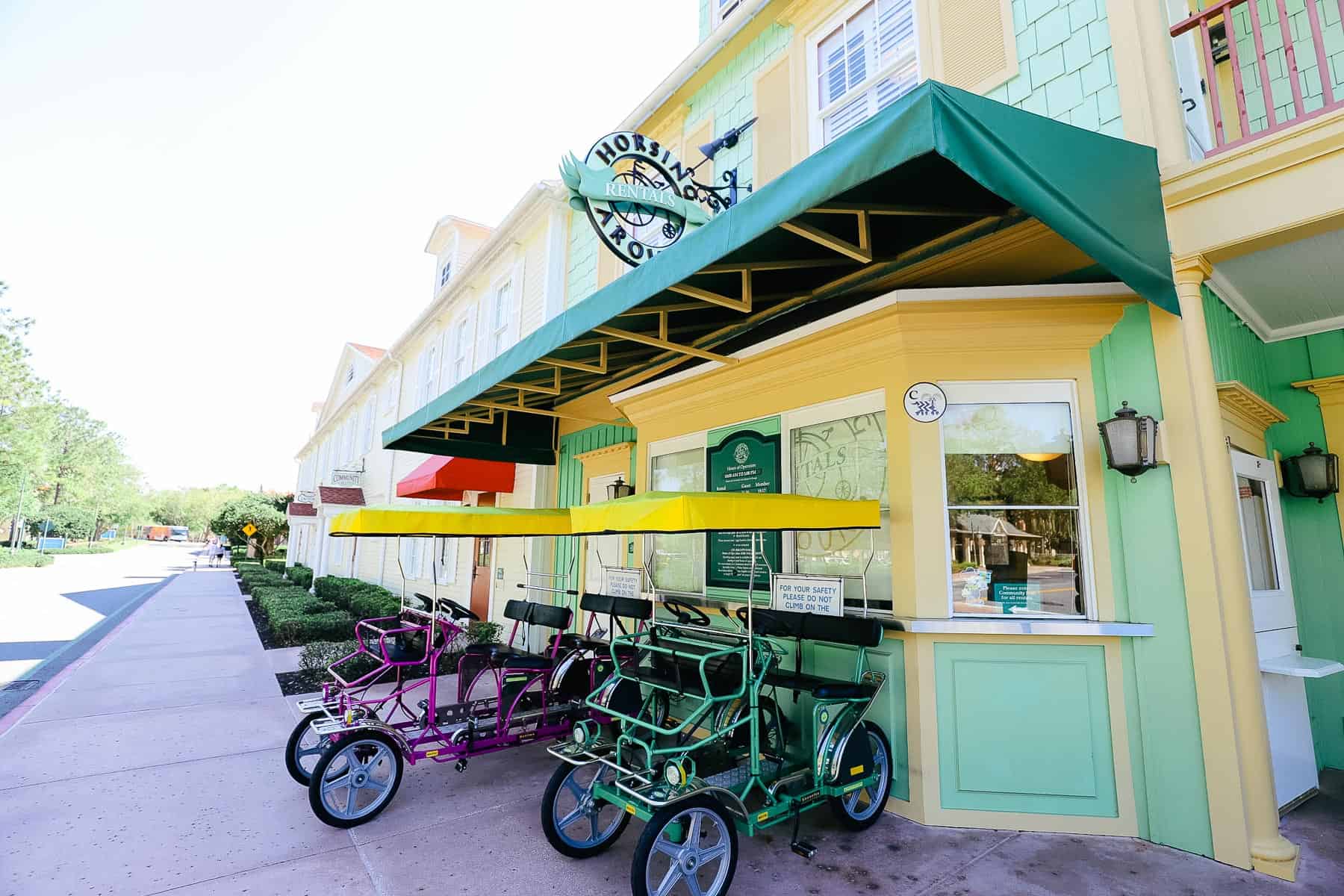 When I first arrived, I planned to take a few photos for dining updates and then take a bike ride. So first, I walked up to The Artist's Palette.
For lunch, I had the Lemon Tarragon Chicken with roasted potatoes and green beans. It was delicious.
Related: The Artist's Palette Review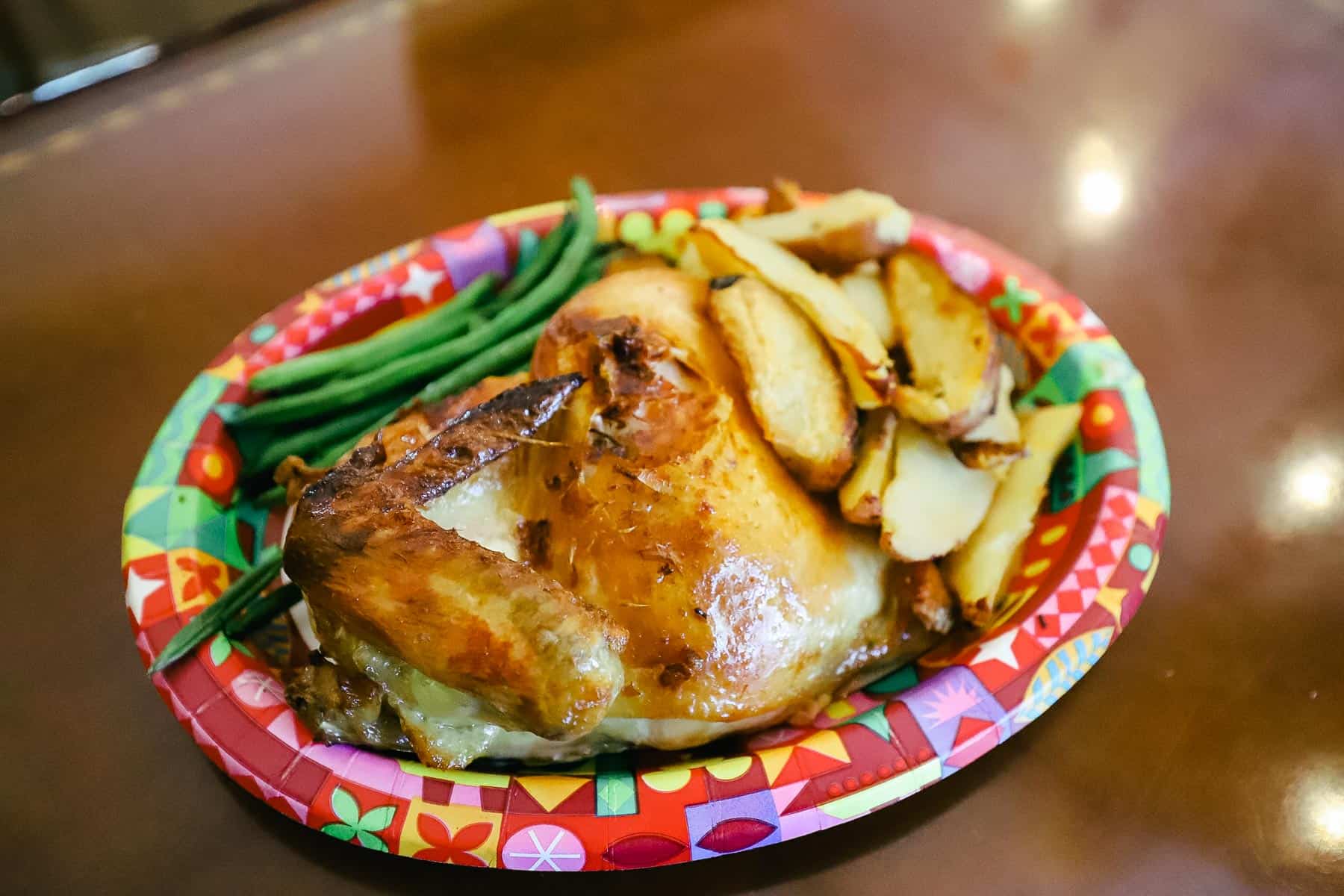 Then, I made my way back down to Horsing Around Rentals.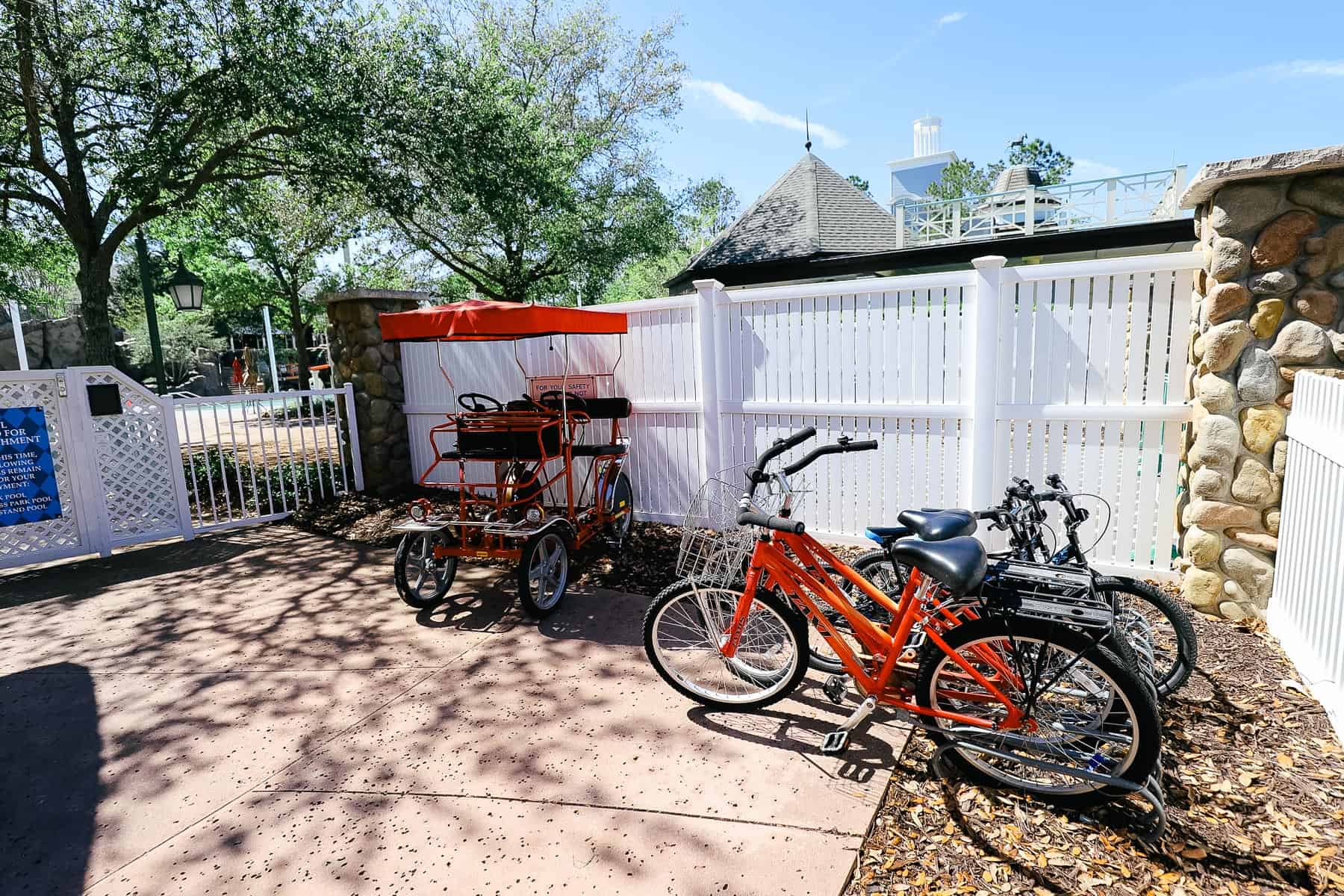 Horsing Around Rentals has several options:
2 Seat Surrey Rentals run $21.30 per guest per half-hour
4 Seat Surrey Rentals run $23.43 per guest per half-hour
Bicycle Rentals run $9.59 per guest per 60 minutes
Bicycle Rentals run $19.17 per guest per day
*DVC members receive a small discount off the set prices for guests.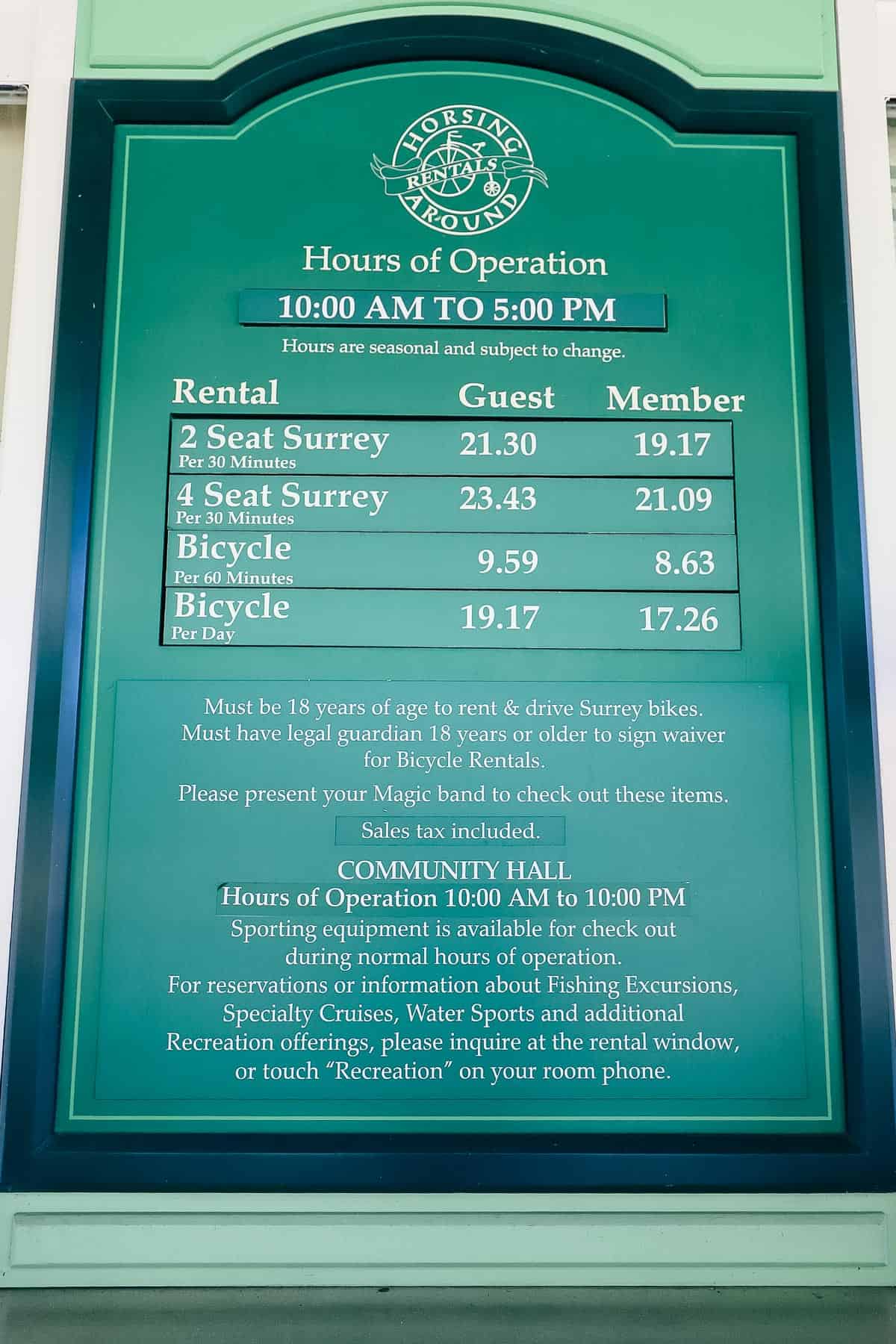 A cast member greeted me and said I could complete the rental inside Community Hall. I mentioned that I wasn't staying at the resort, and he said it was fine.
So, if you're staying at another resort or visiting from off-property, you can still rent a bicycle from the resorts that offer them. You may remember I did the same thing last summer at Old Key West.
Related: Bicycle Rentals at Disney's Old Key West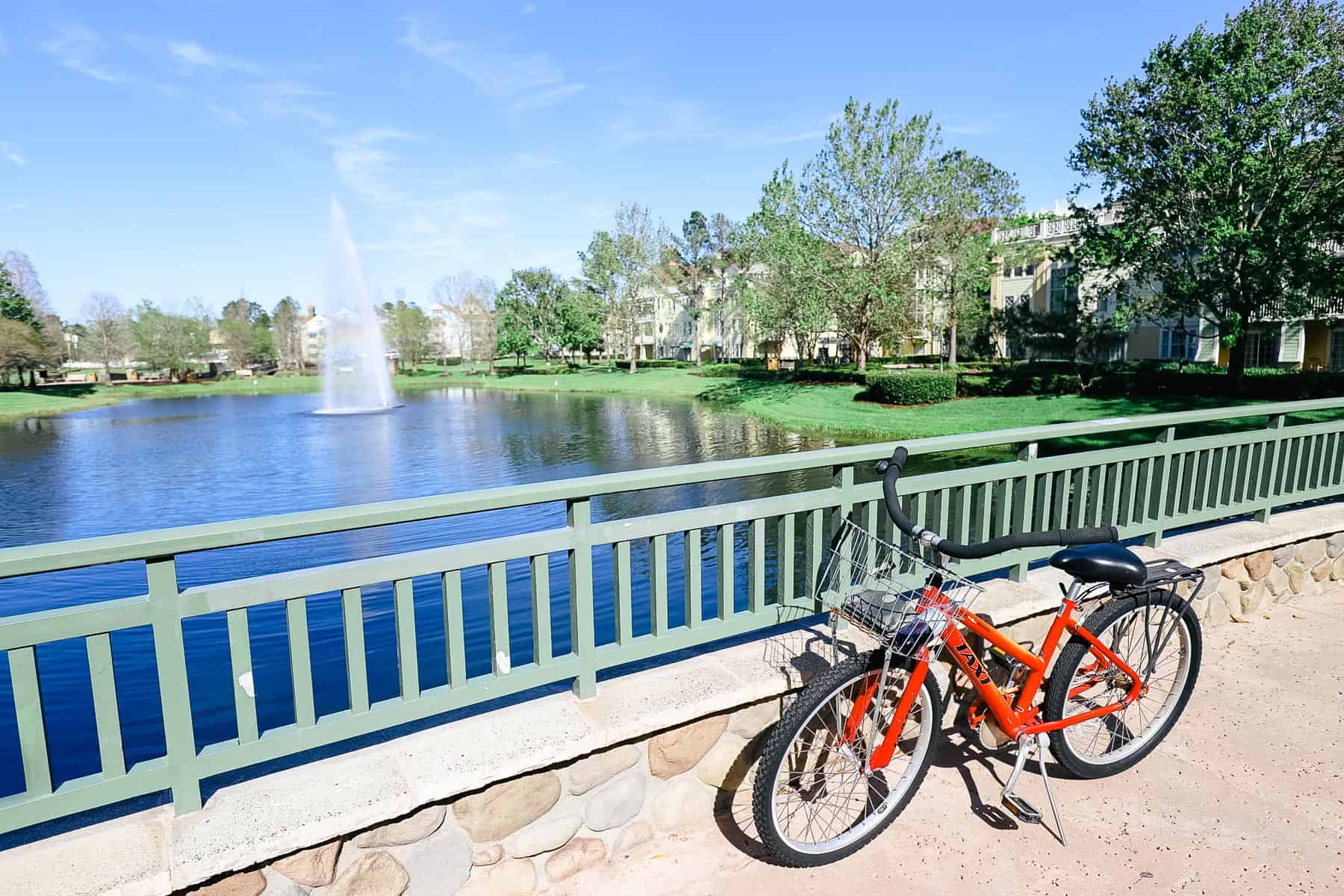 It was late afternoon, and signage indicated I needed to return by 5:00 p.m. But the cast member said as long as I was back by 5:30 p.m. I would be fine. This left me about an hour and a half to cover some ground.
Guests can ride anywhere around the resort they choose as long as they stay on the sidewalk. When I was getting ready to leave, the cast member mentioned that I was probably already familiar with the trail between Saratoga Springs and Old Key West.
No one ever mentioned the trail when I rode bikes at Old Key West last year. So I didn't know it was available.
He told me to go to the Saratoga Springs boat dock and join the golf cart path by the bridge. Then after crossing the bridge, you take a right on the trail, and it leads directly to Old Key West.
Here is the boat dock at Saratoga Springs. It sits directly behind The Carriage House, where you'll find the resort's lobby, Artist's Palette, The Springs Pool, the pro shop, and Chip 'n' Dales Cafe.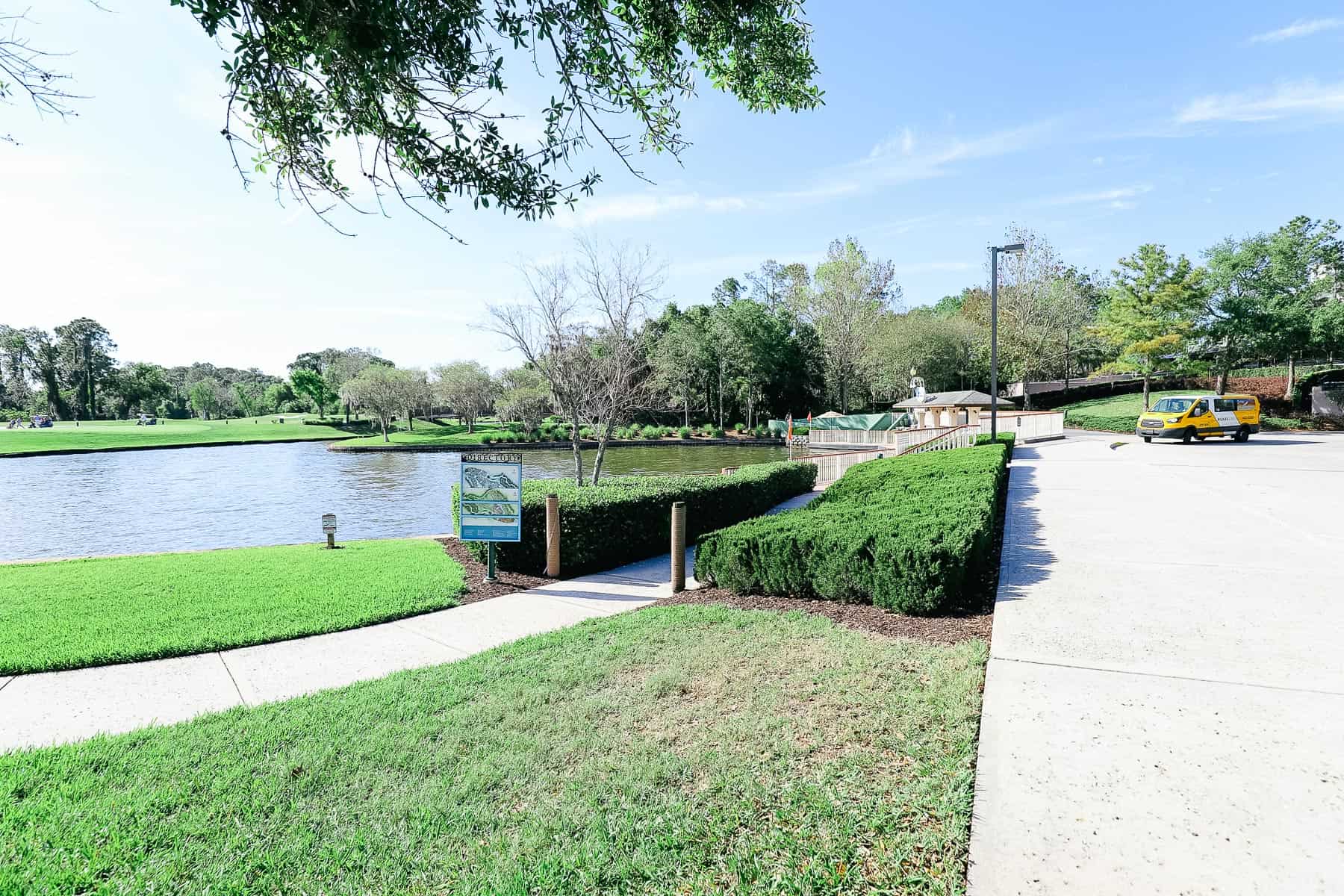 So off I went over the river and through the woods.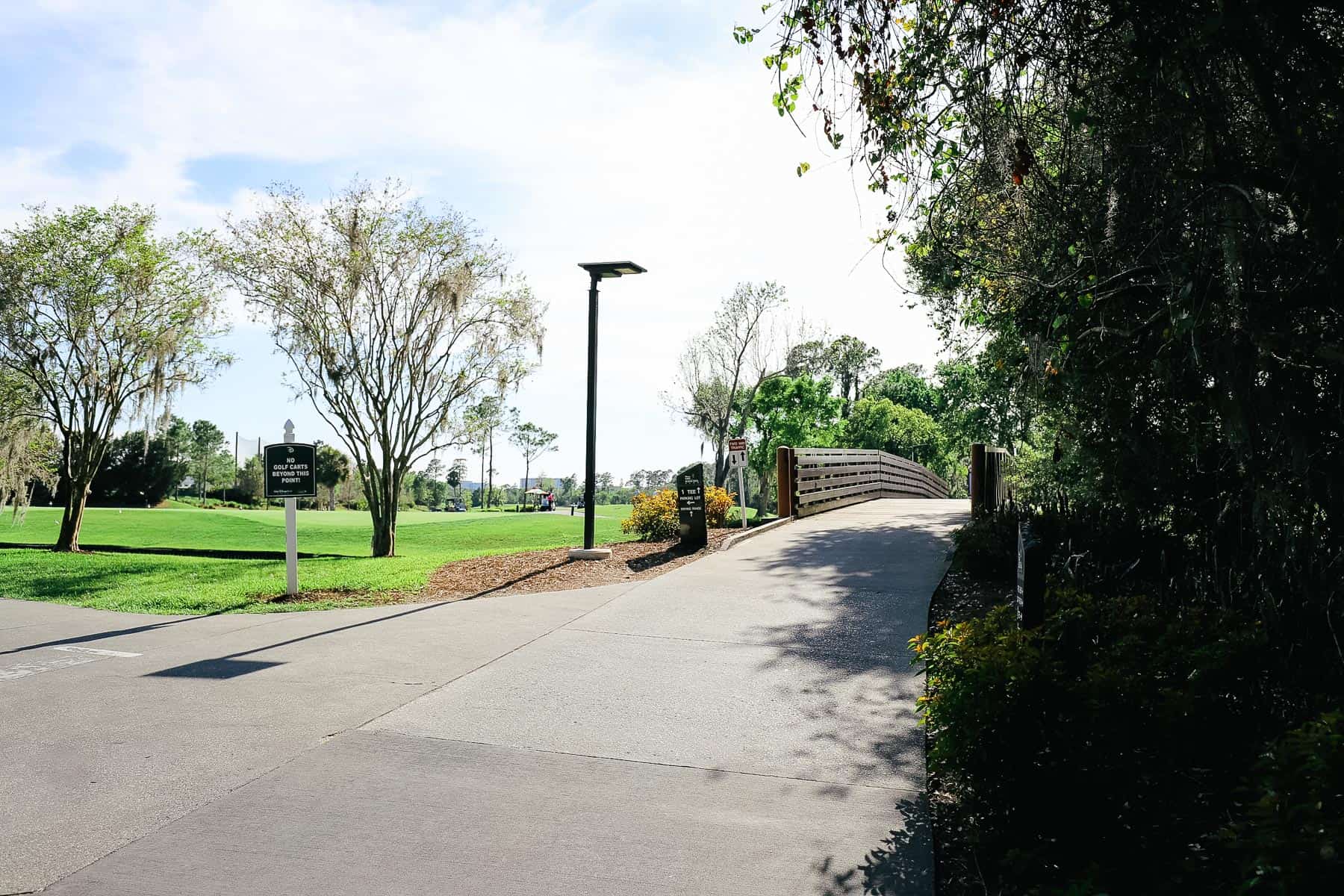 This path runs to Old Key West. Guests staying at the Treehouse Villas can cross over the next bridge to get back and forth from Saratoga Springs.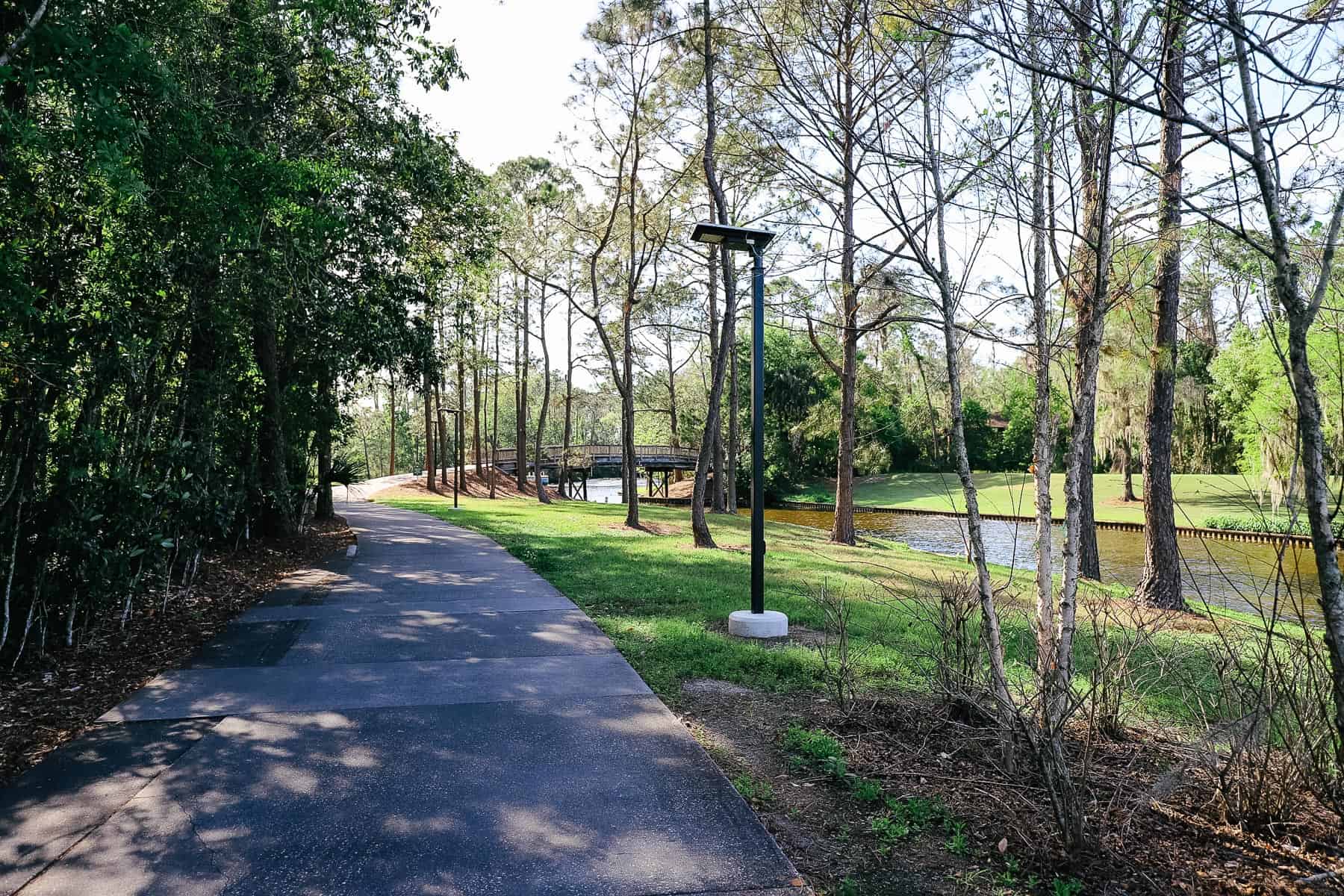 As I continued, I passed another bridge that indicated it was only for golfers.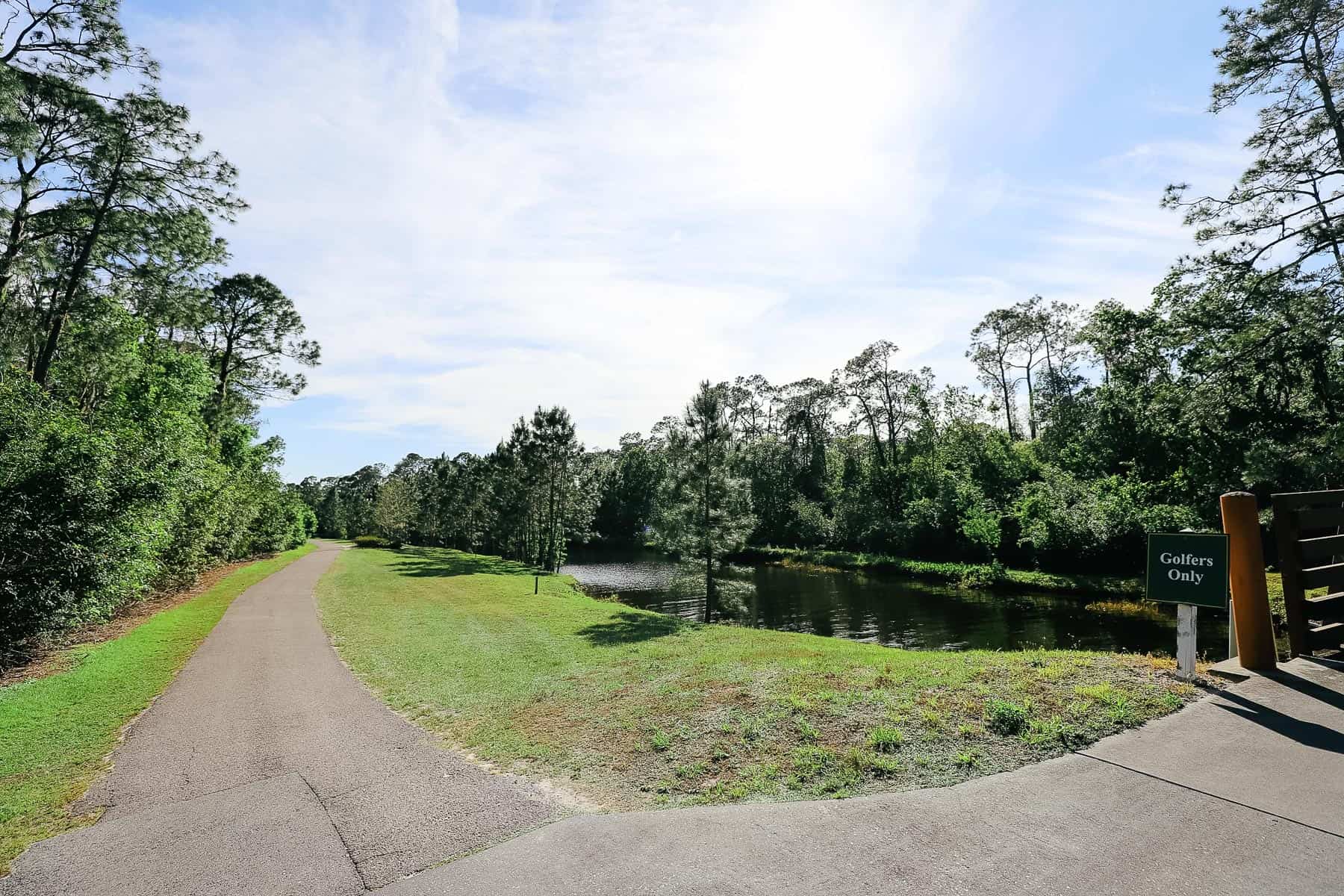 One of Disney's smaller boats came through the area. I assume they ride through now and then since the path is pretty remote.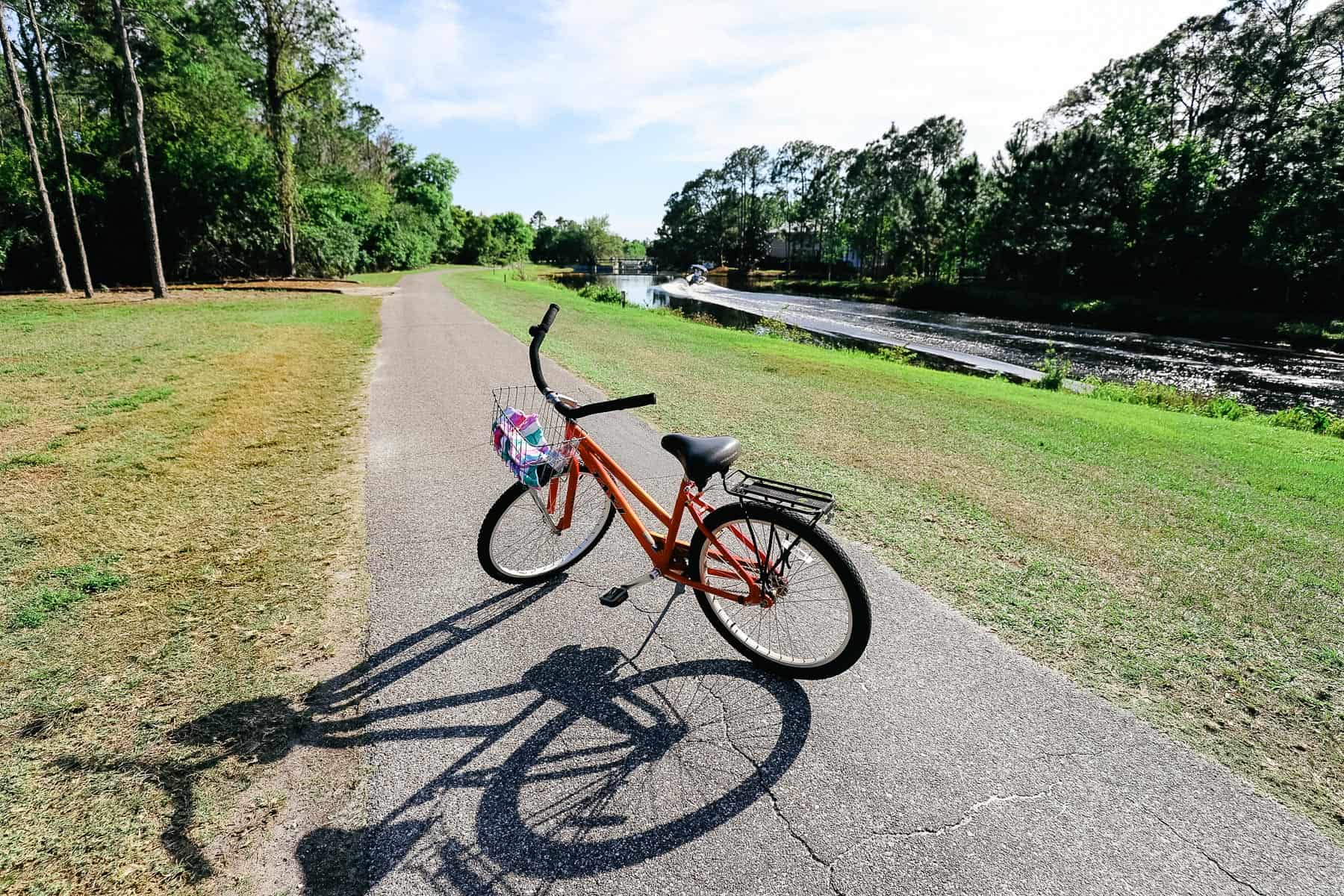 Eventually, the path ended at a cul de sac at Old Key West.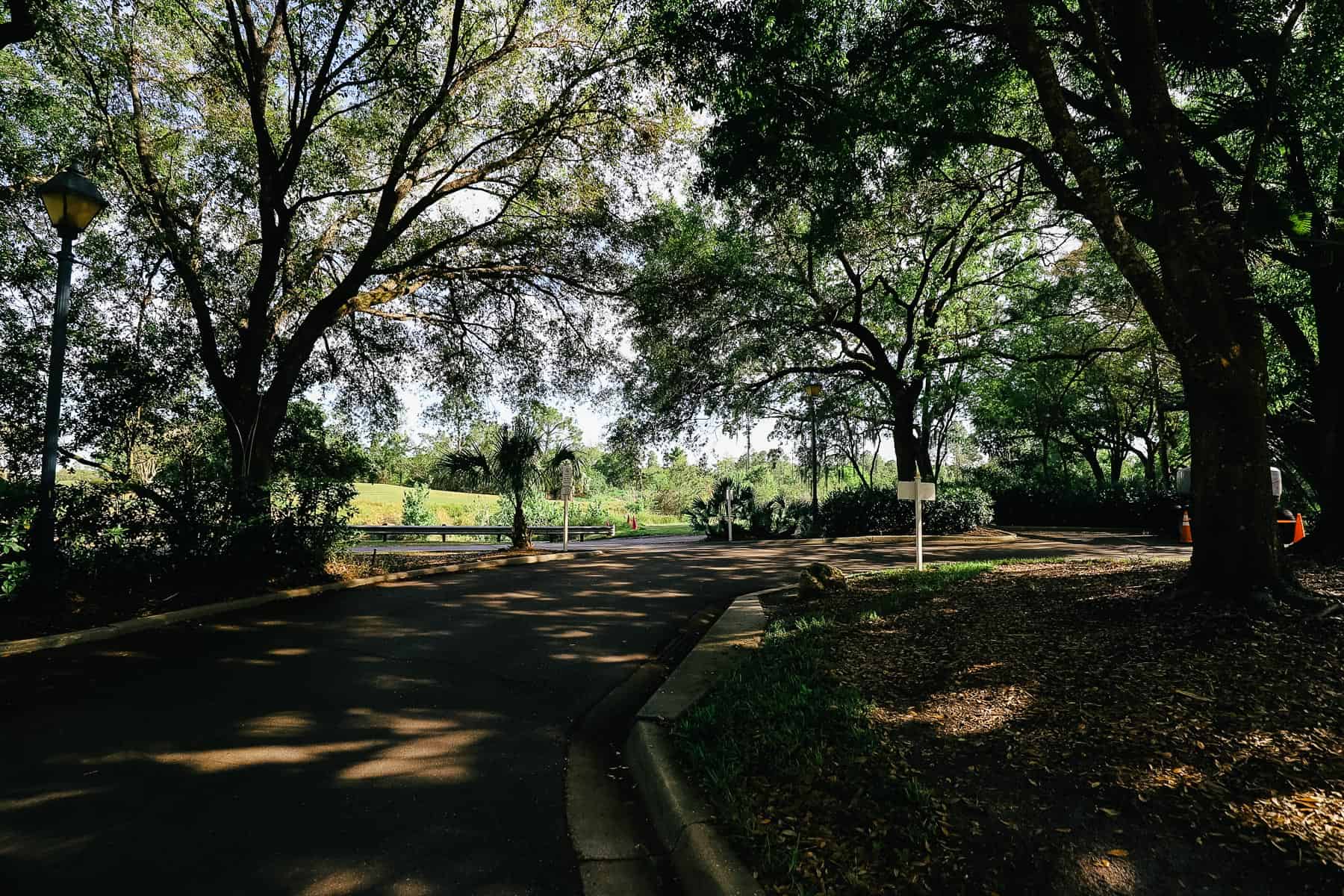 I took a photo of the building to show where the trail ends (or begins) at Old Key West. This was a few buildings down from where we stayed last summer.
Related: Disney's Old Key West Review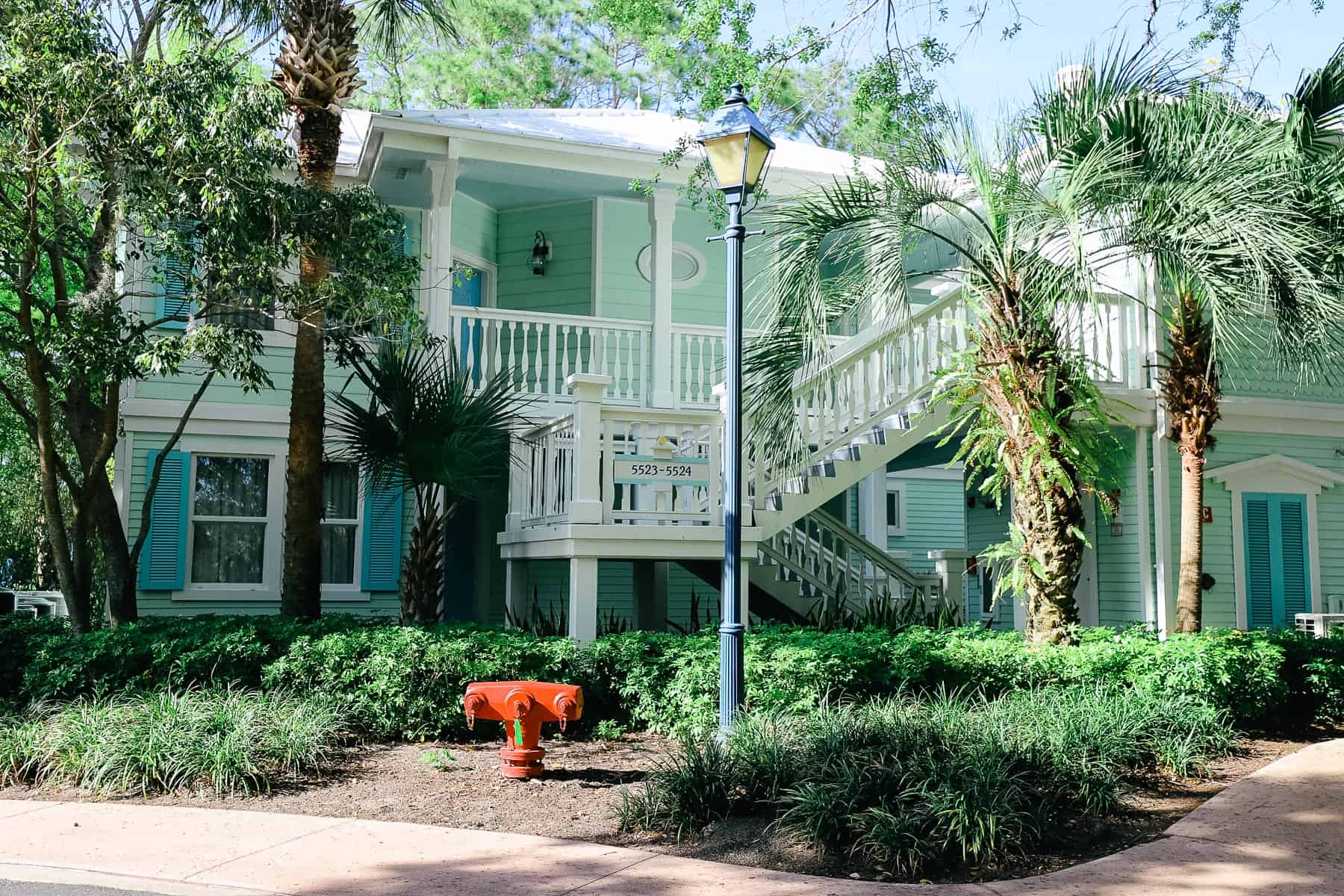 It was approximately a 10-minute bicycle ride between Community Hall at Saratoga Springs and Old Key West. However, I stopped to take several photos along the way. So it took me a bit longer.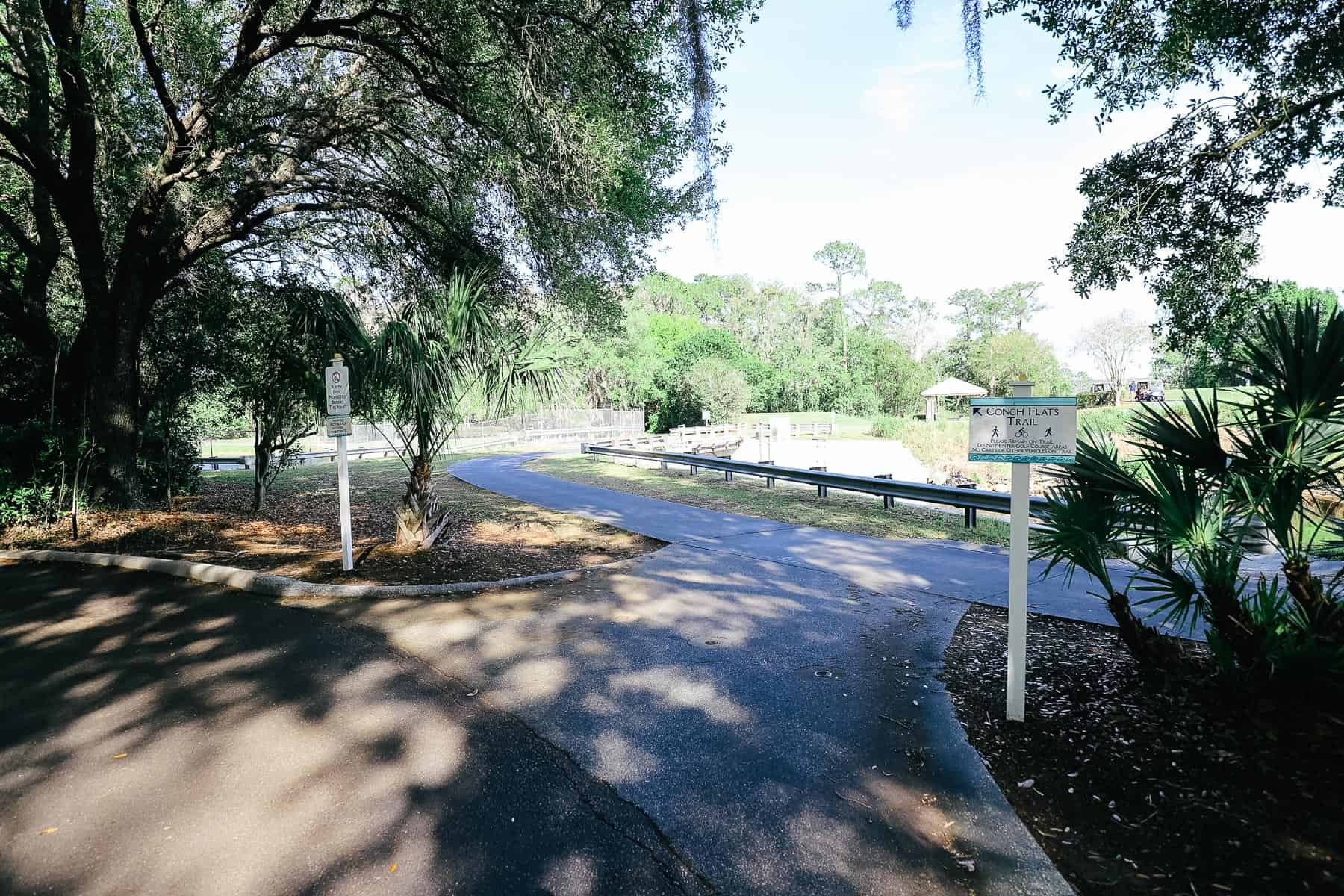 On my return to Saratoga Springs, I noticed this area was called the Conch Flats Trail.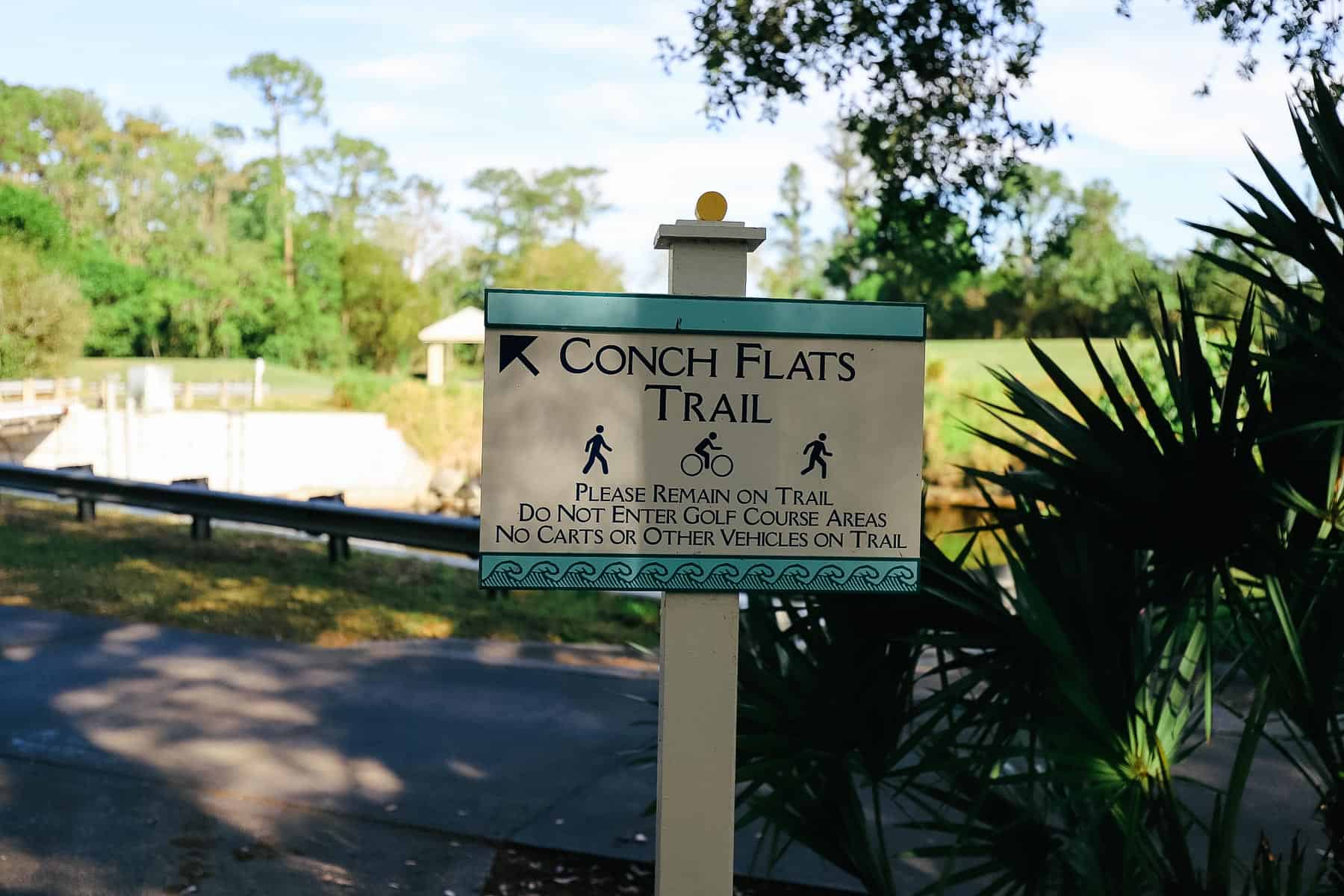 On the Saratoga side, I ran into a few signs that called it the Saratoga Springs Nature Path. Several guests were walking the path during my ride. Some of them were walking back from Disney Springs.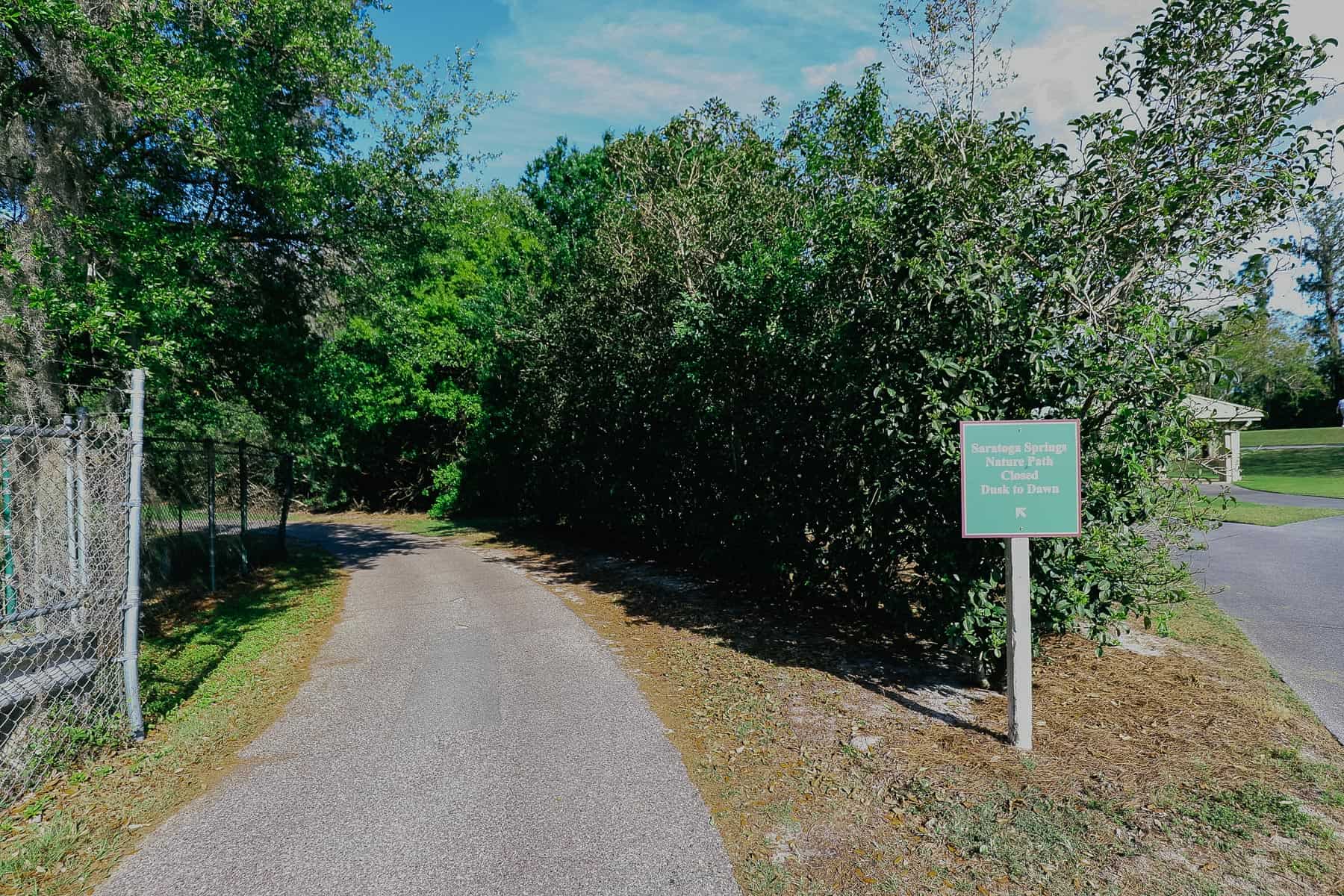 I still had some time left when I returned to the Community Hall area. So, I took the dedicated path for the Surrey bikes.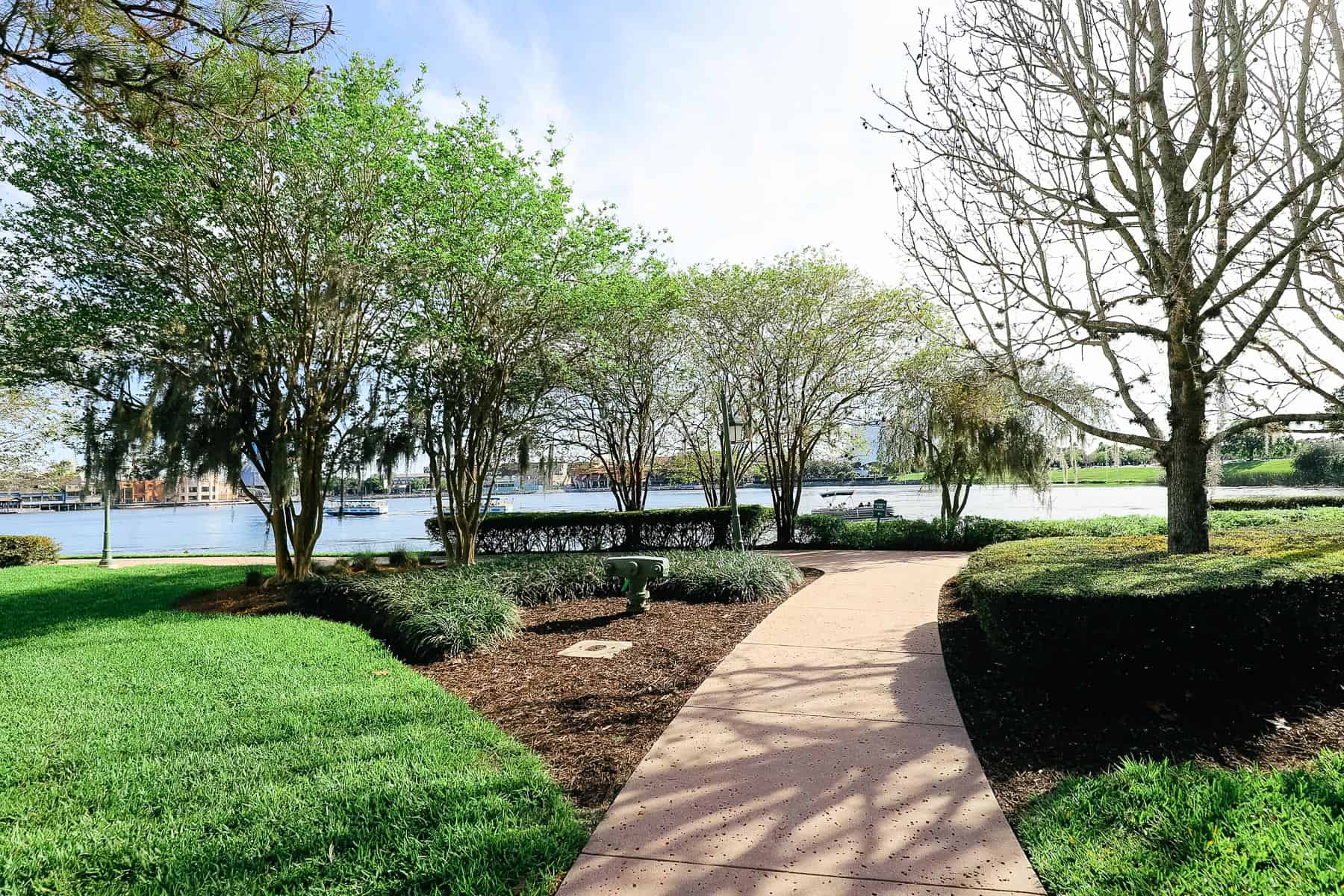 This path is somewhat marked. Now and then, you'll see a sign directing you where to go.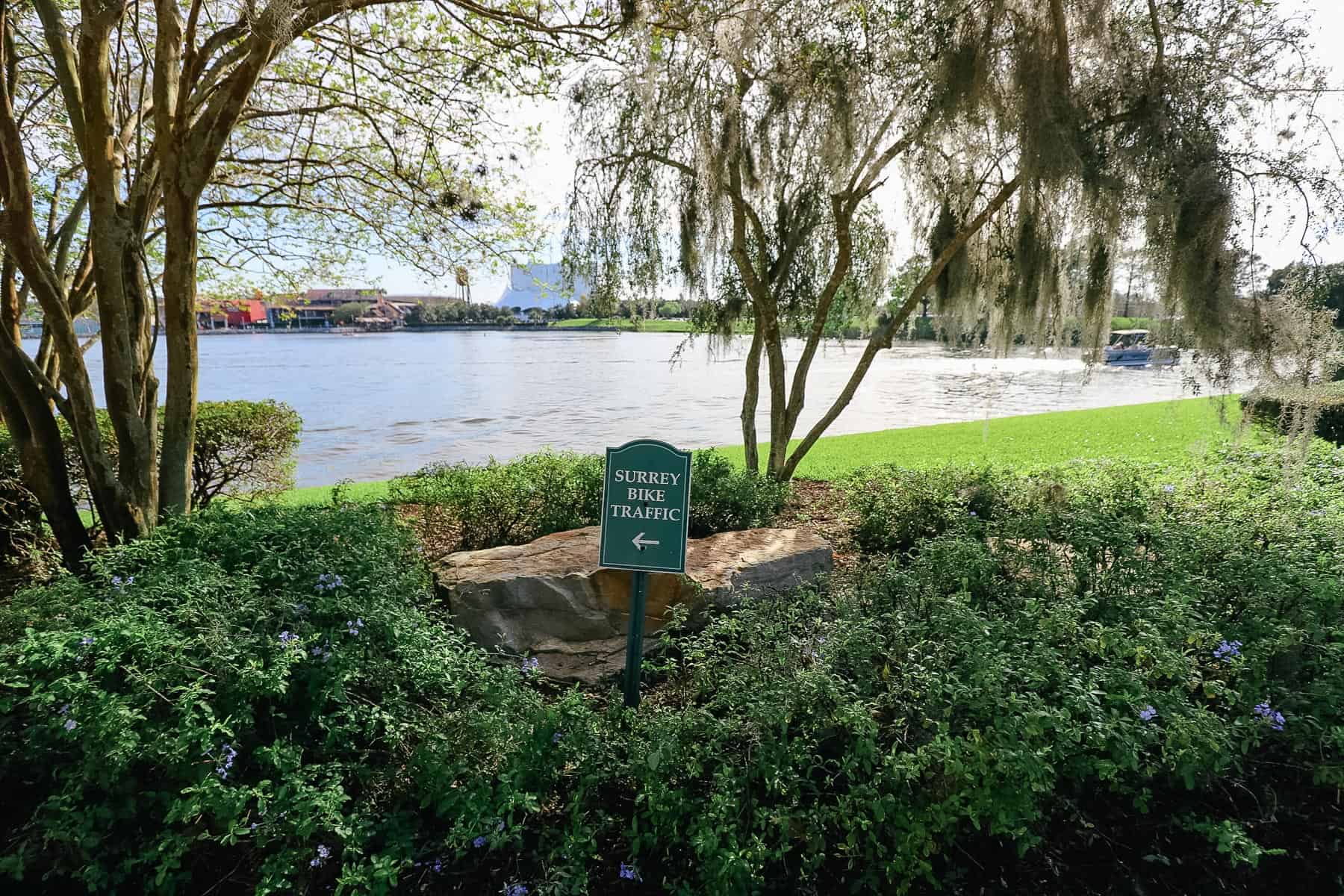 You'll leave Community Hall, where the "You Are Here" is on the running trail map below. Then, you'll head straight toward the 1.4-mile trail. You'll cross a bridge and then take a hard right at the first set of villas.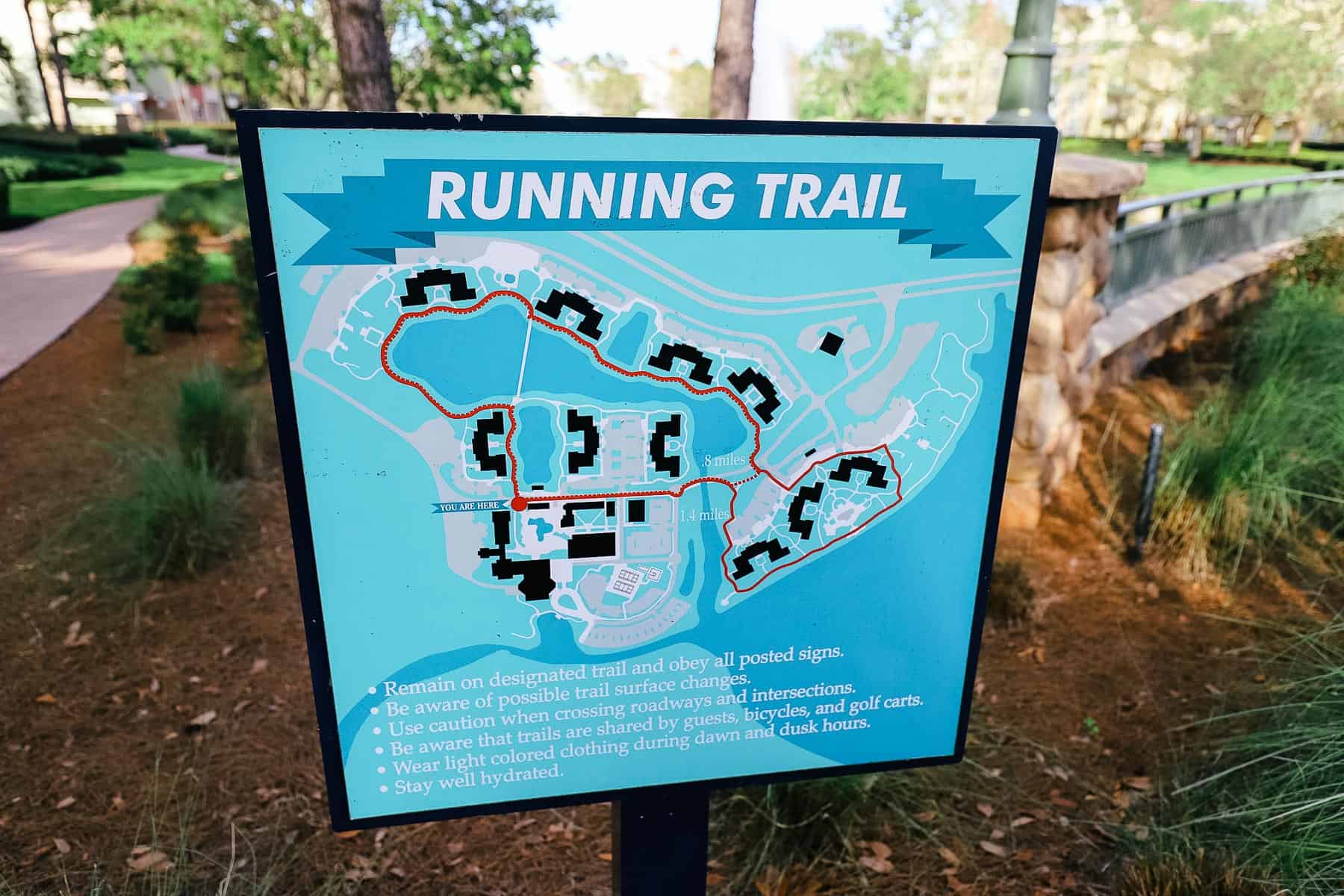 Afterward, you'll come out at the long walkway to Disney Springs.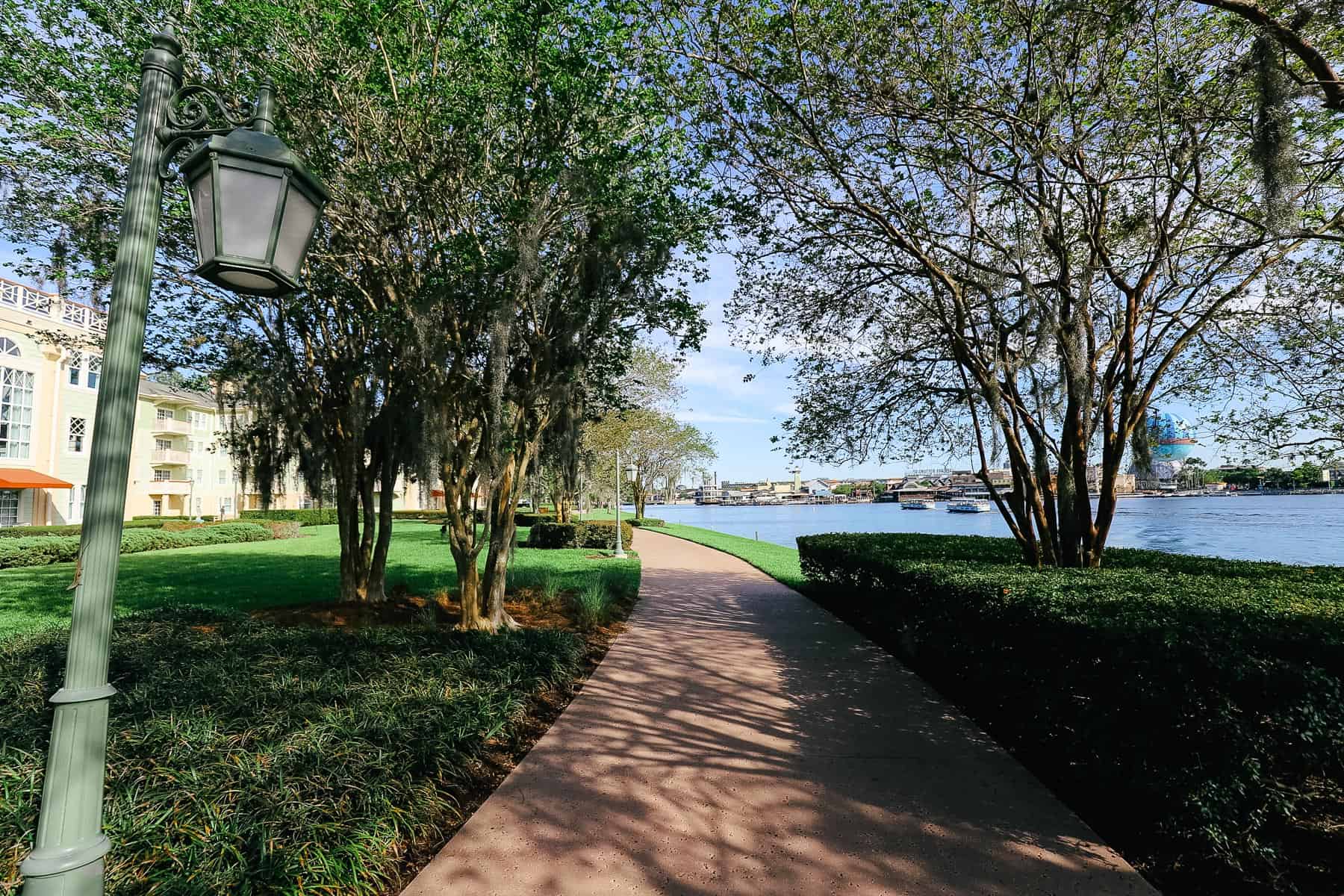 This wide path features scenic views of Disney Springs in the distance.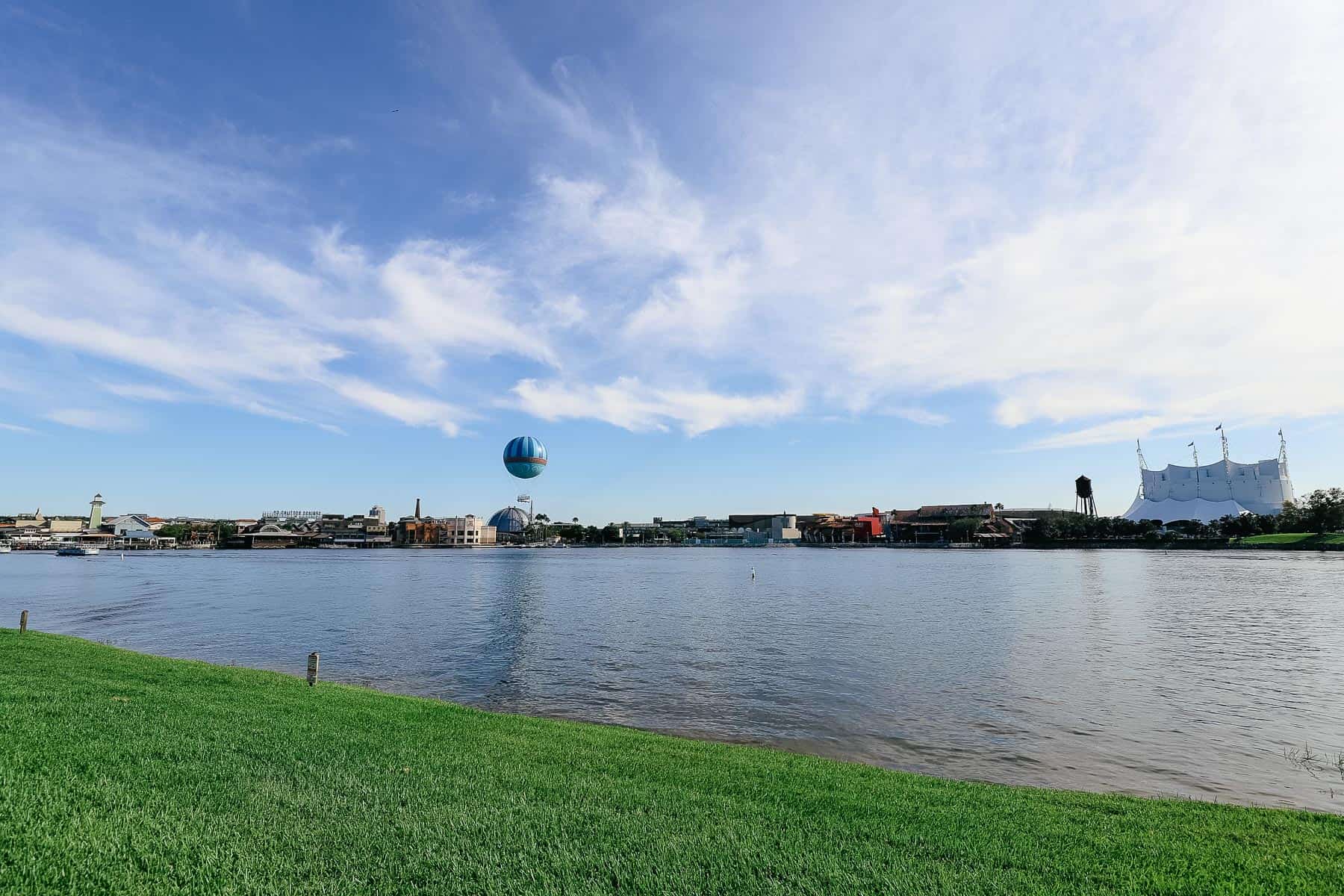 The resort side is pretty, too.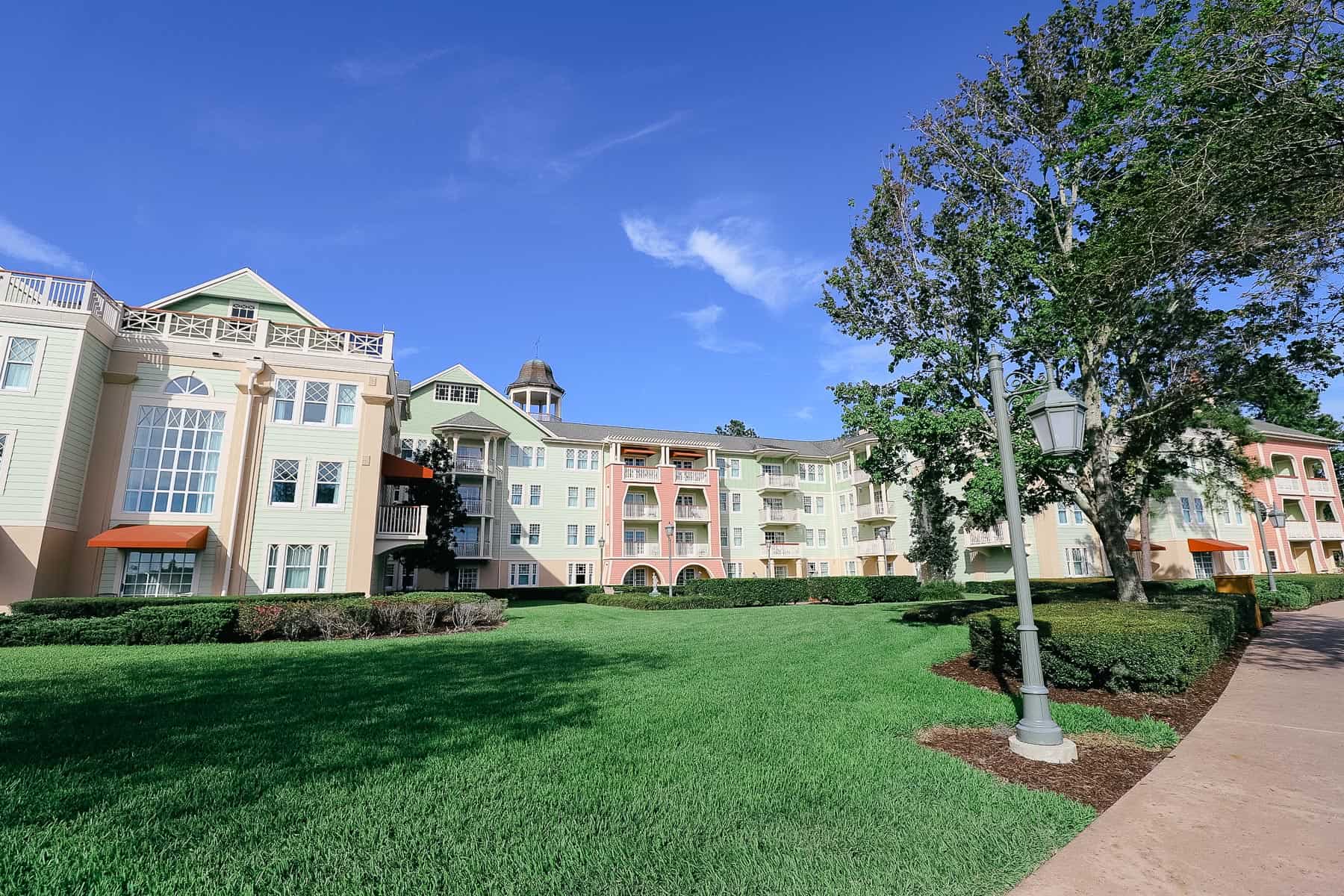 If you've ever taken a boat to Disney Springs, you've likely seen the rock wall with the sign that says Welcome Home, Disney's Saratoga Springs Resort. That signage is on the wall where I'm standing to take this photo.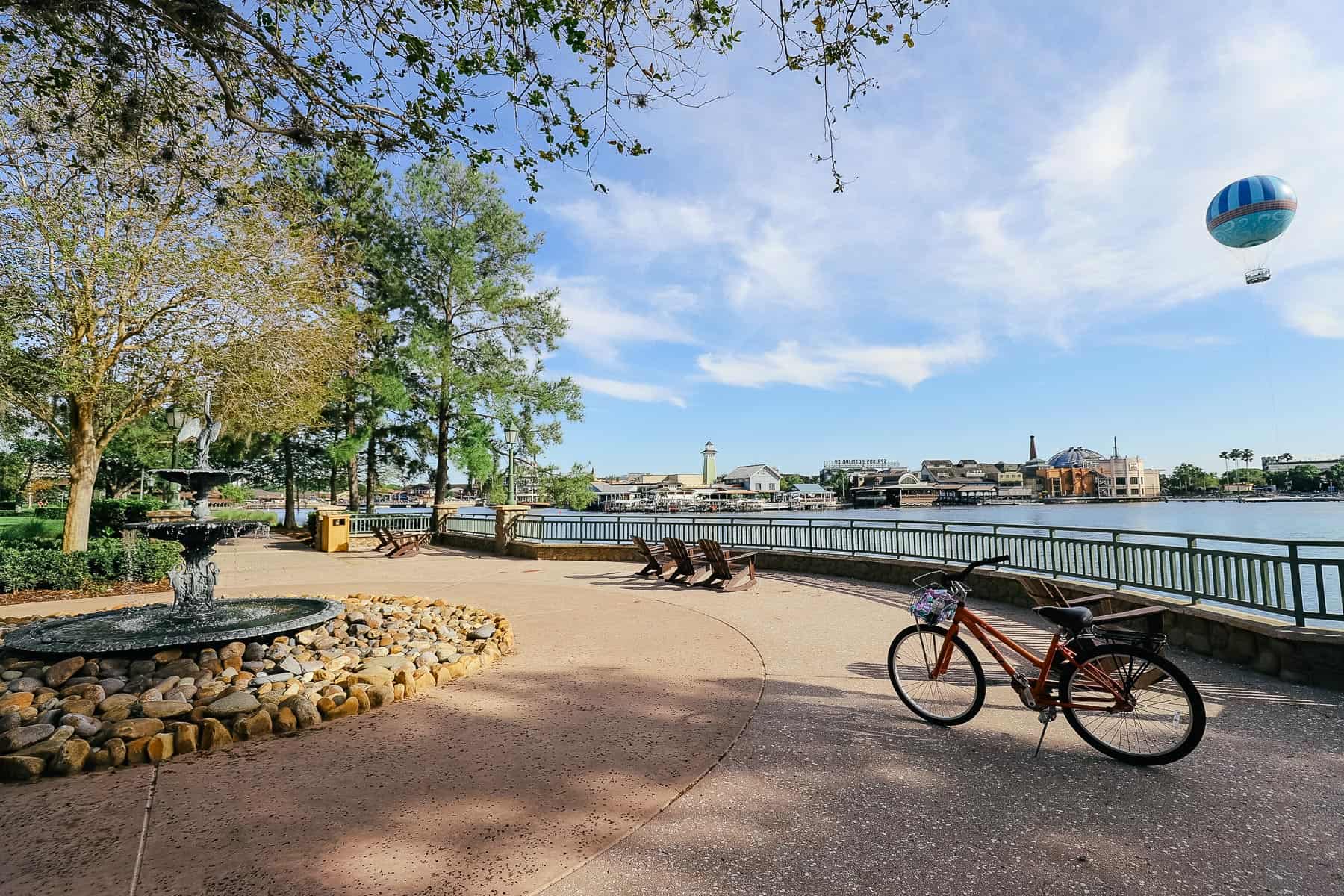 You can see many of the restaurants that sit out on the water.
Related: Best Restaurants at Disney Springs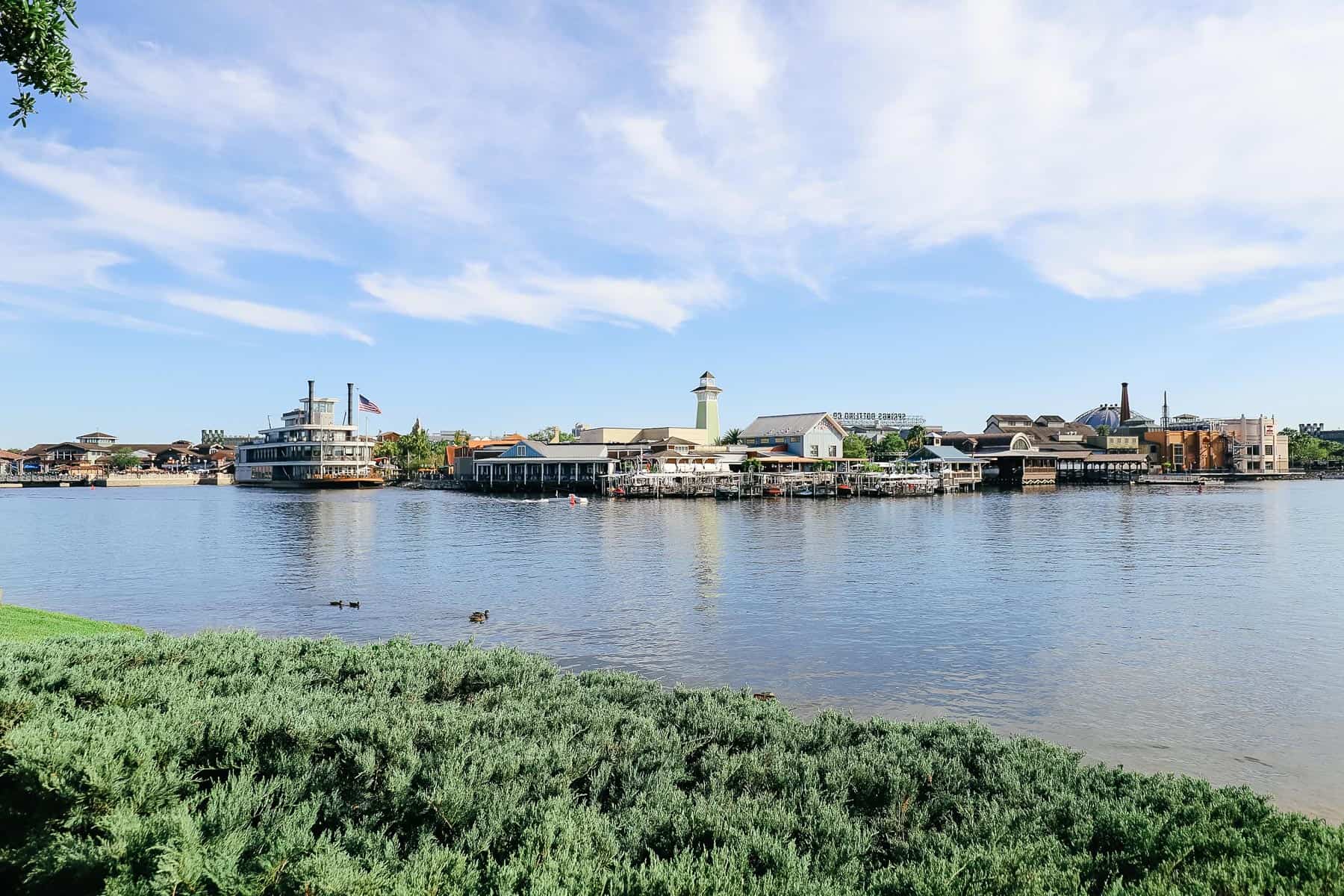 As you approach the bridge to Disney Springs, you'll take a left to circle back around Congress Park.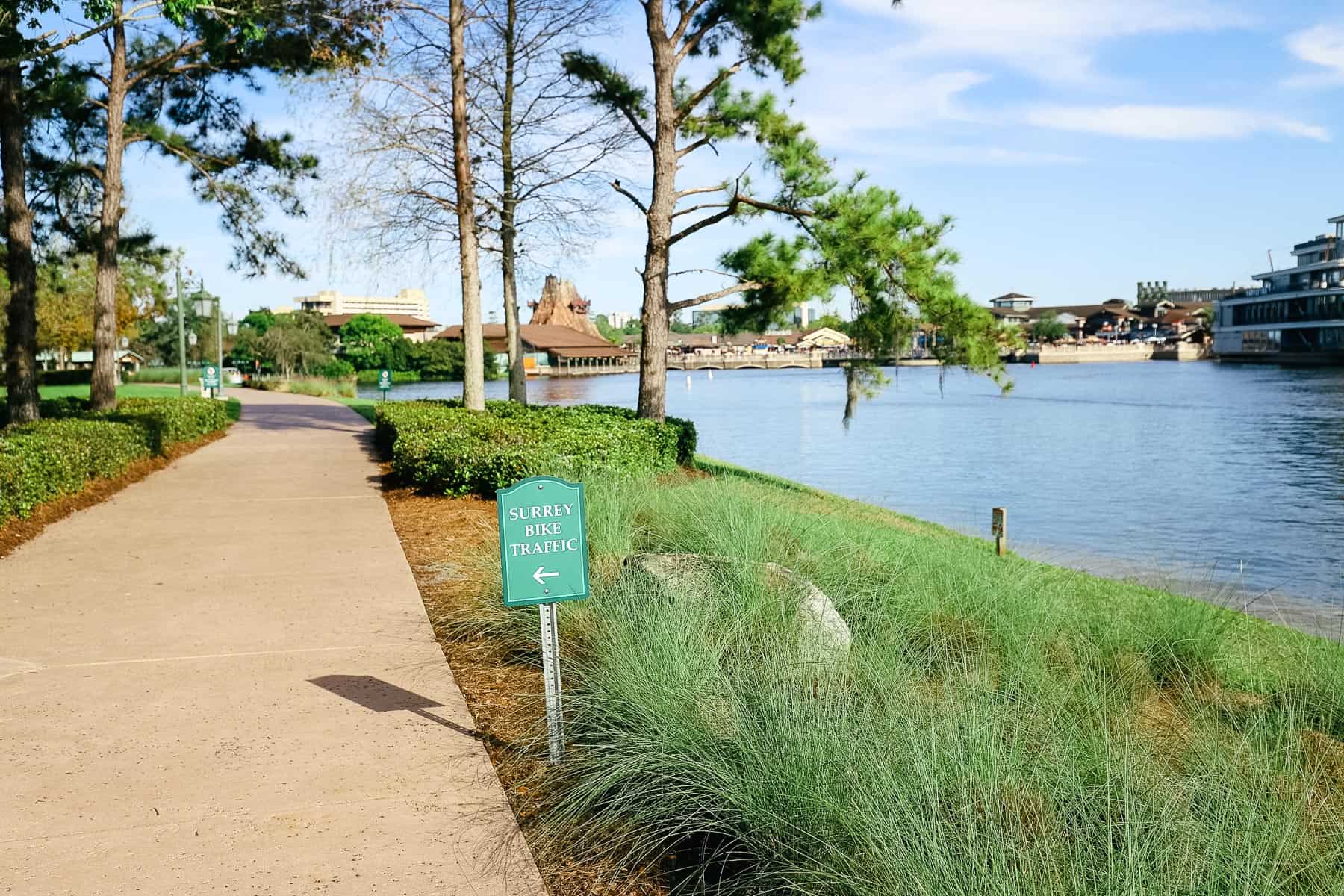 At the front of the building, you'll take another left and return to where you started within a few minutes. So it was 5:25 p.m. when I got back to Community Hall.
All total, I ended up riding my bike for a little over an hour. However, they were nice enough only to charge me for a one-hour rental.
For approximately $10.00, I was able to see a good deal of scenery around the area and learn my way around the resort better. As much time as I spend at the resorts, I was surprised to learn about this trail that connected Old Key West and Saratoga Springs.
I guess you learn something new every day! If you enjoy riding bikes, you might consider taking the time for a ride during your next vacation. It's a wonderful way to spend a portion of a resort day off from the parks.
For more information about the resort, we have a guide that lists each article:
Or you might enjoy these individual articles:
In the Comments
Have you ever taken a bike ride at Disney's Saratoga Springs Resort? What are your thoughts on this activity?