The Artist's Palette Review (Counter Service at Disney's Saratoga Springs)
In this review, we visit The Artist's Palette counter service restaurant at Disney's Saratoga Springs Resort and Spa. We'll preview the menu, grab-and-go items, and a few things we've tried at the restaurant.
We haven't spent much time at Disney's Saratoga Springs Resort lately, so I felt it was time to spend the day at the resort for a few updates. That day included a bike ride, which we'll detail in another article, and a trip to the resort's counter service for a late lunch.
For reference, Disney's Saratoga Springs is a Disney Vacation Club Resort. So the rooms at the resort range from deluxe studios with small kitchenettes to three-bedroom villas with full kitchens.
Since guests have the ability to prepare food in their rooms, we'll see more grocery items at The Artist's Palette than we do at non-DVC Resorts. Hopefully, a preview of these items will help you decide whether to place a grocery order before your vacation or get by with what's available at the resort.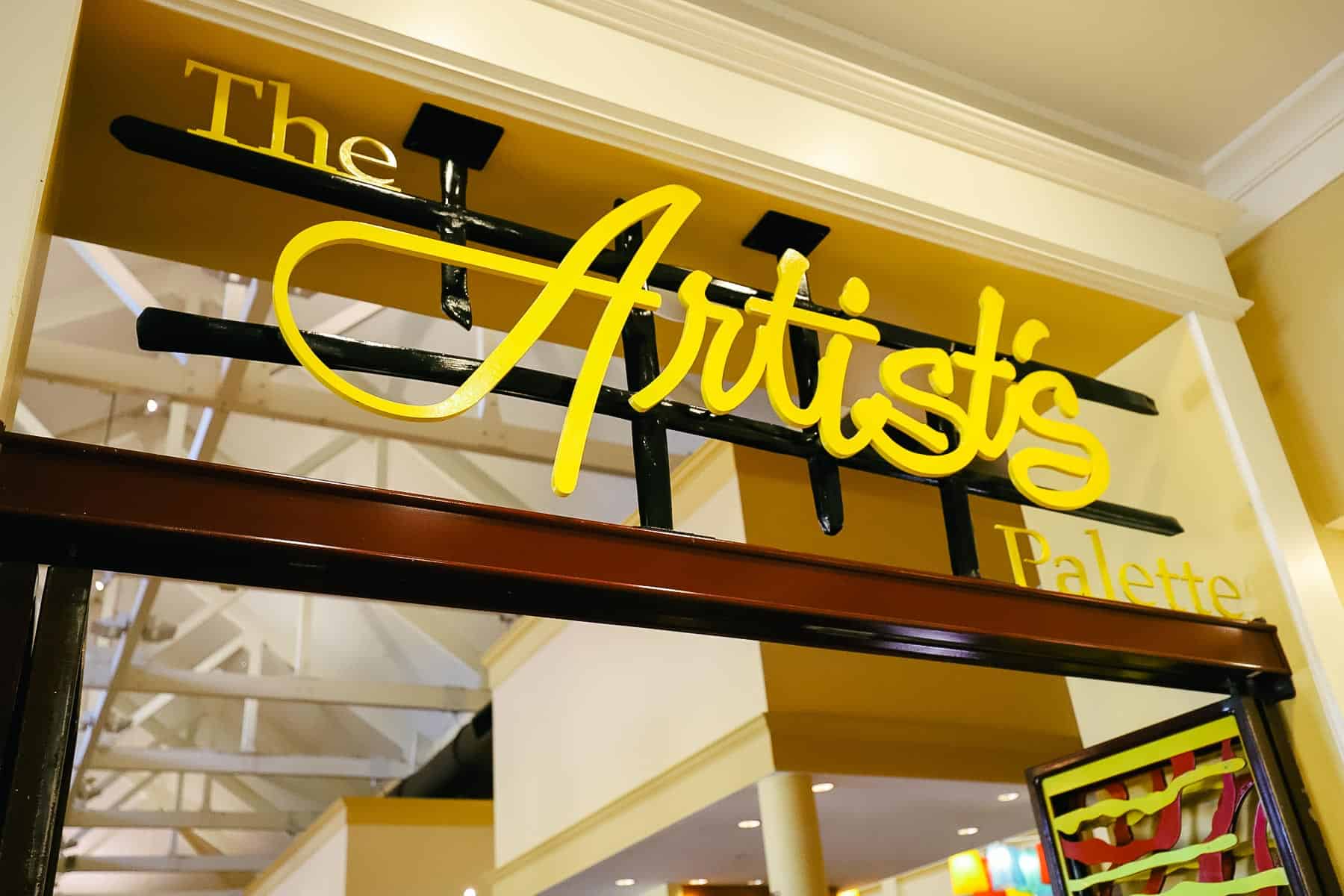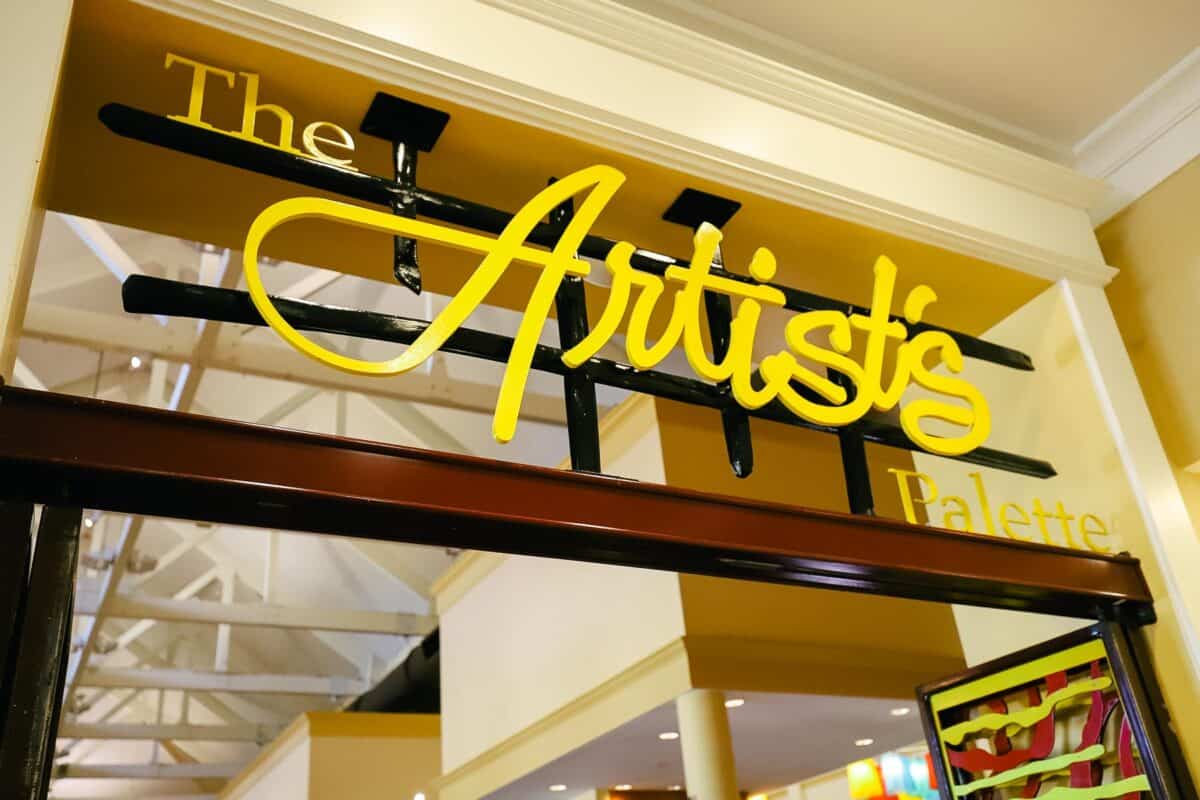 The Artist's Palette is open daily from 7:00 a.m. until 11:00 p.m. and serves breakfast, lunch, and dinner. In addition, they offer mobile ordering, or you can order at the register.
The Artist's Palette is located a few steps off the resort's main lobby at The Springs area of the resort. A separate entrance to the counter service is available from the exterior, which sits at the top of the resort's feature pool area.
Related: The Pools at Saratoga Springs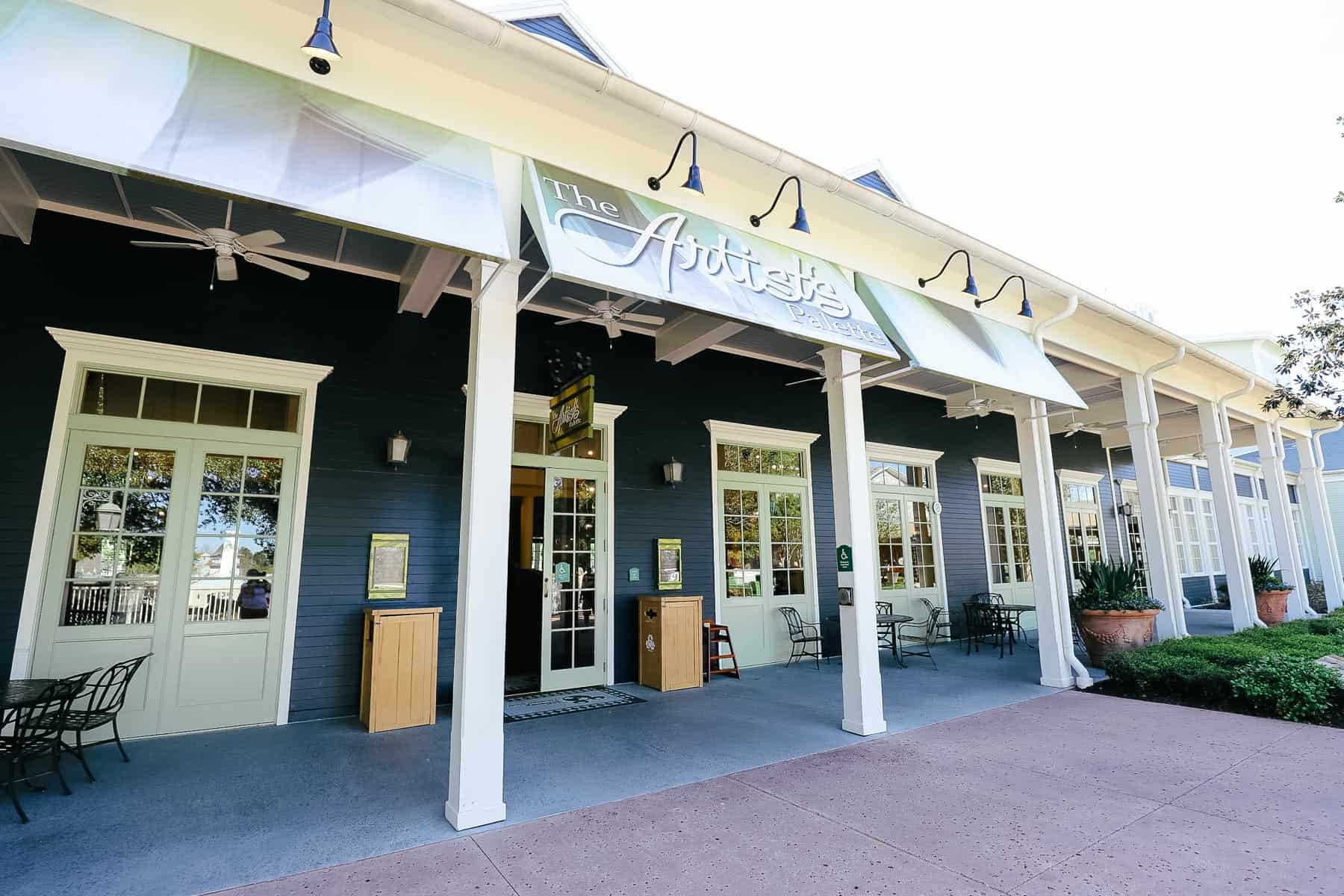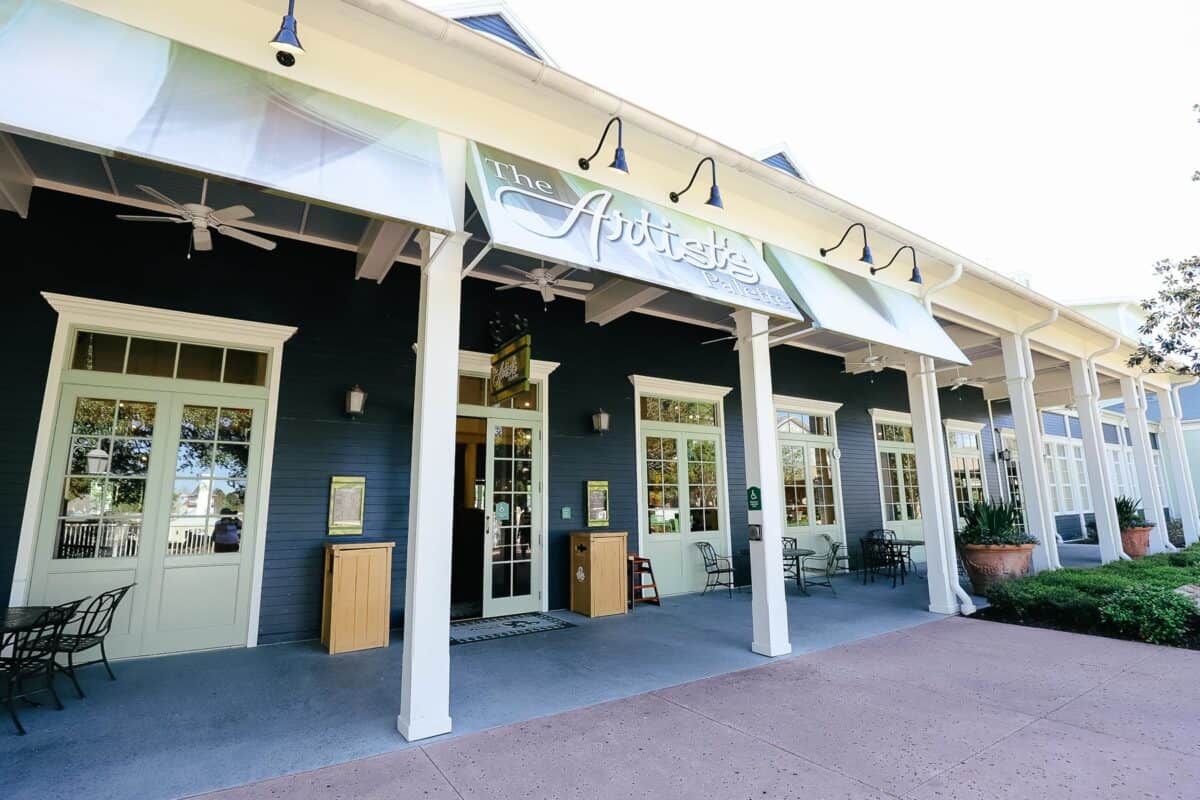 Inside, you'll find that The Artist's Palette is not only a counter service, but it doubles as the resort's gift shop. We have a separate article with photos of items in the gift shop.
Related: Disney's Saratoga Springs Gift Shop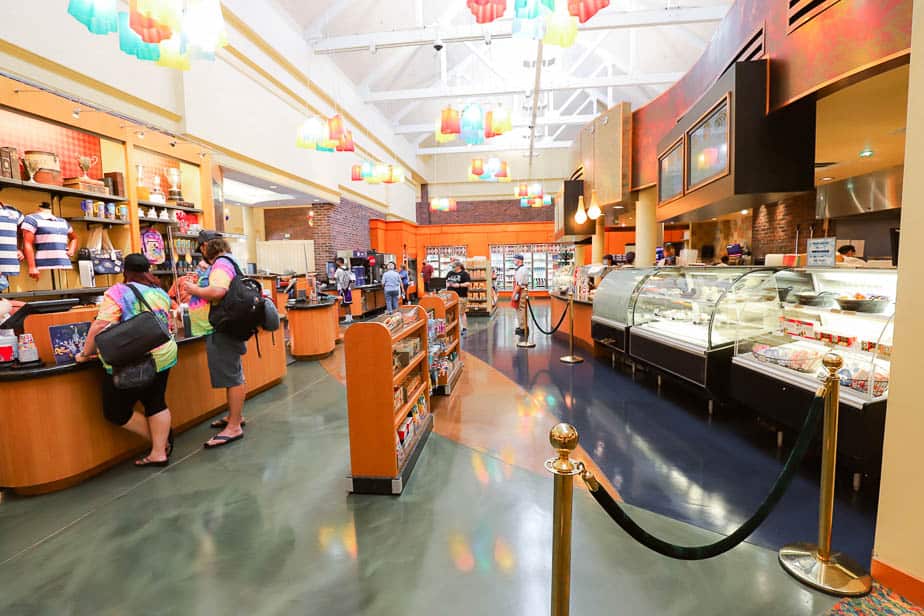 A large dining area is available toward the front of the restaurant. Additionally, there are a few tables and chairs on the front patio.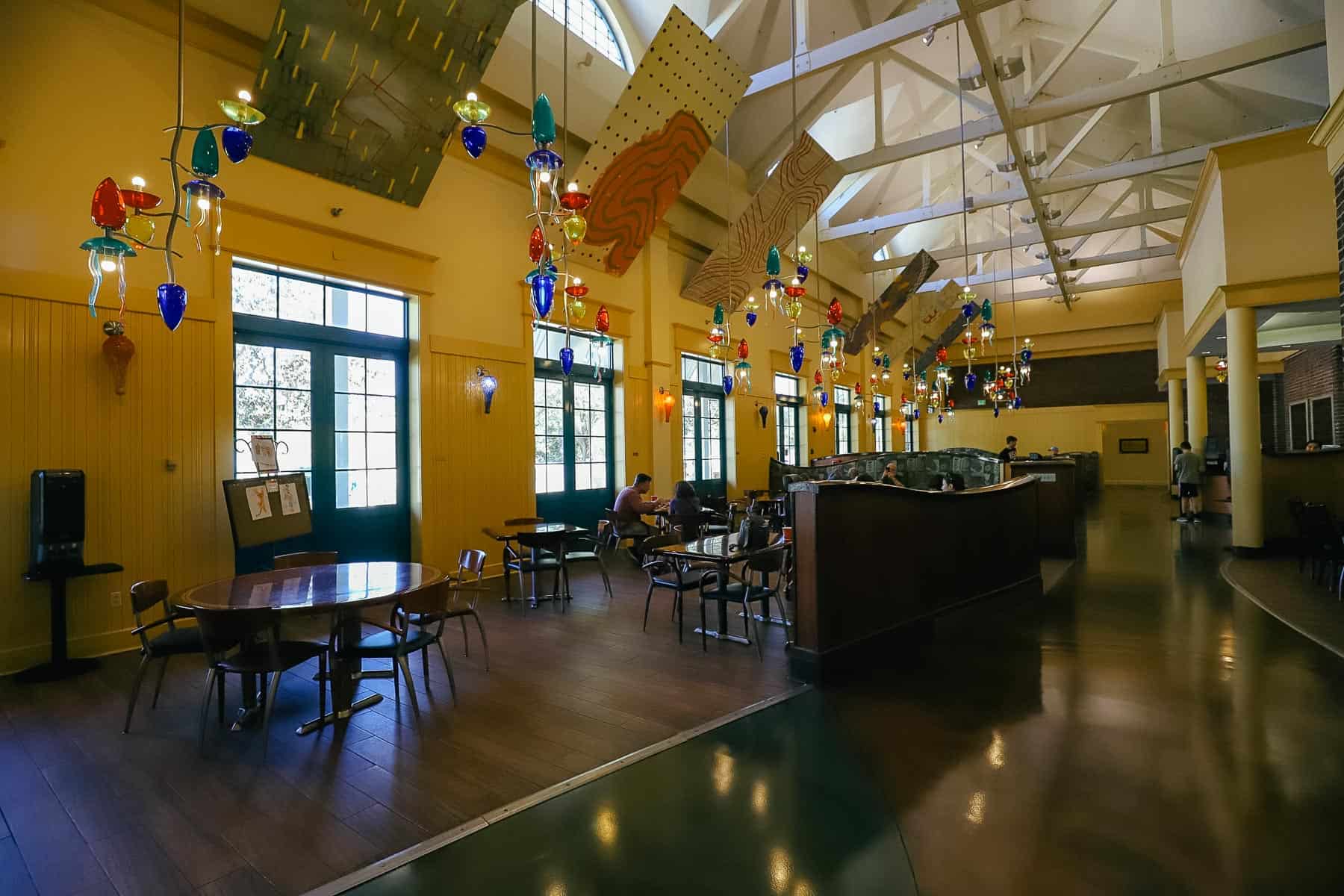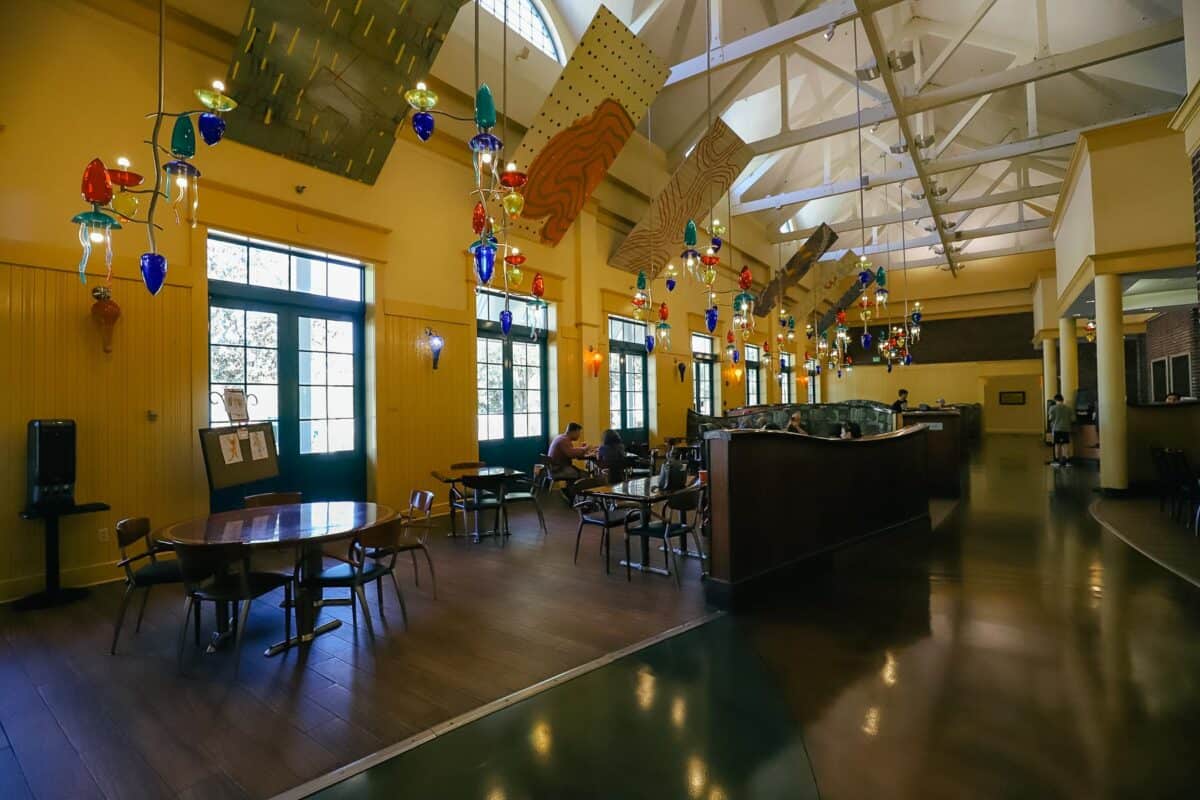 Here are the menu items available on this visit. Not too much has changed since our last visit.
Lemon-Tarragon Roasted Chicken
Braised Meatballs
Cheese Steak Sandwich
Kids' Meals:
Meatball with Polenta
Chicken Strips
Macaroni and Cheese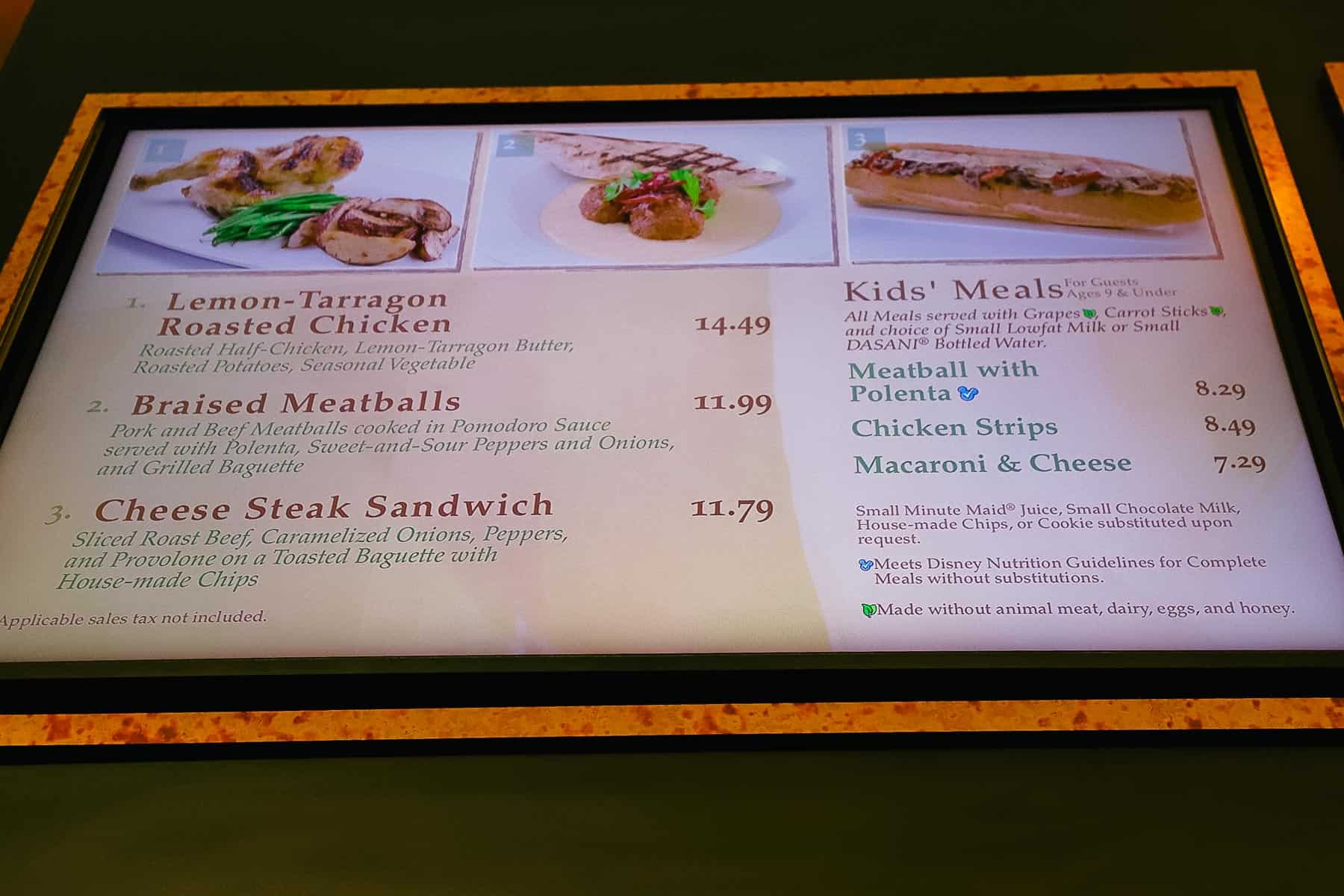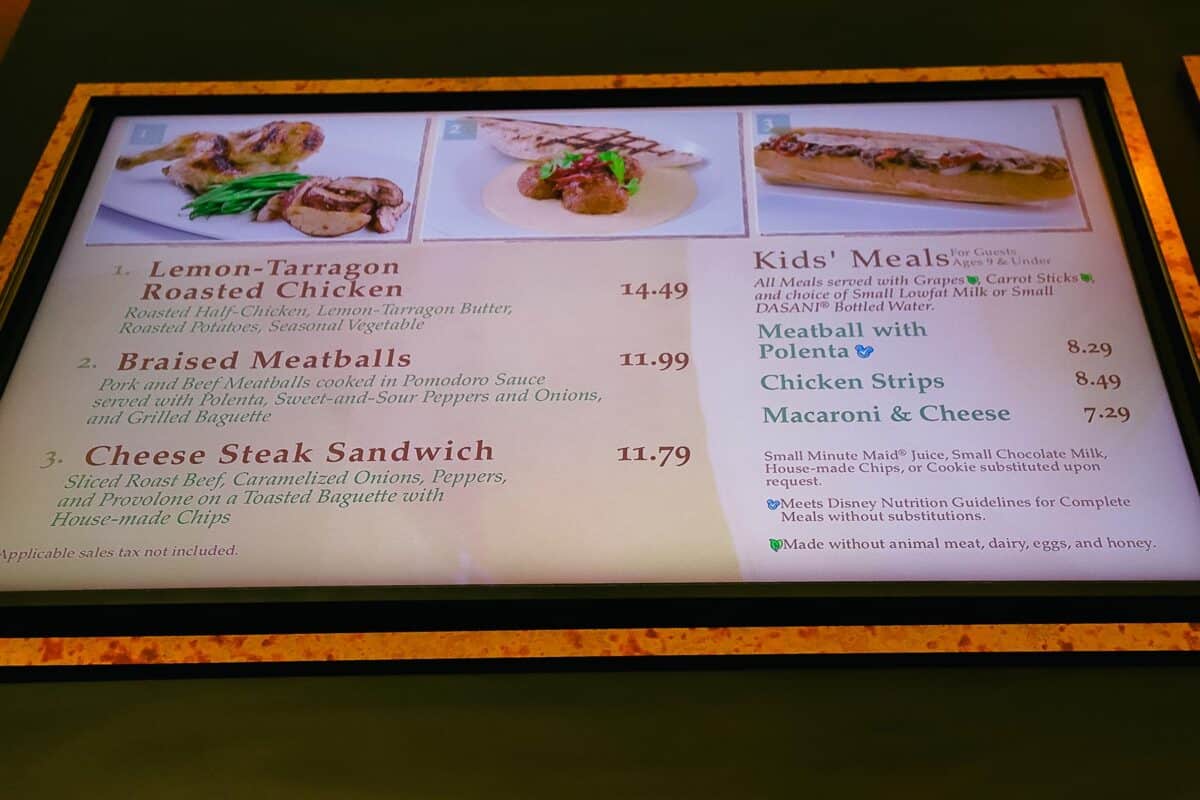 Margherita Pizza
Three-Meat Pizza
Pepperoni Pizza
Cheese Pizza
Additional Items:
Chicken Strips
PB&J Uncrustable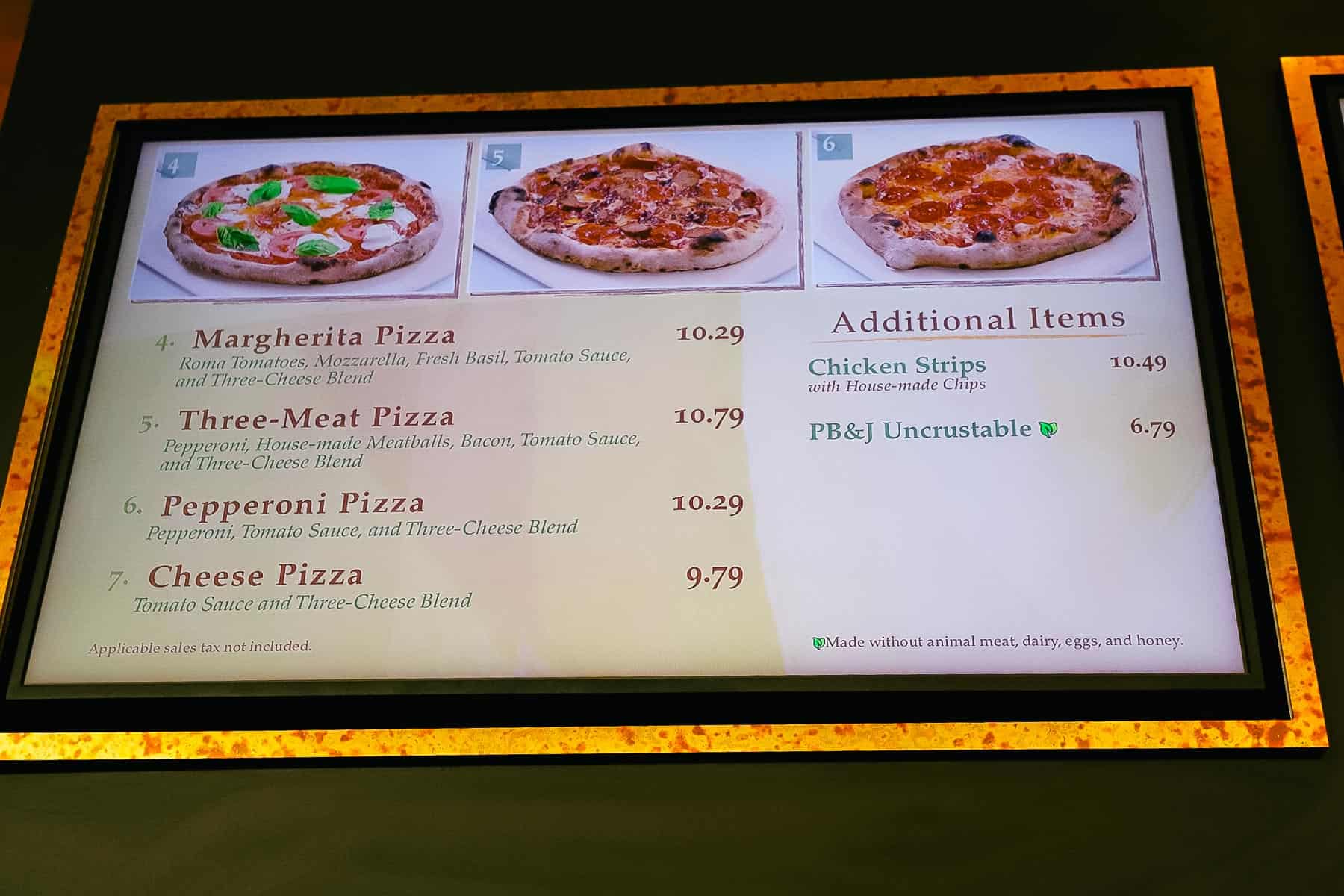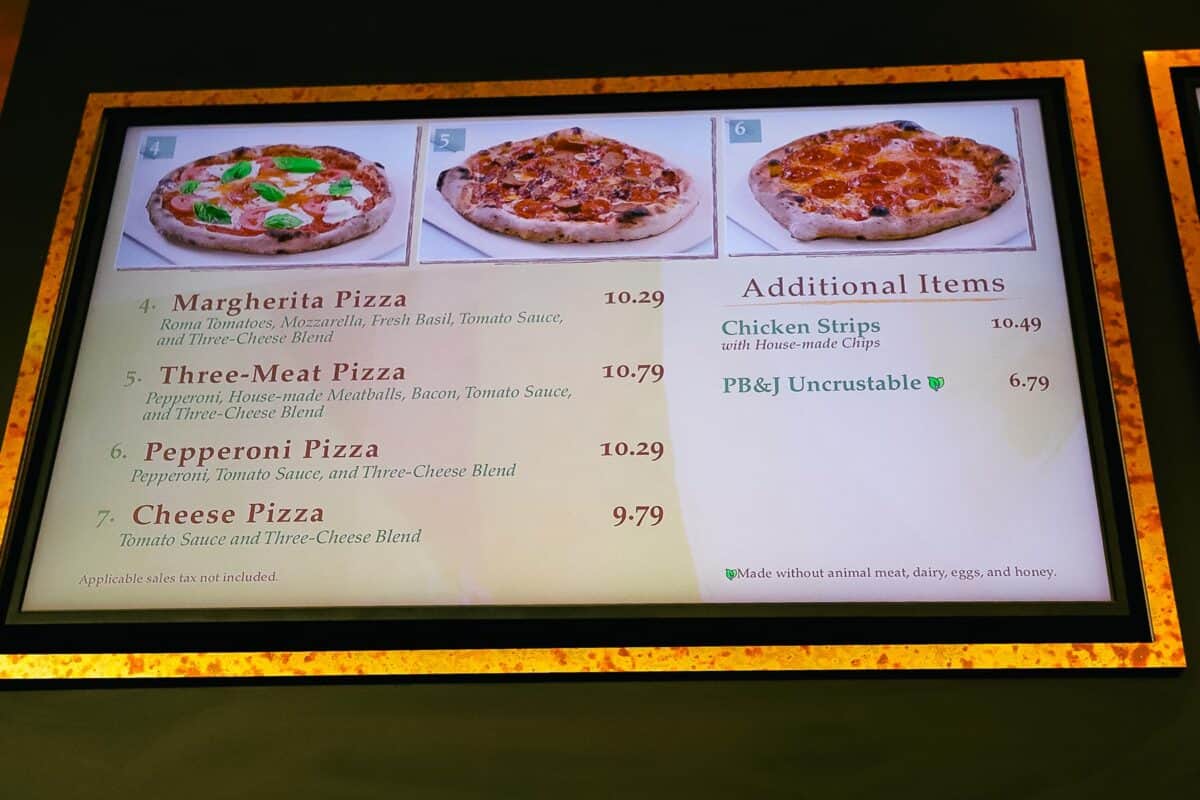 Hot Ham and Cheese Sandwich
Italian Sub Sandwich
Mango Rum-barbecued Pulled Pork Sandwich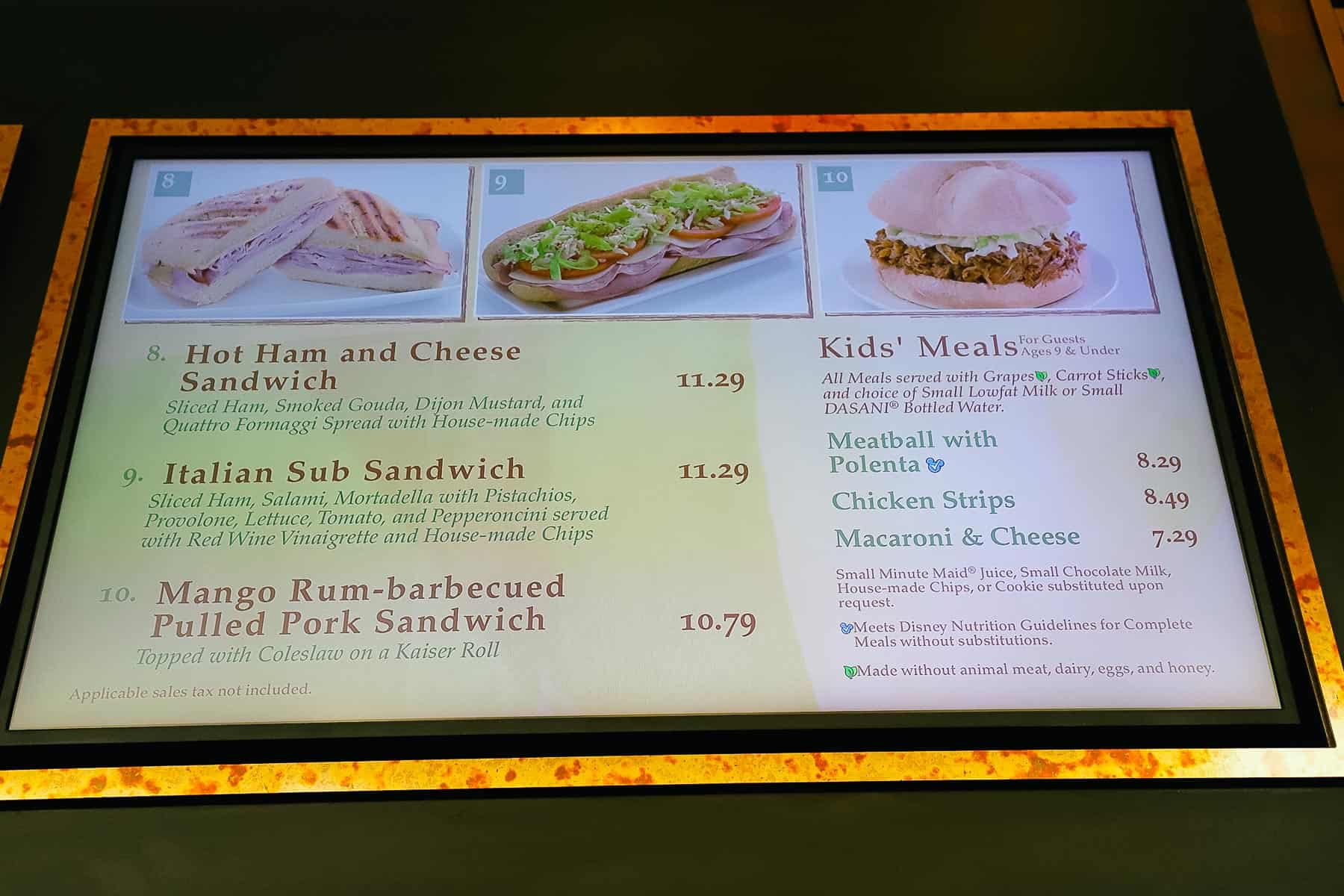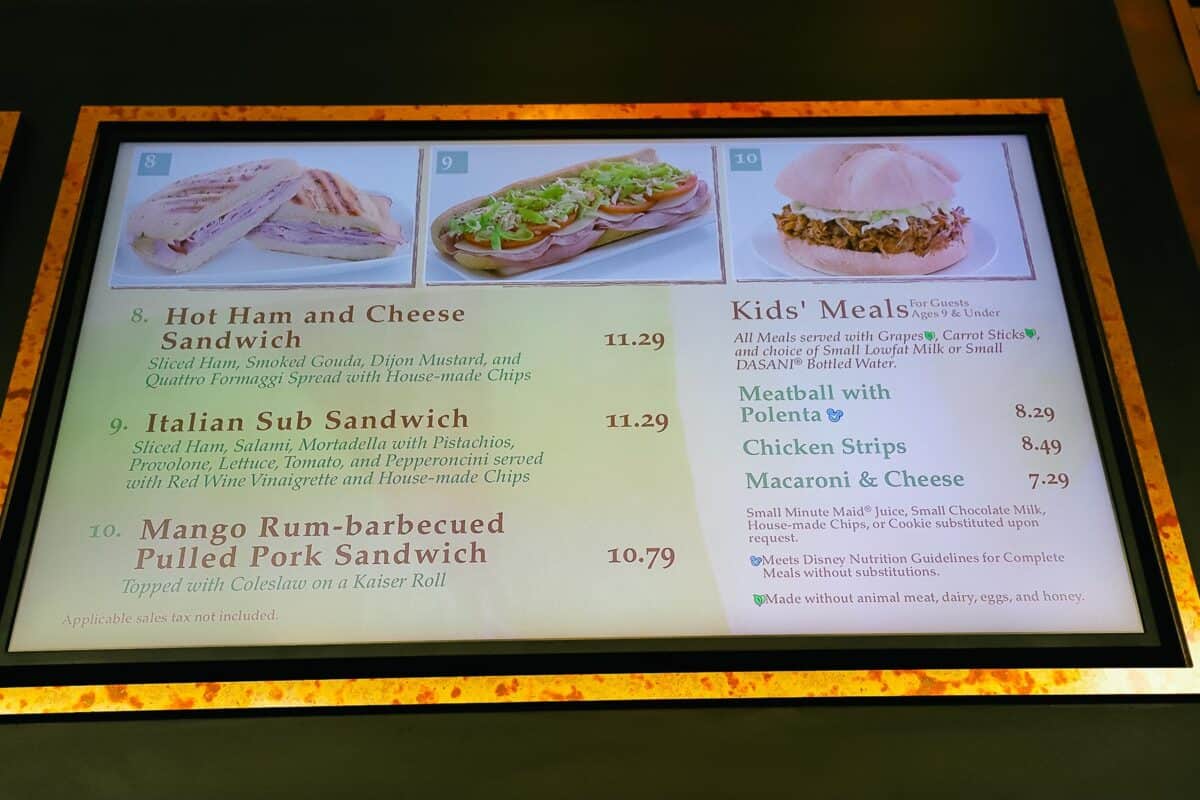 Plant-Based Gyro
Caesar Salad with Chicken
Saratoga Salad with Chicken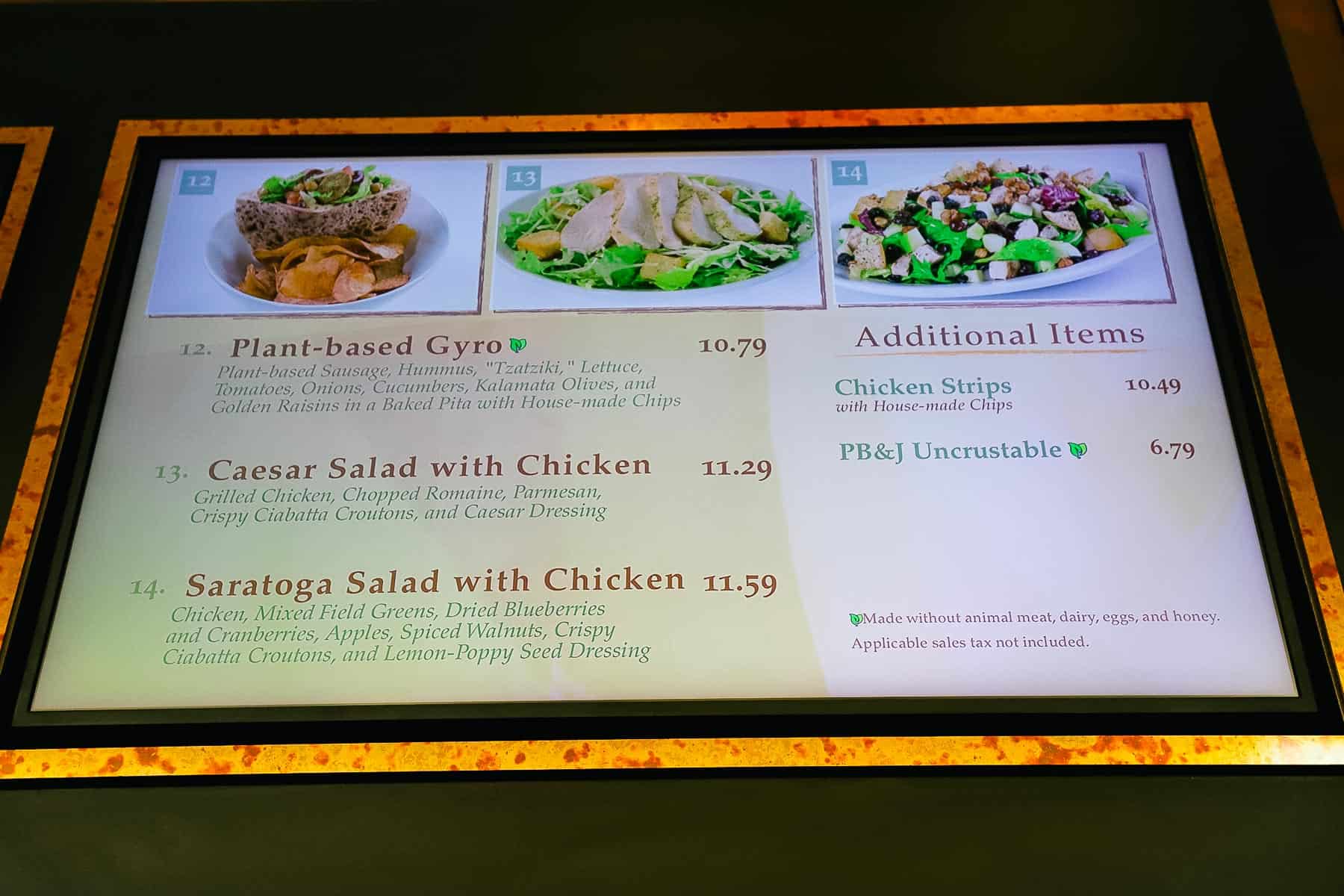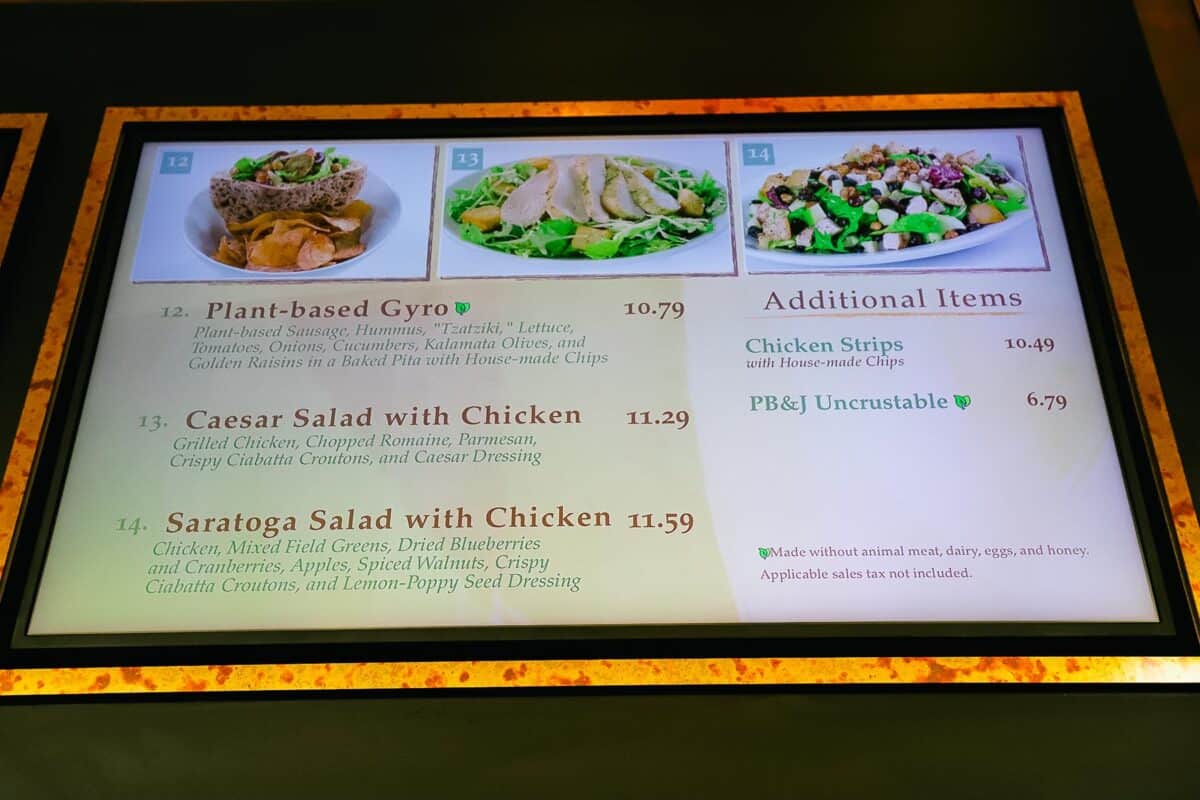 For breakfast, the following items are available:
Shrimp and Grits
Bacon and Caramelized Onions Quiche
Mickey-shaped Waffles
Bounty Breakfast Platter
French Toast Strata
Country Breakfast Wrap
Croissant Sandwich
Oatmeal
Harvest Breakfast Sandwich
Kids' Meals
Egg Scramble
Mickey Waffles
You can preview the entire menus for The Artist's Palette here on Disney's site or in the mobile order section of the My Disney Experience app. A drop-down menu at the top allows you to change between meal periods.
Overall, I feel like The Artist's Palette has an excellent selection of items considering it's a counter-service restaurant. It would be nice to see a similar range of items at the Epcot Area Resorts. It's no secret that those hotels are lacking when it comes to quick dining options.
Now we'll preview the other items available in The Artist's Palette. First, here is a display featuring cakes and other treats.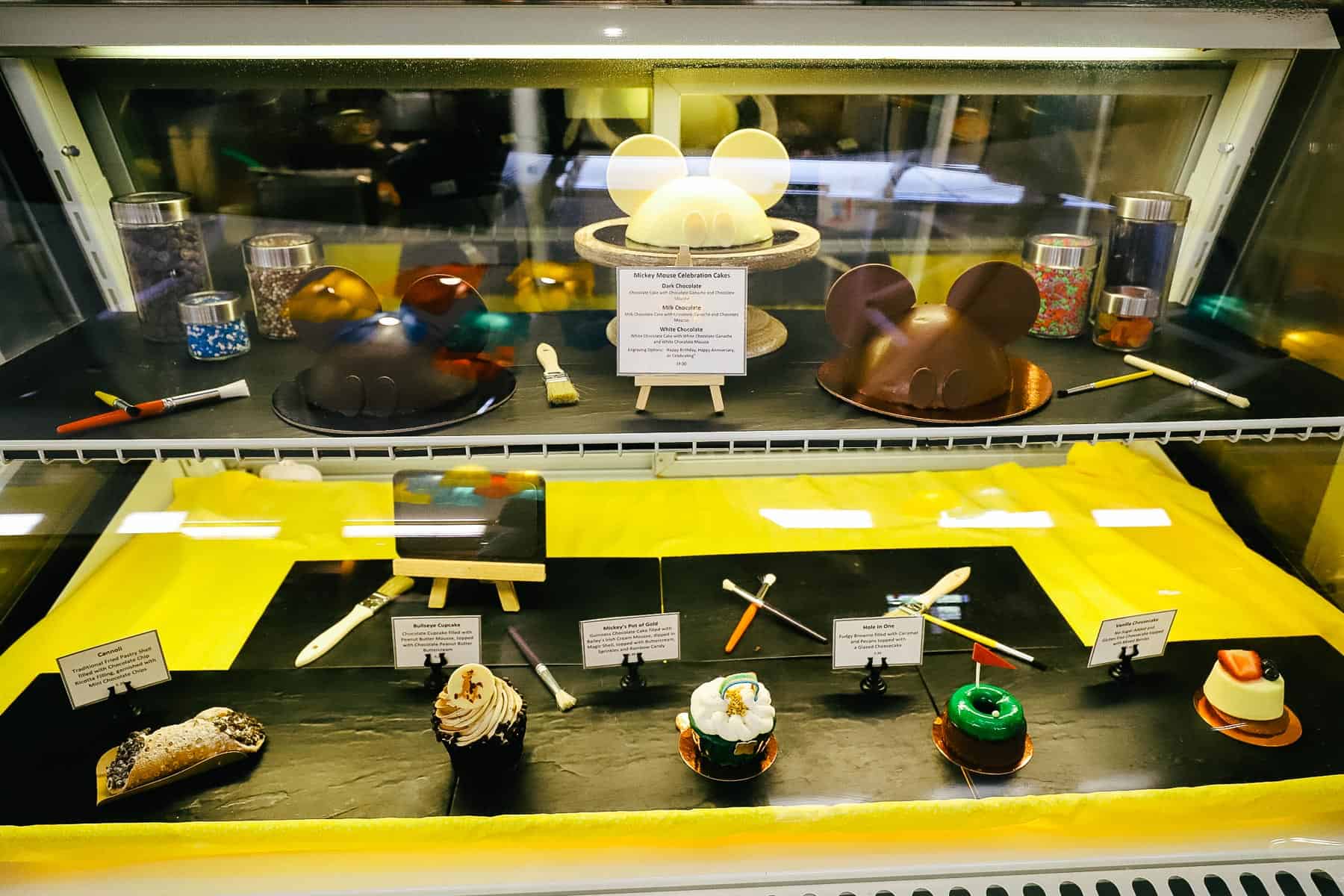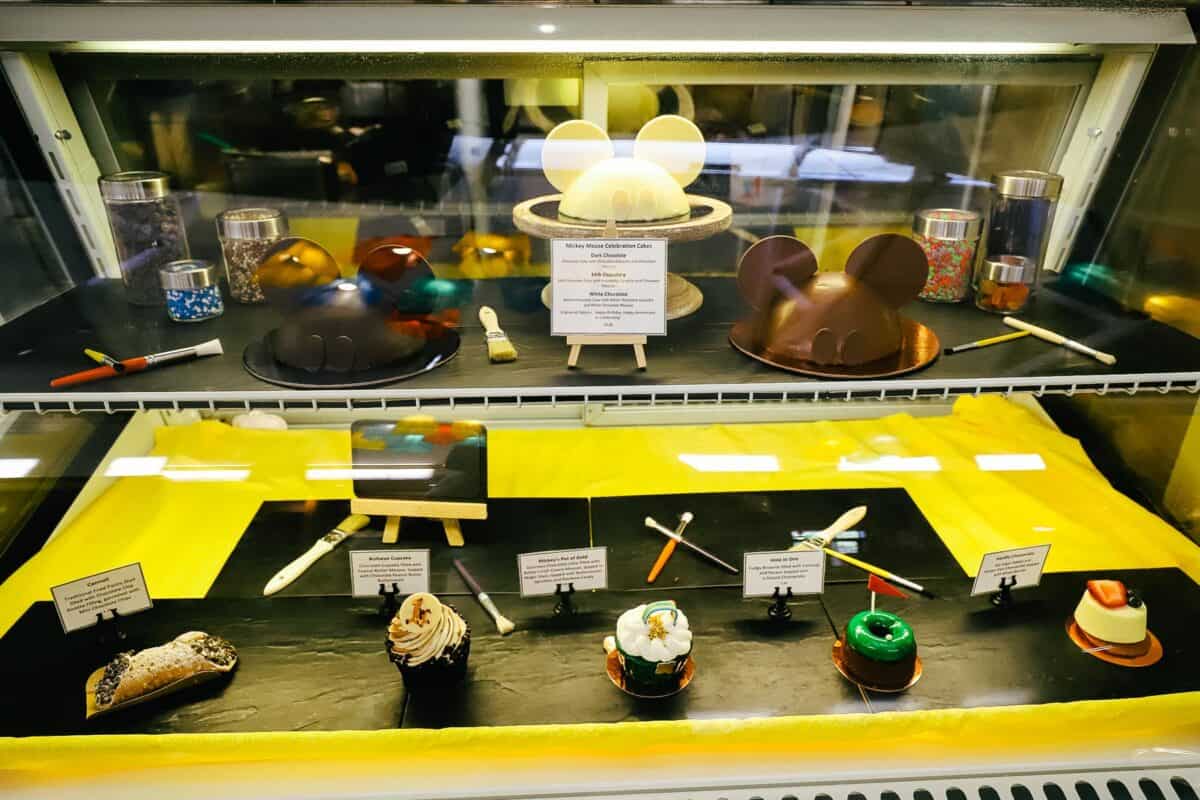 I don't remember seeing the cannoli on our last visit. It looks like the same one that's available at the Boardwalk Deli. However, the Bullseye cupcake is a staple, which makes sense considering it's a horse-themed resort.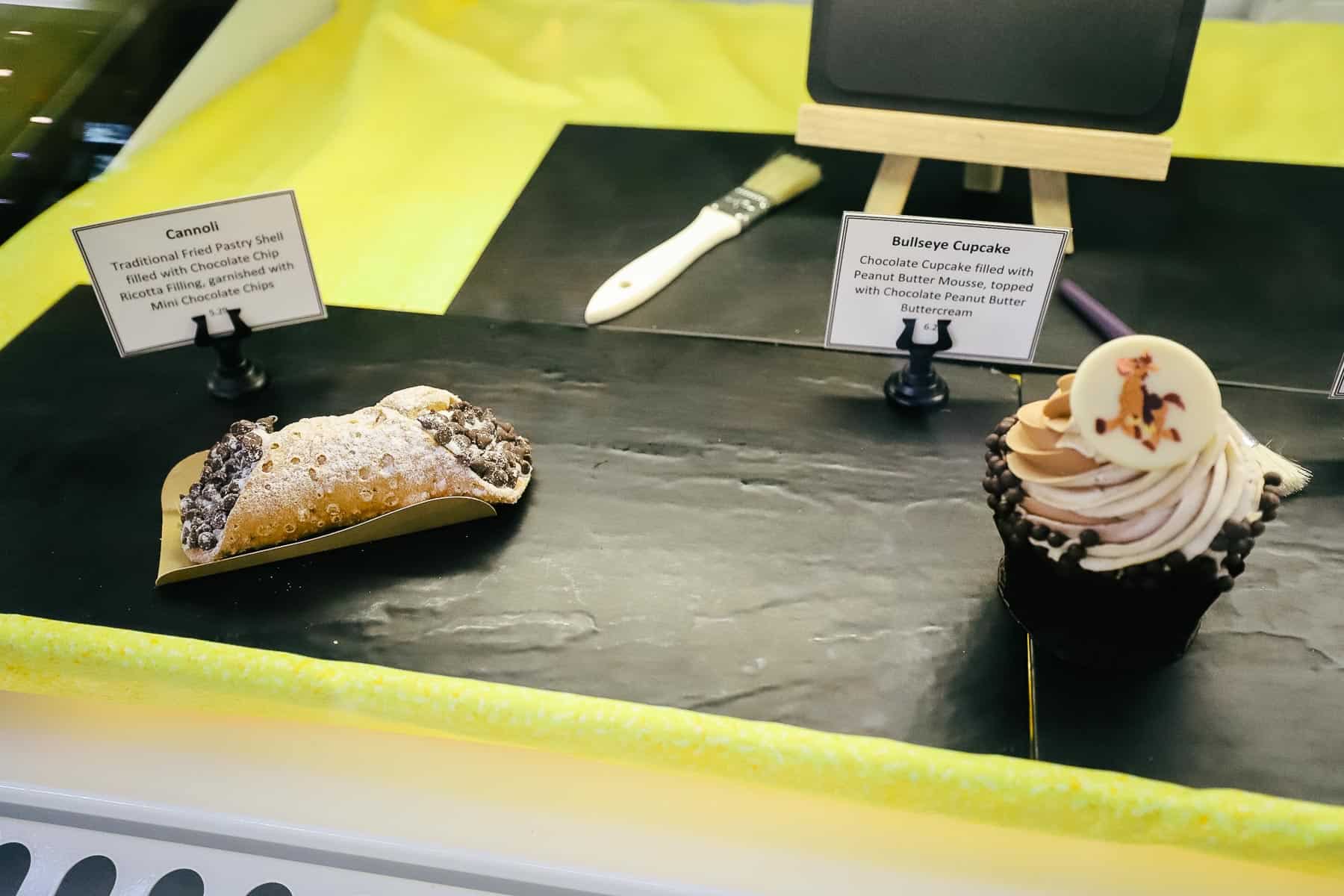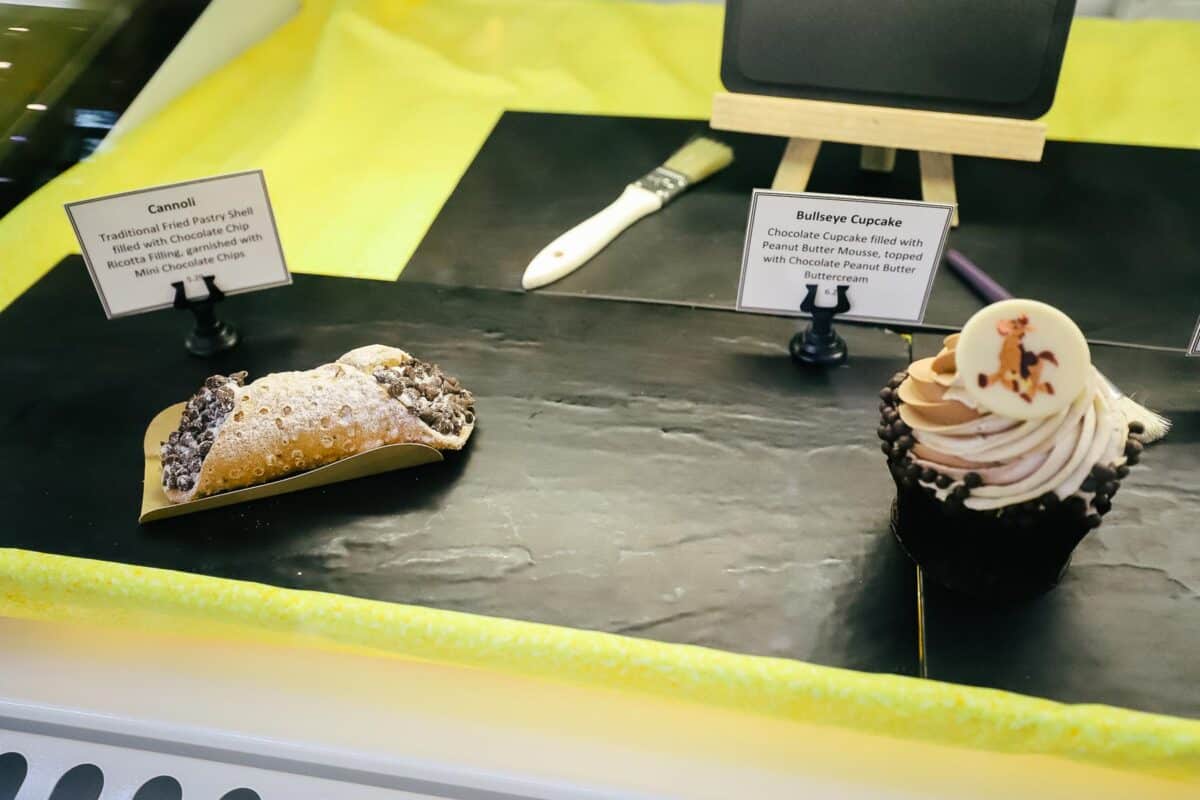 There was also a Mickey's Pot of Gold cupcake, which I assume is a seasonal item for March. That Hole in One brownie is another traditional dessert representing the Lake Buena Vista Golf Course.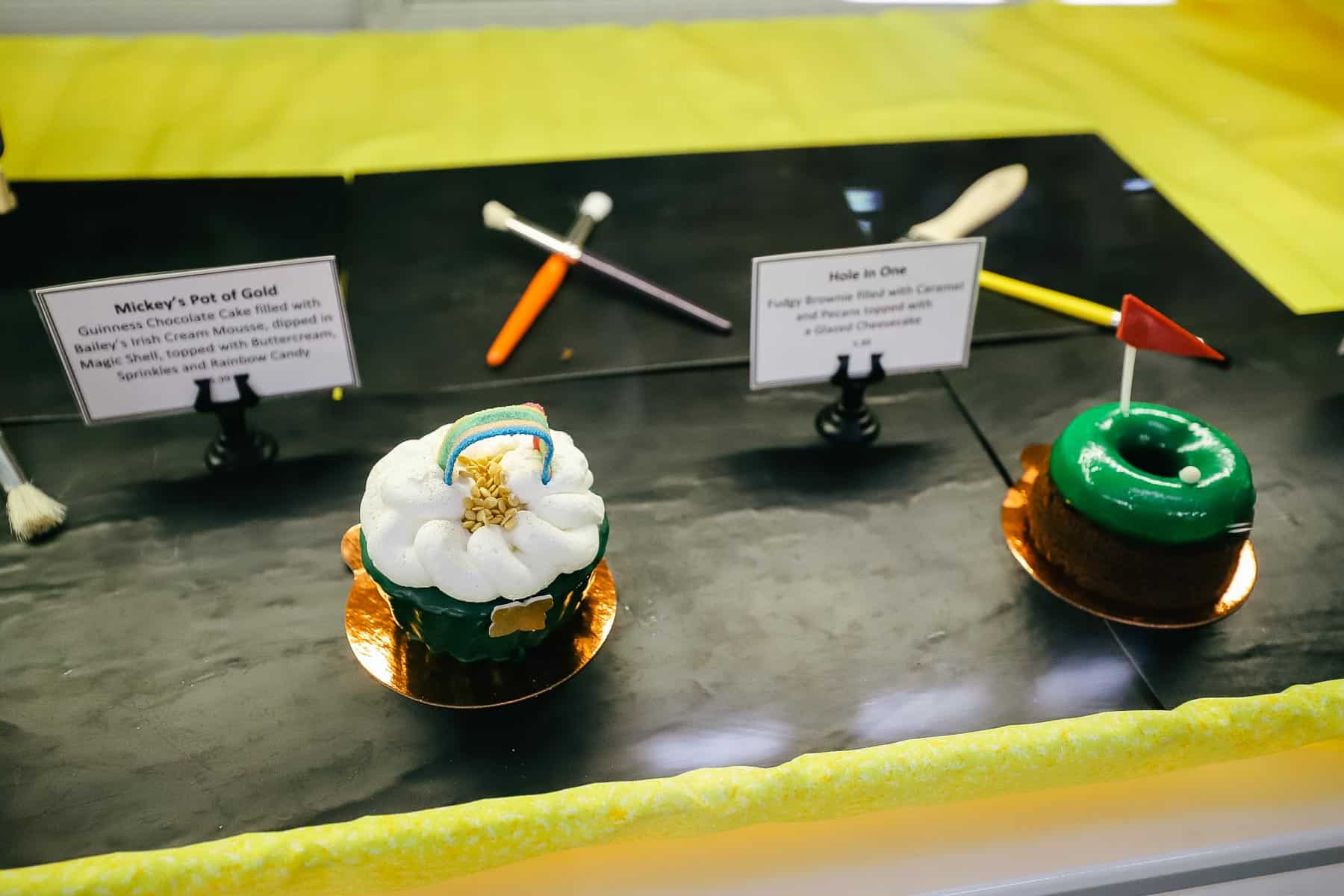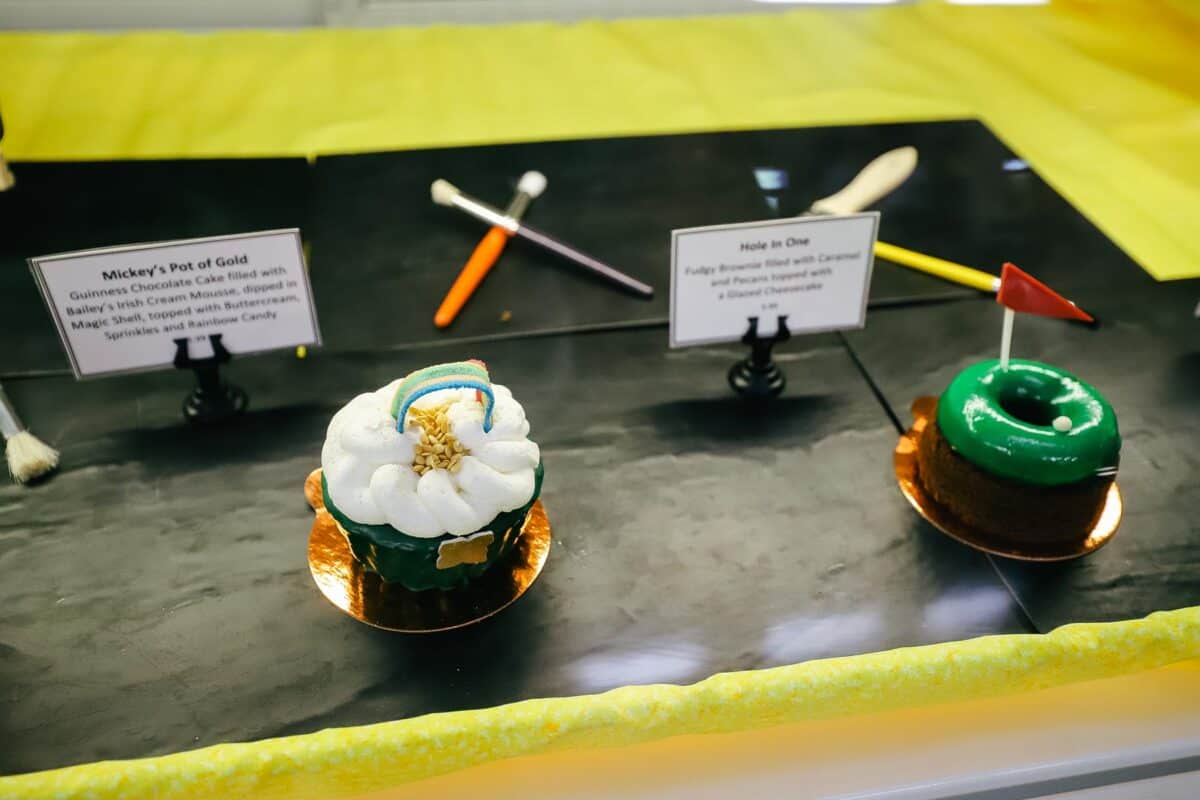 This vanilla cheesecake (no sugar-added and gluten-free) looked like a fun treat.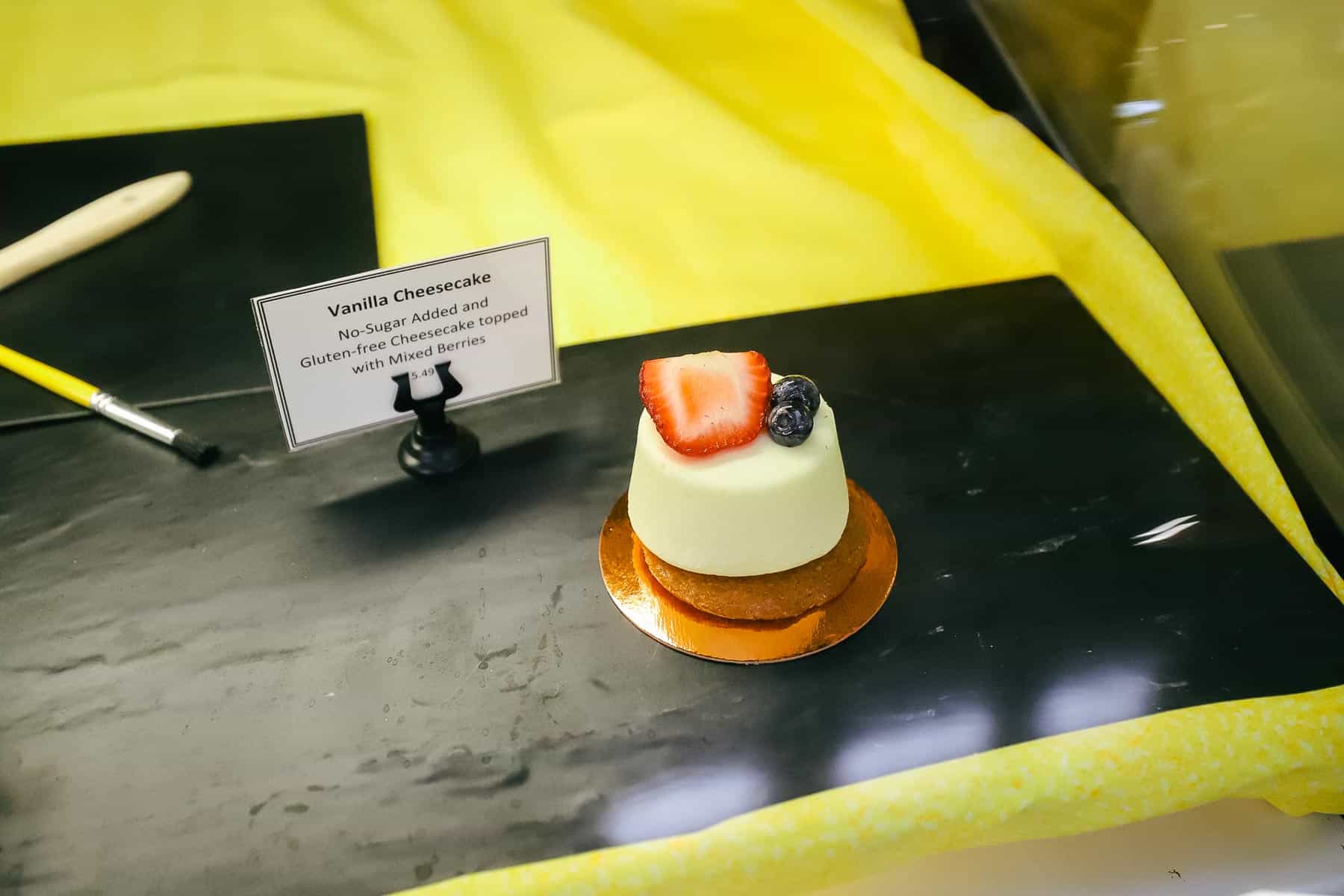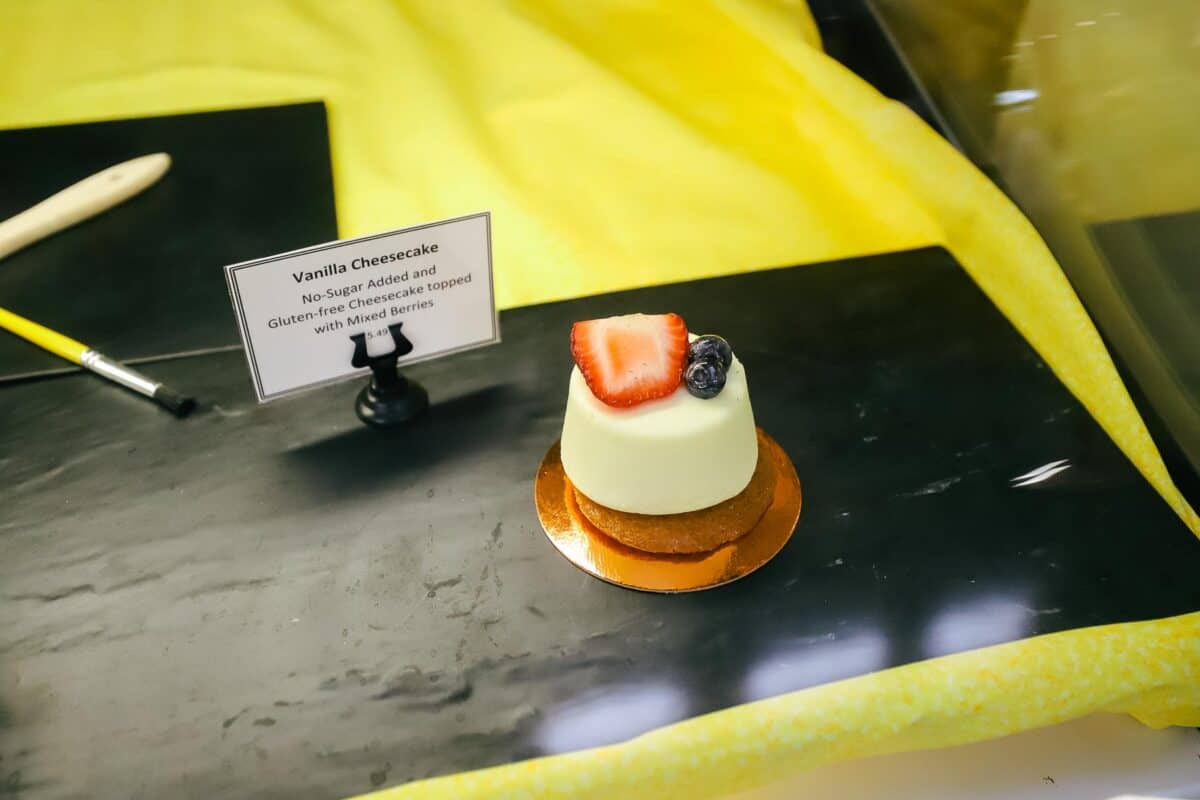 Mickey Mouse Celebration cakes were also available.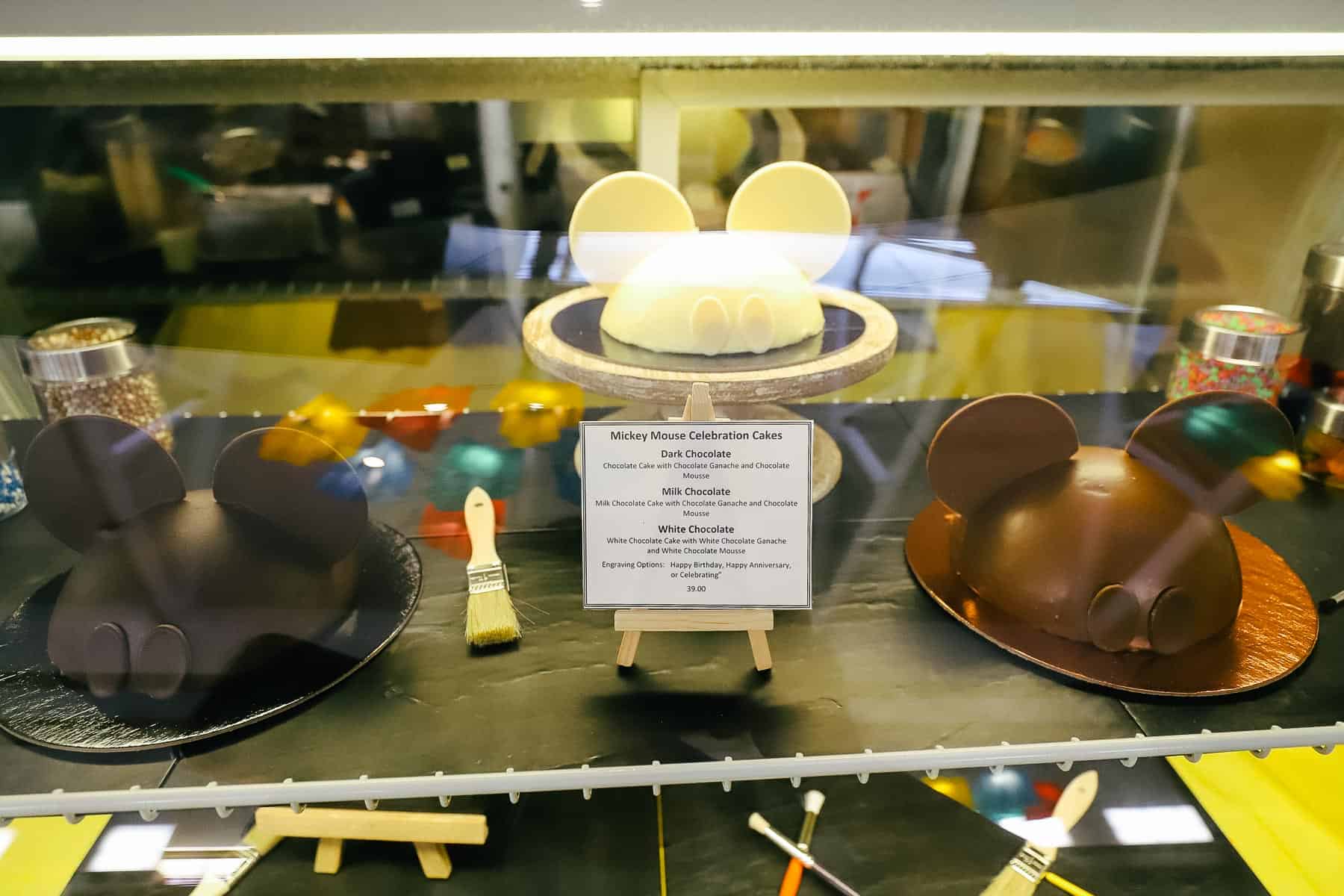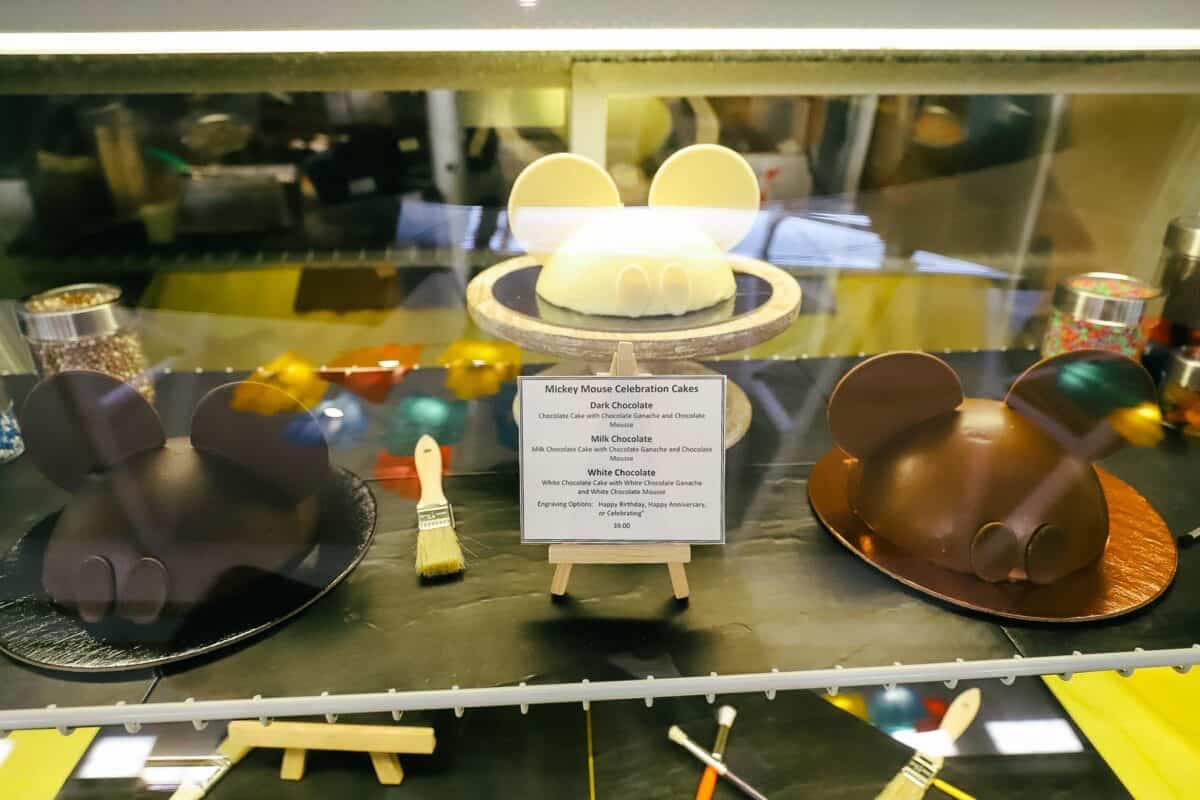 They come in dark chocolate, milk chocolate, and white chocolate, costing $39.00 at the time of this update.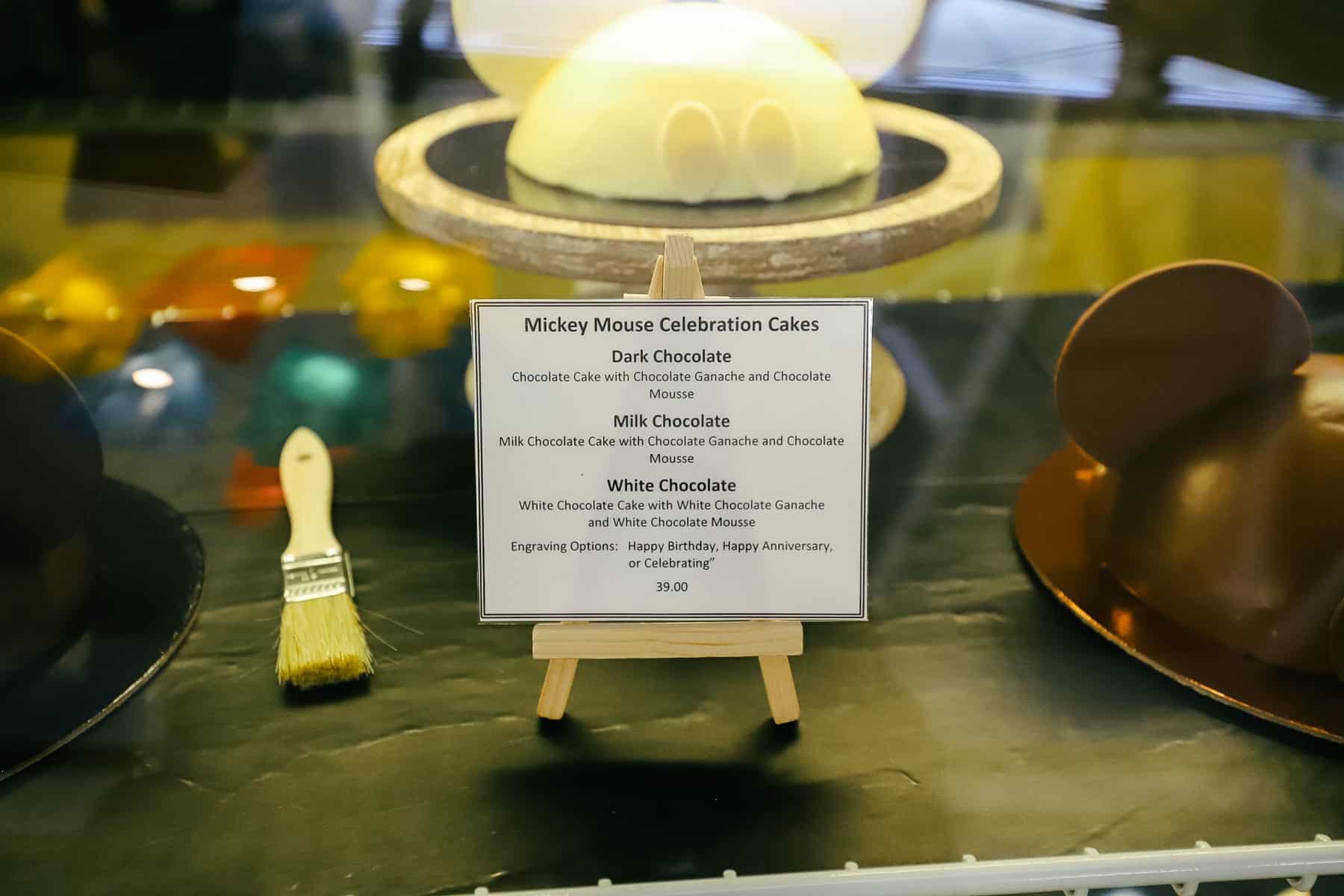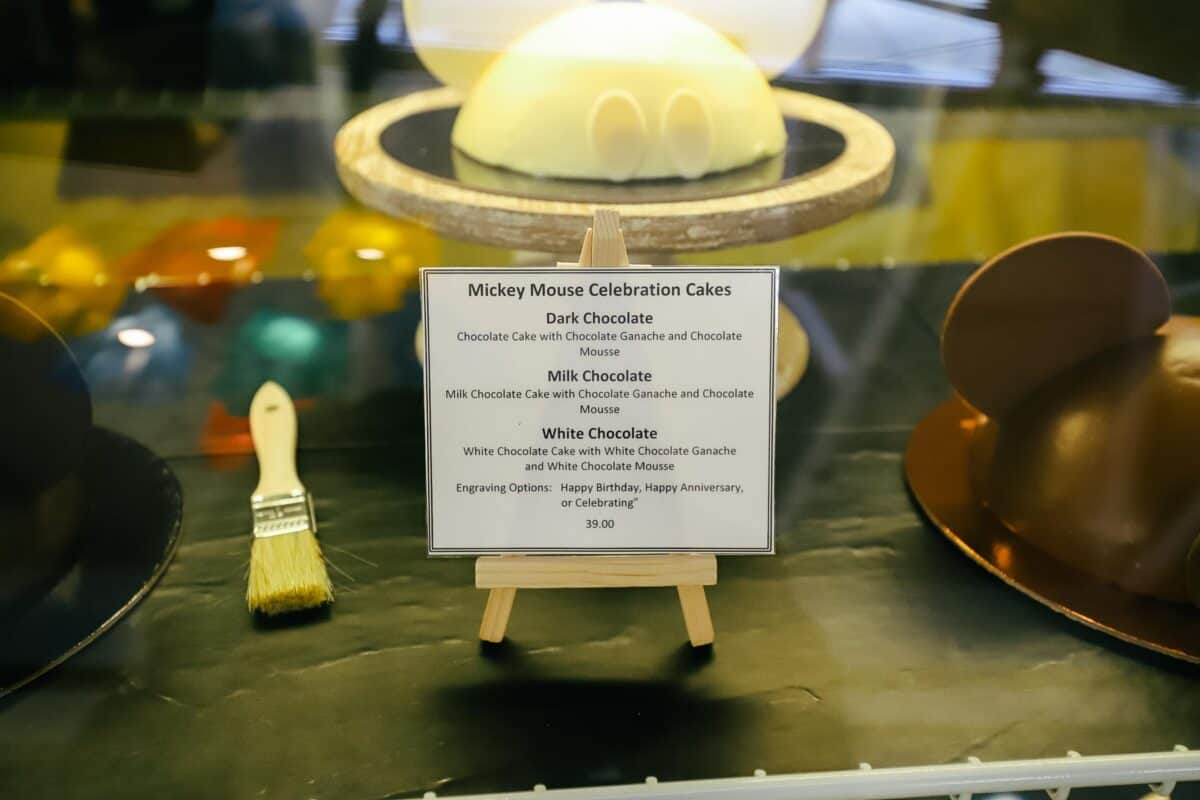 Here are a few cereal options, fruit, and specially-packaged cookies from the deli.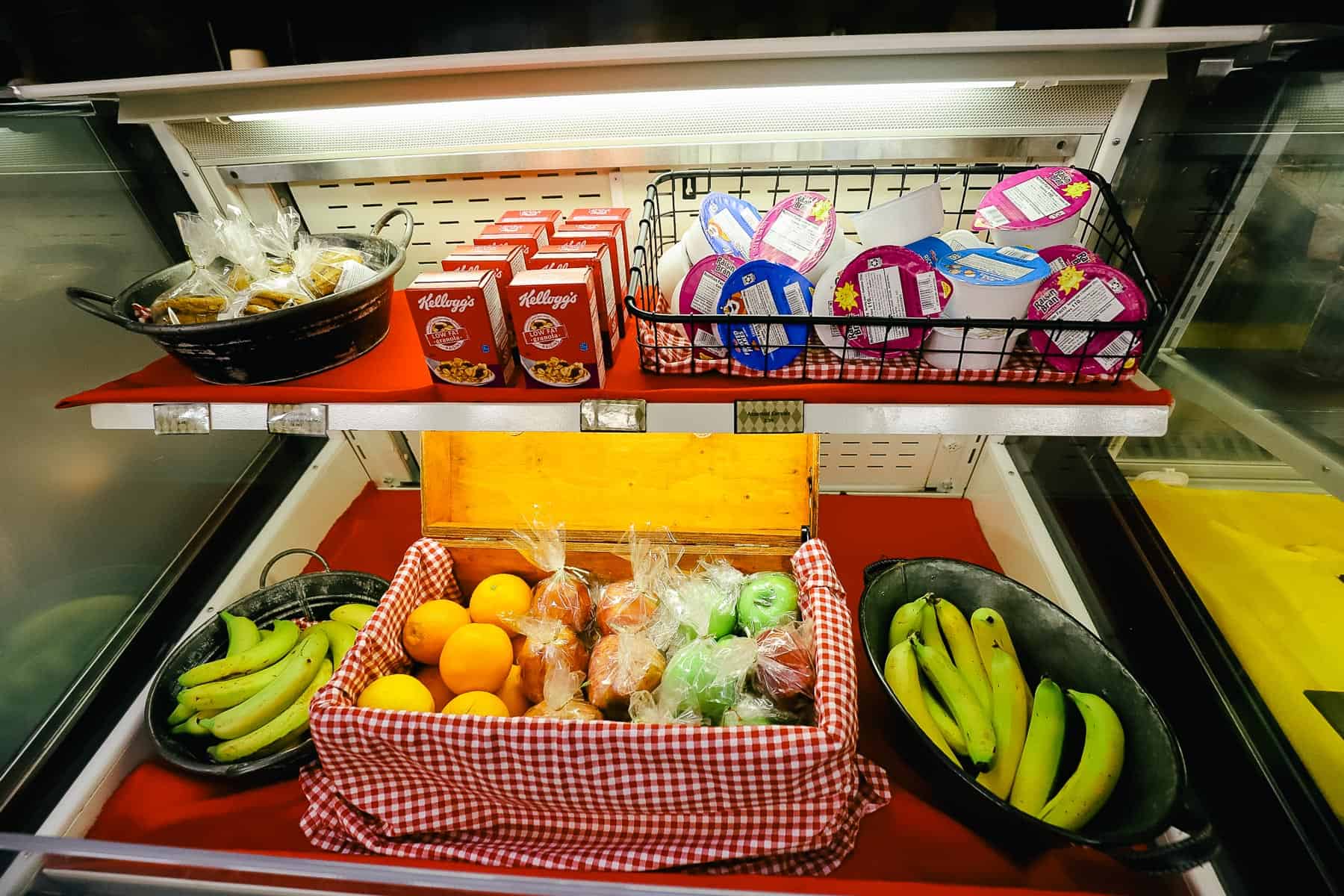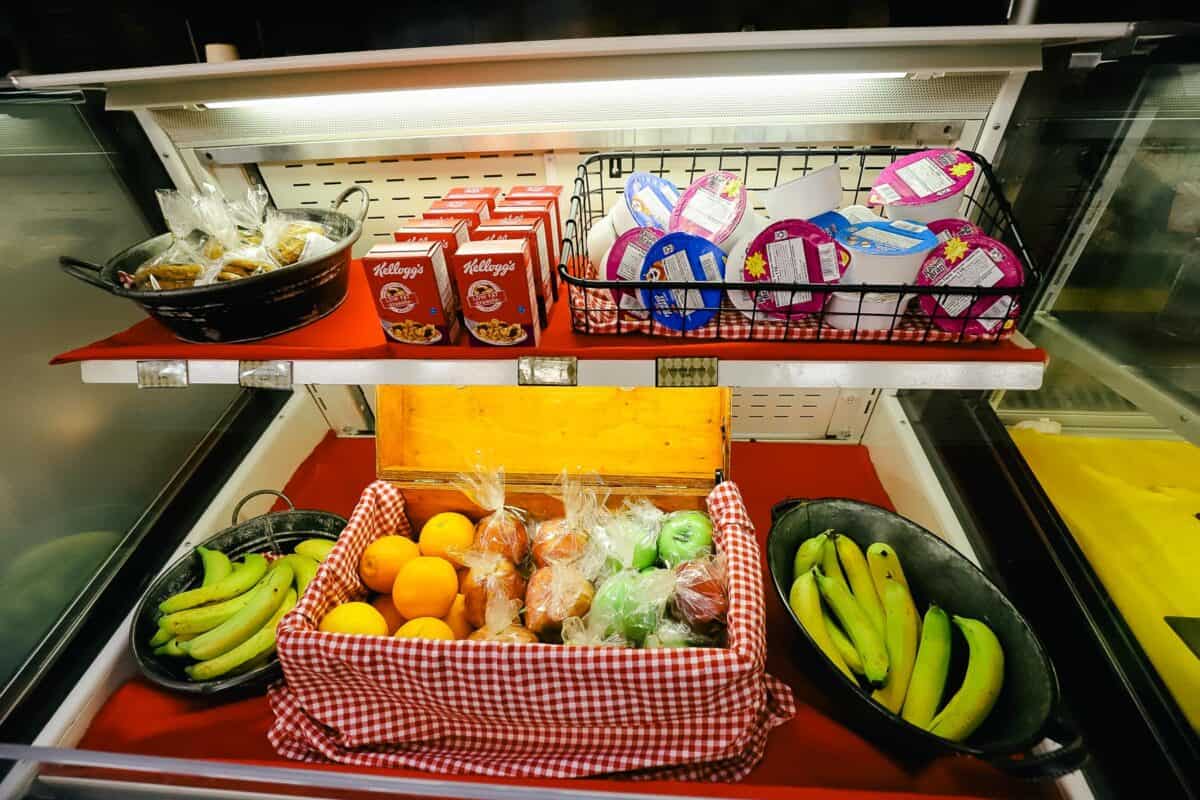 A pastry case offers cinnamon rolls, muffins, bagels, cookies, and croissants.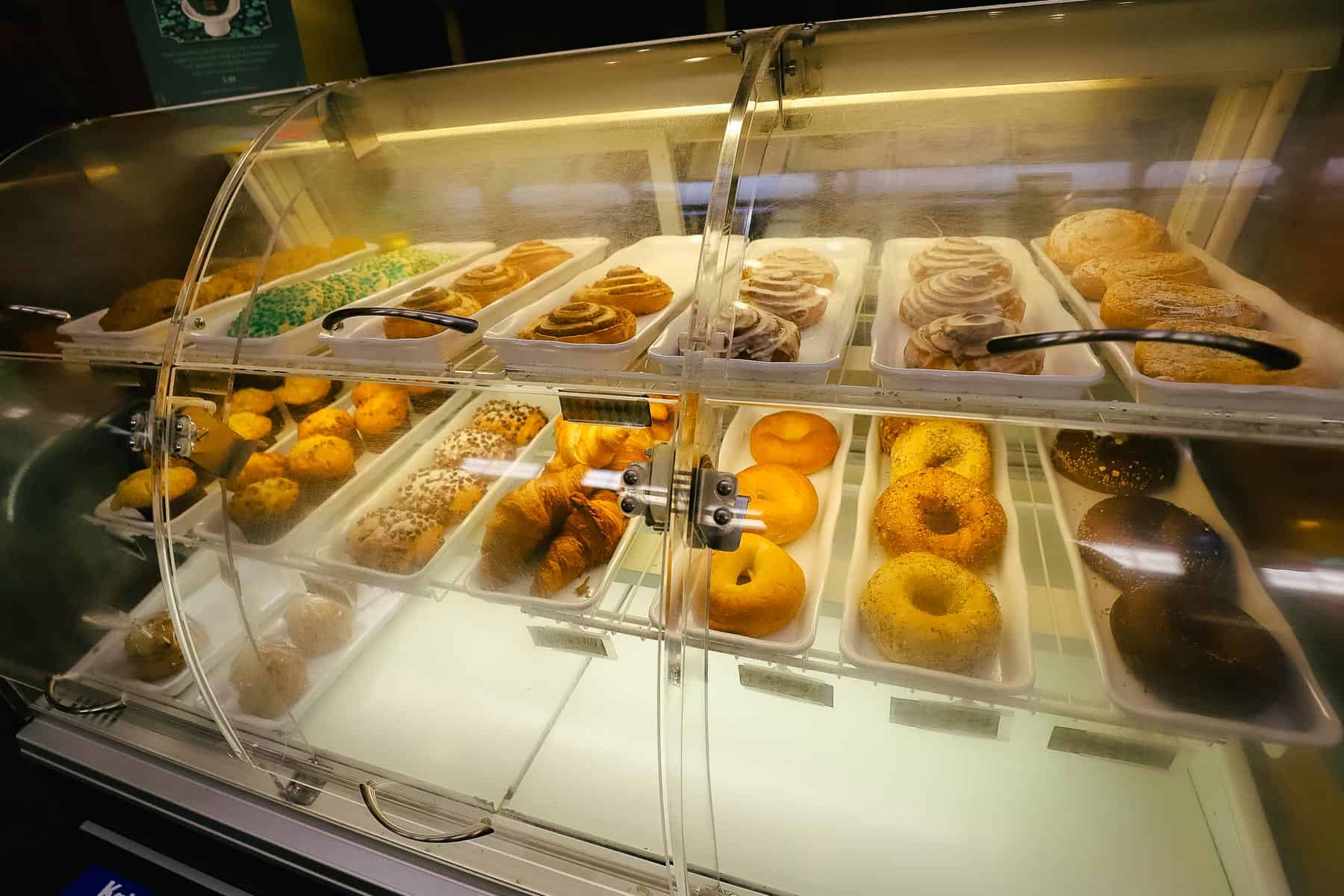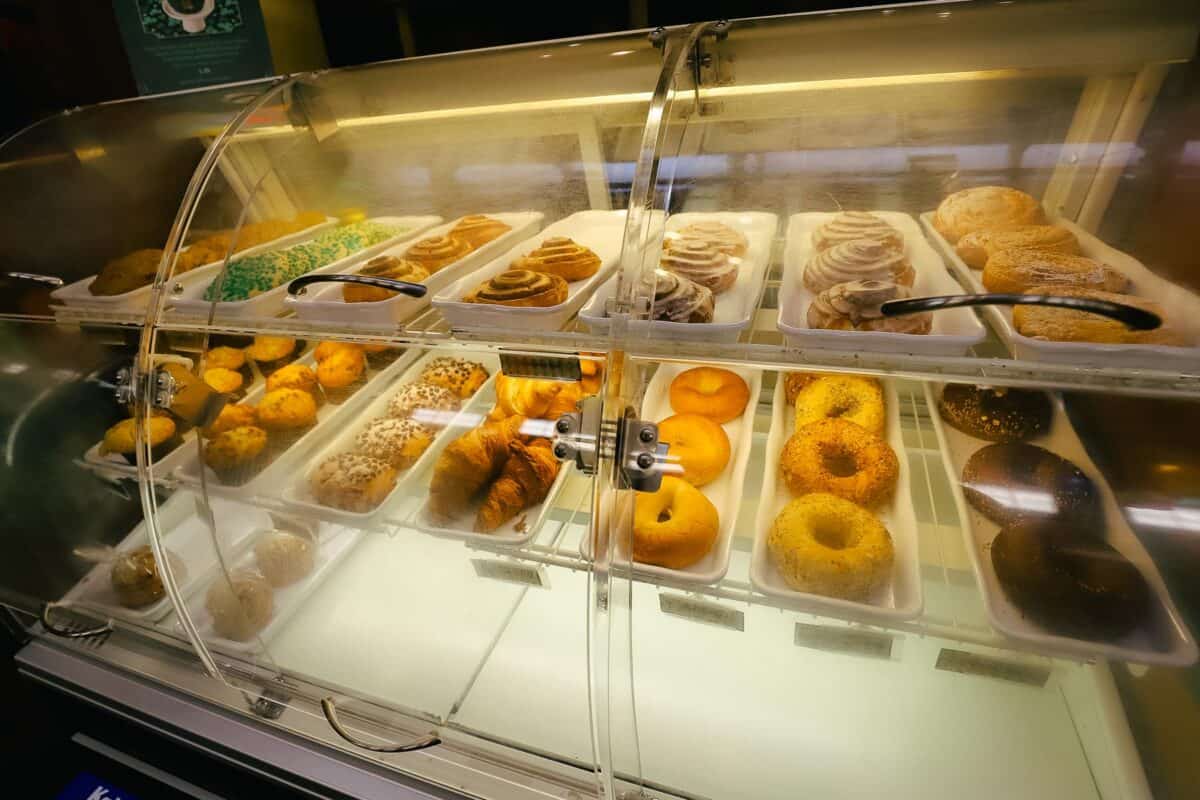 Here are the prices for each item.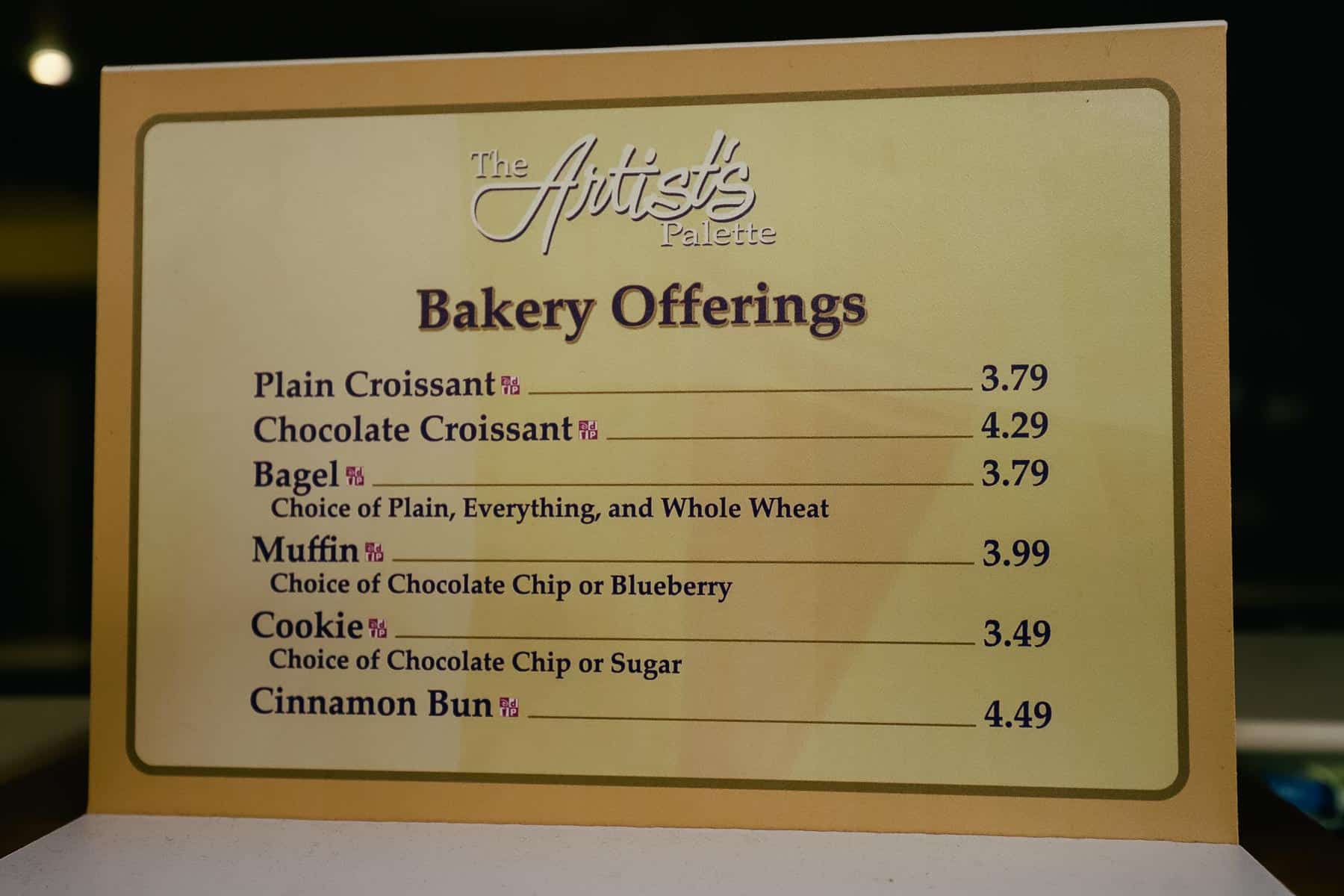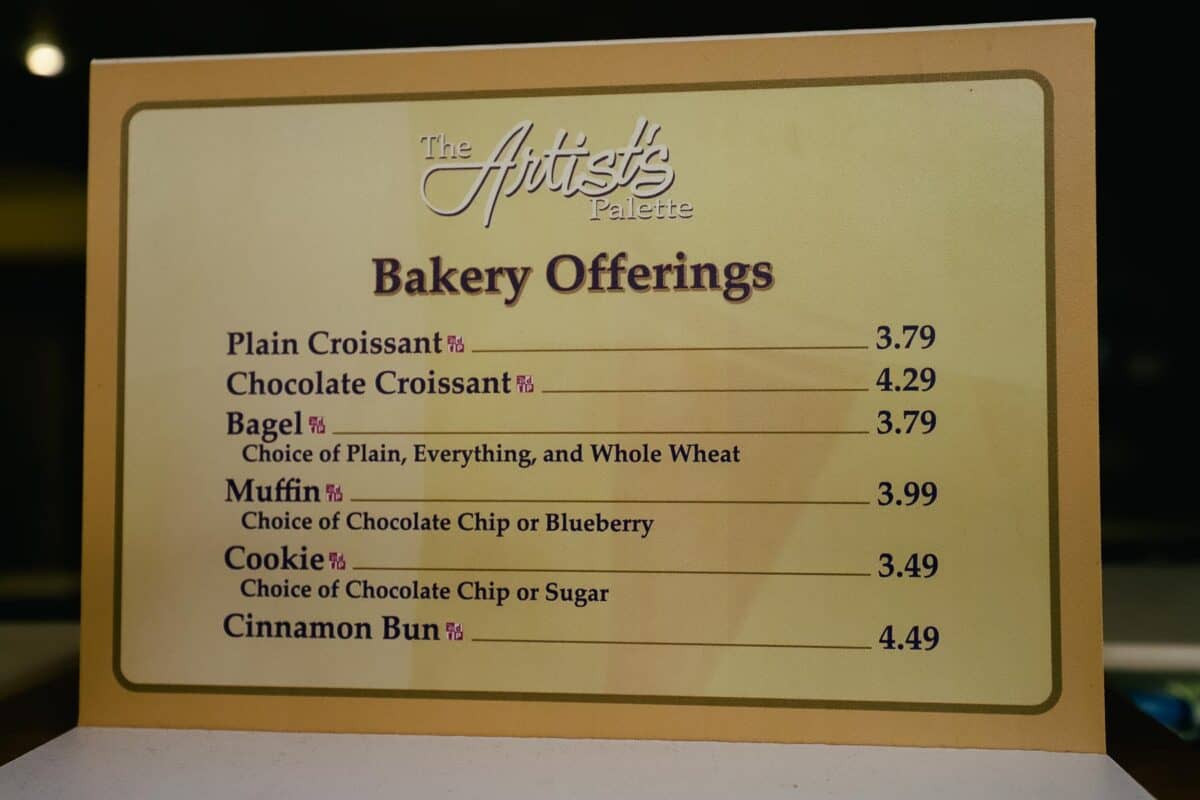 Several allergy-friendly products are available.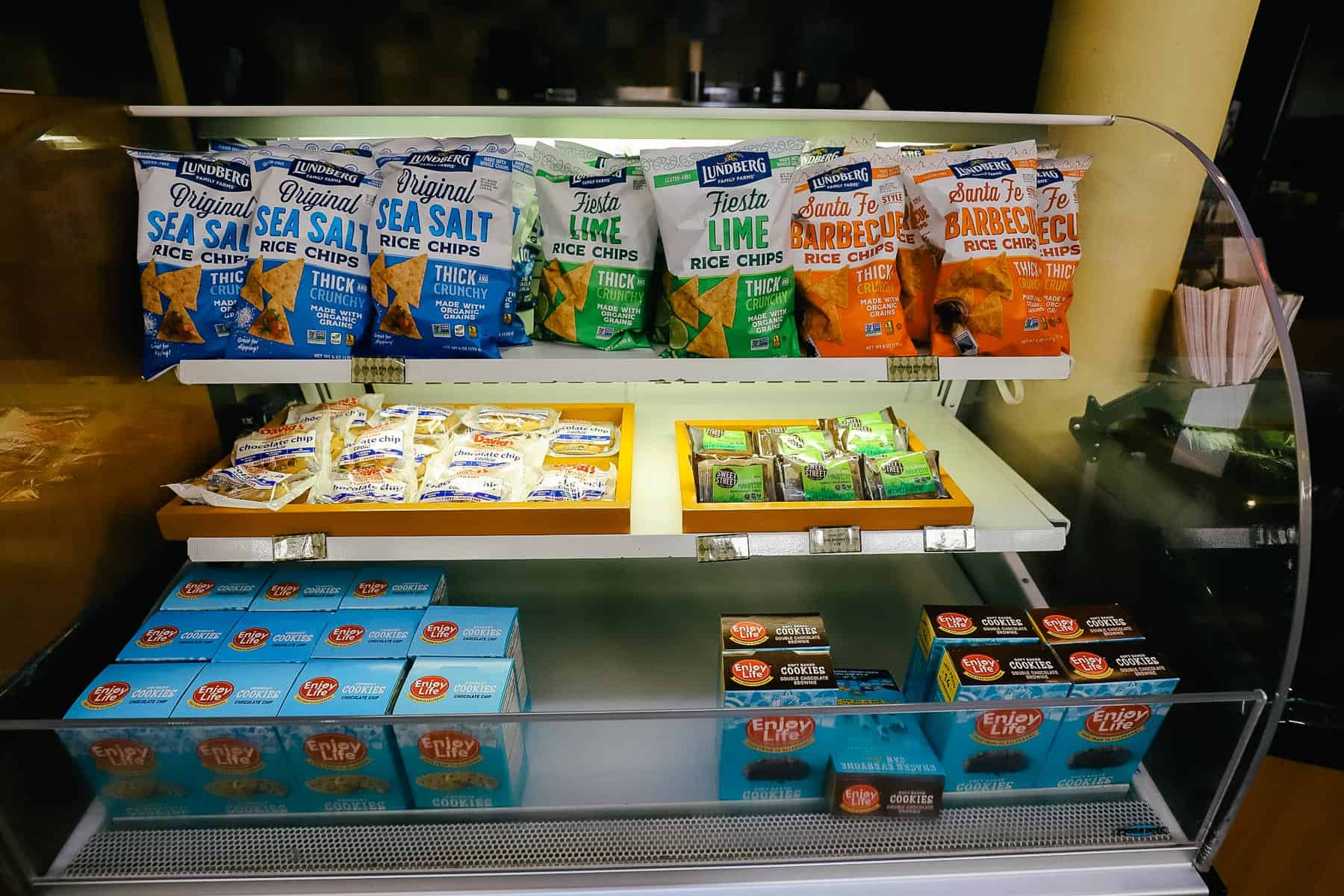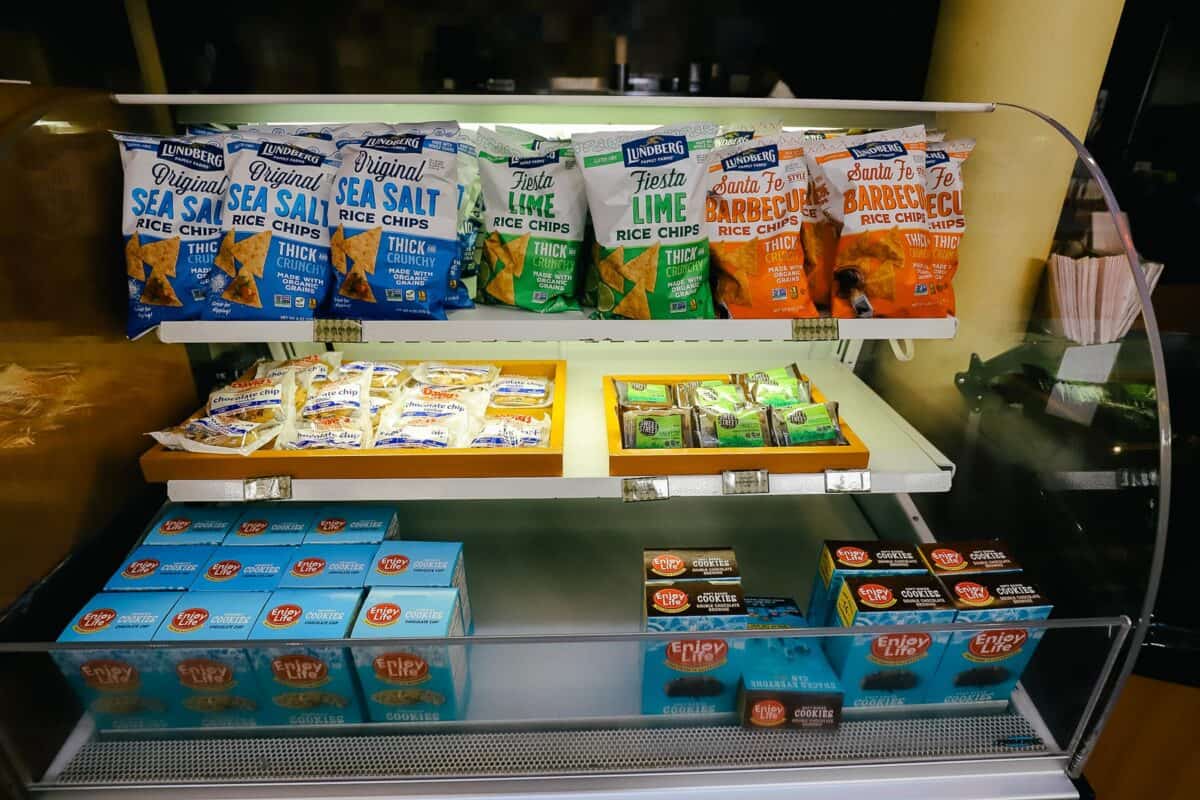 Snack items range from flavored popcorn to bags of chips.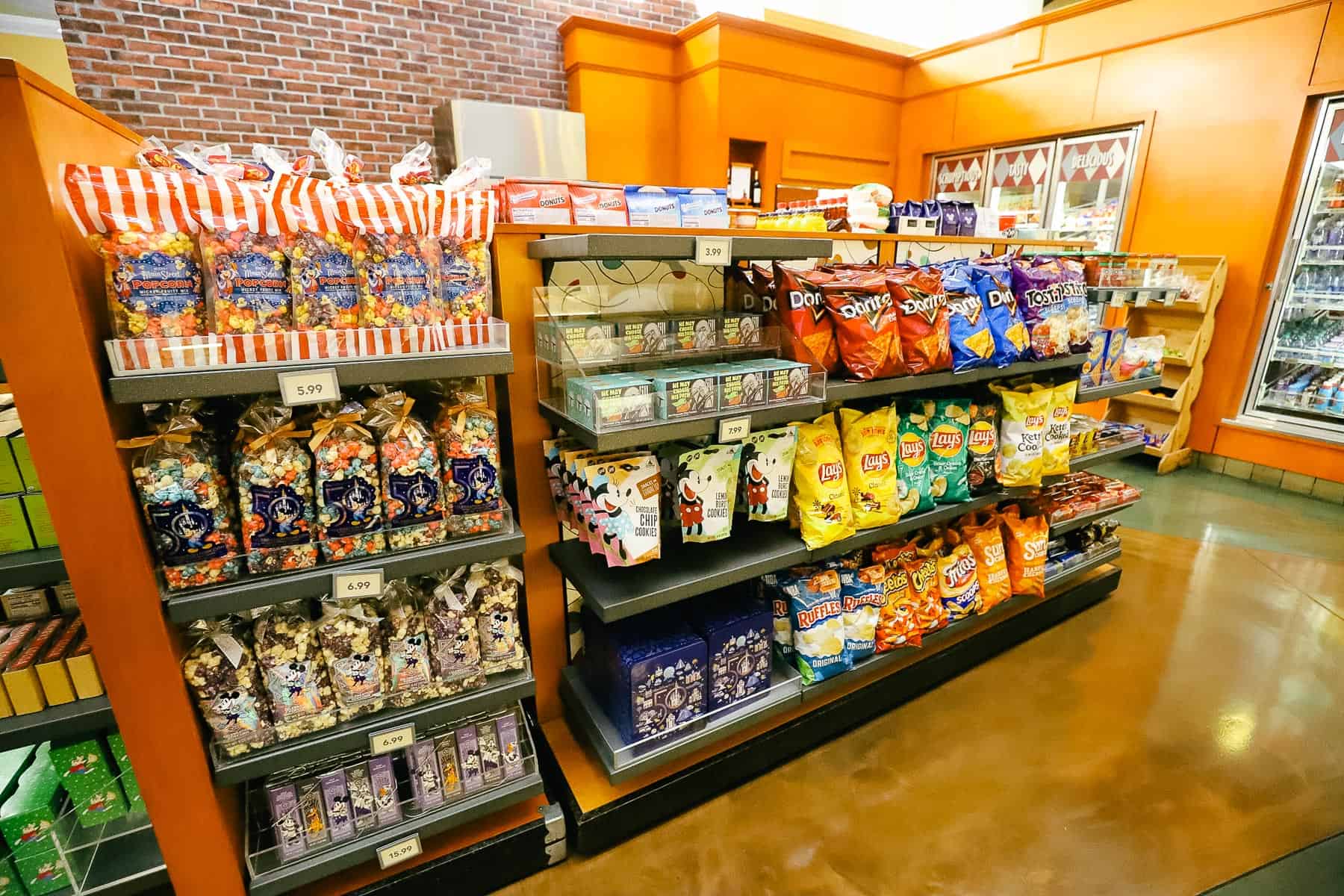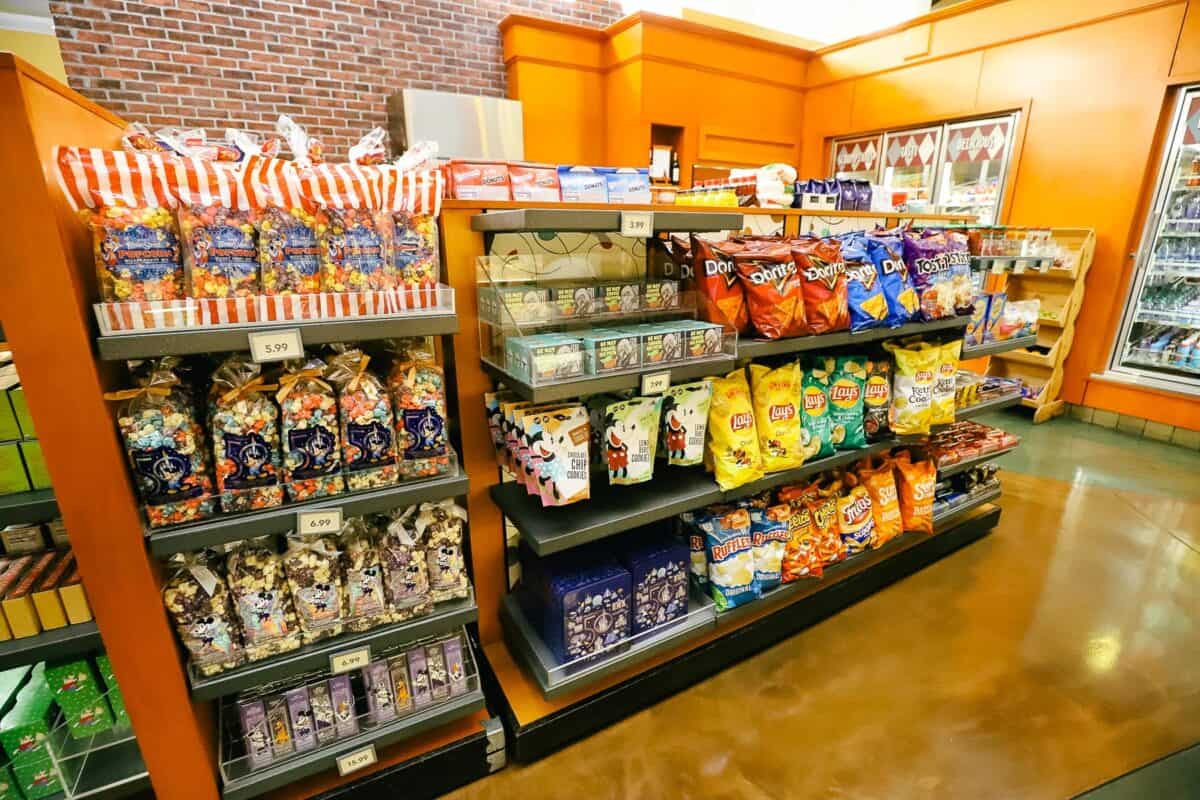 Here is a closer look.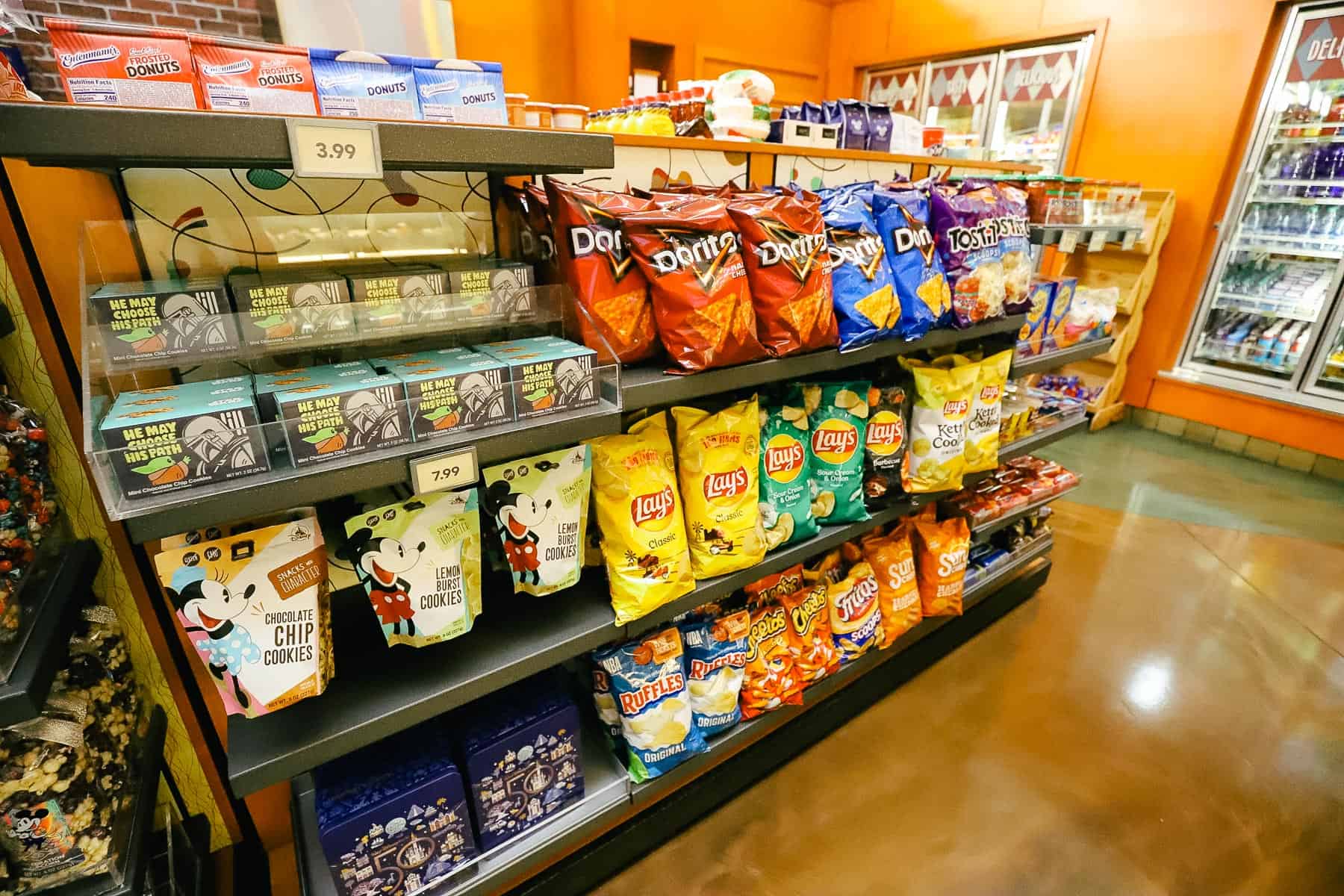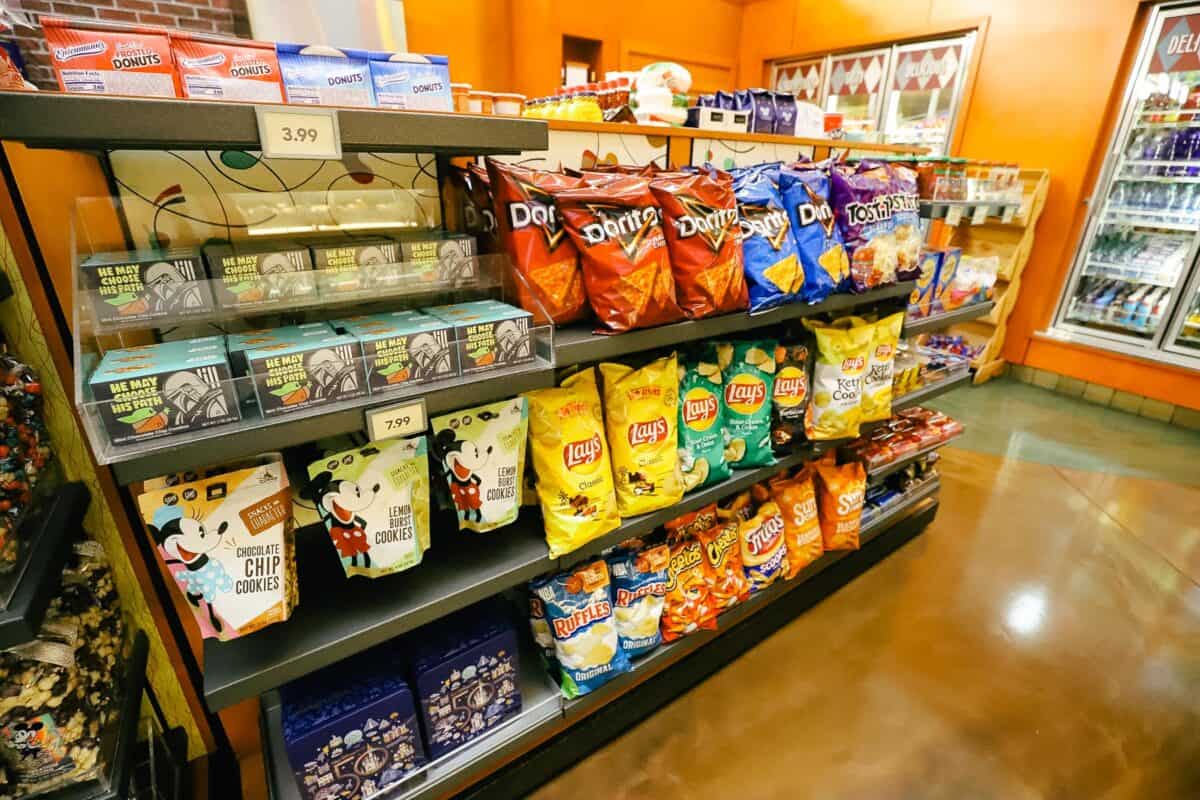 Most of these pantry items require some form of preparation. Tea, coffee, syrup, pancake mix, oatmeal, condiments, microwaveable mac-and-cheese, Pop-Tarts, donuts, pasta, marinara, etc.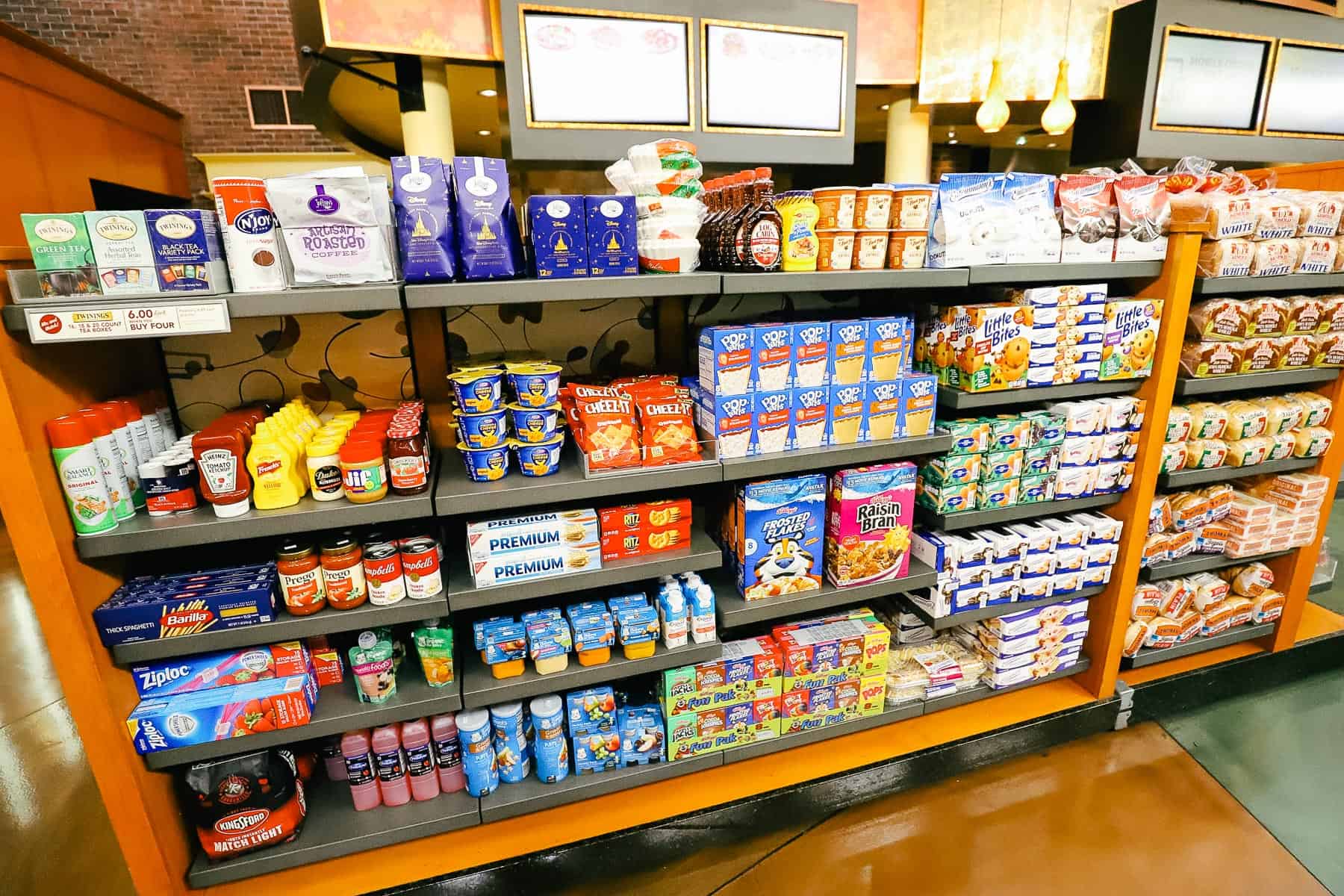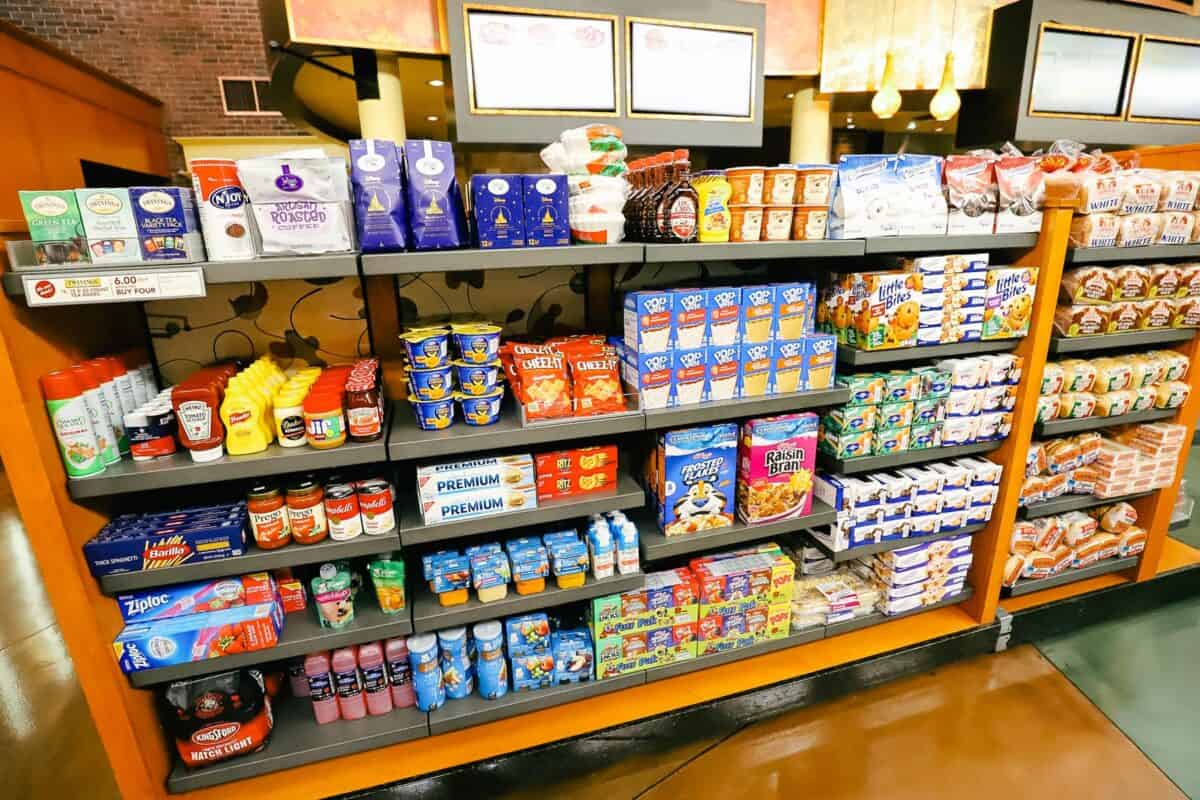 A display of coffee sits on the endcap.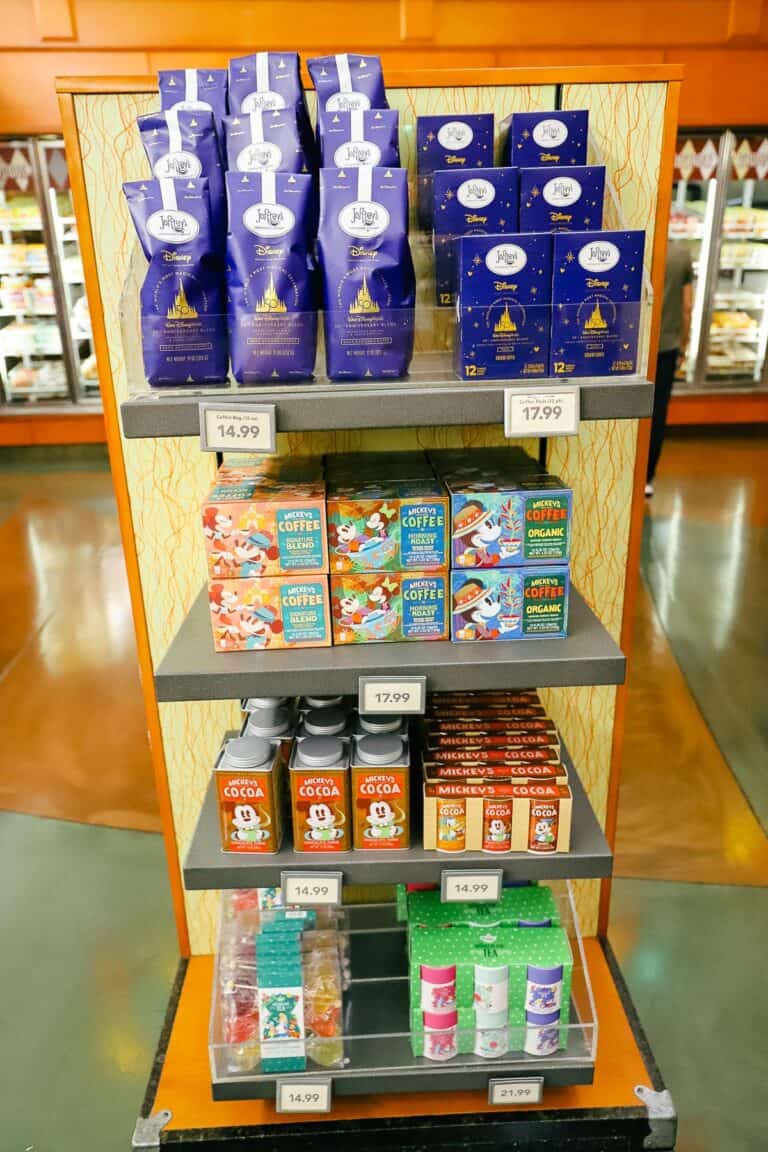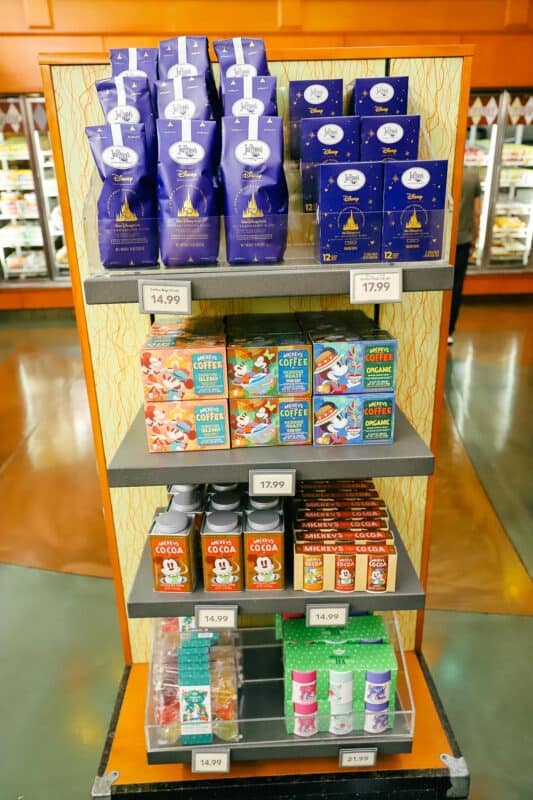 Here are a few more individual fruit selections.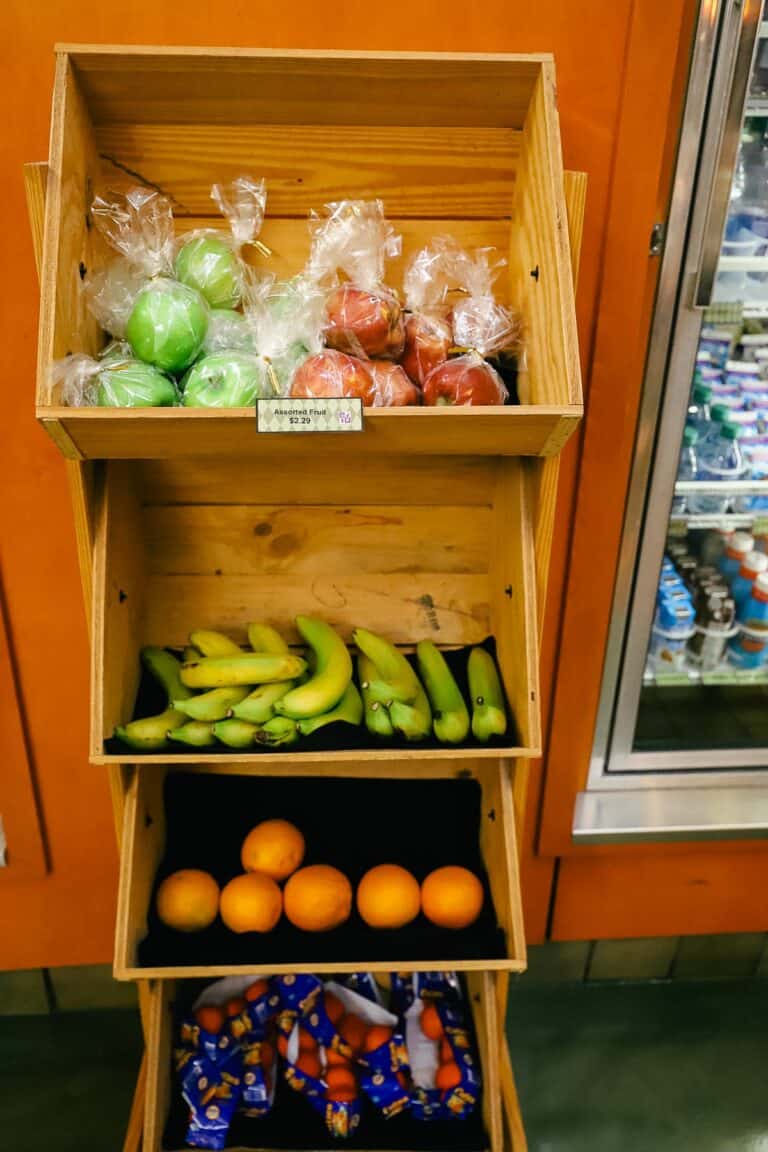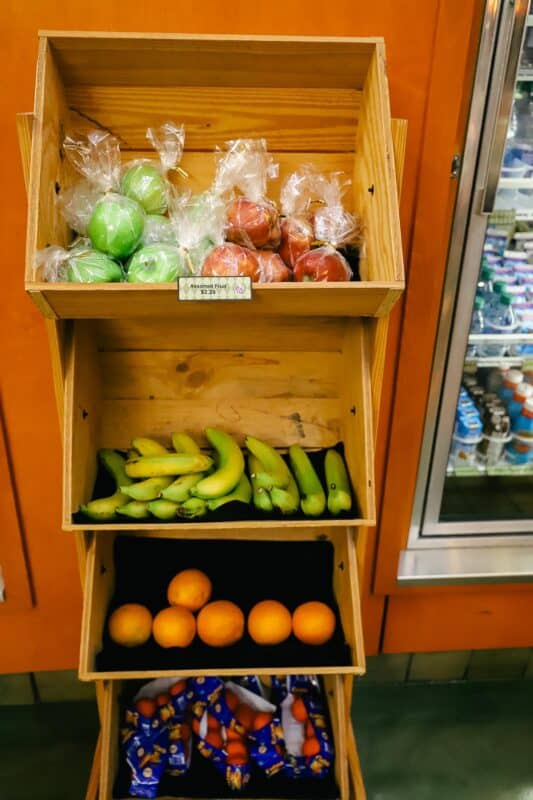 Along the back wall, there's a large refrigerated case.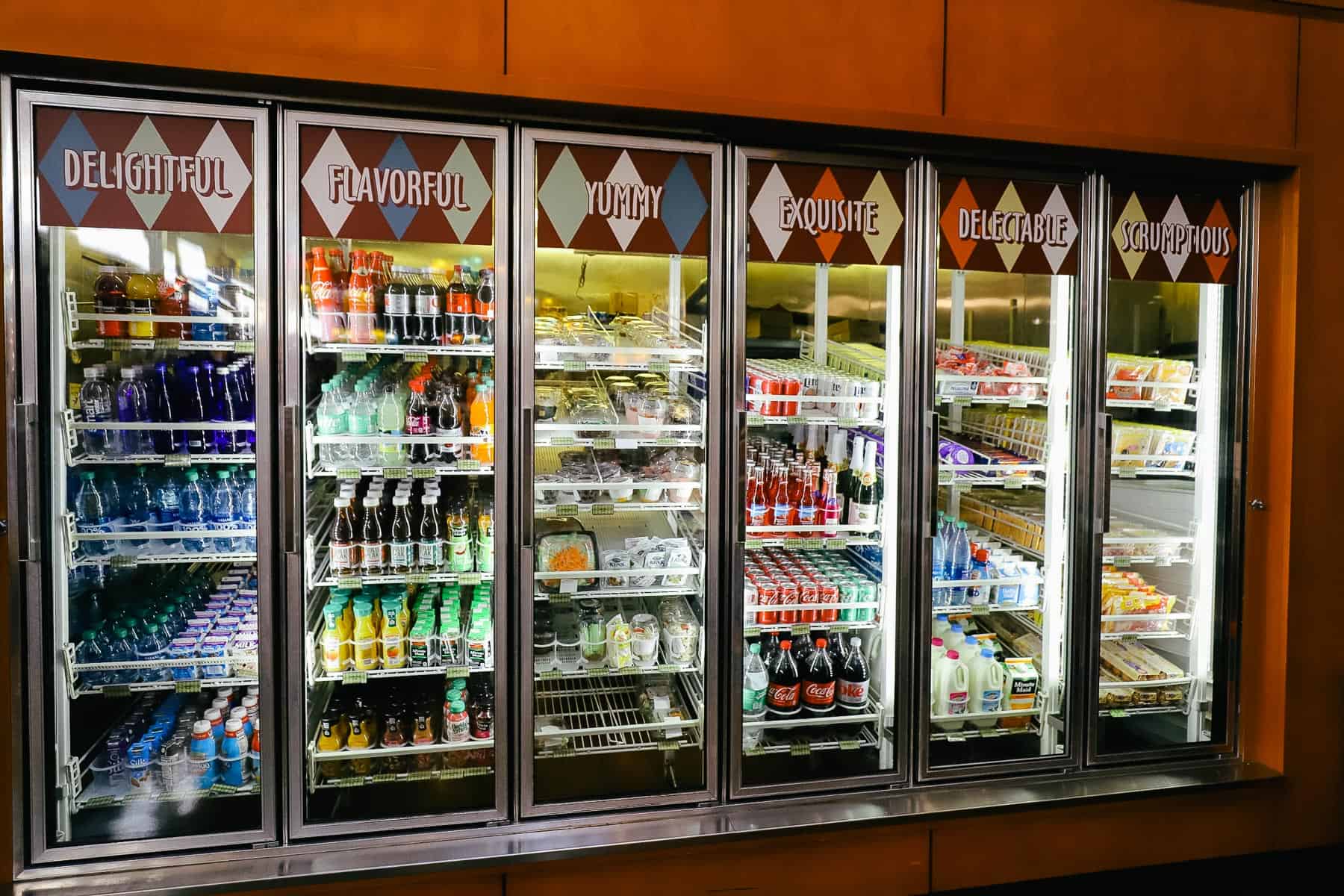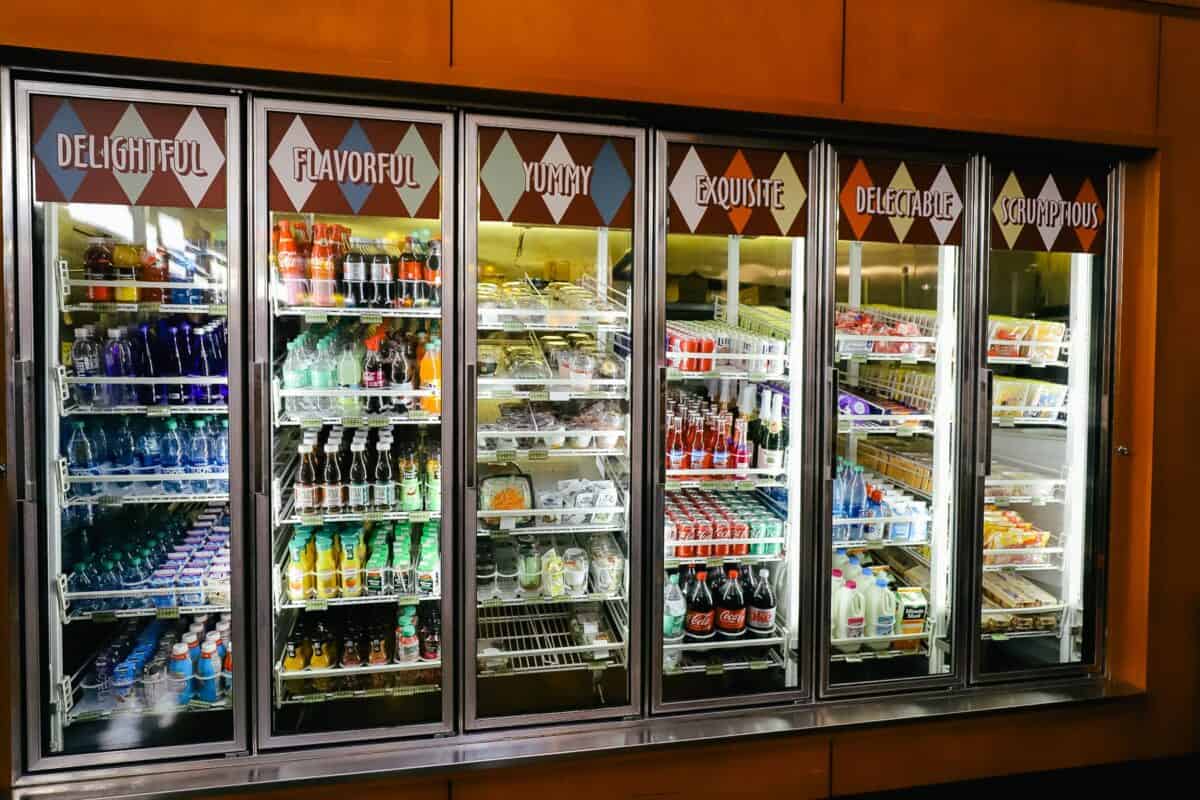 It contained fruit juice, bottled water, sports drinks, milk, and soda.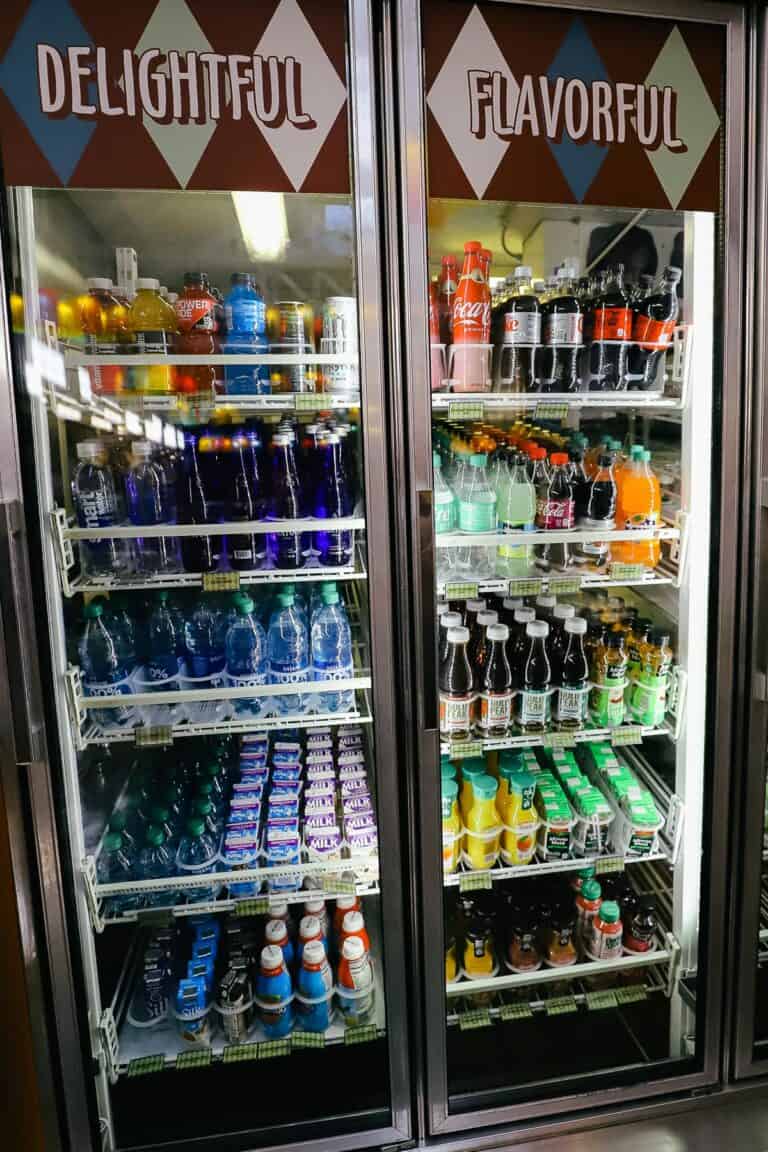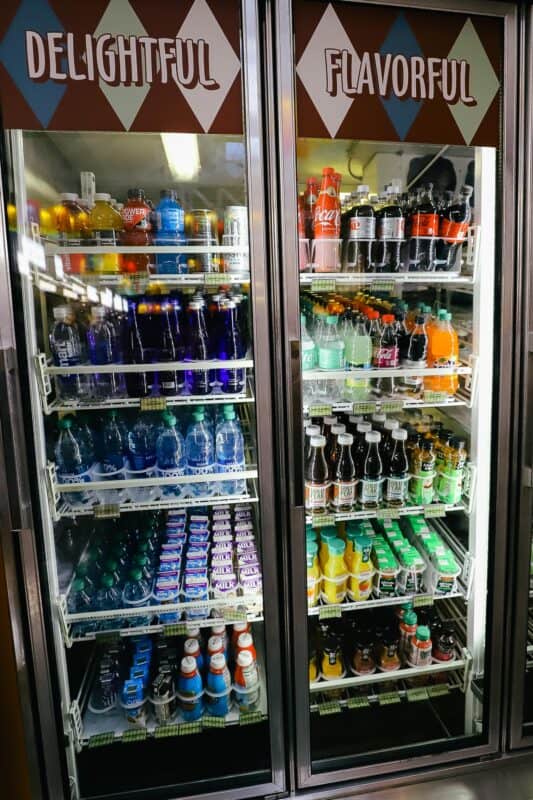 This case has parfaits, fruit cups, veggie cups, and salads. In addition, there were several beer, wine, and champagne selections. A few two-liter drinks sit on the bottom shelf.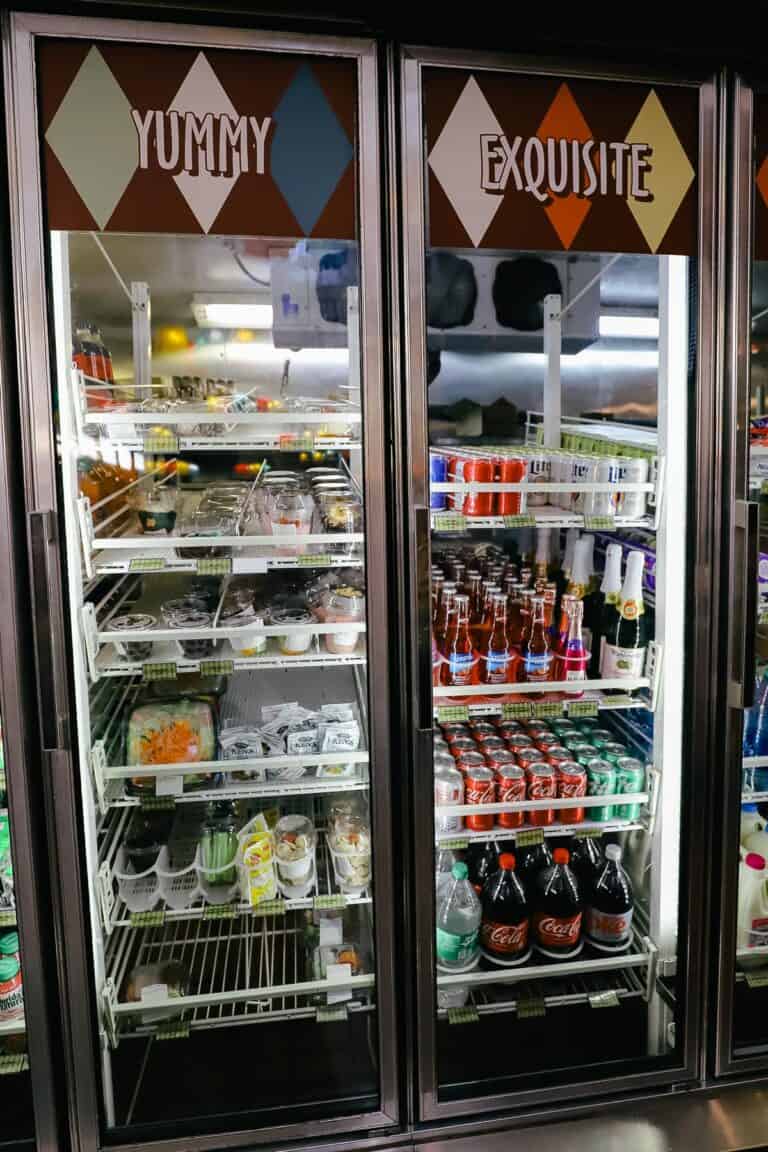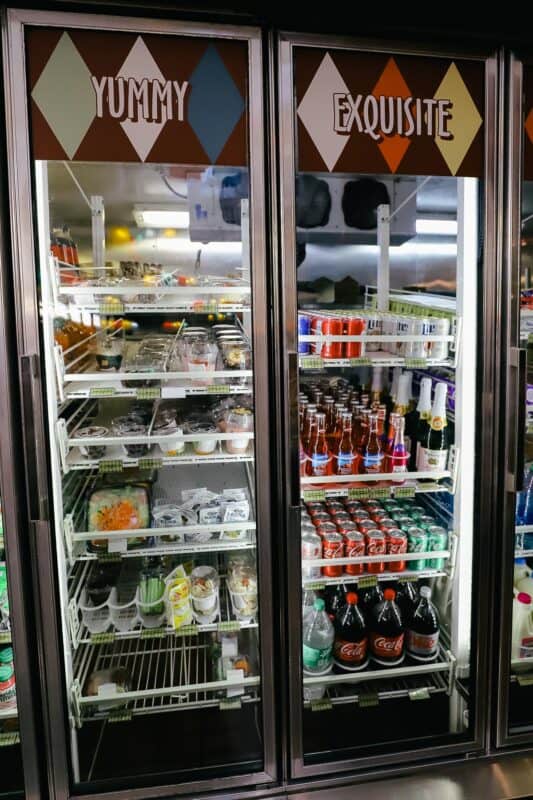 Dairy items include cheese, half-n-half, creamer, milk, and orange juice. There were also pre-packaged sandwich meats, Lunchables, bacon, hot dogs, and eggs.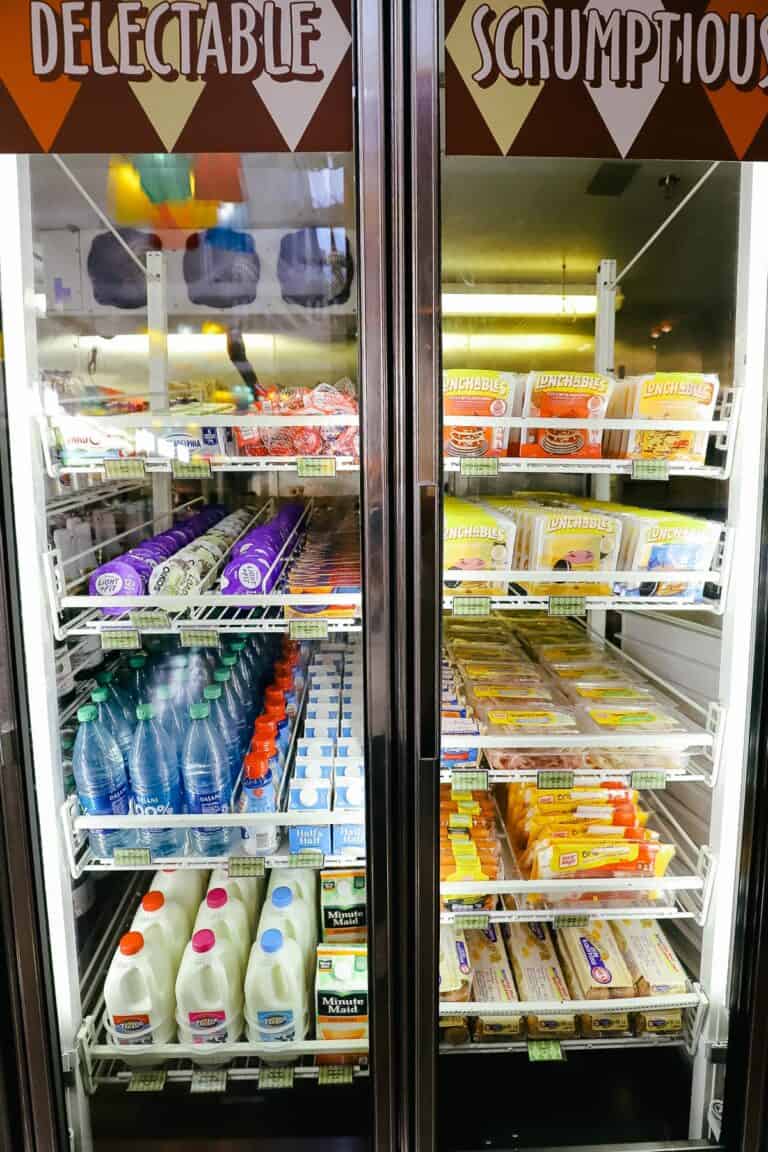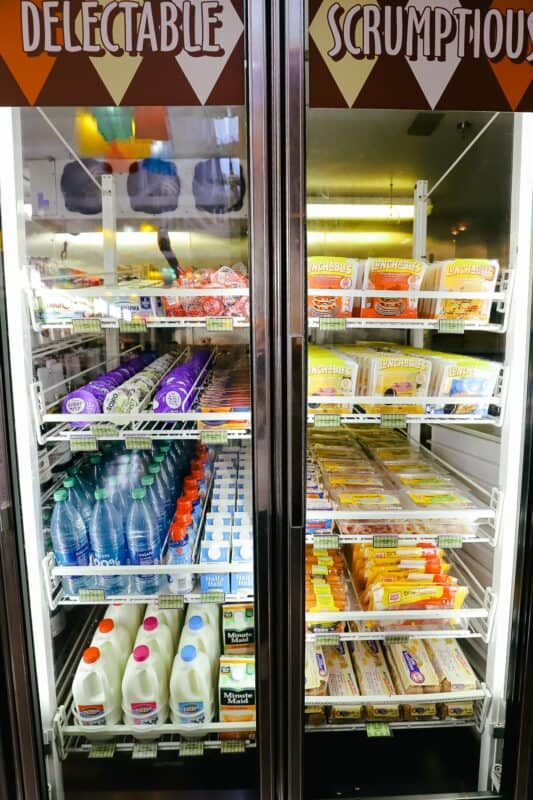 Below is a photo of the freezer case.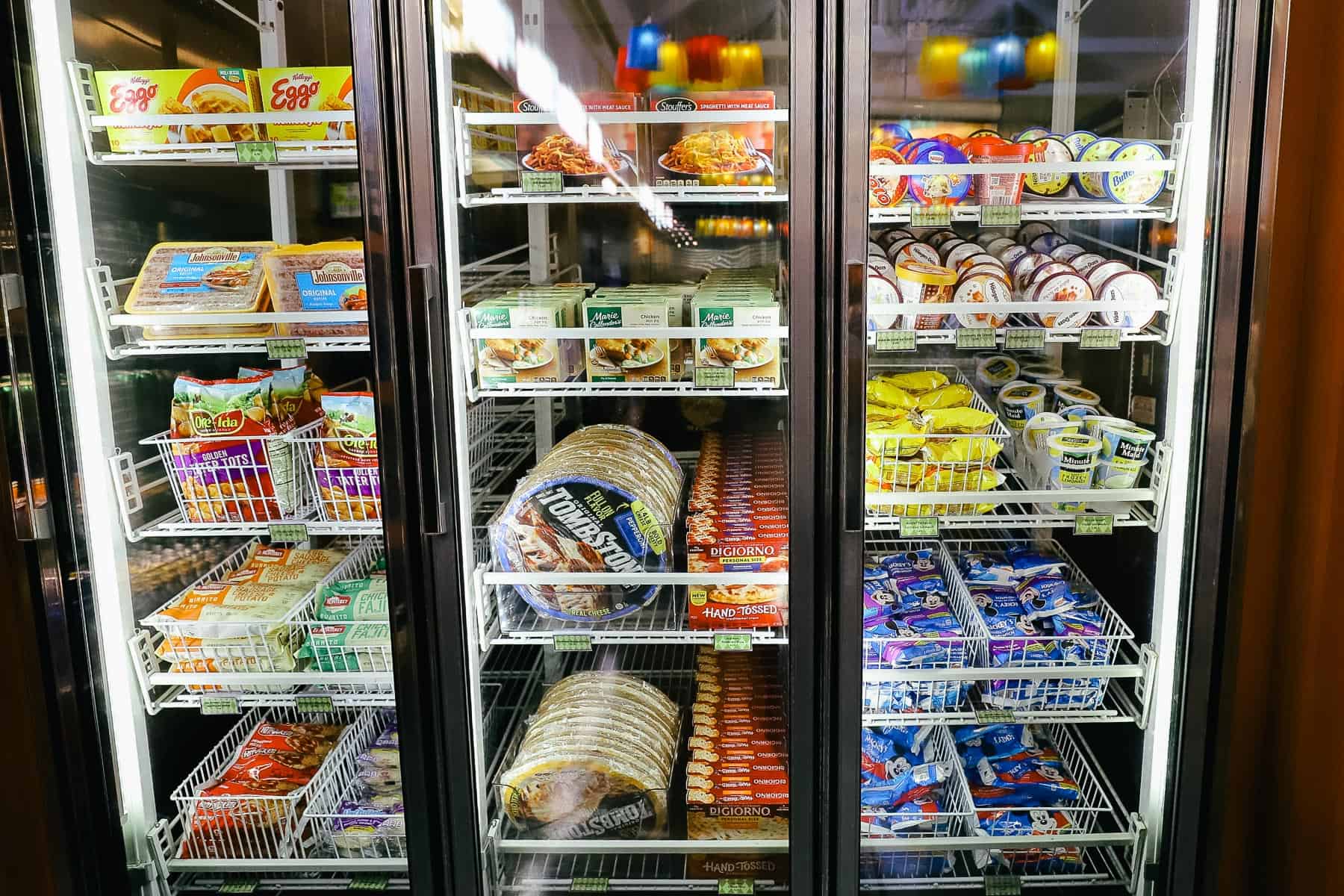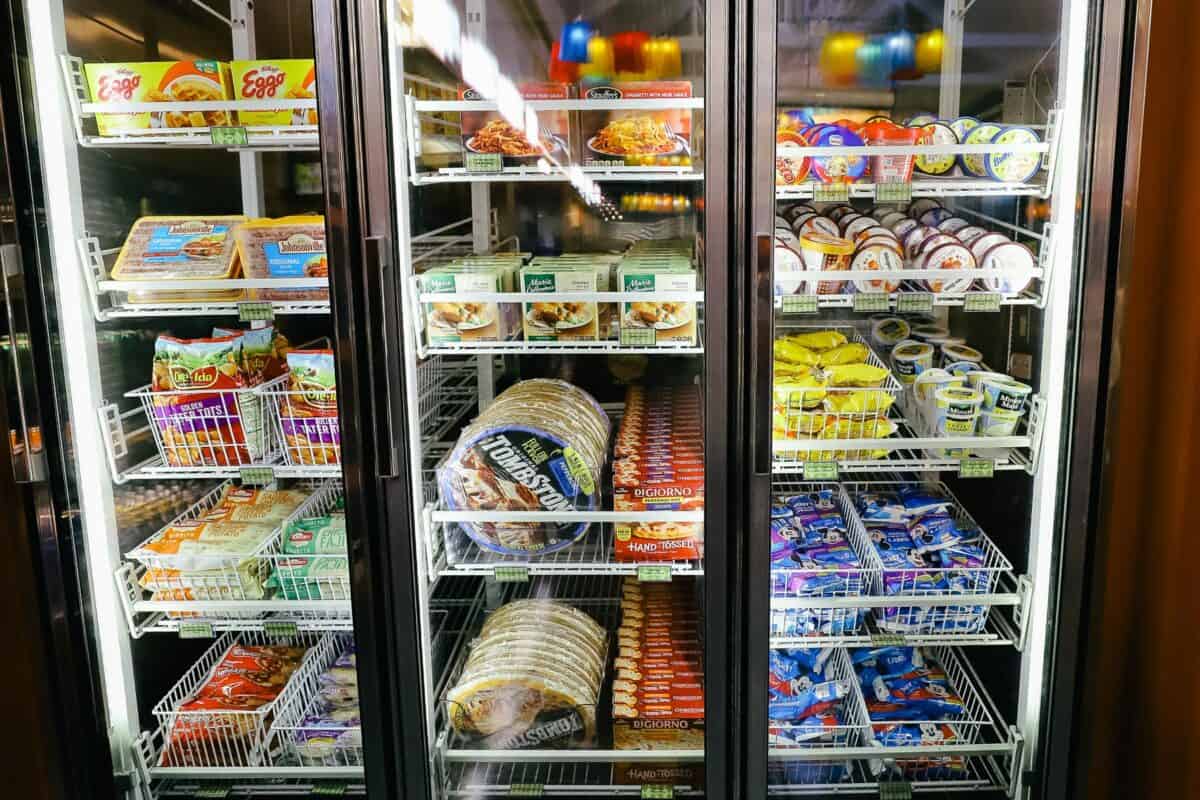 Regular ice cream and ice cream novelty treats were available.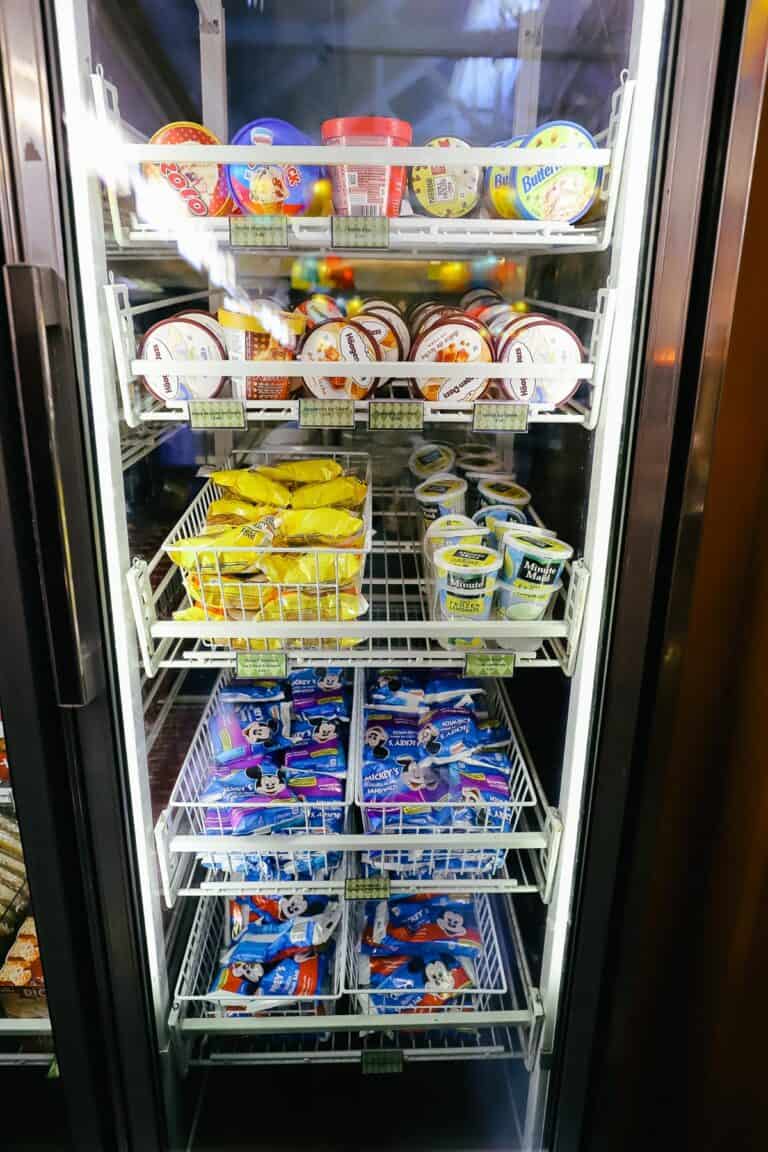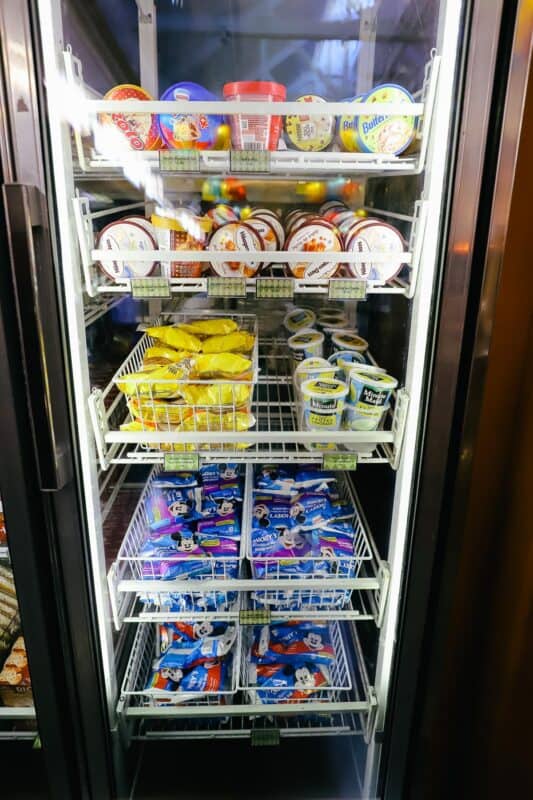 Almost everything involving ice cream is approximately $6.00.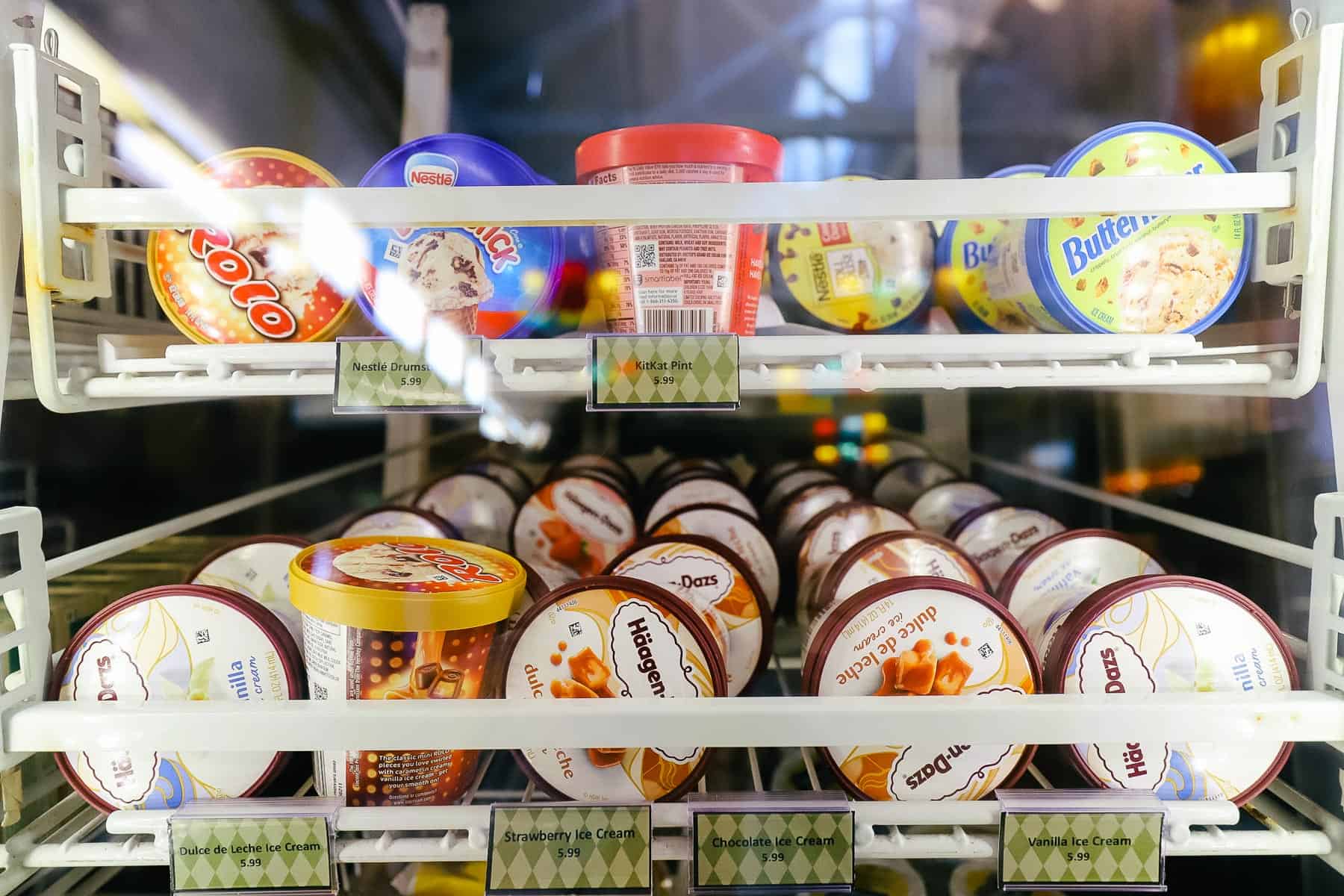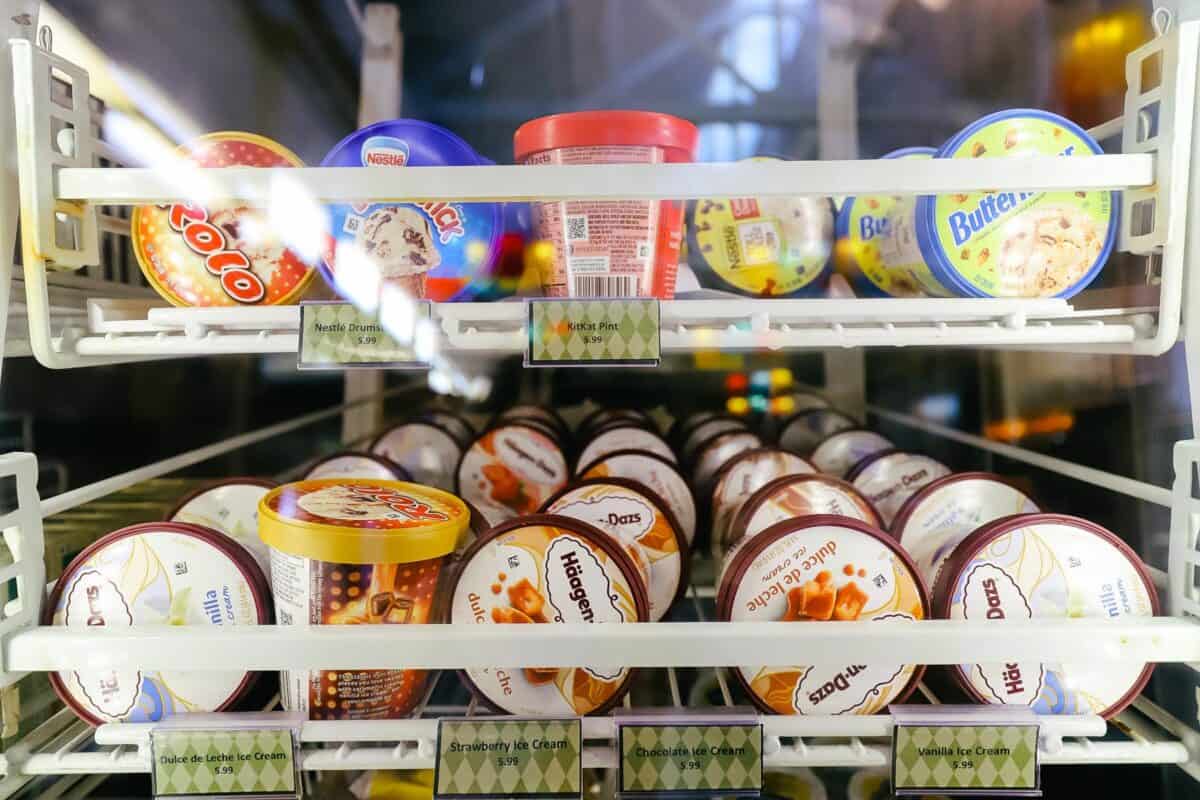 No matter where you go these days, it's all outrageous.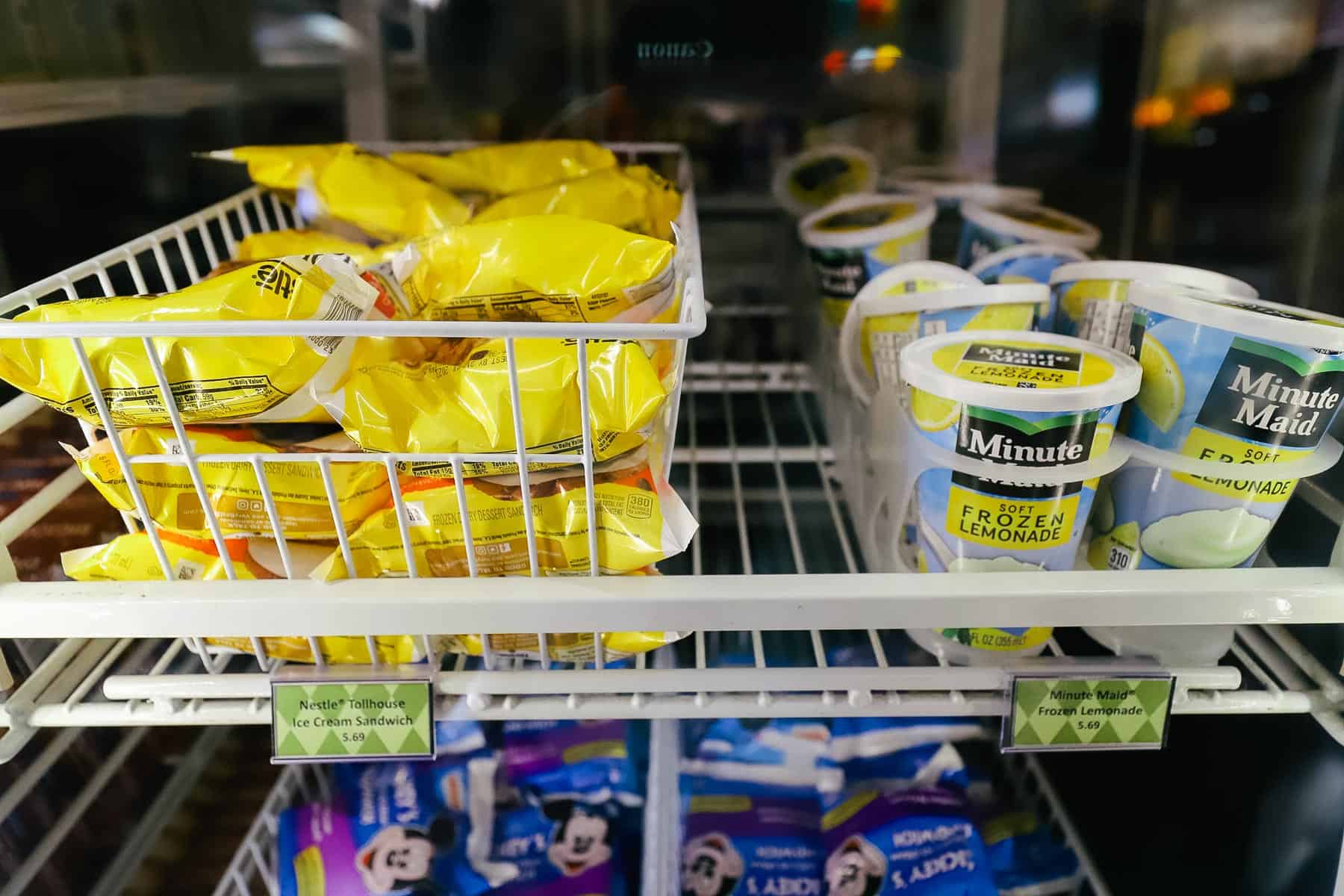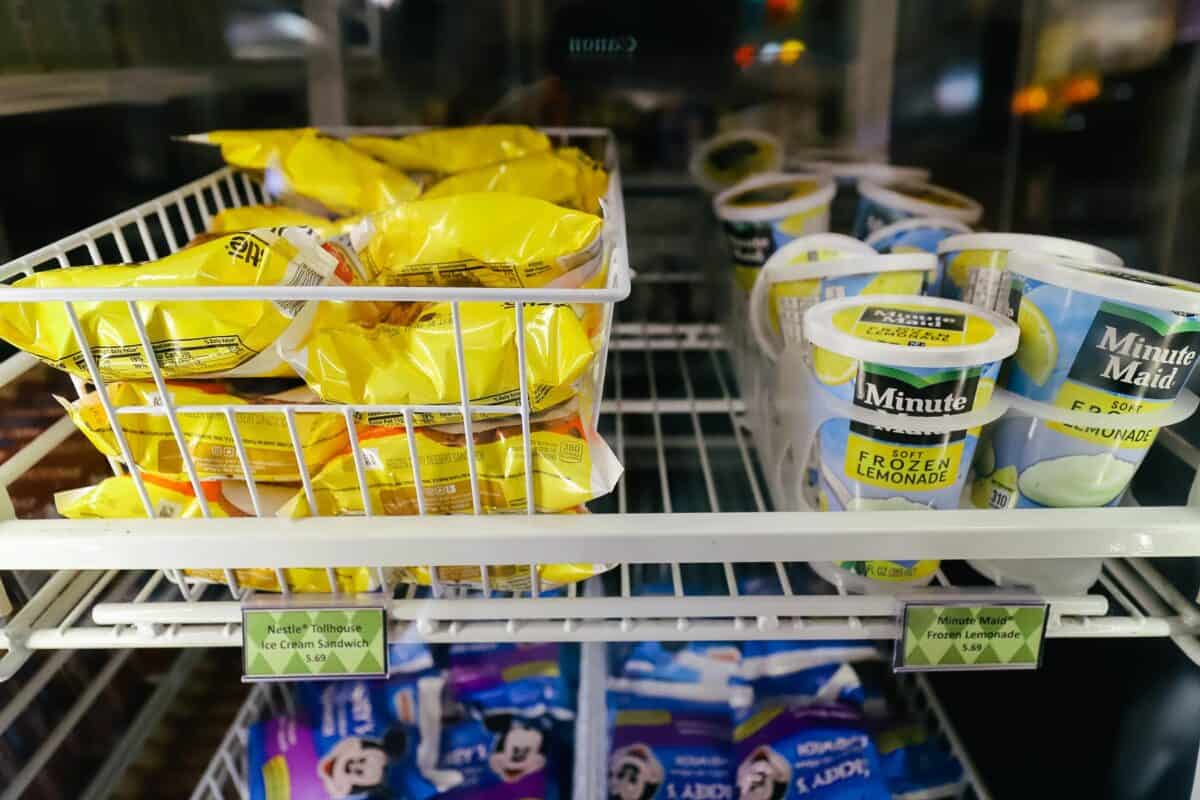 Choose wisely.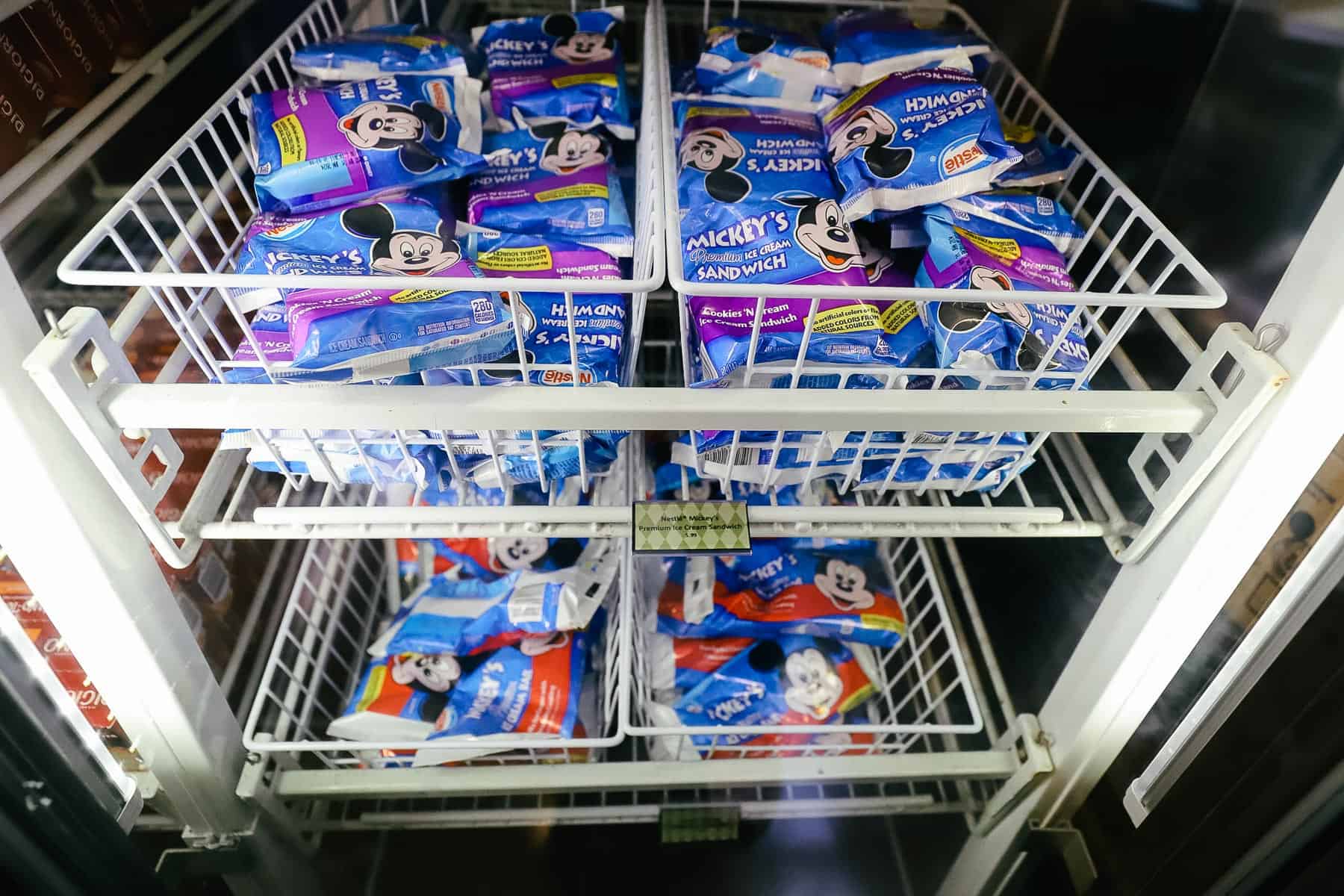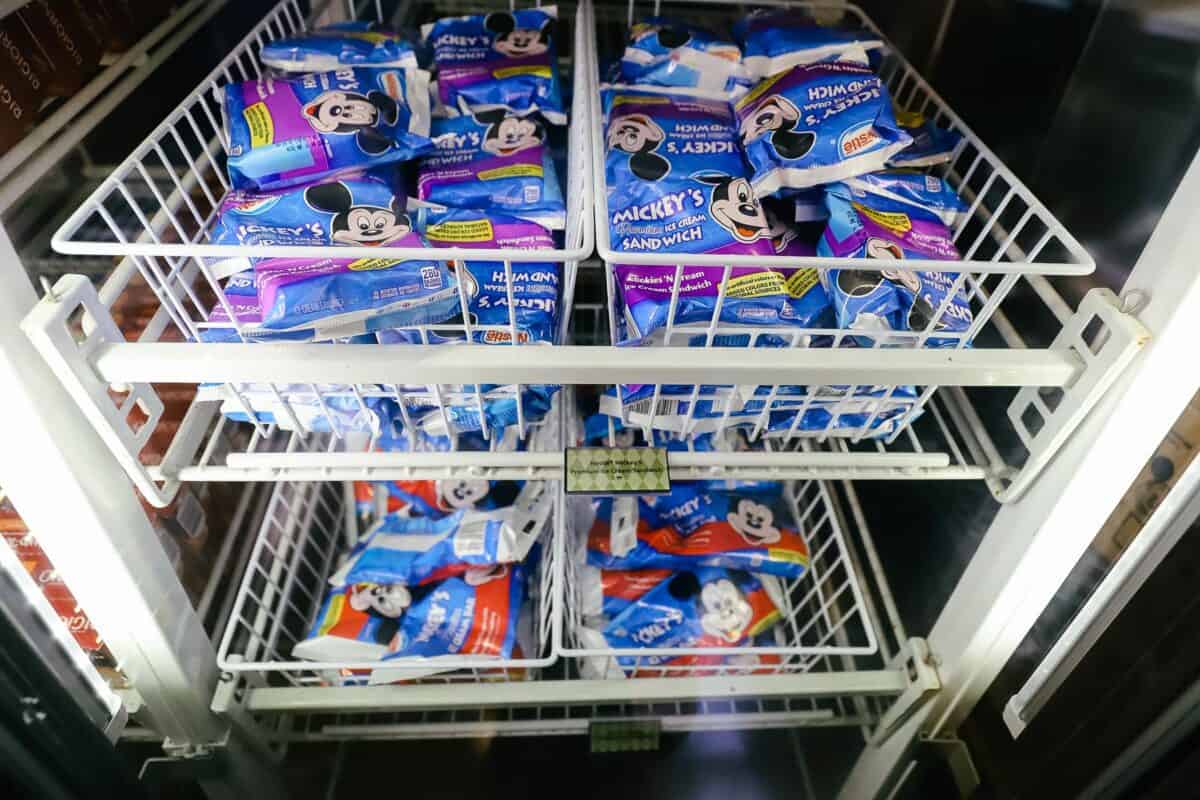 There are a few options if you want a frozen dinner in your room.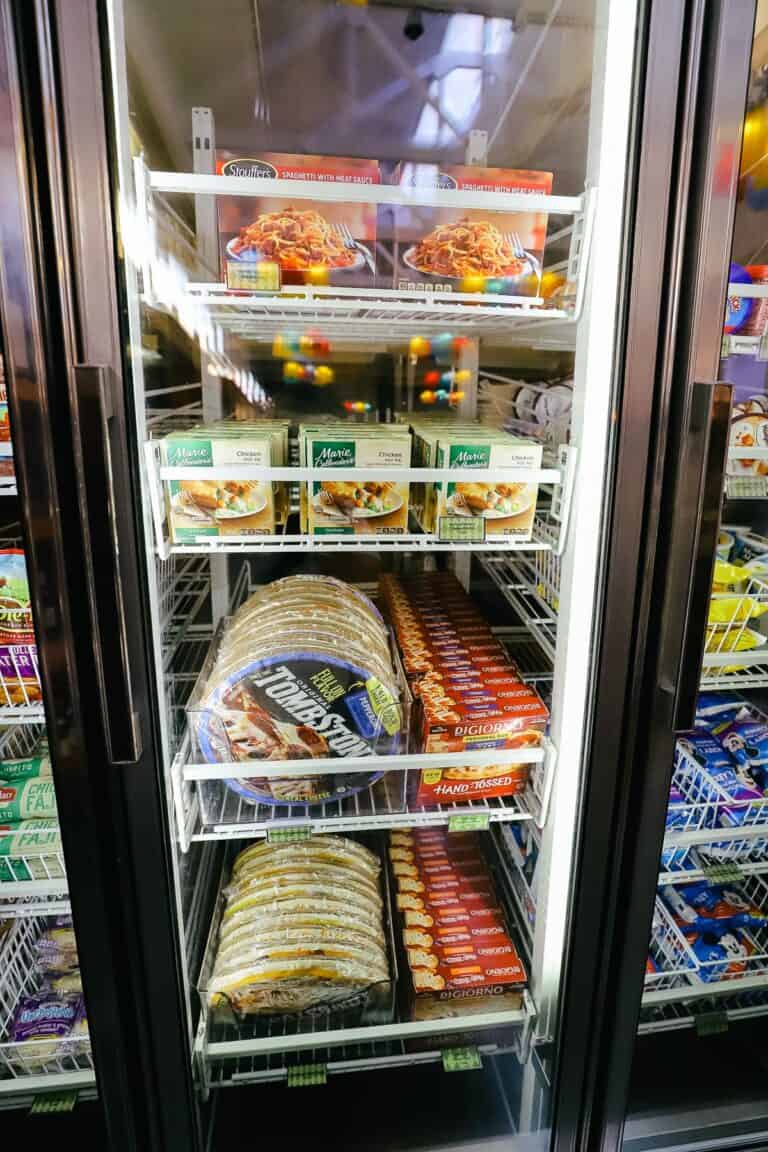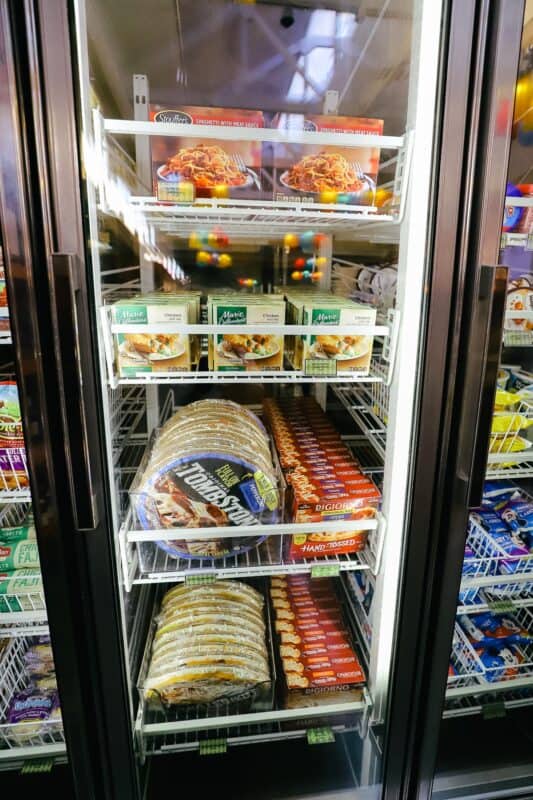 Similar to ice cream, spaghetti with meat sauce also costs nearly $6.00.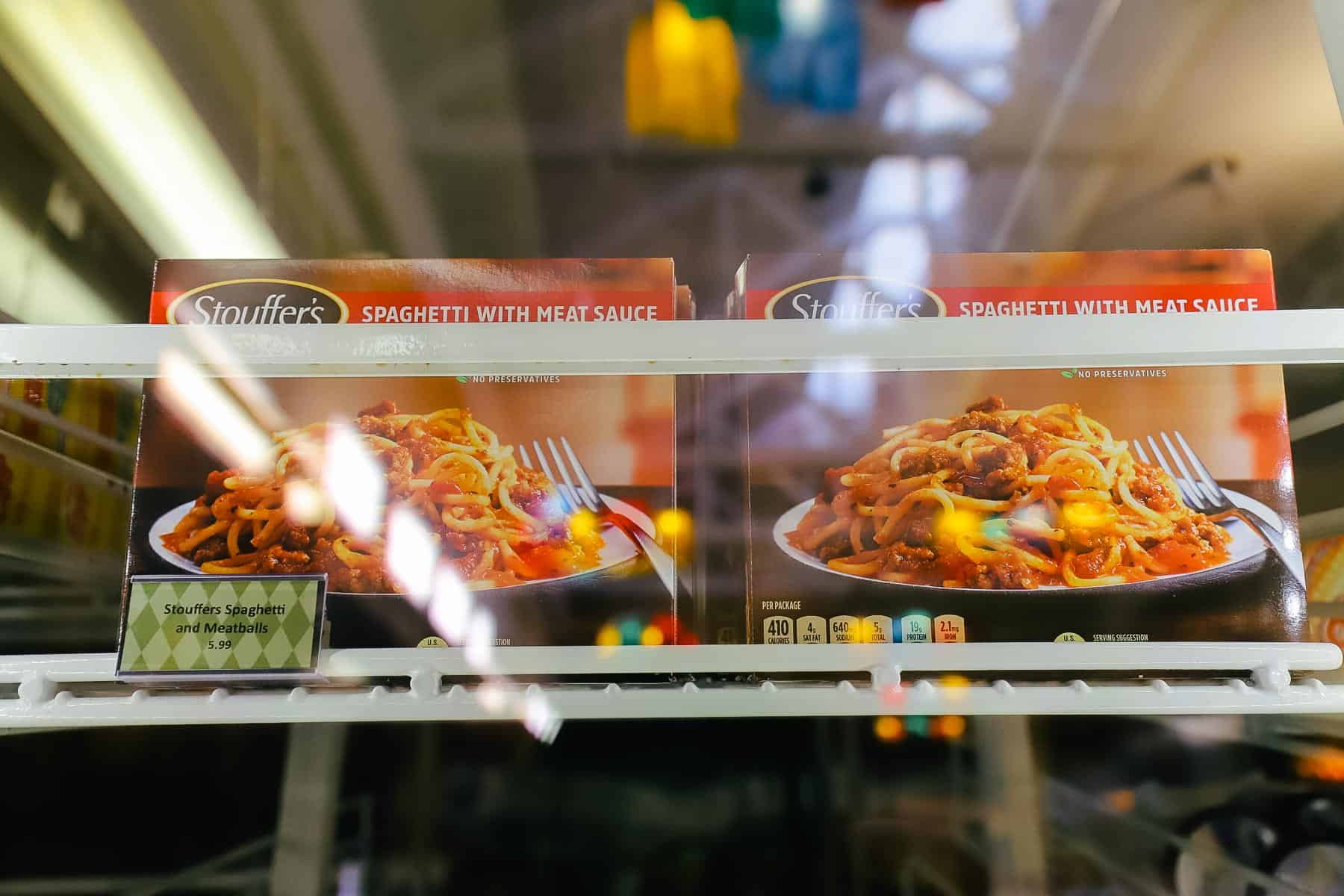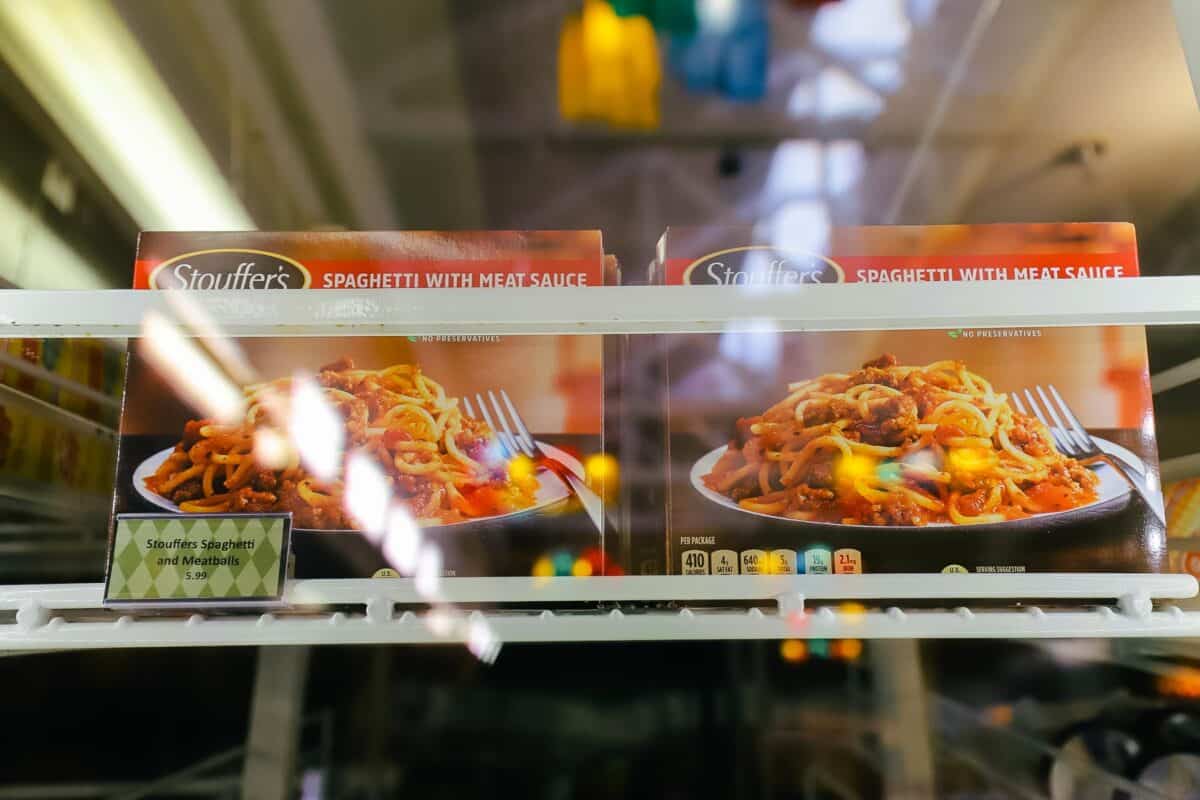 But for less than $5.00, you can have a pot pie.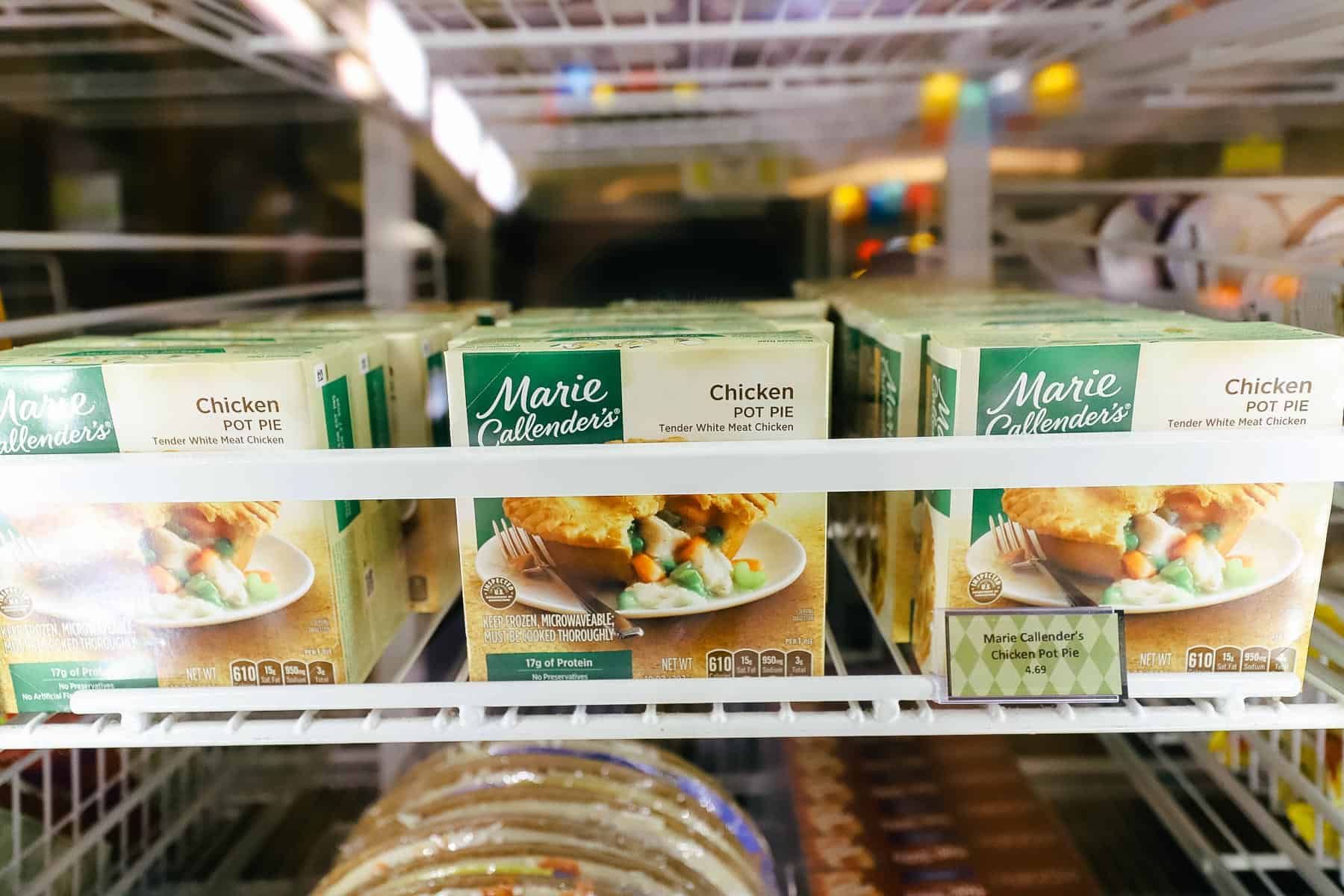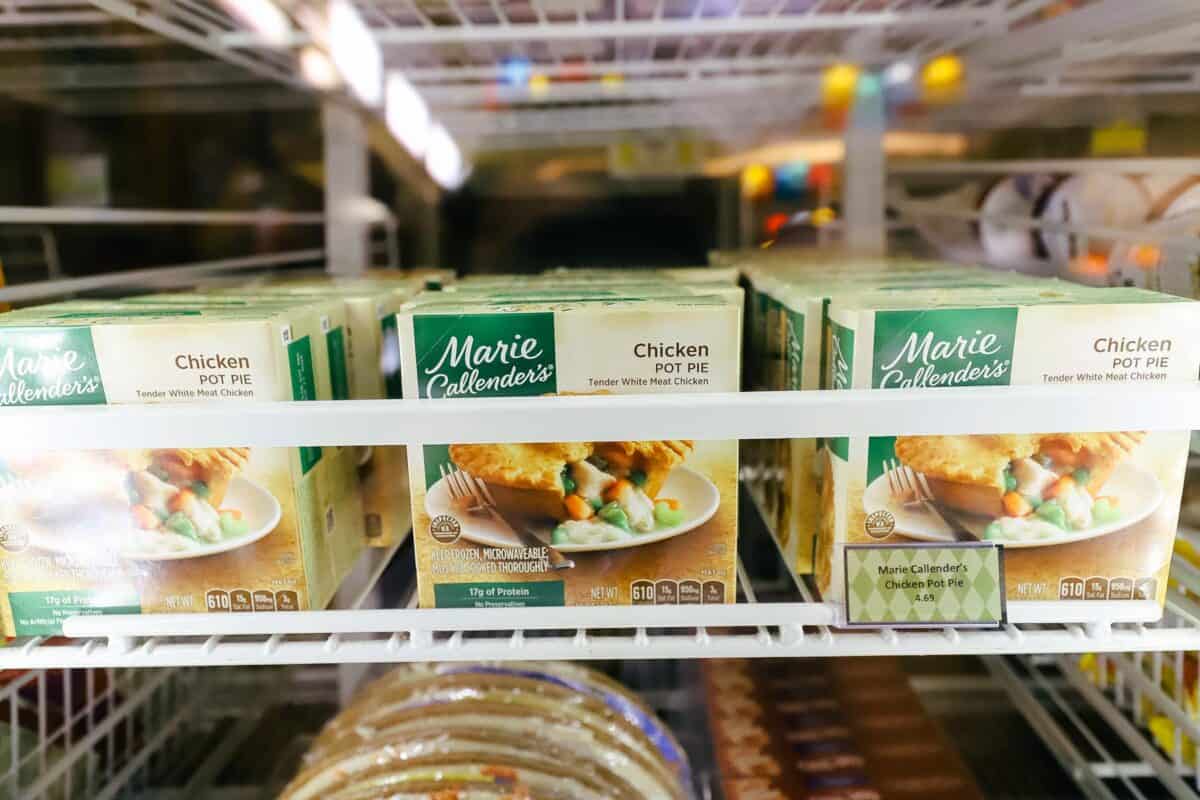 Here are a few frozen pizza options. Of course, if you want pizza, you'll do much better to take the boat to Disney Springs and have Blaze Pizza. Or you could order a fresh pizza from The Artist's Palette.
Related: Blaze Pizza at Disney Springs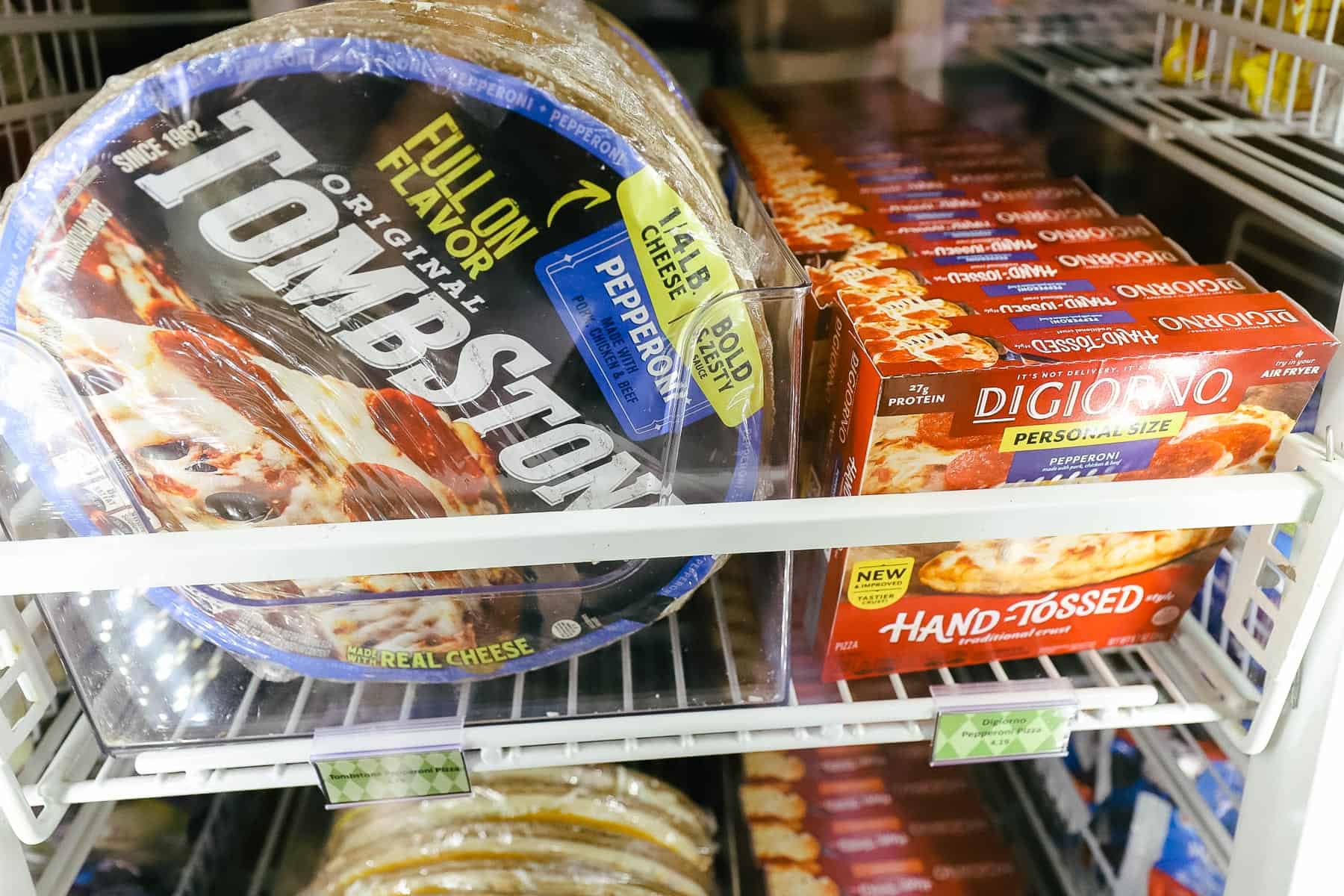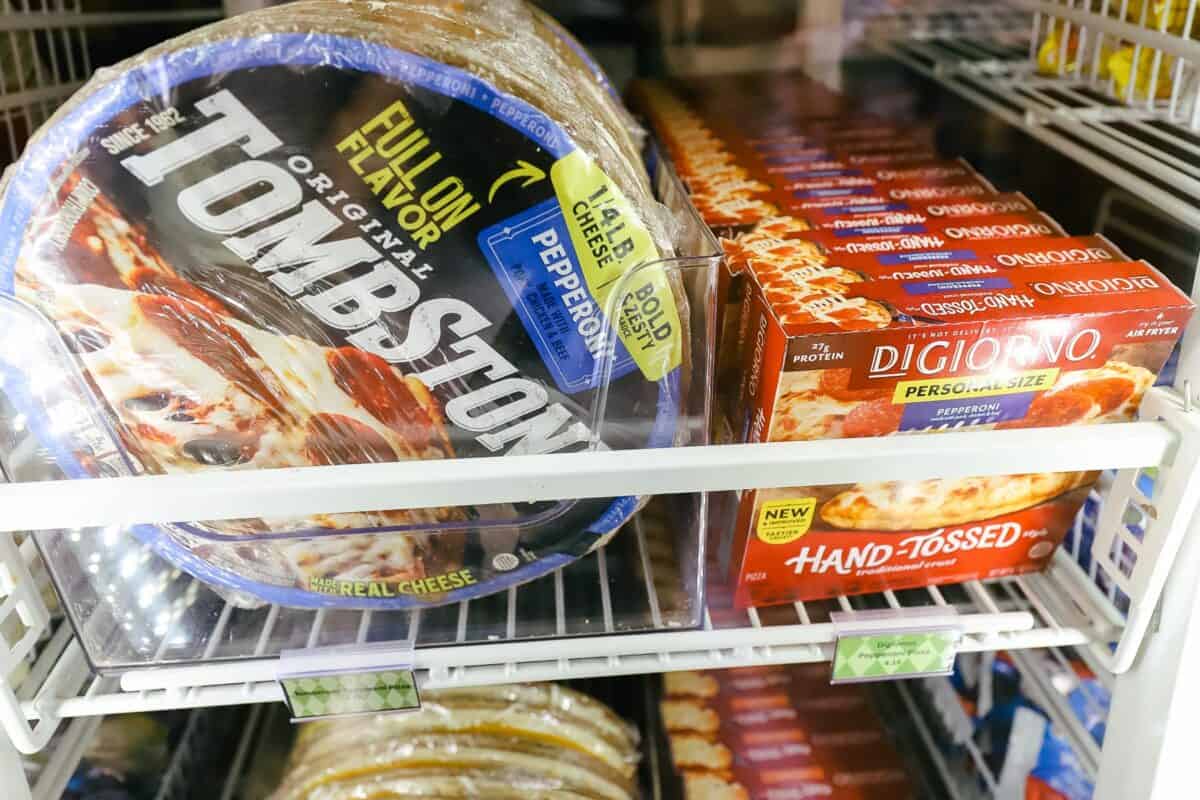 Those who like to prepare breakfast in their rooms will have a few options.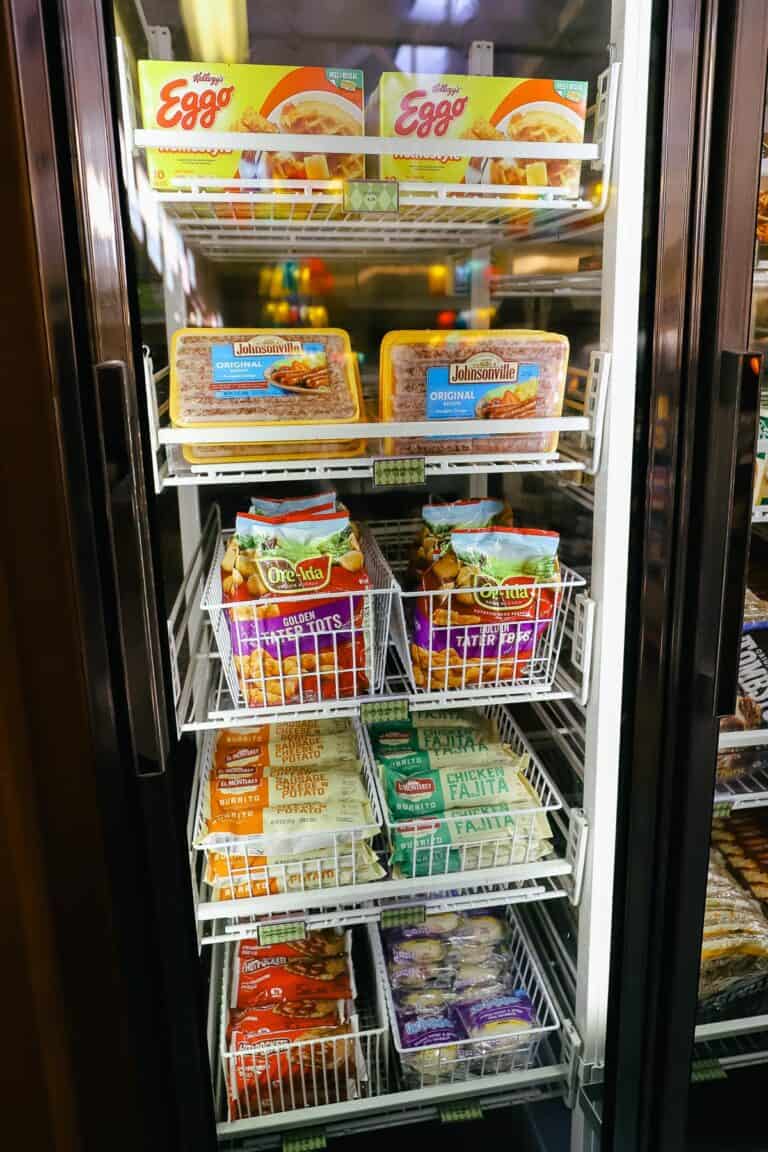 Those items include waffles, sausage, Tater Tots, individually wrapped burritos, Hot Pockets, and Uncrustables.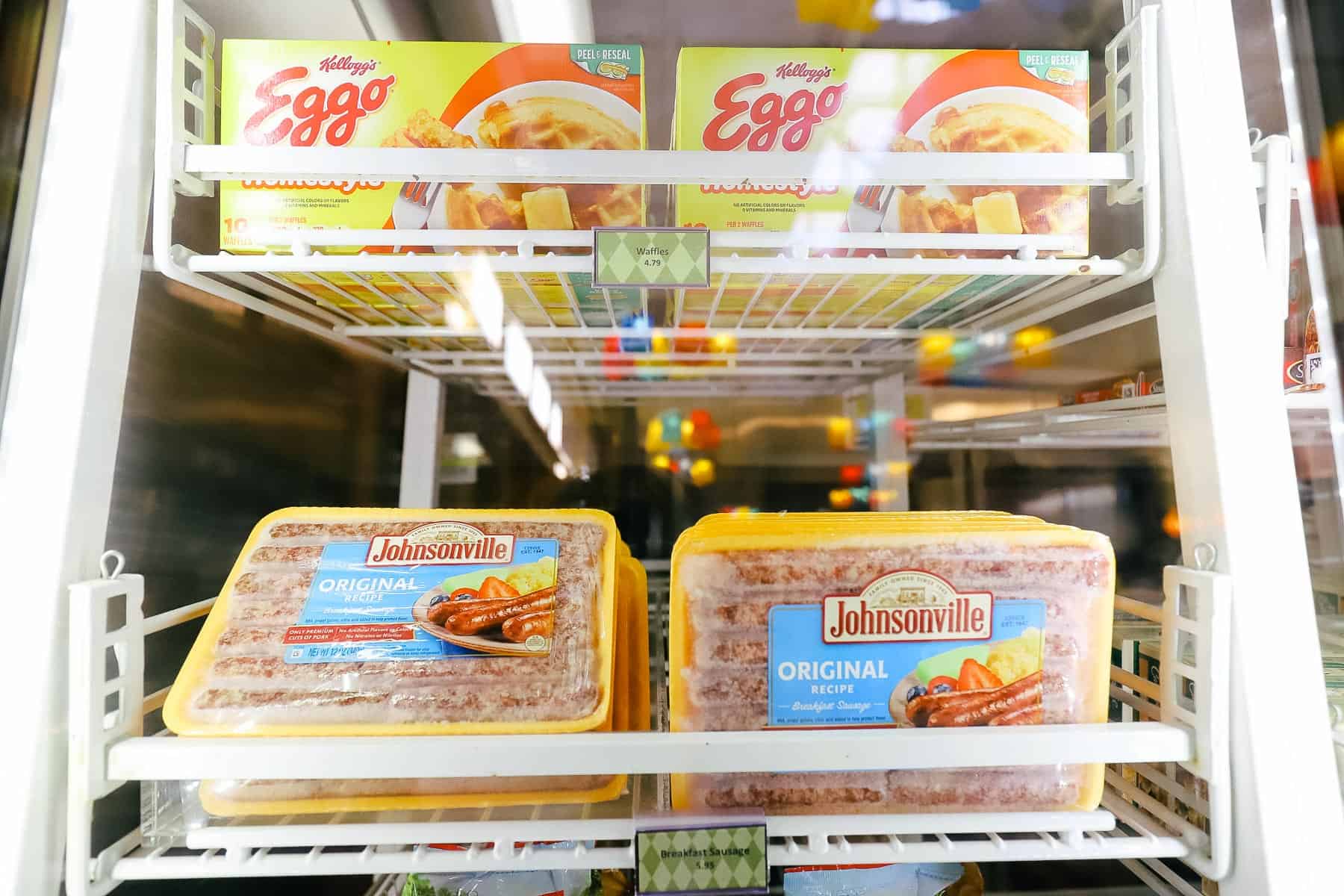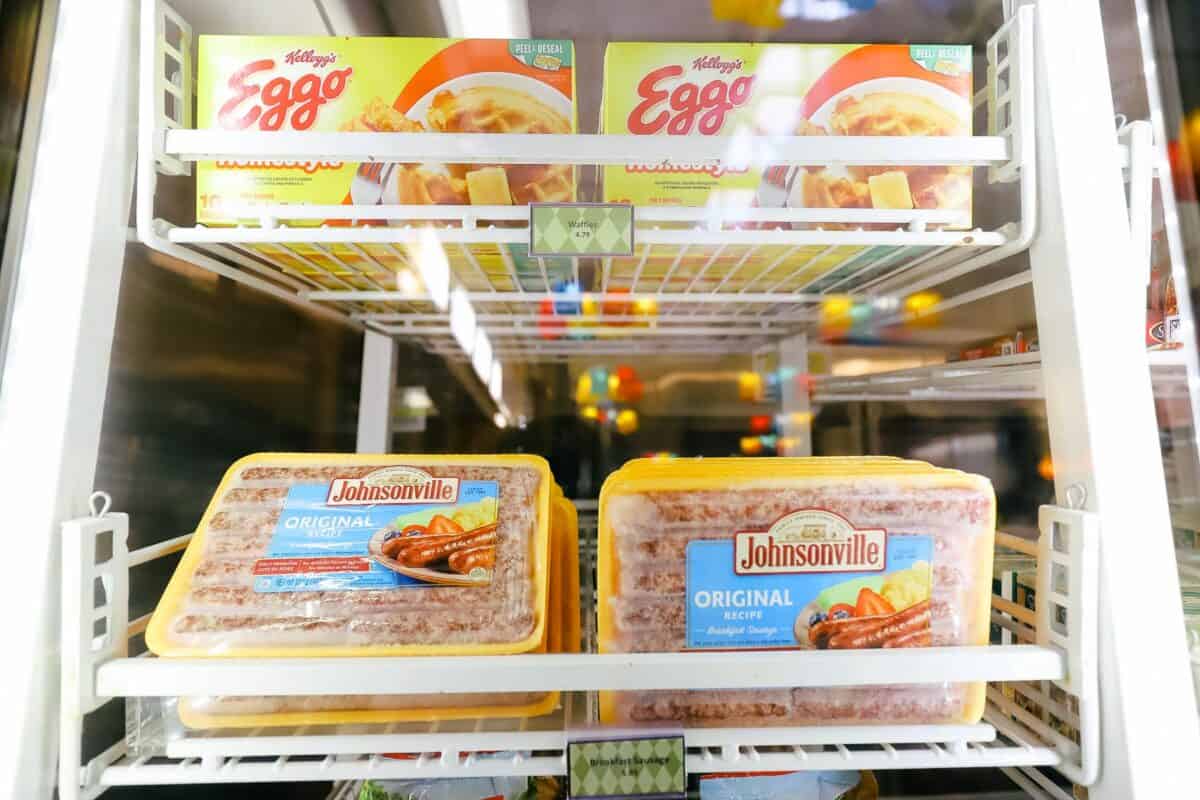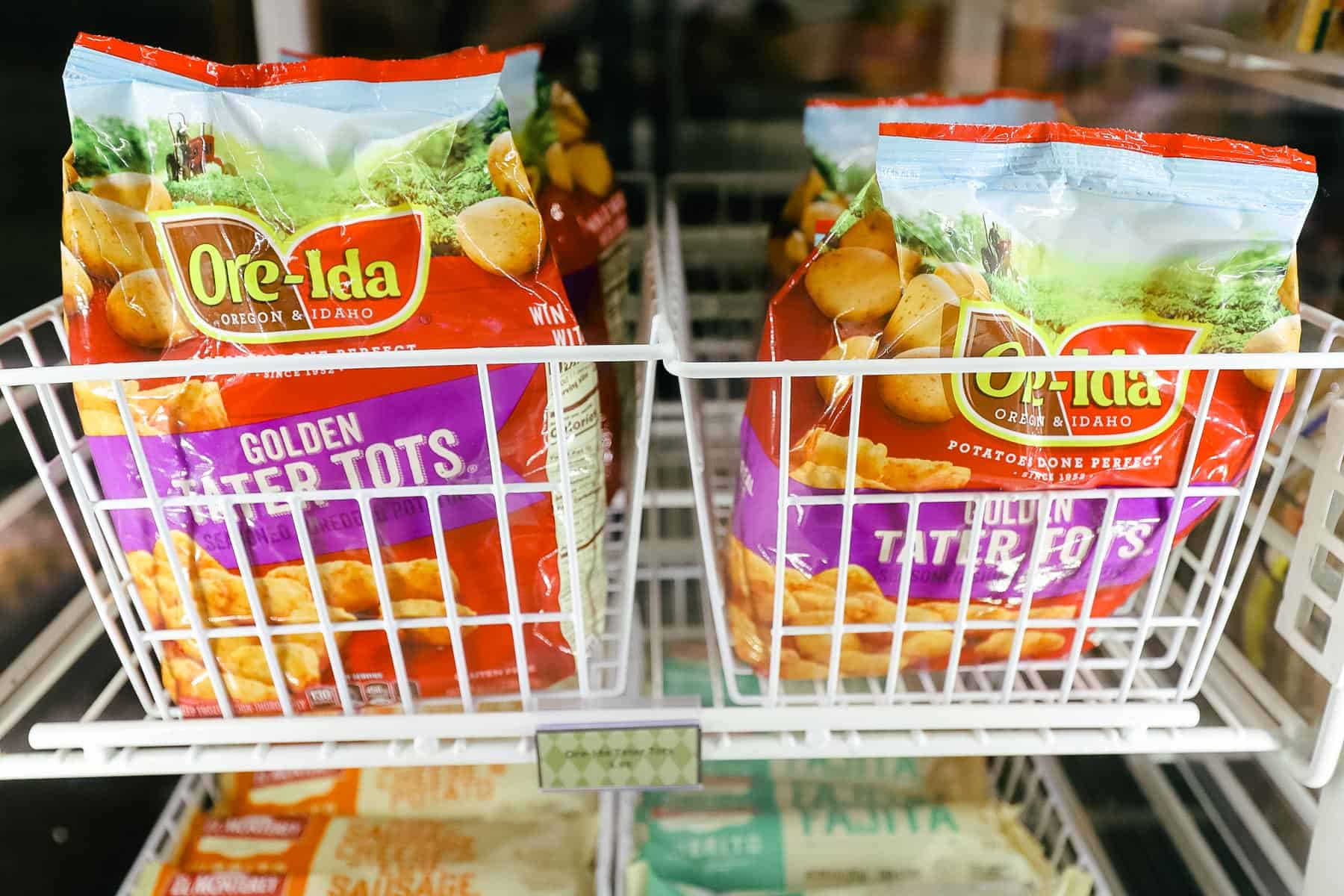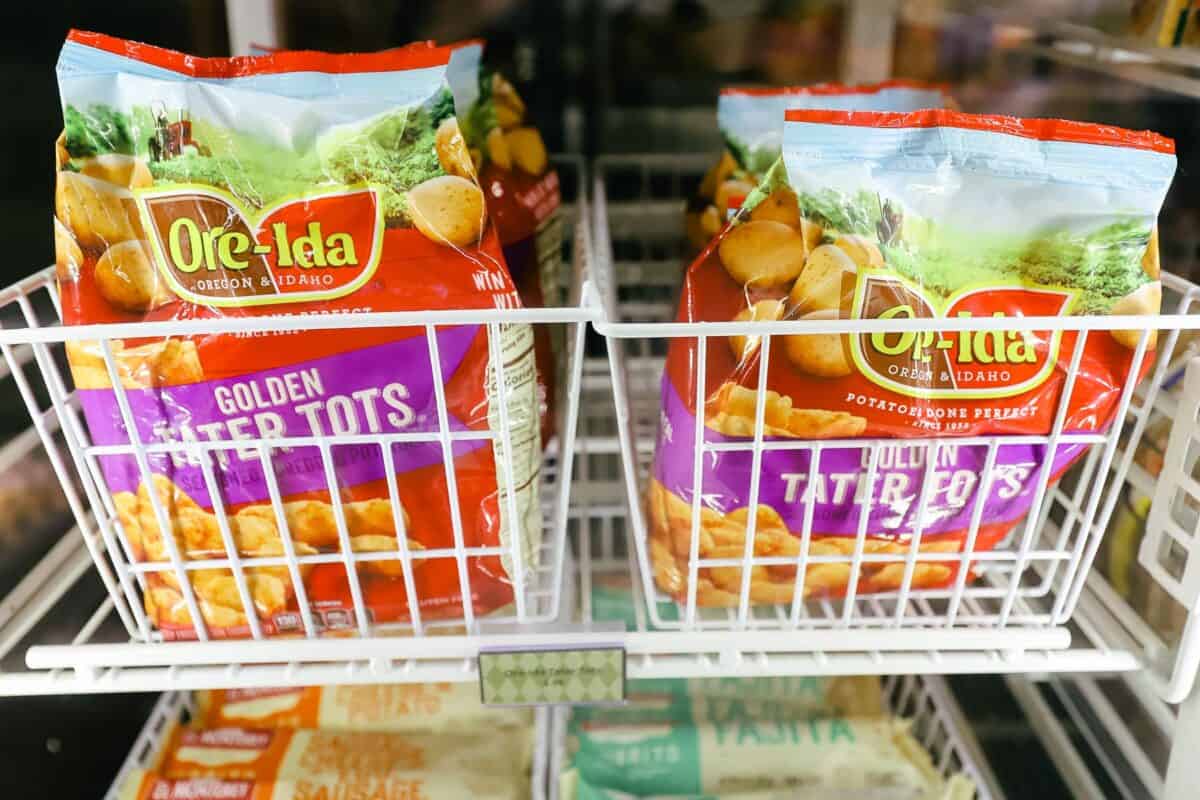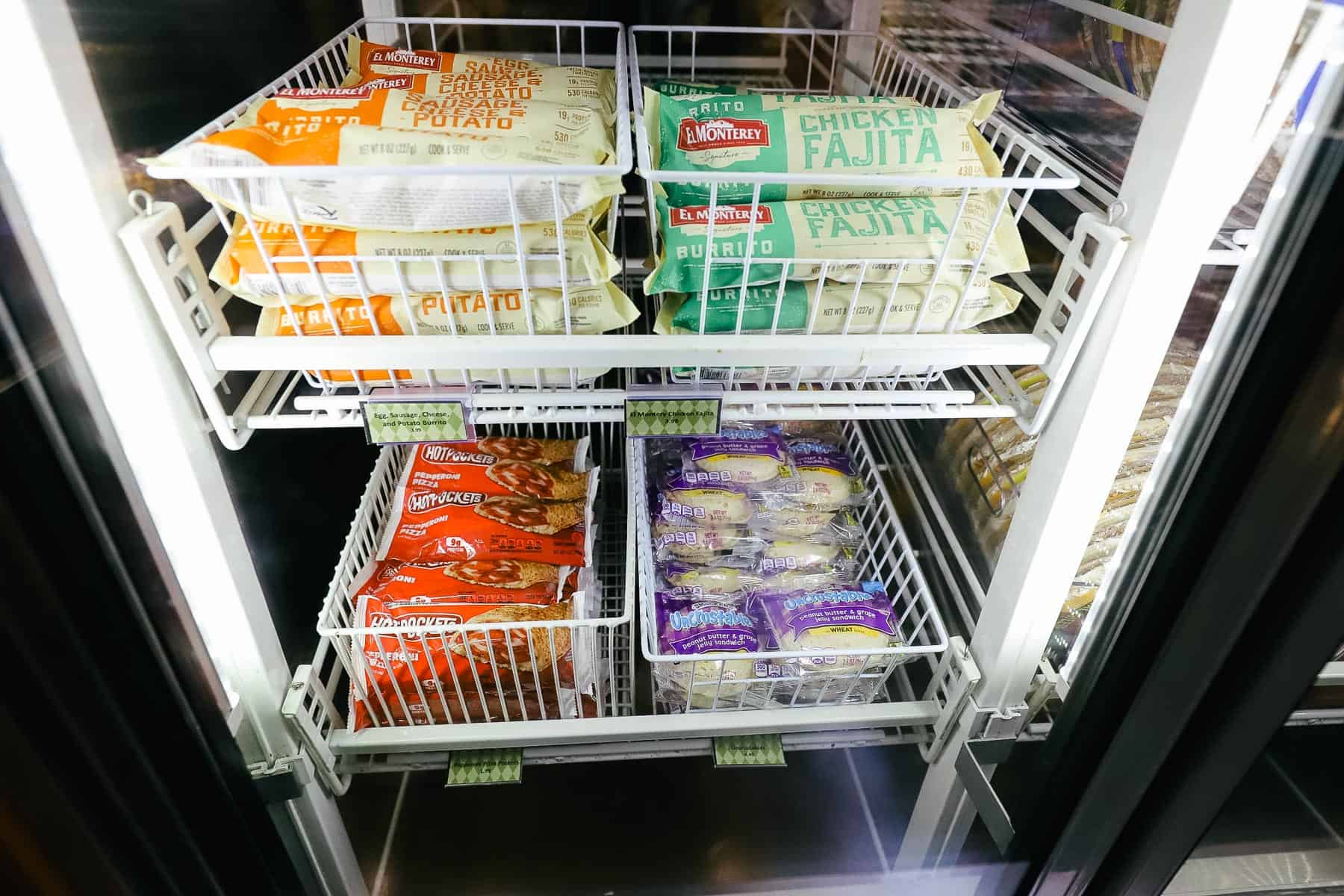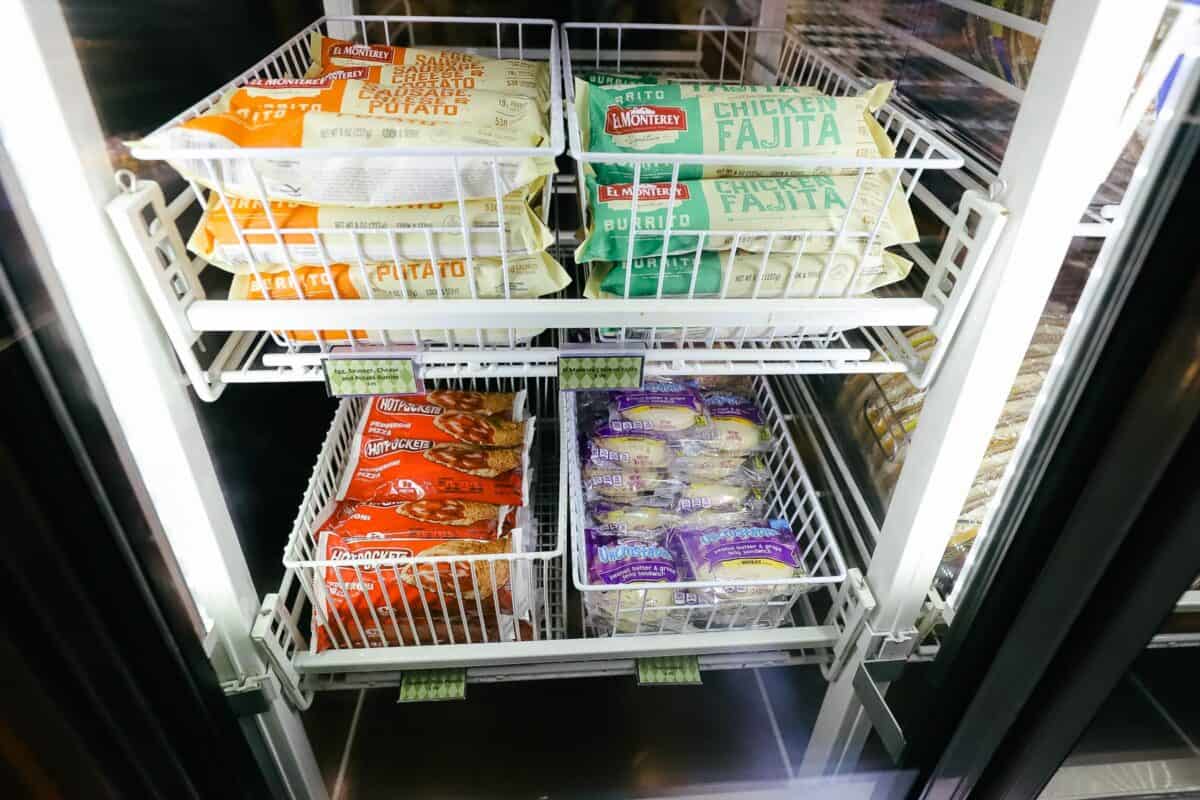 In the back corner of The Artist's Palette, there's a large case with various alcoholic beverage selections.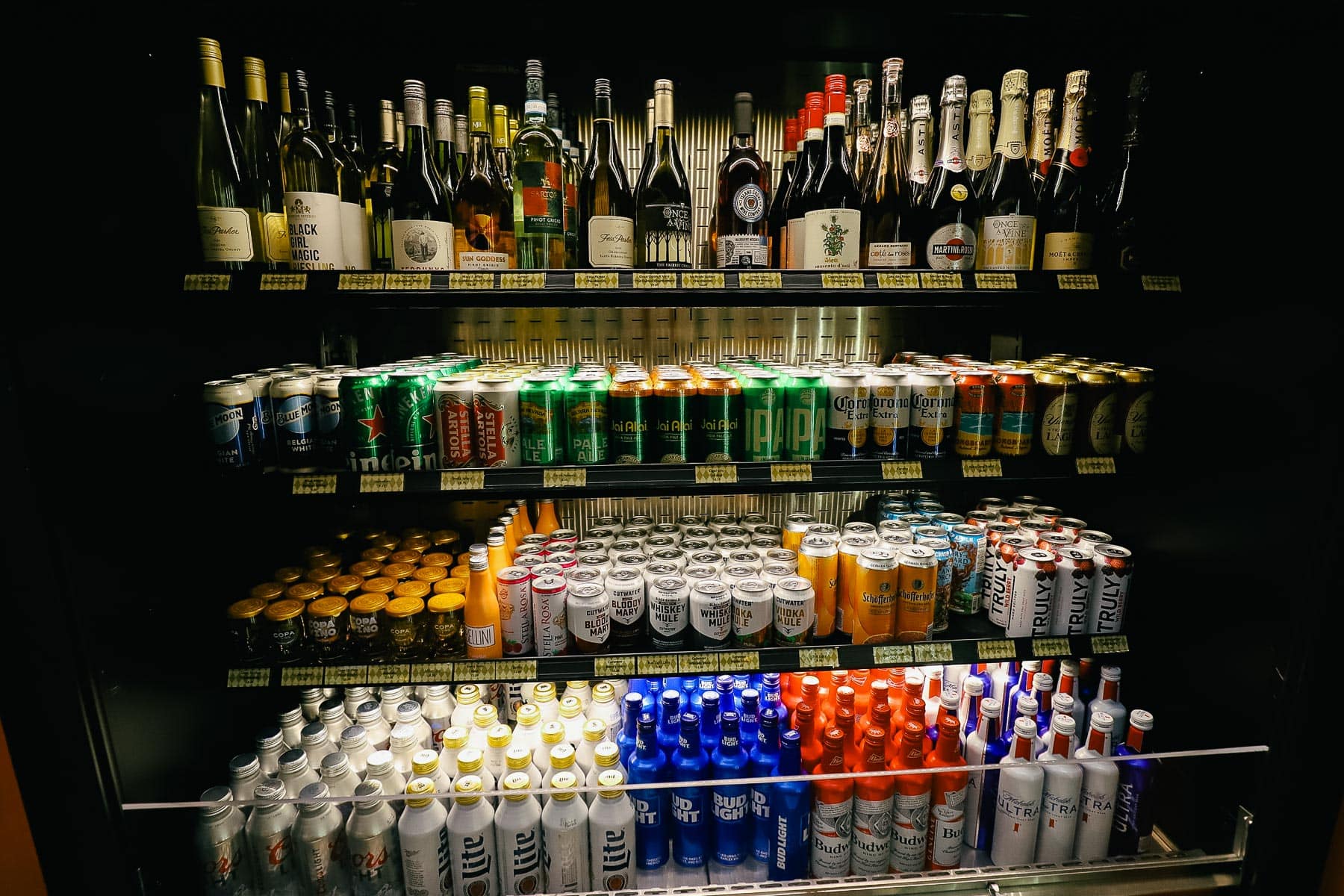 And directly behind the register, there's a case with various liquors.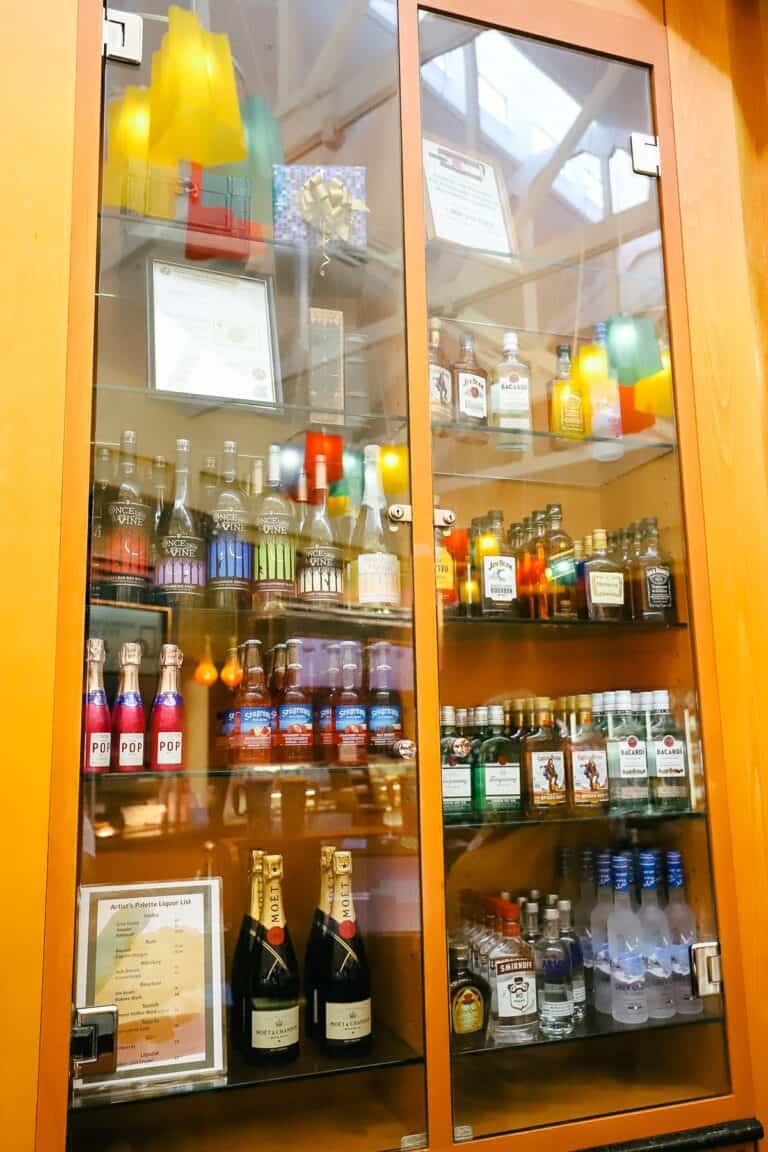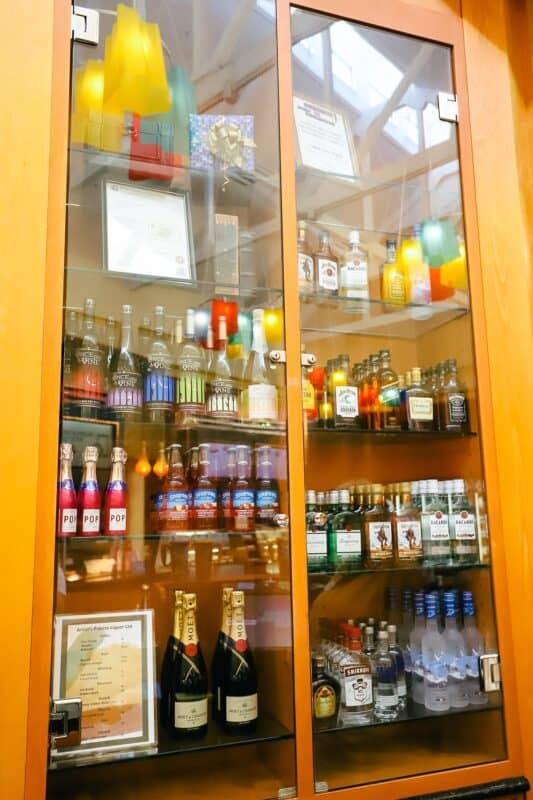 Here are a few more snack items scattered around the restaurant.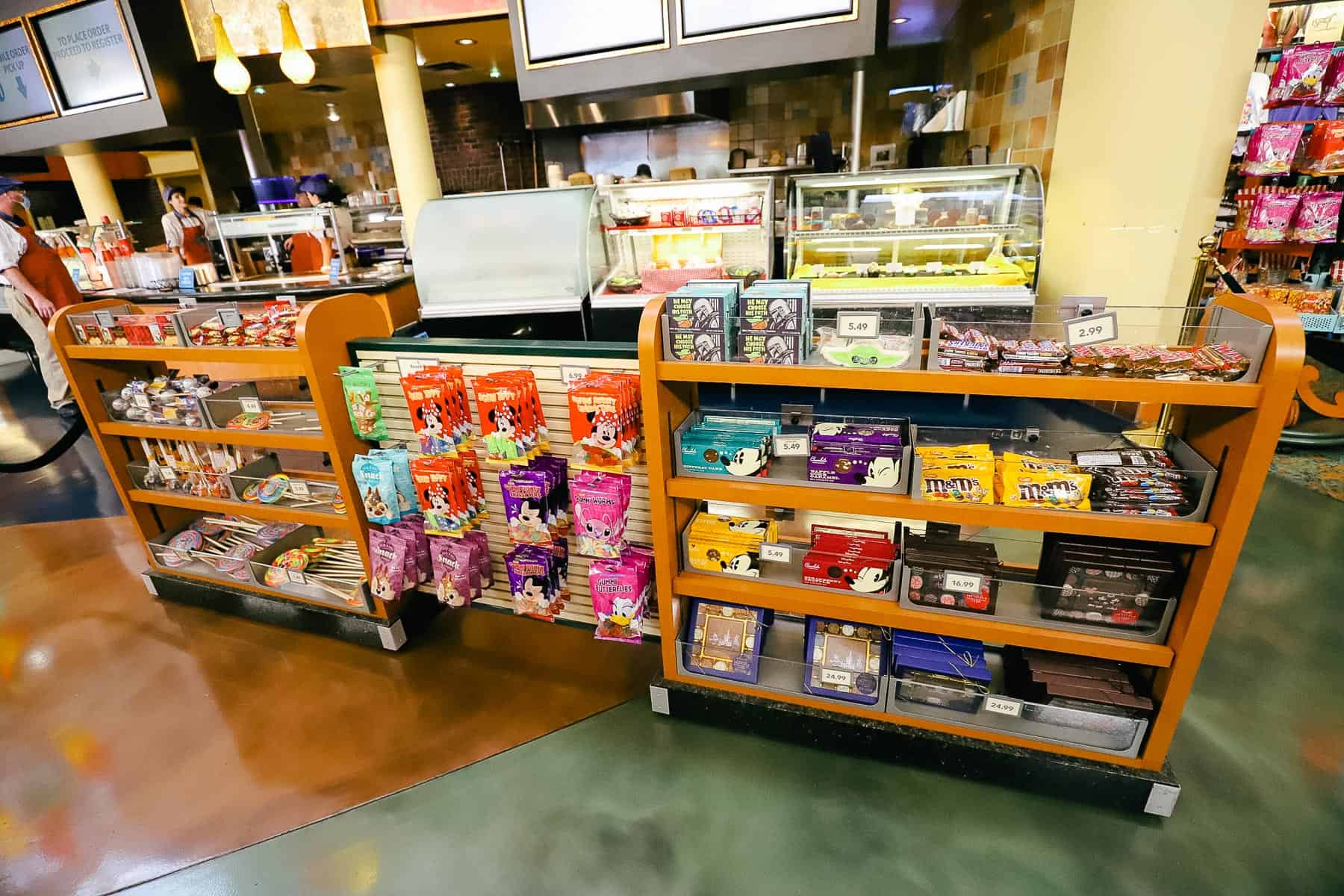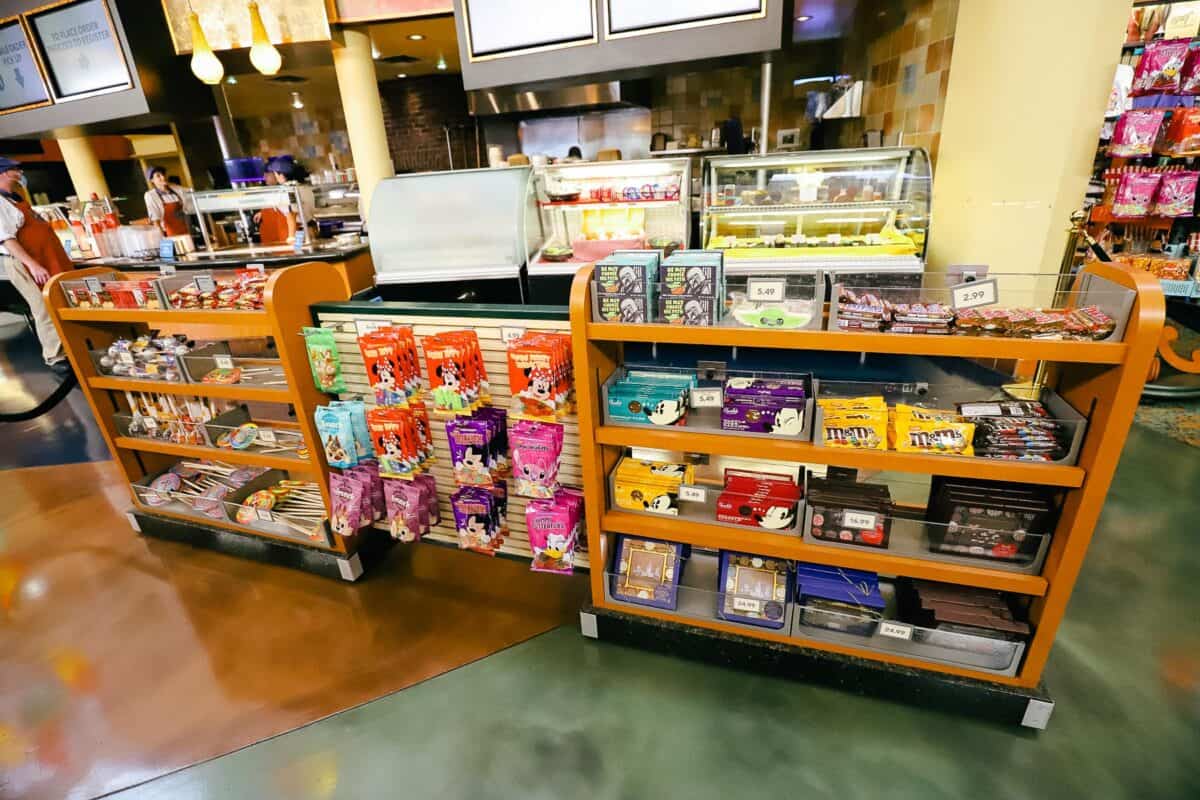 Several candy selections are available.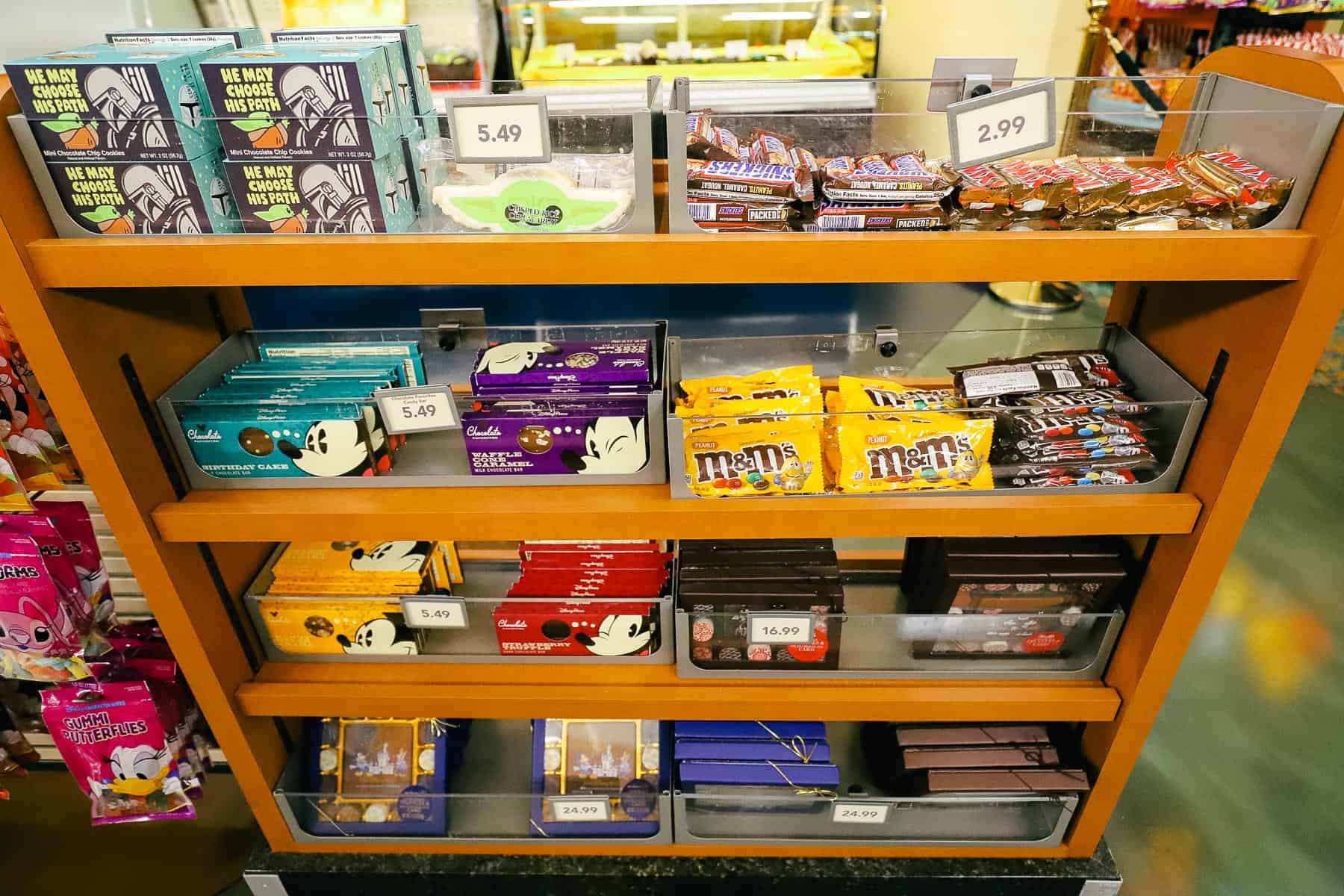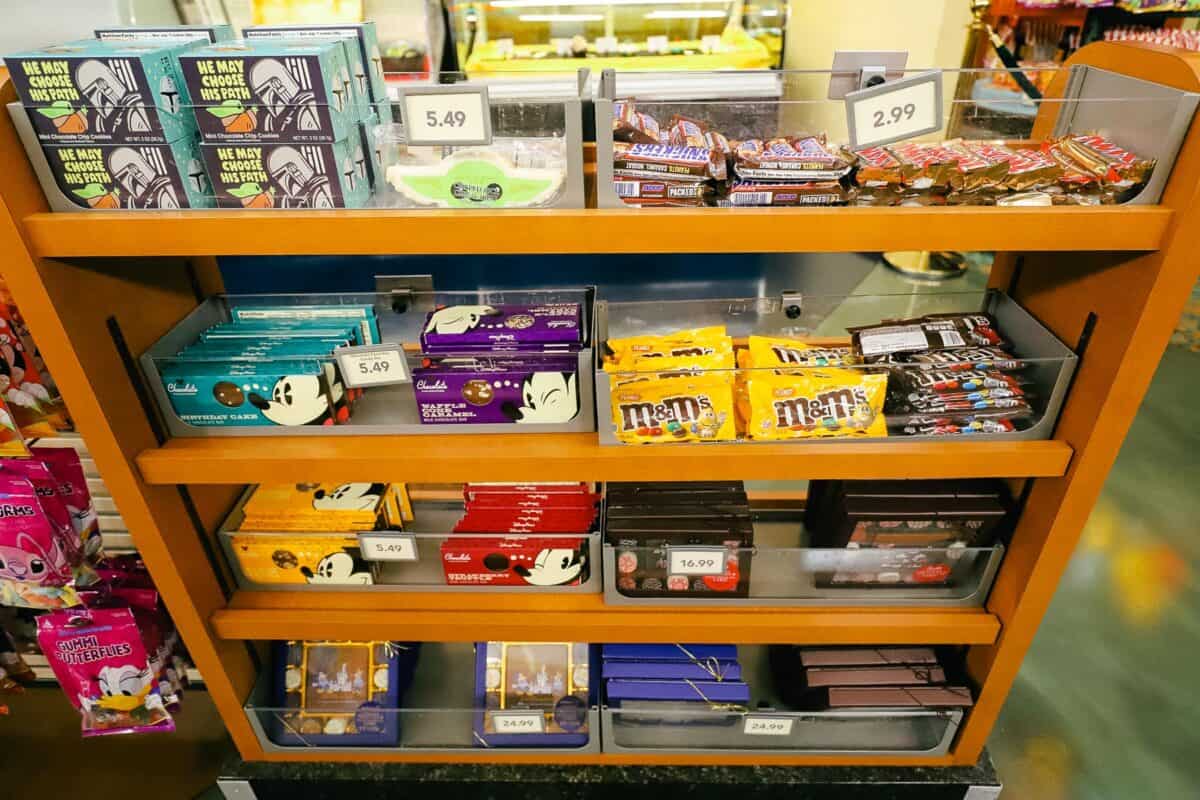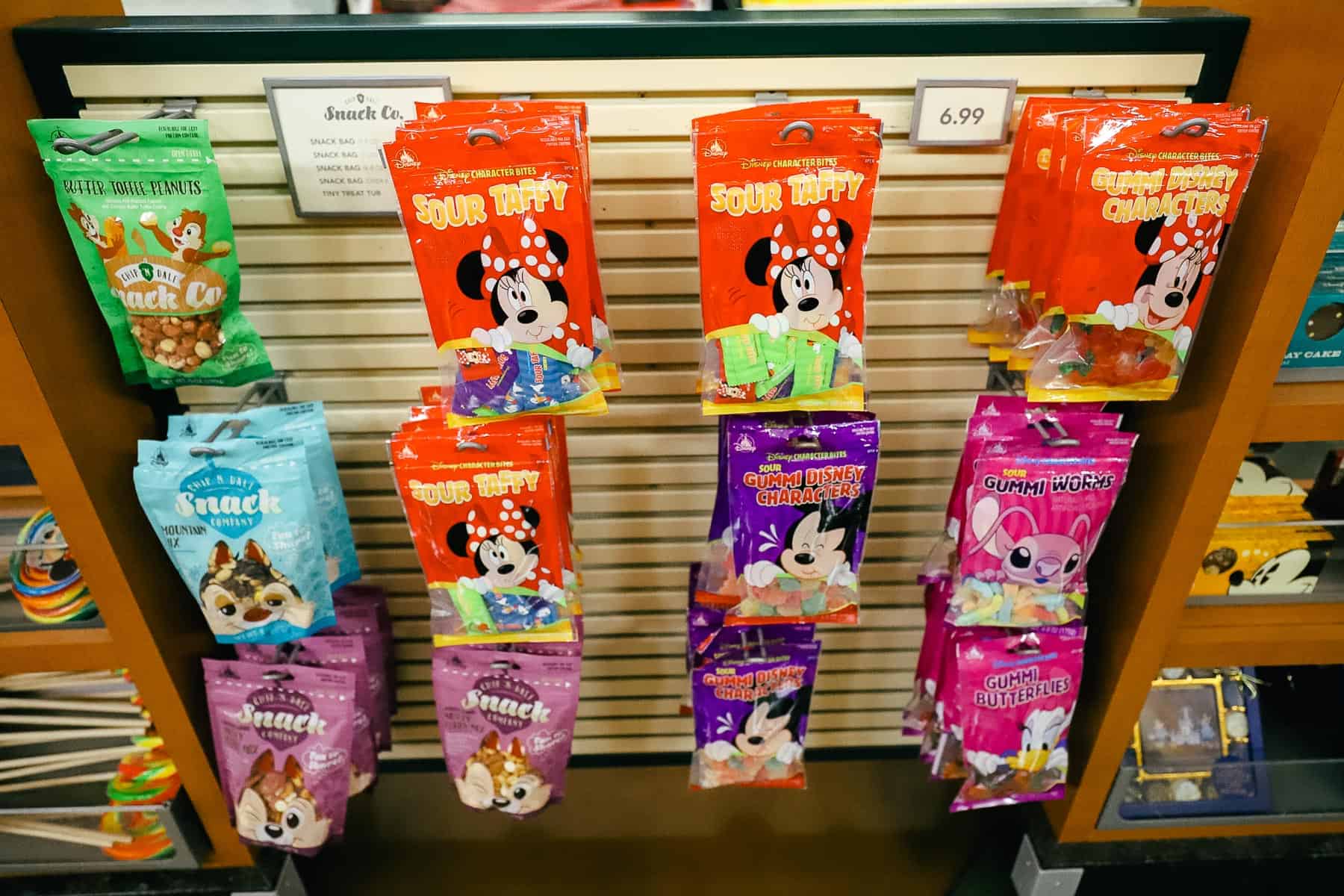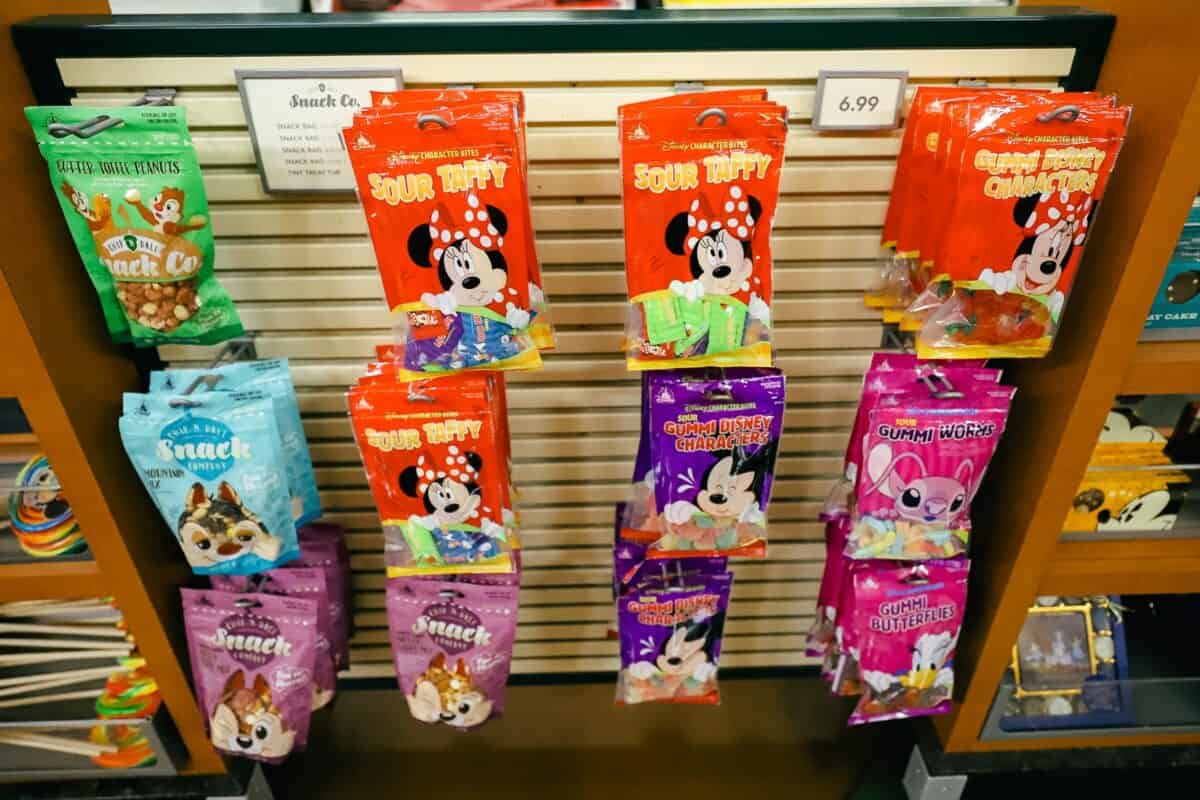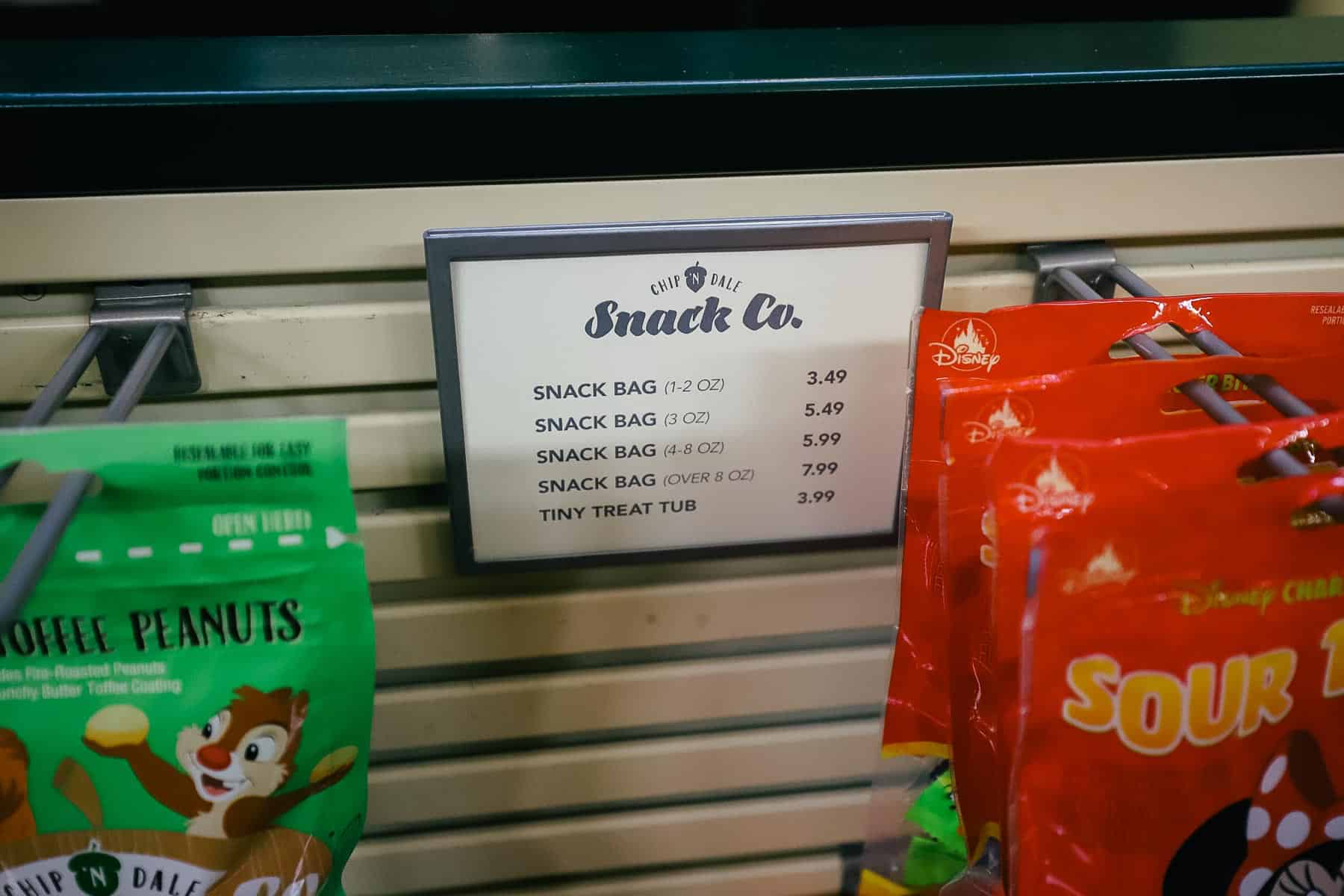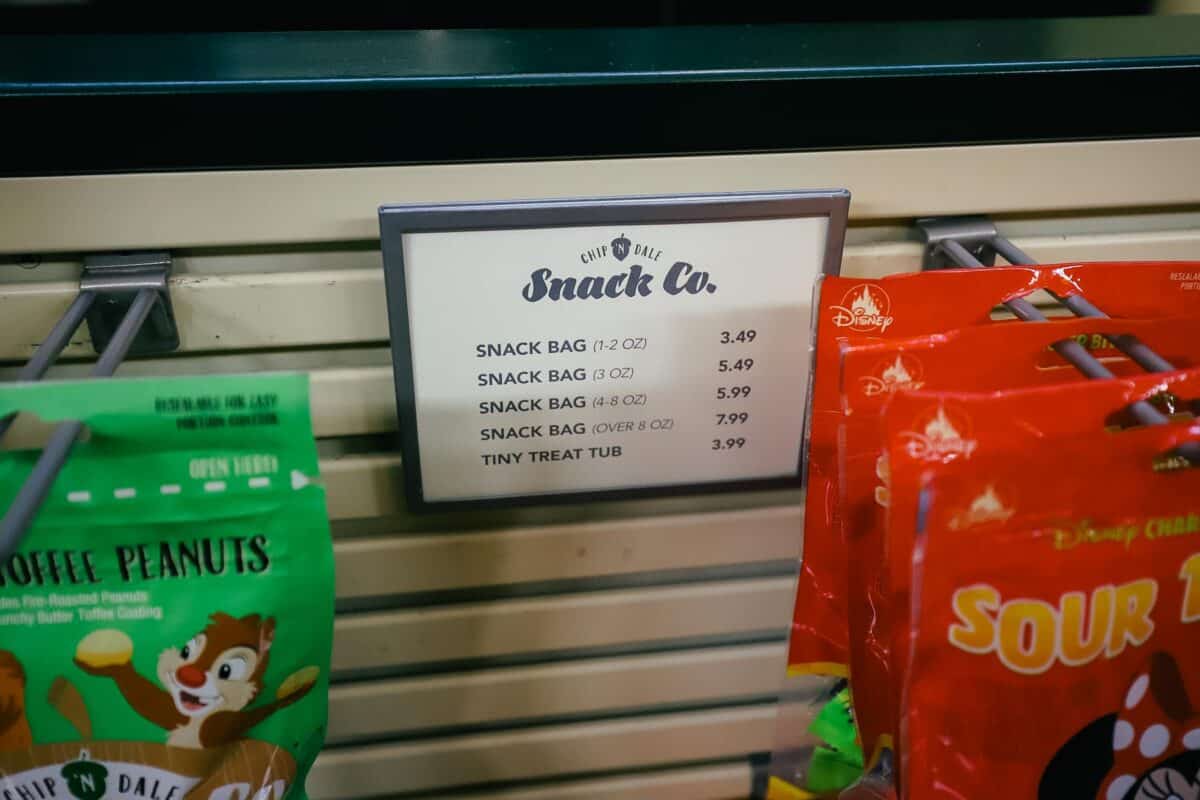 Across from the register, there's a beverage station with Coca-Cola products. This is where you would refill any Rapid Fill mug purchases.
Rapid mugs are $21.99 and refillable at any Disney Resort counter service with a refill station. They are good for the length of your resort stay.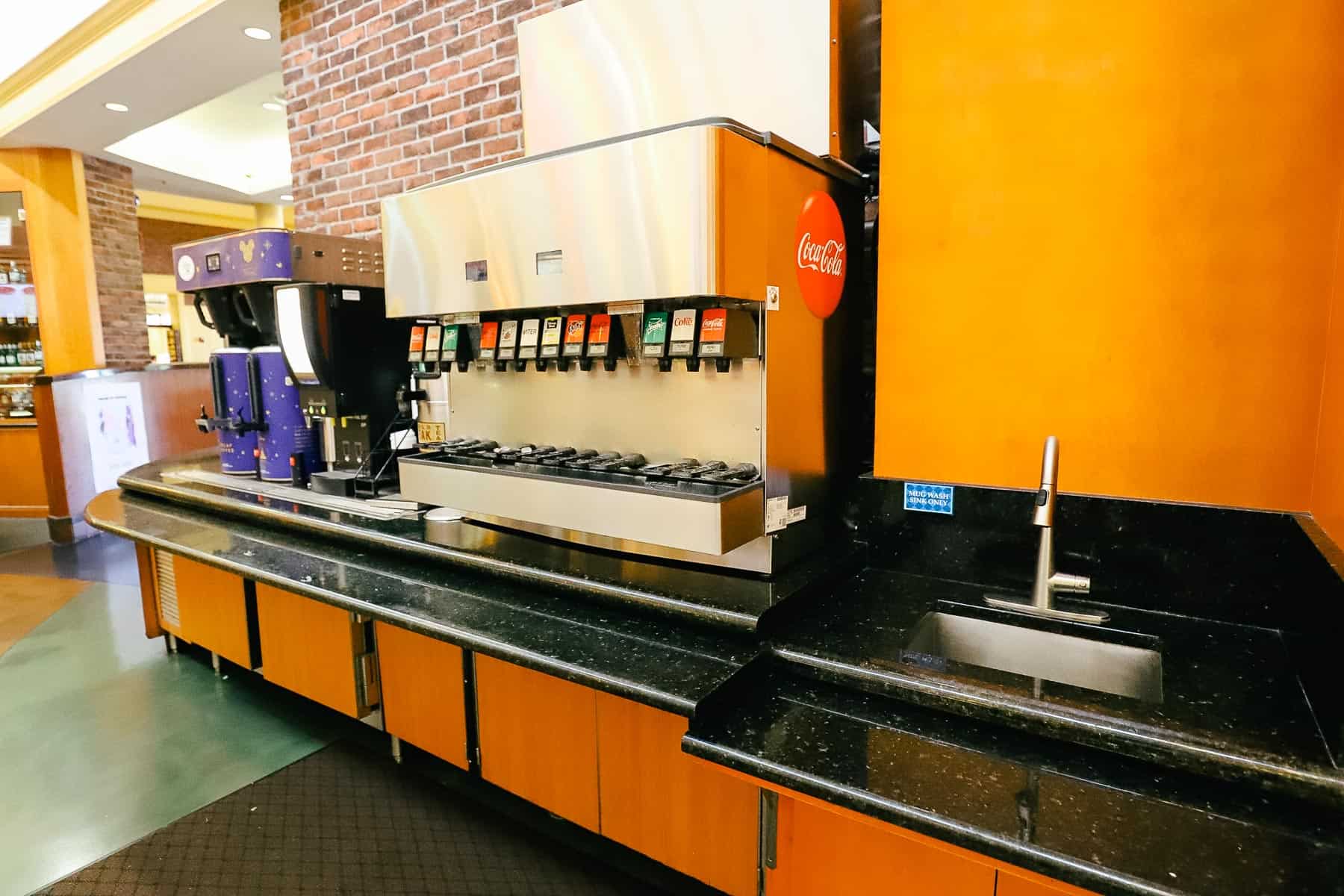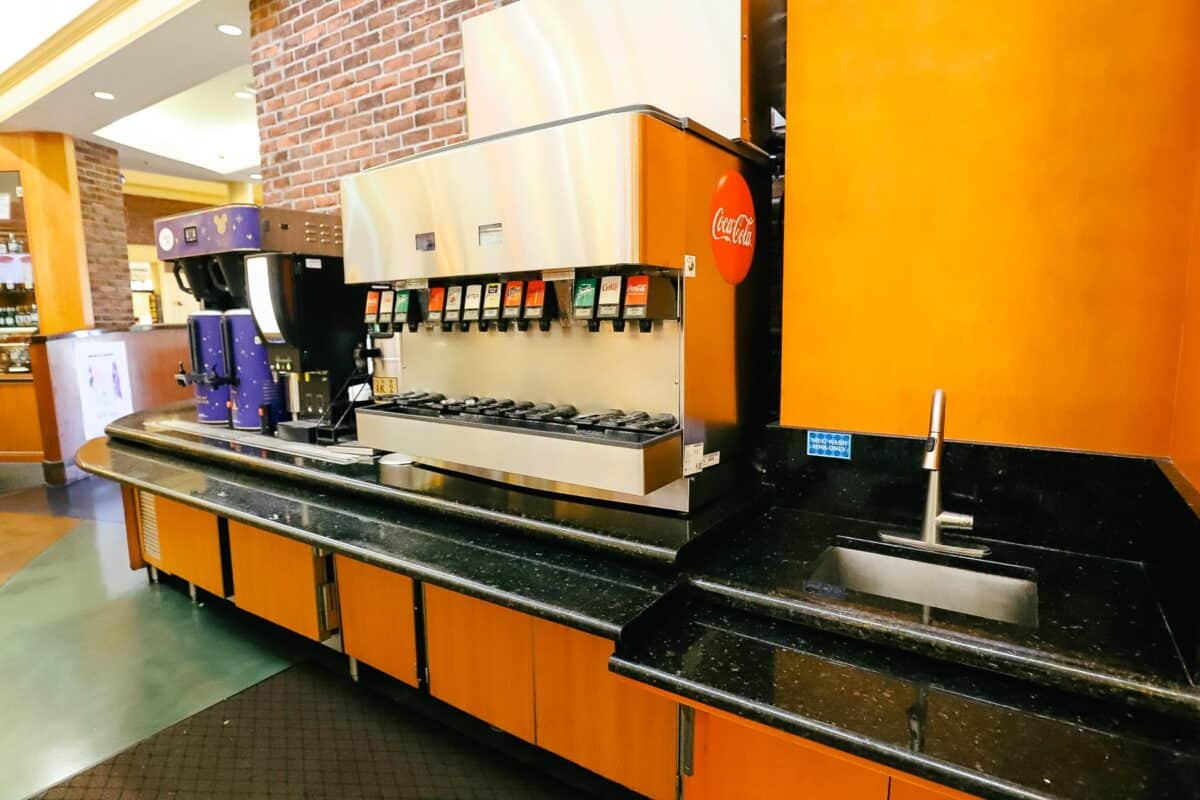 A sink is available to wash or rinse your mug.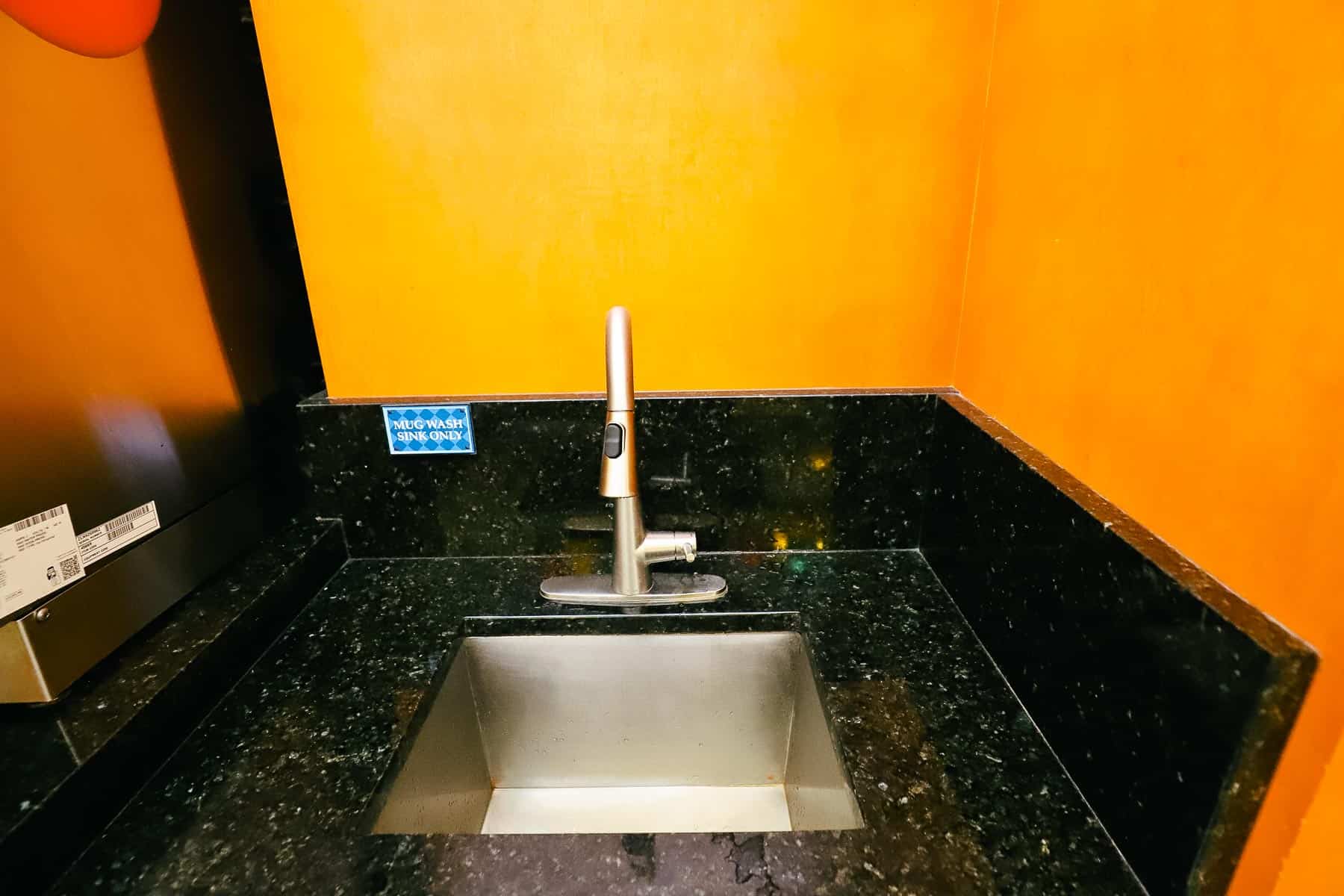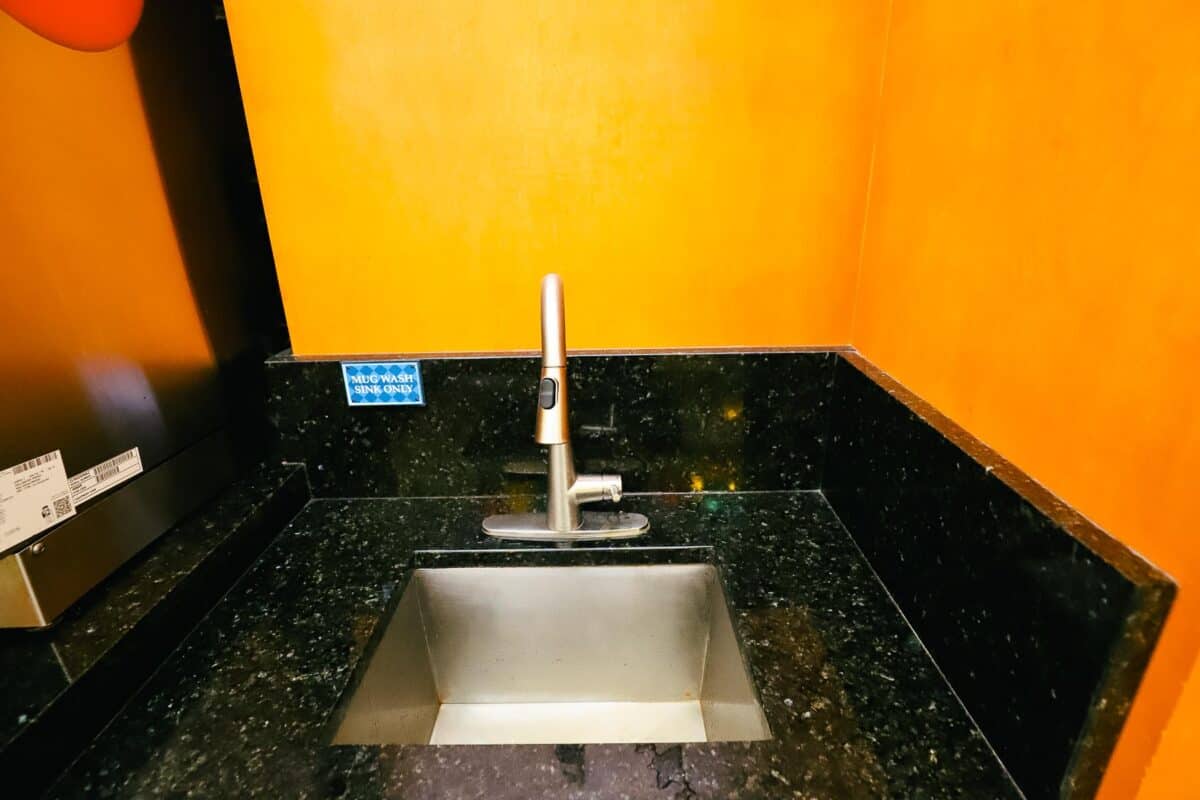 Joffrey's coffee is available. That's a hot chocolate machine next to it, and then Gold Peak Tea.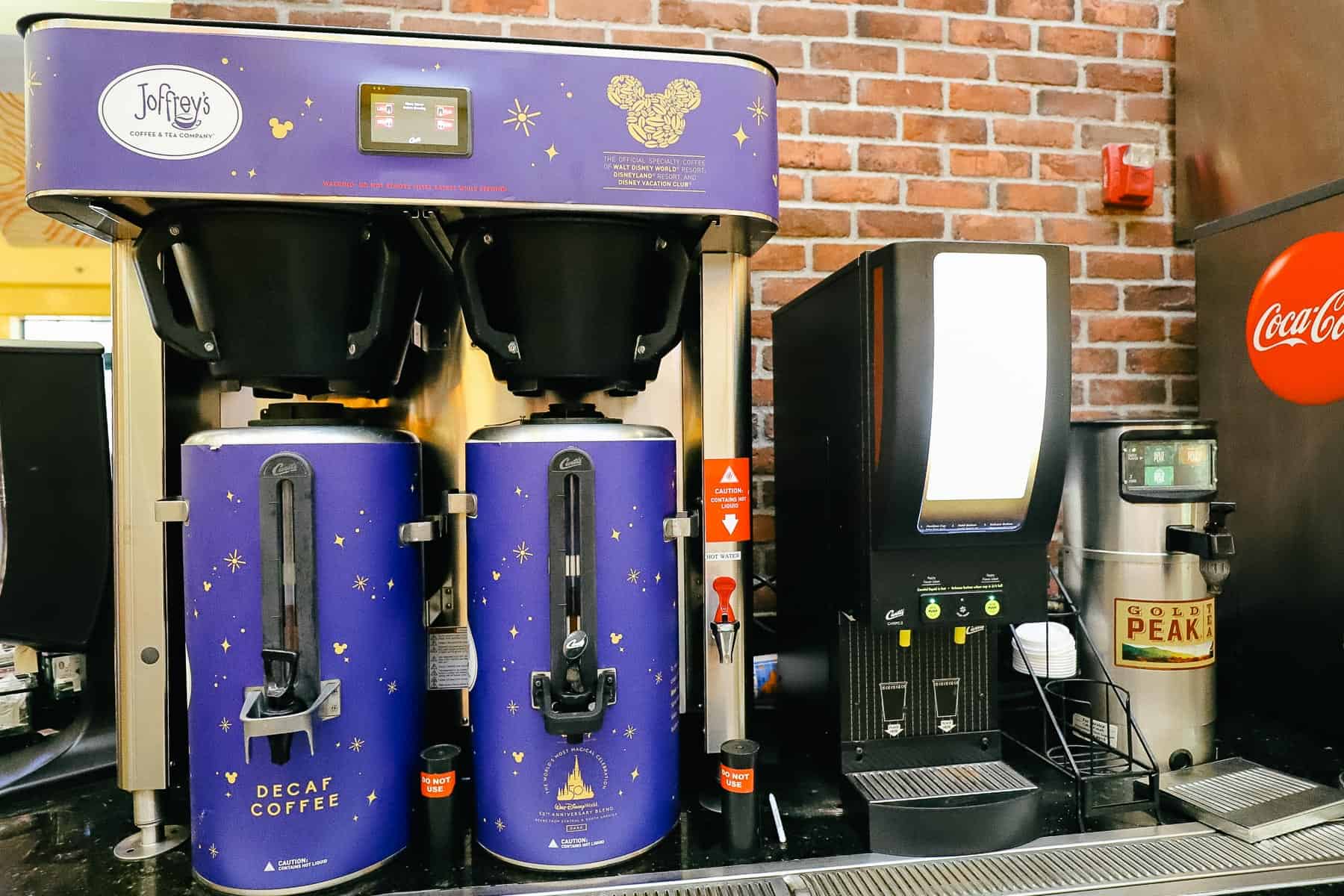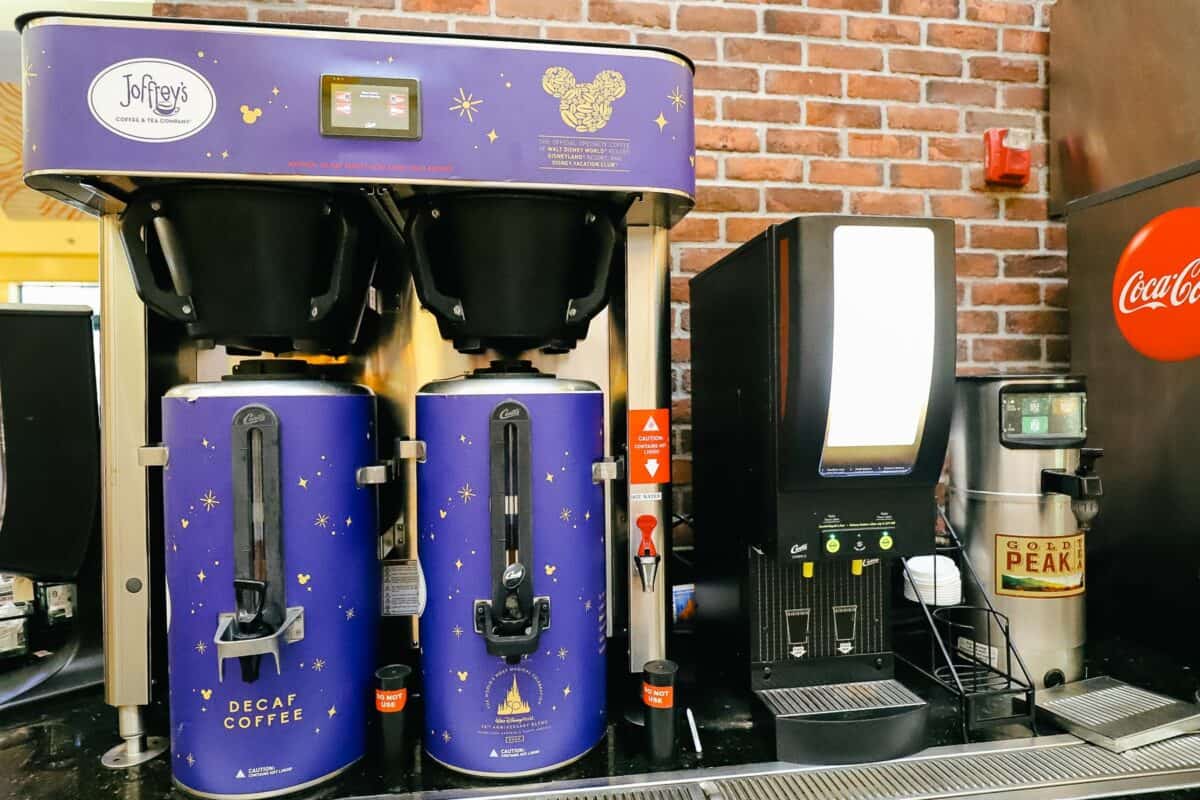 Condiments are pretty standard.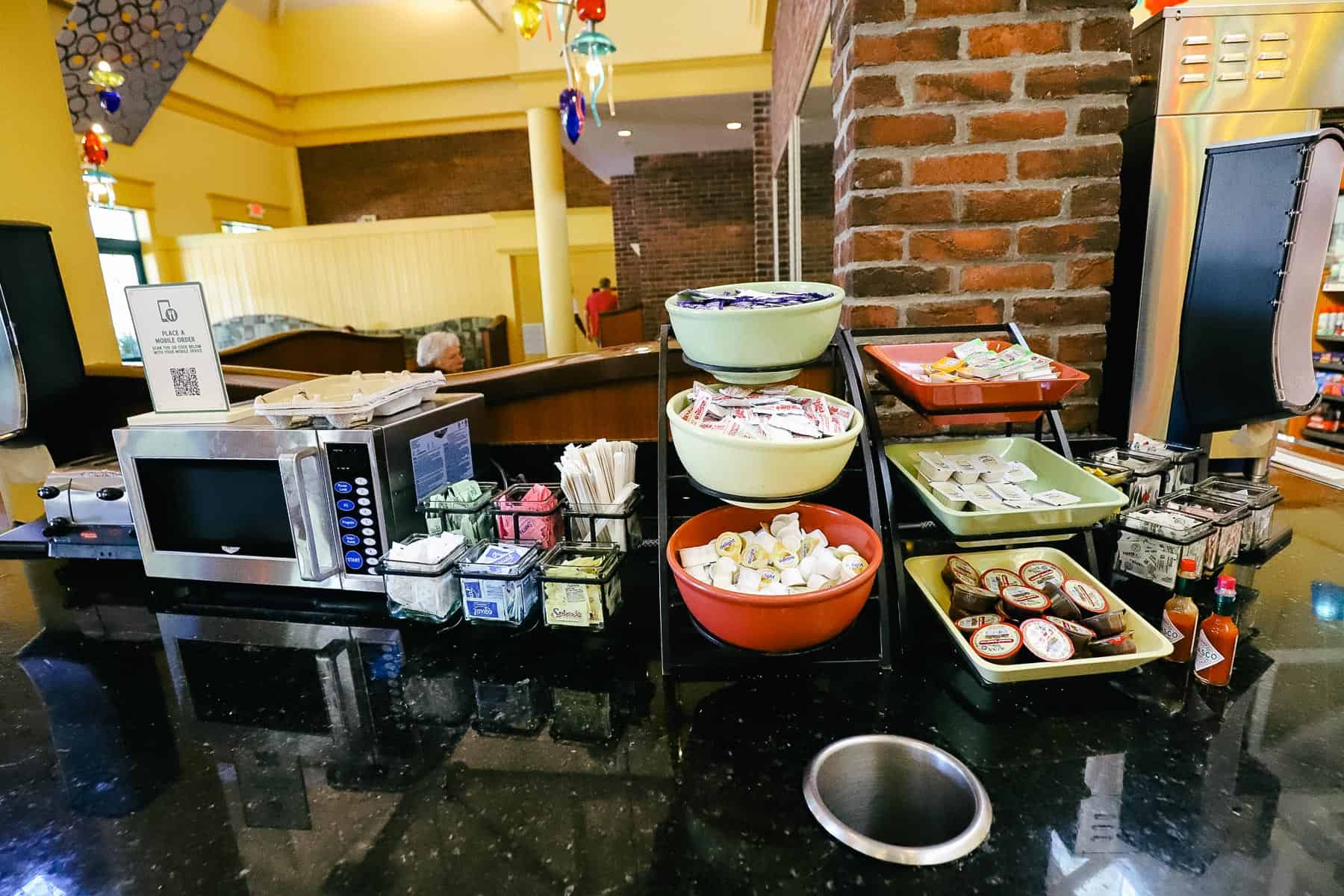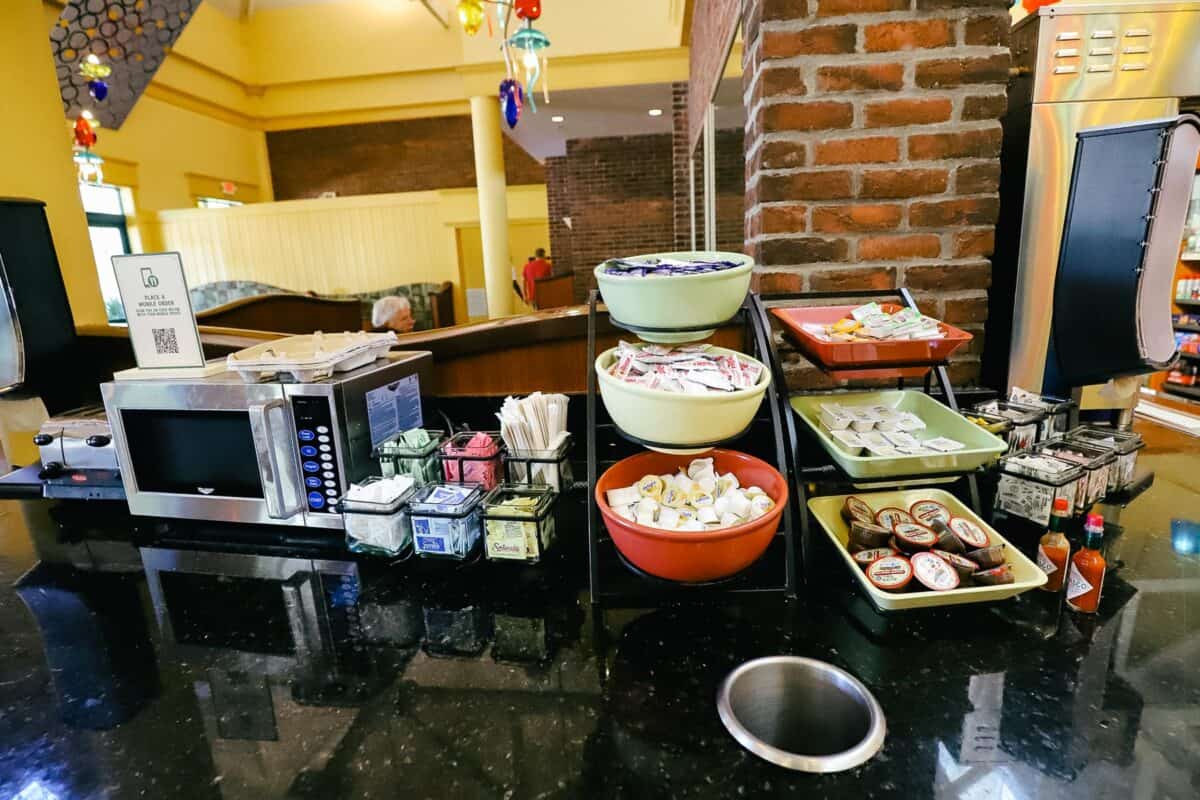 A microwave and a toaster oven are also available. Most all rooms at Saratoga Springs should have a microwave at the very least.
Related: Deluxe Studio Room Tour (Disney's Saratoga Springs)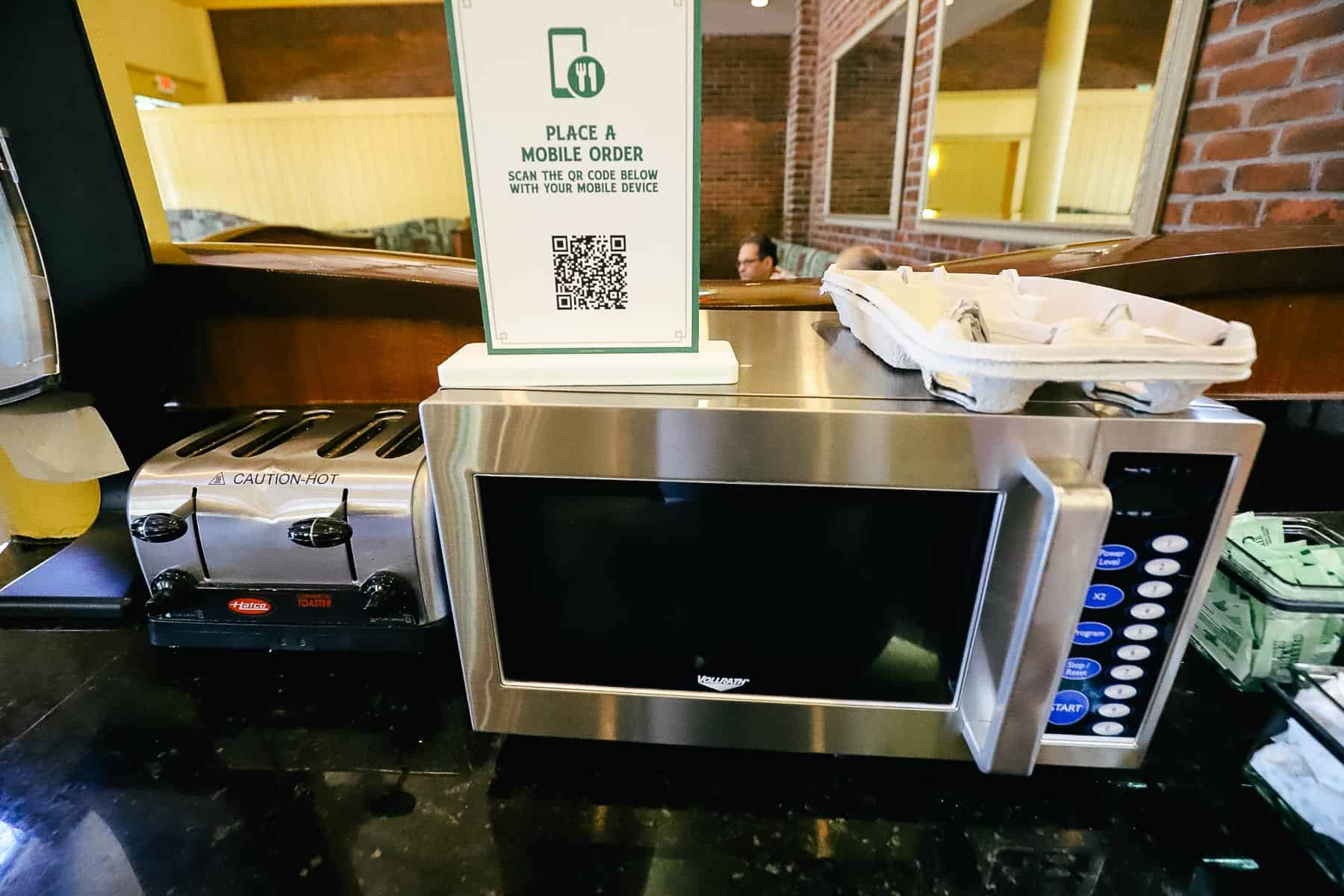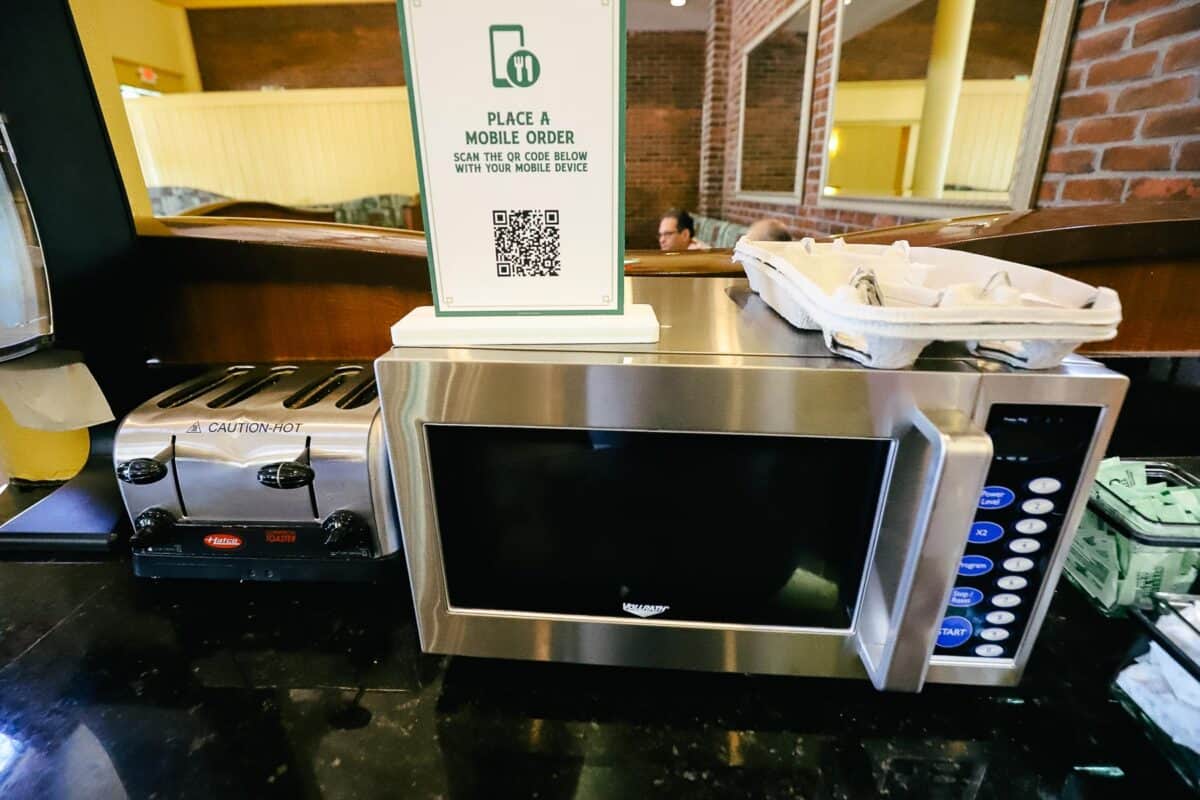 Here are a few photos of the dining area.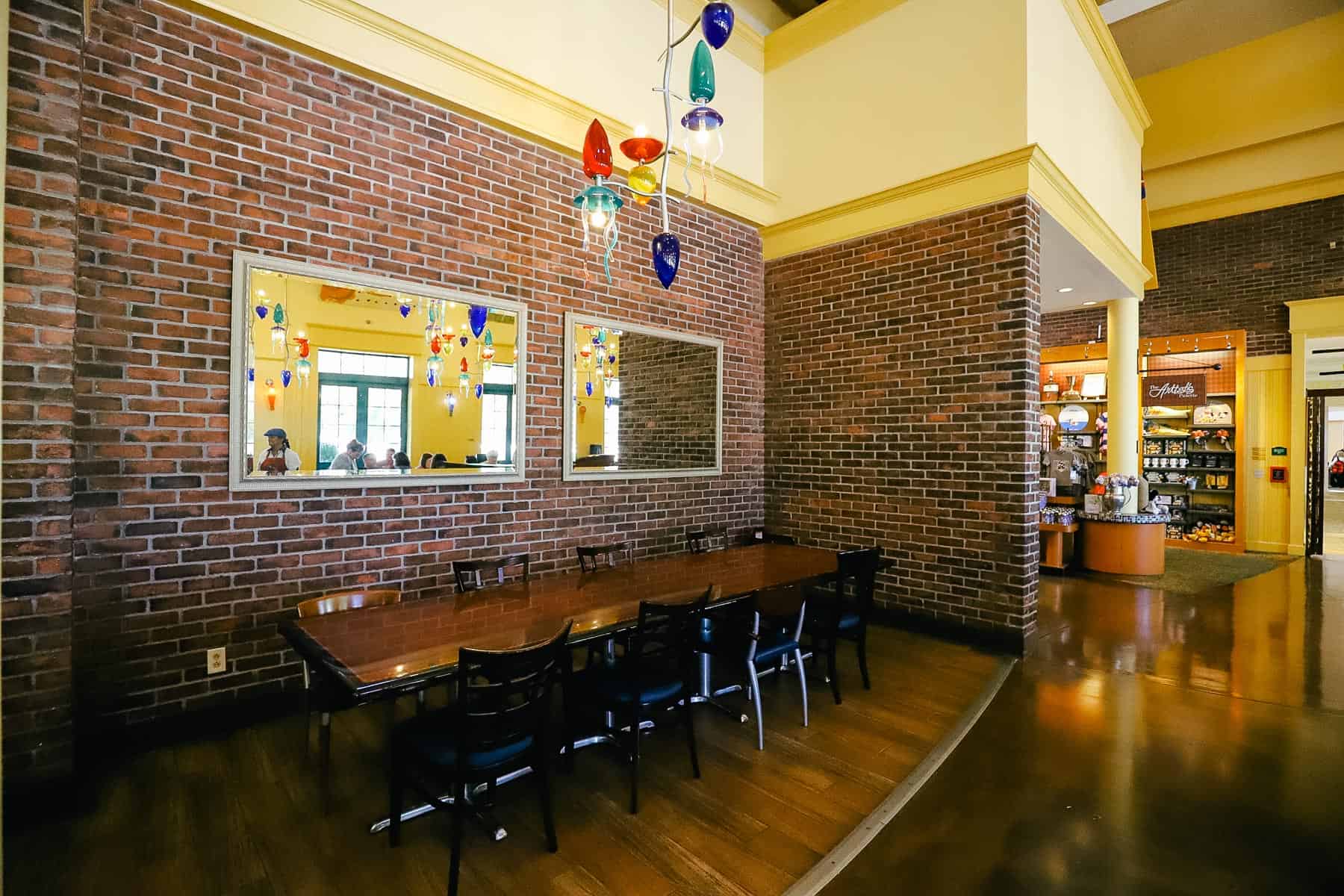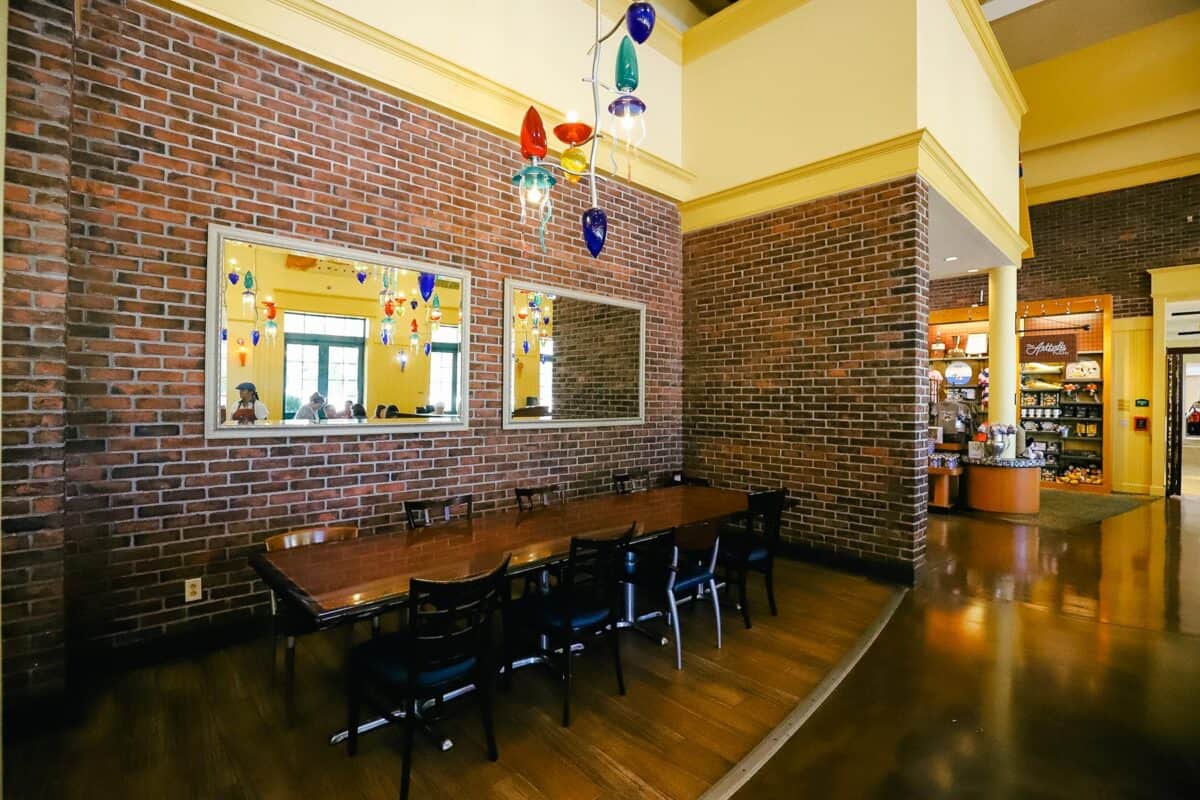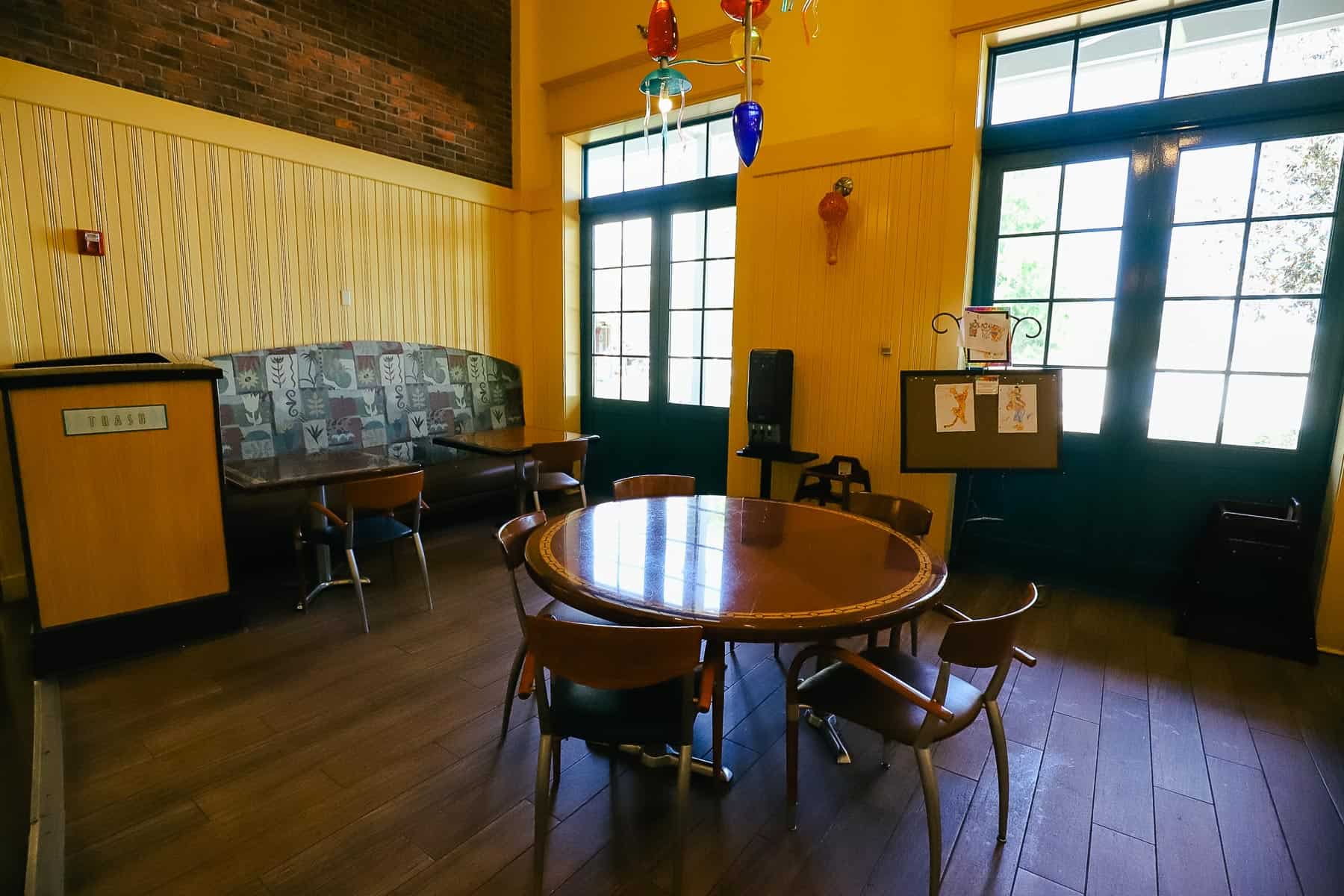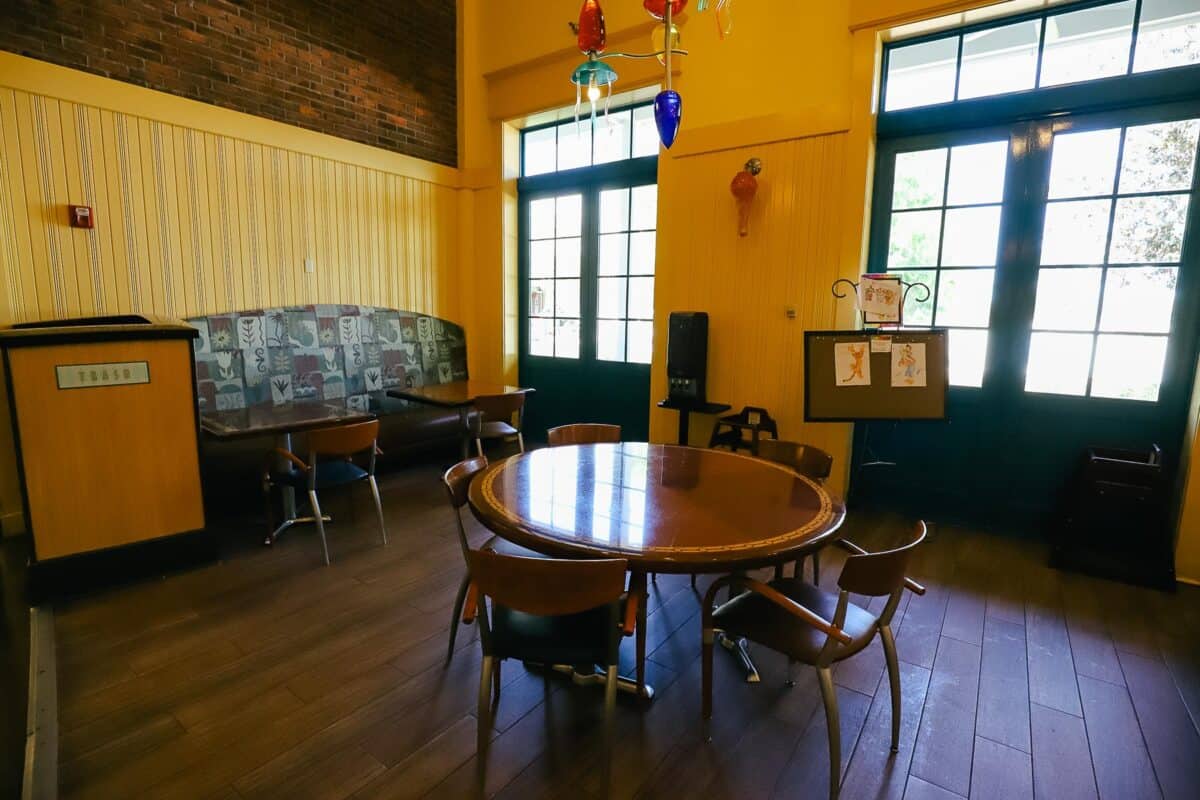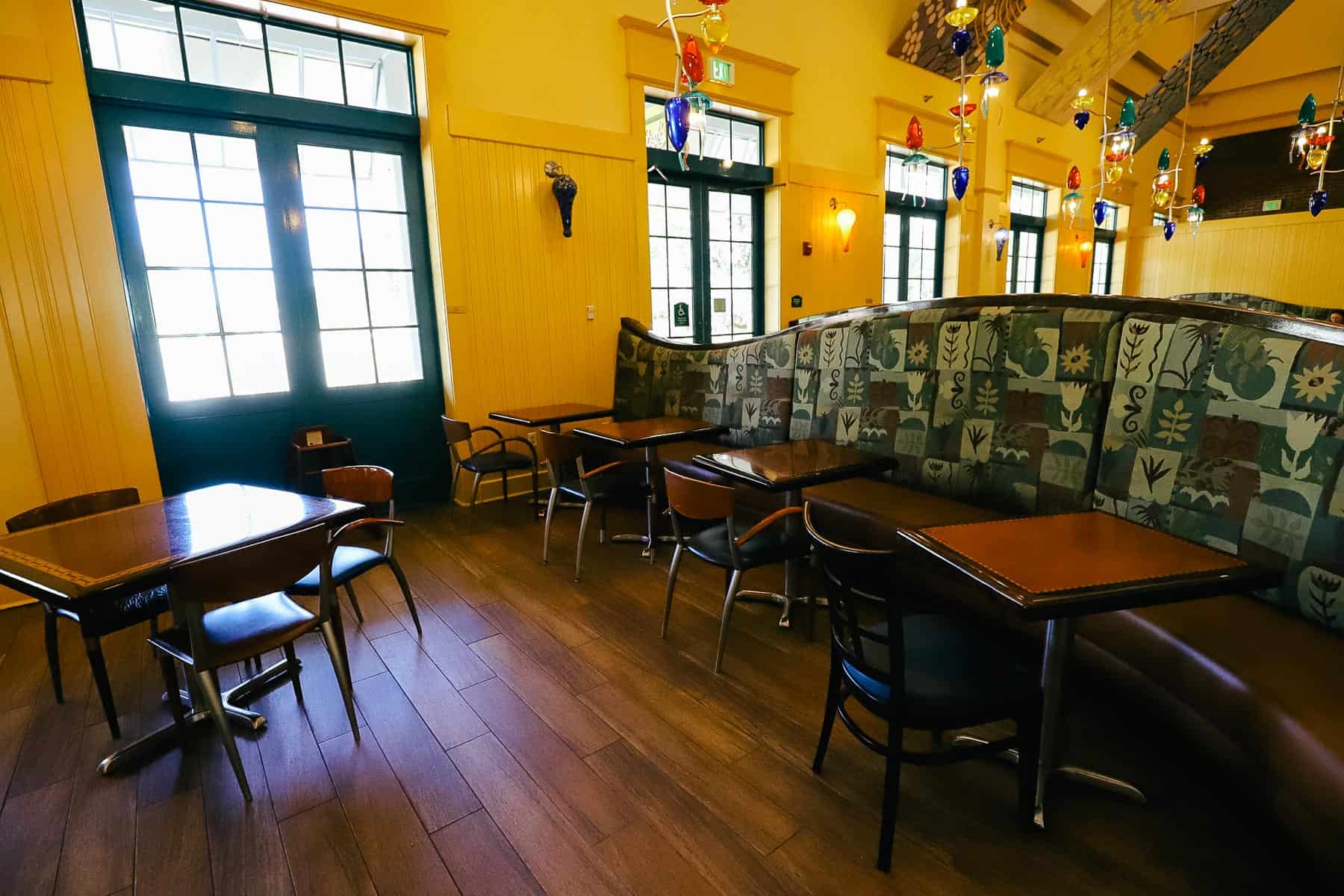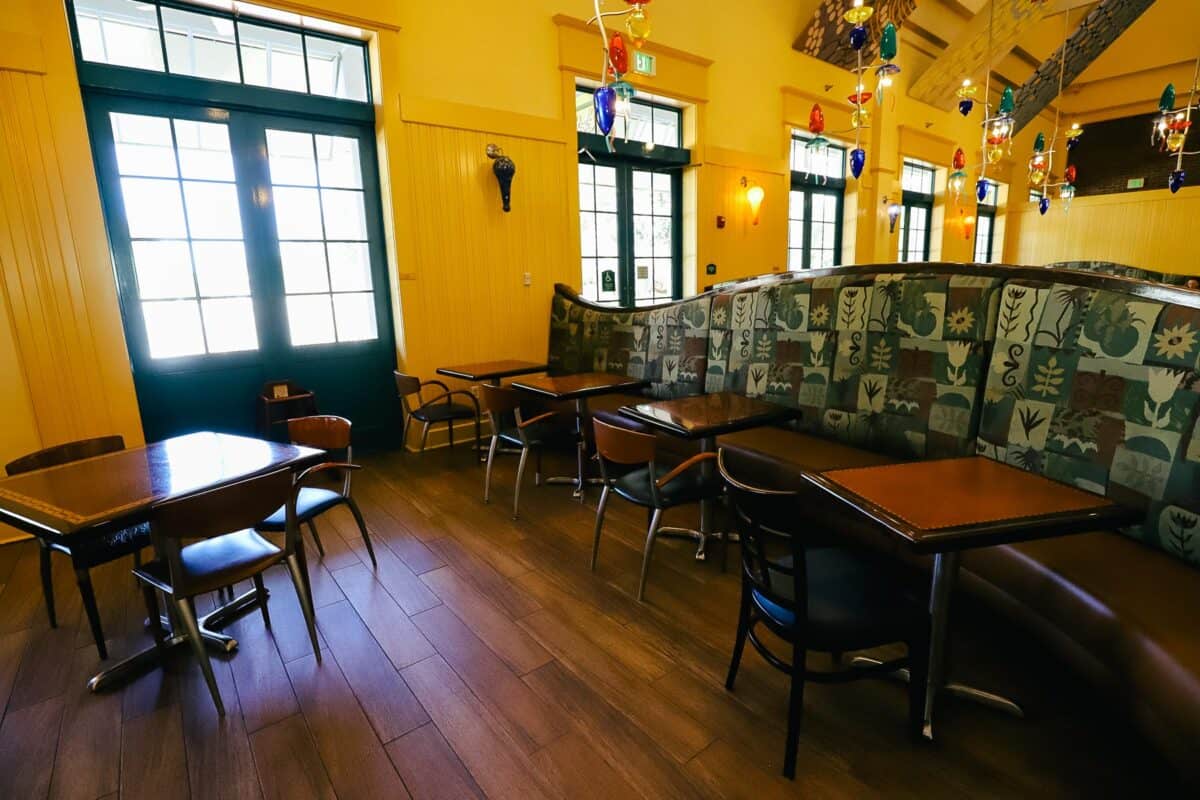 I had the Cheese Steak sandwich with Disney's homemade chips during our last stay.
Related: Saratoga Springs Resort Review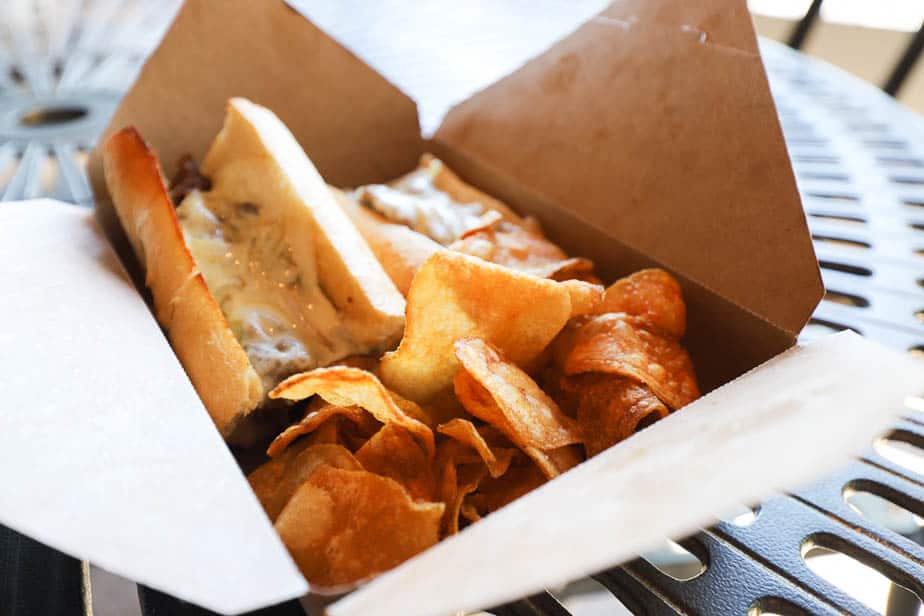 This is a respectable counter-service meal, and any reason to enjoy Disney's homemade chips is a good reason.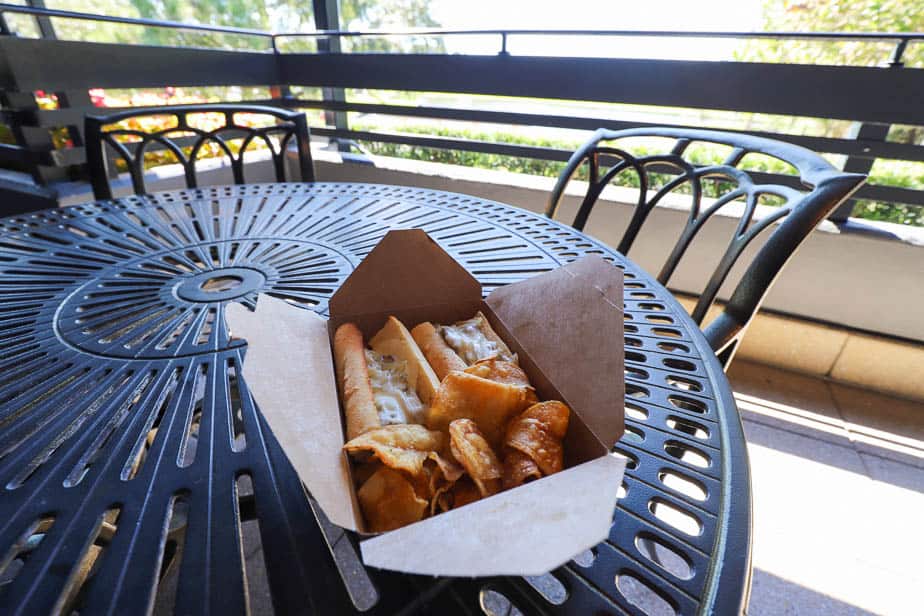 On this visit, I tried the lemon-tarragon roasted chicken. This half chicken comes with a side of potatoes and a seasonal vegetable. My order came with green beans.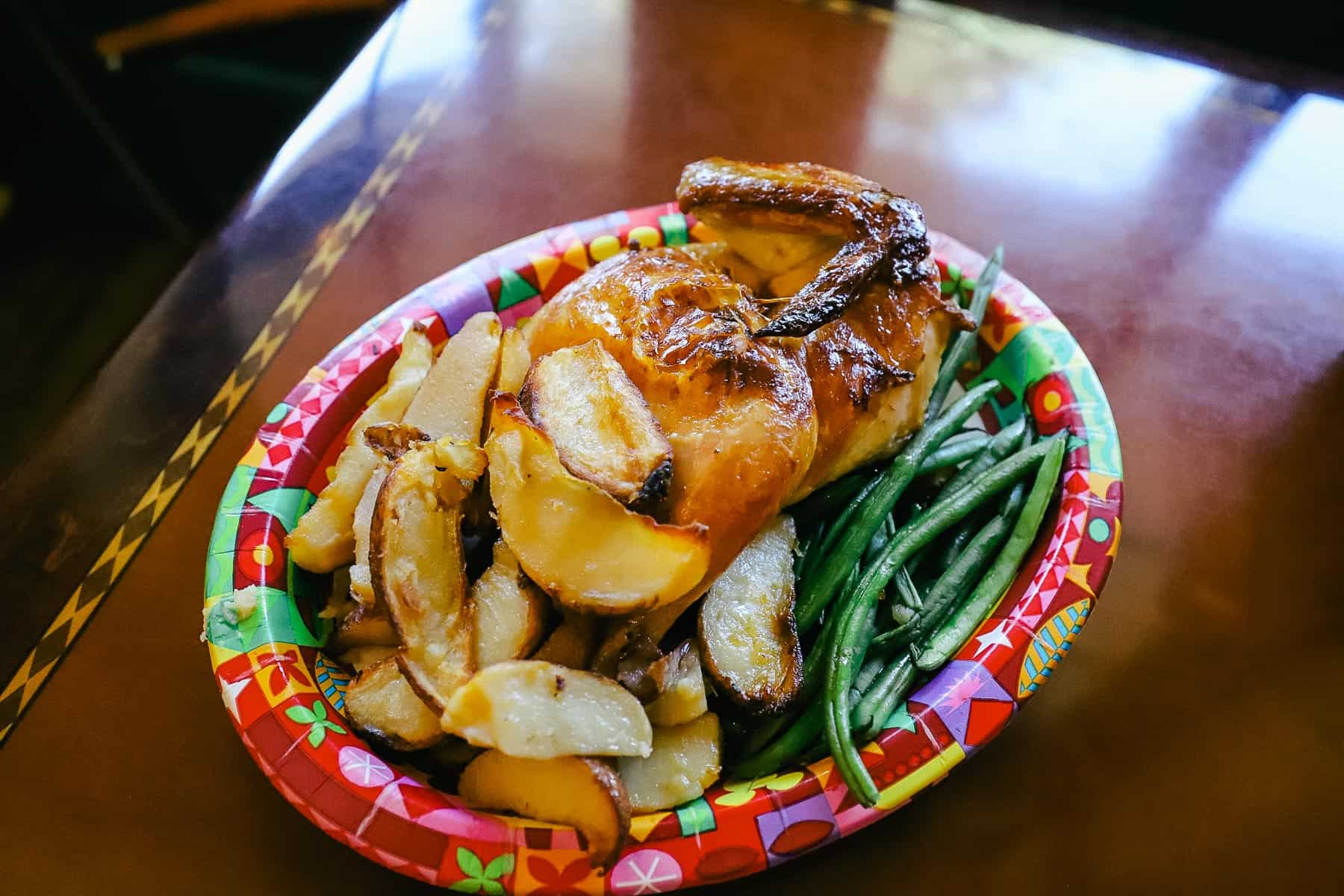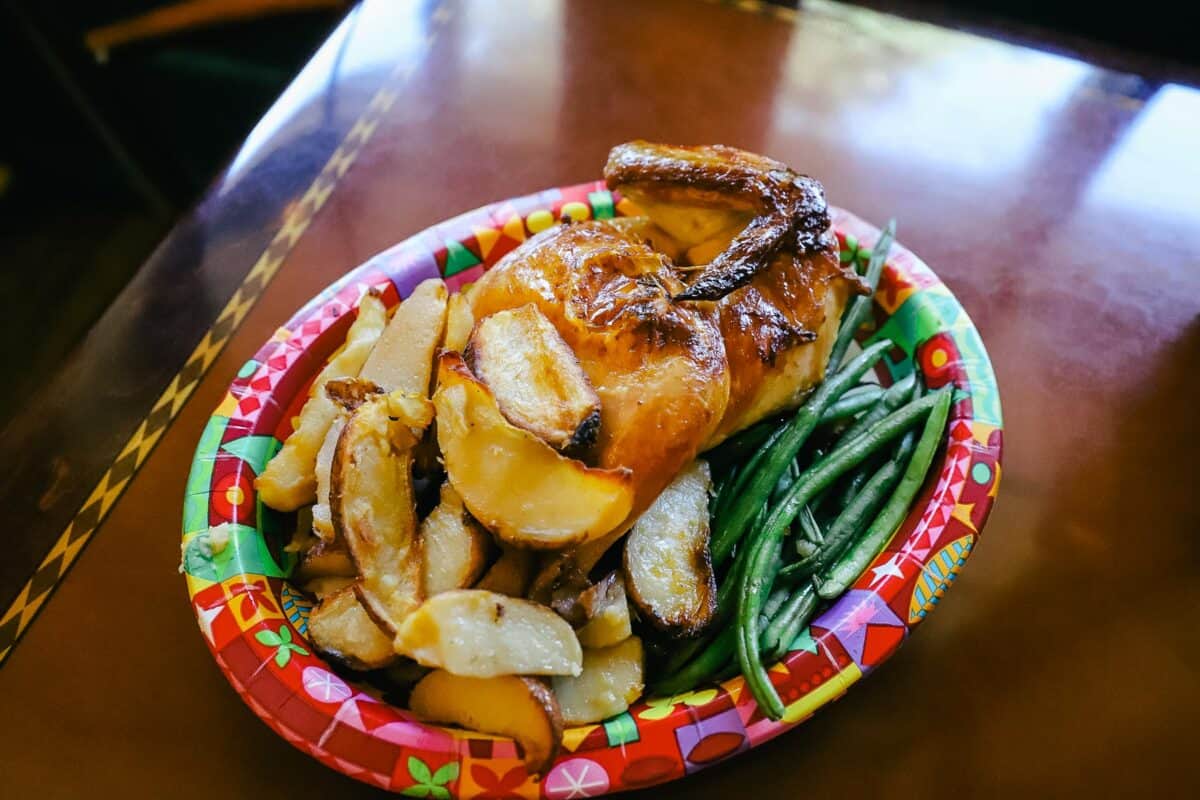 Word of warning, this is a huge meal. When I ordered it, I didn't realize it was an entire half of a chicken. Probably, because I don't read.
So unfortunately, I ended up wasting a good bit of it because I was going on a bicycle ride afterward and had no place to store my leftovers. With that said, the chicken was delicious. If you enjoy a lemon-roasted Rotisserie chicken, this is pretty much the same thing.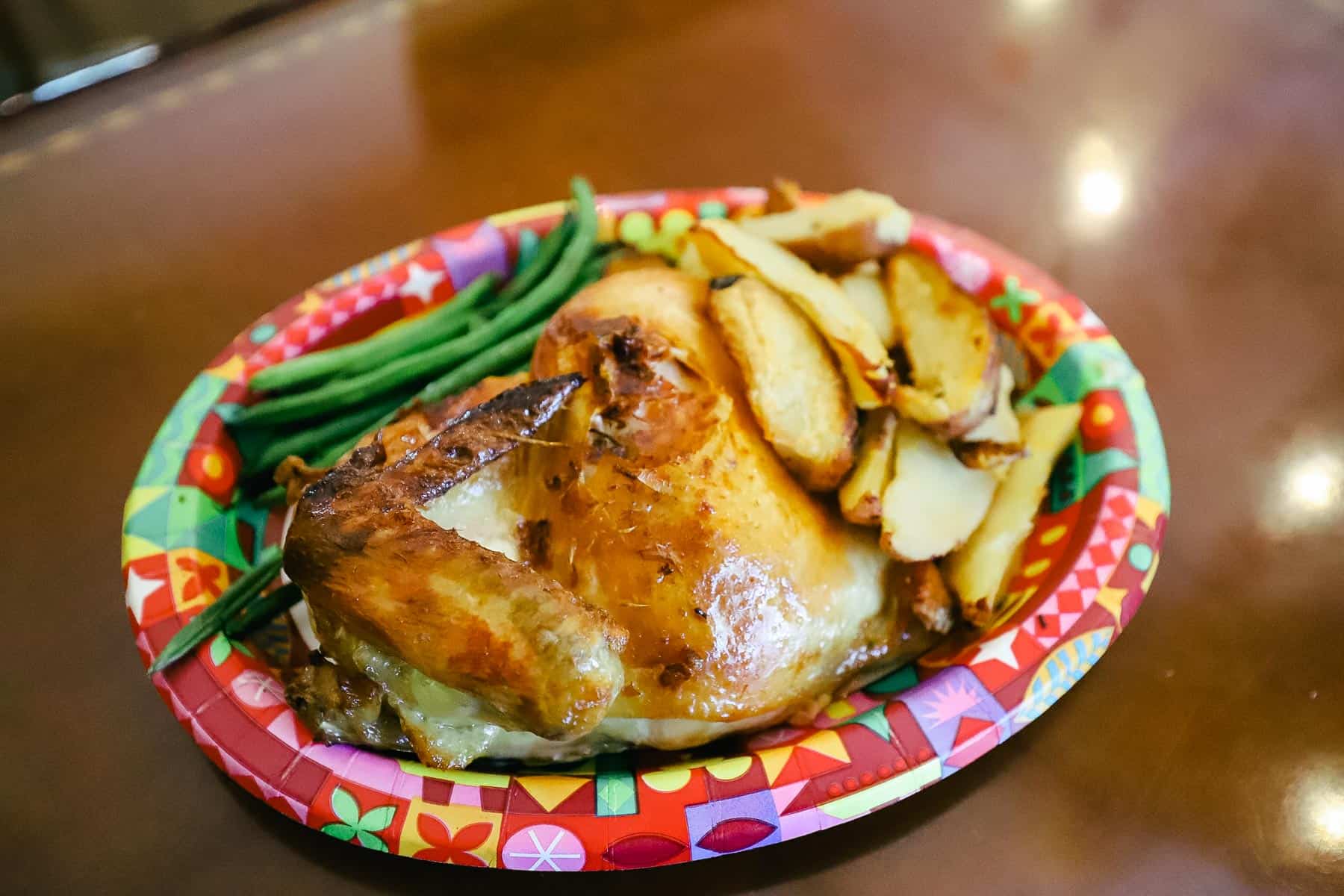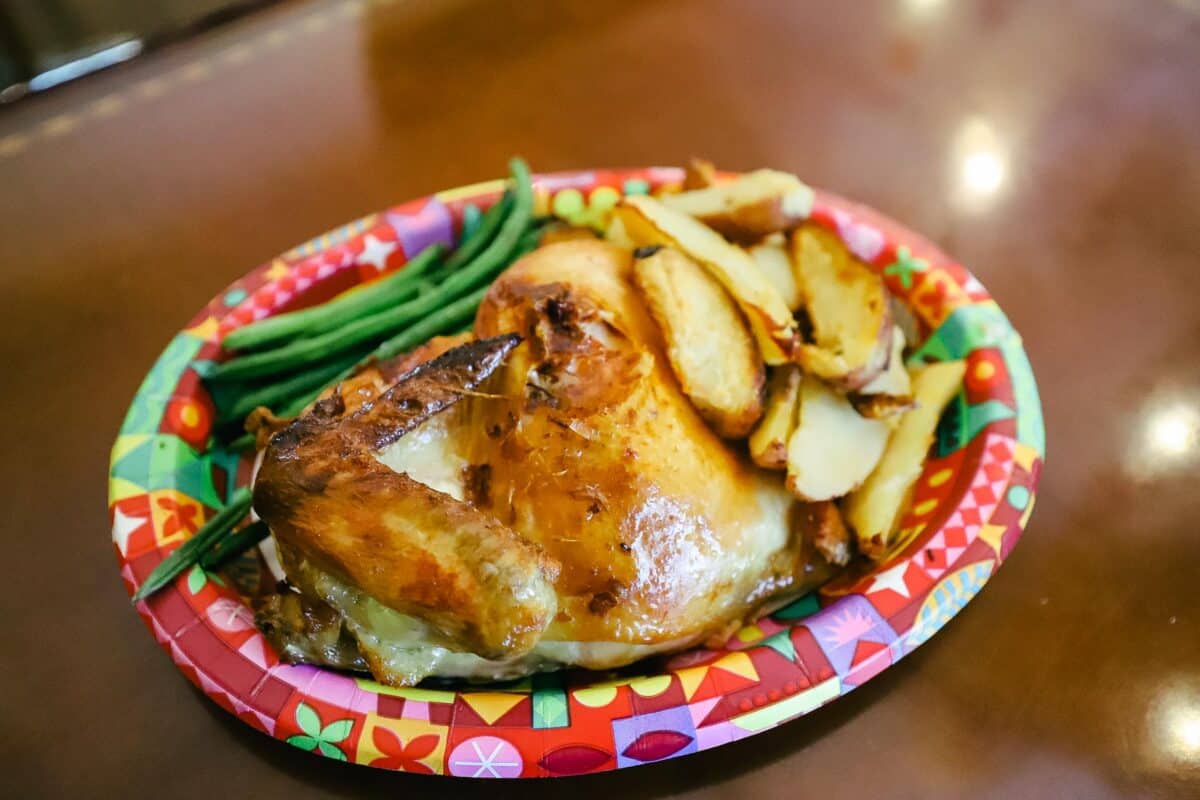 My only complaint was that I wished the potatoes had been crispier. But, ultimately, I was happy with the meal. However, next time, I would share it with someone or be in a place where I could return any leftovers to the room.
If you've been following along, you know we've been working on updating several of our dining guides and counter service reviews. Some of our recent updates include:
Related: Disney Hotel Restaurants List
For more information about this resort, we have a guide that lists our articles:
In the Comments
What do you think of the menu items at The Artist's Palette Restaurant? Have you ever enjoyed a meal here?