Disney's Swan Reserve Room Tour (Guest Room with King Bed and Pool View)
Disney's Swan Reserve is the newest addition to the Swan and Dolphin hotels at Walt Disney World. We recently spent a few days at the hotel in a standard room with a king-size bed. Luckily, we ended up with a view of the pool and the Tower of Terror at Hollywood Studios in the distance.
For this article, we'll tour our room at the Swan Reserve. So if you plan a stay at the resort, you'll know what to expect regarding room amenities. Later this week, I'll share a full review of our stay that includes more details about the resort in its entirety.
But I think most will agree–it was a beautiful room.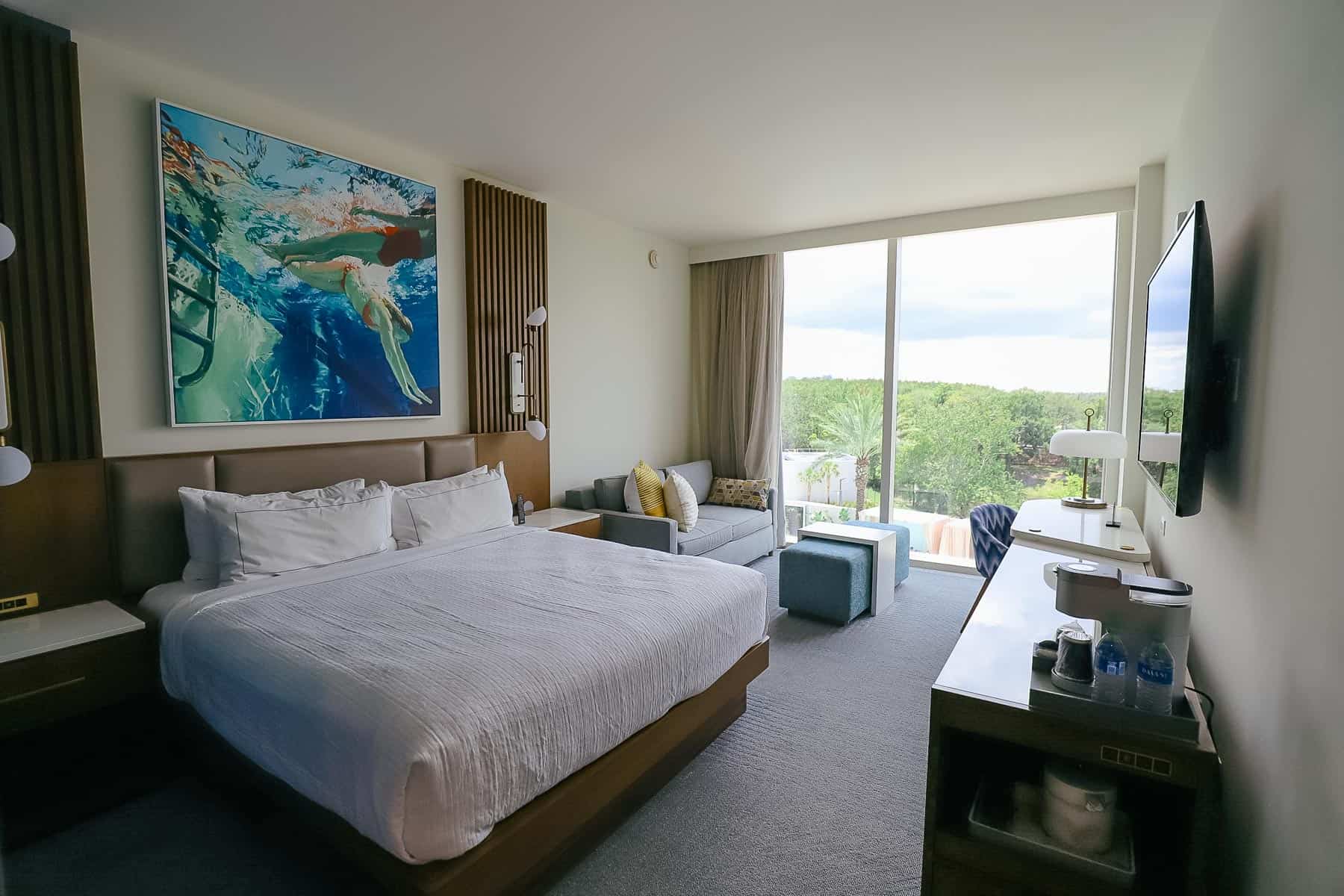 Disney's Swan Reserve Room Tour
Disney's Swan Reserve sits across the street (Epcot Resorts Boulevard, to be exact) from Disney's Swan and Dolphin Hotel. Guests of the Swan Reserve have access to the Grotto Pool and other amenities at the Swan and Dolphin.
After purchasing tickets to attend the first-ever Disney After Hours at Epcot, we reserved this room. Since these events usually last into the wee hours of the night, I prefer to stay as close as possible to the theme park. That way, we can get back to the room without much hassle.
After a few availability issues at the nearby Disney Resorts, I found a room at the Swan Reserve that fit our budget and worked well location-wise. It turned out to be an inviting space that made you want to linger a little while longer.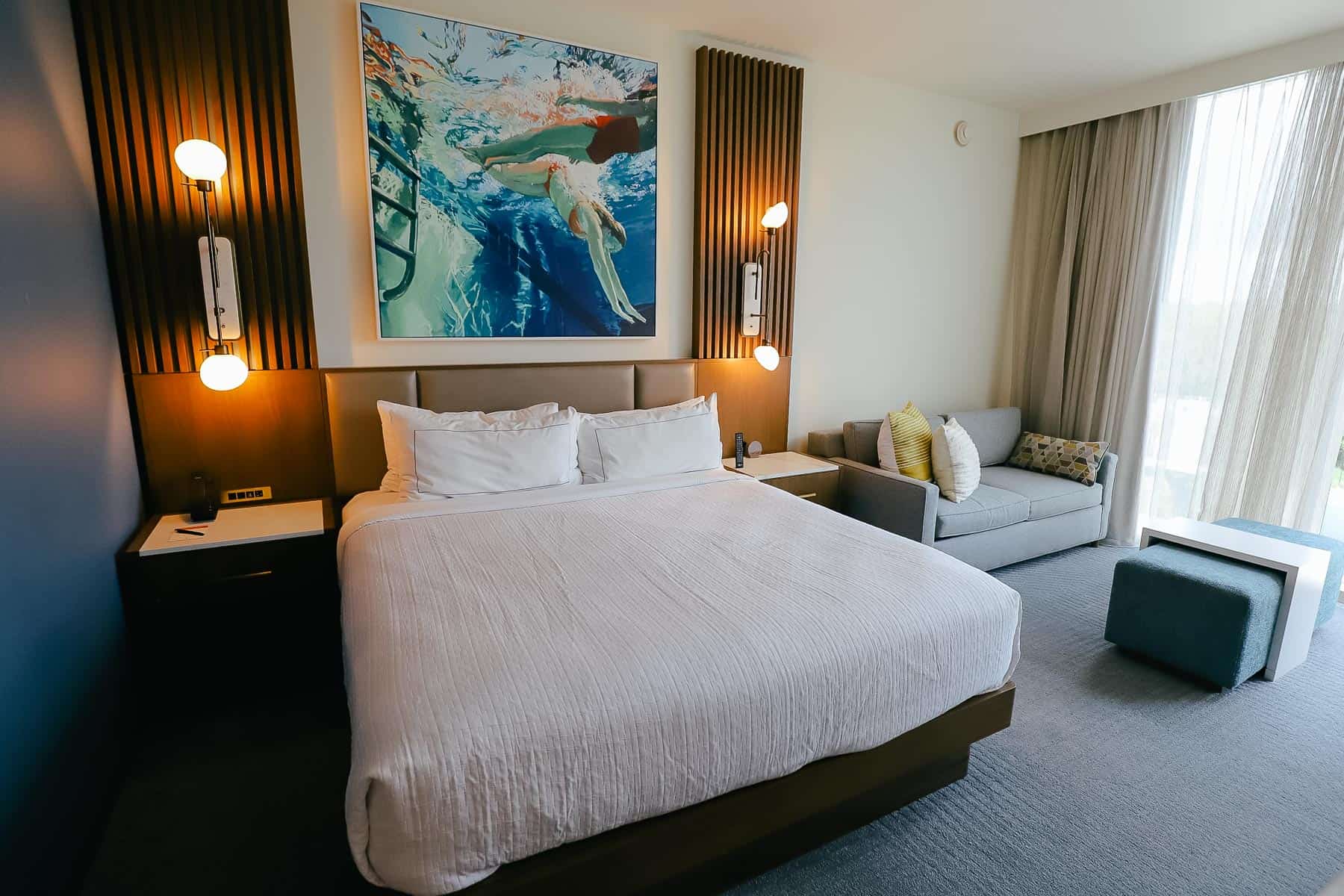 Our room had a king-size bed with lamps and built-in nightstands on each side. Plenty of outlets and USB ports were available.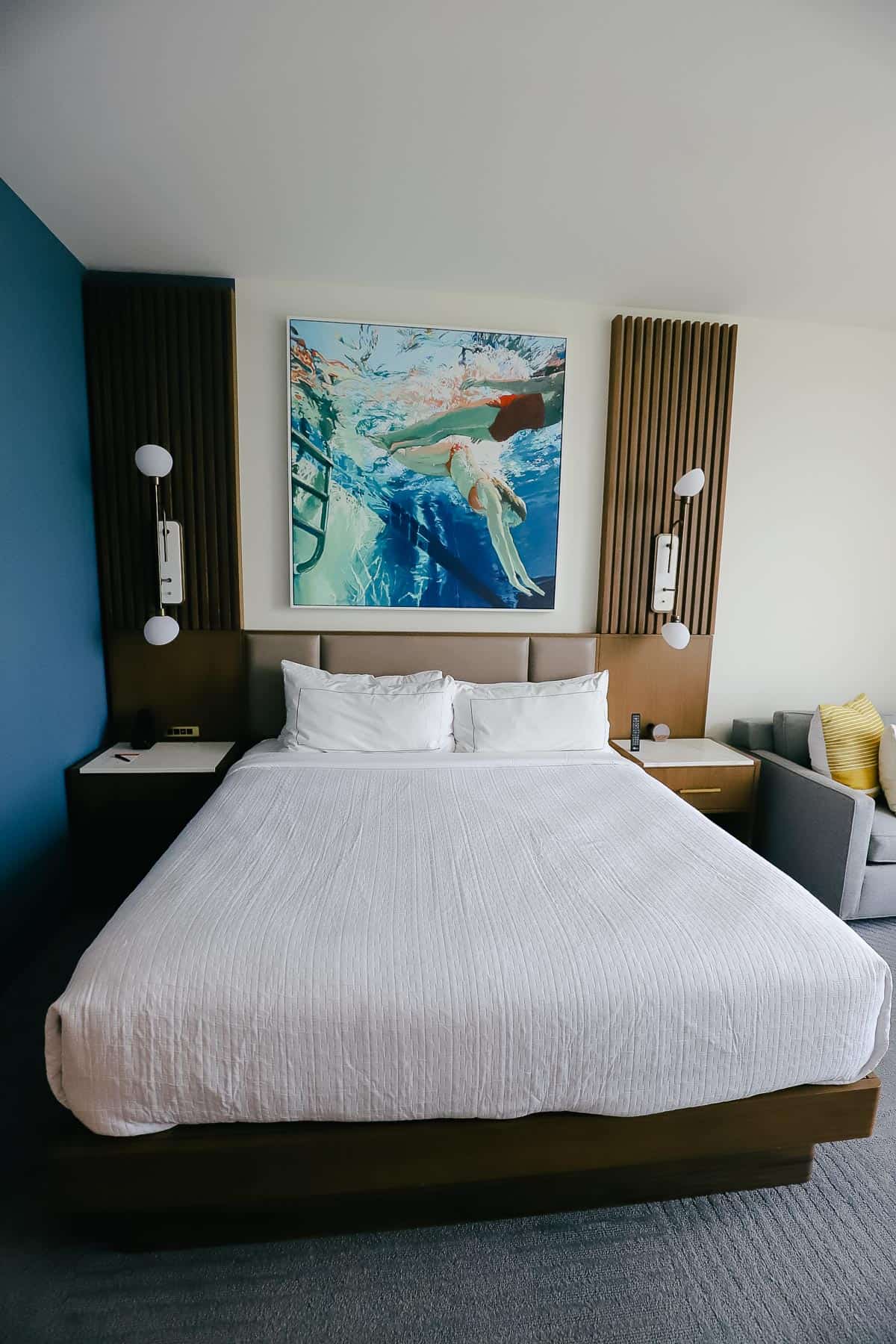 You might notice the bed is a platform style, which is common in modern hotel rooms. Therefore, space was available underneath the bed to store luggage items. However, I was happy to find ample closet space and a luggage rack.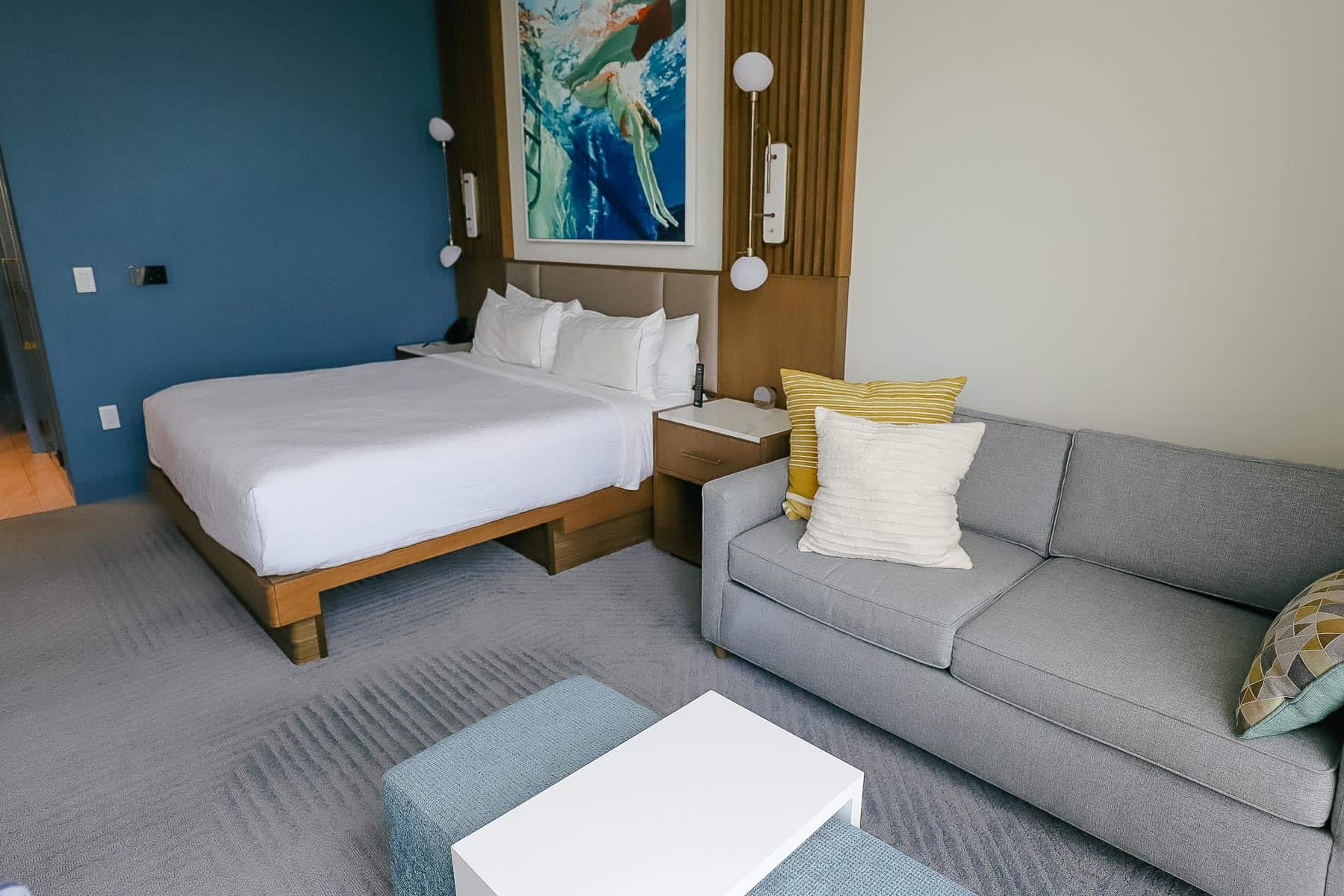 If you've heard anything about the Swan Reserve before, you're probably aware that it has floor-to-ceiling windows. This is perhaps the room's best feature because it creates an illusion of depth, making the room feel larger than its actual size.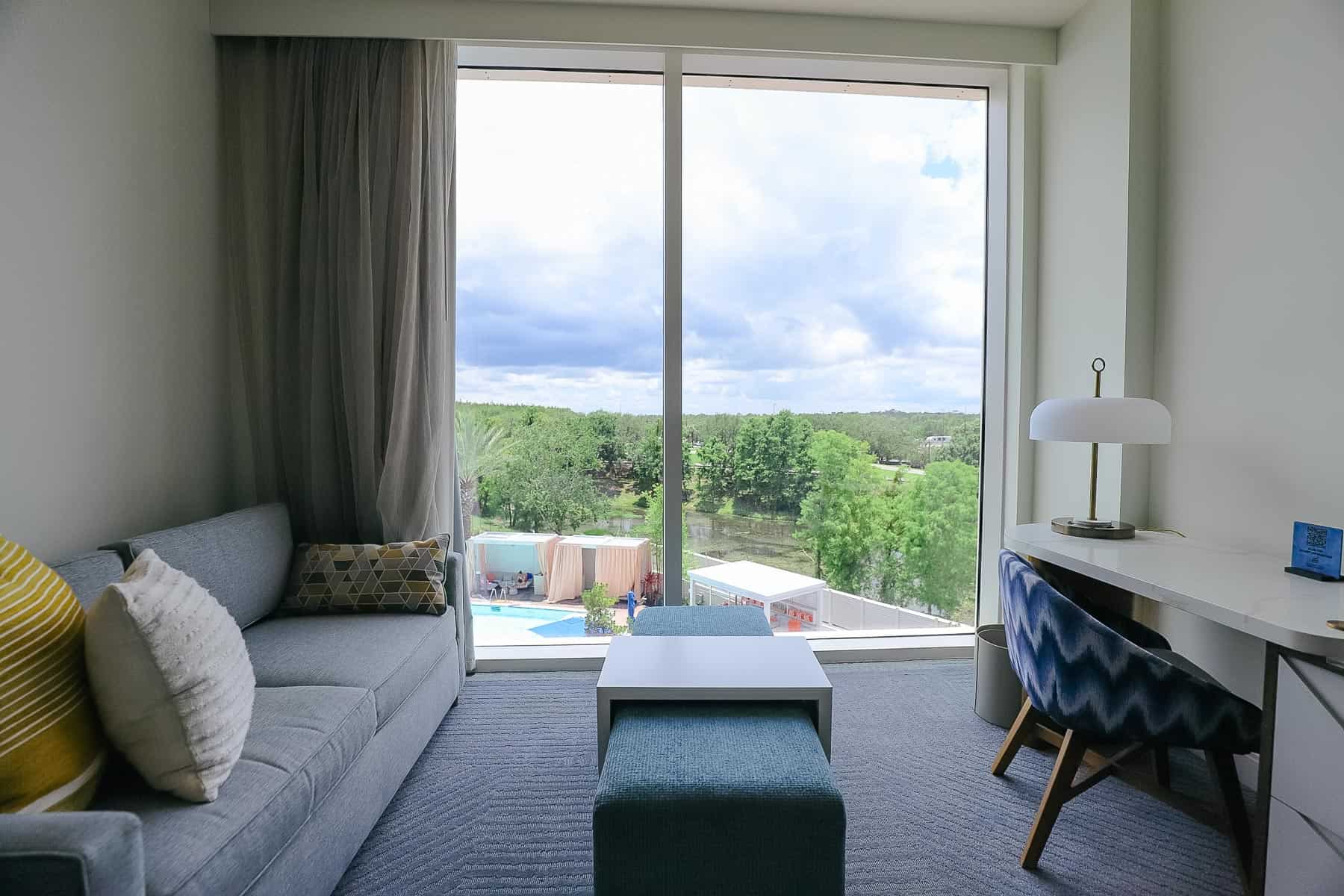 Instead of having two queen size beds, this room had a sofa for two and a large ottoman with a built-in table.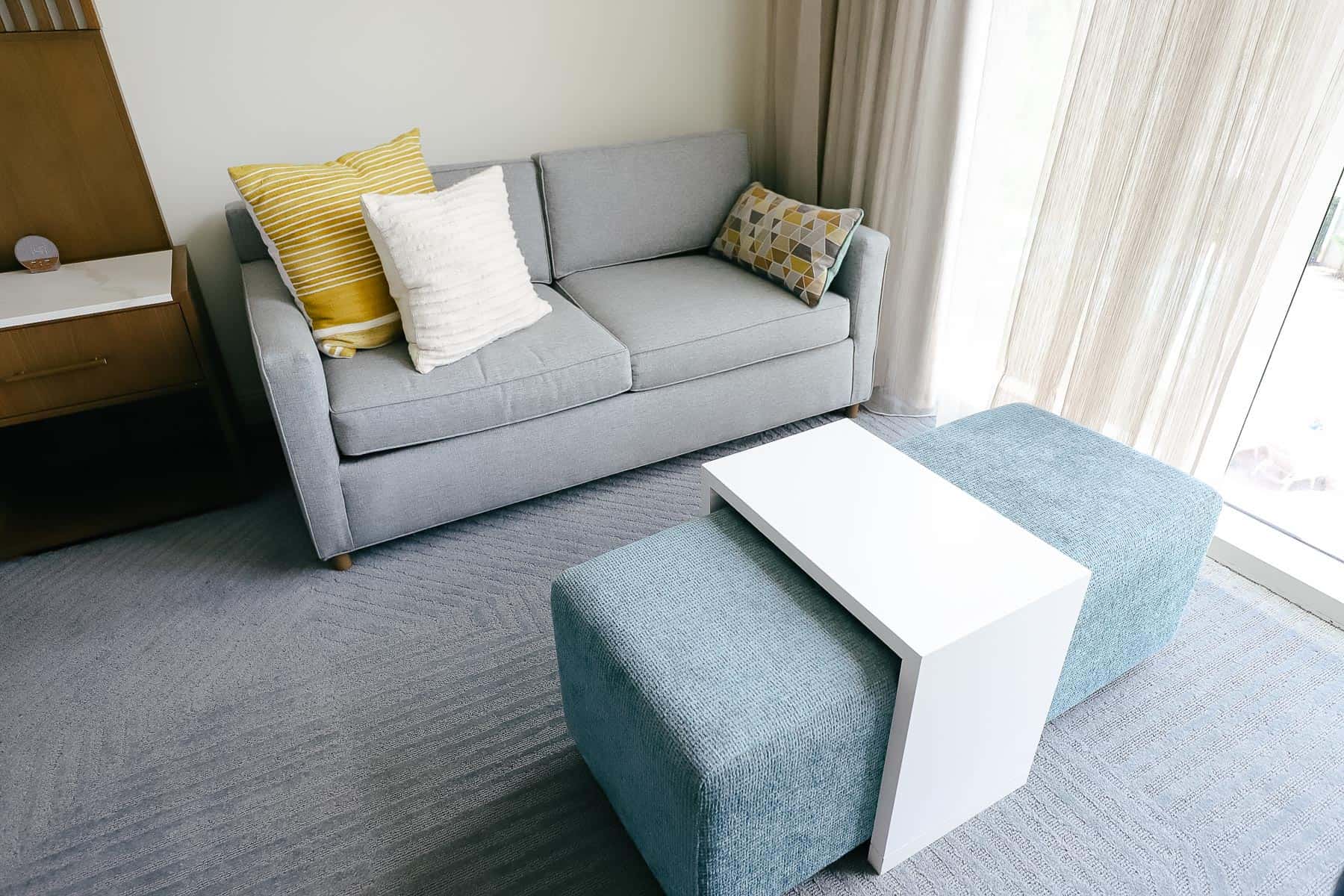 I appreciated this versatile piece of furniture.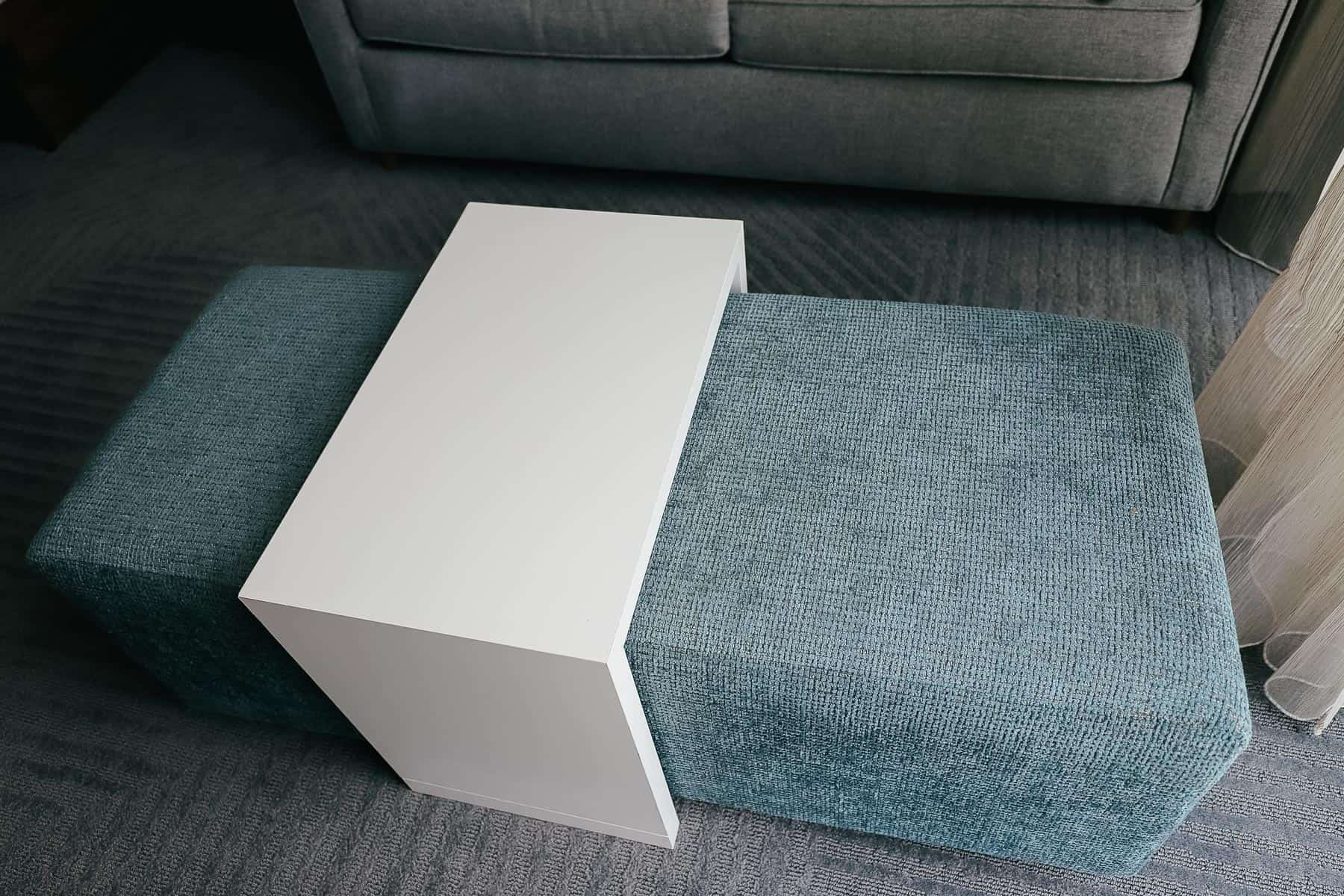 A desk extended from the dresser area. Unfortunately, this was a short trip, so no blog posts were written in the room. But I would have enjoyed the space had I needed to work during our stay.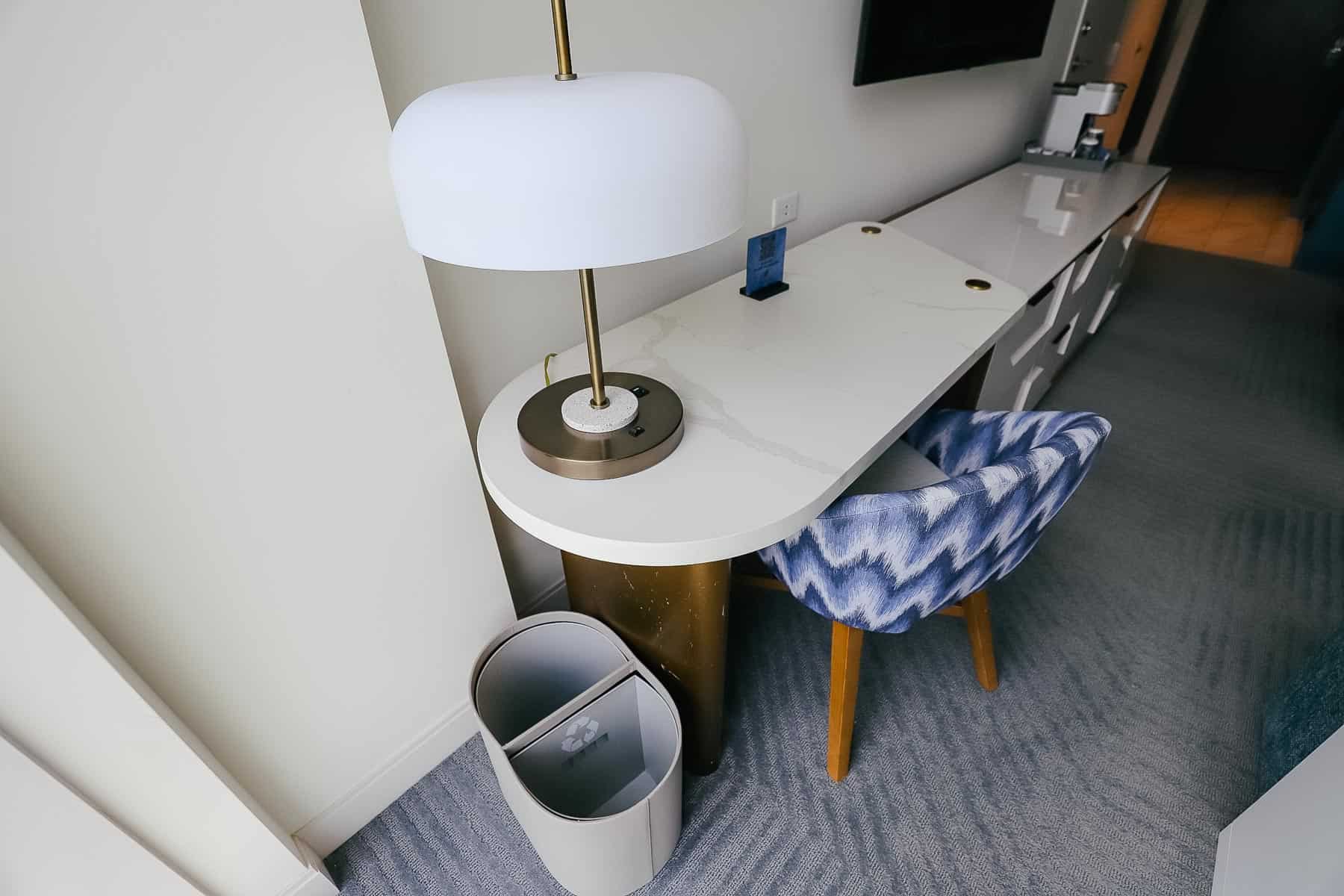 A couple of drawers were available for storage. Toward the end, a cabinet opened to reveal a mini refrigerator.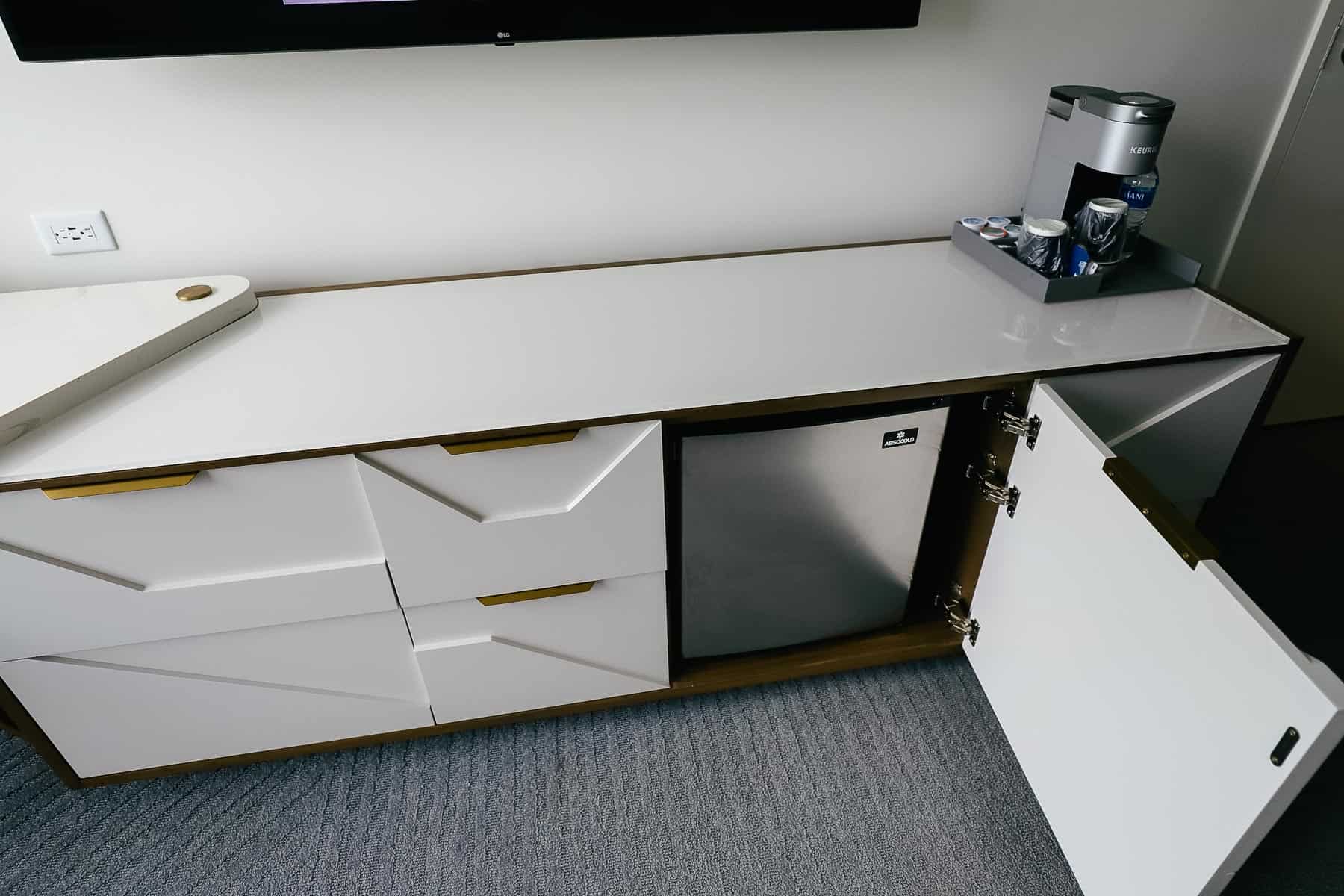 It was a fairly standard room fridge.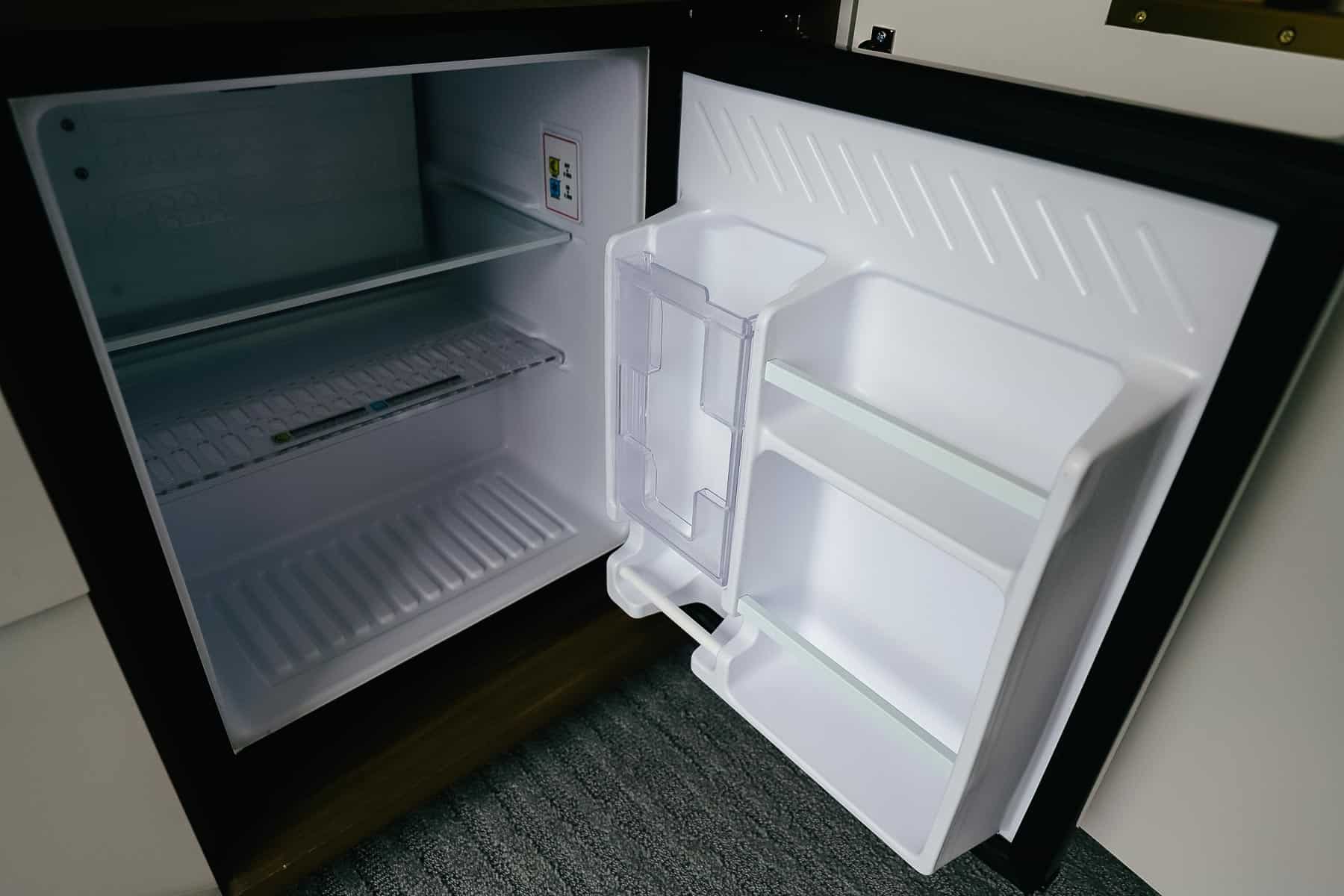 Another cabinet houses an in-room safe.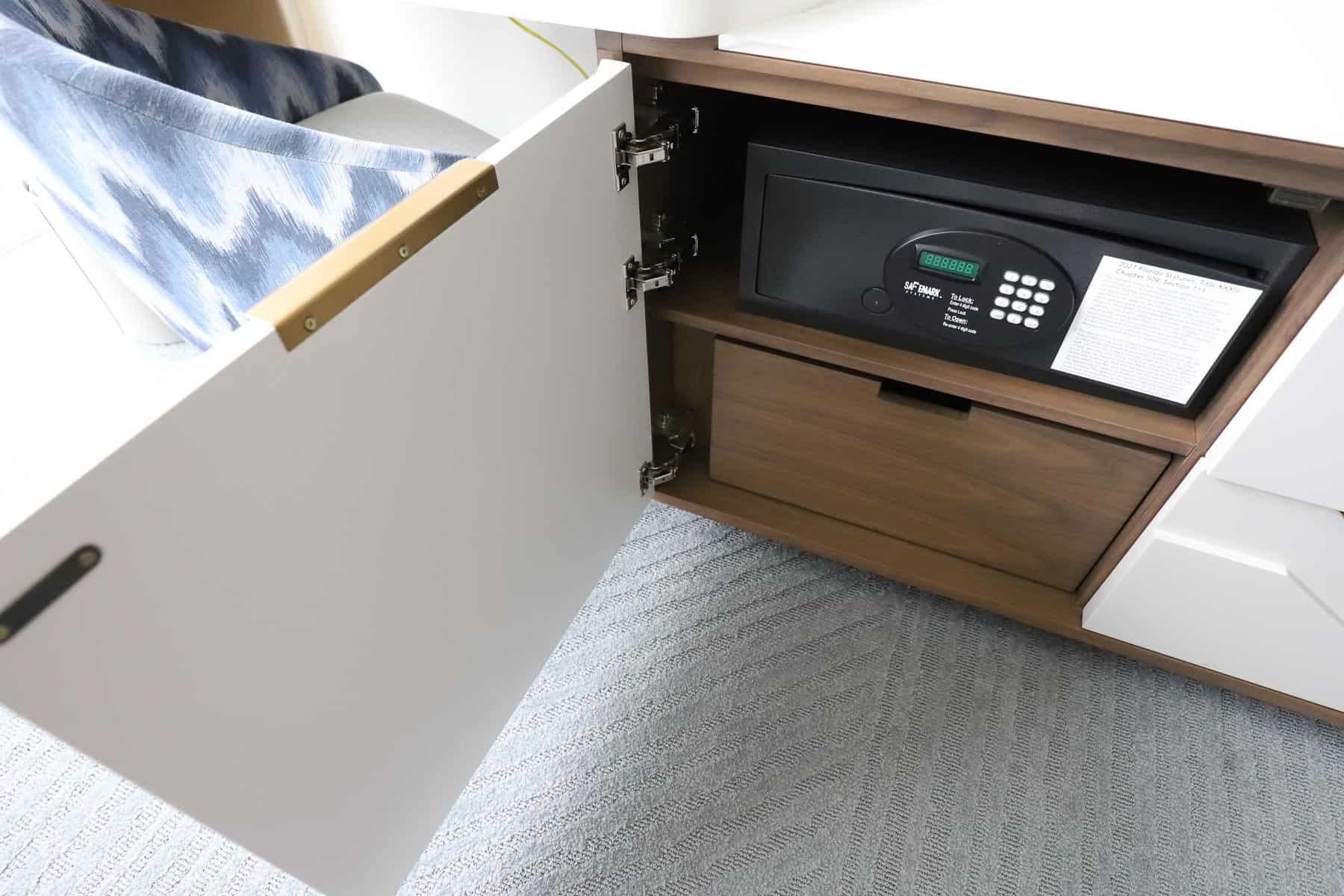 It was large enough to store laptops and other personal items.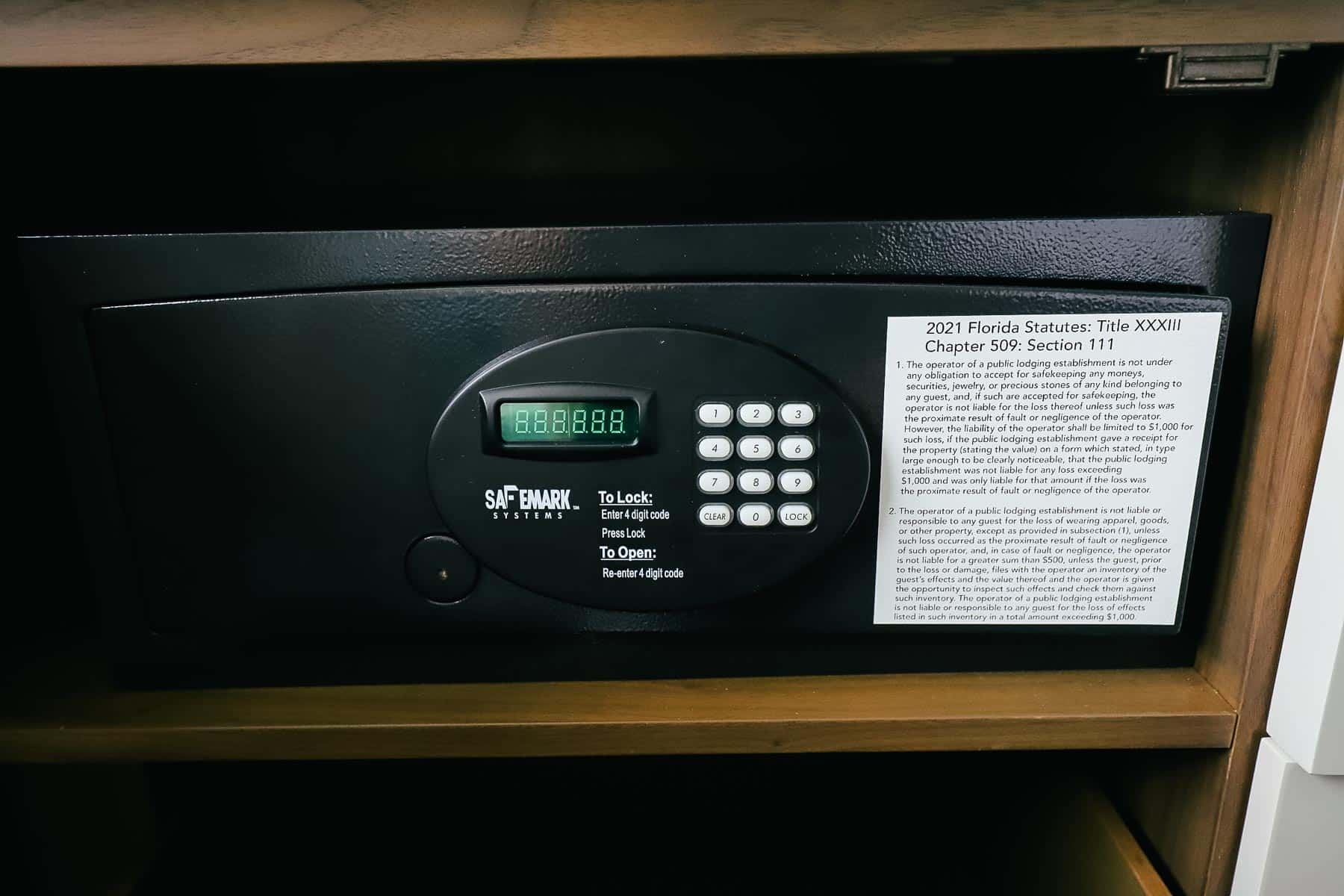 An individual coffee maker was available. Bottled water is included in the resort fee. So if you need more, you can make a request from housekeeping or leave them a note.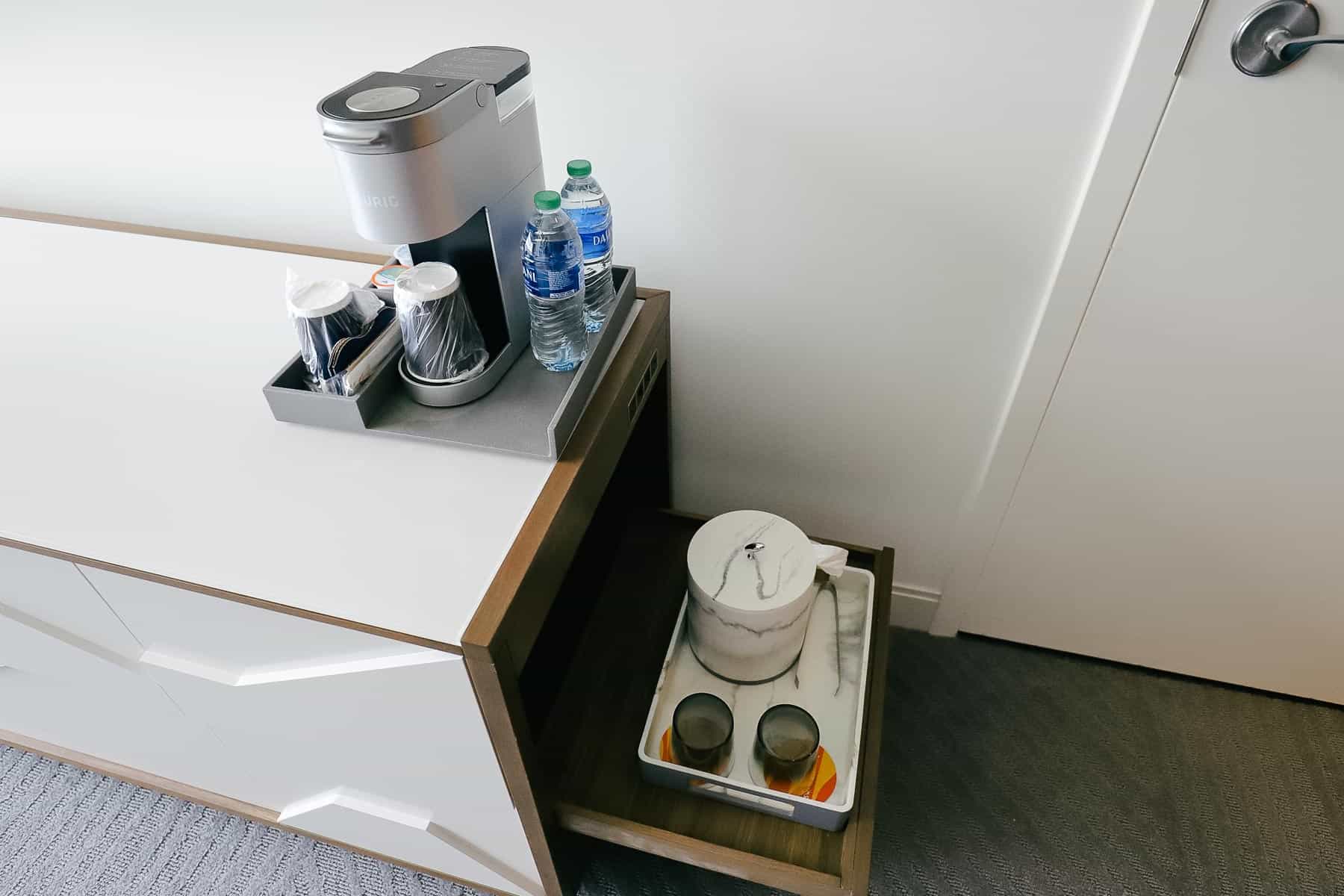 Here is the Keurig.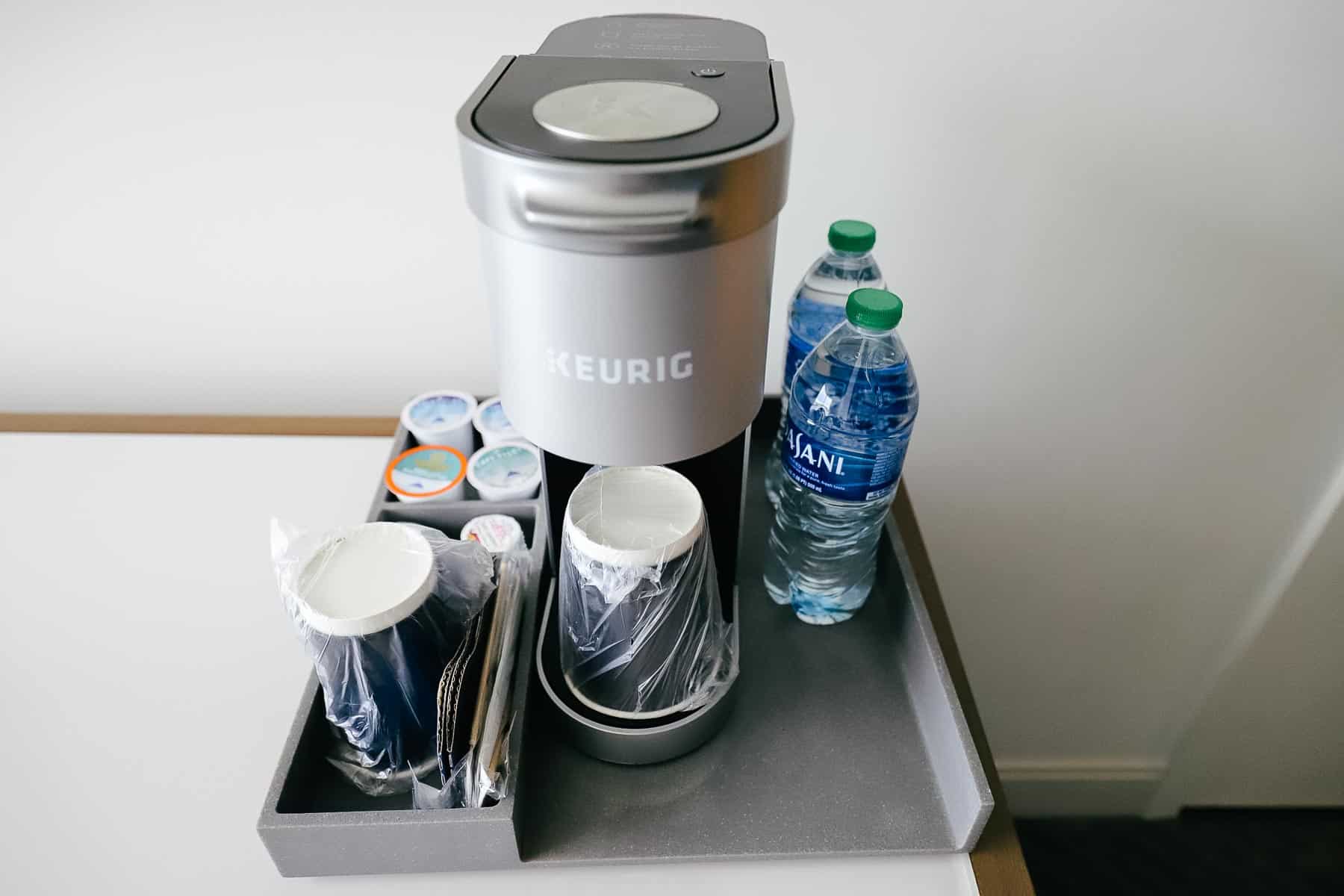 Cafe Valet was available–if I remember correctly, this is a Starbucks brand.
An ice bucket and, gasp–real glasses were available. Seriously, the fact that real glassware was available made my day.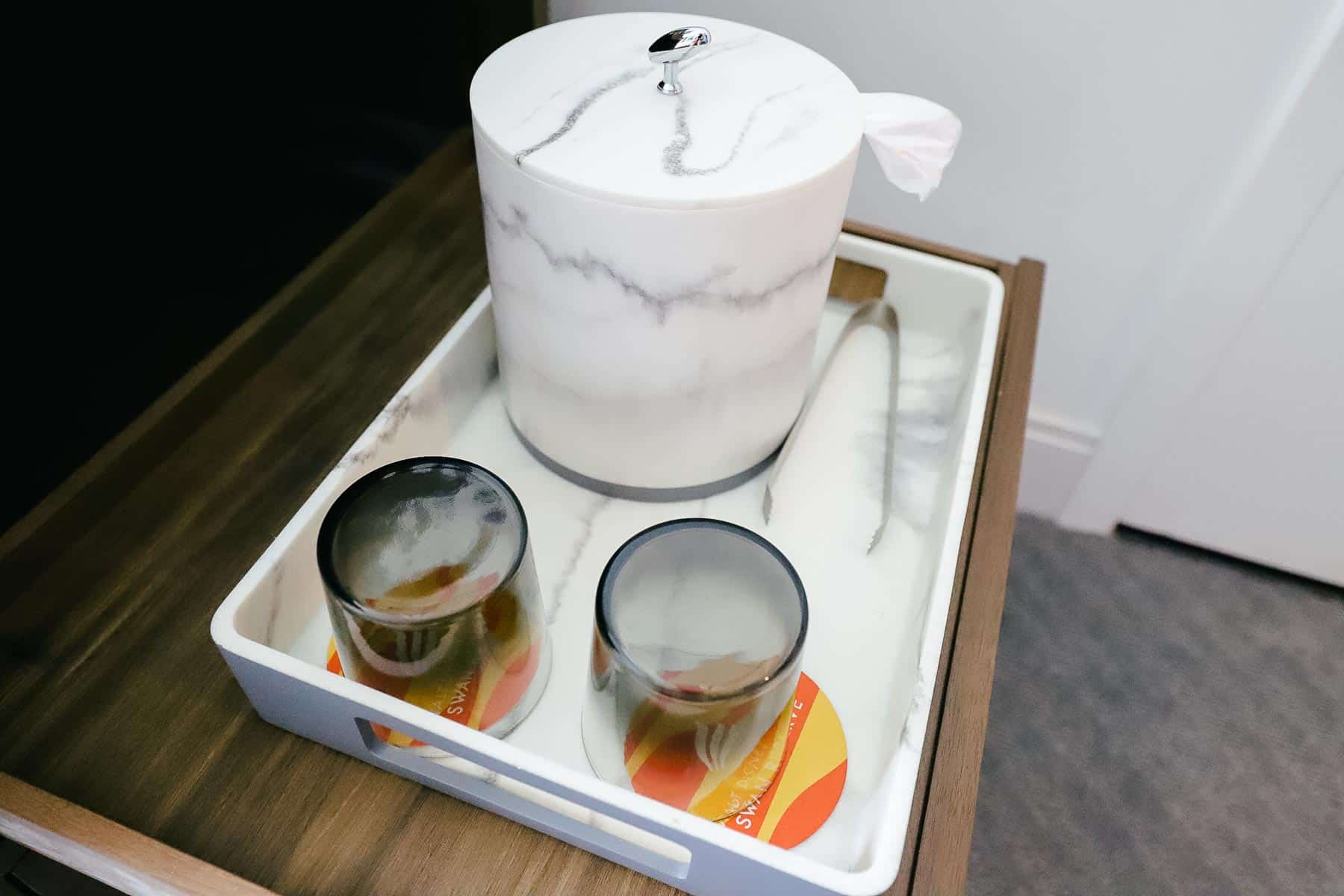 Here is a closer look at the artwork over the bed. It was a fun piece considering the room looks out to the pool.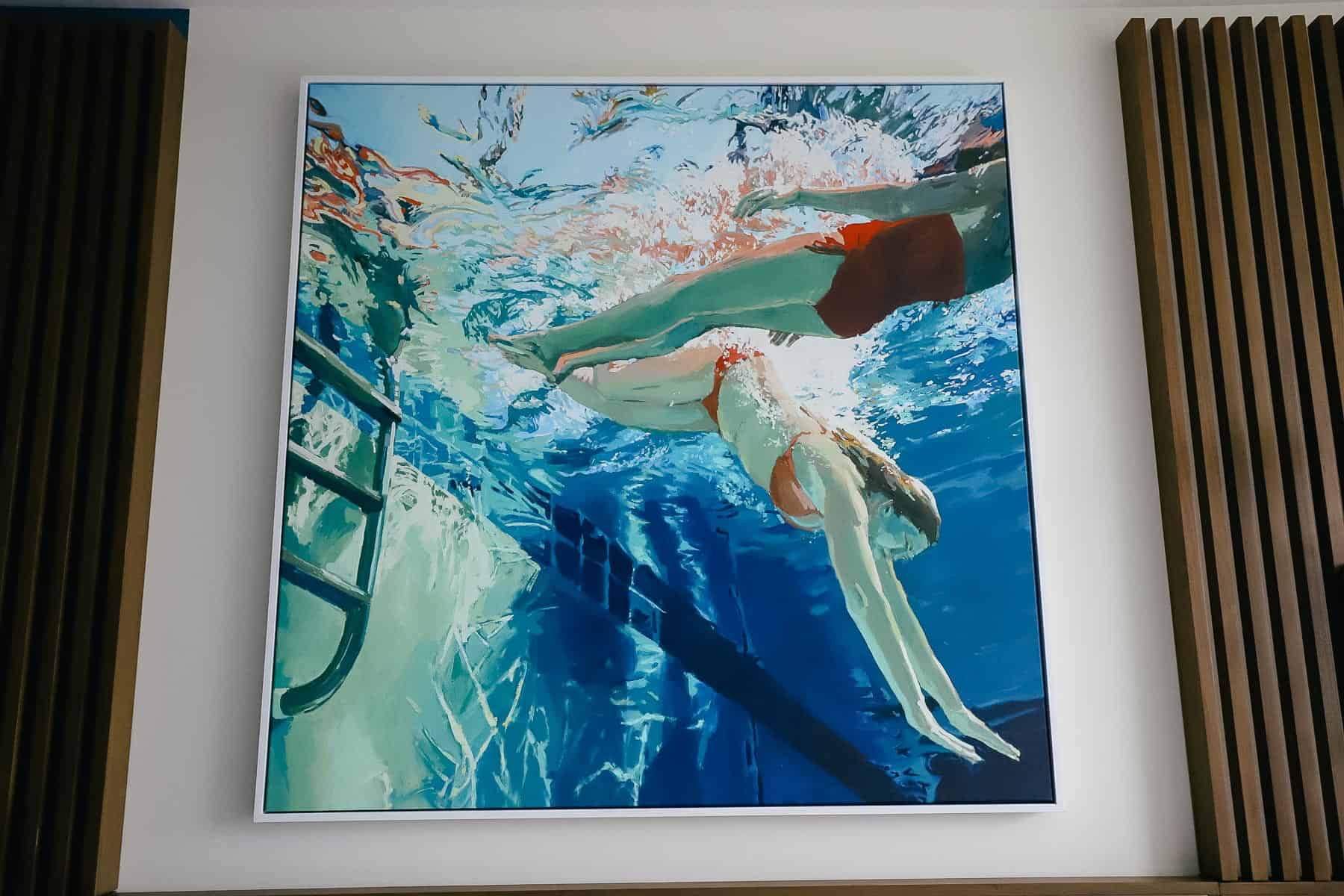 Here is a look at that view. Insert the emoji with heart eyes, right?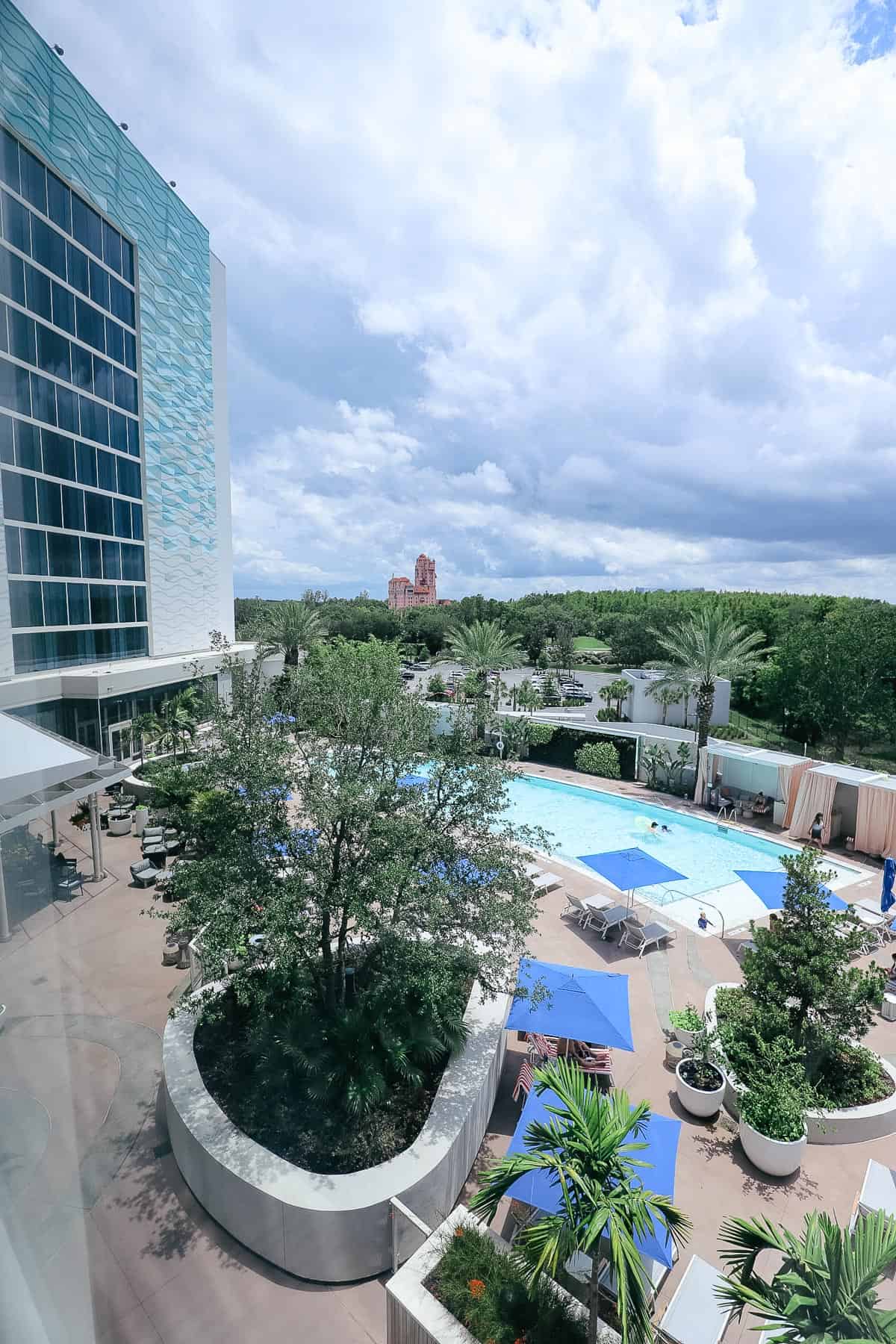 A touchscreen thermostat was available.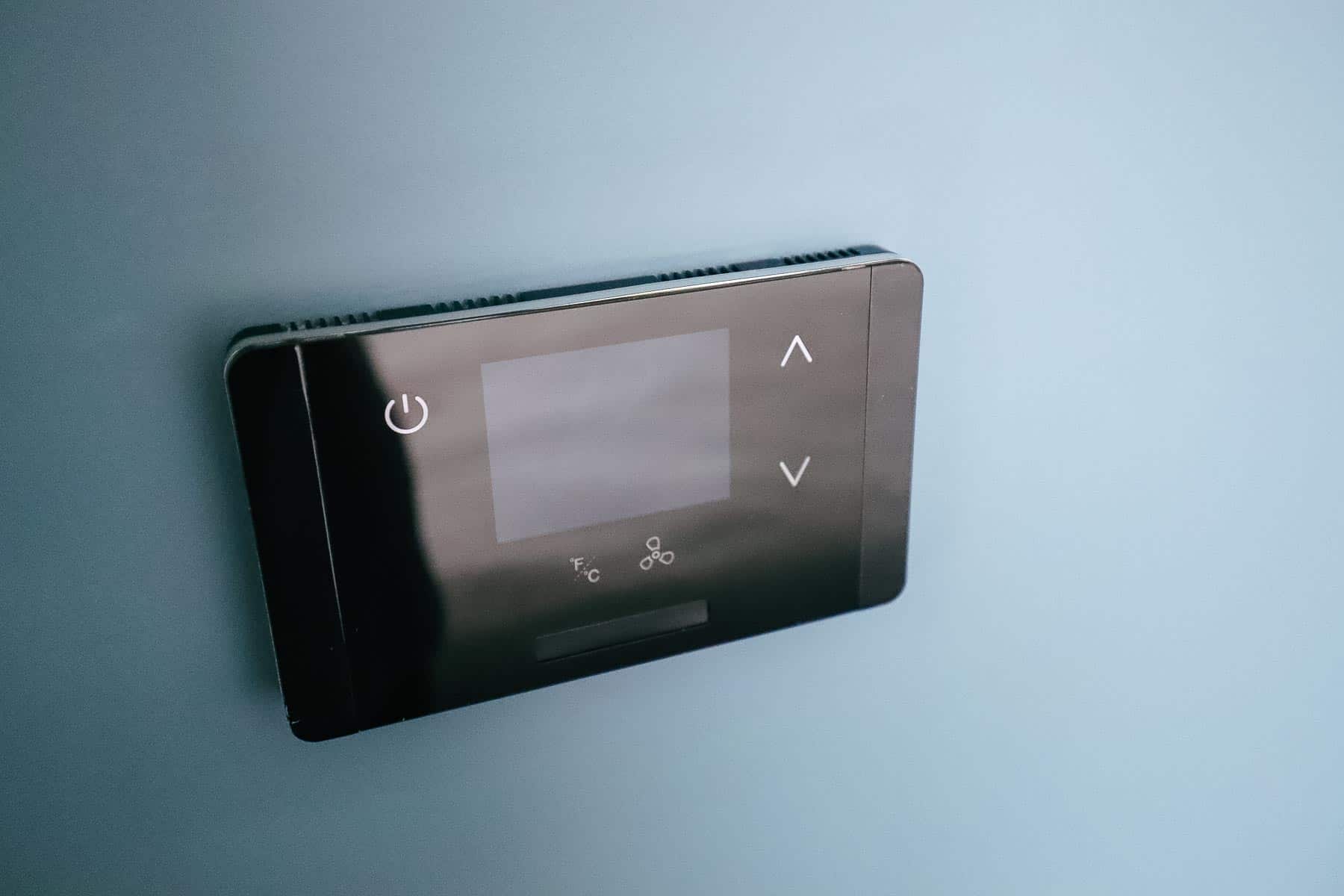 This room adjoins another to make a suite. I got to peek inside a suite during my stay, and they are lovely.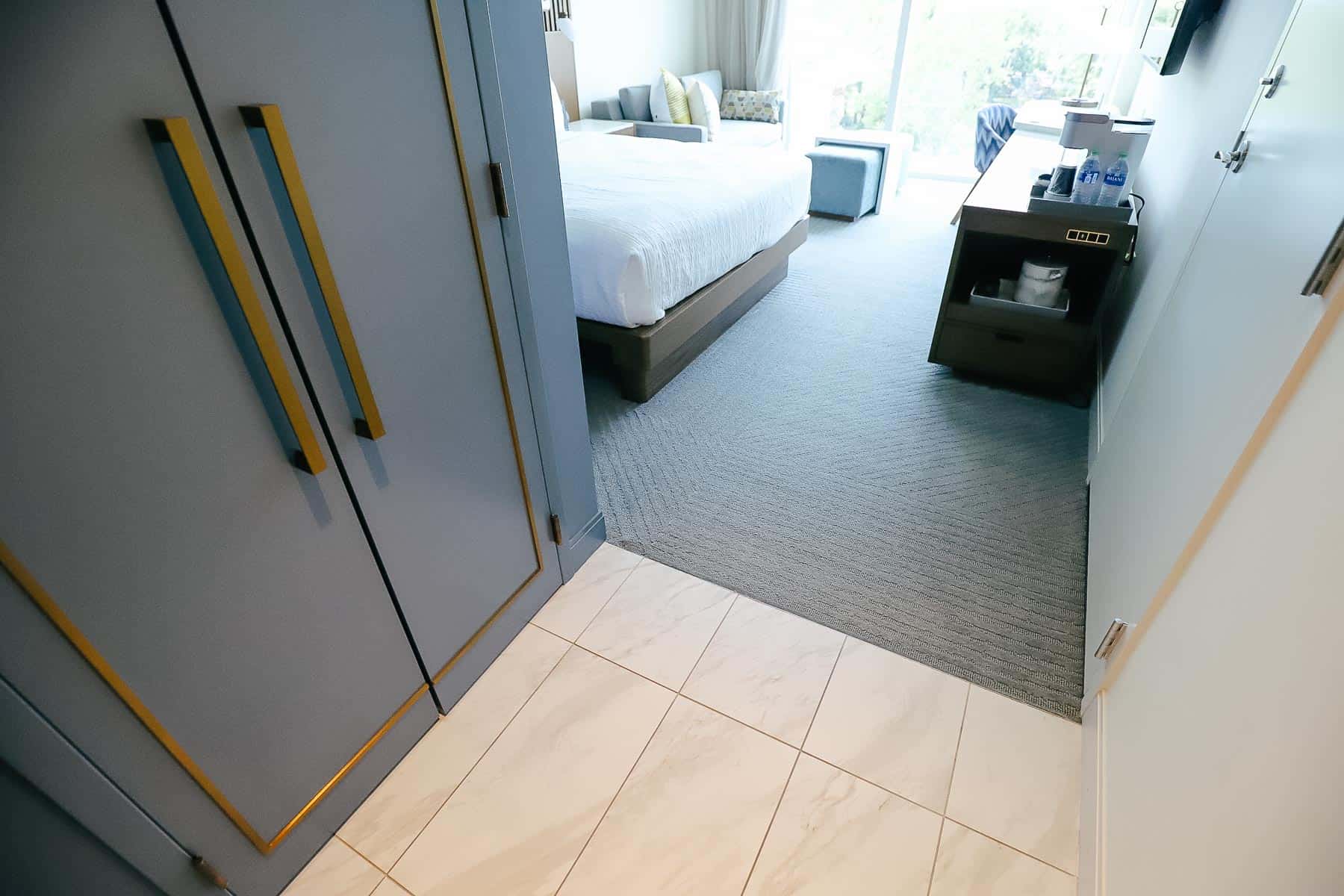 The closet's interior offered a fun splash of vibrant orange. Here and there, the bright color is used to accent the resort. For instance, at the Swan Reserve pool, all the towels are orange with white stripes.
Two white cotton waffles robes-they had me at the robes. A clothes steamer, extra pillows, a blanket, and an ironing board were also available.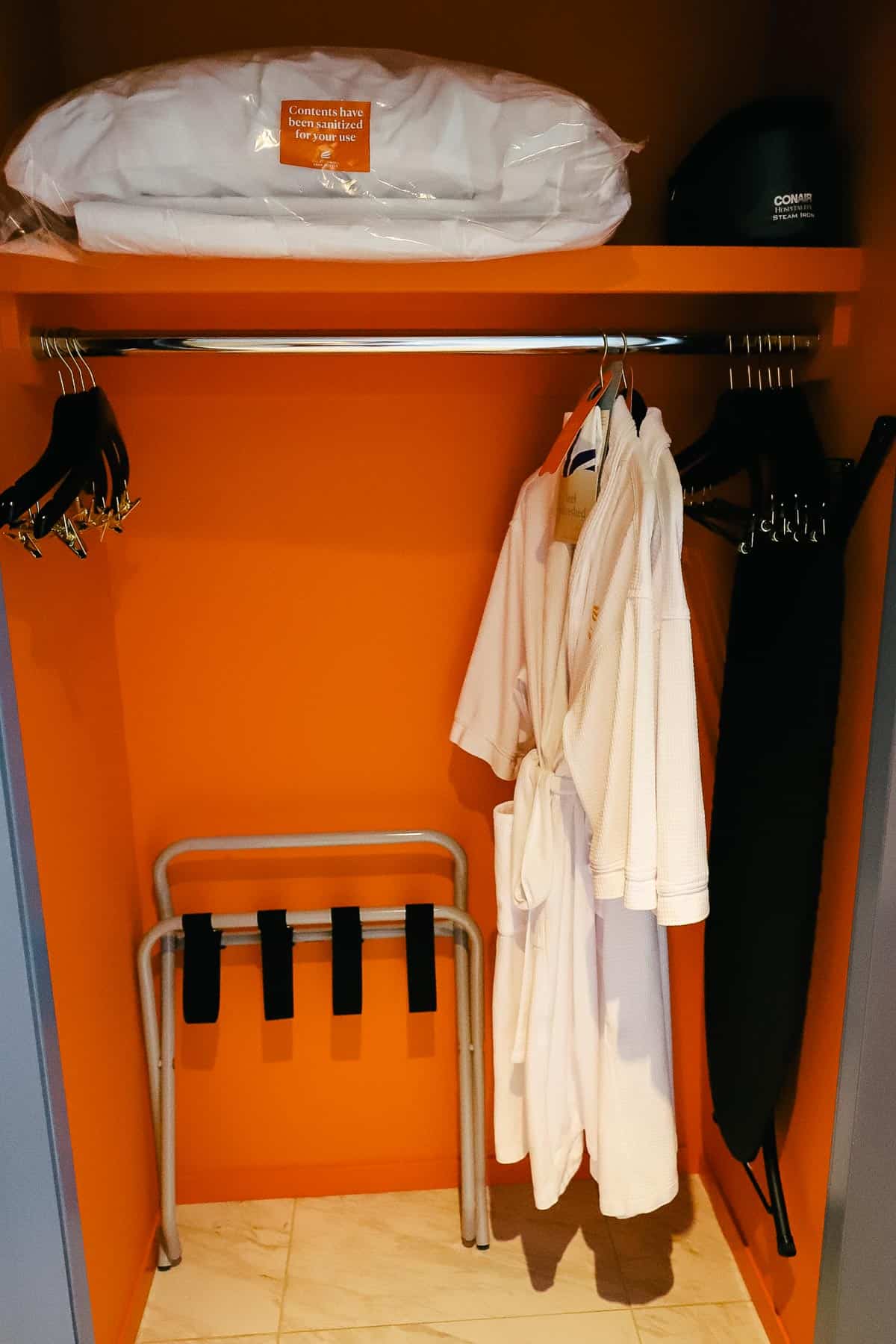 Our guest bath had a vanity with ample counter space and one sink.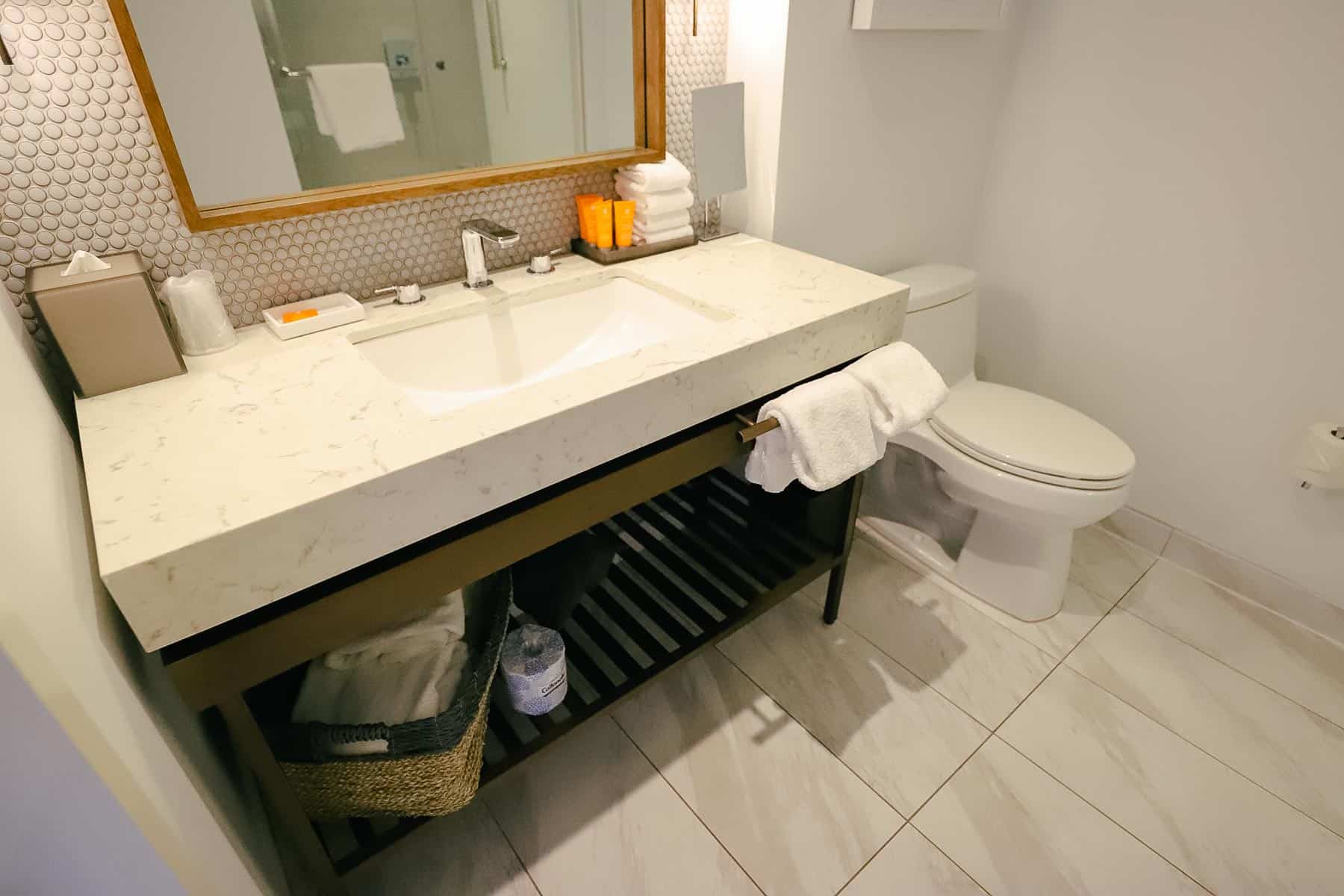 Here is another look.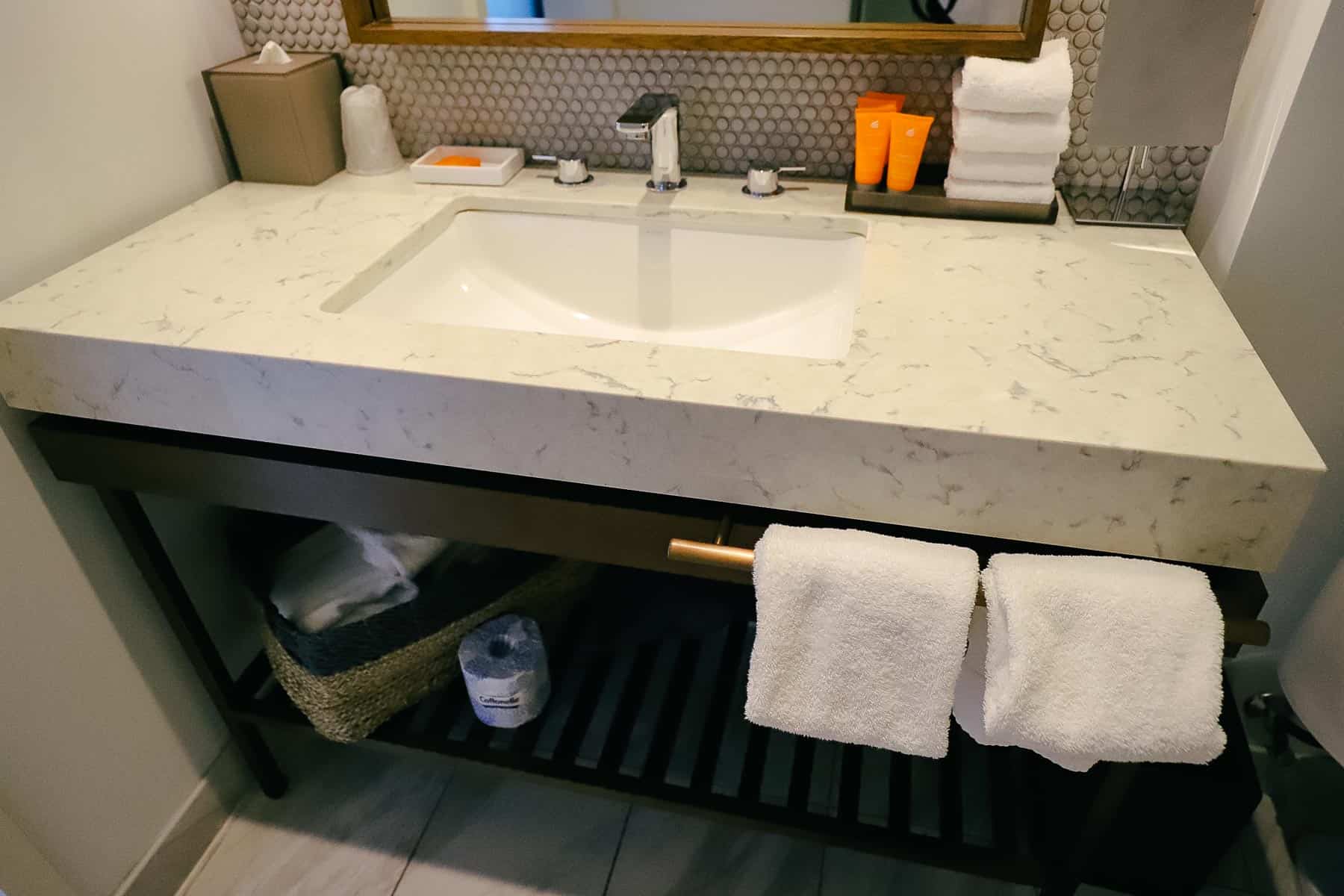 Standard toiletries were available.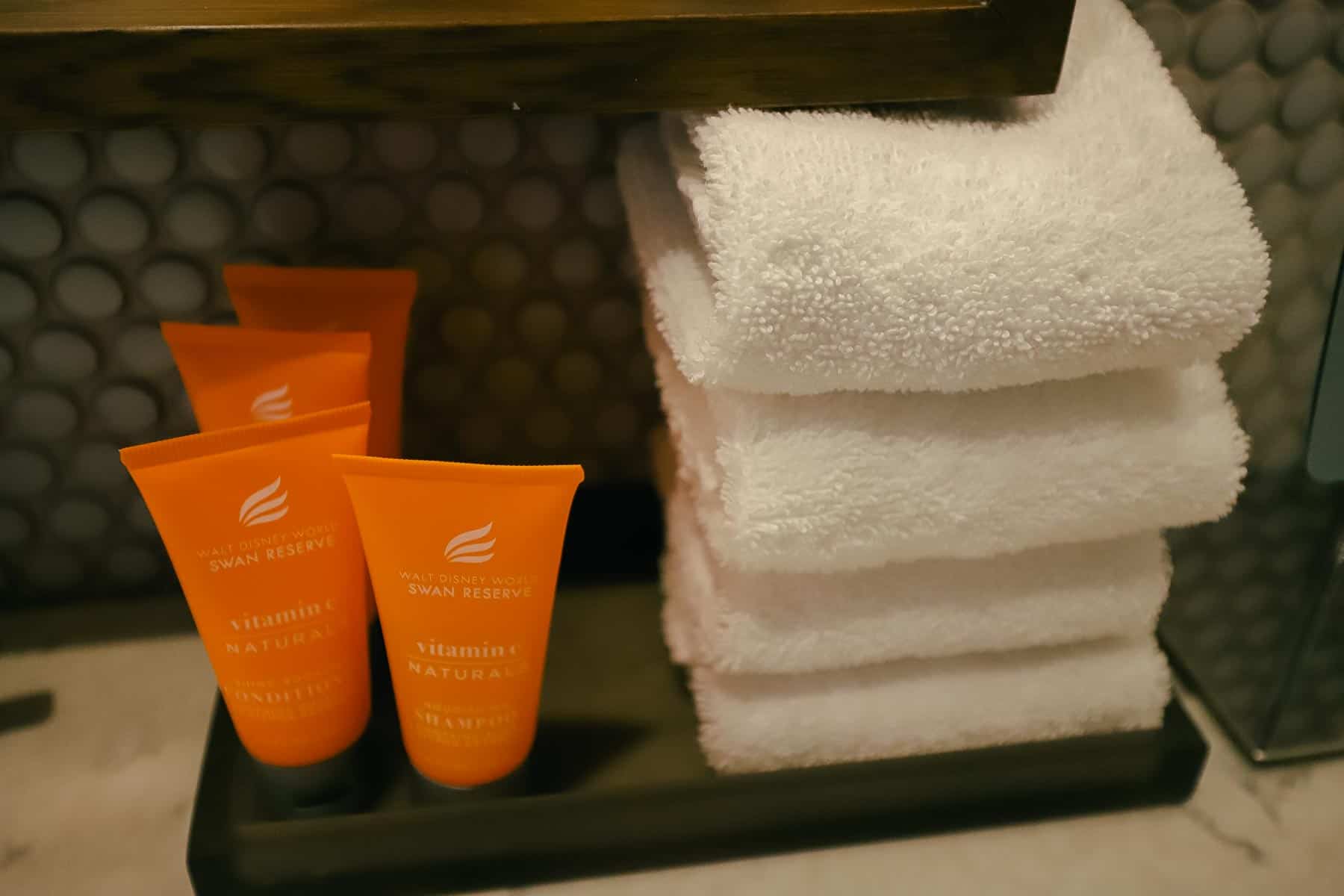 They had a modern make-up mirror.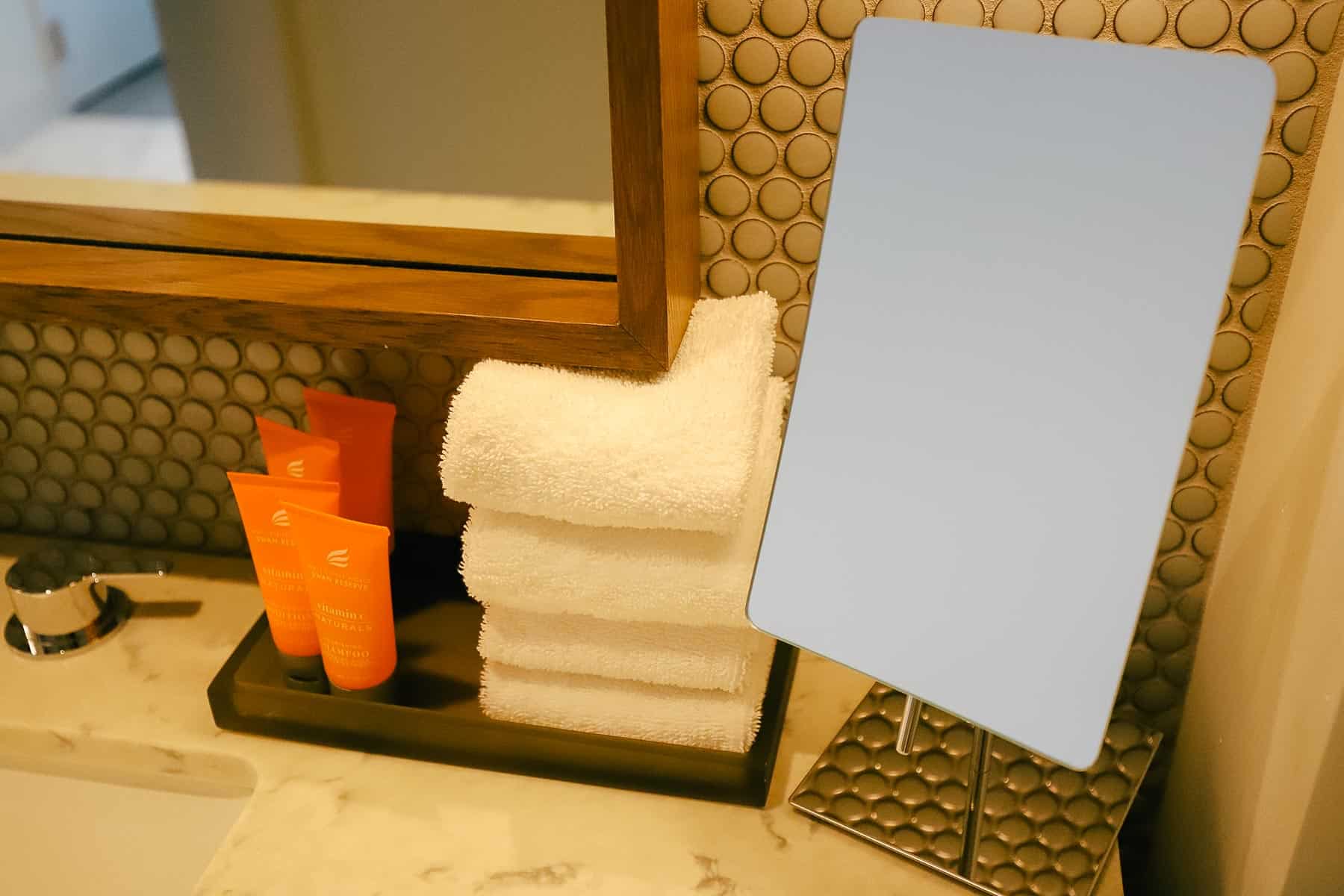 Underneath the sink, an open area provided storage space, extra towels, and a hair dryer. As someone who has to check to make sure "we got everything" when packing, I can't tell you how much I appreciate these open spaces in the bath area.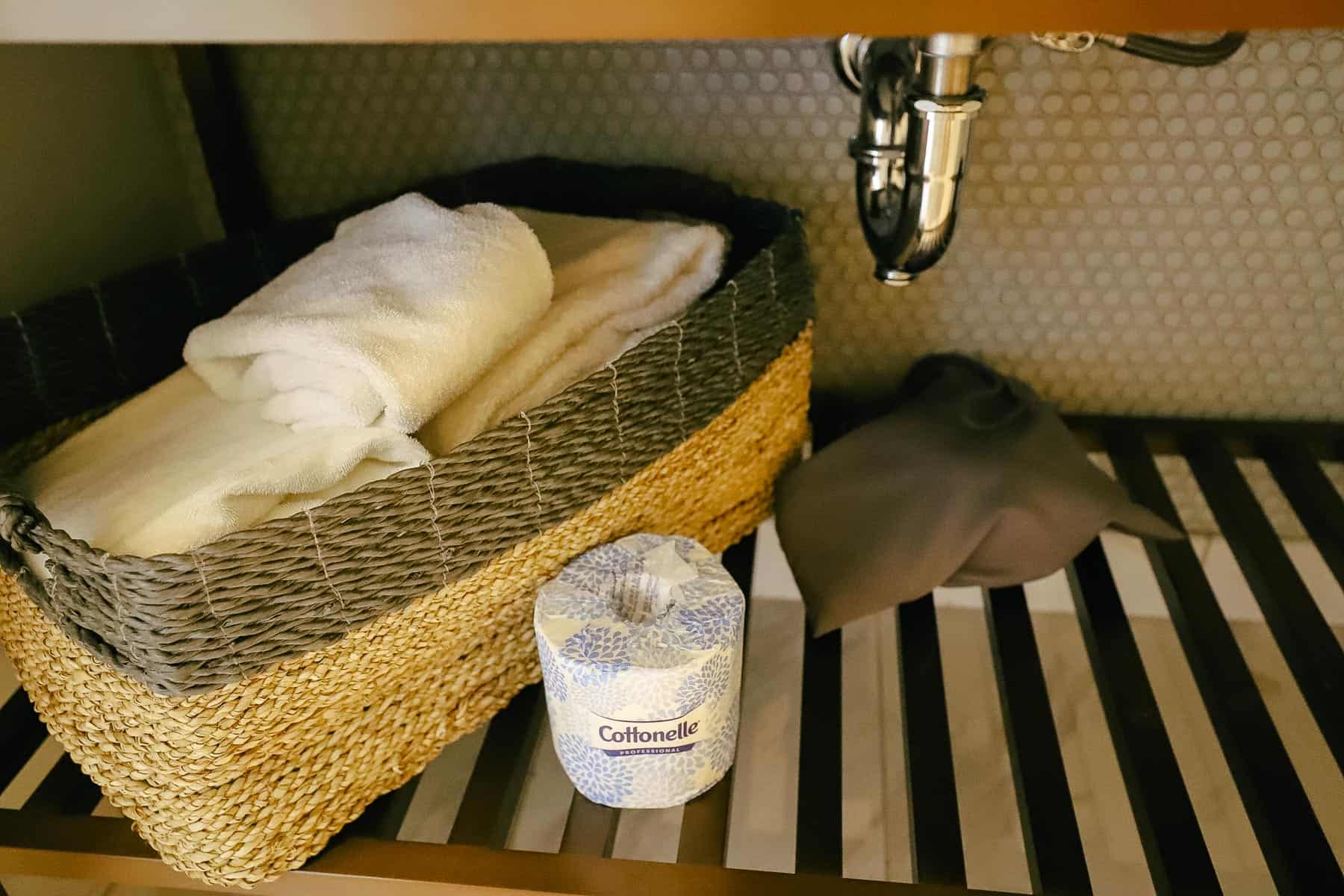 Our room had a stand-alone shower with a glass door.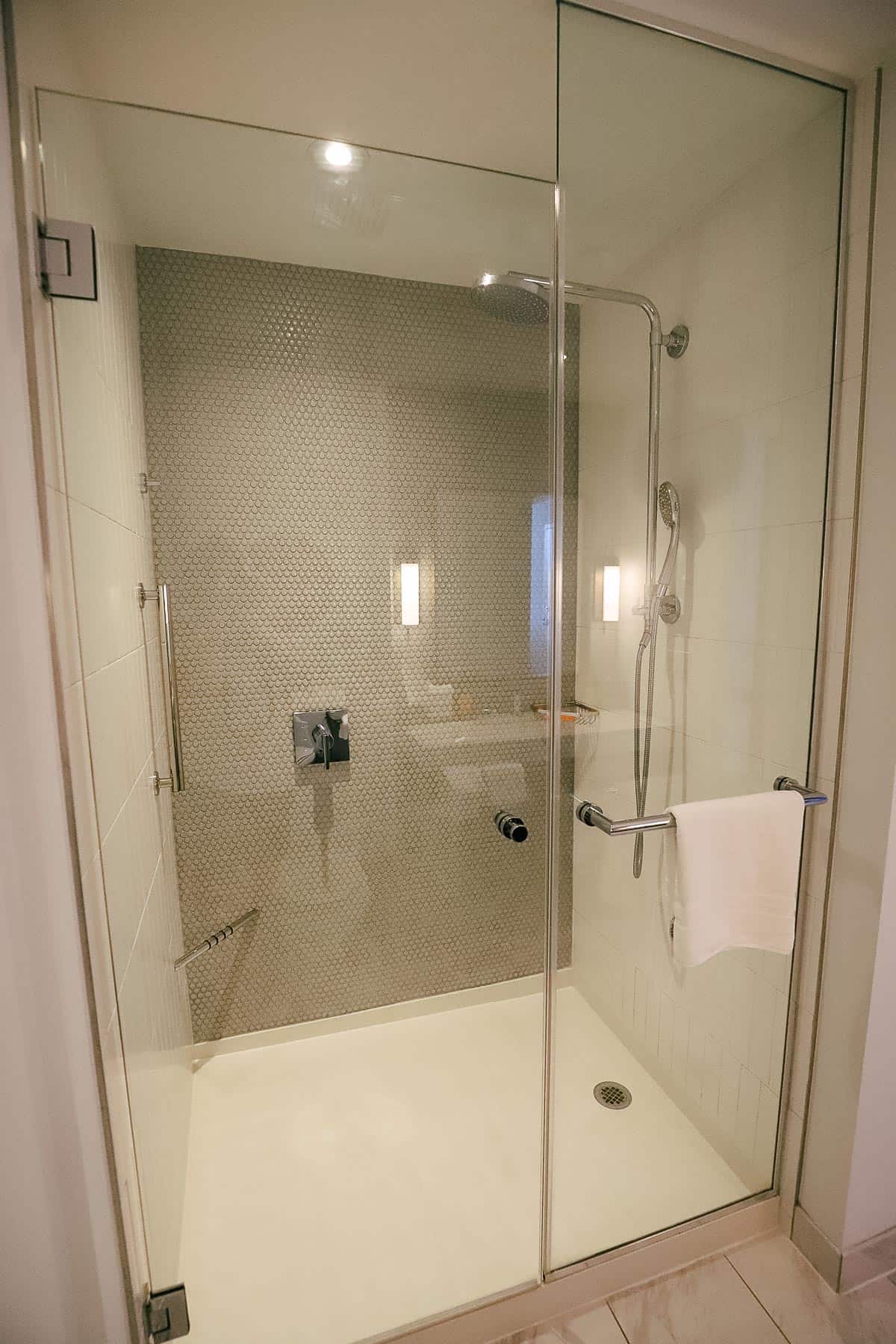 The rainfall shower head was perfection.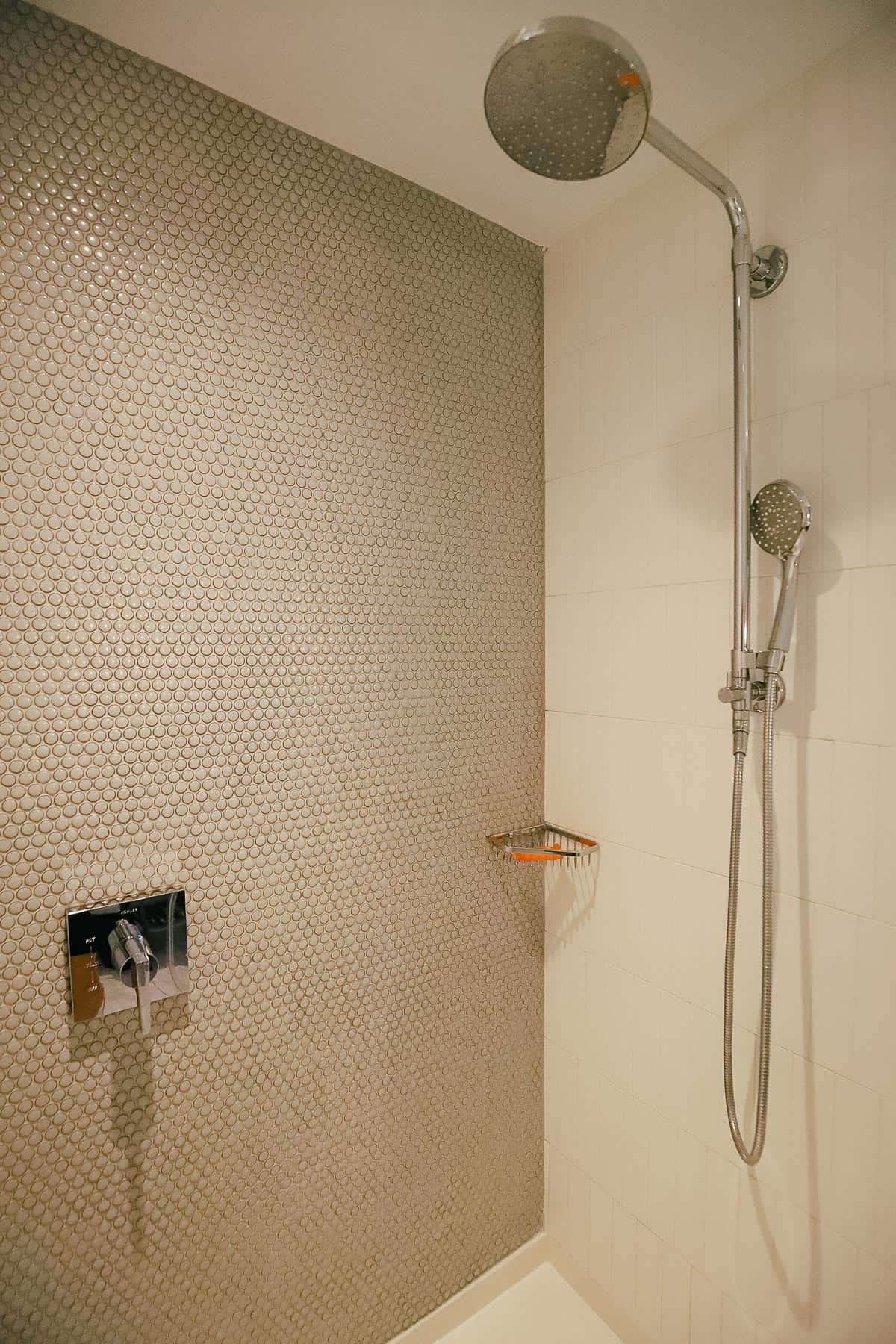 While I was taking photos, the sun managed to pop out for a bit. So I was able to get a better picture of the room view. Then it was off to the pool for a little rest and relaxation before Disney After Hours.
Related: Disney After Hours at Epcot Review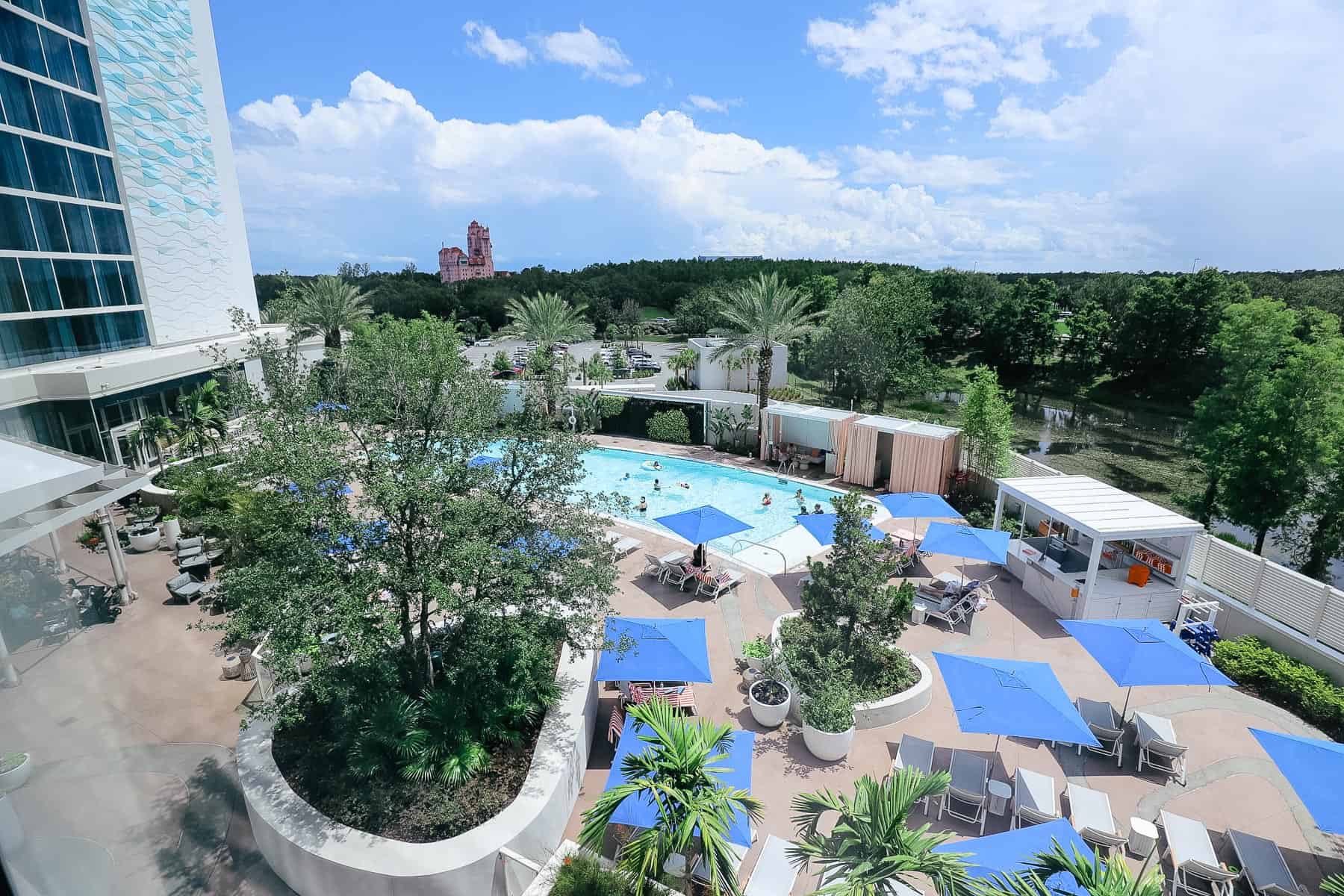 Video of Swan Reserve Room Tour
For more about the Swan and Dolphin Hotels, you might enjoy browsing the articles in our resort guide:
Here is our official resort review:
Or you might enjoy the following:
In the Comments
What are your thoughts on this Swan Reserve room tour? Do you like the layout and design?