Photo Tour: Standard Guest Room at Disney's Swan Resort
It's been a while since we visited Disney's Swan and Dolphin for a hotel stay. So when the opportunity arose to visit Walt Disney World a few days earlier than planned, this hotel came to mind pretty quickly.
First, I knew our resort review of the Swan and Dolphin desperately needed updates. And I thought it would be nice to take a fresh look at the rooms at the resort.
So for this article, we'll look specifically at a standard guest room at Disney's Swan Resort. I booked this room with an annual passholder rate on the hotel's website. If you're planning a stay, you might want to check any special rates they have available.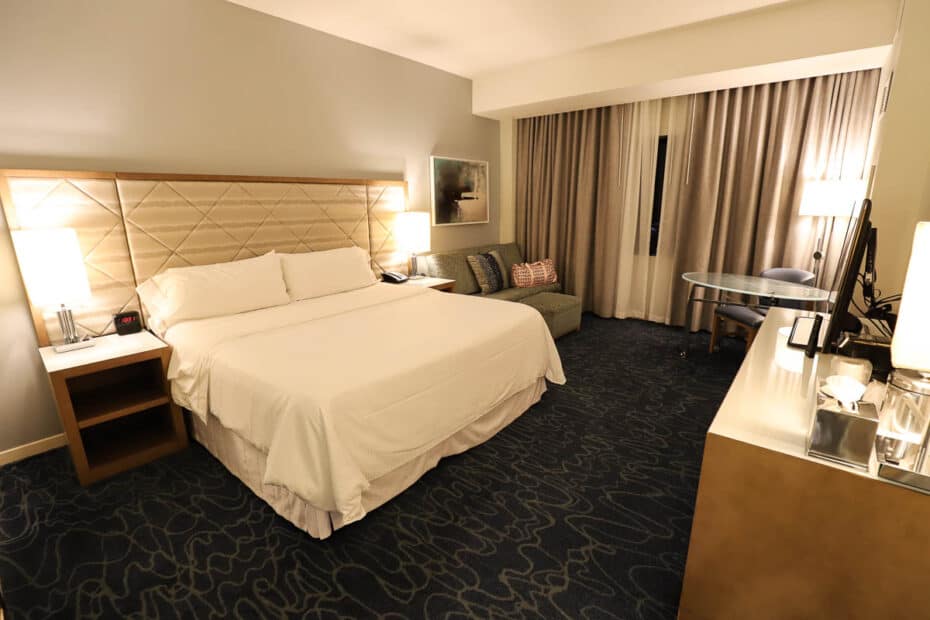 Guest Room at Disney's Swan (With King-Size Bed)
Usually, when I stay at the Swan and Dolphin, we reserve a room with two beds. However, it's important to note that the beds are different sizes between the three resorts.
Swan Resort (queen-size beds)
Dolphin Resort (double-size beds)
Swan Reserve (queen-size beds)
The size of beds might determine what kind of room you reserve given the make-up of your party. On previous visits, it was usually only my son and myself.
Therefore, the double beds at the Dolphin weren't a dealbreaker for our party. However, if you're sharing beds, you might consider a room at the Swan or Swan Reserve for the extra space.
Since I was traveling alone for this portion of my trip, I reserved a king-size bed at Disney's Swan. Here is a look inside the room.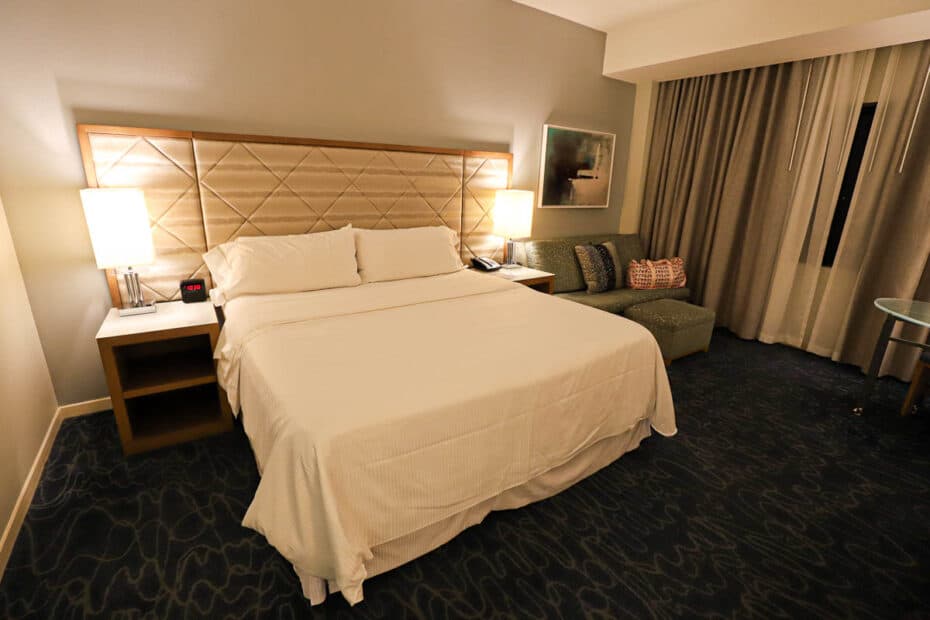 The room was spacious and clean.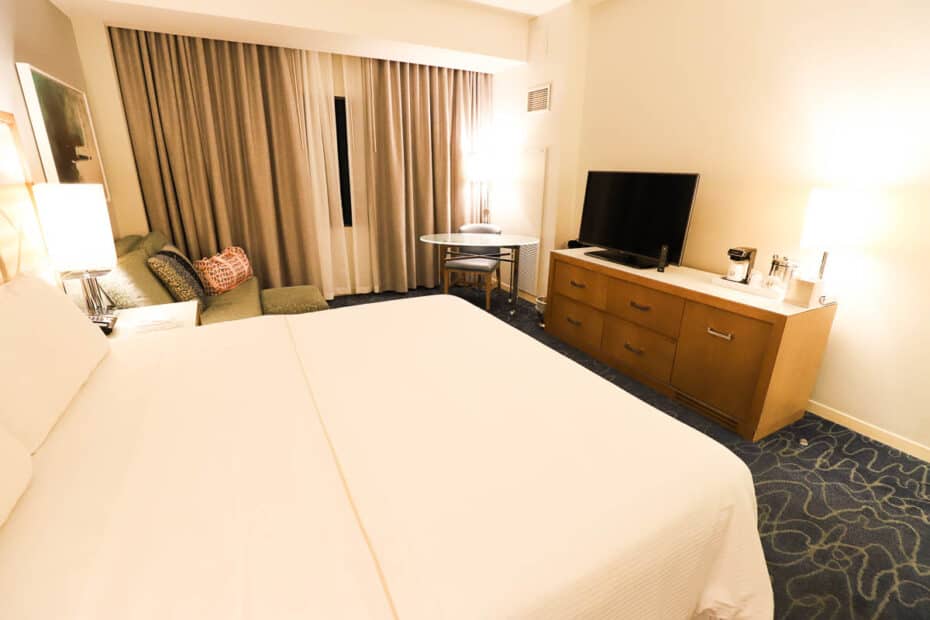 These rooms were last updated a few years back and have held up well. The light colors used in the decor make the space feel modern and updated.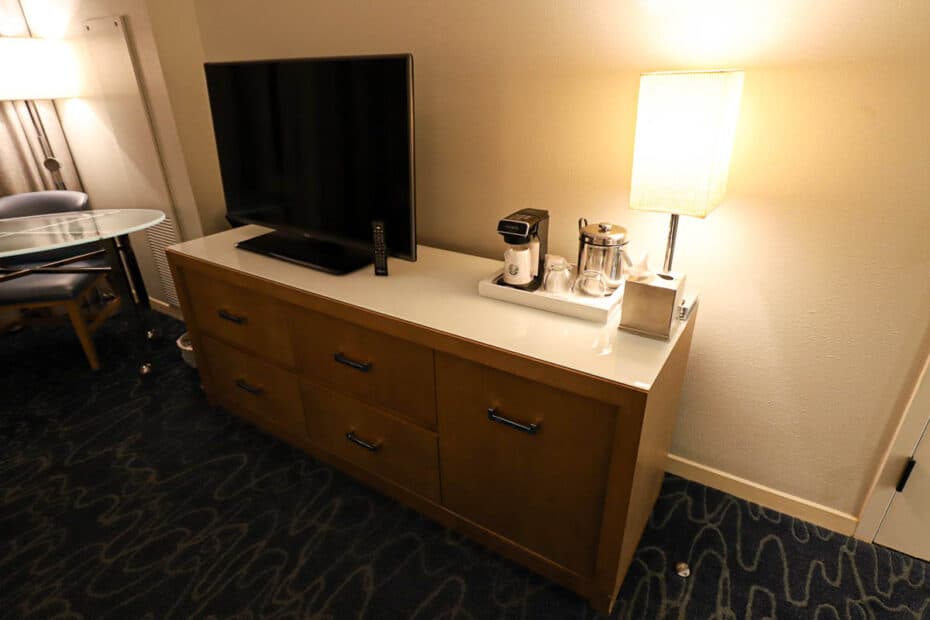 One of the things I've always appreciated at these hotels is the table on rollers with the chair. I enjoyed several meals here, and it was a great place to get a little work done.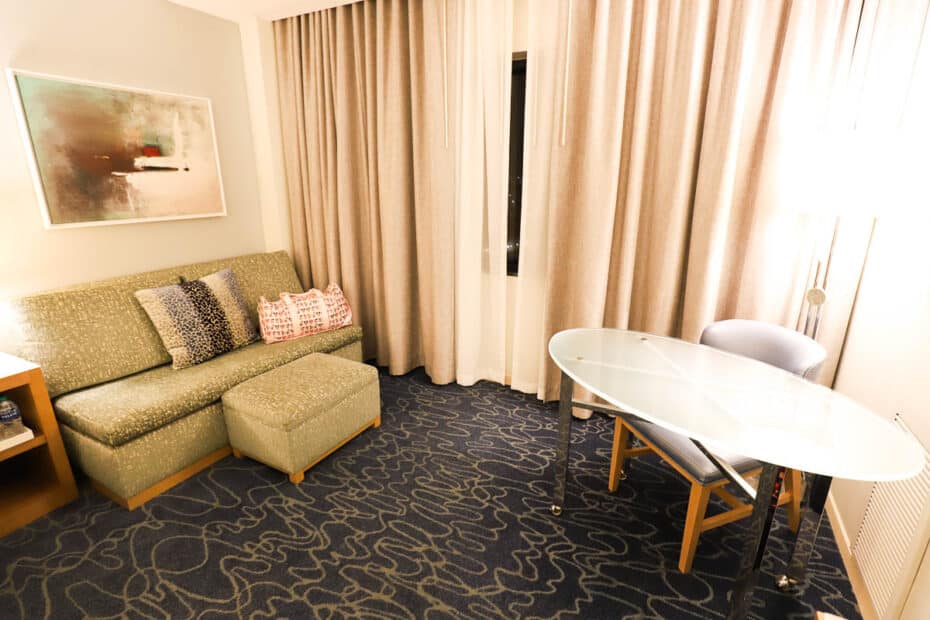 In addition, I enjoyed having a sofa in the room. You don't typically get a sofa when you reserve a room with two queens.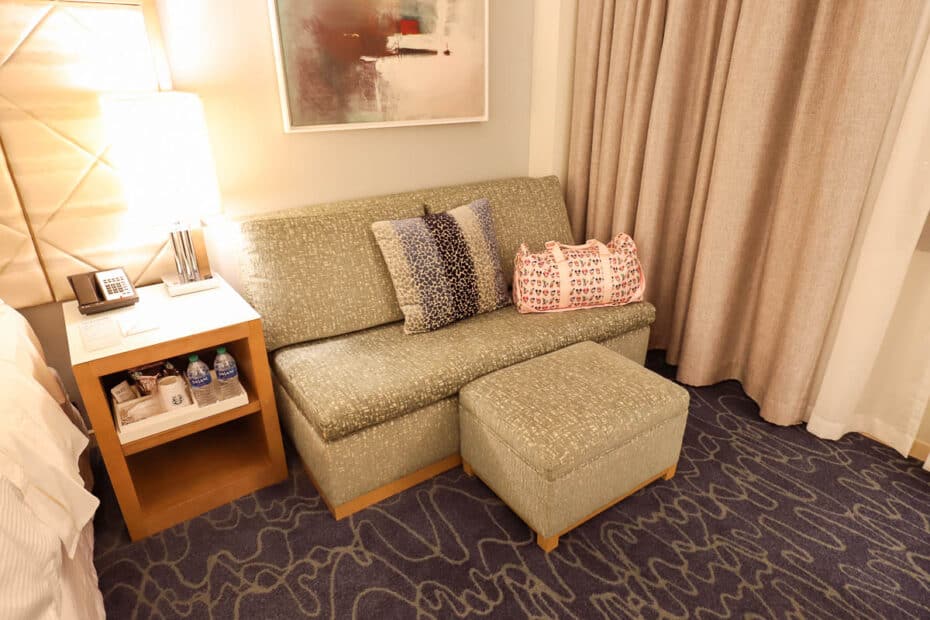 So, it was nice to have a separate area to lounge.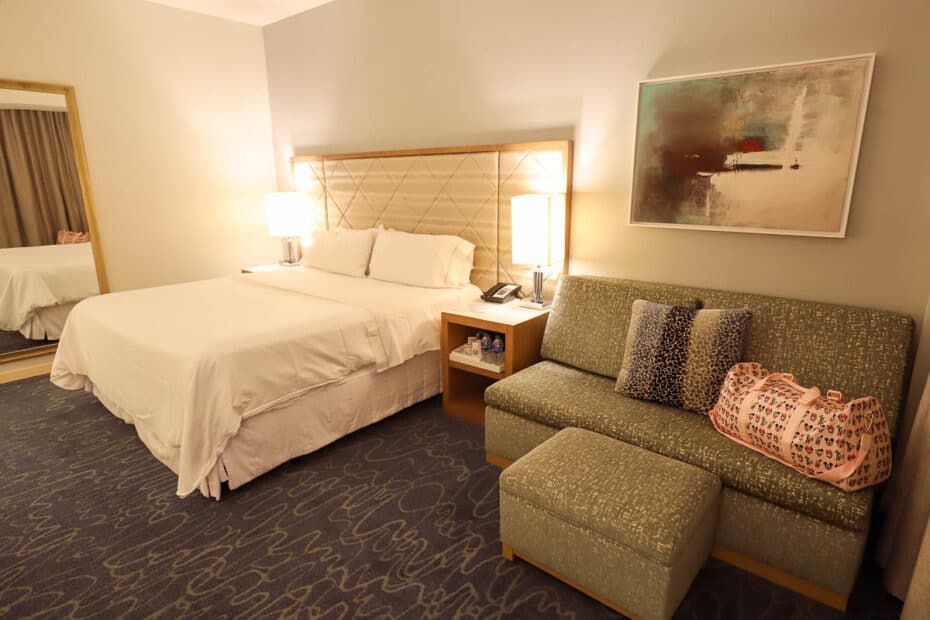 The thermostat is on the wall. You'll want to remember to turn the thermostat off if it gets too cold.
If you were to turn the temperature up, the heat kicks on to warm the room to your desired temperature. Before you know it, you'll be toasty.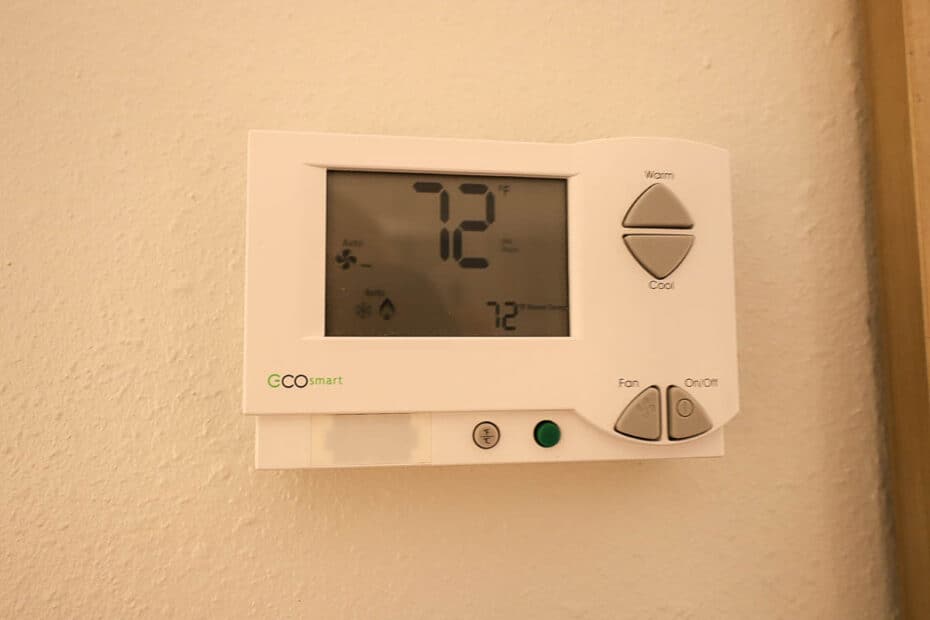 There was an individual coffee maker, Starbucks coffee, bottled water, and other accompaniments.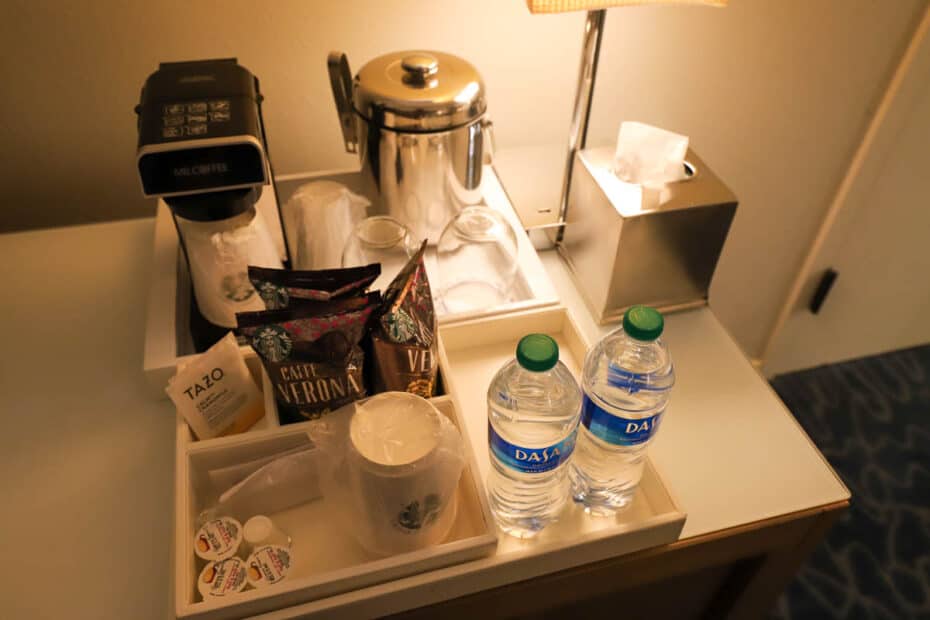 Here is a close-up. I appreciated having real glasses in the room.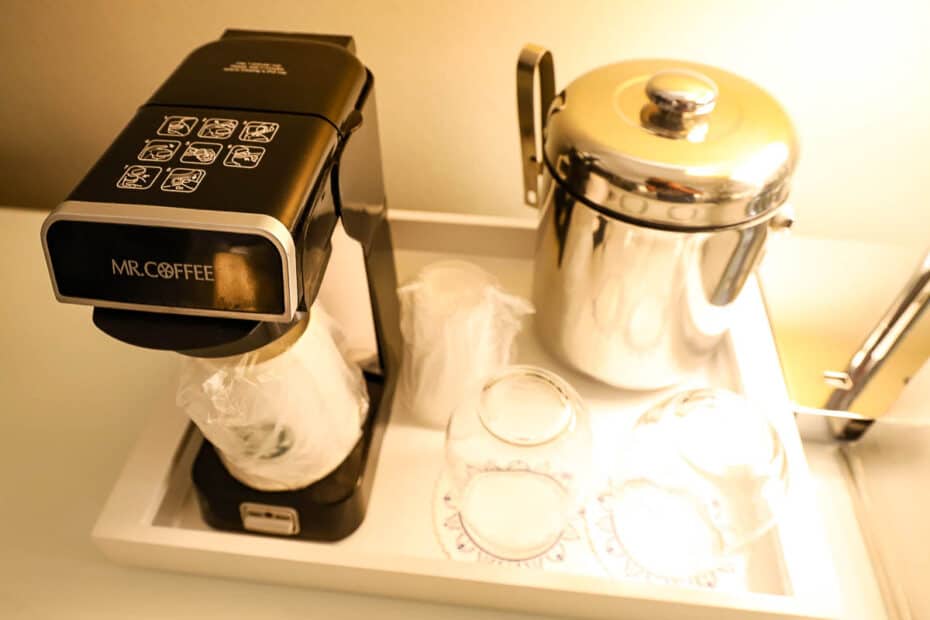 Below the coffee area, there was a mini-refrigerator.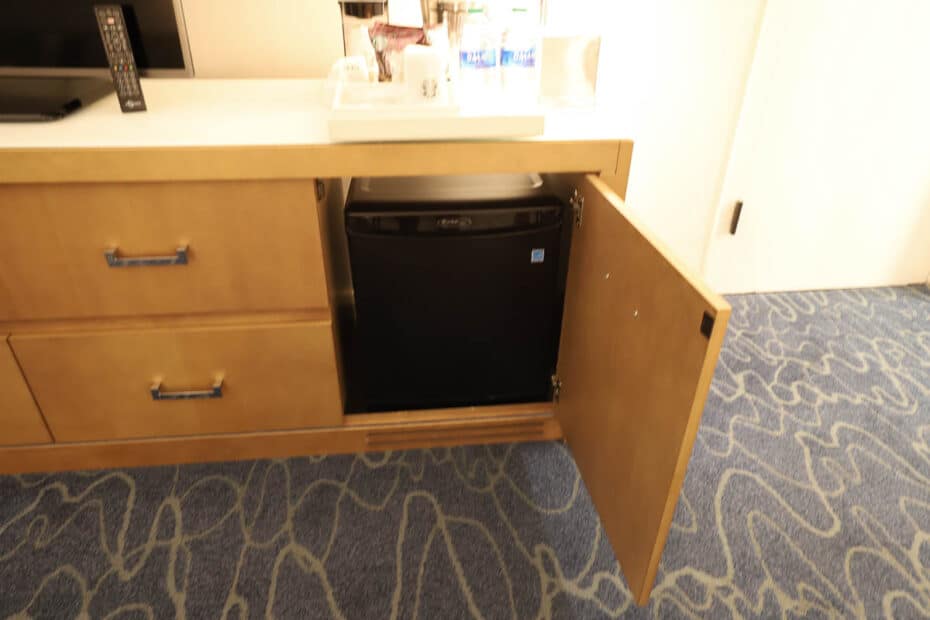 Or should I say beverage cooler? Most hotels have started using the term beverage cooler and warn that the coolers only chill to 41 degrees.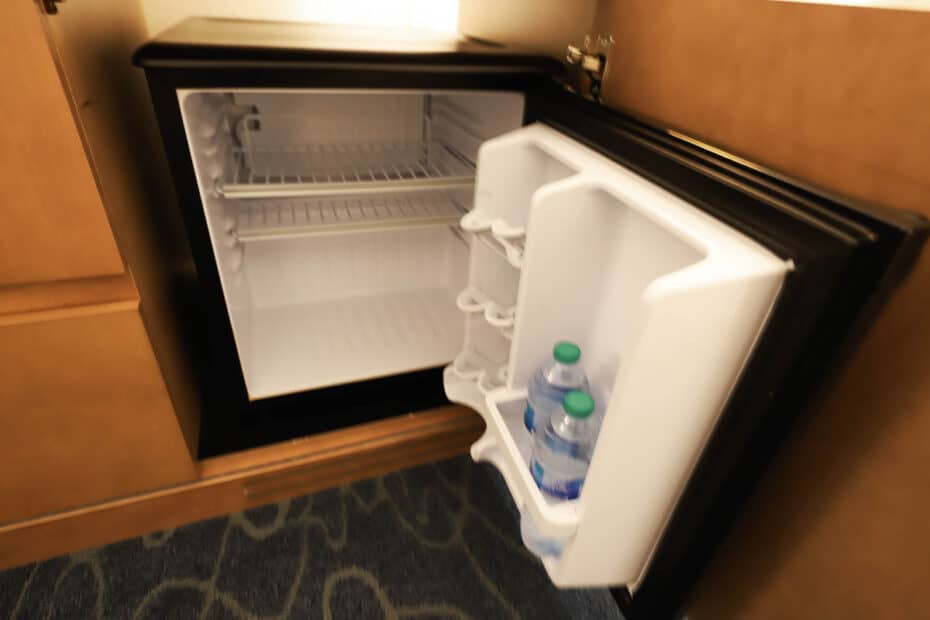 Said beverage coolers may or may not keep your milk as cold as it should. There was no freezer shelf on top.
Anyway, the bathroom has two vanities. One is located in a separate area outside the guest bath. This separate area is a nice feature because multiple guests can simultaneously use both spaces to get ready.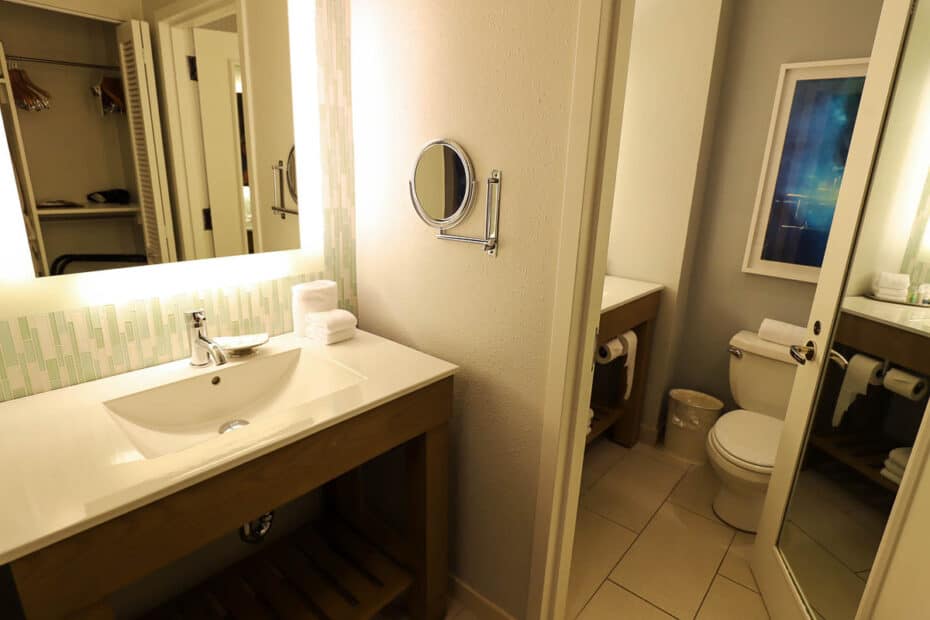 The bath area had a vanity with plenty of counter space.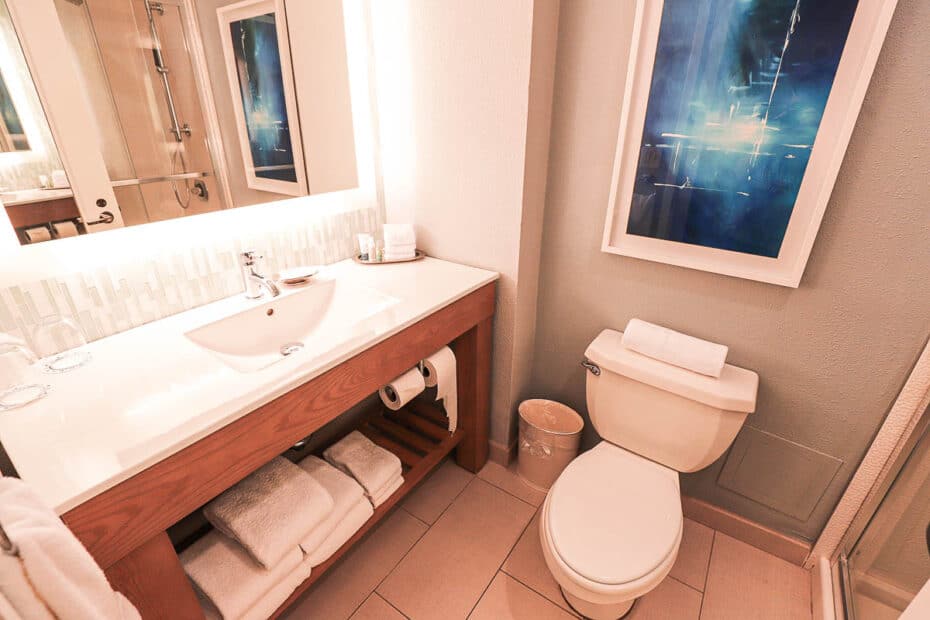 This room had a walk-in shower. I wished there had been a ledge like we saw over at the Fairfield Inn and Suites at Flamingo Crossings.
Related: Fairfield Inn and Suites Review (Flamingo Crossings)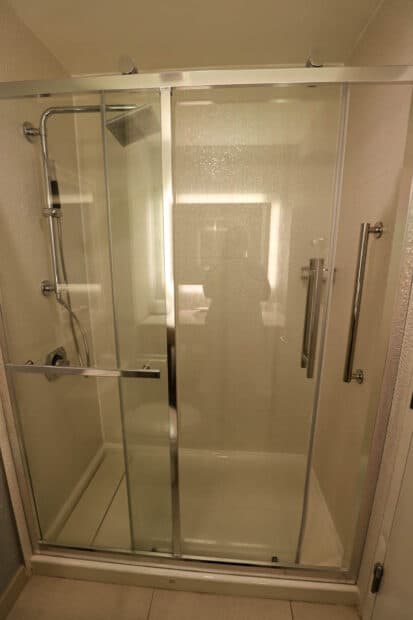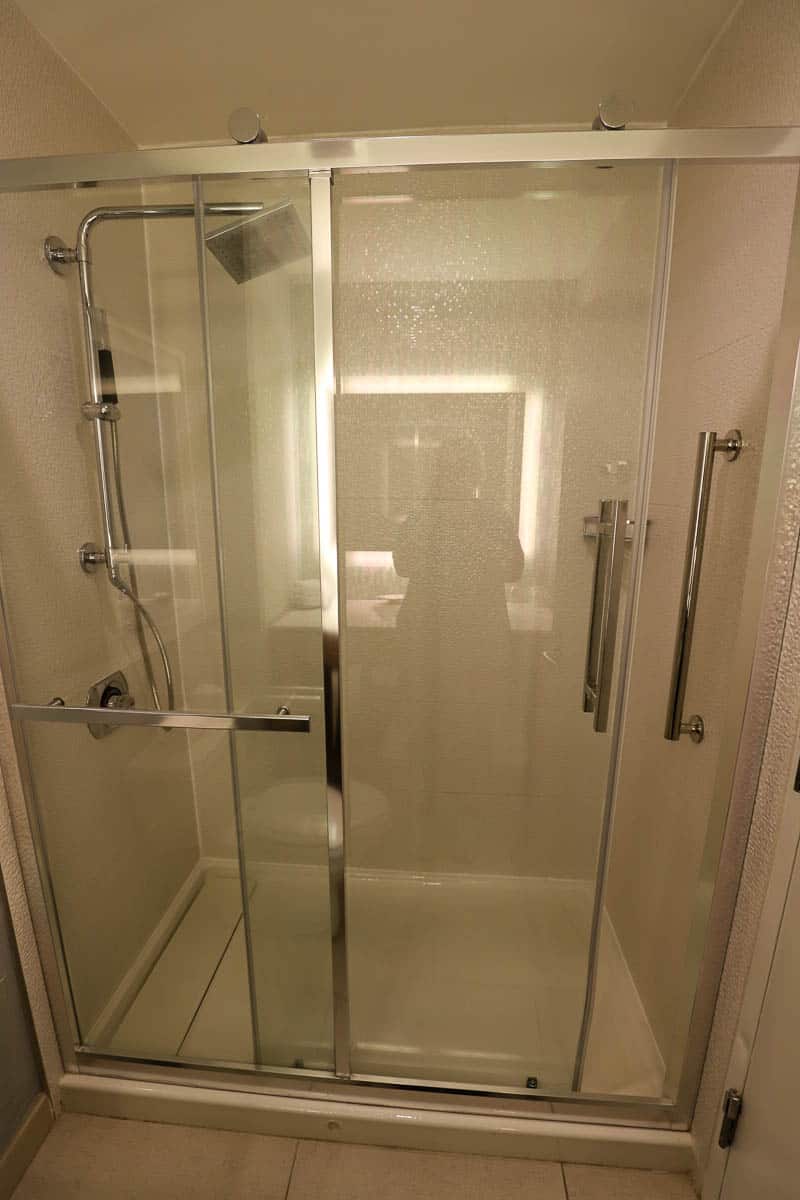 The Swan is one of the first hotels I remember staying at when these rain shower fixtures started popular a few years back. I still enjoy them and the excellent water pressure at the hotel.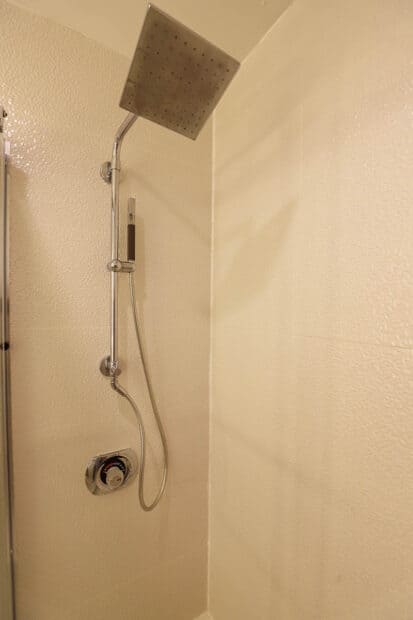 We all need a good pressure washing at the end of a long day at Disney World, right?
Toiletries were provided.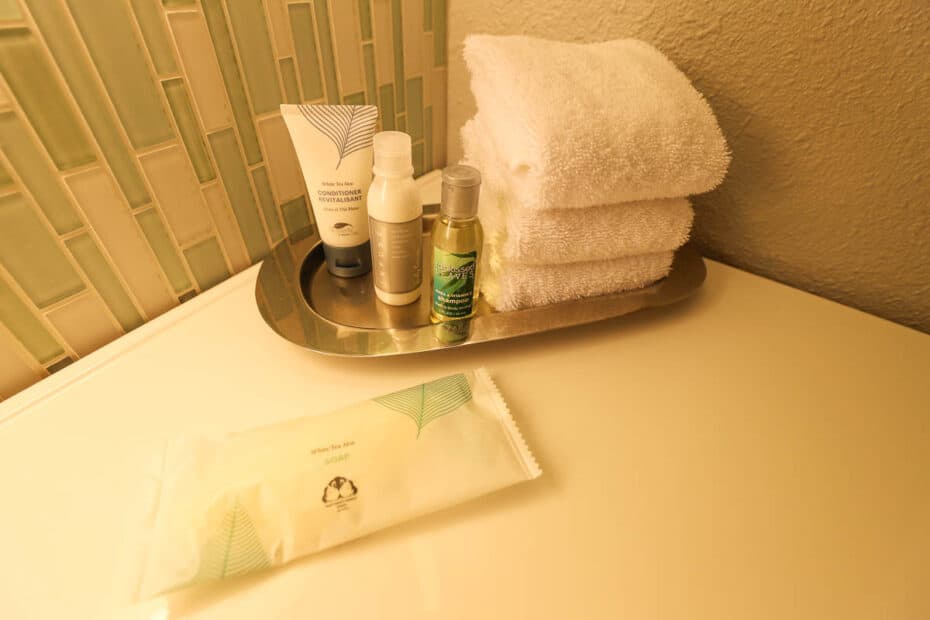 The closet was home to the usuals like a safe, an iron and ironing board, extra pillows and blankets, and a luggage rack.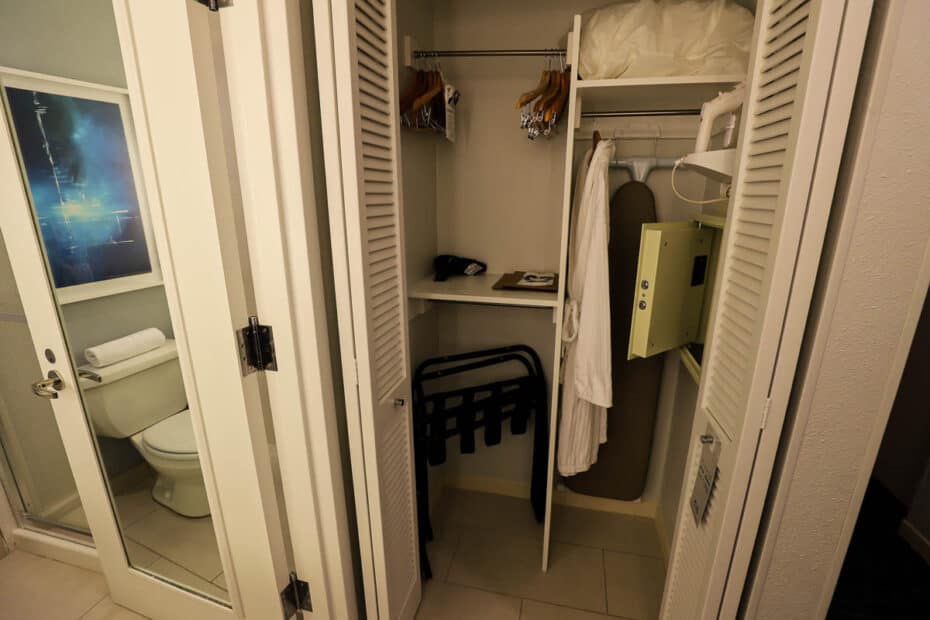 I appreciated that a hotel robe was provided.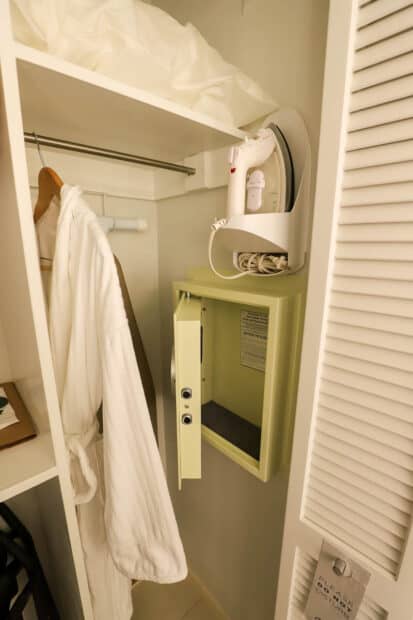 Lastly, this room was located on the 12th floor of the hotel, which was the top floor. From the picture below, you can probably tell the view was tremendous.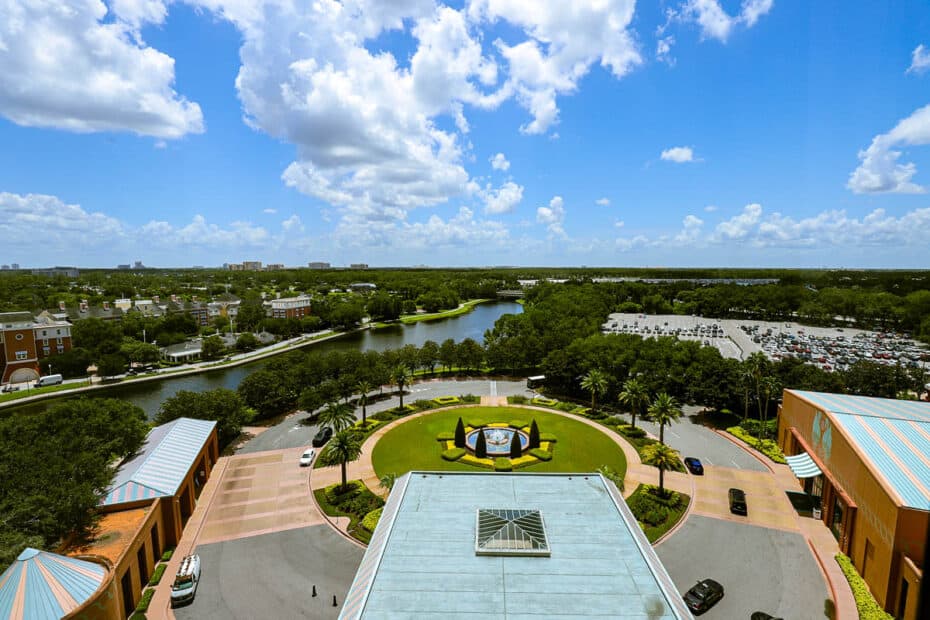 I could see the Boardwalk and Skyliner in the distance to the left.
Related: Disney's Boardwalk Inn Review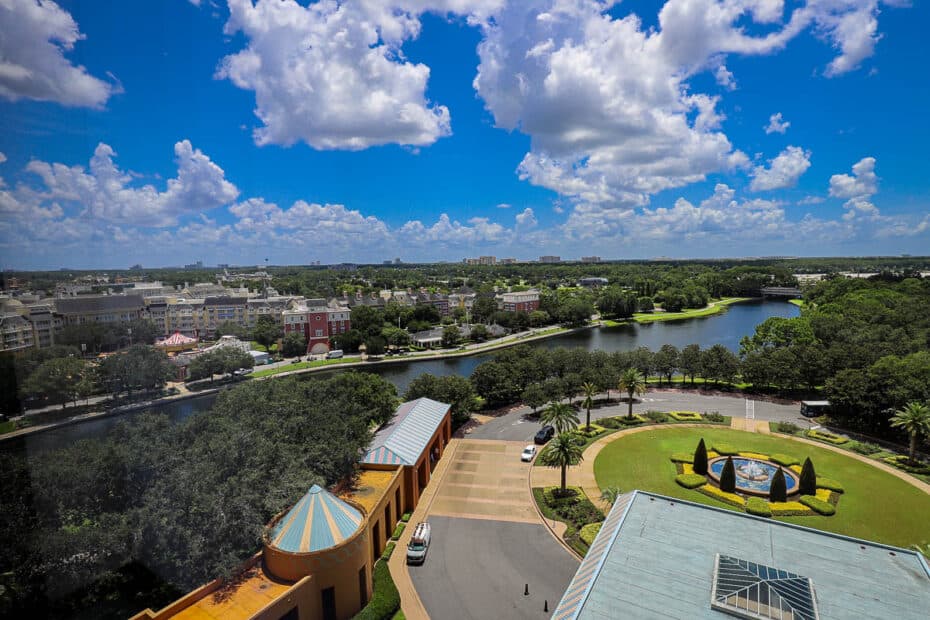 To the right, there was the Twilight Zone: Tower of Terror.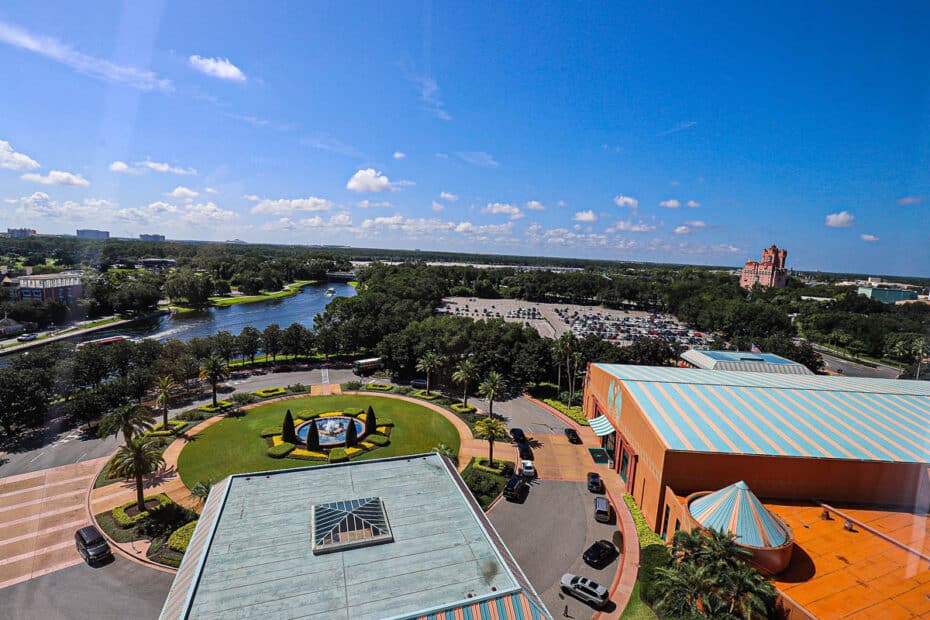 While I don't always recommend paying extra for an upgraded view, this hotel is worth consideration. Most upgraded rooms I've stayed in at the Swan and Dolphin have offered excellent views.
Overall, I enjoyed my stay in this room at Disney's Swan. It was lovely to walk to Epcot and Hollywood Studios at my leisure.
Here's a video of the room if you would like to see more.
We'll get to an updated resort review in the coming months. Moving forward, we'll shift things a bit to check out some Food and Wine Reviews. And there are several new character meets in the parks we need to go over.
For more information about these hotels, all our articles are listed in our guide for the resort, Disney's Swan and Dolphin Hotel.
Or you might enjoy these individual articles:
In the comments: What do you think about this room at Disney's Swan? Have you ever stayed here before?