Disney's Fort Wilderness Resort Review
Disney's Fort Wilderness Resort provides the opportunity to get away from it all during your Walt Disney World vacation. Well, at least the part of your vacation you actually spend at the resort.
This vastly sized resort provides a true wilderness escape with an option to lodge in a cabin. Additionally, you might reserve a campsite to park your RV or enjoy a little tent camping during your stay.
In this Disney's Fort Wilderness Review, we'll take a look at the campground, accommodations, dining, recreation, shopping, and transportation. In addition, I'll provide information about renting a golf cart, campsite, horseback riding, and bike rentals.
A week spent at Fort Wilderness is kind of like a vacation within a vacation. I guess that's true of all the highly-themed Walt Disney World Resorts. But the Fort does have something a little extra special going for it.
Make sure to grab your finest Mickey Mouse tent and the instruction manual on how to assemble it! Because we're headed out to the most magical campground on earth, Fort Wilderness!
Fort Wilderness Campground is considered a Disney moderate resort. Additionally, it can be classified as a Magic Kingdom resort and sits in a triangle of sorts (geographically) between Disney's Wilderness Lodge and Disney's Contemporary Resort.
Related: Disney's Contemporary Resort Review
While Fort Wilderness is not an actual resort hotel, it is truly the ultimate campground destination. I like the idea of the resort because it provides a space for people to bring their own RV or camper. Thus, they can enjoy the travel lifestyle they are already accustomed to while still visiting the Disney theme parks.
Additionally, Fort Wilderness provides campsite and cabin options, where not-so-experienced guests can try their hand at this type of lifestyle. Who knows? A successful stay at this Disney property might lead to a new vacationing lifestyle for you too. Or maybe not.
Disney's Fort Wilderness Resort Review
The first option for a stay at Fort Wilderness is to rent a cabin. The cabins sleep up to six adults and offer a living room, full-size kitchen, outdoor patio, and charcoal grill. The kitchen has a full-size refrigerator, a two-burner stovetop, microwave, and dishwasher.
The cabins are a great option for larger groups and are comparable in amenity to the family suites at Art of Animation. You might also compare them amenity-wise to some of the larger guest suites at the Disney World Villa Resorts. However, the deluxe resort hotel suites will have higher rates than what you would pay here for a cabin.
Related: Disney's Art of Animation Review
A Fort Wilderness cabin will include amenities like towels, coffee makers, utensils, dishes, glassware, toaster, pots and pans, and similar items. In addition, each cabin will have its own picnic table out next to the grill area.
Additionally, Disney's Fort Wilderness Resort provides four different types of campsites for guests. They are the following:
Full Hook-Up (RV plus Tent)
Tent or Pop-up Campsite (Pop Up Camper/2 small tents)
Premium Meadow (Large RV)
Preferred (RV and a small tent)
You can learn more about these options here on Disney's site if you prefer.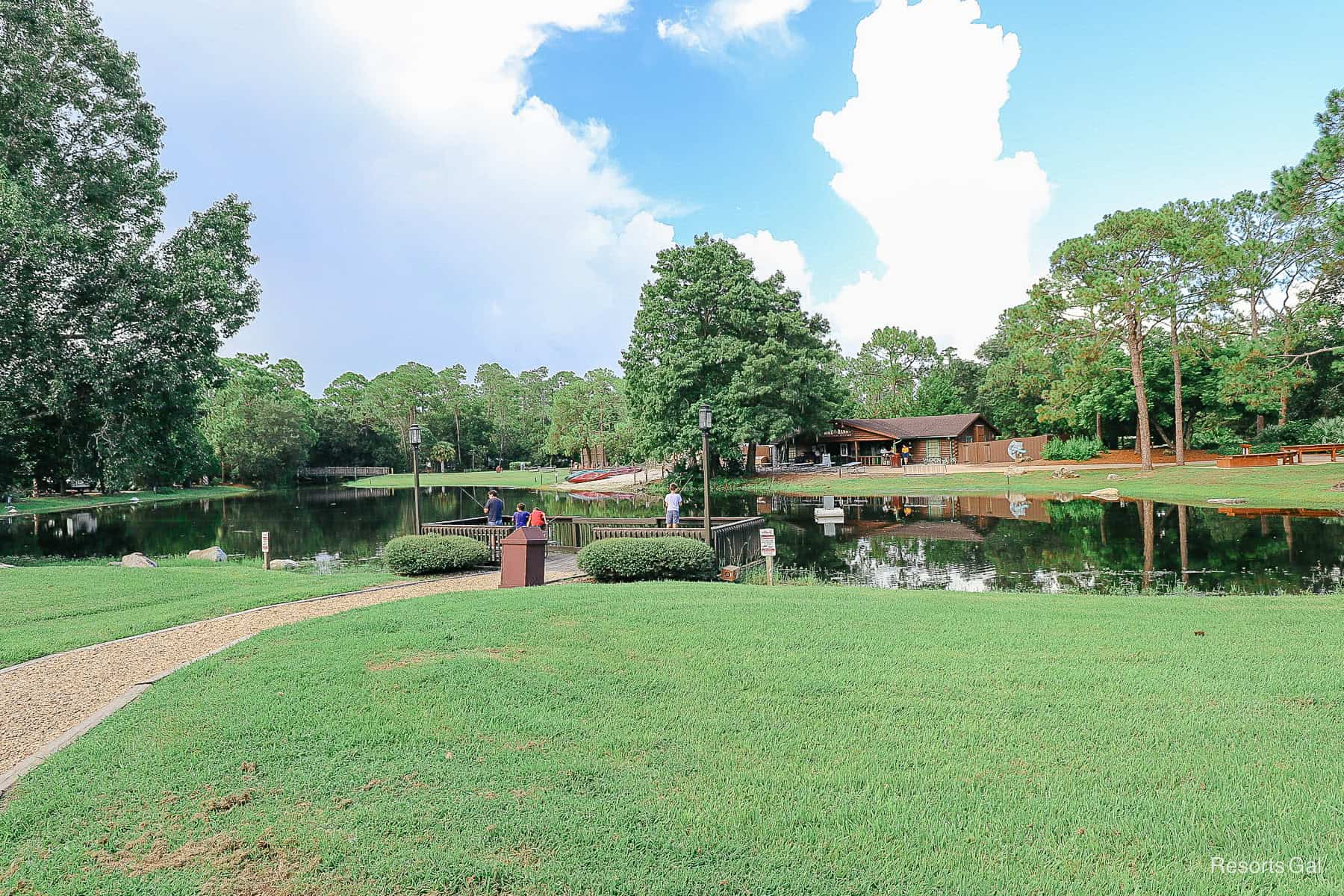 Fort Wilderness is a pet-friendly resort. However, there is an additional fee for guests who bring pets. From my understanding, some of the cabin loops and site loops are pet-friendly, while others are not.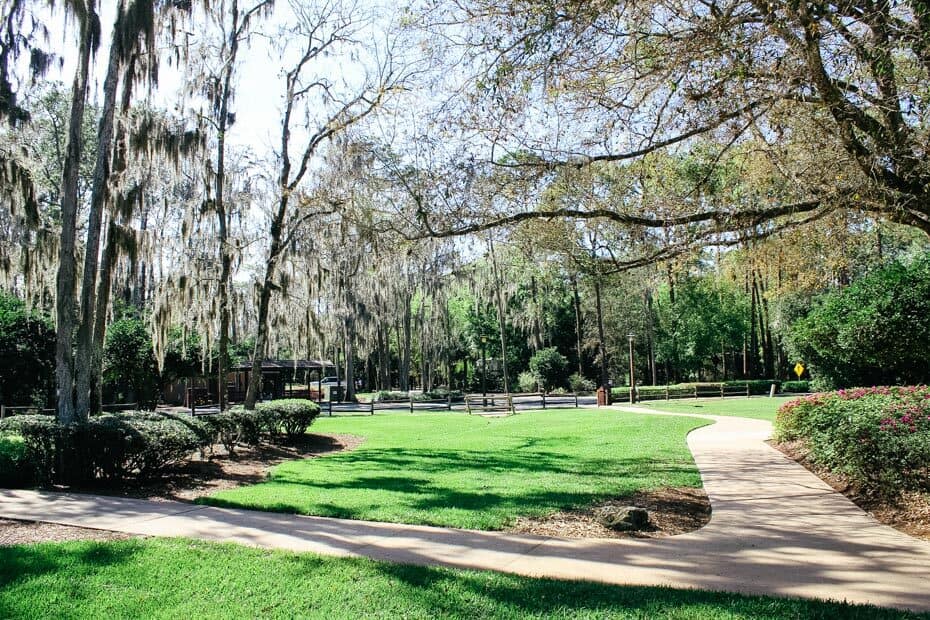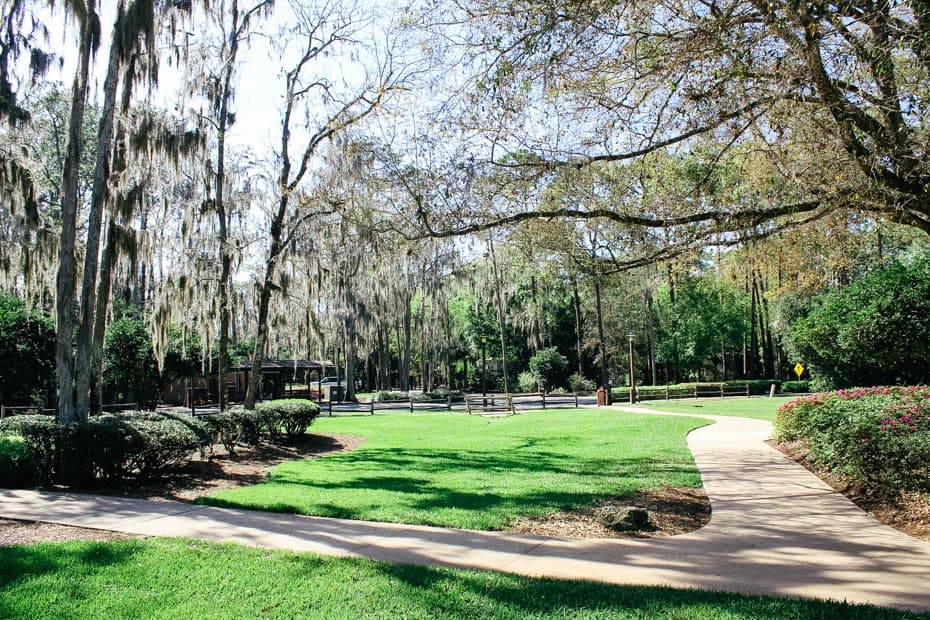 Recreation at Fort Wilderness
Naturally, Disney's Fort Wilderness Campground provides more recreation opportunities than any other Disney resort hotel. Since this Disney property consists of a whopping 750 acres, there are plenty of outdoor activities.
For starters, there's the Meadow Swimmin' Pool and recreation area. This central destination is home to Meadow's Trading Post, Fort Wilderness Bike Barn, a playground, tennis courts, and more.
Here is the entrance to Meadow Swimmin' Pool.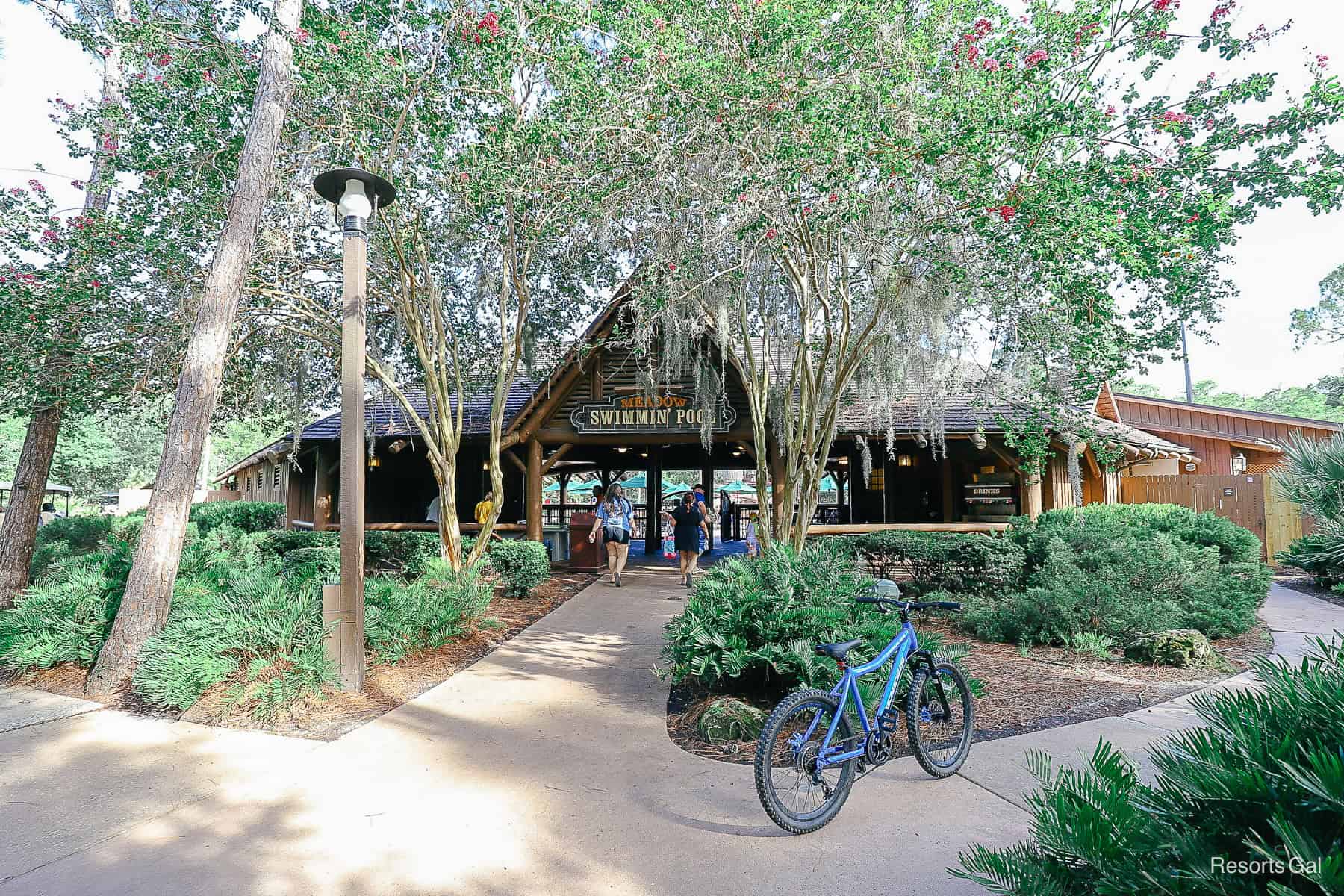 On my last visit, the place was covered up, so I could not get great pool pictures. But these should give you an idea of the feature pool area.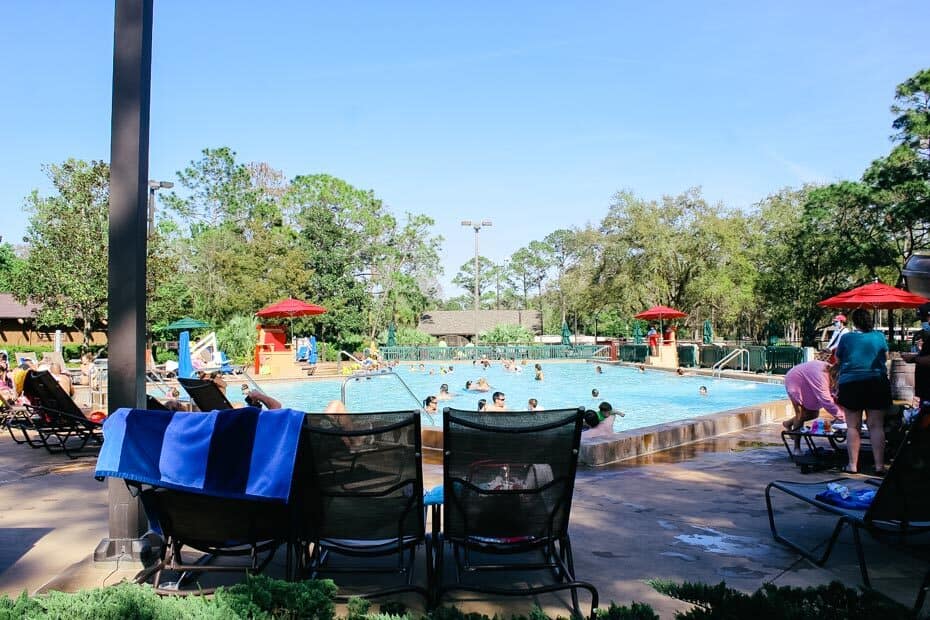 Like other moderate and Disney deluxe hotels, the pool at Fort Wilderness has a nice waterslide.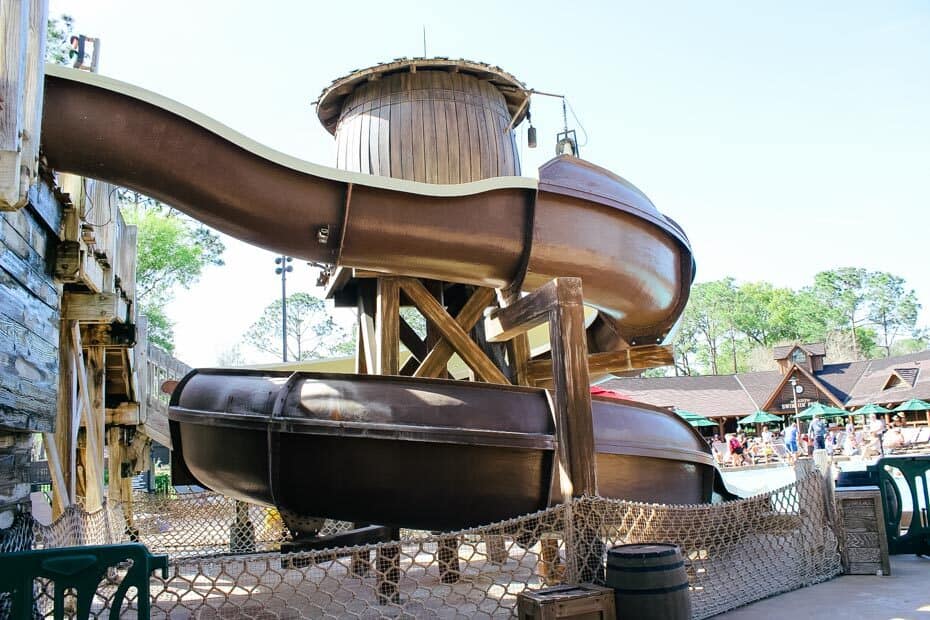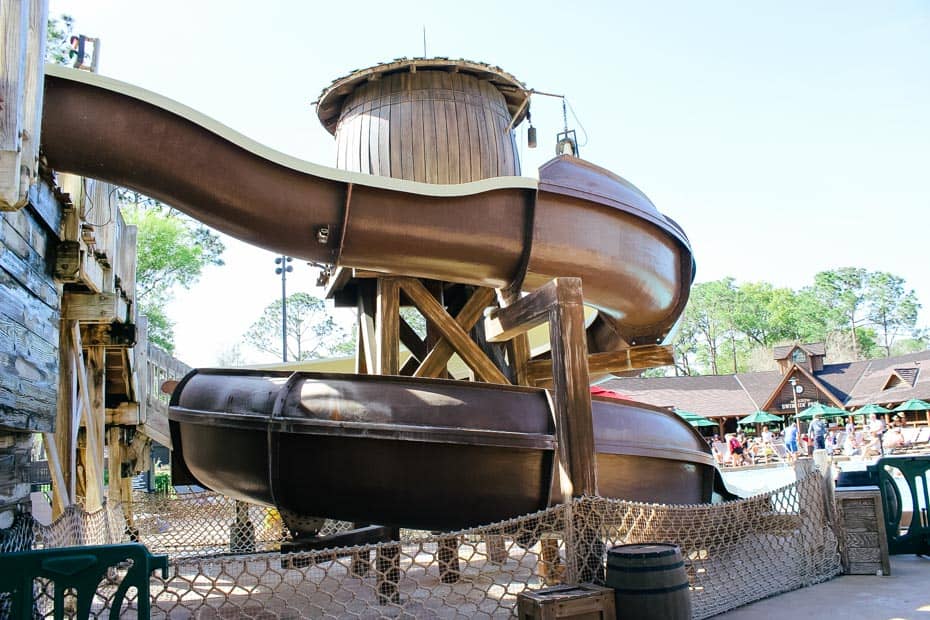 And there is an aquatic play area for smaller children.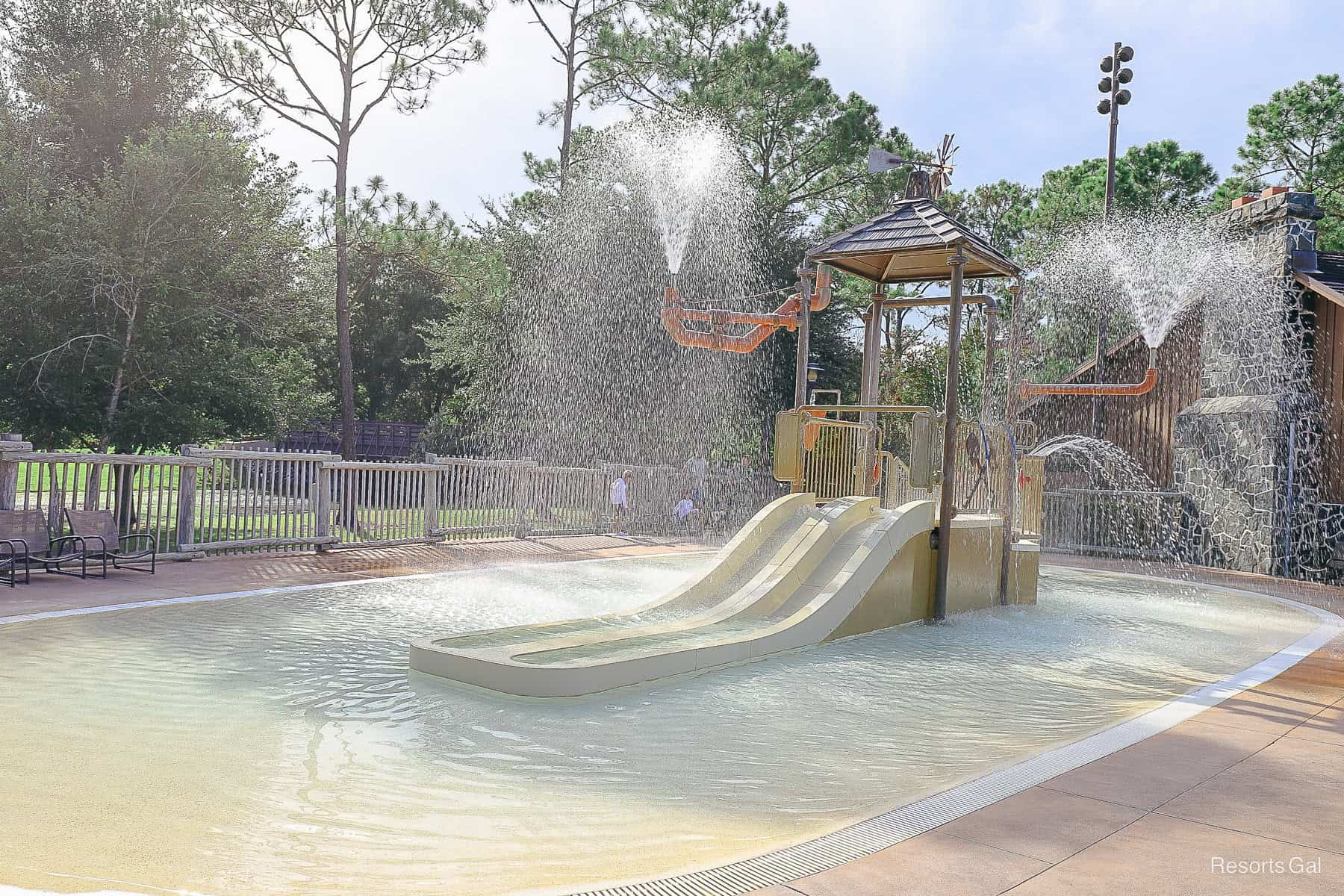 The pool has a circular walkway around the parameter. This large double tennis court sits on the backside of the pool area.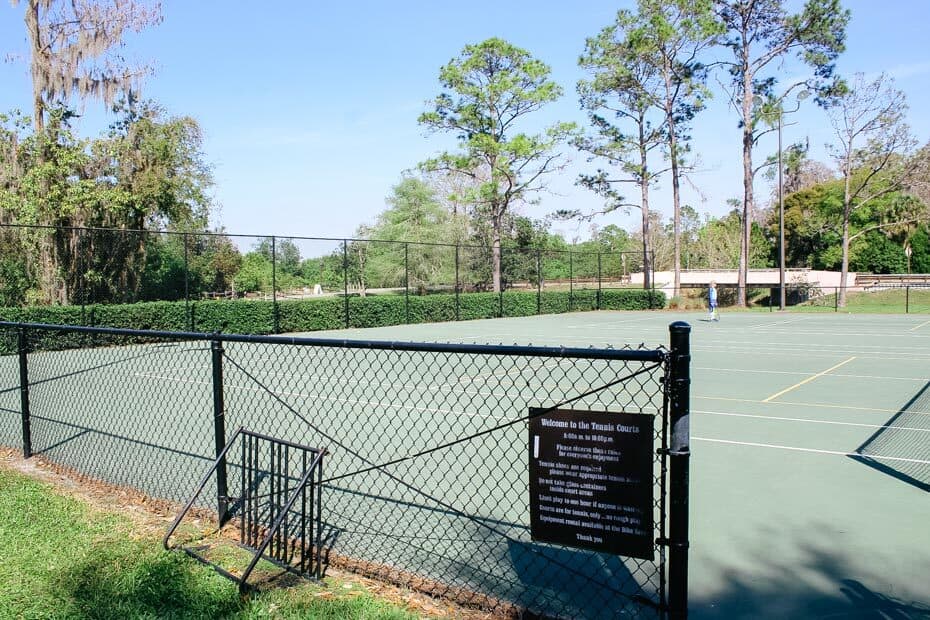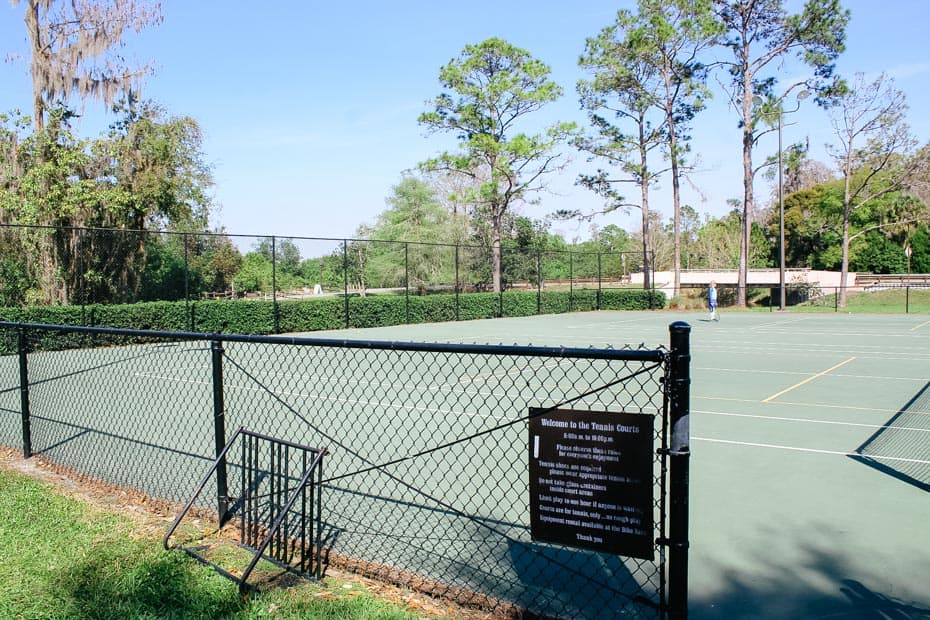 Several volleyball and basketball courts are scattered across the resort. Make sure to bring any sports balls with you, so you don't have to pay to rent them.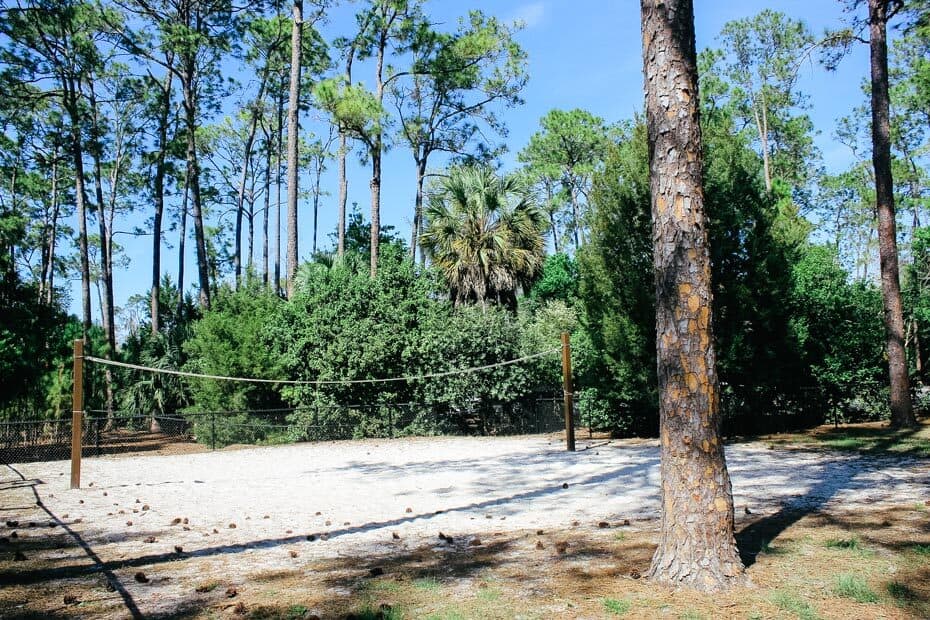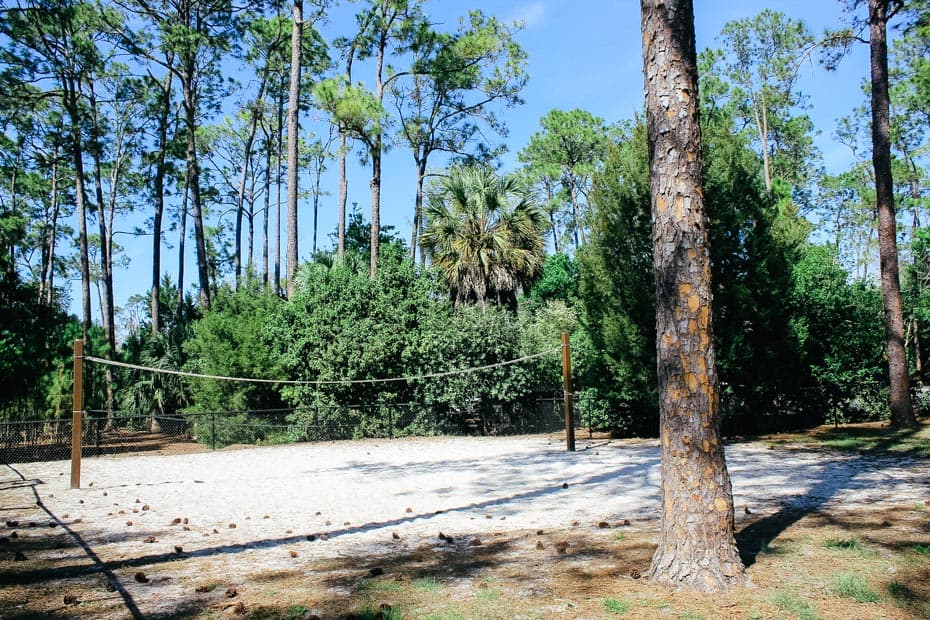 This is one of the nicer playgrounds that sits out around the Meadow Swimmin' pool.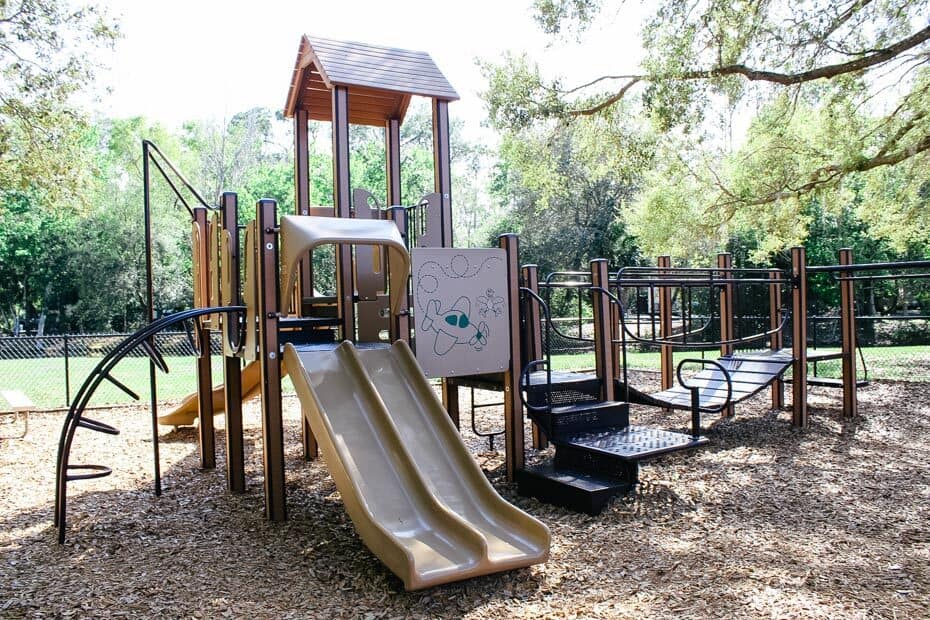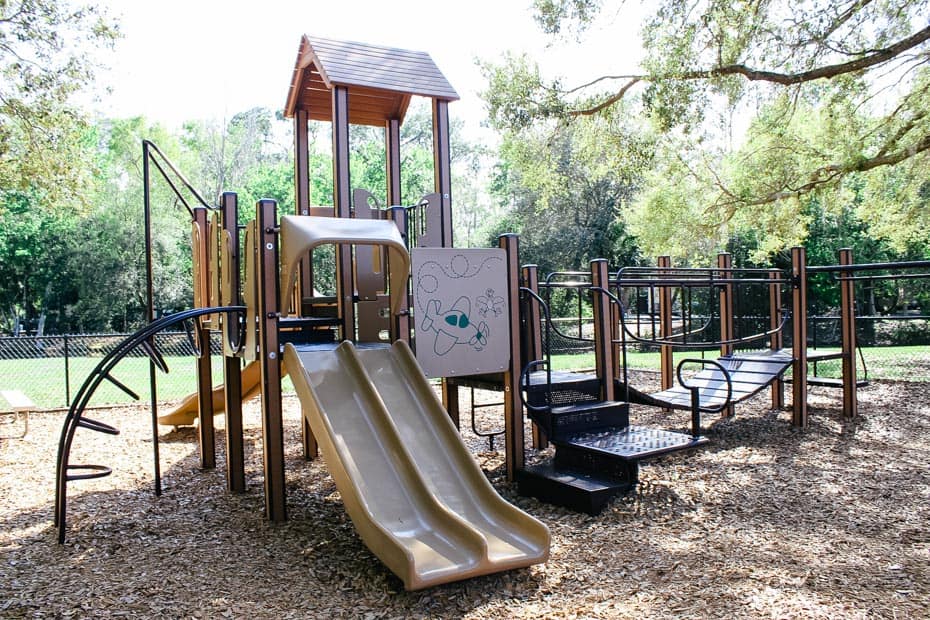 Directly in front of the pool, you'll run into the Bike Barn. This is where bikes and the majority of other recreational activities can be rented.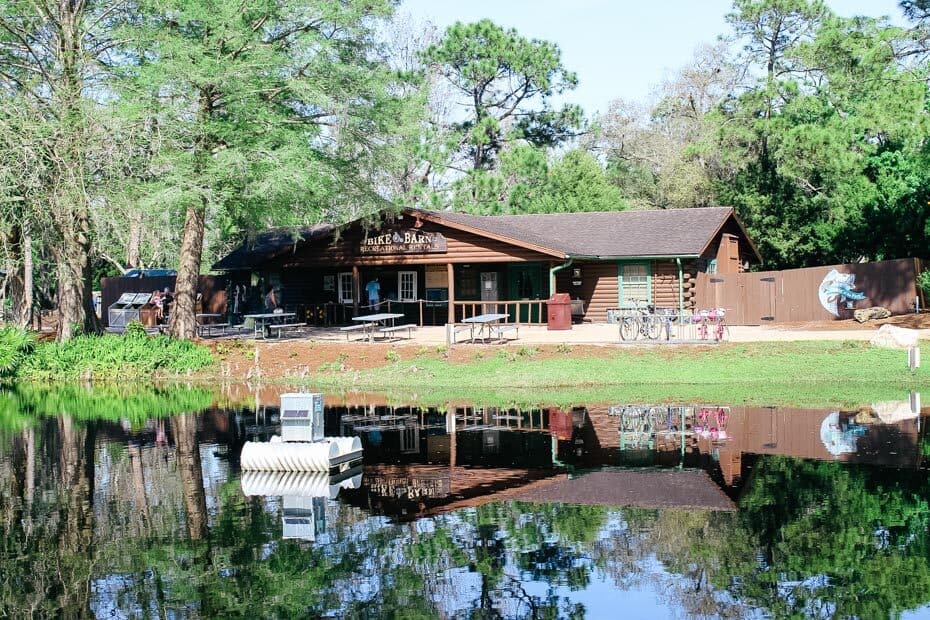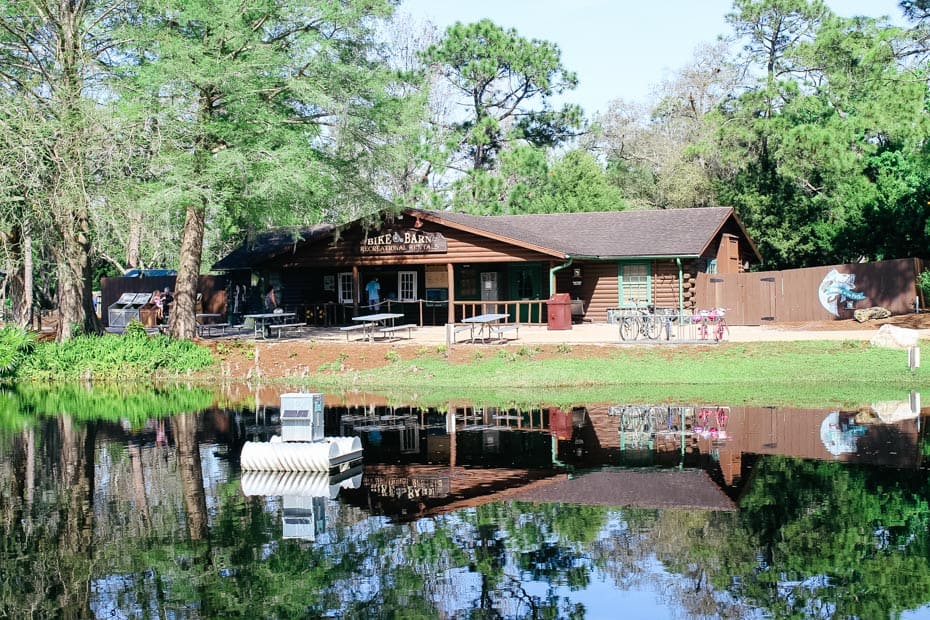 There's a walk up window out front to reserve your items.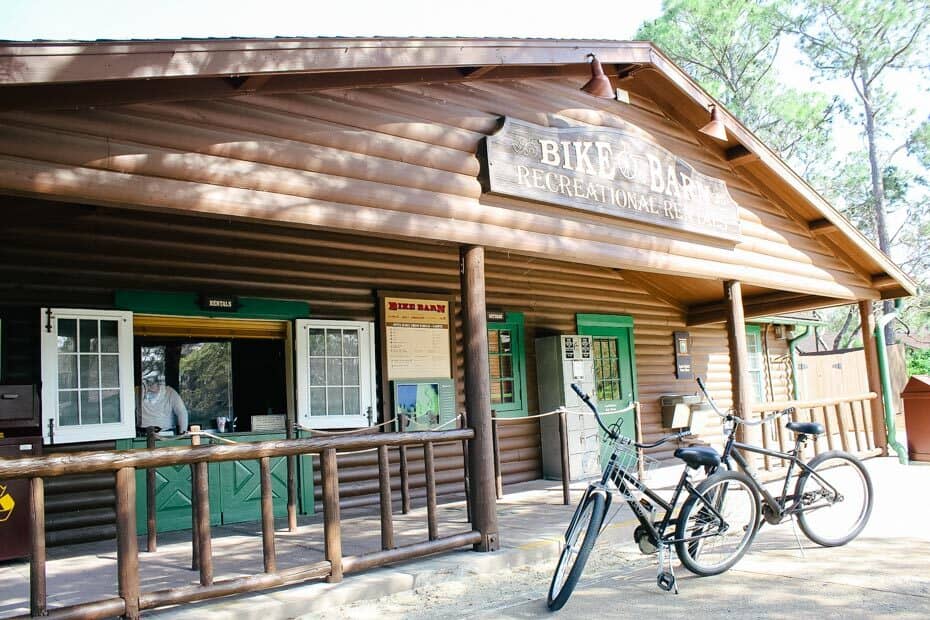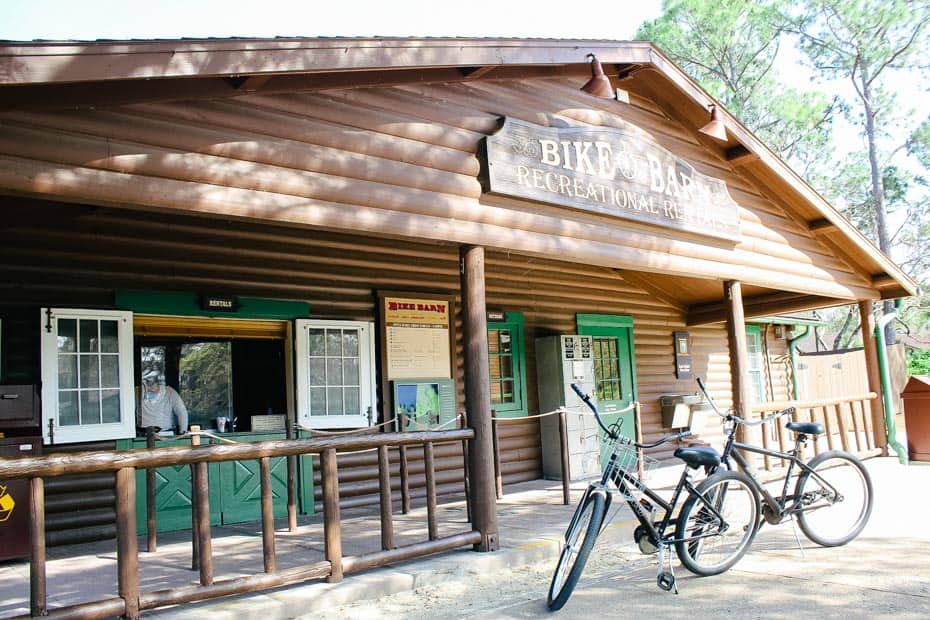 The Bike Barn is open daily from 9:00 a.m. to 5:00 p.m. and offers the following extra-cost activities when available:
Kayak Rental
Canoe
Bicycle
Casting Rod Fishing Gear
Worms and Nightcrawlers
Specialty Cruises
Guided Bass Fishing Excursions
Wilderness Back Trail Adventure
Wilderness Archery Experience
*Hours of operation might vary, so make sure to check before walking over.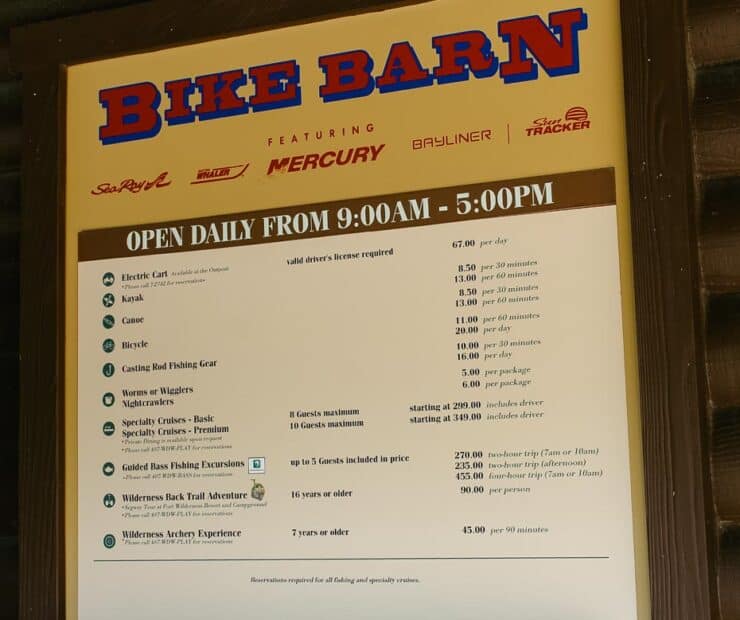 On my last visit, guests were waiting to reserve bicycles and couldn't pick them up until the next day because they didn't have any available. I'm not sure if this is common, but I would look into these types of items upon arrival if you're interested. For reference, bike rental information is available here on Disney's site.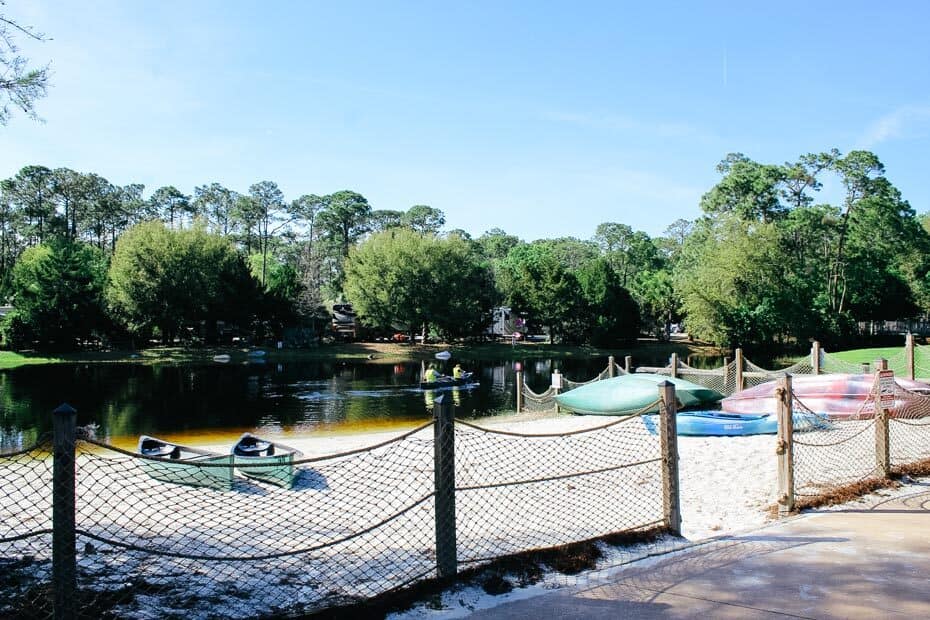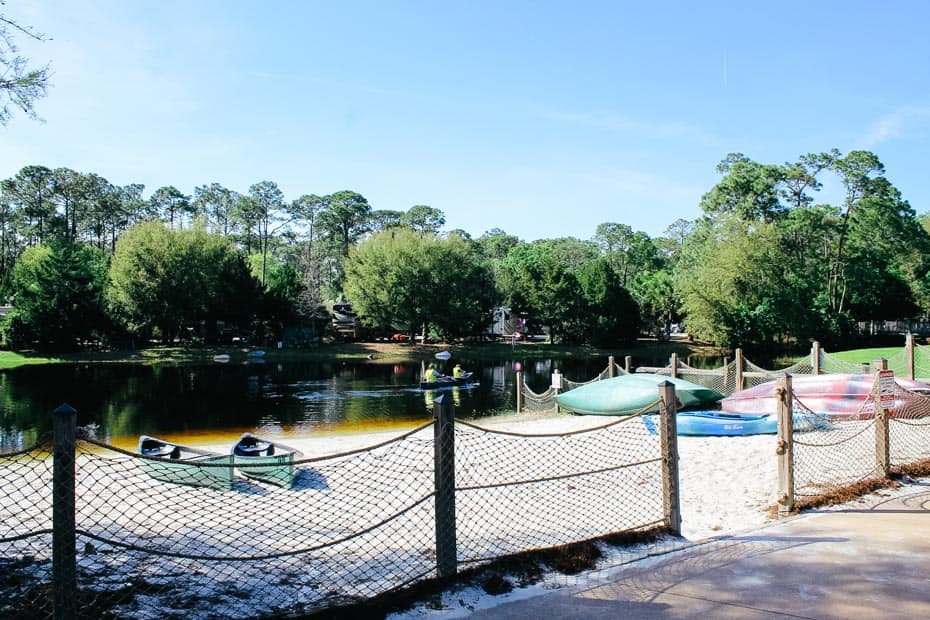 There are plenty of lifejackets available for the canoe and kayak rentals.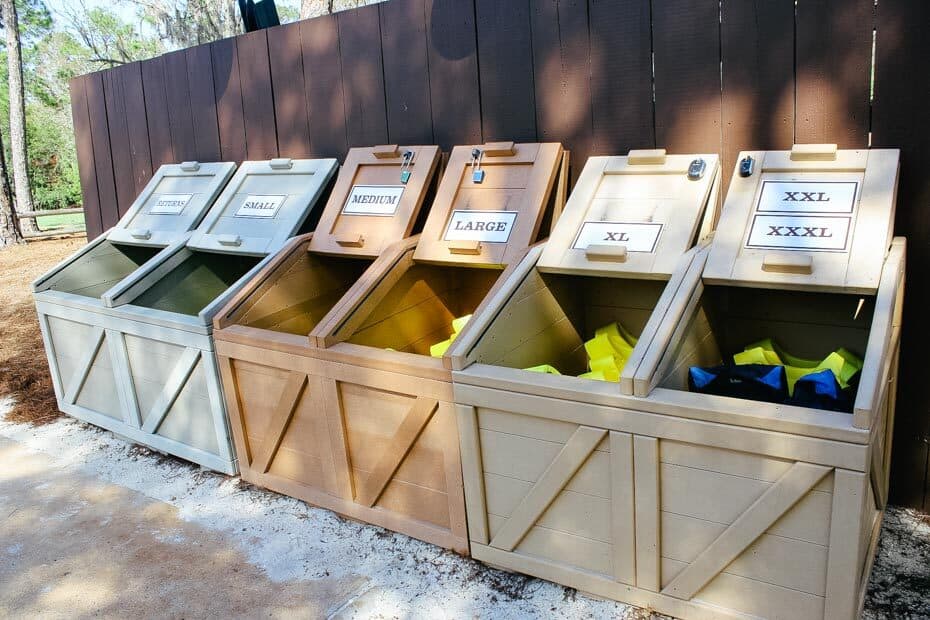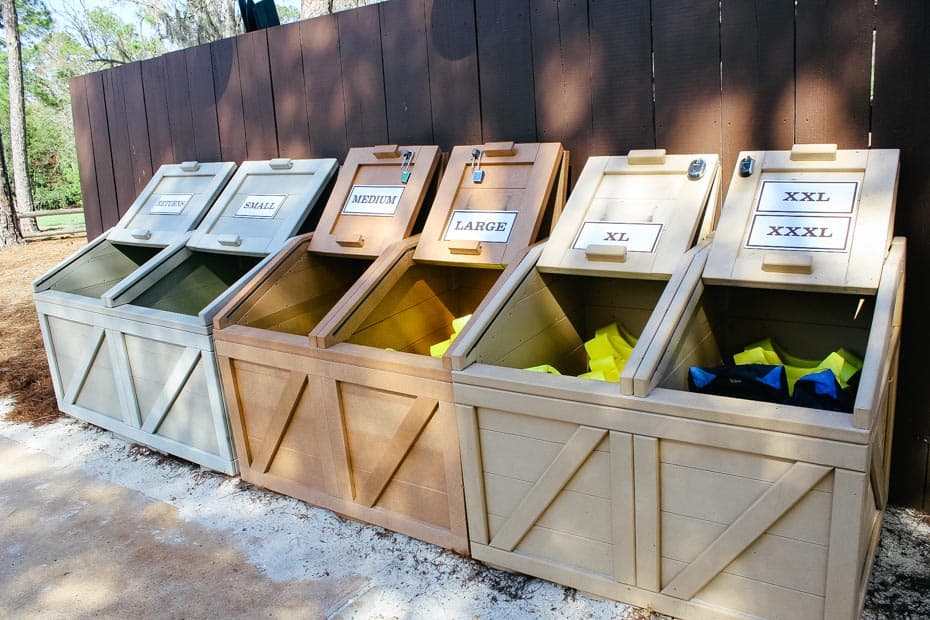 Electric Golf Cart rental is listed as being available at the Outpost. That will be at the very front of the resort, where guests arrive by vehicle. The Outpost sits right across from the resort's main bus stop.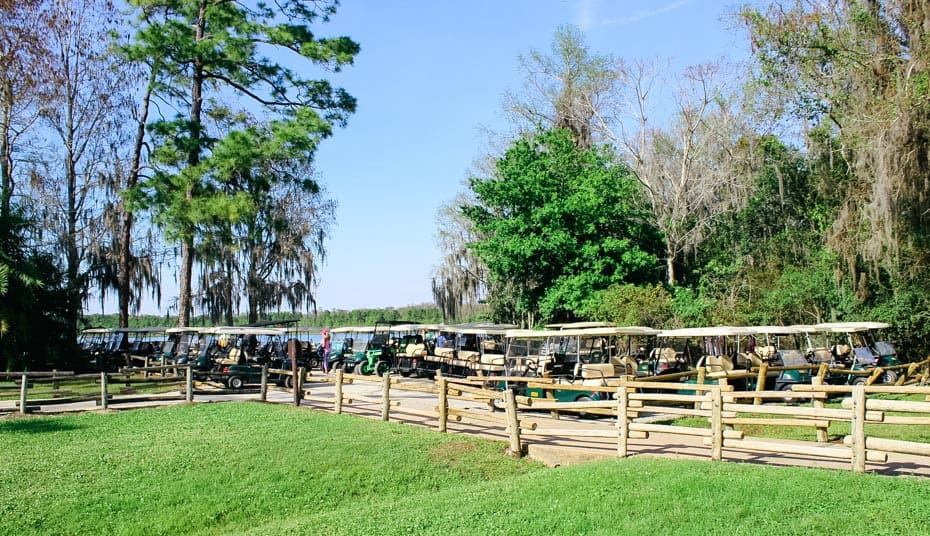 Most guests rent (or bring their own) bicycles and golf carts while staying at Fort Wilderness. They will use these means to travel around the resort because it's so large.
For instance, guests ride their bikes or drive their carts to the main bus station. When they return from the parks, they will use them to get back to their cabins or campsite.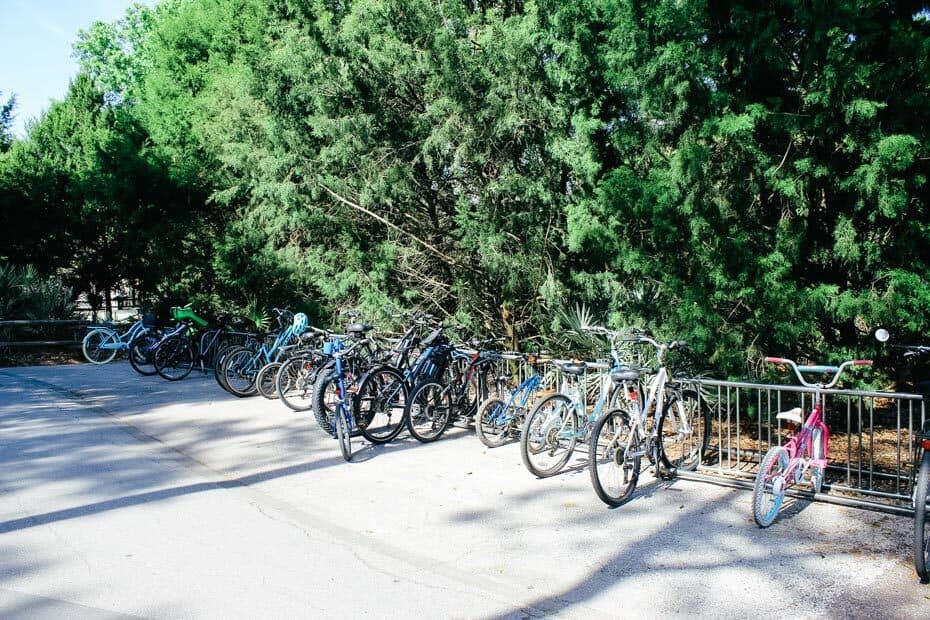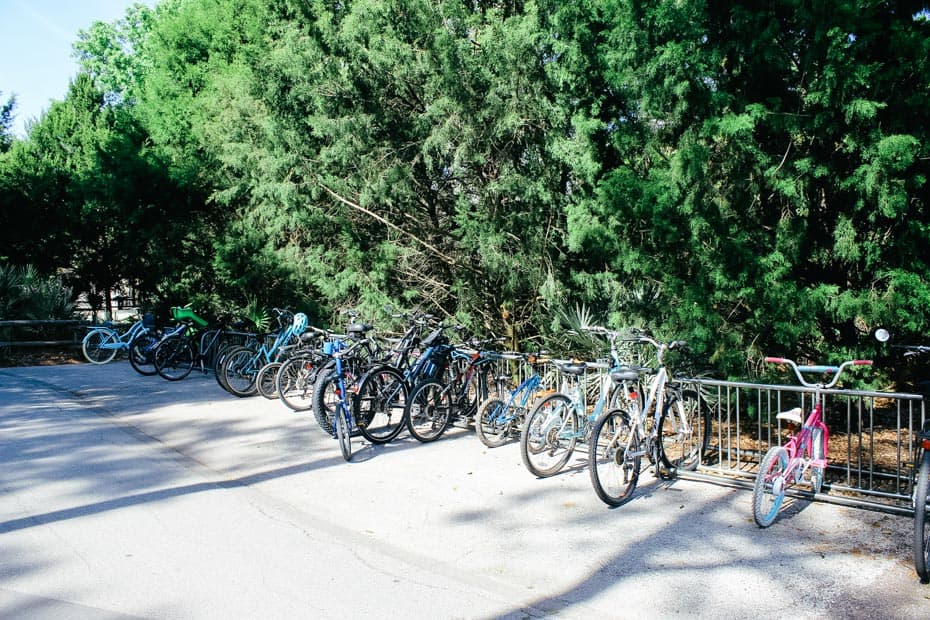 Additionally, horseback riding is available at Fort Wilderness. If this is something that interests you, you will want to pay close attention here.
There are two stables at Fort Wilderness. They are both called Tri-Circle D. One is Tri-Circle D Trail Rides, and this is the one you'll visit for horseback riding. It is located directly behind the main bus stop at the Outpost. The trail rides offered here are usually booked in advance and last about 45 minutes.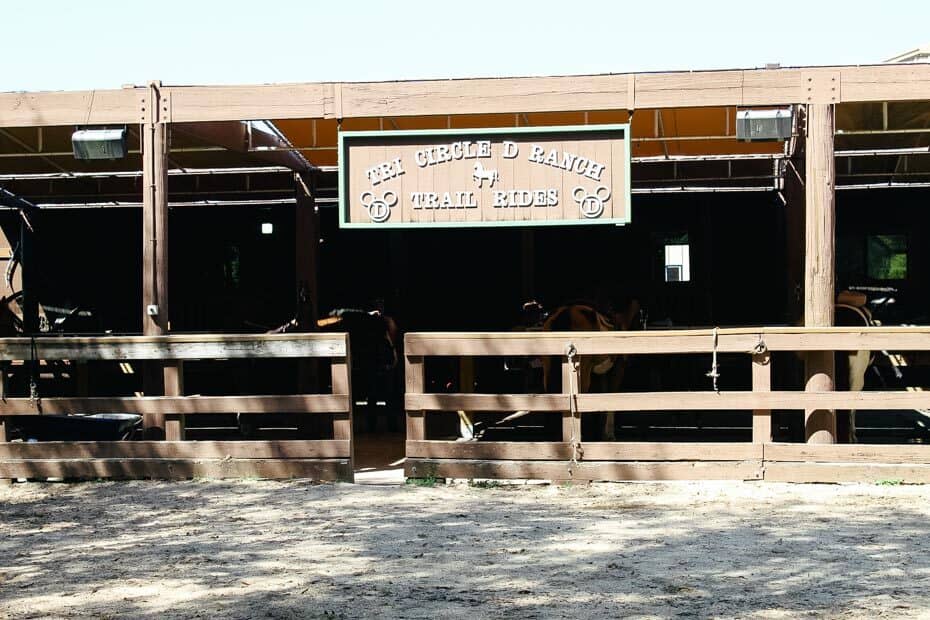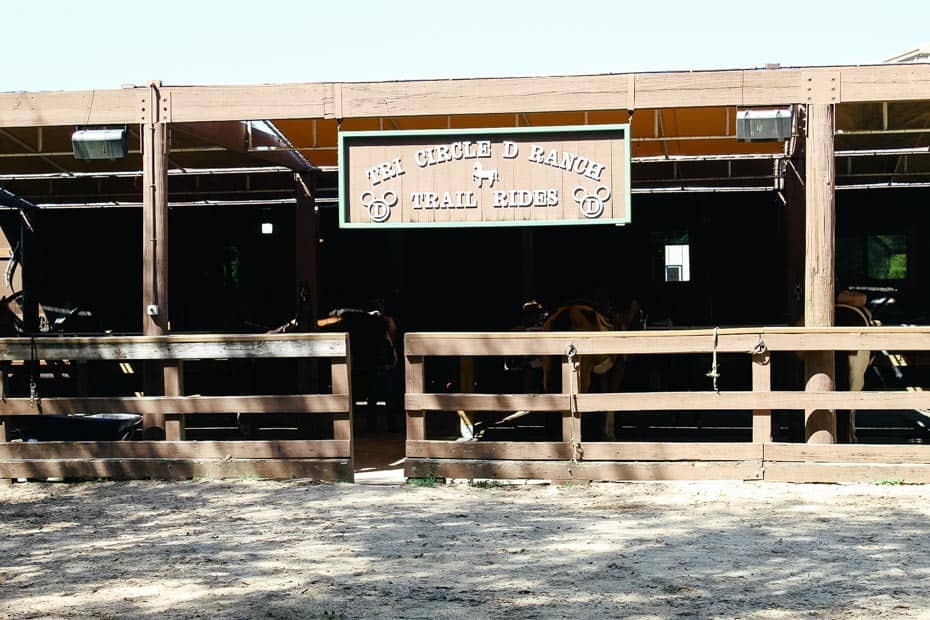 It's a really pretty area and the trail ride is scenic.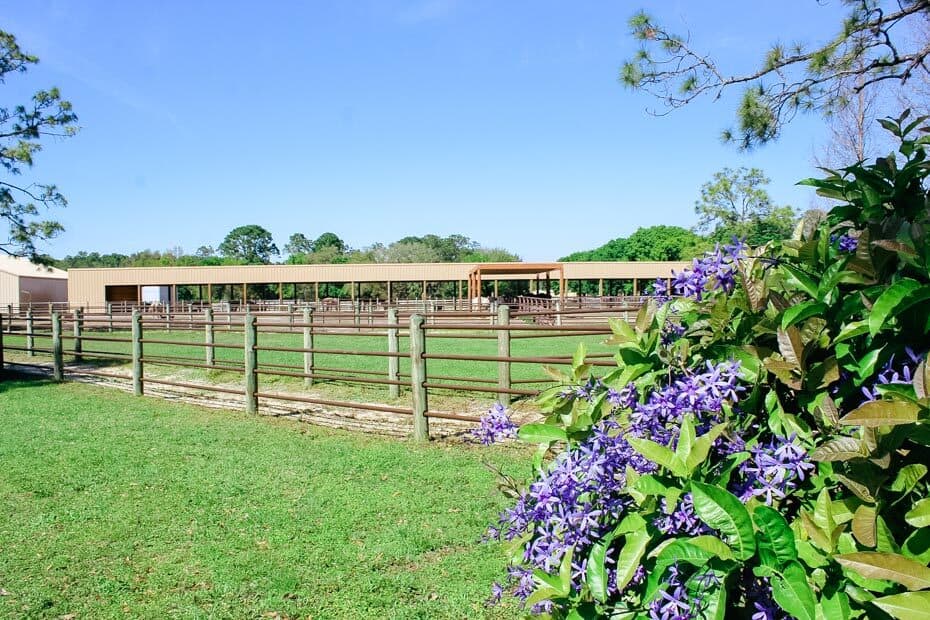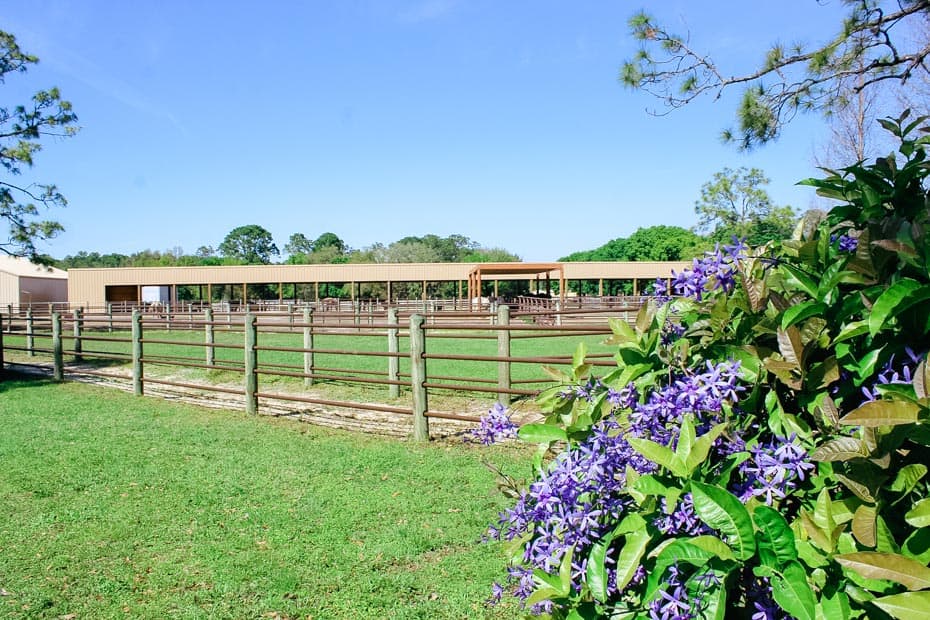 You'll walk up to the window to sign a waiver and confirm your reservation. Then the cast member will direct you over to the loading area.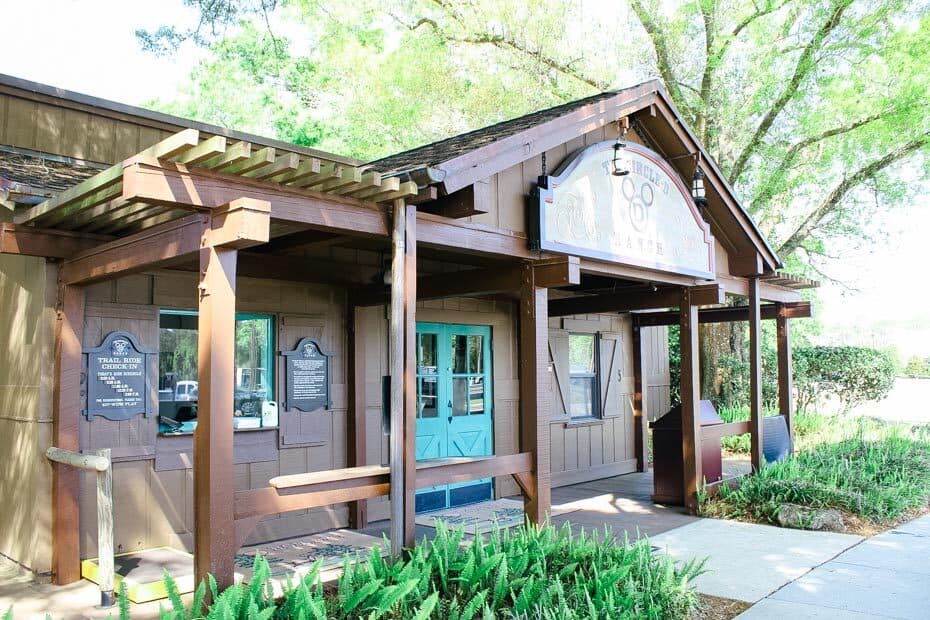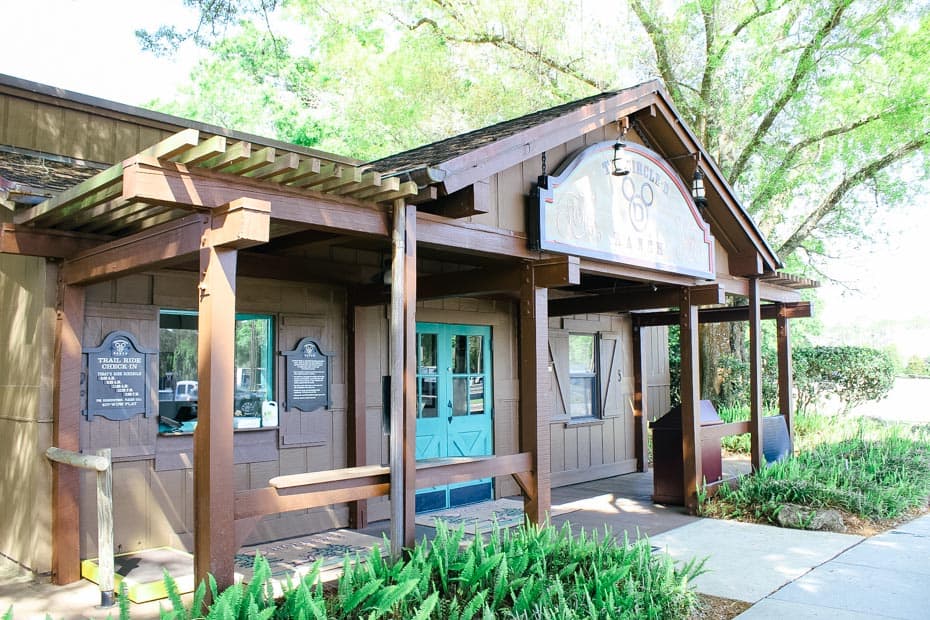 To give you an idea, here are the times for check-in that were posted.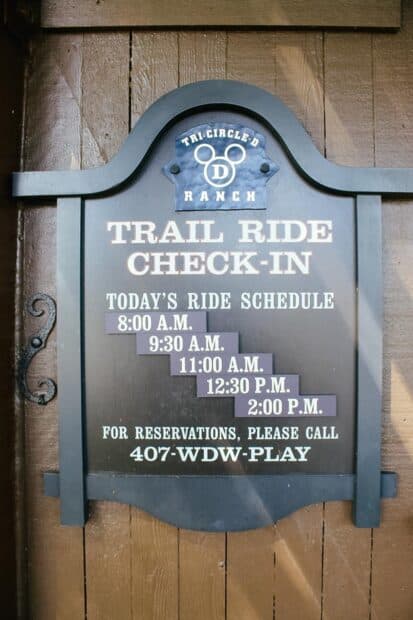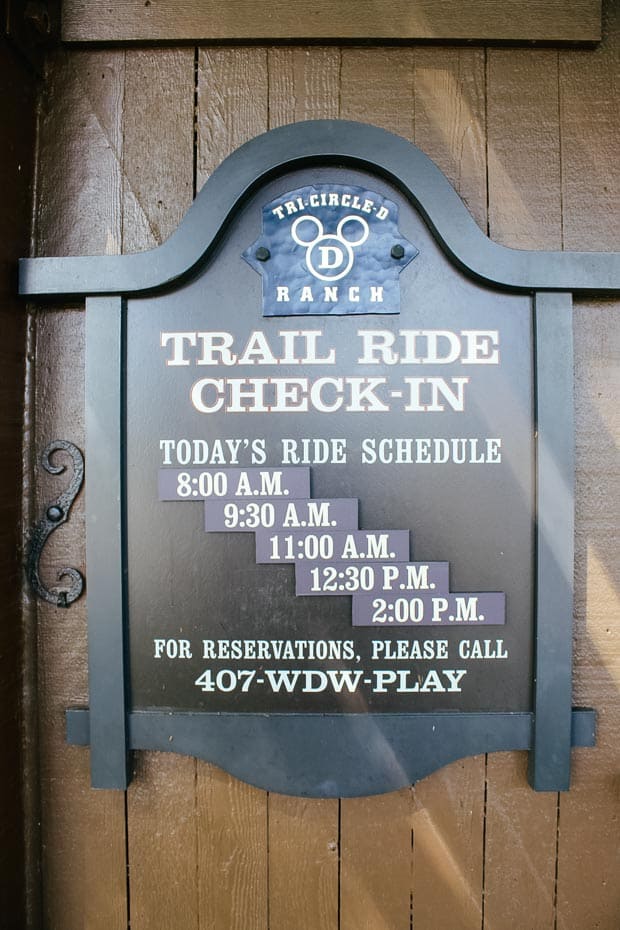 And a few of the rules and disclaimers. Riders must be at least 9 years old and weigh less than 250 pounds. You should also be in good, physical condition and there's a minimum 48″ height requirement. (Per the signage.)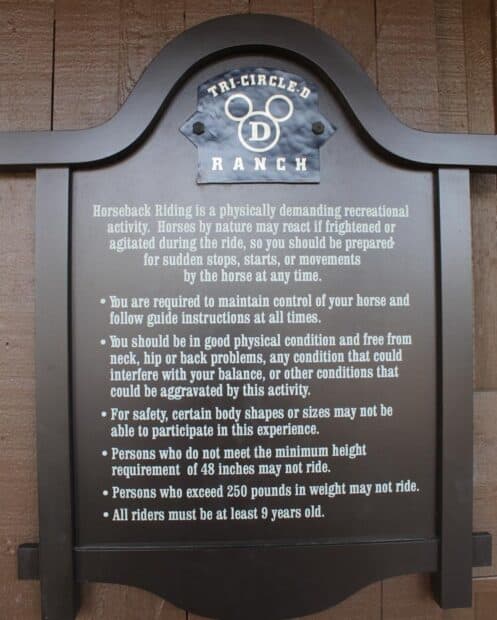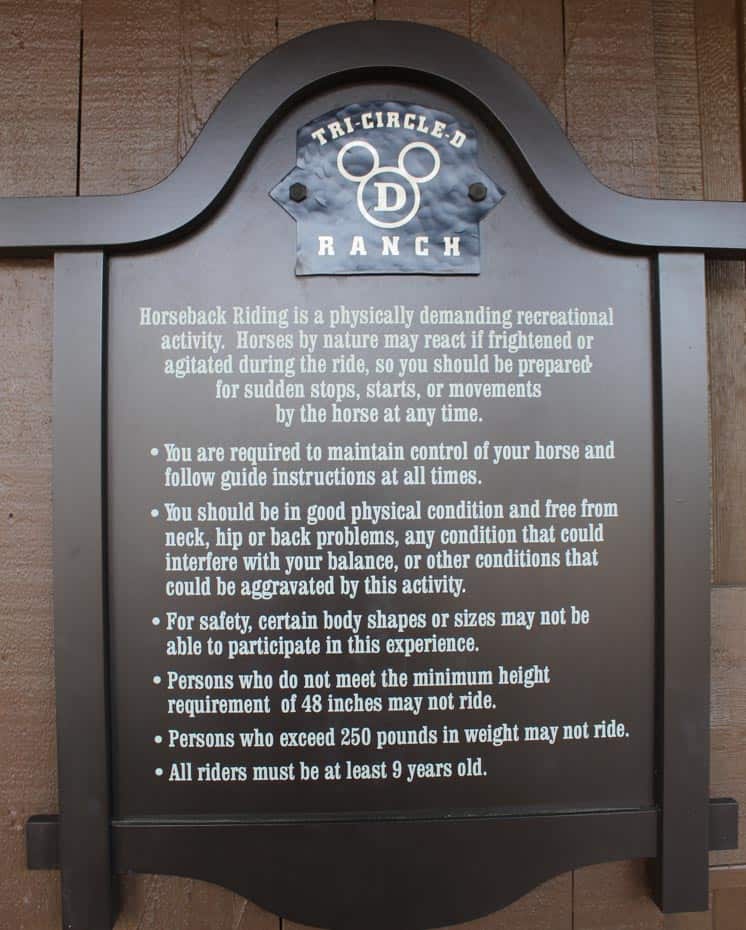 Below you can see there are a few small lockers to store any valuables during your ride. Mounting the horse is simple with the walk-up platform.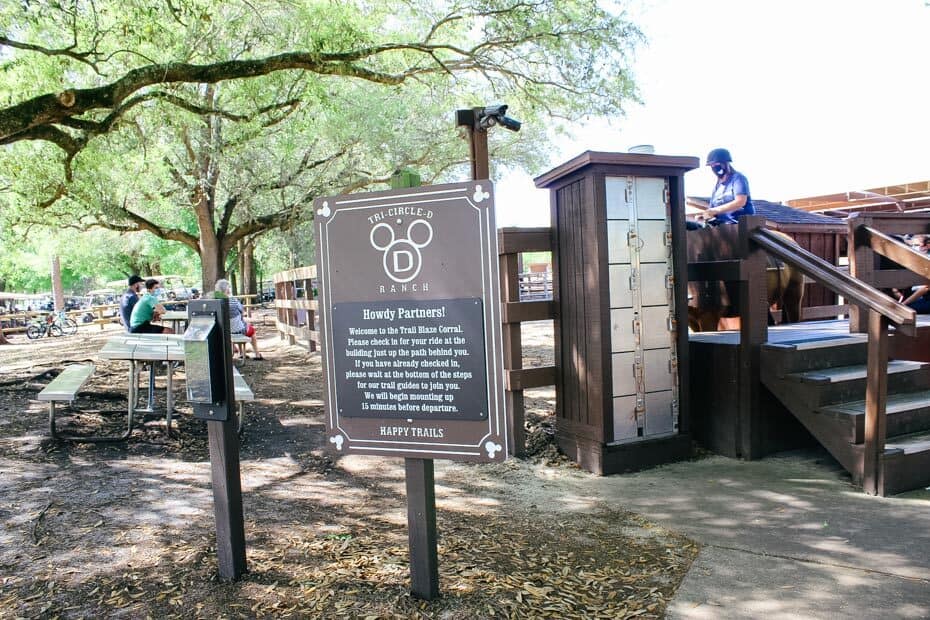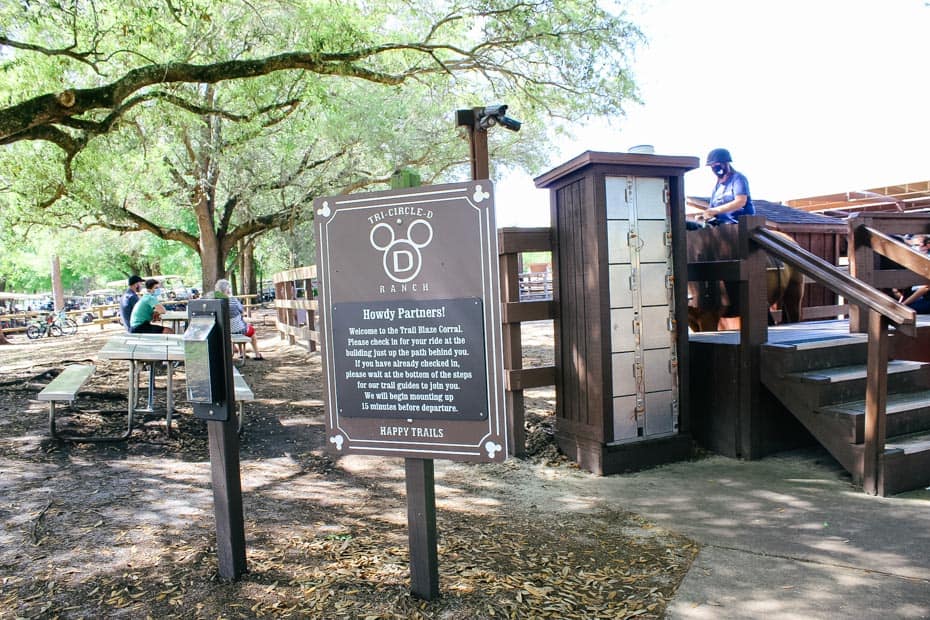 A few picnic benches are set up nearby where guests who aren't participating can wait.
Here is a different vantage point.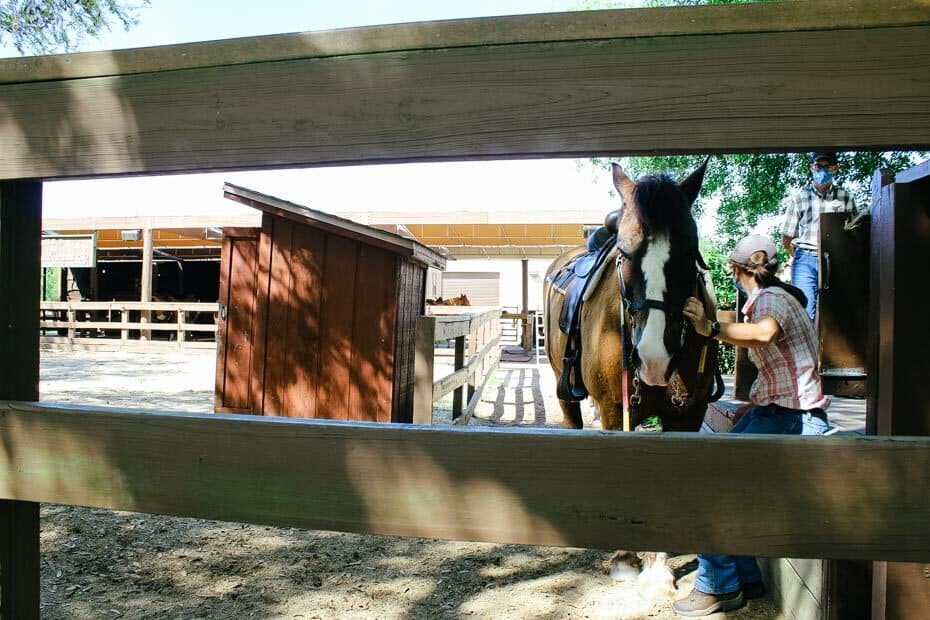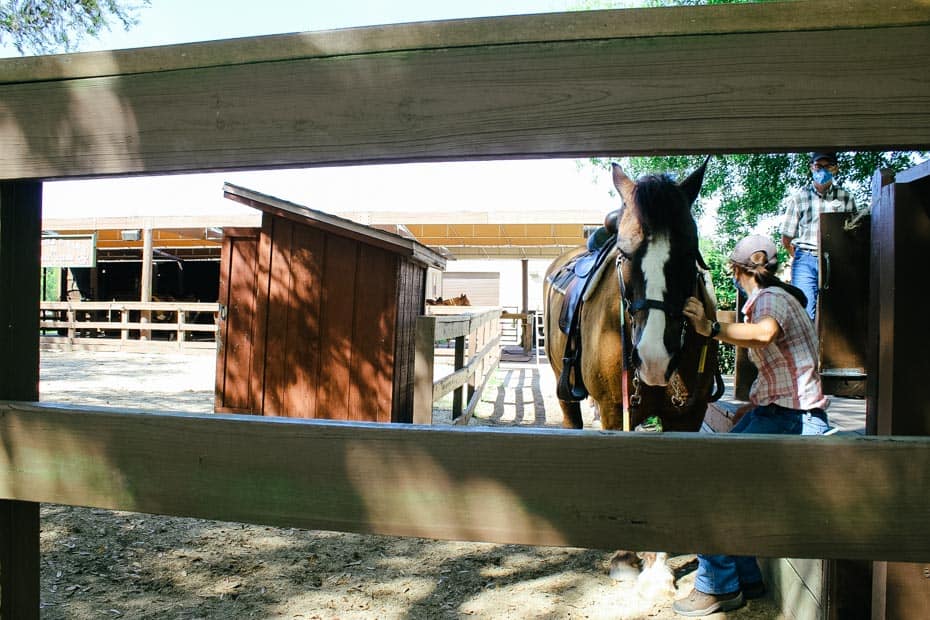 The other stable at Fort Wilderness (Tri-Circle D) is located on the Bay Lake side of the resort, called The Settlement. This is where the horses that are part of the different performances in the theme parks and weddings are housed. You might even see the horses that pull Cinderella's carriage here.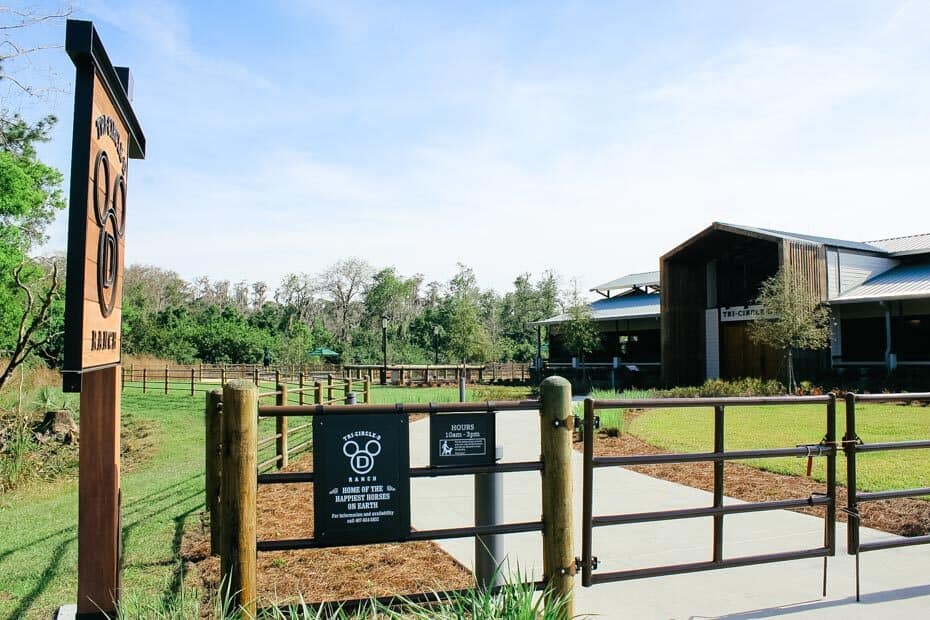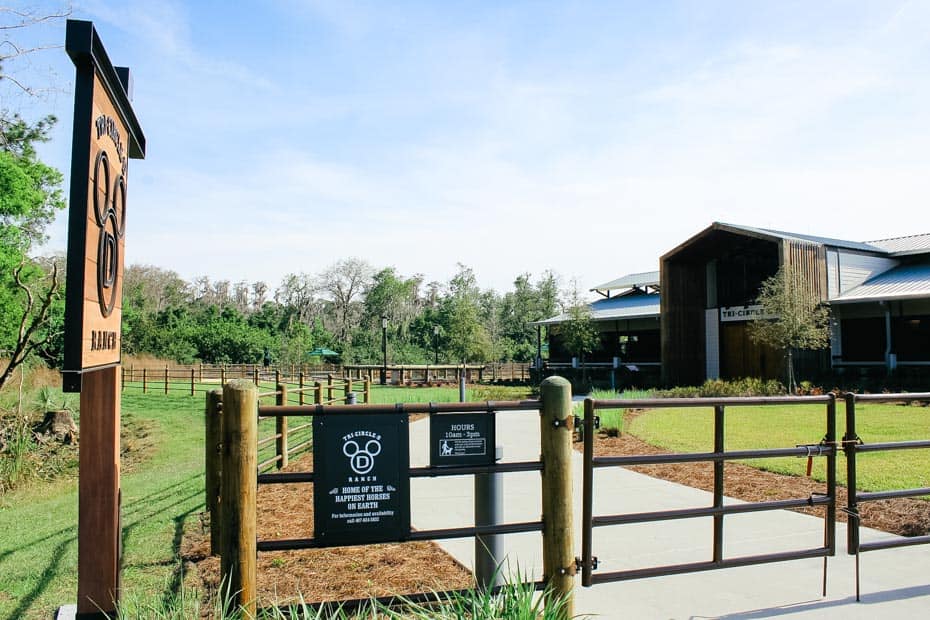 A brand new stable was built here in 2019, and it is open daily for visitors up until 3:00 p.m. So if you or your children love horses, I highly recommend taking a little time out of your day to visit.
This stable has pony rides between 10:00 a.m. and 3:00 p.m. A pony ride costs around $8.00 and provides a nice option for younger children who aren't quite big enough to enjoy a trail ride. More details are available here on Disney's site.
You might be wondering why I'm making such a big deal distinguishing between the two stables. As I mentioned, Fort Wilderness is a tremendous resort. It is one of my top places to jog at Disney, and I've jogged and walked all over that place. It takes me about 20 minutes to walk from the Outpost to The Settlement.
Say you were coming over from Grand Floridian to do a trail ride you booked in advance. You probably decided to walk or take the Disney World monorail around to Magic Kingdom. From there, you can hop on a boat to Fort Wilderness campground.
When you arrive at Fort Wilderness via boat service, you'll be dropped off at The Settlement. So you'll need to find the nearest internal bus stop and take it to The Outpost. If you aren't familiar with the resort, it can be a bit challenging. And you'll want to allow plenty of time to get to your trail ride.
I know this from the first time I took my son to do the trail ride several years ago. When we arrived at Fort Wilderness, we had no clue we had to travel to the opposite end of the resort or how to get there. A cast member then sent us to the wrong stable.
The stable sent us back to the internal bus stop we had passed along the way. We had to wait for the internal bus, and it made quite a few stops on its way to The Outpost. Thankfully, our bus driver knew where we were going and told us when we got to the main stop.
Overall, it took a good hour and a half to get from our resort to the actual trail ride. So keep this in mind if you are visiting for the sake of having a meal or doing a horseback ride.
Another horse-related activity at Fort Wilderness is the carriage rides. Carriage rides usually take place late in the afternoon or early evening. When they were last available, the cost was around $55 per group and lasted for 25 minutes. The other place that has this option is the Port Orleans Resort Area. You can check availability here.
Lastly, Fort Wilderness is home to a few other activities. The Daniel Boone Wilderness Arcade is located out by the swimming pool. And there's a Davy Crockett's Wilderness Arcade at Pioneer Hall.
Back over at the Meadow, I ran into this assay station. You purchase a bag in the Meadow store and use it for this activity.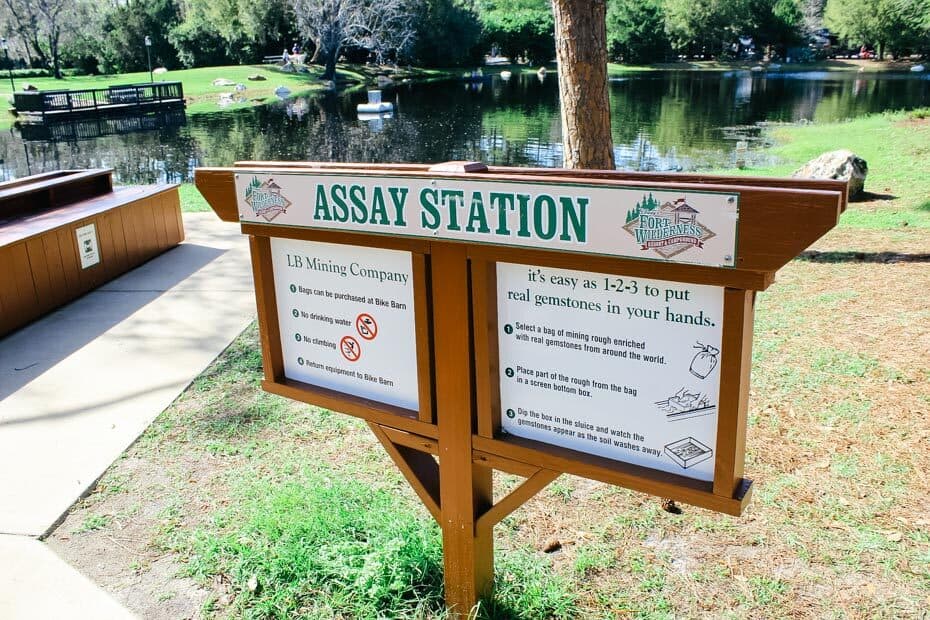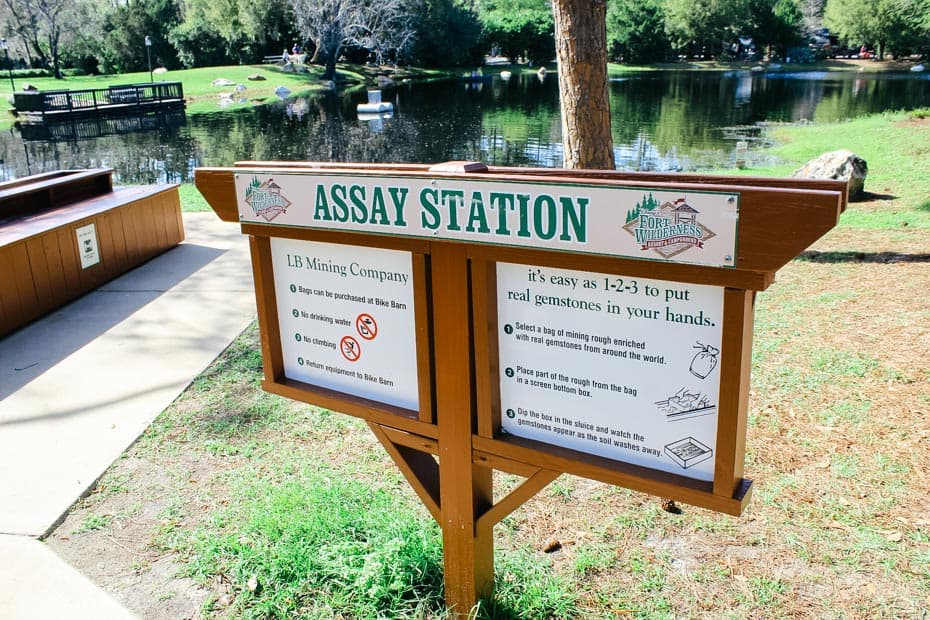 Most kids enjoy rocks, so I thought it was pretty cool.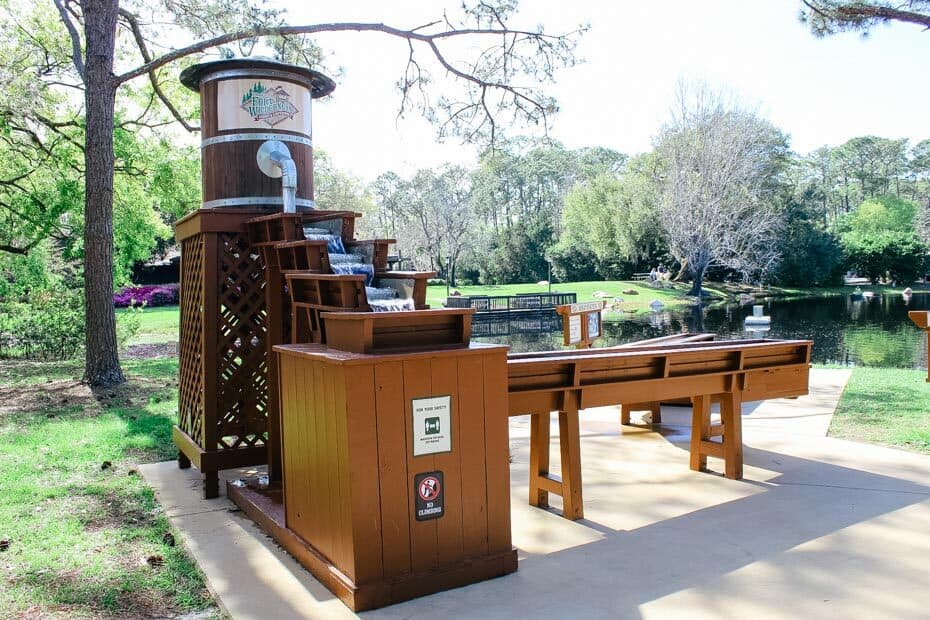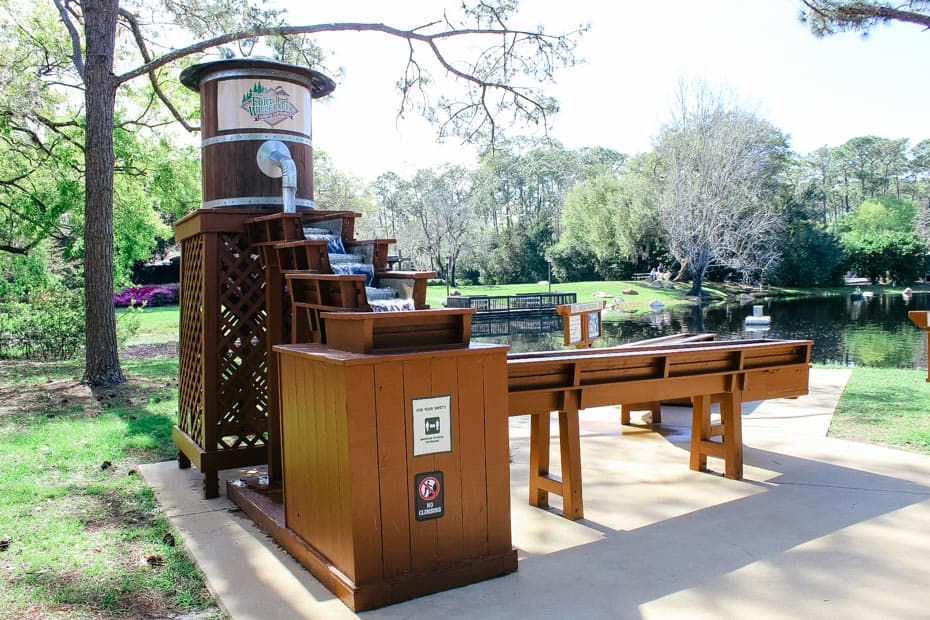 Toward the back of the Meadow is where you'll find the Chip 'n Dales Campfire Sing-a-long. This has not returned yet, but I'll fill you in on the details for when it does.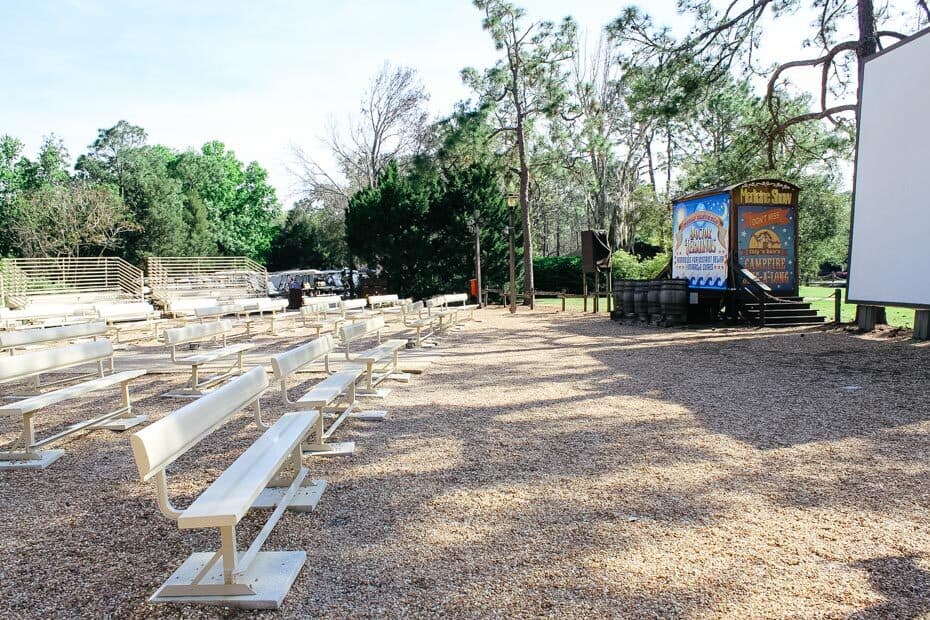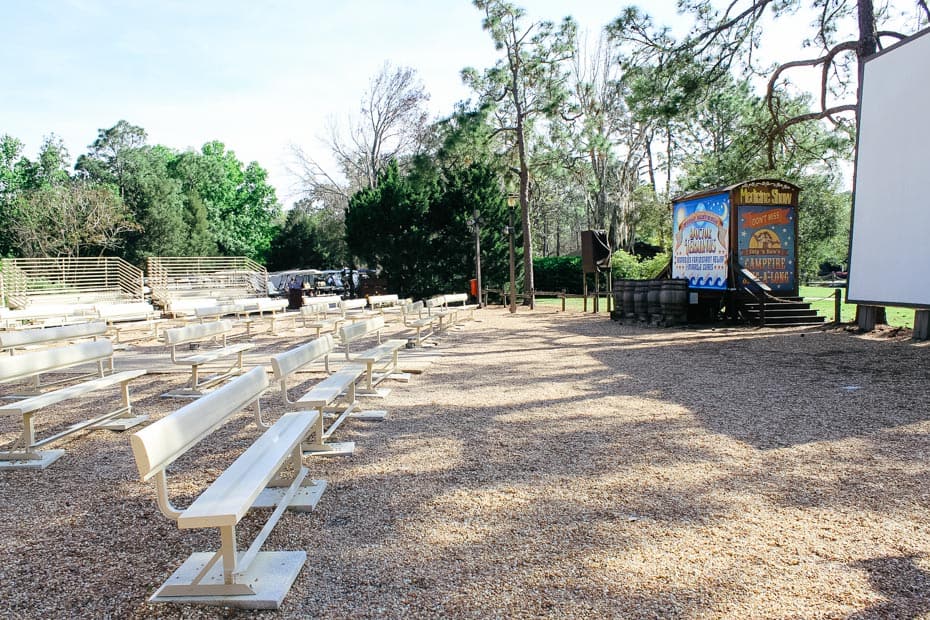 The sing-along is an event that typically happens nightly around 7:00 or 8:00 p.m. You'll need to check with the resort for exact timing. It changes based on the seasons and what time it's getting dark.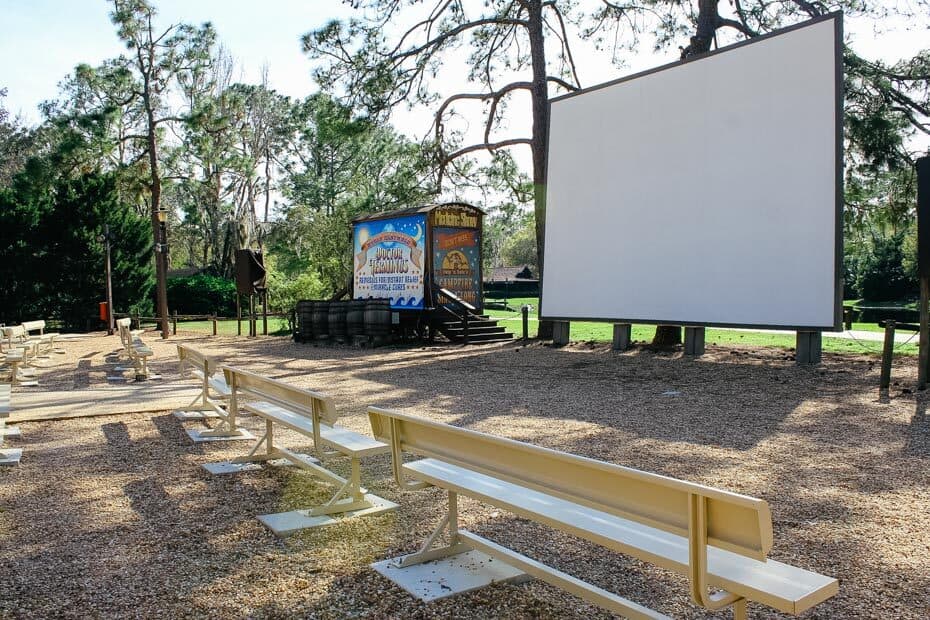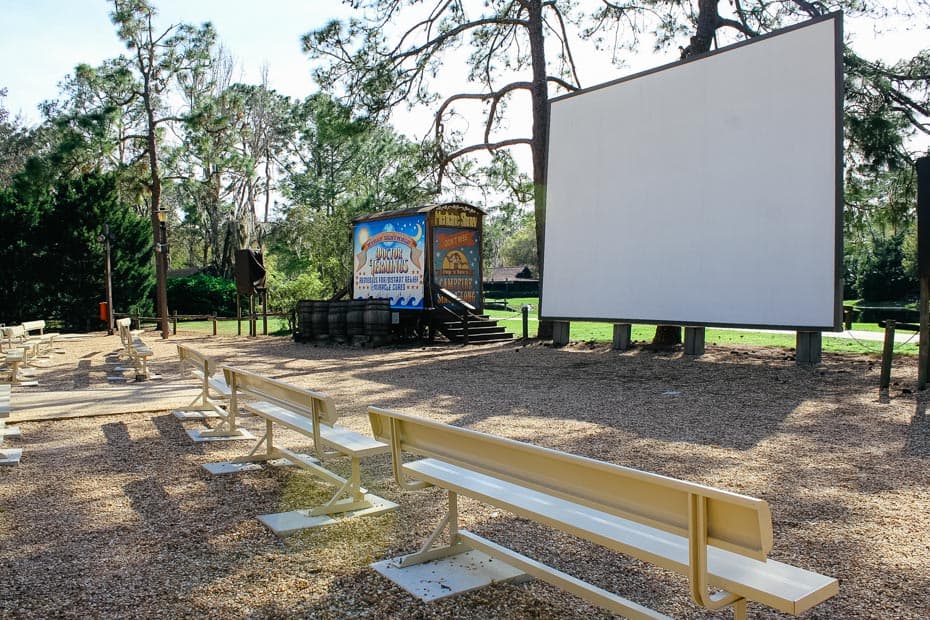 Chip and Dale make an appearance while guests gather around the campfire for the sing-along. You can bring marshmallows to roast on the fires or purchase a kit there if desired. While you are singing, the two chipmunks meet with guests and sign autographs.
After the sing-along, guests can stay and enjoy the Fort Wilderness version of Movies Under the Stars. The resort's recreation calendar will list which movies are playing nightly.
Any guest of the Walt Disney World Resort can come over and enjoy the Campfire Sing-Along. You don't have to be staying at Fort Wilderness to participate specifically.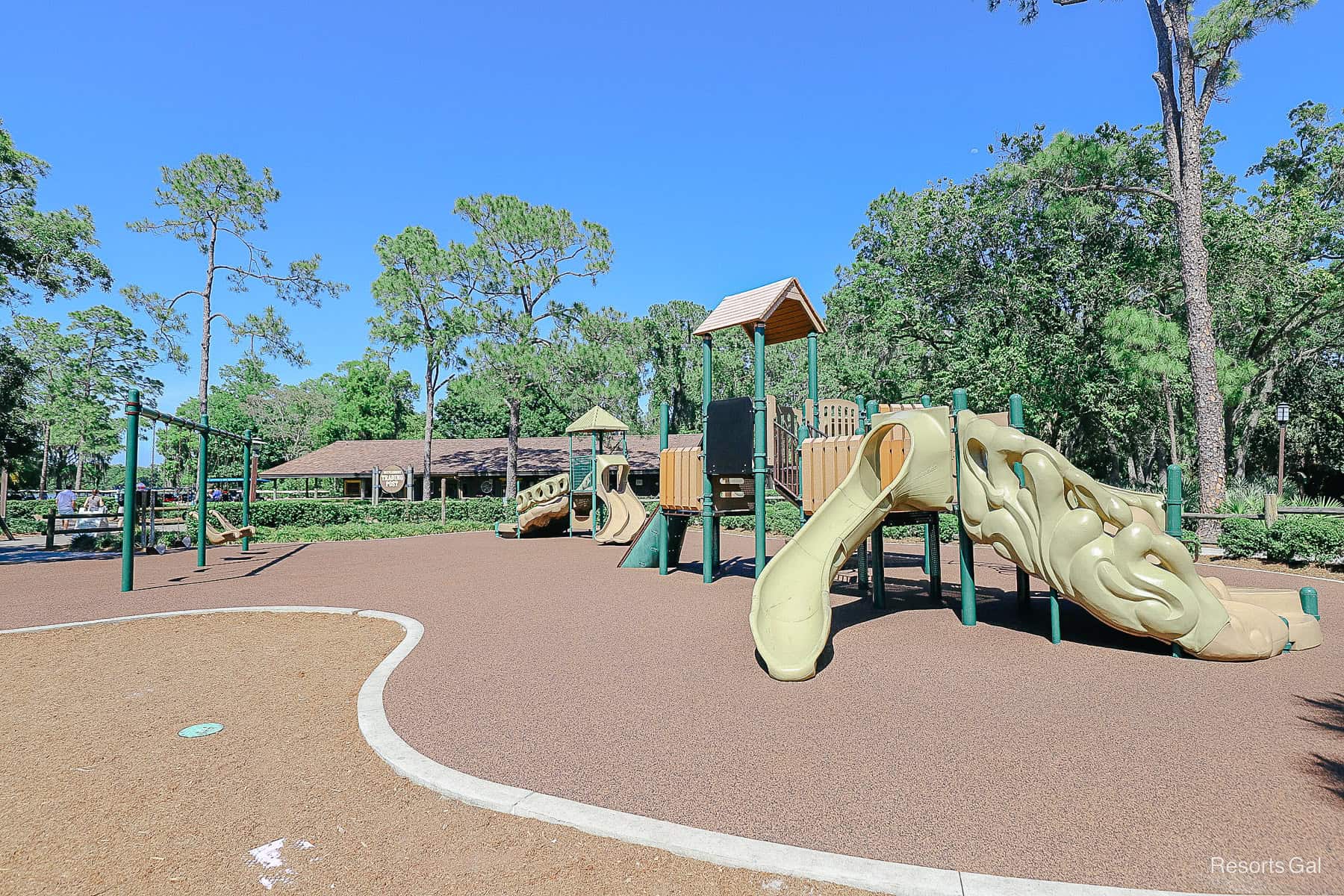 Dining at Fort Wilderness
As far as dining goes, you'll have a couple of options at Fort Wilderness. However, at this time, most of them have not reopened.
The Settlement is where you'll find all of the different dining options at Fort Wilderness. The first is the popular Trails' End Restaurant that normally serves a buffet. In fact, the breakfast buffet gets pretty rave reviews. Or at least it did before closing last year.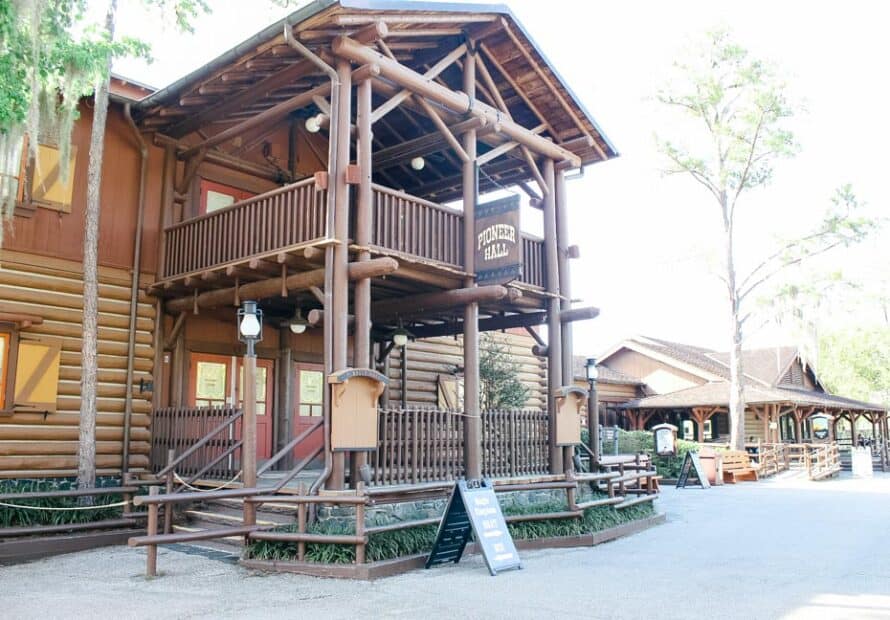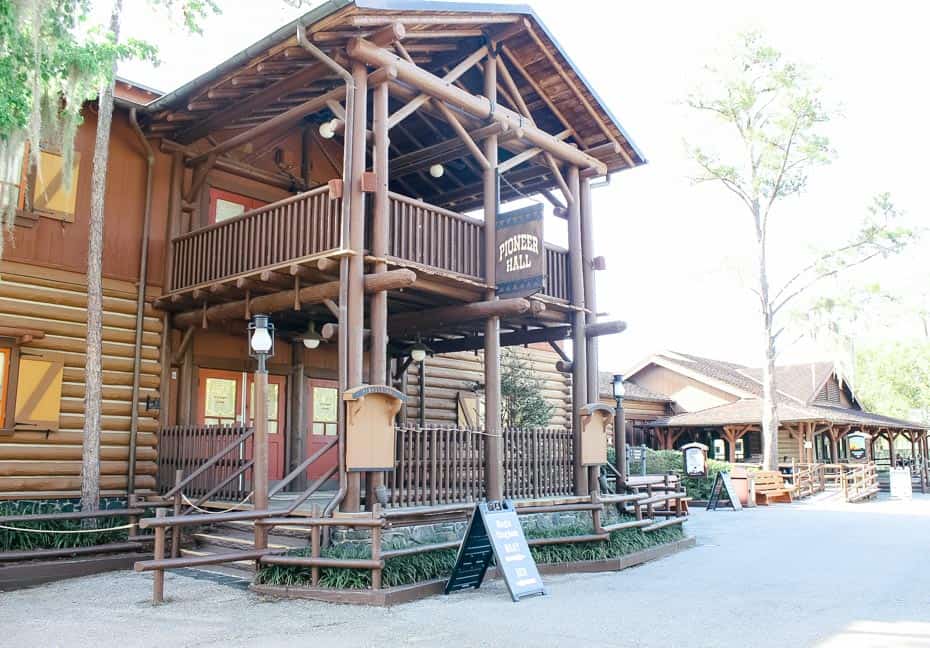 I'll update when it has returned.
Disney's Fort Wilderness is also home to one of the most popular theatrical dinner shows at Disney World, the Hoop Dee Doo Musical Revue. While I don't have a review available, I have attended the Hoop Dee Doo.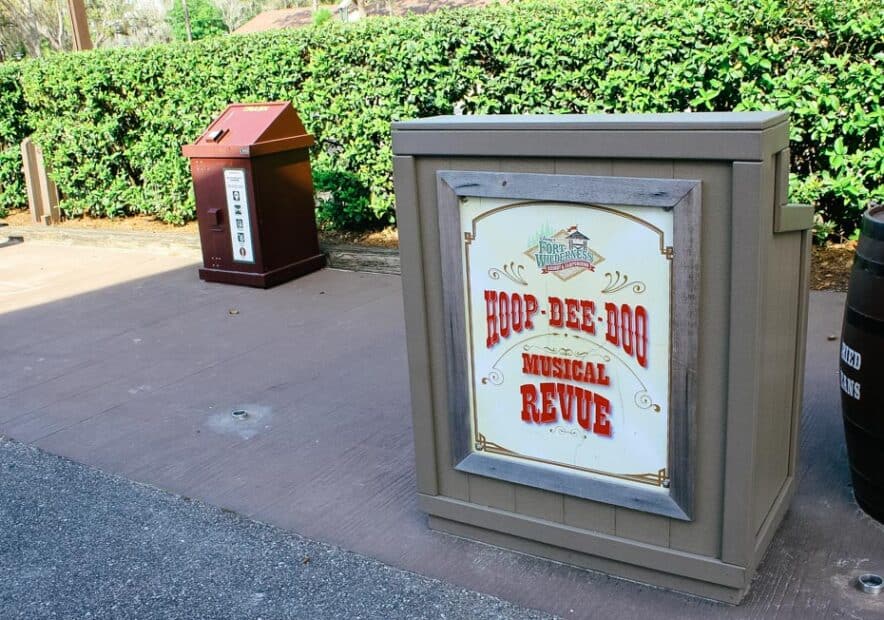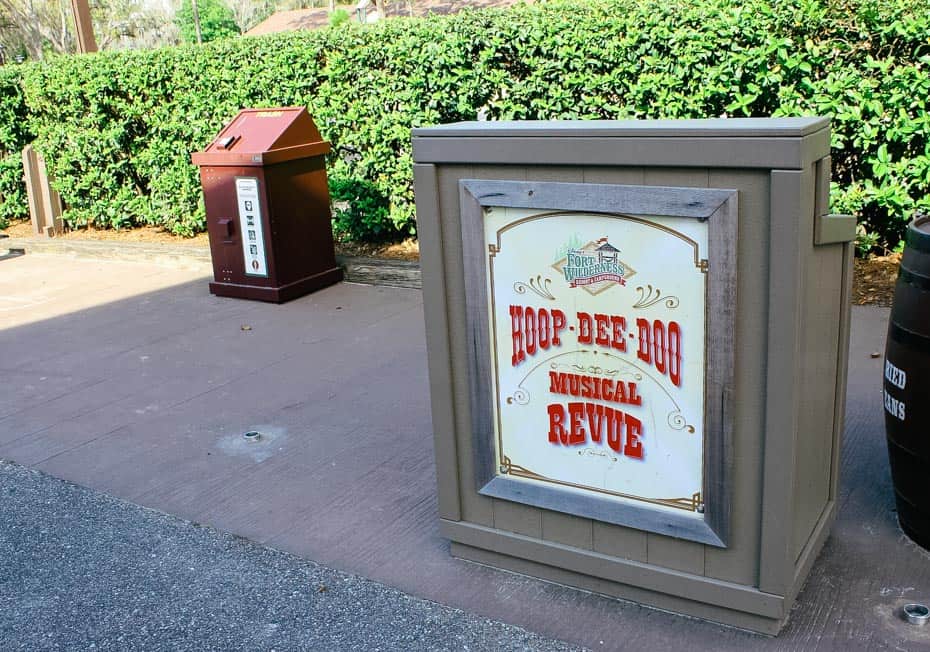 Unfortunately, it's not really my thing, and I cringe at sharing that with you. I love musicals, and the food was enjoyable. But I felt like we were there for a really long time. However, my son and niece loved it, and I was shocked that they enjoyed it as much as they did.
Next, we have P & Js Southern Take Out. This is somewhere I've yet to eat at Fort Wilderness.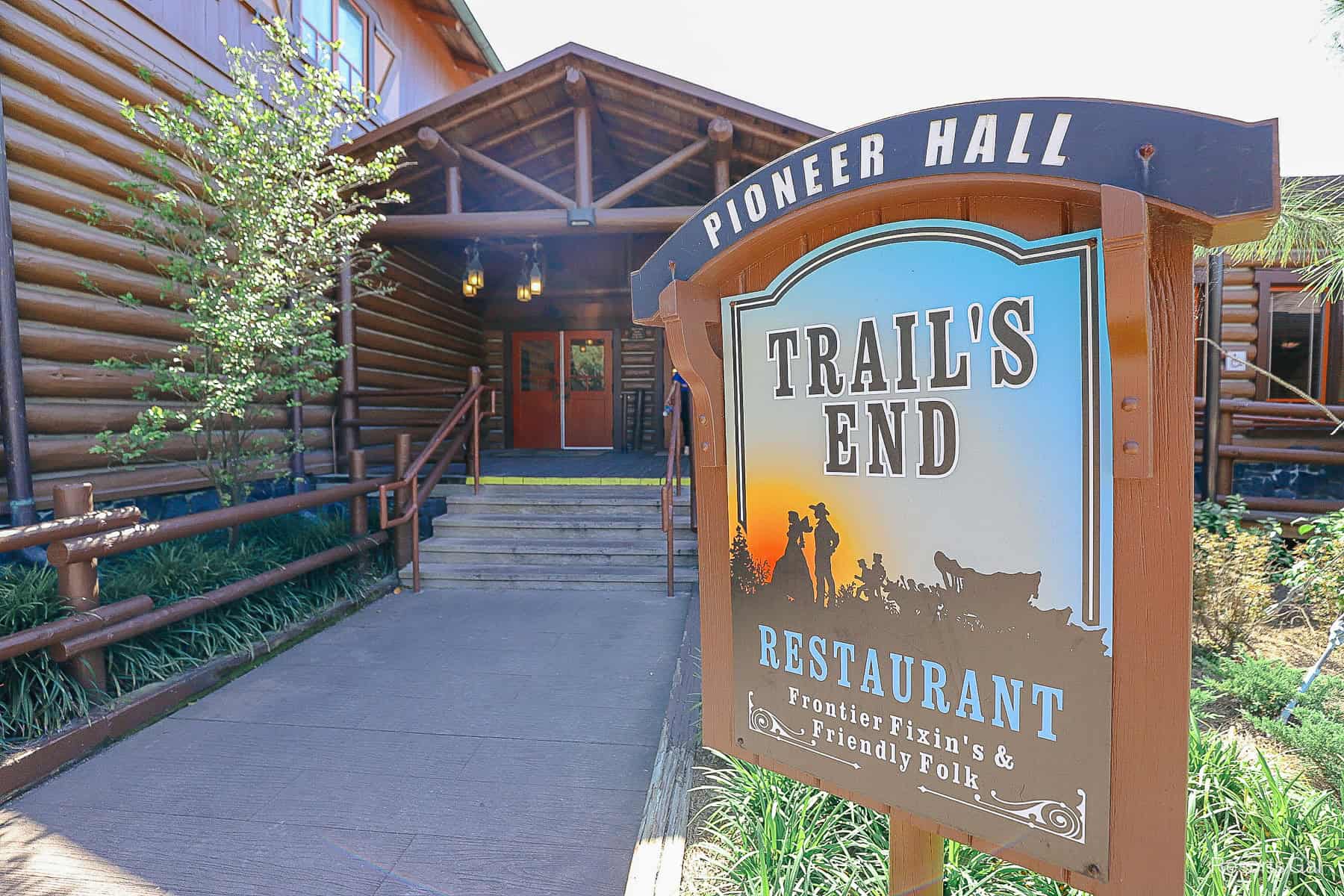 The menu was posted on my last visit. I think that guests order their food and take it back to the cabin. However, there are several outdoor eating areas set up in the immediate area here. The menu has various chicken meals so that you could do Kentucky Fried Fort Wilderness or something.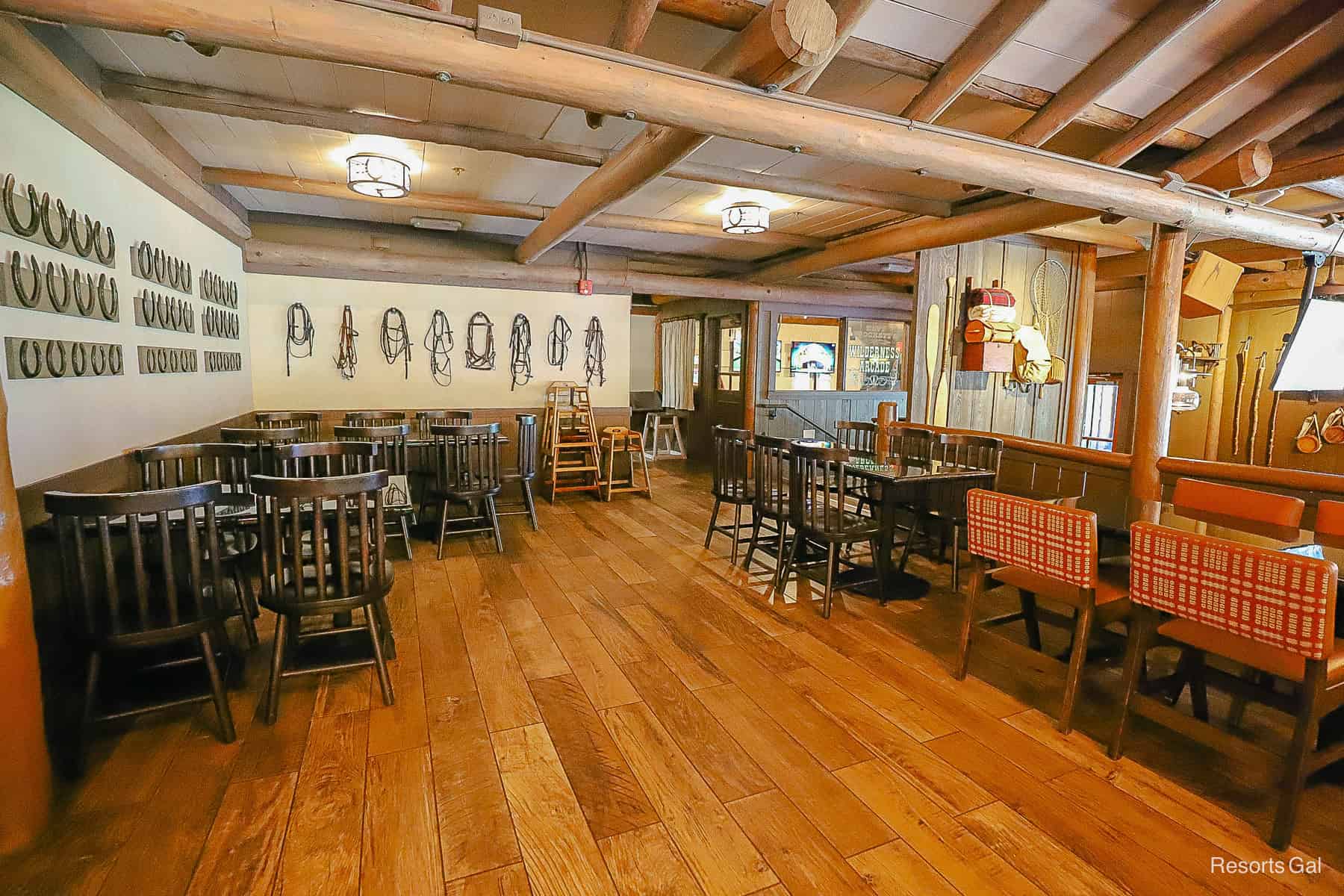 Crockett's Tavern is the local watering hole. They have a walk-up window to order beer, wine, and cocktails. They've been a lifesaver providing me with free ice water after a few runs.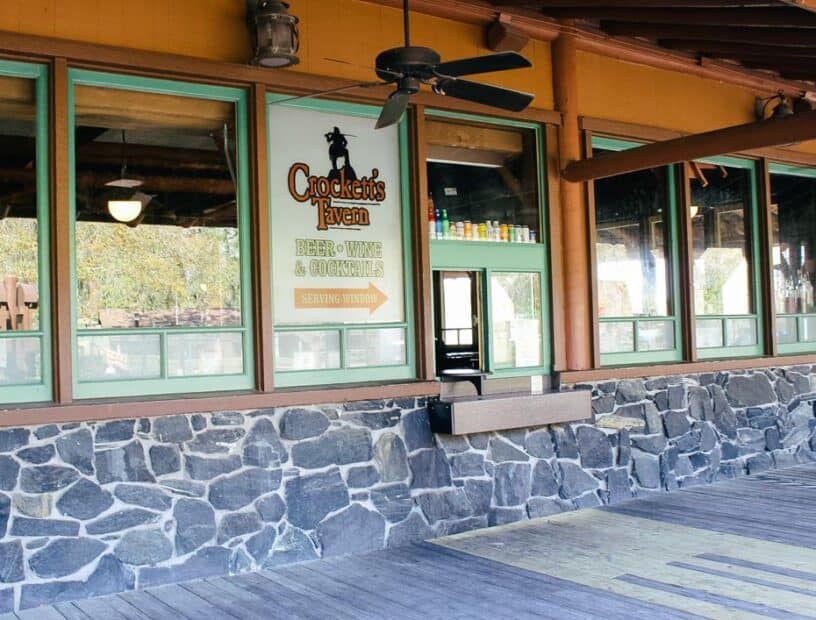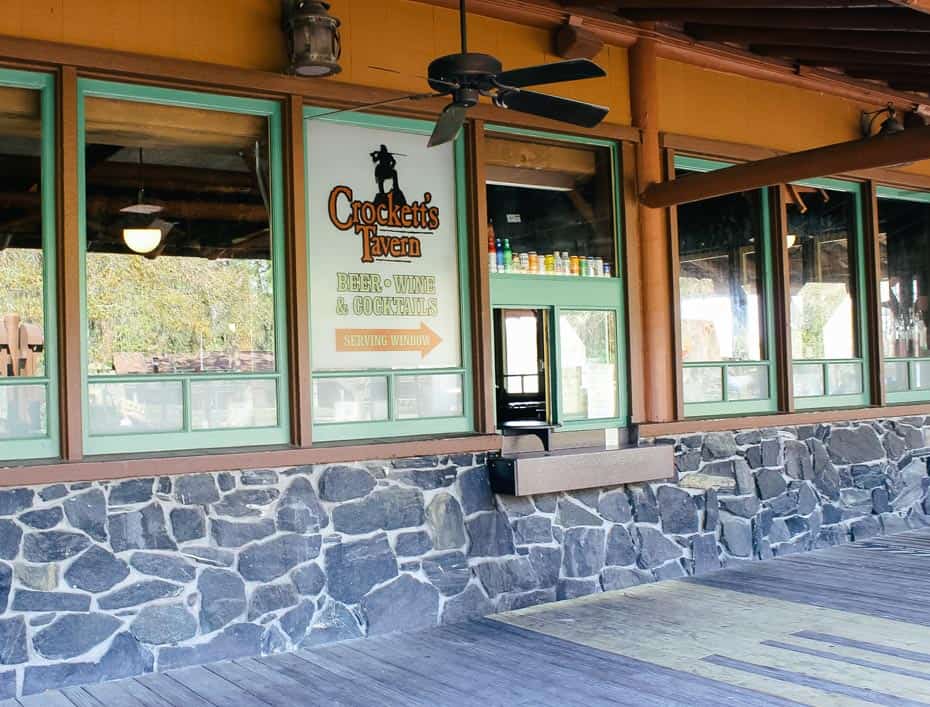 Out in front of Pioneer Hall is the Chuck Wagon Food Truck. It's a cute set-up.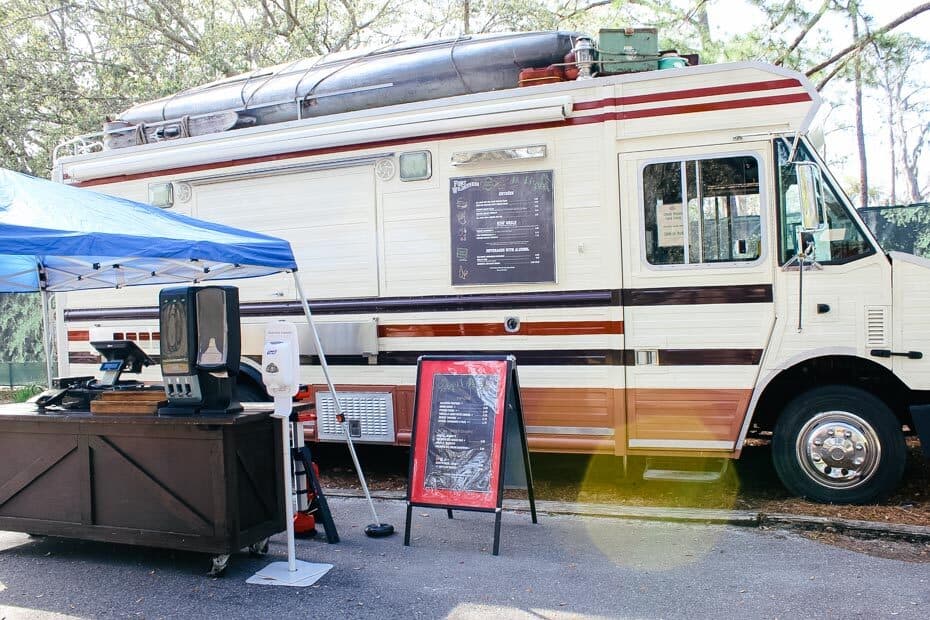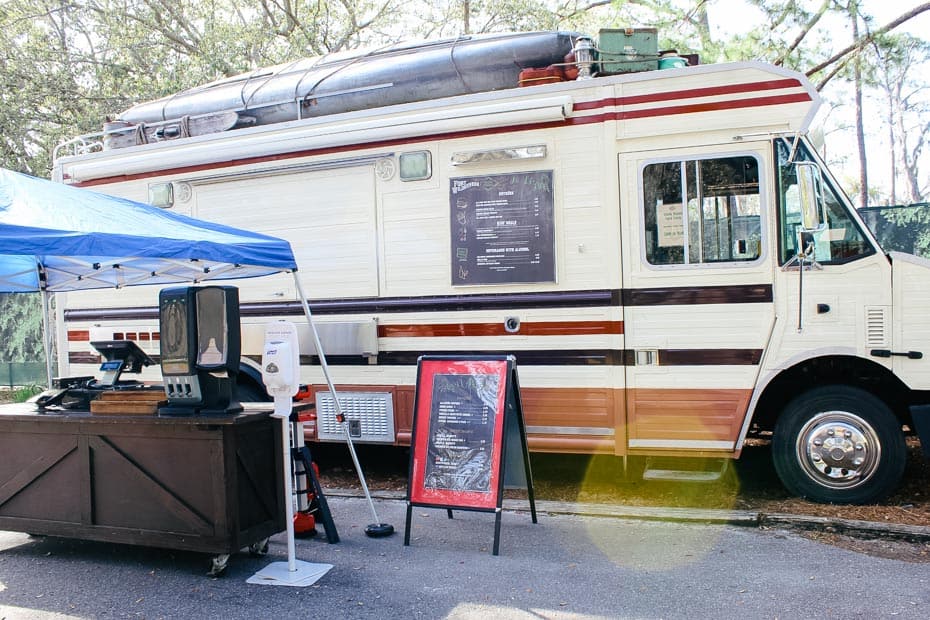 Menu items include burgers, chicken nuggets, and hot dogs. All the essential Disney + camping food!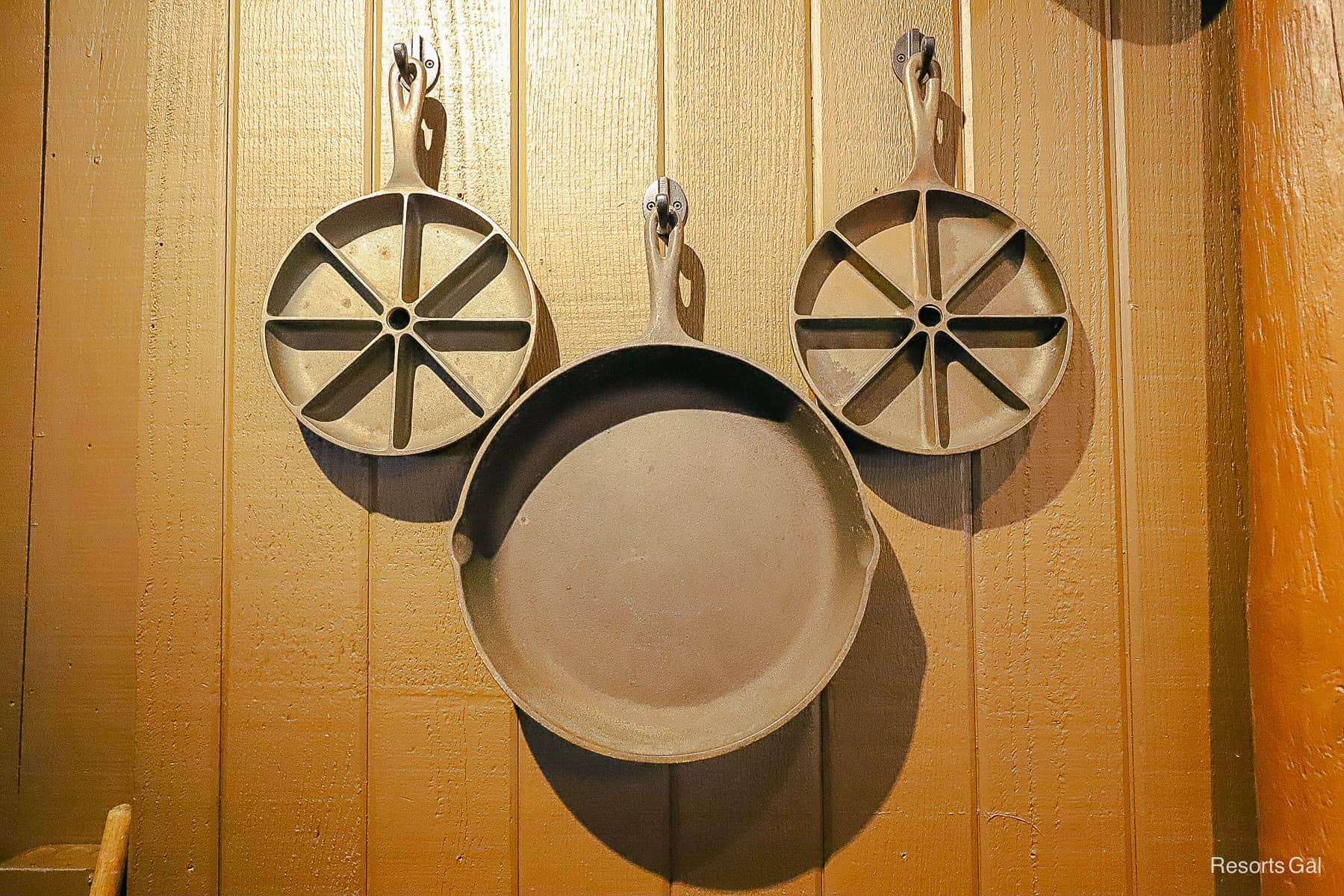 Additionally, there's a snack bar at the Meadow pool. And Mickey's Backyard BBQ is no longer available. That Disney World character dining experience closed when work on the Reflections Resort began. However, that resort appears to be completely off the table for the time being.
Shopping at Fort Wilderness
The Meadow Trading Post is definitely the better of the two resort stores at Fort Wilderness. You'll have to do a bit of walking to get to it if you are coming from either end of the resort. It sits directly in the middle of Fort Wilderness.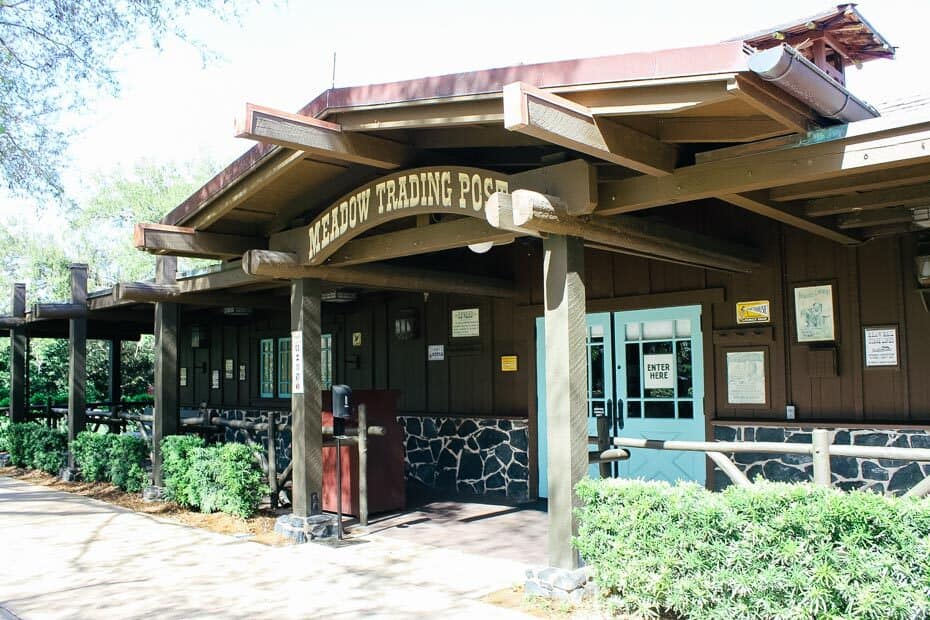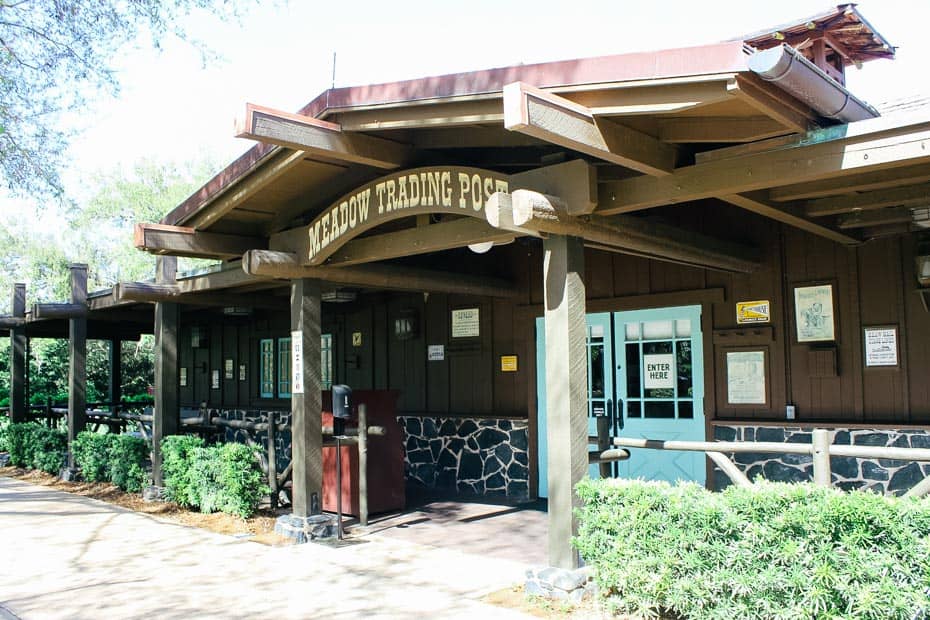 The store has fun Disney-theming and resort-branded merchandise you won't find anywhere else.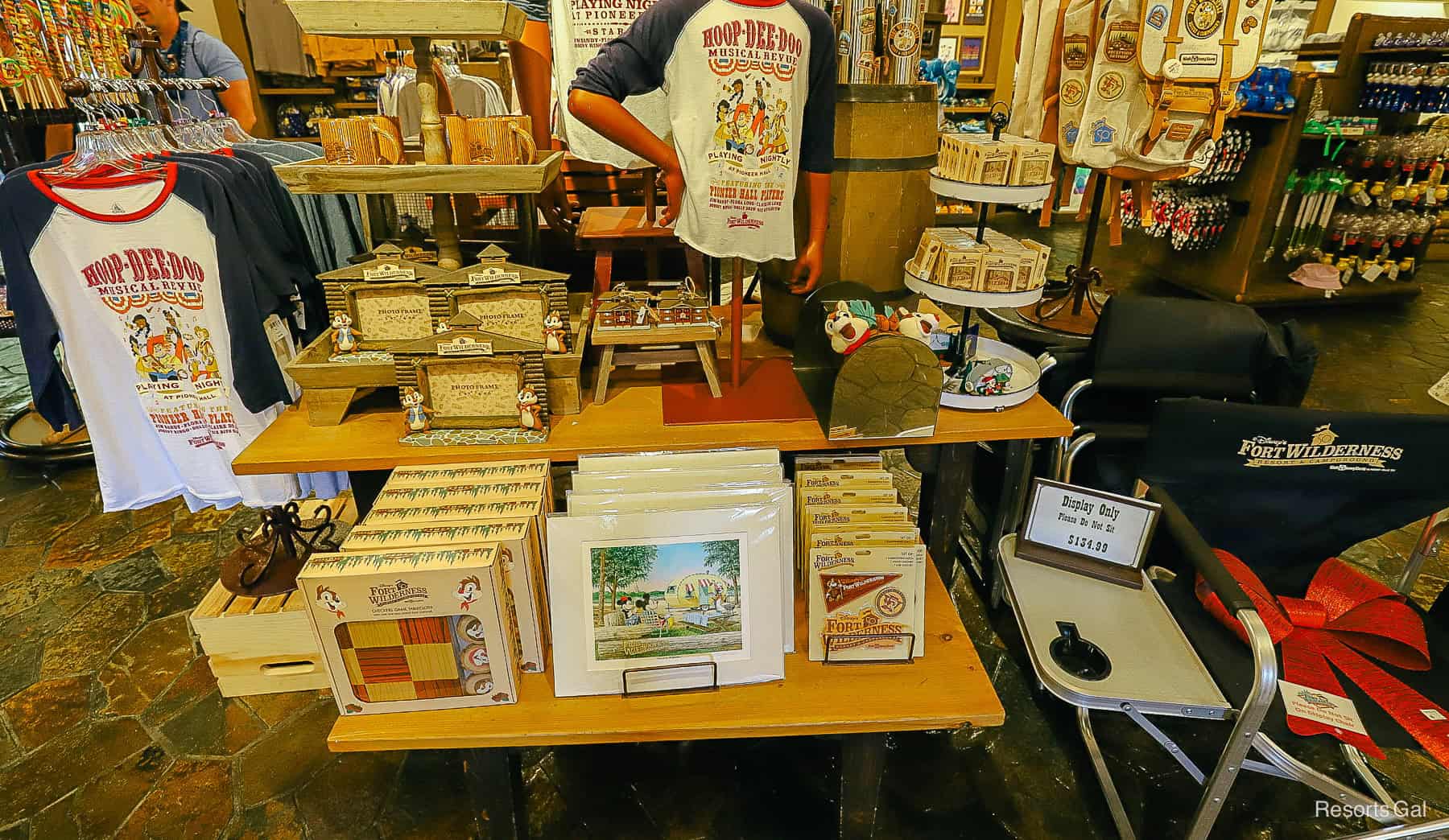 It is well-themed with Mickey Mouse and a log cabin feel.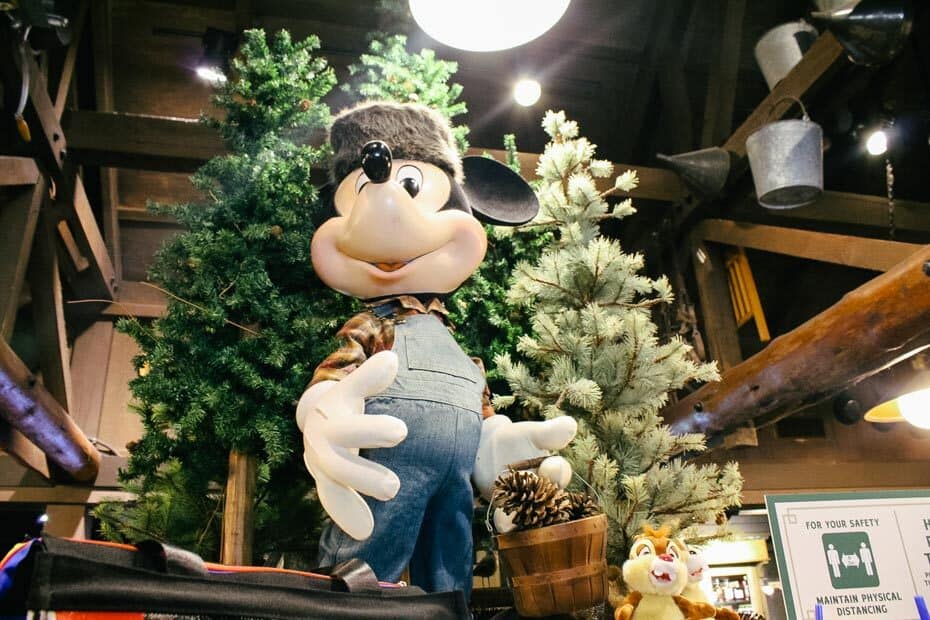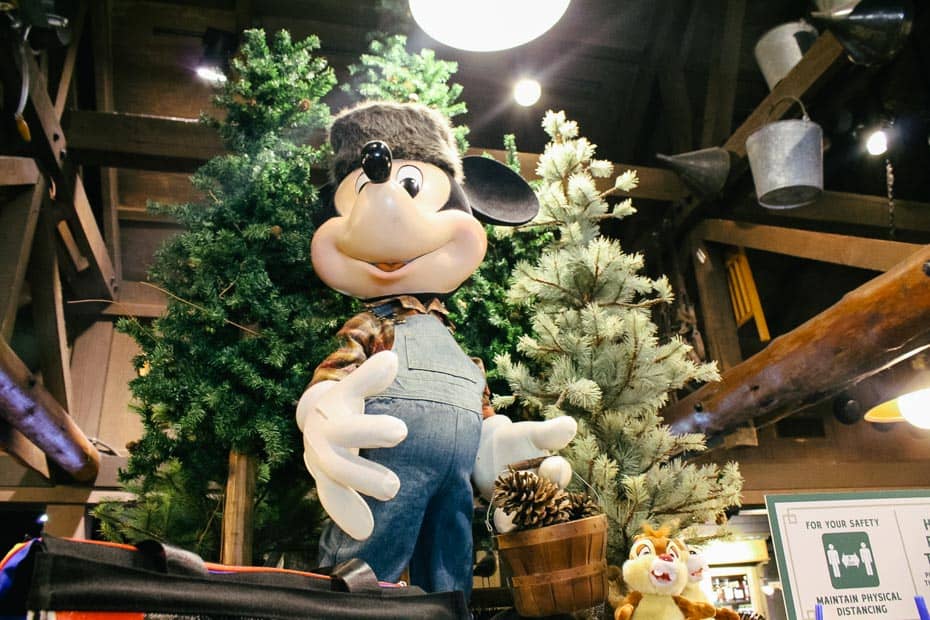 It's probably one of the largest resort gift shops at Disney. I didn't measure the square footage or anything. It just feels that way.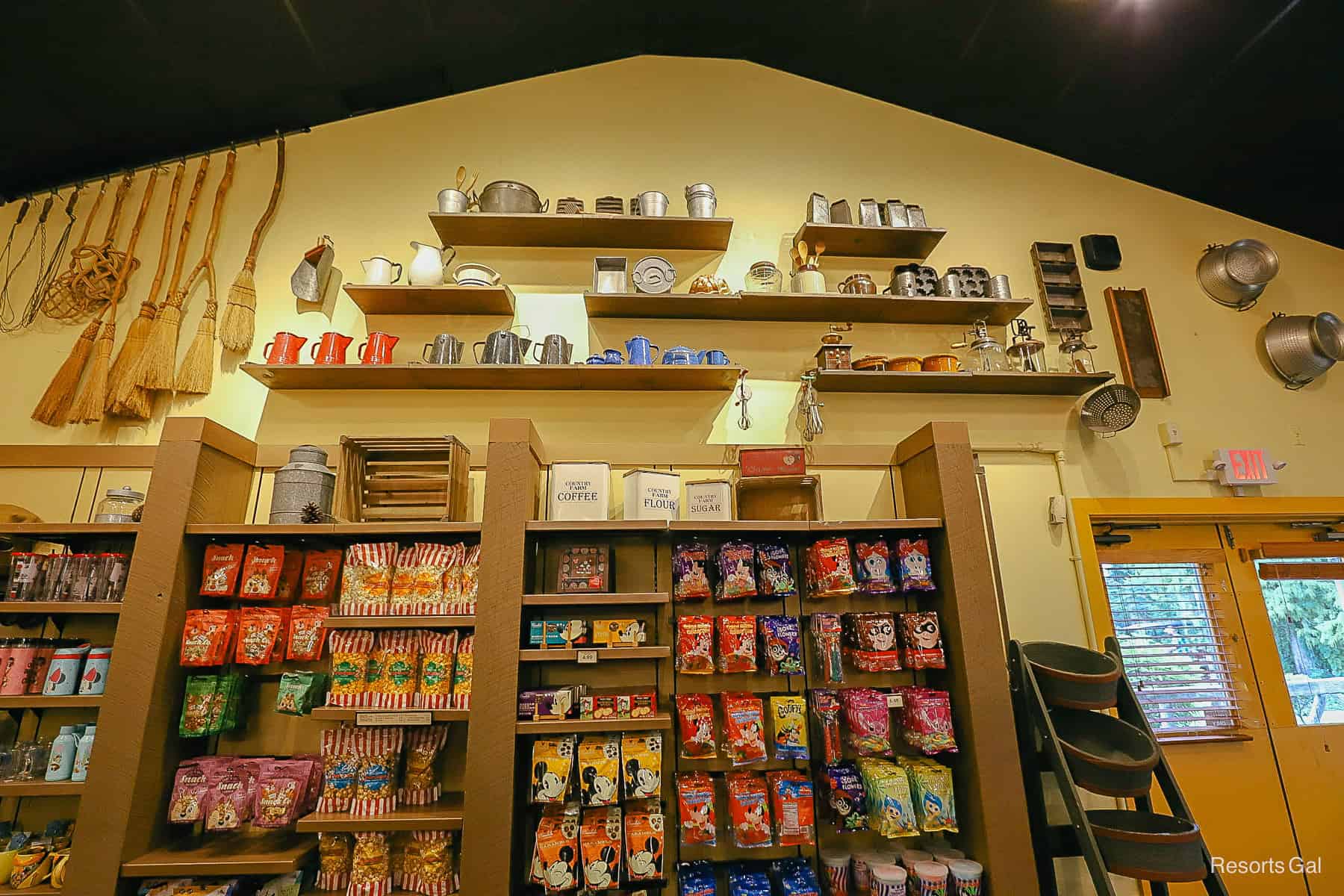 I'll take one of every single kitchen accessory available, please.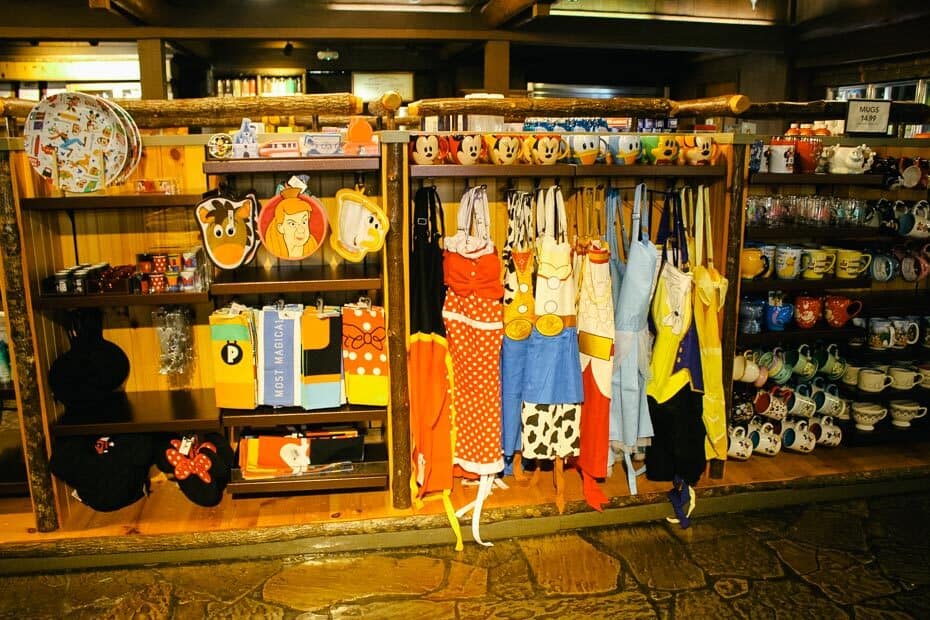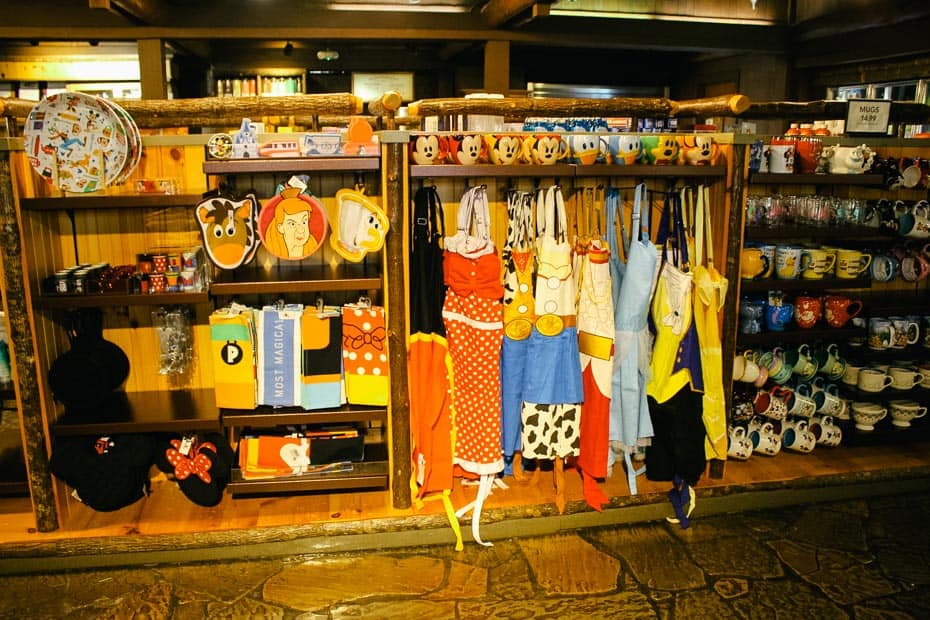 Sometimes, it feels awkward to take pictures of the grocery section. But it's important to have an idea of what's available in case you have an immediate need. Like those packages with mixed cereals. Those are most definitely a need. I remember begging my mom to buy those for me as a child. But she wouldn't because she knew I wouldn't eat every single flavor that comes in the pack.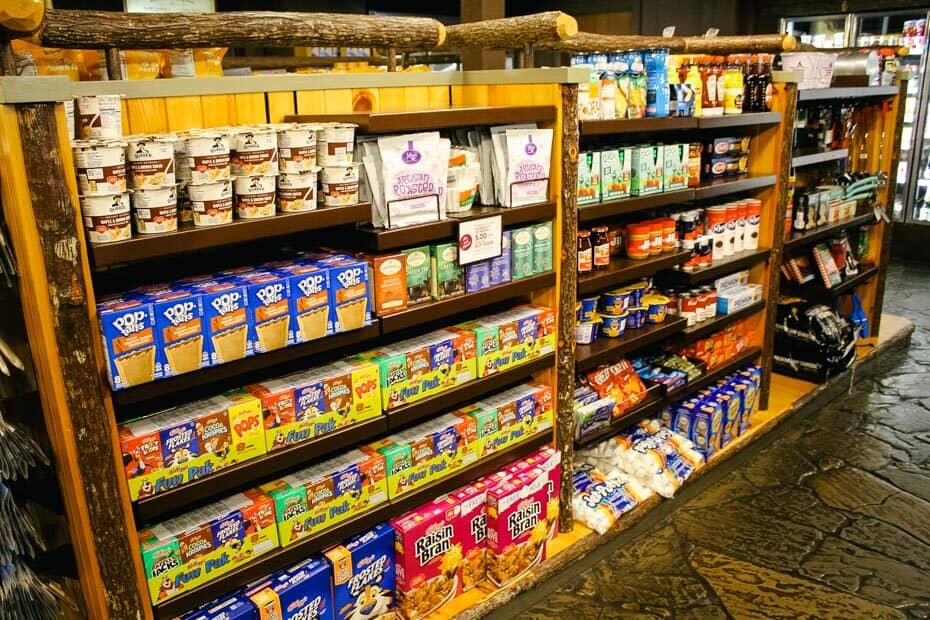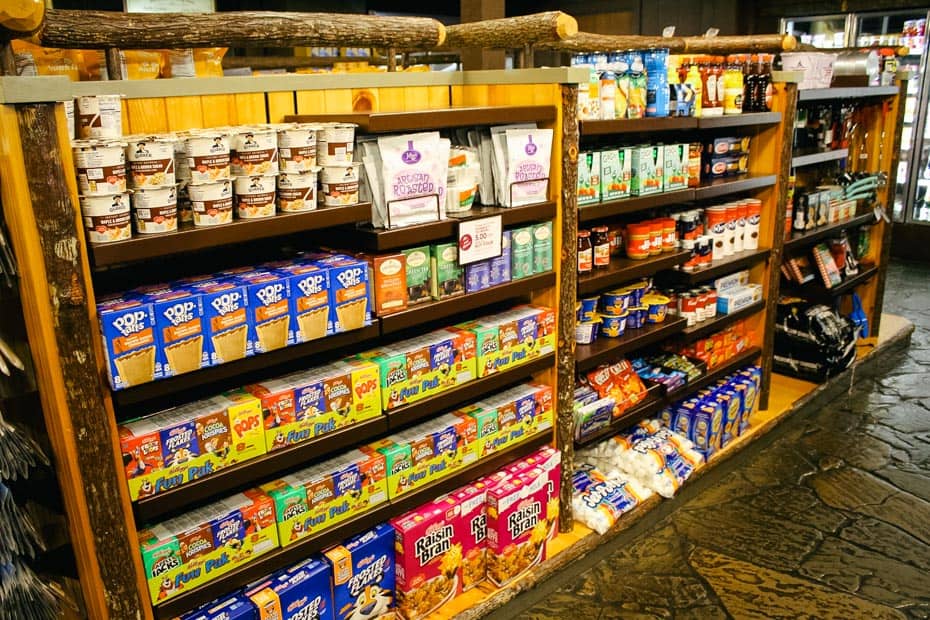 There is plenty of milk along with juices, and electrolytes.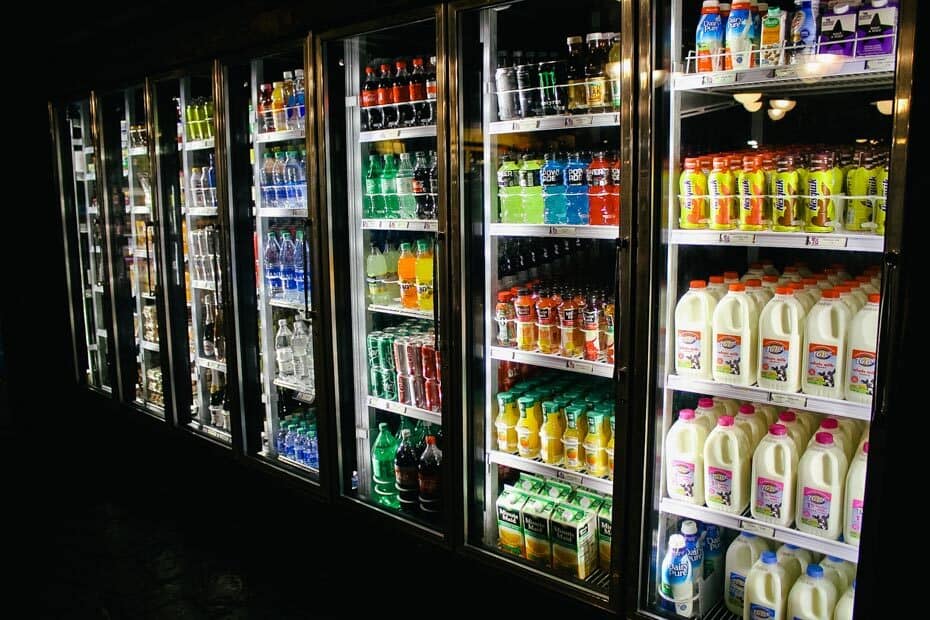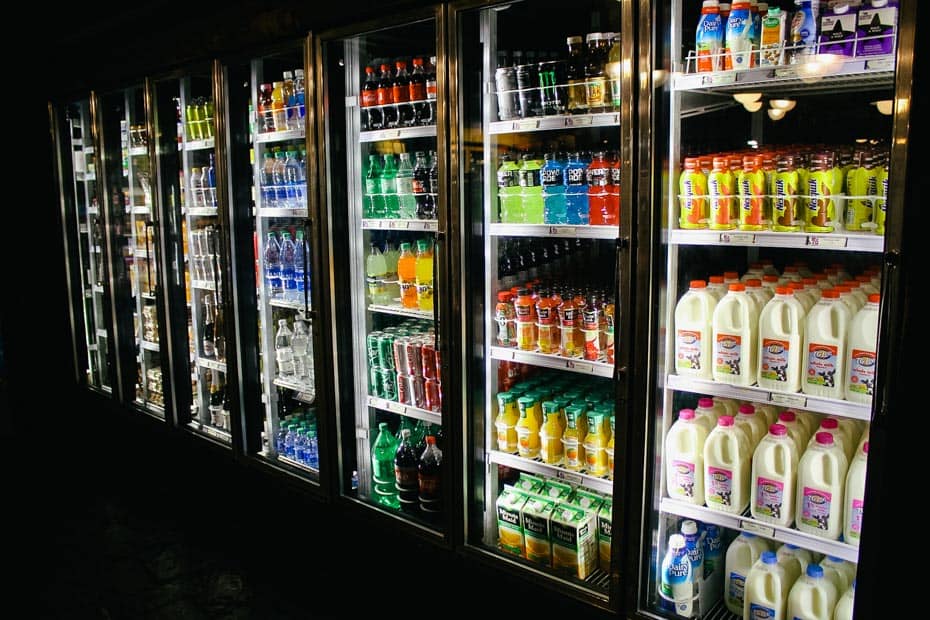 You can "Leggo your Eggo" in the toaster back in the cabin. But they won't be Mickey-shaped.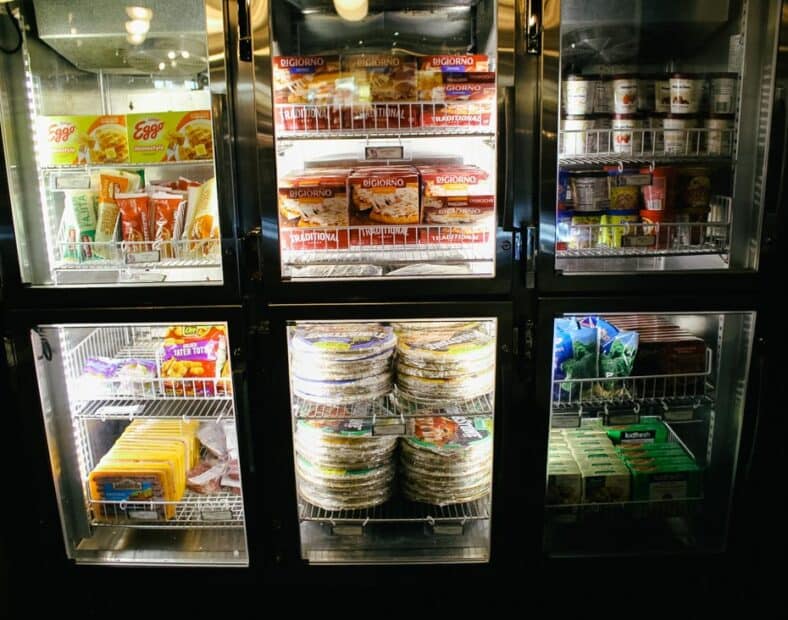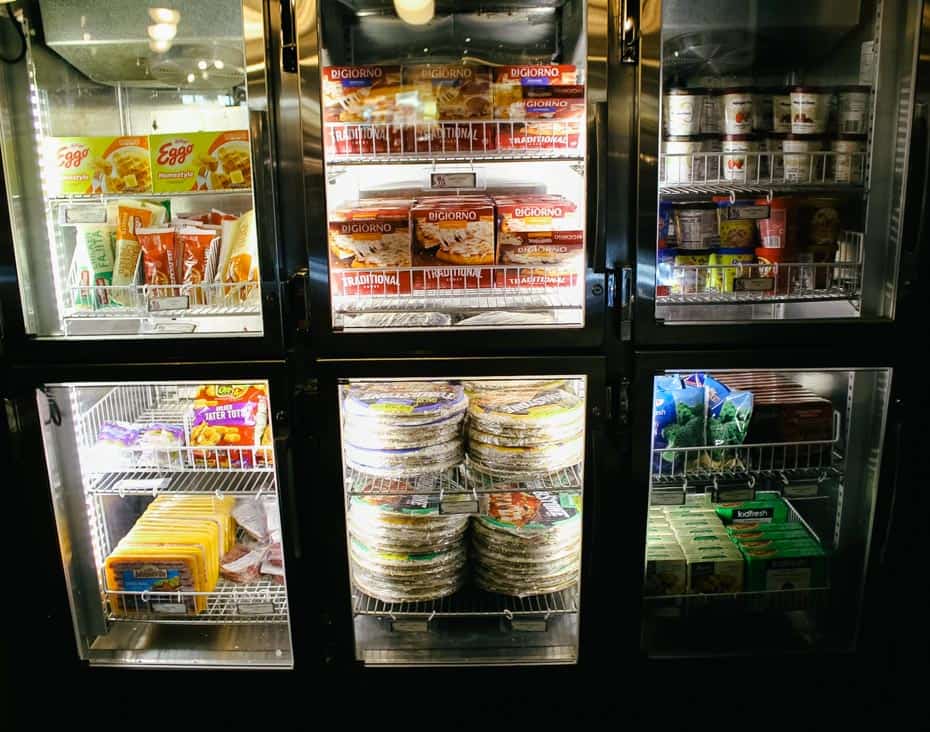 Thankfully, you can pick up a few Mickey bars in the freezer section.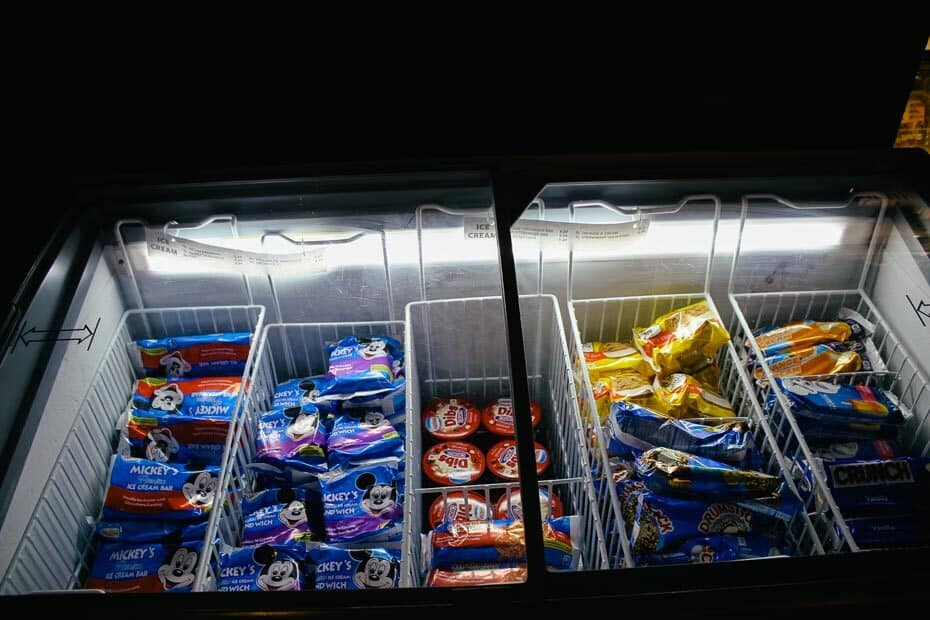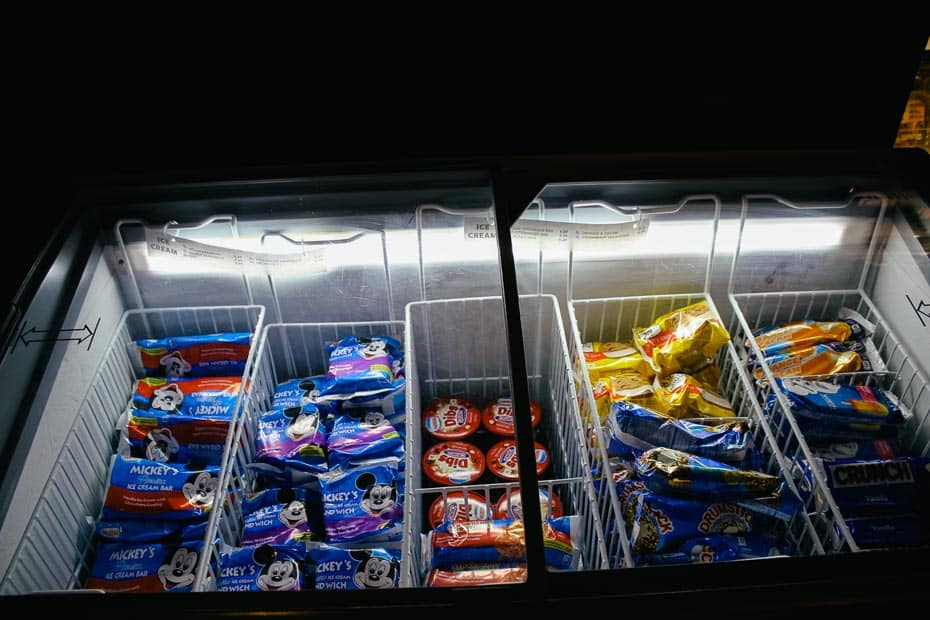 I was impressed with the grocery items available.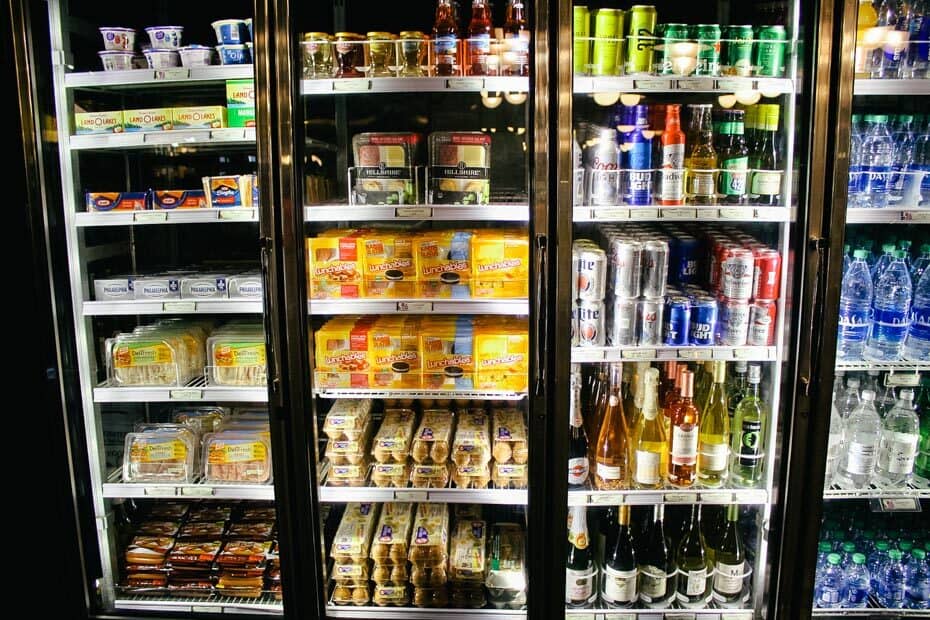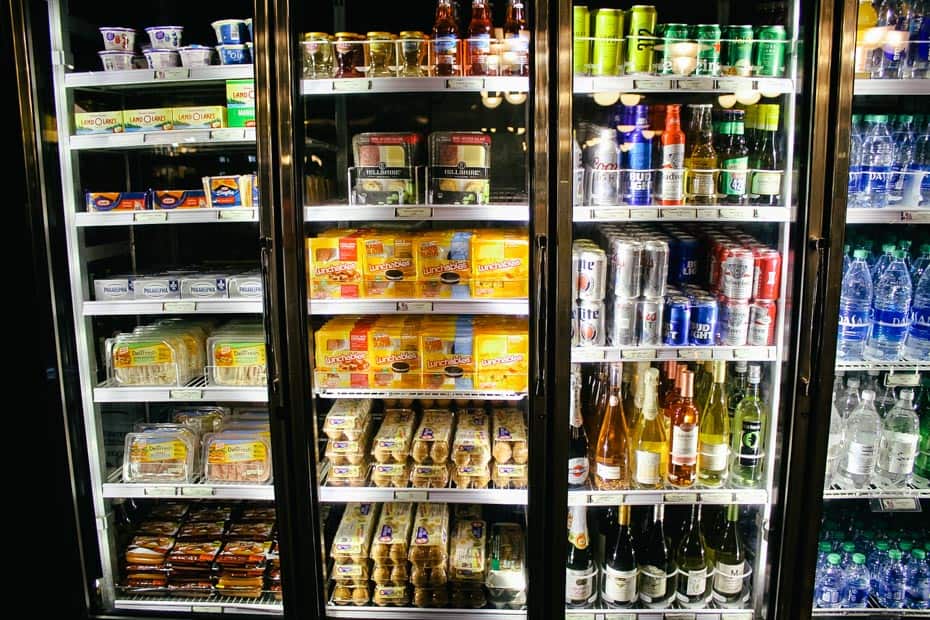 You could definitely make things work for a couple of meals.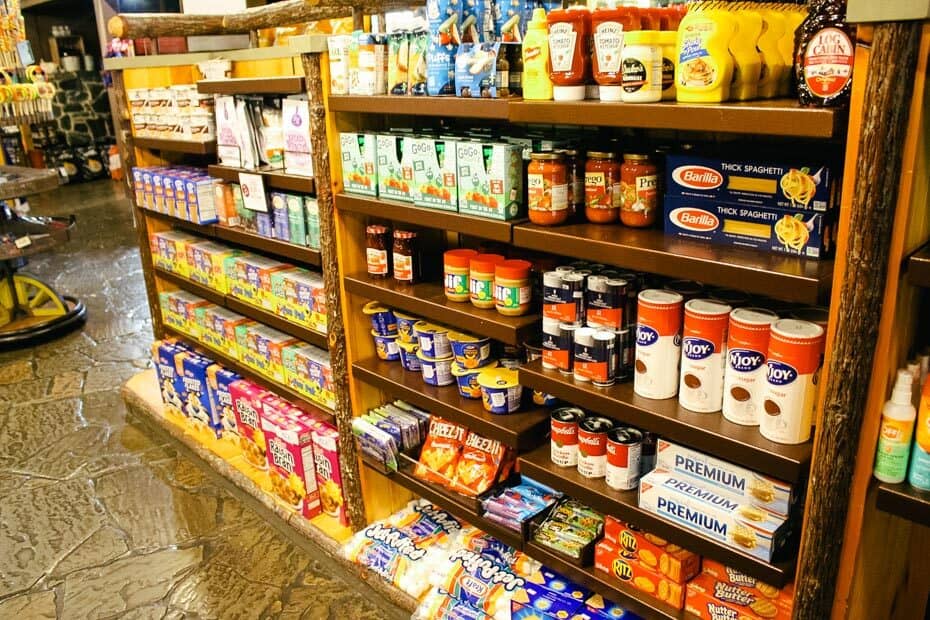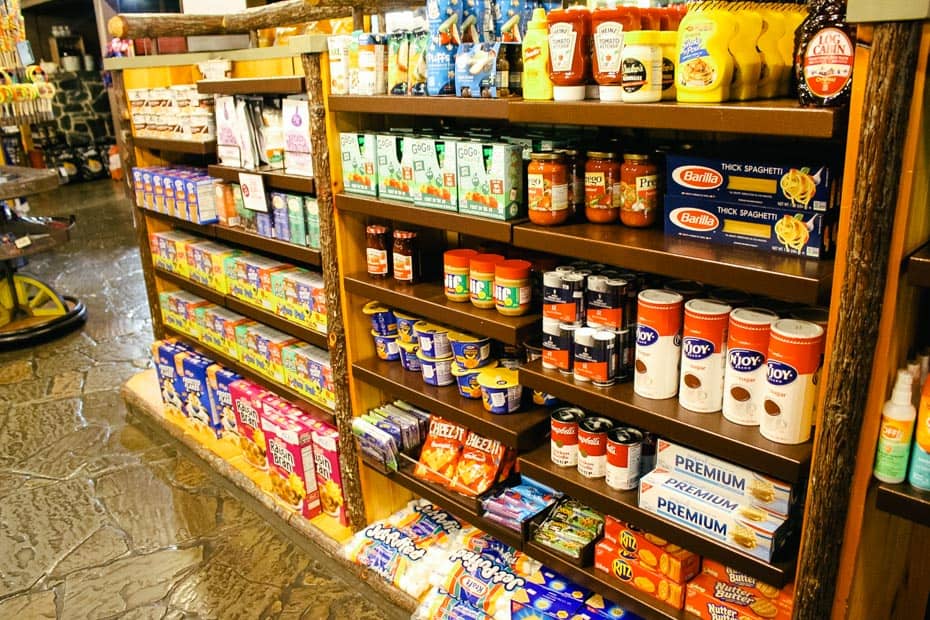 Convenience items are available in the Meadow Trading Post.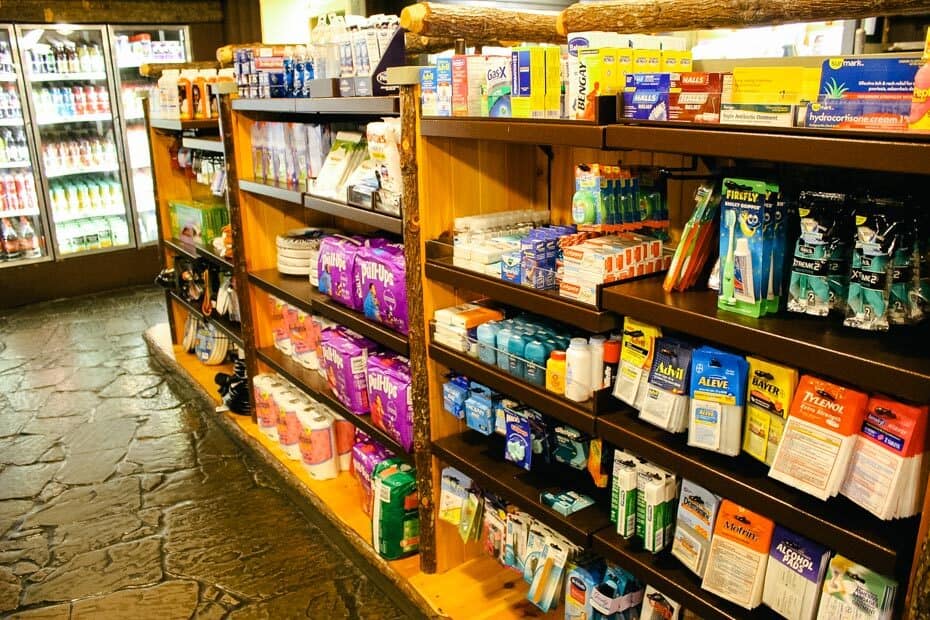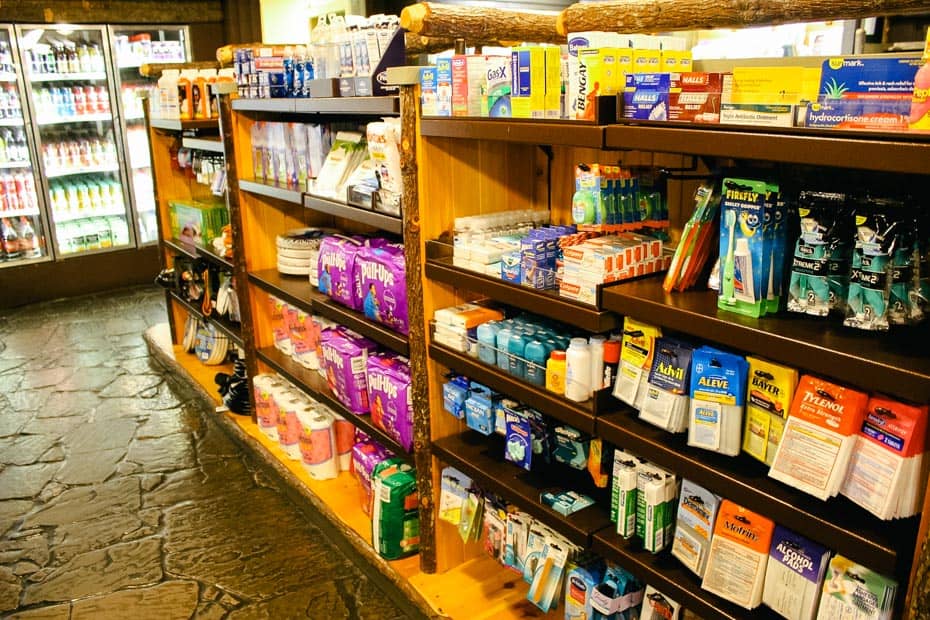 And there was even a bread and chips aisle.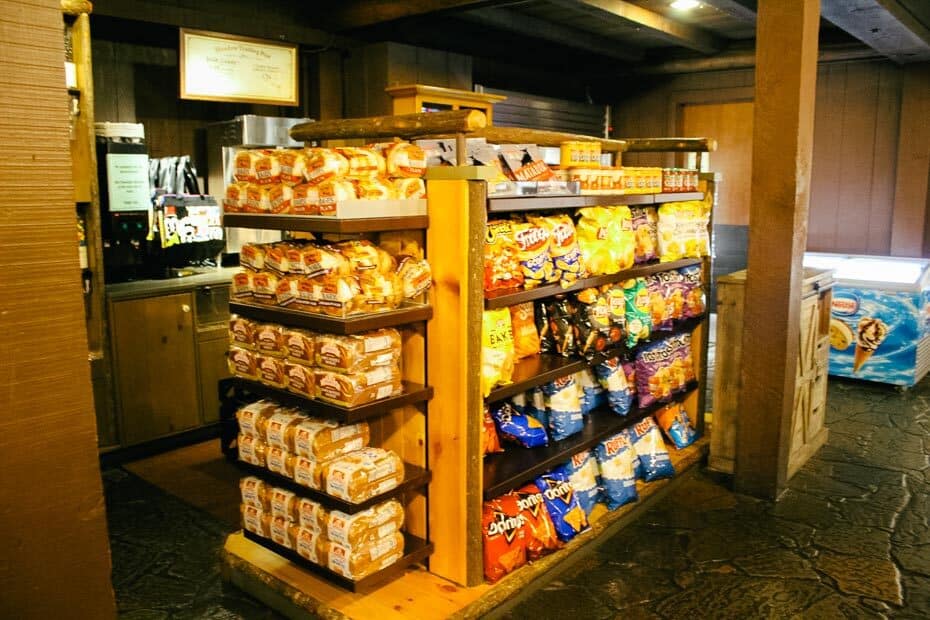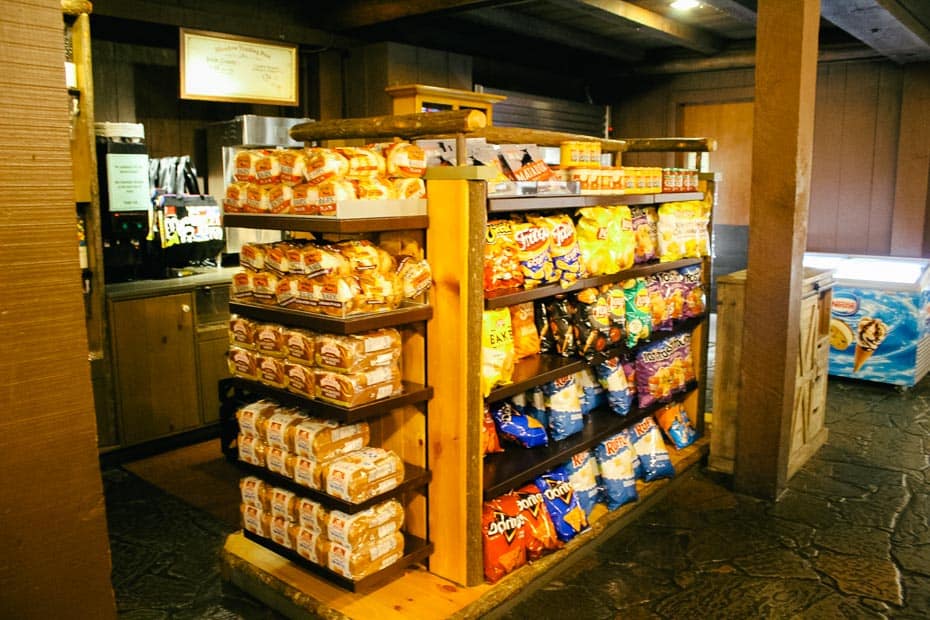 Back at the Bay Lake side of Fort Wilderness is Settlement Trading Post. You'll run into this immediately on the left after docking from the Magic Kingdom boat.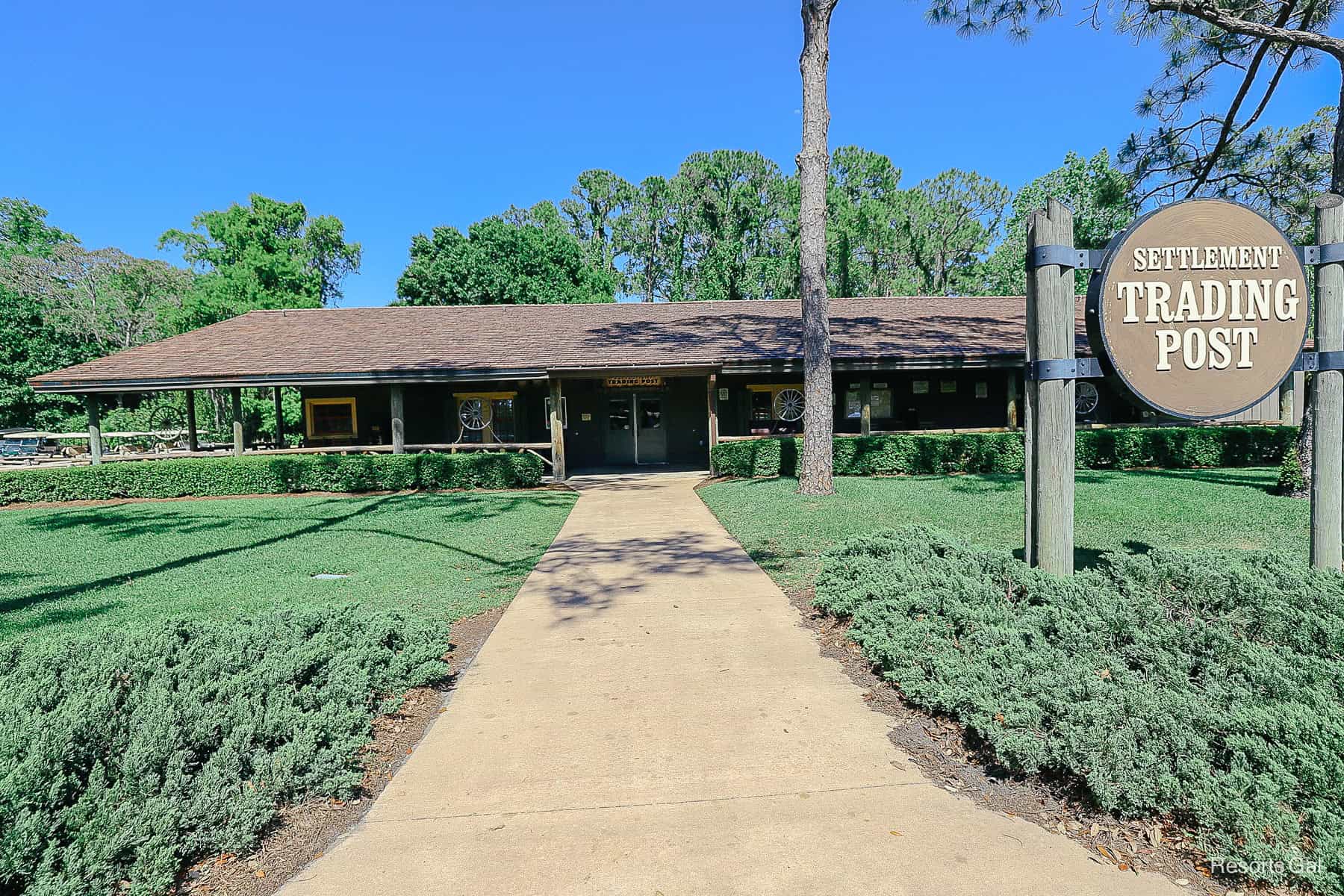 This is another nice store with a good variety of options.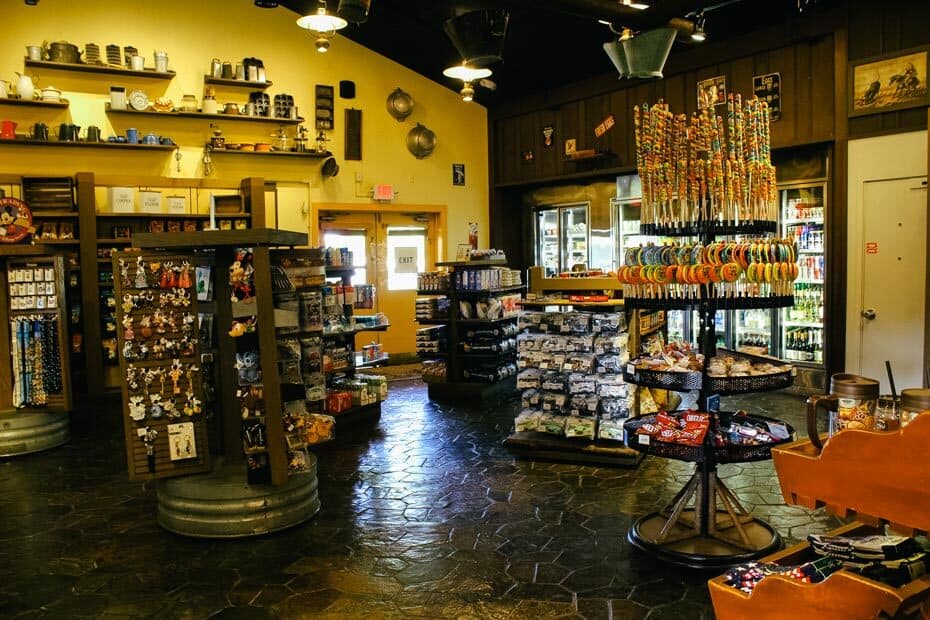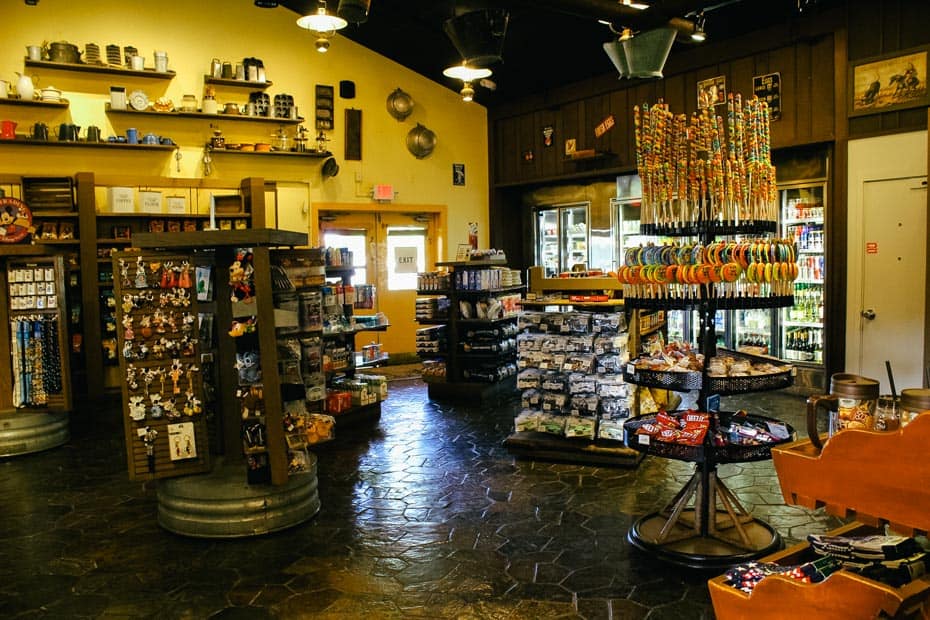 However, they didn't have near the same amount as the store at the Meadow.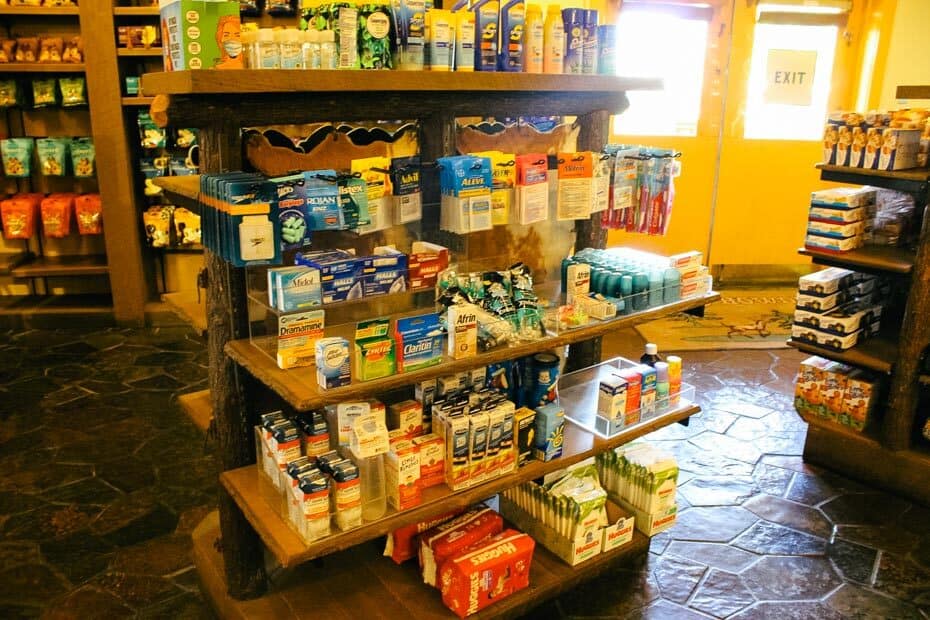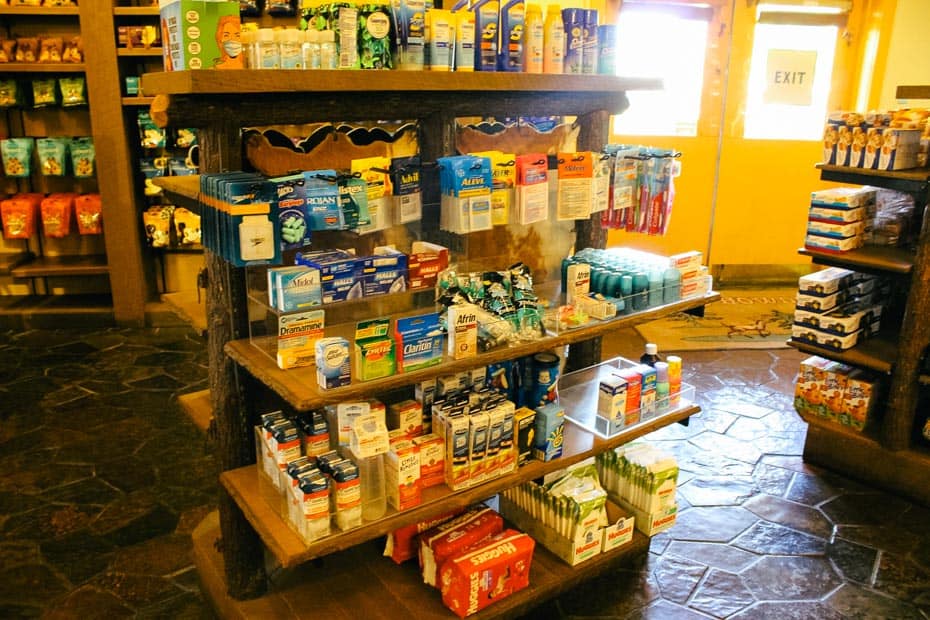 Here is a look at their cooler case.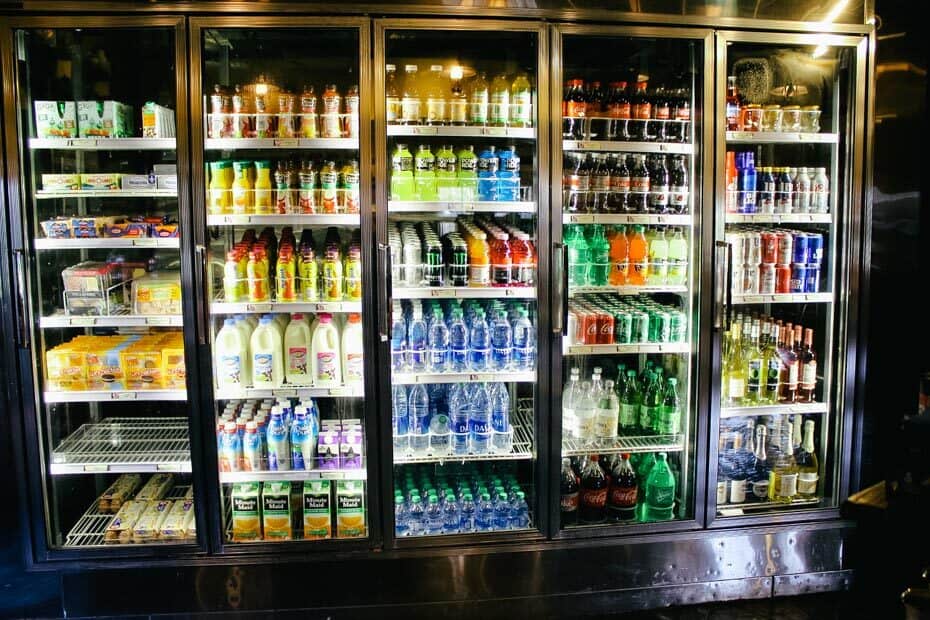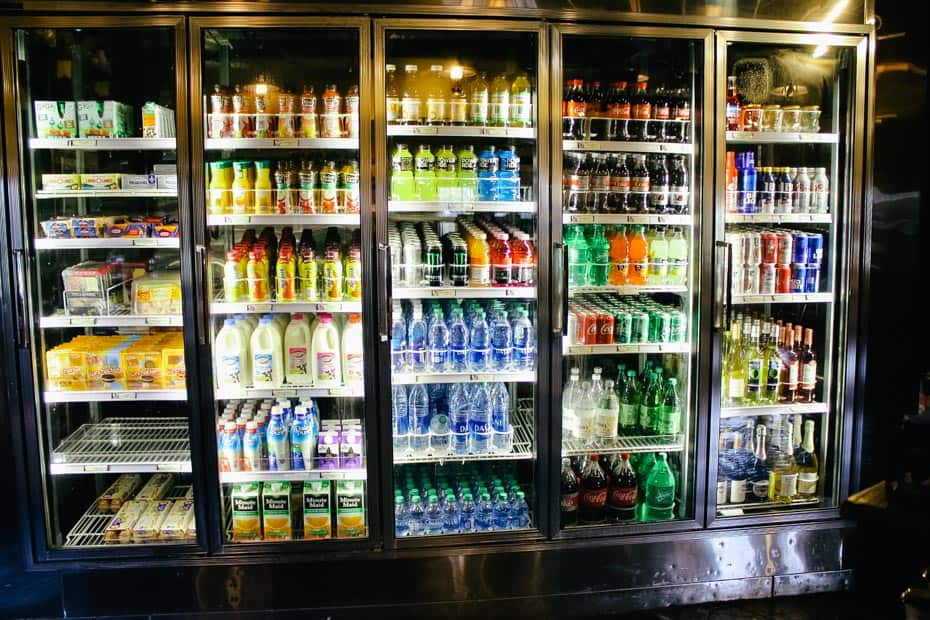 Some Disney-themed candy.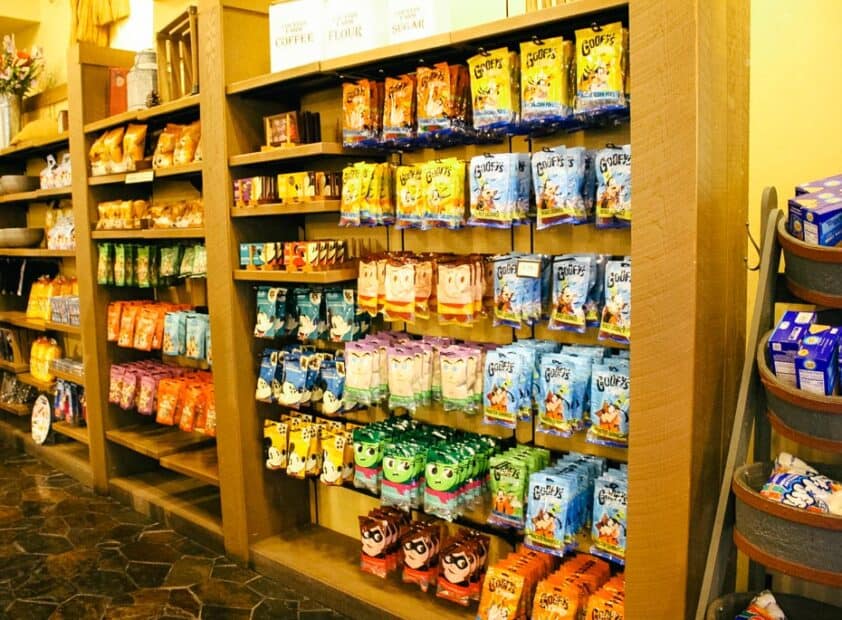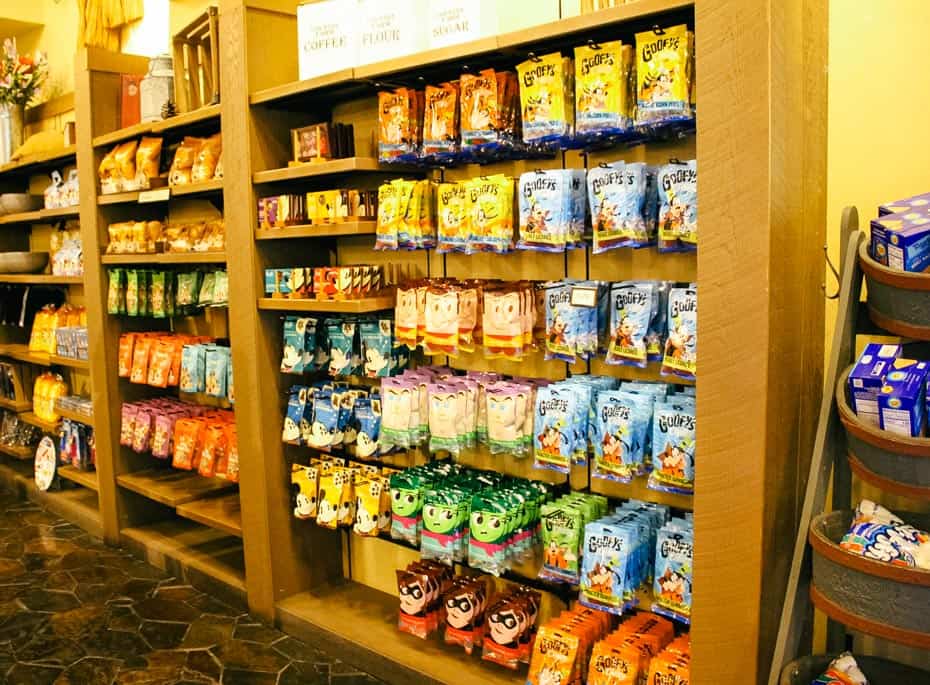 You'll probably want to check out both stores at some point during your stay. I feel like Settlement Trading Post probably gets more traffic due to its prominent location. And if you thought it was the main resort store, you might not realize how many offerings are available at the Meadow.
Transportation at Fort Wilderness
Due to the tremendous size of Disney's Fort Wilderness, you will want to know how to get around. When I visit, I tend to walk the resort, and I stay on the main straight path from The Outpost through The Meadow and end at The Settlement.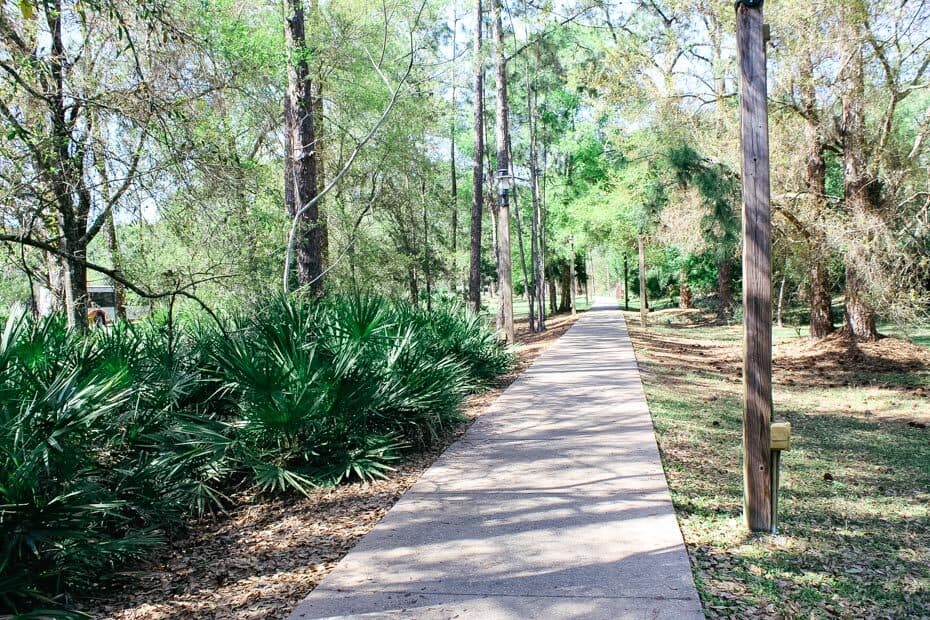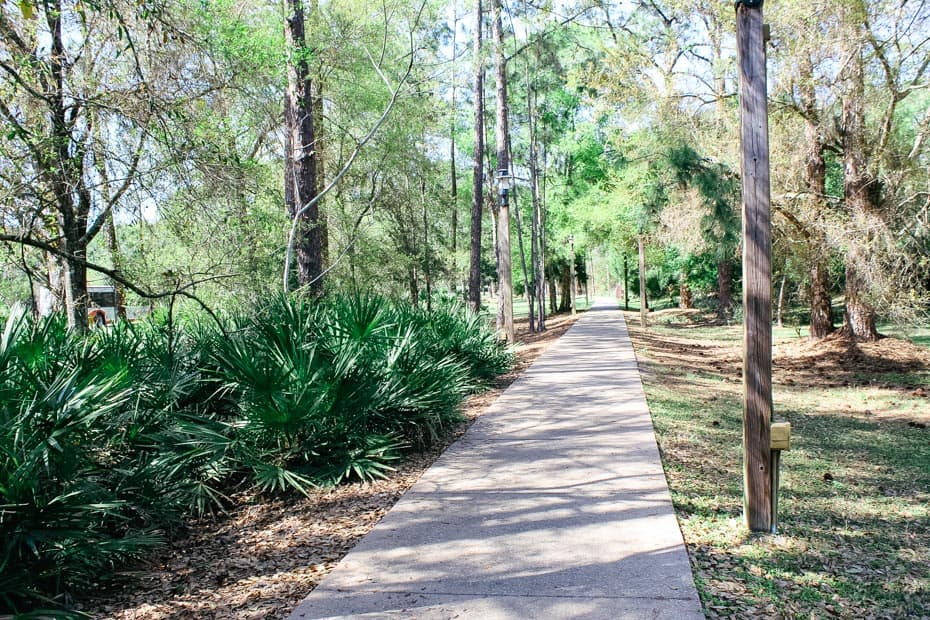 Depending on where you are staying at Fort Wilderness, you might not have that luxury. Make sure to pick up a resort map upon arrival and familiarize yourself with the best way to get to your desired destinations.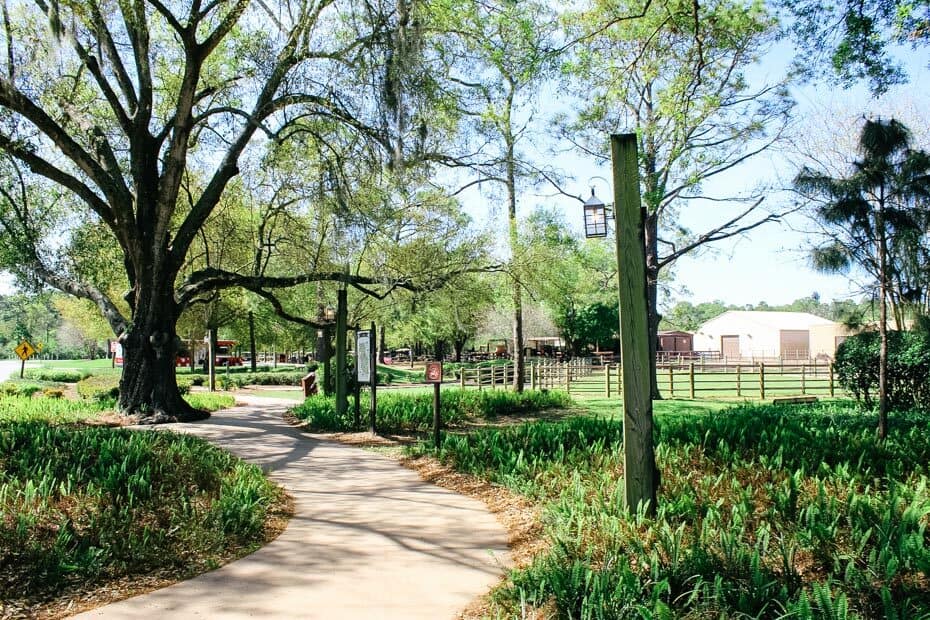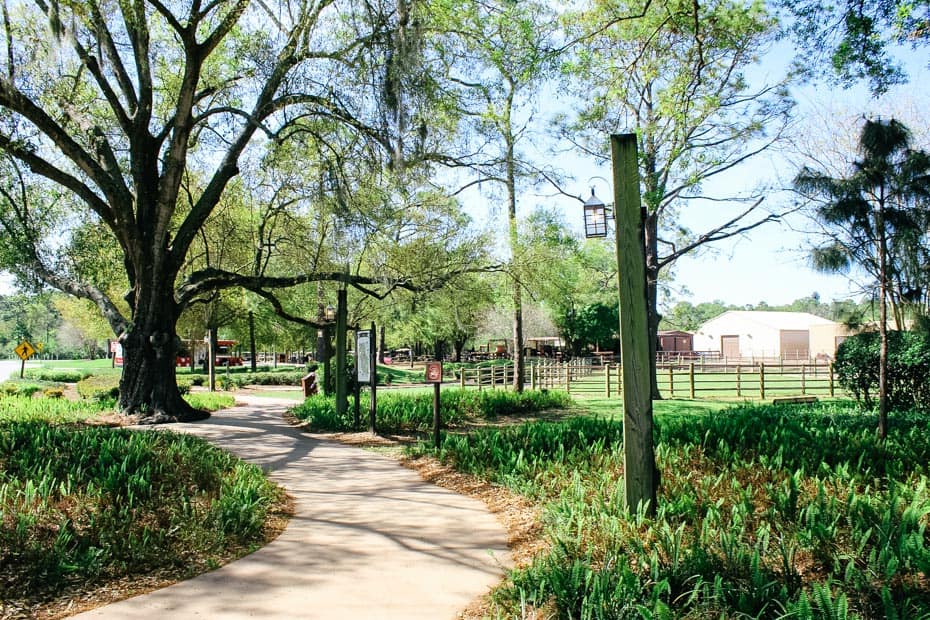 I recommend walking or using your golf cart to drive around and kind of get your bearings before venturing off anywhere. If you were to drop off your luggage and immediately head to a park, you might get a little turned around when you return after dark.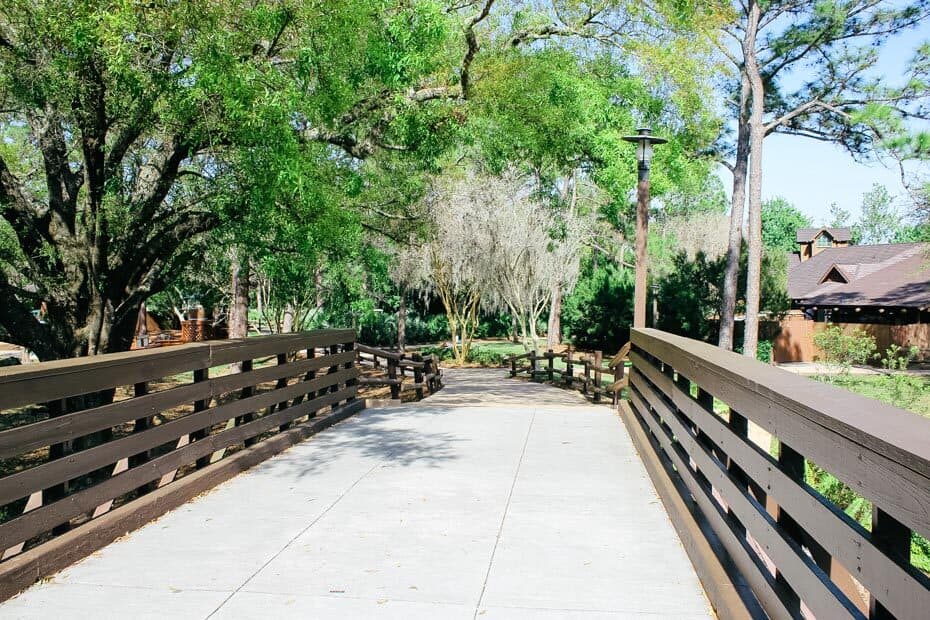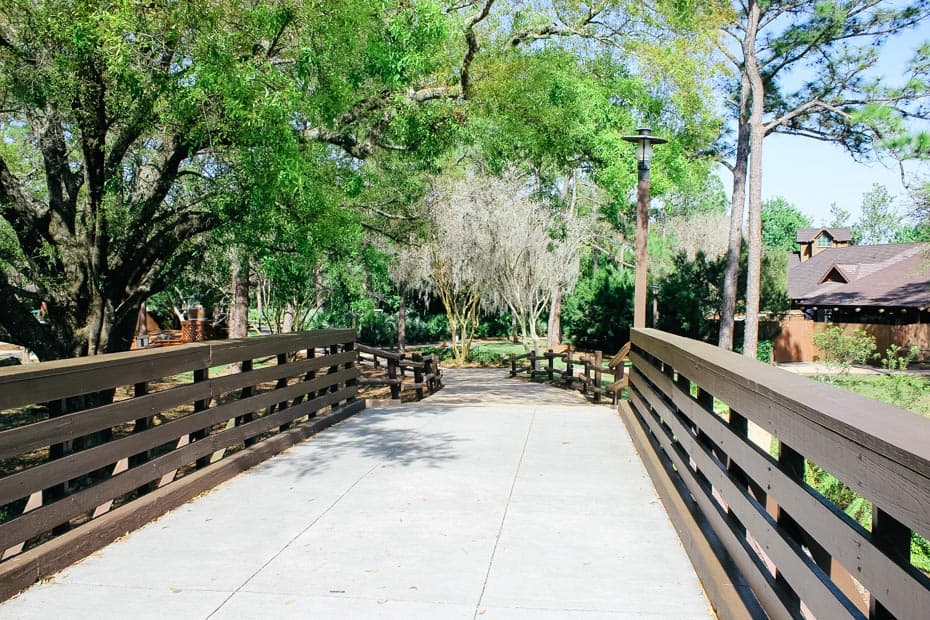 Plus, the setting at Fort Wilderness is so peaceful. It's the perfect place to decompress at the end of a long travel day.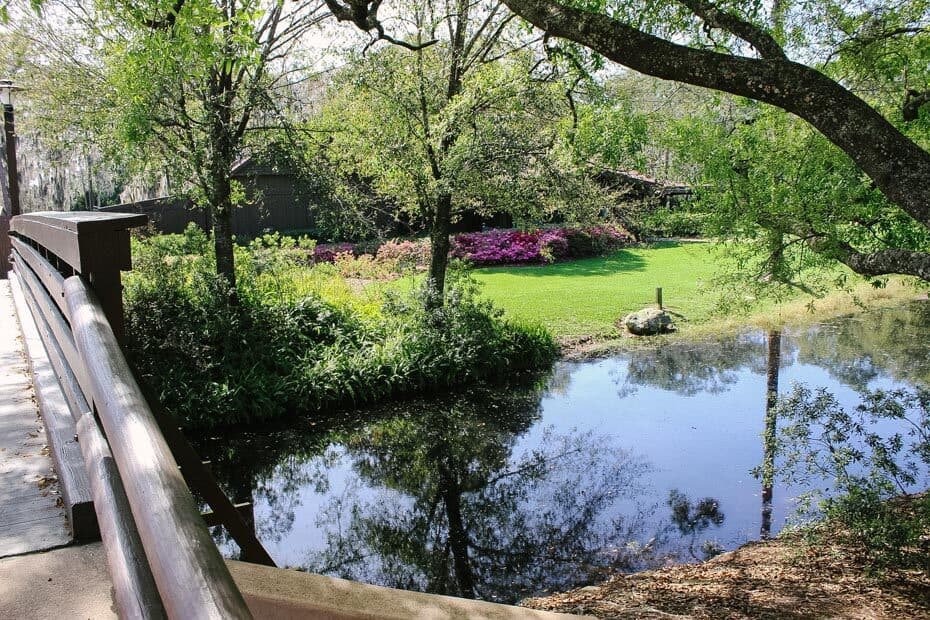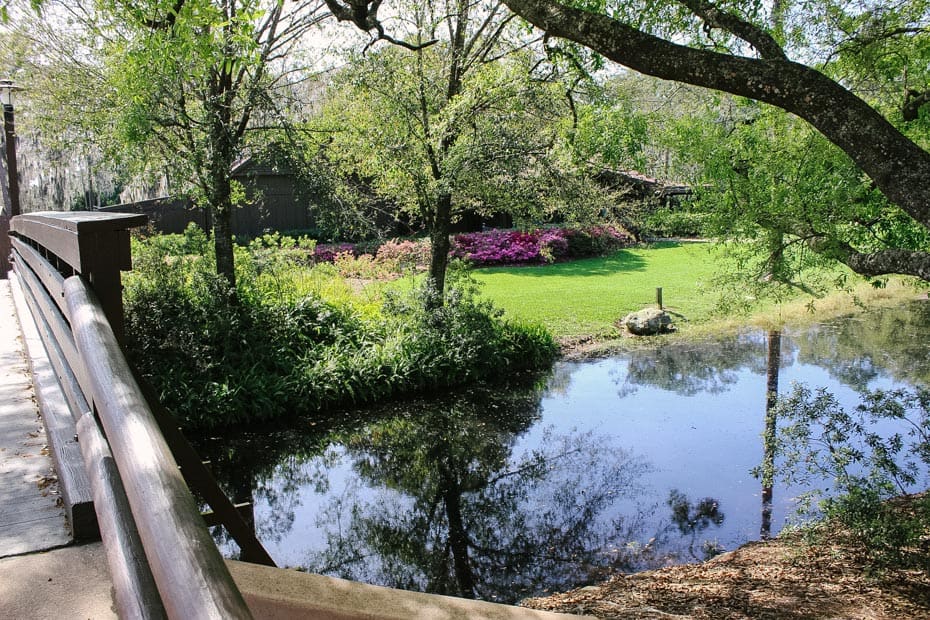 In the Spring, the azaleas are flowering all over the resort's property.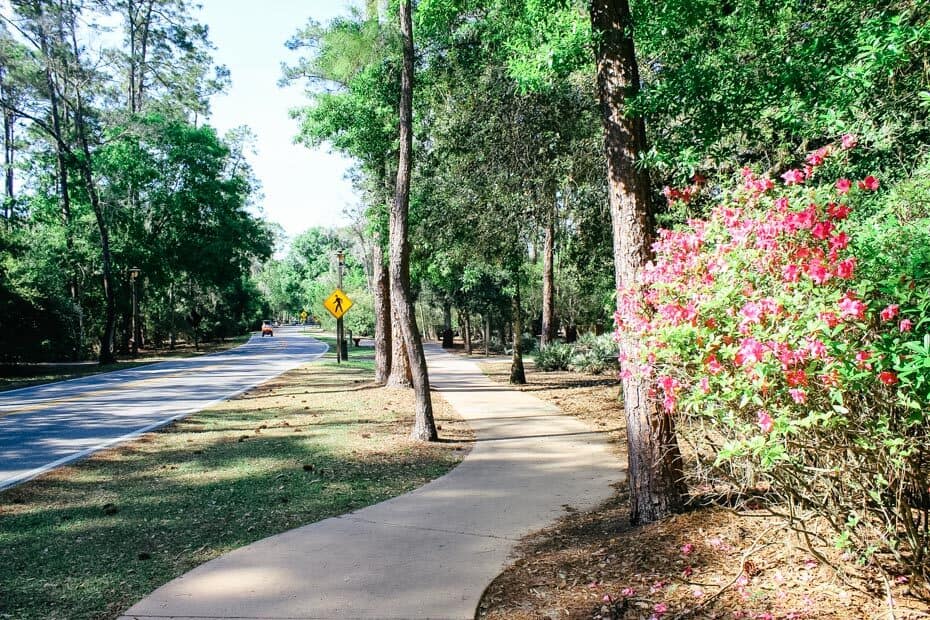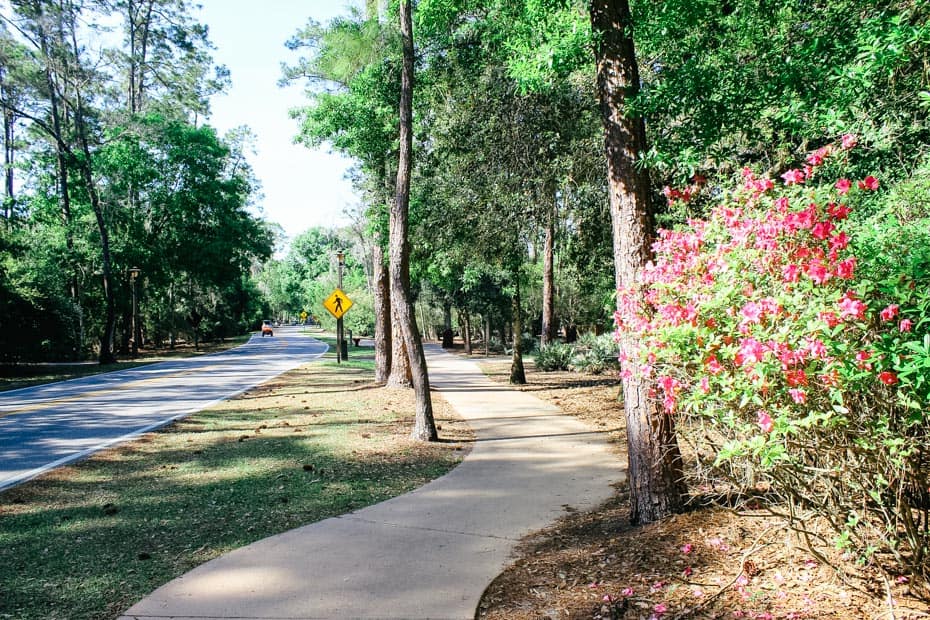 I took this photo so you could see the golf carts and bicycle racks that are parked at the boat dock.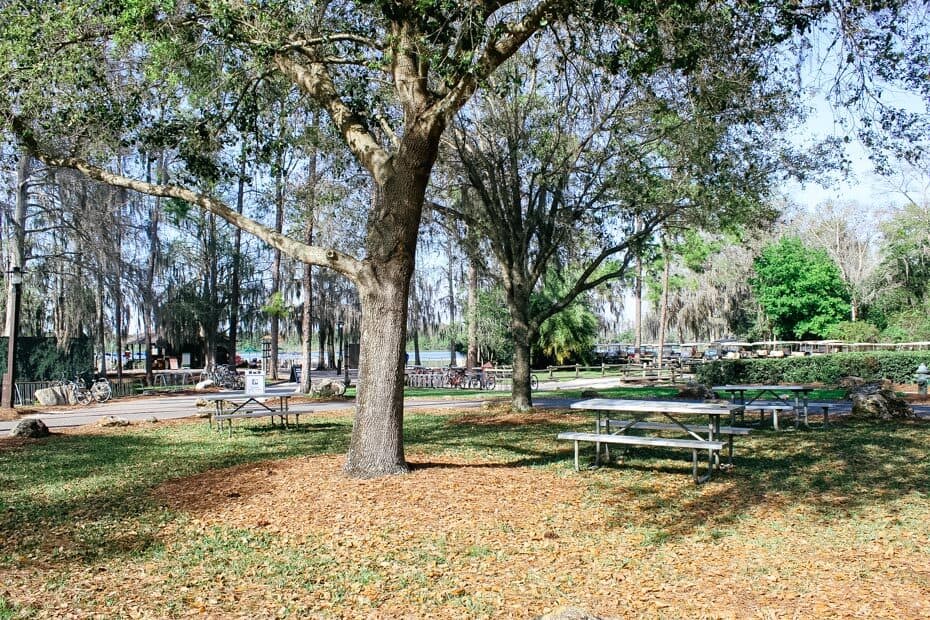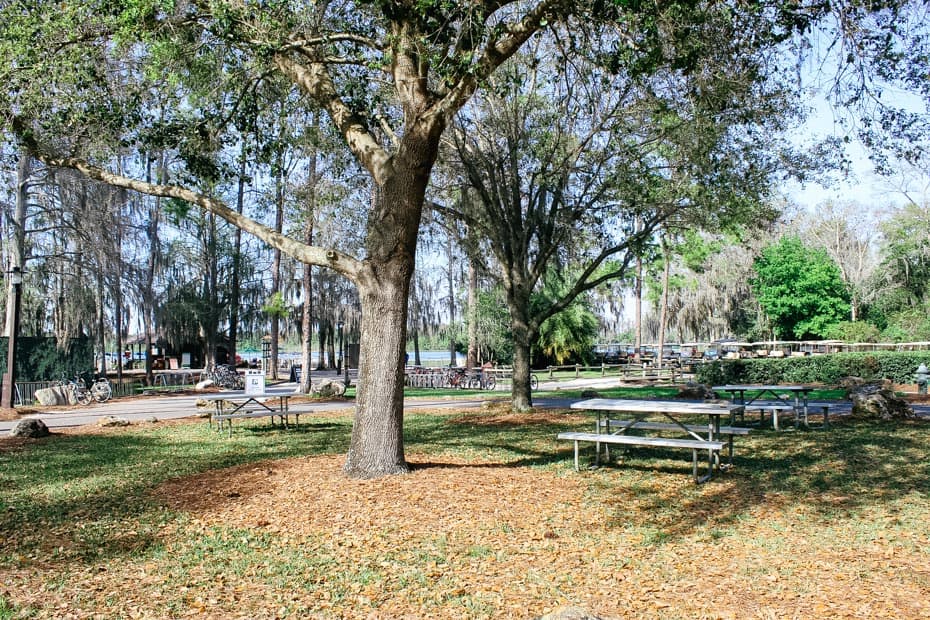 Bay Lake sits in the distance. This is where you'll park your cart when heading to Magic Kingdom.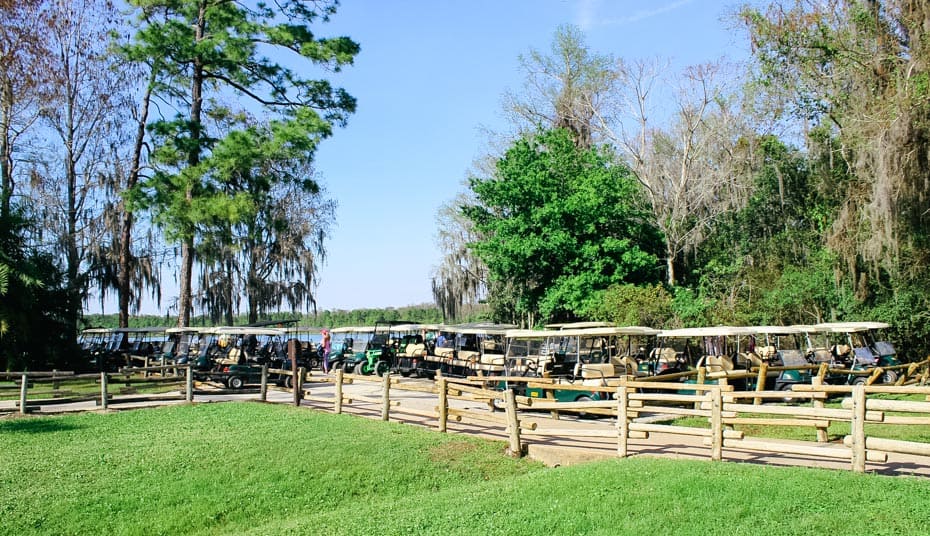 Fort Wilderness Landing is right beyond The Settlement.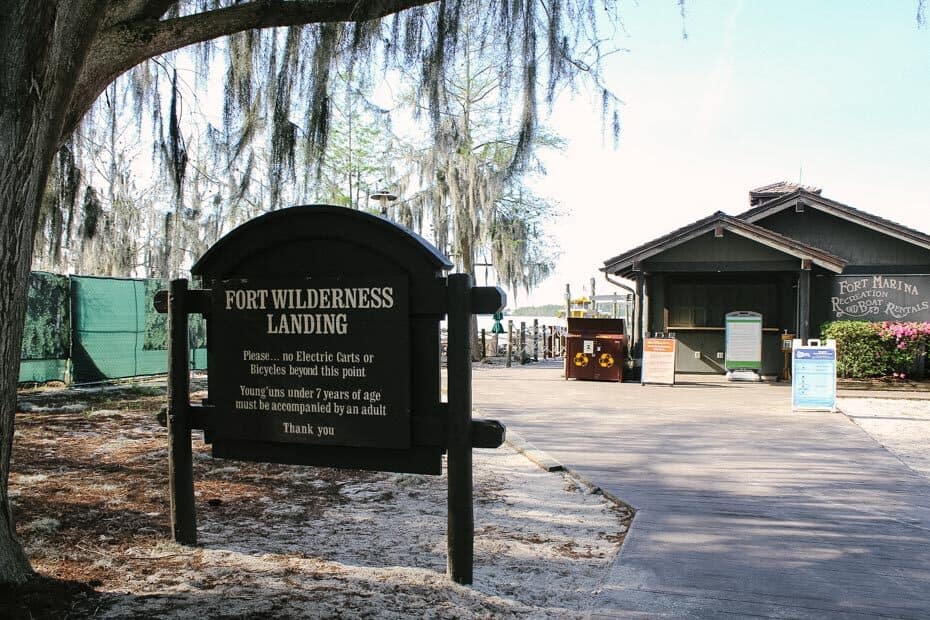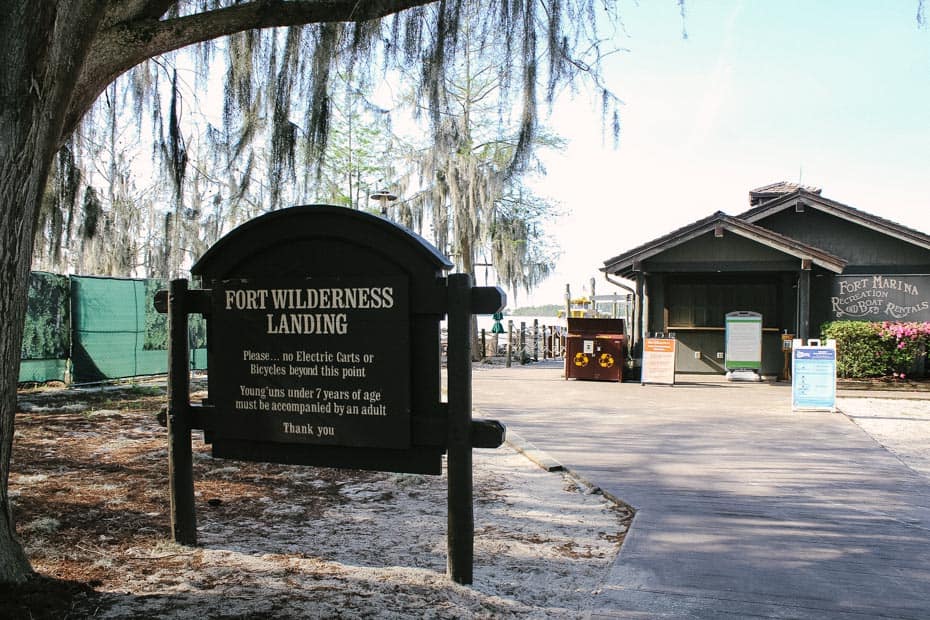 The boats that dock here travel directly to Magic Kingdom and back. Additionally, a boat runs from here to the Wilderness Lodge, and then on to the Contemporary before returning. This is a nice option for guests who might be heading out for dining at these resorts.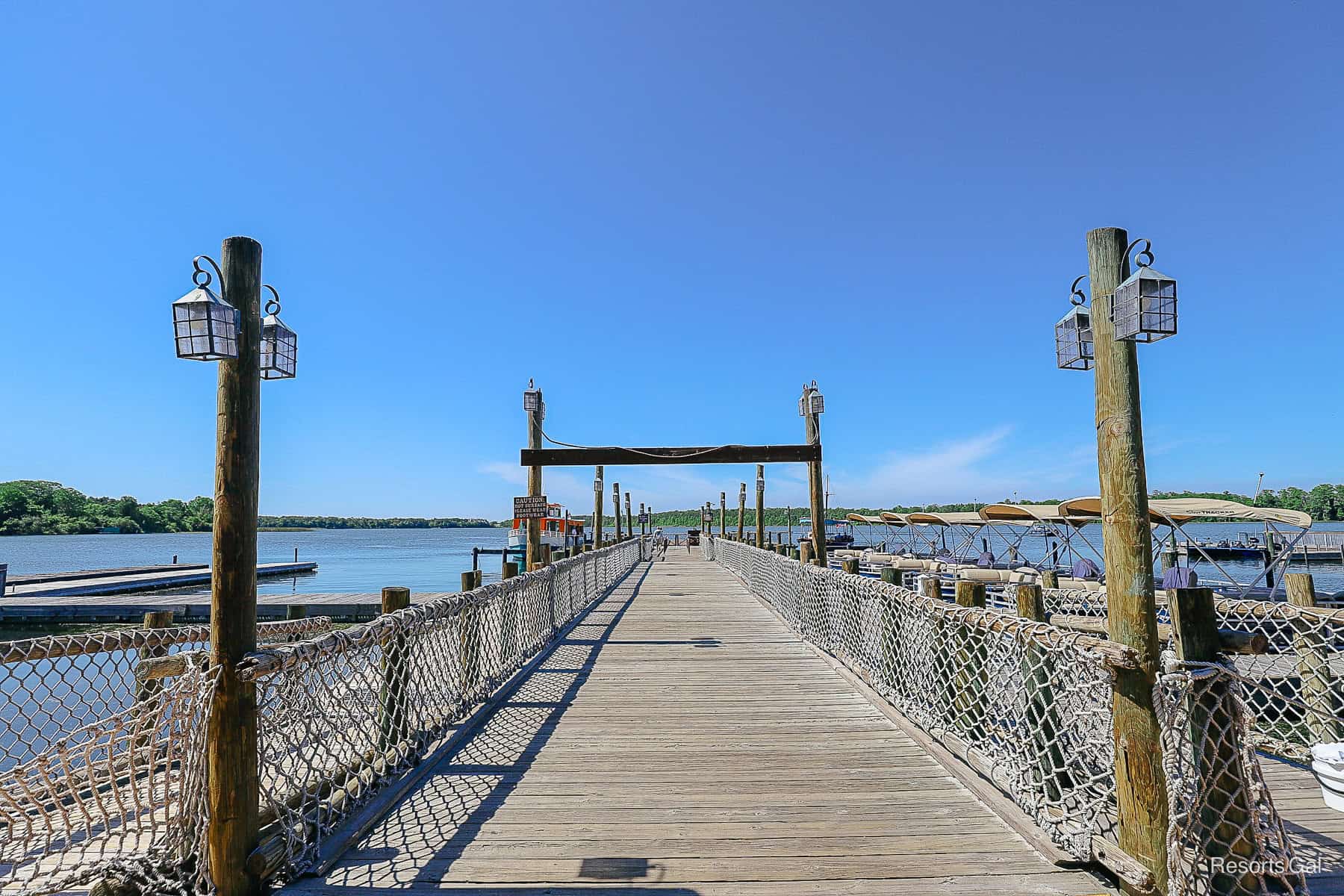 Since Fort Wilderness is so large, there's an internal bus system. If you don't have a cart or bike, you can't take the internal bus system to the Settlement Bus Depot. There you can walk down to the boat dock for Magic Kingdom.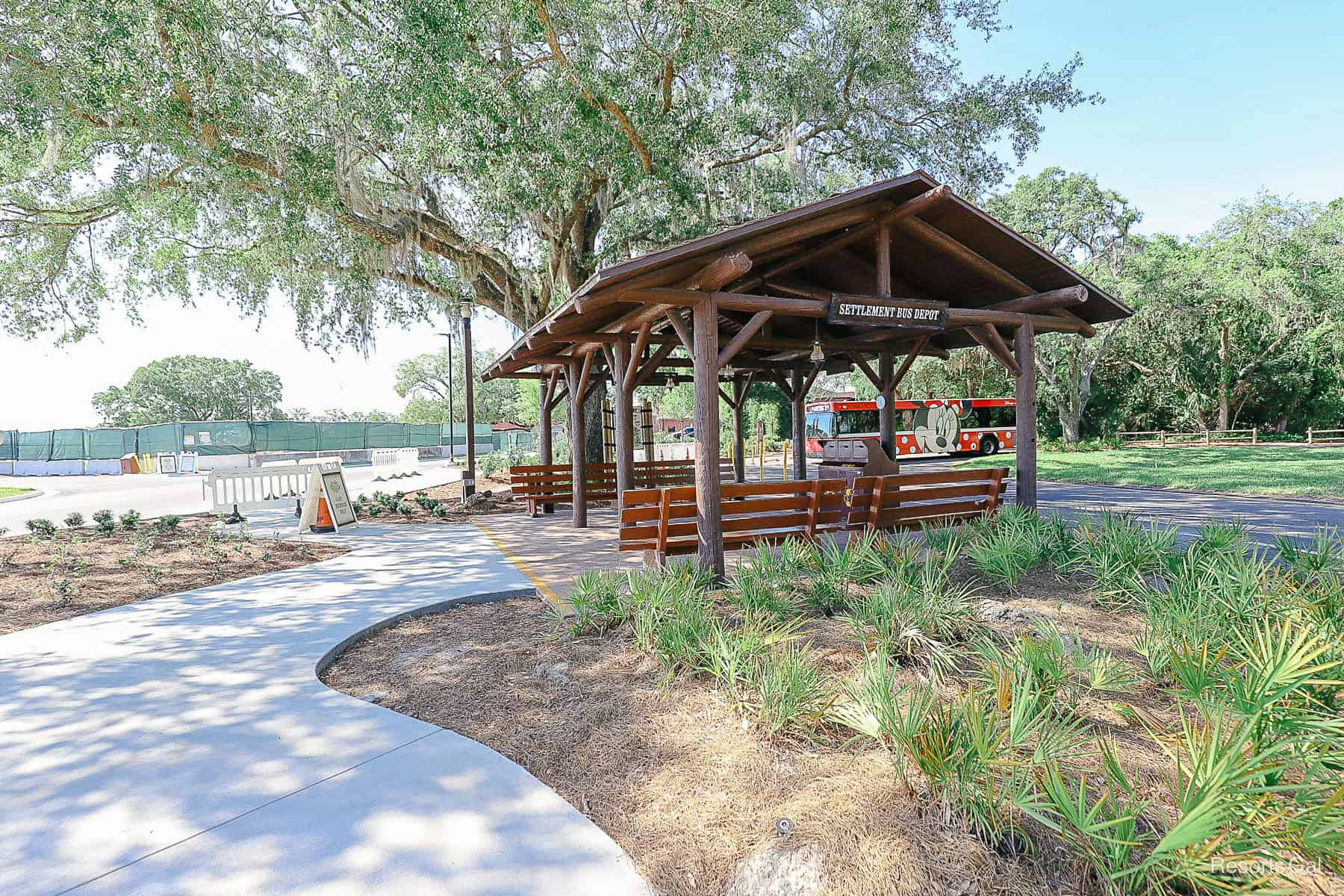 The only issue with the buses at Fort Wilderness is that there are so many bus stops. There is a stop at nearly every cabin loop and campsite loop. For instance, the stop below is for 1100, 1200, and 1300.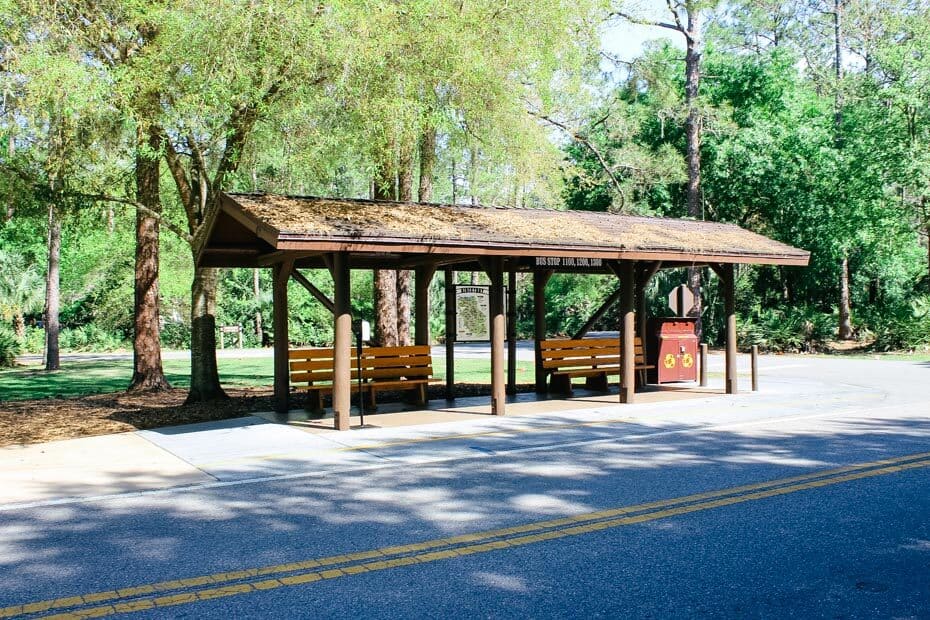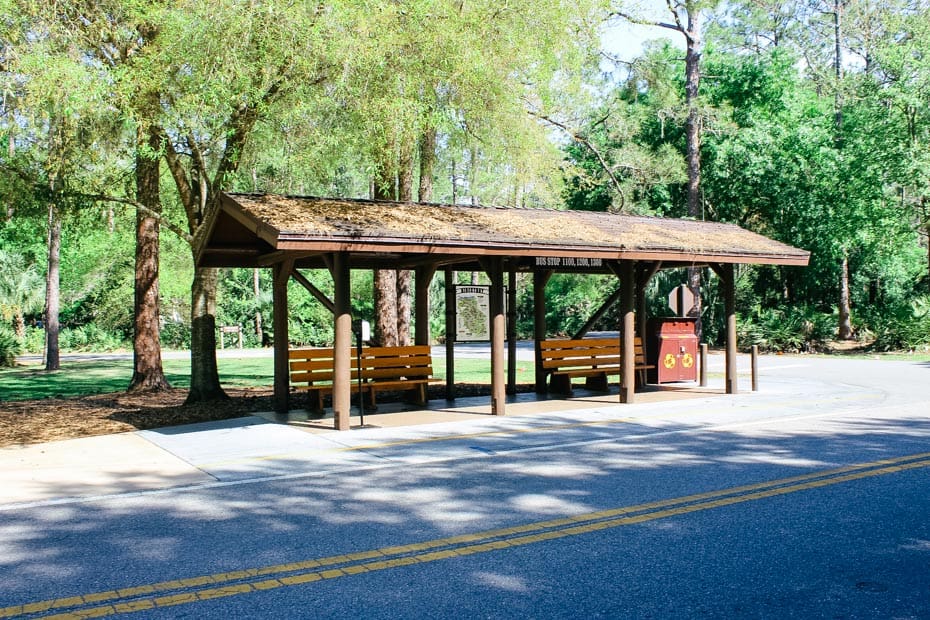 Drivers are required to stop at every single depot. Therefore bus rides to and from the main stations can be a bit lengthy.
The main bus stop at Fort Wilderness is the Outpost Bus Depot. You'll exit the internal bus here to wait for a bus headed to your desired destination.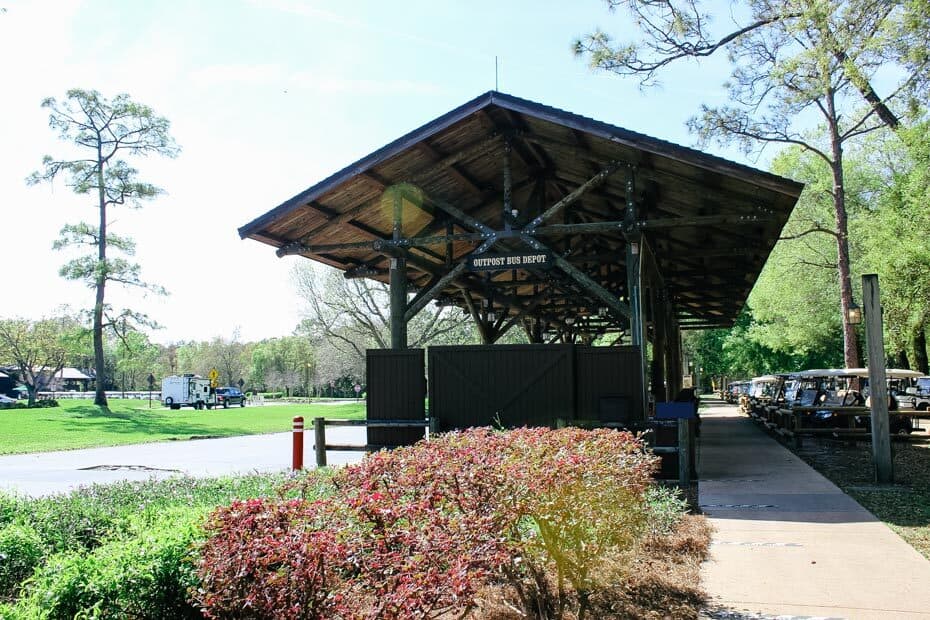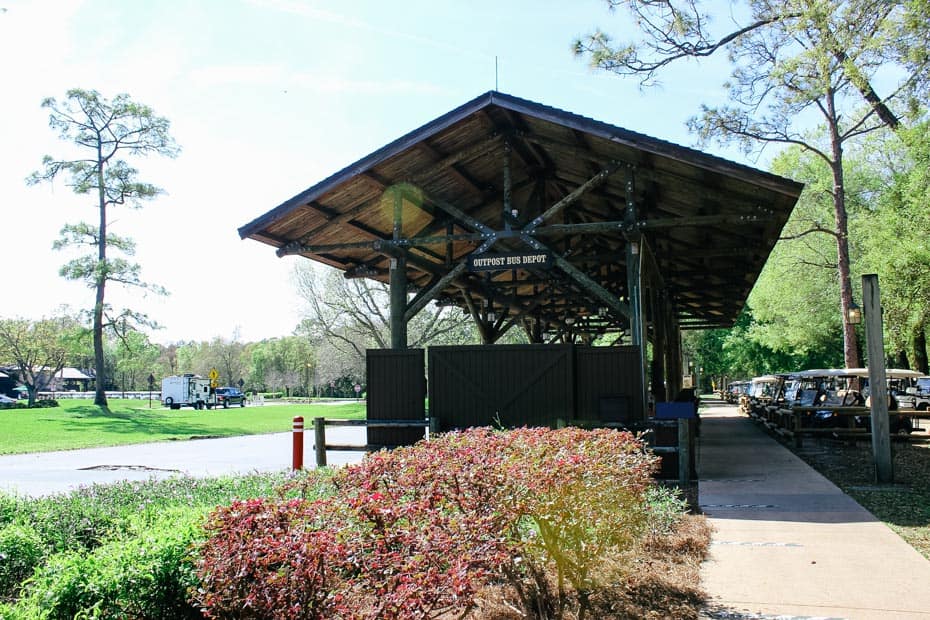 There is plenty of golf cart and bicycle parking here too.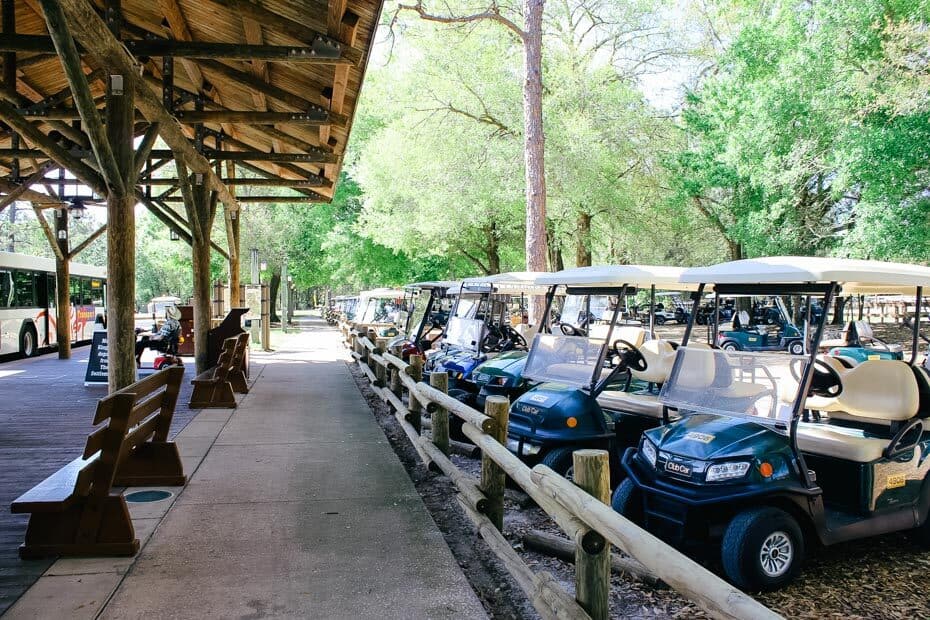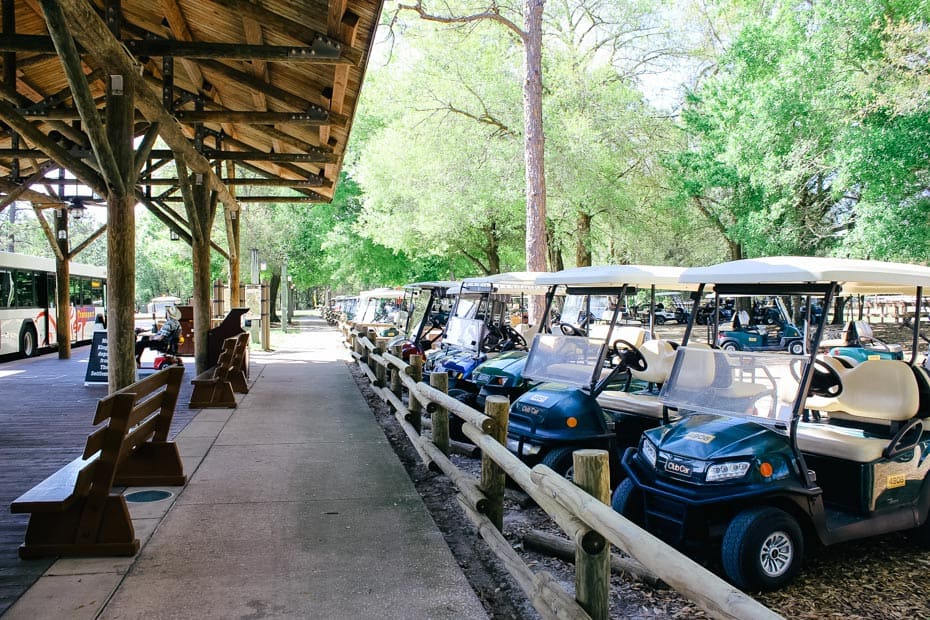 The buses at this station will take you to each of these Disney theme parks and destinations:
Disney's Hollywood Studios
Epcot
Animal Kingdom
Disney Springs
Blizzard Beach
Typhoon Lagoon
Upon returning, you'll disembark at this stop and wait for the next internal bus to come by the depot. So, you can probably see why so many people elect to rent a cart. A bus ride around Fort Wilderness can cut into your valuable touring time.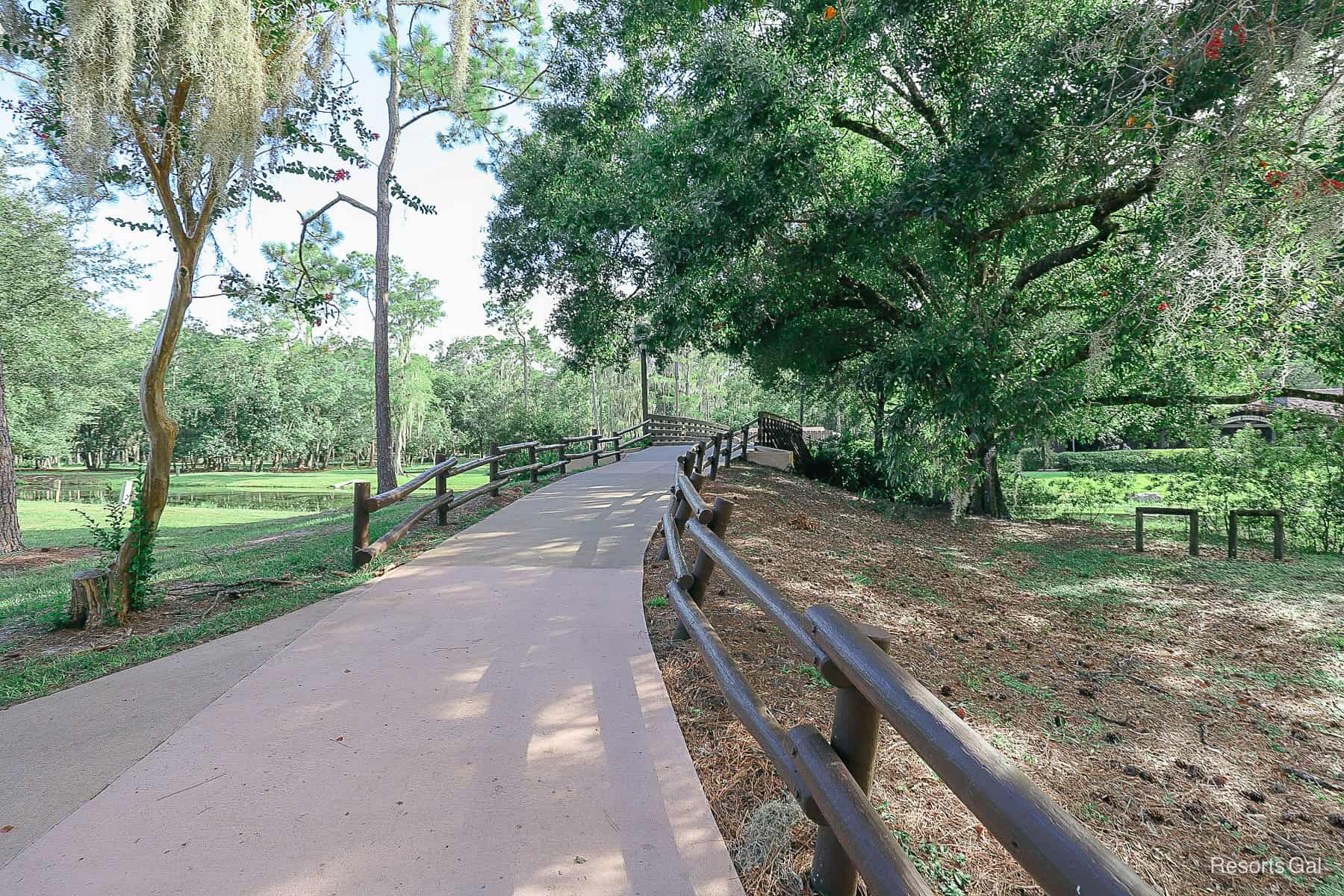 Final Thoughts on Fort Wilderness at Disney
Disney's Fort Wilderness Resort can definitely be considered one of a kind. From the tranquil campground setting to enjoying the camaraderie with fellow campers, a stay here is about unique as they come.
Did I mention there are four Walt Disney World theme parks only a short bus ride away? You would truly never know it. Well, you might at night when you hear the fireworks going off in the distance. Or if you take the time to walk down to Clementine's Beach and watch the Electrical Water Pageant as it drifts by in the evening.
If you've been thinking that you really need to take your children on some sort of camping trip, but don't know where to start, maybe this is the answer. But if you still aren't sold, here are a few other moderate options:
Or try these deluxe resorts:
If your family is looking for a resort with a great pool. Spoiler the pool at Beach Club, Stormalong Bay, tops our list of best pools at Disney World.
And Animal Kingdom Lodge is pretty hard to beat! It tops our list of the best Disney World Resort hotels.
Related: Animal Kingdom Lodge Review
Fort Wilderness will always be one of the places I visit to relax the day away. It reminds me of my hometown, more than any other place in the area. And it doesn't hurt that they have horses.
Have you visited Disney's Fort Wilderness before? Feel free to share any tips or insights in the comments below.