Disney's Pop Century vs. Art of Animation (Which One is the Best?)
When it comes to deciding between Disney's Pop Century Resort vs. Disney's Art of Animation Resort, there are a few things you'll want to factor into your decision. First, these two resorts are actually located next door to each other at Disney World and have many similarities.
Since both are considered Disney value resorts, you can expect them to offer comparable amenities. For example, they'll both have things like standard guest rooms, pools, a dining option, and comparable activities.
But that's pretty much where the similarities end. Surprisingly, these two Disney Resort Hotels are very different when we look at them in detail. They are not like an All-Star Resort where the hotels are identical, except for the theming.
In this review, we'll look at the differences between Pop Century vs. Art of Animation. By the time we're finished, you should be able to discern which hotel meets your family's needs the most.
After that, if you decide not to stay at a value resort, you might enjoy reading our moderate resort overview. And for the higher-end hotels at Disney, try this article, the Best Disney Deluxe Resorts.
Art of Animation vs. Pop Century
When it comes to these two Disney value resorts, there are a few glaring differences. For starters, the theming is completely different, along with the exterior color scheme of the hotels.
Over at Pop Century, each building represents a different decade from the '50s to the '90s. This resort theming is cute and is sure to bring back quite a few memories for parents and grandparents. Most of the colors across the grounds are yellows with greens, blues, reds, and oranges.
As you take a walk across the resort grounds, there seems to be one conversation piece after the next. Nostalgia lovers will enjoy the attention to detail and memories of days gone by at Pop Century.
On the other hand, children probably won't get all of the references. No worries, there are plenty of characters spread out across Pop Century.
For instance, Mr. and Mrs. Potato Head stand guard outside the entrance of the 90s. Lady and the Tramp are positioned down around the 50s. You'll also run into a few other classic characters like Roger Rabbit and our beloved Mickey Mouse.
Art of Animation sits across Hourglass Lake from Disney's Pop Century Resort. This property has charming Disney-theming focused on animation as an art concept.
From sketches to the finished project, you'll find some of Disney's greatest animated films represented across the grounds.
The different movies representing each section of Art of Animation are Cars, Finding Nemo, The Little Mermaid, and The Lion King. Each of these exterior areas feels like you stepped into a scene of the movie.
The Little Mermaid Section has a giant Ariel, Ursula, and King Triton! Sebastian is on-hand conducting an under the sea orchestra. And let's not forget the famous statue of Prince Eric that Ariel kept in her thing-a-ma-bob place.
Speaking of The Little Mermaid Section, this area of the Art of Animation Resort is the only one with actual value resort rooms. You see, there's one huge difference between the two resorts. And that's the type of rooms offered.
The majority of Art of Animation is made up of family suites. Therefore, if you reserve a room in the Cars, Lion King, or Finding Nemo sections, you will have a family suite.
The family suites all have interior room access similar to a hotel. That means you'll walk inside an actual building to access your room.
Additionally, family suites offer multiple sleeping spaces, a second bathroom, and a kitchenette area. These rooms are designed to accommodate families with up to 6 guests by providing extra room to spread out.
Naturally, with the family suites being larger and offering more amenities, they will be much more expensive. For comparison, with no discounts, a family suite will run somewhere in the neighborhood of $600.00 per night while a standard room in The Little Mermaid area runs about $280.00.
Therefore, a family suite at Art of Animation will cost more along the lines of a standard room at a deluxe resort or one of the deluxe villa resort rooms. You can preview them here on Disney's site.
For comparison, Pop Century only offers standard guest rooms. There are no family suites.
So the key takeaway here is when you compare pricing at both resorts, make sure you are looking specifically at Little Mermaid rooms vs. Pop Century rooms. Nearly every day, I see someone posting on social media that the rooms at Art of Animation are so much higher than Pop Century.
What they don't understand is that they are looking at a completely different category of room that would not normally be defined as a Disney value resort.
Okay, so now that we've gotten that big item out of the way, let's talk about the differences between the rooms.
First, Pop Century does offer a preferred room upgrade. This option will put you closer to the main lobby, feature pool, dining, and bus stop. It's something worth considering for those who need close proximity to these locations.
Art of Animation does not have preferred rooms in The Little Mermaid section. Therefore if you stay in a value category room, you don't have the option to get a room that's closer to the main building.
But the real difference comes inside the rooms. Pop Century, in my opinion, is by far the nicer rooms of the two resorts.
What I love most about this room is the simple layout, storage compartments, and ability to pull one bed (a Murphy bed) out of the wall and use it as a table when needed. The main bed and the Murphy bed are both queen beds.
Additionally, the theming of the Pop Century room is minimalistic. It doesn't feel overbearing, unlike the Little Mermaid room.
Before I go on my rant about the Little Mermaid room, you need to know how hard it is for me to say how much I dislike it. Ariel is my favorite Disney character, and the movie is a childhood favorite.
I even really enjoy riding Journey of the Little Mermaid at Magic Kingdom, and it's a basic ride.
However, the Art of Animation rooms are icky, in my opinion. When you plan on spending a week in a less than 300 square foot room, "under the sea" comes off as dark and dingy.
But I can show you better than I can tell you. Between the dark flooring and colors, the room feels like a hiding spot in a coral reef. (The flooring has recently been updated to a dark green solid surface plank.)
And the bathroom is basically a dungeon.
So you can see, there is a really big difference between Pop Century vs. Art of Animation when it comes to the rooms.
Moving on, let's talk about transportation. Both of these resorts share a Disney Skyliner station. They are the only value resorts that offer a secondary form of Disney transportation.
The Skyliner entrance sits between the resorts on the bridge over Hourglass lake. Guests can enter the line from their respective resorts on both sides of the bridge. The Skyliner travels to the neighboring Caribbean Beach Resort.
Related: Disney's Caribbean Beach Review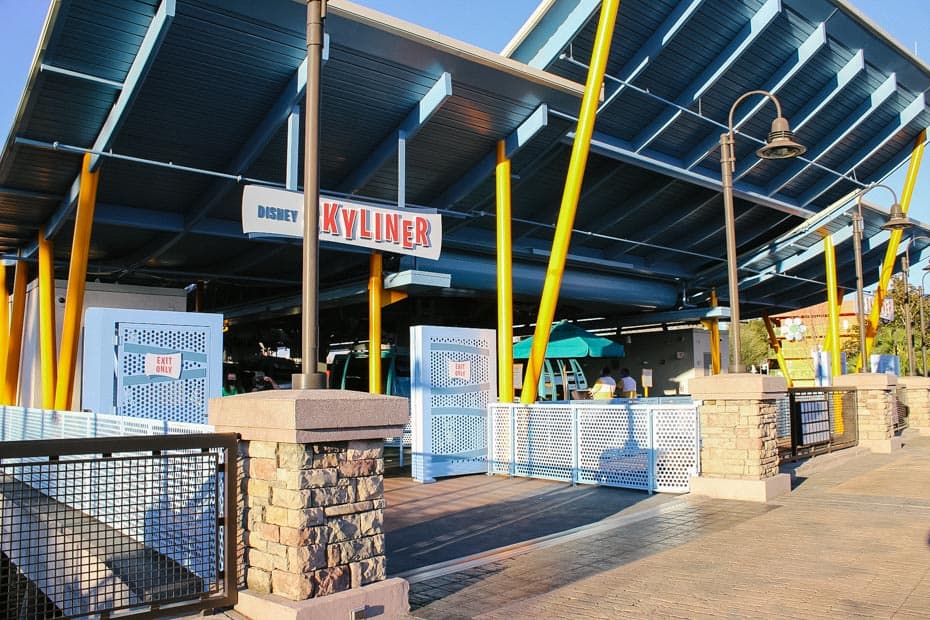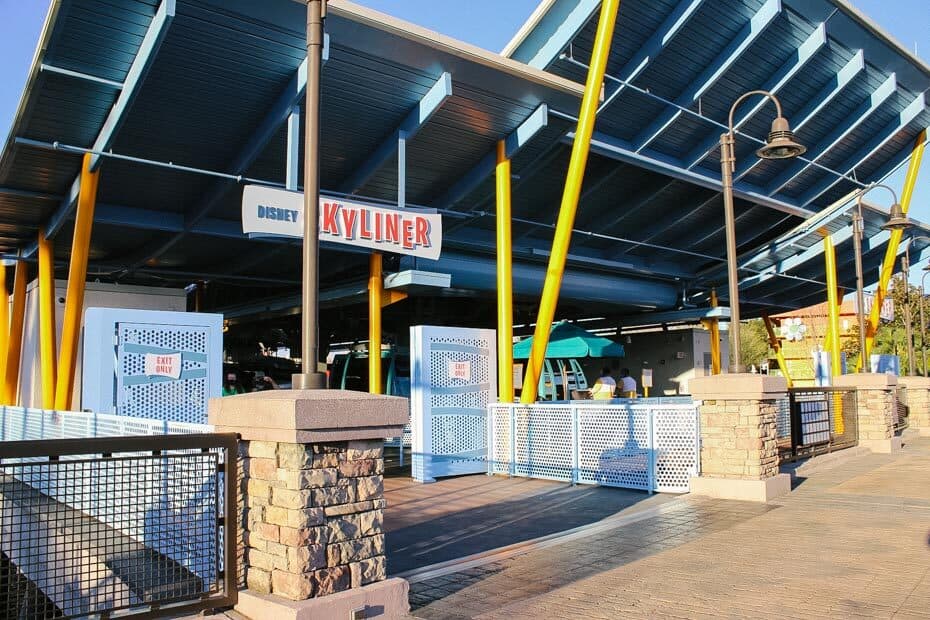 At Caribbean Beach, guests will exit their gondola and have the option to get in line for two of the Disney theme parks. Gondolas travel from here to Disney's Hollywood Studios, the Riviera Resort, and Epcot.
Additionally, both Pop Century and Art of Animation have their own bus stop. Bus stops from each resort travel to:
Magic Kingdom
Disney's Animal Kingdom
Disney Springs
Blizzard Beach
Typhoon Lagoon
I do have a little transportation tip if you decide to stay at either resort. In the event, you are waiting at a bus stop, and the opposite resort's bus pulls up next to you, you can take it back to that resort.
All you have to do is exit the bus, walk through either resort's main building, and across the bridge back to your actual resort. Now, if there was a long line at the bus stop, it's probably better to stay where you are at.
A bus will be along eventually. But if hardly anyone is waiting, it will only be a few extra steps.
Anyway, some might want a comparison of the pools at Pop Century vs. Art of Animation. On this point, I do think that Disney's Art of Animation has a stronger game between the main pool and quiet pools.
The Big Blue Pool is the main pool at Art of Animation. It even wins an honorable mention in our list of best pools at Disney World. It's actually the largest single pool in all Walt Disney World Resort containing over 300,000 gallons of water!
In addition, a fun splash pad sits directly behind the pool called the Schoolyard Sprayground. The Flippin' Fins pool sits down on The Little Mermaid side of the resort, and The Cozy Cone pool is a must for Cars fans.
Related: The Pools at Art of Animation
At Disney's Pop Century Resort, the Hippy Dippy Pool reflects the '60s with fun pop references. The quiet pools are the Bowling Pool and Computer Pool, which sit on opposite sides of the resort.
Related: The Pools at Pop Century Resort
Each resort has its own pool bar, features fun Disney characters, and provides the nightly Movie Under the Stars program.
As far as dining goes, you will not find many differences other than actual menu items at each resort's food court. Everything Pop is the large food court off the lobby of Disney's Pop Century.
Related: Everything Pop Food Court
At the same time, Landscape of Flavors sits adjacent to the lobby of Disney's Art of Animation.
Related: Landscape of Flavors Food Court
Both quick service dining areas provide multiple stations with a variety of different foods. And if you are really curious to see what different menu items are offered, you can always walk over to the opposite resort for a meal.
However, the big factor here is that you can take the Skyliner over to Disney's Riviera Resort or the Epcot Resorts Area for a meal.
Primo Piatto is an excellent choice at the Riviera for breakfast, lunch, or dinner. It even tops our list of best Disney resort quick service.
Related: Primo Piatto Review
Final Thoughts on Pop Century or Art of Animation
Now that we've covered pretty much all of the comparable items at Pop Century vs. Art of Animation, it's your turn to decide. Which one of these resorts will work best for your Disney vacation?
For me, it's always going to be Pop Century because their standard guest rooms win out. However, I do love the grounds of Art of Animation more than Pop.
But where I lay my head in the evening is a little more important to me than the area I have to walk through to get to my room.
If you would like to learn more about either resort, a full Art of Animation Resort Review is available. And we have a separate review of Disney's Pop Century Resort.
Or you can view all of our articles for Pop Century here. And articles for Art of Animation are available here.
If you still aren't sold on either, you might enjoy Disney's Caribbean Beach Resort which is only a short Skyliner ride away. Or check out my top choice for moderate, Disney's Coronado Springs Resort.
Related: Disney's Coronado Springs Review
When it comes to these two value resorts, the decision is tough, especially if you haven't visited them before. Either way, they are both adorable resorts, that the kids will likely love. And at the end of the day, maybe that's the most important factor.
Now it's your turn? When it comes to Pop Century vs. Art of Animation, which one do you pick and why? Let me know in the comments.