Landscape of Flavors Review (at Disney's Art of Animation)
Landscape of Flavors is the quick-service dining location at Disney's Art of Animation Resort. It is also the only dining option at the hotel other than the poolside bar.
However, all the value resorts at Walt Disney World have the same setup. Each has a large food court with multiple stations and a bar near the pool.
Landscape of Flavors has one of the most popular food courts at Walt Disney World. They have a menu that combines standard food items along with unique options.
For breakfast, you can expect anything from Mickey Waffles to loaded totchos–we'll get to those. Likewise, classic items like chicken nuggets and pizza are available for lunch and dinner. Or you might get something out of the ordinary, like baked macaroni and cheese topped with barbecued beef.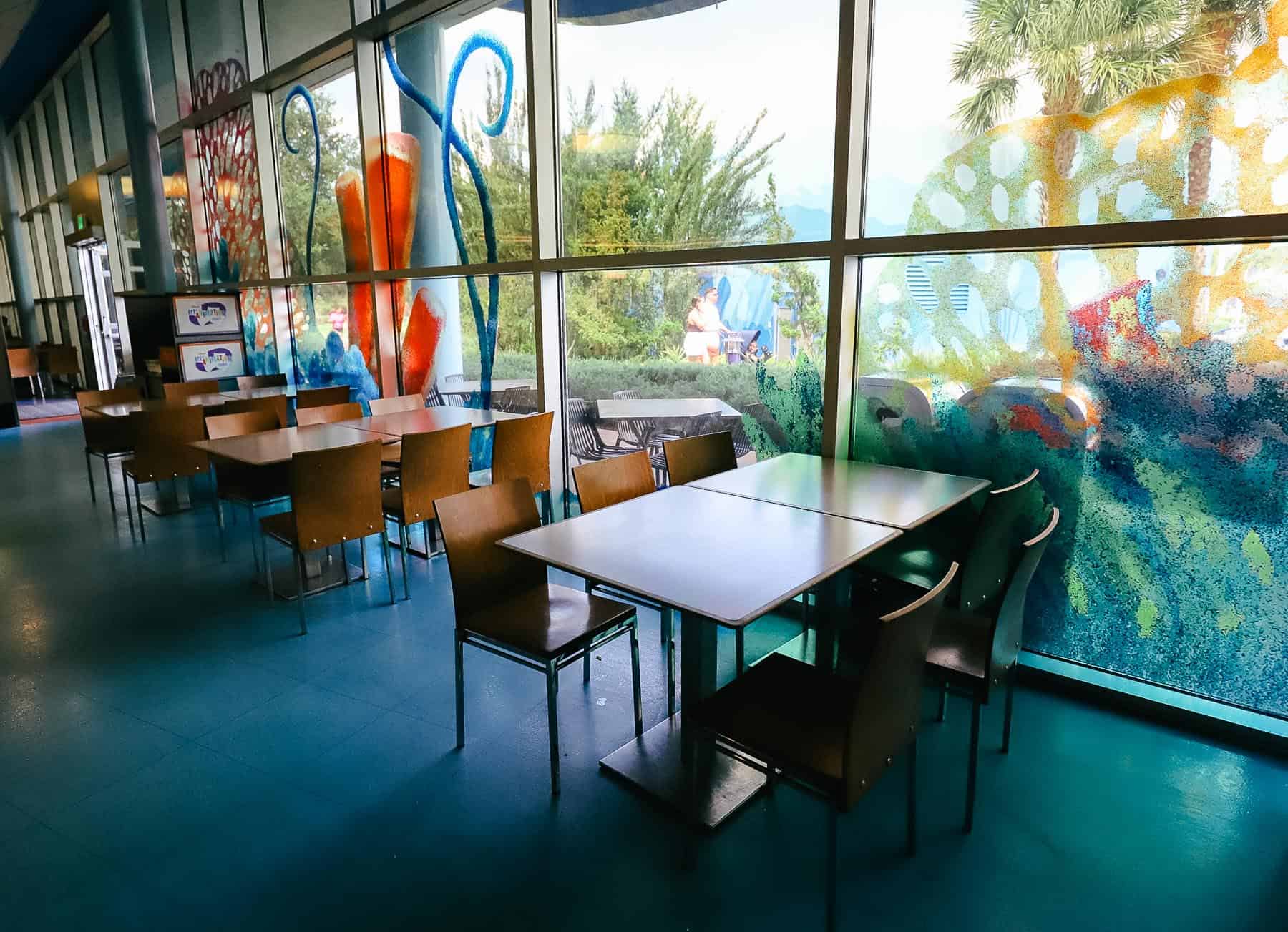 Landscape of Flavors
Landscape of Flavors is open daily between 7:00 a.m. and 11:00 p.m. The restaurant serves breakfast until 11:00 a.m. and then transitions to a combined lunch and dinner menu. We'll review most of the items available on our trip below. But you can preview the menus with prices for Landscape of Flavors on Disney.com if you like.
Landscape of Flavors has two entrances. One is near Animation Hall, the resort's lobby. If you're coming from the lobby or the bus stop, you'll walk through the Ink and Paint gift shop to get to the food court.
An extensive menu board is posted near the main entrance. You can place a mobile order from your device if you would like.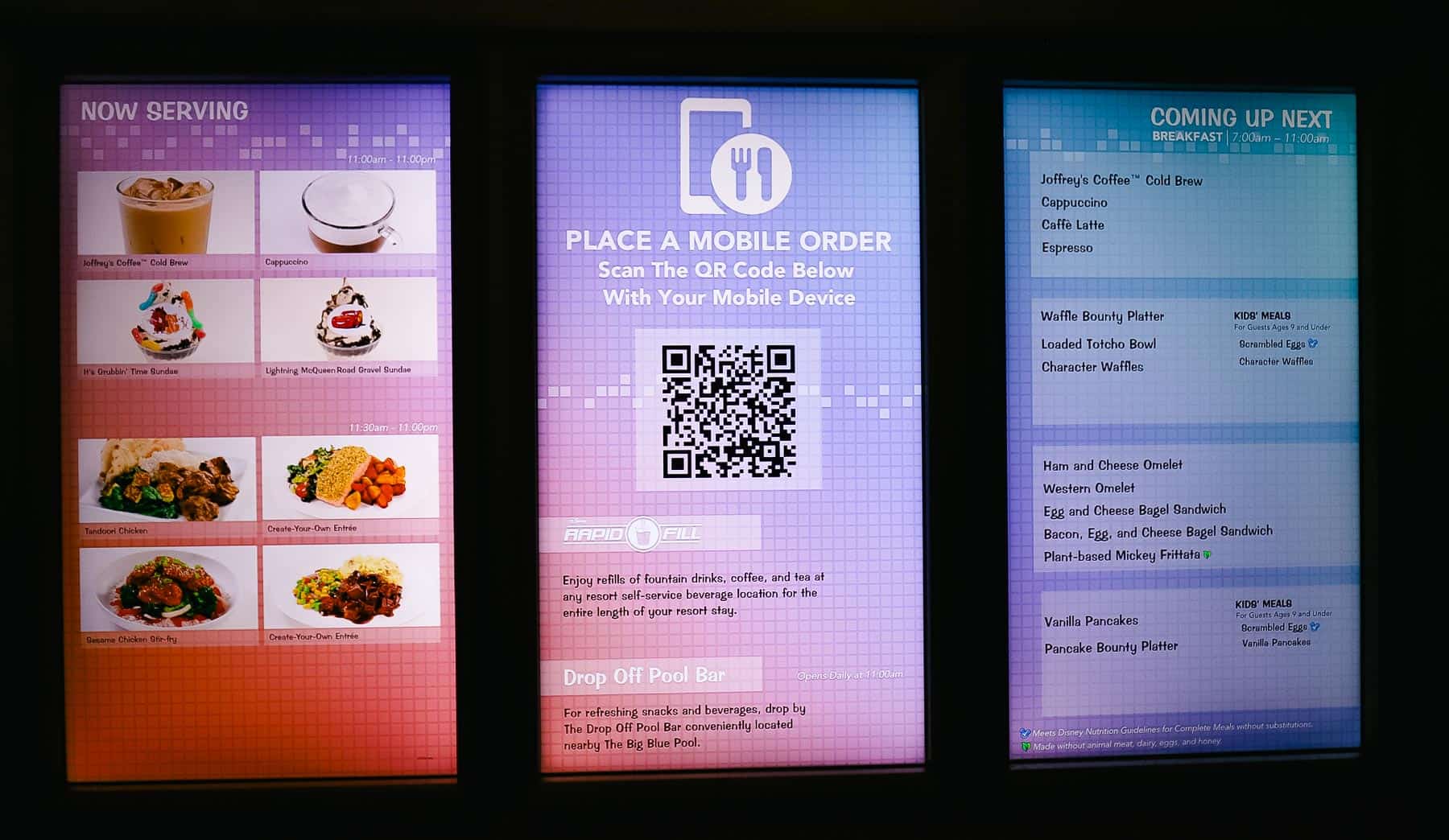 Tip: You can place a mobile order while returning to the resort on a bus. Once you arrive, you can select "I'm here, prepare my order" in the app. Additionally, you can mobile order from the room on the way to breakfast or from the pool for lunch. Your order will likely be ready when you get to Landscape of Flavors.
Here is a closer look at a few of the menus. The following coffee items are available: Caffe Latte, Joffrey's Shakin' Jamaican Cold Brew, Espresso, Cappuccino, and Joffrey's Coffee Cold Brew French Roast.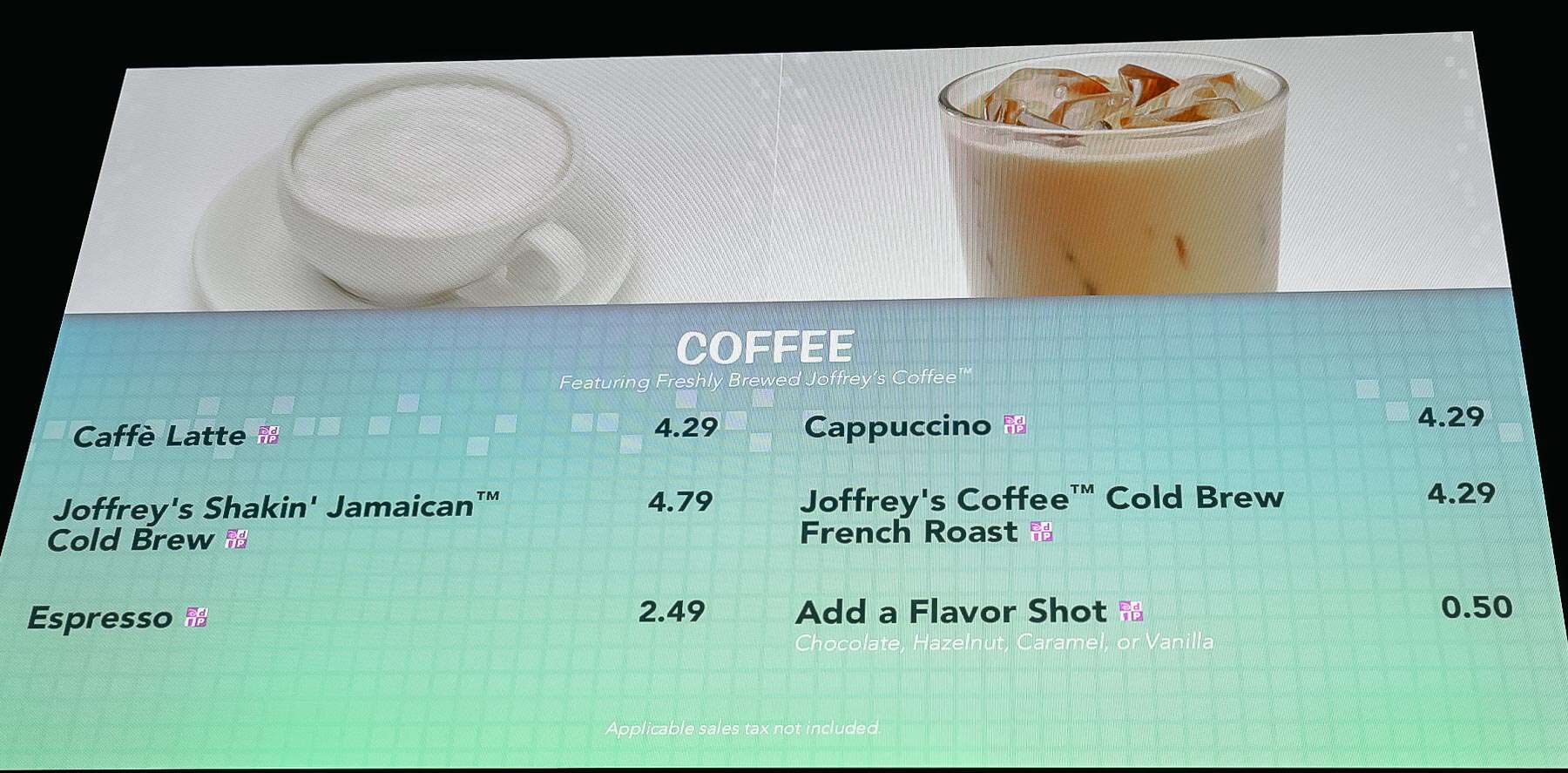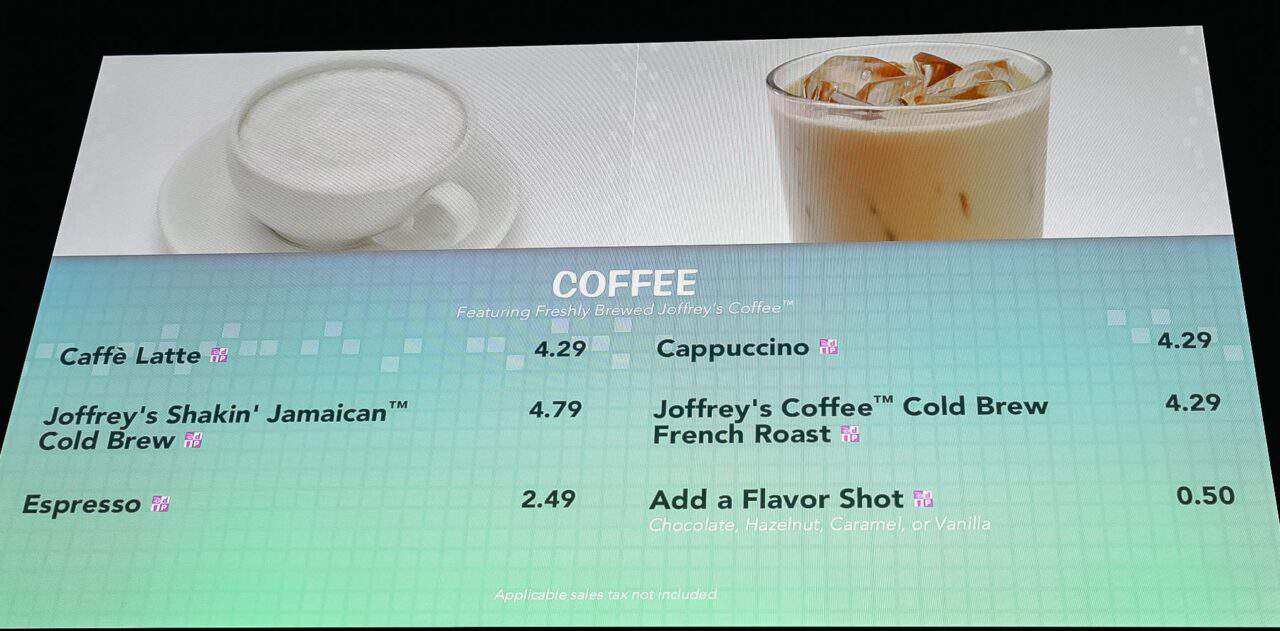 For breakfast:
Waffle Bounty Platter
Loaded Totcho Bowl
Character Waffles
Ham and Cheese Omelet
Western Omelet
Egg and Cheese Bagel Sandwich
Bacon, Egg, and Cheese Bagel Sandwich
Plant-Based Mickey Frittata
Kids' Meals:
Character Waffles
Scrambled Eggs
Vanilla Pancakes
Oatmeal with Dried Cranberries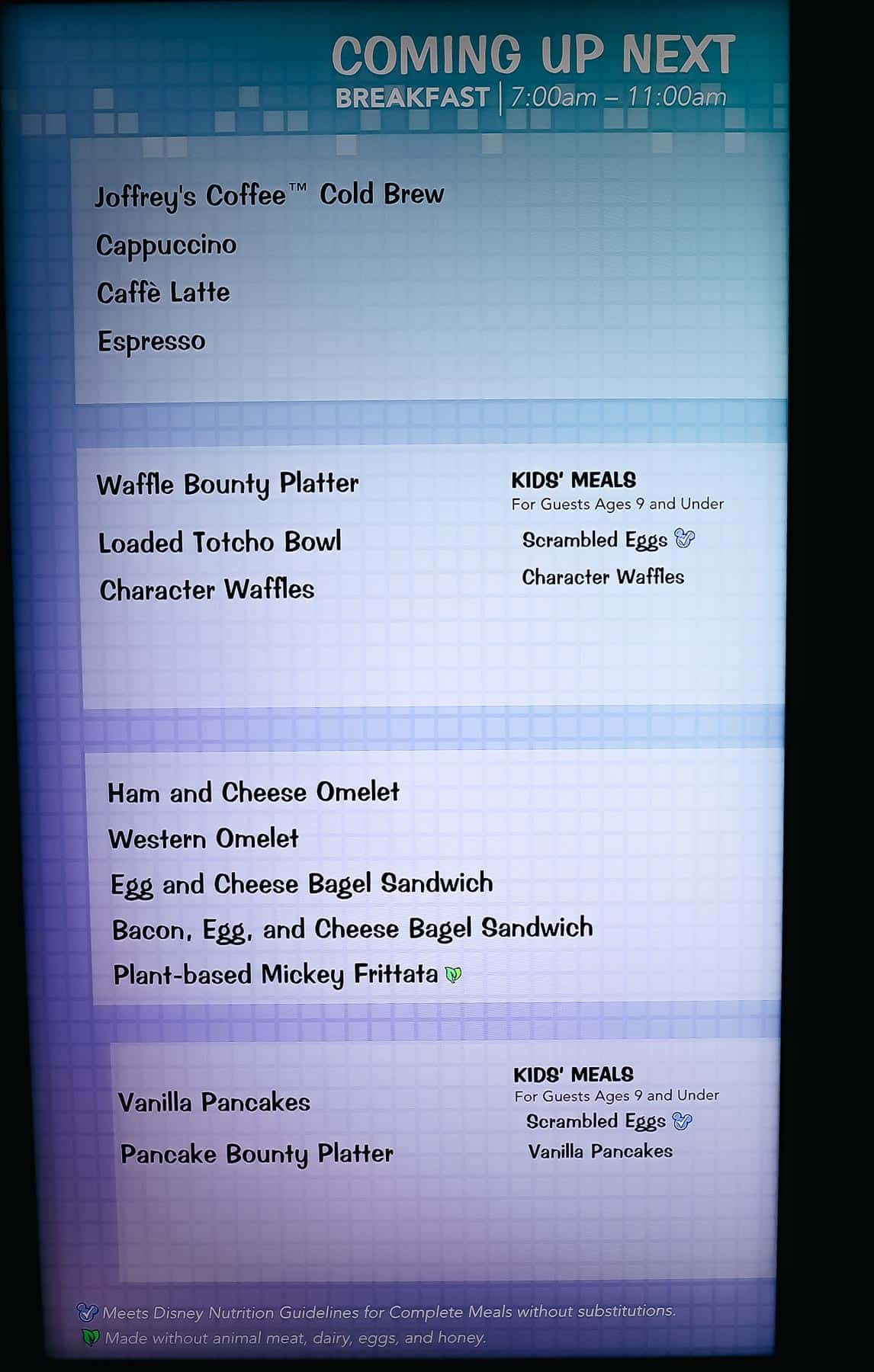 For lunch and dinner:
Chicken Parmesan Pasta topped with fresh Mozzarella
Baked Macaroni and Cheese topped with Barbecued Beef
Slice of Cheese or Pepperoni Pizza
Large Cheese or Pepperoni Pizza
Benedict Burger
Grilled Chicken Sandwich
Honey Barbecued Pork Sandwich
Korean-style Impossible Burger (vegan)
Chicken Strips
*Burgers and sandwiches come on a toasted brioche bun with French fries. The Benedict burger is topped with lettuce, tomato, Canadian bacon, and a fried egg.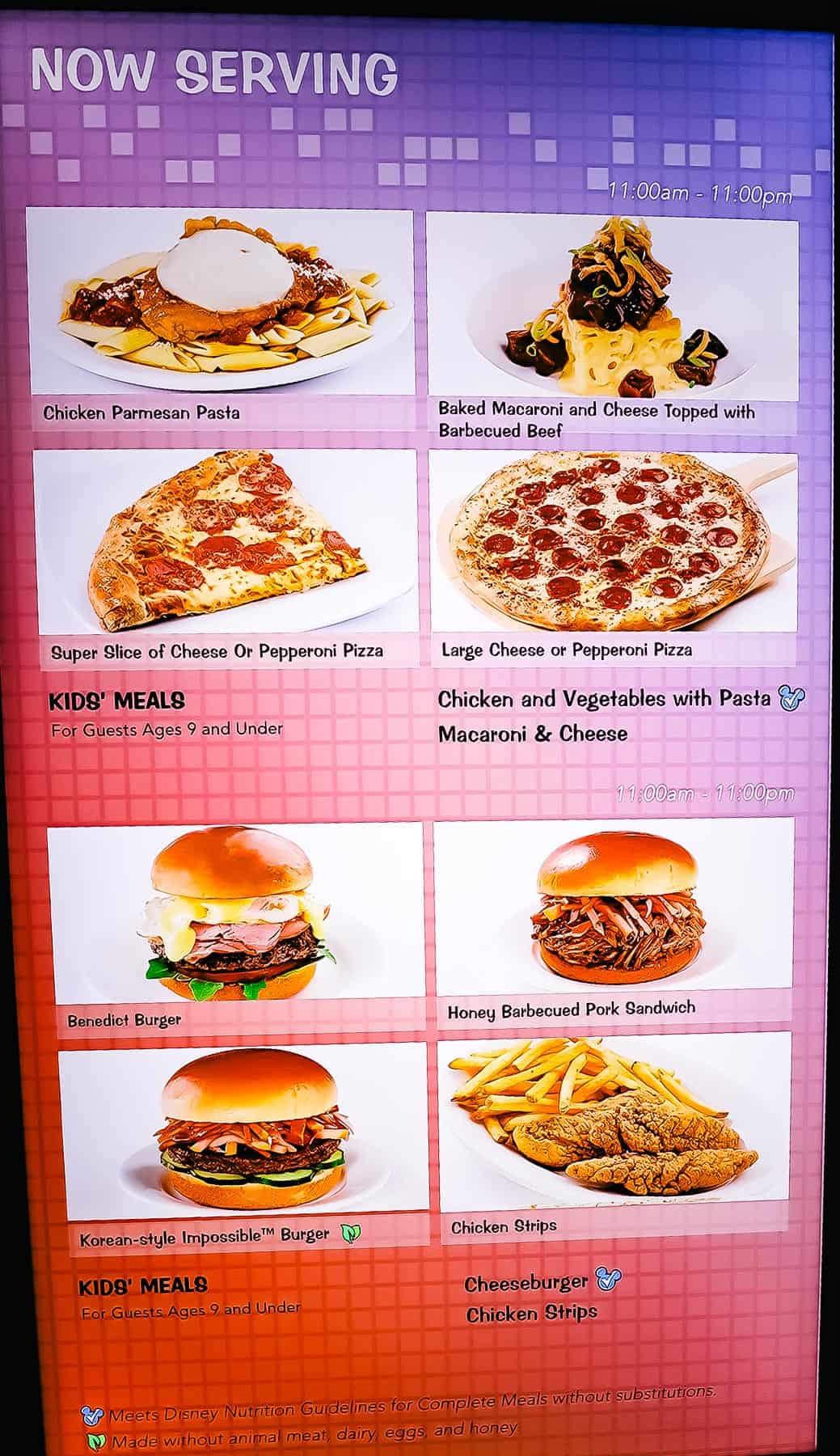 Here are the pizzas with prices. At the time of this update, a large pizza is $19.99, and a slice ranges from $8.79 to $9.29.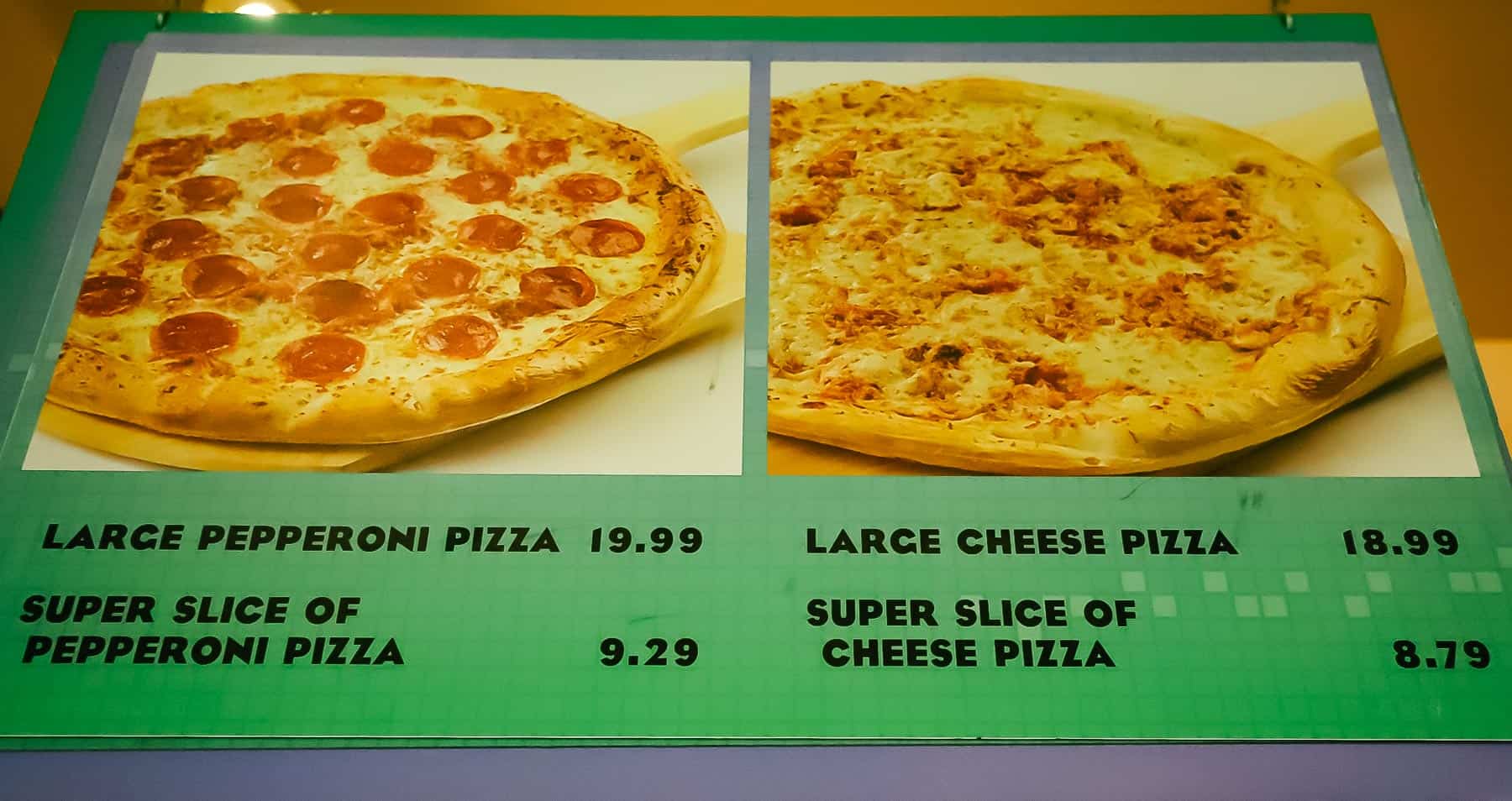 A few other items include:
Tandoori Chicken with Naan Bread
Create-Your-Own-Entree
Sesame Chicken Stir-fry
The create-your-own entree was from a section with several meats and sides. Guests could choose their own salad, side, and protein. Sides included green beans, rice, and mashed potatoes.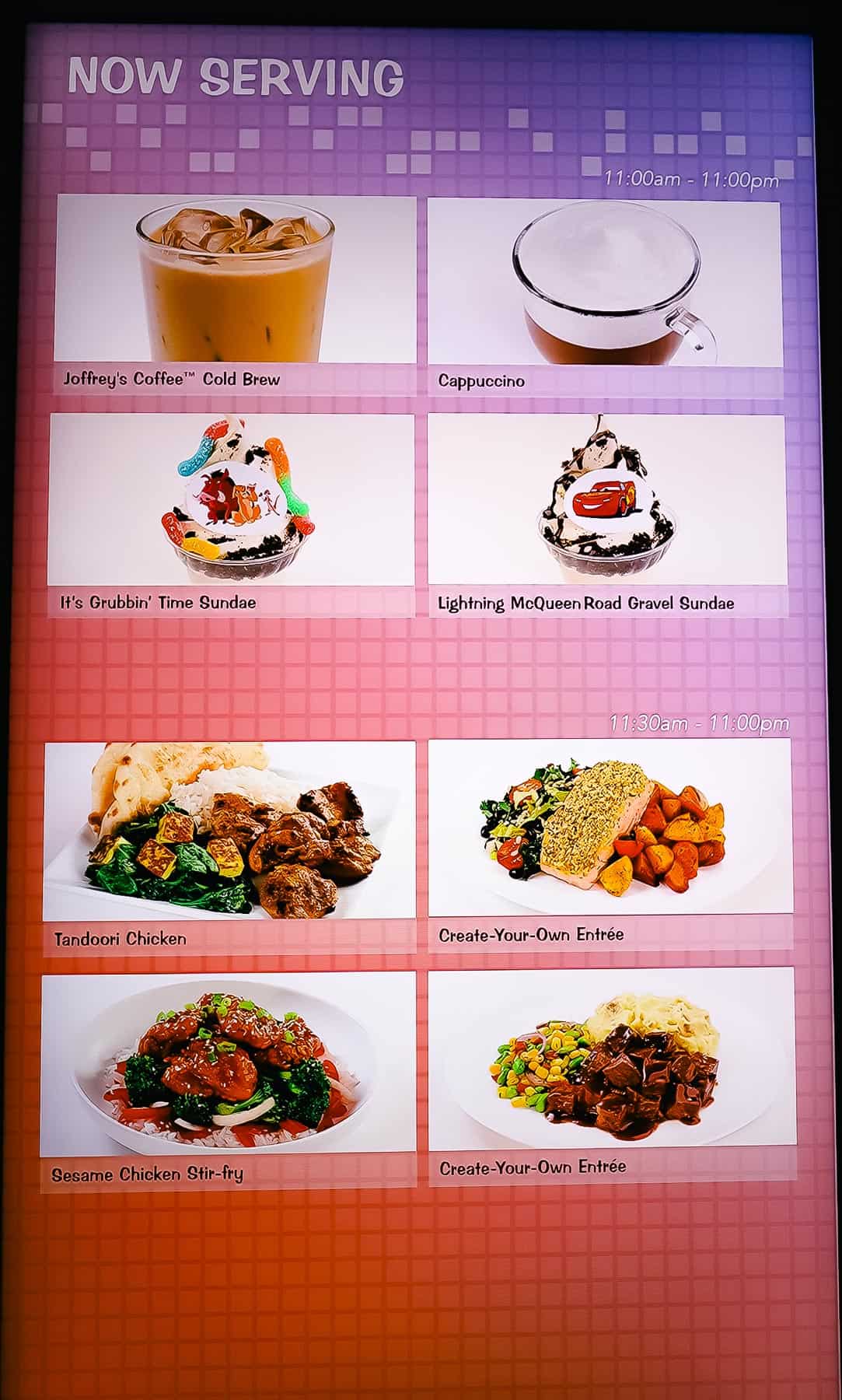 Desserts:
It's Grubbin' Time Sundae
Lightning McQueen Road Gravel Sundae
Brownie Sundae
*As you can see from the photo, I didn't make these items up.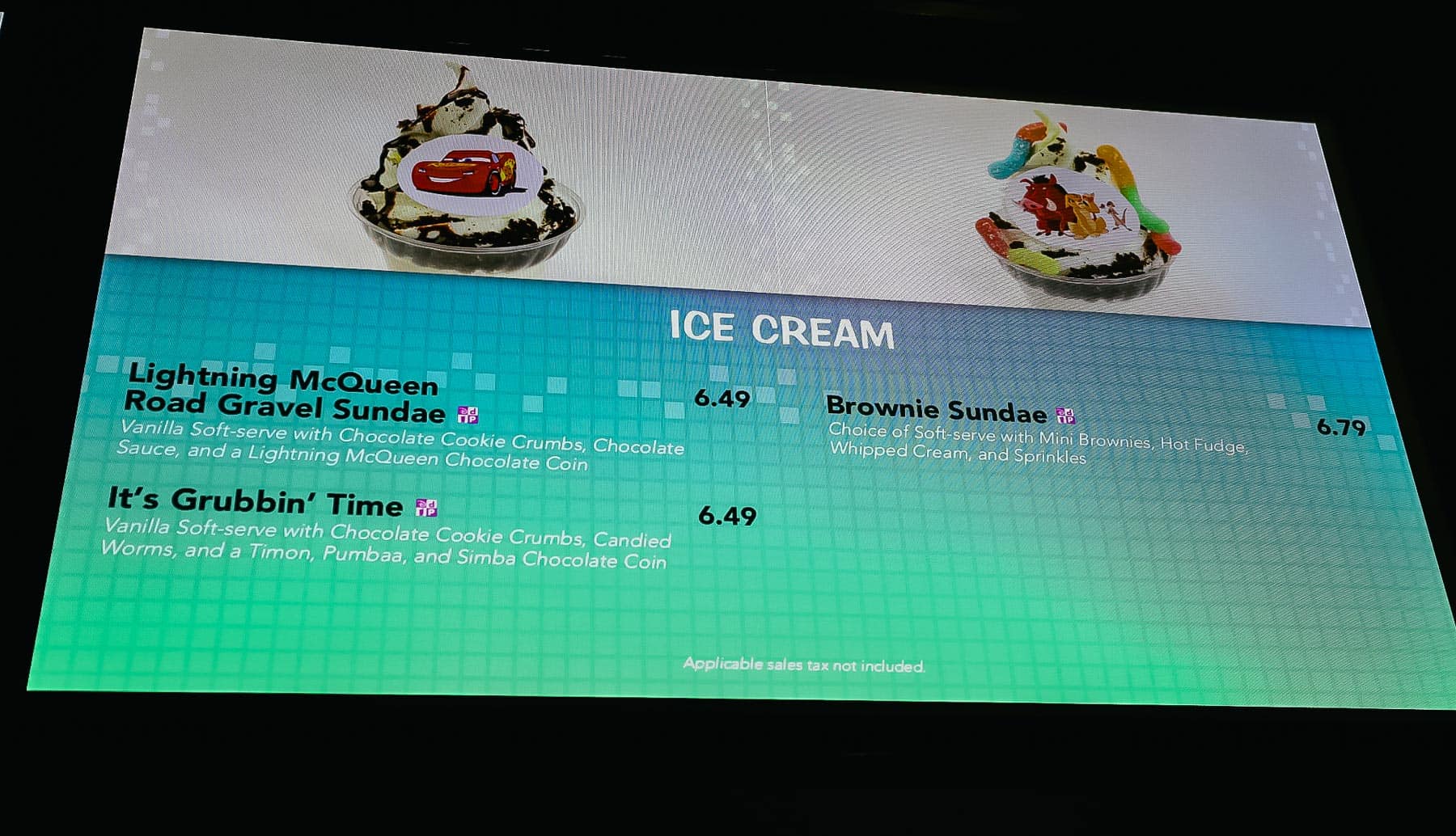 For breakfast during my stay, I went with one of the kids meals. This is the oatmeal with dried cranberries. I chose turkey sausage and apple slices for my two sides. It also came with a small fountain drink. Or you had a choice of small lowfat milk, juice, or bottled water.
This is a reasonably basic meal. But it always does the trick when I need a quick breakfast. That said, everyone around me was ordering the loaded totchos, and they looked delicious. I wish I'd splurged on the caloric mountain of tater tots topped with scrambled eggs, cheddar cheese, sausage gravy, and bacon.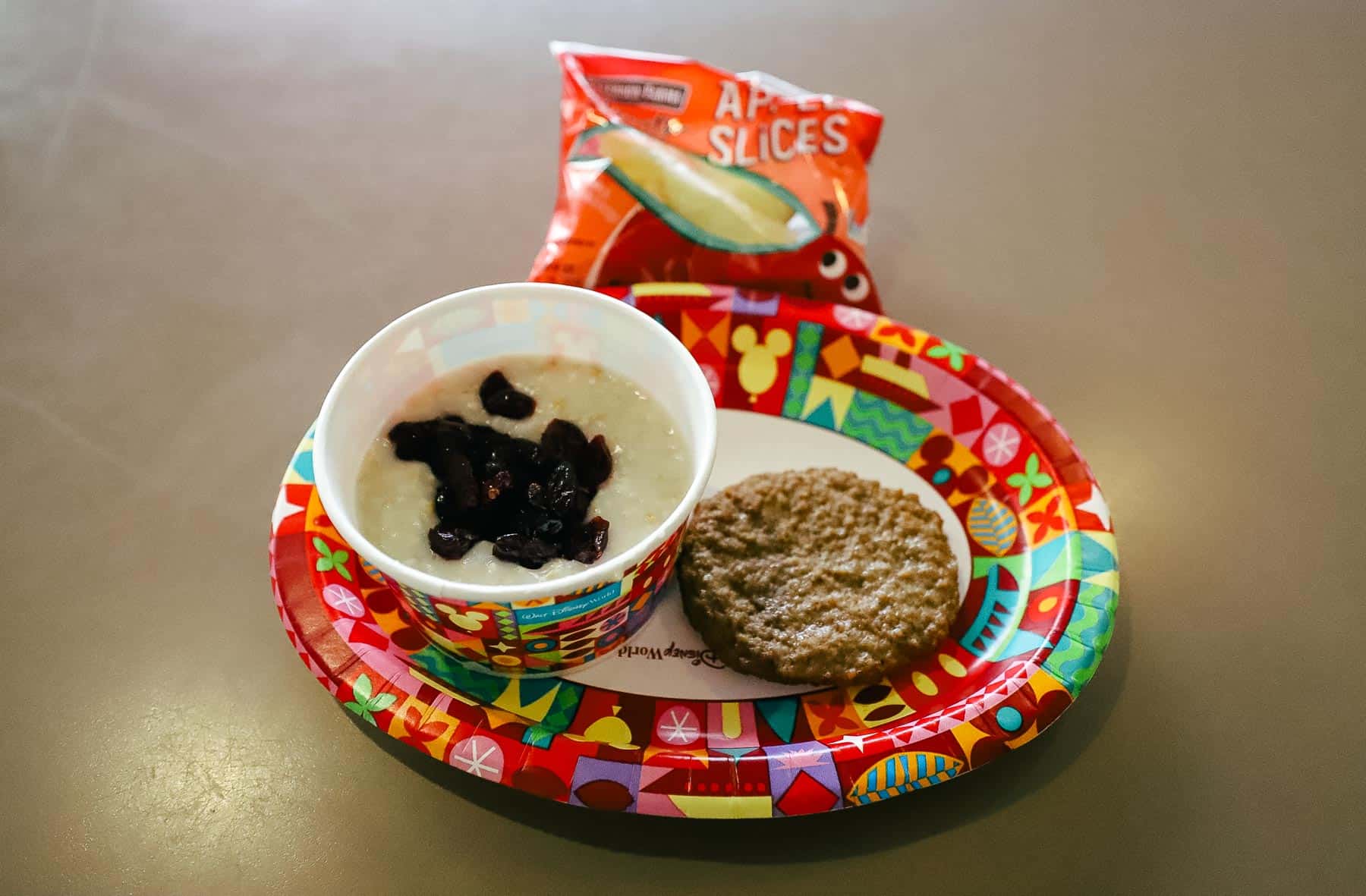 On a previous visit, my son had the Waffle Bounty Platter. This platter is still available. Since he has food allergies, they gave him two sides of meat in exchange for eggs. Note that Landscape of Flavors has character-shaped waffles. These featured characters from Cars.
Here is a look at the overall space inside the food court.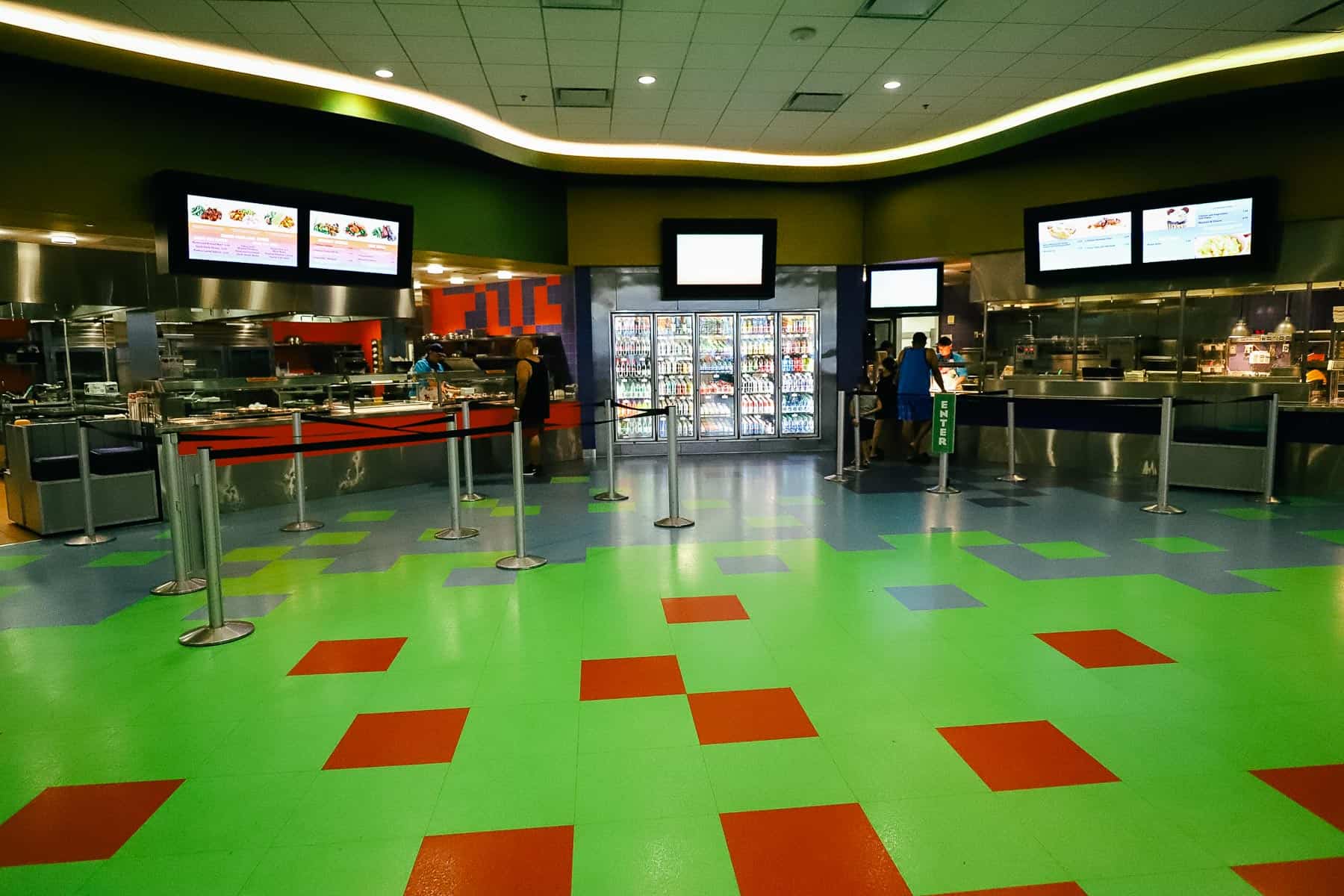 Several selections in the "create-your-own" entree were not listed on the menu. So, if you're staying for a couple of days or more, you might want to take a walk-through and see what's available toward the start of your trip.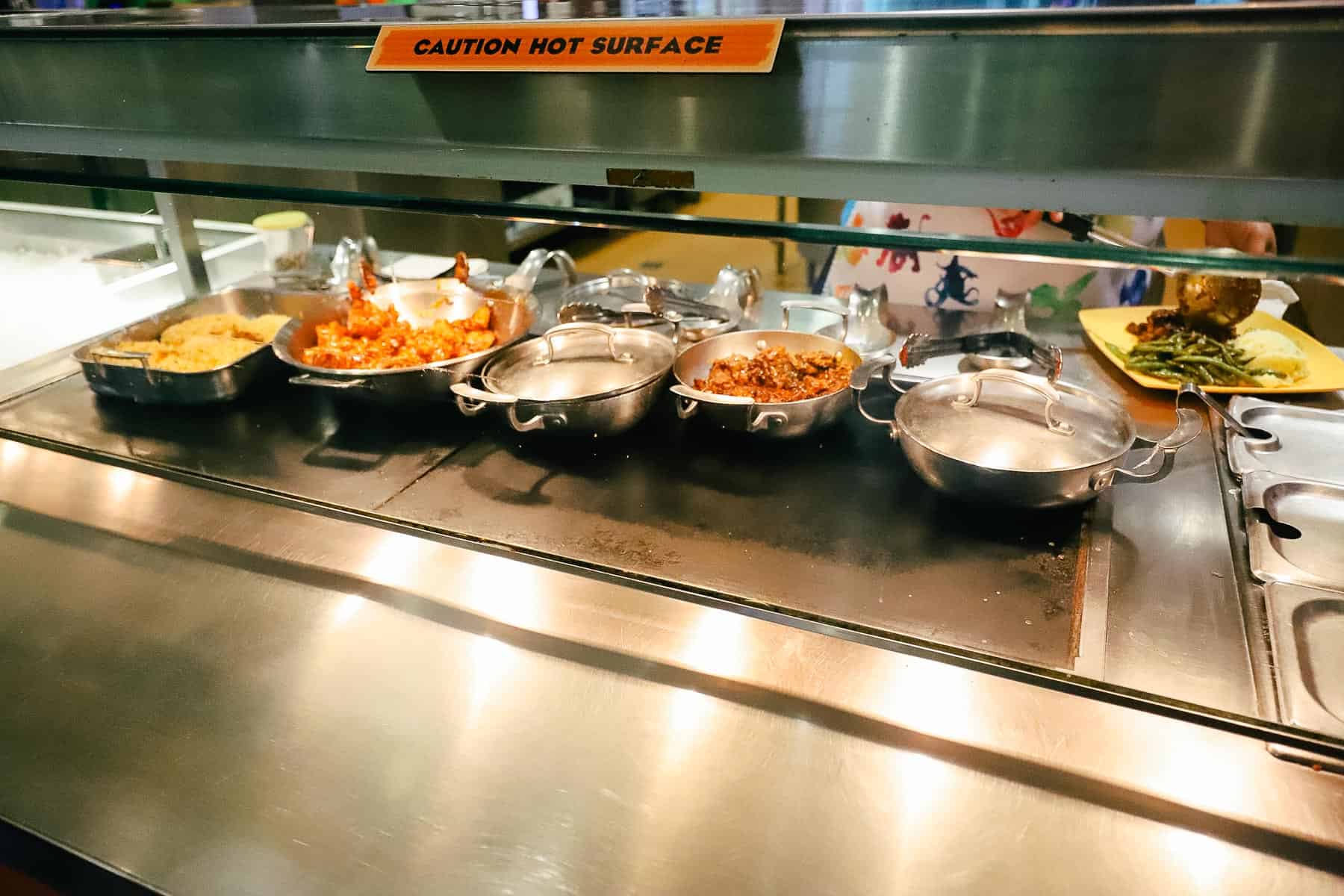 Pizza is almost always readily available. But if you want something tasty, I would order Flipper's and have it delivered. Disney's pizza isn't horrendous, but it isn't necessarily good.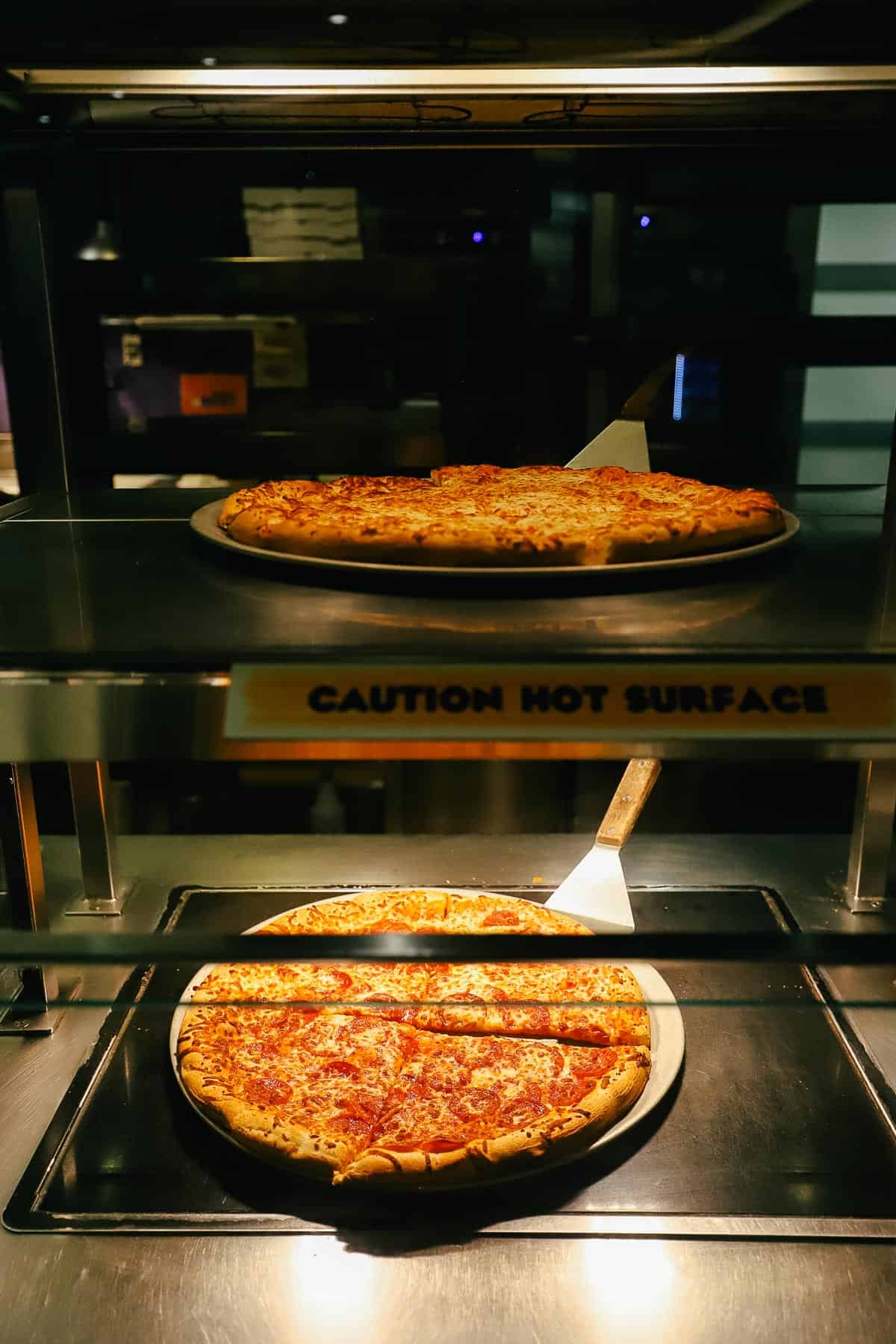 A few bags of breadsticks were available. You can order these separately, and they come on the side with the pasta dishes.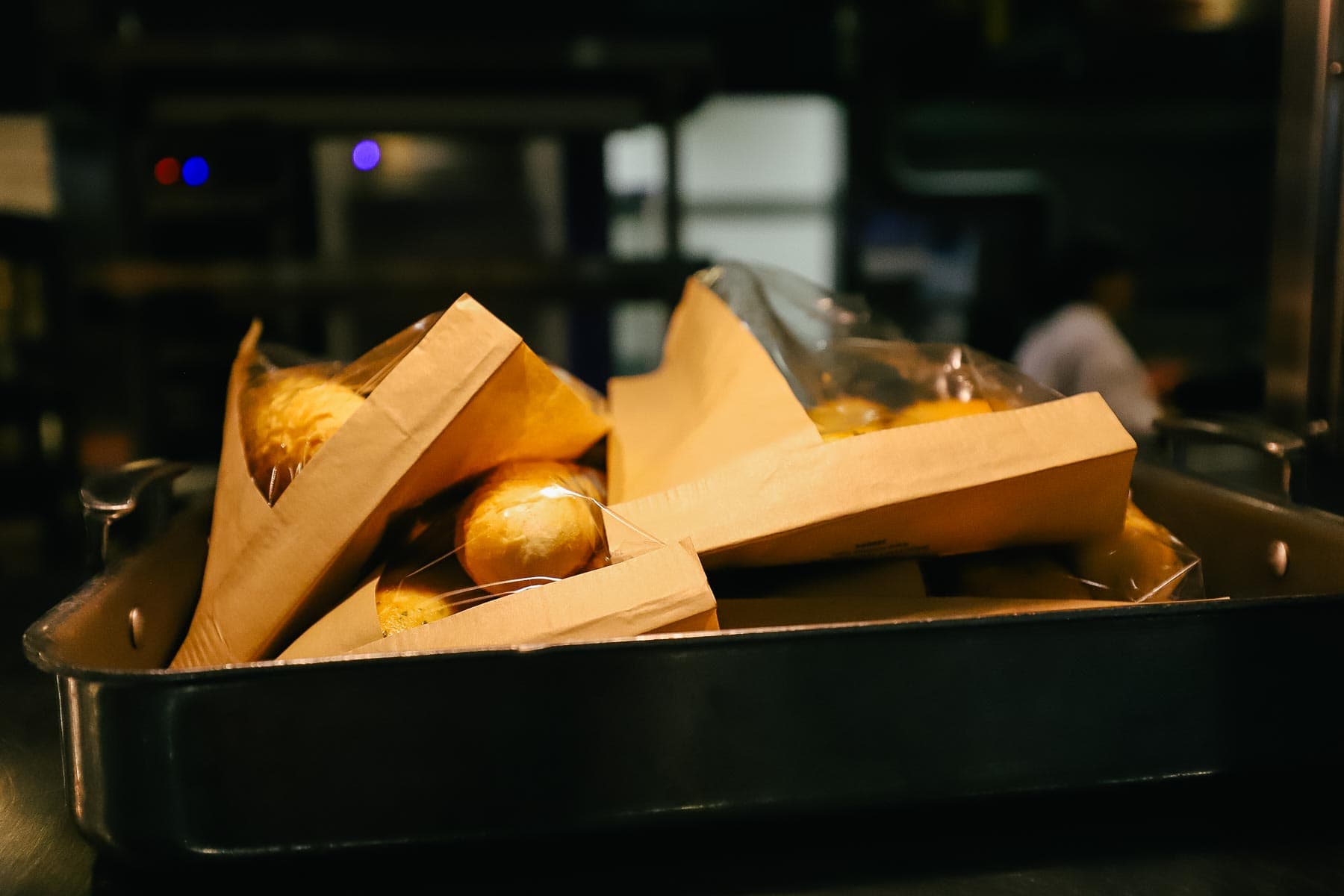 A pastry case offered a nice selection of treats.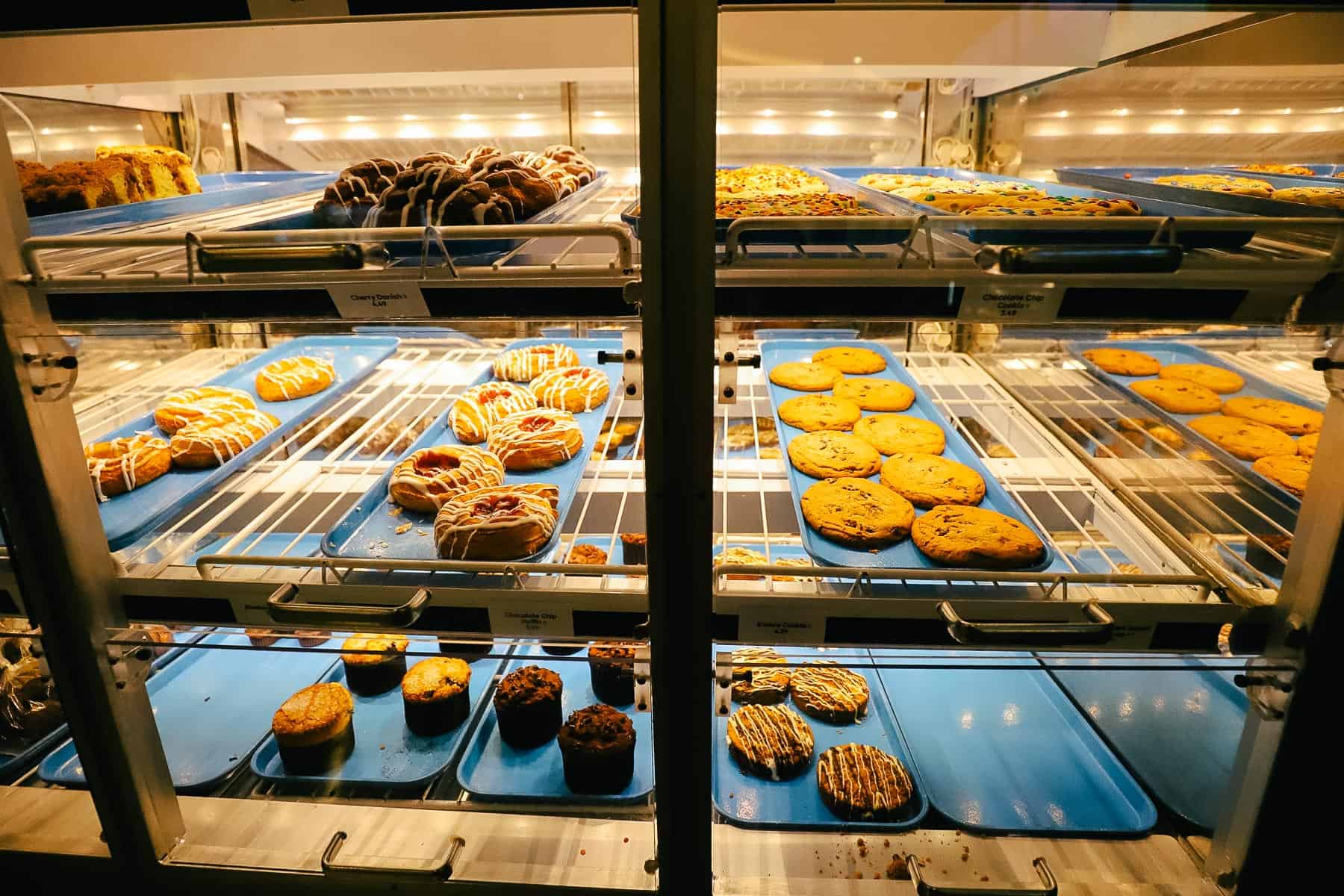 Here are a few more items.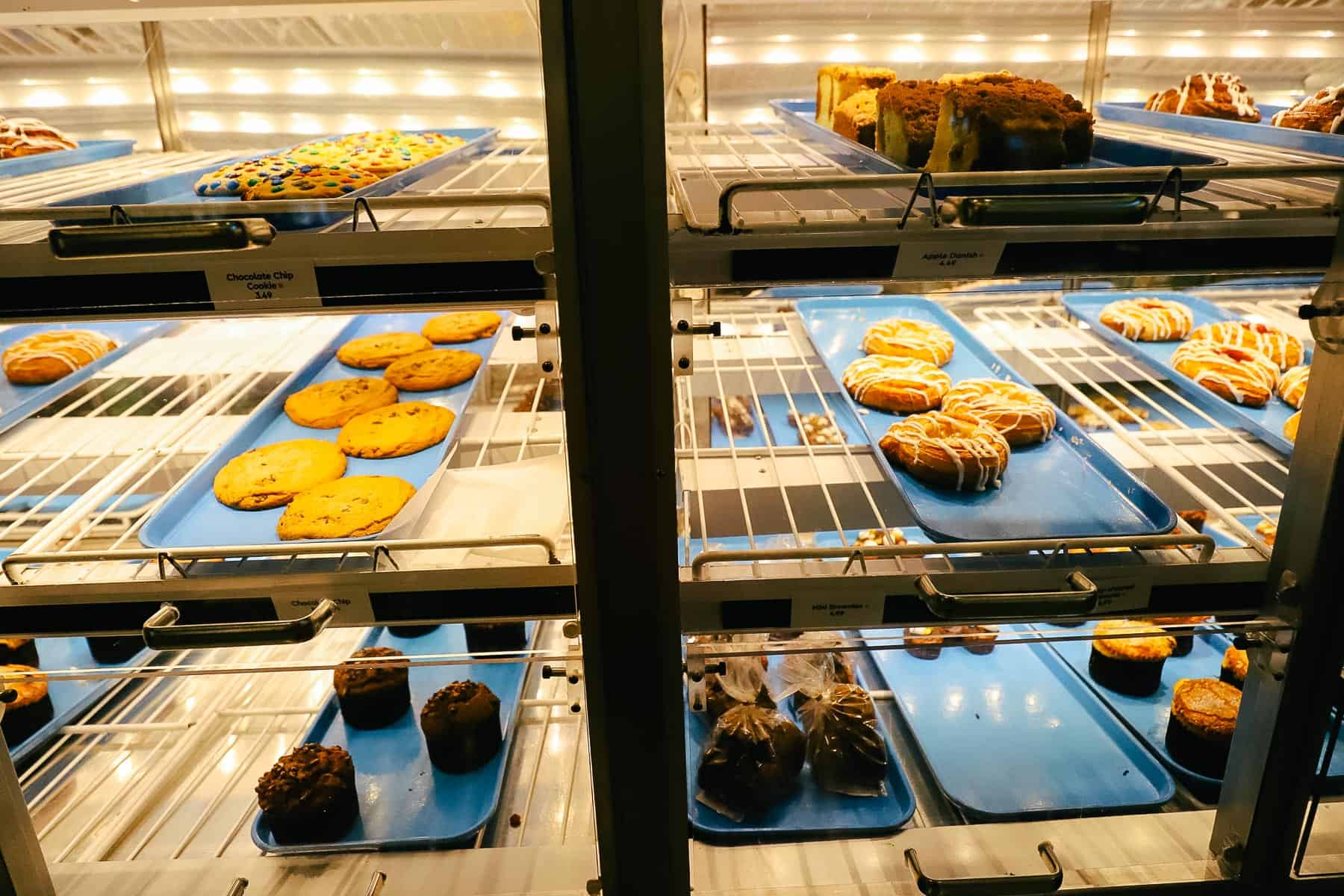 Pretzels with cheese sauce were available. I'm not sure why Mickey pretzels aren't available or why they cost nearly $8.00. That's ridiculous!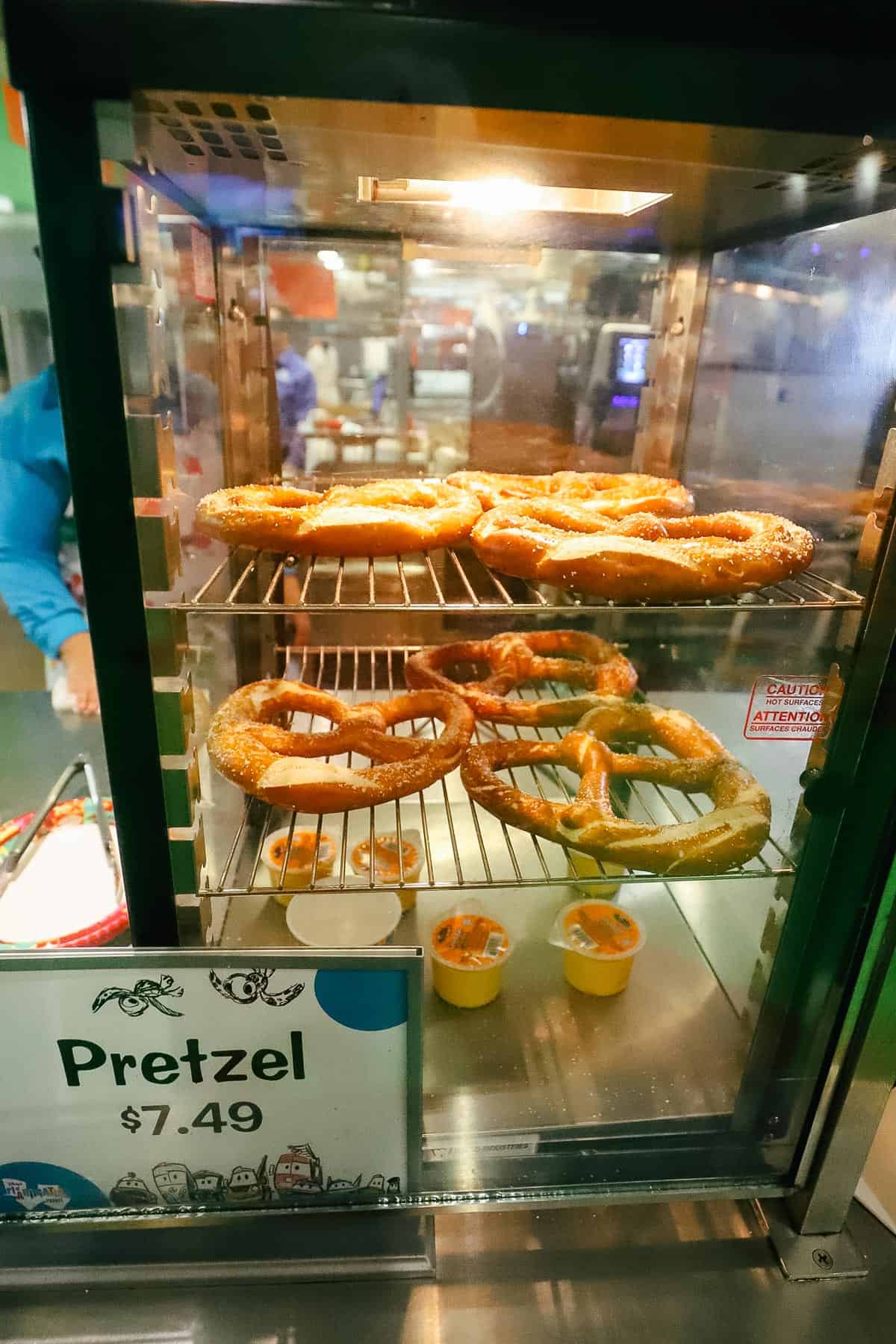 Here are a few custom cupcakes. The top left cupcake is described as a chocolate cupcake topped with cookies and cream buttercream, rainbow sprinkles, and chocolate ears.
The Mermaid Tail cupcake is described as a vanilla cupcake filled with pineapple and topped with vanilla buttercream, white chocolate mermaid tail, graham cracker crumb, crispy pearls, and glitter. It represents The Little Mermaid theming at the resort.
Unfortunately, the ice cream sundae cupcake with caramel wasn't available. However, other items included the How Far I'll Go Haupia Pie (Moana), I'm Nemo Cheesecake (Finding Nemo), and Key Lime Pie.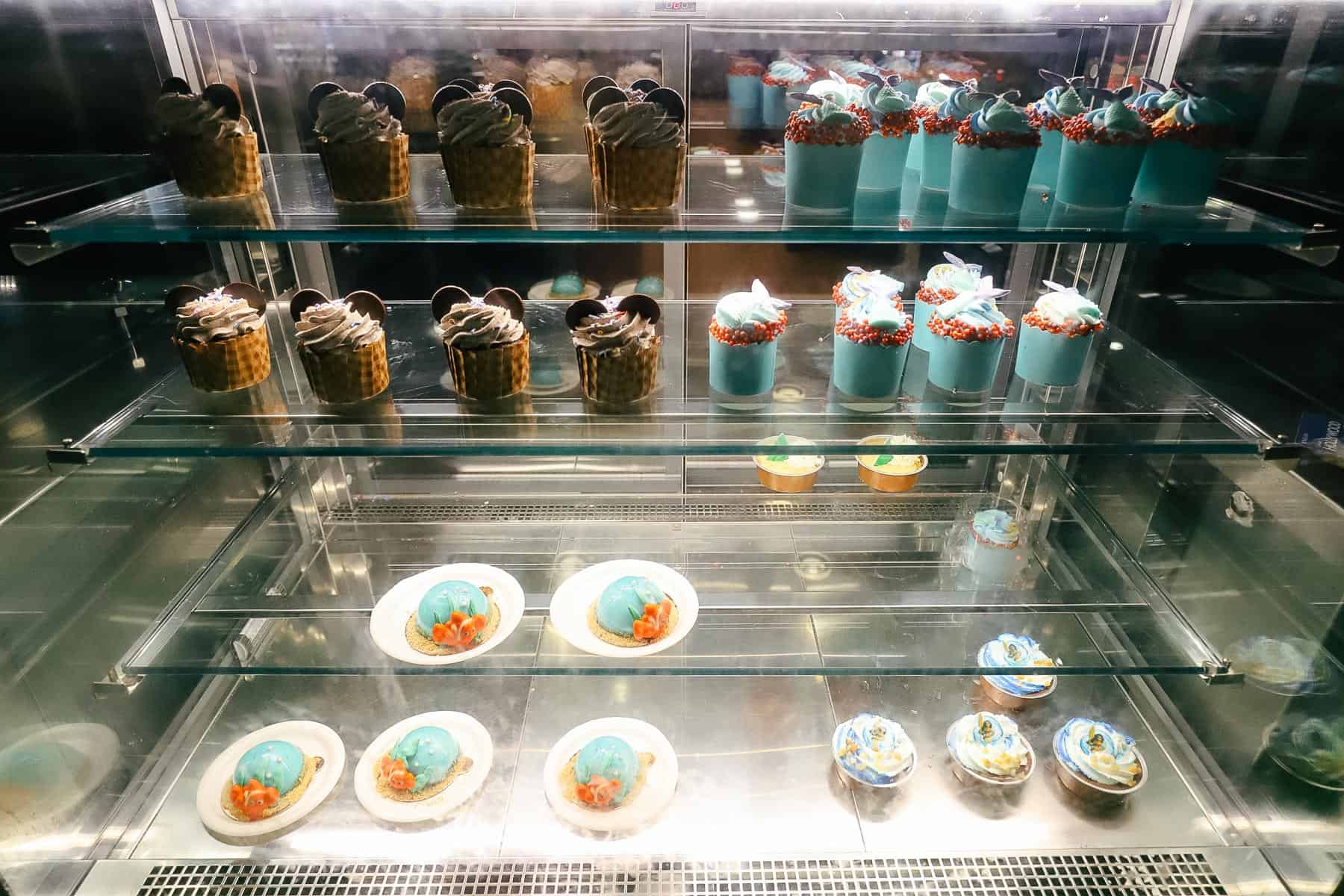 Here, we have a few fruits (oranges and Cuties), crispy rice treats, Pop-Tarts, and bags of chips.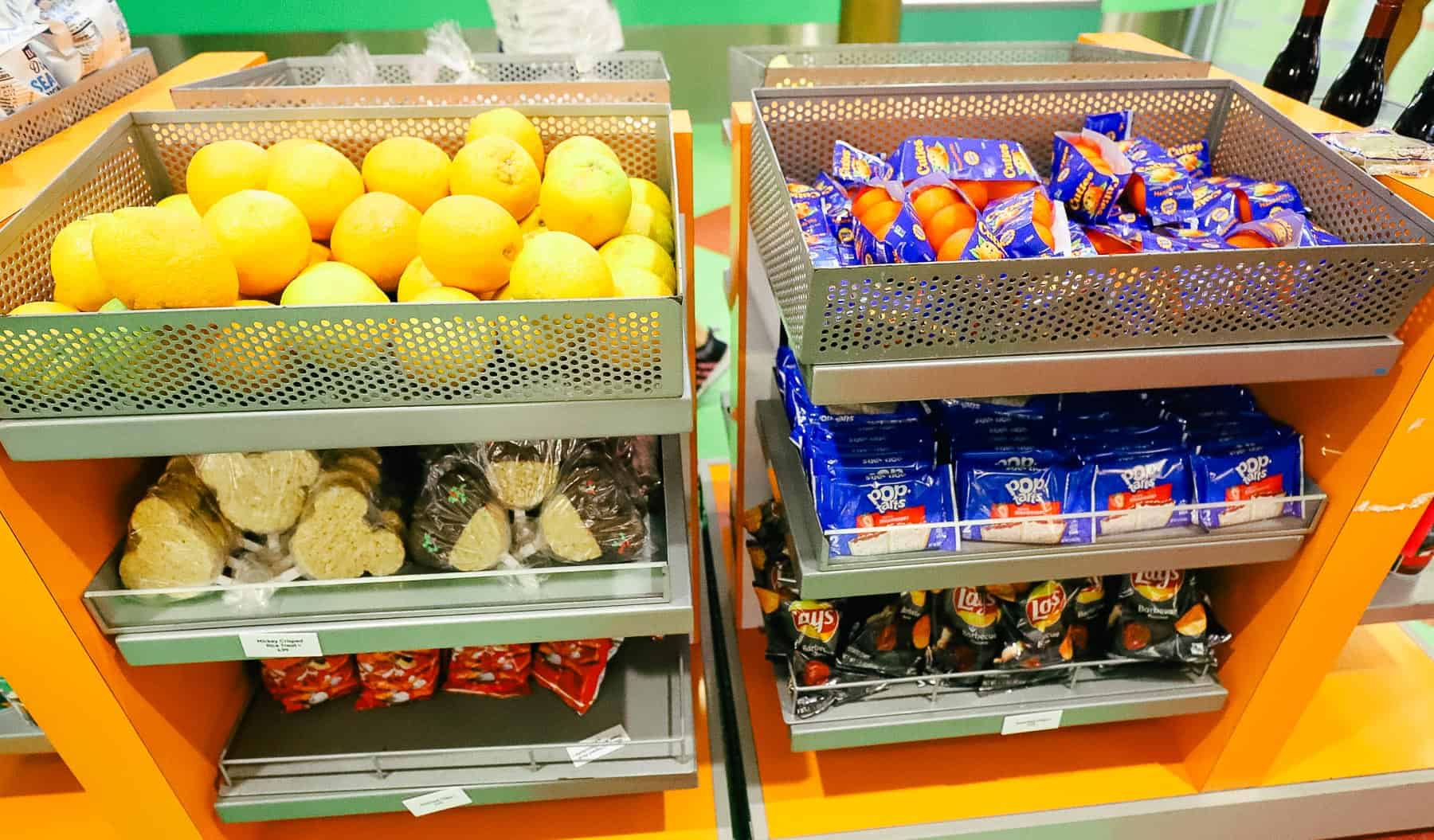 Bananas and apples were also available. Those individual cookies are one of the side options for kids' meals. Most cast members will let you know if you don't have all the components when you go to pay. However, grabbing your selections before you check out is much easier.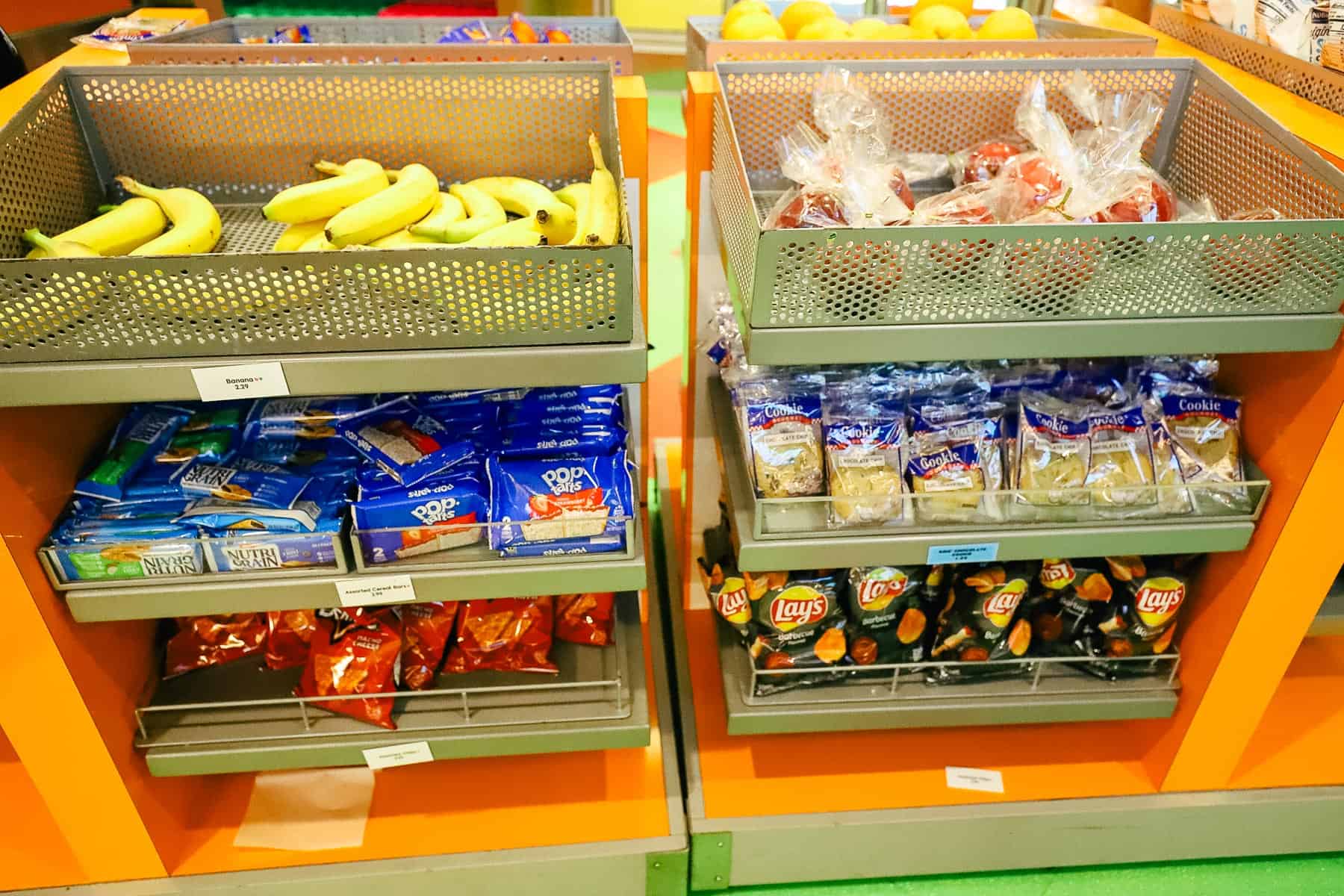 Here are a few allergy-friendly items, like rice chips and boxes of cookies. Rapid Fill mugs are available at Landscape of Flavors. You can refill them at any resort counter service beverage station for the length of your stay.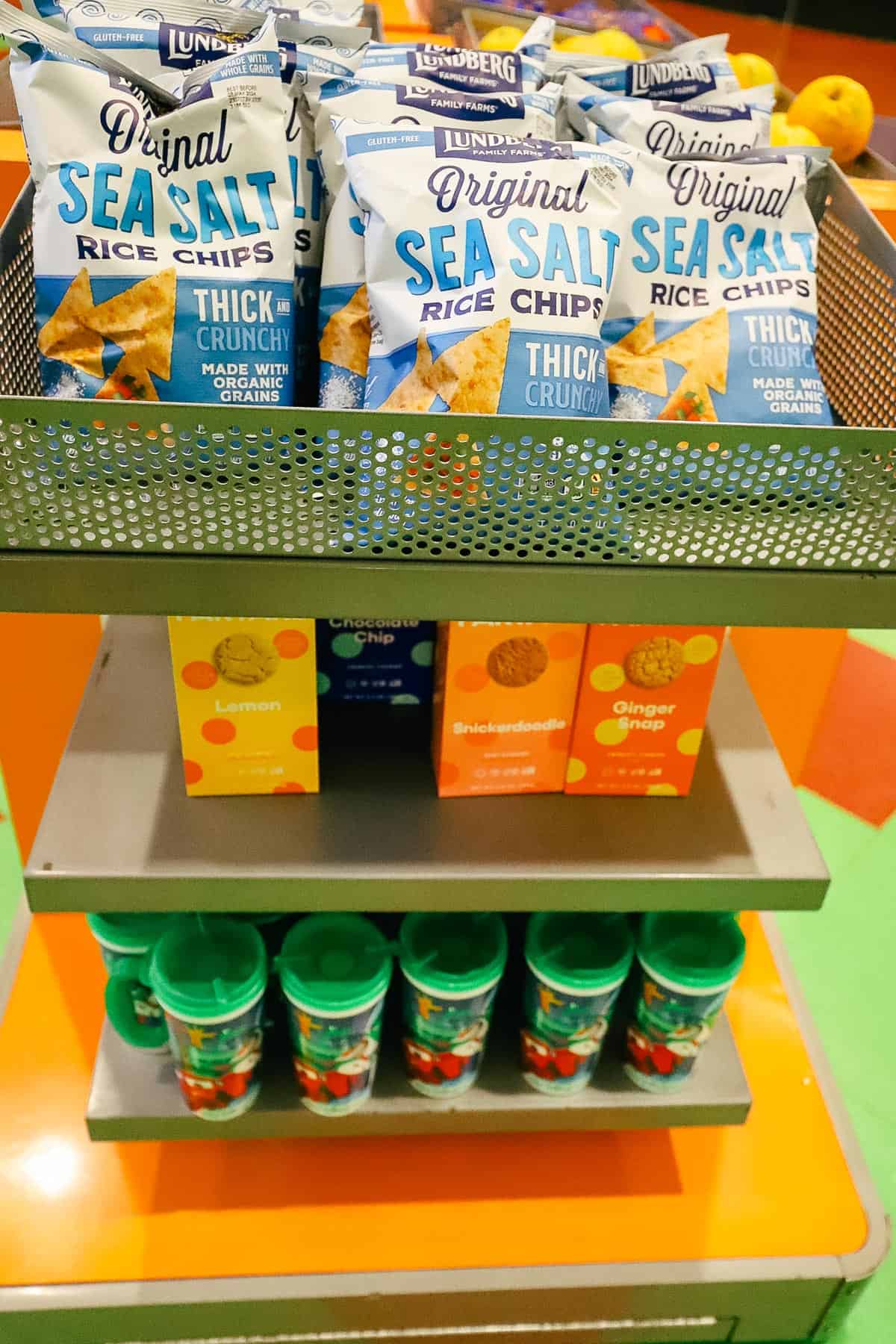 A few refrigerated cases held beverages and other items.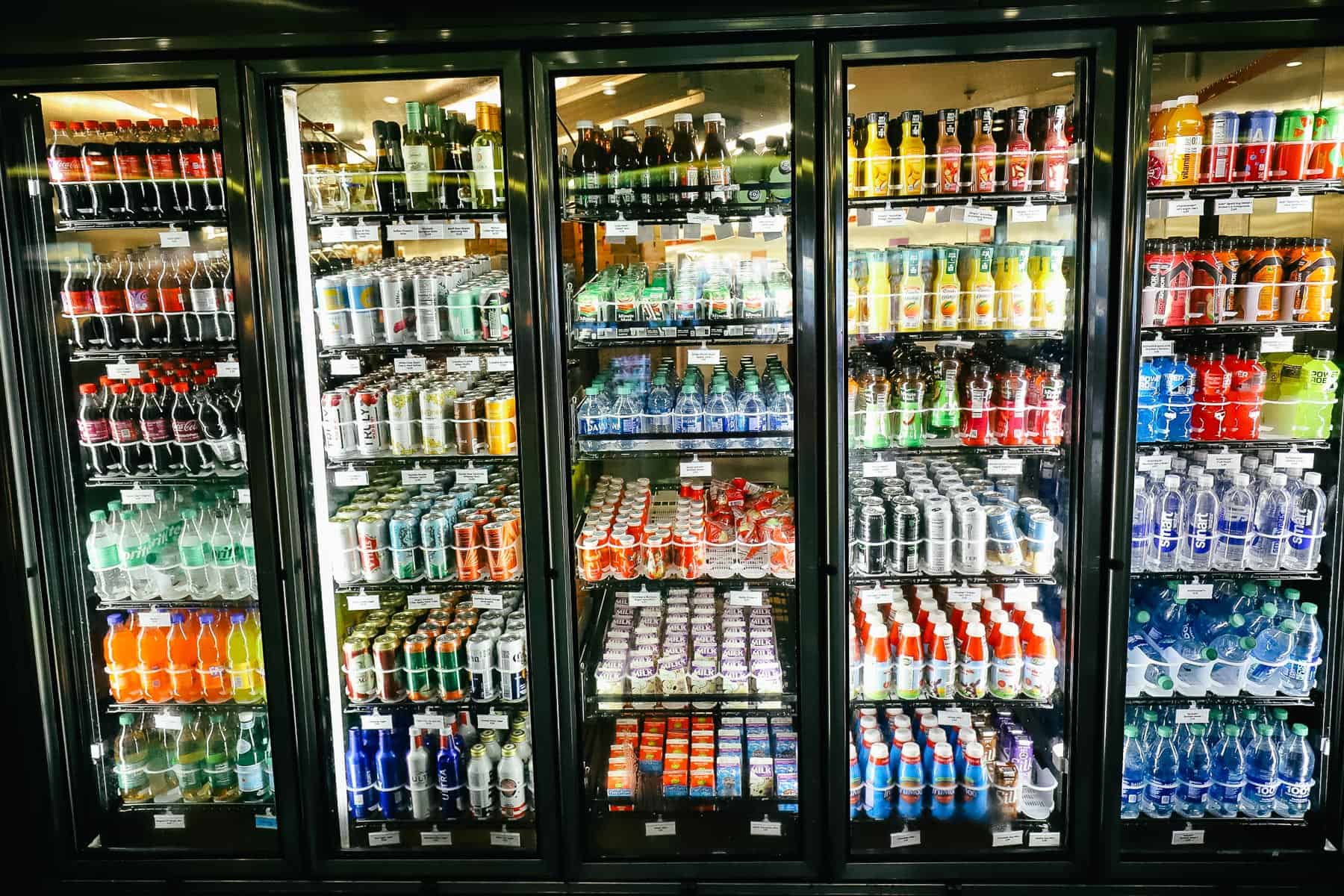 Here, we see bottled Coca-Cola, wine, beer, and seltzers.
Most items on the left side of the photo below accompany kid's meals. Those items include Minute Maid apple juice, small Dasani bottled water, yogurt (drink), apple slices, and milk. Juices, sports drinks, various types of milk, and energy drinks were also available.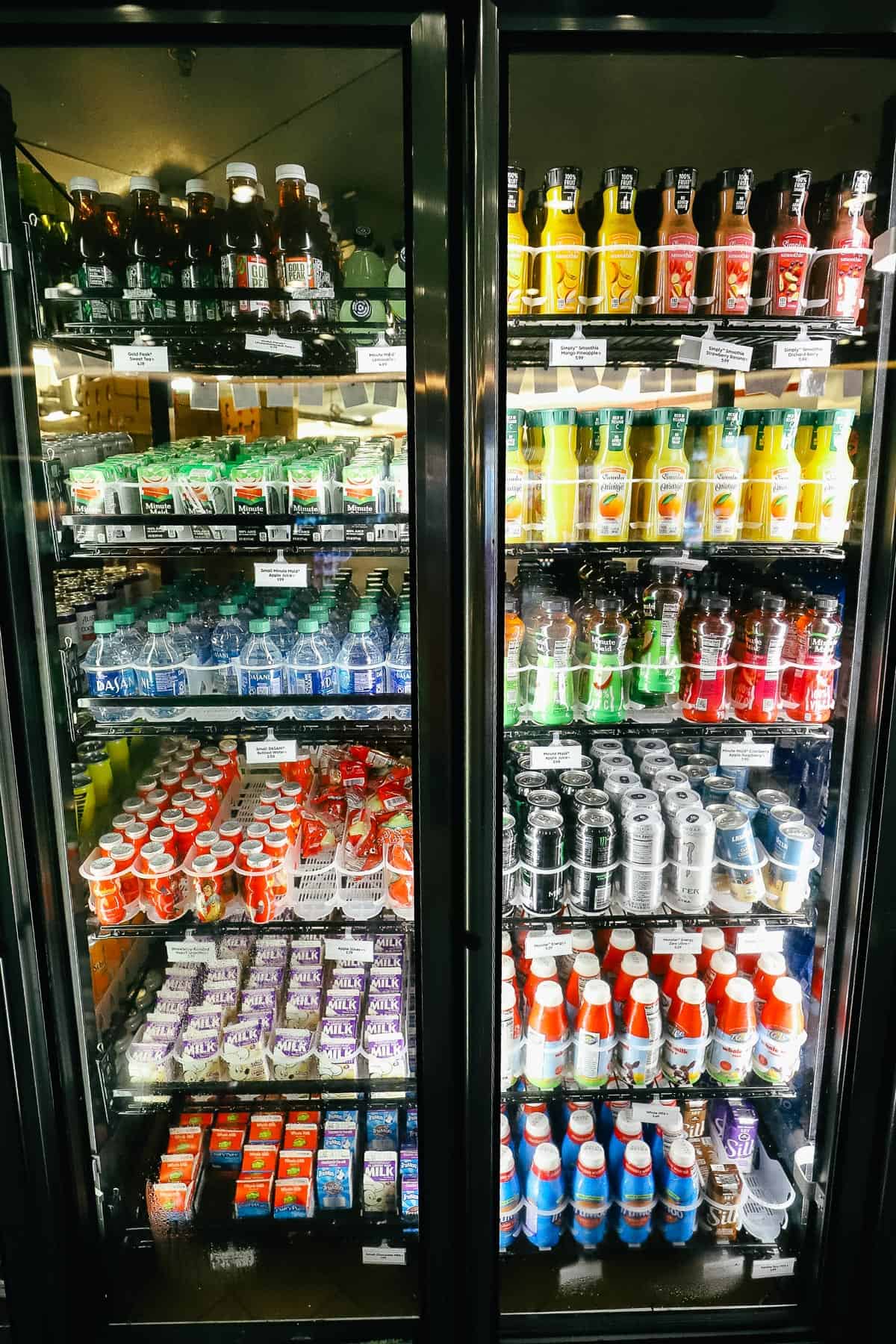 Here are a few more items.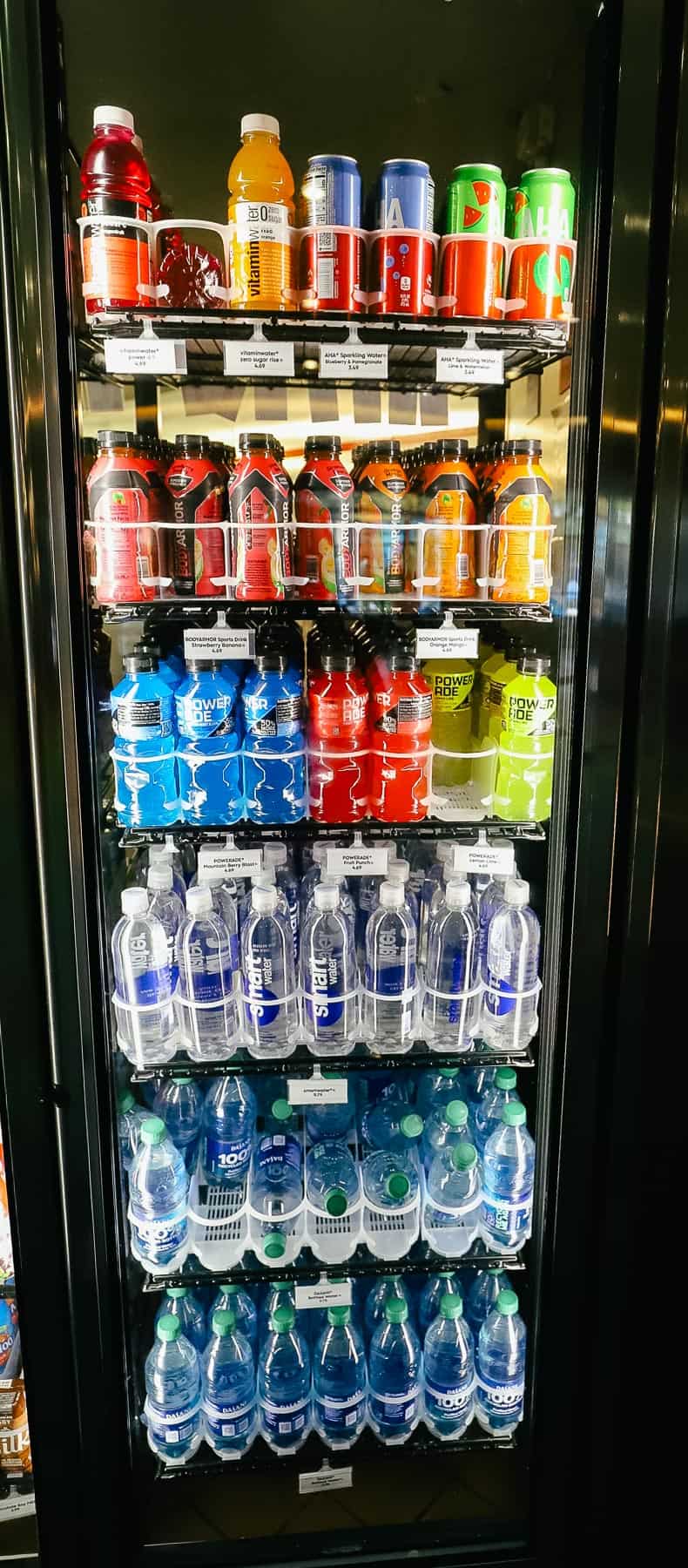 They were having issues with one of the cases during this visit. Some of the salads and other premade items were not displayed. But the menu lists the following salads:
Caesar Salad (plain or with Shrimp or Chicken Breast)
Greek Salad (plain or with Roasted Red Pepper Hummus, Shrimp, or Chicken)
Mediterranean Curry-Chickpea Salad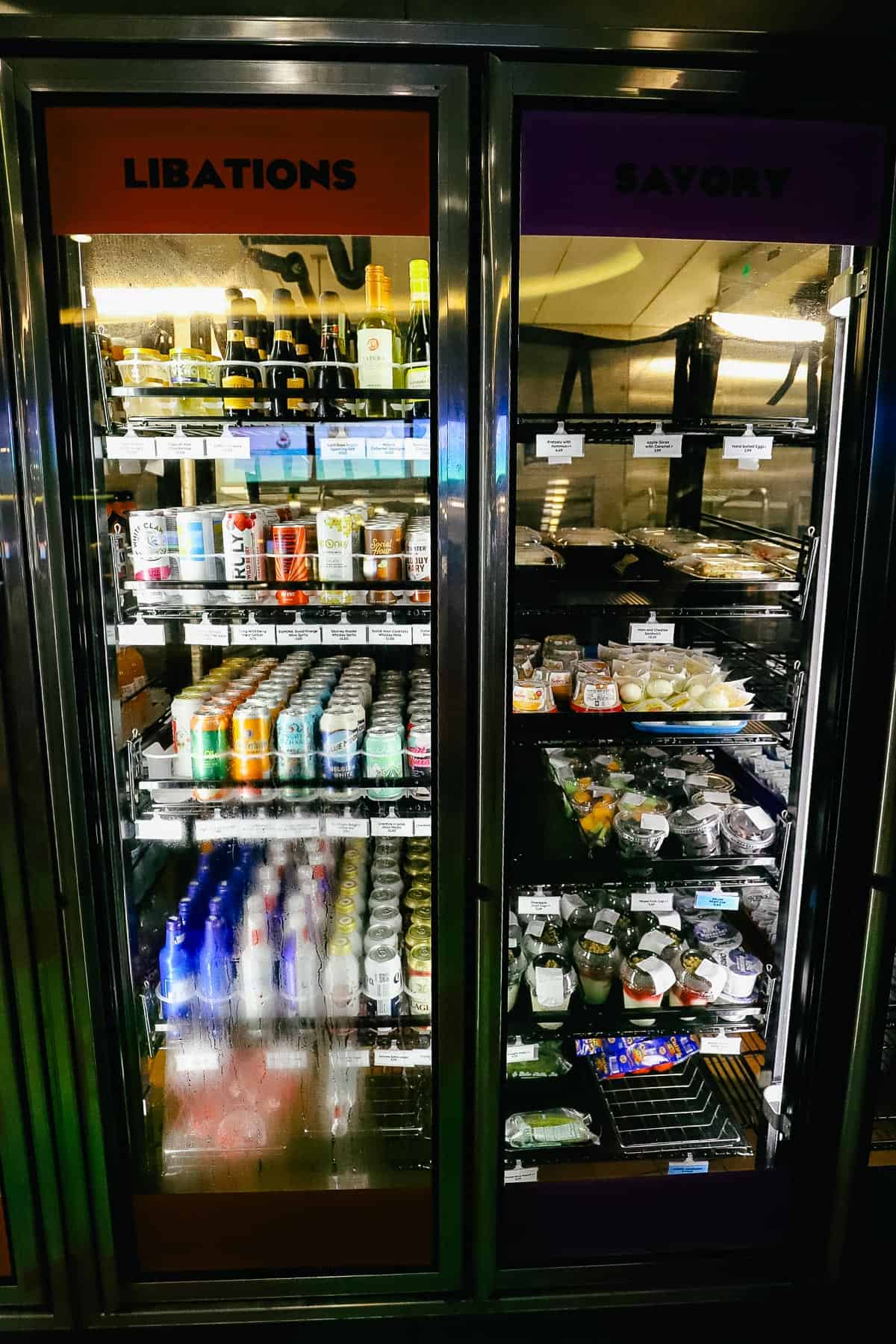 Here, we have a few more items.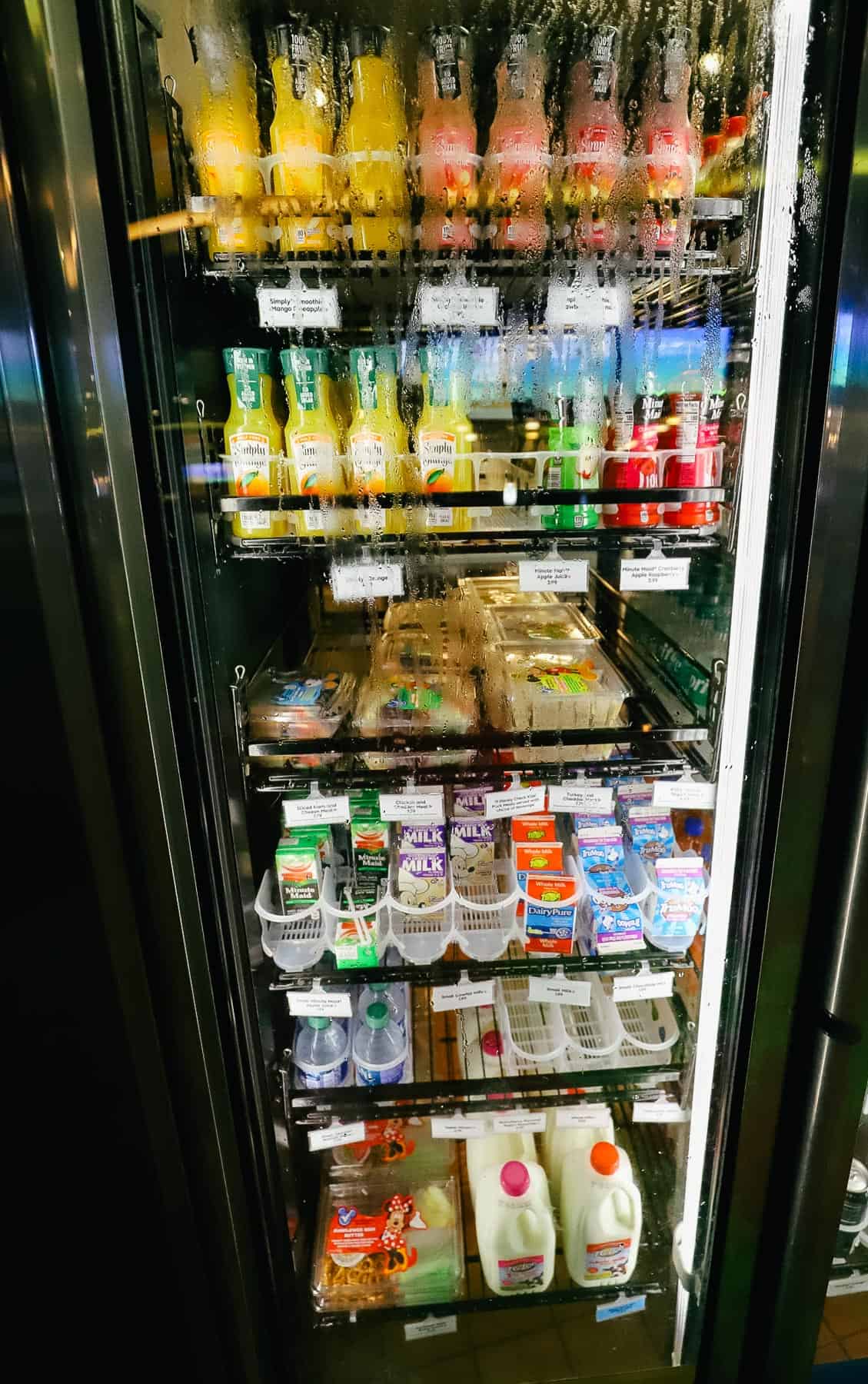 Lastly, a few items were available near the register, like Nutri-Grain bars and chips.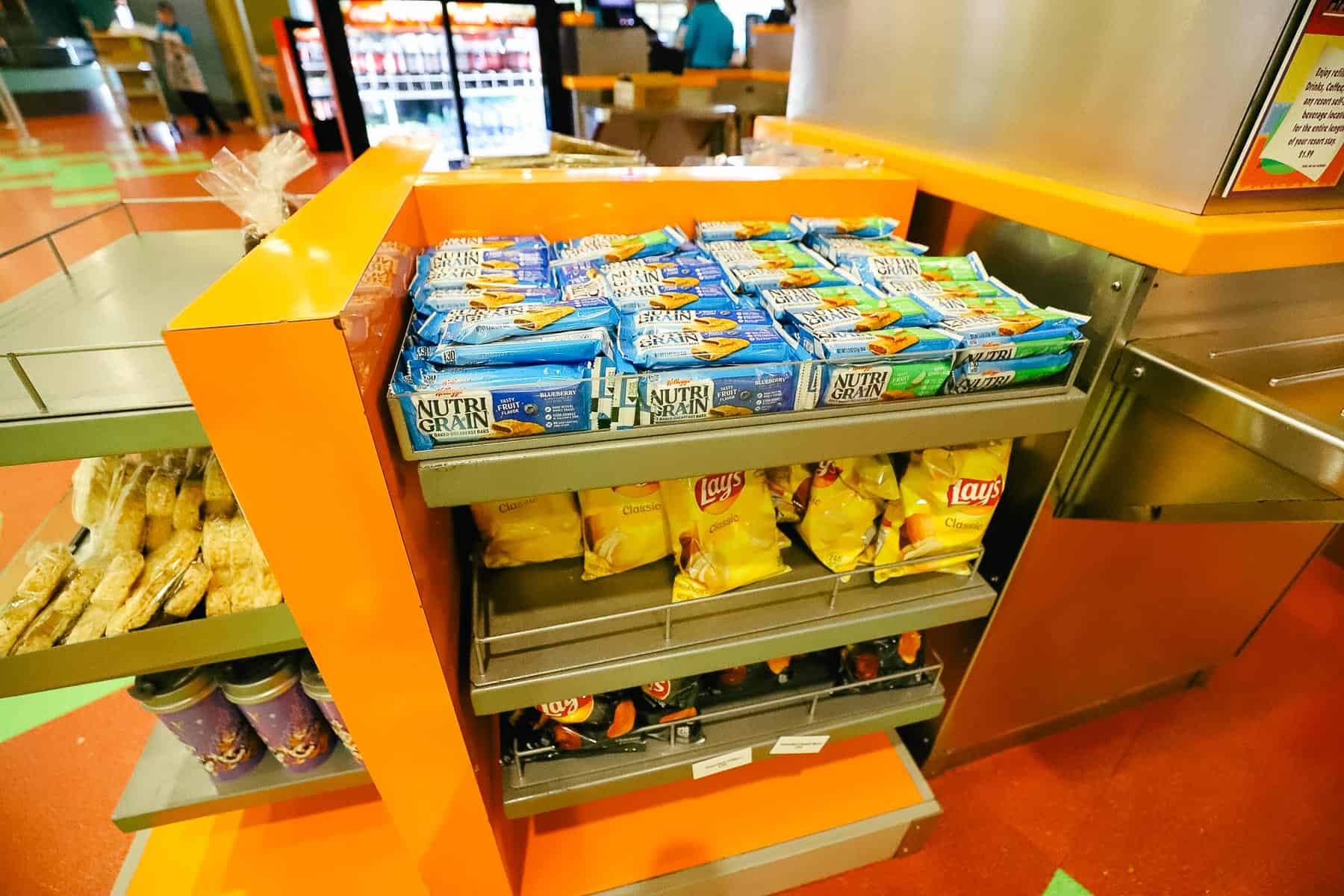 A few packages of brownies, Mickey-shaped treats, and more Rapid Fill drinks were present.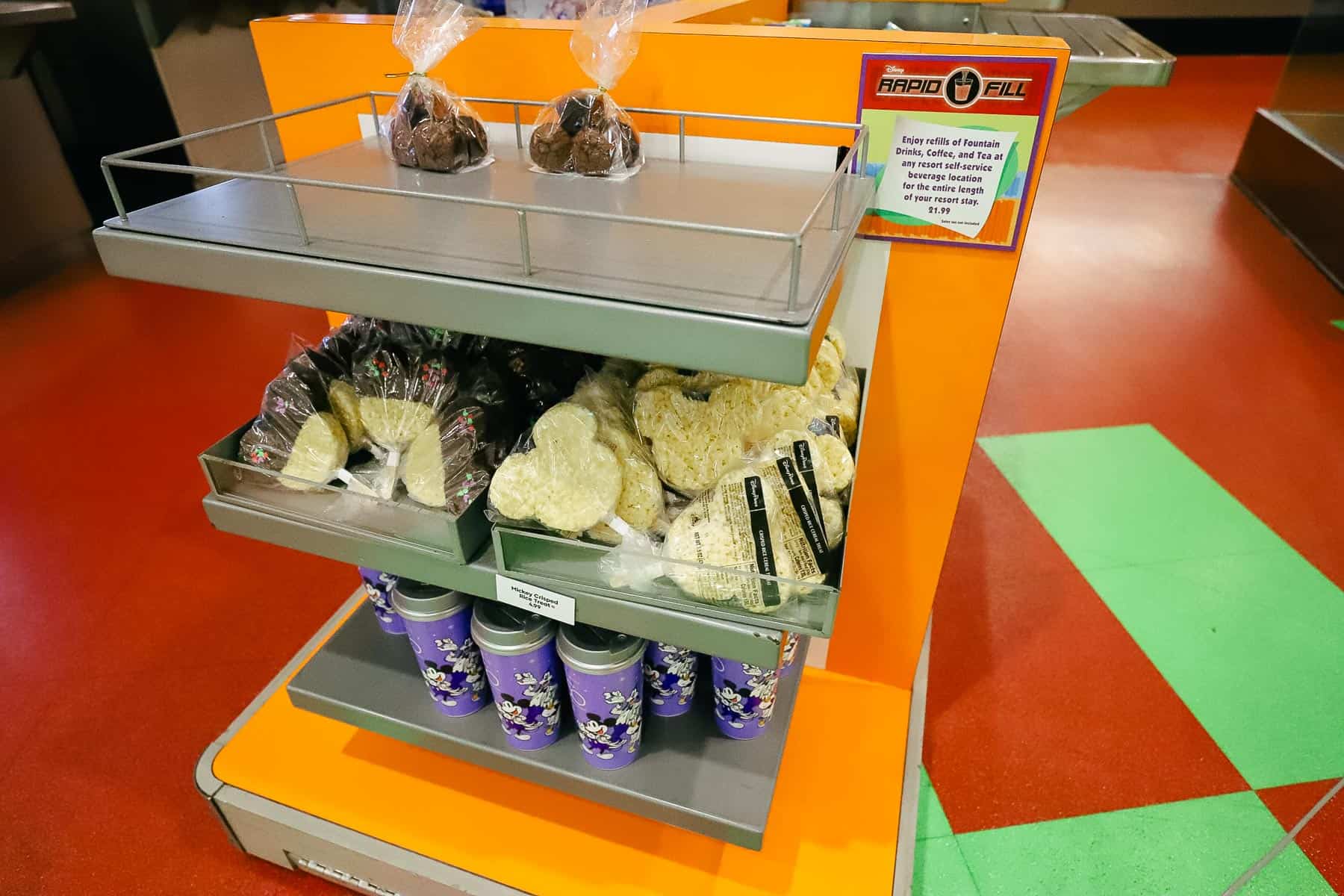 Before we wrap things up, we'll look at the dining area and condiments section.
Part of the dining area looks out toward The Big Blue Pool. Mobile ordering is exceptionally convenient if you're spending the day at one of Art of Animation's pools.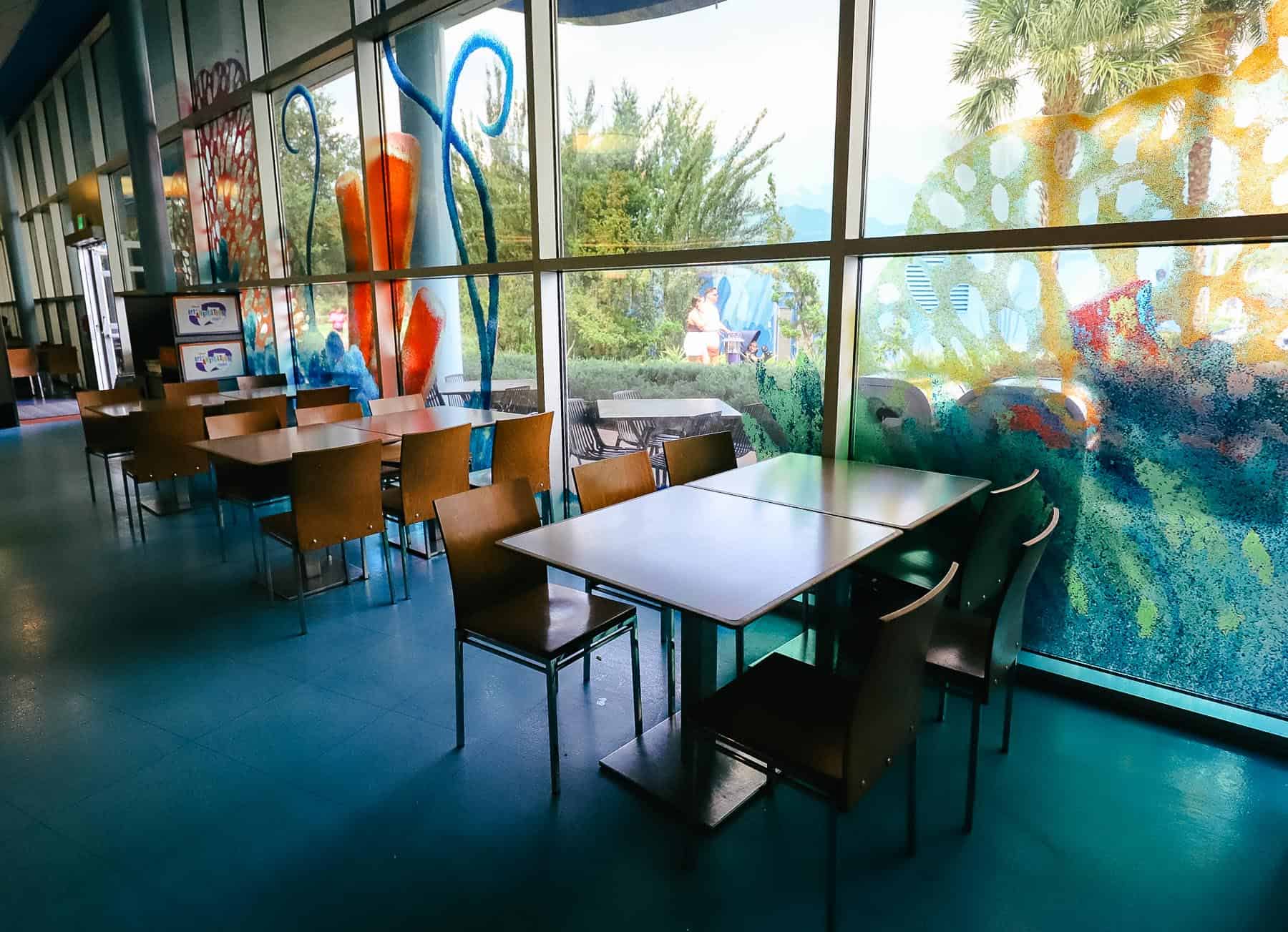 When you get the notification that your order is ready, you can run in and pick up your order. Several tables with chairs are available around and outside the pool area. But as you can see from the photo below, there's plenty of indoor seating if you need a break from the sun.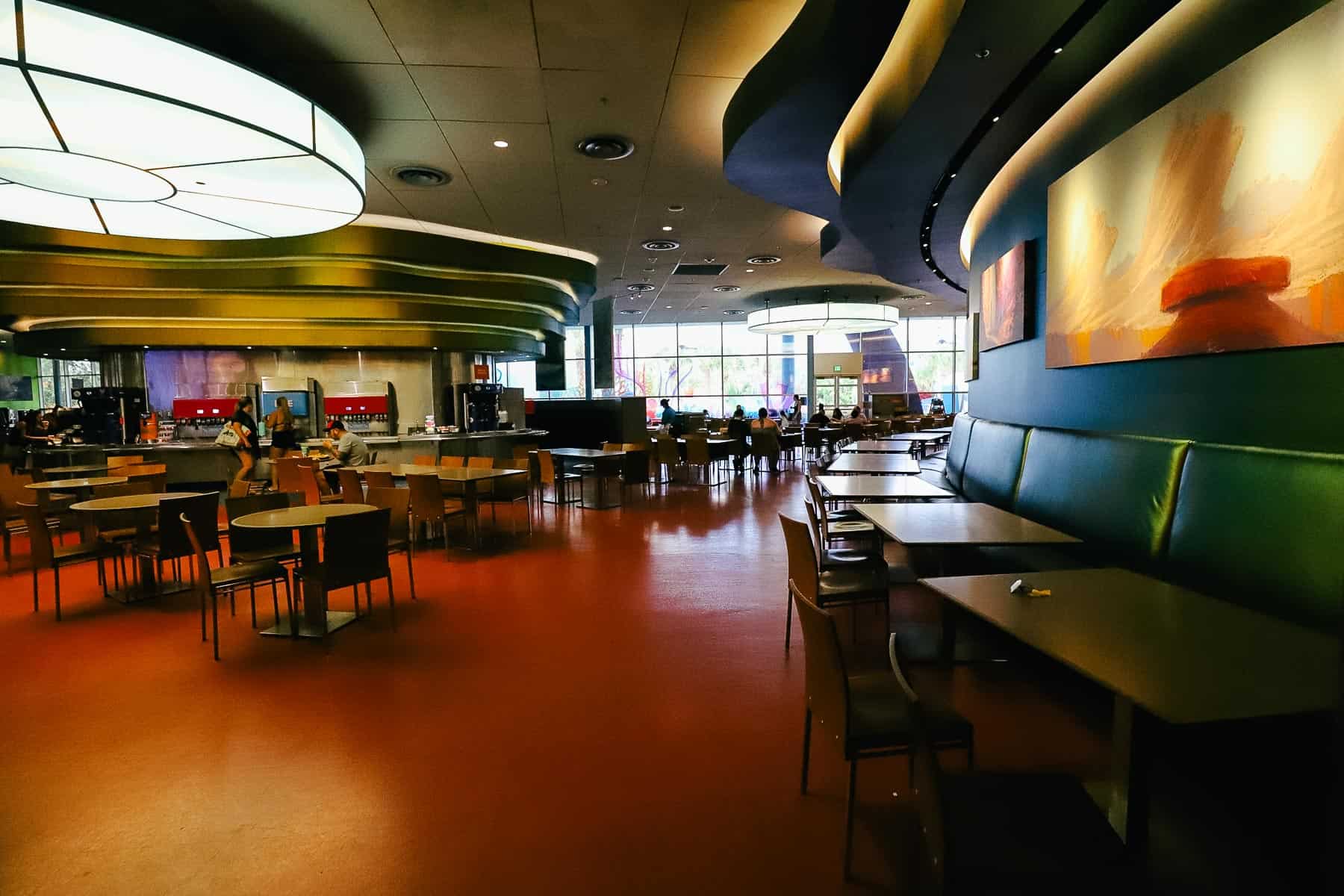 Coca-Cola fountain drinks are available.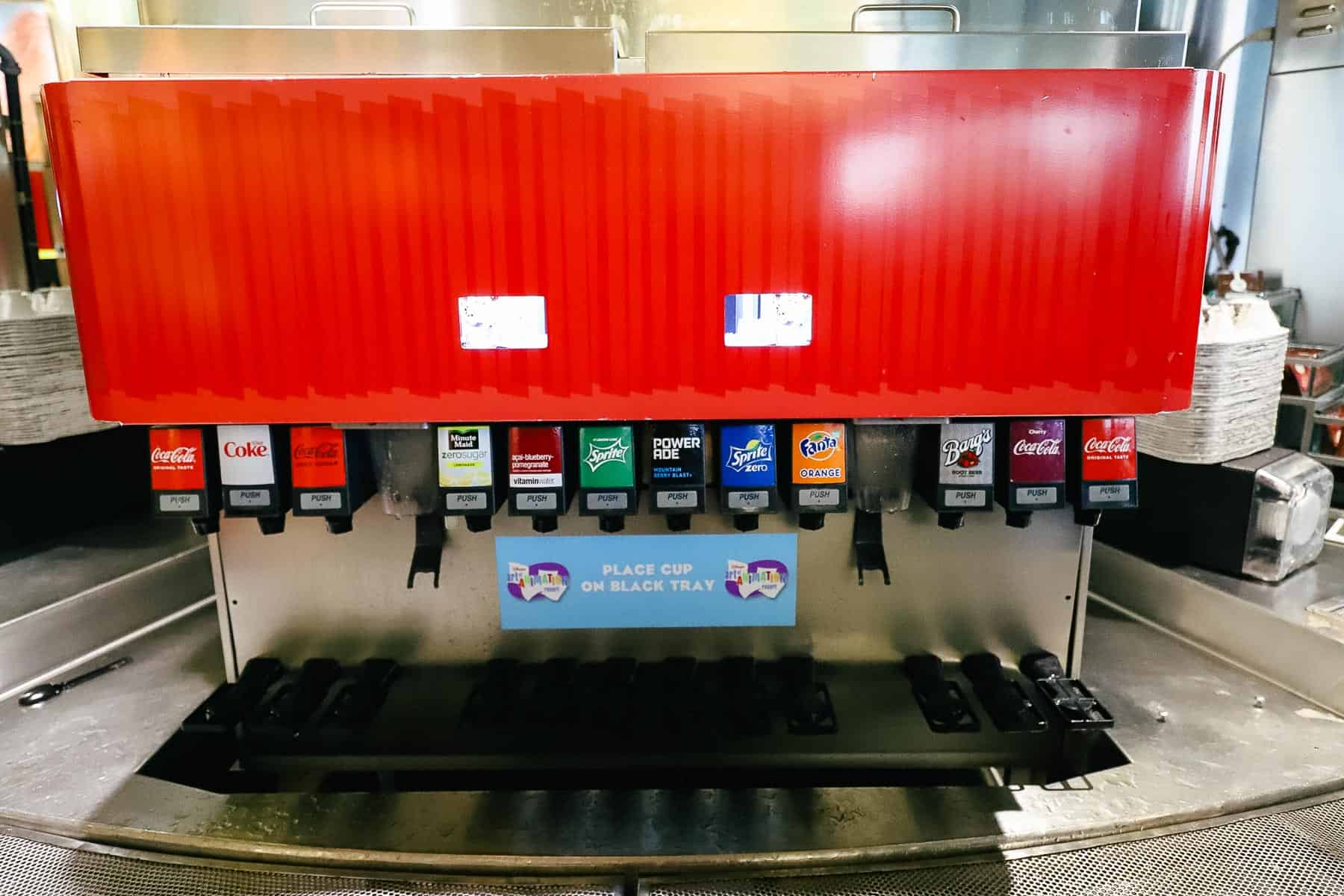 Disney serves Joffrey's coffee at their quick-service restaurants and in the rooms. We have an entire tour of our Little Mermaid room at Art of Animation.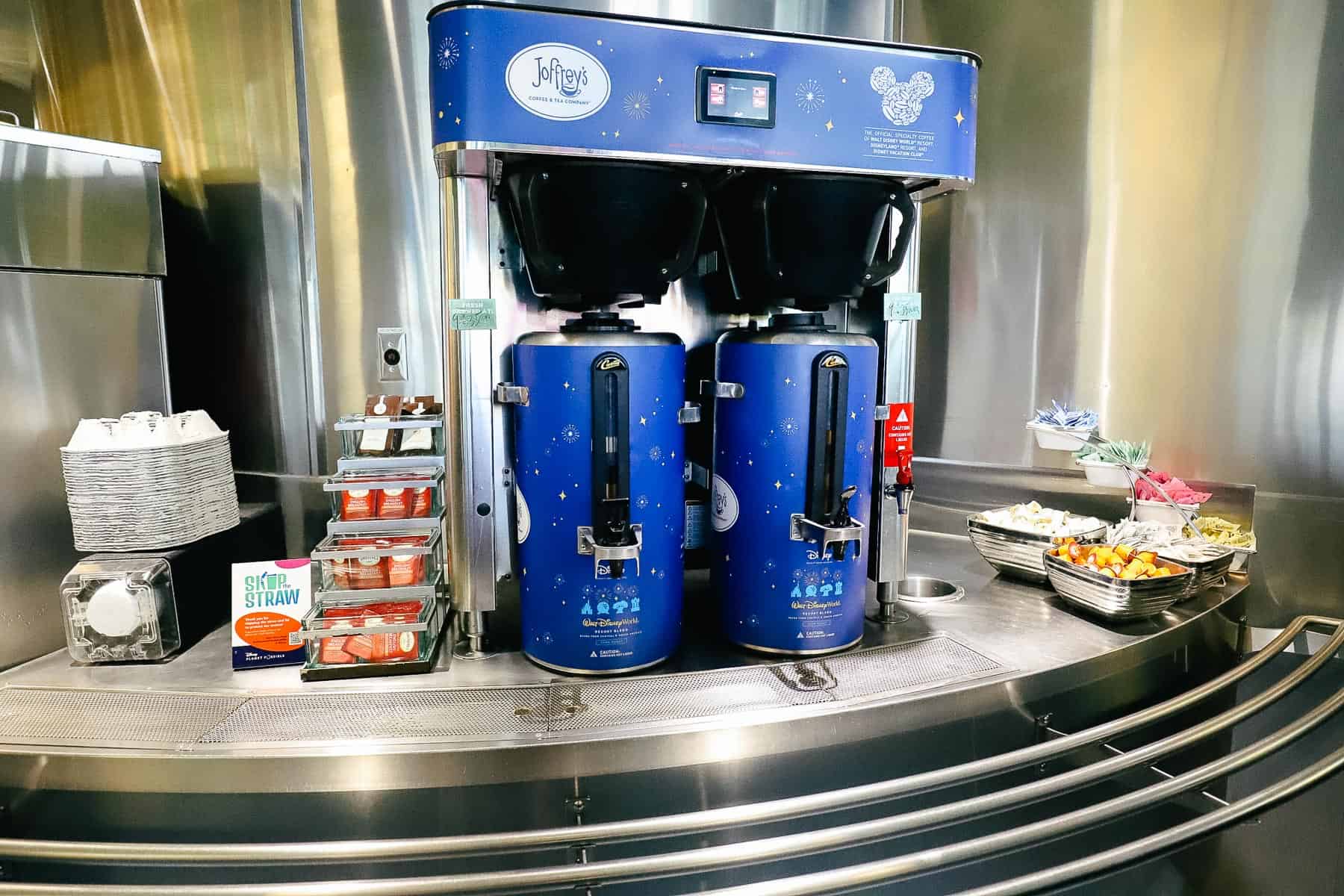 Gold Peak Tea is available.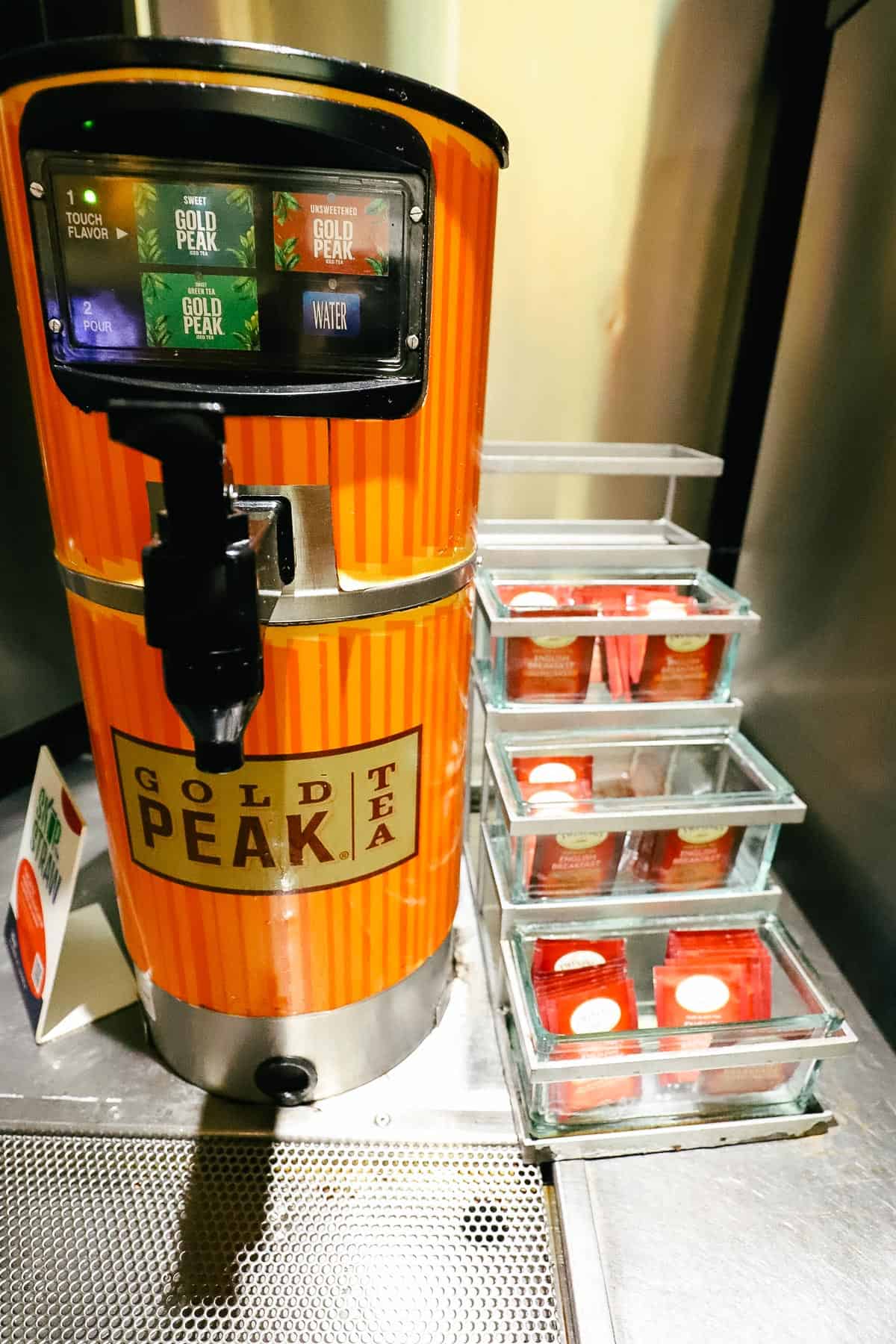 A sink for rinsing your mug is near the refill area.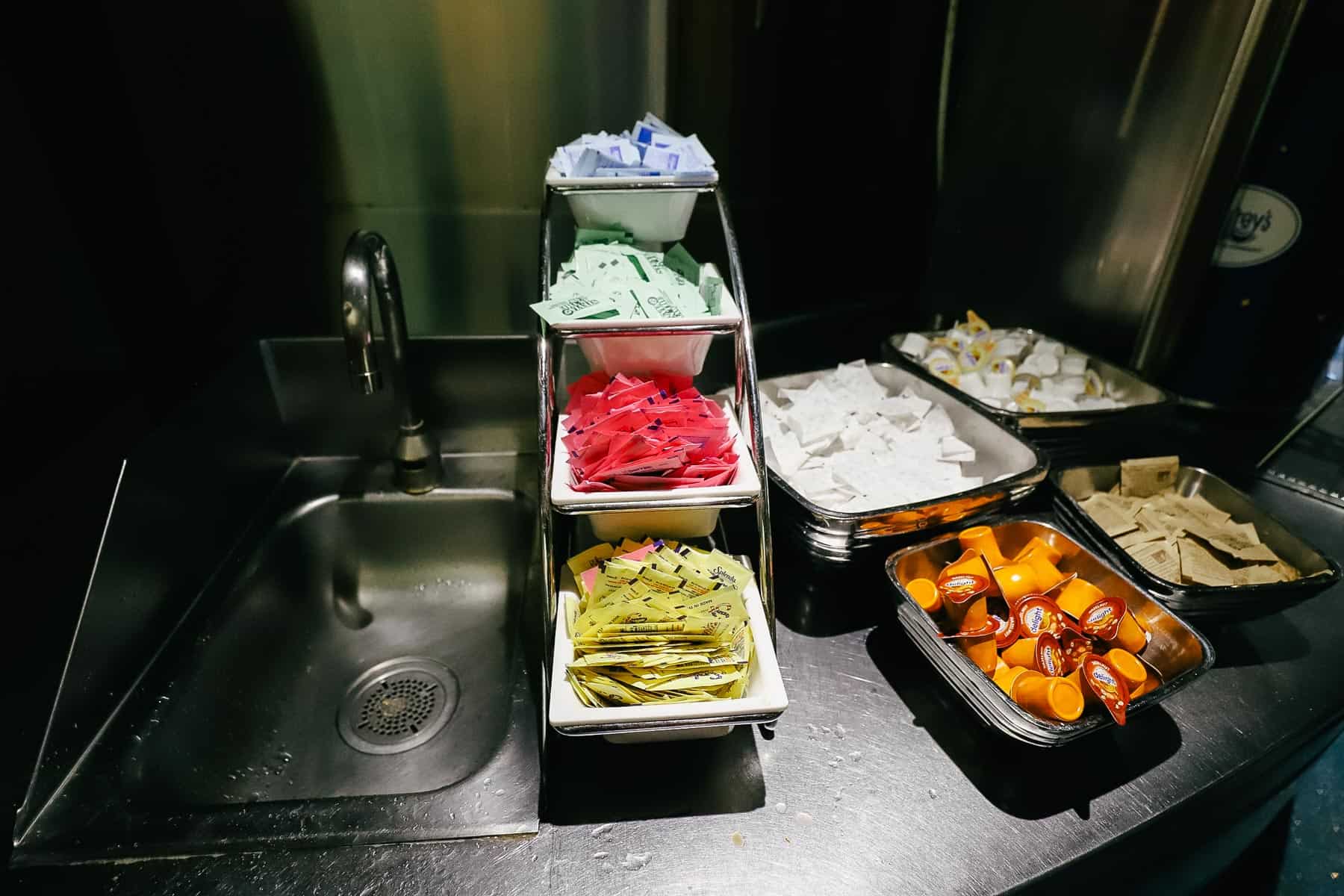 Ice and water are also available.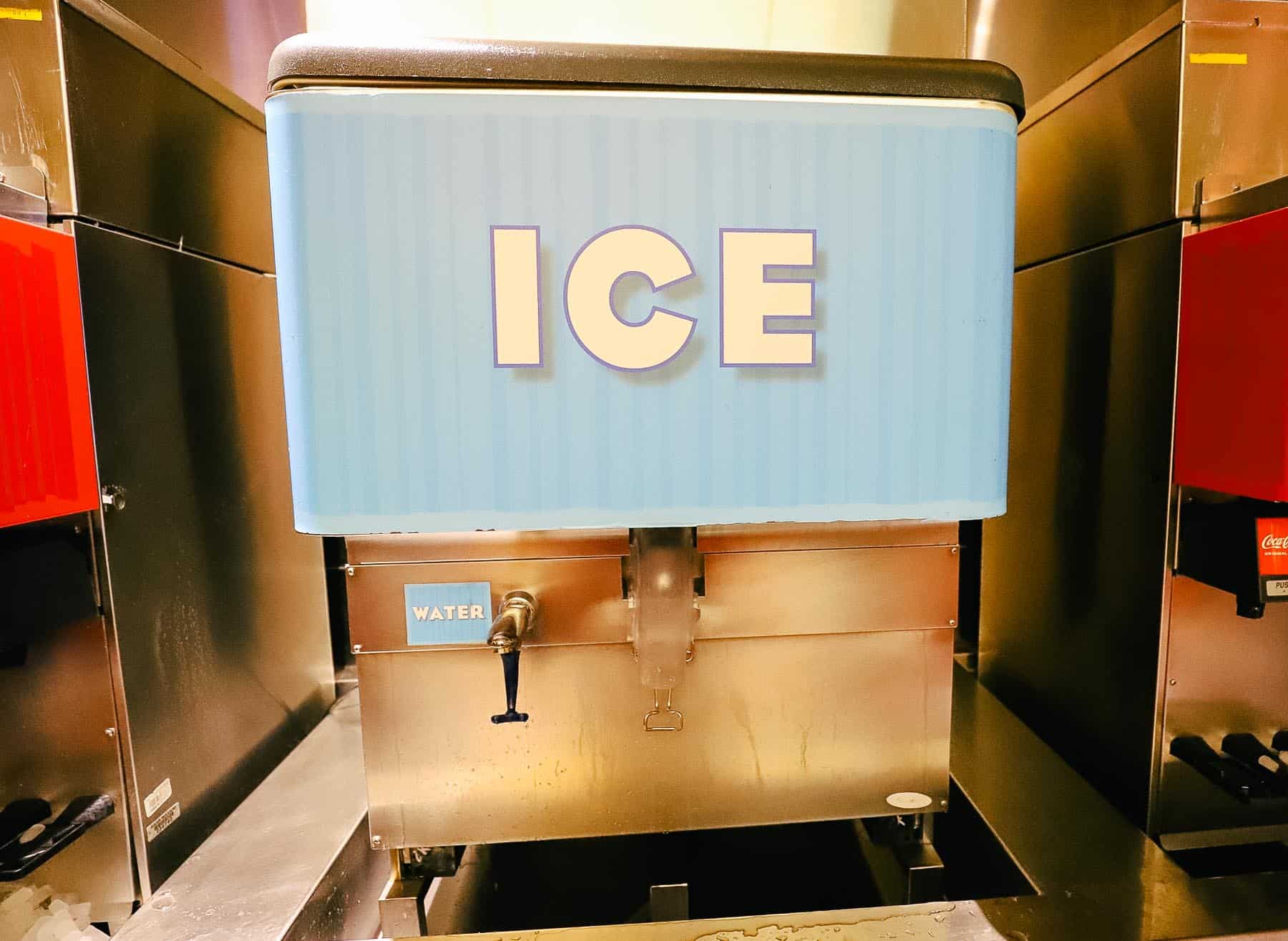 Plenty of condiments are available.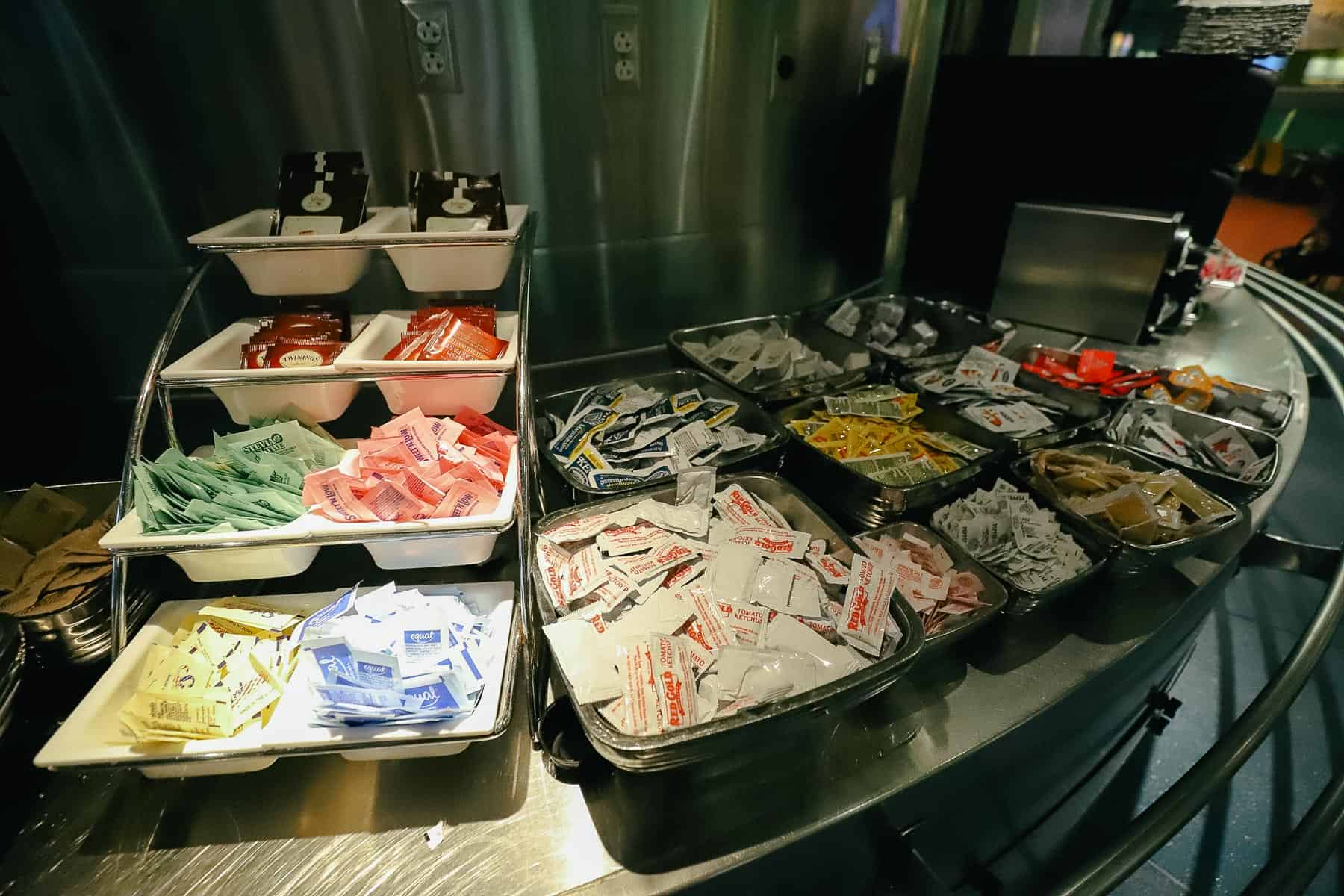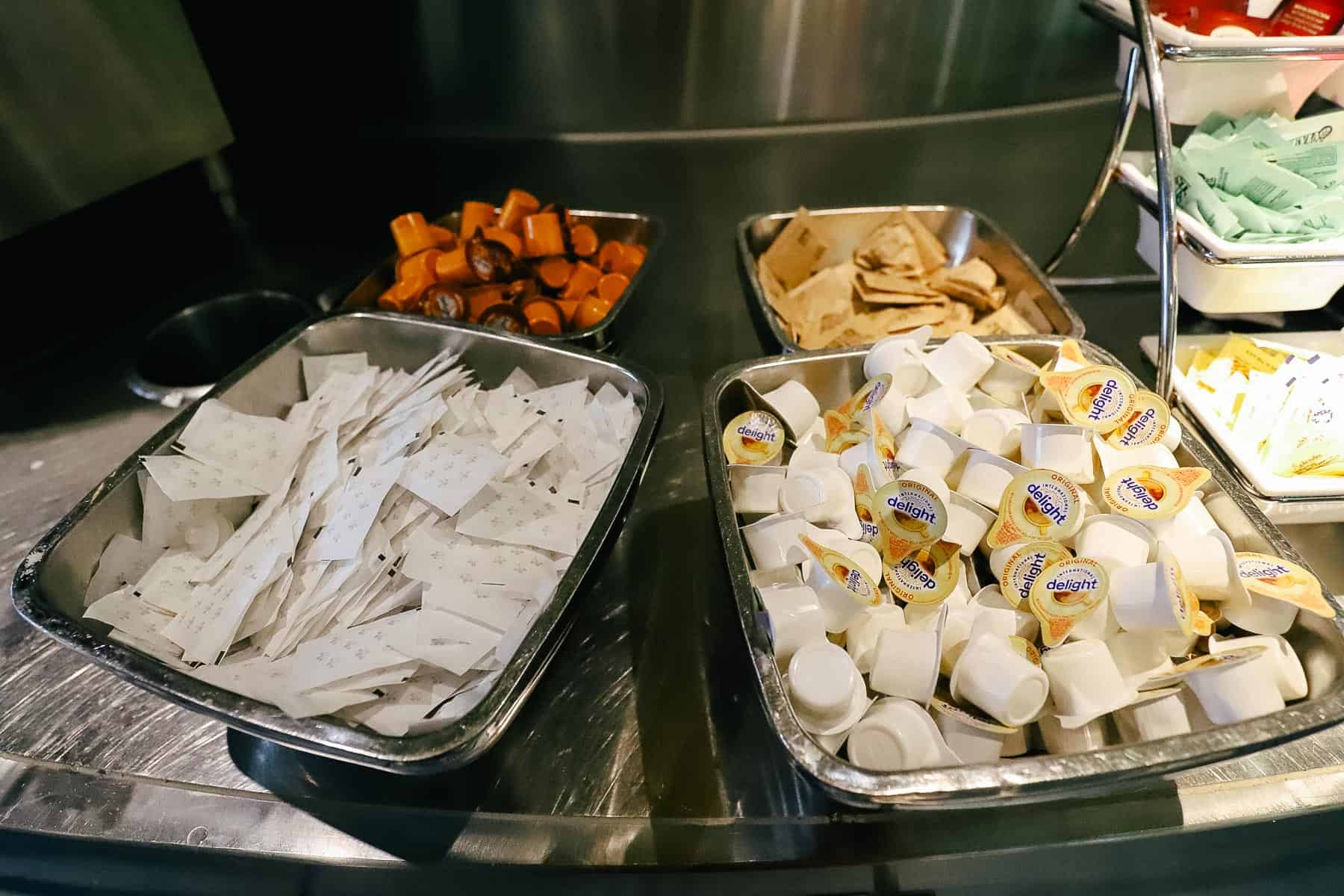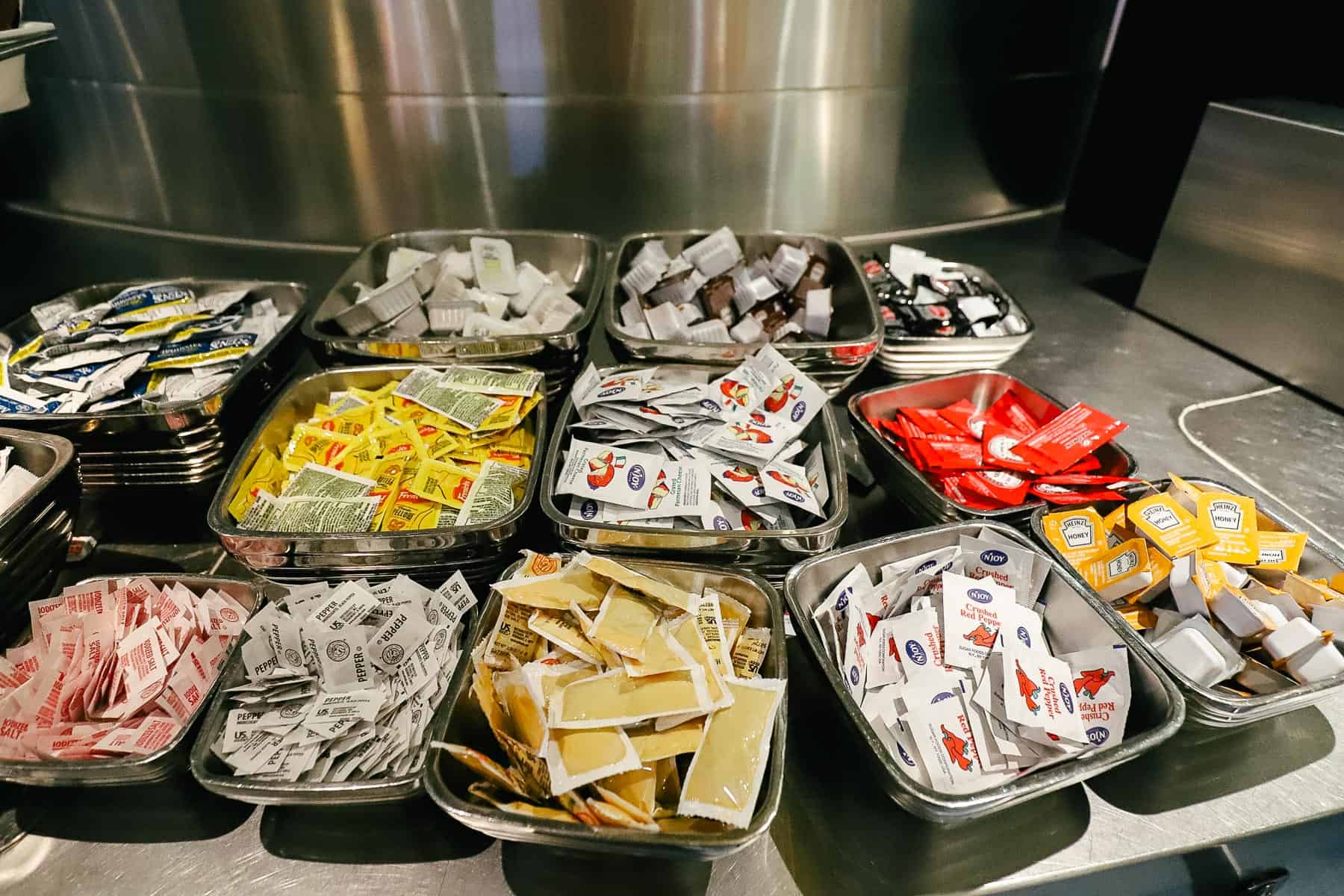 Overall, Landscape of Flavors is a decent food court with several fun menu items. However, we think that some things can be improved, especially the pizza's quality.
In a world with so many dining options, many of the quick services at Disney World can be significantly improved with higher-quality items. That said, the sesame chicken and those loaded totchos can stay on the menu.
But if we'd spent an entire week at Art of Animation, I can say we would have run into some burnout when it came to options at the resort. You can read our review of the Art of Animation if you want more specifics.
As for the Drop-Off Pool Bar, they have a small list of snack items. But their menu mainly consists of Disney's specialty cocktails.
If you have a week-long stay at Art of Animation, you can also visit a few other resorts via the Skyliner. Here are some nearby dining options:
Additionally, you might try Sebastian's at Caribbean Beach or Topolino's Terrace at Disney's Riviera for table service options. We love the character breakfast at Topolino's Terrace. To date, it's our favorite character dining experience at Disney World.
Hopefully, this article gave you an idea of what's available at Landscape of Flavors. For more information about the resort, try our guide to Disney's Art of Animation Resort.
In the comments
What are your thoughts about the food options at Landscape of Flavors?