Disney's Port Orleans French Quarter Review
In this Port Orleans French Quarter review, I'll share the details of our most recent stay at the resort. We'll discuss everything from the convenience of staying here to recreation, dining, and other important aspects. 
Never did I intend to enjoy my stay at Port Orleans French Quarter so much. When I started Resorts Gal, both of Disney's Port Orleans Resorts were put on the back burner.
Many years ago, we stayed at neighboring Riverside over the Christmas holidays. To this day, that trip stands out as our least favorite because we didn't care so much for the resort.
Since that stay, we went through a period of uncertain time where both resorts were closed much longer than others. Both French Quarter and Riverside were the last moderate resorts to reopen.
So this past year, I've made it a priority to spend more time at both resorts. On the site, we started with simple things like the pools and the gift shops.
Then we moved on to more coverage that included transportation and dining. After many visits as a day guest to French Quarter, I finally planned a stay.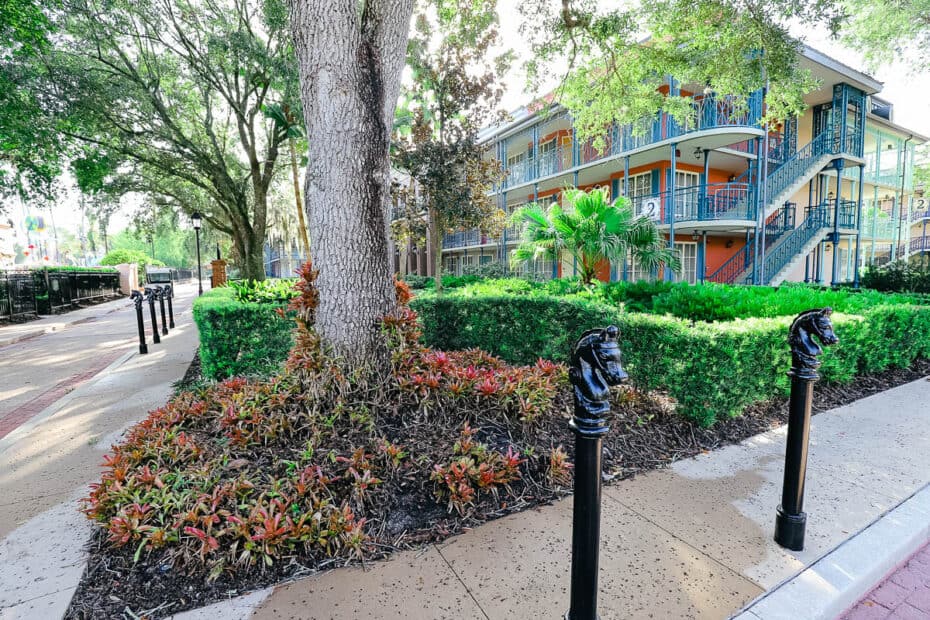 Now don't get me wrong. I love visiting both Port Orleans French Quarter and Riverside. They are stunningly gorgeous resorts with landscapes true to their theme.
When we stayed at Riverside, I was in a different place in my life. That's a kind way of saying I was unhealthy and overweight. I was by no means a person intent on walking everywhere like I am now.
Our room assignment on that trip was as far away from the main lobby as you could possibly imagine. Not only that, I had paid for an upgraded room, unknowingly thinking we would have a preferred location.
My main memories from that trip are walking, what felt like five miles, back and forth to the bus stop at the front of the resort. Thankfully, I don't look at the resort that way anymore. But it was hard to see past the long distances to reach everything at the time.
So after that trip, I didn't think twice about staying at either of the Port Orleans Resorts. Then a few years back, I started jogging.
Ironically, the resort that I thought would kill me became one of the places I love to jog the most. If you've never been to either resort, you'll probably be happy to know there are shade trees everywhere.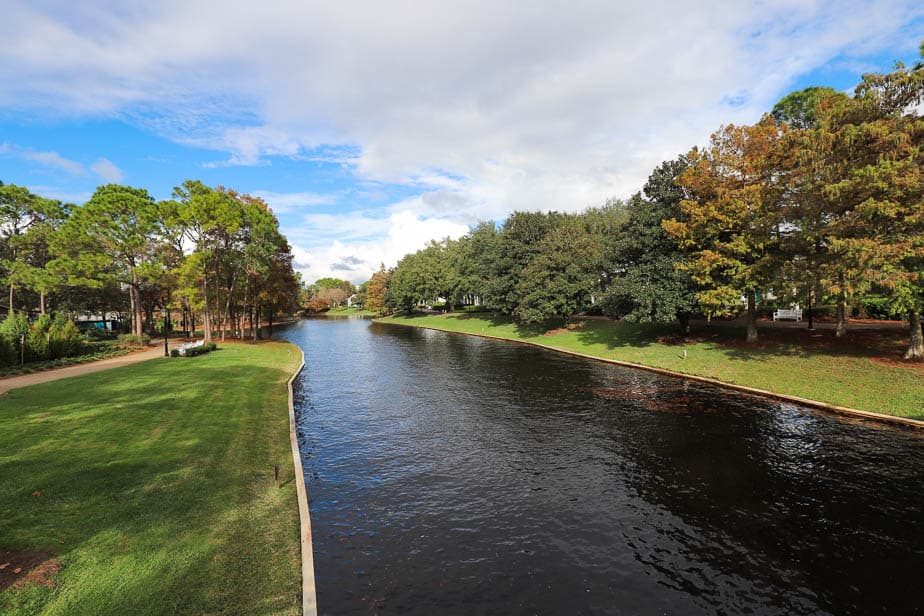 I apologize for the long story. But it's how I finally ended up staying at Disney's Port Orleans French Quarter.
Disney's Port Orleans French Quarter Review
When I arrived at Port Orleans French Quarter, I had been on a whirlwind of hotel stays and was ready to land somewhere for a few days. Thankfully, I had booked a four-day, three-night stay at the resort.
I remember feeling a twinge that I hoped I didn't regret staying here that many nights. But in order to provide a thorough review of Disney's French Quarter, I felt that length of stay was necessary.
Earlier that morning, I had checked out of a deluxe studio at Disney's Old Key West. Since this was considered a split stay where my reservations were linked, I anticipated my room being ready upon arrival.
It was a few minutes after 11:00 a.m. when I arrived at the resort. Unfortunately, I received a text stating that my room wasn't ready.
However, when I pulled up to the breezeway, a cast member was waiting to greet me. From my experience, this level of service is not standard unless I stay club-level at a deluxe resort.
He apologized for my room not being ready, and I stressed that I did expect it to be seamless. So he asked me to wait and told me he'd see what he could do.
Moments later, he returned with a bell service person and told me he'd escort me to my room. My room assignment was in building four on the third floor.
Normally, check-in at the Walt Disney World Resorts is at 3:00 p.m. But for this trip, I was staying at Disney World for a little over a week with three different reservations. Disney does their best to accommodate guests in this situation as if they only have one stay.
Rooms
Port Orleans French Quarter's rooms were redone in recent years. Since the resort was closed for so long, those refurbishments still feel fresh and new.
My room was a standard guest room with two queen-size beds. All the rooms at Port Orleans French Quarter sleep up to four guests. Unfortunately, none of the rooms have the fifth sleeper option.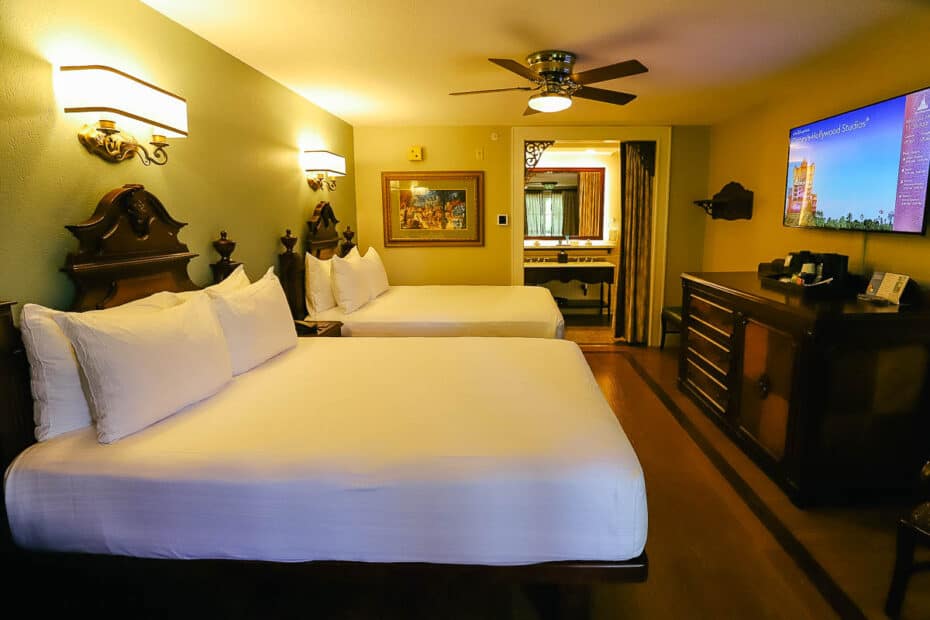 There's a table with two chairs in the corner.
I appreciated the shelf on the wall with knobs to hang items. Underneath the shelf, there's a bench that provides a place to remove your shoes and store them underneath.
Considering these rooms accommodate up to a family of four, these extras help keep things organized.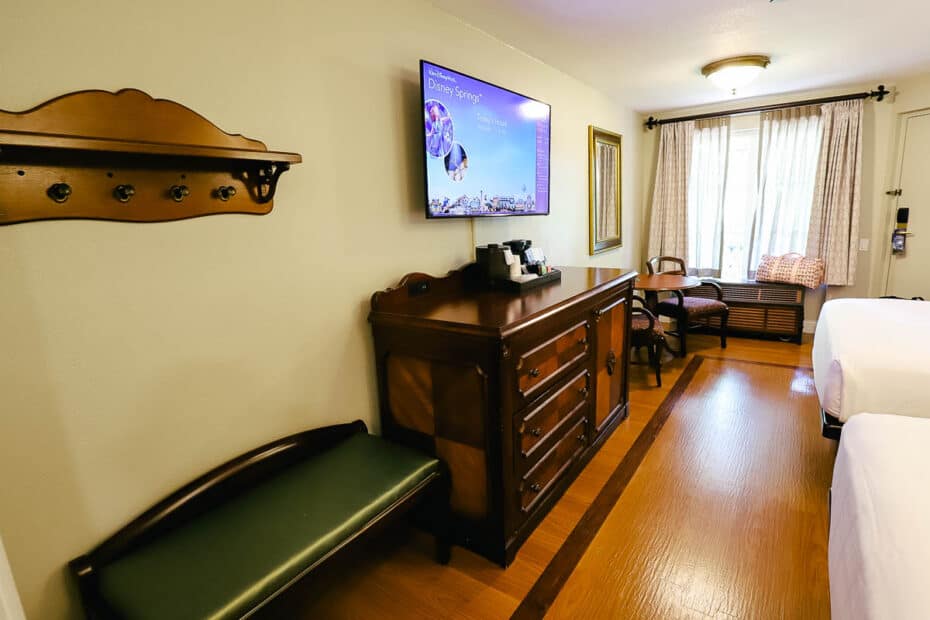 A dresser provides several drawers for storage, outlets on top for electronics, and a beverage cooler tucked in the side.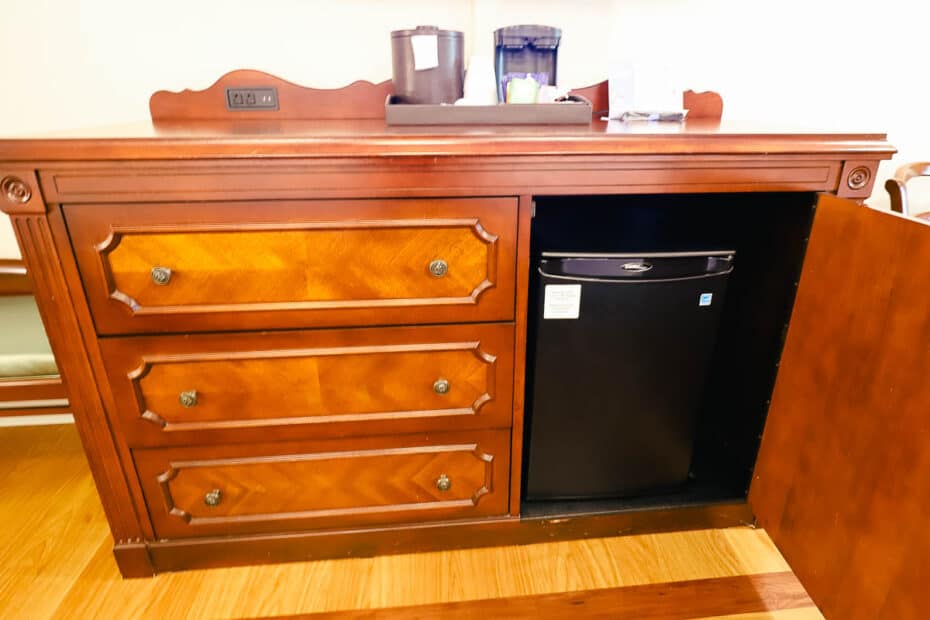 One of the things I like about the moderate resorts is the split layout of the bath area. At Port Orleans French Quarter, you can close the curtain in the vanity area and use the space to get ready.
Additionally, there are two sinks, a shelf to store personal items, and an open closet space. Other room amenities include a wall safe, an iron with an ironing board, a makeup mirror, toiletries, extra blankets, and a hair dryer.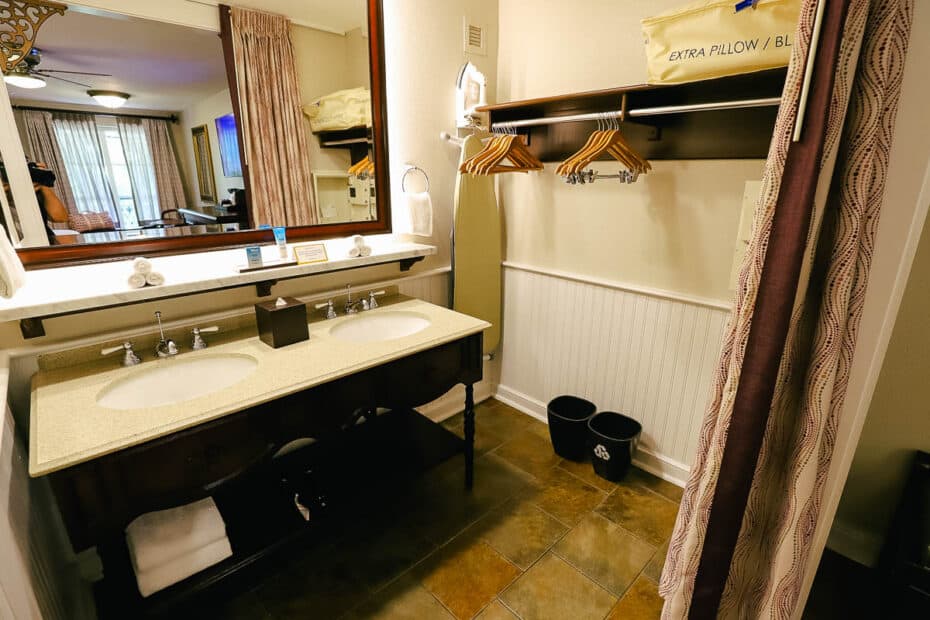 Inside the bath area, there's a tub with shower combination.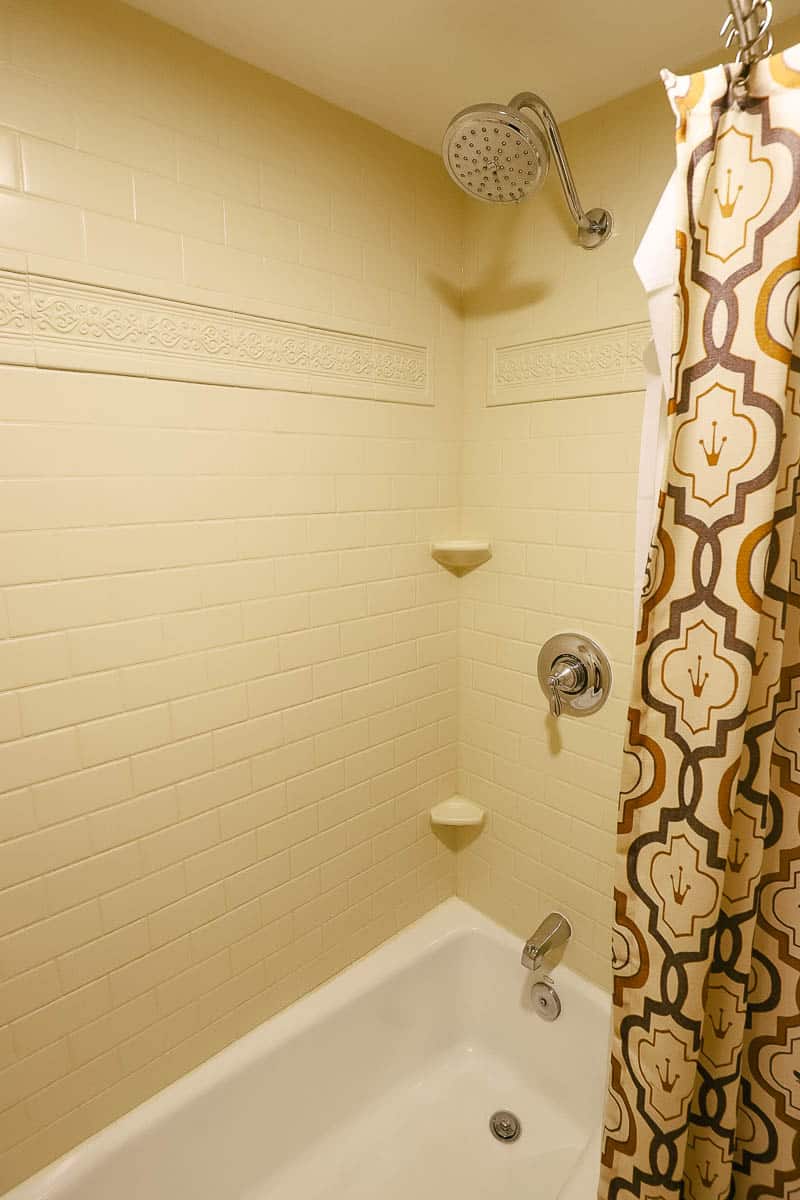 Over the course of this stay, I remember thinking that it felt like I was staying at a deluxe resort instead of a moderate. Details like the solid surface flooring and subtle room decor felt fresh and modern.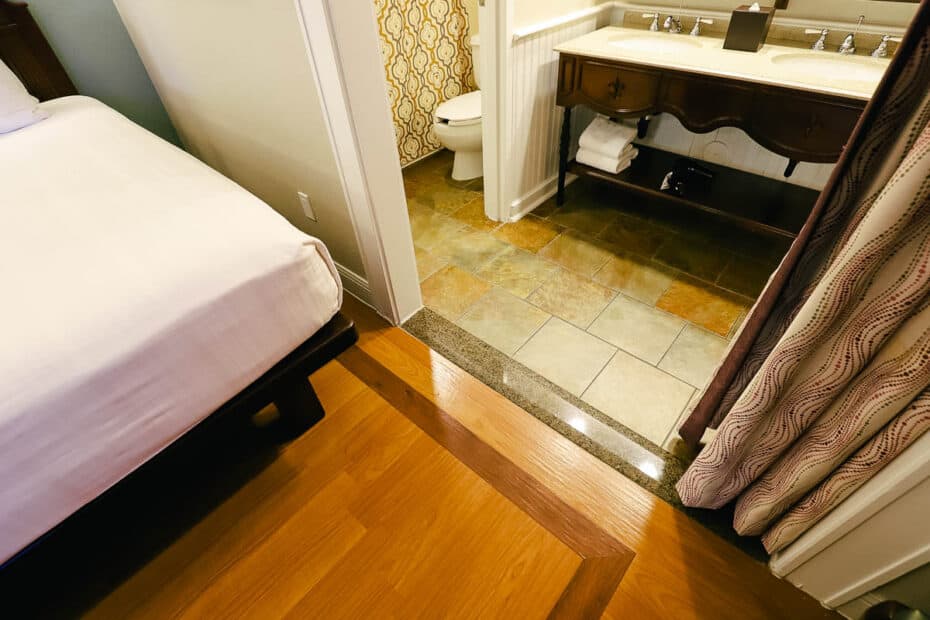 As far as Disney theming goes, there were a few minute nods to The Princess and the Frog. Also, the artwork in the room reminded me of Disneyland's New Orleans Square.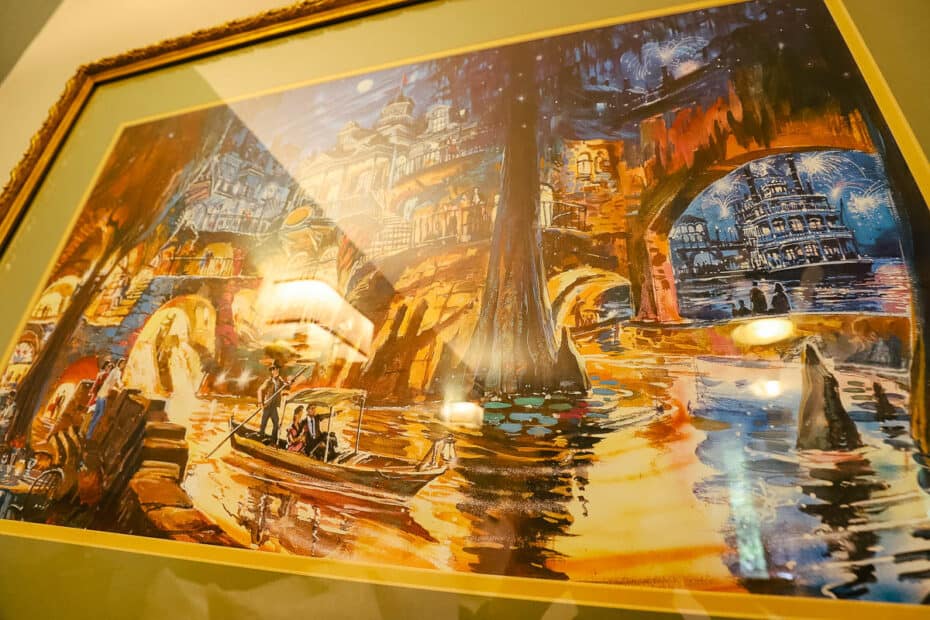 If you would like to see more pictures or a video tour of the room, we have a separate article.
Related: Tour a Standard Room at Disney's Port Orleans French Quarter
Getting Around Port Orleans French Quarter
Another factor that contributed to the feeling of staying at a deluxe resort was the boutique layout of Port Orleans French Quarter. It's not your average moderate.
French Quarter is only a fraction of the size of other moderate resorts. In addition to the lobby, the resort has seven buildings with guest rooms.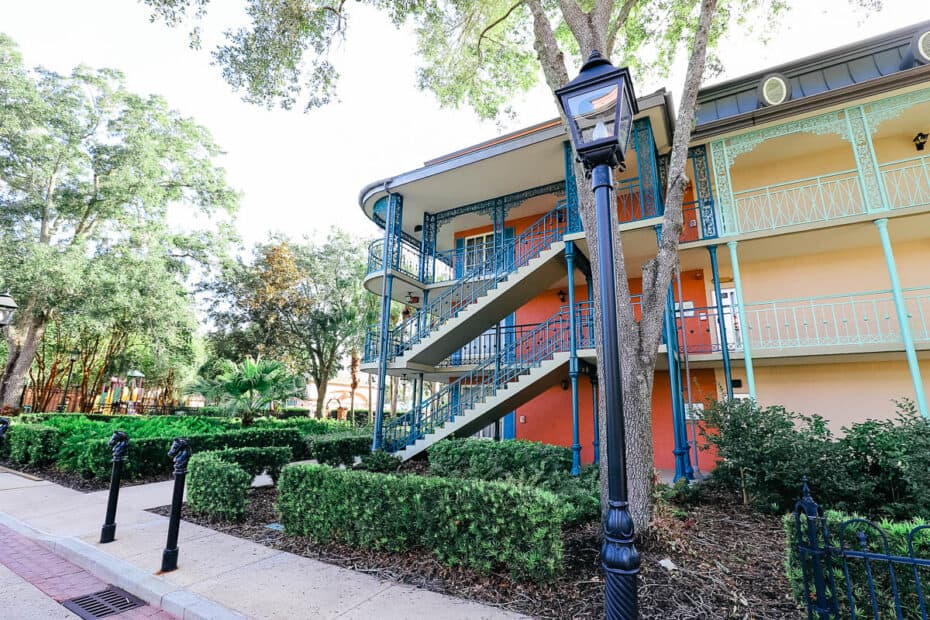 Toward the front of the resort, there's the main lobby, which is home to a reception area, dining, a gift shop, and an arcade. Behind this area, the property walks straight out to the Sassagoula River.
Between the lobby and the river sits the resort's pool, playground, hot tub area, pool bar, and laundromat. Everything is within short walking distance of each other.
As far as rooms go, buildings one through three are located on one side of the resort. Buildings four through seven are located on the opposite side.
Building seven is closest in proximity to neighboring Port Orleans Riverside. However, there's still a considerable distance between the two resorts.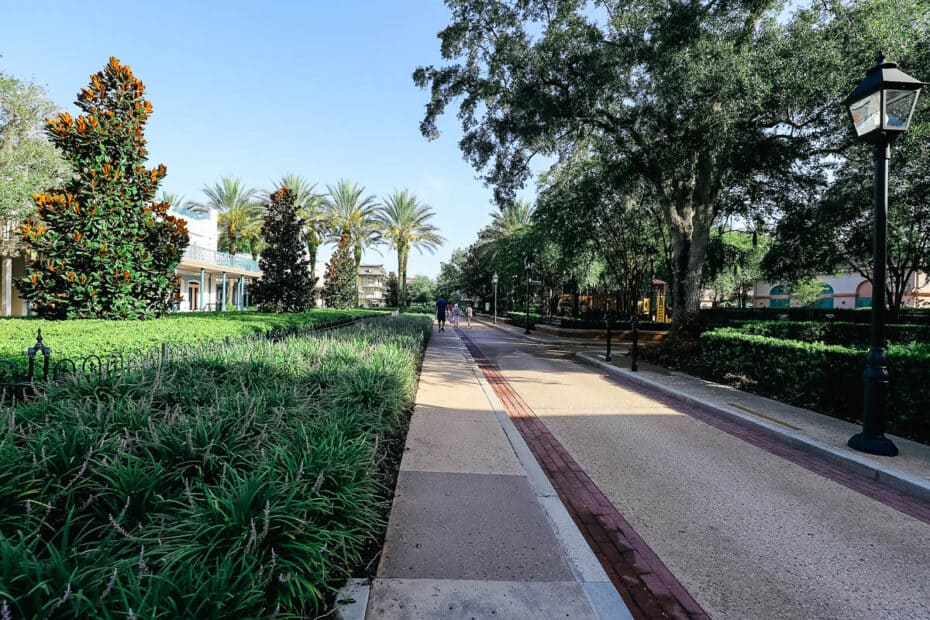 It was a breeze being able to get from my room to dining, the pool, and transportation. I remember coming in from the bus stop one evening, picking up something to eat at the quick service, and then returning to my room within no time.
If I'd stayed at one of the other moderates, chances are I would have had a ten-minute walk back to my room after getting something to eat.
Each morning of my stay, I'd have breakfast outside of the resort's lobby area. There are plenty of tables and chairs available. I could literally walk out of my room, walk down the staircase, and I was at the entrance of Sassagoula Floatworks and Food Factory.
Note: Port Orleans French Quarter has elevators in all of its buildings.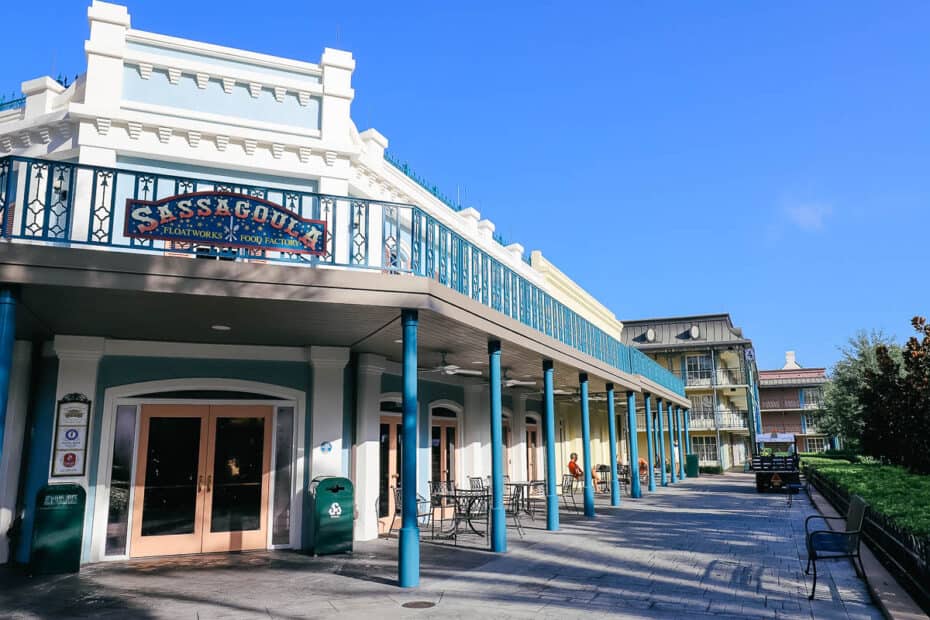 So if you're considering staying at a moderate and are concerned about having a good deal of extra walking at the resort, you might consider Port Orleans French Quarter. The only other option that wouldn't require too much walking is the Gran Destino Tower portion of Disney's Coronado Springs.
Related: Gran Destino Tower Review
Recreation
We've already discussed several nuances between Port Orleans French Quarter and the other moderate resorts at Disney World. Another significant difference is that French Quarter only has one pool.
With that said, Doubloon Lagoon, the feature pool at French Quarter, is a fabulous pool unlike any other. A giant sea serpent named Scales straddles the length of the pool, forming bridges across it in certain areas.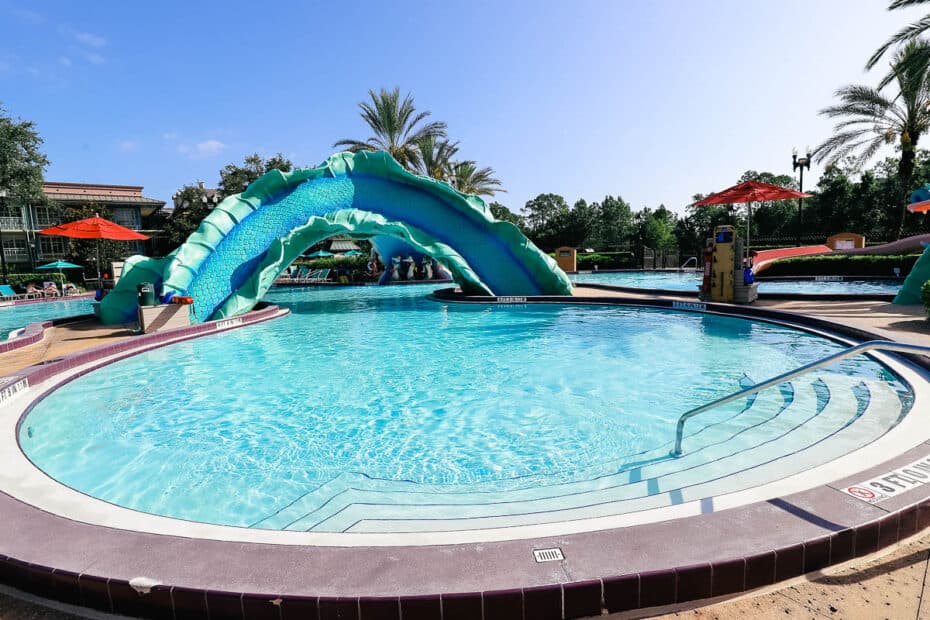 King Neptune is perched high above the serpent with his trident. A fun, kid-friendly waterslide spouts from its mouth.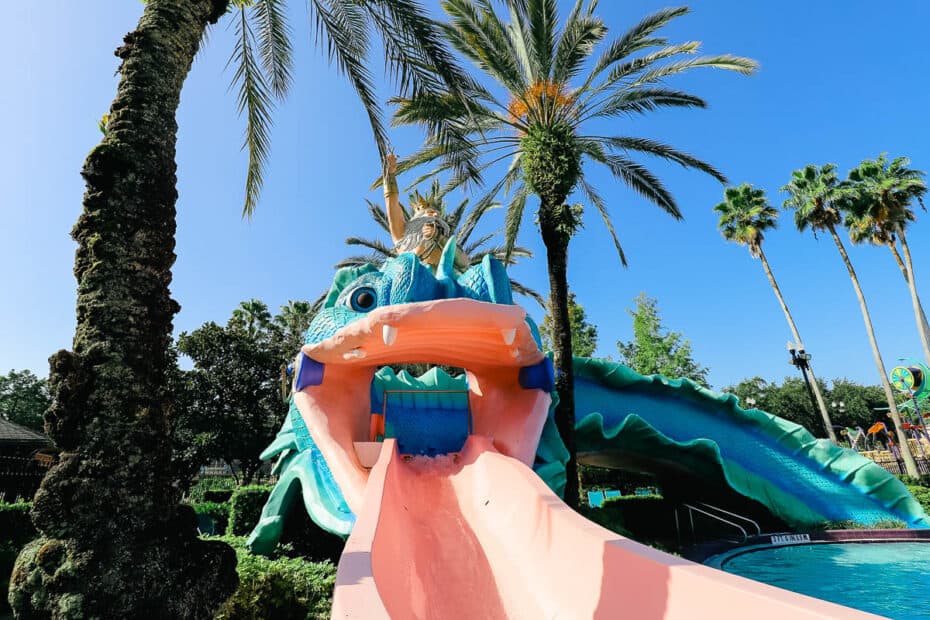 In addition to Scales, there are several fun-loving alligators and water features around the pool.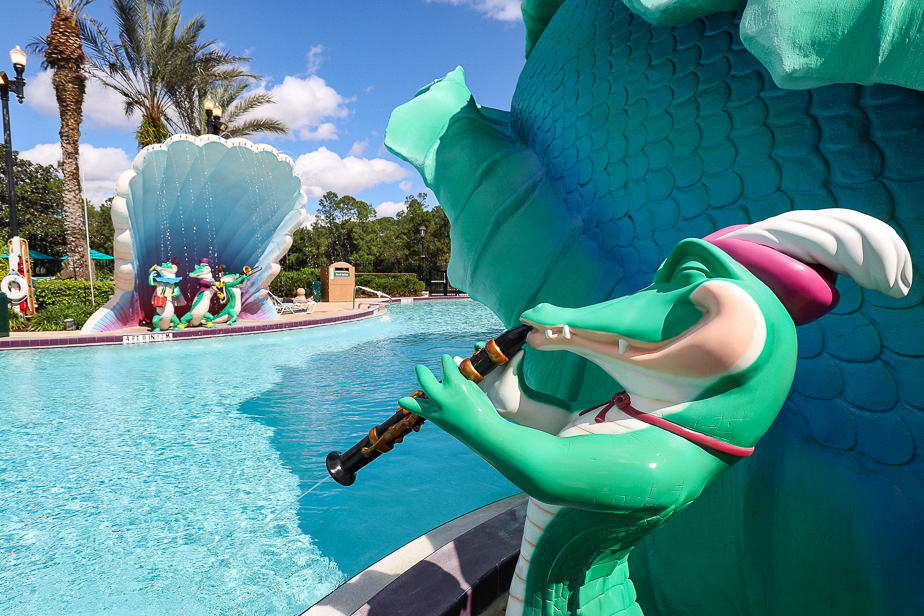 Adjacent to the pool area, there's a considerable aquatic play area designed for kids who are 48″ or less in height.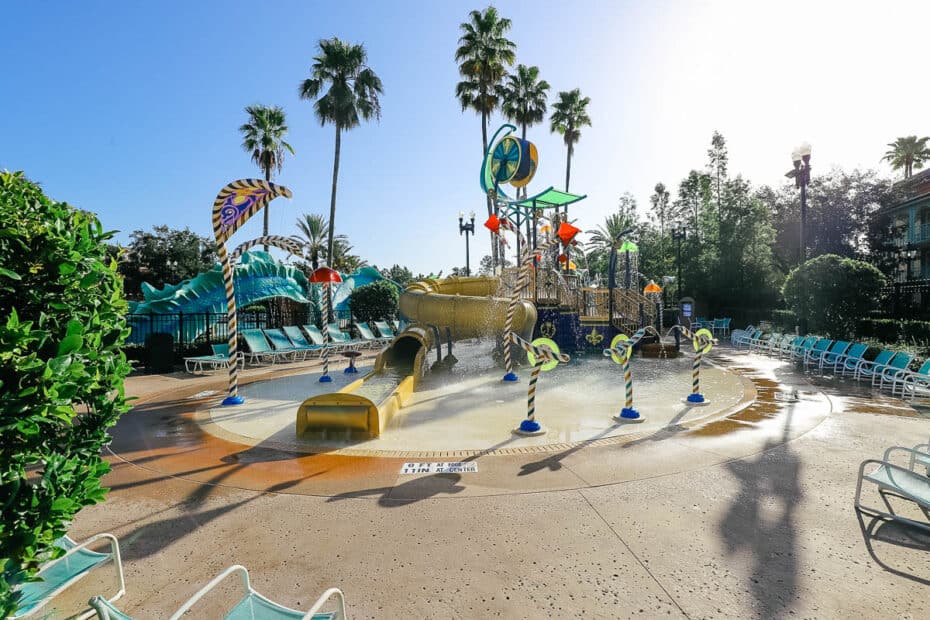 You'll find the resort's playground between the pool and the lobby.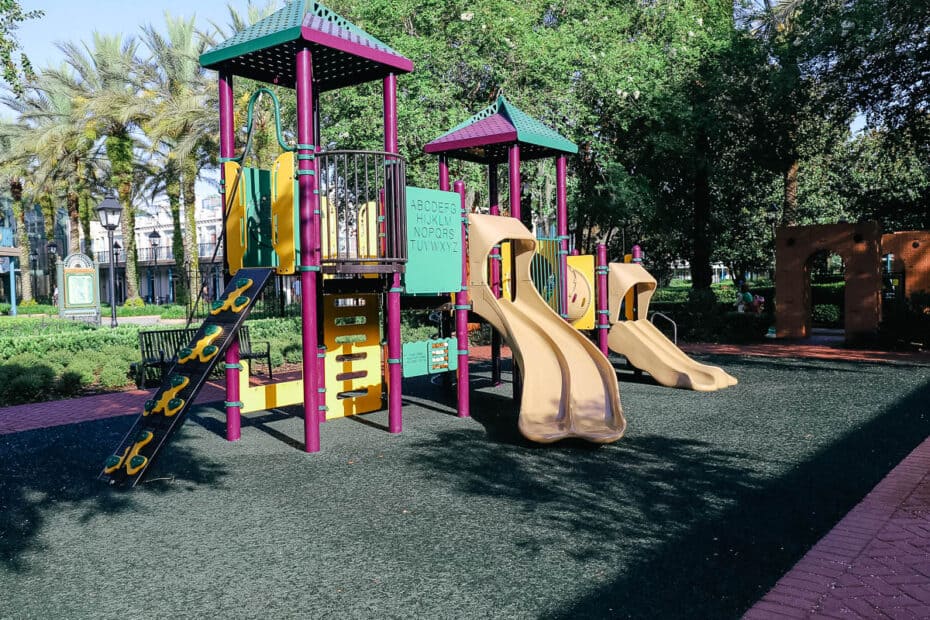 Additionally, a separately fenced area is home to a whirlpool spa tub. One can only assume that this area is separate from the pool to provide a little privacy for the adults.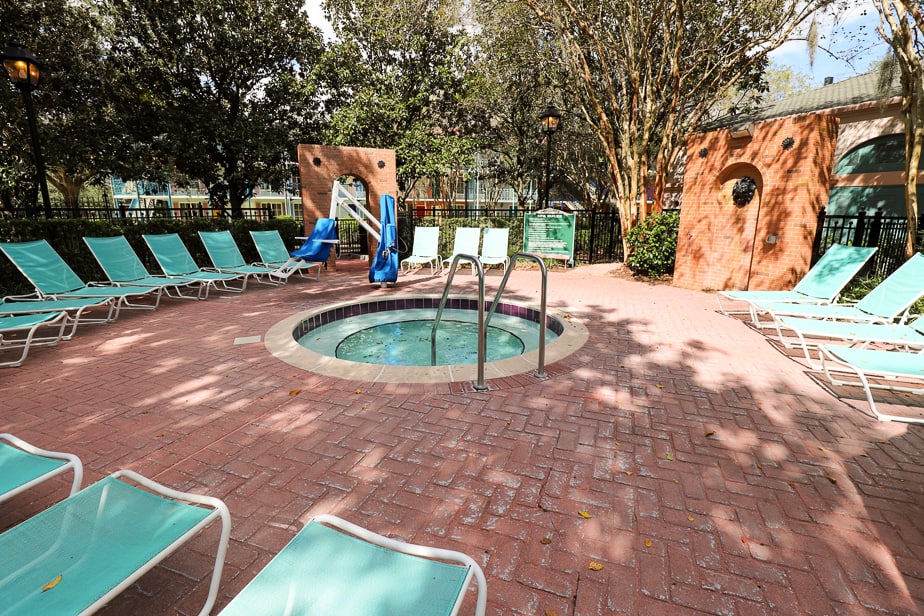 However, don't expect it to be private. On my last stay, it was full of splashing children.
South Quarter Games, the resort's arcade, is located off the lobby near the gift shop.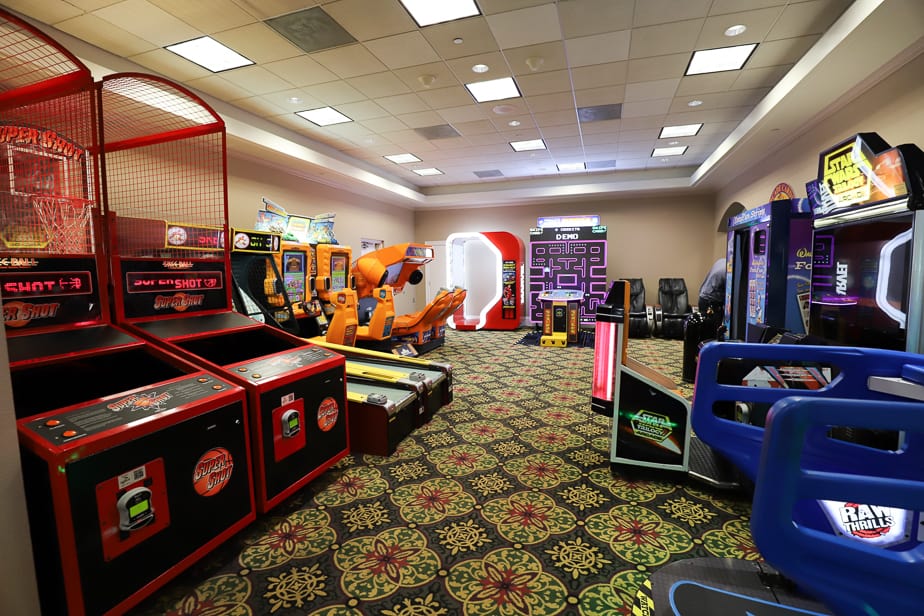 You'll probably want to check out the resort's recreation calendar during your stay. It lists the times and days for various activities around the resort for each week.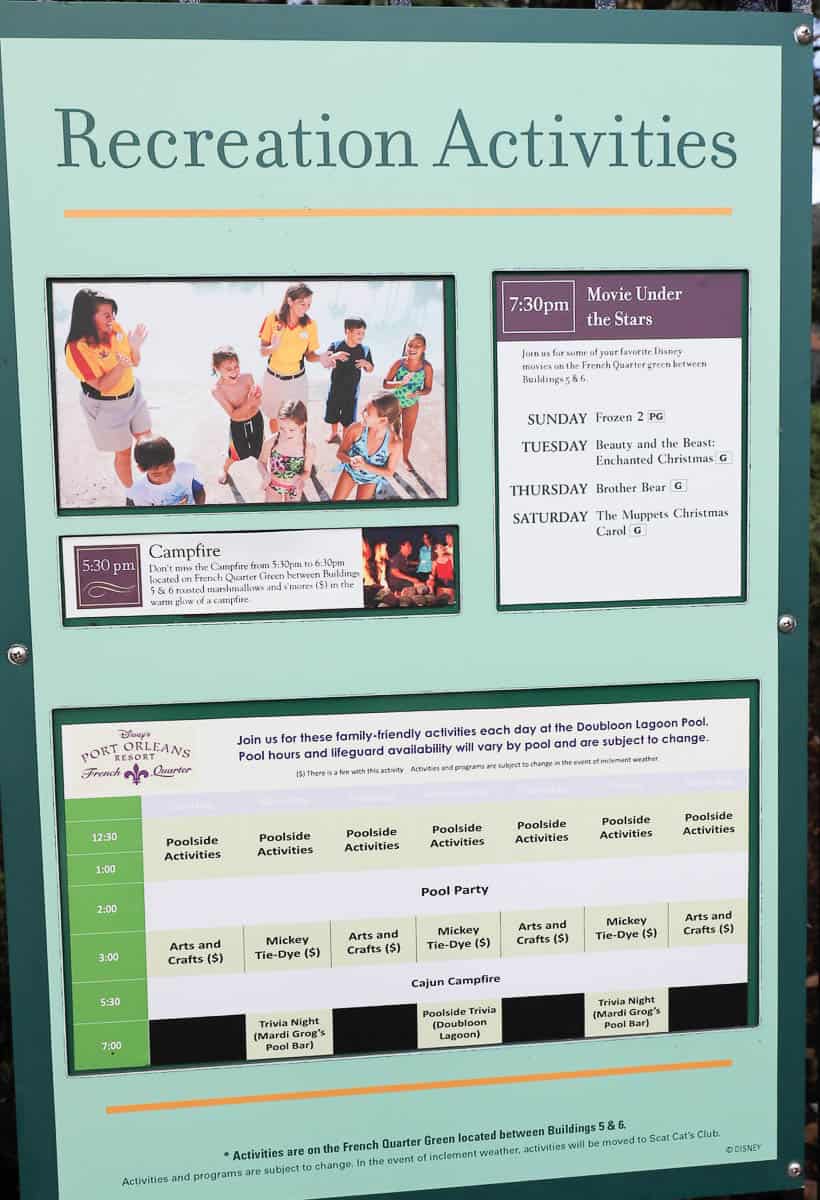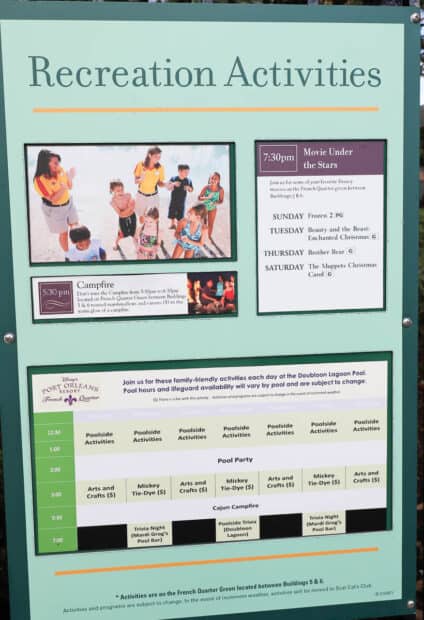 One of my favorites is the Movies Under the Stars program, which is held four nights a week at French Quarter. A projection screen is set up in a grassy area between buildings five and six.
While I didn't take advantage of any movie nights during this stay, I can say these nights have been some of the most relaxing evenings I've spent at Walt Disney World.
Anyone who likes to jog or take long walks on vacation might enjoy the running trail. If you stay on the French Quarter side, it's about 0.7 miles long. Or you can add another full mile by continuing on the Riverside loop.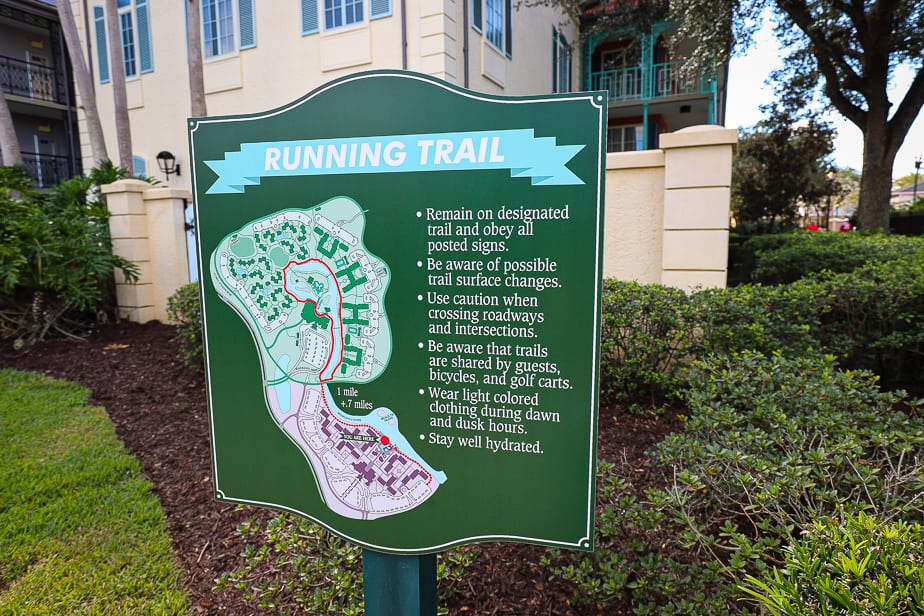 Other recreation items at Port Orleans French Quarter include:
Horse-Drawn Carriage Rides (extra cost)
Campfire Activities
Bike Rentals (extra cost)
Surrey Bike Rentals (extra cost)
Fishing (extra cost)
You can learn more about these items here on Disney's site.
Restaurants
Port Orleans French Quarter has a quick-service restaurant, cafe, lounge, and poolside bar. Unfortunately, the resort doesn't offer a table service restaurant.
With that said, there is a table service restaurant nearby at Riverside. Additionally, there are dozens of choices only a short boat ride away at Disney Springs.
To help narrow down those options, you might enjoy our guide to the best restaurants at Disney Springs. It includes our top choices for table service meals at the venue.
At the resort, the main dining options is Sassagoula Floatworks and Food Factory, the resort's quick service. We cover the quick service in depth in a separate review.
Related: Sassagoula Floatworks and Food Factory
Sassagoula is open daily and serves breakfast, lunch, and dinner. It's among our top choices for best quick service at Disney World.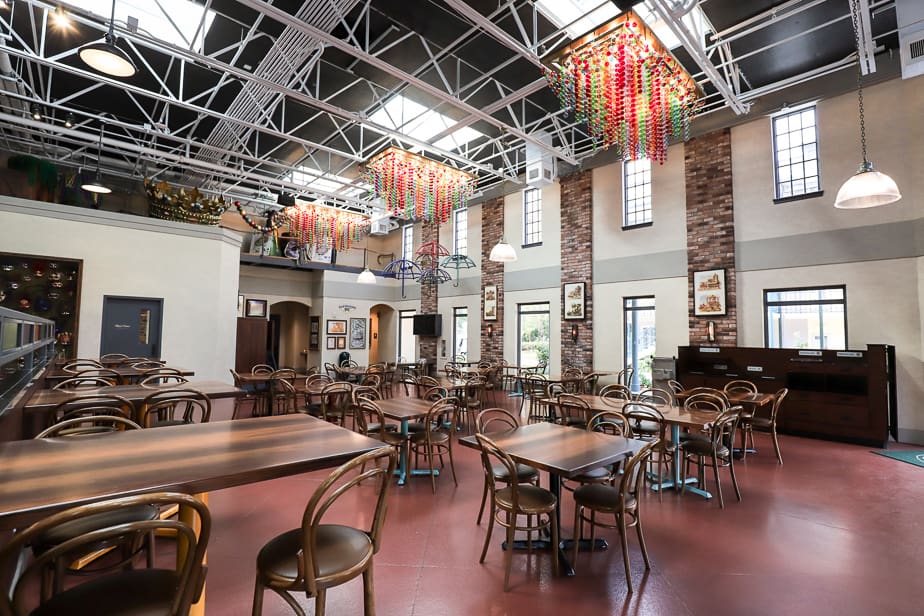 Disney's Port Orleans French Quarter is also associated with a popular food item–Mickey-shaped beignets. You can find them at Scat Cat's Club Cafe off the lobby.
Related: Beignets at Scat Cat's Club Cafe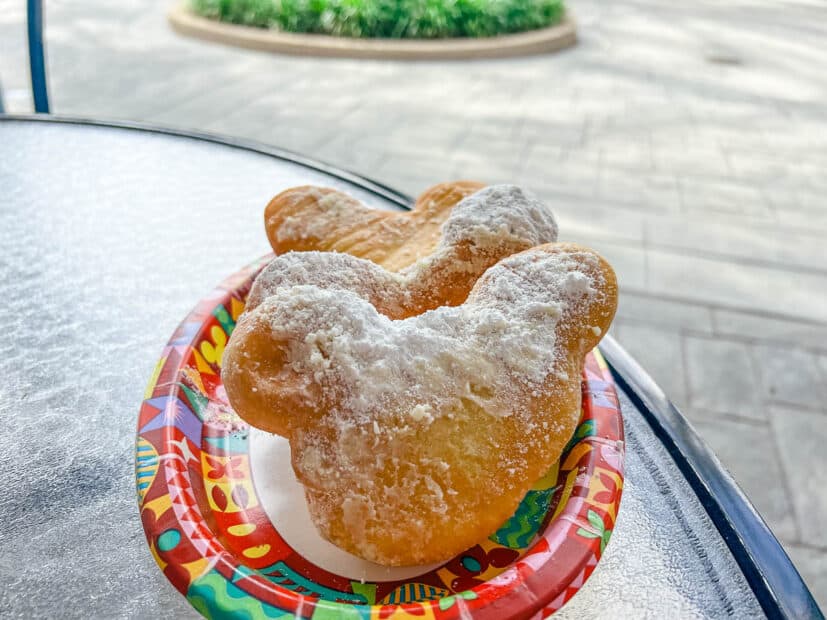 Scat Cat's Club Lounge, a separate area, is open each evening and serves a separate menu that includes appetizers. The lounge offers live entertainment on select evenings.
Last but not least, the resort has a pool bar, Mardi Grogs. This location serves cocktails and has a small selection of quick service items.
If you would like to know more we have a complete dining guide for the resort:
Transportation
Most of the moderate resorts, except for Coronado Springs, offer more than one form of transportation. In this instance, Port Orleans French Quarter falls in line with the other resorts of its category.
Like every resort, bus service is available. Buses at Port Orleans French Quarter travel to the following locations:
Magic Kingdom
Epcot
Hollywood Studios
Animal Kingdom
Disney Springs
Typhoon Lagoon (transfer bus)*
Blizzard Beach (transfer bus)*
When taking a bus to the water parks, you'll travel to one location first. Then you'll transfer to another bus that takes you to the water park.
For example if you're visiting Typhoon Lagoon, you'll take a bus to Disney Springs. Then at Disney Springs, you'll board another bus that takes you across the street to Typhoon Lagoon.
Important Mention: Someone recently shared with me that a cast member told them to take a boat to Disney Springs and then find the bus for Typhoon Lagoon. You would not want to do this unless you wanted to walk across the entirety of Disney Springs. French Quarter has buses that travel back and forth to Disney Springs. That bus will drop you off near the transfer bus.
In addition to Disney's bus service, Port Orleans French Quarter provides water taxis to and from Disney Springs and Port Orleans Riverside. It is a pleasant boat ride.
But if you're visiting during a cooler time, make sure to wear layers or bring a jacket. One evening last winter I thought I might freeze on my way back to the resort.
Related: Transportation Options at Disney's Port Orleans Resorts
Other Amenities
We've pretty much covered the bulk of staying at Port Orleans French Quarter. Albeit, there are a few small items I think are worth mentioning.
For starters, Port Orleans French Quarter has a laundry room called Laundry on the Levee near the pool area. They have multiple washers, dryers, and a vending machine with detergent and fabric softener.
Related: Laundry Facility at Port Orleans French Quarter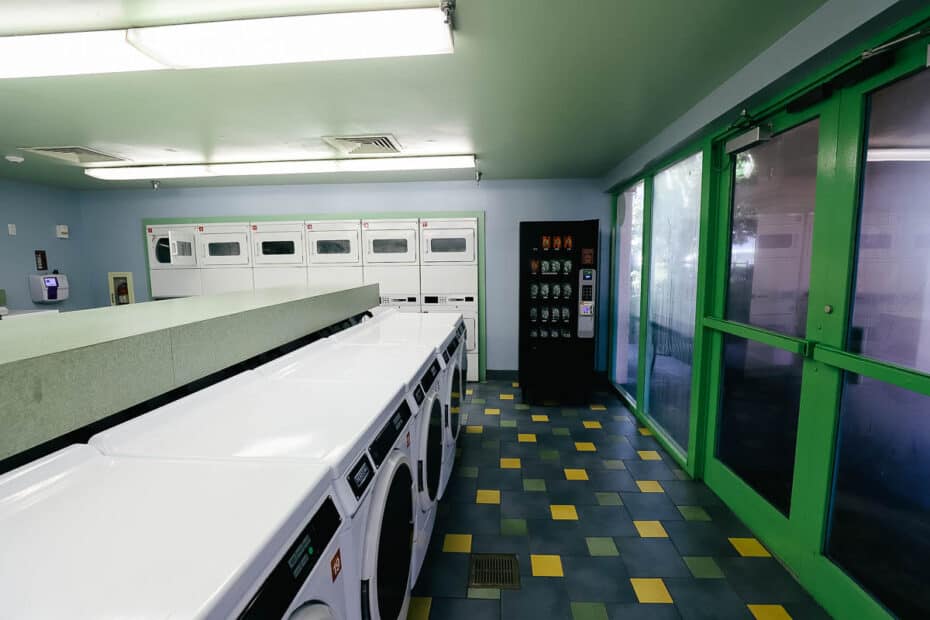 French Quarter also has a commendable gift shop, Jackson Square Gifts and Desires. You can usually find a nice selection of resort-branded merchandise inside.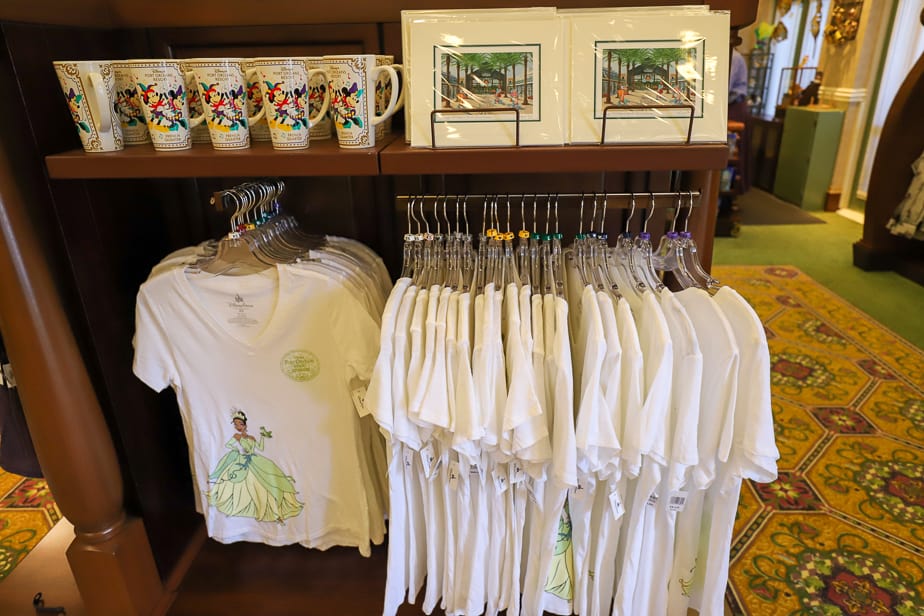 Final Thoughts
As a whole, my stay at Port Orleans French Quarter went much more smoothly than most stays. From the resort taking care of my room assignment upon arrival to the unexpected ease I found getting around the resort, the entire visit was to my liking.
Of course, I don't like to complain. But I think we all wanted to be treated kindly in most circumstances. That's why travel is part of the hospitality industry.
As I prepared to write this review, I reflected on my visit. I have a list of questions that help me pinpoint pros and cons of each stay.
Ultimately, I didn't have any negative experiences at French Quarter. When I checked out, I was headed to All-Star Sports, where I didn't have so lovely of a time.
I guess I should have just stayed at Port Orleans French Quarter. But everyone probably says that when they're headed from a nicer resort to the All-Star Sports.
Related: All-Star Sports Review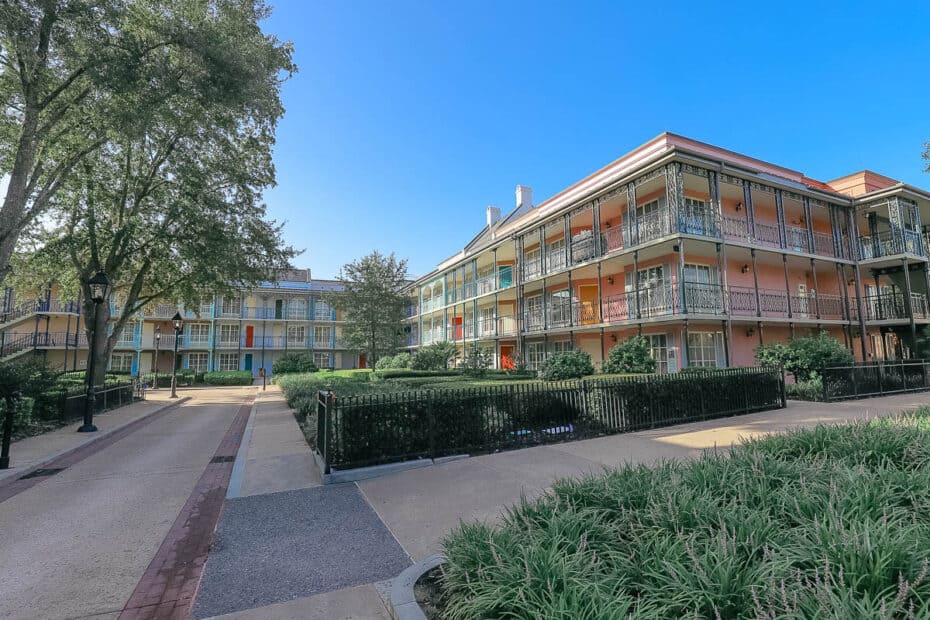 Maybe my ramblings have helped you discern whether or not a stay at Port Orleans French Quarter is right for your next vacation. I don't know for sure when I'll be back. But, God-willing, I will happily return.
For more information about this resort, our resort guide lists every article we have available:
You may also like some of these other popular articles:
Other moderate hotel reviews include:
In the comments
What are your thoughts about this review of Port Orleans French Quarter? Did you find it helpful? Are there any factors you would consider negative? Share what you think below.
Planning a Walt Disney World or other Disney Destination vacation?
Our friends and travel partner, Firefly Travels, excels at doing Disney differently. You can fill out a plan your trip form on their website, and someone will reach out shortly to discuss the specifics.