Scat Cat's Club Cafe (Where to Find Beignets at Disney's French Quarter)
It's no secret that Mickey beignets are a sought-after food item at Walt Disney World. So don't be surprised if you have to wait in a significant line to order them.
At the very least, the resort where you'll wait is pleasant and worth a visit whether or not you're ordering beignets. Now you're probably wondering where to order them.
In this article, we'll visit Scat Cat's Club Cafe at Disney's Port Orleans French Quarter Resort to try an order of Mickey beignets. But be warned.
I'm not responsible if the following photos make you hungry or if you begin craving beignets shaped like your favorite character.
There's only one solution if this happens to you. Hop on a plane to Orlando and head straight to Scat Cat's Club Cafe to order some for yourself.
Or you could try to make them at home. But I don't think you'll have nearly the experience you would if sitting out near Jackson Square enjoying those beignets for breakfast.
That's what I did.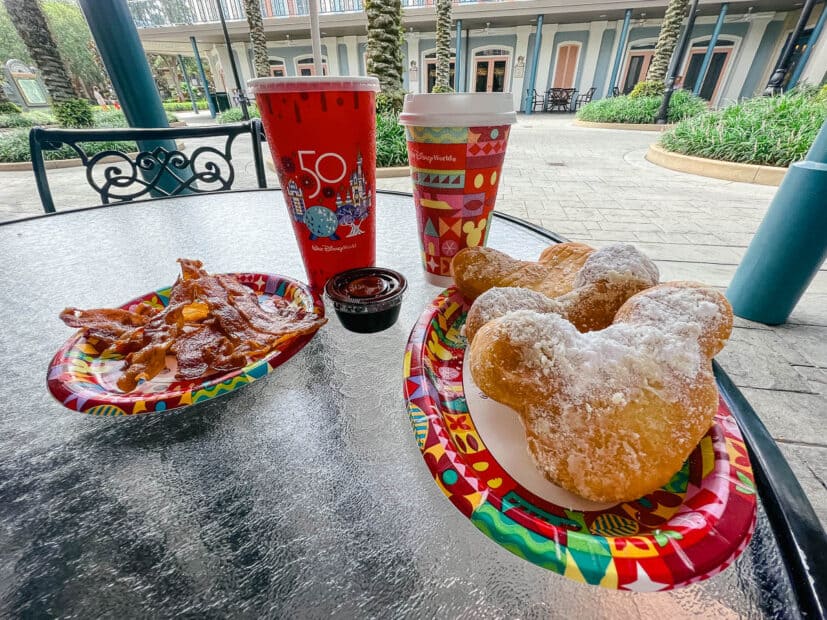 Of course, you don't have to order beignets for breakfast. They just happen to be the ultimate breakfast of champions option for anyone staying at the resort.
Scat Cats Club Cafe is open daily from 7:00 a.m. until 11:00 p.m. However, those hours may vary depending on the time of year you visit. You can check the exact hours here on Disney's site or the My Disney Experience app.
Scat Cat's Lounge is located off the lobby of Port Orleans French Quarter. Below, you can see where the lounge begins in the far right-hand corner of the photo.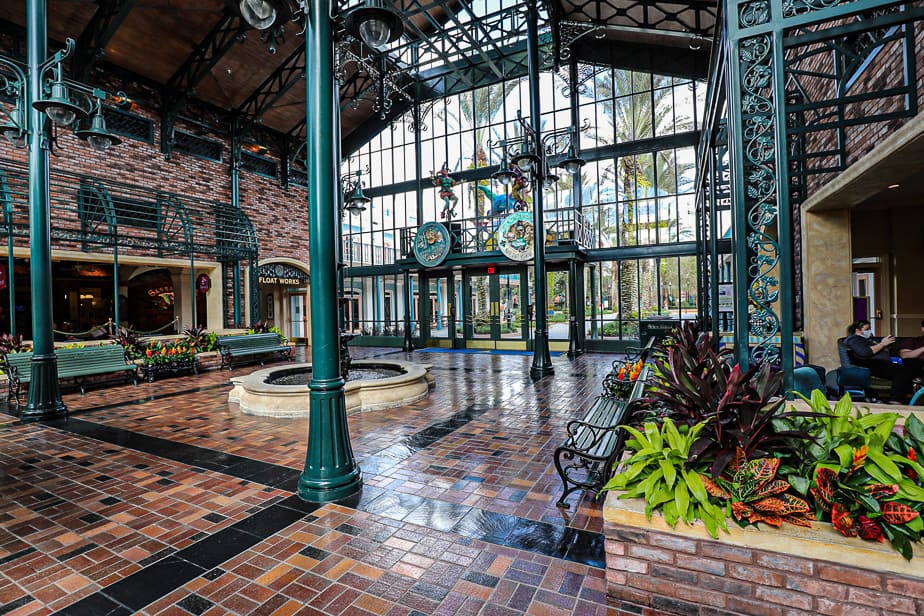 Behind the lounge area, a small set of doors leads to Scat Cat's Club Cafe.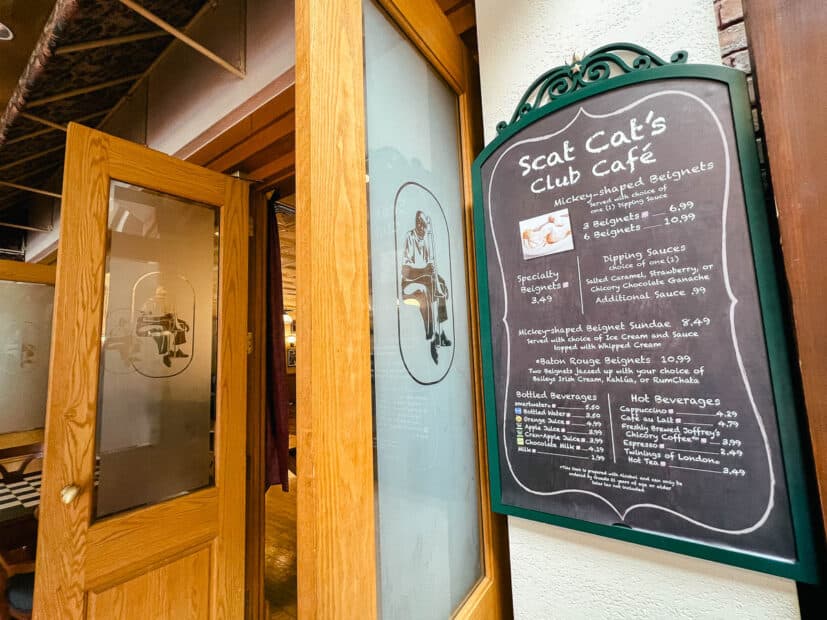 If you run into a line along the way, you might want to ask if it's the line for the beignets. It's not uncommon to encounter a line of 20 or so people ahead of you during busier times of the day, especially at breakfast.
A menu is posed at the entrance of Scat Cat's Club Cafe, listing the various types of beignets.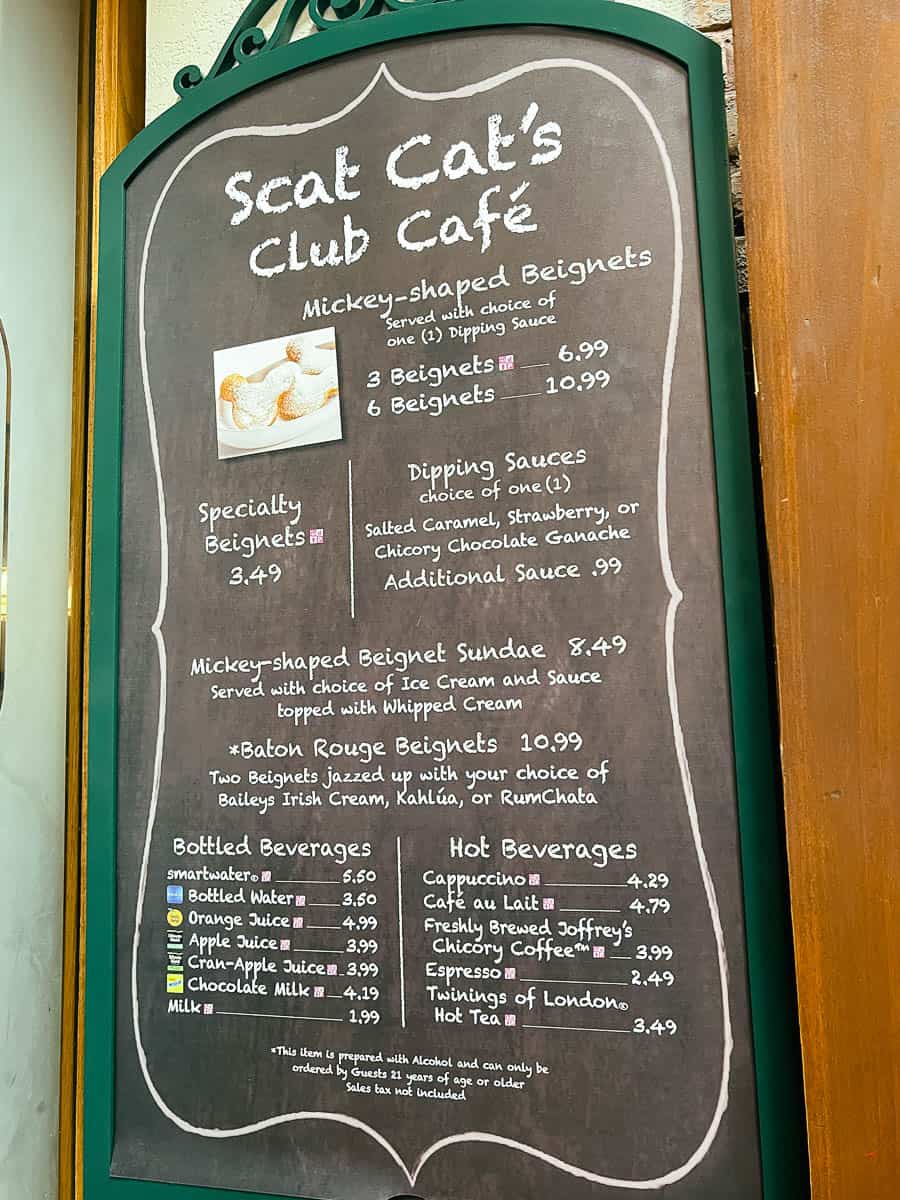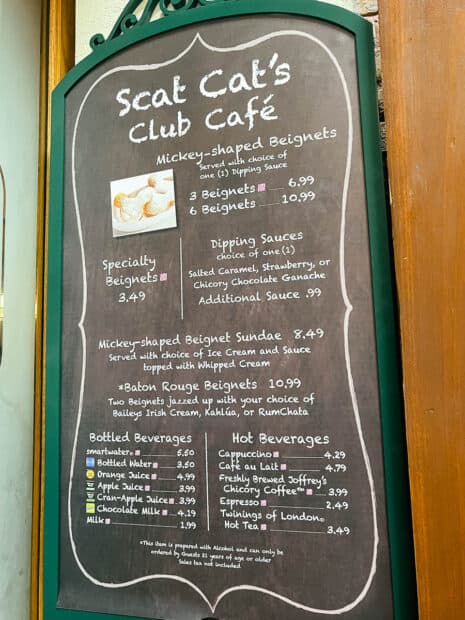 Here are the options:
3 Mickey-shaped Beignets
6 Mickey-shaped Beignets
Specialty Beignets (Individual Pricing)
Mickey-shaped Beignet Sundae
Baton Rouge Beignets
Dipping sauces for the regular beignets include the following flavors:
Salted Caramel
Strawberry
Chicory Chocolate Ganache
You get a choice of one sauce per order. However, you can order additional sauces for a minimal price.
Since I was staying at the resort, I decided to have beignets for breakfast one morning. I ordered the chocolate sauce.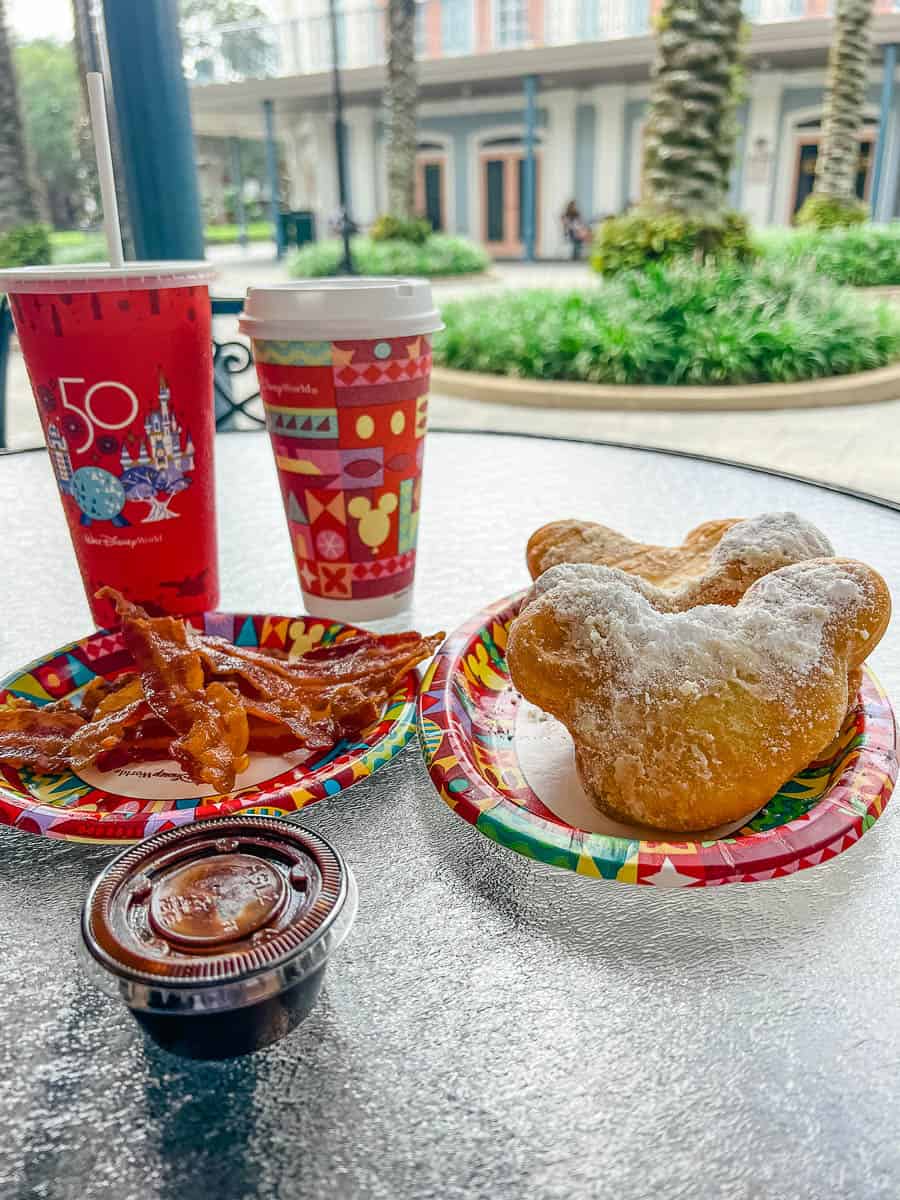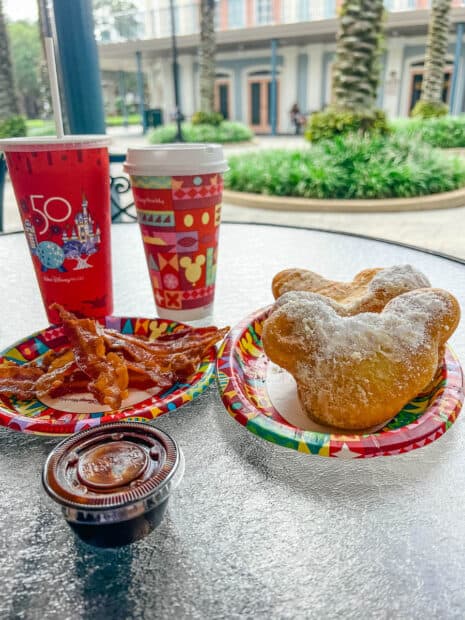 My beignets were delicious. If you've never tried beignets, expect a light yeast roll similar to a donut's texture without the glaze. They are then dusted with powdered sugar.
Warning, you probably won't escape the meal without getting a little powered sugar on you. It comes with the territory.
The chocolate sauce with the beignets was reminiscent of having biscuits with chocolate gravy, a favorite pastime. You might also notice I had bacon with my meal.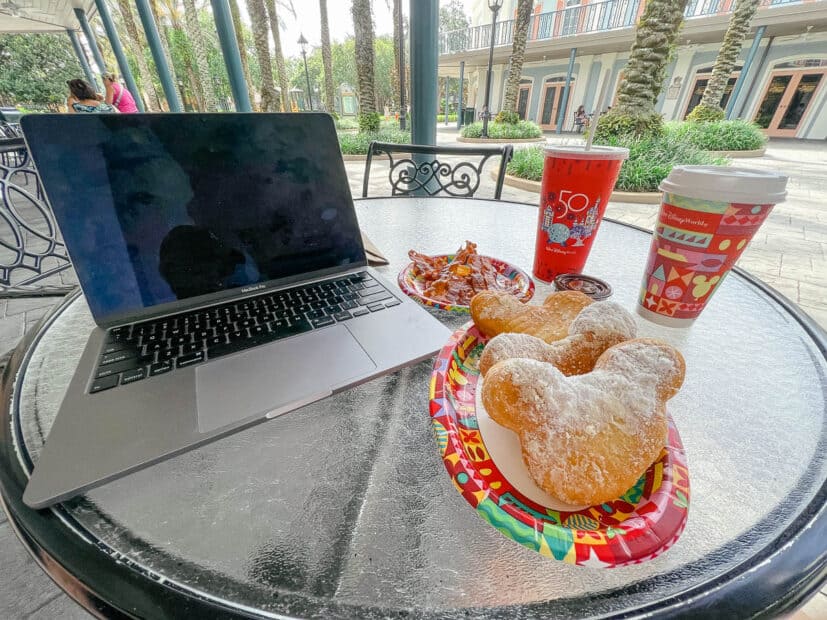 When I left my room, I placed a mobile order at Sassagoula Floatworks and Food Factory for a side of bacon, a soda, and a coffee.
Then I stopped in Scat Cat's to order my beignets. After my beignets were done, I returned to the resort's quick service and picked up my order of bacon and drinks.
From there, I found a place outside to enjoy my breakfast and get a little work done. Thankfully, the resort has plenty of covered tables and chairs around the lobby and dining area.
If you have the time, it's a wonderful place to sit and enjoy a meal or maybe an order of beignets. Often, these small moments solidify our decision to return to Walt Disney World time and time again.
For more information about the resort, our related articles are listed in our guide:
You might also enjoy these individual articles:
In the comments:
Have you ever tried beignets at Walt Disney World? What do you think about Scat Cat's Club Cafe? Is it a must-do stop during your vacation?