Walking from Saratoga Springs to Disney Springs
Whether it's for a meal, shopping, or maybe to enjoy a little entertainment, sometimes you want to pay a visit to Disney Springs during your Walt Disney World vacation. In this article, we'll look at the details of walking from Saratoga Springs to Disney Springs.
Fortunately, all of the Disney World Resorts offer bus transportation to the venue. However, the theme parks do not provide bus transportation to Disney Springs before 4:00 p.m.
Formerly, there was a one-way bus service from all theme parks to Disney Springs starting at 4:00 p.m. until the parks close.
*You will want to confirm if this bus route is running. As of early 2023, this route has not returned.
If you are leaving one of the theme parks like Magic Kingdom to visit Disney Springs, there is a simple tip you can remember to get to the venue. That tip is to take a bus to Saratoga Springs from any park and walk to Disney Springs.
Let's look at the specifics.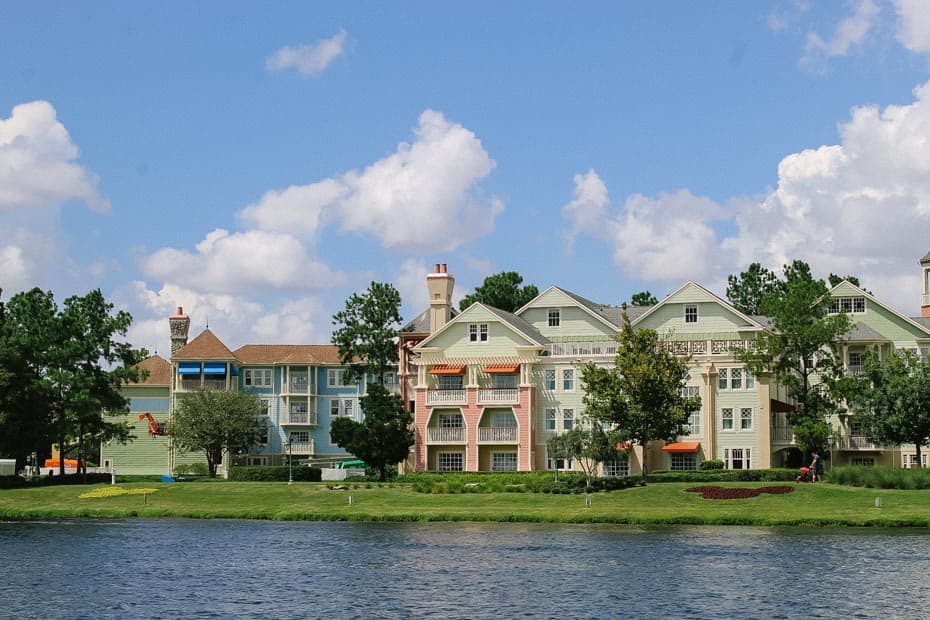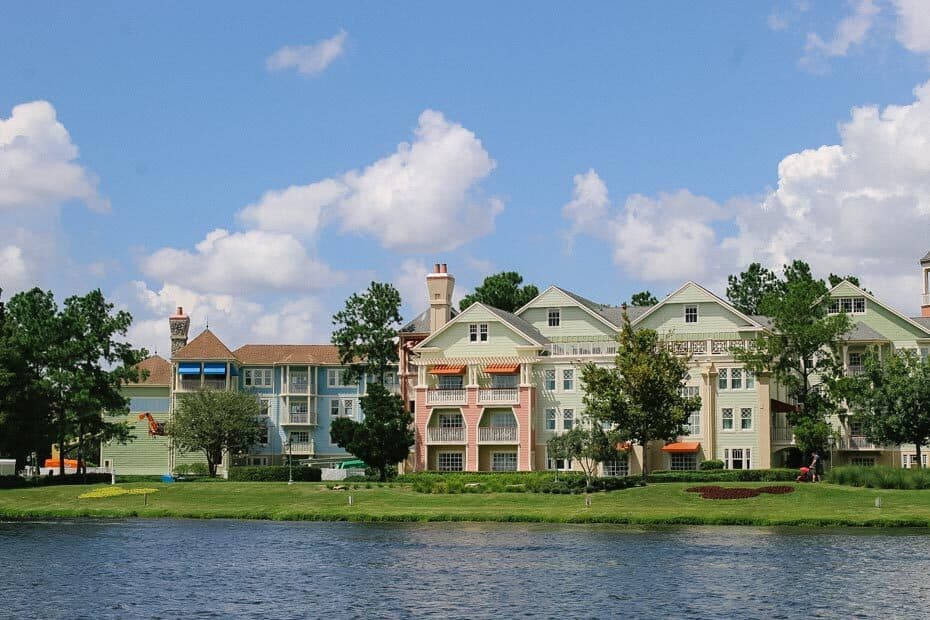 For starters, whatever park you're leaving, you'll want to locate the bus stop for Saratoga Springs. From there, you'll board a bus to the resort.
Once you arrive at Saratoga Springs, you'll want to remember to exit the bus at Congress Park. For reference, the bus will make several stops before arriving at Congress Park.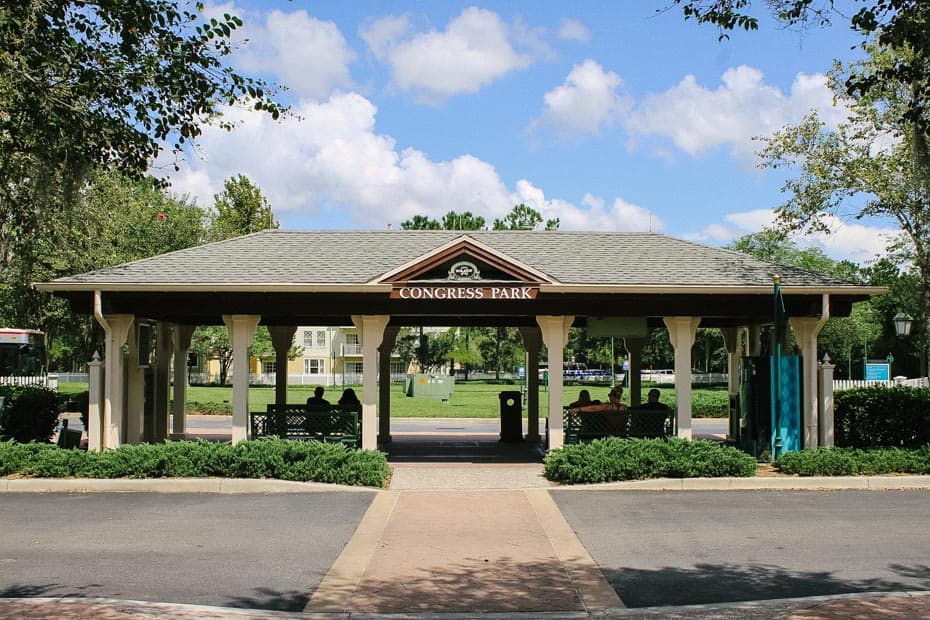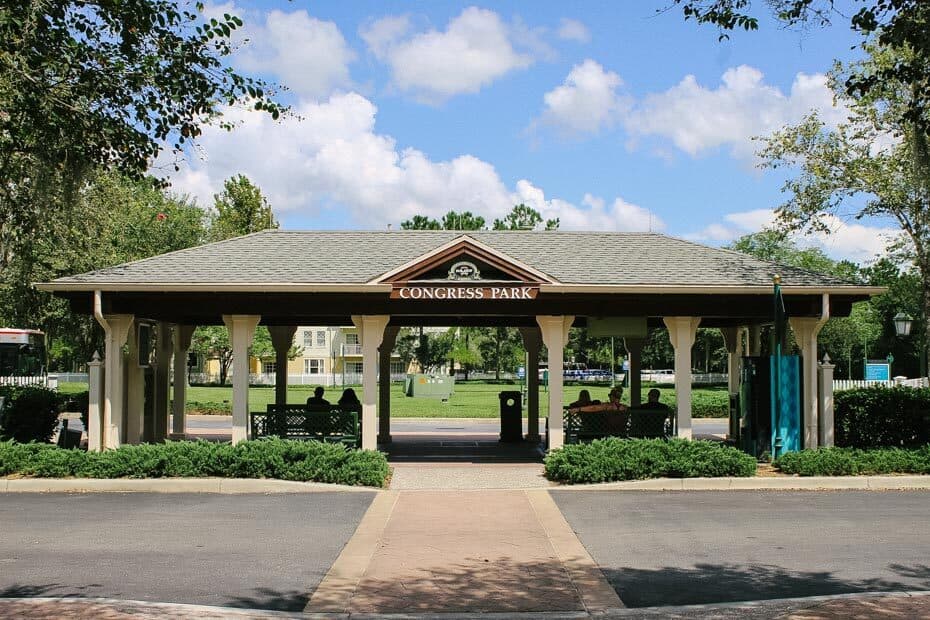 Make sure you don't miss the stop or get off too early. Saratoga is a massive resort and can be confusing to maneuver if you're unfamiliar with the layout.
When you exit at the Congress Park bus stop, look straight ahead. You'll see this sign directly in front of the bus stop.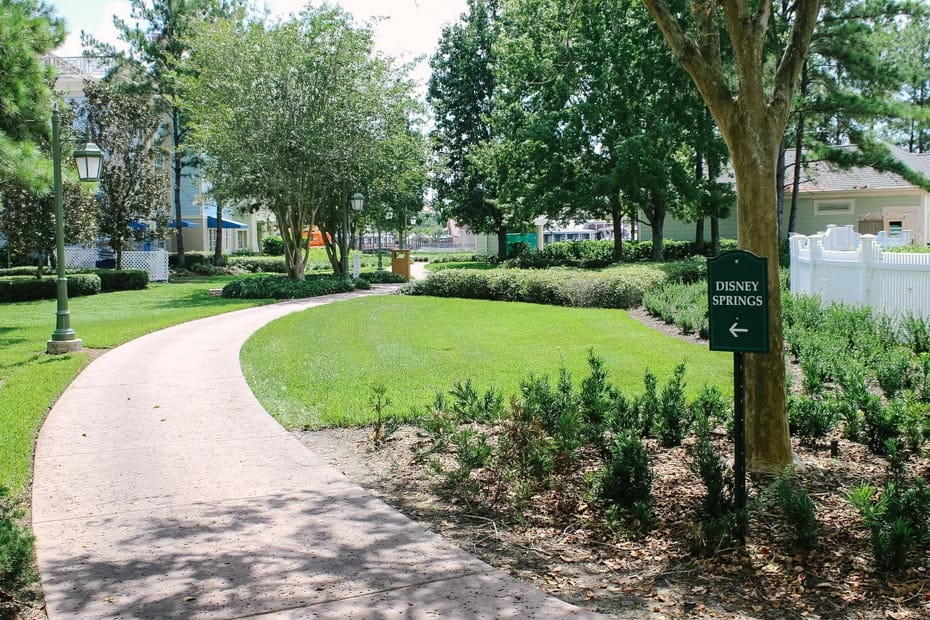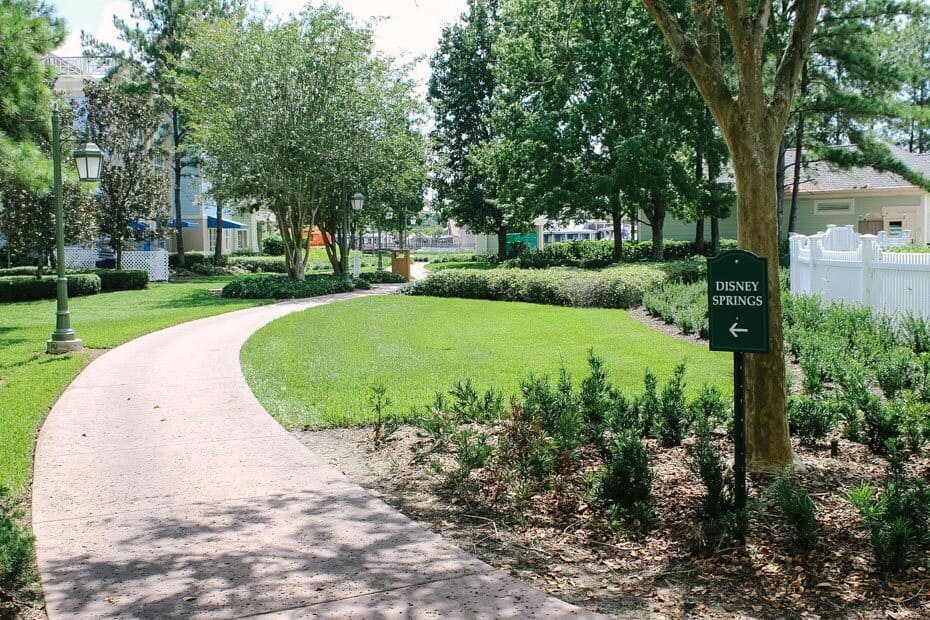 "Disney Springs–this way."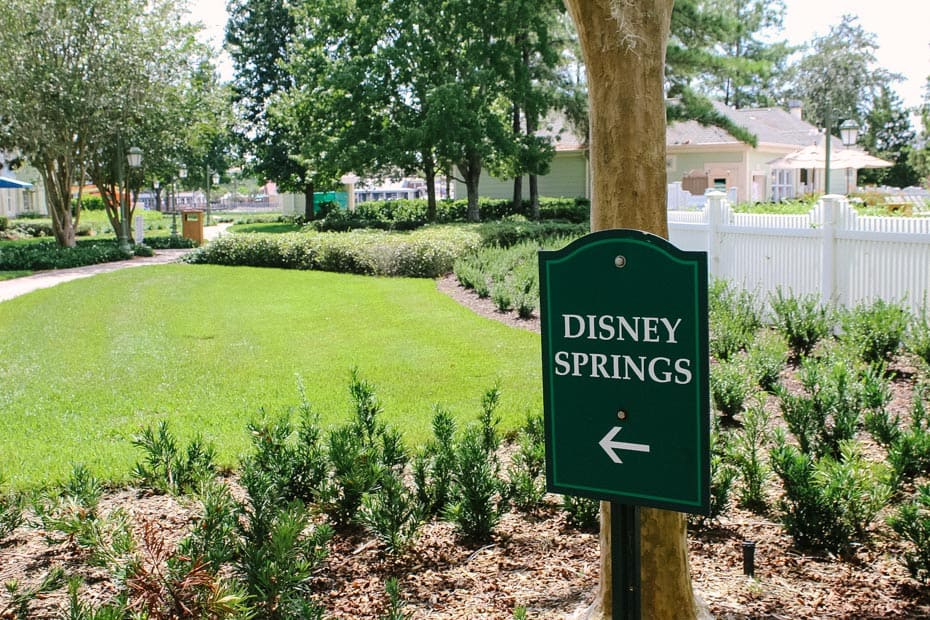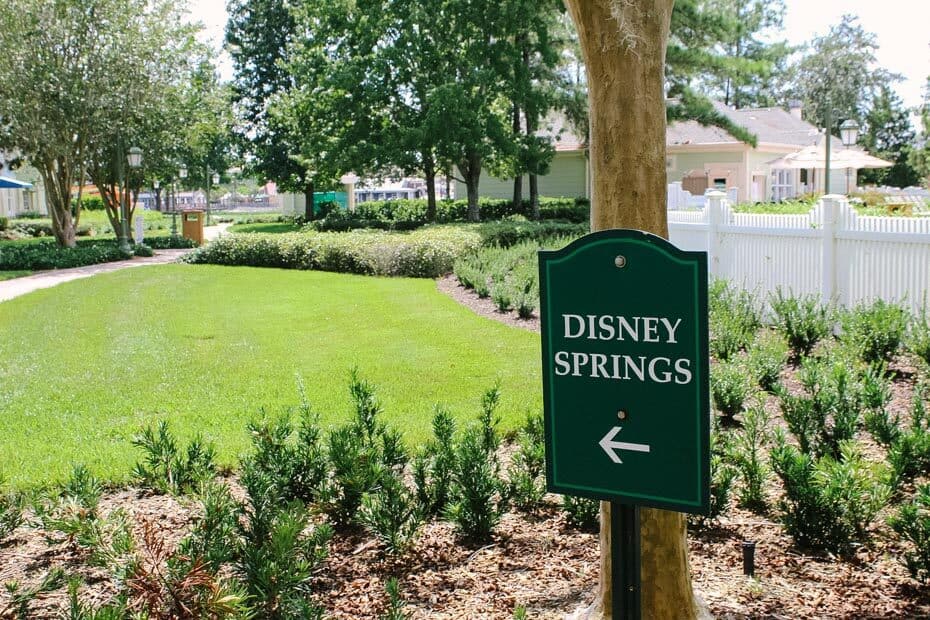 From there, you'll walk directly down a pathway that passes the Congress Park pool and runs straight into Lake Buena Vista. Of course, that's Disney Springs in the distance on the other side of the lake.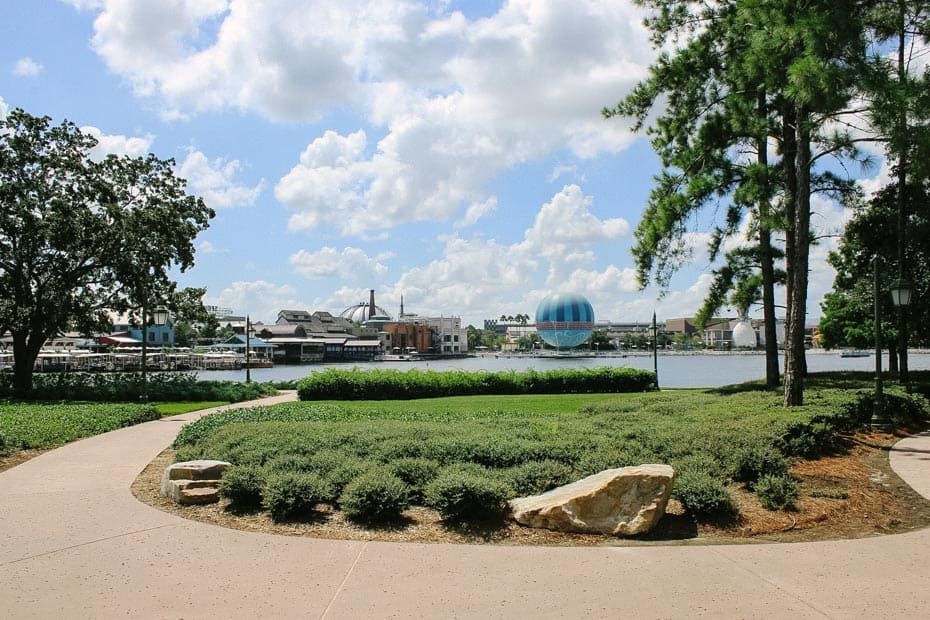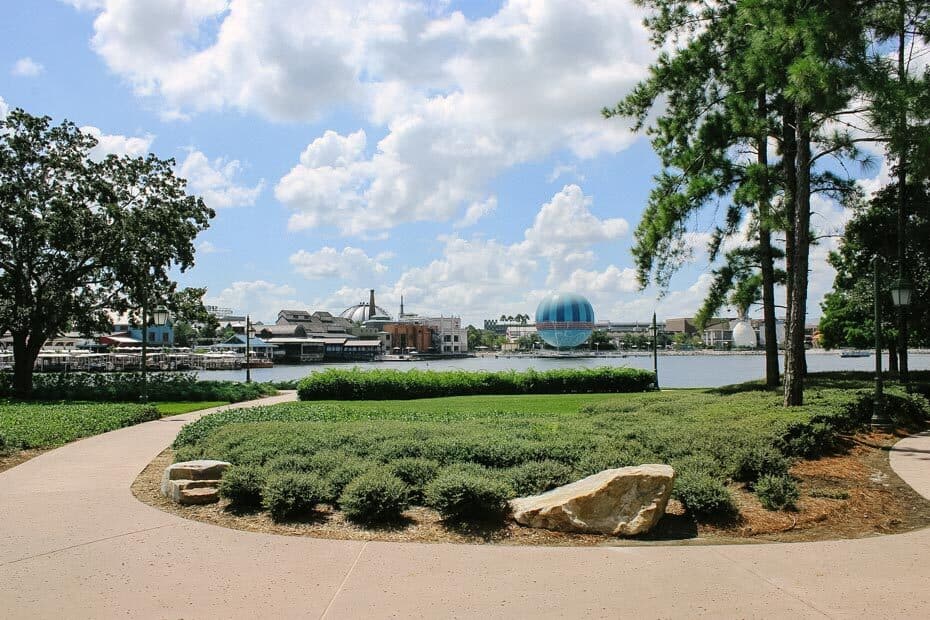 When you see the balloon, you'll know you're in good shape.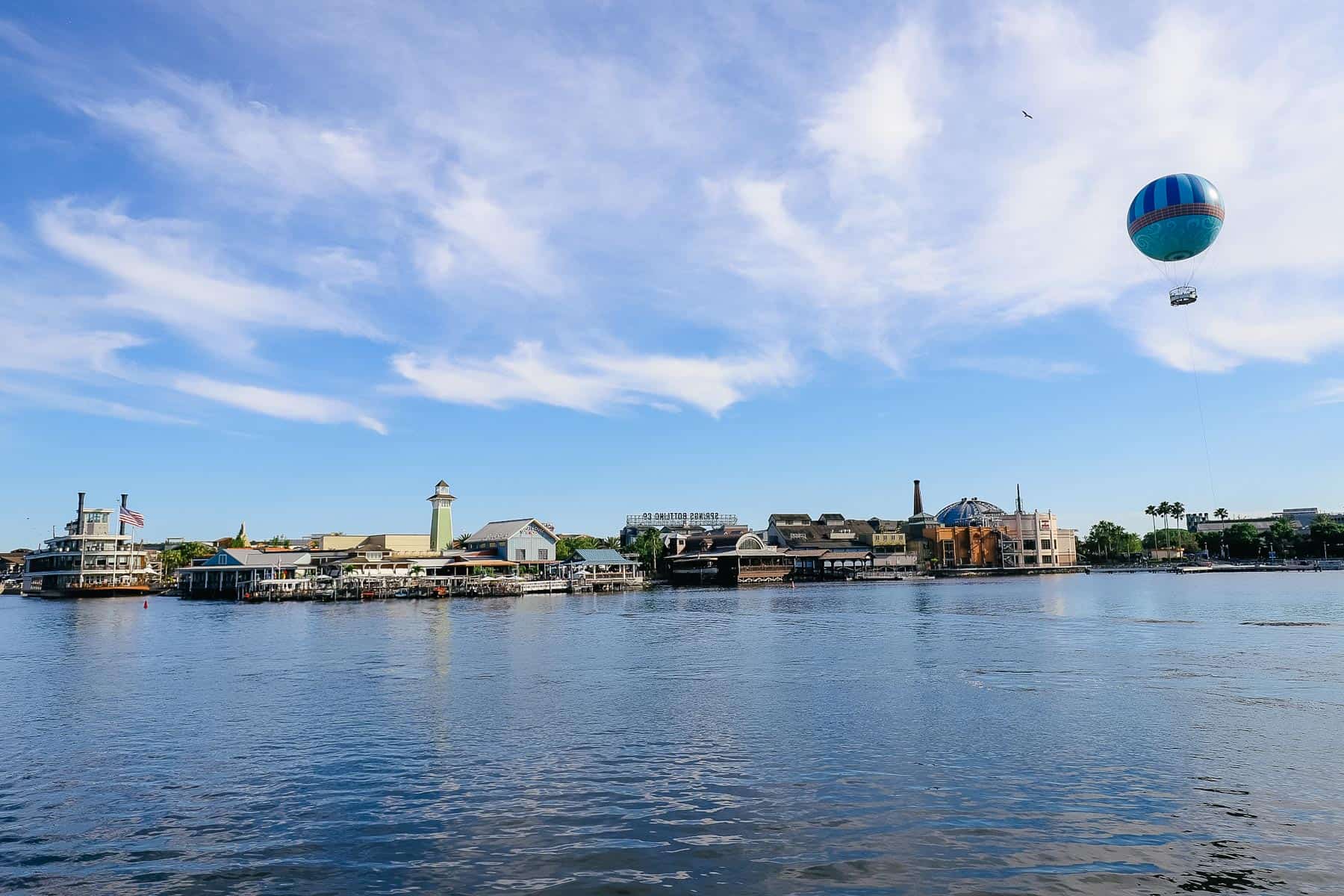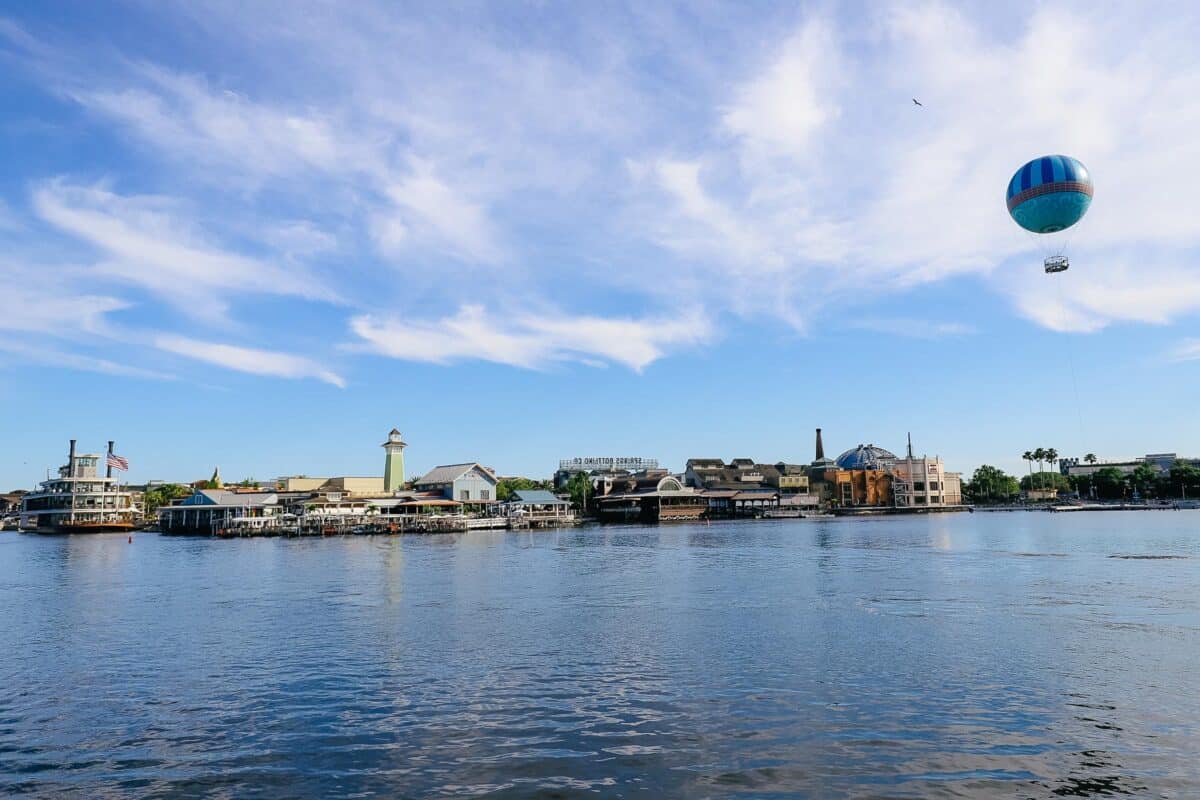 The view from Saratoga Springs over to Disney Springs offers a unique perspective. That's Jaleo, an excellent dining choice, in the center of the picture below.
Related: Jaleo Review (Disney Springs)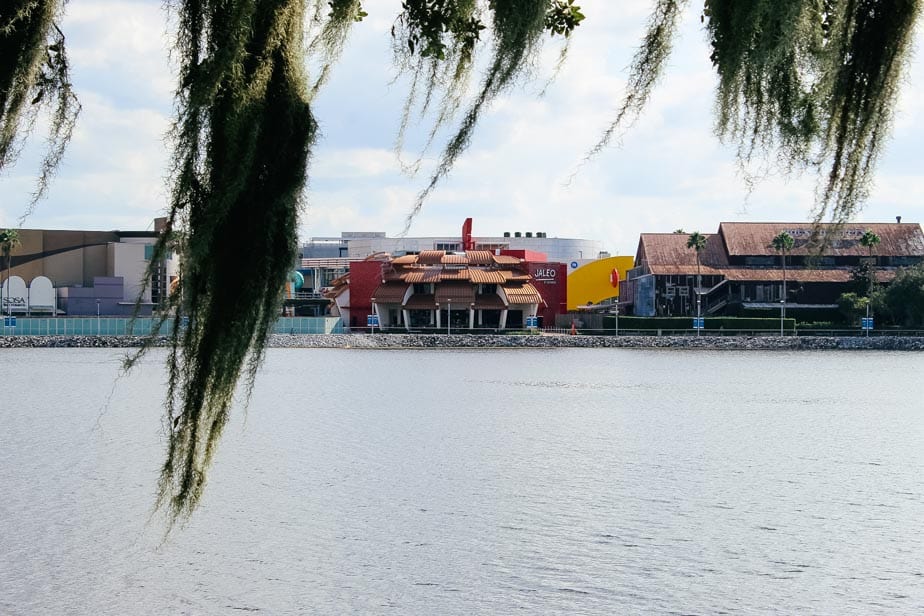 Once you get to the lake, you'll want to take a left.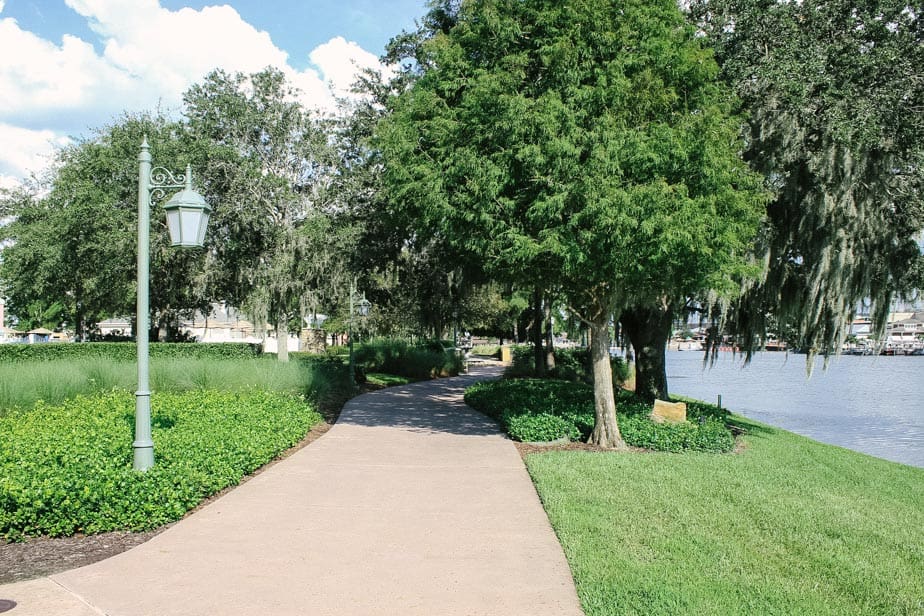 And within a few minutes, you'll cross a bridge over to Disney Springs. Now, if you were heading over to the West Side of Disney Springs (that's where Jaleo was in the picture earlier), you could take a boat at this point instead of walking. That is a boat dock off the side of the bridge in the image below.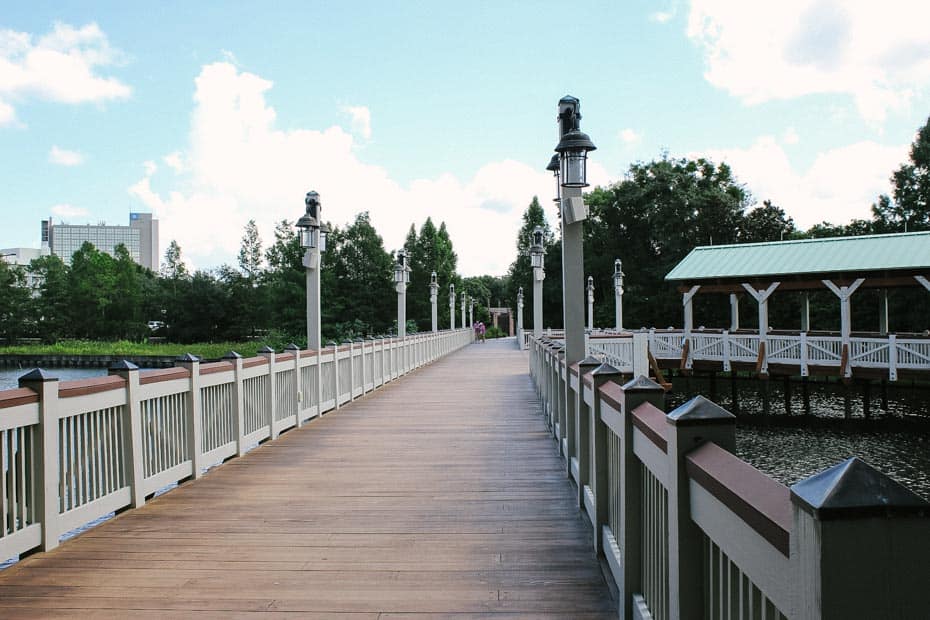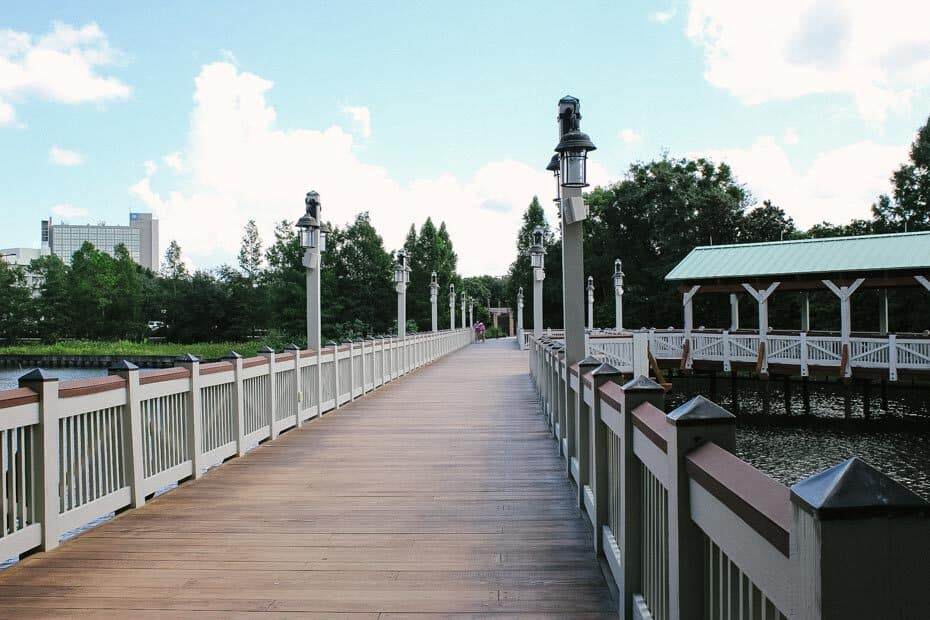 Or you can stay straight, and you'll be at The Marketplace entrance to Disney Springs when you reach the end of the bridge.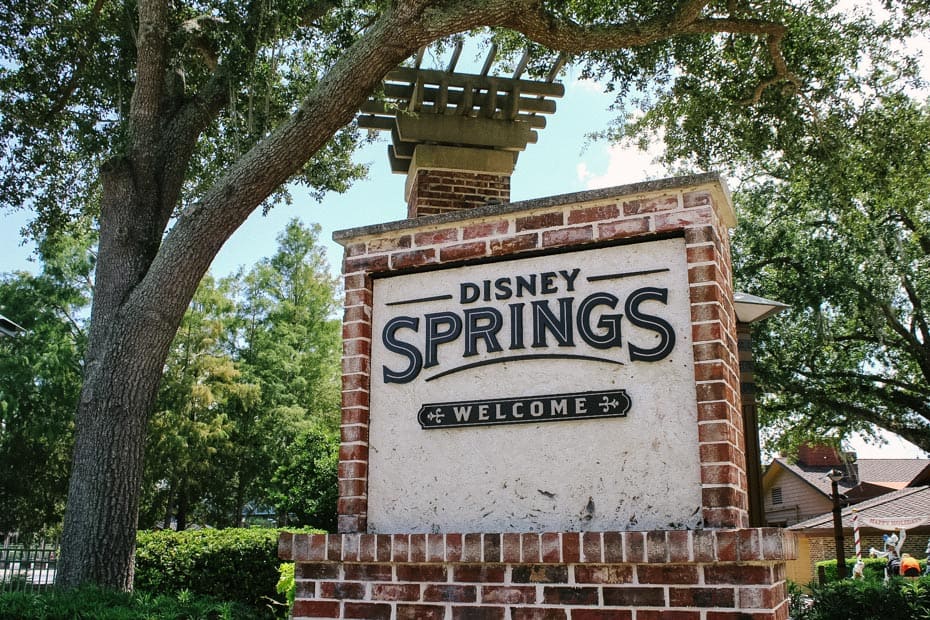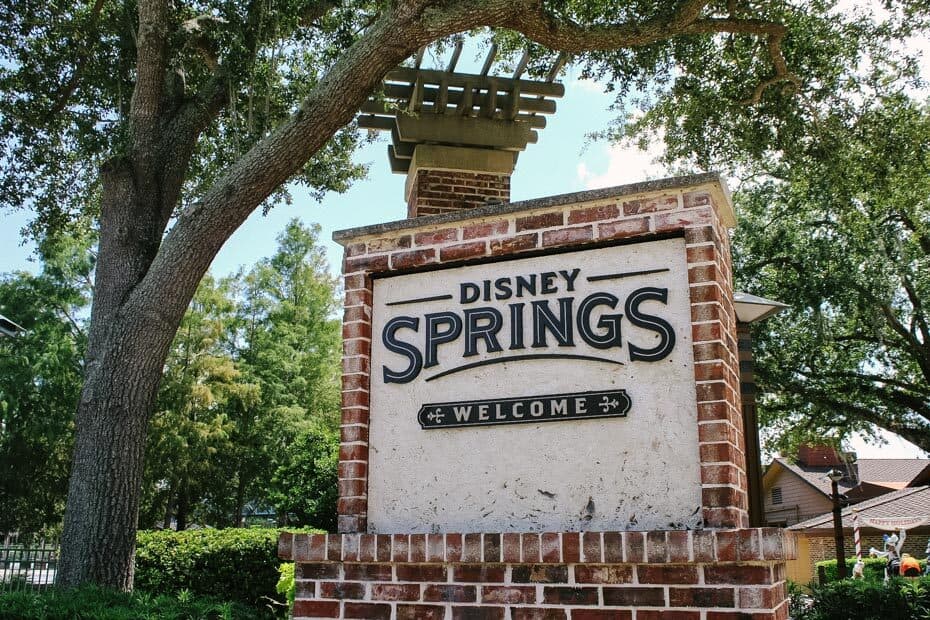 The walk from the Congress Park bus stop to The Marketplace entrance at Disney Springs averages between 10-12 minutes. It's a beautiful walk, and I always enjoy making my way over to Disney Springs via this route.
If you're staying at one of the Walt Disney World Resorts, make sure to get an idea of where the bus stop is before you leave. It's located in front of the Town Center area at Disney Springs.
Related: Disney Springs Transportation Tips
Hopefully, this tip will be helpful on your next visit! For more dining options at Disney Springs, you might like to check out our list of the Best Restaurants at Disney Springs.
Planning a stay at Disney's Saratoga Springs? All of our articles related to the resort are listed in our resort guide:
Or you might enjoy these:
Have you ever taken the walkway from Saratoga Springs to Disney Springs? Feel free to leave a comment.